Have plenty of towels but no way to keep them organized? These towel storage ideas are inventive, beautiful, and practical. They'll keep your bathroom decluttered.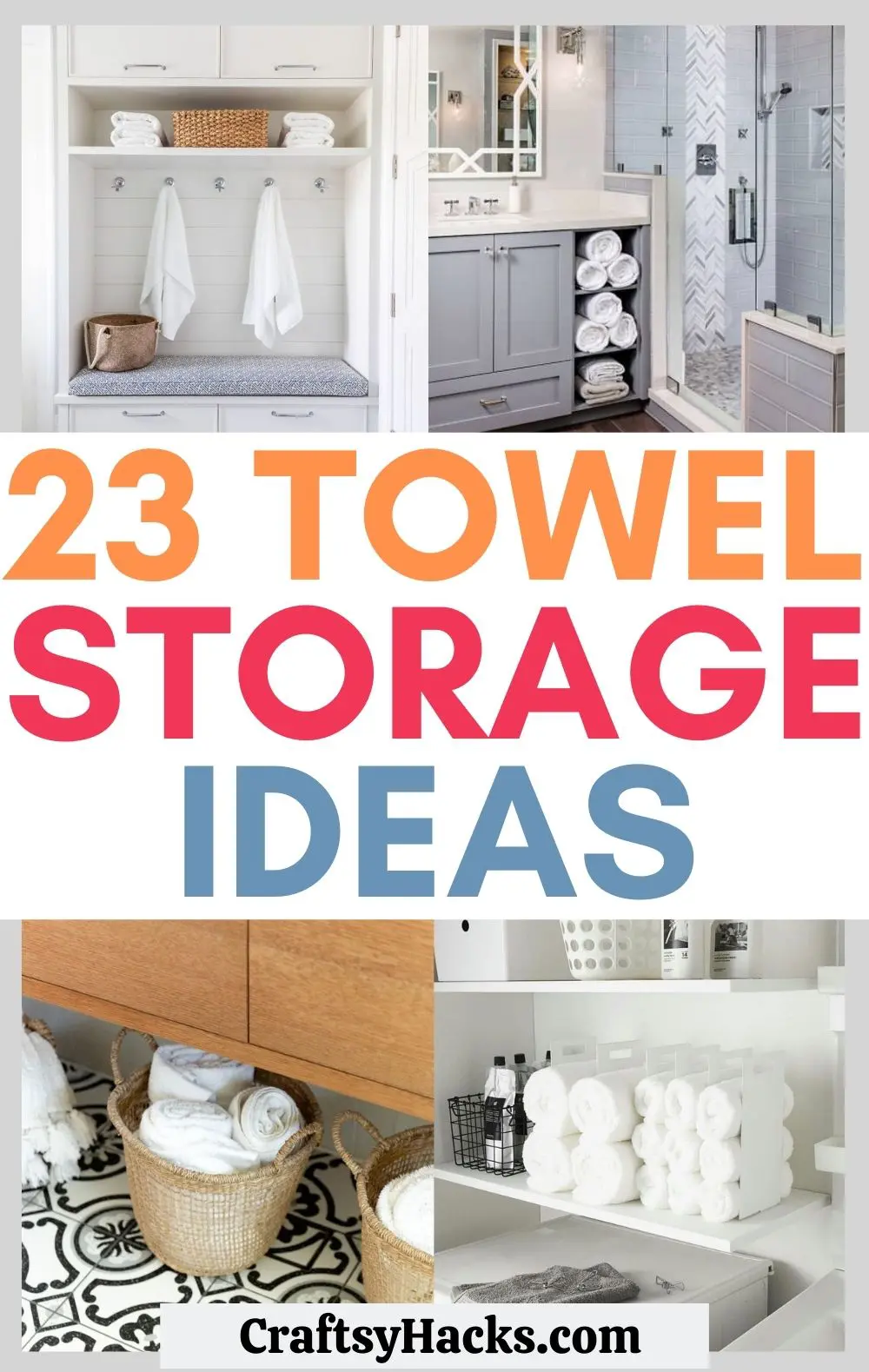 Ah, towels. In the bathroom organization game, these fiendish fabric foes are often the things that go out of control fastest. Keeping them folded and in line can be a struggle, but with the proper storage, it's simple.
So, why not try a few different systems to see what works for your home? This list has twenty-three ingenious towel storage ideas to get your bathroom, linen closet, or laundry room in perfect order.
1. Stylish Farmhouse-Inspired Towel Racks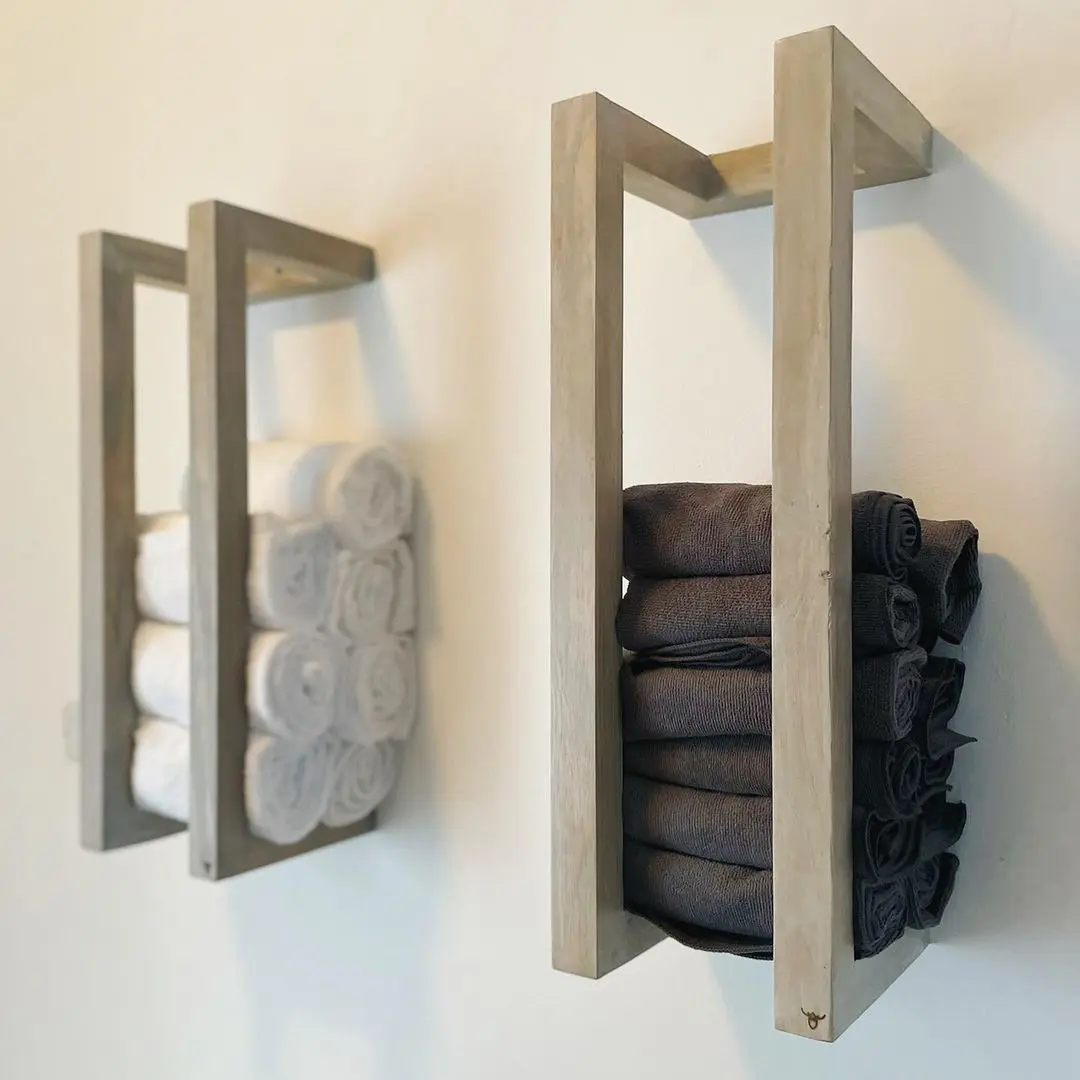 Credit: Instagram
A stylish towel rack can be tough to find, but this reclaimed timber number fits the bill. Featuring sharp angles in a muted wood color, these stunning shelves highlight the wood's grain for a rustic look.
Not to mention, this is the perfect setup for a small bathroom space. When hung on your walls, these shelves take up very little space while offering ample storage for your towels. I call that a win-win.
2. The IKEA Hemnes Storage Bin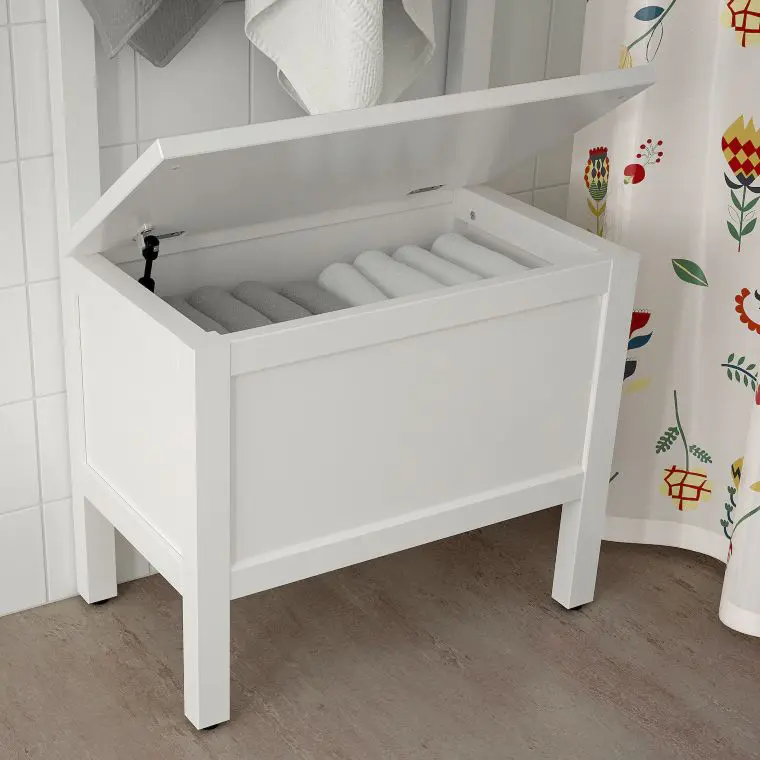 Credit: ikea.com
IKEA is genuinely the wonderland of us organizing folk. Venture into its depths, and you'll find this Hemnes storage bench, a perfect way to store your towels beneath a discreet, sleek, minimalist exterior.
Keep in mind that you will be bringing this piece of furniture into a moist environment. If you want this piece to last a long time, I recommend spraying with a marine-grade varnish like this before you use it.
3. Rustic Antique Towel Rack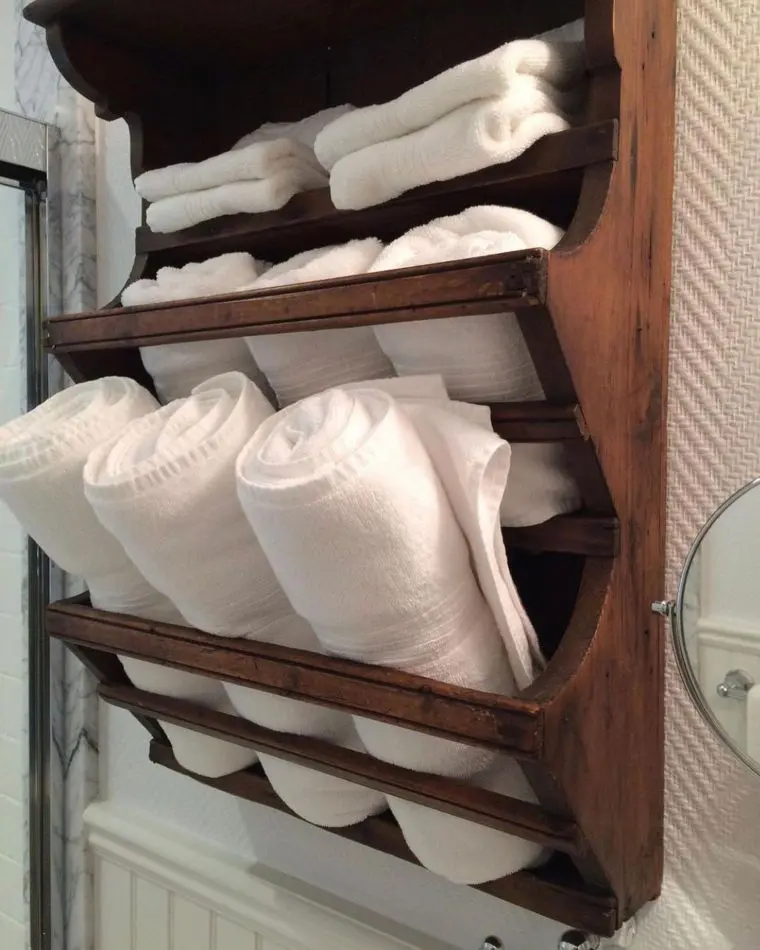 Credit: Instagram
If you have an antique spice rack or plate shelf lying around from yesteryear, give it a new life as a gorgeous towel rack. The contrast of soft towels and hard oaken corners is the perfect interplay of textures.
Older pieces typically require some refurbishing, so be prepared with sandpaper (here) and a suitable varnish like this to protect the wood from moisture. This rack is great for storing towels of any size!
4. In-Vanity Towel Storage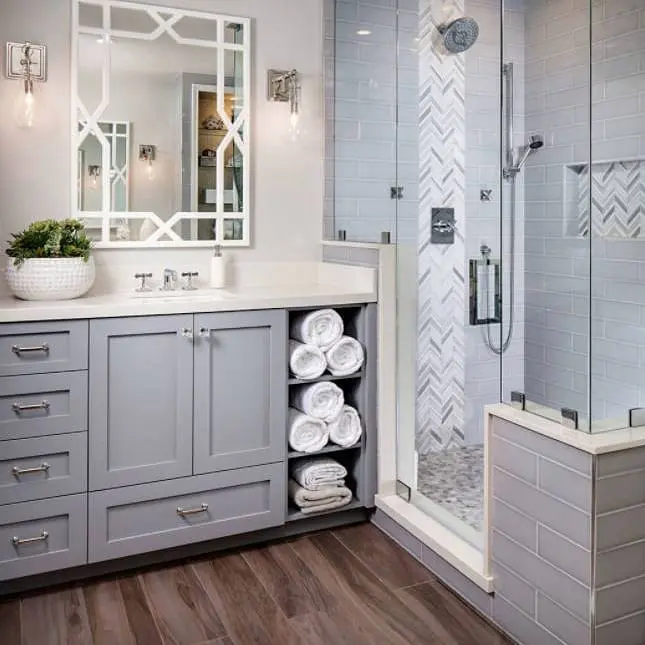 Credit: Instagram
Next up, we have a classic towel storage idea: the in-vanity shelves. By simply removing the doors from one side of your existing vanity or extending it with a simple shelf, you can add easy-to-reach towel storage.
This approach is simple if you already have a vanity installed and perfect for classically-styled bathrooms. Just make sure to roll or fold your towels consistently when storing for a uniform look.
5. The Towel Ladder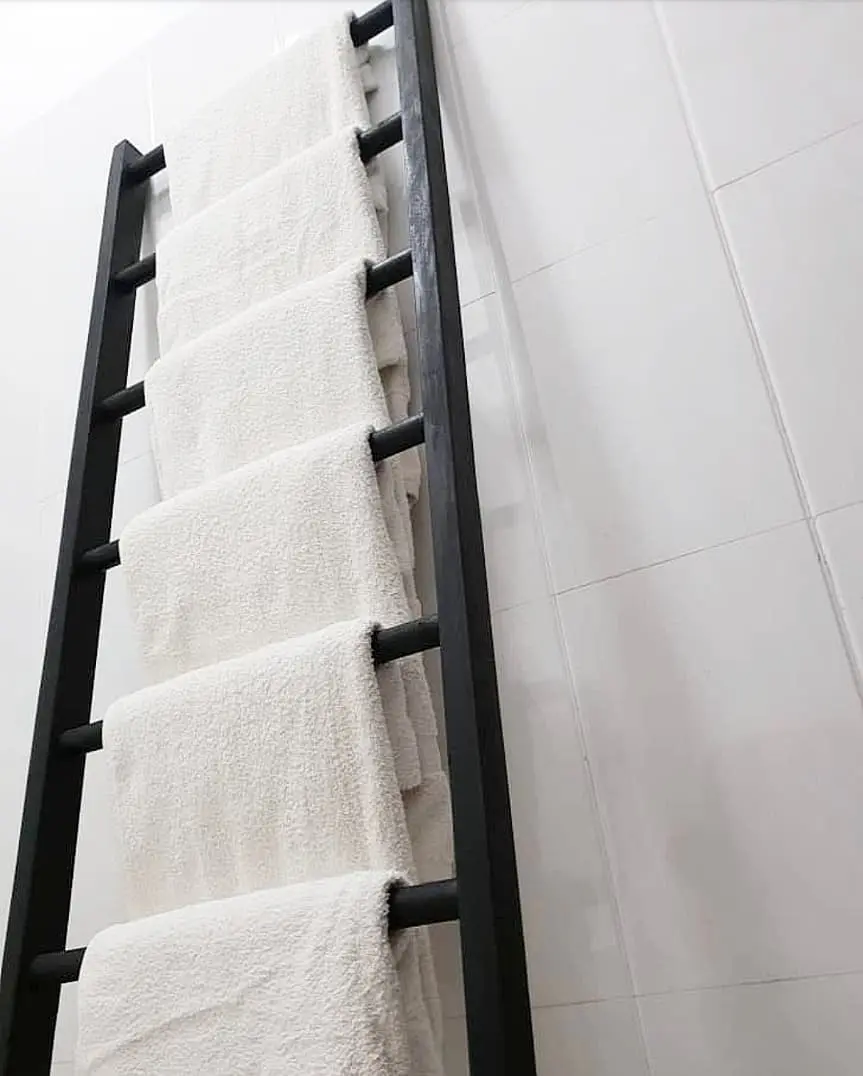 Credit: Instagram
On the other end of the spectrum is this minimalist-inspired towel ladder, which is perfect for renters. Take advantage of that vertical wall space without screwing or nailing anything into the wall; use a wooden ladder!
Almost any wooden ladder will fit the bill, but to take that one step further, I recommend painting it to match your bathroom's color scheme. Scandinavian inspired? Go with chalk blue. Modern? Black is the answer.
Check out more bathroom organization ideas here.
6. Floating Towel Organizer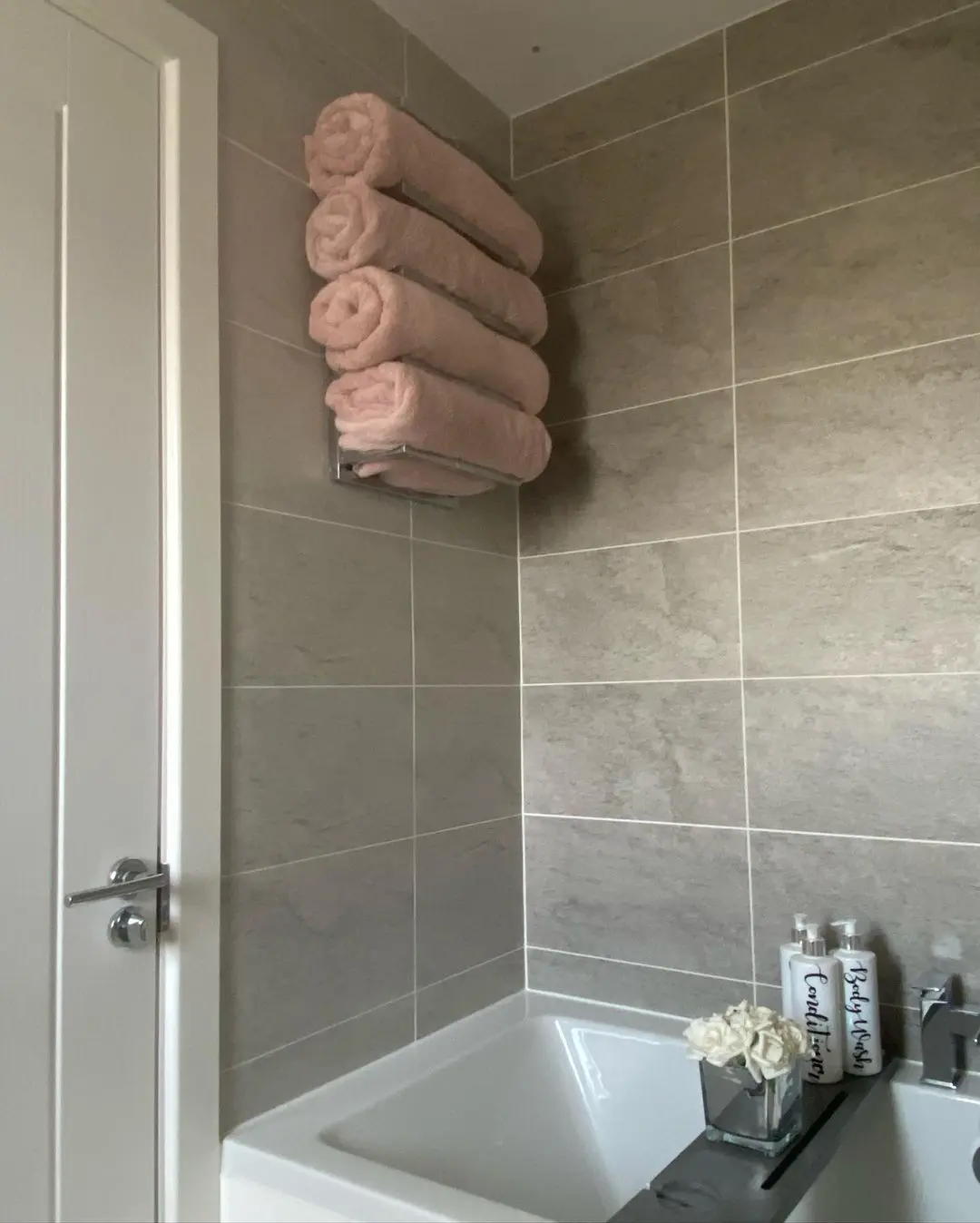 Credit: Instagram
Here's another idea suited to a compact bathroom! This is perfect for freeing up some space in your linen closet while simultaneously making your bathroom look like an upscale hotel suite.
You'll need five square-edged towel rods of the same size (like this). Now, mount these in your desired spot, leaving about seven inches between each towel rod. Now you have sleek, modern storage space.
7. Home Office Storage Tower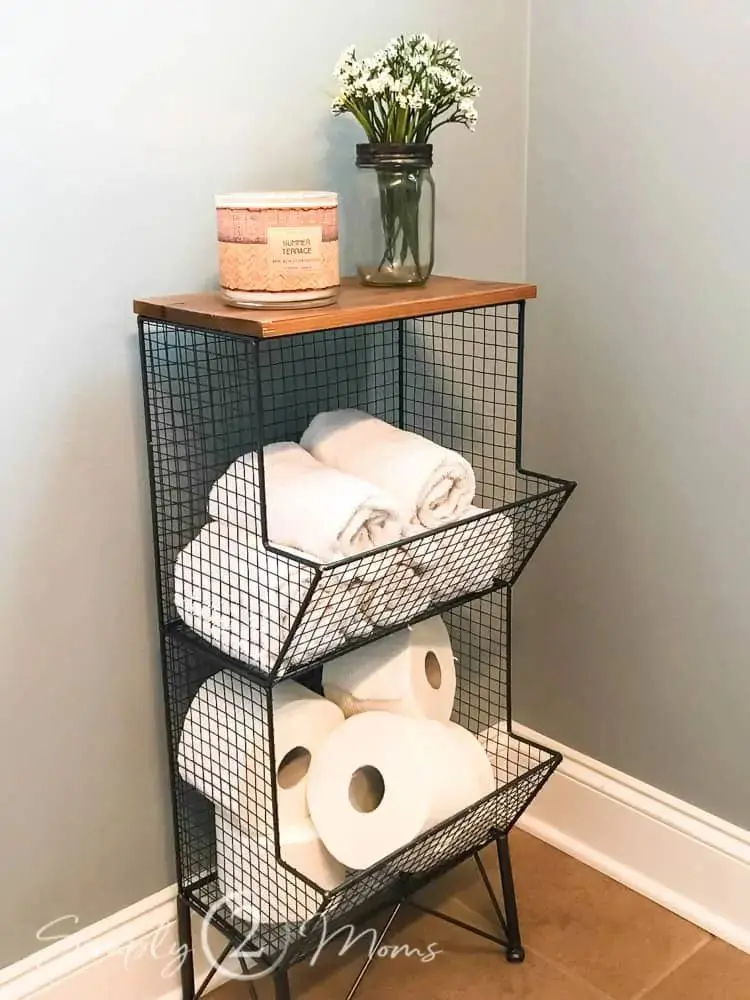 Credit: simply2moms.com
Just because you're revamping your bathroom storage doesn't mean you have to shop in the bathroom section! This next idea uses a wire storage tower to create space in a small bathroom.
These little beauties are perfect for awkward corner spots, creating space where previously there was just a blank piece of floor. Make sure to carefully measure your distance before heading out to buy your tower!
8. Rustic Wooden Shelf and Towel Rail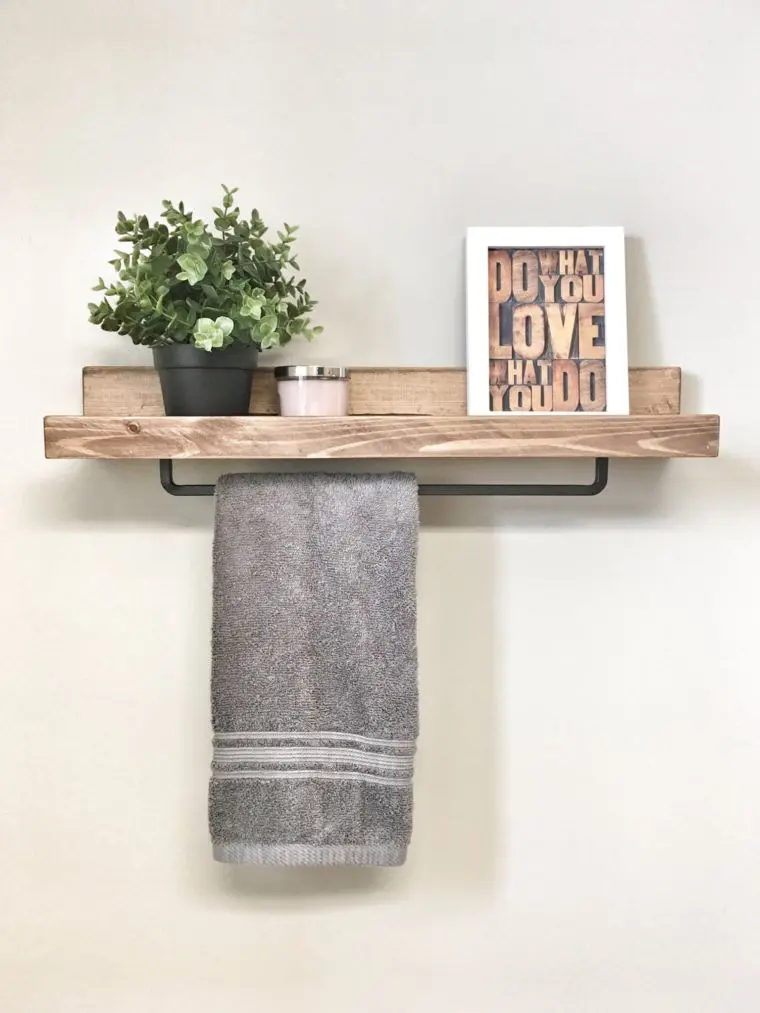 Credit: Etsy
Maximizing storage is all about making spaces multi-functional, and that's exactly what this next hack does. By mounting a towel rail to the underside of a ledge shelf, you have a two-in-one storage area!
Accessorize the top of your shelf for a touch of style, or use it to hold your unused towels. Below that, the towels currently in use will hang out to dry on the bar (try this one), preventing the touch of mold or mildew.
9. Tabletop Wine Rack for Towel Storage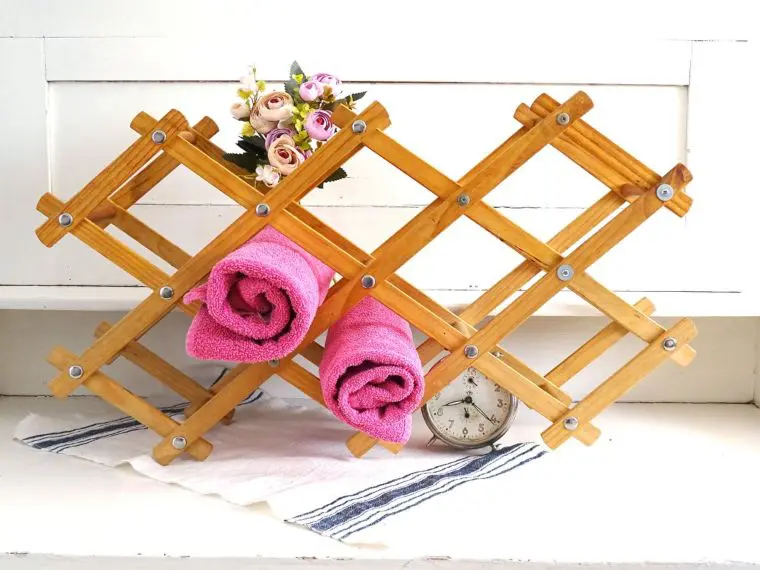 Credit: Etsy
Whether you have one of these wine racks that you're not using or you're just on the hunt for some tabletop towel storage, this idea is for you. It's perfect in its simplicity; use the rack for towels, not bottles!
I'm particularly fond of this idea because it's easy to repurpose or fold away. If you find it's not working for you in that space, remove the towels, fold them, and use the rack to store something else in a different room.
10. Easy-to-Build Box Shelves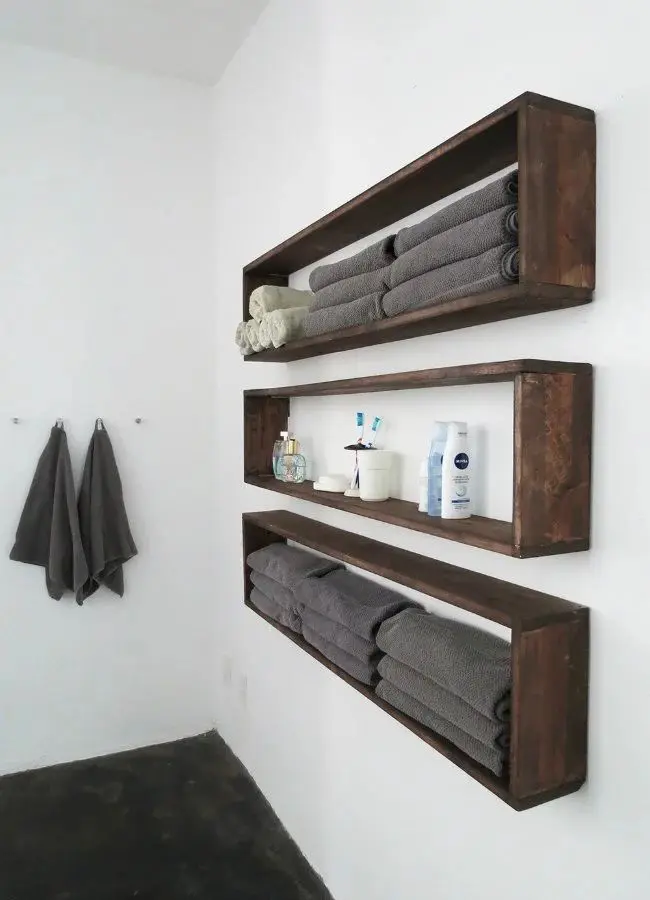 Credit: bobvila.com
These DIY wall shelves are a personal favorite for three reasons: they're simple to build, you can make them any size, and the result looks incredibly professional. Try mounting them above and below your mirror!
Make these shelves modern with clean angles and a dark stain like this, or embrace the wood's rustic nature with light oil and some gnarled edges. The choice is yours; that's why this hack is so versatile!
You could use this organizing idea for a craft room as well.
11. DIY Outdoor Towel Rack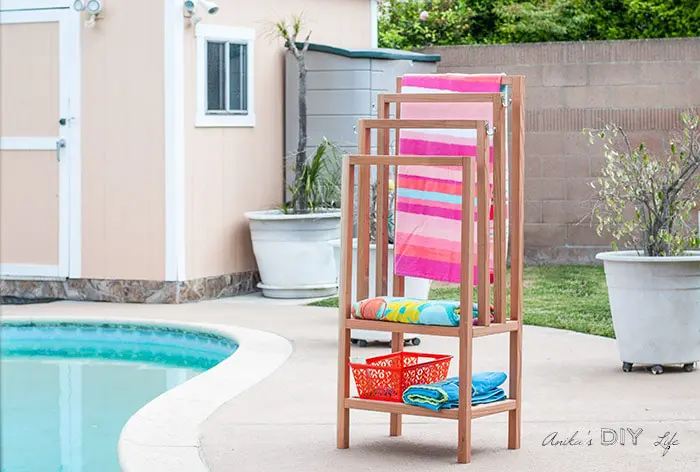 Credit: anikasdiylife.com
When you think towel rack, you usually think of the bathroom. But what about the pool? If you're lucky enough to have a collection, you know the plight of wet beach towels draped over every spare surface.
Instead of dealing with towels everywhere, create a dedicated towel rack for days by the pool! Buy a pre-made one like this, or make one of your own! Why not add wheels (here) to roll it inside when not in use?
12. Simple Wire Basket Shelves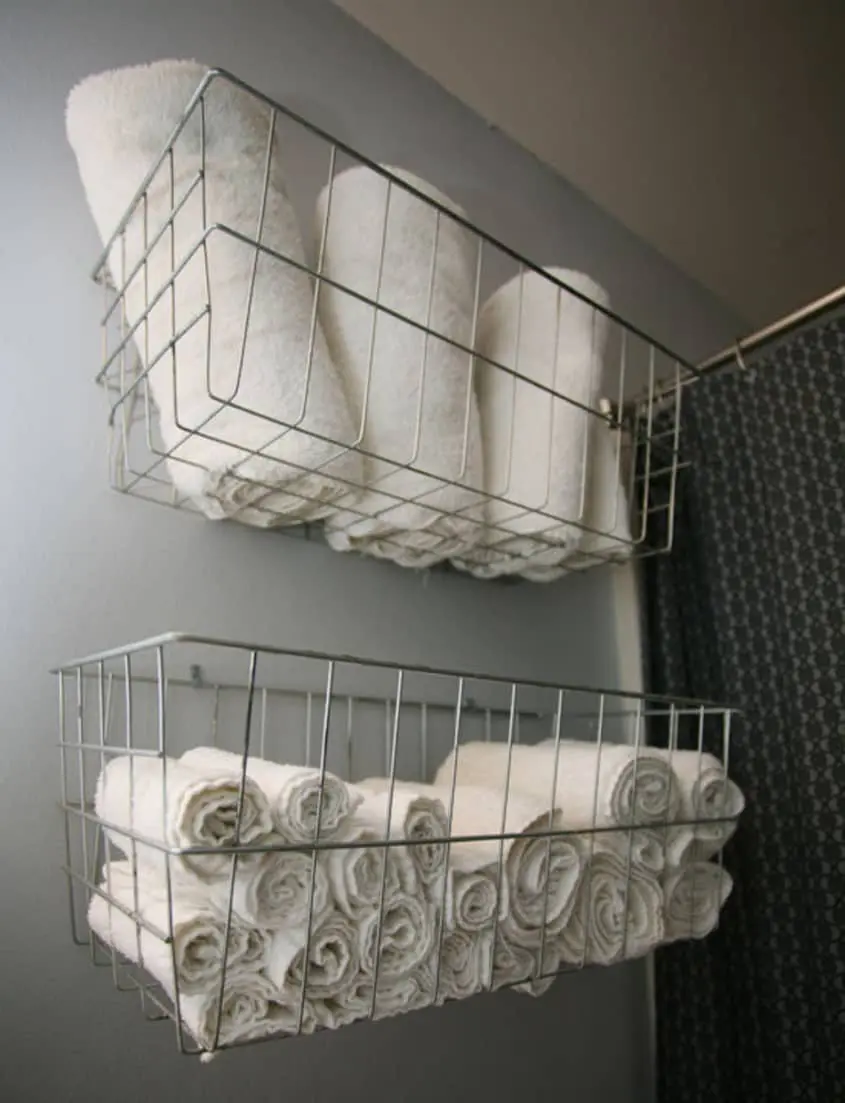 Credit: apartmenttherapy.com
If you have minimal time on your hands (or you're a fan of the minimal aesthetic), these simple wire basket shelves are perfect for you. You need only buy some wire baskets like this and mount them.
Not only is this ideal for storing any sized towel, but they're also great for use in the bathroom. Make sure you invest in stainless steel so the shelf can withstand the changes in moisture brought on by steam!
13. Reclaimed Wood Corner Shelves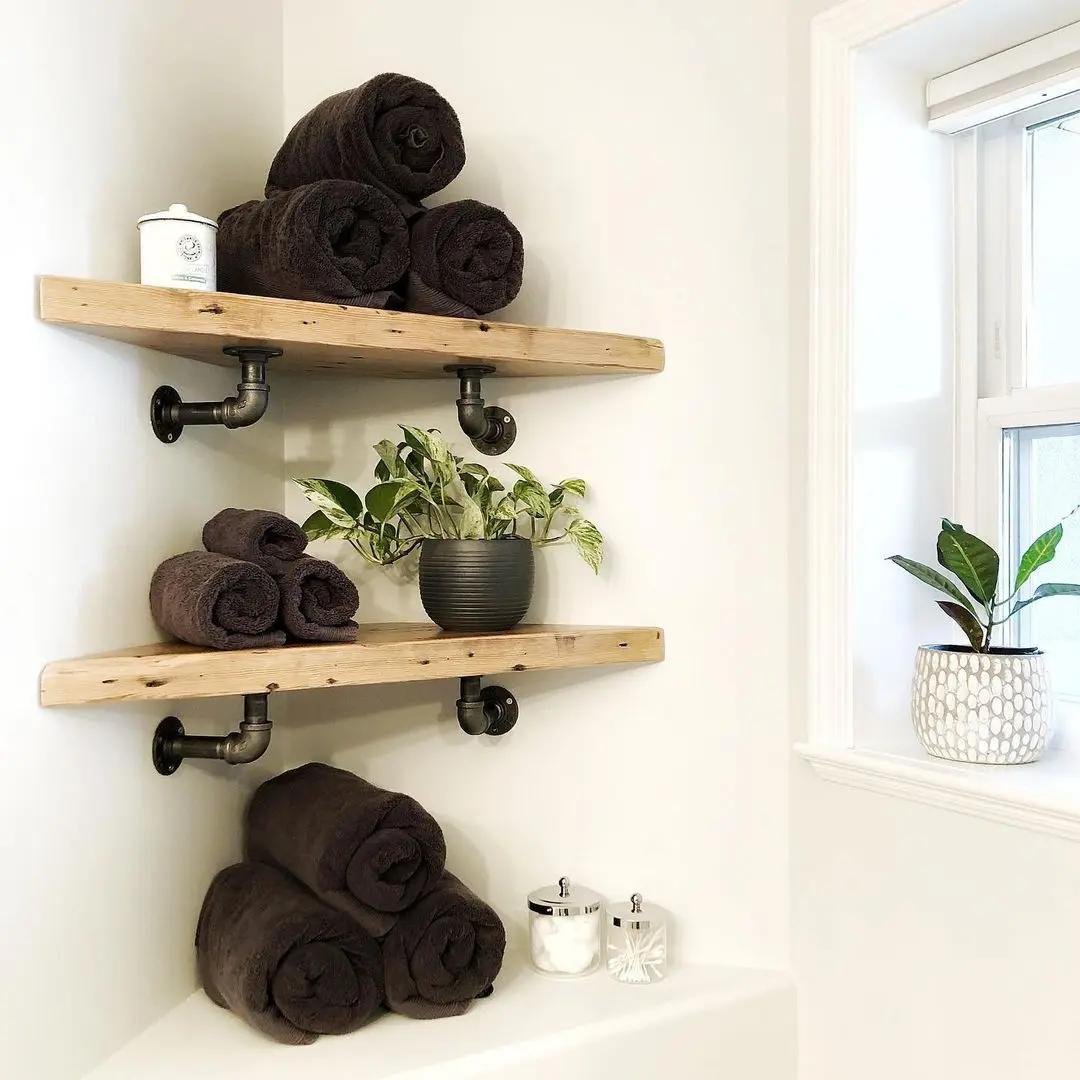 Credit: Instagram
Corner spots are often wasted in bathrooms because they're difficult to utilize, but these reclaimed wood corner shelves are the ideal solution. Crafted from triangles of reclaimed wood (like this), these offer ideal storage.
Upgrade your shelves using pewter pipe brackets (like these) for a rustic look or modern with some black brackets (here). This is ideal if you have some old wood lying around that needs a new life.
14. Sleek IKEA Towel Cabinet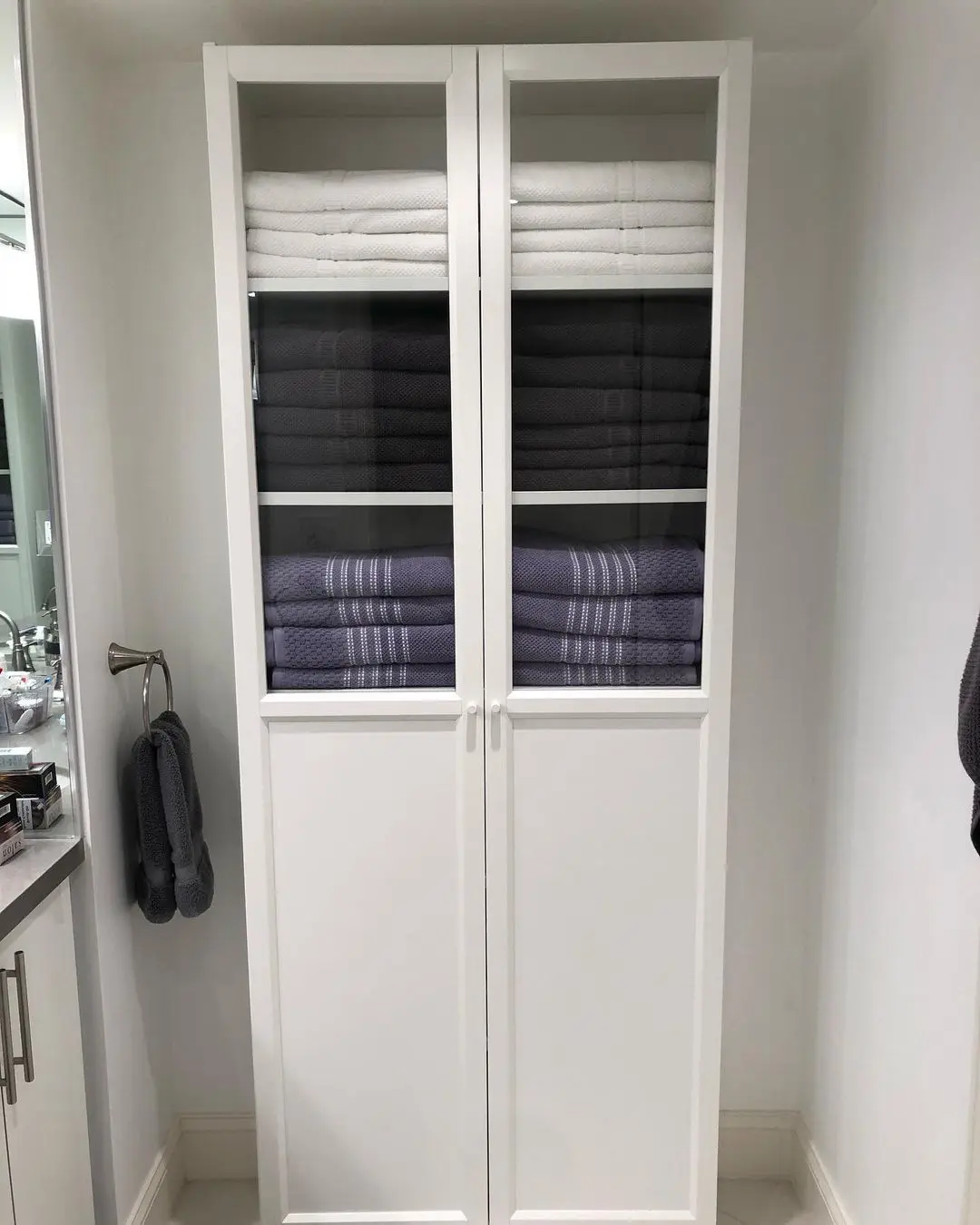 Credit: Instagram
As we all know, IKEA is the ideal spot to go hunting for a cheap, sleek, functional piece of furniture. But who knew they'd have the perfect solution for towel storage?
Pick out a cabinet that fits easily in your bathroom. Taller is better, as it offers more storage over a smaller footprint. Then, replace the door panel with a sheet of glass or clear acrylic (here) for a view of your towels.
15. Rolled Towel Stackers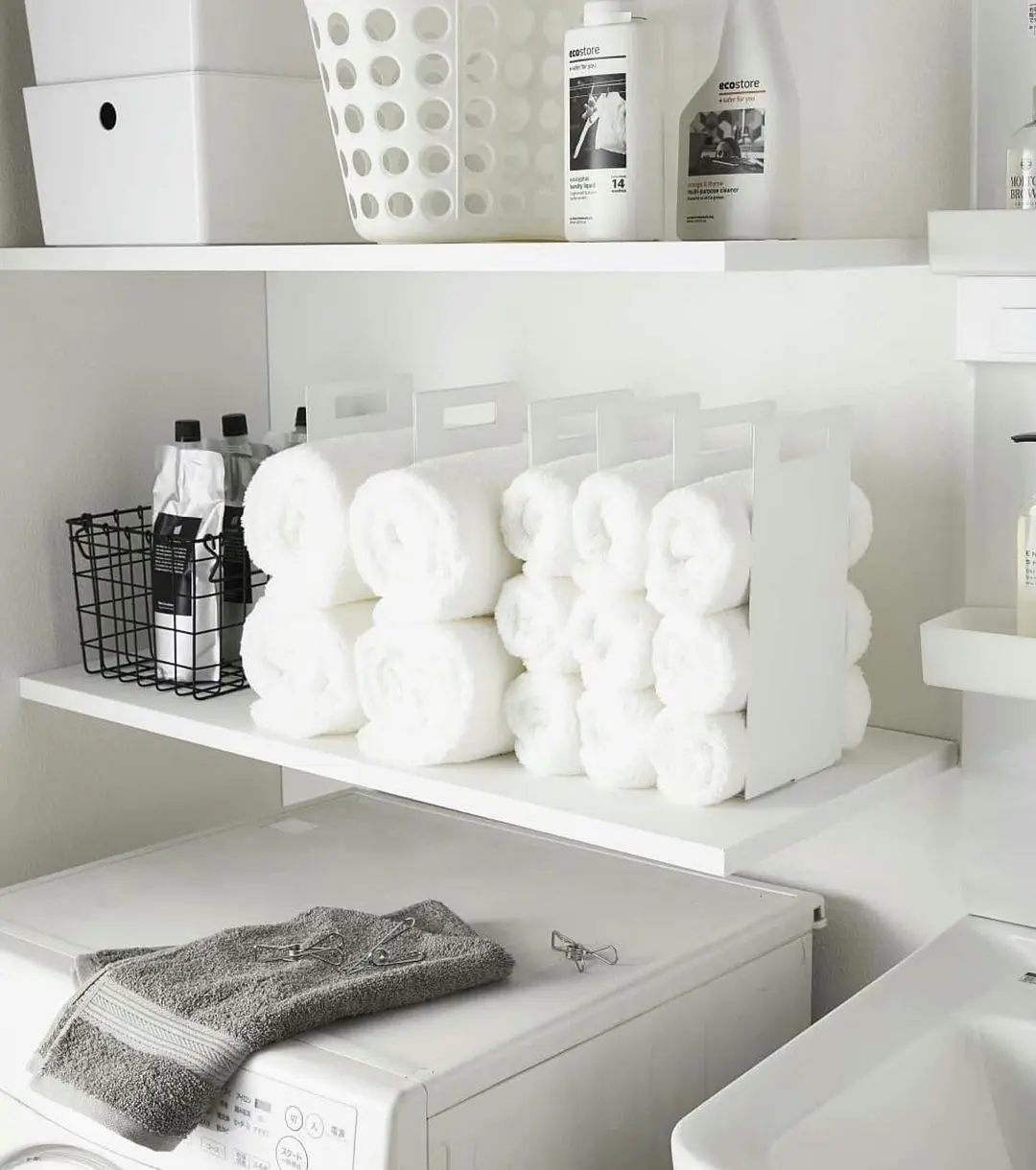 Credit: Instagram
Sometimes the best possible answer lies in simplicity. This rolled towel stacker idea embodies that principle to the tee. These sit neatly on your shelf in any room, from the laundry to the linen closet.
It's easy to make this stacker for yourself using some magazine racks (here), or try dividing up your shelf with these for a simple upcycling job. I recommend a monochromatic color scheme to keep it chic and minimal.
16. Simple Wicker Towel Basket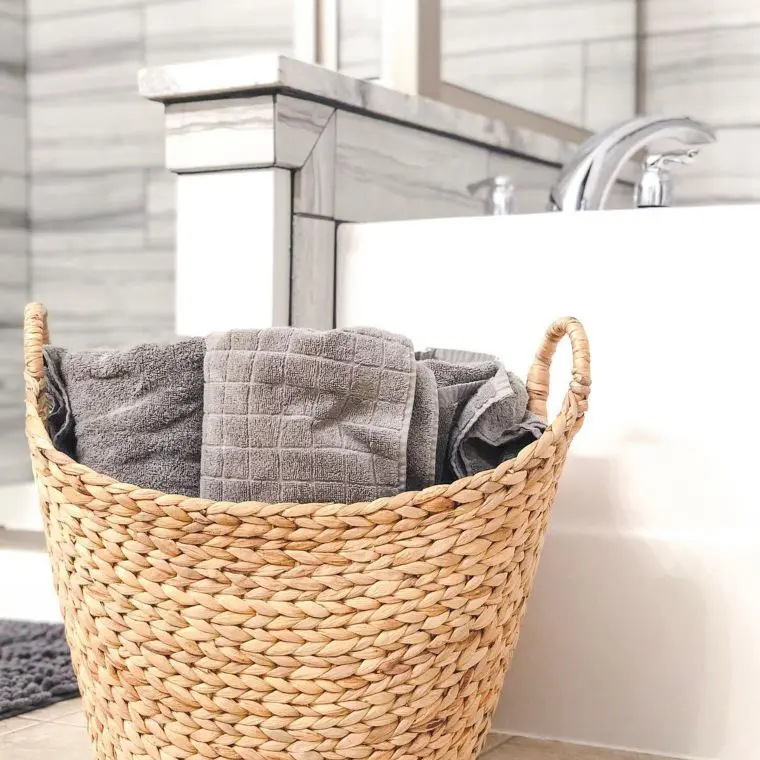 Credit: Instagram
Let's continue with the simplicity principle: a gorgeous wicker basket like this not only adds to the bathroom décor, but it also makes sure the family will always have clean and dry towels.
If wicker isn't quite your style, you could always try a wire basket with a rope handle or create your rope-wrapped basket with this hack. Keep it stocked with clean, dry, fresh towels for an instant elevation.
17. Reclaimed Wooden Ladder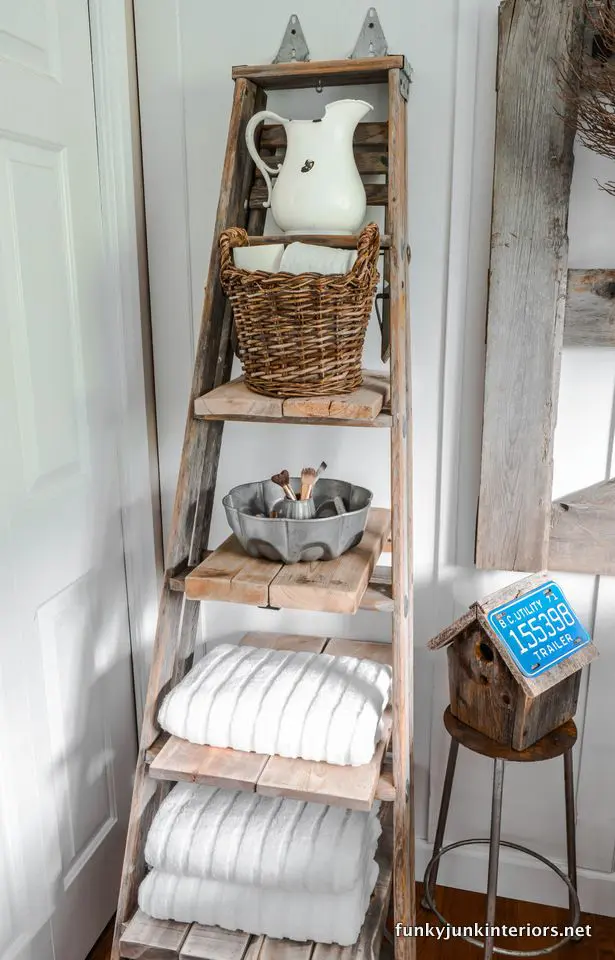 Credit: funkyjunkinteriors.net
Next up is the ultimate rustic towel storage hack. If you have an antique ladder hanging around, revive it with a few extra planks and some metal anchors to keep it leaning at the right angle.
I love how this looks. If you live in an older home, this is a great way to incorporate some of the house's history into your modern décor choices.
You could also use this to organize your closet.
18. The Towel Tunnel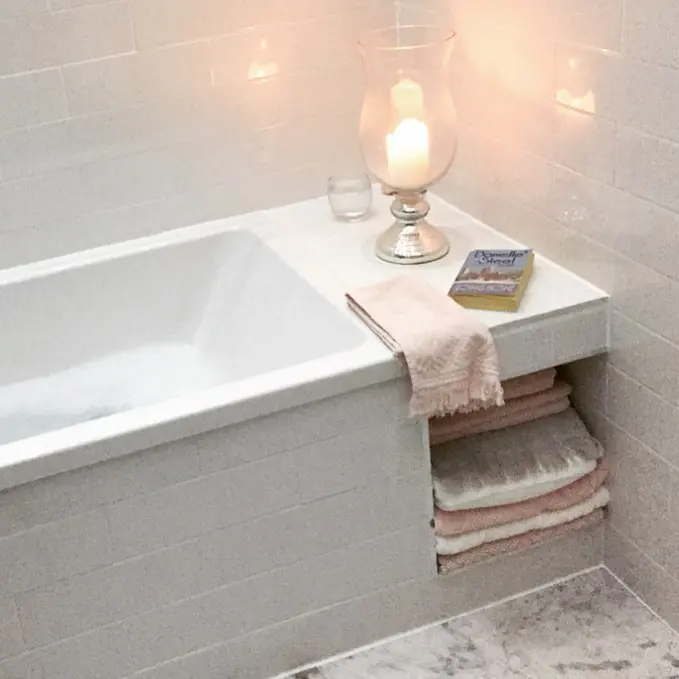 Credit: Instagram
Many bathrooms have an awkward space just past the end of their bathtub. This space can feel almost infuriating with how tough it is to use, but you need not tear your hair out with the towel tunnel.
Instead, extend your bathtub using matching tiles and a porcelain slab, but leave a gap in the middle of the shelf. There, you can hide your fresh towels for easy access. This is, in a word, genius.
19. Art Deco Golden Basket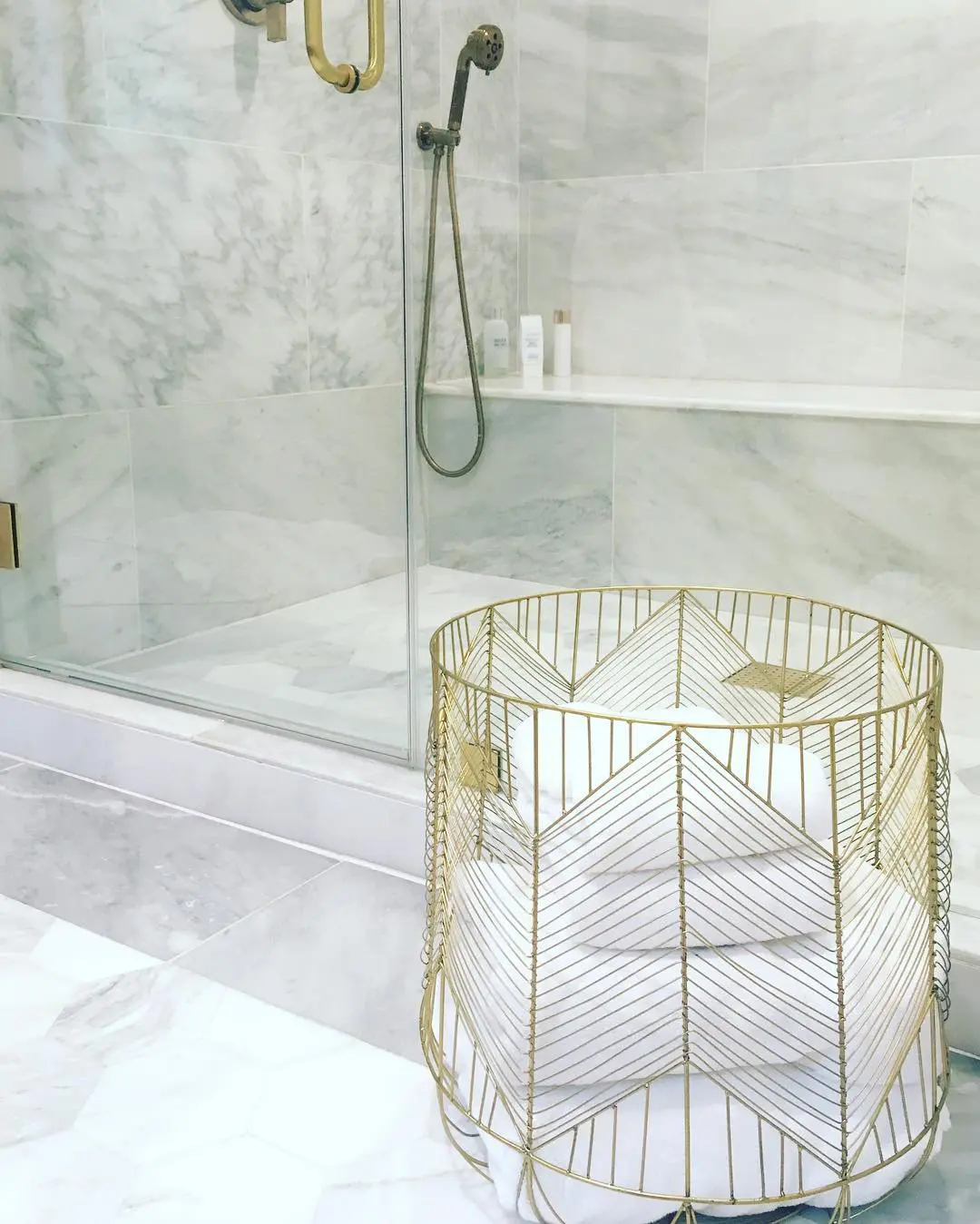 Credit: Instagram
Much like the wicker basket from a couple of hacks earlier, this golden basket is ideal for providing clean, fresh towels as soon as you step out of the shower. However, this one embraces the Roaring Twenties style.
Geometric shapes and a golden sheen combine to give a lustrous art deco vibe that's perfect for a modern bathroom. Grab a golden wire basket here and pay homage to your love of 1920s style.
20. DIY Tiny Towel Slot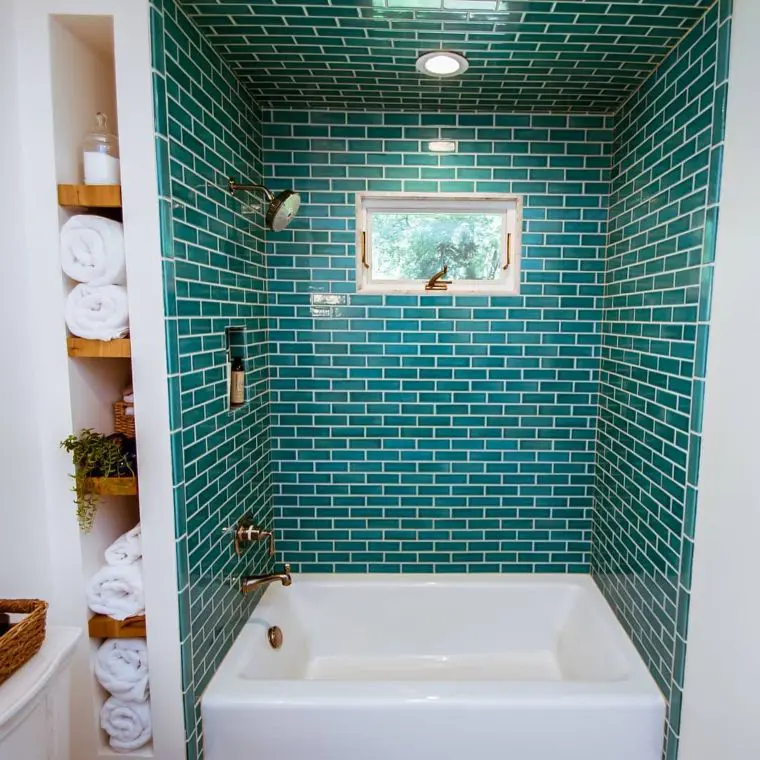 Credit: Instagram
This is the ultimate compact bathroom hack, transforming strange nooks and crannies into valuable towel storage. All you need to do is install some floating shelves (here) in the space, and you're away!
This particular crafter used a tall yet narrow spot right next to their shower, populating it with wooden shelves to use as towel space. This would also work for in-set areas near your mirror or next to a bath.
21. Above the Door Towel Storage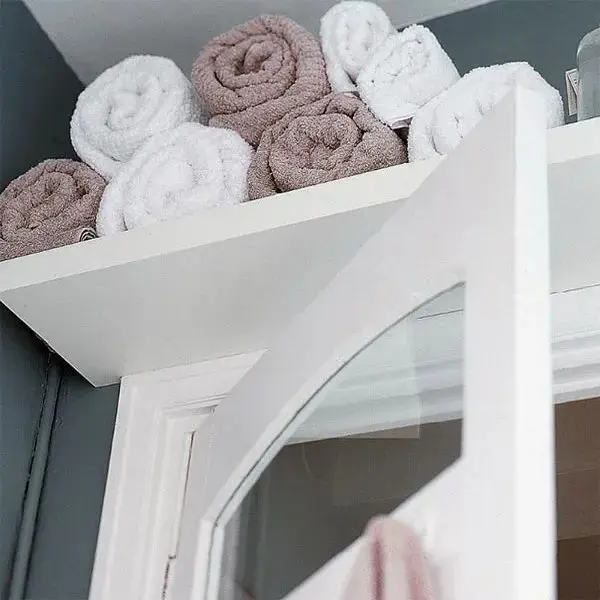 Credit: saymedia-content.com
Speaking of strange storage spots, one of the keys to utilizing space in a compact bathroom is to look up. The area above your door jam is perfect for a floating shelf, providing ample room for your rolled-up towels.
If this spot is relatively high, consider keeping a step stool in the bathroom. This shelf will only hold your freshly-laundered towels, so you won't have to break out the step stool every time you get out of the shower.
This could also be a great small bedroom organizing idea.
22. Master Bathroom Drying Area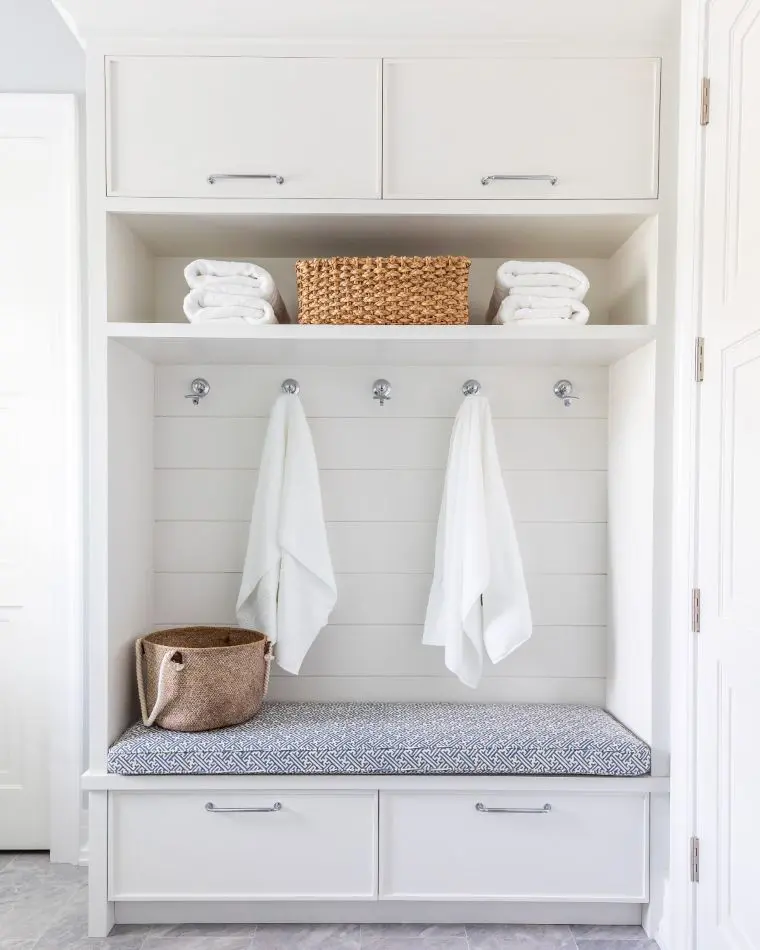 Credit: Instagram
Now, if you're blessed with a bit more space in the bathroom, this is your chance to get luxurious. Consider installing a decked-out hall tree in one corner of the room to create a dedicated drying area.
Coat hooks, floating towel storage, a padded cushion, and a wet towel basket are all critical features of this sumptuous addition. You can build it from scratch using timber or use a pre-built hall tree like this.
23. Lowdown Storage Baskets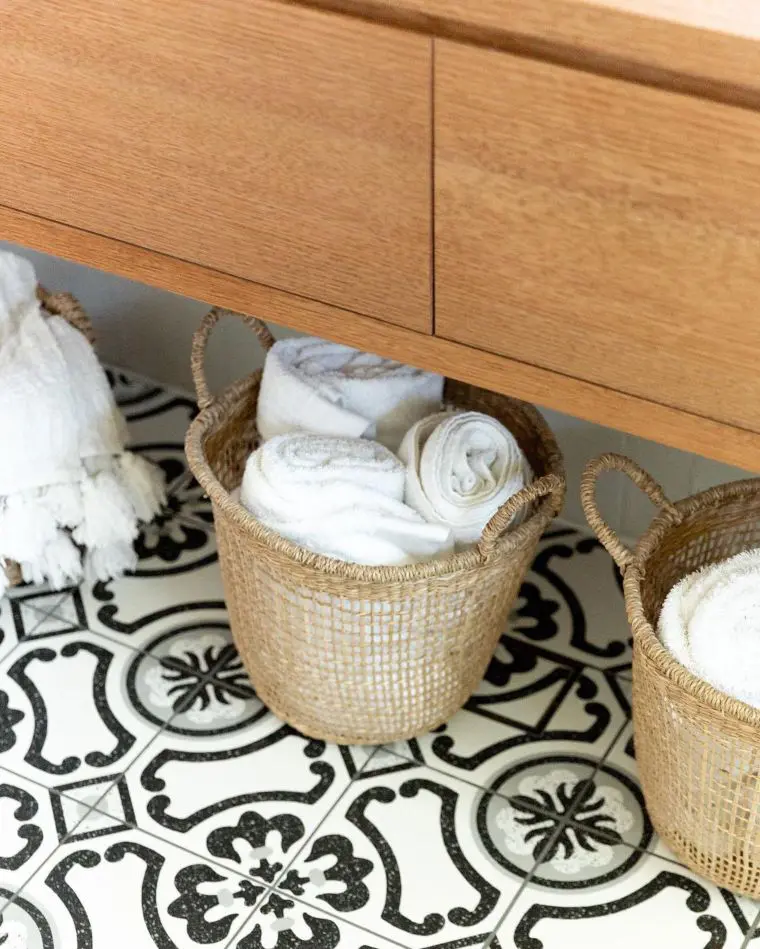 Credit: Instagram
Our final hack pays homage to the area beneath a floating sink, one that often goes ignored thanks to its low position. This is the ideal spot for your towels to live, as they're away from steam and moisture.
Grab a collection of wicker baskets to use as your storage containers, or go all-out with a small cabinet from IKEA (like the Billy Bookcase). The ideal solution will depend on your bathroom space, so be sure to experiment.
Conclusion
Hopefully, these ideas will help you turn your bathroom into a paradise, whether it's a large sanctuary or a small space. Let me know which hacks will be transforming your bathroom shortly below!