Get ready for this Thanksgiving and have fun crafting! These festive holiday projects are fun, creative, inspiring, and will keep you busy!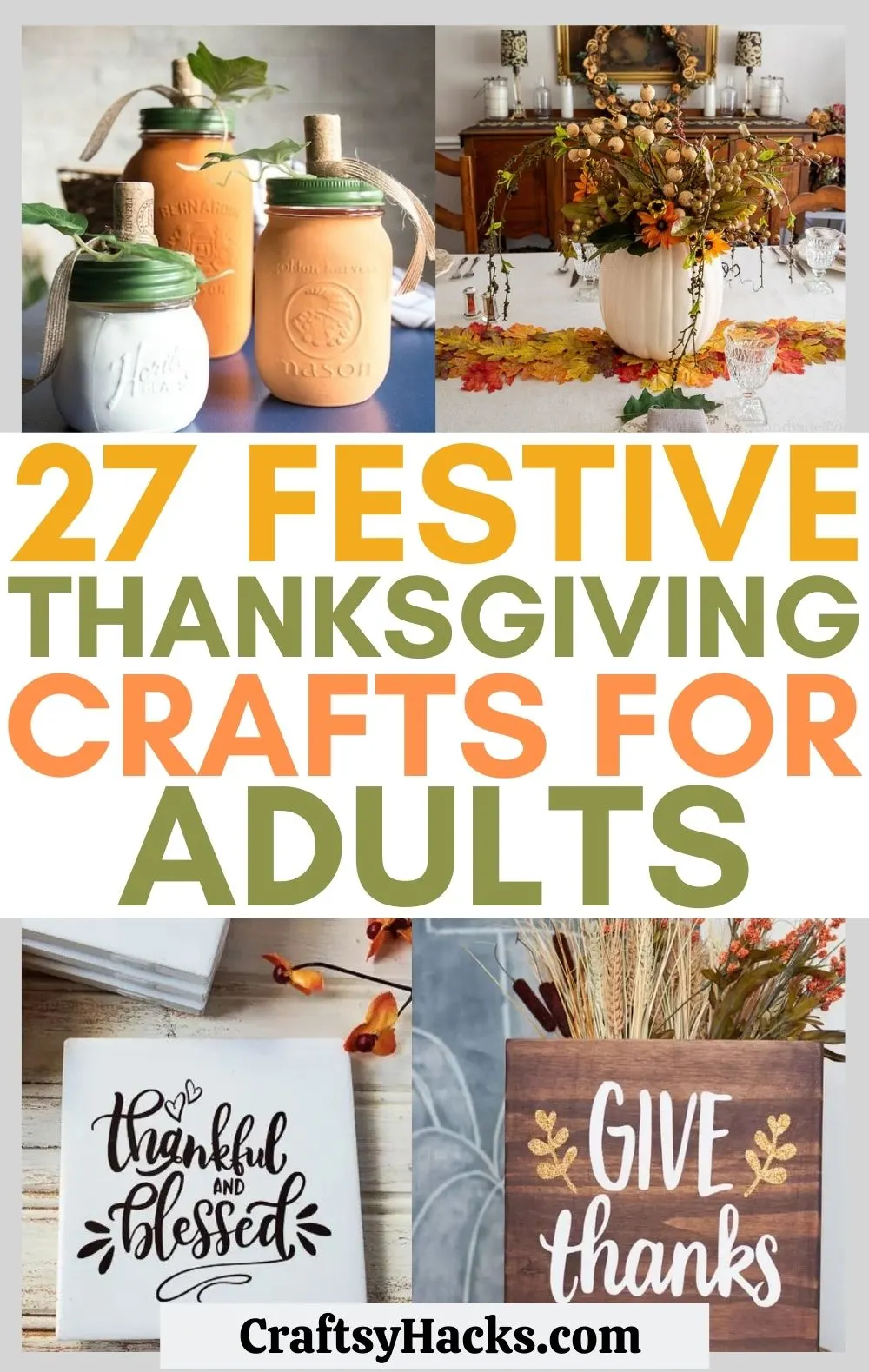 Craft time isn't just for kids, you know. That's why, for this Thanksgiving, you're going to get right into the thick of it with a ton of creative craft projects.
It doesn't matter if you're just enjoying letting your creativity flow. Or maybe, you're making things to use as decorative pieces around your home.
Just check out this list of 27 Thanksgiving crafts for adults for ideas and inspiration!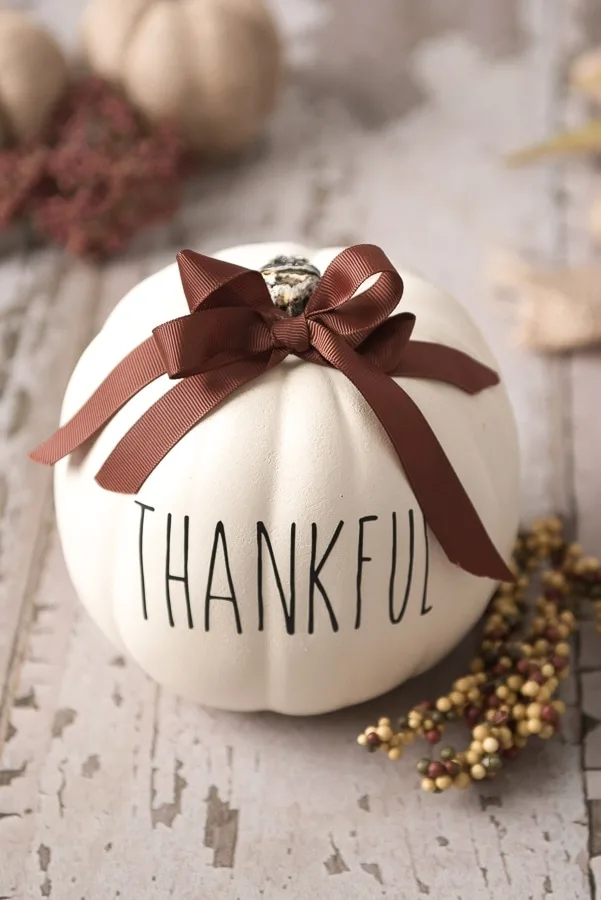 Source: mommymadethat.com
Have you seen a pumpkin that looked this adorable? It's the perfect Thanksgiving craft project if you're looking to add to your home decor.
You can turn a mini craft pumpkin into a Thanksgiving pumpkin and then use a Cricut machine to print, cut, and subsequently apply it to your pumpkin.
But before that, you can paint it white and perhaps add a nice bow using this ribbon. Finally, once you've finished with your pumpkin, just put it on your Thanksgiving table, and you've got yourself a cute centerpiece!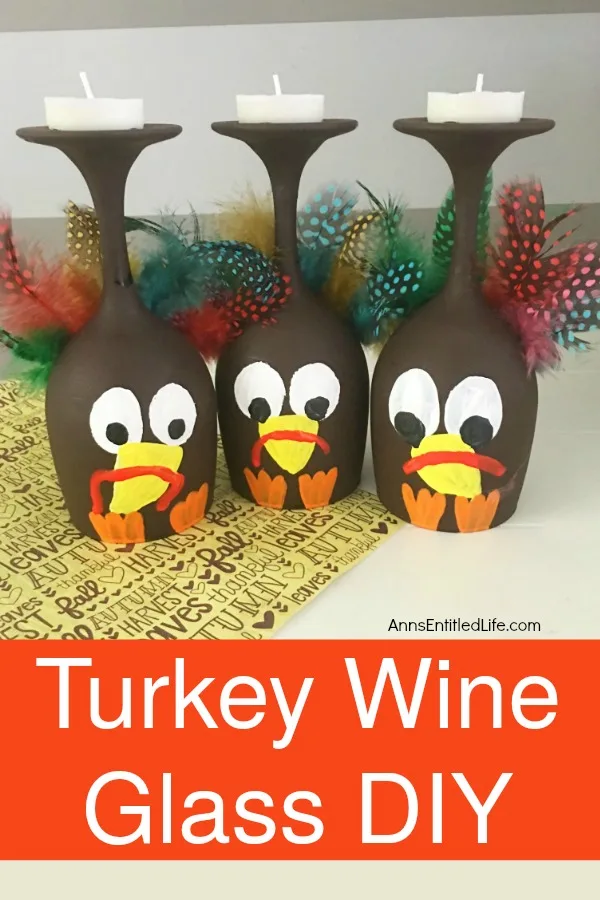 Source: annsentitledlife.com
If you can find it in your heart to part with a couple of your wine glasses, then I have the perfect craft project for you. These wine glass turkeys are surprisingly adorable, aren't they?
You can even use the flat underside of the glass as a candle holder, as seen here. Just buy a few tealight candles from here and light them when you're done.
But first, you've got to paint your wine glass. If you pick a nice matte-finish paint, you'll be able to paint your turkey with relative ease.
Check out more easy fall crafts for adults.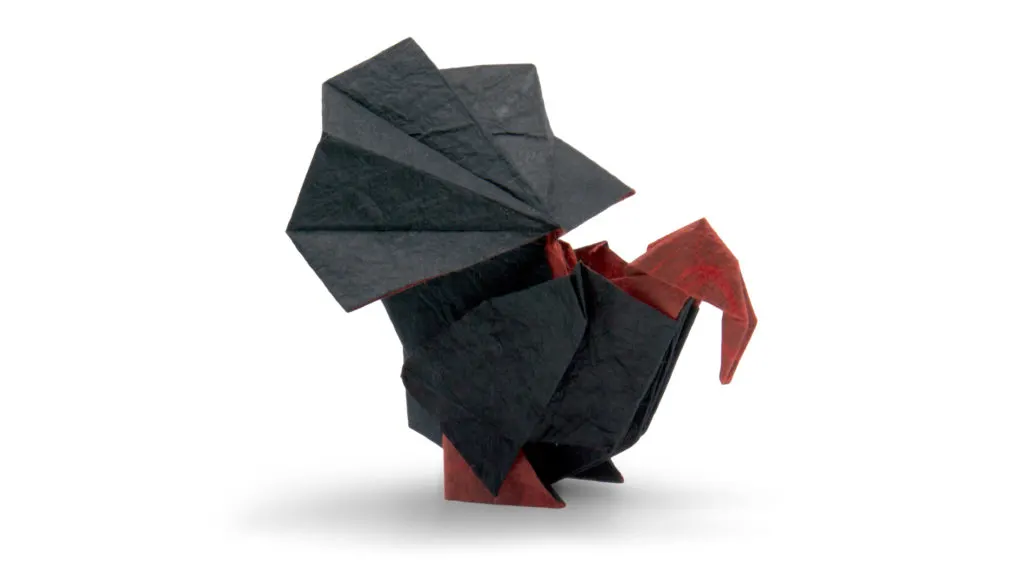 Source: origamiexpressions.com
This particular origami project is not for a novice, I must admit. It involves quite a bit of deft folding and tricky parts that an intermediary will find more suitable.
But, that being said, practice makes perfect, so grab some origami paper from here and start practicing. You'll have an origami turkey ready in no time at all.
If you're wondering where you'd place the turkey, fret not. You can artfully arrange them on your Thanksgiving table as a part of the decor.
Check out more paper crafts for adults here.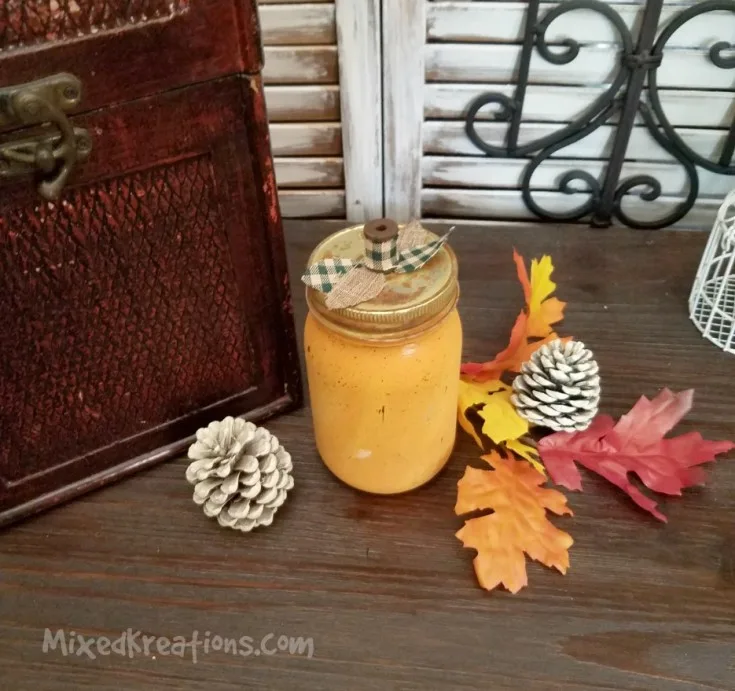 Source: mixedkreations.com
I bet you have a ton of old pickle jars just collecting dust in the back of your cupboards. Well, it's time you took them out of the cupboards and gave them a good round of washing and cleaning.
Once the jars have dried completely, you can start turning them into these gorgeous fall pumpkins. Grab your pumpkin orange paint, a few brushes and get started on painting the jar.
Feel free to distress the jar with a bit of sandpaper if you like. Oh, and don't throw the lids away just yet. You can poke a hole through the center and stick a small wooden spool in there to act as the branch.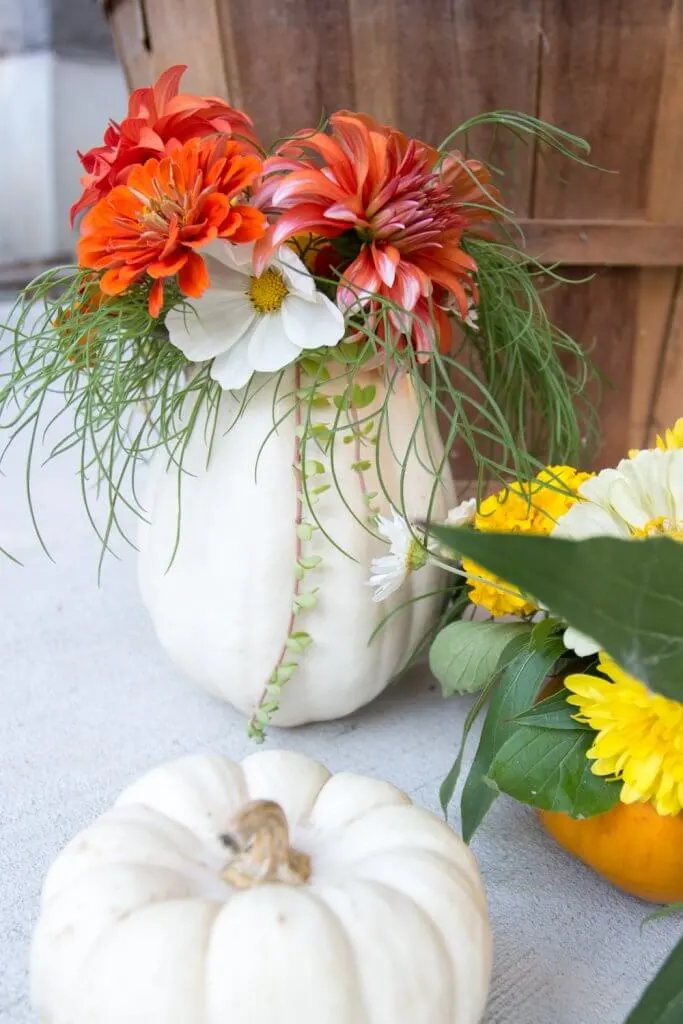 Source: thesoccermomblog.com
These gorgeous mini pumpkin vases are—wait for it—made from real pumpkins. No craft pumpkins for this project, no. Grab a spoon and a scooping knife and start scooping.
Once you've got the pulp out(don't forget to save it for treats and pies) you can paint it a nice bright white as indicated. Then all you have to do is stick your florals and fall leaves in there.
Since you're using a real pumpkin, the vase in question won't last quite that long. But you can certainly enjoy it while it lasts!
Check out more DIY Dollar Tree vases here.
Source: countryhillcottage.com
I bet you've painted many rocks when you were a kid—rock painting never gets old, does it? Here's a more sophisticated version of rock painting for you to try.
First, grab some gold leaf sheets from here. Then pick out your pebbles—it all comes down to choosing the best ones for the job.
Once you've gathered your supplies, go on ahead and use some metal leaf adhesive(look here) to help you stick the gold leaves onto the rock.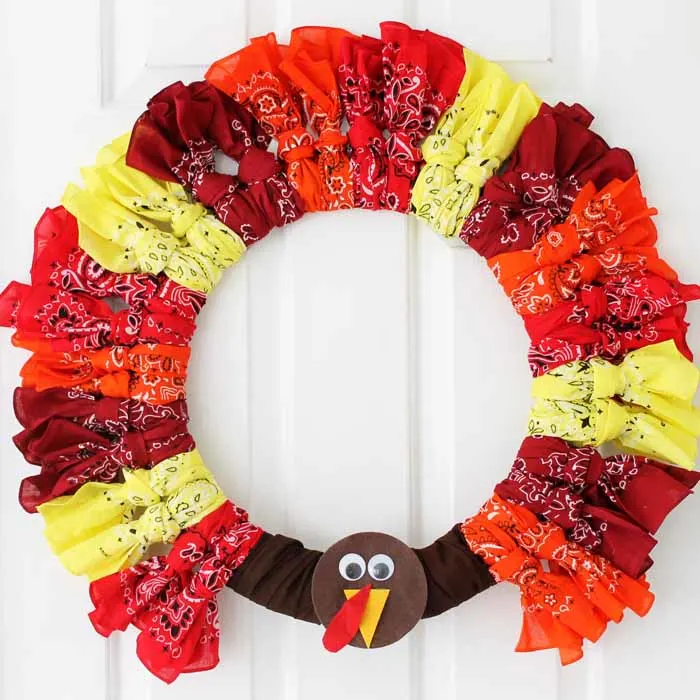 Source: thecountrychiccottage.net
Is Thanksgiving truly complete without turkey? No. That's why you need this turkey wreath to start off the festivities right at the front door of your home.
You'll be needing quite a few bandannas for this project—fall-colored ones, that is. Once you've picked them out, start knotting them as indicated around your wreath form.
Finally, don't forget the little turkey head you see here right at the bottom of the wreath. That's the final touch to bring the entire wreath together, so let's do it right!
Check out more fall wreaths here.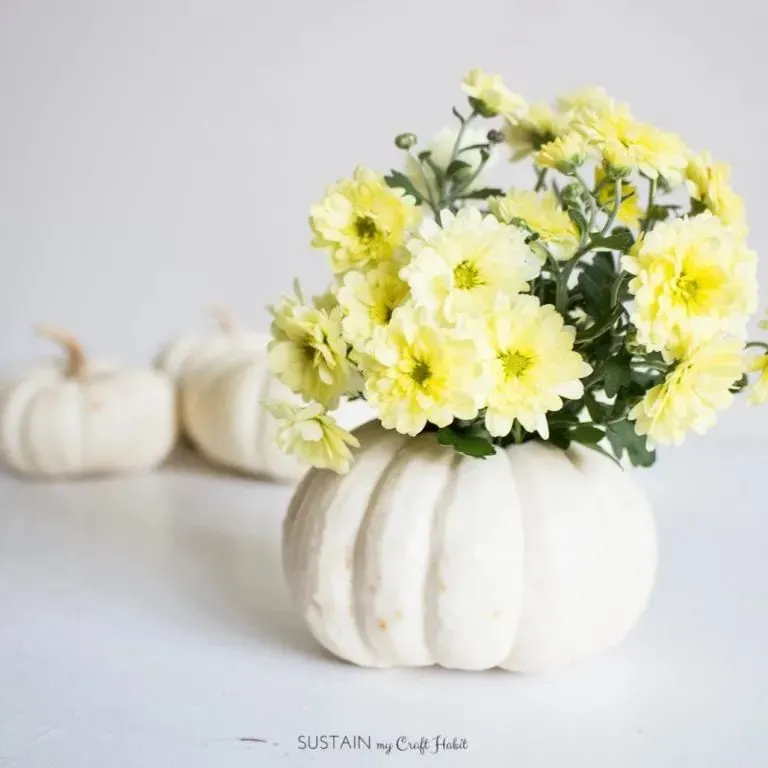 Source: sustainmycrafthabit.com
I know you've probably already tried out the other mini pumpkin vase from earlier. But whoever said you could only have one? Check this one out, too.
You'll need another mini pumpkin, a paring knife, a spoon, and some fresh flowers—you know the drill. Don't forget to save the seeds—you can roast them in the oven for a tasty snack later.
Just one thing to remember, since the pumpkins are fresh, if you leave the water for the flowers sitting for too long, it will start to smell. SO keep an eye—nose?—out!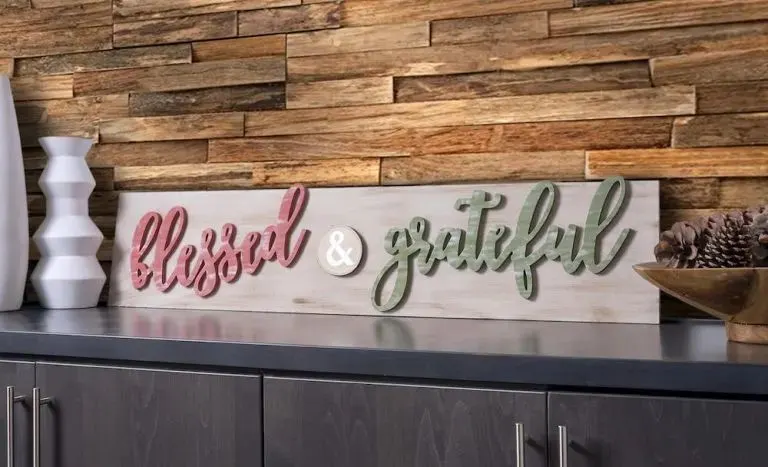 Source: diycandy.com
If you want to add a little touch of rusticity to your Thanksgiving decor this year, then look no further than this sign. You can never have too many ways to express just how grateful you are or how blessed you feel.
You can use any repurposed wood you have from previous projects, or you can buy a readymade wood sign. You'll also need chalk paint from here and some antique wax.
When you're done making the sign, go ahead and have it mounted on the wall. Or, you can secure it in place on the mantel—somewhere you and your family can see it at all times.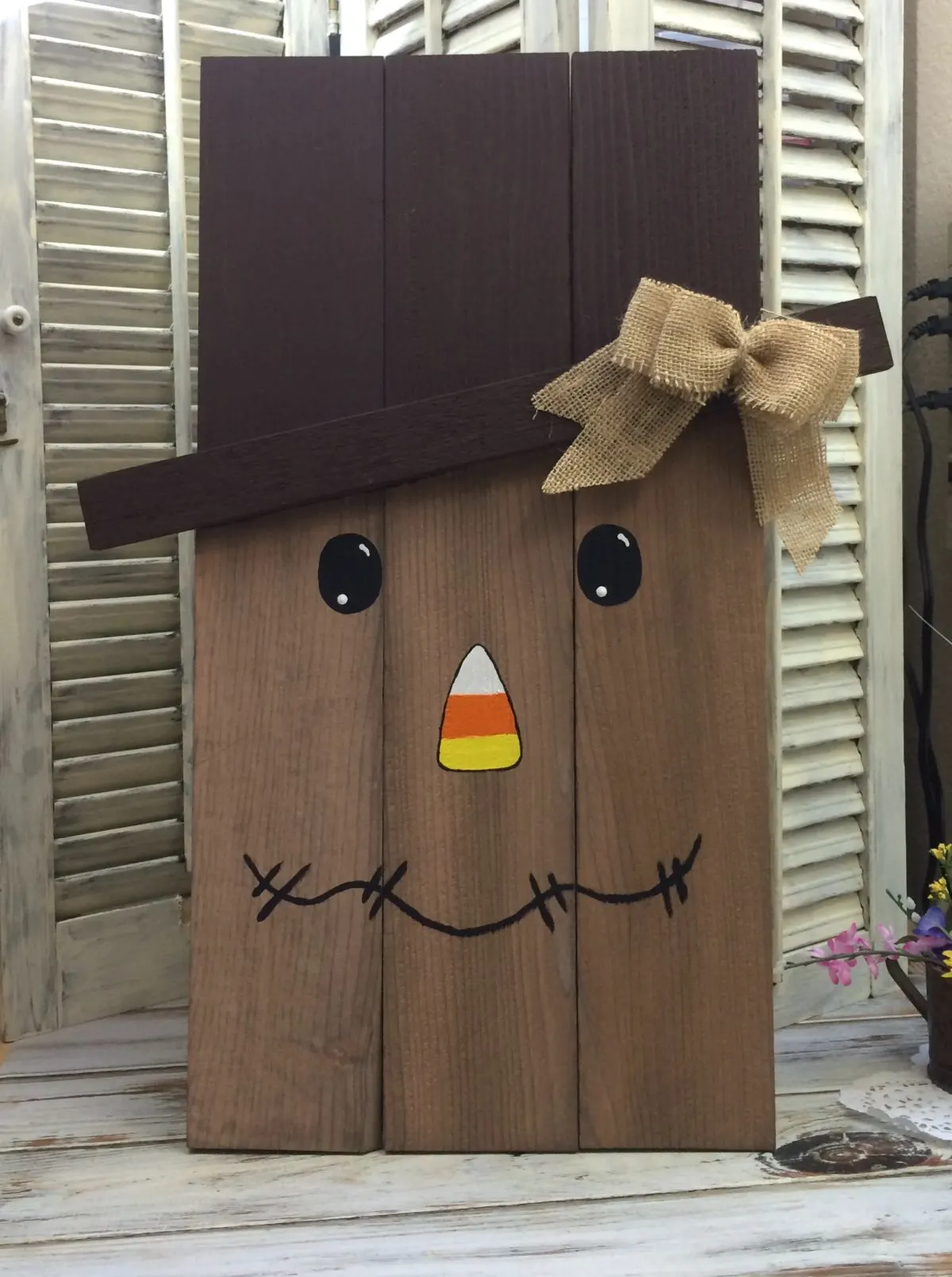 Source: mixedkreations.com
This DIY scarecrow isn't quite scary, no. But it sure does add to the fall decor you've got going. It's a great project to carry you through Halloween and Thanksgiving.
You'll need to gather your supplies—the wood you pick can be repurposed or just pick up cedar pickets from your local hardware store. You'll also need your toolbox, of course!
Use acrylic paint to paint the scarecrow exactly how you like. My favorite part is the little candy corn nose in the middle. Also, feel free to jazz it up with a scarf or a bow.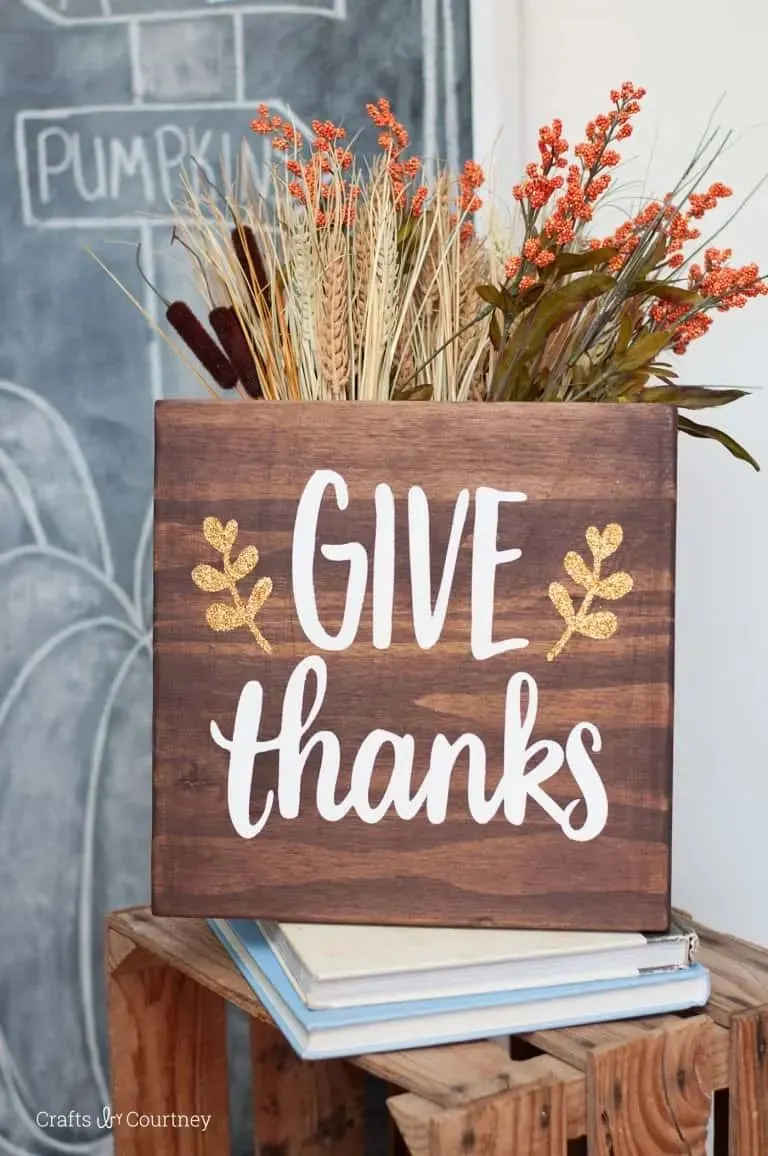 Source: modpodgerocksblog.com
Like I said, you can never have too many signs put up to remind yourself to feel grateful for everything good in your life. This sign can help you do just that.
You'll need mod podge matte from here, wood, wood stain, sanding paper, and brushes. You can use wood you've got stored from previous projects, of course.
You might want to use a Cricut or a Silhouette machine to help you design the message for the sign. You'll need vinyl sheets like this for that.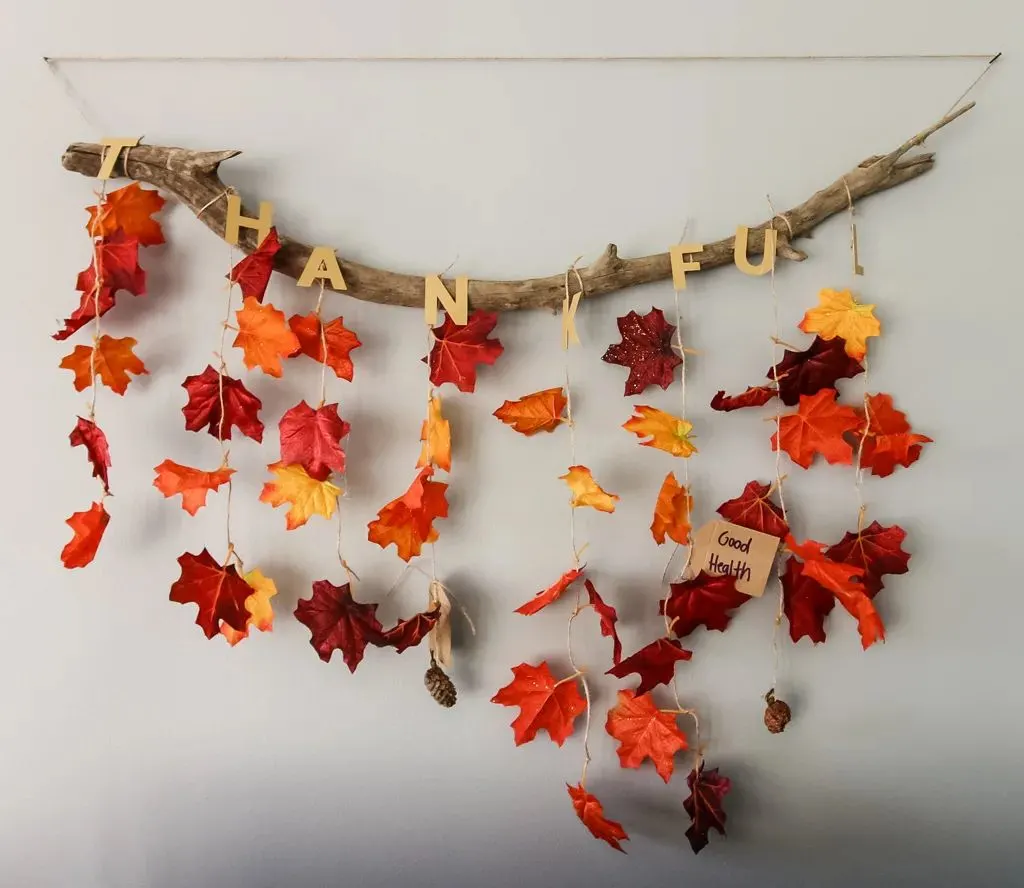 Source: charlestoncrafted.com
Don't think you're done with signs just yet. This thankful Thanksgiving sign is going to look fabulous hanging on your wall, so let's take a look at what you'll need:
A stick
Leaves
Cardstock or Paper Letters
Not only is this sign a sign, it's also a lovely garland-like wall hanging that can help add to your fall-theme decor. Just remember to pick out fall leaves like this for the project.
You can also hang little messages showing how grateful you are, as seen here, among the leaves.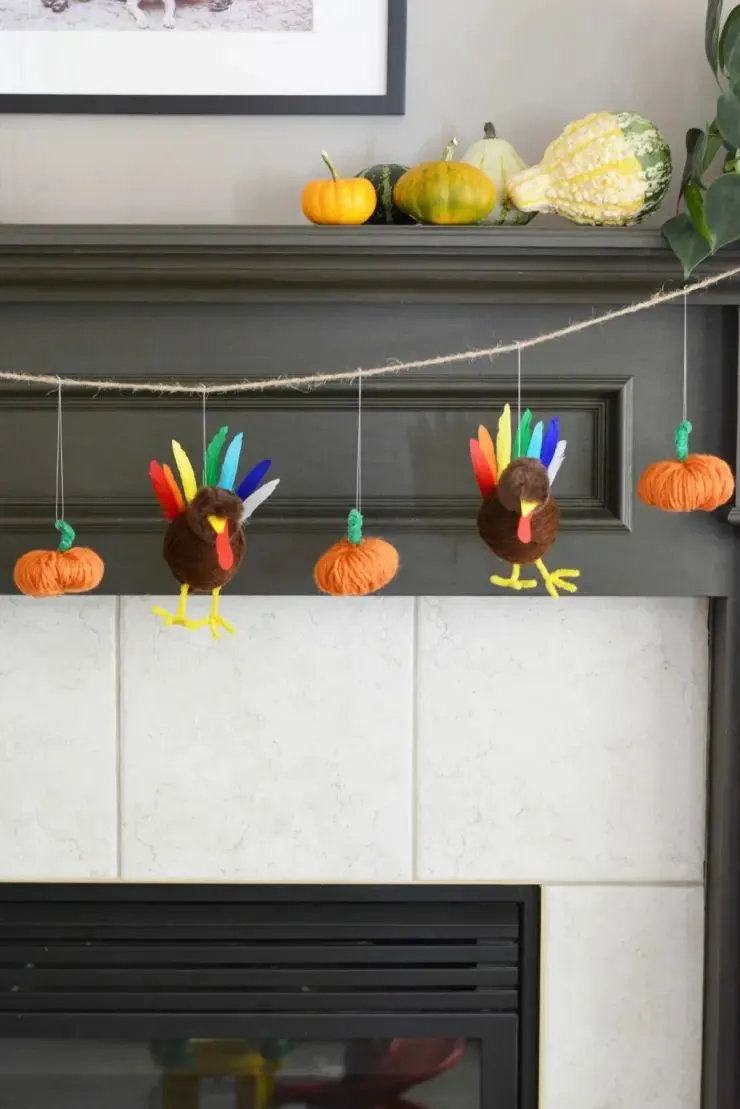 Source: frugalmomeh.com
Thanksgiving turkeys and fall pumpkins strung up just so in a garland is exactly what your home needs. It's such an easy craft project to try, but the results are simply splendid!
You'll need some jute twine, or even this fishing line would do the trick. The turkey and pumpkin are two separate crafts projects by themselves, so you can have a great time if you rope your kids into it.
It involves a ton of colorful components, creative skills they can build, and in the end, they're going to have a ton of fun with you.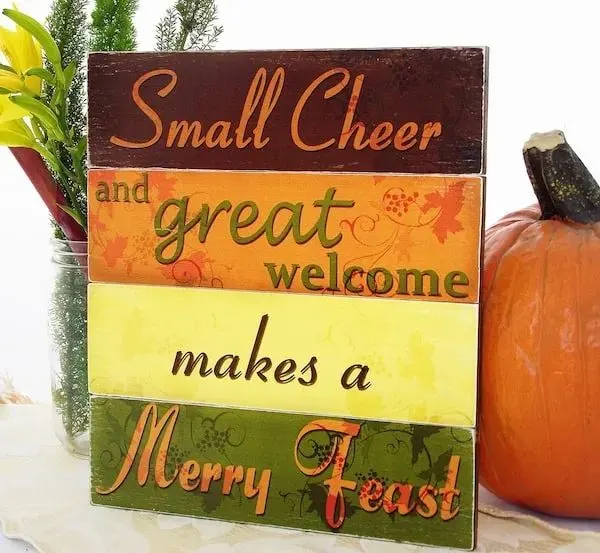 Source: modpodgerocksblog.com
Are you looking for a Thanksgiving sign that would look just right in your dining room? Then look no further than this one that reads: Small cheer and great welcome make a merry feast.
Sounds right, doesn't it? Well, Shakespeare certainly thought so! You can use your Cricut machine to help you design the words, or you can have them printed into stickers that you can just tape in place.
Either way, you'll probably need to use mod podge, so don't forget to grab some brushes to use as applicators while you're gathering your supplies.
Check out these fall decor ideas for the home.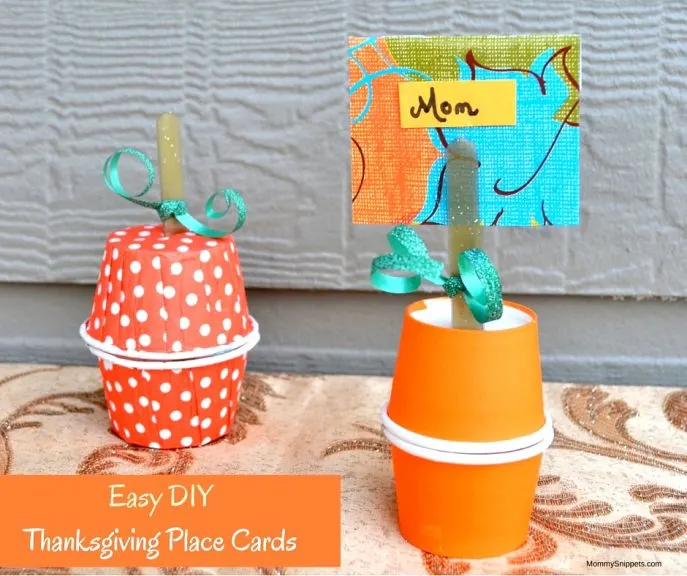 Source: mommysnippets.com
You can't host a Thanksgiving dinner or lunch without having the perfect table. If it's just the family then you can eschew the whole rigmarole of place settings.
But a bigger party calls for a little careful planning. Think of it this way, though: you can use these place settings to store little souvenirs, treats, or party favors.
They're easy to make, colorful and your guest will certainly appreciate the little treat waiting for them. So grab some mini paper cups from here and let's start making these place settings.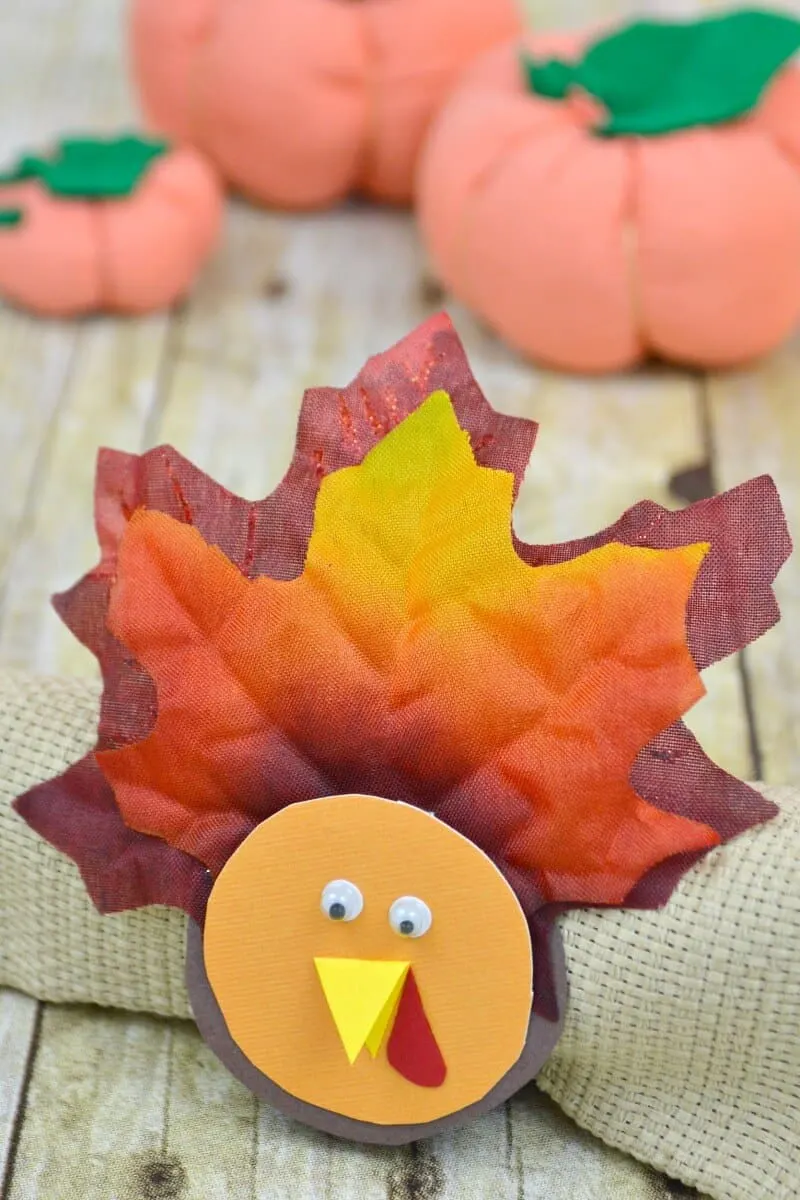 Source: organized31.com
If you're having place settings, then you must also have napkin rings for your napkins. They are a wonderful way to augment your Thanksgiving decor.
These leafy turkey napkin rings add a ton of color and texture to your table. They're also quite elaborate and can take time to make. So feel free to rope your kids into this project because I have a feeling they'll enjoy it.
When you're done, just slip them over the napkins just so and enjoy how wonderful they look next to your dinnerware.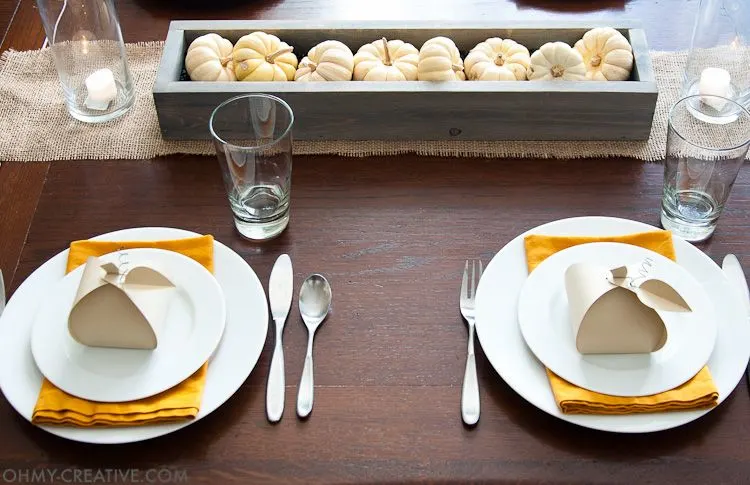 Source: ohmy-creative.com
Here's another adorable place setting that you can make during craft time. They're simple and elegant to make and will blend seamlessly into your dinner table.
The best part is that these place settings can be carried over from Halloween to Thanksgiving. With the two holidays occurring back-to-back, you'll need to save time when you can when it comes to decorating.
So, grab some floral wire from here to help you secure the entire thing together. You can also slip a little treat or party favor in there beforehand for your guests to enjoy.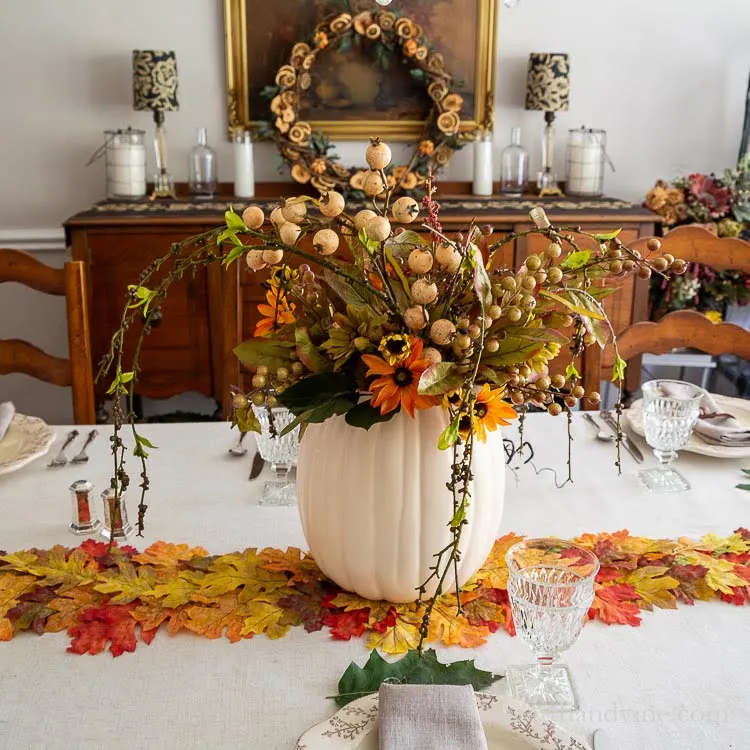 Source: hearthandvine.com
This next project on the list will give you an idea of how to bring the different components of your table decor together harmoniously. It all comes down to picking out the best centerpieces, napkins and rings, place holders, and the likes.
Speaking of centerpieces, check out this gorgeous floral centerpiece and that lovely bed of fall leaves running down the table. Don't they look fabulous?
You can always remove the centerpiece to the sideboard when it's time to bring out the turkey. That way, you'll have more room to place the dish and enjoy the feast!
Check out these DIY dollar tree centerpieces for more inspiration.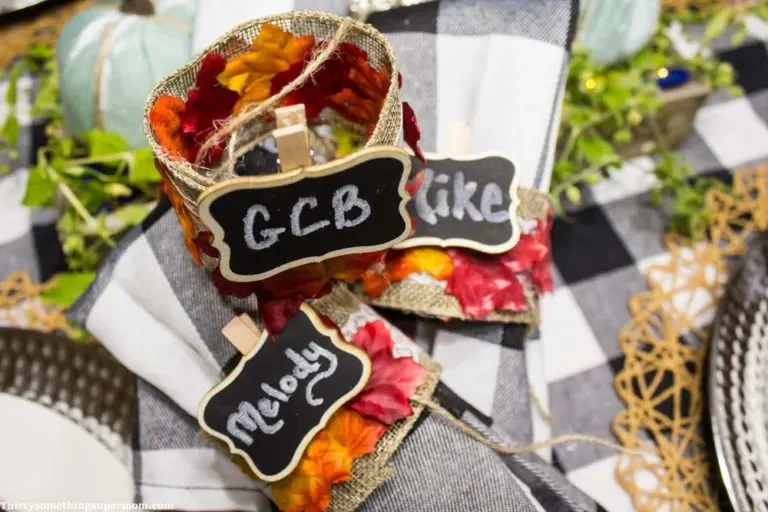 Source: thirtysomethingsupermom.com
If you're running out of ideas on different napkin rings to make, then perhaps this one is what you're looking for. It's quite simple to make, and you'll find that it adds a lovely splash of color to your table.
This is also a project that can help you repurpose things from other craft projects, like twine, ribbon or any fall leaves you might have left over. These napkin rings also happen to be place cards, so it's a win-win situation.
Just pick up a few of these mini chalkboards to scrawl the names on and, you're all set.
Take a look at how to make this DIY leaf candle holder.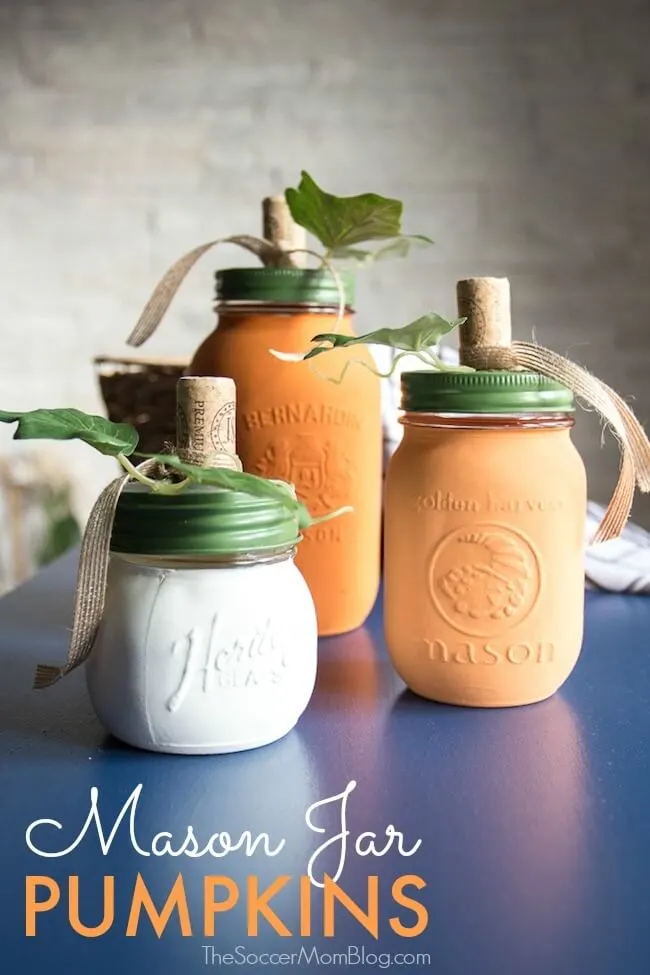 Source: thesoccermomblog.com
Mason jars will have my eternal and unconditional love. They're just so darn versatile. If you already have a couple sitting in your cupboards go ahead and take them out for a good cleaning.
If you don't, then just pick out a couple from here for these mason jar pumpkins. You'll also need some chalk finish paint.
Don't throw the lids away, though. Paint them a nice shade of green first. Then, you can poke a hole in them and stick a little bit of wood or craft corks like this to act as stems.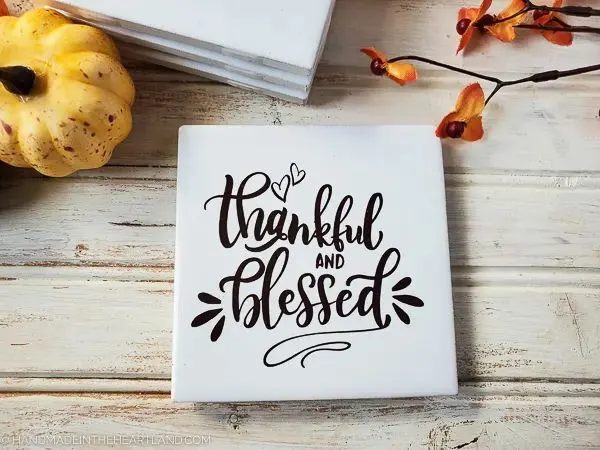 Source: handmadeintheheartland.com
I don't know about you, but I have at least a half dozen or so coasters strewn across different surfaces in every single room at home. I'm gaga about coasters, mostly because they're so much fun to make.
For these ceramic Thanksgiving coasters, you'll want to pick up some of these ceramic tiles. You'll also need to use your Cricut machine to design and print out your message.
Finally, use transfer tape to attach the cutout onto the ceramic tile. Don't forget, you'll also need to seal the vinyl onto the tiles with mod podge.
Don't like these coasters? You might want to check out these rope coasters!
Source: thesoccermomblog.com
Remember that turkey wreath we read about just a while ago where we used bandanas? Did you have a few left over, I wonder?
These bandana pumpkins are so bright and cheerful. They're also super easy to make. Will you believe me if I tell you that there's an empty toilet roll in there? There is!
But my absolute favorite part is the cinnamon sticks that are used as the stems for the pumpkins. Not only do they look great, they add such a wonderful, spicy scent to these pumpkins!
Why don't you check out these toilet paper roll crafts?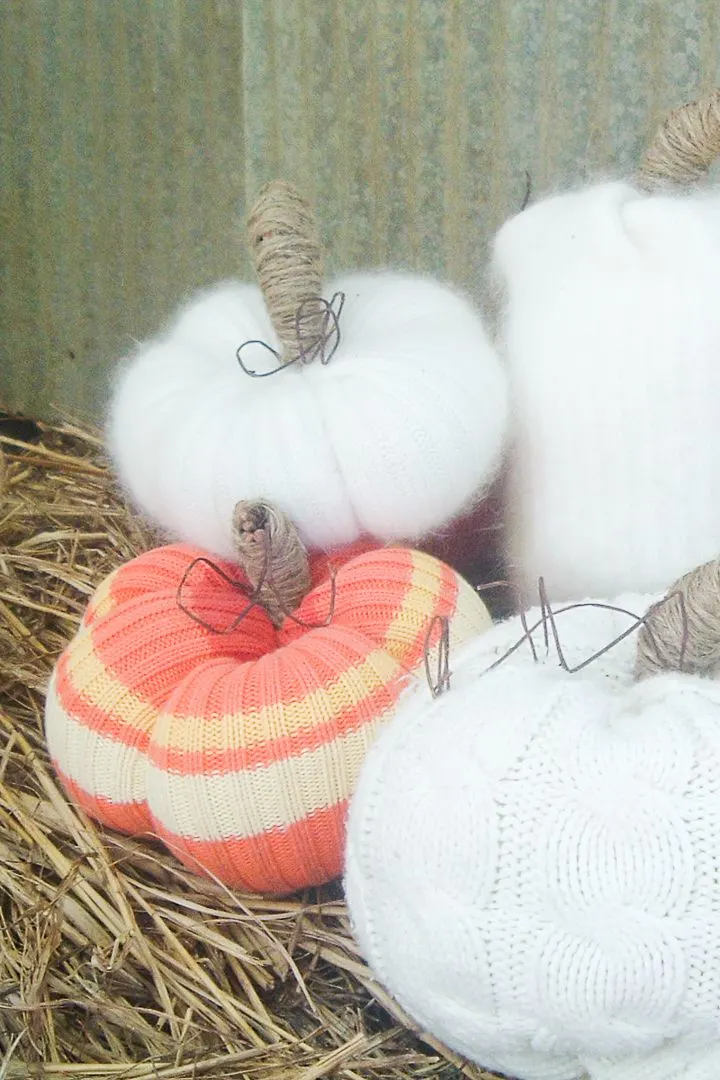 Source: thecountrychiccottage.net
Have you ever accidentally put a wooll sweater in the washer and it came out all shrunk? I'm the last one to judge you, because I've been there myself, several times.
Don't throw those sweaters away just yet; I have a so-sew DIY project for you to try out this Thanksgiving.
You'll need hemp cording from here, rubber bands, grapevine pieces for the stem and tendrils and stuffing from here.
Go ahead and cut out your sweater and follow the instructions to make your very own stuffed sweater pumpkins!
Check out more scrap fabric projects here.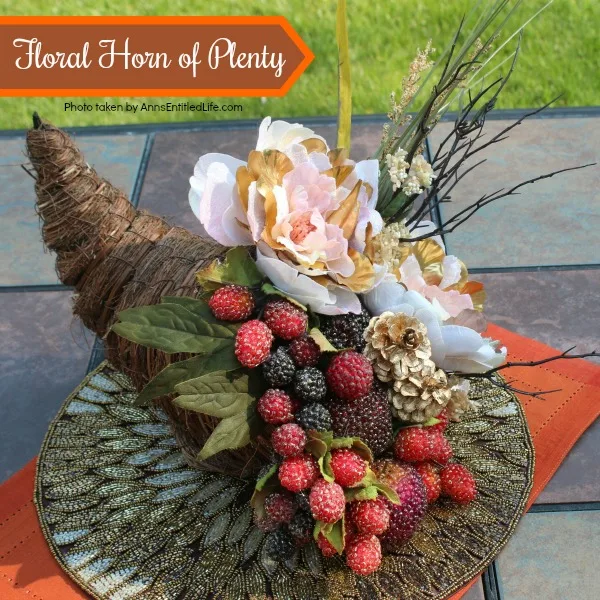 Source: annsentitledlife.com
There's something very wholesome and earthy about horns of plenty. They're an indicator of bounty, harvest and good times.
This floral horn of plenty would look stunning as a centerpiece on your dining table. There are also a ton of greenery and lush, ripe berries in there to help augment it.
You can toss in a couple of gold painted pinecones to bring it all together. Pick up the pinecones right here and also, why don't you take a look at these pinecone crafts for fall you're bound to enjoy?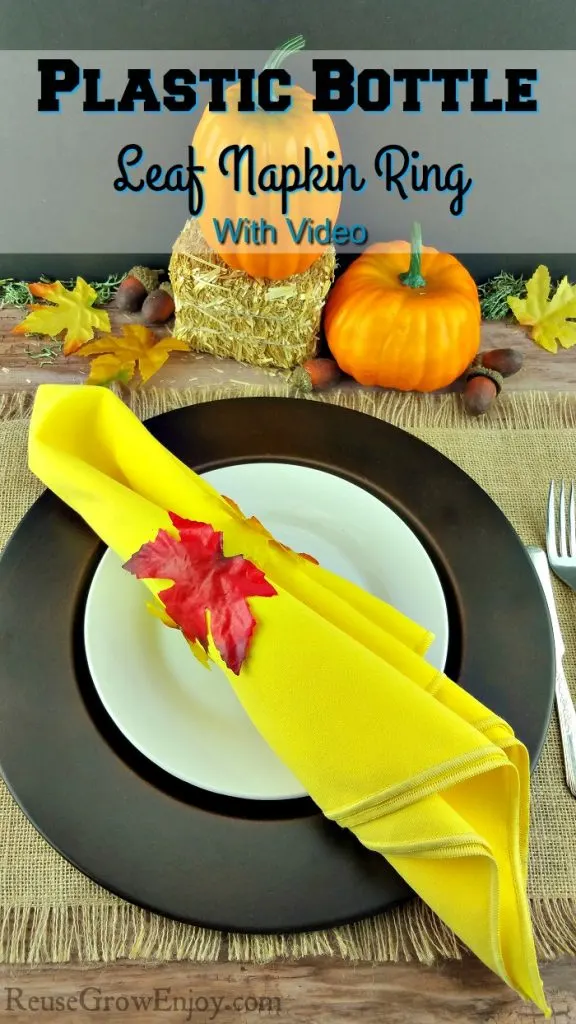 Source: reusegrowenjoy.com
This leaf napkin ring makes use of faux fall flowers and leaves, so it's time to bring out your stash from your craft desk. You'll also definitely need a hot glue gum, a knife and a pair of scissors.
Once you've assembled all your supplies, just use the knife to carefully cut the top of the bottle off. Then follow the instructions to complete this easy DIY.
If you're interested, check out some of these fall crafts that are super fun to make.