Autumn is here, so is the time to transform your home decor into something for suiting for the time of the year. Get inspiration with these fall decor ideas for your house.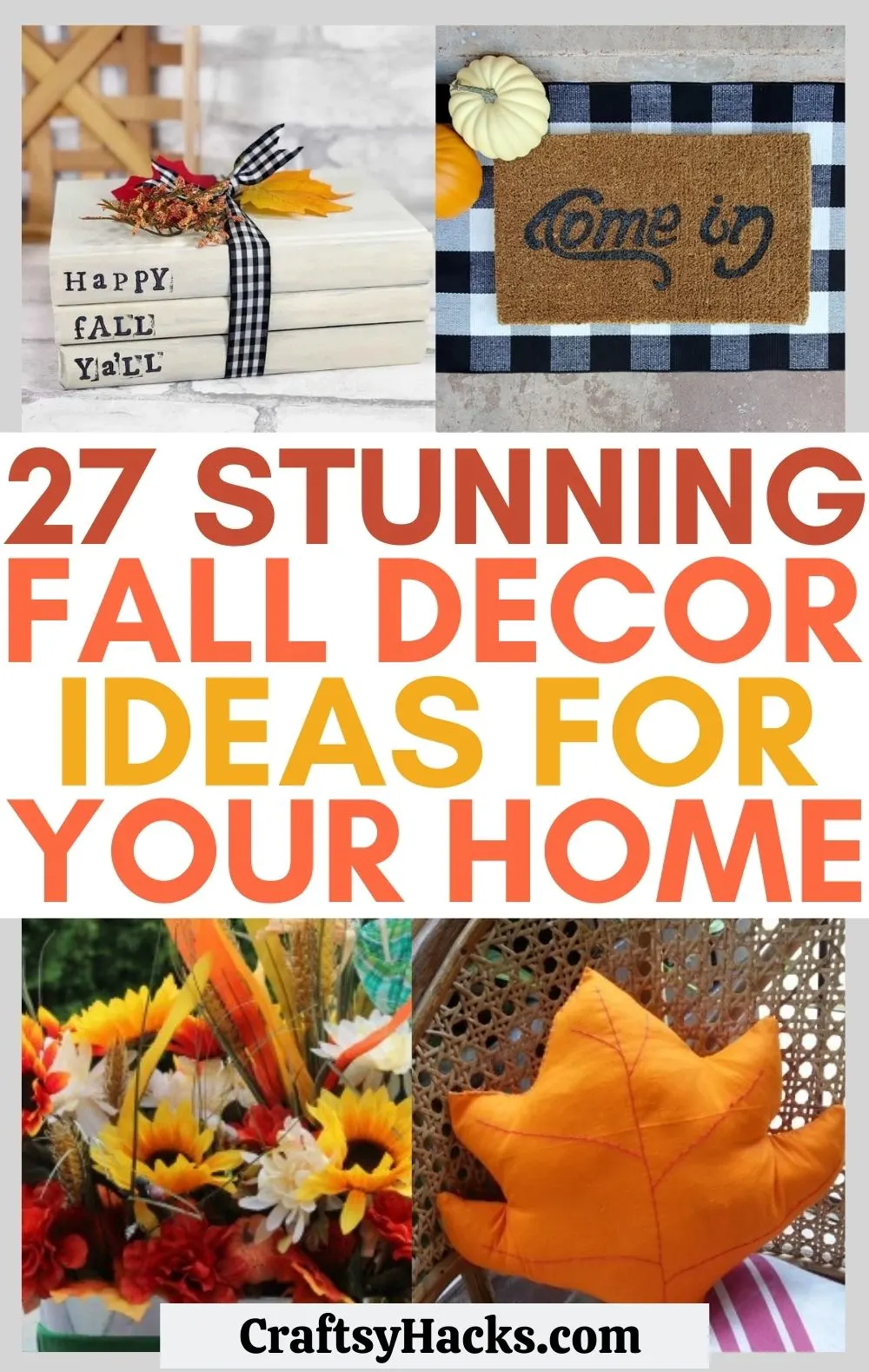 I just love decorating my home when the fall season is right around the corner. The color palette for this season is the absolute best.
You've got the deepest, richest, and yet, the most sublimely warm shades of red, gold, honey, burgundy, orange, and more to choose from. How can it get better than that?
If you're thinking of textures, motifs, and styles, you have a ton of creative avenues to explore there, as well. So check out these 27 fall decor ideas for the home to inspire you with your decorating.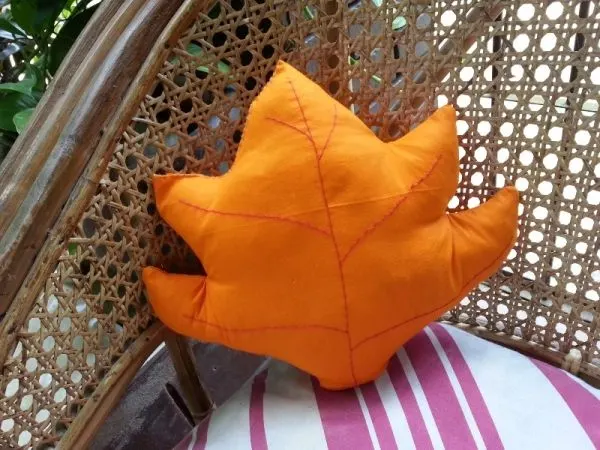 Source: craftbits.com
I love a good toss pillow. But the ones you find at stores have become super generic these days.
Making your own pillows is the way to go, but wait, do you really want to make a plain old square, rectangle, or circle pillow again? Seeing as how it's fall, why don't you make this leaf-shaped ross pillow instead?
You'll need to pick out some cotton fabric in your favorite fall color. You'll also need a sewing machine for this project, a pair of cloth scissors, and some of this wool filling to stuff your pillow with.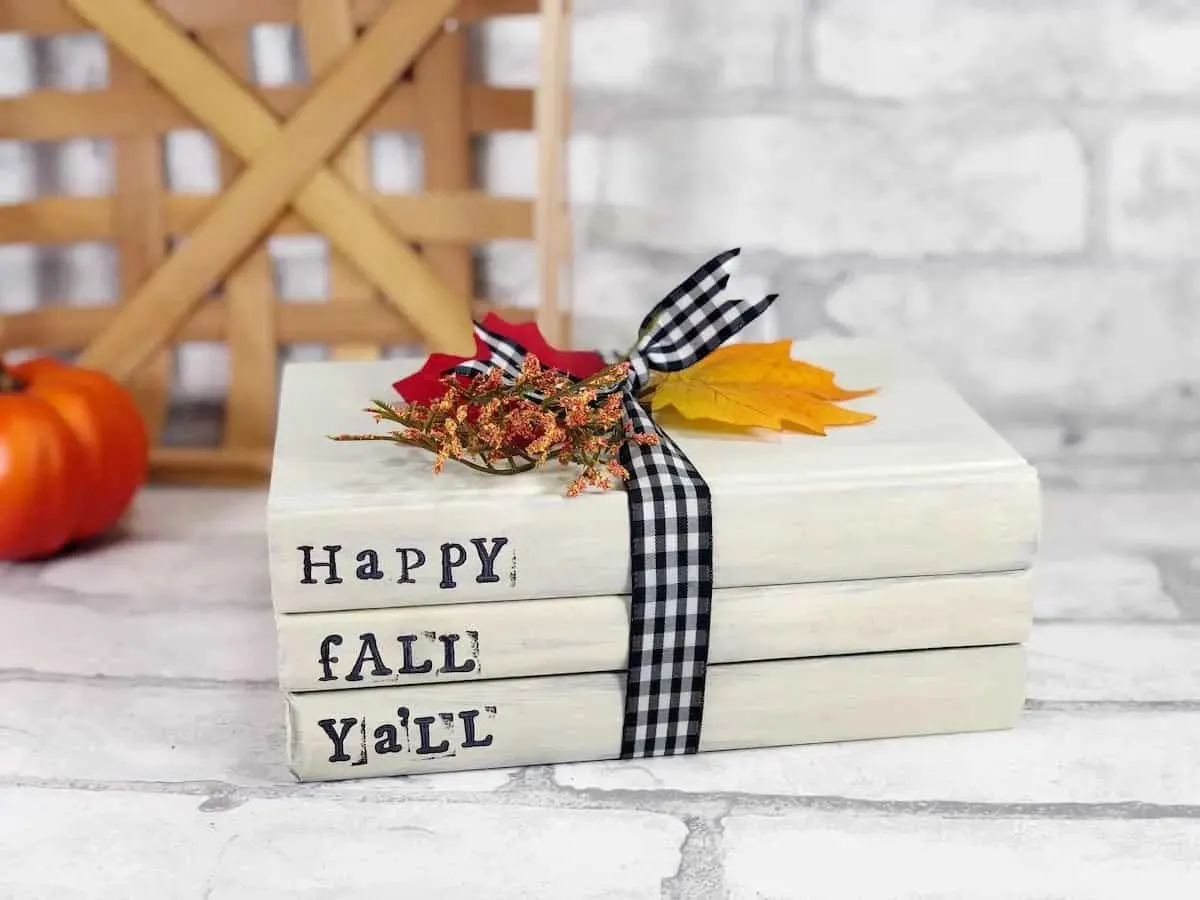 Source: singlegirlsdiy.com
Coffee table books are a wonderful way to supplement your home decoration. You can artfully arrange or stack them, and that's it; just let them do their thing to class up your space.
But did you ever think to decorate those books to match a particular season? Check out that sassy 'Happy Fall Y'all' hand-stamped message on those books.
In fact, you don't even need to use coffee table books. Just wrap three hardcover notebooks and embellish them with fall leaves.
Finally, wrap things off with a flourish with a length of patterned ribbon from here.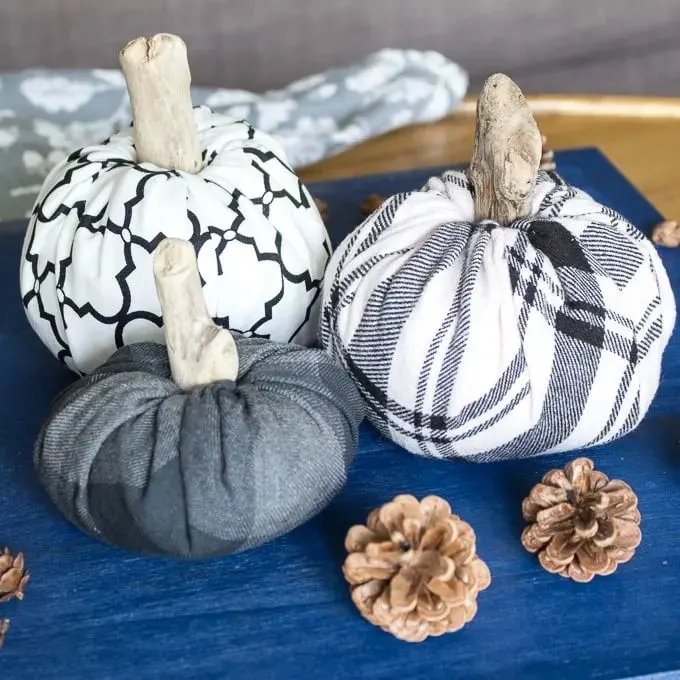 Source: getgreenbewell.com
These plush and quirky pumpkins are so wonderfully easy to make. Did you know that this project needs absolutely no-sewing?
All you need are some scraps of fabric—anything would do, really. This is a great opportunity to use up scraps from your scrap fabric stash.
Just don't forget to use enough stuffing from here to make your pumpkins nice and plump. You'll also need a handful of navy beans to help weigh the pumpkin down.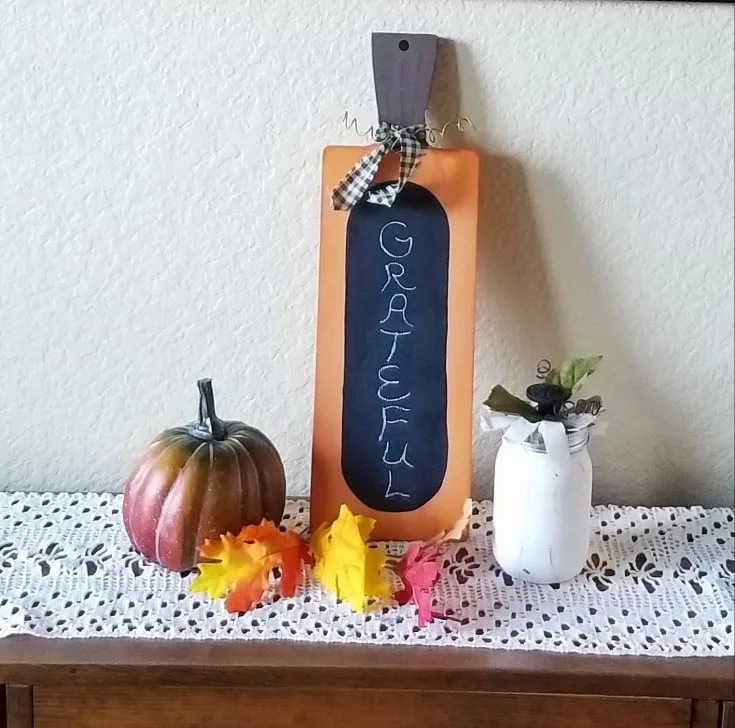 Source: mixedkreations.com
Do you want to make a chalkboard pumpkin out of a cutting board? Well, it isn't your traditional pumpkin—it's not big and round but rather is rectangular in shape.
But the handle acts as the stem, and you can always wrap some ribbon or curl some twine to recreate foliage. So how about it? Ready to give it a go?
Then grab some of this chalkboard paint, pick out your cutting board, and also some brushes to get started. Don't forget, you can also scrawl out a cheery message on the chalkboard!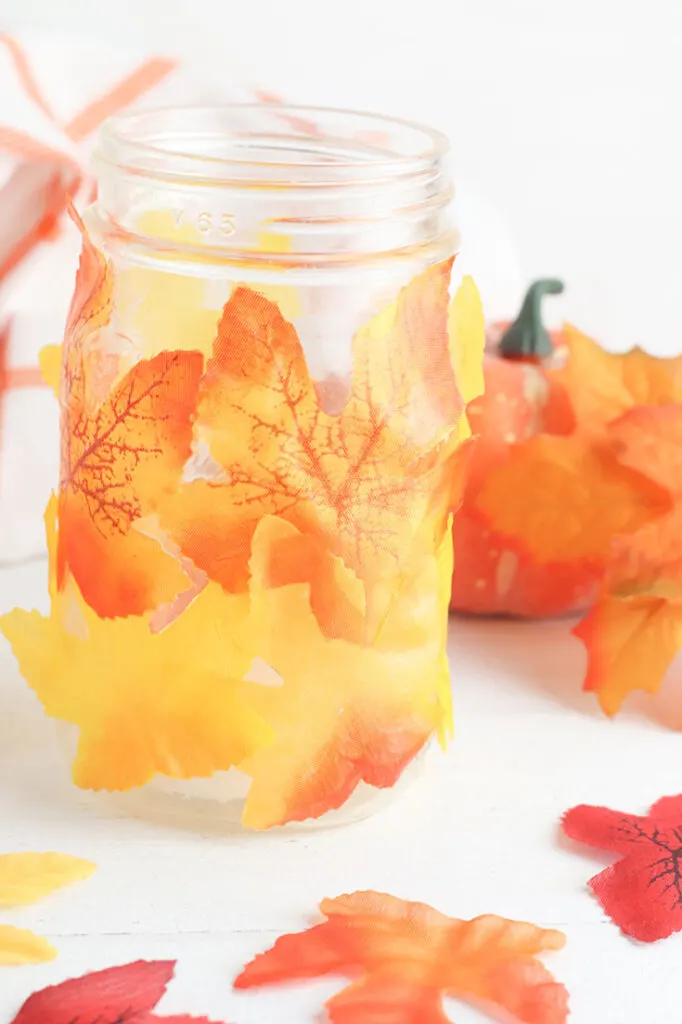 Source: mamasmiles.com
If I've said it once, I've said it a thousand times: mason jars are the most versatile of God's creations I can think of.
But for this home decor project, you'll be making a leaf jar lantern. You can make it a scented candle if you like, or you can just use flameless electric tealights(look here) to the same effect.
For this project, you can rope your kids in to help you gather some fallen leaves from the backyard. Alternatively, you can stick to faux leaves if you want to avoid the hassle.
Check out more Dollar Store home décor projects here.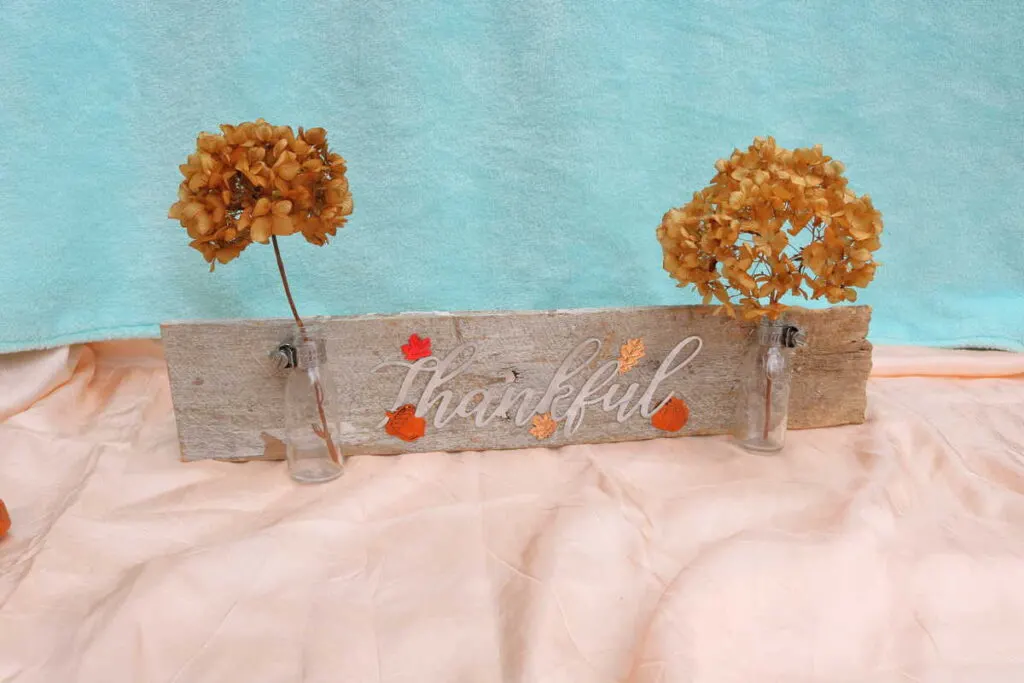 Source: b4andafters.com
When you send out gratitude, you receive a lot of things to be grateful for. Having a physical, tangible sign to affirm that you're thankful can really do wonders for you and your home.
You can simply pick out a wooden pallet or repurposed plank to begin with. Select your wood stain of choice, as well.
If you prefer to use vinyl and make your own stenciled letters, I suggest you invest in a Cricut machine to help you simplify things. If not, just find a metal 'thankful' sign, or paint it onto the wood if that's where the wind takes you!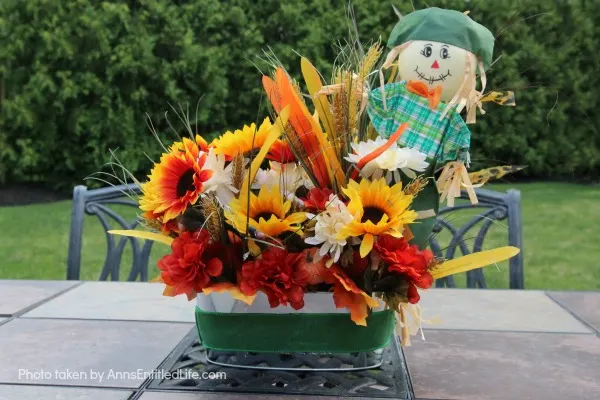 Source: annsentitledlife.com
I just love it when a dollar store craft project turns into a gorgeous decorative item for my home. They're easy to make, affordable and you can always let your creativity run loose!
This fall centerpiece would be the perfect addition to your table. Are you hosting a party or an informal luncheon, perhaps? Then you've got yourself an interesting centerpiece to bring your table together.
So grab some faux flowers from here(fall-themed foliage, of course) and get started on assembling your fall centerpiece.
Here are 40 dollar store home decor projects you might want to check out, as well as 21 DIY dollar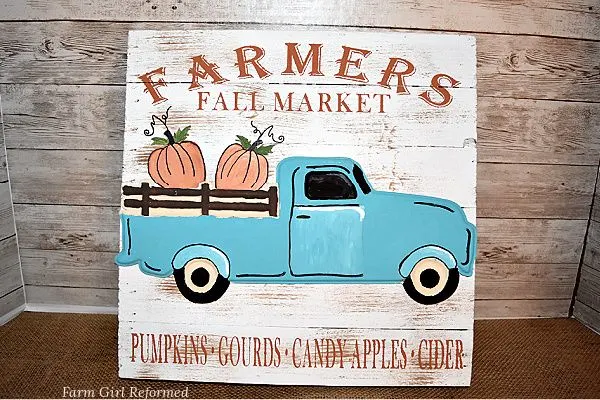 Source: farmgirlreformed.com
There are few things quite as wholesome as strolling through the cobbled streets and enjoying a cold fall afternoon at your local farmers' market. What if I tell you you can recreate that wholesomeness with this pumpkin truck sign?
That vintage truck looks so quaint and charming with those bright orange pumpkins to offset it. You can browse through Pinterest to help you with your design, too.
Once you're done, just mount the sign up against the mantle or hang it up on the wall, and you're all set!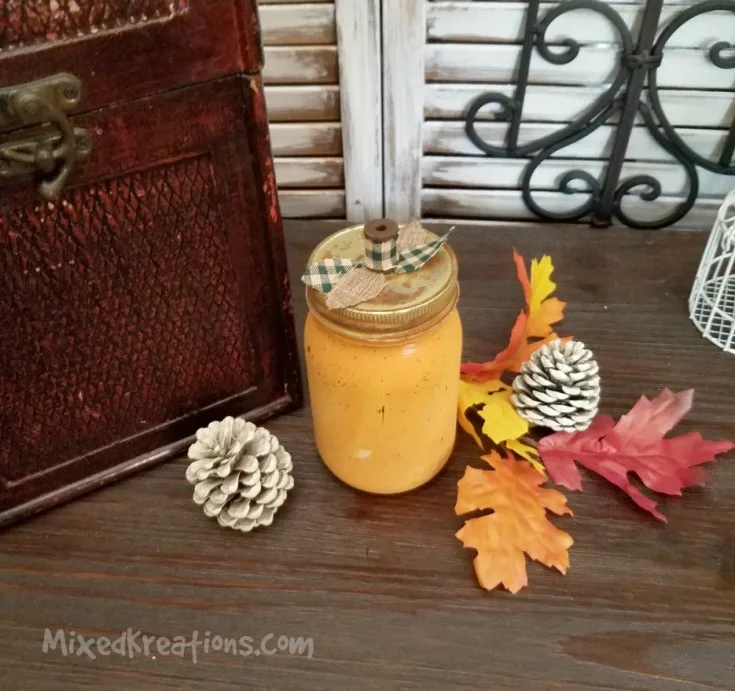 Source: mixedkreations.com
Do you save all your glass jars and bottles? Then I bet you have at least a dozen or so lying about that you just can't bring yourself to get rid of.
How about you finally put them to good use this fall season? You can spruce them up and turn these plain old jars into bright orange pumpkin jars.
Here's a fall-themed acrylic paint(look here) set to help you paint your jar. You can wrap some burlap twine or ribbon, too, and make it really pretty.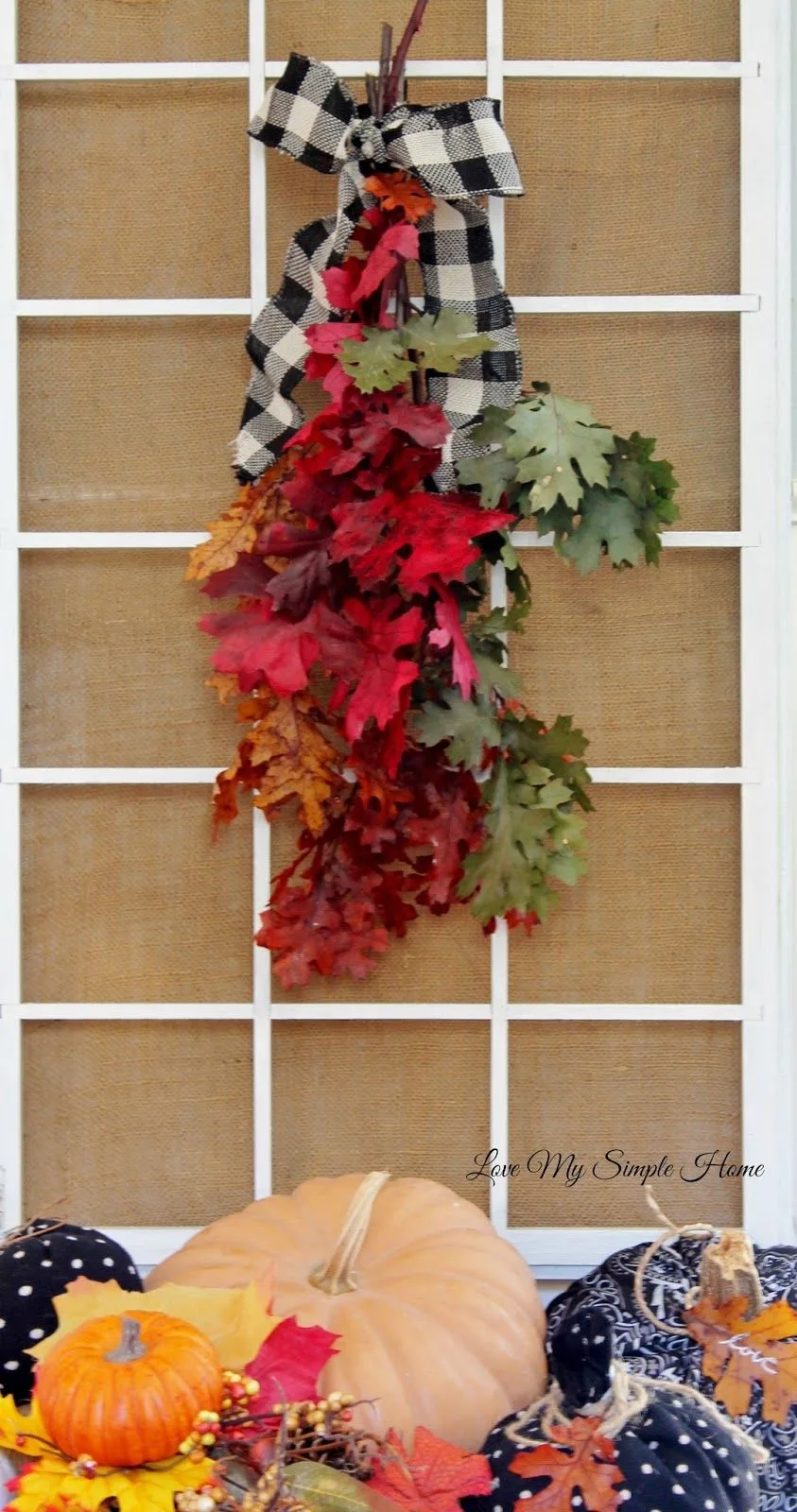 Source: blog.lovemysimplehome.com
'Tis the season of burnished reds, spicy oranges, and honey golds. Everywhere you look, you'll find those hues around you—in the trees, on the ground, and on the leaves.
This fall leaf swag would look dashing in any room or home. If you're hanging it outside, you can enjoy watching it sway in the wind and hear the crisp leaves rustle.
You can use scrap cloth or a wide ribbon to make your bow. So go ahead and grab your supplies to get started!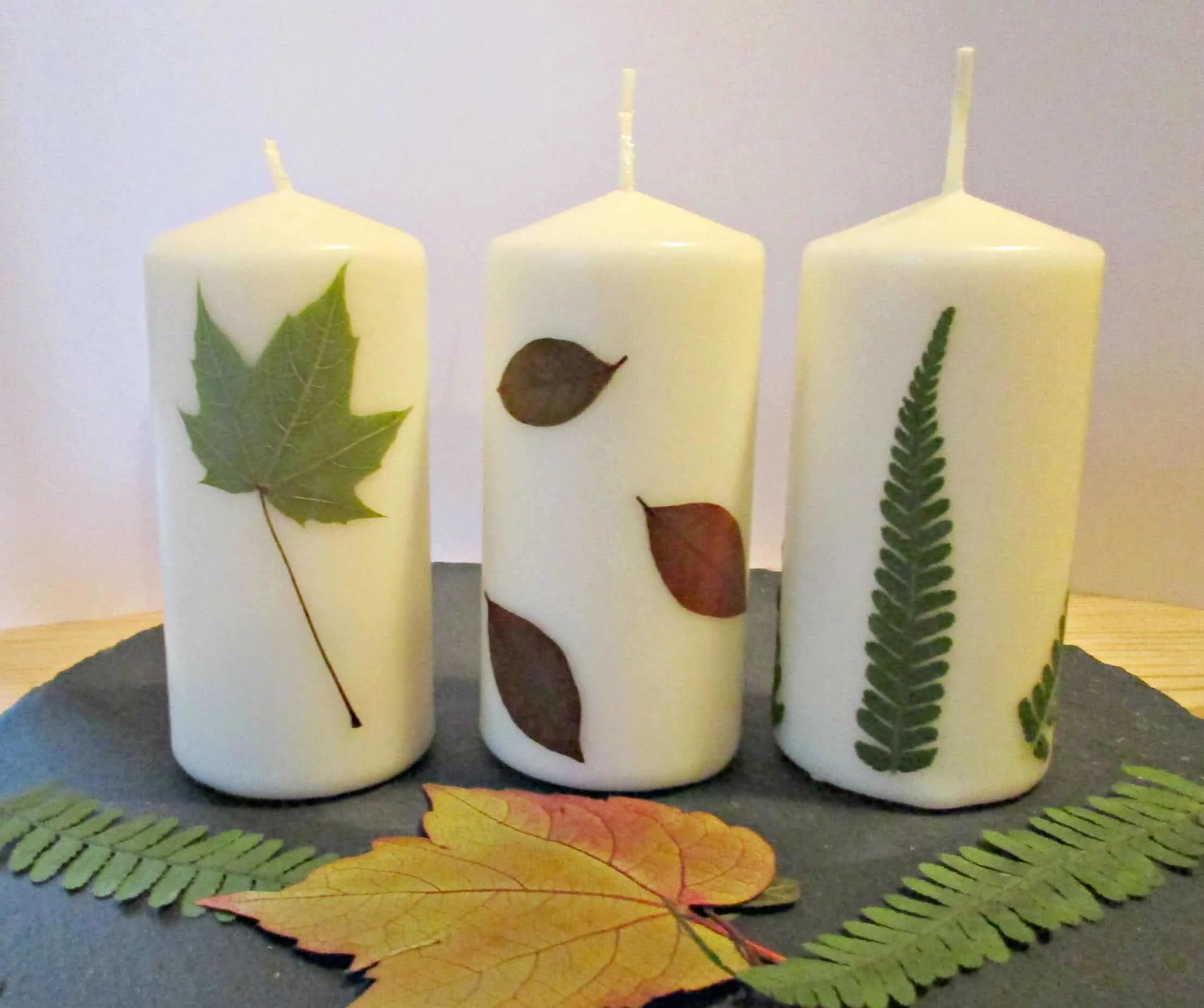 Source: craftinvaders.co.uk
This super pretty craft project is bound to brighten up your room. Also, it's very easy to make; all you need is a pile of leaves and a heavy book to press them—like a telephone dictionary, perhaps?
But wait, you'll also need some pillar candles from here. Attaching the leaves to the candles is the next step. You'll need to soften the surface of the candle just enough to get the leaves to stick.
Figure out where you want your leaves, and then use some greaseproof paper to adhere them.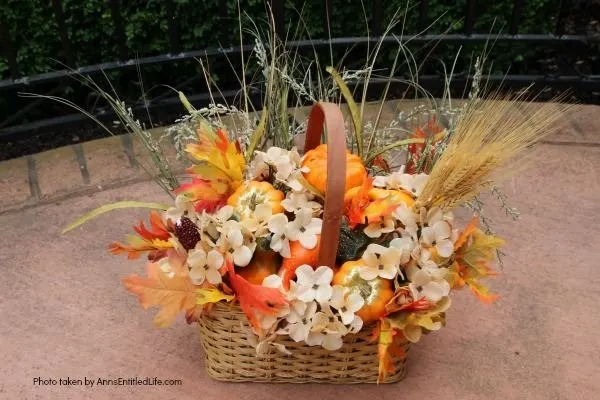 Source: annsentitledlife.com
A harvest basket is a must-have fall decor item. It's a picture of lushness, health, and happiness that is bound to brighten up any room.
It's also a lovely way to spruce up a gift basket. Just tuck a few jars of fig jam, apricot jelly, a slice of pumpkin pie, and a few scented candles, and you've got a nice gift hamper ready to go!
But if you're planning to use it as just a decorative piece, then tuck a few craft pumpkins in there, along with some fall foliage. You can also add a few stalks of gorgeous pampas grass from here.
Source: downredbuddrive.com
​​Have you seen anything more elegant or intricate than these doilies? They're the perfect way to spruce up your craft pumpkins and soften them up a bit to fit into a formal setting.
Otherwise, pumpkins can come across as just a tad too bright and flamboyant, don't you think? So grab a couple of craft pumpkins from your nearest dollar store to get started.
If you've got a way with crocheting, then you're more than welcome to make the doilies yourself. You'll find the appropriate yarn here.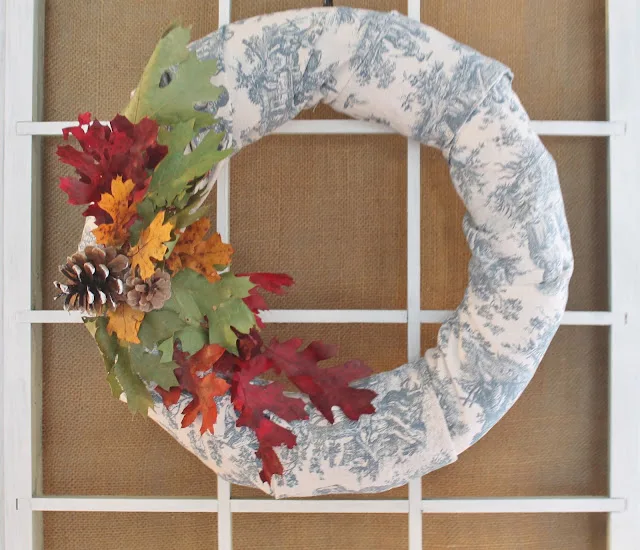 Source: blog.lovemysimplehome.com
A fall wreath doesn't always have to be all earthy and rustic. This blue and white printed fabric wreath adds just the right touch of elegance to the wreath, don't you think?
Don't worry, you can still use some fall foliage, a couple of acorns, or pinecones. But not too much, though.
You'll want to balance both elements of elegance and earthiness, not have them both fight to overwhelm the other. You'll also be able to decorate it further with some lace trim like this.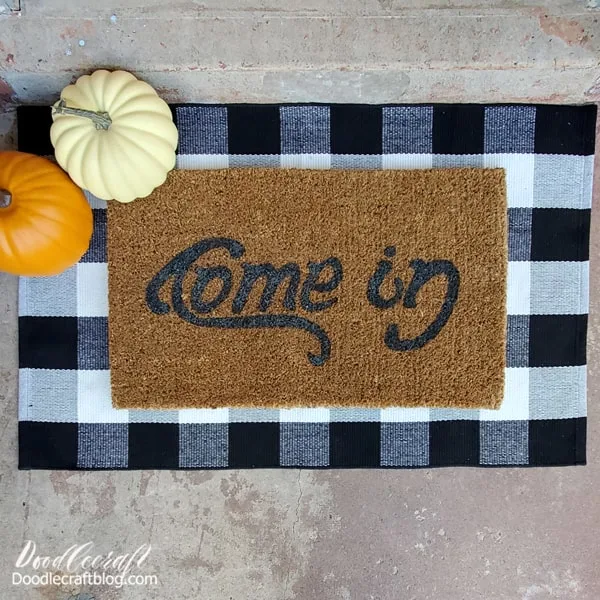 Source: doodlecraftblog.com
A welcoming doormat is the first thing your guests will see of your home. So it's important that you do all you can to decorate it in accordance with your fall theme.
How about you stencil your welcome message onto the mat? You'll need some outdoor paint to begin with, as well as a Cricut machine to help you with cutting out your stencil.
You'll also need a coir mat like this. Pick out the size as well as the shape and get started.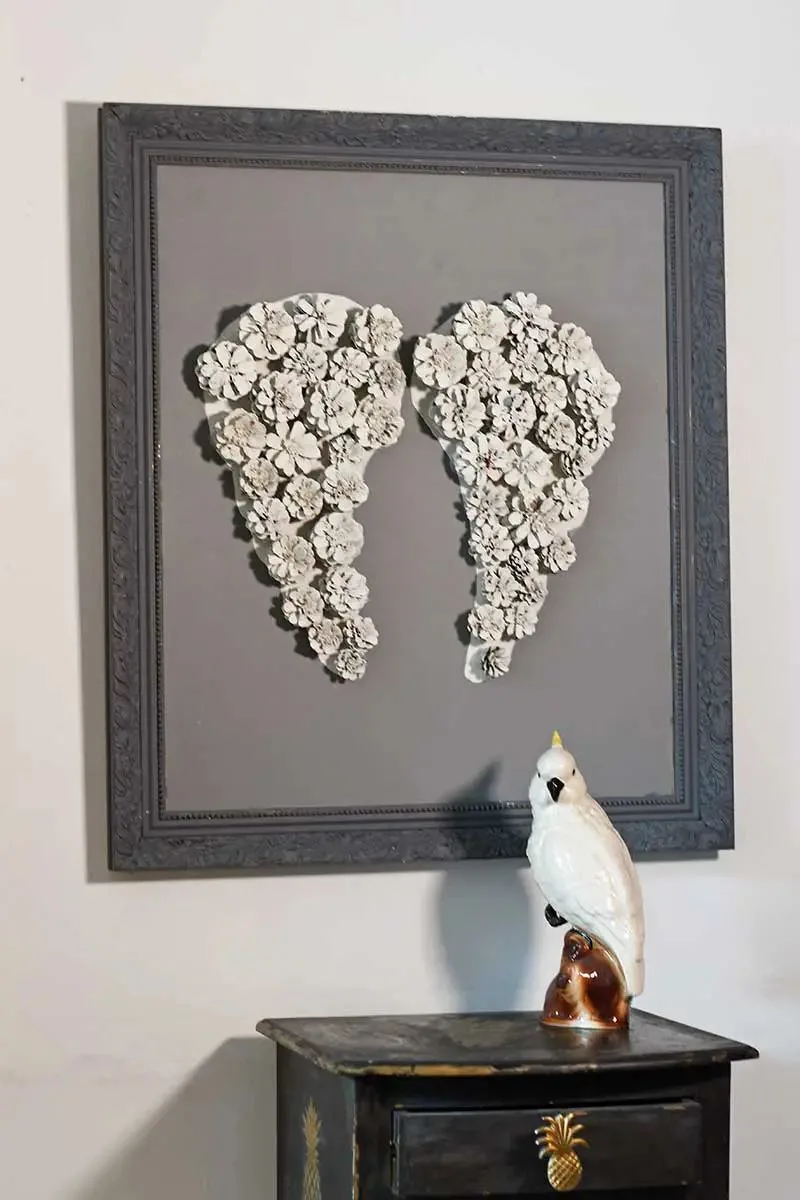 Source: pillarboxblue.com
Did you ever think you'd be making pine cone angel wings? It's quite beautiful, though, don't you think?
You can find decorative pine cones here, or you can go the traditional route and set your kids out in the backyard to collect all the pinecones you'll need.
You'll also need to choose the color for your wings: do you go for classic ivory-gold paint, or do you want to jazz it up and make your angel's wings a colorful sight to behold?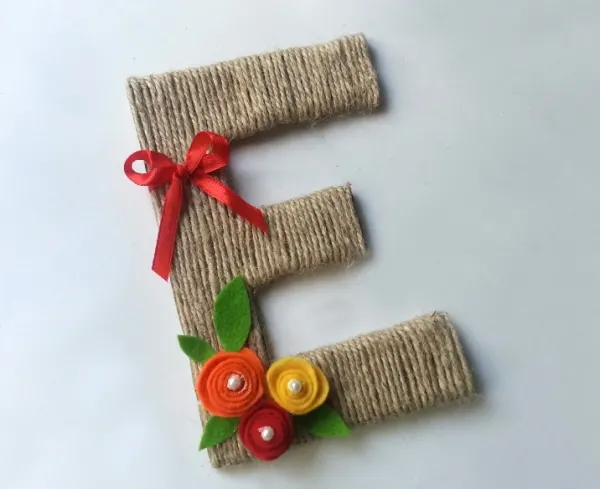 Source: craftbits.com
If you're a bookworm and have a fondness for the written word, then you'll love these decorative fall-themed decorative letters. It's easy to create and is a quick craft project that you can save for a rainy day.
Grab some of this cardboard, some twine, a pair of scissors, and craft glue. You can use beads, felt flowers, and any other fall-themed embellishments you'd like to decorate the letters.
Make sure that the pair of scissors you use is sturdy and sharp to cut through the cardboard.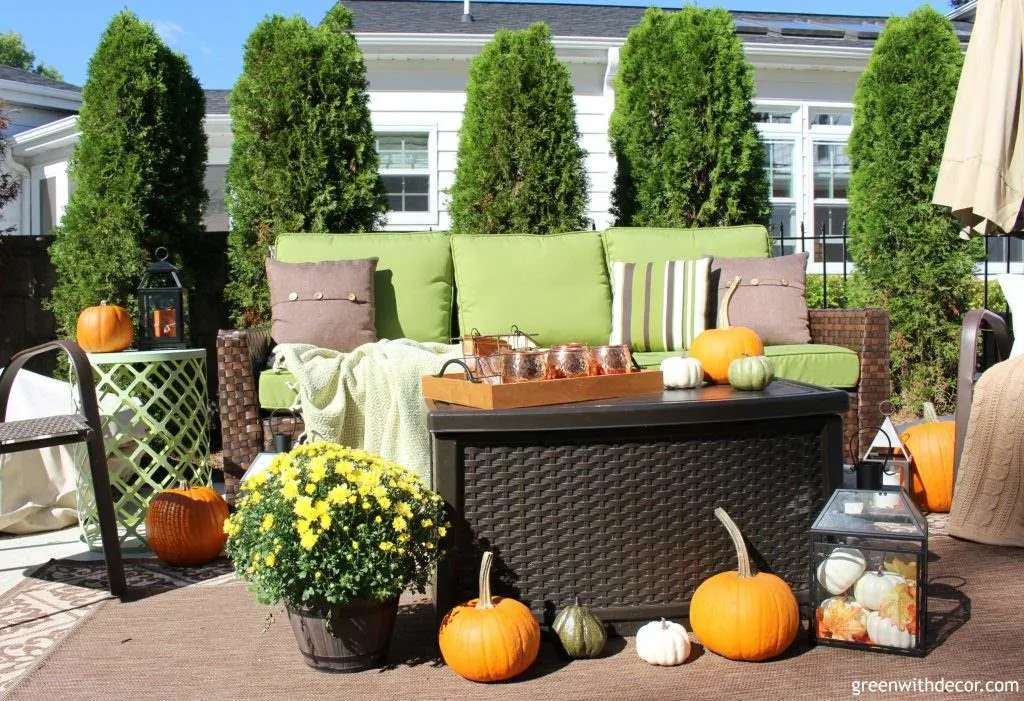 Source: greenwithdecor.com
Your patio is a great spot to hone your decorating skills. It gives you a ton of creative liberty to let your hair down, so to speak, and embrace the opportunity to go all out with patio furniture and decor.
Here's a list of things you can use to decorate the patio: toss pillows, cushions, cozy throws, little planters, and pots for your outdoor plants. You can also buy some outdoor lanterns to help you with lighting and setting an 'atmosphere.'
Why don't you pick out a color scheme to work around? Mustard accent pieces, perhaps, with bright pops of red, burgundy, and green to offset it?
Here are 20 porch decorating ideas you might want to explore.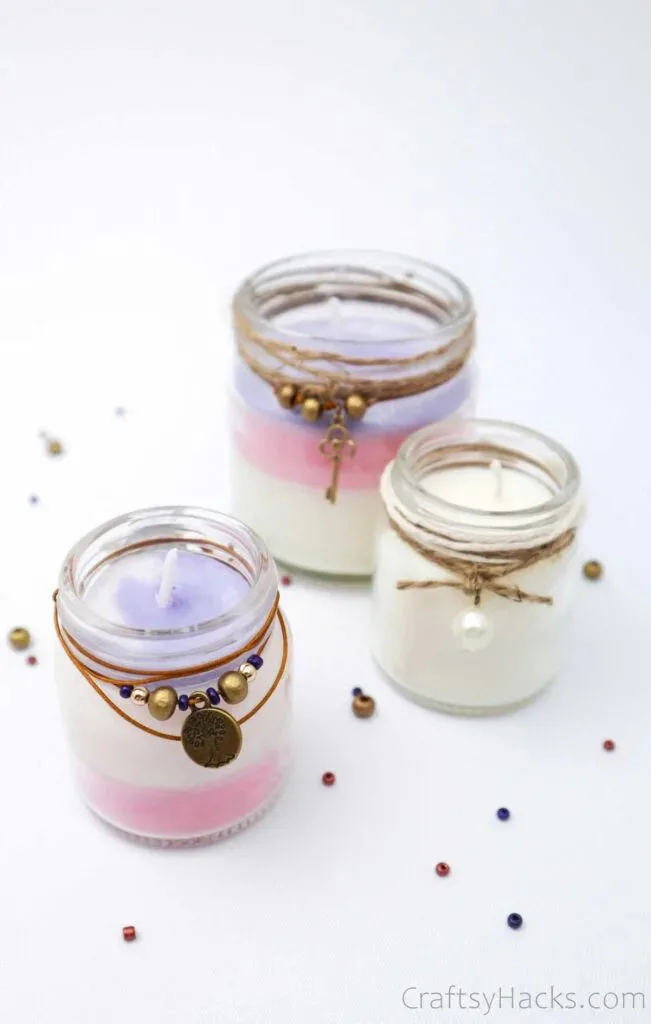 Source: craftsyhacks.com
Scented candles are like warm, scented hugs in a bottle. They can turn a cold and drab space into a cozy and mouth-watering one.
If you like, you can add a few drops of candle dye(look here) to bring some color and scent to your room. If you want to decorate your candle further, you can add a length of twine or ribbon around the rim.
In case you're wondering exactly how to add your scent of choice, just a few drops of essential oils should do the trick. Pumpkin spiced latte or citrus tangerine both sound yummy, don't they?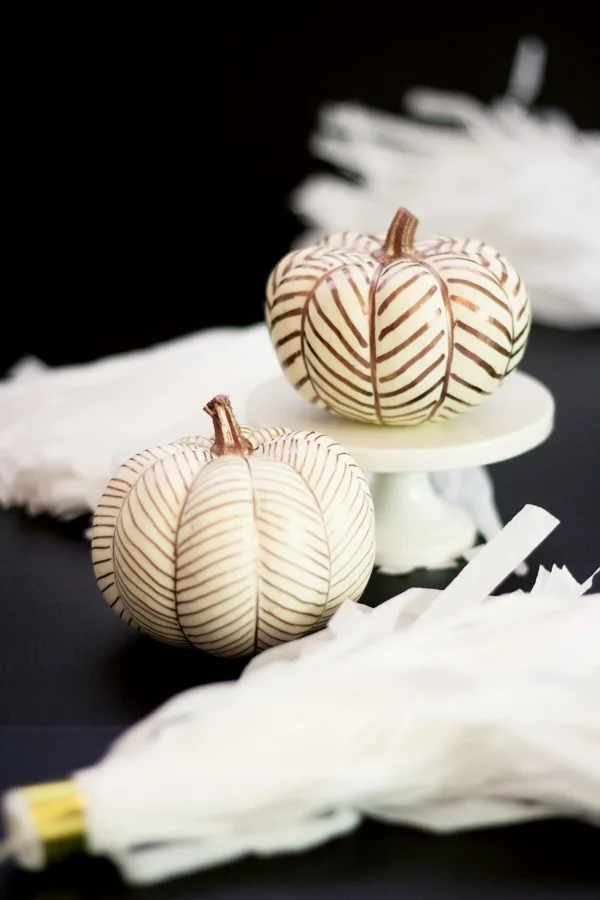 Source: lovelyindeed.com
I've always loved the herringbone pattern. There's a soothing symmetry in the geometric pattern that brings to mind a rather angular braid running up a surface.
You can recreate that pattern on a craft pumpkin with just a few strokes of your paintbrush. A glass or ceramic pumpkin is perhaps the best choice for this project as it's simply easier to paint on.
You should gently sand the pumpkin before you paint it to allow the paint to stick. Once it's completely dry, you can use metallic colors to paint your herringbone pattern on.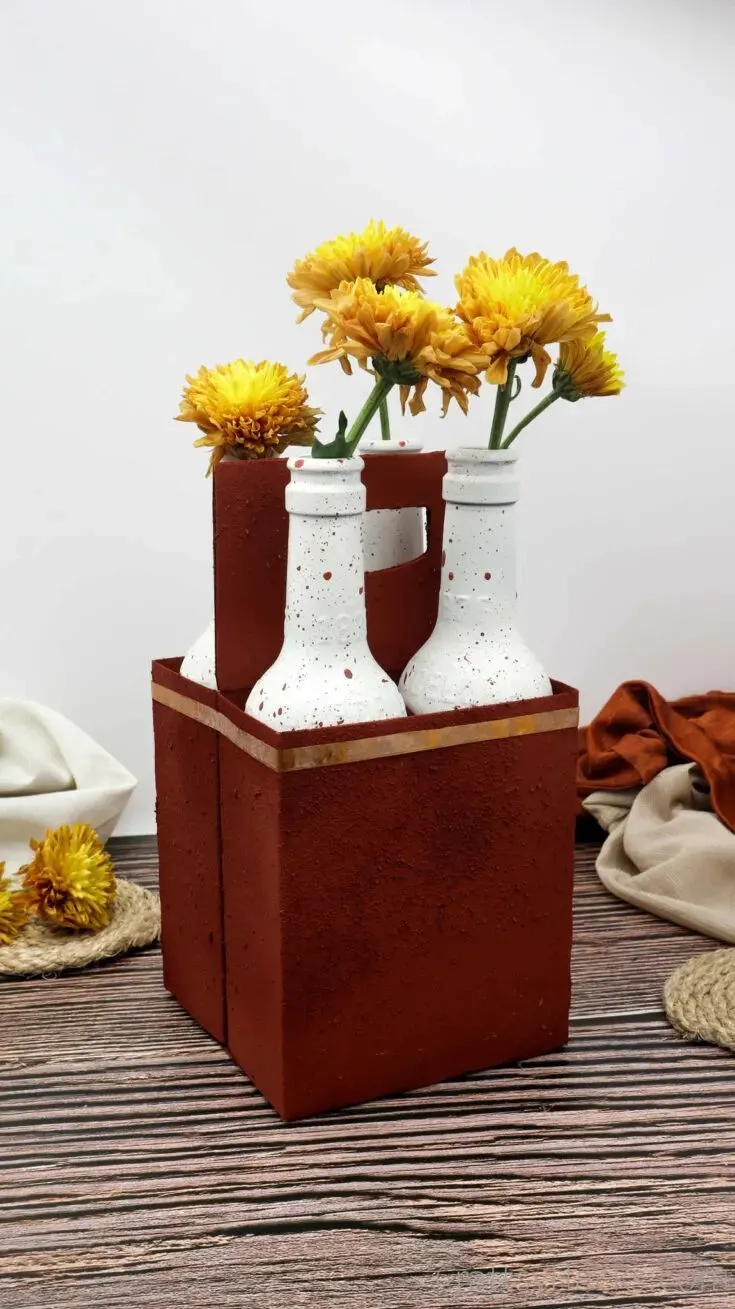 Source: craftsyhacks.com
You can't ever have too many flowers at your dinner table, can you? Besides, fall florals are quite breathtaking and aromatic, and you'll enjoy having them in front of you while enjoying your meal.
This DIY centerpiece is made using repurposed beer bottles and a beer caddy, if you'd believe it. You can use a can of white spray paint from here to apply the base coat.
All you need for the speckled paint splatter pattern is a bottle of acrylic paint and a paintbrush. Don't forget to lay out some newspaper before you begin.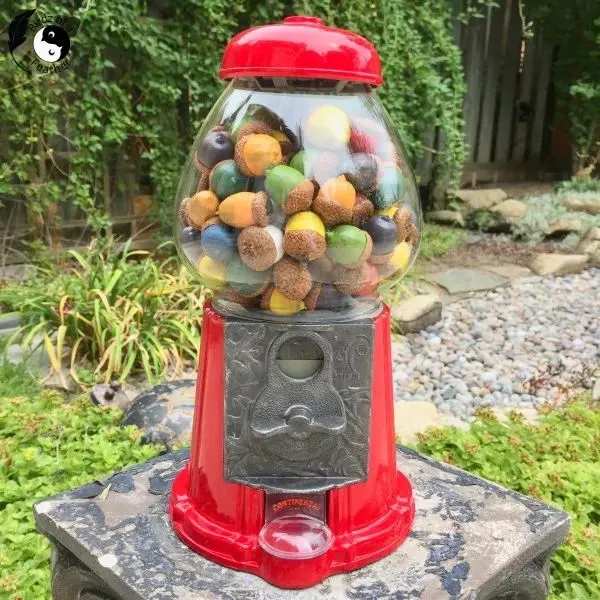 Source: birdzofafeather.ca
This particular project is a great way to involve your kids and occupy them with a nice afternoon craft session. At least for the first part of the project: gathering, cleaning, and painting acorns!
If you have enough acorns, you can set up a unique decor piece: an acorn gumball machine. No, really, think about what an interesting piece this would make!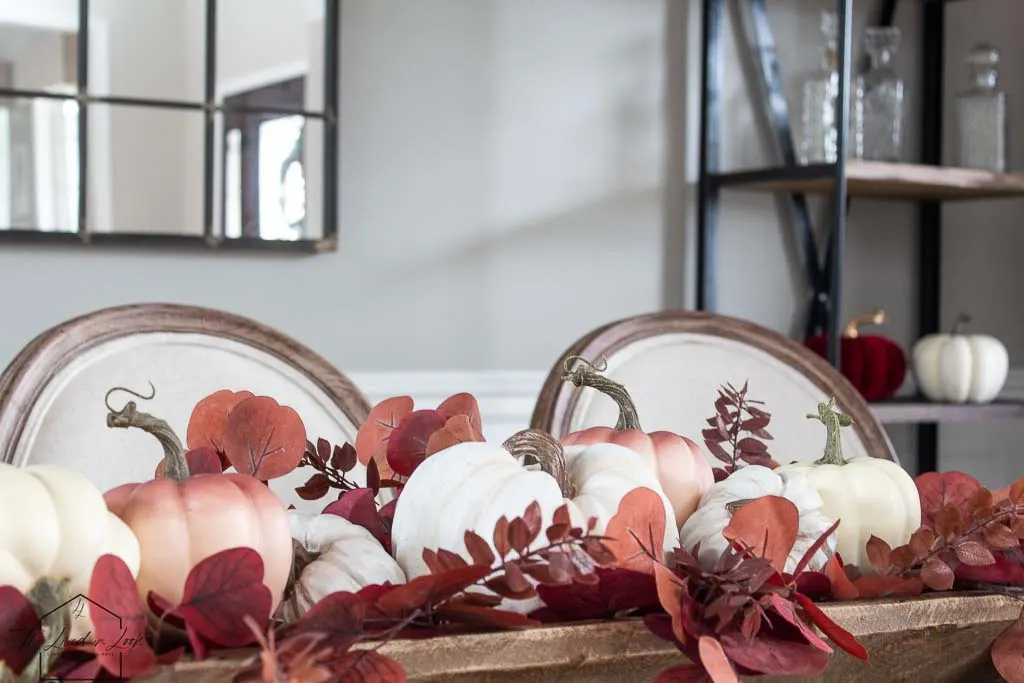 Source: thelivedinlook.com
A centerpiece isn't just for the dining table, you know. You can have a centerpiece on just about any surface that has a center to decorate.
This one would be perfect for your living room or even in your foyer. You'll have this gorgeous centerpiece to welcome you and your guests into your home.
So pick out your fall-colored leaves and flowers and paint your craft pumpkins white. You can tuck a few berries and faux succulents to pull the entire ensemble together.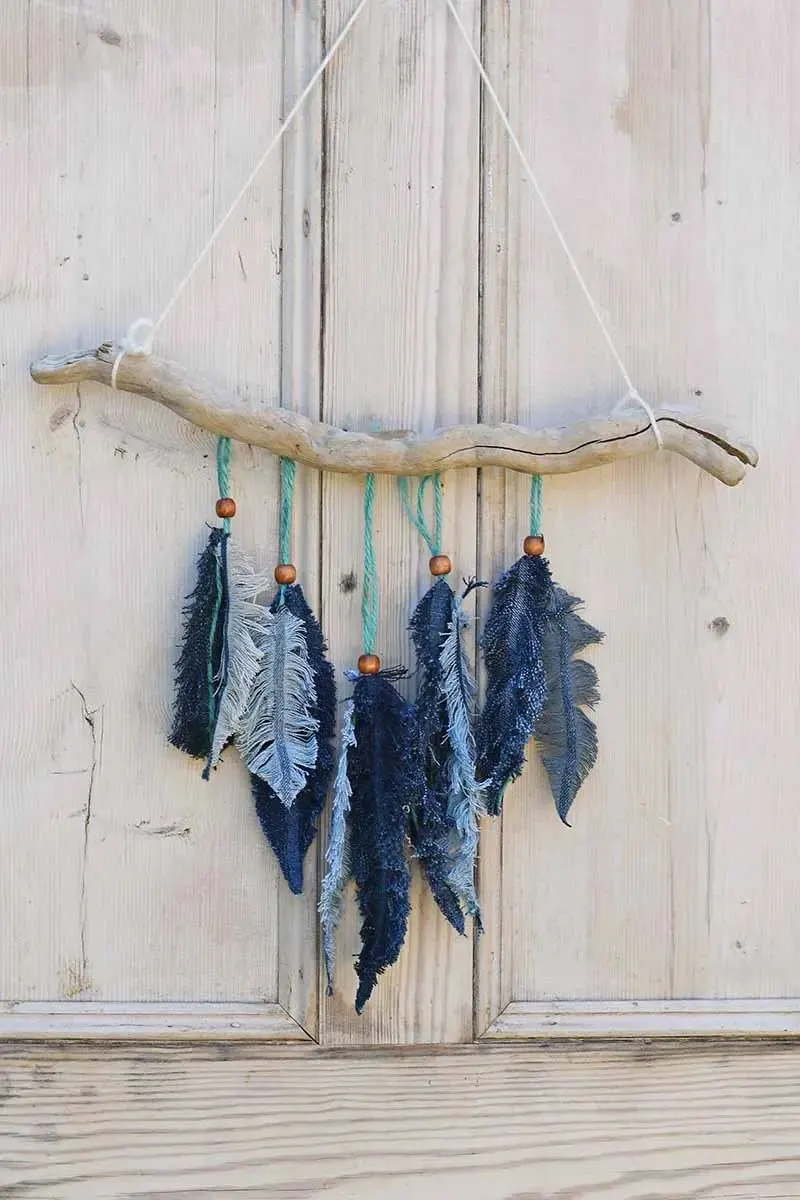 Source: pillarboxblue.com
This one's not quite in fall colors, I'll admit. But it's nearly time to switch over from your fall decor to welcome the winter months.
With the new colors that the winter season brings, this wall hanging is what you'll need. Do you have any denim scraps in your stash?
Good, then go ahead and grab them. You'll also need some mod podge, twine, a few wooden beads, and finally, a nice big stick or a dowel like this.
But really, a large, rustic branch or stick would look much better than just a plain old dowel. So you can go on a scavenger hunt and find one, or you can use this birch branch instead.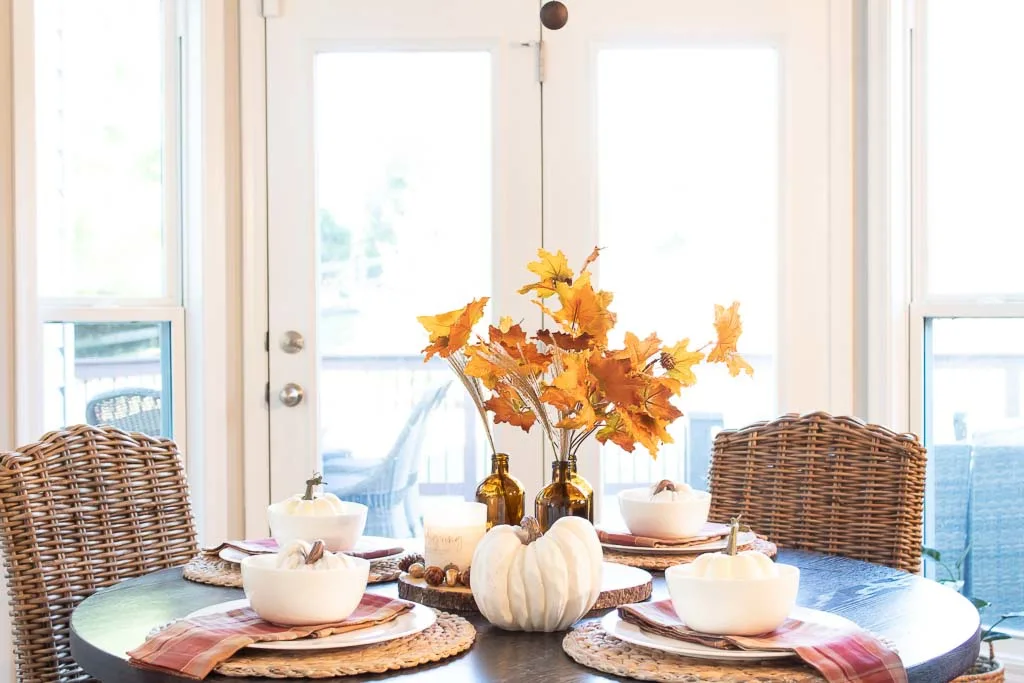 Source: thelivedinlook.com
Take a look at this plaid and pumpkin place setting. The plaid tablecloth is just that subtle touch your table needs
The white craft pumpkins are easy to find; just take a trip down to your nearest dollar store. But you don't really need to let the place setting be the sole attraction.
You can tuck a few scented candles here and there, as well as a few decorative pinecones and acorns.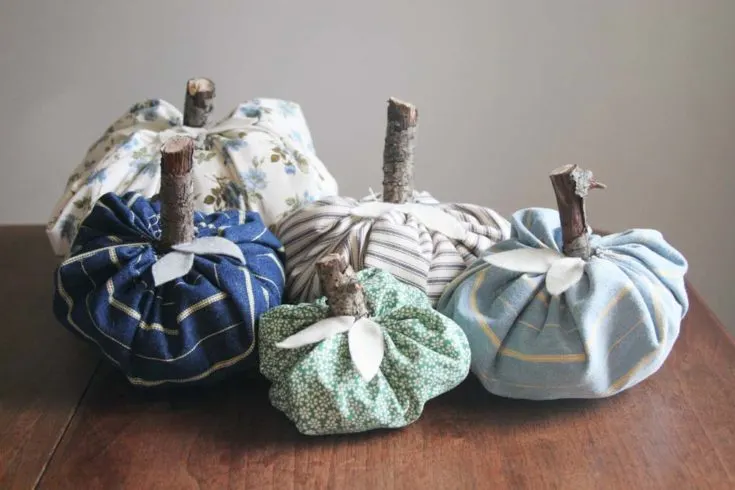 Source: craftivitydesigns.com
We've got quite a number of fabric pumpkins on this list, and rightly so; they're so very easy to make. The best part—or is it the worst, I wonder?—is that once you make one, you can't quite stop until you have a half dozen or more.
Here's a list of everything you'll need:
Fabric of choice
Plate
Fabric Scissors
Filler or stuffing
Felt
Hot glue gun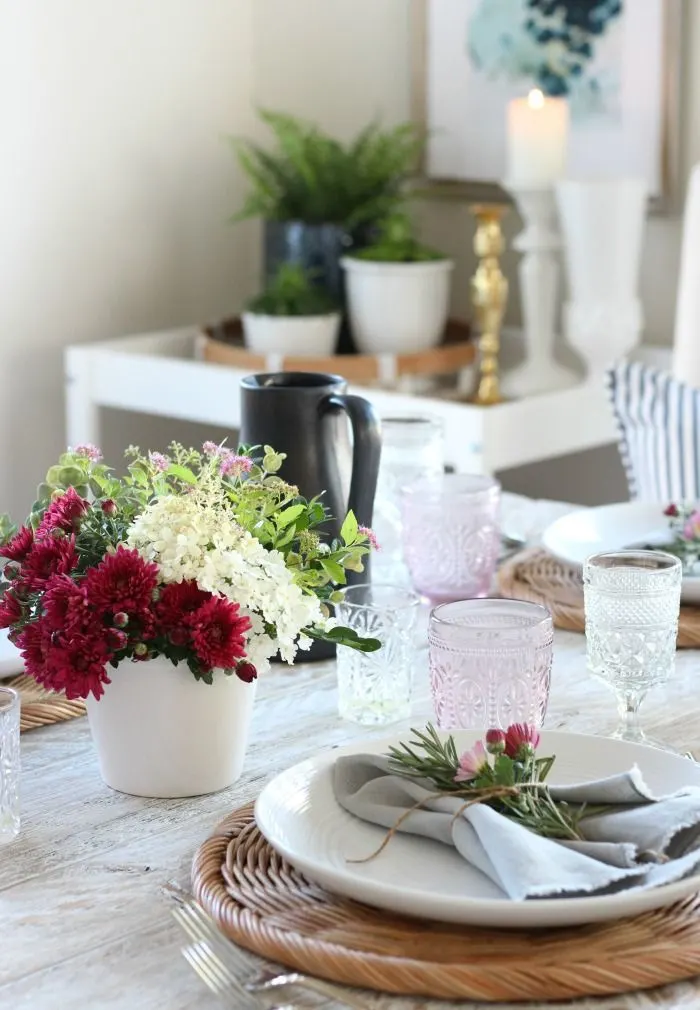 Source: satoridesignforliving.com
This budget-friendly decorating idea will help you pull together a beautiful fall table setting in no time. It's really just a mix of all the fall-themed decorative supplies you already have, like the leftover faux leaves, pinecones, craft pumpkins, etc.
This thrifty table decor needs just one thing to brighten it up, and that's a lush and green floral arrangement. Only use real flowers if you can!