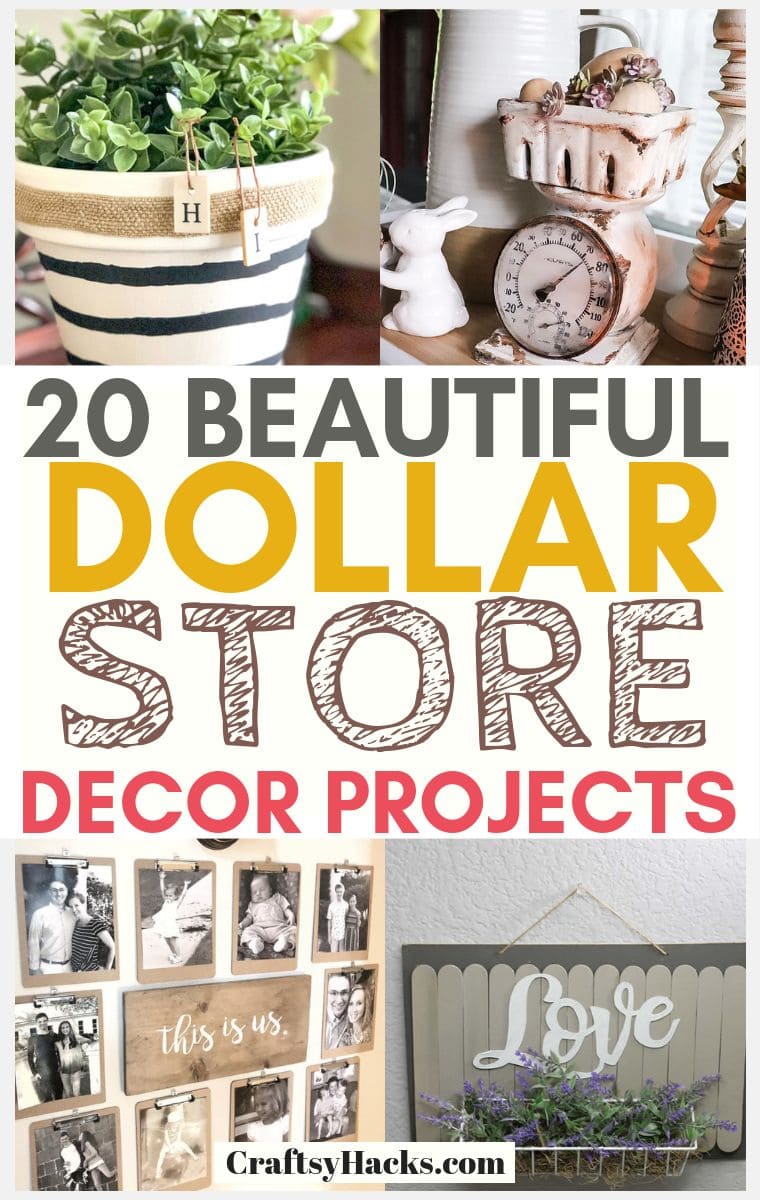 Don't let a tight budget stop you from creating your dream interior space! Luckily, there are plenty of simple DIY projects that really don't require much time or effort on your part besides making a quick trip to your local dollar store.
Here are 20 simple home décor projects to let your creativity (and resourcefulness) shine through!
This blog is supported by readers purchasing featured products. When you buy products with my links, I earn a commission at no extra cost to you. Here is my full affiliate disclosure.
1. Wooden Clipboard Photo Collage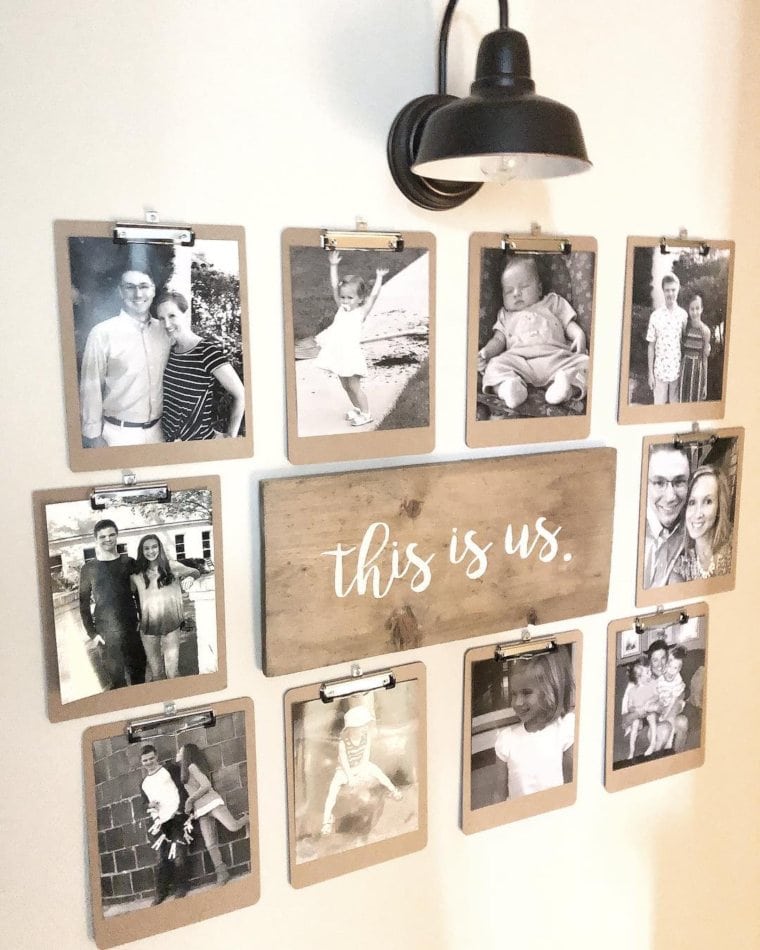 Source: Instagram
Looking for a creative way to display your favorite photos? You can DIY it with a couple of wooden clipboards from your local dollar store or you could even go online to purchase a set of wooden clipboards, like these ones here.
With this project, you have the ability to customize your collage, in terms of the number of pictures you want to display or the size and orientation of your photos.
Pro tip: To up the aesthetic appeal of your collage, cover up the wooden panel on your clipboard with either silver or rose gold spray paint. You can even add a personal touch by throwing a wall sign into the mix.
Here's an adorable rustic wall sign to complete your collage.
2. Decorative Storage Bin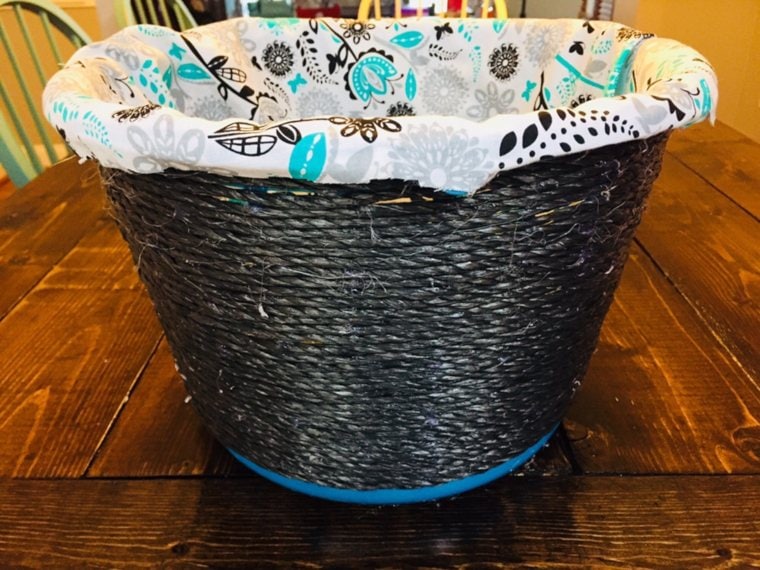 Source: glitteronadime.com
Storage bins are great for reducing the clutter around your home, but have you ever noticed the ridiculous amount of money that storage bins (of any size) can cost you?
Instead of spending a ton of money on storage baskets, just get yourself a basket from the dollar store and decorate it with fabric!
For this DIY, all you need to do is place a large piece of fabric inside your basket to cover up the walls – the extra fabric should overlap the edge of your basket. Next, trim the excess fabric from the outside of your basket.
That'll ensure that there's just enough for you to tie a rope around it, securing it all together.
3. Rustic Picture Frame Lanterns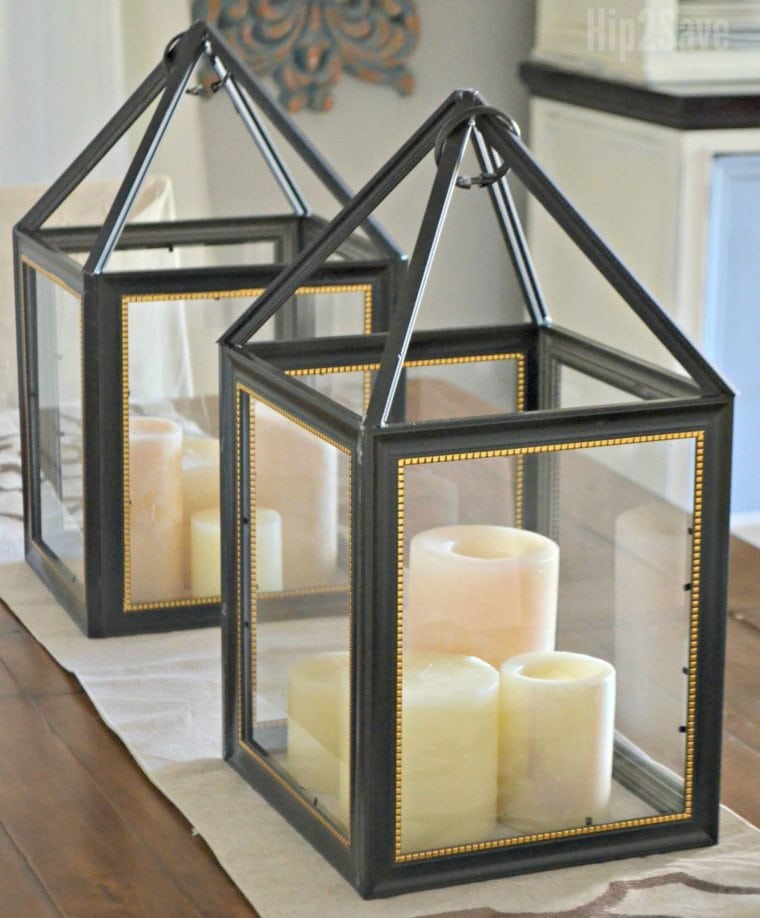 Source: hip2save.com
A rustic farmhouse style lantern is the best way to enhance the aesthetic in any corner of your home. Aside from being the perfect addition to an empty tabletop, you can also use these lanterns to display candles.
Also, pretty much anything else with aesthetic value. For this DIY project, you're going to need 4 8×10 picture frames (flat-sided) and 1 8×8 square picture frame.
While you can purchase them at your local Dollar Store, you can get a great deal online for a set of picture frames like these ones here.
It all depends on how many lanterns you plan on making. Here's a video tutorial to guide you through it.
4. Mini Floral Arrangements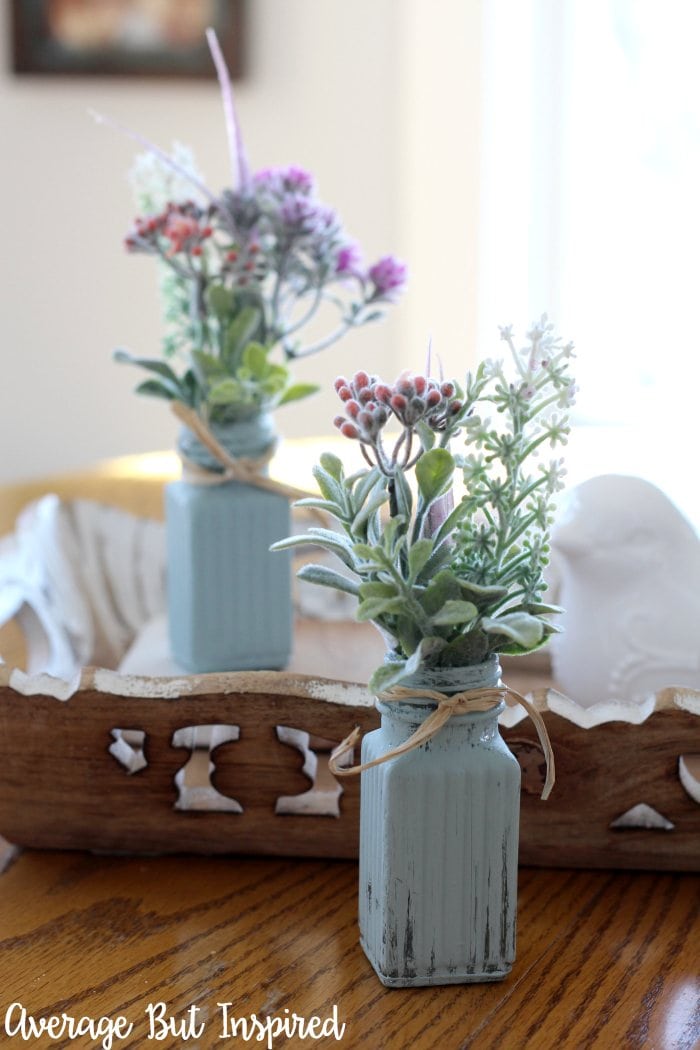 Credit: averageinspired.com
Who doesn't love a beautiful floral arrangement? Flowers are the best way to create a visually appealing space in any area of your home.
But let's be real, floral arrangements aren't cheap. Luckily, you can make your own mini floral arrangement by painting a set of salt and pepper shakers with chalk finish paint, and inserting a couple of faux flower stems into your mini vase.
You can get both the shakers and faux flowers in the Dollar Store.
5. Vintage-inspired Flower Vase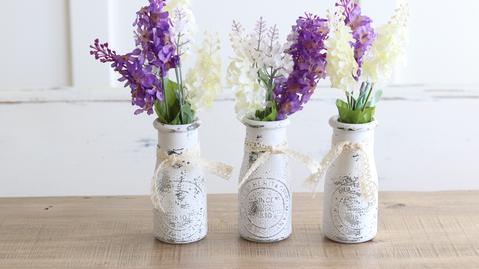 Credit: jamirayvintage.com
From mason jars to glass cups, there are plenty of items you can find at your local dollar store to use as a vase.
Take things up a notch with a little wax and paint to DIY your own farmhouse style vase, which is the perfect addition to any tabletop.
When it comes to painting the mason jars, this acrylic paint is best to use.
6. Multi-use Metal Planter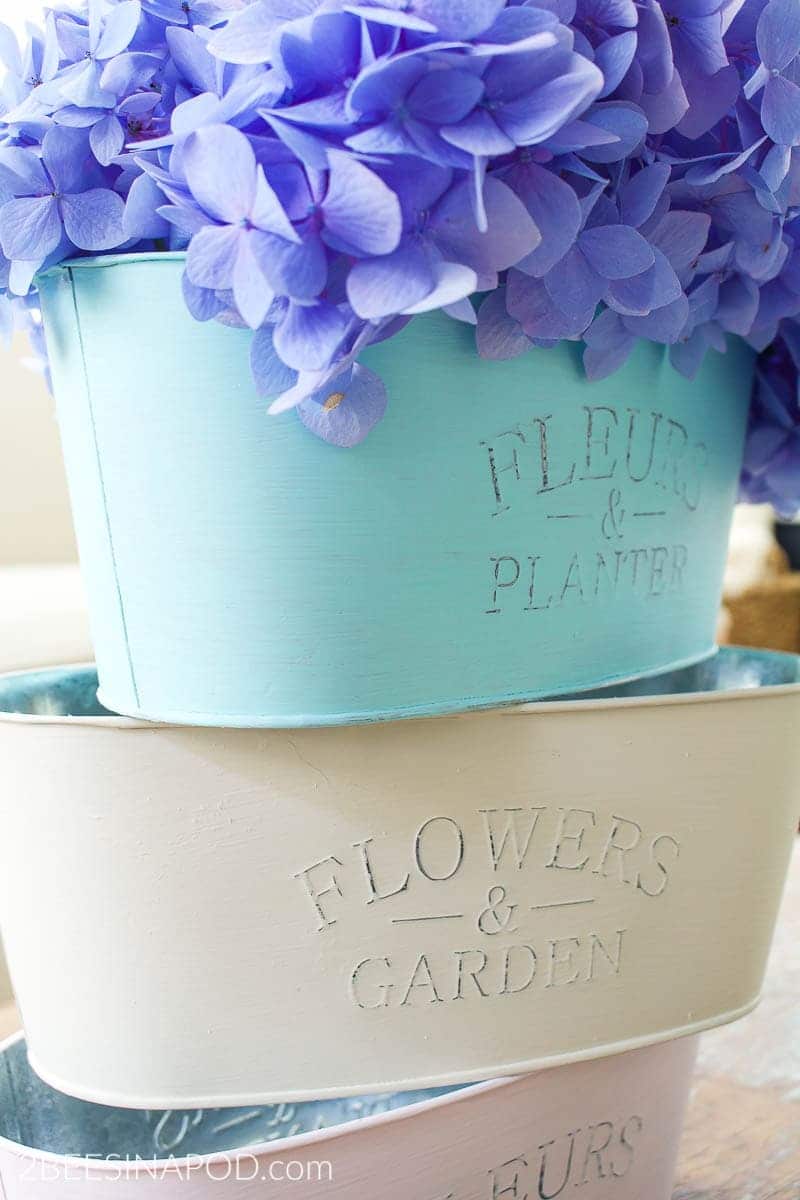 Credit: 2beesinapod.com
With a fresh paint job, you can give a metal planter from your local dollar store a complete makeover and have it become a multi-use display box!
A pretty metal planter comes in handy for reducing the clutter on your countertop or even as a chic way to display the household items you're always reaching for.
Besides your local dollar store, you can also find a set of metal planters online. These are the ones I adore.
From creating your own custom floral arrangement to displaying drinking glasses out on your patio – there's plenty you can do with the final product.
7. Custom Planter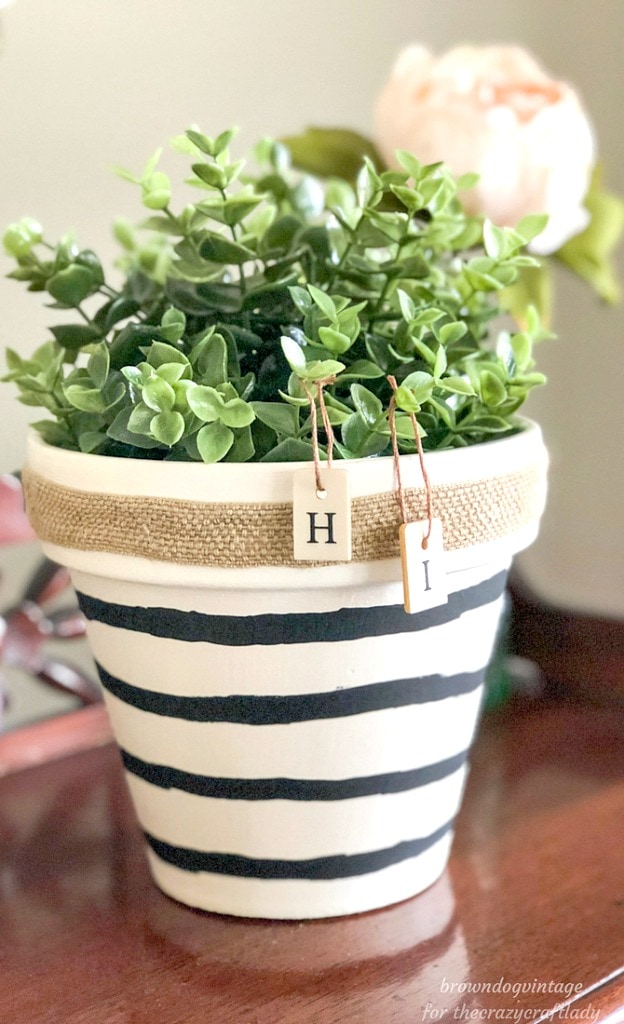 Credit: thecrazycraftlady.com
Give your typical terracotta plant pot a whole new look by painting it a bold color. If you plan on displaying it outdoors, make sure you choose the right type of paint to hold up under those conditions!
To give your pot more of a cozy look, cover it up with burlap and twine. For smaller plant pot projects, here's a set of mini terracotta pots.
8. Decorative Plates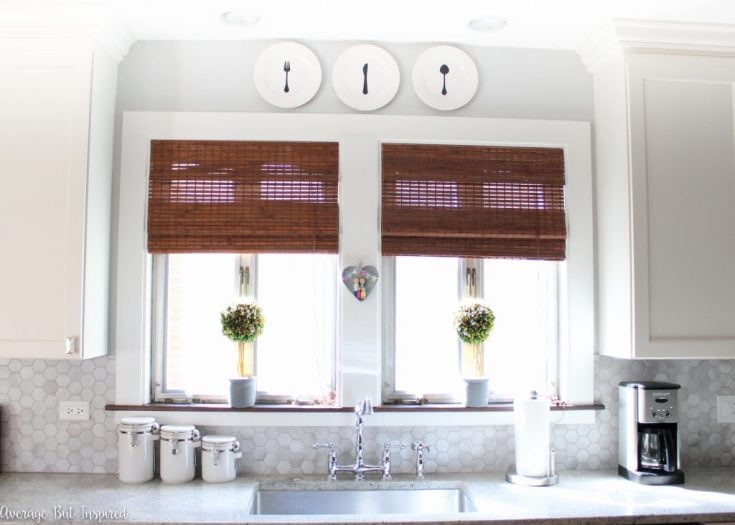 Credit: averageinspired.com
Are the walls in your kitchen or dining room looking a little dull? Transform a set of plain white dinner plates from the dollar store into fun wall art with a bit of DIY.
You can also personalize this DIY by choosing a different shape or size for your plates. Here's a tutorial to guide you through it.
9. Luxe Wall Art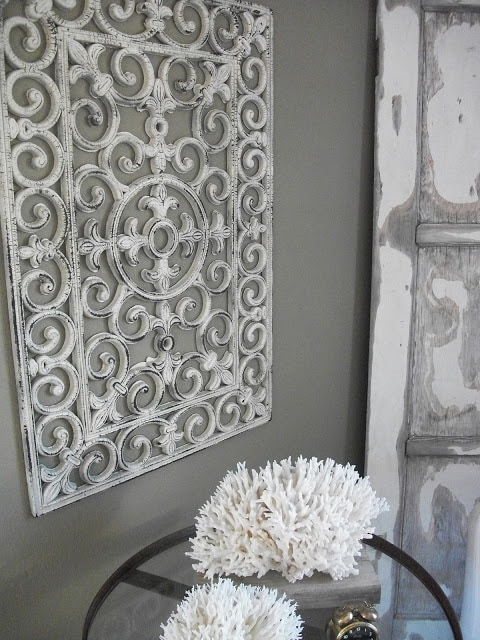 Source: salvagedior.com
When it comes to home décor, you can't neglect the space on your walls!
DIY your own wall art to achieve a super luxe vibe in any section of your home. The good news? This is one of the easiest DIY projects – ever.
All you need to do is find a rubber mat with the right design and spray paint it! You can also sand it down for some serious vintage vibes.
10. Coffee-house-style Chalkboard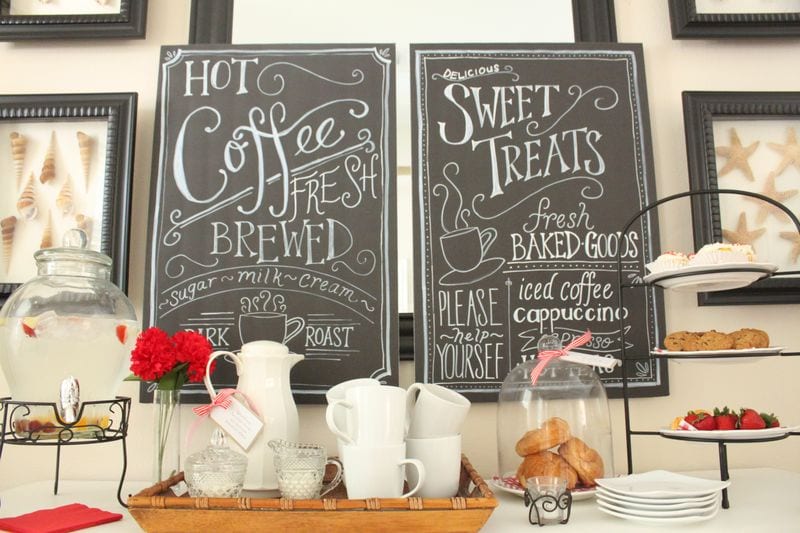 Sourc: starfishcottageblog.com
A coffeehouse-style chalkboard is the perfect addition to any home.
But before you run out to get some chalk, you'll be happy to hear that all you need is a large black foam board (from the Dollar Tree store) and white paint pens!
Here is a set of good quality pens.
11. Rustic Scale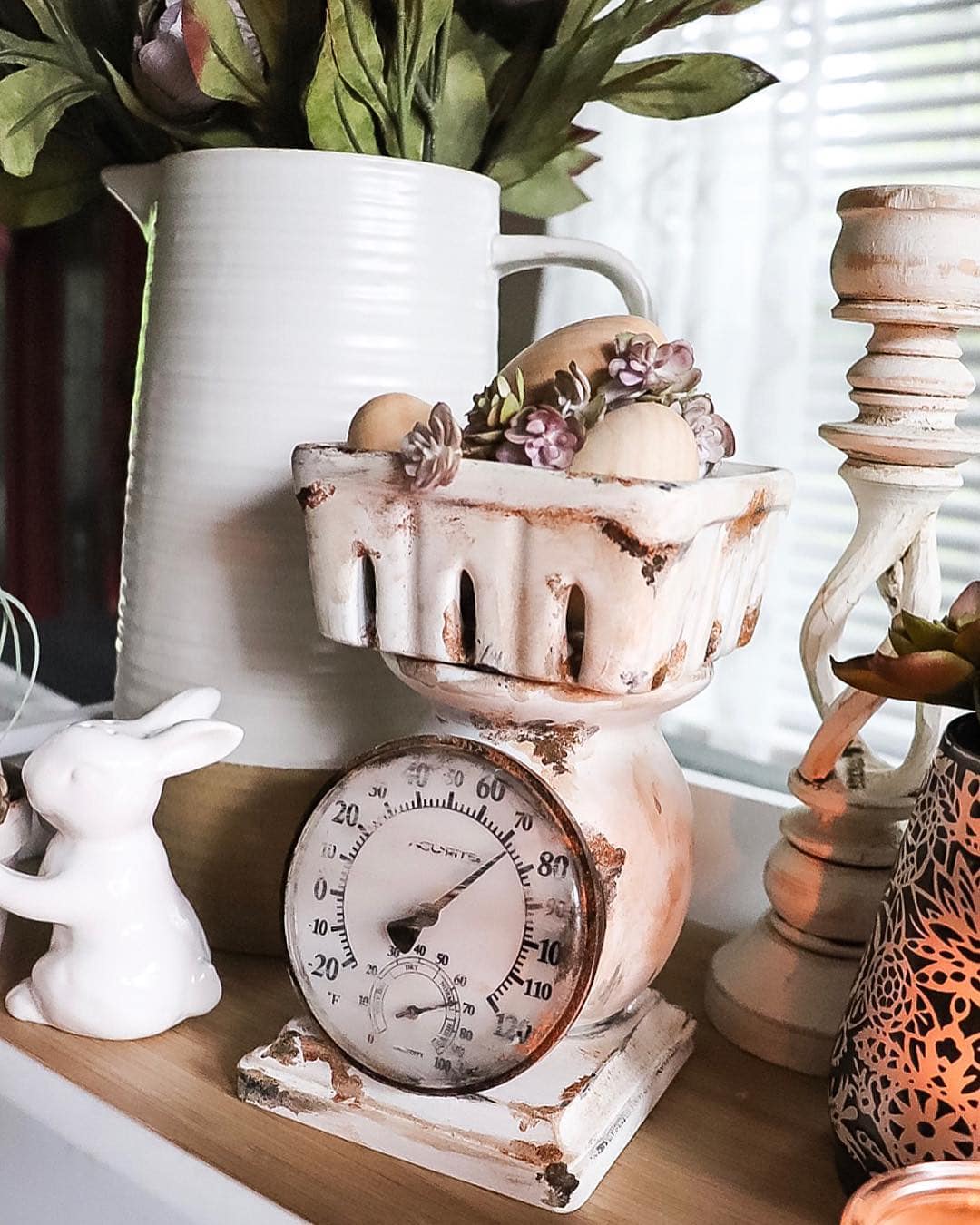 Credit: Instagram
If you haven't already noticed, the farmhouse style is a huge theme in modern home décor. In fact, I've written about it quite a bit too.
Here is an article on farmhouse spring décor ideas. Bring this warm, charming quality into your home by adding a rustic scale onto your tabletop!
You don't necessarily have to use a scale for this project – a clock or thermometer face will have the same effect.
12. Woodblock Calendar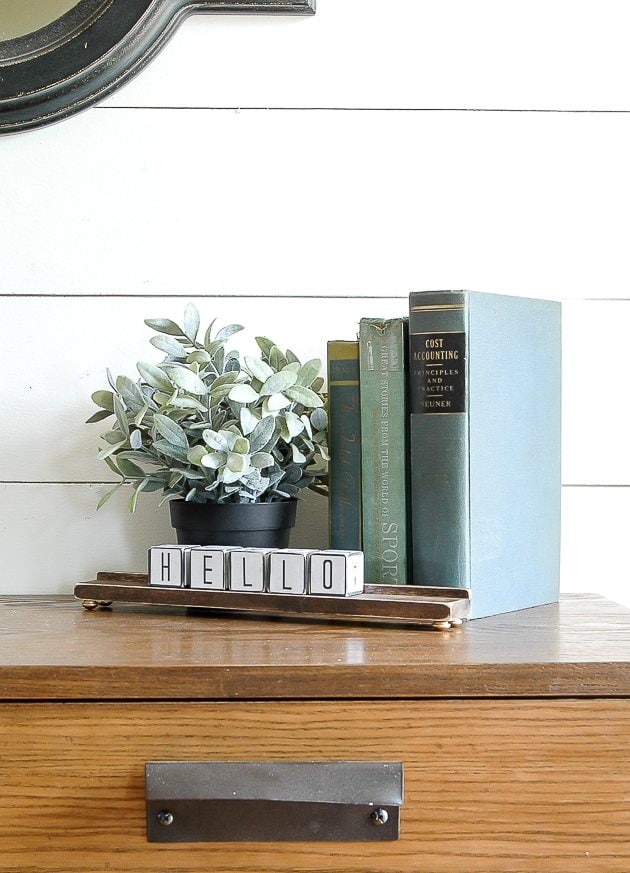 Credit: littlehouseoffour.com
With this DIY, you'll never have to buy a calendar again! The best part about making your very own DIY calendar is that you can keep reusing it for years to come.
You can also use woodblocks to create a short but sweet welcome sign for your home. Here's a set of woodblocks that would work well for this sort of project.
You can also find them in the Dollar Tree store.
13. Rustic Display Lantern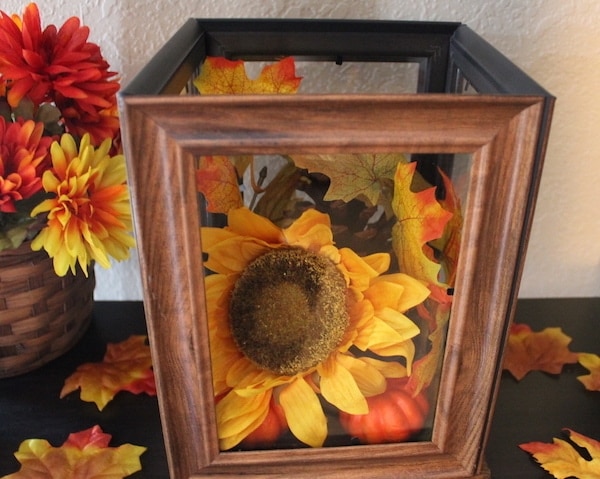 Credit: prudentpennypincher.com
A rustic fall lantern is a perfect way to create a seasonal display for your home or even to display candles. Also, anything else you think would look good on your tabletop.
All you need for this DIY is a set of 4 wooden picture frames, foam board, contact paper with a wood design, and a hot glue gun. You can find a huge roll of wood contact paper for a great price online.
But, make sure you choose the right design to match your frames!
14. Succulent Arrangement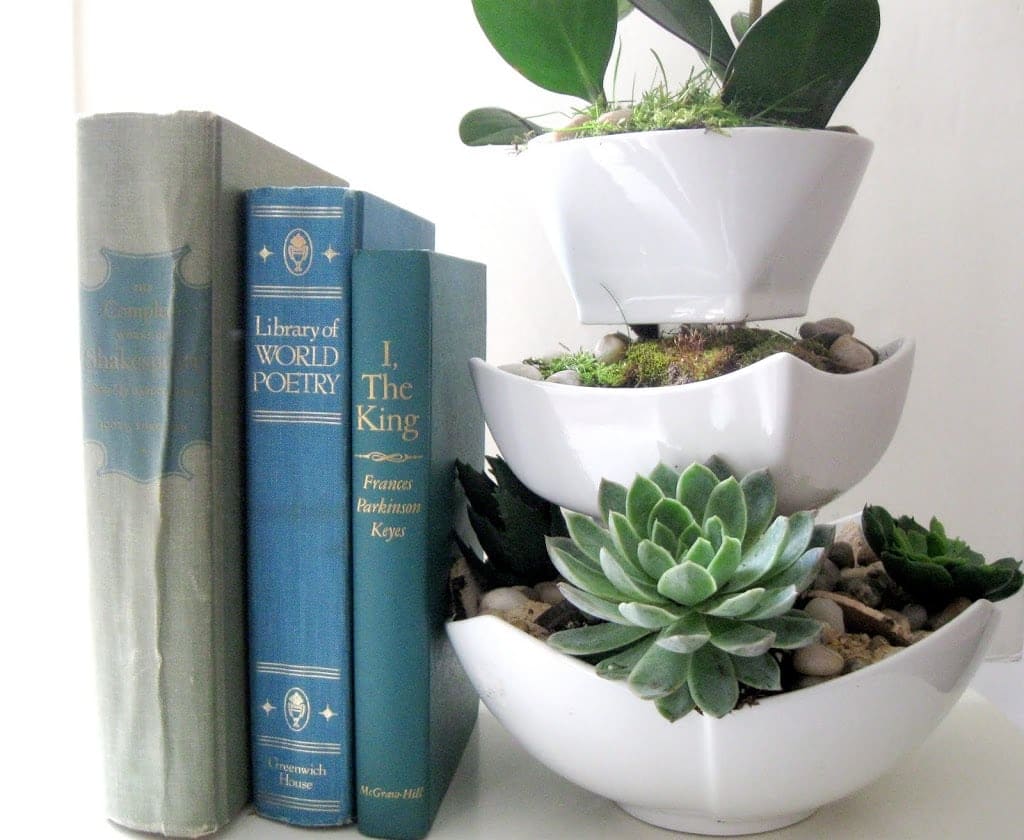 Credit: craftberrybush.com
Succulents are the ultimate staple item for those who are hoping to bring some minimalistic yet super chic vibes into their décor situation.
Besides making your own succulent, you can also create your own stacked planter arrangement for a multidimensional look.
Here's a quick tutorial.
15. Colorful Tulip Vase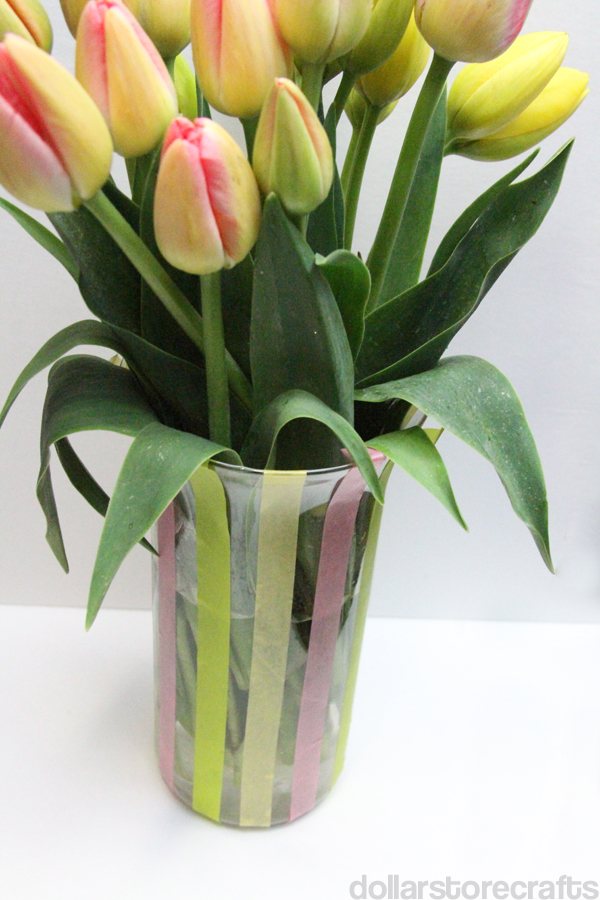 Credit: dollarstorecrafts.com
Liven things up in any corner of your home with a colorful vase. Besides adding a whimsical feel to your home, this is also a great way to display your favorite flowers.
In keeping with the theme, tulips will complement this colorful vase the best. For this project, you can either use a standard plastic vase or a plastic container.
You can easily find at your local Dollar Store, and some washi tape (colored masking tape).
16. Rustic Tiled Mirror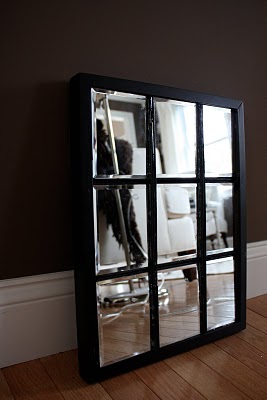 Credit: dollarstorecrafts.com
A rustic tiled mirror is the best way to elevate the visual appeal in any room! Talk about getting an expensive look for a fraction of the cost.
Here's a tutorial to guide you through this rustic DIY.
17. Magnetic Bulletin Board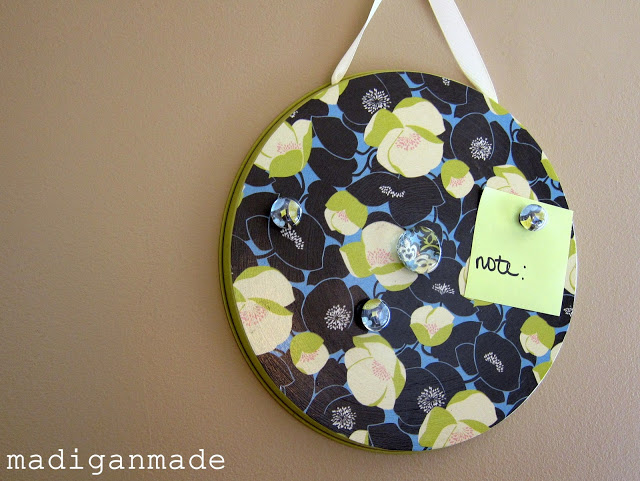 Credit: rosyscription.com
Instead of buying a plain magnetic memo board that looks a little – well, blah – just make your own for a fraction of the cost!
DIY-ing your own memo board with metal stove covers is the ultimate win-win situation. It also doubles as wall art – depending on how you decorate it!
18. Farmhouse-style Welcome Sign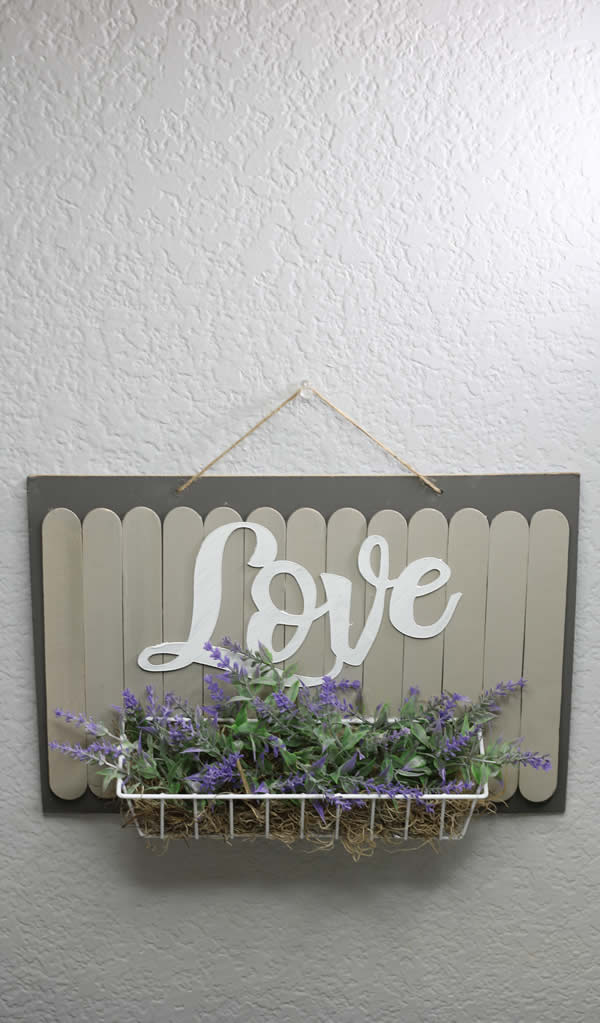 Credit: kimspireddiy.com
Welcome friends and family to your home with a warm greeting sign. Besides adding some character to your home.
This adorable sign serves as a charming piece of wall art for an empty wall by the front door.
19. Adorable Message Board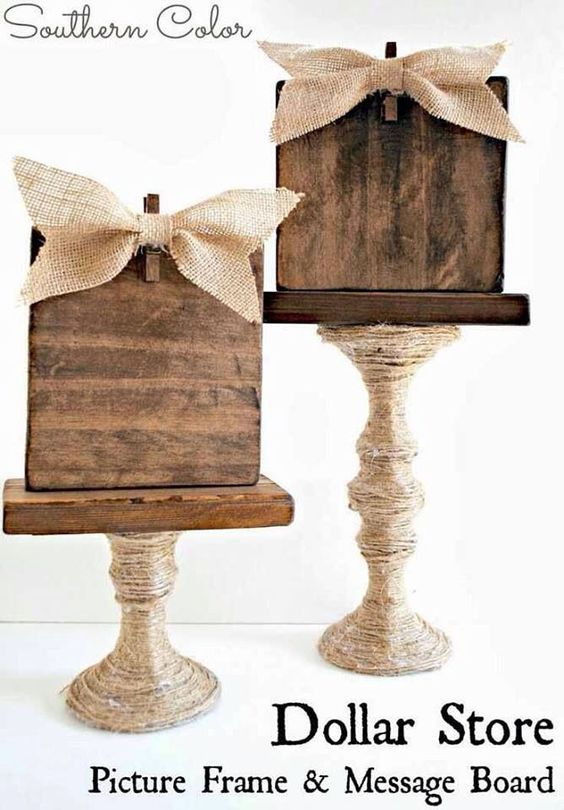 Credit: Pinterest
With this cute message board, you can leave yourself a little reminder about special occasions, important meetings, or even what's on your grocery list.
Besides serving as your personal assistant, this is also an adorable way to leave messages for your family members or roommates.
20. 3-tiered Jewellery Stand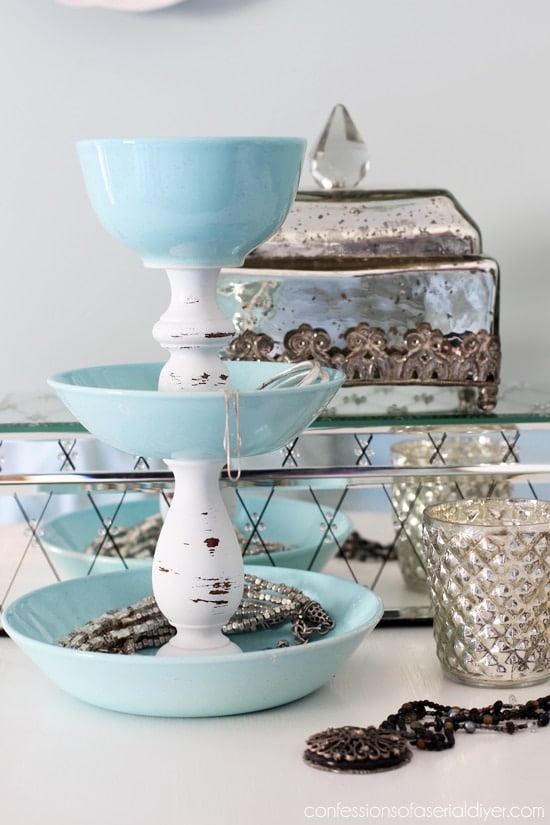 Credit: confessionsofaserialdiyer.com
Looking for an ultra-chic way to keep your jewelry in one place? You can easily build your own 3-tiered jewelry stand with a couple pretty plates or dishes from your local dollar store.
Use clear candle holders in between the plates to achieve a super luxe vibe!
Here's a quick tutorial to guide you through it.