Use Dollar Tree items to decorate home on a budget. These home decor projects are fun and simple to make.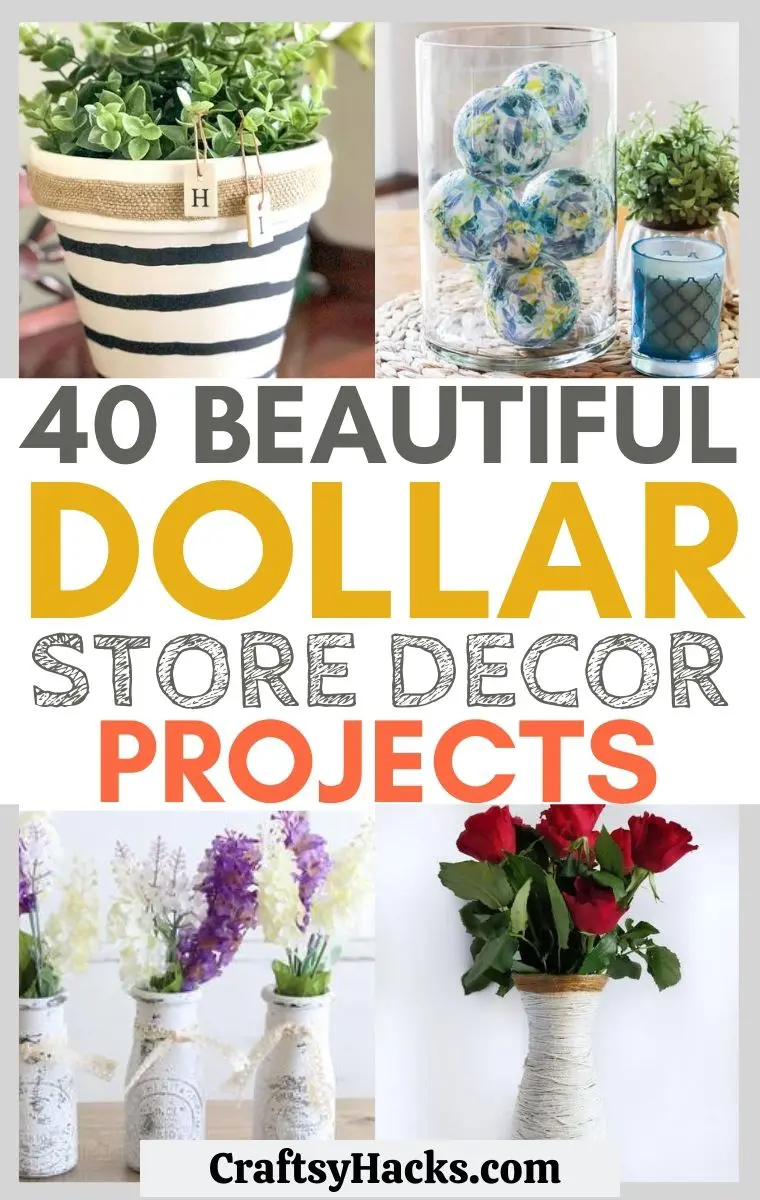 Don't let a tight budget stop you from creating your dream interior space! Luckily, there are plenty of simple DIY projects that really don't require much time or effort on your part besides making a quick trip to your local dollar store.
Here are 20 simple home décor projects to let your creativity (and resourcefulness) shine through!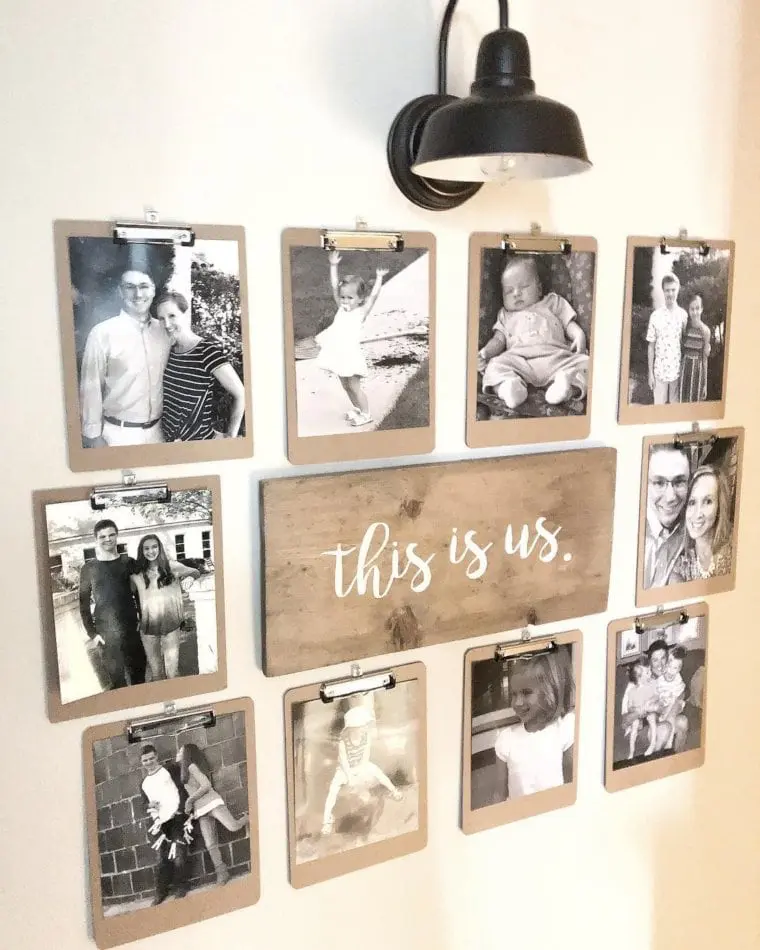 Source: Instagram
Looking for a creative way to display your favorite photos? You can DIY it with a couple of wooden clipboards from your local dollar store or you could even go online to purchase a set of wooden clipboards, like these ones here.
With this project, you have the ability to customize your collage, in terms of the number of pictures you want to display or the size and orientation of your photos.
Pro tip: To up the aesthetic appeal of your collage, cover up the wooden panel on your clipboard with either silver or rose gold spray paint. You can even add a personal touch by throwing a wall sign into the mix.
Here's an adorable rustic wall sign to complete your collage.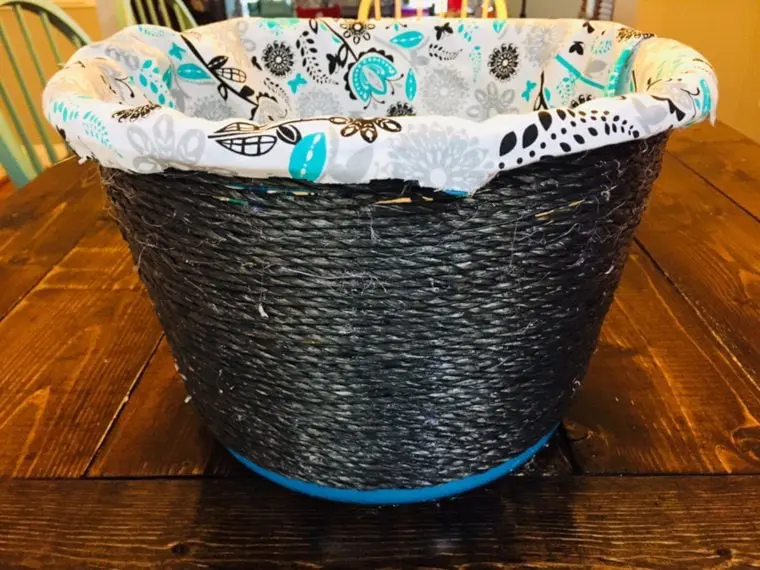 Source: glitteronadime.com
Storage bins are great for reducing the clutter around your home, but have you ever noticed the ridiculous amount of money that storage bins (of any size) can cost you?
Instead of spending a ton of money on storage baskets, just get yourself a basket from the dollar store and decorate it with fabric!
For this DIY, all you need to do is place a large piece of fabric inside your basket to cover up the walls – the extra fabric should overlap the edge of your basket. Next, trim the excess fabric from the outside of your basket.
That'll ensure that there's just enough for you to tie a rope around it, securing it all together.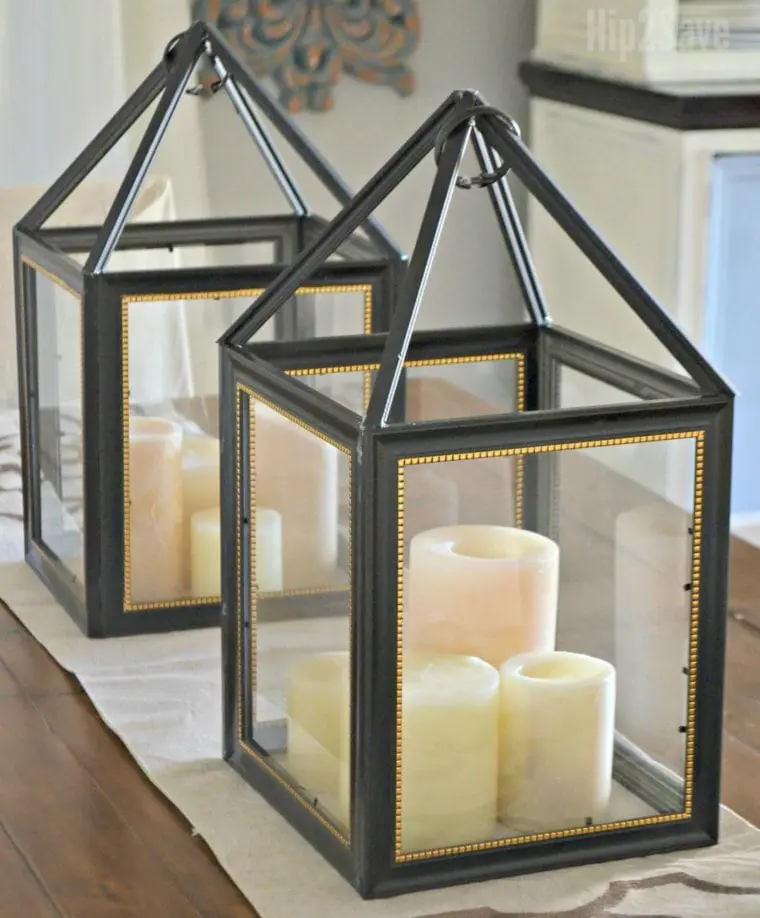 Source: hip2save.com
A rustic farmhouse style lantern is the best way to enhance the aesthetic in any corner of your home. Aside from being the perfect addition to an empty tabletop, you can also use these lanterns to display candles.
Also, pretty much anything else with aesthetic value. For this DIY project, you're going to need 4 8×10 picture frames (flat-sided) and 1 8×8 square picture frame.
While you can purchase them at your local Dollar Store, you can get a great deal online for a set of picture frames like these ones here.
It all depends on how many lanterns you plan on making. Here's a video tutorial to guide you through it.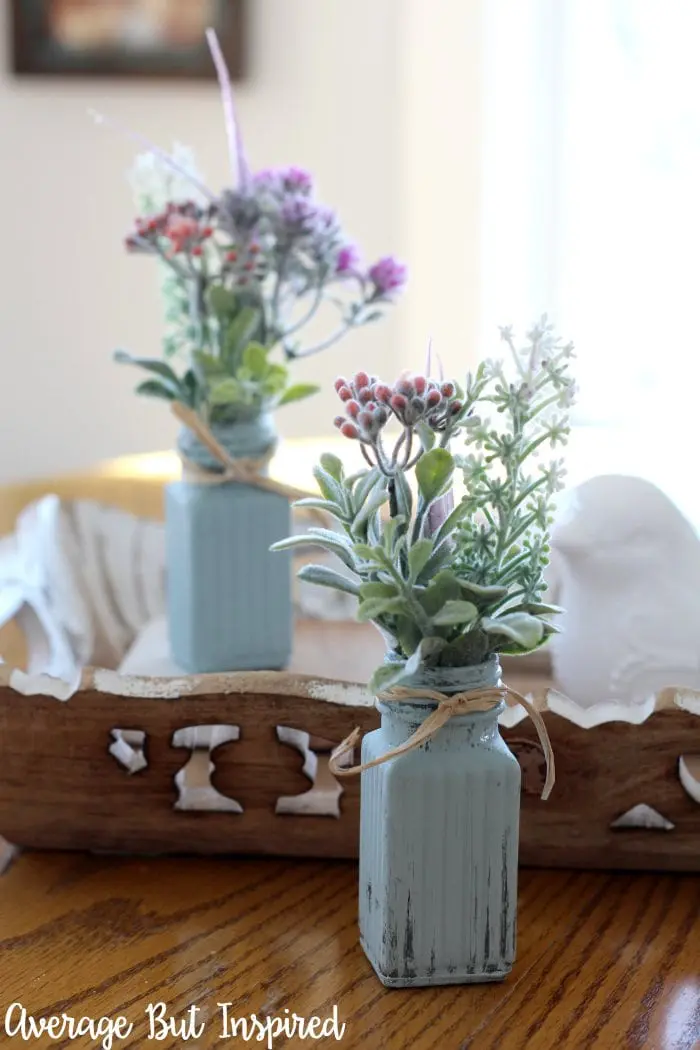 Credit: averageinspired.com
Who doesn't love a beautiful floral arrangement? Flowers are the best way to create a visually appealing space in any area of your home.
But let's be real, floral arrangements aren't cheap. Luckily, you can make your own mini floral arrangement by painting a set of salt and pepper shakers with chalk finish paint, and inserting a couple of faux flower stems into your mini vase.
You can get both the shakers and faux flowers in the Dollar Store.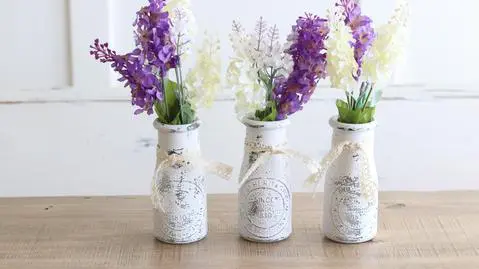 Credit: jamirayvintage.com
From mason jars to glass cups, there are plenty of items you can find at your local dollar store to use as a vase.
Take things up a notch with a little wax and paint to DIY your own farmhouse style vase, which is the perfect addition to any tabletop.
When it comes to painting the mason jars, this acrylic paint is best to use.
Credit: 2beesinapod.com
With a fresh paint job, you can give a metal planter from your local dollar store a complete makeover and have it become a multi-use display box!
A pretty metal planter comes in handy for reducing the clutter on your countertop or even as a chic way to display the household items you're always reaching for.
Besides your local dollar store, you can also find a set of metal planters online. These are the ones I adore.
From creating your own custom floral arrangement to displaying drinking glasses out on your patio – there's plenty you can do with the final product.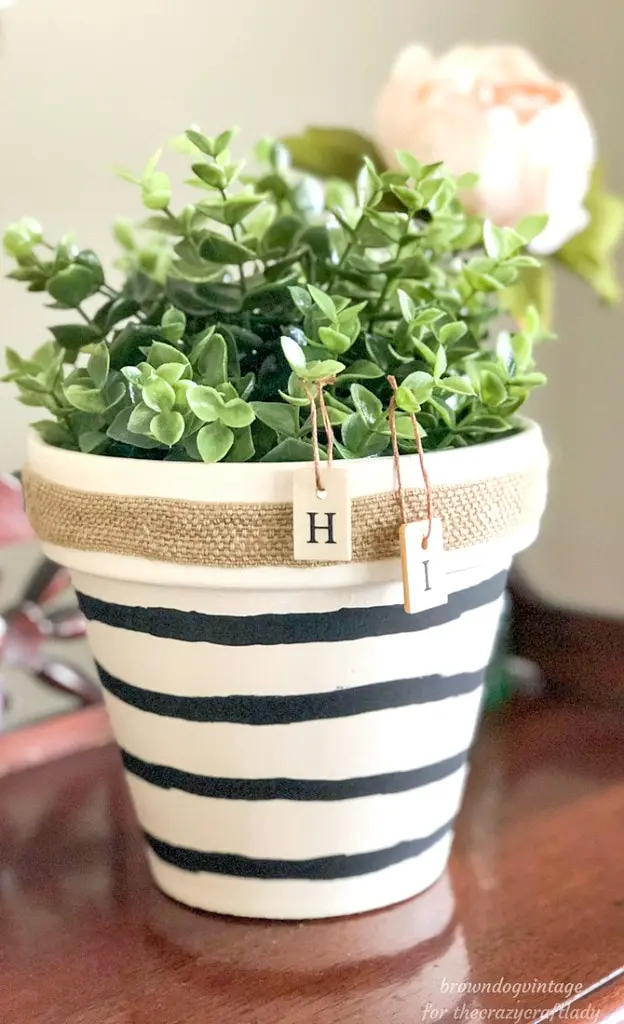 Credit: thecrazycraftlady.com
Give your typical terracotta plant pot a whole new look by painting it a bold color. If you plan on displaying it outdoors, make sure you choose the right type of paint to hold up under those conditions!
To give your pot more of a cozy look, cover it up with burlap and twine. For smaller plant pot projects, here's a set of mini terracotta pots.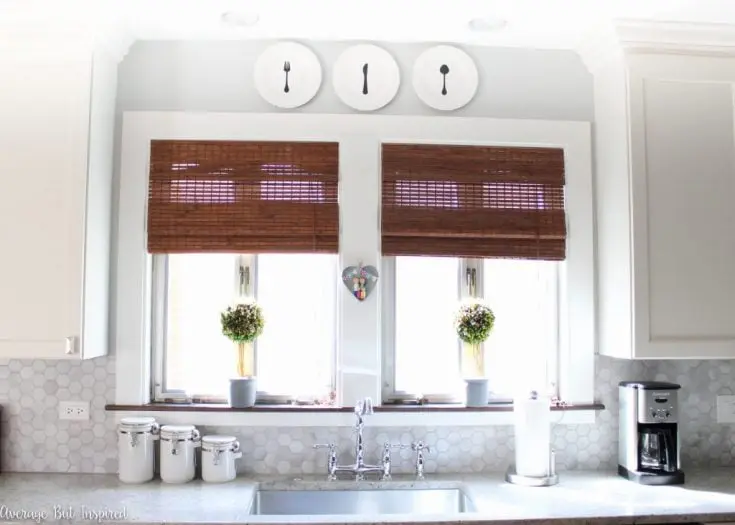 Credit: averageinspired.com
Are the walls in your kitchen or dining room looking a little dull? Transform a set of plain white dinner plates from the dollar store into fun wall art with a bit of DIY.
You can also personalize this DIY by choosing a different shape or size for your plates. Here's a tutorial to guide you through it.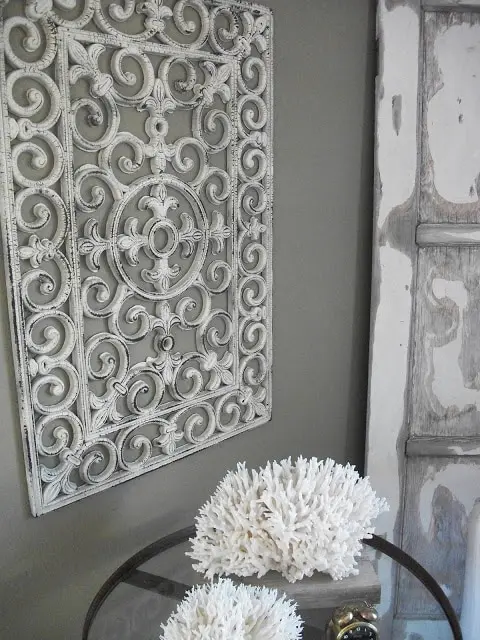 Source: salvagedior.com
When it comes to home décor, you can't neglect the space on your walls!
DIY your own wall art to achieve a super-luxe vibe in any section of your home. The good news? This is one of the easiest DIY projects – ever.
All you need to do is find a rubber mat with the right design and spray paint it! You can also sand it down for some serious vintage vibes.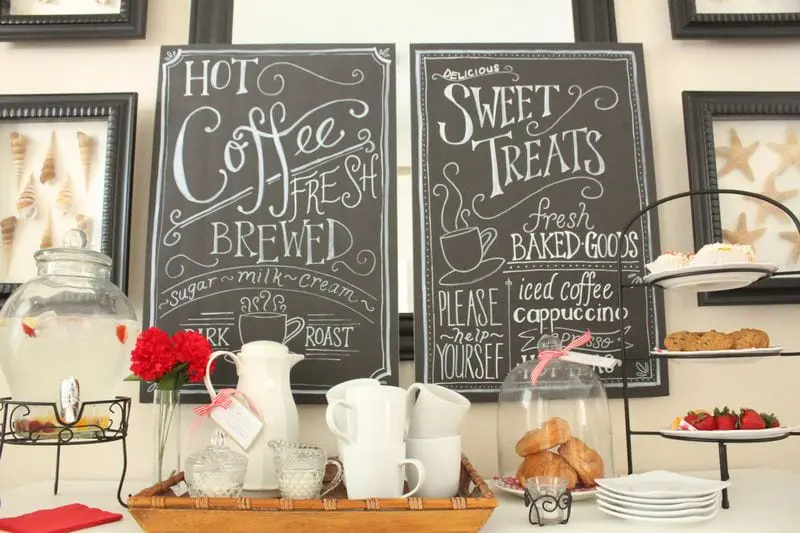 Source: starfishcottageblog.com
A coffeehouse-style chalkboard is the perfect addition to any home.
But before you run out to get some chalk, you'll be happy to hear that all you need is a large black foam board (from the Dollar Tree store) and white paint pens!
Here is a set of good quality pens.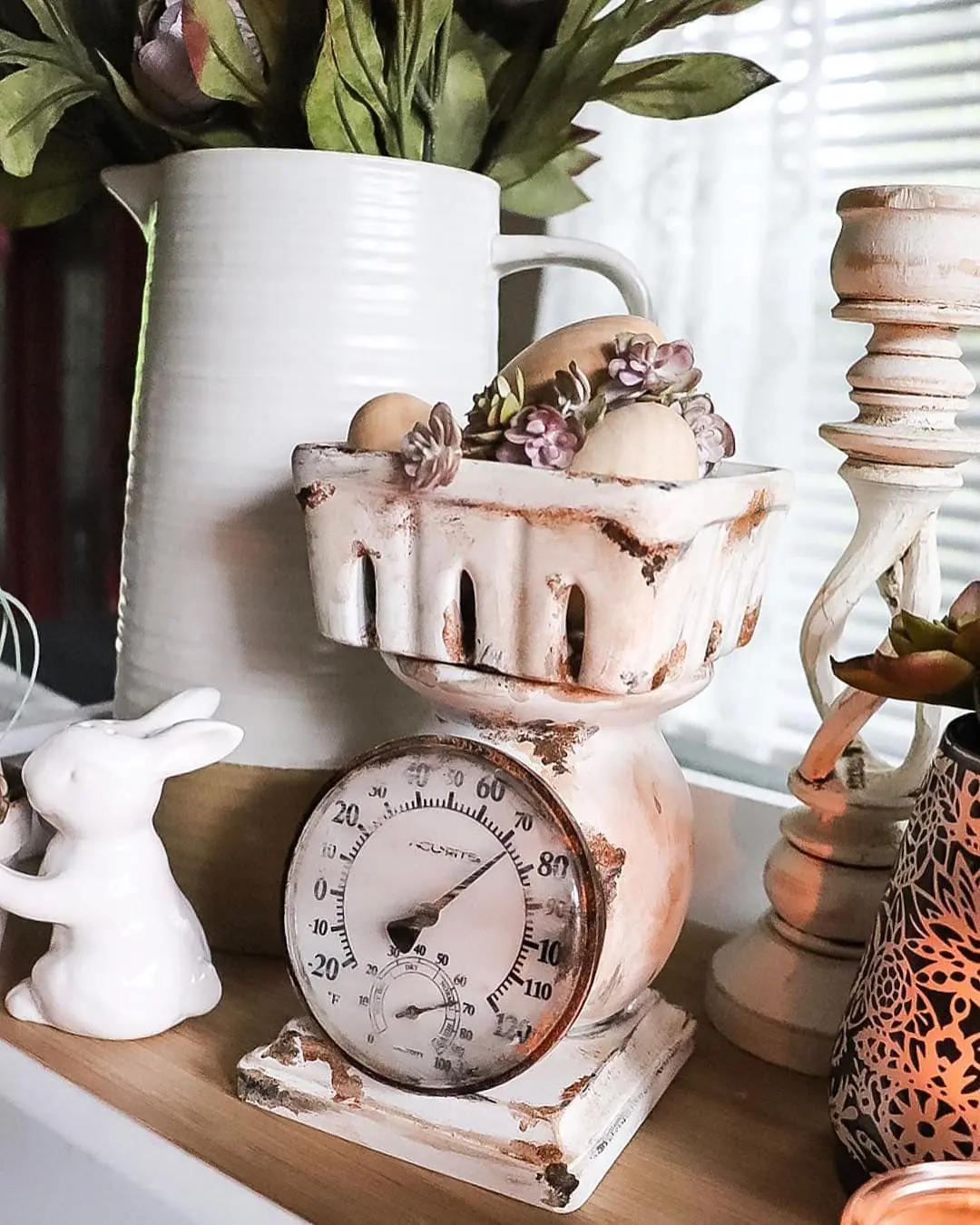 Credit: Instagram
If you haven't already noticed, the farmhouse style is a huge theme in modern home décor. In fact, I've written about it quite a bit too.
Here is an article on farmhouse spring décor ideas. Bring this warm, charming quality into your home by adding a rustic scale onto your tabletop!
You don't necessarily have to use a scale for this project – a clock or thermometer face will have the same effect.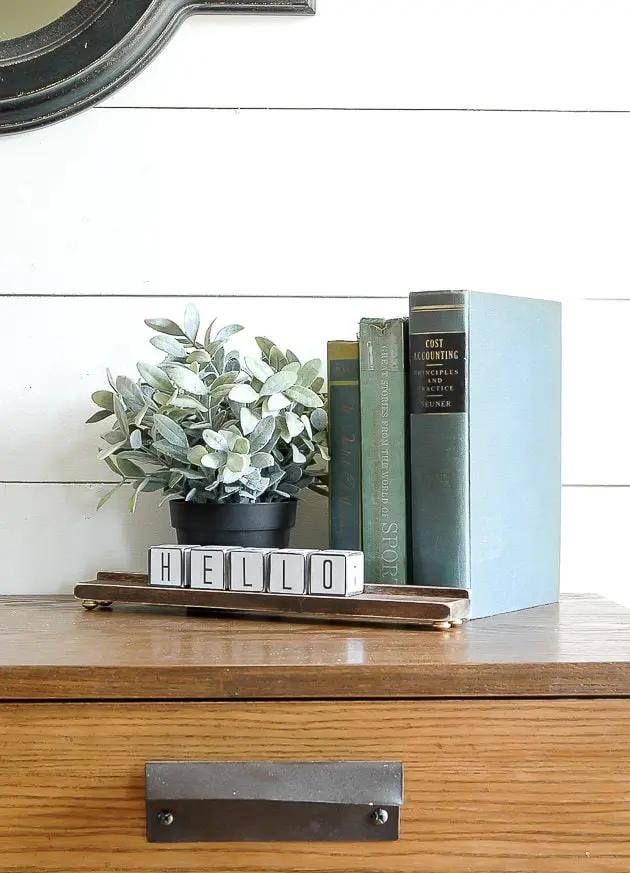 Credit: littlehouseoffour.com
With this DIY, you'll never have to buy a calendar again! The best part about making your very own DIY calendar is that you can keep reusing it for years to come.
You can also use woodblocks to create a short but sweet welcome sign for your home. Here's a set of woodblocks that would work well for this sort of project.
You can also find them in the Dollar Tree store.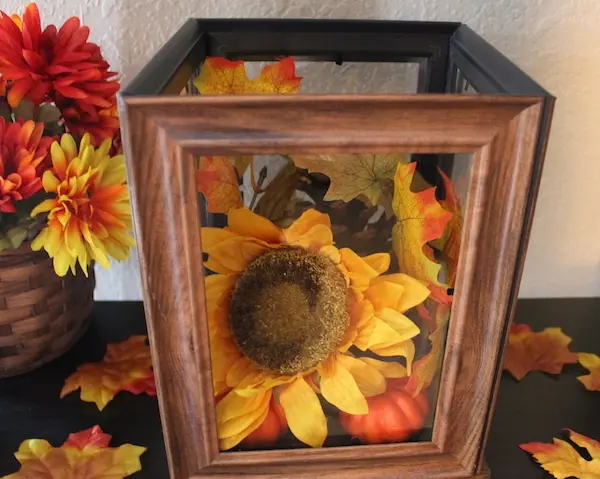 Credit: prudentpennypincher.com
A rustic fall lantern is a perfect way to create a seasonal display for your home or even to display candles. Also, anything else you think would look good on your tabletop.
All you need for this DIY is a set of 4 wooden picture frames, foam board, contact paper with a wood design, and a hot glue gun. You can find a huge roll of wood contact paper for a great price online.
But, make sure you choose the right design to match your frames!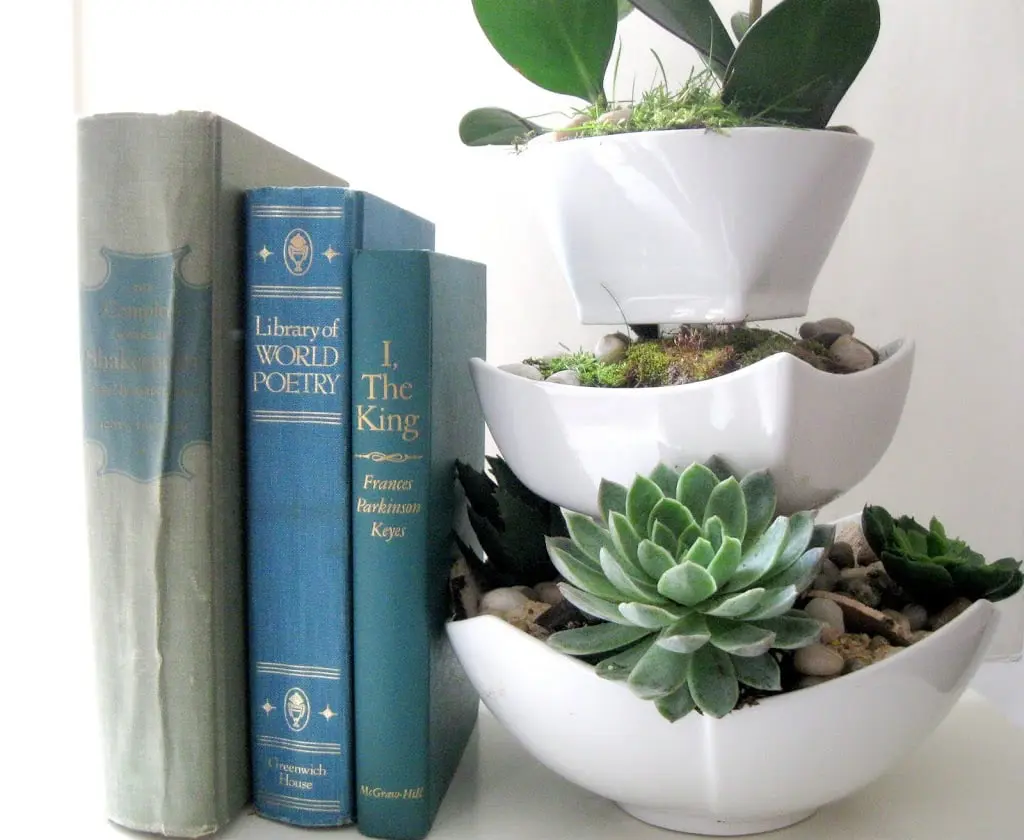 Credit: craftberrybush.com
Succulents are the ultimate staple item for those who are hoping to bring some minimalistic yet super chic vibes into their décor situation.
Besides making your own succulent, you can also create your own stacked planter arrangement for a multidimensional look.
Here's a quick tutorial.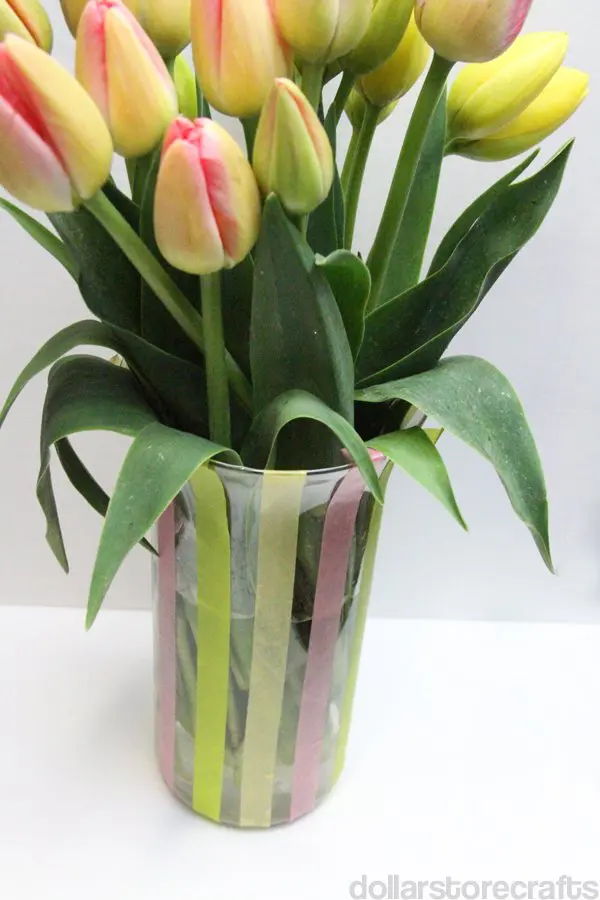 Credit: dollarstorecrafts.com
Liven things up in any corner of your home with a colorful vase. Besides adding a whimsical feel to your home, this is also a great way to display your favorite flowers.
In keeping with the theme, tulips will complement this colorful vase the best. For this project, you can either use a standard plastic vase or a plastic container.
You can easily find at your local Dollar Store, and some washi tape (colored masking tape).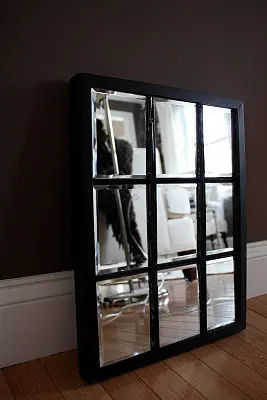 Credit: dollarstorecrafts.com
A rustic tiled mirror is the best way to elevate the visual appeal in any room! Talk about getting an expensive look for a fraction of the cost.
Here's a tutorial to guide you through this rustic DIY.
Credit: rosyscription.com
Instead of buying a plain magnetic memo board that looks a little – well, blah – just make your own for a fraction of the cost!
DIY-ing your own memo board with metal stove covers is the ultimate win-win situation. It also doubles as wall art – depending on how you decorate it!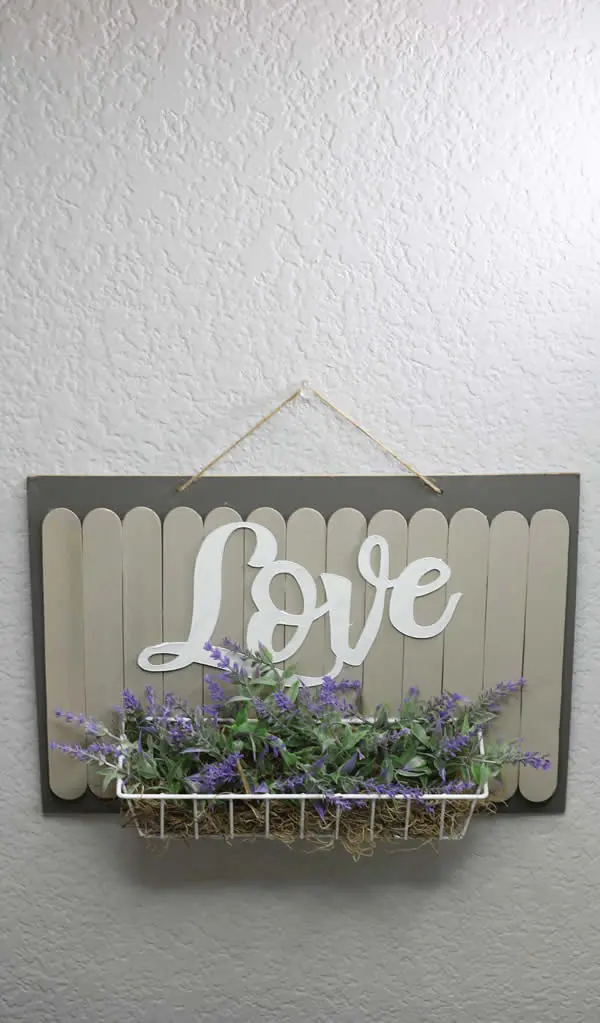 Credit: kimspireddiy.com
Welcome friends and family to your home with a warm greeting sign. Besides adding some character to your home.
This adorable sign serves as a charming piece of wall art for an empty wall by the front door.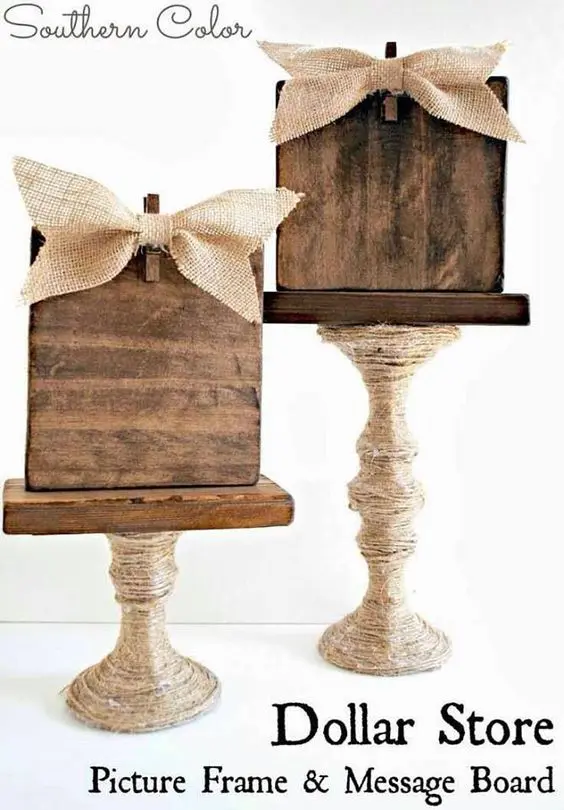 Credit: Pinterest
With this cute message board, you can leave yourself a little reminder about special occasions, important meetings, or even what's on your grocery list.
Besides serving as your personal assistant, this is also an adorable way to leave messages for your family members or roommates.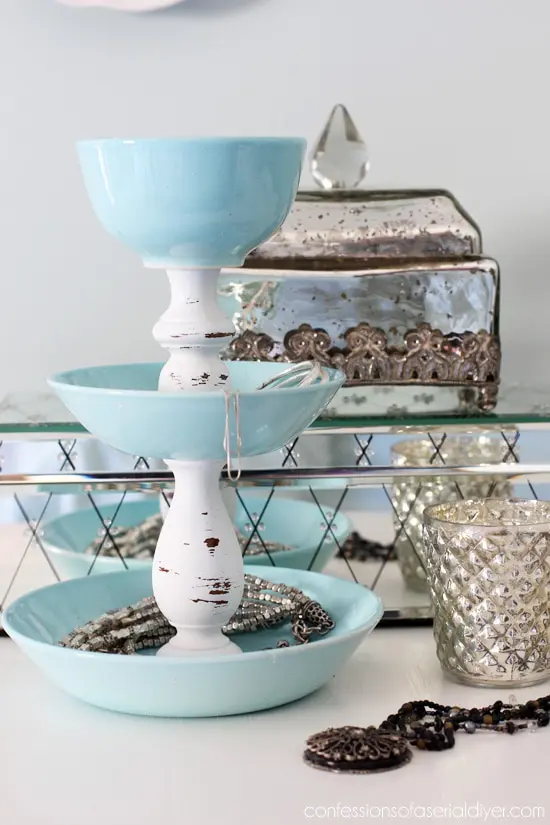 Credit: confessionsofaserialdiyer.com
Looking for an ultra-chic way to keep your jewelry in one place? You can easily build your own 3-tiered jewelry stand with a couple pretty plates or dishes from your local dollar store.
Use clear candle holders in between the plates to achieve a super-luxe vibe!
Here's a quick tutorial to guide you through it.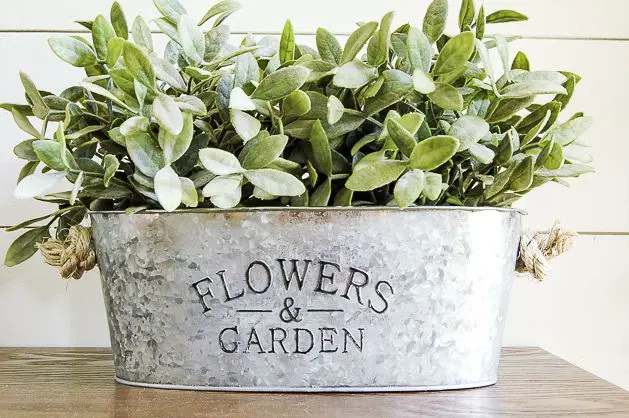 Credit: littlehouseoffour.com
Vintage-looking decors look great for the home. The problem is, they can be expensive, or if you wanted to age a metal piece naturally, it can't take years.
Fortunately, there's a quicker and cheaper way of doing this, and most of what you need are found in the kitchen.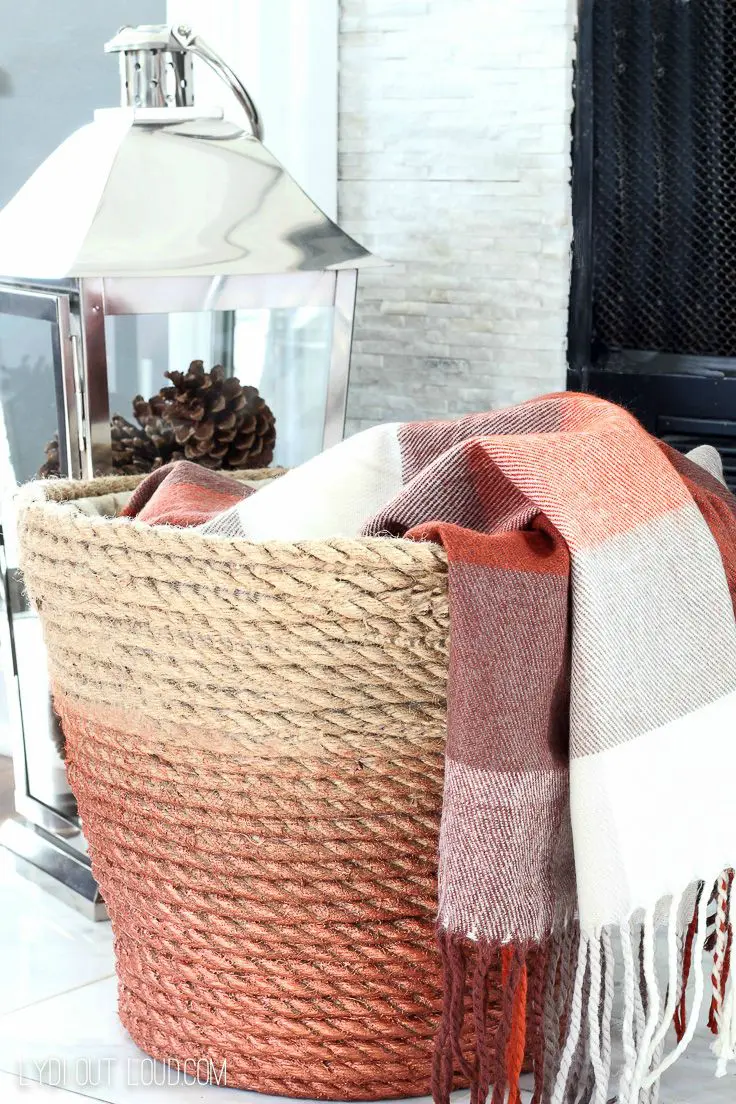 Credit: lydioutloud.com
There's something very homey about decorative baskets that you want them displayed in the open rather than being kept under the storage cupboard. An example is a throw in a rope basket by the fireplace – it just completes that warm, cozy vibe.
Specialized rope baskets can be pricey, but a couple of pieces from the dollar store could cut that price by over 10 times.
Here's what you'll need: a dollar store laundry basket felt or any cloth for the liner, glue gun, jute rope, a paintbrush, and metallic color. This example used the metallic rose gold shade found here.
Wrap the felt around the laundry basket and secure it with glue. Next, starting from the base and working your way up, line the basket with jute rope until you reach the top.
Once you've reached the top of the basket, trim the edges with a utility knife, then tuck the fabric towards the inside of the basket to create an instant felt liner. Finish off by painting the jute rope with your preferred shade of metallic paint. Easy, right?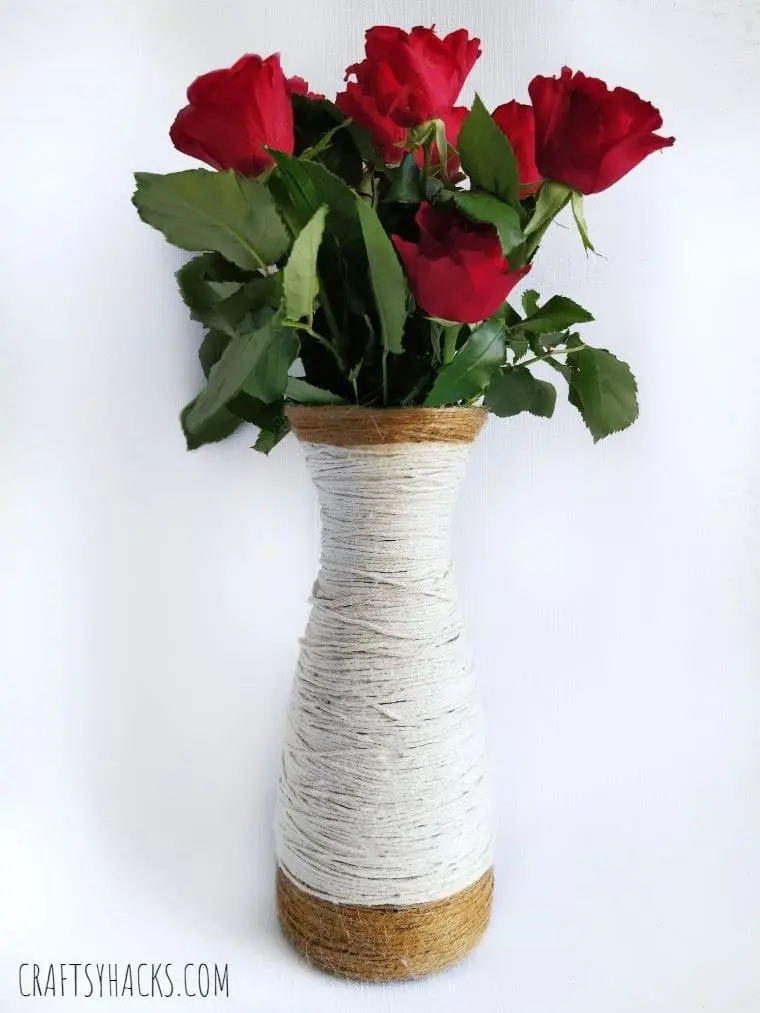 Credit: craftsyhacks.com
Beautiful flowers deserve beautiful vases, and you can achieve this in less than $10 with a few Dollar Store finds.
You'll need a tall glass vase, two different-colored jute yarns of your choice, a hot glue gun (I ordered mine here), and a pair of scissors.
The idea is similar to the rope basket we described earlier. Simply glue the yarn onto the glass vase, swapping the various yarn colors to create your design.
Read this to watch a video on how it's done.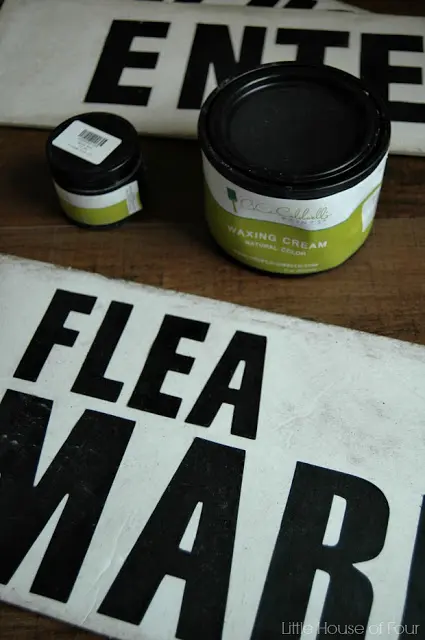 Credit: littlehouseoffour.com
Signs add a bit of humor to the home. Create your own sign with a vintage feel to add even more character to it.
You will need a foam board from your dollar store, as well as black adhesive letters. If your local dollar shop doesn't stock the letters, this set is a great alternative, as they come in 6-inch sizes, making them the perfect to use for signboards.
You will also need aging dust like the one found here, clear wax, paintbrush, and a utility knife. Simply cut your board according to the size you want, use the letters to create your sign.
Brush clear wax across the finished product, and complete the vintage look by sprinkling the aging dust.
Hang this on top of your doors, in the garage, or the kitchen – anywhere that is appropriate for whatever your sign says.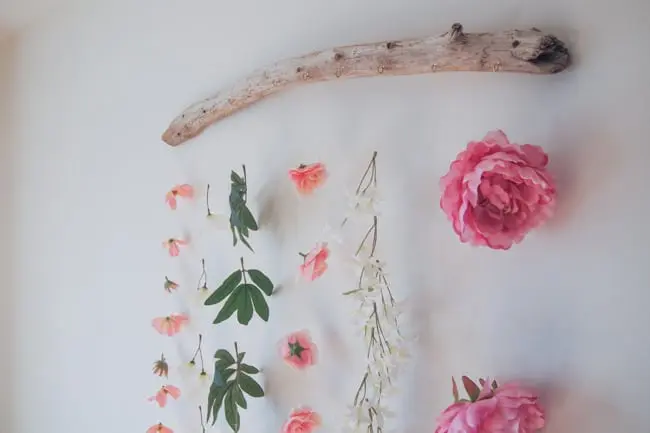 Credit: thelearnerobserver.com
This project is super easy and so fun to do. All you need are artificial flowers that should be available from your local dollar store. They didn't have the shades that I wanted at my local store, but fortunately, I found them here.
The next bit is to use a thread and a needle, poking holes on the stems and spacing each flower out appropriately.
You can do the same with leaves and create as many stringed pieces as you want. Finally, get a piece of driftwood, attach hooks on to them.
Tie each string on the hook, to create a free vertical line of "floating" flowers and leaves. It's so easy, right? Now hang them on to your wall using these commando strips.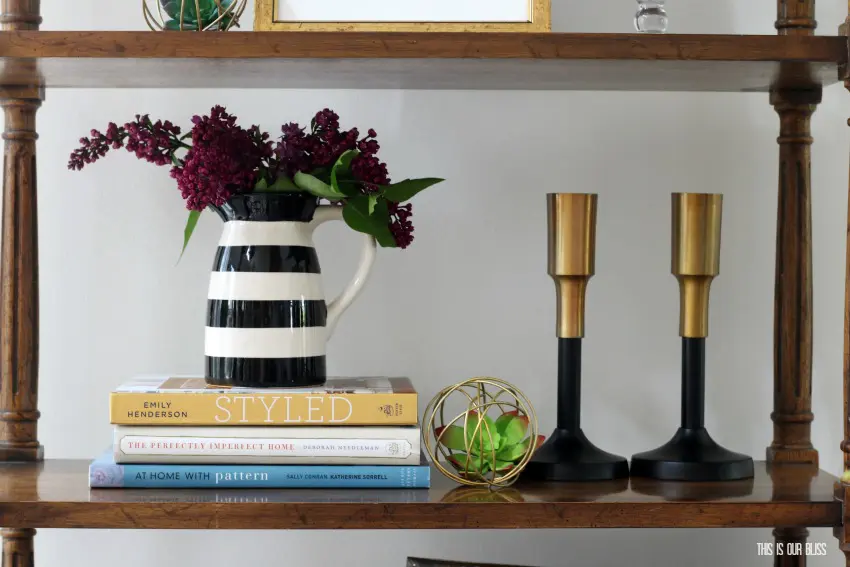 Credit: thisisourbliss.com
Create an interesting decorative piece for your bookshelf or desktop with faux succulents and floral wires from your dollar store.
You would also need gold spray paint like the one found here to finish the look.
Credit: thistlewoodfarms.com
This mirror mosaic may seem expensive, but believe me, it's all sourced from the dollar store. This expensive-looking wall décor is made from a combination of dollar store compact mirrors attached to a wooden base.
There is really no detailed guide to this, as the pattern is up to you. You simply need to separate the two pieces of compact mirrors and then go ahead and create your mirror mosaic.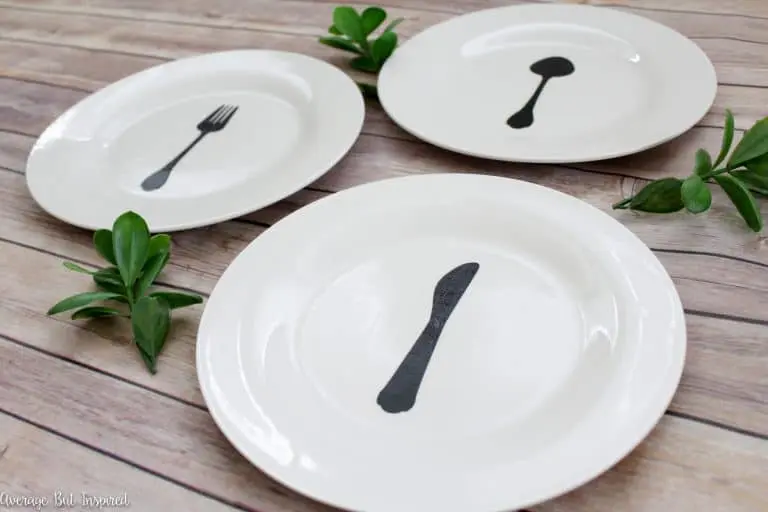 Credit: averageinspired.com
This is a super cute project that is fun to do with the kids over a weekend. You will need some dollar store plates, black cardstock, and mod podge.
I always go for this dishwasher-safe mod podge to use it in all of my craft works, including my kitchenware.
The idea is to cut out your desired pattern on the black cardstock, then attach and seal it onto the plate using the mod podge. It's that easy, which is why I recommend leaving the plate design to the kids, and you can do the plate décor hanging after.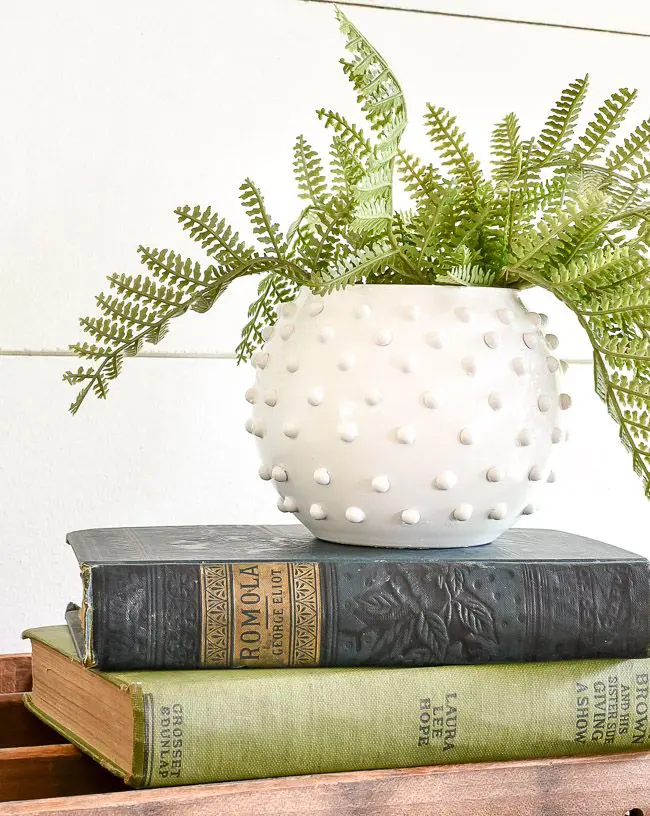 Credit: littlehouseoffour.com
Hobnail milk glass is stunning, yet again can be quite expensive. The good news is, you can make a hobnail milk glass replica with just a few purchases from the dollar store.
Grab your dollar store cart and get a glass vase, pearl stickers, and an all-purpose stronghold glue.
Clean the glass vase first to ensure it's free of any residue. Next, line the pearl stickers on and use glue to ensure it sticks really well.
Finally, coat the vase with a glossy white finish, using spray paint similar to this.
Congratulations, you have now created your own gorgeous hobnail milk glass, which you can use to house your beautiful greens.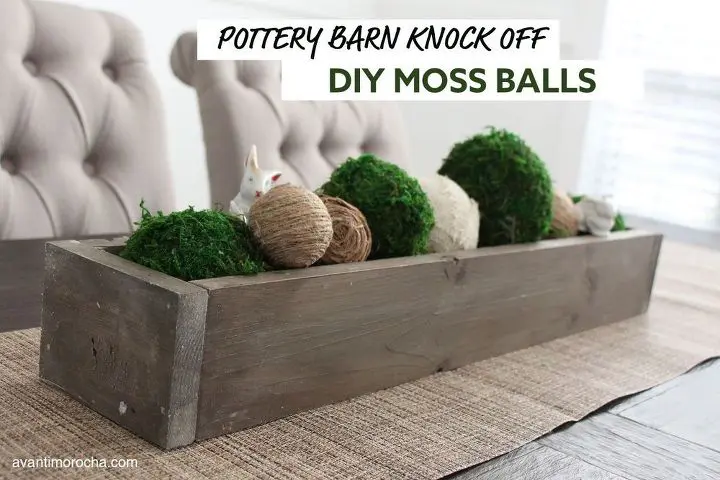 Credit: hometalk.com
Pottery Barn released these moss balls some time ago, which are perfect decors for especially during the spring and summer months. They have since gone out of stock, and I haven't found any retailer selling the same style.
Luckily, I came past this idea using dollar store finds: plastic balls, moss, twine, and tacky glue. If you can't find the glue, you can always get them here.
The idea is to cover the plastic balls with twine or moss using the tacky glue. Watch this video to see how it is done.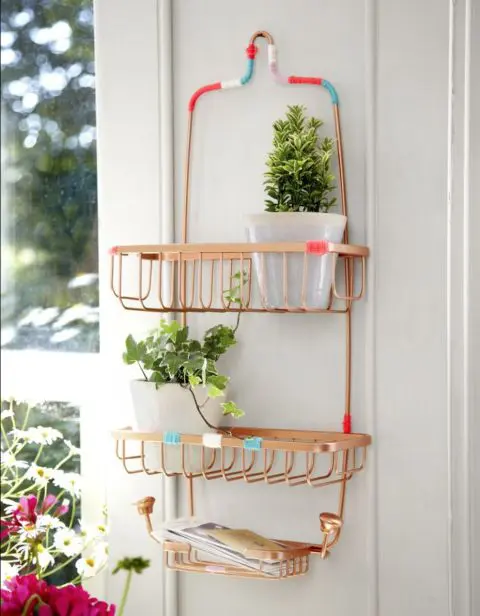 Credit: countryliving.com
If it wasn't in the title, you wouldn't even know it was a shower caddy, right? That's the beauty of dollar store finds, your imagination and creativity can turn it into something it wasn't.
I'm loving rose gold, so I used the metallic rose gold finish I found here for my DIY mail caddy project.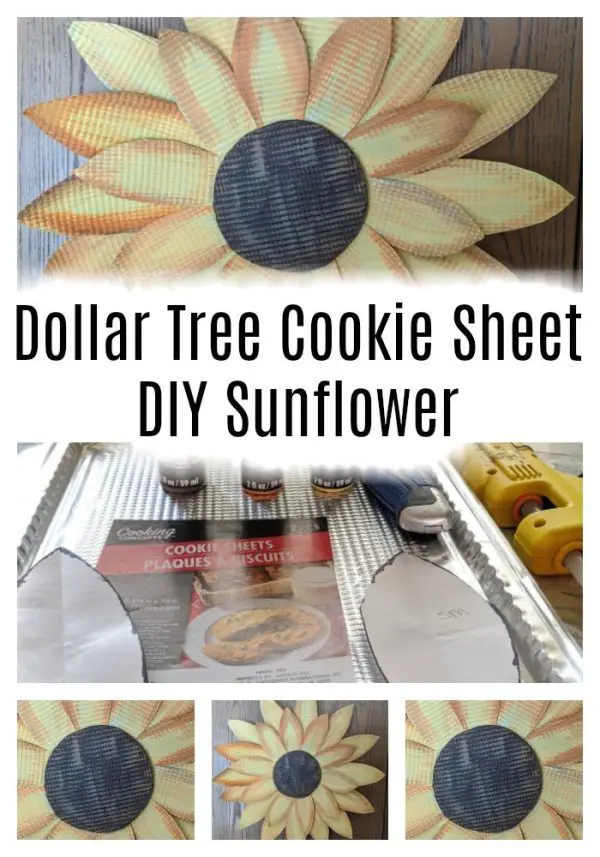 Credit: craftgossip.com
I love this bright sunflower wall art! Believe it or not, it's all made from cookie sheets available at the dollar store.
You will need scissors, glue, and acrylic paint and brushes. I purchased my paint set here, and I love that it has 24 different colors and 12 different paintbrushes for use in my other craft projects.
When you have all your materials gathered, all you need to do is cut and paint the foil sheets according to your design. It's such a fun family project to do, don't you think?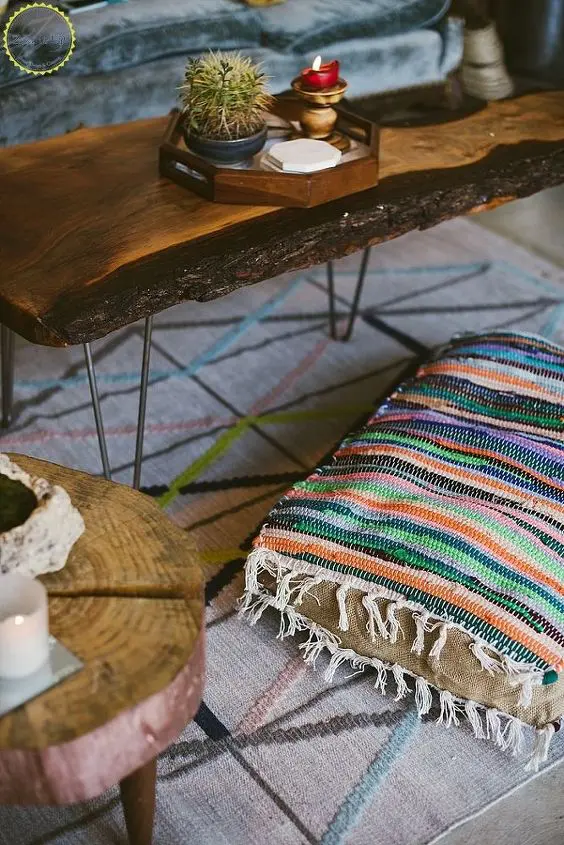 Credit: hometalk.com
Floor pillows give your space a more inviting feel. Create your own unique and vibrant floor pillows with just a few rugs purchased from the dollar store.
Read this step-by-step guide on how to create one. But before you do so, make sure you have the materials, such as your rugs, cotton string, yarn needle, an old pillow, and a burlap cloth like this.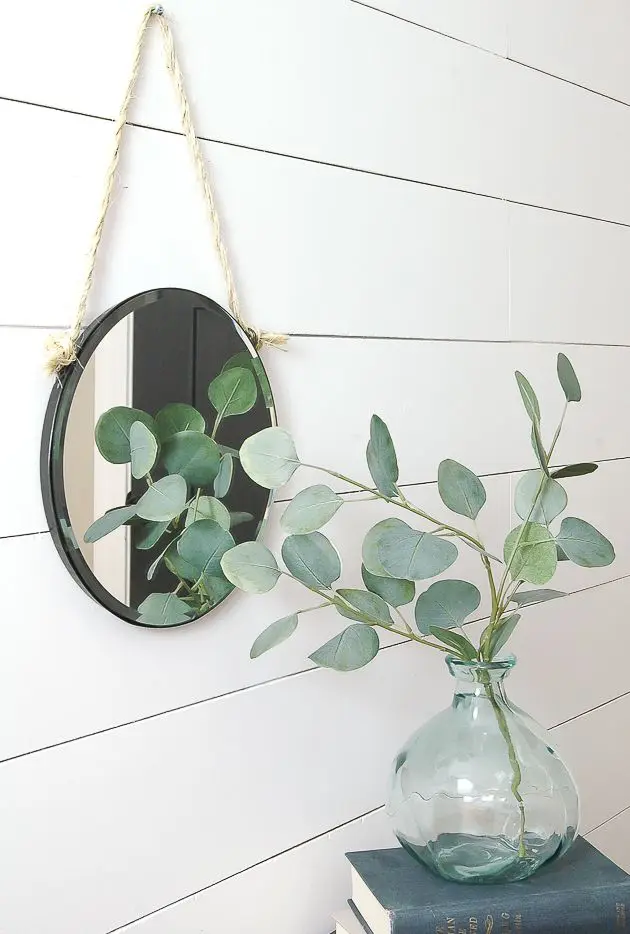 Credit: littlehouseoffour.com
This eye-catching wall décor is made from a burner cover. Such a cool transformation, right?
If you want to recreate your own, ensure you have an appropriate-sized craft mirror like this.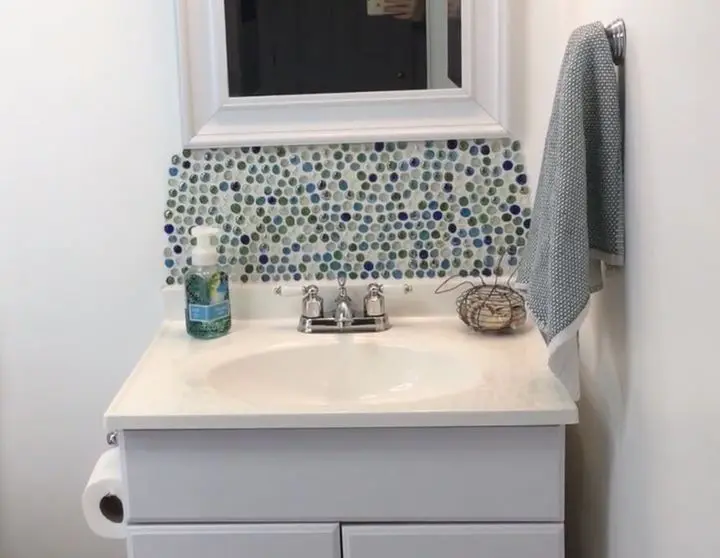 Credit: hometalk.com
Mosaic backsplashes bring added character to any room. Spruce up your toilet or kitchen by creating a mosaic backsplash using a mix of dollar store gems.
Apart from the gems, you will need a ceramic tile mastic, stretch caulk, grout, and painter's tape.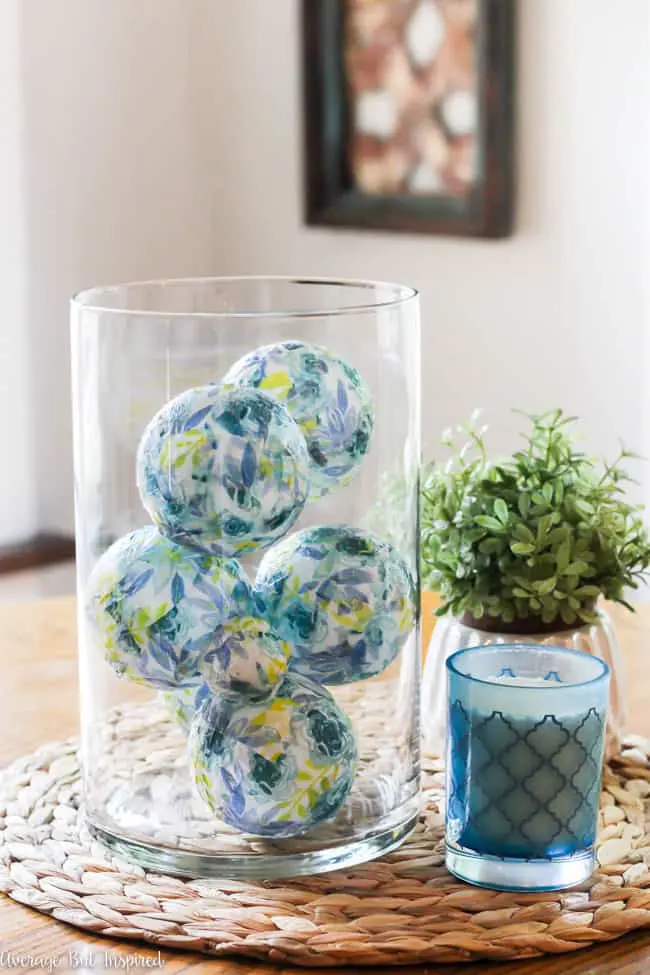 Credit: averageinspired.com
Recreating these attractive ball vase fillers is similar to the process of the Pottery-Barn inspired moss balls we showed you earlier on this list.
Instead of using moss or twine to cover the balls, the difference is using decorative napkins instead. Use mod podge to seal the napkins onto the balls.
This is another great project that the kids will surely enjoy creating with you.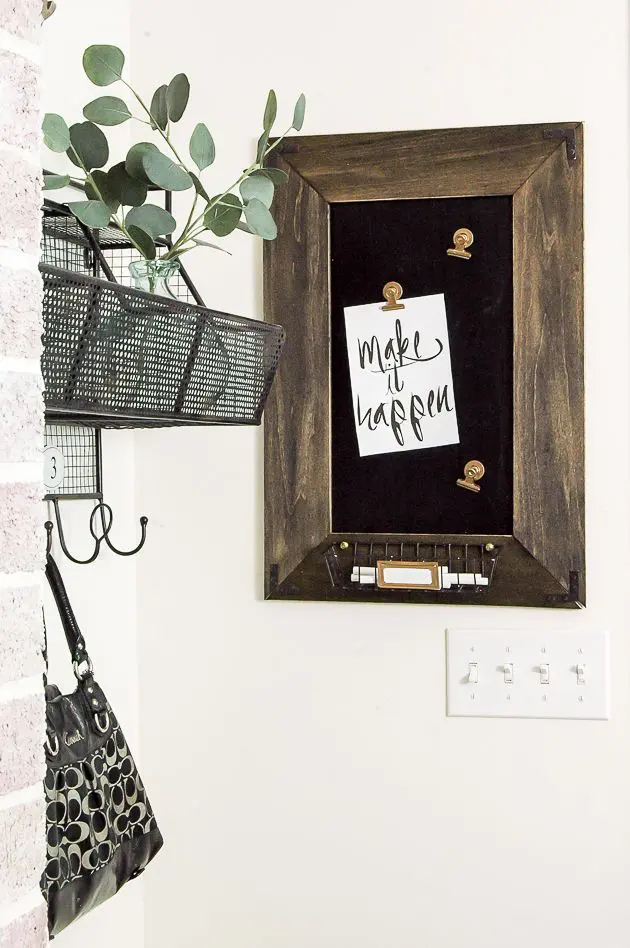 Credit: littlehouseoffour.com
This DIY project is great for your entryway or by the kitchen countertop. To recreate it, you will need to combine a few Dollar Store finds, such as a wooden frame, a sheet of a magnetic chalkboard, a small wire rack, some chalk, and a few paper clips.
It's a great tool for writing messages and reminders for the entire family to see.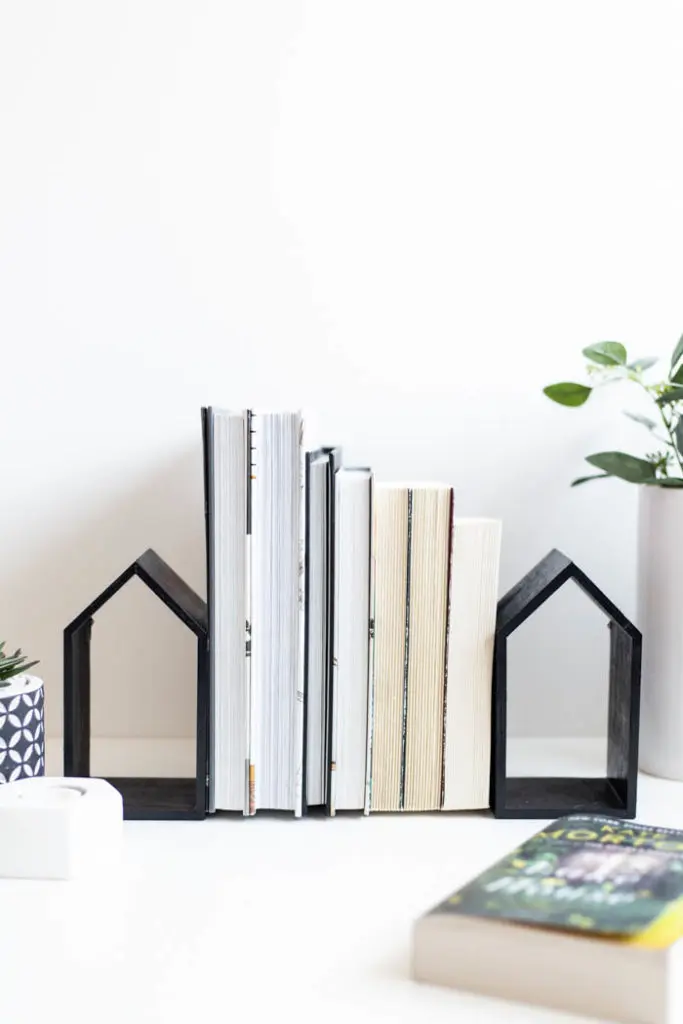 Credit: lovecreatecelebrate.com
This is another straightforward but adorable little project that will look great on your bookshelves.
All you need are some wooden mini house frames, brackets, black spray paint like the one sold here, adhesive, and clamps.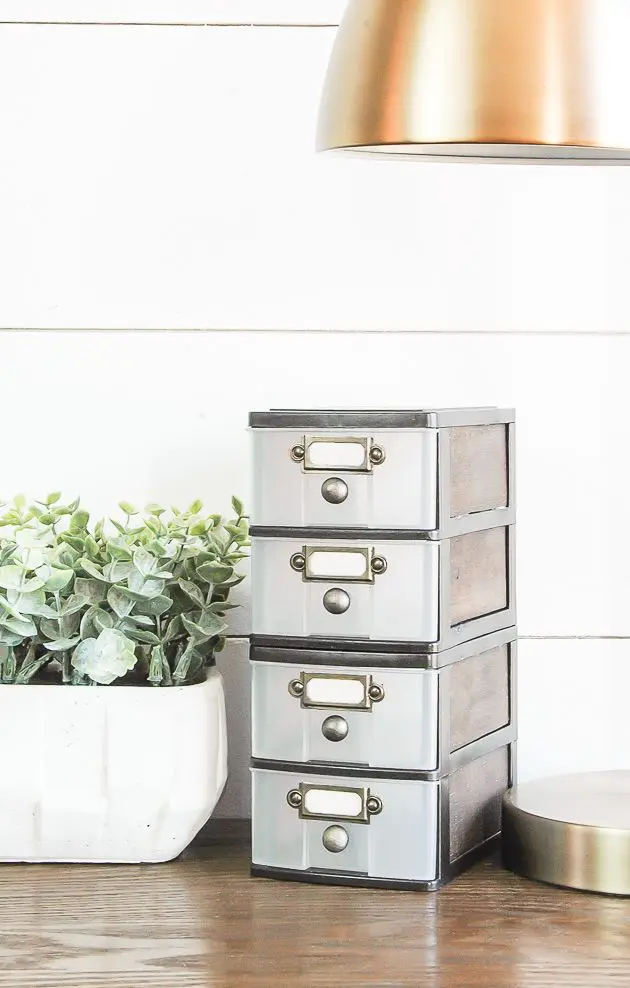 Credit: littlehouseoffour.com
Industrial farmhouse furniture is so stylish but also can get so expensive. Fortunately, our love for DIY and all things inexpensive will allow us to recreate one without denting our bank accounts.
The idea is to use plastic storage drawers and replace them with metal label holders like these. Spray paint the drawers' frame with your desired color, and add a couple of wood panels on the side to complete the vintage farmhouse feel.
Check out more Farmhouse décor ideas here.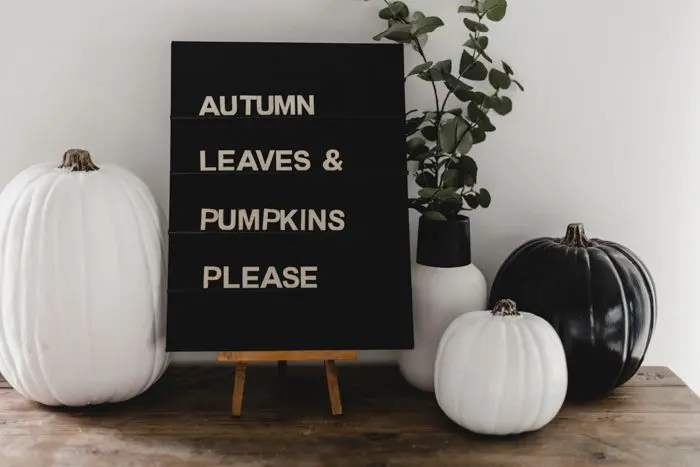 Credit: lovecreatecelebrate.com
Letterboards are becoming increasingly popular for use in events such as weddings and birthdays. They are also gaining popularity as home decors.
Watch this video for a full tutorial, including a list of the materials you need.
My favorite use for my letter board is on my desk. I write different quotes on it every day for inspiration.