Make your very own fall wreath! Get some inspiration with these autumn wreaths that are super fun to make and look amazing in your house.

With the fall season upon us, it's important to get ahead of your fall decorating. I bet the inside of your home is already decked out in all its fall themed-splendor.
But what about your front door? You do know that your front door and porch are the first things your guest and any passers-by see of your home? So it's super important to decorate that space, as well.
A gorgeous fall wreath is what you're looking to jazz up that space—something elegant in full fall colors or perhaps something spooky to welcome Halloween?
Here are 27 DIY fall wreath ideas for you to explore!
1. Shabby Chic Wreath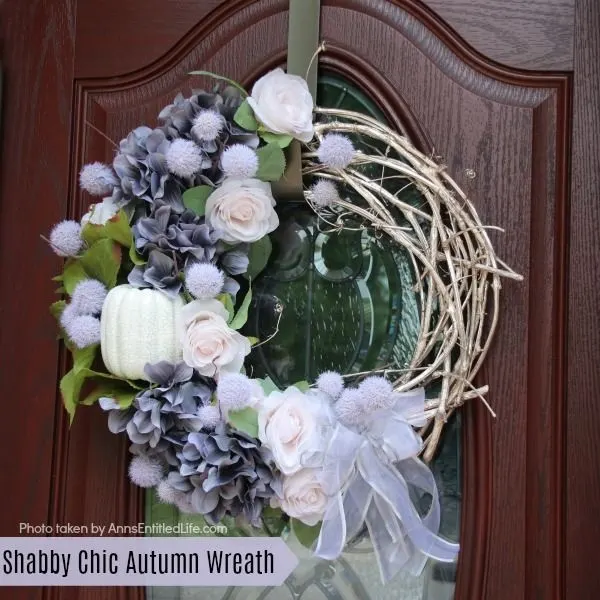 Source: annsentitledlife.com
Shabby-chic is perhaps my favorite decor style ever. So when there's a chance to merge shabby-chic with the fall season, I say grab it!
This elegant wreath is unique and distinctive yet sublimely timeless. They're perfect for weddings and events, for your front door, or even just over your mantle.
The point is that even fall-themed, it's subtle and almost pastel-hued as opposed to the deep reds and warm oranges you usually expect from a fall wreath.
Grab this white grapevine wreath and start crafting.
2. Modern Fall Wreath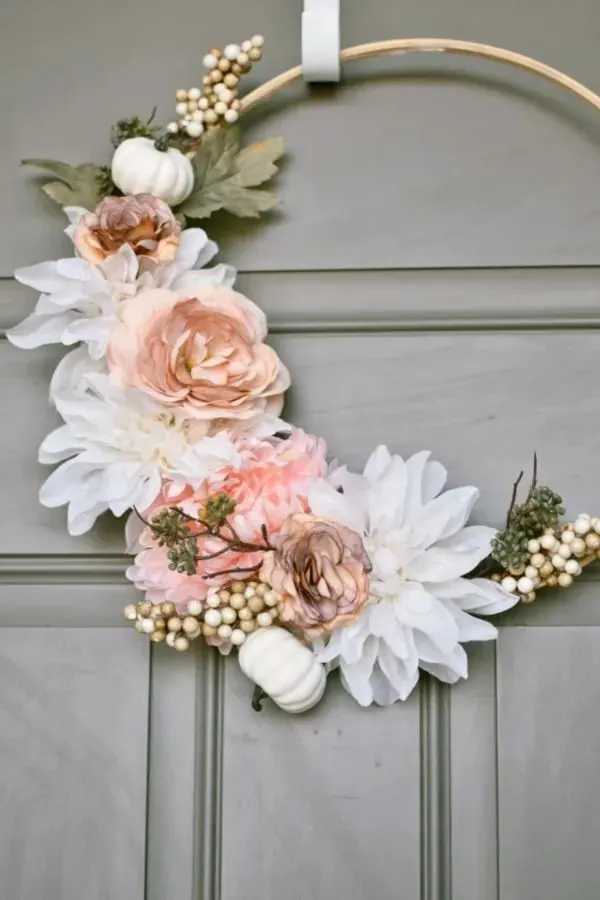 Source: loveloveloveblog.com
Here's yet another elegant pastel fall wreath for you to try out. Only, for this one, you'll need to use this embroidery hoop instead of a traditional wreath form.
You'll also need a hot glue gun, cutting pliers, twine, and your faux fall florals. But instead of fall-colored florals, how about you pick out some muted shades instead?
You can add some ribbons, fake acorns, and some dried sprigs and herbs to spice your wreath up. You can also switch out the flowers for some holly or simply wispy sprigs of baby's breath.
3. Solar Skull and Roses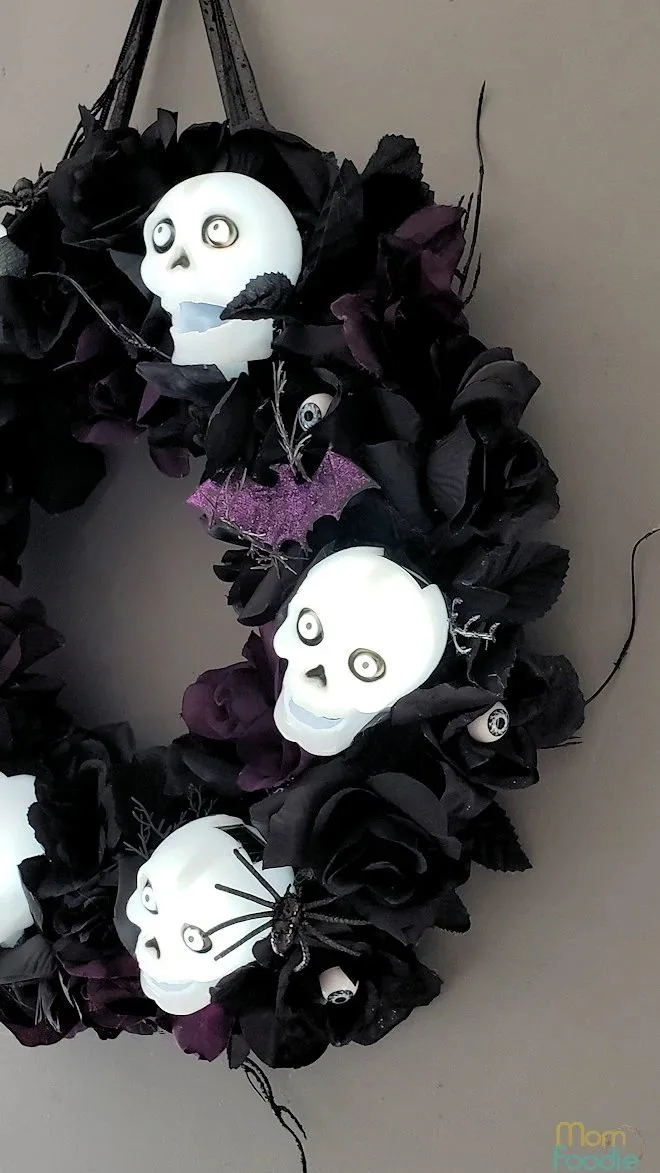 Source: momfoodie.com
Fall wreaths are often a great way to start preparing yourself and your homes for the biggest fall festival—Halloween night! And what says Halloween more than spooky skulls and eerie eyeballs?
Your fall wreath is the first thing that trick or treaters will see when they visit your home. So let's make it count with the spookiest wreath ever!
Here's an idea, you can use glow-in-the-dark skulls, too! How cool would that be! Then your spooky skeletons will be spookier still!
4. Floral Fall Wreath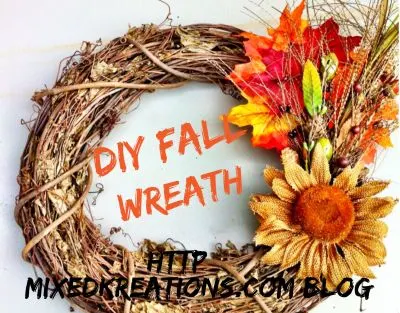 Source: mixedkreations.com
After that last super spooky black skull wreath, how about we mellow things down a bit? A traditional fall floral wreath is what you'll need.
First, pick out your wreath form—preferably a grapevine wreath to make it rustic and earthy. Then use wire cutters and floral wire to tighten the twigs, florals, and other props and carefully secure your wreath.
Do you know what would really kick this up a notch? A raffia bow like this! You can also secure a few burlap ribbons and twine them around the grapevine wreath to finish it up a bit.
5. Sage Wreath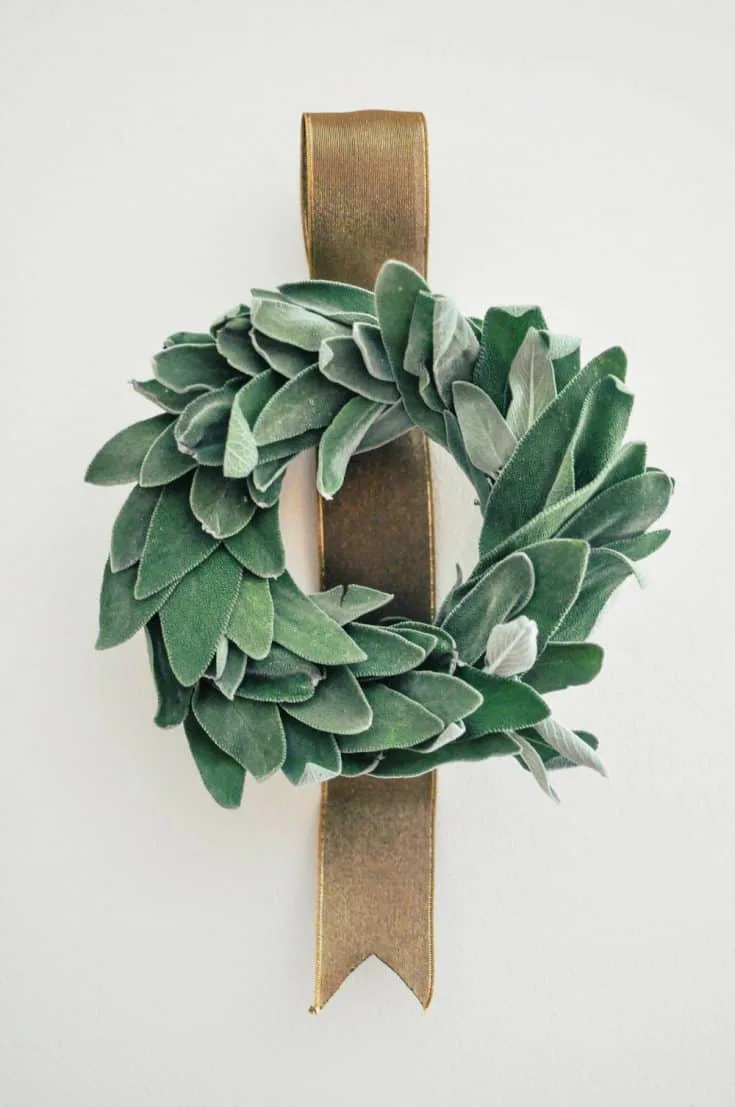 Source: thishealthytable.com
Did you know that sage has some healing properties? White sage in particular, has been known to be used to cleanse a space and free it of any negativity.
That's why a sage fall wreath is the perfect choice for your front door. It has a lovely methanol smell—minty and fresh but also interspersed with fall's rich and earthy musk.
You can use a foam wreath from here and floral pins like these to help you tack the fresh sage leaves in place. This wreath really doesn't need any extra fittings or embellishments.
It's fresh, elegant, and just what your front door needs. In fact, you can use it once more come spring!
6. Rustic Fall Burlap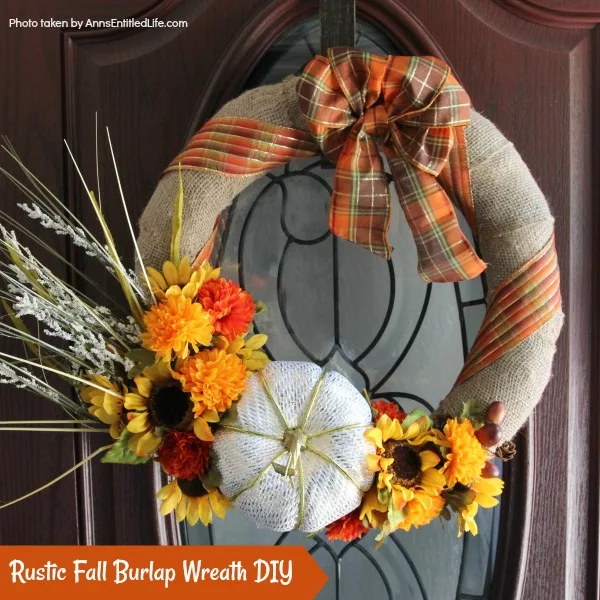 Source: annsentitledlife.com
There's something quite Scottish about this particular wreath. Perhaps it's the tartan ribbon and bow draped over it.
Or perhaps it's that splash of wildflowers that you can only see in the sprawling Highlands. Whatever it is, it's earthy, rustic, and entirely reminiscent of rich traditions.
Don't forget that this wreath is completely wrapped in burlap cloth, so it only amps up the rusticity of your fall decor.
You can use a pre-wrapped burlap wreath, or you can buy your own burlap fabric from here and pin it around a foam wreath form to the same effect.
7. Dollar Store Wreath with Lights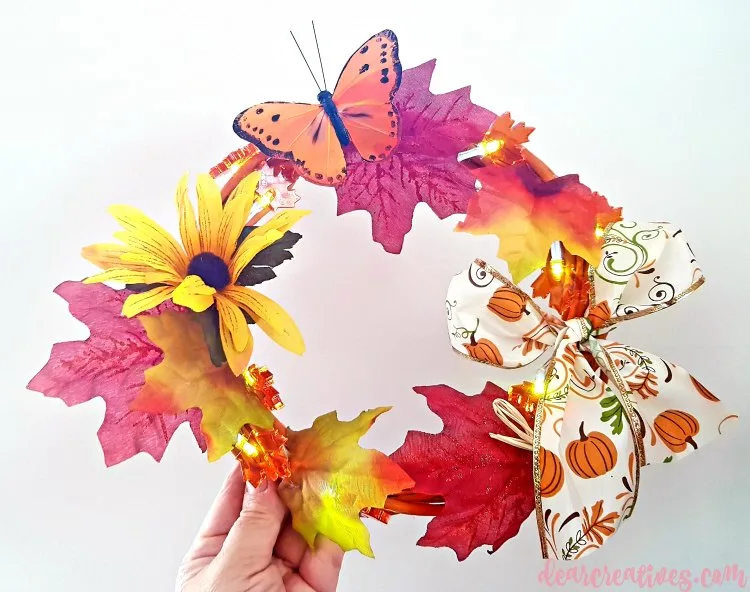 Source: dearcreatives.com
Dollar stores really are wondrous places, don't you think? There's no limit to the number of things you can find from there and use in your craft projects.
They're inexpensive, easy to customize, and a wonderful way to unleash your creativity. Take this dollar store fall wreath, for example.
You can find everything you need for this project at your nearest dollar store. This includes a willow wreath form, faux flowers, mini lights, floral wire, and even decorative butterflies if you fancy them!
8. Dollar Tree Halloween Wreath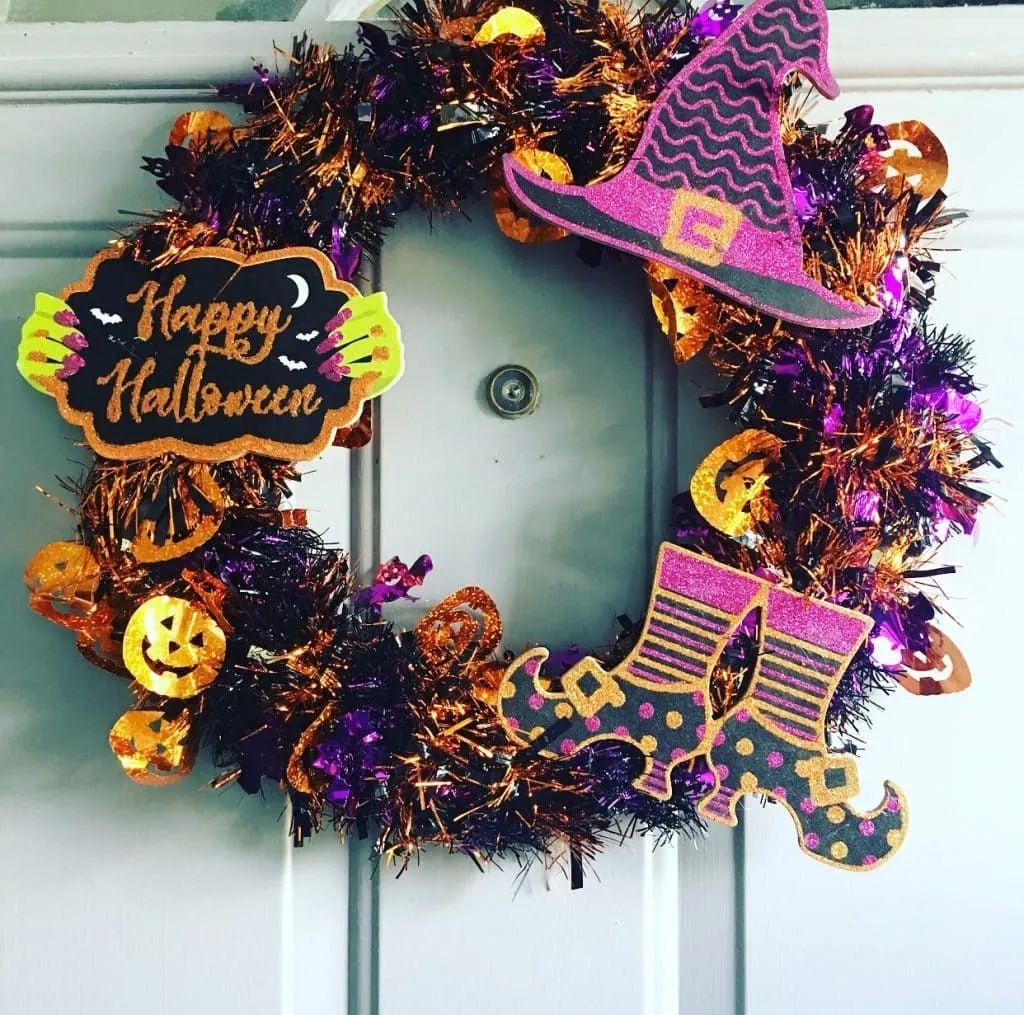 Source: makingfrugalfun.com
Don't leave that dollar store just yet, because I have yet another dollar tree wreath for you to try out this Halloween! It's super easy to make and will probably take under an hour.
You'll need a wreath form, a 'Happy Halloween' sign, a hot glue gun like this, and some Halloween-themed garlands. You can jazz it up with a few spooky craft props, too.
It's essentially an all-you-can-scrounge-up wreath. You can throw in a few paper pumpkins, fall leaves, and even strings some fairy lights to finish it up.
9. Wicked Wisteria Wreath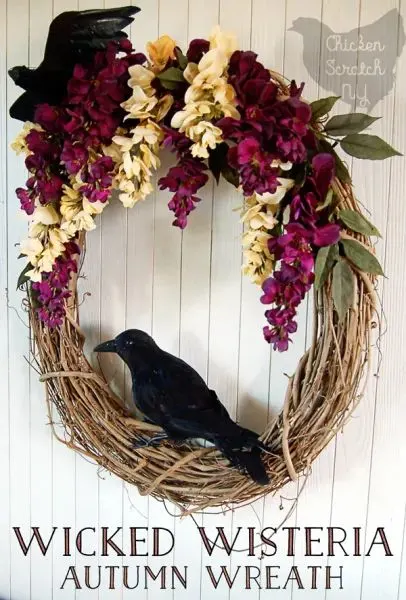 Source: chickenscratchny.com
Wicked wisteria wreath. Even the name of this oddly spooky combo sounds seasonally appropriate, don't you think?
I've always considered wisteria to be autumnal, so why not use those drooping flowers to make your fall wreath? They come in different colors, and you can pick up your faux wisteria here.
The 'wicked' part comes into play with a few decorative crows and ravens you can attach to your wreath. They're just the right touch of spooky and the perfect blend of fall and Halloween, too.
10. Neutral Fall Wreath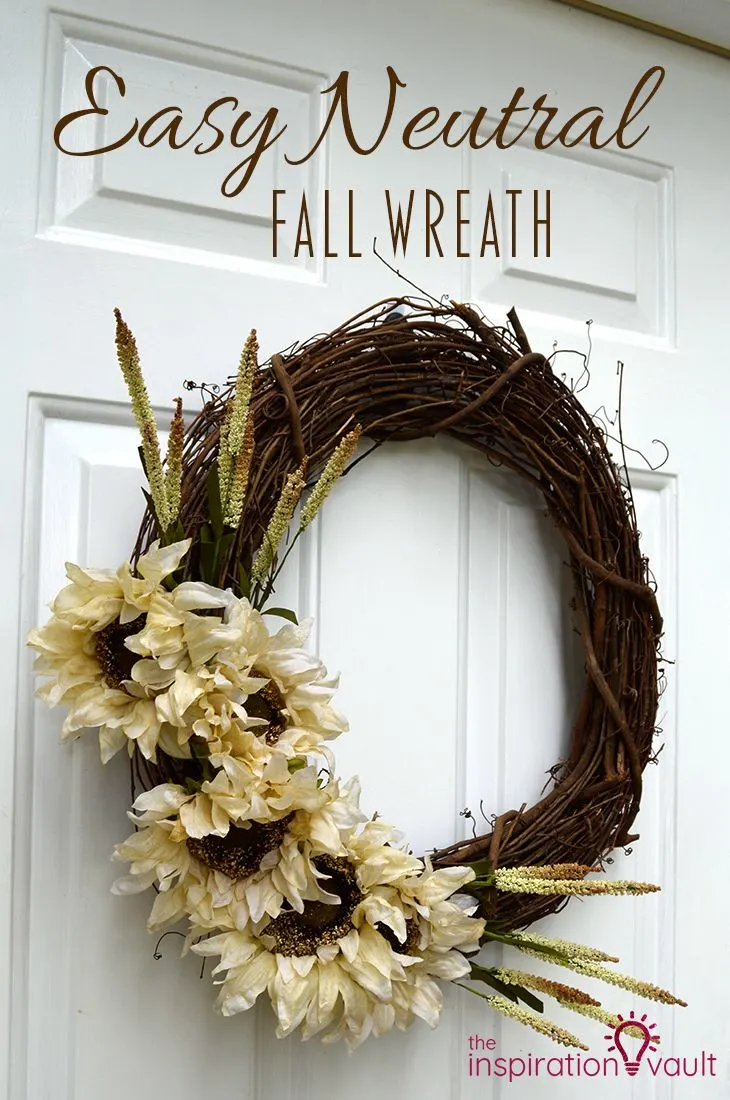 Source: ellemariehome.com
Sometimes, it can be quite a chore to make a new wreath for both fall and Halloween. Your elegant fall wreath might be too bland when it's time for Halloween, and your Halloween wreath might be too much for your everyday decor.
How about a neutral wreath? This wreath is simple, elegant, and inexpensive to make, too. It's got just the right amount of withered look you'd want to see in a fall wreath.
You can use white sunflowers from here instead of typical fall colors and a few floral stems to make it dressier. Also, if you're up for it, how about you add a few stalks of neutral-toned, dry pampas or reed grass?
11. Scarecrow Wreath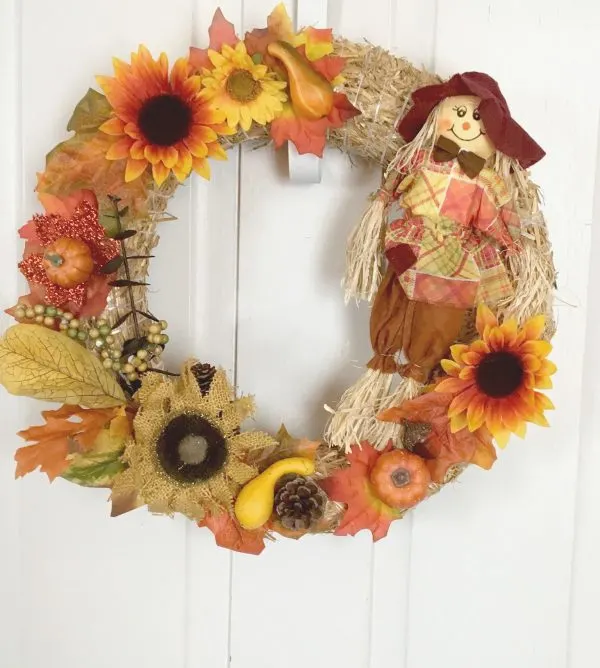 Source: craftbits.com
A scarecrow wreath is like a rite of passage, I think. It's highly reminiscent of a good old-fashioned, rustic country fall wreath.
They're also very easy to make. The raggedy scarecrow can do wonders to boost that rustic-creative effect you're going for. You can also use some gingham ribbon from here to achieve the same effect.
Since it's a very outdoorsy wreath, you can feel free to add some sunflowers, pumpkin picks, faux leaves, and more to your wreath. Make sure that all the different components are secured by hot-gluing them in place.
12. Grapevine Wreath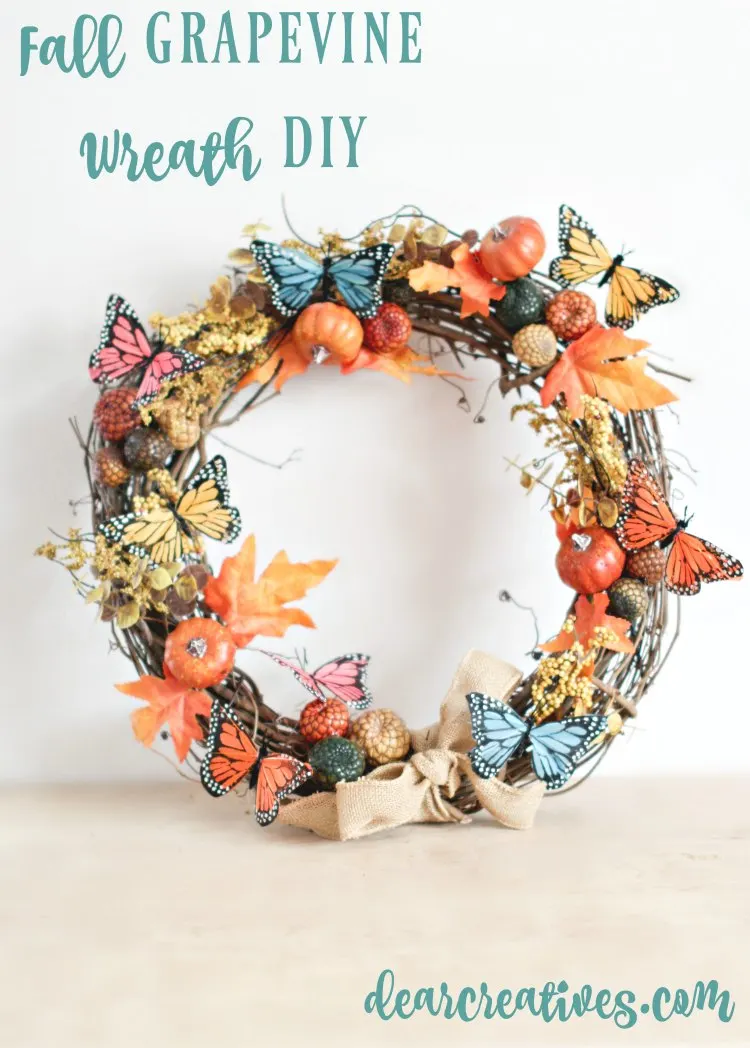 Source: dearcreatives.com
A grapevine wreath like this with its fall festivities proudly displayed would be a wonderful addition to any home. Just look at all those different components.
You can add butterflies, little sprigs of faux florals and leaves, tiny pumpkins, pinecones, and acorns, or even tie some burlap ribbon into a nice big bow. Your choices are endless with this fall wreath.
You might need a pair of tweezers like this to help you attach the tiny decorative pieces. They provide the control and precision you'll definitely need.
13. Burlap Pumpkin Wreath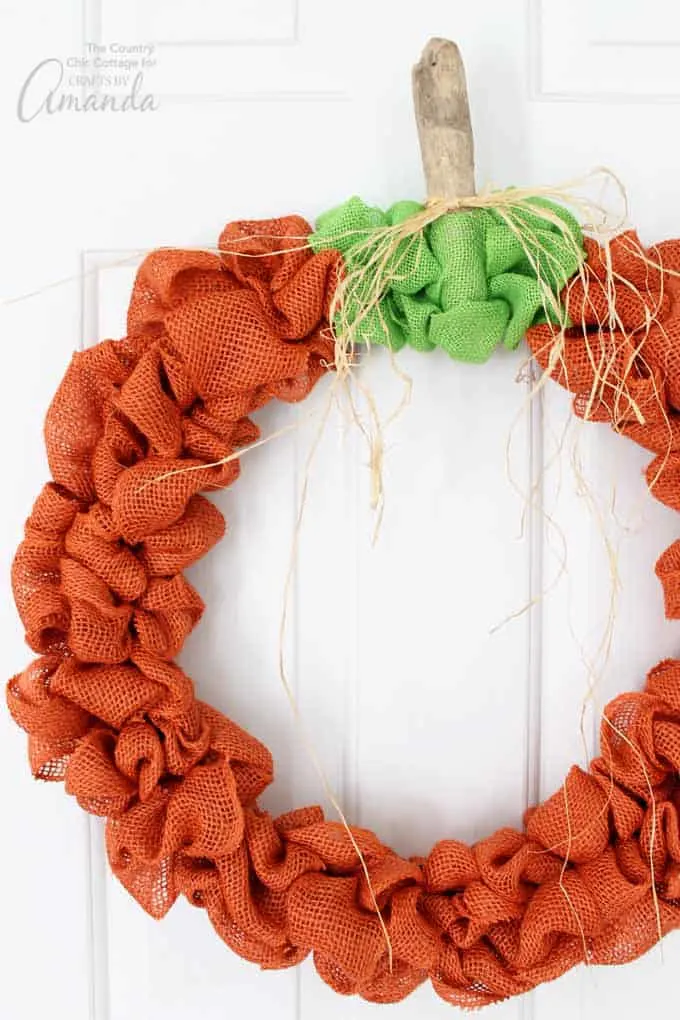 Source: craftsbyamanda.com
Burlap is quite a versatile fabric. It can add a wonderful rustic touch just as easily as it can enhance simple elegance.
Its texture, in particular, can offset any color and pattern when paired the right way. This gorgeous burlap wreath would look lovely hanging by your front door.
It looks exactly like a pumpkin, and that's why this fall wreath would be a great addition to your home decor. You can find your colored ribbon here and pick up your wreath form at your local craft store or any dollar store.
14. Feather Wreath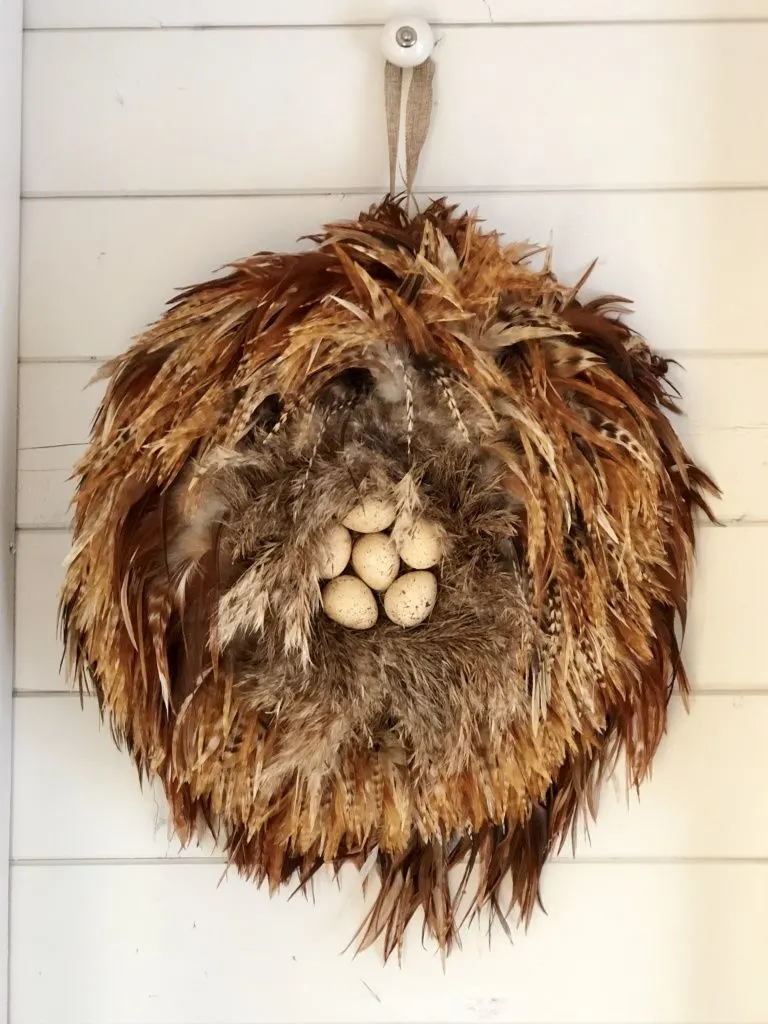 Source: hootshack.com
Feathers are once again a great texture-enhancing craft material to use for a project. They're also very rustic, and depending on the type you use, you can add the right seasonal colors to your wreath.
This wreath, for example, is earthy and warm. You can find the usual fall colors: rust, brown, beige, and the odd grey and black speckled bits here and there.
You might need to use two wreath frames—one smaller than the other—to give you extra depth and layer.
15. Acorn and Pinecone Wreath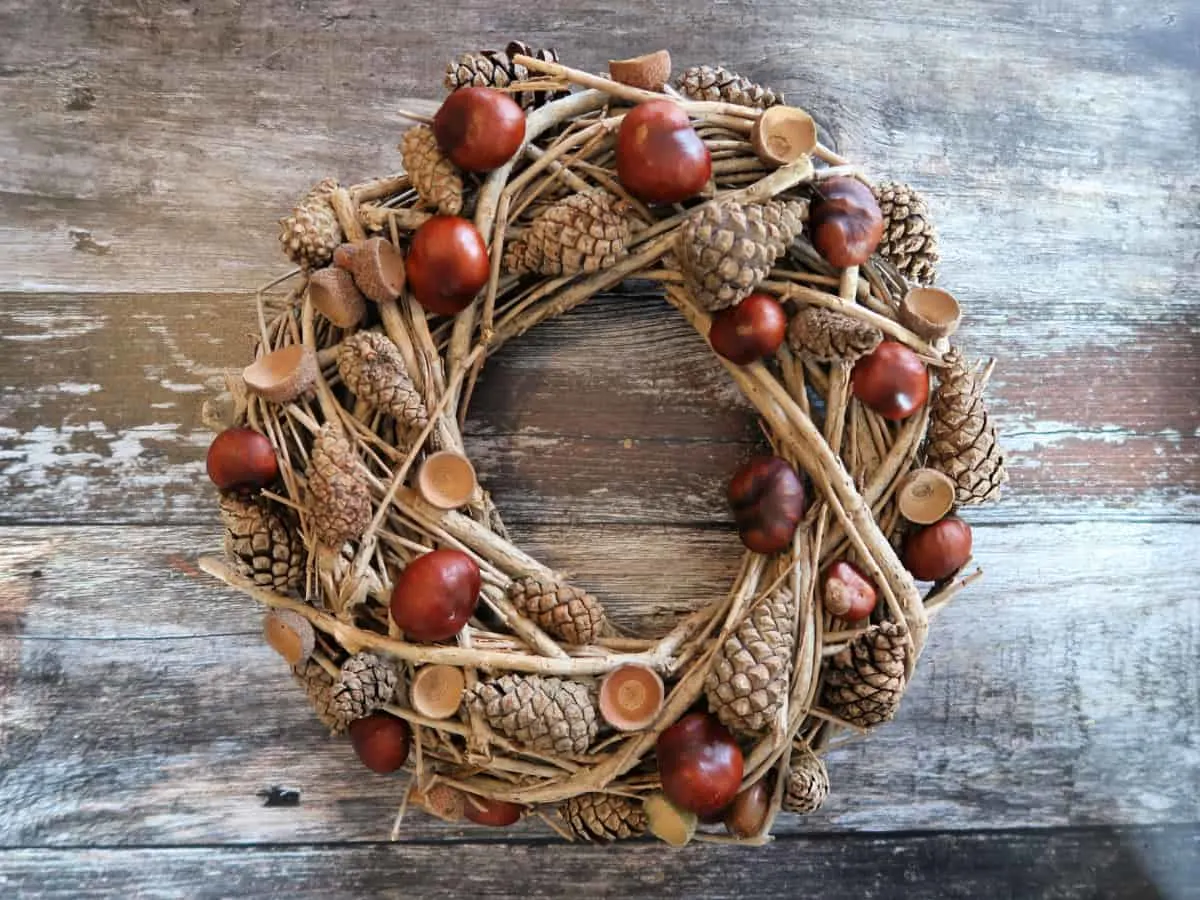 Source: craftinvaders.co.uk
Acorns and pinecones are as autumnal as you can get. They're found in abundance during fall, and you'll only need to step outside to gather as many as you'll need.
This craft project is full of natural craft components which makes this wreath inexpensive and easy to make. It's a wonderful way to bring the outdoors inside your home, or at least to the front door.
Here's a tip: once you're done making your wreath, you can 'set' it by spraying a top coat of semi-gloss rust-oleum to finish the wreath.
16. Fall Wreath Harvest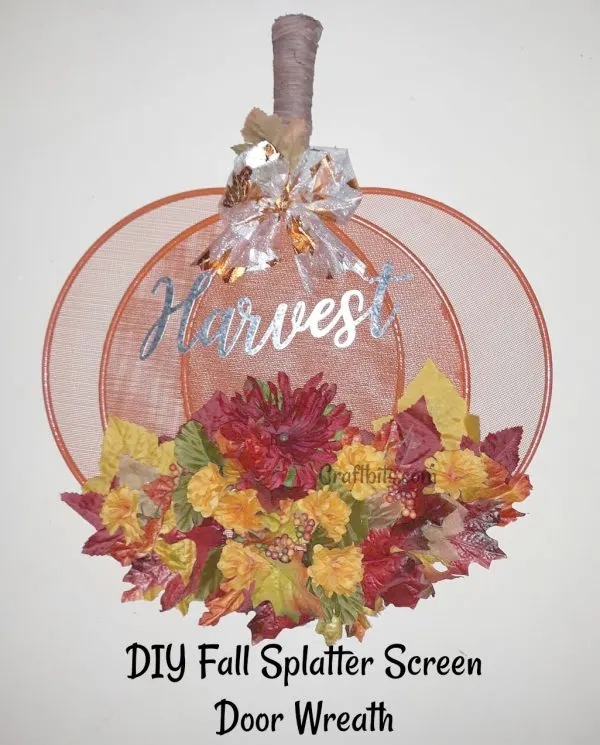 Source: craftbits.com
Fall harvest wreaths are wholesome and earthy. They bring a much-appreciated sense of bounty and warmth into your hearth and home.
For this project, you'll need three splatter screens—these will replace your traditional wreath forms as the base. You'll also need craft glue, rope to hang the wreath, spray paint, and craft glue.
You can also choose some fall-themed embellishments, faux florals, leaves, and branches to complement your wreath.
Why don't you check out these 27 easy fall crafts for more creative ideas this fall season!
17. Pretty in Pink Wreath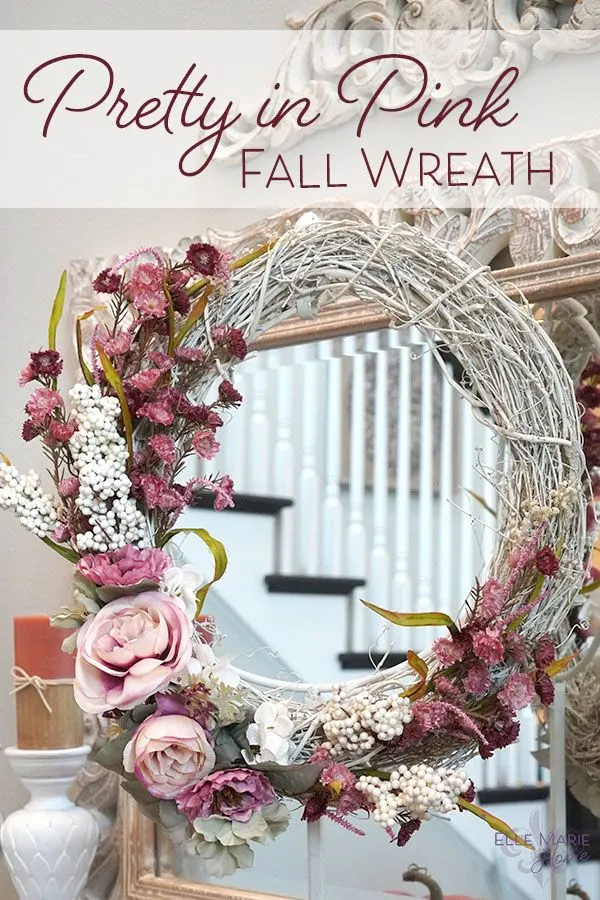 Source: ellemariehome.com
Pink is not typically a color you'd expect to see on a fall wreath. Sure, they'd look wonderful on an Easter or spring wreath, but not usually on a fall wreath, no.
But the subtle yet deep shades of pink used here are oddly reminiscent of fall. They're not cheerful pinks but rather dusky roses, deep burgundies, and warm ivories.
Pick out a white grapevine wreath, gather your florals and even consider adding a few berries and pinecones to your wreath.
18. Eyeball Wreath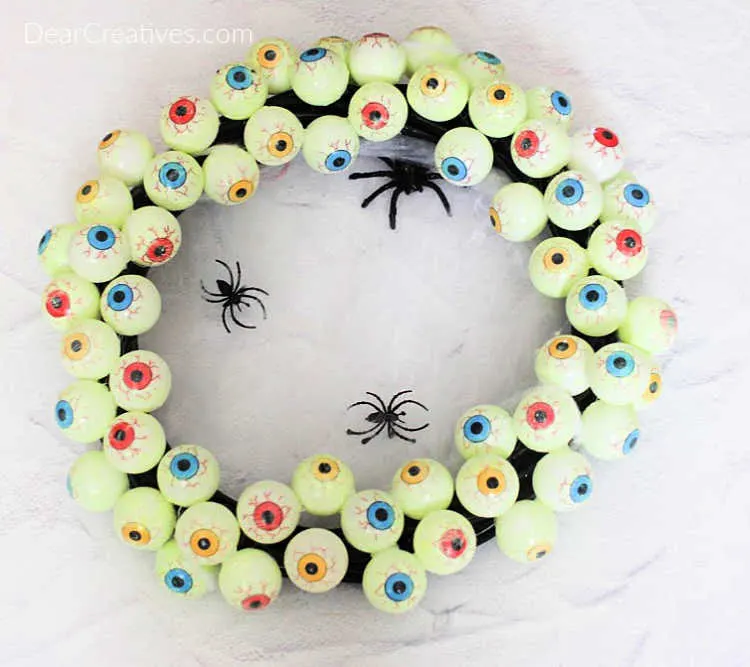 Source: dearcreatives.com
I don't quite know how to feel about this particular wreath. It might just be too spooky for my taste, but there you have it; it's perfect for Halloween.
Whether it's to hang out on your front door or just an additional prop for your Halloween decor, this wreath would look splendidly spooky. It's also pretty easy to make.
Here's an idea: you can switch out regular paint with some glow-in-the-dark kind to make it extra eerie. Also, how about hanging some spiders from it, as well?
19. Leafy Grapevine Autumn Wreath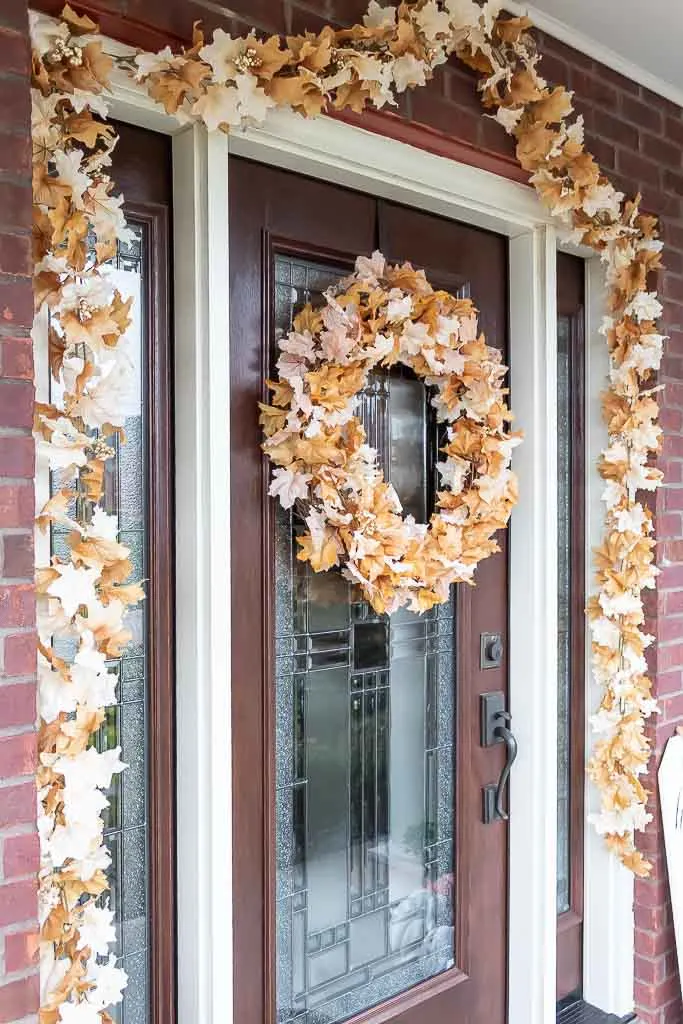 Source: thelivedinlook.com
Do you know what I love about fall? It's that big pile of leaves that you rake up and pile over to one side. I've always loved the idea of rustling up that pile and having a bit of fun.
So this fall, let's recreate that leafy pile, only instead of a pile, let's make it a wreath. It's a DIY project that's effortless and fun, and you probably have all the supplies you'll need already.
You can opt to string a leaf garland on your own, but just buy one from here if you want to avoid the hassle. You can switch out the fall colors for the appropriate seasonal leaves in spring, Christmas, or summer.
20. Simple Fall Hoop Wreath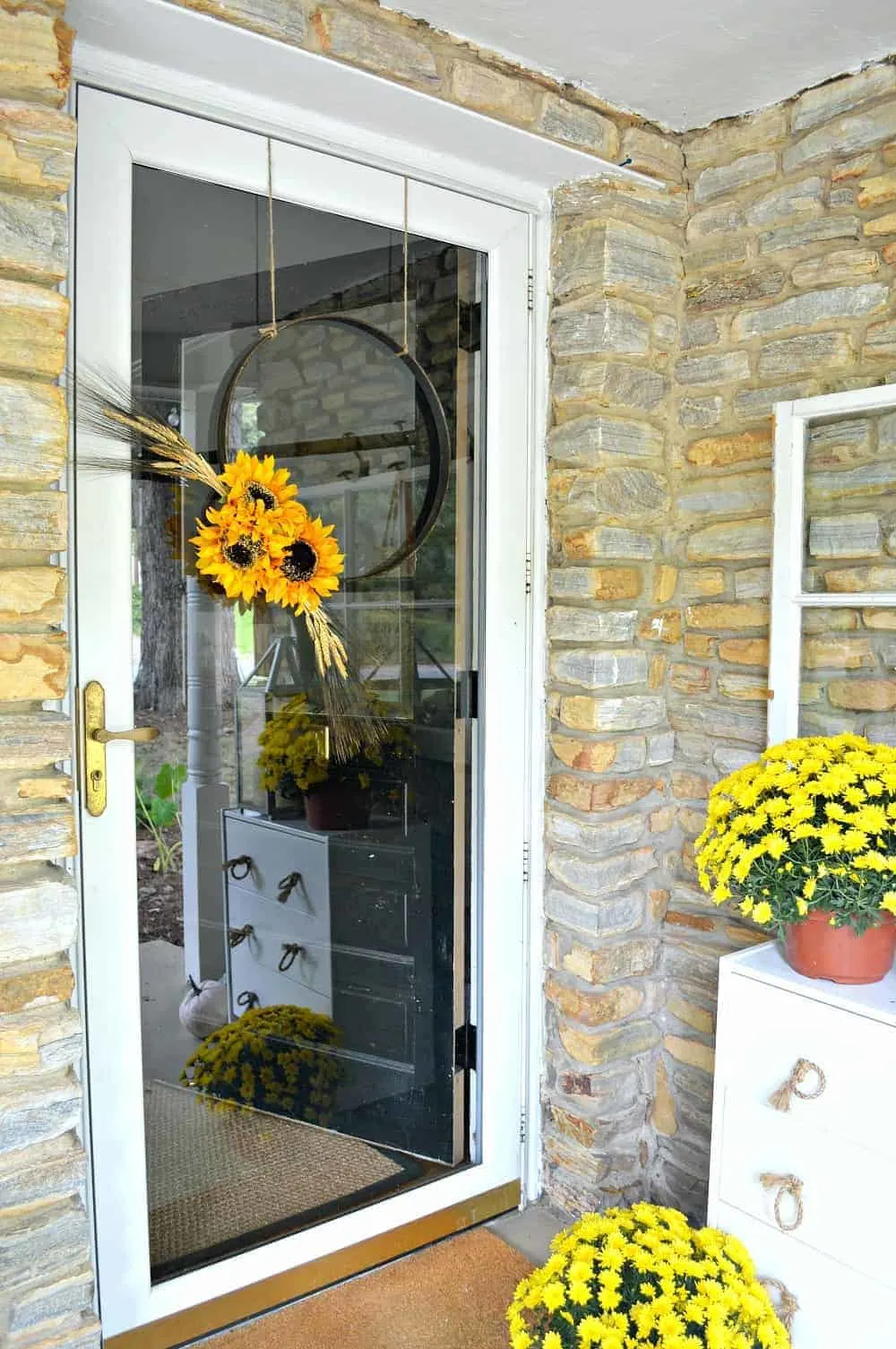 Source: chatfieldcourt.com
Sometimes, simplicity can go a long way when you're decorating your home for the fall season. You probably already have a ton of decor around your home so if you want to tone it down, then check out this simple wreath.
You'll need to dig up an extra embroidery hoop from your craft supplies for this DIY. If you want, you can pick out a wood stain and use it on your hoop.
Finally, just add three big sunflowers—or any fall florals—and tuck in a few stems or reed grass and you're all set.
21. Pumpkin Wreath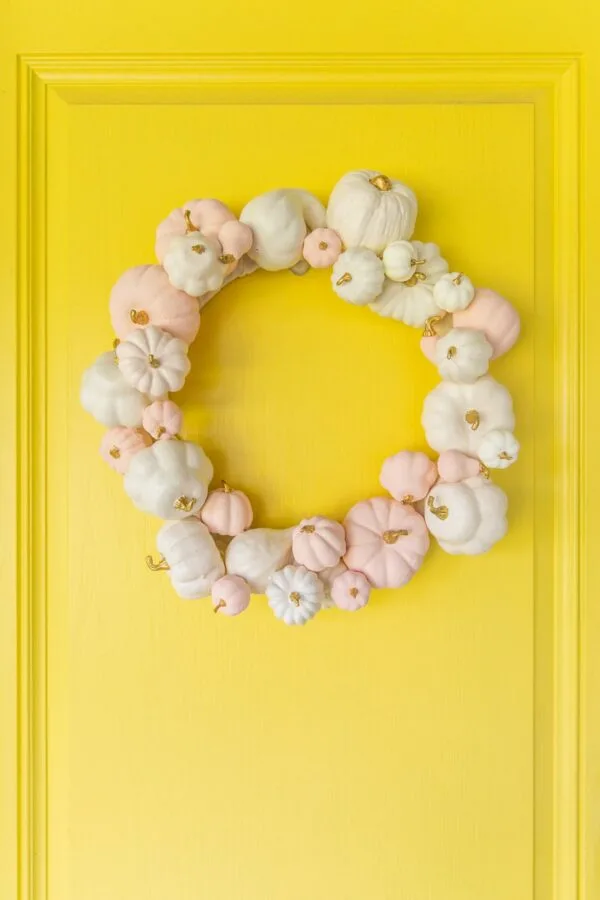 Source: lovelyindeed.com
This pumpkin wreath is quite literally overflowing with pumpkins—don't you just adore it? It's elegant and simple, with only the barest hints of color to offset your front door.
This is another neutral fall wreath you can consider when you're ready to make and hang one. It's perfect for any natural wood door.
But if you're one of those people with a gorgeous, bold, quirky, and colorful front door—yellow, red, or even green, perhaps?—then this is the wreath for that door.
22. Upcycled Map Leaf Wreath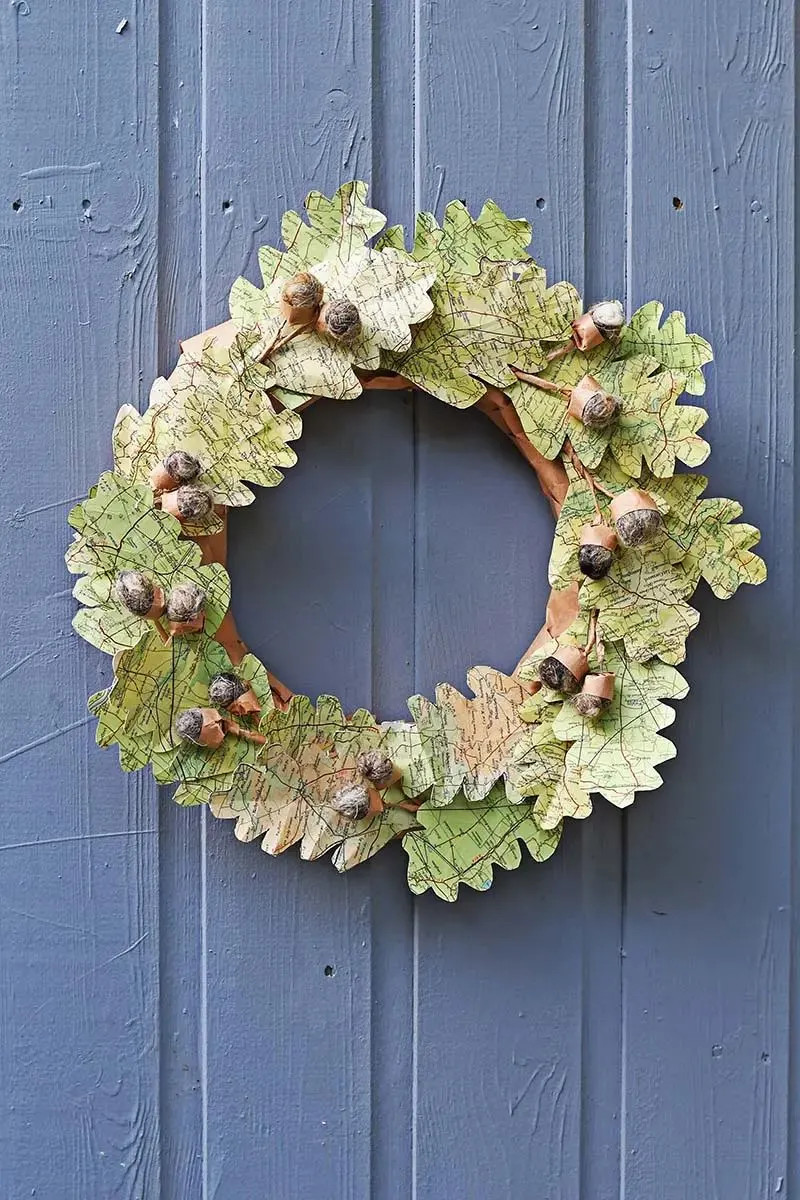 Source: pillarboxblue.com
I really can't tell you how much fun and creative the process can be when it comes to upcycling. Check out this upcycled map leaf wreath if you don't believe me.
At the end of the school year, you're bound to have a ton of maps from History or Geography class. If you've saved up those maps, you can use them to make this wreath.
But first, grab some felt balls from here—you'll need them for this project.
Speaking of classroom crafts, check out these 27 classroom crafts your kids might enjoy, or even these 27 back to school crafts that they're bound to love!
23. Twine and Pinecone Wreath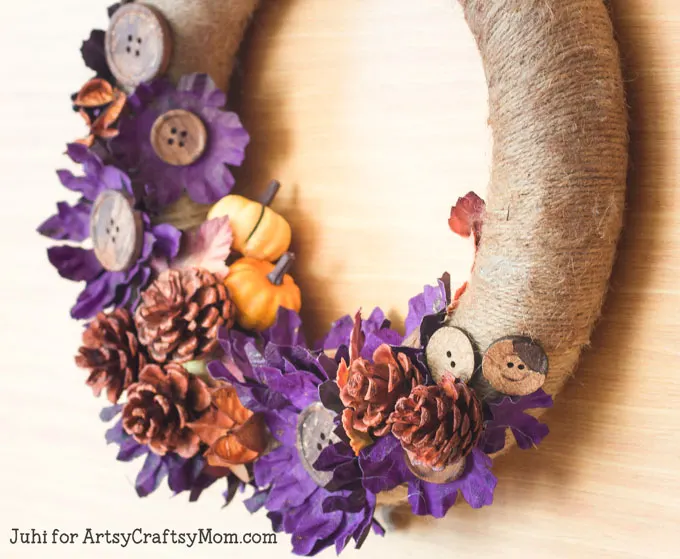 Source: artsycraftsymom.com
Twine and pinecones: that's what you'll need for this gorgeous DIY wreath. It's almost like making a dreamcatcher, really.
You start by attaching your twine to your wreath form and start wrapping it around and around till you've covered the entire surface. Then you gather your embellishments: buttons, faux florals, and pinecones and attach them to the wreath.
You'll need your glue gun, of course, as well as some shimmer antiquing spray to 'set' the wreath.
24. Fall Duct Tape Wreath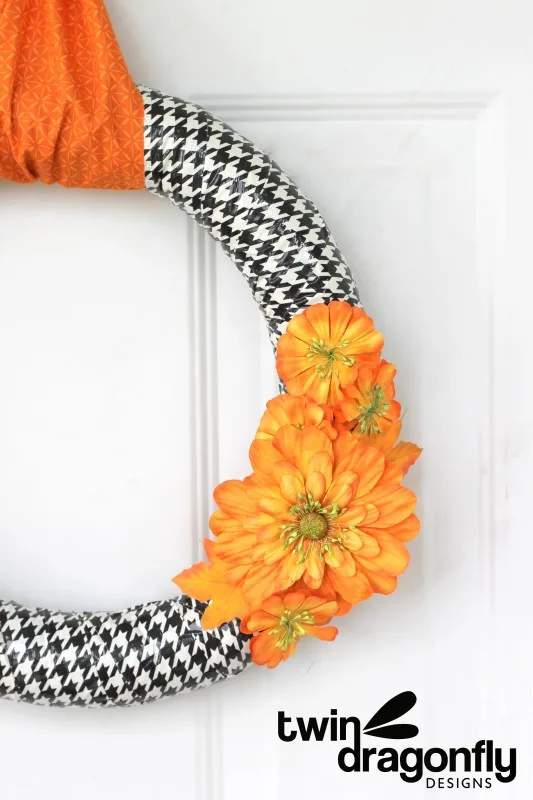 Source: homemadeheather.com
You've just seen how to make a twine-wrapped wreath; let's look at doing one with duct tape instead. You can buy decorative duct tape here.
It's bright, colorful, creative, and festive. With the right fall-themed embellishments, you can turn this quirky wreath into a seasonal one to add to your decor.
You'll also need some scrap fabric for this project, so go on ahead and pull out your stash.
25. Basket Wreath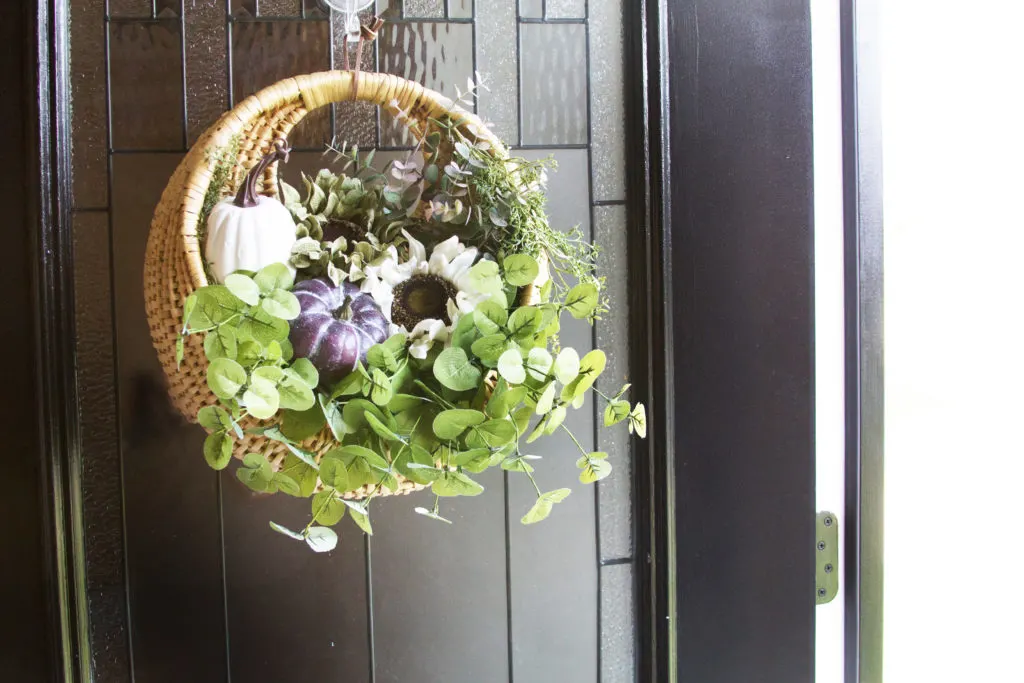 Source: craftivitydesigns.com
What if I told you that you could have a wreath and a basket, both in one gorgeous fall package? Does it sound too good to be true? It's not, and you can make your own wreath basket at home.
The best part is that with the end of fall and the advent of the winter season, you can switch out the fall-themed florals and embellishments. That means you can turn your fall wreath basket into a winter basket or any other seasonal basket!
26. Spiderweb Halloween Wreath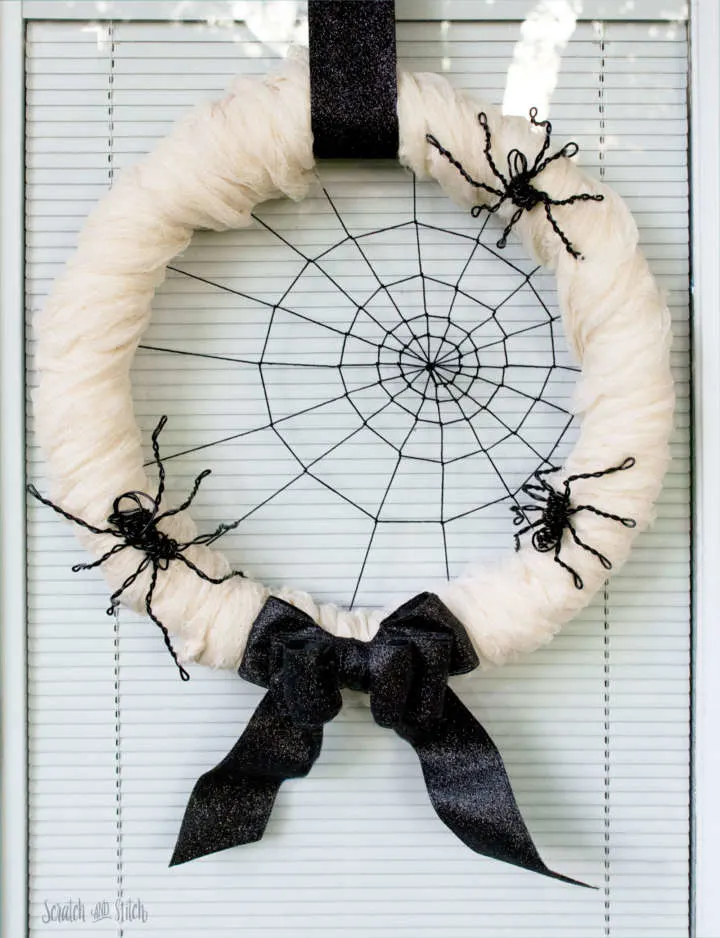 Source: scratchandstitch.com
Have you ever made a dreamcatcher before? Then you probably know how to weave twine or thread into it.
You'll find that skill handy when you're making this spider web wreath for your Halloween decor. It's easier than you'd think and super inexpensive.
You'll need a wreath form, some tulle or scrap fabric to cover the form, and some black embroidery floss to weave your web. For the last and final touch, you can hot glue a few black widow embellishments on your wreath, and voila!
27. Paper Flower Wreath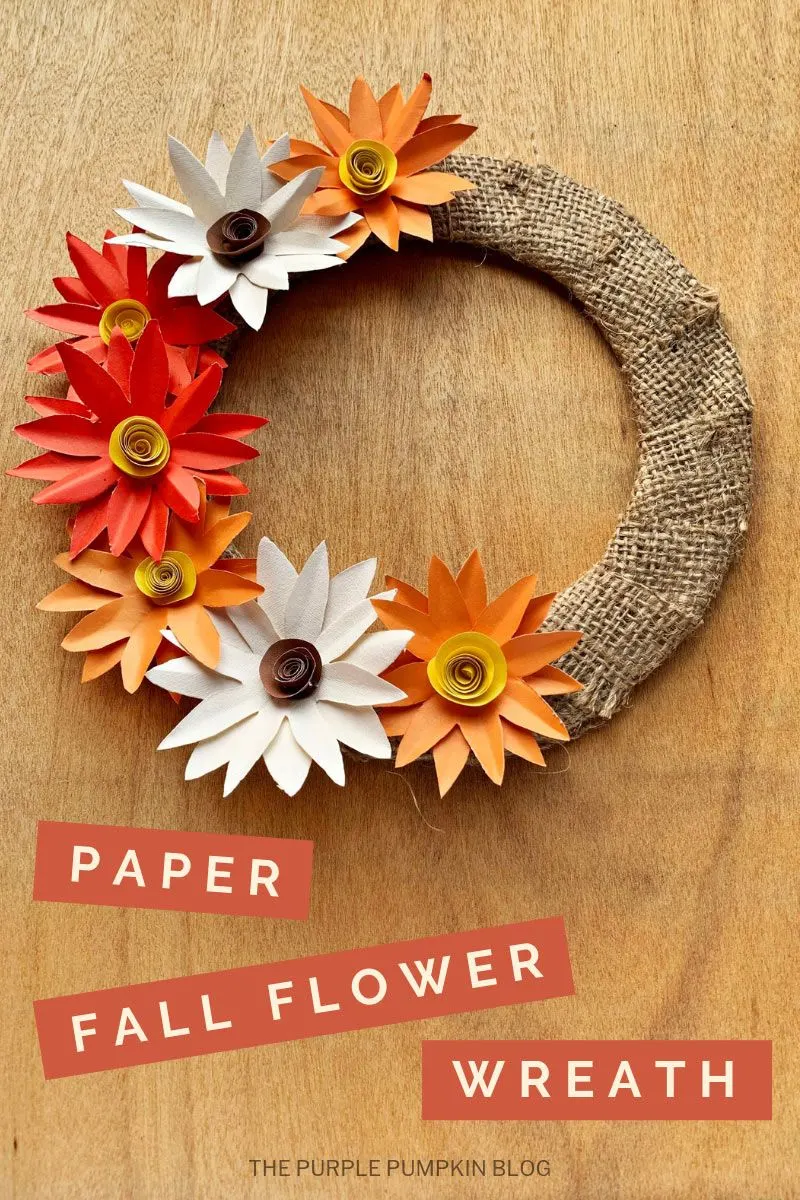 Source: thepurplepumpkinblog.co.uk
The last item on our DIY fall wreath ideas list is this lovely paper flower wreath full of gorgeous fall florals. I hope you still have some burlap ribbon leftover from one of your last DIY projects for this one.
You'll want to buy a ton of craft paper, cardstock, or even construction paper—all in fall colors. You can also download the fall paper flower template and print it to help you along the way.
Here's a tutorial on how to make paper flowers that you might also like to try.