It's autumn again! Time to get creative and make your very own easy fall crafts. They are cute, creative, fun to make, and suitable for kids, adults, and teens.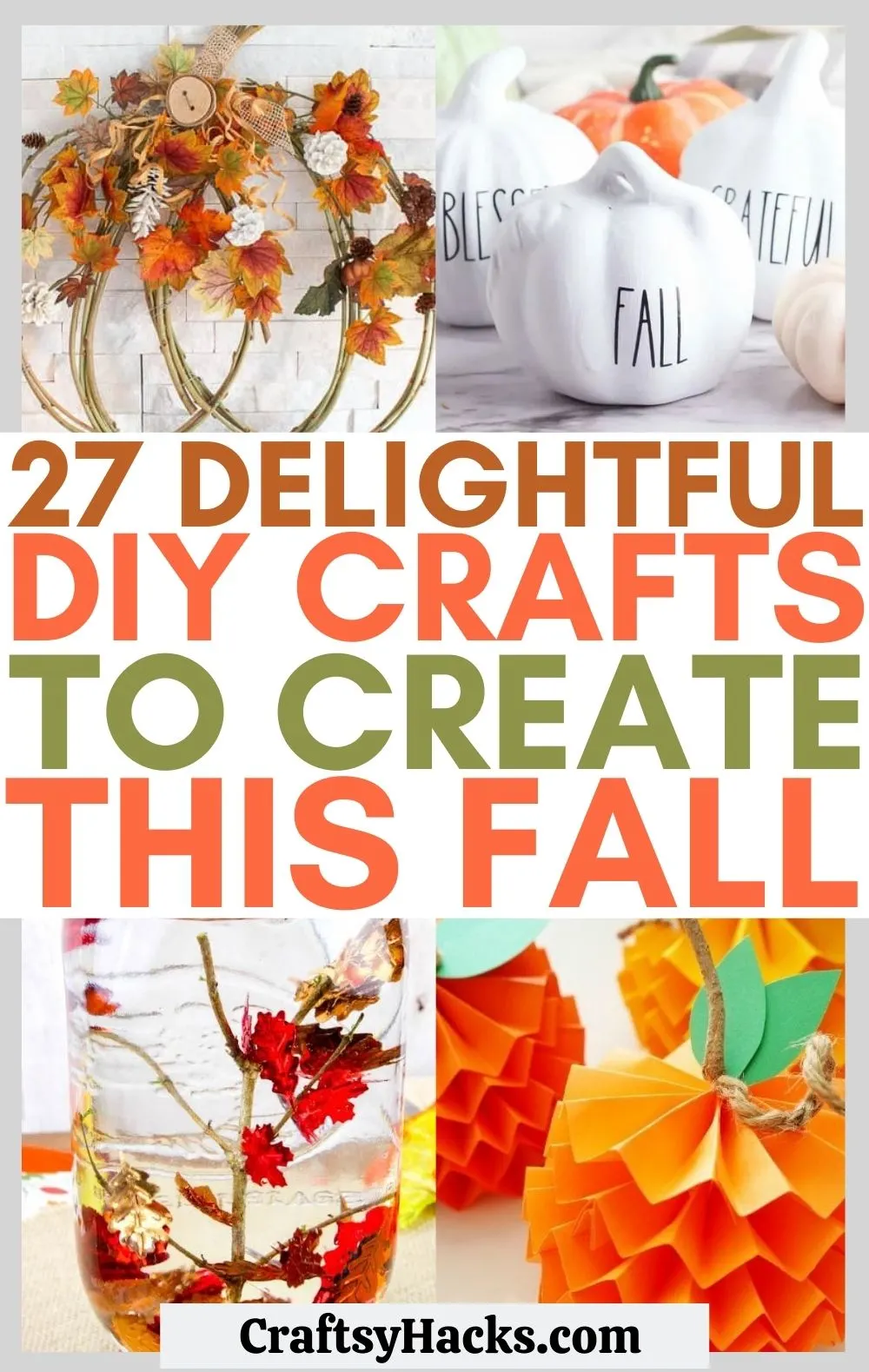 With the fall season upon us, it's time we all said goodbye to the greens and blues and said hello to warm and cozy reds, browns, and caramel hues. It's the season for pumpkins, spice, and spooky Halloween decor.
With the advent of fall, you'll have a ton of creative avenues to explore when it comes to decorating your home and planning craft sessions. Heck, you can plan craft sessions to make items to use as decorative pieces around your home.
It's a win-win situation if you ask me! So, without further ado, check out these DIY fall crafts!
1. DIY Leaf Candle Holder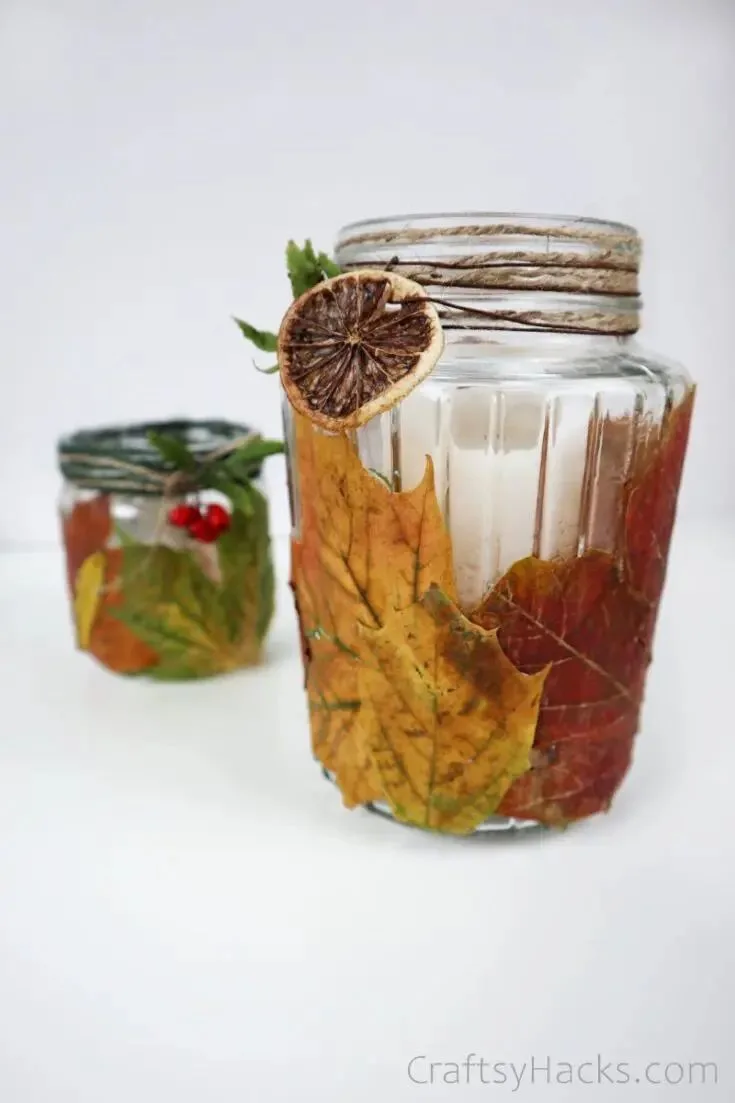 Source: craftsyhacks.com
Nothing quite says fall like the warm reds and browns from the leaves and the warm scent of pine and citrus. How about you recreate all that wonderful smells and sights with this DIY leaf candle holder?d
You'll need a jar from here, leaves—real or plastic as long as they're flexible and easy to mold and fold—and some mod podge from here.
If you are using the real kind, have your kids gather them as a fun fall activity to keep them occupied!
This is a lovely craft for adults and teens.
2. Dollar Store Pumpkins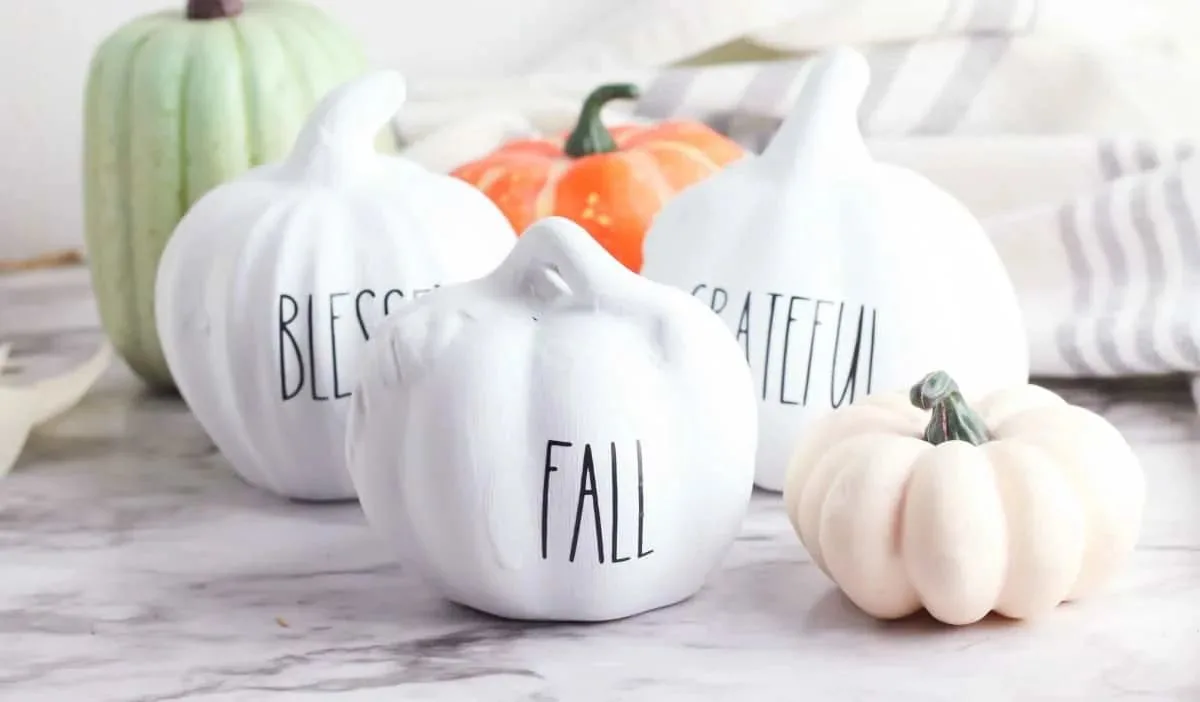 Source: singlegirlsdiy.com
I really do love a good dollar store craft project. When you find some real treasures there for just a buck and can turn them into craftsy creations, that's a whole different level of creative satisfaction.
Take this project, for example. Right around the turn of season at the end of summer, you'll be able to find these glass or ceramic pumpkins at your nearest Dollar Tree.
Grab some black vinyl from here and some of this white chalk paint and get down to restyling your dollar store pumpkins!
3. Homemade Autumn Spice Candles
Source: annsentitledlife.com
Here's another autumnal candle for you to try out. This spicy soy candle is exactly what you need to get your home smelling like fall.
Grab some soy wax from here, some candle dye from here, and a few jars to pour the wax into. When you're using soy wax, it would be advisable to avoid food dye.
Even crayons should work, but food dye doesn't react well with soy wax, so keep that in mind when you're adding color to your melted wax.
If you're interested, you can also check out how to make scented candles. This is the kind of DIY you can make and sell.
4. DIY Macrame Leaf Earrings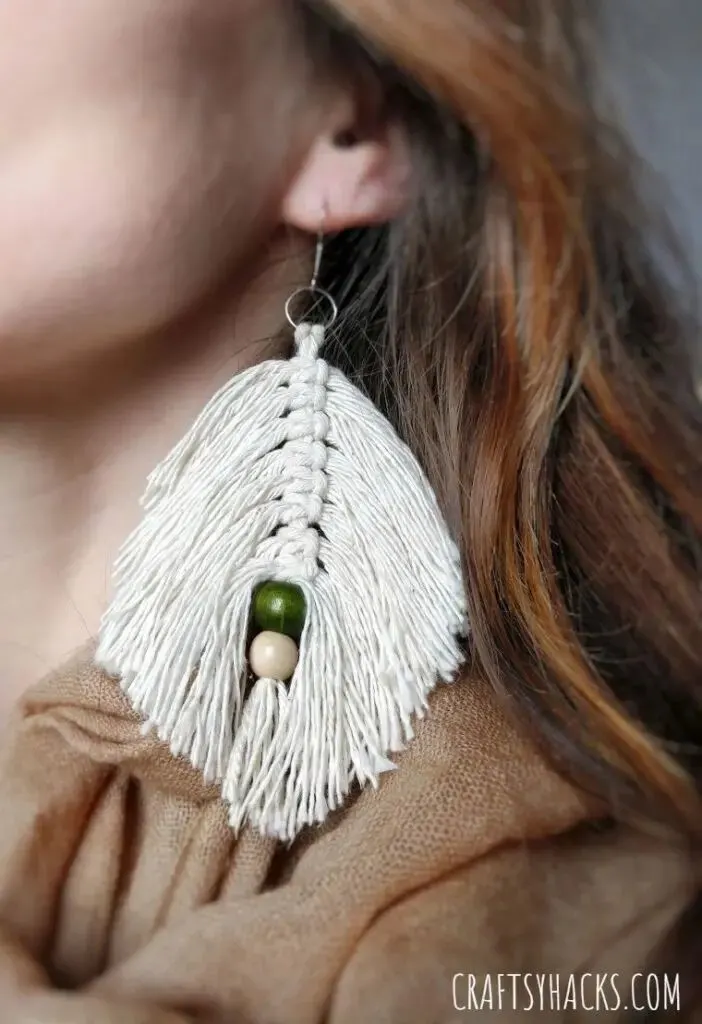 Source: craftsyhacks.com
Fall is all about pumpkins, warm tones, and falling leaves. So for this next DIY project, how about you make a pair of these macrame leaf earrings?
They're a beautiful craft project for adults and teens and make a great accessory for not just fall time but any time of the year!
You'll need a couple of these earring hooks, some macrame twine from here, and some jump rings like these. Gather all your supplies and start cutting your cotton rope to start your macrame craft.
For more creative ideas, here are 37 DIY earrings you can make on a budget! You also might want to check these DIY rings.
5. Pumpkin Spice Sugar Scrub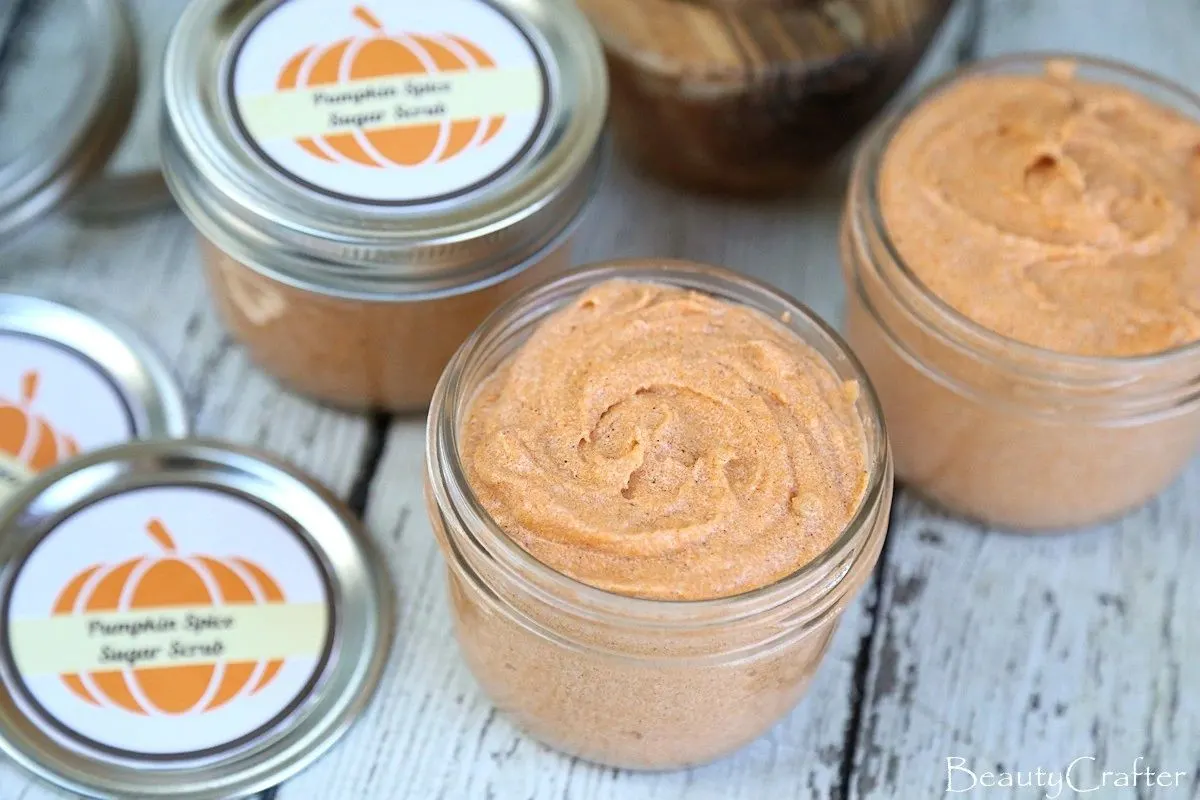 Source: beautycrafter.com
Is there anything more autumnal than pumpkin and spice? Be it pumpkin spiced lattes or any pumpkin-related goodies, pumpkin and spice are a must-have during the fall season.
Here's a pumpkin spice sugar scrub recipe for you to try out. They're a lovely gift item for friends and family. You can also make a few jars to pamper yourself with a home spa day.
You can store your scrub in these pretty jars till you're ready to use them.
6. Mickey Mouse Painting DIY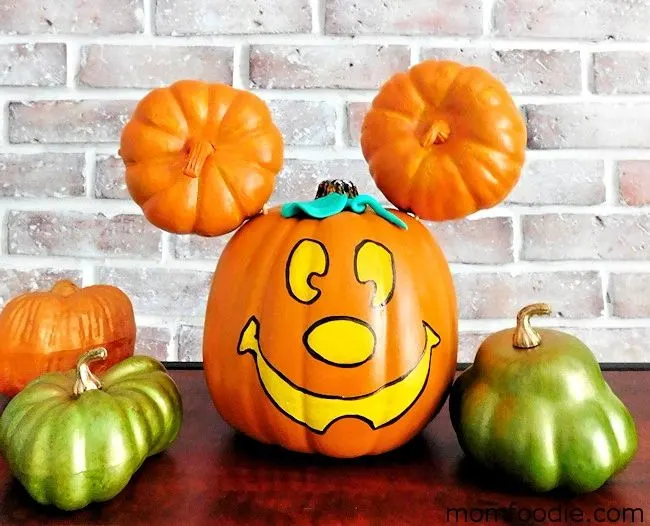 Source: momfoodie.com
How do you turn Mickey Mouse into a fall-related craft project? With pumpkins, of course! For all you Disney fans out there, settle in with this DIY Mickey Mouse pumpkin for your next fall craft session.
You'll need a craft pumpkin like this for the body and two smaller craft pumpkins for Mickey's ears. You'll also need paint, brushes, and some craft clay.
To fix the ears in place, you can use a couple of bamboo skewers or wooden spikes. Don't forget to grab your trusty hot glue gun, as well!
7. Coffee Filter Leaf and Pumpkin Craft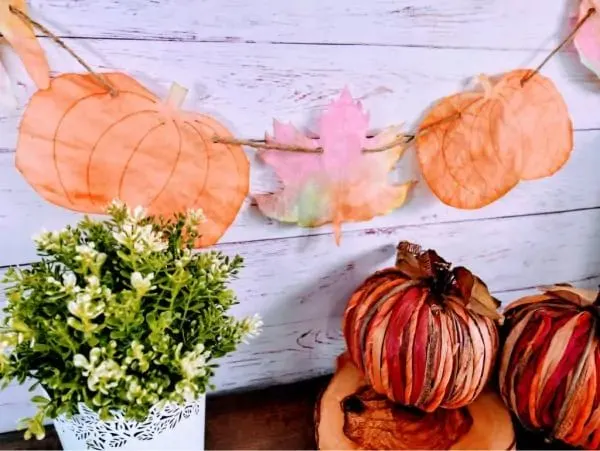 Source: threekidsthreecatsandahusband.com
Speaking of pumpkin-spiced lattes, here's a DIY craft for you that calls for… coffee filters! This coffee filter leaf and pumpkin craft don't just use coffee filters, it also uses cookie sheets, parchment paper, and construction paper.
So go ahead and grab everything you need. Don't forget to lay out some newspapers because you'll be painting your project and you'll want to control the mess.
To string your pumpkins in place, you'll need some of this twine.
8. Pumpkin Piñata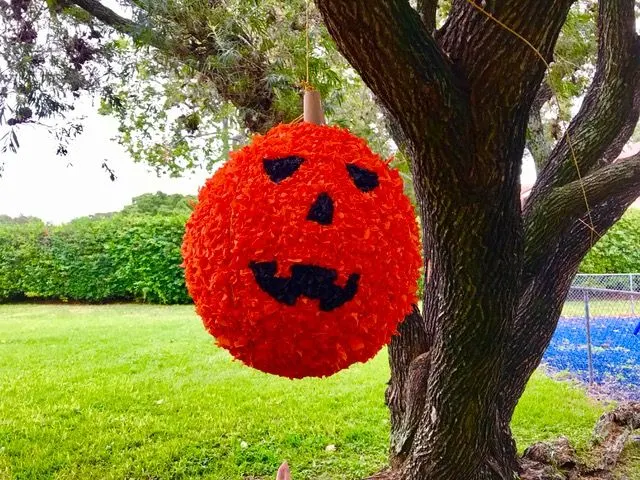 Source: momjunky.com
Here are two words to brighten your day and cheer you up: pumpkin pinata! If you have a birthday party around the corner, then you know that you'll need a pinata.
And, since it's fall, let's make it a pumpkin pinata! You'll need a punching balloon from here, some newspapers, paint, flour, and a ton of TP to get you started. Oh, and don't forget the pinata bat!
9. Fall Salt Painting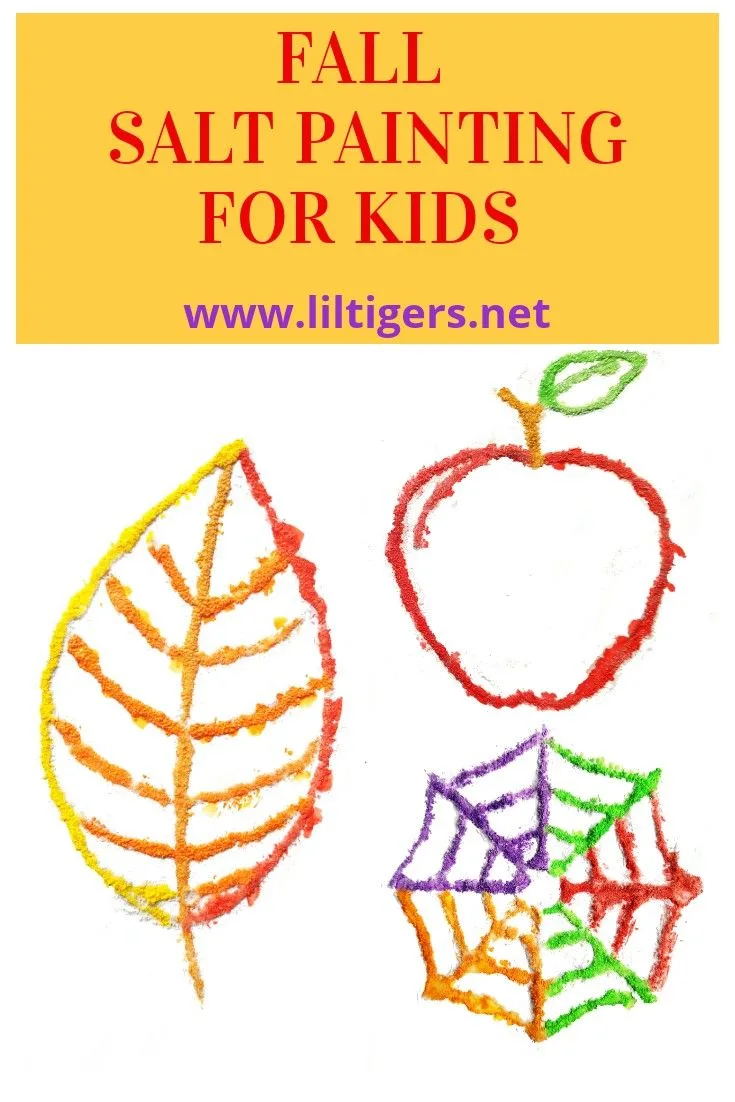 Source: liltigers.net
For this next fall craft, let's rope the kids into a little fun with salt painting! Salt craft is super easy to work with, and the kids are bound to love all that beautiful color.
You can choose to print out templates for your fall craft or wing it, depending on how old the kids are. Just grab some thick cardstock paper, some liquid craft glue, watercolors and brushes, and, of course, a ton of salt!
10. Felt Acorn Napkin Rings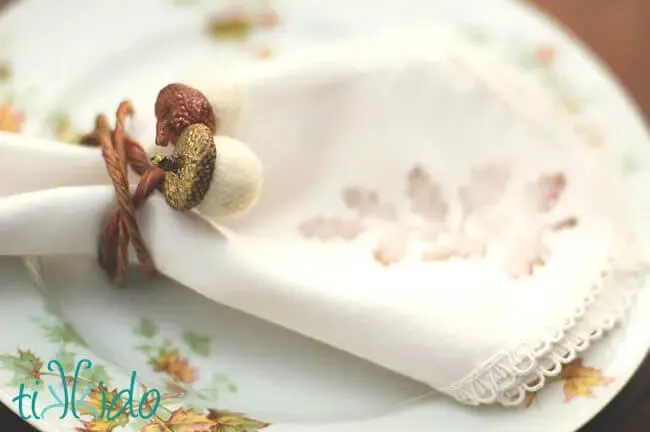 Source: tikkido.com
Are you hosting a fall-themed dinner party, brunch gathering, or luncheon? Do you know what can up the class at your party? These felt acorn napkin rings, of course!
You can find those felt acorns right here. You can also make them if you're so inclined! Next, grab some floral wire or jute wine—anything that you feel will look natural with the acorns.
Finally, assemble your acorns and tag your napkins in place. Just sit back and enjoy your guest's reaction to your amazing craft skills!
Love this craft? You might also enjoy making these tissue paper crafts!
11. Gratitude Flower Box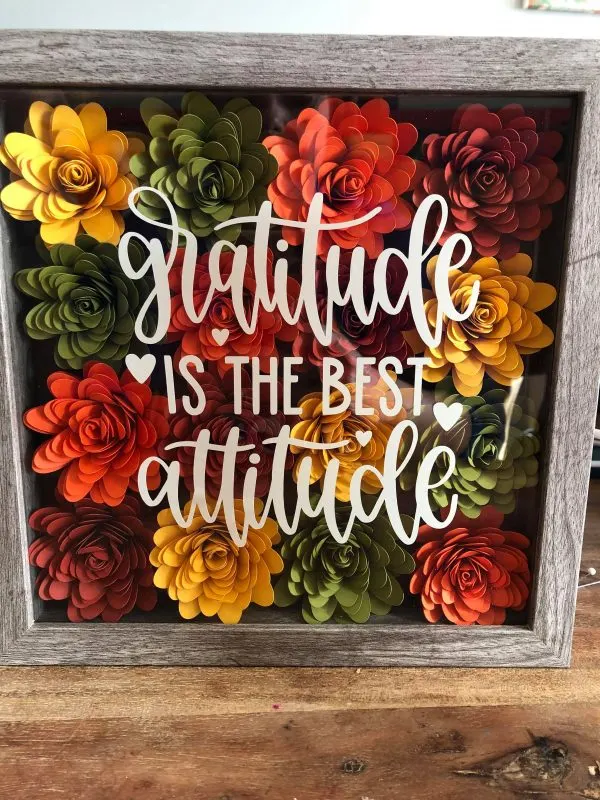 Source: craftbits.com
There's no limit to the amount of gratitude you can have and send out into the universe. If there's a way for you to affirm that gratitude, then grab that opportunity.
Check out this gorgeous gratitude box filled with all those fall-colored flowers! Doesn't the quote say it all?
You might want to invest in a Cricut machine to help you with cutting the flowers. You can find a shadow box frame like the one you see in the picture right here.
12. Fall Leaf Banner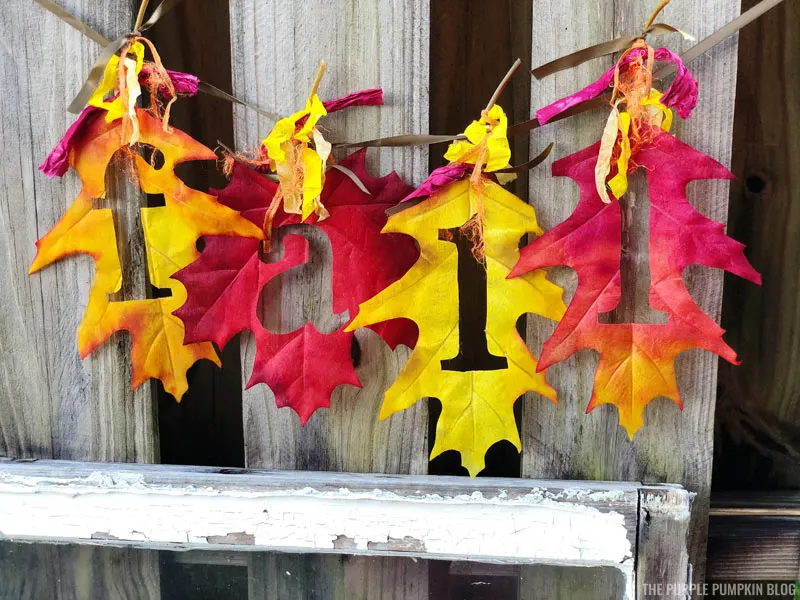 Source: thepurplepumpkinblog.co.uk
Don't you think your space is in dire need of a leaf banner? What better way to celebrate the coming of fall than with a bright and bold banner in rusty hues of red, brown, and gold?
It hardly takes you any time to make this banner, and all you need are some faux leaves that you can find here. You can cut out big letters in the leaves so that it reads 'fall' or 'autumn.'
Then, when you're all done, just string the leaves up and hang them up in your living room or bedroom!
13. Ghost Puppet Pattern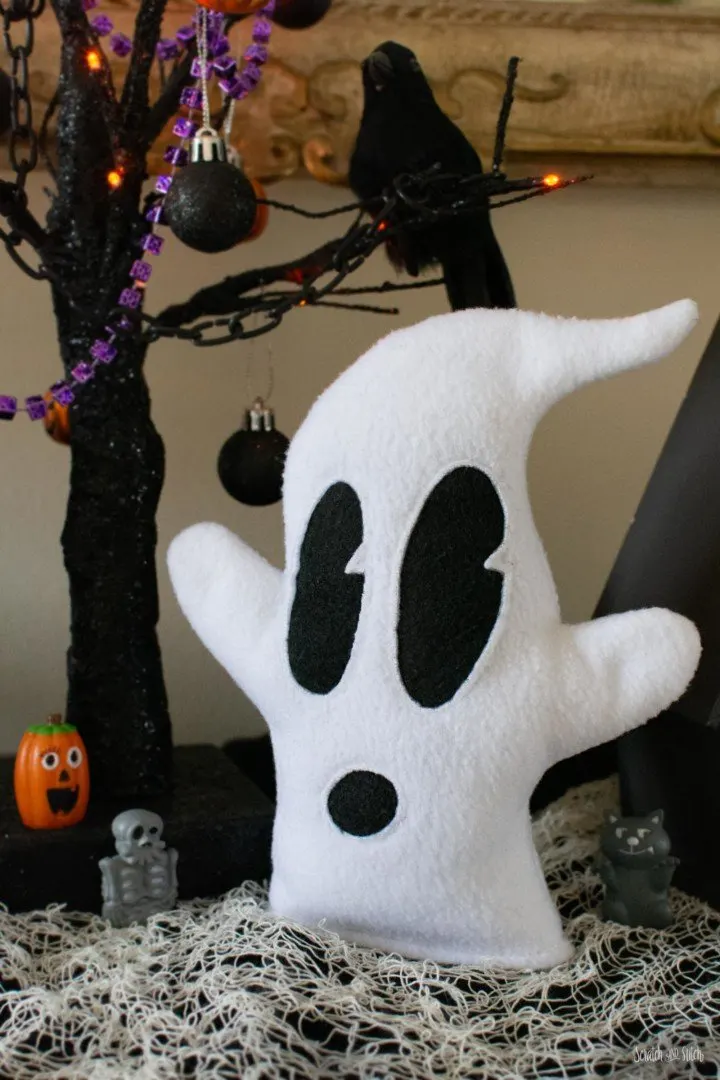 Source: scratchandstitch.com
With Halloween just around the corner, you've got to start working on putting up your decoration. It opens up a ton of Halloween-themed craft sessions, too.
This ghost puppet is the perfect Halloween craft to get your kids involved in. They'll love this plush, Casper-like friendly ghost with just enough spook to pass off for Halloween.
Grab some of this poly-fil from here and start stuffing that ghost!
14. Fall Suncatchers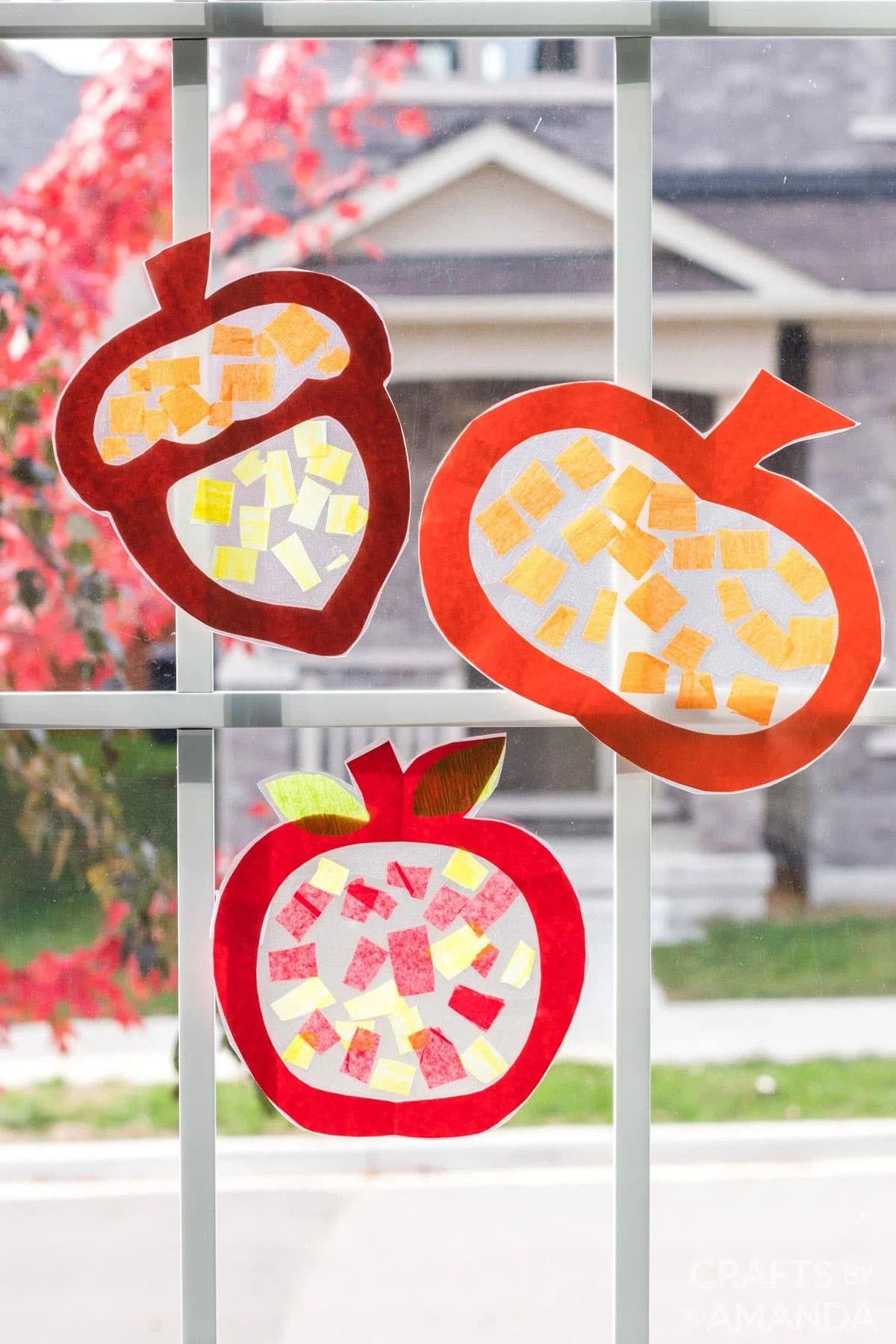 Source: craftsbyamanda.com
Summer might officially be over, but you can still make the most of the autumn sun. How? You make suncatchers, of course!
You've got apples, pumpkins, and acorns. You can also add a maple leaf or two to the mix to keep in the theme of fall.
It's also a wonderful way to involve the kids. They can help you decorate your home to embrace the fall season and all its wonders!
15. Paper Halloween Luminaries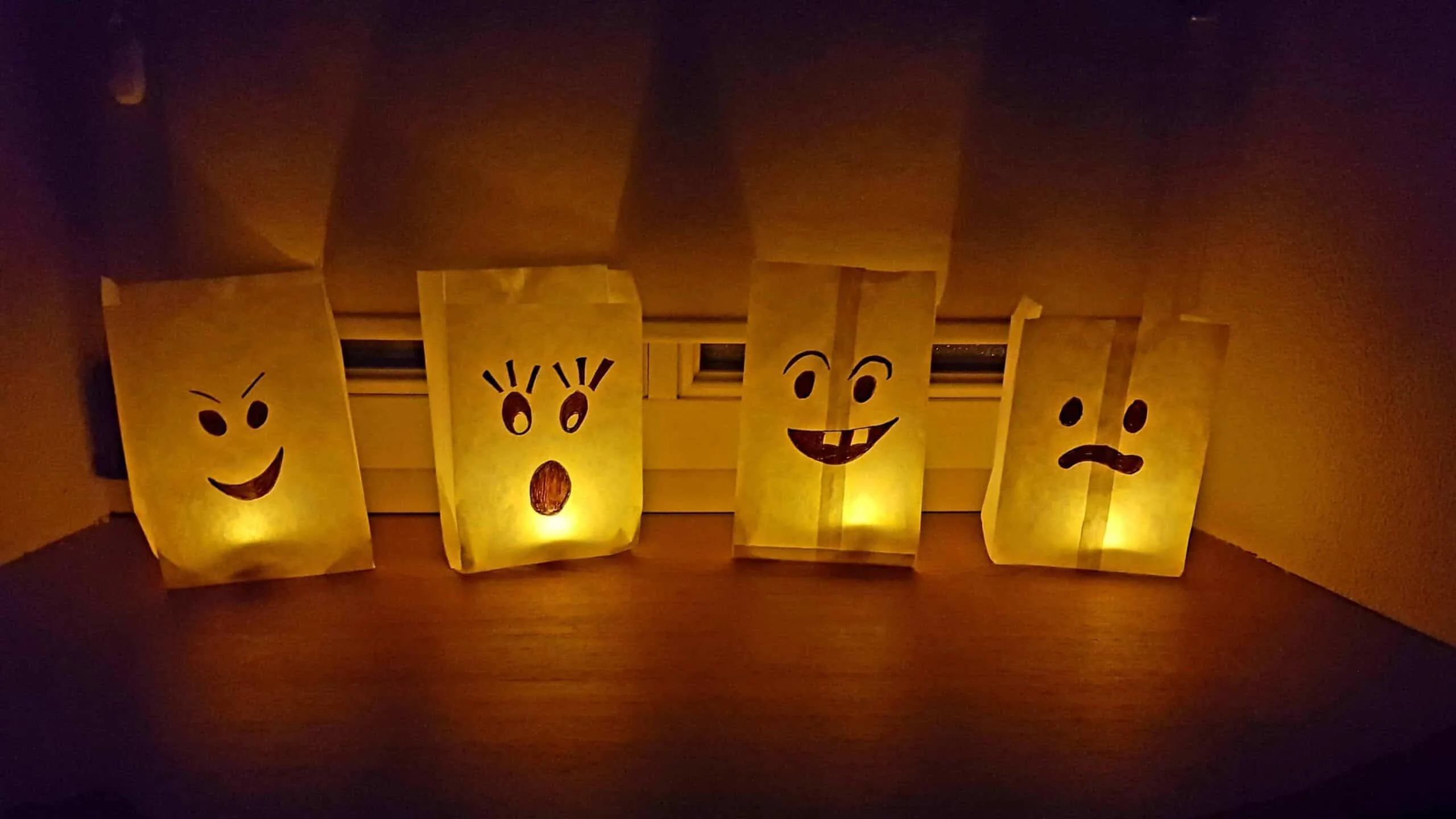 Source: liltigers.net
I don't know about you, but I've always had a huge fascination with luminaries, especially around the holidays. Halloween is a holiday, too, isn't it?
So check out these paper Halloween luminaries! With pumpkin carving sessions underway, add this easy craft session to your list of activities, too!
This kid-friendly craft project needs just three materials: a black marker, a few white paper lunch bags from here, and some flameless tealights from here.
For more spooky craft ideas, check out these 27 spider crafts for Halloween's Day. Check out more Halloween outdoor decorations here.
16. DIY Drop Cloth Pumpkin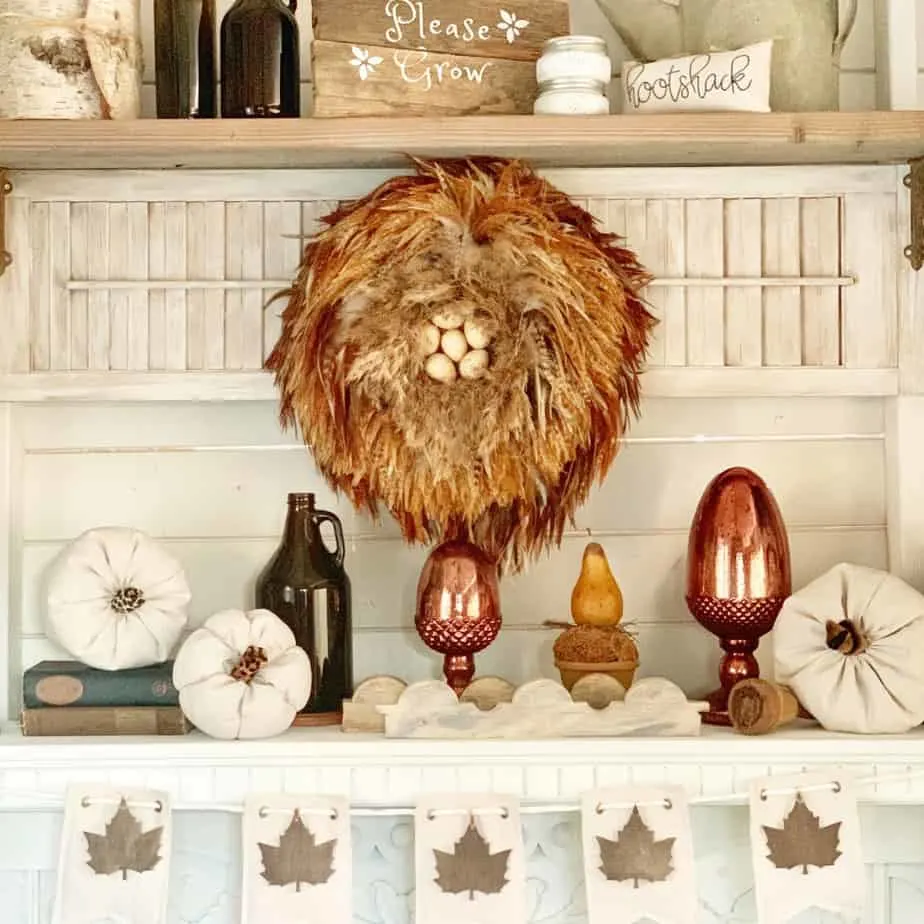 Source: hootshack.com
Take a look at those plush pumpkins. Are they toss pillows, decorative pieces, knick-knacks…why not all of that?
These super-easy-to-make DIY drop cloth pumpkins are an inexpensive craft project to help you get started on your Halloween decorations.
You don't need a sewing machine if you're willing to sew by hand, but it will take you longer. Just pick up some drop cloth, your stuffing of choice, and some embroidery floss to get started.
Check out more fabric projects here.
17. Faux Apple Centerpiece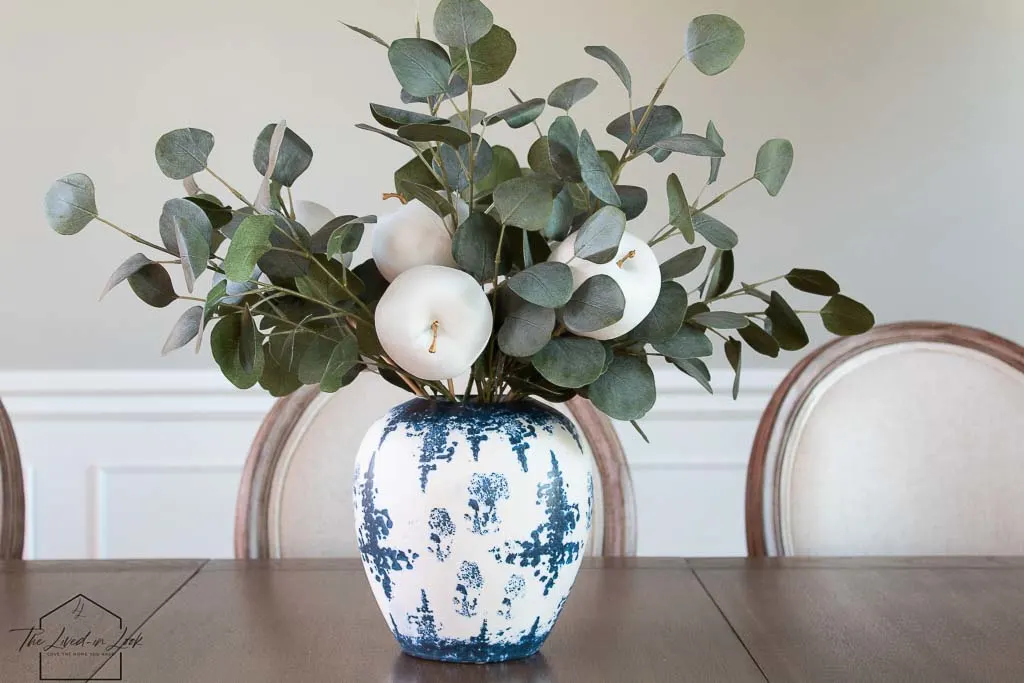 Source: thelivedinlook.com
Let's jump from pumpkins to apples with this faux apple centerpiece. Nothing quite ups the class in your dining room like some gorgeous fruit.
But these ivory white apples with these eucalyptus leaves aren't just classy and elegant, they're downright creative and pretty. Who would have thought that faux fruit could look so gorgeous!
Check out these 21 DIY centerpiece ideas from Dollar Store
18. Basket Wreath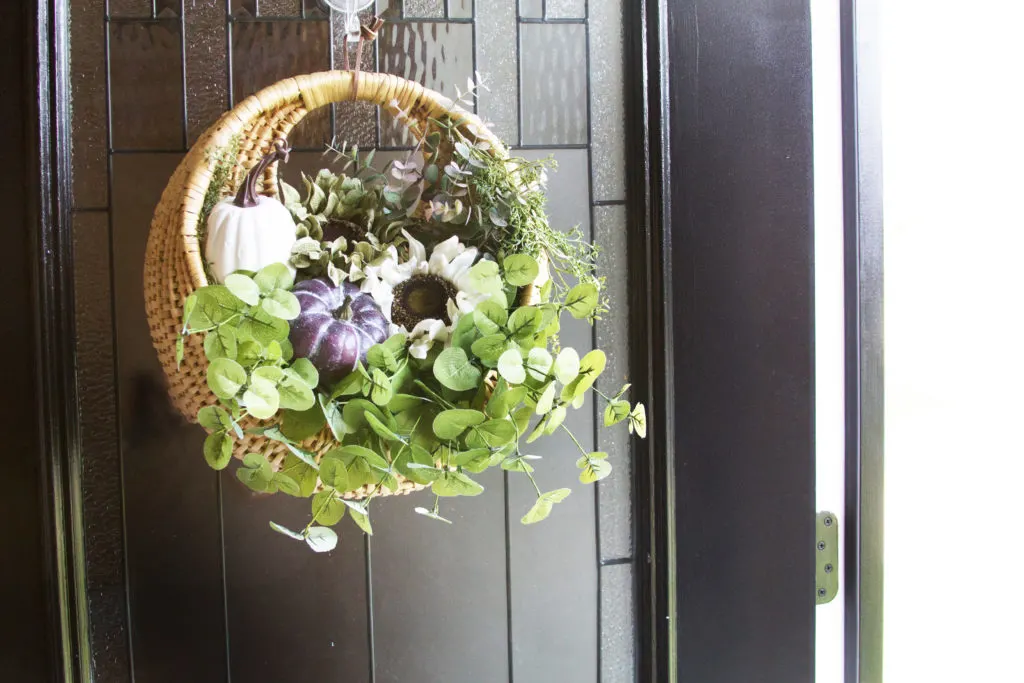 Source: craftivitydesigns.com
Are you bored with just using a basic wreath for your door? Then how about you switch things up a little this fall and make this craftsy hanging door basket?
You'll need a wicker basket to get you started. You'll also need floral foam, wire snips, floral wire, and your greenery of choice. Go ahead and enjoy the process of setting up this gorgeous wicker basket arrangement.
Now, while you're at it, why not make two and use one to jazz up your living room, as well?
19. Pumpkin Apple Stamping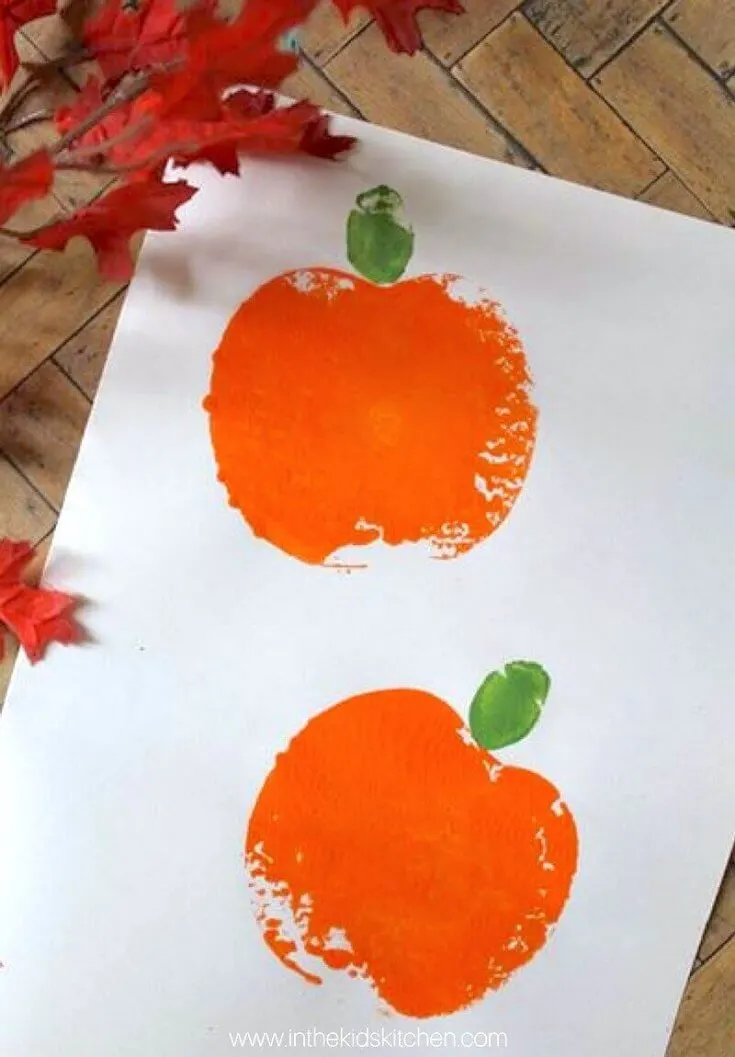 Source: inthekidskitchen.com
We've looked at the pumpkin-themed crafts as well as apple-themed decor, albeit not in the same project. Here's a pumpkin apple stamp painting project for you to try!
If you're not quite sure whether it's a pumpkin or an apple, well, join the line. I guess you could call it both—it's orange like a pumpkin but shaped like an apple.
Then there's that little green leaf on top. Well, just enjoy this craft project because whatever it is, it looks amazing and is super easy to make, too.
20. Fall Snow Globe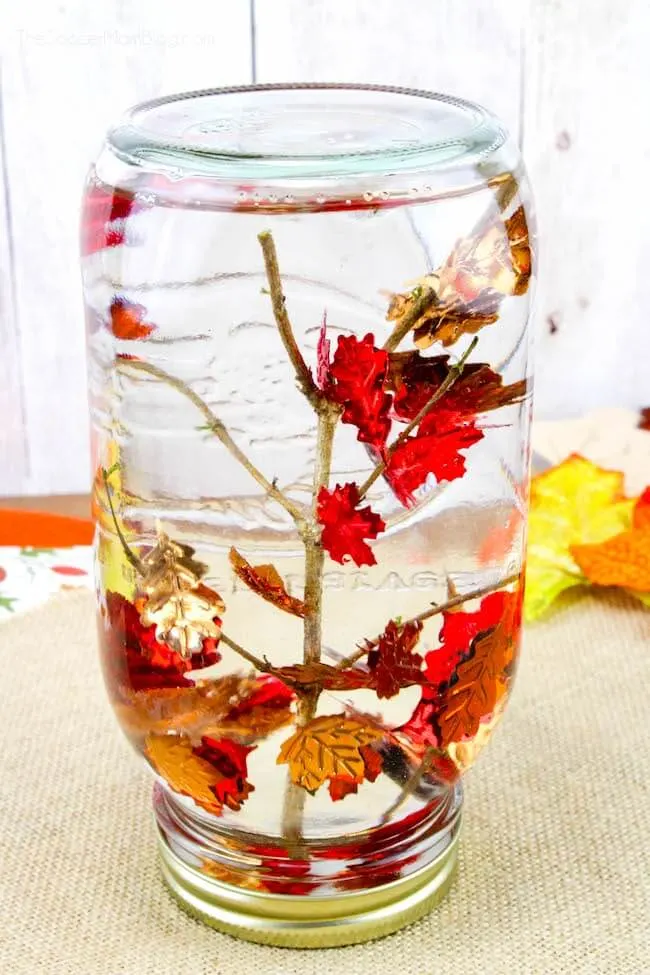 Source: thesoccermomblog.com
Who said you couldn't have snow in fall? You know what, you can have snow in spring and summer too.
What you need is a fall snow globe. It's super easy to make!
If you're up for changing things up a bit, here's what you can do: instead of snow, how about you make little leaves fall? That's such a sensory delight, being able to watch the rust and gold-colored leaves fall and float down.
If you're feeling creative, you can take it up a notch and add some branches, as well.
21. Pumpkin Grapevine Wreath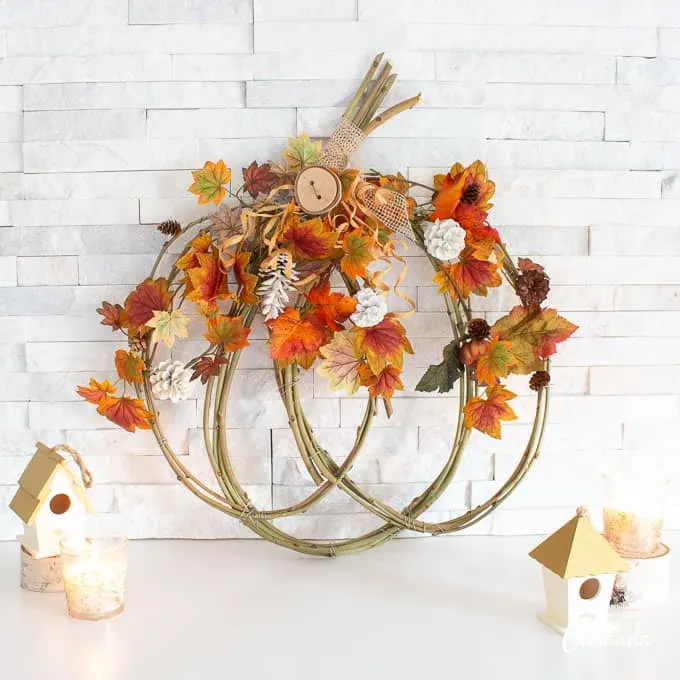 Source: craftsbyamanda.com
This here is a simple grapevine pumpkin wreath craft project that you can hang up on your front door for everyone to enjoy. Follow the step-by-step tutorial to recreate this gorgeous wreath.
You'll need a pumpkin wreath form, some faux foliage, this burlap ribbon, some floral wire, and some decorative pieces like twigs, pinecones, and the likes to bring this wreath together.
Feel free to play with colors, texture, and any other decorative bits you want to add to spice this pumpkin wreath up.
22. Leaf Printing on Rocks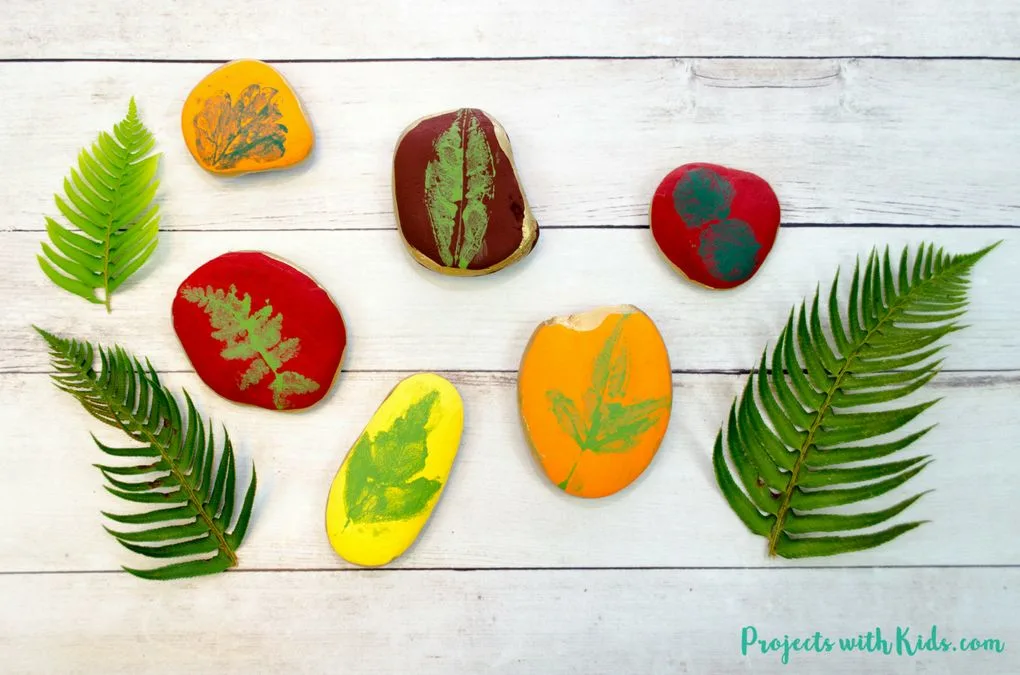 Source: projectswithkids.com
No craft project ideas list is complete without at least one rock painting session in the mix. So on that note, and without further ado, check out this pretty leaf painting craft on rocks!
Grab your acrylic paint, paint brushes, a palette, some faux leaves to use as imprints or stamps, and finally, some smooth flat pebbles. Don't forget to layout newspapers before you begin, because this project can get messy!
23. DIY Gold Leaf Dipped Pumpkins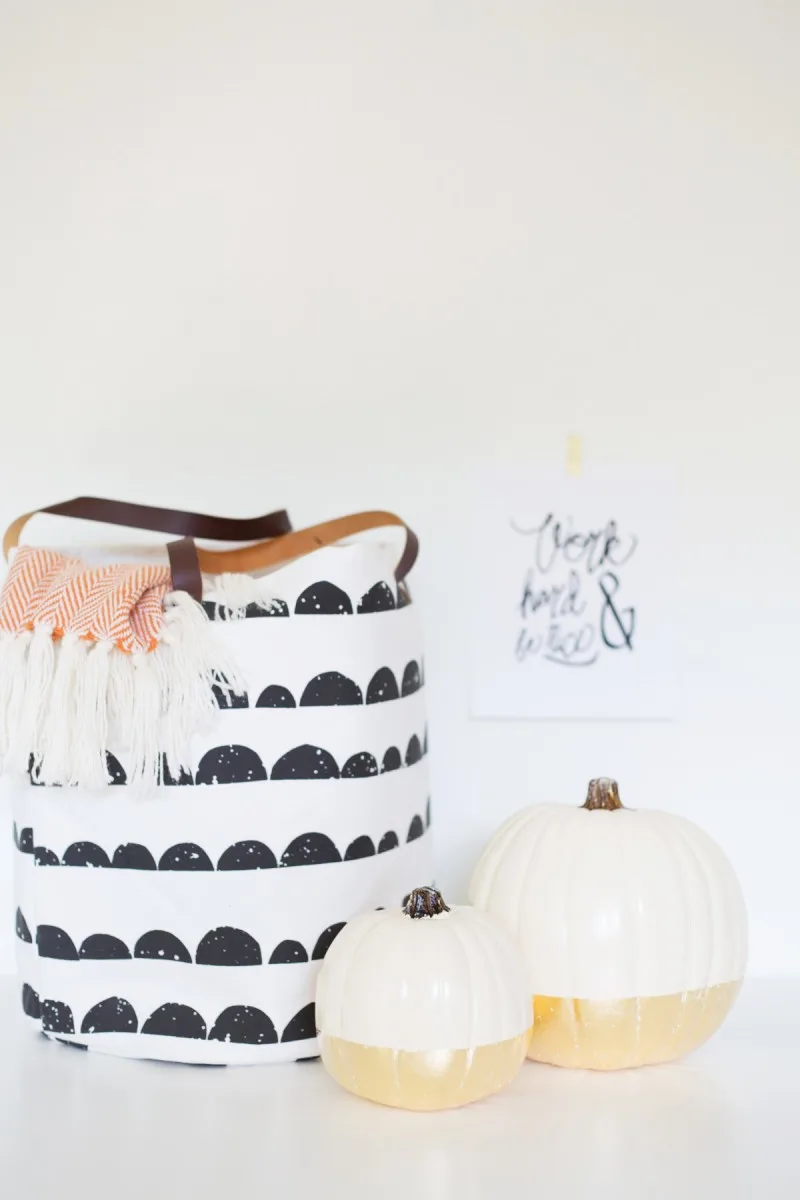 Source: lovelyindeed.com
When you think of fall colors, you think deep burgundy, red, orange, yellow, and…gold. Let's take that gold color to a whole new level with these gold leaf foils.
You're going to want to get some craft pumpkins first, and a ton of gold leaf foil from here. You'll also need some gold leaf adhesive and washi tape.
Start off by painting your craft pumpkin a nice ivory white to help you offset the brilliant gold from the leaves. Use washi tape to help you get clean lines and edges!
Check out these 20 fun Halloween crafts for adults!
24. Fall Book Covers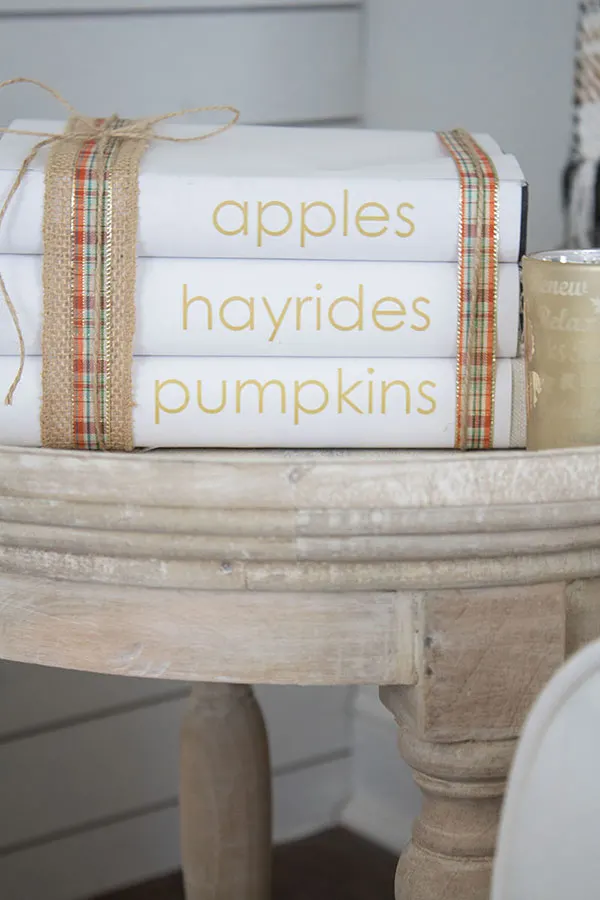 Source: thehoneycombhome.com
Fall book covers definitely need a place in your decor planning.
It isn't something that most people think of, no. But don't you think that having themed book covers would really help you pull off a show-stopper of a home in terms of decor?
You don't need to go out of the way. For this particular craft, you just need to use photoshop to create your fall-themed design. Then just print out your paper, wrap your books, and hey presto, you're all set.
Love the book covers? Check out these DIY journal covers as well!
25. Paper Pumpkins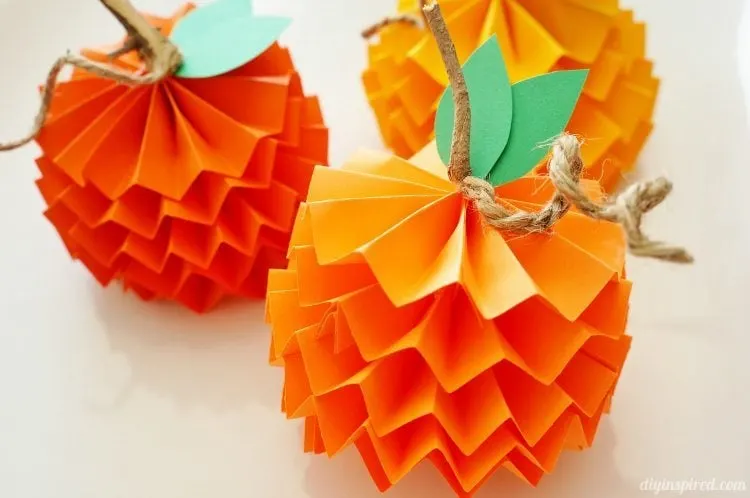 Source: diyinspired.com
​​Weren't you getting a little suspicious that we haven't read about a paper pumpkin craft yet? Well, here's one that you're going to love.
This paper pumpkin has sassy frilled edges that are sure to jazz up your space. You might want to use a paper cutter for this project as it makes cutting the pumpkin frills a breeze.
You'll also need some twine apart from your orange cardstock. Don't forget the double-sided tape, either!
26. Terracotta Pots Scarecrow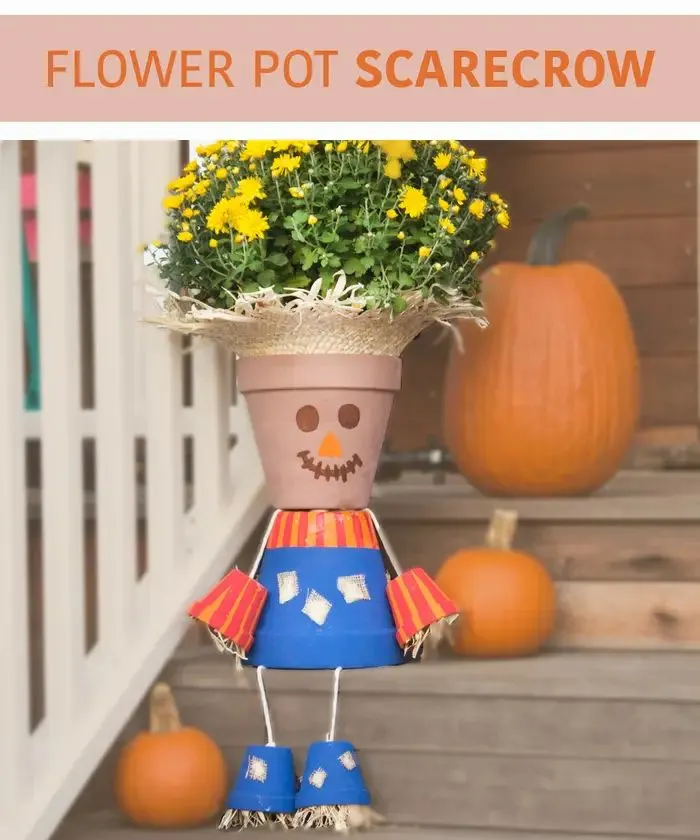 Source: buzzfeed.com
I bet you've got a ton of terracotta pots lying around just waiting to be used. No? Well, you can pick them up here.
You'll be turning these terracotta pots into some pretty terrific scarecrows to add to your Halloween decor. You can sit your cute little scarecrow down on your front steps just like the picture promises, trust me.
You'll need two large pots, and four small ones, some paint, and your usual scarecrow accessories like a straw hat, some flowers, and the likes.
All set? Then get started making your scarecrow!
27. Pinecone Bird Feeder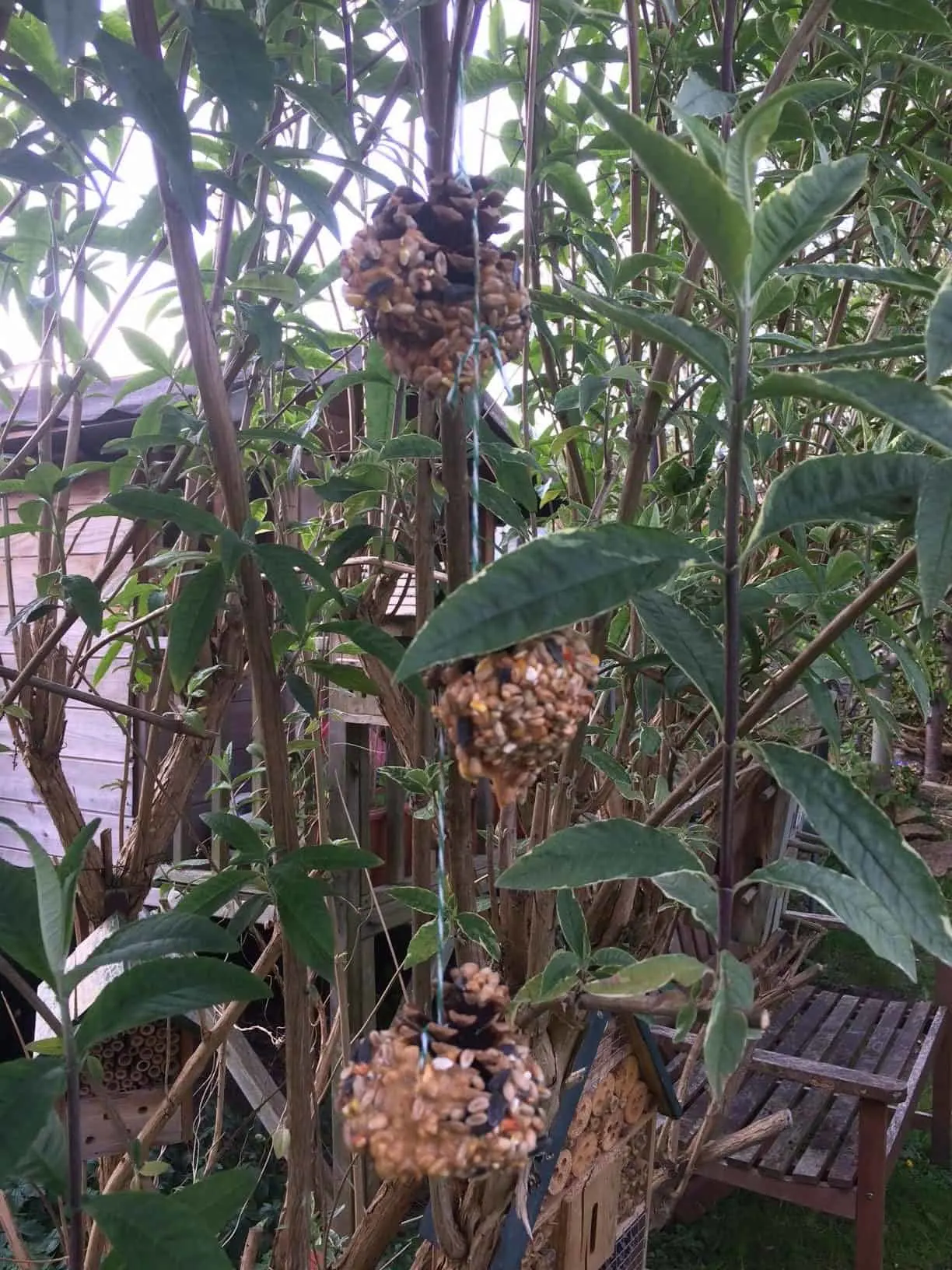 Source: simpleparenting.co.uk
We haven't really worked with pinecones much, have we? I love pine cones, I do. They're a lovely shade of caramel brown that adds such warmth to any fall decor.
But, when it comes to pinecones in craft, the possibilities are truly endless. This pinecone bird feeder is just one such example of how versatile pinecones really are.
You can alternate between different ingredients to use for your feeder. This one calls for peanut butter as the binding agent and some bird seeds.