Why not use some of nature's gifts – pine cones and make your very own crafts this fall? Give these DIY pine cone crafts a try and have fun with them.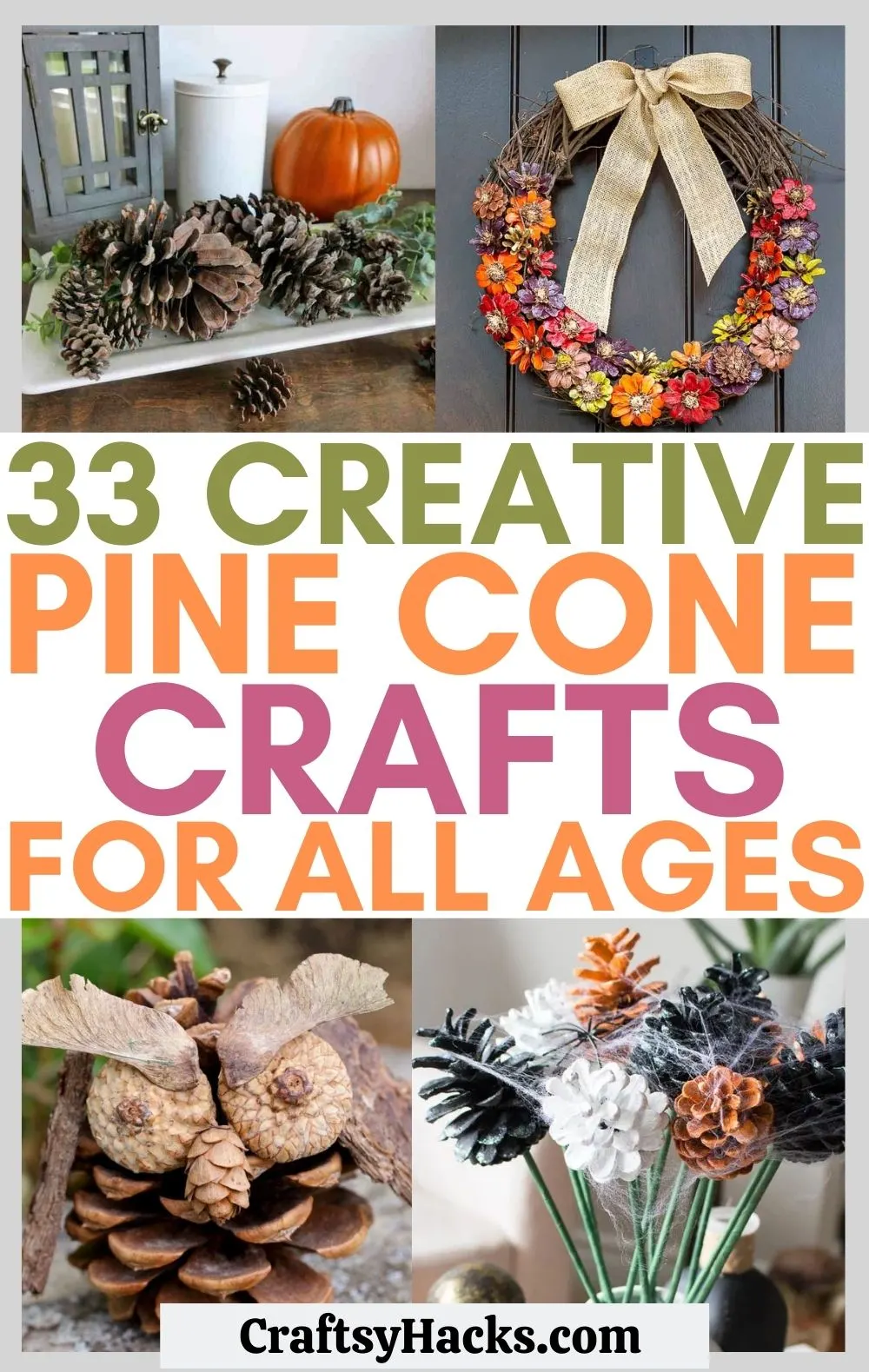 Pinecones are some of the most versatile craft items you can think of. You can use them year round or as a part of your seasonal decoration.
In the fall and winter seasons, in particular, pinecones are usually in big demand. You can use them to make ornaments, string them up as garlands or even make cute toys and knick-knacks out of them.
So here are 33 pinecone craft ideas that I think you're going to have terrific fun exploring and experimenting with!
1. Bird Feeder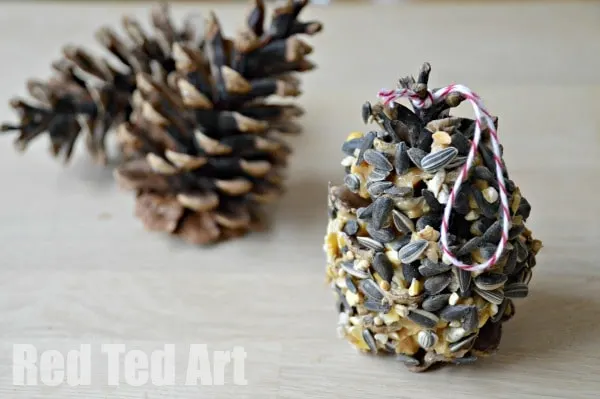 Source: redtedart.com
A birdfeeder is such a wholesome and wondrous thing to have outside your home. They help you bridge that gap we humans have with nature by feeding birds and giving them a safe place to eat and rest.
A pinecone feeder like this is a great fall bird feeder you can make by using what you find in nature for nature. You'll also need some string from here to help you hang the pinecones.
For the actual feed, you can buy bird feed from your local pet store or use suet. Peanut butter or even lard can be used as the binding agent.
2. Pinecone Mouse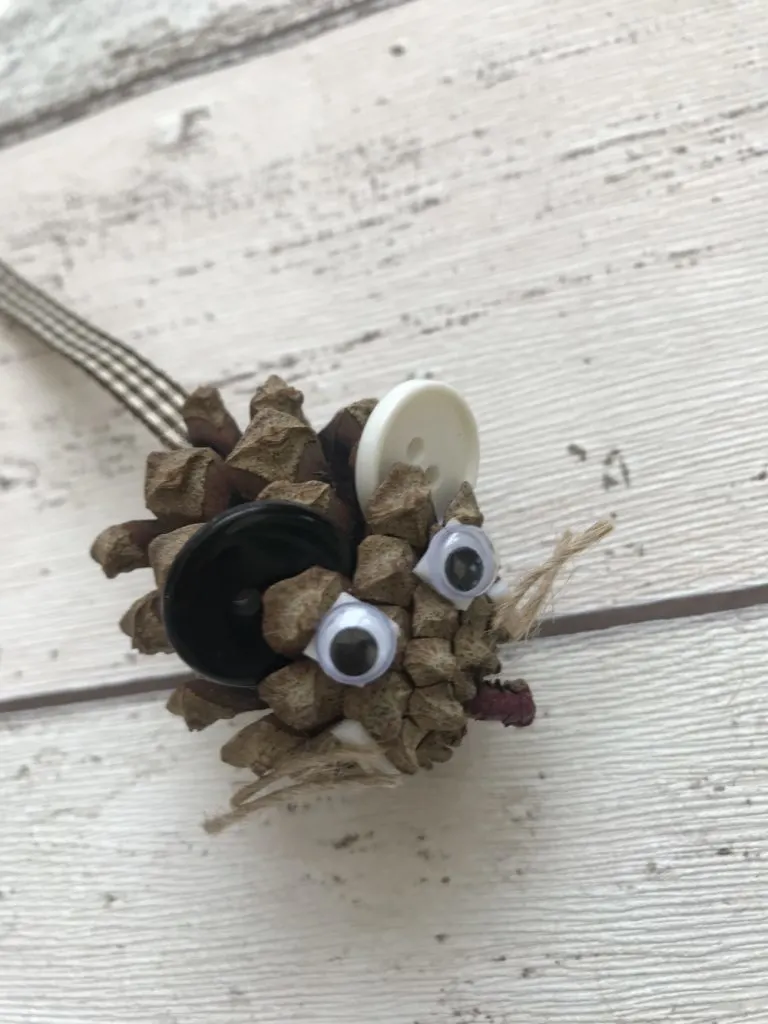 Source: daisiesandpie.co.uk
If you've saved some of the pinecones you picked up for the previous project, then here's what you can do with them. This little pinecone mouse is a cute and easy fall craft project for kids to experiment with.
You'll need to use these googly eyes for the eyes and two big buttons for the ears. Feel free to add other embellishments like a bow or a little pom pom for the nose to jazz it up.
For the tail, you can use twine or ribbon to wrap things up. Here are fall crafts for kids that I think you'll enjoy.
3. Pinecone Roses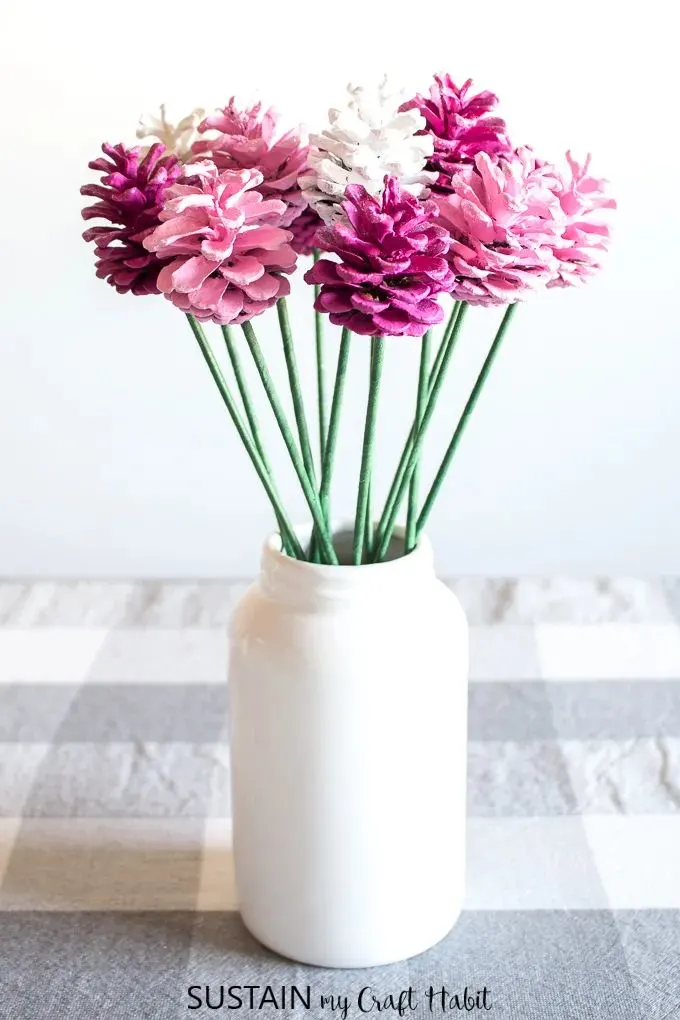 Source: sustainmycrafthabit.com
Pinecones have that natural furling going on that makes them the perfect alternative for flowers. Besides, they'll last much longer than plain old roses!
You'll want to pick out pinecones that have completely opened up for this project. You'll also want to buy wooden skewers from here and paint them a nice green(or use green floral tape) to use as the stems.
Finally, paint your pinecones in different shades of pink, and your pinecone bouquet will be ready!
4. Pinecone Snake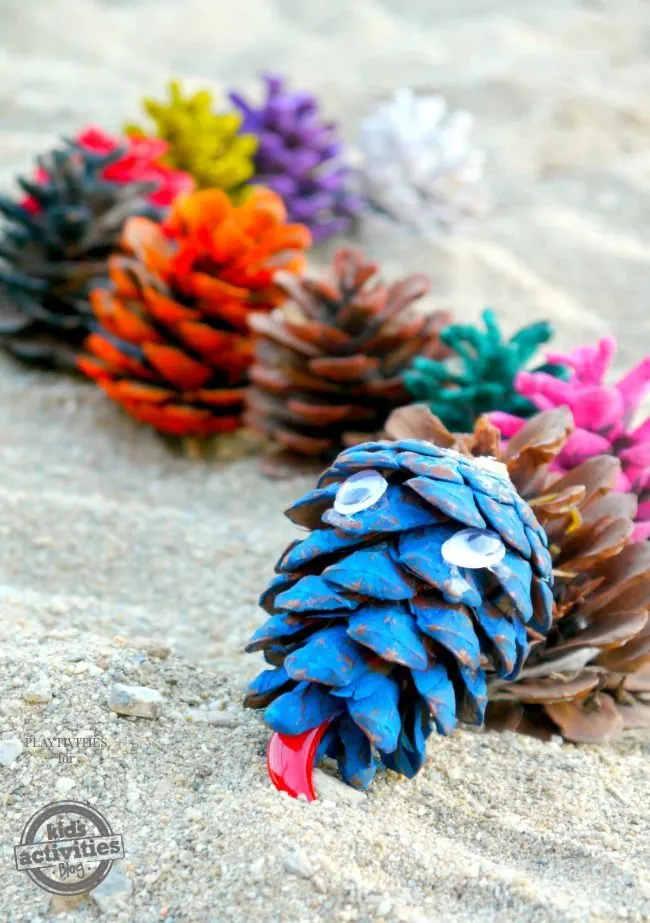 Source: kidsactivitiesblog.com
This is probably one of those rare occasions—a once-in-a-lifetime occasion if I have my say about it—when I'm on board for snake-related crafts. But really, this pinecone snake is too adorable.
Look at how the 'body of the snake looks, all colorful and pretty. It almost—almost—makes up for the fact that this is a snake we're making.
You can use googly eyes for the head, a small scrap of red paper, or felt fabric for the forked tongue. Feel free to just lay the snake out on a surface or use rope to string it down like a hanging!
5. Pinecone Candle Jar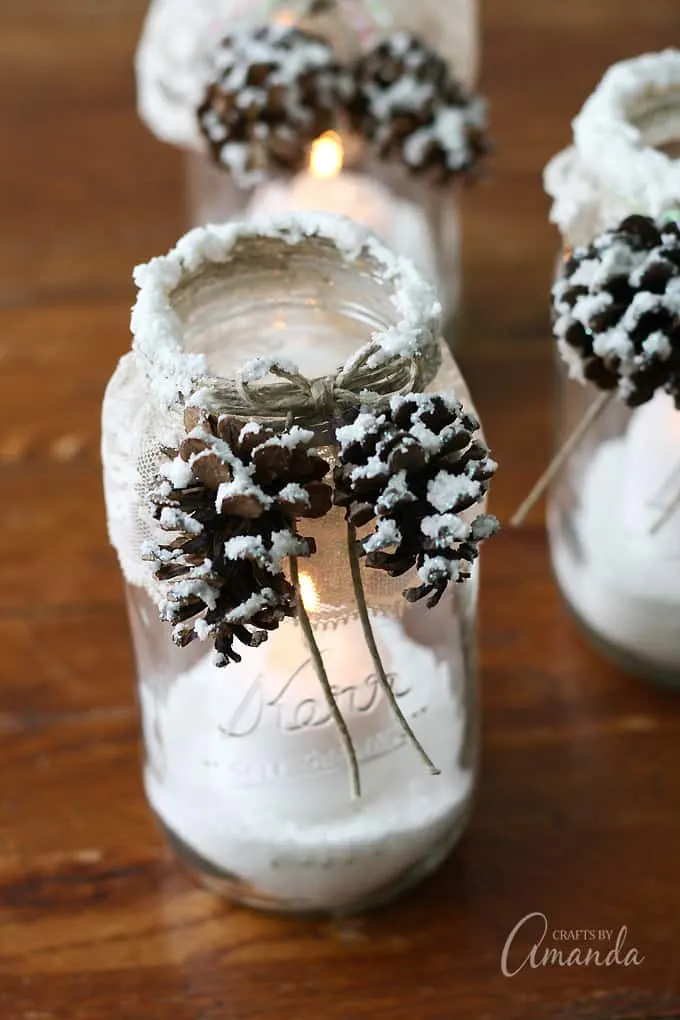 Source: craftsbyamanda.com
Pinecones aren't just for fall decoration; they're also perfect for winter. These soft white wintery candles in their mason jars look quite elegant, don't they?
There's just the right amount of dressing up that's been done to jazz this mason jar candle holder up. You can find some lace trim right here.
You can also use a length of twine to hang a couple of pinecones from the rim and tie it up with a nice big bow!
6. Pinecone Flower Heart Decoration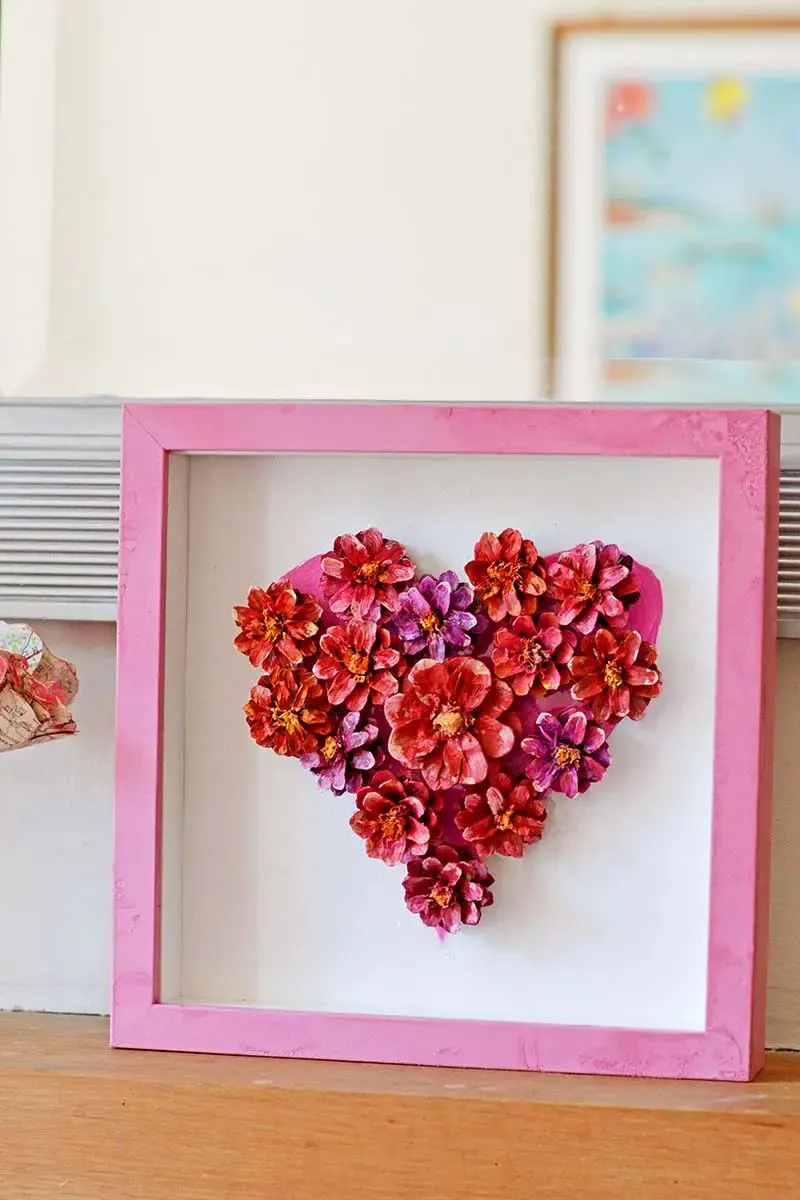 Source: pillarboxblue.com
Did you ever consider making a nice big heart-shaped design using pinecones? It's perfect for Valentine's day, or you can just have the heart framed and mounted as wall decor.
To begin with, pick out a shadow frame from here. Then, lay out your pinecones on a flat surface and sort them into a heart-shaped arrangement.
You can paint your pinecones, let them dry, and then hot glue them in place in accordance with your arrangement.
Here are Valentine's day decoration ideas for you to explore!
7. Pinecone Bouquet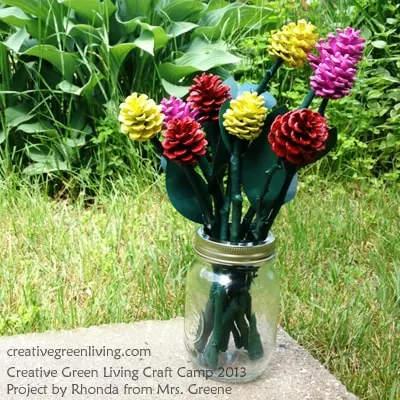 Source: creativegreenliving.com
Didn't I tell you how perfect pinecones are as alternatives to flowers? They make for some of the prettiest bouquets; they really do.
You can paint your pinecones any color you like with acrylic spray paint from here. You can also use twigs and other floral embellishments to spruce up your bouquet.
Don't forget to paint them in the colors you want for the best possible finish. You can also spray some setting liquid once you're done to complete the entire bouquet.
8. Pinecone Gift Ornament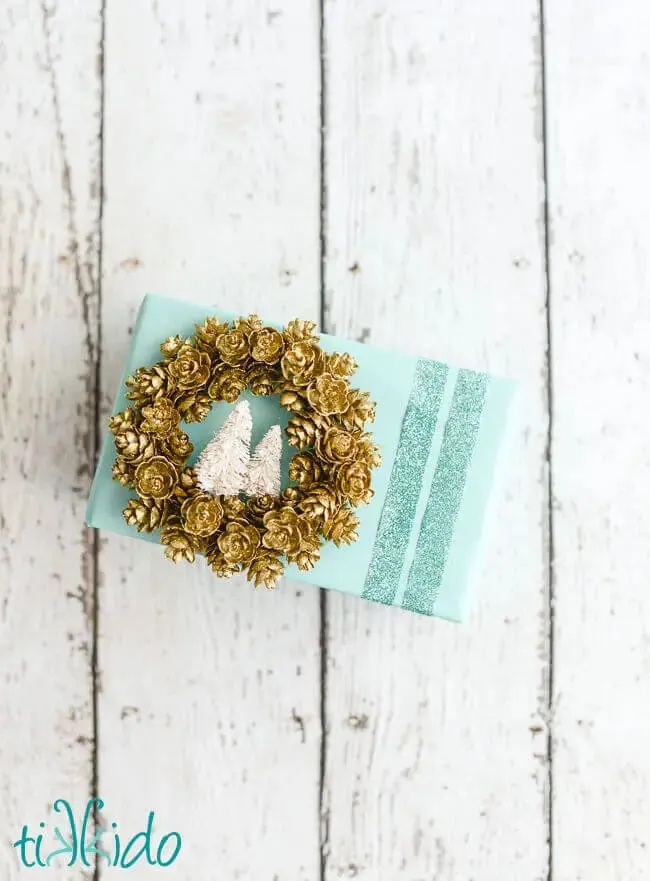 Source: tikkido.com
This gorgeous pinecone decoration is what every gift paper deserves to have on top of it. It's simply sublime!
This clever ornament can replace a plain old bow on my gift anytime. The best part is that you can make your very own ornament in under an hour.
You'll need pinecones, cardstock, miniature bottle brush trees from here and finally, spray paint in the color of your choosing. I find that gold, silver, or other metallic colors go best for ornaments like this.
Before you finish, though, don't forget to spray a thin coating of glitter!
9. Christmas Gnome Ornament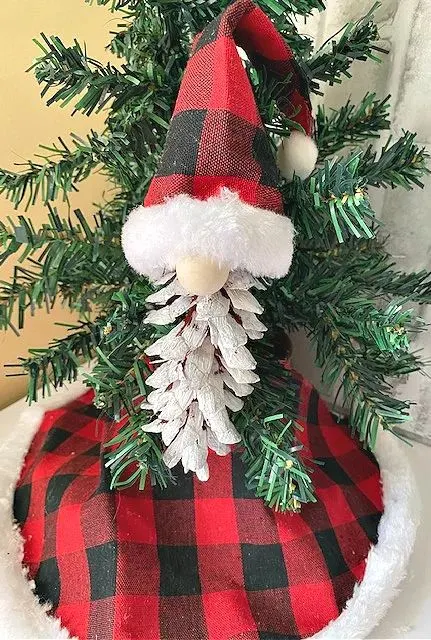 Source: ourcraftymom.com
Did you ever think you'd be using pinecones to make a Christmas gnome? You know, the more I look at it, the more apropos it gets.
You can paint the pinecones a nice matte white and voila; you've got a nice flowing beard to add to your gnome. You can switch out the gnome and make Santa, instead, too!
Grab one of these little Santa hats from here and find an appropriate stubby nose to bring your Christmas ornament together!
10. Halloween Flowers From Pinecones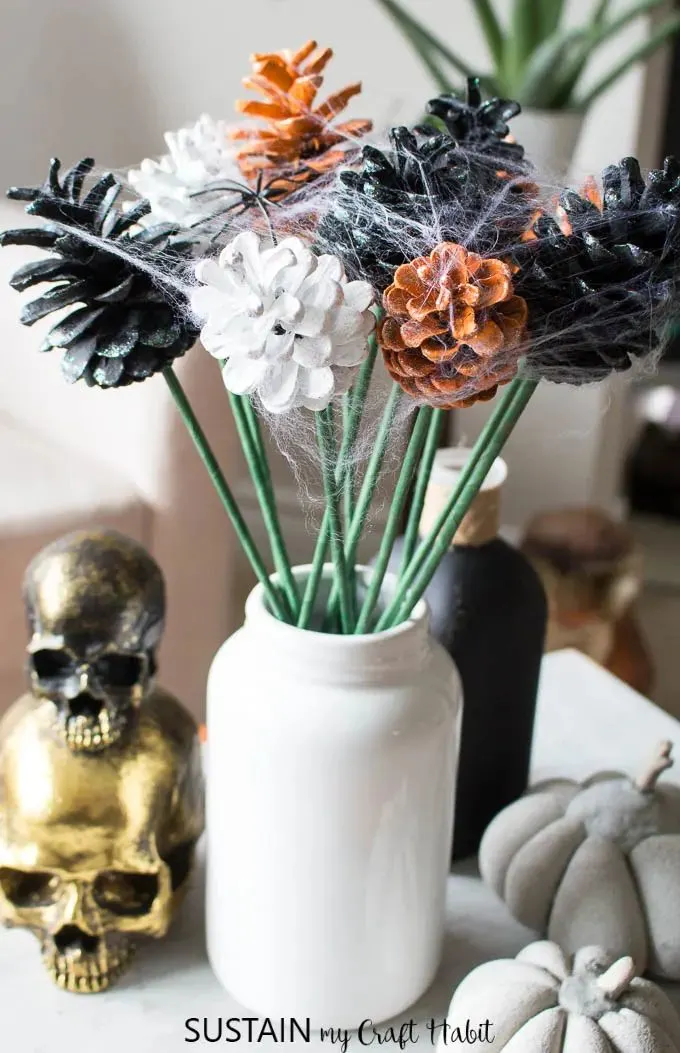 Source: sustainmycrafthabit.com
Pinecones are so inherently autumnal, don't you think? Sure, they can be used for pretty much any season or time of the year, but I always associate them with fall.
That's probably why this Halloween-themed pinecone floral arrangement is so appealing and apropos. It's got that perfect balance of fall colors and just the right touch of spooky from the spiders and cobwebs.
You can find those spider embellishments here. Don't forget the cobwebs for an added spook factor!
Check out more Halloween crafts here.
11. Pinecone Garland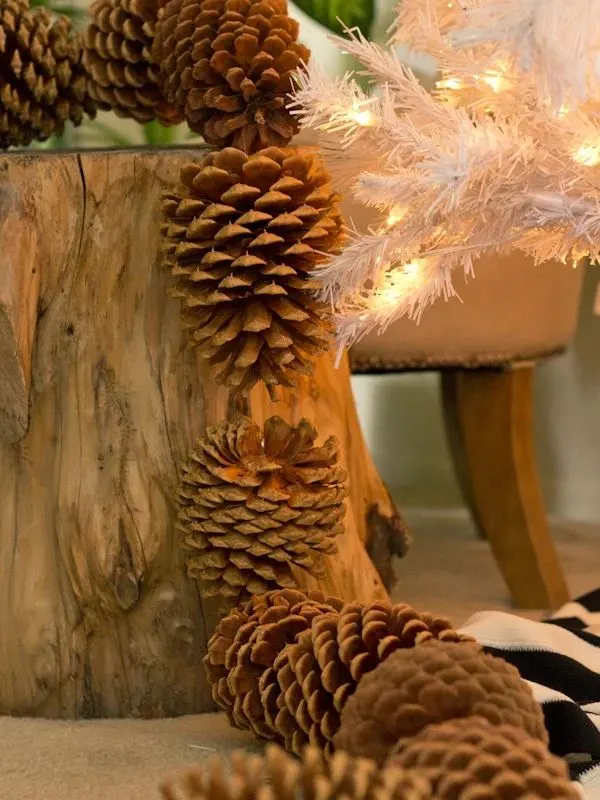 Source: lovelyindeed.com
You've probably strung popcorn kernels into a garland. How different could it be to string pinecones?
You'll want to pick out the biggest pinecones for this garland—let's go all out with the decor this fall season. Pull out your toolbox and grab a drill with a small bit and attach these eye screws to every single pinecone
A word of advice: you're using pretty heavy pinecones, so don't skimp on the thread. You can use jute twine or rope to effectively hold and support the weight.
12. Pinecone Owl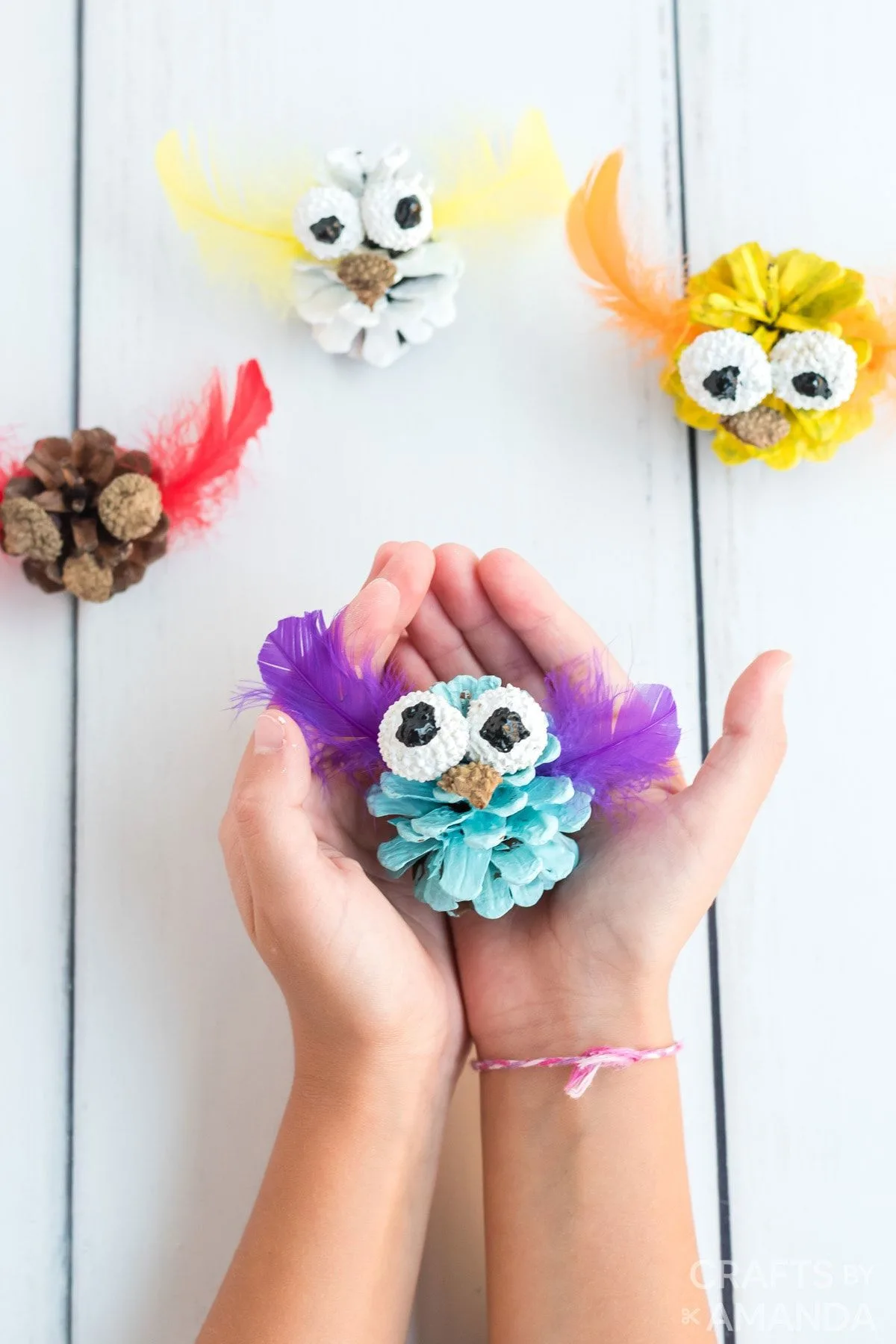 Source: craftsbyamanda.com
I'll be the first to admit that this little owl does look like Kermit, the frog, doesn't it? It's probably the wonky eyes, or perhaps it's the expression in them…
Anyway, these pinecone owls are a wonderful craft project for the little ones to enjoy. They're easy to make, and they're bright and colorful.
That makes them the perfect decoration to have perched on your kids' nightstand, a bookshelf or mantle.
13. Christmas Tree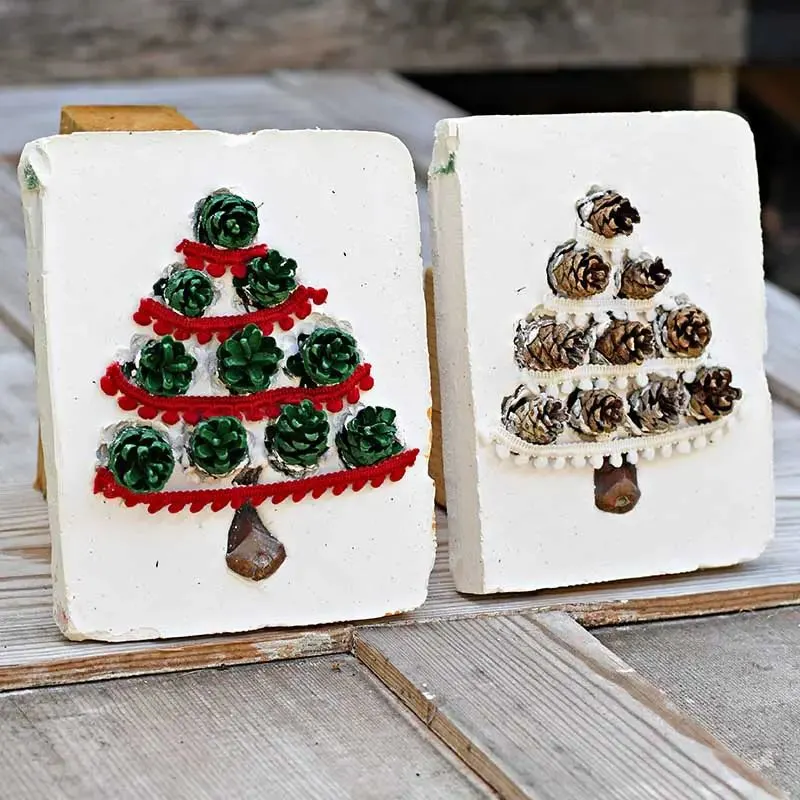 Source: pillarboxblue.com
You can decorate your Christmas tree with pinecones, or, as this craft shows you, you can make a pinecone Christmas tree instead. You have to admit; it's a rather adorably rustic craft project.
The little pom pom lace trim only adds to the charm. They look like little snowballs, don't they? The base is actually a tile, and you can buy plaster of paris to set and make your very own snowy backdrop.
In fact, you'll be 'setting' the pinecone in plaster to ensure they stay in place and then stringing the pompoms through to finish it up.
Check out more Christmas Farmhouse décor ideas here.
14. Pinecone Snowman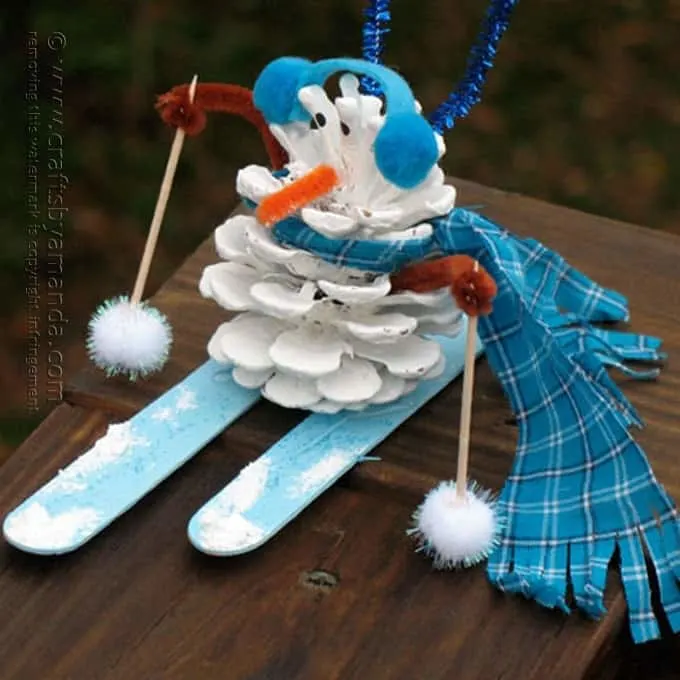 Source: craftsbyamanda.com
Olaf from Frozen would be proud of this little pinecone snowman. Look at him, snugly covered up in his tartan shawl and earmuffs, all ready to go skiing.
I can't get over how adorable this pinecone snowman has turned out. You can use pipe cleaners to fashion a nice pair of arms and two of these jumbo craft sticks for his skis.
You'll also need a tiny bit of orange pipe cleaner for the nose, and you're all set! Also, check out these pipe cleaner craft ideas to use up those extra pipe cleaners you have!
15. Illuminated Christmas Tree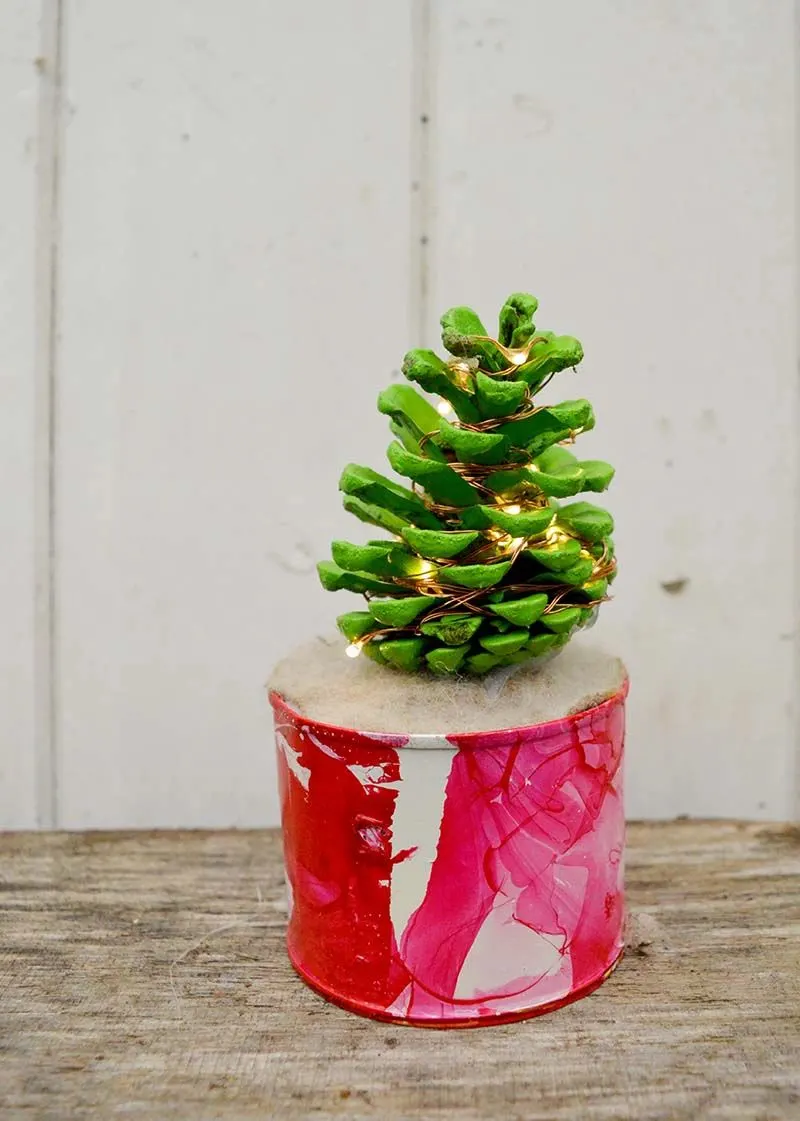 Source: pillarboxblue.com
What Christmas tree—even these mini trees made from pinecones—is complete without a string of festive lights? It's the only way to satisfy that need of having a tree in every room!
Find a nice, medium-sized pinecone for this project. You will also need a small tin can for you to repurpose and use as the base of the tree.
Pick out a piece of brown felt, green spray paint, and finally, some red nail polish. Once you have everything you need, grab a set of battery-operated string lights from here, and you're all set to begin making your pinecone Christmas tree!
Love this Christmas tree? Check out Dollar Store Christmas crafts here.
16. Pinecone Fairies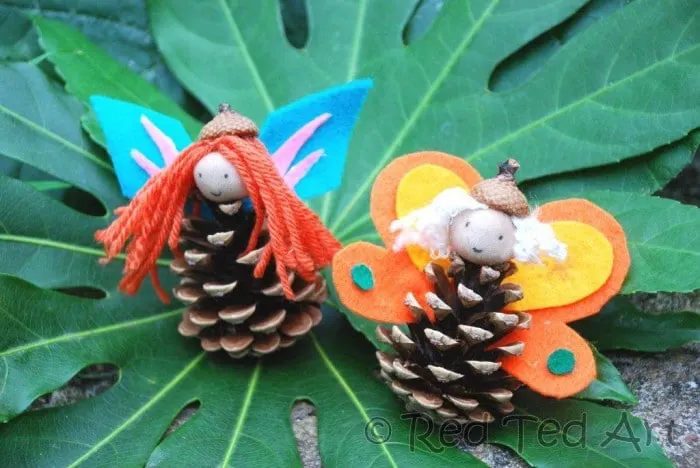 Source: redtedart.com
Garden fairies were an integral part of my childhood, as I bet they were for many of you. Most kids grew up with a little fairy settlement in their garden, full of little magical beings.
Here's a pinecone fairy you can add to that fairy settlement. They're perfect little woodland creatures to grace your garden.
You'll need a few bits of colored yarn, some felt for the wings, and finally, little acorn berets for a nice, knobbly hat.
17. Pinecone Critters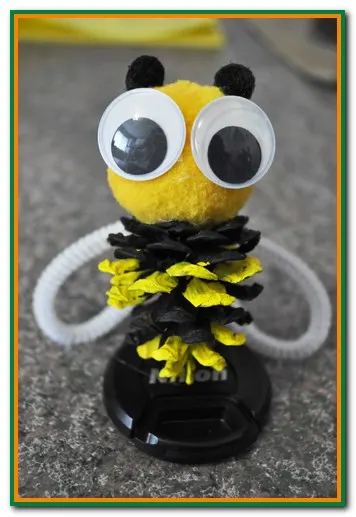 Source: easy-crafts-for-kids.com
This little bumblebee pinecone is just too adorable for words. The big googly eyes perched atop a bright yellow pom pom is priceless!
Let's not forget that bit of pipe cleaner that's been twisted up into wings, either. You'll want to gather your craft essentials: paintbrushes, glue, paint, and the likes.
In just under an hour, you'll have yourself the exact same pinecone bee so let's get started.
18. Rustic Ornaments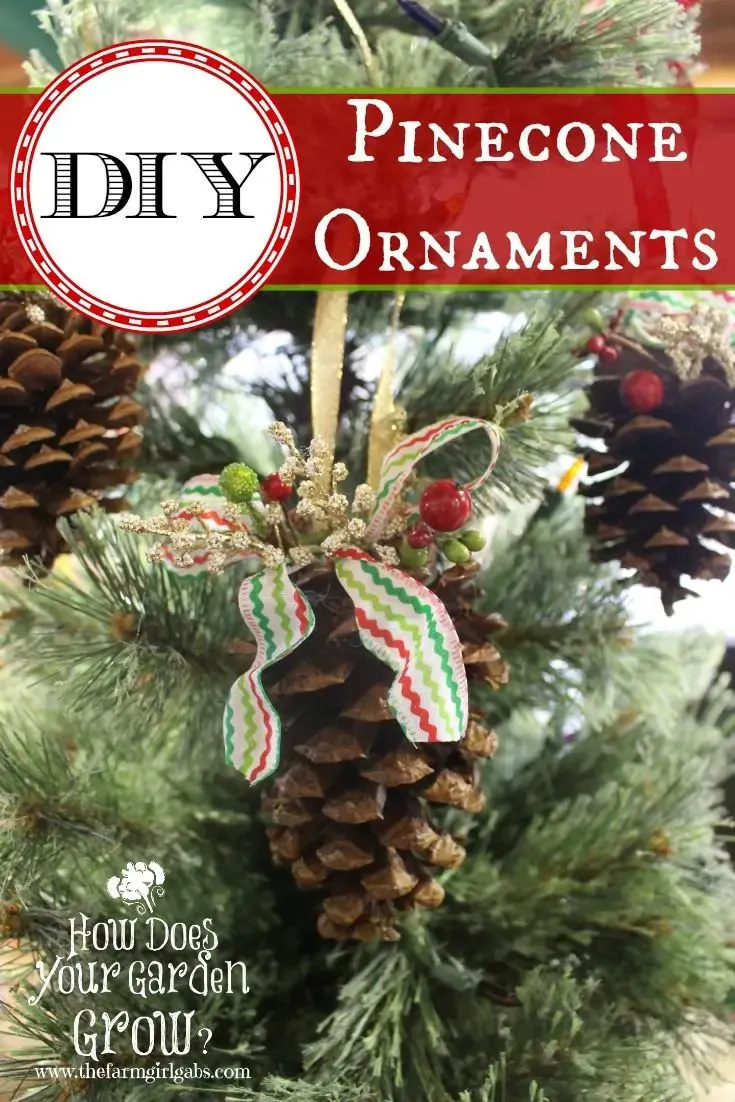 Source: thefarmgirlgabs.com
Pinecones can never be too rustic for my taste. They're always the perfect addition to a Christmas tree, and, depending on where and how you use them, they can just as easily class up your craft project.
This large pinecone ornament is earthy and woodsy, and is entirely reminiscent of the fall season we just left behind as we foray into Christmas time. So let's turn it into a nice festive and Christmassy ornament that will brighten up your Christmas tree!
19. Pinecone Turkey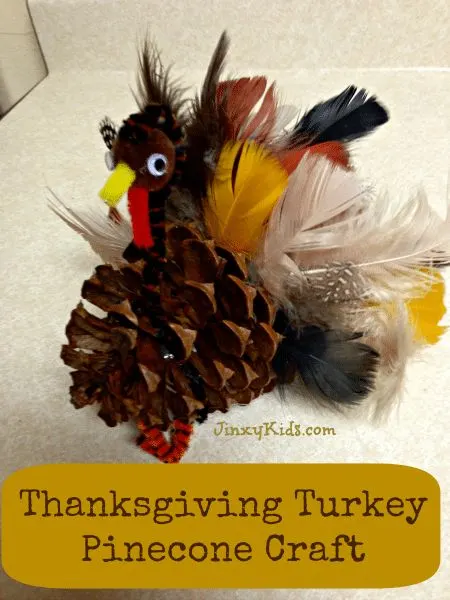 Source: jinxykids.com
Since pinecones are so naturally autumnal, is it any wonder that they're used to make these adorable little Thanksgiving turkey dolls?
Pick up a few craft feathers from here—orange, brown, red, and yellow would work best. Also, gather some googly eyes, pipe cleaners, brown pom poms for the turkey's head, and finally, your pinecones. You'll also need some glue.
When you're gluing the feathers in place, make sure to give your turkey a flamboyant plumage that will make it proud!
Here are easy fall crafts that you might want to explore!
20. Yarn Wrapped Pinecone Ornaments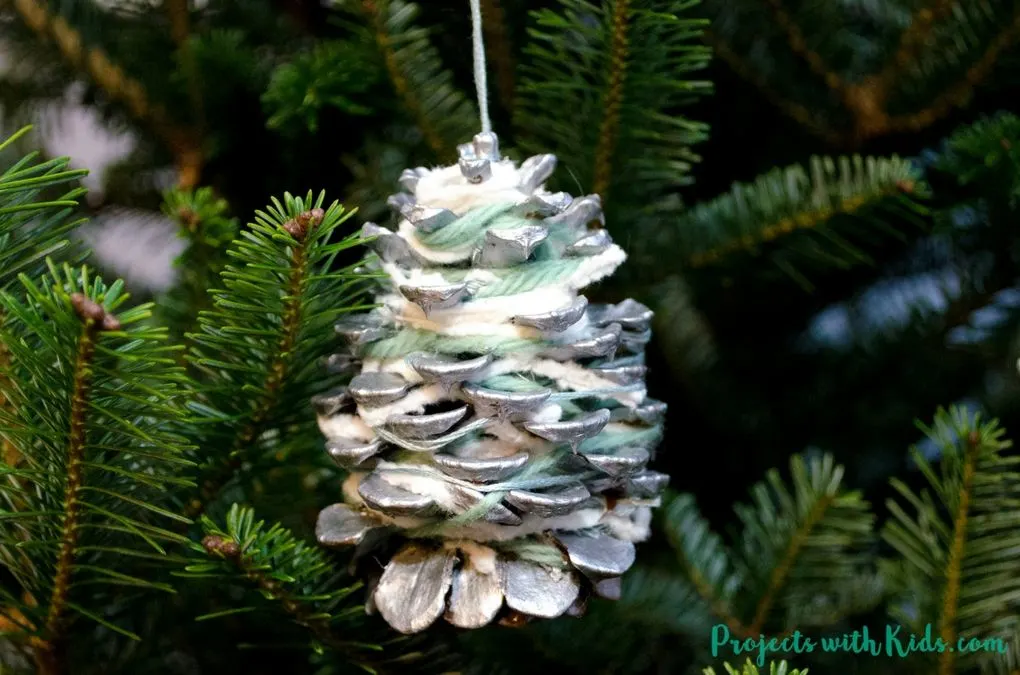 Source: projectswithkids.com
Do you have any yarn leftover from a crochet or knitting project? No? Then just pick up a few skeins from here for this next craft project.
Who would have thought that wrapping yarn around a pinecone would make it so elegant and soften up the hard edges so much? But that's exactly what it does, and you'll find yourself with an elegant Christmas ornament!
To class it up some more, consider painting your pinecones with some silver or gold paint before you wrap it up.
21. Pinecone Wreath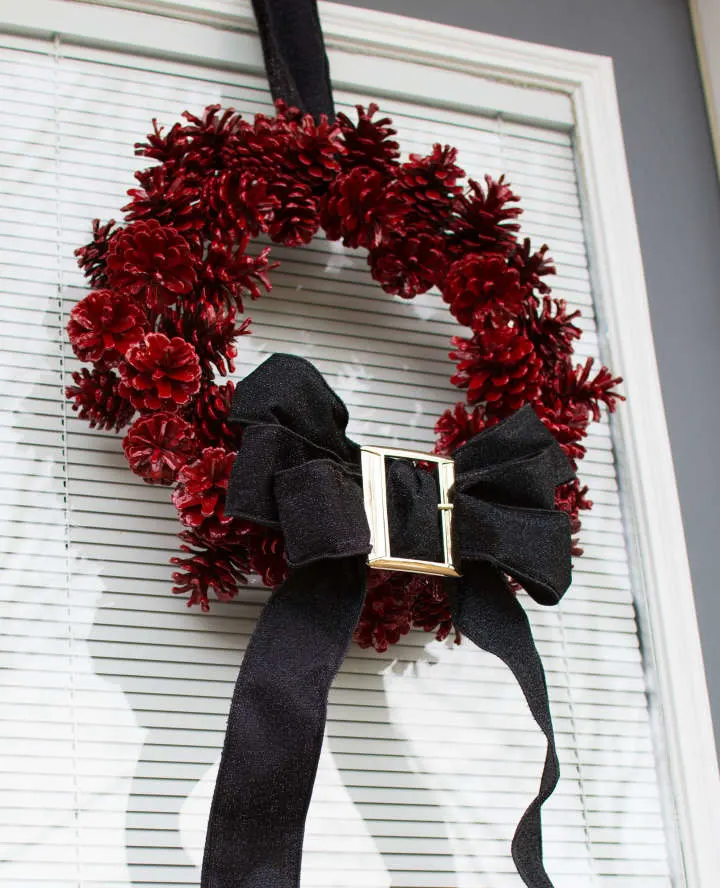 Source: scratchandstitch.com
A pinecone wreath to adorn your front door is just what your home needs. Be it for fall, or Christmas as is the case here, pinecones are wonderful additions to any festive and seasonal wreath.
First, grab some red spray paint and paint your pinecones a dark crimson in celebration of Christmas. If you have it in your closet, pick out a wide-buckled black belt to hang from the wreath.
Oh, and you'll also want to pick out a nice, sturdy wreath form—preferably a wooden frame, if not a grapevine or metal one.
22. Pom Pom Pinecone trees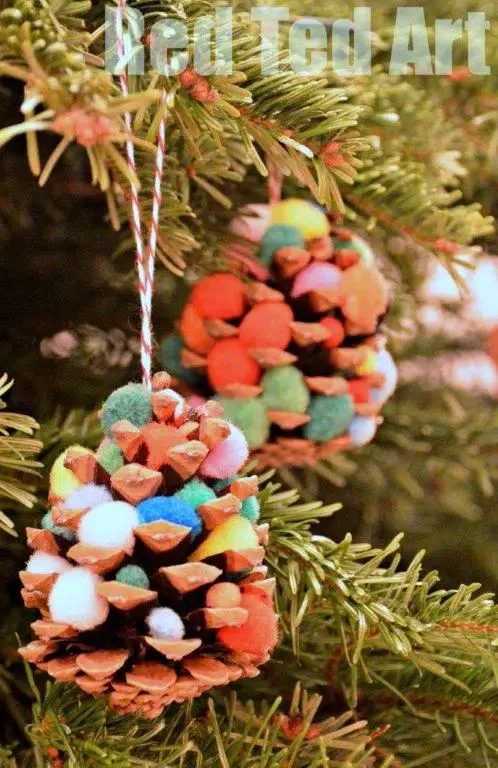 Source: redtedart.com
Another way to soften up a pinecone ornament while simultaneously brightening it up is by tucking colorful pom poms in it. It's like a little party tree, isn't it?
You don't need much by way of supplies for this project, you can even have your kids help you make them. You can keep them occupied for a good while by having them wedge the pom poms into the pinecones.
If you want muted and classy rather than bright and colorful, switch out the colorful pom poms with just white or red ones, and there you go!
23. Pinecone Spiders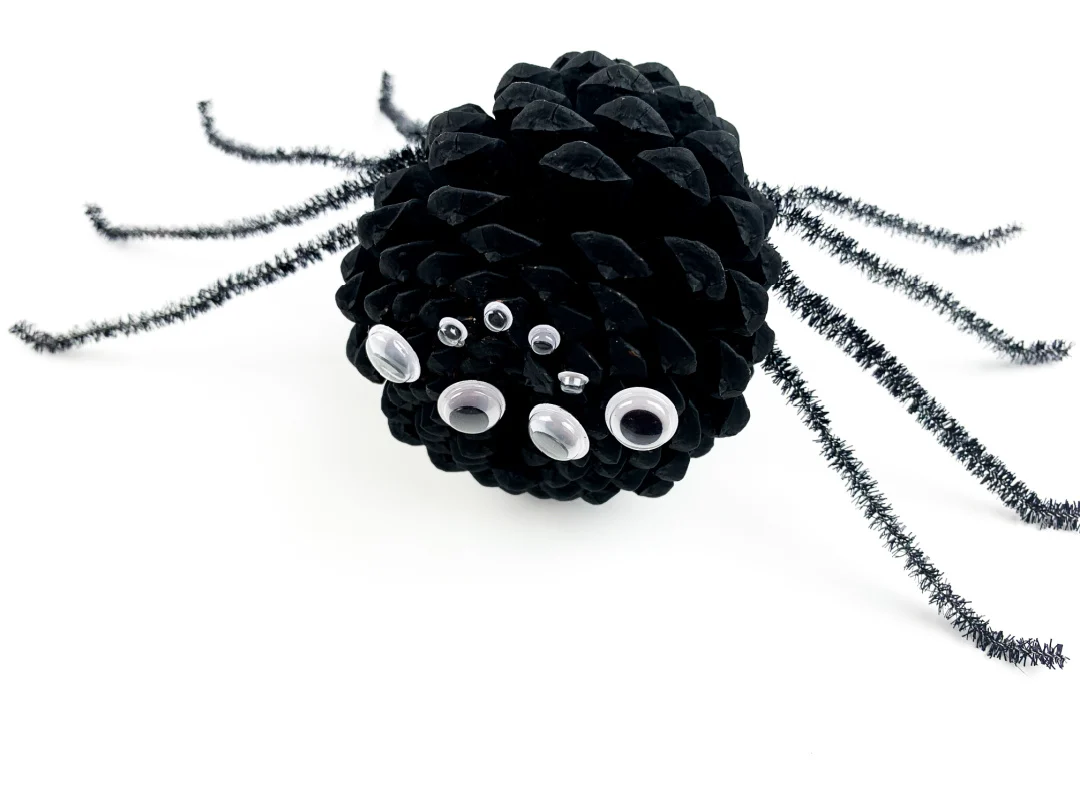 Source: momwifebusylife.com
You already know that pipe cleaners make the best legs—they're long, spindly, and fuzzy—just like real spiders' legs. But who would have thought that pinecones would be the perfect craft material to make a spider's body?
Grab a bottle of matte black spray paint and paint your pinecones a deep, dark black. Then go ahead and let them dry before you attach the legs and googly eyes.
While you're at it, check out these 27 spider crafts that are bound to prove interesting and fun!
24. Fire Starters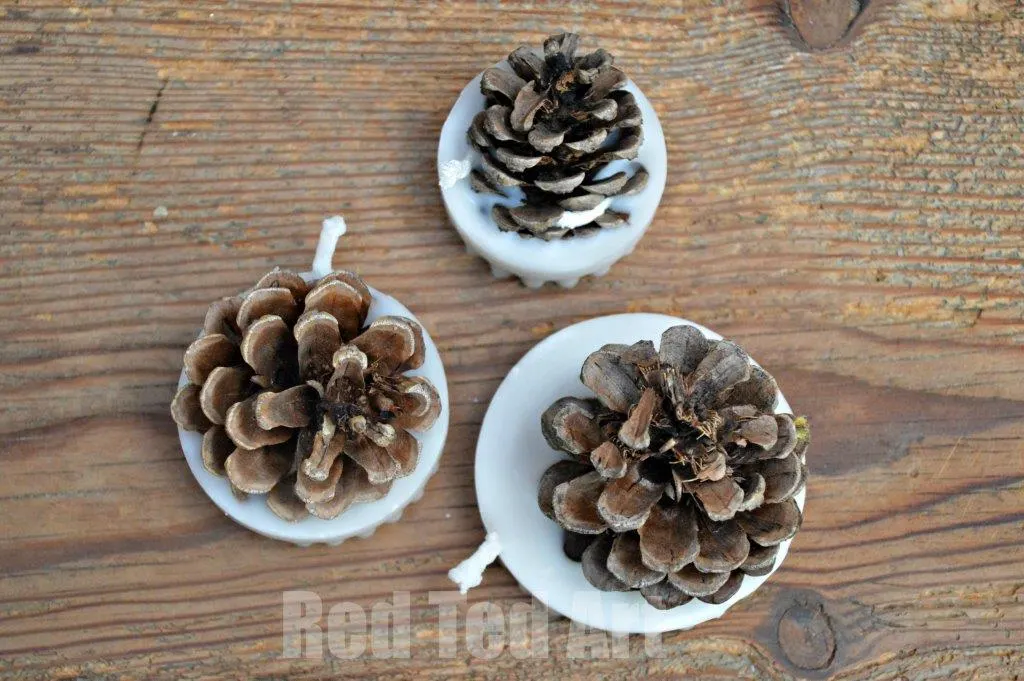 Source: redtedart.com
I bet you're wondering what fire starters are. Well, they're really simple, actually. You're essentially making little pinecone candles.
When the candle is lit, and the wick and wax burn and melt, the dry pinecones used to build natural fires will light up, and voila! You'll have a nice roaring fire in no time.
You'll need this aluminum foil, an old tin can, and a saucepan to get you started. Never again will you have to deal with messy scrunched-up newspapers, dry twigs, and matches to start a fire, not when you can use these classy alternatives!
25. DIY Hedgehog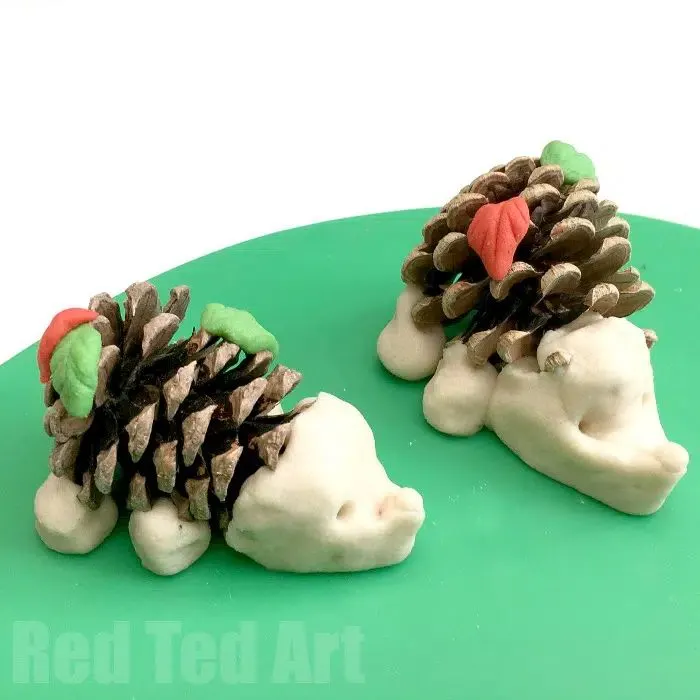 Source: redtedart.com
Did you really think we'd not have a pinecone hedgehog on this list of DIY crafts? Not very likely, because pinecones and hedgehogs are like…peanut butter and jelly in a PB&J sandwich!
You'll also be working with salt dough, so get ready to get your hands dirty with this DIY craft. You'll need two cups of flour, a cup of salt, and just under a cup of water to make your salt dough.
Just follow the right ratio and your salt dough will be perfect! Feel free to add some color to your hedgehog with a bit of ribbon from here to fashion a bow.
26. Pinecone Carrot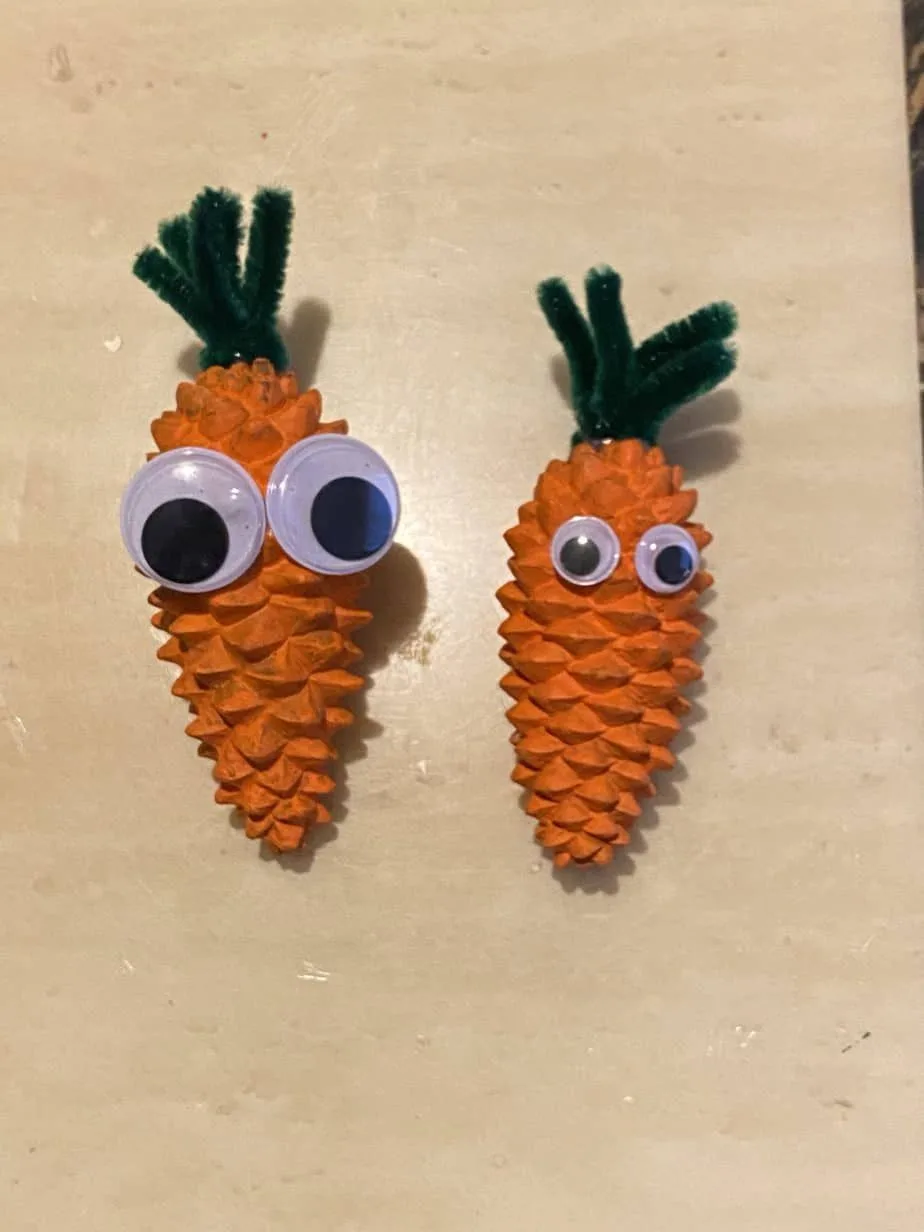 Source: mandapandaprojects.com
Have you heard of bajillion pinecones? They're typically longer than your average rotund pinecone, and much more conical. In fact, they look quite like carrots.
If you've seen one, or happen to have one, then that's perfect. If not, just buy them here. This pinecone carrot craft can be used as an accessory to teach young one about conical veggies like carrots, or radishes.
You can cut up a few bits of green pipe cleaners and attach them to the top of the carrot to act as stems.
27. Cinnamon-Scented Pinecones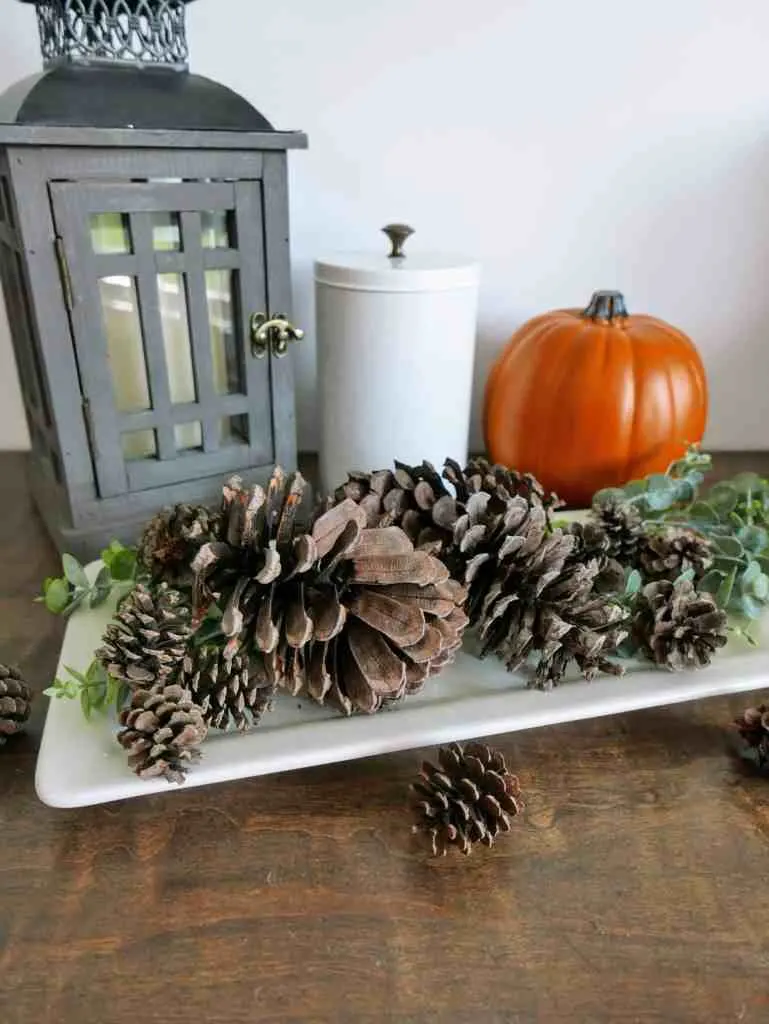 Source: madeinapinch.com
Apart from being the perfect material to use in potpourri, pinecones also appear naturally earthy and rich. That's why they make wonderful scented props to use in your decoration.
A few drops of cinnamon essential oils should do the trick. The rich and spicy aromatic flavor and scent of cinnamon would go well with the earthy, musky and naturally masculine aesthetic of pinecones.
You can find cinnamon essential oil here. Alternatively, you can use pumpkin spice scent or other fall or winter scents to the same effect.
28. Rustic Pinecone Owl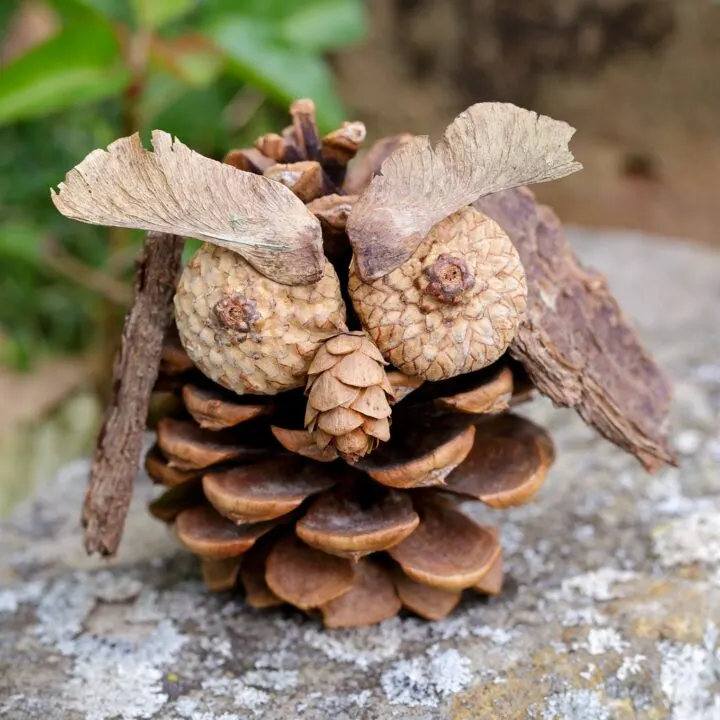 Source: firefliesandmudpies.com
While you already read about making an owl using a pinecone just a while ago, this one is more woodsy and rustic rather than craftsy and colorful. Think of a barn owl rather than a cartoon one for this DIY pinecone owl.
You can use these acorn caps in place of eyes. They're exactly the right shape and size to pull off the infamous owlish stare we hear so much about.
Finally, feel free to paint your little pinecone owl, or if you prefer the woodsy touch it adds, then enjoy it as is!
29. Nature Turkey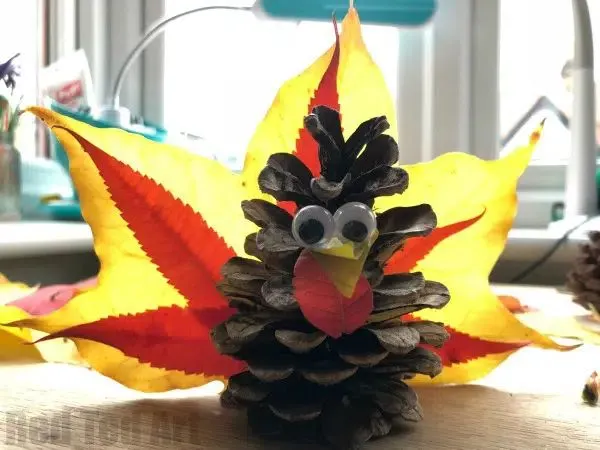 Source: redtedart.com
From owls, we once again move to another turkey-related pinecone craft. This one, I admit, is a personal favorite. It's got a rather comical expression, with a wide, open-beaked smile that is absolutely endearing.
The plumage too, is rather beautiful. The bright red and yellow of fall leaves perfectly offsets the rustic brown of the unpainted pinecone.
Go ahead and top off your pinecone turkey with a little red leaf for its caruncles, and you're all done!
30. Glitter Pinecone Craft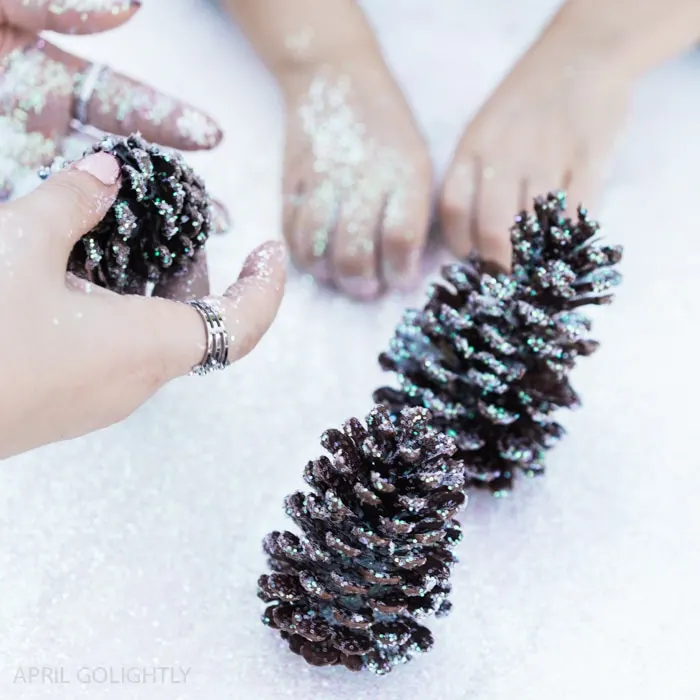 Source: aprilgolightly.com
Do you really even need a reason to bedazzle and glitter bomb something during craft time? Of course not; every occasion to add glitter and sparkle to life must be seized!
Take this glitter pinecone, for example. Once you've cleaned it up thoroughly with a vinegar-water solution and have allowed it to soak and dry for the appropriate time, it's time to decorate it!
What can you use these glittery pine cones for, you ask? They make for lovely and elegant Christmas or festive ornaments.
31. Pinecone Flower Wreath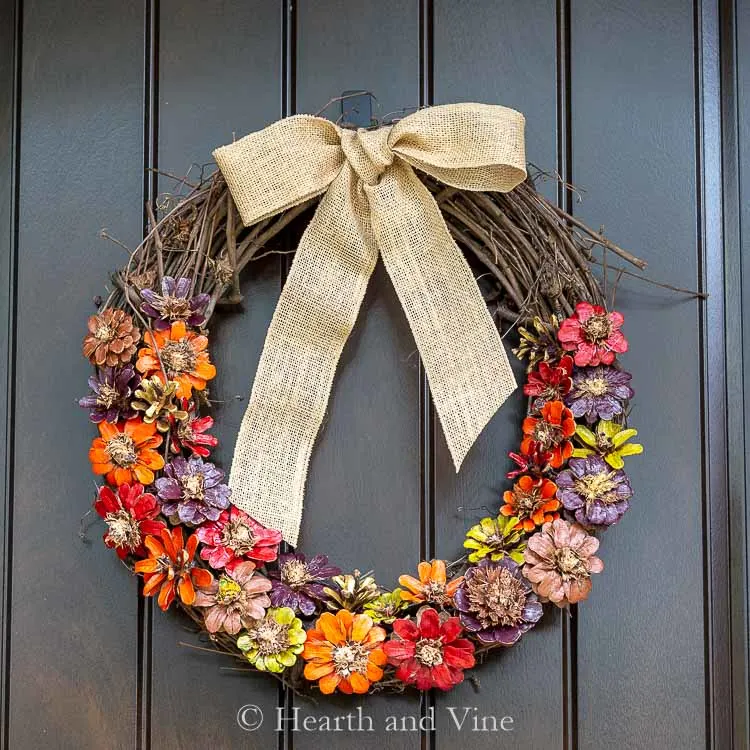 Source: hearthandvine.com
A pinecone wreath like this one can add color and texture to your home decor. It's a vital addition to your fall or seasonal decor as well.
You can paint it in fall colors and hang it up anywhere you like. The best places for you to hang it up would be over your fireplace, across your mantle, from a doorway or archway, and even just across your room strategically.
You can weave a few leaves, fall florals, and other embellishments along with the pinecones for an added oomph!
32. DIY Wall Art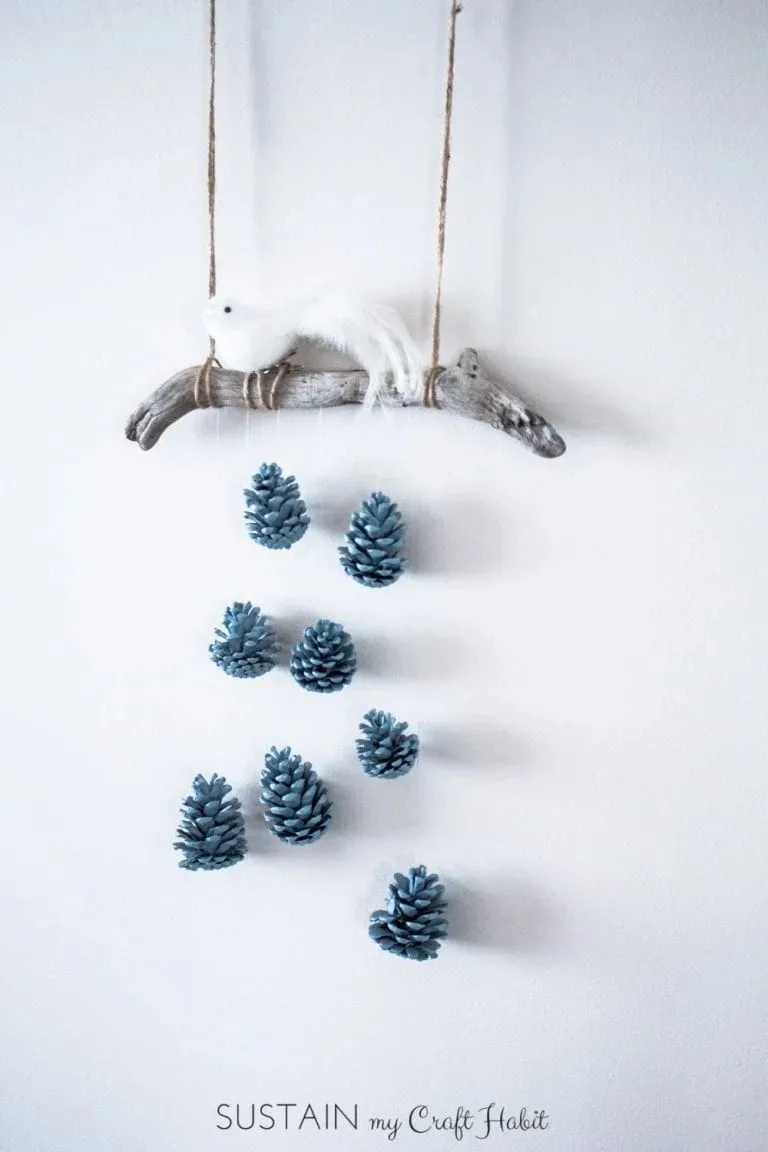 Source: sustainmycrafthabit.com
Pinecones are perfect aesthetic pieces to use as a part of your wall hanging. They provide a naturally pleasing texture, and if you paint it, you can add color as well.
This DIY wall hanging is pretty simple to recreate. You only need a big branch—go outdoors and find one or just pick one from here. You can also perch a couple of birds atop the branch if you like.
Finally, hang your pinecones from the branch with some sturdy twine or thick yarn. You can also use a heavyweight clear string like this if you don't want the twine to be seen.
33. Pinecone Picture frame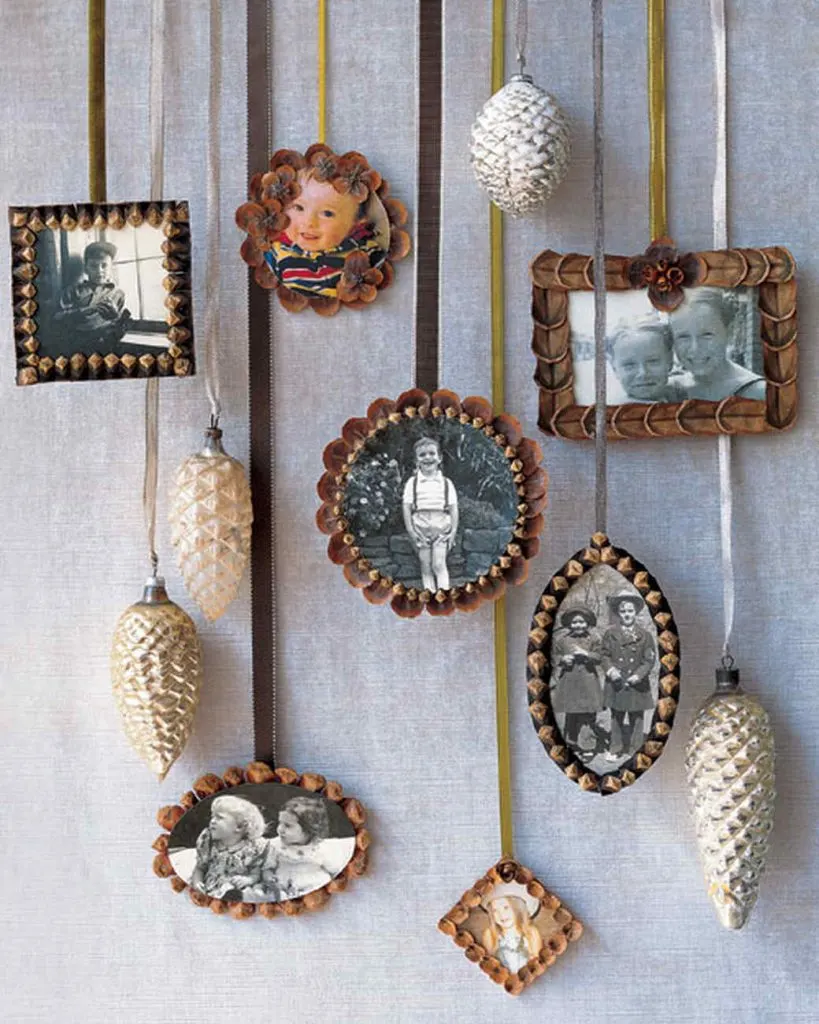 Source: hillcitybride.com
This photo setup isn't your run-of-the-mill pinecone-studded frame. Instead, it's an entire display that's pinecone-themed. You can see how earthy and rustic the frames are.
There are bits and pieces of pinecones and acorns to augment the theme. But the main contribution comes from the big decorative pinecones you can see hanging down between the frames.
So grab some ribbon or twine and start stringing them up!