Love Farmhouse style? Go all out this Christmas with these Farmhouse Dollar Tree decorations that look incredible yet are super cheap.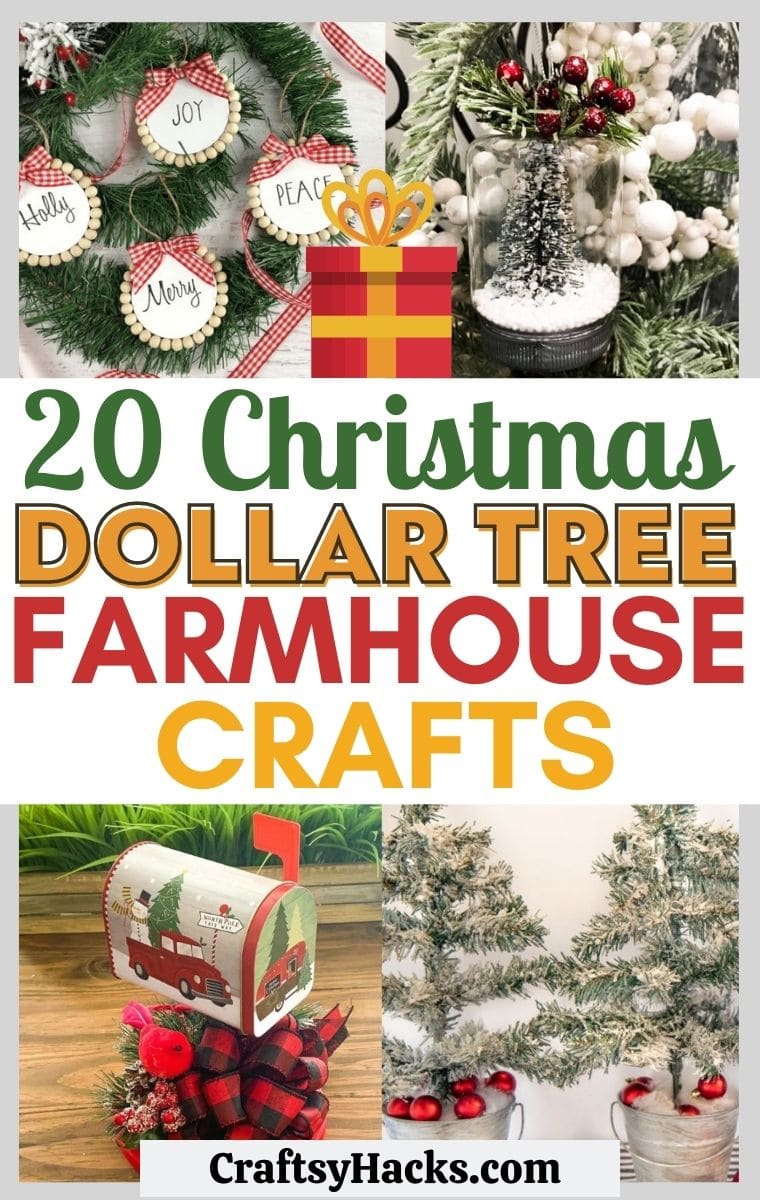 Ah, farmhouse décor. As the perfect intersection of vintage accessories and rustic charm, this brand of interior design really makes my heart sing.
If you're in the same boat, why not bring your farmhouse enthusiasm into the Christmas season? I really can't think of a holiday better suited to this kind of décor.
So, here are twenty merry, bright, festive, and rustic DIY farmhouse Christmas ideas you can make with things you can find in the dollar store.
1. Farmhouse Christmas Sign Ornaments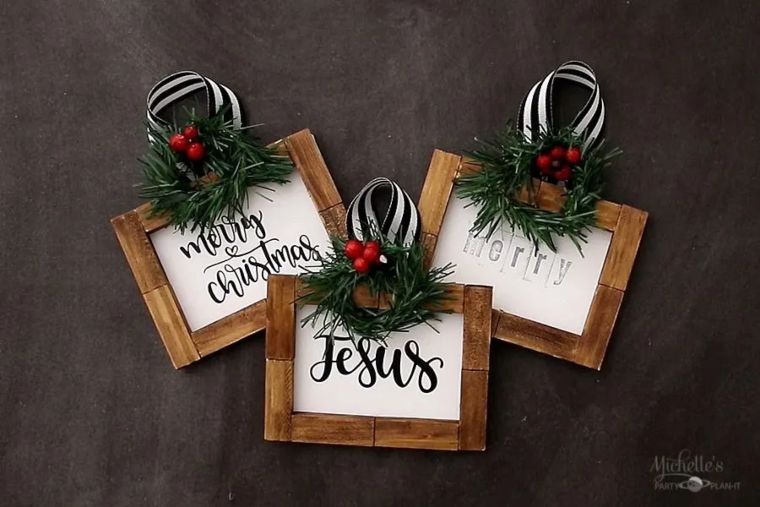 Credit: michellespartyplanit.com
First on the list are these gorgeous rustic ornaments. Frame your favorite Christmas phrase, word, or even your family's names in some dollar-store frames for a truly personalized ornament.
Depending on the kind of final look you want, you can opt to cut the letters out of iron-on vinyl (which you can find here). You can use alphabet stamps and ink for a really rustic look.
Top them off with some fake holly, and you've got some vintage ornaments worth singing about!
2. Farmhouse Bottlebrush Snow Globe Tree Ornaments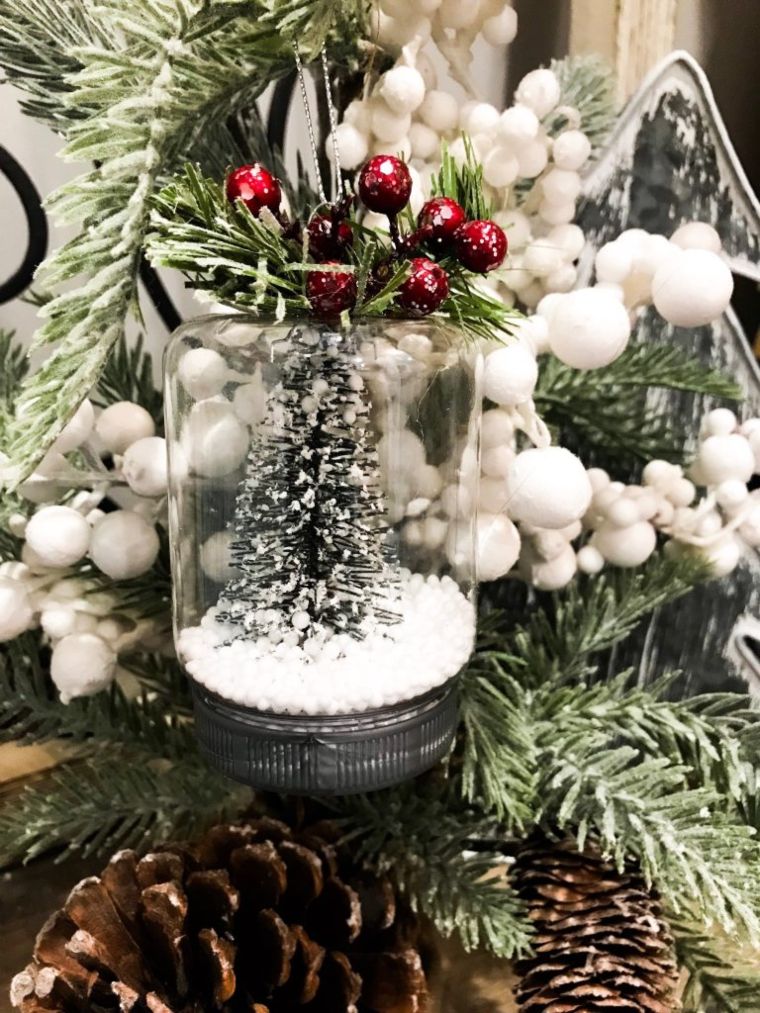 Credit: re-fabbed.com
What's better than a Christmas tree? How about a Christmas tree with a bunch of mini Christmas trees hanging from its branches? These little snow globes are so cheap and easy to make.
All you'll need are some jars and bottlebrush trees from the dollar store and any kind of fake snow that strikes your fancy. Even tiny Styrofoam balls will give you that winter wonderland look.
Take this craft up a notch and invest in some clear plastic ornaments instead of jars. Then, age the silver hanging piece with some antique gold Rub 'n' Buff.
3. DIY Dollar Store Christmas Trees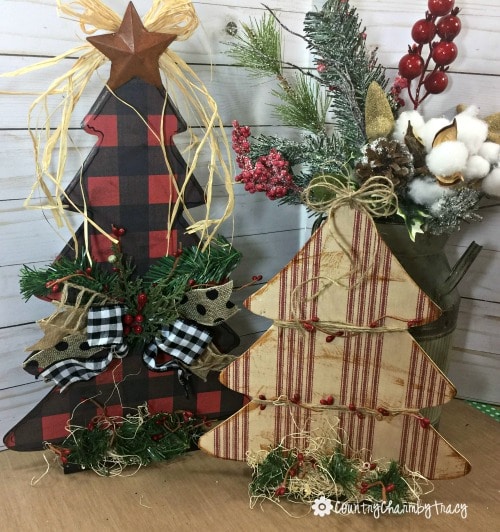 Credit: countrycharmbytracy.com
Nothing says vintage farmhouse quite like some good old-fashioned plaid, and this craft really embraces the power of checks! Using some dollar store Christmas plaques, you can make these in an afternoon.
Craft some Christmas trees in multiple sizes and colors, then dot them around your house to bring festive cheer into any room.
Curious about some other dollar store decorating ideas? Check out my article on 15 beautiful Dollar Tree Christmas decorations to spruce up your home this Christmas.
4. Ultra-Cheap Rustic Christmas Tree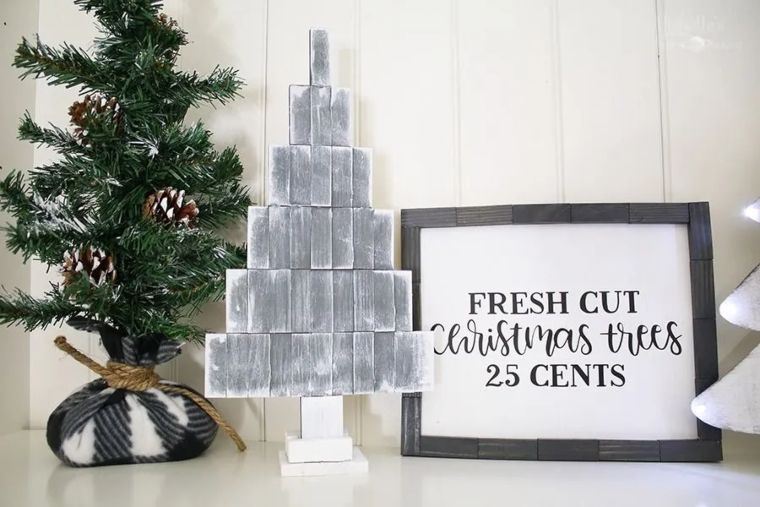 Credit: michellespartyplanit.com
I absolutely love how this rustic Christmas tree looks. The blocky tree shape perfectly complements the weathered silver appearance, so it looks like something out of a metal workshop from fifty years past.
Not only does this craft look amazing, it's also ridiculously cheap and easy to make. All you need are two woodblock tumbling games, some silver paint, glue, and some paintbrushes!
You can make it look even better by weathering the corners of the wooden blocks with some pewter Rub 'n' Buff first.
5. A DIY Fluffy Farmhouse Christmas Wreath
Credit: craftberrybush.com
Christmas wreaths give you the chance to really flex your creative muscles, so why not create one that perfectly suits your farmhouse sensibilities? This fluffy Christmas wreath fits the bill to a tee.
The best part? You can make this Avant-Garde creation with dusters from the dollar store. That's right, dusters! How can something so cheap look so incredible? All you need is a little elbow grease.
Love the idea of a unique Christmas wreath, but not sure if this one is for you? Get some inspiration from my post on 20 Unique Christmas Wreath Ideas!
6. DIY Dollar Store Farmhouse Signs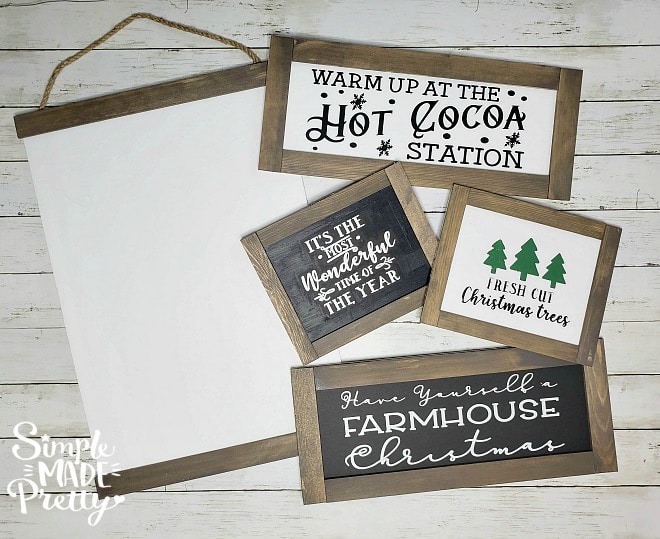 Credit: simplemadepretty.com
If you loved the ornaments at the top of this list but wanted something a little bigger, then this is the craft for you. These adorable signs use 5-gallon paint sticks instead of wood blocks as the frame!
Print out your favorite Christmas phrases and glue them to some dollar tree foam board, then frame that base with your paint sticks. Make sure you stain them first for a true farmhouse look.
Here's one of my favorite wood stains to achieve a weathered look. Try it for yourself and see if you like it as much as I do.
Check out more Farmhouse décor projects here!
7. Oversized Wooden Farmhouse Ornaments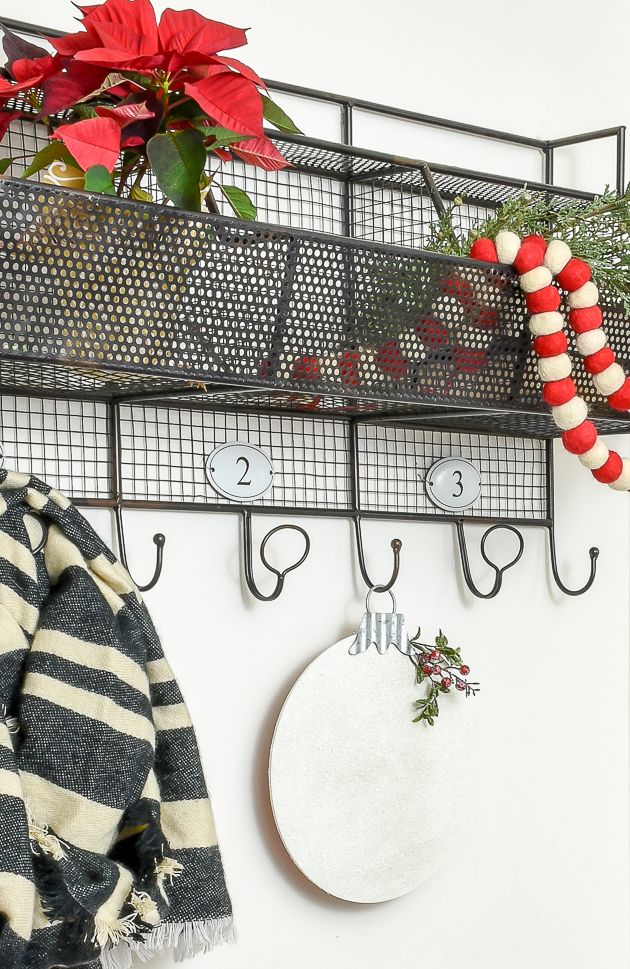 Credit: littlehouseoffour.com
Who says Christmas ornaments are just for trees? Why not spread the cheer to all areas of your home with these innovative vintage wooden ornaments?
Starting off with a dollar store wooden ornament, all you need to do is paint over the original design and make it your own. This clever crafter used chalk paint (here) and diamond dust (here) for theirs.
8. Farmhouse Metallic Ornament Wreath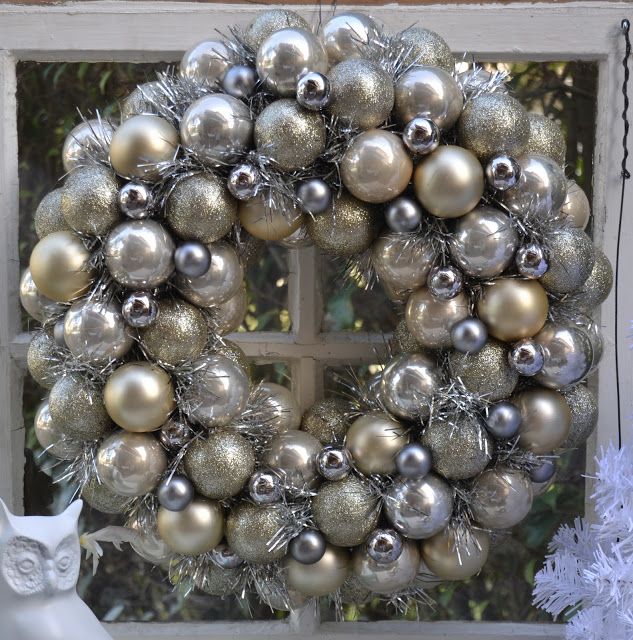 Credit: thehomelessfinch.blogspot.com
There are many folks out there who think that crafting with cheap supplies means your result will end up looking cheap. If you ever meet one of them, show them this gorgeous wreath to prove them wrong!
Made with a foam base, this stunning wreath melds many different metallic finishes into one cohesive design. The best part? You can go absolutely nuts with the decorations.
However, if you're hanging the wreath outside, I'd recommend going for a sturdier base than foam. Try out this metal wreath form from Amazon. It's much better at enduring any rain or snow.
9. DIY Mini Tabletop Christmas Tree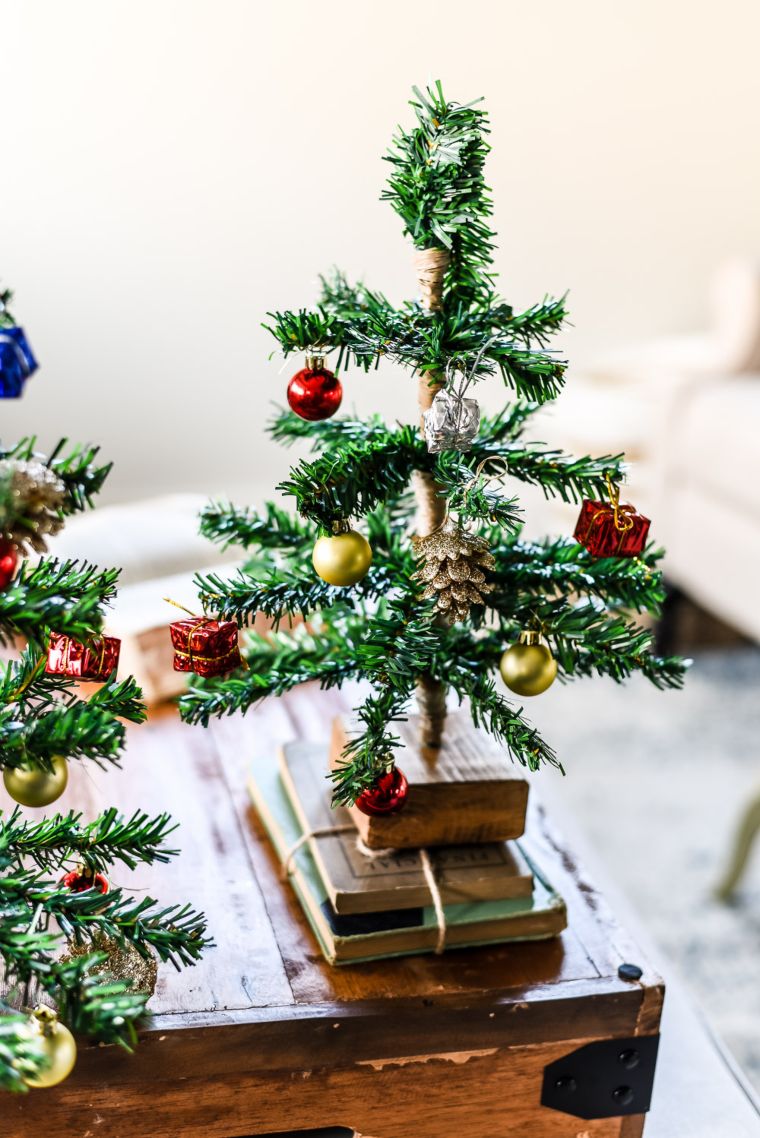 Credit: theweatheredfox.com
Make them as ornaments for your home or as gifts for your loved ones because these tiny Christmas trees will put a smile on your face no matter where they end up.
You'll need to pick up some mini ornaments, and a dollar store Christmas tree to create this craft, as well as a solid block of wood for the base. From there, you can personalize the tree to your heart's content.
Make sure you stain the wood to give it a vintage look before you start drilling!
10. Farmhouse Christmas Tree Wooden Ornaments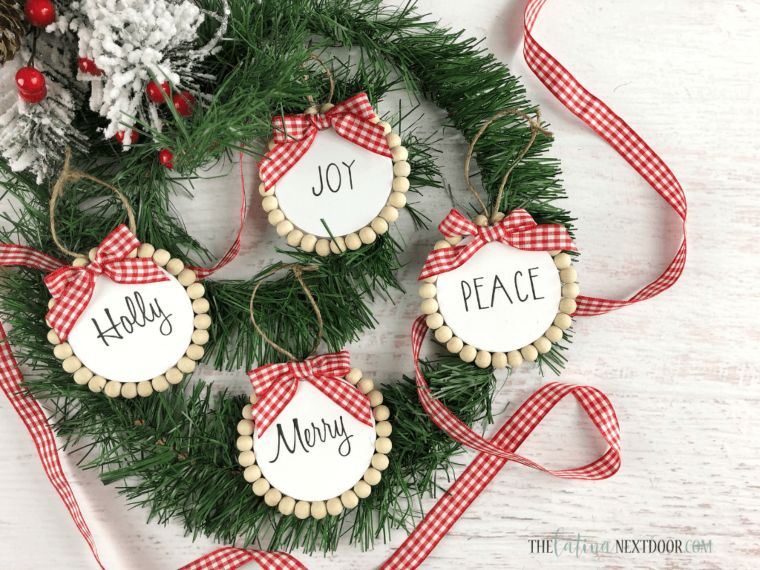 Credit: thelatinanextdoor.com
These Christmas tree ornaments are so cute and clever, and they're perfect for an afternoon of crafting with the kids! Round up all your supplies and create some ornaments that will last the ages.
I love how the wooden beads encircling the phrases give these ornaments a vintage appeal. You can take it one step further by painting them with some brass acrylic paint (like this one).
In need of a whole new suite of ornaments for your tree? I've got you covered with these 25 Christmas tree decoration ideas.
11. DIY Dollar Store Christmas Tree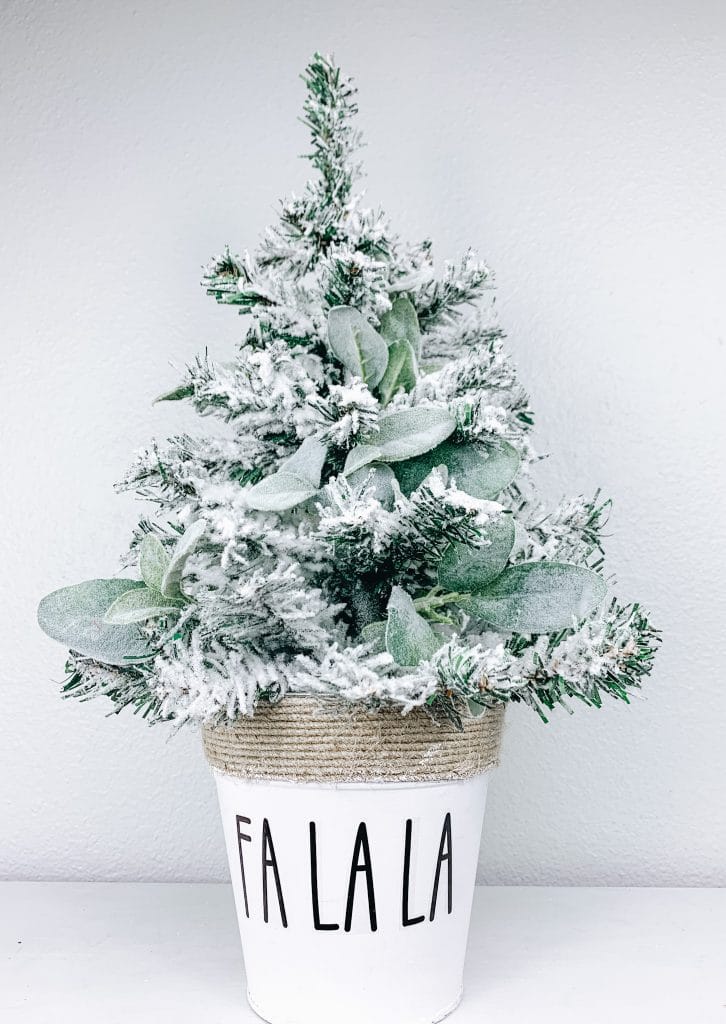 Credit: thriftednest.com
Thanks to some crafty geniuses on the Internet, there's no need to spend a lot of money to get an amazing Christmas tree. All you need are a couple of dollar store trees, some floral wire, and a little ingenuity.
Once you've got the tree itself made, you can start to decorate it! Flock the tree with some supplies from a dollar store (or grab some here) and wrap a white bucket in brown twine for a farmhouse feel.
Trim the tree in your favorite vintage ornaments or leave it bare and snow-covered. The choice is yours!
12. DIY Burlap Christmas Wreath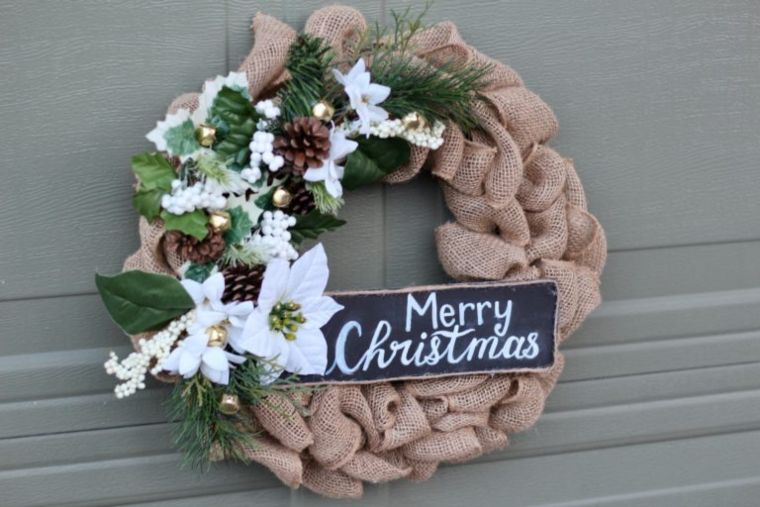 Credit: feelingnifty.com
Here's another wreath idea for your front door, and this one really embraces a vintage barn aesthetic. Using burlap as the base, you can combine rough textures with fake flowers for a lovely contrast.
Starting off with a metal wreath form, secure some burlap ribbon in a bunched pattern all around the wreath. The more burlap you use, the fuller your wreath. Then, top it off with some fake flowers.
If you can't find any burlap ribbon at your local dollar store, this one is very similar to the one used in the original tutorial.
13. Elevated Farmhouse Tree Ornaments
Credit: thriftednest.com
Sometimes, farmhouse décor is about more than just creating something with rustic appeal. It's about embracing traditions, and what's more traditional than putting everyone's name on the tree?
This craft can be done in the matter of an afternoon, and by the end of the process, you'll have some super sleek ornaments that will stick with you for years.
Make sure you use gloss enamel spray paint as the base. The clean shine stands out beautifully against the green of a Christmas tree.
14. Basic Vintage Dollar Store Ornaments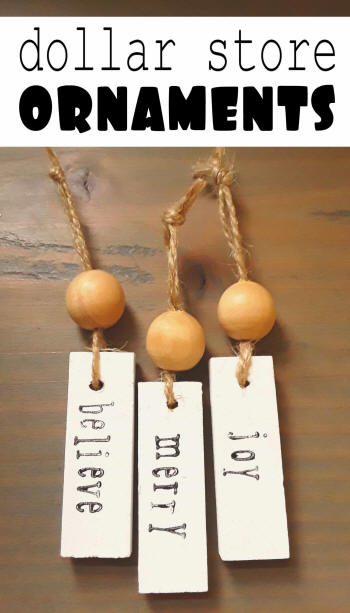 Credit: crazydiymom.com
Next on the list are these adorable farmhouse-inspired wooden ornaments. If you're clever about the phrases you choose, these can double as year-round home décor thanks to their simplicity!
As with a couple of other crafts on this list, the base of these ornaments is the infamous dollar store tumbling tower game. Paint them however you please and hang them by some jute twine. Gorgeous!
I recommend opting for chalk white paint if you're aiming for a really vintage look.
15. DIY Farmhouse Tree Topper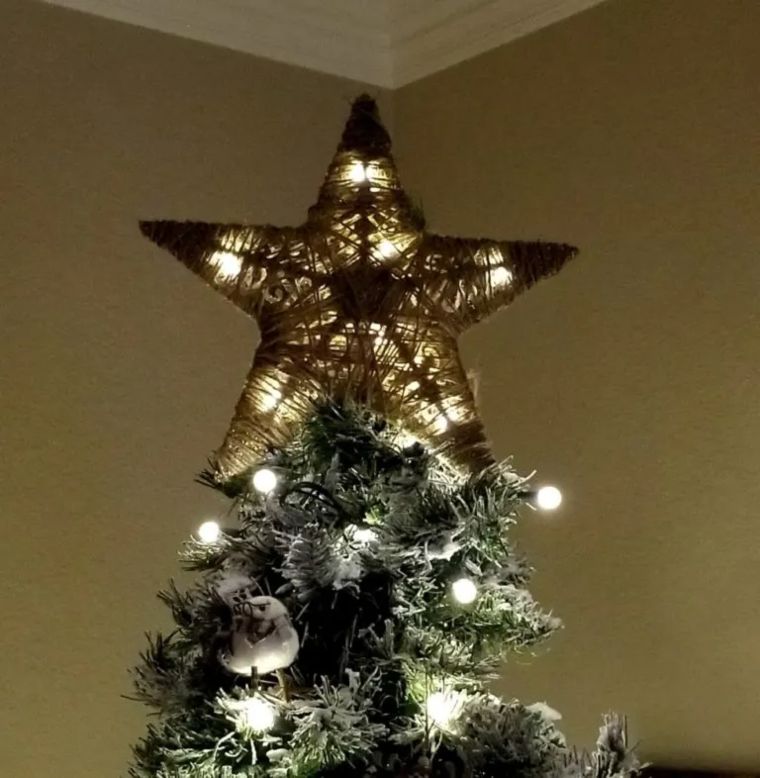 Credit: leapoffaithcrafting.com
Of course, I'd be remiss not to make a list of Christmas tree crafts that includes a tree topper. This gorgeous star uses brown twine to create an aged look, offering some turn-of-the-century holiday charm.
This might just be the easiest craft on the list! All you have to do is fill your dollar tree star with Christmas lights, then wrap it in brown twine to complete the look.
Make sure you use LED Christmas lights like these, as they don't generate enough heat to make the twine catch fire.
If you want to spread that farmhouse aesthetic through even more of your home this Christmas, check out these Christmas crafts for adults.
16. DIY Dollar Store Christmas Mailbox Décor
Credit: thisolemom.com
Sometimes all it takes to make your home feel like the North Pole is an adorable little mailbox sitting on the mantelpiece. This craft is super fun, super sweet, and it only takes an hour to make!
Your local dollar store should already have a mini tin mailbox to make this craft with. However, if you want to personalize this DIY even further, you can start with a plain base like this and make it your own.
Add Christmas garlands, buffalo plaid ribbons, fake snow… you can even weather it to add to the vintage aesthetic of this adorable decoration.
This is a fun Christmas craft to do with your teens.
17. DIY Wine Glass Dioramas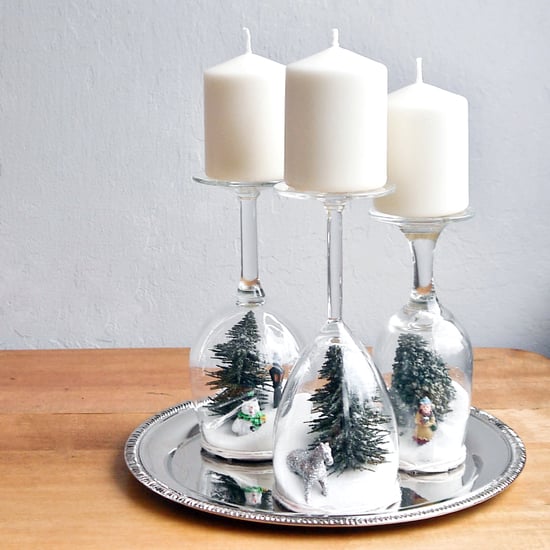 Credit: popsugar.com
Next on the list is a craft that somehow manages to be three things at once: a candleholder, a diorama, and a Christmas winter scene!
Pick up some fake snow and Christmas figurines… the kitschier, the better! Once you've got them, all you need to do is pose them in some upended wine glasses and seal.
These look amazing on any surface in the home. Create a single scene with multiple wine glasses on your mantelpiece, or dot little vignettes throughout your home for an adorable story told through time.
18. DIY Easy Mini Christmas Signs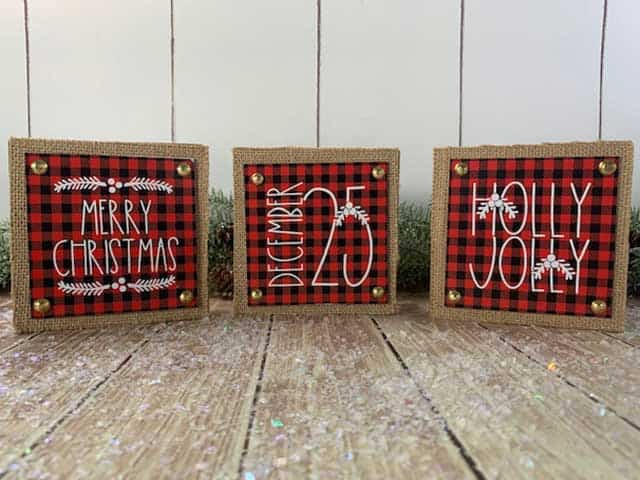 Credit: burtonavenue.com
These adorable mini Christmas signs utilize the festive power of buffalo plaid to its full effect. I, for one, am in love with them. They're so sweet and vintage, and of course, so easy to create.
You can use these to adorn your family's doors with their names, create a full-wall advent calendar, do absolutely anything your heart desires!
Using dollar store wooden signs as the base, adhere some buffalo plaid adhesive vinyl and cut your words out of some white, adhesive vinyl. The result? An adorable sign for your home.
19. Dollar Tree Mini Button Wreath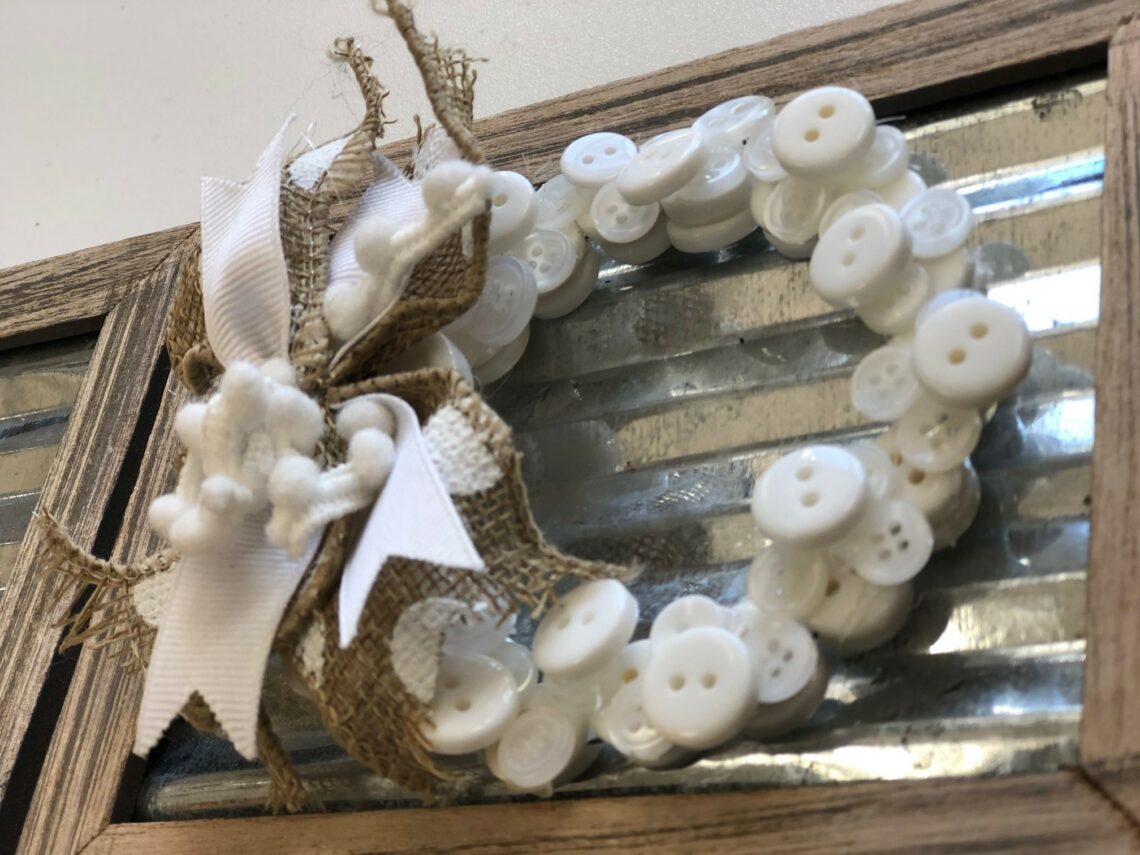 Credit: justthatperfectpiece.com
This miniature wreath is so unique, and it perfectly fits into the farmhouse aesthetic. All you need is a pack of white buttons, some wire, and some burlap ribbon to bring it to life!
If you're feeling really crafty, you can use this same technique to create letters to adorn your walls with. They're super light so that you can hang them on your wall with some jute twine and a bulldog clip!
20. DIY Vintage Mini Christmas Trees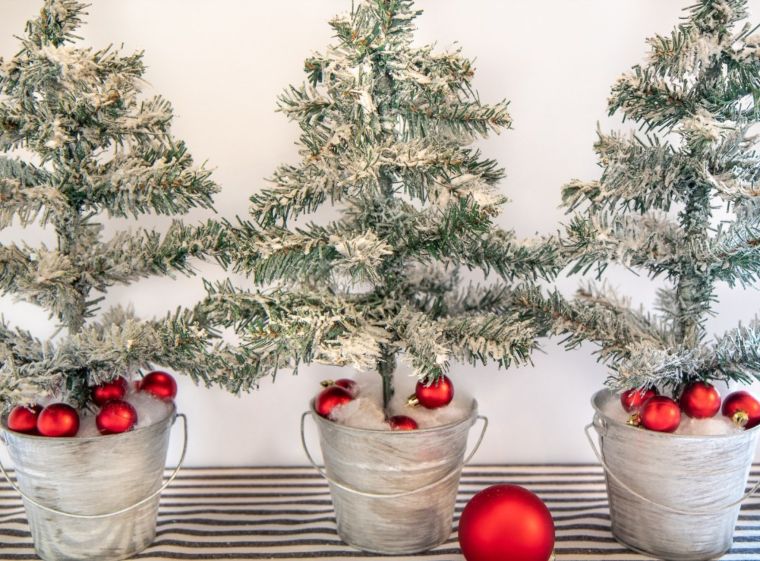 Credit: everydaylaura.com
The final craft on this list is perfect as an outdoor porch decoration, a tabletop decoration, or even a mini Christmas tree. Flocked or unflocked, this looks great both ways!
You can grab almost all the supplies you need for this craft from the dollar store. However, I recommend distressing the metal buckets with some white chalk paint from Amazon to round out the vintage look.
Conclusion
Curious about some other ways to spruce up your home this Christmas? Check out these 25 Festive Christmas Centerpiece Ideas, perfect for the dinner table!