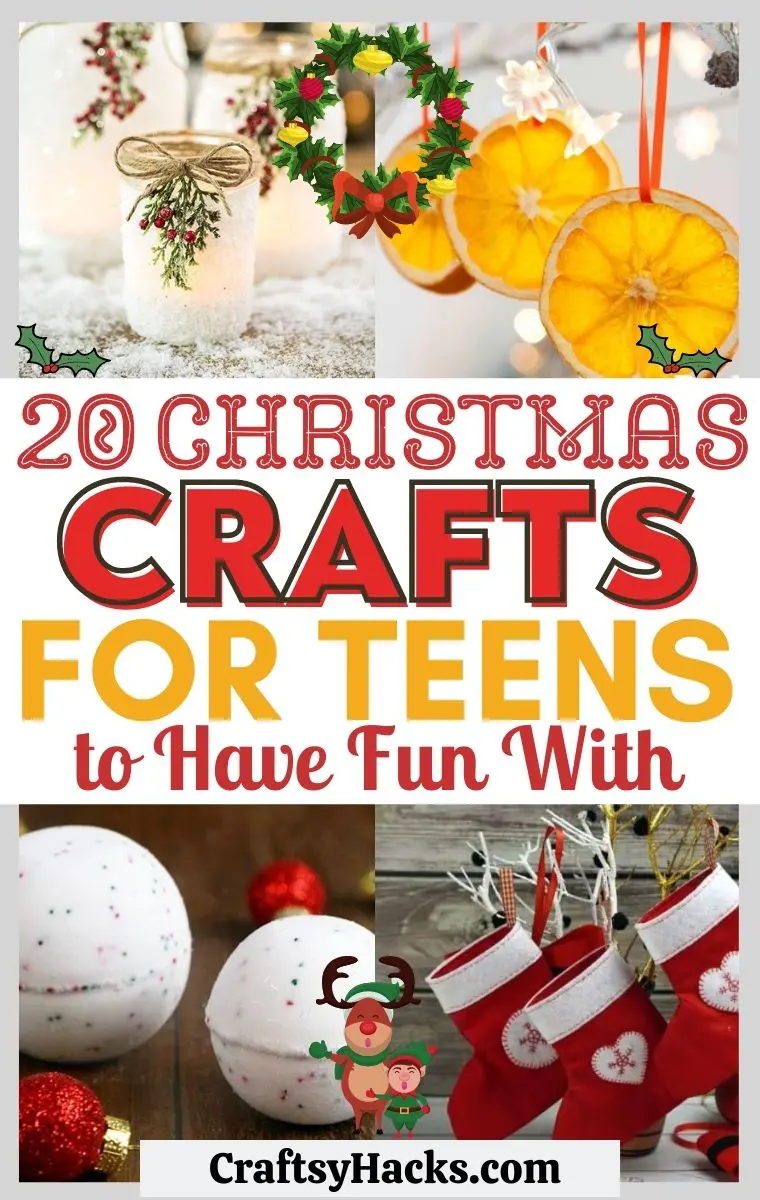 Get crafty this Christmas with these DIY projects for teenagers in the house!

Christmas is coming up, and if you're the kind of teen that likes to whip out your crafting scissors, then this is the list for you. Doing DIY projects is a great way to celebrate the festive season!
Not only that, you'll find many projects here that would work as gifts for your loved ones. Creating something from scratch takes time, not money.
So, it's the ideal way to give gifts if you don't want to feel Christmas' impact on your wallet.
Deck your halls with these awesome DIYs or show your family and friends how much you care for them. Without any further ado, here are twenty amazing DIY decorations, gifts, and more that you might want to try.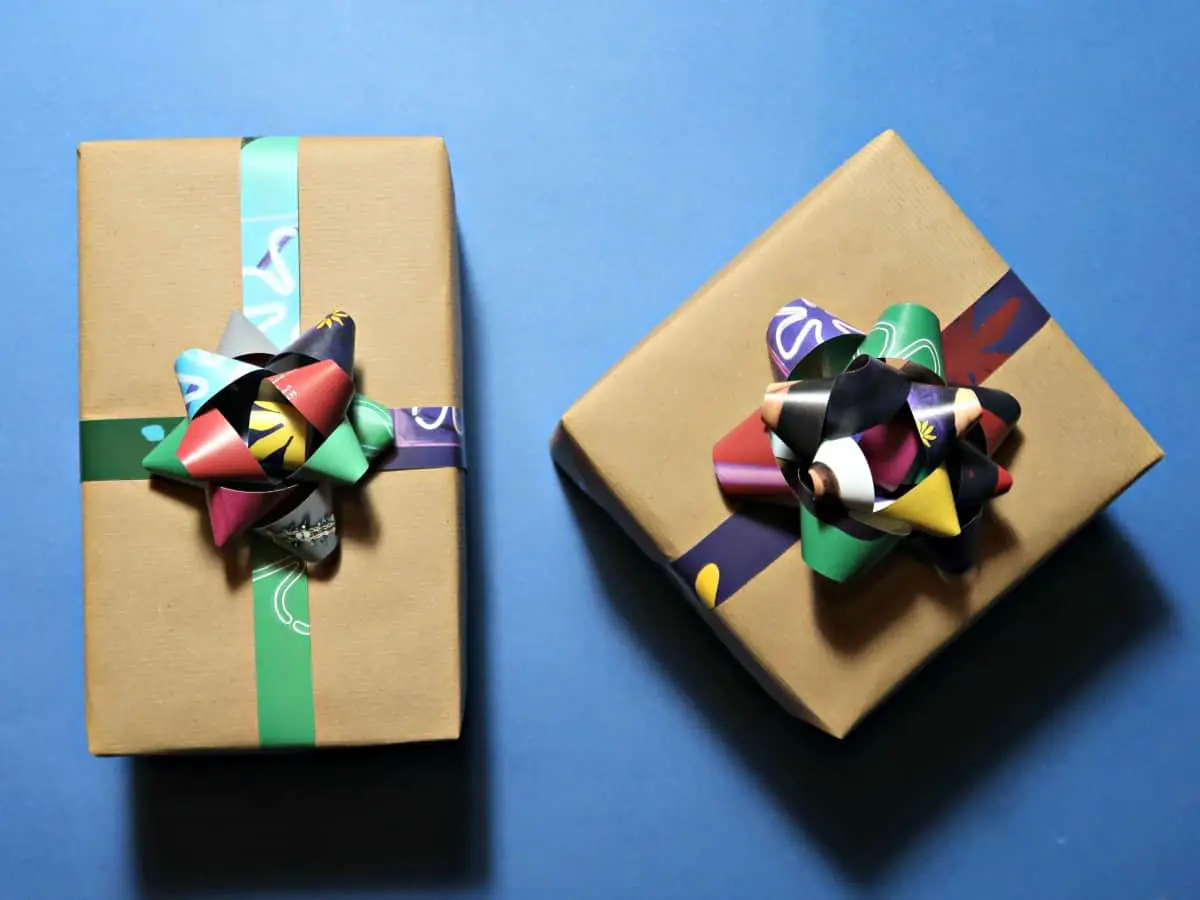 Credit: craftinvaders.co.uk
Is there any better way to spruce up a plainly wrapped present than by adding some color? Thanks to this DIY, each gift you wrap will have a unique look and feel to it.
Not only is this project great for the planet, but it's also great for your wallet. By recycling old magazines, you're saving a buck and avoiding buying a whole new roll of ribbon!
That's a win-win in our book. The only thing you might not have around the house for this craft is the Bostik Extra Strength Glue Dots, which you can find here.
Interested in making more Christmas gifts check out these DIY Christmas gift baskets!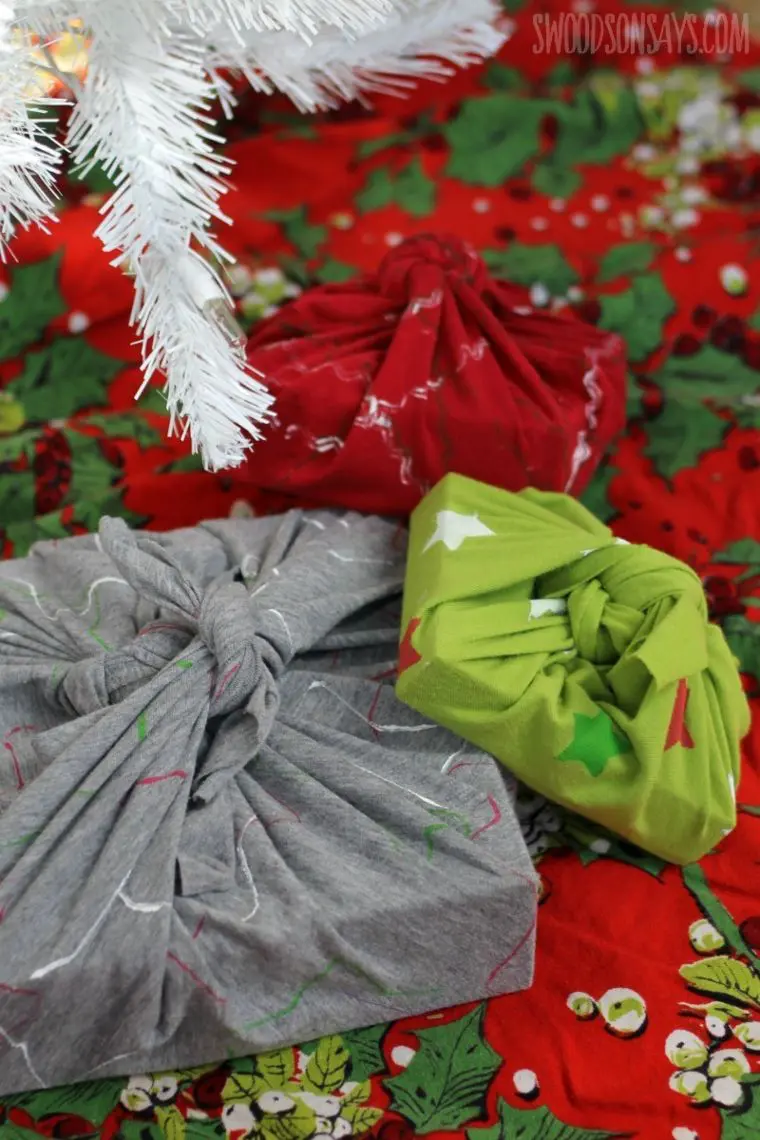 Credit: swoodsonsays.com
Got some old t-shirts laying around the house? Give them a new life with this adorable gift wrap DIY.
Furoshiki are a type of Japanese wrapping cloth that can be re-used to carry boxes, transport clothes, and, in this case, wrap your gifts! Once again, this craft is kind to the planet and your wallet, so no need to dig coins out of the couch.
Furoshiki are also very easy to customize with stamps, fabric paint, and anything else you have lying around the house! So, you can make each gift you wrap unique.
Here are more Christmas gift wrapping ideas.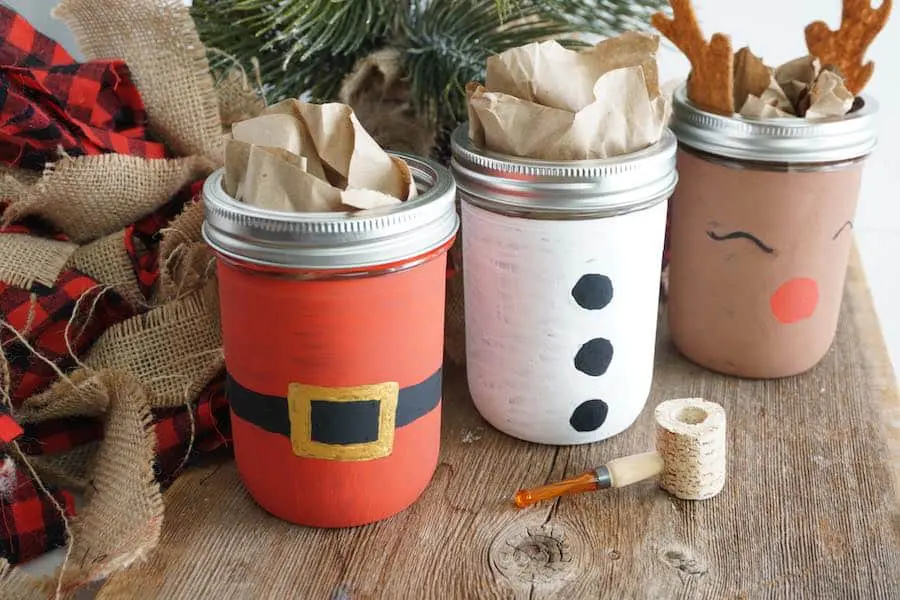 Credit: happiestcamper.com
Whether you're giving them as gifts or using them as decoration for your room, these DIY Christmas-themed mason jars are undeniably adorable. Turn any leftover jam jars into vessels for candy or treats on Christmas morning.
If you don't have any jars around, just grab a pack here. In fact, these are perfect if you fancy yourself a baker and need something to wrap up your homemade treats!
Even better, once they're done being used as gifts, they make astonishingly cute décor.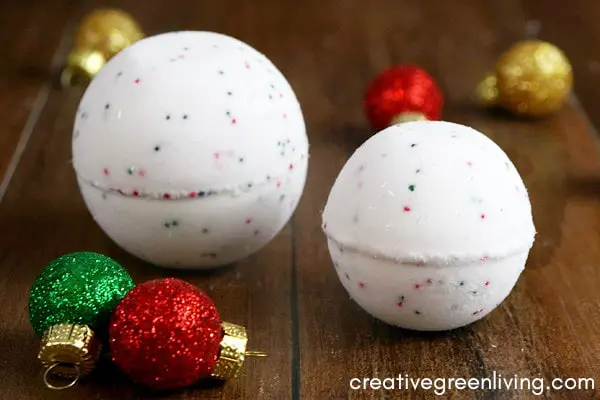 Credit: creativegreenliving.com
Bath bombs are the ultimate gift for the luxury-lovers in your family. Luckily, you don't need a lot to become a bath bomb aficionado!
This Christmas Cake Mix is very festive, but if you don't like the scents being used you can customize to your heart's content.
Another great thing about these bath bombs is how versatile they are. If you don't have a lot of money in the bank, just go for a simple formula.
If you have a little more at your disposal, opt for the mica powder and glitter! One thing is essential to this craft, and that's a bath bomb mold, which you can find here.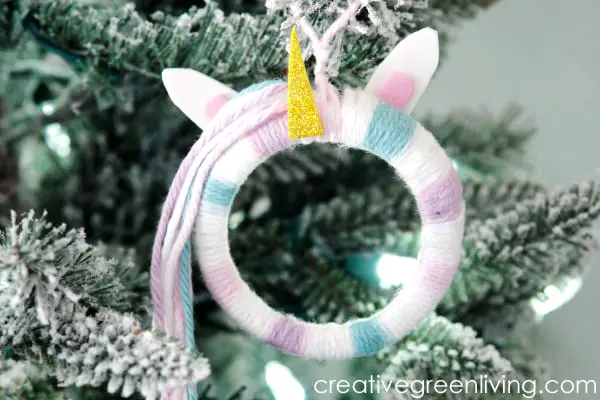 Credit: creativegreenliving.com
You know we love using mason jars here, and how cute is this craft? Adorn your Christmas tree with something a little special this year!
Alternately, give this as an early gift to the unicorn-lover in your life. For this craft, all you'll need is the metal ring from a mason jar lid, cardstock in colors of your choice, gold glitter felt, some scrap yarn, and some strong glue.
Make sure the glue is strong enough to stick to yarn, like this Fast Grab glue.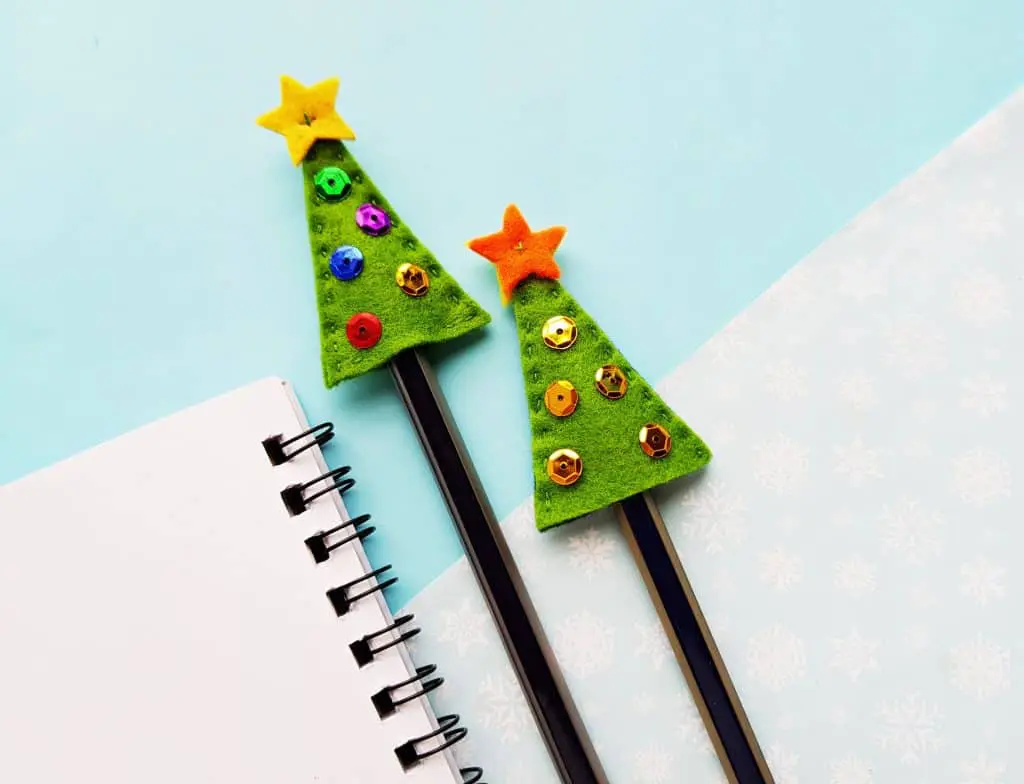 Credit: easyfeltcrafts.com
Stuck studying, but can't get Christmas out of your head? These felt Christmas tree pencil toppers are so easy, so cheap, and so cute!
They come together in a matter of minutes and make for the perfect festive studying accessory. If you don't want to put then on top of your pencils, you can use these little Christmas companions in many other ways.
Try them as a magnet, hung in your tree, as a pin on your shirt, or even as a hair accessory!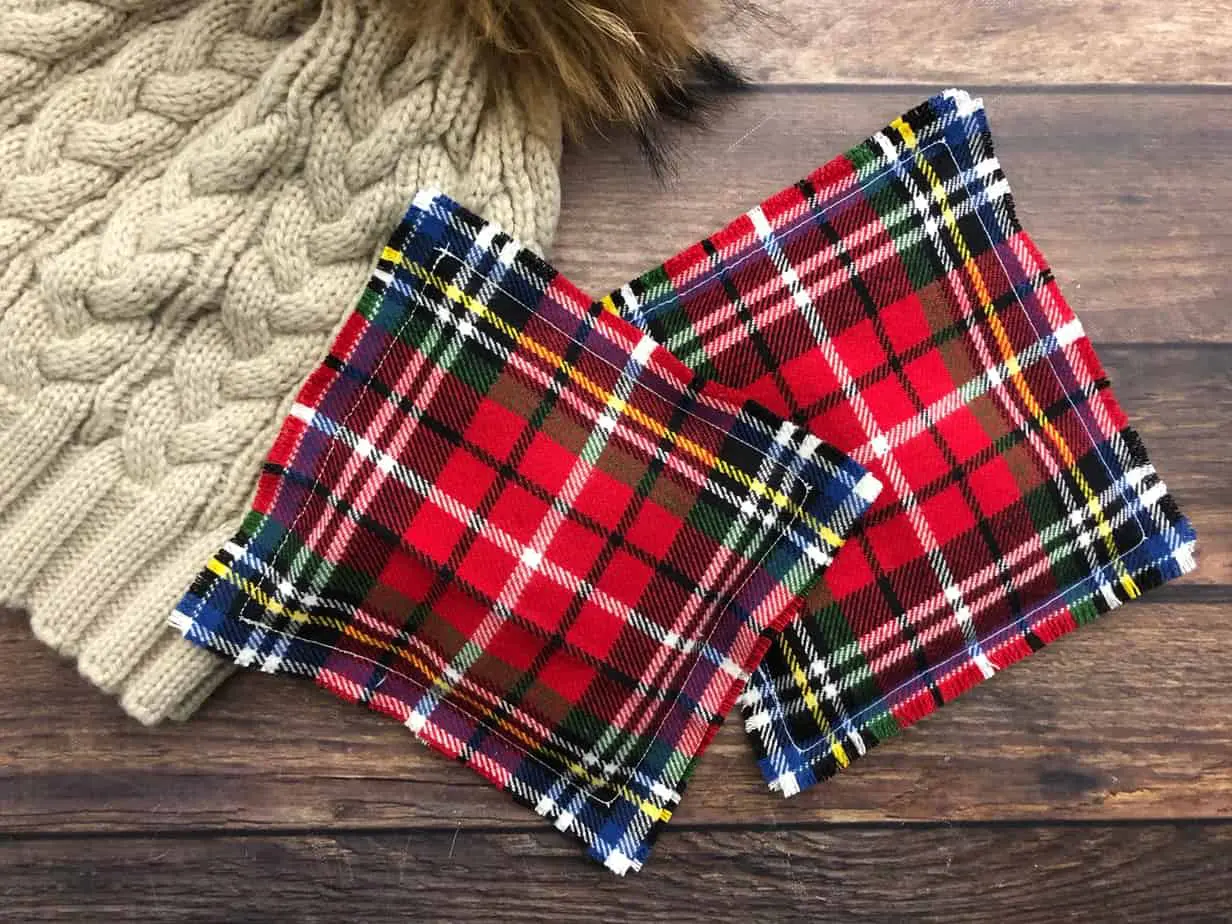 Credit: beginnersewingprojects.com
Using a Christmas-themed flannel for this particular project is best for the festive season, but you can make this for any chilly time of year. If your recipient lives in a cold climate, maybe opt for fabric in their favorite color instead!
White rice is best for retaining heat, and your hand warmer should be made of durable fabric. In fact, if you can get fabric made of purely natural fibers like cotton, linen, or wool, that would help the warmers last.
We love this craft for how cute and functional it is, so give it a try! It's also a good Christmas craft for adults.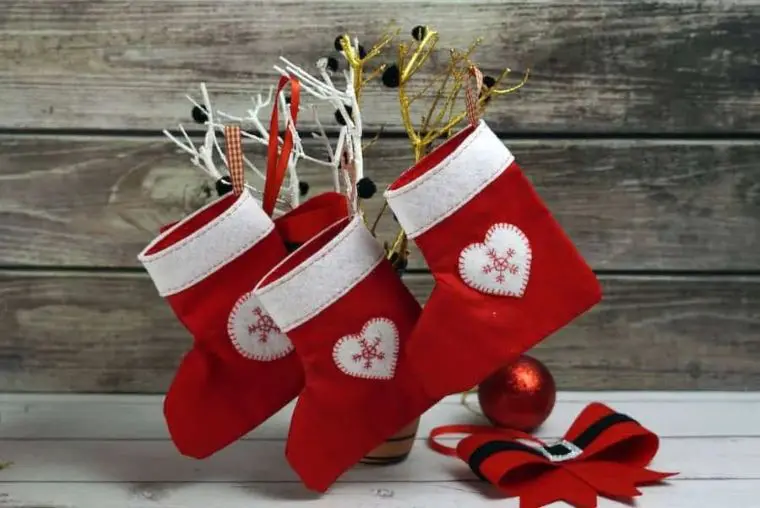 Credit: happiestcamper.com
Gift cards to your loved one's favorite store or coffee shop make for a fantastic gift, but they can look a little boring. So, dress up your gift card with this charming stocking craft!
All you'll need is some red and white felt like this, a needle, some thread, and your gift card!
Just download the template, cut out the stocking, and sew it together. It's adorable and fast, so even though you don't spend a lot of time making it, it comes out looking professional.
Hang these tiny stockings next to their larger companions on Christmas morning, and you're done!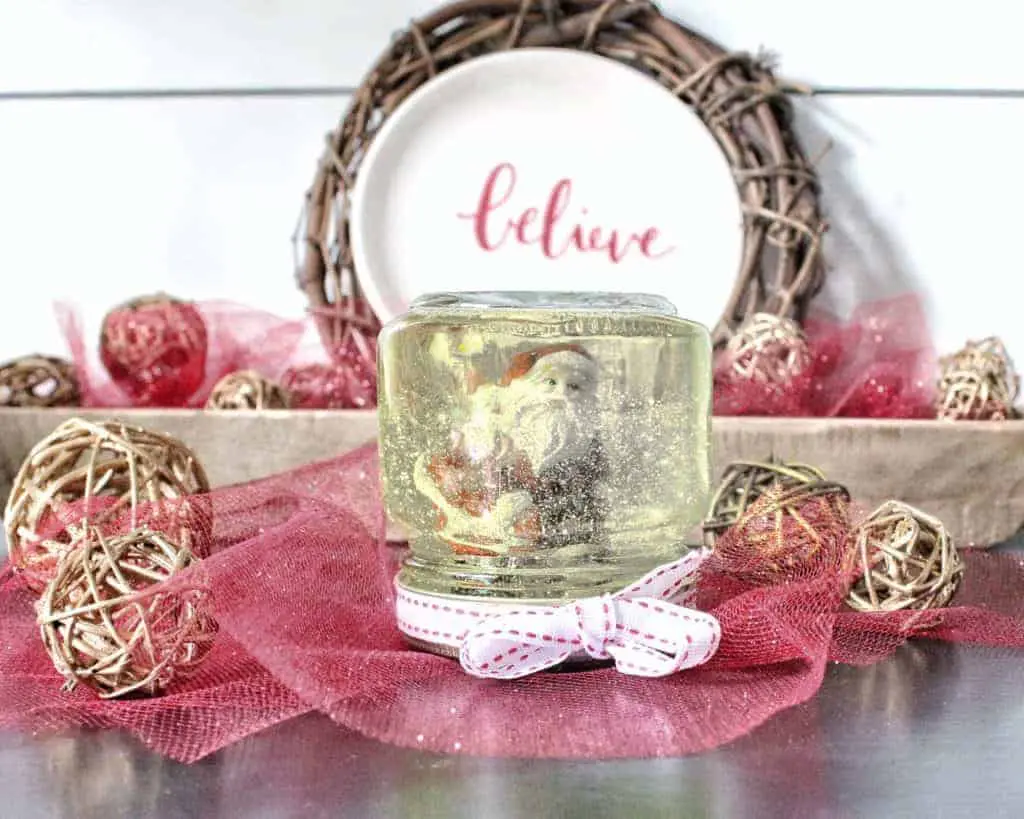 Credit: repurposeandupcycle.com
Another day, another mason jar craft, and this one is pretty special. I love how sweet and traditional the original one is, but you can customize it to suit you as well.
This is an easy craft that's perfect for the holidays. You can even sit down with the rest of your family to make them.
Are you making these for someone? Try spicing up the result by adding ornaments, trinkets, and colors that fit them to a tee.
Check out more mason jar gift ideas here.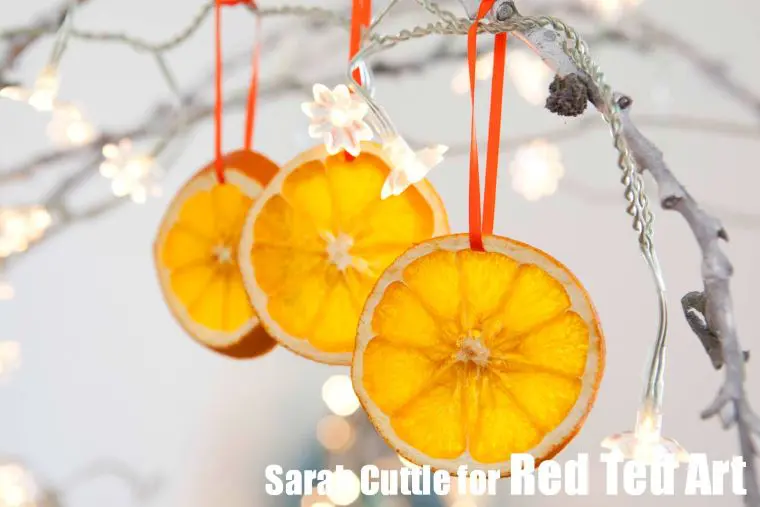 Credit: redtedart.com
Dried orange slices are a German Christmas tradition that stretches back many years, and for a good reason. They're beautiful to look at and even easier to create, not to mention you can use them just about anywhere.
Hang these in your tree with a ribbon, adorn your doorframes, or use them as drink accessories. The world is your oyster (or really, your orange).
All you'll need is an orange (or more, depending on how many you want), an oven, a knife, and some ribbon. Cut some 1cm slices and dry in a 120C (250F) oven for two to three hours.
Once cooled, add a ribbon and hang anywhere you want! Check out more Christmas tree decorations like this here.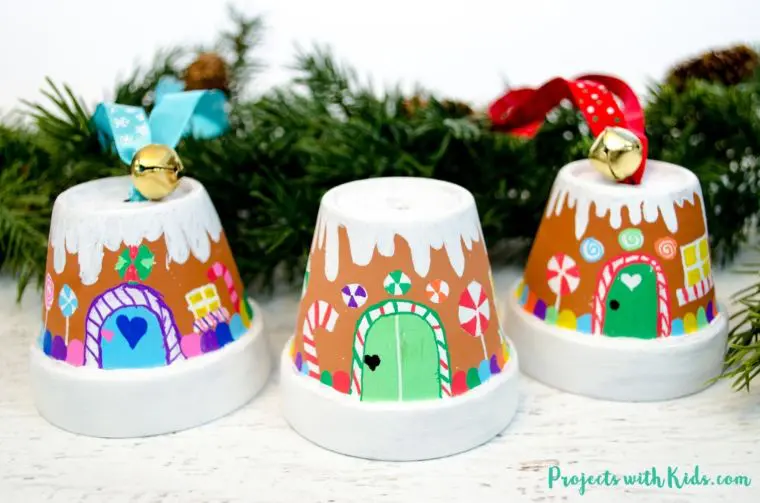 Credit: projectswithkids.com
Love the look of a gingerbread house but hate the pressure of making one with actual cookies? This is the Christmas DIY for you!
This clever little craft uses small terracotta pots like these, inverts them, and paints them into the gingerbread ornament of your dreams.
Draw up your design first on some paper or cast doubt to the wind and freehand it! You'll need some good paint pens for this one.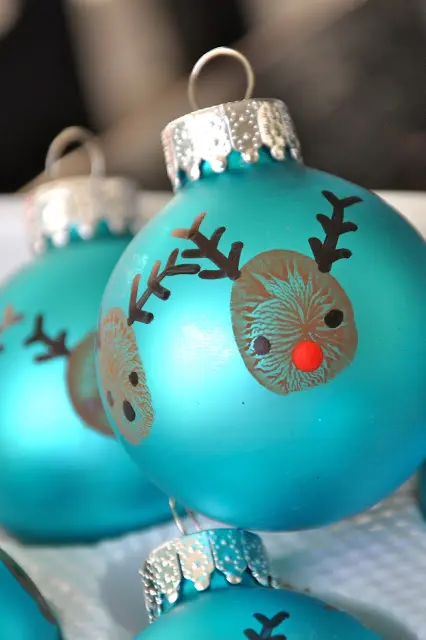 Credit: littlebitfunky.com
Love cute Christmas ornaments, but can't find the perfect one? Love reindeer?
Have thumbs? This is the craft for you. These adorable reindeer thumbprint ornaments are great to make while watching a holiday movie.
Just paint your thumb with some brown acrylic paint as a stamp, draw in the eyes and antlers with a Sharpie, and make a big red nose with some more paint.
It couldn't be easier, and the result is your very own fleet of reindeer. Try using these ornaments as the base.
This is a fun Christmas craft to make with kids.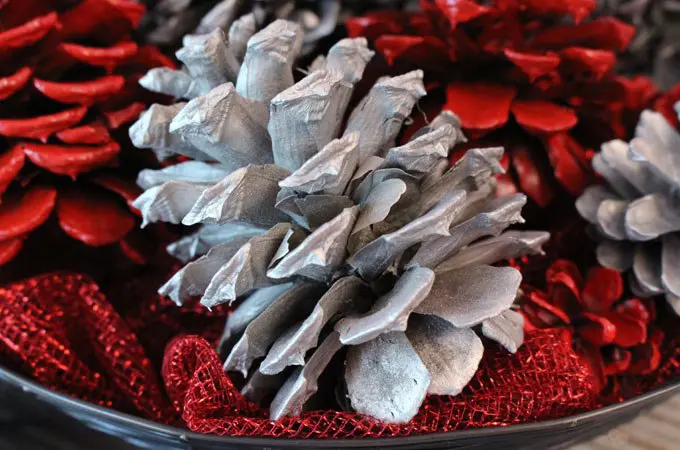 Credit: twosisterscrafting.com
Are you the kind of teen who likes to dabble in interior design? This pinecone Christmas craft uses natural elements and a refined color palette.
Perfect for adorning your room in the lead up to the big day. You'll need to venture out into the big wide world to find some pinecones and select some spray paint.
The original used red, white, and silver (traditional Christmas colors), but you can do whatever makes you happy. Don't live somewhere with pinecones? Find them here.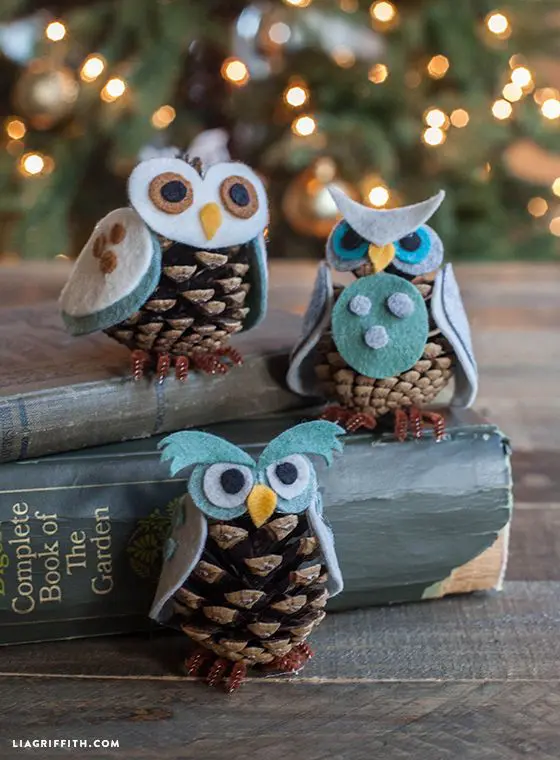 Credit: liagriffith.com
Speaking of pinecones, here's how you can use them to make some adorable animal companions. Owls are one of the quintessential animals of the festive season, but if you're an owl lover you can make these any time of year!
For this cuddly craft, you'll need a good pair of craft scissors, some felt, some pine cones, and your best hot glue gun. Then, just use the pattern and glue the pieces on in the right order.
It's a hoot!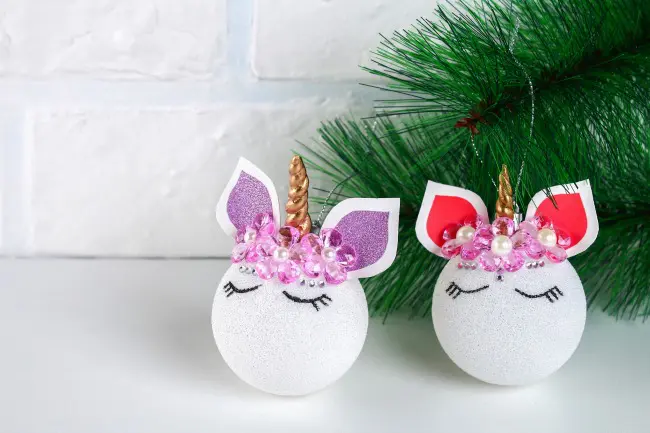 Credit: creativecynchronicity.com
I mentioned a unicorn craft earlier in this list, but really, you can never have enough unicorns. These unicorns use plain white Christmas ornaments as a base, but you can customize your ornaments by choosing any other color.
Alternately, pick up some white Styrofoam craft balls like these.
Once you hang these adorable critters on your Christmas tree, you won't want to take it down when Christmas is over! I guarantee it.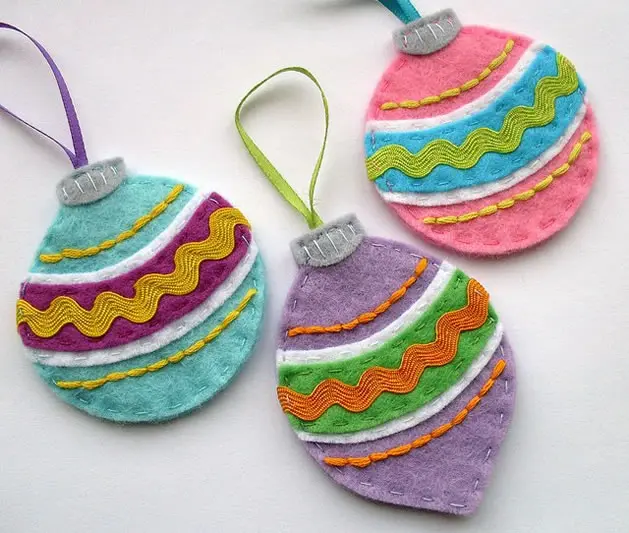 Credit: makezine.com
If you're into the vintage style, you couldn't ask for a better-handcrafted ornament. This DIY takes you through the steps of creating ornaments from pastel felt and ric rac, and it's so easy!
If you're a beginner at sewing, this is the ideal project to practice with. It's low pressure, uses simple stitches, and the end result is so satisfying!
Hang the finished product on your Christmas tree or give them as a Christmas Eve gift to any vintage-lovers in your family.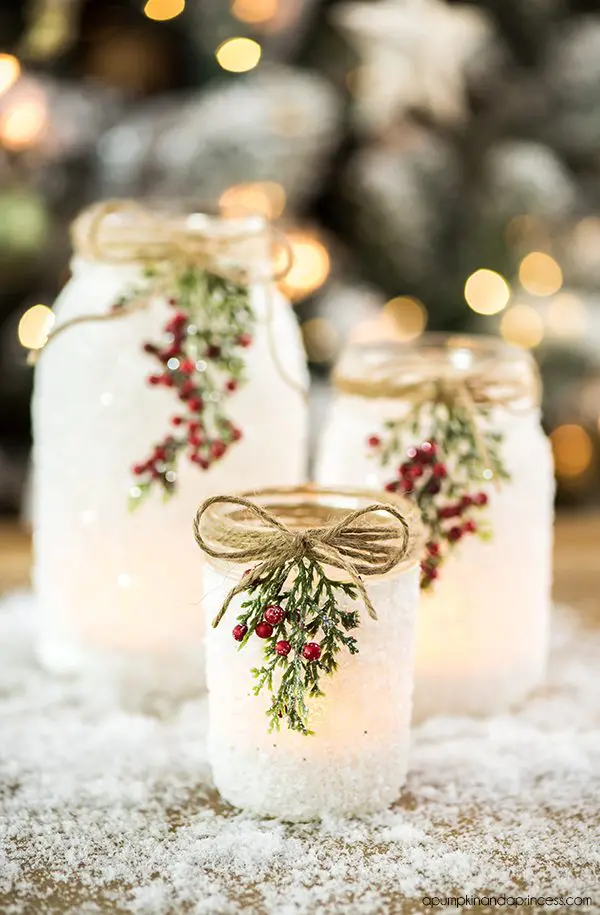 Credit: apumpkinandaprincess.com
Here's another craft to make with mason jars, but this one is beautifully refined. Your mother or grandmother will love the look of these delightful decorations, or you can use them in your own room.
Light up every night with these glowing, snowy jars.
Even better, you can use the leftover Epsom salts to make bath salt ornaments as companion gifts. It's two gifts in one!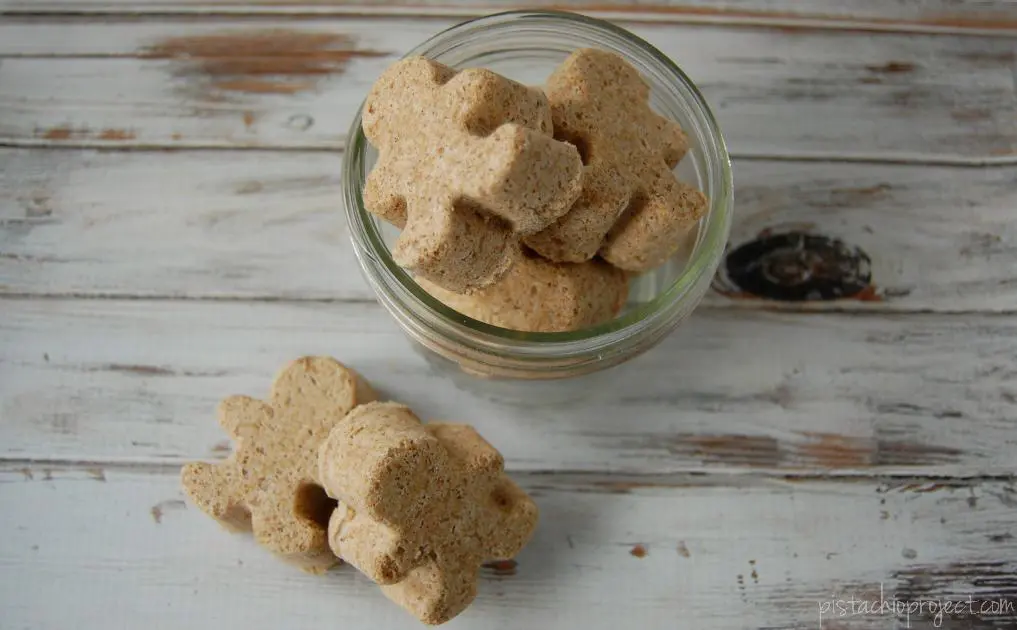 Credit: pistachioproject.com
Speaking of bath-related gifts, these gingerbread bath bombs are an amazing way to add some festive cheer to your bathroom. Not to mention, they make a great DIY-on-a-budget gift for pretty much anyone.
Most of the ingredients for this bath bomb will be hiding in your pantry somewhere. So, you will most likely only have to purchase the gingerbread mold (find it here) and the Epsom salts (which I've linked above).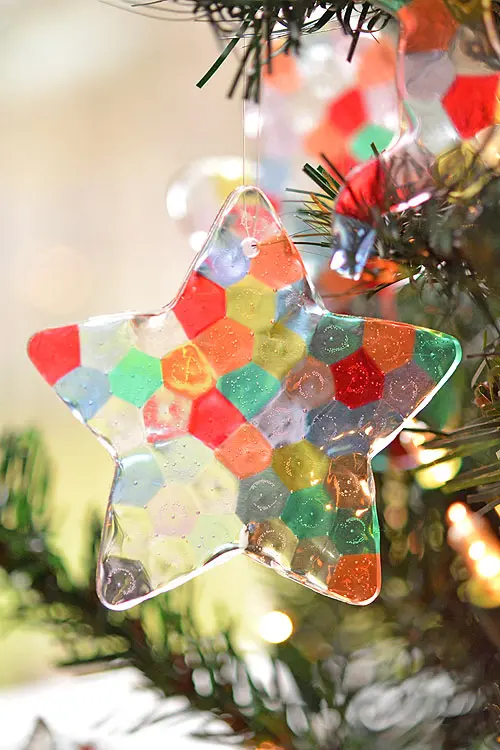 Credit: onelittleproject.com
This is one of those crafts where you get to really let loose and have fun because the whole object is to melt stuff! Despite the potentially chaotic making process, the result is a gorgeous, clean, colorful Christmas ornament.
Make any shape you want in any color you want, use glow in the dark beads, just get creative with it.
For this craft, you'll need clear pony beads (like these), some metal cookie cutters, and a clear fishing line to hang them. Make sure you're safe, as this does involve melting plastic and can result in vapors!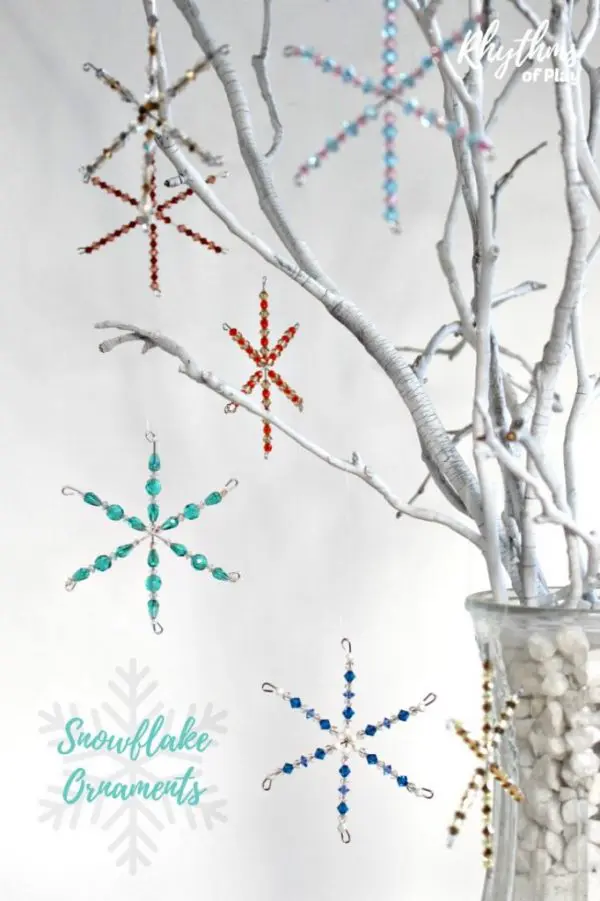 Credit: rhythmsofplay.com
Our final craft on the list also uses beads, but there's no melting involved. Instead, you'll embrace traditional beading methods to make some sparkly, minimal, gorgeous snowflakes to hang on your tree.
Whether you choose to use Swarovski crystal beads to make these a high-value gift, or you just want the look without the price tag, you can make this craft. Make a bunch or make just one; it's all up to you!
Conclusion
Which one of these crafts for teens is your favorite? Let me know in the comments!