Autumn is such a beautiful season. Why not, incorporate the season into your crafting too? Make these fall crafts perfect for adults to make.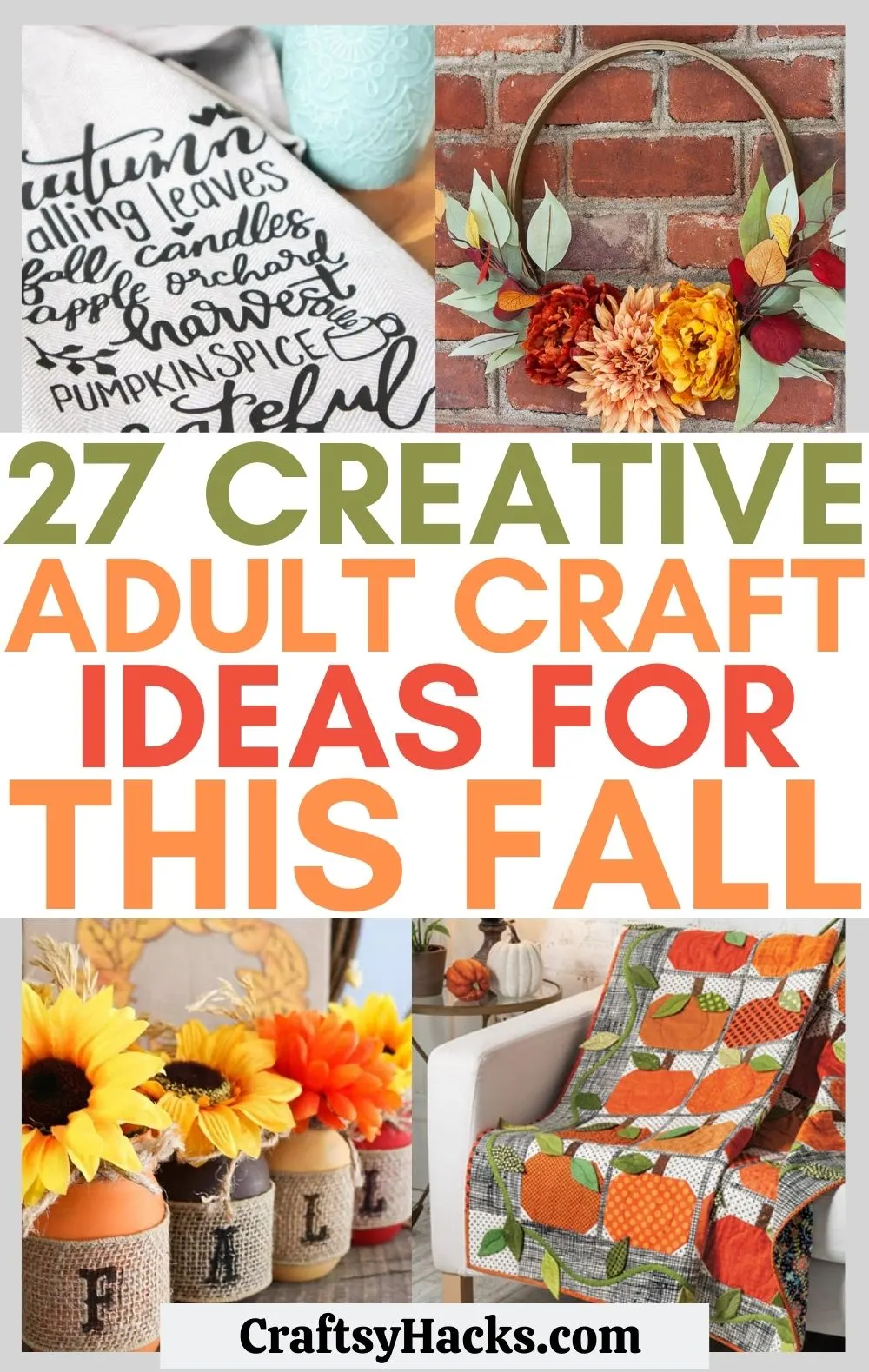 With the fall season slowly setting in, the leaves are going to change color and fall. You're going to enjoy everything pumpkin-based you can eat: pumpkin pies, roasted pumpkin seeds, pumpkin spiced lattes, and more.
It's time you decide how you want to decorate your home to match the season. Oh, and let's not forget, Halloween's right around the corner, too, which means a ton of opportunity to spook things up with your home decor.
So here's what you need to do: check out these 27 amazing fall crafts. There are many craft projects for adults that you can explore: from DIY scented candles, fall wreaths for your front door, and some really cool Halloween decor ideas.
1. Leaf Candle Holder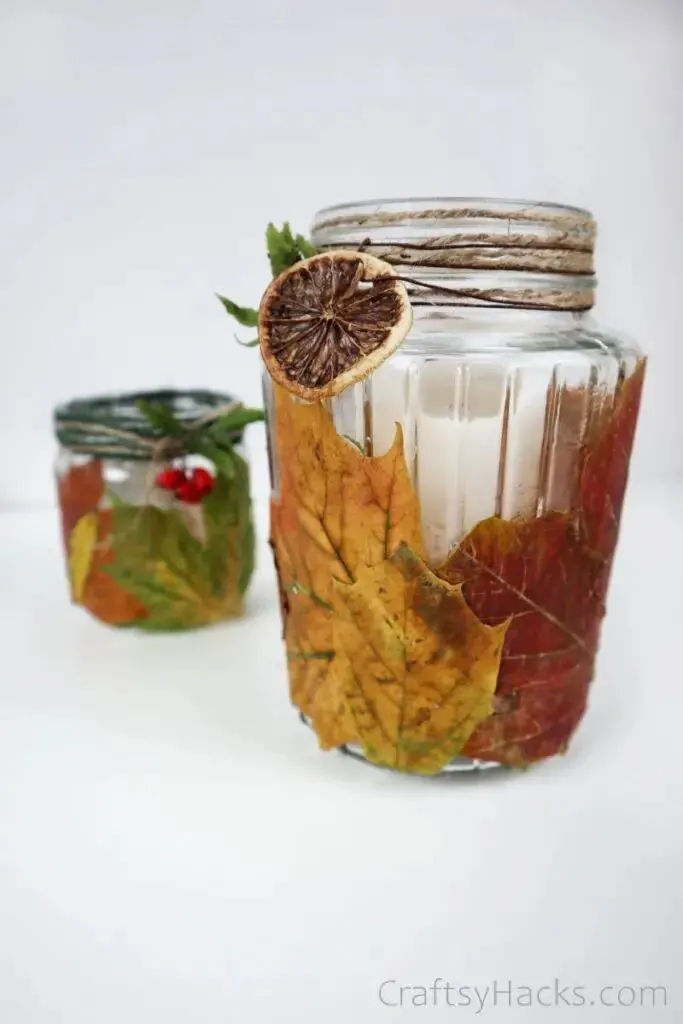 Source: craftsyhacks.com
Can you ever have too many scented candles around the house? I don't think so. What does bother me, however, is how generic some of the candle holders are.
There's nothing personal or decorative about the candle tins and jars you get. So, with fall around the corner, here's how you make your own DIY leaf candle holder.
You can rope your kids into this activity and have them gather fall-colored leaves from your backyard. Then, you'll need some glass jars from here, or you can reuse an old mason jar you already have, too!
Check out more DIY projects for adults to make.
2. Acorn Pinecone Wreath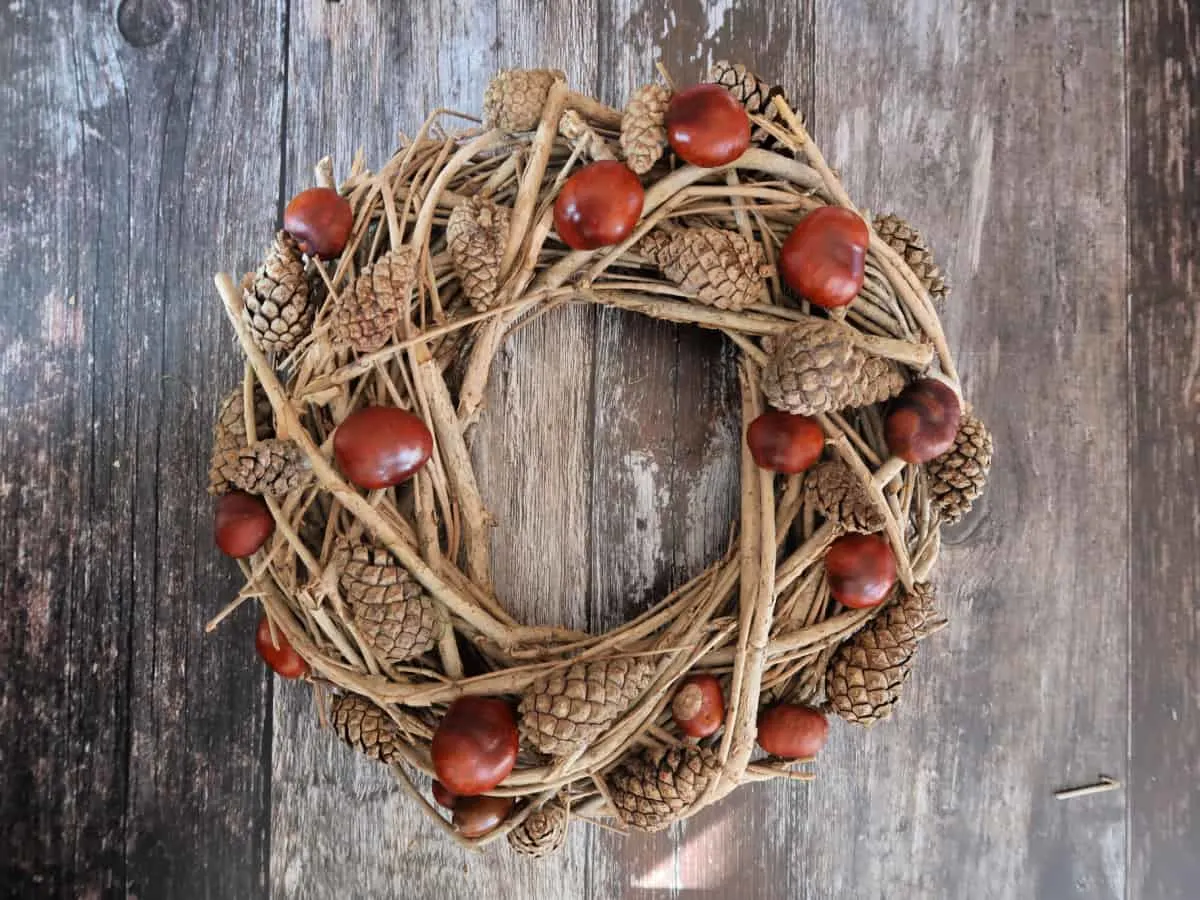 Source: craftinvaders.co.uk
Pinecones and acorns are an integral part of fall. They belong there in the autumnal backdrop right next to pumpkins, gorgeously colored leaves and warm earthy smells.
So when you start decorating your home to welcome the fall season, how about an acorn and pinecone wreath to hang on your door? You can't get more welcoming than with a wreath on your front door.
Feel free to intersperse some conkers, seeds, herbs, nuts, and dried fruit into the wreath. You can use a grapevine wreath like this to help you get started.
3. State String Art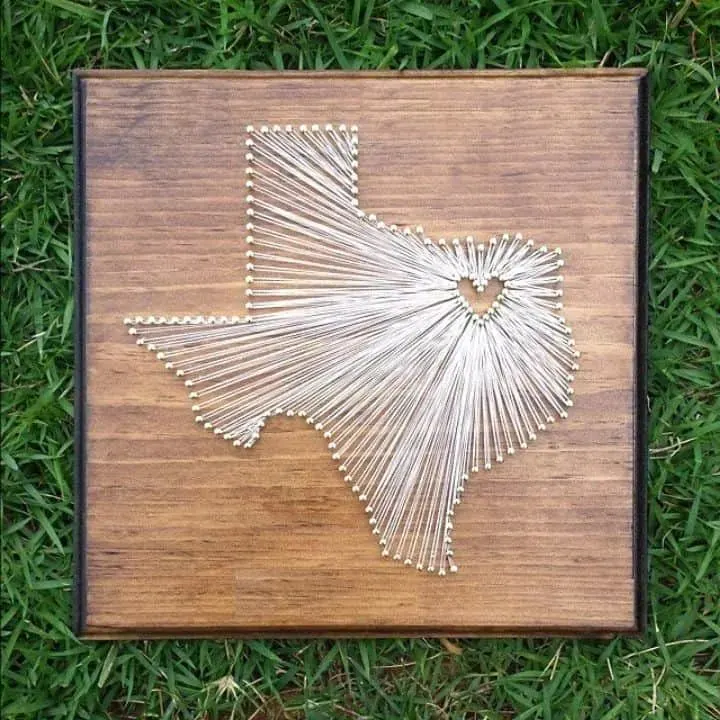 Source: chaoticallyyours.com
String art has always intimidated me. But once I figured out exactly how easy it is to set up and work with, wild horses couldn't have dragged me away from a string-art craft session.
It's the perfect craft project for a cold and windy fall afternoon. This string art of a state can be a wonderful tribute to the state you live in, too.
Grab a wooden board for the background and start hammering your nails to form your state. Then grab your embroidery floss or string and start stringing!
4. Macrame Leaf Earrings
Source: craftsyhacks.com
Boho-chic accessories are made for the fall season, don't you think? There's something so earthy and rustic about them, much like the season itself.
These macrame leaf earrings are a great craft project to make for a fun craft session. They're even more amazing to wear.
Grab some beads from here and some cotton rope from here to get started. You'll also need earring hoops, and you're all set!
I bet your friends are going to love your trendy new accessory. You can make a few pairs of these earrings as gift items, too.
Check out these 27 DIY earring ideas you can make on a budget!
5. DIY Pumpkin Vase Centerpiece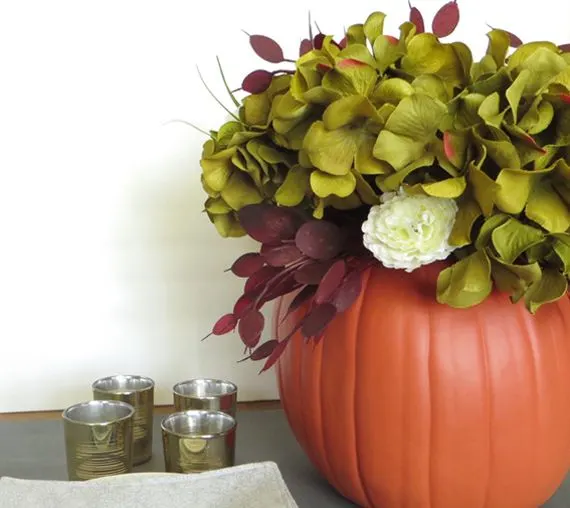 Source: creativegreenliving.com
A pumpkin centerpiece is a lovely decor piece. But, a pumpkin centerpiece that's also a flower vase? That's a double win.
You'll need a craft pumpkin to get you on your way. You can add some red, orange and green leaves, some branches and even twigs to make it more real-like.
Then just arrange it into your pumpkin and enjoy your centerpiece!
Check out these dollar tree centerpiece ideas you're bound to love.
6. Bandana Pumpkins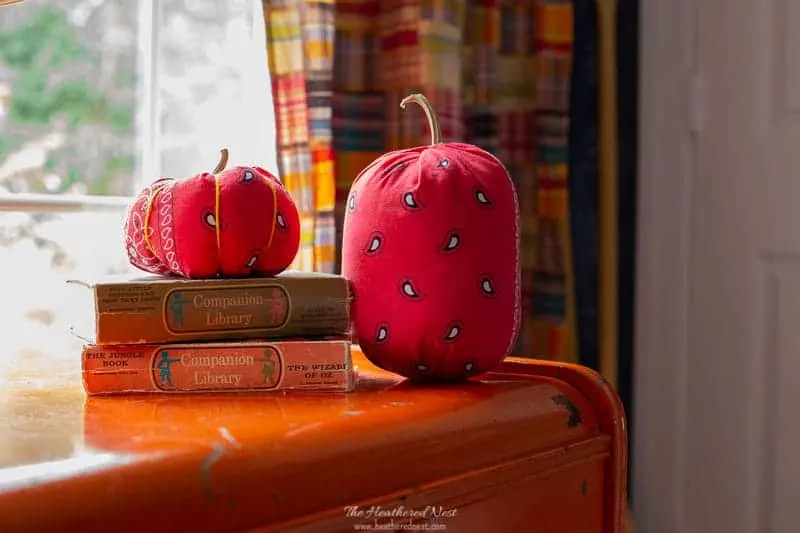 Source: heatherednest.com
You know what? I'm kind of tired of using just foam pumpkins to make pumpkin crafts. Do you want to switch things up a bit?
Then how about you take a look at this bandana pumpkin? If you know what you're doing, this gorgeous pumpkin will take you under 15 minutes to recreate.
The first step is to make a fabric tube with your bandannas and secure them with rubber bands. Then pick your stuffing(look here) and start stuffing!
7. Crochet Halloween Bunting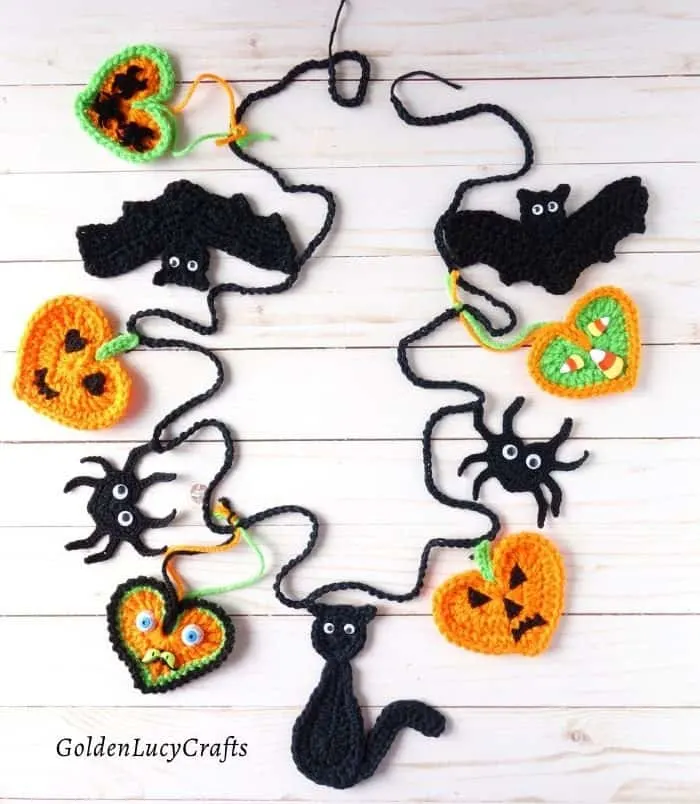 Source: goldenlucycrafts.com
Crochet is my go-top craft time activity on mellow, lazy days. Fall is full of those mellow days, don't you think?
Can't you just see yourself sitting by the fire and crocheting this gorgeous Halloween bunting? Buntings are super easy to make and add the perfect homemade touch to your decor.
Grab some yarn from here, learn the pattern, and have an enjoyable day crocheting this bunting for Halloween.
Check out more fun Halloween crafts for adults.
8. DIY Table Centerpiece Out of Beer 4-Pack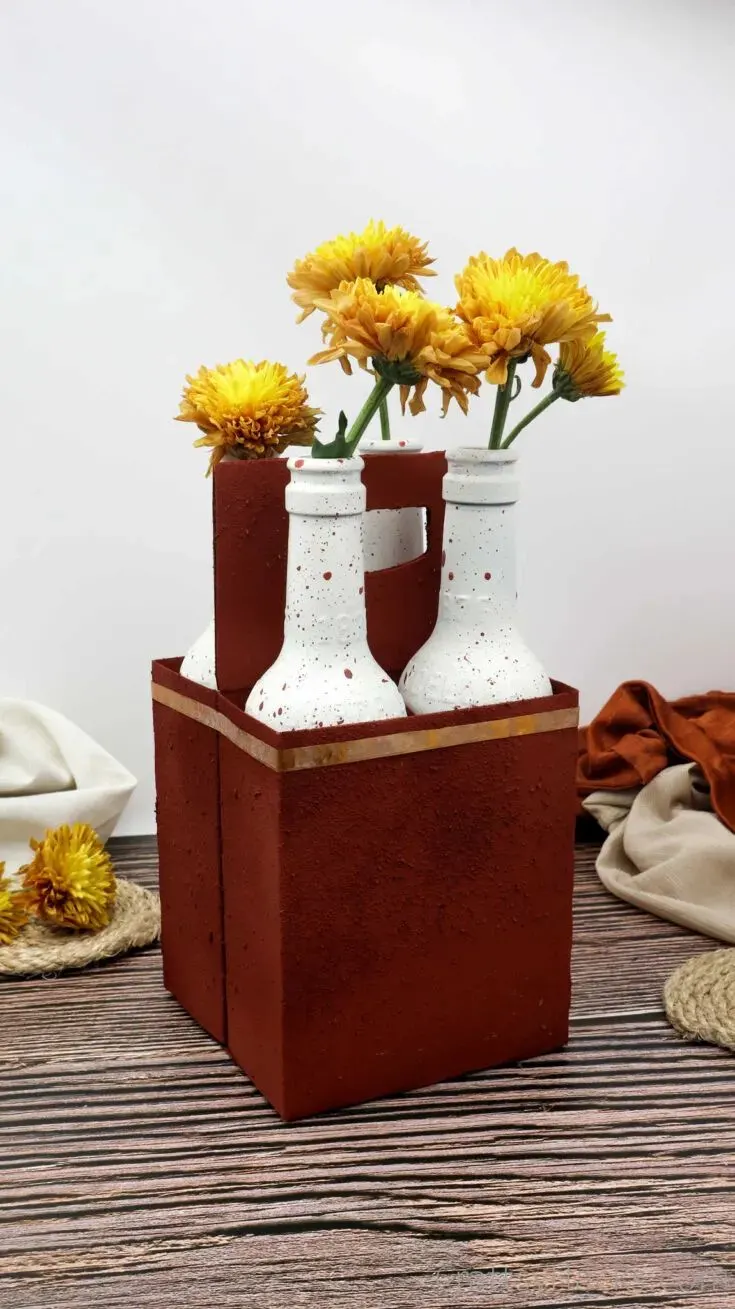 Source: craftsyhacks.com
Did you host a great party last night with your dearest friends and loved ones? I bet you have a few four packs of beer to get rid of.
But just hold on for a second; I might have a DIY project for you. Check out this DIY table centerpiece out of a 4-pack of beer.
You'll need to wash out your bottles thoroughly before you begin, of course. You can also choose to sterilize the bottles, especially if you're going to be putting flowers in them.
Grab a couple of cans of white spray paint and some decorative tape. If you decide to recreate those paint splatters, then a toothbrush and acrylic paint should do the trick!
9. Fall Painted Mason Jars
Source: craftsbyamanda.com
Mason jars are perhaps the most versatile things out there. Whether you want to use it to store jam, as a centerpiece, as a vase, to drink lemonade out of, or, as is the case here, as a craft material, mason jars can do it all.
So if you have any mason jars leftover from the last time you made jam, then check out this super cute DIY project. You'll need some burlap ribbon from here, letter stencils, paint, brushes, and your fall florals.
Before you begin, just remember to thoroughly rinse out, dry, and only then use your mason jars.
10. Dried Orange Garland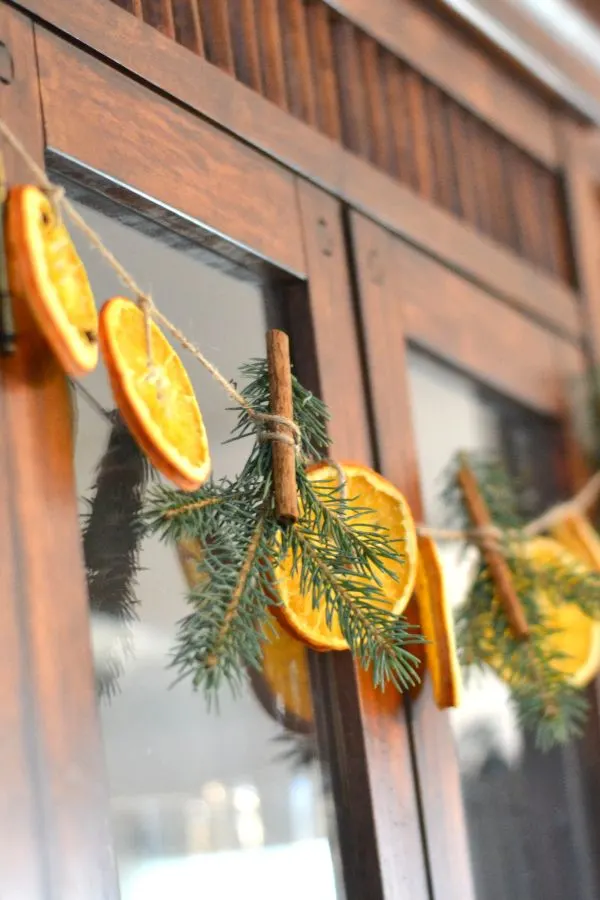 Source: lavenderhomefront.com
I love fall because of the earthy, rich smell of warmth, spice, and everything woodsy and nice. If only there were a way to bring that mouth-watering aroma inside…
You can, with a scent pouch, candles, diffusers, essential oils, and a dried garland decor item like you see here. This citrusy DIY garland infuses all the flavors of fall in one package.
You'll need to dry your own oranges, which you can do using a dehydrator or even just an oven. Then you can spice your garland up with some cinnamon sticks, star anise, pine twigs, and cloves.
Grab some twine from here and start stringing your garland!
11. Pumpkin Tea Light Holder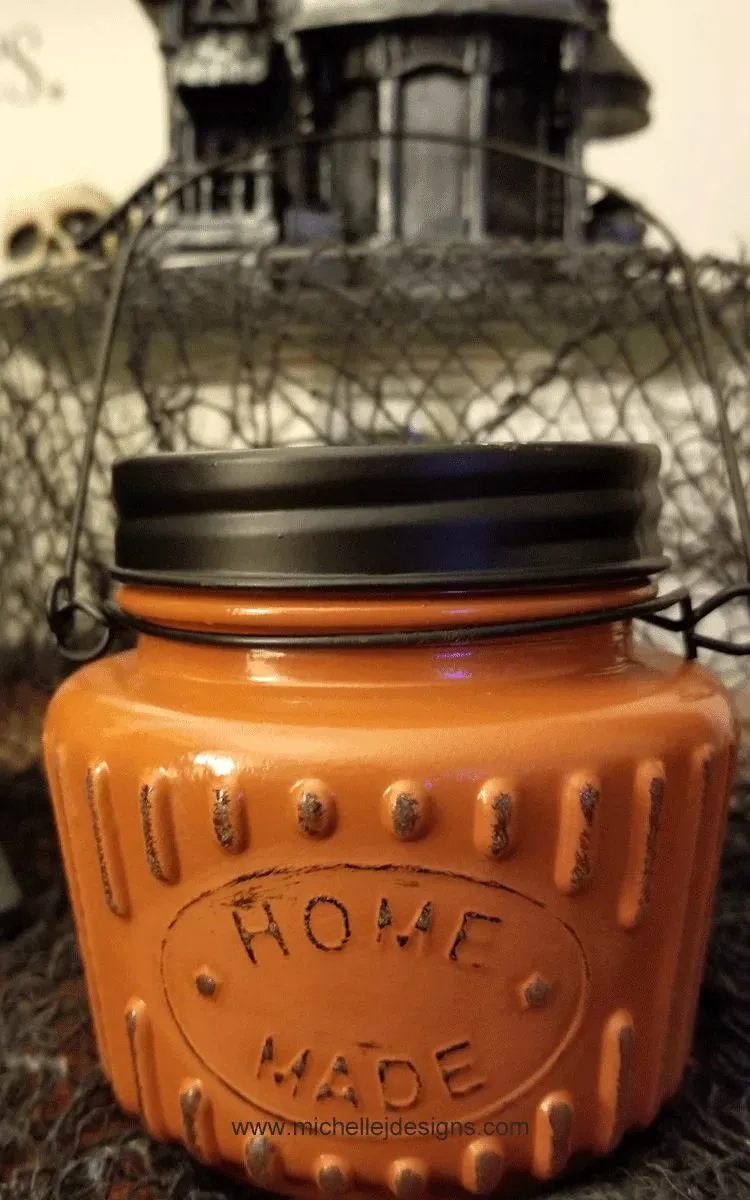 Source: michellejdesigns.com
Here's an affordable and easy-to-make dollar store craft project: a pumpkin tea light holder. They look like they'd spice and light up your room, don't they?
To begin with, you'll need to wash, clean, and dry your glass jars thoroughly. Otherwise, the paint you use will not stick, nor will it stay on.
Also, remember to remove the sticky labels before you begin. Once you've painted your jar, you will need to use a sanding block to sand all the raised edges. Why? This will help the light shine through better.
Finally, grab some tealights from here, and you're all set. Check out more Halloween decorating ideas here.
12. Welcome Fall Wood Pumpkin Sign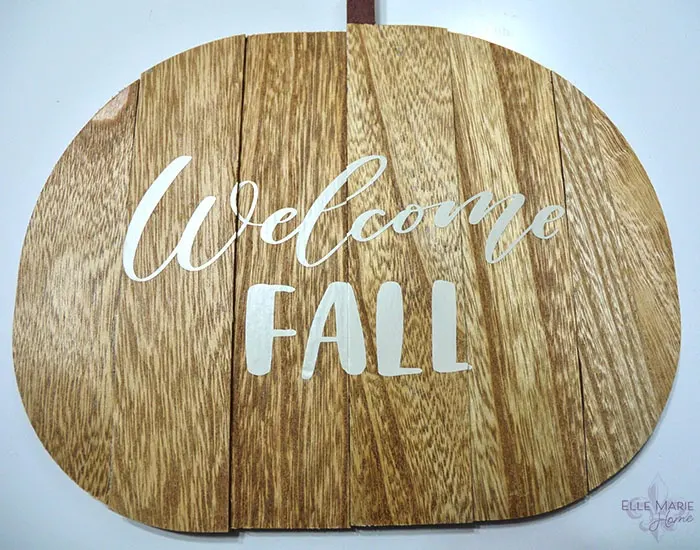 Source: ellemariehome.com
When you want to welcome the fall season, what you need is this wooden pumpkin welcome sign. It's simple and non-fussy, and you can make it in under 15 minutes if you have this blank wood sign.
You'll also need a scraper tool, a cutting mat, vinyl, transfer tape from here, and a weeder tool.
You can use a Cricut machine to design and cut out your "Welcome Fall" sign. Also, figure out how big you want it to be as well as the font and style.
13. Thankful Wood Pallet Sign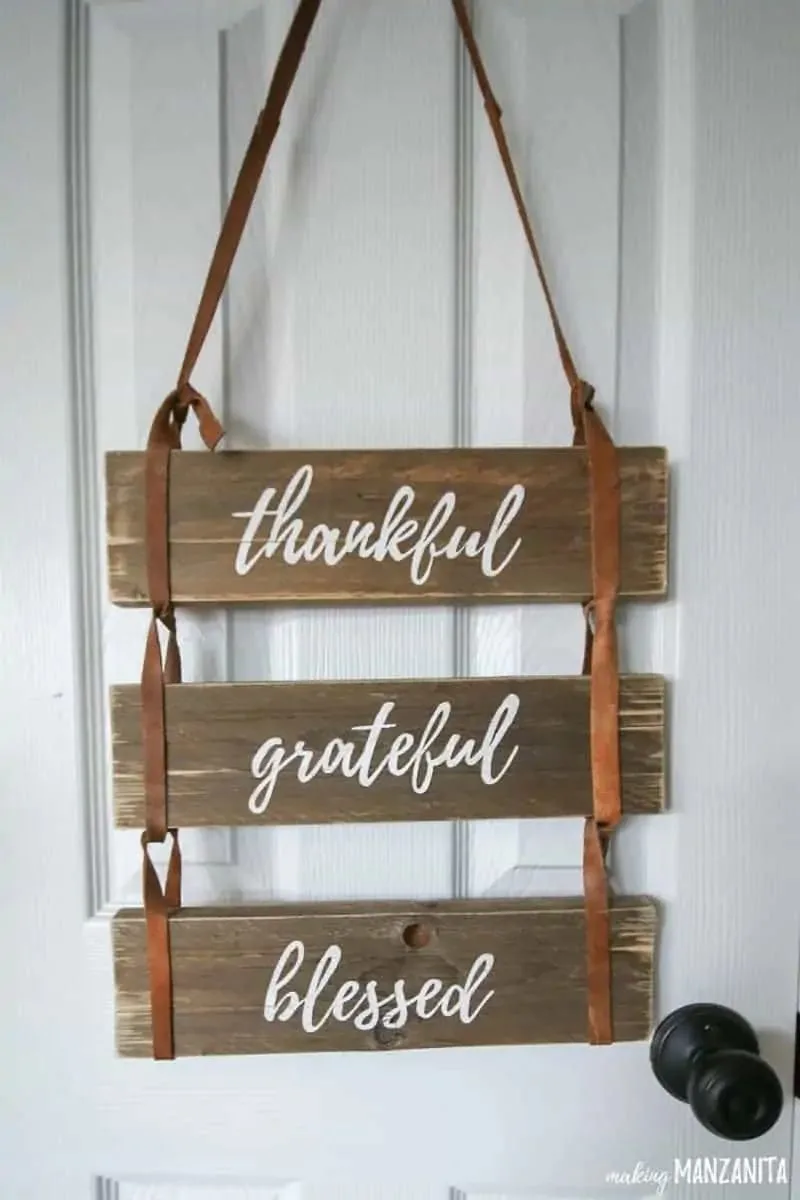 Source: makingmanzanita.com
After your welcoming welcome sign, do you know what you can do to top things off? A gratitude sign, of course. And really, the fall season gives you so much to be grateful for, right?
So pick out three wood pallet pieces, some sandpaper, craft paint and brushes, mod podge, and finally, some leather strips like this. You'll need the sandpaper to mildly sand the wood.
If you have a Cricut machine, use it to cut out stencils for your letters. Once you're done, carefully use adhesive or transfer tape to secure the vinyl letters in place on the board.
14. Fall Leaves Sewing Project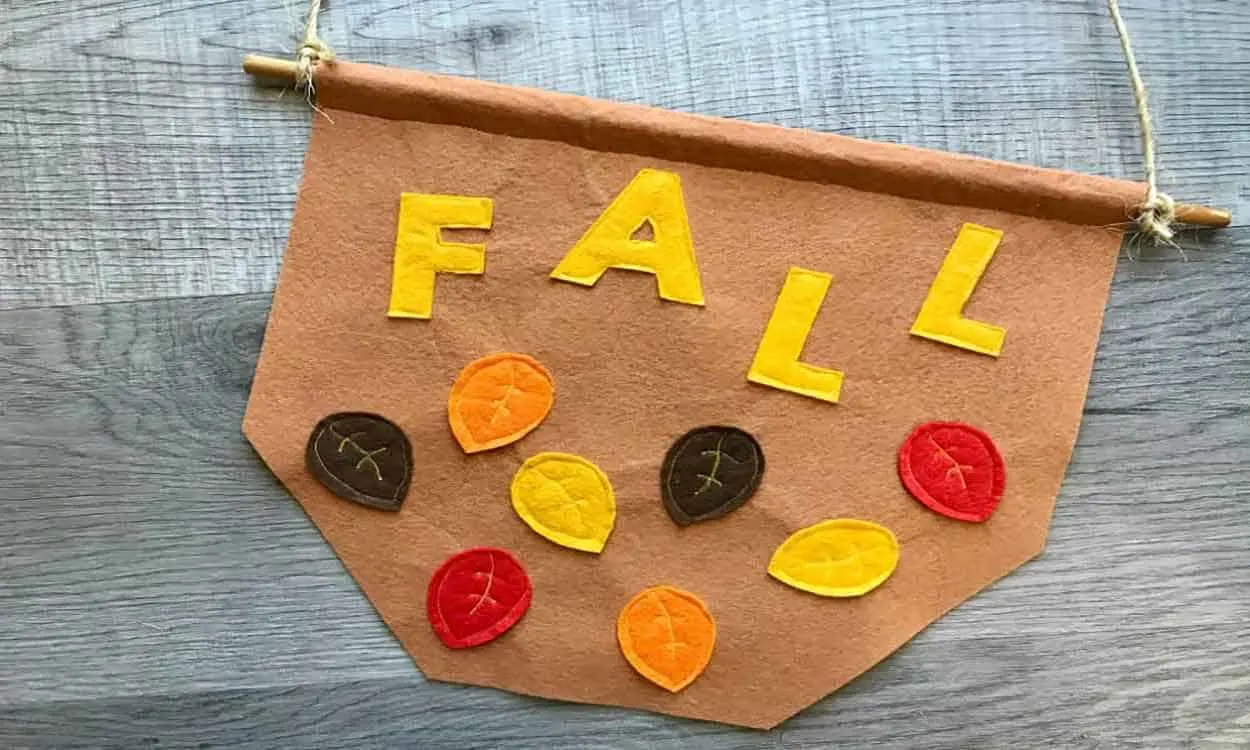 Source: beginnersewingprojects.com
If you're handy with a needle and thread, then here's a little sewing project for you to try. This fall leaves banner is easy to make and a lovely nod to the season.
No, you won't be using actual leaves—they'd just rot, and you'd have to deal with that. Instead, you'll be working with felt and fabric to make your leaves.
You'll need a dowel like this, a few sewing pins, a sewing machine, and finally, some ribbons and embellishments if needed. Don't worry, you have a downloadable template to help you along the way!
15. DIY Scented Candles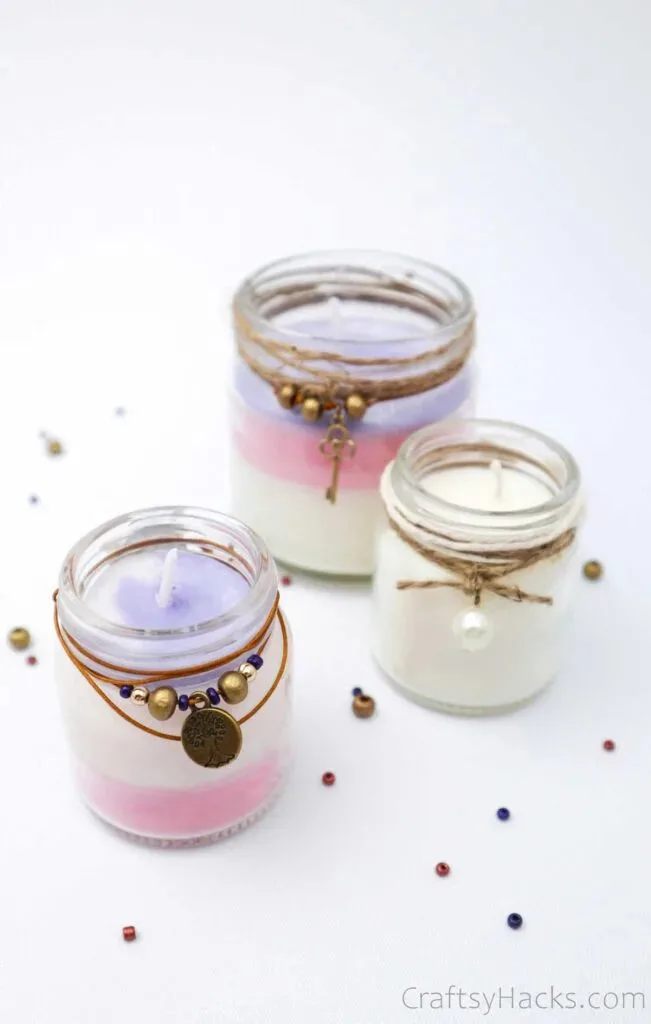 Source: craftsyhacks.com
Again, you can never have too many scented candles at home. But having seasonal scented candles is a luxury.
Think about it: warm, spicy, and earthy notes for fall, cool and minty for winter, soft and breezy florals for spring and sharp, tangy citrus and fruit scents for summer.
This scented candle project is something you can use all through the year. It's also a great way for you to reuse and recycle your jars.
16. Fall Bucket List Craft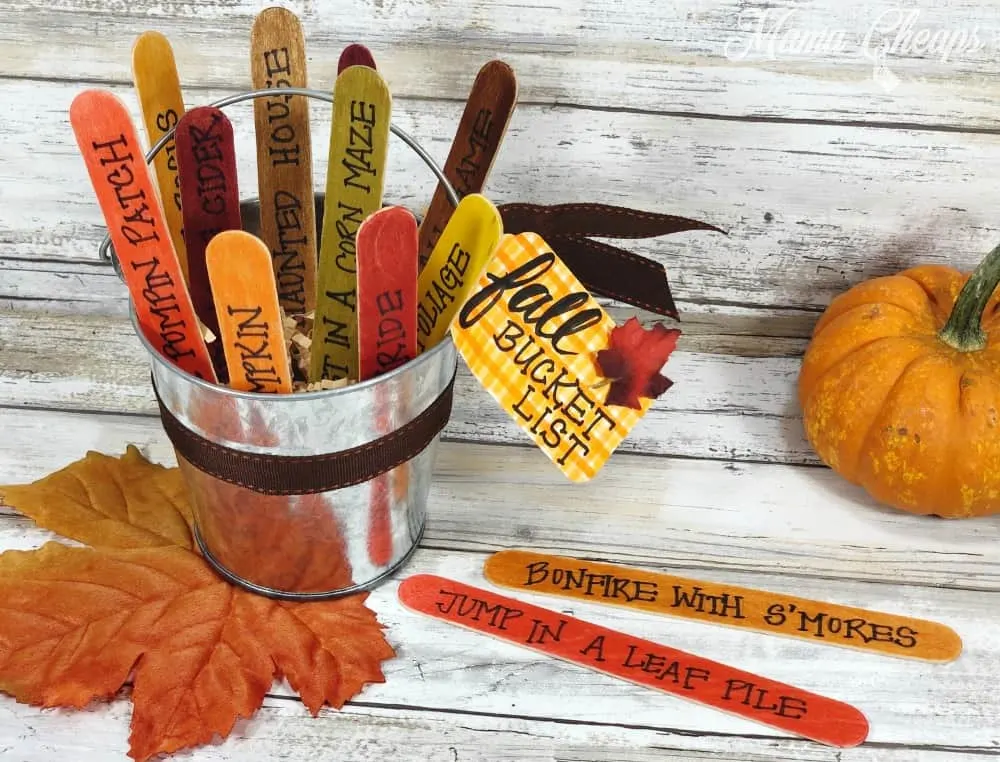 Source: mamacheaps.com
We're over halfway down our list of fall craft projects, and I bet you already have a ton of ideas you want to try out. But it can be easy to lose track of everything you want to try.
Here's a fall-crafts bucket list craft. Yes, you read it right; it's a craft project to help you keep track of all the craft projects you want to try.
First, you'll need a craft bucket from here for the 'bucket' part of your bucket list. You'll also need some jumbo-sized craft sticks from here. Don't forget to grab your paints, brushes, markers, and similar craft essentials.
Check out more projects for teens.
17. DIY Fall Tea Towel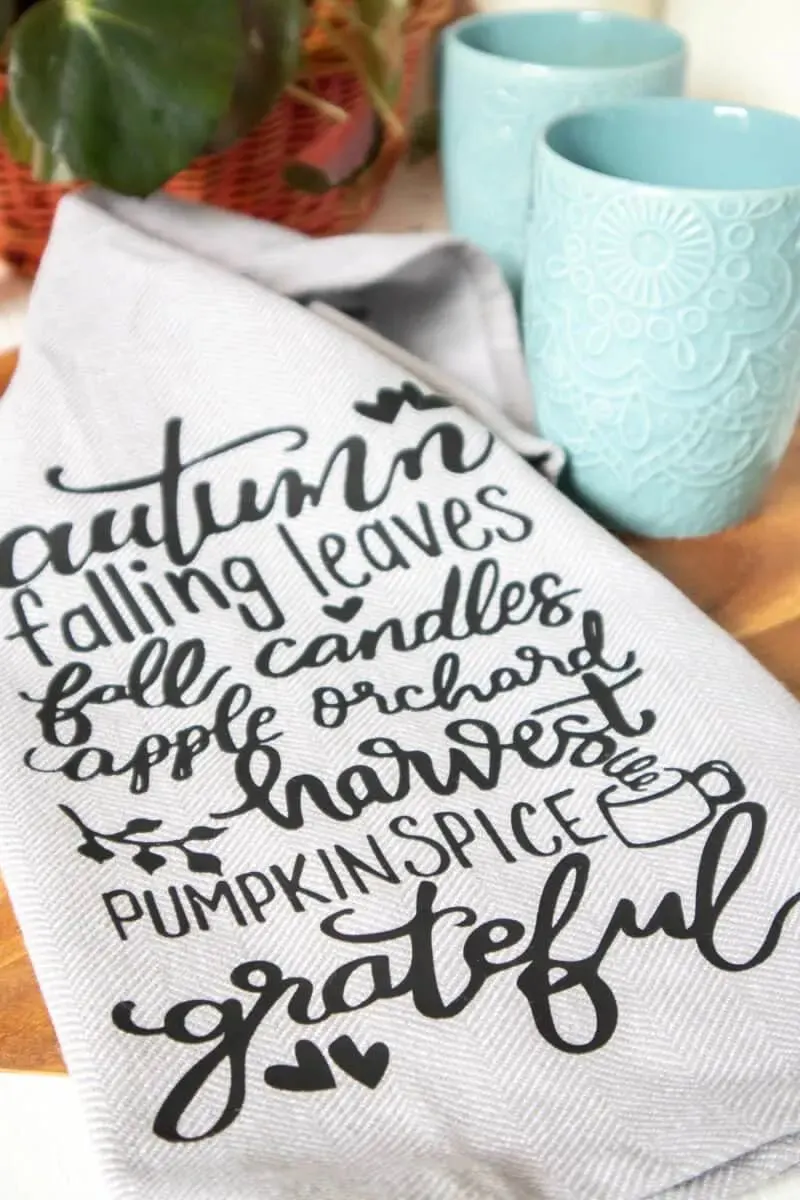 Source: singlegirlsdiy.com
Whyever should tea towels be plain and nondescript? I think a little fall-themed quote or doodle could do wonderful things to spruce it up, don't you?
While the tea towels themselves are super inexpensive, this little project can make them look personalized and classy—even the plain old white one.
Here's a list of occasions and places you can use these towels:
Kitchen decor.
As a part of a gift basket.
To wrap a loaf of homemade bread.
18. Old Jeans Pumpkins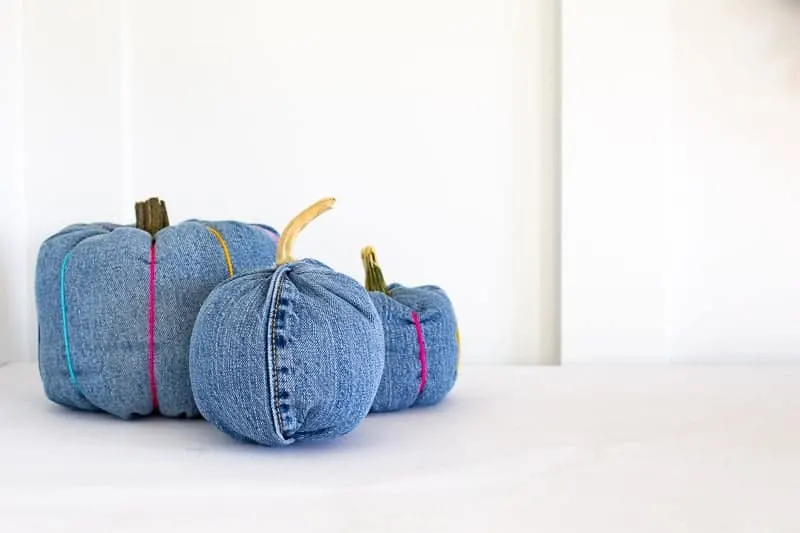 Source: heatherednest.com
Remember those cute little pumpkins we made earlier, the ones with bandannas? Well, if you loved those pumpkins, then I think you're going to adore these denim-clad ones.
We all have an old, ratty pair of jeans that should have been put out its of misery ages ago. But you never could find it in you to dump the pair, could you?
Well, here's how you make the best use of those jeans. So grab a pair of sturdy scissors and start cutting!
19. Resin Sunflower Coasters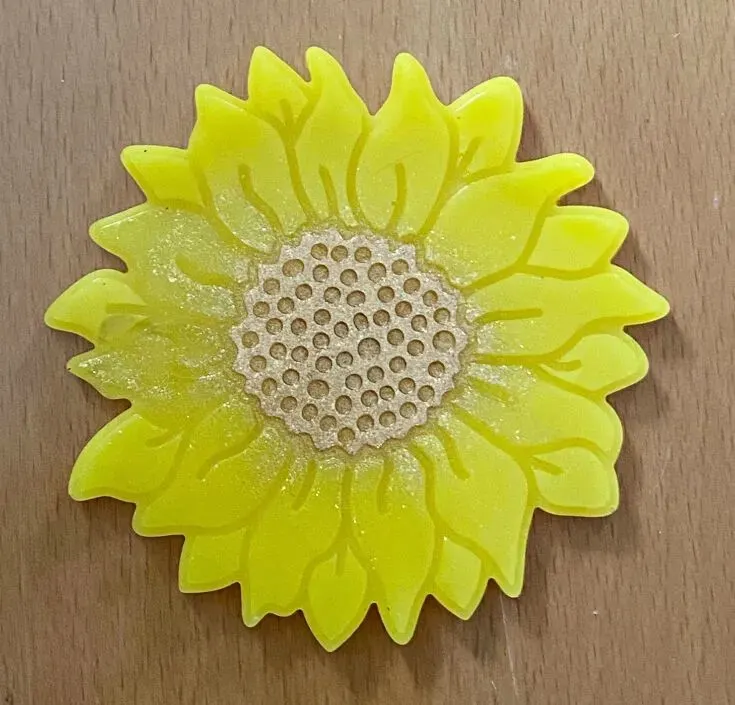 Source: ourcraftymom.com
Don't you just love resin crafts? They're so easy to make, and the best part about them? They end up being wonderful keepsakes.
Whether it's to save pressed flowers, make coasters, or even just artsy little decor pieces, resin like this is so accommodating and versatile.
Remember that the best way to get clear and bubble-free resin is to stir and allow the bubbles to release first. Then you can jazz it up with color, pour into those gorgeous sunflower molds, and voila!
Check out these DIY resin crafts for more inspiration.
20. Harvest Quilt Pattern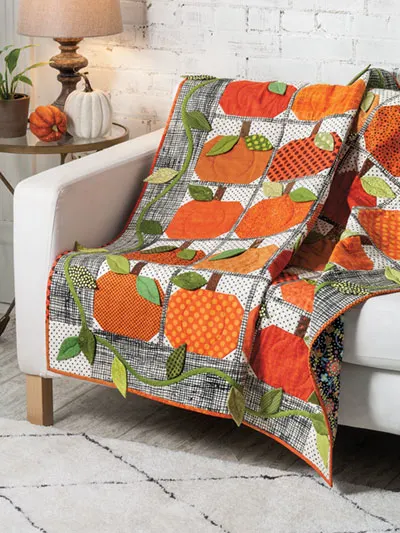 Source: needlepointers.com
There is nothing quite as wholesome and traditional as quilting. So quilting a harvest quilt is bound to be an enriching experience.
Check out those bright pops of orange from the pumpkin and green from the leaves and vines. There's also a ton of patterns that add variety and texture to the quilt.
You can download the printable pattern and follow the instructions to make your very own harvest quilt.
21. Autumn Leaf Coasters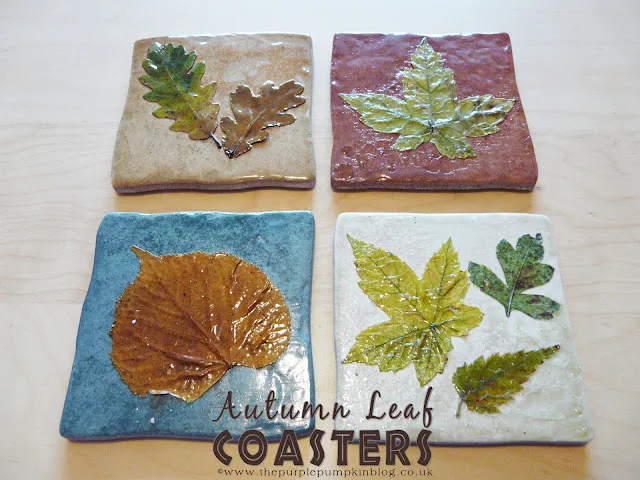 Source: thepurplepumpkinblog.co.uk
One of the easiest ways to decorate your home for a coming season is with coasters. Coasters might be small little decorative items, but they're required in almost every room.
So that means that you have the opportunity to set a theme for your decoration, like with these autumn leaf fall coasters. The best part about these coasters is that they use real fallen leaves.
So grab some of these ceramic tiles to start with. Once you've dried your leaves, you're all ready to get started on making your autumn leaves coasters.
22. Fall Hoop Wreath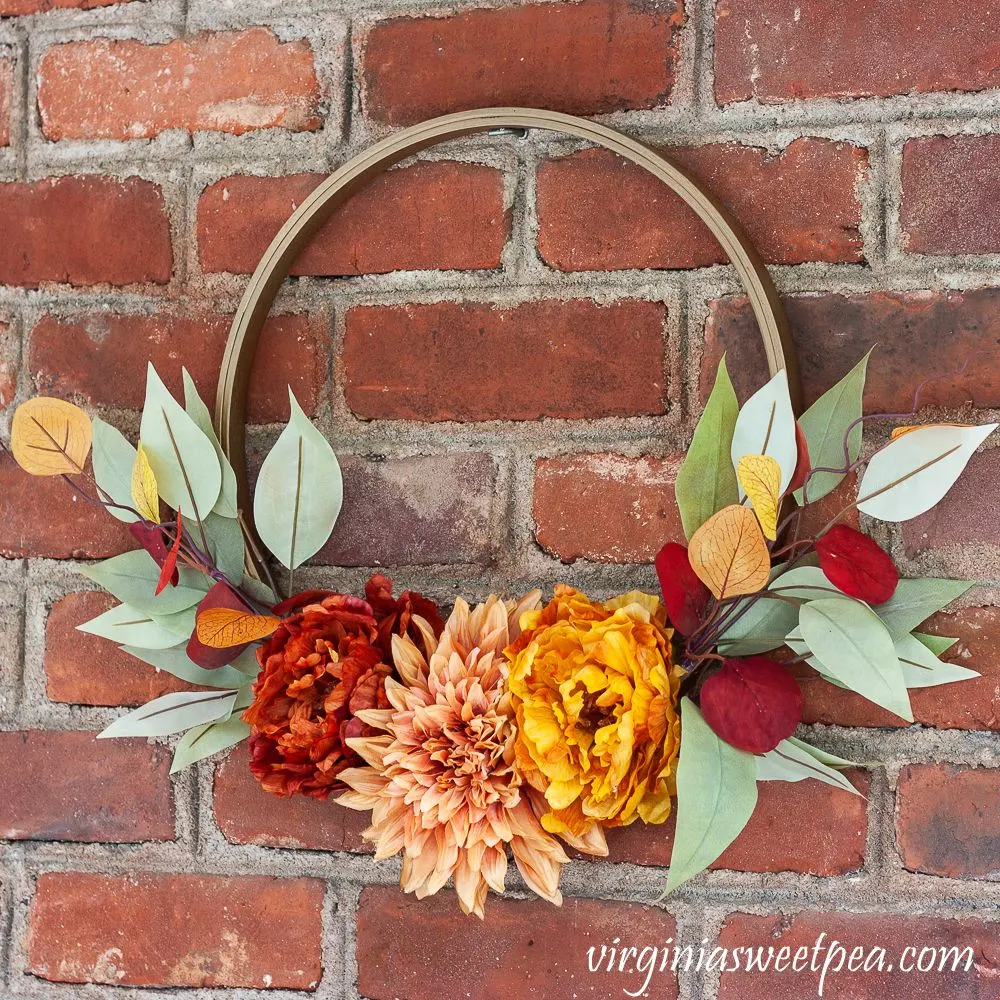 Source: virginiasweetpea.com
Embroidery hoops have been used in lieu of wreath forms for years now and it does the job splendidly every single time. CHeck out this lush and elegant fall hoop wreath.
You're right to think that it is as easy as it looks, but you'll be surprised by how much prettier it turns out. You can pick up your embroidery hoop from here and get started right away!
23. Terracotta Pumpkin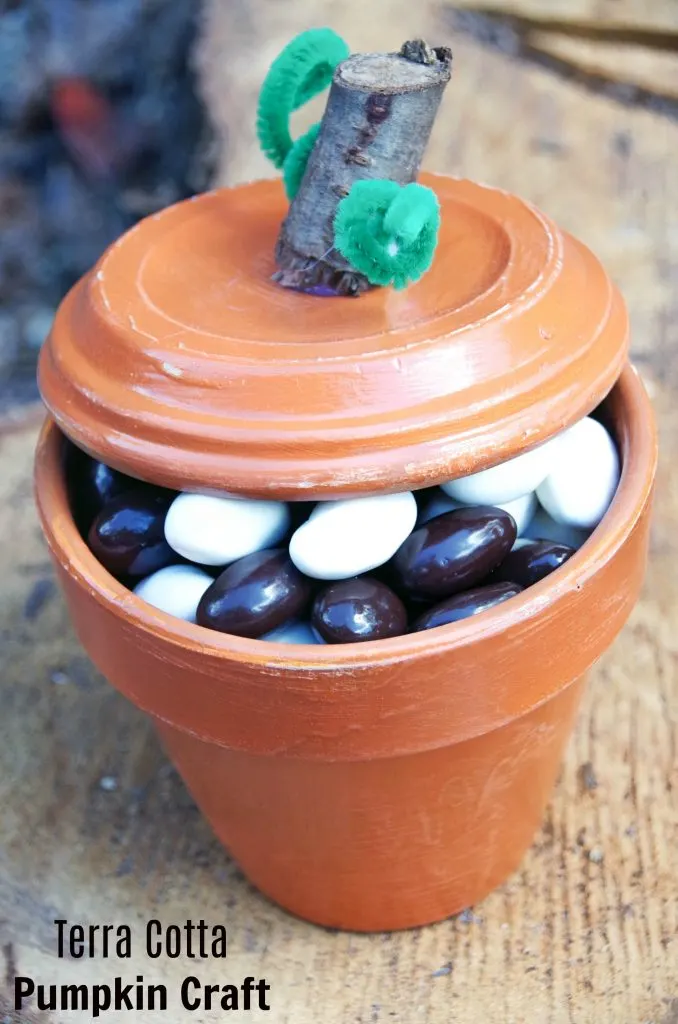 Source: turningclockback.com
If you're anything like me, you love to make new pumpkin crafts every year. But it also means you've got a ton of either really flimsy craft pumpkins or just fake ones you can't use for anything but Halloween.
But this terracotta pumpkin, however, is something you can use year-round if you've a mind to.
Why? Well, first, they're super pretty and durable. But also, they're flowerpots, which means you've got a ton of creative ways to make use of it.
24. Pumpkin Spice Candle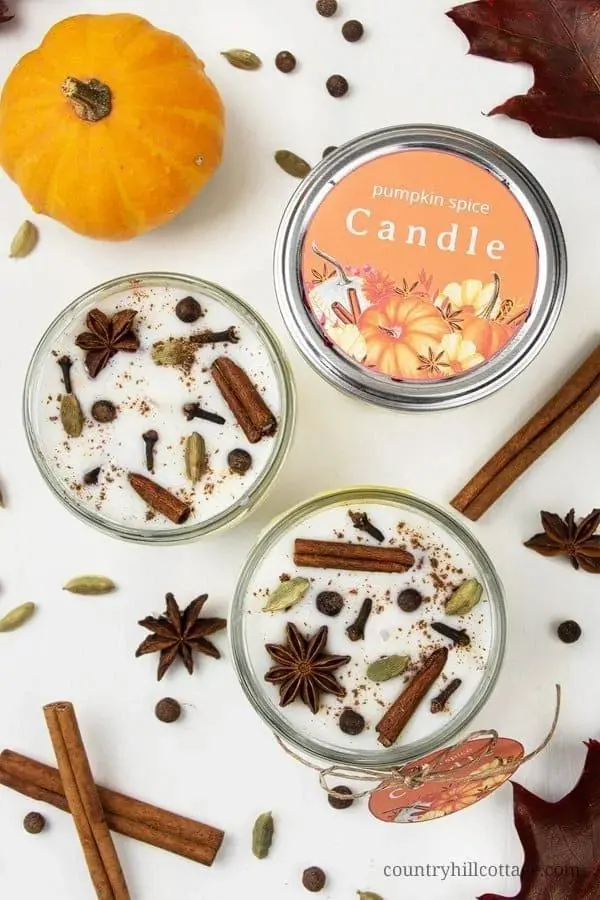 Source: countryhillcottage.com
I bet you'd love nothing more than to keep chugging an aromatic cup of pumpkin spiced latte all day, every day during fall season. But you can't really do that, can you?
So here's what you can do to assuage your pumpkin spice cravings: check out these DIY pumpkin spice candles. Made from soy wax and essential oils, these candles are almost good enough to take a big bite of, but please, desist.
25. Wine Cork Pumpkin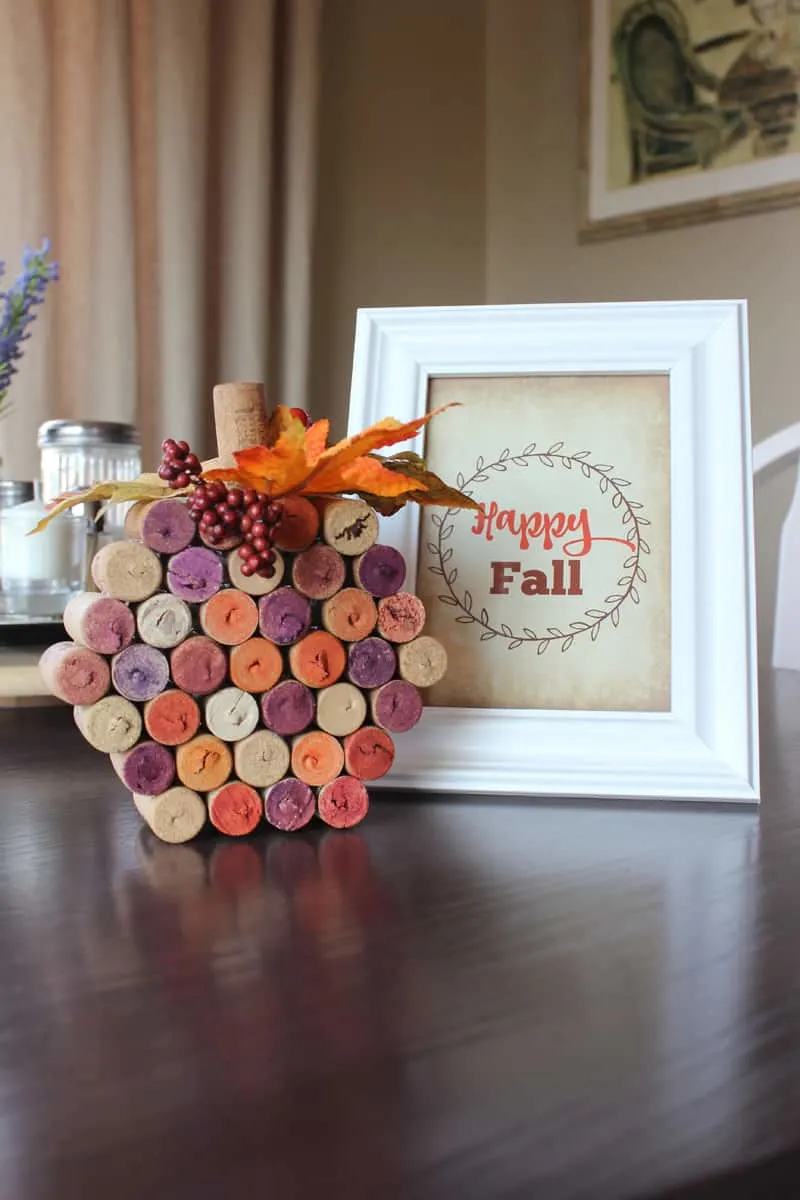 Source: loveourreallife.com
It's a cold and chilly fall night, but you've got a nice fire going and a good book you're planning to read. You also have a bottle of chilled wine ready to uncork.
If you're like me then you've had more than one of these nights, which means you probably have more than one wine bottle cork lying around.
This gorgeous wine cork pumpkin will help you repurpose and upcycle those corks in no time. Just grab some autumn florals and your hot glue gun, too, and let's get cracking.
26. Scrap Fabric Pumpkins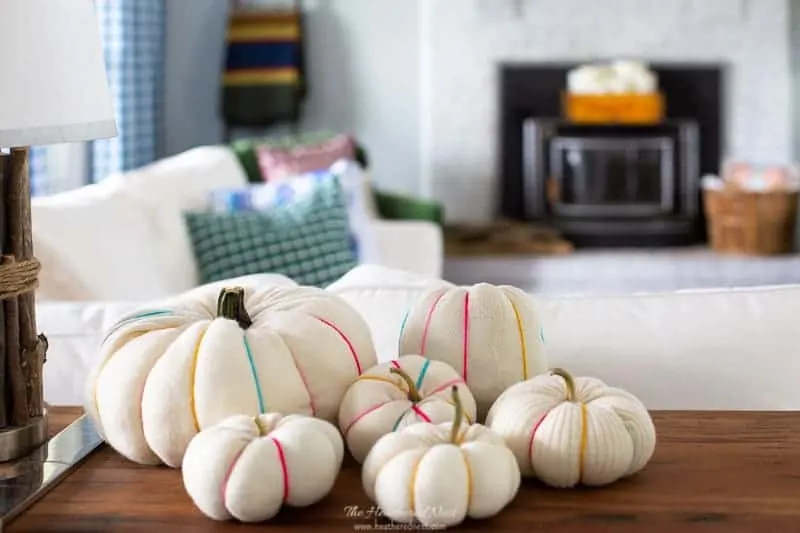 Source: heatherednest.com
Do you have a box or a stash of scrap fabric from previous DIY projects lying around? Because I have the prettiest way to finally use up all those scraps!
No, this isn't a patchwork pumpkin—although that would be a great craft project too, don't you think? This one is merely stuffed with all the scrap you never use instead of Poly-fil.
You can make a half dozen of these in just a couple of hours. You can use them as decorative pieces to line your mantle or you can use them as toss pillows to prop up against the couch.
Also, check out these 47 scrap fabric projects that you'll have a ton of fun making!
27. Pumpkin Sugar Scrub Bar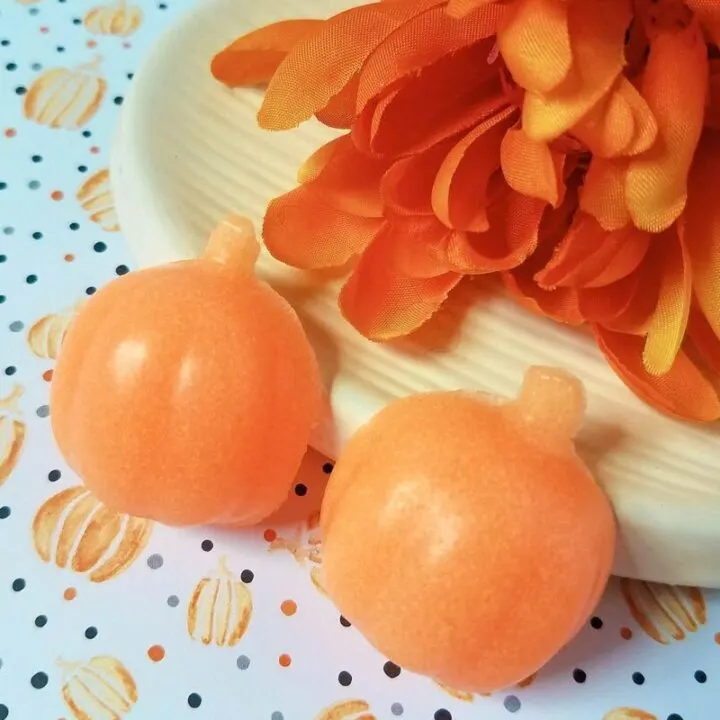 Source: thepurplepumpkinblog.co.uk
I've saved the best for last! There's nothing I love more than a good body scrub to help you exfoliate and pamper yourself.
The fall season can be hard on your skin and so, to give you that little happy boost and make your skin glow with health and prettiness, you need a good DIY scrub.
Do you even have to ask what kind of scrub? It's fall, so pumpkin it is! And instead of storing them in jars, how about you grab a couple of pumpkin molds and make them into bars instead?