Got some resin at home? Why not turn it into something that you could use? Express your creative juices with these DIY resin crafts and have fun crafting!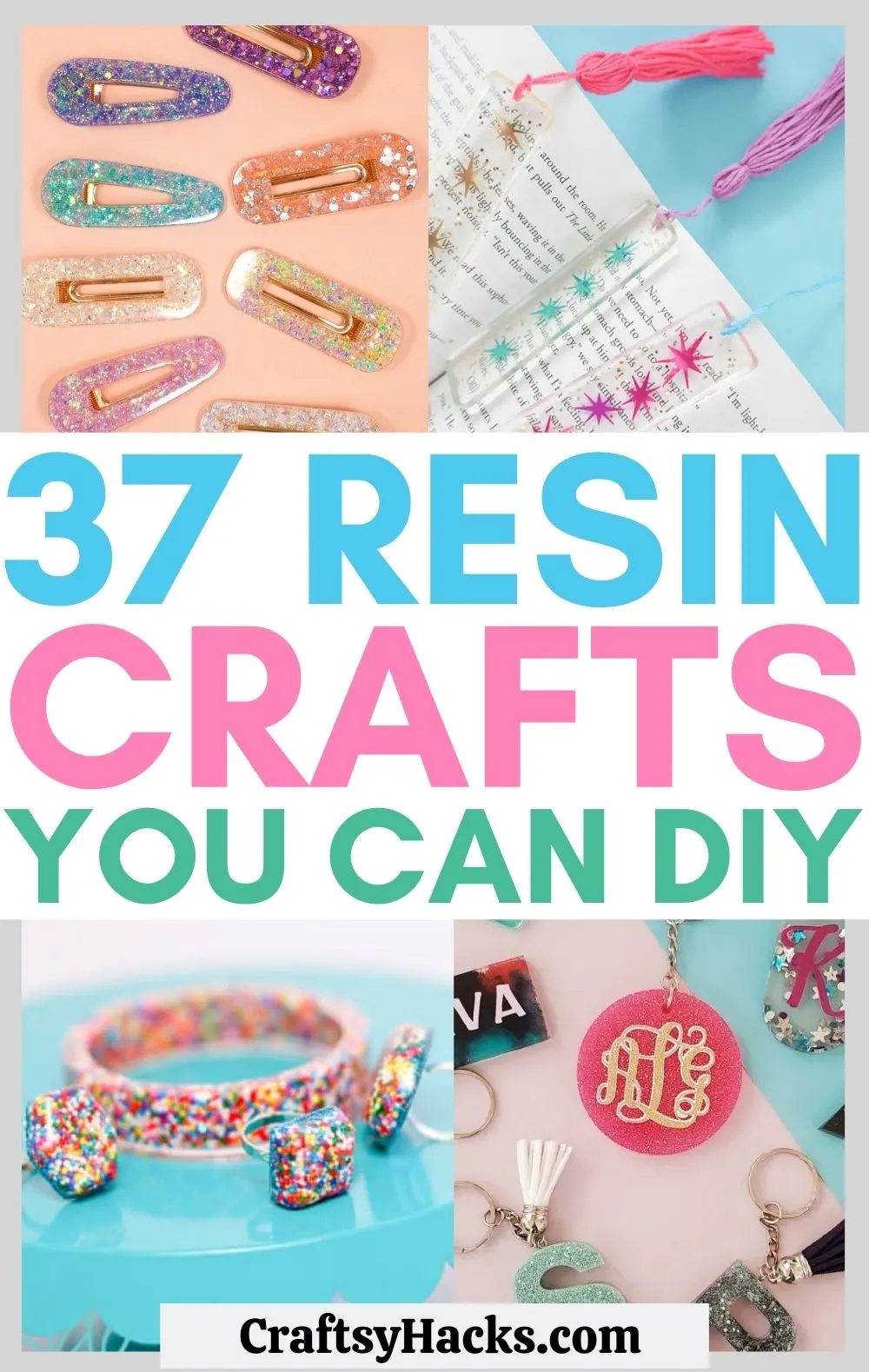 I'm not going to lie to you; resin art and crafts can get very addicting once you get hooked. It's one of the most versatile forms of crafts—using resin and resin molds to create something utterly spectacular.
No, really, think about it. It's almost like baking from scratch, isn't it? You get to make a ton of home decor items, accessories, and quirky little knick-knacks.
It's like baking, and what you make is beautiful, albeit inedible.
So, if you're excited to explore and experiment with resin, then here are 37 DIY resin crafts especially for you!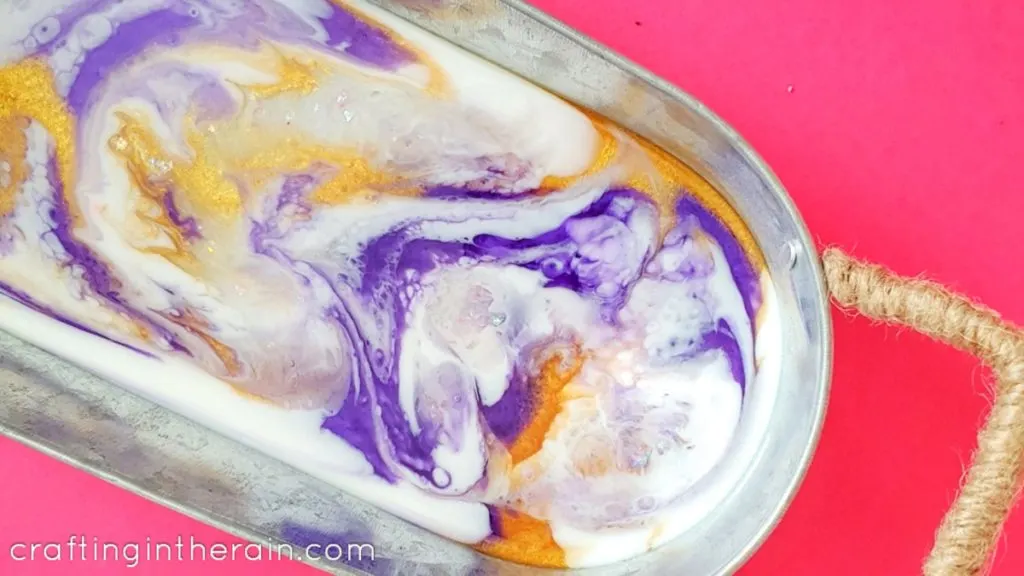 Credit: craftingintherain.com
A resin tray is great for a beginner project. It gives you a lot of room to experiment with different swirl patterns and colors.
You can try your hand at the process when you have enough surface area. You can figure out how the resin colors move together, as well.
So grab a tray like this to get started. You can pick wood or metal trays. If, however, you're still hesitant, you can pick out a cheap plastic tray instead.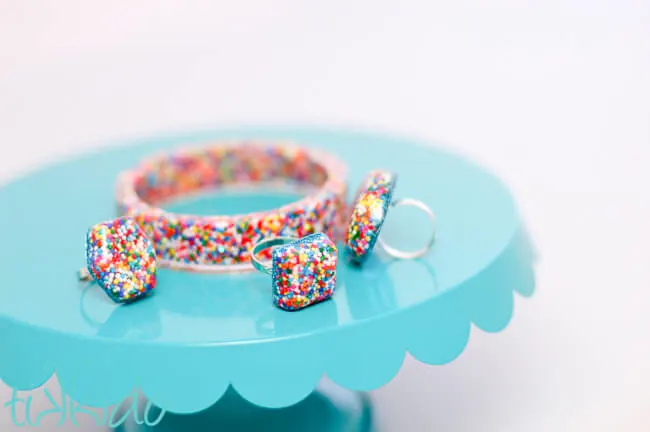 Credit: tikkido.com
I'd be extremely distracted wearing a ring made of sprinkles. I'd immediately want to go out for ice cream or eat cupcakes.
If it's got sprinkles, it's meant to be edible. But I'd make an exception for these funky resin rings.
Grab some sprinkles and these ring blanks. Why don't you make a dozen of these during craft time with your kids?
Then, you can store them away for the next slumber party. You know what, you can make bracelets too!
Check out some more of these DIY rings you'll want to wear all the time.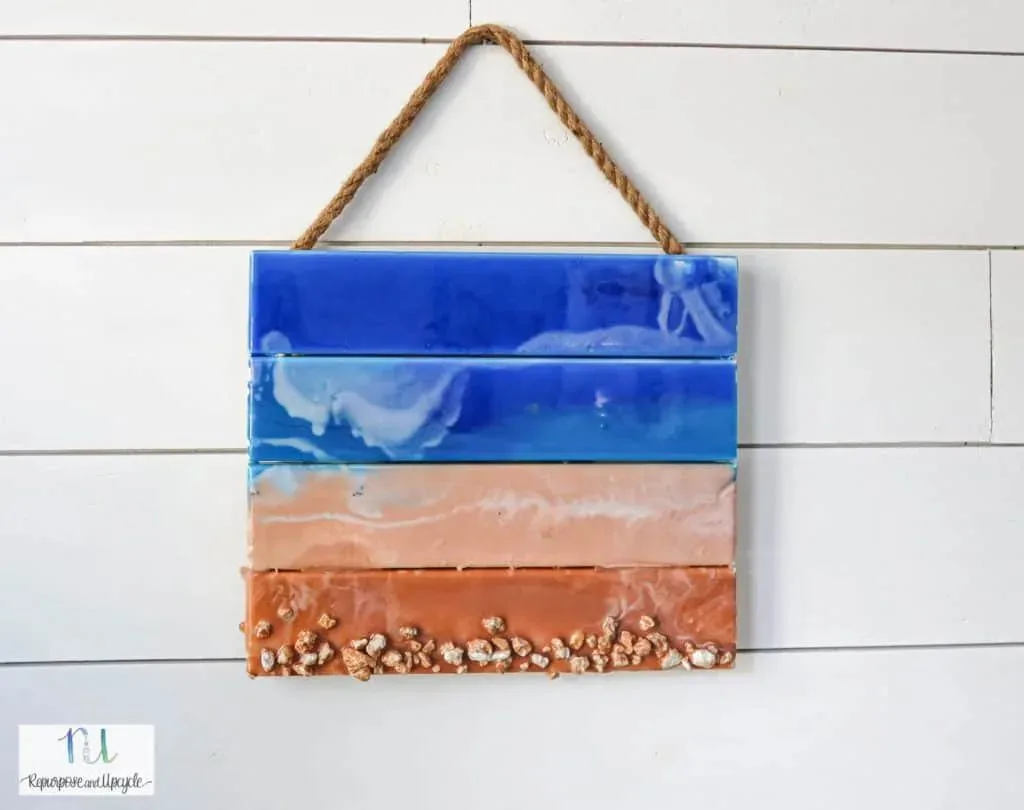 Credit: repurposeandupcycle.com
Epoxy pouring has certainly become a creative art form. There are so many new ways to use it to make new items or even upcycle
old ones.
Here's a DIY project that calls for a piece of pallet wood. You can buy the pallets here or at your local hardware store. You will also need to grab a large, flat head paintbrush and some acrylic paint.
In keeping with the ocean-beach vibe, you can find blue resin dye, and some shades of green to blend in, as well.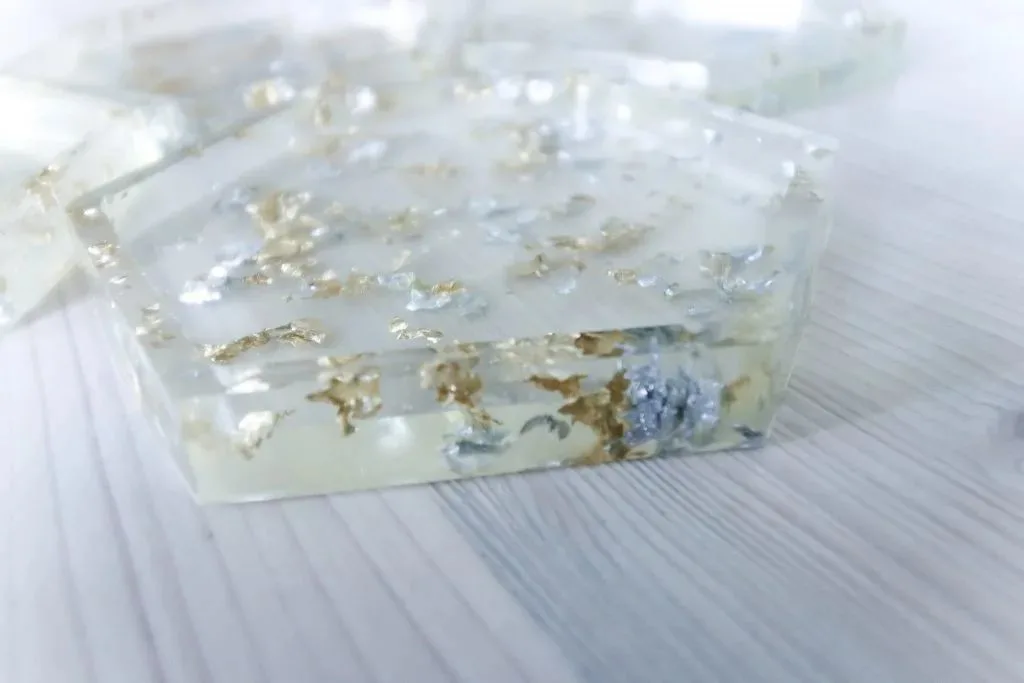 Credit: charlestoncrafted.com
If you've got a smaller resin project in mind, perhaps something that will take less time, I've got an excellent idea for you. Gold leaf resin coasters!
Imagine how classy those flecks of gold will look in there! You can buy your gold leaf gilding flakes from here as well as a few coaster molds.
Feel free to add a drop or two of dye if you want some color. But the best way to really see the gold, silver, or bronze flecks would be through a clear resin coaster!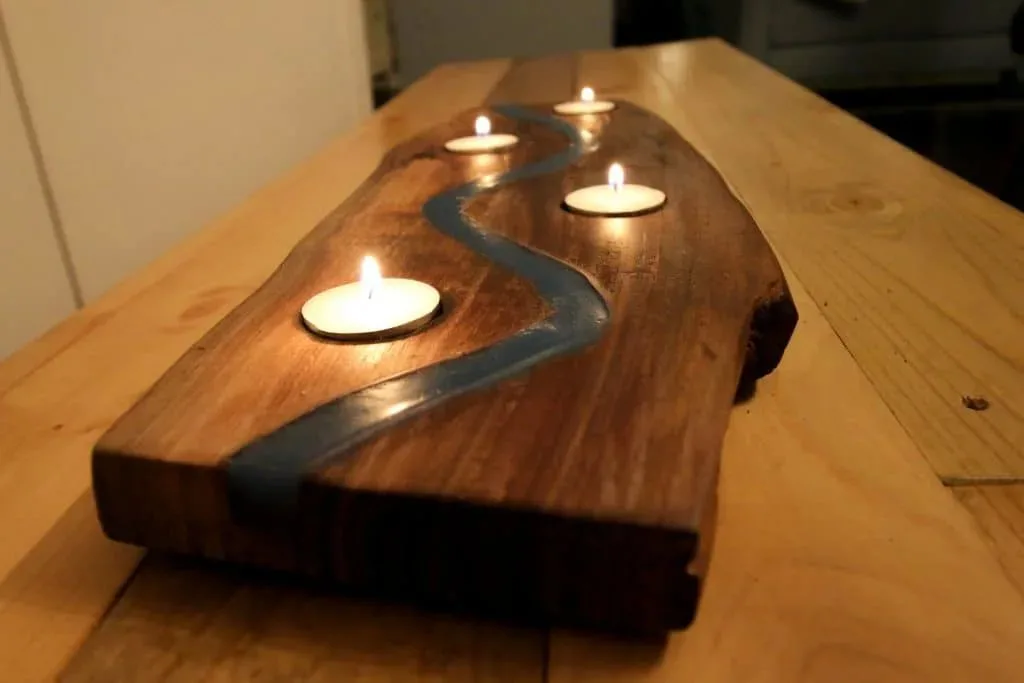 Credit: charlestoncrafted.com
Look at that lovely little blue vein running along that block wood. It looks like a river in the woods, doesn't it?
Well, that's a resin river, and the wood you see is a candle holder. You can recreate this exact candle holder if you want to.
Just grab some tealight candles, a bottle of resin, and a sturdy block of wood to get started.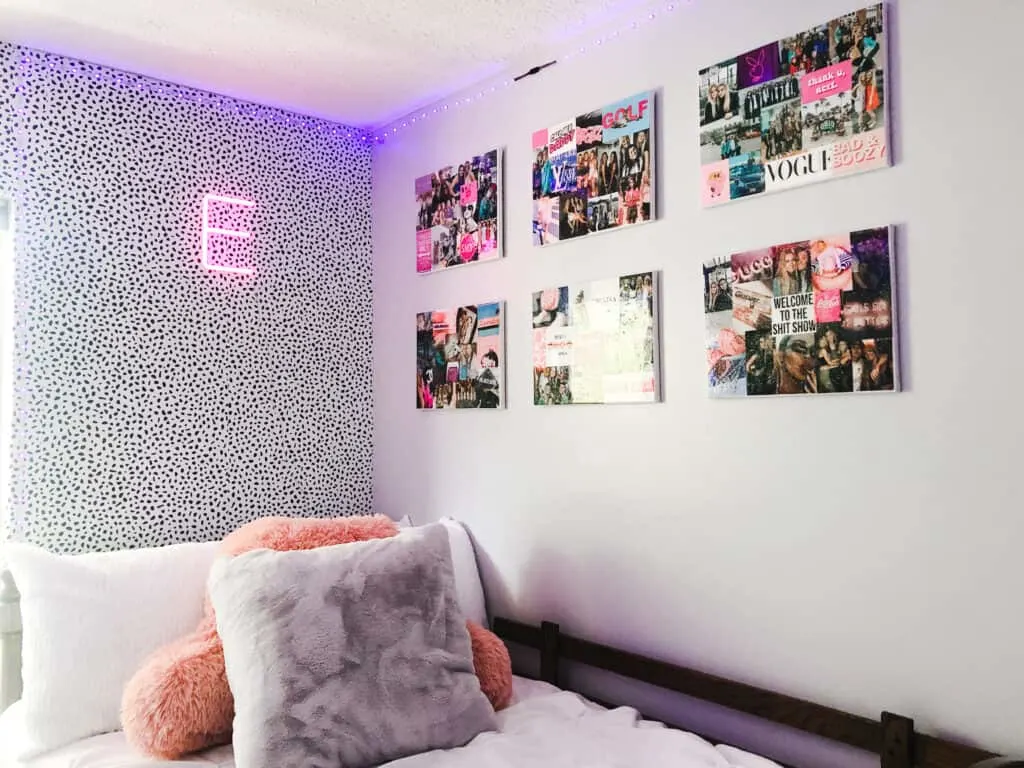 Credit: atlaneandhigh.com
If you really want to jazz up your dorm room, how about a layer of resin for some extra oomph?
It's an affordable yet super creative way to use your wall space. All you need are some brushes, a blank canvas, and a drop cloth to protect your work area.
You can make a collage of photos with your friends and family or even a vision board! For an extra layer of glitter, mix a few spoons of glitter powder into your resin before you brush it over the canvas!
Here are some more super cute DIY crafts for teen girls that I think you'll enjoy!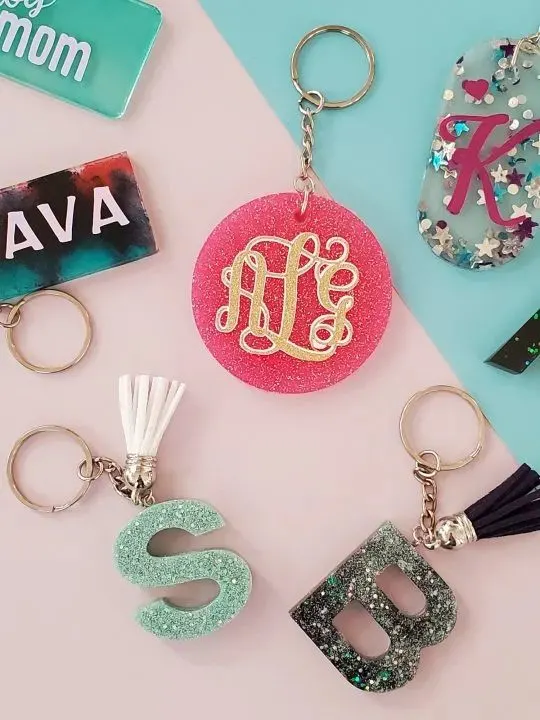 Credit: leapoffaithcrafting.com
Check out this DIY resin keychain project. It's a fun, easy, and customizable project and will look great holding your keys!
First, you will need molds. You can use traditional flat keychain blanks from here. Alternatively, you can also use letter molds if you want to personalize them.
You can make a few of these keychains in one go and have them ready to give to your friend and family.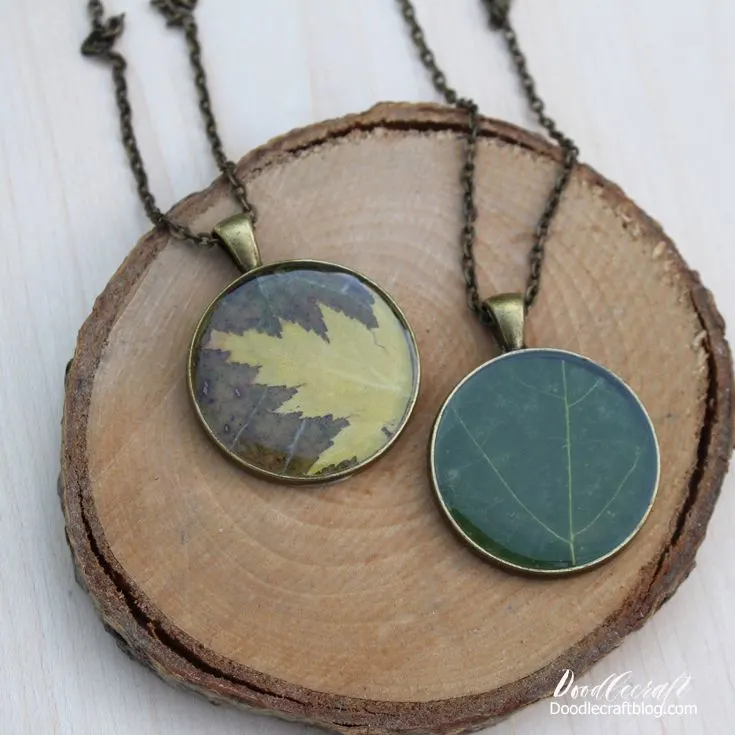 Credit: doodlecraftblog.com
We've already made rings, so how about we make a resin pendant? No, let's make that a resin autumn leaf pendant. Leaves in autumn are the absolute best, aren't they?
So, for this earthy, rustic chain, you will need to pick out your leaves. You can enjoy a cool autumn day.
If you're clever about it, you can keep your kids occupied and have them collect the leaves. Finally, grab some jewelry bezel from here, and you're set.
If you've saved your leaves, then check out this DIY leaf candle holder.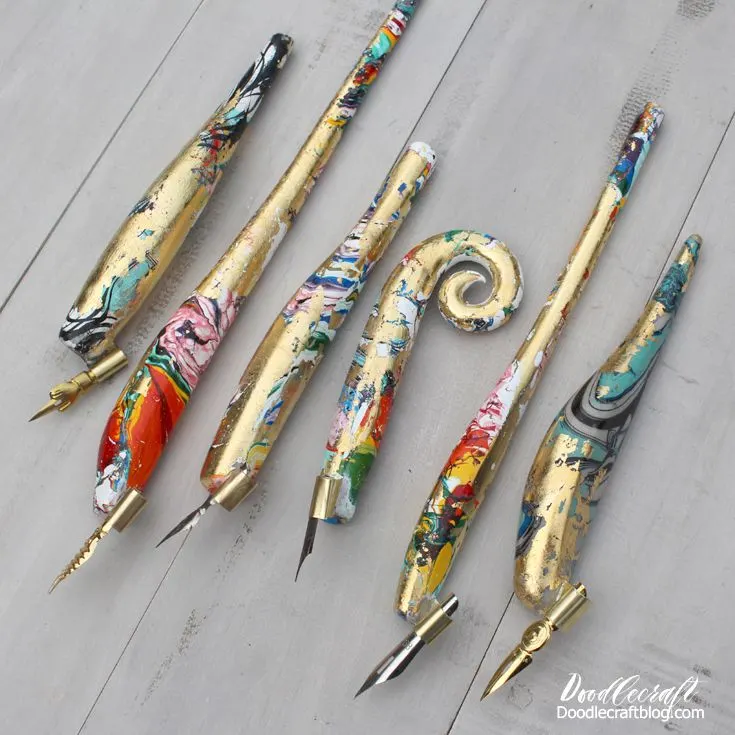 Credit: doodlecraftblog.com
Do you know that you can make oblique calligraphy holders with resin? It sounds like it could be an interesting way to spend a lazy summer day.
First, instead of liquid resin, buy this epoxy modeling clay. I hope you have some gold leaf foil leftover from our previous coaster project.
Now, grab the calligraphy nib you'll be customizing and let's get started.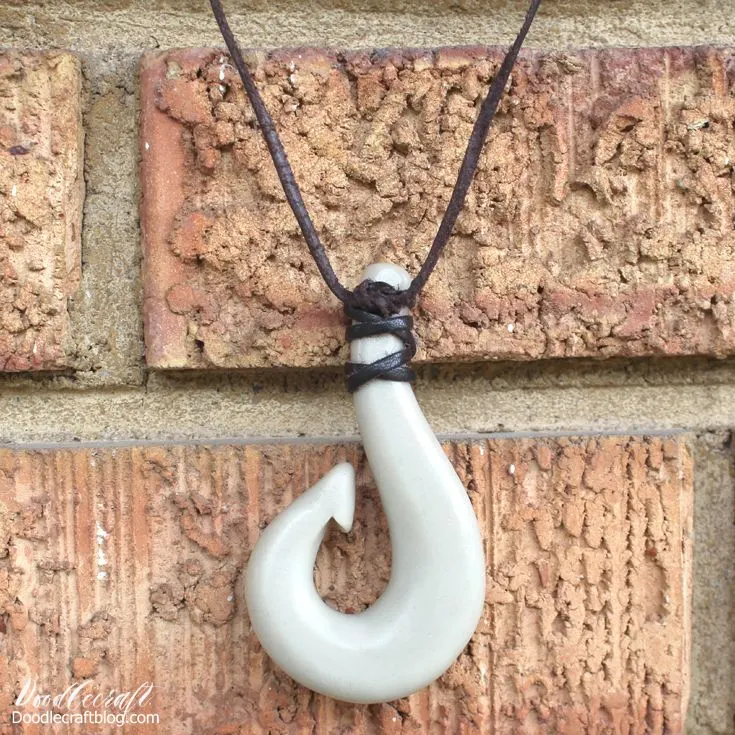 Credit: doodlecraftblog.com
Disney is such a limitless source of inspiration for craft projects. It's been a few years since Moana came out, but I always thought Maui's fish hook was pretty.
So why don't we recreate that fish hook as a resin necklace? Bring out your resin clay again, and let's start molding.
You'll be surprised to see how epoxy clay looks exactly like ceramic when it dries. When you're done, you will need to get a leather cord from here to tie the necklace together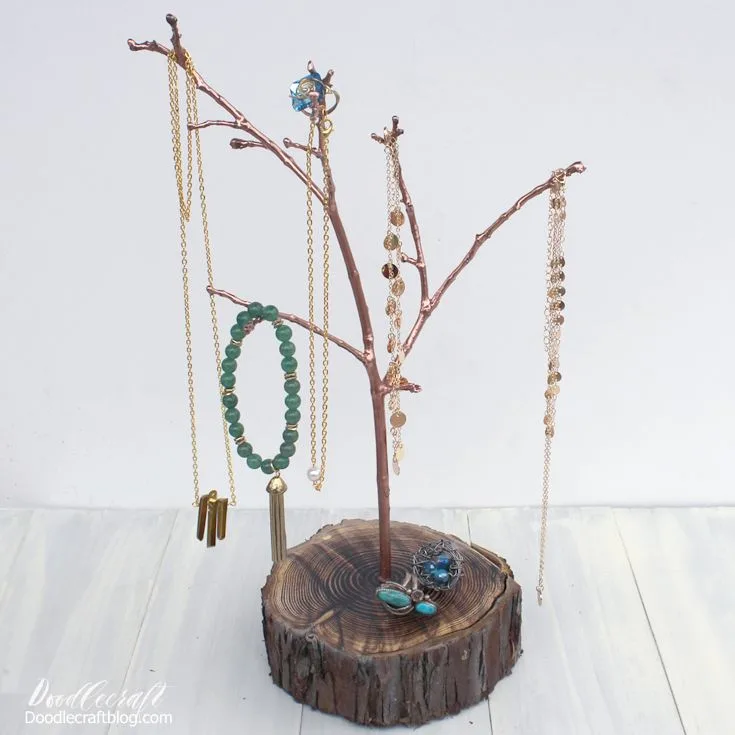 Credit: doodlecraftblog.com
Have you seen those fancy tree-like jewelry organizers? They look gorgeous, but all the pretty ones are always so darn expensive.
So why don't you make one for yourself out of resin? It's pretty easy if you know how to sculpt the tree.
Bonus? The homemade one won't burn a blazing hole through your pocket. Just grab a log slice for your base from here and start sculpting!
Check out more fun crafts for adults here.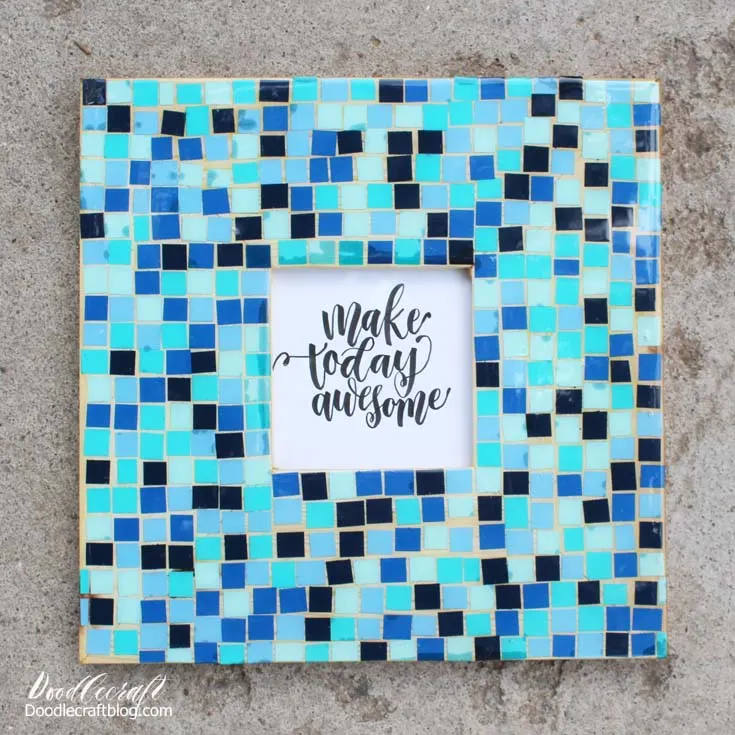 Credit: doodlecraftblog.com
I love a good work of mosaic art, don't you? But unless you've already got some tiles to spare, it would be a shame to chip perfectly good ones to serve the purpose.
Instead, you can use resin to recreate that tile-like mosaic pattern. Of course, you also get to pick out the colors you want.
You will need a wood frame from here and various shades of colored card stock. You will also need a roll of painter's tape.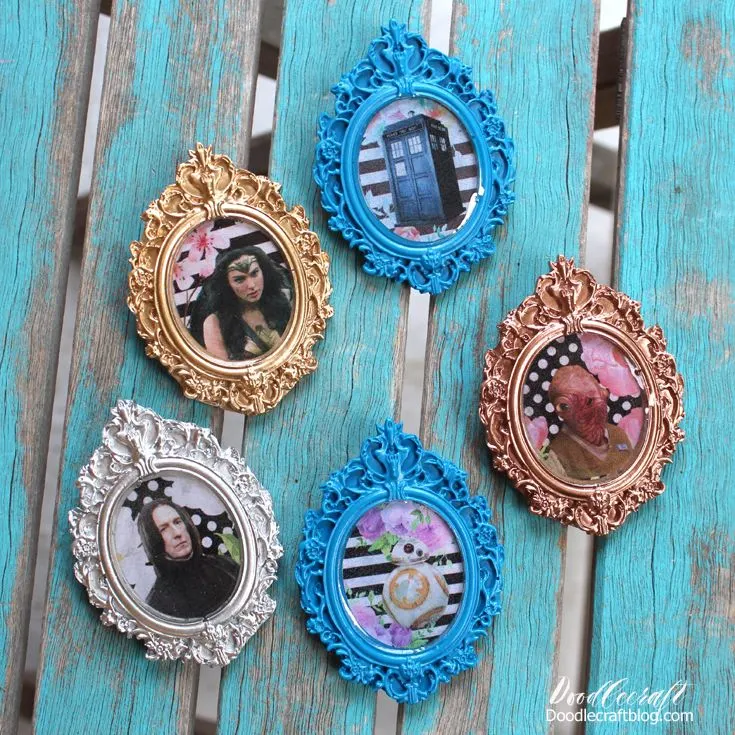 Credit: doodlecraftblog.com
Cameo pins belong to a different time and a different world. But they're passed down through the generations as heirlooms.
Let's make some funny and eccentric cameo pins, shall we? I imagine your progeny will get a kick out of Harry Potter or Doctor-Who themed resin cameo pins.
You'll need a vintage cameo pin mold from here. Don't forget to pick your photos, size them and then print them out.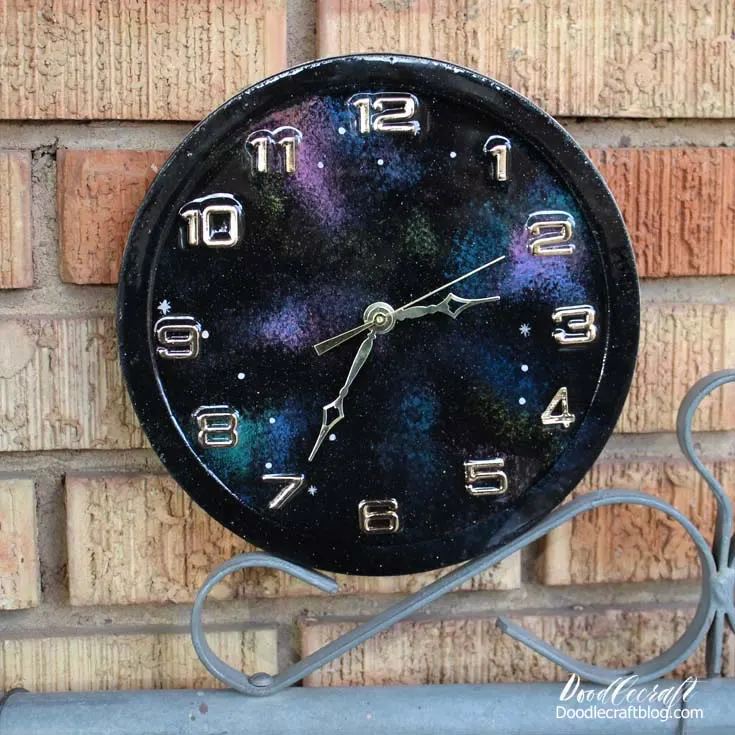 Credit: doodlecraftblog.com
Speaking of Doctor Who, I can't get over how this resin clock looks right out of one of that show's episodes. Look how that purple-green-gold color glaze has an uncanny, intergalactic effect.
You'll need clockmaker hardware and clock numbers from here. The numbers are self-adhesive, so you shouldn't have any trouble with them.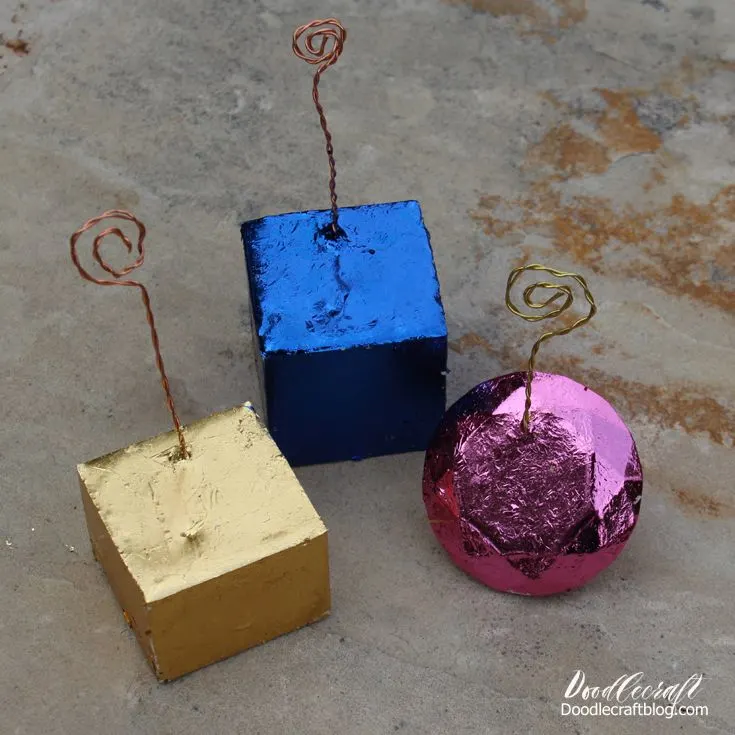 Credit: doodlecraftblog.com
After this DIY project, you'll never go back to plain or boring place cards and holders. Why would you, when you can make shiny resin geometric holders, instead?
You can use them to hold photos, too. They only take 15 minutes to make and for the resin to set.
You'll need geometric resin casting molds and some colored leaf sheets and craft wire like this.
If you've got some wire to spare, look here to find out how to make wire ornaments for gifts.
Credit: doodlecraftblog.com
Since you already have those geometric molds with you, let's try out this DIY project to make geometric resin-wood bookends.
Additionally, you can play with the colors. Once you've cast and set the resin, use a bit of this sandpaper to smoothen the surface.
You can make a half dozen of these and give them to your friends and family.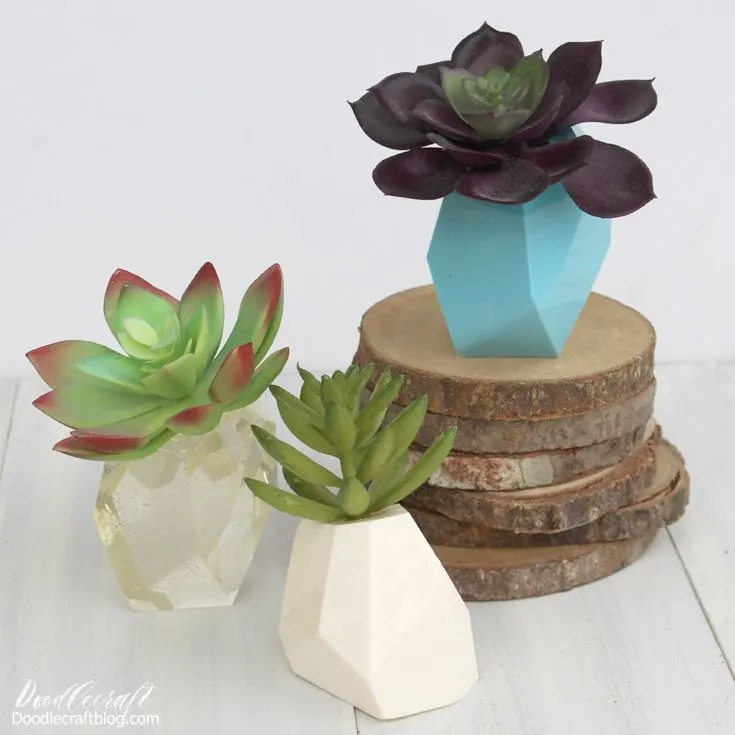 Credit: doodlecraftblog.com
Didn't I tell you that working with resin would be addictive? Now look at you, replacing one household item after another with resin counterparts.
Those geometric molds are really coming in handy, too, aren't they? This DIY geometric planter for succulents is a perfect balance of earthiness from the succulents and edgy urban-chic from the planters.
If you're interested, look into these 20 genius dollar store planter ideas for more inspiration!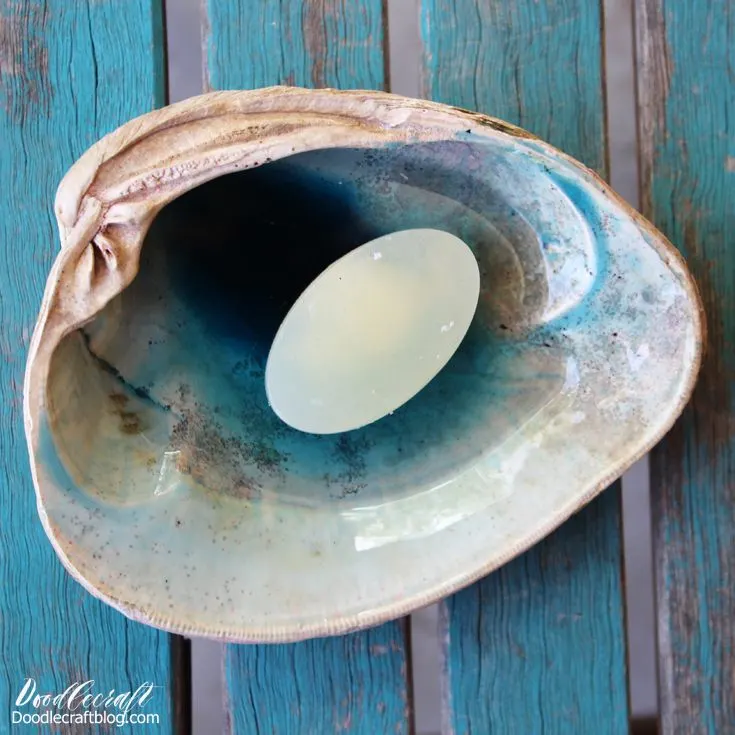 Credit: doodlecraftblog.com
Just take a minute to appreciate how utterly mesmerizing this seashell soap dish looks. It feels like the resin captured the essence of the ocean, the beach, and all the pretty shells.
But first, buy some decorative seashells that are wide enough to hold soap for your base. Let's make one, no, let's make dozens of them!
Next, you'll need some blue and green dyes, stirring sticks, mixing cups, and, finally, disposable gloves to protect your hands.
Mix in the dyes and some glitter, cast your resin, and get creative! Check out more DIY projects for teenagers.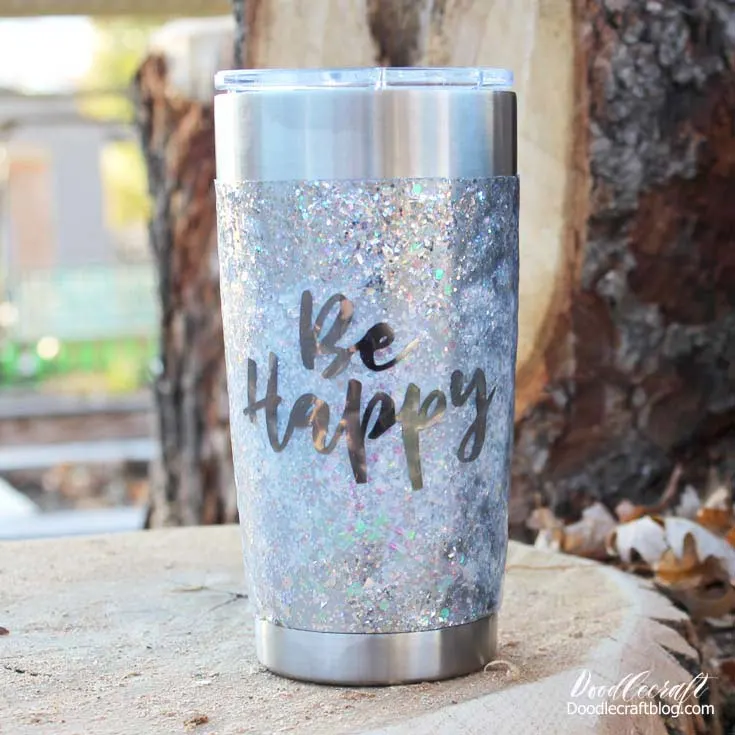 Credit: doodlecraftblog.com
I bet you've seen dozens of sparkly—and expensive—resin tumblers at the gift store. Do you want to make one yourself and save a penny while you're at it?
Then I have the right DIY project for you. The first order of business is to buy a lot—a lot—of glitter.
You'll also need some glitter paint, painter's tape, and finally, you'll need a basic, stainless-steel tumbler like this.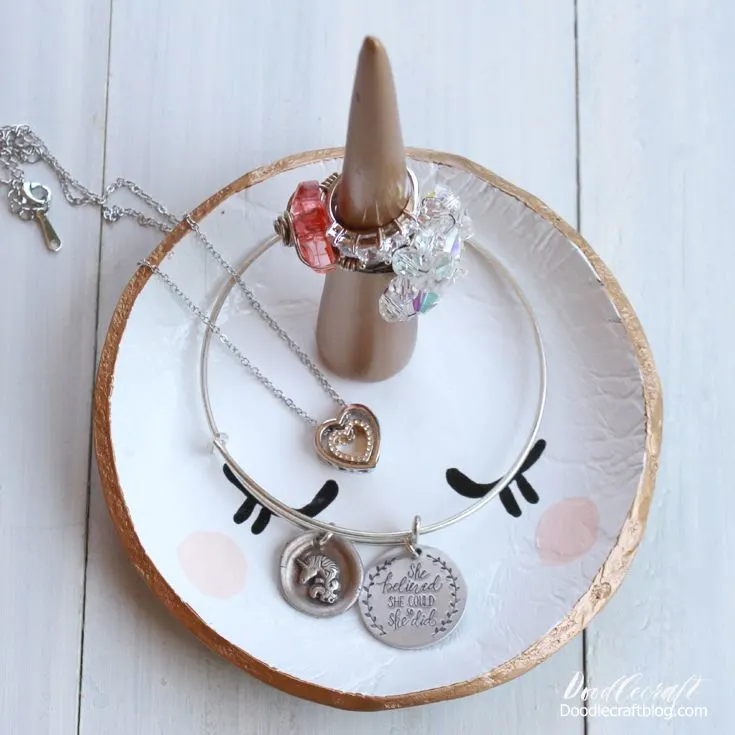 Credit: doodlecraftblog.com
Rainbows, sparkles, resin, and unicorns. That's right—I added another ingredient to jazz up unicorns.
Not that unicorns need any more jazzing up, but they do need to be set in resin with these DIY unicorn rings. This project calls for a ton of sparkle and a generous amount of cling film.
Grab some gloves, and let's get to it. Also, look into these 27 delightful unicorn crafts if you're interested!
Credit: resincraftsblog.com
With the start of the school year looming on the horizon, it's almost time to get back to the grind, so to speak. But you know what might cheer you up? This DIY resin notebook!
You'll be making the notebook from scratch, so you'll need a notebook mold from here, a few notebook rings, and notebook paper. You can also pick a color dye.
Once you've gathered your supplies, set the resin, and assembled your mold, it's time to decorate. Go crazy with embellishments and stickers!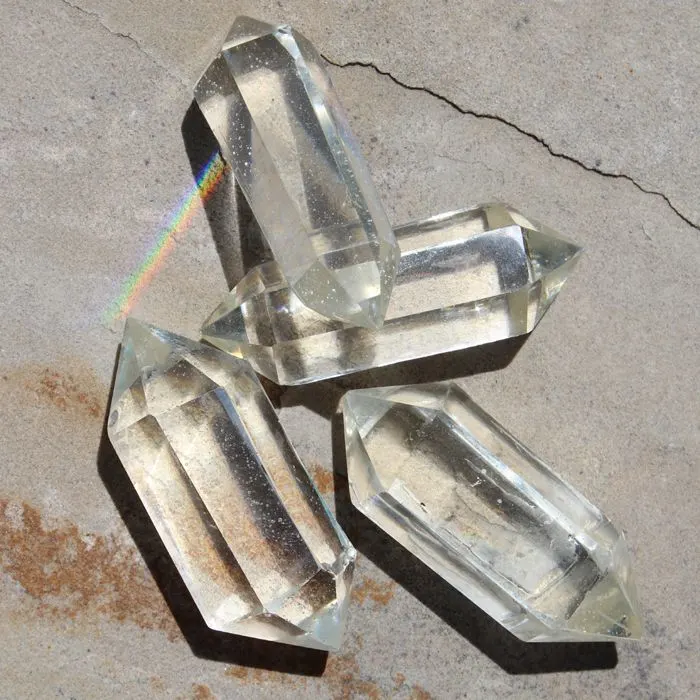 Credit: resincraftsblog.com
Crystals have a lot of healing power. So that means making crystal out of resin during craft is just downright therapeutic.
When you're done, you can hold up the crystal to the light. Do you see all those rainbows and colors dancing and bouncing off the surface of the clear crystal?
Just grab your resin crystal mold from here first. Hey, I bet you can even use it as a paperweight!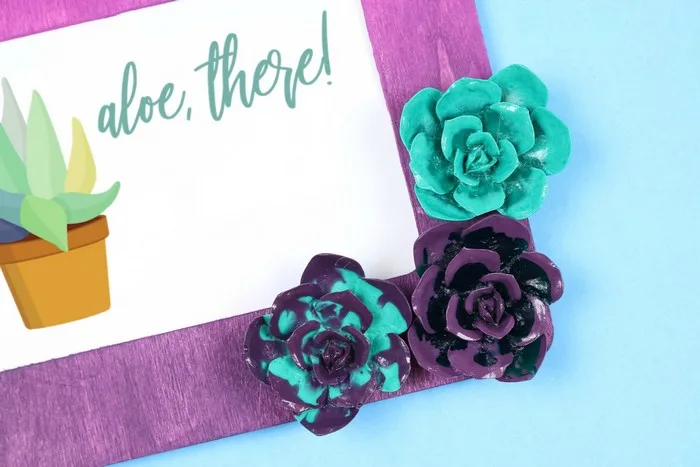 Credit: resincraftsblog.com
Resin succulents, now who wouldn't have thought they'd look so pretty? No, you won't be coating real succulents with resin—of course not!
We're talking succulent molds like these. You can mix different color dyes and layer the molds.
This will give you gorgeous swirl patterns on your resin succulent. Are you wondering what you can use them for?
They'd be perfect as little embellishments. If you have a frame or a craft project, you can jazz them up and stick a couple of succulents on them.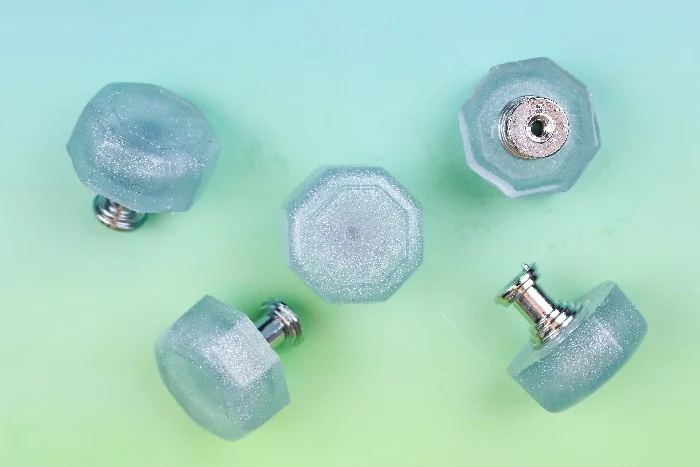 Credit: resincraftsblog.com
This is a popular DIY project. Resin doorknobs have always been in vogue, and they will continue to be.
They're easy to make, and you can experiment with colors, patterns, size, and much more. You can use pretty much any mold you have at hand to set the resin.
However, you will also need a knob base like this. Then, all that's left to do is attach your doorknob.
Then, step back and enjoy the pop of color and creativity this little decor piece adds to the entire room.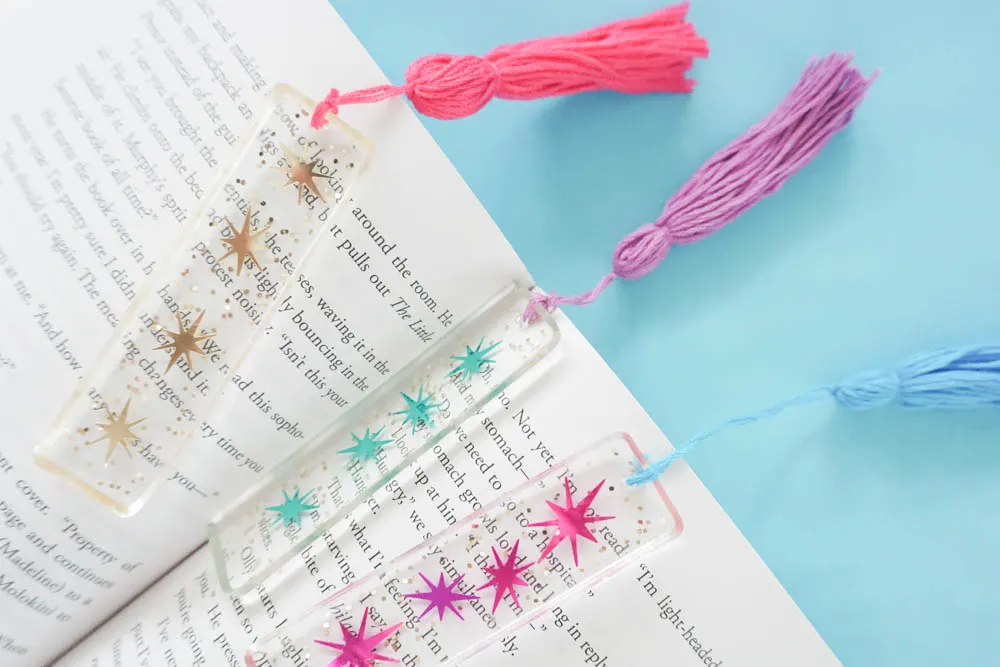 Credit: resincraftsblog.com
Is any list of DIY projects complete without bookmarks on it? So without further ado, check out these DIY resin bookmarks.
If you're wondering whether they're as easy to make as they look? The answer to that is yes, they are indeed easy to make—and fun, too!
Here's a tip, though: find yourself some mold release spray. This will help you remove the resin from the molds in a jiffy. You won't have to worry about chipping the corners either.
Now wrap this bookmark off with a sassy tassel, and it's ready!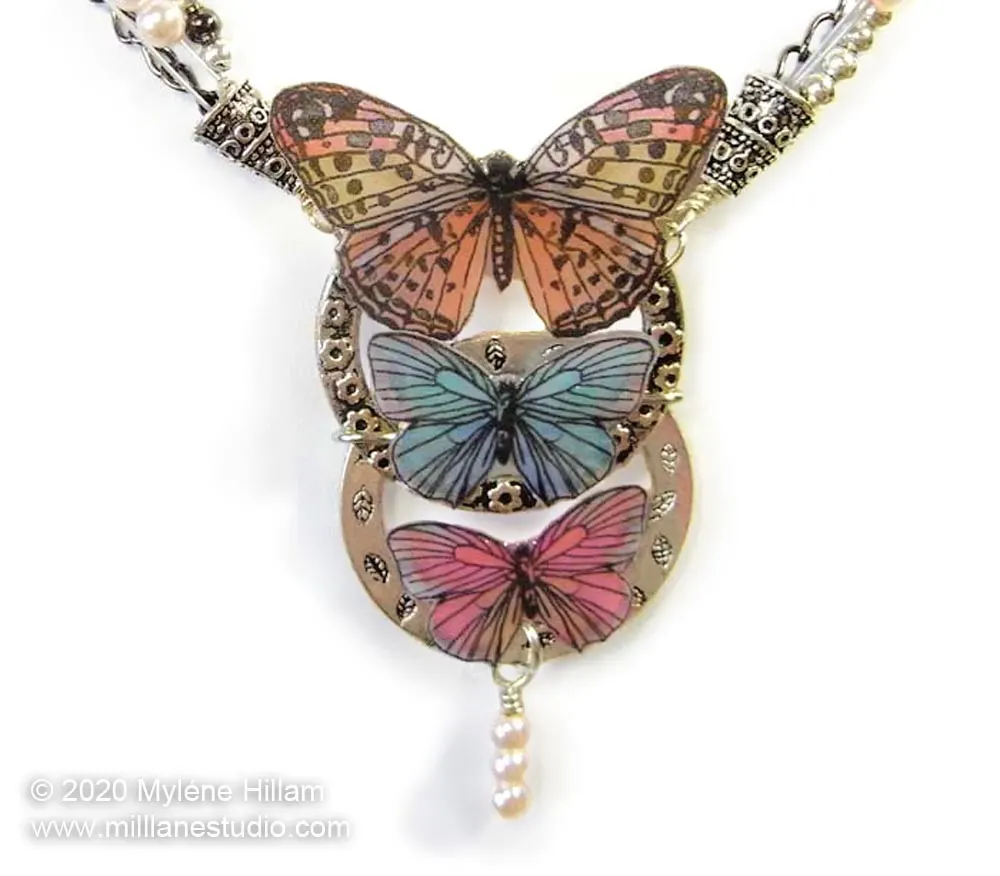 Credit: milllanestudio.com
We've made resin rings, bracelets, and pendants. So working down that list, we've got only resin earrings left to make.
So let's add to your accessories with a trendy pair of sparkly glitter earrings. Most of the earrings out there are metal, plastic, or those sassy but odd feather danglers.
So how about you start a trend with resin earrings. Don't skimp on the sparkle, and you'll do just fine!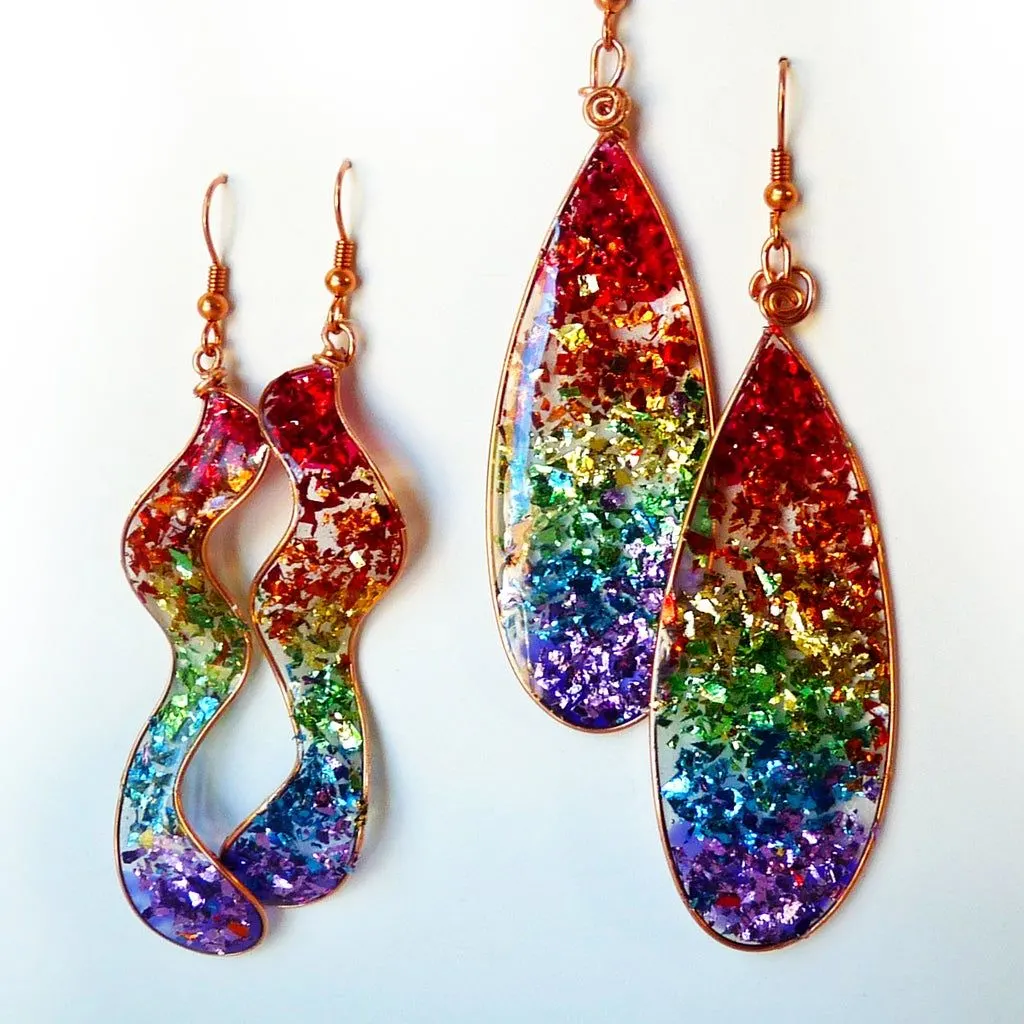 Credit: instructables.com
I guess you really did start a trend because the very next DIY project on our list is another pair of resin earrings. Only this one is pulling out all the stops: glitter, sparkle, and rainbow colors!
You probably already have all your craft essentials. But don't forget these earring blanks. Now you also have to make sure you have all the colors you'll need.
Check out more crafts to make and sell.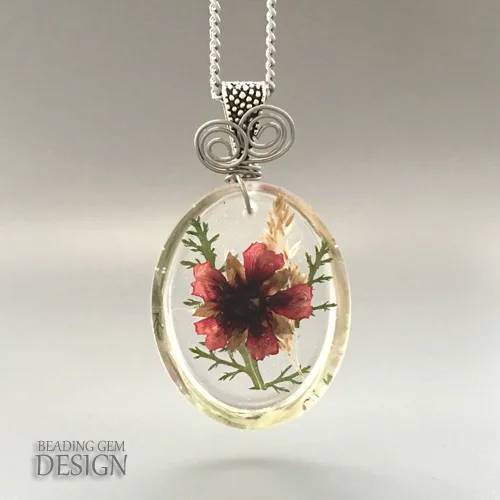 Credit: beadinggem.com
Well, we've already packed sprinkles and leaves into jewelry, so why not pressed flowers? In fact, i, isn't it?
You'll need a ton of pressed flowers—either buy them at your local craft store or make them yourself at home. Once you've decided on the color of the dye you're using, you can get started.
Oh, I almost forgot, grab some toothpicks as well. They will help you position and adjust the flowers after you've poured the resin.
They'll also help to smoothen any errant bubbles or folds. Love jewelry? Cjheck out these DIY rings.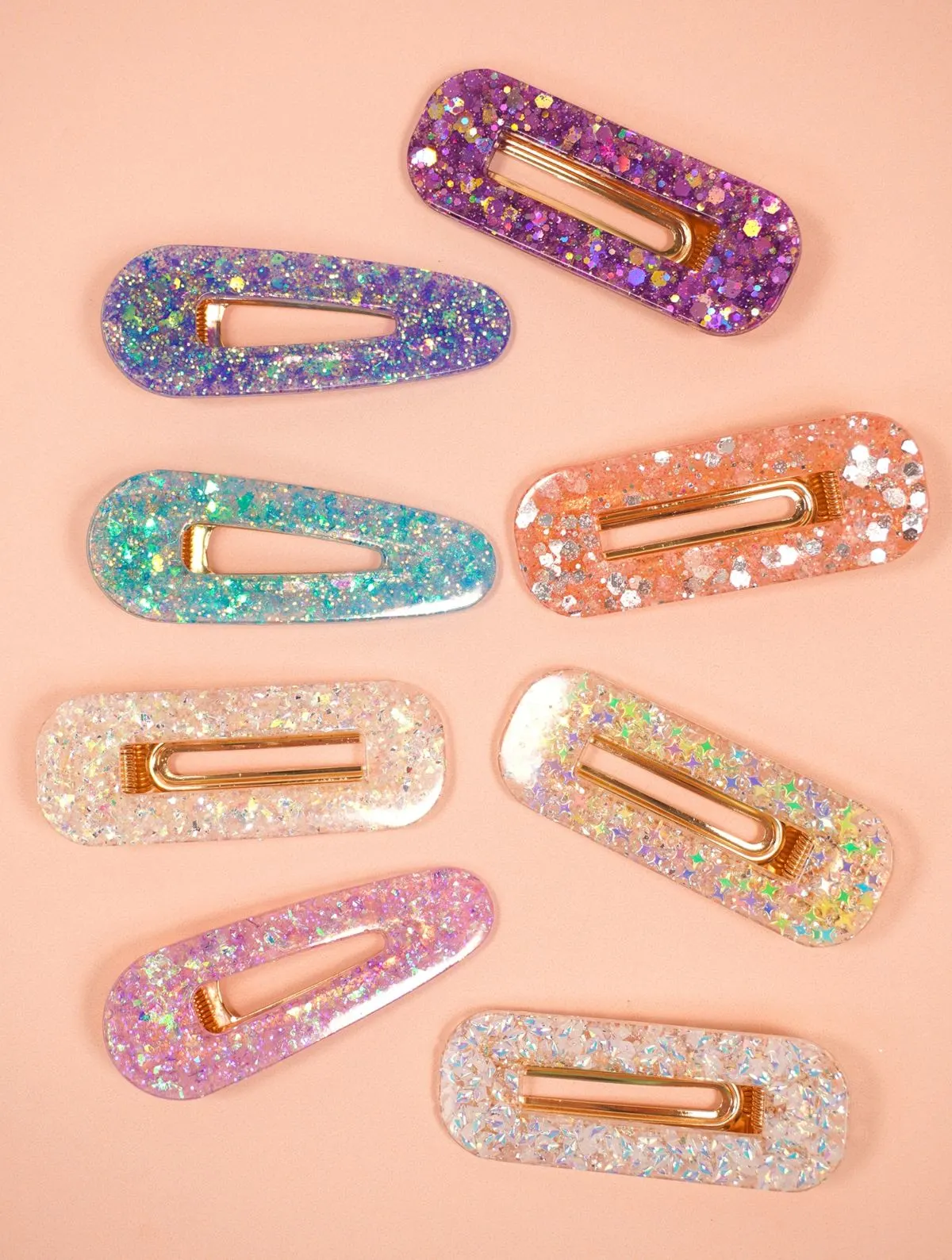 Credit: happinessishomemade.net
It would seem that we've overlooked another accessory we can upcycle using resin: hair clips! But not just any old hair clips, but hair clips that sparkle and shine.
So, pick up some silicone hair clip molds. Alternatively, you can use these bobby pin blanks, too. Either option would be just fine, and you'll have amazing accessories.
Use toothpicks or even tweezers to move your sparkles and mix-ins around. You can pour the resin into the molds with a syringe to avoid overspills.
Check out more cute crafts for girls.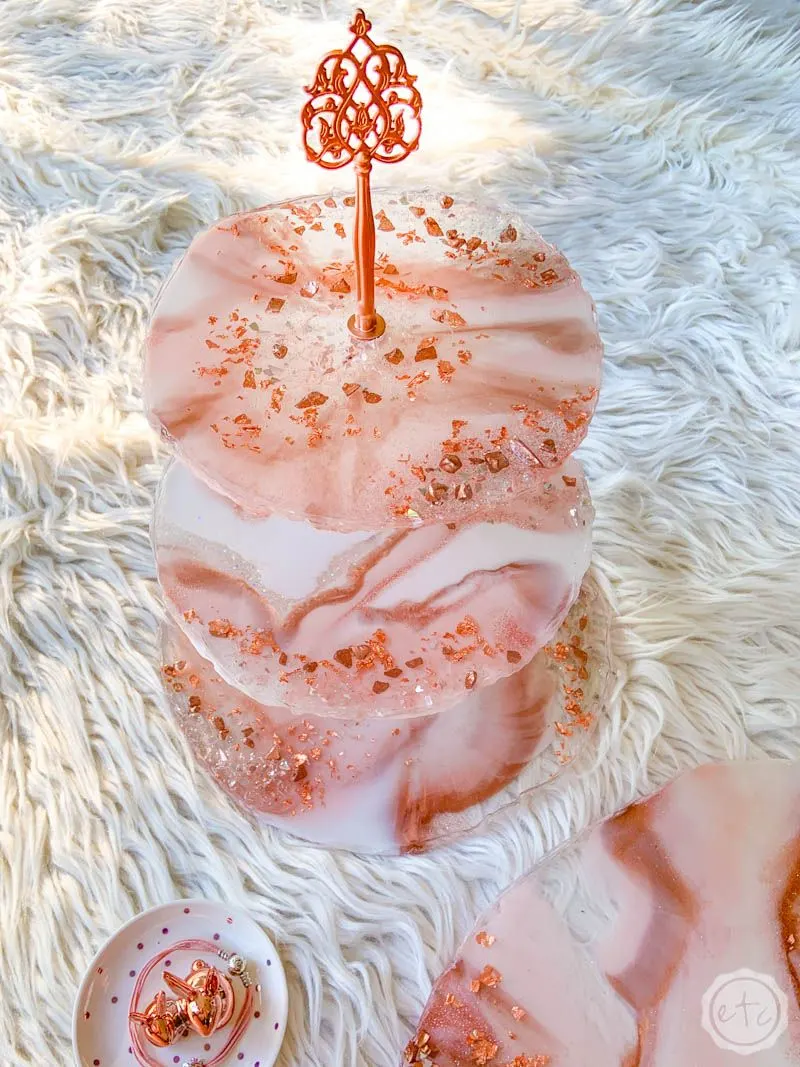 Credit: happilyeverafteretc.com
I know you've already made resin trays, and I'm hoping you have the hang of it now. Why? Because we're making not one but three tiers of trays.
We're also making the tray from scratch and using this silicone mat instead of a mold. Don't freak out; you can do this.
Now, just take a deep breath in and breathe out. If you follow the instructions, you'll have three rustic-chic trays and hardly any mess to worry about, I promise.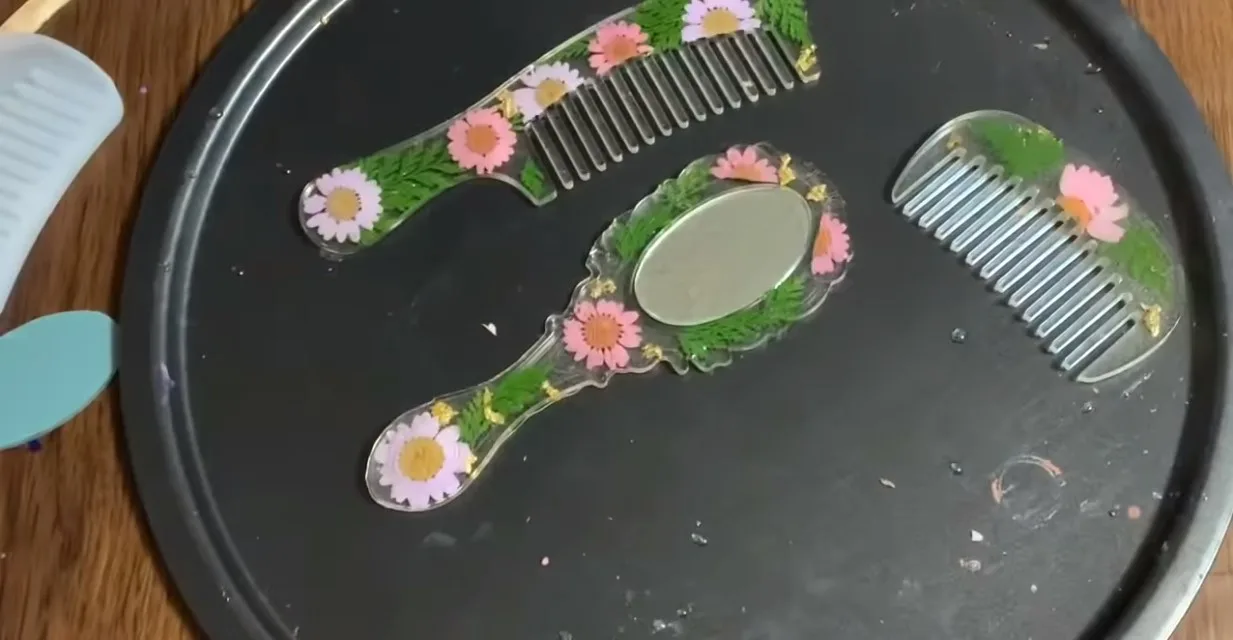 Credit: youtube.com
Hey, this project sounds interesting— a hair comb and mirror set. It's got flowers, leaves, sparkles, and glitter, all in one resin mold.
Speaking of molds, you'll want to buy a comb and mirror mold set from here. Don't worry, this set comes with an appropriately sized mirror piece, so you're all set.
Pour the resin into the mold, bedazzle and decorate it, and let it dry completely before you remove the pieces.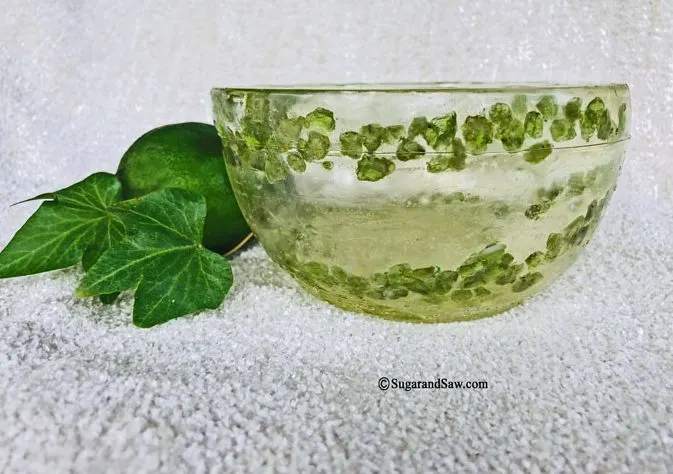 Credit: sugarandsaw.com
This resin bowl is exactly what you want to see sitting on your kitchen island. You can put out your fresh limes in this bowl or even some scented potpourri.
It's just absolutely gorgeous, green, and it has little peridot stones lining the rim! You can customize the shape, size, and color too.
Feel free to add some pressed leaves, too, if you want to keep with the green-faye vibe I'm getting from this bowl!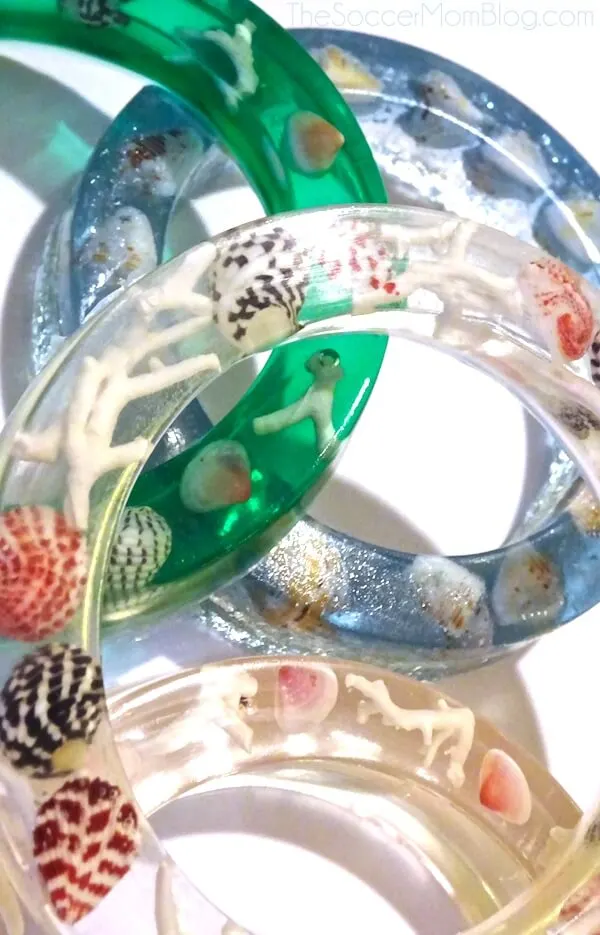 Credit: thesoccermomblog.com
These resing bangles are a statement piece. They're one of a kind and will set you apart in a crowd!
You'll need to pull out your stash of seashells for this DIY. You'll also need a bangle resin mold from here.
This set comes equipped with molds of six different sizes to suit your needs. You can show these bangles off at the beach, at a party, or wear them every day at home!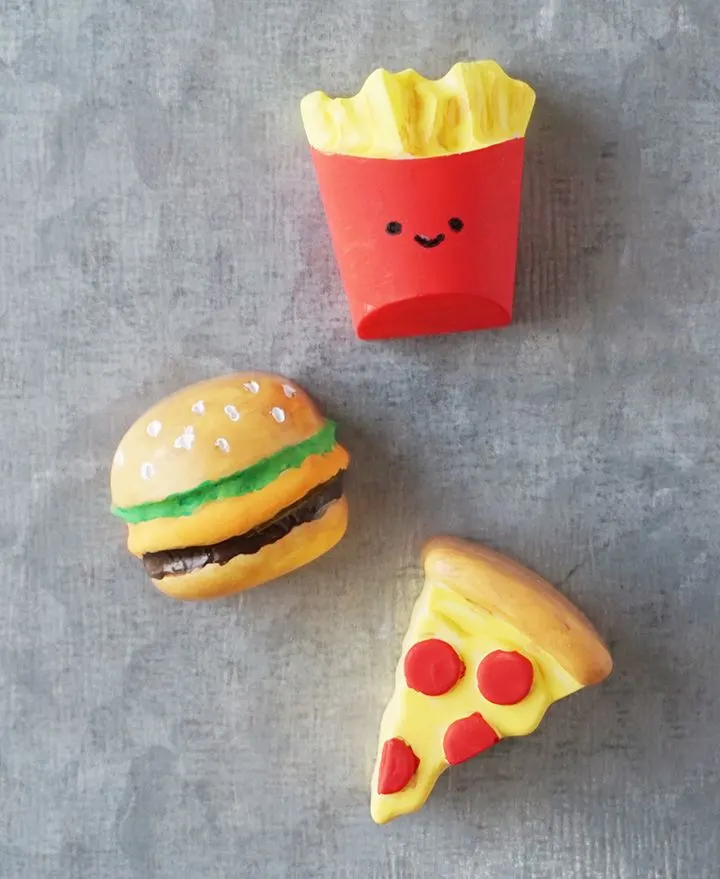 Credit: resincraftsblog.com
I bet you forgot about resin magnets to spice your refrigerator and kitchen space, but I haven't. A half a dozen of these food-shaped magnets should set you up, to begin with.
It would be best if you got the hang of painting and detailing the magnets to look like real food instead of a goopy mess. Don't worry; you'll get there.
In no time at all, you'll be making dozens of these magnets for friends and family. So get this silicone food mold and start crafting!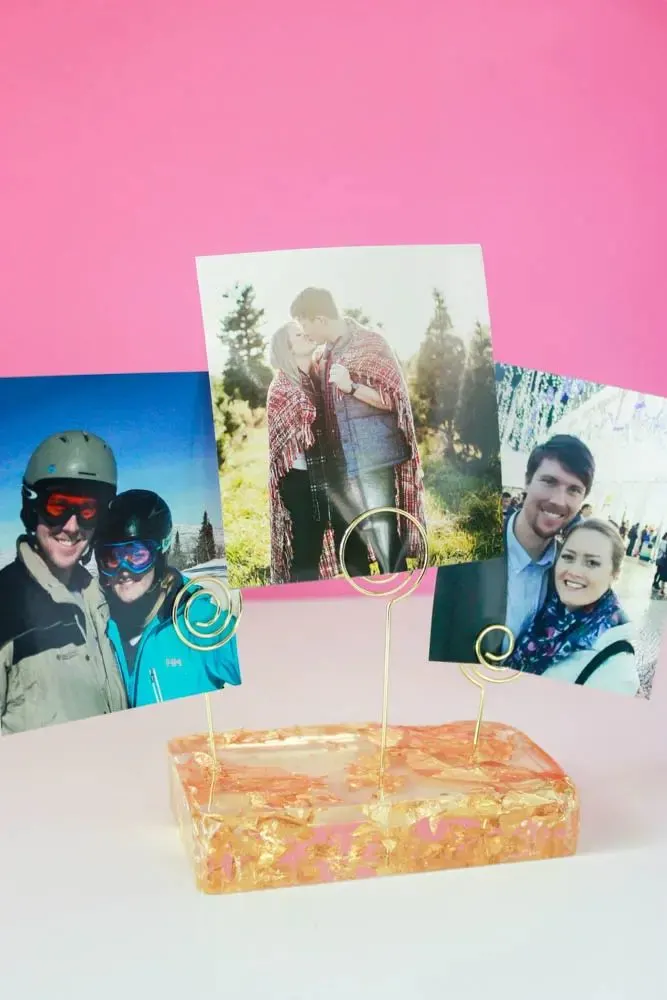 Credit: amber-oliver.com
Here's another photo holder DIY project to experiment with. It's time to pull out your gold leaf foil again, as this one calls for gold, glitter, and gloss.
So, mix your resin and gold foil, add that extra sprinkle of glitter, and pour it into a mold to set the resin. You'll also need a packet of wire photo clips.
If you have a few wire clips leftover, check out this DIY rock photo holder crafts project.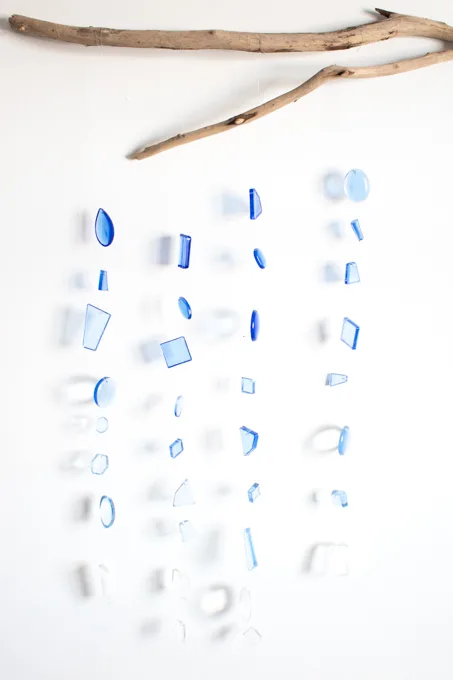 Credit: resincraftsblog.com
I can't quite tell what I love the most about this craft project. Is it the little colored bits of resin shapes dangling down?
Is it that rustic branch that looks like it was found drifting in the sea? Or is it perhaps both of those reasons?
This would look utterly tantalizing hanging outside on your front porch. It would be like a silent wind chime, swinging and swaying in the cool breeze.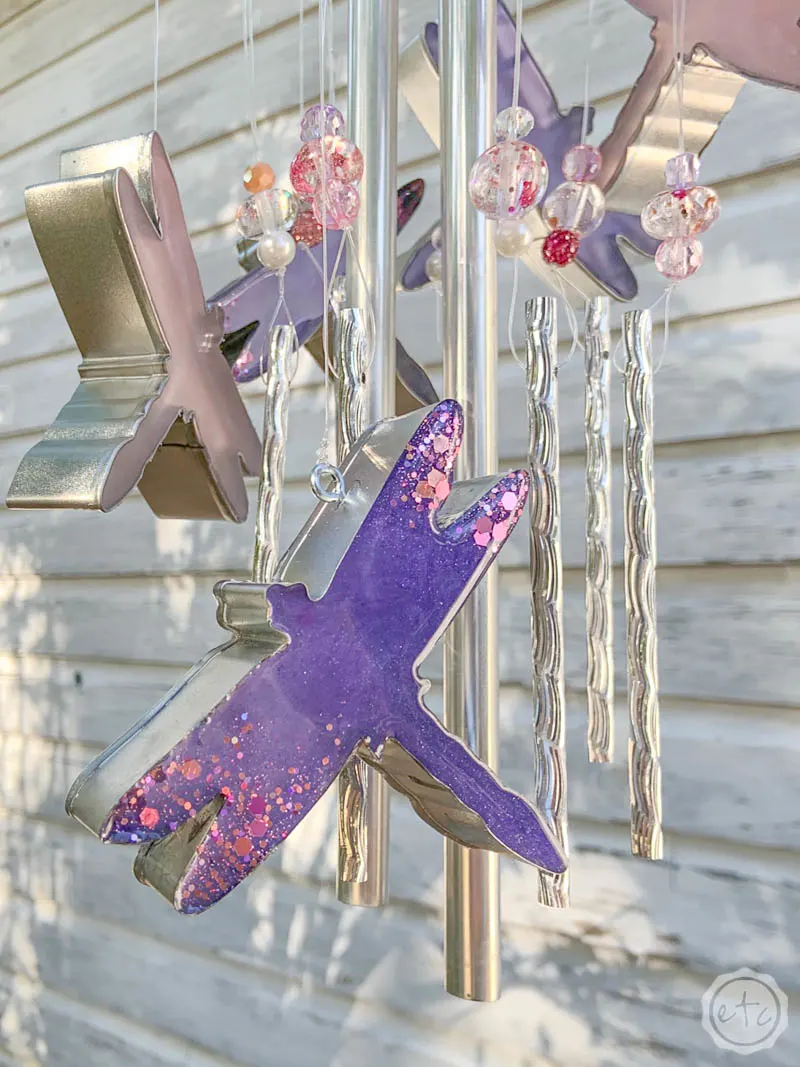 Credit: happilyeverafteretc.com
Dragonflies are such delicate creatures, forever flitting just out of reach from human eyes.
I often wish I could capture them and examine their ethereal beauty. But that would be unkind, so we'll just have to make do with a dragonfly wind chime made from resin.
So, grab your supplies, this dragonfly cookie cutter, and some fishing wire to get a head start on this project!