DIY wire ornaments are so cute! Here is a full tutorial on how to make wire ornaments of your own.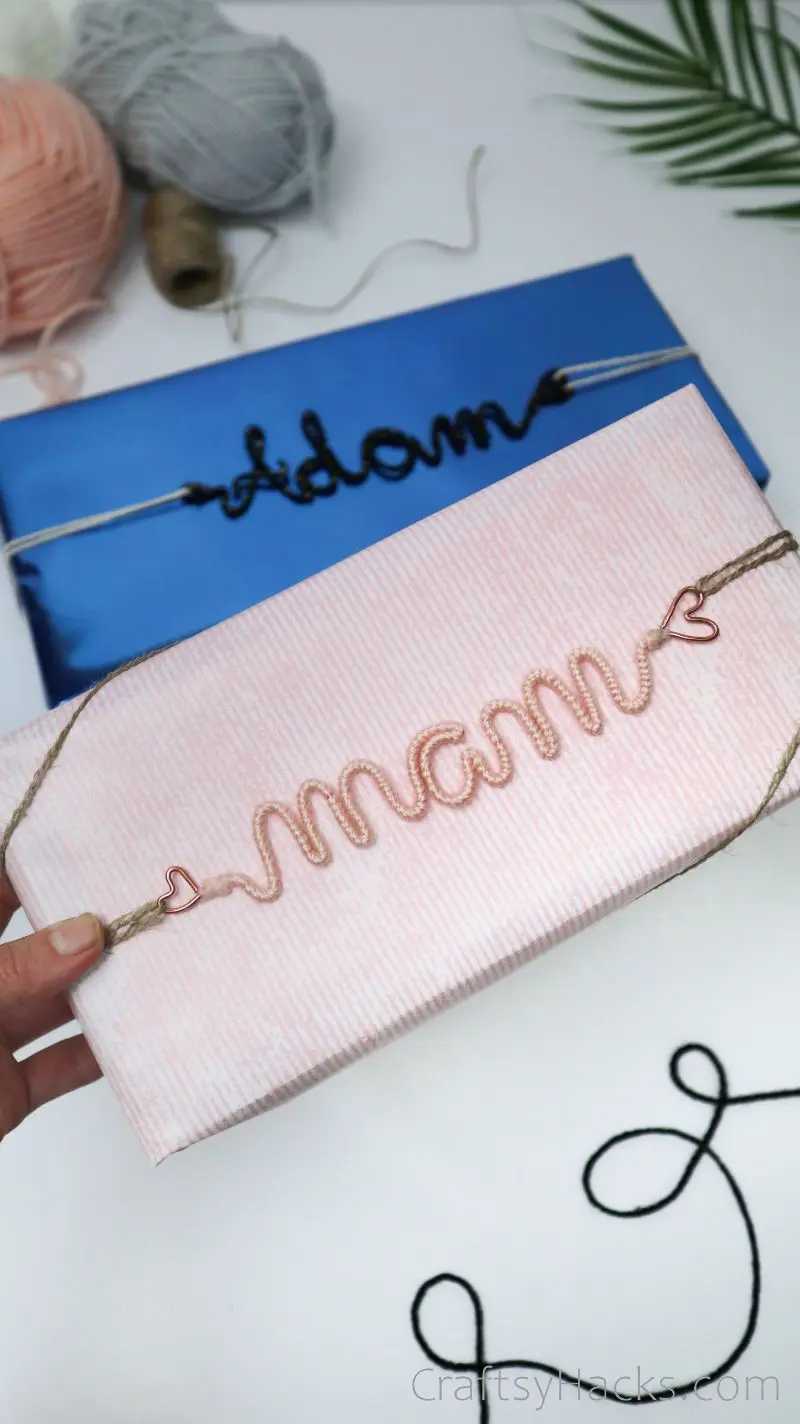 I think I speak for every DIY enthusiast when I say: creative gift wrapping makes a gift ten times more fun to open. Being handed a stunning gift that has obviously been wrapped by hand is just the best.
One sure-fire way to elevate the next present you give this year is through these DIY wire ornaments. Using wire and soft textile, you can adorn your gift with your recipient's name, uniquely rendered.
It's a lovely craft to make for teens and adults.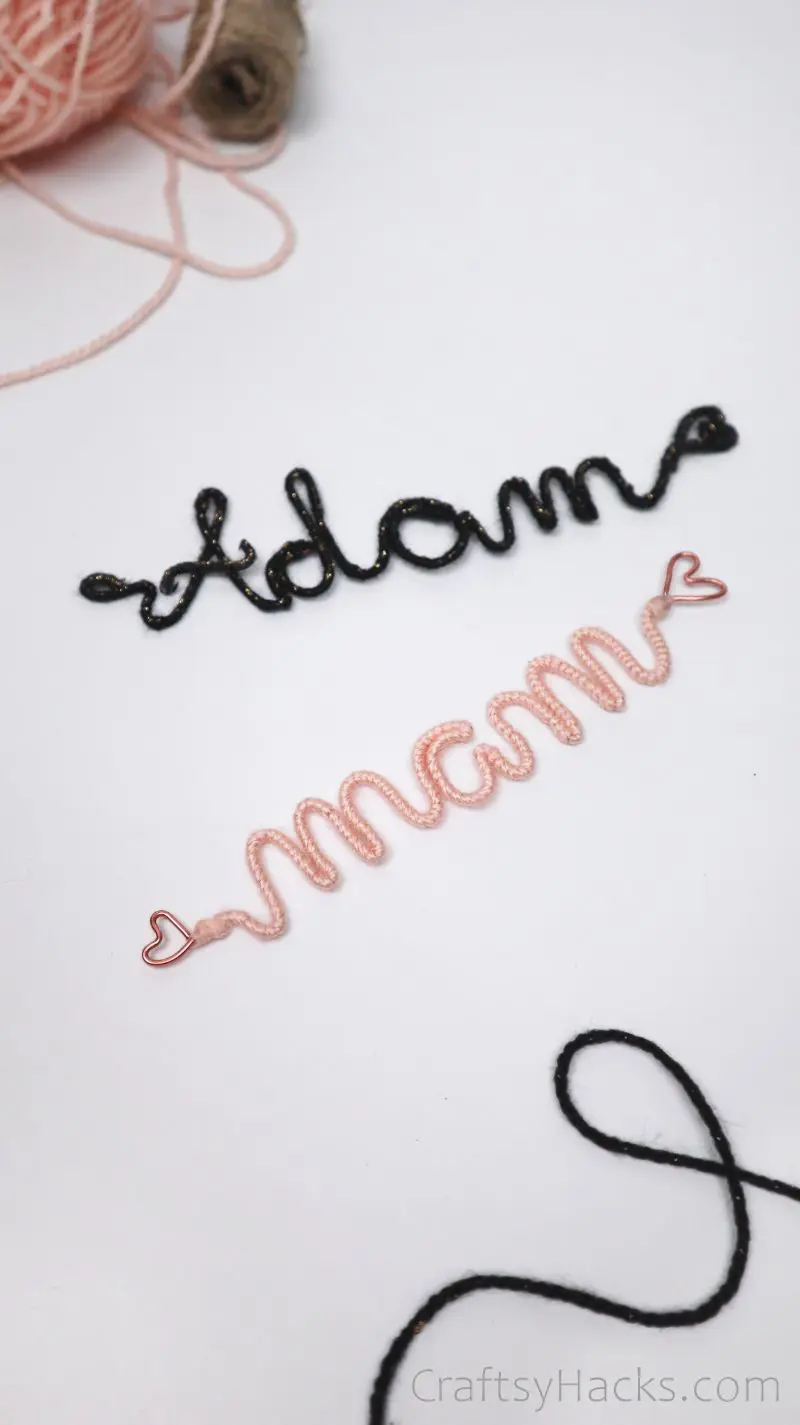 Personally, I'm in love with these ornaments. You can use this genius technique to make any shape under the sun, but there's something about making names for gifts that's just so special!
So, don't let your next gift fly under the radar. Put a little extra effort into its presentation, and I guarantee your recipient's eyes will light up the second they see it. Let's get to it!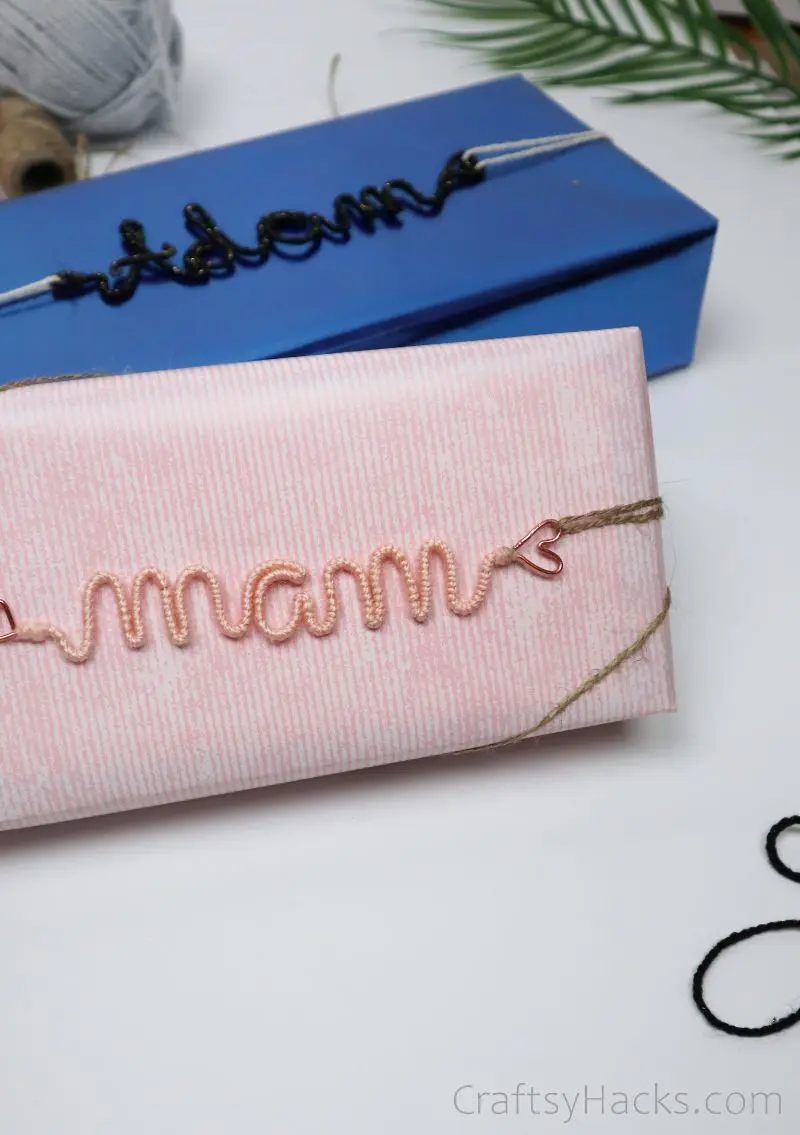 Supplies/Tools You'll Need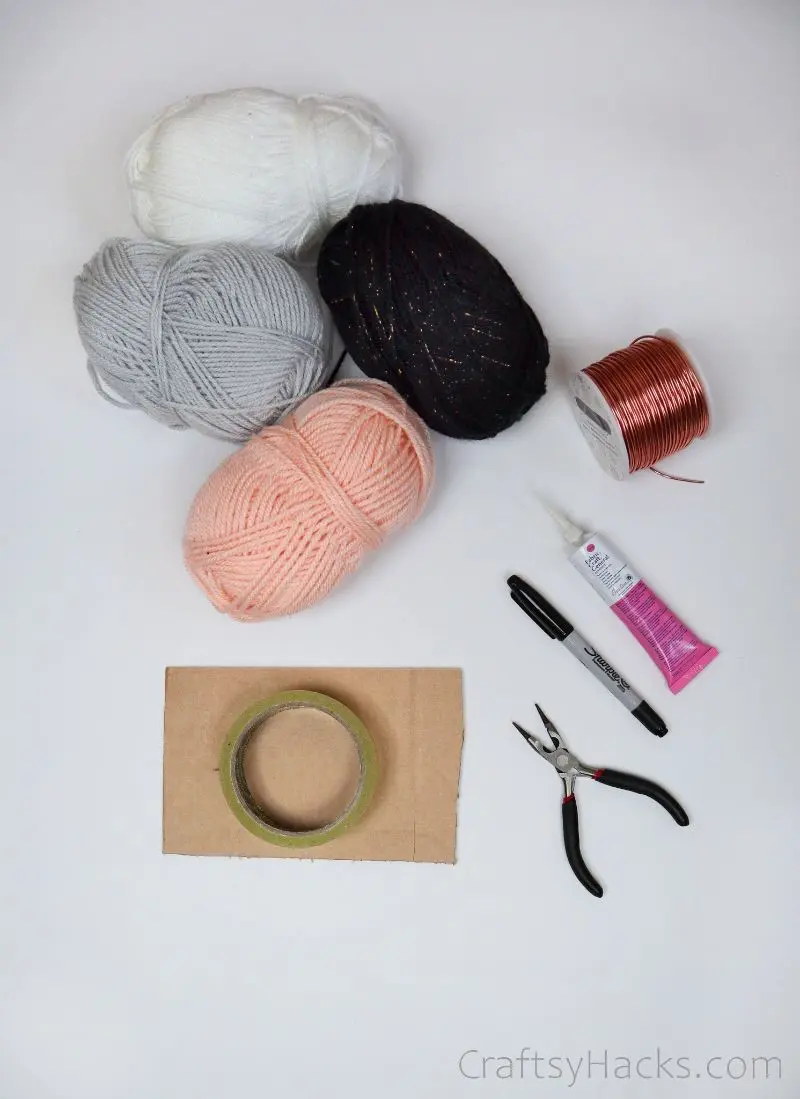 How to Make Wire Ornaments
So, interested yet? Here is a step-by-step tutorial on how to make these wire ornaments just like that.
Step 1
Begin by gathering all your supplies, picking out colors and textures that suit your recipient's personal style. Apart from your easy-bend wire, you'll need some needle nose pliers and a chosen textile.
You can use yarn, thread, twine, whatever strikes your fancy. Make sure your wire isn't too thin or too thick. A twelve to fourteen-gauge wire will do perfectly.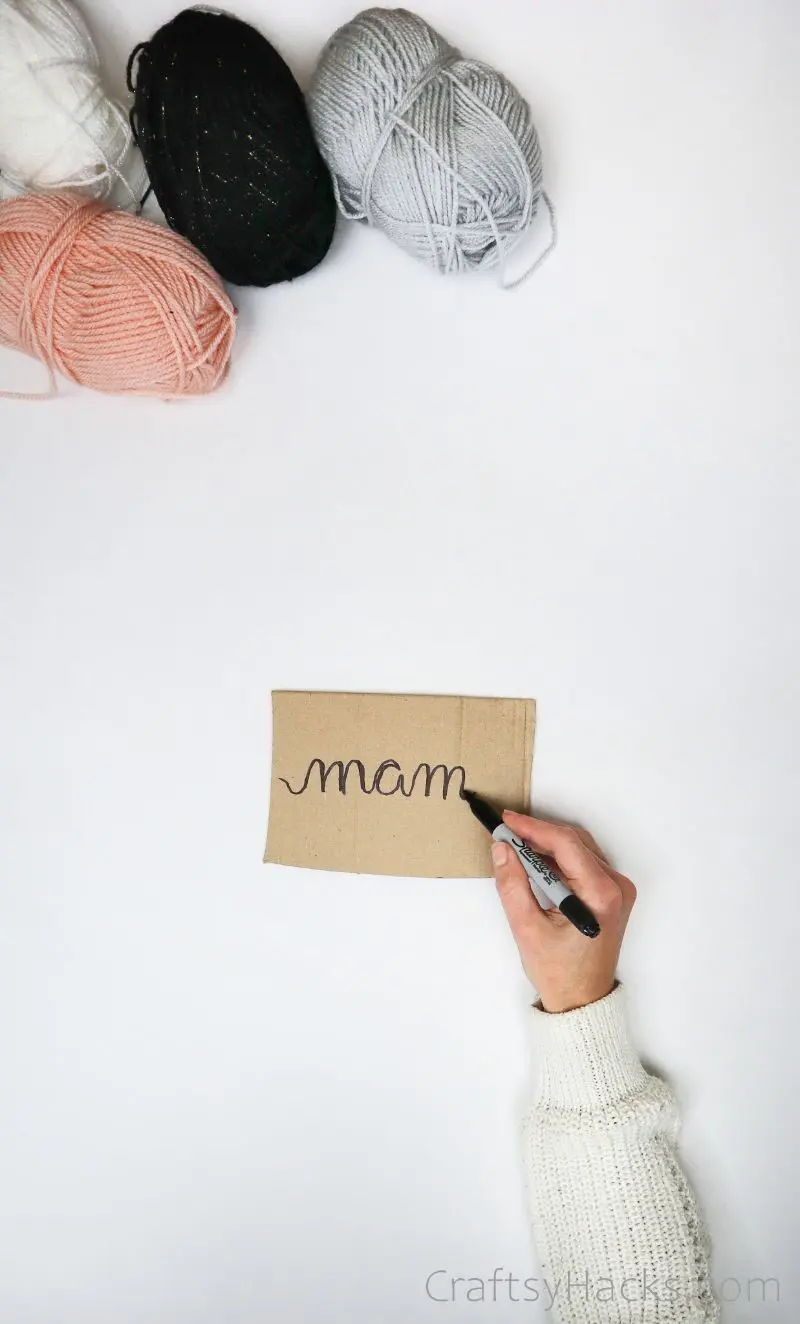 Step 2
First on the agenda is creating our name design. This should be made from a single drawn line, never lifting your pen off the cardboard, as this is how the wire will lay on the cardboard.
When it comes to writing names, I find that cursive is the easiest for this. Not only that, it looks absolutely stunning.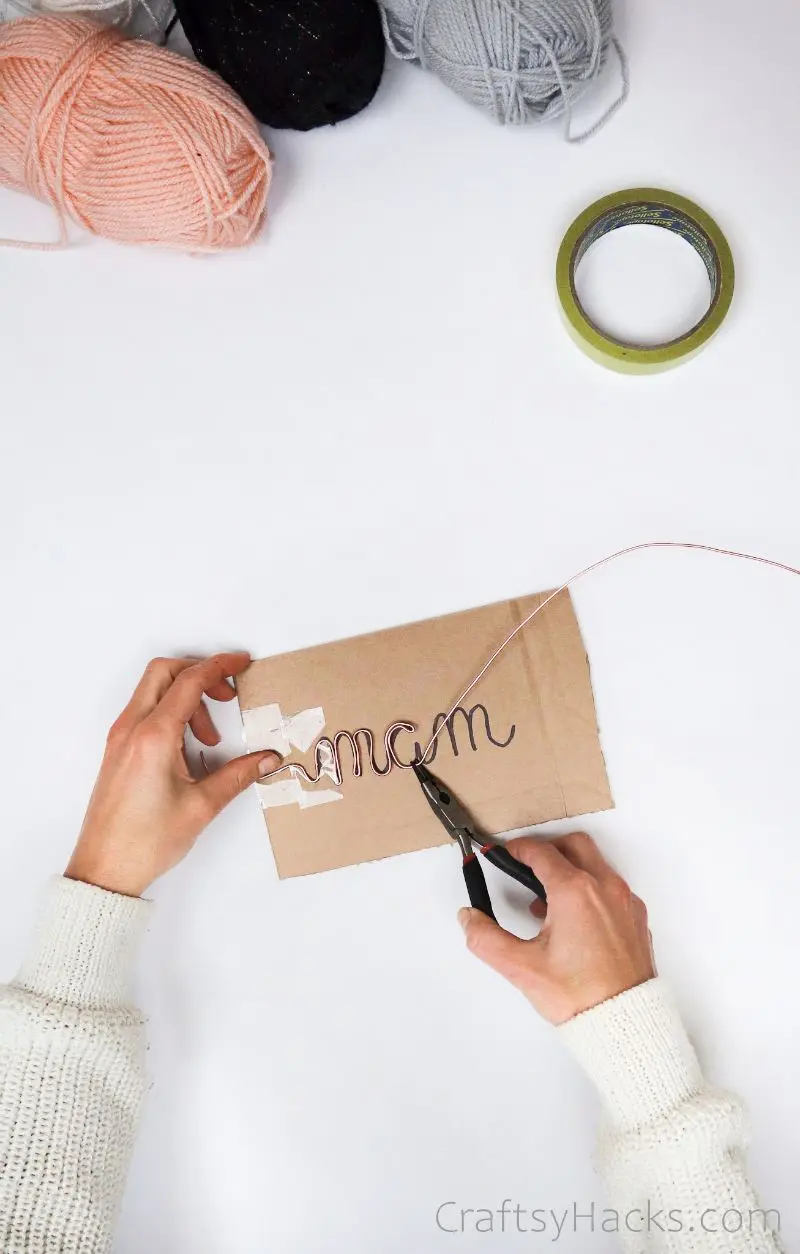 Step 3
It's time to shape your wire! The reason we use cardboard is to provide a solid base for your wire. So, cut your length of wire and tape it securely down to one end of the cardboard.
Pro tip: It's better to have too much wire than too little. Let it hang over each side, so you have enough to work with.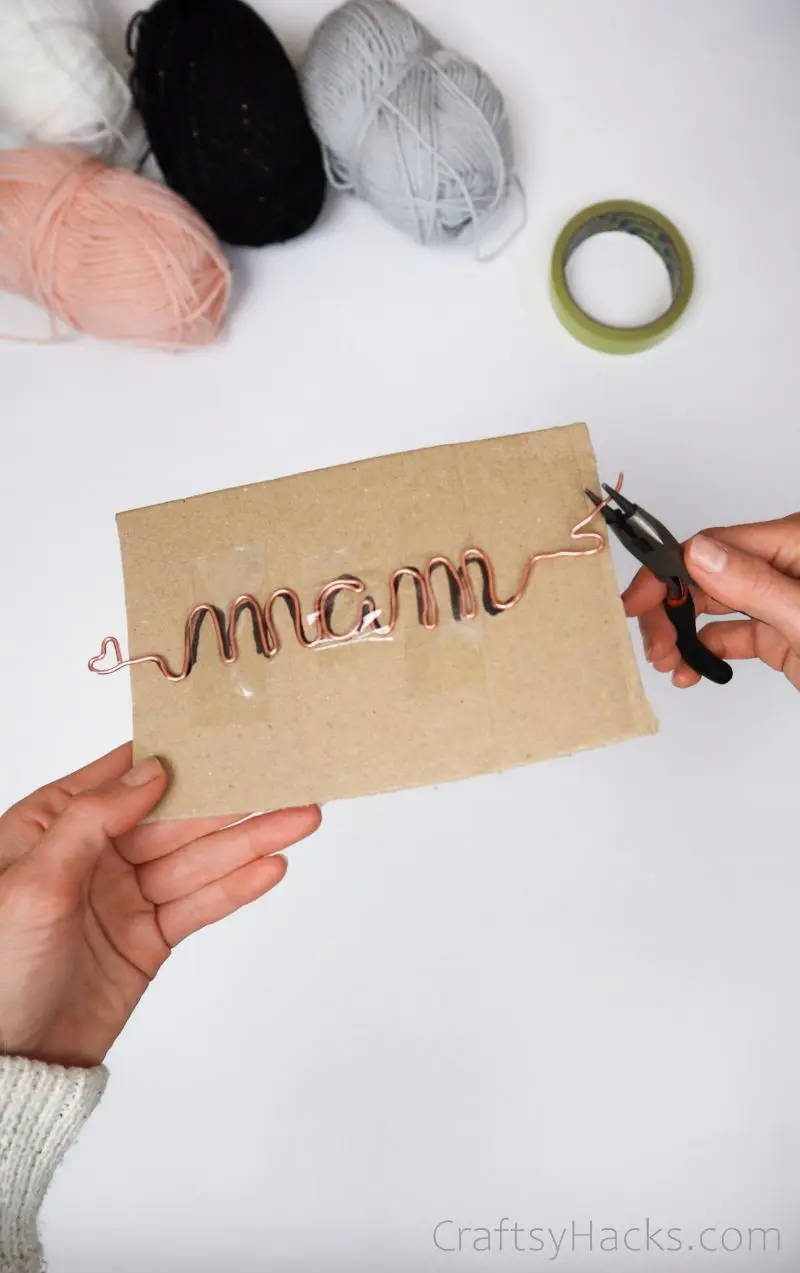 Step 4
Begin bending the wire to conform to your drawn shape. Go slowly! Rushing might lead to off-set forms or unreadable writing, so make sure to take your time with this step.
You'll need to close off the ends with little loops. These are the hooks you'll use to tie the ornament to your present. I chose to twist my wire ends into little hearts, but you can go with a circle if that's easier.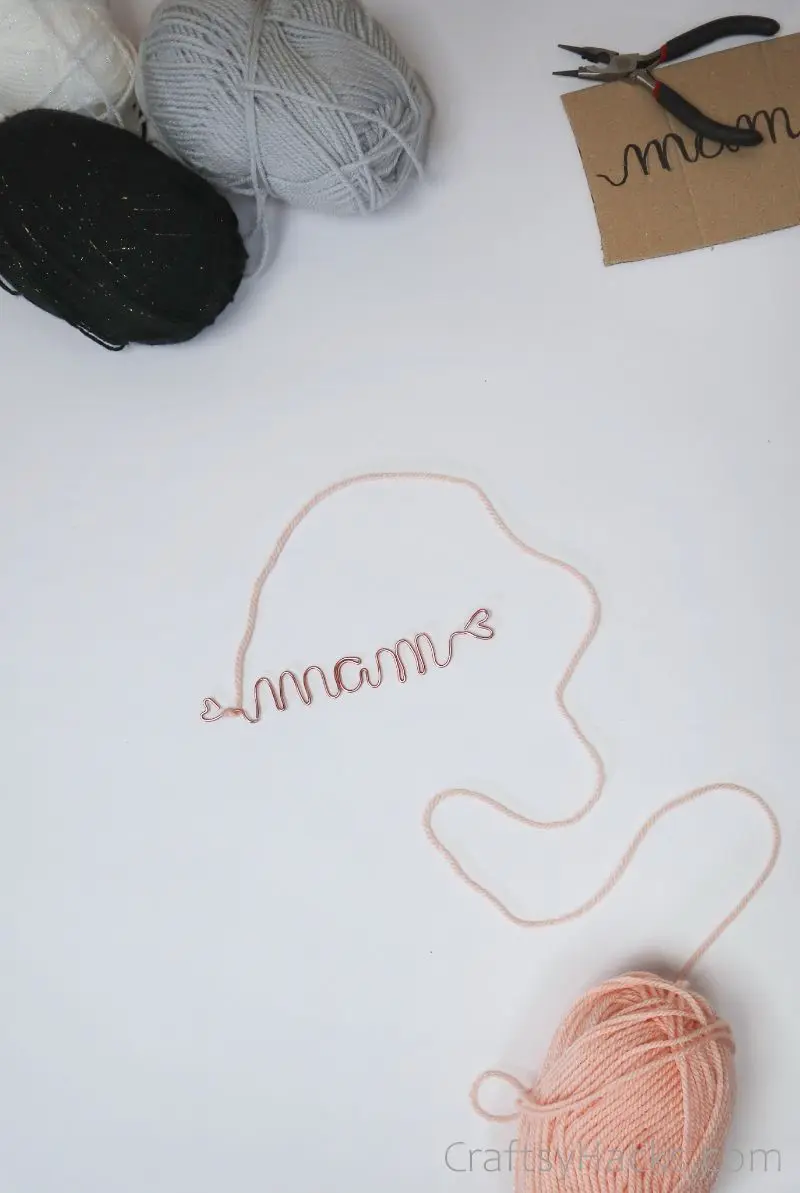 Step 5
Next up, the wrapping begins! Tape your chosen twine, yarn, or thread to one end of the metal, leaving the loop exposed.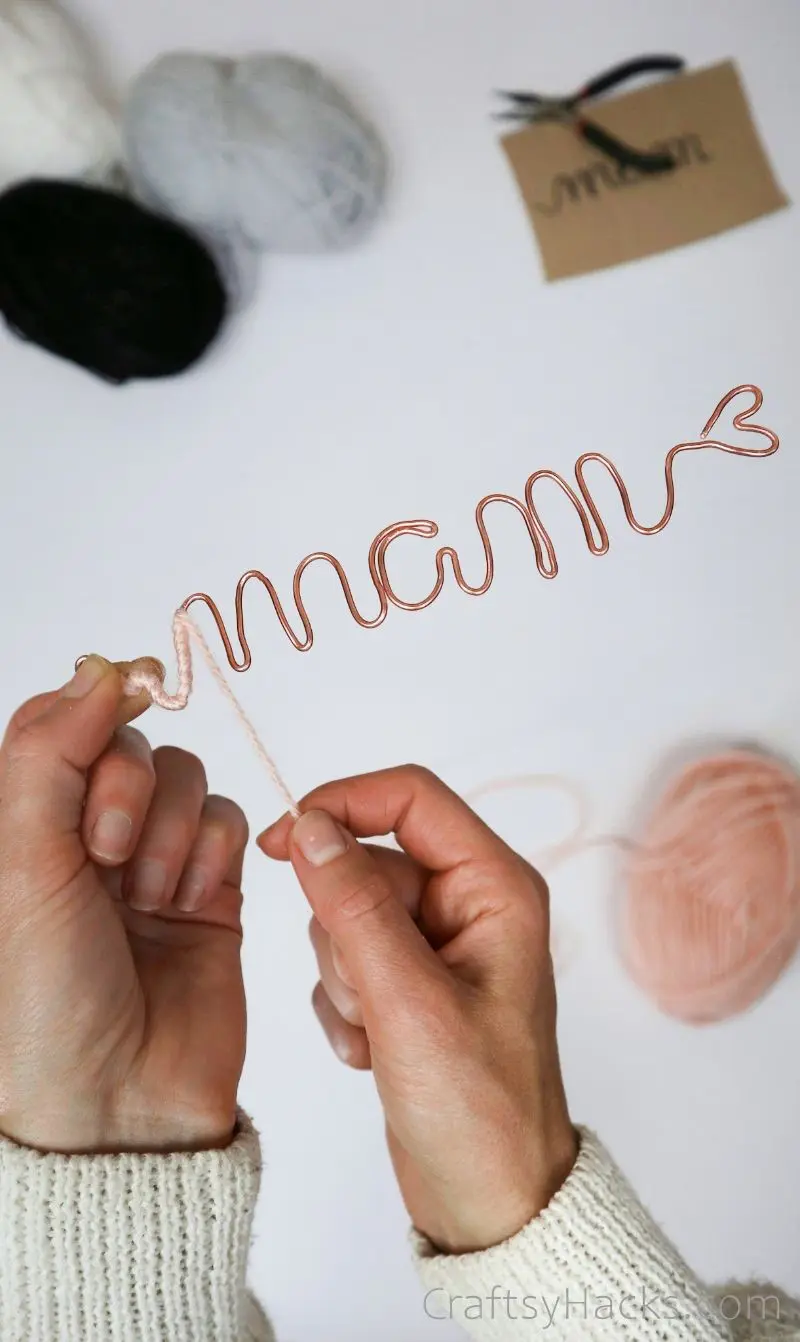 Step 6
Wind the yarn around the metal tightly, taking care to pull extra tight on the corners. You want to make sure it won't come loose as it sits on the gift!
This part can get tricky, but you can do it! Just take it slow and watch your metal ornament come to life.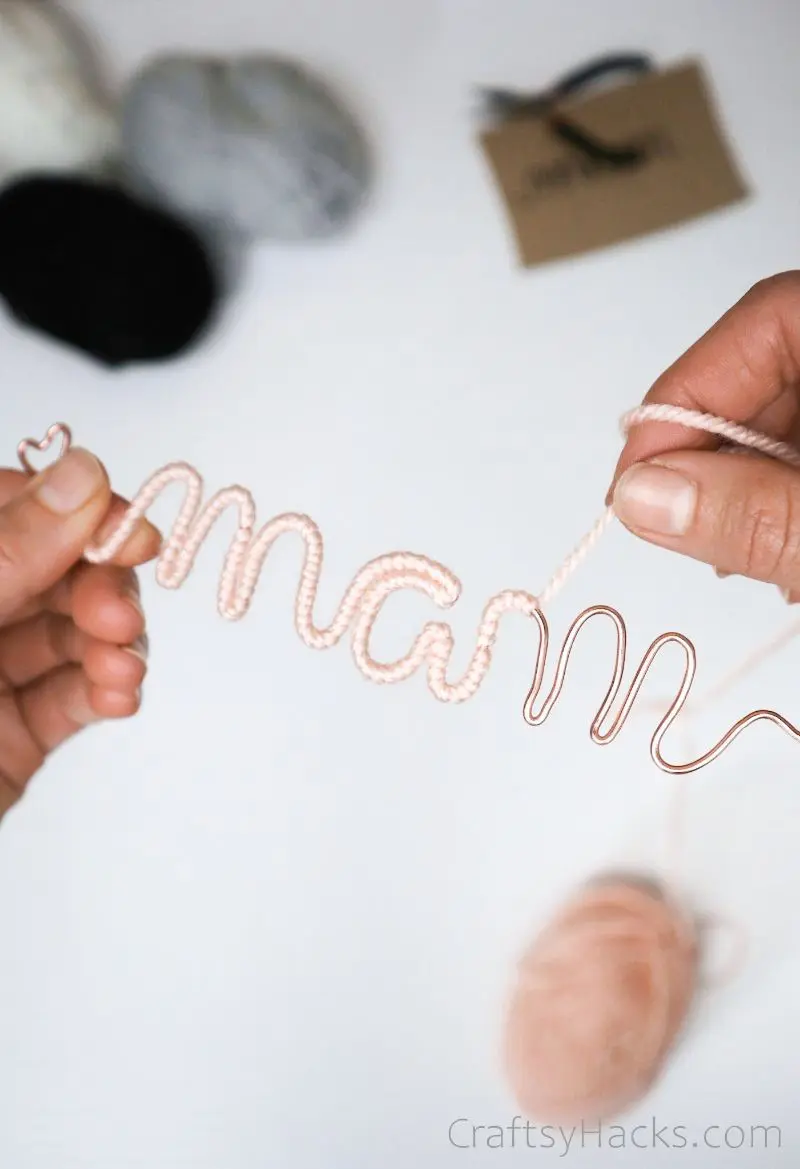 Step 7
Once you reach the end, grab your superglue, and stick the end of the yarn down. Make sure the end piece is stuck down on the back of the ornament. After all, a loose piece of string doesn't look great.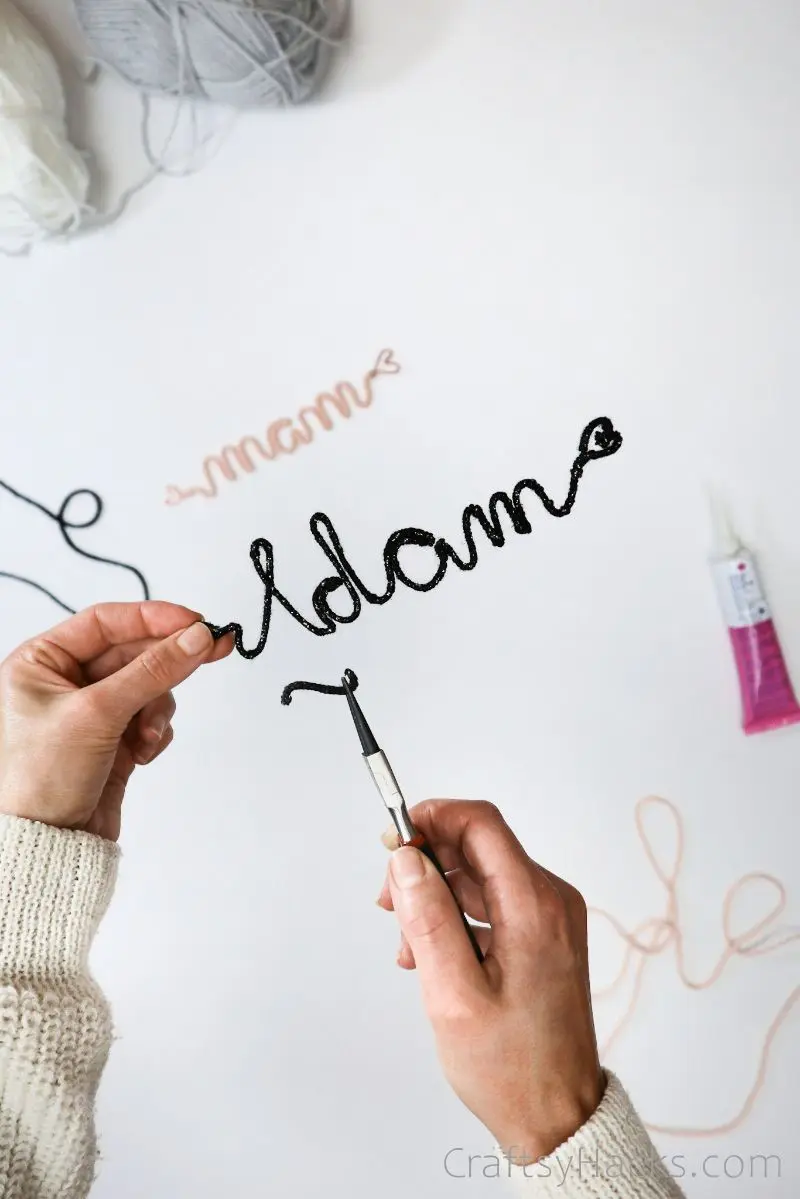 Step 8
Some letters can't be crafted from wire because they have separate parts, like the letter 'x,' a capital 'T,' or a capital 'A.' Don't worry. This can be done quickly.
Cut your wire and create the missing shape separately, wrapping it with your textile as well. Then, use super glue to carefully glue it to the rest of your letter. You can see me doing it with a big 'A' here.
Once you're done, you officially have a stunning take on your recipient's name. I can't get over how good these ornaments look.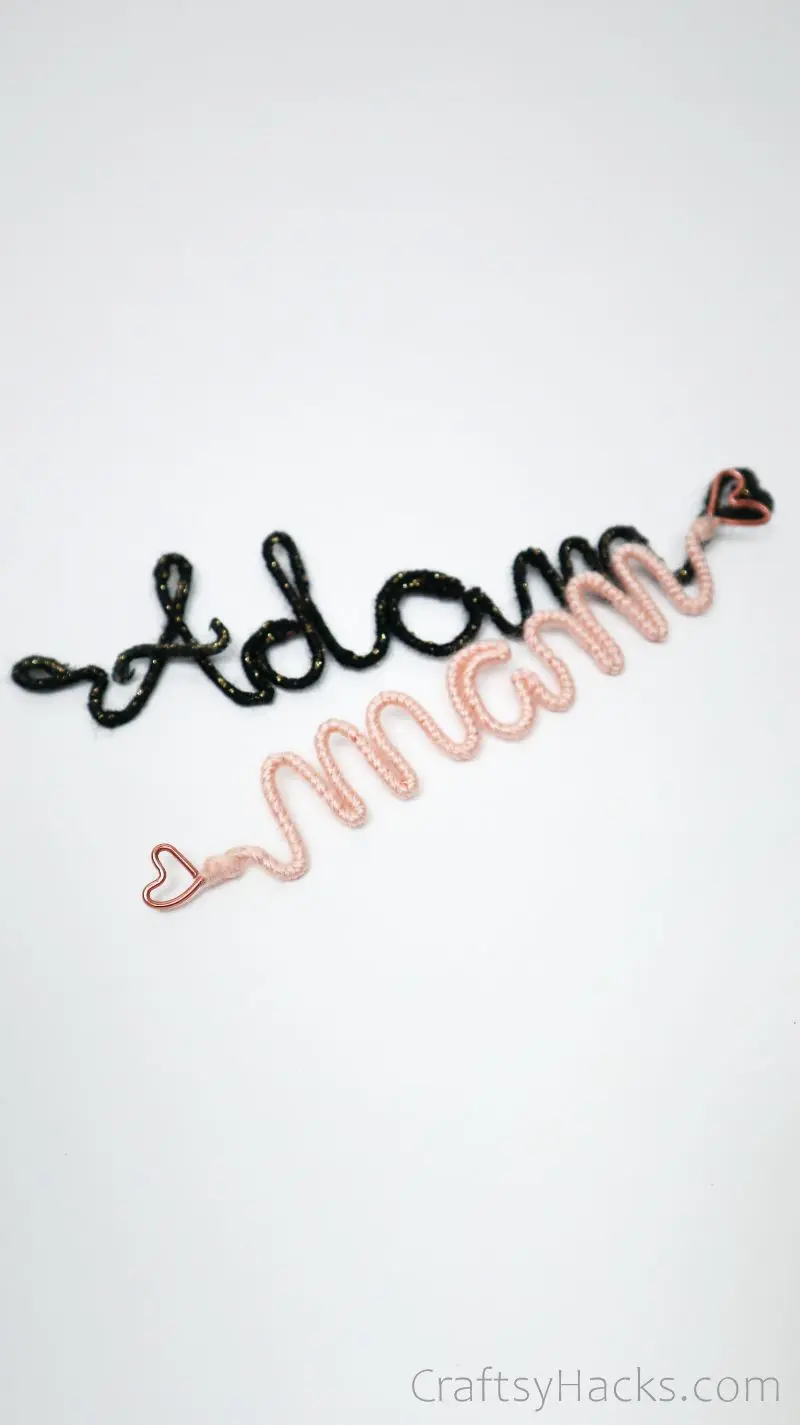 Other Gift Ideas
Where Can You Use These Ornaments?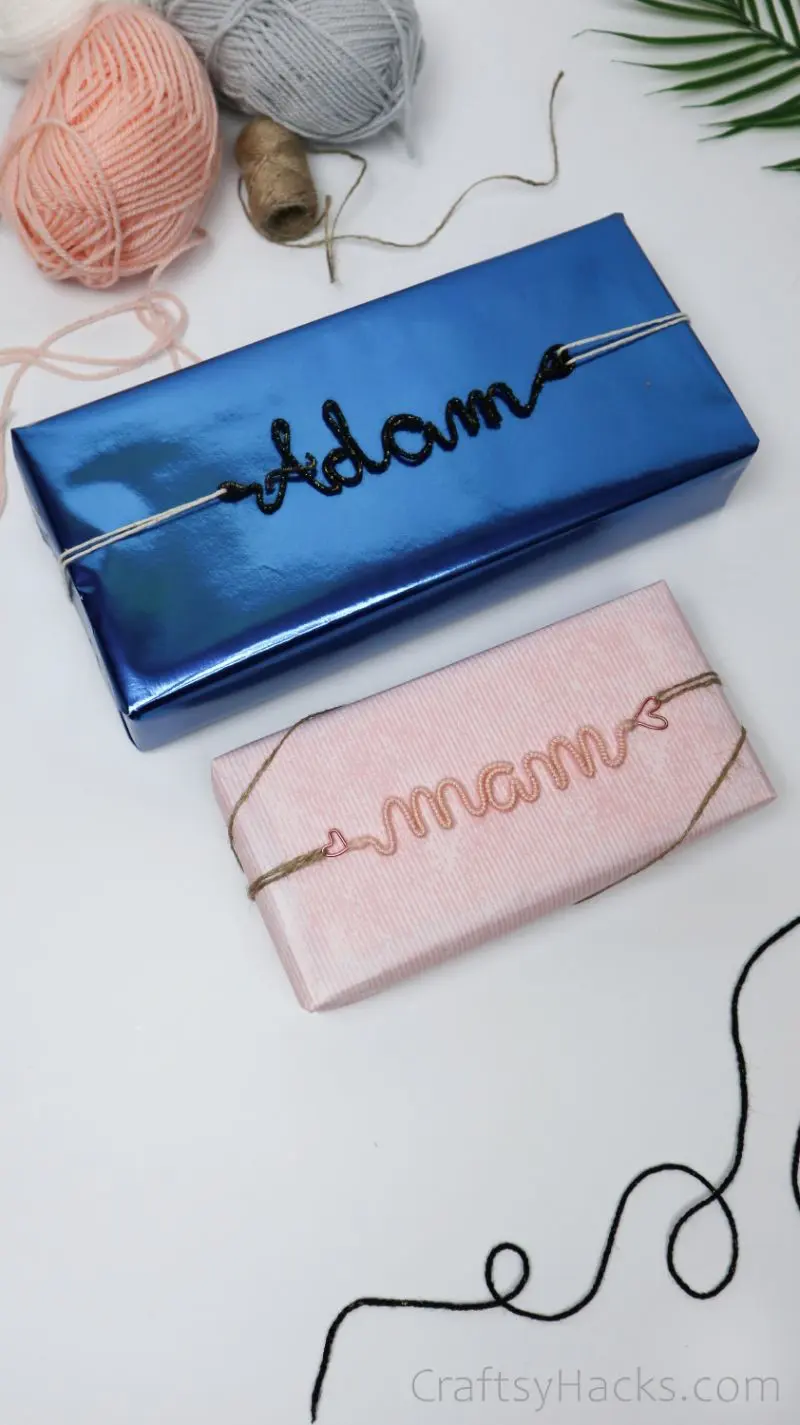 I know all my examples have been gift-related, but you can use these metal ornaments anywhere you can think of. Need to spice up your pantry? Make labels out of metal! Try them out as Christmas DIY ornaments!
Make larger versions to hang on your child's bedroom door, glue it to your journal, use them as necklaces, or create place cards for your wedding your guests can take home.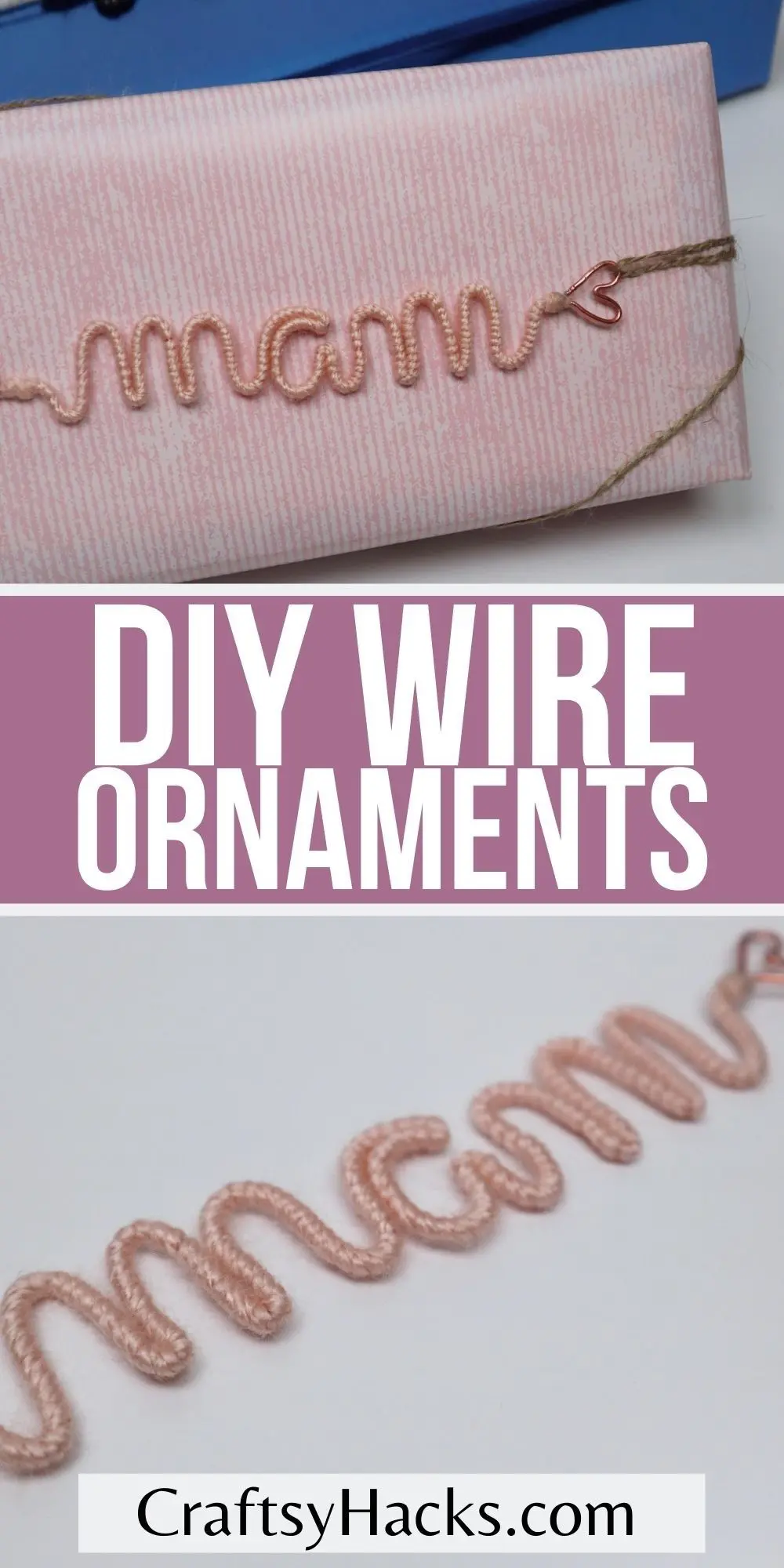 The limitations of this diy project only extend as far as your imagination. In other words, if you can dream it, you can do it. Let me know what you'll be using this method for in the comments below!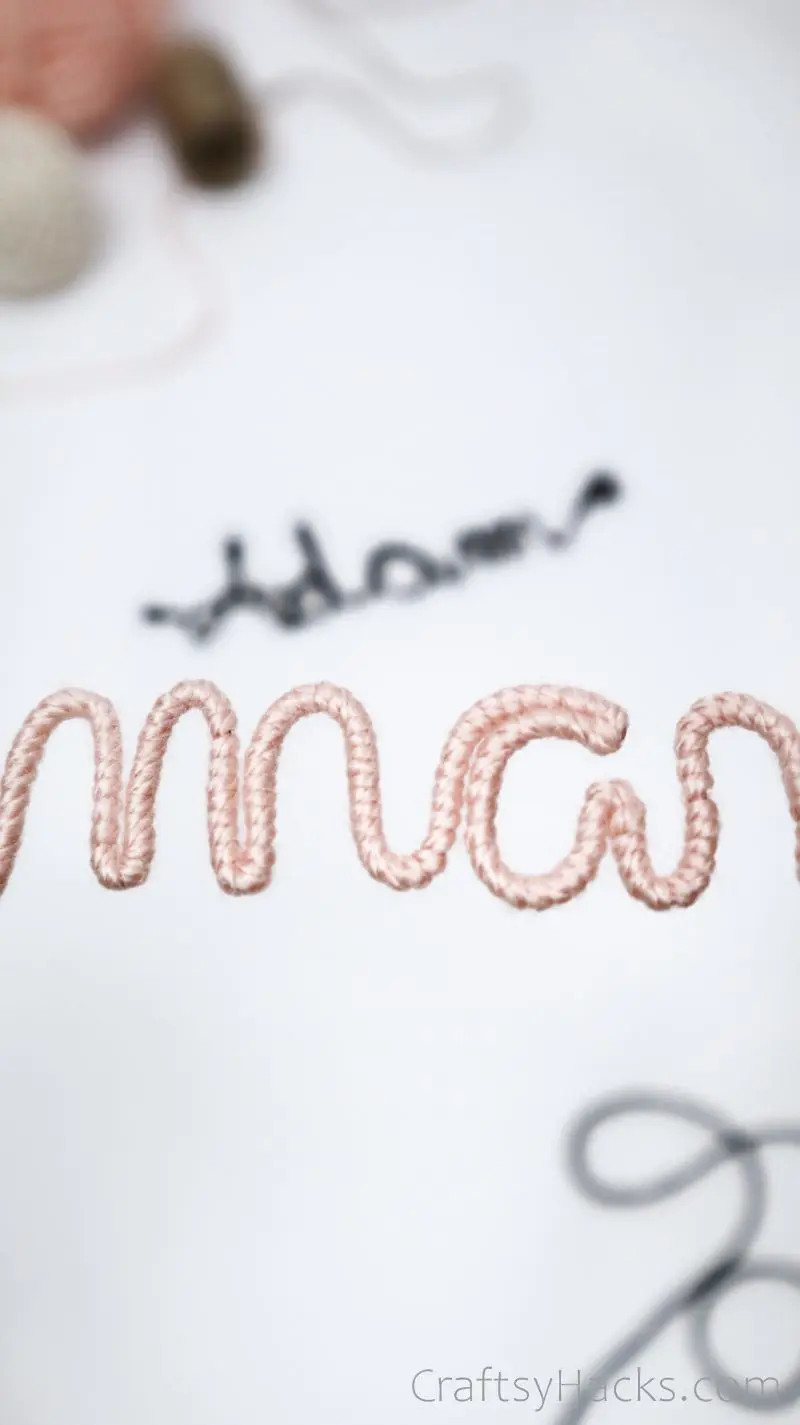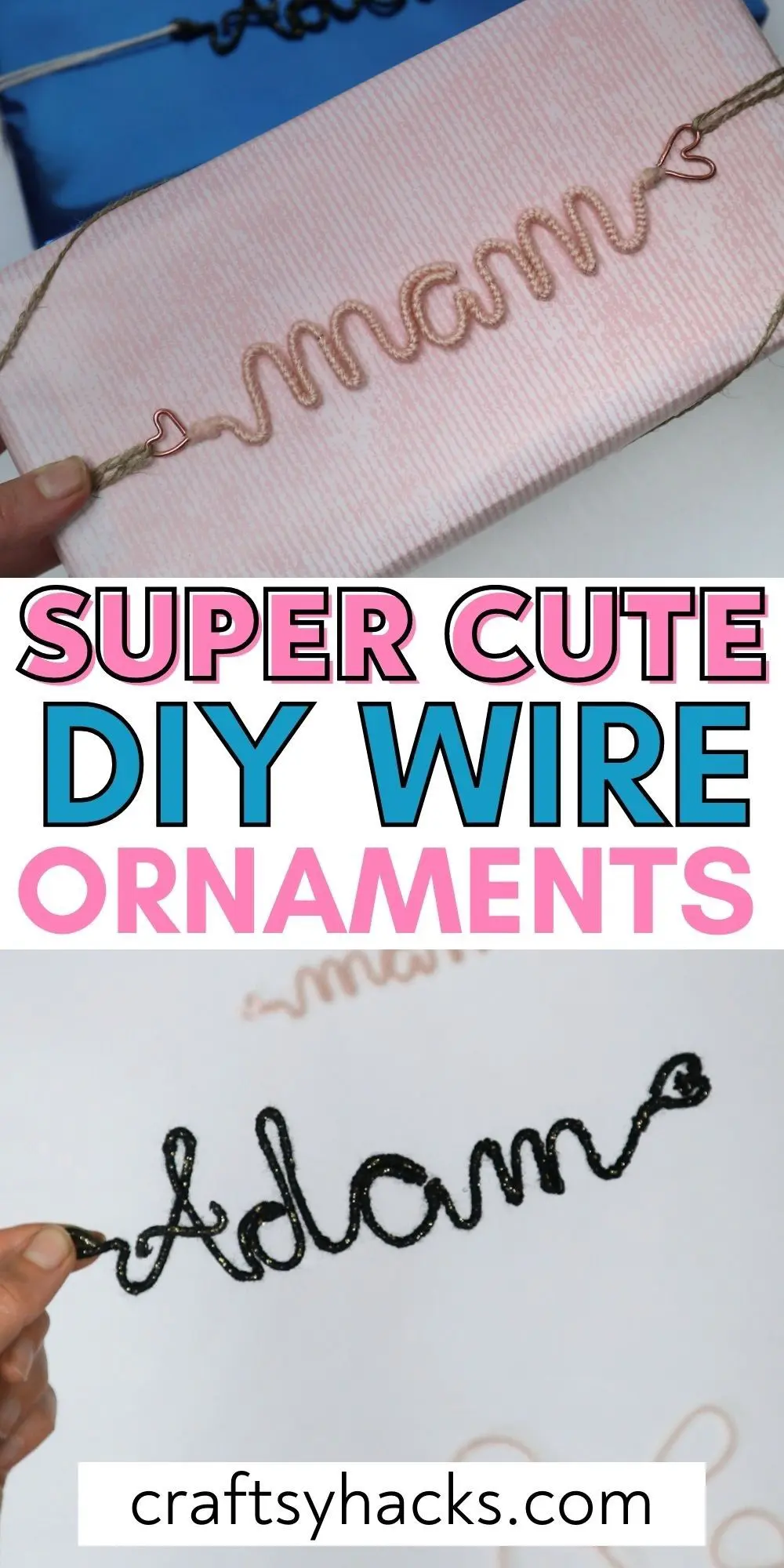 Yield: multiple wire ornaments
How to Make Wire Ornaments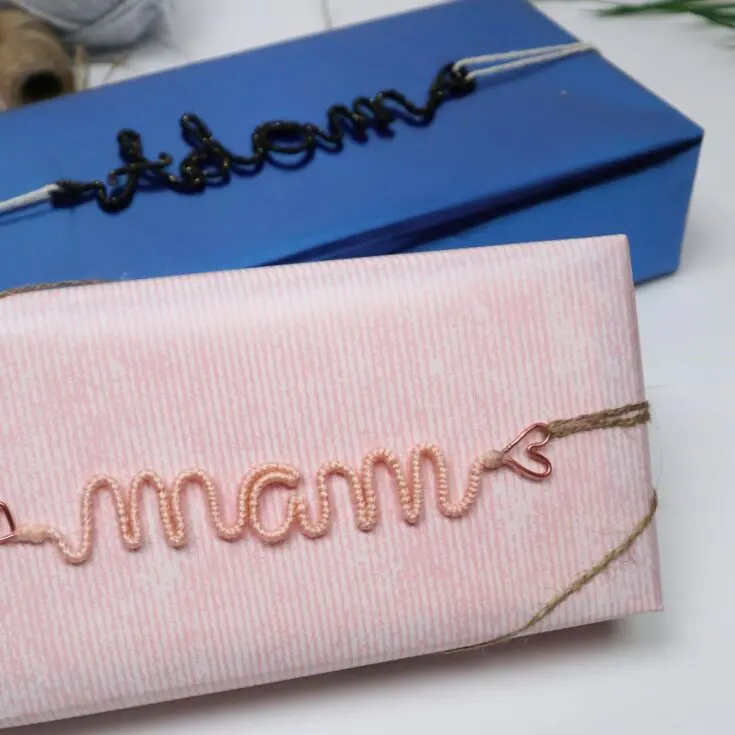 These wire ornaments can genuinely be used for anything. They're so easy to make, cost nothing, but they look like a million bucks. They're a great craft for teens and a lovely addition to your DIY gift.
Additional Time
5 minutes
Tools
Marker
Pliers
Scotch tape
Cardboard
Adhesive super glue
Instructions
Gather all your supplies, paying attention to the color scheme you wish to portray. For instance, I find that light-colored yarns look gorgeous with copper wire.
Draw the name you've chosen on a piece of cardboard in cursive. If possible, your pen shouldn't leave the page, as this will ensure the wire can follow the path. (If it must leave the page, I have a technique you can use later).
Cut a length of wire. Preferably, more than you think you'll need. Tape it to the left side of the cardboard, leaving some wire hanging over.
Twist and bend the wire to follow the name, then close the ends with your pliers to create tie-on loops.
Tape your chosen textile (I used yarn) to one side of the metal name.
Wind the yarn around the name (tightly), being particularly careful around the corners.
Glue the end of the yarn down.
If one of your letters needs a separate part attached, such as a capital A or T, it's easy to do. Simply create that piece separately—yarn and all—then glue it in place on the finished product.
You're done! You can use these ornaments for absolutely anything you can think of, so go nuts!