When you've got a low budget for Christmas gifts, get crafty! Here are multiple ideas for your next Christmas gift.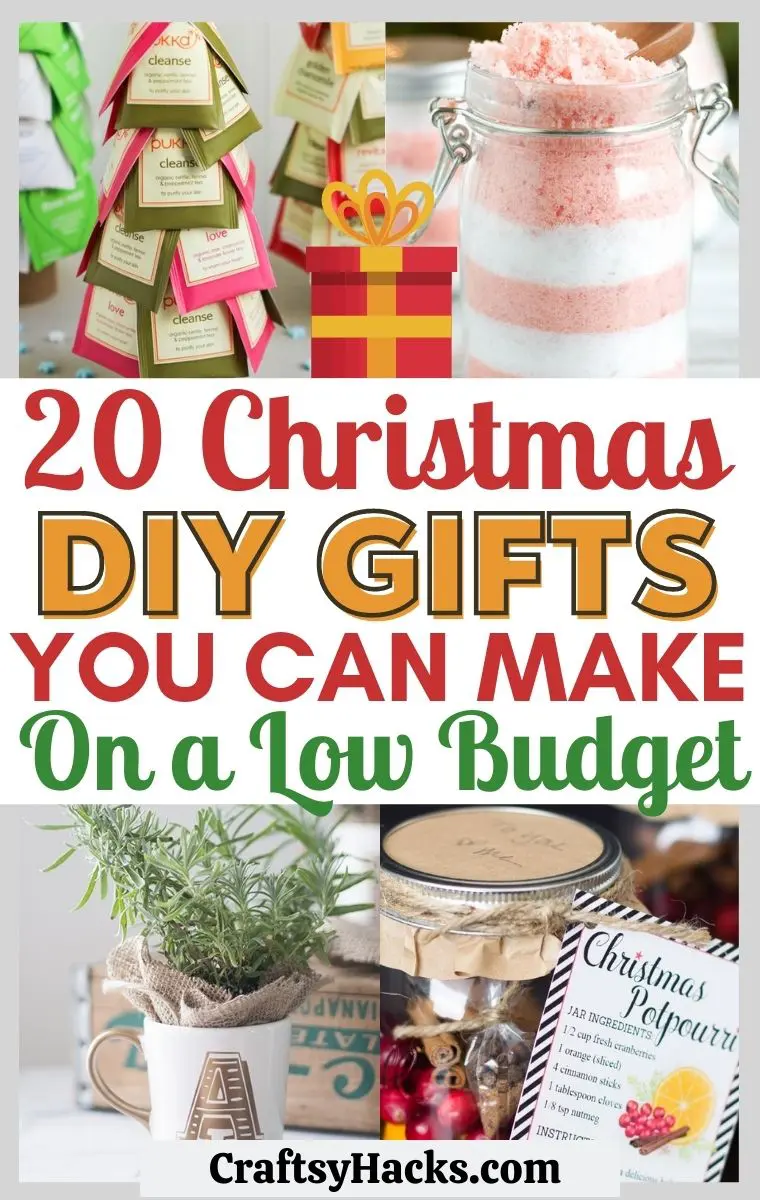 There are few better ways to really communicate your love to someone than to give them something you made with your own two hands. Not to mention, DIY gifts are gentle on your wallet!
With Christmas coming up and gift-giving on everyone's minds (including mine), now's the time to start brushing up on your crafting. I know I'll be making some of these this year.
1. Homemade Soup Mixes in a Jar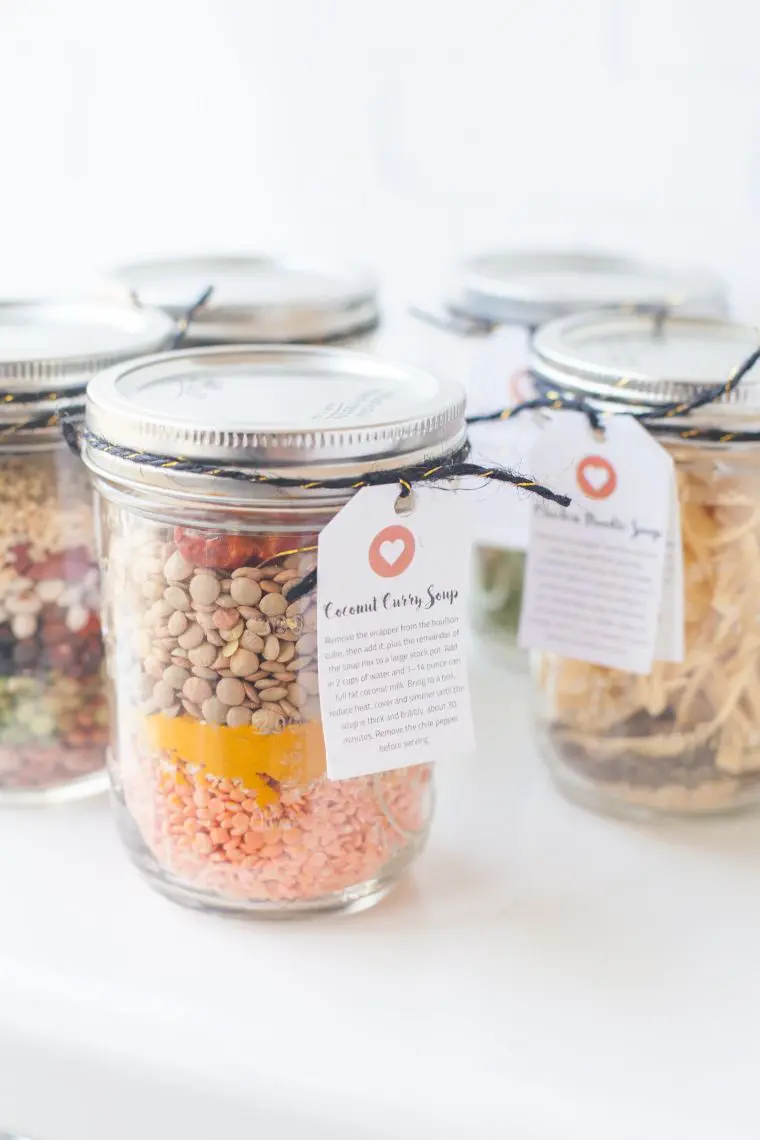 Credit: wholefully.com
Giving the gift of food can be tough at Christmas, especially if you're planning to leave it wrapped under the tree. Luckily, these homemade jarred soup mixes make for the perfect consumable gift.
At just a few bucks a pop, these are ultra-easy to make. Everyone loves soup in the winter, so anyone you gift this to will be grateful for the delicious, easy meal option.
The great thing about this type of gift is that you can customize it to your recipient's taste! Make it tough and hearty or light and clear. What's more kind, thoughtful, and loving than a warm bowl of soup?
2. DIY Peppermint Bath Salts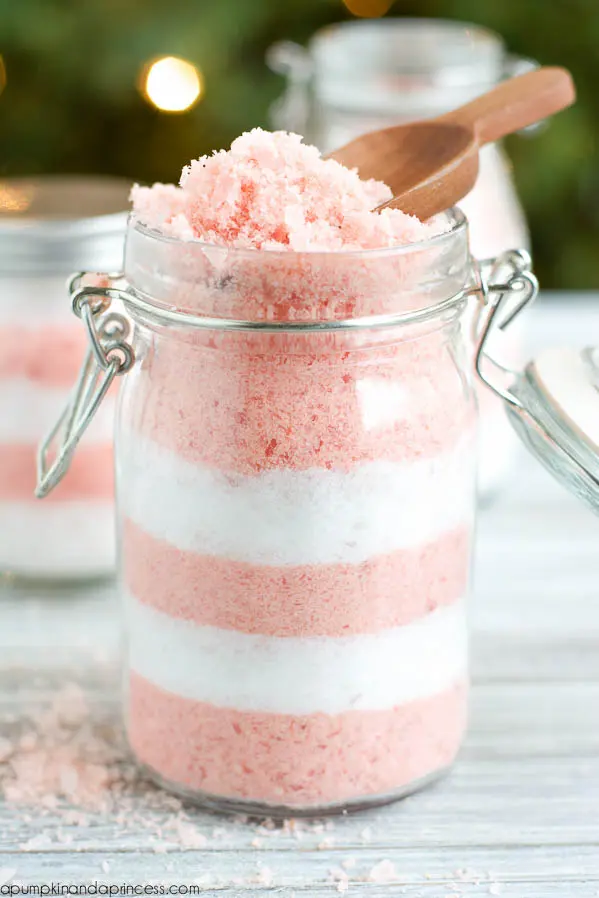 Credit: apumpkinandaprincess.com
This has been one heck of a year, and at this point, the best gift you can give anyone is the chance to relax for a few minutes. These DIY peppermint bath salts are gorgeous to look at and even better to smell!
All you need to get this gift off the ground is some Epsom salts (find some here), sea salt, baking soda, peppermint oil, and some red food coloring. The recipe makes about six cups, so you can make multiple batches at once.
Looking for a way to wrap this up? Check out my article on 20 Christmas Gift Wrapping Ideas.
3. DIY Custom Tea Towels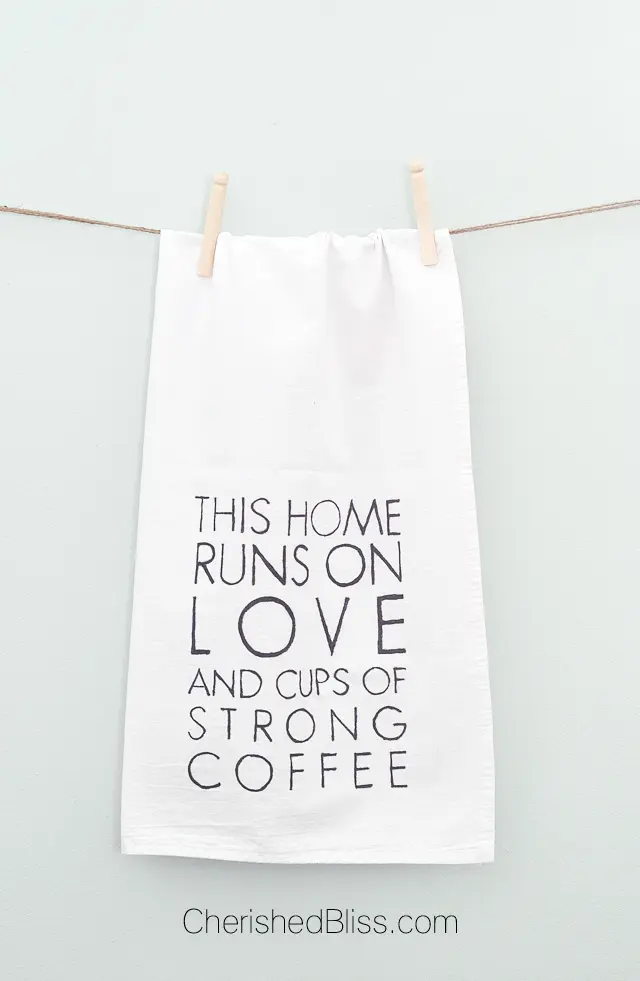 Credit: cherishedbliss.com
Custom kitchen décor usually comes at a heft price, but when you make it yourself, it's cheaper, faster, and you can make the perfect design for your loved one.
This DIY is one of the easiest I've ever seen, not to mention it turns out looking very professional! Go for something classic with the arrows, draw their favorite quote, or try a modern geometric design.
Ultimately, the choice of what to make is yours! After all, all you really need for the craft is a Sharpie and your tea towels so you can spend an afternoon making as many as you like. Try these tea towels out!
This is also a lovely Christmas craft for adults.
4. DIY No-Sew Blanket Scarf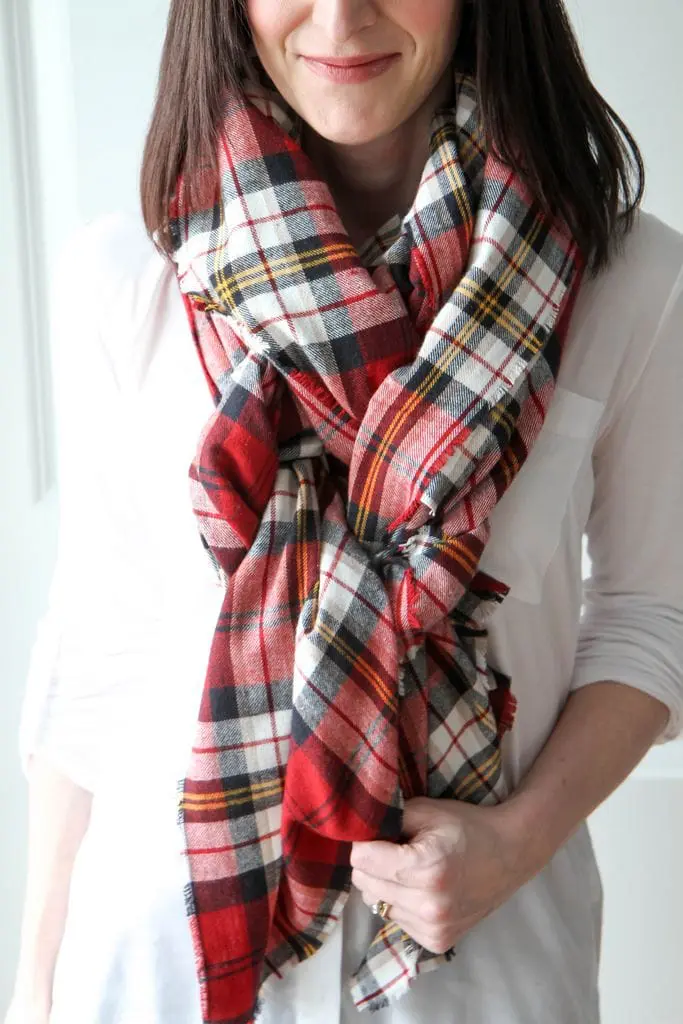 Credit: momadvice.com
I don't know about you, but when winter comes around, all I want is to be able to carry a blanket with me wherever I go. Thankfully, someone else has already thought of that!
This DIY no-sew blanket scarf grants you all the comfort of a blanket with all the fashion sense of a scarf. Making them is so easy. All you need is the right fabric.
I recommend a good flannel. It's comfortable, light to wear, and comes in a huge range of patterns. Amazon has many options, but you can't go wrong with red plaid like this. You'll need about 2.5 yards!
5. DIY Peppermint Shower Steamers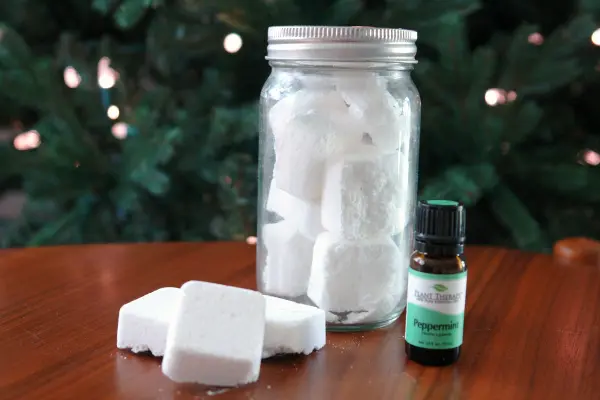 Credit: thestressfreechristmas.com
These are another great gift for anyone who needs some relaxation but doesn't really have the time for a good soak. If you've never heard of these, then welcome, it's time to get acquainted!
As far as DIY gifts go, these are incredibly easy to make. The end product is a bunch of little squares, so you can put them in a jar and wrap them beautifully to put under the tree.
Make sure you've got a silicone mold like this one hanging around. Trying to make these with a stiff ice cube tray will just result in a lot of frustration, trust me!
This is a great addition to your DIY Christmas gift basket.
6. DIY Plaid Rice Hand Warmers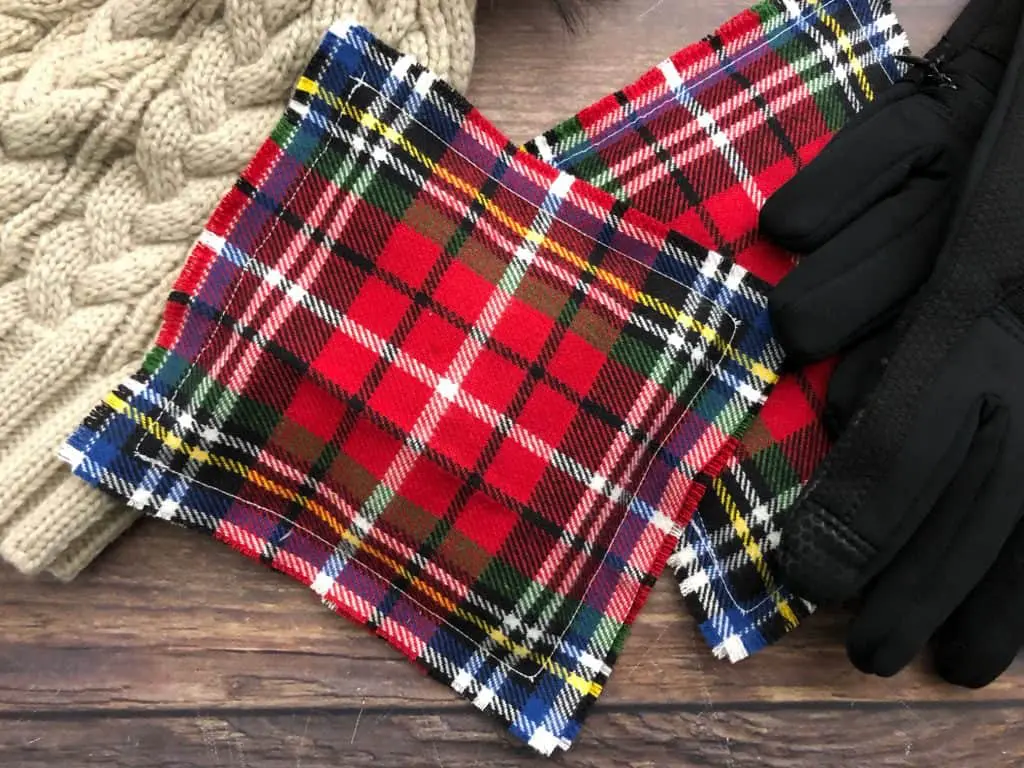 Credit: beginnersewingprojects.com
With the cold nipping at all our fingertips, a practical, easy, and thoughtful Christmas gift that grants warm hands would be very welcome. Enter the DIY plaid rice hand warmers!
Rice hand warmers are incredibly easy to make, whether you're a beginner at sewing or a seasoned veteran. Not to mention, these are easy on the wallet (after all, the main component is rice).
Add some essential oils for a more personal touch, or simply leave them as they are. Wrap them up with a big red bow and leave them under the tree. Your loved one will definitely love these!
Looking to brush up on your sewing with more easy sewing crafts? Give one of these 20 Easy DIY Sock Plushies a try.
7. DIY Glitter Wine Glasses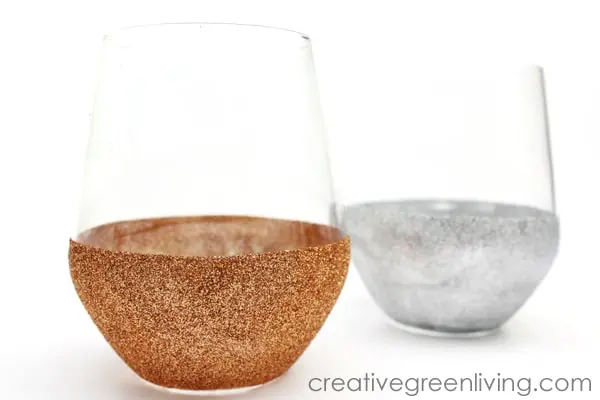 Credit: creativegreenliving.com
Now, we've stepped into some gifts with a little more sophistication. Whether your mother loves wine, or your sister loves a high-class piece of kitchenware, this is the gift for them.
Snatch up some high-quality stemless wine glasses like these as your base, and make sure you've got dishwasher safe mod podge on hand (like this). If it's not dishwasher safe, the glitter will crumble off.
Customize your choice of glitter to suit the recipient, give them two different colors in the set, or try your hand at a glitter gradient if you're feeling brave.
8. Christmas Mason Jar Potpourri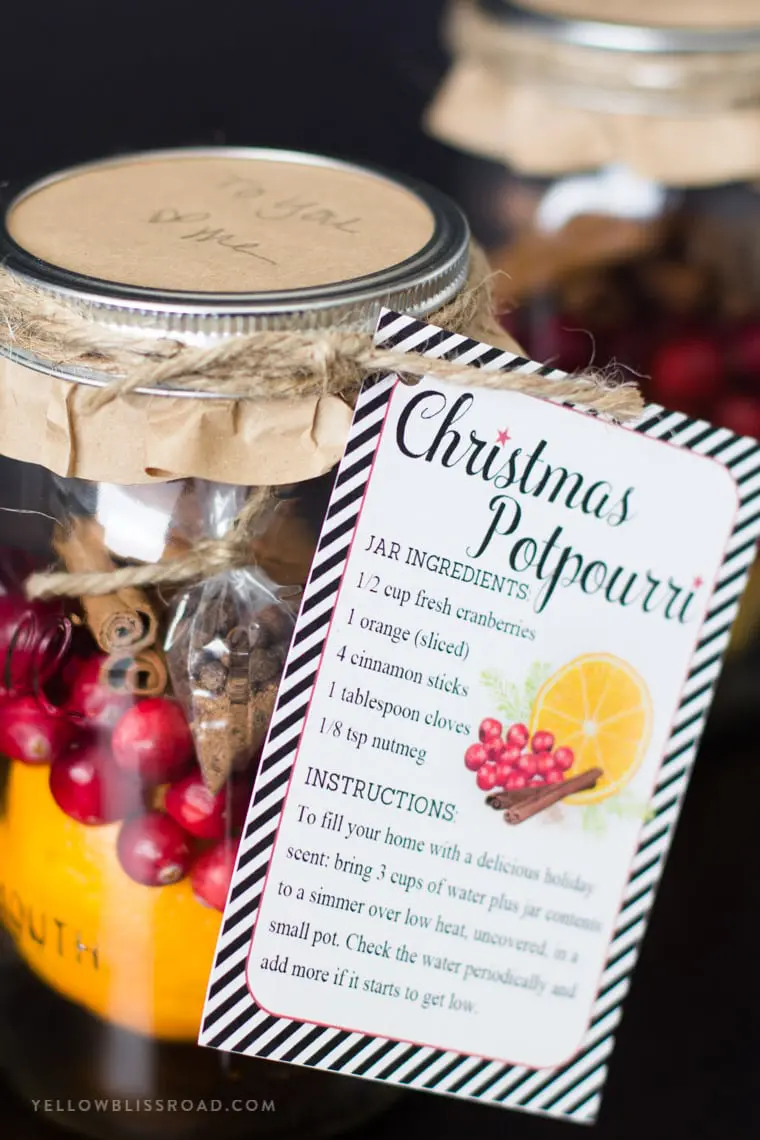 Credit: yellowblissroad.com
This is potpourri, but with a twist. Instead of a vase of dried flowers, you're gifting the scent of a fresh Christmas morning. Cinnamon, cranberries, and orange will fill your recipient's home with nostalgic smells.
These gifts are ultra-easy to assemble, especially in large batches, and the tutorial comes with an adorable printable label! Just make sure you buy wide mouth mason jars like these to fit the clementines through.
If you find you have a few jars leftover, here are 25 Crafty Mason Jar Gift Ideas for Your Loved Ones.
9. DIY Peppermint Mason Jar Candles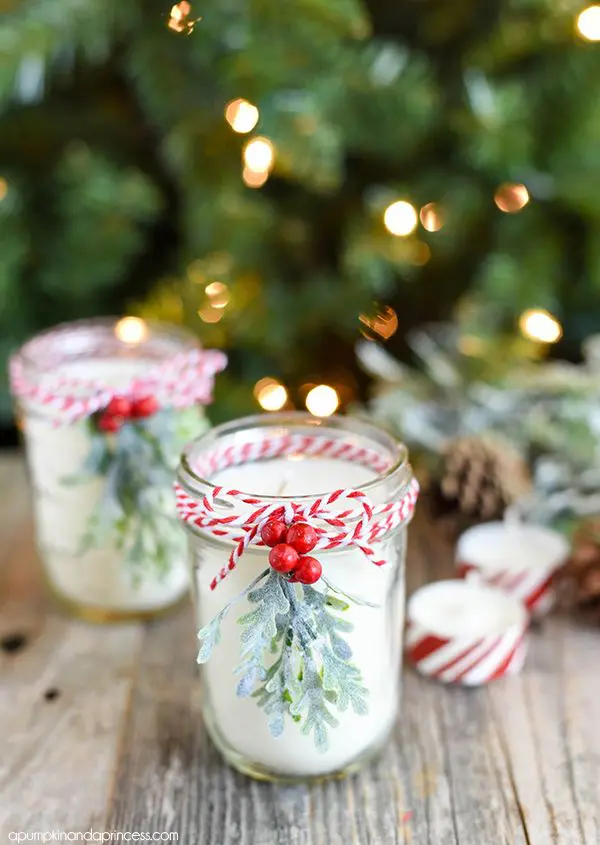 Credit: apumpkinandaprincess.com
Speaking of mason jar crafts, these DIY peppermint candles are a gorgeous way to use up any leftover jam jars you have lying around. Plus, they make amazing stocking stuffers.
These candles are made from two key ingredients: soy candle wax and the all-important peppermint essential oil. Combine them in a mason jar, or even use a tiny tea light for something delicate!
Put the finishing touch on the jars with some baker's twine (if you're unfamiliar, it looks like this), and a couple of holly berries. If you want to add some color, try using candle dyes like these for a twist.
10. Christmas Tea Trees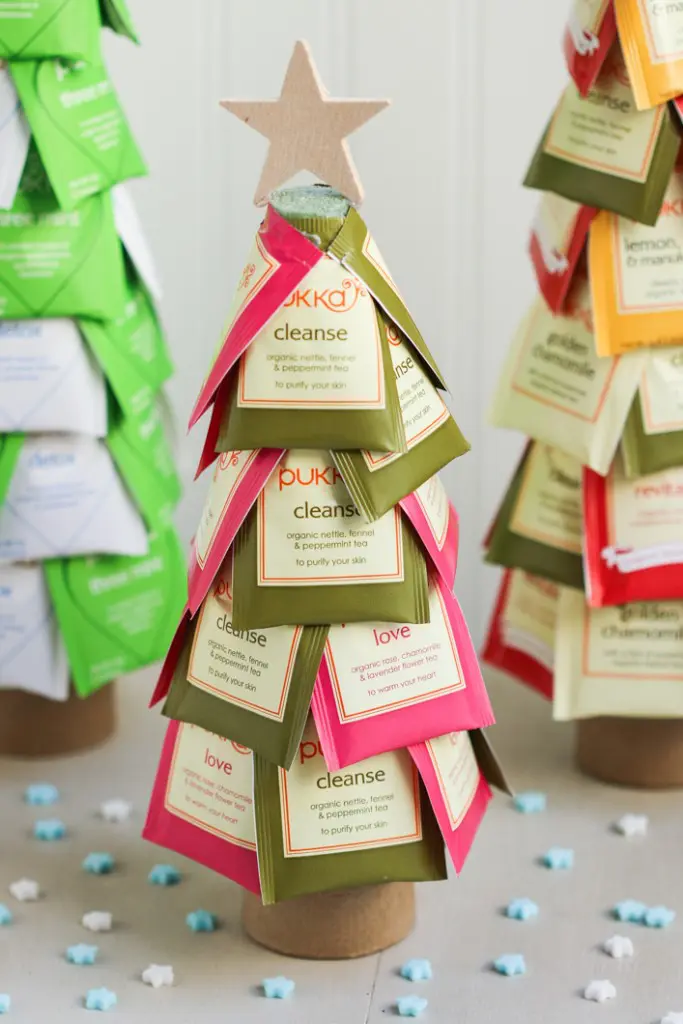 Credit: thirstyfortea.com
In my opinion, this is one of the most adorable gifts you can give a tried-and-true tea lover. Take an afternoon in front of your favorite movie to assemble this sweet gift, and they'll love you forever.
All you'll need are some colorful tea bags, a paper mache box, a Styrofoam floral cone like this one, and your trusty glue gun. Don't have a glue gun? Give the beginner model a go.
Spice it up with some extra little decorations or leave it simple and clean. The choice is yours! However, make sure your tea bags are individually wrapped before you buy the box.
11. DIY Crochet Coaster Pattern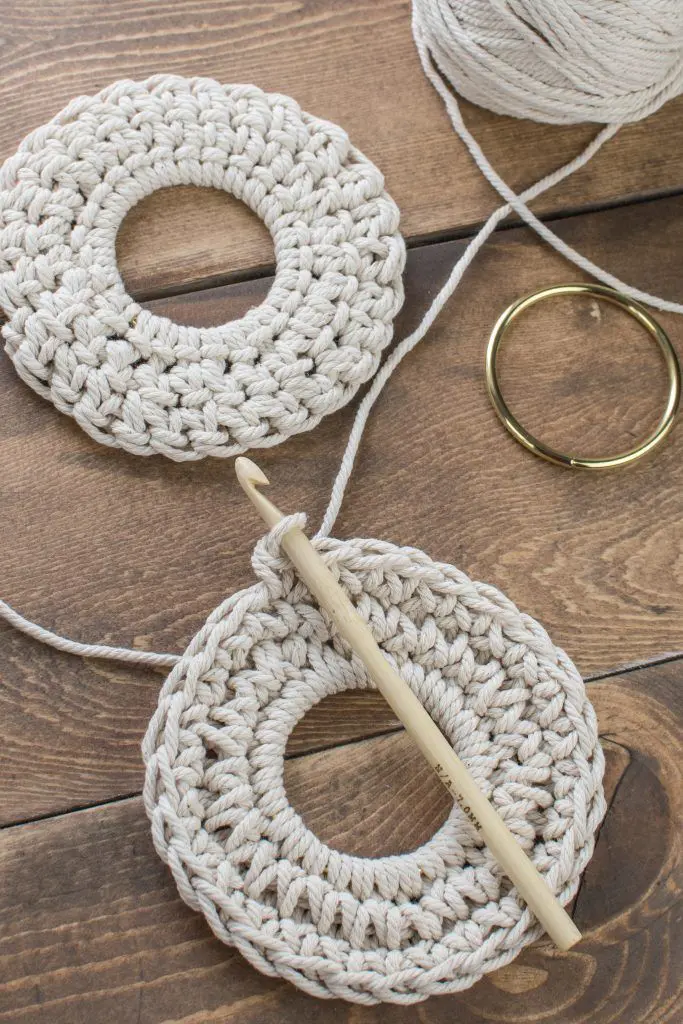 Credit: littleyellowwheelbarrow.com
New to crocheting and looking for an easy Christmas gift? You've just stumbled onto the perfect DIY present. These adorable Christmas coasters are perfect for newbies to the crochet arts.
You'll need some mid-sized metal rings like these, a crochet hook, some natural cotton cording, and some knitting needles.
These use just a single stitch over and over to create the required shape, so there are no complex patterns required.
Want some other string crafts to test your skills? How about these Leaf Macrame Earrings, perfect as another gift!
12. Cheap and Easy Blanket Flannel Scarf with Fringe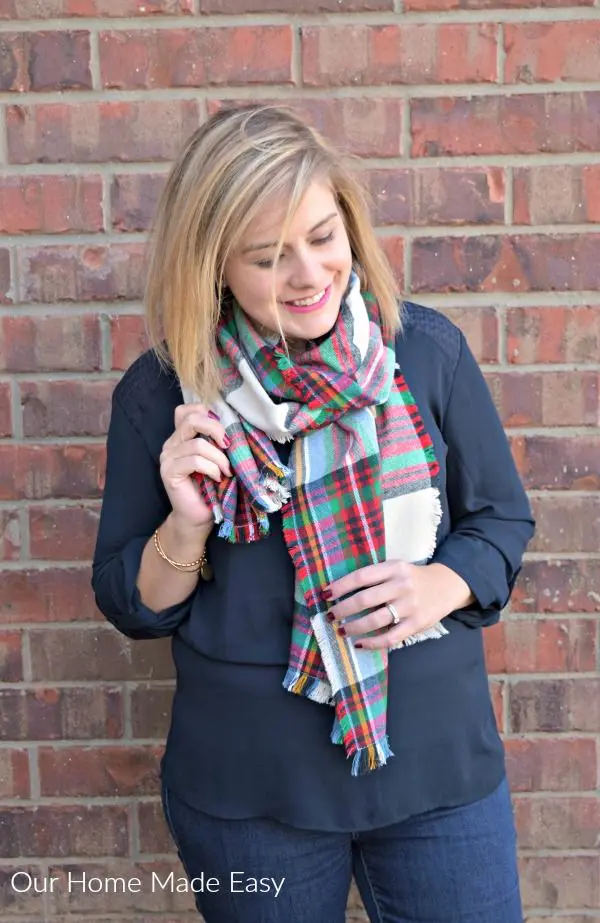 Credit: ourhomemadeeasy.com
Next up is another blanket scarf, but this one's done a little differently to the one mentioned earlier on this list. Namely, this one actually uses some sewing techniques to get that fashionable fringe.
If you're not keen on sewing, you can skip the fringing, but I personally love the little extra spunk it lends to this scarf's design. Wrap the result using brown baker's twine for a truly handmade look!
13. DIY Fringed Flannel Throw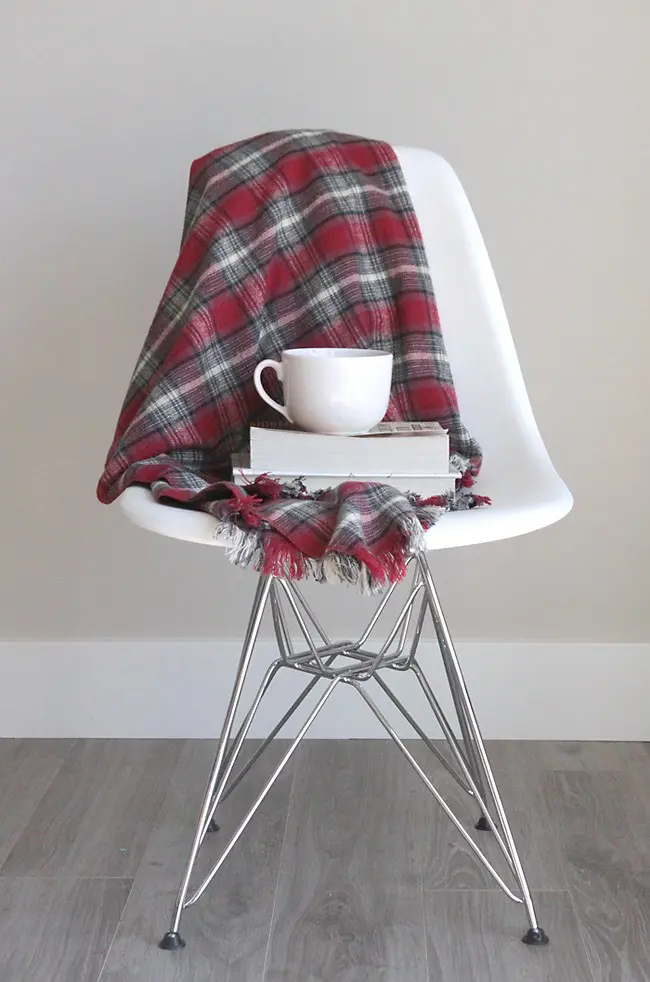 Credit: itsalwaysautumn.com
Speaking of flannel and fringe, here's a gift that's easy to make that will add to your recipient's décor (and their comfort). Since this is a throw, you'll need to invest in a little more flannel to make it work.
The maker of this tutorial found that one and three-quarter yards were ideal, but you can use more fabric for an extra-cozy blanket if the mood strikes you. From there, all you need to do is fringe the edges!
14. Homemade Honey Mint Lip Balm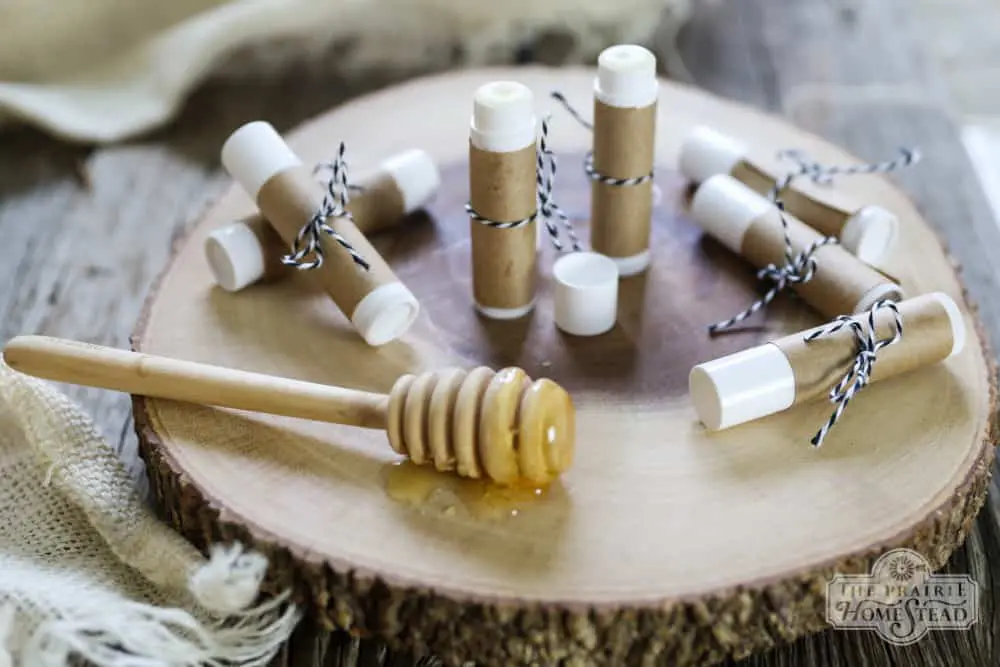 Credit: theprairiehomestead.com
If your gift recipient has lips (and I'm assuming they do), then they'll love the touch of this homemade honey mint lip balm. It's perfect for keeping lips moisturized during a chilly winter!
This recipe is very easy to make in large batches so that you can gift this to everyone on your Christmas list as a little stocking stuffer. The only specialty items you'll need is beeswax. These pastilles are perfect.
When it comes to packaging, you can stick with metal salve tins like these, or you can opt for something more professional and use plastic push tubes. Choose what you think they'll like best.
15. A Custom Gold Initial Mug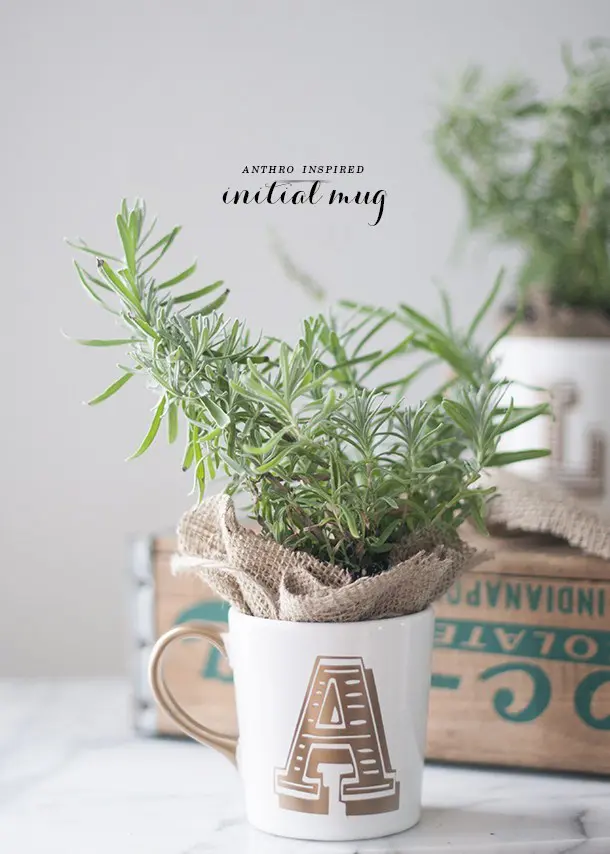 Credit: earnesthomeco.com
Sometimes, going with a simple gift is the perfect way to hit the nail on the head. An initial gold mug is personal, practical, and makes for a gorgeous piece of home décor no matter how it's used.
Starting off with a plain mug, you'll need to craft a stencil of your recipient's initials and paint it on using some gold spray paint like this. Make sure you also have some clear spray acrylic to keep it crisp after washing.
This is a lovely Christmas craft for teens as well!
16. DIY Mint Milk Bath Jar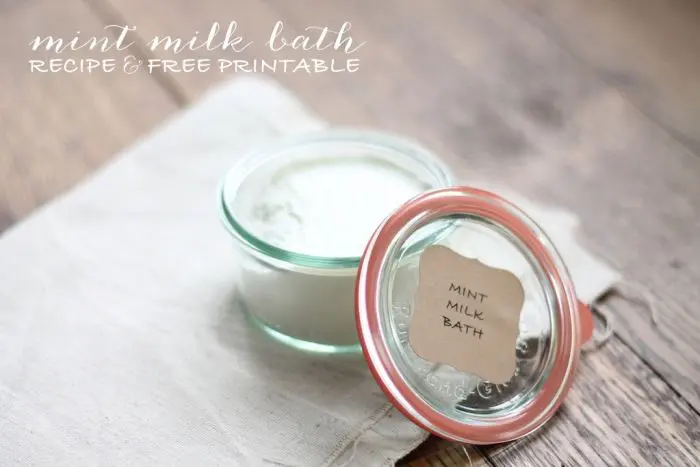 Credit: julieblanner.com
If you've ever had a milk bath, then you know the wonders it can do for both your skin and your stress levels. The lactic acid in the milk melts your dead skin cells away, leaving you feeling brand new.
Making your very own is much cheaper than buying this from a store and delivers twice as much meaning when you gift it! Get the perfect balance of Christmas-y essential oils for the perfect recipe.
17. DIY Imprinted Clay Bowls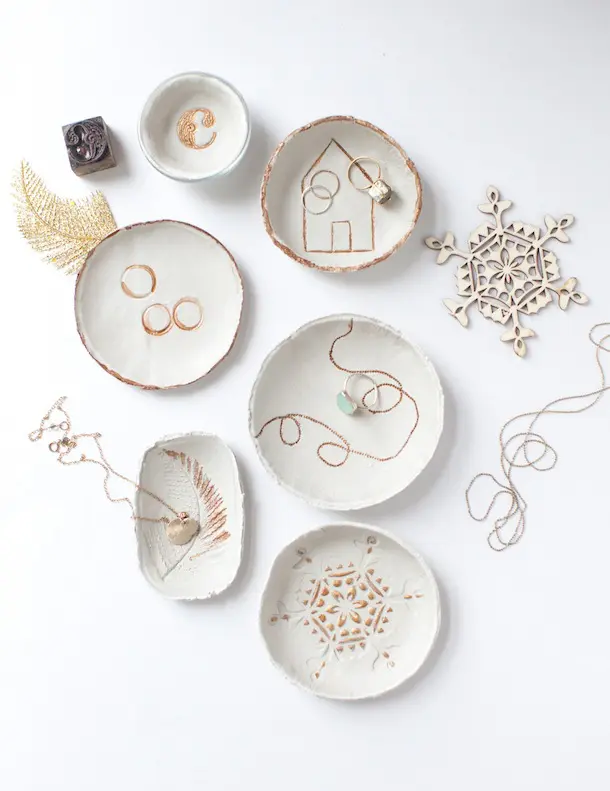 Credit: camillestyles.com
This DIY gift falls squarely in the "I can't believe you made that" category because the result is just so beautiful and professional! The gold leaf paint makes a huge difference here, so pick the right one (I like this one).
You can change the shape, size, and design of the bowls to suit the taste of your gift recipient. It's really easy to use the Air Hardening White Clay, so don't be afraid to experiment!
18. Bath Fizzies in a Jar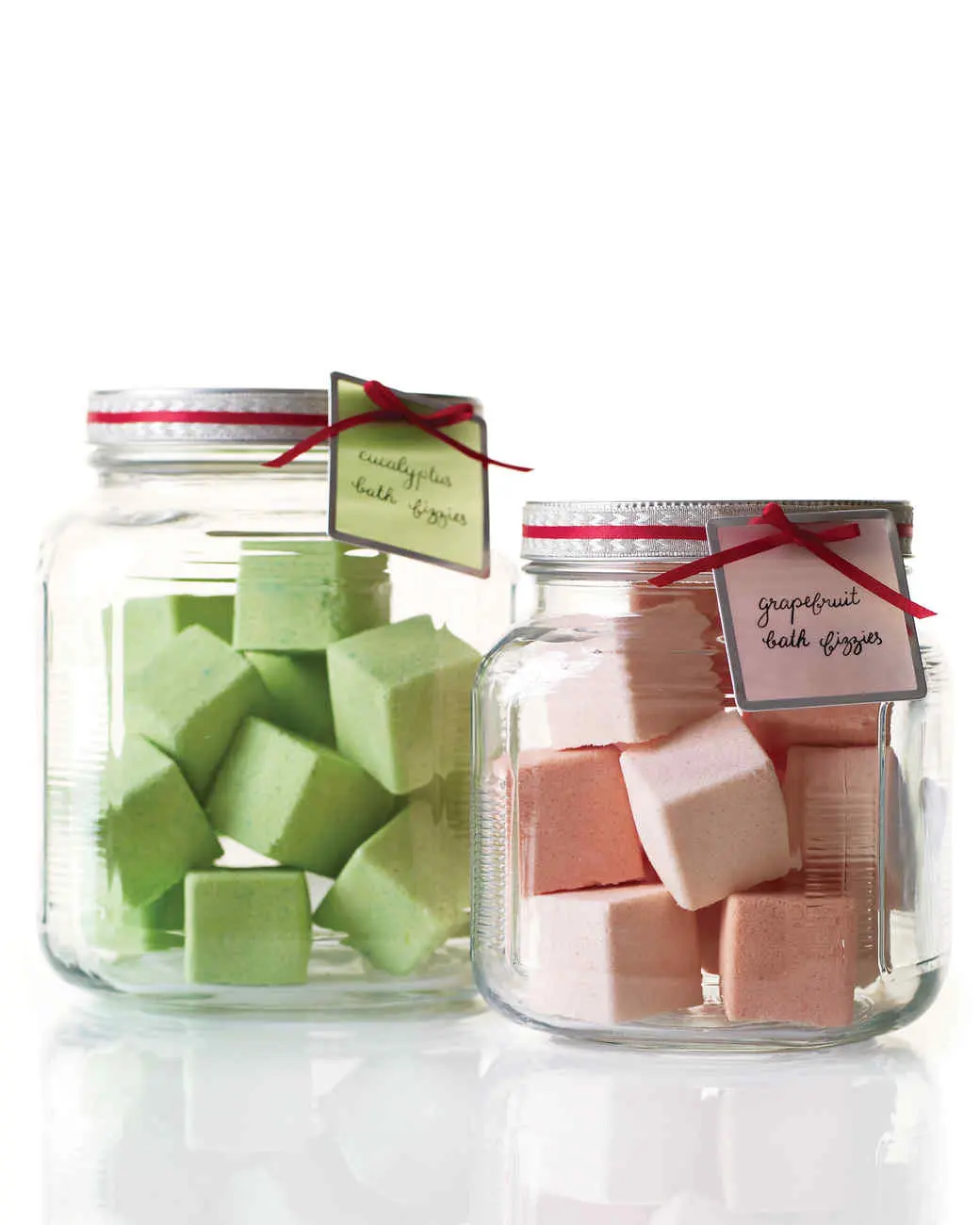 Credit: marthastewart.com
From the one and only DIY queen herself—Martha Stewart—comes this tutorial for adorable bath time fizzes in a jar. Made like bath bombs, these simple bath companions are perfect for some chill time.
The ingredients list is a little long for these, so it would be worthwhile to buy in bulk and make a whole bunch as stocking stuffers!
Make sure you pick up some Christmas-y essential oils (like these) for the scents to spread the holiday cheer.
19. A DIY Terrarium Kit
Credit: witandwhistle.com
This one is undoubtedly for the plant-lover in your life. It's cheap, it's easy to make, and it brings a little life into their home this Christmas season.
You won't need much, but make sure you print out the accompanying instruction card to give to your recipient at the same time. It teaches them how to care for their little terrarium!
Check out some other ways to bring a little life into your Christmas gifts with these 20 Genius Dollar Store Planter Ideas.
20. DIY Neon Marbled Dinnerware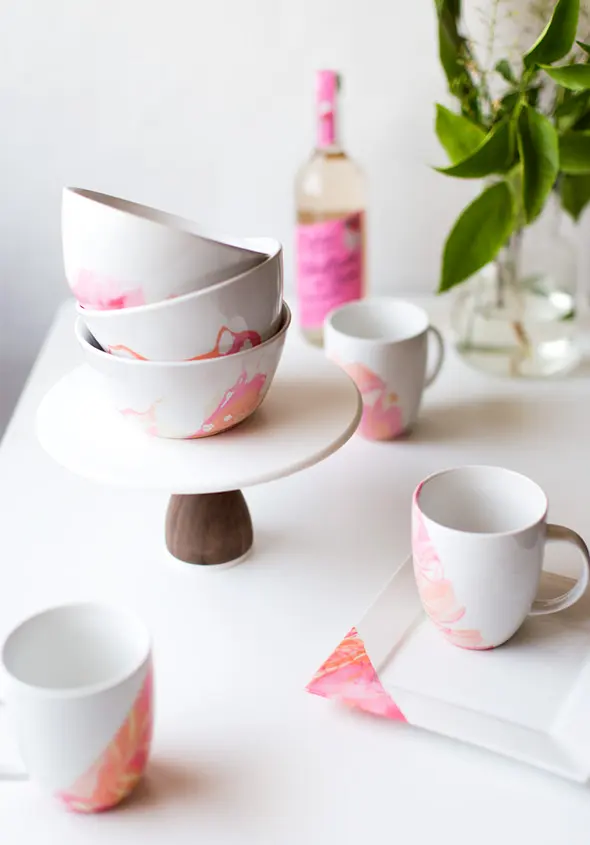 Credit: sayyes.com
I don't know of a single person who wouldn't love a gorgeous, hand-decorated set of matching dinnerware. This gift is for the refined—and slightly quirky—homemaker in your life.
All you'll need is a matching set of ceramic dinnerware, some nail polish in your chosen colors (I love the neon look), and a container large enough to dip the dishes into. The rest is up to your creativity!
Conclusion
Which one of these DIY Christmas gifts did you like the most? Which one would you like to receive yourself?