Got a bunch of wine bottles laying around? Why not make something useful out of them? Check out these beautiful wine bottle projects that will help you decorate your home.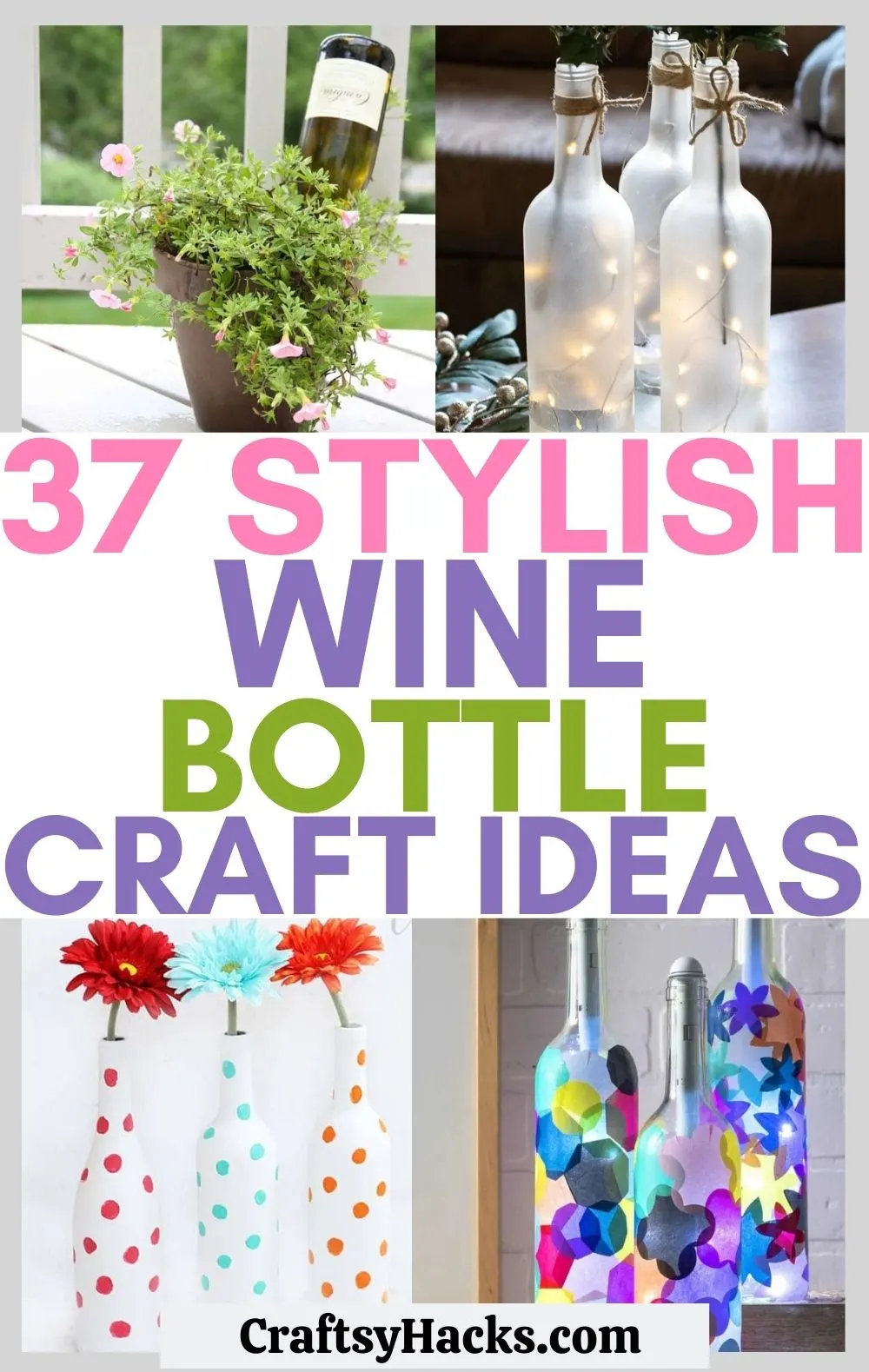 After a particularly lively party, I find that I have a ton of empty wine bottles left over. Now, being a borderline hoarder of all things pretty and craftsy, I naturally tend to save these bottles up.
Well, if you're in the same boat, you know what I mean! You can't be expected to throw out all those beautiful bottles (or recycle them, as we all should!). So, upcycling is the way to go!
Let me tell you how amazing those wine bottles can look with a little bit of paint and sparkly to jazz them up! No, actually, why don't you take a look for yourself?
Here are 37 wine bottle crafts that you can try out!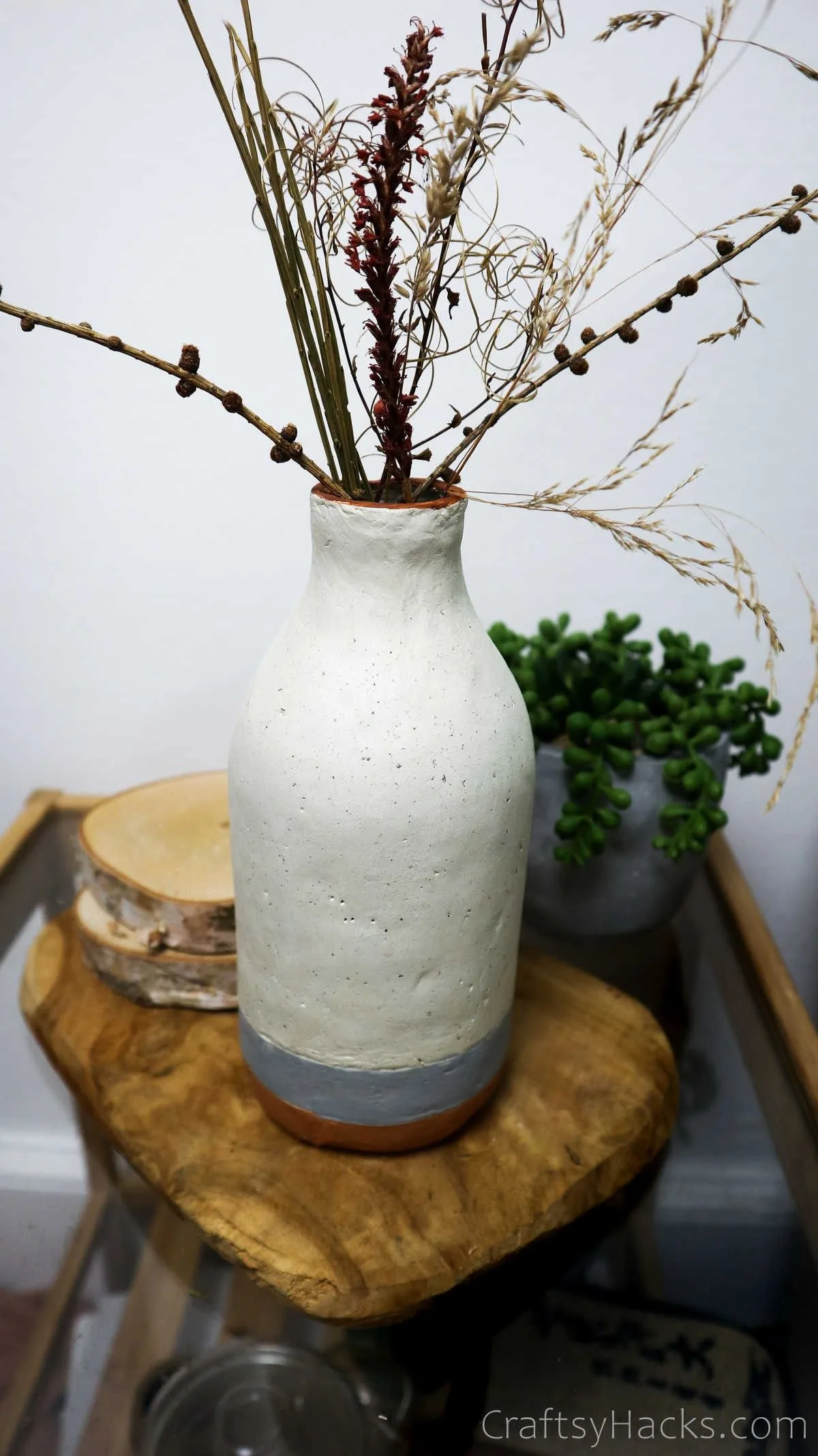 Source: youtube.com
This minimalistic vase has a rather Mediterranean vibe to it, doesn't it? It's so earthy and rustic, with just enough color from that rust-colored base.
You'll need to buy some air-drying clay from here, to begin with. Knead the clay with your hands—the warmth from your palms will make it easier to mold the clay.
Measure the circumference of your bottle and then cut the clay accordingly. Roll the clay around the bottle and smoothen it over the shape of the bottle—use water to do this!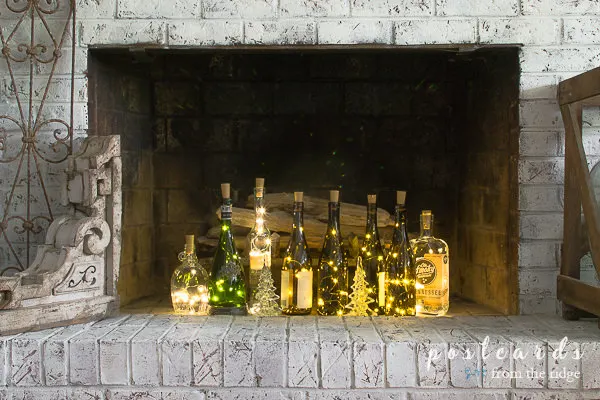 Source: postcardsfromtheridge.com
While I love luminaries just about any time of the year, they're particularly lovely during the winter months. All that light and warmth are particularly welcome in winter and Christmas, don't you think?
You'll need a couple of empty wine bottles. If you've got a couple at hand, go ahead and clean them out thoroughly before you use them. You'll also need wooden corks, which you can pick up here.
So, grab your fairy lights, and you're all set to get started on this project!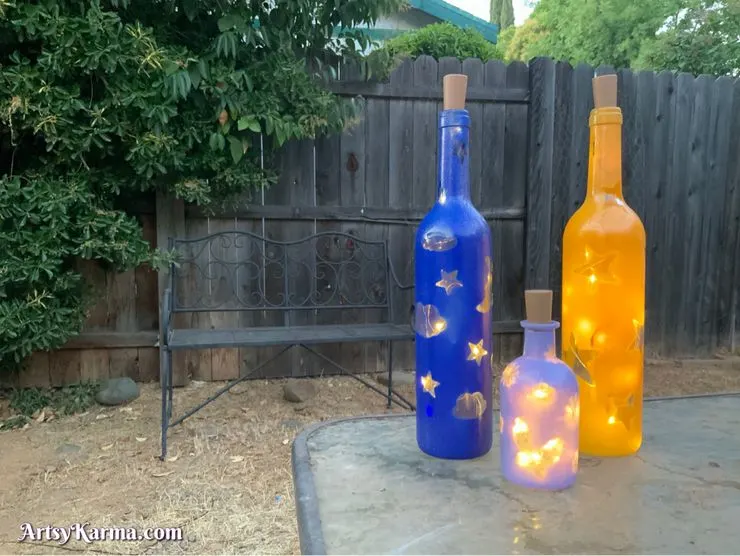 Source: artsykarma.com
These sparkly bottles would look wonderful on your kids' bedside tables. They're bright and cheery, and they've got stars!
Just think of how beautiful those stars will look, especially when paired with the stars on the ceiling. So, go ahead and grab some self-adhesive star foam stickers from here. You'll also need a bottle of this glitter spray.
The stickers also include tiny moons and clouds, so feel free to mix and match to recreate a starry night. Lay out newspapers before you spray the paint and glitter on!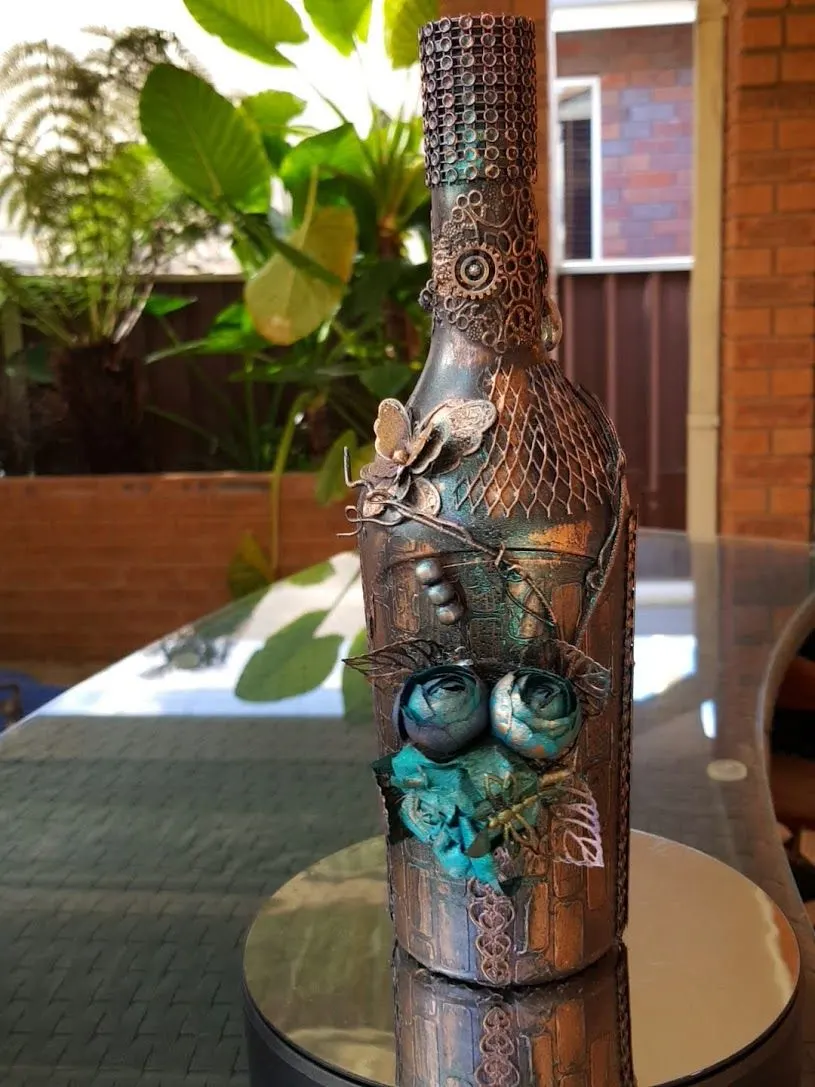 Source: uniquecreationsbyanita.com
You can decorate a bottle and give it a little facelift, sure. Or, you can alter it completely with a cork-to-bottom makeover.
How? We're talking completely new layers, colors, textures, and more!
You can see how this bottle has been upcycled and is used as the base for a lamp. You can use it as a decorative piece or a centerpiece, too.
It all comes down to preparing the bottle. You'll need to use this texture paste to create texture and use a stencil to layer that texture on.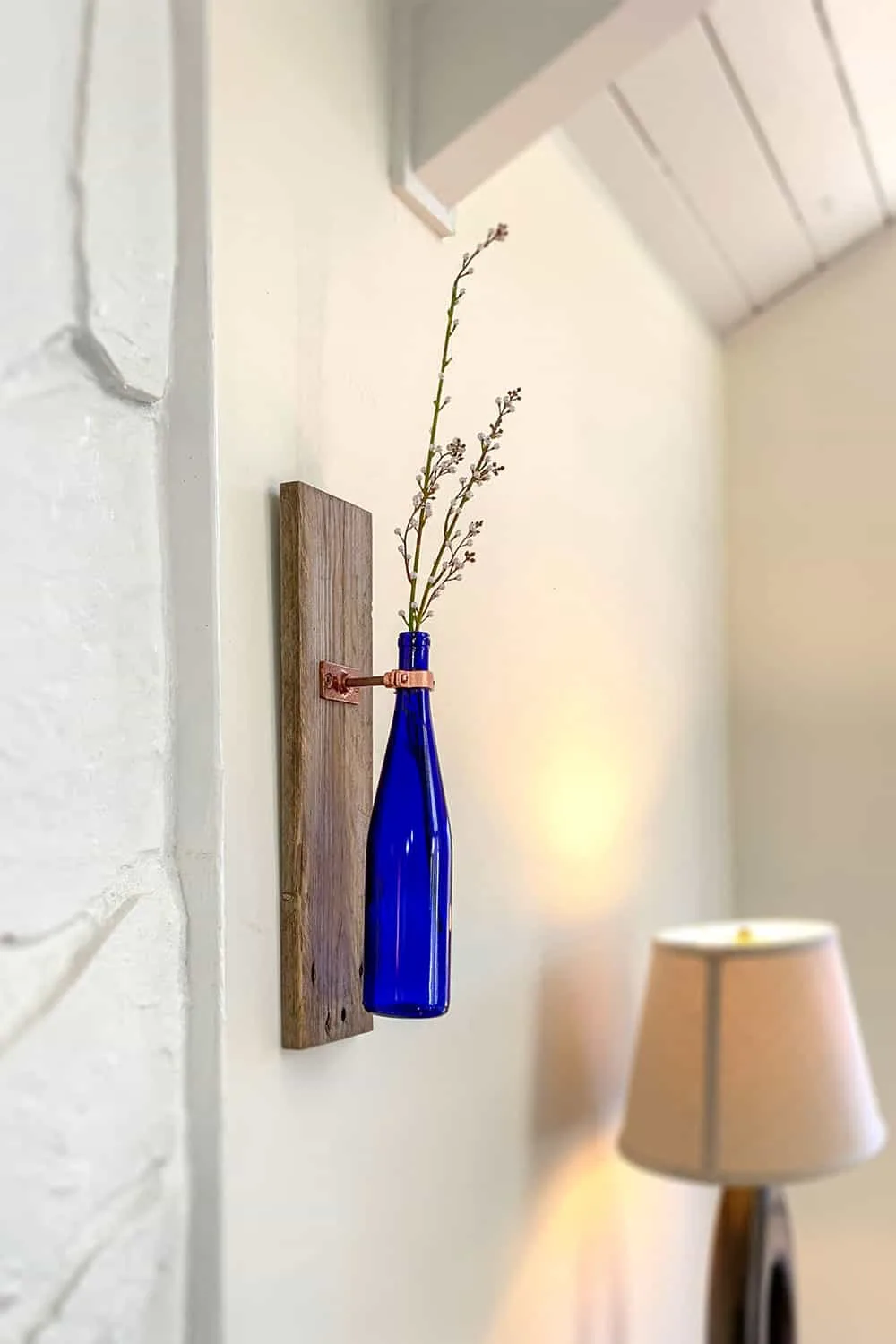 Source: artsyprettyplants.com
Vases on a table are an everyday occurrence. You know what's not? Wall vases—especially wall vases like the ones you see here that are made by upcycling old bottles.
Feel free to use colored bottles or just grab a couple of cans of spray paint and give them a little color lift. You can use up any scrap wood you have lying around for the backplate of the vase that goes into the wall.
Alternatively, you can pick up pallets here and choose a wood stain to give it a lift.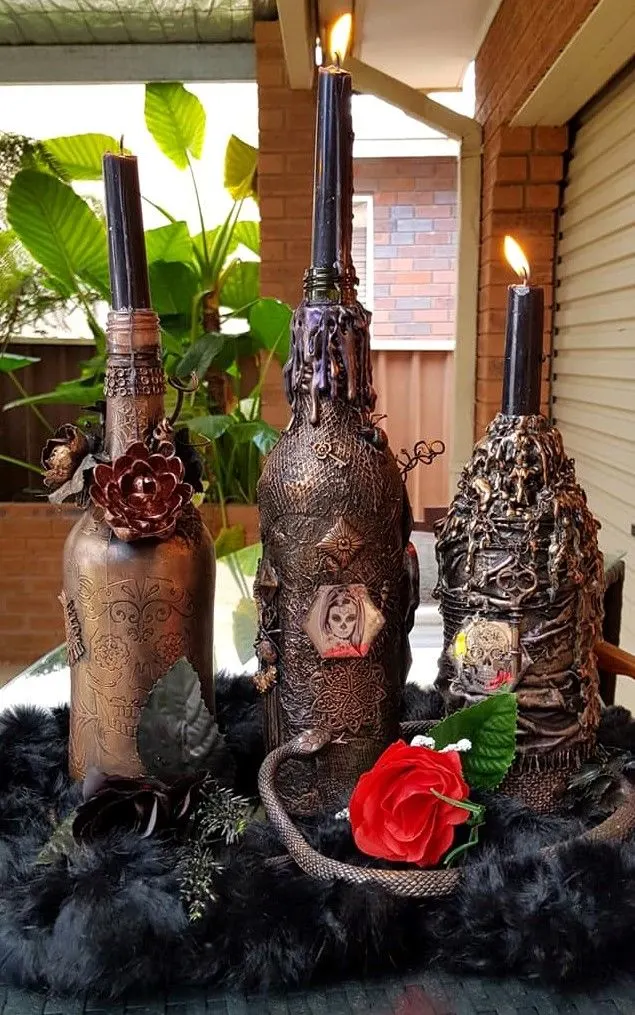 Source: uniquecreationsbyanita.com
Once more, it all comes down to giving the bottle added texture and depth. Halloween is all about hidden depths and mysteries, isn't it?
This bottle, you'll notice, is not too different from the one we saw earlier. But you can spook it up a bit with Halloween-themed or spooky embellishments like that skull cork and that scaly snake draped over the rim.
Don't you think these bottles look exactly like something you'd see on the sets of The Pirates Of The Caribbean?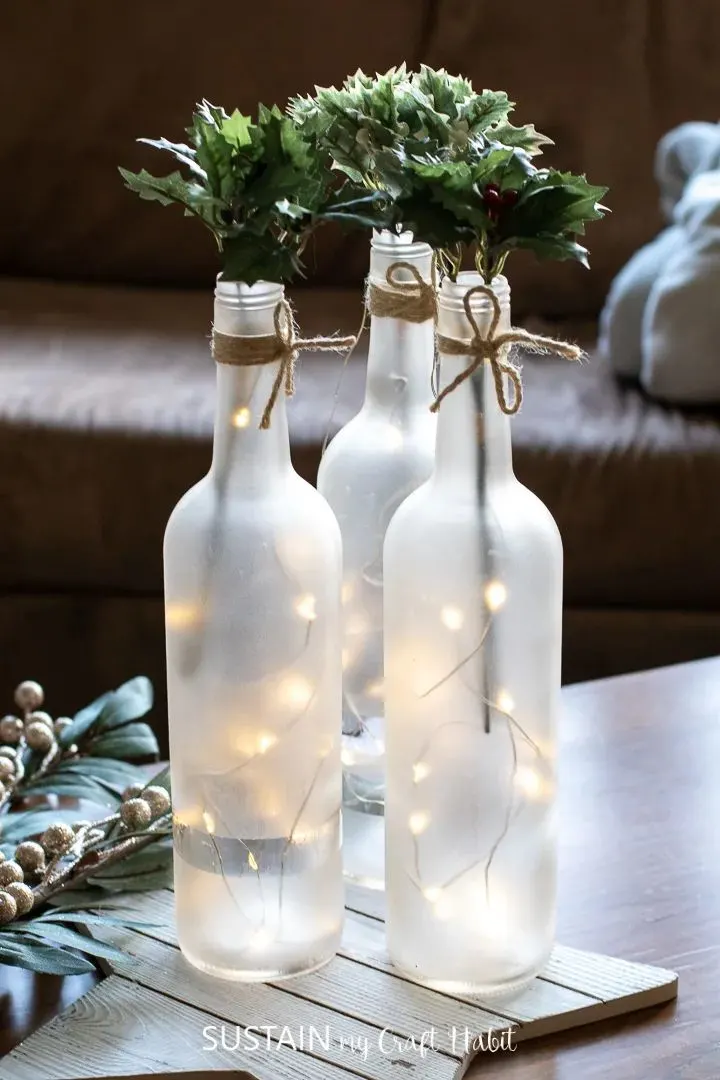 Source: sustainmycrafthabit.com
Frosted finish on a bottle? Yes, please! The next time you're thinking of painting your wine bottles, consider this frosted, icy blue-white finish.
They're not too opaque, but just hazy enough to make you feel all mellow and calm, like watching snow frost the window panes ever so little on a cold, wintry night.
So, wash, rinse, and dry your bottles and then buy some of these fairy lights to put inside the vase.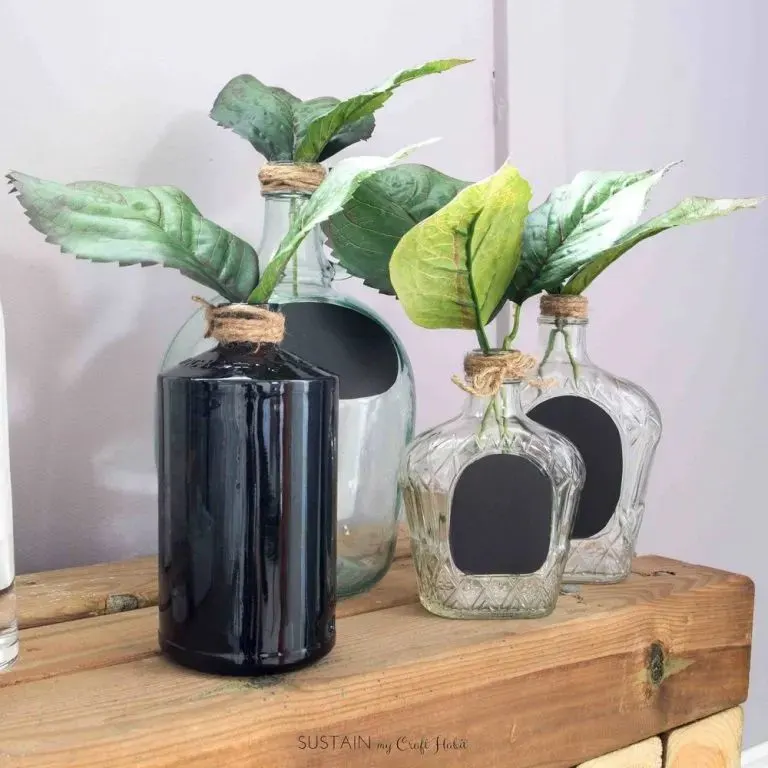 Source: sustainmycrafthabit.com
It's a tale as old as time and ages better than wine. People have been repurposing bottles for ages, and turning them into vases is perhaps the most popular alternative.
You don't have to stick to just wine bottles, though. You can use different bottles with different shapes that would look fabulous as vases.
Now, I know it can be a little tiresome to try and fit a bunch of flowers into such a narrow mouth. Have you considered a cutting of money plants, instead?
Just fill the bottle up with water and stick the cutting in there to watch it grow!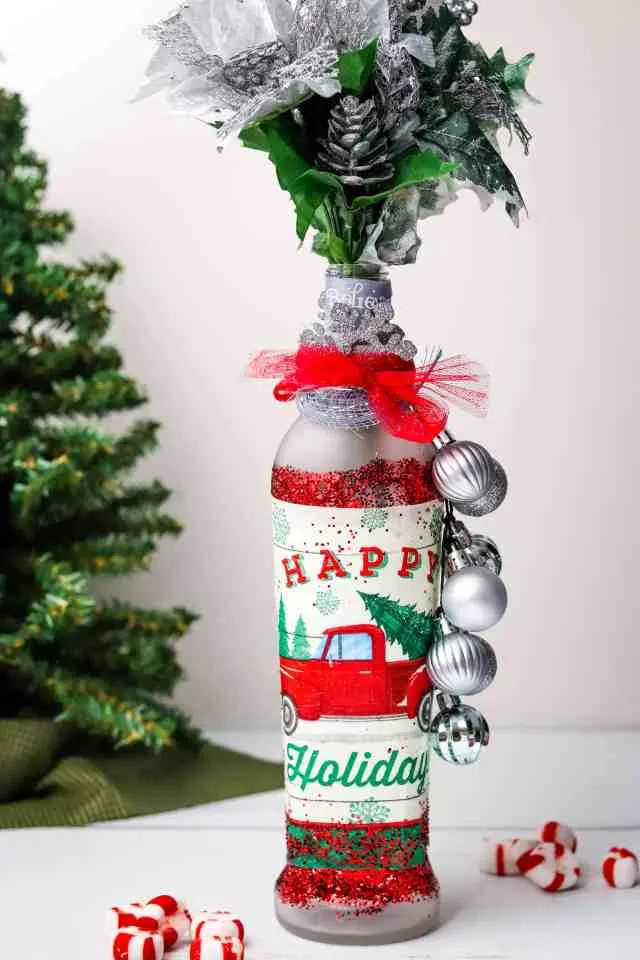 Source: seasonalmemories.com
Plain old wine bottles during the holiday season can be a bit of a damper. That's as a part of the decoration, that is. I'm sure the actual wine in the bottles would be a definite hit.
But instead of using muted colors to decorate the bottle, why don't you try this half-hour craft project where you can decoupage it instead?
Grab some mod podge from here to begin with. You'll also need your various Christmas ornaments, embellishments, ribbons, twines, and the napkin you've picked to use as the base.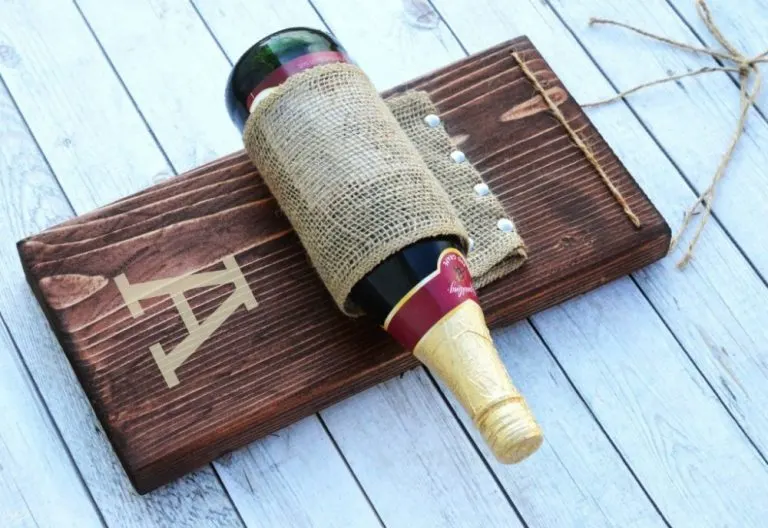 Source: scrappygeek.com
Now, I bet your friends would love a bottle of wine as a gift, but why don't you take it a step further? Why don't you put all your crafts skills to good use and make a wine bottle holder to go with the actual wine?
You'll have to pick out the wood first and a wood stain of your choice. You'll also need super glue, nails, your toolbox, and finally, some burlap ribbon from here.
Once you've gathered everything you need, you can start working on the project. Here's a little something extra you can do: you can monogram the word with paint or carving into it!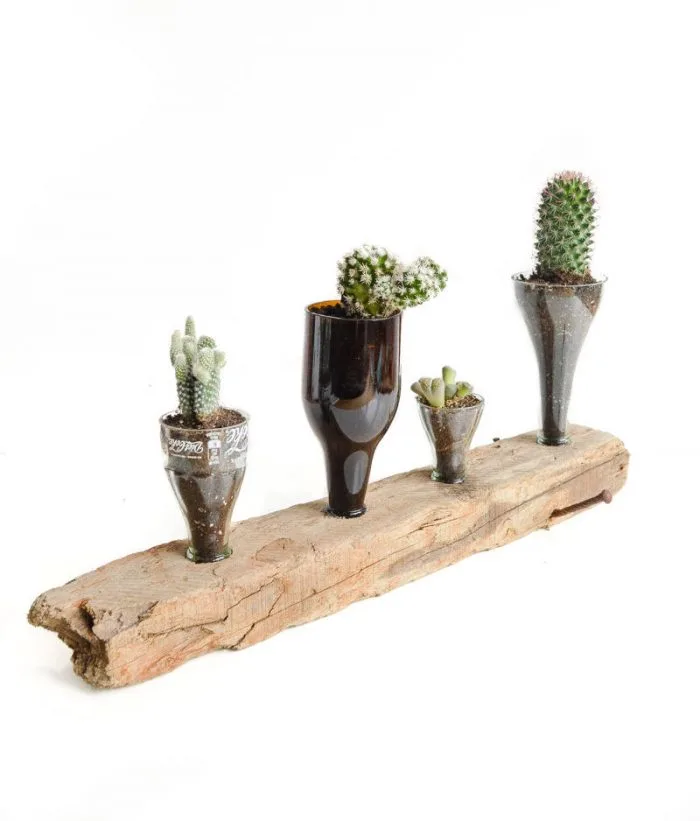 Source: vickymyerscreations.co.uk
You know, I really do love cacti. It's mostly because they're pretty hard to kill; even I, with my infamous black thumb, can't do much harm to these sturdy cacti.
But just because they're hardy doesn't mean they don't deserve fancy containers. So, grab a glass bottle cutter from here and a couple of glass bottles to get started.
You'll also need this drill and garden tool to help you work with the glass more effectively. Trust me; you don't want the glass to crack by trying to poke a hole with an ice pick or something.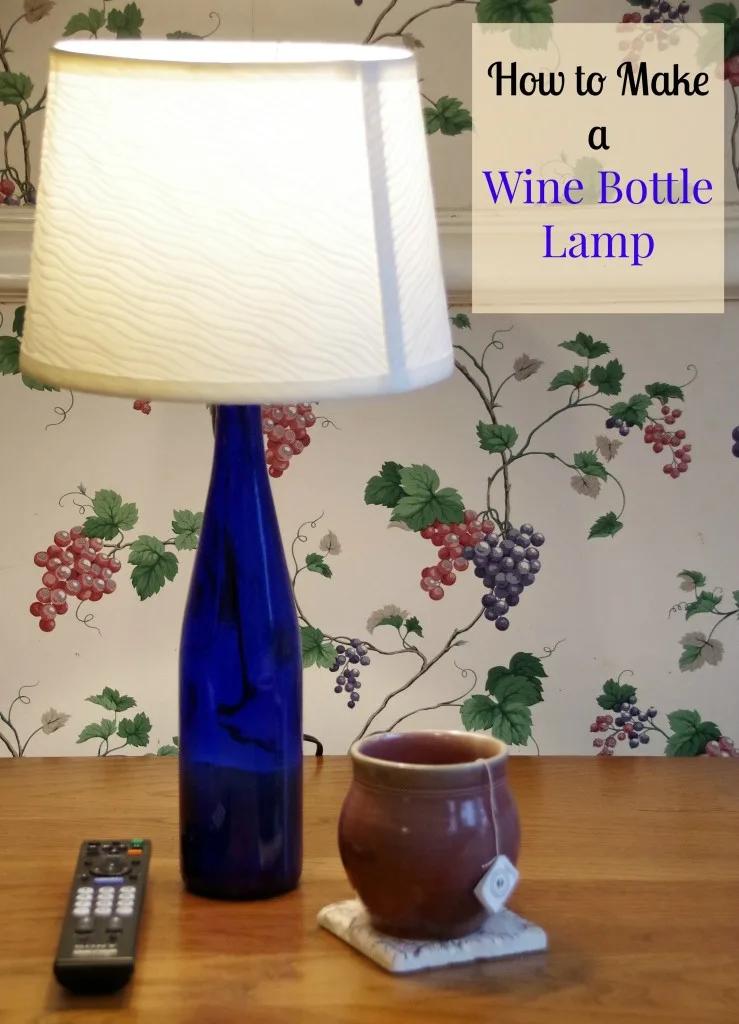 Source: turningclockback.com
Wine bottles make wonderful lamp holders. I'm not talking about sticking a string of fairy lights in there and calling it a lamp, no.
This one's an actual lamp, with a bulb and a lampshade and everything. You'll need an LED bulb—yellow or soft white is my favorite.
You can also pick up a wine bottle lamp kit from here. It comes with an adapter, wire, and a snug washer to help you fit the bulb in. All you need to do now is wash, clean, and completely dry your wine bottle before you use it.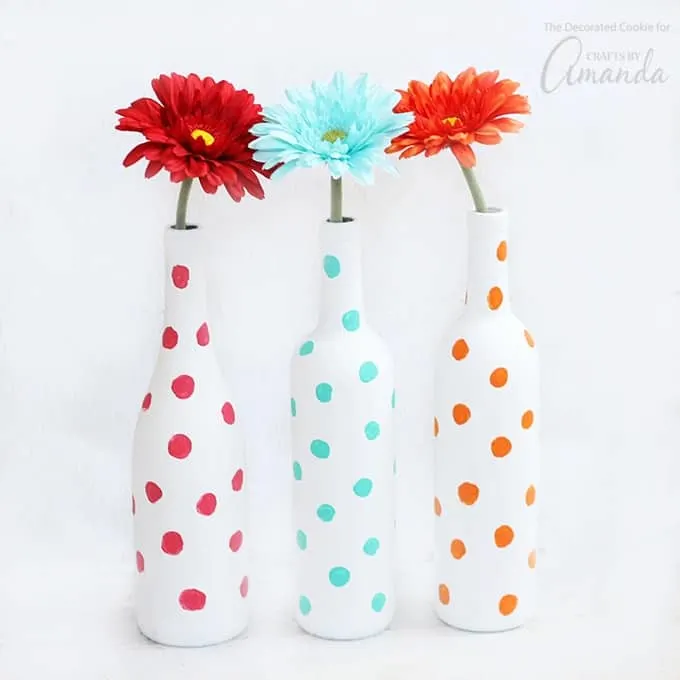 Source: craftsbyamanda.com
There is something so inherently cheerful about polka dots, isn't there? Grab your wine bottle and spray paint it a nice chalky matte white(look here).
The more matte it is, the more colorful the polka dots will look against it. If you're going for a shabby-chic finish, then you can use a bit of sandpaper and gently 'distress' the paint.
Now, just grab a packet of mini marshmallows to use as a dot stamp. If a few of those marshmallows end up in a bowl of hot cocoa, even better!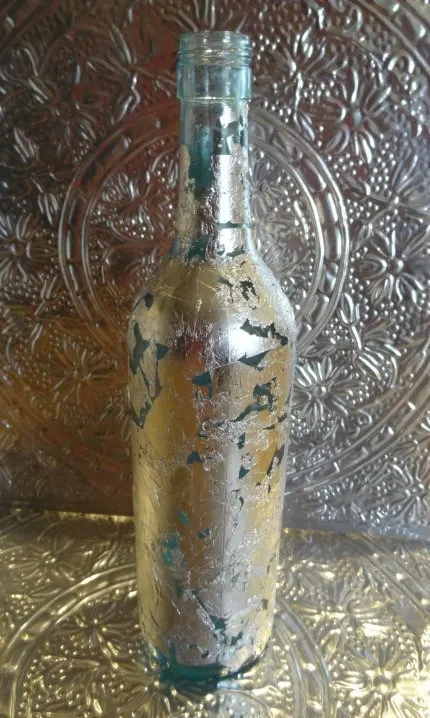 Source: craftbits.com
Speaking of shabby-chic finishes on wine bottles, take a look at this one! Look at how crafty and artsy this silver leaf-ed wine bottle looks!
If you're in a hurry and need to upcycle a wine bottle super fast, then this is the project for you. All you need are a few sheets of silver—or any metallic—self-adhesive leaves from here.
You'll also want to grab some clear drying varnish or mod podge and a paintbrush. Don't forget to have a few paper napkins at hand before you get to work on this project!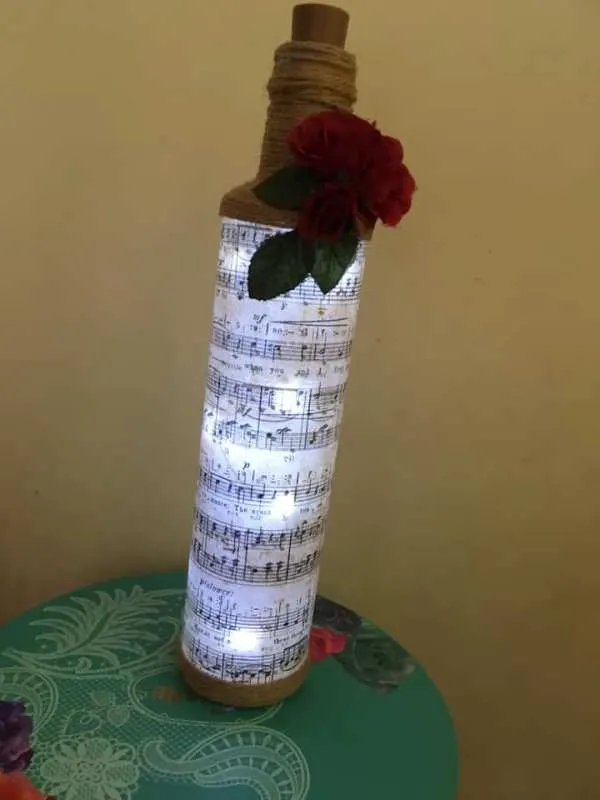 Source: craftbits.com
Don't you love how this reminds you of a vintage Christmas? Not your typical snowy white Christmas, but rather, something more earthy.
The Christmassy part of this bottle revolves around the sheet music you'll be using. Download your favorite Christmas jingle sheet music in some parchment paper to recreate that old-time look.
You can also drop some fairy lights into the bottle—this one comes with a battery-operated cork that you can seamlessly blend into the bottle by corking it.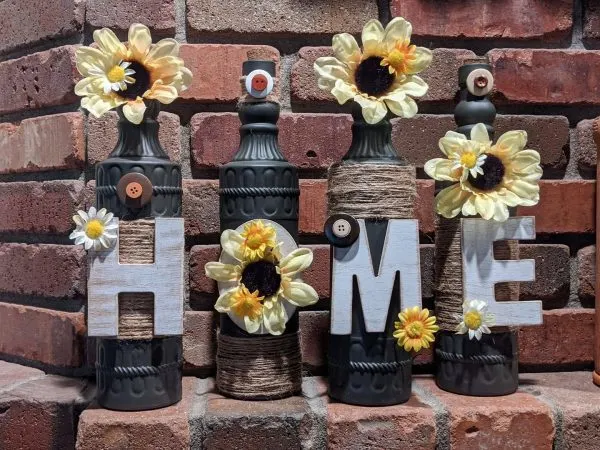 Source: craftbits.com
The farmhouse-chic decor is all in rage at the moment, and I can see why! Just look at home rustic yet sublime these bottles look.
Once you decorate them, you'll see just how fabulous a couple of old wine bottles can be. You'll need to buy wooden letters from here to spell out 'home.'
You can also get a few faux florals to soften all that rusticity—sunflowers, daisies, or white lilies would be perfect here. Don't forget to grab some jute or hemp twine while you're at it. Nothing says farmhouse-chic than jute-wrapping.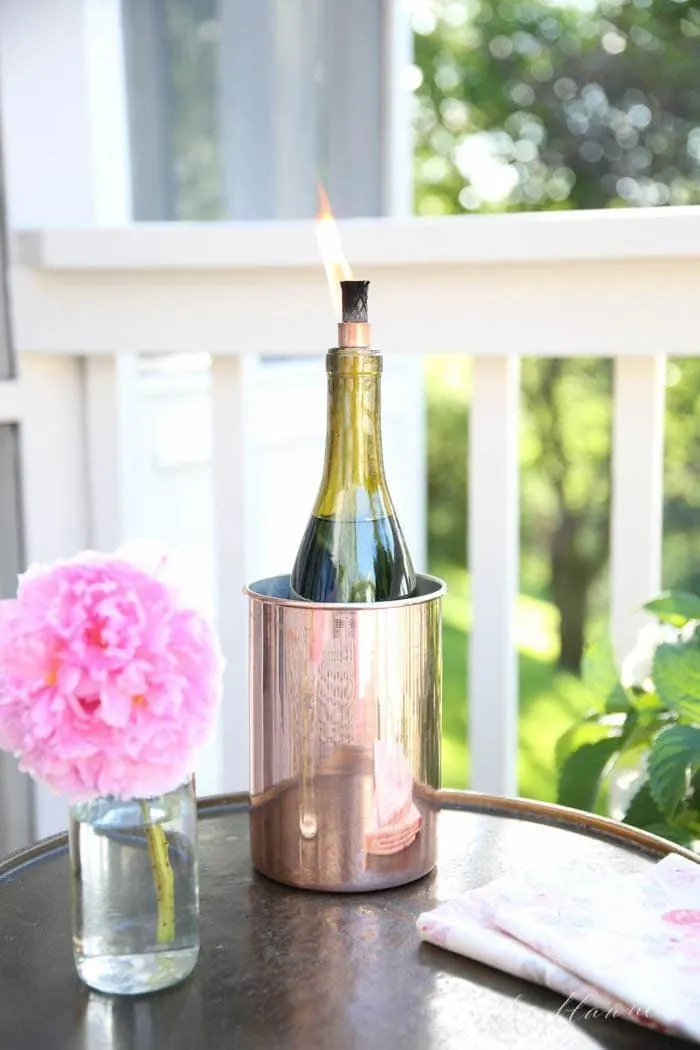 Source: julieblanner.com
I love a good luau just as much as the next person – everything about it—the music, the food, the lights…I particularly love tiki torches. They're so elemental and awe-inspiring, almost, don't you think?
You can have your own tiki torch at home in just 30 minutes. You can repurpose old wine bottles and fill them up with tiki torch fuel(buy it or make your own eco-friendly fuel at home) and tiki wick.
You'll also need some of this sealant tape, so don't forget to pick it up when you're shopping for the rest of your supplies.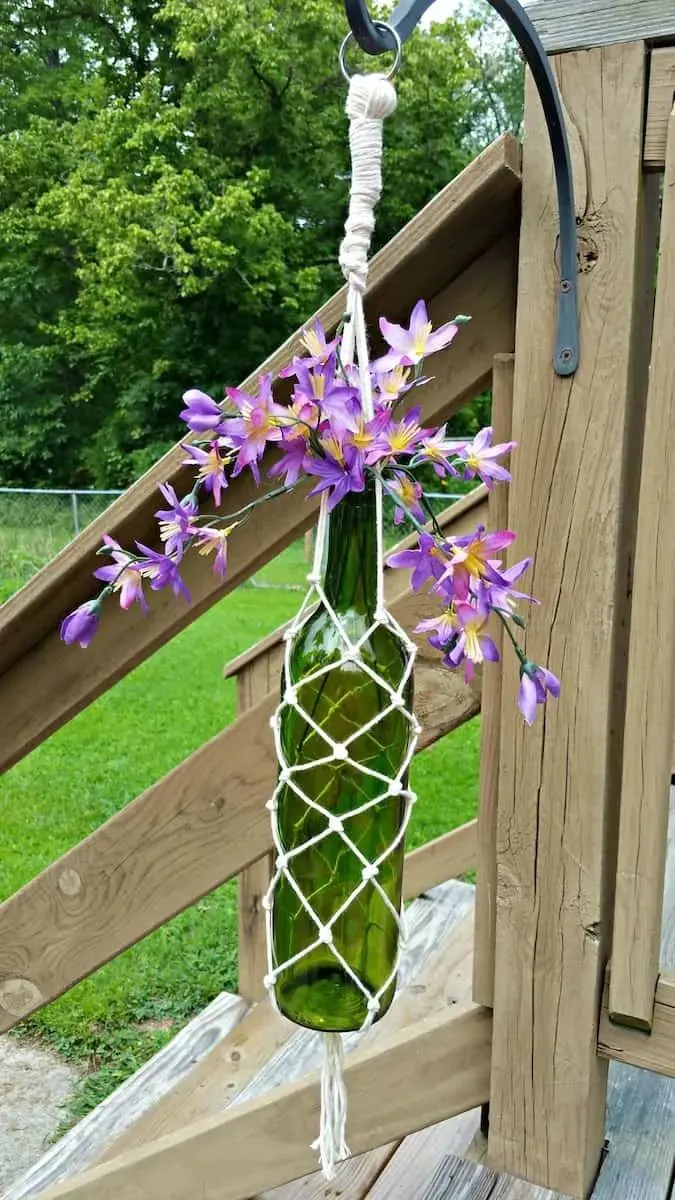 Source: singlegirlsdiy.com
You've already read about how you can transform an old wine bottle into planters and vases. Why don't you take a look at a bottle hanger now?
Once you've repurposed the bottle into a vase, then you can set it down on the table, sure. Or, you can go one step further and make this macrame bottle/vase hanger.
This would look fabulous hanging on your front porch, don't you think? Or you can use it as a bottle holder for actual wine bottles.
Just grab some sturdy macrame Cord from here and follow the instructions to make your very own hanger.
Love the macrame? You might also want to make these macrame earrings.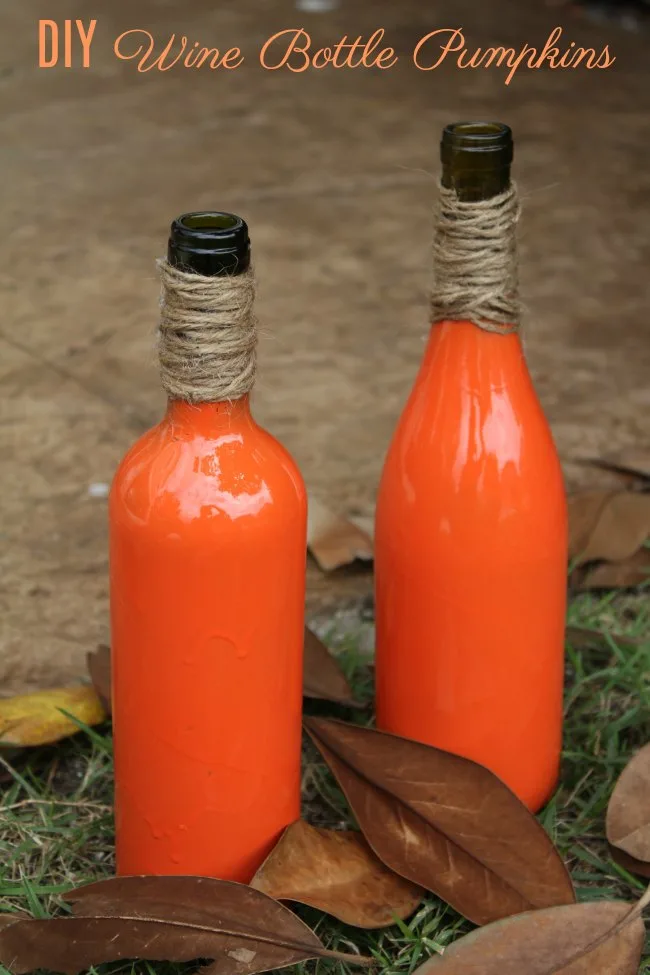 Source: foodwinesunshine.com
You know that Halloween is just a few weeks away, and I bet you're on the lookout for a craft project or two. Not the plain old pumpkin carving activity, but something more creative, perhaps?
These wine bottles aren't technically pumpkin-shaped, I know. But with a slap of pumpkin orange paint, you can upcycle them to augment your Halloween decor.
Why don't you wrap some twine around the rim while you're at it? There's always room for twine, and it always does wonders to jazz up just about anything.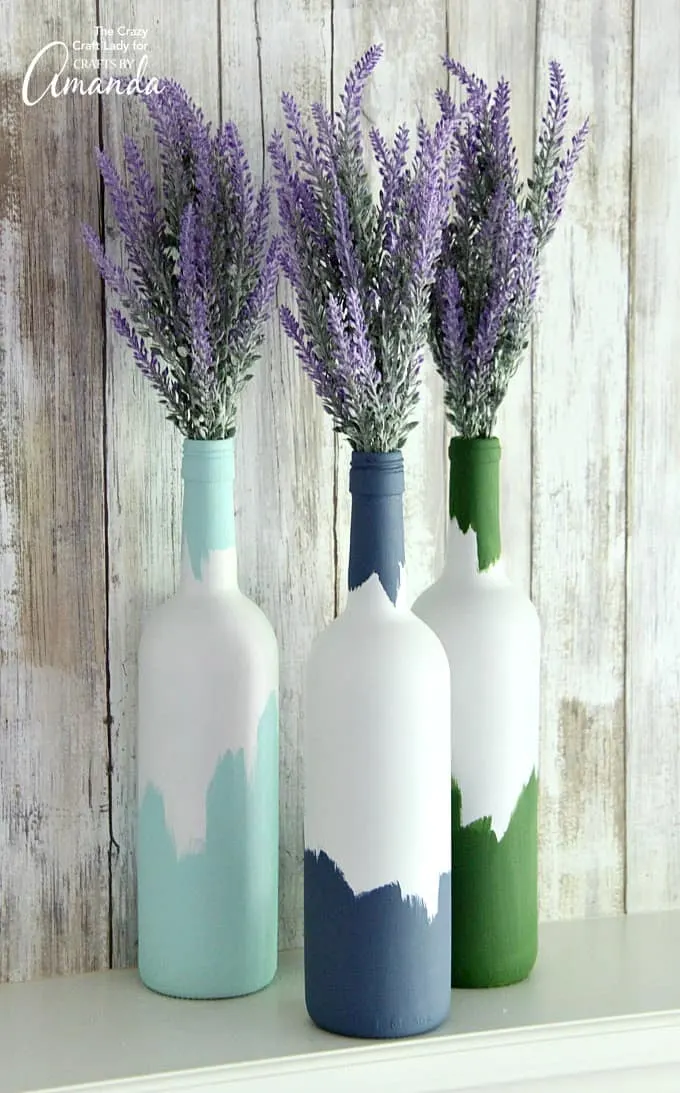 Source: craftsbyamanda.com
I've always loved lavender. I'm constantly incorporating it into so many aspects of my life, from essential oils to potpourri.
If you want another vase to put your lavender in, then check these gorgeous matte-finished minimalistic vases. They're literally just old wine bottles that you can paint and jazz up.
First, apply a few layers of white paint to give your bottle a uniform matte finish. Then, grab a couple of paintbrushes and paint this pattern over it.
You don't have to be too careful or symmetric—we want that shabby-chic effect on the vase.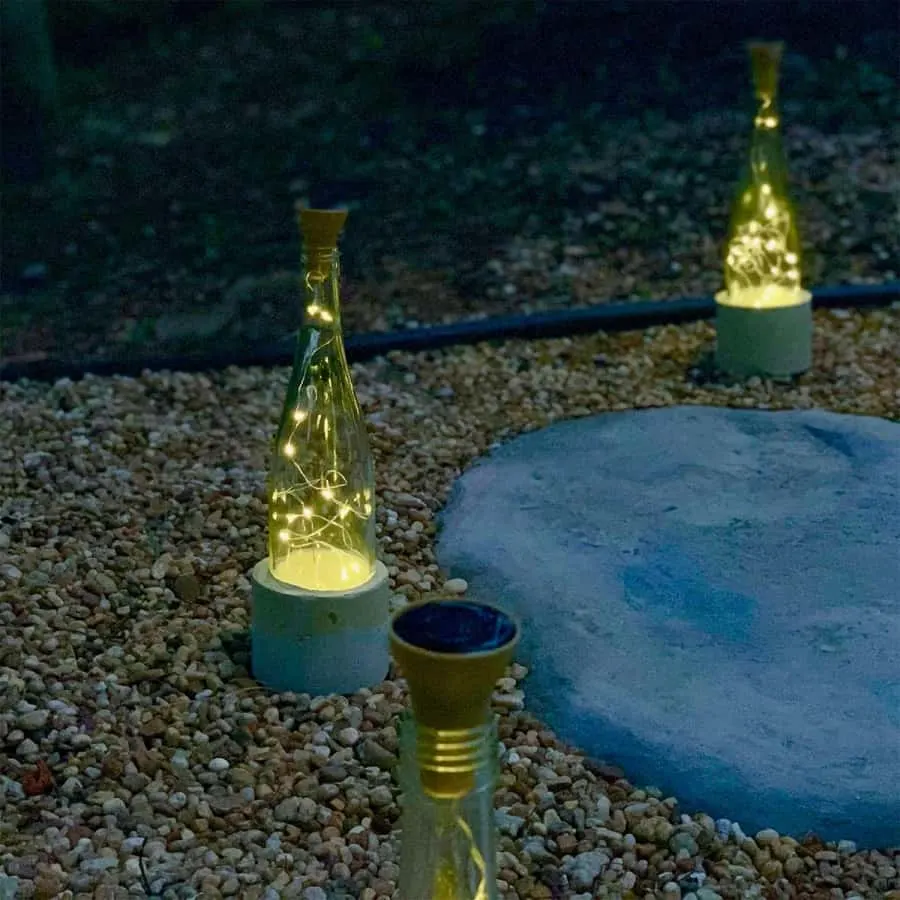 Source: artsyprettyplants.com
Are you familiar with light soars? Well, with the right kind of outdoor lighting, you can transform your garden, porch, and garden path into a magical and well-lit area.
You know the drill: once you've washed and cleaned your wine bottles, dry them out completely. Then, drop a length of solar-powered LED fairy lights in them.
You can just place these bottles up your front porch steps, or you can make cement stands as you see in this project. Just follow the instructions, and you'll have a garden paradise in no time!
Check out these fall porch decorating ideas! Why don't you also take a look at this DIY dollar tree lantern if you're looking for more outdoor lighting ideas?
Source: hearthandvine.com
I love the irony at play here. Recycling and using the bottom of wine bottles as drinkware? I love it!
Not only do you have the opportunity to recycle bottles, you also have a unique gift idea. Don't you think your friends would love a set of these glasses?
You'll need to whip out your glass bottle cutter for this project. First, though, you'll need to figure out just how tall you want your glasses to be before you actually cut them.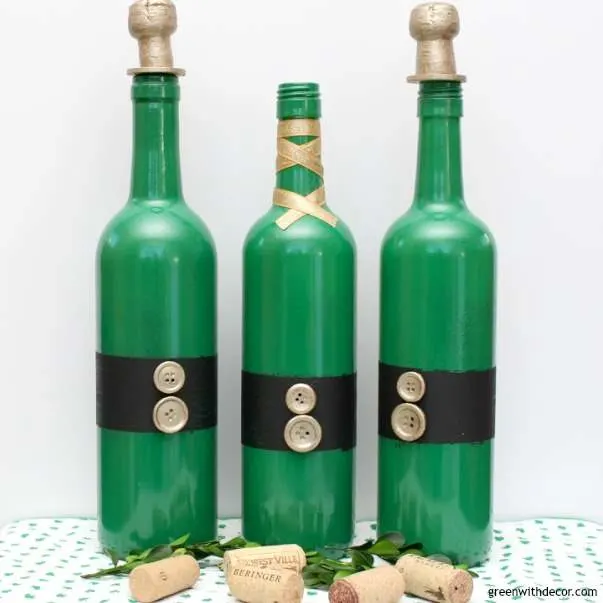 Source: greenwithdecor.com
I don't even have to tell you what color of paint you'll need for this project; just grab a can of green spray paint from here, and you're already halfway there.
You'll also need masking or painters' tape, buttons, corks, wood chips, and your hot glue gun. Feel free to paint your buttons and cork a nice glossy gold.
You should probably grab an old drop cloth or lay out some newspapers to catch any errant paint splatters. Also, you might want to consider donning some protective gloves if you want to keep your hands clean.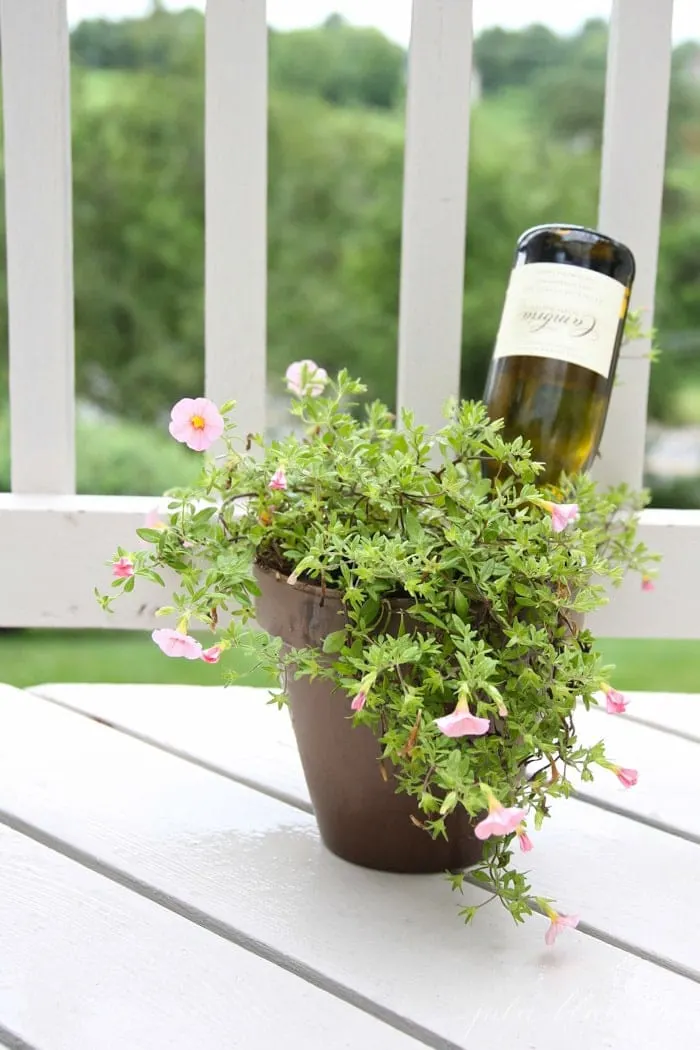 Source: julieblanner.com
When you're away on holiday for a few days or just flying out to visit home for a day or two, then you've got to plan what you're going to do about your plants. Do you have someone who can water them and care for them while you're away?
With this super easy project, you can hydrate your plants with water as often as you hydrate yourself with wine. Grab a couple of corks from here, first.
Once you've put your wine bottle waterer together, you can upend the bottle and stick it into the plant in question. They'll stay hydrated for at least a couple of days!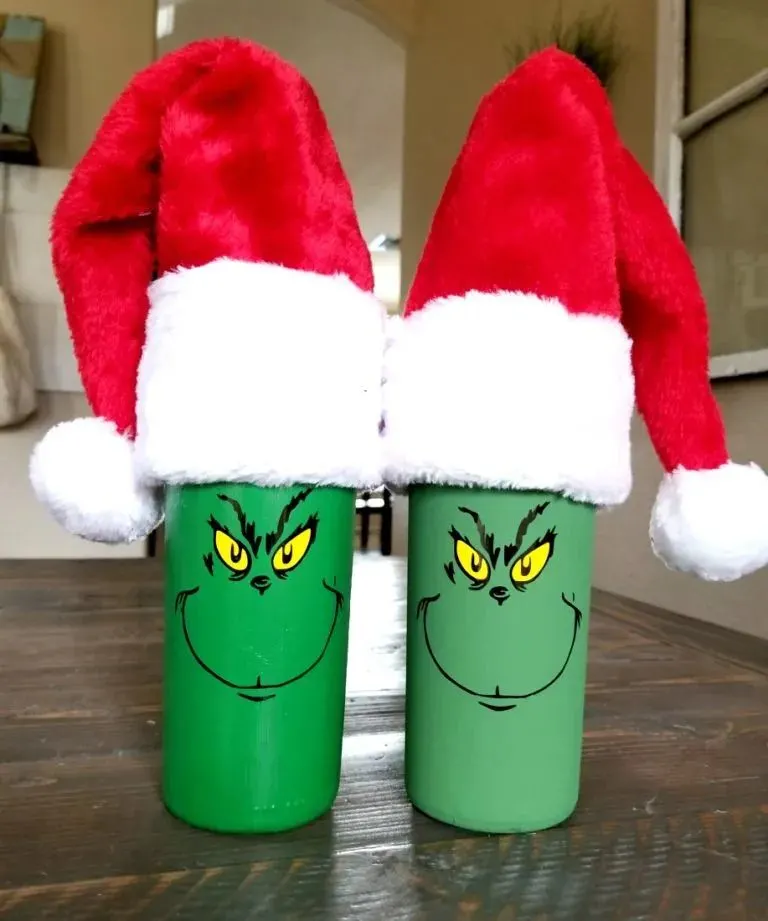 Source: leapoffaithcrafting.com
I love how wonderfully accurate these wine bottles have captured the Grinch's expression. It seems super cheeky, doesn't it, to put that Christmas hat(look here) on top of the bottle?
I wonder if you have any of that green spray paint left from your previous projects. Grab that can, as well as a couple of brushes, black paint, and some clear spray sealant.
You'll also need to use your Cricut machine for this project, so why don't you go ahead and grab some vinyl, too? Self-adhesive vinyl sheets from here would be the best option.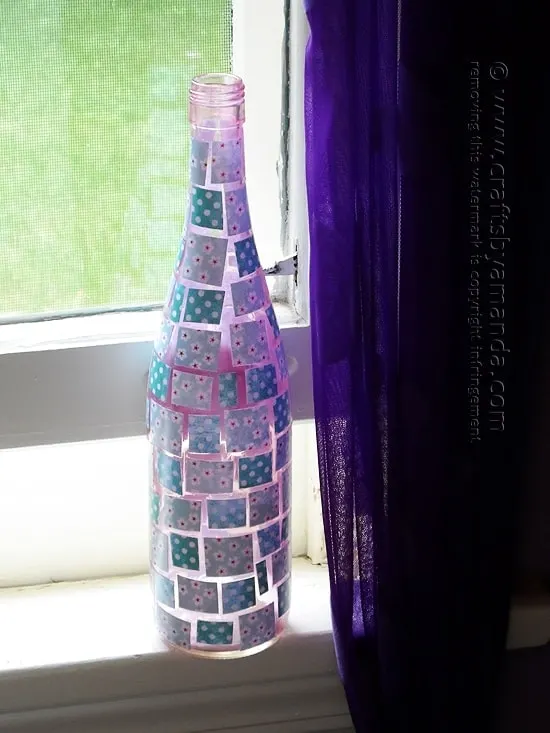 Source: craftsbyamanda.com
I love mosaic craft projects. They're a great way to finally use up or upcycle all those little craft bits I always have lying around.
So go ahead and pick out some scrapbook paper from your paper stash?. You're going to be making a paper mosaic which is super easy but super pretty, too.
If you can, you can use light-colored bottles as the base. They'll work the best with paper mosaic. In fact, if you place them next to a window, they'll catch the light just wonderfully!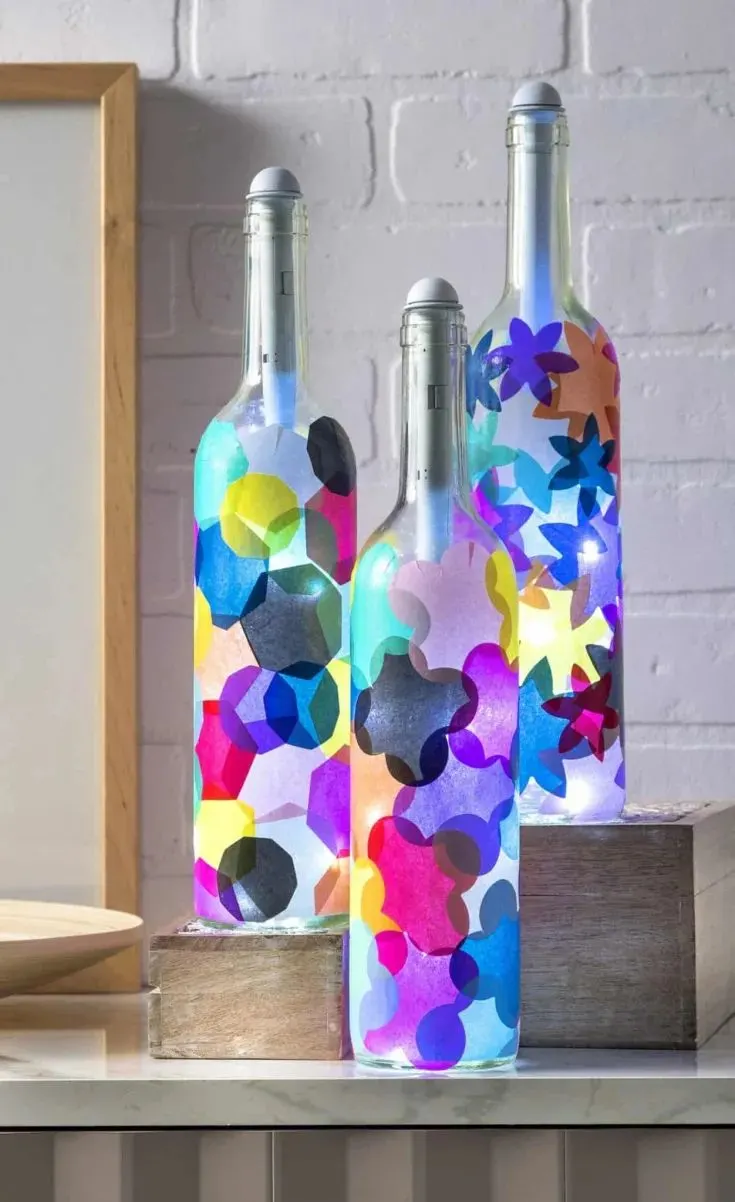 Source: modpodgerocksblog.com
Speaking of catching light, check out yet another upcycled wine bottle lantern. Isn't it utterly gorgeous? Truly a perfect project for adults.
The bottles themselves are a work of art. The fact that you can use them as lanterns really takes the cake, doesn't it? So go ahead and clean your bottles thoroughly first.
Then, grab one of these 'light my bottle' lights from here. You'll be inserting these into the mouth of the bottle to light them up and use them as lanterns.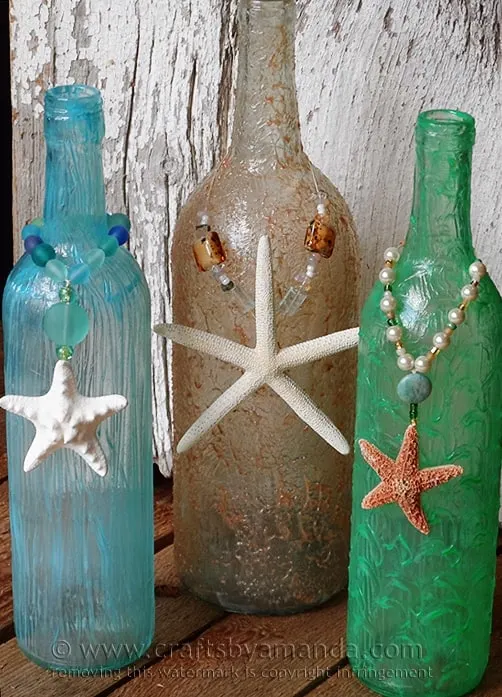 Source: craftsbyamanda.com
The only thing I could possibly love more than finding a message in a bottle on the beach is these beach-themed bottles. Just look at all those pretty beach embellishments.
You've got a big starfish, pearl bead necklaces, and seashells to choose from. And, don't you love that wind-blown sea glass effect on your wine glasses?
You can use this heavy gloss gel from here to texture the glass! When you're done, just allow it to dry completely before you hot glue the embellishments in place.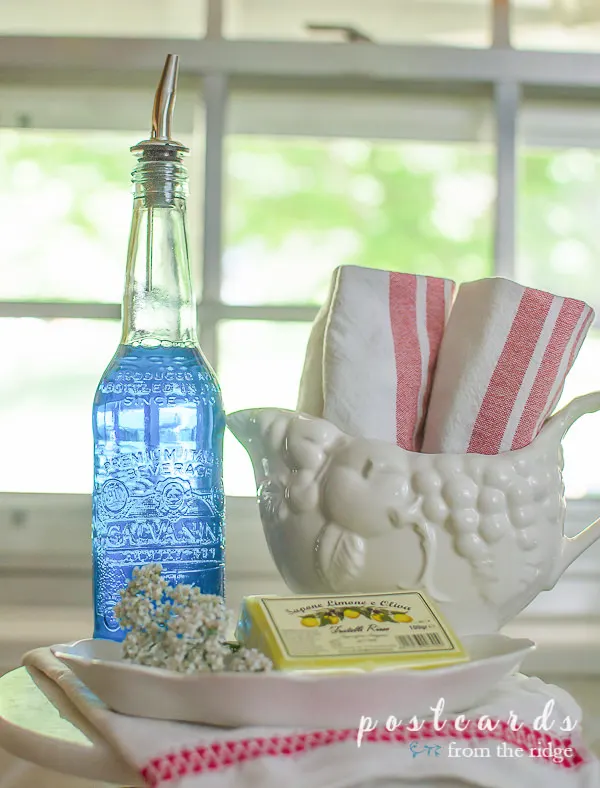 Source: postcardsfromtheridge.com
Doesn't it make a ton of sense to just repurpose those old liquor bottles you have into…soap dispensers? No, really, hear me out.
Soap dispensers are always in short supply around my house, and every bathroom deserves a unique one like this, don't you think? Besides, you only just need to pick up a few dispenser sprouts from here, and you're set.
You can also use these glass dispensers to store your cooking oil, sauces, and other food liquids like syrup and salad dressing.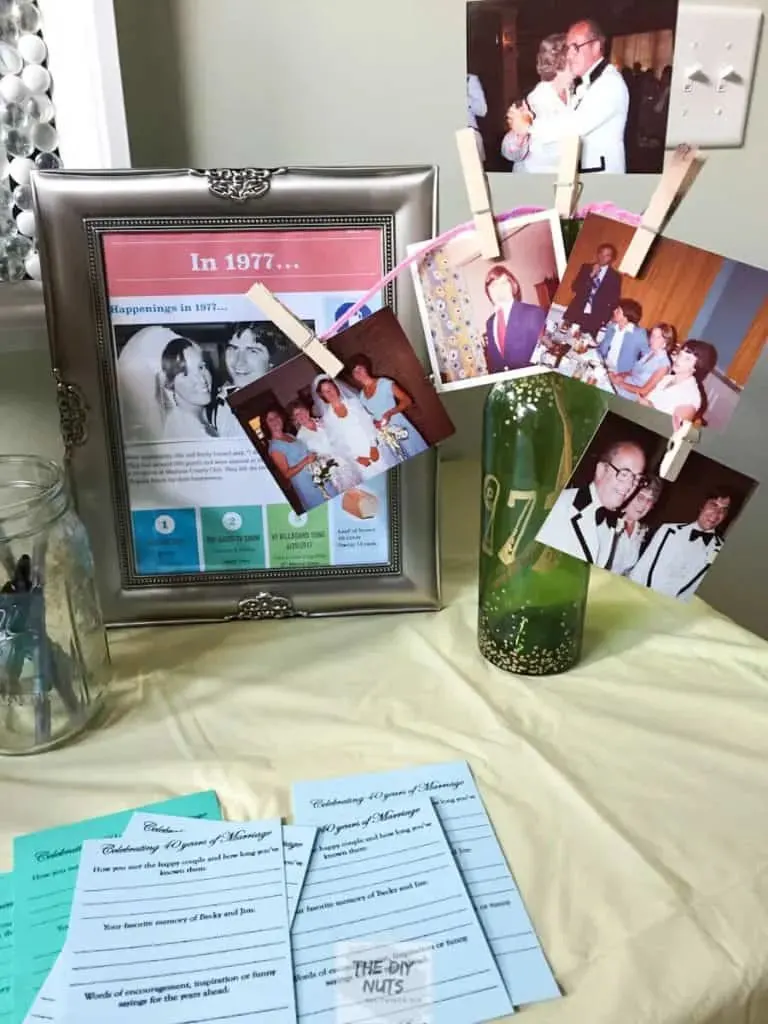 Source: thediynuts.com
When you're celebrating an anniversary, you have to commemorate all those beautiful years spent together with your spouse in a memorable way. I bet you've amassed a ton of pictures over the years.
What better way to celebrate all those beautiful memories but to actually have visual representations of them at your party? Why don't you go over them and pick out your favorite ones?
Then, you can have them sized and printed. With a few wine bottles, pipe cleaners, and some wooden clothes pegs from here, you've got yourself a fantastic photo display.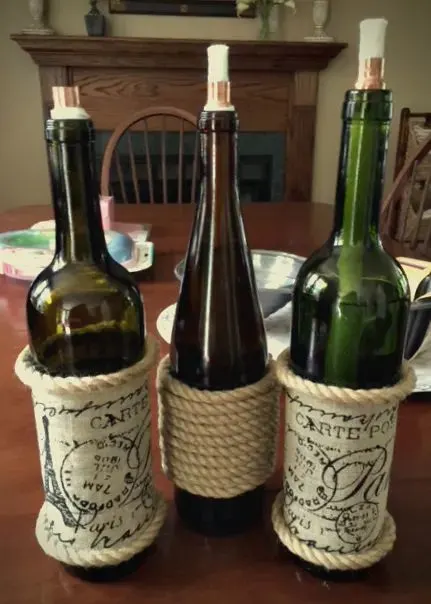 Source: ourcraftymom.com
I wonder if you saved some of that eco-friendly tiki fuel from earlier because I have another tiki torch project involving wine bottles for you to try out. You can pick up a tiki torch kit right here.
These bottles are naturally colored, which really adds a lovely vintage touch to the torches, don't you think? You can, of course, use other liquor bottles if you want different shapes.
You can grab some rope or cording from here to wrap around the middle. This makes it easy for you to handle or move the torches once it's been lit.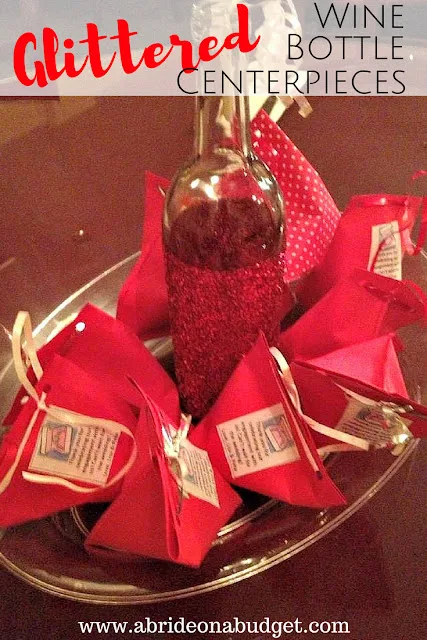 Source: abrideonabudget.com
Do you really need a reason to add sparkle to any craft project? I thought not. So let's grab some glitter from here and bedazzle these wine bottle centerpieces!
You'll also need to plan and gather your party favors as this centerpiece display will include them. You can place everything on these trays if you like!
If your party is around the Holiday season, feel free to alternate green and clear glass bottles. You can add red glitter to bring it all together!
Check out these festive Christmas centerpiece ideas!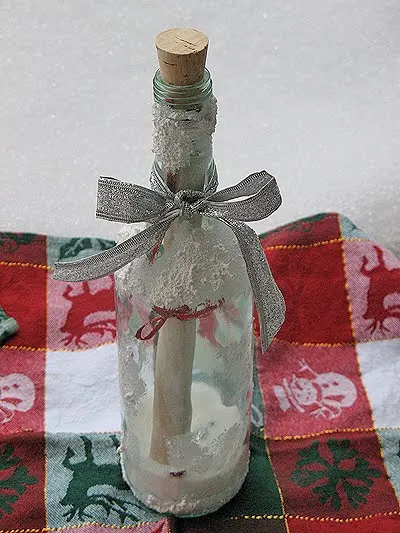 Source: craftsbyamanda.com
There are many many avenues for you to use this message-in-a-bottle idea. They can be used as super-fancy invitations to a party, a way to hand-deliver an important letter, or even just as a decorative item around your home.
The point is that they're easy to make and universally loved. So, grab a couple of empty wine bottles and start by cleaning them thoroughly in preparation.
To decorate the bottles, just wrap a nice big bow with ribbon from here around the neck of the bottle. You can also play around with the embellishment and use something really fancy as a cork.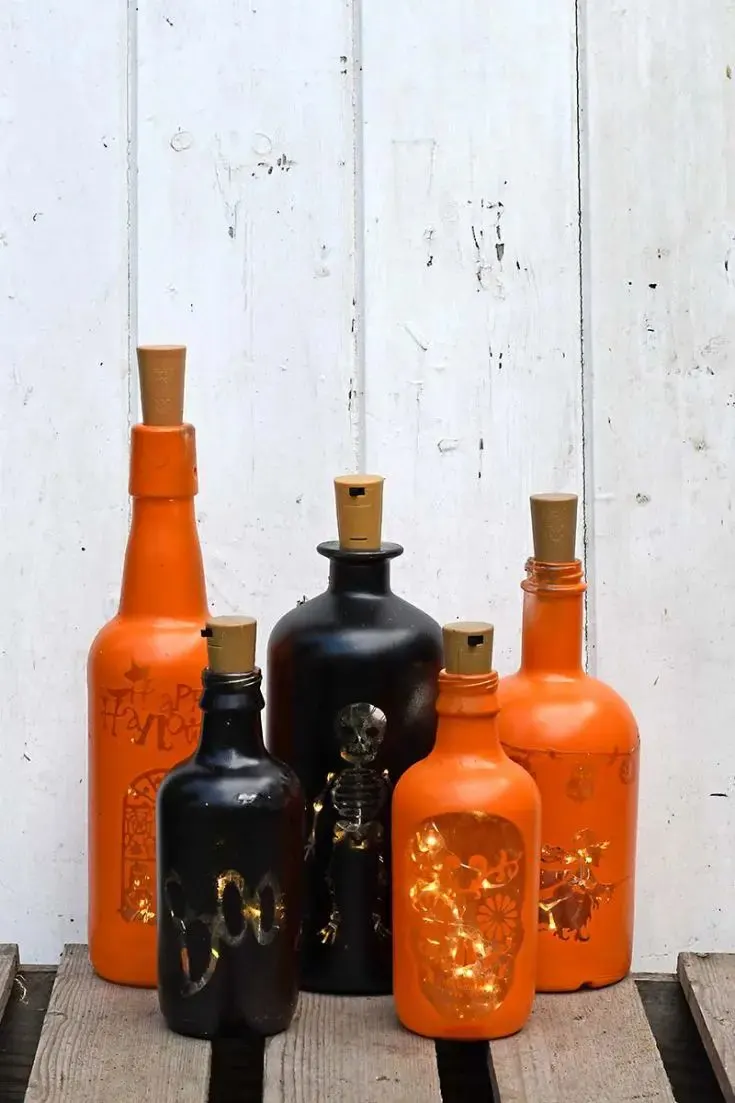 Source: pillarboxblue.com
Go on ahead and start gathering all your supplies:
Old clear glass bottles
Halloween stickers, die cuts, or silhouettes
Black spray paint
Orange spray paint
Cork wine bottle lights
These gorgeous spooky Halloween lights can be put up on your porch, up the stairs, and around your garden pathway. They're going to jazz up the area, trust me.
Come nightfall, when you turn on the lights, you'll see just how spooky the silhouettes of the Halloween stickers look!
Love these? Check out these Halloween crafts!
Source: hearthandvine.com
I bet you have one of those picture windows right above the kitchen sink. I usually keep a vase of flowers and other little knick-knacks on the windowsill.
But the actual window is pretty bare, which is why this crafty bottle garland would look fabulous there. You can use old bottles you have lying around for this project.
Grab a length of silver beading wire from here and a couple of mini command hooks—preferably metal as they're sturdier—from here.

Source: craftbits.com
I hate just turning up outside my friends' or relatives' houses with a bottle of wine in hand. I mean, sure, I can always wrap a bit of ribbon around and make a bow, but I'd prefer something that would also protect the bottle.
This wine bottle gift box serves that purpose, and it looks like something out of a vintage Napa Valley catalog. You can adhere a few Napa Valley stickers on the box, as well as attach a small tag to write your name on it.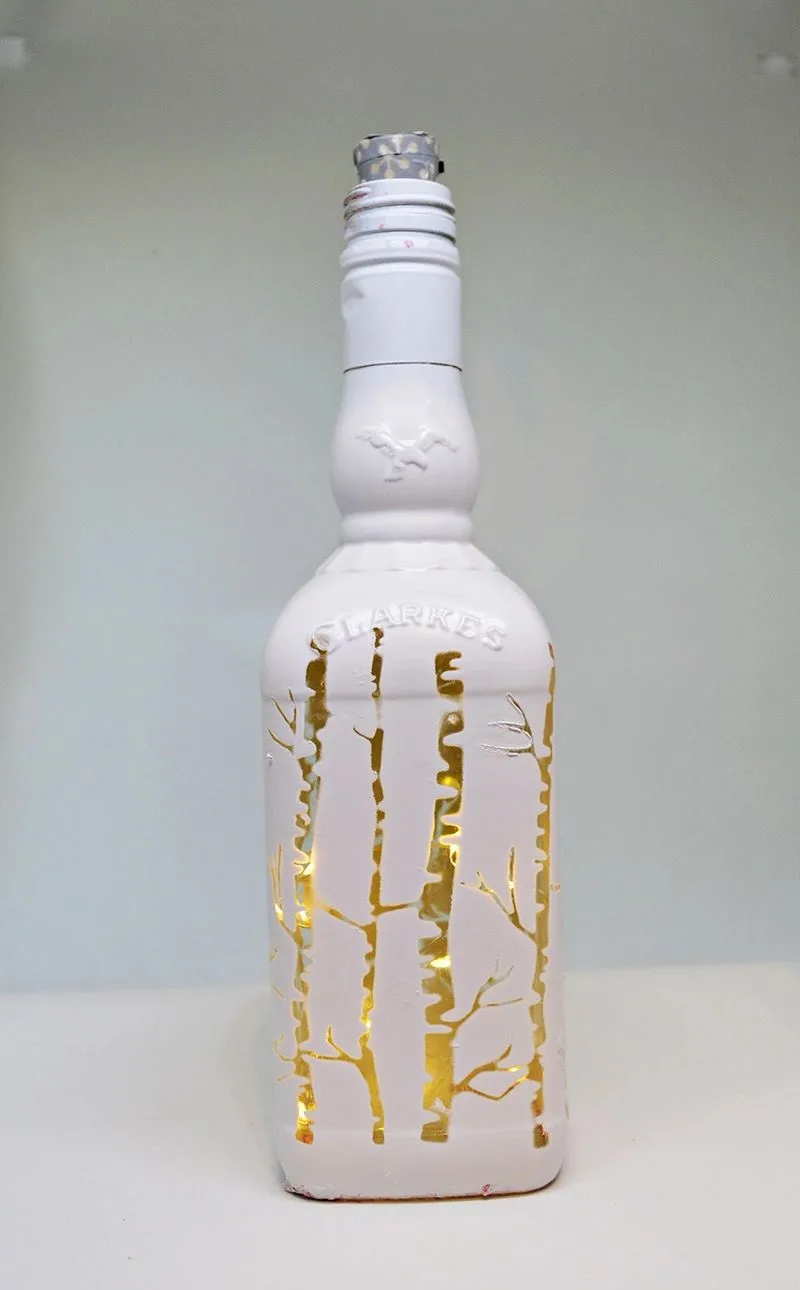 Source: pillarboxblue.com
You already know how easy it is to put lights inside a wine bottle these days. You don't have to use a drill; just one of those lights with a cork attached to it, which actually holds the battery.
You can decorate the cork, of course. This Christmas wine bottle would look even more spectacular if you jazzed up the cork with some washi tape.
So go ahead and start painting the bottles! Love the Christmas decorations? Check out these Farmhouse Dollar Store Christmas ideas!