Got a bunch of seashells? Why not turn them into something beautiful? Get creative with these DIY seashell crafts.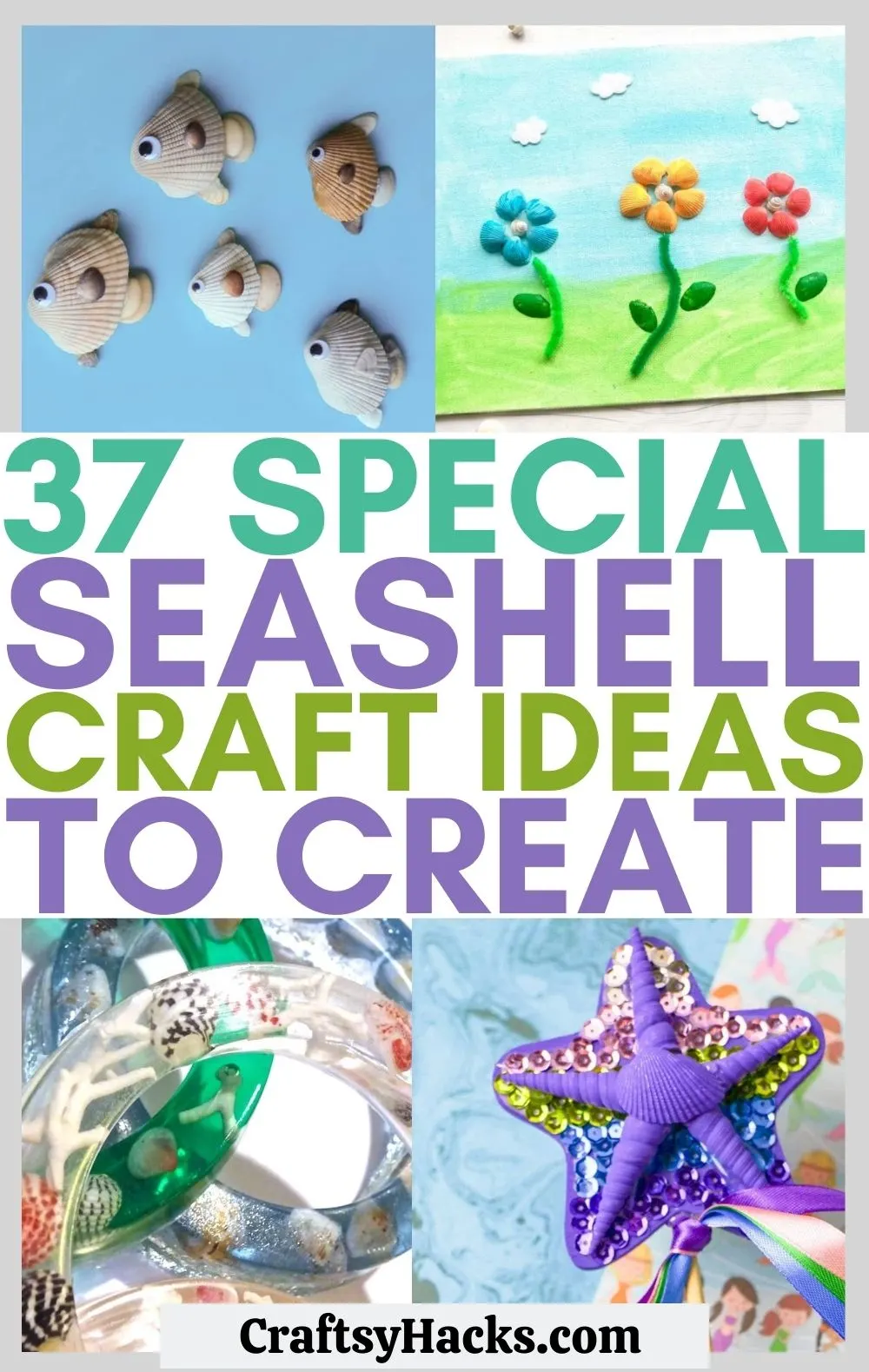 Whether you're spending a day, a week, a month, or the entire summer at the beach, or you're lucky enough to actually live on the beach, you know you're going to go on long walks down the sandy beaches.
You know what else you're going to do? You're going to collect seashells. It's impossible not to, and I bet you'll have an ever-growing stash of them in just a week.
But fret not, I have a few craft ideas for you! They'll keep you occupied, give you souvenirs of your time at the beach, and keep you from drowning in all those seashells you picked up.
Go ahead and take a look at these 37 DIY seashell craft ideas!
1. Easy Marbled Seashell Art
Source: projectswithkids.com
If I said it once, I've said it a thousand times—I love marbled artwork. There's something so peaceful, yet at the same time, chaotic about marble painting, isn't there?
You can play around with colors and combinations and explore different techniques of marble painting, too. But before the painting activity, you'll need to pick out your shells.
Then, grab some food dye from here—neon food coloring is always amazing—, bamboo skewers from here to mix the colors, and a few paper napkins to catch any spills.
2. Santa Seashell Ornaments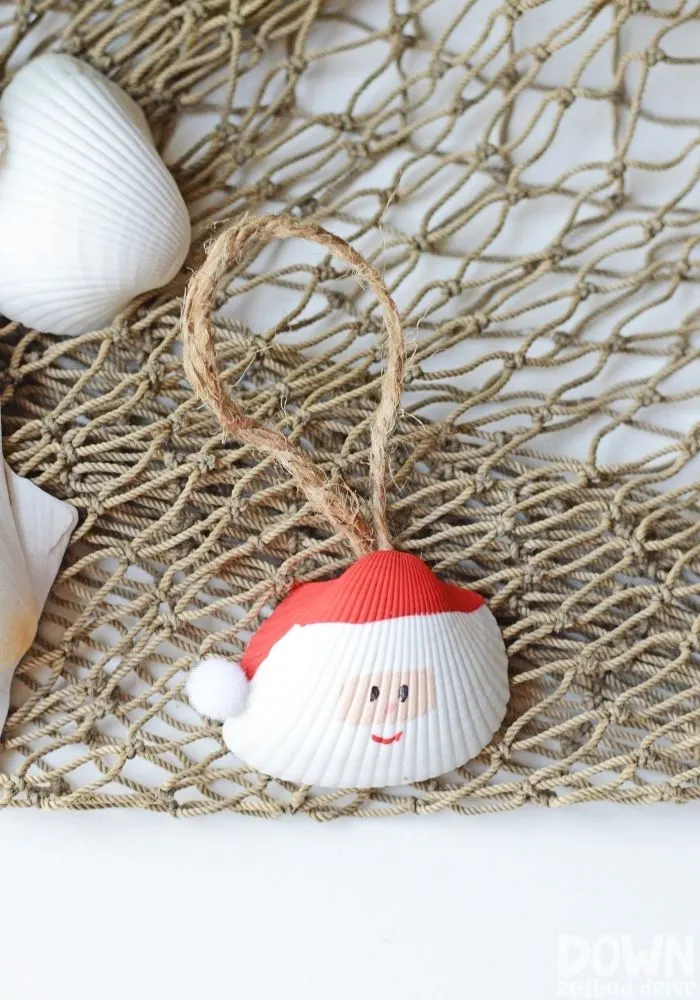 Source: downredbuddrive.com
Let's bring Santa to the beach. White snowy rooftops vs. white sandy beaches…maybe it's time for him to switch things up!
For this next DIY project, you'll be making seashell Santa ornaments for your Christmas tree. Gather your paints—red, black, green and peach, as well your brushes.
You'll also need these scallop seashells, mini pom poms, and some twine to hang your seashells from. When you've got all your supplies ready, go ahead and start painting your Santa seashells.
3. Seashell Candles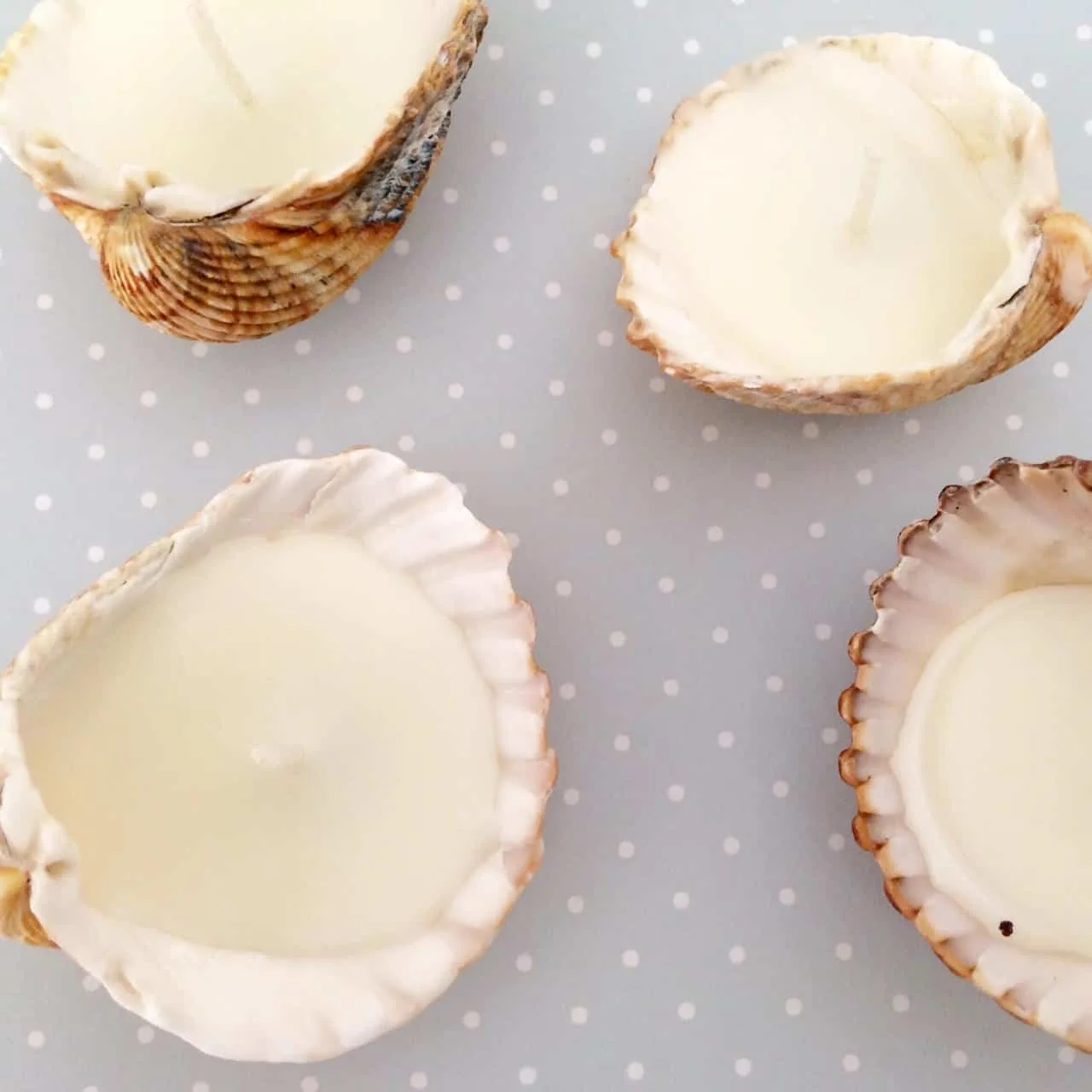 Source: simpleparenting.co.uk
Candles are super romantic as is. But can you imagine how much more fabulous they'd be if you made seashell candles?
Picture it: you're at the beach, and it's a cool and breezy summer night, and you've got these candles lit all around you. Swoon.
They're also a pretty amazing DIY gift that you make and present to your friends. They're super inexpensive, and you just have to head over to a dollar store to pick up everything you need.
You can even add a few drops of essential oil to make them scented candles! Why don't you take a look at how to make scented candles?
4. Decoupage Shell Dish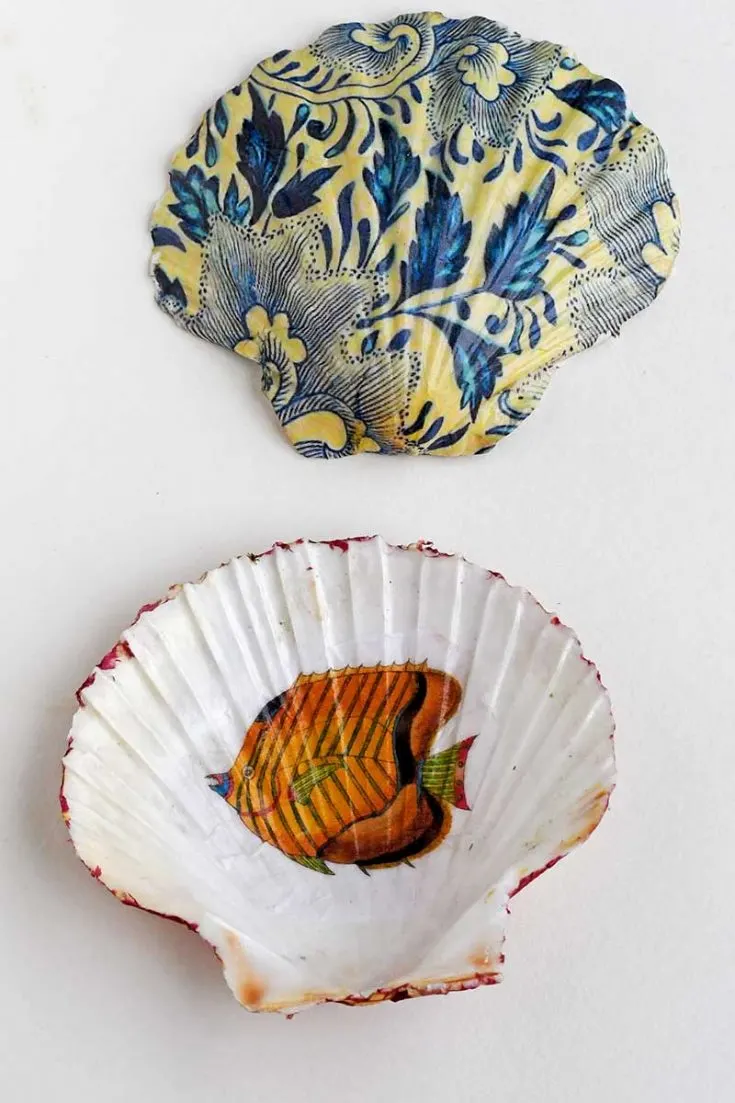 Source: pictureboxblue.com
Shells are naturally curved, which makes them perfect to use as trinket dishes or flat bowls. And, since you've got these mad painting and craft skills bursting to find an outlet, you can jazz these seashell bowls with a little decoupage art.
Grab your favorite printed paper or colored tissue paper and a bottle of mod podge from here. You might also need some masking tape, so go ahead and pick some up as well.
Once you've washed your shells and are super sure that they are grease-free, you can go ahead and start decoupaging them in any design you like!
5. How To Paint Seashells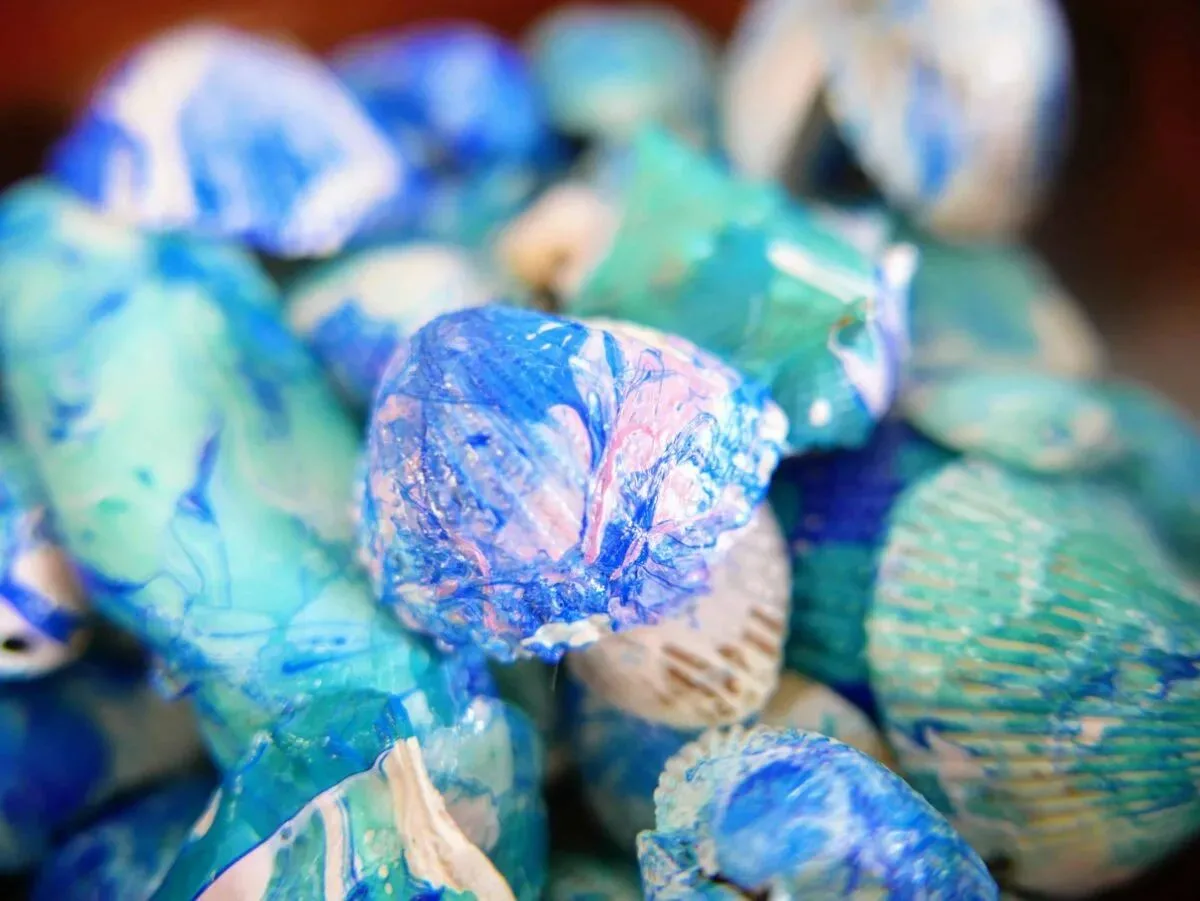 Source: singlegirlsdiy.com
I know, I know. You already know how to paint seashells. But hold on for just a second—have you considered painting seashells with nail polish?
This super fun and easy-to-make DIY project is perfect for those lazy afternoons when you just want to be crafty. I'm sure you have a couple of bottles of nail polish at home, so go ahead and grab them.
You know, if you have a bowl of potpourri or just a decorative trinket dish lying around, you can drop your painted shells in there to accentuate it!
6. Map Seashell Gift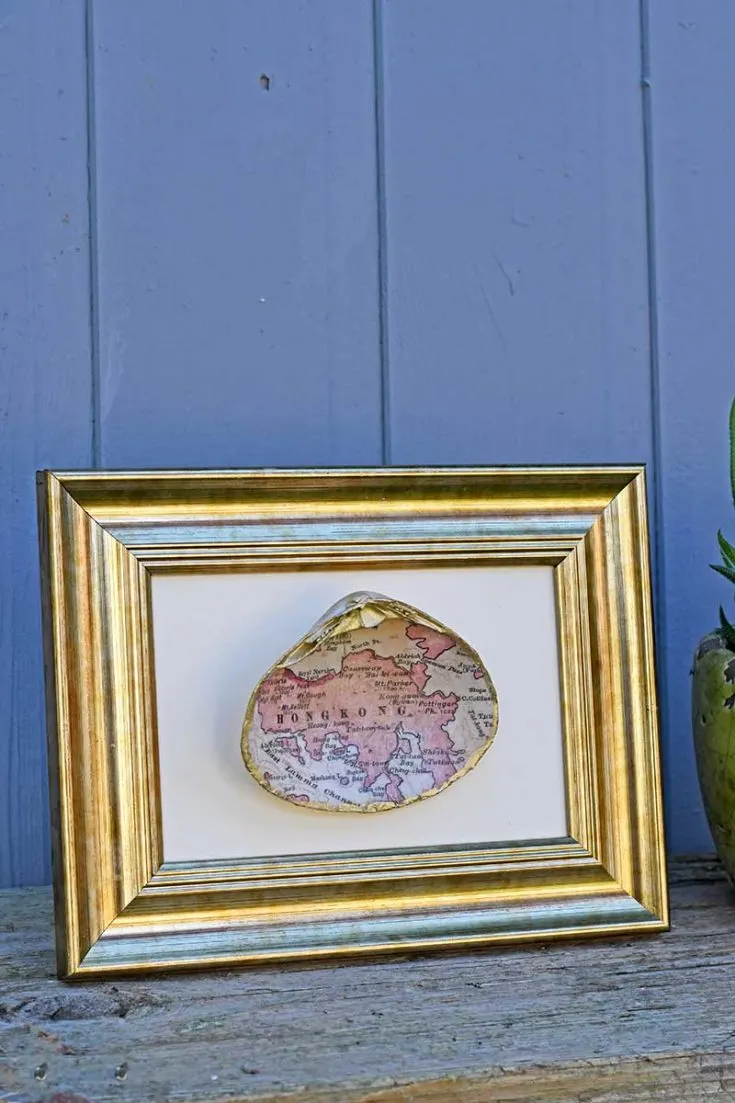 Source: pictureboxblue.com
I love maps—any and all maps, really. Vintage maps, in particular, are a great craft project material. They can add a ton of character to your project.
You're going to go grab a map of your favorite place in the world, and we're going to decoupage it onto a seashell. Yay or nay?
Once you've got your map ready, you can also consider spicing this shell up a bit more. How? Pick up some gold leaf paint from here to use along the edges of the shell. That would look amazing!
7. DIY Seashell Art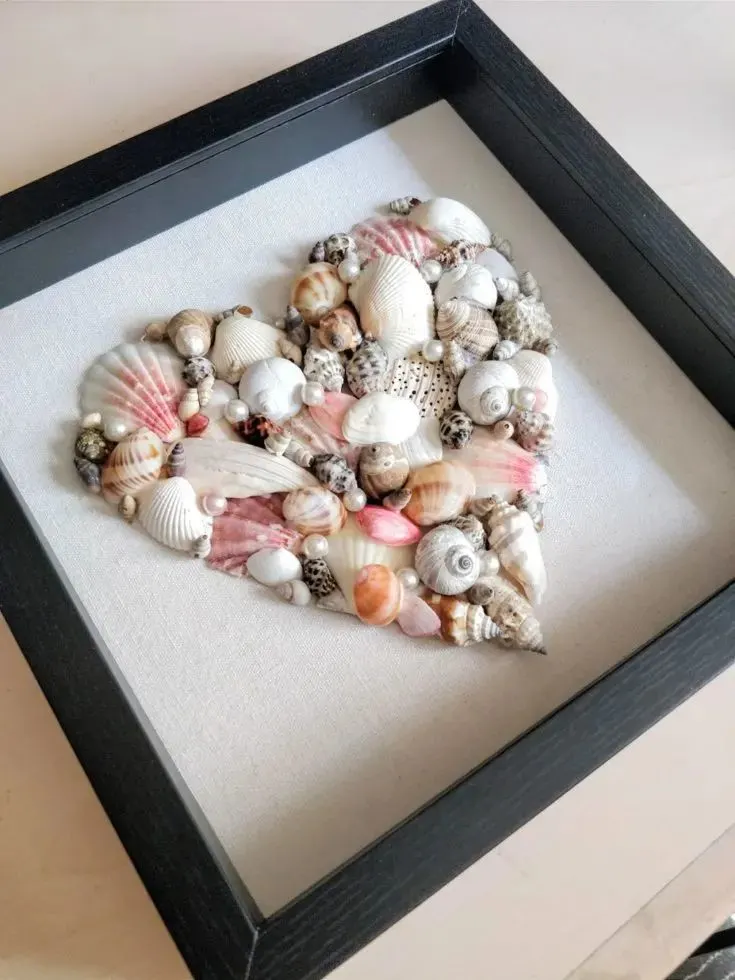 Source: feelingnifty.com
You've been through a few seashell painting projects. Now, why don't we take a look at a craft project where you can use those seashells to make something else?
If you have a ton of painted shells sitting in your stash, go ahead and grab them for this project. Also, buy a shadow box frame from here to display your painted shell art.
You'll be making a heart, by the way. Feel free to decorate the frame and glass, too, if you're up for it. A few seashells around the rim would look cute.
8.Glam Clam or Oyster Shell Christmas Ornament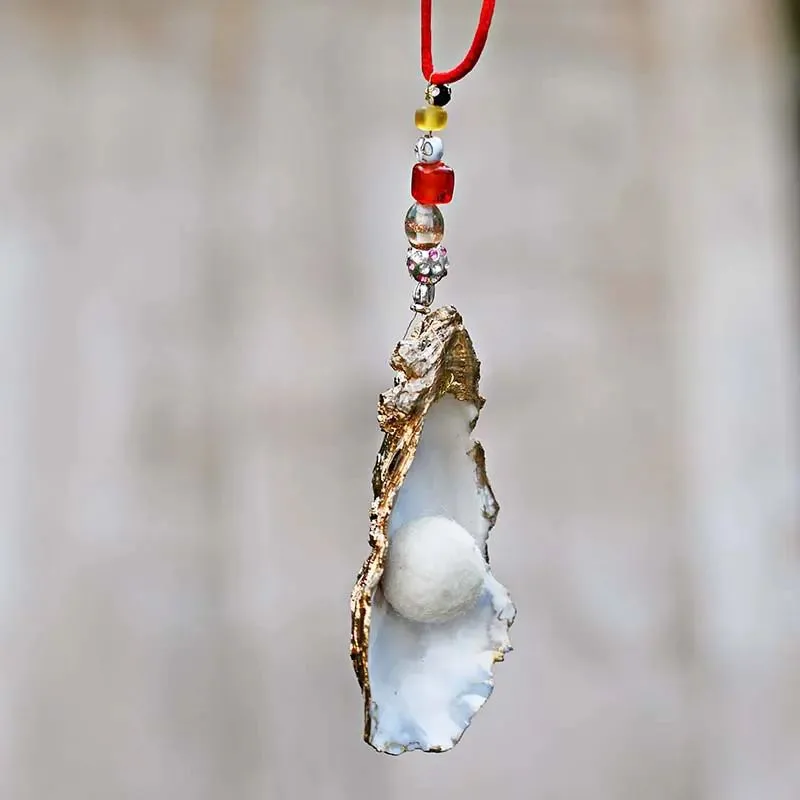 Source: pillarboxblue.com
That last time you made a seashell ornament for Christmas, you painted Santa Claus. If you want to add to that stash of seashell ornaments, then grab these oyster shells and your paint supplies.
If you want to keep that beach vibe going, then you can hang the ornaments up with twine. Not just any twine, but beaded twine. Grab some beads from here and start stringing them.
Feel free to add other beach embellishments and danglers to your ornaments!
9. Seashell Ornament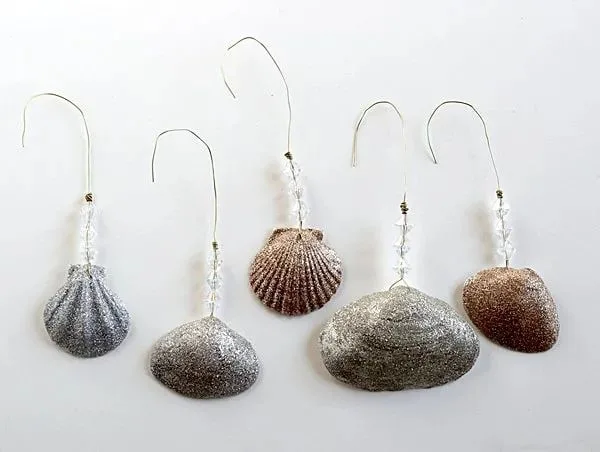 Source: modpodgerocksblog.com
I bet those oyster shell ornaments you just made were a big hit. If you're anything like me, then I just know you're dying to make more.
So, this time around, you can use regular scallop shells. But yes, you can still hang them up from beaded string. How about you make these shells sparkly?
Grab some glitter and mix it in with your paint. You can stick to metallic shades, or you can have a veritable rainbow of sparkles if that's what you want.
10. Scallop Trinket Dish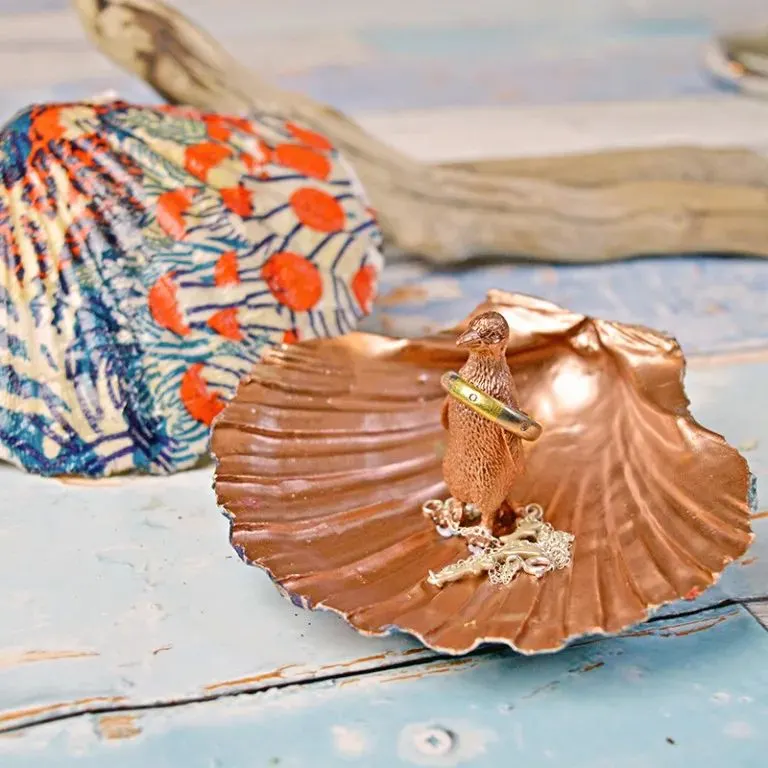 Source: pillarboxblue.com
Didn't I tell you that scallop shells are perfect for making bowls and trinket dishes? This one has a nice copped coating and is bright, bold, and beautiful.
You can make it a three-piece set and add silver and gold painted shells, too. You can give them to your friends or use them around the house to keep your accessories, keys, loose change, and more.
You can also decoupage it if you like; just grab some mod podge from your craft supplies.
11. Sand Dollar Garland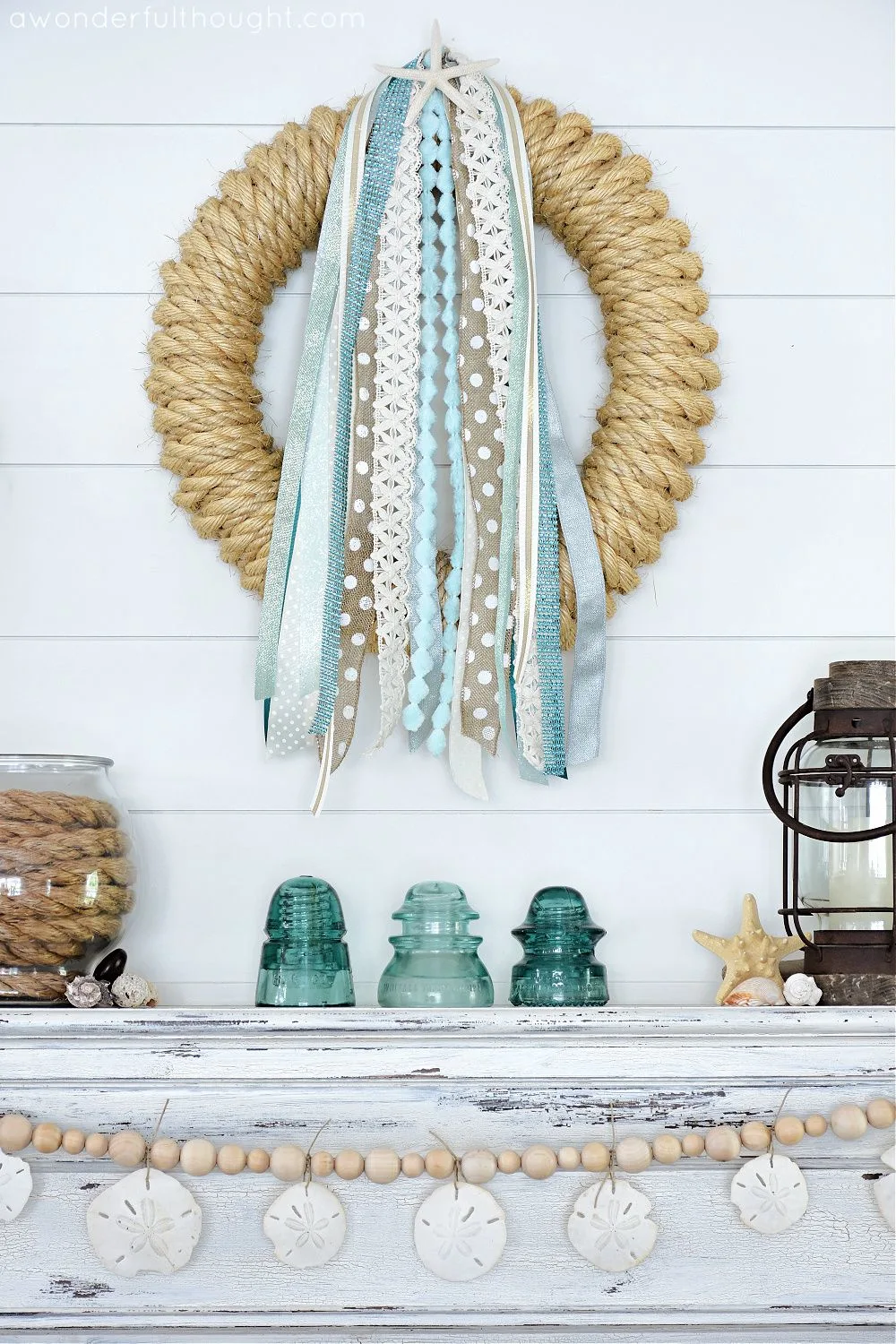 Source: awonderfulthought.com
Did you know that sand dollars are actual living creatures? They are burrowing invertebrates that are closely related to sea urchins and starfish.
When a sea dollar dies, the shell will bleach to white. They are, in essence, the skeletons of the living creature. Now that the science lesson, is over let's get down to the fun bit: craft time!
Obviously, this particular garland isn't made from the real ones, only ones used in craft projects. You can pick them up here.
12. DIY Seashell Ornaments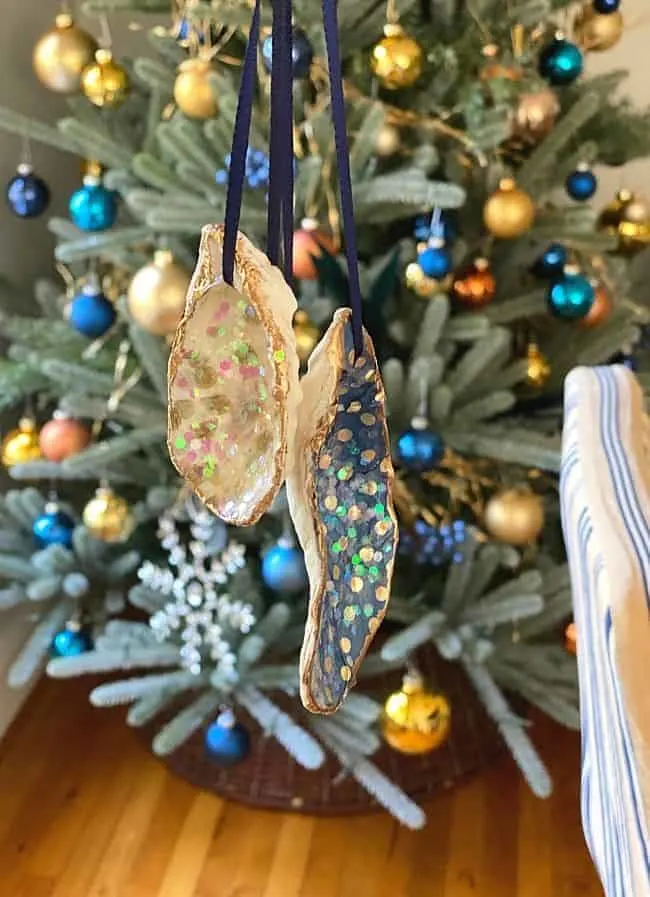 Source: chatfieldcourt.com
I guess we're making more ornaments from seashells. Oh, don't look like that, I know you love this activity as much as I do. Why don't you get your kids to join in?
Instead of the usual beaded twine we've been using to hang these ornaments up, how about you use some thin ribbon like this?
So, just drill a hole into the top of your shell and loop the ribbon through it.
This project involves a little decoupage that will add texture to your shells. So why don't you grab your bottle of mod podge again—perhaps it's time to start buying in bulk?
13. Resin Door Knobs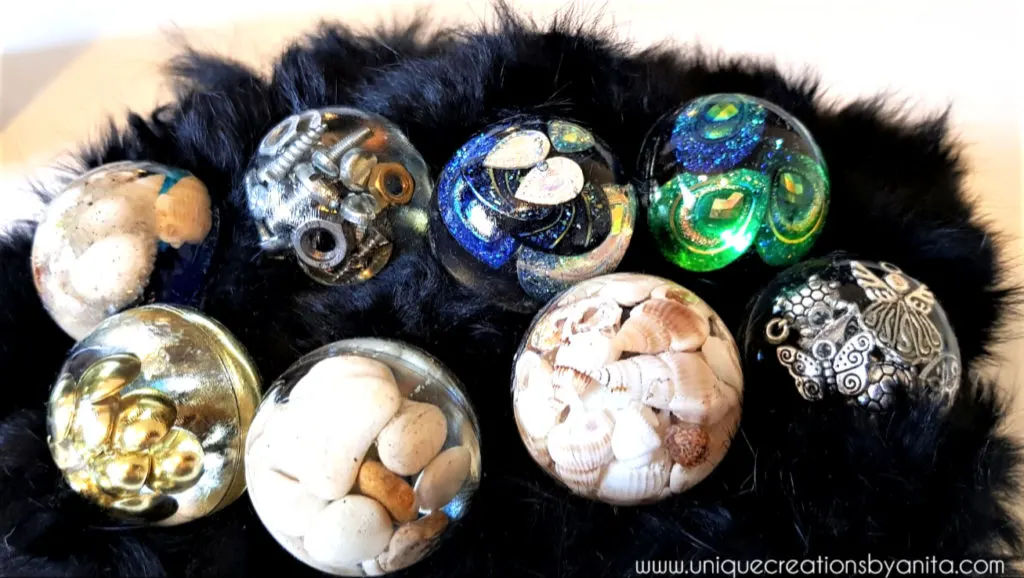 Source: uniquecreationsbyanita.com
I love a good DIY resin project. While they're a great way to preserve things in, resin can be used to make actual items—like a doorknob!
Pick up a silicone mold and choose what you want to put inside the resin. You can add a few drops of food dye to add color, a smatter of glitter to add sparkle, and finally, the star of the show—seashells!
You can press a seashell into the resin and allow it to set. You can also add a sand dollar, a starfish, or other beach embellishments.
14. Beach Seashell Necklace
Source: kidsactivitiesblog.com
Nothing quite screams beach and sun like a seashell necklace. Admit it, you've always wanted one but thought you were too grown-up for one, didn't you?
Well, now that you're older, perhaps you'd like to make one for yourself and finally show off your style! You can pick up special, shaped seashells to use as your pendant.
You can use cotton string for the actual necklace and string a few beads in it before you knot it off to keep them in place.
This is a great craft for teens!
15. Handprint Sand Clay Keepsake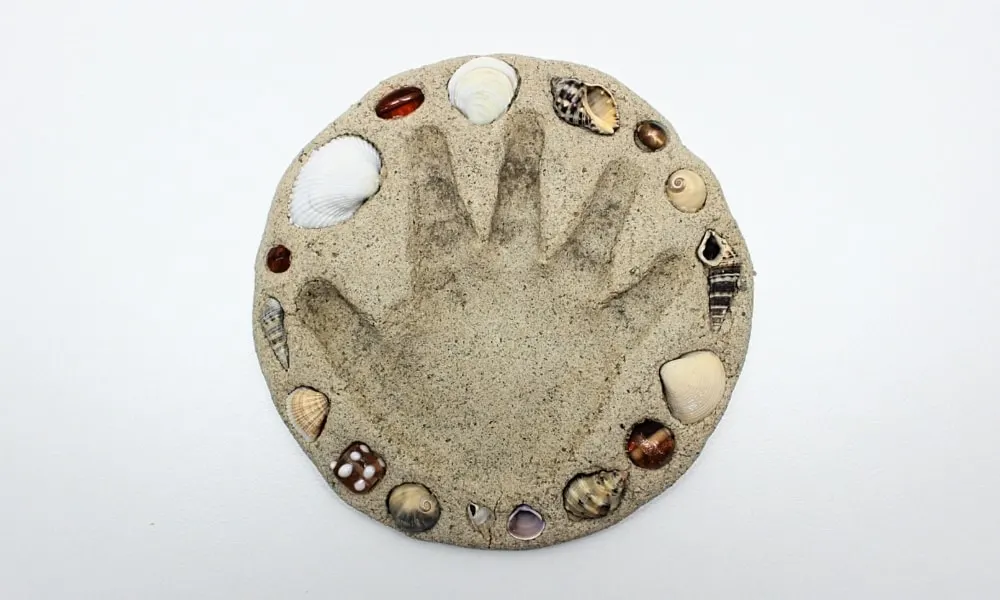 Source: thecraftathomefamily.com
You can make these gorgeous seashell keepsakes from homemade sand clay. They're the perfect way to preserve the memory of a happy summer at the beach you spent with friends and family.
Grab some sand from the beach, some flour, salt, and water to mix your sand dough. Follow the recipe and mix the ingredients carefully.
I bet you picked up a few seashells during your visit. You can use them as decorative embellishments. Stick them in place with glue. Finally, seal the artwork with mod podge.
16. Seashell Fish In Aquarium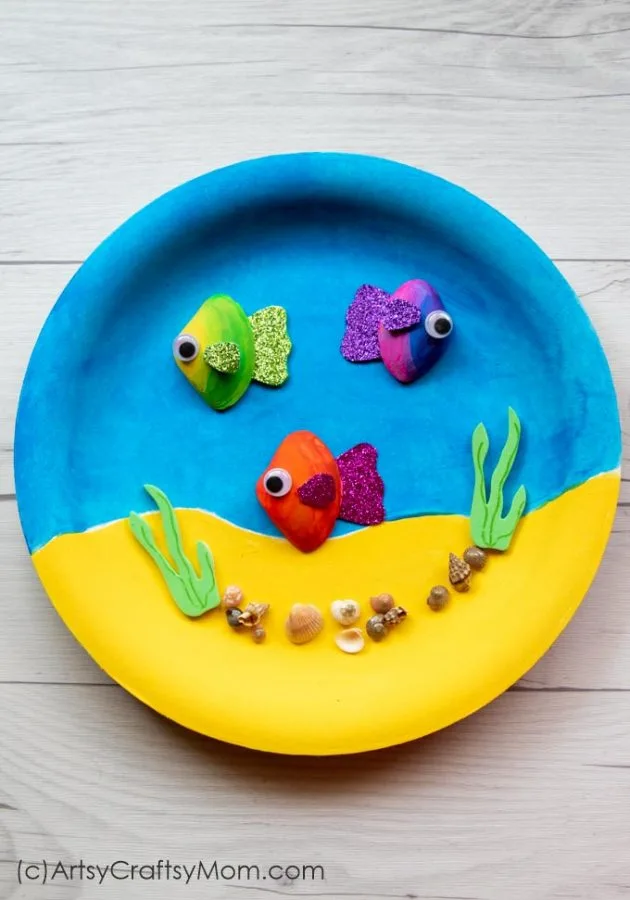 Source: artsycraftsymom.com
You can make this gorgeous seashell craft with your little ones and hang them up in the nursery. It's super easy to make, and I bet you already have everything you need at home.
But wait, do you have any paper plates? Then pick them up here.
You'll also want to pick up some of these googly eyes.
Once you've assembled everything you'll need, just remember to lay out some newspaper to catch any paint spills. You might also want to have some paper napkins at hand.
Check out this fish craft idea with popsicle sticks that your kids might enjoy!
17. DIY Seashell Wreath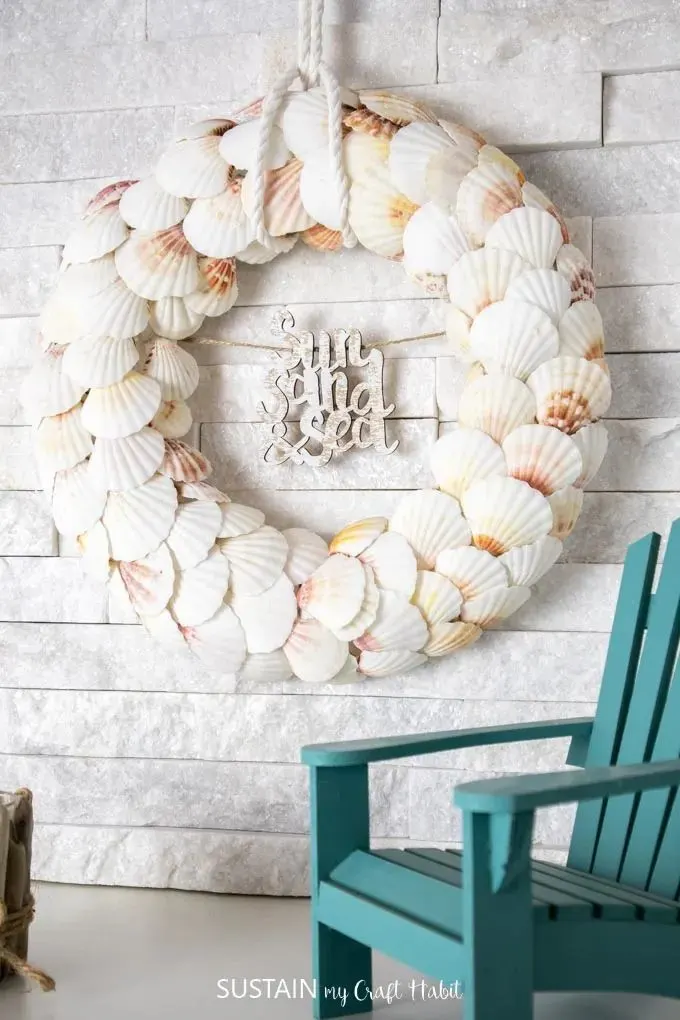 Source: sustainmycrafthabit.com
I love a good seashell wreath. They're especially perfect for hanging up on your front door or from your front porch during summer.
What better way to bring the beach to your front door, right? And what better way to state the motto for summer and everything you plan to get out of it: sun, sand, and sea, than with this wreath?
Buy a wreath form from here and a hot glue gun and start gluing all those seashells in place. I'd rope the kids into this project if I were you—free labor and all that!
Check out these DIY summer wreath ideas.
18. Seashell Flower Garden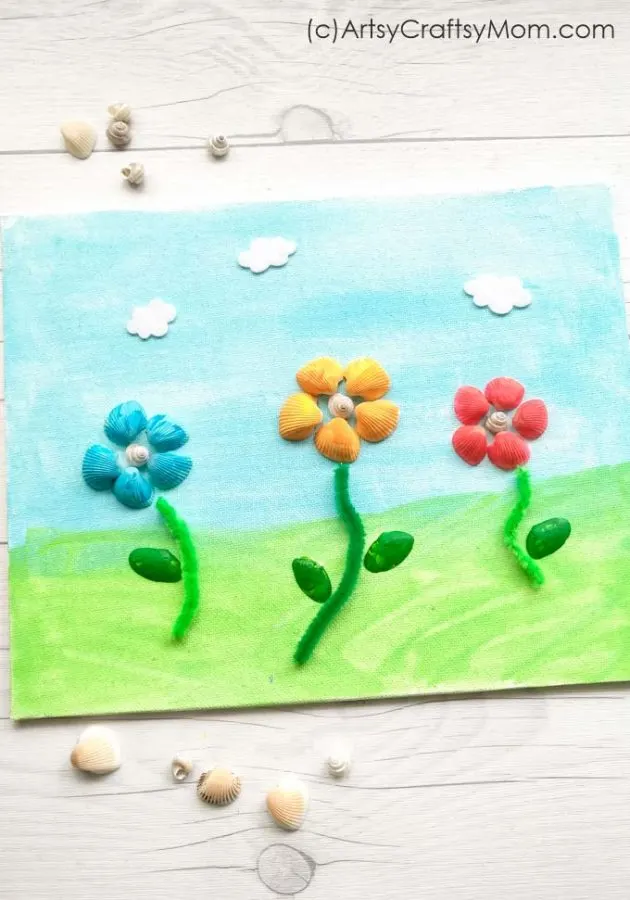 Source: artsycraftsymom.com
When you think of seashells, you obviously think of the beach and of summer. But, you know what else reminds me of summer? Flowers.
Let's bring these two together, shall we? In fact, let's add spring to the mix because that's when your flower garden will really be in full bloom.
We're going to recreate all that on a canvas board or white cardstock, using different seashells, paint, and tack-its. SO go ahead and gather everything you'll need.
19. Seashell Magnet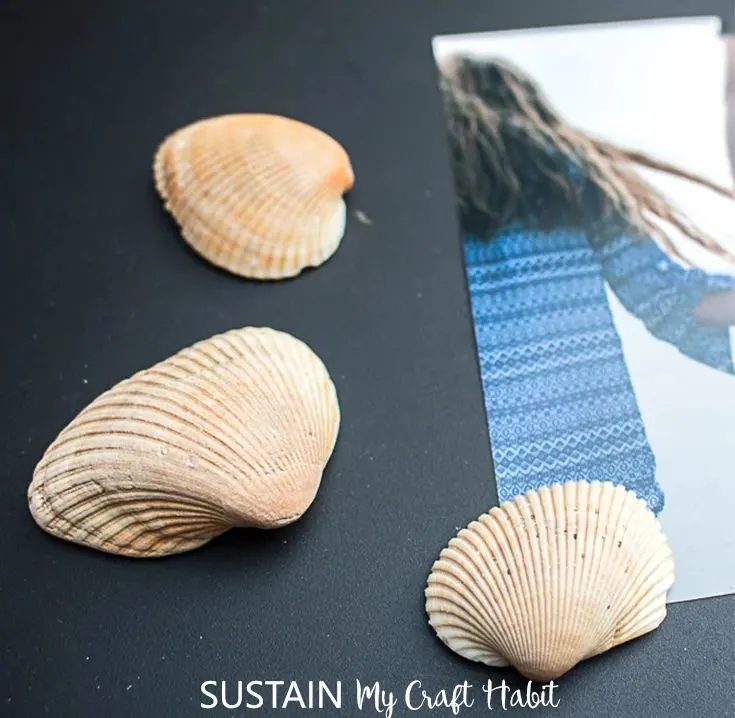 Source: sustainmycrafthabit.com
If you want to put a serious dent in your seashell stash, then I suggest you paint them—plain and simple. But there are only so many places you can display those shells.
If you grab these magnets, then you can make your seashells into magnets and tack them up on the refrigerator. That's usually where you showcase your art, right?
You can use clay to press your magnets into the back of your shells or go the easy way and use gorilla glue.
You might also like these fingerprint magnets!
20. Seashell Butterfly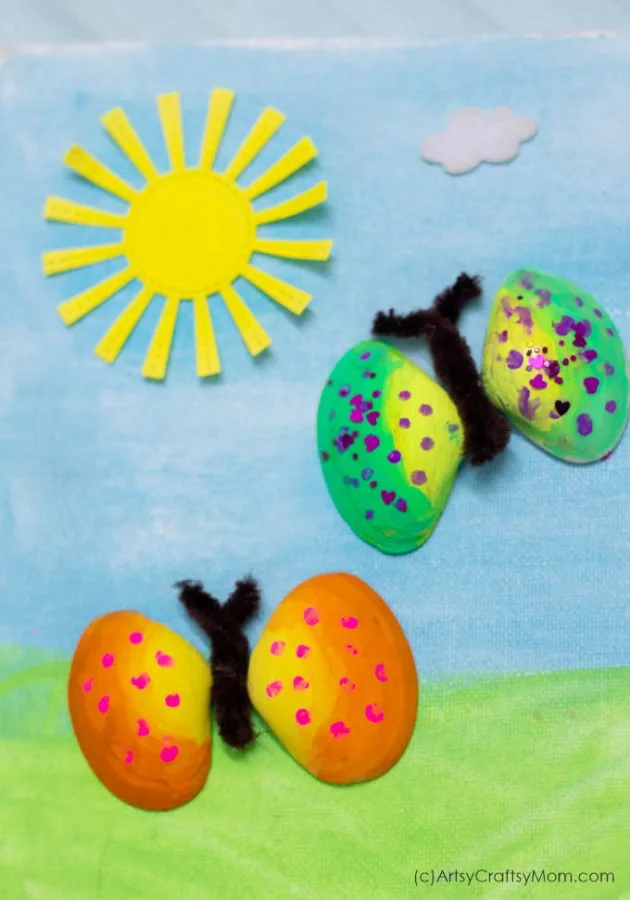 Source: artsycraftsymom.com
Seashells and butterflies are the perfect way to kick off summer. They're both representative of all things pretty and sunny.
For this craft project, you'll need your seashells, of course, as well as some colored pipe cleaners, paints and brushes, cardstock, adhesive tape, and any other embellishments.
You can use pretty flower stickers, too. If you have extra pipe cleaners, why don't you take a look at these pipe cleaner craft ideas?
21. DIY Seashell Wind Chime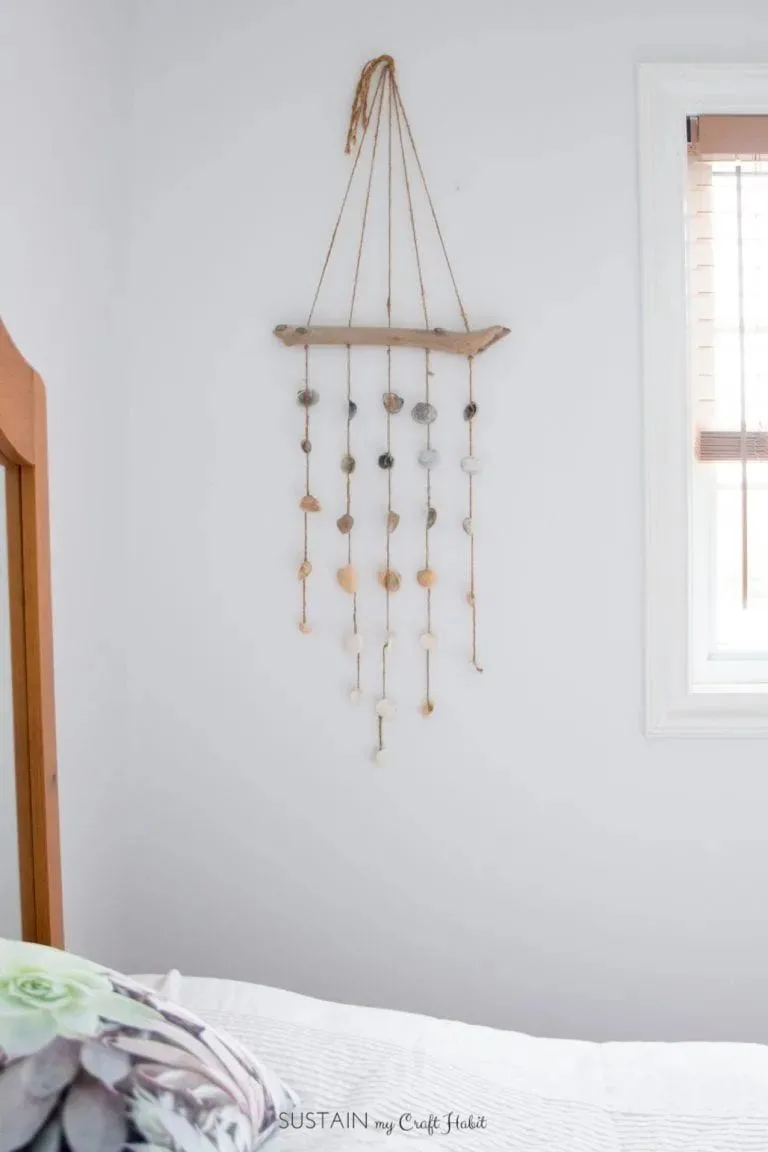 Source: sustainmycrafthabit.com
Close your eyes and picture this: It's a cool and breezy summer evening at the beach. You're sitting on your front porch, sipping a cold beer and just enjoying the scent of summer.
What's missing? Think! A wind chime, of course! Not just any old wind chime, but a seashell wind chime that will clink and sway in the wind and enhance that coastal vibe.
Grab a wooden dowel from here, some seashells, and twine, and get started on making this wind chime!
22. DIY Coral And Shell Resin Bangle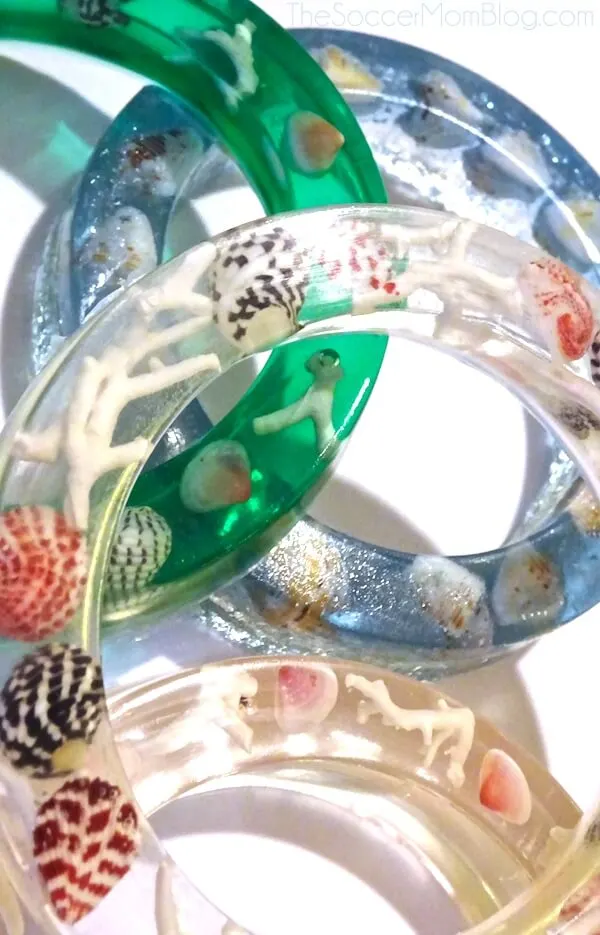 Source: thesoccermomblog.com
If you're running low on your supply of resin, then why don't you pick some up from here? You'll be making bangles, and I'm sure you'll want more than a dozen when you see how pretty they are.
These coral and seashell bangles are super easy to make. You can add a few drops of resin dye to introduce a bit of color.
You already get a ton of texture from the seashells, so some color would be welcome, I think. If you need help placing the shells, you can use a pair of tweezers to pick up and 'set' the shells and embellishments in the resin.
Here are resin crafts that you have to check out!
23. Beachy Picture Frame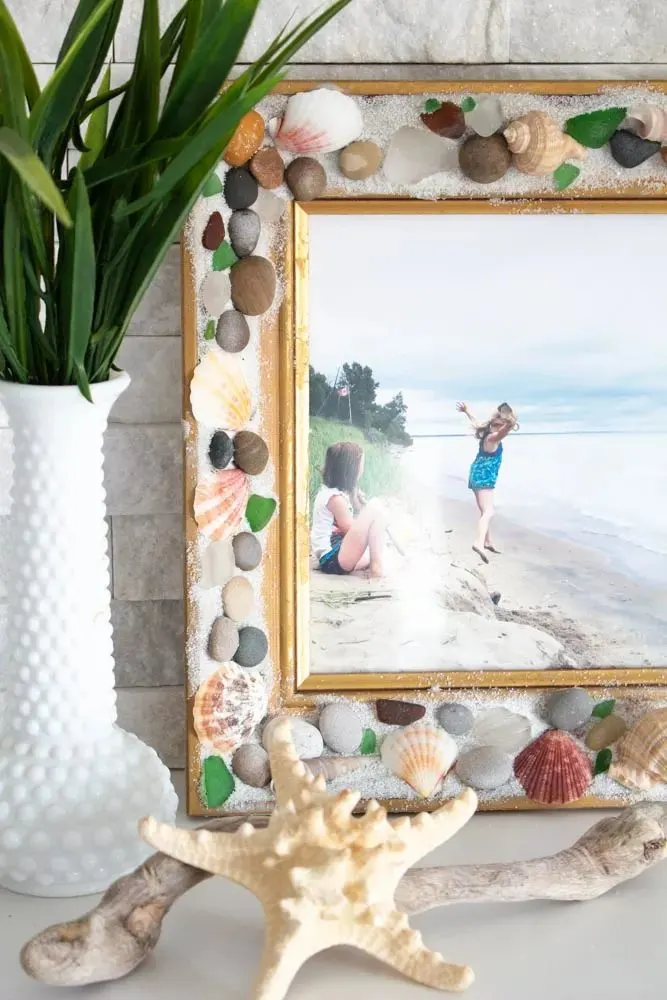 Source: sustainmycrafthabit.com
Don't use up all that resin just yet; you'll need more for this upcycled keepsake picture frame. This is yet another way for you not just to remember the fun days at the beach but also to use up some of those shells and beach pebbles you picked up.
You can set all the pebbles and the rest in the frame using a pair of tweezers. Feel free to add color, sparkle, and any other kind of embellishments you need.
When you're happy with the way your shells look, go ahead and allow the epoxy to set. Love the picture frame? Why not make these easy paper frames for kids.
24. DIY Sand Dollar Resin Coasters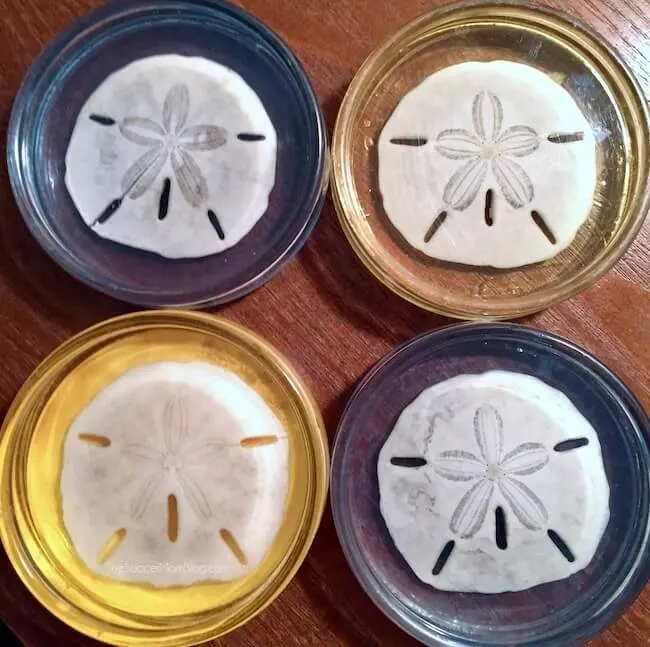 Source: thesoccermomblog.com
Aren't you glad we went into that little history of sand dollars a while ago? Now you know exactly what you're working with.
Sand dollars are naturally flat and smooth, which makes them perfect to use as coasters. But not as is, but set inside an epoxy solution and allowed to dry until it's hardened.
You can add some color to your epoxy, or you can simply paint on the sand dollar directly—it's completely up to you how you decide to decorate your coasters.
Pick up the silicone coaster molds for your resin here!
25. Mermaid Tiaras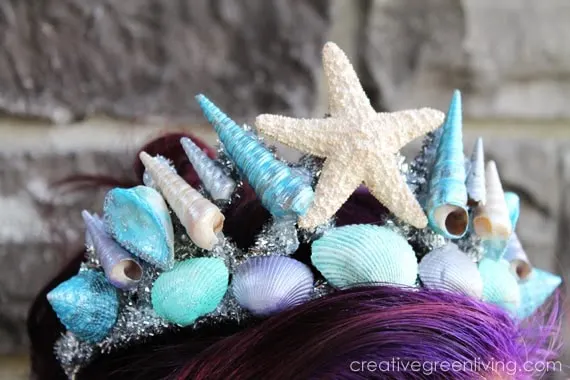 Source: creativegreenliving.com
Nobody carries off a seashell tiara like a mermaid can. So step 1, own a mermaid tiara. Or rather, owing to your super crafting skills, make one of your own!
Every Mer princess in the ocean or on land deserves a tiara; it's a part of every girl's dream, right? So, if your child wants one for Halloween, which is right around the corner, then she's going to darn well have one!
Grab your supplies: an assortment of seashells, paints, brushes, a hot glue gun, a plastic tiara like this, and some sparkly chenille stems from here.
26. DIY Seashell Ornaments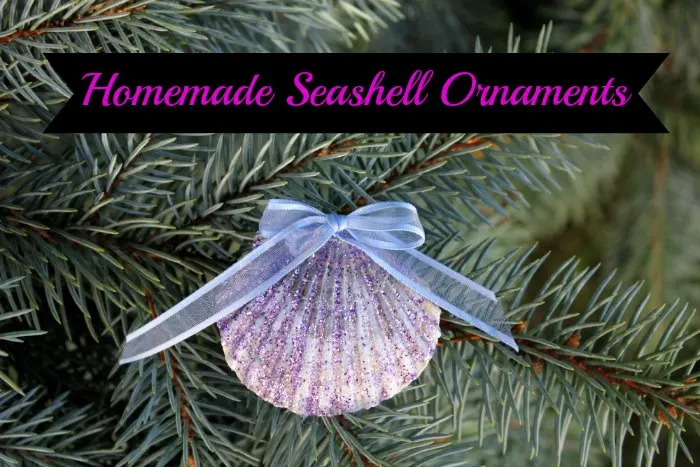 Source: anationofmoms.com
These seashell ornaments will be a great addition to your stash of seashell ornaments. They're sparkly, cute, and quirky, and you can jazz them up with matching ribbons.
If you're looking to change things up a bit, then why don't you switch out your usual satin ribbon or jute twine for something like raffia?
You can find raffia ribbons here in different colors!
27. Mermaid Wand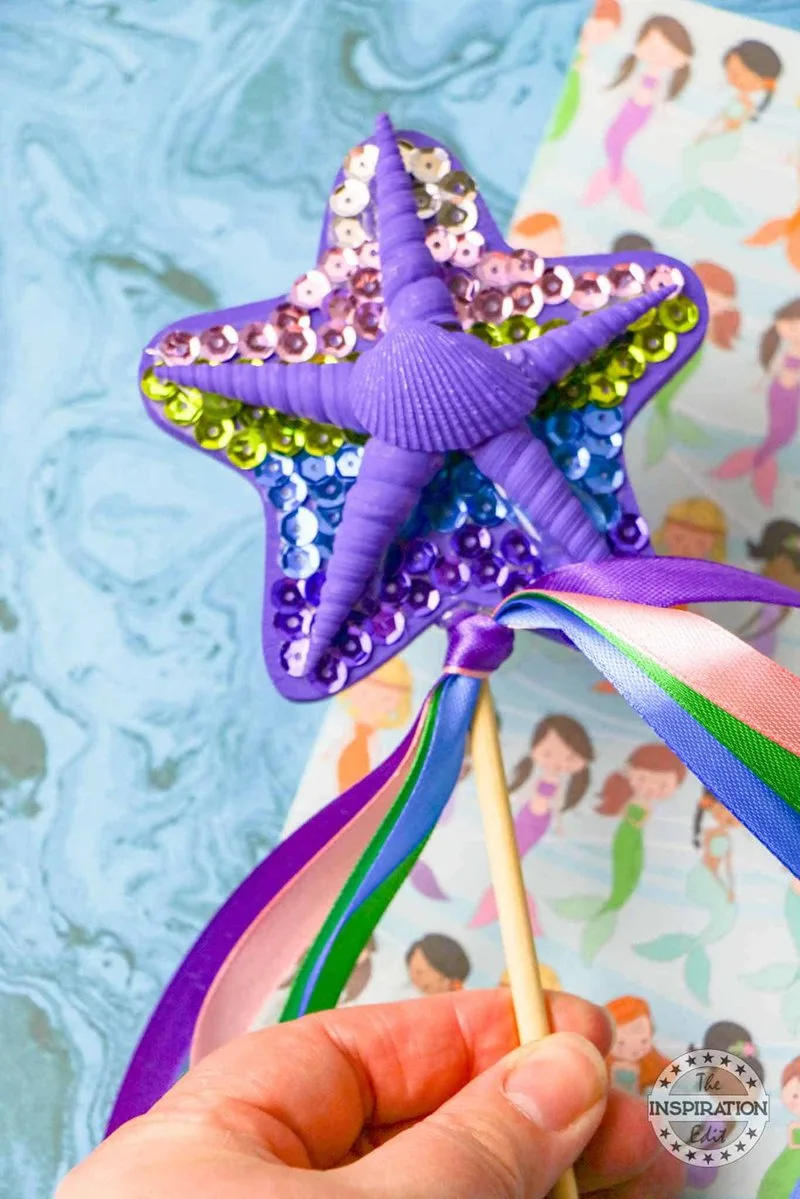 Source: theinspirationedit.com
Your kid loved the mermaid tiara you made for her and now, she wants a matching mermaid wand. It doesn't matter that mermaids don't carry wands because your little Mer-fairy does!
Grab all the colorful ribbons you have in your craft supplies for this project. When you have all of it, buy some more from here—you'll need a ton of ribbon to use as a 'trail.'
The primary colors for this mermaid wand are pink, purple, pink, purple, and a bit of blue thrown in there. You get the idea, so grab some sparkles, shiny crystals, and beads, and get crafting!
28. Beach Ornaments For Christmas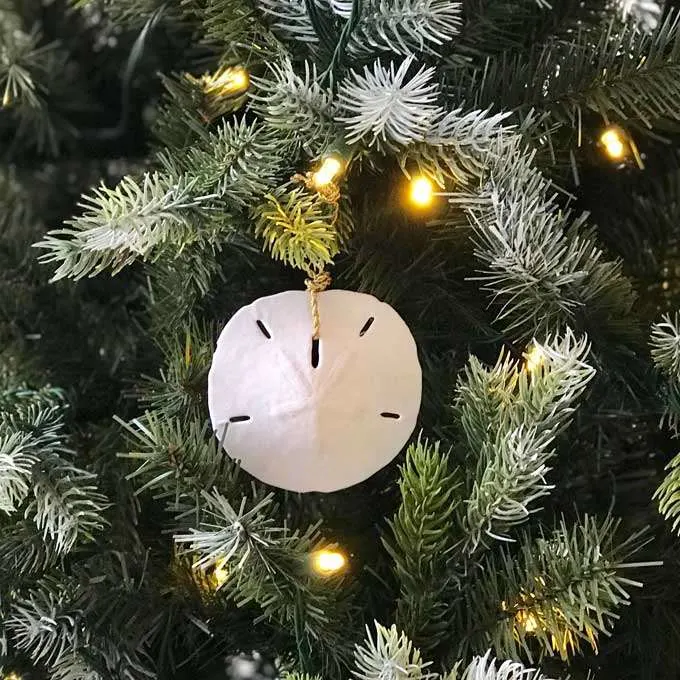 Source: coastalwandering.com
Once again, we're bringing the beach home for Christmas; or is it the other way around? Either way, you're making yet another batch of seashell ornaments for your Christmas tree.
Why? Because they're darn pretty, and you know it! Besides, it's another hour of craft time for your kids, and that means time for you to kick back and enjoy a cup of coffee.
So, grab some seashells, sand dollars, starfish, and other beach embellishments—grab a conch if it pleases you!
Love the idea? Check out more Christmas tree decorations ideas!
29. Tropical Seashell Fish Craft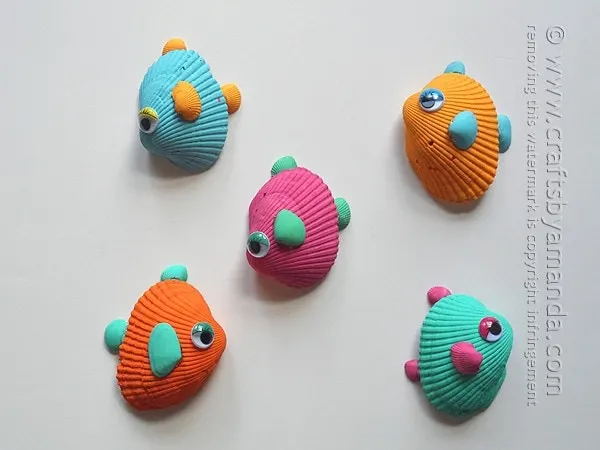 Source: craftsbyamanda.com
Curious, isn't it, how perfect seashells are when you want to make craft fish? It's like they're made for it.
You can start off by laying out a few newspapers over your work surface. If kids are using paint, then it's a given that there'll be paint splatters to contend with.
Next, grab a few paint bottles, brushes, and a few googly eyes. Do you see the little 'fins' that the fishes have? Those are seashells, too. Isn't it pretty amazing?
Love this project? You might also like this fish craft for kids!
30. DIY Jellyfish Seashell Craft
Source: onecrazymom.com
I have to confess that jellyfish creep me out. Ever since I read about that first aid remedy to treat jellyfish stings…well, let's just say that I don't let my guard down at the beach after that.
But these jellyfish aren't dangerous. They're craft jellyfish, and the only thing that's going to hurt you is a paper cut when you cut out jellyfish outlines.
You can use a ton of sparkle if you're so inclined—these sea-blue painted jellyfish could use a little bit of color and shine.
31. DIY Beach Tray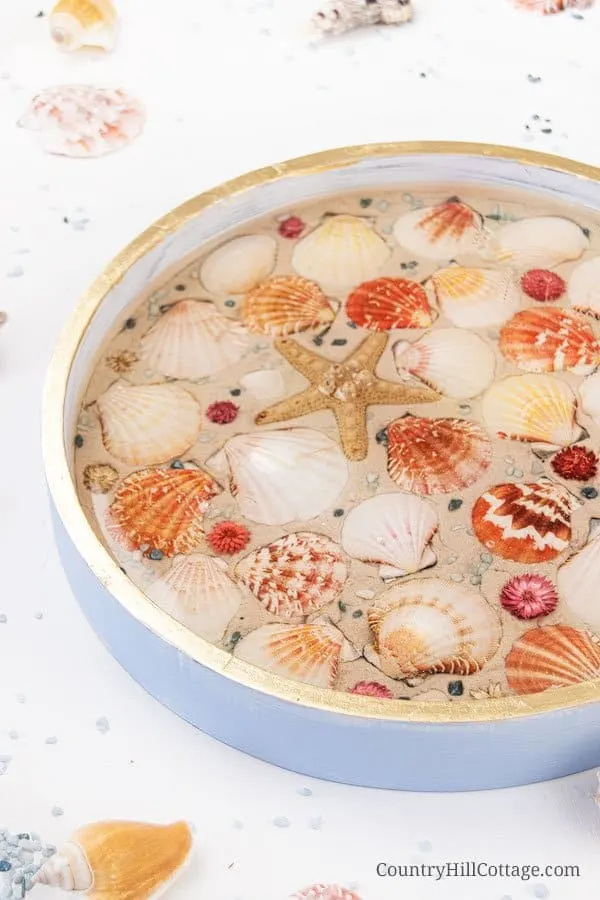 Source: countryhillcottage.com
Seashell trays will never go out of style. You can always have a couple of these at hand to give away to guests and friends.
You can use them not just as serving trays but also as display trays for decorative knick-knacks, candles, a diffuser, or a trinket bowl. You'll need to pick out the tray in question first.
Why don't you check out this wooden tray? Depending on what you want, you can pick up something round, square, rectangular, or even one of those honeycomb hexagon trays.
Check out more crafts for adults like this!
32. Seashell Mirror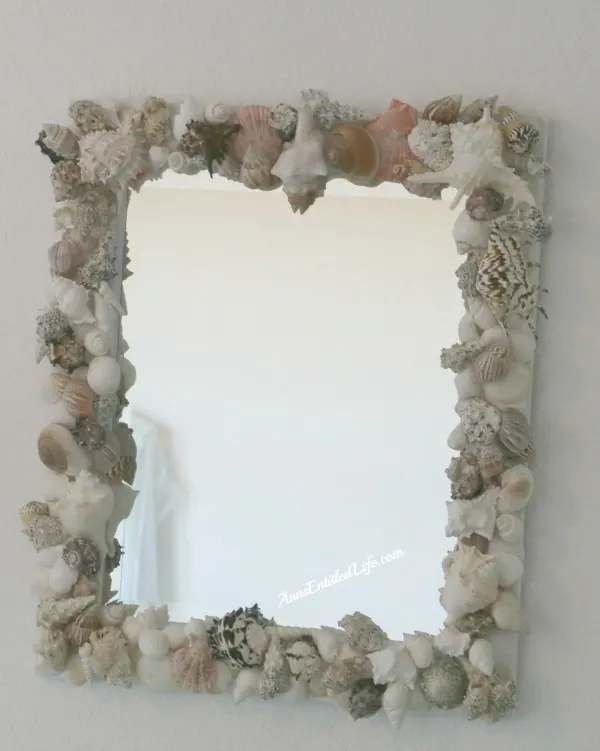 Source: annsentitledlife.com
Just like that seashell tray you just made, seashell mirrors are a fixture at most beachside homes. They're super easy to make, and everything about them screams surfer-chic meets shabby-chic if you can picture that.
You can pick one up ready-made, too, but those cost a pretty penny. Besides, you can make them for a much cheaper rate, and I bet you already have most of everything you need.
Grab a mirror in the dimensions you want and pick up shells, paint, mod podge, white glue, and other embellishments from here.
Remember to be careful when you're gluing the shells on; you don't want to accidentally scratch the glass.
33. Seashell Candle With Beeswax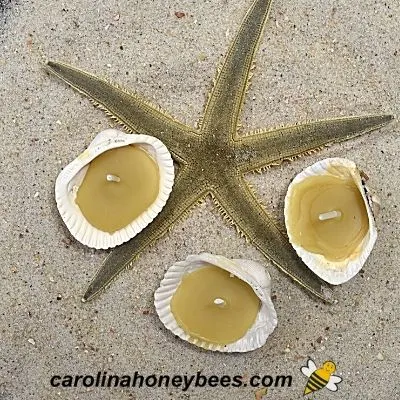 Source: carolinahoneybees.com
You'll be making seashell candles, just like the ones you made earlier. Only this time, what do you say we use beeswax instead of just plain old paraffin?
Beeswax candles are the absolute best in terms of quality and how eco-friendly they are. They're always my go-to medium when I'm making candles. You can pick up beeswax here.
You can also pick up tea light wicks from here and if they're too big for the shells you've picked, just use a pair of scissors to trim them.
While you're at it, take a look at how to make these DIY bottle cap candles, too!
34. Seashell Fish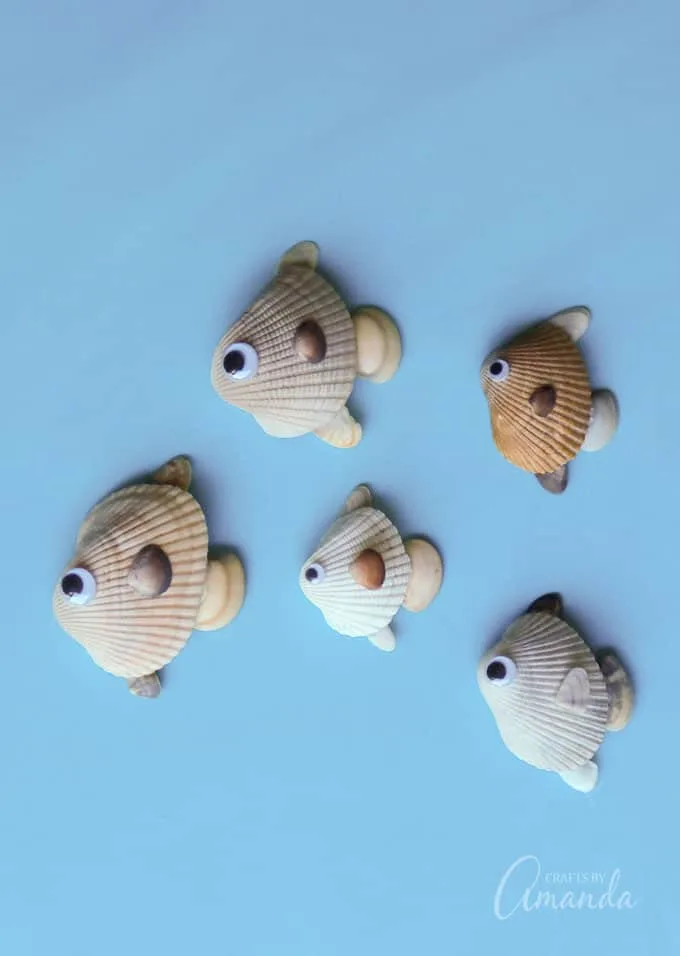 Source: craftsbyamanda.com
You can't have too many seashell fishes; you really can't. But what you can have is too many seashells, so it's time you put a dent in them with another seashell fish craft.
Seashells are naturally a lovely sandy, pastel shade. So, if you don't feel up to painting them, then don't worry about it.
Just grab a few googly eyes to stick on your fishes and you're good to go!
35. Paper Plate Seashell Craft For Preschoolers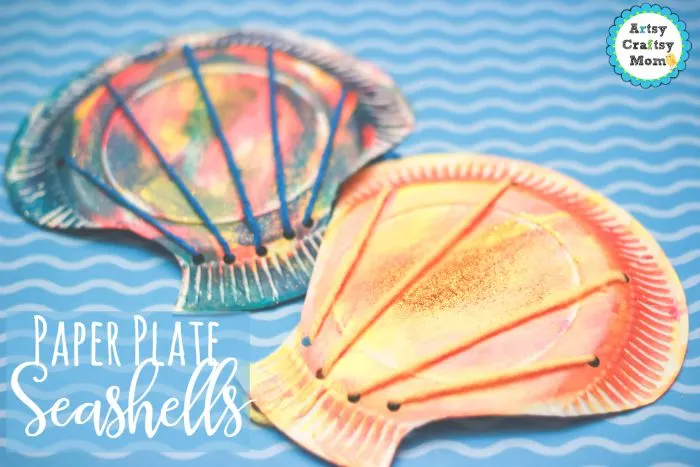 Source: artsycraftsymom.com
Paper plate crafts are always the best activity when you're in a pinch or are running short on ideas. They can keep young toddlers occupied for a long time and give them something fun and creative to work on.
I'm sure you already have a few paper plates at hand. Go ahead and grab them, as well as your stash of seashells. You'll be cutting these paper plates into actual seashell-shaped plates, so first, help your kids draw the pattern on the plate.
This can be a great opportunity for them to learn how to cut paper, but make sure you keep an eye on them at all times!
Love this paper plate craft? You might also like this paper plate flower craft.
36. Candy Seashells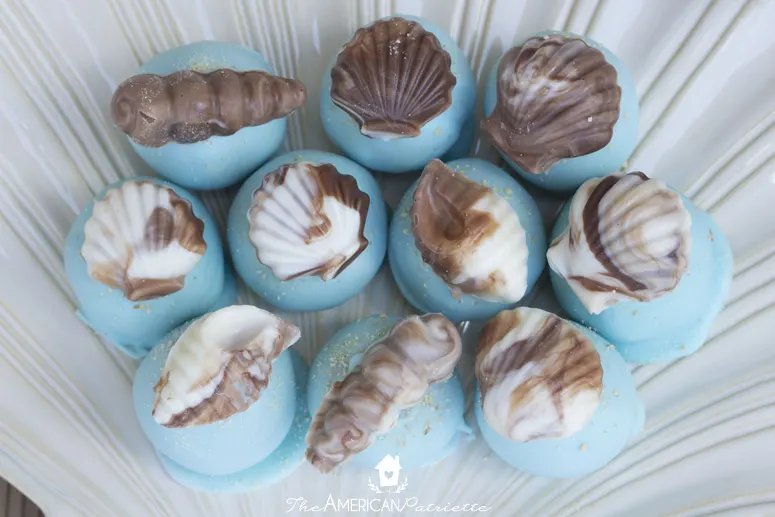 Source: theamericanpatriette.com
Got a birthday coming up? Well, you've got yourself a beach-themed party to plan, and your cake toppers look out of the world! These super-realistic-looking candy seashells are perfect as toppers for cupcakes, cookies, or cakes.
Grab some microwaveable bowls, a plastic or silicone seashell mold from here, and also your chocolates and candy of choice to melt and pour into said molds.
You can use a popsicle stick to stir out any lumps the melted chocolates might have.
37. Crab And Turtle Shellfish Magnets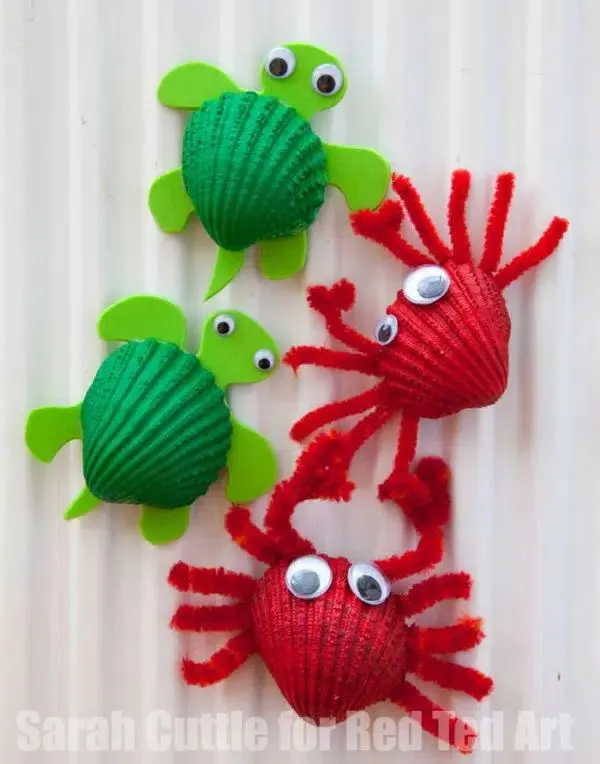 Source: redtedart.com
When I was a kid, I had a never-ending love for crustaceans. I don't mean I loved eating them—although I did and do. They were just so enigmatic, and I always wondered what was under their shells.
If your kids are fascinated by crabs and turtles, then you've got a great opportunity to teach them about these sea creatures with a fun craft session.
Grab your seashells, a few bottles of paints, googly eyes, and finally, a few pipe cleaners, and get started on your craft session!