Ready to upgrade your decor for summer? Try making these DIY summer wreath projects and have fun crafting! All you have to do is pick the wreath you want to make!

It's summer, and you're on a mission to decorate your entire house. You've covered every single room—even the powder room downstairs now smells like summer—before you realize something.
Nobody's going to know you went to all that trouble if they look at that bare front door. The front door is the first thing people see when they come home, isn't it?
So how do you decorate it?
Here are 27 summer wreaths to choose from! All of which are great crafts for adults and teens.
1.Pineapple Door Hanger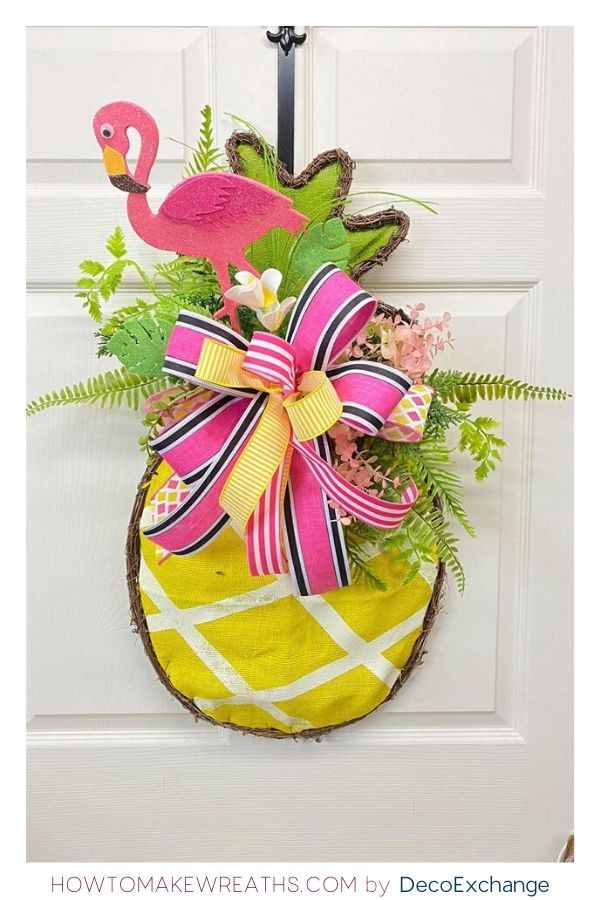 Credit: howtomakewreaths.com
No, we're not hanging a pineapple on the front porch. Not after that last incident with the raccoons, anyway.
This is a DIY Pineapple door hanger craft that would look fabulous adorning your porch this summer. Here are some of the things you'll need to make it:
Twig burlap pineapple
EZ Bow Maker
Scissors
2. Succulent Summer Wreath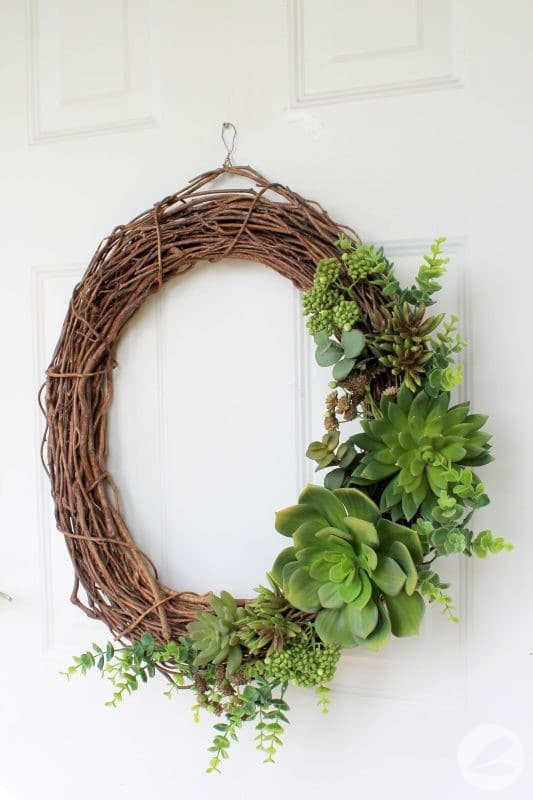 Credit: homemadeheather.com
While I'd love to use real succulents, faux succulents are what you'll need to make the wreath last.
It also helps cut down maintenance. You don't want to have to constantly water your wreath and have a soggy mess out front.
If you've got some leftover wire, you can make this DIY wire ring.
3. Lavender Grapevine Wreath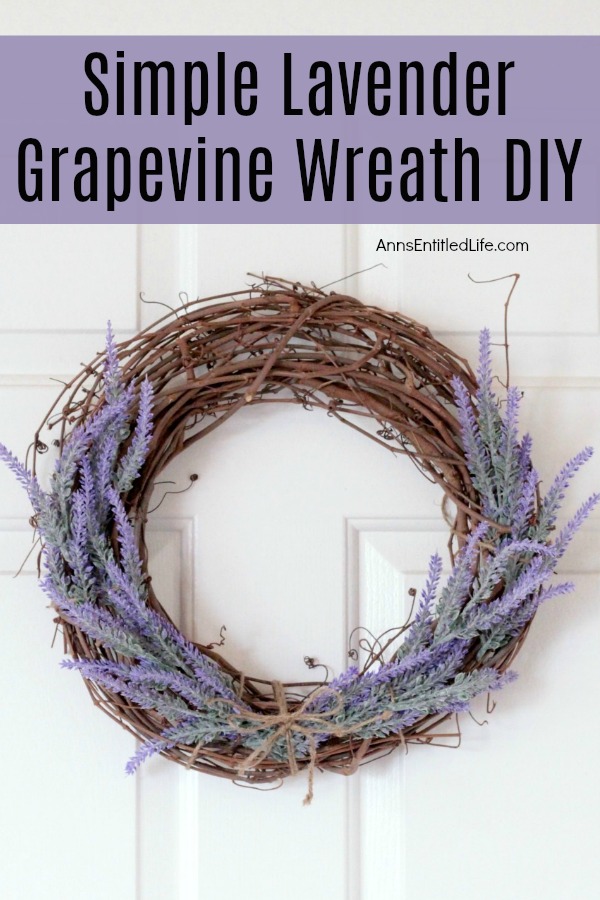 Credit: annsentitledlife.com
Here's another project that calls for a grapevine wreath. It also calls for some lovely, aromatic lavender.
Did you know that lavender is commonly used in aromatherapy to help people feel a sense of wellness, peace, and calm? That's what this pretty wreath will bring to your home.
That, and some lovely pops of color and style! Buy some dried lavender here and get started.
This is a great craft to make and sell.
4. Sunflower Knot Wreath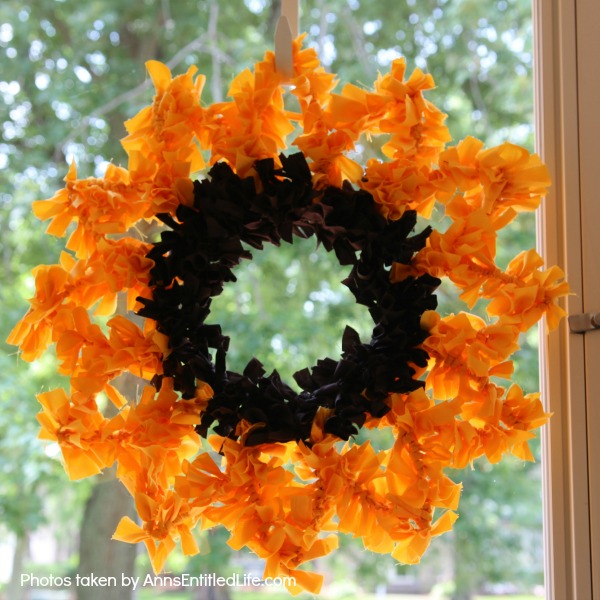 Credit: annsentitledlife.com
You might not be able to hang real sunflowers, but this wreath comes a close second best.
You'll need a wreath frame, colored fabrics that you'll need to cut into long strips, and a measuring tape. Buy a pair of sturdy cloth scissors, too.
You don't need to iron your fabric beforehand, seeing how you'll be knotting the strips onto the frame. Remember to start tying the yellow strips first and then the brown; it gives a better-finished product.
5. Daisy Wreath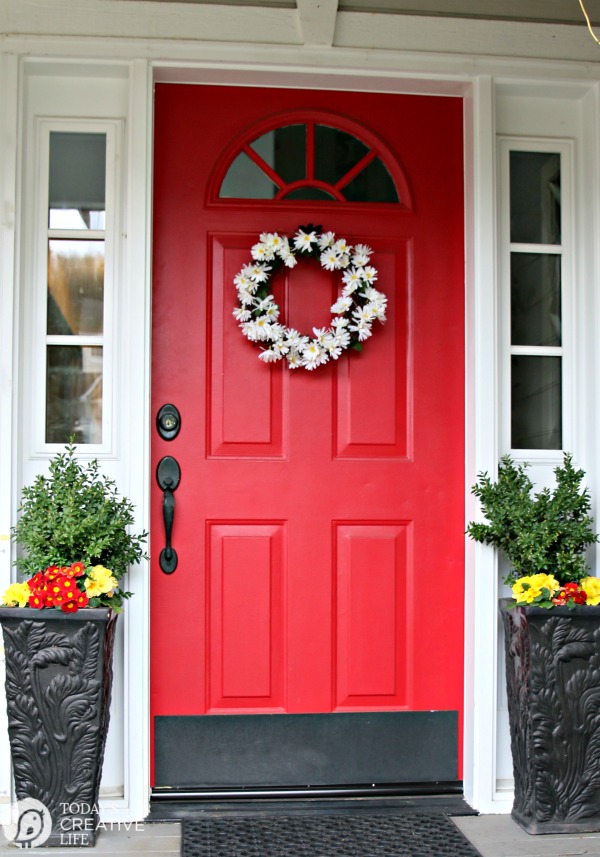 Credit: todayscreativelife.com
Just look how charming that daisy wreath looks hanging on that sassy red door. If you don't have a red door, I suggest you paint it just for that wreath because it's that amazing.
You'll find a few artificial daisy bouquets here, along with a pair of sturdy wire cutters. I'm going to do you a favor and tell you where you can find some of that red paint for your door: right here.
Why the wire cutters, you ask? Because, you'll need to cut the daisies into individual flower stems. It takes a little time, a few bandaids if you're clumsy like I was, but you'll get there, one way or another.
6. Birdseed Wreath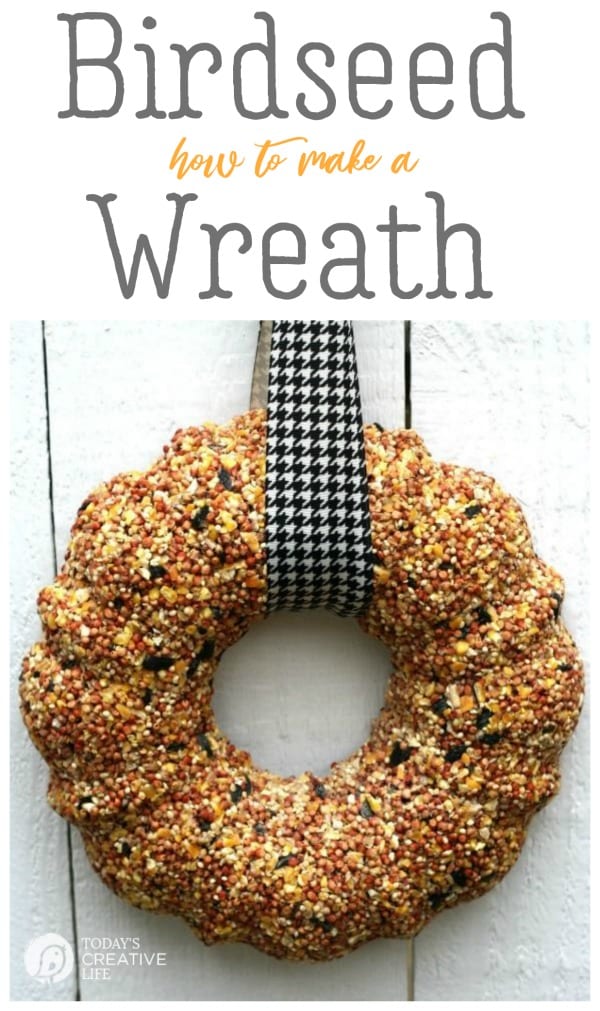 Credit: todayscreativelife.com
Birds deserve more than to just be snacks. They deserve to have a snack as well. If a birdfeeder is just too mainstream for you, then why not hang up this birdseed wreath on your front porch?
You can make your own suet at home; just follow this homemade bird suet recipe. Then, get out your bundt cake mold and pack that suet feed in there using a spatula to press down.
I'd give it a day or two to harden before removing the 'cake'. Just one tip: hang your wreath in a cool, dry place that is easy to access and safe for birds to sit for a while and snack.
7. Hydrangea Wreath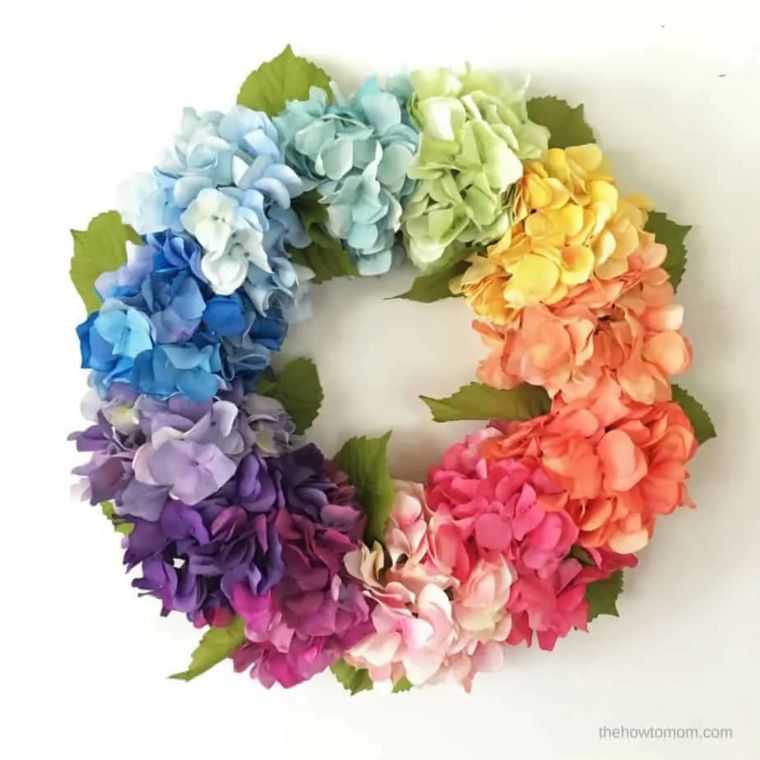 Credit: thehowtomom.com
Hydrangeas have just the right amount of fluff to create a well-rounded, lush-looking wreath. Even artificial hydrangeas manage to look soft and pretty.
Another bonus? Hydrangeas come in many unique colors, and fake hydrangeas in even more hues, I imaging. So go a little wild and make a rainbow-ring hydrangea wreath for your front door.
You can even add a few decorative leaves to spruce it up. You can find them here.
8. Swimsuits On A Summer Wreath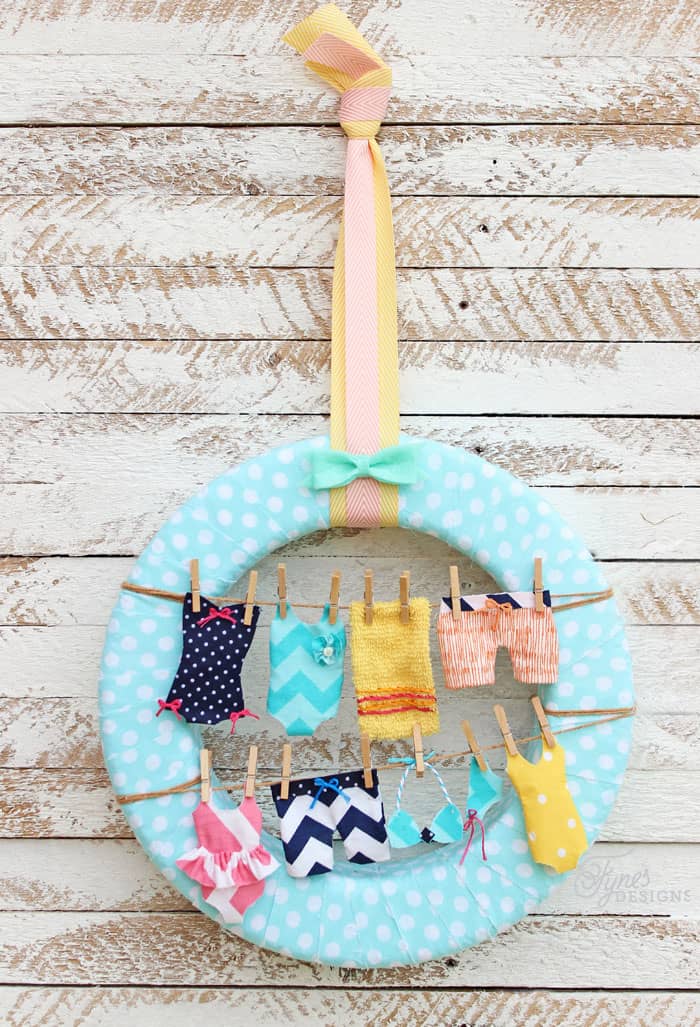 Credit: fynesdesigns.com
Did you run out of space on your clothesline to hang your swimsuits? Then why do I see them hanging on your front door?
Oh, it's a wreath. That's…really creative.
The clothes are too tiny to bother using a sewing machine, so it's time to go old school. Grab your needle and some thread and sew some tiny swimsuits, bikinis, and swim trunks. Or just borrow the clothes off your kid's Barbie.
You can find those mini wooden pegs here. You can also find a sturdy wreath frame here. Just remember to tie up your wreath in a firm knot and secure it to your knocker using wired ribbon.
The wind should dry your swimsuits in no time.
9. Sunflower Clothespin Wreath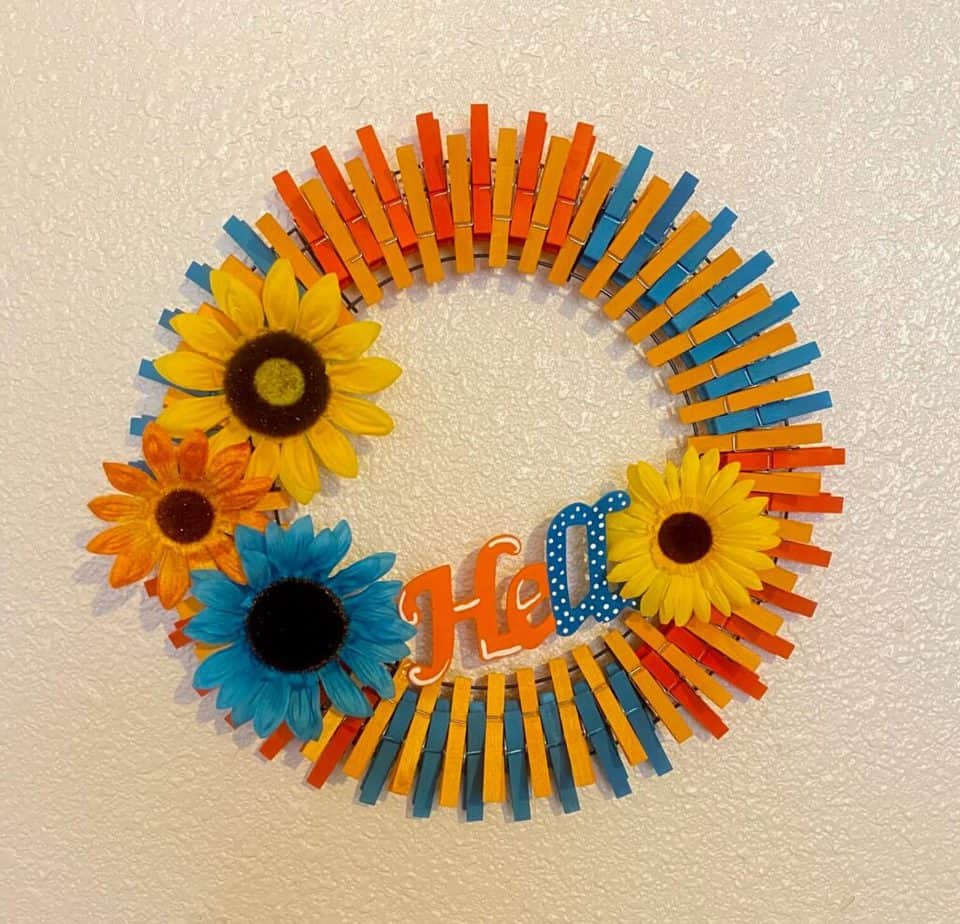 Credit: mandapandaprojects.com
You know what? I believe I've never really seen a wreath quite like this. Who knew that clothespins could look so aesthetic?
Here's what you'll need for this project:
Clothespins-around 92
Red, orange, and blue dye(to dye the clothespins)
Wire wreath
Acrylic paint
Hot glue gun
10. Wood Bead Floral Wreath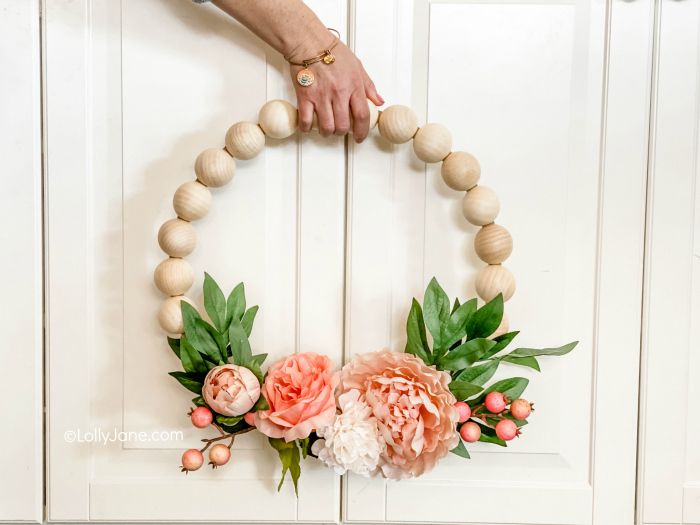 Credit: lollyjane.com
This looks like a wooden necklace with a lovely stretch of flowers for a pendant. If you play it right, you can use this beaded wreath again, any time of the year.
All you have to do is switch out the summer flowers for fall flowers, and when fall ends, switch them out for winter flowers. You see how it works.
You'll need split wood balls to use as beads, preferably about 2 inches in diameter. You can buy them here. You'll also need a wreath form like this.
If you're wondering how to hang this up, you can simply use outdoor command toggle hooks from here.
11.Summertime Sweet Lime Wreath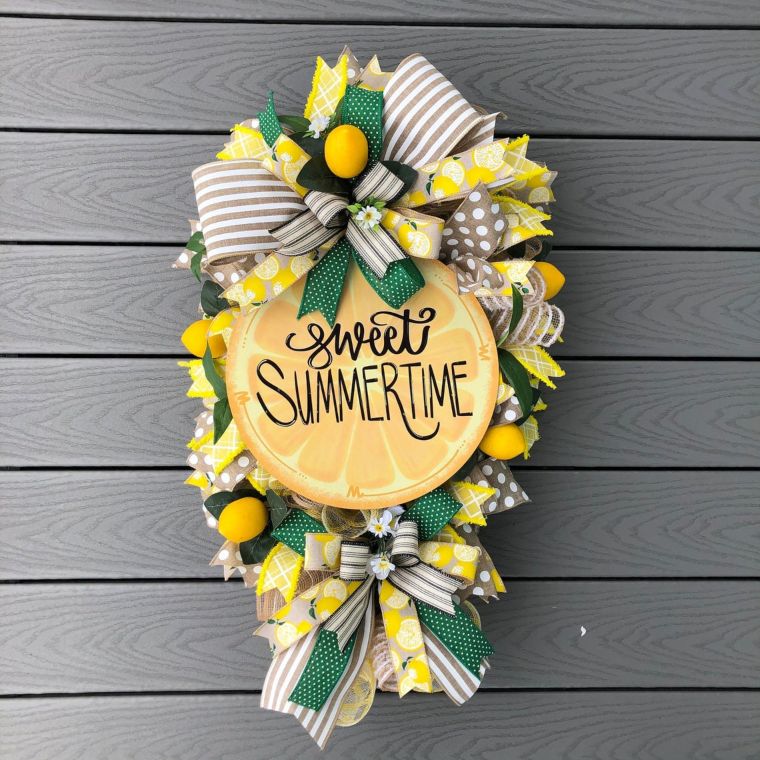 Credit: Etsy
Lemons add so much color to a wreath. They're definitely a bold choice, and just seeing can bring up the sharp, citrus tang of their essence.
Not only does this wreath call for lemons, it also has about a dozen bows just sashayed on there. You can use this bow maker tool to perfect the art of making big, billowing bows.
Here's an idea. Mix a few drops of lemon essential oil in water. Then pour the liquid into a spray bottle and gently spritz the scent around. Make sure you don't stain the ribbons, though!
12. Watermelon Wreath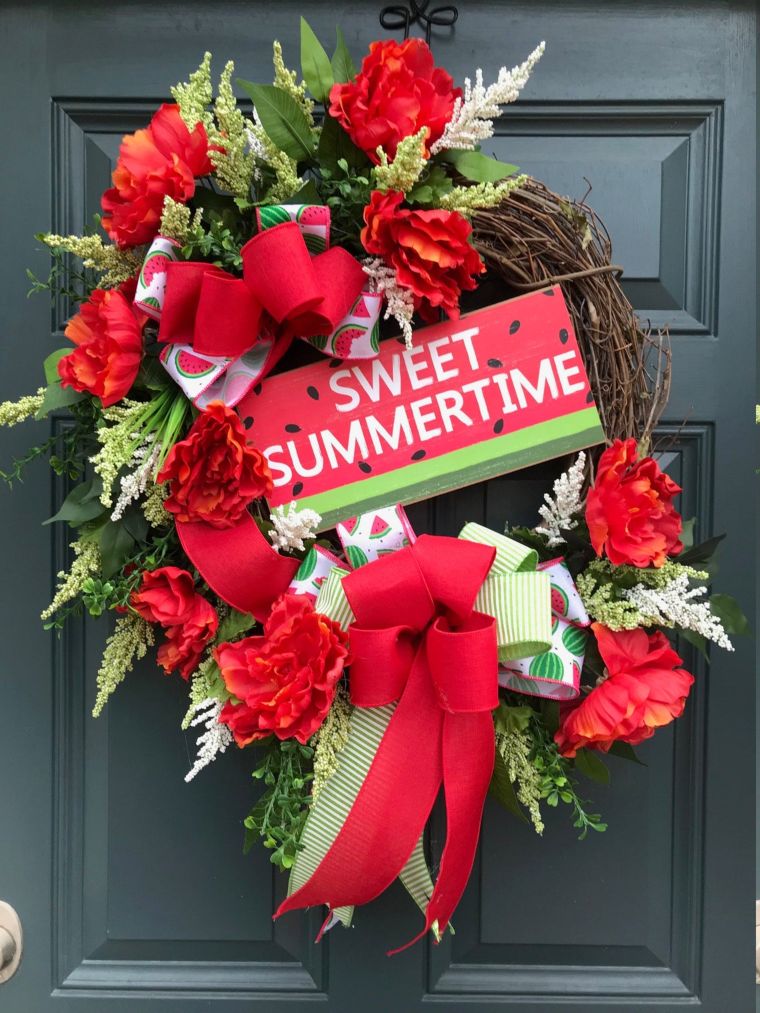 Credit: Etsy
The color on this wreath reminds me of ripe, juicy watermelons on a hot summer's day. What a lovely wreath to hang on your door.
You've got bright red carnations and that fat bow right down the middle that's adding the red to this tableau. But there's also plenty of green from the decorative baby's breath flowers and another pinstripe green and white bow.
Did you mistake all that red for a V-Day wreath? The little watermelon print plaque that reads 'sweet summertime' should clear things up!
But don't worry, here are some Valentine wreath ideas to try out come February.
13. Aloha Wreath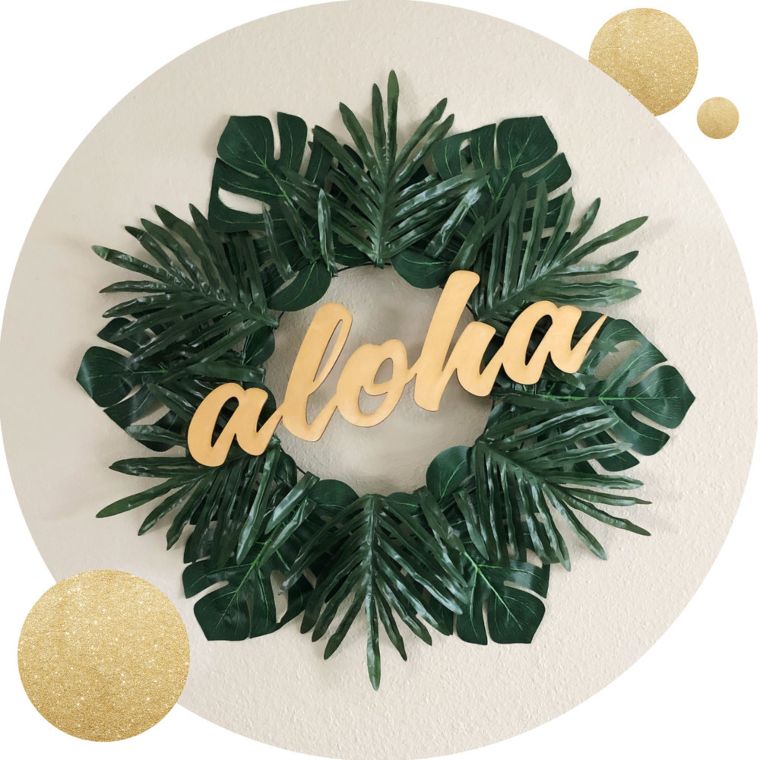 Credit: pixelsandpop.com
Palm trees in the sun, white sandy beaches, and sweet margaritas. That's as close to Hawaii as this Aloha-wreath will get you.
With just the perfect touch of dark green from the faux palms and the dull gold used to paint the Aloha sign, you've got yourself a beachy yet subtle, elegant wreath.
What better way to welcome guests into your home than with a cheerful wreath that says Aloha for you? This might even work as a centerpiece if you ever decided to host a luau.
Speaking of centerpieces, if you want some ideas on that, check out these DIY Dollar Tree centerpiece ideas!
14. Burlap Mesh Sunflower Wreath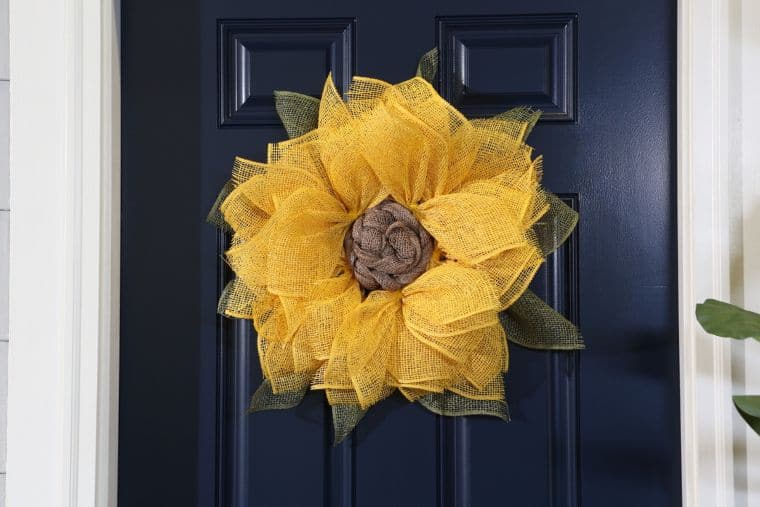 Credit: bhg.com
Just look how all those layers of sunny yellow mesh billow out. Who would have thought that a few scraps of burlap deco-mesh could turn into something this spectacular?
Here's a list of tools that you'll need for this project:
Rotary cutter
Cutting mat
Scissors
You can find an entire kit of these three tools right here. You'll also need a few pipe cleaners. You'll see why when you read the step-by-step tutorial.
But what I love the most about this wreath? That braided centerpiece. You'll need some zip ties to hold them in place, though.
15. Simple Spring Wreath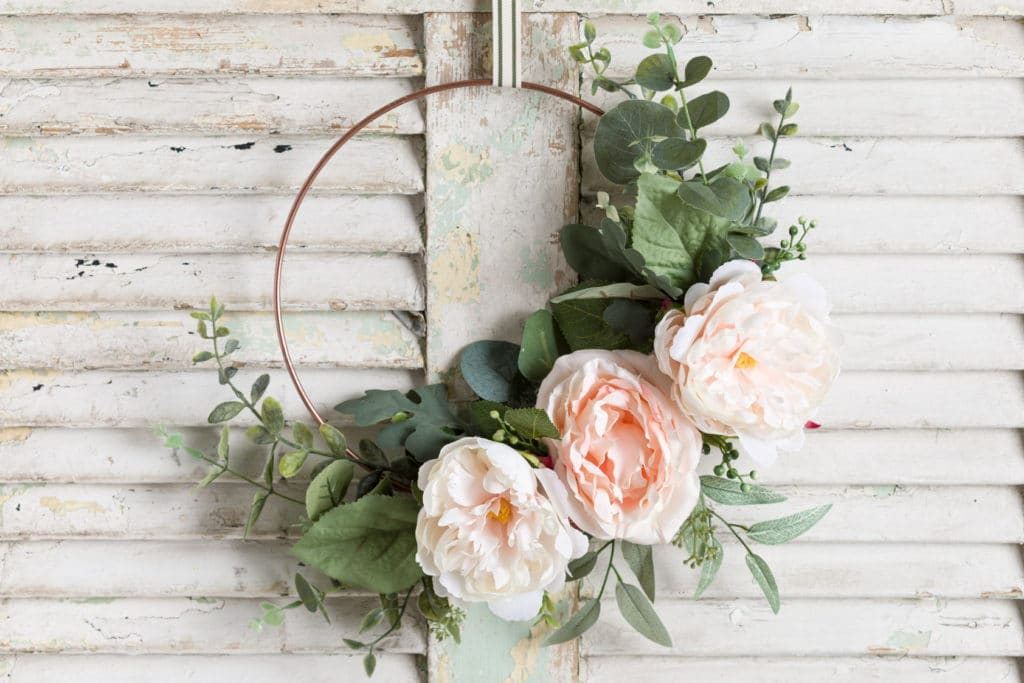 Credit: kippiathome.com
Minimalism is in, and what better way to let people know you're all about simple elegance than this lovely summer wreath?
You've got ample foliage, and three fat blooms that cover just a third of this wreath hoop, leaving plenty of the metal left uncovered.
It gives a rather powerful impact, doesn't it, almost like a 'nature embraces the man-made effect.' Of course, the irony that the 'nature' part of this wreath happens to be human-made is rather unfortunate, but hey, it was definitely worth it!
16. Lamb's Ear Wreath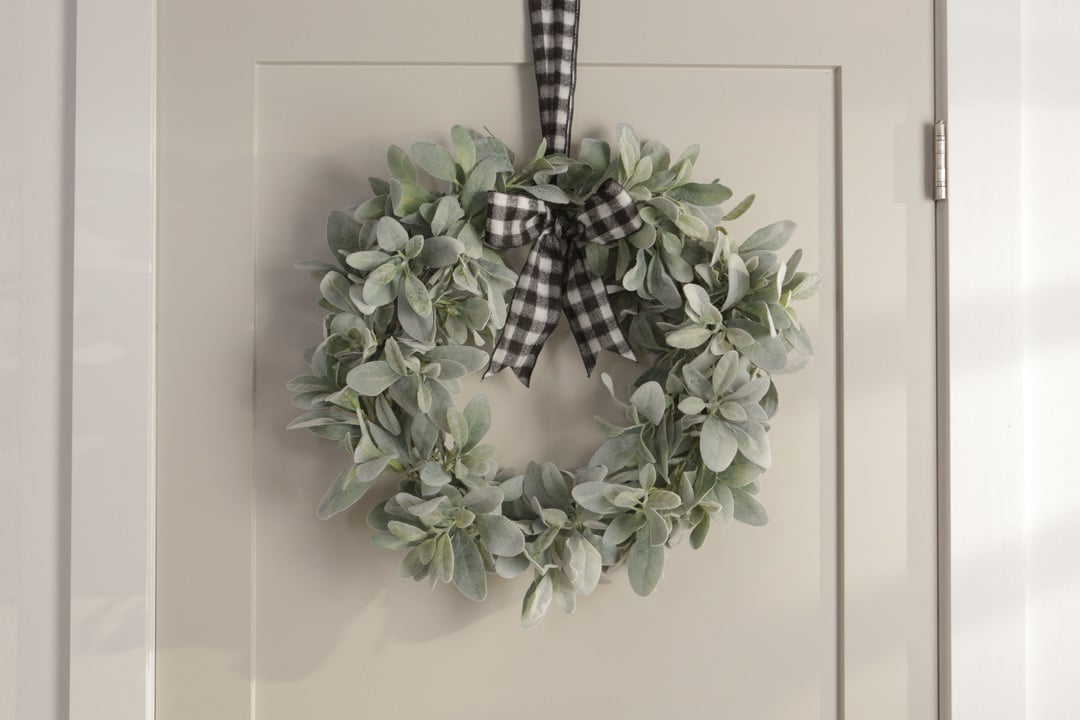 Credit: bhg.com
This green wreath, with the classic buffalo checkered bow, is simple, elegant, and calm. It says a lot with the little it has.
Make sure you cut the lamb's ear with the stems intact, giving enough room to tuck them in and wrap the wire around to attach to the frame.
Here's a tip: You'll need to wrap it in hap and anchor the knot to the frame before you make the bow. The ribbon will double as the hanger.
17. The Great Wreath of Green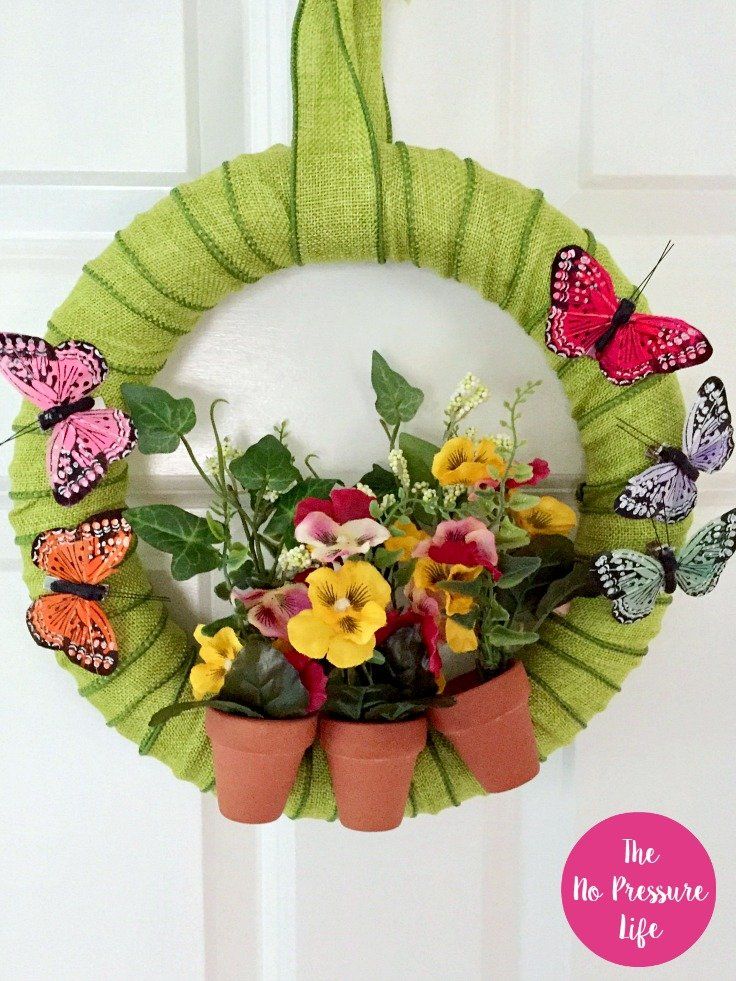 Credit: thenopressurelife.com
I can't quite figure out what shade of green that burlap ribbon is. Grass? Kelly? Fern? Whatever it is, it's bright, and I'd save it for St. Patrick's Day too if I were you.
Unlike the other wreaths we've read about, this one uses a foam or straw wreath frame. You can find one here.
You'll also need mini terracotta pots, floral pins, or even straight pins you'd use for sewing, some fake flowers, and butterfly clips.
Got everything? Good, now get started with this summer wreath!
18. Birdhouse Wreath for Summer and Spring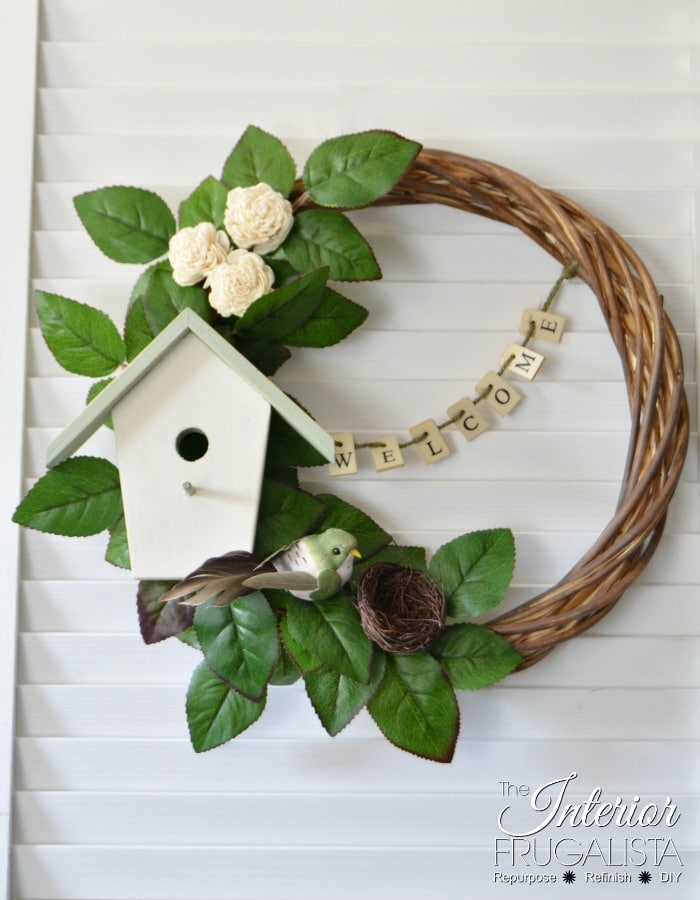 Credit: interiorfrugalista.com
Look at that string of block letters. Welcome, indeed.
You'll need quite a few accessories for this one, most of which you can upcycle for other projects.
Alternatively, if you want to make your wreath even more special, you can consider switching out the fabric roses and use scented potpourri flowers instead!
19. Cocktail Umbrella Summer Wreath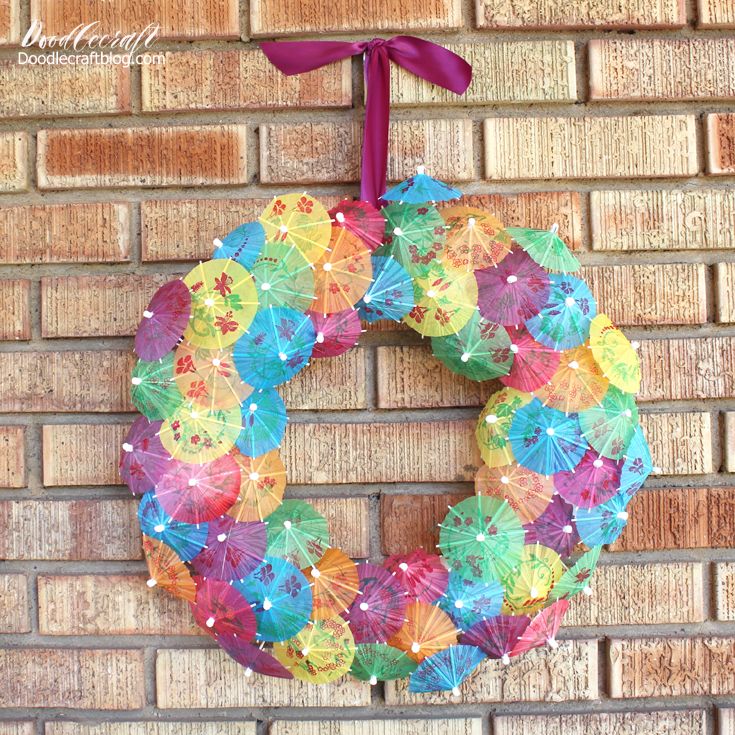 Credit: doodlecraftblog.com
Doesn't this wreath just look all kinds of quirky? It's got enough crazy and wild written on it that I'd pay good money to buy it from you.
Do you save the little umbrellas from your margaritas? No? That's alright, you can just buy some here. You'll also need another foam wreath frame this time, rather than a metal frame.
You're going to just poke the sharp end of the paper umbrellas into the styrofoam. That's it, that's all there is to it. Just keep opening an umbrella and then stab.
If you've got kids, it'll be a great activity to keep them occupied for a half hour or so. Use a bright strip of ribbon, wrap it around the foam and secure a knot to use as a hanger.
20. Wine Cork Flower Wreath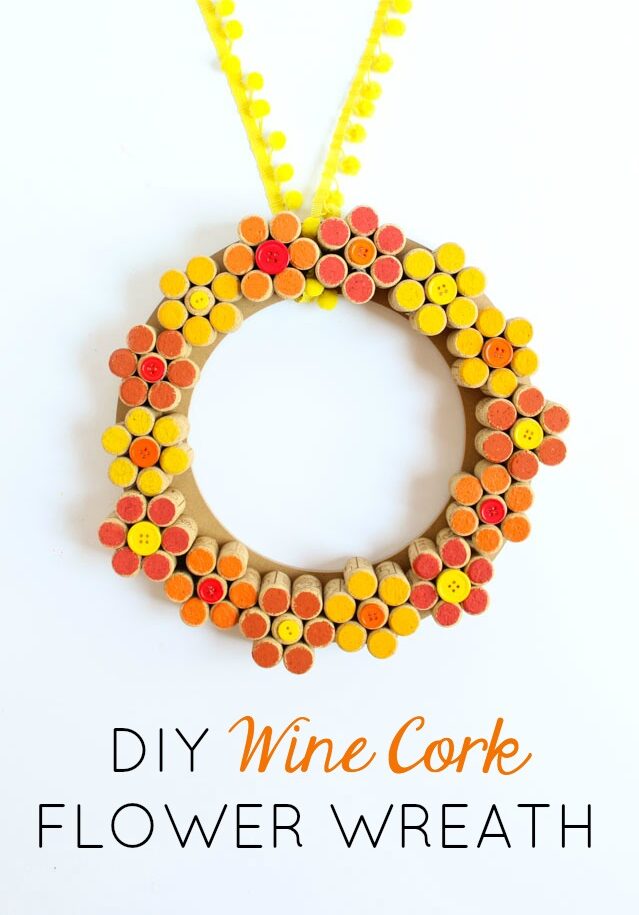 Credit: designimprovised.com
This wreath would look bright and snazzy anywhere. I can tell already that you can play around with the color scheme a lot before you have to decide.
I'm leaning towards a blue, blue-green, and white patterned scheme, but you can just as easily go for red, orange, and yellow.
Just arrange seven corks in a circle, with the seventh cork in the middle and for a flower of sorts. Stick them together.
Now you can attach pretty embellishments on top of the center cork: buttons, flowers, butterflies, anything!
There's no way you have all those bottle corks lying around. So just buy some here. You can decide whether you want them to be tapered or just cylindrical; it's up to you.
21. Dollar Tree Sun Hat Wreath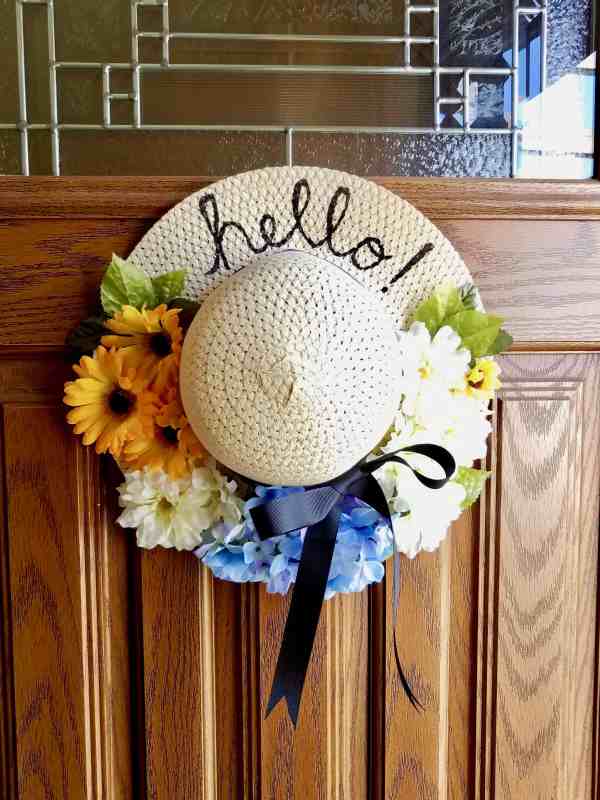 Credit: wethreeshanes.com
You walk in and hang your hat on the rack, right? But what if— now just hear me out—what if you hang your hat outside…as a wreath?
Just look at how different that wreath looks. Imagine walking by a house that has that wreath hanging on its front door. Don't you feel like you want to know the people who live there?
Well, I do. All this project needs is a sun hat, some artificial flowers, and markers, all of which you can buy at your nearest dollar store.
If you don't have any ribbon, grab a roll while you're there.
22. Beach Wreath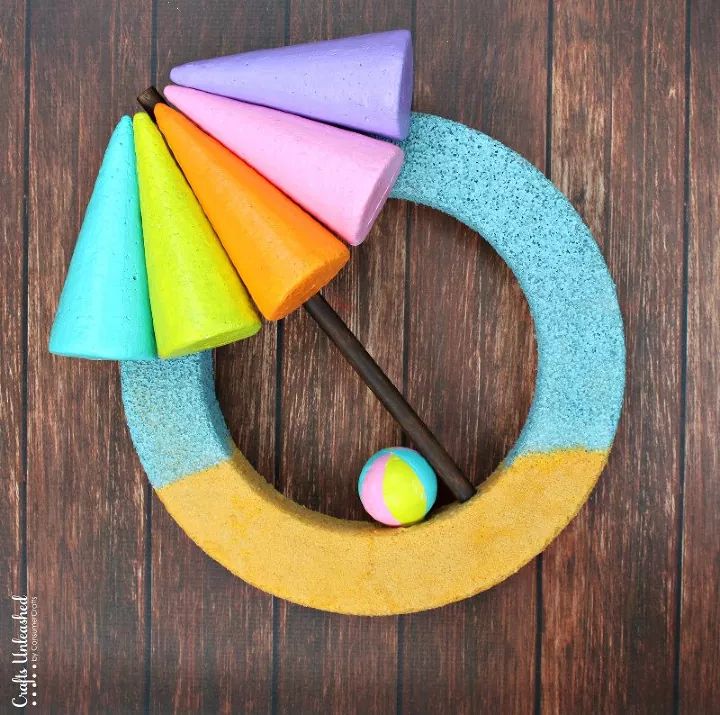 Credit: hometalk.com
Is it just me, or do those foam cones look like popsicle cones? It makes me want to grab one, just to see.
This wreath looks like it picked itself off a sandy beach, walked all the way home, and hung itself on your front door.
You'll need a foam wreath form, foam cones, colored craft sand, a dowel rod, and craft paint, depending on what colors you plan to use.
23. Embroidery Hoop Wreath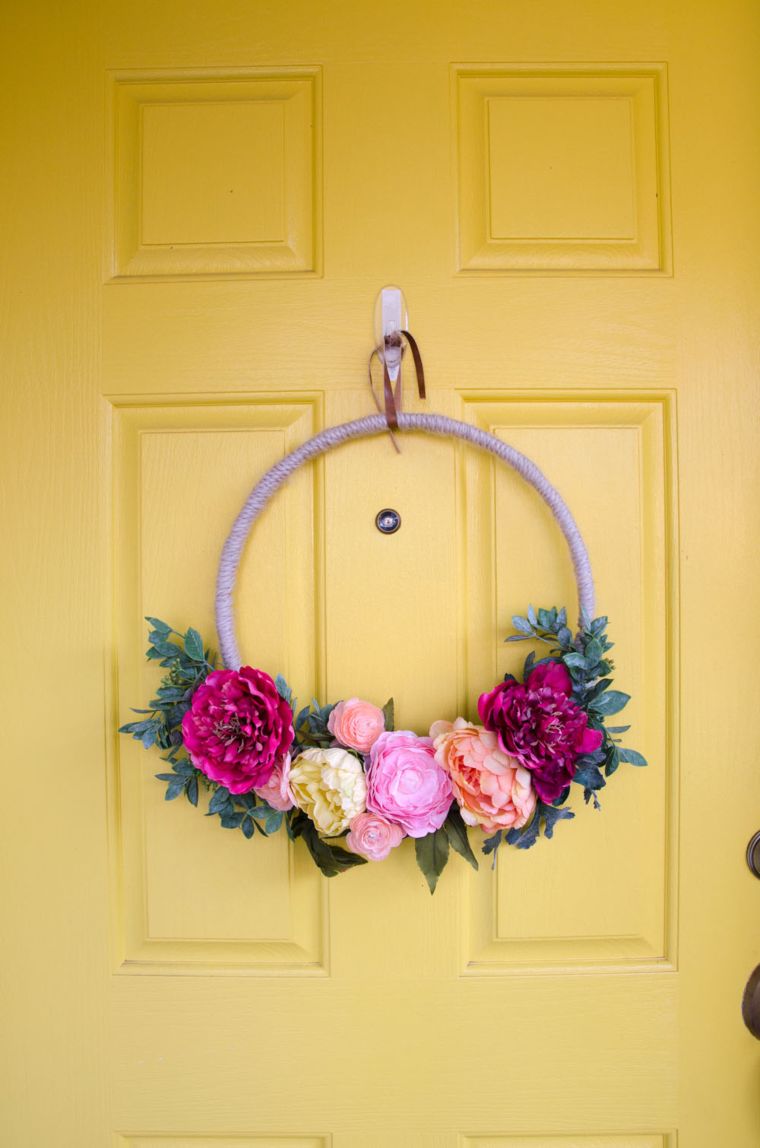 Credit: sisterswhat.com
What is it about pretty wreaths on colorful doors? You see this hanging on the front door, and it makes you want to stop a while. Stop and take a long look at how beautiful it is.
A quick tip: You can also use faux succulents instead of the leaves. That would really take this wreath to another level of lovely.
Do you have extra jute rope left? Here's a DIY rope coaster or yarn-wrapped DIY flower pot you can make!
24. Fern and Daisy Wreath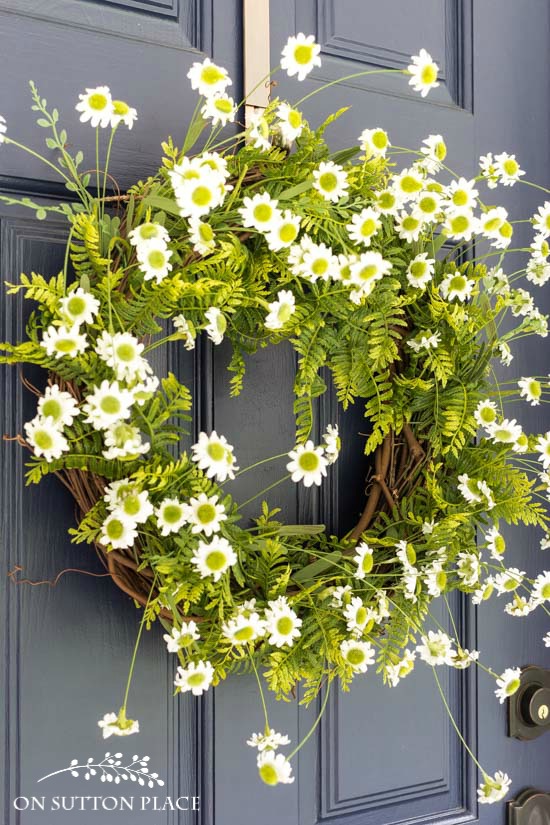 Credit: onsuttonplace.com
This wreath looks like something you'd find in a forest, where fairies and woodland creatures would sit in the curve of the wreath and swing. That's how beautiful it looks.
I hope you saved some faux daisies and fern from one of the previous projects because you'll need them for this one.
25. Sweet Watermelon Wreath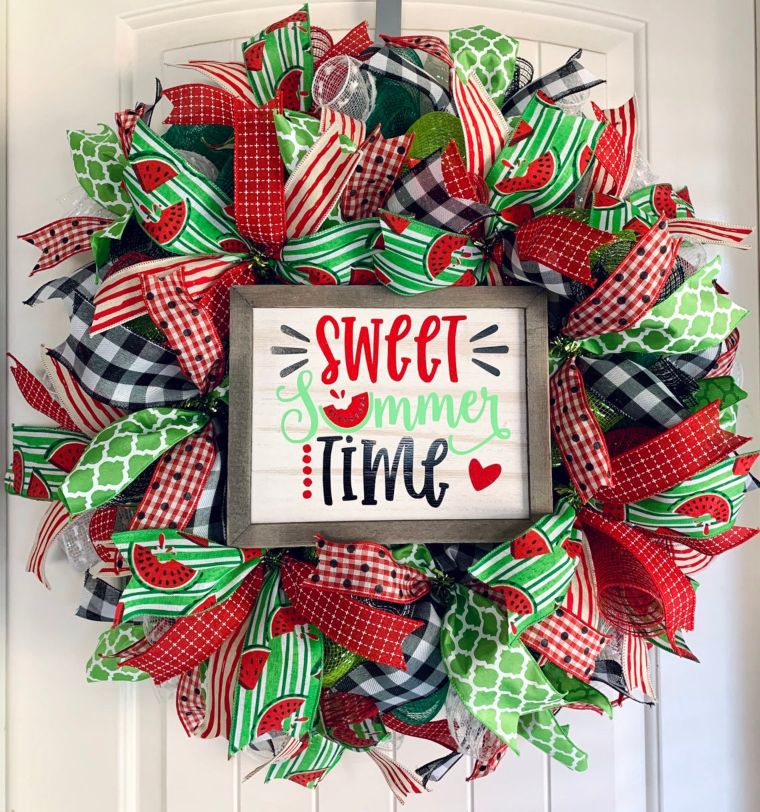 Credit: Etsy
To be honest, I really did think this was a Christmas wreath. But then, I took a closer look at that green and white ribbon with watermelon motifs and figured what it was.
But now, you want to look up Christmas Wreaths, and I don't blame you. Just look here for unique DIY Christmas wreath ideas.
You'll need plenty of fabric and your cloth scissors for this wreath. It wouldn't hurt to rope in a few little-helpers to paint that pretty 'Sweet Summer Time' board.
26. Summer in Bloom Wreath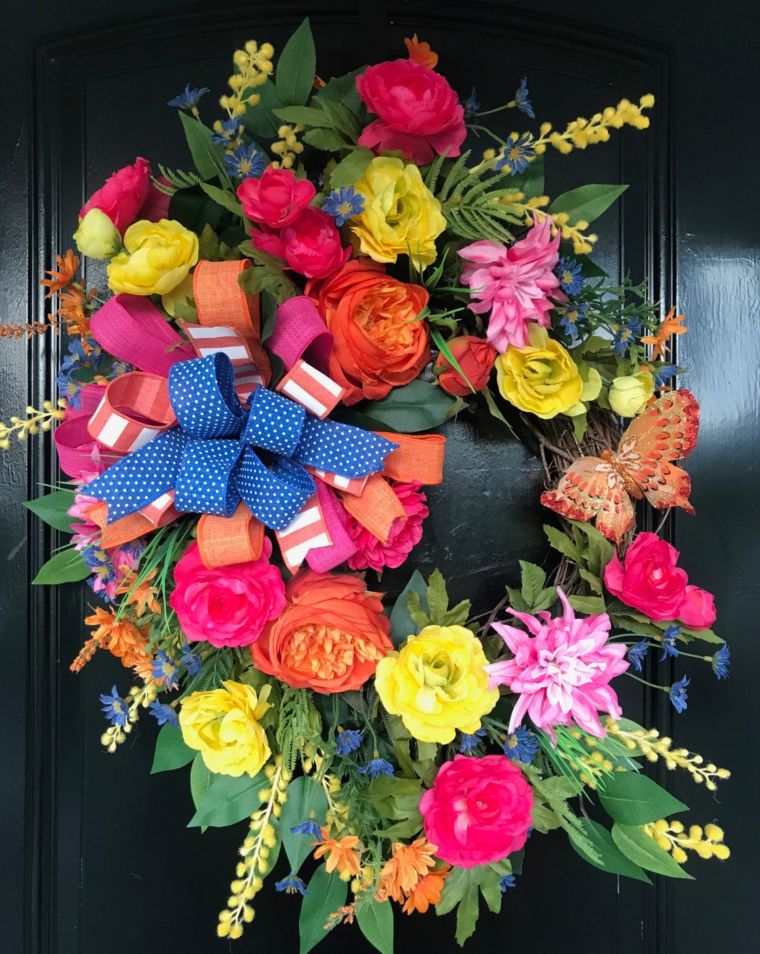 Credit: gracemonroehome.com
There's no way you'd mistake this wreath for anything but summer. It has every single color and then some on it.
I can see bows, ribbons, ferns, tiny sprigs of heather and baby's breath, big blooms, all of which are lovely, albeit artificial. Oh, I missed that butterfly perched on the wreath.
Go grab some faux wildflowers and a glue gun and get decorating.
27. Like Bees to Wreaths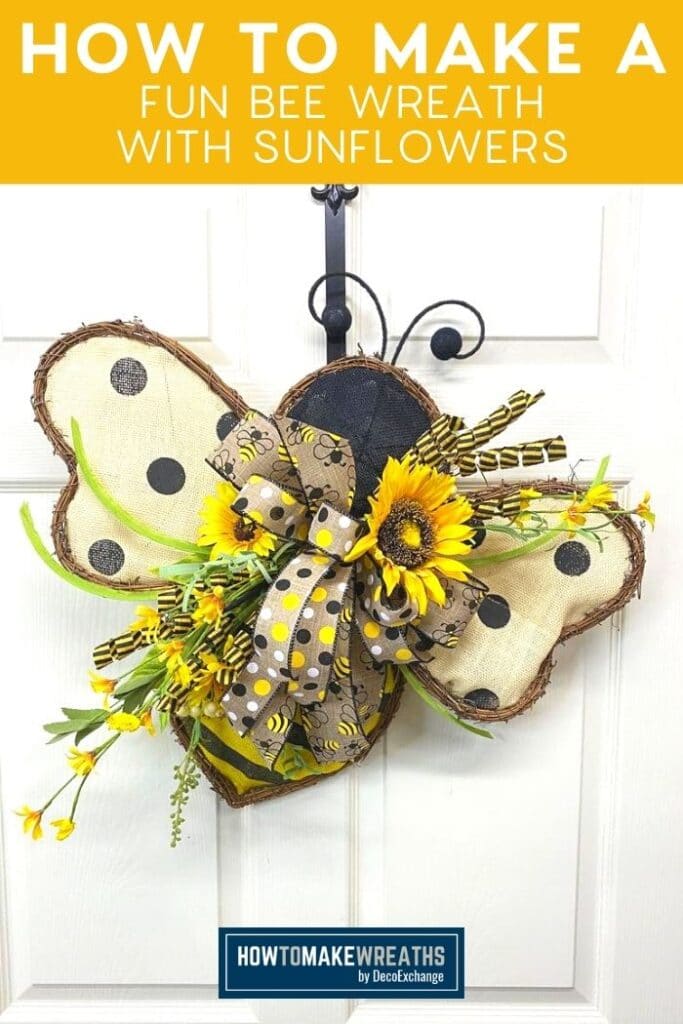 Credit: howtomakewreaths.com
It seems appropriate that the last DIY project is a bumblebee wreath. We've surely used enough faux flowers to draw at least one faux bee.