There is no need to throw away used tins! Upcycle them and make these fun DIY projects that will serve a practical purpose at your home! Whether it's storing your pens, feeding the birds, or making your very own candle holders.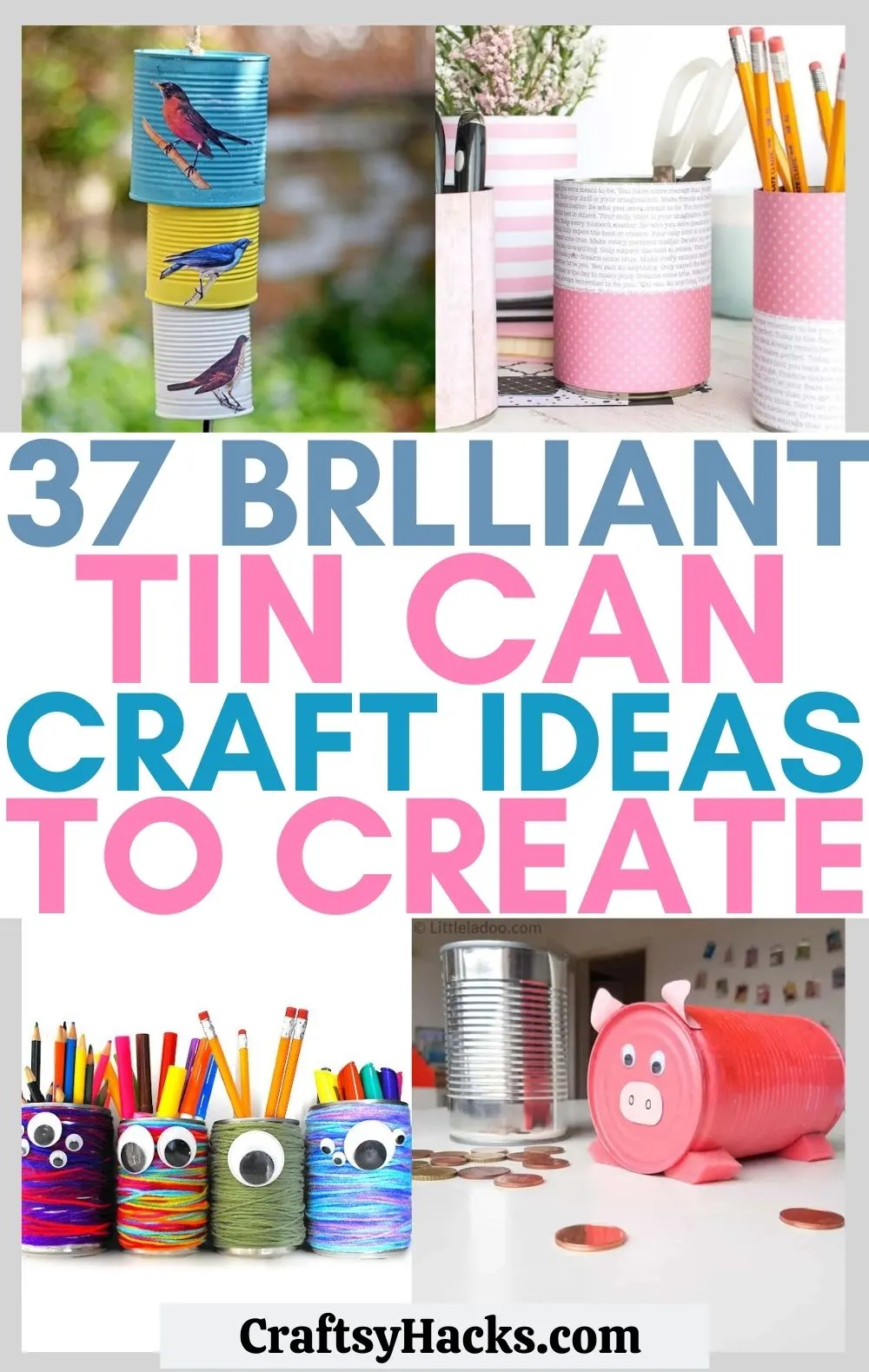 I bet you have a ton of tin cans just sitting there in the back of your pantry in a pile marked for recycling. They're taking up a ton of space, and the pile is ever-growing, too.
Why don't you use your mad creative skills and upcycle those tin cans? You just have to clean, wash, and dry the cans completely first before you begin. But really, that's pretty much it.
Check out 37 tin can crafts to inspire you to finally make good use of those empty cans.
1. Upcycled Tin cans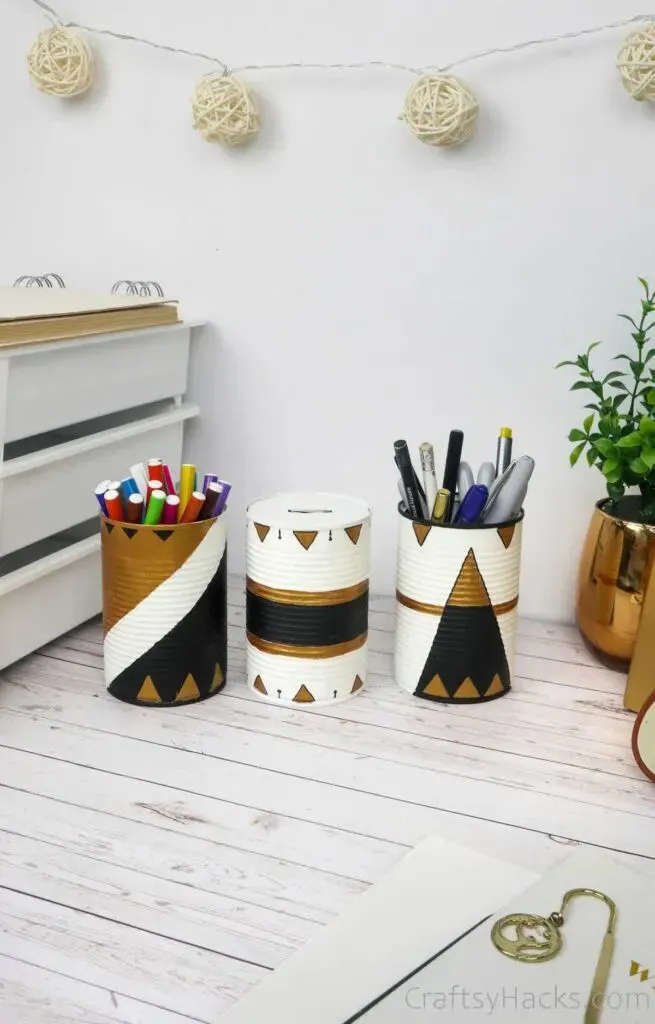 Source: craftsyhacks.com
You can't go wrong with an upcycle tin can project or two on a lazy afternoon when you're looking for an easy craft project. You most definitely can't gop wrong with this particular upcycle tin cans desk organizer.
If you're going to make one, you might as well make three. You can use them to store your pencils, pens, and other office supplies. In fact, you can use one of the three as a planter for a cactus or a succulent.
Grab some bottles of metallic paints and get started on upcyling those cans.
Here's a DIY rope organizer for your desk you can check out!
2. Tin Can Lanterns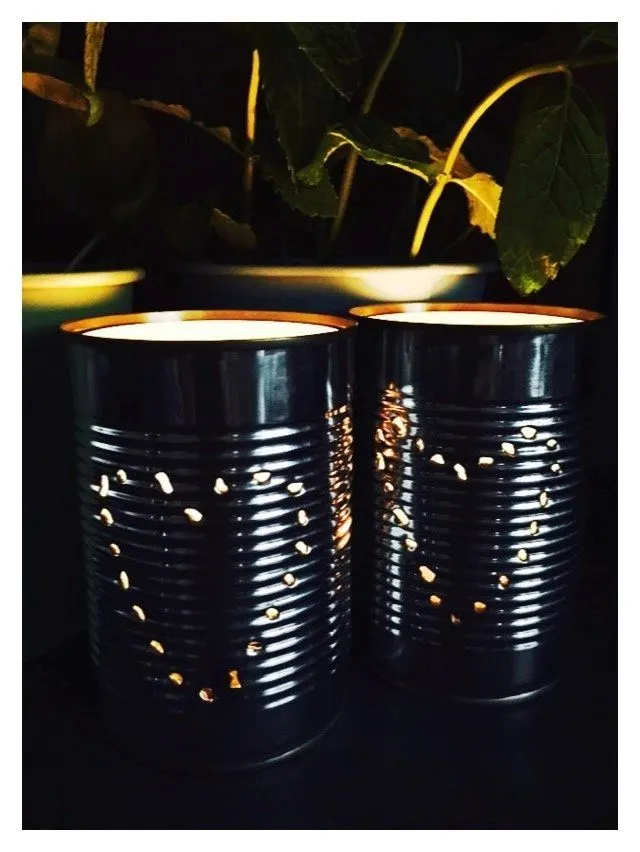 Source: daisiesandpie.co.uk
These are the quickest lanterns ever; you can go ahead and set a timer because you'll have this one ready in under 15 minutes!
They're also pretty urban, with a scrappy and edgy finish that is particularly popular these days. To soften that edge, so to speak, you can poke a few holes into a heart or a flower.
The light that filters out through those shapes will look gorgeous in your garden or porch. Grab a piercing tool here to begin.
3. DIY Upcycled Tin Cans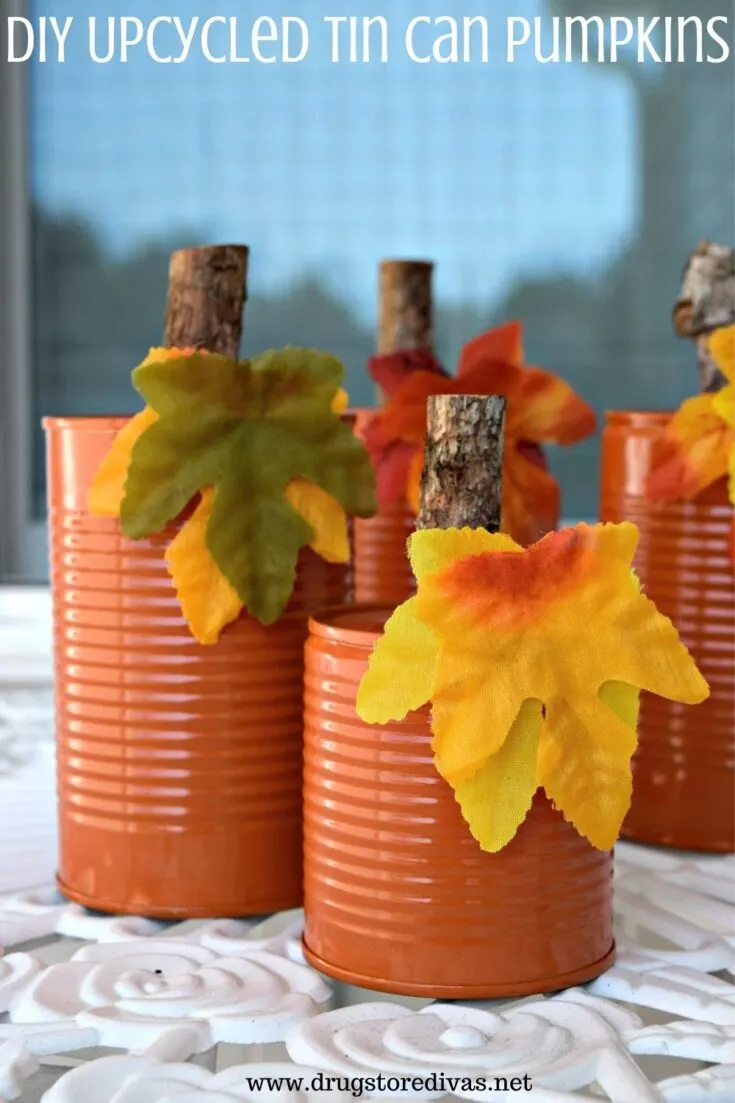 Source: drugstoredivas.net
We're bang in the middle of the fall season, and you know what your next upcycled tin craft project is going to be? These gorgeous orange decorative holders.
Grab a few faux fall florals—like these maple leaves. You'll also need sticky dots, wood glue, orange spray paint from here, scrap paper, and a large stick. Go on and assemble all your supplies.
When you're painting the tin can, remember to lay out newspapers. You don't want to accidentally spray orange paint all over your furniture.
4. Monster Pencil Holder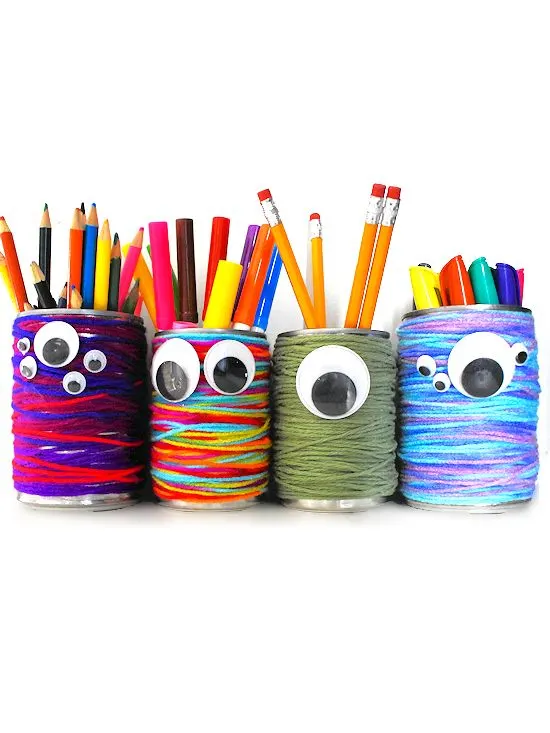 Source: ourkidthings.com
Do you have any bits of scrap yarn leftover from previous projects? You can go on and grab them for this project.
You're going to also grab your hot glue gun and a couple of tin cans. When you have everything you need, grab the end of the yarn and hot glue it in place before you start wrapping it round and round the can.
Keep checking to make sure the hot glue doesn't drip as you wrap the yarn. Finally, buy these googly eyes to finish up your monster pencil holder.
Check out this DIY pencil holder out of paper, as well as this DIY pencil case out of toilet rolls.
5. Tin Can Owls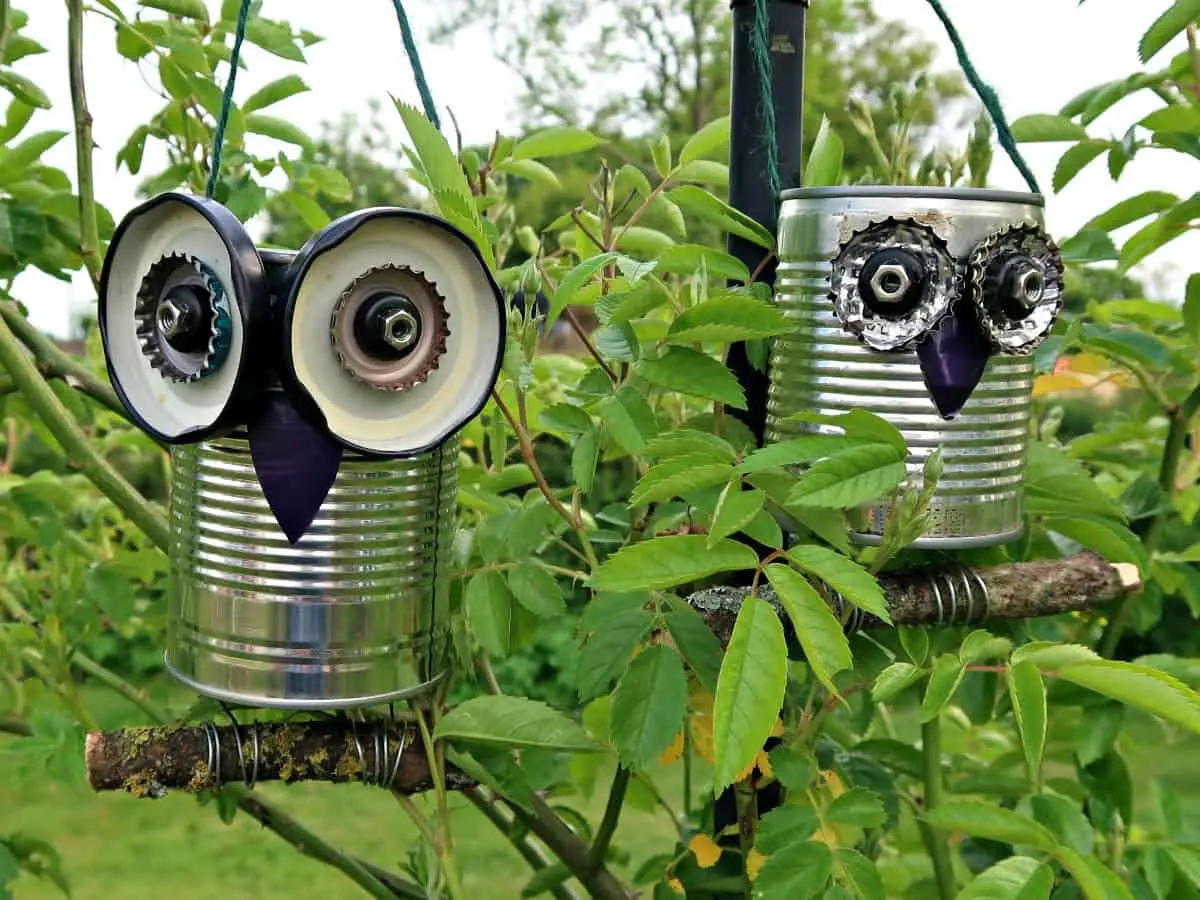 Source: craftinvaders.co.uk
There's quite a lot of owl projects that are super fun and innovative. Owls are adorable birds and are a great source of craft inspiration.
You can upcycle a couple of tin cans into owls. For the eyes, you can use the lids of glass jars and combine that with a few bottle caps and a bolt.
It's really pretty unique when you see the different components that go into making this owl. Finally, use some wire from here to perch the owls on a wooden branch.
6. Tin Can Robot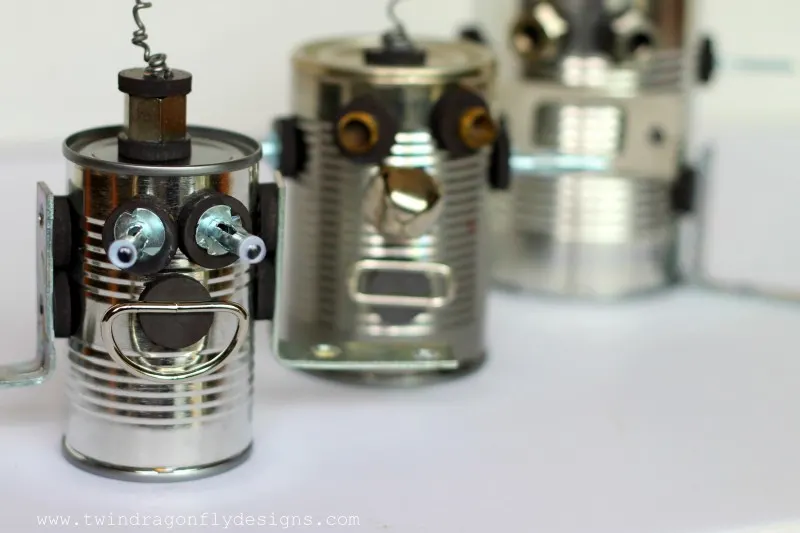 Source: homemadeheather.com
That rather robotic-looking owl from the last project got me thinking. Tin cans are absolutely perfect for making robots. After all, they didn't call that robot from the Wizard of Oz the Tin Man for nothing.
Simply grab a can, hot glue, a couple of these magnets, and metal fixtures or scraps you can repurpose for this tin robot. This can include nuts, screws, bolts, brackets, fasteners, and more.
You can also paint the robot in question a bright silver with black, gold, or copper highlights to accentuate different components.
7. Tin Wind Chime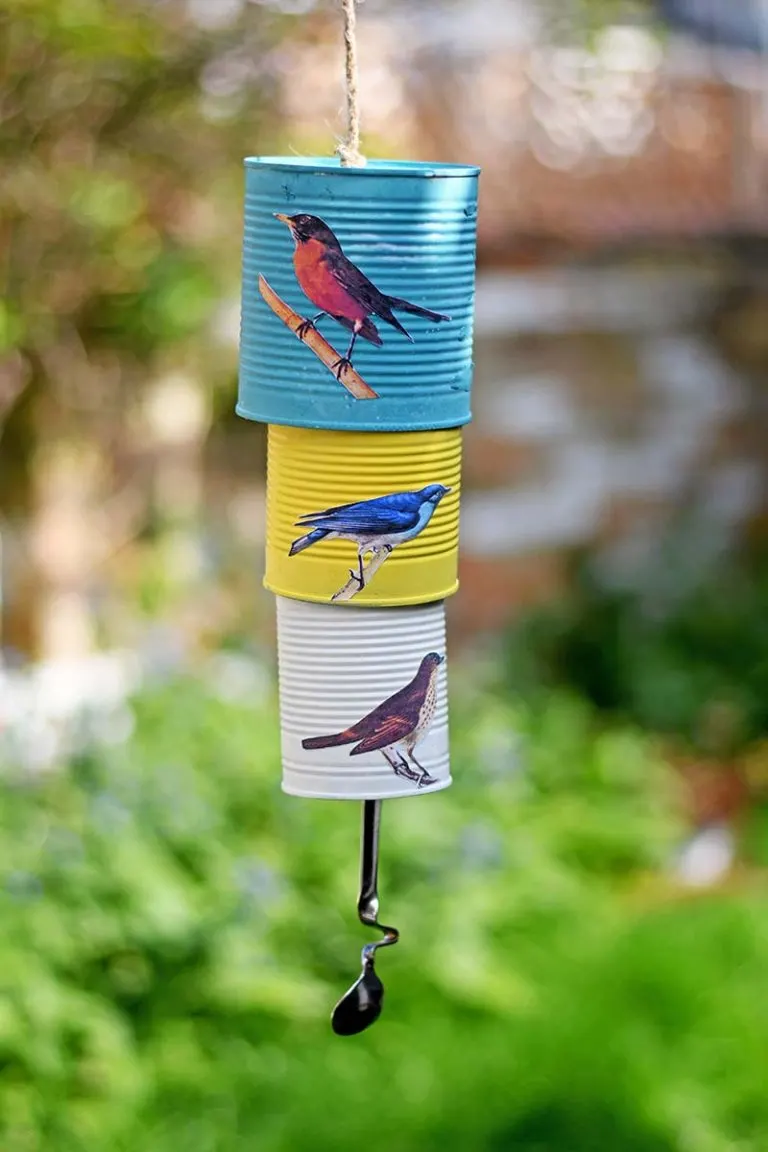 Source: pictureboxblue.com
While wind chimes can look good and be super fun to make as a DIY craft project, their main purpose is something else. Wind chimes need to sound nice.
Tin can windchimes bring to my mind those days that have long since passed us by. I can picture a set of rustic, vintage painted tin cans dangling by some string or twine like this in the front stoop of the porch.
Can't you almost hear the way it sounded while it clinked and clamored in the wind? Well, you can make your own wind chimes
8. Duct Tape Black Cat Container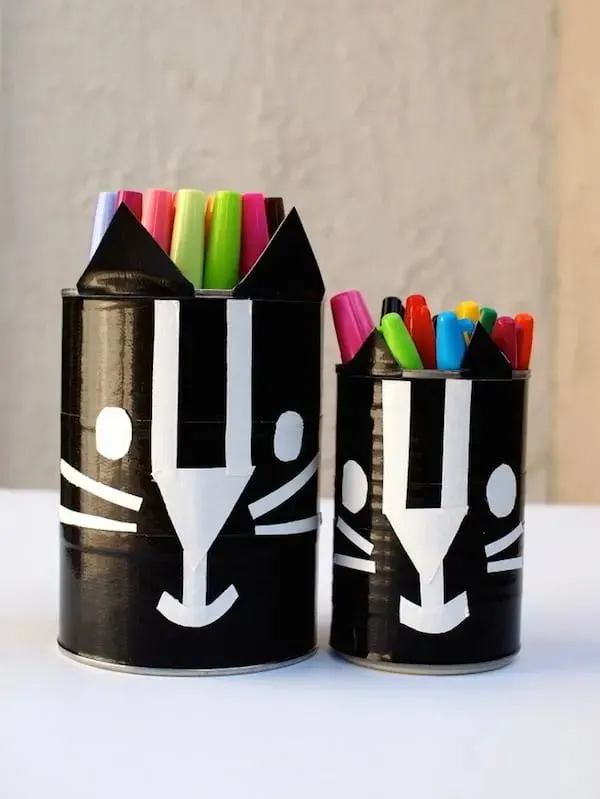 Source: diycandy.com
I'm going to spare you a 'cat-on-a-tin-roof' pun and cut right to the chase. You can't have too many pencil holders or desk organizers, so if you're into cats, this one's for you.
Grab a bottle or can of jet black and snowy white paint. Also, grab a roll or two of duct tape, a cutting mat, a craft knife, and a pair of scissors.
Before you start painting the can, remember to give it a thorough cleaning and make sure that it is completely dry.
9. Makeup Organizers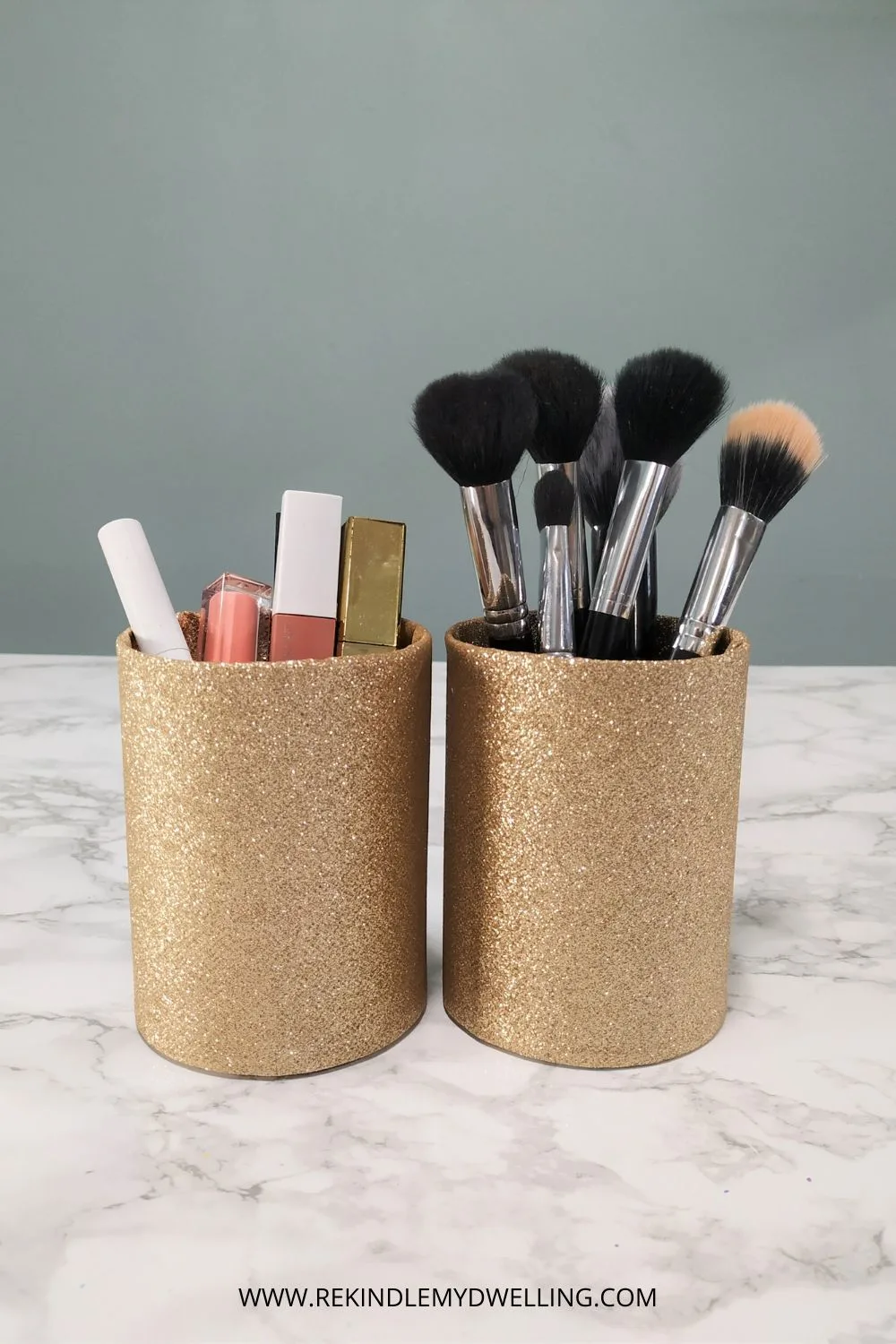 Source: rekindlemydwelling.com
When you can make more than one desk organizer, what's stopping you from making at least half a dozen of these upcycled tin organizers to store your makeup?
No, really. My logic is that if you have more of these organizers, you can buy more makeup to organize. Anyone who doesn't get that logic has never bought makeup before.
Grab some fabric—larger scraps if you have them—and a pair of scissors to cut and shape the fabric. You can roll the fabric around the can to get its measurements.
10. Tin Can Piggy Bank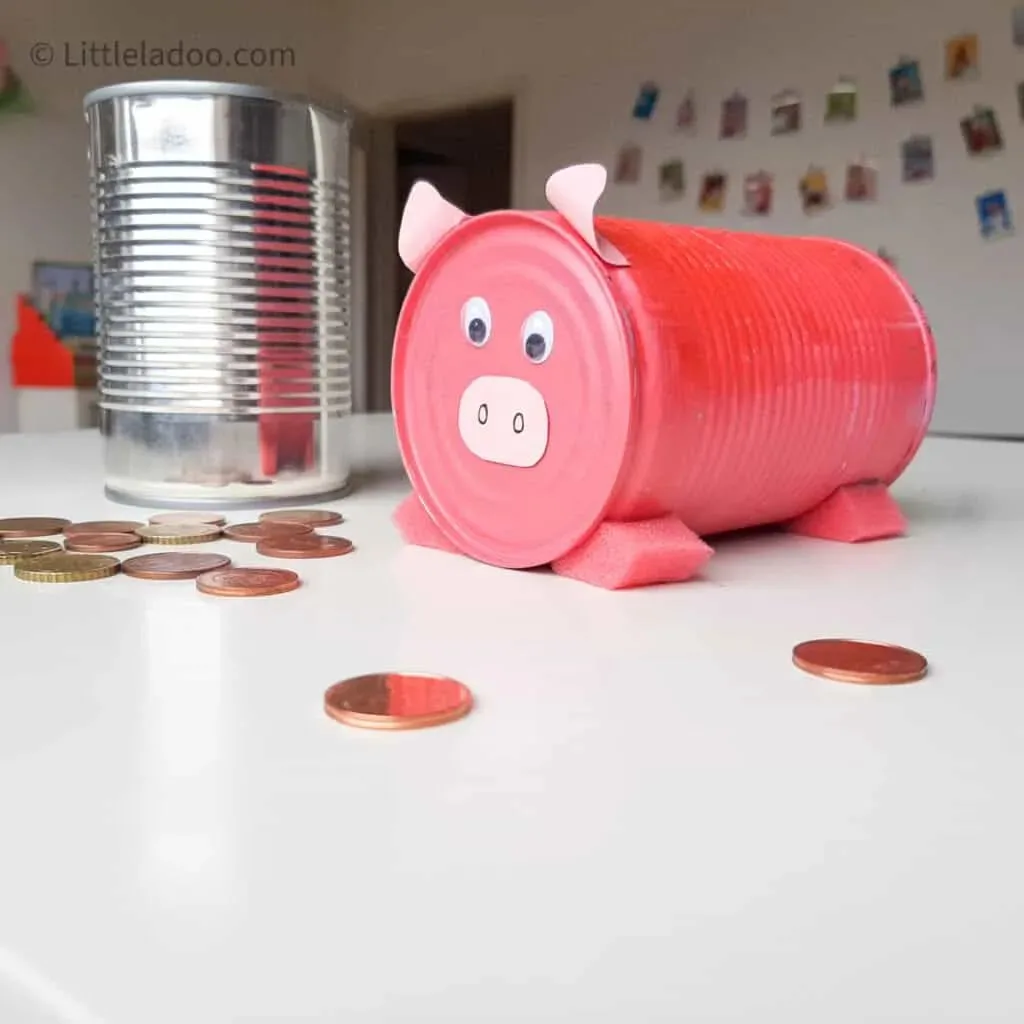 Source: littleladoo.com
Do you really ever grow out of using piggy banks? I still have one to put spare change in. The problem is that it doesn't make sense—financially or otherwise—to have to break open a piggy bank when you're ready to empty it.
What, do you spend the money there to get another one? So why don't you make your own using tin cans?
You've probably got all your supplies already, including your favorite color of paint, cardstock paper from here, and googly eyes. But do you have this hot glue gun?
11. Tin Handbag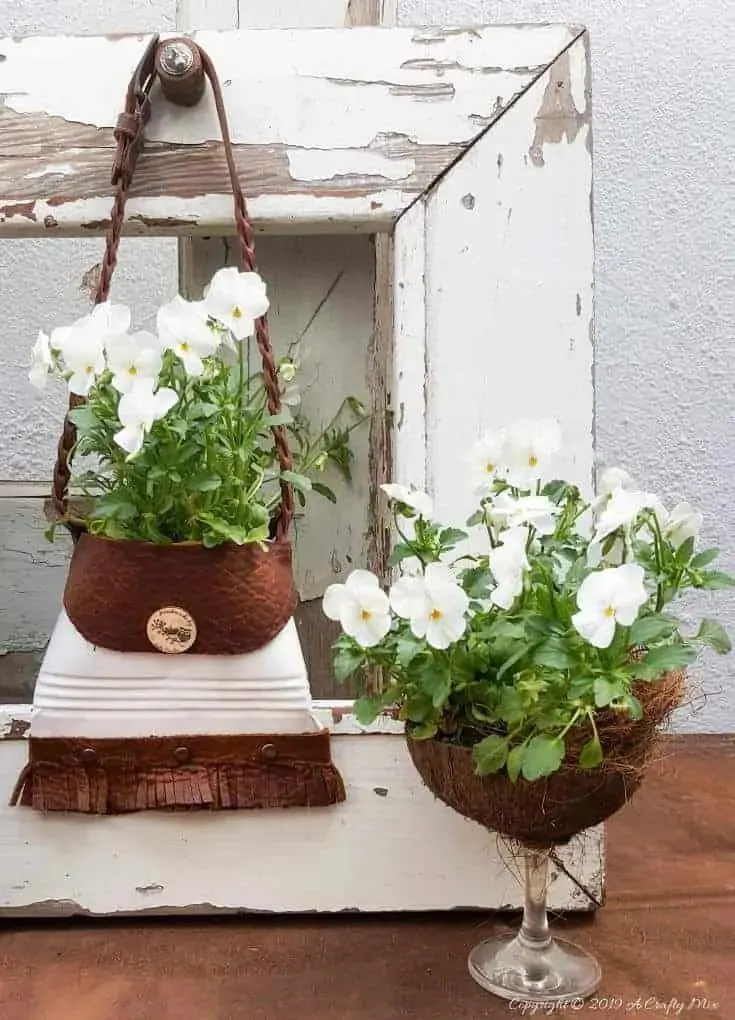 Source: acraftymix.com
Boy, these would sure come in handy if someone were ever trying to steal your handbag. Just one resounding whack with your tin handbag, and you're safe!
But no, you're going to be using these tin bags as planters. Creative, isn't it? You can hang them down your front porch or from your windows.
If you like, you can switch out the real plants for faux plants if you don't want the hassle of maintaining the plants and the planters.
Here is a brilliant craft to make and sell for sure!
12. DIY Tin Can Vase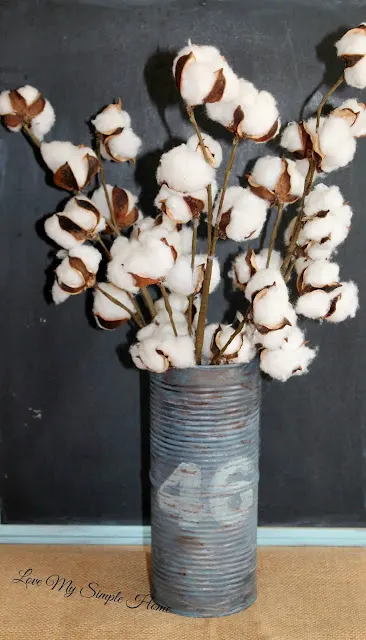 Source: blog.lovemysimplehome.com
Flower vases are always in short supply. Luckily, I have a really creative idea for you to try: tin vases!
Not only do these vases add a ton of character they can also enhance any rustic farmhouse-shabby-chic theme you have going on.
The flowers will take the edge off the rusticity, don't worry, but you've got to find something else to take off the rust. Pick up a can like that here and start working on upcycling it!
Check out these DIY dollar tree vases.
13. Tin Cans into Wind Clankers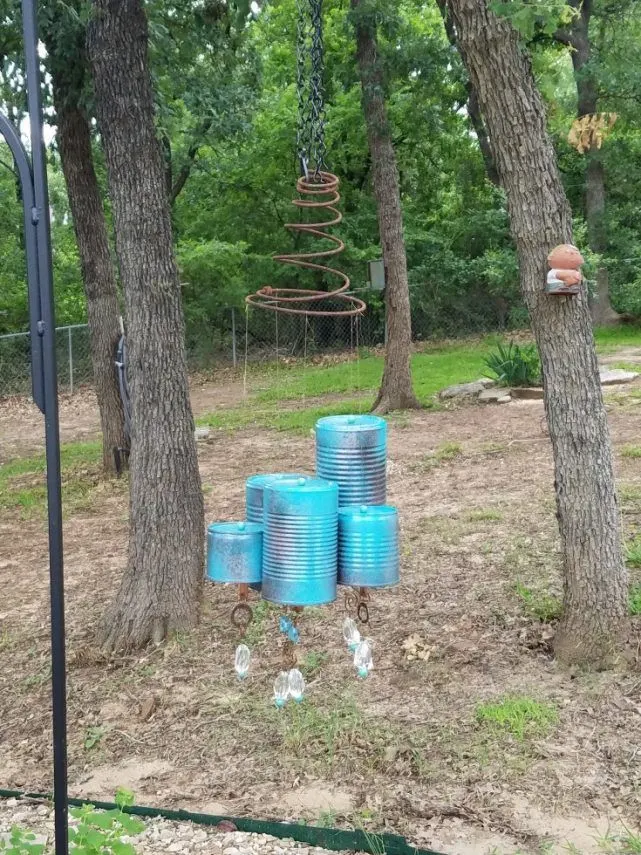 Source: mixedkreations.com
What's the difference between wind chimes and wind clankers, you ask? I can only assume that wind chimes are more…delicate than wind clankers.
I mean, just look at those massive cans. They won't chime; they're going to clank and clamor. Pick up a few bottles of cans of spray paint from here. Remember to lay out newspaper before you paint the cans.
Also, make sure you wash them thoroughly to remove any grease. Otherwise, the paint won't stick. If you want to distress the paint a little, rub sandpaper over the cans to scrape a bit of paint off.
14. Farmhouse Vase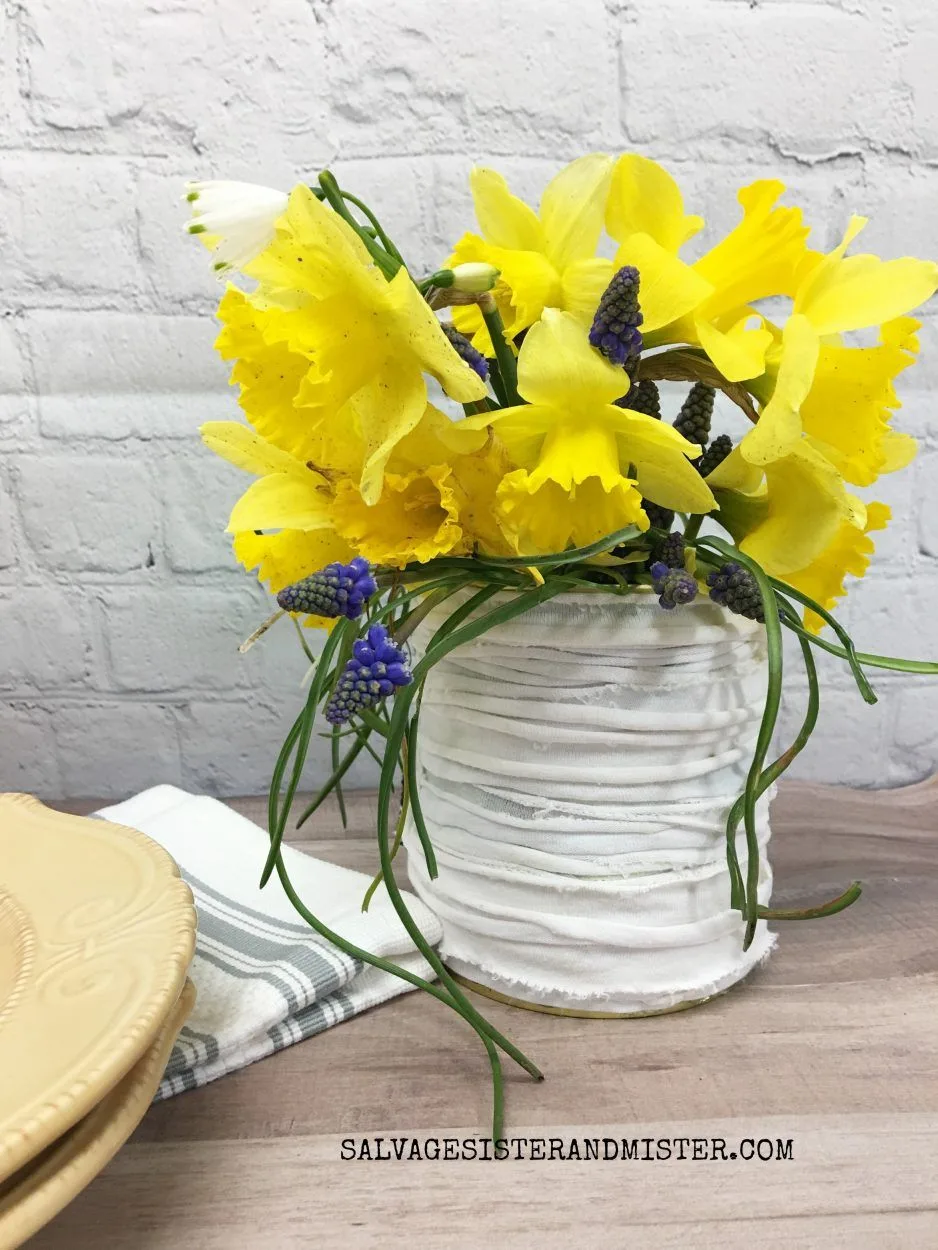 Source: salvagesisterandmister.com
I wonder if you've got any old tees or tanks in the back of your closet that you don't wear anymore? If you go get them, you can make this upcycled farmhouse tin can vase.
You'll be tearing your tee into long strips to use as a kind of yarn. You can also just as easily use actual yarn, but tearing up tees sounds like fun, doesn't it?
You'll also need some ribbon from here, a pair of fabric scissors, and faux or real flowers to put in the vase when you're done.
Check out more scrap fabric crafts like this.
15. Thanksgiving Craft From Old Soup Cans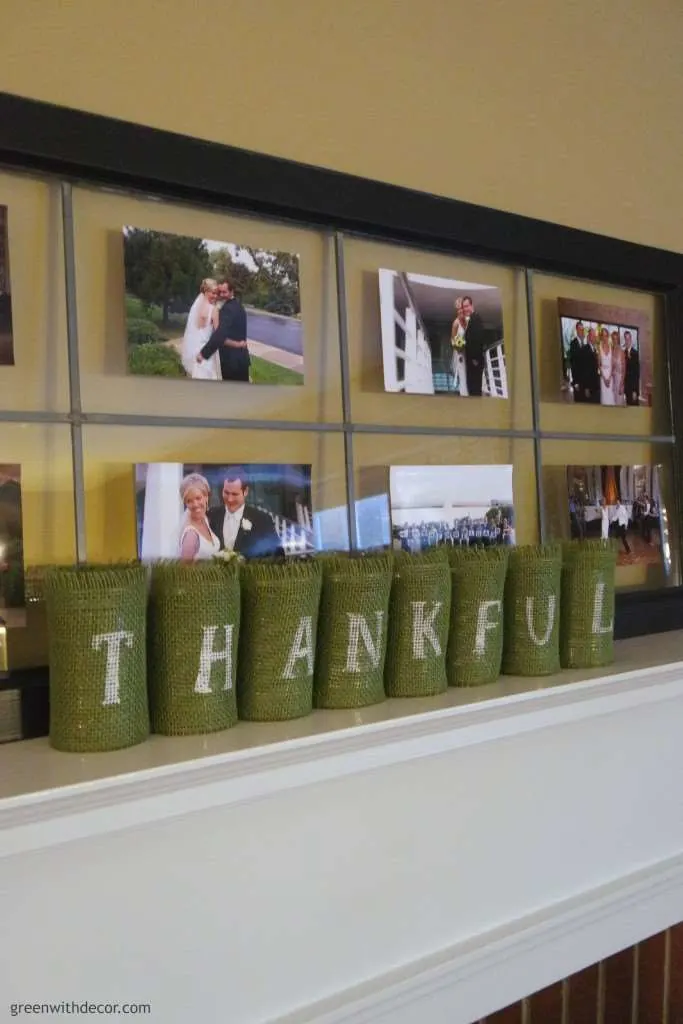 Source: greenwithdecor.com
When you're raiding your closet for your annual Thanksgiving food drive, I bet you come across at least a dozen old soup cans you've been hoarding. Go ahead and wash, rinse, and dry them for this Thanksgiving craft.
It's pretty simple, really. You grab some paint—preferably fall colors—and paint the can a couple of times. Then, you paint the word 'Thankful' on eight individual cans.
Line them up on the mantel when you've sprayed some sealant over it to set the paint. You can fill them up with flowers, too, to use as an eight-piece vase.
16. Decoupage Tin Can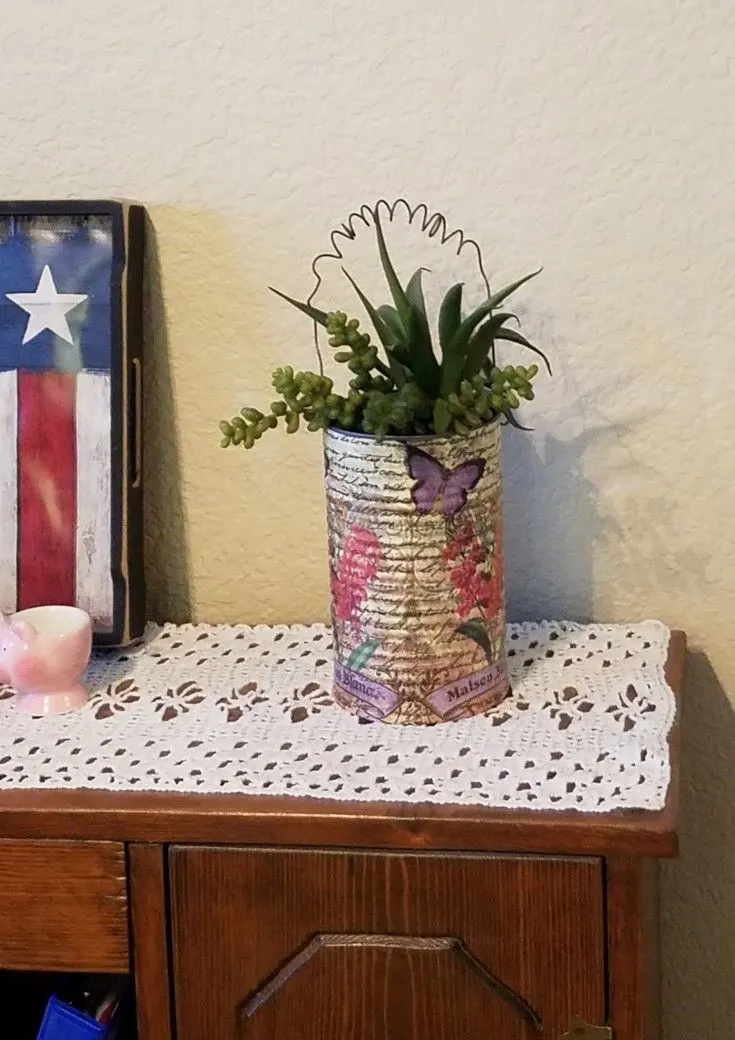 Source: mixedkreations.com
Everything about this project is all about improvising and working on upcycling old products. Decoupaging an old tin can yield some stunning results.
You'll need to pick out the paper or tissue you plan to use. You can find pretty printed paper napkins here. Once you've picked that out, grab a bottle or two of mod podge, and you can start decoupaging the tin can.
If you're looking to decorate your home with these tin cans, then you can pick up seasonal printed napkins.
17. Craft Storage With Cricut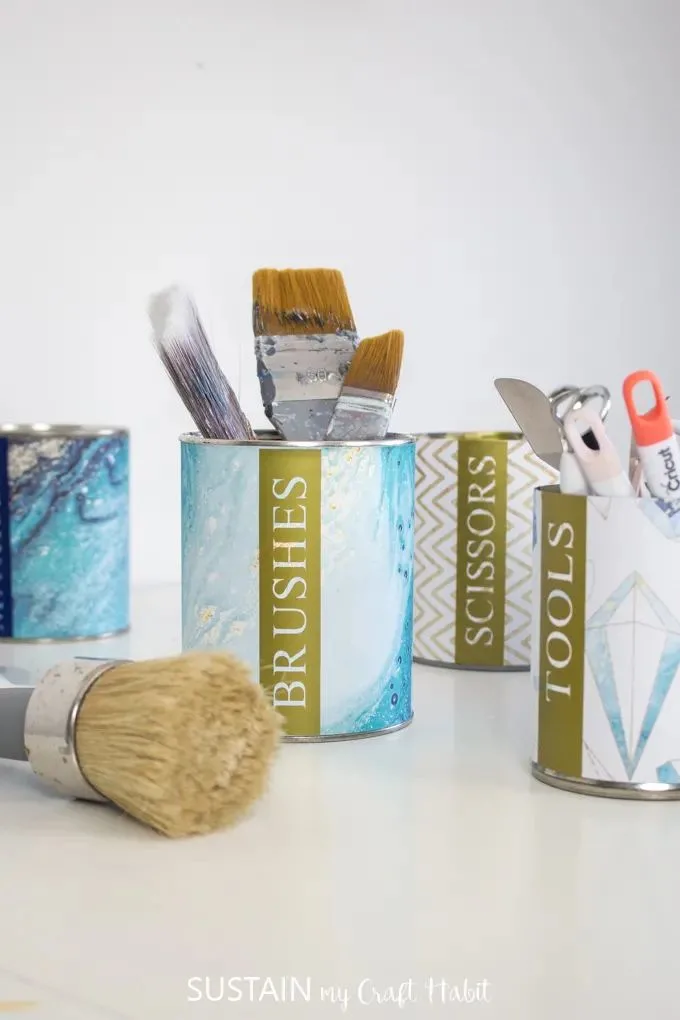 Source: sustainmycrafthabit.com
You know, you can upcycle old tin cans just to store all the tools you used to upcycle them? If that isn't sustainable crafting, then I don't know what is.
Craft rooms and desks are always just on the verge of the next big clutter. While a lot of people thrive in that chaotic creative space, I prefer my workspace to be organized.
Everything has a place, and there's place for everything—that's the motto. These tin cans(conveniently labeled) can help you achieve that order you crave!
18. Rustic Farmhouse DIY Patriotic Decorations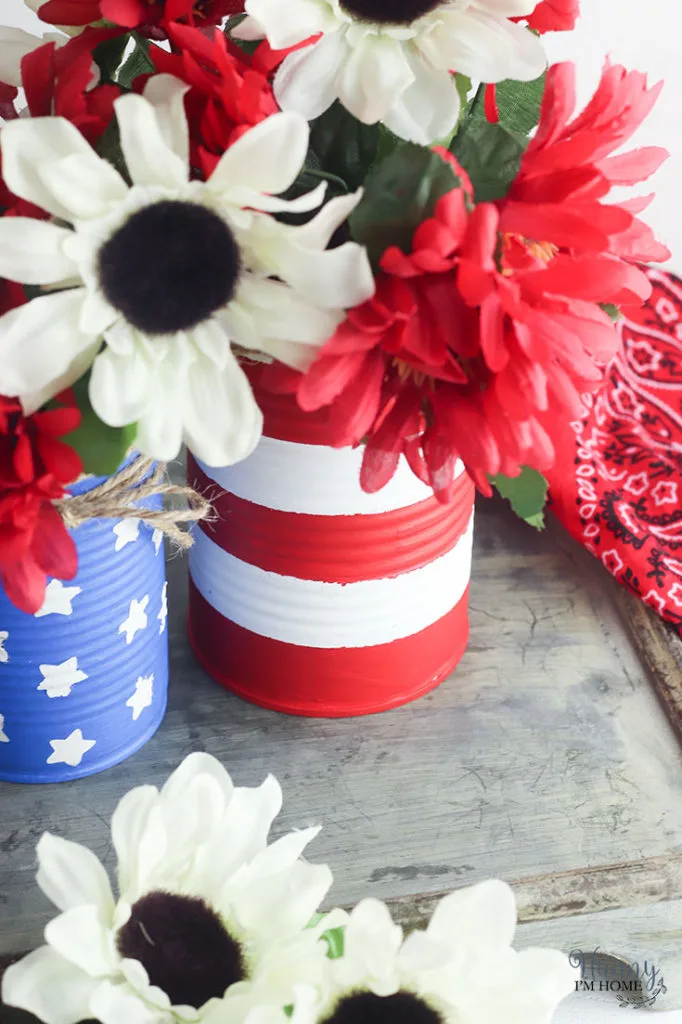 Source: hunnyimhomediy.com
During the summer months, adding a touch of patriotism to your decor, as well as a bit of farmhouse-rusticity thrown in, can charm your home. All you need to make your DIY patriotic decorations are cans and paints.
Paint the cans—one blue with white stars and the other white and red stripes. Grab the three 'patriotic' colors: red, blue, and white. You can pick up a star stencil from here, or you can just wing it.
For the rustic part of this craft, you can wrap a bit of jute twine around the tin, right around the rim, before you add your flowers in there.
19. Utensil Holder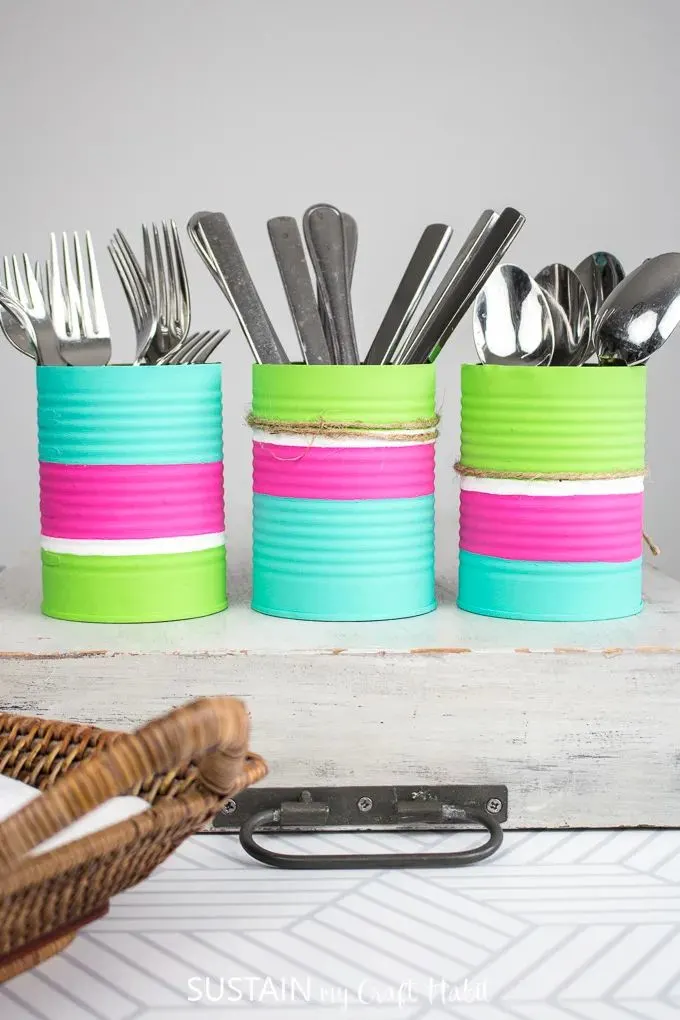 Source: sustainmycrafthabit.com
We've upcycled tin cans for your office supplies, craft supplies and tools, and even for flowers and plants. Don't you think you made a few for your utensils and cutlery?
These three neon-colored, matte-finished tin cans will add light, style, and funkiness to your kitchen decor. You can work on this project within a small—minuscule, really–budget if you pick up your supplies from the local dollar store.
You can also paint a matching tin tray like this and set it nearby to hold napkins and condiments.
20. Back-To-School Pencil Holder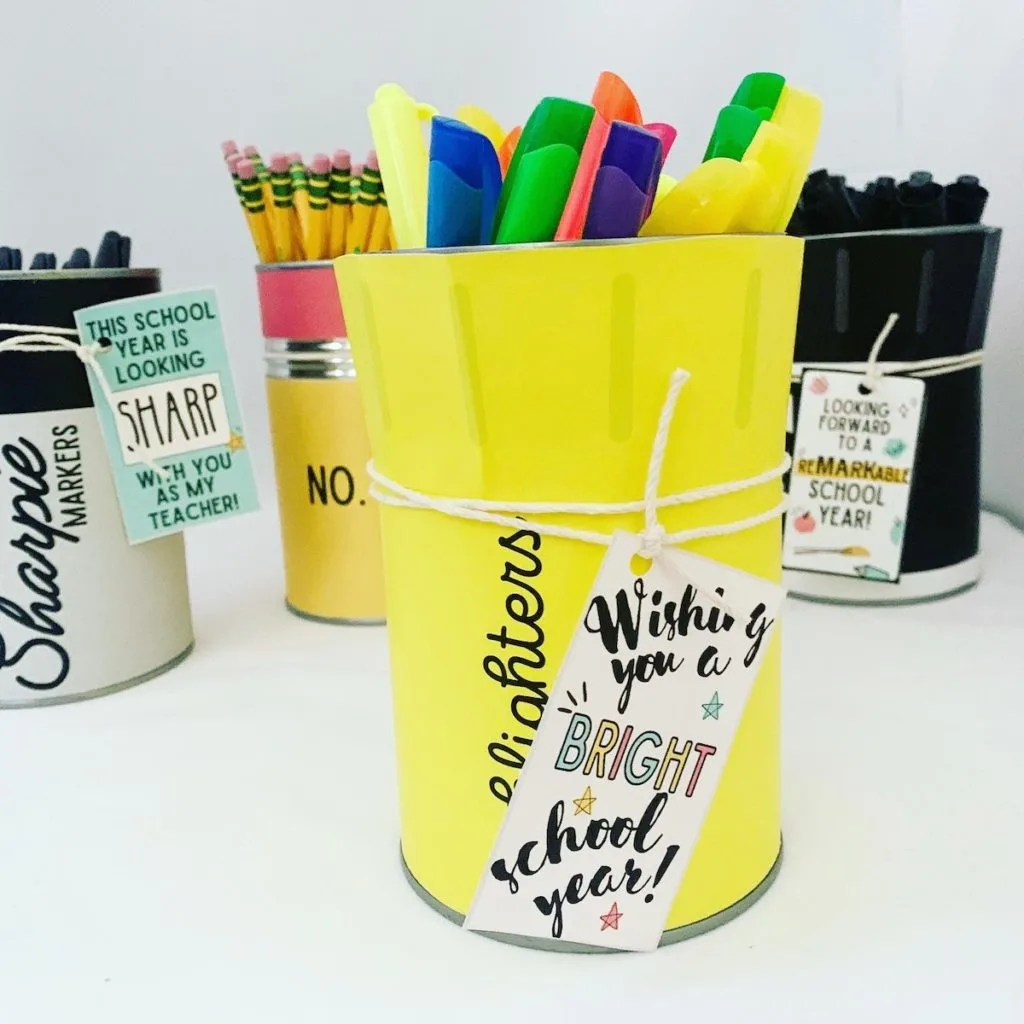 Source: originalmom.com
We all need a little encouragement and incentive to wake up in the morning and head to school or work. It's harder still when it's your first day back after a long vacation or school holiday.
But you know what you could do to prepare for that first day back? You can get your school supplies and books sorted. You need a DIY project like this back-to-school pencil holder.
It will keep you occupied, give you a sense that you're preparing to get back in the grind, and it looks amazing. Write yourself an encouraging message and tag it on the pencil holder when you're done.
Check out these 27 back to school craft ideas.
21. School Supplies Organizer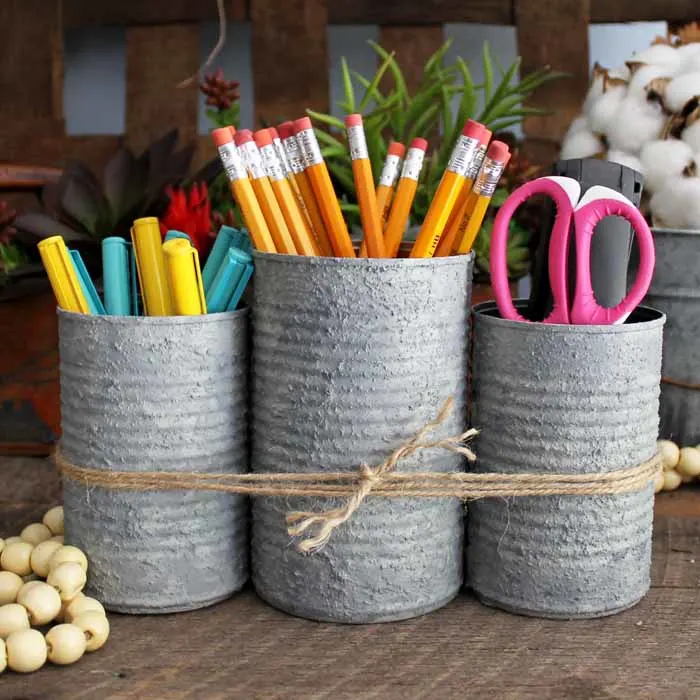 Source: thecountrychiccottage.net
You look at this three-piece school supplies organizer, and you think that it's solid and made of cement, right? Wrong! This is actually a faux cement organizer set.
It's actually made from—you guessed it—tin cans. But, if you love that faux concrete finish, then you can pick that up here and experiment with it.
Use a pouncer brush like this to apply the first coat of the paint and allow it to dry completely before you add the next layers.
22. DIY Tin Can Pencil Holder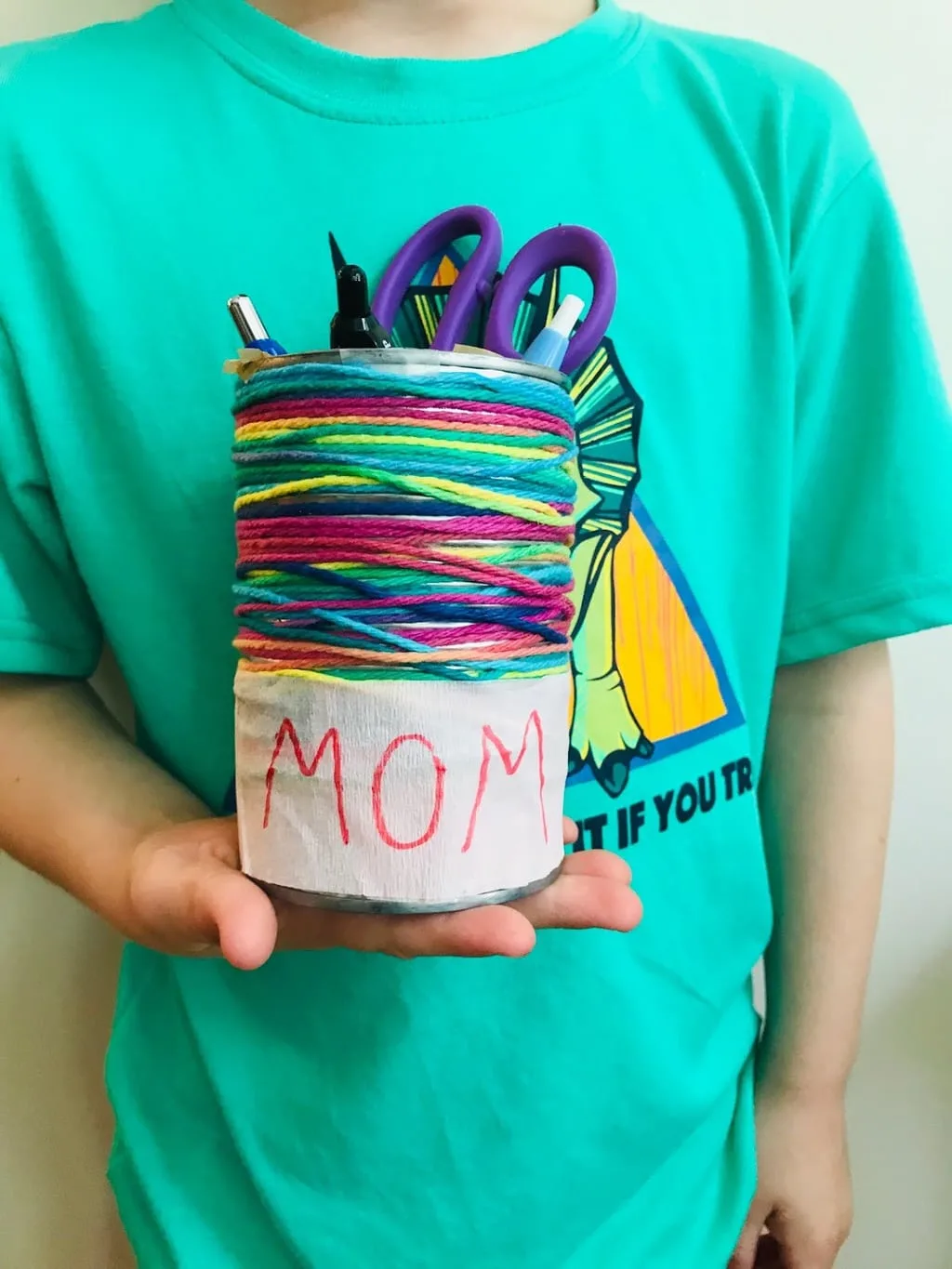 Source: platein28.com
Go on, ask me how this pencil holder is different from all the others. Well, first, this one's completely unique. Second, just look at all that brightly colored yarn wrapped around it.
I love that it's not uniform and symmetrical but rather uneven and chunky. It adds texture to the can, as well.
These cans make lovely DIY gifts that you can give your friends and loved ones. You can also make one for mom for Mother's day next year.
23. Galaxy Painted Recycled Pen Holders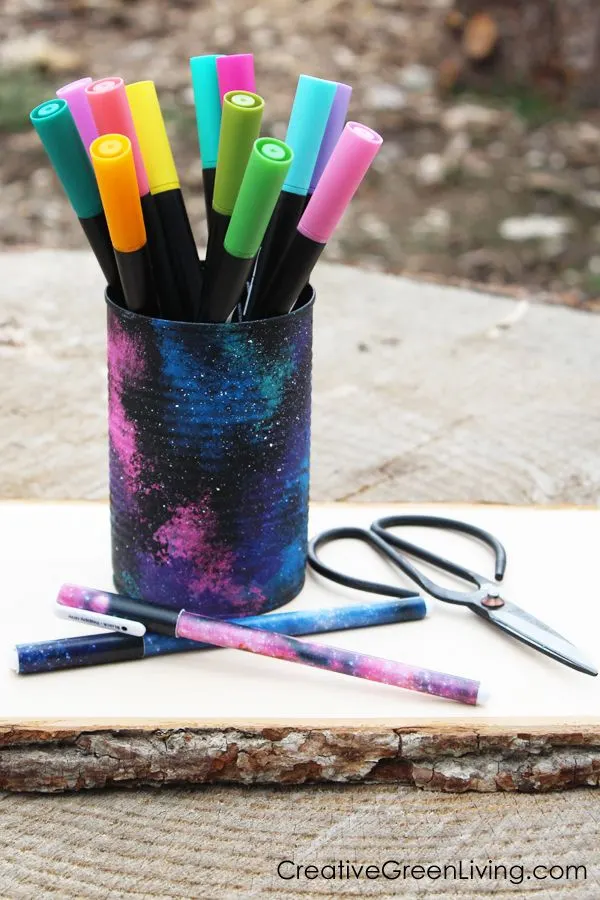 Source: creativegreenliving.com
I think this pen holder has to be the best I've seen. No, really, look at it. It looks like something you paid a pretty penny to buy. Well, it's actually super inexpensive.
You need to start by washing your tin can and thoroughly rinsing and drying it before you start painting. For the base coat, pick up a can of midnight black paint.
You want to recreate that dizzy plethora of colors you see when someone knocks you back with a solid right hook. So think bright sparks and smudges of blues, pinks, purples, and a smattering of white paint, too.
24. Leprechaun Hat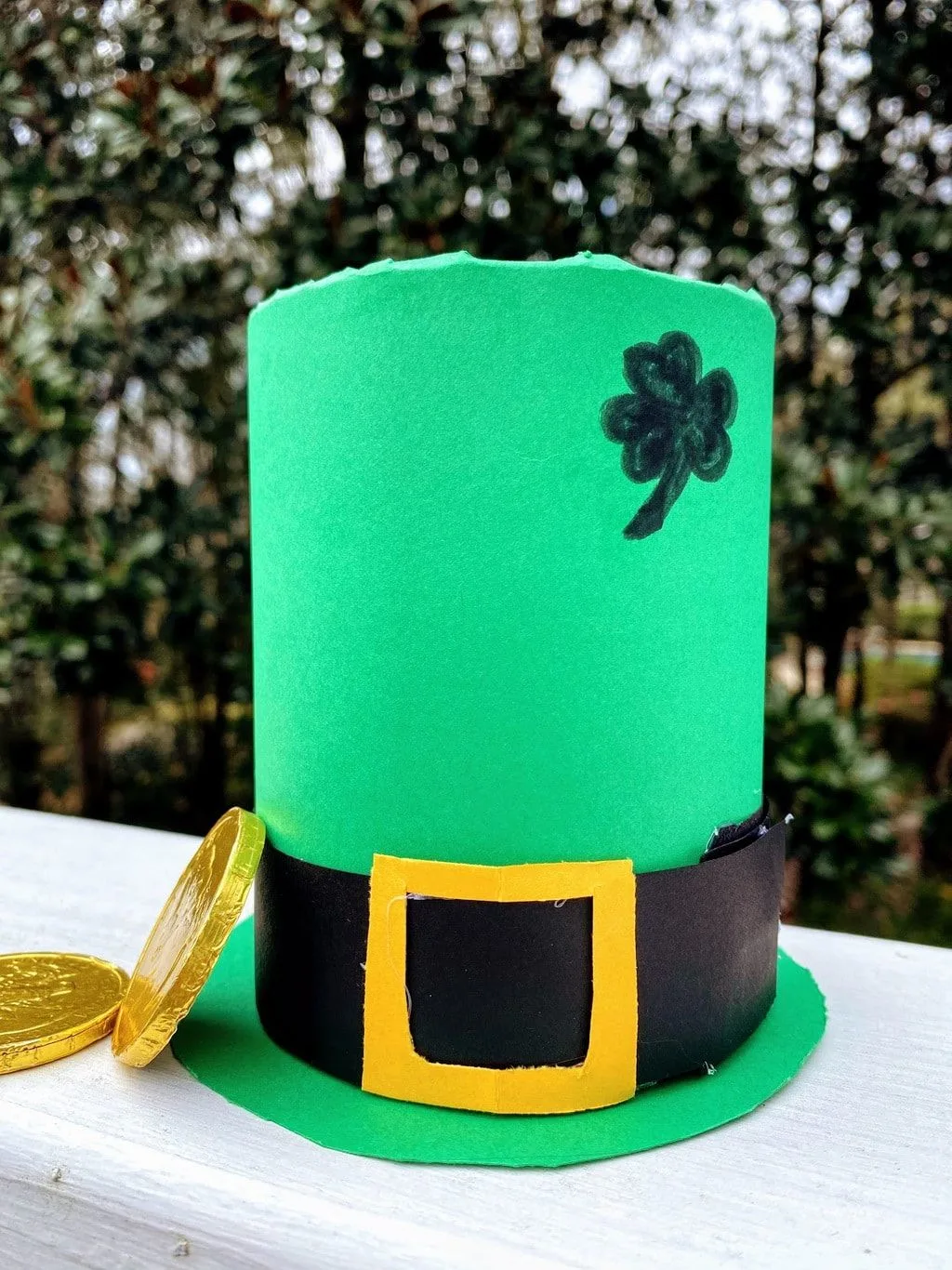 Source: platein28.com
Moving on from the desk organizers, here's a purely decorative piece of art that you can try to make. This leprechaun hat would look wonderful sitting on your mantel or your kids' bedside table.
It's green, so you can use it for St.Patrick's day. Plus, I always did believe that everything about leprechauns symbolizes wealth, luck, and great fun.
I wouldn't mind having this tin can leprechaun hat as a sort of good luck charm or talisman, to be honest.
Check out more DIY projects for teenagers!
25. DIY Stamped Plant Markers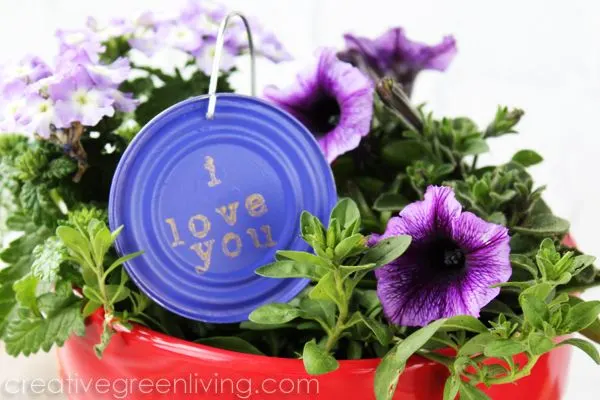 Source: creativegreenliving.com
This clever recycled craft project uses not the actual tin cans but rather their lids. That's pretty convenient, don't you think?
You've probably used so many cans so far, and now you can finally get rid of their lids effectively by upcycling them. You'll be making garden markers from these lids, and they're just downright nifty.
Grab some jewelry wire, typewriter stamps from here, a drill and bit, and some paint to get started.
26. Tin Can Drums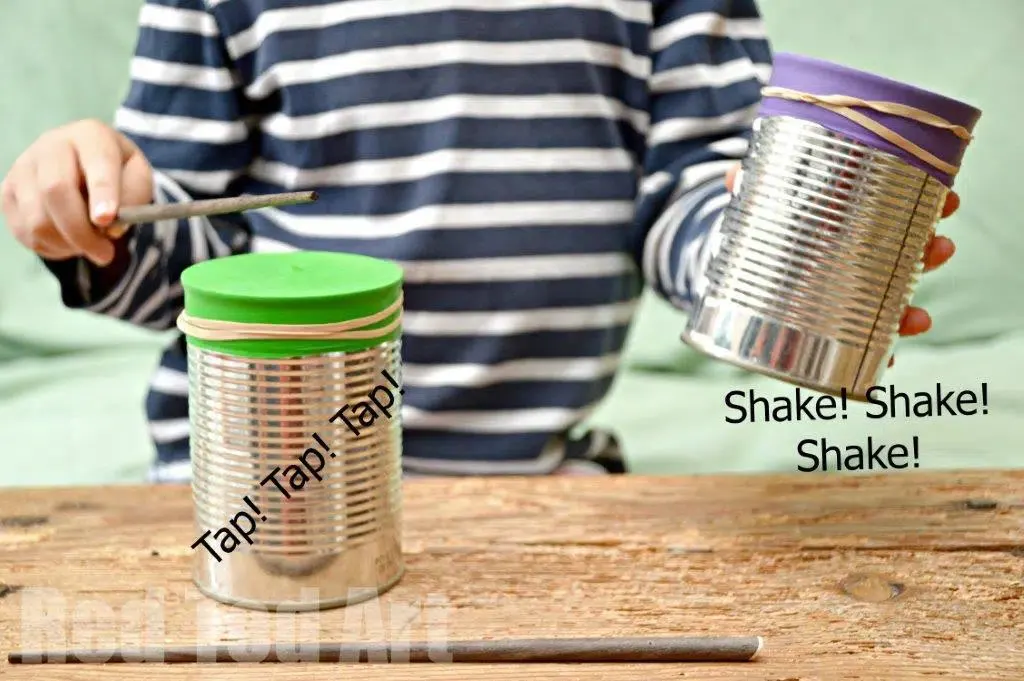 Source: redtedart.com
When you're in that 5-minute crafts mood, then something elaborate involving too many steps is out of the running. But these simple tin can drums are just that, simple.
You only need a can, a balloon, an elastic band, and finally, drumsticks. You also need something like rice, chickpeas, or lentils to put inside the tin can.
They need to make noise when you rap on the balloon lid.
27. Giftable Planter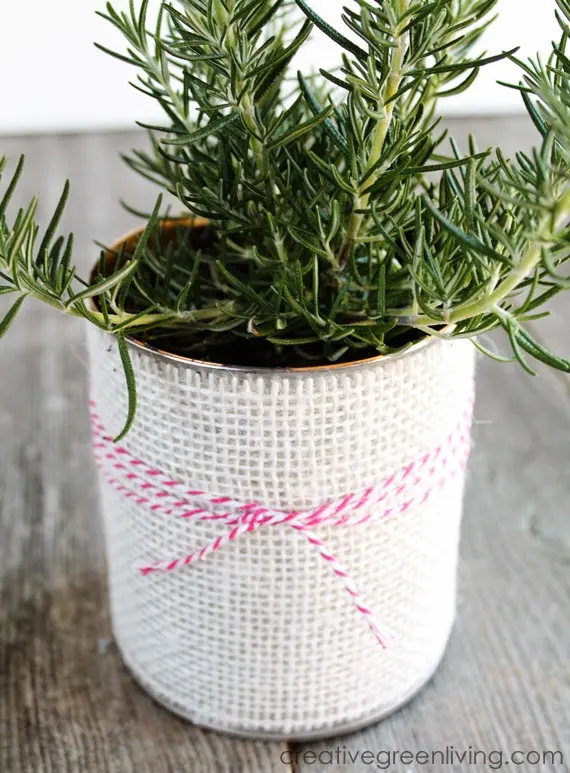 Source: creativegreenliving.com
This upcycled tin planter is a little fancier than usual, I'll admit, but only because they're meant to be used as gifts.
You can make a few of these beforehand and present them to friends, family, and loved ones whenever the occasion arises. You can also make them for your own use, of course.
Grab some wide burlap ribbon from here to wrap around the tin can, and also some baker's twine to add a bit of flourish.
28. Halloween Tin Can Bowling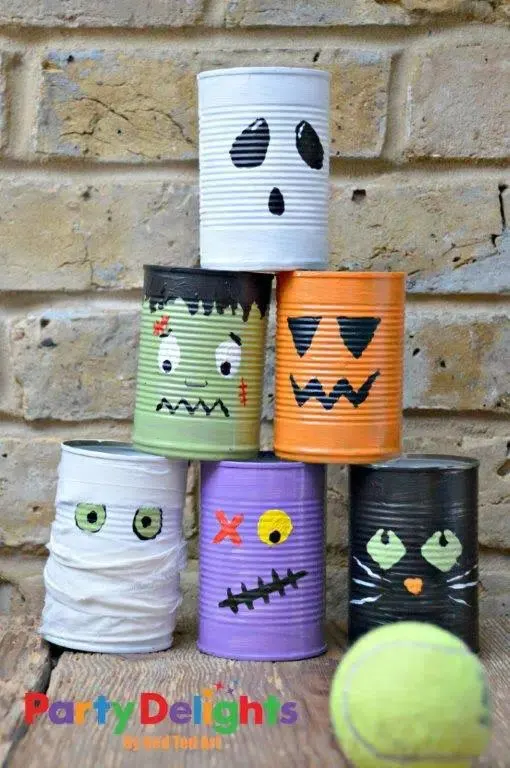 Source: redtedart.com
Remember when you were a kid, and you'd stack old tin cans up and try hitting it with a pebble or a catapult? Let's try to recreate that, but only this time, let's switch it up with bowling.
Grab six to ten cans and wash, rinse, and dry them thoroughly. Since it's just a few weeks from Halloween, you can do a monster-themed set of 'bowling pins.'
So that means you can pick ghosts, ghouls, black cats, creepy mummies, Frankenstein, jack o'lanterns, and more.
Check out these spooky Halloween crafts!
29. Pretty In Pink Can Organizer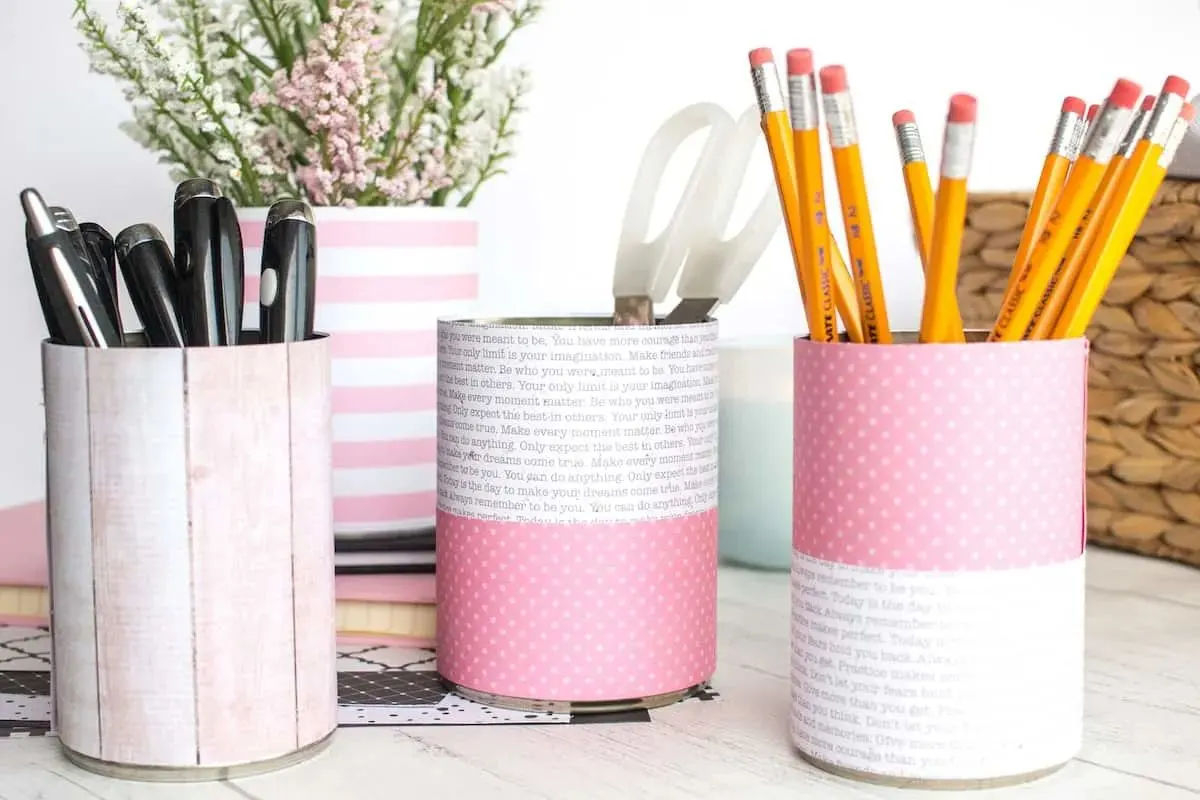 Source: singlegirlsdiy.com
Fresh, pretty, and bright are the three words that pop into my mind when I look at this three-piece organizer set. You can use one of them as a pencil stand, one to keep your scissors, rulers, and pens, and the last one—how about you use that as a planter?
That's surely going to add some much-needed green to your table. These cans are just right for a nice succulent or a cactus to put in them.
You can alternate between scrapbook paper and washi tape; just pick up some of this double-sided tape, and you're ready.
30. Craft Stilts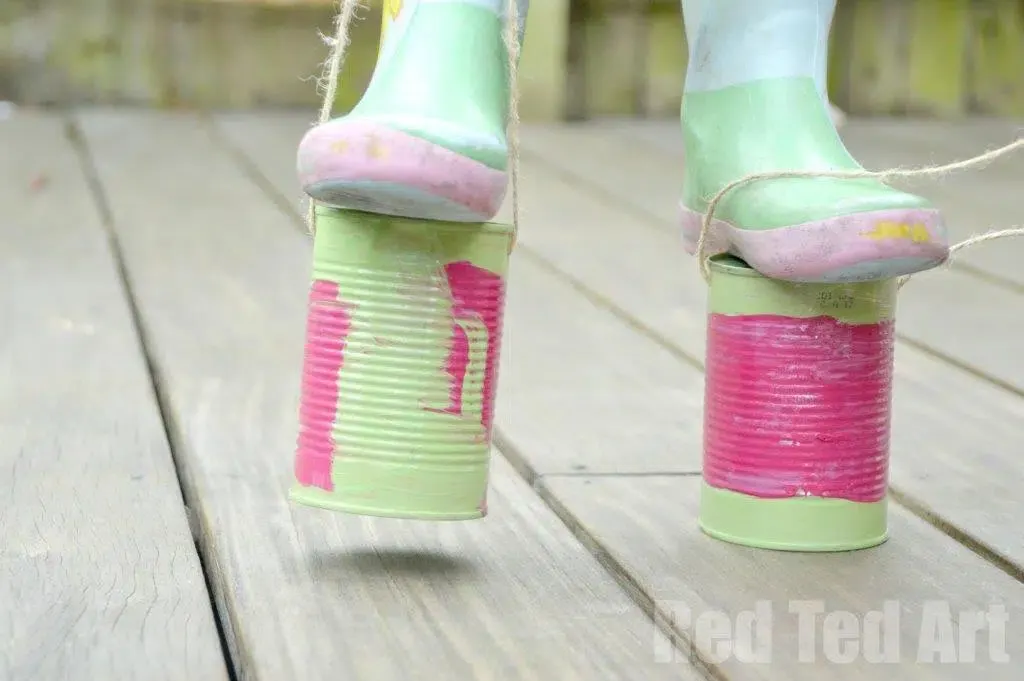 Source: redtedart.com
Well, now I've seen everything. Have you seen stilts like these before? They're just two tin cans with some twine to hold.
But I'm guessing that this would be a fun activity for kids during their summer vacation. That way, if they break something—a leg or an arm—they'll have plenty of time to recuperate.
I'm kidding, of course, but I'd have them wear helmets when they're playing with these stilts.
31. Ghost Tin Can Chimes
Source: creativegreenliving.com
The front porch is what all the trick-or-treaters will see when they walk up to get their candy. That's why it's super important to decorate it thoroughly.
Why don't you consider a wind chime made from upcycled tin cans and painted to look like ghosts? You can hang them up on your porch as an extra accessory.
You will need to pick up a bottle of white chalk-finish matte paint from here, as well as some brushes, a screwdriver, a hammer, googly eyes, and at least three tin cans—preferably different nestable sizes.
Check out more crafts for adults.
32. Colorful Tin Can Planters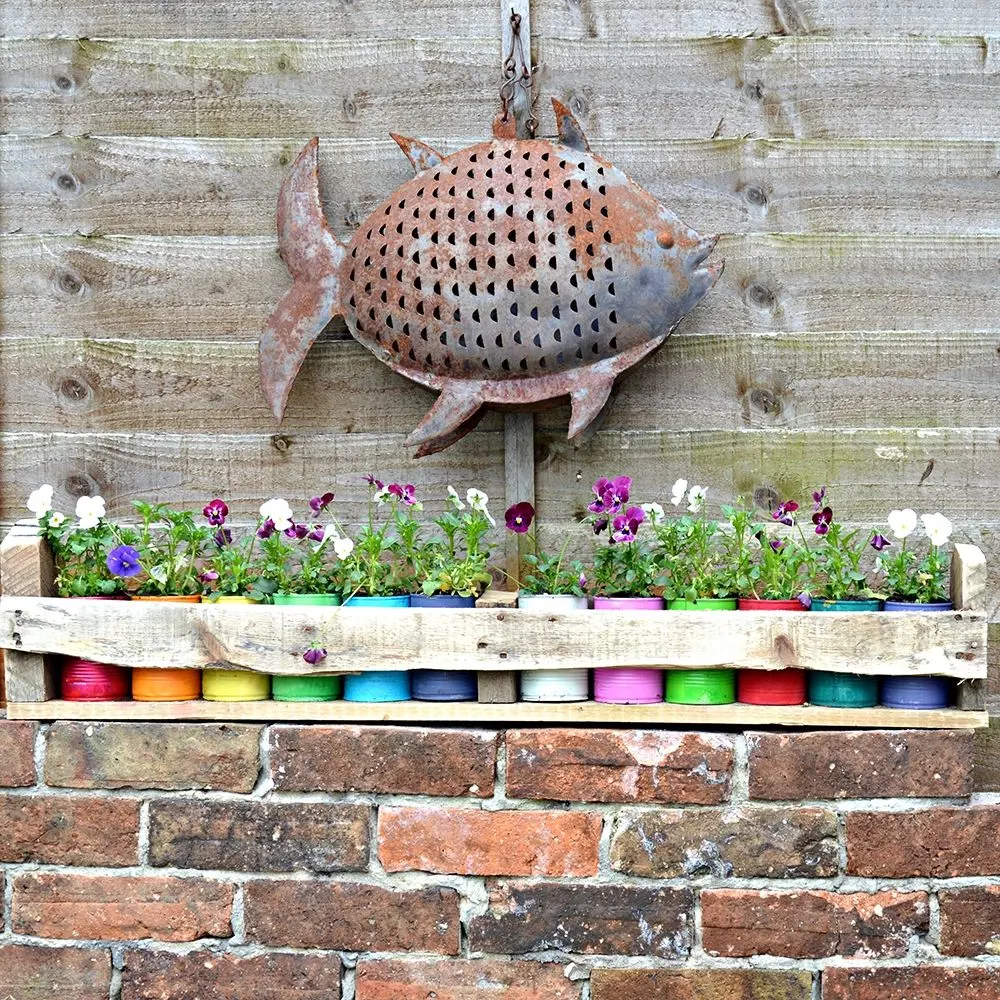 Source: pillarboxblue.com
Speaking of decorating your front porch, you can't have too many planters there. You can go with the usual clay or terracotta pots, sure.
Or you can grab a few old tin cans and upcycle them into these planters. These planters are zero-fuss, and all you need to do before you paint them is to make sure they're clean.
You know that the paint won't stick if there's dirt or grease on the cans. If you want to style your tin cans further, grab a bit of sandpaper and rub it up and down to distress the paint.
33. Tin Can Easter Craft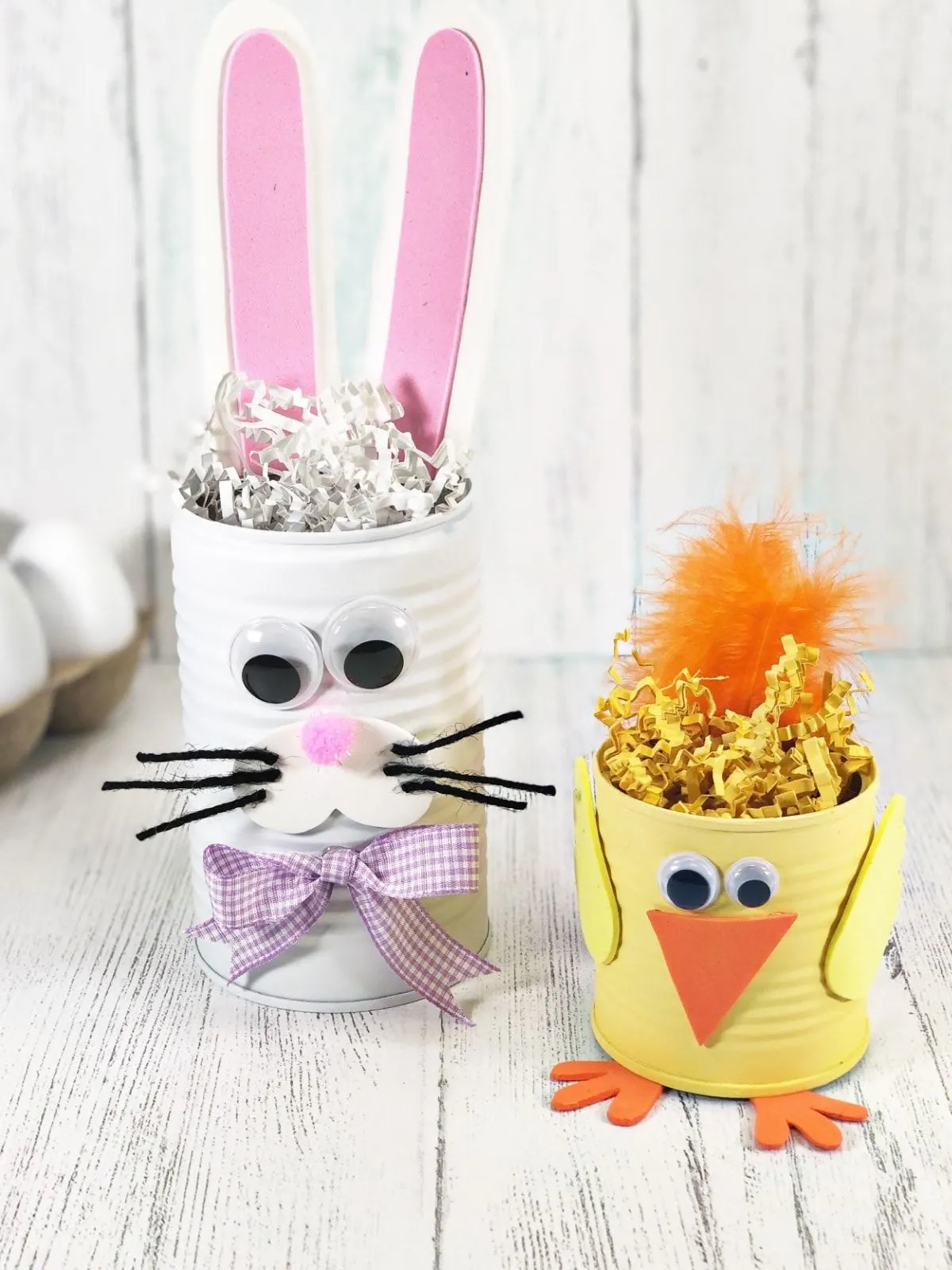 Source: funmoneymom.com
This is an awesome craft for kids of all ages. So grab your tin cans out of your recycling pile, and let's take a look at the supplies you'll need:
Googly eyes
Black Twine
Paints and brushes
Shredded paper—colored and white
You'll also need to download the template provided to make the bunny's ears. There's also one for a chick that you can try out. Just make sure you use different colored paper to trace and cut out their respective ears.
34. DIY Tin Vase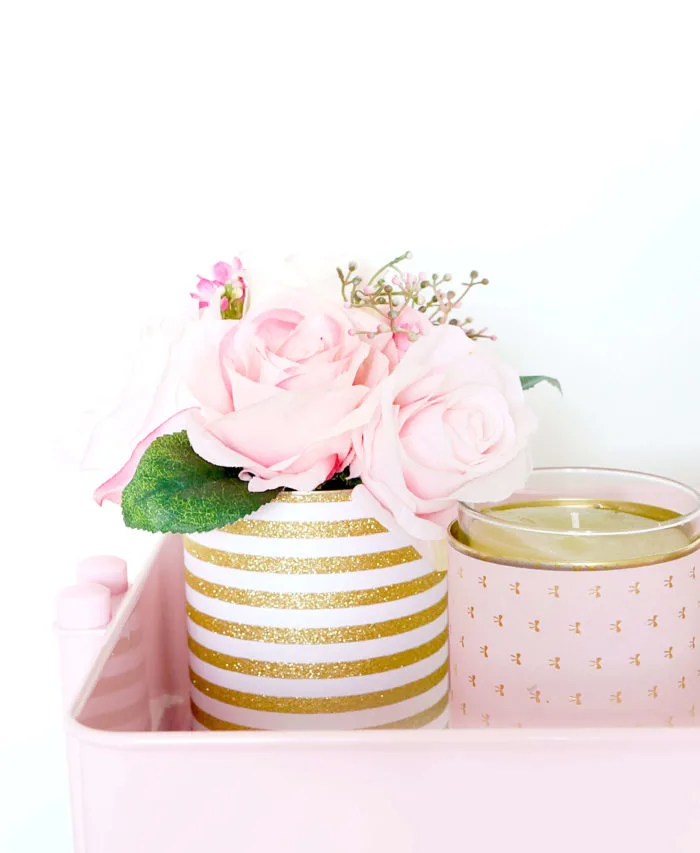 Source: hauteandhealthyliving.com
I love a good pastel pink vase. They're cozy, bright, and, if you use one as a candle holder, they're also full of light. How about you make three as a set: one as a vase, one to hold a scented candle, and the last as a planter?
You can use fresh flowers or pick up some pastel faux florals. Feel free to place all three of these tin 'vases' in a metal tray like this to match the rest of it.
Check out how to make scented candles. If you want to make your own candle holder, then read through this tutorial for a DIY leaf candle holder.
Love this craft? Give these Dollar Store vases a try!
35. Tin Can Pendant Lights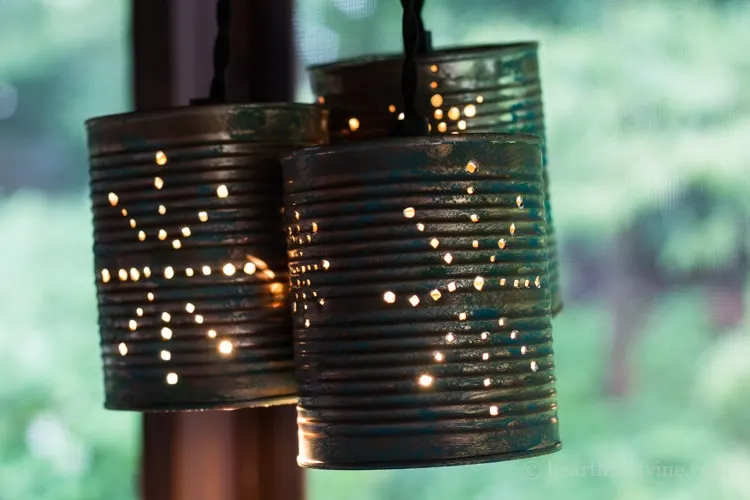 Source: hearthandvine.com
These pendant lanterns are made by punching or piercing holes through a tin can and allowing the light to stream through. You can get your very own pendant light kit here to help you with this project.
You can wing it and use a free-hand method to pierce your holes, or you can download a template. Just hold the paper up against the can and poke the holes in the allocated spots.
36. Rainbow Wind Chime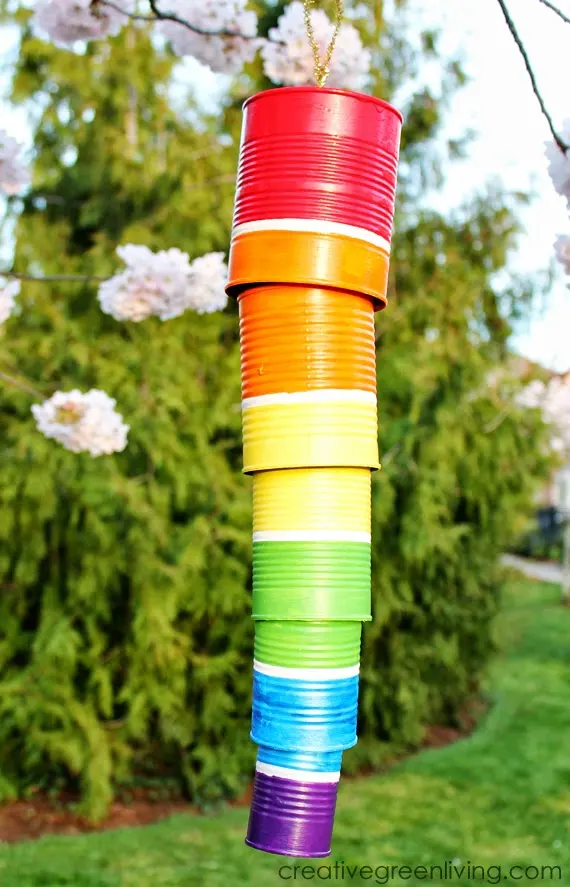 Source: creativegreenliving.com
By now, I'm sure you know the drill. Step 1 is to pick out the perfect cans for this project, depending on their size. Then, for step 2, you clean and dry the tin cans thoroughly.
When they're completely dry, go ahead and paint them in the different colors of the rainbow. You can also paint the rim and bottom of the cans with a nice trim.
Then, pierce holes through them, string them up, and then hang them out from your porch.
37. Gold Crushed DIY planters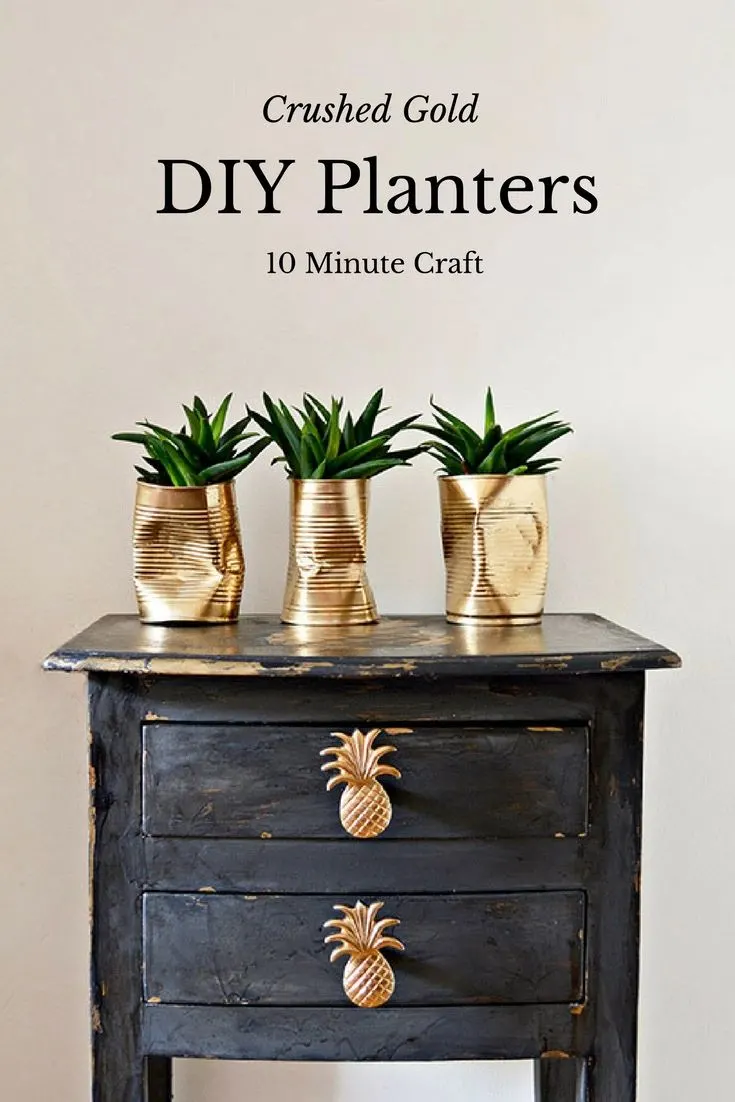 Source: pillarboxblue.com
Sometimes, there's going to be that unavoidable dent, ding, or scratch on your cans. Don't throw them away just yet. Save them up so you can make these crushed gold planters.
These planters are perfect simply because of how creatively these 'damaged' cans have been put to good use. Otherwise, you'd probably just toss them in the recycle pile, right?
But now, with this 10-minute craft, you have something completely unique and surprisingly charming to display. Check out more Dollar Store planter ideas here.