Decore your front porch in this autumn with these creative fall porch decor ideas. They're fun, creative, easy to make, and will transform the way your home looks.
With the fall season nipping at our heels, it's time you got down to planning and executing your home decor ideas. Why don't you start with the most important area of your home: the front porch.
The kitchen might be the heart of your home, but it's your front porch that people will first see before they enter your home. That's why it's super important to get it ready and decorate it to its full potential.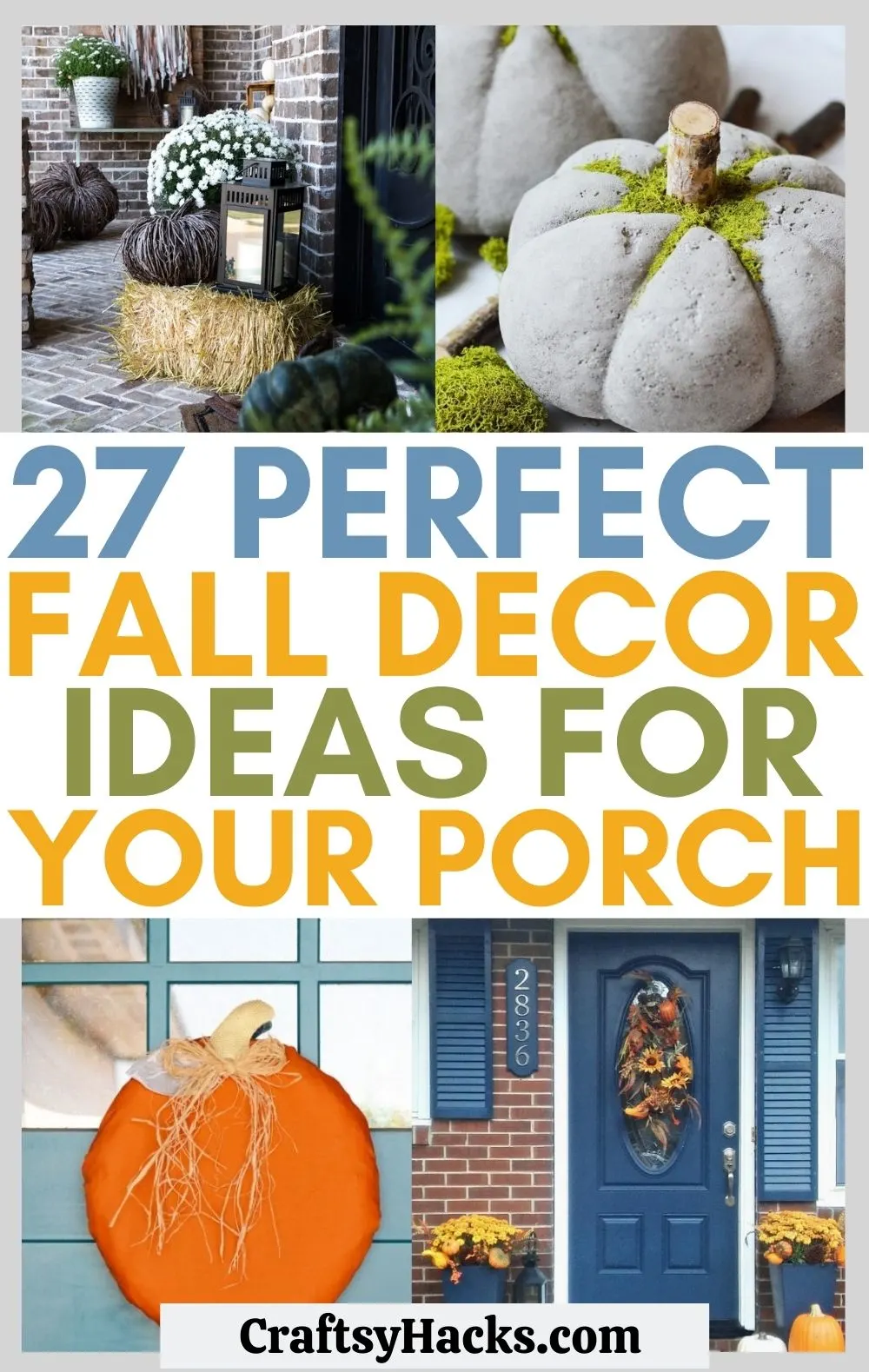 Check out these 27 fall decor ideas for the porch that you're sure to love!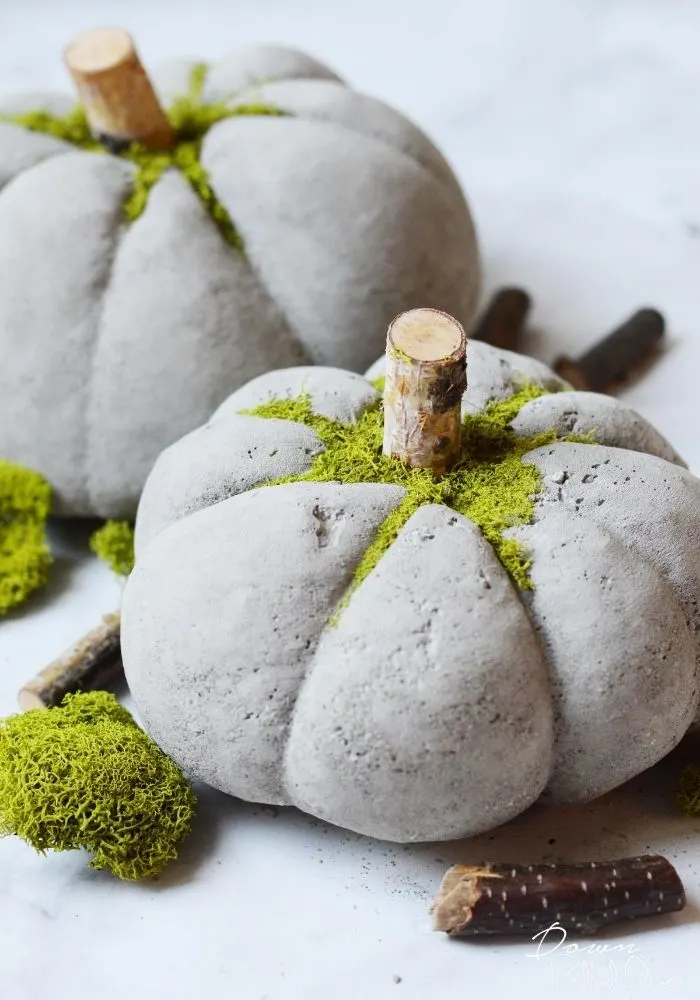 Source: downredbuddrive.com
These DIY pumpkins are made from solid cement, and once you get over how heavy they are, you'll realize they're actually pretty fun and easy to make.
The icing on the cake—so to speak—is that lovely green moss(look here) you see atop the pumpkins. They soften the greyness and hardness of the concrete with a lovely splash of green too!
Before you begin, also pick up a pair of these pantyhose to help you make your concrete pumpkin! Remember, the bigger the pantyhose, the bigger your pumpkins will turn out!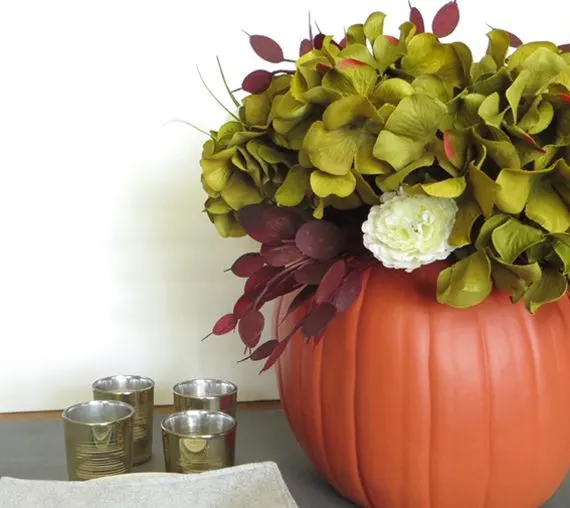 Source: creativegreenliving.com
I'll give you a heads up: you'll be seeing a ton of pumpkin-themed porch decor ideas on this list. Pumpkins are as wholesome as can be, and there are many different ways for you to jazz them up into decorative items for your porch.
If you have a couple of comfy chairs and a table to round off your porch furniture, you're missing one key item: this pumpkin vase centerpiece.
A word of advice: use foam or glass pumpkins. That way, you won't have to go through all that hassle of scooping your pumpkin clean, and they'll keep longer.
Here are the artificial pumpkins I like.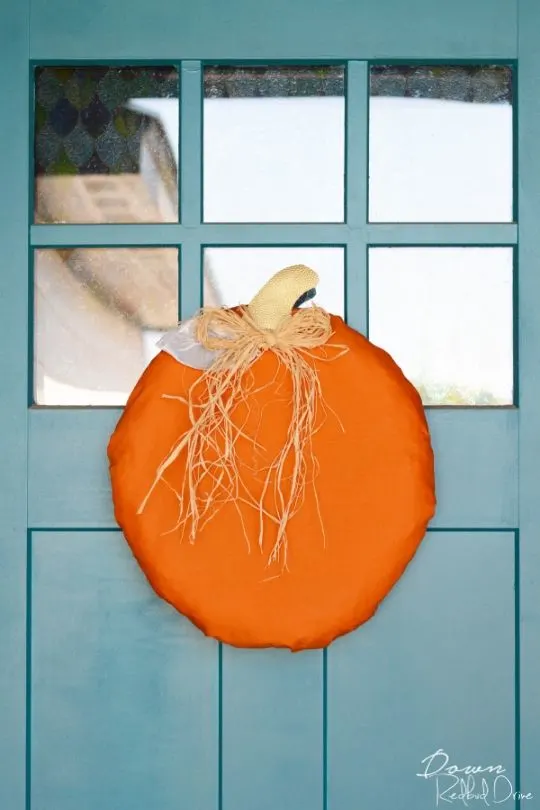 Source: downredbuddrive.com
Didn't I tell you we'd see a lot of pumpkin-themed decorative items? This pumpkin wreath can brighten up your front door with its bright and cheery orange color.
You'll need a straw wreath from here, some gold faux leather, orange fabric, and some floral wire to get you started. You can use raffia, burlap, dry pampas grass, pine cones, and more to jazz up your wreath even more.
Finally, when you're ready to hang it up, simply use some sturdy twine, and you'll have yourself a lovely wreath adorning your front door.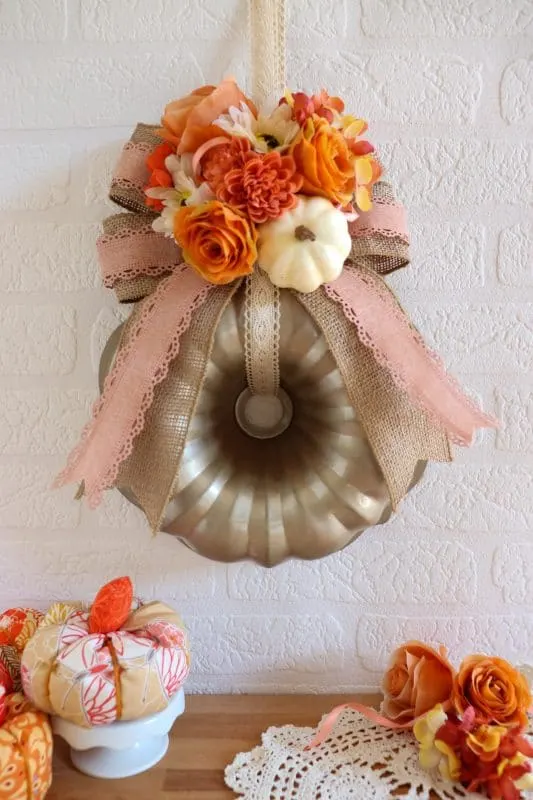 Source: homemadeheather.com
Do you love bundt cake? I certainly do. There's something so beautiful about the shape, isn't there?
So naturally, when you're super crafty about your porch decor, this bundt pan wreath is something you'll definitely appreciate. Grab your bundt pan here first.
Then you can start decorating your wreath. You know what? Come Christmas, I bet you can change up the fall colors with some red, white, and green, and you've got yourself a Christmas wreath, too.
Speaking of Christmas, check out these 20 Christmas Porch decorations and also these 20 outdoor Christmas light ideas for inspiration.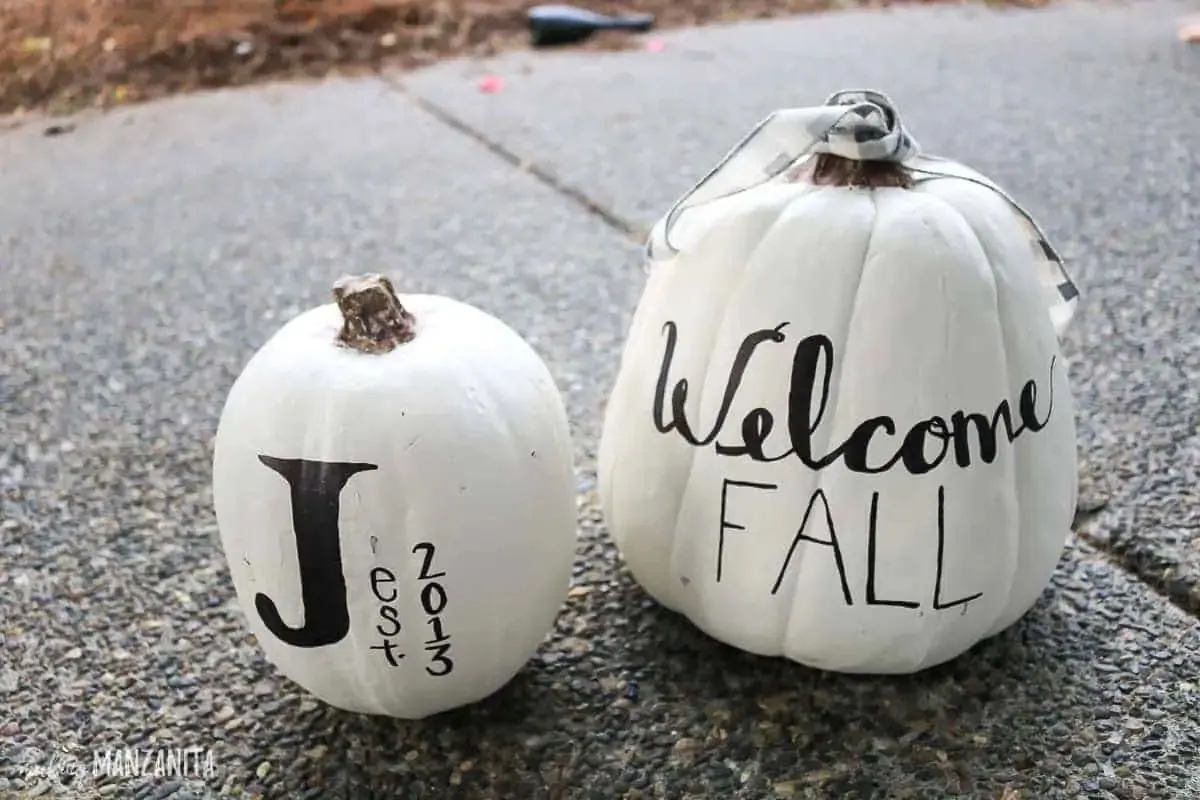 Source: makingmanzanita.com
For those of you who love pumpkins but feel that their shade of orange would clash horribly with your home decor, here's your solution! With this white pumpkin, you'll have an elegant and classy version of pumpkins.
You'll want to paint the pumpkin with a few coats of white paint and allow it to dry completely before you start your decoration. If you've a good hand for it, go ahead and draw some filigree to class up that pumpkin.
Don't forget to paint your pumpkin's stem, too. A dull metallic copper or gold-tipped white should do the trick!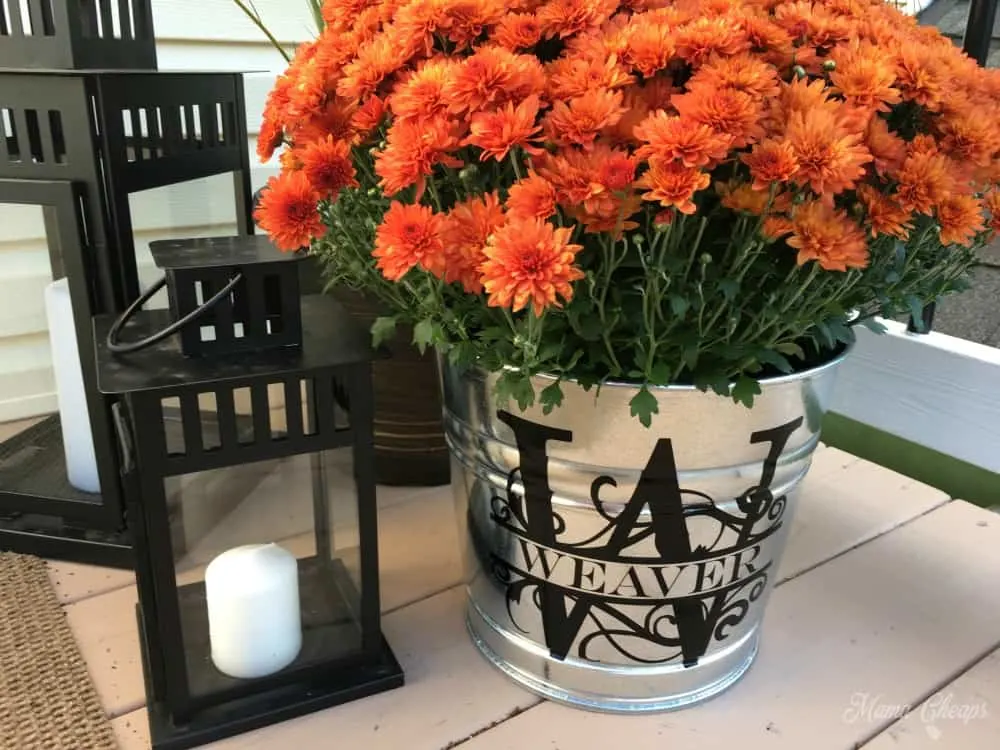 Source: mamacheaps.com
Flower buckets are so charmingly rustic and shabby-chic all in one neat package. They're really great for outdoor vases and even as planters.
These monogrammed buckets will help you personalize your porch decor in a way that's classy but also unique. I mean, whoever would have thought of monogramming their flower vases?
Once you buy this steel bucket, you can use a Silhouette cutting machine and some transfer tape to help you with the monogramming.
Speaking of shabby chic decor, check out these 20 shabby chic decor ideas for the kitchen!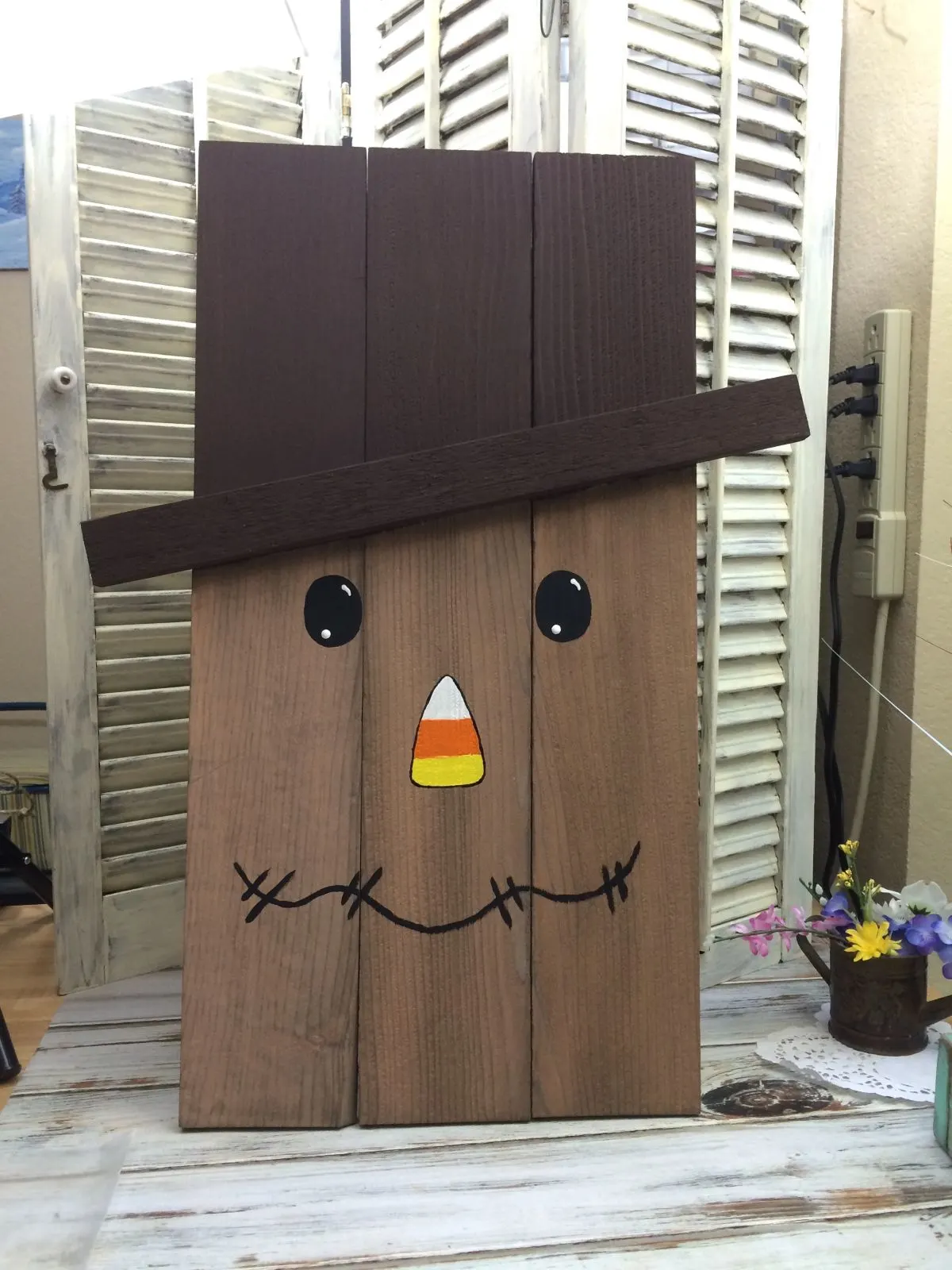 Source: mixedkreations.com
A scarecrow on your front porch is just what you need to spook up your home for Halloween. But this DIY scarecrow isn't scary, not really, so you can just use it as a porch decor piece.
You'll need to pick up some wooden planks like these, your preferred wood stain or some wood aging solution to darken your wood, and some gorilla glue. You'll also need a can or two of acrylic paint.
Use a pencil to draw your scarecrow's face and then paint it with acrylic paint once more. For the final touch, grab some of this burlap ribbon and attach a jaunty bow atop your scarecrow's hat.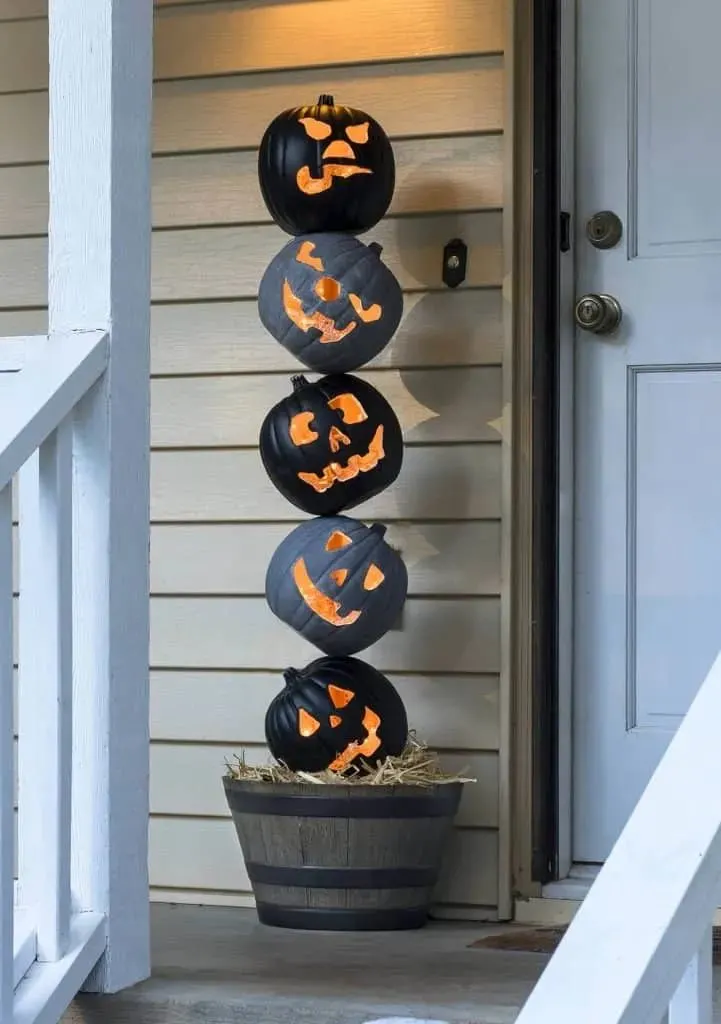 Source: diycandy.com
Just look at that towering stack of Halloween pumpkin topiary. Doesn't it just look marvelous?
This is a wonderful DIY project for one of those chilly fall evenings where you can huddle around the fire and make decor pieces for your porch.
If you want to take it one step further, just add some wiring inside and light up your pumpkin topiary. Don't forget to grab your trusty power drill before you begin!
Pick up your faux pumpkins here!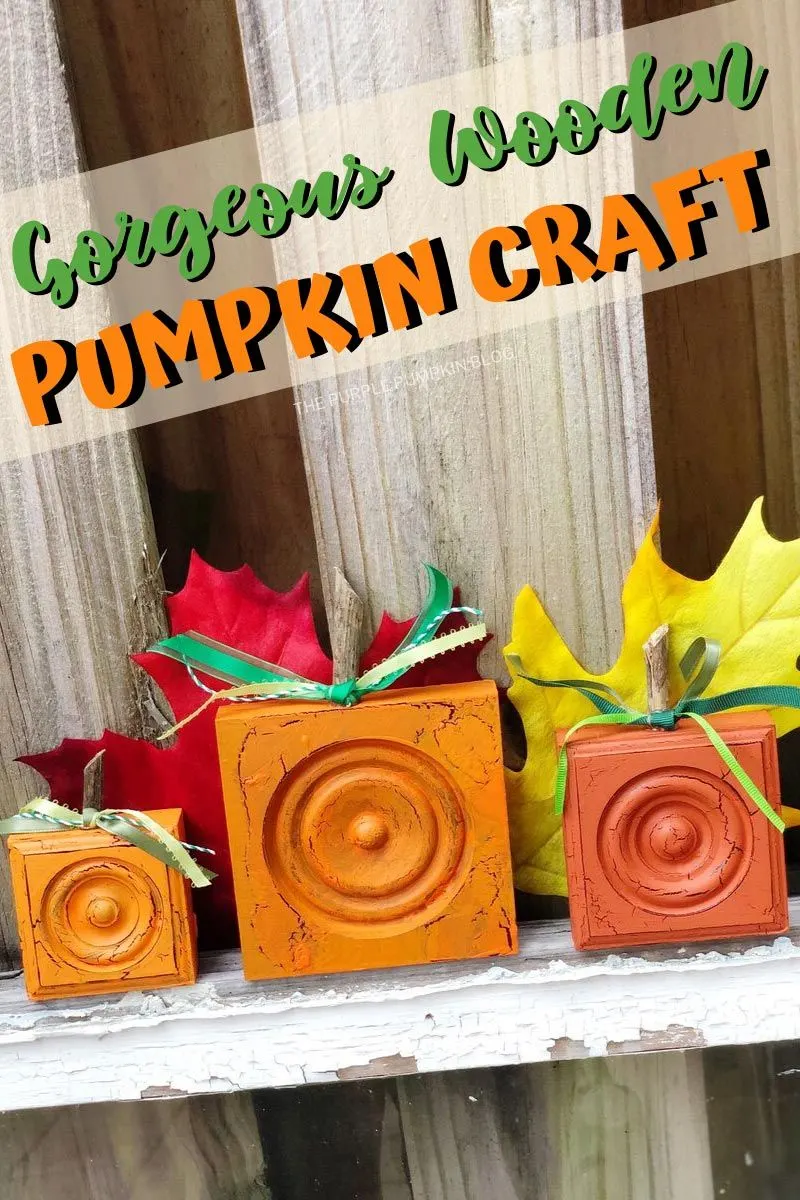 Source: thepurplepumpkinblog.co.uk
Pumpkins are inherently rustic. You can jazz them up, paint them white and make them all classy, but they'll always have that touch of rusticity in them.
These wooden pumpkins aren't technically pumpkin-shaped, I'll admit. But they're the same colors and made from wooden blocks that also add a vintage touch to them, I think.
You can paint the pumpkins in different shades of orange, to begin with. A few strands of colorful green ribbons can help you fashion a nice big bow, too!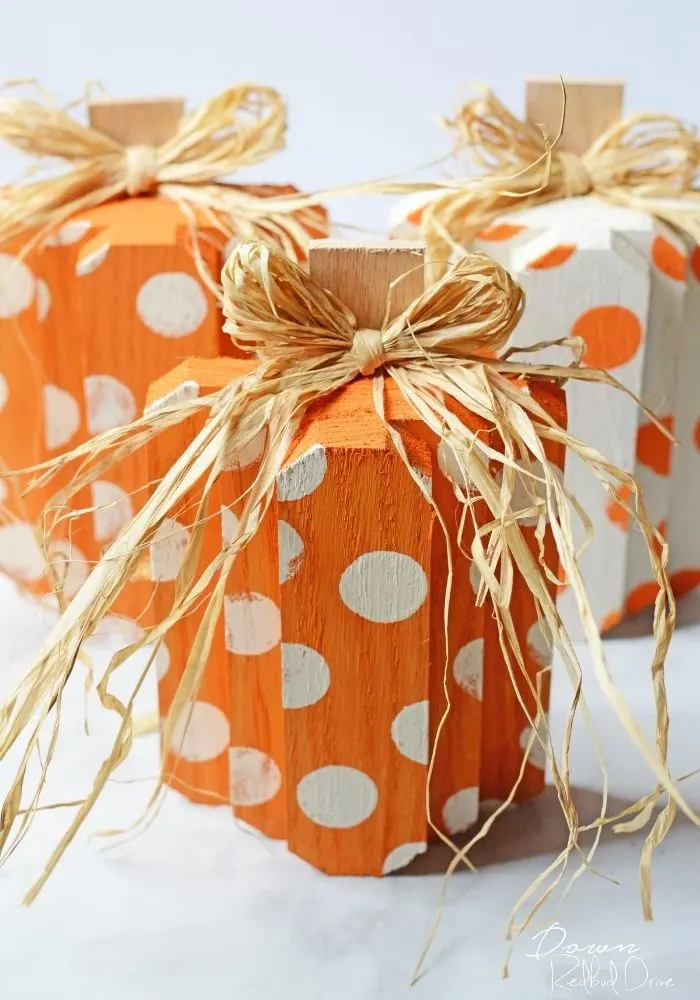 Source: downredbuddrive.com
If you loved the wooden pumpkins so much, then here's one more to get you going. These cute and chirpy polka-painted pumpkins with their straw bows are such a blend of shabby-chic and rustic decor, don't you think?
If you're not up for using straw, you can pick up some natural raffia paper ribbons from here to help you.
While it can be tempting to paint these wooden blocks in different shades, remember that they aren't technically pumpkin-shaped. So using fall colors is the only way to indicate that they're supposed to be pumpkins.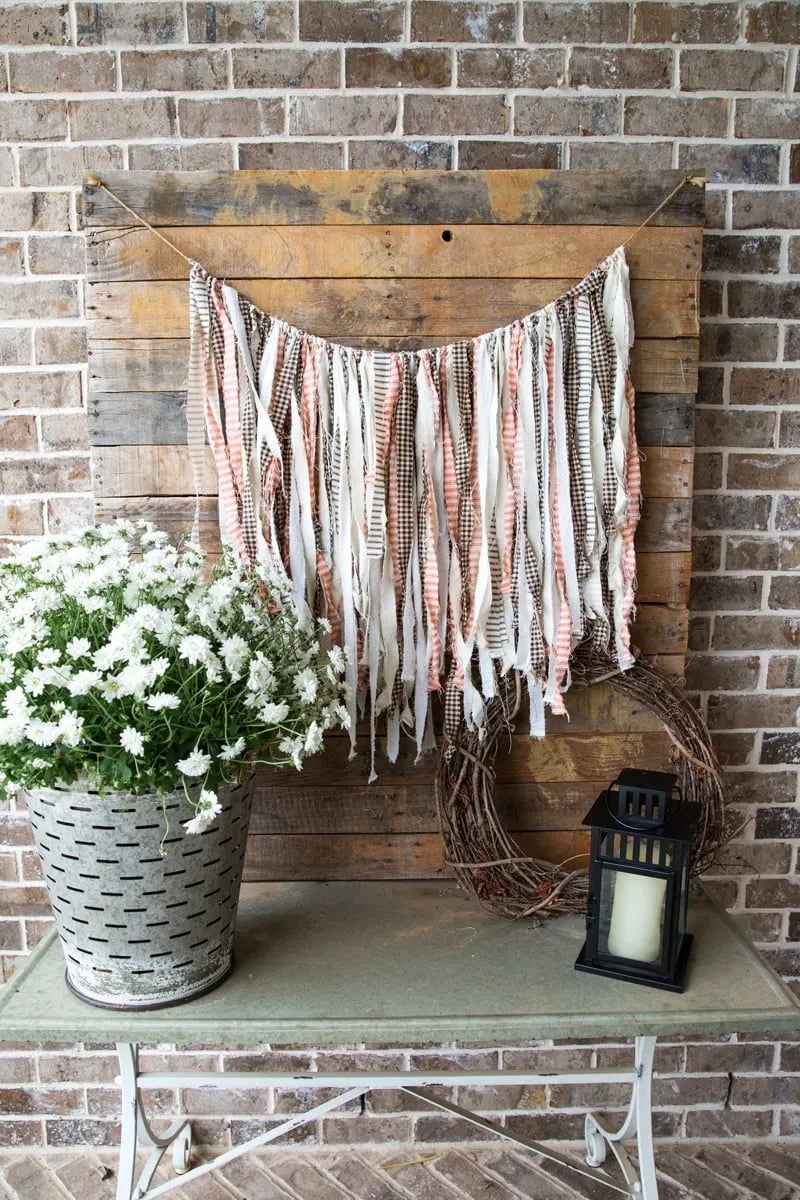 Source: suchthespot.com
This looks a lot like a photo booth, doesn't it? But why shouldn't you have a nice little fall-themed area just to set up your porch decoration?
It's super easy to make, really. With the right props to compliment the backdrop, you'll have a gorgeous and rustic fall-decorated nook on your porch for everyone to admire!
Speaking of props, this black lantern can help you with the lighting, as can this earthy grapevine wreath. Just prop them up against the rag backdrop, and you're all set.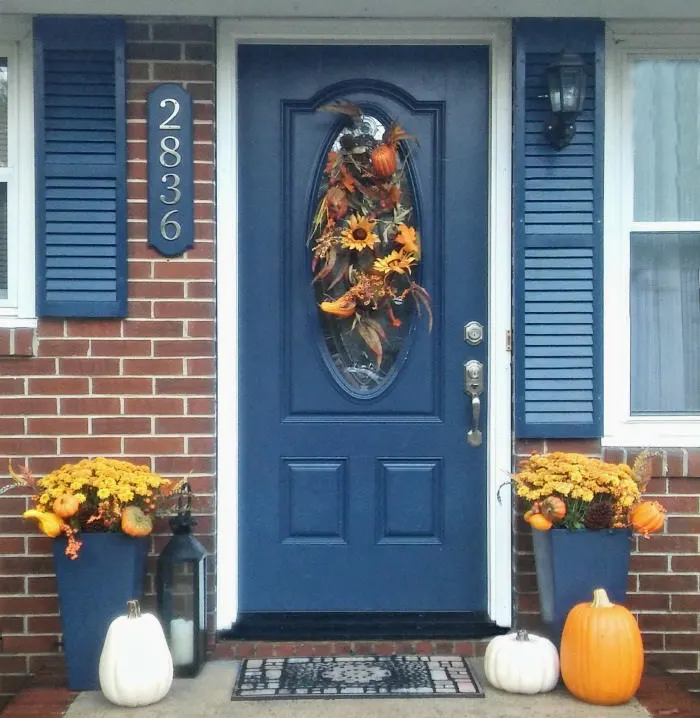 Source: thegardeningcook.com
An entryway like this can transport you into a whole new dimension. That's why your front door—the ultimate entryway—deserves to be top-notch when it comes to how you decorate it.
This includes a fall wreath, a little vine and leaf banner for the top of your door, and of course, a ton of pumpkin-themed paraphernalia surrounding the door.
Add a couple of outdoor lanterns, a couple of planters with fall florals, and finally, a welcoming welcome mat, and hey presto, you've got the prettiest fall entryway ever.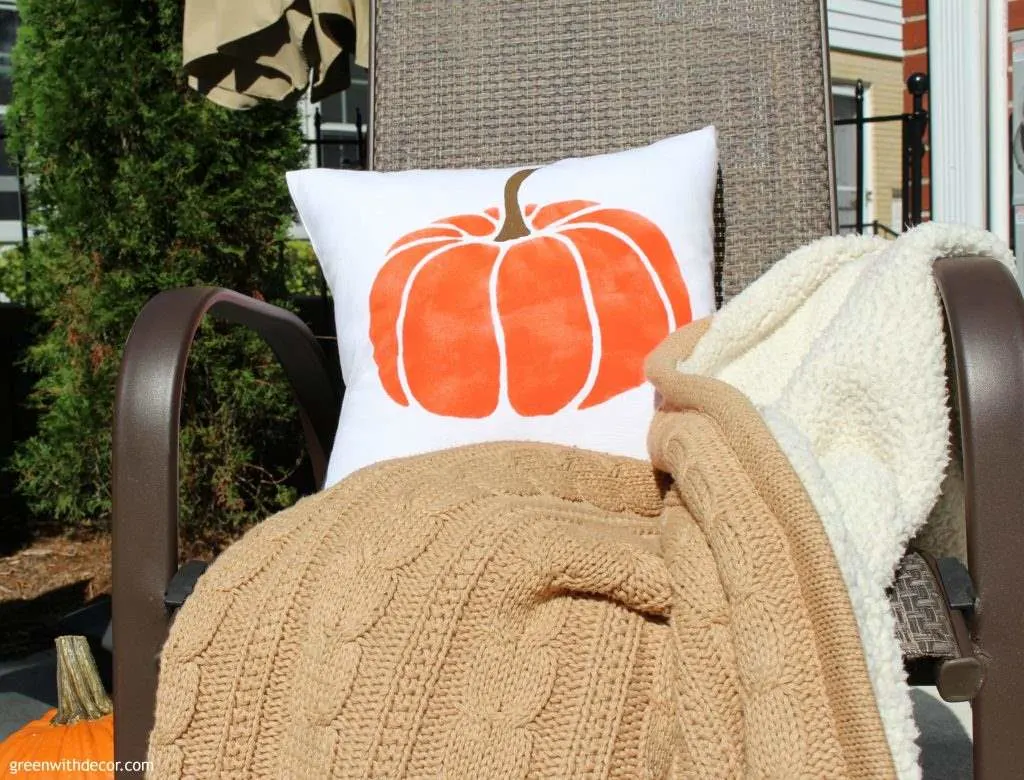 Source: greenwithdecor.com
I tell you, you can't ever have too many throw pillows. Check out this gorgeous yet utterly quirky pumpkin pillow.
Can't you just imagine sitting out on your porch, leaning back on this plush pillow with a warm throw and a cup of hot cider to keep you warm? I can!
So go on and grab everything you'll need for this project and let's get started!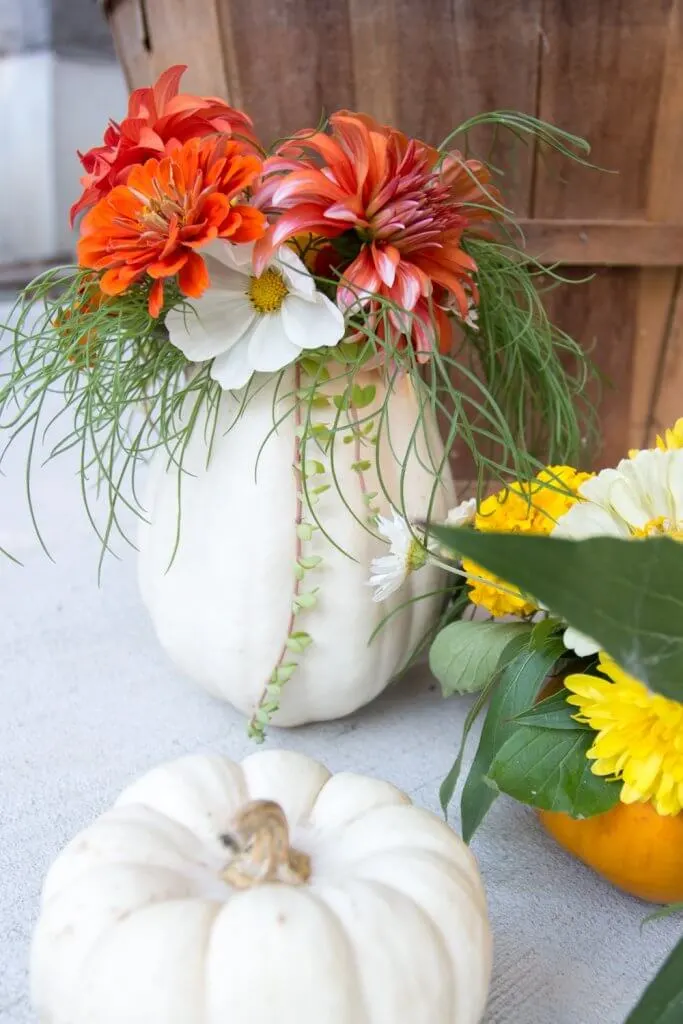 Source: thesoccermomblog.com
Here's yet another pumpkin vase you can make to decorate your porch. Only this one is made with a real pumpkin, so it's au naturel, as they say.
But don't worry, scooping out your pumpkin is the perfect activity to keep your kids engaged. You can also make pumpkin treats with what you scoop out, like roasted pumpkin seeds!
Also, since you're going with 'real' pumpkin, you might as well use real fall florals to fill it up with. Grab a spoon or this pumpkin carving toolkit and get started.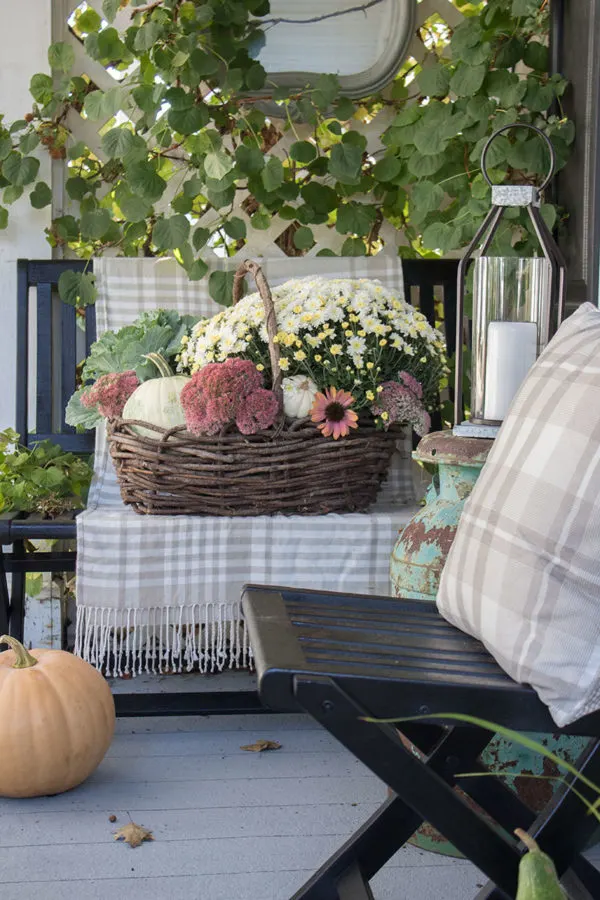 Source: thehoneycombhome.com
If I've said it once, I'll say it again and again: fall harvest baskets are as wholesome and feel-good as it gets. It's such a wholesome way to display everything that this beautiful season has to offer.
You can fill your basket up with fall florals, leaves, and decorated pumpkins. Feel free to tuck in some fresh fall veggies, a few berries, pine cones, and decorative acorns from here, too.
With harvest baskets like this, you can let your creativity flow and draw inspiration from mother nature.
Source: prettydiyhome.com
Lanterns on a porch are so dreamy. The right light can set the scene and turn your porch from just an ordinary outdoor sitting space into the stuff out of romance novels.
With mother nature and the fall season to help you add 'atmosphere' to your tableau, these gorgeous fall lanterns will bring it all together.
Add a few fall florals and perhaps a bowl of scented potpourri to tempt all your senses!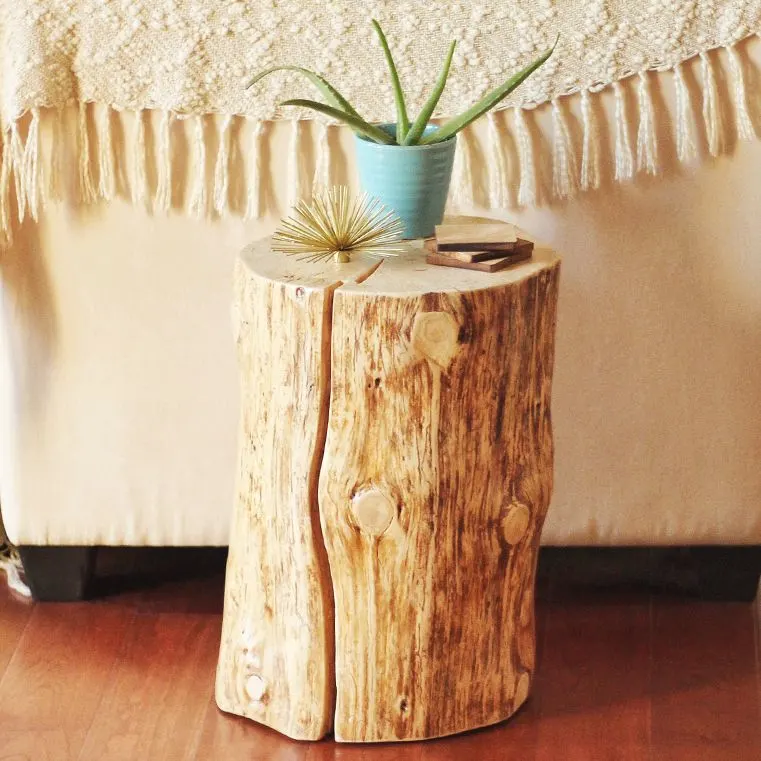 Source: justinecelina.com
Is it just me, or does this tree stump table just scream rustic and cozy log cabin in the woods? It's not just there as a showpiece, you know.
If you set it just right and make sure it is sturdy and durable, this wooden stump will make the perfect side table—be it in the living room or your bedroom.
Just go out there into the woods and pick out your own tree stump to uproot. Or, if you'd rather not embrace your inner lumberjack just yet, just pick up a tree stump from here.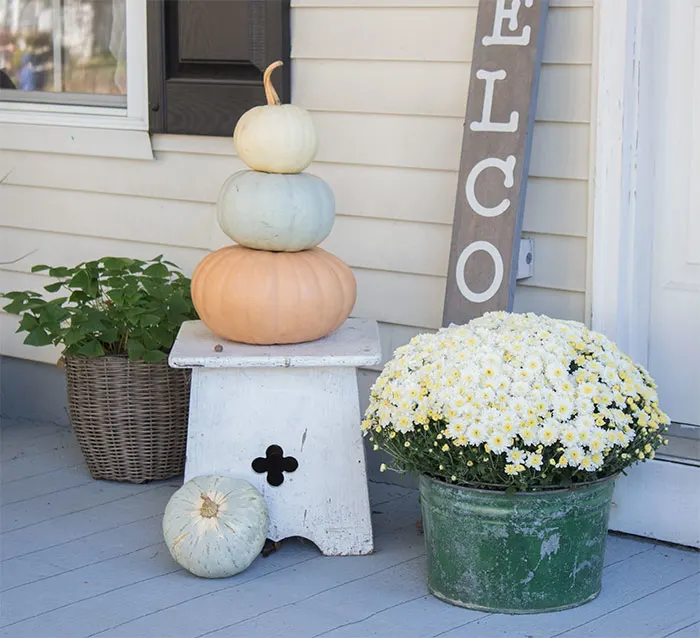 Source: thehoneycombhome.com
Remember when you were painting those wooden blocks and trying to pass them off as pumpkins? You couldn't go crazy with color back then, but here's your chance!
This project is all about colorful pumpkins to use as stackable decor pieces on your porch. You can pick up your craft pumpkins here or at a dollar store near you for just a buck.
Since you'll be stacking them, you might want to buy different sizes to make things easier for you. Now all that's left to do is paint them and, they'll be ready
Check out these 40 dollar store home decor projects for more creative ideas.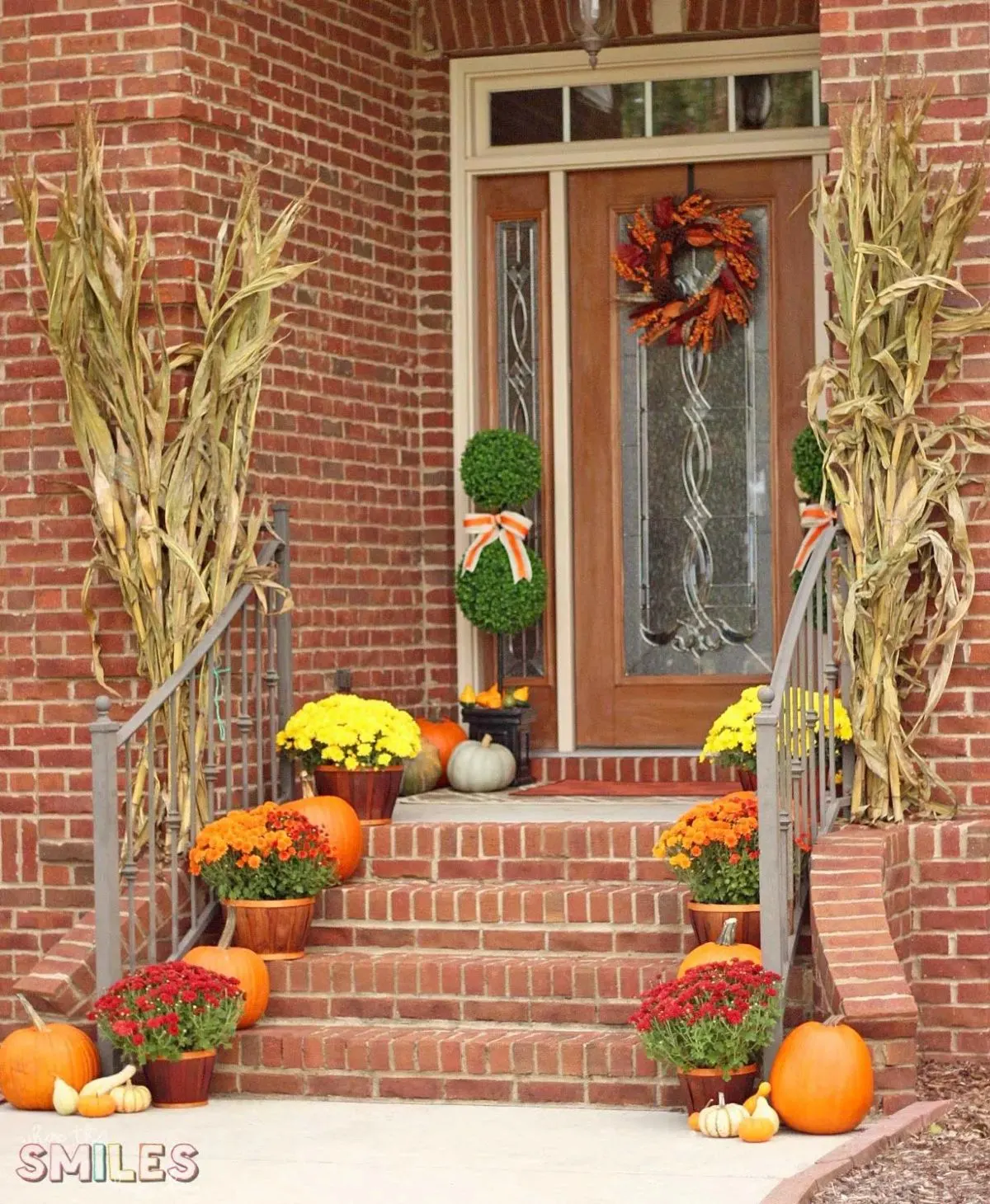 Source: wherethesmileshavebeen.com
If you grew up in a small town, then the chances are that you've visited the yearly Halloween fair where you wander through the cornfields, enjoy hayrides, drink cider, and other fall activities.
A couple of corn stalks like you see here would look wonderful adorning the front of your homes. They're rather like two sentries standing guard on either side of your front steps.
Just tie them together with some jute twine and secure them to your railing as well.
Source: singlegirlsdiy.com
A lovely and leafy garland is just what your front porch needs to up the ante and boost your porch decor. This faux leaf garland is easy to make and also inexpensive.
The best part is that you'll find everything you'll need at a dollar store for a buck per item. Alternatively, you can order your faux leaves from here.
The best part is that you can wrap your leaf garland around a grapevine wreath form, and you've got yourself a wreath for your front door, too.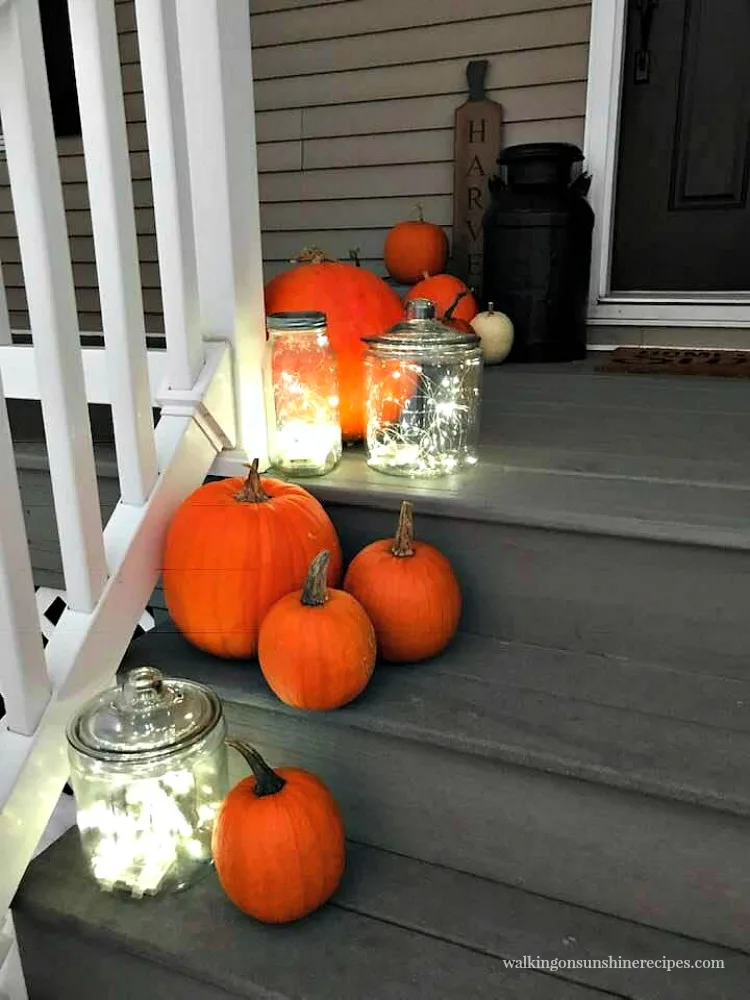 Source: walkingonsunshinerecipes.com
We've seen how, with the right lighting, you can transform any space—your porch and front steps included—into something you'll only see in fairy tales or movies. With that in mind, check out these twinkle lights in glass jars.
That's all you need for this decor piece, too—twinkle lights from here and these glass jars. These lights are battery-operated, so you don't even need an electrical outlet.
Carefully arrange them along your front steps and around your porch furniture. Then just watch the warm, golden light transform your porch into a dreamy and magical place.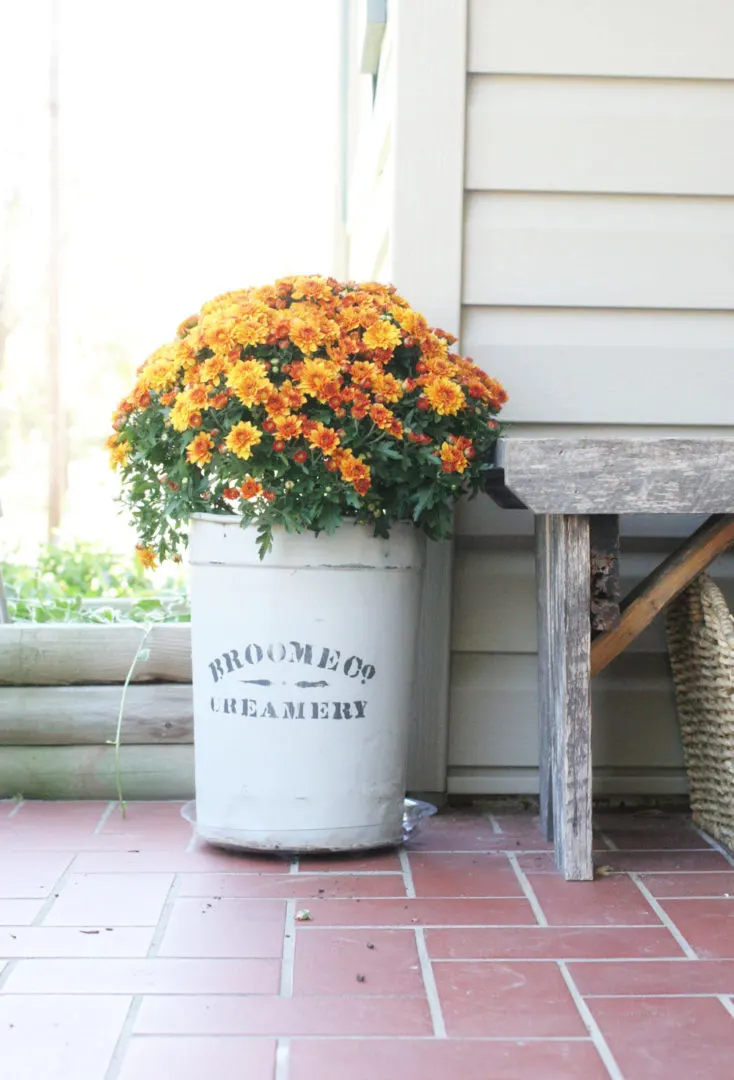 Source: craftivitydesigns.com
No matter what season it is, your porch can and should always have a ton of greens and florals to decorate it. They just brighten up the entire home, and they're a joy to see.
But when you're decorating your porch and have a seasonal theme in mind, the right planters can help you achieve your vision. Fall-themed planters like you see here are easy to recreate, really.
Plus, you just have to fill them up with fall florals, and then you've got all the making of a wonderful and cheery fall-themed porch.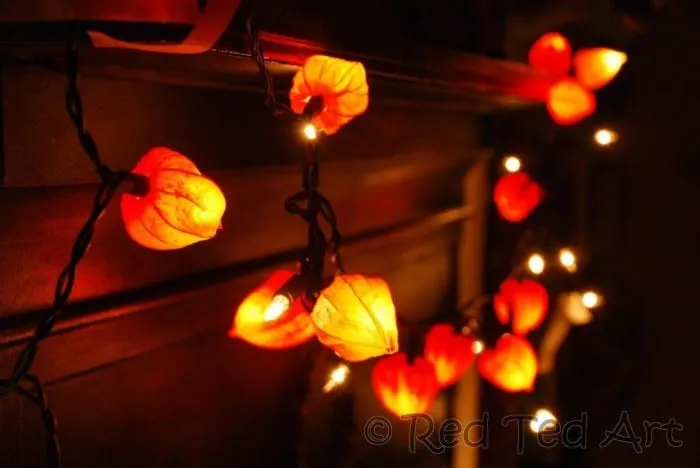 Source: redtedart.com
When the fall season is in full sway, it's time to string up your fairy lights to amplify the already rich and warm colors that mother nature has thought fit to reward us with.
But hold on just a second because there's something you can do to jazz it up some more. Check out these gorgeous, flame-colored leafy strings of fairy lights.
They're like little pockets of flames that sass up the entire space!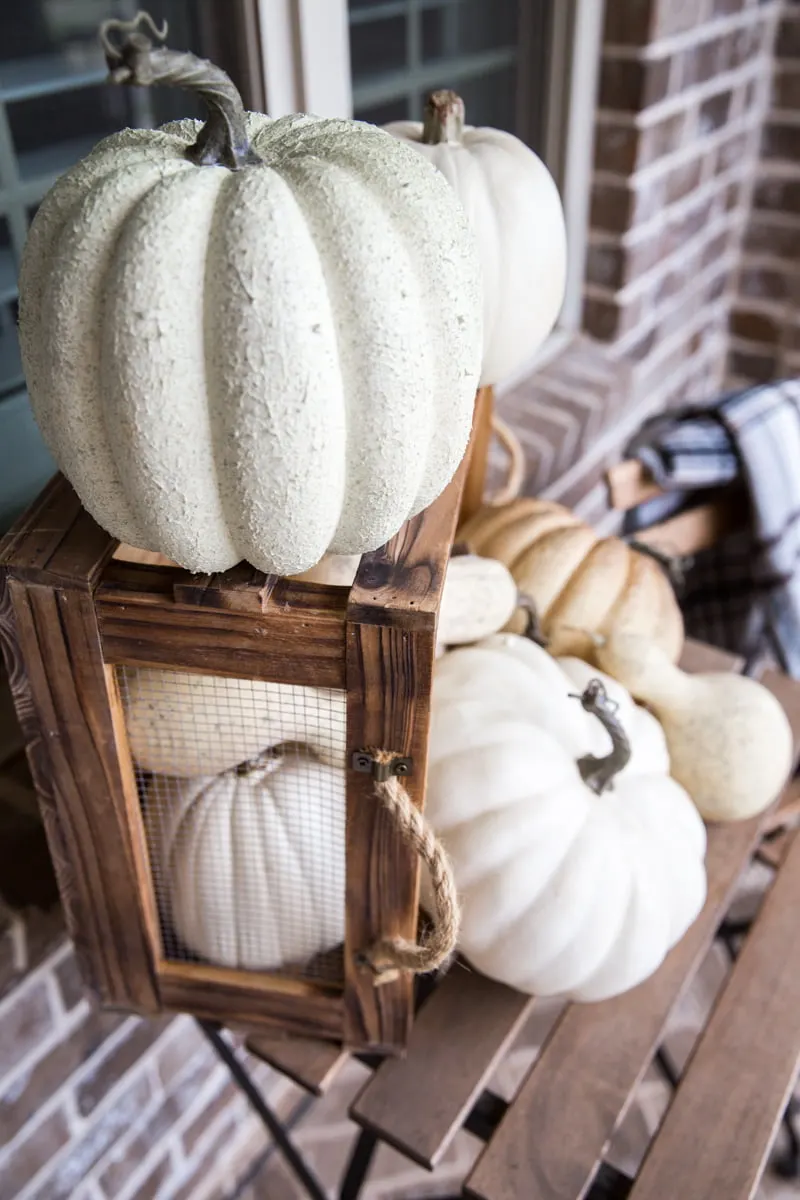 Source: suchthespot.com
Seasonal accent pieces are what you need to decorate any space. Your porch is no different; only you'll need something more outdoorsy and earthy as accent pieces, but also something elegant at the same time.
You already know the answer to that dilemma. What else but white pumpkins can pull off class and elegance while still coming across as rustic and earthy? Go on, think about it.
You can buy a couple of these wooden crates and prop them up as stands to hold your white pumpkins. Oh, and don't forget, you can also add a couple of electric tea lights for that extra oomph!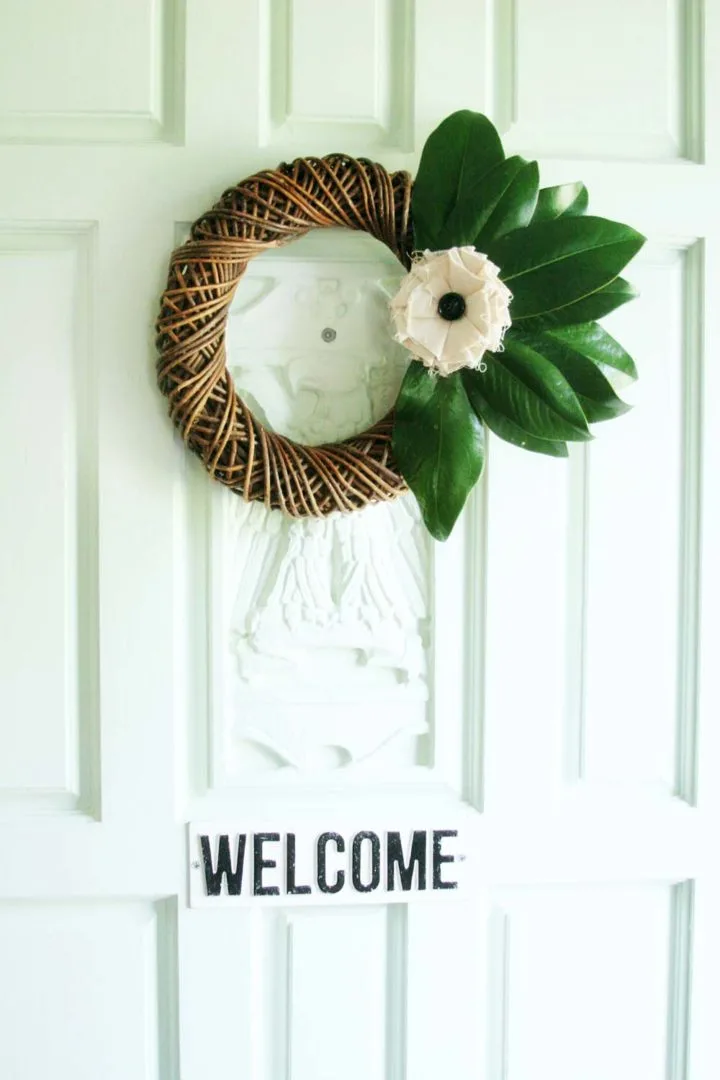 Source: craftivitydesigns.com
Magnolias are just perfect for seasonal decorating for the simple reason that they're evergreen.
So come fall, all the colors will be warm golds and deep reds. So, a couple of magnolia leaves will add some much-needed pop of green to your decor.
Look how gorgeous they look on that grapevine wreath. In spring and summer, you can add real blooms to the wreath, but for now, you can stick to fall florals or just use a fake magnolia flower.
Check out these 20 spring porch decorating ideas you're bound to love.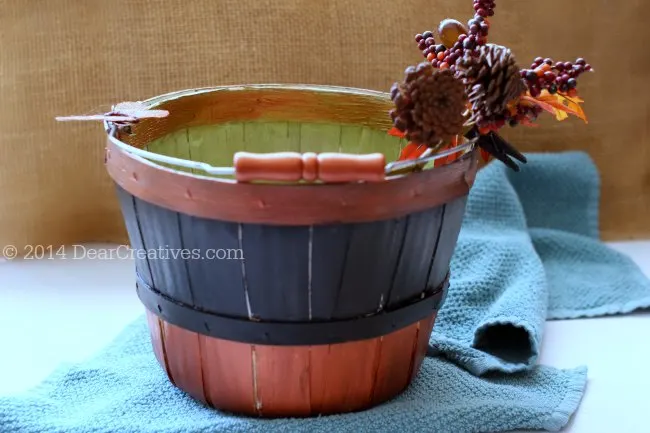 Source: dearcreatives.com
Apples, to me, will always be a fall fruit. Can't you just smell the warm cinnamon and apple scents wafting through the house as you bake pies?
That's why an apple basket on your porch can do wonders to represent the lush and ruddy essence of the fall season. Actually, you don't really need a basket, just a wooden bucket like this.
You'll also want some floral embellishments, faux berries, leaves, and other fall craft decorations to help you spice up the apple bucket.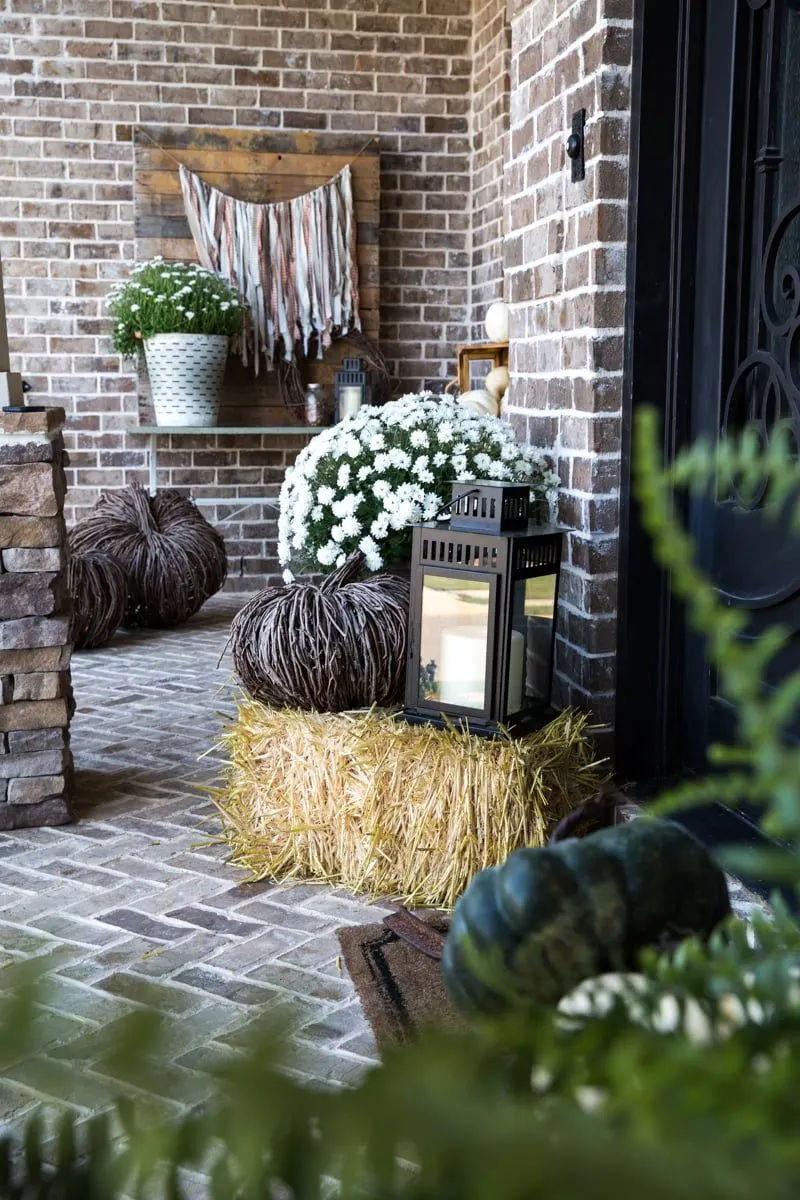 Source: suchthespot.com
Is Halloween or the fall season ever complete without the odd hale bale or two to bring the entire tableau together? That's exactly what your porch needs.
A hale bay can act as a little stand or table to place your decor pieces on—like your craft pumpkins, lanterns, or planters. But make sure you only use electric lights and lanterns, mind; you don't want to set your bale on fire, do you?