Transform the outdoors with Christmas lighting. Check out these Christmas lighting ideas.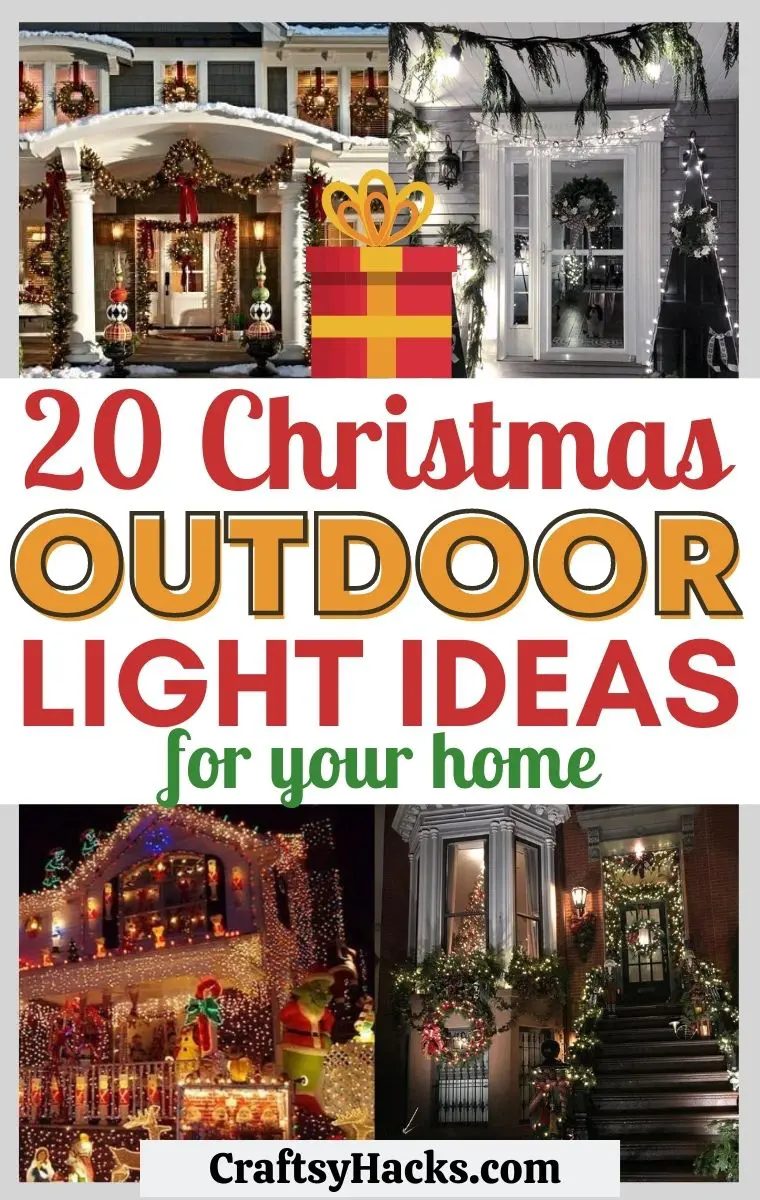 Stringing up the lights at Christmas-time is one of the integral traditions of the holiday season. It brings so much festive cheer to the outside of your home, brightening everyone's day (literally).
Whether you're the kind of decorator who wants their home to be visible from space, or you're just looking for a tasteful way to decorate this Christmas outdoors, this is the blog for you.
Check out twenty of my favorite outdoor Christmas light ideas, perfect for lighting up any snowy, dreary holiday nights!
1. A Colorful Christmas Path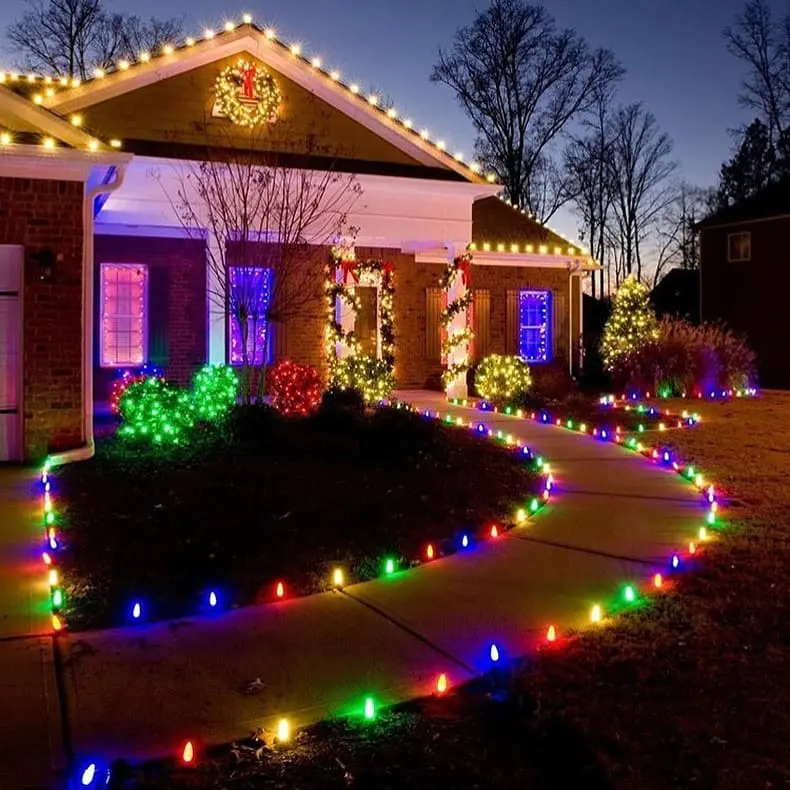 Credit: Instagram
Where else do we start our outdoor Christmas lighting journey than by the front door? Light the way to your front door by lining your path with large, bright, colorful outdoor Christmas lights.
Lights like these offer a steady, vibrant glow that's perfect for the holiday season. You can buy a pack of individual lights like these here, each with a stake for sticking into the ground.
Or, you can just use a string and line the path. Go colorful or go minimal. The choice is yours!
2. Upgrade Your Window Boxes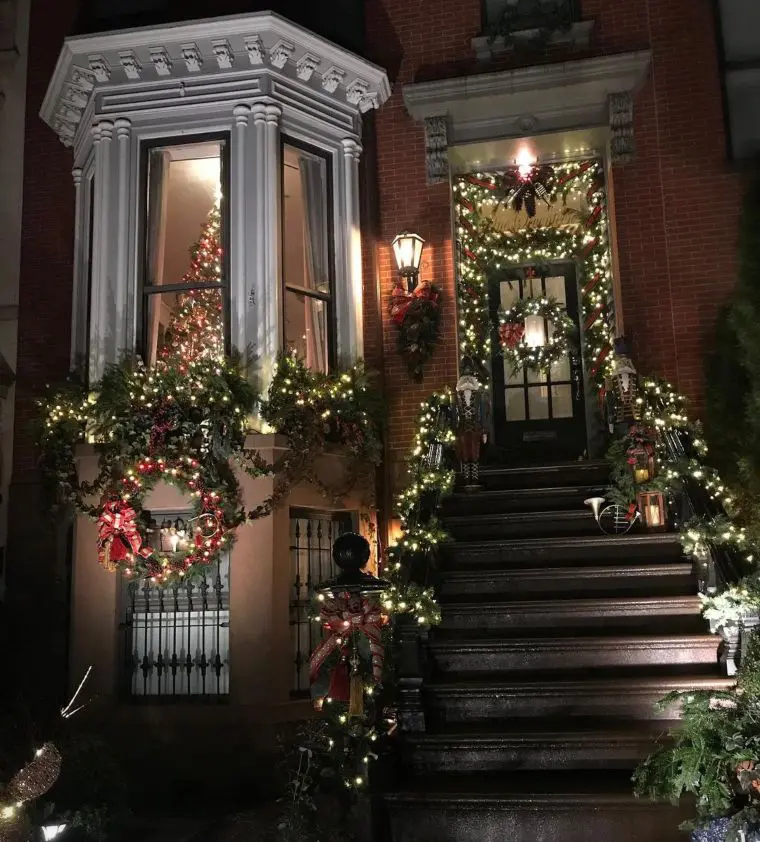 Credit: Instagram
If you're lucky enough to have window boxes in your home, Christmas is the ideal time to take them that extra step further. Dress them with balsam fir garlands like these and glowing white outdoor lights.
I love the look of natural garlands and Christmas lights together. It's such a natural, traditional, yet elevated aesthetic. You can even opt for red lights instead of giving the illusion of glowing holly berries.
If you have outdoor stairs, try adding these to your banisters as well for a cohesive outdoor look.
3. Line Your Roof with Classic Lights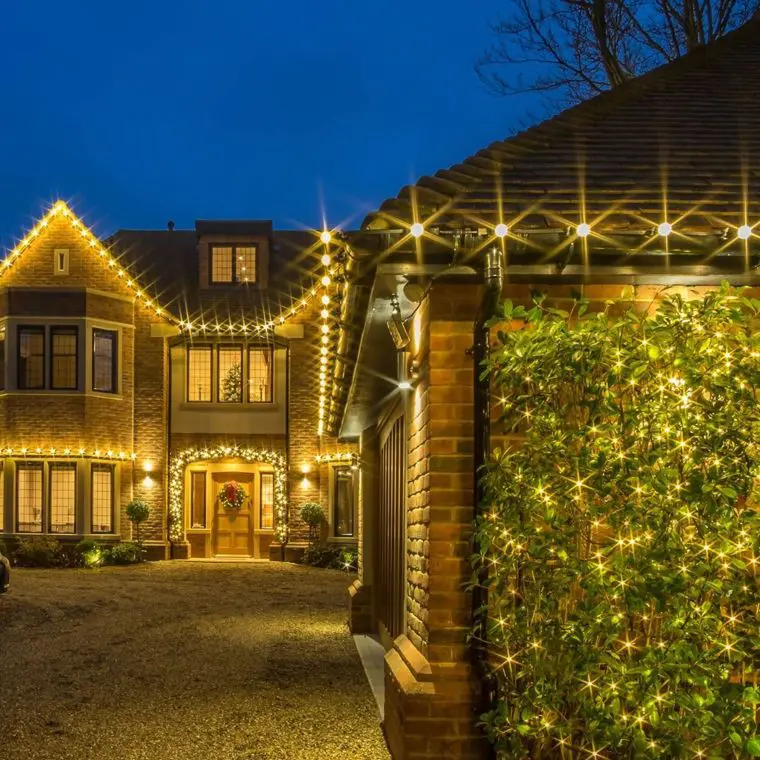 Credit: Instagram
There's something extremely elegant about a home lined by large, traditional Christmas lights. This is an especially good idea if your roof is pitched, as it creates an interesting shape against the night's backdrop.
Break out some large outdoor Christmas lights like these and get to line the underside of your roof with them. Make sure you're safe! Get a sturdy ladder and enough strong cable ties for the job.
The result looks like something out of a romantic holiday movie, ready for Annie and Mr. Warbucks to move in.
4. Red and Green Colour Scheme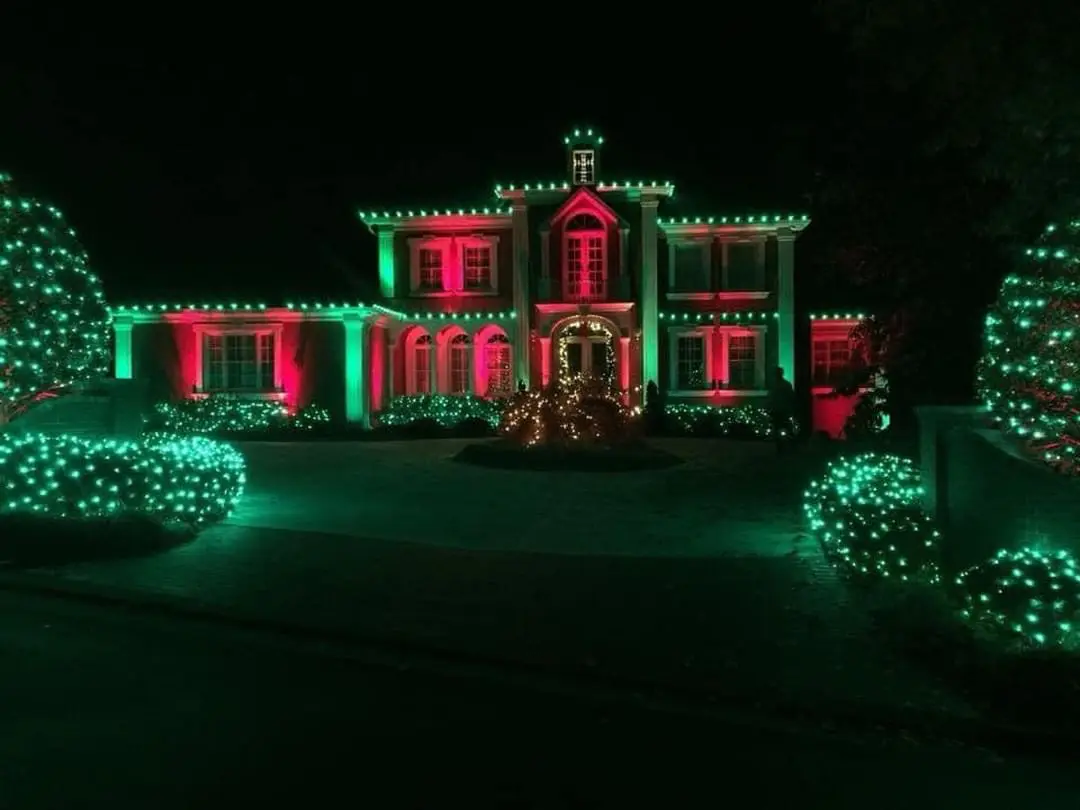 Credit: Instagram
Looking for something classy yet still very Christmas-like? Opting for a red and green color scheme denotes all the Christmas cheer you like, but you can keep the lights very minimal and clean.
For example, why not try these green lights in your bushes for an ethereal effect? Use string lights in the same color to accent your roofline, then contrast the green with some hidden red backlighting.
The result is like something out of Architectural Digest. Regal, magnificent, and full of Christmas cheer!
5. Traditional Lights for a Traditional Holiday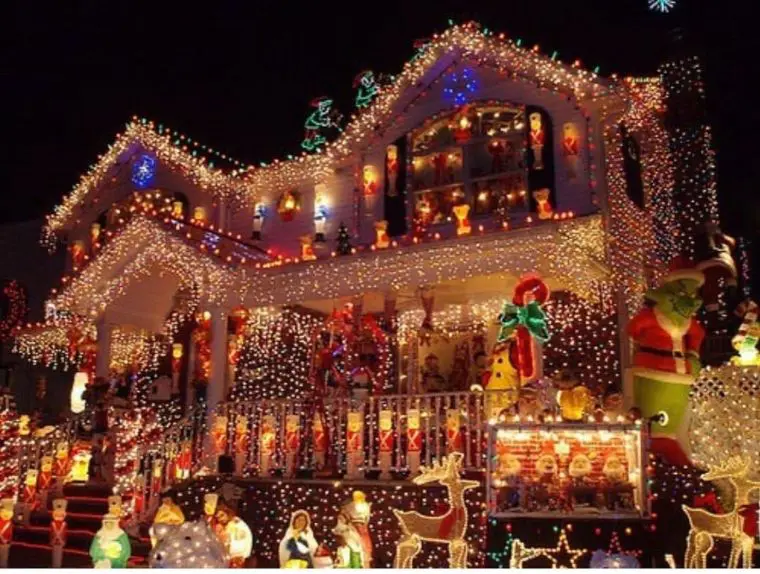 Credit: Instagram
If you have the space for it, why not bring the Nativity Scene to life in your very own front yard? There's something so comforting about the sight of the scene ringed in lights, so welcoming!
If you already have the Nativity figures at home, just use some outdoor string lights to line them. Otherwise, you can purchase a pre-lit Nativity scene for an easy (yet impactful) Christmas setup.
Give your traditional scene a little twist with the addition of a light-up reindeer or two. Who said Rudolph couldn't be in the Nativity Scene too?
6. Candy Canes for a Sweet Christmas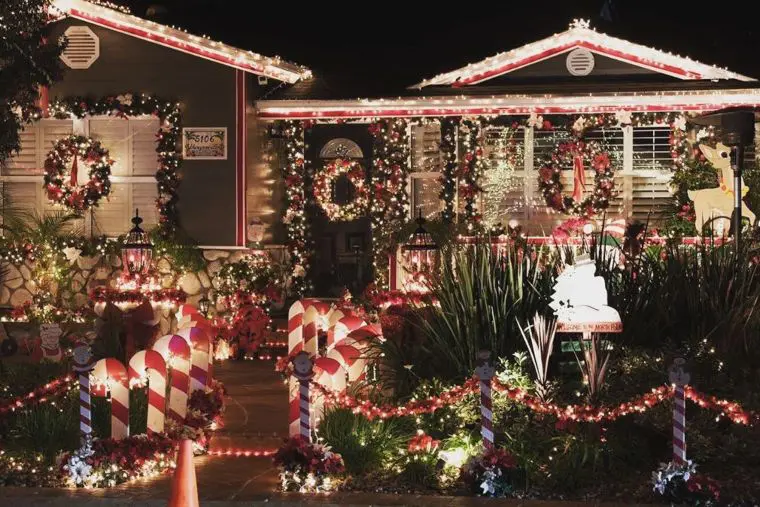 Credit: Instagram
Light up candy canes are very high on the list of ways to add some whimsicality to your front yard this Christmas!
Whether you want a full-on Candyland or a more traditional aesthetic, these candy cane pathway markers have you covered. Compliment them with lower-level path lights, or let them shine alone.
7. Clean, Modern, and Natural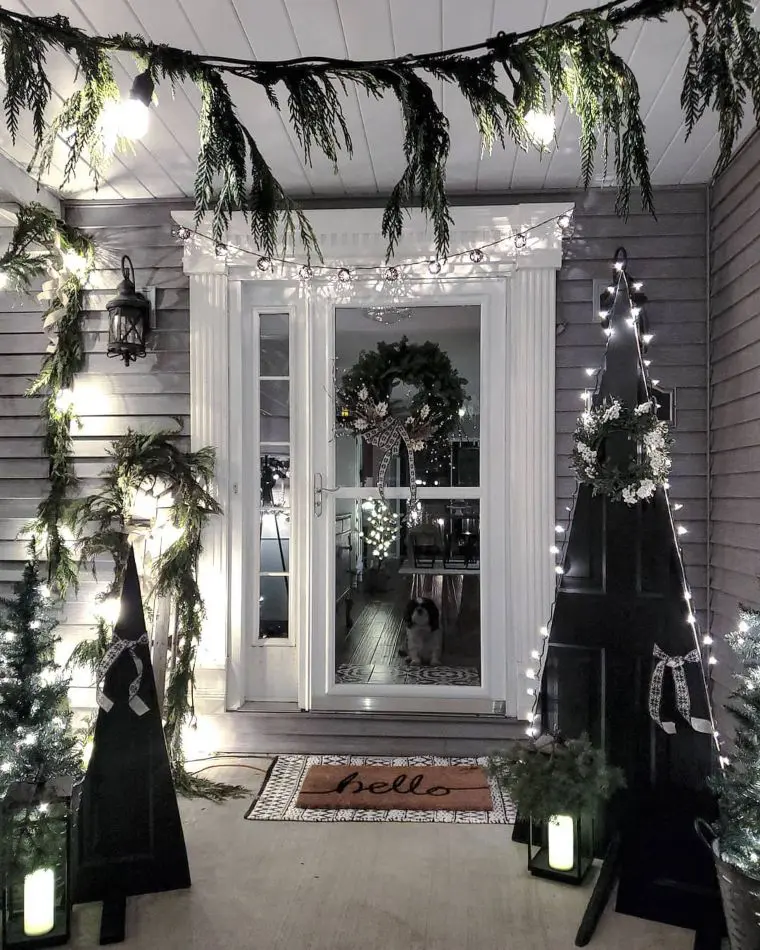 Credit: Instagram
Sometimes it's nice to do something a little different during the festive season, and this clean, modern outdoor setup definitely fits the bill.
Combine bright white string lights with loose, natural pine garlands for the Christmas porch of a designer's dreams. Combining the clean lightly with an outdoorsy touch is a beautiful contrast.
You can even add a Christmas light projector like this to your display. This adds some life to the look without overwhelming the viewer, something many Christmas displays definitely do!
Love decorating porches? Check out these cute Easter porch décor ideas.
8. Line Your Home's Silhouette in Lights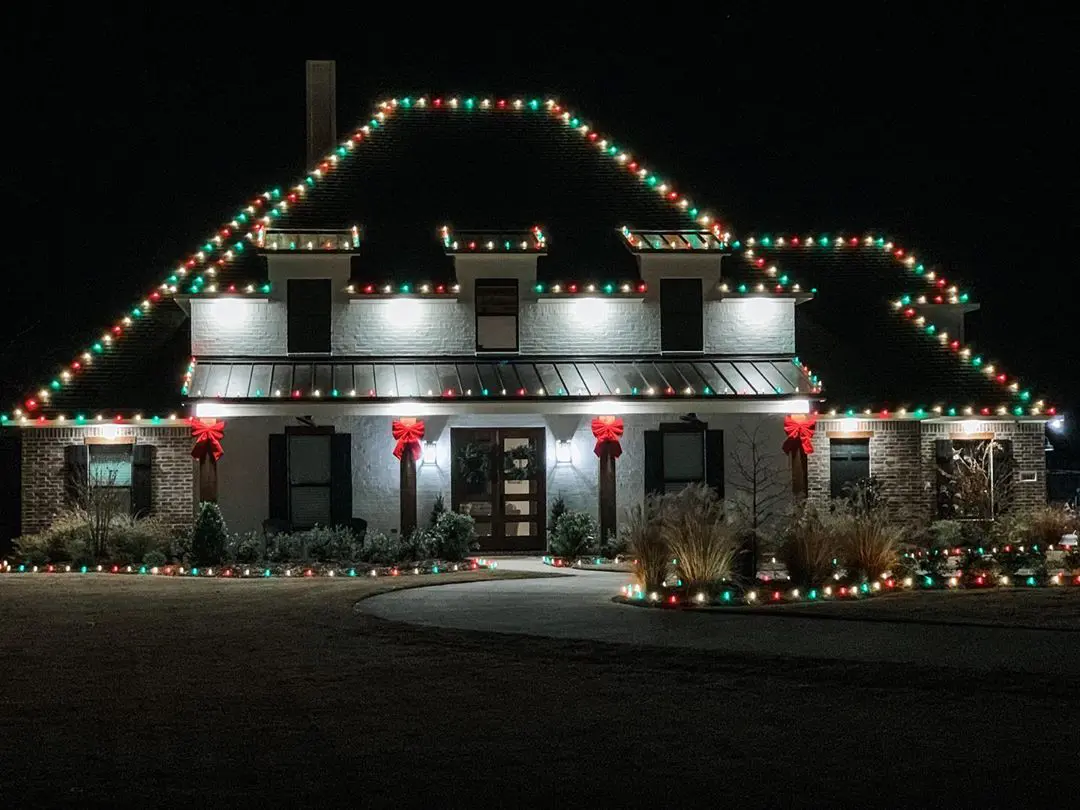 Credit: Instagram
Have you ever thought of using the darkness of night to your advantage while decorating your home? Use some traditional multi-colored rope lights to carve out your home's silhouette.
The look is very impactful without taking too much time, and it allows you to add more decorations later if the urge strikes you. Using the rope lights, follow your home's corners to the tee for this look.
9. Bring the Fireworks to Your Front Yard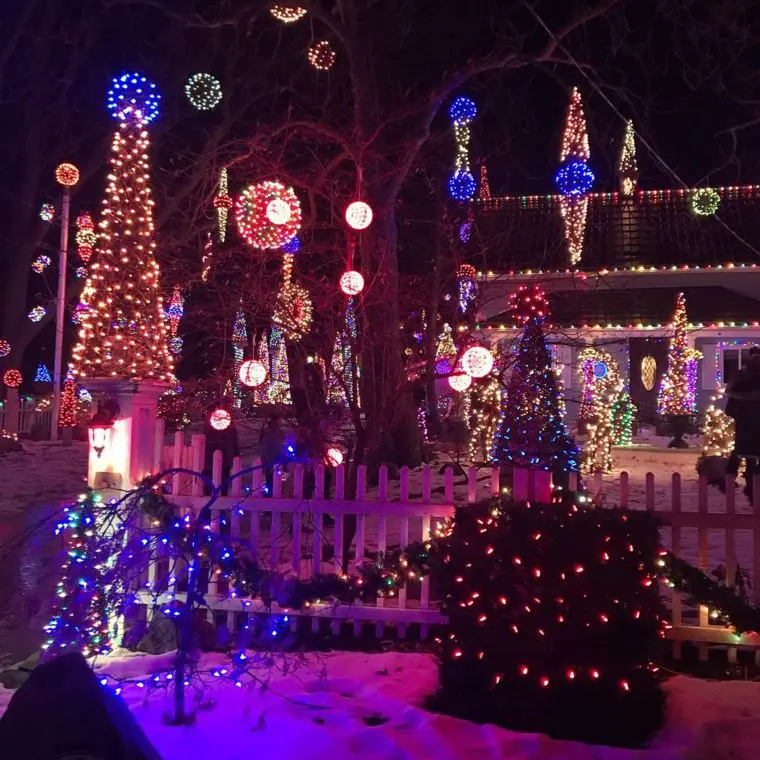 Credit: Instagram
Letting off fireworks every time you want a beautiful light show is one heck of a hassle, but thanks to modern Christmas enthusiasts, there's another way!
Outdoor starburst lights like these give you the look of a perpetual firework without any of the noise. These are a gorgeous option to hang throughout a huge light display or to use on their own for something more ethereal.
10. Build Your Own Gingerbread House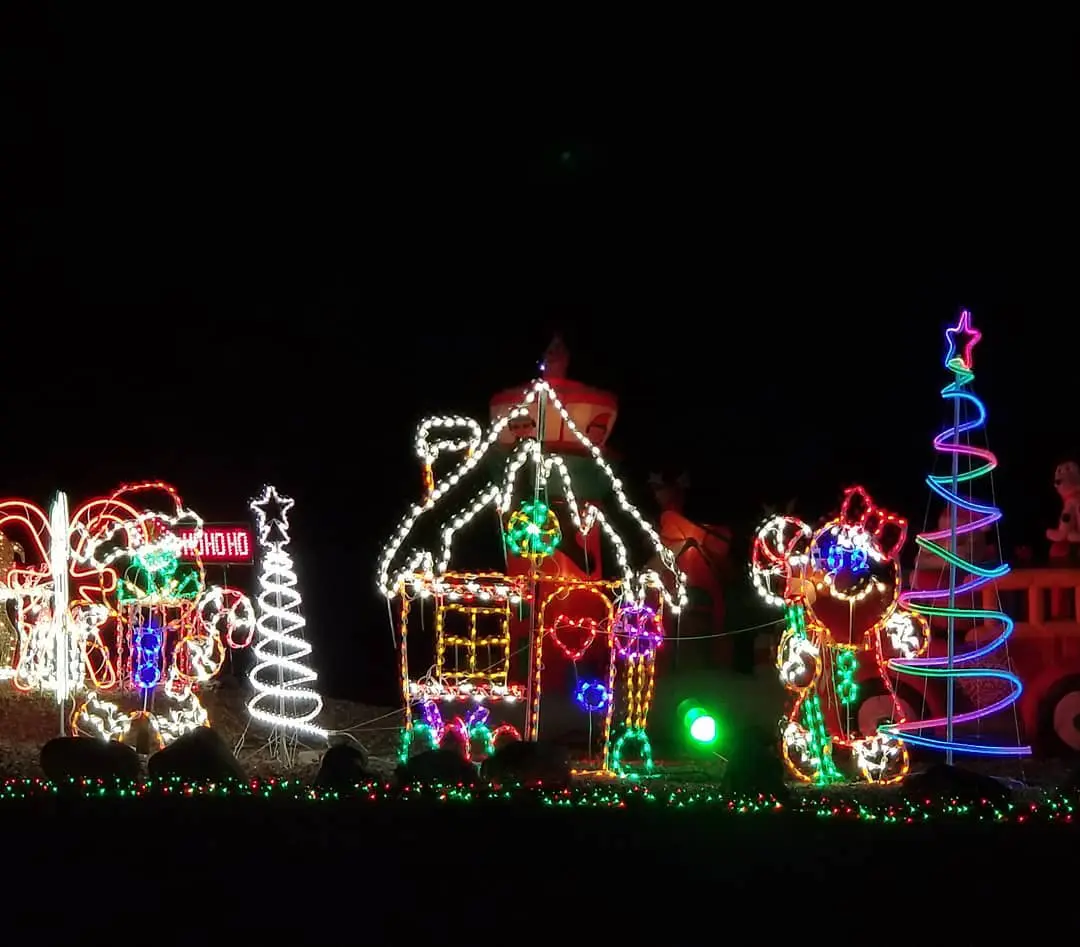 Credit: Instagram
Take the gingerbread house out of the kitchen and into your front yard for an adorable take on a Christmas lights display. This will definitely make anyone who passes your home crave some cookies.
You can do this in a couple of ways. The first way is to take some rope lights and drape them around your actual house, adding some icing droops here and there to make it look delicious!
Add a gingerbread man and a candy cane, and you're done. Alternately, build a smaller structure for your front yard and line it with lights. It's your very own Gingerbread Village!
11. Deck Out Your Bushes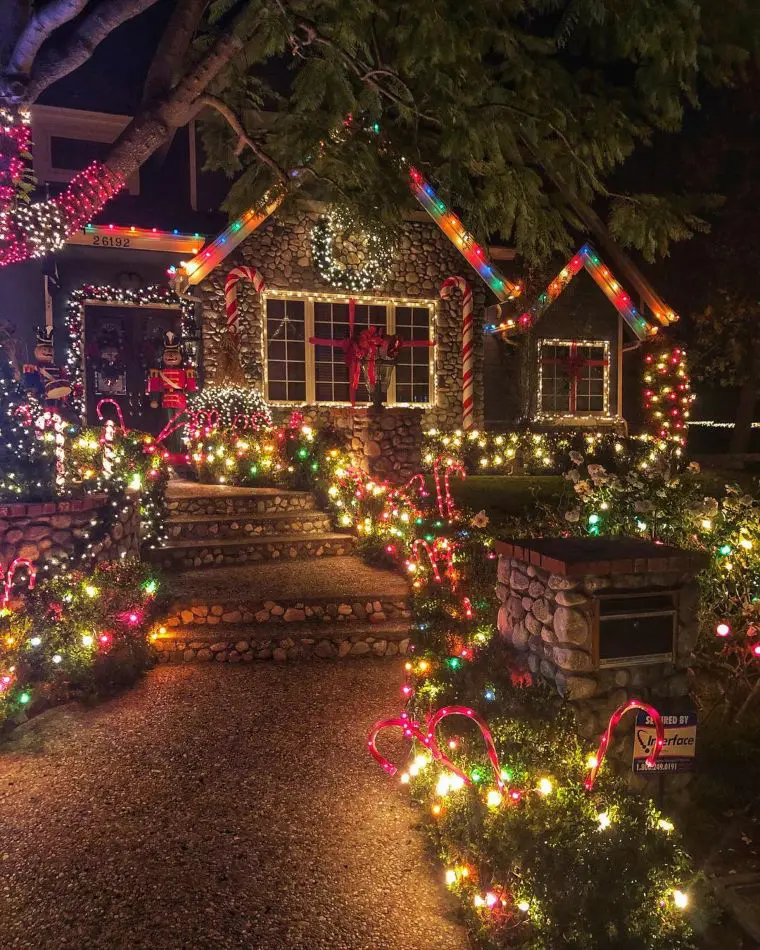 Credit: Instagram
I've noticed that bushes don't seem to get as much love as homes when it comes to Christmas decorating, but they look so good when they're all lit up! So, it's time to change that.
From net lights to candy canes, there are a million ways to make your foliage sing come to Christmas-time. You can even opt for plain green lights to make trees look like they're glowing from within.
Combine that with some foliage on your actual home, and you've got a forest worthy of even the most discerning Christmas elf.
12. Light Up the Driveway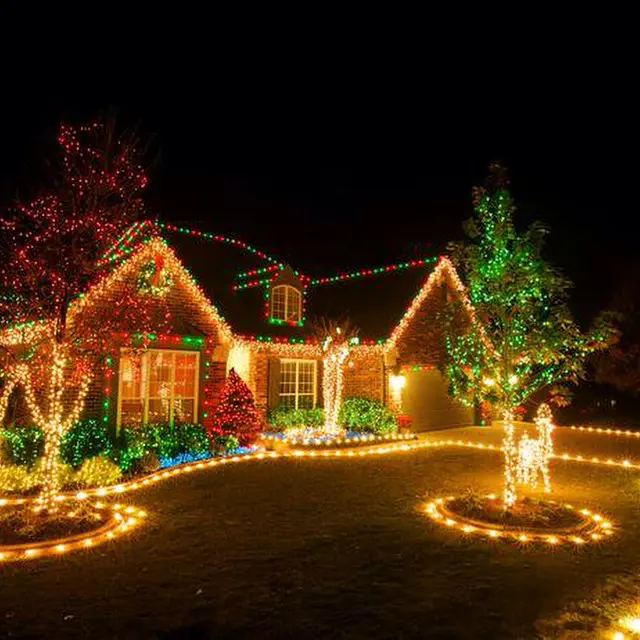 Credit: Instagram
There's nothing like coming home to a grand entrance, and this Christmas season is your excuse to make a grand entrance for yourself. All you need is a driveway and some yellow path lights.
Take this idea one step further by carrying the same color of lights throughout your outdoor Christmas décor. Wrap it around your tree trunks, line your front yard with it, make it cohesive.
13. Circle Bushes for a Modern Christmas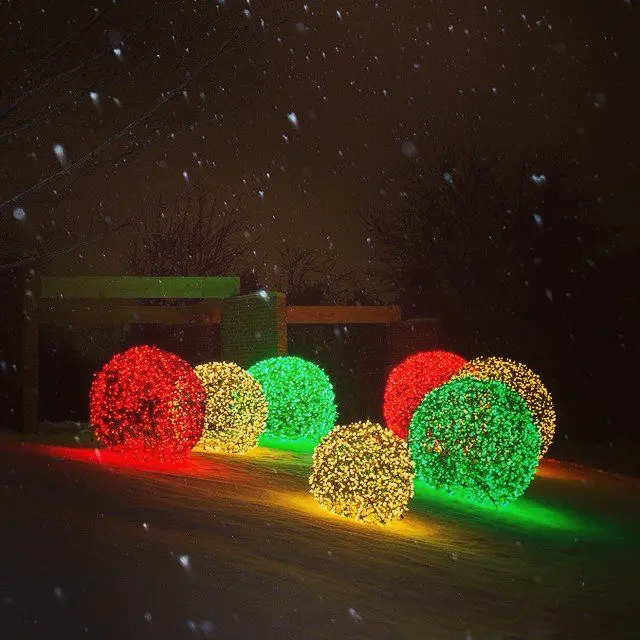 Credit: Instagram
Speaking of your front yard, here's a creative way to bring Christmas into your home's décor while keeping it modern and fresh. If you have a lot of bushes, this is the perfect idea for you.
Trim your bushes into spheres, as this gives them a floating appearance. Then, dress them in net lights with white, green, and red colors. This is Christmas decorations in a whole new way!
Perfect for the trendy house on the block.
14. A Warm White Christmas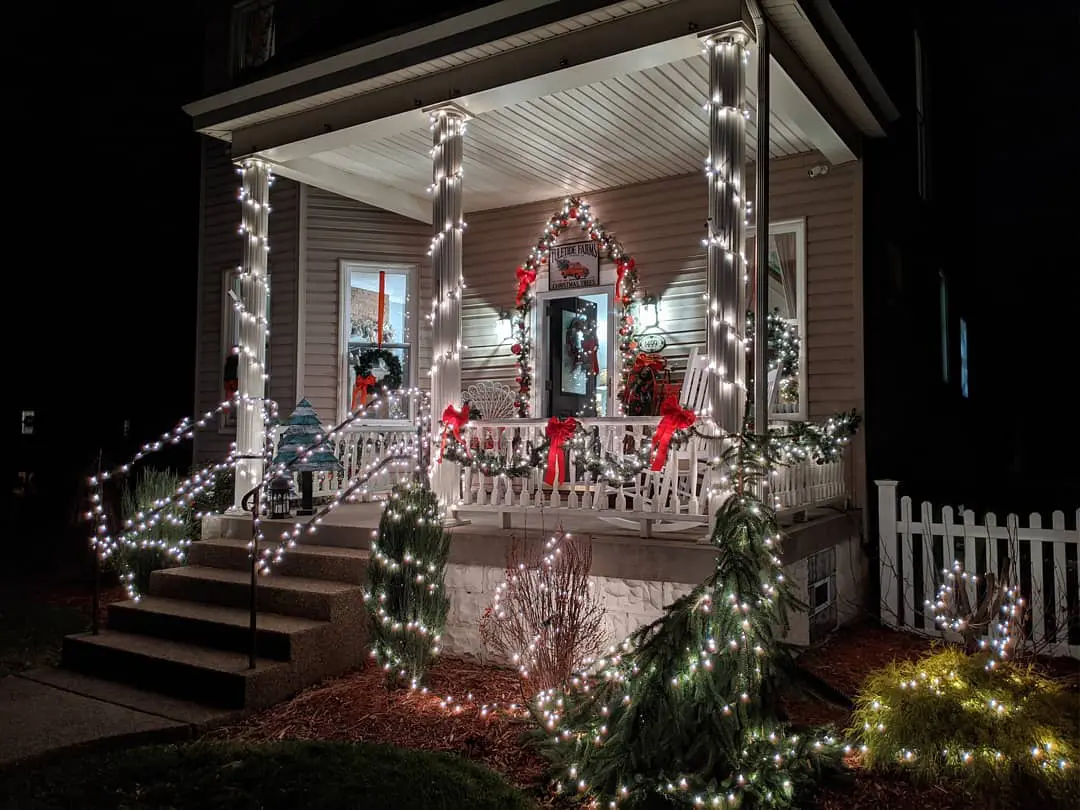 Credit: Instagram
If you live somewhere where snow doesn't often make an appearance, then you might have to get creative when it comes to getting a white Christmas. This idea is perfect for a wraparound porch!
Simply drape your stair rails, bushes, roofline, and pillars in bright white Christmas lights. Whether you add anything else or not, this clean white aesthetic hints at snow in even the hottest of places.
Add some red bows like these or a monochrome Christmas wreath for an extra pop of color.
15. Create Pillars of Bright Light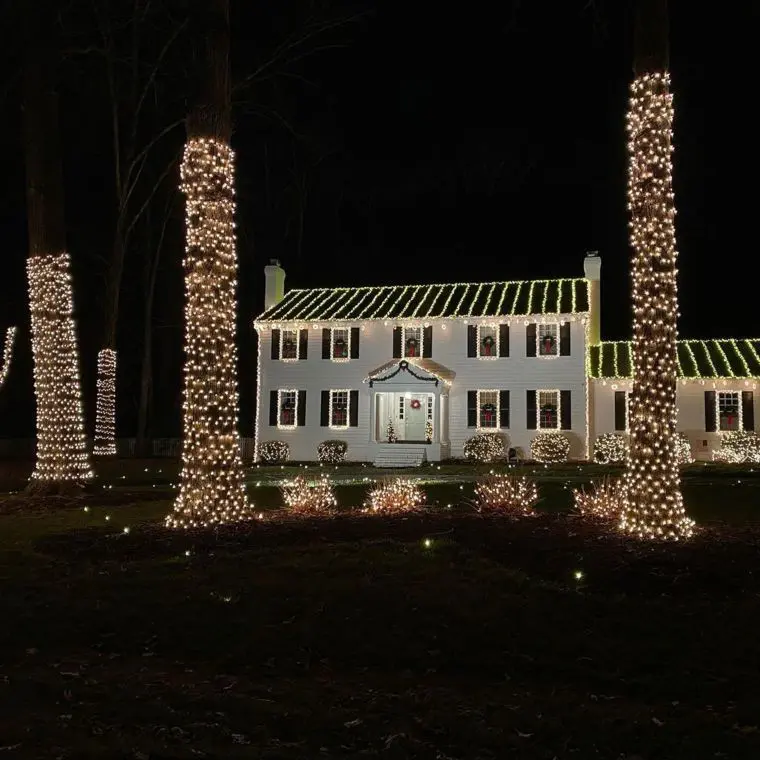 Credit: Instagram
Are you blessed with large trees in your front yard? Then have I got the idea for you. Wrapping the tree trunks in monochromatic lights gives the appearance of pillars, so clever!
The key to this idea is to leave the leaves and branches unadorned. That way, the trees look like they stop in mid-air, giving them the pillar appearance. Add some linear roof lights to put it over the top.
16. Bring Santa's Sleigh to You!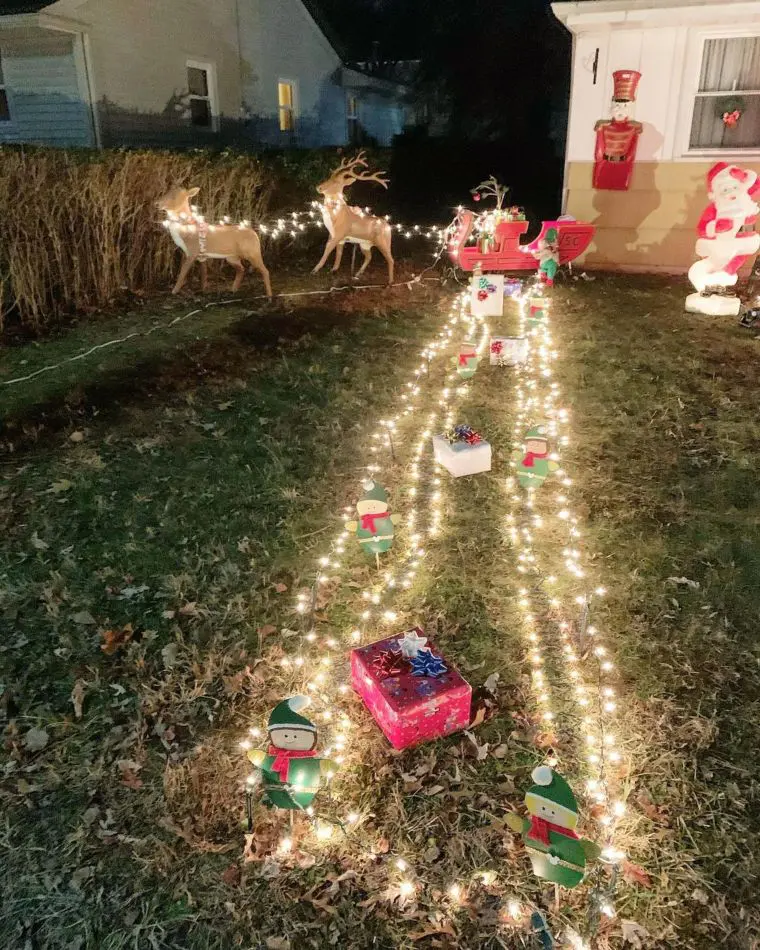 Credit: Instagram
This one is a little more whimsical, so it's great if you have kids in the house. Or maybe you just love the storybook elements of Christmas and want them in your front yard.
This adorable setup features some wooden elves, Santa's sleigh at the top of the yard, some reindeer, and a pathway of lights leading to the sleigh. Arrange the elves to look like they're loading the sleigh!
This idea is both beautiful and a little campy, so it's perfect for a family home. Get the kids to help you with setting up for some extra family fun.
17. Paint Your House in Light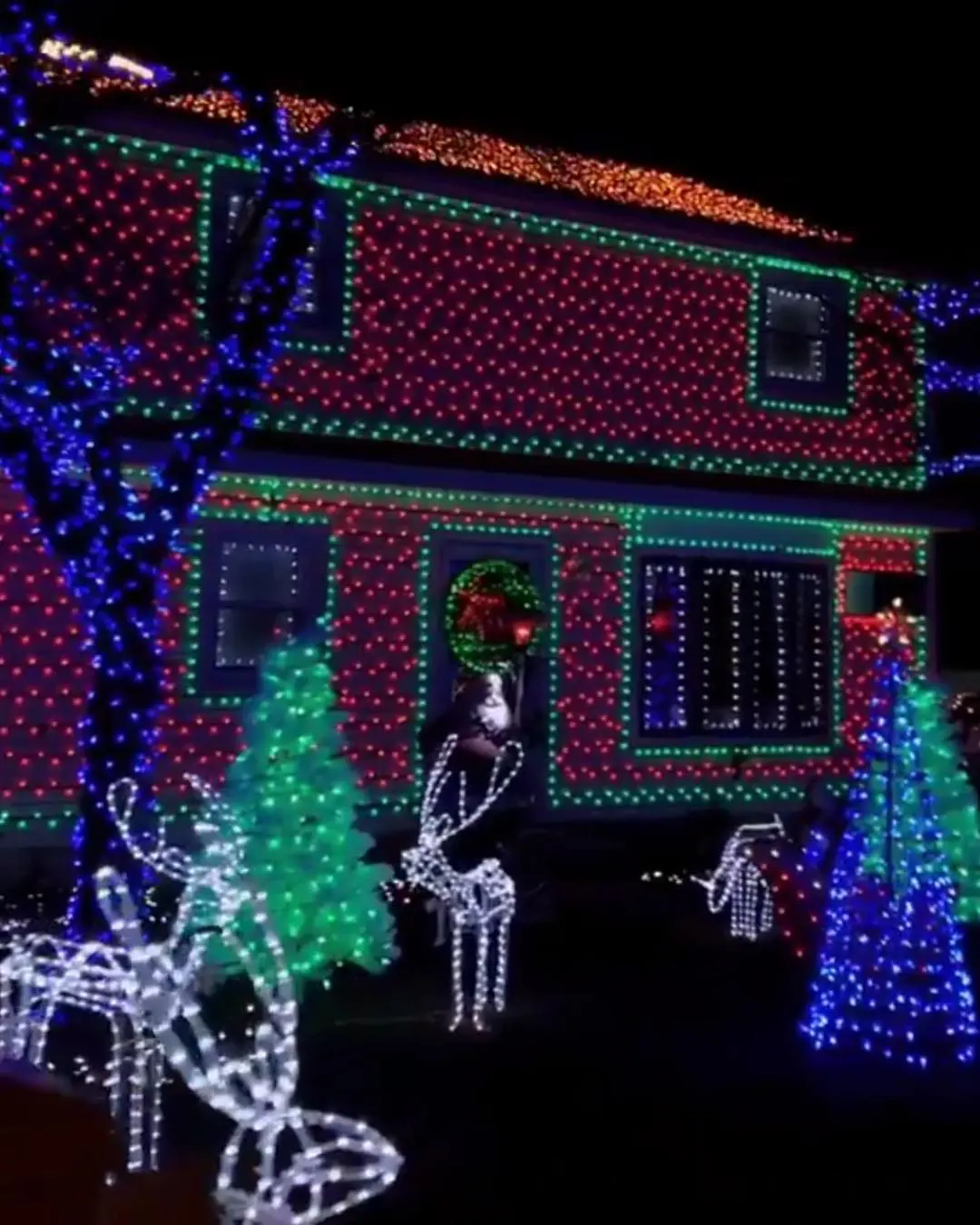 Credit: Instagram
This is a next-level hack that will require some dedication, but the result is just so beautiful! Essentially, you're treating your lights like paint and color blocking your house with them.
Grab lights in all colors and get to arranging! Cover the walls in red, rim your windows in green, and deck the roof out in white for the full Christmas makeover. These wall light clips make the job a little easier.
18. Frame Your Windows with Christmas Lights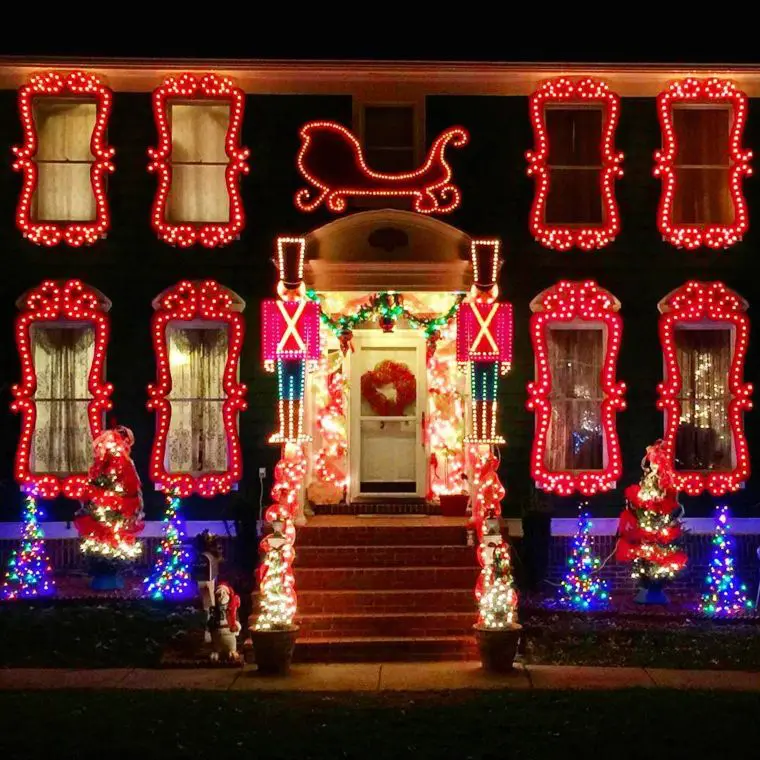 Credit: Instagram
Speaking of ways to use wall lights, this Christmas display puts mall light shows to shame! Create new and exciting frames for your windows using the power of festive light.
Pick up some malleable string lights and some wall clips, then sketch out the shape on your wall and clips the lights in place.
It's easiest to use individual strings for each window, so try measuring out how long you need the light strings to be with string before ordering them. Go colorful for maximum impact!
19. Wreath Your Home in Garlands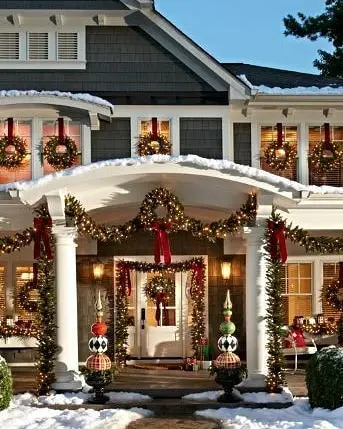 Credit: Instagram
There's almost nothing more Christmas-y than a wreath, so why not pull out all the stops? Pick up a whole bunch of Christmas wreaths and adorn each of your windows with them.
For an extra pop of interest, integrate the wreaths into some garlands you've draped along the roofline. This makes the wreaths look like they've almost grown out of your house.
20. Carve Out Your Home in Icicles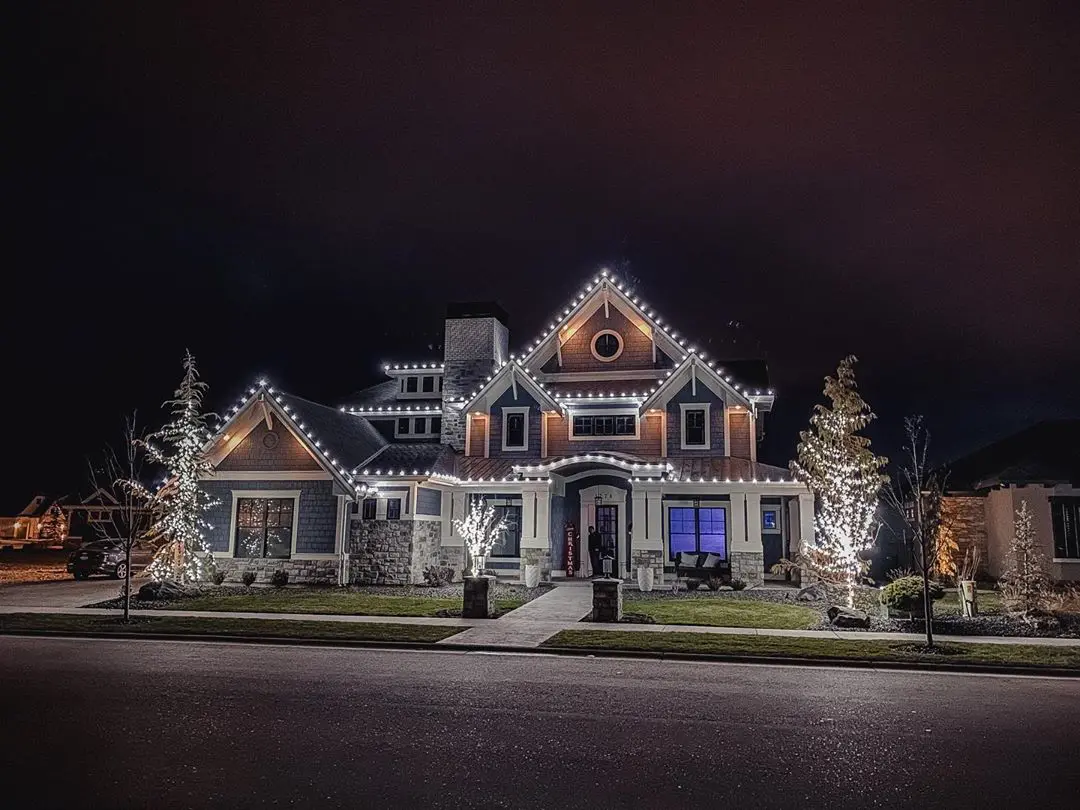 Credit: Instagram
Icicle lights like these are so cute and so pretty when they're used right! Add a touch of ice and snow to your home this Christmas by lining the rooftop in icicle lights. They're a perfect standout against the night sky.
Take this idea one step further by integrating the same color of lights into your trees. Follow the branches for a wintertime appearance. The look is clean, fresh, and minimal, but full of incredibly festive cheer.
Conclusion
Which one of these outdoor lighting ideas did you like the most? Let me know in the comment section!