Give some love to your porch this Easter. These porch decor ideas will brighten up the celebration.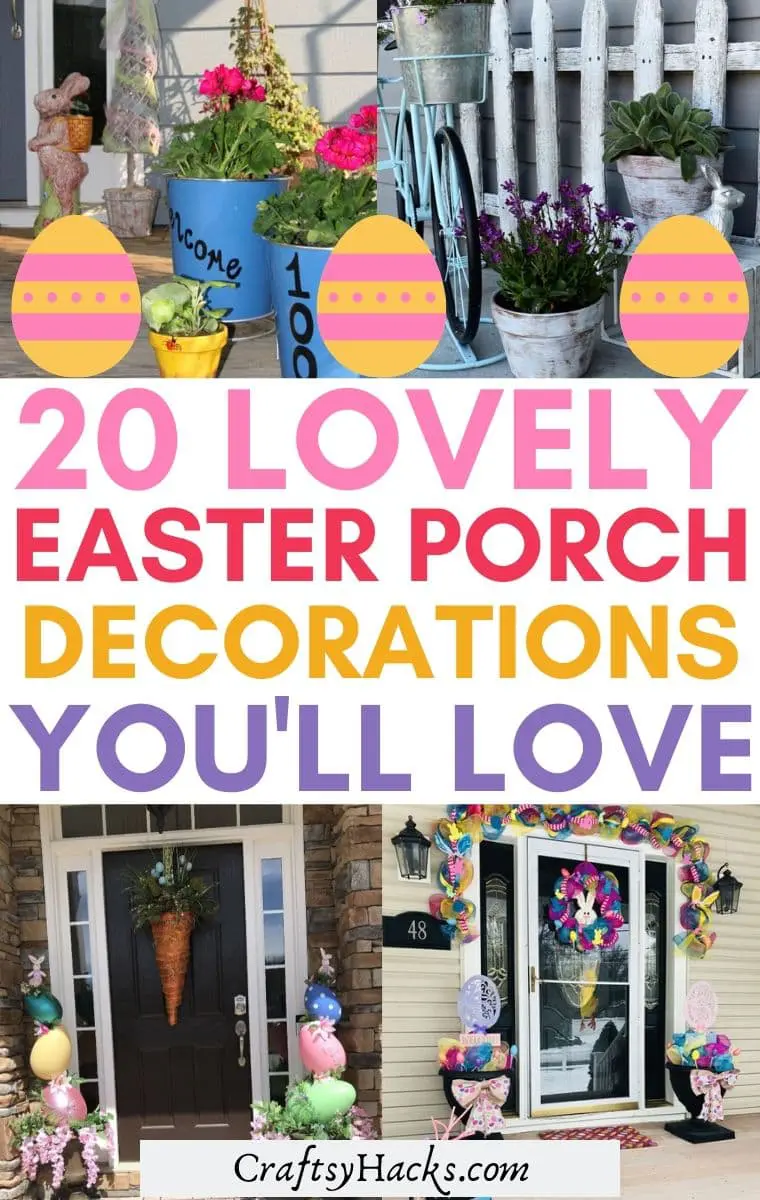 Spring is a time of renewal, and it's a great time to redecorate your porch. Welcome guests with spring colors and Easter accents this season and dust off the winter blues!
1. Yes, Eggs Do Grow on Trees!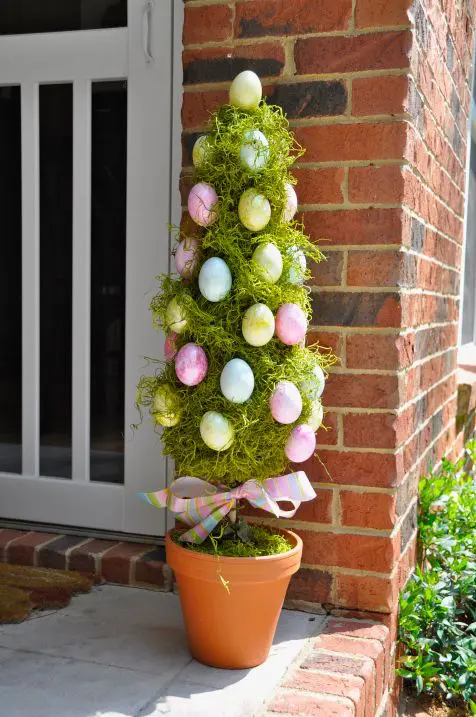 Credit: creativeleecrafted.wordpress.com
Looking for inexpensive ways to decorate for Easter? You don't need a lot of money or skills to create a super cute Easter egg tree for your front porch. This is a basic cut and glue – with the prettiest results that your guests will love.
You may have some things on hand, like an egg kit, scissors, and a hot glue gun, but you may have to buy some floral foam and a cute terra cotta pot, like this one, for the whole effect.
Once you're done, you'll be surprised how expensive this looks. In fact, decorations like this sell for lots in shabby chic boutiques, but you can make your own DIY version or much less.
2. Bunny Bush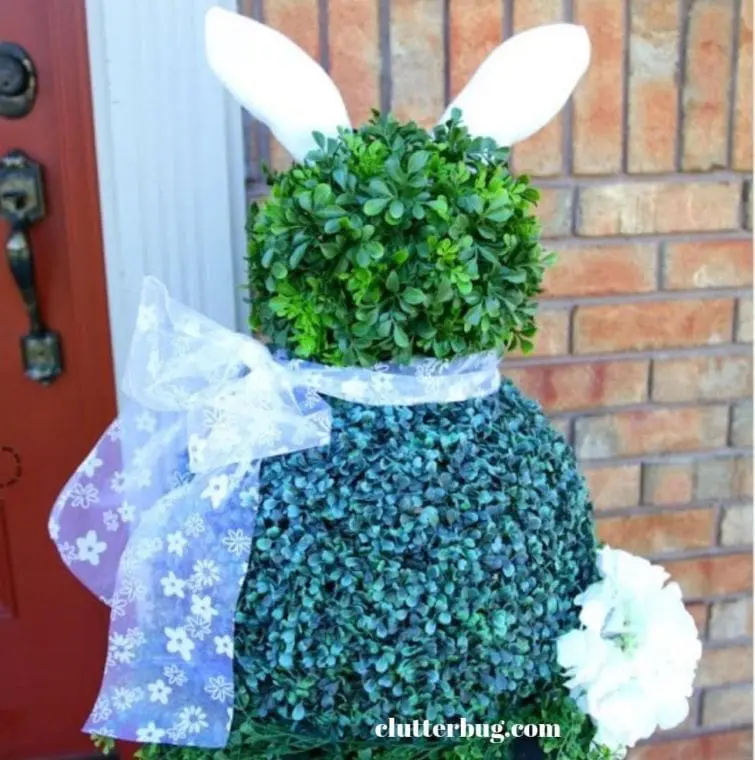 Credit: Instagram
The best part of this Easter bunny shrubbery is not only is it super cheap to make, but you can reuse it after Easter is over, giving you more bang for your buck.
You can purchase an inexpensive topiary, there are plenty of choices here, or make your own with Styrofoam, hot glue, and moss or topiary balls you can stack atop each other and use skewers or hot glue to keep them in place.
Add fabric ears, a tail, and a bow around the neck. Once Easter is over, remove the decorations and decorate the topiary for the next holiday.
3. There's No Place Like Gnome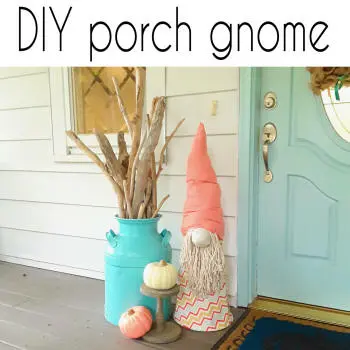 Credit: crazydiymom.com
To make a cute gnome guardian for your front door, all you need is a tomato cage, two mop heads, a toy baseball, your glue gun, and some Fiberfil.
Spring-colored fabric coordinates with the season, but you could also switch out this craft for different holidays or seasons, so your gnome always fits in with the right time of the year.
Don't overspend on this project – you can get all of these items at the dollar store.
4. Pretty Porch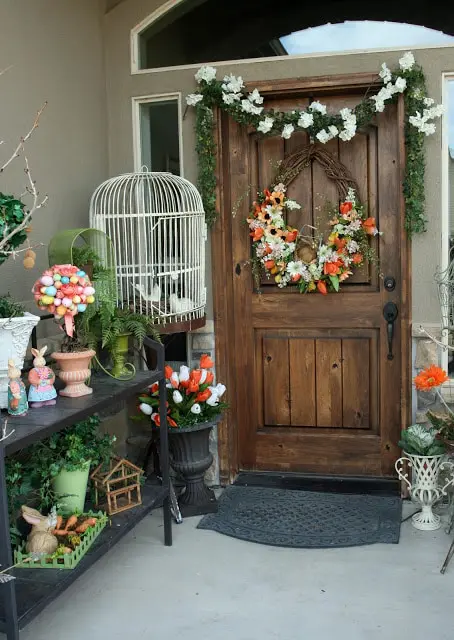 Credit: adventuresofabusybee.com
There are a few things you can do to add some seasonal touches to your porch or patio. One of the easiest is to refresh your wreath.
You can use an existing floral wreath and add in some Easter décor, such as a bunny or eggs. If you want to just stick to a spring theme, drape a floral garland around the door, like the kind you can use to decorate for weddings or outdoor parties.
Or, add a planter with tulips or a birdcage filled with flowers. Flowers instantly make you think of spring.
Check out more Easter wreath ideas here.
5. Carrot Cornucopia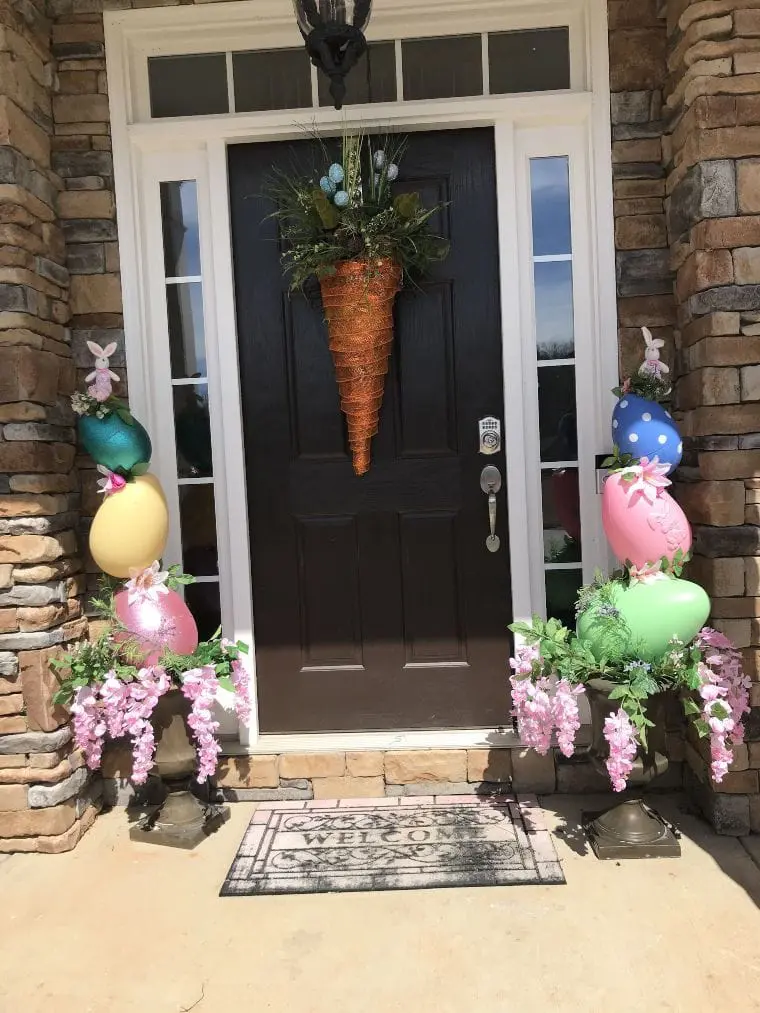 Credit: Pinterest
Do something different and skip the wreath this Easter season. Create a carrot using a thick, wired orange ribbon, like this kind, and form it into a large cone. You can make the carrot as large as you like.
Fill the cone with flowers or greenery to look like the stem of the carrot. Use a ribbon to hang it on the front door. This makes a really cute alternative to a more traditional wreath.
You could also stick plastic eggs into the greenery or add tulips. A floral wreath can be changed throughout the year to make it seasonal or make it work for different holidays simply by changing out the decorations – same with a birdcage, which has such a cute shabby chic look.
This is a great craft to make with your kids!
6. Rustic Rabbits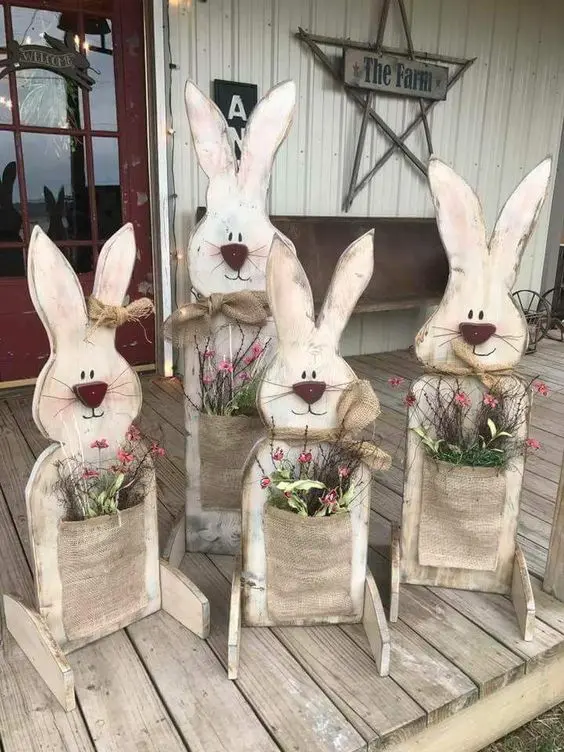 Credit: Pinterest
Avoid the same old store-bought decorations and stick with a rustic, country theme. These wooden rabbits are adorable and definitely have their own unique look.
You can group several together in your entry or on your front porch, and they would look even more seasonal with some brightly-colored artificial tulips in the pocket.
The burlap bow on the bunny's ears and around the neck adds a charming touch, and you could change out the ribbons depending on what you like or do different colors for each rabbit if you're making these by hand.
Here is all the burlap you'll need.
7. Colorful and Creative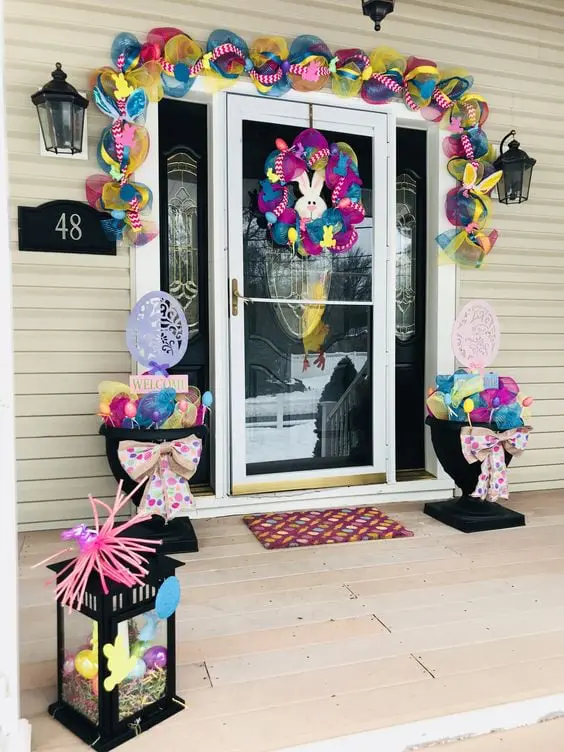 Credit: castlerandom.com
Using a cohesive theme can make your porch look pulled together. In this idea, the mesh carries over from the door garland to the wreath to the decorations sitting on the porch itself.
Bright colors combined with a patterned ribbon that uses the same colors make for a decoration that truly stands out, and the planters by the door use the same theme.
This kind of decoration can allow you to get as creative as you desire, adding different elements of Easter such as rabbits, eggs, Easter baskets, and rabbit ears if you're ready to go all the way with your decorations and you aren't feeling shy!
8. Restoration Rabbit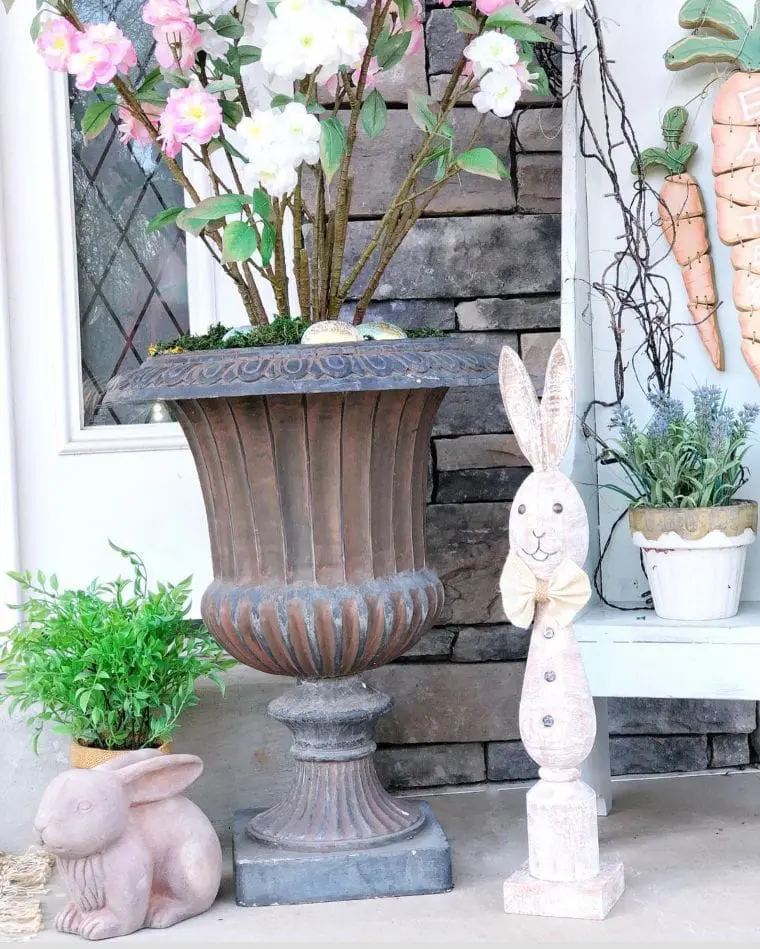 Credit: Instagram
Talk about getting creative! This rabbit is a great way to reuse and recycle old pieces of furniture you may have laying around.
This rabbit is actually a repurposed dresser or desk leg. Paint it, add embellishments, and you have a really cute shabby decoration that blends in perfectly with a farmhouse, country-style porch theme.
Dress it up with some ribbon or burlap, like this, around the bunny's neck, and paint a cute facial expression. If you have multiple legs you can use, these would look great in a group, too.
9. Subtle Sophistication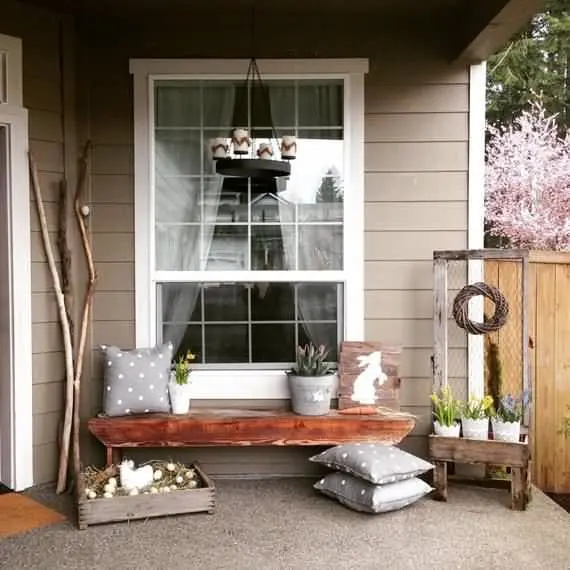 Credit: 4urbreak.com
If you're not feeling up to all the bright colors, sometimes less is more with spring porch décor. Add small touches of Easter on your porch, such as a wooden crate with artificial eggs inside hay.
Or, a few pots of tulips adds an element of spring without going overboard.
Try for decorative toss pillows on a wooden bench or select a couple of wooden rabbits to add next to your planters for a natural display that's welcoming and not too bright.
Here are some wooden rabbits to choose from.
10. Grassy Garland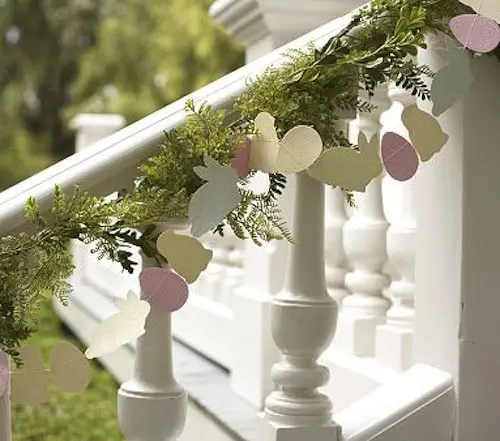 Credit: projectnursery.com
Garlands are such a great way to accent the railing on your patio. Look closer – this garland is actually cute cut-outs of Easter eggs and rabbits!
Combined with greenery, this makes a super stylish statement with pastel colors that don't take away from your existing decorations but doesn't overwhelm your patio, either.
You can make or buy your own garland or get one here, and add whatever you like to it, whether it's some tulips, small eggs, or even a flower garland instead of a plain one.
11. Cute Centerpiece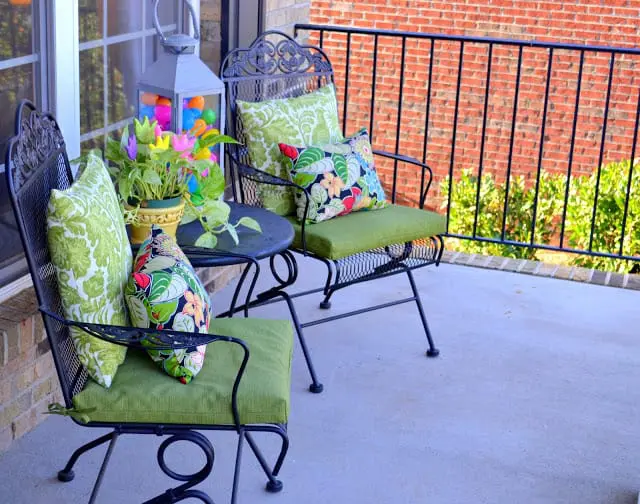 Credit: worthingcourtblog.com
Your table and chairs are missing something this spring – a cute centerpiece. This is not only really easy, but it's absolutely adorable and looks like something you purchased in a funky boutique.
It's an empty glass lantern filled with plastic Easter eggs, like the ones you can buy here for super cheap and use for multiple crafts (as well as Easter day!).
You can do colored ones or go elegant with gold or silver eggs, the sky is the limit. This is a neat way to use an empty lantern, especially if you don't actually use it as a light source, and it really draws the eye directly to the table.
Add matching toss pillows to your chairs to pull the look together and create a cozy spot for sitting.
12. Pitcher of Posies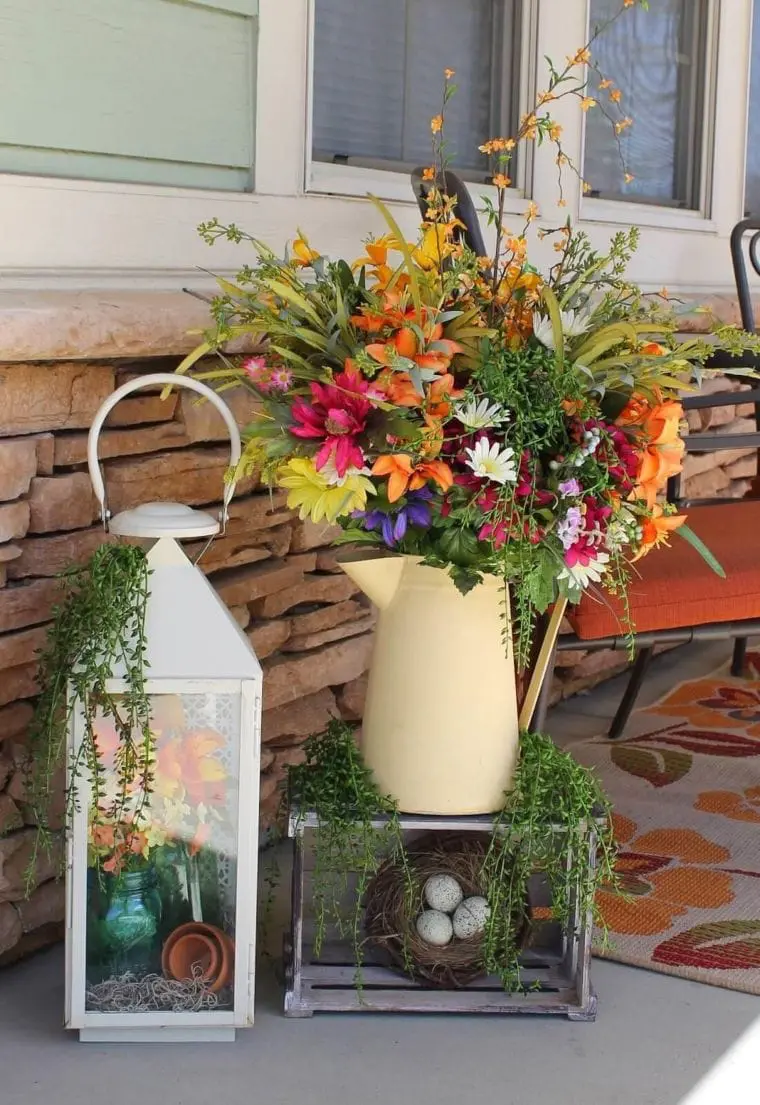 Credit: decoratorist.com
Got an empty watering can hanging around? Celebrate the season in which everything blooms by adding bunches of fresh flowers to a vintage metal watering can.
The overall effect is retro chic. Combine lots of different types of colors of flowers and types so it looks like its overflowing with wildflowers, giving it a rainbow look that makes the can appear as if it's bursting with blooms.
You could also group together cans of different colors or sizes to create a larger display.
13. Bunnies and Blooms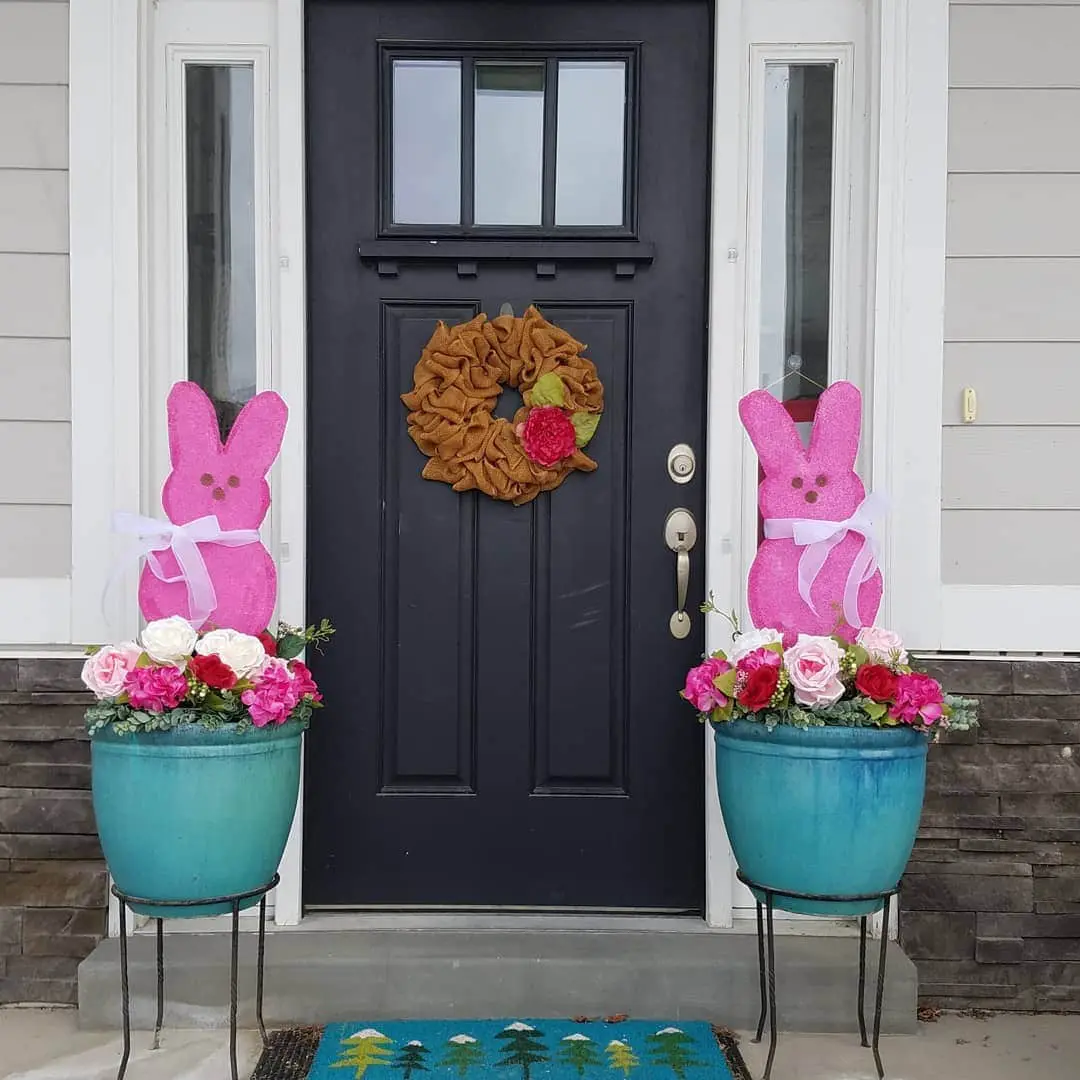 Credit: Instagram
You know those marshmallow-flavored Easter candies called Peeps? Make your own giant version to guard your porch!
These oversized versions of the popular candy are simply adorable. You can make or buy these and add them to big flowerpots full of matching flowers for a seriously cute display that will make guests smile.
Dress up the display by adding ribbons around the rabbit's necks, matching the pots to the rabbits, or filling the pots with eggs or stems with small eggs on them for added Easter flair.
14. Chicken Coop Clutter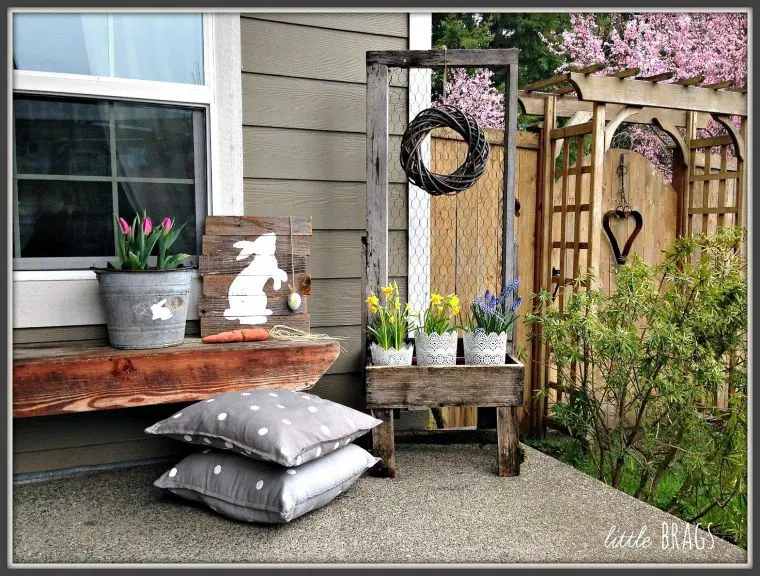 Credit: decoratorist.com
Create organized clutter on your porch and bring echoes of the country to your front door. A chicken coop or chicken coop door makes a great place to hang a spring wreath.
Surround the chicken coop or door with a rustic bench you can sit planters on filled with spring flowers, such as tulips.
Incorporate shabby wooden rabbits and colorful toss pillows for an overall sophisticated, funky, junky effect that makes you want to sit down and get comfortable!
15. An Eggstraordinary Wreath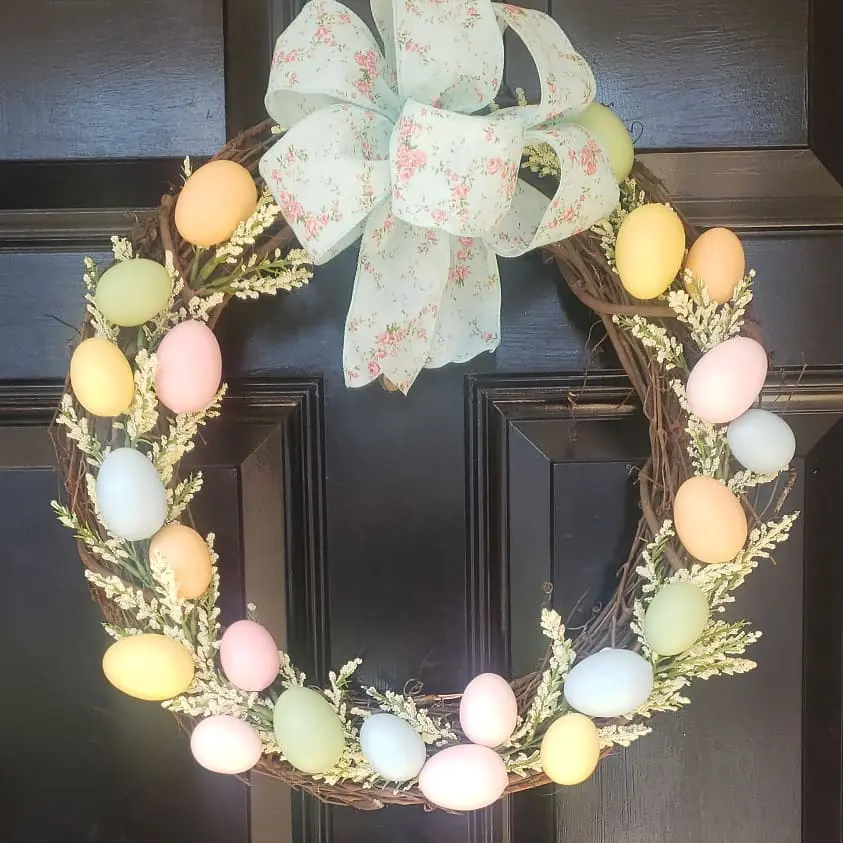 Credit: Instagram
Add pastel-colored artificial Easter eggs to a simple wreath for a chic door decoration that's more elegant than overbearing. Pastel colors look more understated than brights.
Tie a large bow made of floral-printed wide ribbon at the top, and you have a simple but effective spring door decoration that's affordable, cute, and not tacky.
A wooden rabbit may look pretty cute on the bottom, though!
16. Flower Power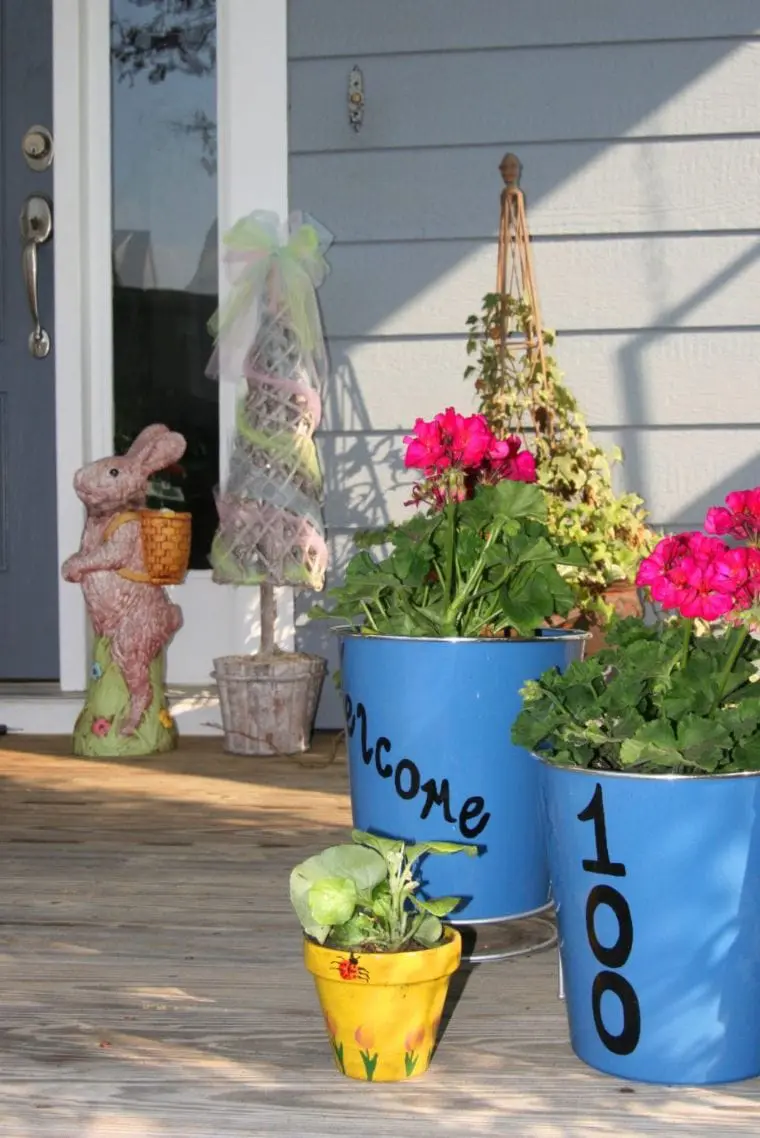 Credit: myamazingthings.com
Big metal cans make for vintage-looking planters you can paint in bright spring colors. Or, you can add hand-painted decorations to the planters, such as eggs or flowers.
Combine large and small planters in a group and paint them different colors. Make a cohesive display by adding a rabbit statue that has complementary colors in it.
You don't need to go overboard with a lot of different items, if you use a few the right way, they can look great and provide the pop your patio needs!
17. Cozy Cottage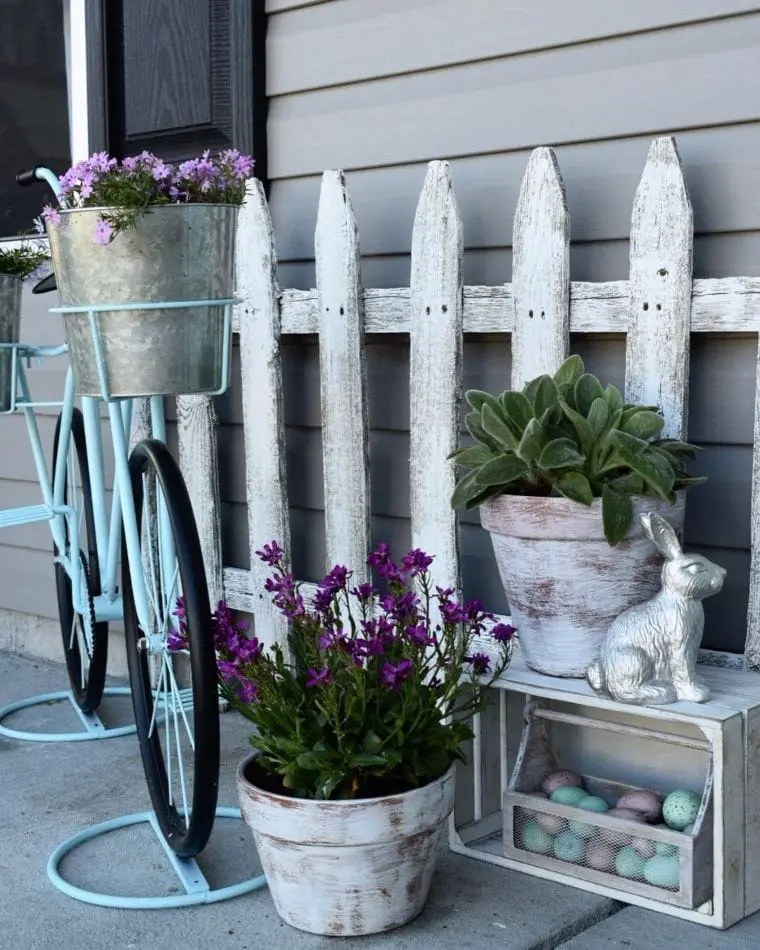 Credit: Instagram
Give the feel of a cute cottage right on your front porch. Lean a portion of a white picket fence that's slightly distressed up against your home.
Park a colorful vintage bicycle next to it, and load the basket up with a flowerpot. Put matching flowerpots around the bicycle.
This is an absolutely adorable display, and it only takes a few items you probably have hanging around your house or garage.
You can also add a wooden crate to the display or a set like these and set a basket of Easter eggs or bunny decorations on it to give it a bit more of a holiday accent.
18. Board Bunny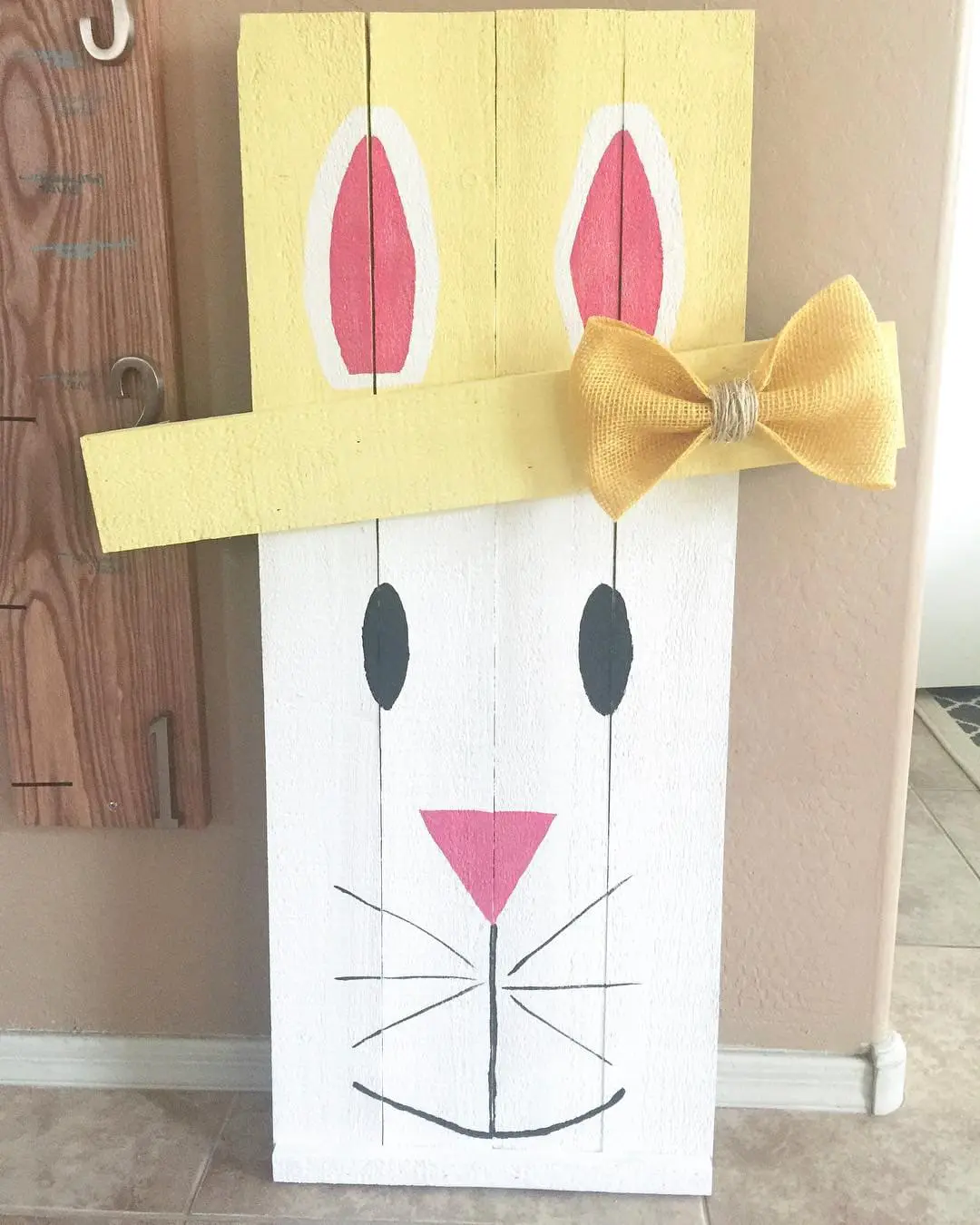 Credit: Instagram
You may never look at four boards the same again. This precious bunny is simply a few boards nailed together and painted.
This shabby decoration looks great on your patio ready to welcome guests. You can get as creative with the bunny as you desire.
Paint the rabbit in springtime colors or colors that match your existing patio décor. You can also add ribbons, burlap, bows, or flowers to the decoration.
Or, make two – a girl and a boy bunny!
19. Pink Pops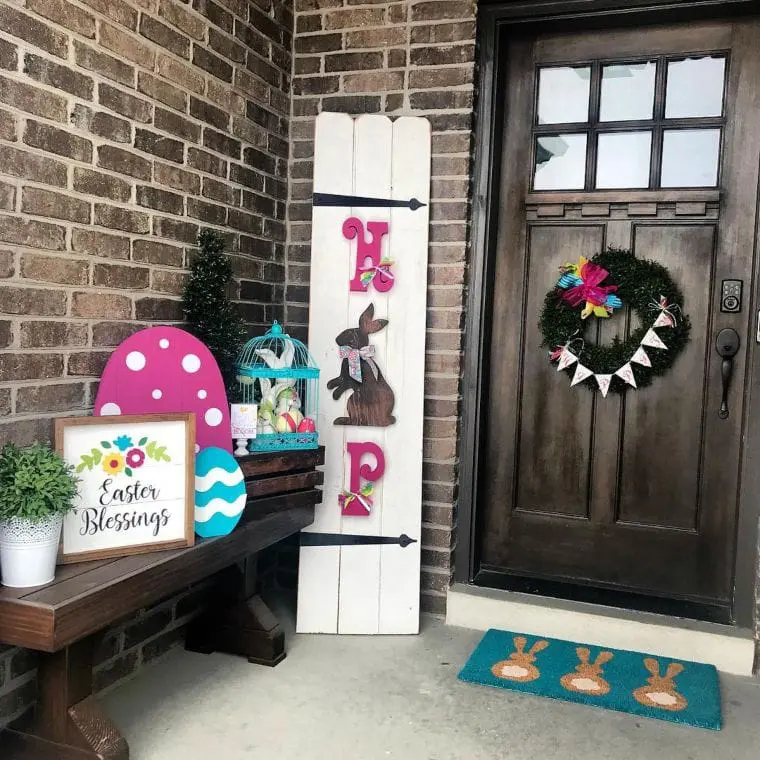 Credit: Instagram
Strategically placed color always works. Use your outside bench as a ledge for a planter and some brightly colored wooden decorations or signs (or both) and use one color more than the others (pink, in this instance).
Stand up a large board decoration painted with a rabbit, your family name, house number, or whatever you like, using a bright spring color, the same as the decorations on your bench.
Add a wreath to your door and take one color that's in both of those decorations. Then, use it as an accent color in your wreath. This creates a pulled-together look that's bright and chic.
20. A Farm Fresh Dozen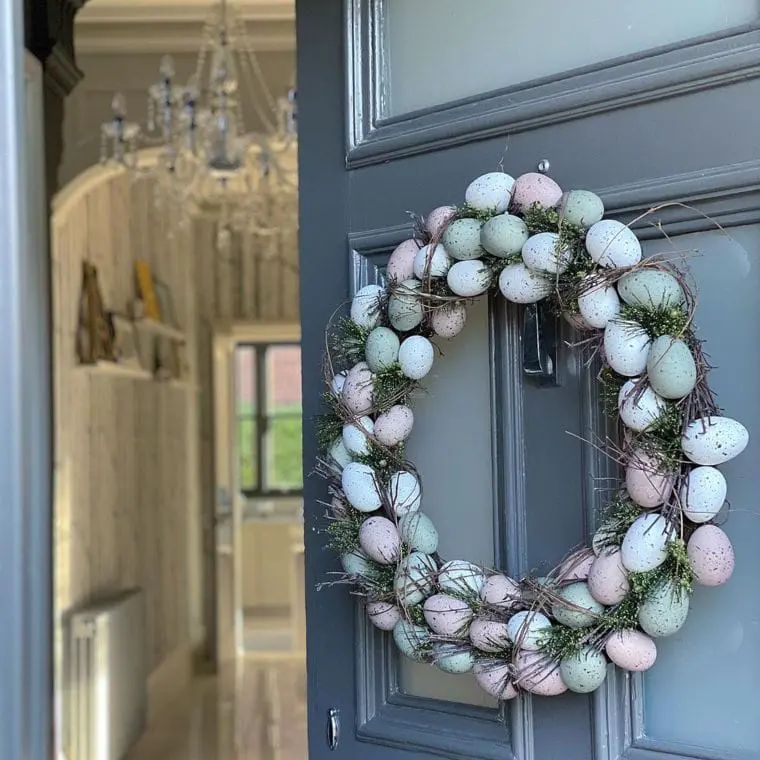 Credit: Instagram
Make eggs the centerpiece of your wreath and the greenery in the background. This wreath uses speckled eggs that are a bit lighter in color than traditional Easter wreaths, giving them that rustic appeal that looks so chic.
There aren't any extra embellishments here – just the eggs, and they're covering up most of the greenery, but you still know it's there.
It's a lovely and understated decoration that celebrates spring without going overboard.
Conclusion
Are you going to try any of these Easter porch décor ideas? Let me know in the comment section!