Get inspiration to decorate Easter eggs. 25 ideas just for you!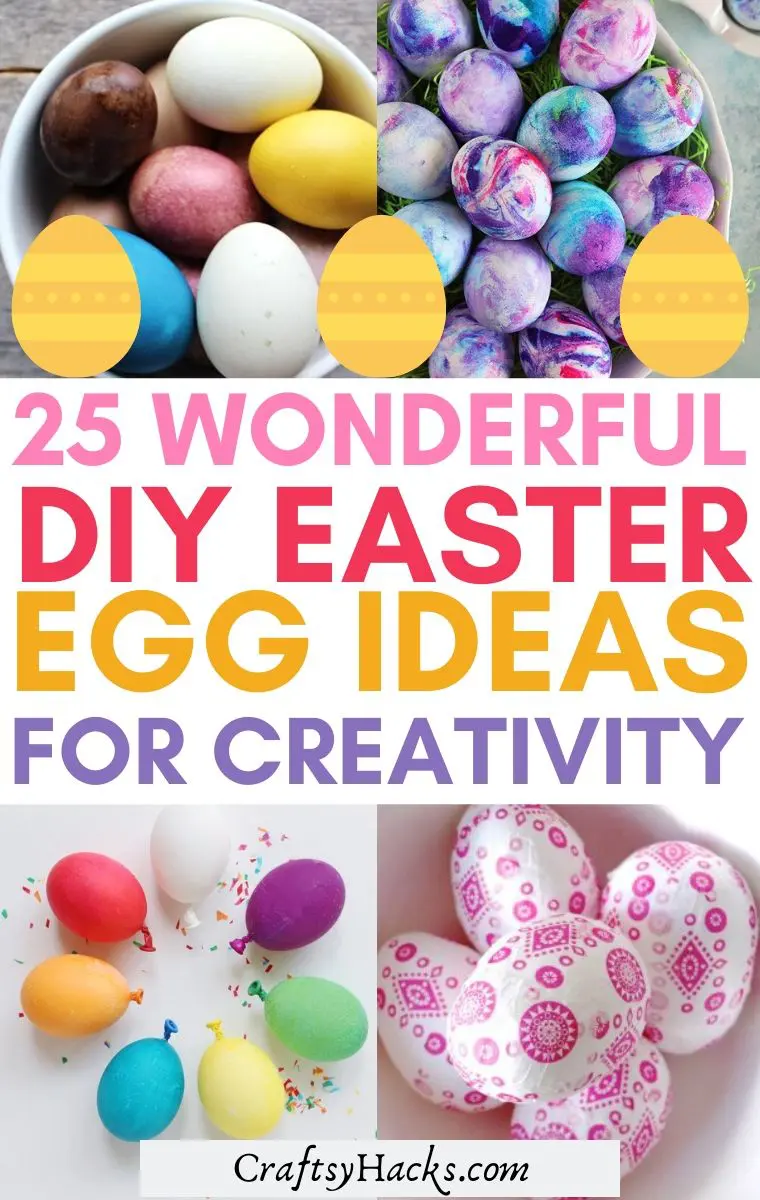 Easter is coming up and with it the need to try something new when it comes to Easter egg decorations. Instead of dying the eggs in plain colors or resorting to the fastest solution possible, why not switch it up and try a more unique approach?
If you're up for it, here are some fun ideas to try out this Easter.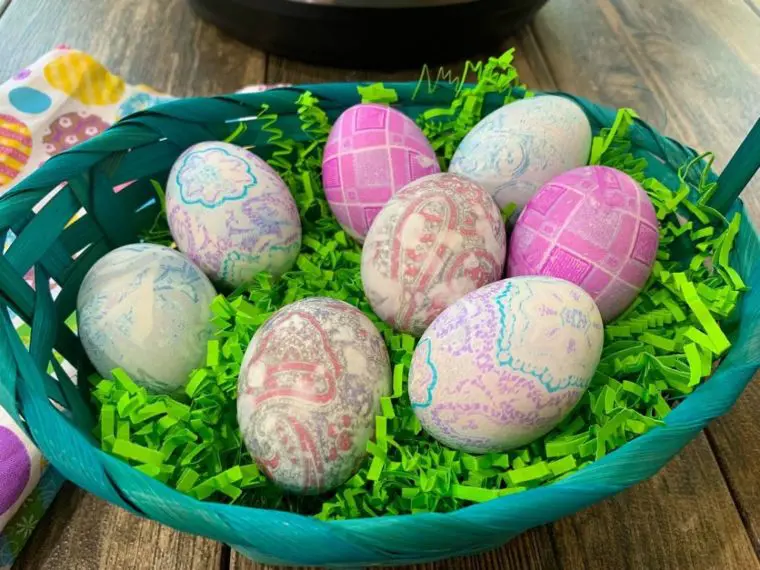 Credit: thisolemom.com
Do you have some old silky ties lying around your house? If yes, then this is the perfect DIY for you. In case you don't have any, finding some on Amazon like these is a piece of cake.
Once you get your ties, cut them up into smaller pieces. Wrap each egg with a tie of your choice and secure it with a rubber band.
After that, wrap the eggs once more, but this time into pieces of fabric from a plain white t-shirt which you'd secure as well. Finally, put some water into a pan, preferably an instant pot, and add the eggs. Add some vinegar and cook for 5 minutes.
Once it's done, let the Easter eggs cool first then remove the fabrics. What you'll end up with are beautiful and colorful Easter eggs.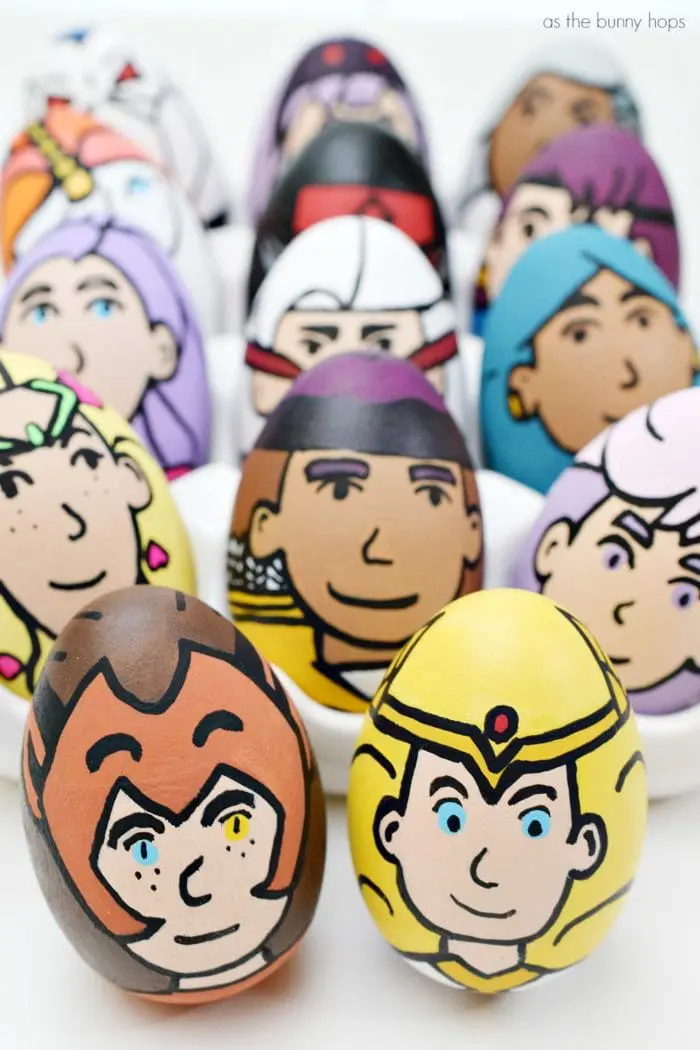 Credit: asthebunnyhops.com
This project requires wooden eggs, some quality acrylic paint, which you can find here and creativity.
Start by outlining the characters on the eggs. Follow up by painting the eggs and sketching the drawings with a black pen.
No need to worry about painting outside the lines. Those mistakes can be fixed and will only add more character to the Easter eggs.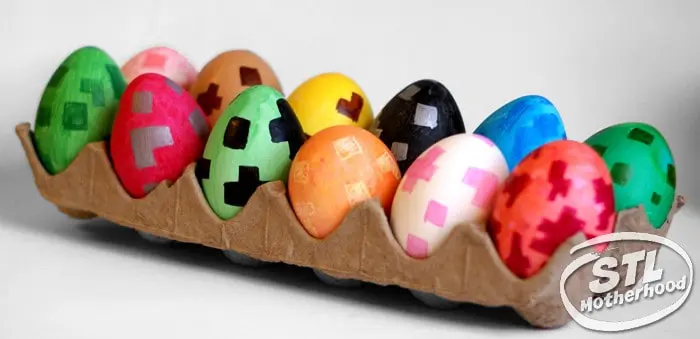 Credit: stlmotherhood.com
If you have children, they will love this idea.
You can choose either real or plastic eggs for this DIY. Decorate with sharpies, dye, pen–whatever comes to mind, and you find the easiest to use.
My suggestion is first to paint the whole egg one color then add the pattern of your choice, in a tone of your choice.
The eggs will turn out colorful, and your kids will love them!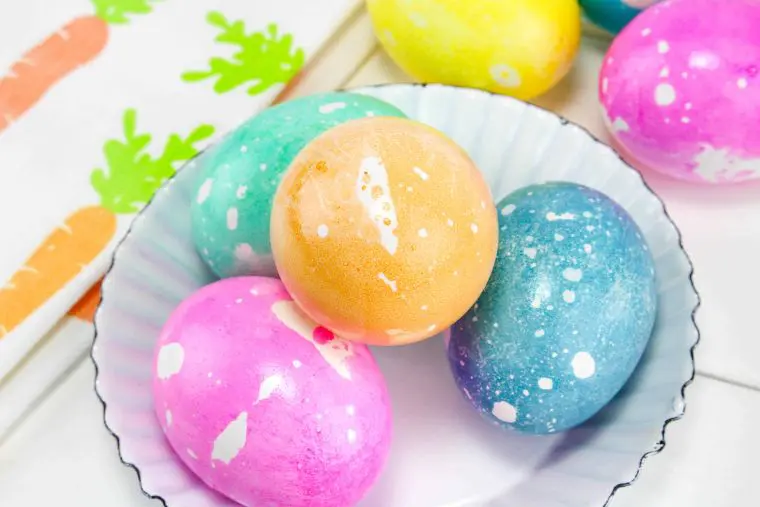 Credit: happiestcamper.com
If you love eating your Easter eggs, this might be the best solution for decorating them.
What you'll need is water, oil (vegetable, olive, canola..) and food coloring like this here.
Firstly, take a bowl for each color. You don't need big ones, just enough for the egg to fit in.
Secondly, pour water, oil, and a few drops of color into the bowl and place your egg in it. Let sit for 10 minutes, then turn the egg around and repeat the process until it's all dyed.
Lastly, take the egg out on the parchment of paper or a rack to dry out. Wipe out the excess oil, and you got your oil-based Easter eggs.
What's great about this are all the natural ingredients that don't affect the egg, meaning it can be eaten afterward.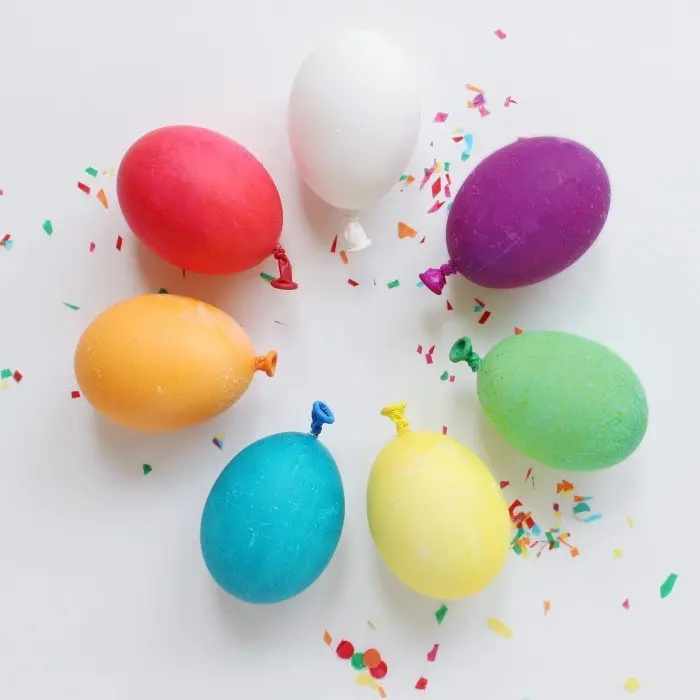 Credit: ajoyfulriot.com
Create joyful Easter egg decorations by transforming your eggs into balloons.
Find colorful balloons like these ones here and use their tops for this DIY. What you'll do is dye the eggs into matching colors then glue the balloon tops on the tip of the eggs.
You will end up with balloon look-alikes which would be fun to use during the Easter egg hunt.
Check out more DIY Easter decorations here.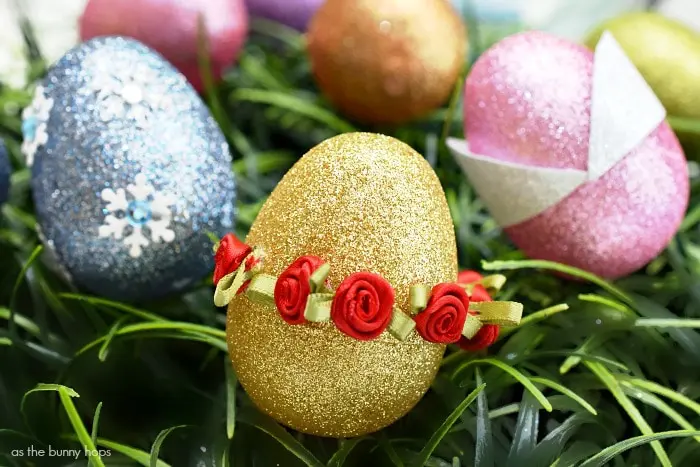 Credit: asthebunnyhops.com
Do you like glitter? And you like Disney? Say no more. This DIY is the one for you.
Yes, this might take some time to do, but what you end up with will be worth it. Choose one or all Disney princesses as an inspiration and start decorating.
You will need glitter, craft items, and make sure to find an excellent glue gun like this one here. For instance, if you wanted to have an Elsa-inspired egg, you would dip the egg into blue glitter. Then, glue some snowflakes around it, and you get your Elsa egg.
It's shiny, and your kids will love them.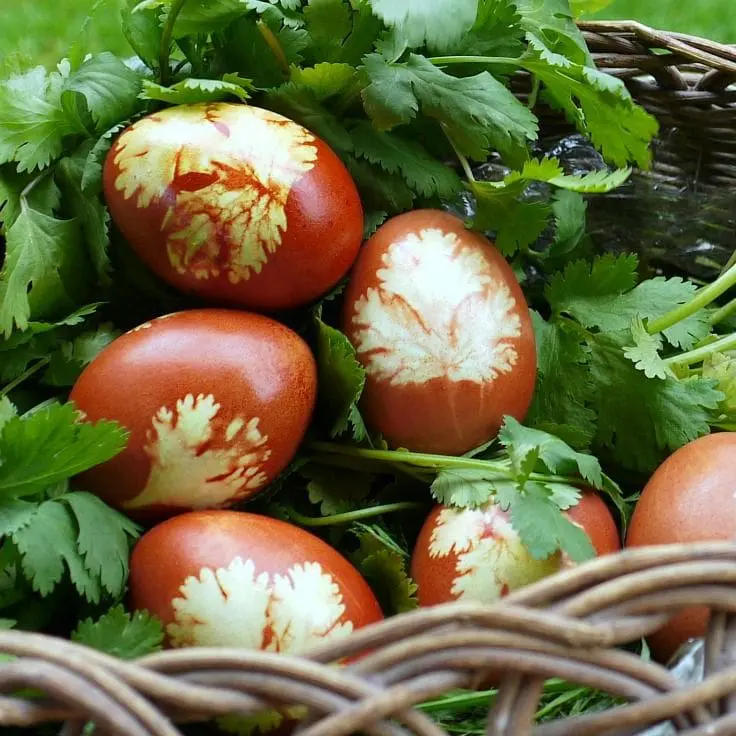 Credit: thegoodheartedwoman.com
Tradition is respected in all countries in the world. Armenia, Serbia, Greece, Russia and some others as well, have a great tradition of naturally dying their Easter eggs.
Besides being healthy, these eggs have a unique look not seen so often.
What you'll need is to gather onion skin, which you will boil for 15-20 minutes or until it releases the color. Find parsley leaves or any other plant with interestingly-shaped leaves. Stick them on the eggs then wrap in cut-outs of nylon.
Secure with a rubber band and drop in the onion water. Boil until done, making sure the eggs are fully covered, so they absorb the color.
In the end, remove the nylon and parsley leaves. For a little finesse, rub some oil on them to give them a shine and voila!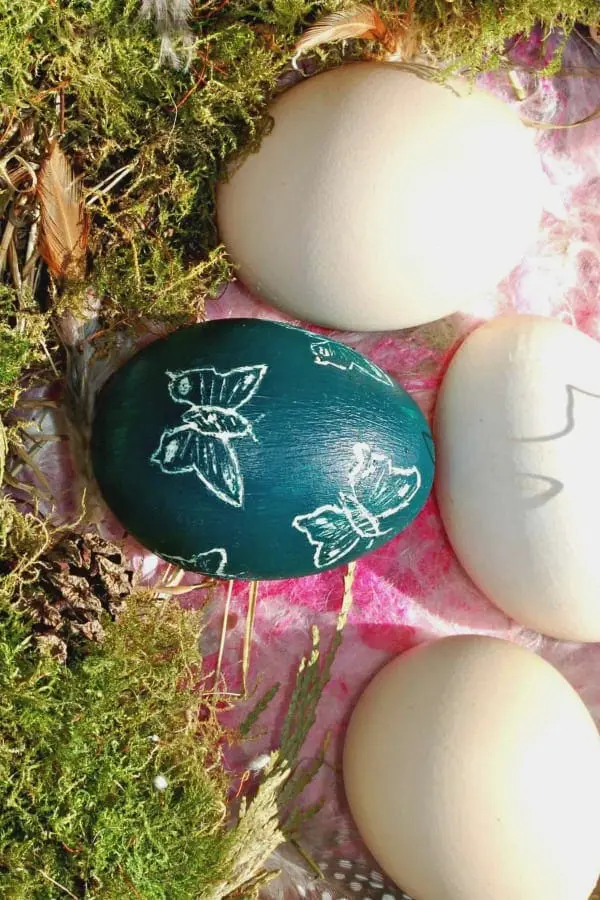 Credit: craftinvaders.co.uk
You might be wondering what is sgraffito? Well, it's a technique in which layers of paint are scratched off to reveal images that are in another color.
Paint your eggs in whatever color you want. Once it all dries, start scratching the patterns you like, such as flowers, butterflies, hearts, etc.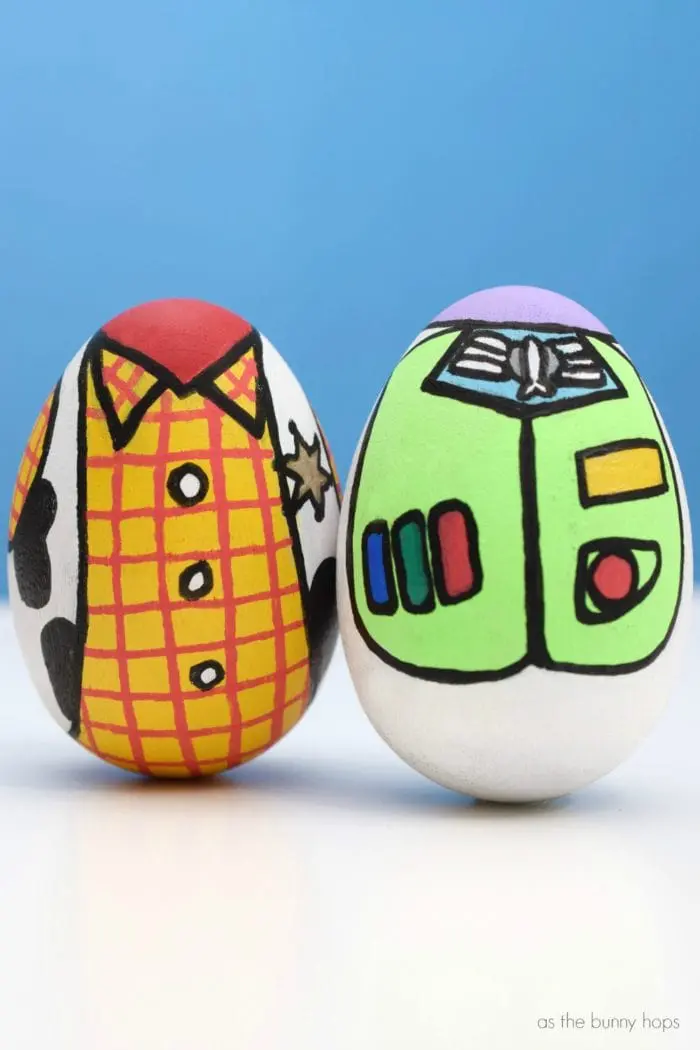 Credit: asthebunnyhops.com
Another fun theme for the kids–Toy Story.
Choose your favorite characters and start painting. Sketch first then paint with acrylic paint.
Use a black pen to outline everything. Do not worry about messing it up, and you can fix it during sketching or painting. And even if you made a mistake with the black pen, it's not that scary. It will add a fun twist to your egg.
Get some fine tip black pens right here.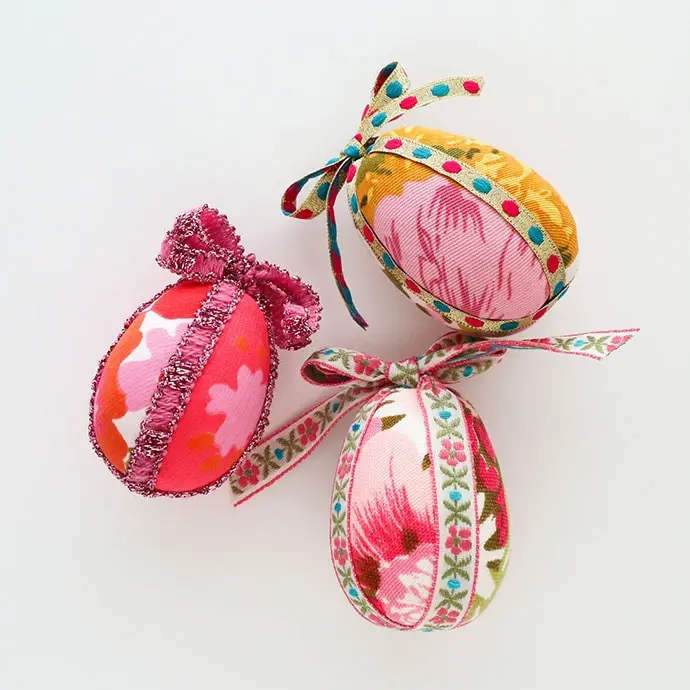 Credit: mypoppet.com.au
Got some old clothes lying around? Make the most of it by using the scraps for Easter egg decorations.
Cut out small pieces that you can wrap and glue on the egg. You can use whatever pattern you like, add bows like these or buttons.
It will be a great centerpiece and a conversation starter. These are perfect to add to your Easter baskets.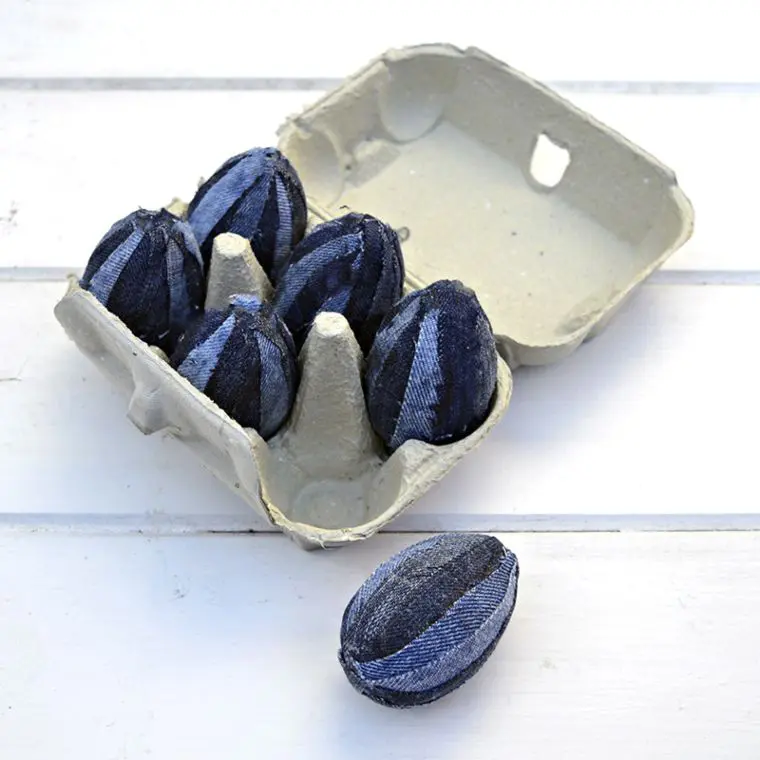 Credit: pillarboxblue.com
Speaking of old clothes, you can do the same with jeans. Plus, they will look cool.
Glue on scraps of denim on the eggs, and that's it. If you blow out the eggs, you can reuse them next year.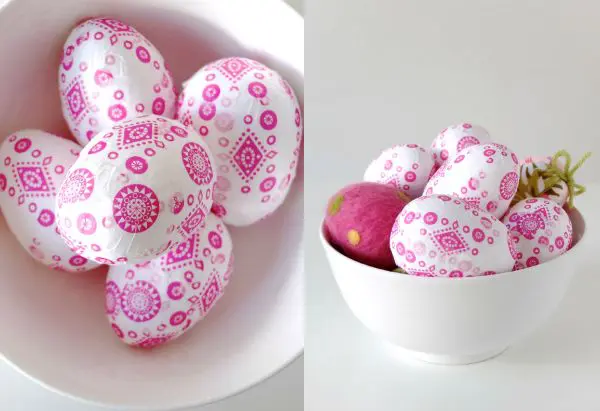 Credit: mypoppet.com.au
Get crafty with a little bit of decoupage. It's a technique of decorating things by gluing paper onto objects. You can add other decorative elements to it if you like.
For this technique, you can get wooden, plastic, or styrofoam eggs like these.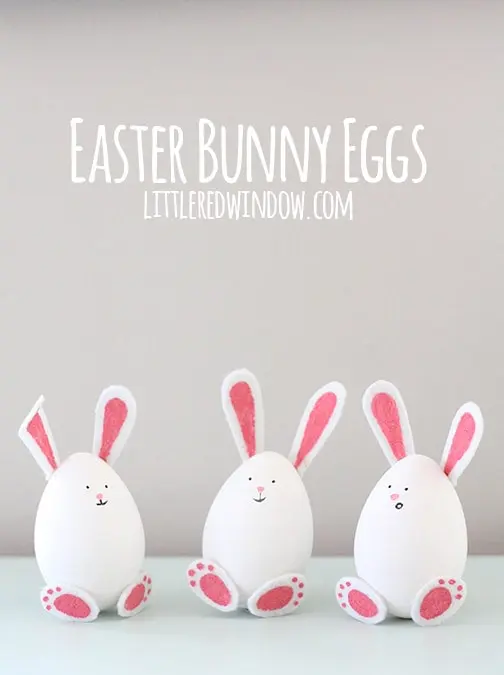 Credit: littleredwindow.com
Since it's Easter, it's only normal to have bunny toys, chocolate bunnies–really, anything bunny-shaped around the house.
So, why not turn your Easter eggs into bunny eggs?
You will need some fabric for the ears and feet, a bit of paint, and cute little pom poms for the tail. Get colorful pom poms here.
Also, feel free to incorporate these into your DIY Easter wreaths.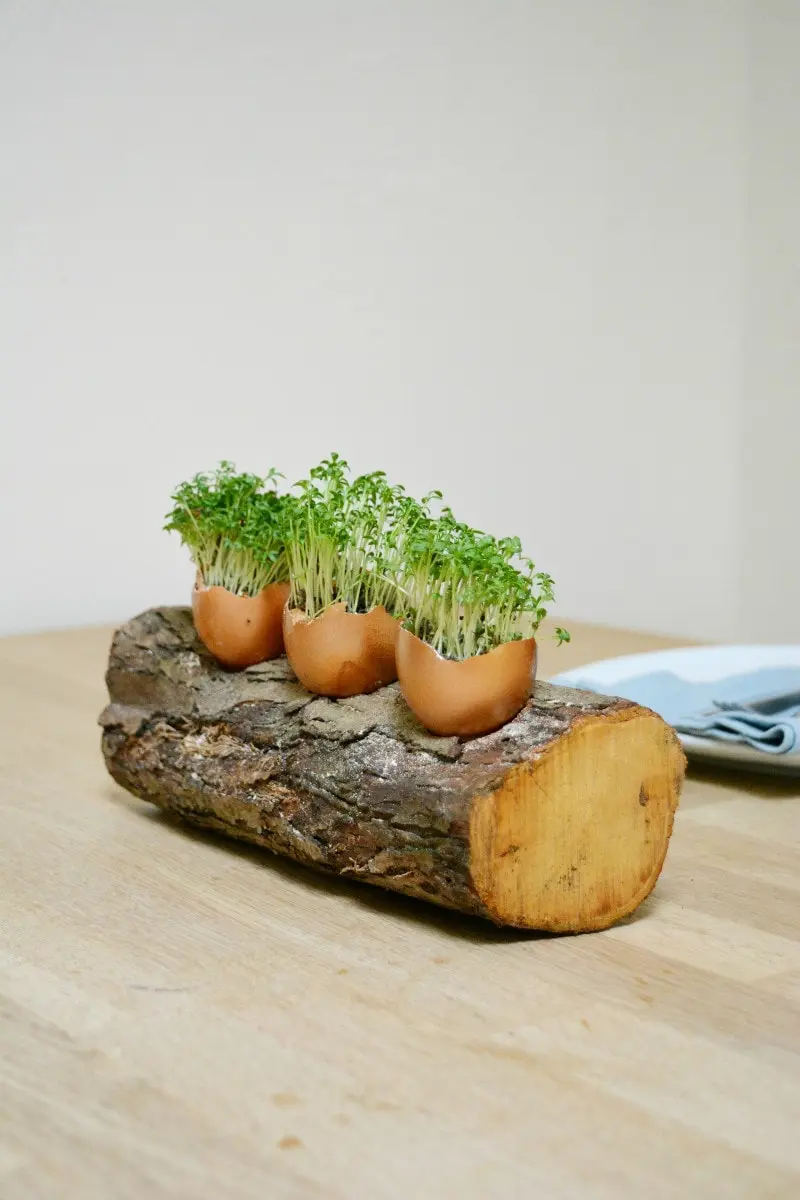 Credit: vickymyerscreations.co.uk
Create a useful centerpiece from leftover eggshells.
What you'll need is a base like a piece of wood. Drill holes in it where the eggshells will fit.
Then fill the shells with soil and seeds, or get small plants that are already grown and put them in the soil.
What's amazing about this DIY is that you can use either flowers or spices. Either way, they will grow and look beautiful on the table.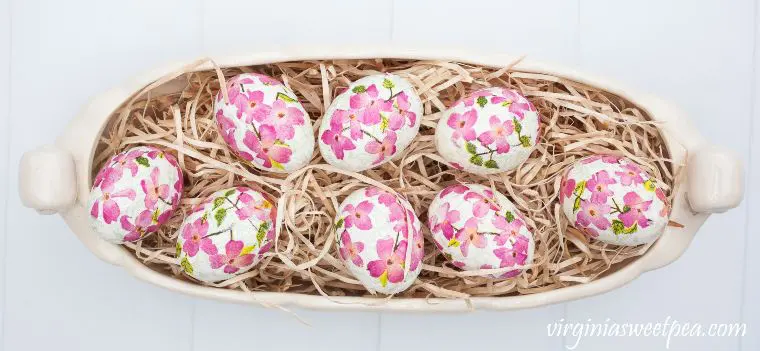 Credit: virginiasweetpea.com
Easter is a joyous holiday happening right when the flowers are blooming.
If you like flowers but just don't have a green thumb, you can still create a garden in your home by having floral Easter eggs.
Find some paper with a floral design like this and start crafting.
Credit: thesuburbansoapbox.com
This DIY is the sweetest on this list. You will need just a few ingredients and 20 minutes or so.
Buy a whipped topping, add some drops of food coloring and soak the hard-boiled eggs in it. A good tool for this technique is a muffin tin like this one, which will keep the eggs in place but also has enough depth to soak the eggs fully.
When done, just remove the excess whipped topping.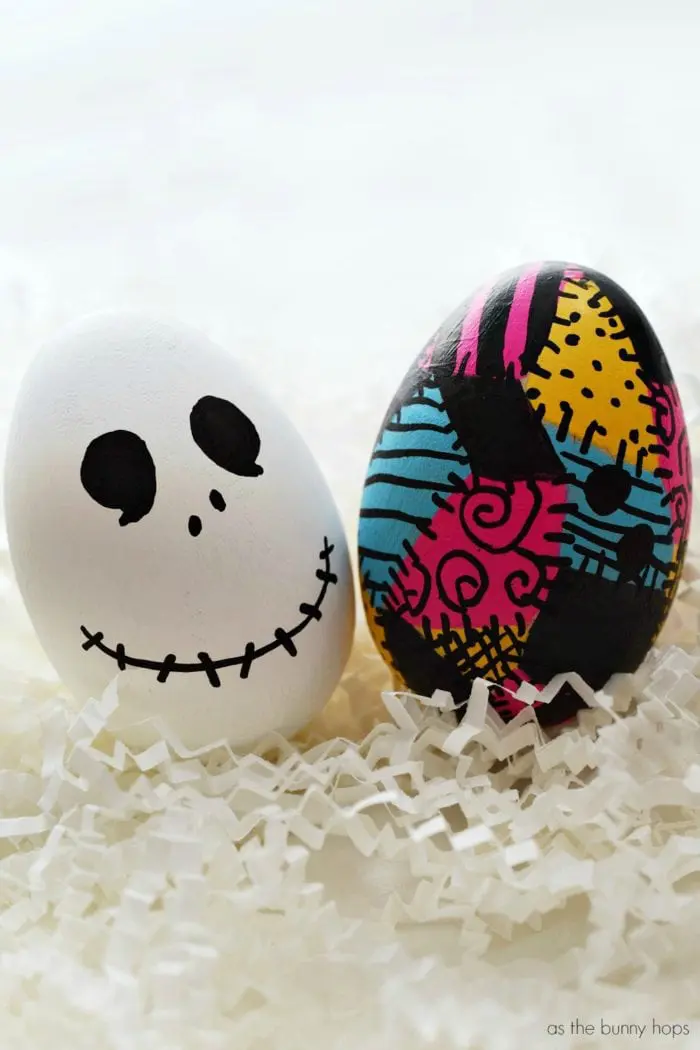 Credit: asthebunnyhops.com
If Easter is not your favorite holiday, but you still want to participate in decorating, you can incorporate another holiday into your designs.
For example, try a Halloween theme like the movie The Nightmare Before Christmas.
Pick a character and start drawing. Simple paint, wooden eggs, and a fine tip pen will do the trick here.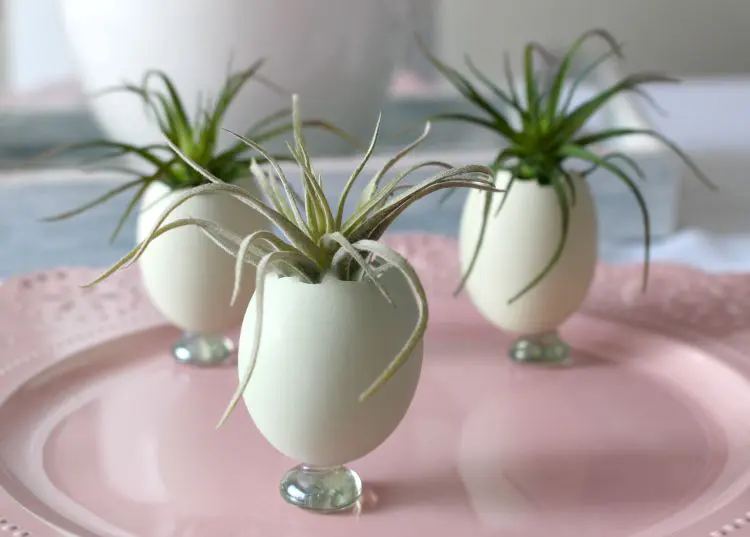 Credit: ourcraftymom.com
One more eggshell planter idea. This time, you don't need soil or seeds.
Using an air plant will do just fine, plus it's a much cleaner and easier version than to actually plant something.
You can get small air plants like these here or visit your local floral shop.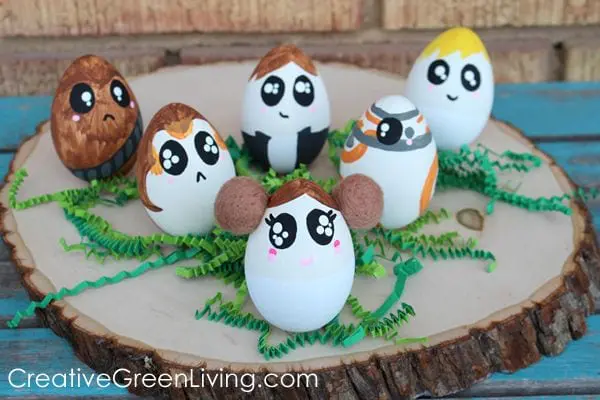 Credit: creativegreenliving.com
If you have a favorite movie, why not include it in your Easter egg decorations?
Choose Star Wars since everyone likes those movies, plus you have a big enough portfolio from which to pick your characters from.
Princess Lea and Chewbacca are always a good choice!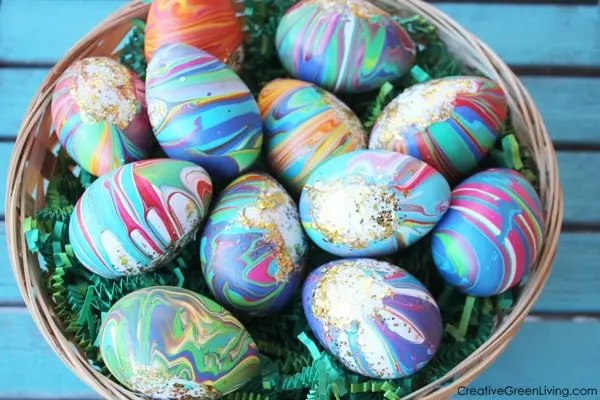 Credit: creativegreenliving.com
Marbles can be mesmerizing because of the way they look. You can now transfer this effect onto your Easter eggs.
Get some paint here, which you will slowly add one by one into a cup, starting with a single drop in the middle than layering up the same way until you have enough to pour over an egg.
Create more complex patterns by using a toothpick to slash through the paint.
Pour the mix on the eggs which you've previously put on a cooling rack, so the paint drips off and creates a smooth look.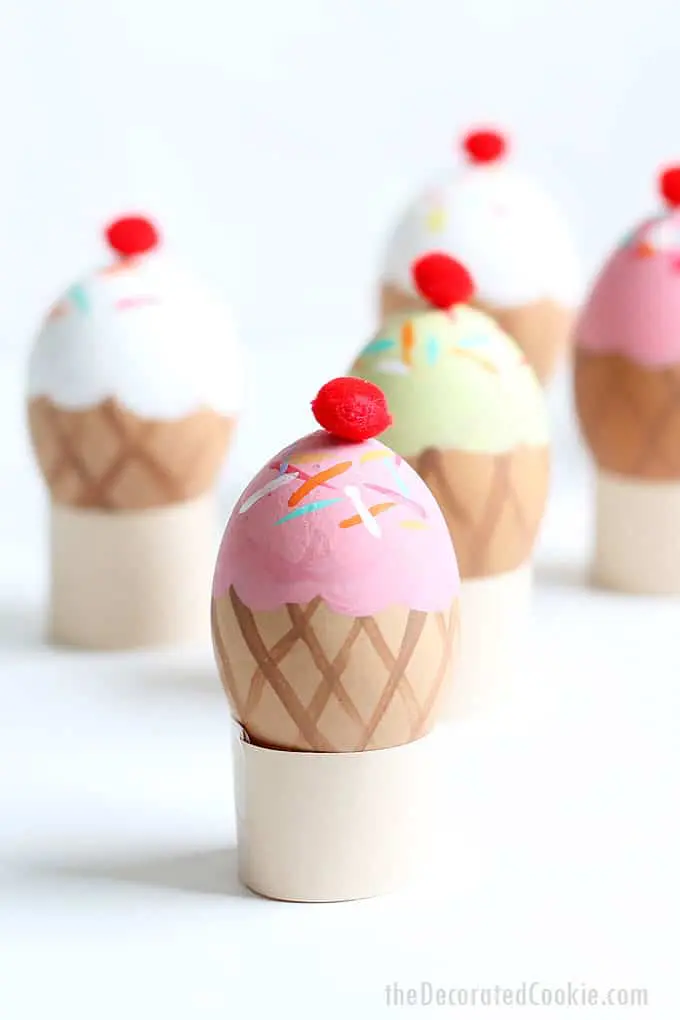 Credit: thedecoratedcookie.com
Bring some summer into your home by having ice-cream Easter eggs.
It is a simple DIY that doesn't require a lot of materials, and it's quick to do. You will need a bit of paint, brushes, and hard-boiled eggs.
My advice is to get brown eggs or wooden ones like these since they are the color of the ice-cream cone. It will save you some time by not having to dye the egg brown.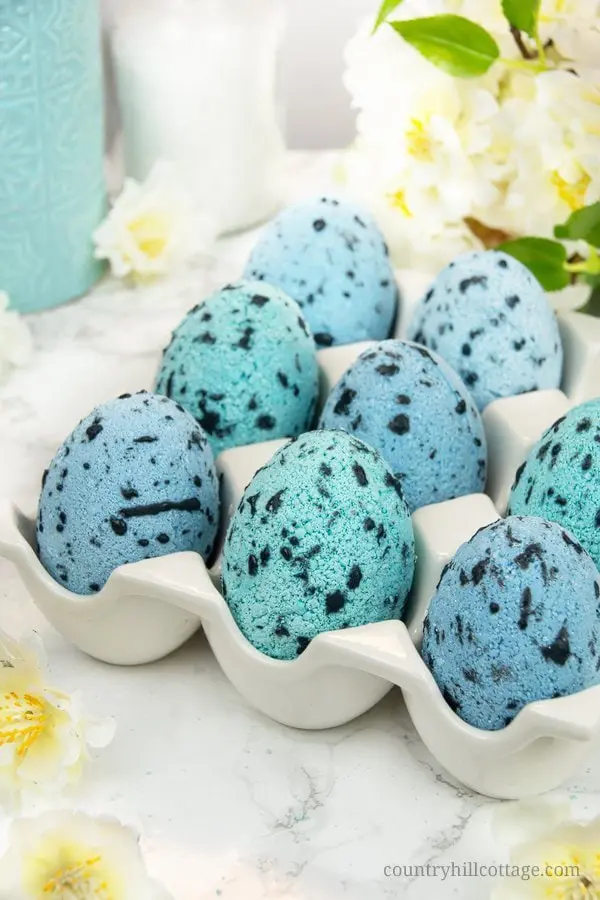 Credit: countryhillcottage.com
A cool gift for friends and family that come over for Easter, bath bomb Easter eggs are the latest great idea.
Fix up the bath bomb mixture. Next up, put it into molds, which can be plastic craft eggs that open. Let sit overnight then decorate if you wish.
For a bit of a kick, add a splash of essential oil to your bath bomb mixture to create a refreshing smell that will charm whoever gets this Easter egg. Get the oils here.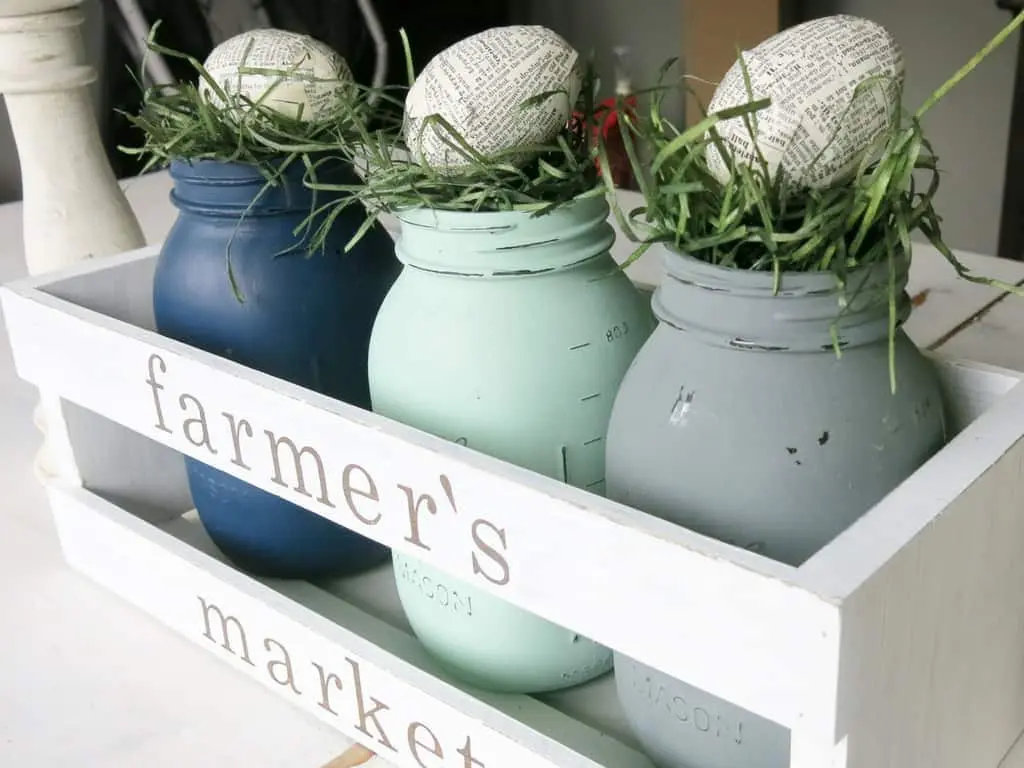 Credit: makingmanzanita.com
If you are a bookworm, then you will love the idea of having an Easter egg library of your own.
Find pages from old books, cut them into smaller pieces, and glue them onto the eggs. For this DIY you can use real eggshells or craft eggs such as plastic ones.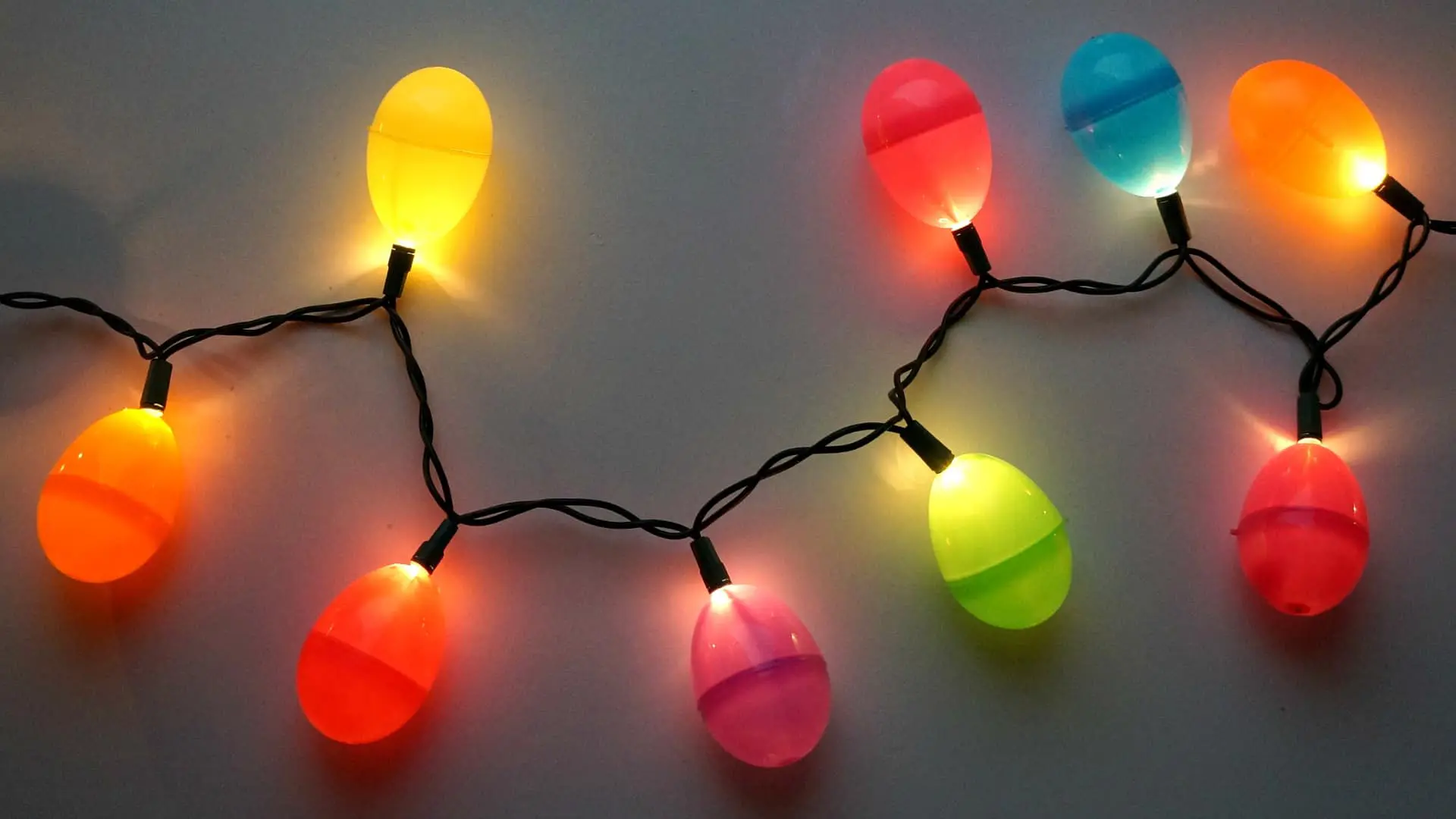 Credit: creativeramblingsblog.com
In case you wanted more than a table decoration, Easter eggs can be used in various ways, and one of them is a string of lights.
What you'll need are plastic craft eggs, a drill for the hole where the lights will go, and some string lights like these ones here.
Just cover each light with an eggshell and you're all set. If you use colorful plastic eggs, the lights will be more fun and will help set the tone of Easter in your home.
This is a lovely craft to try with your kids!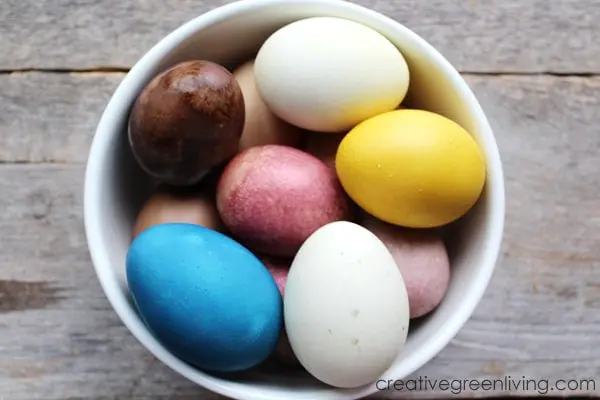 Credit: creativegreenliving.com
If you like eating your Easter eggs, then this DIY is the one you want since it's all-natural.
What you'll need are vegetables and ingredients you might already have in your pantry, vinegar, some water, and eggs.
You can go with coffee for brown, beets for red or turmeric for yellow. Add those into the water which you will then boil, put the eggs inside and wait for as long as you want until you get the desired results.
Conclusion
Do you like any of these DIY Easter egg ideas? Which ones are you going to try yourself?