Transform children's room with these IKEA Kura hacks. They look incredible and are fun to try!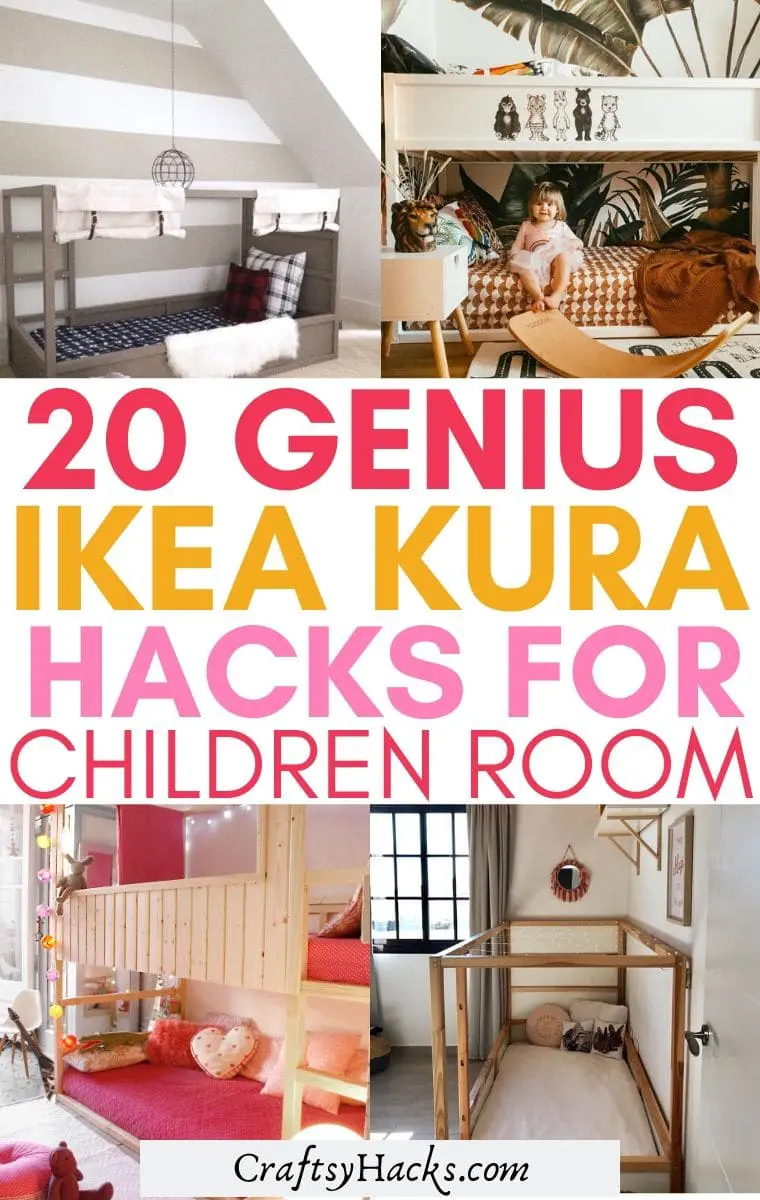 The great thing about IKEA pieces is that you can use them in so many different ways – not just what they're meant for! Take a look at the multiple ways you can hack the Kura to make it your own.
1. Cute Canopy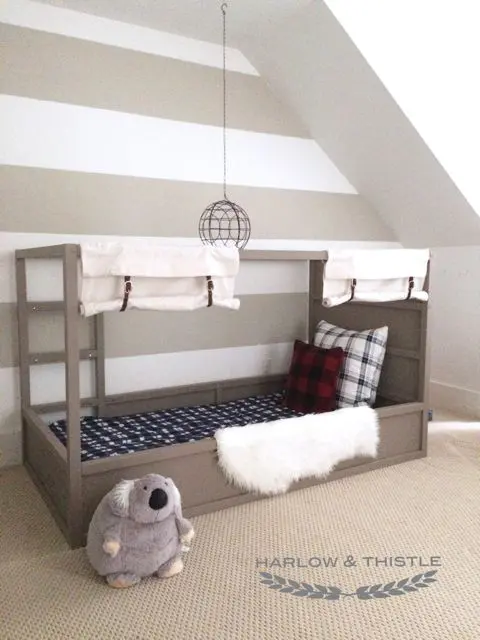 Credit: harlowandthistle.com
Give your kid their own secret space by creating a cool canopy using the Kura.
Kids love hideaways, and you may have more luck getting your little one to sleep when they know they're getting into a secret cubby that's all their own.
This is a simple IKEA hack that you don't have to be a professional to do, and you have the option to remove the curtains easily or put them out of the way when you like.
2. Floral Hideaway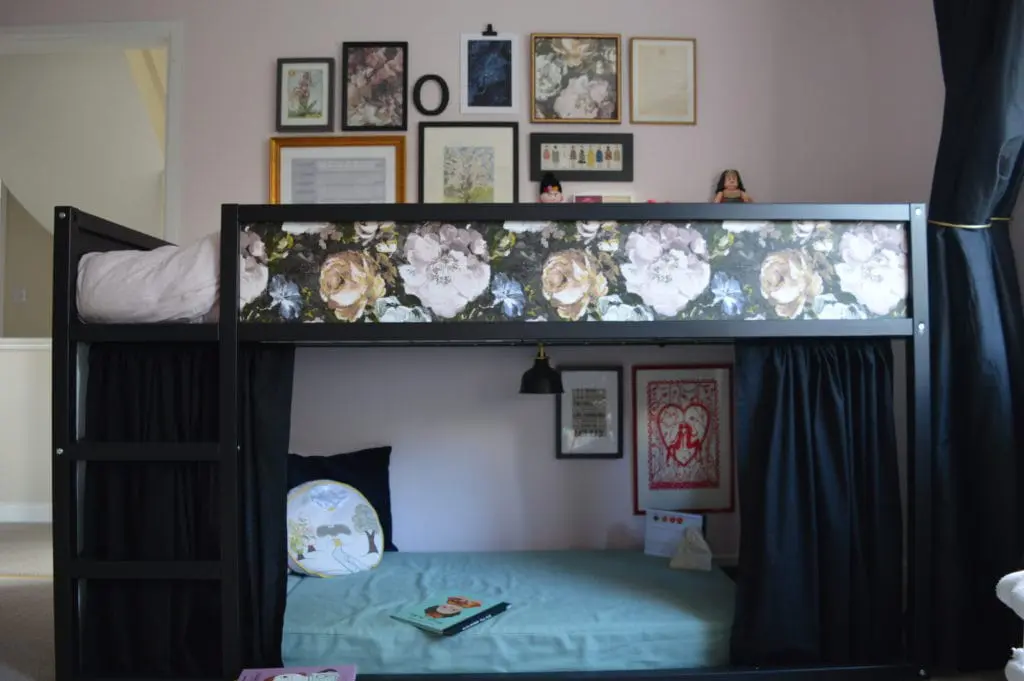 Credit: homemadeproductions.co.uk
Not only is this Kura sleek and chic with a black coat of paint, but a floral design up top gives it a completely chic and stylish makeover.
Flipping it over and adding a mattress on the bottom gives this bed two spots to sleep, or extra space for one kid to have a loft hideaway.
Curtains on the bottom make the bottom bunk cozy, just the right space for a nap or quiet spot to do homework.
Here are multiple flower wallpapers you can choose from to achieve the look you want.
3. Fairy Princess Castle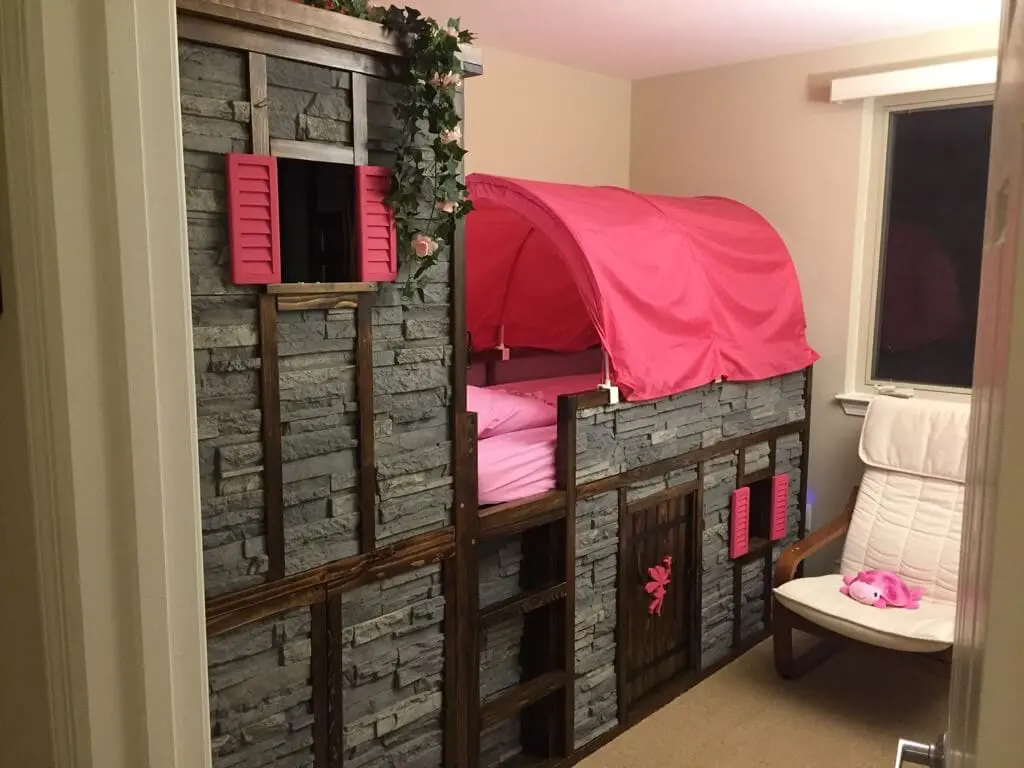 Credit: ikeahackers.net
For little girls, a princess bed is simply perfection. Use the Kura as the base for a beautiful bed that's a DIY dream.
Complete with a tower and canopy, this beautiful bed got its start as a basic Kura kid's bed, and there are limitless possibilities when it comes to creating the perfect bed for your own little princess.
Loving these hacks, check out more IKEA bed hacks here.
4. A Little Lift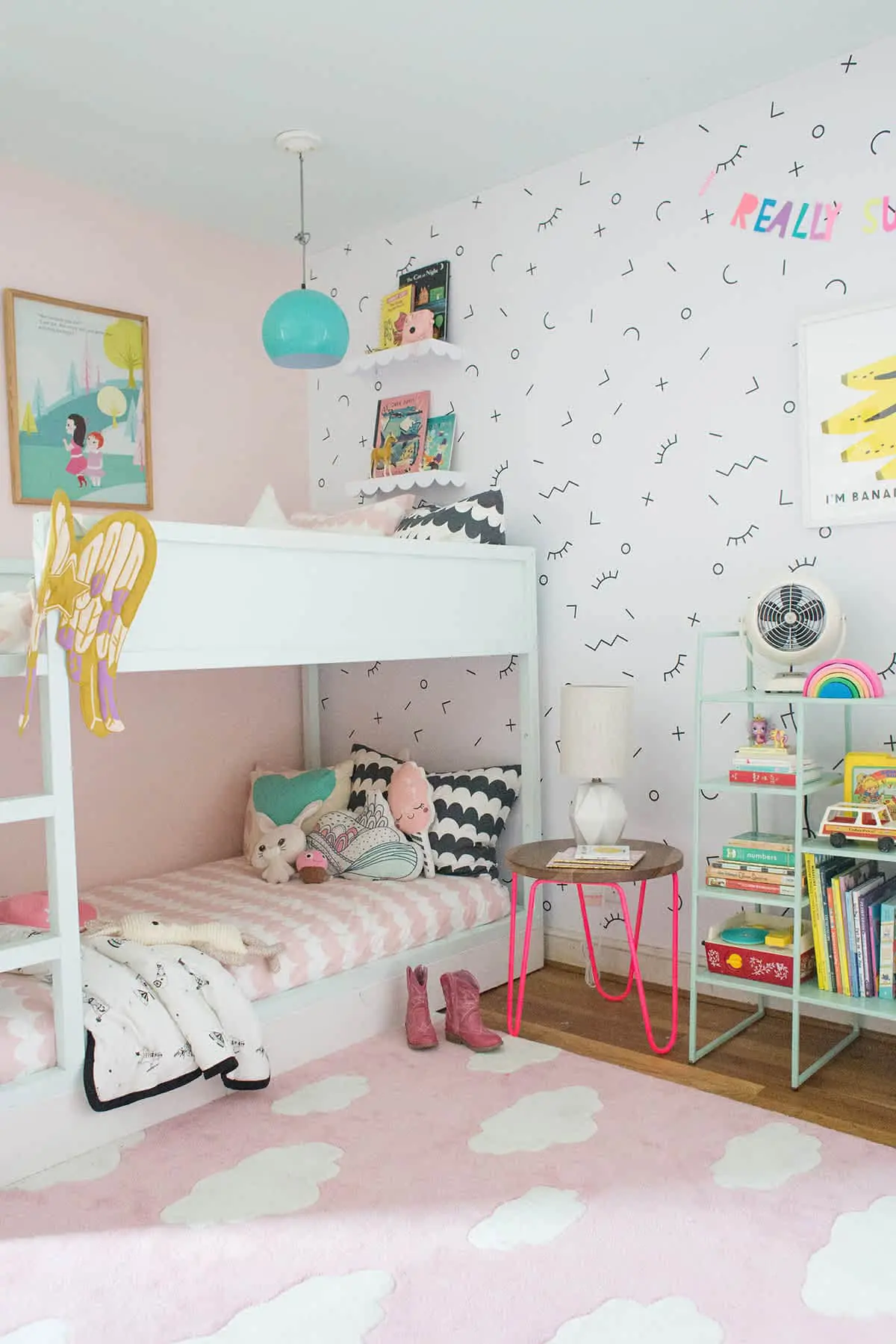 Credit: laybabylay.com
Since the Kura sits so low to the ground, you may want to give this bed a bit of lift. This is a simple DIY hack that changes the entire look of the bed.
It also makes the bed look just a bit more elegant! This works whether you have the bed turned bed-down or bed-up.
5. Bunk Beds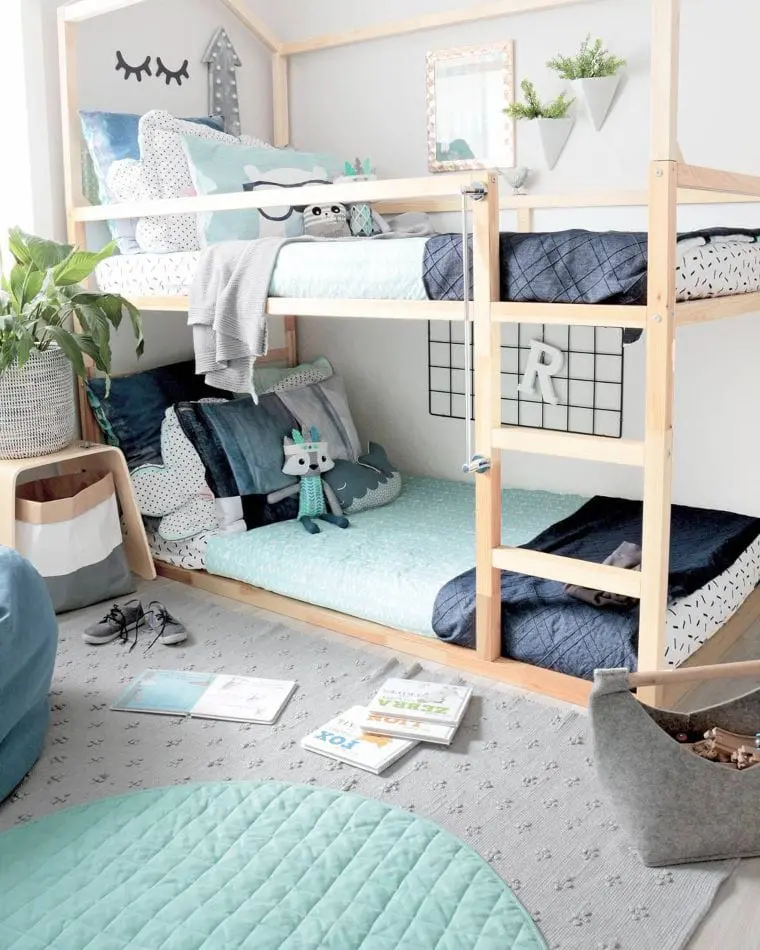 Credit: Instagram
The Kura is already almost a bunk bed, so it doesn't take much work to finish the job. Making a bunk bed gives you more versatility.
Whether your kids are sharing a bedroom and you're short on space, or your kid likes having sleepovers, it's an inexpensive way to create a bunk bed.
You can customize it as you desire by painting it or adding curtains, like these, or you can leave it naturally.
6. Secret Clubhouse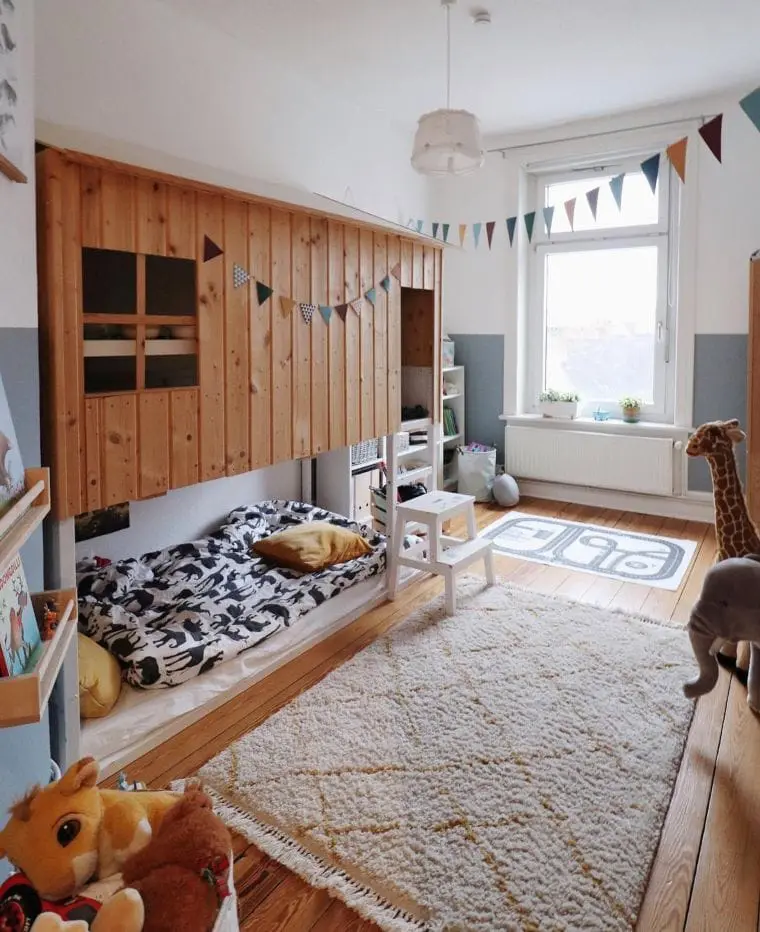 Credit: Instagram
Boarding up the top of the Kura lends itself to the look of a secret treehouse. Kids will love crawling up into the top nook to read or nap.
This isn't a difficult DIY, and you could take it on yourself in a weekend. Decorate the clubhouse as you like, and let your kids enjoy clambering up the ladder to hold secret meetings!
Check out more IKEA bedroom hacks here!
7. Custom Contact Paper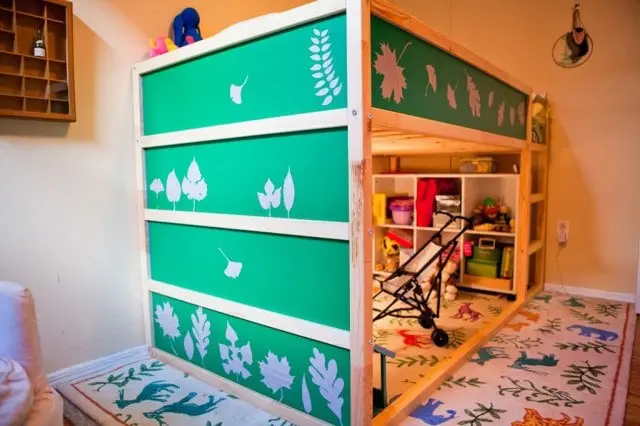 Credit: flaxandtwine.com
You can use contact paper, like this, or a similar product in order to make the customized Kura bed of your kids' dreams.
This makes the bed your child's own, and you can select from different patterns, colors, or designs to complement existing décor.
This is a simple way to customize the bed that doesn't require any special artistic talent or carpentry knowledge!
8. Add a Dresser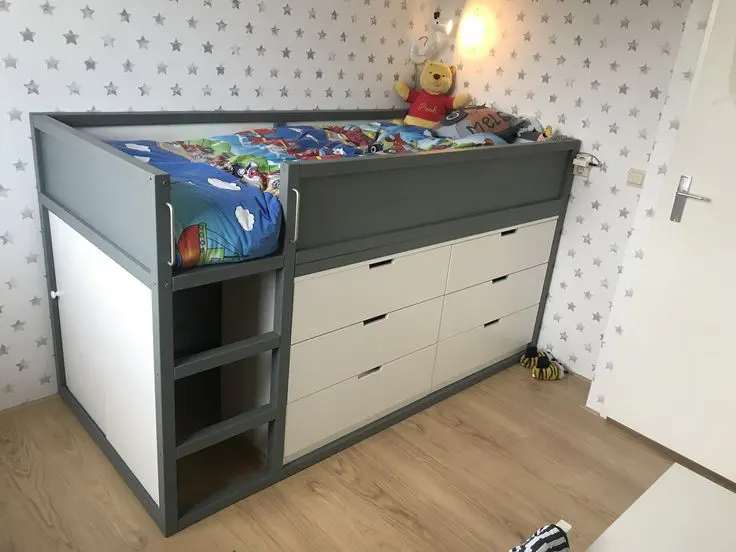 Credit: ikeahackers.net
Maximize the benefits of the Kura bed by turning it upside down with the bunk on top. In the open space, you can add a chest of drawers.
That makes it perfect when it comes to saving space in a small bedroom.
There are IKEA chests that fit into space with ease; no carpentry or tools required.
Want to make a nice dresser? Check out these IKEA dresser hacks.
9. Chevron Cutie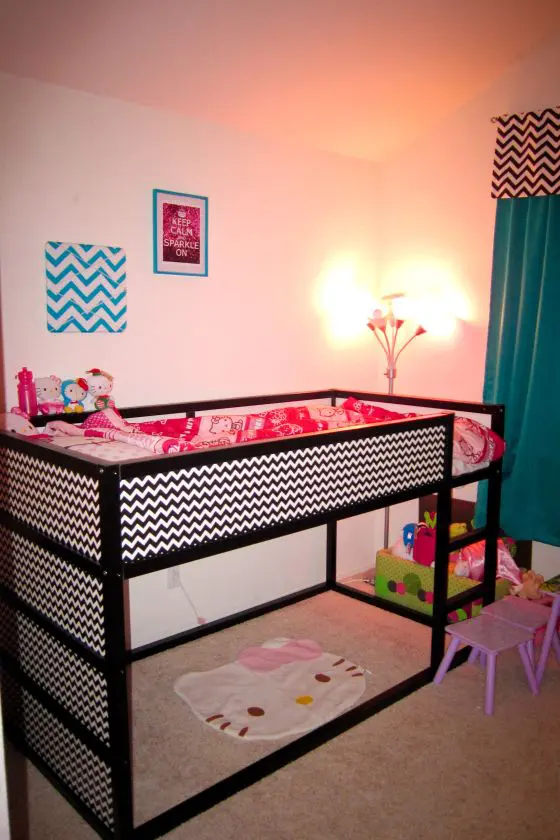 Credit: mommyneurotic.wordpress.com
You can make over the Kura with just a few simple tweaks. Paint the bed frame any color you like.
Use Chevron wallpaper or contact paper, like this, to make the Kura more modern, especially for a young girl's room. This gives it a unique style that blends well with the rest of her bedroom.
And, it makes a reasonably neutral bed a lot more fun and unique!
10. House Bed Frame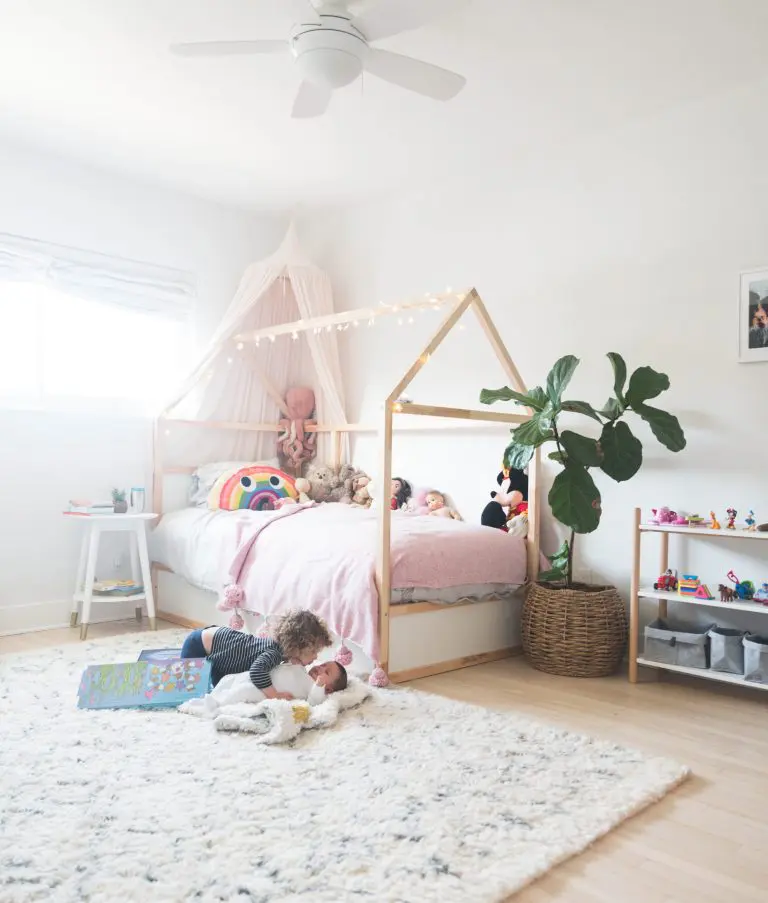 Credit: thehollardays.com
The Kura makes it easy to hack in so many different ways. All you need to create this cute bed frame is a few extra boards.
This gives the Kura the illusion of a roof for a house. You can decorate the 'roof' however you like – add a canopy, string of fairy lights, or simply a banner or garland to make it your own.
This custom look may ease the transition for a child having a hard time transitioning to a bigger bed. Use these LED lights to make the whole design a little more special.
11. Double the Fun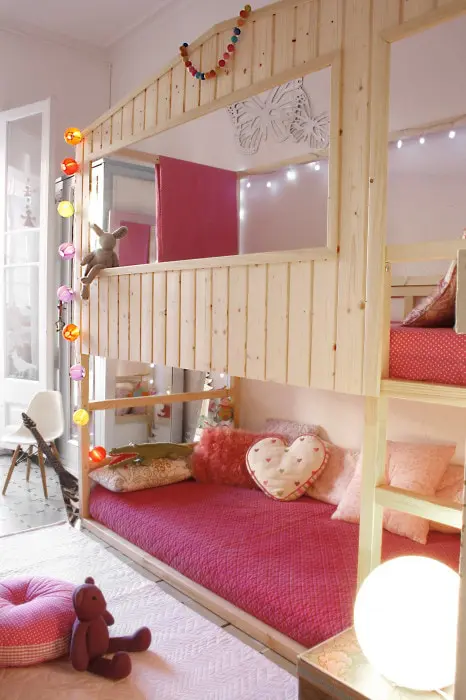 Credit: ikeahackers.net
Transform the Kura into a bunk bed of your dreams by making it a cozy little house for two. Wooden boards, an extra mattress, and fairy lights make this a cozy space for dreaming.
This can work for two kids who have to share a bed, or for one who loves the extra space.
Match the sheets to decorations like garlands to give this neutral frame a pop of color. Kids will love the clubhouse feel of this bunk bed setup, and bedtime may be a lot easier!
12. Curtained Clubhouse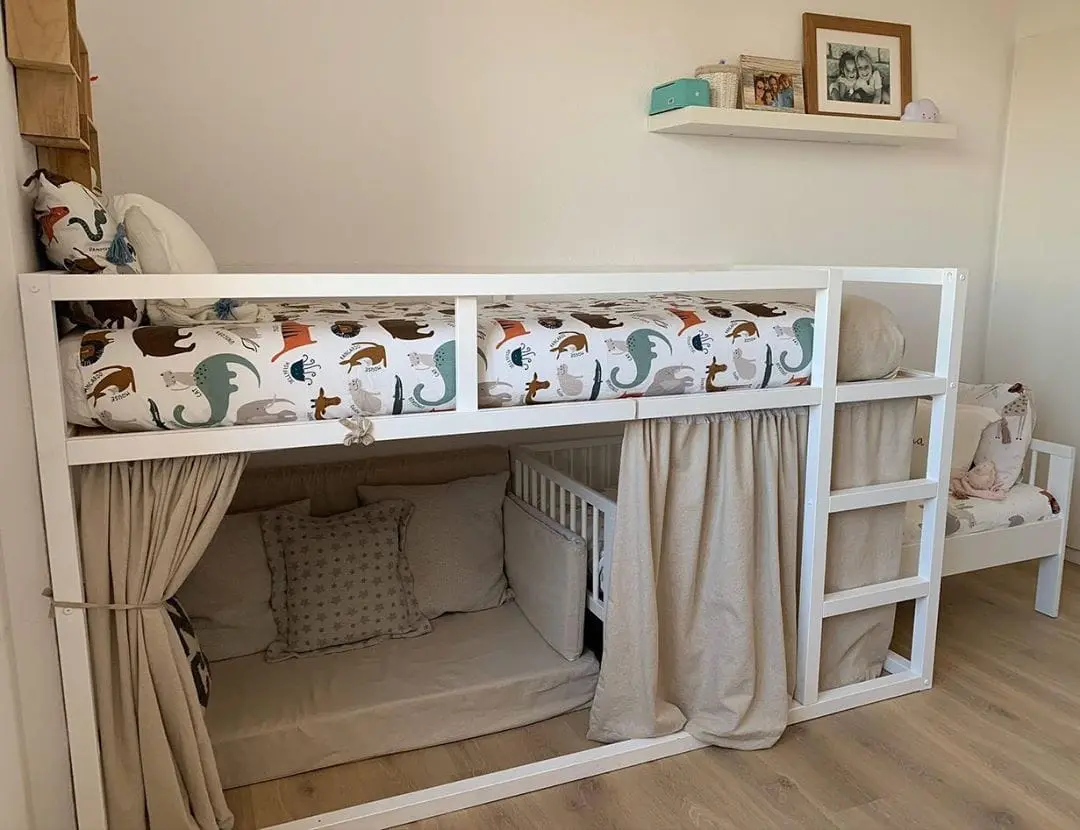 Credit: Instagram
Put the bunk up top and leave the bottom for a cozy reading or napping nook. Add a cushion on the bottom with a few toss pillows for added comfort. Get inspiration for the colorful pillows here.
Curtains let your kids escape from the world with a good book or for an afternoon snooze. Or, you can use this space for storage.
Depending on the size of the cushion, you can add a space next to it for storing toys, books, or clothes.
Check out more IKEA storage hacks here!
13. Night Light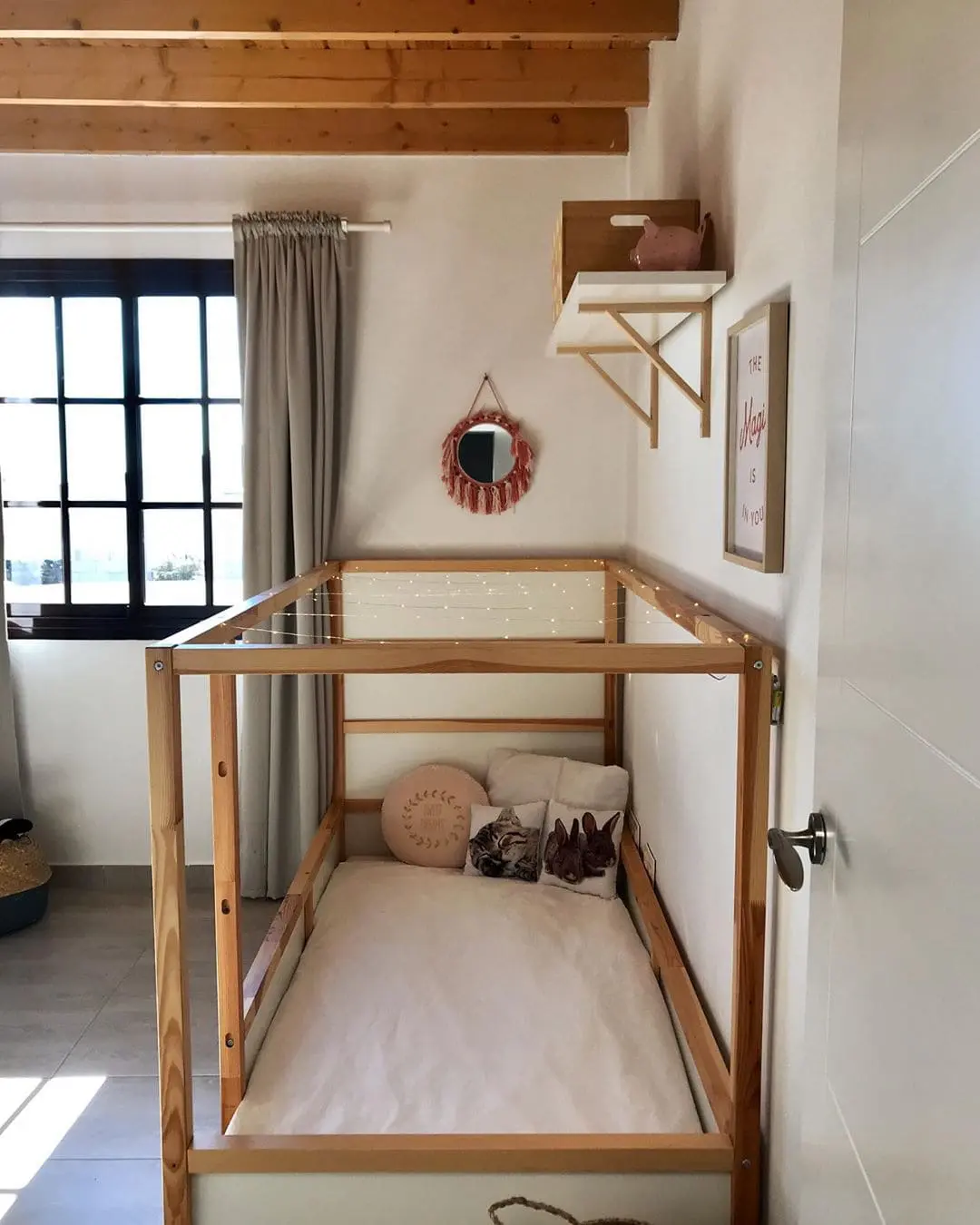 Credit: Instagram
You don't have to go overboard to create a sweet, soft space for your child. Leave the Kura with the mattress on the bottom and string fairy lights across the top.
These not only give off a cozy glow during the day, but they work as a nightlight in the evening, making it easy for kids who have a fear of the dark to get to sleep without worry.
Choose any color of fairy lights, like these, to complement the existing décor of the room.
14. Kura Castle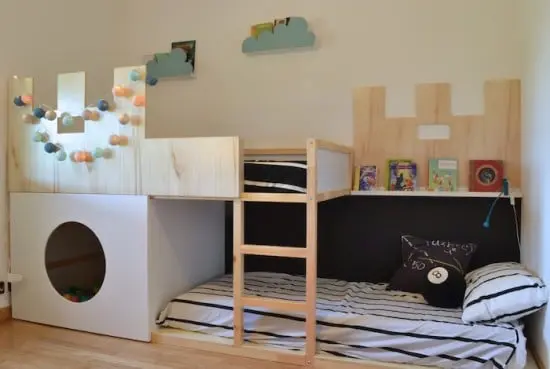 Credit: ikeahackers.net
Use an entire wall and make the Kura the base of a castle your kid will love. This actually gives you two beds, so you can house two royal sleepers.
There's also plenty of places to play, hide, read, and nap. Kids will love discovering all the nooks and crannies of this cool castle hideout.
Create this DIY on a weekend if you're feeling handy.
15. Detailed Decals
Credit: Instagram
Decals are a popular way to add customization to the Kura. There are obviously many different choices; you can pick from paisley, floral, Chevron, or solid colors.
This option uses soft florals with the bunk on top. A hanging canopy like this adds softness and a cozy feel, while a rug underneath along with cushions provides the perfect place for your child to read and relax.
No construction needed for this hack!
16. Kura Campout
Credit: desertchica.com
Transform the Kura into a tent using some extra wood and fabric. Once you build the frame, create a fabric tent that slips over the Kura.
Add an opening to the tent so your kid can sleep inside, or you can remove it altogether at bedtime. Your child will love the play space.
You don't need to buy a bunch of fabric to make a tent. You can repurpose curtains, sheets, or even a shower curtain to create it.
17. Animal Inspiration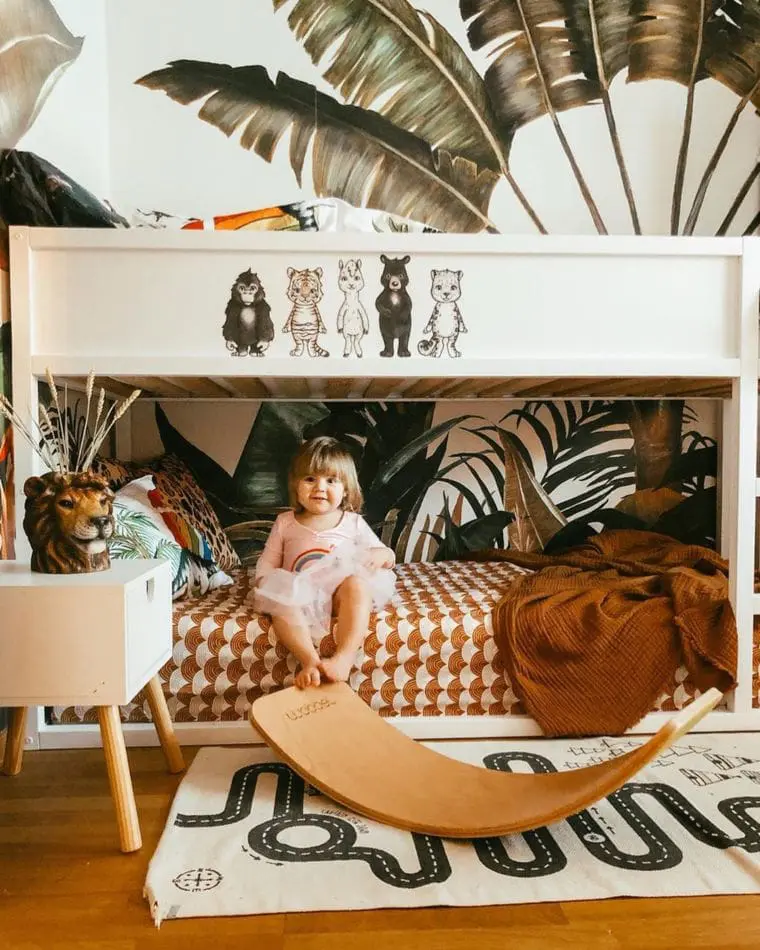 Credit: Instagram
For animal lovers, bedtime can be a zoo. Add animal decals to the Kura to complement a bedroom with a zoo or safari theme.
Transform the Kura into a bunk bed, so there's room for two monkeys to sleep. This bedroom is made even cuter by the fact that the wall has been painted to look like greenery, making it the perfect backdrop for a safari themed room.
18. Lift It Up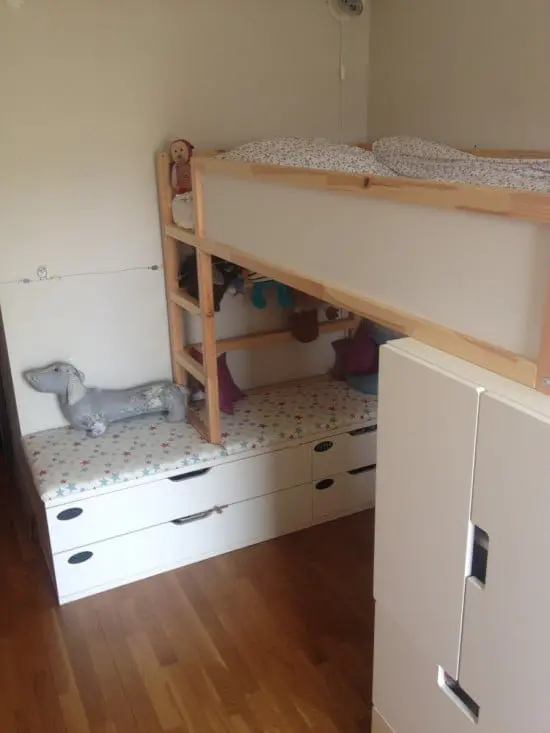 Credit: ikeahackers.net
Use IKEA chests like these to give the Kura the lift it needs. Not only does this lift the bed up to give it some height, but you'll have lots of space underneath for storage.
And best yet, there's no construction involved in this hack – you just need to purchase the required chests, but you'll be doing yourself a favor – think of all the extra storage you'll have!
19. Safari Theme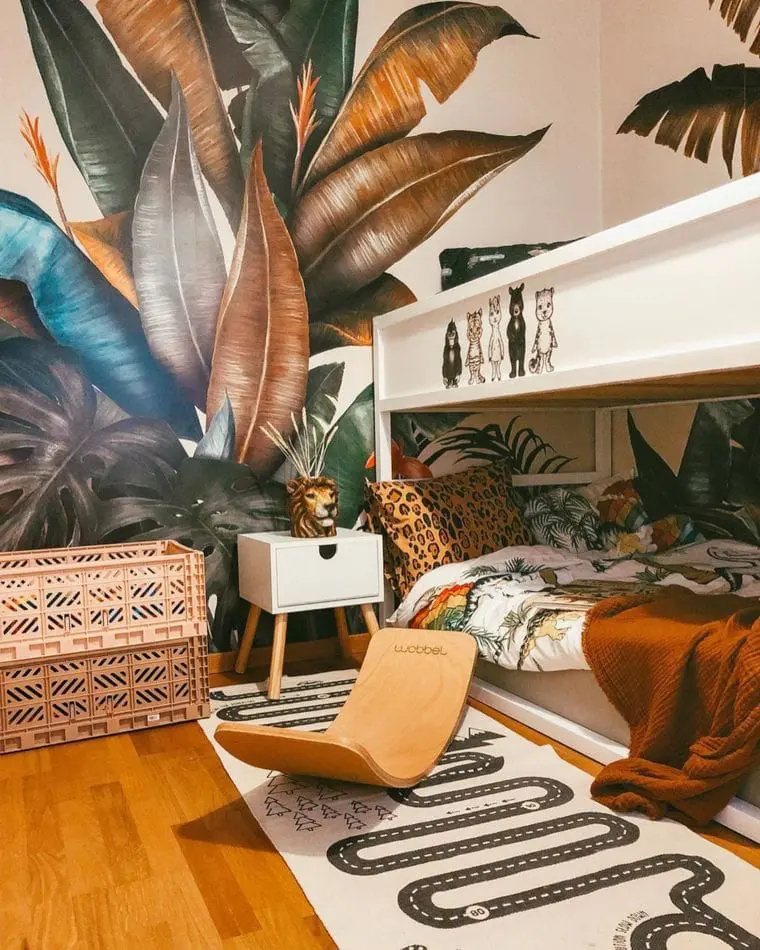 Credit: Instagram
A safari theme is a great way to incorporate a love of animals using the Kura bed. You can use the blank sides to add decals, whether they're actual animals or maybe even animal print to make this bedroom come alive.
Accent the room with animal-printed toss pillows and sheets, or paint the walls using a safari theme. Don't forget about knickknacks – wall art featuring animals looks adorable along with a safari or zoo-themed bed.
20. Godzilla Bed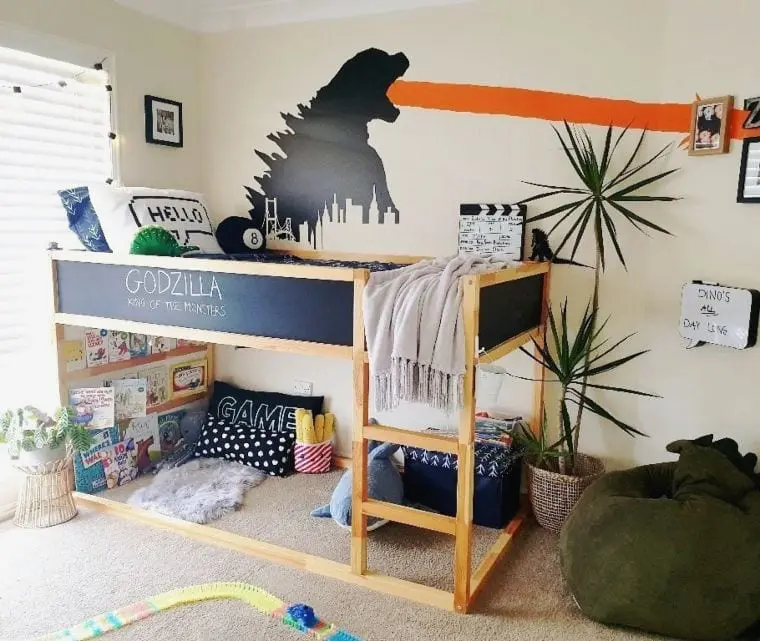 Credit: Instagram
Flip the Kura so the mattress is up top. This lets you use the space underneath for a reading nook with a soft, fluffy rug and plenty of pillows and books.
In the blank space on the front of the bed, use chalk paint to allow your child to customize it as they like, whether they're writing about Godzilla or drawing pictures.
This bedroom is made even cooler by the amazing Godzilla wall mural that really ties the room together!
Conclusion
Do you like any of these IKEA Kura hacks? Which one is your favorite? Share them with your family!