Love crafting and looking for a way to make some $$? Check out these super cheap crafts that you can also sell. These offer a great way to channel your creativity!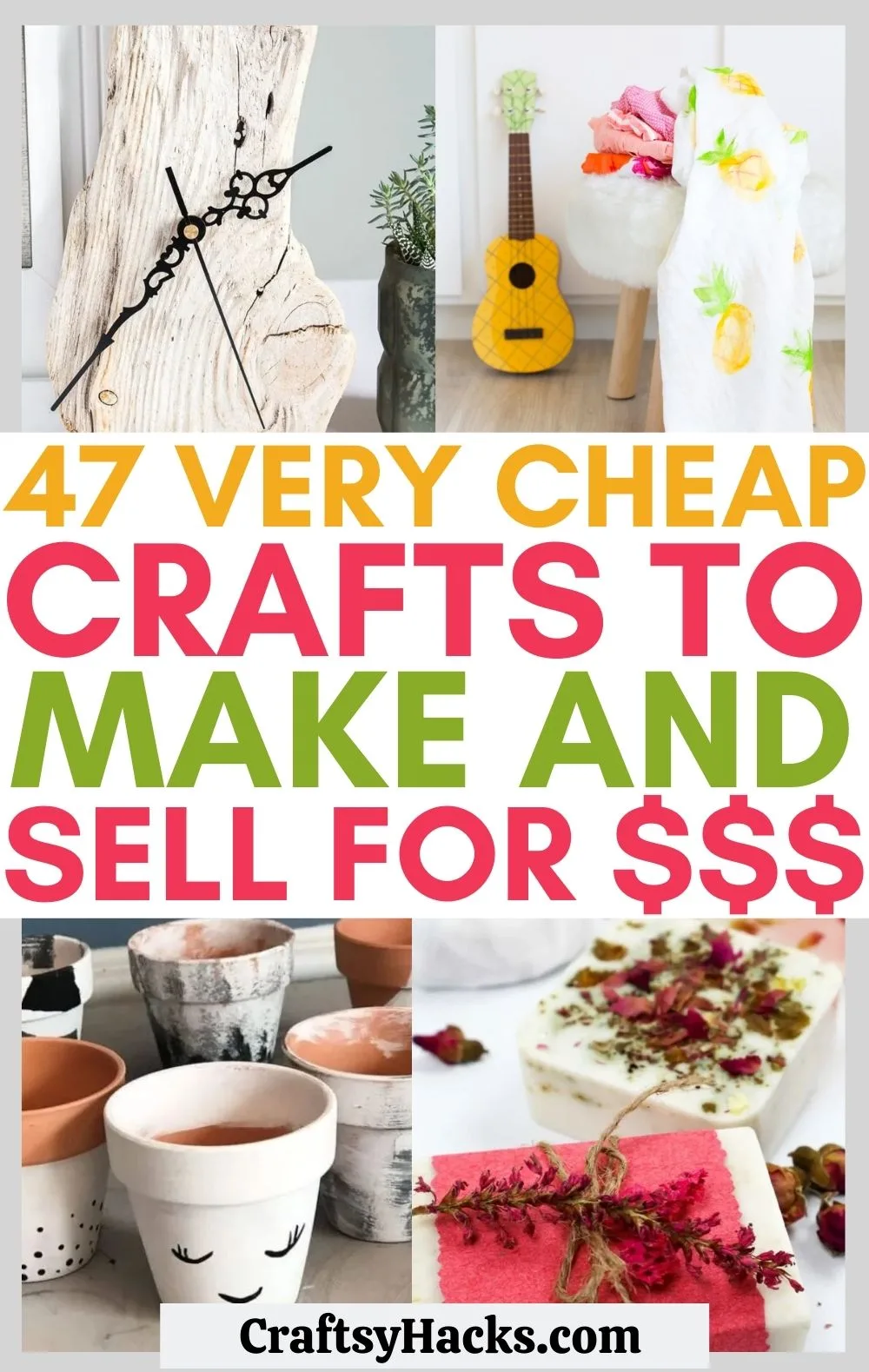 Whether it's for the next big craft sale or you're setting up a stall at the school fete, you need a list of easy-to-make craft items to work on. You need to consider how to make the most cost-effective products and sell them for a profit.
You can crunch all the numbers you like, but the fact remains that what you make needs to look and feel fancy, even if it really isn't. That means you also have to work on packaging your product without spending too much to make it look like a million bucks.
So, if you're ready to get started, take a look at these 47 extra cheap crafts to make and sell that will get you started on your journey of crafting and making a profit!
1. Scented Candles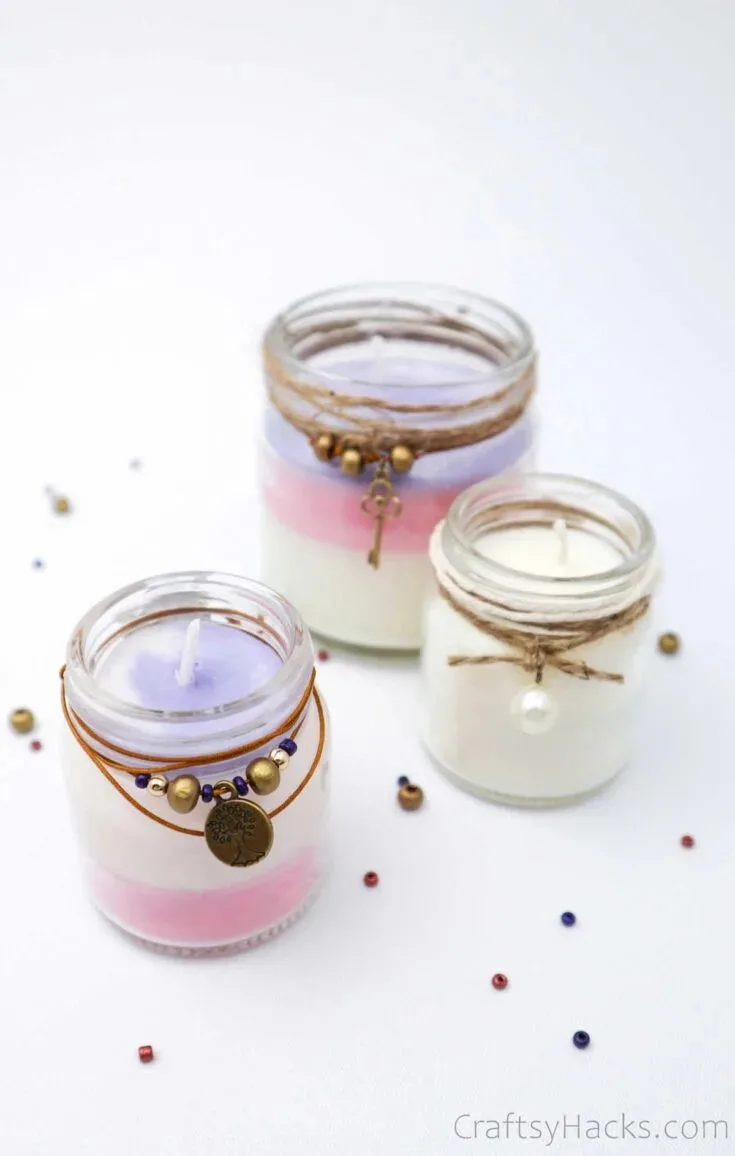 Source: craftsyhacks.com
You've made that gorgeous leafy mason jar candle holder, so now, take a look at how to make scented candles. Hey, perhaps you could coordinate and blend these two projects!
Pick out your wax of choice—soy or beeswax(look here), are much better than paraffin. You'll also need wicks, which you can buy here.
The best part about making your own candles is that you get to play around with color and scents. Choose your favorite essential oils as well as your favorite color and incorporate them to boost your scented candle to the next level!
2. Hair Bows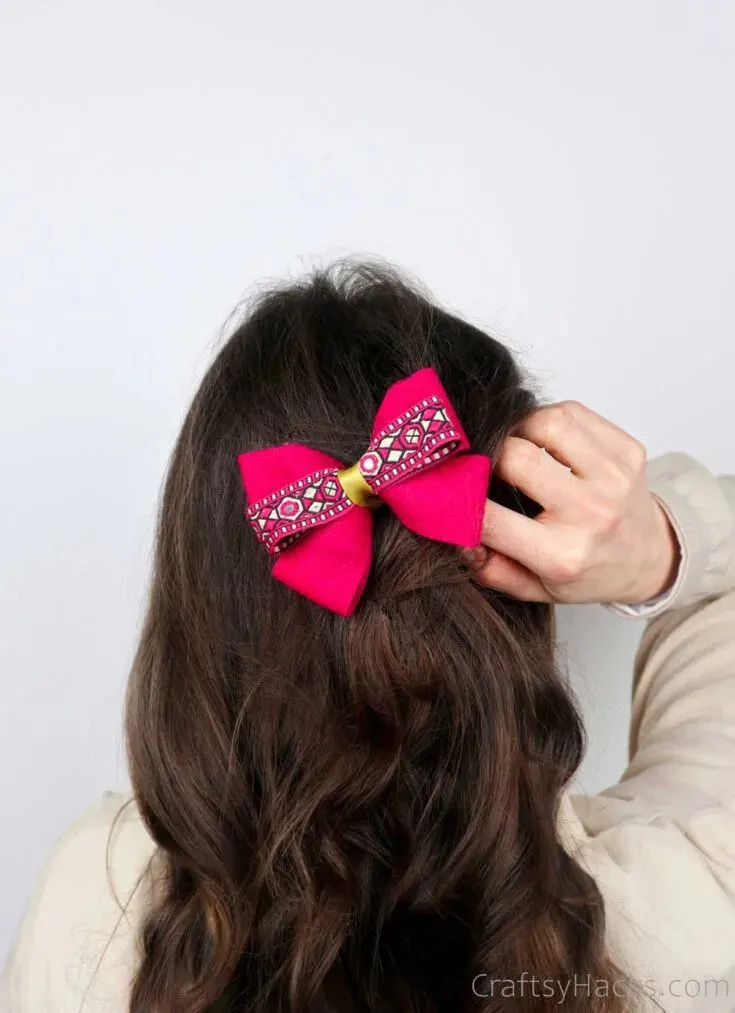 Source: craftsyhacks.com
You know that feeling when you have the perfect—the absolute perfect—outfit on? Your hair is perfect, your nails are done, your shoes are on fire, and everything is coordinated—everything except your hair ties.
You can't have hair bows to match every outfit, can you? Of course, you can! You just make them to your specifications, and voila!
I love how easy they are to make and how inexpensive they are, too. You can make a dozen of these hair bows in advance to sell or gift. Grab some of this wide ribbon to get started.
3. Homemade Soap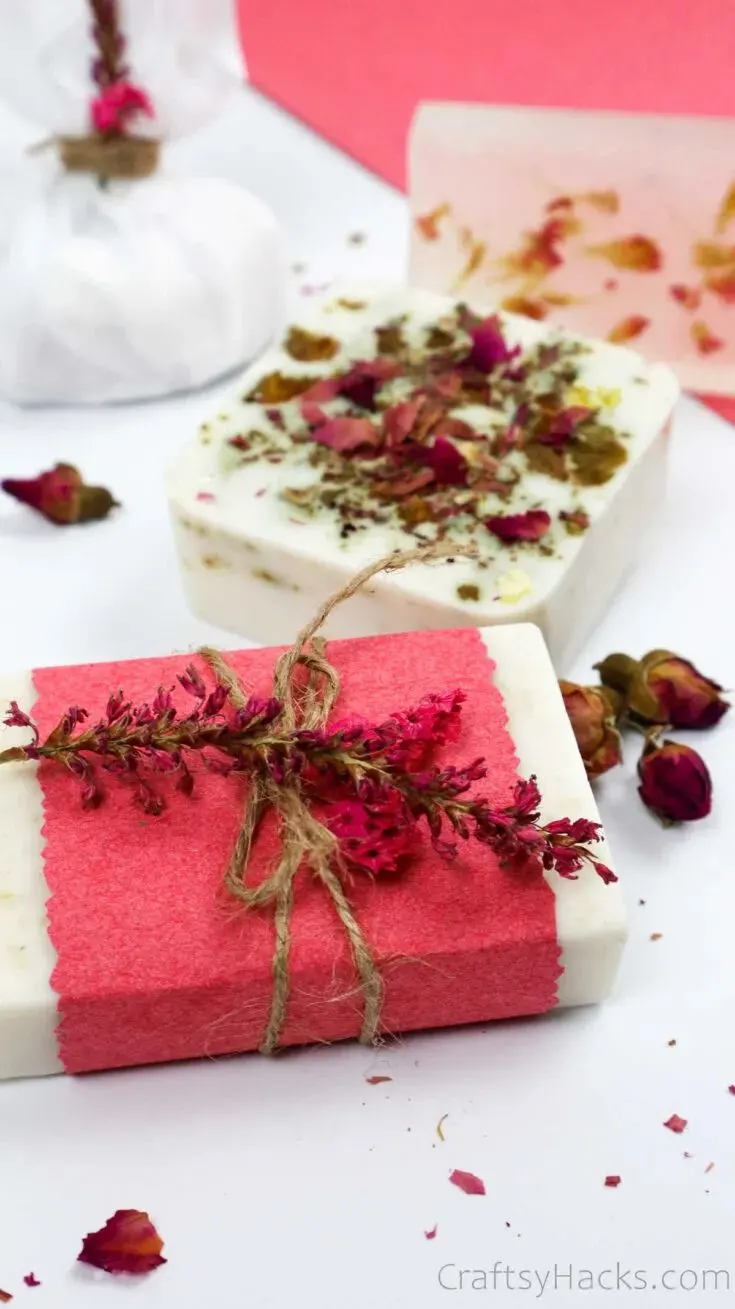 Source: craftsyhacks.com
Butters are so creamy and luxurious. It's the perfect moisturizing agent to use to make soap. A shea butter soap base can help you nourish your skin and to keep it soft during the dry months.
If you're in the mood for a little added zing, add a few dried cranberries to your soap. This will boost the scent, especially if you add berry essential oils.
Feel free to experiment with different colors and flavors, too. A bar of shea butter soap with coffee, sugar, or oats sounds like the perfect recipe for an exfoliating soap bar, right?
4. Cacti Gifts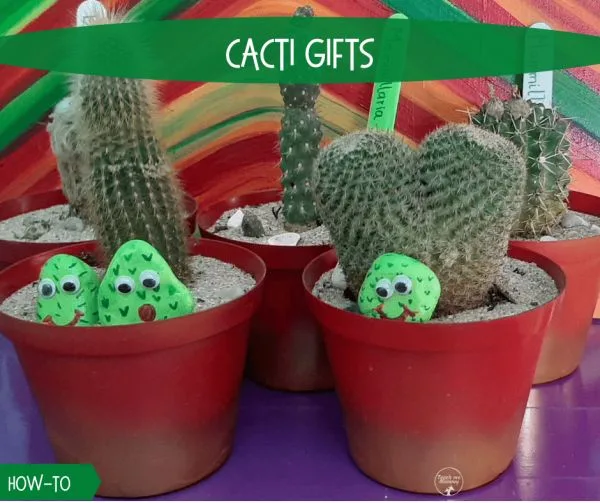 Source: teach-me-mommy.com
Did you know that you could pick up some of the prettiest cacti for just a couple of bucks? No, really, cacti are just super cheap.
That's why they make amazing gifts, but you can't just give them as is. You need to add some fun and colorful decorative touches first.
Grab some succulent mix, a few flat pebbles, paint and brushes to paint the pebbles, and finally, a pot of your liking. Once you've designed the pot, go ahead and fill it up and plant your cactus in there.
Artfully arrange the pebbles, and you're all set.
5. Macrame Leaf Earrings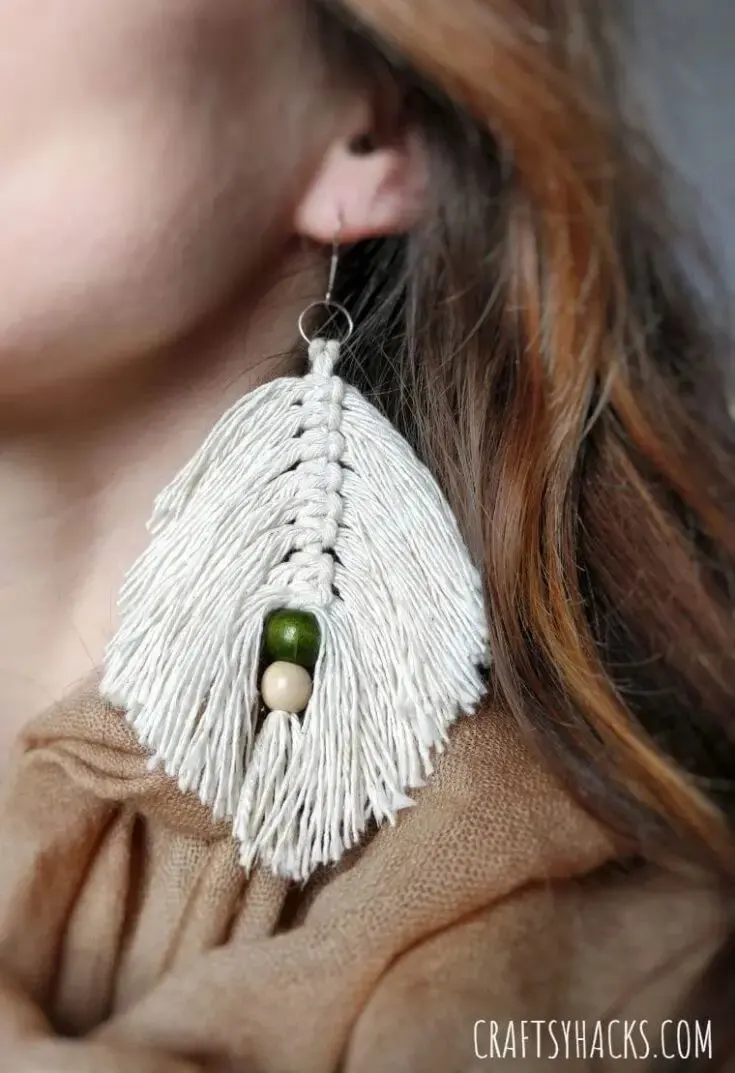 Source: craftsyhacks.com
Macrame is all the rage now, and rightfully so. Just check out these flirty, boho-chic earrings! They are surprisingly easy to make. Don't believe me? Just take a look at how easy it is to make these earrings.
All you need are a few earring hooks and some strips of cotton cord like this. Making a macrame leaf is pretty easy, too. Just follow the instructions, and you'll be making a dozen pairs of these earrings.
You can also use different colors to make different colors of earrings. Feel free to accessorize them with little beads and danglers, too, if you like!
Feel free to check out these earring ideas for inspiration!
6. Leaf Mason Jar Lanterns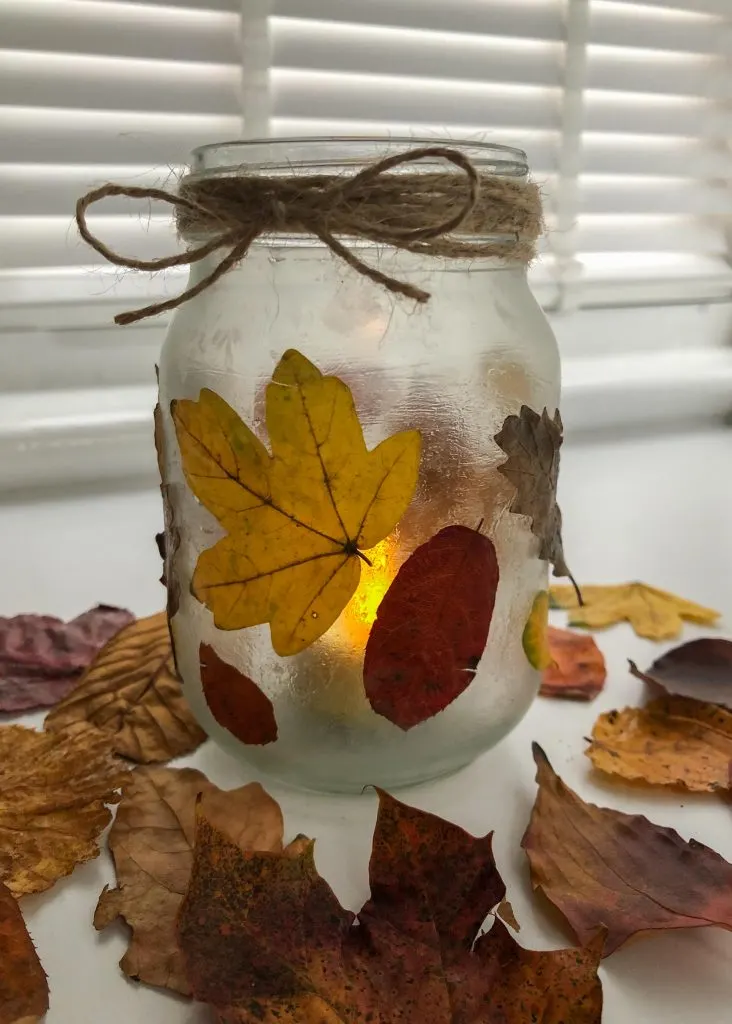 Source: growingfamily.co.uk
Mason jars are super easy to come by. You probably already have a dozen just sitting in your cupboard and gathering dust. It's time to take them out and give them a good cleaning before you upcycle them.
If you're familiar with decoupage crafting, then you'll enjoy turning these mason jars into leafy jar lanterns. All you need to get started are a few leaves from the Great Outdoors, a bottle of this mod podge, and a brush to apply the mod podge over the leaves.
You can choose between a clear matte or glossy finish and buy your mod podge accordingly.
7. Shell Candles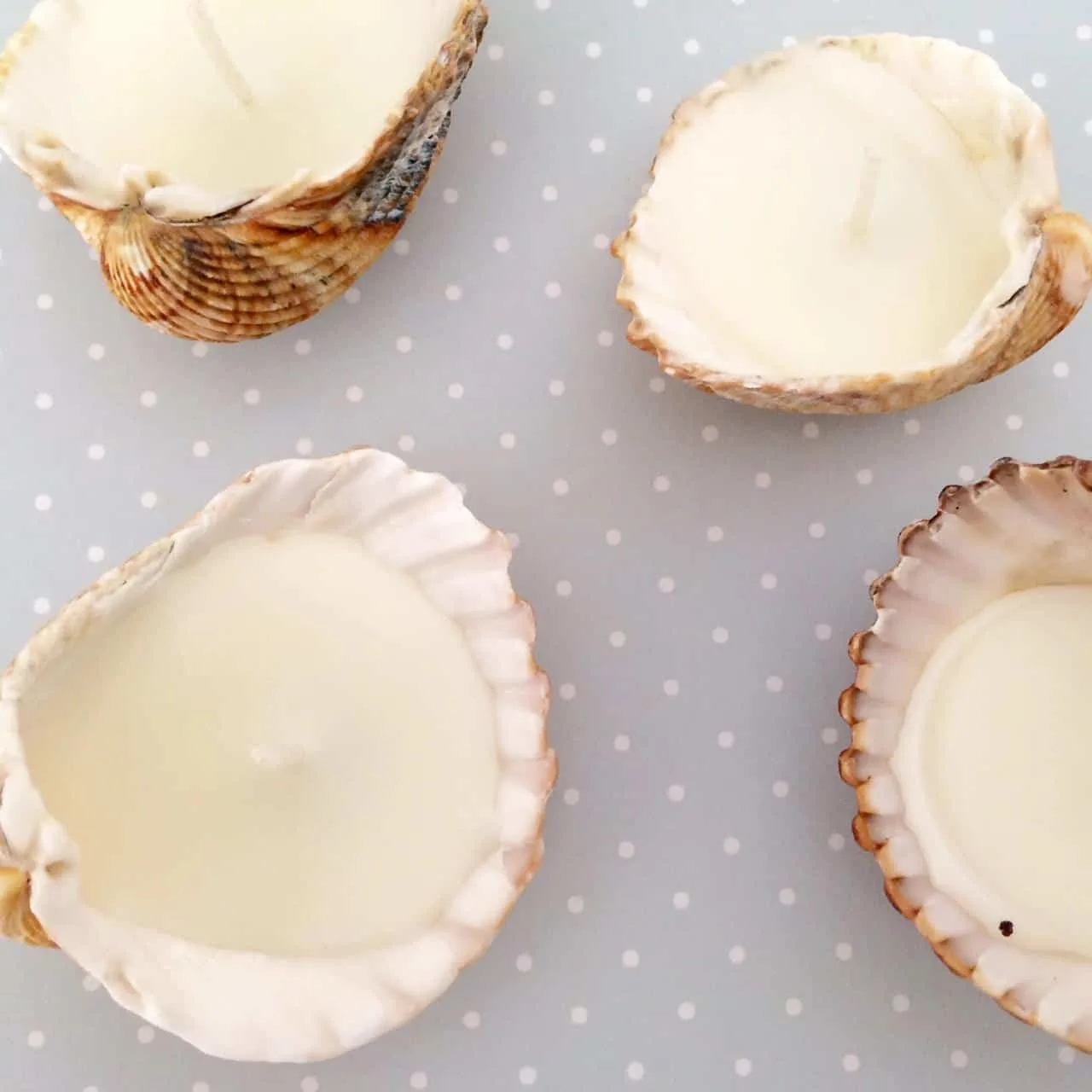 Source: simpleparenting.co.uk
Don't you love the image that pops up in your head every time you see a pretty shell? It's of the sandy shores, splashing waves, and cool breeze of the beach.
Why not use seashells as a base for scented candles? Glass jars are great, sure, but I think that your beachy candles deserve a beachy container to do it full justice.
Pick up some large oyster or clamshells from the beach, or buy them here. You can also switch out paraffin wax for soy or beeswax.
8. Fabric Flowers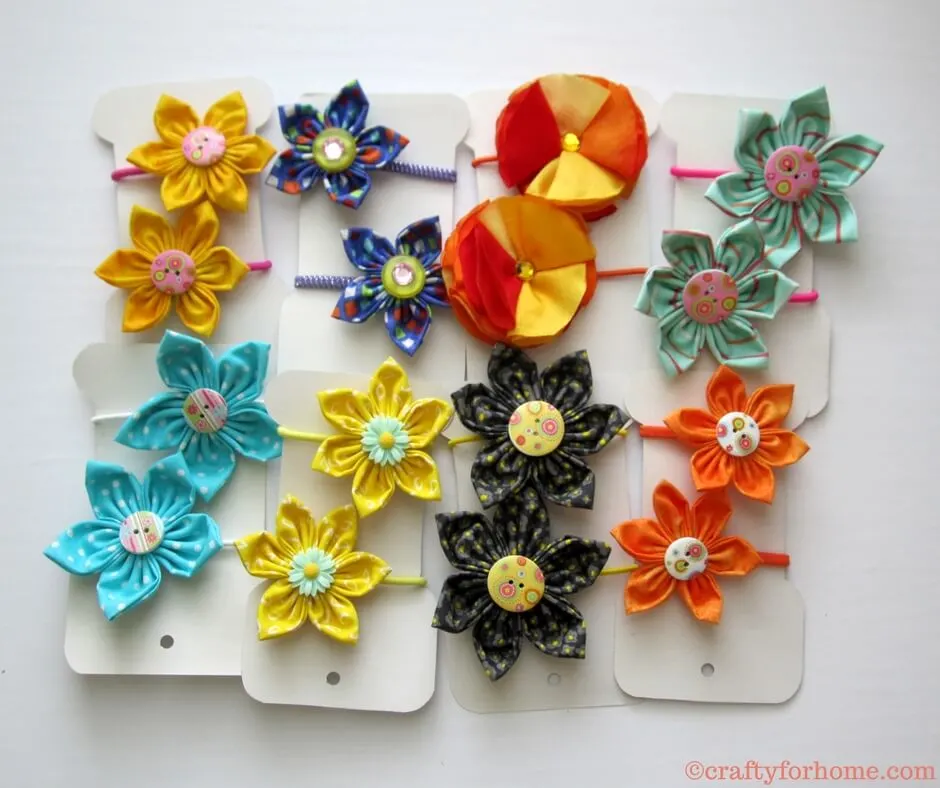 Source: craftyforhome.com
Making these pretty fabric flowers in advance and storing them for later to use in your gift wrapping, craft projects, or even just to sell can save you a ton of time and money.
You can also decorate these flowers with button centers, line rhinestones around the edges, and even cut different swatches of fabric for a more versatile look.
9. Dollar Tree Lantern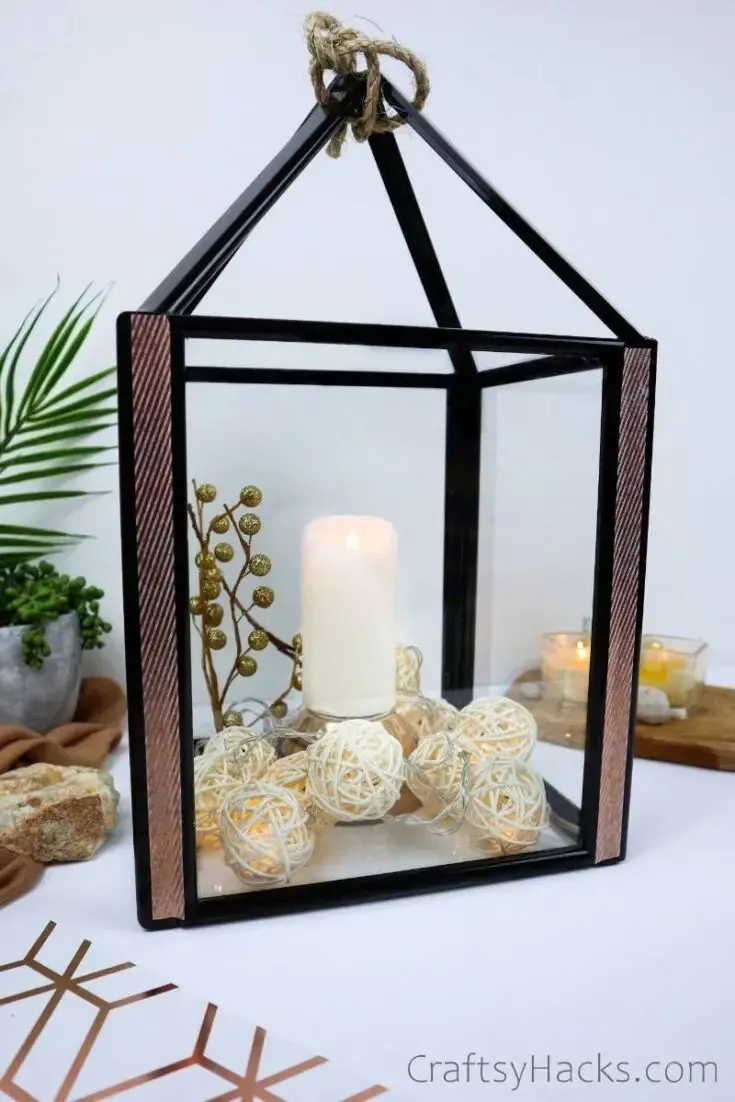 Source: craftsyhacks.com
Ah, dollar tree: the land of everything wonderful and inexpensive; a crafter dreamland on earth. No, really, dollar stores are treasure troves of inexpensive craft supplies.
You can pick anything up for just a few bucks and turn them into absolutely stunning DIYs. Take this DIY lantern, for example.
Can you tell that this lantern is made by taking apart a few picture frames and hot gluing them into this shape? Can you tell that it only costs a couple of bucks to make? No, because it's fabulous!
10. Marbled Nail Polish Mugs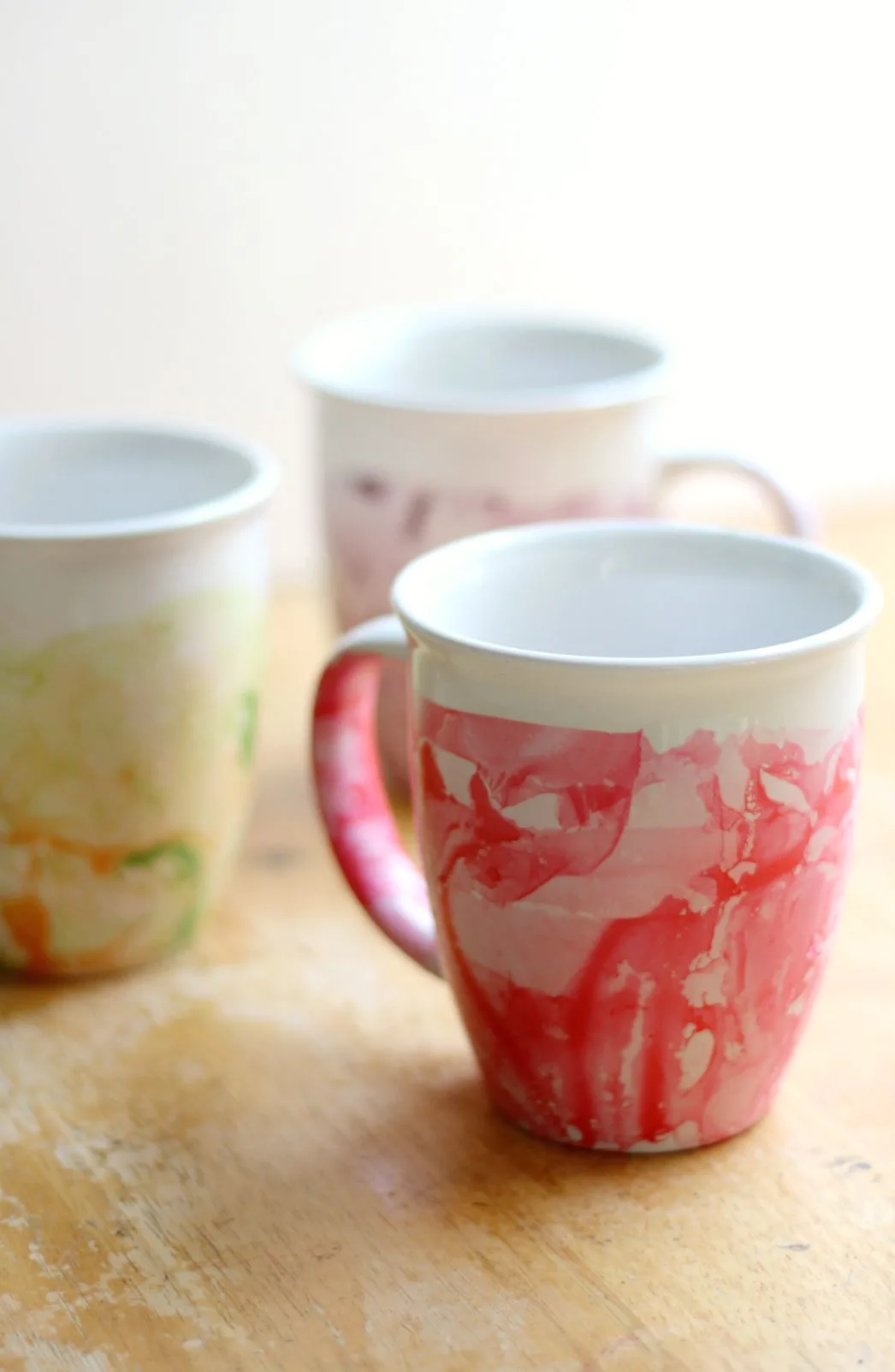 Source: strengthandsunshine.com
Do you have a few plain old boring white mugs lying around at home in your cupboards? Or, you can just pick them up here or at a local dollar store. How about you play around with your nail polish a little and add some color to those mugs?
With a bowl of water and a couple of bottles of nail polish, you can recreate that lovely marbled finish on your mugs. There's no planning involved or a fixed pattern, so just feel free to eyeball it and enjoy the process.
Just remember to have plenty of paper towels at hand to mop up spills, and you'll be fine.
11. Candle Holder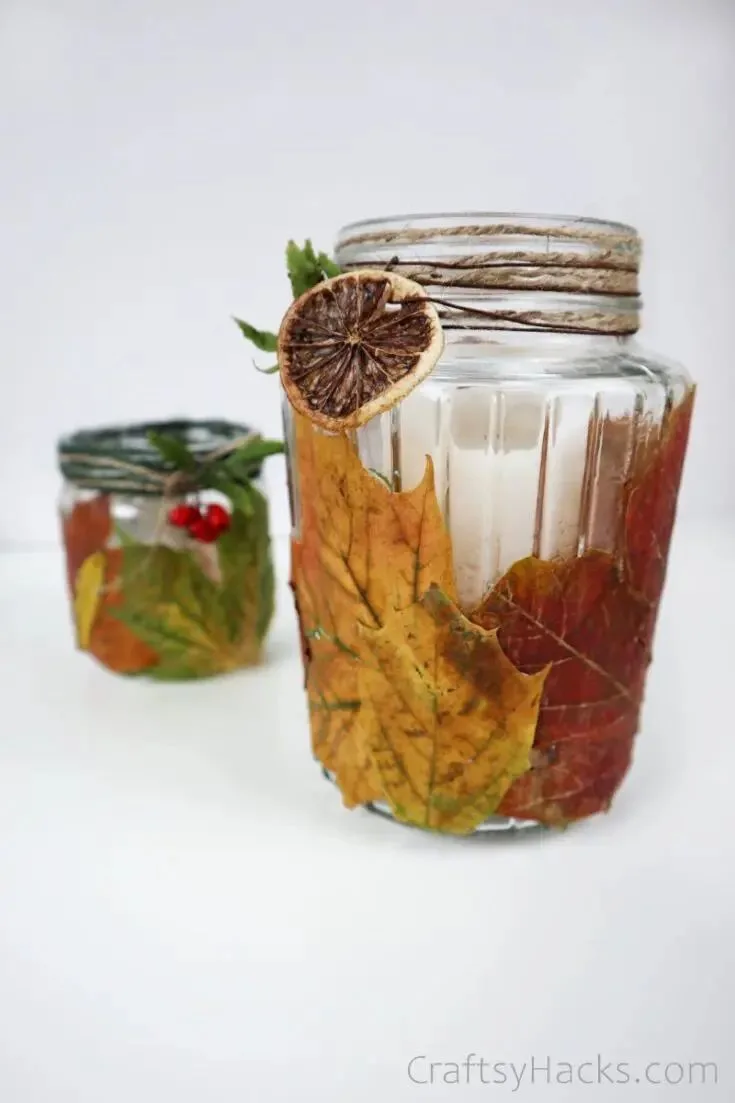 Source: craftsyhacks.com
Here's another leafy candle holder that you can make to fill up with your homemade scented candles. Alternatively, you can use them as tealight candle holders or luminaries, too.
You know the drill; go out and gather some leaves. Feel free to accessorize with a dried orange peel, a couple of cranberries, and more.
You can also attach a sprig of cedar, pine, or holly to the rim by looping some twine around to secure it in place
12. Lavender Sugar Scrub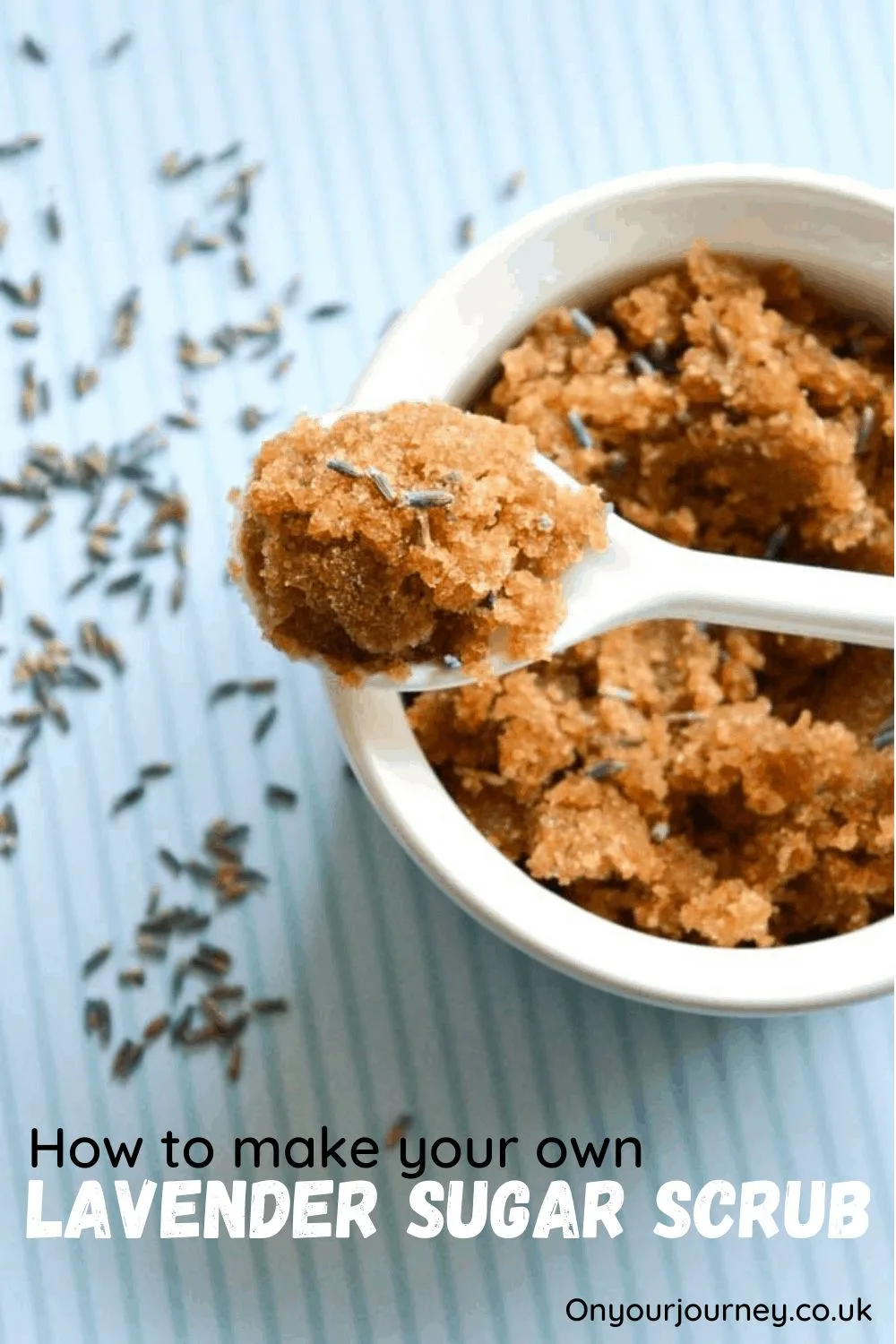 Source: onyourjourney.co.uk
Sugar scrubs can be horrendously expensive when you buy them at fancy bath and body stores. If only you knew how easy they are to make, you'd never buy them, ever again.
Check out the recipe to make your own lavender-scented sugar scrub. You can switch the lavender for your favorite combination of scents.
Just remember to pack them in airtight jars to avoid any bacterial growth. You can make a huge batch of these and sell them, too!
13. Fingerprint Glass Magnets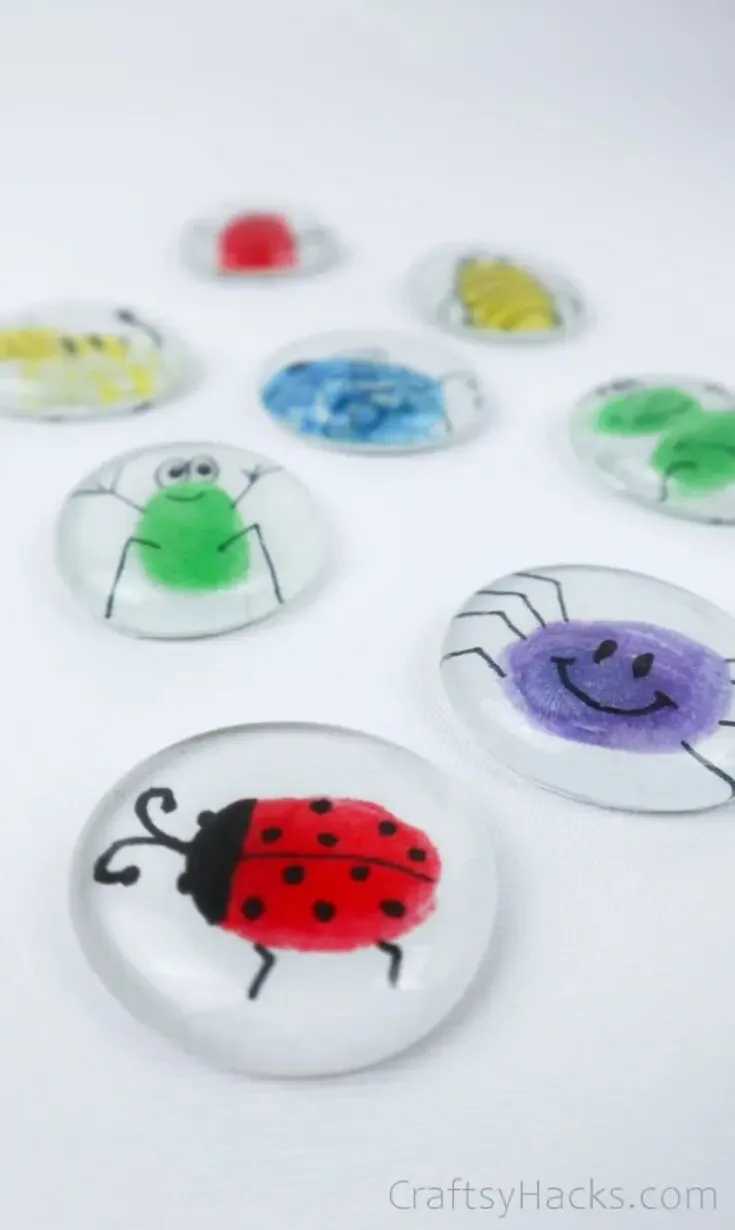 Source: craftsyhacks.com
Magnets will never go out of style. As long as homes have refrigerators, there will always be a need for magnets, especially cute fingerprint ones like these.
You can doodle around the fingerprints and turn them into cute ladybugs, spiders, toads, and more. As long as they're safely encased inside the glass and aren't real, I'm perfectly fine with having creepy crawlies in my kitchen.
But first, buy a few large-sized cabochons. This set comes with adhesive magnets included in the pack. So you just have to secure them to the back, and your magnets are ready!
14. Painted Flower Pots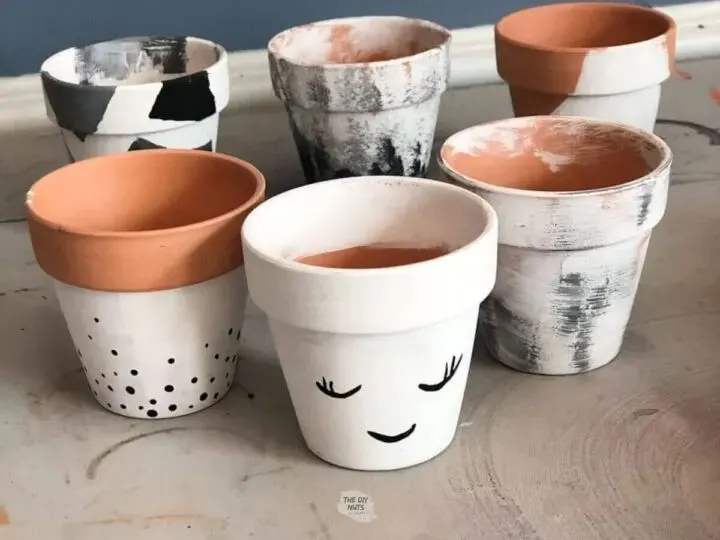 Source: thediynuts.com
Have you got any old flower pots that need a good bout of scrubbing and an even bigger makeover? Then have you considered painting your flower pots?
Even if you don't have old pots to paint, you can pick terracotta ones from here to work with. Just grab some paint, too, and you can start working.
What I love about these pots is that they're minimalistic and chic, without being too in-your-face with their colors and designs. They're also super adorable!
15. Wire Rings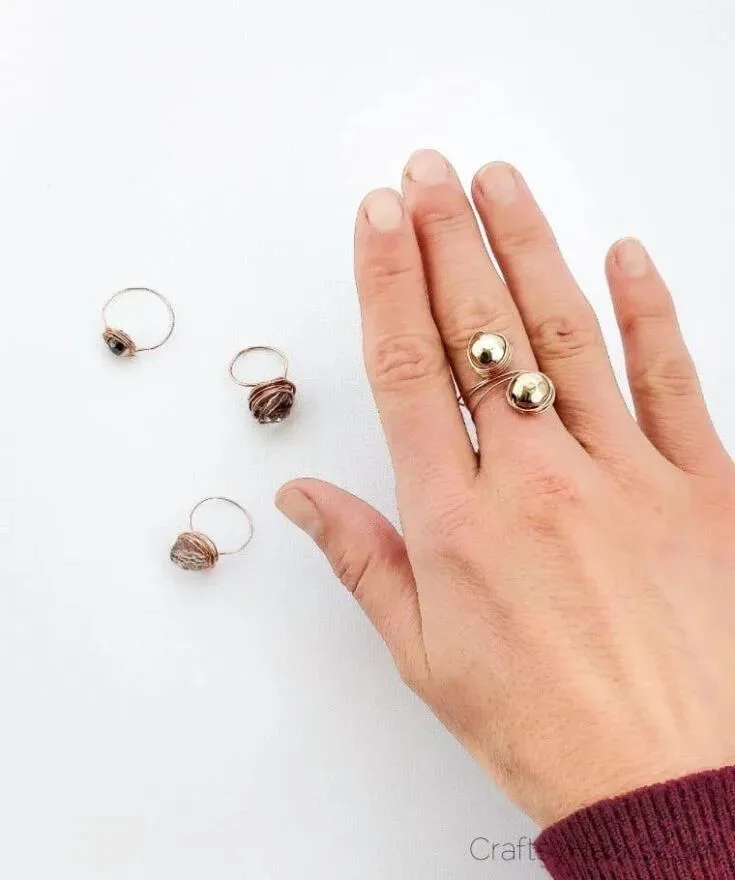 Source: craftsyhacks.com
Handmade jewelry can be a hit or a miss most of the time. But you have nothing to worry about with these wire rings.
With a little bit of copper wire, a pair of pliers, and the odd stone or embellishments to add sparkle to your rings, you can make a dozen of them right at home.
The best part about making your jewelry? You get to customize the size, so they're all essentially made to fit. Just wind the wire around your finger to measure the width and work your way from there.
For more ideas, check these DIY rings!
16. Outdoor Candle Holder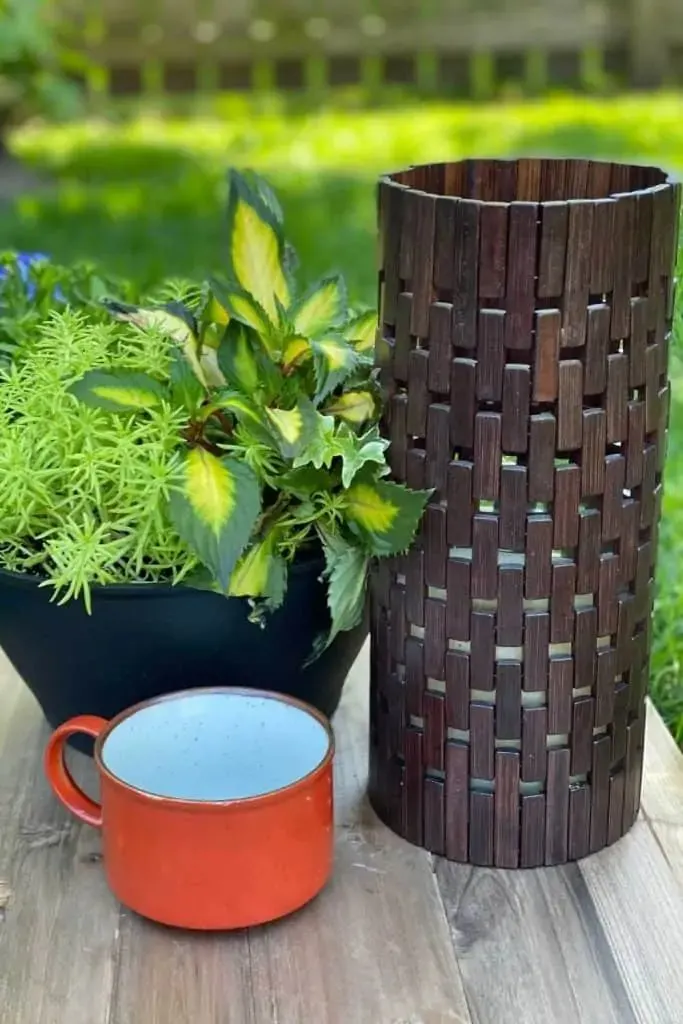 Source: restoredecorandmore.com
Candle holders are never more essential than they are outdoors. With all the breeze wafting around, you need something that will protect your candle frame and look pretty doing it.
So, here's a pattern for one of the cutest outdoor candles ever. They have this chunky interlocking pattern, and…did I mention they were made from placemats? How cool is that?
Pick out your placemats—something sturdy yet flexible enough to roll into a cylinder simultaneously. You can pick them up here or at a Homestore.
17. Headband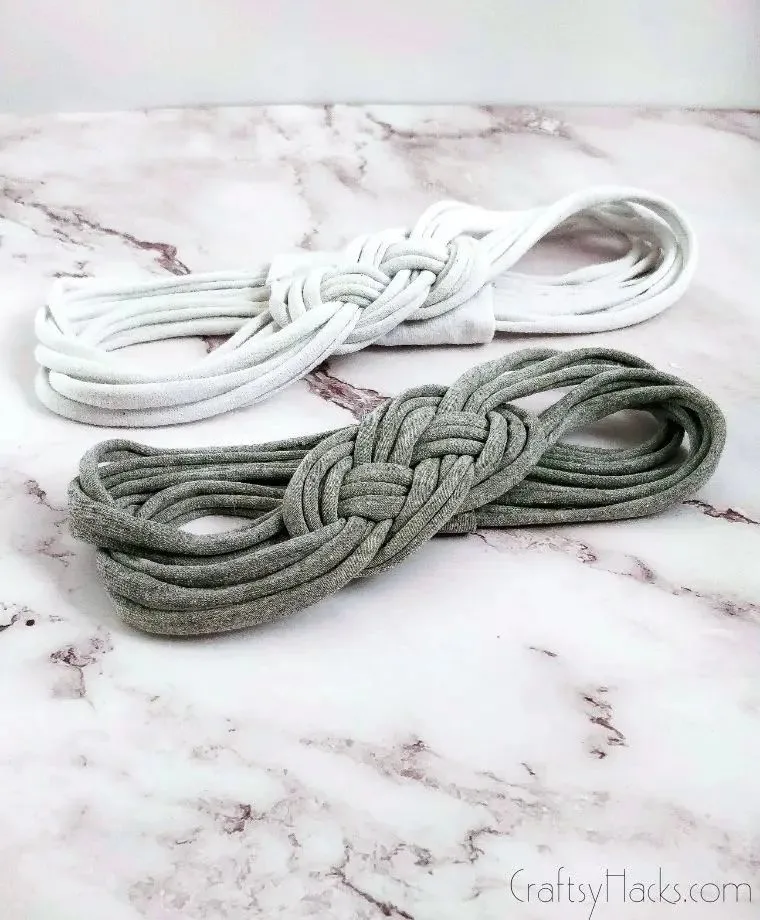 Source: craftsyhacks.com
I bet you have plenty of old tees in a box at the back of your closet. You've been meaning to donate them, but you never really got around to it.
Don't worry; you're going to upcycle those tees into this gorgeous stretch DIY Celtic knot headband. First, cut the tee into long strips starting just under the armholes.
Then go ahead and start knotting the Celtic pattern by following the instructions. You can also make and store the t-shirt yarn in advance to use for DIY projects later.
18. Wooden Lantern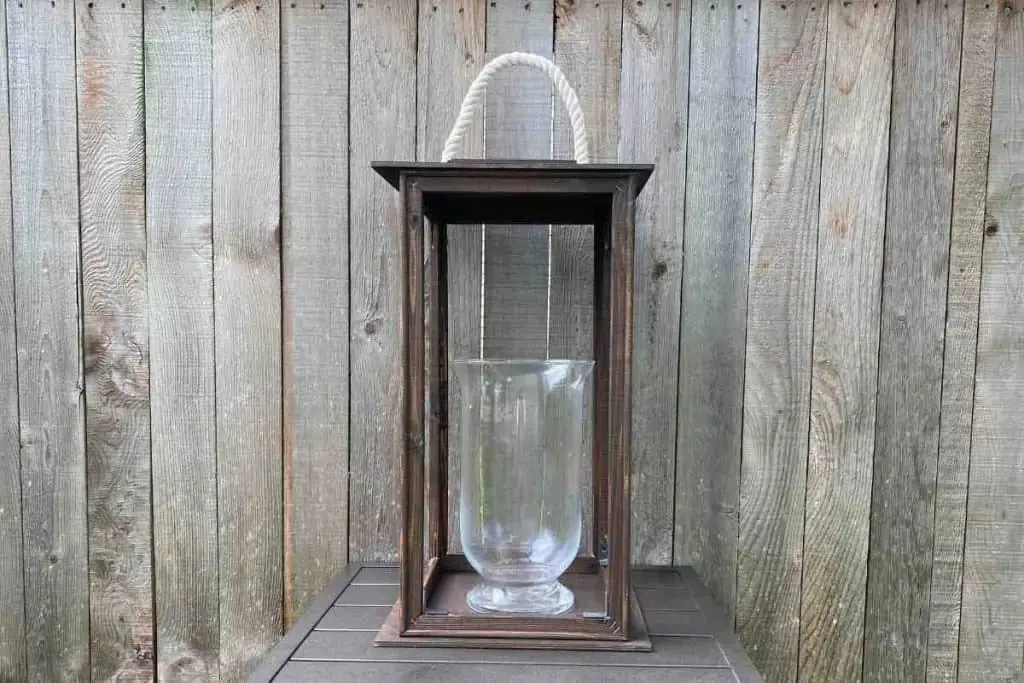 Source: restoredecorandmore.com
This wooden lantern is a decor piece that would work splendidly for just about every season. It's made without the use of power drills, so make sure you stock up on some gorilla glue.
You can use craft wood from here to build the lantern. Since you're making this lantern from scratch, you can pick out a nice stain to stain your wood.
You'll also need a few stretched canvases to use as the frame for your lantern, and you can pick them up right here.
19. Rope Coasters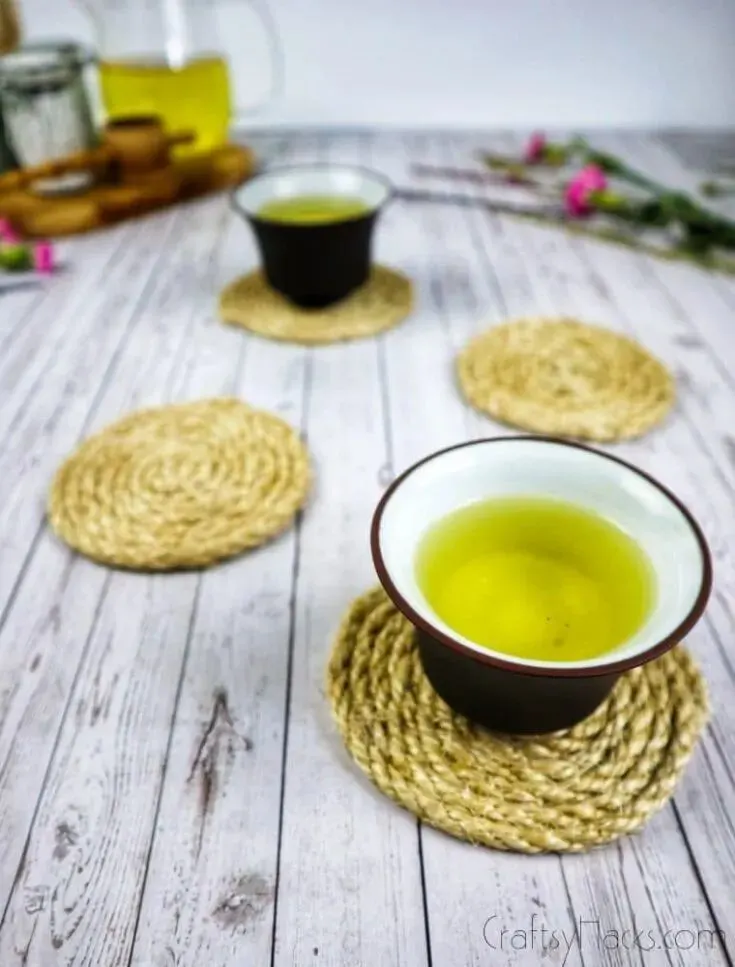 Source: craftsyhacks.com
You can never have too many coasters around your home. A couple or so in every room can come in handy when you're about to sit down with a cold one.
You don't want to ruin the wood finish on your furniture, and you don't want to walk all the way to the kitchen to get a coaster. That's why you need to stack up on these DIY rope coasters.
Coasters, you'll find, sell like hotcakes, especially when they're cute and chic. These rope coasters will blend into pretty much any decor theme or style, which will make them even more valuable!
These resin coasters could be a perfect project to sell as well!
20. Silhouette Pictures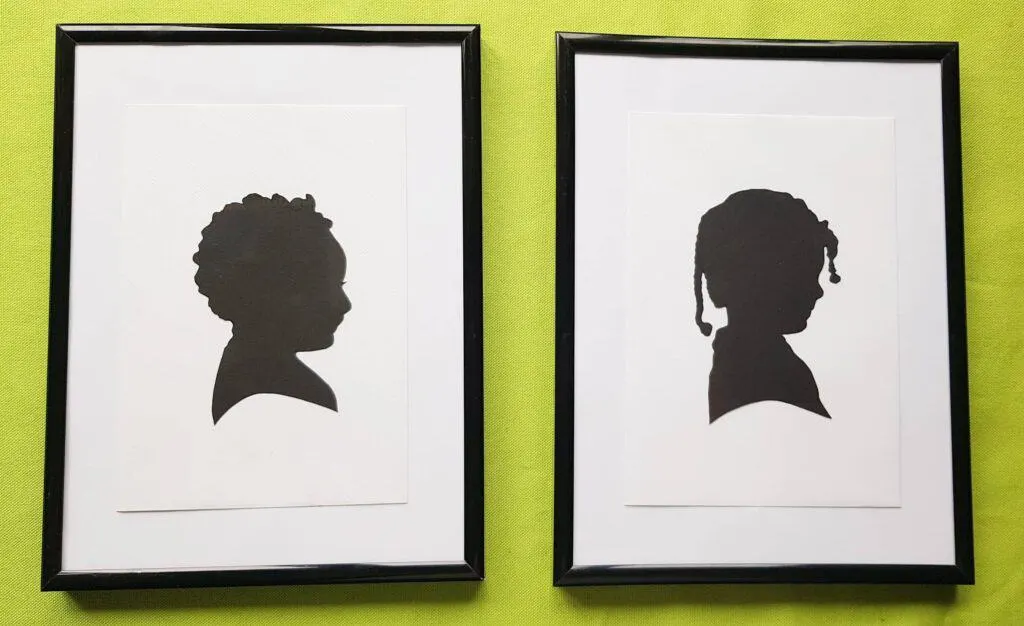 Source: liltigers.net
There's something so old-school and romantic about silhouette keepsakes. They're very quintessential and remind you of times gone by in the best possible way.
These DIY silhouette pictures can be lovely keepsakes. You can have silhouette keepsakes of your kids, spouse, family, and friends framed and mounted on a wall.
You just have to practice taking silhouette pictures. Then, you can upload the pictures, size them, then have them printed and ready to use.
Finally, grab a pencil and try to make the silhouette a little more life-like by drawing strands of hair, as seen here.
21. Bottle Cap Candles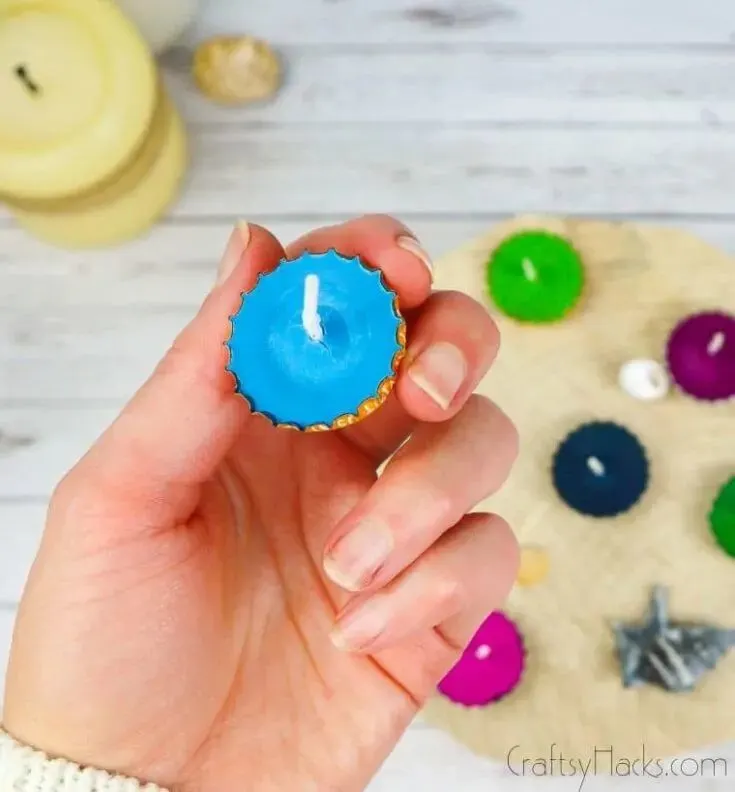 Source: craftsyhacks.com
Who said that DIY candles only had to be in big jars? These bottle cap candles steal the price for the most creative candles by a mile and a half!
You can upcycle bottle caps you collected over time, or you can buy some from here. The wicks will probably be a little too big, so just cut them down to the size you need.
If you're in the business of making candles, then this project will help you use up candle scraps.
22. Cork Pumpkins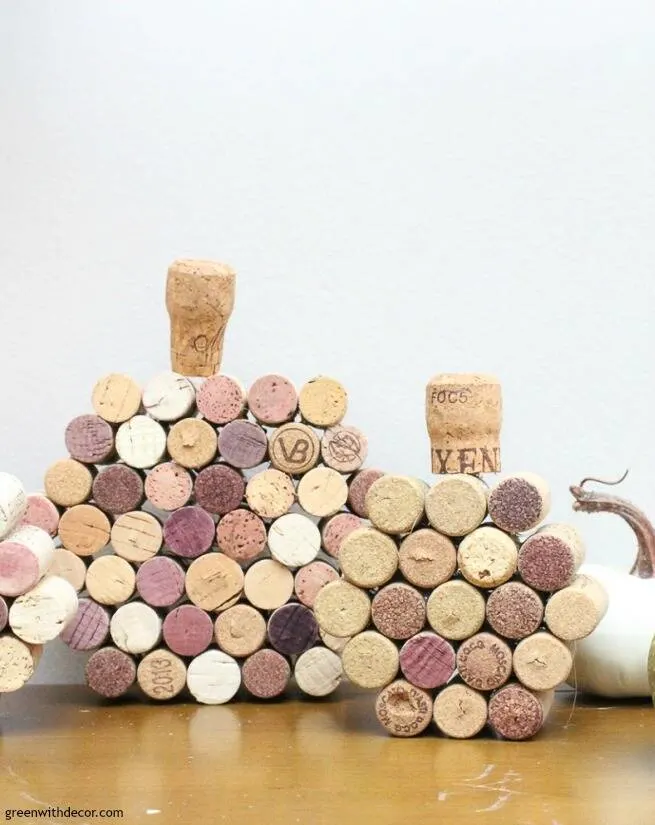 Source: greenwithdecor.com
I'll be the first to admit that I love everything about wine bottles, from the actual wine inside to the bottles and corks. Corks, in particular, have a ton of potential in crafting.
Take this rustic-chic cork pumpkin, for example. Sure, it's not an actual pumpkin, but I think it's managed to capture the essence of pumpkins quite creatively.
Pick up a few corks from here to get started. You can choose to spray paint the corks in pumpkin or rust orange or just keep them as they are.
23. Yarn Wrapped Glass Vase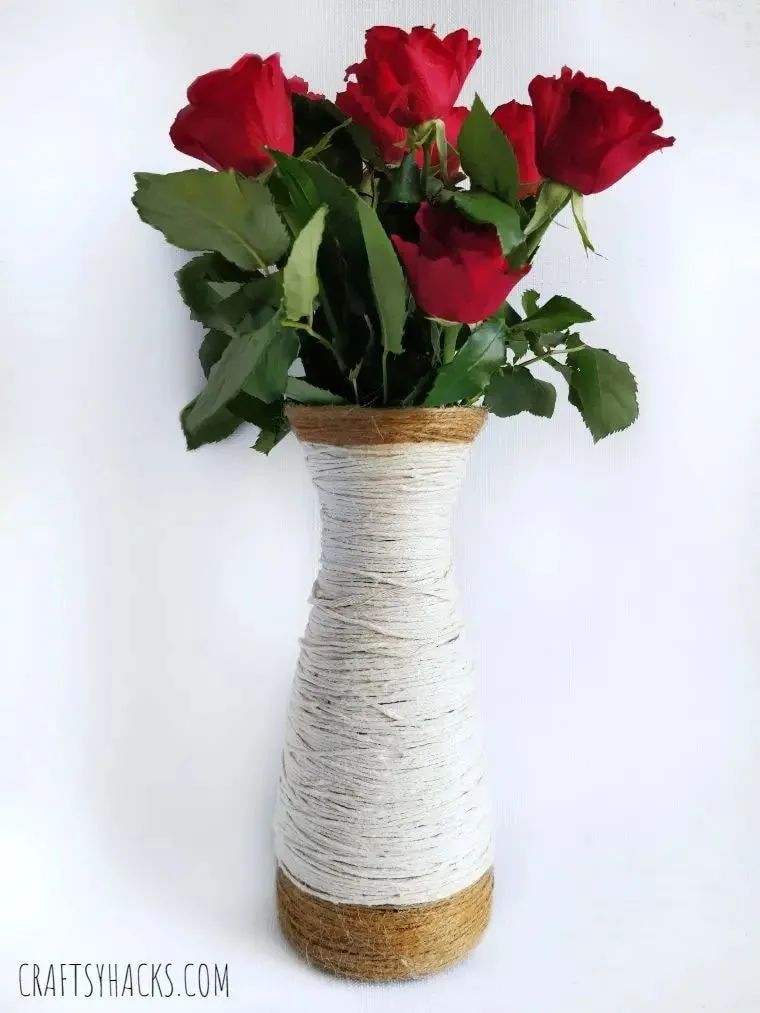 Source: craftsyhacks.com
Look at this yarn-wrapped glass vase and tell me you don't absolutely love it. Go on; I'll wait.
Wrapping yarn around the vase is a great way to hide any dings and chips, too. This way, instead of having to dump the old vase, you can upcycle it!
You have to appreciate how versatile yarn and twine are and how much they can jazz up an old vase like this. You can also switch between colors and yarn types to give the vase some added texture and boost the finished look.
Want more yarn projects? Why don't you look at this tutorial for a yarn-wrapped DIY flower pot and these yarn projects that will blow your mind?
24. Painted Candlesticks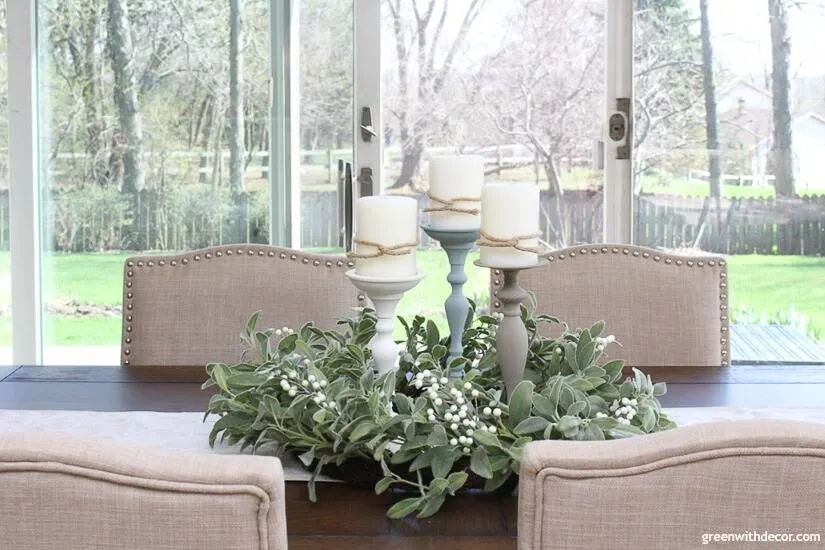 Source: greenwithdecor.com
Thrift stores and dollar stores are stocked with candles just waiting to be given a facelift. They also have plenty of pretty basic candlesticks that you can paint and jazz up.
Once you've assembled all your materials, it's time to prep the candles. This means making sure they're not dirty, dusty, or grimy.
Give them a few coats of paint to spruce them up, and use a fine-tipped brush to paint all the grooves and edges.
You can use a bottle of chalk-finish paint, too. I find that the chalky matte finish really ups the class of these candlesticks.
25. Pressed Flower Bookmark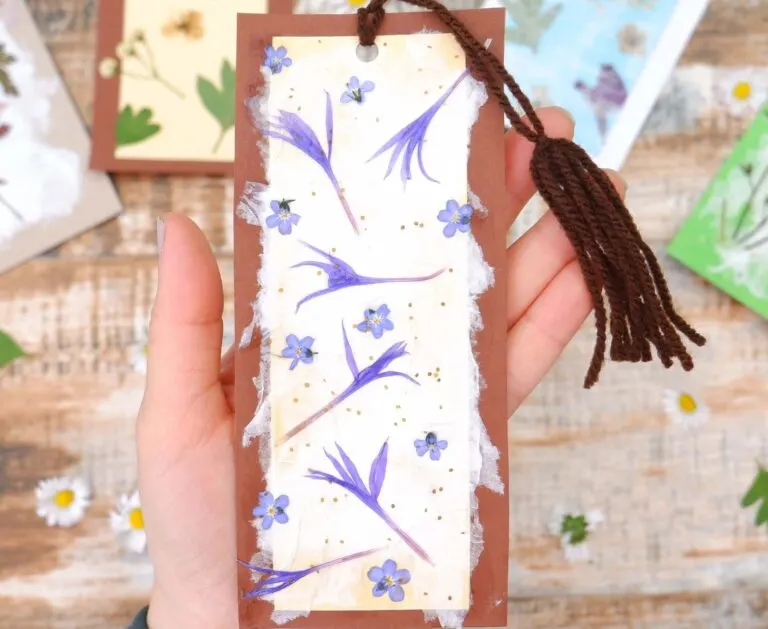 Source: liltigers.net
Pressing flowers is an art that takes some time, plenty of patience, and oodles of willpower to master. Once you have mastered it, though, you'll be making pressed flowers all the time.
They're such a vital component in crafting. Take these pressed flower bookmarks, for instance. They're inexpensive to make, but they can sell for a pretty penny, which means you get a nice and tidy profit.
The only downside to making these bookmarks is waiting for the flowers to be ready, which can take anywhere between a week to a month. You can always buy pressed flowers here.
26. Fabric Mushrooms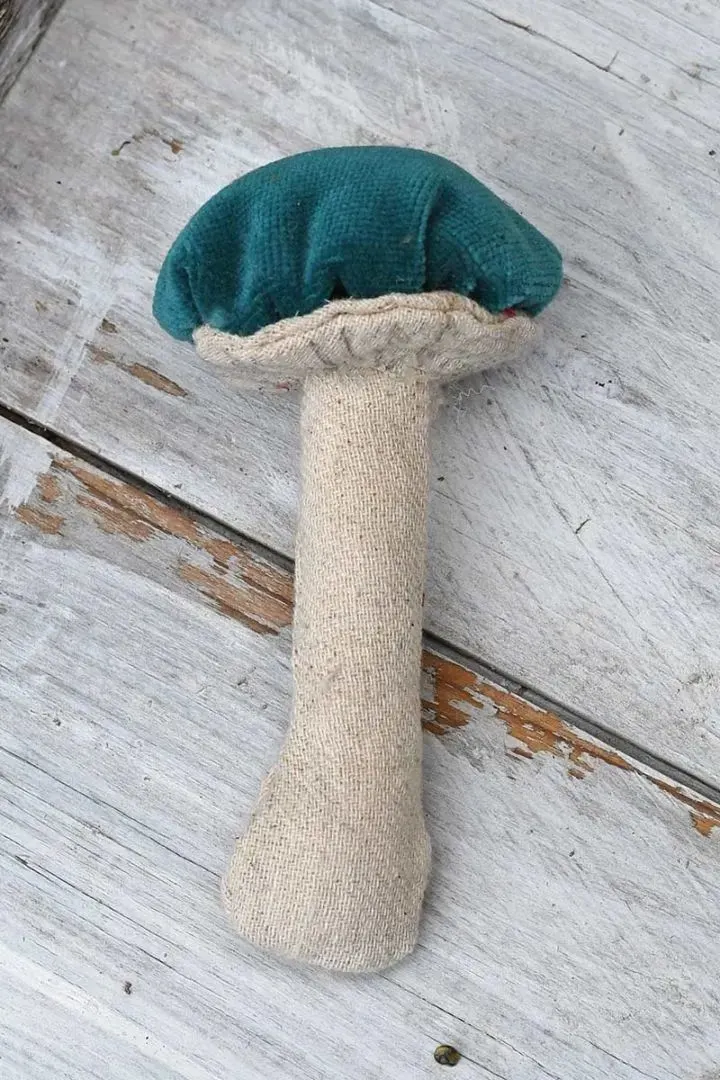 Source: pillarboxblue.com
What, you must be wondering, are fabric mushrooms. Well, let me tell you right off the bat that it can be addictive. They can be used in so many different ways and be included in so many different projects, though.
You can use them as ornaments, a present topper, a cake topper, and plenty more. It is a great project to help you bust into your stash of scrap fabric and put a decent dent in it.
Speaking of, take a look at these DIY fabric projects for more creative ideas,
27. Driftwood Clock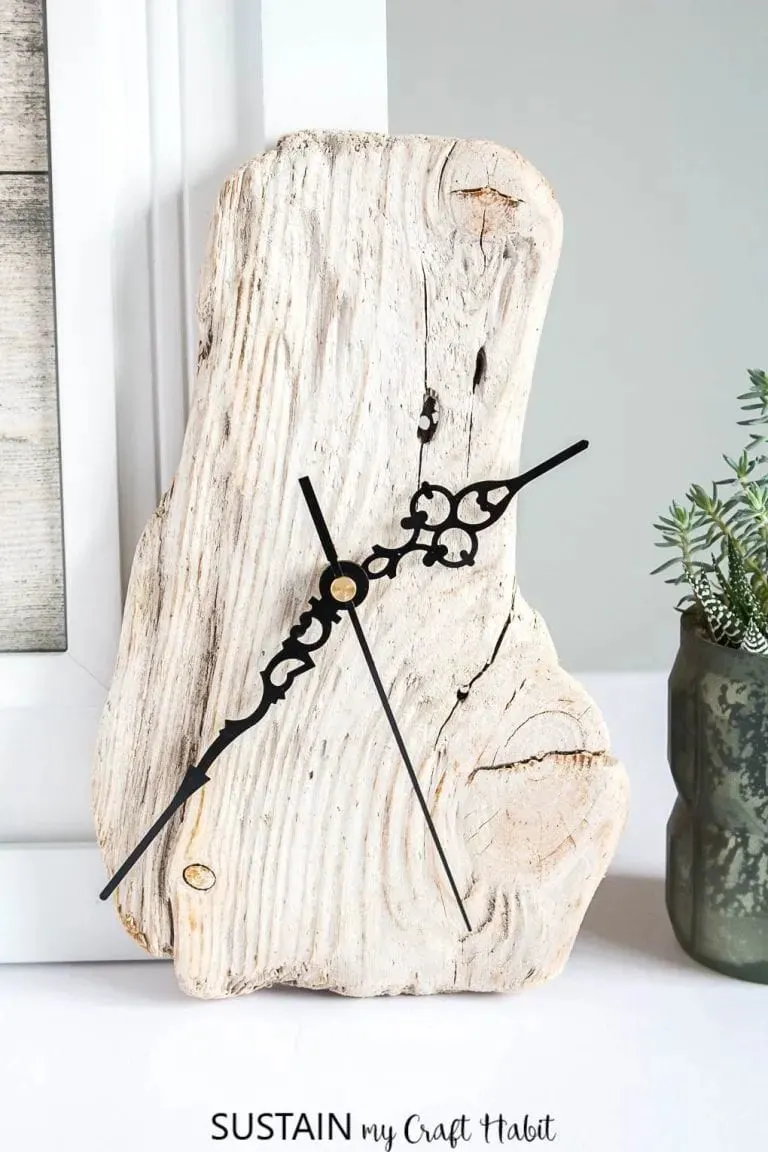 Source: sustainmycrafthabit.com
Driftwood is oddly magical. It can add a ton of texture, color, character, and wood notes to any room.
If you're looking for different ways to incorporate driftwood into your decor, then check out this driftwood clock. You just need to buy the mechanism and hardware needed for clocks(look here), and you're more than halfway done.
Then just rig the mechanism up with your tools. Use a drill to help you attach the nose and needles of the clock in position.
28. Stacked Book Decor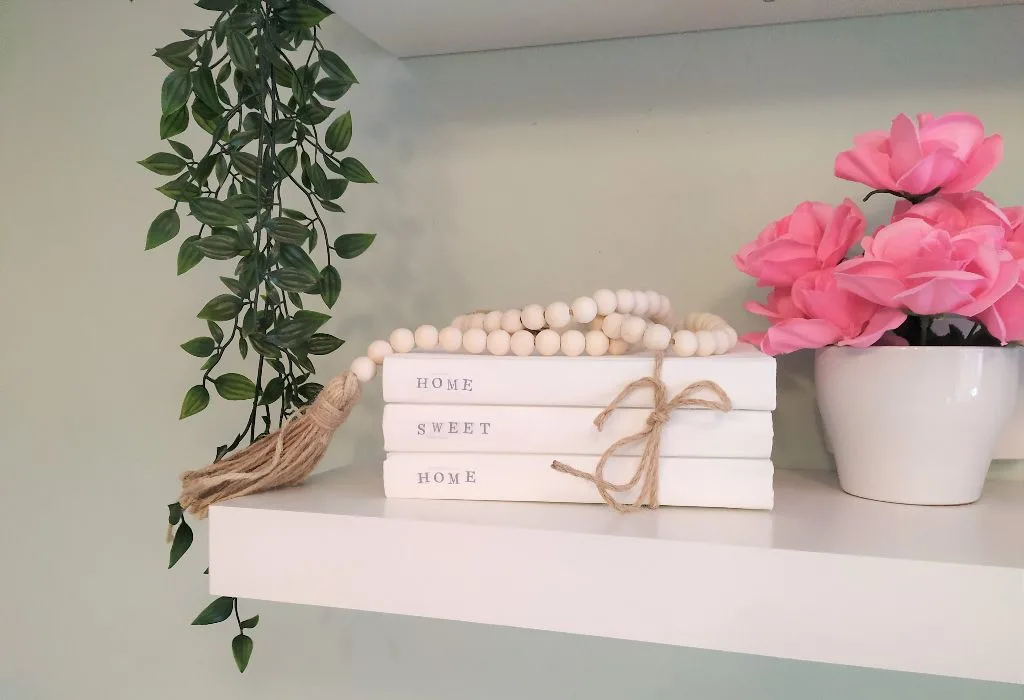 Source: rekindlemydwelling.com
A set of stacked books can be a wonderful decor piece for your coffee table. You'll find that it's also pretty easy to make.
You need to pick out three hardbound books and then wrapping the paper of your preference. You can also paint the books if you don't plan to use them for anything else.
Then, grab some stencils and a stamp pad and stamp your letters onto the spine of the books. This set has three sets of words that read "Home sweet home."
29. Bath Bombs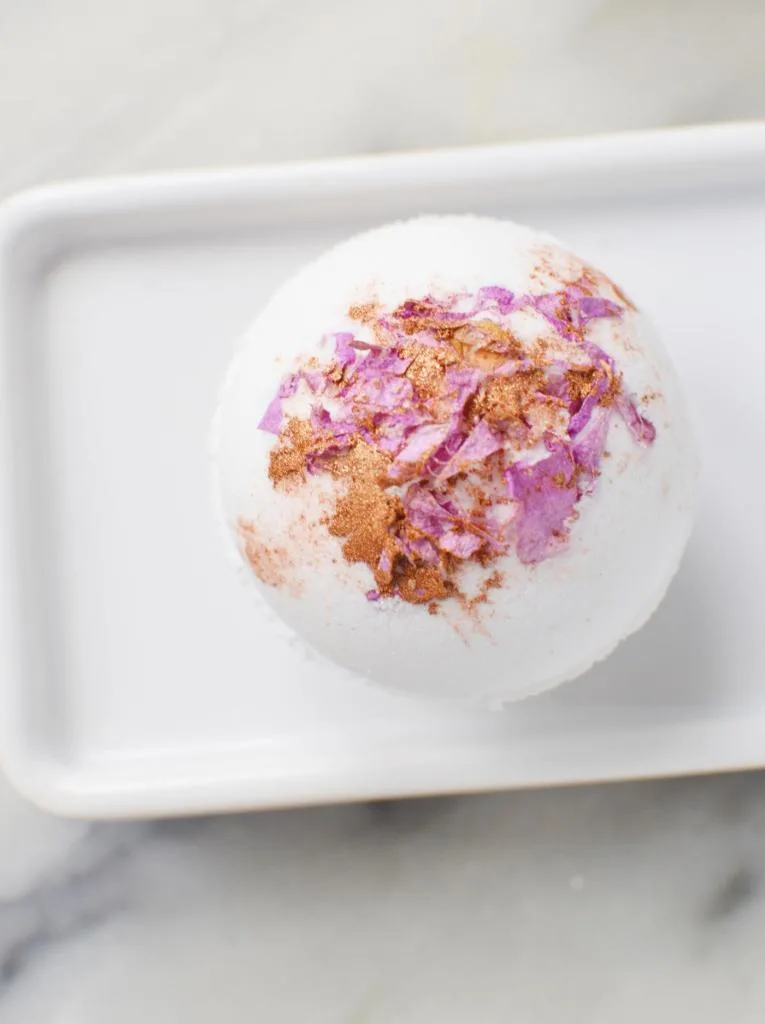 Source: militaryfamof8.com
Bath bombs are a luxury that you don't need to pay through your nose for. You can make your own bath bombs at home with a few ingredients.
This rose gold bath bomb is filled with rose petals, and once you drop one of these into your bathtub, you're going to be in heaven! The magic that these scented orbs bring is out of the world.
Just mix some citric acid and baking soda together to create your base, then go all out on customizing your bath bombs. Pick up a bath bomb mold from here to begin.
30. Grapefruit Bath Salts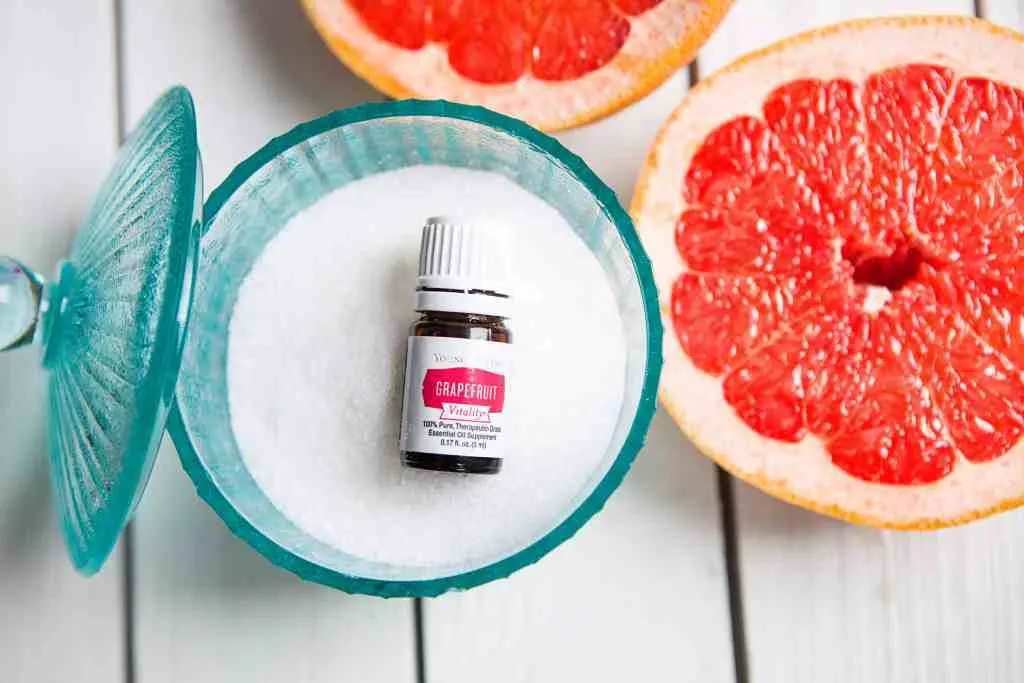 Source: militaryfamof8.com
Don't put away your essential oils and bath product ingredients just yet. You're going to need them to make a batch of this bath salt.
Don't you love the sweet citrus scent of grapefruit? Imagine soaking in a tub filled with grapefruit-scented bath salts. Pick up some Epsom salt from here to get started on the recipe.
You can mix some Himalayan salt in there, too, along with baking soda and a few drops of essential oils. Pour your salts in a pretty jar, label the jars, and they're ready to sell!
31. Pumpkin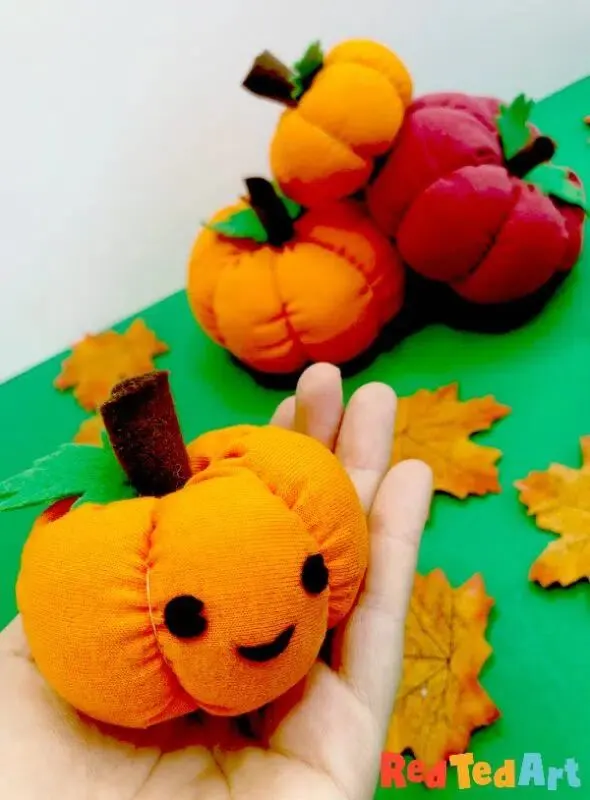 Source: redtedart.com
This is a sewing project that can come in quite handy during the fall months. Pumpkins are so quintessentially fall that just seeing one can usher in the season.
You can sew these plush pumpkins in no time at all. The materials are easy to come by. You just need fall-colored fabric, some felt, twine or rope, and a cinnamon stick for the stem.
The cinnamon in there really up the ante and can have you smelling the fall months, reminding you of hot pumpkin-spiced lattes sprinkled with cinnamon.
32. Santa Cookies Plate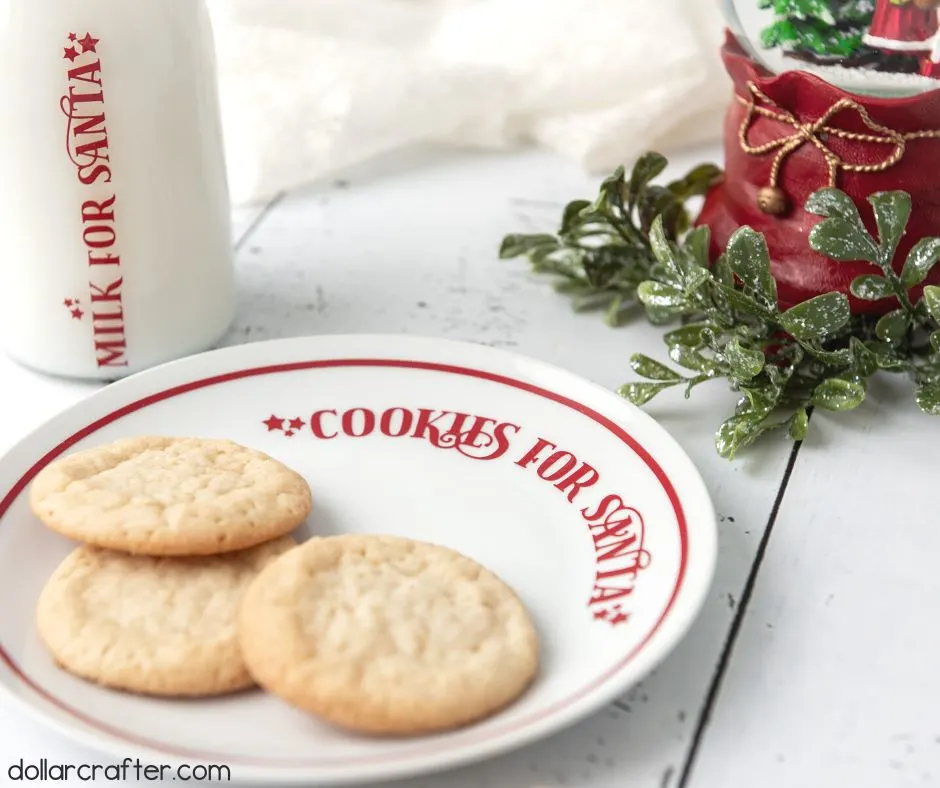 Source: dollarcrafter.com
You can't just dump a bag of cookies onto any old plate and leave it out for Santa. No, Santa's cookie plate has to be something pretty and cute, like the one you see here!
With your trusty Cricut machine, vinyl from here, and transfer tape like this, you can design and make your very own Santa's plate. Create fancy fonts for the letters, play around with the template, and add as many cute filigree or swirls as you like to decorate the plate.
33. Jar Candles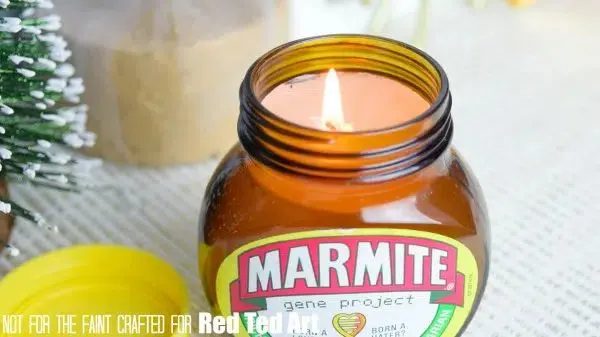 Source: redtedart.com
If there was anything that would make up for a Nutella jar being empty, it's if it's filled with scented candles. But that jar of marmite? I'd dump that just to get an empty jar.
So before you upcycle those jars to use as candle holders, make sure you wash them thoroughly, rinse them out, and allow them to dry. Once you do that, you can go ahead and set the wick in your jar.
Remember to scent the wax with essential oils first before you pour it in there to set. Also, feel free to add colors, too, while you're at it.
34. Scottie Door Stop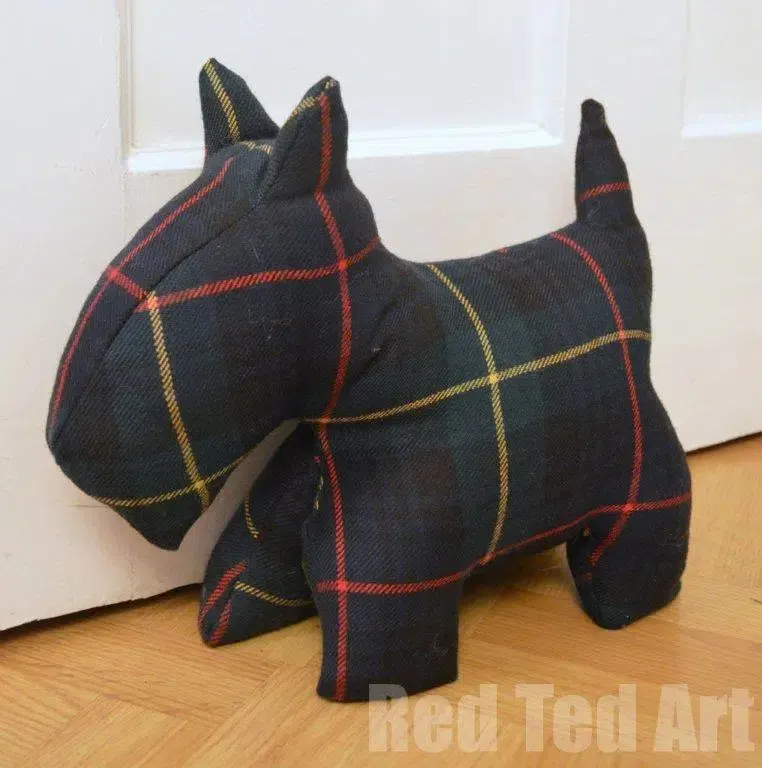 Source: redtedart.com
You know how excruciating it feels to stub your toe or tiny toe against the door jam? Well, maybe this Scottie door stop is the answer to that!
What's a Scottie doorstop, you ask? Well, take a good look because you're going to find out exactly how to make them from scratch.
You can find the downloadable pattern provided and print it out to help you with the pattern. Just remember to leave a 10mm sewing allowance to help you nip the seams at the end to give Scottie nice pointy ears.
35. Juggling Bag Chickens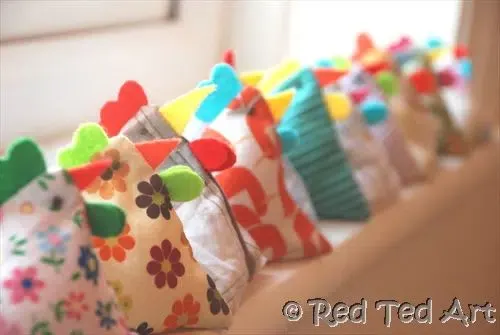 Source: redtedart.com
Check out these adorable bean bag chickens! If you're learning to juggle, then you can start yourself off with these bags.
They won't squish on the floor if you drop them like fruit or bounce away like rubber balls. They'll just…plop.
Hey, here's an idea: if you use heat-resistant fabric and fill the bags up with dry rice or beans, you can actually use them as warmers. You just have to put them in the microwave for a few seconds to warm them up, and that's it.
36. DIY Journal Cover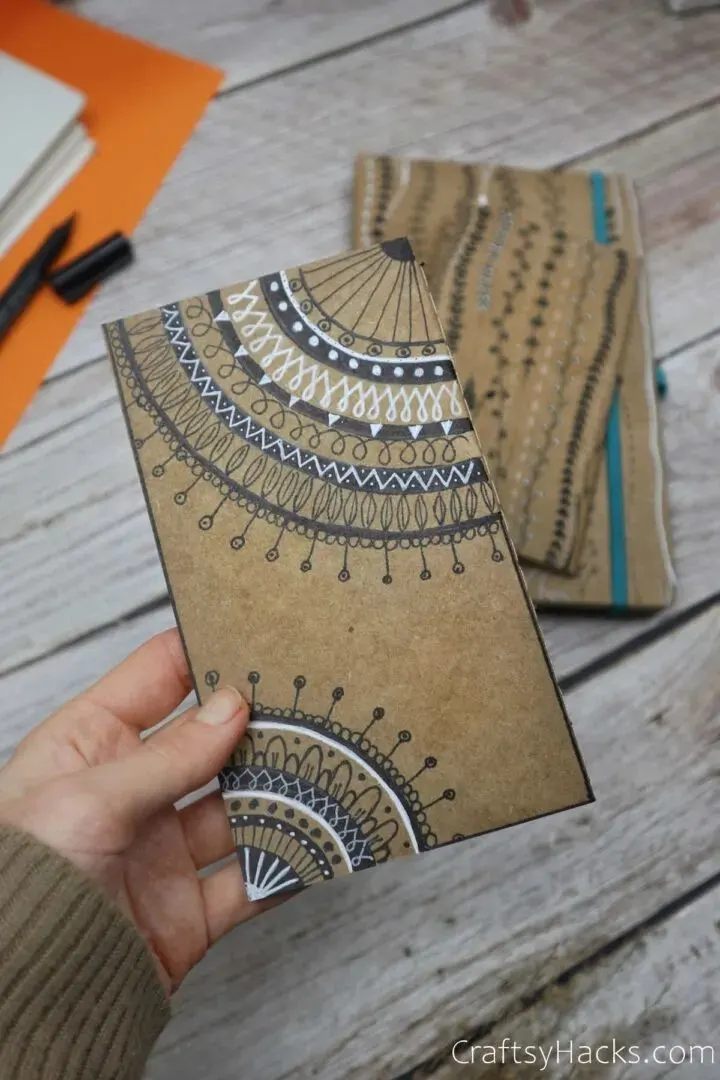 Source: craftsyhacks.com
Journals are almost always pricey, or at least the pretty ones are. The only ones that are reasonably priced are plain and often boring.
But what if you could jazz up those boring covers and turn those journals into cool and artsy pieces? You just need to doodle over the cover: mandala, zentangle, Madhubani, and other popular prints and designs.
Pick up some brown craft paper from here, to begin with. Then, wrap an old notebook with this paper and start doodling over the cover.
37. Keychain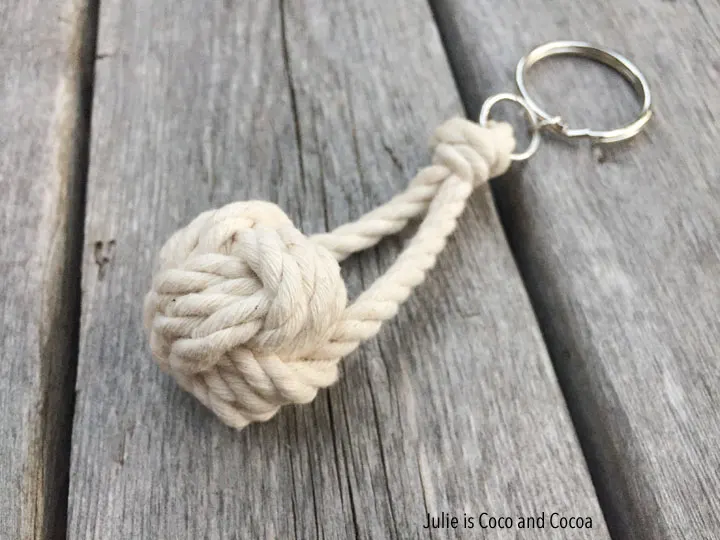 Source: juliemeasures.com
Keychains will never go out of style. They're always useful to have on you, and you're less likely to lose your keys with a keychain tagged to them.
I wonder if you have any macrame cord leftover from that previous project you worked on earlier? You can use those cords to make that monkey fist keychain you see.
The second keychain is made from polymer clay, which also gives you a ton of creative room to play around with colors and prints. Feel free to explore all your options before you settle.
These macrame keychains could sell well as well!
38. Pressed Botanical Wall Art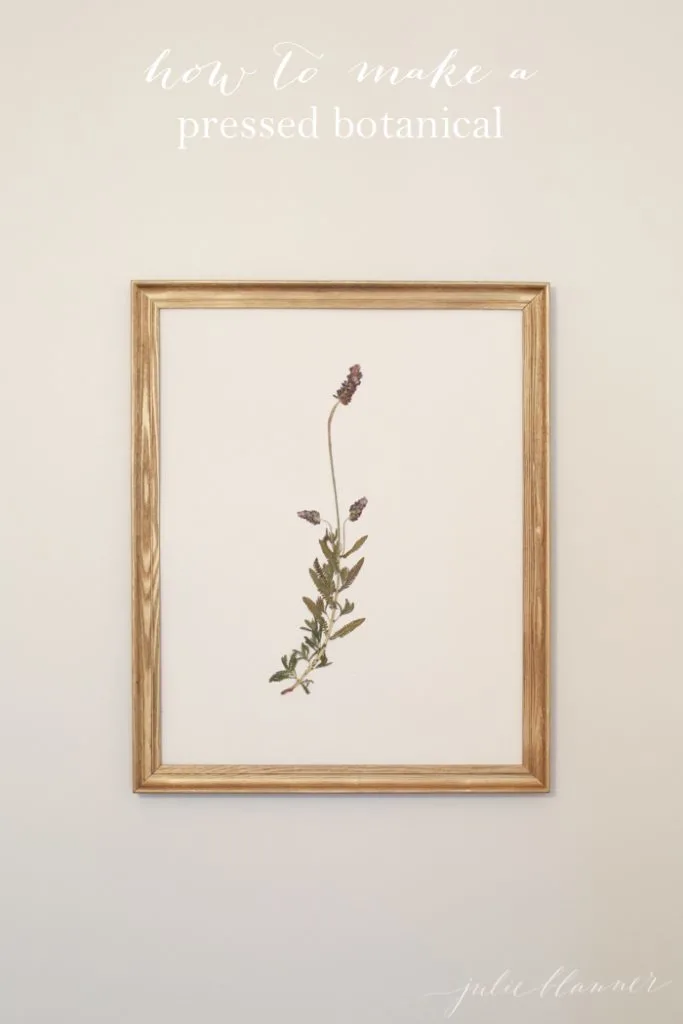 Source: julieblanner.com
Remember when you made pressed flower bookmarks? You can take that to the next level and make this pressed botanical wall art.
Grab a couple of frames first. You can pick the frames up at IKEA, a local dollar store, or a flea market if you're trying to be economical.
Then glue your flowers to craft paper, have it framed and mounted—or ready to sell, as the case is.
39. Painted Baby Swaddle Blanket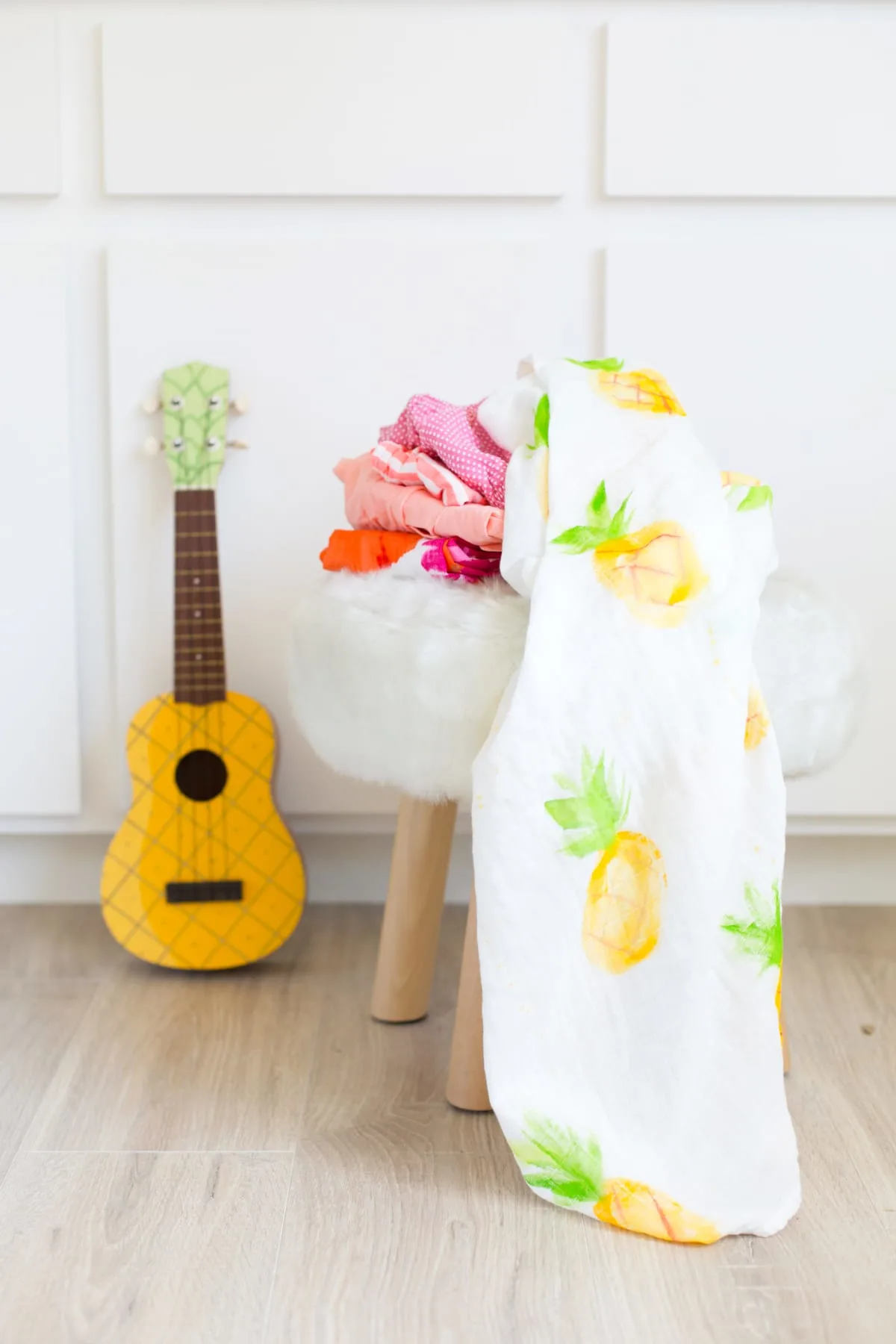 Source: lovelyindeed.com
When you swaddle a baby, it reminds them of the warmth and heat that they felt in their mom's bellies and makes them sleep better. So a baby swaddle blanket should be everything warm and cozy.
You can buy a plain white blanket and paint it to jazz it up. You can hand paint it, or you can try stamp painting it.
Either way, use fabric and baby-friendly paint just to be extra careful!
40. Natural Lip Balm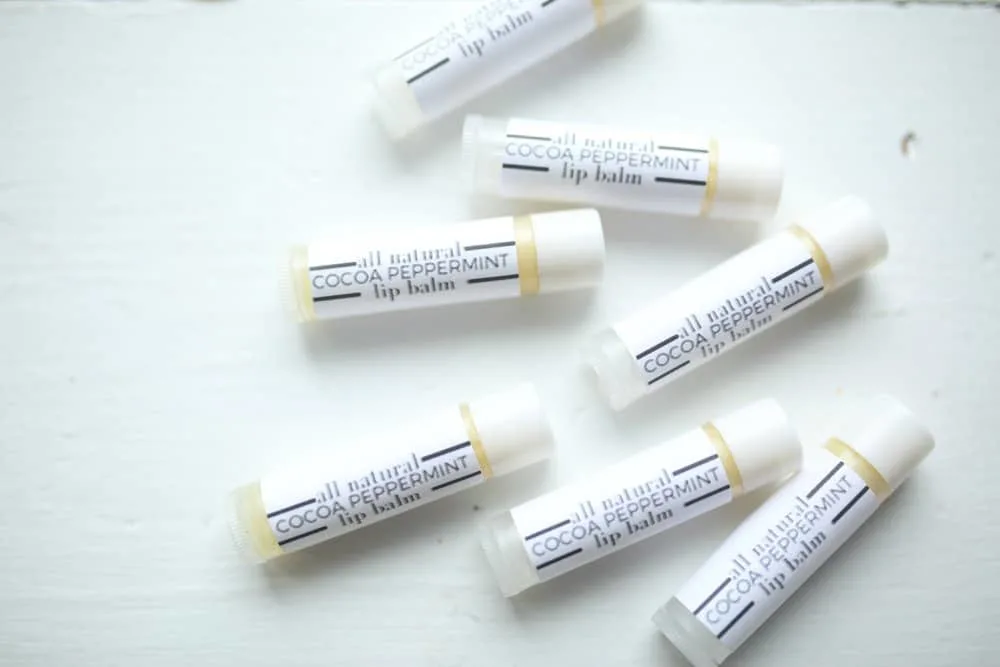 Source: farmhouseonboone.com
A homemade lip balm that's luxurious, nourishing, tasty, and costs virtually next to nothing to make? Sign me up! That's exactly what this next DIY craft project is all about.
You're going to make these really yummy and moisturizing lip balms in a variety of flavors and shades. You can add essential oils to not just boost the scent but also for the many medicinal properties it provides.
You can also turn that lip balm into a sugar lip scrub if you like. Just grab some essential oils from here and get started.
41. Crochet Christmas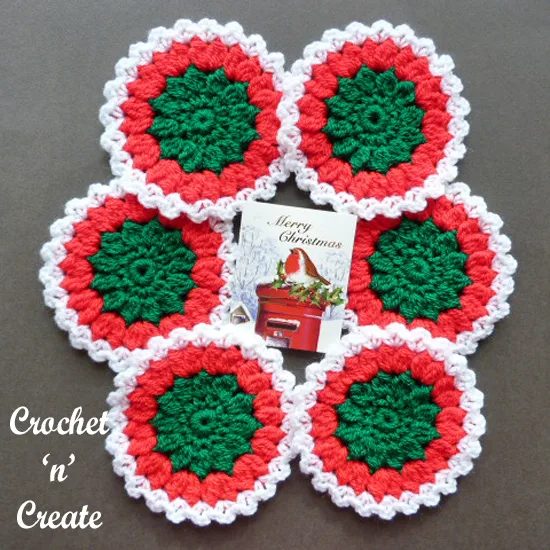 Source: crochetncreate.com
The holiday season is in high tide, and if you're looking for Christmas-themed crafts to make, then check out these Christmas coasters. A set of these coasters will take you just an hour or so to make, and you can make plenty to sell.
You'll need red, white, and green-colored yarn skeins, a crochet hook, a pair of scissors, and finally, the pattern for your crochet coasters.
If you're making a gift basket, then you can pair these coasters with a mug, a few sachets of hot cocoa mix, and all the fixing you can think of to make a cup of cocoa.
42. Milk Bath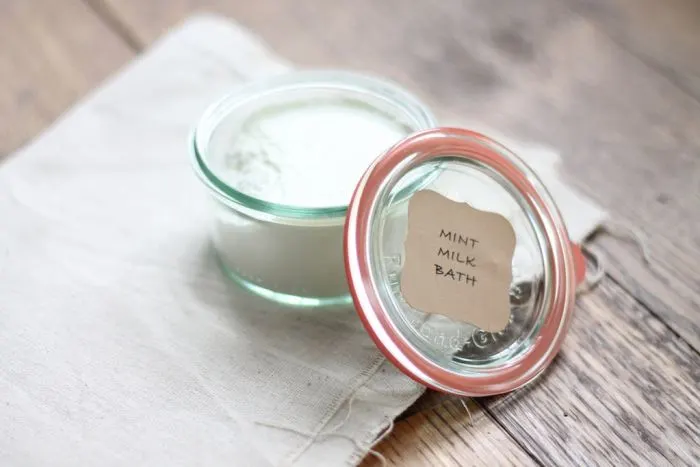 Source: julieblanner.com
This minty and creamy milk bath recipe will have you feeling decadents and soft and your skin glowing and bright. The spearmint in this milk bath will make you feel fresh and minty, too.
You know how you feel when you get out of a hot bath and have brushed your teeth? That's what you're hoping to recreate here.
You can make this milk bath fresh or powdered depending on how you plan to package it. Wrap a nice big bow around the top, and you're set.
43. Scrunchies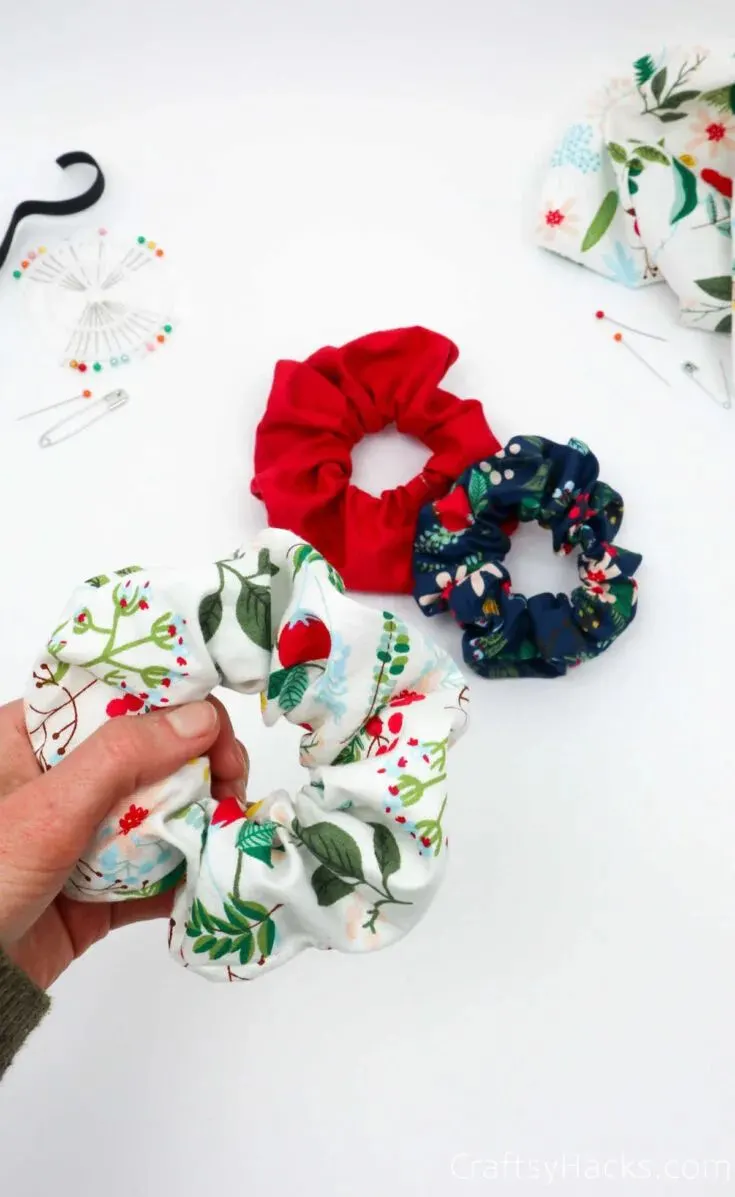 Source: craftsyhacks.com
You know what girls would sell a kidney to have an unlimited supply of? Scrunchies. I tell you, if we could have a scrunchie for every outfit we own, we'd give up our first borns.
Okay, I'm exaggerating, but you get how important scrunchies are, yes? So there's a never-ending need and a market for scrunchies.
Making scrunchies is ridiculously easy. Here's a list of what you'll need to make them:
Elastic
Fabric swatch
Sewing machine
Sewing essentials
You can customize the size as well as the puffiness of the scrunchie. Just remember to have plenty of options, fabrics, and colors to choose from.
44. Baby Blanket Lace Trim
Source: farmhouseonboone.com
A baby's first blanket is a long-standing tradition. It's made with all the love a mother has, and is filled with happy dreams and hopes.
You can turn a plain and simple baby blanket into something utterly feminine and elegant by adding a lace trim to the edges. You can sew on a lace trim ribbon, or you can crochet a strip and sew that on.
Pick up your choice of trim from here. You can also crochet an entire blanket if you're up for that. They're not too expensive to make, but can sell for quite a lot.
45. Seashell Windchime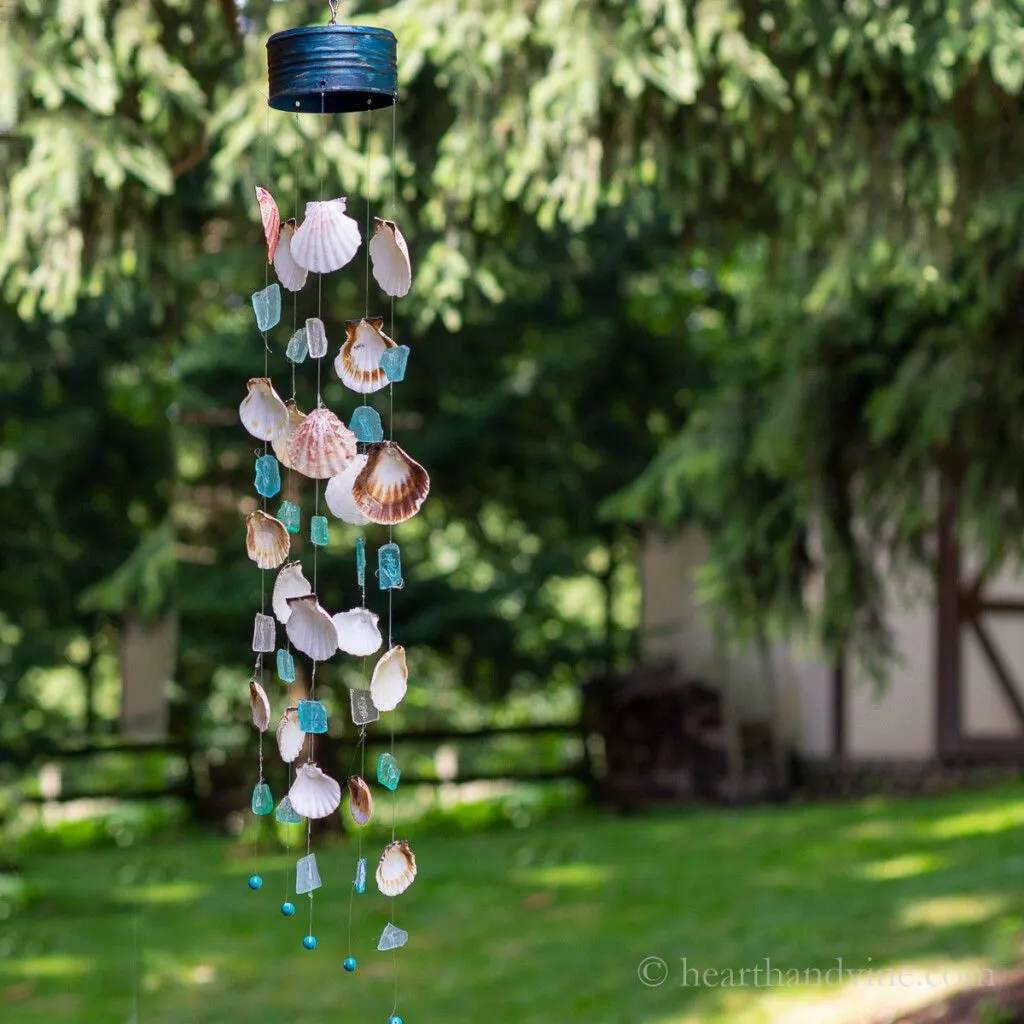 Source: hearthandvine.com
This glass and seashell wind chime will take you right to the sandy shore of the beach and make you nostalgic for the salty breeze and cool ocean waves.
You can make this by recycling, upcycling, and repurposing a number of different components like glass chunks, sea shells,a bottle cap for the top, and fishing wire to hang everything from.
You can pick up the fishing wire here.
46. Driftwood Sign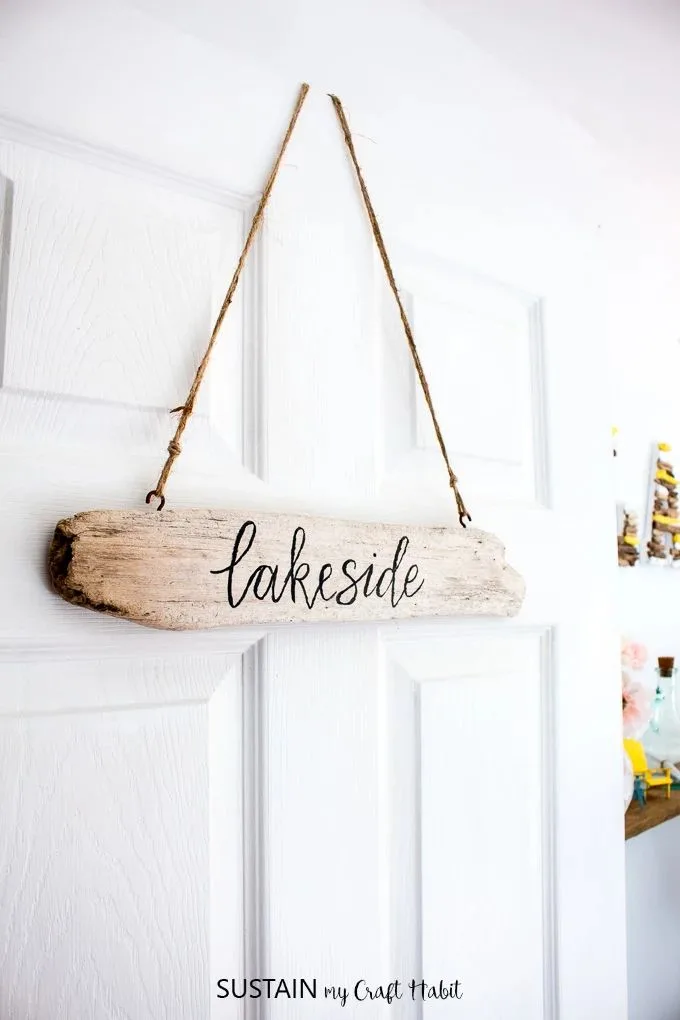 Source: sustainmycrafthabit.com
Don't wander off from that beachy vibe you got from that wind chime just yet. This next project is a driftwood sign board that just screams of lazy days you spend at a beach cabana.
It's rustic and earthy with just enough edge to make it homey at the same time. You can either paint this sign or buy a wood burning tool and carve your words onto the wood.
47. Wine Cork Christmas Ornaments
Source: greenwithdecor.com
Wine corks are always pretty nifty. You can make a ton of DIY ornaments from wine corks and this Christmas tree ornament just proves that point.
You will need ten corks per tree and one more to act as the stump under the tree. Grab some paint and paint the top of ten of the corks a nice shade of green.
Grab your hot glue and stick a length of ribbon running all around for an added festive touch.
Looking for more DIY Christmas crafts? Check out these Christmas crafts for adults and another batch of Christmas crafts for teens.