Got some scrap yarn or just a bunch of it? In either case, you can make something truly special with it. Check out these fun yarn projects!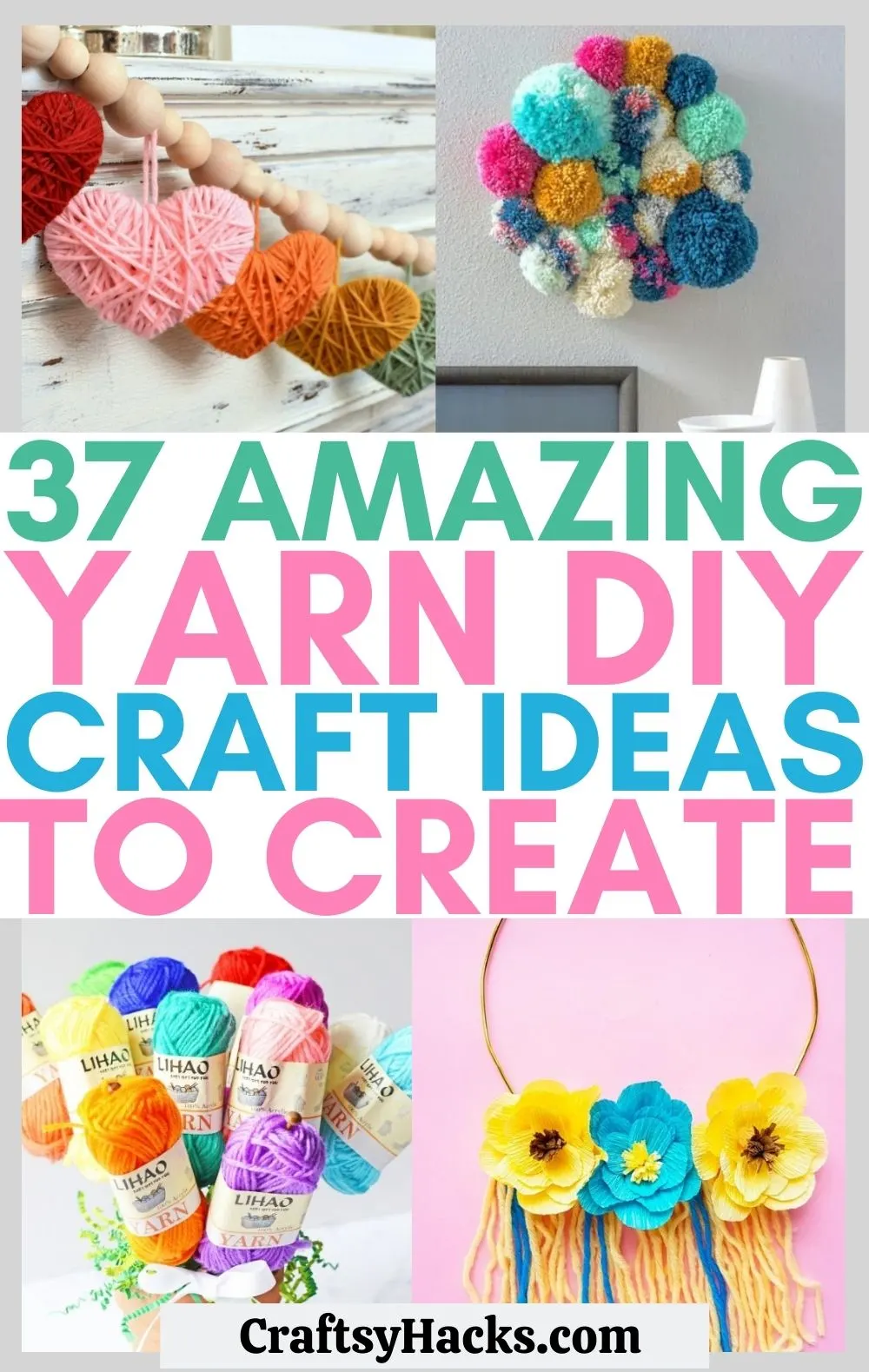 You see a skein of yarn and you immediately think of a cozy afternoon spent crocheting or knitting. That's how I spend most of my afternoons, but there's more to yarn than what you can do with a hook or a needle.
There are tons of amazing ways to use yarn that don't involve crocheting and knitting. You can even make use of the little scraps that you have leftover from your previous project.
So, with that in mind, take a look at these 37 yarn projects that I think you'll love!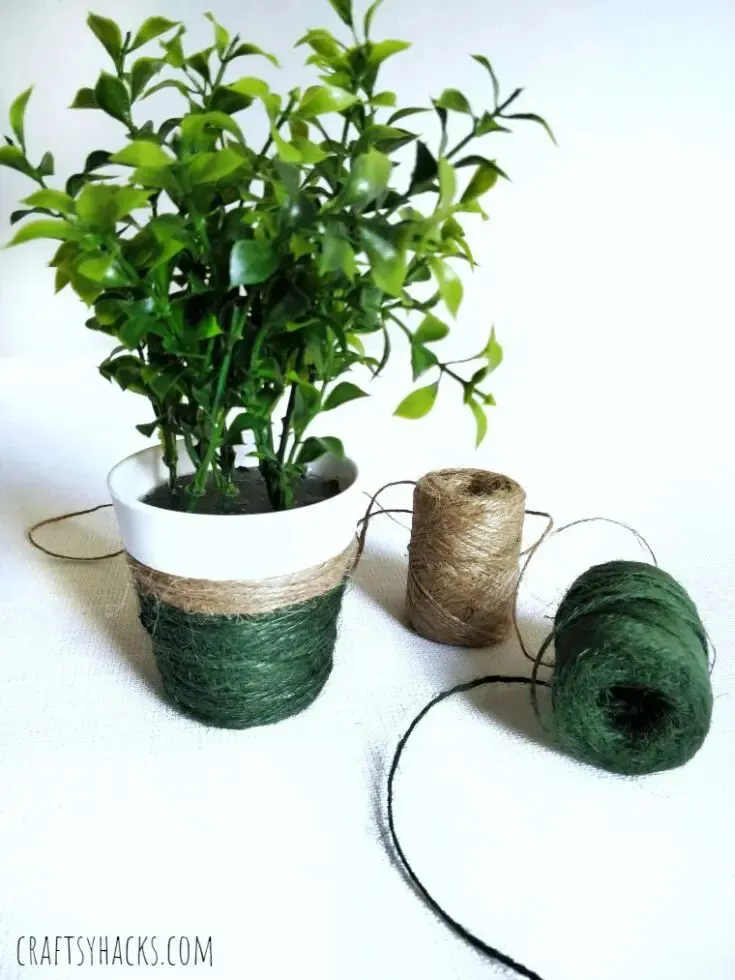 Source: craftsyhacks.com
There are a ton of creative yet simple ways to jazz up a plain old planter like this. My favorite go-to craft project is to wrap the pots with some yarn or twine.
The pots not only look great, this is also a very effective method of covering up any scratches, dings, and dent that a coat of paint might not properly cover up.
Upturn your pot, grab your hot glue gun, and start wrapping your yarn or twine around to get the job done. Just allow the pot to dry completely before you use it as a planter.
Here's another yarn-wrapped DIY glass vase project for you to explore.
Source: downredbuddrive.com
A bouquet of yarn will add a ton of color and texture to your room if you ever decide to make one. It's a pretty straightforward project, and all you need is your yarn of choice, a pair of scissors, a hot glue gun, floral foam from here, and a small flower pot from here.
Place the floral foam into the pot and press it down tightly to hold it in place. You can also adhere it to the pot by applying glue to it's bottom and sticking it in place.
You can add a few 'fillers' by cutting long strips of green paper and sticking them in with the yarn.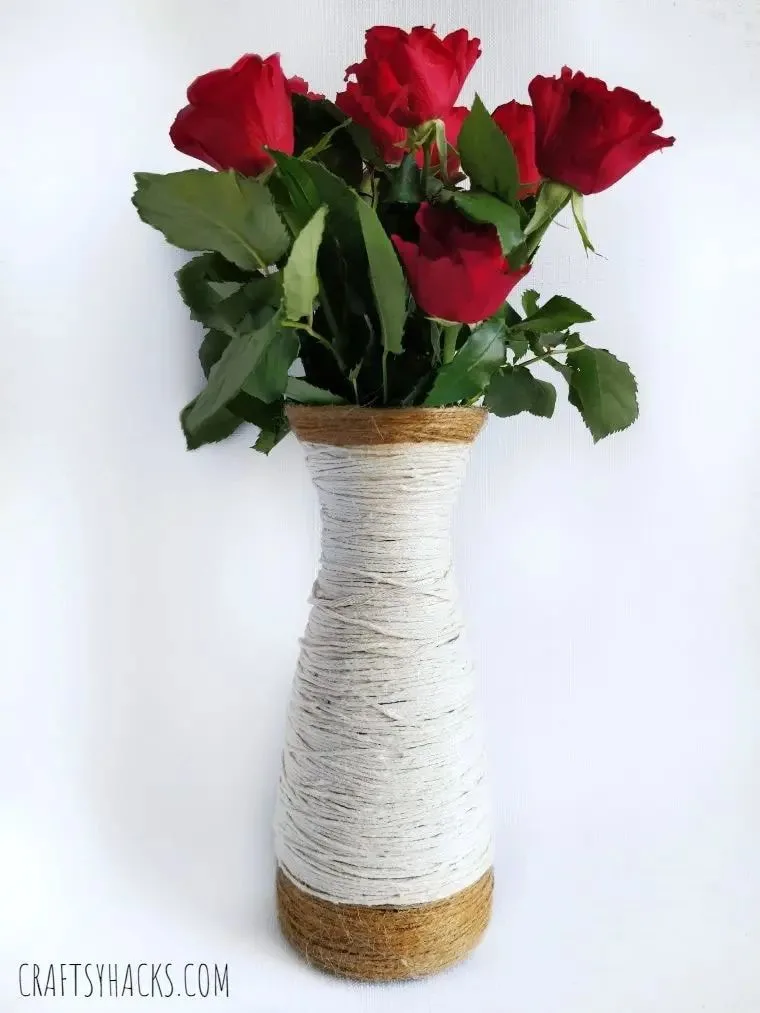 Source: craftsyhacks.com
I'm always looking out for different craft projects that can upcycle my old vases. Sometimes, when I'm not up for the hassle of painting multiple coats of paint and allowing it to dry, I simply grab some yarn.
Why?
Well, a yarn-wrapped flower vase is simply sublime, don't you think? It's cute, chic, and, if you decide to use natural fiber yarn, it can also be rustic. You can also use multiple colors of yarn and switch them out as you wrap it around the pot.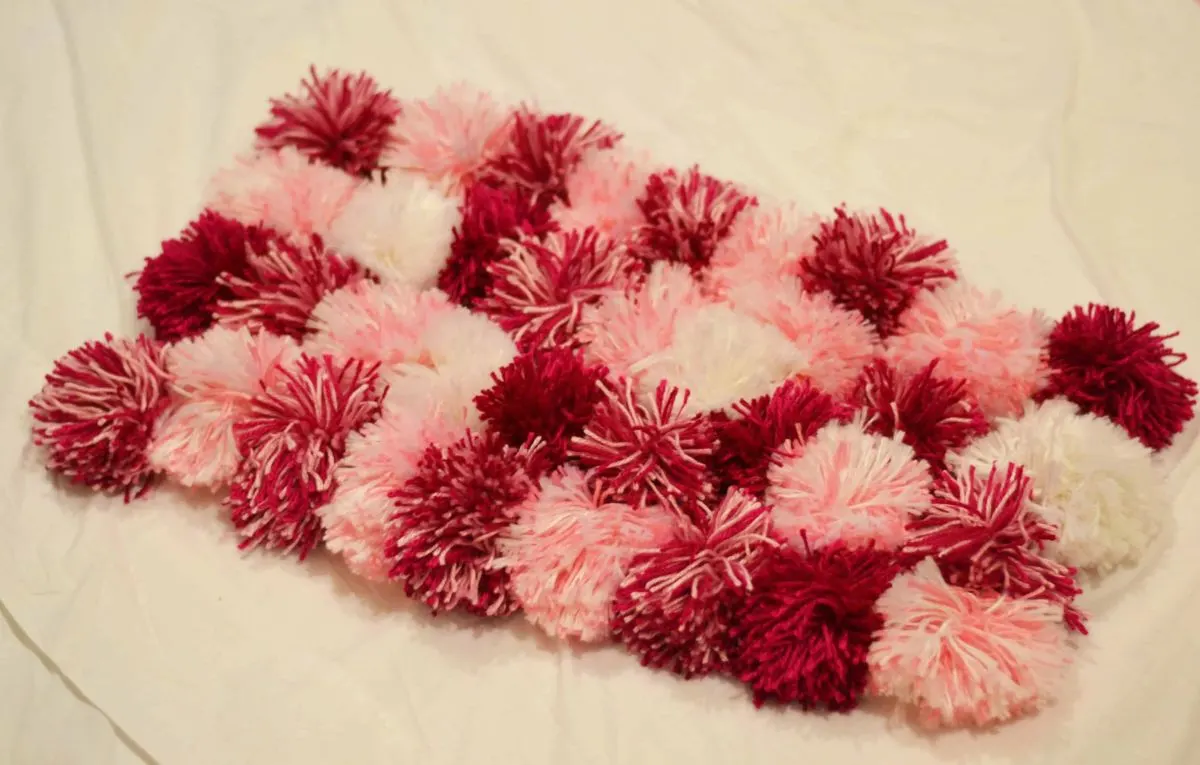 Source: simplifycreateinspire.com
I love making pom poms from yarn. I always have those little scraps leftover from my crochet projects, and I always use them to make different colored yarn pom poms in a number of sizes.
If you make enough pom poms, you can actually assemble a pom pom rug. They'd look fabulous on your floor or under your craft desk.
Grab a couple of toilet paper rolls, a rubber mat rolling from here, wool or cotton yarn pom poms, and finally, a pair of sharp scissors.
Love the craft? You might like these toilet paper roll crafts.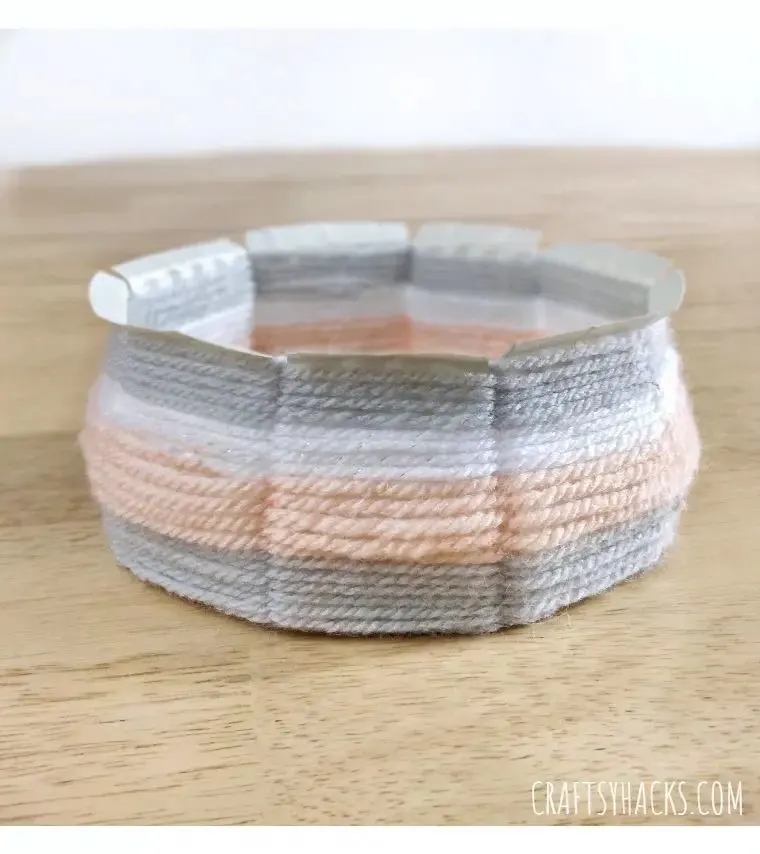 Source: craftsyhacks.com
One of my favorite hobbies is crocheting. I love the activity, and I also love having a ton of yarn to work with. It also means that I have a ton of extra skeins all the time from leftover projects.
If you've got a skein or two of yarn yourself, then grab them and also grab a few paper plates from here. You're going to make a DIY woven bowl!
You can use different colored yarn to make your bowl, as well as different textures and ply. Just remember to enjoy the process of 'weaving' the yarn!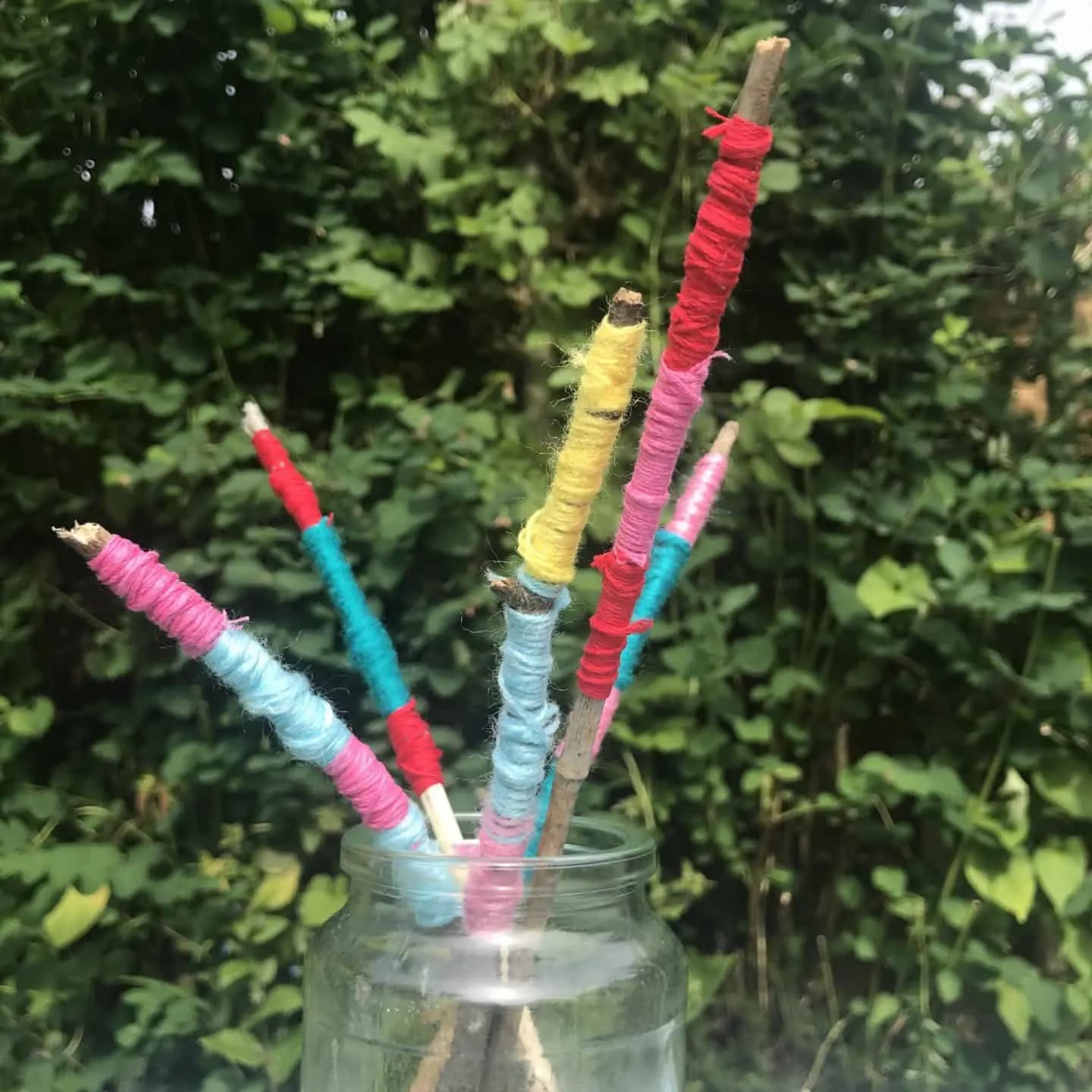 Source: simpleparenting.co.uk
What can you do with yarn sticks, you ask? Well, firstly, they're super fun and easy to make, and if that's not reason enough to make them, I don't know what is.
However, they can also be used as decorative pieces. Grab an old glass apothecary jar from your cupboards and stick your sticks(ha!) in there to make a colorful and cheerful centerpiece.
You can toss in a few flowers and even layer the bottom of the bowl with colored pebbles and glass to make it even prettier.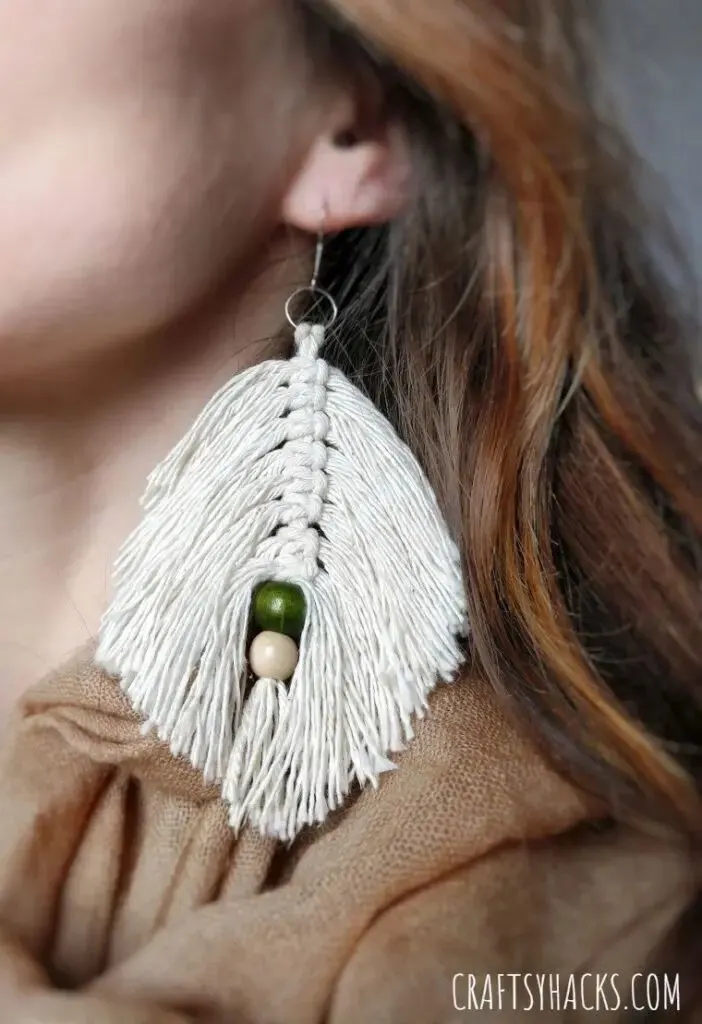 Source: craftsyhacks.com
We've read about a couple of home decor projects, as well as other craft activities. How would you like to take a look at something you can actually wear, this time?
Check out these macrame earrings! They're super cute with the perfect touch of boho-chic that make them easy to pair with just about anything!
You can use macrame cord, or you can u
These macrame leaf earrings are a great craft project to make for a fun craft session. They're even more amazing to wear.
Grab some beads from here to get started. You'll also need earring hoops, and you're all set! I bet your friends are going to love your trendy new accessory. You can make a few pairs of these earrings as gift items, too.
Check out these 27 DIY earring ideas you can make on a budget!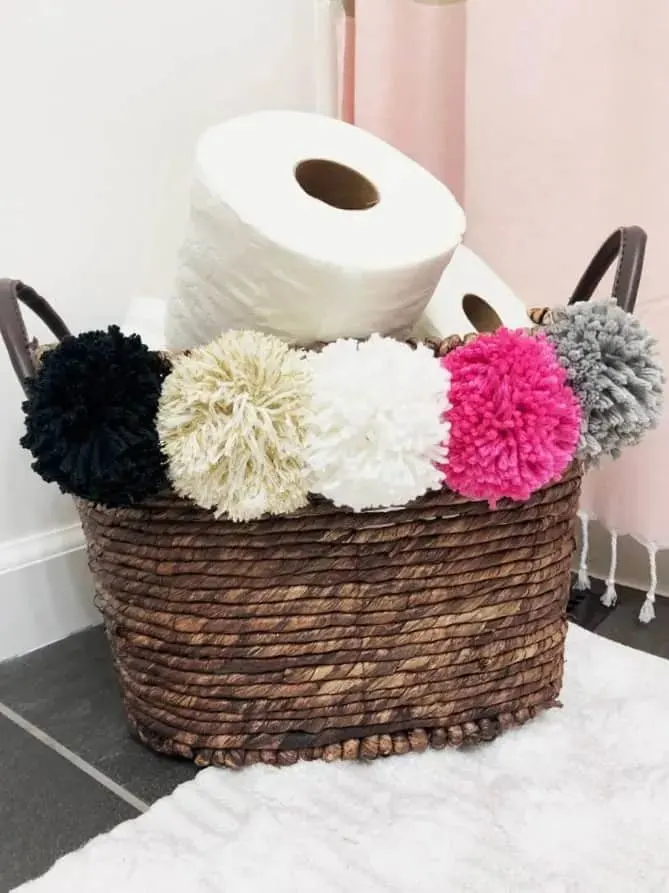 Source: burlapandblue.com
We read about how you can make a pom pom rug, but I didn't think to ask if you knew how to make the actual pom poms! There's really no one way to make them, though, so pick a method you like and stick to it.
You can always keep adding to your yarn pom pom stash, so you have them at hand for other projects. They're a terrific project for kids to spend hours and hours working on.
If you're serious about the uniformity of pom poms you're making and need them all to be a particular size, consider investing in a pom pom maker like this.
All feel free to check this areticle on how to make tissue paper pom poms, too!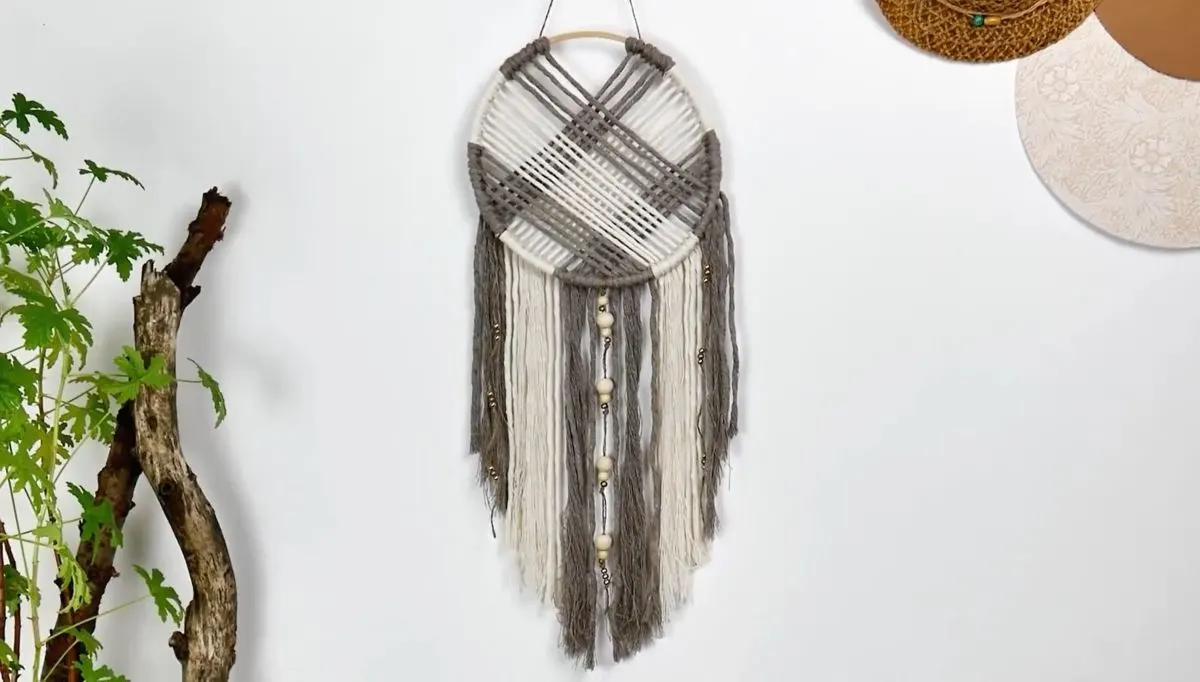 Source: Youtube
I'm fond of dreamcatchers, but nowadays, they're so generic and boring. They're pretty much mass-produced, and they all look the same.
Not this dreamcatcher! You're going to go all out on this one and recreate that lovely design using chunky yarn or cord. Grab an embroidery hoop from here to begin with.
You'll also need a pair of scissors, some tape of liquid adhesive, and finally, a few beads or other embellishments to finish things up.
Check out more crafts for girls!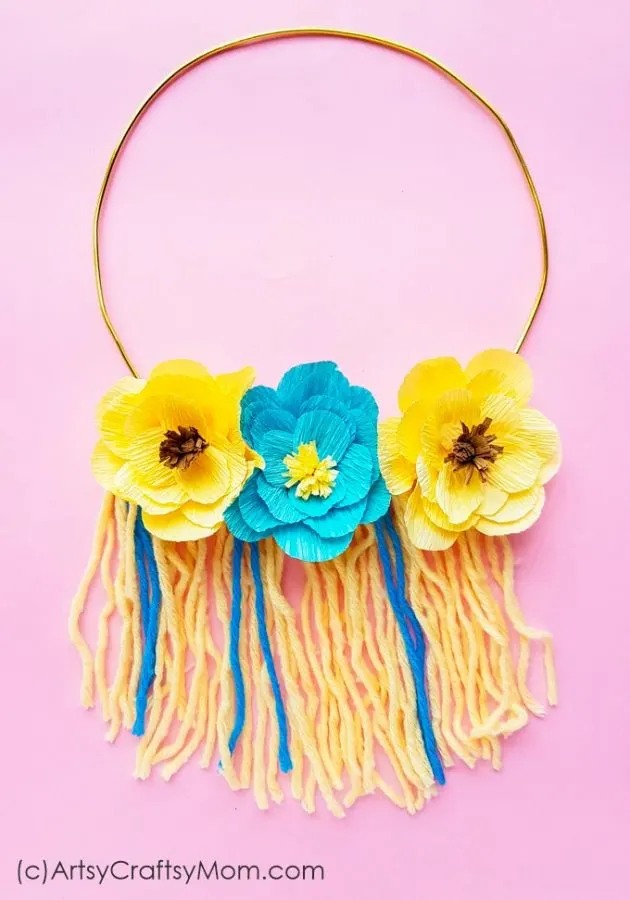 Source: artsycraftsymom.com
I wonder if you have a wreath lying around? If you don't, just pick one up from here—it's a metal wire hoop that's perfect for this project.
Also, grab some of this crepe paper, a pair of scissors, your trusty hot glue gun, and a pencil. Once you've got all you need, you can start working on making your paper flowers.
Just like the pom poms, you can make and store flowers beforehand and store them for future projects. Check out how to make paper flowers!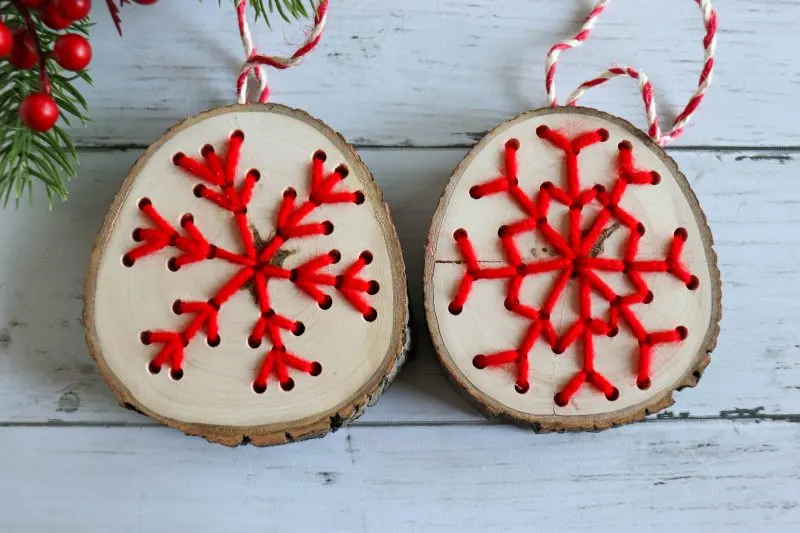 Source: homemadeheather.com
It's already October; before you know it, it'll be time for Christmas, and you'll have to start decorating your tree. Have you given a thought to this year's ornaments?
If you're looking for creative ornaments to make, how about you try this yarn snowflake ornament? It's super easy to make.
Just buy a few rustic wood slices from here, and grab your power drill to drill holes into them/ You'll need a yarn needle to 'sew' the yarn through the drilled holes and create your snowflake.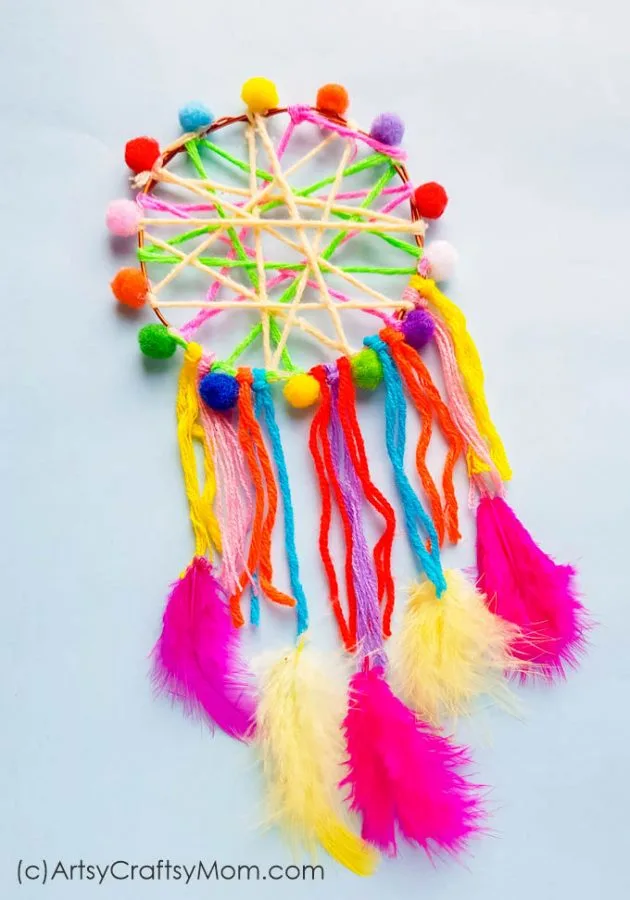 Source: artsycraftsymom.com
You loved that yarn dream catcher you made earlier and want to make another one—did I guess correctly? Well, here's another dream catcher for you; you can use your pom poms for this one!
Grab your round hoop, some skeins of colorful yarn, craft paper if you want to add flowers, and any other embellishments you have at hand. You can go all out on decorating your dream catcher.
Start hot gluing your pom poms around the rim and just sit back and enjoy this project!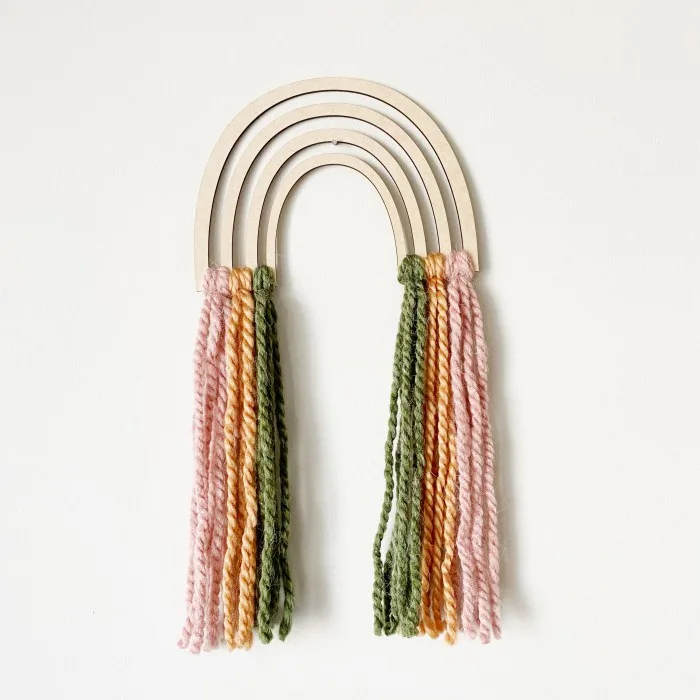 Source: brooklynberrydesigns.com
I'm always looking for ways to incorporate rainbows—or at least rainbow colors—into my life. Craft projects are the perfect way to channel that rainbow fascination in a creative and fun way.
Having said that, I have to admit that this rainbow with yarn danglers is more subtle and pastel than you'd have expected. But they make for a lovely and neutral wall hanging.
If you're decorating a nursery and want to stay gender-neutral until you find out, then here's a great way to decorate the room!
Check out more DIY projects for adults.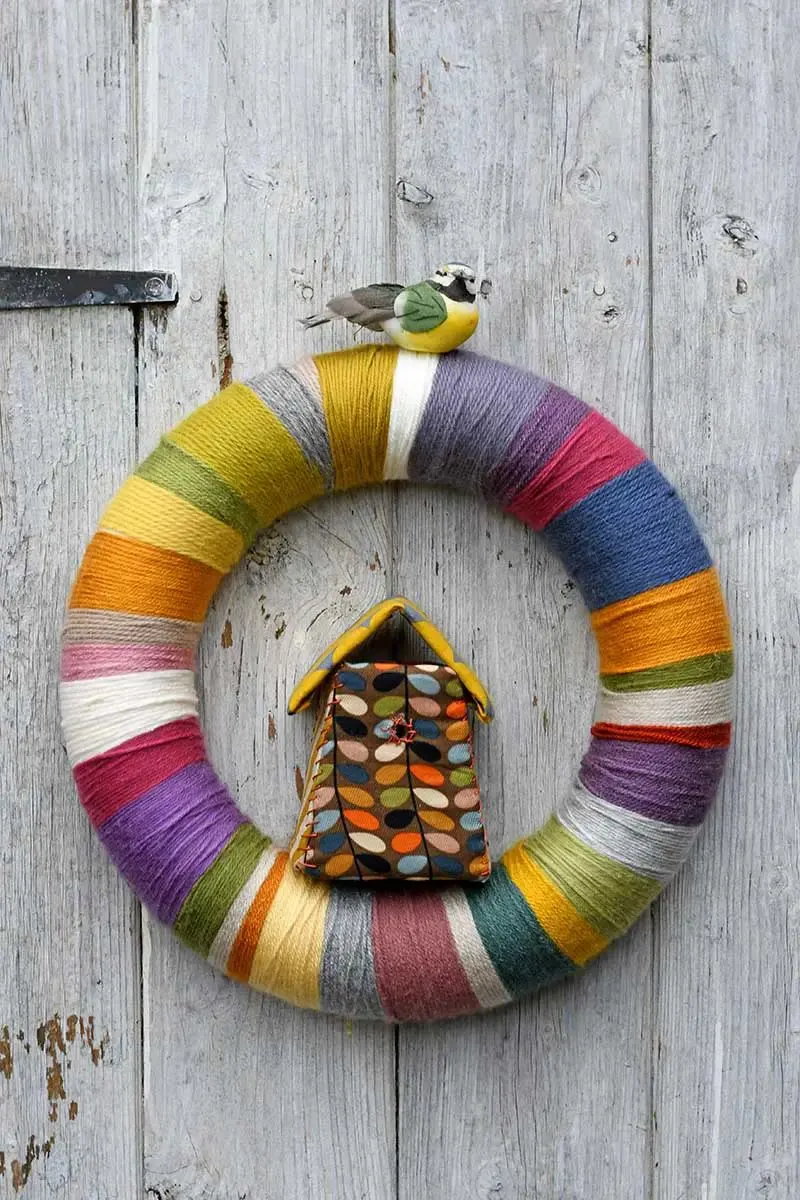 Source: pillarboxblue.com
Whenever you finish a big crochet or knitting project, I bet you'll have a whole load of yarn scraps left over. I usually roll them up carefully and put them away.
You can use those scraps to make this gorgeous DIY wreath. It's super inexpensive, but you'll love how much color and personality this wreath will add to your home.
Grab this foam wreath form and start wrapping your yarn around it.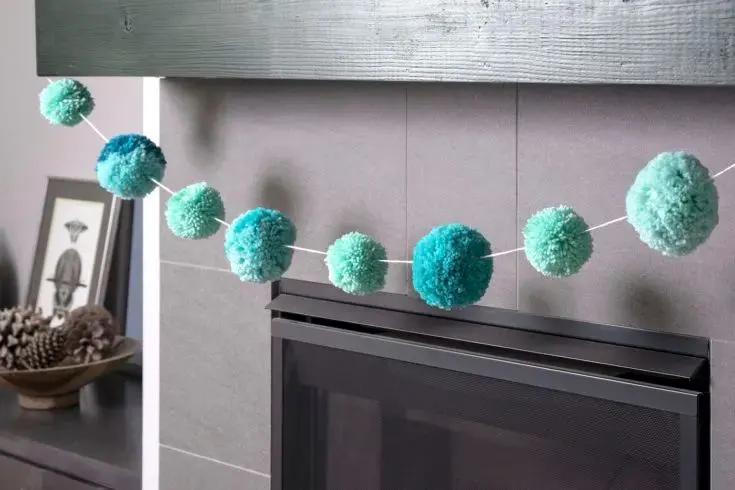 Source: diycandy.com
I'm guessing you went a little crazy over making pom poms, and now, your home is overflowing with pom poms everywhere. I won't judge you if that's the case because I've been there, and I've done exactly that.
Here's a project where you can put a tiny dent in your pom pom stash: pom pom garland! In fact, depending on just how chunky and thick you want your garland to be, you can add string pom poms as you go.
Just grab some twine or fishing wire from here to help you with this project!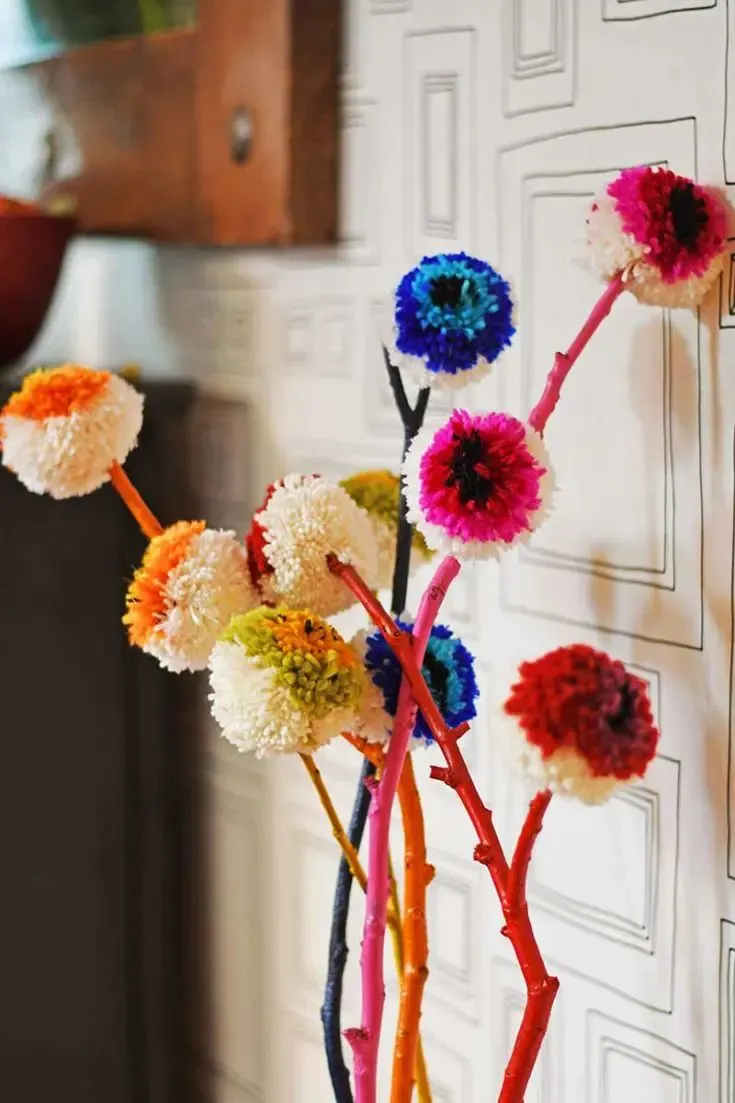 Source: pillarboxblue.com
We read about how you could make and store pom poms and flowers beforehand to use for different decor or craft projects. That got me thinking…how about you try out these flower pom poms?
You'll need plenty of colorful yarn, of course, as well as one large ball of cream or beige yarn. Then pick up some spray paint from here, and go find your trust glue gun.
Grab your pom pom maker, too. Then, go outside and pick up a few sticks from the backyard.
Once you've gathered everything, you can start working on making your flower pom poms.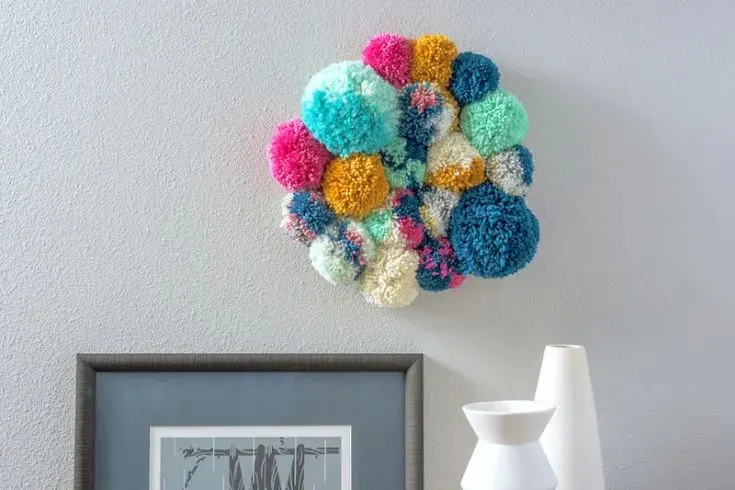 Source: diycandy.com
You made too many flower pom poms, didn't you? I just knew it. But don't worry, I'm going to save you from yourself with this project.
You're going to use your flowery pom poms to make this DIY wall hanging. The multiple colors you've used to pom poms will certainly kick this project up a notch.
First, though, you'll need a base. Why don't you choose a wooden plaque from here? Once you're done adhering the pom poms to it, you can drill a hole and string it up.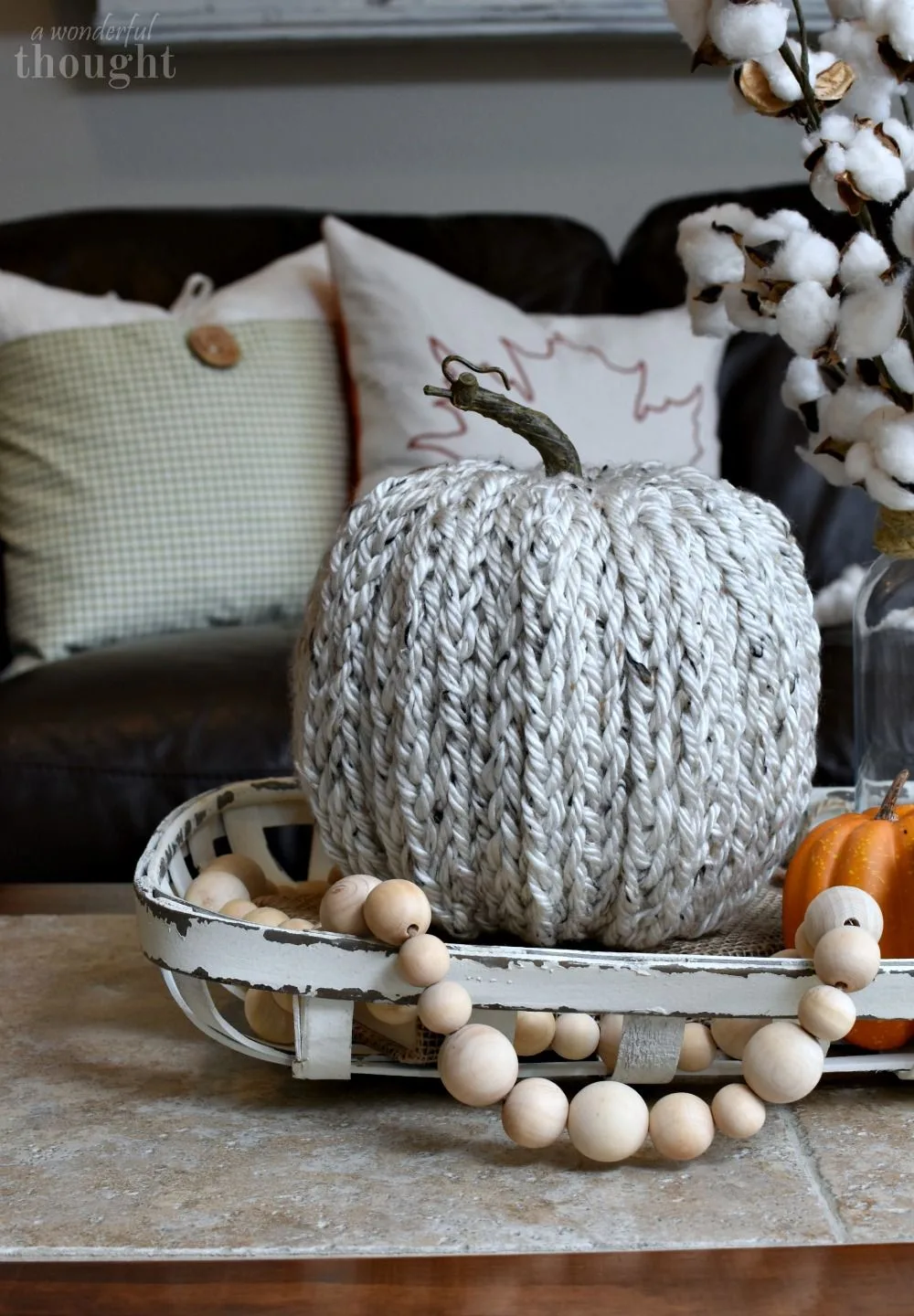 Source: awonderfulthought.com
When the yarn is chunky enough, you can use your hands and fingers to do the work of crochet hooks and knitting needles. For this pumpkin, you'll need a white faux pumpkin from here, your hot glue gun, and yarn.
Start by 'braiding' strips of yar, as instructed. The finger knitting technique is pretty easy, so you'll get the hang of it in no time at all!
You can add a garland of beads(look here) to finish off the display. Feel free to add a couple of craft pumpkins to it, too.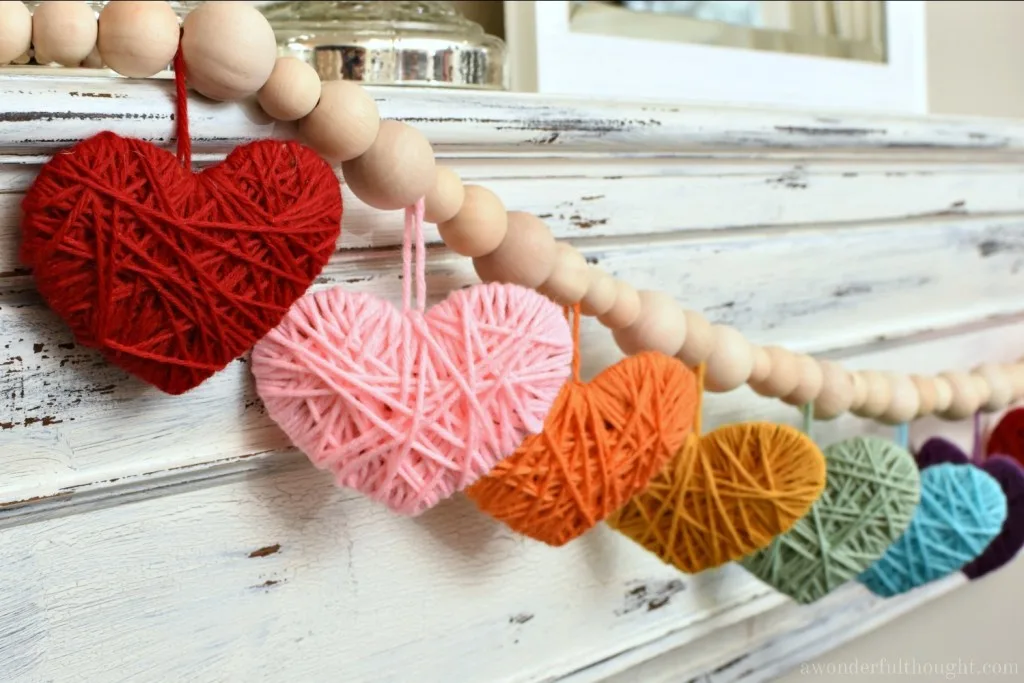 Source: awonderfulthought.com
I feel like red, pink, and purple can become quite monotonous—and garish—when used in excess during Halloween. What if you eschew that color scheme for a more cheerful array of rainbow colors instead?
Grab multiple skeins of colored yarn, wooden beads, twine to string into a garland, and a few of these command hooks.
You can download the heart template provided, or you could just cut out a few pieces of cardboard into hearts and wrap the yarn around that.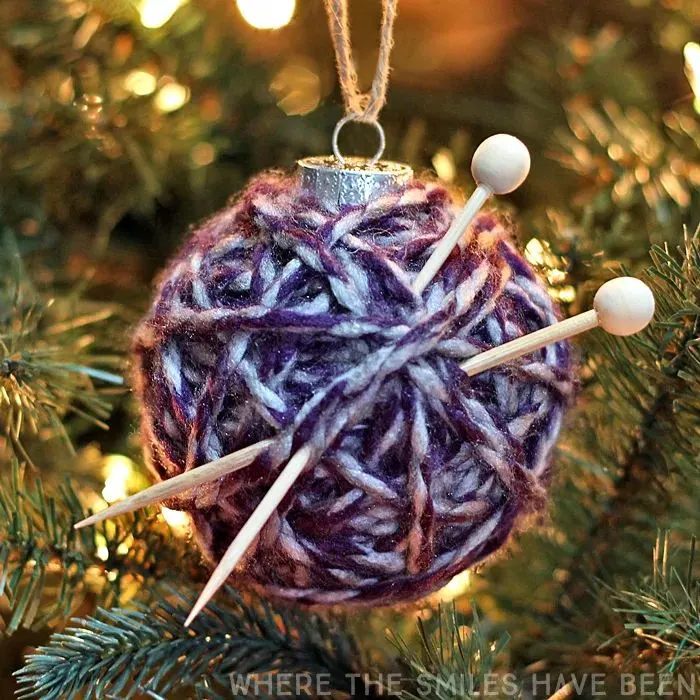 Source: wherethesmileshavebeen.com
Is it time to start planning your Christmas ornaments yet? Because I have this yarn ball ornament that I think you might love, especially if you're into crocheting or knitting.
There's something about these yarn ball ornaments with the knitting needles so artfully tucked in that makes you want to go awww. They're so adorable, and they're ridiculously easy to make.
If you've ever rolled yarn, I bet you know how therapeutic the process can be. So go ahead and grab some yarn and start rolling.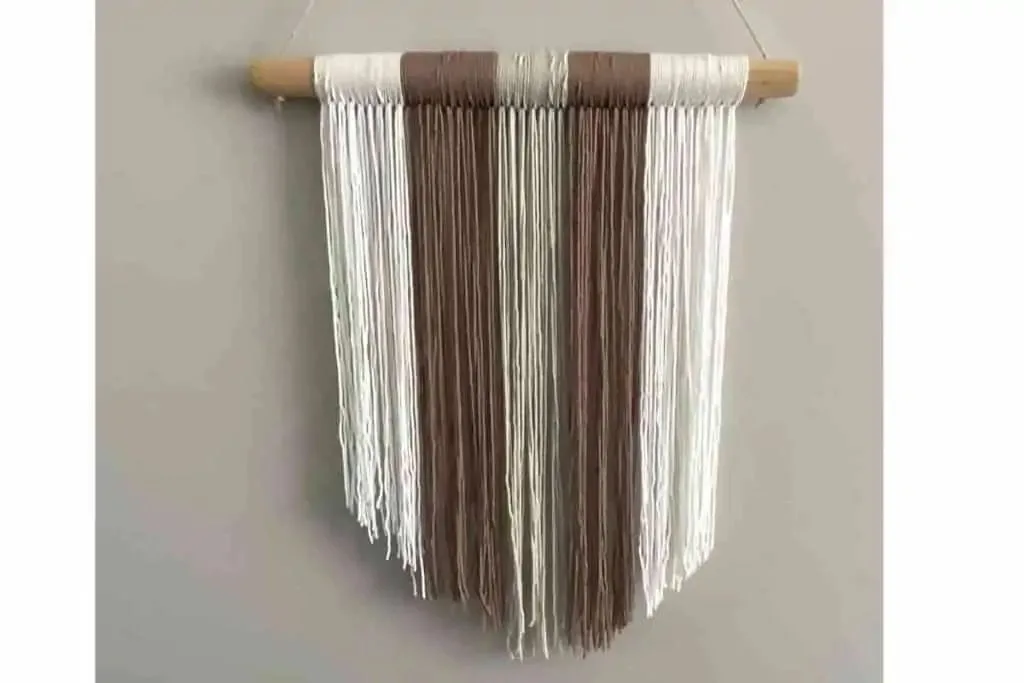 Source: restoredecorandmore.com
I've been super obsessed with bohemian art and decor the last few months. Being a crafter, I've been experimenting with macrame and boho-chic decor projects.
I think you're going to love this wall hanging. It looks so effortless and earthy, doesn't it?
You can't imagine how easy it is to make this wall hanging. You don't have to work any fancy macrame pattern. Instead, a few simple braids will do!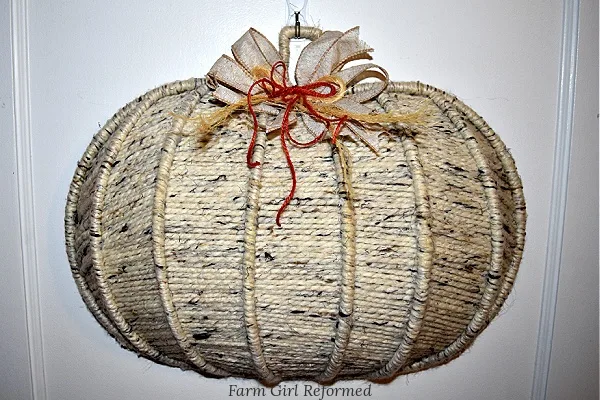 Source: farmgirlreformed.com
The fall season is the best time to bring out your super cozy sweaters and snuggle in with a cup of hot pumpkin spiced latte. Let's try to recreate that, shall we?
Pumpkins and cozy sweaters on the front porch…how about a sweater pumpkin wreath? No, I didn't make that up; just take a look at this project!
Grab one of those pumpkin-shaped wreaths from here. You'll also need yarn, embellishments like buttons, and a hot glue gun.
Check out these 27 stunning DIY fall wreaths.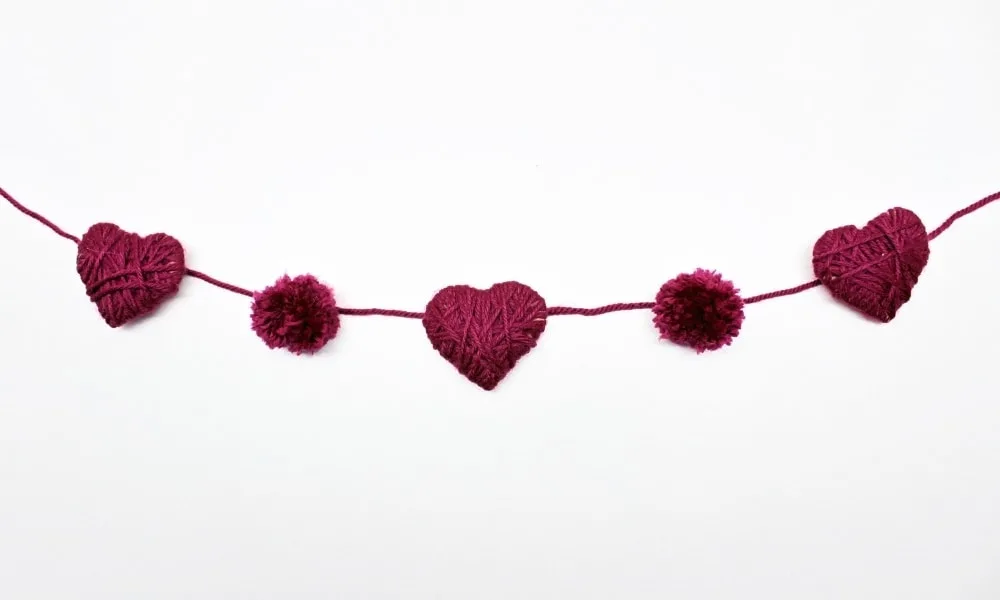 Source: thecraftathomefamily.com
This adorable little garland is just perfect—not too gaudy or gauche with over-the-top color combinations. You can make this gorgeous wreath at home, and you can rope your kids into it, too.
You'll need a few heart-shaped cutouts of cardboard(look here), a fork, a hot glue gun, and some yarn. Don't forget to grab a pair of scissors.
I'm absolutely sure that you have a few—dozens—pom poms in your craft stash, so feel free to add a few while stringing your garland.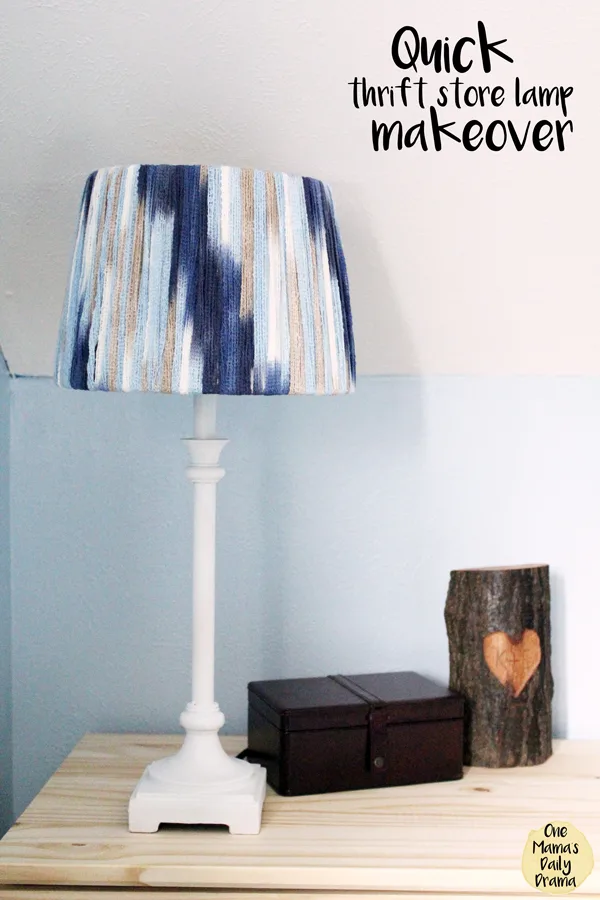 Source: onemamasdailydrama.com
Thrift stores are a veritable treasure trove of craft supplies. You can get a ton of little knick-knacks and an assortment of home decor pieces there.
You can turn those thrift store products into unique and chic decor items with a bit of a facelift and a makeover. Like this lamp, for example.
With a few skeins of yarn, you can turn this lamp into something gorgeous and fancy!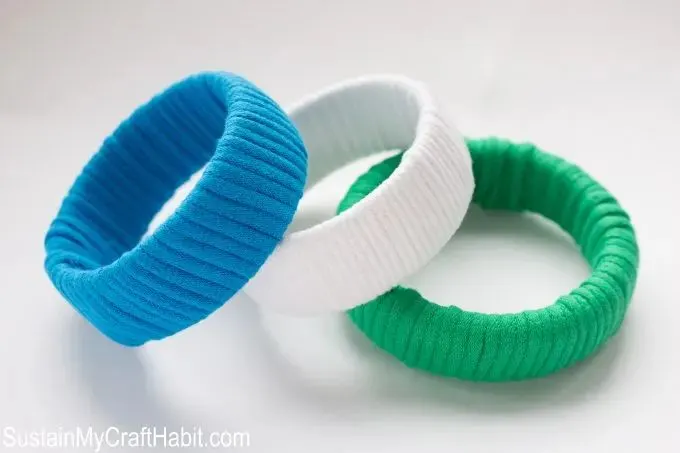 Source: sustainmycrafthabit.com
There's really no limit to the number of things you can wrap with yarn. Once you start looking, you'll find a ton of them, like bangles, for example!
You can buy plain plastic bangles for this project and use any yarn you already have at home. You can also use cotton embroidery thread or even shoelaces to wrap around these bangles.
In fact, why don't you take a look at this DIY bracelet out of shoelaces if that piqued your interest?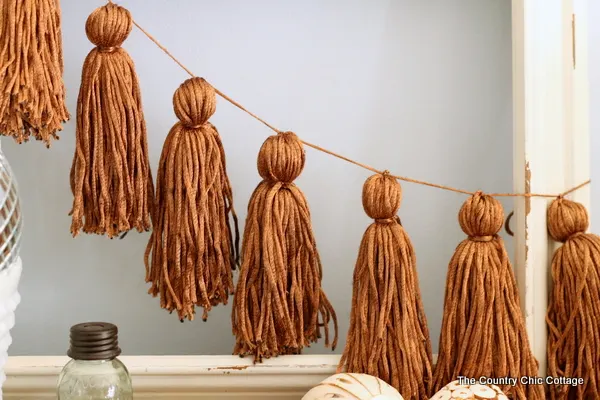 Source: thecountrychiccottage.net
I bet you're surprised that it's taken this long for you to find a project with tassels. I mean, pom poms and tassels are pretty much must-have yarn accessories, yes?
You're right, so without further ado, check out this yarn tassel garland! It's super lush—no puny tassels in your craft stash, never.
You only need your yarn of choice, a pair of scissors, and, if you want them, a few embellishments. You can string the yarn tassels with the same thread or twine.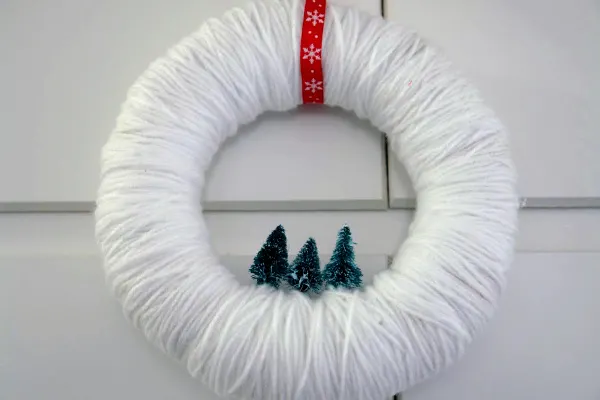 Source: thestressfreechristmas.com
This project will only take you 10 to 15 minutes, tops.
So, You can save this craft project idea for those days when you need a short and easy project for your kids to work on. You only need:
A foam wreath form
White yarn
A bit of red Christmas ribbon
A few bottle brush trees from here
Gather your supplies and get started on wrapping the yarn around the wreath form.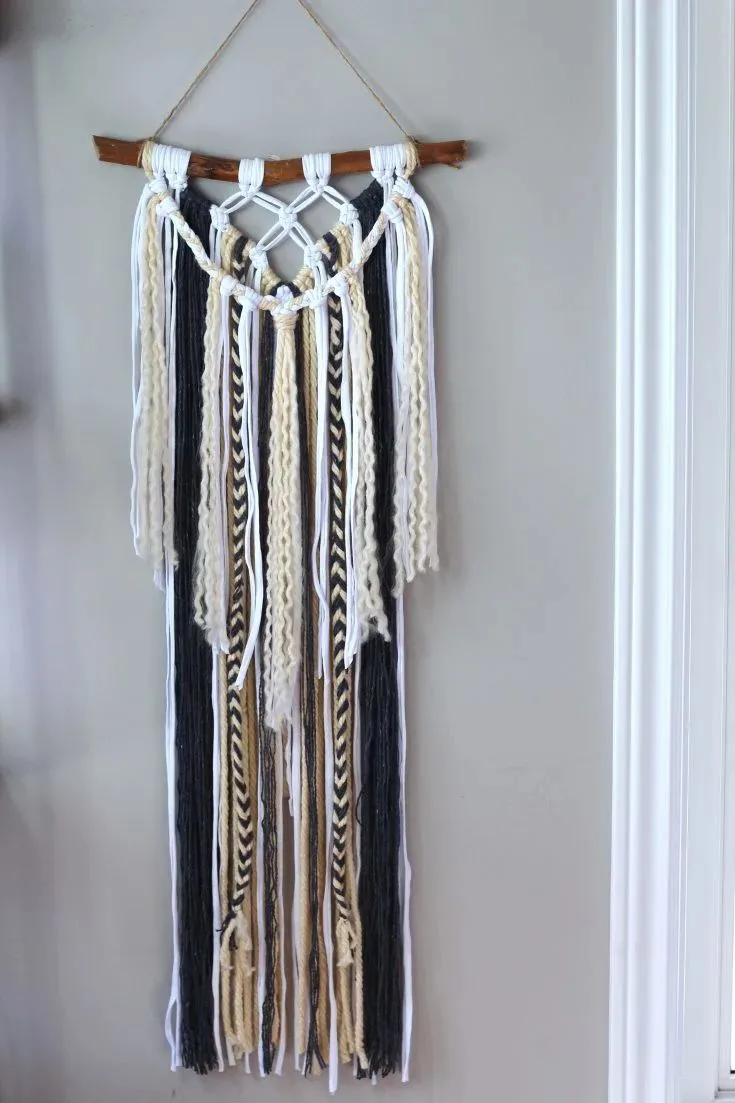 Source: feelingnifty.com
Here's another macrame wall hanging that you can try out, and in just 15 minutes, at that! You've got a lovely blend of colors here with cream, white, black and brown yarn in the mix.
There's also plenty of different textures from the different designs featured here. Do you see those wavy cream bits? That's actually just yarn that's been brushed out with a comb.
Then, you can also braid the strands as you work in different macrame patterns into the design. You can buy a wooden branch like that here and then hang it up.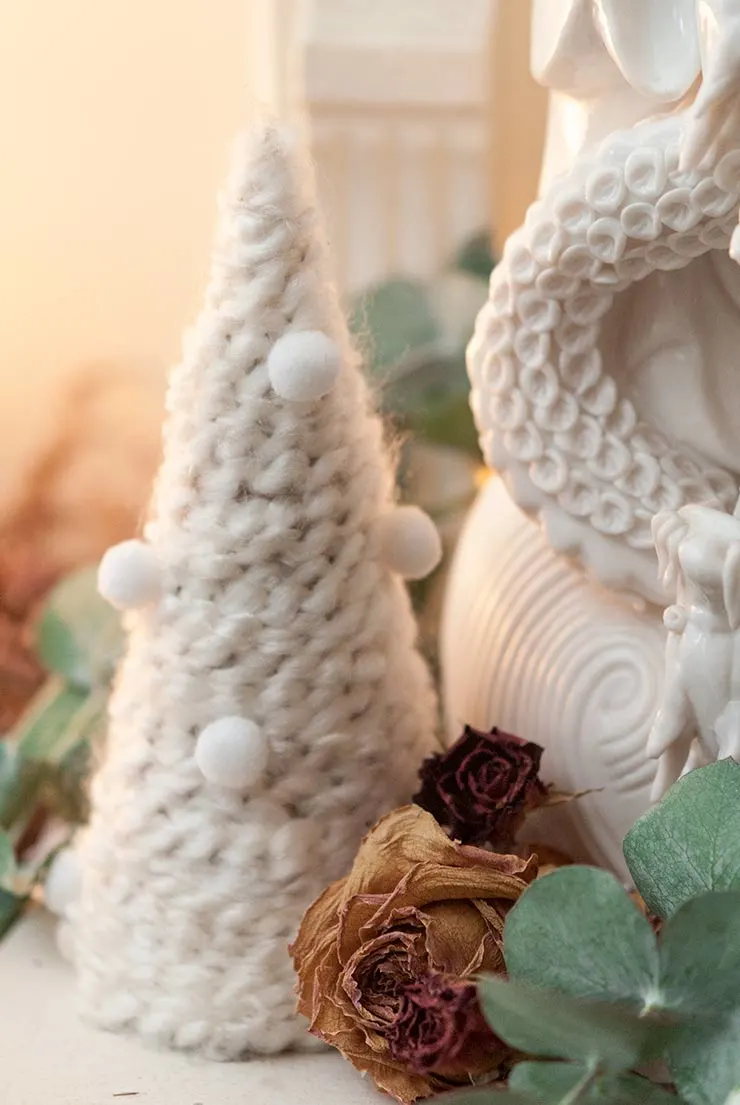 Source: shekeepsalovelyhome.com
These whimsical DIY Christmas decorations will add such a warm and cozy touch to your Christmas tree, believe me. When you use natural fiber yarn like that in that creamy ivory color, you can just picture soft mounds of snow.
You can also just place these ornaments on the mantel if you don't want to hang them up. You can make tiny white pom poms and stick them on the ornament for a little extra oomph!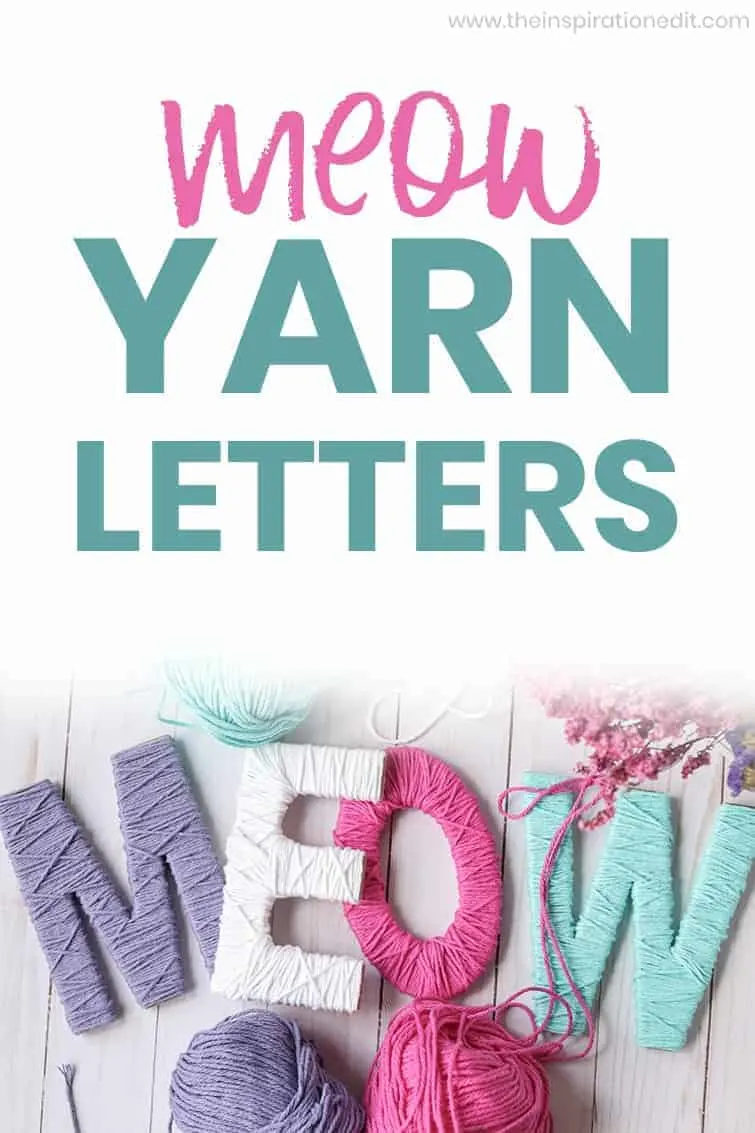 Source: theinspirationedit.com
Cats love to play with yarn and string, don't they? If you've got kittens at home, you know how fun it can be to watch them play with a bit of yarn.
Why don't you make your cats this adorable yarn-lettered decor piece? You can hang it up on the wall or just place it on the mantel when you're done.
They're also a great party decor idea—if you change the letters you use, that is. "Meow" can just as easily read "happy Birthday." You just have to pick out the letters you want to wrap in yarn, and you're already halfway done!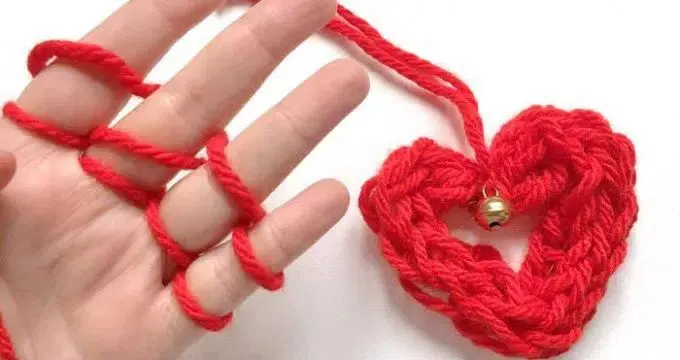 Source: redtedart.com
I'm always in the mood for a knitting project. But I'm also always setting my knitting needles down somewhere—or using them to put my hair in a bun—and they're never there when I need them.
That's why mastering the art of finger-knitting is super important, especially if you're like me and you're constantly misplacing your needles. You can start by making this easy finger-knitted heart.
You can hang them up as ornaments—either on Valentine's day or on your Christmas tree.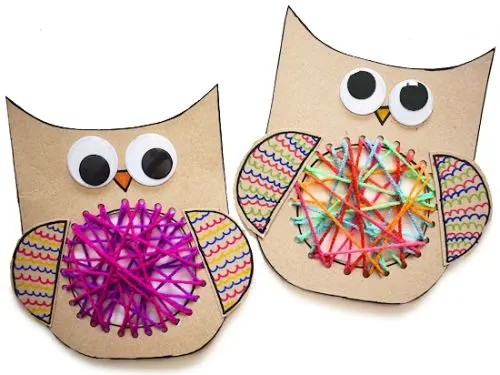 Source: ourkidthings.com
Kids love wrapping yarn as much as cats love tangling them. That's why I think they—the kids—will love this yarn lacing owl project.
If you have a bit of cardboard lying around, you can download and cut out the owl template provided. This will be the base for your project.
Then, just poke holes along the body of the owl, as instructed, and you and your kids can start lacing yarn through those holes.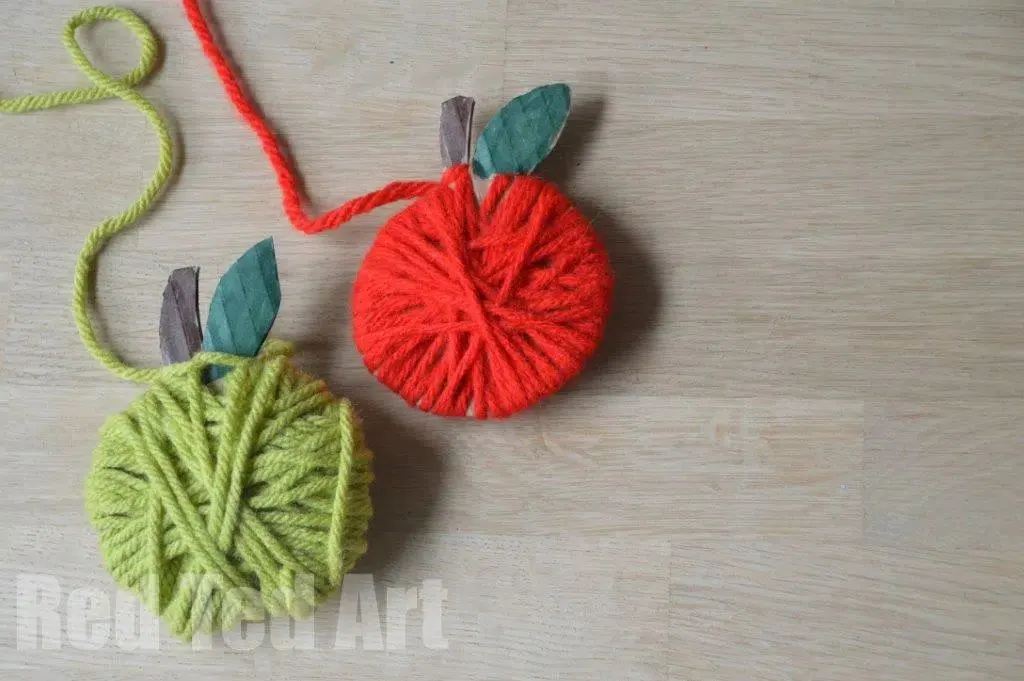 Source: ​​redtedart.com
You've wrapped hearts and owls, so why not apples, right? They're actually much easier to make than even the hearts.
You only need a circular bit of cardboard to wrap the yarn around. Once you have that, it all comes down to just wrapping the yarn round and round.
Do you want to jazz up the apples a bit? Cut out and paint bits of cardboard into stems and leaves that you can hot glue onto the back of the yarn-wrapped apple.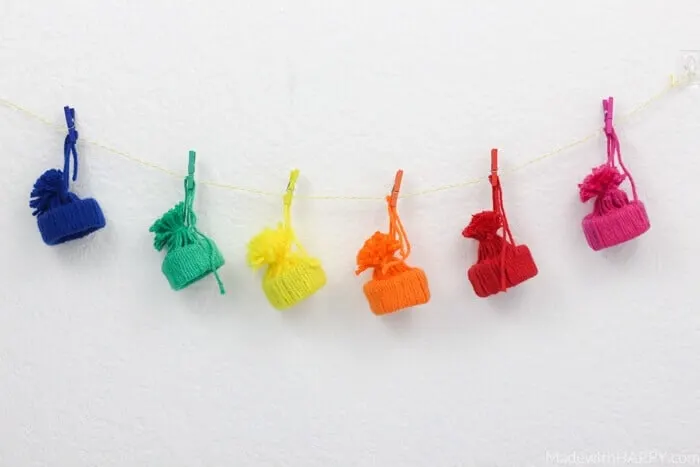 Source: madewithhappy.com
When you're cooped indoors on a cold and snowy evening, you turn to a nice book or a fun craft project to work on. Nothing too complicated, but instead something that's fun yet simple.
Scraps of yarn are all you need to make these mini snow hats. This one's a fun project for even the younger kids and can be quite entertaining.
You can use old toilet paper rolls and cut them down to size to use as the base of the hat.
Here; take a look at these craft projects that also call for toilet paper rolls: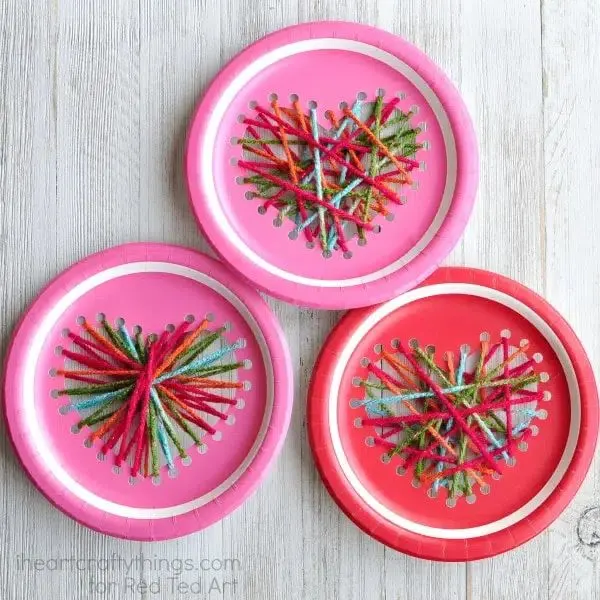 Source: redtedart.com
This sewing craft makes for a perfect project for toddlers and little kids. Not only is it easy to make, but it's also a great way to work on their motor skills and encourage development in that area.
You can't go wrong with it, trust me. Just pick out some paper plates, grab this hole punch, and your yarn. Then grab your scissors and cut out a heart shape in the middle of the paper plate.
Once you've punched holes along the outline of the heart, your toddler can 'sew' the yarn through them.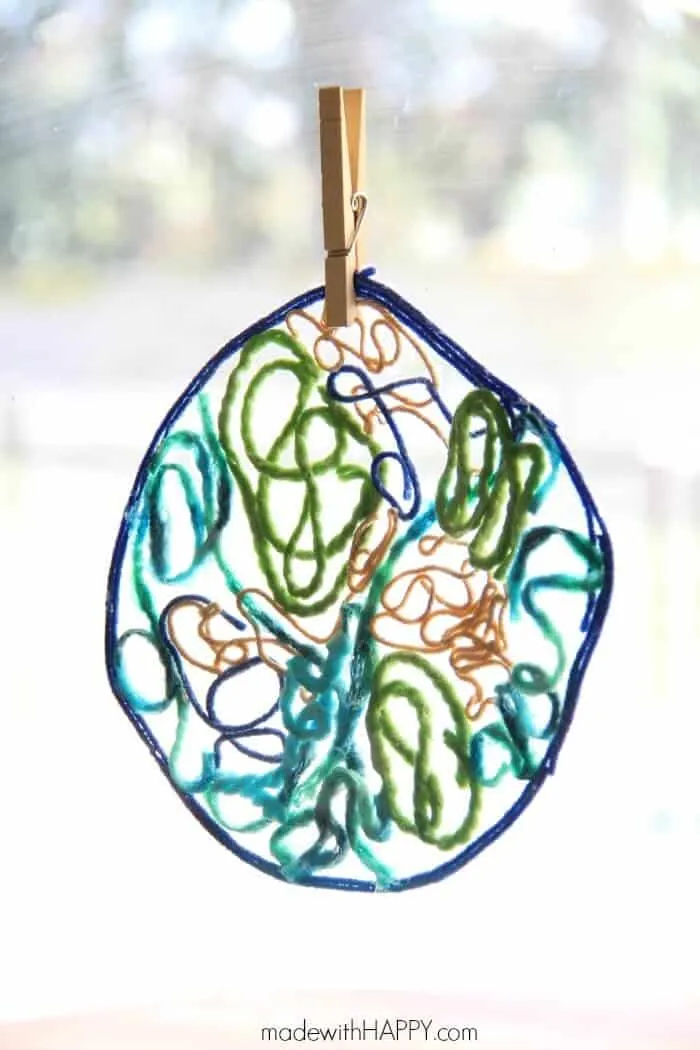 Source: madewithhappy.com
These quirky yarn earths are wonderful to hang from your kids' night lamps or even tack onto your refrigerator. They're adorable and full of color and texture.
It's also a great project to work on when you're trying to teach your little ones about the planet earth. A little visual representation and some fun craft time will go a long way to entice them.
It will also keep them focused on what you wish to teach them.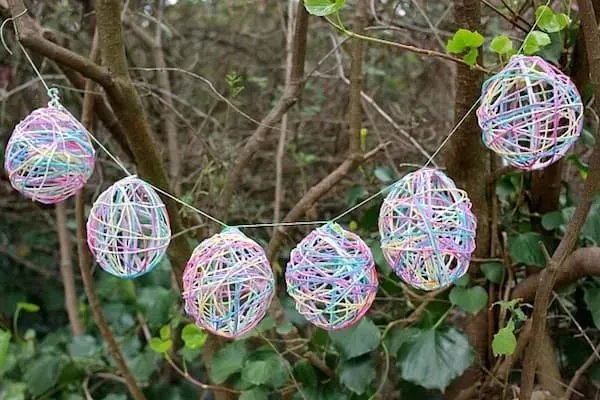 Source: modpodgerocksblog.com
An Easter garland like this one will look fabulous hanging outside in your backyard. Just picture it swaying in the wind while you watch and enjoy it!
If you're organizing an Easter egg hunt party, then this can go up as a part of the decor. Depending on how big you make it, you can find two branches and string the garland between them.
You can also hang yarn pom poms, tassels, and streamers along with these yarn eggs!