Got some cardboard at home? It might be just the right time to get creative with it! Check out these cardboard crafts that are extra fun to make and won't cost you a ton of $$!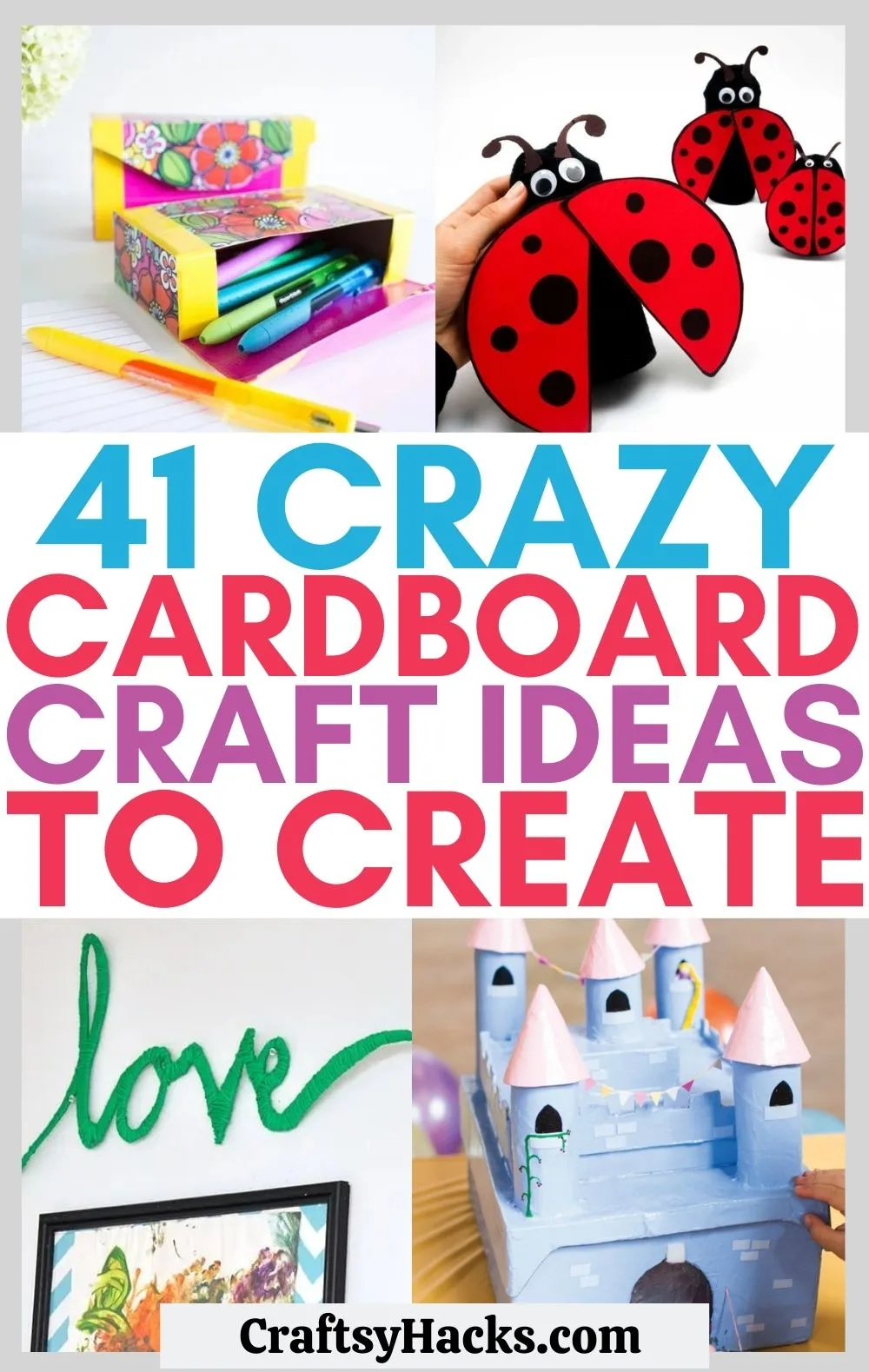 There are so many amazing craft projects that you can explore involving cardboard. It is one of the most versatile of craft supplies, right up there with mason jars and hot glue guns.
You can use cardboard boxes, sheets, and cutouts to make a veritable slew of DIY projects, home decor items, as well as storage devices to help you organize your home.
Bonus? What better way to make a dent in your ever-growing pile of cardboard boxes than by upcycling?
Let's take a look at 41–41!—amazing and innovative cardboard craft projects for you to try!
1. DIY Drawer Dividers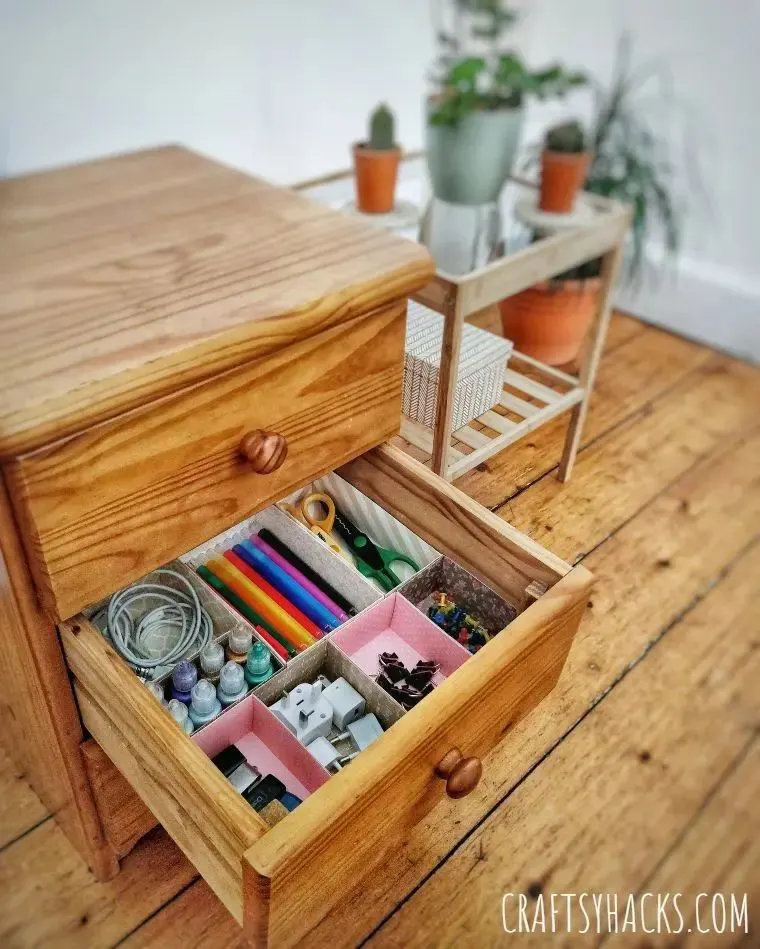 Source: craftsyhacks.com
I love how every single one of us are united by one common bad habit: dumping things in drawers only to have to paw through them later to find what we need. We've all been there, but we don't have to stay there.
What you need are drawer dividers to help you segregate the space in your drawers. This way, you can allocate space for different categories of things, and all you need to do that is a few sheets of cardboard.
You can line the cardboard sheets with colorful and pretty cardstock from here to make your drawers look clean and pretty.
2. Giant Gingerbread Man Christmas Craft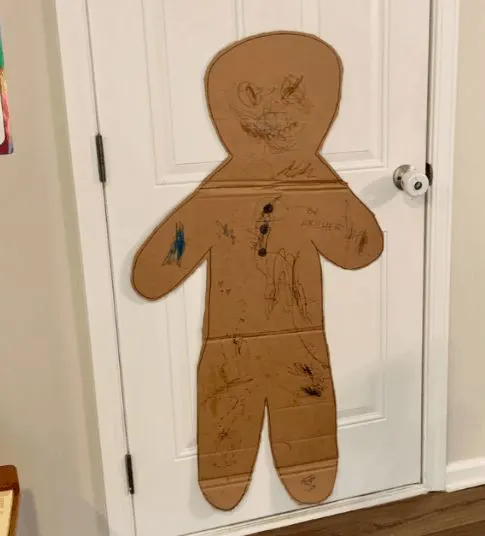 Source: mimosasandmotherhood.com
This isn't just another gingerbread man craft, no. This one's a giant gingerbread man—quite terrifying, to be honest, especially since it's not edible.
But, put aside that fear for just a second so you can help your kids make this giant gingerbread man out of cardboard. Once you spruce him up a bit, he won't look terrifying.
Besides, your kids are going to get a kick out of this when they realize you're going to be using them to trace an outline for this giant gingerbread man. So, grab your markers, kids, and get started!
3. Postman Pat Van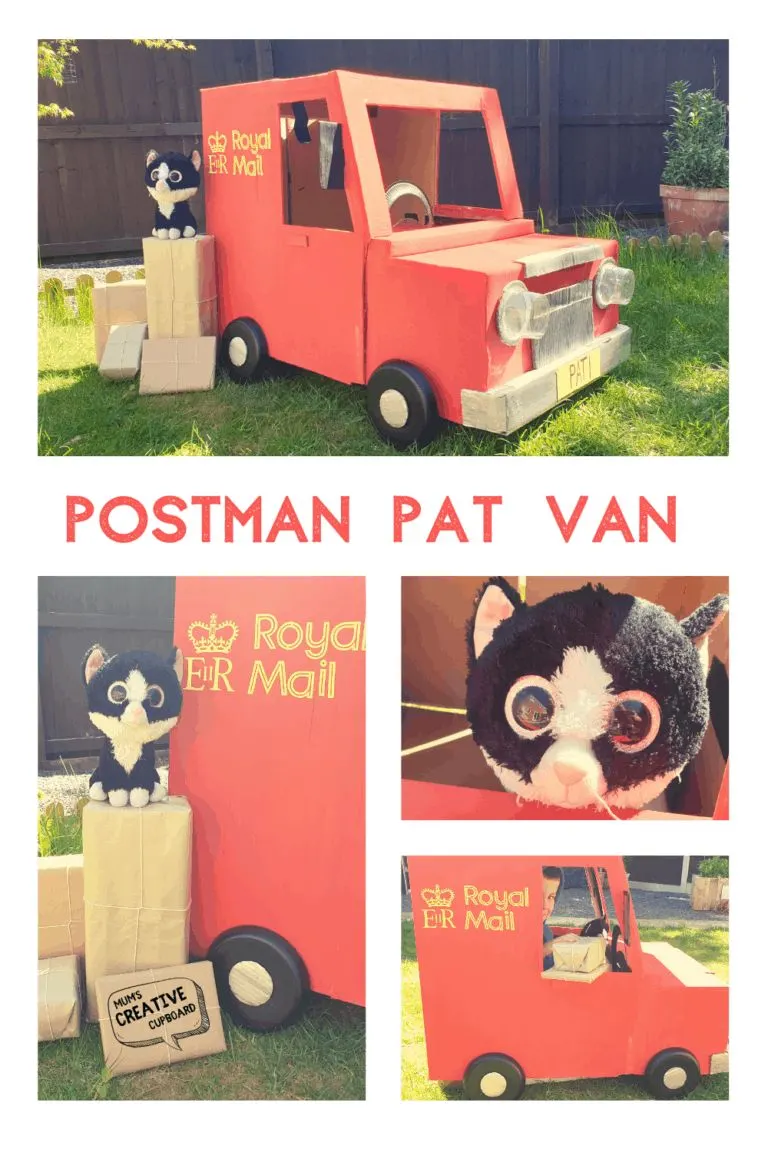 Source: mumscreativecupboard.com
You remember that old cartoon jingle? "Postman Pat, Postman Pat, Postman Pat, and his black and white cat…"
It might be an old favorite, but with a few cardboard boxes, a hot glue gun, and some craft essentials, you can bring that trusty red truck to life.
You don't need to stop there, though. You can also set up an entire display, with the iconic number plate, the British Royal Mail logo on the side, and a few parcels propped up against the truck too.
4. DIY Rope Basket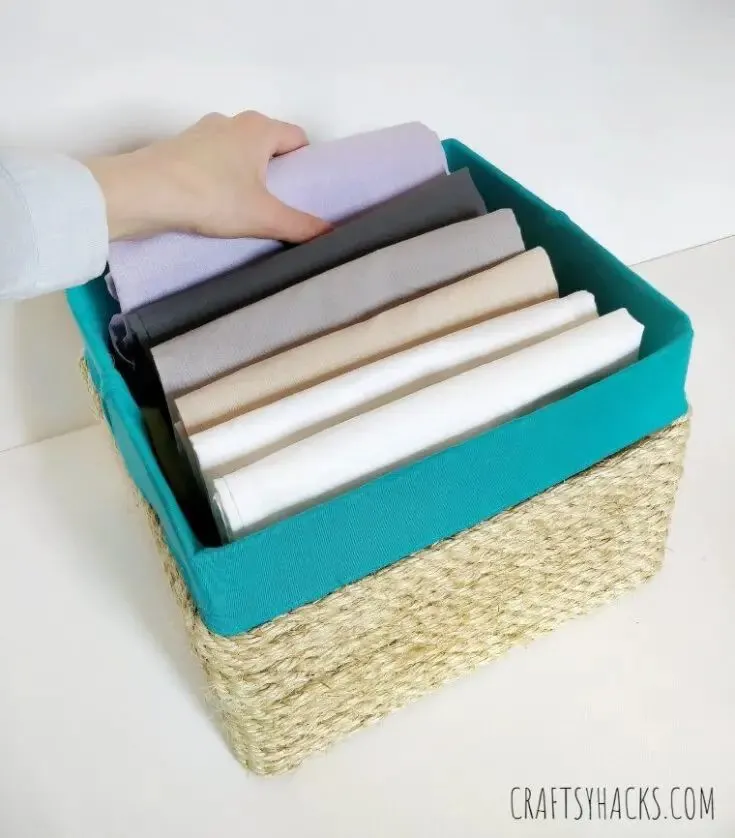 Source: craftsyhacks.com
You know how expensive it can get when you're shopping for storage containers. All the pretty ones are pretty, yes…pretty expensive, that is.
But, what if I told you that the rope basket you see here is just a plain old cardboard box that's been given a facelift? It's super easy to make and you'll not stop at just one, trust me.
You'll need to grab some fabric you like, this hemp rope, your hot glue gun, and of course, a cardboard box in the size you want. This is such a great project where you can upcycle your cardboard boxes instead of recycling them.
5. Fish Tank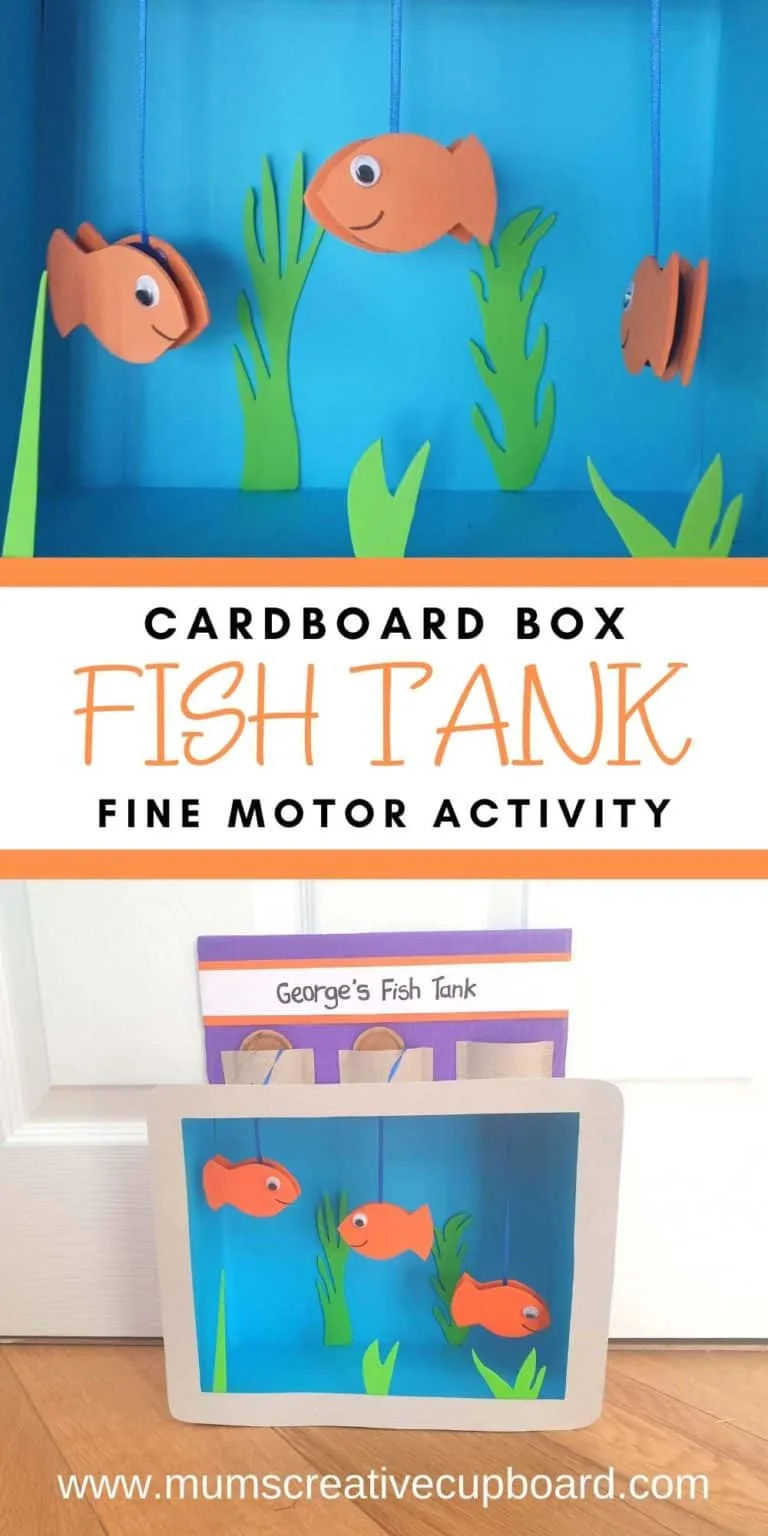 Source: mumscreativecupboard.com
Setting up and subsequently maintaining a fish tank can be a rather extensive—and expensive—project. But if your kids love fish, then perhaps you could come to some sort of compromise and meet in the middle.
This fish tank is made from cardboard sheets and a cardboard box. Bonus? The fish in the box won't die when you forget to feed them.
You can line the box with blue paper or paint and use craft foam to make the fish and all the additional props like underwater plants. If you like, you can use these googly eyes to add a bit of life to your faux fish.
Love this craft? You might also enjoy making this fish craft.
6. Dollhouse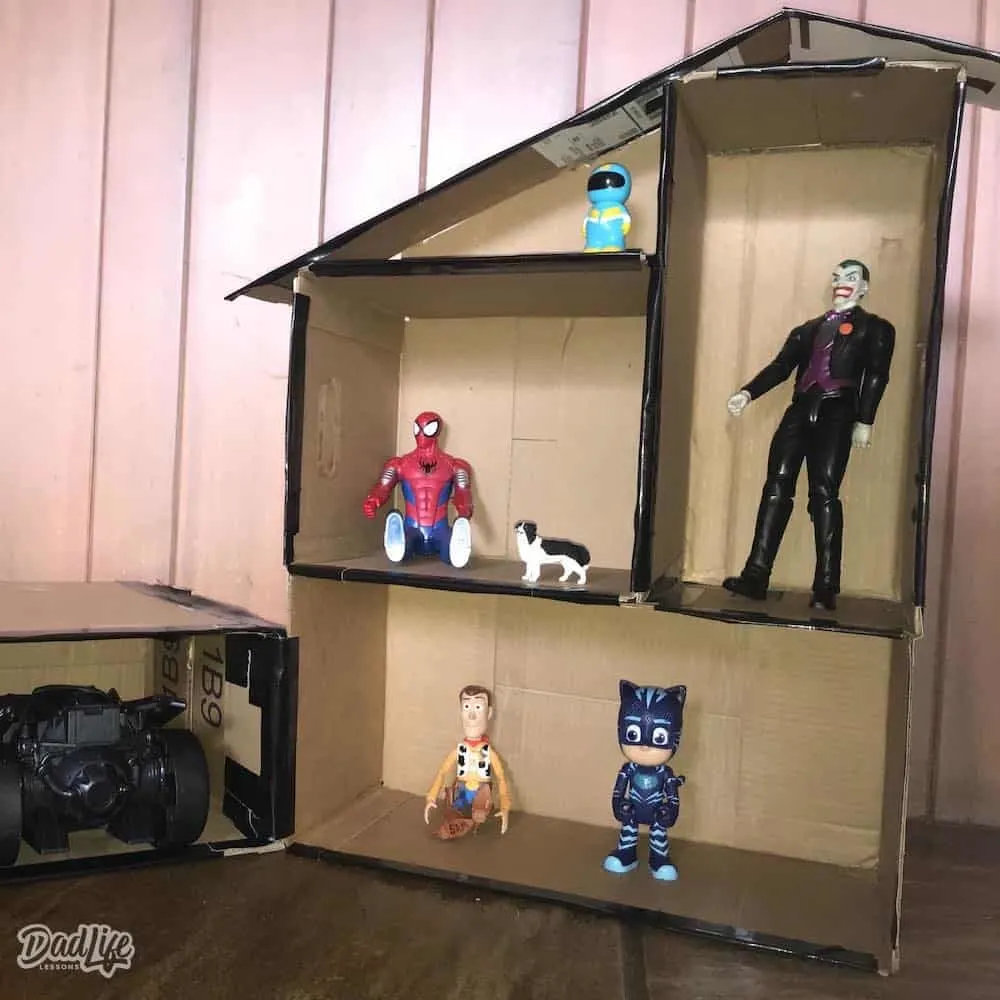 Source: dadlifelessons.com
Have you ever wished you could customize your own dollhouse? The ones you buy are great, sure, if a bit generic.
But if you could just make your own, you could have all the rooms you've always wanted—like a sauna or a home theatre, perhaps? You can have all that and more, I promise!
All you need to get started are a few cardboard boxes, tape—gorilla tape or duct tape—a pair of scissors, a craft knife, or this box cutter.
7. DIY Table Centerpiece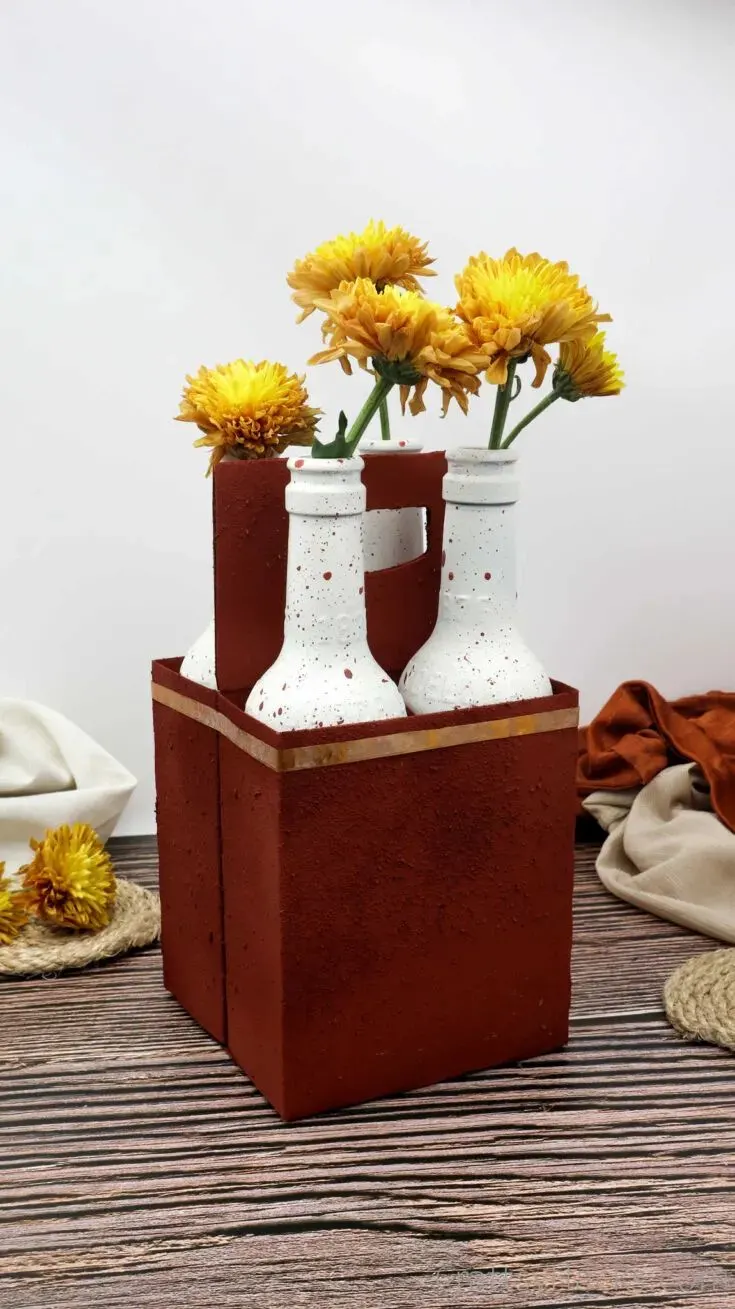 Source: craftsyhacks.com
This gorgeous table centerpiece is actually made by upcycling a four-pack of beer bottles. The beer caddy you see, however, is made from cardboard.
It's rustic and elegant at the same time, isn't it? You can use these centerpieces to adorn your dining table at home or even as a wedding centerpiece.
You can use them as vases and fill them up with flowers and foliage. You can also just use them as a decorative piece just as it is.
Grab some decorative tape from here, and you can get started. Check out more DIY table centerpiece ideas here.
8. Valentine's Day Hang Tag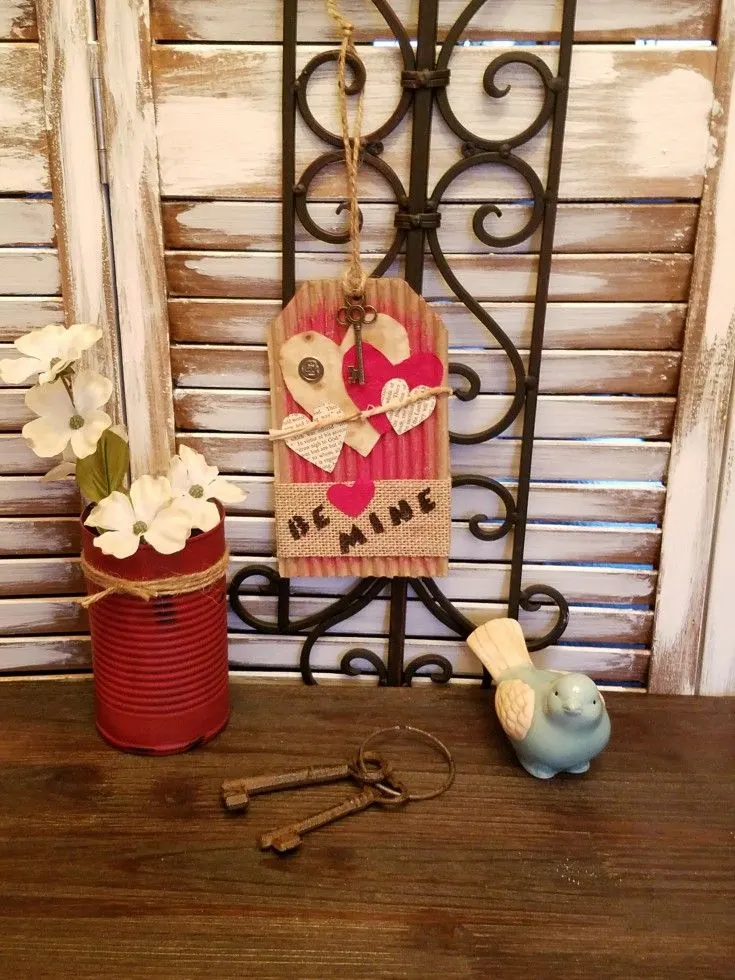 Source: mixedkreations.com
Valentine's Day will be upon us before you can say cherubic cupid. Have you thought of a gift yet? While you ponder and plan, here's one thing you can add to your gift—whatever that may be—to personalize it a bit.
These hang tags are a great opportunity to eschew a traditional greeting card for something much more creative. You can use a bit of cardboard for the base and cut it up into the shape and size you like.
Feel free to use charms, embellishments, ribbons, and more to make this hang tag the best one ever. When you're done, you can just use this twine to hang the tag up.
9. Gift Box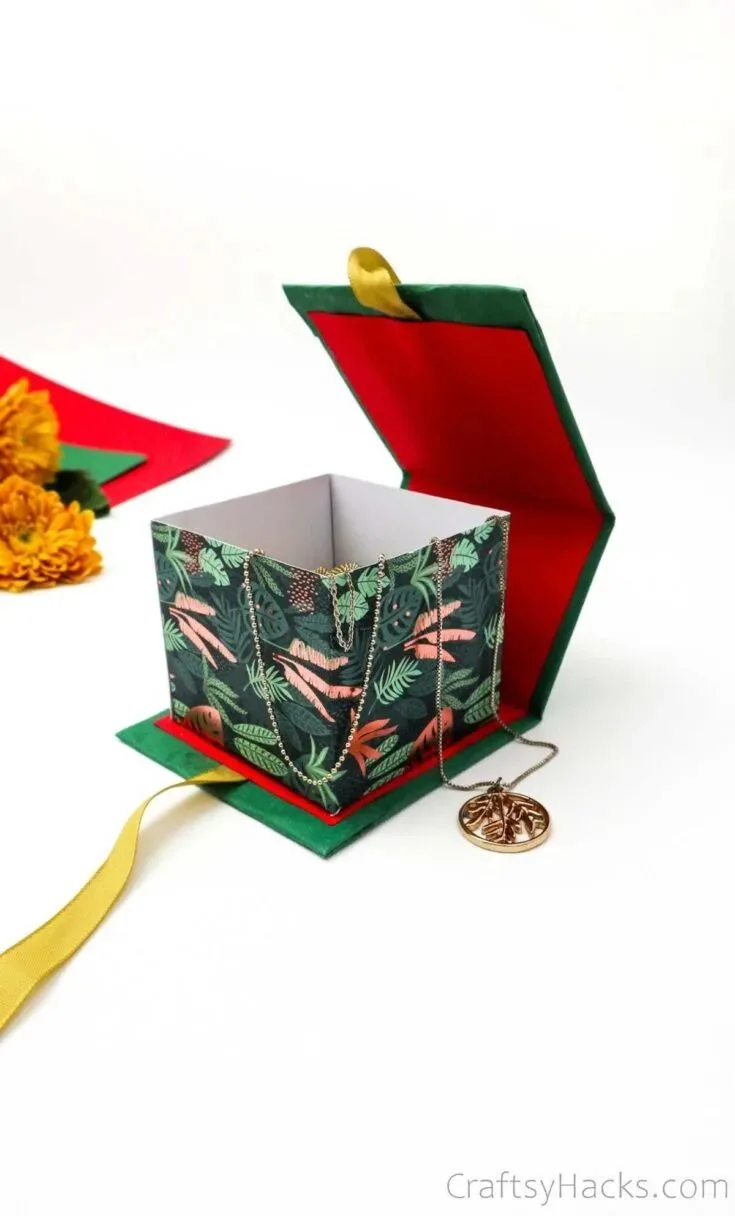 Source: craftsyhacks.com
Gift boxes are super pricey unless you buy them in bulk. Even then, you can't quite get really pretty ones. The best solution is to just make your own.
You can use cardboard to make your mini gift boxes. In fact, you can even engineer a pull-over lid to make it all the more fancy.
Next, go ahead and pick out your patterned cardstock. Pick paper that is thick and hardy, preferably something colorful and printed.
You'll also need some ribbon, your hot glue gun, and a pair of scissors.
10. Cardboard Treehouse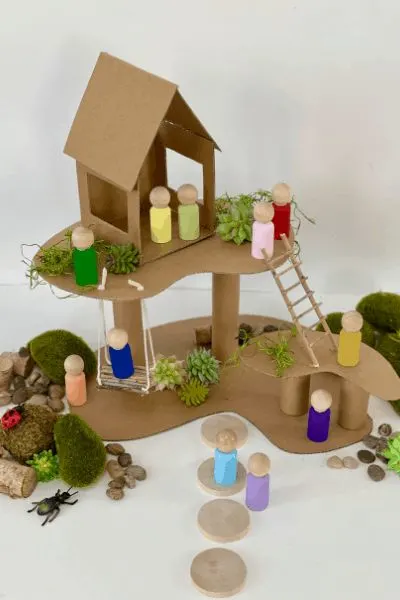 Source: mimosasandmotherhood.com
I always wanted a cool place to hang out when I was a kid, like a treehouse. But when you live in an apartment in the city, the closest you can get to having a treehouse is at craft time.
If you're in the same predicament but still want your kids to enjoy their own version of a treehouse, you can make one at home using cardboard. It's easier to make than an actual treehouse and definitely more cost-effective, right?
So, grab your pencil and start designing your treehouse. You'll need a few of these skewer sticks to help you prop the cardboard 'walls' of the treehouse up.
11. DIY Copper Snowflakes Ornament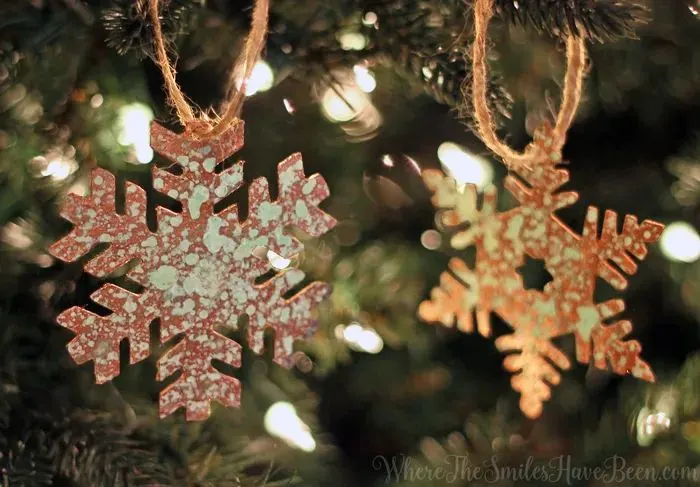 Source: wherethesmileshavebeen.com
Cereal boxes are made of cardboard, and they're probably the most upcycled cardboard boxes in craft projects. They're a great base material to use when you're making cardboard cutouts.
Take these snowflake ornaments, for example. The aged-copper finish really does mask the fact that it's made from a cardboard cereal box, right?
You can turn your cereal boxes into these spectacular ornaments, too. You'll need a Silhouette cameo, a cutting mat, as well as some painter's tape from here, and metallic copper paint from here.
Why don't you also check out this DIY salt dough ornament? You can pair that up with your cardboard ornaments, and you'll have a really interesting tree. Check out more winter crafts here.
12. Portrait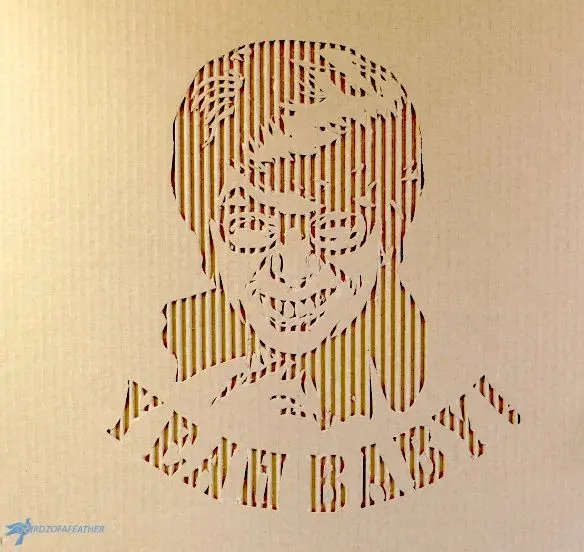 Source: birdzofafeather.ca
Wondering how you can turn a headshot into a portrait? Well, I have two words for you: cardboard art.
Just look at this portrait and tell me you don't think it's art; I dare you. Something so simple can be a statement piece in your home decor.
You can utilize the technique that's been used to make this cardboard portrait to recreate a portrait of your preference. You can also go for a two-tone effect once you're confident about the technique.
13. Ladybug Toilet Roll Craft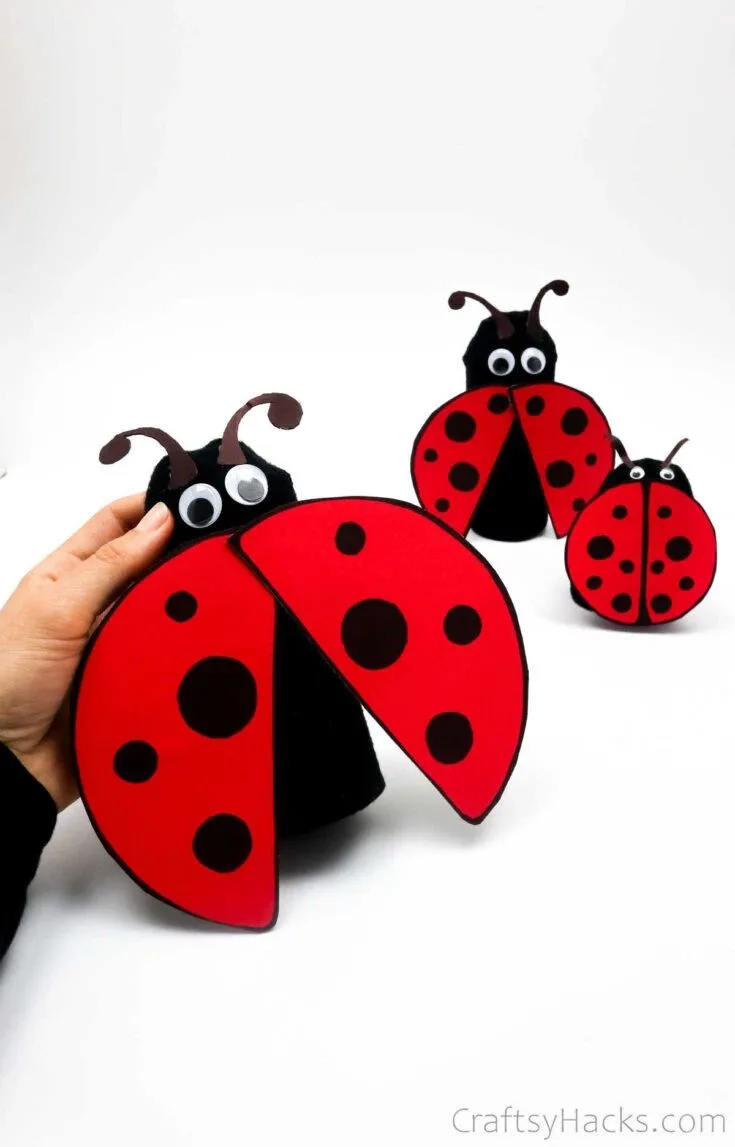 Source: craftsyhacks.com
I think I've said this a hundred times, but toilet roll crafts are the absolute best. They're super easy to make, and the chances are that you already have most of the supplies you need for this project already.
That means they're cost-effective too. Looking at this ladybug toilet roll project, you'll be hard-pressed to think they're anything but gorgeous!
So, gather your supplies and start crafting this pretty ladybug!
14. Dragon Shield Craft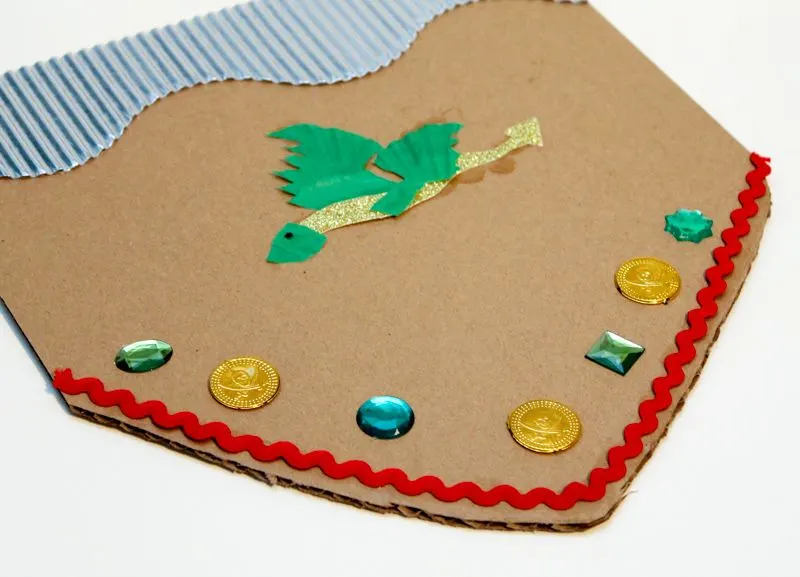 Source: intheplayroom.co.uk
With dungeons to explore and dragons to defeat, your kid's going to need something to protect his hide. How about this awesome dragon shield?
You only need a few recycled materials and cardboard, of course. You might also want to consider how you want to decorate your shield.
Here's what you can use: ribbon, glittery card paper for the body of the dragon you're going to put up on the shield, craft gems, and colorful stones. You can use double-sided tape from here or hot glue to help you adhere everything.
15. Bumble Bee Tube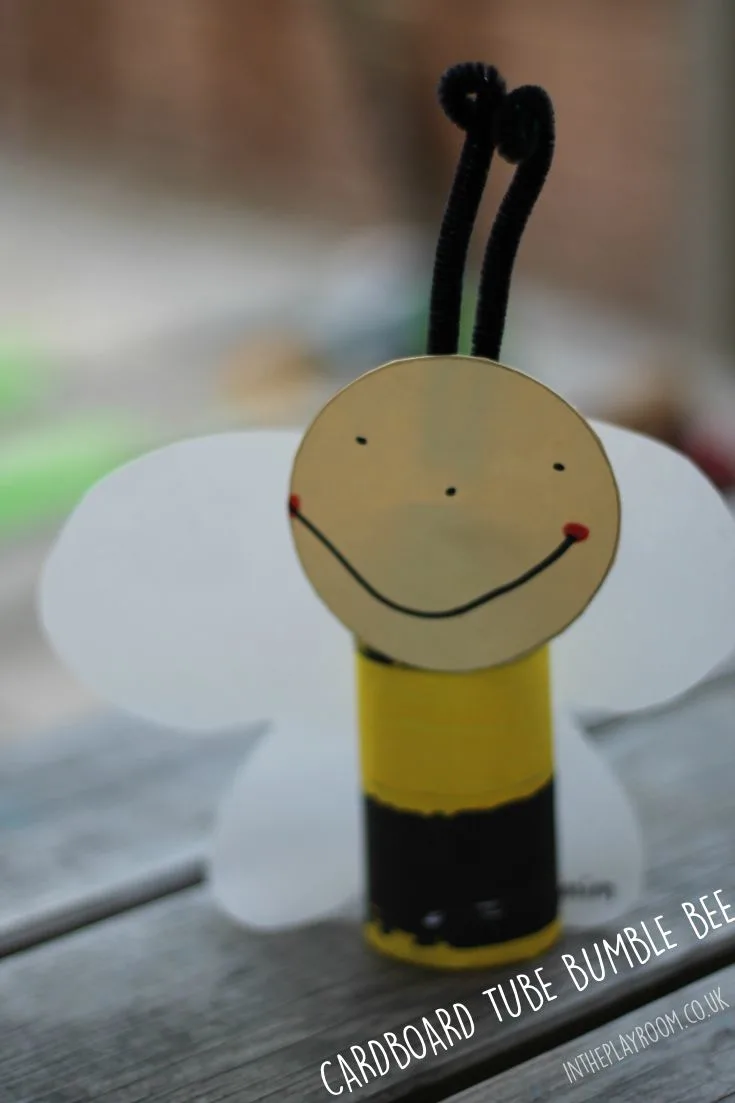 Source: intheplayroom.co.uk
This adorable little bumblebee is made completely out of cardboard—empty toilet rolls, to be precise. Toilet rolls are such great craft materials, don't you think?
For this bumblebee craft, you'll need black paint, yellow paper, tracing paper, red and black pens, two black pipe cleaners from here, and finally, your adhesive—tape or glue.
If you're interested, you could take a look at these 20 toilet paper roll crafts. If you have any extra pipe cleaners, then you might want to check out these 27 pipe cleaner crafts, as well.
16. Toy Car Wash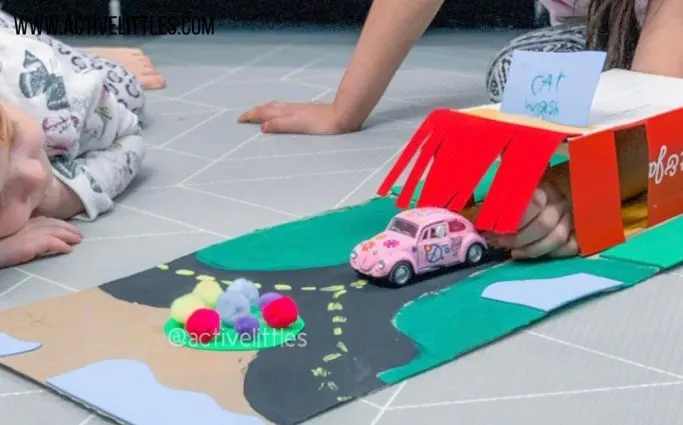 Source: activelittles.com
Do you know that when I was a kid, I absolutely loved going to the car wash with my parents? It always seemed like a whole other world in there.
If your own kids love visiting the car wash with you, then sit them down for this car wash craft project. It's got the whole shebang, with the driveway leading into the car wash, those fringed mats at the entryway, and more!
So, to begin this project, grab some construction paper from here, as well as these foam sheets. Afterward, if you've still got any construction paper left, you can check out these 36 construction paper crafts, too!
17. Valentine Box Love Train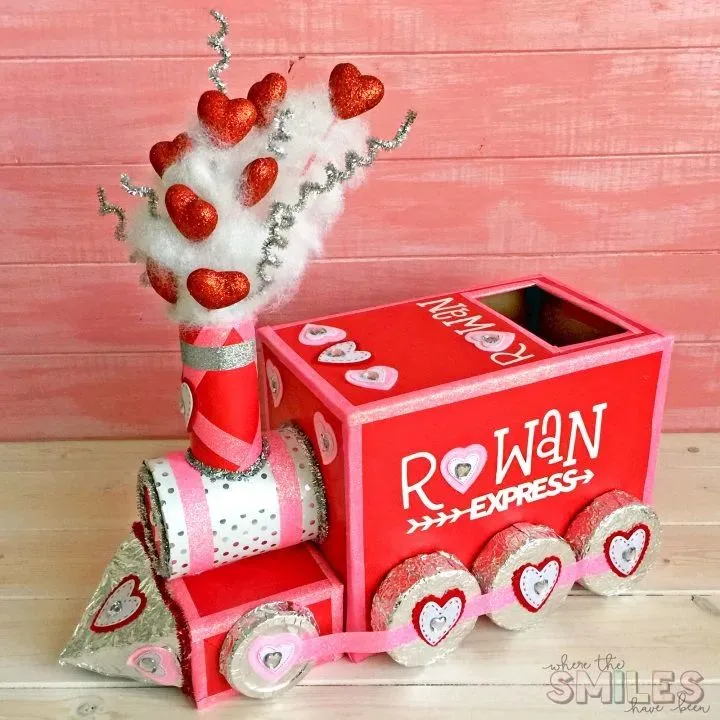 Source: wherethesmileshavebeen.com
This train pulls out all the stops with its Valentine's day theme. Just look at all those shades of red, pink, silver, and white.
There's a lot to look at, so take your time and decide just how you want to make your very own Valentine's day train. There's a nice big billowy tuft of cotton smoke that's stuffed with silvery pipe cleaners and hearts.
There's also those silvery wheels with hearts and let's not forget the side where you can print out your own name on this express train! So, go ahead and pull out your Silhouette cameo and start designing your Valentine's day train,
18. Minion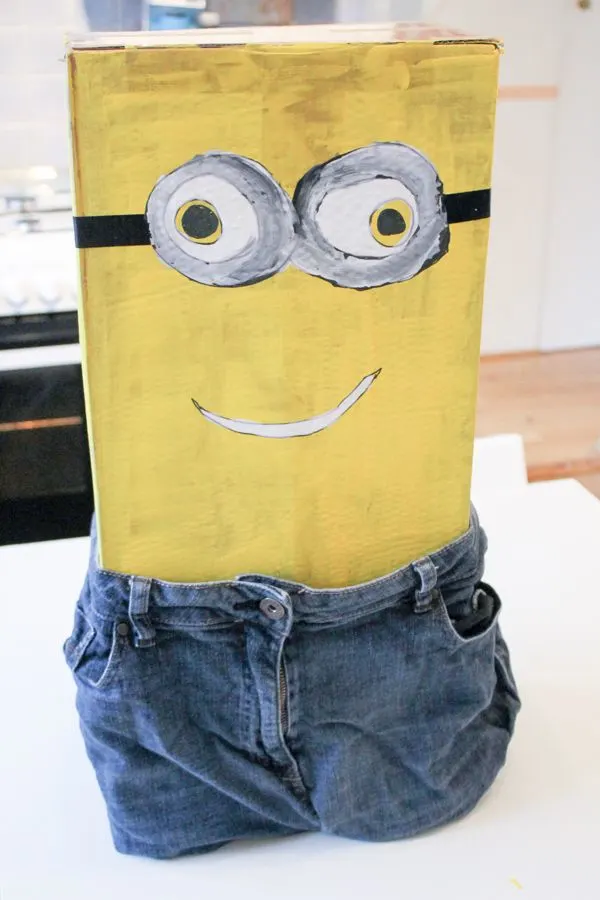 Source: intheplayroom.co.uk
I'm surprised at how amazing this cardboard box minion looks. Depending on the size of the box you use, I think you might actually be able to pull off a real-sized minion.
These minions would be wonderful decorative props that you can set up around your home if you're having a themed party. To make it even better, you can scrunch up an old pair of jeans or shorts and place the box in it just like you see here!
Just grab your paints and brushes and start painting your minions!
19. Bigfoot Cardboard Feet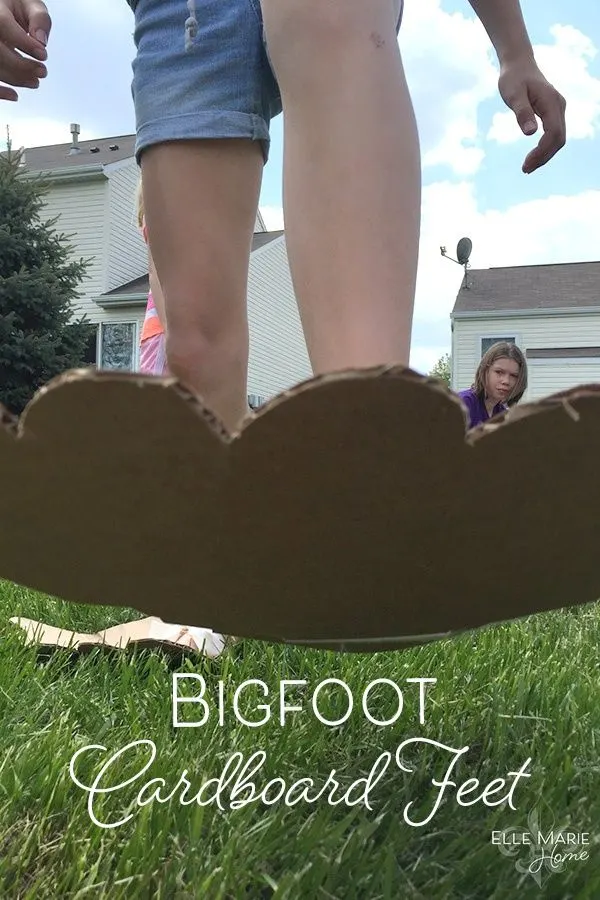 Source: ellemariehome.com
After that movie 'Abominable' came out a couple of years ago, there's been a lot of fascination with Bigfoot and Yeti, and understandably so. They're so enigmatic and shrouded in mystery and magic.
So, grab some cardboard; it's time to make a couple of Bigfoot cardboard feet. First, use a pencil and sketch out a rough shape of the foot on a poster board.
Then, use that as a template to cut out your actual Bigfoot feet using cardboard. Check out more crafts for kids.
20. Giant Christmas Tree Ornaments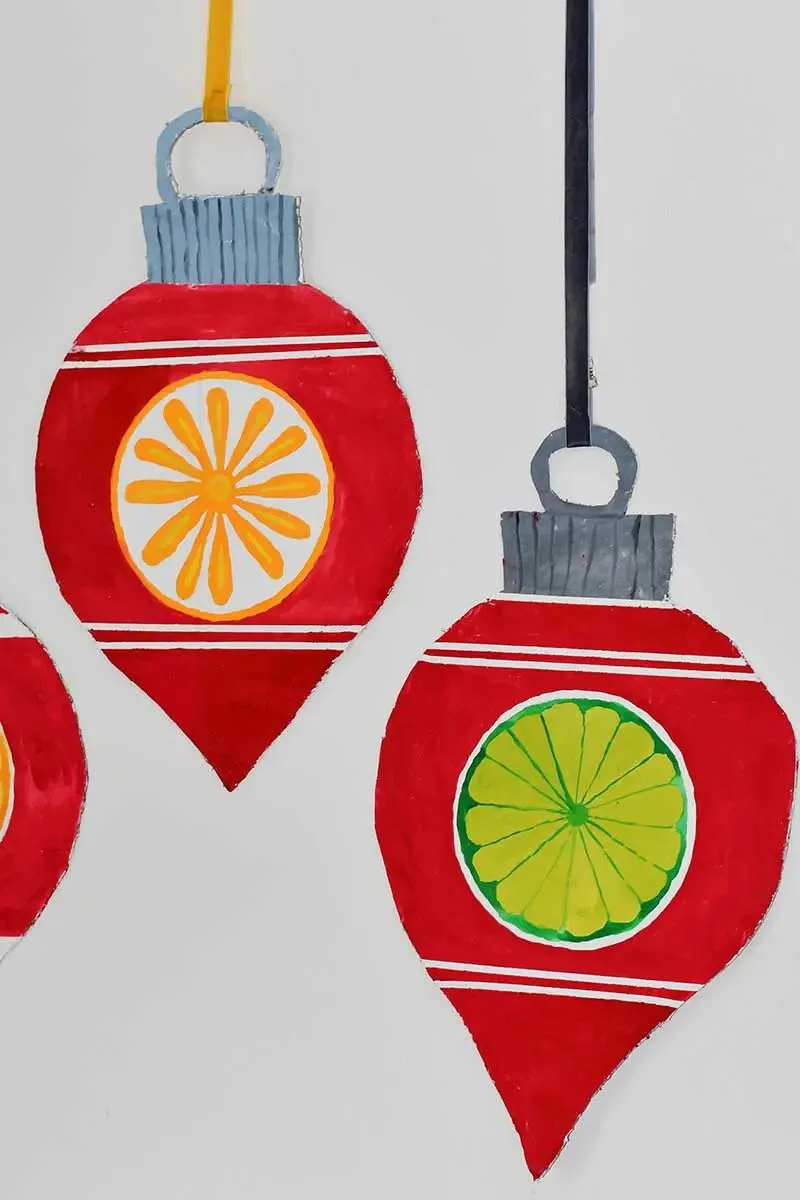 Source: pillarboxblue.com
Here's another cardboard ornament project for you to try out. I'm sure you already have all the craft essentials you'll need for this project, so go ahead and flatten out your cardboard.
Next, use a large plate as a stencil of sorts and, placing it on the cardboard, draw around it with a marker. Then, just extend the circle towards one point to turn that circle into a tear-shaped drawing.
Then, at the top of the circle, opposite the tear-shaped side, draw a bauble cap. There you go; your ornament is ready for you to cut, paint, and decorate!
Find more Christmas tree decorations here.
21. Pink Flamingo Feet Craft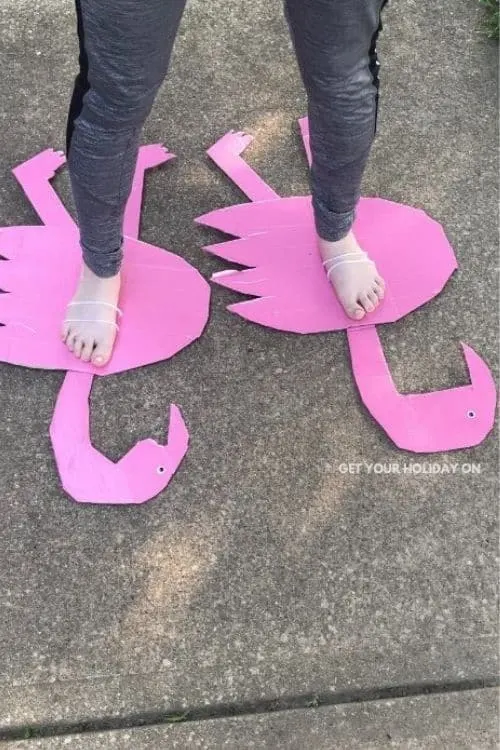 Source: getyourholidayon.com
I'm guessing that the Bigfoot craft project was a big hit. So why don't you try something similar, like this pink flamingo feet craft, for example?
For this project, you will need to buy some pink duct tape from here, googly eyes, a pair of scissors, yarn, and cardboard sheets. You can stencil your flamingo feet onto some paper first and use that as a template to cut your cardboard.
Hey! Maybe you should start an entire collection of big-footed animal crafts? There's a thought.
22. Kids Fort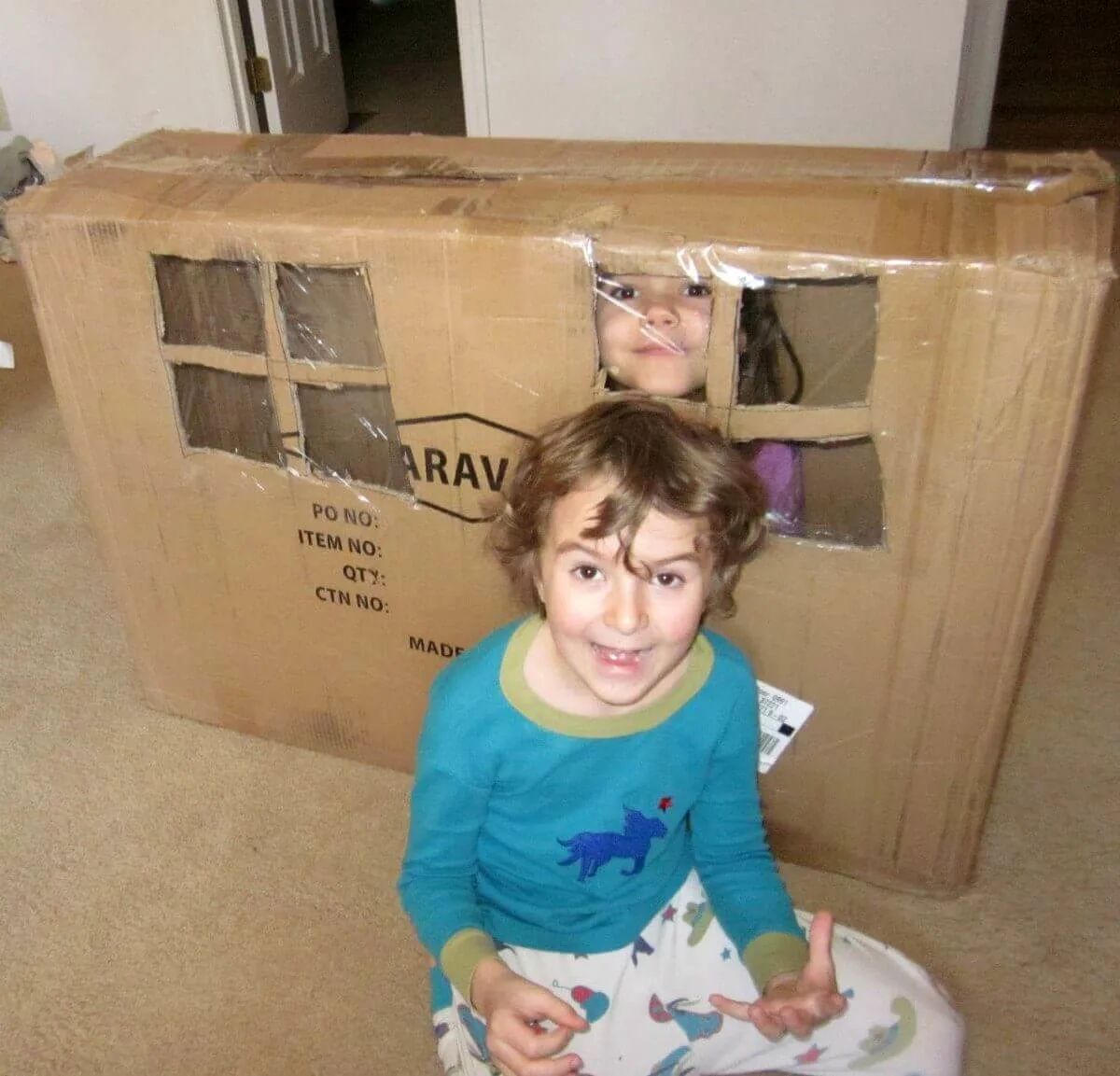 Source: familyfocusblog.com
Don't you wish you could go back in time when you were a kid? I remember long, lazy days when we'd build these amazing forts in the living room by stacking up cardboard boxes.
So, the next time it's raining or too cold to play outside, how about you and your kids settle in for a fun afternoon making your very own forts? The first step is to design your fort.
When you know what you want and how to sort your cardboard boxes accordingly, go ahead and tackle this fun activity! A plate of cookies and cocoa would hit the spot, too, wouldn't it?
23. Fabric Birdhouses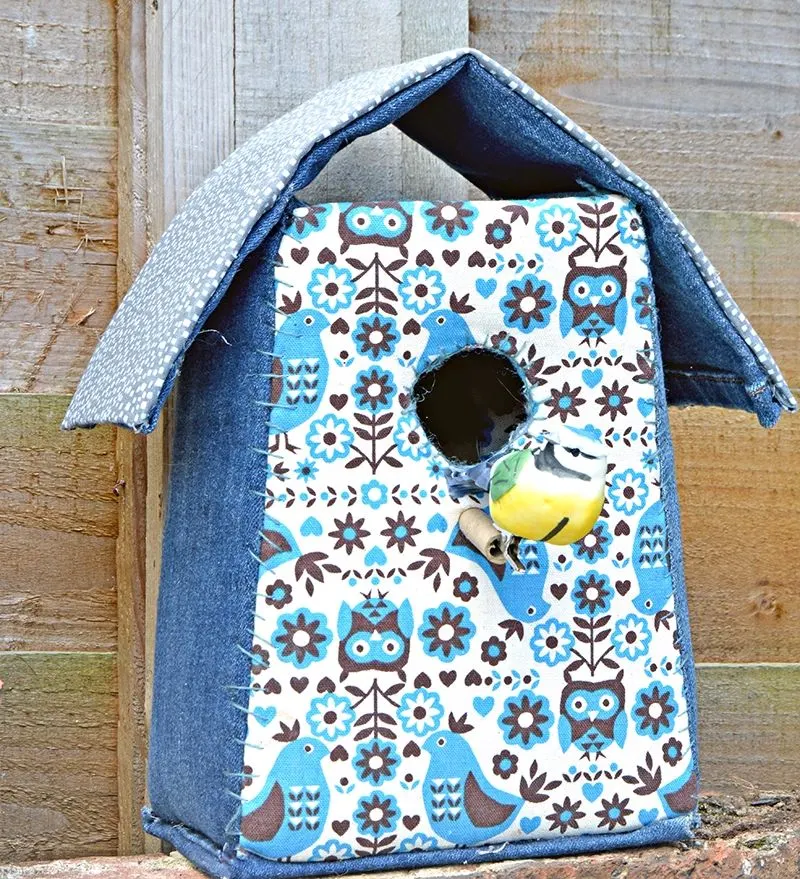 Source: pillarboxblue.com
These fabric birdhouses are great decor pieces you can use to bring nature inside your home without having to worry about cleaning bird poop.
It's also a great way to upcycle old clothes or use up that huge pile of scrap cloth you have lying around. You can also upcycle old cardboard sheets, but hey, I think you're a pro at that by now!
So, cut out your cardboard, line it with your fabric, and adhere the two together. Also, you can pick up some batting here to help you pad the fabric.
24. Alphabet Board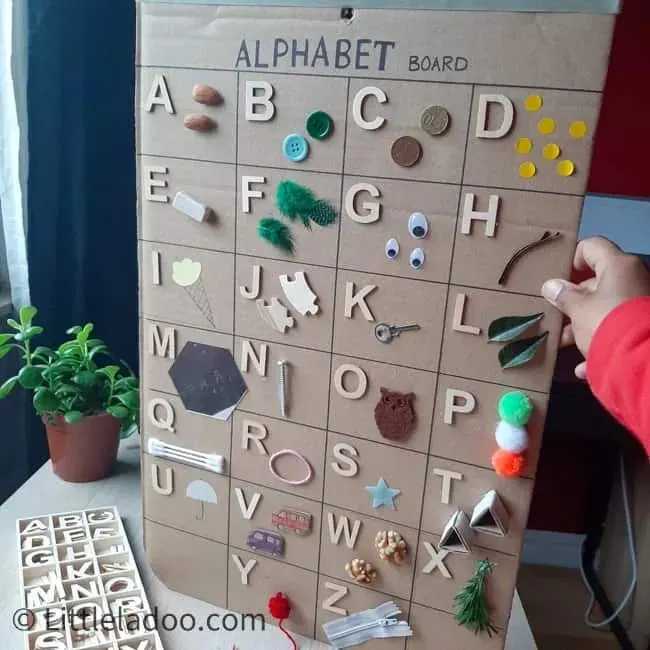 Source: littleladoo.com
Teaching your little ones their alphabets isn't just crucial for their education, it's also a rite of passage. This is as important a step in their lives as actually taking their first steps or saying their first words.
So let's make it count and as memorable as possible—for you and for them. This A to Z alphabet board can get your kids interested.
Just look at how fun it looks. It's definitely not your typical 'A for apple, B for ball' board. This one can be anything you like—it's yours to make and customize!
25. Pressed Flower Bookmarks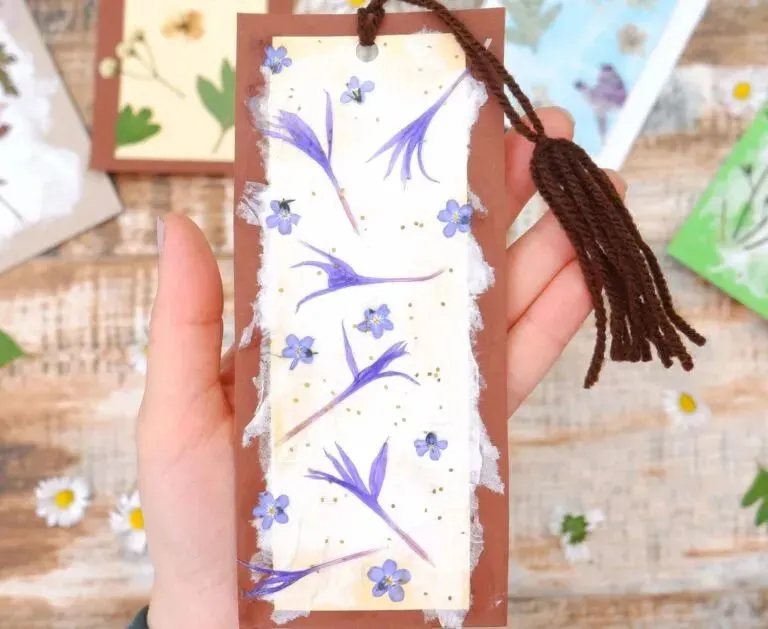 Source: liltigers.net
Pressing flowers will forever be my favorite project. It takes some time and effort to get it right, at least initially when you're just learning the proper technique.
But after that? You'll have a ton of pressed flowers at your disposal. Your first project using those pressed flowers can be this pretty bookmark.
Grab some cardboard sheets or cut a length of it out of a cereal box. Line it with colored paper, and you have your base. The rest of it is just adhering the flowers and leaves to create the perfect bookmark.
Love the idea? You might enjoy these DIY bookmarks for kids.
26. Pool Noodle Flower Wreath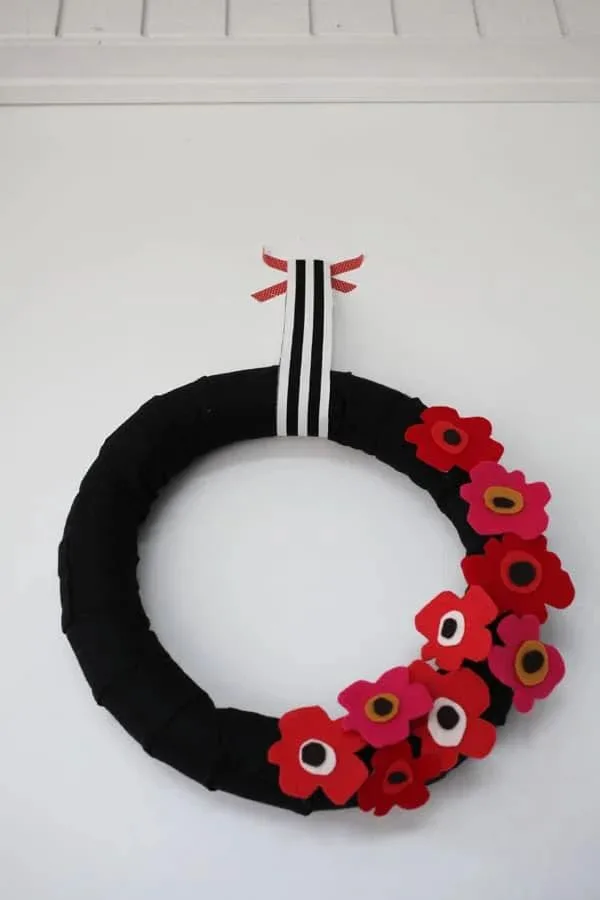 Source: diycandy.com
Pool noodle flower wreaths are four words that just don't make much sense at first. But wait till you take a look at the wreath in question.
You'll need a foam pool noodle for this project; just pick it up here. You can use this the same way you'd use a wreath foam.
You'll also need duct tape to tape the ends together once you bend the pool noodle into a circle. Then, you can use colored felt sheets, toothpicks, a hot glue gun, and some ribbon to hang your wreath.
27. Pirate Boat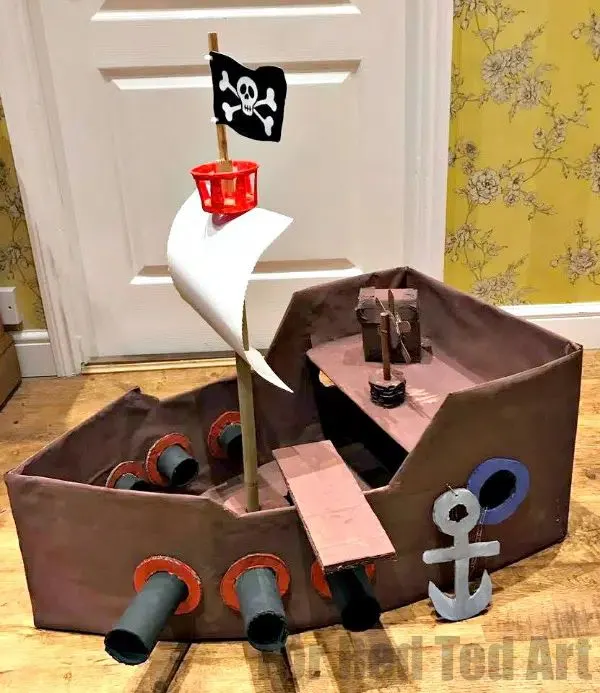 Source: redtedart.com
Find me a kid who doesn't love pirates, and I'll eat a pirate hat with mustard and ketchup. If you have your own little pirate at home, then this pirate ship's going to take them right into pirate-heaven.
You'll need a ton—depending on the size of the ship—of cardboard, masking tape from here, newspapers, scissors, paint, a hot glue gun, two sticks for the masts, and some scrap fabric.
Just a word of advice: you don't have to use newspapers to layer paper mache, but it does add extra stability to your pirate ships. That will definitely come in handy when you've got little kids playing roughshod with it.
28. Chick Craft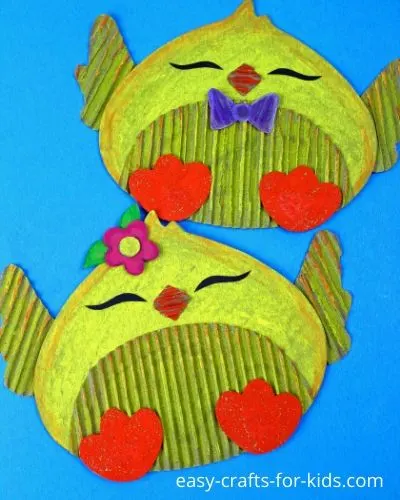 Source: easy-crafts-for-kids.com
This adorable little chick craft is perfect for your next craft session with your little one. It's also a great Easter project—just in case you want to keep it in mind for later.
You'll need cardboard, of course. You'll notice that it looks great on the chicks even if it is corrugated, so don't worry too much about that. Just pick up a bottle of yellow paint, some sandpaper from here, safety scissors, and finally, the chick template.
When you've assembled everything you need, go ahead and use the template to trace the design onto the cardboard and then cut it out.
29. Owl Pinata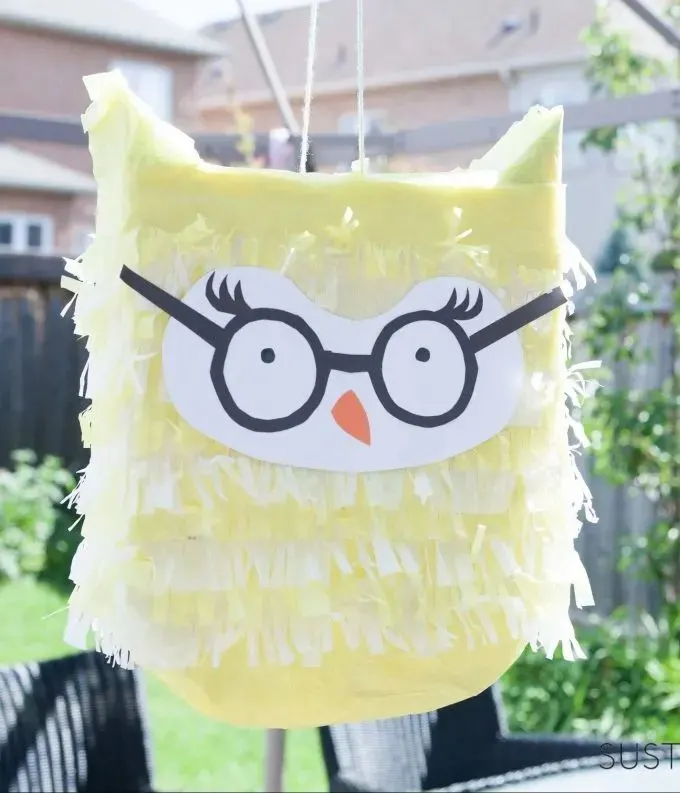 Source: sustainmycrafthabit.com
There is very little I love more than busting a pinata open. It doesn't even have to be at a party; I just love how therapeutic this activity can be—and the candy helps, too, of course.
More on that later; for now, check out this owl pinata! It might just be a little too pretty to break, but you'll certainly have fun making it. If you're wondering why it's an owl pinata, well, why not?
Here's what you'll need:
A large cereal box
Sheets of colored paper and one sheet of white paper
Colored tissue paper
Scissors and tape
Printable owl pinata template
30. Kids Pencil Case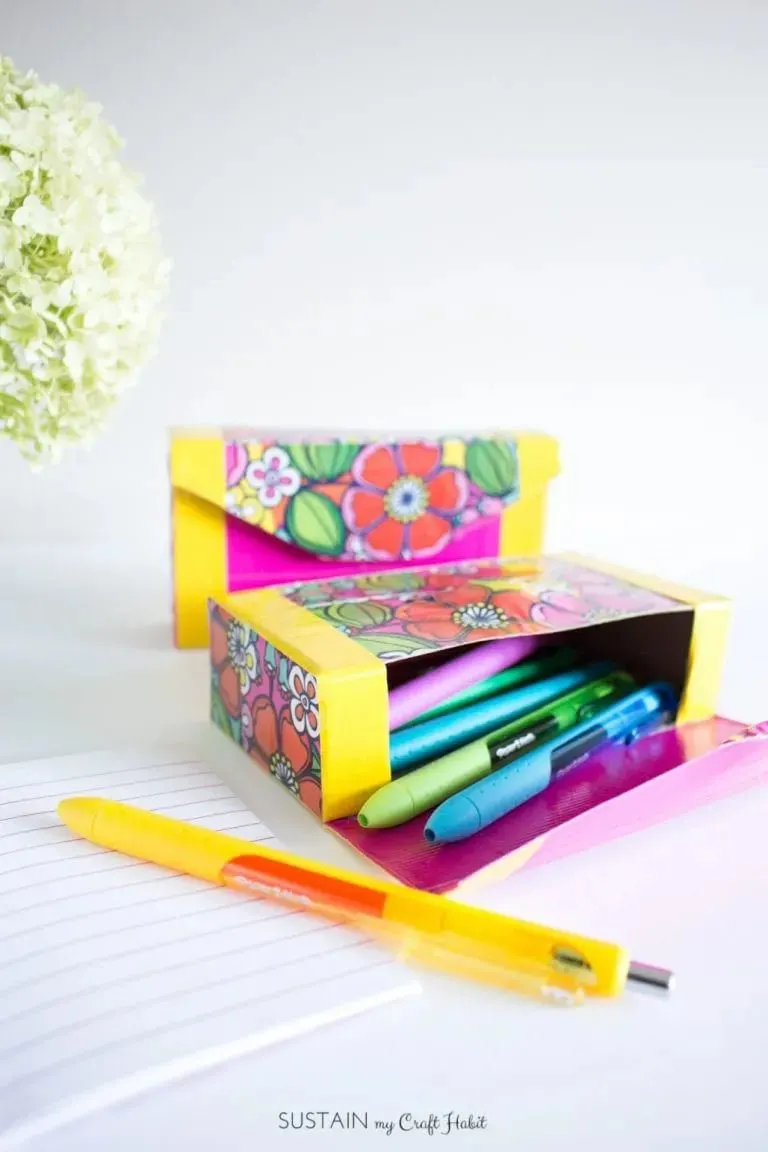 Source: sustainmycrafthabit.com
Here's how you make an upcycled pencil case using little more than cardboard and duct tape. It's exactly the kind of project you can work on when you're running short on ideas or don't want to use fancy supplies.
It also happens to be a great back-to-school project. I mean, who doesn't love a pencil case that's unique and that you can show off to your classmates.
Why don't you take a look at these back to school crafts? If you want another cool and unique pencil case, then check out this DIY pencil case out of toilet rolls.
31. Storage Organizer Cubes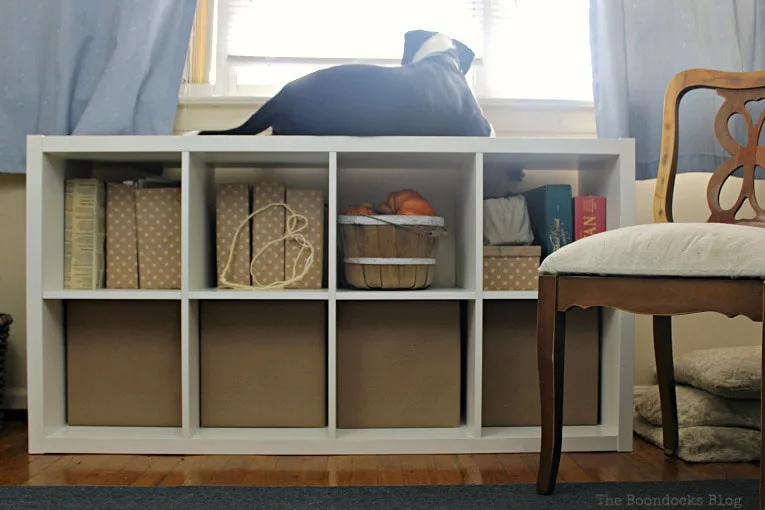 Source: theboondocksblog.com
You cannot have too many storage systems or devices to help you organize your belongings. This storage cupboard isn't just practical, it's also super cost-effective, seeing as how it's made out of cardboard.
The cubed system helps you divide and segregate your belongings. You can use it to store your office supplies, craft supplies, or even your shoes!
So, grab a roll of brown paper from here to get started on your project. You'll have this cupboard set up in no time!
32. Kid's Box Satchel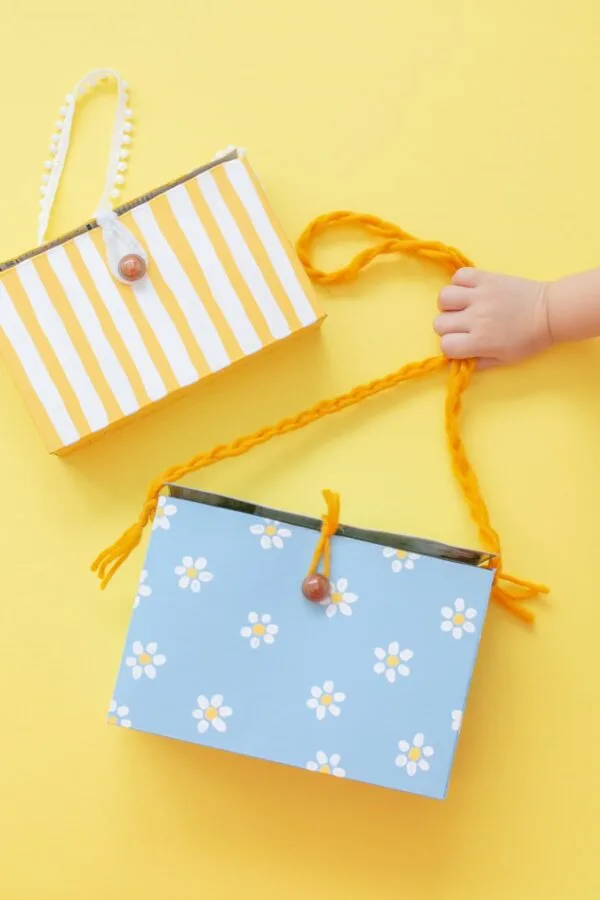 Source: lovelyindeed.com
Is it a box? Is it a satchel? It's both, and it's made from cardboard. Intrigued? Then take a look at how you can make these box satchels for your kids.
You will need a couple of empty cereal boxes or cardboard sheets. You will also need yarn to use as the shoulder strap. For the final touch, you can use a big button to accessorize the box.
When you have everything you need, start painting the cardboard box in colorful, fun patterns. Then, seal the ends shut with glue, decorate it, and you're all set!
33. Trinket Box Craft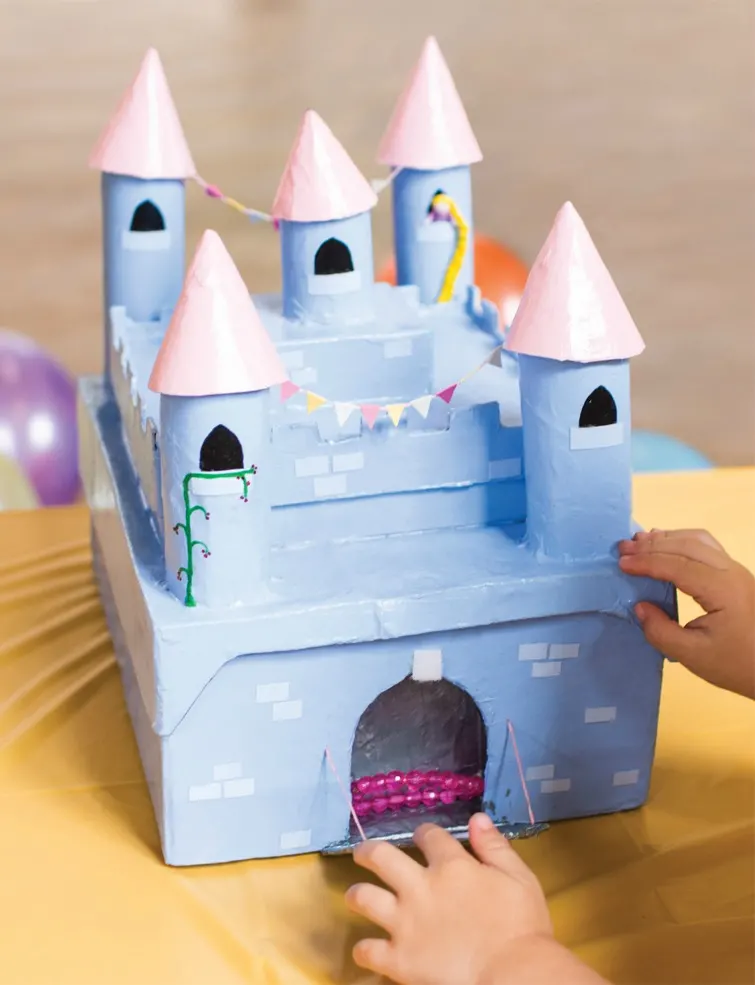 Source: intheplayroom.co.uk
There's nothing I love more than picking up and collecting little trinkets from places I visit. It can be something as simple as a seashell, or as fancy as a pair of earring; I just love trinkets.
I also love having a nice box to organize and store my trinkets. It's a practice you can inculcate in kids, too, with a gorgeous trinket box like this.
Grab an old shoebox, some bottles of paint, glue, embroidery thread from here, and a bit of polymer clay from here.
34. Decorative Framed Mirror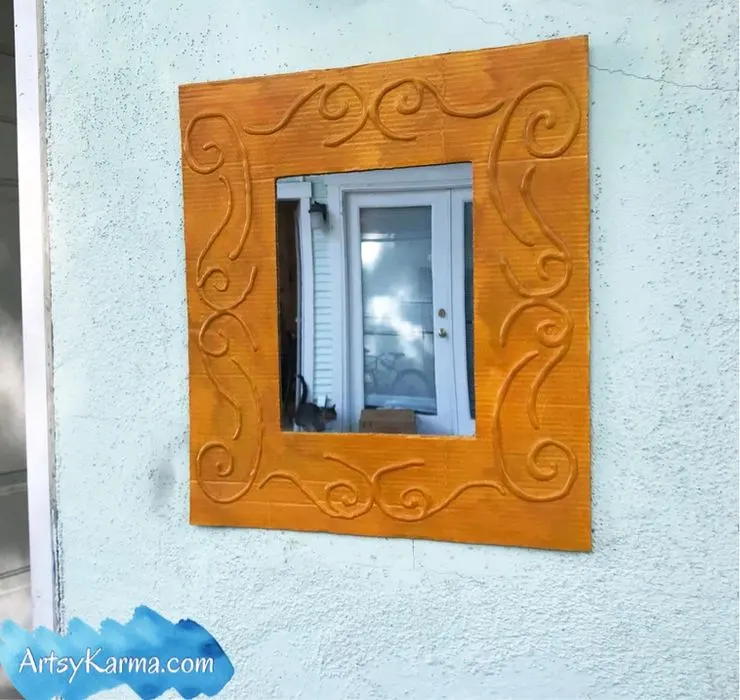 Source: artsykarma.com
If you have a foyer, then you know how important it is to have a mirror there. When you're in a hurry and don't have too much time to gussy up in your room, a quick fix using the foyer mirror is always advised.
So, check out this decorative framed mirror that would look perfect in your own foyer. You can make it in under an hour and once it's dry, just hang it up on a command hook.
You'll need two major crafting supplies or tools—your hot glue gun and cardboard. Go ahead and get everything you need and start crafting!
Check out more adult crafts like this here.
35. Reindeer Lollipop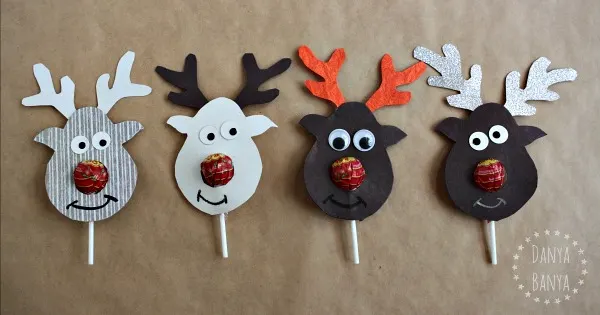 Source: danyabanya.com
Reindeer lollipops…I know what you're wondering. Are these reindeer lollipops edible? Yes, very much so.
It's just a plain old lollipop that's been jazzed up a bit with reindeer cardboard cutouts—perfect during the holiday season, don't you think?
You can use any candy lollipop and affix it so that it acts as the reindeer's nose. You'll need a circle punch or hole punch like this to, well, punch a hole to stick your candy into.
36. Knights Shield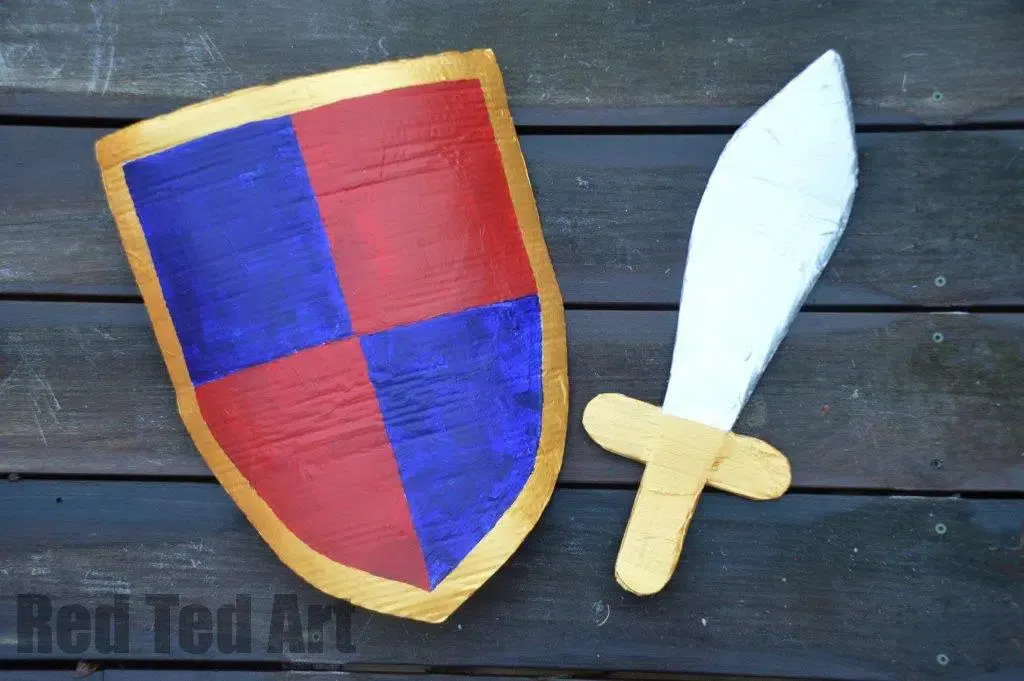 Source: redtedart.com
Remember a while back when you made a dragon shield? Well, it's only fair to add to the collection with a knight's shield, too. You can also make a sword, but that's a project for another day.
Grab your supplies and rope your kids into the project. They'll have a ton of fun painting the shield. You can also do a little research and figure out what colors and emblems you want to put on your shield.
You can download and print templates. Alternatively, just design and draw your own templates before cutting them out and tracing them onto your cardboard shield.
Check out more DIY projects here.
37. Yarn Wall Art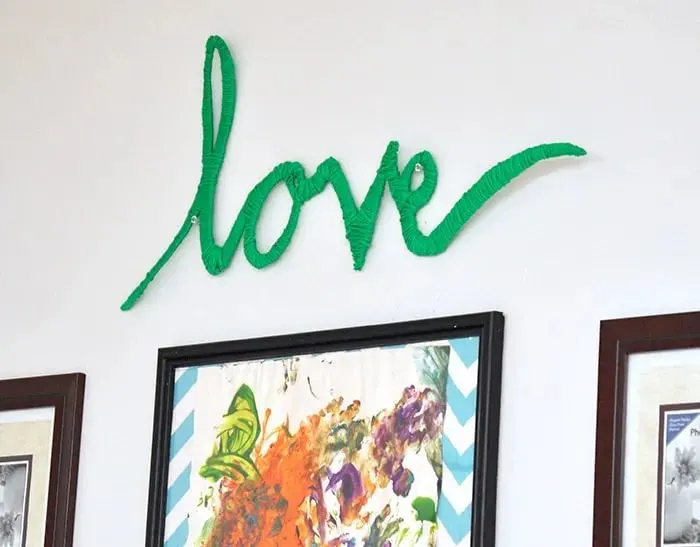 Source: diycandy.com
I absolutely love working with yarn. Be it crochet projects, knitting projects, or even wrapping yarn around bottles to use as vases, yarn is super versatile.
This yarn wall art is right up there on my list of favorite yarn projects, and why not? Just look at how adorable it is!
It's super inexpensive to make, too. You can use medium-weight yarn or something less bulky for this project. Just remember to pick yarn that isn't too chunky so that all the strands will blend in seamlessly.
Check out more yarn projects here.
38. String Instrument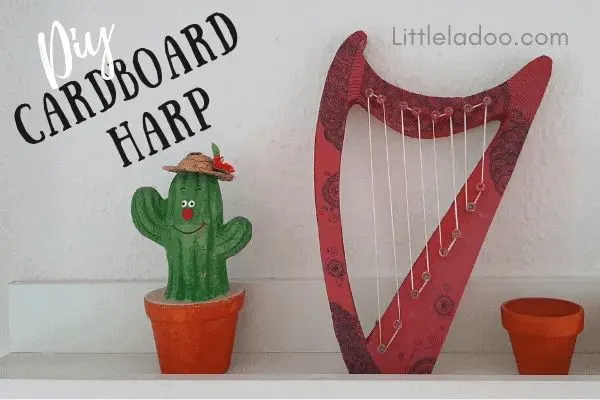 Source: littleladoo.com
This cardboard string instrument makes music just as a toy you'd buy at a store would. It's a great craft project, yes, but also super fun to use and play with.
You'll need to print out a template and cut out cardboard in a harp-shaped silhouette. Then, go ahead and paint it and decorate it any way you like.
Once you're happy with how it looks, you can string the harp with actual string or rubber bands. Just make sure that either one you pick is taut, and you're good to go!
39. Gingerbread Garland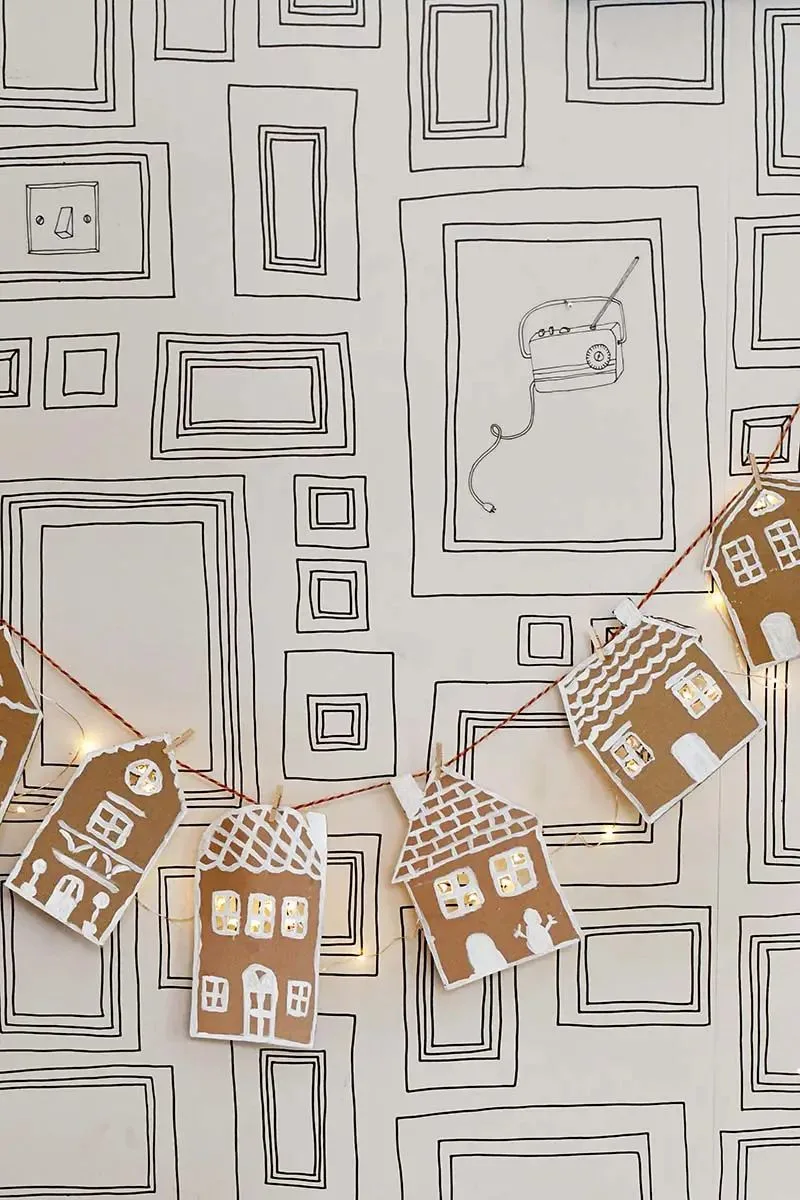 Source: pillarboxblue.com
What is a gingerbread garland, you ask? Well, go right on and take a look at this gorgeous garland strung with gingerbread houses!
Unfortunately, it's not edible. But what you can do is sit yourself and your kids down for a fun afternoon craft session with a plate of gingerbread cookies and lemonade. How wonderful does that sound?!
Grab some twine and wooden pegs from here, copper string lights from here, and a marker, and start crafting!
Love this craft? You might enjoy these Dollar Tree crafts!
40. Christmas Tree Craft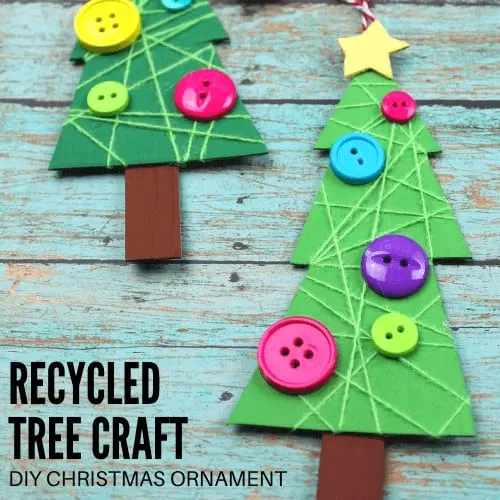 Source: littlebinsforlittlehands.com
Here's another Christmas tree ornament you can make from cardboard. Only, this one's not just an ornament for your tree, it's also an actual Christmas tree.
You'll need to use a template to trace and subsequently cut the cardboard into tree-shaped pieces. Then, grab a few buttons and other embellishments to decorate your tree once you've painted it,
41. Parking Garage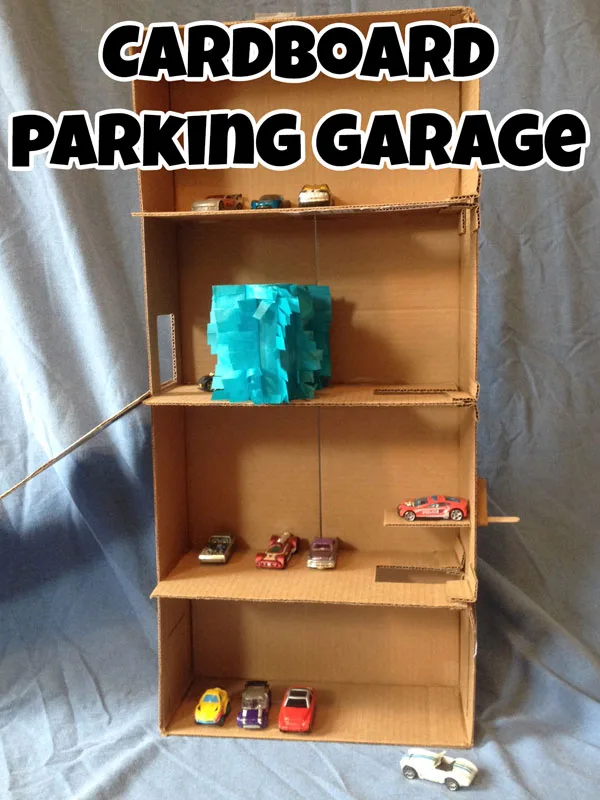 Source: intheplayroom.co.uk
Remember that car wash structure you made earlier? Why don't you start assembling another structure, this time a multi-level car park.
If your kids have a ton of hot wheels that are forever getting underway, then you can use this car park to 'store' the cars. Why not make it a fun activity that incorporates playtime while simultaneously encouraging kids to put toys away?
It's a win-win, don't you think?