Get busy this winter with these fun creative winter crafts. There is nothing like making your very own project and getting creative when you're stuck inside.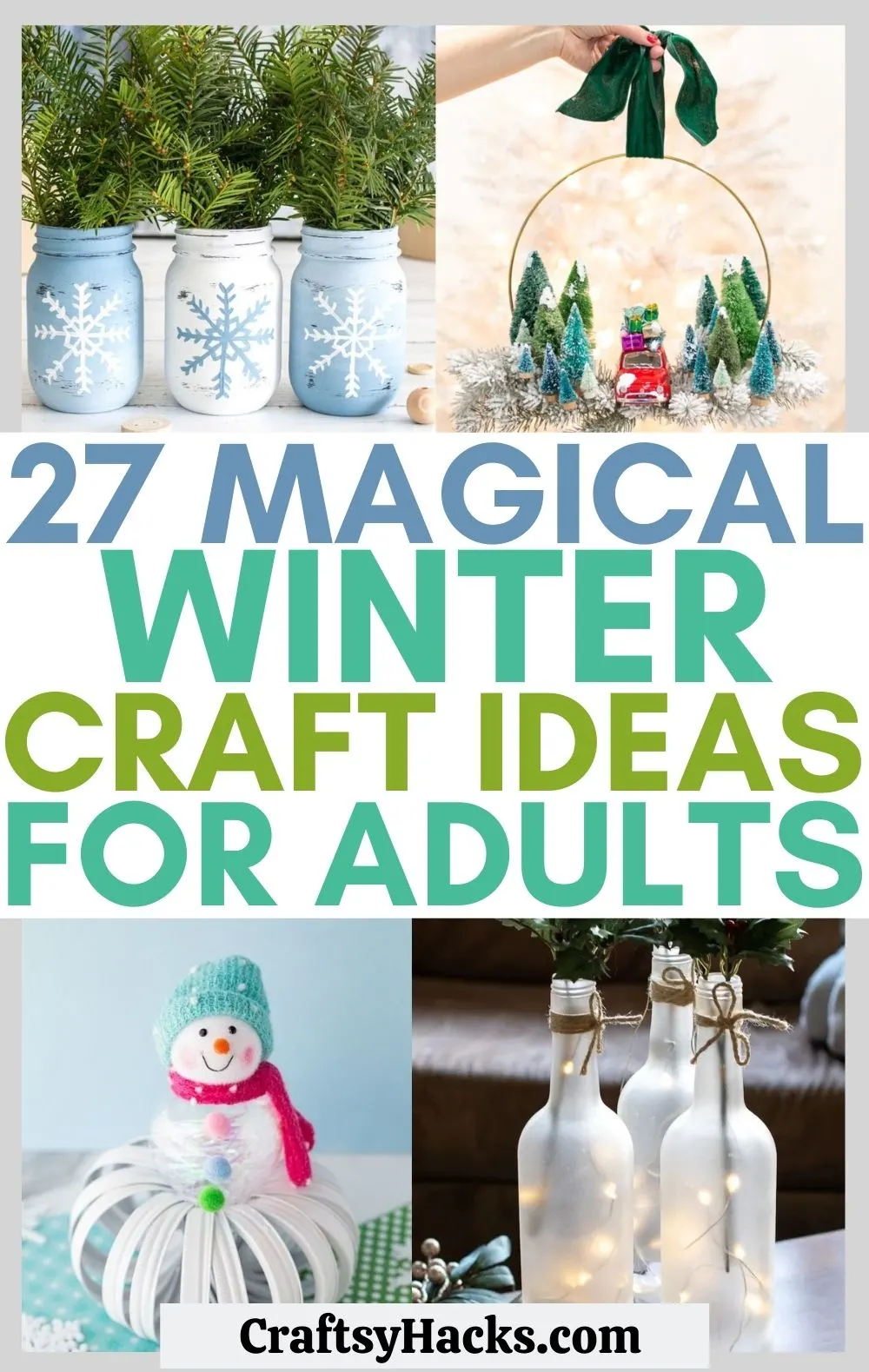 Craft time isn't just for kids, you know. Adults can enjoy a good long afternoon filled with really creative craft projects, too.
Well, this winter, I've got some of the best DIY projects for you that you can make just for fun, as well as use as decorative supplements at your home. From candles and luminaries to gorgeous wintery wreaths, I've got you covered.
So read ahead to explore 27 winter craft ideas for adults!
1. Tissue Paper Pom Poms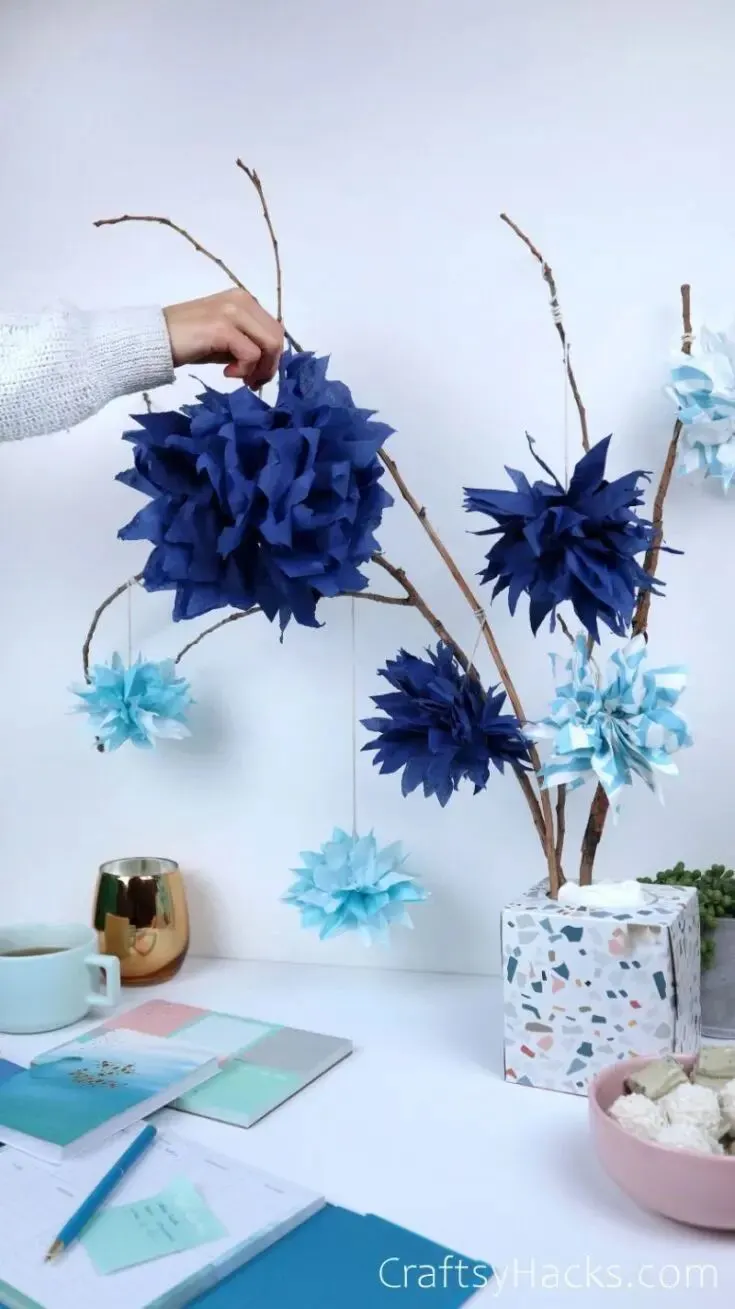 Source: craftsyhacks.com
Tissue paper pompoms are so inexpensive that you're practically making money by making them. I'm just kidding, but really, they're super cheap and even more fun to make.
Grab some tissue paper from here to get started. Then, in a few minutes, you'll have an amazing decorative piece to add to your winter home decor.
You can use textured or patterned tissue paper if you like—it's up to you. Just make sure that the tissues are of decent quality, so the decor piece lasts longer.
Check out more tissue paper crafts here.
2. Winter Snowflake Soap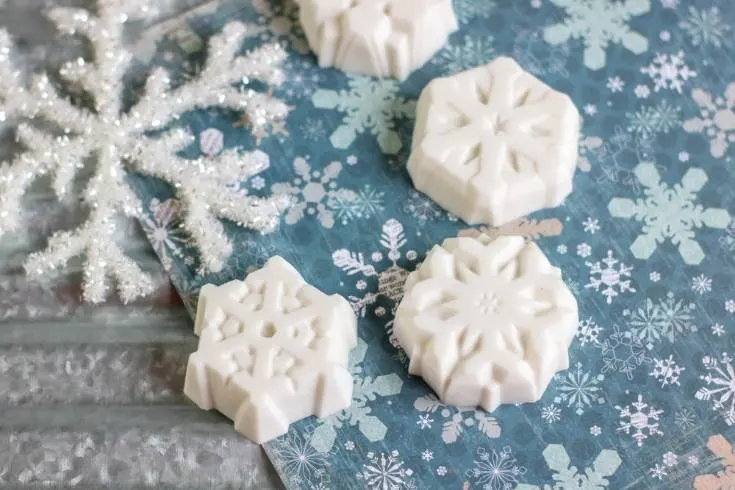 Source: soapdelinews.com
Admit it; you love artisanal soaps, don't you? There's something quite luxurious about using them, but they can be quite expensive to buy.
How about you make handmade soap? It's wintertime and you'll also be able to give these snowflake-shaped soaps as presents to friends and family.
Grab this snowflake mold first. Then, you can pick out your favorite scent and buy essential oils, too. I think warm cinnamon should hit the spot, or perhaps something minty like peppermint?
3. Scented Candles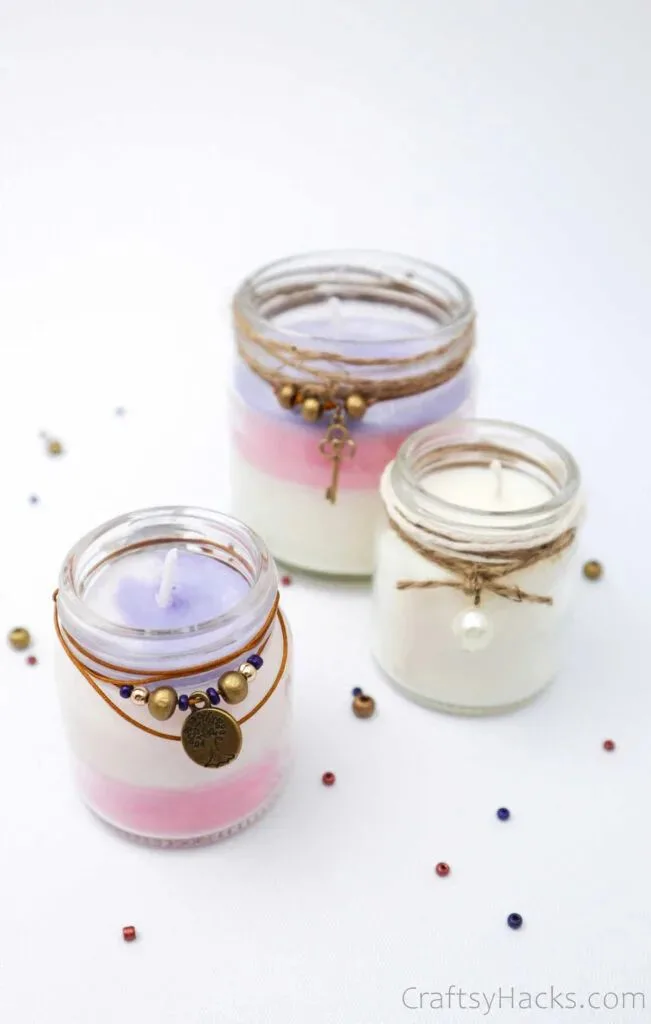 Source: craftsyhacks.com
You can never have too many scented candles around your home. I usually have a couple in every room, and I love lighting them and relaxing while I go about my chores around the home.
This project will also help you get rid of old glass jars you have sitting in cupboards and collecting dust. You'll also need wicks from here and beeswax.
If you like, you can add a few drops of candle dye to add a bit of color to your candle. To wrap things up(quite literally), you can tie a length of ribbon or raffia around the rim with a couple of charms dangling from it.
Check out this DIY leaf candle holder if you want to customize your glass jars. Check out more fun crafts for adults here.
4. Winter Terrarium Home Decor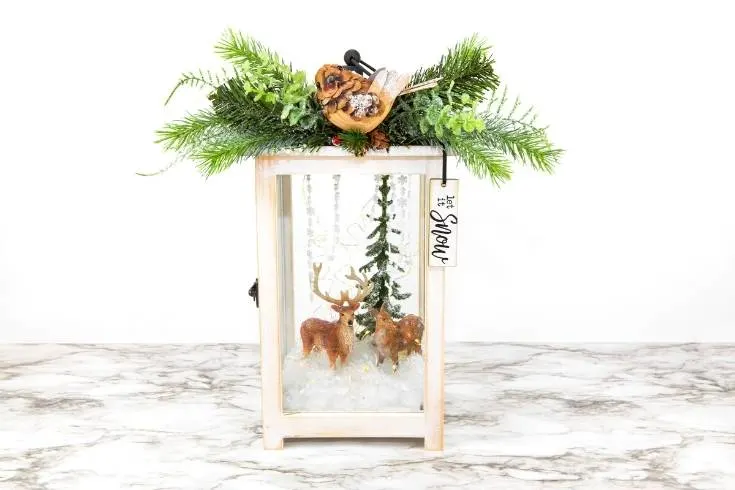 Source: soapdelinews.com
This little decorative display is quite magnificent. There's something so magical about the little winter scene in there, of two reindeers and that snow-covered tree.
Doesn't it remind you a little of a scene right out of Narnia? Well, whatever it reminds you of, you can recreate it, too.
You just need a lantern to use as the terrarium, a spruce tree figure, a couple of deer toys, and some faux greenery. You can also spread a bed of fake snow or cotton.
5. Paper Squishy
Source: craftsyhacks.com
Don't you love paper squishies? I do, and I bet you never realized that you could make them right at home.
Don't believe me? Just take a look. But first, grab some of this transparent tape—you'll need quite a bit of it—and a couple of sheets of colored cardstock. You'll also want your scissors, some glue, and finally, a black marker.
If you've gathered your supplies, then just get started on drawing a cartoon character of your preference for the face of the squishy!
Check out more paper crafts here.
6. Mason Jar Lid Snowman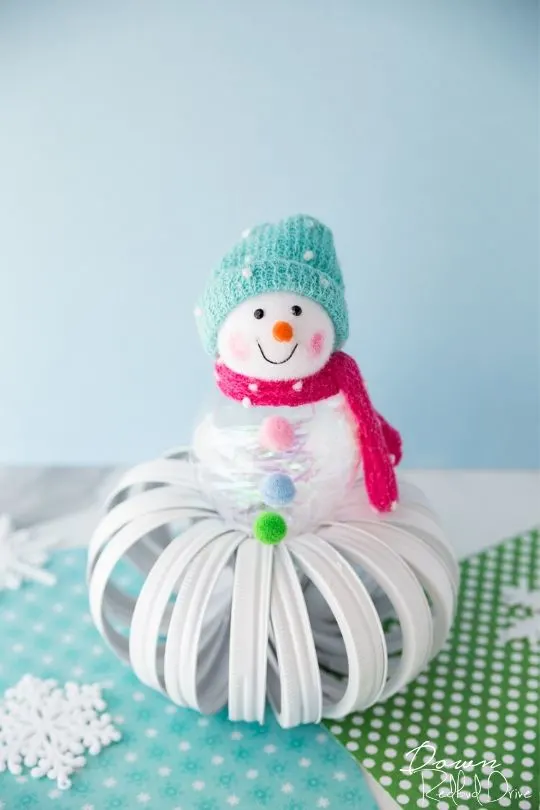 Source: downredbuddrive.com
I don't need to tell you how versatile mason jars are. I'm sure you have a few of them sitting on your cupboards.
But for this project, you won't be using the actual jar but rather the jar's rings. If you don't want to pull the rings out of the jar and waste them, you can pick them up here separately.
You'll also need floral wire, a snowman ornament like this, a pair of pliers, and your hot glue gun. Spray paint your mason jar rings a nice matte white before stringing them together with floral wire.
7. Upcycled Tin Cans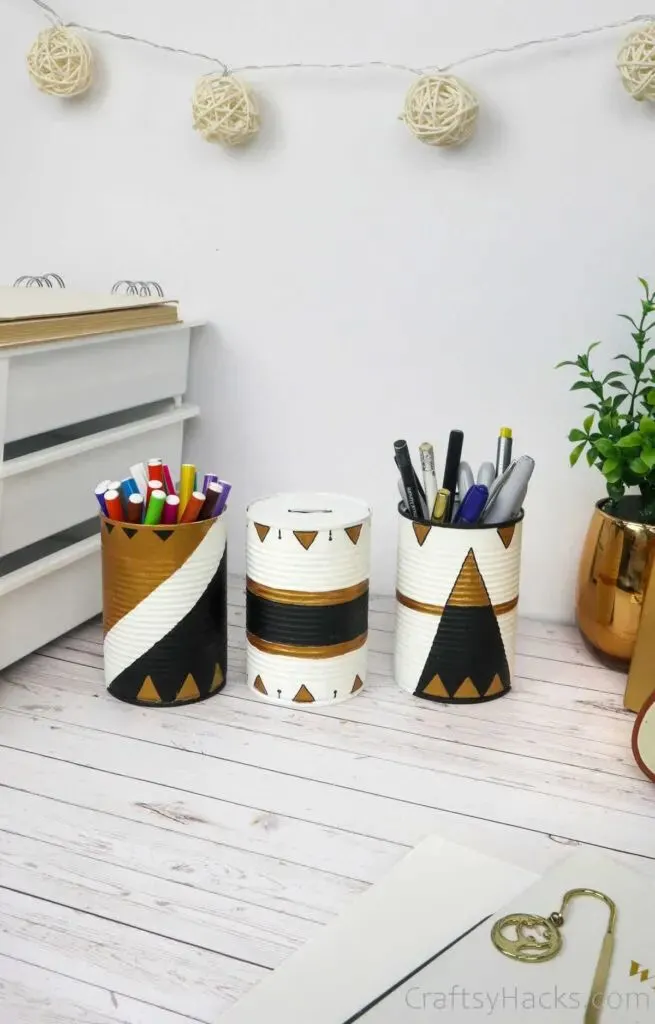 Source: craftsyhacks.com
Here's the perfect lazy winter afternoon craft project for you to try out upcycling tin cans into a pen holder. Just think of how pretty they will look once you've turned boring old cans into works of art!
In fact, you can use these cans as mini planters, too. You can have a little cactus or succulent plant on your desk to brighten it up with bright color and cheer.
You'll need tin cans, acrylic paint, a paint palette, masking tape from here, and finally, a hobby knife. Love this craft? You might like these Dollar Tree crafts!
8. DIY Dryer Vent Snowman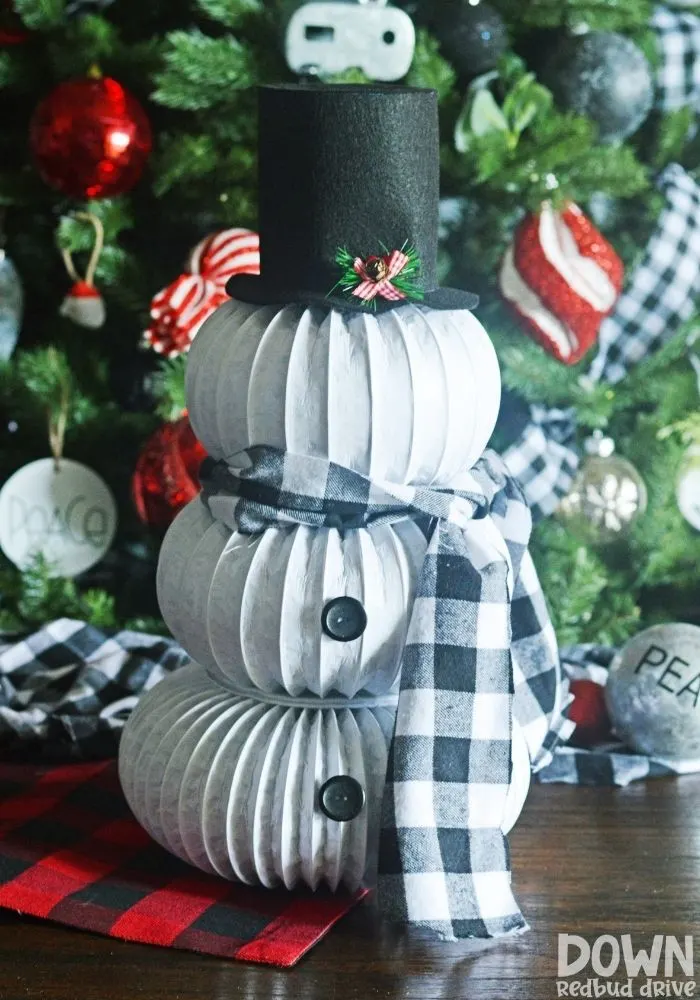 Source: downredbuddrive.com
Have you seen those dryer vent pumpkins? If you have, then you know that they're the perfect shape to use as the body of this snowman.
Check it out. Grab a few duct hose dryer vents from here first. You'll need a few black buttons, some scrap fabric for the scarf, and a hot glue gun.
When you're done, place a top hat atop the head, and voila!
Check out these DIY scrap fabric projects if you're looking to reduce your stash.
9. DIY Dollar Tree Lantern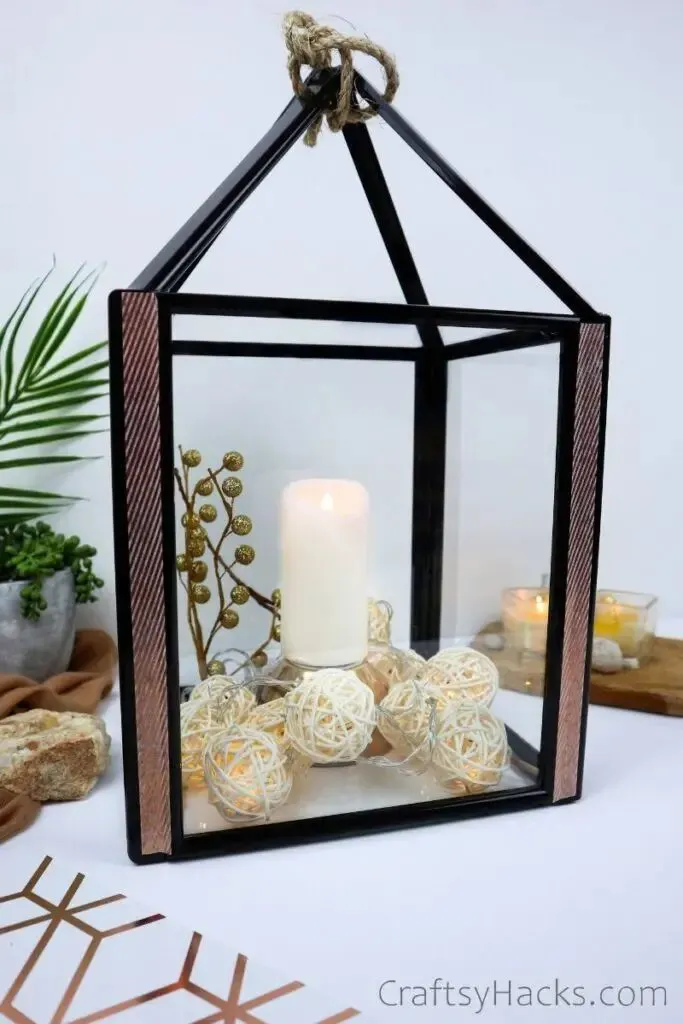 Source: craftsyhacks.com
Dollar trees are just the absolute best, aren't they? You always, but always find the craft supply you're looking for, and for just a buck, too.
This dollar tree lantern is a beautiful decoration item for your home that you make on a budget. It's all about using craft essentials you already have at home to create new things.
You'll have a beautiful lantern ready for the winter times and at a fraction of what you'd pay at a fancy store. So, grab these tealight candles and get crafting.
10. Check Painted Pots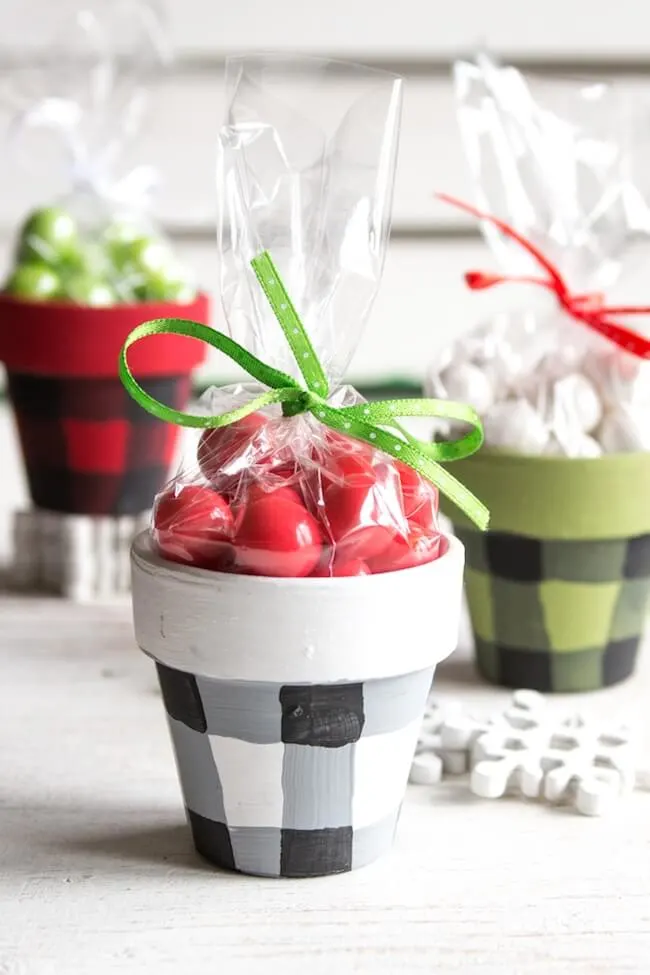 Source: thesoccermomblog.com
Pots are always in short supply around my house—at least good ones are. You've got to try making these gorgeous checked pots. They're inexpensive and also pretty simple to make.
You can probably pick up all the materials you need at a dollar store near your home. Alternatively, you can upcycle pots you already have at home.
This thrifty craft idea can make a wonderful present, too. You can use them as mini gift baskets. Finally, wrap a ribbon around the top into a nice big bow.
Speaking of gift baskets, check out these DIY Christmas gift basket ideas.
11. Snowy Winter Wreath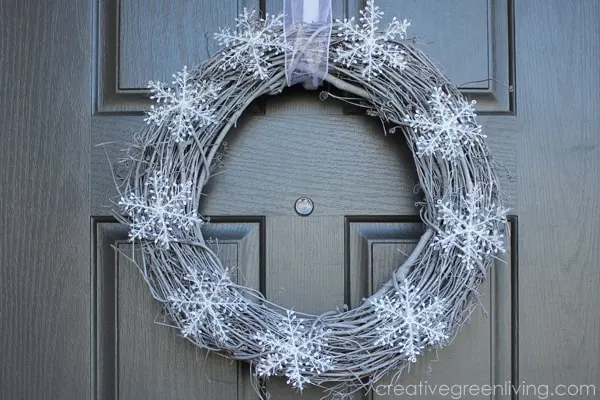 Source: creativegreenliving.com
Winter wreaths and Christmas wreaths are pretty different. While you can use a winter wreath at Christmas, a Christmas wreath might not work in the winter months after the holiday.
So, check out this classic and timeless-looking, frosty snowflake wreath. You can use a grapevine form to help you get started on making it.
It somehow manages to look rustic and chic at the same time. Once you're done, feel free to spray a layer of shimmer to offset the frosty colors of the wreath.
If you're interested, check out these unique Christmas wreath ideas for later.
12. Easy Snowman Luminary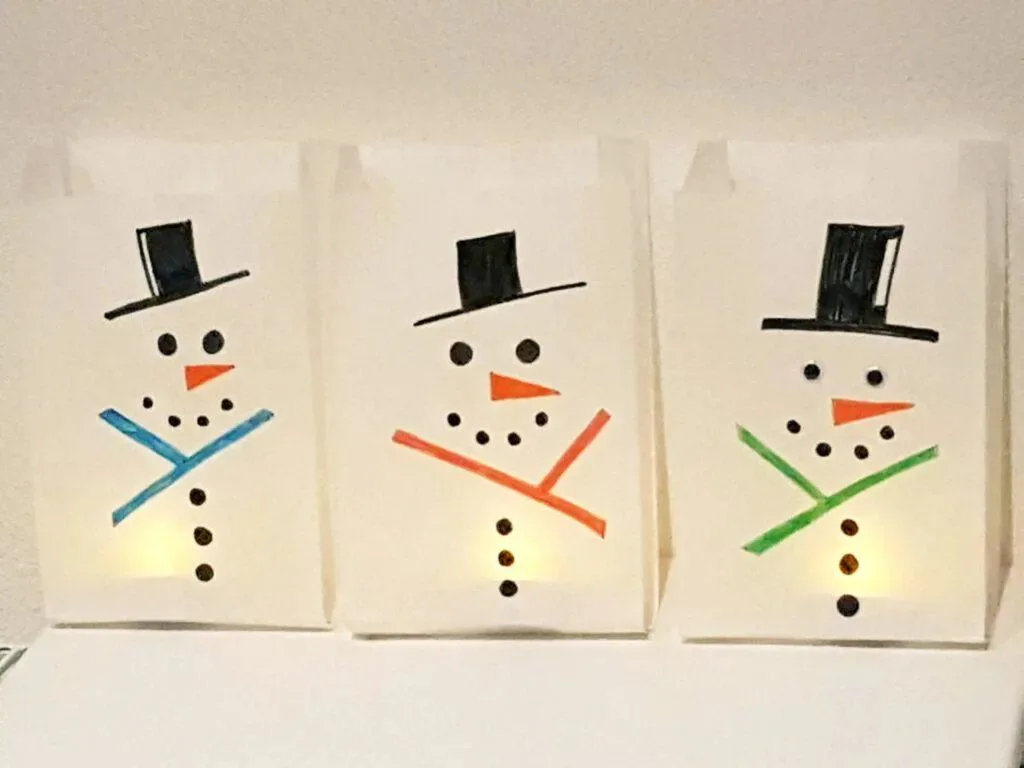 Source: liltigers.net
These are not quite the same as the snowman lanterns, no. But they do achieve the same purpose, albeit in a simpler way.
These white paper bag luminaries are super easy to make, and there's absolutely no fuss about gathering supplies or drawing elaborate snowmen. Just a simple, straightforward snowman, and that's it.
These luminaries are safe for toddlers and kids, too. So, you can have them help you make this craft project. Grab some flameless tealight candles from here and get started.
13. Frozen Party Centerpieces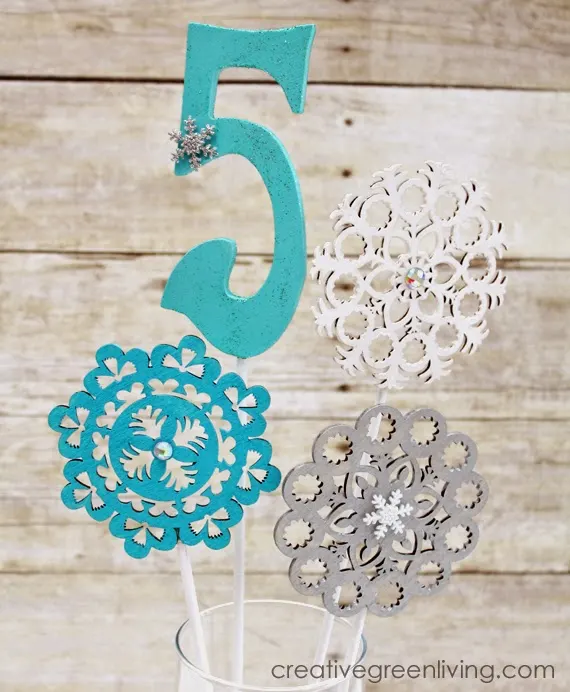 Source: creativegreenliving.com
I love a good Frozen-themed party. If you're ever throwing one, then you can use this centerpiece idea to jazz up your party decoration.
These little wooden pop sticks are super easy to make and inexpensive to boot. Grab your craft supplies, a couple of wooden numbers, wooden snowflakes, wood dowels, and finally, this wood glue.
Feel free to add a few stalks of winter florals to the mix to soften your centerpiece a little. In fact, you can find more inspiration from these Christmas centerpiece ideas.
14. DIY Winter Checkers Game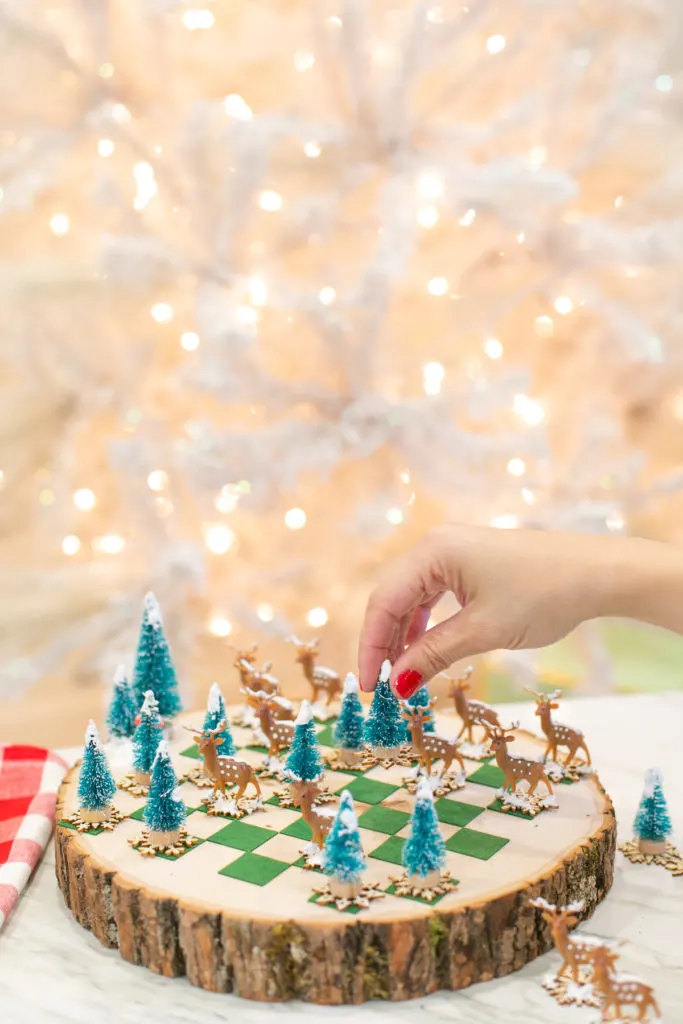 Source: lovelyindeed.com
You can't beat that amazing feeling of sitting by the fire and enjoying a game of chess or checkers on a cold winter night. This checkers board can perhaps make that even better?
It's quite ingenious, really, how you've got reindeer and Christmas trees instead of typical checkers pieces. You'll need a large wooden tier from here, to begin with.
You'll also need some green felt for the checks, as seen here. To top it off, you can apply a nice layer of iridescent glitter to recreate sparkling snow.
15. Wooden Snowflake Wreath
Source: craftivitydesigns.com
If you've got a way with a saw and are a decent craftsman, then making this DIY wooden snowflake will be a walk in the park. You can use repurposed wood or scraps leftover from previous projects.
It's a rather rustic and bare-to-the-bones wreath, so if you want something more elegant, then I recommend you buy some wood stain and use it to spruce it up.
Also, why don't you take a look at these 20 Christmas porch decorating ideas.
16. Vintage Toy Car Christmas Wreath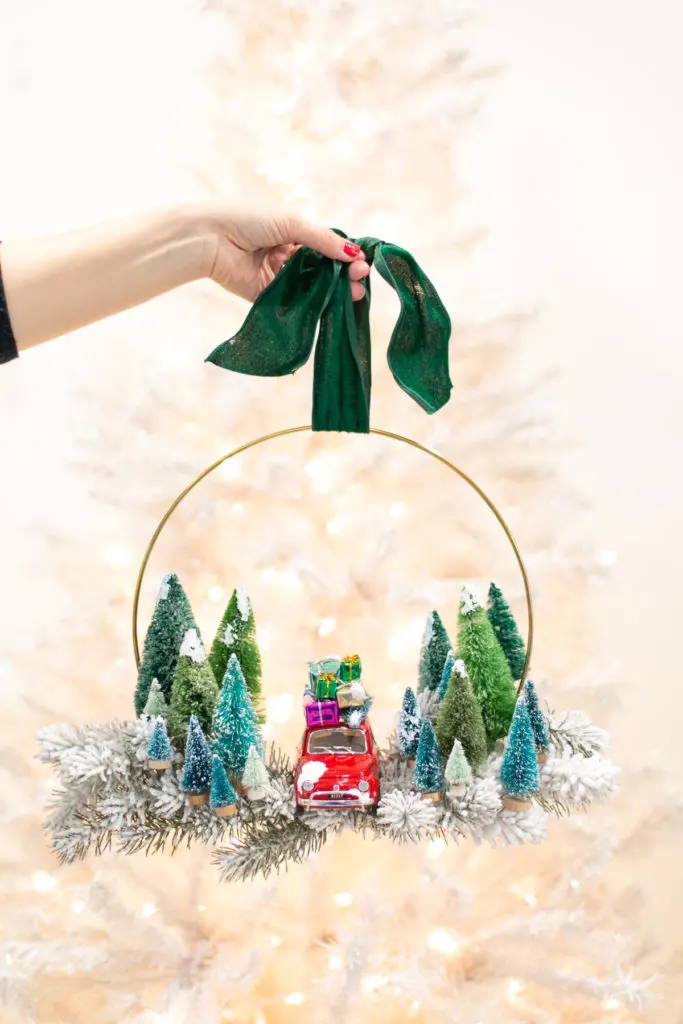 Source: lovelyindeed.com
Well, there are Christmas wreaths, and then there are Christmas wreaths like this one! I cannot get over how elaborate and spectacular it looks.
There are so many intricate details, from the tip of the snow-covered trees to the presents loaded on top of the car. I guess Santa decided to trade in his sleigh for this sweet ride.
You'll need this brass hoop to use as the wreath form and a little toy car from here—I just love this vintage cherry red VW Beetle, don't you?
Speaking of presents, check out these DIY Christmas gifts for loved ones.
17. Snowman Wreath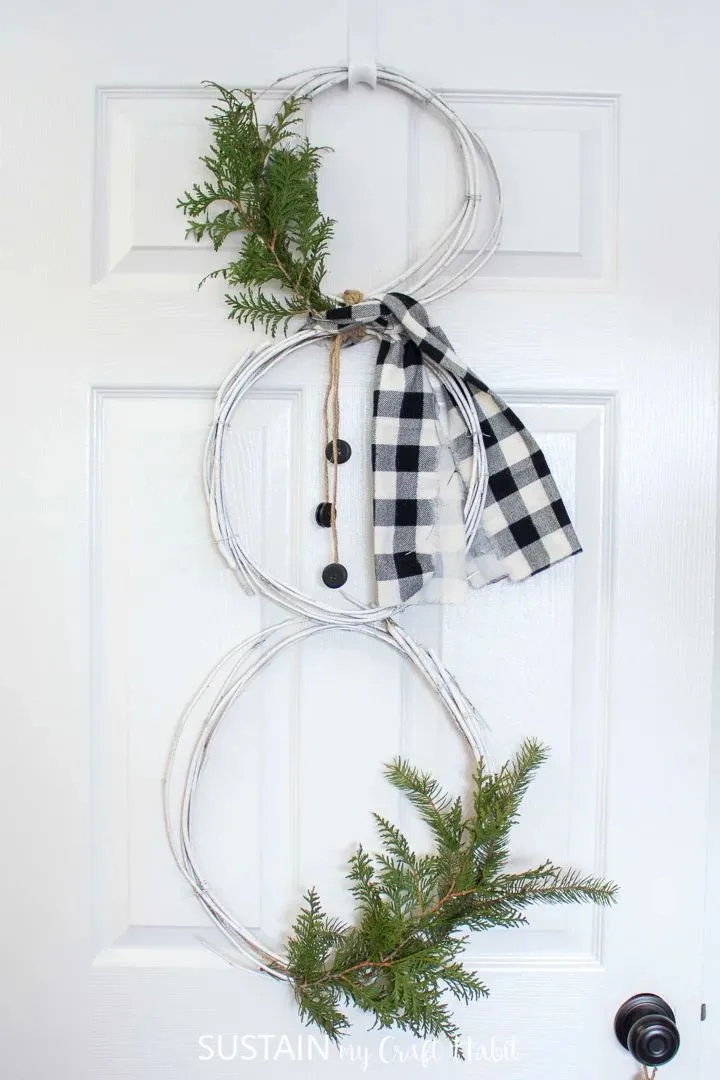 Source: sustainmycrafthabit.com
Is it a snowman? Is it a wreath? It's both! This snowman wreath is quite literally a wreath shaped like a snowman.
You'll be tagging three sets of grapevine wreaths, one below the other, and decorating it into a snowman. By the time you're done, your front door is going to look like a million bucks.
Apart from the grapevine wreaths, you'll need this checked ribbon to wrap at the scarf. You can also hot glue some green leaves to the wreath for a bit of color and texture.
18.DIY Gnome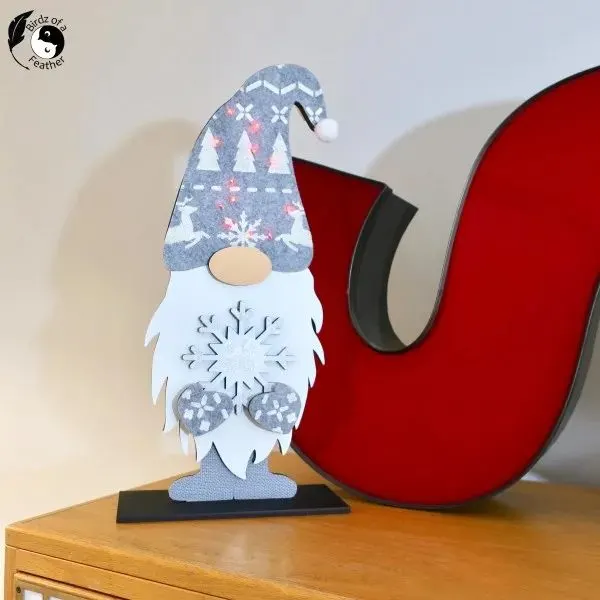 Source: birdzofafeather.ca
You have to have a gnome at Christmas time. They really add quite a lot of personality to your decor. Now, if you want to incorporate this gnome into the Christmas theme of things, then you've got to make them look festive.
You'll want to buy a DIY gnome kit to use for parts, so to speak. You'll be using different fabrics with different holiday-themed patterns, too. In fact, why don't you take a lot of what you'll need and head out to buy them?
19. Wine Bottle Centerpiece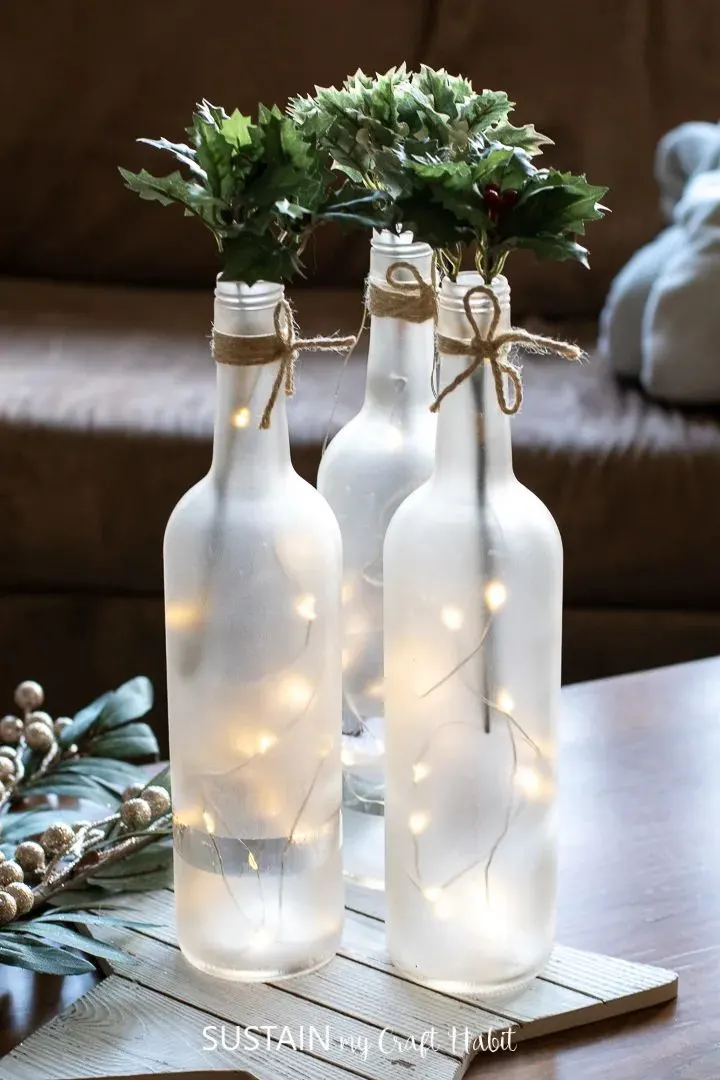 Source: sustainmycrafthabit.com
I'm certain you have a couple of empty wine bottles at home. If you don't, do I really tell you how to get them, or at least, get them empty?
So, once you've washed, cleaned and dried your wine bottles, you can use them to make this sublimely elegant centerpiece. I know—they really are beautiful, aren't they?
So utterly simple, with just a few sprigs of holly or mistletoe in them, but then you look down and see these fairy lights inside. That's color and light for you!
20. Snowflake Art For The Mantel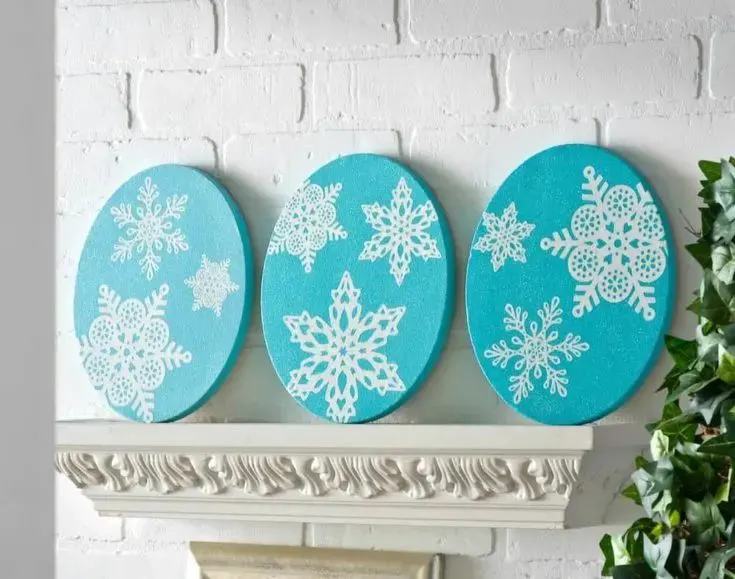 Source: diycandy.com
This easy winter decor project will brighten up your mantle in a jiffy. They're elegant and colorful, with enough winter motifs to help you celebrate the season.
Grab a couple of oval canvases from here. You'll also need some paint, mod podge sparkle, a few snowflake paper doilies and a pair of scissors.
you can use the sparkly mod podge to set the doilies into the canvas. This comes after you've painted the canvas with a base coat, of course.
21. Metal Winter Gnome Sign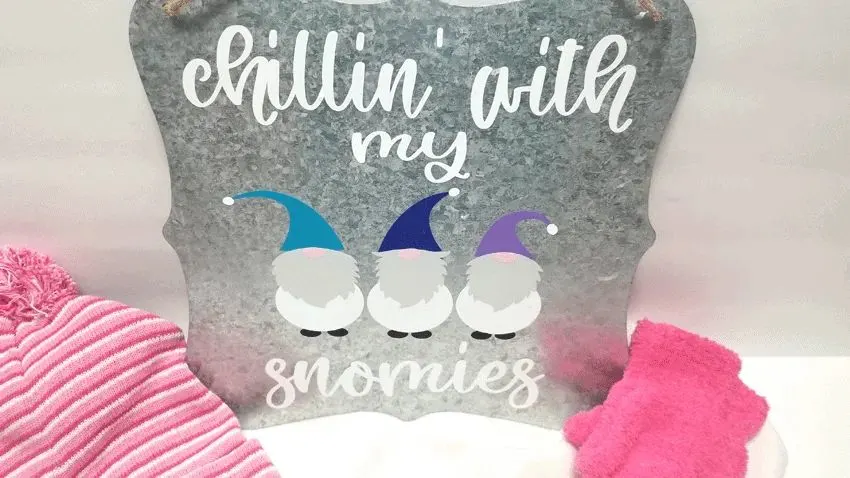 Source: michellejdesigns.com
Nothing like a couple of long bearded gnomes—or should I say gnomies—to chill with this winter. This cute little sign would brighten up any space you hang it in.
The base used is a galvanized metal sign and you can find something similar here. You'll also want to pick up some vinyl and transfer tape as you'll be using a Cricut machine to help you design and print the words.
So go ahead and start designing!
22. Tealight Snowman Ornament
Source: moneywisemoms.com
Electric tea lights are pretty useful, yes, but they are terribly boring on their own. That's why this snowman ornament is just what you can draw on it to jazz it up for your winter decorations.
Grab a black marker and proceed marking the eyes and mouth, as shown here. Then, make a little hat and wrap a bit of red ribbon for the scarf, and you're all done.
When you light it up, the 'nose' will look splendid!
23. Snowflake Mason Jar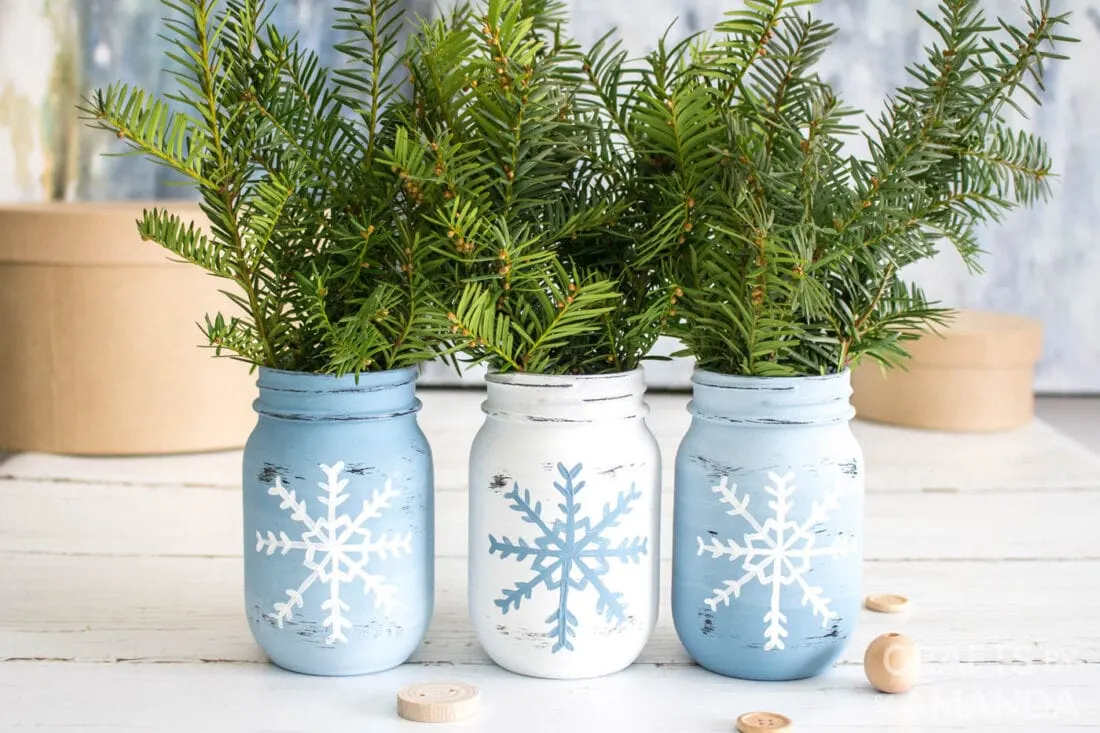 Source: craftsbyamanda.com
Check out these elegant snowflake jars. They're just the right addition to a frosty winter decor.
You can use mason jars, of course, or just about any glass jar you have that you can repurpose and upcycle effectively. You'll also need some matte or chalk finish paint.
Once you've painted the jars, grab a bit of sandpaper and distress the jar just so to enhance the shabby-chic effect.
Check out more mason jar gift ideas here.
24. Easy Spindle Snowman Craft
Source: diycandy.com
If you've got a stairway with spindles—the vertical post that connects the handrail and the base rail—then did you realise how much potential that space has? You can decorate it for the holidays!
The obvious choice would be a snowman—the circular structure would be perfect for a snowman, yes? You just have to dress it up a bit: buttons, a scarf, a little orange nose, and voila, all done!
25. Snowmen From Glass Jars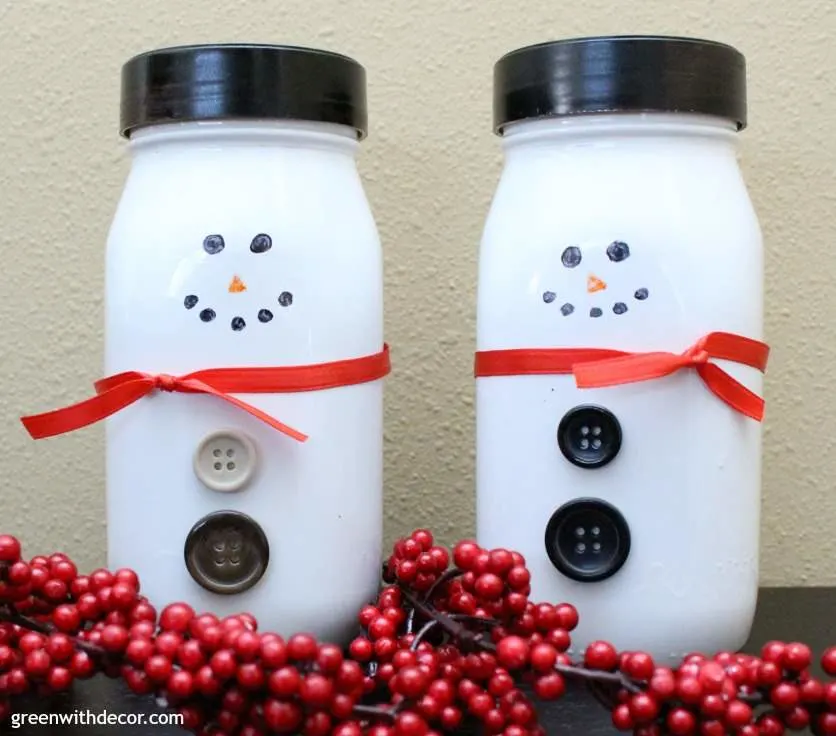 Source: greenwithdecor.com
Here's yet another project that calls for mason jars, and another snowman, too. You know the drill, so let's get started.
Pick out your supplies: paint, brushes, some ribbon, and embellishments like buttons. You'll also need your hot glue gun and a black marker.
Once you've gathered everything, just start assembling your DIY snowman and you'll have it ready in no time!
26. Reindeer Stirrer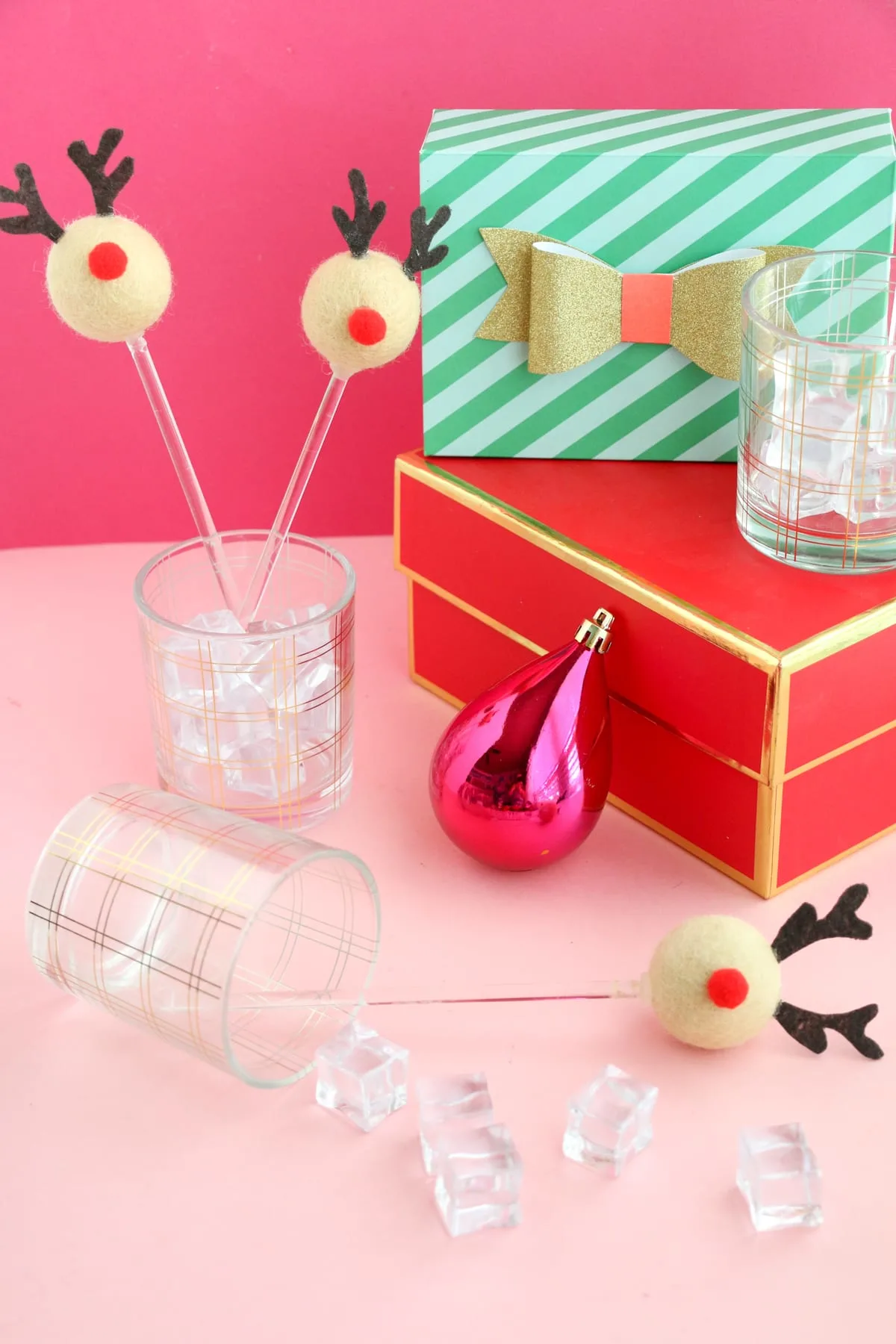 Source: lovelyindeed.com
Do you know what would be an amazing addition to your beverage corner? These reindeer stirrers!
You can find those clear stirrers easily enough; just look here. For the reindeer heads, though, you'll need a few felt balls from here, some mini red pompoms, dark brown felt sheet, and a hot glue gun.
This project will take you all of 30 minutes. You can make dozens of these and hand them out as take-aways at your Christmas party!
27. Grapevine Wreath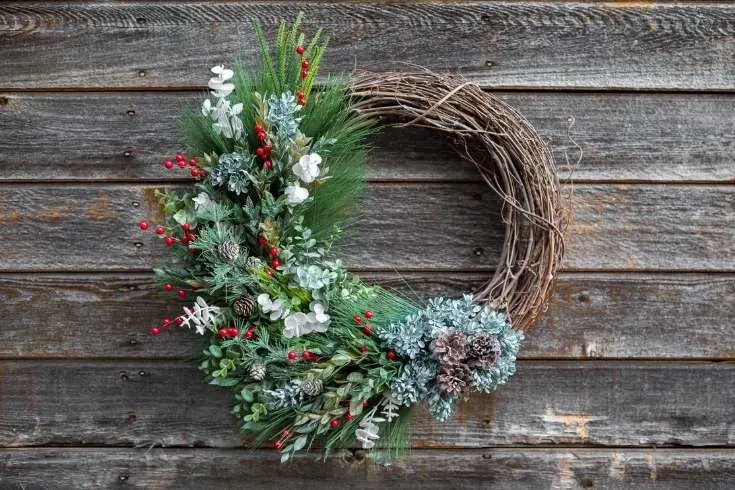 Source: soapdelinews.com
Here's the last one on our list: a lush and green grapevine wreath. It's not as wintery as the other wreath you've seen on this list, but it does much to grasp the essence of winter, don't you think?
You've got all that winter florals, with bright pops of festive red from berries and just the touch of pale, frosty green from the base. see, told you it had the essence of winter!