In the mood to declutter and need more storage at home with a low budget? These DIY storage ideas are super easy to make and will help you keep your home in order.
Finding adequate, practical, and effective storage systems that work for you is as important as finding the right pair of jeans. It can save you a whole world of trouble down the line.
Done right and in a clever manner, you'll find that storage units can be a really decorative addition to your home, too. But storing your belongings isn't the same as making sure they remain organized, and that's where we all need a little inspiration.
So, say it with me: "Everything has its place, and there's a place for everything."
With that in mind, let's take a look at 51 smart DIY storage ideas to help you declutter, get organized, and finally, stay organized.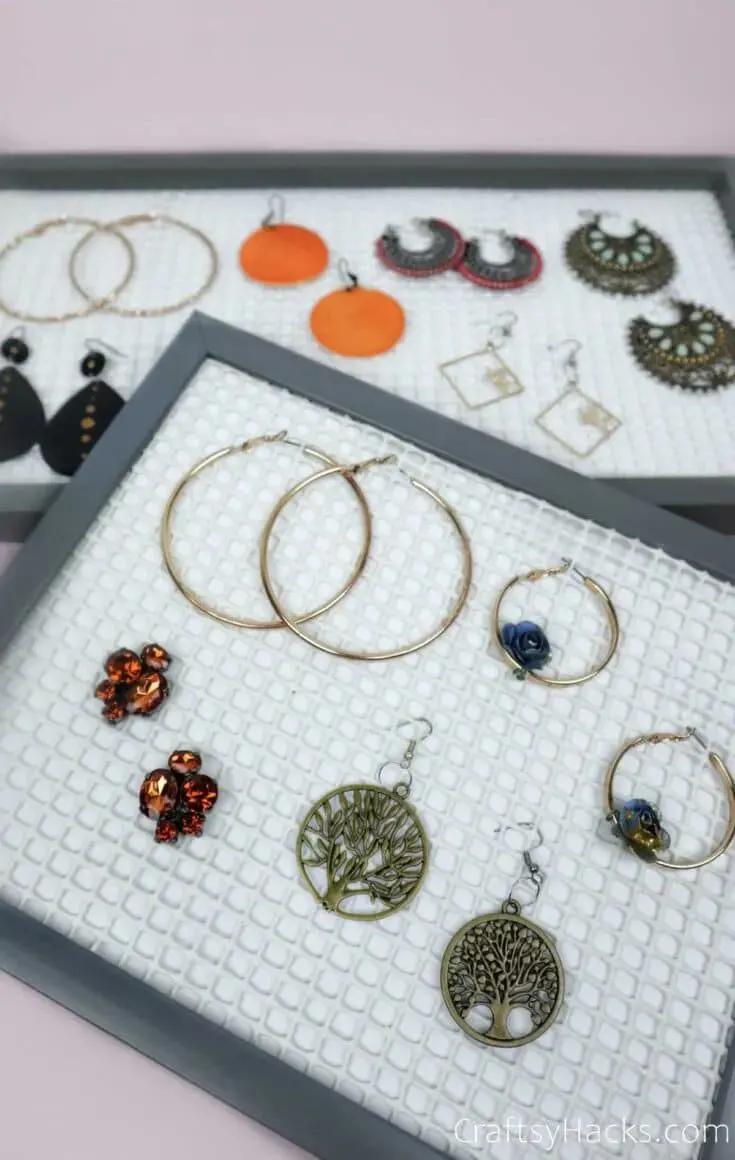 Source: craftsyhacks.com
You know what can really put me off-schedule in the morning? Having to dig through a pile of earrings to find the missing pair of the one I want.
Well, that's going to be a thing of the past with this earring organizer to help me declutter all my earrings. This organizer can also double as a display that you can mount up on the wall next to your dresser.
All your colorful and pretty earrings would look fabulous on the wall, and you'll know where everything is at any given time. Grab some shelf liner from here and get started.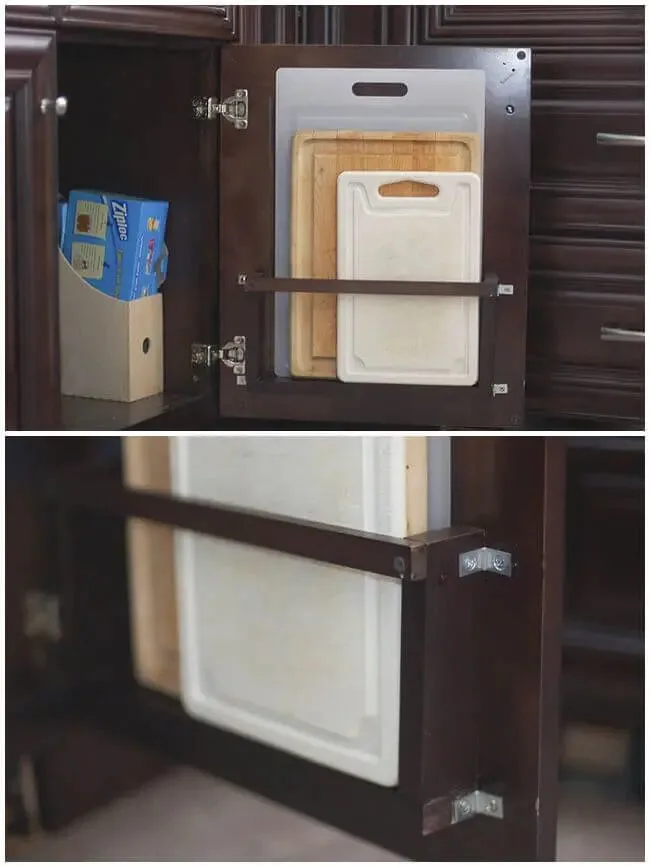 Source: tikkido.com
A cutting board holder will come in more handy than you'd think. It's a brilliant idea to store your cutting board in an accessible place—lined up against the door of a cupboard.
This way, you won't have to shift a pile of utensils off to get to your cutting board or leave it out on your kitchen counters. You just have to slide it in place, and that's it!
You can use scrap wood to make this holder and just stain it to match the wood of the cupboards or cabinets.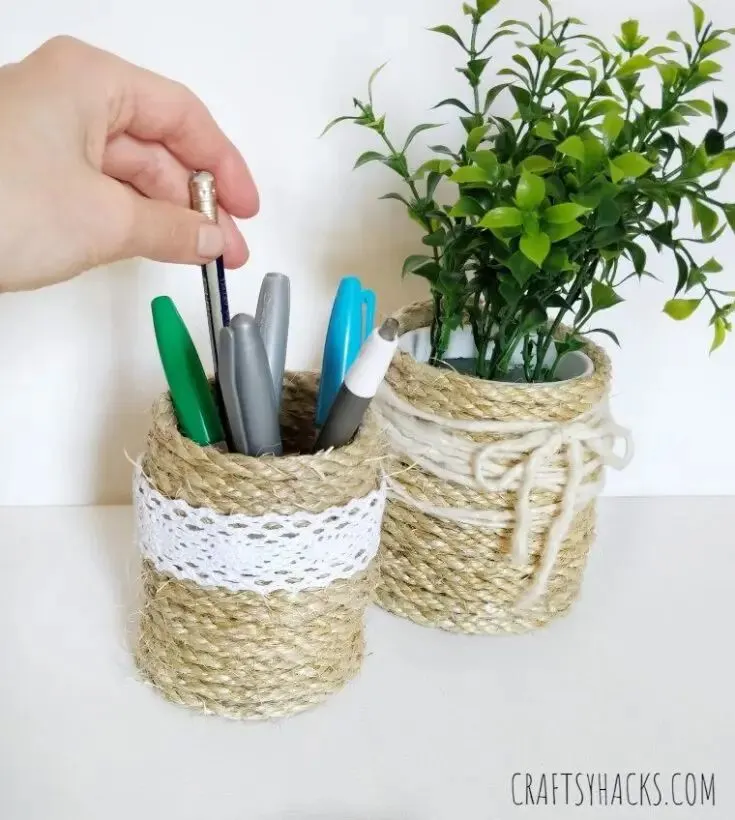 Source: craftsyhacks.com
Organizing your desk space will help you get in the mood to be productive, and that's just plain facts. Would you like to sit down and study or work at a messy desk? No!
So what can you do to organize everything in its rightful place and also declutter your tabletop? You use desk organizers, of course.
You can make your own little rope organizers using thick rope from here, a hot glue gun, and an old container you wish to upcycle. Alternatively, you can use it as a planter or a trinket container too.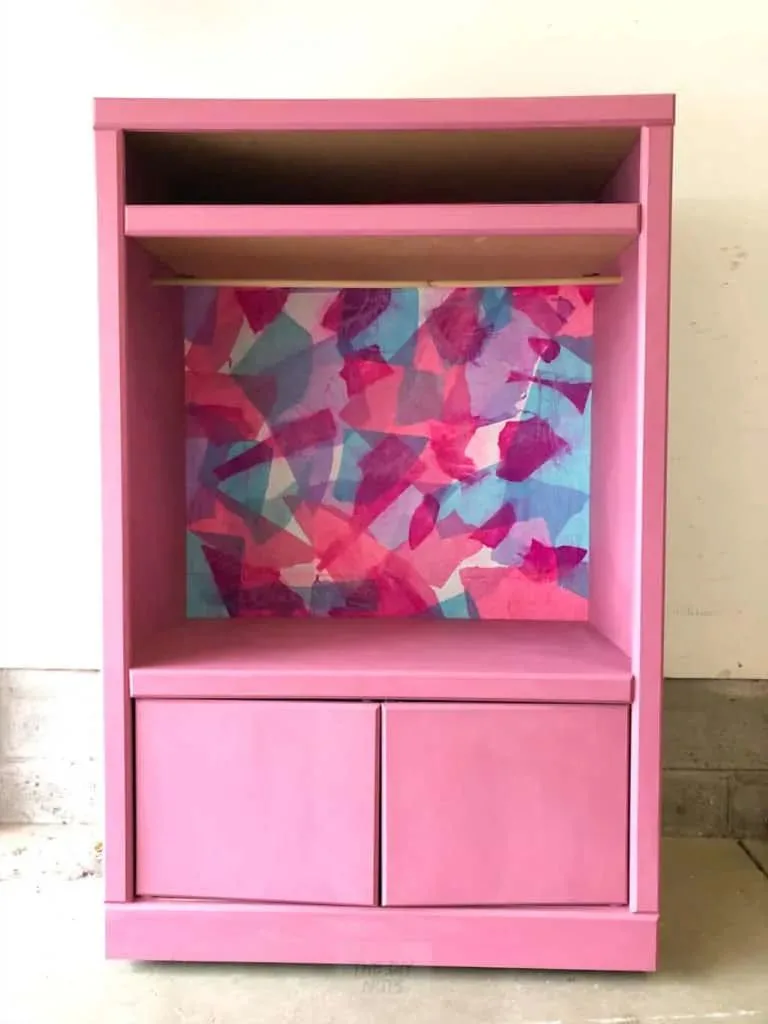 Source: thediynuts.com
If your kids are anything like I was, then they're absolute dress-up fiends! I used to go crazy during dress-up time, and over the years, the costumes and outfits grew and piled up.
If you're facing the same never-growing pile of dress-up costumes, then perhaps it's time to invest in a separate wardrobe just for them?
You can pick up an old dresser or a cabinet at a flea market and give it an inexpensive yet effective make-over! Don't worry; once your kids grow out of their dress-up stage, you can repurpose the dresser or cabinet quite easily!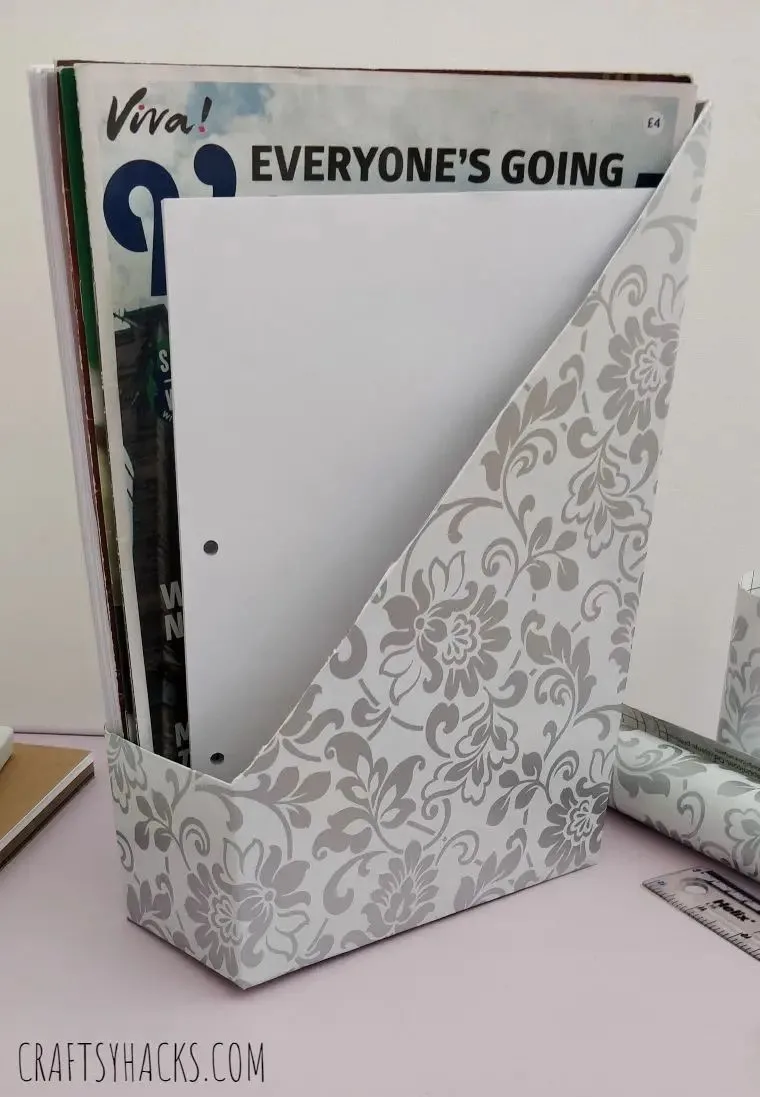 Source: craftsyhacks.com
Here's another desk organizer for you to try out. Only, this time, it's not for your pens and pencils, but rather for papers, folders, notebooks, and more!
Oh, and did I mention that it's actually made from an old cereal box? It looks like something you find in a fancy office supply store, doesn't it?
What I love about this project is the freedom to create my own design and pick my own pattern. You can buy a roll of gift wrapping paper from here to do that!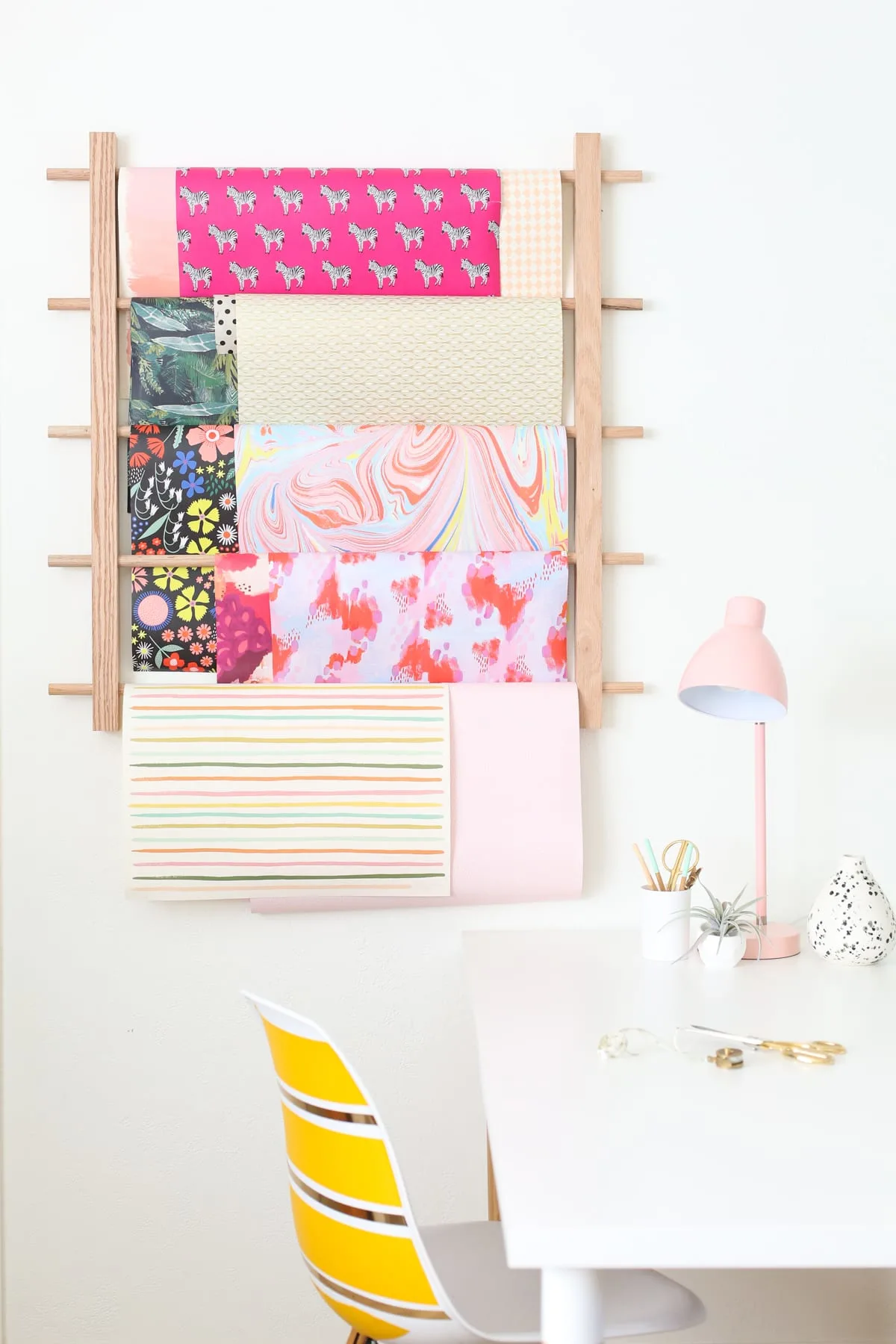 Source: lovelyindeed.com
Speaking of gift wrapping paper, did you know that there was a way to organize all your sheets of paper? No, I don't mean just rolling them and tucking them away, but actually organizing and displaying them.
Check out this wrapping paper organizer. It's pretty much like a ladder to hang your paper from. But it ensures that the paper doesn't crinkle, crease, or tear.
The best part? Just think of how beautiful this organizer would look on the wall next to your craft station. It's a wall hanging and organizer in one!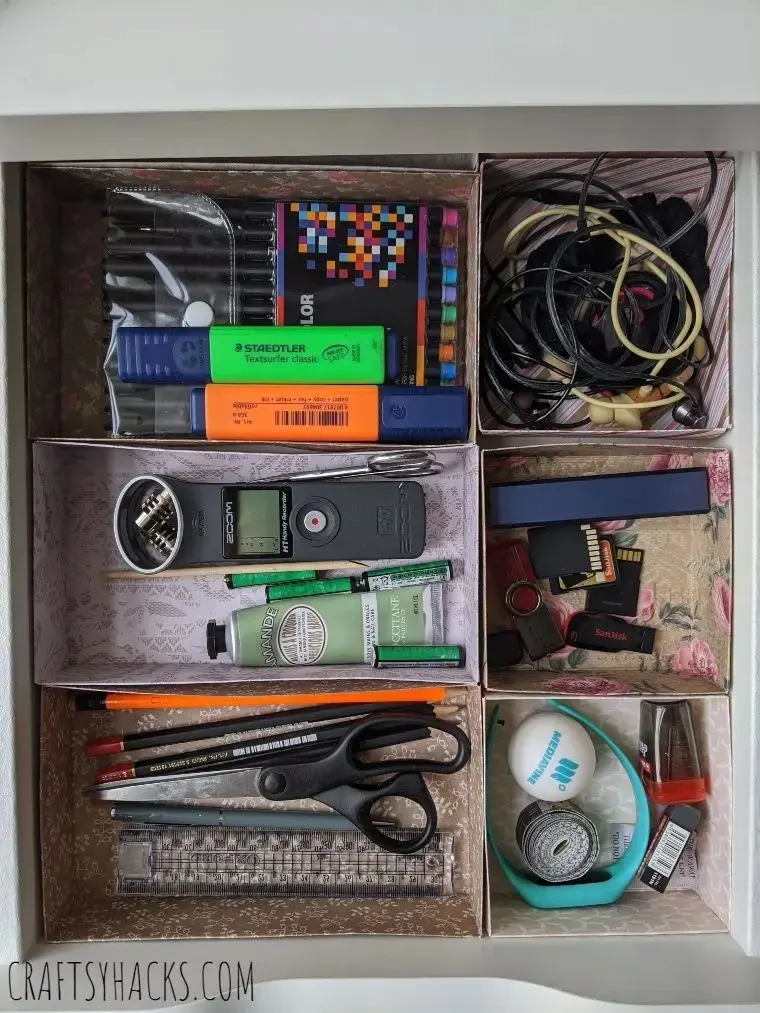 Source: craftsyhacks.com
There was a time when I'd just drop all my pens, pencils, charger wires, and other office supplies in a drawer, slam it shut, and that was that. Then, when I was looking for something, I'd have to paw through a messy drawer for ages.
We've all been there, admit it. You know what you need to get rid of that clutter and mess and make sure your drawers are clean and coordinated? Drawer dividers!
You can make your own out of cardstock like this, a craft knife, a cutting mat, and a stick of adhesive. You can also decorate your dividers with colorful wrapping paper or washi tape from here.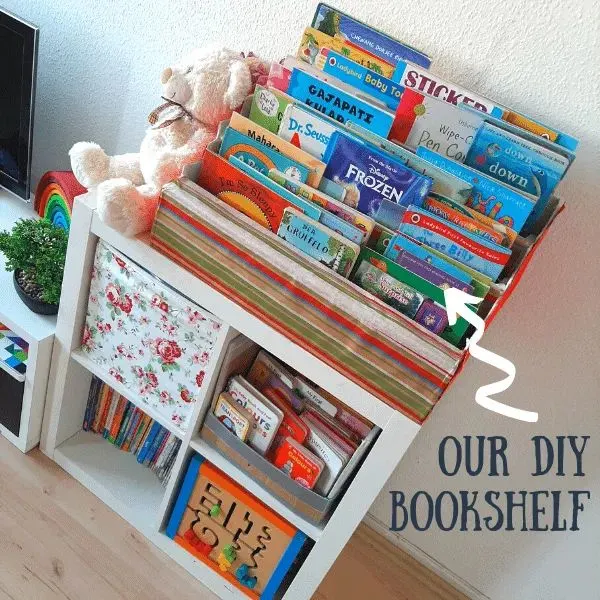 Source: littleladoo.com
What if I told you that you could make your very own bookshelf out of cardboard? Not too big, mind; just a desktop bookshelf. It would be perfect for storing your little ones' children's books.
It's completely possible, and all you need to do is gather up some old newspapers, cardboard boxes or sheets, and grab a roll of duct tape. You'll also need white masking tape and, finally, a hot glue gun, which you can find here.
There's a step-by-step set of instructions provided to guide you through the process.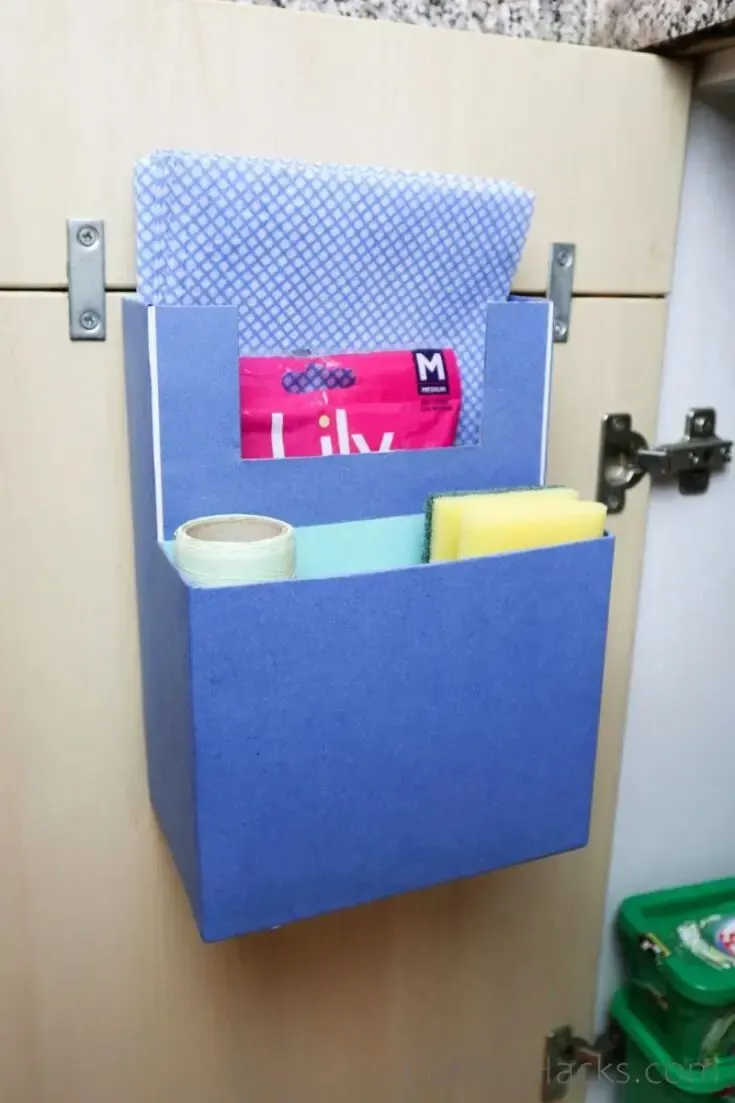 Source: craftsyhacks.com
Remember when you made that nifty cutting board holder that sat right in the back of your cabinet doors? Well, this cabinet organizer is effectively the same kind of organizer; only you can use it to store more than just cutting boards.
If you place the organizer in the cupboard under the sink, you can use it to store your cleaning supplies. This will help keep your paper towels, kitchen towels, and scrubs safe and away from any possible leakages.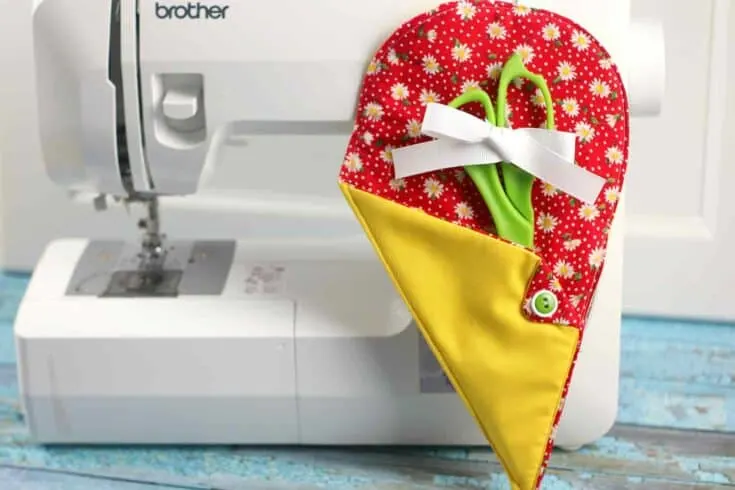 Source: happiestcamper.com
You know how when you're working with a pair of scissors, and you lay them down just a second while you work on something else? You turn around, and bam! It's like the darn pair of scissors just disappeared into thin air.
This scissor pouch is just what you need to help you keep track of where you place your scissors. You just have to make it through this project, and once you're done, you'll be hard-pressed to misplace them ever again.
Pull out your sewing machine, pick out your fabric, and buy some batting from here.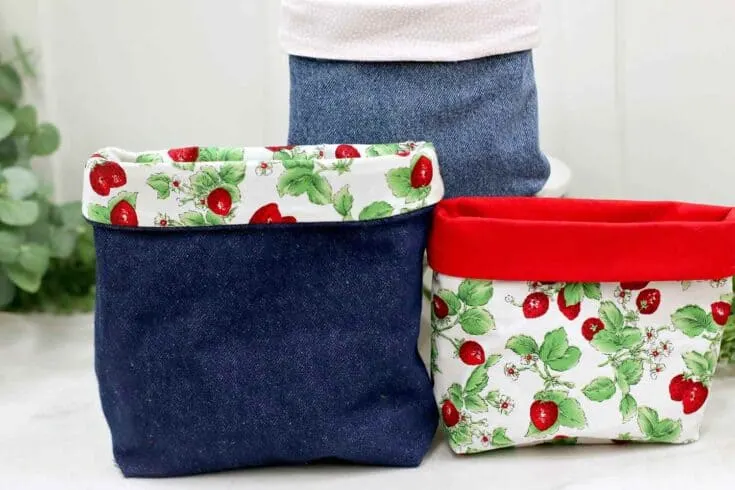 Source: happiestcamper.com
Do you have an old pair of jeans that just don't fit you anymore, or are too worn out to use? Well, I think I have just the right project for you: upcycled denim storage bins.
These denim bins are adorable, with a pretty cuff around the rim to add some color to the denim. You can use them to store your sewing supplies, skeins of yarn, stationery, make-up, and more.
In fact, you can even use them as a plant cover if you manage to get a potted plant inside it.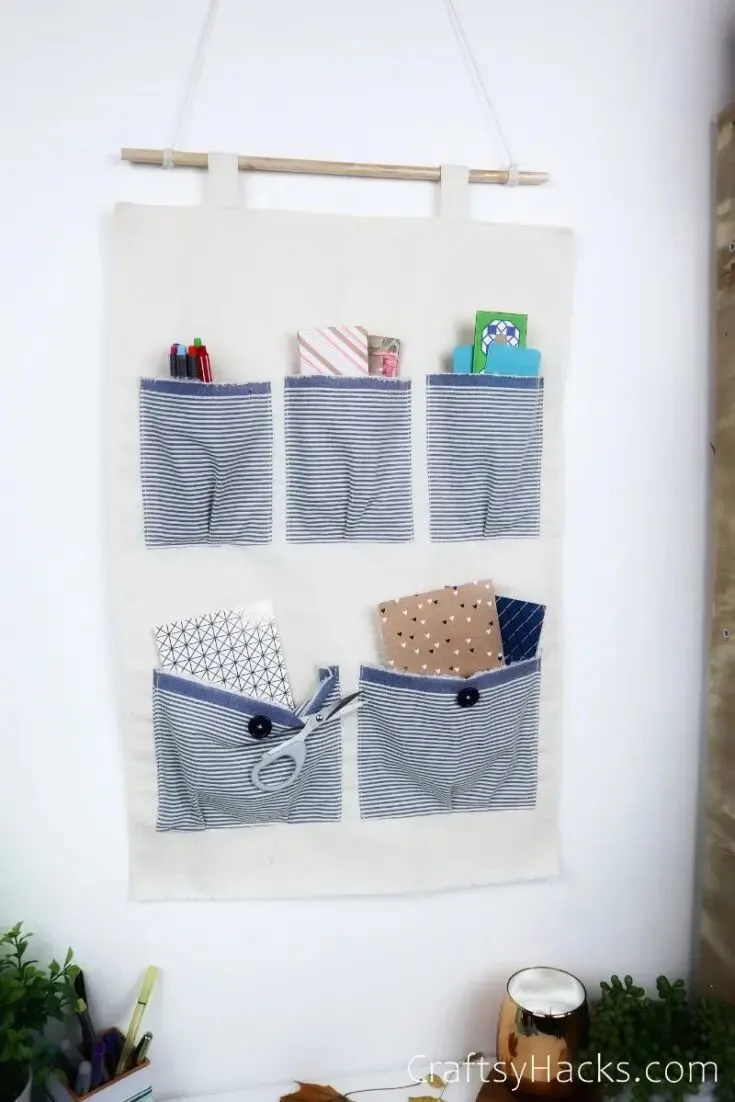 Source: craftsyhacks.com
Here's a hanging organizer that's going to sit perfectly against the back of your door and provide you with oodles of extra storage.
It all depends on where you plan to use these hanging organizers. Accordingly, you can customize the size, as well as the different pouches you can sew onto it.
You can fit it over the pantry door to hold cleaning or cooking supplies. You can hang it in your toilet or the back of your closet door to store toiletries, shoes, scarves, and more.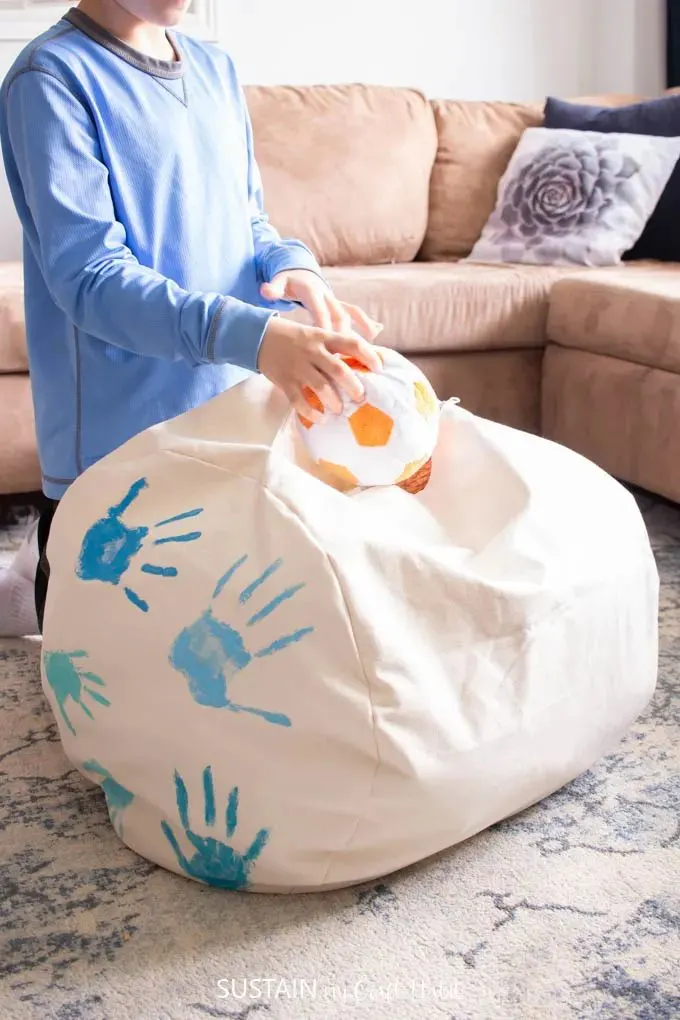 Source: sustainmycrafthabit.com
Have you seen those quirky little ottomans that also double as storage space? You can use them to put away toys, toss pillows, blankets, and more, depending on where you place them.
This particular one is like a big bean bag—perfect to tuck your kids' soft toys and squishies away when they're done playing with them. With the right kind of backing, you can also prop them on the floor up and lean on them like you would any old bean bag.
Pick up this canvas fabric and start sewing your ottoman.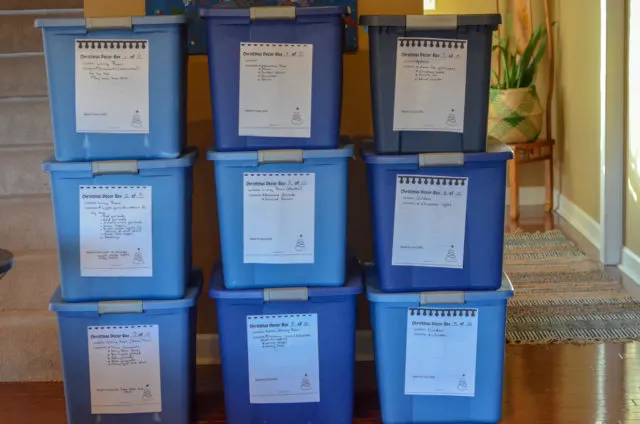 Source: thegiftedgabber.com
It's super important to have a proper working system to store your holiday decor away. So, here's a handy holiday decor storage idea for you to keep in mind to try when it's time to put everything away.
The first order of business is to do a full-on purge of everything you have and set them aside into two piles: donation and dump. Then, consider investing in a few large storage tugs, preferably ones with lids.
You can pick them up at a dollar store near you.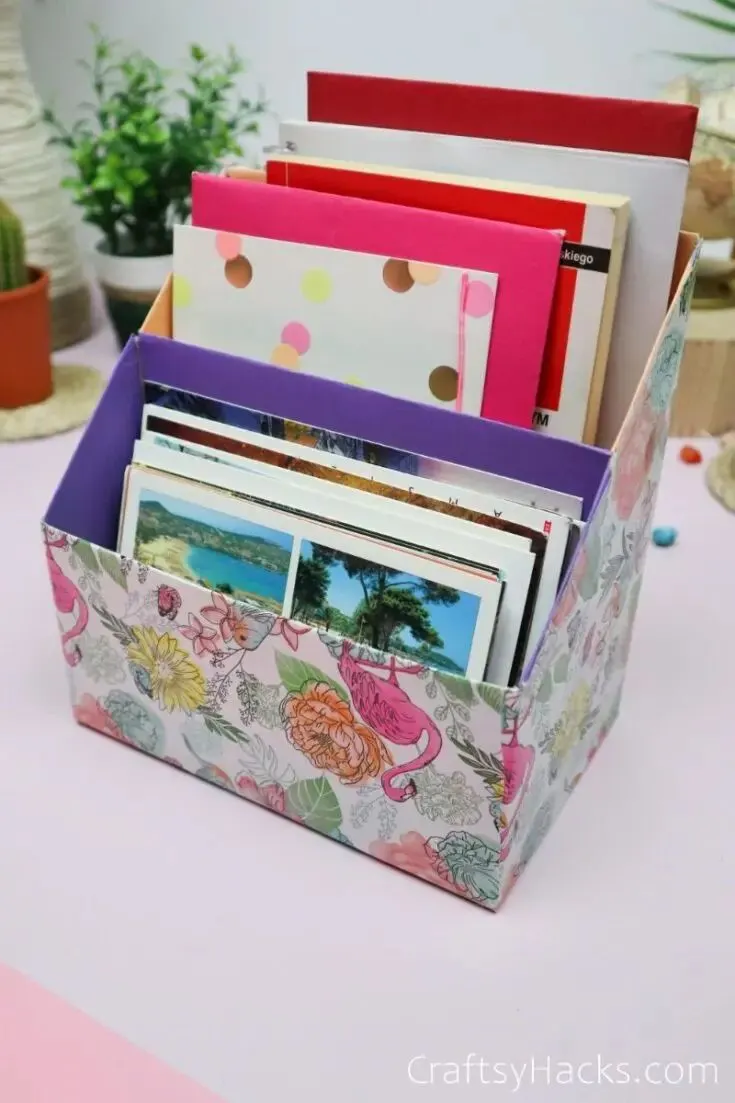 Source: craftsyhacks.com
I know you've already seen a couple of these desk organizers on this list, but this one's just as effective, and if possible, even cuter. You can use this two-tiered organizer(made once again out of cereal boxes) as a magazine stand, too.
There's plenty of scope to decorate your organizers with colorful paper. In fact, why don't you consider a full-fledged set of organizers by coordinating all the desk organizers on this list and making them as a themed set?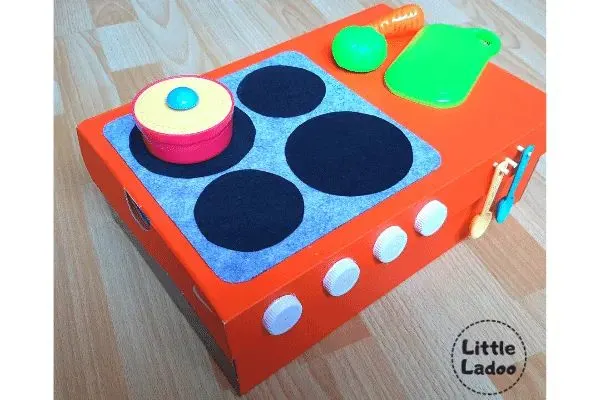 Source: littleladoo.com
Do your kids love to play cooking games or pretend to be a chef and concoct all kinds of recipes? Well, this easy and awesome play kitchen for your kids can come in handy, you know.
All you need to do is repurpose a couple of old shoe boxes— or use cardboard boxes—and hey presto, you've got a play kitchen for your kids to store all their toys in.
Grab some felt sheets from here, first. You will need them to line the top of your box as the stove or hob.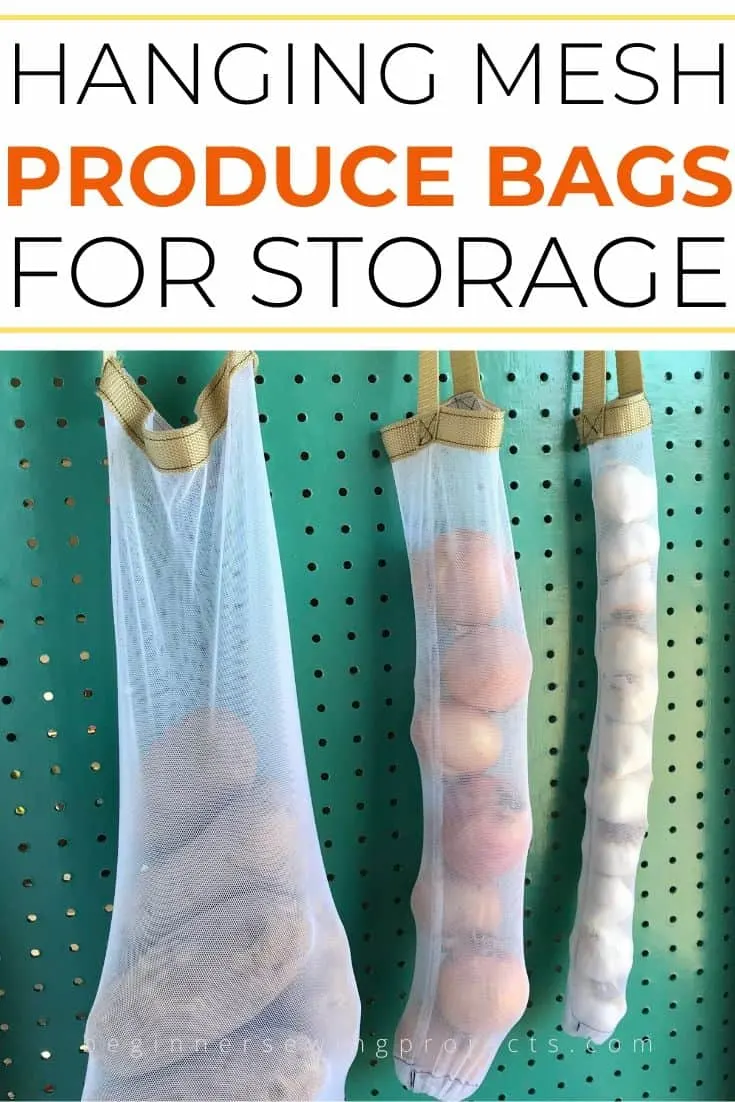 Source: beginnersewingprojects.com
A bottom draw in your kitchen is not the place to store all your veggies; they'll just rot away in there. This hanging mesh produce bag will keep your fruits and veggies fresh, tidy, and most importantly, accessible.
The best thing about them, is that they're reusable and washable. So, pick up some mesh fabric from here, some nylon webbing from here, a strip of elastic, and the rest of your sewing essentials.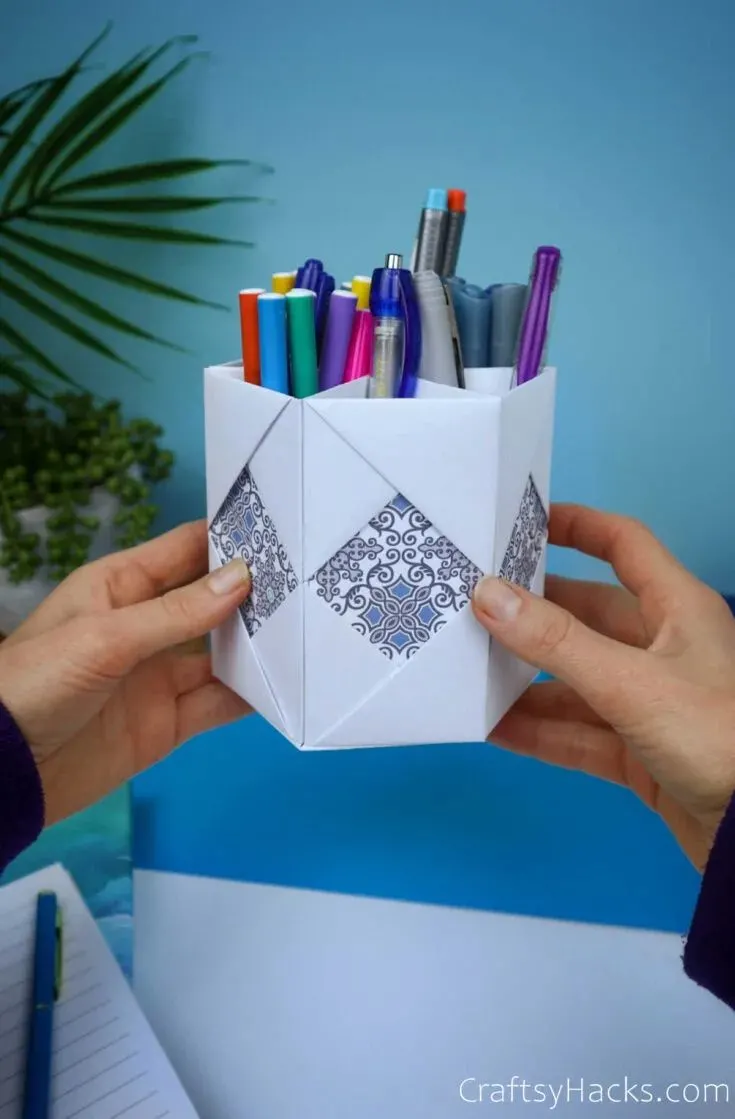 Source: craftsyhacks.com
The top of my desk is almost always in some stage of messy disarray. It's not so much the papers and books that clutter the space, but the pens, pencils, and other odd office supplies.
It's tempting to swipe them all into a drawer, shut it, and call it a day. But you know you can't do that. You know what would be very handy to have?
A pen stand, of course. This way, you'll be able to get rid of the visual clutter, stop clogging your drawers, and you'll have easy access to your supplies.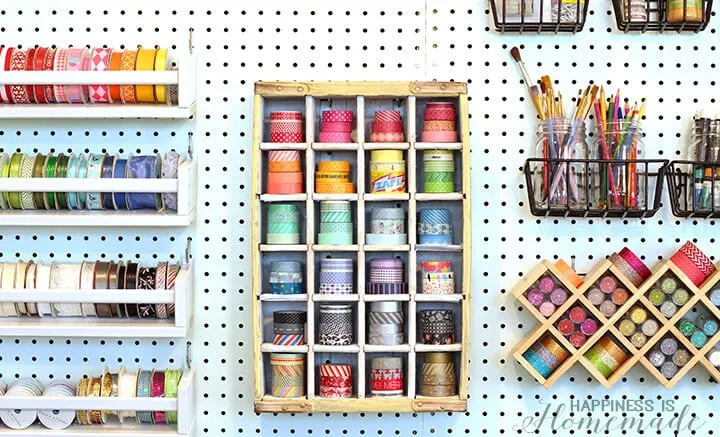 Source: happinessishomemade.net
Over the last few years, washi tape has taken the crafting world by storm. It's the next best thing to be made after sliced bread and post-its.
So naturally, you have to make sure that all your rolls of washi tape are neatly organized. There are plenty of ways you can do that, but this one's probably one of my all-time favorites.
You can use a vintage Coca-cola soda crate, give it a resounding make-over, and turn it into a stylish washi tape storage shelf!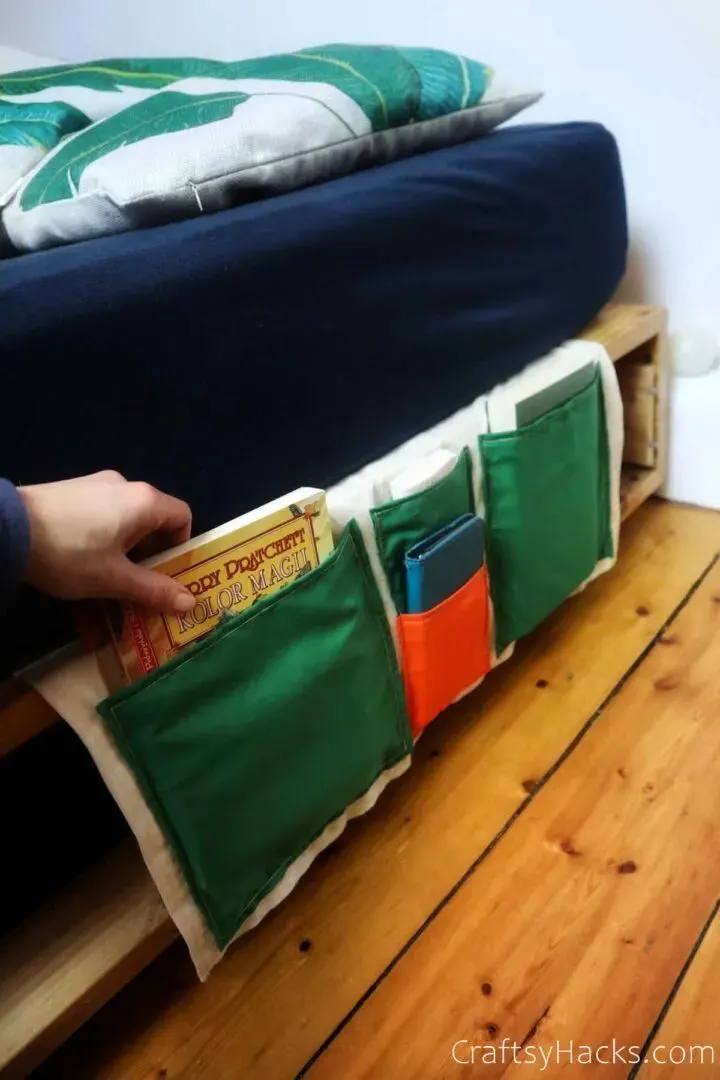 Source: craftsyhacks.com
Sometimes, accommodating a bedside table is just not possible. It might be because of space restrictions, or you're just fed up with constantly stubbing your toe—you won't hear any judgment from me.
Either way, you can't have a side table, yes, but you can have a bedside caddy like this one! It's super easy to make, and you just have to pick out your fabric colors and swatches to get started.
Grab this measuring tape and start measuring the dimensions of your bedside caddy. Depending on your needs, you can have as many or as few pockets you prefer.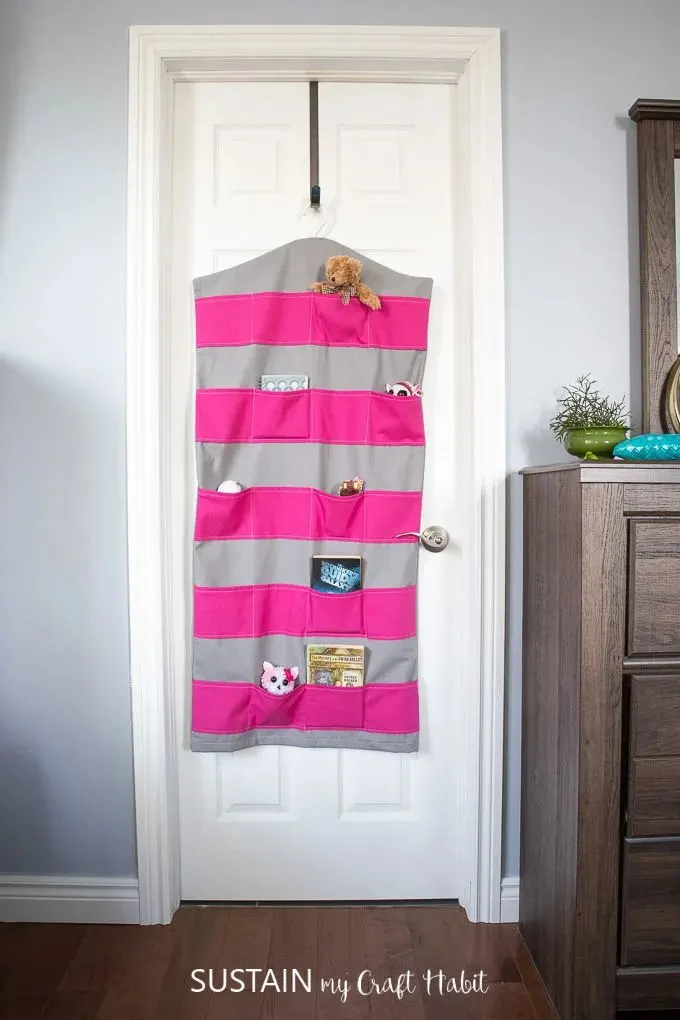 Source: sustainmycrafthabit.com
A hanging toy organizer like this one is perfect for kids to put their toys away. It removes the need for a large hulking toy box and also helps you get all those toys off the floor and into its allocated space.
Instead, you can hang this organizer up on the back of your door. This organizer is like a large utility apron with plenty of pockets and slots to accommodate all your kids' toys.
It's also medium weight, so you don't have to worry about hanging it from the door.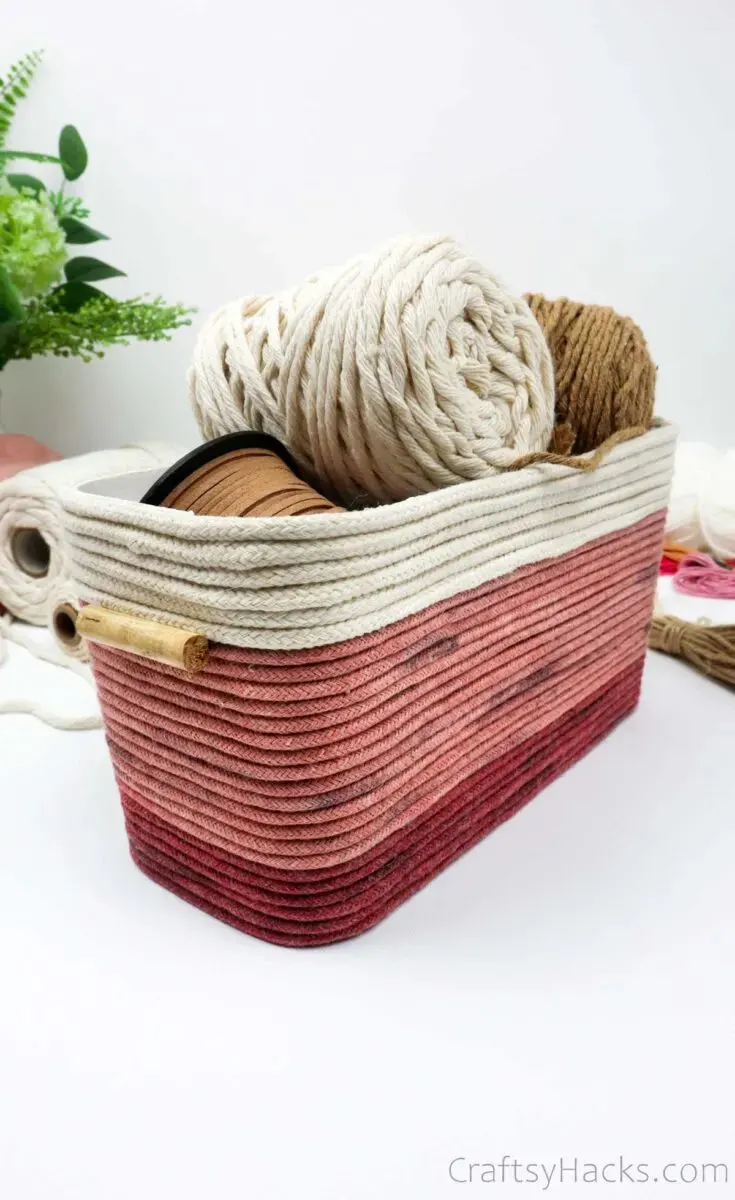 Source: craftsyhacks.com
Here's a rope basket organizer that you can use to store your craft supplies, yarn, sewing supplies, and more. Depending on the size of the basket in question, you can use it for different purposes around the house:
Laundry basket
Fruit or veggie basket
Planters
Storage bins for clothes
Makeup basket
As you can see, you have plenty of different ways to use this basket. So, grab some of this clothesline rope to get started. You can also hot-glue a pair of handles in place if you like or dye the rope in different colors.
Here's a storage box made out of an old sweater, that you can use to store your belongings!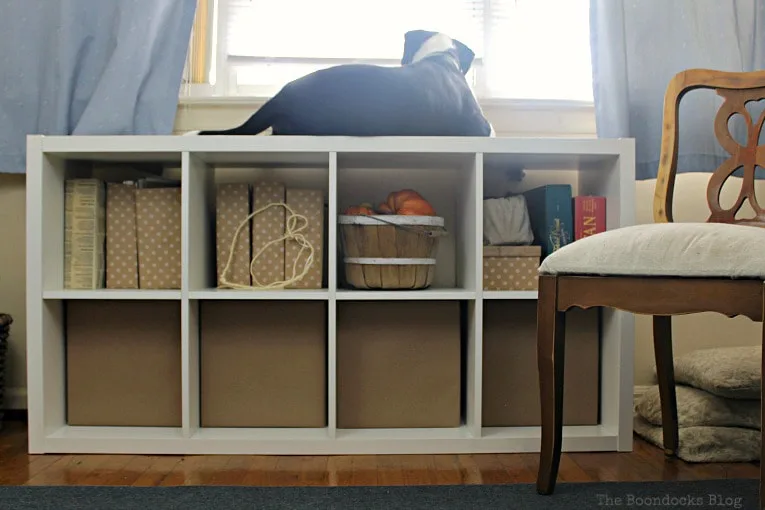 Source: theboondocksblog.com
Cardboard cubes like the one you see here can pan out to be a really effective storage unit. It's large and comes with plenty of cubby holes, making it efficient and high in utility.
You can place this storage unit in your kids' rooms and use it to put away their toys, or even in your foyer as a shoe rack. Truly, there are plenty of different uses for a unit like this one.
You can create a storage system out of this unit too. You can wrap the boxes in different colors of paper to create a pattern that works for you!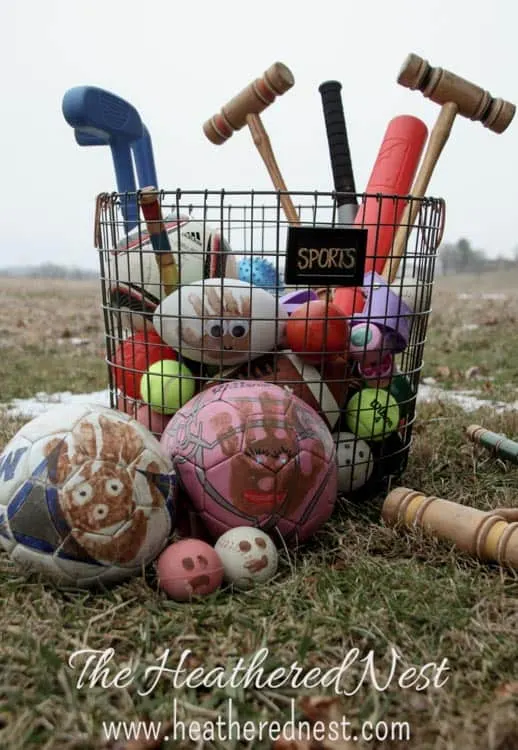 Source: heatherednest.com
Sometimes, it can be a pain to move your craft supplies or even your kids' toys around. What you can do to make it easier to access everything is to make your storage unit a rolling unit.
How? Well, a few caster swivels from here should do the trick. You can attach these to the bottom of any of your storage bins or baskets, and voila, they're portable.
You can use zip ties to tag the swivels in place, or you can use industrial glue if you want something more sturdy. Depending on the size of the basket or box, you'll need more caster swivels.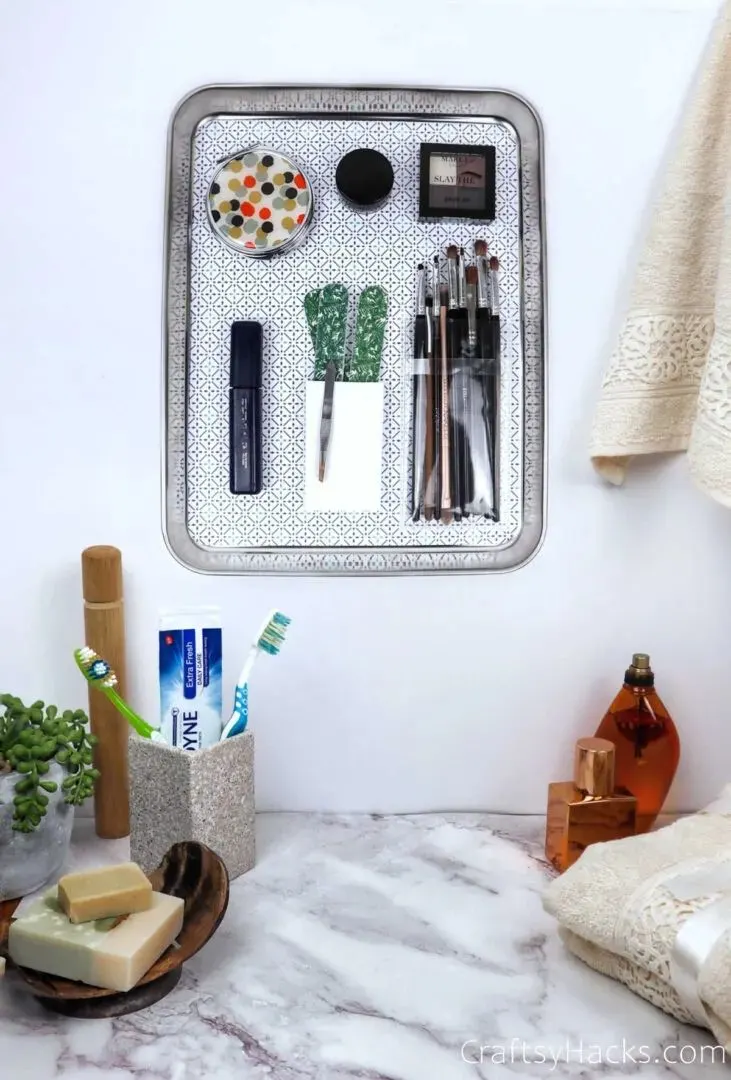 Source: craftsyhacks.com
This magnetic organizer could very well be the answer to all your prayers. You know how you're always pawing through your kitbag for your make-up or accessories?
Well, with this magnetic tray that you can mount on the wall next to your vanity or dresser, you'll have easy and unfettered access to everything you need.
You can use this tray to store your cosmetics, your keys, loose change, and more. Also, you can use this as a display case and put up some photos, a little mini planter with a magnet attached to it to secure it, and more.
You can pick up the magnets here.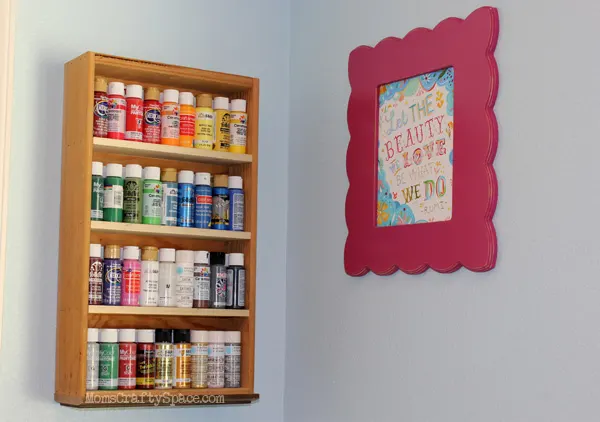 Source: happinessishomemade.net
If you're an avid painter, then the chances are that you've accumulated plenty of paint boxes and tubes over the years. Why don't you take them out of that box you've kept them in and arrange them on a shelf like this?
It makes it so much easier to keep track of all your colors. If it's not paint bottles you wish to store, but rather other craft essentials, or even just books, then this shelf unit is just as effective.
So feel free to make a functional storage shelf to meet your specific requirements.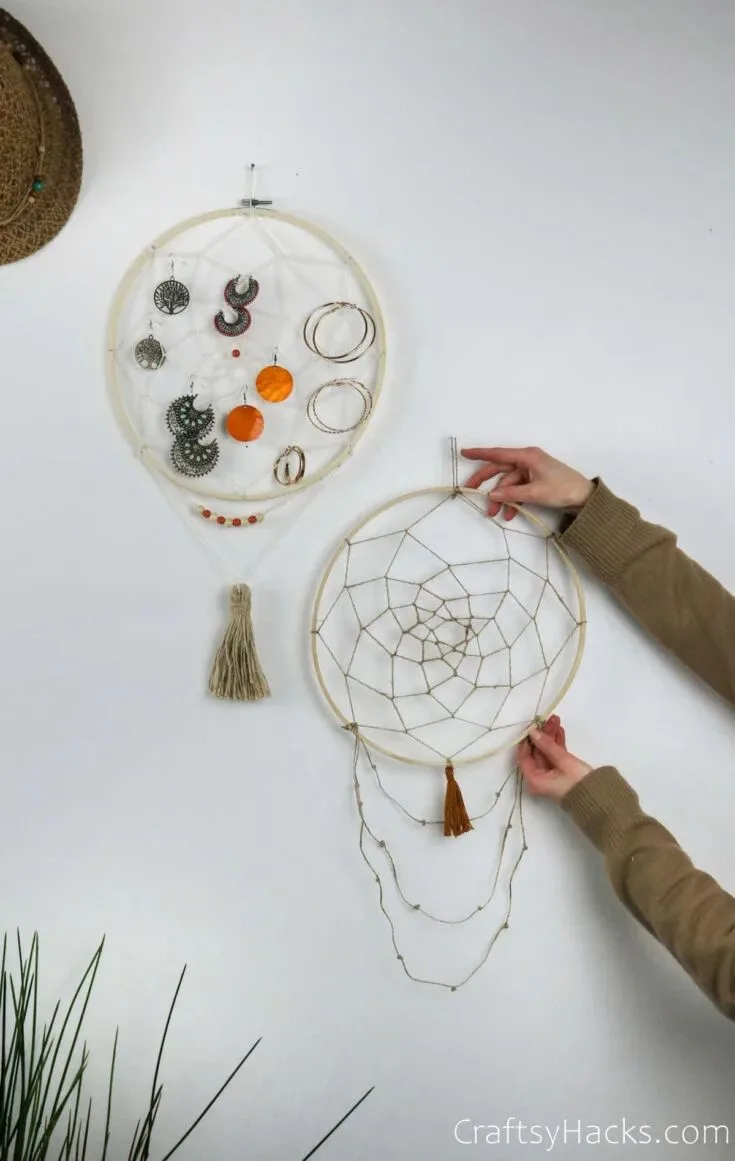 Source: craftsyhacks.com
Here's another DIY jewelry organizer that I think you might like. It's the perfect opportunity to get a little craftsy, too, because this organizer is effectively a dreamcatcher in the making.
Grab an embroidery hoop from here, or use one that you already have in your stash. Alternatively, you can use a metal hoop too.
Just pick out the size you want, and you can start looping your yarn like you would do to make a dreamcatcher. You can also hang a few decorative tassels or strings from the base of the hoop.
This jewelry organizer is best suited to store your earrings, especially long ones with hooks that you can hang.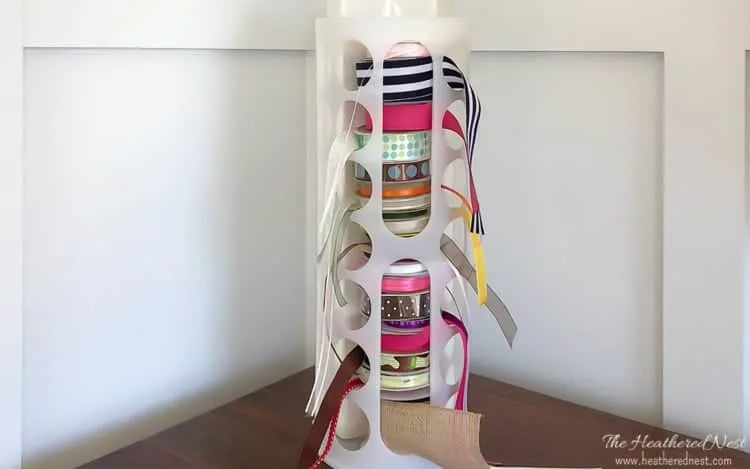 Source: heatherednest.com
This ribbon holder isn't just a storage system to keep all your ribbons, no. You can also use it as a dispenser of sorts.
I mean, think about it: don't you just hate it when you have to keep untangling all your ribbons or twine? With a ribbon dispenser like this, your craft sessions just became a whole lot easier, trust me.
But first, you'll need a bag dispenser—IKEA has one that works perfectly for this project. You will also need a few screws, a hammer, a wall anchor drill set from here, a power drill, and a bucketload of ribbons.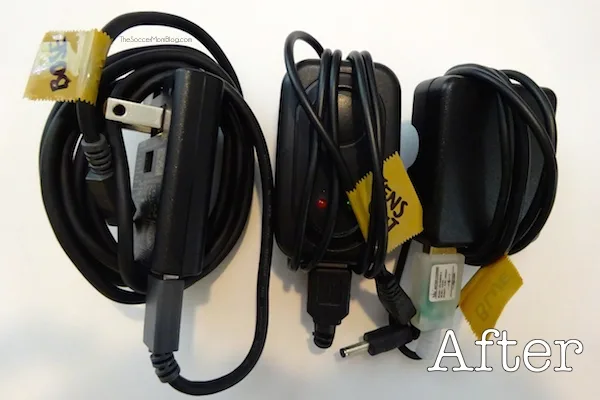 Source: thesoccermomblog.com
I cannot even begin to describe the sheer frustration I feel when my cables, cords, and wires keep getting tangled up all the time. Then, I'm forced to waste precious time detangling them.
If you've been in that very same predicament, then this simple charger organization trick can save your life—no, it can change it! So, the first step is to detangle the cords and figure out which cord belongs to which socket.
Then, grab some tape from here, fold a strip of it around the cord, and use a permanent marker to label it.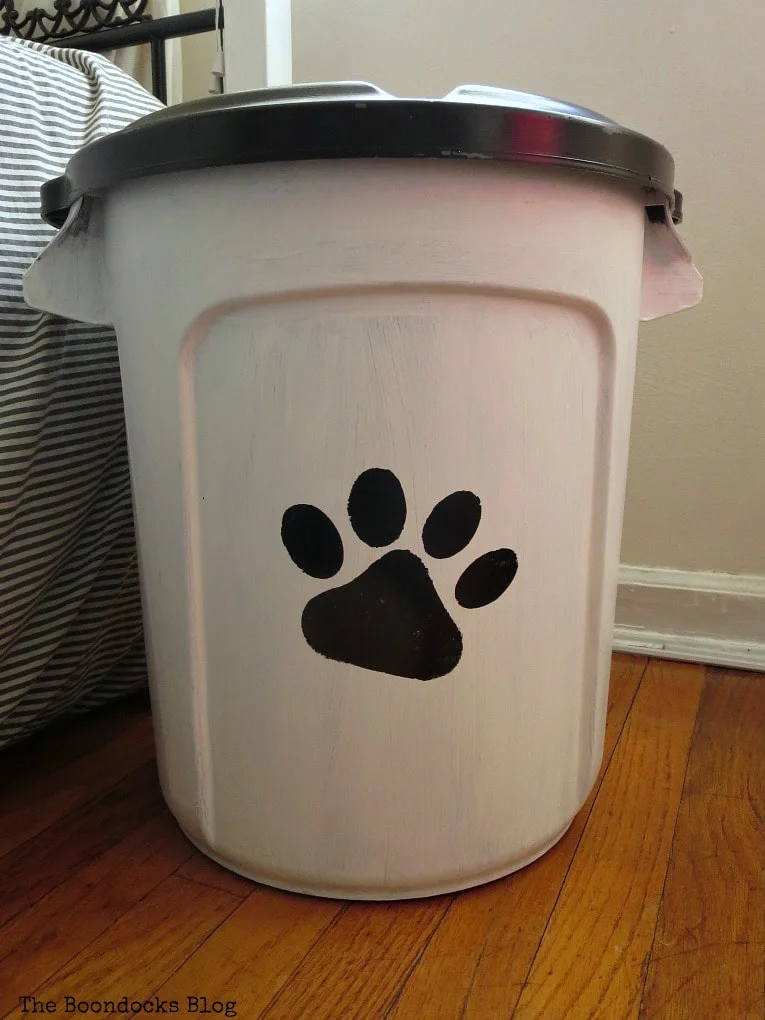 Source: theboondocksblog.com
You know how dog food comes in those huge bags? They're super lumpy and inconvenient, aren't they? And really, they just don't look good and can be a sore sight in your home.
You should probably consider making your very own pet food containers. You can repurpose an old plastic bucket or container with a lid and give it a nice make-over.
When you're done with it, your pet's going to think he's getting gourmet goodies!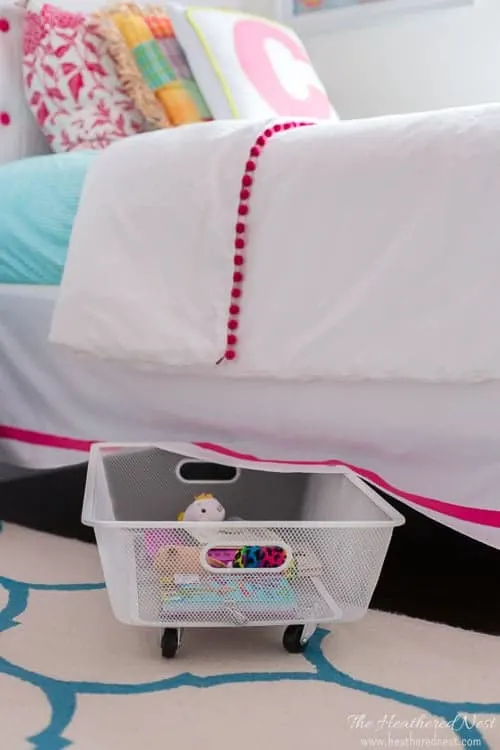 Source: heatherednest.com
Storage under the bed is like God's way of making amends for creating roaches. It's the perfect place to store all your belongings and reduce visible clutter around your room.
When you put away things like your winter clothing, it can empty up much-needed space for things you use on a daily basis. This applies to just about anything that you use seasonally or occasionally.
You can also store toys and books under the bed too. IKEA has plenty of storage baskets and units to accommodate the space under your bed!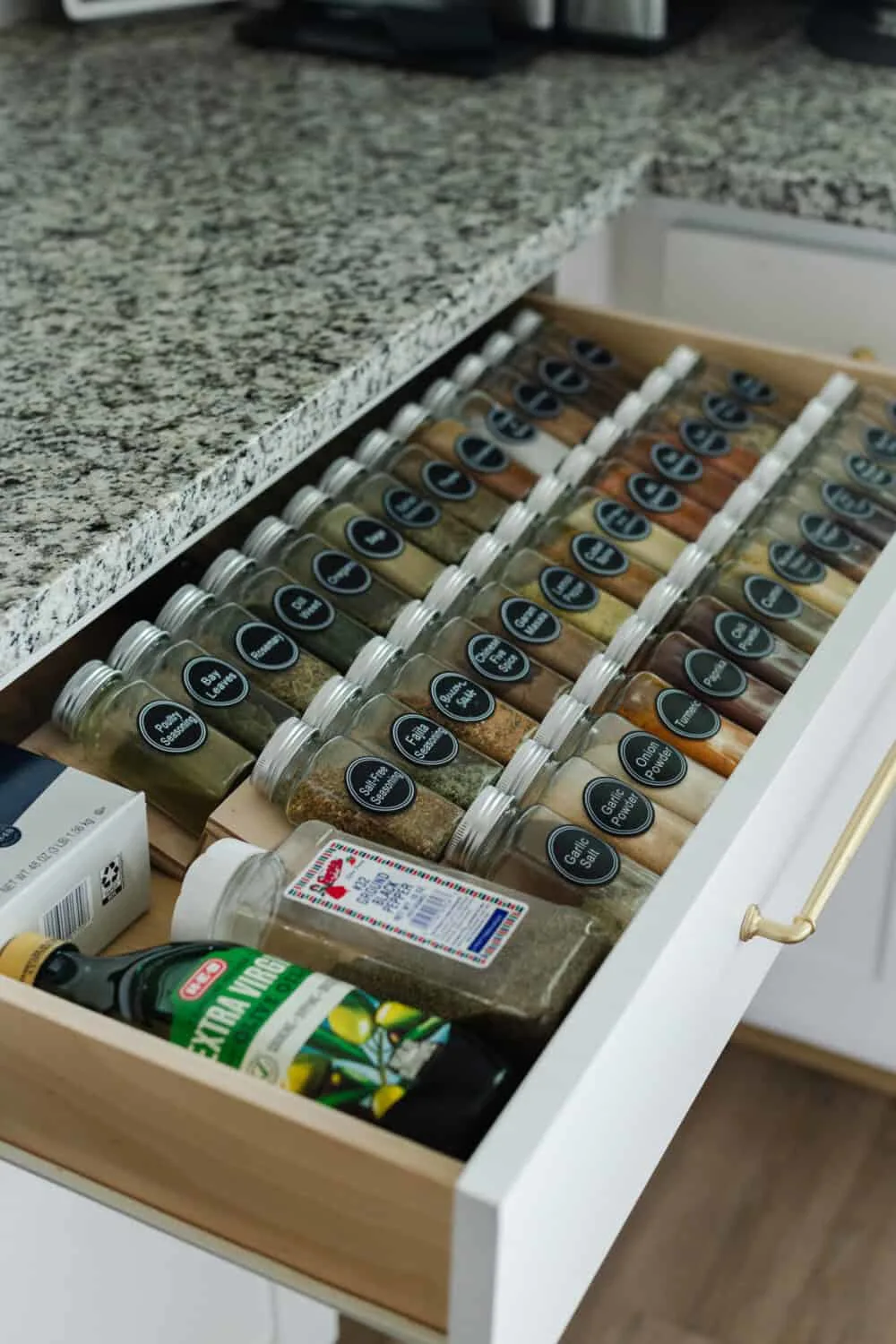 Source: loveandrenovations.com
Organizing a spice drawer can be fun, especially if you have plenty of spices to work with. You can start by cataloging all the different spices you have.
If you have them in uniform jars already, then you're halfway done. The next step is to carefully label each spice. Once all that's done, it's time to sort them into drawers.
If you want an elevated or tiered storage device, then head over to the drawer in question to measure the dimensions. Then grab some plywood, a saw, and wood glue to get started.
Check out more brilliant ways to organize kitchen here.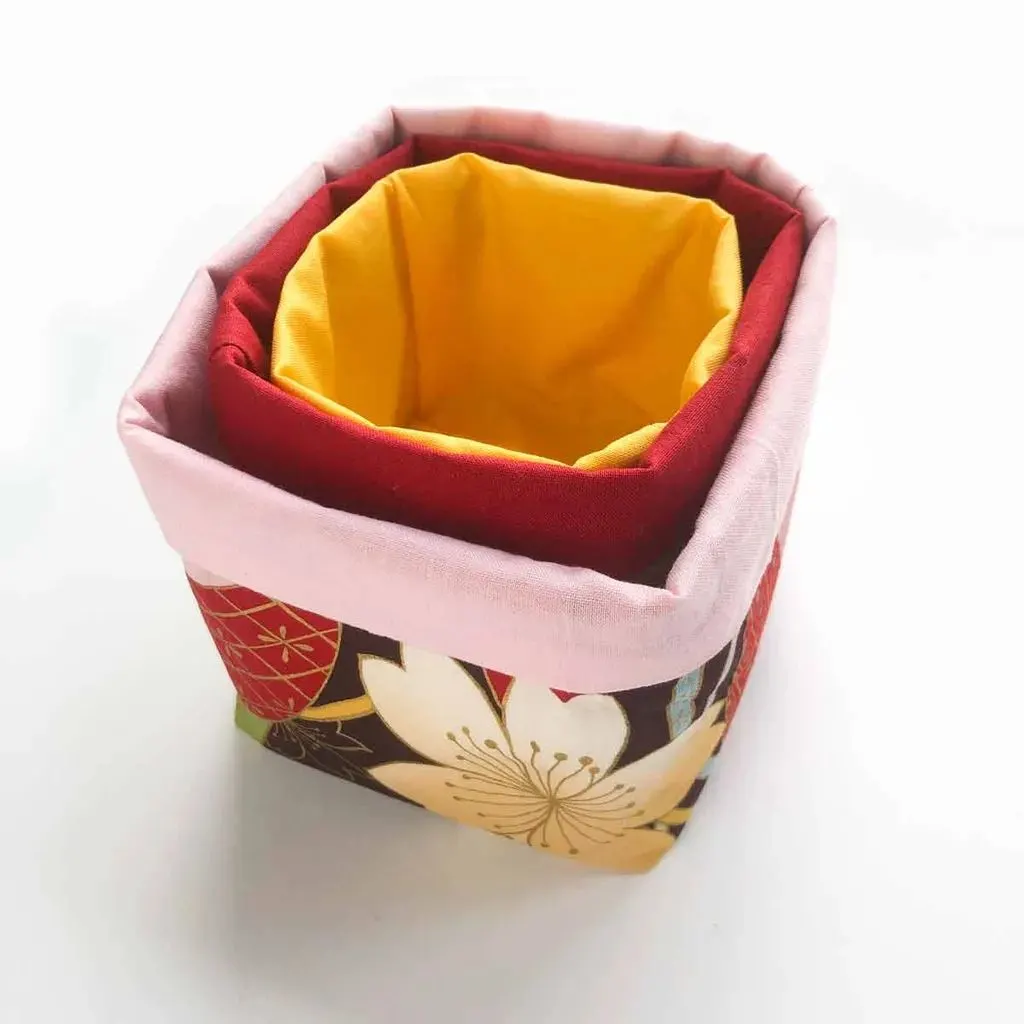 Source: mindymakes.com
DIY fabric bins can be super useful all around your home. Looking for a cosmetic bag? A bin to store your sewing supplies or yarn? Or perhaps you just want a cover for your planter?
These fabric bins can meet every one of those needs and more. Depending on the size of your fabric bins, you can repurpose them for even more functions.
They're a cost-effective way to help you get organized, and it doesn't hurt that they look pretty cute, too. You can play around with color and patterns when you're picking out your fabric swatches for the bins.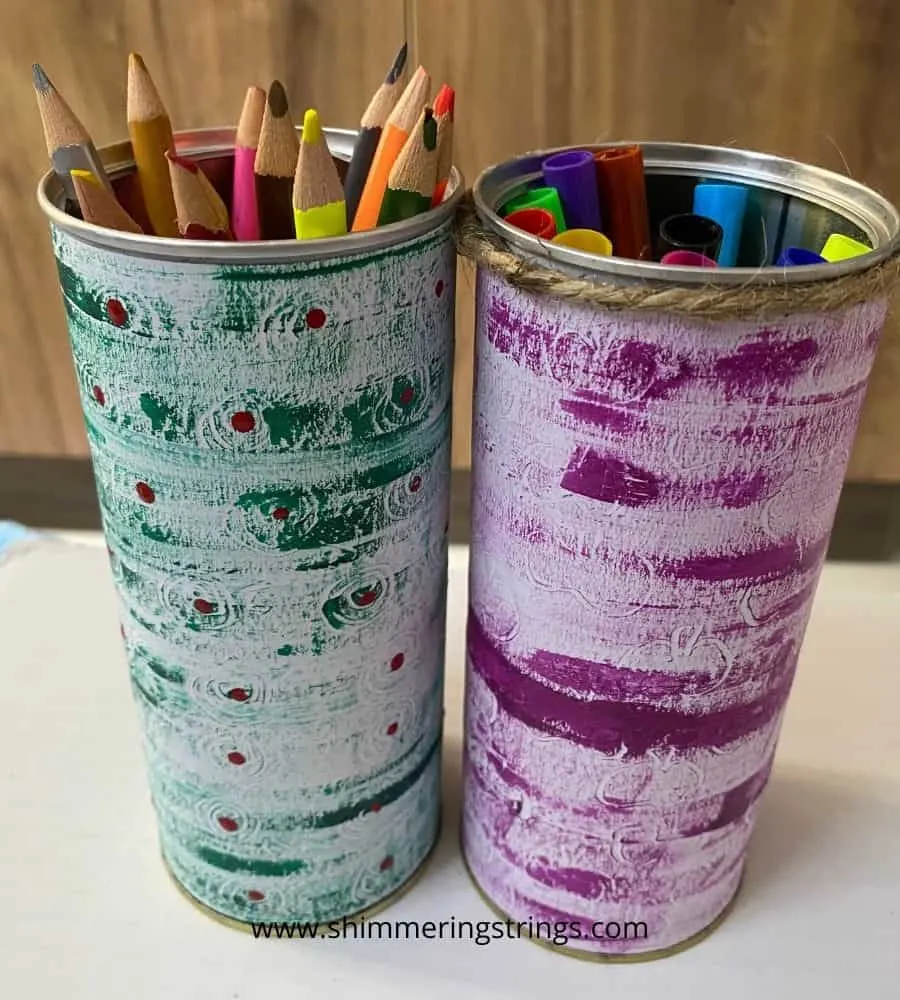 Source: shimmeringstrings.com
This tin pencil holder will help you to finally make good use of all those old tin cans you've been piling up in your recycling bin. But it's not a plain old tin pencil holder, no. This one is super chic, textured, and colorful.
You'll be using these glue sticks to help you with the texturing. First, grab a sheet of paper, line it up with the tin can, and cut it to size.
To texture the paper, you'll be using a pencil to push down on the sticky surface. Then, you'll flip the paper over and dray over the impression, as indicated. You'll have your texture can ready in a few minutes!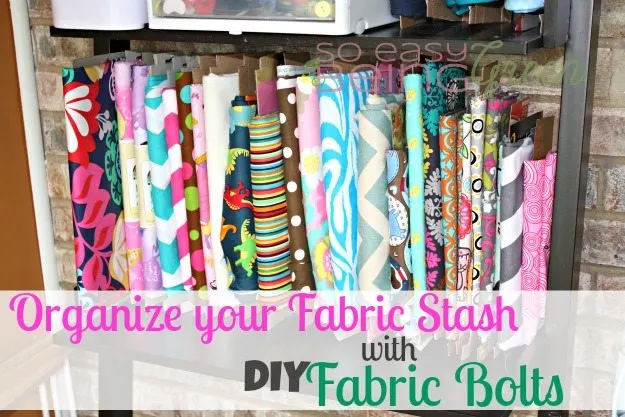 Source: soeasybeinggreen-blog.com
It's important to store all the fabric you own properly. I'm not talking about scrap, but rather bolts of fabric that you've just folded and stacked up.
It can be a nightmare trying to sort through all your fabric, which is why you're going to organize them into fabric bolts. You can make your own bolts, or you can buy them online.
If you're making them, just use cardboard boxes as your base. Then, use a bolt you already have to trace an outline onto the cardboard sheet. This will be the template for your new bolt.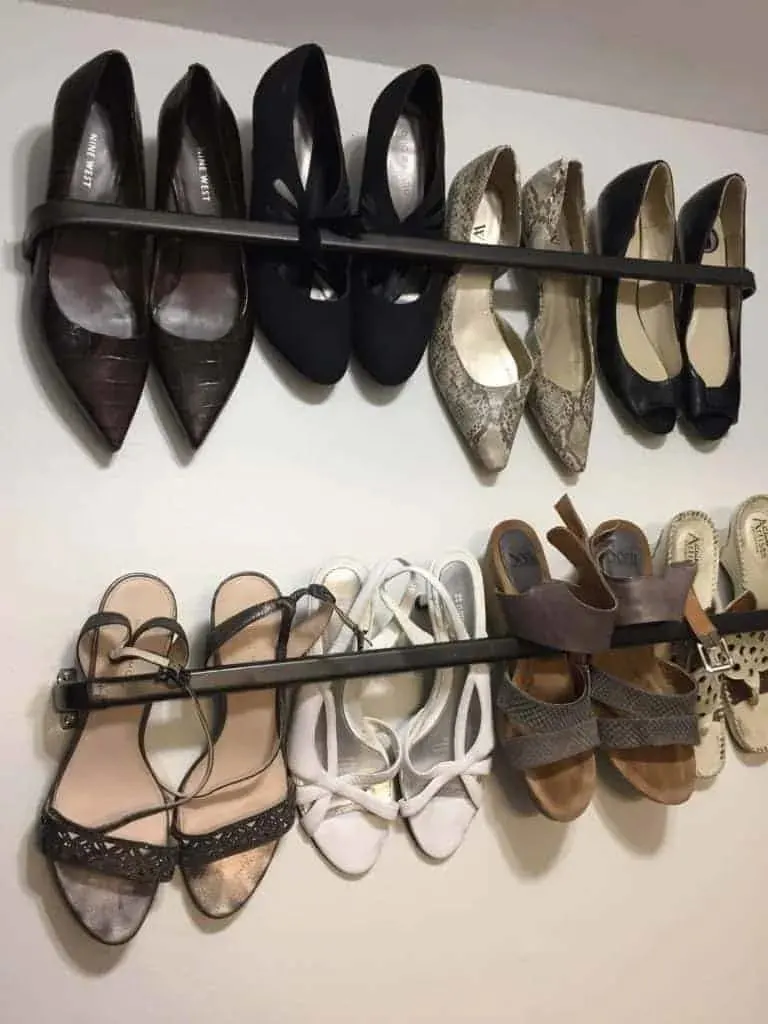 Source: repurposeandupcycle.com
We usually just line up all our shoes at the bottom of the closet, don't we? Well, how about we sort them into organizers, so they don't clutter the floor of the closet?
You'll need a few curtain rods like these, some drapery holdbacks, a screwdriver, screws, and if you want to paint the rod, a can of spray paint.
Find some empty wall space in your closet. You can also line the bottom of the closet wall with these rods—whatever works best for you and wherever is the most accessible.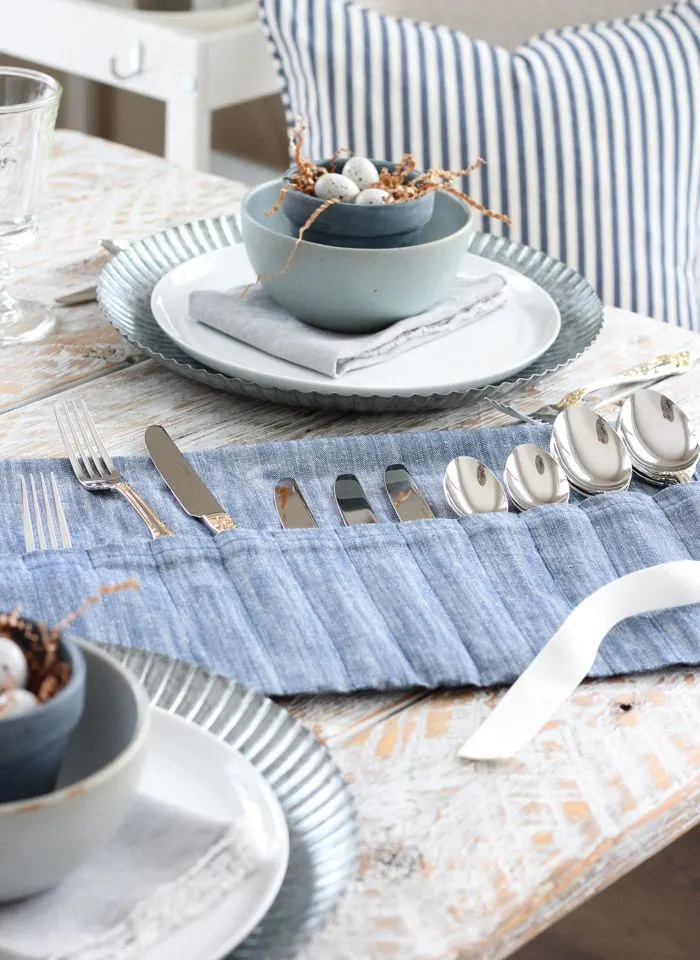 Source: satoridesignforliving.com
What is a tea towel flatware holder, you ask? Well, you know how chefs have this rolled-up kit where they store all their knives?
This one is pretty similar, only it's made out of tea towels, and you'll be using it to store your flatware. It sounds intriguing, doesn't it? It is, and you'll find that it also helps to keep all your flatware in one place.
You can also make a few of these to use when you have guests over? You can customize the holder to just hold the required flatware needed for the day, and voila!
Check out more towel storage ideas here.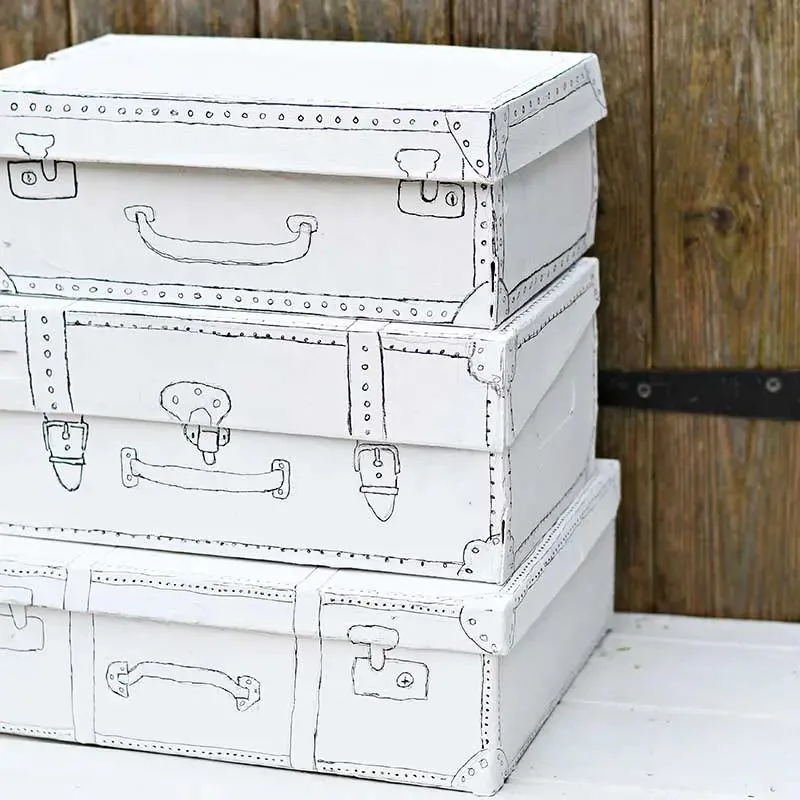 Source: pillarboxblue.com
For a minute, I bet you thought you were looking at a blueprint, template, or even a cartoon. It's actually a really clever and unique design with a chalk and pencil finish to set it apart.
What is it, you ask? Well, it's essentially a set of old shoe boxes that have been repurposed to use as storage boxes. You can store anything you like, or just your shoes, too.
Pick up some white chalk paint from here. You'll also need a pencil and a sharpie. I find that stacking different sizes of boxes works really well for this kind of storage unit.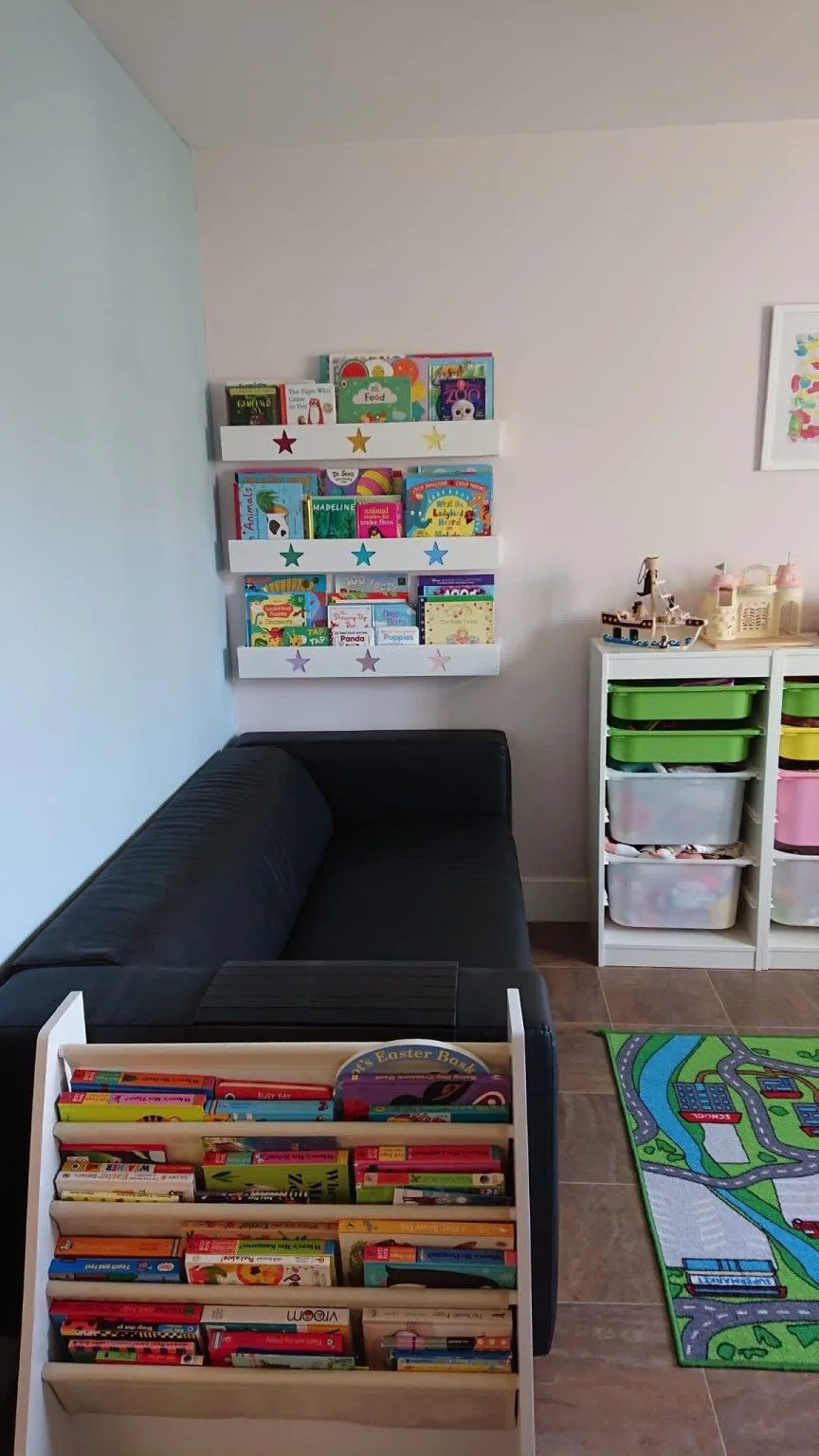 Source: intheplayroom.co.uk
Check out this mounted bookcase! It's not quite what you'd call a floating bookcase, but it follows the same principle of making the best possible use of wall space.
If you're an avid reader, then the need for more shelving space is never-ending. You've got a ton of books that need to be shelved, so let's make and mount these shelves so you can use them as bookcases!
These shelves are made from a set of wooden boxes, but you can start building from scratch if you have plywood to work with.
This could also be of use when organizing garage.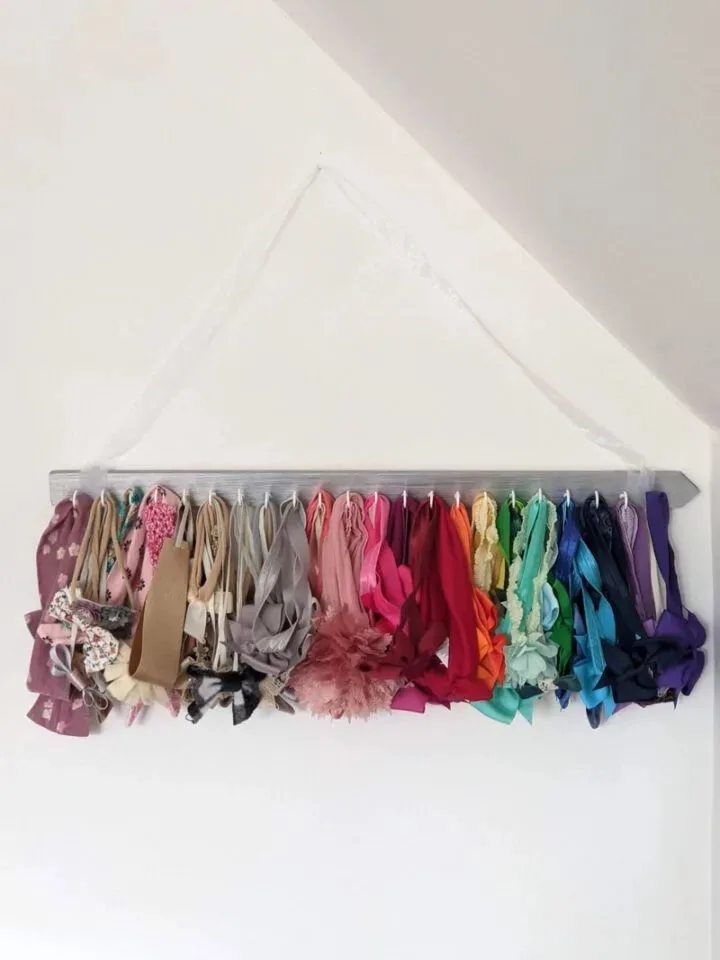 Source: momsandcrafters.com
Are you as big a fan of headbands as people are of shoes and earrings? Then, you probably have a huge stash of headbands just waiting to be sorted and organized.
This DIY headband holder is built to accommodate all your headbands and plenty more for when you add to your stash. You can organize your bands according to color, occasion, the fabric used, and any other categories you can think of.
You just need a wood pellet, sized to your specifications, and a few cup hooks like these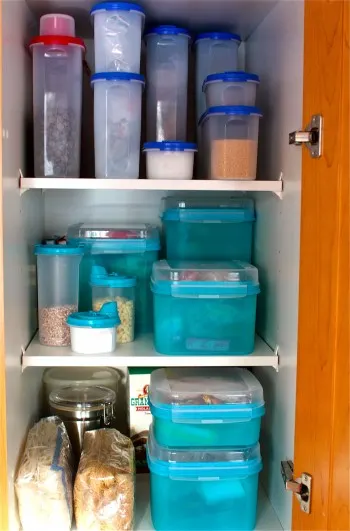 Source: simplebites.net
The containers in your kitchen cabinet can often turn into a garbled mess that you can't access. Worse, you can end up shoving or tipping over other containers while you're searching for the one you want.
You need to use containers that are both aesthetically pleasing and provide the best possible structure and utility. You can buy complete sets of containers to help you achieve this, rather than just mix and match.
Also, you can invest in a label maker to help you label the food ingredients. This will help you catalog and organize everything in your cupboards.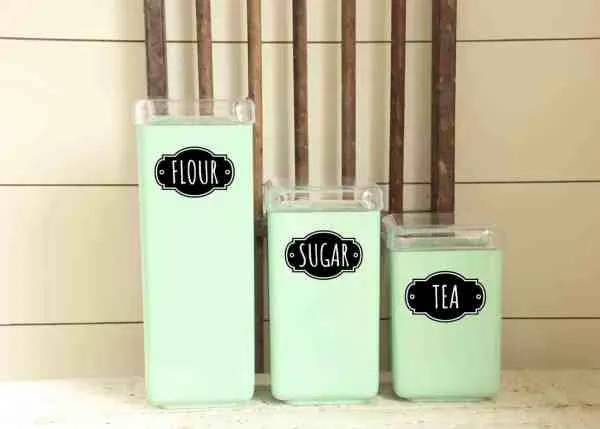 Source: acountrygirlslife.com
Speaking of labels, pantry labels are usually what stands between you, your containers, and total chaos in the kitchen. A well-organized, categorized, cataloged, and aesthetically sound kitchen would not—could not—be possible without labels.
You can make DIY labels by designing them and printing them. Or, you can invest in a simple label maker and print them out in a jiffy.
You won't believe how much time, money, and energy you can save when you know what everything in your kitchen is, where it is, and how much of it is there.
Give these pantry organizing ideas a try!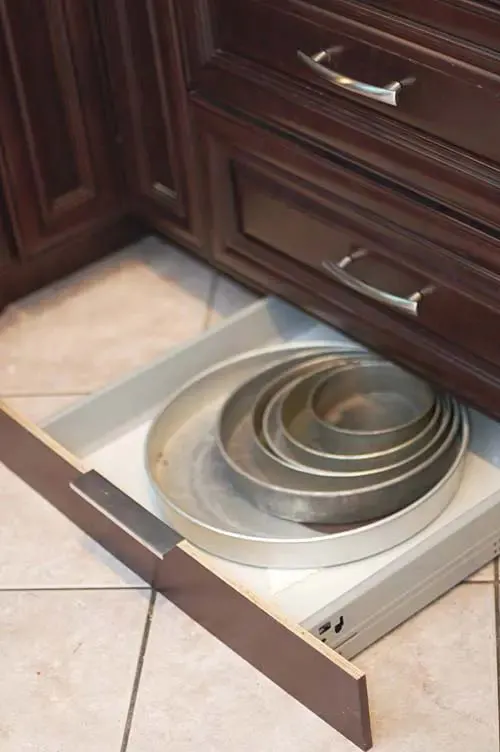 Source: tikkido.com
You can create hidden, under-the-cabinet toe kicker drawers to give you additional storage space in your kitchen. It will help you make the most of what would otherwise be dead space.
How? Well, you can make a trip to Ikea to pick out drawer kits for starters. Keep in mind, though, that you'll need to fit these in while you're initially assembling your drawers and cabinets.
For supplies, you might want to consider pulling out your tool box for your miter and table saws. Then, pick out some drawer hardware, a handle, and scrap wood to get started.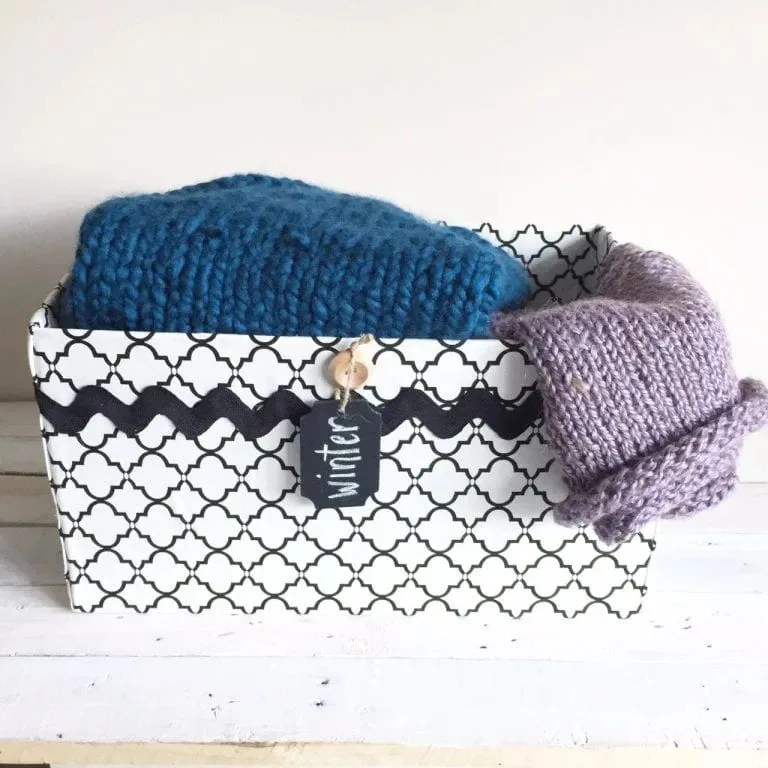 Source: sustainmycrafthabit.com
These upcycle cardboard boxes are chic, provide extra storage and utility, are fabric-covered, and are utterly easy to make. You can use them to line up the top of your closet space and declutter loose items you have in there.
You can also just use them to store your scarves, socks, underwear, and even sweaters and vests. But these boxes aren't just for the closet, you know.
You can use them all around your house: in your kitchen to hold cooking essentials, to store your linen or toiletries, to store your sewing or craft supplies, and more!
Grab some ric-rac trim from here and start making these boxes right away! Truly a genius organizing idea!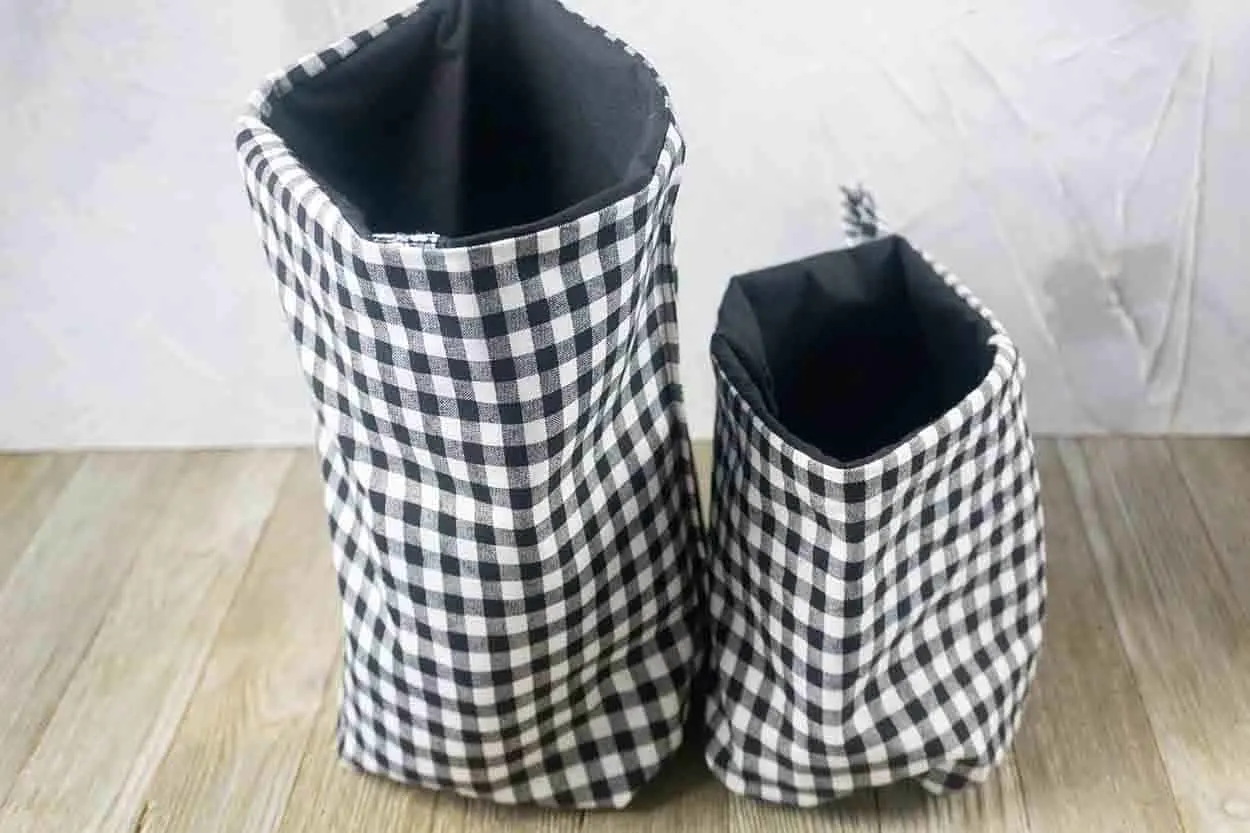 Source: beginnersewingprojects.com
Hanging baskets can help you get all that visible clutter like toys, makeup, craft supplies, and more off the floor and surfaces. Depending on the size you make them, their functions can vary.
You can use them as stocking stuffers, too, with the holiday season right upon us. They'll be just right to hold all your gifts and presents, candy, knick-knacks, and party favors!
Pick up some sewing clips from here to start working on this project.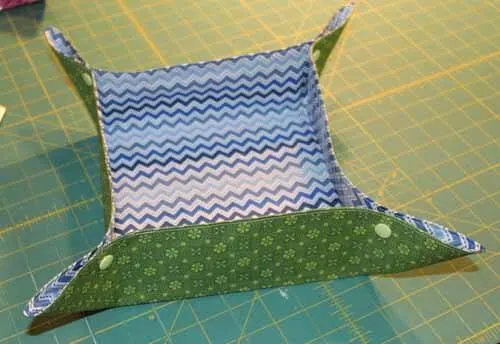 Source: needlepointers.com
I've always found fabric trays to be rather unique and full of character. Perhaps it's the way the edges have been tweaked, or maybe it's the colorful fabric; I just love them!
These fabric trays are an easy sewing project that's a great opportunity for beginners to practice their sewing. It only calls for straight seams, nothing too fancy or complicated.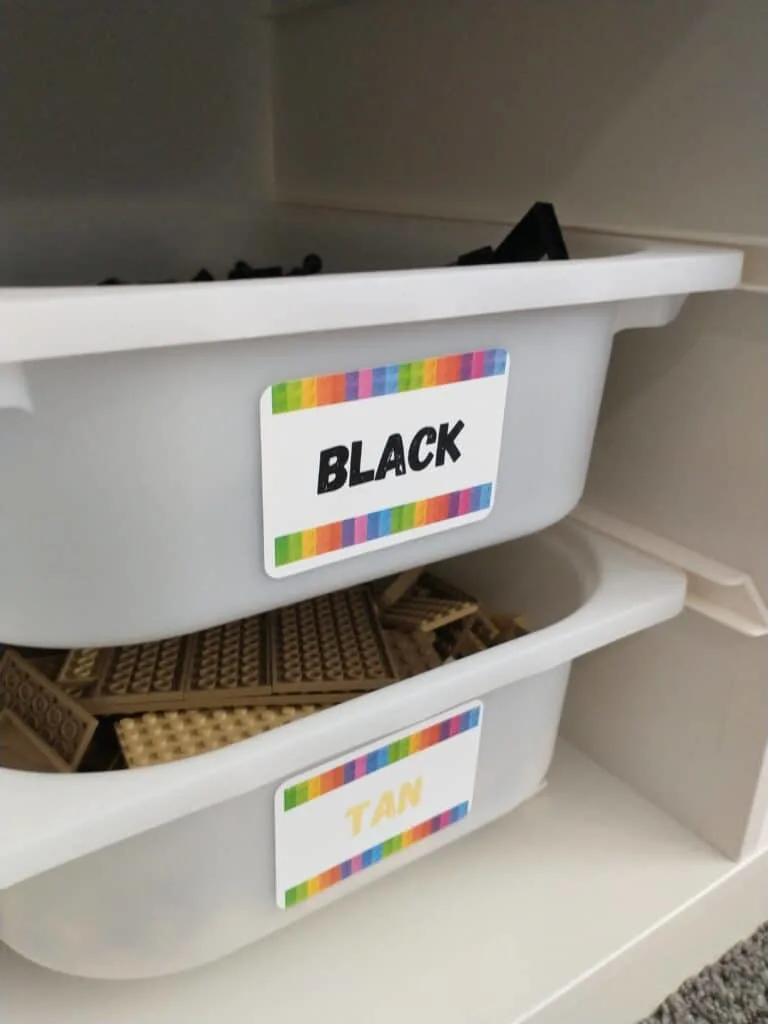 Source: savingtalents.com
Ah, LEGOs. They're all fun and games when you're playing with them, but step on one of these little buggers, and you'll be singing soprano for a while.
That being said, this lovely under-the-table storage unit can hold all the lego you can think of safe in its confines and away from the floor.
Grab some plastic trays and start sorting your legos! Here are 37 LEGO storage ideas you will definitely love.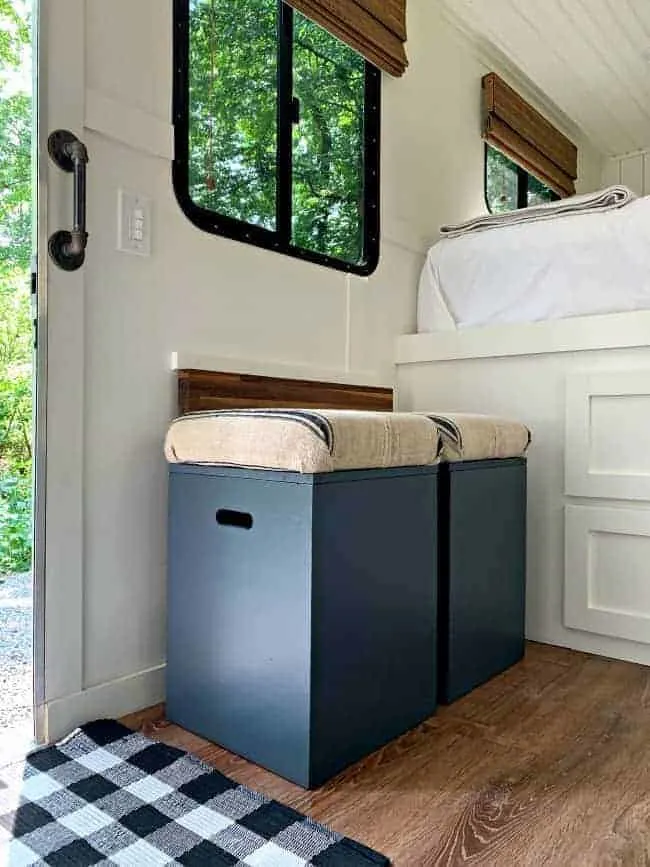 Source: chatfieldcourt.com
Here's yet another ottoman that doubles—no, triples?— as a small storage space and a step stool. It's pretty versatile and handy, isn't it?
Anyway, when you're in a pinch for space, you're going to discover that you can make the most of something in ways you never imagined, right? This ottoman is a case in point.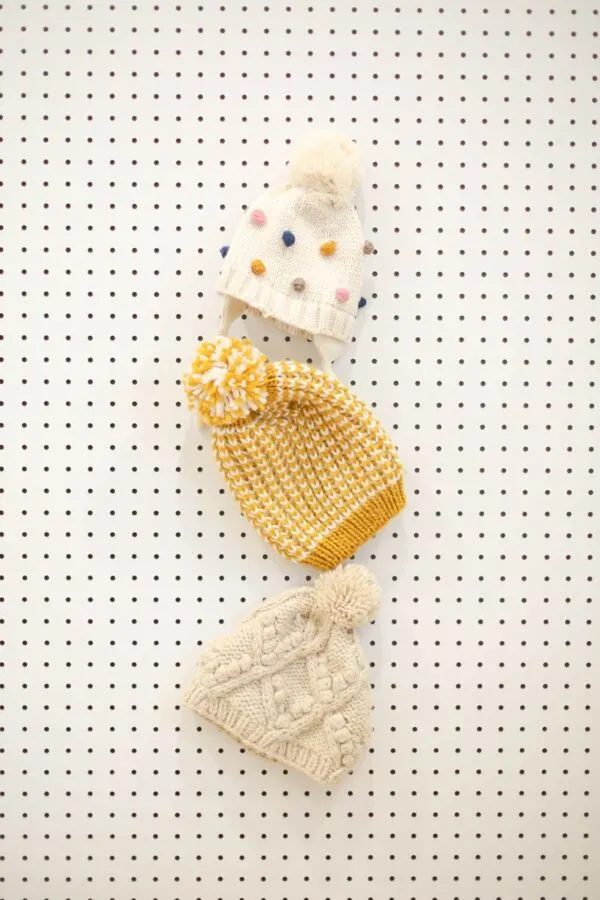 Source: lovelyindeed.com
After the dump drawer in your kitchen—oh, you know the one I'm talking about—your coat closet is perhaps the most cluttered space in your home. This organizer can help you get all your outwear, winter wear, and coat closet supplies sorted and organized.
It's a five-minute home-hack that will save you plenty of time when you're in a hurry and don't want to have to dig in your coat closet.
You will need:
Command hooks
Twine
Clothespins from here.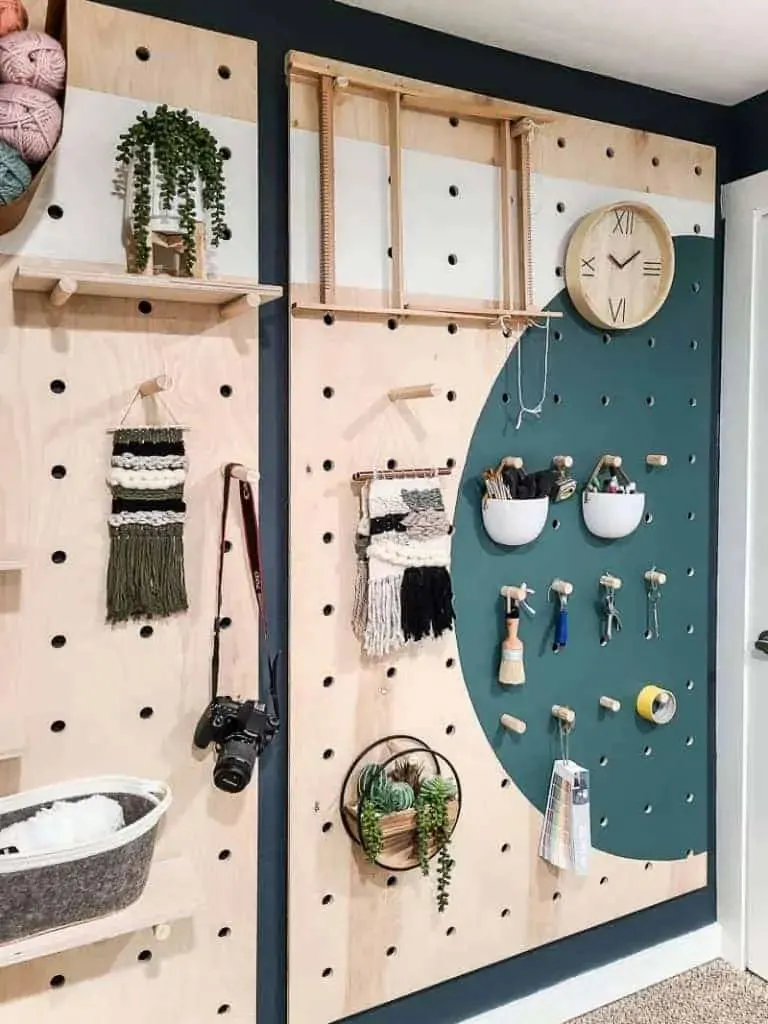 Source: makingmanzanita.com
Imagine having an entire wall that you can use as a giant pegboard. It's a practical solution that helps you organize your tools, craft supplies, and more and increase the storage and utility you have.
It can completely change the way you store all your tools, trust me! If you're ever in the mood for a quick DIY project to give your home office or work area a make-over, then this project is exactly what you need!
Check out these tool storage ideas.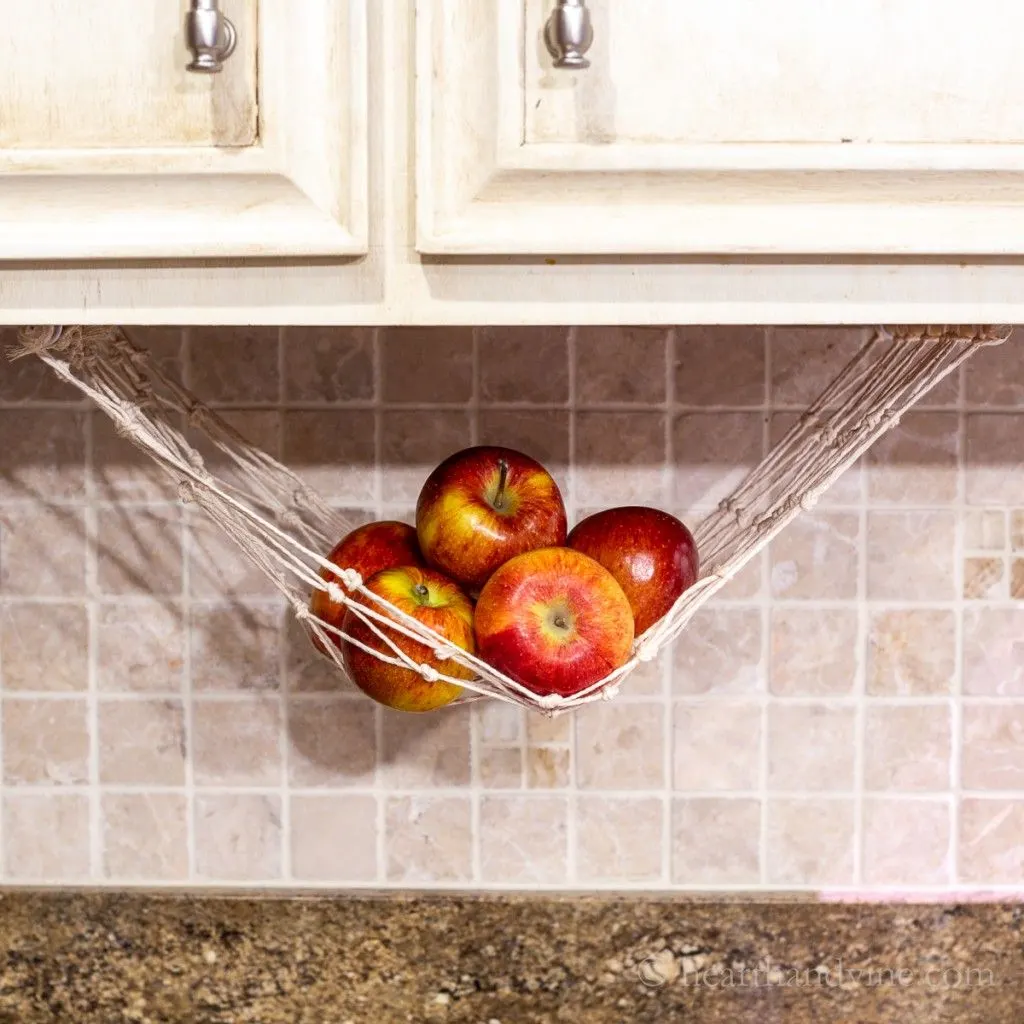 Source: hearthandvine.com
Anyone with a small kitchen knows how important counter space can be. Heck, anyone with even a large kitchen knows it, too. So you might not want to set your fruits out in a bowl, not when that space could be put to better use.
This fruit hammock can help you with that problem; it's a space saver, and it's super cute to look at, don't you think?
You can hang this hammock right under a cabinet. It's particularly helpful because you can keep your fruits and veggies in a cool spot, away from too much direct light.
For more smart storage ideas and organization hacks, check out more organizing ideas here.