Does your garage get messy all the time? Implement some of these garage organizing ideas to transform the way your garage looks.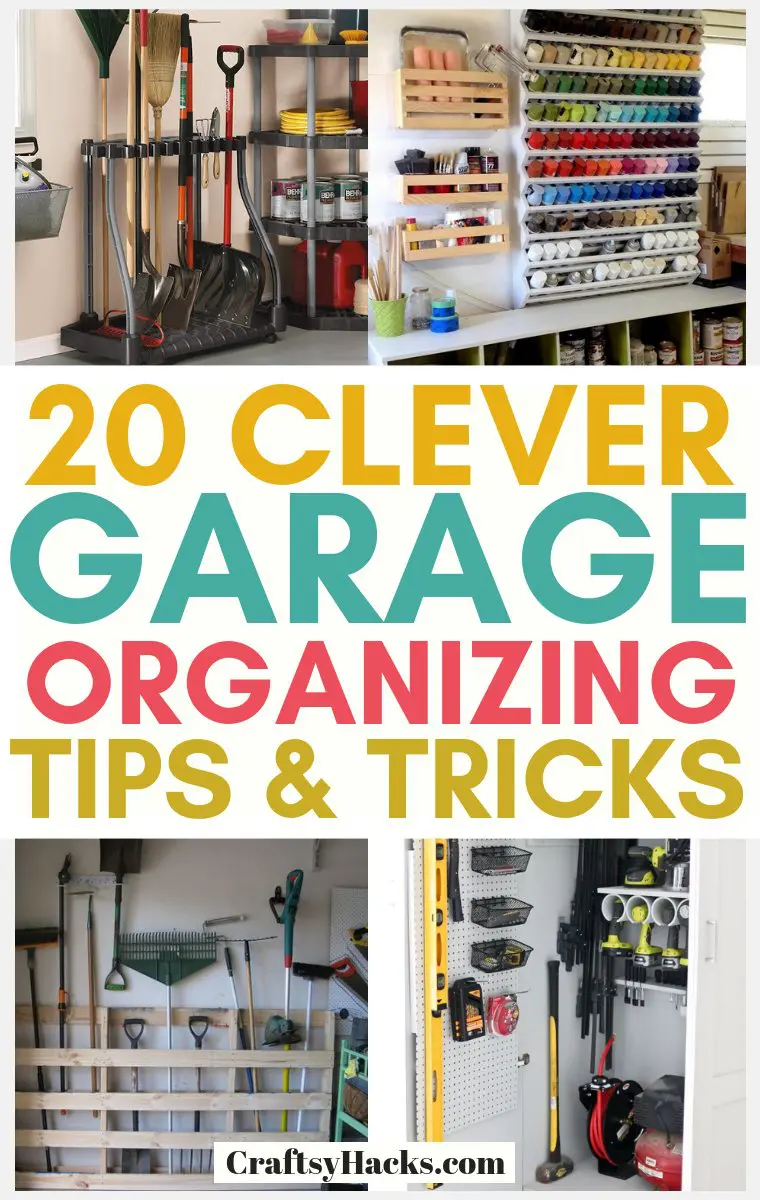 If you're lucky enough to have a garage, then you could probably use a few ideas to help you organize it.
Every family garage has a couple of bikes, a dozen garden tools, several footballs, and about ten fishing rods scattered around.
So, a simple pegboard won't do the trick. If you want to tame all that mess, here are 20 brilliant ideas that will help you.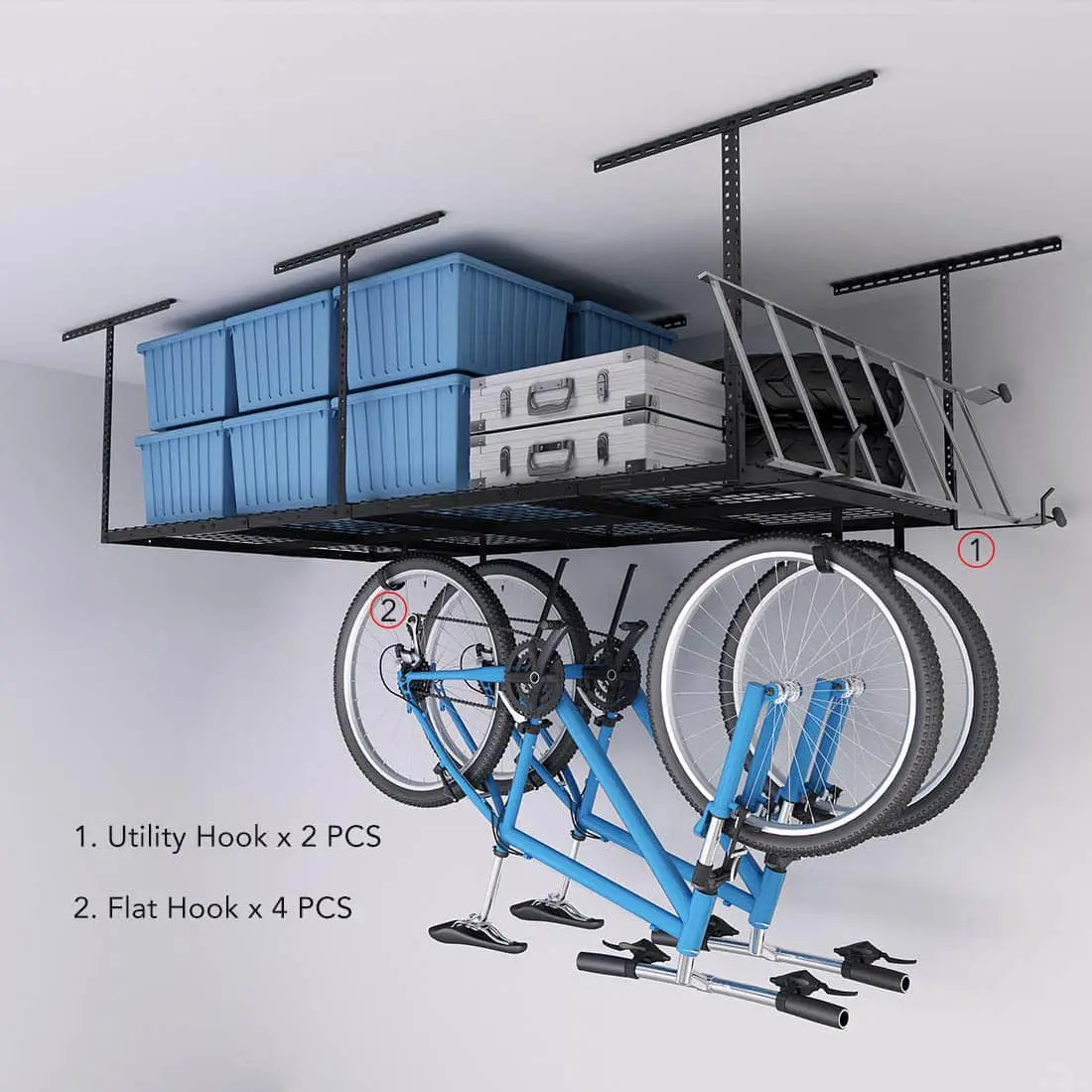 Credit: Amazon
If you're looking for a place to store seasonal items, look up. Overhead racks can house anything you don't need constant access to.
They're also a perfect solution for storing treasured items that can easily break. Add clamps and hooks and you'll be able to hang your bikes and keep them out of the way during winter.
And the best part is, you'll barely notice that the racks are there! You can get an organizer like this here.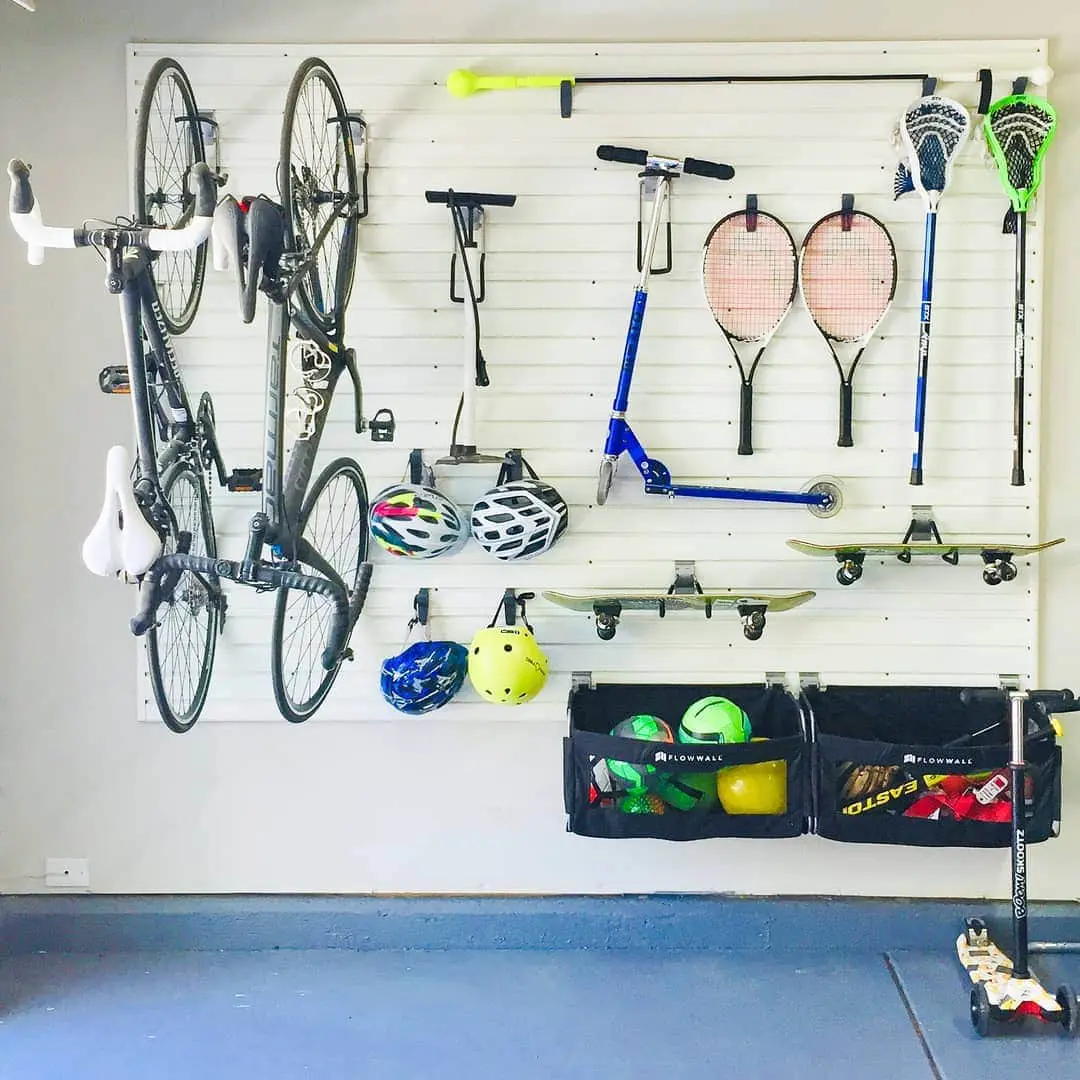 Credit: instagram.com
Flow walls allow you to create a custom storage space. It will help you organize your belongings, eliminate clutter, and make it easier for you to find what you need.
Very easy to install and maintain. Flow walls come with hooks that can be pushed and slid to change their places and allow you a flexible wall mount storage.
So, whenever your garage needs change, you'll be able to rearrange.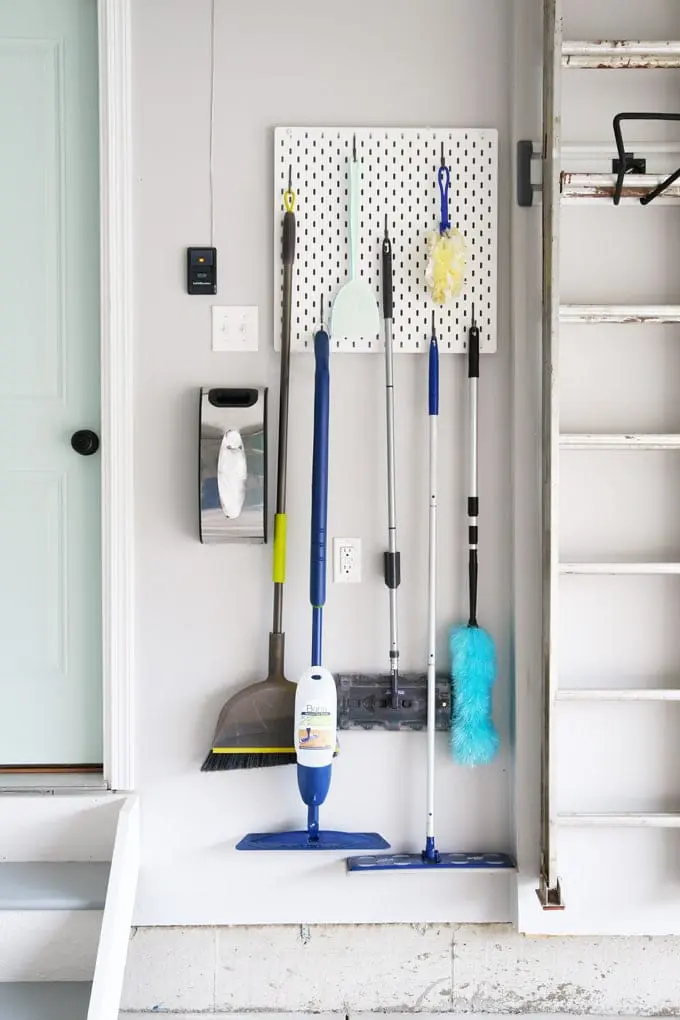 Credit: justagirlandherblog.com
The good old pegboard gives you amazing organizational flexibility and practically doubles the storage space of your garage.
Once you've installed the pegboard, there are a number of options for bins, baskets, and hooks that will hold everything from screws to paint rollers.
Here are some pegboard hooks you can get to organize all the things. Also, if you don't own a pegboard, you can get one here – it's affordable and sturdy.
Pegboards can be used to organize office space, a laundry room, and even a craft room.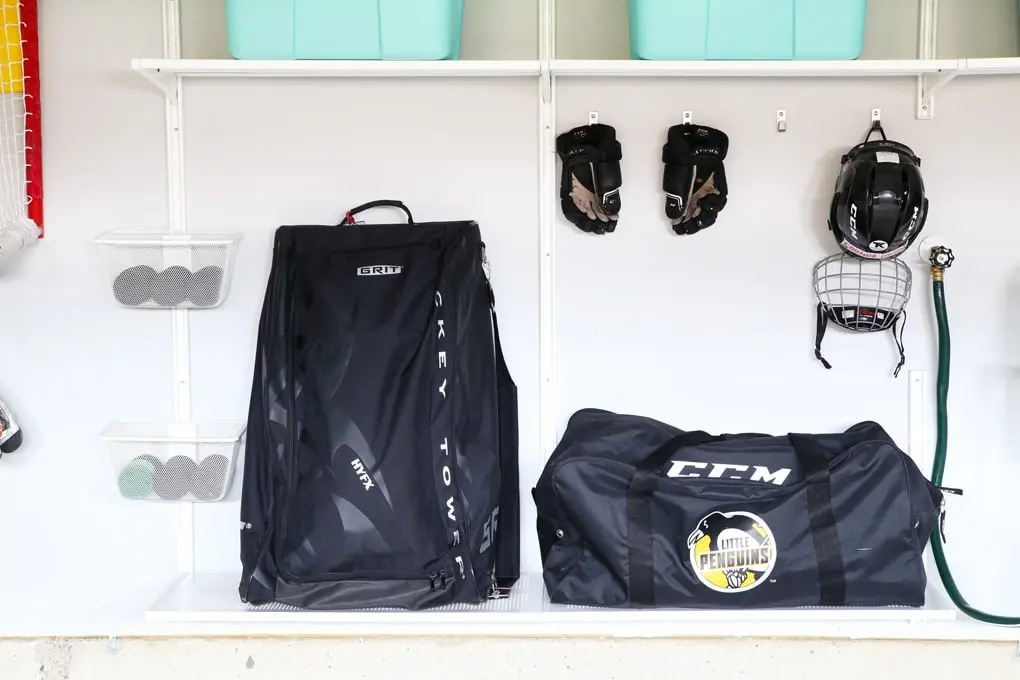 Credit: justagirlandherblog.com
The biggest advantage of hooks is their versatility. You can either attach them directly to the wall or use them for various DIY projects that will provide a super-cheap hanging space.
For instance, hooks attached to the wall are perfect for storing folding chairs.
When it comes to DIY-ing with hooks, you can find great inspiration for simple garage shelves right here.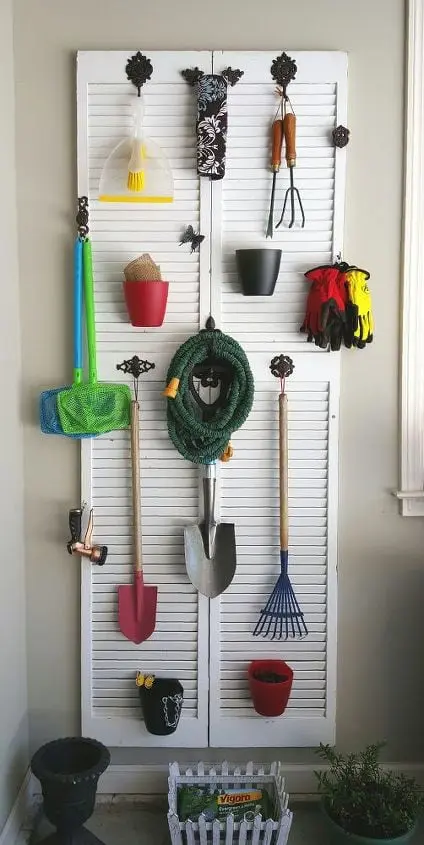 Credit: hometalk.com
Gardening supplies can make a big mess and really get on your nerves. It's time to put them away.
Instead of investing in pricey storage, consider an easy DIY. All you need is an old bi-fold door and about $20. See the full tutorial with pics here.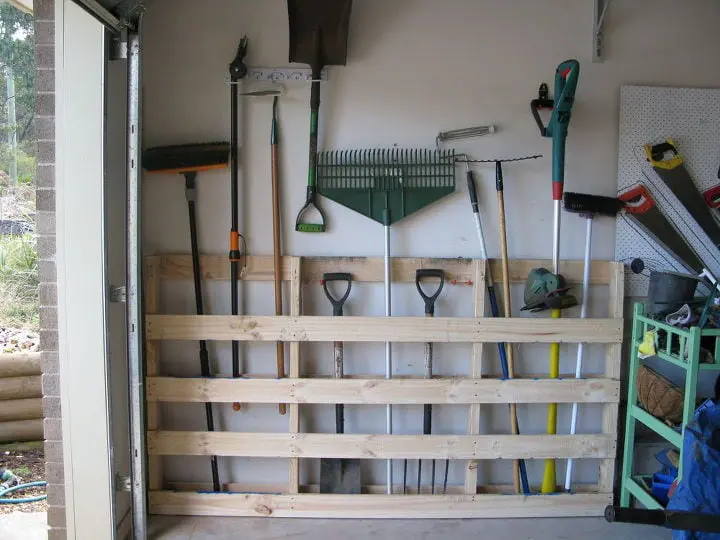 Credit: hometalk.com
If you don't have enough hooks on the garage wall for all your tools, you can use an old pallet. Simply affix it to the wall to prevent it from falling over and start placing the tools!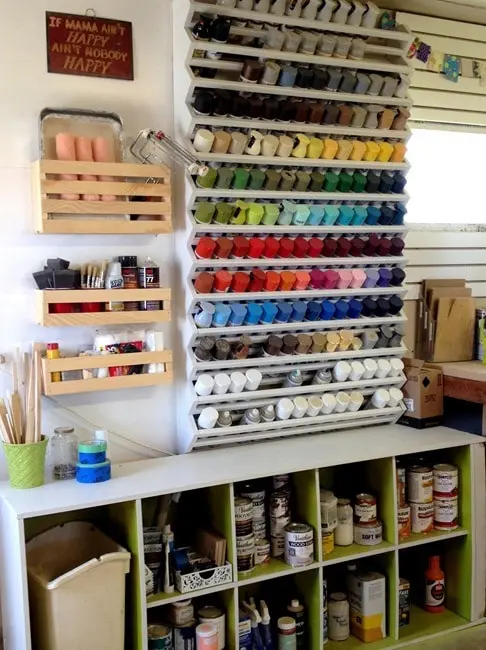 Credit: realitydaydream.com
If you're not afraid of a bit more complex DIY projects, this one is just for you. This multifunctional rack will not only house your spray paint collection but it will also make your garage a lot brighter.
In addition, it creates extra floor space and workbench space for you to express your creativity. You can add hooks to hang tools on the slat wall and use the area under the bench to organize other stuff too.
See the full DIY tutorial here. Feel free to use white spray paint, here is a good quality one I recommend.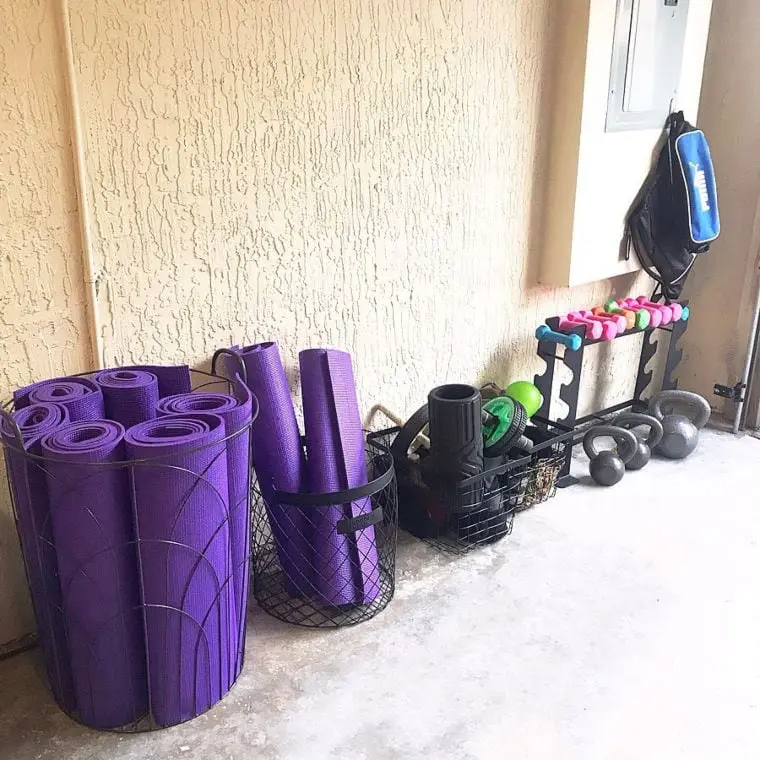 Credit: instagram.com
Do you have a bunch of workout gear lying around in the garage? Or winter gear like hats and gloves that are making a huge mess?
Use these decorative metal wire baskets. Place them beside the wall to put that chaos under control.
Large wire baskets are great for organizing children's's toys and even closets.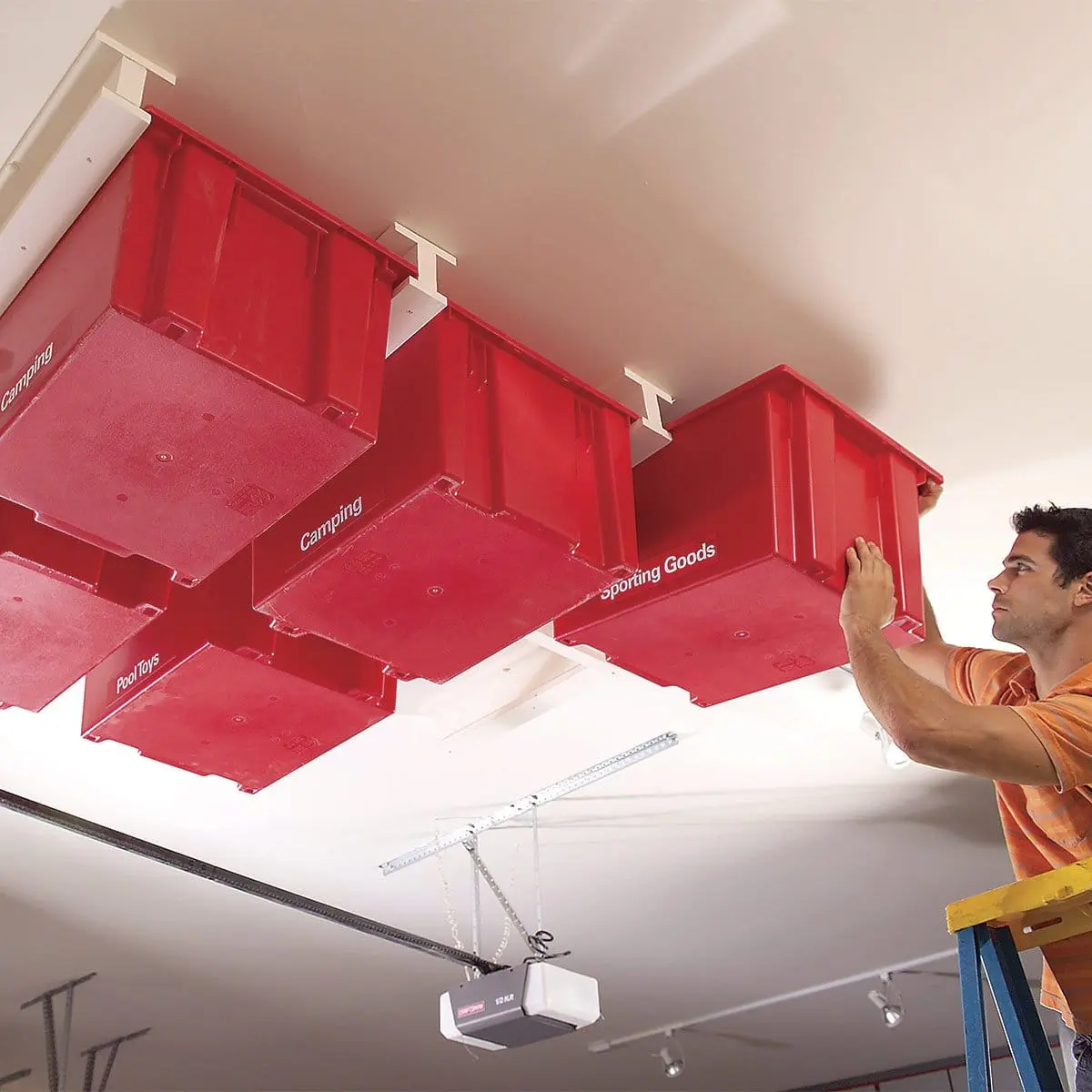 Credit: familyhandyman.com
If you need more storage space in your garage, construct this sliding storage system. It's made of plywood flanges that hold heavy-duty plastic storage bins.
The project can be done over the weekend and requires no more than $75!
Perfect for camping gear, holiday ornaments, and other seldom-used items.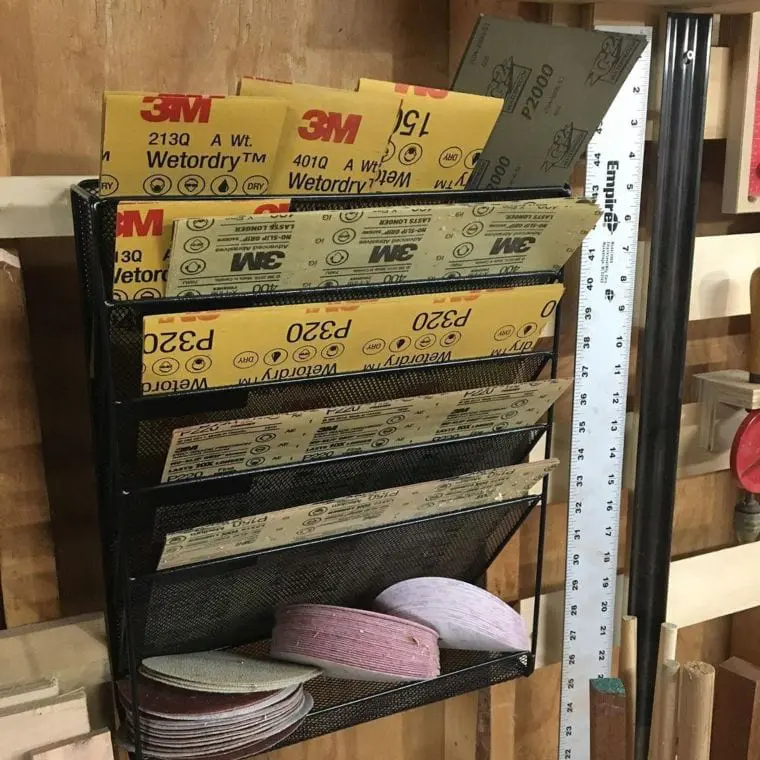 Credit: instagram.com
Don't you just love it when you find an unexpected way to organize your stuff? This one is a gem: using your old hanging magazine holder to house your sandpaper.
If you're looking for something bigger to store your orbital sander and large quantities of sheet goods, here is a great DIY sandbag storage station project for you.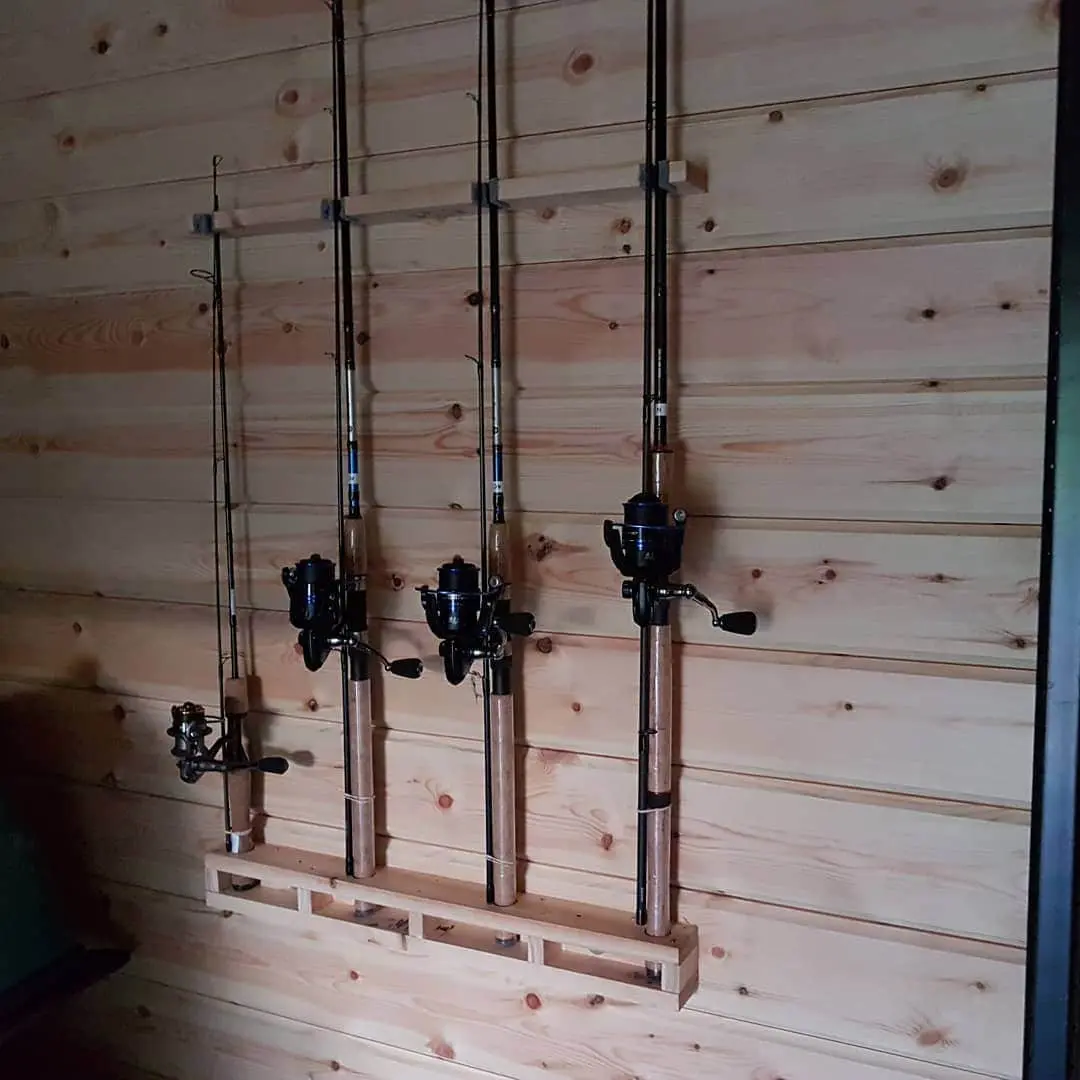 Credit: instagram.com
There's nothing more annoying than reaching for your fishing rods only to discover that your lines are all tangled.
Even if you are short on garage space, there are lots of DIY organizing ideas to try when it comes to your fishing gear.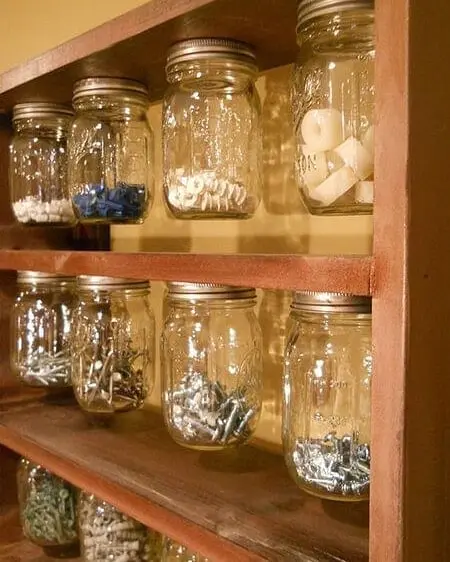 Credit: instagram.com
Do you have plenty of jars screaming to be put to use? Well, their time has come.
Screw their lids into a wooden shelf and then simply fill the jars with whatever small items need storing.
You can get a set of mason jars here. They are just as good at organizing kitchen items, small items, and pantry.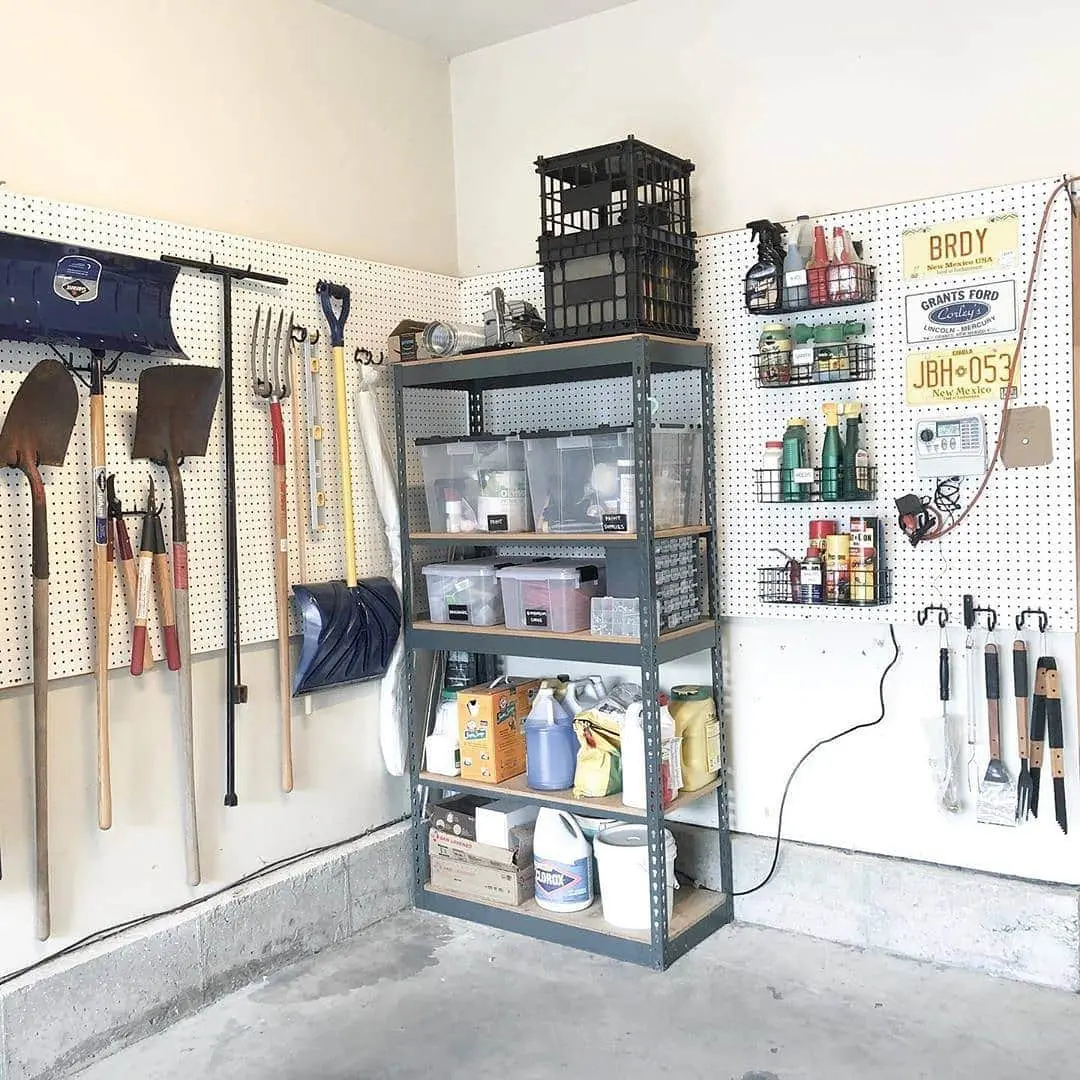 Credit: instagram.com
Whether it's for garden supplies, household product back-stock, or winter gear, metal shelves can really makeover your garage.
Shelving units that sit on the floor are about as basic as you can get. Generally, you don't need any tools to assemble them – just put them together and load up.
The biggest advantage is that these shelf units can be a relatively cheap solution. Plus, if you decide to move or you need a change for whatever reason, you can easily take them apart. There are also units with wheels.
Line the garage walls with these heavy-lifter shelves, and you'll have room for just about anything!
Here is a metal shelving unit that's sturdy. This one with wheels is a good option too.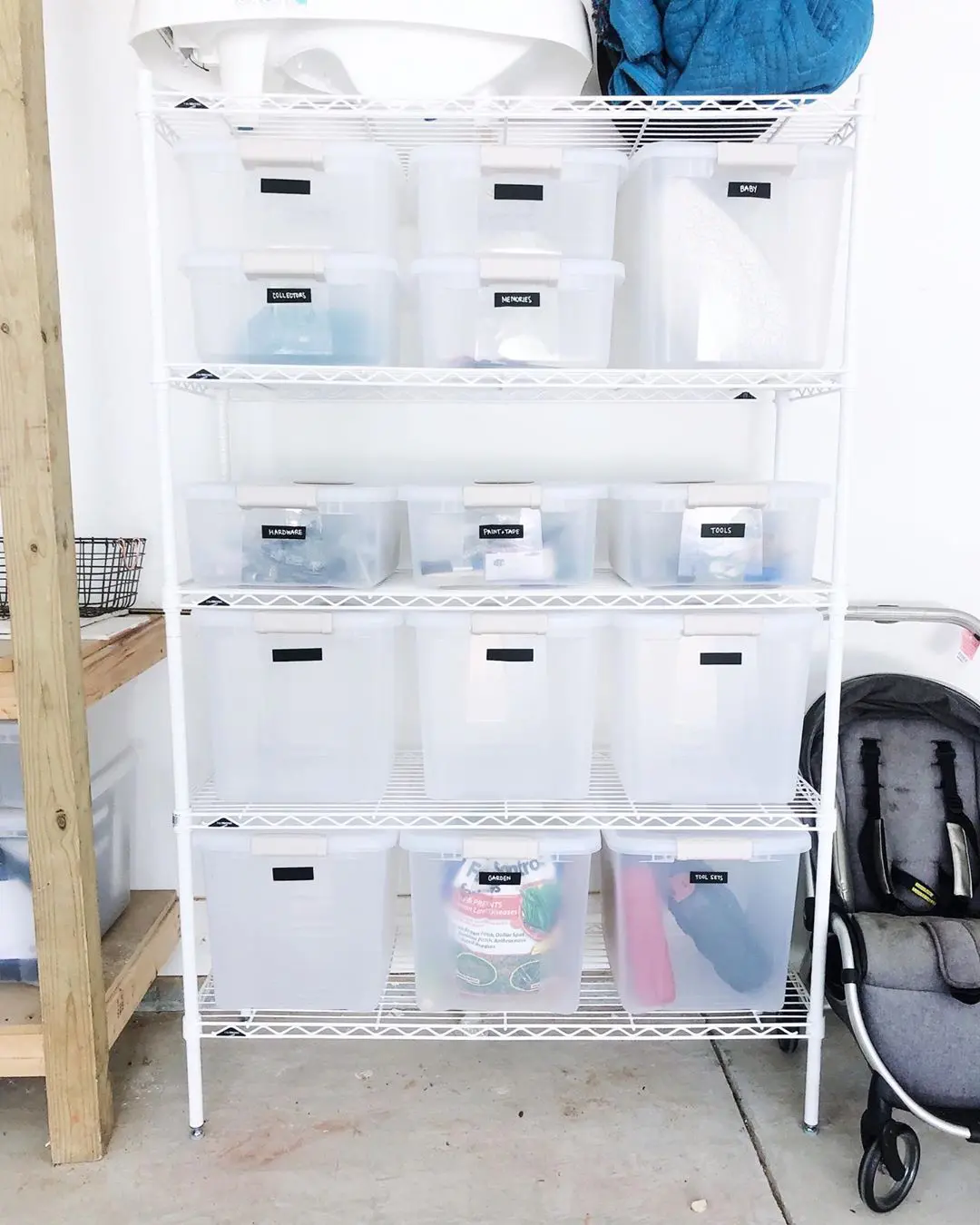 Credit: instagram.com
Use more heavy-duty plastic containers in your garage to store your gardening tools, sports equipment, or cleaning supplies. Opt for transparent containers.
You could also label each one of them to make things much simpler and tidier.
Here is a set of good quality large plastic storage bins.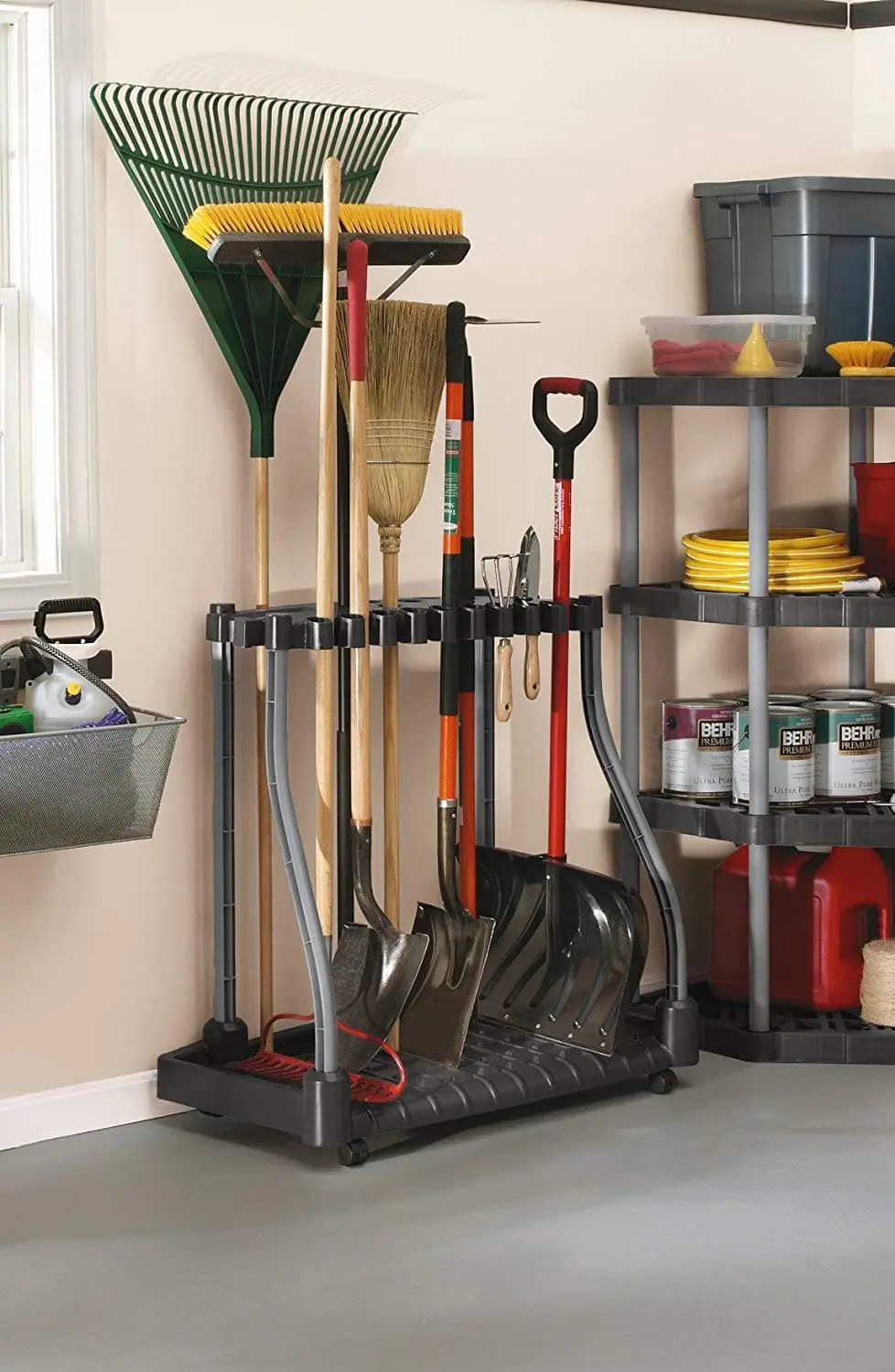 Credit: Amazon
A tool tower rack in the garage corner gives you the perfect storage solution for long-handled cleaning items like brooms, brushes, and scrubbers. You can also use it to store rakes, shovels, and other long gardening tools.
Many tower racks are on wheels so you can easily roll them wherever you need them. There are also stationary ones you can keep in the corner for permanent storage.
You can get an organizer like this here.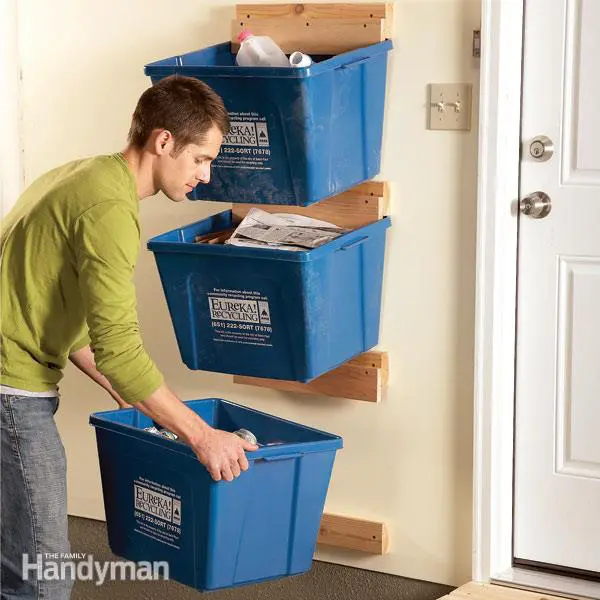 Credit: familyhandyman.com
Leaving your recycling bins on the garage floor is like you're asking for a mess. Why not get them off the floor and hang them on the wall?
These DIY recycle bin hangers will take only a few minutes to make and they cost almost nothing. All you need is some lengths of 1×4 and 2×4, screws, and several simple tools.
See the full instructions here.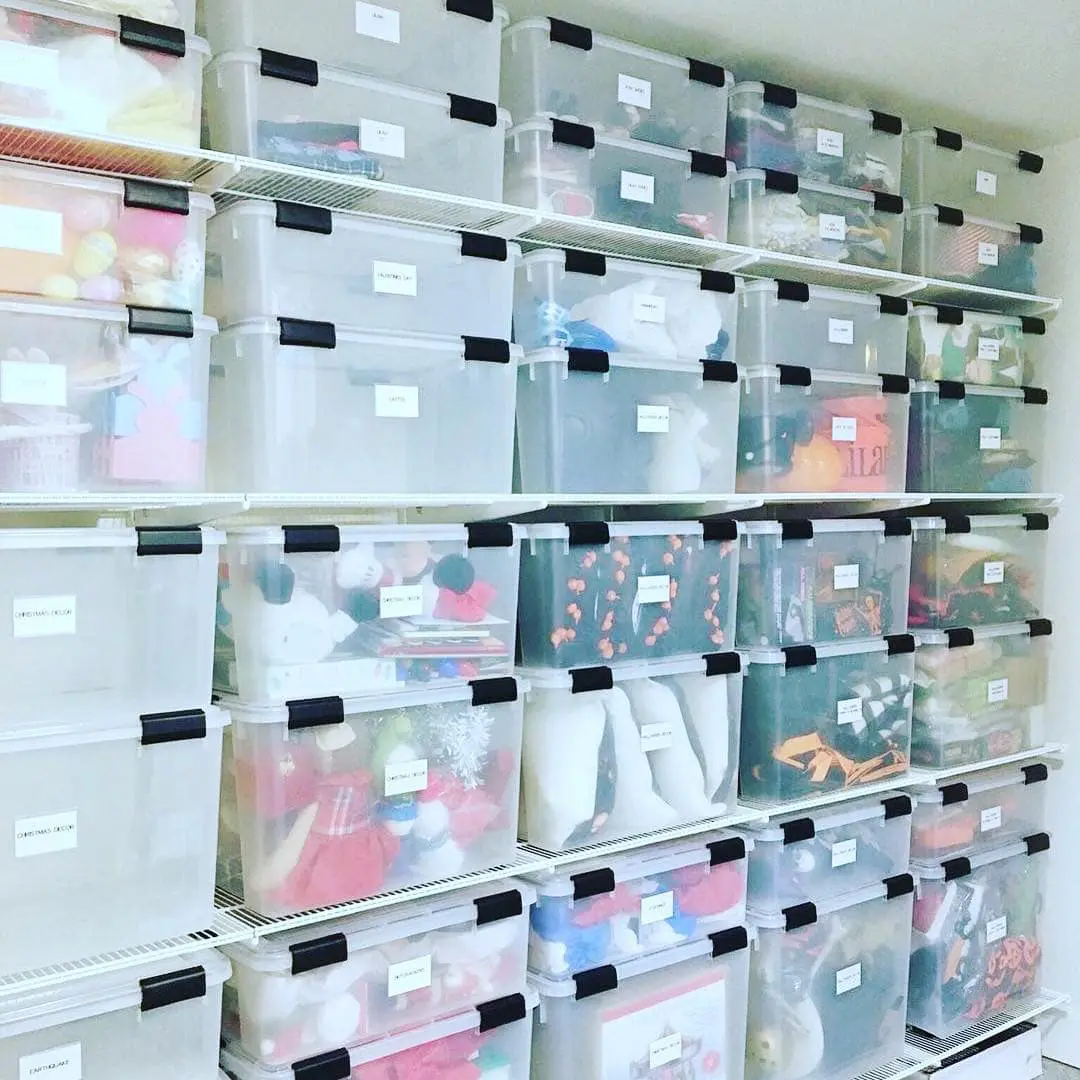 Credit: instagram.com
Looking for a storage solution for heavy and bulky stuff? The average wall-mounted garage shelves can handle 100-400 lbs.
That makes them perfect for your bags of garden soil or snow tires on rims. But, also for your fragile things like Christmas decorations.
Cover the whole wall with these shelves and your garage will be completely transformed.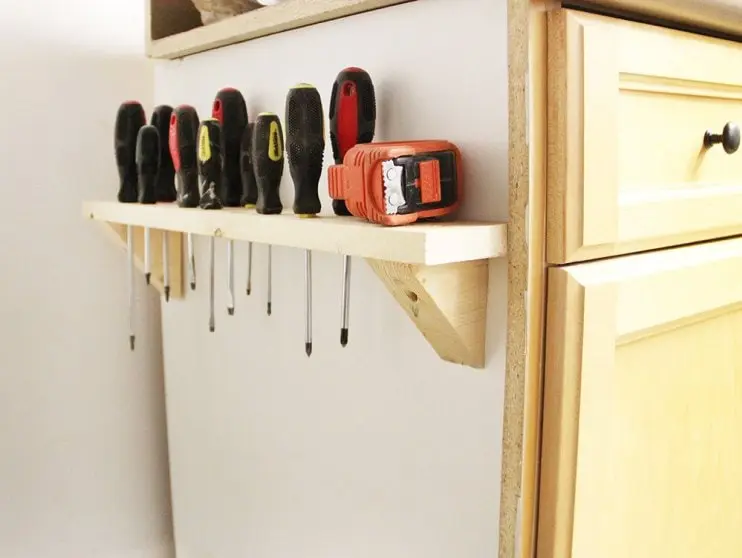 Credit: freshcrush.com
The thing with screwdrivers is that no matter how many you buy they always get lost in the garage mess. To prevent this, you need a convenient place to keep them.
One option is to mount the screwdrivers on your tool board. However, there's another option is to make your own rack.
All you need is a scrap of softwood that is long enough for all your screwdrivers. Mount it on the wall where you can grab the one that you need, then quickly put it back.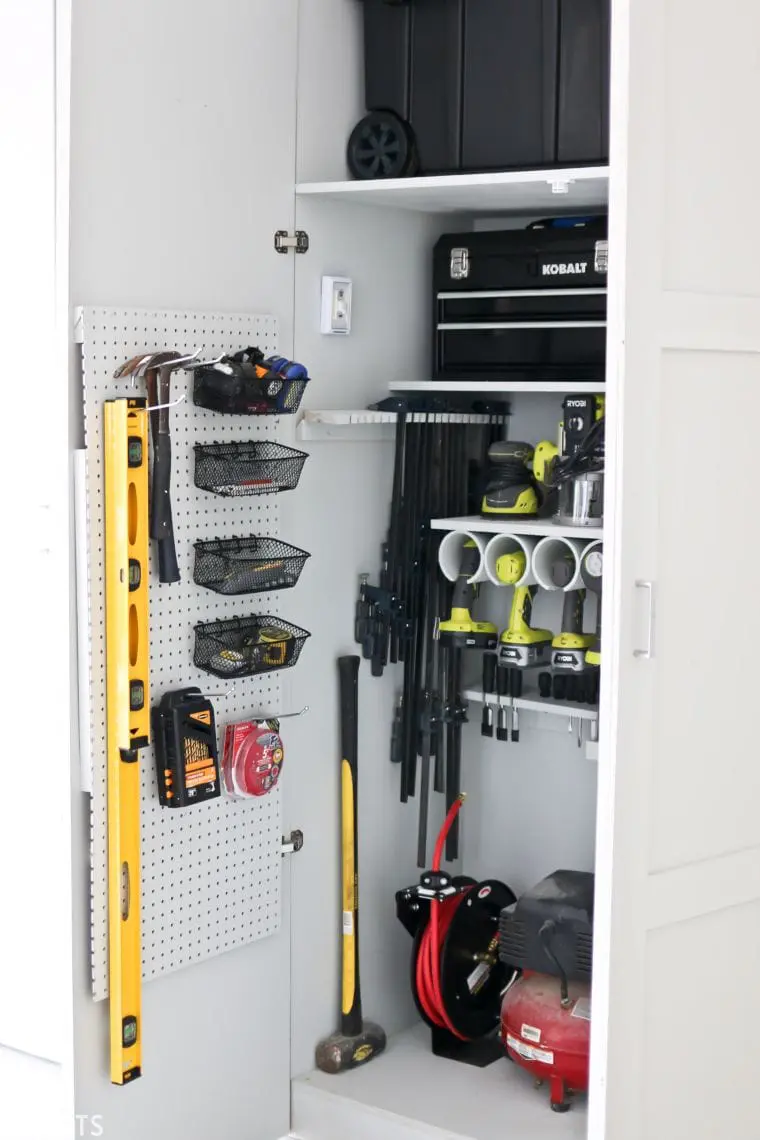 Credit: tidbits-cami.com
There's nothing simpler than creating your very own storage cabinet with metal wire baskets. Wire baskets make for attractive storage bins.
You can use metal picture hooks to hang the baskets directly on the wall. Or, find a whiteboard in the Racks and Shelving section of any home improvement store and hang the wire baskets on it.
Either way, you'll need these rectangular wire wall mount storage baskets. You could also use wire baskets to organize kitchen cabinets and increase storage space.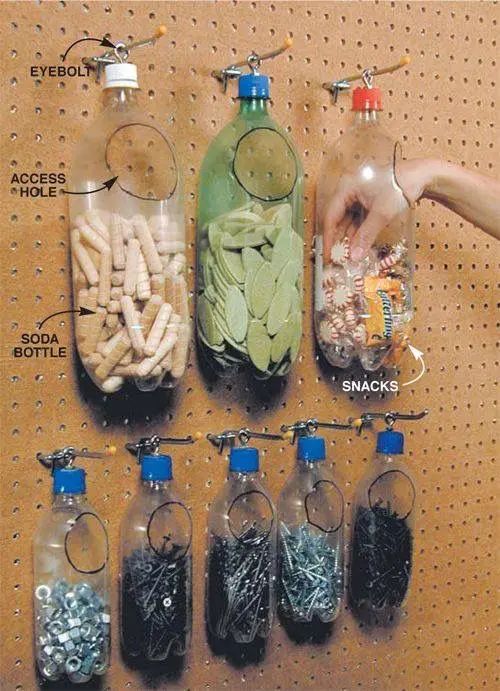 Credit: Pinterest
Looking for a way to organize your garage that is both efficient and environment-friendly? Plastic bottles provide a quick, easy, and very cheap way to store small items like screws, nails, wood plugs, etc.
All you need to do is drill holes in the caps of your plastic soda bottles and insert eyebolts. Fix each eyebolt with two nuts, one inside and one above the cap. Finally, cut a round hole in the bottles' shoulders.
The best thing about this simple storage system is that even if you knock the bottles off your workbench, the items stored inside won't spill.
Either way, to use this organization idea, you'll need a pegboard. Here is one you can get – comes in multiple colors.
Conclusion
Are you going to use any of the ideas to organize your garage? Let me know in the comment section!