There is nothing more special than a handmade gift. Find inspiration for the next DIY gift for your mom. These are easy to make, useful, and beautiful.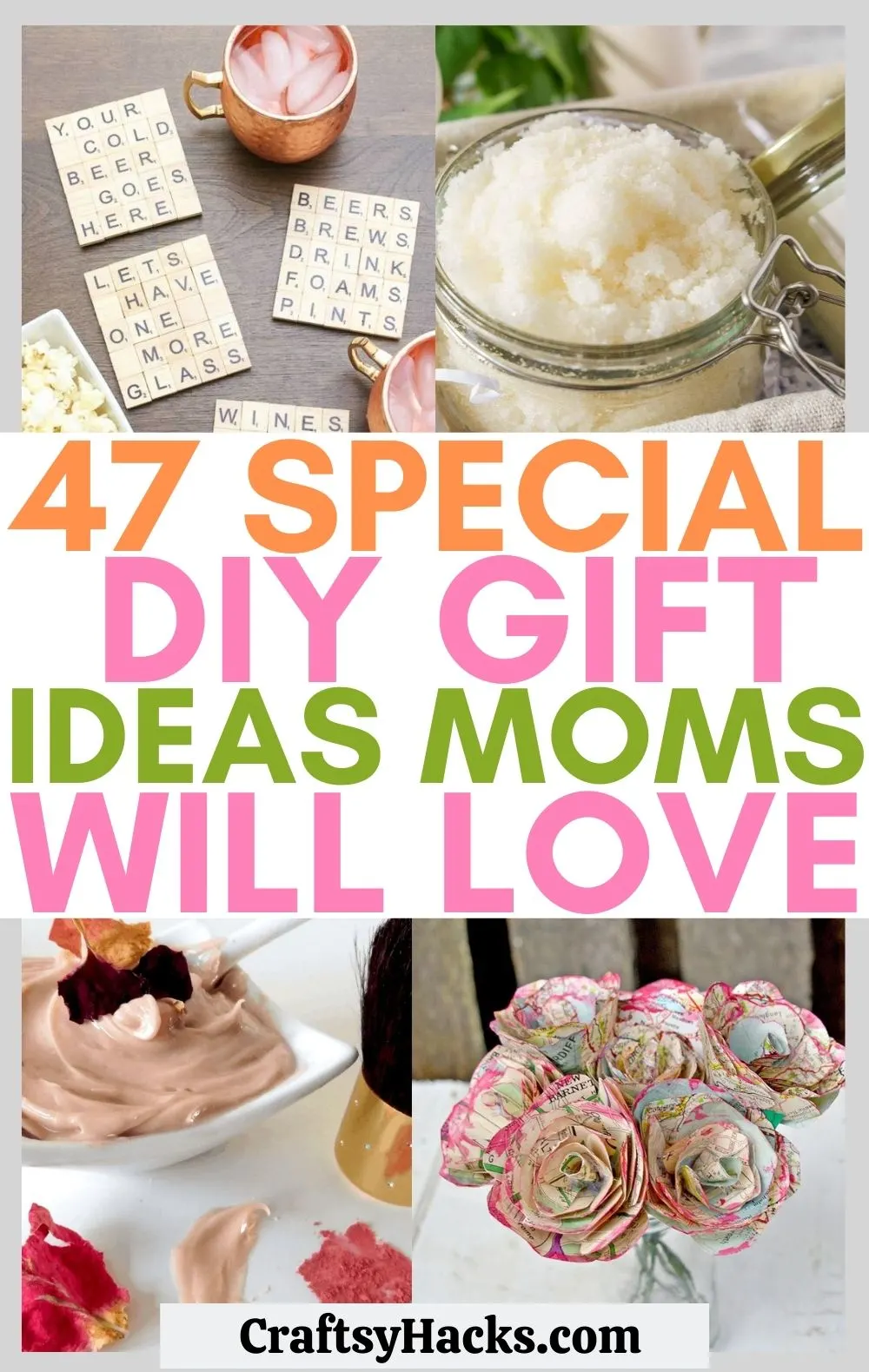 Mother's Day isn't the only time when you can give mom gifts, you know. Moms deserve a gift every time we think of them, be it flowers, a box of candy, a scented candle, or even little knick-knacks.
There are plenty of ideas floating around out there and plenty for you to choose from. But to narrow it down a little, here are 47 DIY gifts for mom that you can explore!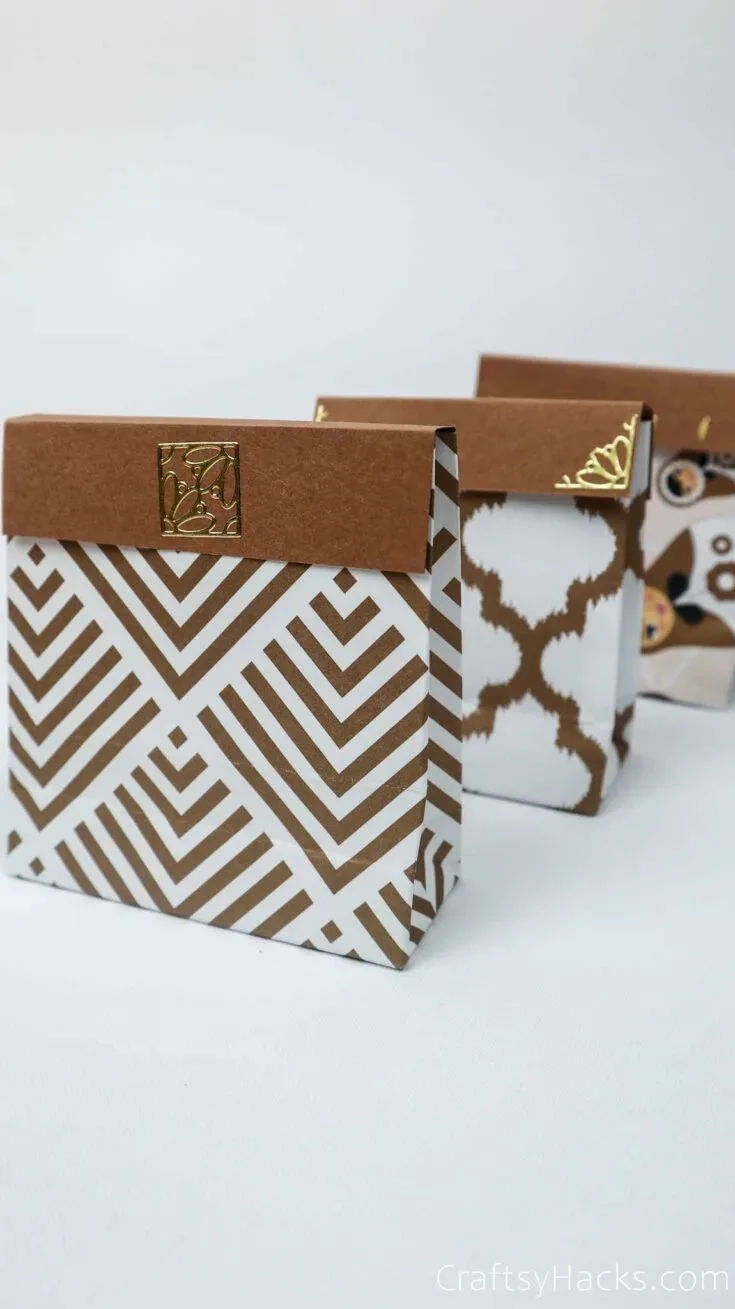 Source: craftsyhacks.com
Before you decide on your gift, maybe you should work on your gift bags. It won't do to wrap a box of pretty candy in, say, a newspaper, will it?
This DIY gift bag is something you can make in under 10 minutes, and you'll have a fabulous gift baggie to pop your gift and goodies into!
You'll need patterned paper, a hobby knife, double-sided tape from here, and any embellishments you want to add. Feel free to decorate the paper with stickers, line it with washi tape, or use glitter glue for an added sparkle.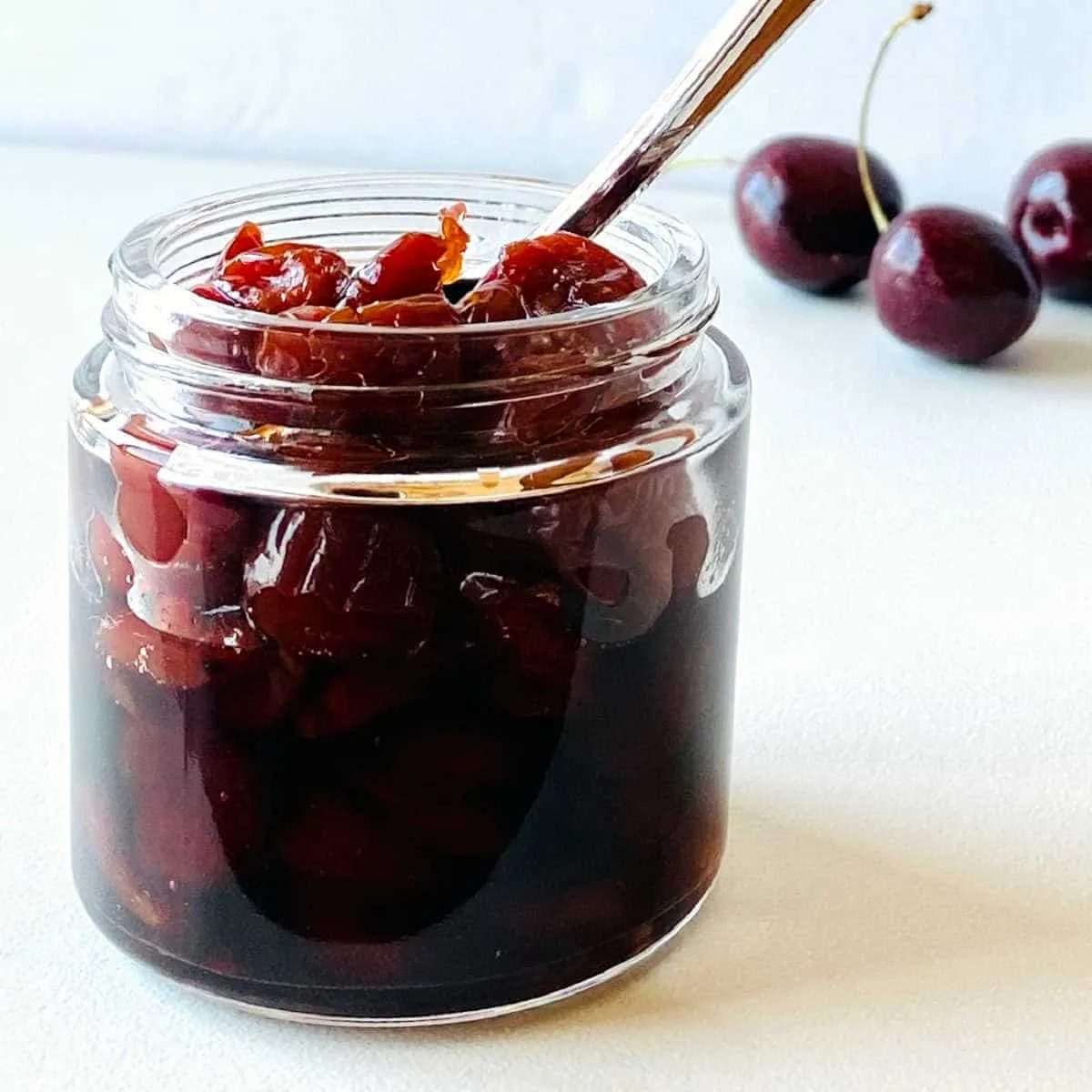 Source: aubreyskitchen.com
Bourbon-infused cherries? Delish! A jar of these boozy, syrupy sweet cherries is sure to put a smile on your mother's face. It's even more delicious served over a scoop—or two—of vanilla bean ice cream!
This recipe takes just under 5 minutes to make, and once you let the cherries soak for 24-hours, you can dig right in. You'll need an air-tight jar to work with, of course.
You can spice these cherries up with a dash of cinnamon or nutmeg, too. That's sure to make these bourbon-infused cherries even more decadent.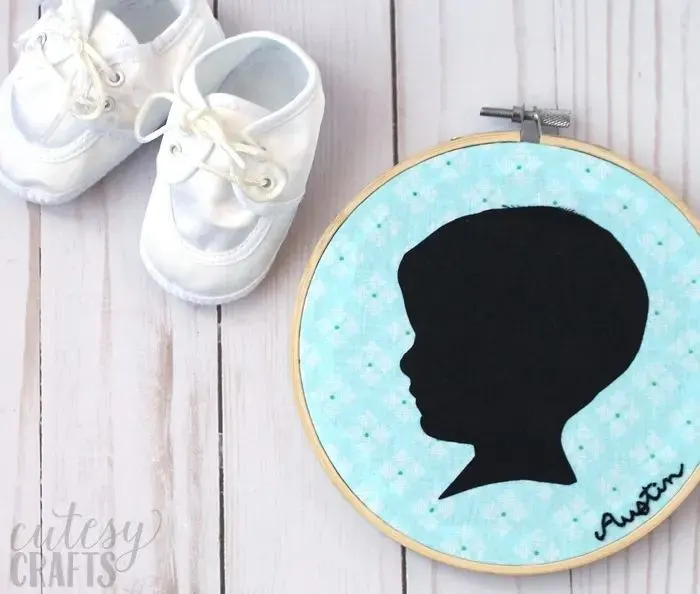 Source: cutesycrafts.com
A mother's day gift can be elaborate and really out there, yes, but it can also be something handmade and personal. With the help of your trusty Silhouette cutting machine, you can make this gorgeous Mother's day gift!
Pick up an embroidery hoop from here to begin with. Then, you'll need to pick out your fabric of choice for the background and also some black cotton fabric for the silhouette.
If you want a little extra support, you can use felt sheets(look here) or paper for backing.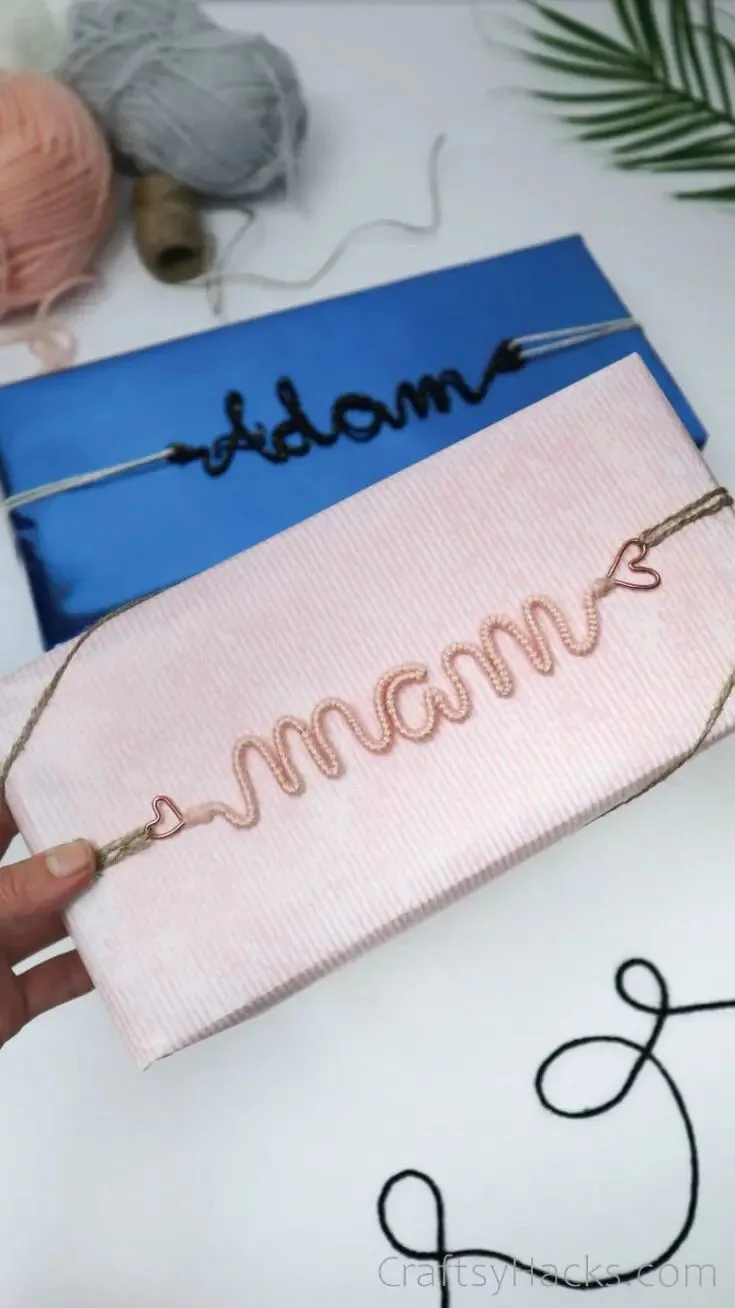 Source: craftsyhacks.com
These wire ornaments can be a great addition to your gift and can help you personalize it tremendously. Imagine a lovely wire ornament around your gift that reads "mom" or your mother's name.
This project is perfect for older kids, teens, and adults to work on as it requires the use of pliers to help twist the wire into the desired letters or shape.
You can pick up the wire from here. There are plenty of colors to choose from and different gauges that you can choose that works best for your project.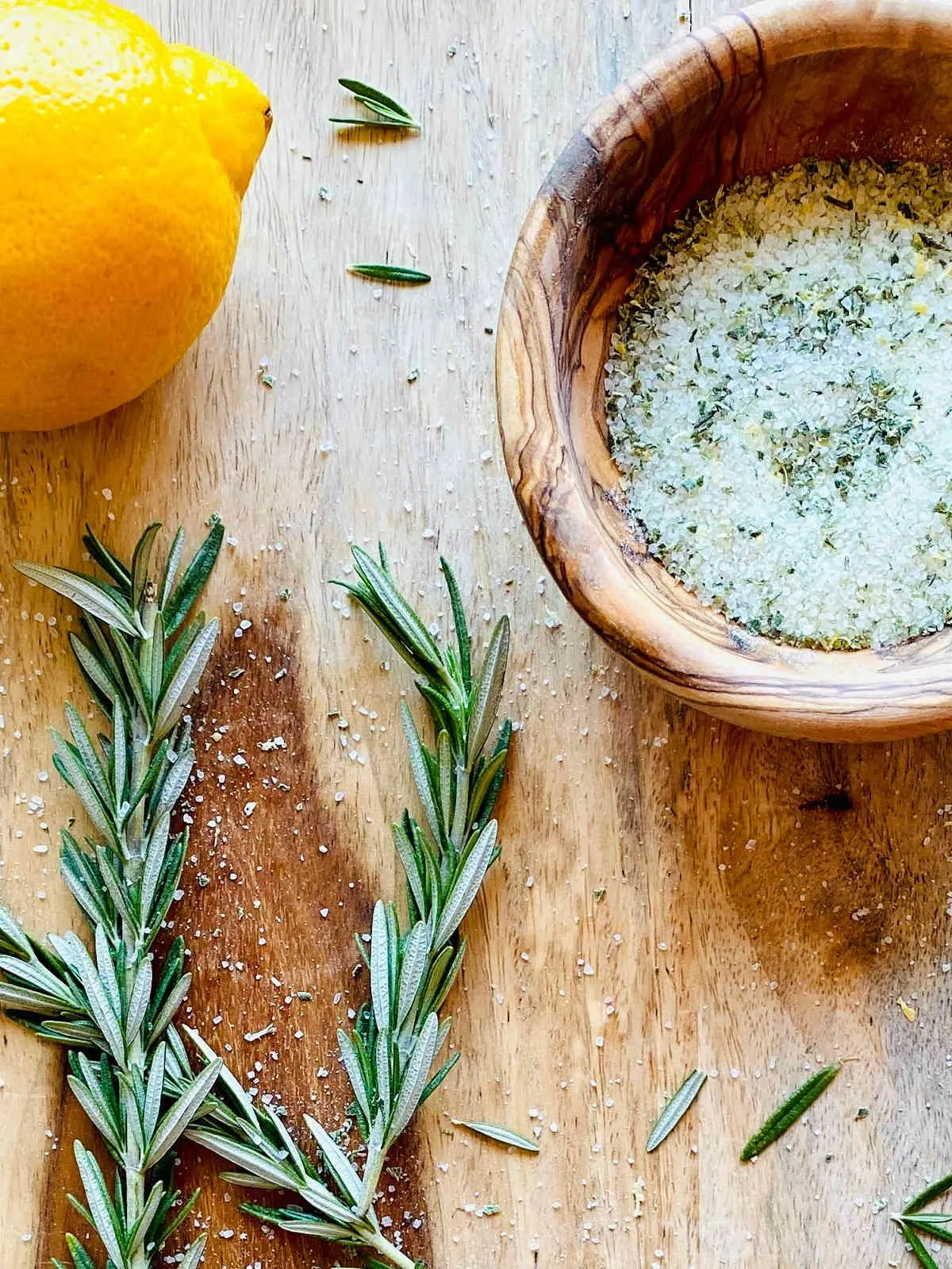 Source: aubreyskitchen.com
Does your mother have a favorite meal or dish? Then perhaps you can treat your mom to a night off kitchen duty and make it for her.
But you know what would kick your dish up a notch? A bottle of this rosemary salt to season it! You can prepare a batch and use it for your dish, then prepare a bottle to gift to your mom, too.
The recipe calls for salt—kosher, Himalayan pink, sea, or Maldon salt all work—rosemary, and lemon zest(optional). So go ahead and pick up some fresh rosemary leaves and start chopping them up!
This could also do for a lovely Christmas gift for mothers.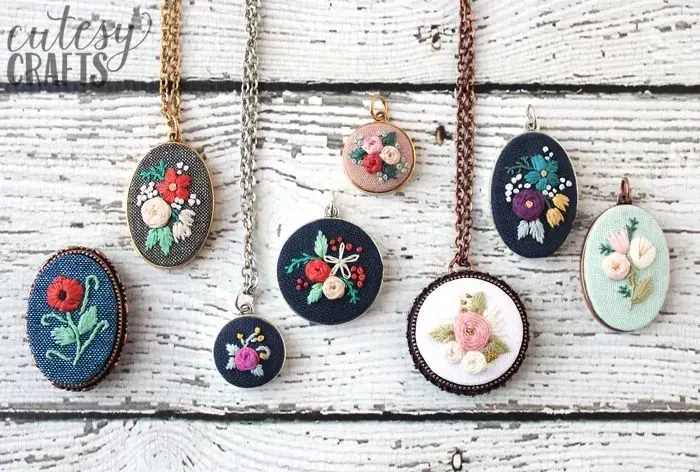 Source: cutesycrafts.com
Hand embroidered necklaces are so quintessentially feminine and unique. If you have a dab hand at embroidery, then why don't you consider making this charming gift for your mom?
It doesn't have to be a necklace; you can just as easily embroider a brooch, instead. But you get the idea, yes?
For this DIY, you'll need a few scraps of fabric, embroidery floss from here, your sewing essentials, and an embroidery pendant frame from here.
You can make a few of these necklaces in advance and use them as party favors, too!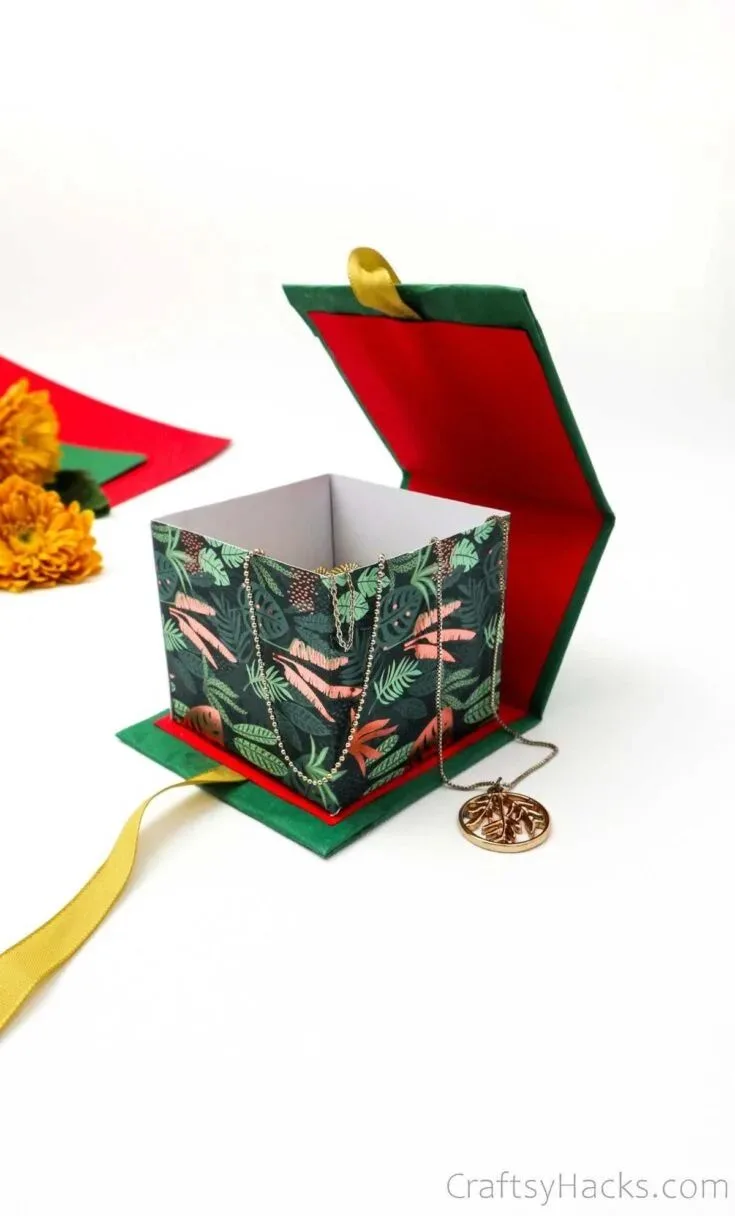 Source: craftsyhacks.com
You remember when you made those gorgeous gift bags earlier? Well, sometimes, you need something sturdier to put your gifts in, like this DIY gift box.
You can make one in under fifteen minutes. Once you get the hang of the technique, you'll be making these boxes all on your own!
Plus, it reduced the added expense of buying an expensive box from a store. It looks good, is easy to make, and it's cost-effective; a triple win, right?
The key to making the best possible box is to pick out colorful paper to work with. You can also use ornamented and printed craft paper.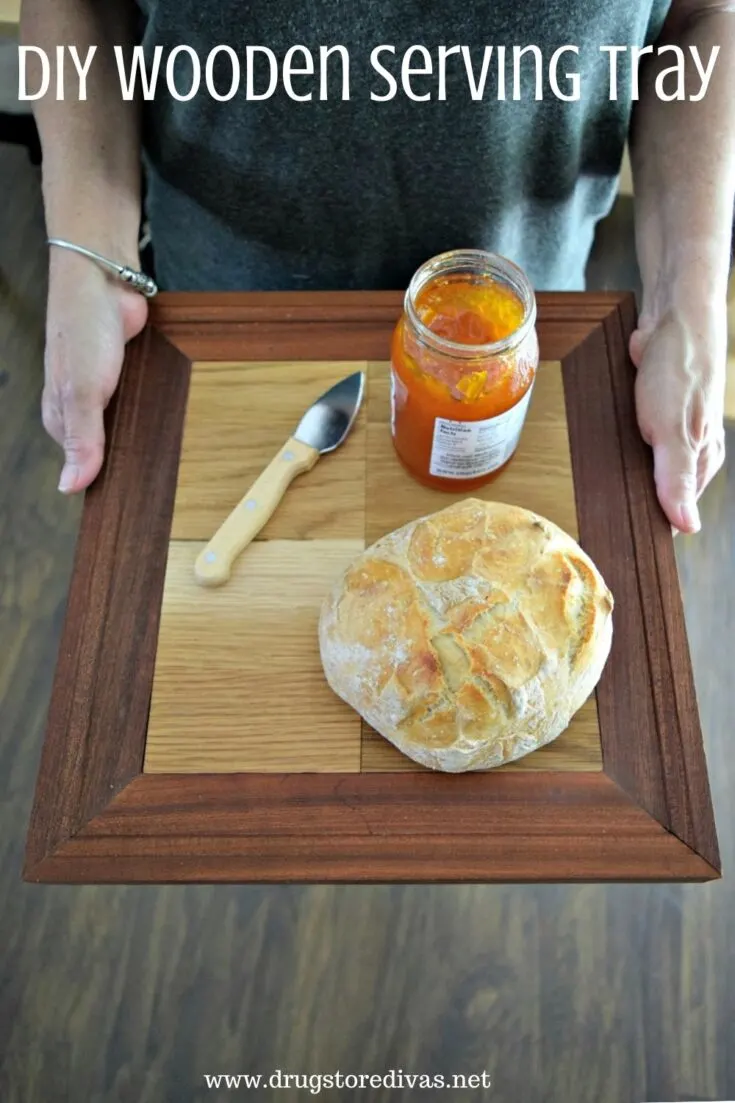 Source: drugstoredivas.net
Check out this wooden serving tray! It's a lovely idea for a gift that is not a chip and dip bowlor a gravy boat—who needs more of those?
Since you'll be making this tray from scratch, go ahead and pull out your power tools: a table saw, a sander, and a miter saw. You will also need to pick out your wood. You can repurpose hardwood flooring.
To make this serving tray food-friendly, you'll need to pick up some mineral oil and this butcher block oil. Go ahead and pick out some handles for the tray, too, if you like.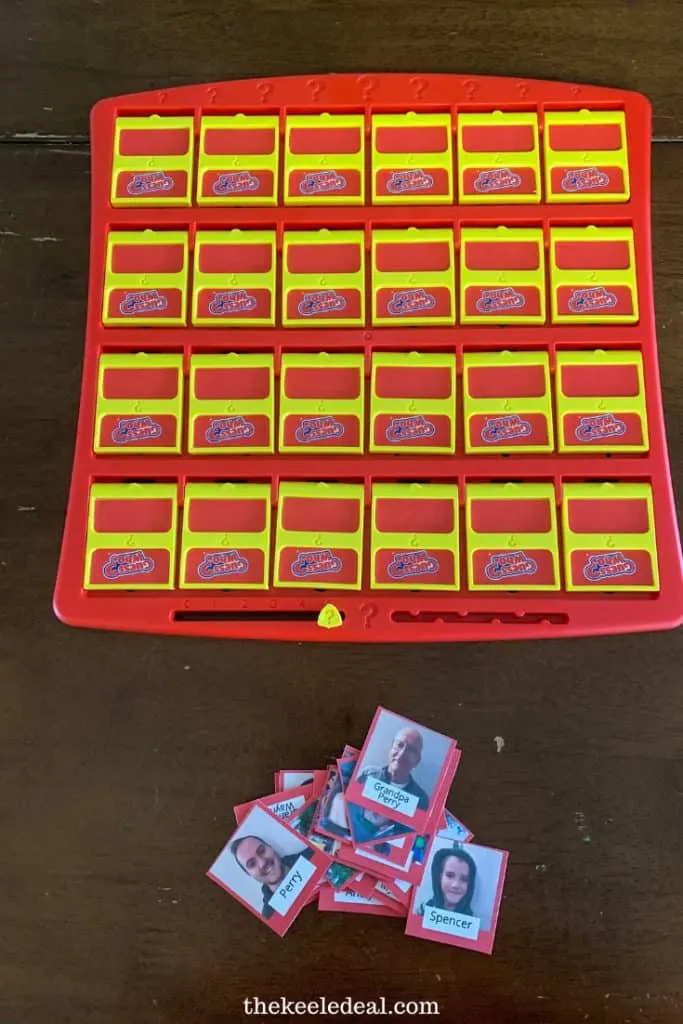 Source: thekeeledeal.com
Growing up, my mom was a huge fan of family game nights. She would always dig up new games we could try, and we loved it!
If your mom loves family game nights, too, then you know what would be the perfect addition to her stash of games? This personalized 'Guess Who?' game!
You can personalize all the characters in the game by pinning up pictures of your own family members in the spots. You just have to fill up the template provided and print it; it's that easy!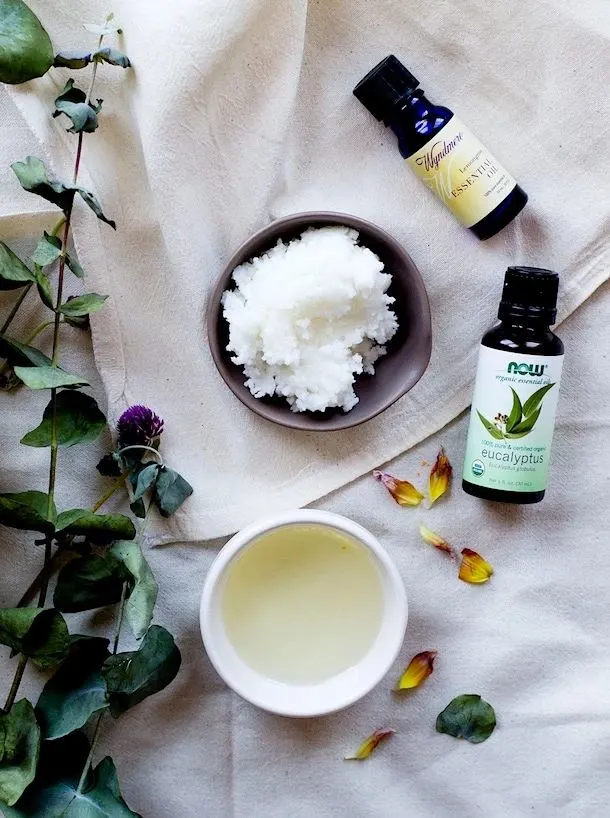 Source: heartbeetkitchen.com
It's important to make sure your hands remain clean, yes, but more importantly, moisturized. All the hand-washing we're all currently doing can strip the skin of its natural oils, and it needs to be repaired, so to speak.
For this next gift idea, you can gift your mom a big jar of this natural hand repair cream. It has four ingredients: eucalyptus and lemongrass essential oils(look here), shea butter(look here), and sunflower oil.
Its rich and creamy texture will moisturize the skin, and those earthy and zesty oils will make your hands smell amazing!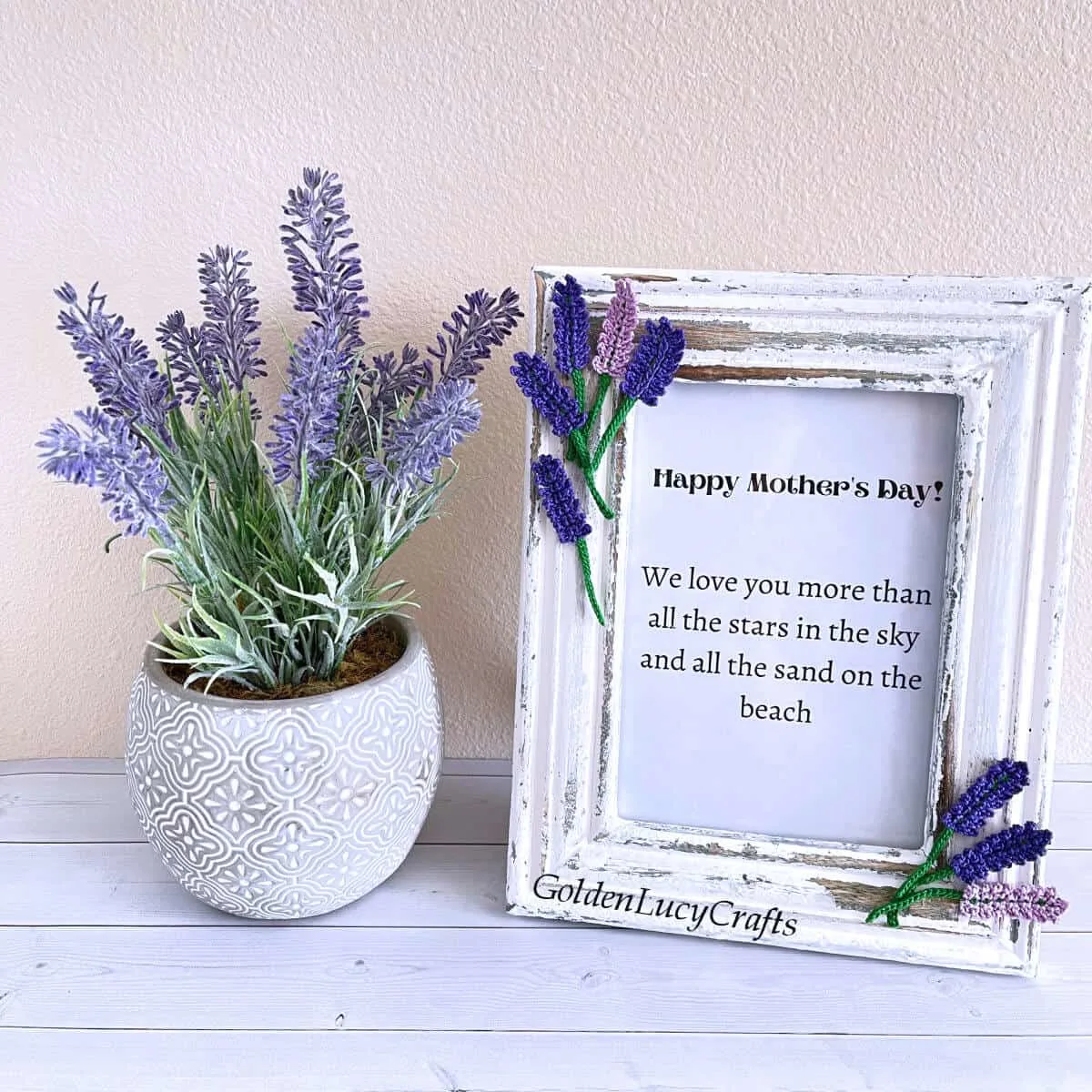 Source: goldenlucycrafts.com
A picture frame is a great gift, truly. Moms love having photos of loved ones all around. But perhaps you can kick it up a notch this time with a little crochet?
It's super easy to crochet these little lavender sprigs and easier still to attach them to the corners of the frame. You just need a couple of skeins of colored yarn, your crochet hook, a hot glue gun, and finally, your picture frame of choice.
If you don't want to crochet the flowers yourself, you can choose a few ready-made ones here.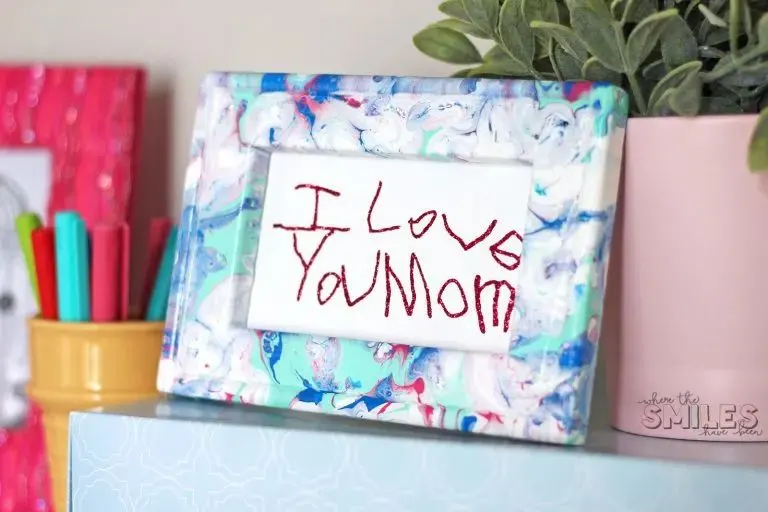 Source: wherethesmileshavebeen.com
Here's another frame for you to gift, only this one's also artwork. It's ideal for younger kids and tots who want to gift their mom a handmade gift she'll treasure.
This can include drawings, notes, and sweet messages that can be framed and captured forever. In fact, the gift can also just be the actual frames themselves which make for lovely gifts, too.
Grab some canvas, a utility knife from here, and your craft essentials to get started on this project right away.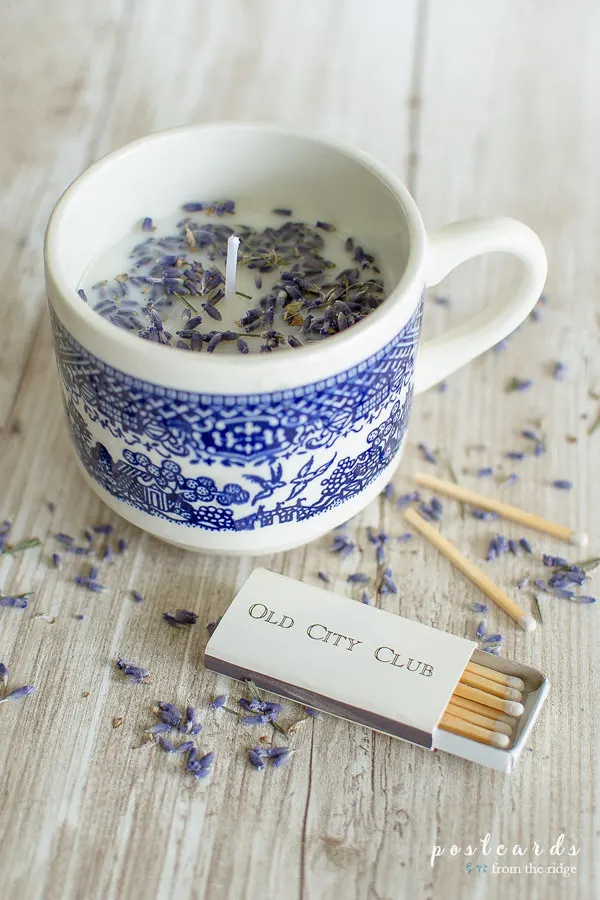 Source: postcardsfromtheridge.com
I don't think I'd ever turn down the chance to supplement my stash of scented candles. I'm pretty sure that your mom would love to get a couple of scented candles just about any given day, too!
You don't need to go out and get any fancy jar. You can repurpose and upcycle an old jar or, even better, a cute teacup! Teacup candles are just too adorable for words!
You can make the candle even more luxurious by switching out paraffin wax with this soy wax which is vegan and natural! A few drops of your mom's favorite essential oil, and you're good to go.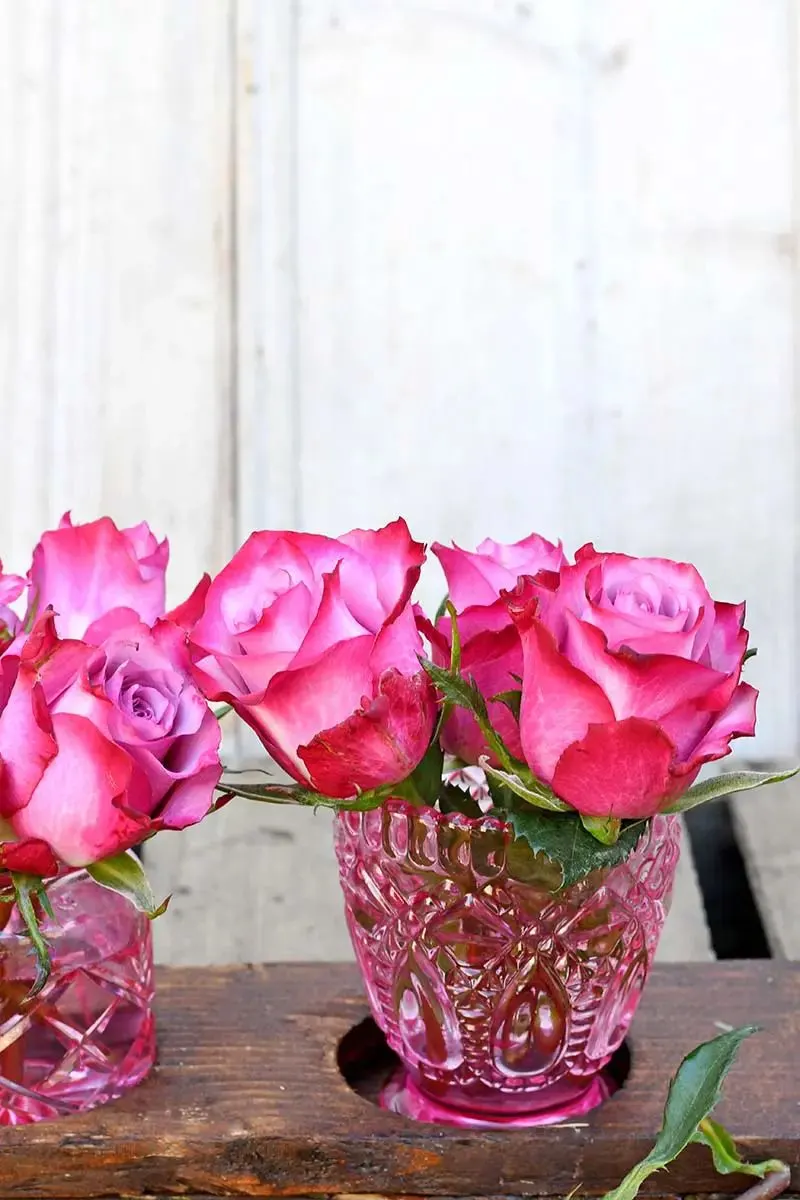 Source: pillarboxblue.com
Check out this gorgeous glass bud vase. If you're tired of upcycling old wine or liquor bottles into vases and need something new and fresh, then we have you covered!
For these glass bud vases, you can upcycle old glasses you already have. Alternatively, just pop down to a dollar store and pick up a few cut glasses to turn into vases.
You'll need some glass paint from here, as well as some glass thinner from here. Feel free to add a wooden base to set all three of your vases if you prefer to give them as a set.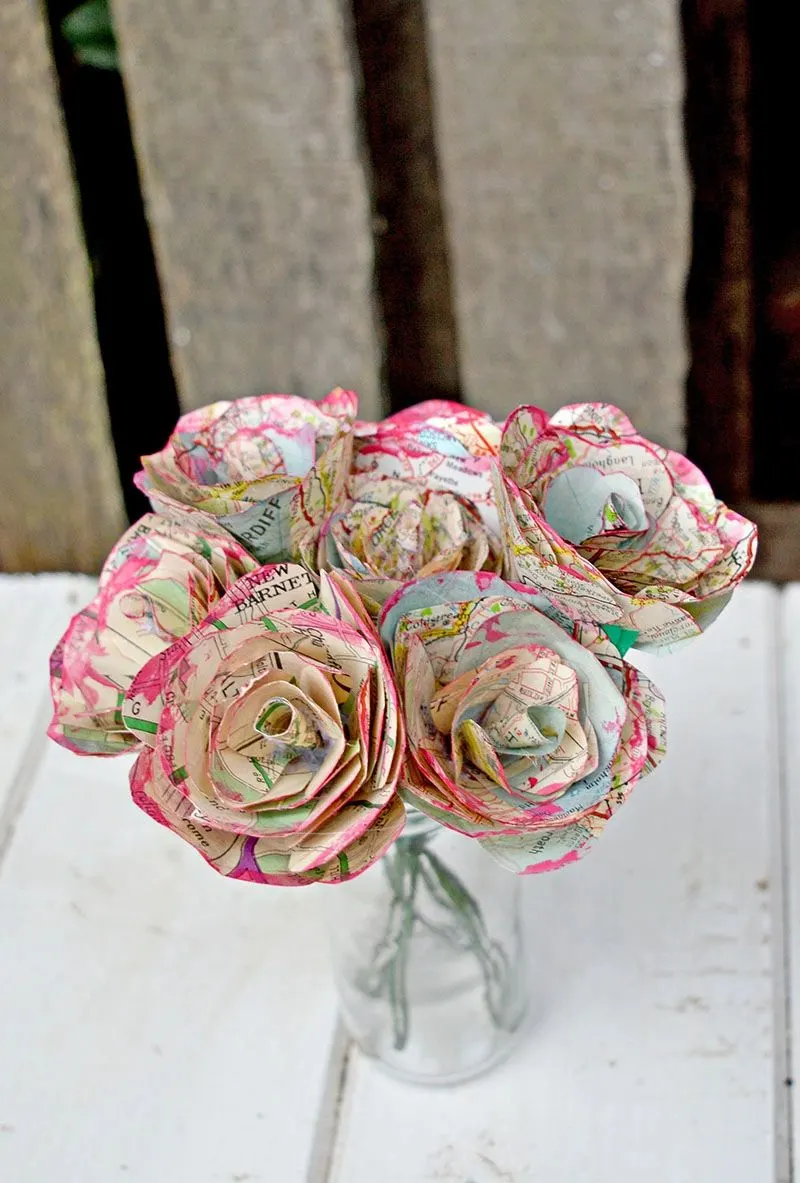 Source: pillarboxblue.com
Paper flowers will never go out of style. They're just so useful for craft projects or to decorate gifts, and more.
If you're looking for a little extra decorating tip to jazz up your gift to mom, then perhaps you can make these vintage flowers?
Or—hear me out—instead of buying her real flowers, you can make her a dozen of these paper flowers, instead? They'll last much longer than real blooms, and she's bound to appreciate that you put so much effort into her present!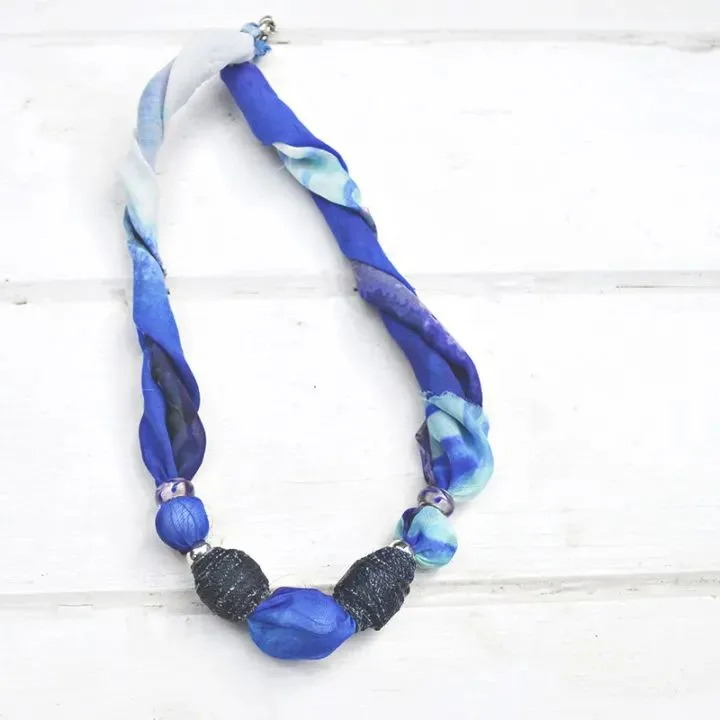 Source: pillarboxblue.com
DIY craft jewelry has a ton of potential to be a resounding hit or an unfortunate miss. Sometimes, it can be a great hit, and you have something unique, or it can end up tacky and little more than a gesture.
This scarf necklace, though? A definite hit. It's chic and classy, and depending on the fabric you use, can be used to accessorize a ton of different outfits.
So go pick out an old scarf or a blouse—any smooth and silky fabric. You can accessorize with beads and other embellishments, too. Grab your darning needle and start crafting!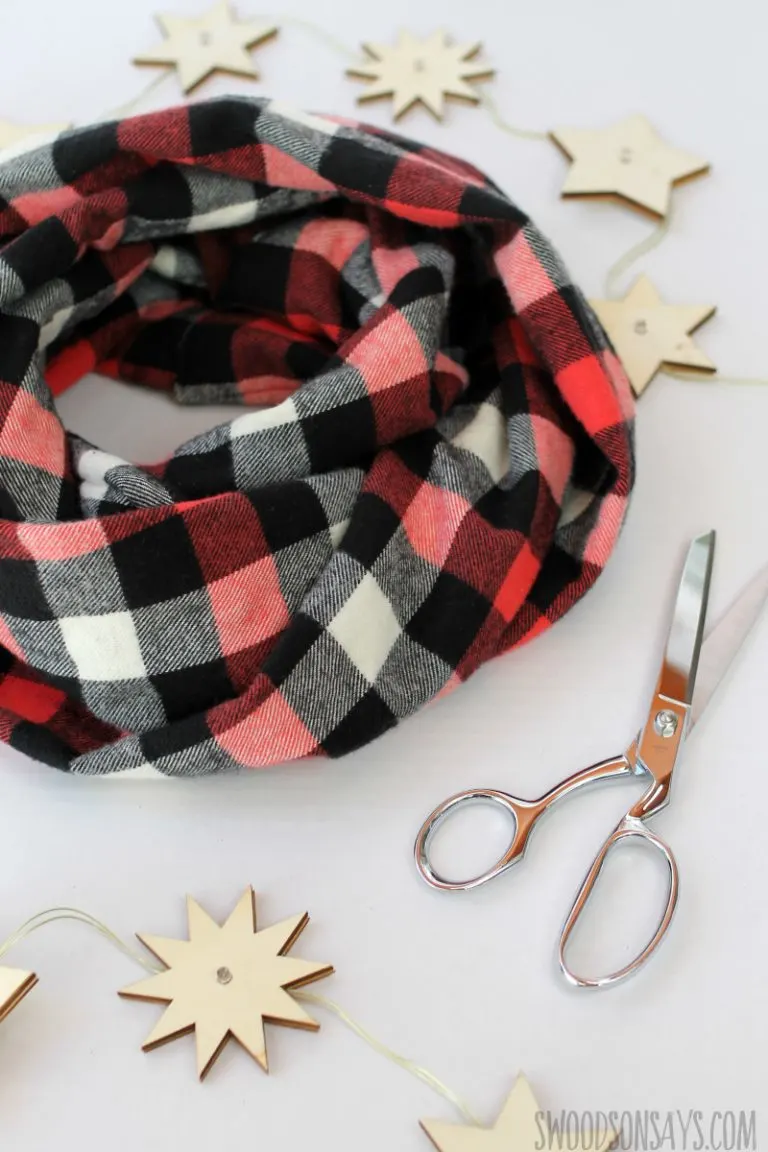 Source: swoodsonsays.com
Don't put away that needle just yet. Here's another scarf you can make for your mom, only this one's an infinity scarf.
While you can pick any fabric, this scarf is made from soft flannel, which is perfect for keeping you comfy and warm at the same time. Plus, I bet you have plenty of flannel shirts in your closet just begging to be upcycled.
You can play around with the yardage and pattern a little before you sew the ends of the fabric shut. Just remember to pre-wash the fabric first because if you're using cotton, it might shrink a little and…well, nobody wants an infinity noose.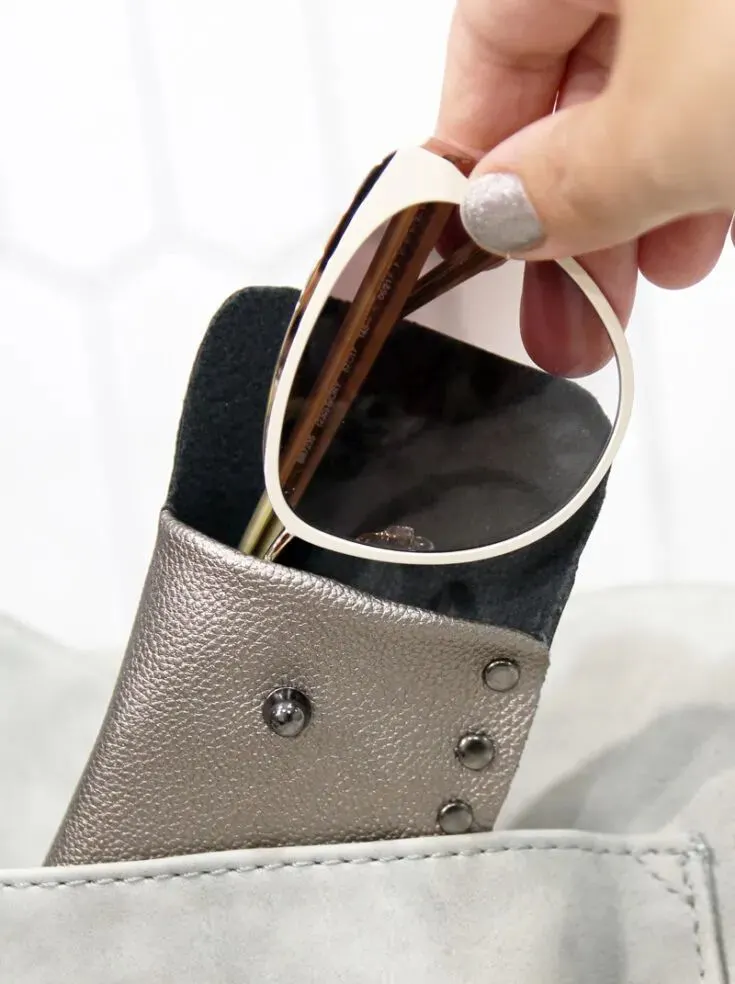 Source: momsandcrafters.com
If your mom is anything like mine, then she's forever losing her glasses. She dumps them in her bag and forgets she put them there, and you know how risky it is to put glasses in a full bag.
What your mom need is a lovely glass case like this one. It's elegant and chic, and it's also surprisingly easy to make.
You have to pick out sturdy fabric, though, preferably leather or suede, to protect the glasses. These cases would work well with sunglasses and prescripition glasses!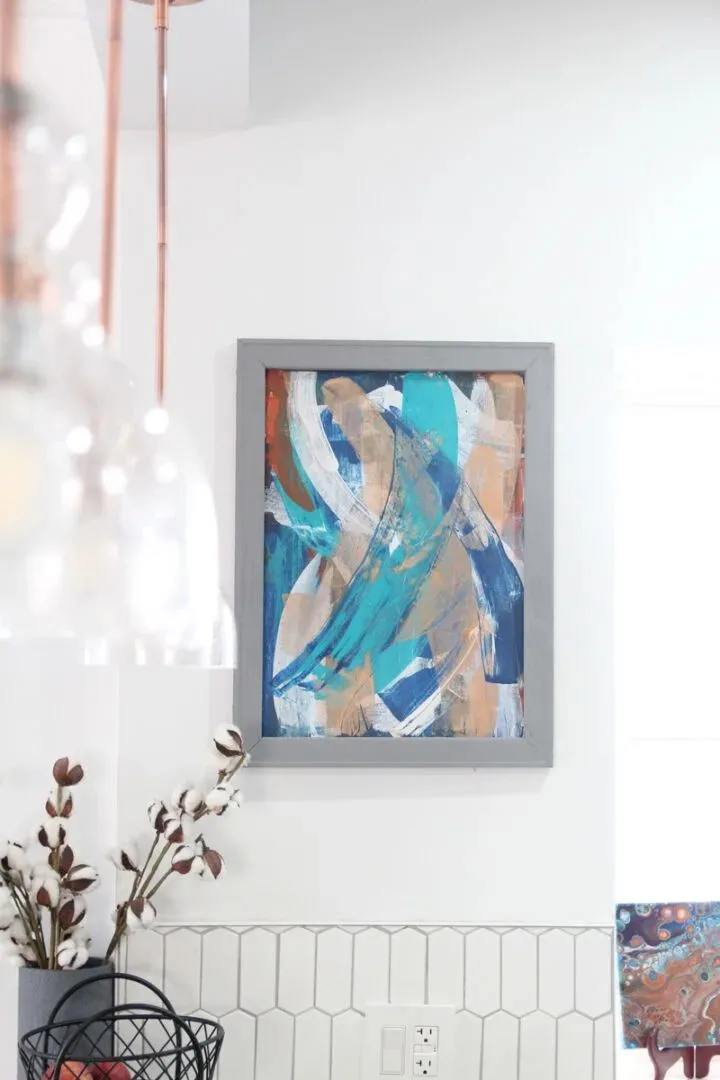 Source: momsandcrafters.com
This scrape painting art features a lovely reversed canvas that acts as a built-in frame. How creative and clever is that, right?
If you're not familiar with scrape painting, it's an art process done with a paint scraper, a wire brush, or other tools to 'scrape' the paint across the canvas. It's fun and a creative, and you don't need many supplies to get you started.
Just buy this stretched canvas, buy some paint, and you're all ready to get started on painting the canvas!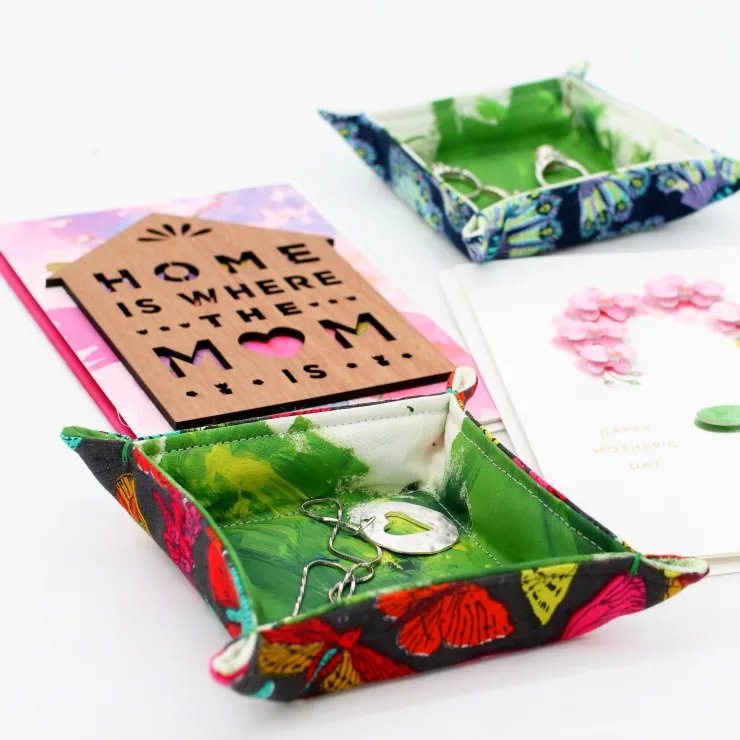 Source: swoodsonsays.com
I love fabric trays. They're so plush and unique, but also, they're super easy to make. Fabric trays like these are perfect for helping your mom organize her make-up and toiletries, too.
Alternatively, she can use it as a trinket tray to keep her keys. Spare change, and more. Another use for this fabric tray is to use it as a plant holder or cover.
Here's what you'll need to get started:
Fabric quarters
Quilt batting from here or flannel
Embroidery floss
Wonder clips
Quilt ruler
Source: momsandcrafters.com
For a mom who's forever switching out her keychains, a fabulous acrylic keychain like this one would be a delightful gift. These acrylic keychains can be personalized with messages for mum, or just her name would suffice.
You can make a dozen of these in under an hour with the help of your Cricut machine and the template provided. They're perfect for birthdays, anniversaries, and holidays, too.
You might need to pick up some vinyl for the top color and clear vinyl for a protective layer. You can find them right here.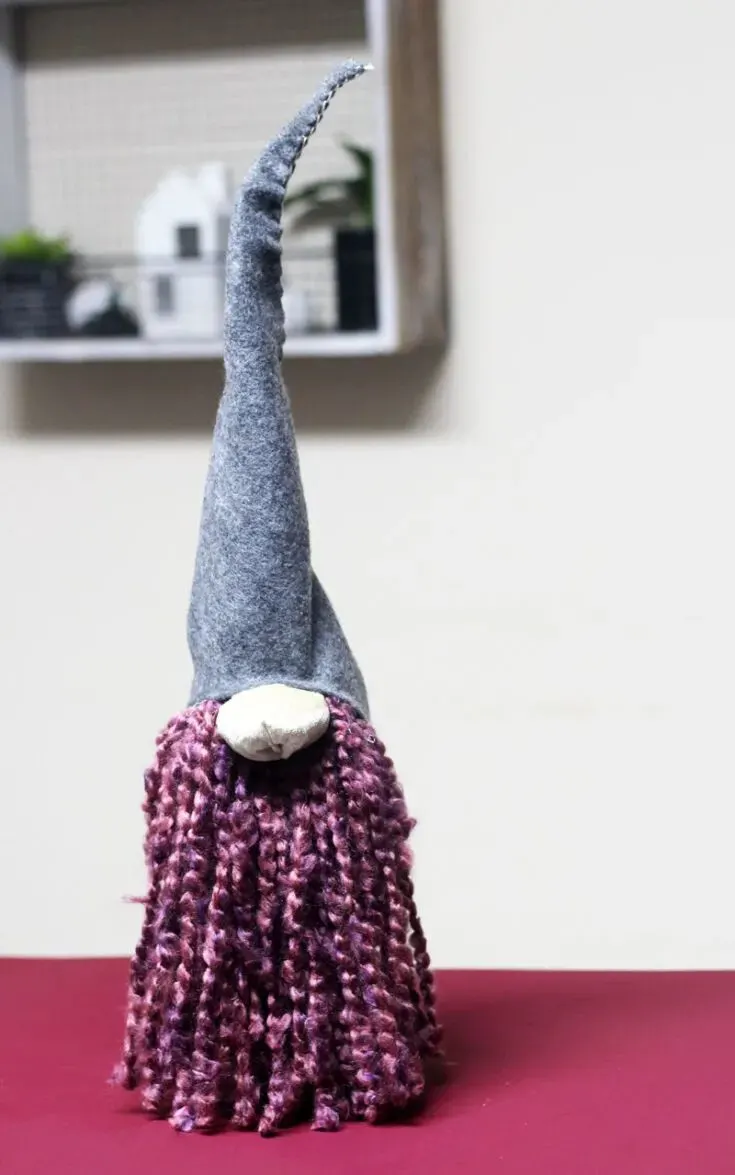 Source: momsandcrafters.com
If you're looking for cute gifts that also happen to upgrade something you already have, then look no further than this wine bottle topper. This cute little gnome wine cover can be just the thing to get a laugh out of your mom!
Of course, there's a free pattern provided to help you figure out how to make your wine cover. The little details you'll find are especially cute and will go a long way to help you jazz up your little gnome cover.
Pick up some heavy felt fabric from here and start working on this DIY!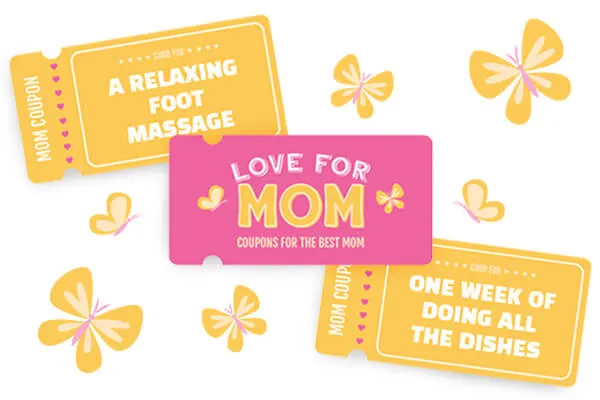 Source: printablesfairy.com
I love coupons. My mom, though? She lives and breathes coupons and is the queen of collecting them. If your mom's a coupon fanatic, then I think she's going to get a kick out of these Mother's day coupons.
The first order of business is to list out a bunch of chores that your mom does around the home. You're going to be making coupons that she can 'cash in' to get out of doing those chores whenever she likes.
The coupons can also include free hugs, kisses, and more! Don't forget a card, too. Check out these DIY birthday cards for ideas!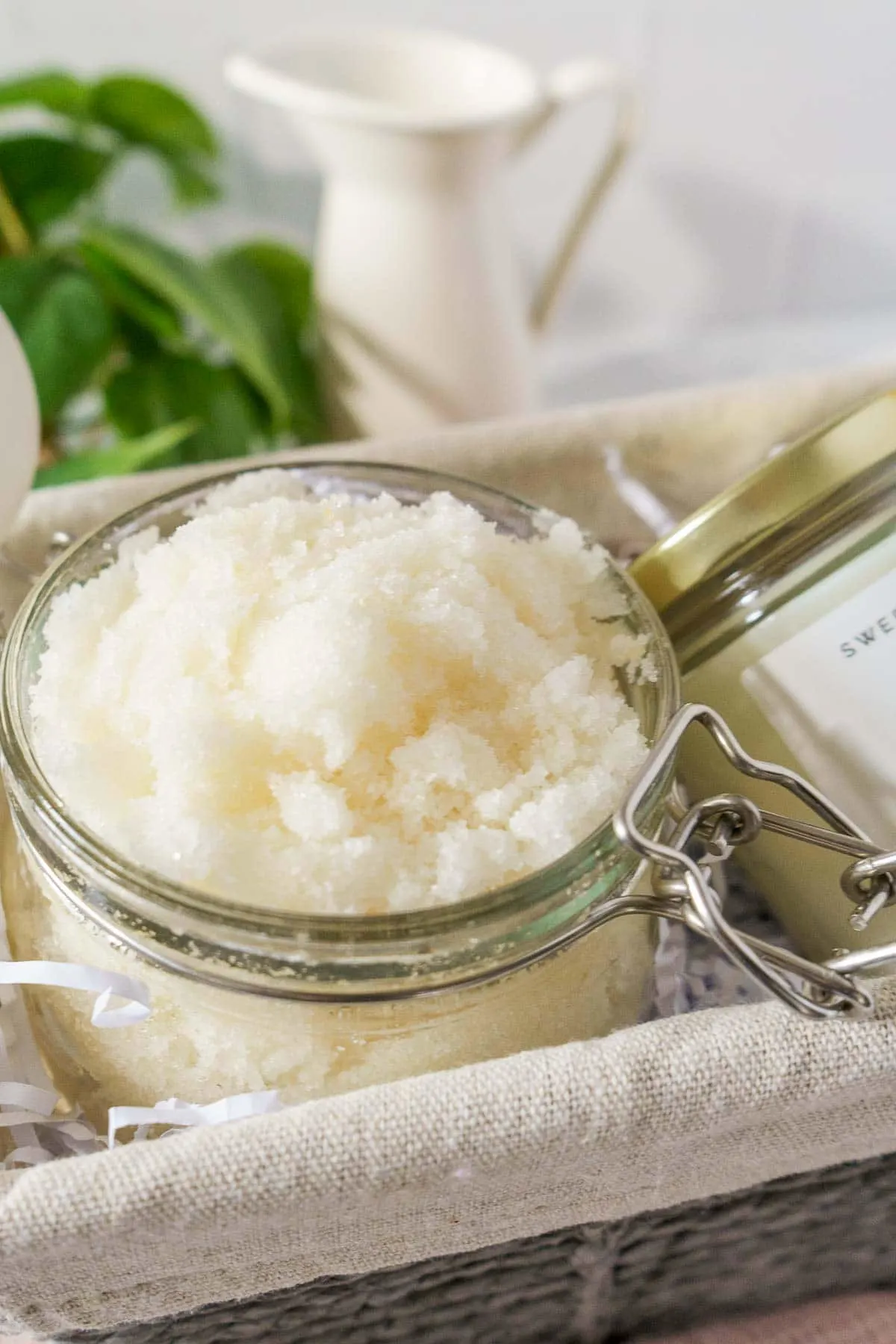 Source: peelwithzeal.com
After a long day at work and coming back home to take care of the house and family, I bet your mom would just love to sink into a hot bubble bath. Why don't you make her this mouthwatering sugar scrub?
This sugar scrub is super easy to make and easier still to customize with different colors and flavors. It's a natural exfoliant, which makes it perfect to use on the face and body.
Grab a pretty jar and fill it up with your mom's favorite flavor or scented sugar scrub. Feel free to play around with different recipes till you get the perfect one!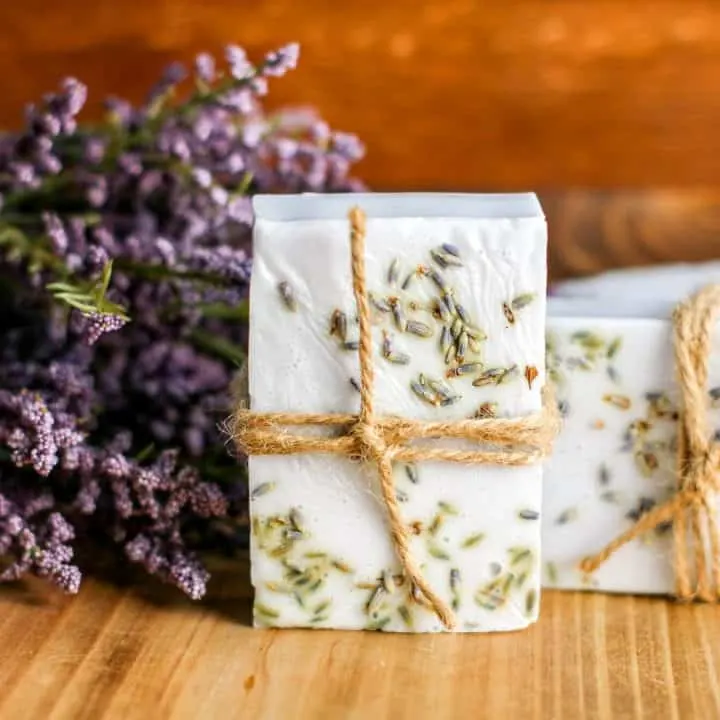 Source: feastforafraction.com
Why stop with just a body scrub? Why don't you make her this homemade lavender soap, as well?
Of course, you don't have to stick to lavender; there are plenty of recipes available for you to experiment with. But lavendar is known to have soothing properties that can help your mom wind down after a long day.
The blend of lush shea butter and cool lavender is bound to help, right? Pick up some melt and pour soap base from here to get started.
You will also need to buy some silicone soap molds. If you're in the mood to be a little extra creative, just add some dried lavender to the mix, too!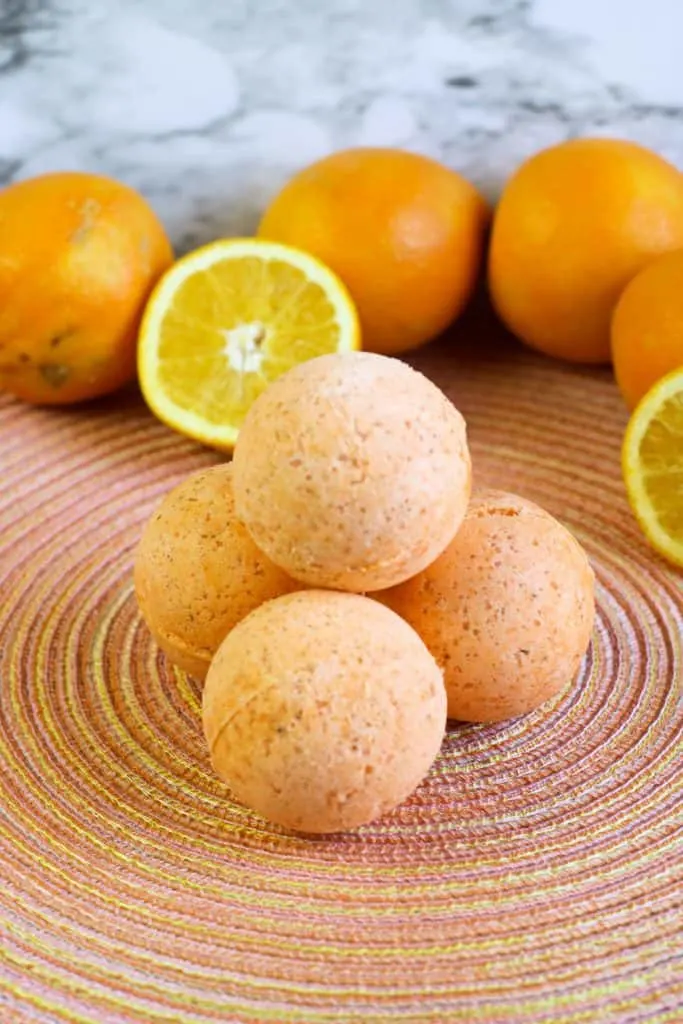 Source: feastforafraction.com
I think you're just about ready to put together an entire gift basket filled with bath goodies, don't you think? A sugar scrub, then a luxurious bar of lavendar soap…let's top it off with this zesty orange bath bomb!
Bath bombs are surprisingly easy to make. The recipe calls for a few simple ingredients that will help you get that pop, sizzle, bubble reaction you're hoping to get out of your bath bombs:
Epsom salt
Citric acid
Baking soda
Corn starch
Mica powder
Essential oils
Coconut oil
These ingredients can easily be found in your very own pantry, but what about the molds? You will need a bath bomb mold, which you can find here.
These do for lovely anniversary gifts as well.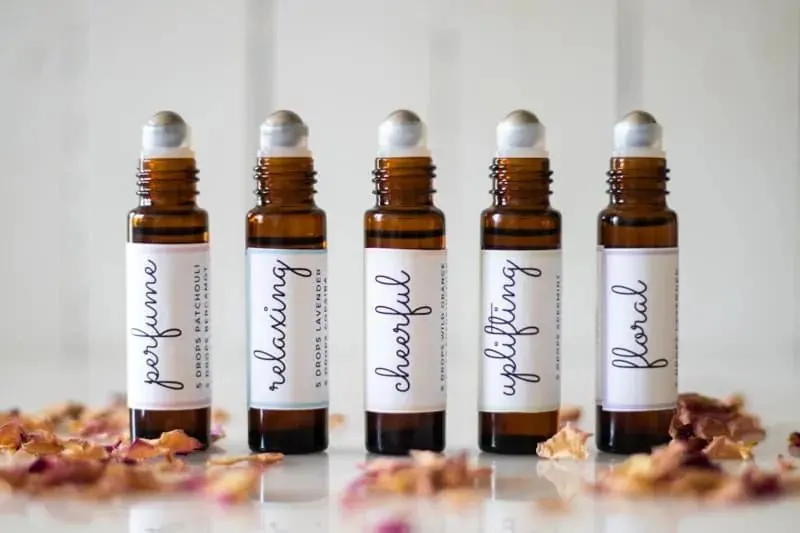 Source: ouroilyhouse.com
We've been using essential oils a lot for different DIYs on this list, but have you considered gifting your mom the actual oils? I bet she'd love to add a few drops to her scent diffuser and have her favorite scents waft around her room.
Essential oils have plenty of medicinal properties depending on what's in them. Lavender, for instance, is believed to reduce headaches, while eucalyptus or tree oil has been used to treat colds and sniffles.
So, grab a pack of essential oils from here, preferably with roll-ons, and wrap it up to gift it to your mom.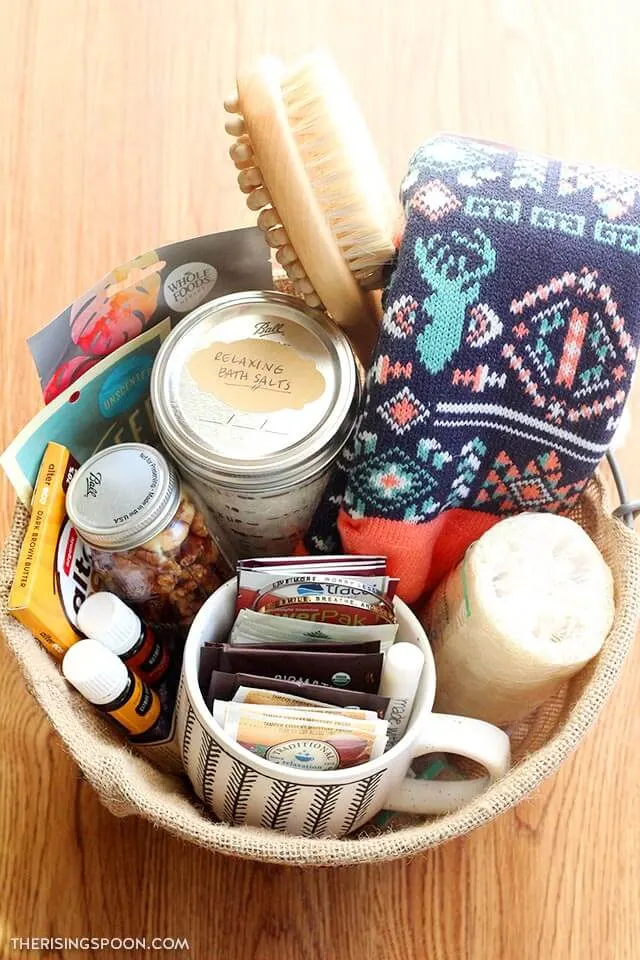 Source: therisingspoon.com
When your mom is feeling blue or is down with a case of flu, you know what would cheer her up? A care basket filled with goodies and feel-good knick-knacks.
You can fill it up with:
A mug
Tea or coffee
A couple of scented candles
A heating pad
A box of saltines or crackers
Warm socks
Bath products
Just sort everything into a basket like this or a box, fill it up with confetti for a little color and fun, and you're all set. Don't forget a card, too.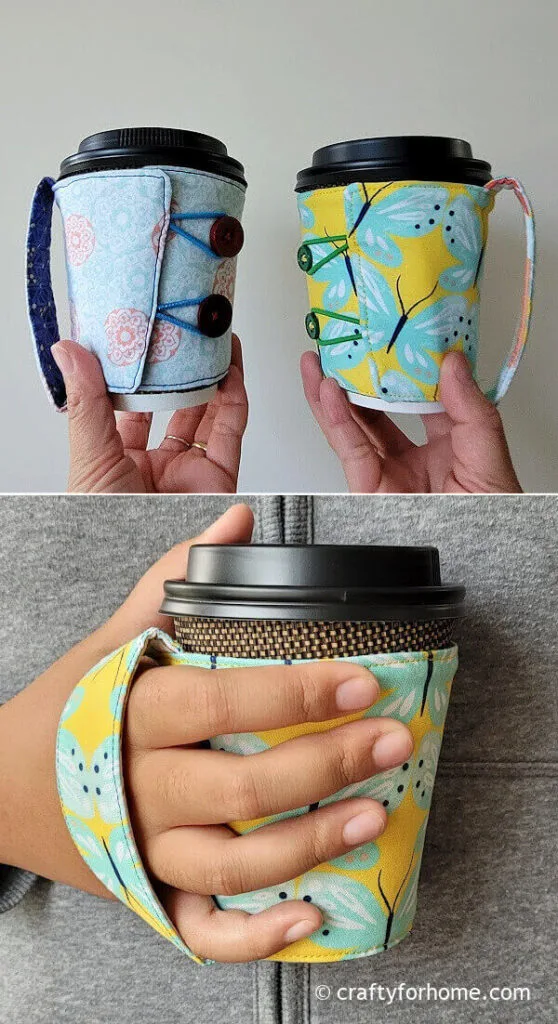 Source: craftyforhome.com
You know what would really make your cozy cup of cocoa even cozier? A cup cozie to keep your fingers toasty warm, rather than roasted brown.
You can make a set of reversible cup cozies out of fabric for all your coffee cups. Sometimes, that paper cover around the middle is just not enough, so that's where these cozies come in.
It also has a handle that makes it easier for you to hold on to your coffee cup without worrying about scorched fingers—convinced yet? Then make a couple and pack them up for your mom!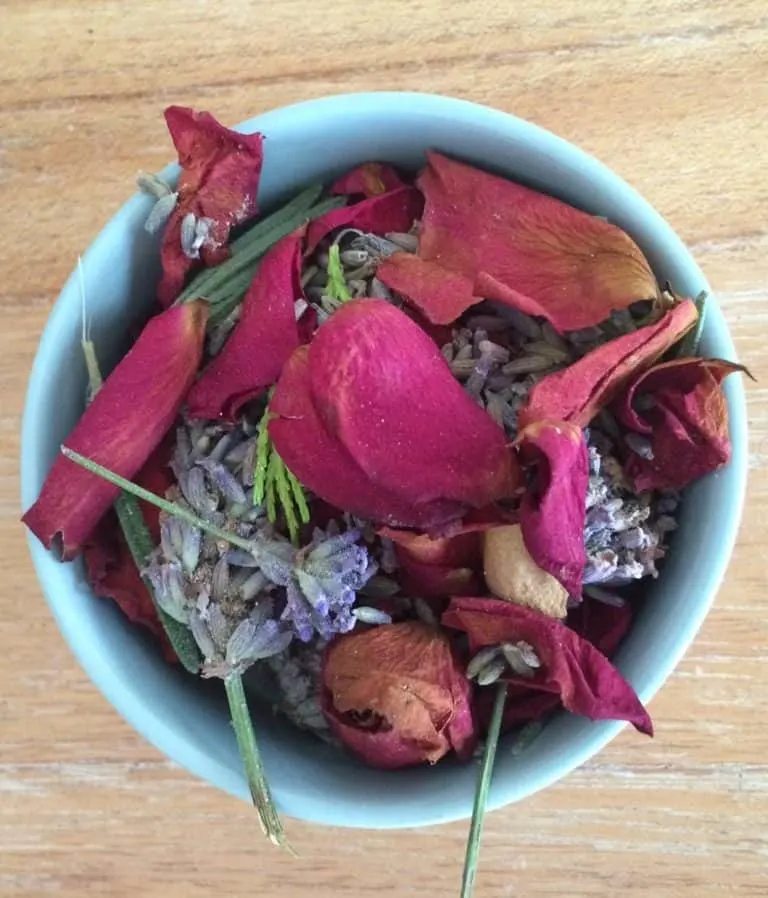 Source: simpleparenting.co.uk
Potpourri is right up there on my list of favorite scent boosters. They're just as effective as reed diffusers and humidifiers; only, they look way prettier.
Making your own potpourri and bundling up a batch for your mother will surely brighten her day and freshen up her rooms. Pick out your mother's favorite scent and work around that.
So, if her favorite scent is rose, you can add dried rose petals, dried husks, orris root powder, and even a few lemon peels thrown in the mix.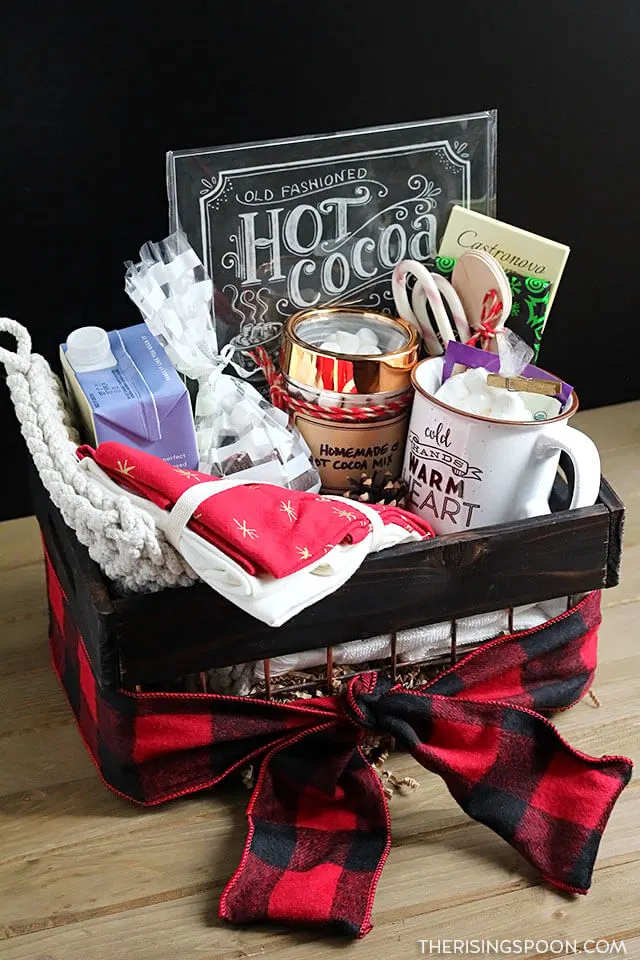 Source: therisingspoon.com
You can never go wrong with gift baskets. It's the perfect way to put together an assortment of little knick-knacks, goodies, chocolates, and more and wrap it up into a nice themed basket.
Take this cocoa basket, for example, filled with everything your mom could possibly need for a cup of the best cocoa ever. There are plenty of flavors and add-ons to choose from.
There's also a cute mug, a couple of hand towels, and an assorted pack of cocoa powder! Feel free to add a few bars of chocolate, marshmallows, and a couple of cartons of dairy and dairy-free milk, too!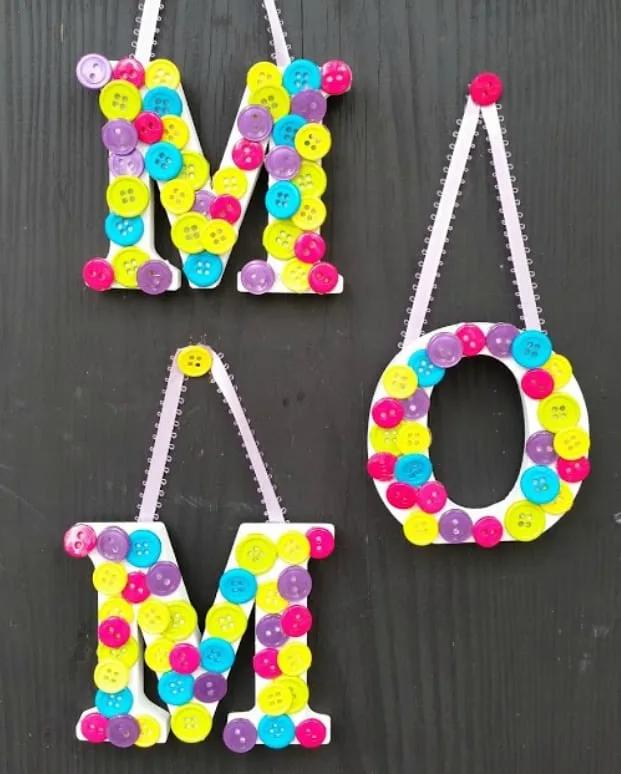 Source: thriftyjinxy.com
These button letters are, well, as cute as a button. This one's a craft project that the little ones and younger kids can undertake to make something special for mom on Mother's day.
You can pick up everything you'll need at a local dollar store; I can guarantee that. But if you like, you can buy the wooden letters from here.
You can dive into your sewing stash for an assortment of buttons, or you can buy a packet of them here. If you're a little older, you can consider turning these buttons into fabric covered-buttons for a little added boost.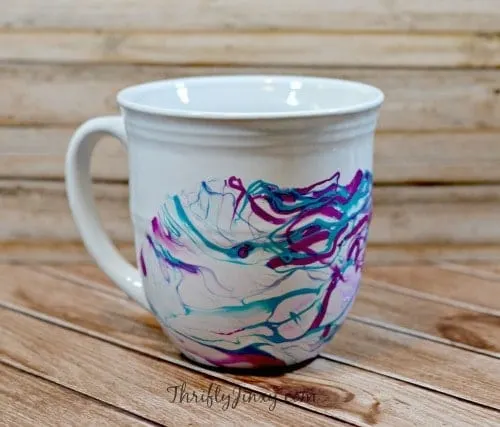 Source: thriftyjinxy.com
With a little bit of nail polish and water, you can recreate a lovely marbled finish on a ceramic that's bright and colorful. DIY mugs are super underrated, and you'll be amazed at how much creative room you get to experiment.
When you're picking out a container to mix your water and nailpolish, pick something you don't mind ruining. There's bound to be some nail polish residue, so pick out an old bowl or bucket for the dunking.
As for the mug, you can pick one up from here or just head down to your local dollar store and pick one from there.
A similar project could also do for a perfect DIY gift for men in your life.
Source: simplybeyondherbs.com
This homemade rose cream would be a lovely addition to that gift hamper you were putting together earlier. It's a mouthwatering and nourishing combination of rose water, rose-infused oil, and essential oil.
You can fill a big jar with this rose cream and decorate it, too, while you're at it. Feel free to add some crushed dry rose petals into the cream to turn it into an exfoliating one.
When you're picking out your raw ingredients, just keep in mind that the beeswax you use should be of good quality. It's the base for your cream, so the better the wax, the more luxurious your cream.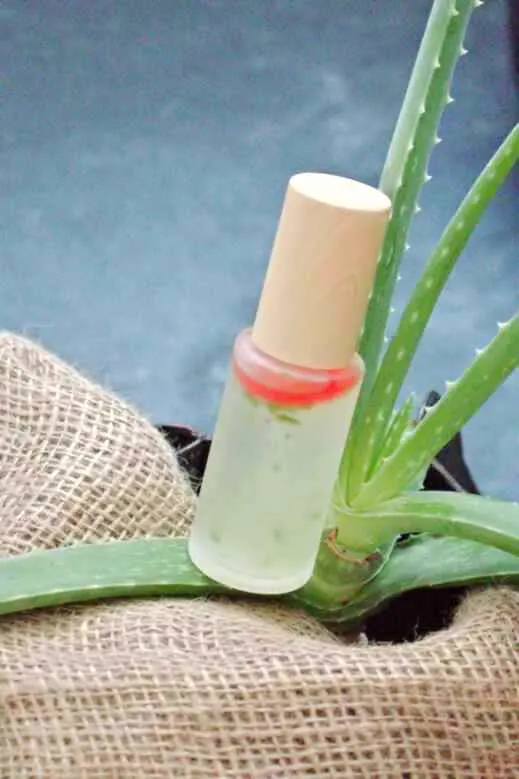 Source: simplybeyondherbs.com
I doubt anybody needs a lesson about all the lovely benefits of aloe gel. It's cooling, reduces inflammation, and also helps you moisturize your skin.
That's why this aloe facial toner is the perfect gift for mum to pamper herself a little. This DIY toner also contains witch hazel, and the combination of that and aloe will do wonders to revive the skin and lighten it, too.
You can add a few drops of this Vitamin E oil and also a few drops of chamomile essential oil while you're at it!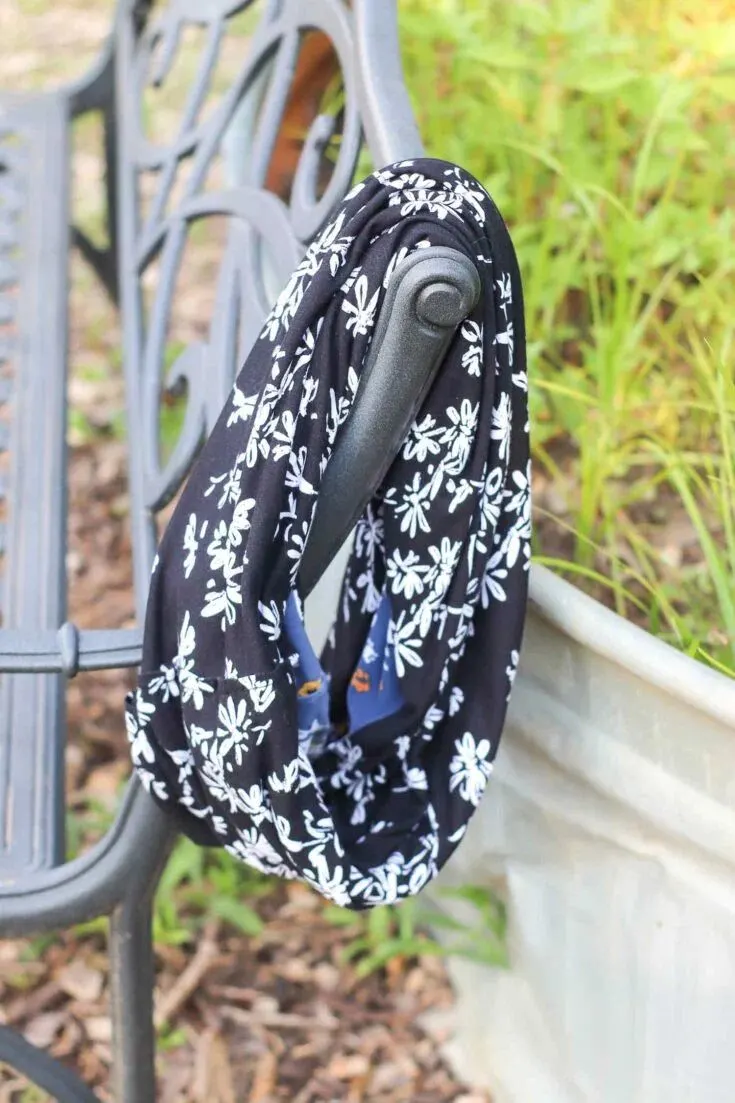 Source: happiestcamper.com
This is not just any old infinity scarf, no. This gorgeous scarf is a double-sided infinity looped scarf. That means that you can wear it either way, and you'll still have a good right-facing pattern.
To start you off, you'll need to pick out your two fabrics in the appropriate yardage you require. Have a hot iron at hand, as you'll need to press the fabric down before you start working with it.
You will also need your sewing essentials, a sewing machine, and, finally, tailors' chalk or fabric marker to help you mark your measurements on the fabric.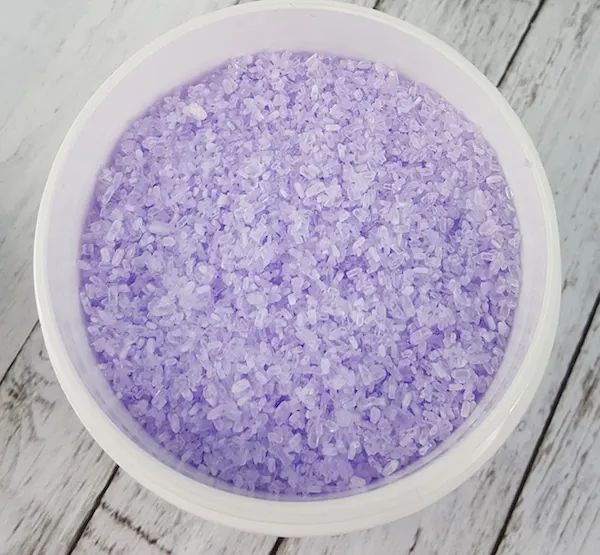 Source: thriftyjinxy.com
Here's a popping, sizzling, fizzling DIY bath salt recipe which is perfect to supplement your ever-growing list of bath products to add to your gift hamper.
Bath salts are perfect for a good long soak in the tub. But what you probably don't know is that a spoonfull of this salt can also be used to give yourself or your mom a pedicure.
Grab some Epsom salt from here, a bottle of this witch hazel for its healing properties, and a few drops of essential oil to make your bath salts.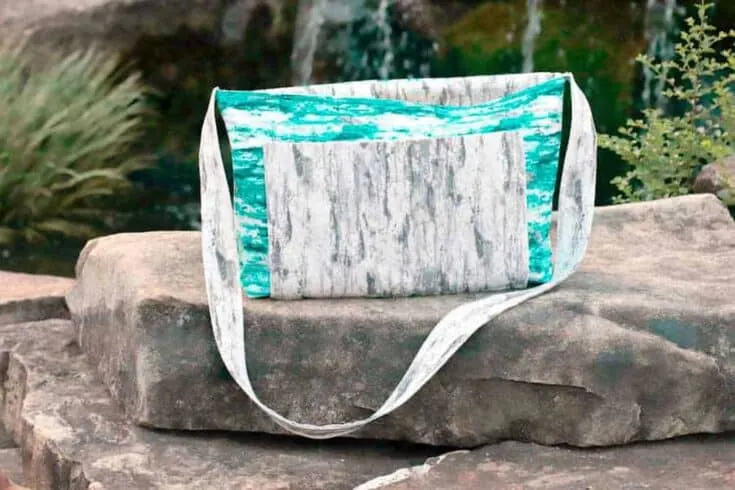 Source: happiestcamper.com
I don't think people understand how convenient messenger bags are. They're also very stylish and, depending on the kind of strap, can be quite comfortable to cart around books, groceries, and more.
Since you're making the bag, you have all the creative freedom in the world to customize the fabric, size, and even the number of pockets inside. You can also choose different closures methods too, like zippers, clasps, and more.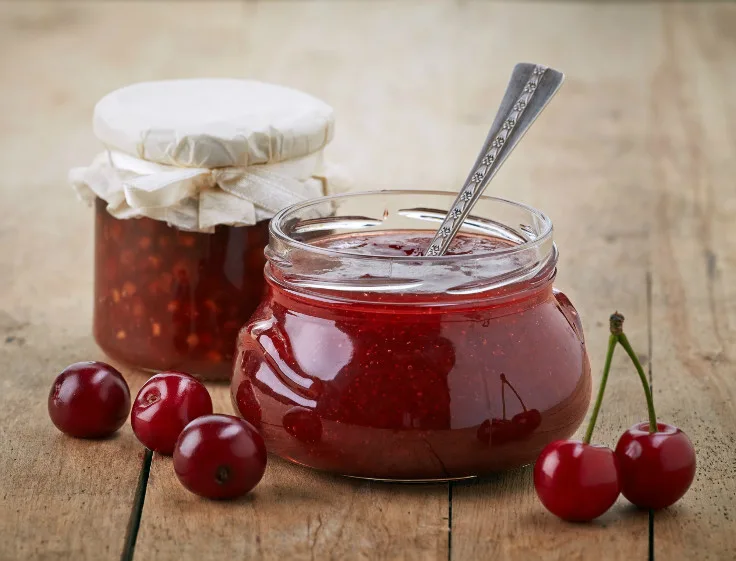 Source: intheplayroom.co.uk
The recipe for this sweet and spicy, mouthwatering, tastebud tingling, chili cherry chutney is so delightfully simple. You won't be able to stop with just one jar, believe me.
Soon, you'll be topping your crackers, toast, veggies, and more with this chili chutney with its fruity spin. You can also add a clove or two of garlic and a couple of shallots to the chutney to season it some more.
The first step is to pierce your cherries. This will allow the flavor to flow freely and enhance the cherriness in your chutney.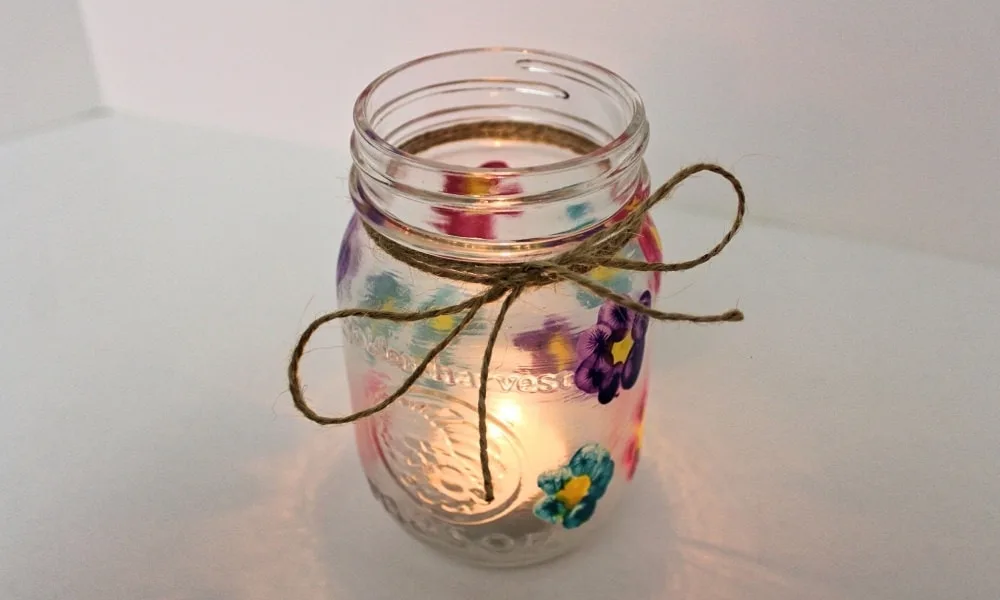 Source: thecraftathomefamily.com
Making fabulous scented candles isn't enough when you're planning to gift them. You also need to think about how you want to decorate your candle holder while you're at it.
You can use mason jars as your candle holder, and to make them a little prettier, you can do a little fingerpainting. Finger-painted flowers are so quaint and charming.
It will go wonderfully with a simple strand of jute twine around the rim. Pick up a few bottles of paint from here.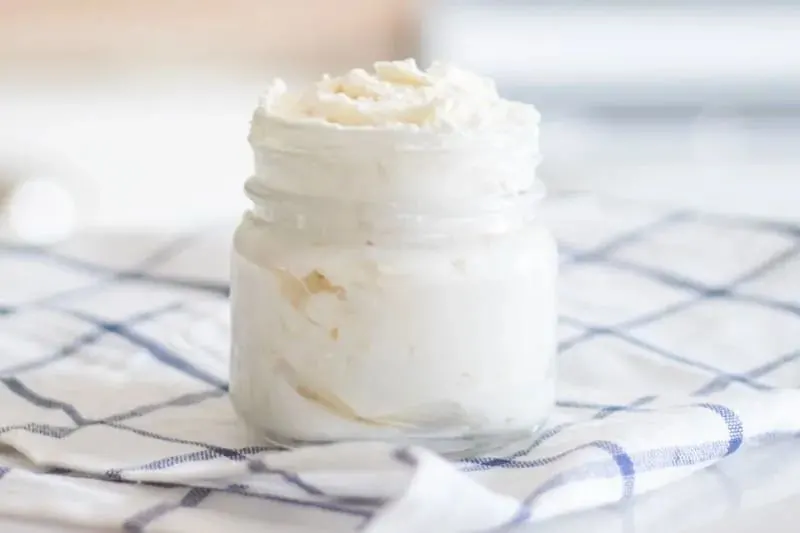 Source: ouroilyhouse.com
Shea butter is so luxurious. It's almost always my go-to body butter, especially when I'm making DIY bath and body products.
Sure, you can use cocoa butter, but shea butter has only a mild scent to it, almost nutty rather than sweet. That's why it absorbs other flavors and scents much quicker!
You mother is going to love this addition to her bath product stash. This creamy whipped shea butter lotion will help moisturize her skin and make her glow like the rock star she is!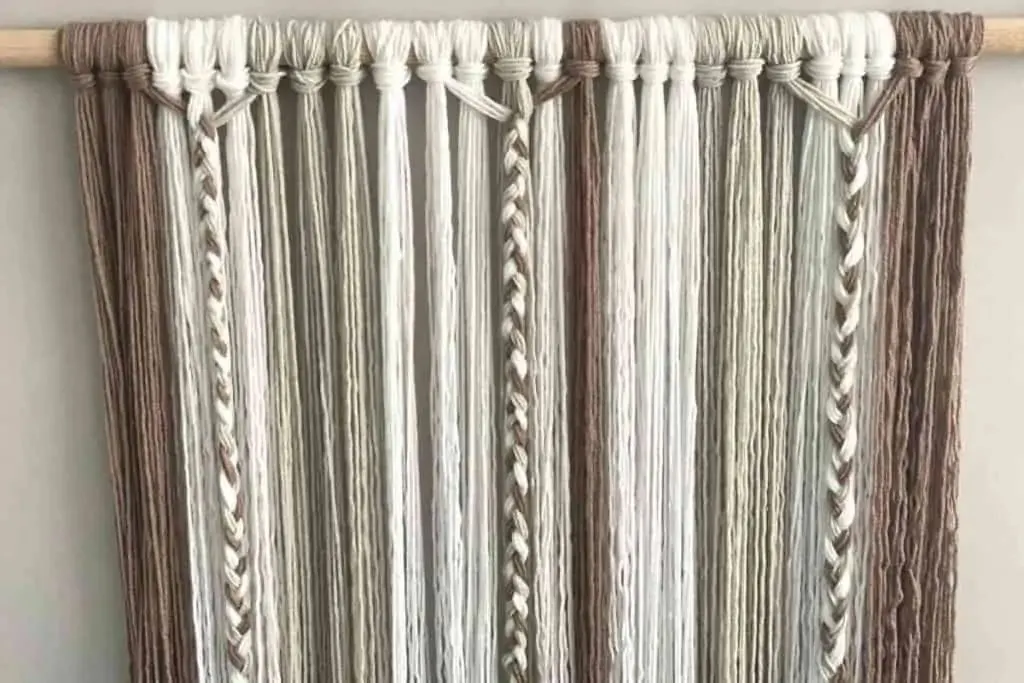 Source: restoredecorandmore.com
This is like a semi-macrame wall hanging that you can make for your mother to help her decorate her room. It's semi-macrame because rather than using cotton cords, you'll be using yarn.
Pick up a wooden dowel from here first. Then, measure out your yarn. Feel free to play around with color and patterns, too, while you're at it!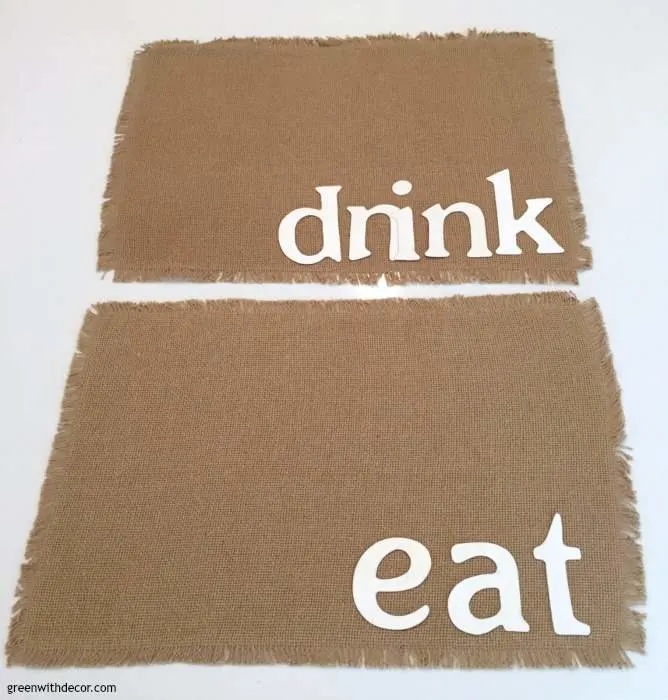 Source: greenwithdecor.com
I find that you can't have too many placemats at home. You need a set of placemats for every occasion, season, and some for everyday use, too.
These burlap placemats fall in the latter category and will weather day-to-day wear and tear. You can pick up a bolt of burlap fabric and cut it to size.
You can also you a black marker to customize the placemat with writing, little doodles, or artwork.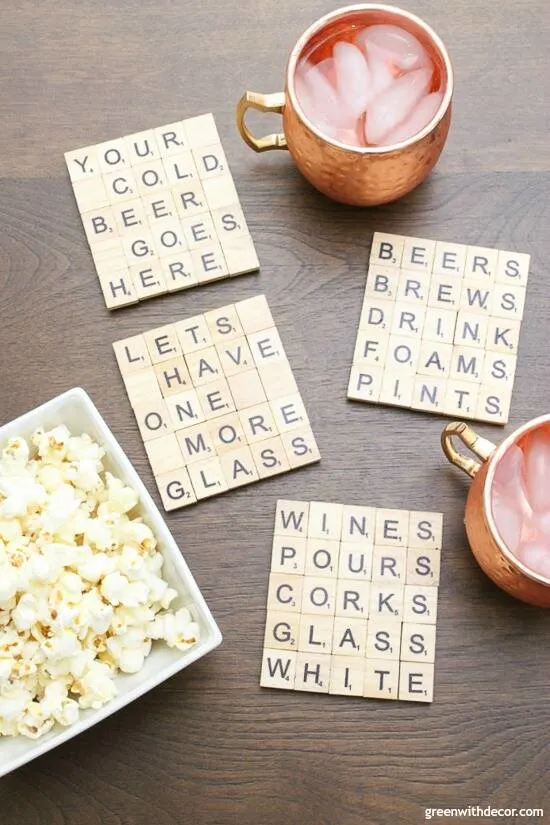 Source: greenwithdecor.com
Right next to placemats on my list of "can't have too many of—" is coasters. I usually have a few in every room so that I'm never caught without one at an arm's reach.
Water stains and bottle rim marks on your precious wood can affect the stain, and trust me, that's a definite housekeeping no-no. So, to entice your family to use coasters all the time, you can make them a little more interesting.
These scrabble tile coasters are fun and witty, and you can use them to display quotes and more.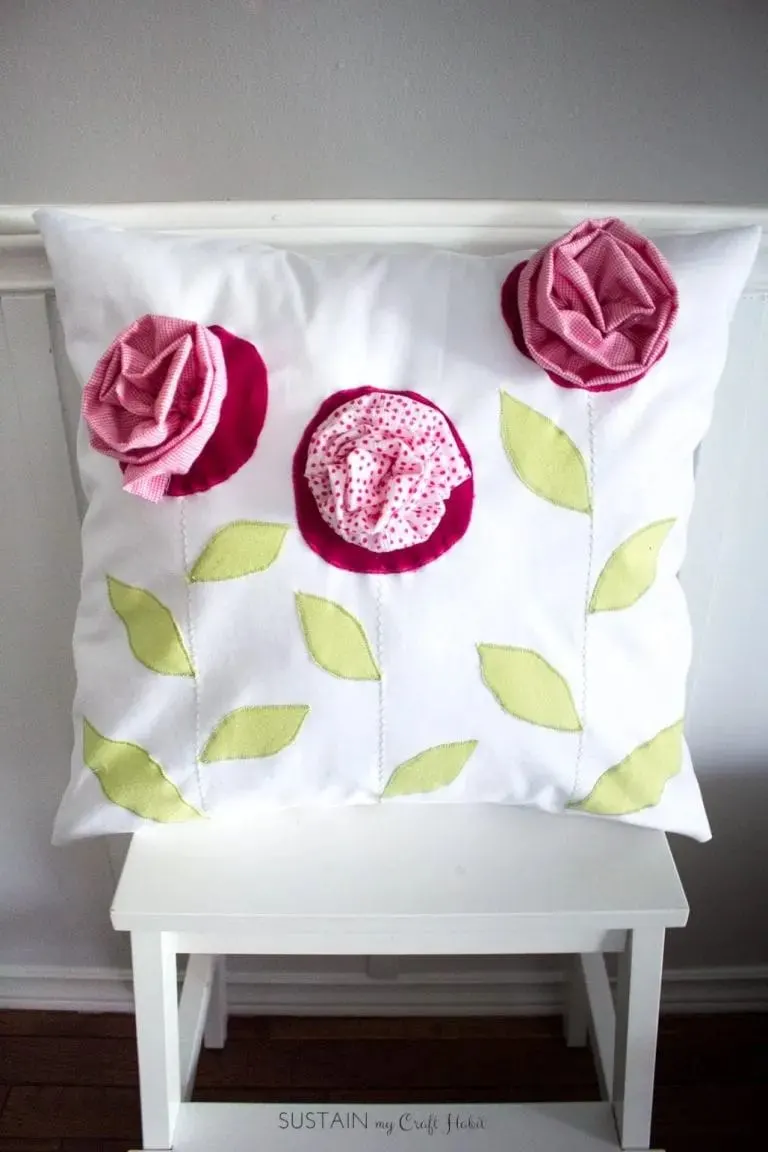 Source: sustainmycrafthabit.com
Upcycling isn't just to help you save a pretty penny or to work on a fun DIY craft project. It's also an opportunity to use up things around the home effectively and mindfully, rather than letting them go to waste.
Sometimes, things that belong to you are too precious to throw away, but you also have plenty of those at hand—like your baby's clothes, booties, and more. You can upcycle them into, say, throw pillows and use them as a keepsake, too!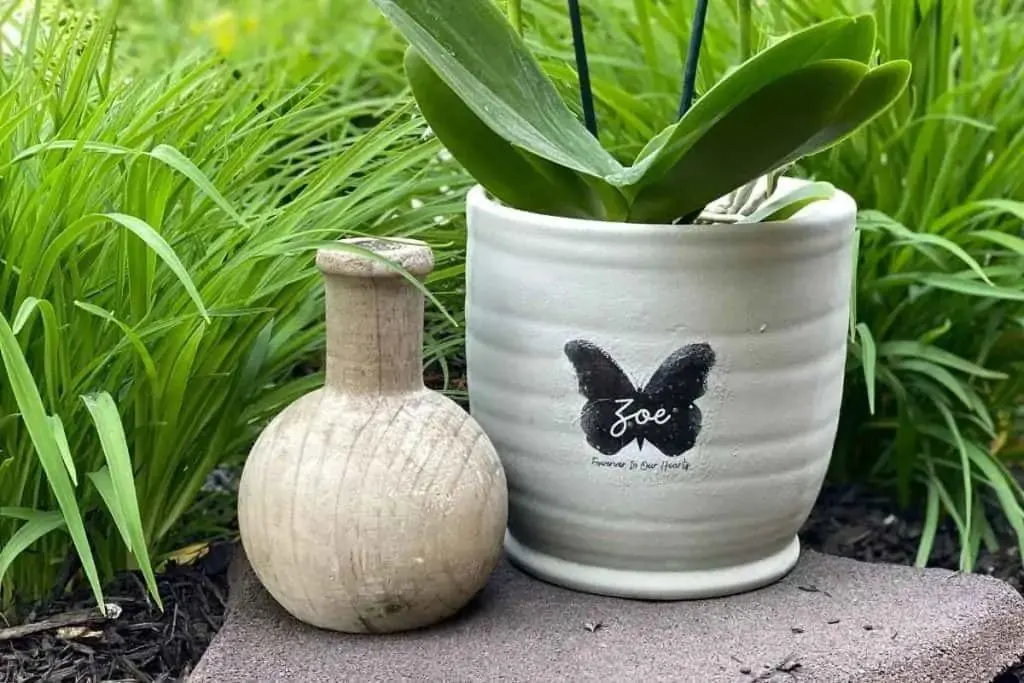 Source: restoredecorandmore.com
Check out this unique and memorable remembrance planter. Are you wondering what that is? It's a way to honor and remember a lost loved one in the most heartwarming and enriching way possible.
You can transform old planters into these remembrance planters by personalizing them with the loved ones' names. Then, just sit back and watch the plant in the planter grow and thrive.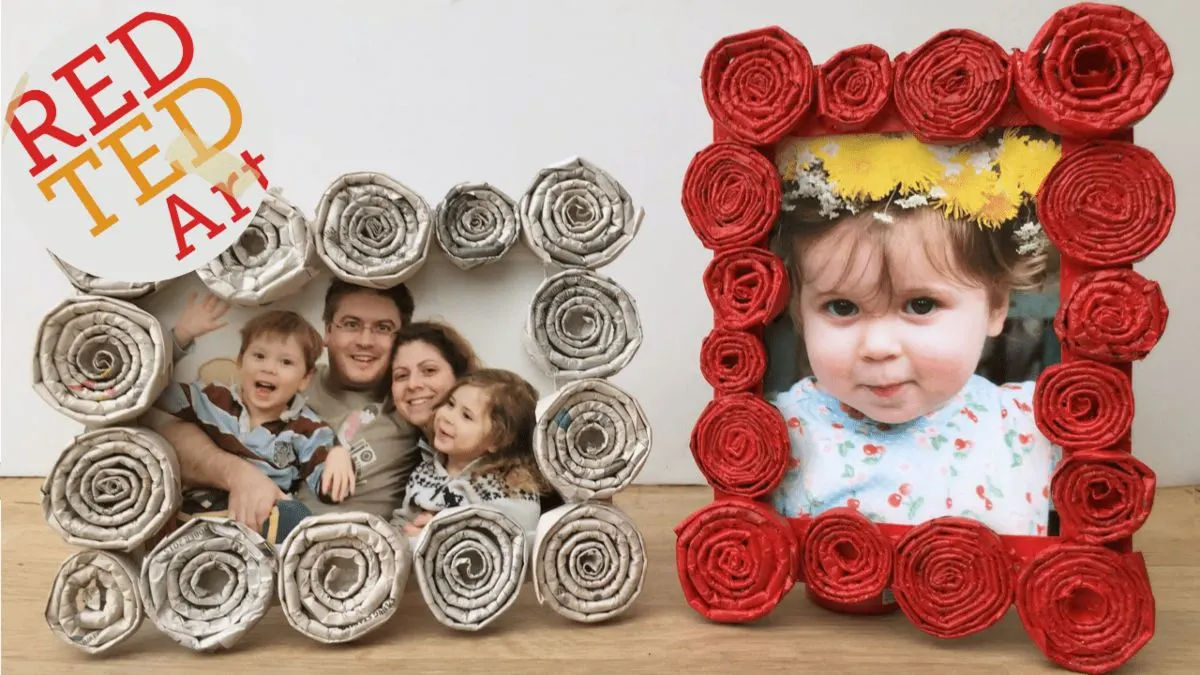 Source: redtedart.com
Take a look at all the newspaper you have piling up in your garage. Don't you think you should do something with them? Sure, you can recycle them, but why not try to upcycle them into these swirled frames?
You will need plenty of newspapers, a cereal box, glue sticks, a pair of scissors, and some tape. Once you get the hang of how to roll and pin your newspapers into these swirls, you can make plenty of them to gift to your mom and other family members.