When you're not exactly sure what to get for the important men in your life, making your own DIY gift might be the answer! Check out these DIY gifts for men that are awesome!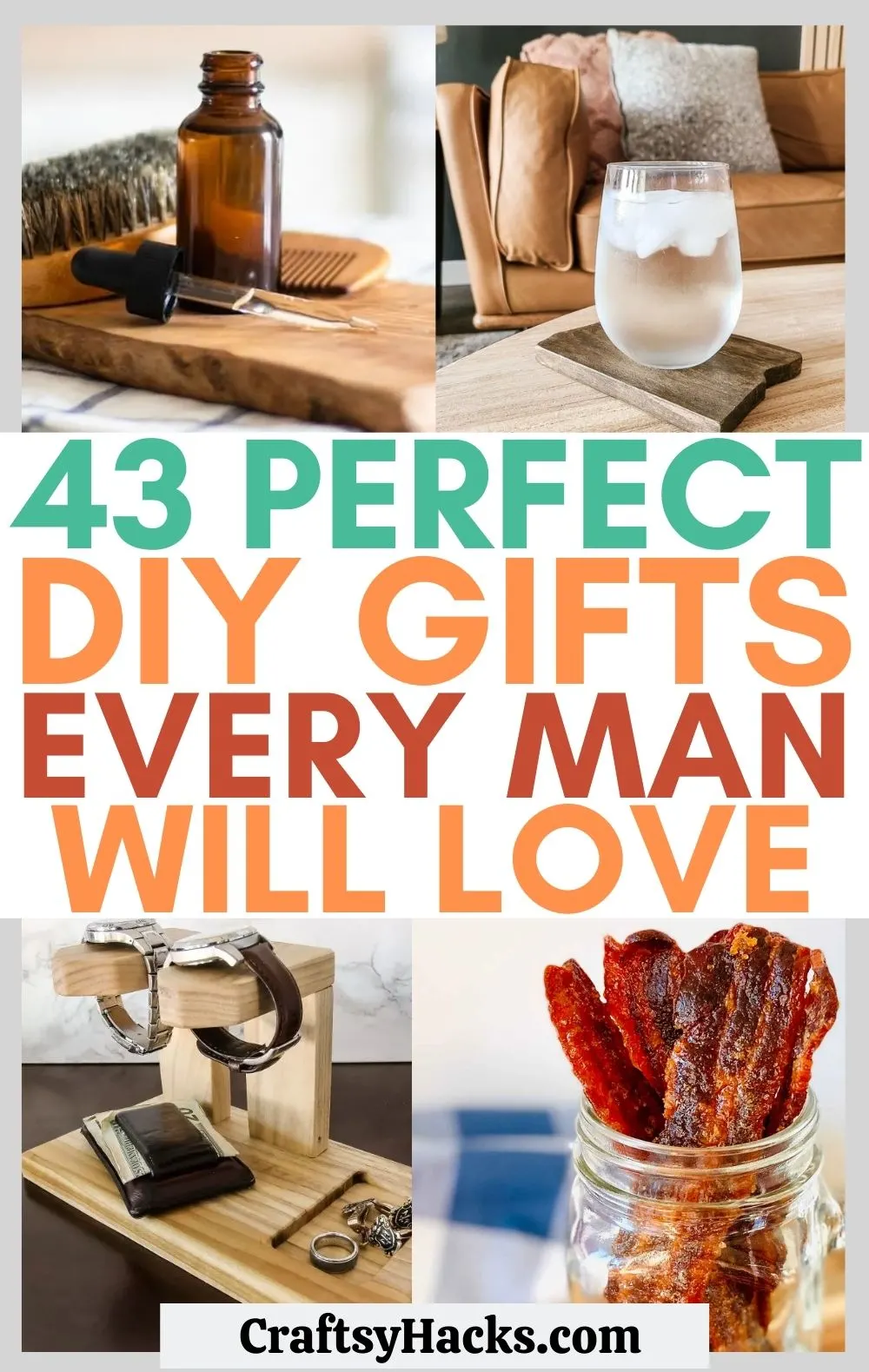 Everybody thinks that it's a breeze to shop for men. But really, if you think of it, picking out appropriate gifts for men can be just as hard.
Sure, perfume, a tie, or cufflinks are all great, but what about when you want to be a little more creative? The answer to that question is this: you make your own gifts.
So, check out these 43 DIY gifts for men that they're going to kick out of!
1. Bacon Bouquet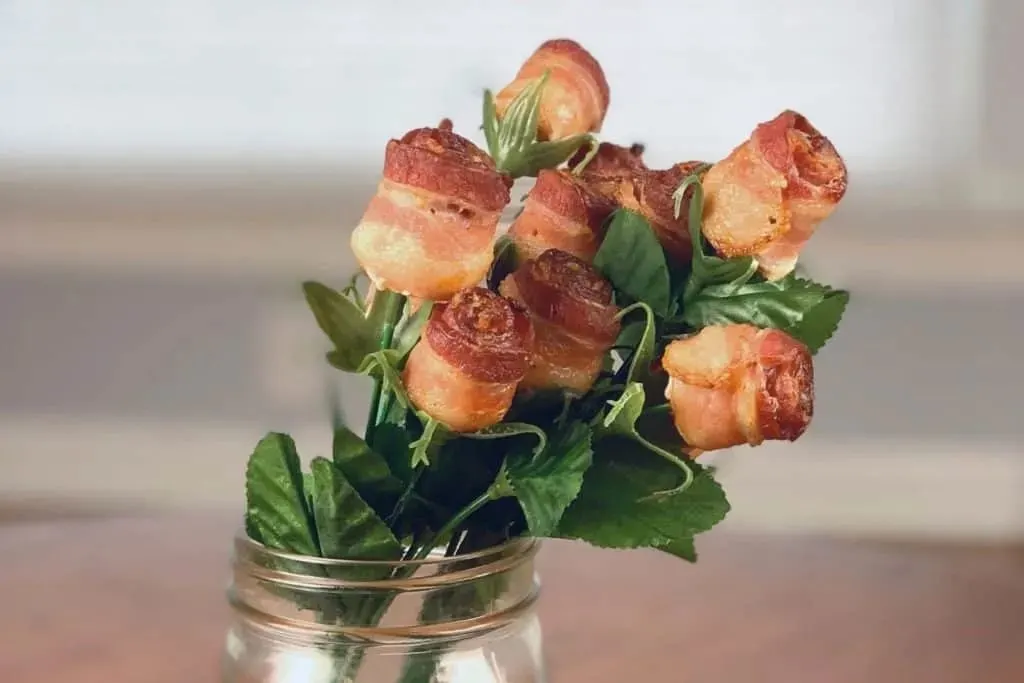 Source: chaoticallyyours.com
I'm up for anything that involves bacon. This bacon rose bouquet is the height of all things amazing!
I'm absolutely, positively certain that just about any man will appreciate getting a bouquet of roses as long as they're bacon roses. Heck, I'm a girl, and I want one—or a dozen!
And yes, of course they're edible! I think your Valentine's day gift for your partner just turned epic!
Check out more romantic gifts for him here.
2. DIY Baseball Bookends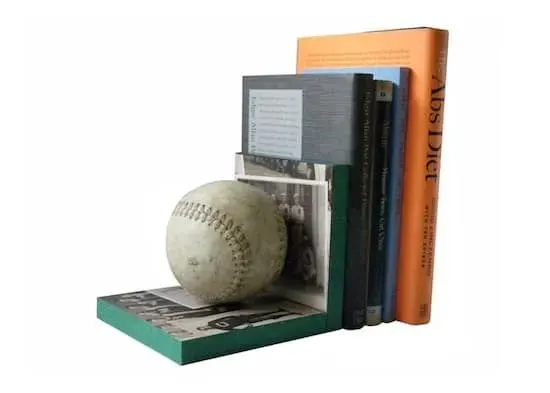 Source: modpodgerocksblog.com
Baseball bookends are a unique and original gift idea. They're absolutely perfect for men who love the game.
With a bottle of mod podge(look here), a couple of wooden square blocks from here, some nails, a screwdriver, and two baseballs, you can make a pair of DIY bookends.
What I love about this project is the vintage finish right from the colors used to the worn, antique finish on the baseballs. You know, if your friend or partner has a signed baseball, you can use that, too—with their approval, of course!
This is a great anniversary gift for him!
3. Gone Fishing Sign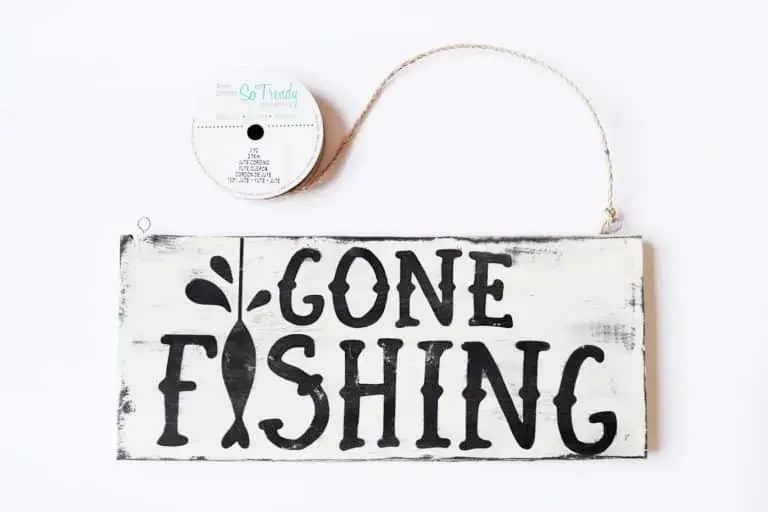 Source: diycandy.com
What's better than this adorable 'Gone Fishing' sign? It's bound to elicit a few laughs.
A lot of men do love to fish, and I'm sure they'll happily hang this sign up everywhere. If you've been worrying yourself silly over a Father's day gift, then I hope this one might prove useful.
You can make this sign quite easily, too. With some vinyl lettering from here, a sander like this, and a wooden board, you're well on your way. Also, remember to maintain that rustic finish on the board.
4. DIY Wood Coasters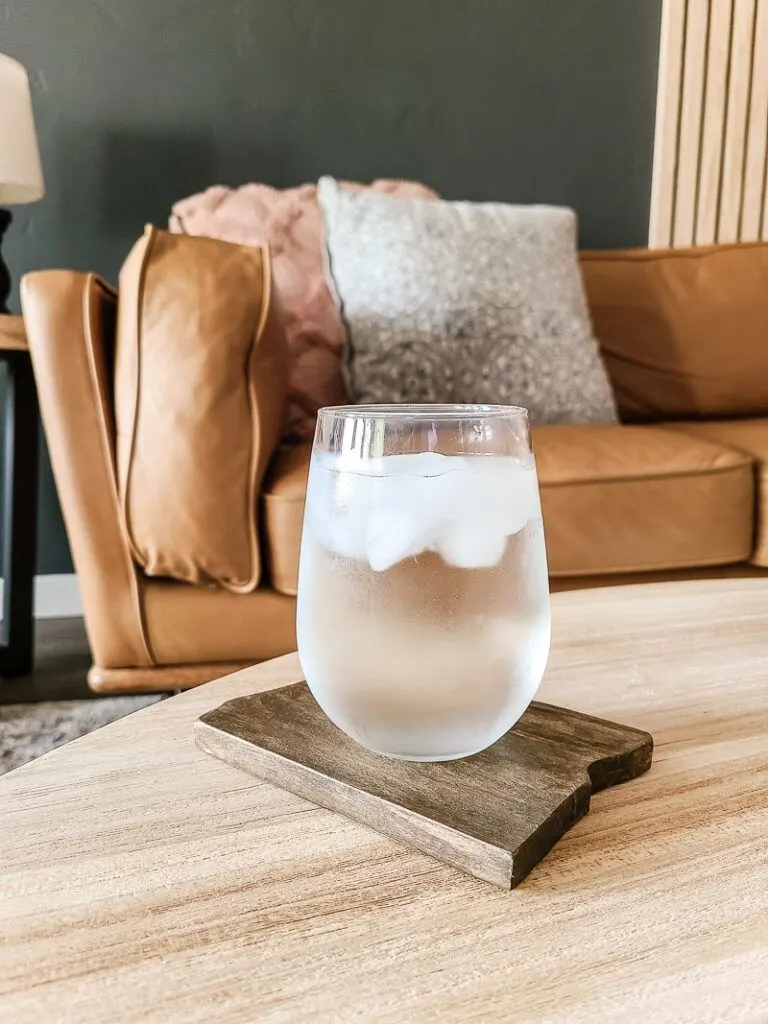 Source: makingmanzanita.com
Hey, men can use coasters too, and I really detest all the implications that simply can't be bothered to. A friend of mine would rather cut his arm off than mess up the wood of his favorite table.
So yes, DIY wooden coasters like these ones are a great gift. They're pretty cool, don't you think? I love that the wood is choppy and unfinished, which only boosts the rusticity.
So, find some wood you can repurpose—these coasters are from a poplar board—and you can start making the coasters!
5. Bottle Openers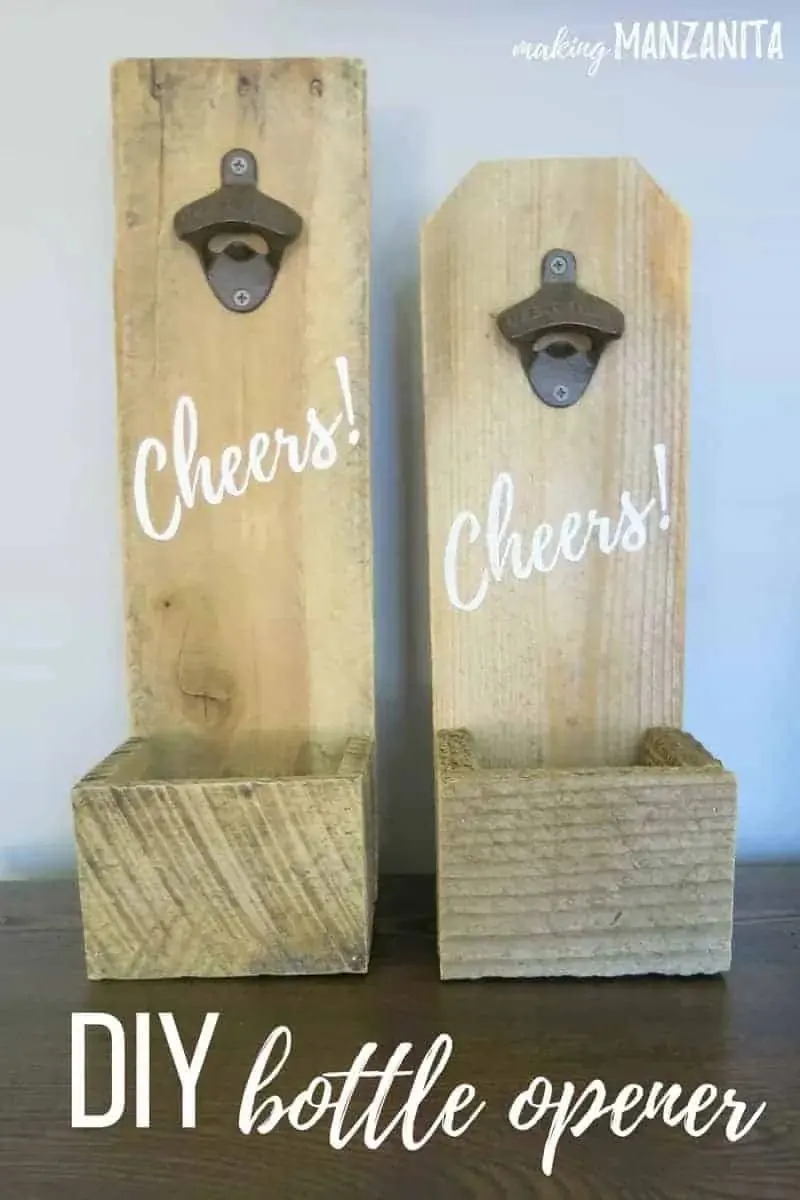 Source: makingmanzanita.com
Who doesn't love to kick back with a cold one on a lazy summer day? I love everything about craft beer and all the different accessories you can make for beer bottles.
Take a look at this bottle opened, for example. You can make this DIY bottle opener and personalize it as a gift. First, what you need to do is to pick out some reclaimed wood.
Then, set up your sander, drill, nail gun, and nails. Do you have any wood glue? Pick that up as well from here and start working!
6. Hand Stamped Fishing Lure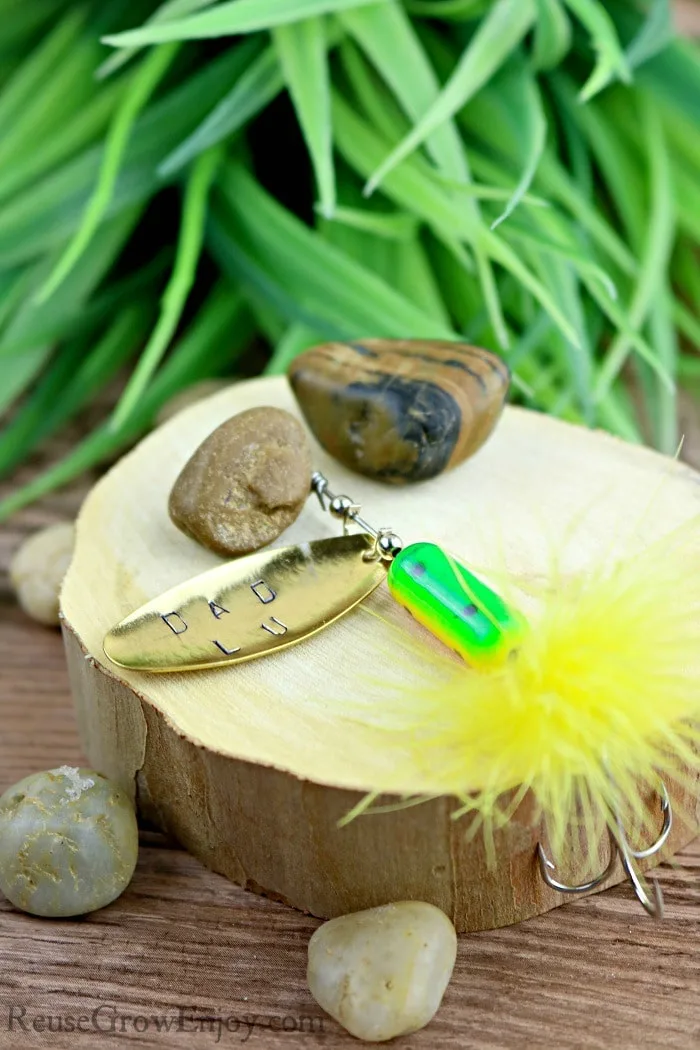 Source: reusegrowenjoy.com
This fishing line lure is another father's day project that your dad is bound to love. You can turn a simple lure into a lovely keepsake in just a few minutes.
How? You personalize it, of course! You're going to hand stamp your message onto some flat metal. You can find something here.
You can also invest in a hand stamping kit from here—you never know when it will come in handy next. Don't worry too much about aligning the letters—just give it your best shot!
7. Wrench String Art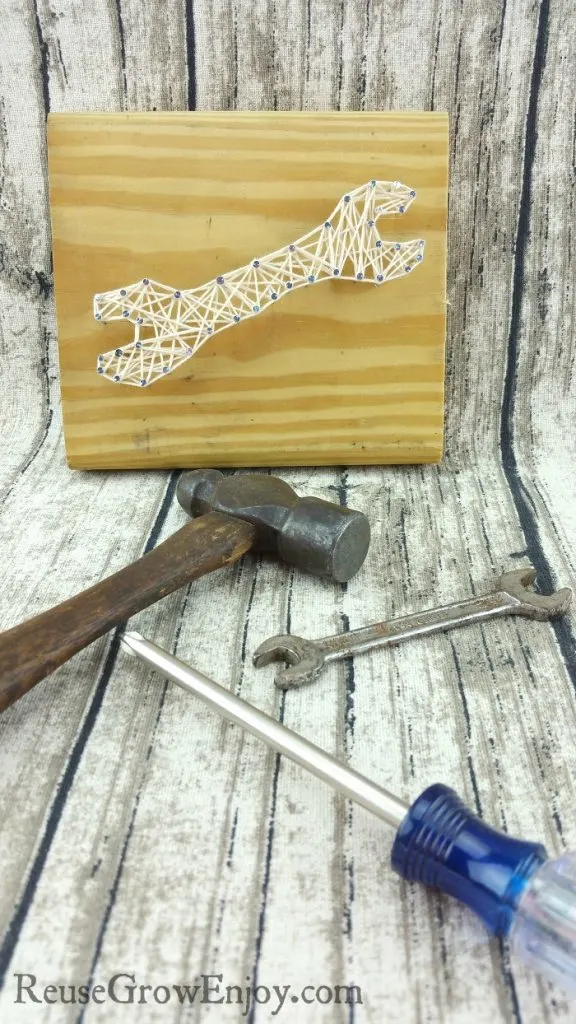 Source: reusegrowenjoy.com
String art is so underrated. I mean, you hammer a few nails onto a wooden board, run string through it over and over, and bam! You have a pretty amazing wall hanging right there!
But instead of going the easy way with some abstract art, why don't you hammer the nails into a wrench-shaped display?
Then, pick up some cotton thread or embroidery floss and just keep looping it around till you're satisfied. Don't forget, you can also carve a message onto the back if you like!
8. Travel Shaving Kit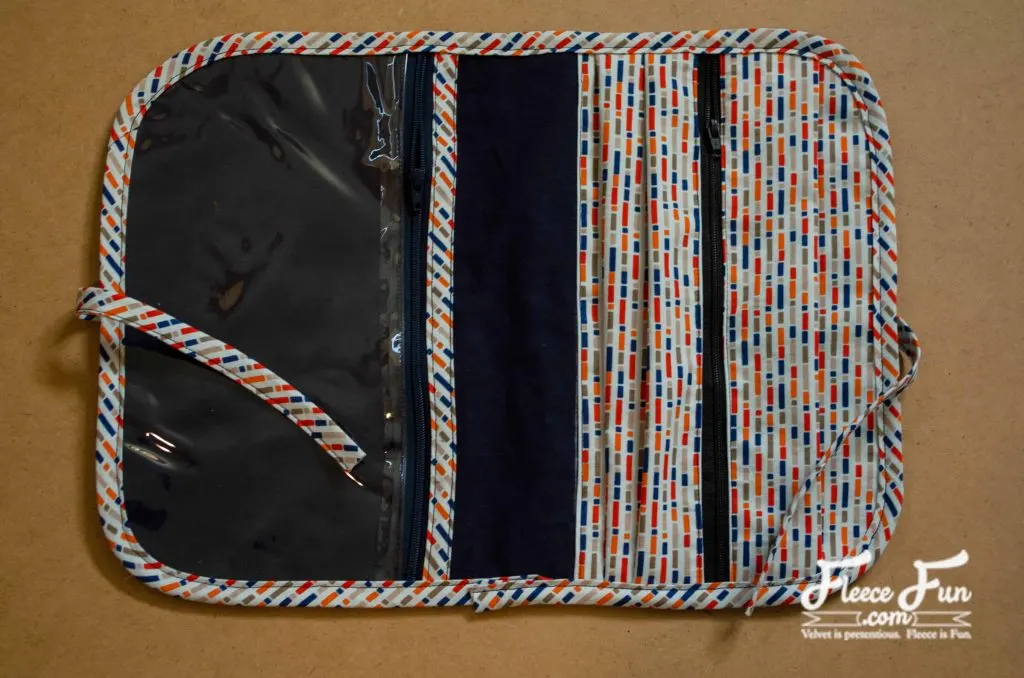 Source: fleecefun.com
A good travel shaving kit is essential for any man, and doubly so for someone who's on the road a lot and travels for work. This DIY shaving kit will be a great way for your spouse or partner to take you with them on their travels.
To make this shaving kit, you'll need to pick out and buy some light to medium-weight cotton fabric, as well as lining. You'll also need medium-weight fusible interfacing from here, a yard of quilting fabric, and finally, this bias binding.
9. Liquor Bottle Soap Dispenser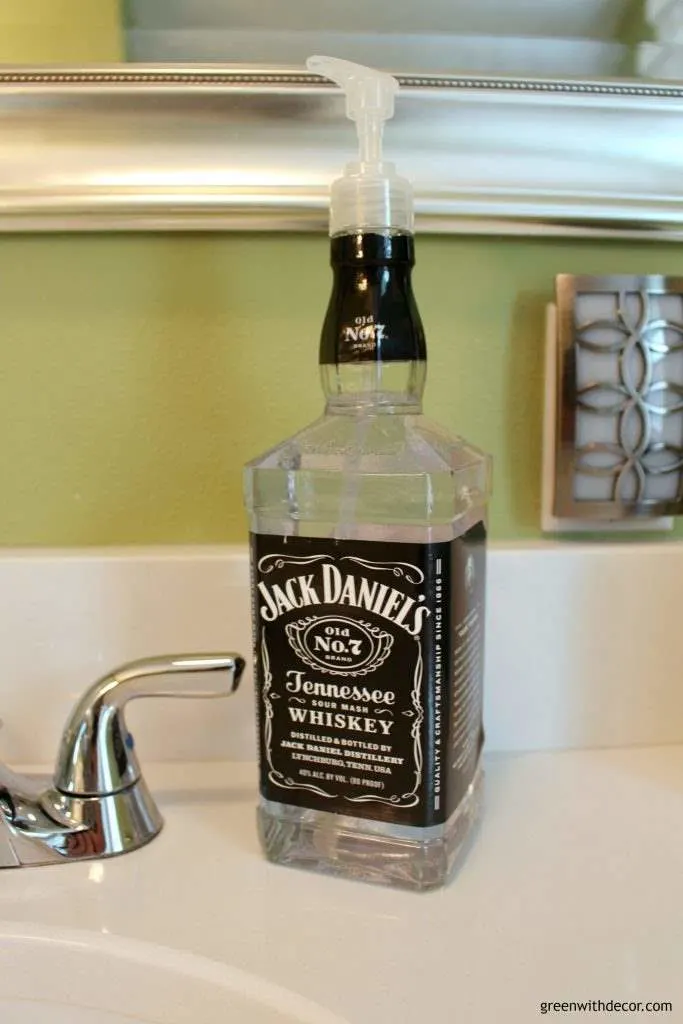 Source: greenwithdecor.com
I love upcycling liquor bottles; I really do. They're such a great way to turn old liquor, wine, and beer bottles into fabulous and crafty home decor pieces.
With a universal soap dispenser pump, you can turn an empty bottle of JD into a soap dispenser. You can even use mod podge to seal the label to the glass if you like to make it more authentic.
Just remember to wash and rinse your liquor bottle thoroughly first. If you don't, your soap is going to end up smelling boozy.
10. Father's Day Apron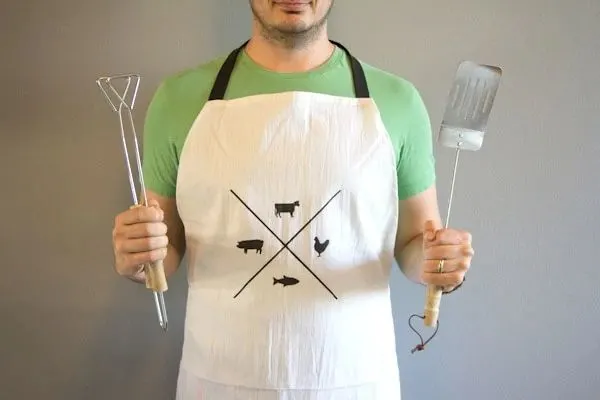 Source: lovelyindeed.com
A Father's day apron is actually a pretty endearing gift. When you can give one to your mother, why not one for your dad?
I know a ton of men who love to cook, and not just the cooking one does at the grill. So an apron like this one is sure to put a smile on their faces!
You can keep the design pretty simple. Just a big 'X' with a little cow, pig, chicken, and fish symbol in all four quarters. Then just sew a black sash for the neck, and it's ready!
11. Crochet Scarf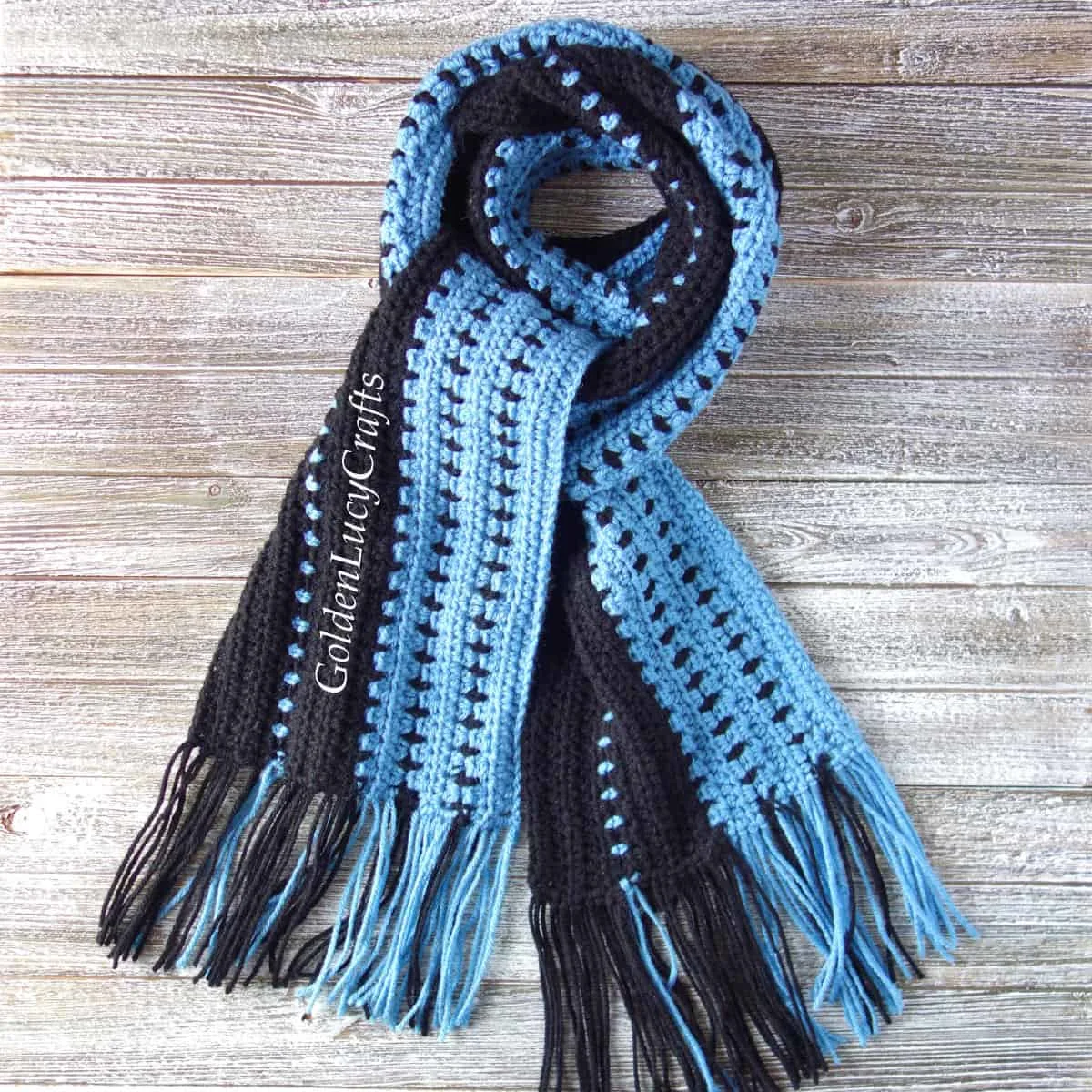 Source: goldenlucycrafts.com
With the winter months upon us, I think a few extra layers of warmth would do a ton of good. So, how about a warm, hand-knitted, or crocheted scarf?
A scarf is an easy project that's ideal for beginners and experts alike. Just pick out different colored skeins of yarn and start working on a pattern.
If you want to add a little extra texture, you can hang tassels along the ends. Feel free to turn it into an infinity scarf, too.
12. Men's Watch Holder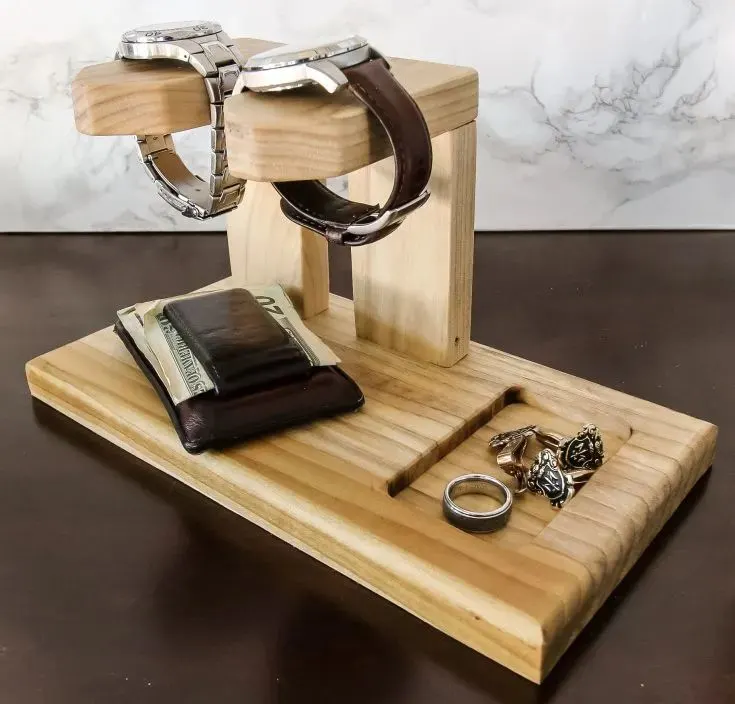 Source: charlestoncrafted.com
While men often get watches as presents, it's pretty rare for them to get watch holders. I think that a nice box holder is good, sure, but why not something more elaborate?
Take this watch holder stand. Doesn't it just look so fancy, like the kind you'd see in big watch showrooms?
That's not even the best part. You can also see that there is an indent on one end—perfect for holding rings and cufflinks. Then, there's also room under the watch holder to place a wallet too.
This is a great college graduation gift for him!
13. Washer Hand Stamped Keychain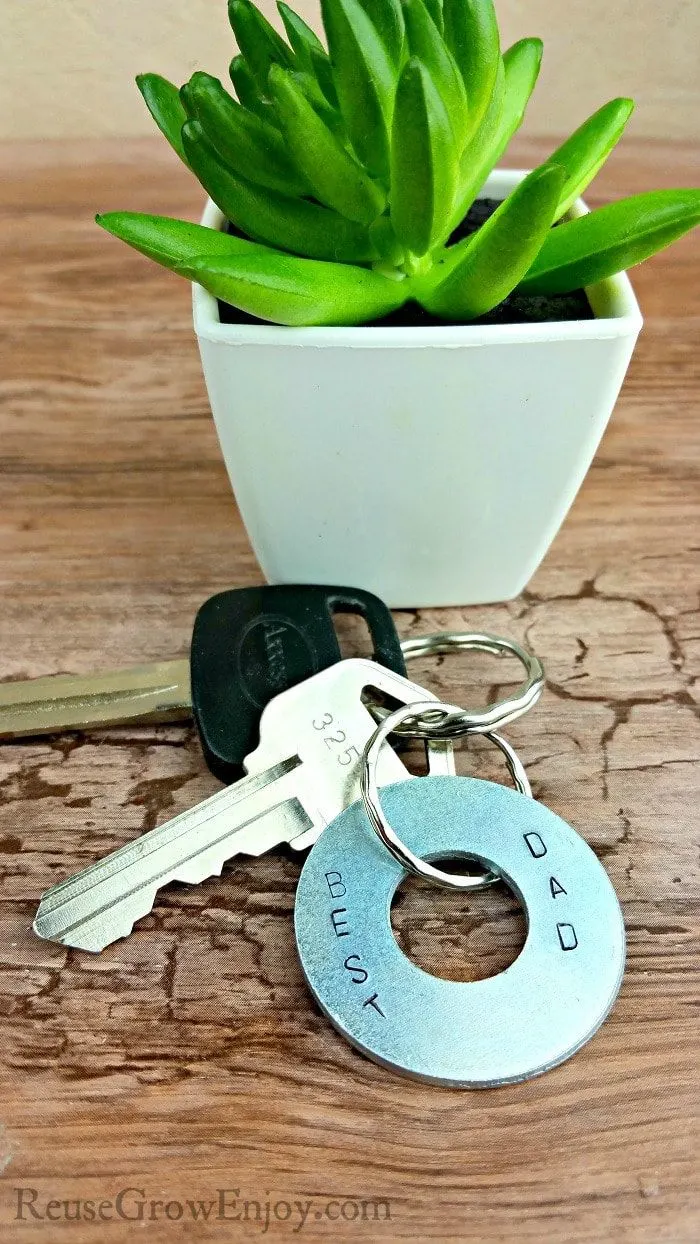 Source: reusegrowenjoy.com
I know what you're thinking, and I would think it too: can you even make a keychain out of a washer? The short answer to that is yes, you most certainly can.
If you want to know, just grab that stamp kit you bought earlier and settle down. All you need for this project is a simple key ring and a washer like this.
Alternatively, you can just walk down to a hardware store and pick one up for a few cents—they're that cheap! Then, assemble your keychain after you've stamped your message on the washer.
14. DIY Beard Balm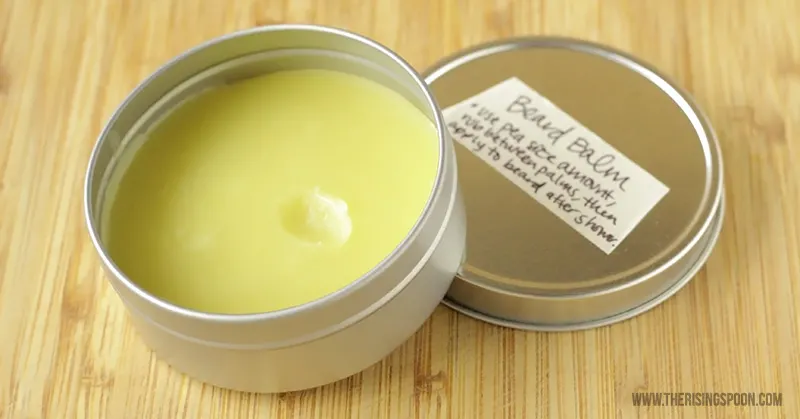 Source: therisingspoon.com
Did you know that beard balms are all the rage in men's grooming products? It helps to moisturize a man's beard, keep it neat, tamed and helps avoid dryness.
It also helps soften bristles, and that's pretty useful, don't you think? You can make this homemade DIY beard balm at home, and let me tell you, it's divine.
You can jazz it up with a few drops of essential oils(look here), jojoba oil, beeswax, and some shea butter. I wouldn't add any food dye, however much you're tempted.
This is an awesome birthday gift for him!
15. DIY Men's Cologne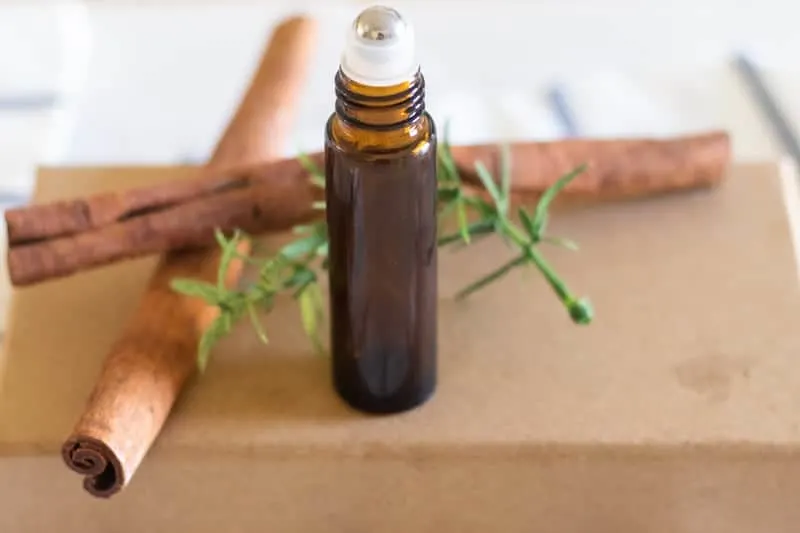 Source: ouroilyhouse.com
You can't go wrong with gifting a man some cologne. Men's cologne is spicy and unique, and to make it more so, you're going to be making your own.
You won't be using a spray bottle but rather a roll-on bottle. The key is to make the cologne long-lasting, not overwhelming or overpowering like other colognes out there.
Besides, a lot of store-bought cologne irritates the skin, nostrils, or even the eyes. So, with a little research, you can use natural ingredients that are safe and irritant-free.
16. Personalized Guess Who Game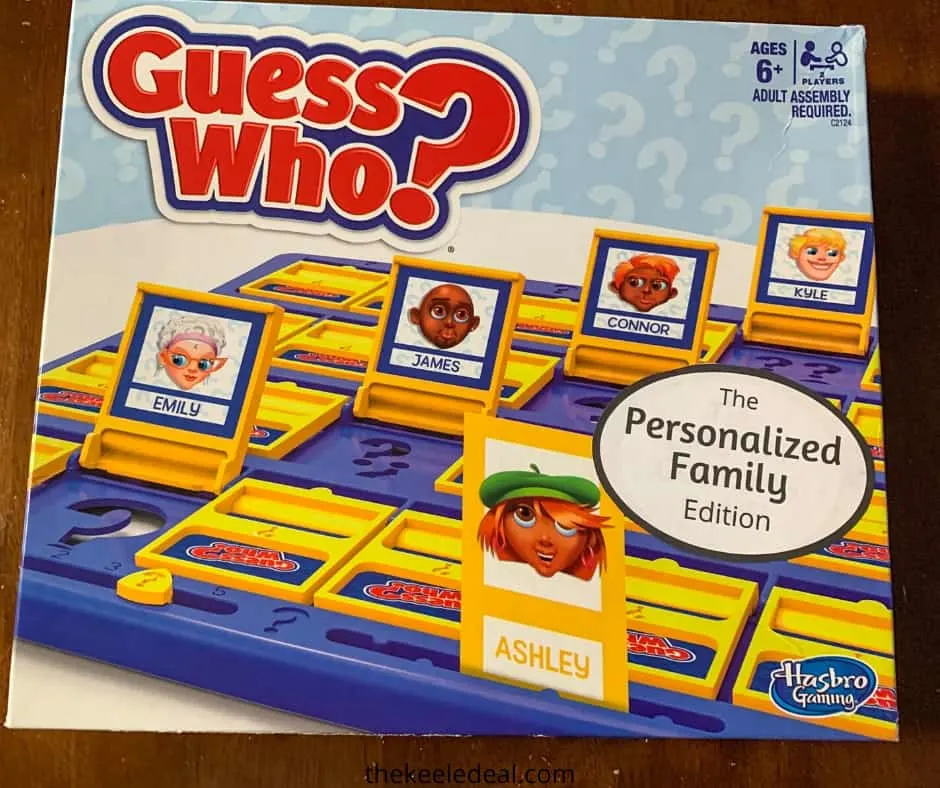 Source: thekeeledeal.com
This is one board game that I'm sure a man won't mind playing. Who doesn't love a good round of guess-who? It's such a fun game to while away time on a lazy day.
This DIY, Guess-Who game will help you personalize your gift. How? You're going to switch out all the existing characters that come with the game for people that the recipient knows and loves.
How cool is that, right? It's bound to make this game even more special—a definite keepsake for years to come!
17. Chef's Knife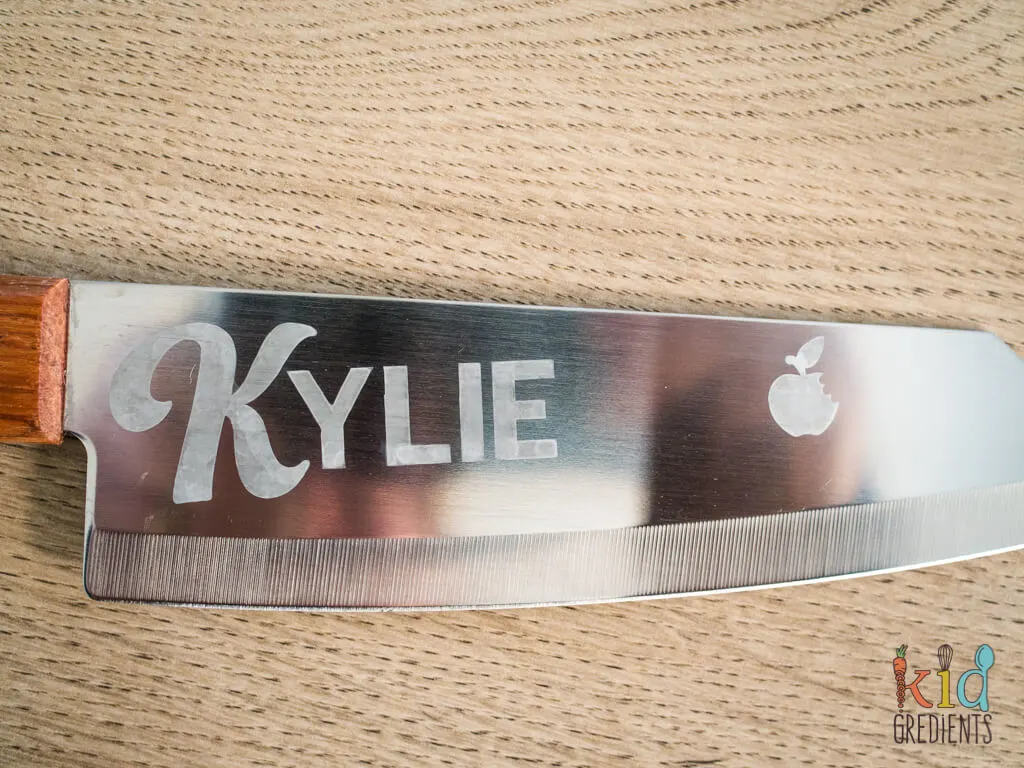 Source: kidgredients.com.au
Every man who knows his way around the kitchen knows exactly what knife he wants and will have a 'favorite' chef knife. I'm sure you know what I'm talking about.
You're going to use a Cricut machine to etch a personalized message or a name onto the knife and turn. Then you're going to wrap it up with a big fat bow and gift it!
You'll need this vinyl, too, and a standard cutting mat. Gather all the different items on this list and once you have, start etching the knife.
18. Photo Remote Caddy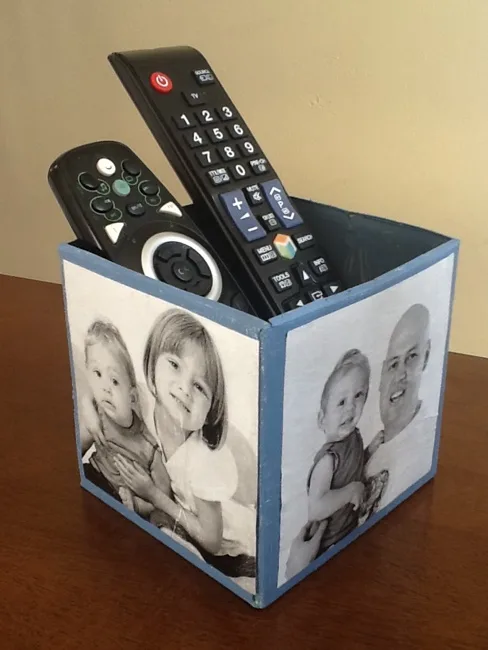 Source: teach-me-mommy.com
A remote caddy that will, for once and for all, put an end to the never-ending misplacement of the dratted remote. We tried everything, haven't we, to keep sight of the remote, but in vain.
So now, let's make this remote caddy and personalize it with a few photos to remind your spouse of love and family. You can decoupage the photos onto the box by sticking them on and 'painting' over them with mod podge.
Then, for good measure, add another coat or two. Allow the caddy to dry, and it's ready to box up.
19. Reinbeers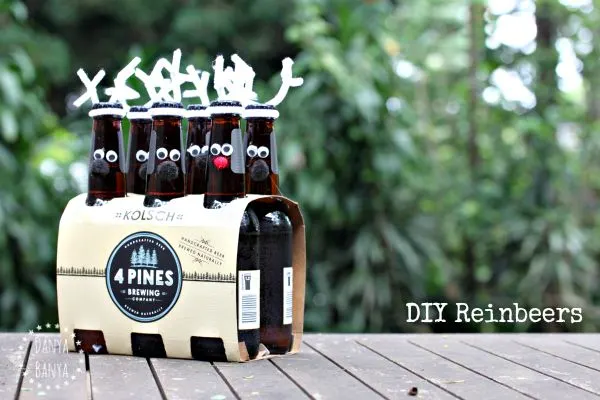 Source: danyabanya.com
Reinbeers. No, you read that right; it really does read reinbeers. Why? Because it's Christmas, and that's the best time to go a little overboard with decorating and turn a six-pack of craft beer into a reindeer craft project.
First, pick up some pipe cleaners from here, as well as a few black mini pom poms. You'll need one red pom pom, of course—you can't forget Rudolph, can you?
Then, grab a hot glue gun, twist the pipe cleaners into antlers, stick them on before you stick the pom pom noses, too!
20. Bacon Jerky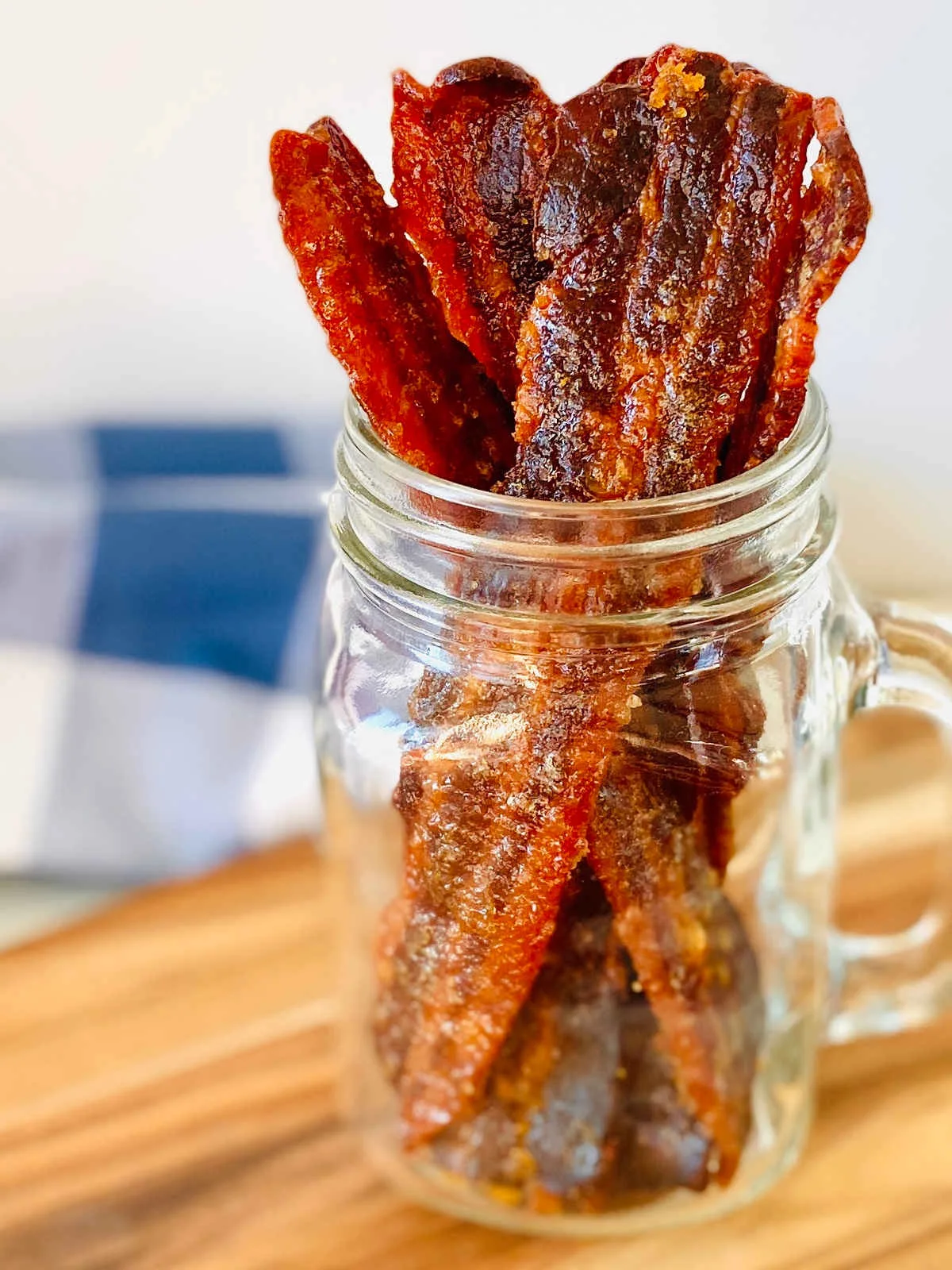 Source: aubreyskitchen.com
Bacon is a man's go-to choice of meat. Heck, it's everyone's go-to choice of meat—it's super crispy and cooked right, little strips of heaven on earth.
So, why don't you make a big batch of bacon jerky, put them in a jar, and gift them to a male relative, friend, or partner? You'll be in their good books for…well, forever. Feeding him is the way to his heart, yes?
This recipe is sweet and spicy, and you're not going to be able to stop eating them. So get ready to make a lifelong supply.
21. Bourbon Etched Glass Set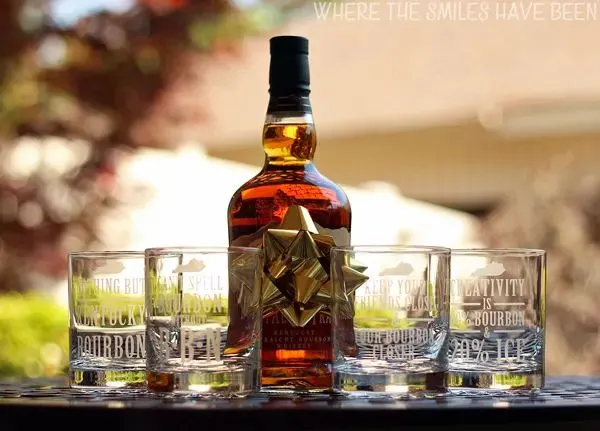 Source: wherethesmileshavebeen.com
Bourbon glasses are one of those classic gifts that men will truly appreciate. Why? Well, a good batch of bourbon won't taste as good as it ought to if you're sipping it out of a cup.
No, you need the right bourbon glass to up the ante and ring out the true, rich flavors of bourbon. So, why don't you buy a set of glasses and etch them?
I love the quote as well as the layout. You can use a Cricut machine or a Silhouette to help you design and etch your bourbon glasses.
22. Fabric Wallet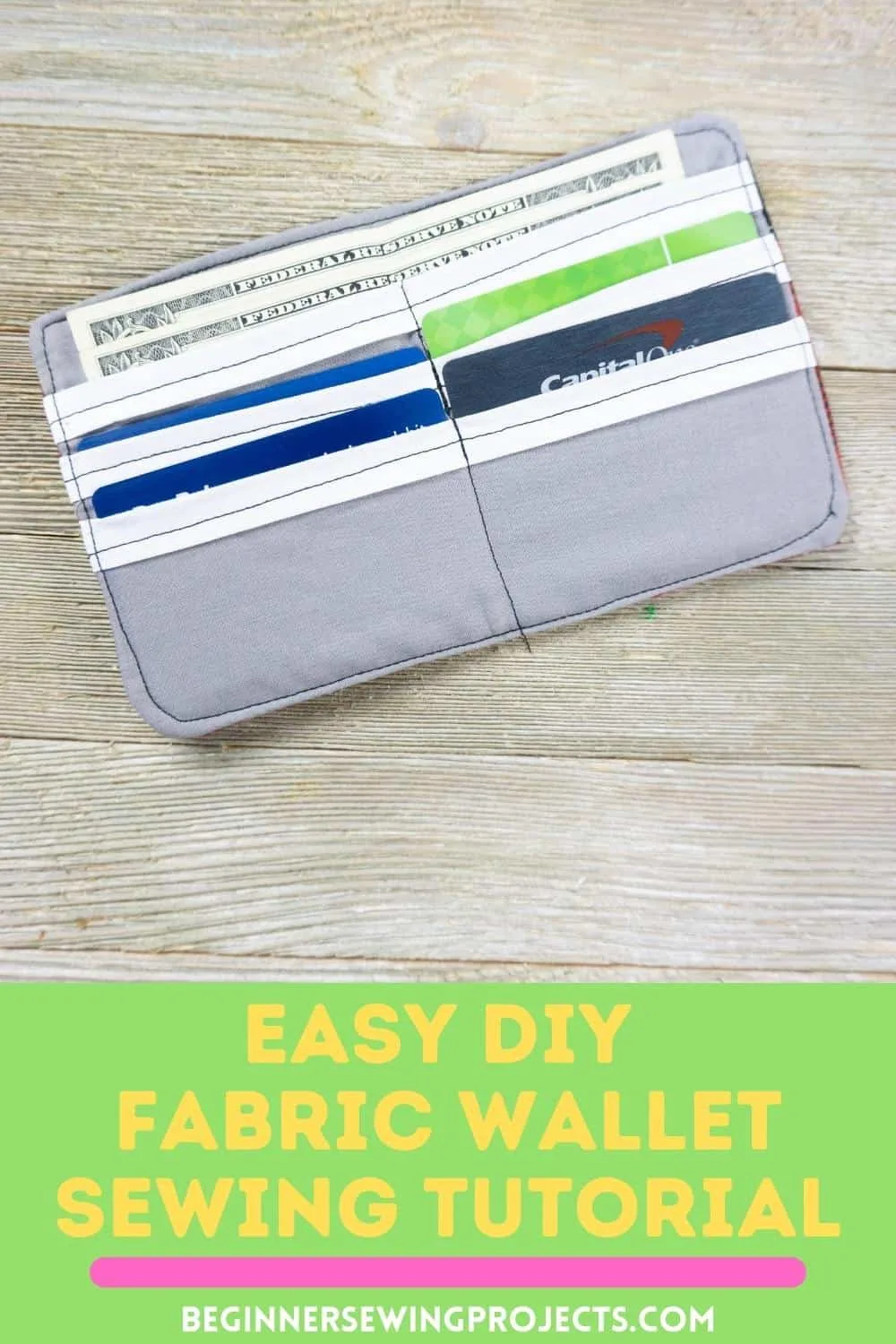 Source: beginnersewingprojects.com
My dad has had the same wallet for over 12 years and counting. I know that until it well and truly falls apart, he's going to continue using that same one.
But that's not going to stop me from making this fabric wallet to gift him this Father's day. Hope springs eternal, right?
Anyway, this is a quick and easy sewing project that you can get through in a few hours. Pick up some bias tape if you're all out, some thread clippers, your fabric for both the cover and the lining, and finally, this rotary cutter.
23. DIY Comic Book Coasters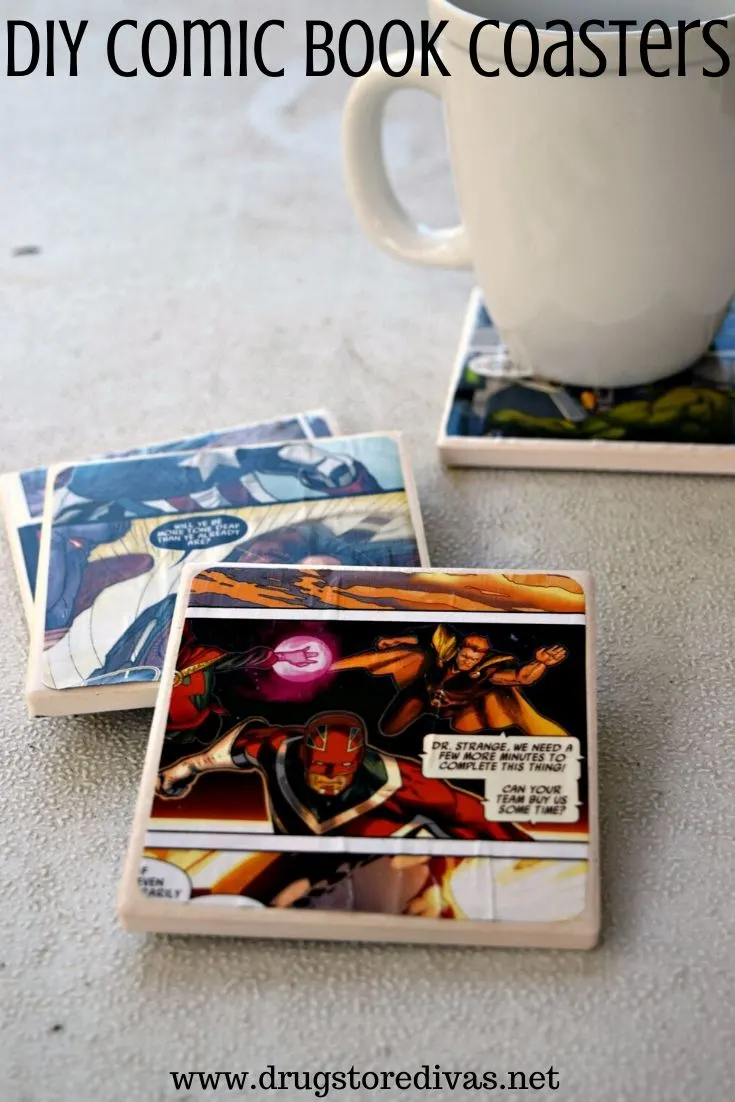 Source: drugstoredivas.net
DIY Comic book coasters are the absolute freaking best. Forget gifting them to men; I'm making a dozen of these and keeping them!
They aren't just comic book characters, no. You can see actual dialogues and action on these coasters!
You know what you need: mod podge, ceramic or wood tiles(look here)for the base, and a flat brush. You'll also need to pick out scenes from your favorite comics to decoupage onto the coaster.
24. Fabric Remote Control Holder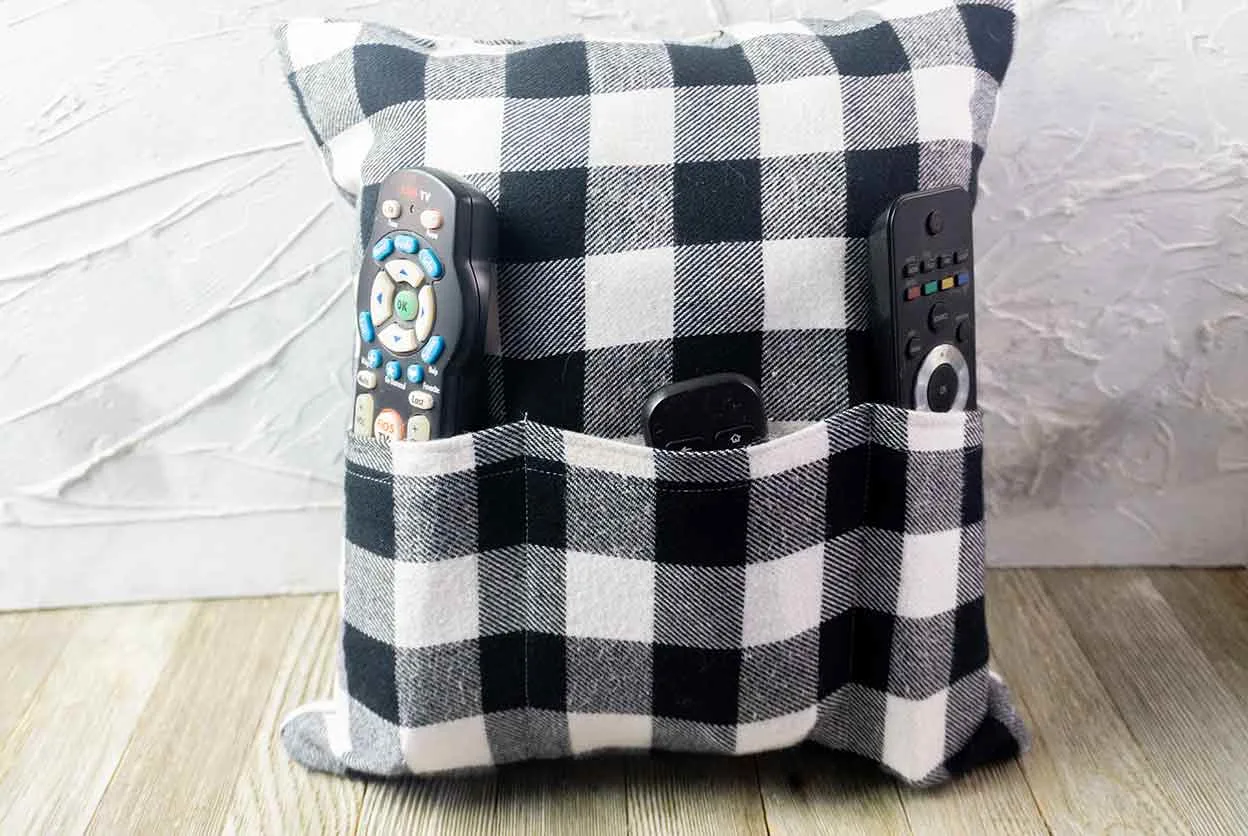 Source: beginnersewingprojects.com
If that last remote control caddy project wasn't enough, or you just want another remote control holder, you can check this project out.
I think that anything with pockets is just simply marvelous. And this fabric remote control holder comes with enough pockets for all your different remotes to be slid into.
It's a convenient way to store your remotes. When you're done using them, you can just tuck them into the pockets of the cushion and turn them around to face the sofa. They're hidden from sight but definitely not lost.
25. Map Homemade Christmas Ornaments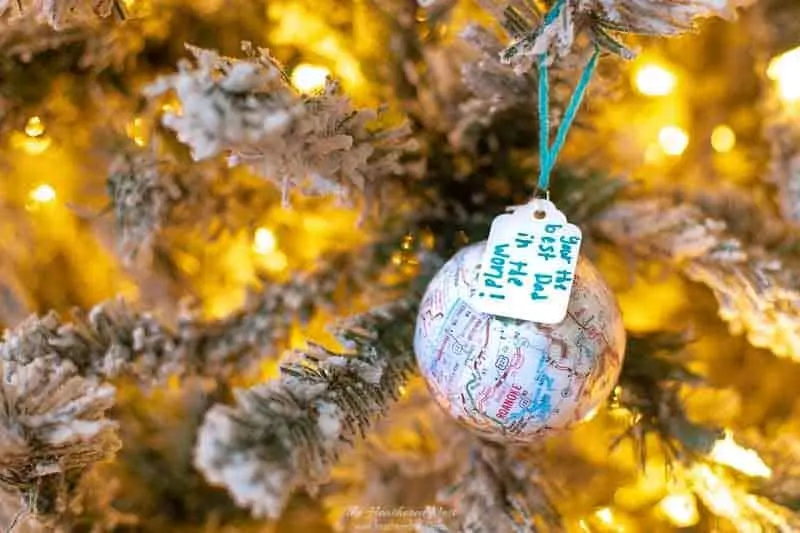 Source: heatherednest.com
This is a gift that the entire family can enjoy: homemade Christmas ornaments. With Christmas right around the corner, you can help your friends and loved ones decorate for the holidays.
These ornaments take only 30 minutes to make, and if you spare an entire day to this, you'll have dozens of them. A pack or set of sex ornaments each can be boxed and wrapped into a nice gift.
Grab a shape punch like this, and you can start crafting your ornaments.
26. Upcycled Plastic Bag Holder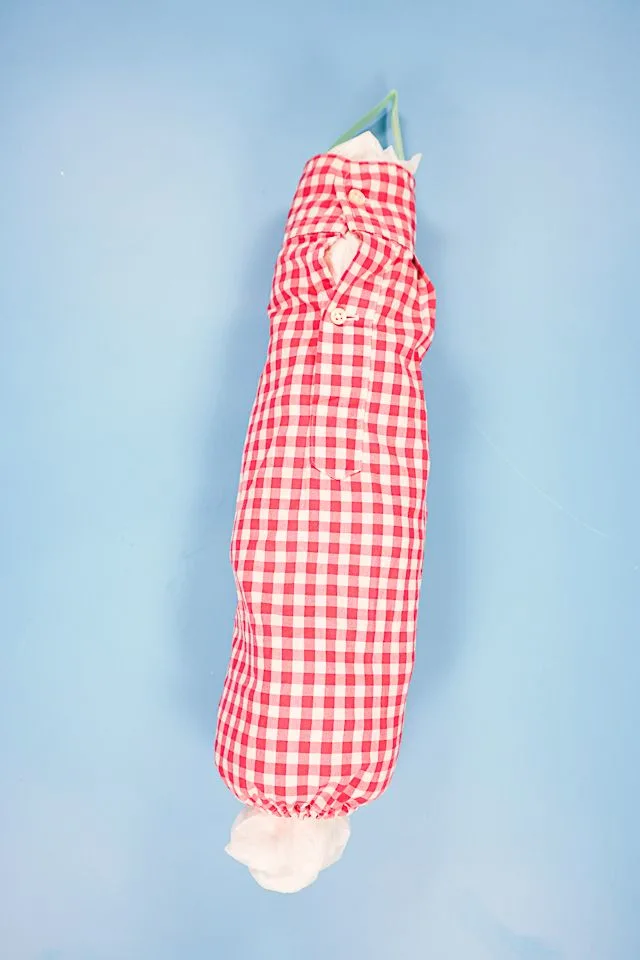 Source: ​​heatherhandmade.com
Well, for this project, you might not necessarily gift this to a man, but you still need something from him: a couple of shirts. I bet there are a few just sitting there in the back of the closet gathering dust.
Grab them so you can upcycle them to make this DIY plastic bag holder. What is it?
Well, you know how you collect all those plastic bags from your trips to the grocery store and the likes? You're finally going to organize all those bags in an orderly and accessible fashion.
If you use the sleeve of the shirt, you'll have a ready-made button enclosure.
27. Homemade Hop Spa Bath Set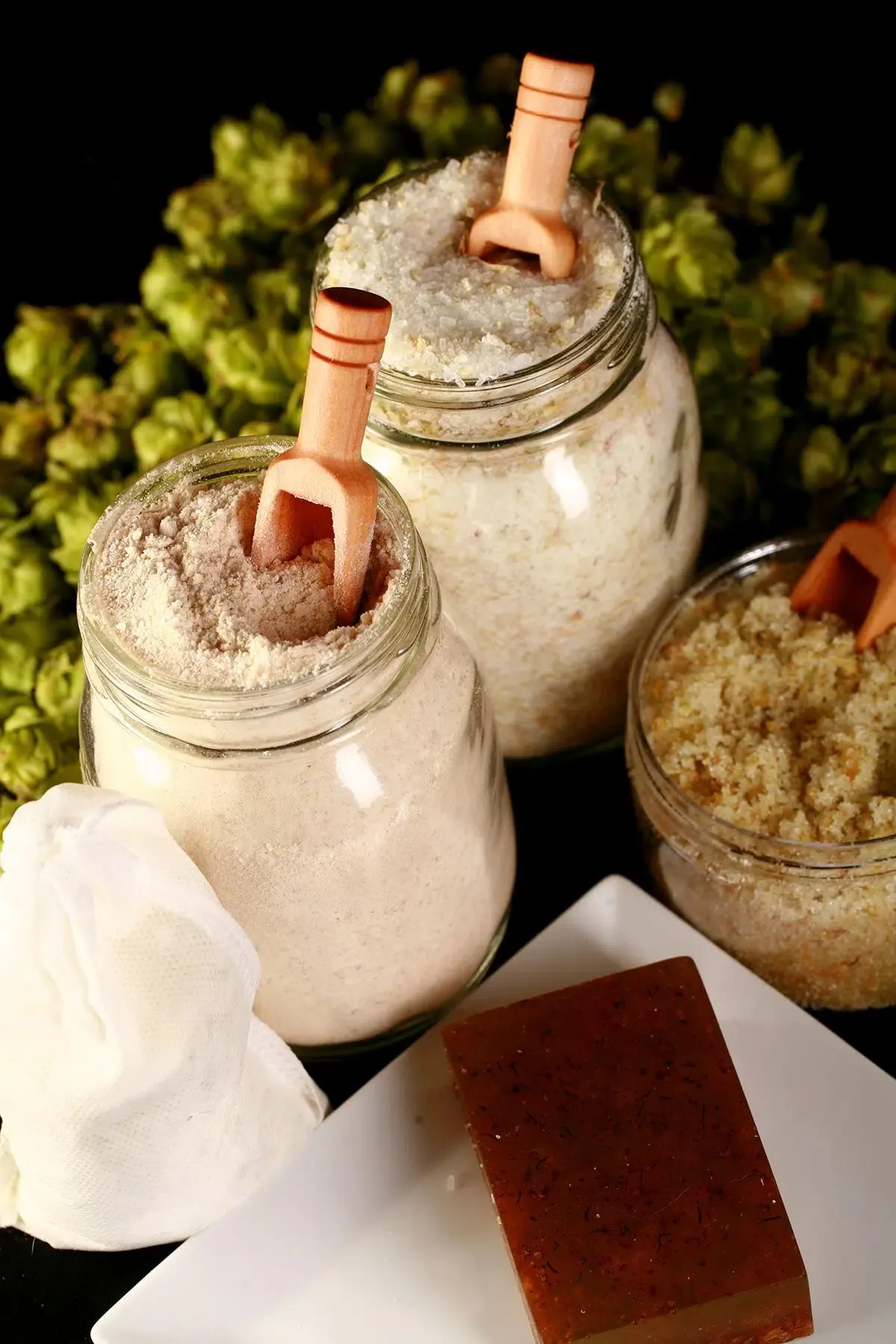 Source: celebrationgeneration.com
Who said that men don't enjoy a little pampering? You don't have to be metrosexual to enjoy a good soak in the tub or some natural homemade products.
This homemade hops spa bath set is a great gift to give a man to encourage him to pamper himself a little. Hops are essentially flowers that are used in all sorts of bath products as an agent that helps to soothe and relax the body.
It is also used in beer, too, in case you want to pass along that message. So, you can pick some up at a local homebrew store or online here.
This could also be a nice a Christmas gift for mom.
28. Beard Oil Recipe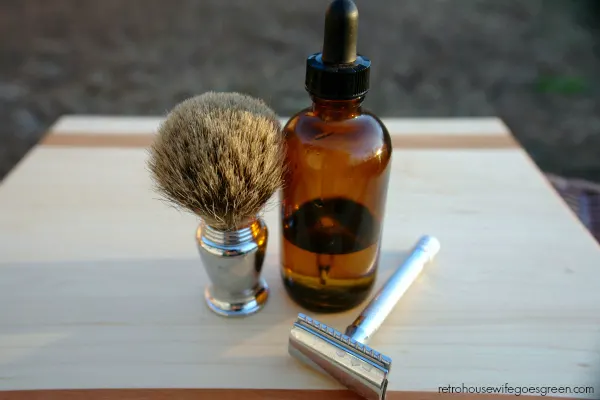 Source: retrohousewifegoesgreen.com
I bet that beard balm you made earlier was a big hit. Now that you've slowly hooked the man into trying out your homemade grooming products, it's time to make more.
This beard oil helps to moisturize, nourish, and soften beard hair. By nature, beard hair can be prickly and can also itch the man.
A few drops of oil warmed by the palm and massaged into the beard can do wonders! You can use jojoba or apricot oil as the base and add a few drops of essential oil to it before pouring the mixture into a bottle with a dropper(look here).
29. DIY Shower Steamers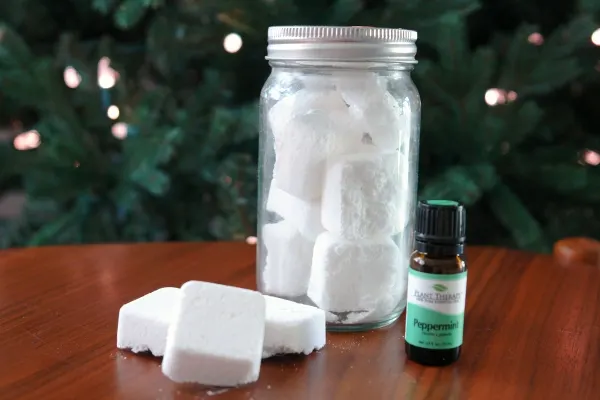 Source: thestressfreechristmas.com
A long hot shower can go a long way to cure any man of his troubles, even if momentarily. Women prefer to soak in tubs instead.
You know what would really make a man's day? Some shower steamers! What are shower steamers? Well, they are basically bath bombs for the shower.
You can set them down at the bottom of your shower, and when the hot water and steam hit them, they will release a scent. The best scent to help him relax is probably peppermint—minty and fresh!
30. Wood-Burned Frame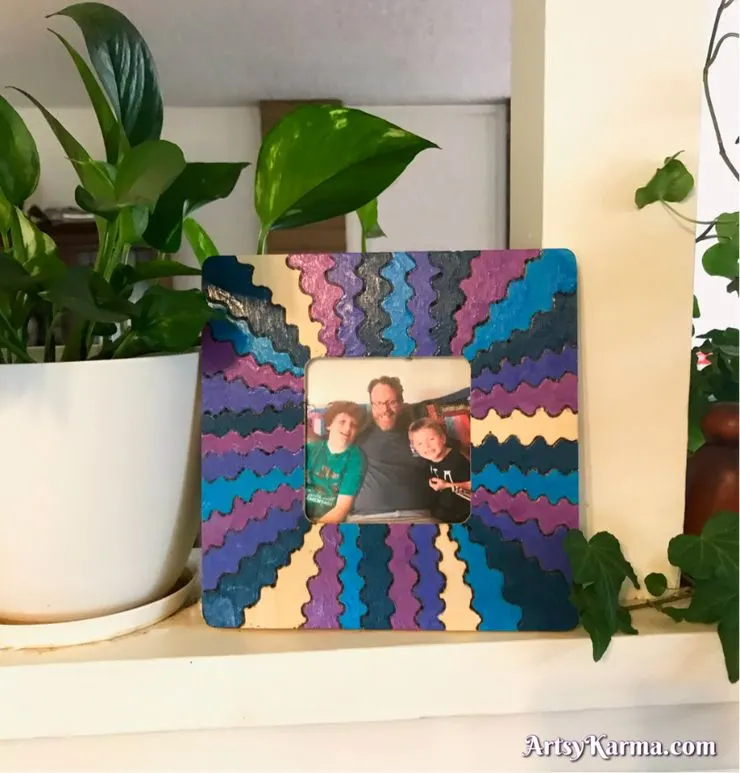 Source: artsykarma.com
Your father or husband would love a framed photo of his beautiful family. It is a gift that he will always cherish and enjoy. So, why don't you take a look at how to make this DIY wood-burned frame?
This wood-burned frame comes with an enamel nail polish finish. You'll need a wooden frame from here, a wood burner like this, and finally, nail polish.
First, design your frame with the pattern you like. Once you've 'burned' the wood, you can fill it in with paint and then slip the picture into its slot.
31. Nightstand Caddy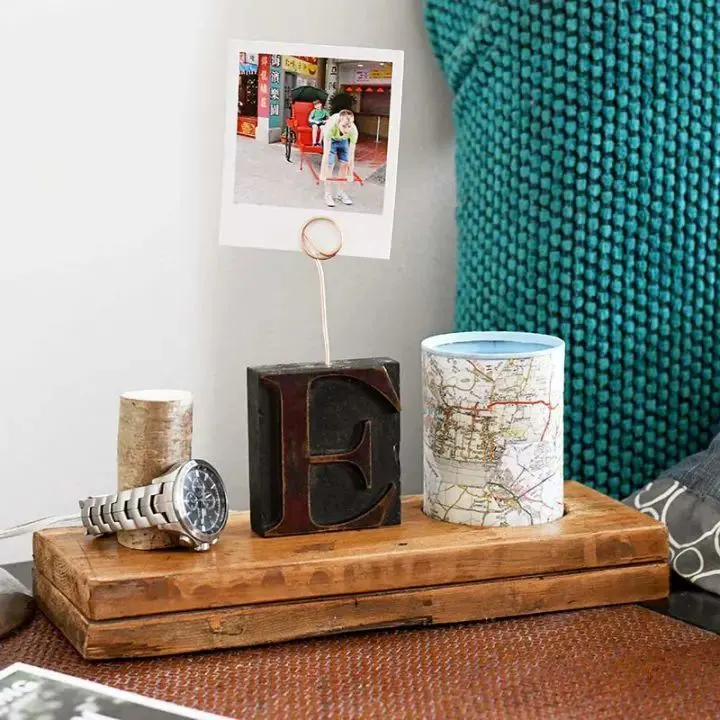 Source: pillarboxblue.com
A nightside caddy is a great way to jazz up the space of your side table or nightstand. It not only looks good, it will also help to declutter and organize your belongings.
See the little post where a watch can be slid in? Then comes the big wooden letter block(look here), which you can personalize. Finally, the last slot is for an upcycled tin can to hold little knick-knacks, the odd pencil and pen, and more.
Grab some mod podge, wood glue, gorilla tape, gorilla glue, and heck, all the adhesive you can find apparently because this project uses them all.
32. Lego Minifigure Frame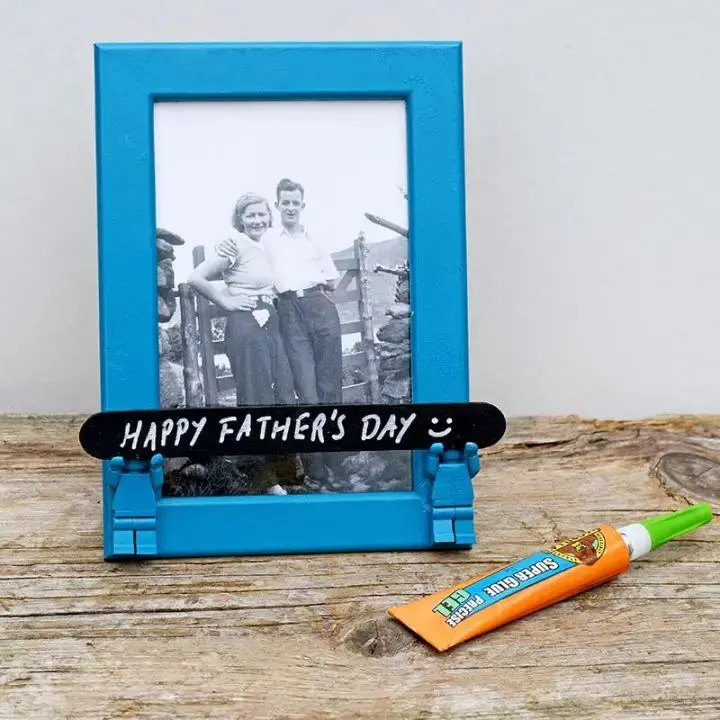 Source: pillarboxblue.com
Be it a boy of 5 or 50, everyone loves legos. Not just boys, but girls, too. It's just something you never quite grow out of, and thank God for that.
That's why I'm absolutely certain that this Lego minifigure frame will be a big hit. You can gift it to your son, father, brother, friend, or partner, and they'll all love it.
You don't even have to wait for an occasion. Just make the frame, put a picture in it, and you're set.
33. Money Gift Wrap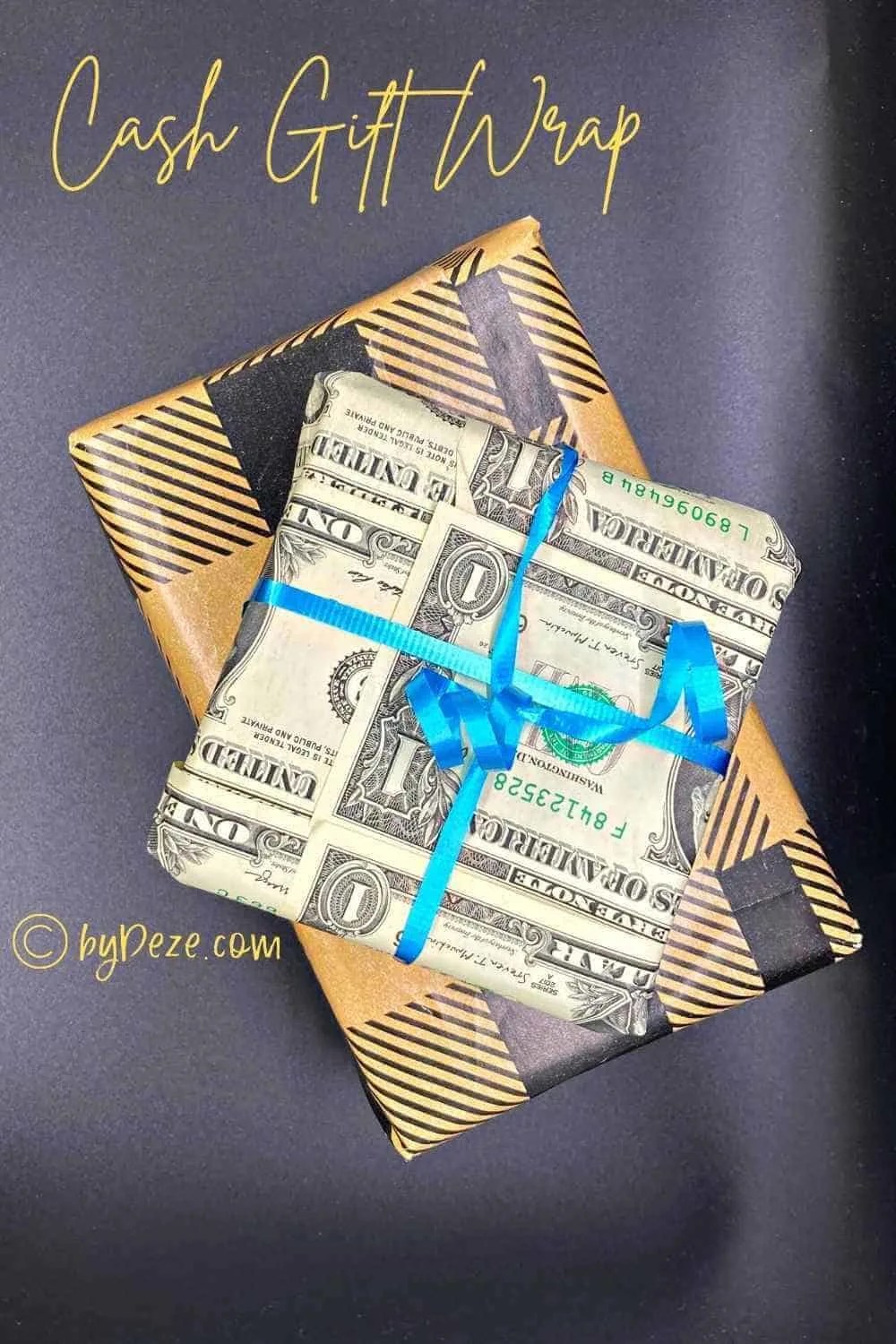 Source: bydeze.com
I find that most people get a kick out of this money gift wrapper. It's not gift wrapping paper; it's real money that's been creatively used to wrap around a gift box.
A unique way to gift money along with another present. But you don't have to stick to wrapping your dollar notes. You can also make a cash ribbon and tie it around the gift in a bow.
Just make sure your gift box isn't too long. Who knows how many dollar notes you'll need for that!
34. You're One In A Melon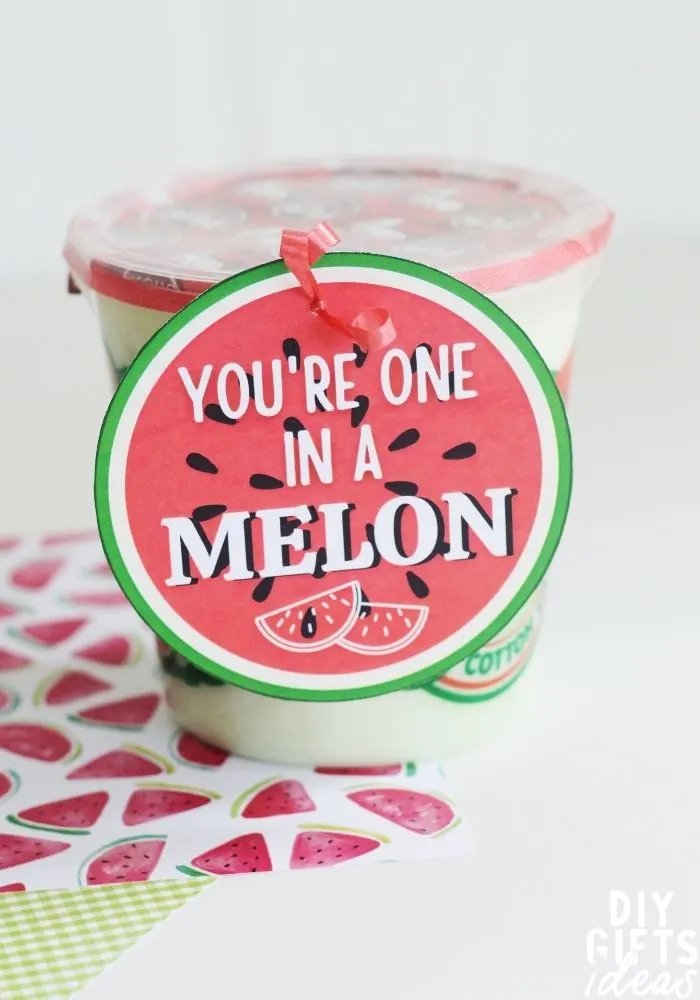 Source: diygiftsideas.com
Don't you just love a cute pun? It's just a little bit of wordplay that can instantly brighten up a person's day.
Now, take that phrase 'You're one in a melon,' and make a little gift tag that reads that phrase. The gift tag will, of course, be a melon. You can download the free printable pattern provided.
Use a punch hole to poke a hole in the tag and run a ribbon through it. Then just add it to your gift, and you're all done!
35. DIY Leather Cocktail Stirrers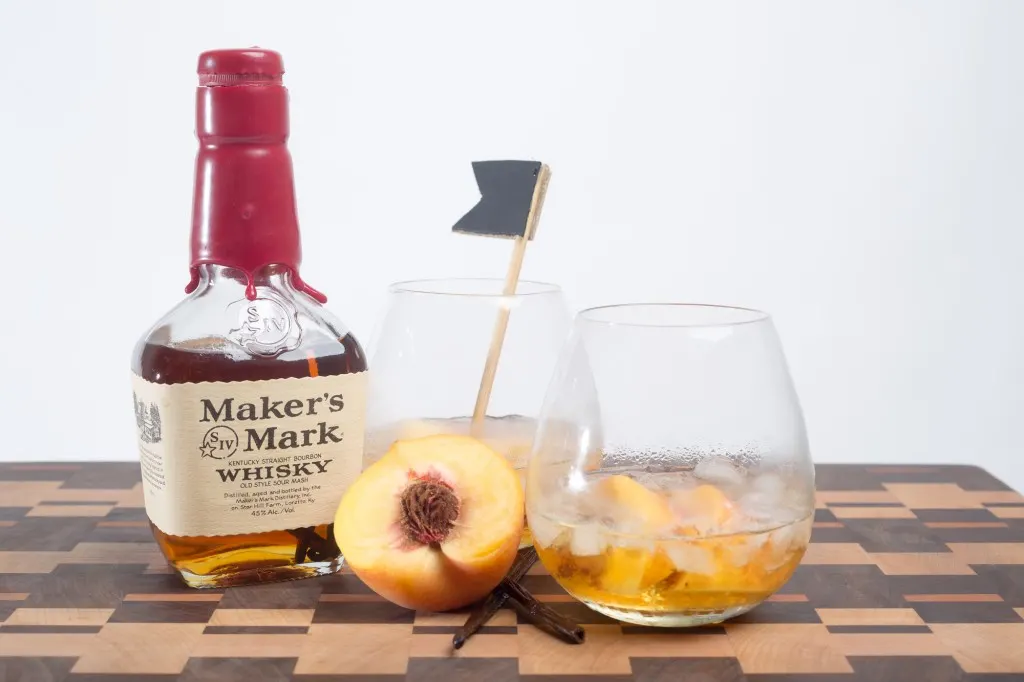 Source: popshopamerica.com
Check out these fabulous DIY leather cocktail stirrers. You won't find these sitting in a fruity cocktail; I can tell you that.
These stirrers are so easy to make that you'll have dozens—dozens— of these ready in an hour. If you're gifting them, I think a set of 24 to 30 stirrers would be more than adequate.
Just pick up some wooden skewers from here, first, and you can start crafting.
36. Stone House Seasoning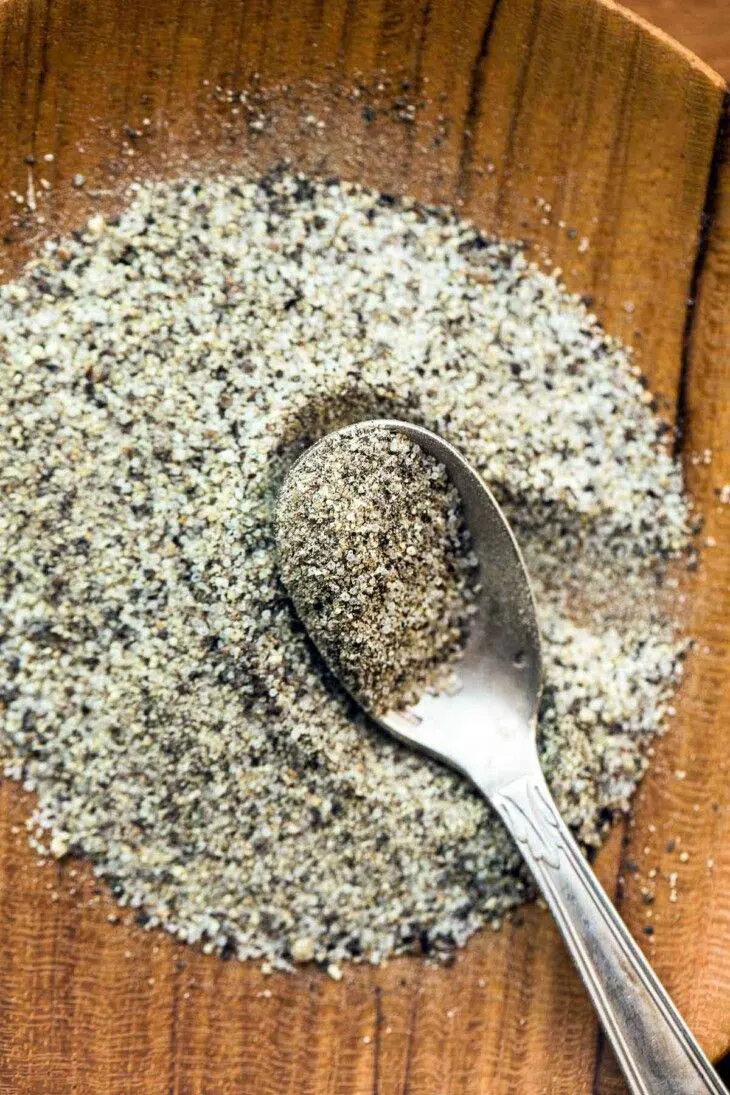 Source: littlesunnykitchen.com
This stone house seasoning includes just three basic ingredients that I'm certain you already have in your kitchen. With them, you can toss this seasoning mix together.
You can use it to season meat, veggies, rice, pasta, and more. Just thinking about the flavors filtering through my mouth has my taste buds tingling.
So here are the three key ingredients: salt, pepper, and garlic powder. These three ingredients are the triumvirates of seasoning, and you'll be making a ton of tasty dishes in no time at all!
37. Chocolate Covered Oreos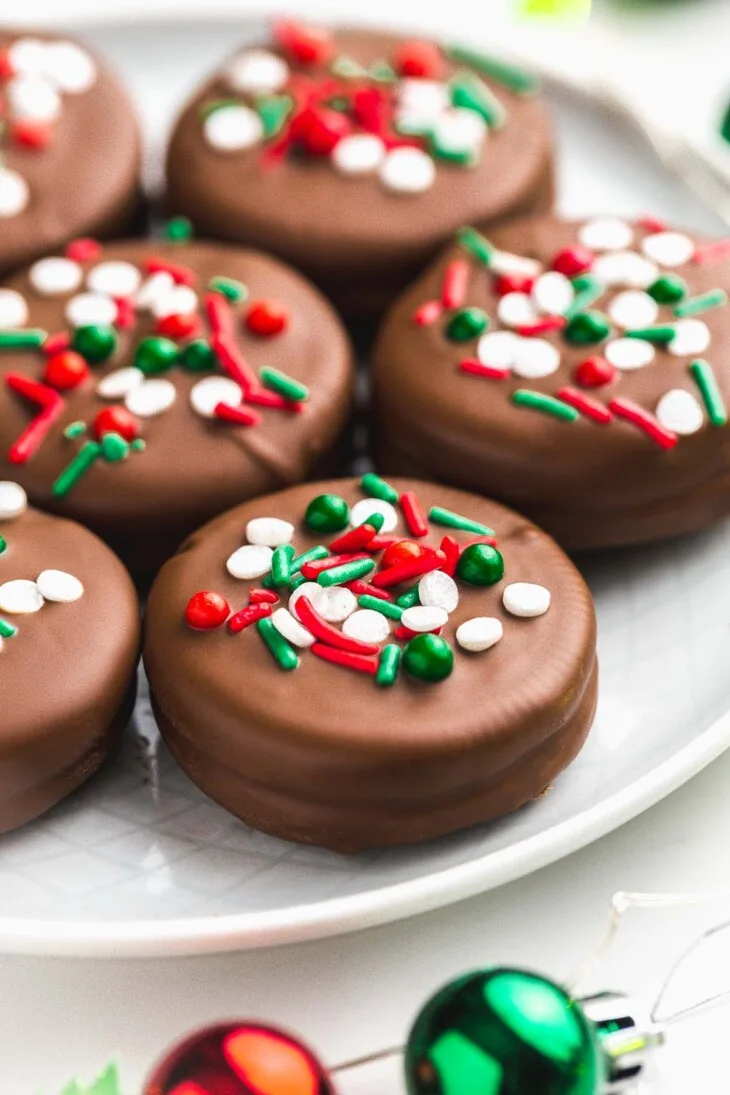 Source: littlesunnykitchen.com
Let's jump really quick from savories to the splendid land of desserts and all things sweet. For the next DIY gift, you're going to hit the man where it really counts: his sweet tooth.
This three-ingredient, chocolate-covered Oreo cookies are essentially an Oreo sandwich. But not just a regular Oreo cookie sandwich, no. This one is dipped in decadent chocolate and covered in sprinkles.
With the holidays just around the corner, you can sprinkle a green-red-white combo of edible confetti over the cookies!
38. Chocolate Spiced Salami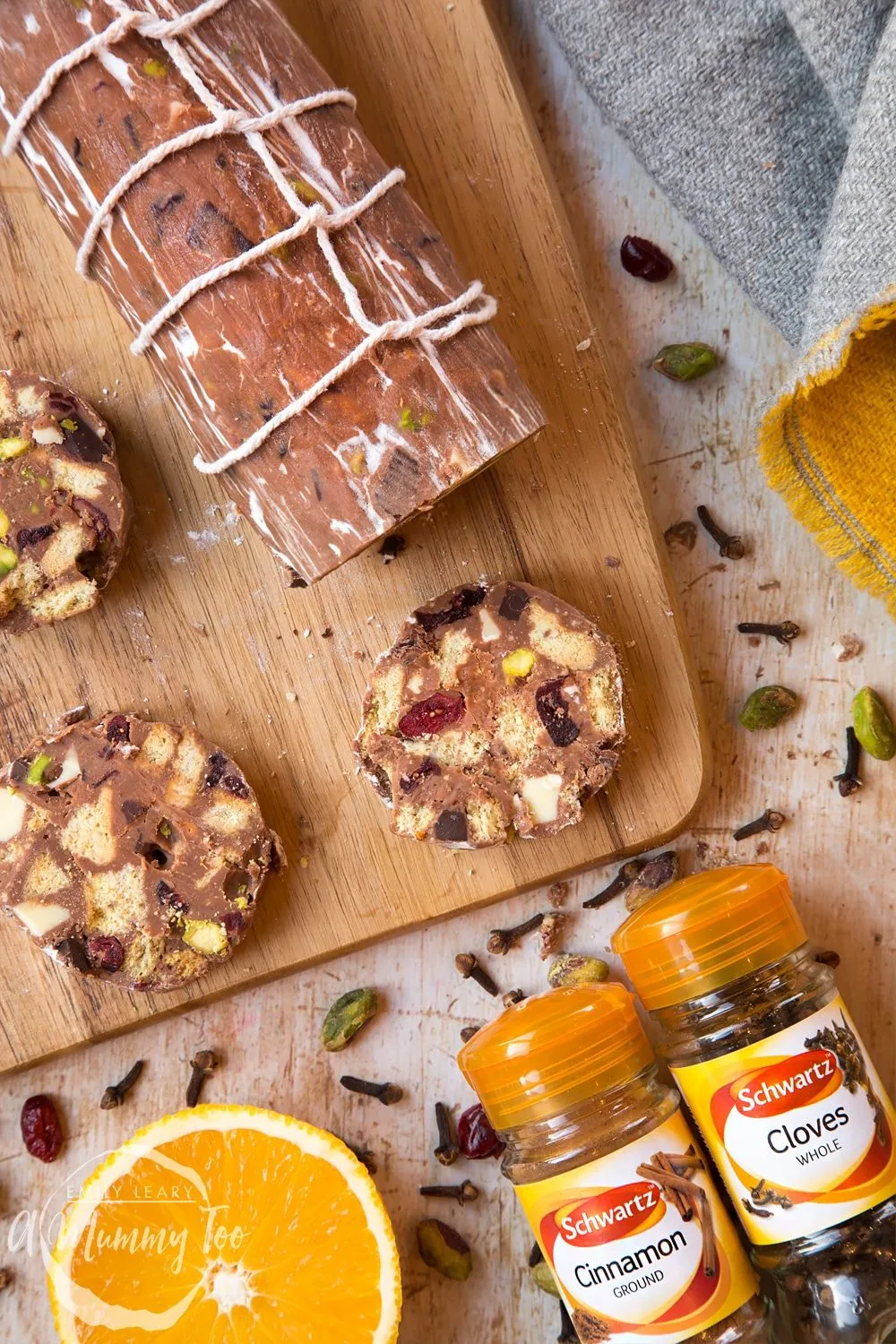 Source: amummytoo.co.uk
We've made something spicy and savory, and also something sweet and sugary. Now, it's time to bring both the savory and sweet into one single dish: chocolate spiced salami!
This stunning rendition of chocolate salami is as Christmassy as it gets. It looks festive and is also full of Christmassy spices like cloves, cinnamon, and citrus.
It's an explosion of flavor and texture. Wrap it up in some butter paper, place it in a fancy box, and send it off to some lucky man!
39. 12 Pack Soda Can Cake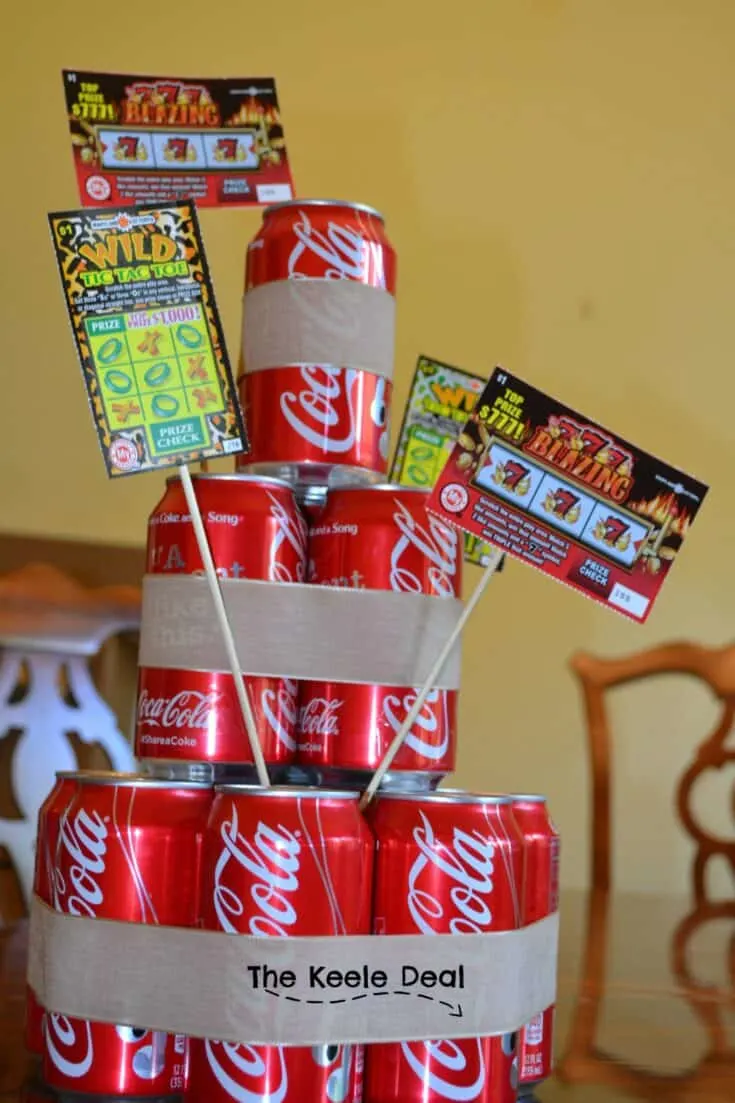 Source: thekeeledeal.com
What's bigger than a six-pack? A twelve-pack! We're talking of soda, of course…right?
This 12 pack of soda cans can be stacked into a towering cake-like structure. You can pick the recipient's favorite soda brand and start from there.
Alternatively, you can use one can each of 12 different types of soda if you want to add some variety.
40. Homemade Beard Oil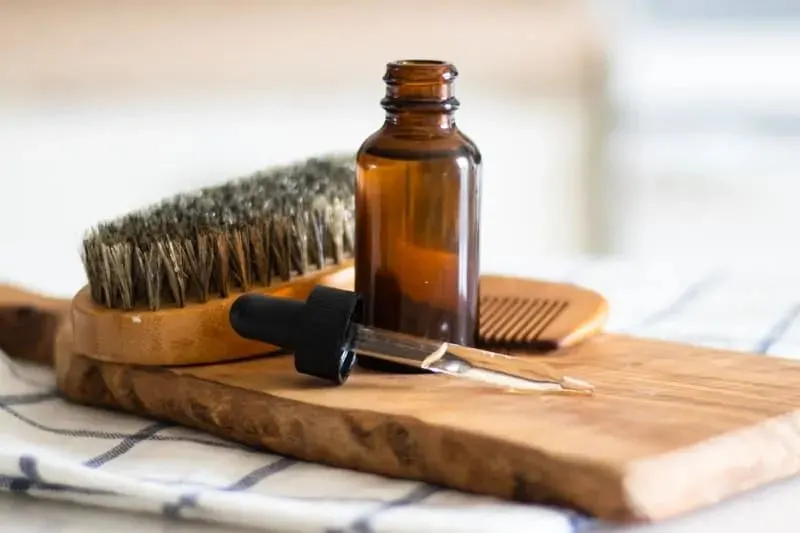 Source: ouroilyhouse.com
Here's another recipe for yet another beard oil. With more and more men embracing these all-natural grooming products, it opens up so many avenues to explore, doesn't it?
With the last one you made, you concentrated on soothing itchy beards. This time, dig a little deeper and target the skin. A good beard oil won't just soften and moisturize the beard, but it will also work its magic on his cheeks.
Also, this time, you can explore more base oils: coconut, almond, avocado, jojoba, and more.
41. Handmade Breakfast Tray for Dad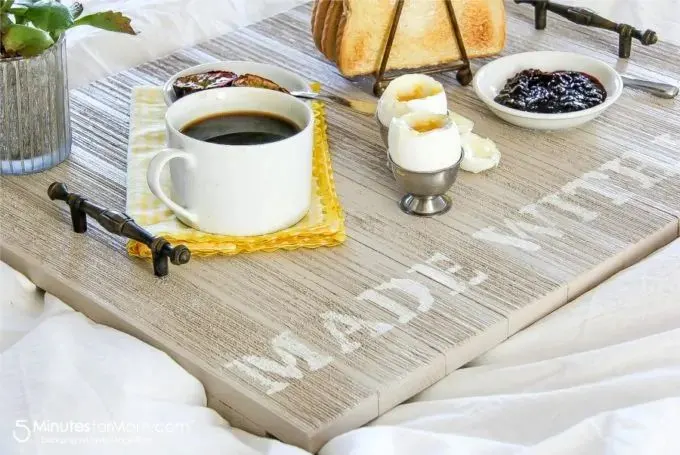 Source: 5minutesformom.com
The most common tradition on Mother's day is waking up early and making breakfast in bed for mum. This time, let's do the same for Father's day with this DIY tray.
It is so rustic and edgy, but also surprisingly elegant too. Perhaps it is the white-grey finish on the wood that makes this tray elegant and rustic.
Grab your toolbox and pick out some wood to begin.
42. DIY Leather Key Basket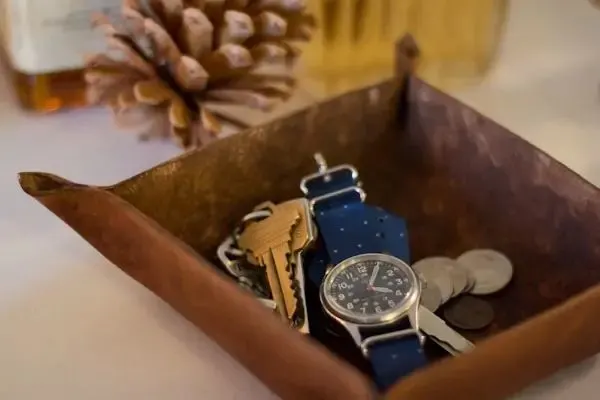 Source: lovelyindeed.com
This DIY leather basket is perfect to house all kinds of knick-knacks, spare change, keys, a watch, and more. It's the masculine version of a trinket dish, and it is utterly divine!
Grab some of this tooling leather and also some leather dye. You see those pointed edges? You're going to be clipping clothespins to the four edges to keep them in place while the tray dries and sets.
43. DIY Spice Rubs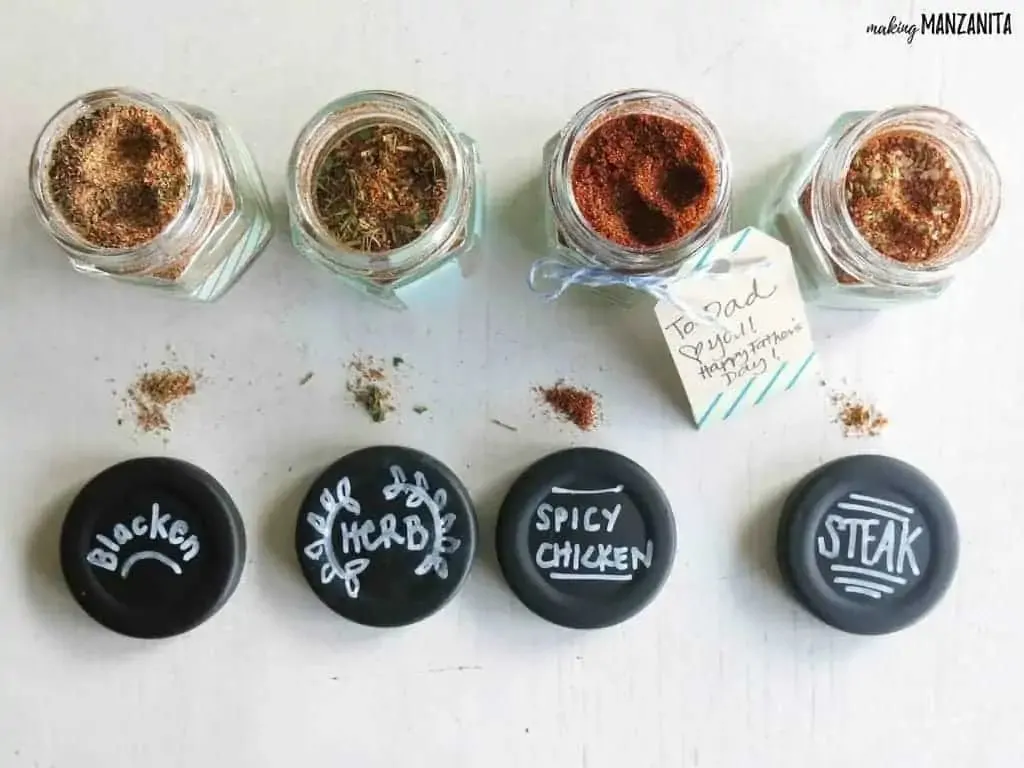 Source: makingmanzanita.com
This spicy DIY rub is every griller's dream come true. It incorporates a ton of classic flavors and makes it perfect for coating the meat in and allowing it to soak in.
Combine this rub with a sauce, and you have a finger-licking, drool-inducing piece of barbecue. That's why you're going to make a batch of this homemade spice rub and gift it to your spouse on his birthday or Valentine's day or dad on Father's day!
They're going to love it! And, you can put your bottle of spices in this DIY gift bag!