We love Dollar Tree! Why not have fun with the cheap items you can buy? Get a bunch of inspiration with these easy Dollar Store crafts for teenagers.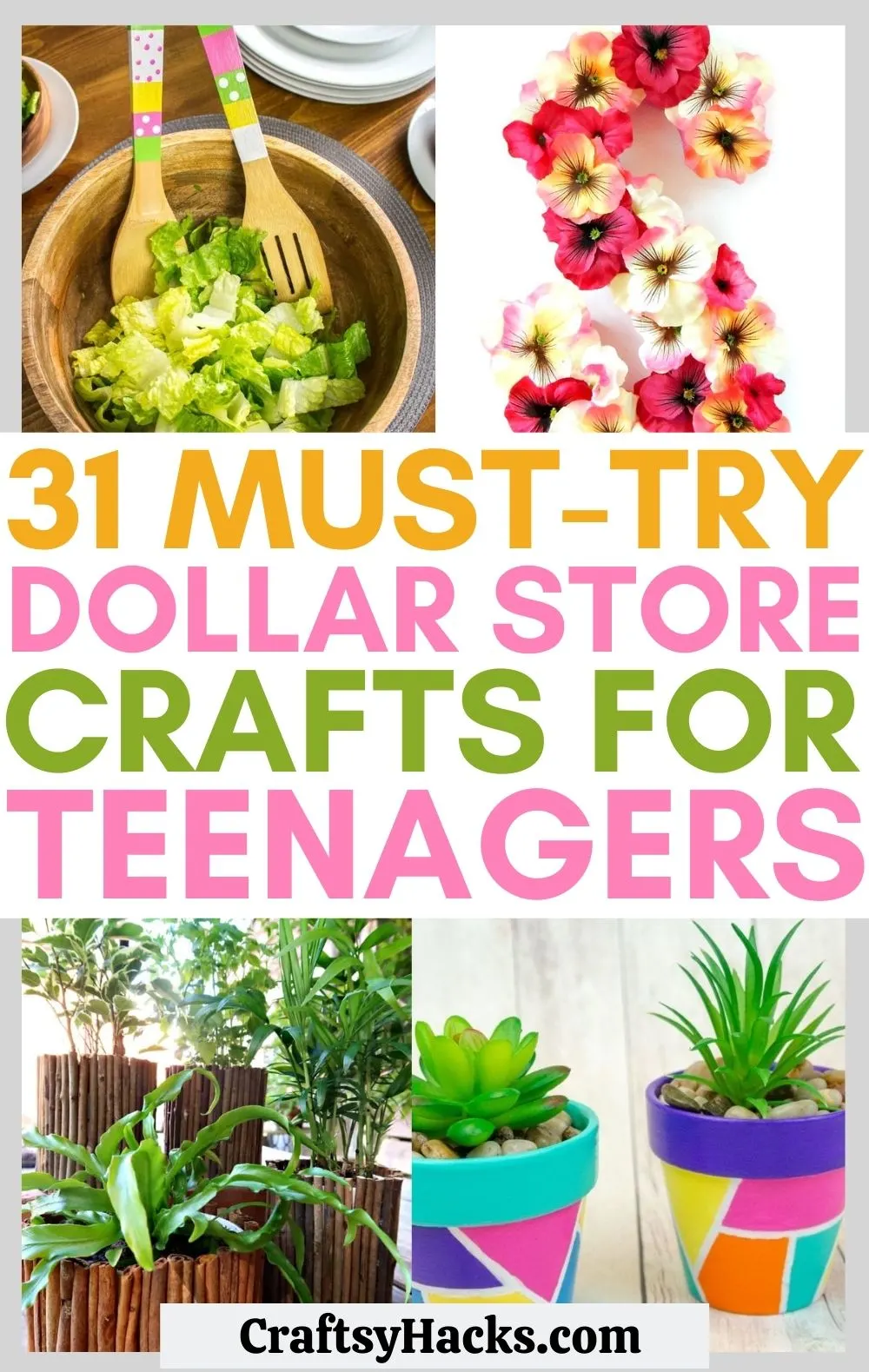 Say what you want, but Dollar stores are the land where crafters can splurge to their heart's content. Whether it's craft essentials you're looking for or basic things that you can use during a craft project(mugs, frames, candles, crockery, and the likes), they have you covered.
The best part? Everything is just so darn cheap. When you're a teenager and trying to save up your allowance but still want to craft really badly, the dollar store is where you go.
You can buy plenty of what you need and all for just a few bucks. It's a win-win-win situation!
So, if you're looking for some easy and quick dollar crafts, then I got you covered. Check out these 31 dollar store crafts for teens.
1. Dollar Tree Lantern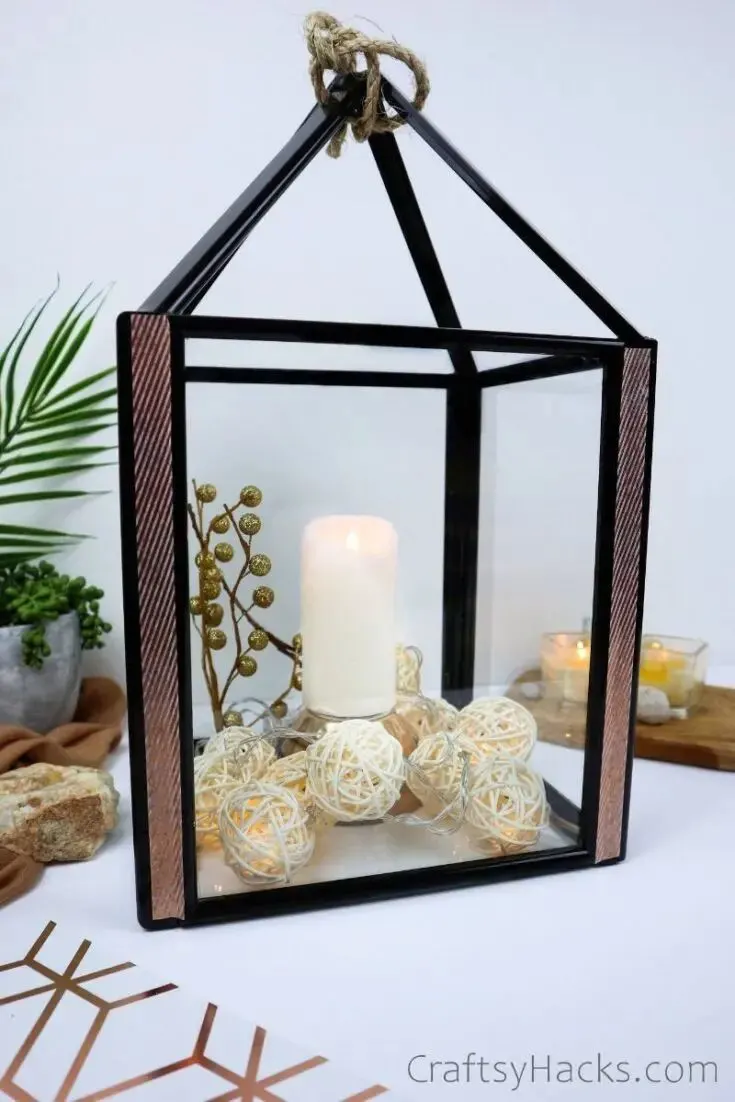 Source: craftsyhacks.com
Would you believe me if I told you that this lantern was made completely out of photo frames from a dollar store? No, really. You just need to pick up a few frames that you like, break them down into different pieces, and put them back into a lantern.
Sure, you'll need a pair of pliers and a hot glue gun to help you piece everything together. You will also need plenty of craft supplies to decorate the frame like these decorative tapes.
Alternatively, you can paint the frame in a different color if you want to.
This is an absolutely wonderful way to decorate home with Dollar Tree items.
2. Geometric Painted Flower Pots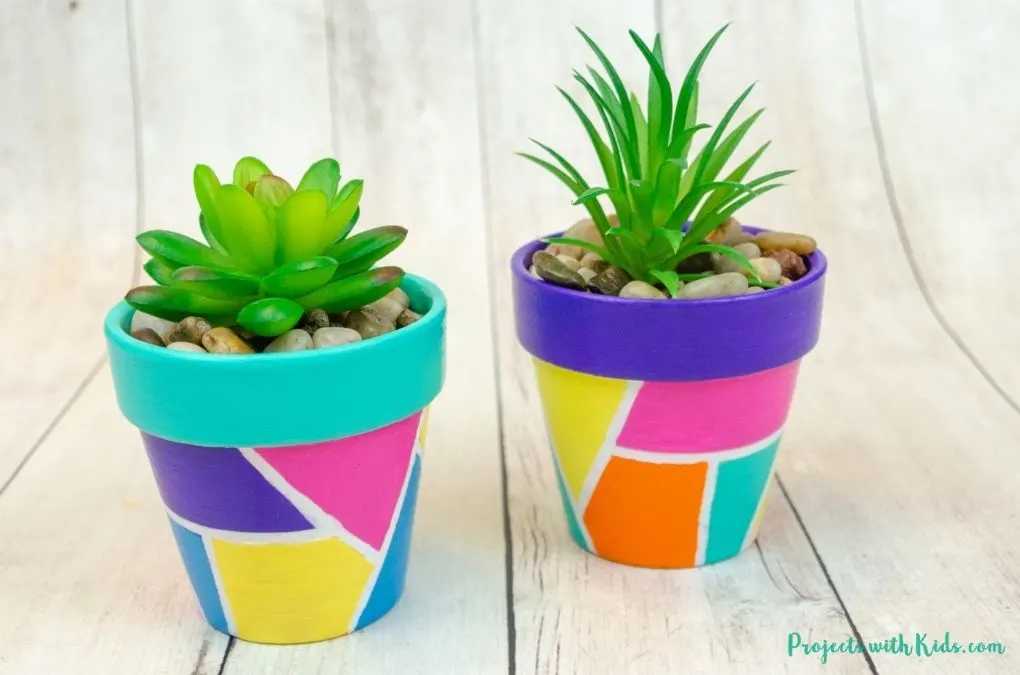 Source: projectswithkids.com
You can find plenty of plain white or terracotta pots at dollar stores for a buck. They are the perfect blank canvas to paint on, don't you think?
Grab a few bottles of acrylic paint, a few brushes, and some painter's tape. Since you'll be painting geometric designs on the pot, you can use tape to line up different patterns.
When you're done painting the pots, you can paint a good layer of sealant over the pots to set the paint. Then, fill the pot with faux succulents, pebbles, and rocks.
3. Dollar Tree Wreath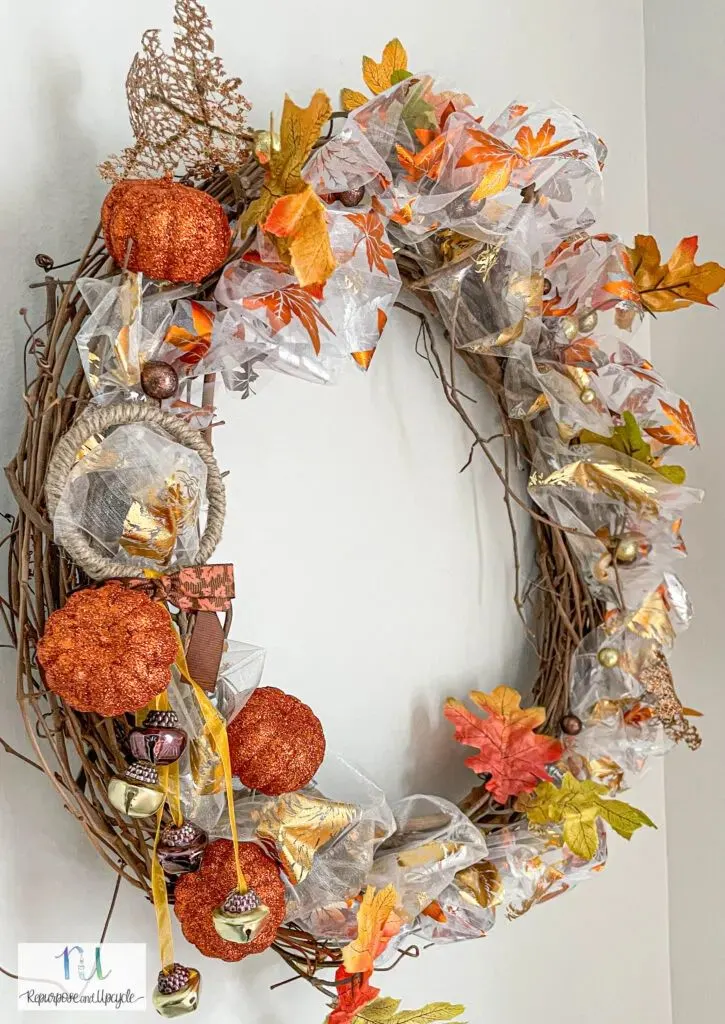 Source: repurposeandupcycle.com
You can make this dollar tree fall wreath for just ten bucks. It's affordable and fun, and you'll have plenty of ornaments to accentuate your fall wreath.
Make sure you pick up plenty of faux fall-colored leaves, florals, mini pumpkins, beads, bows, acorns, and more to decorate your wreath. You can also spray paint a fine layer of bronze or gold glitter over the wreath to add some sparkle.
For the base, you will need a grapevine wreath form from here. You will also need plenty of ribbons, so don't forget to pick that up, as well.
4. Leaf Candle Holder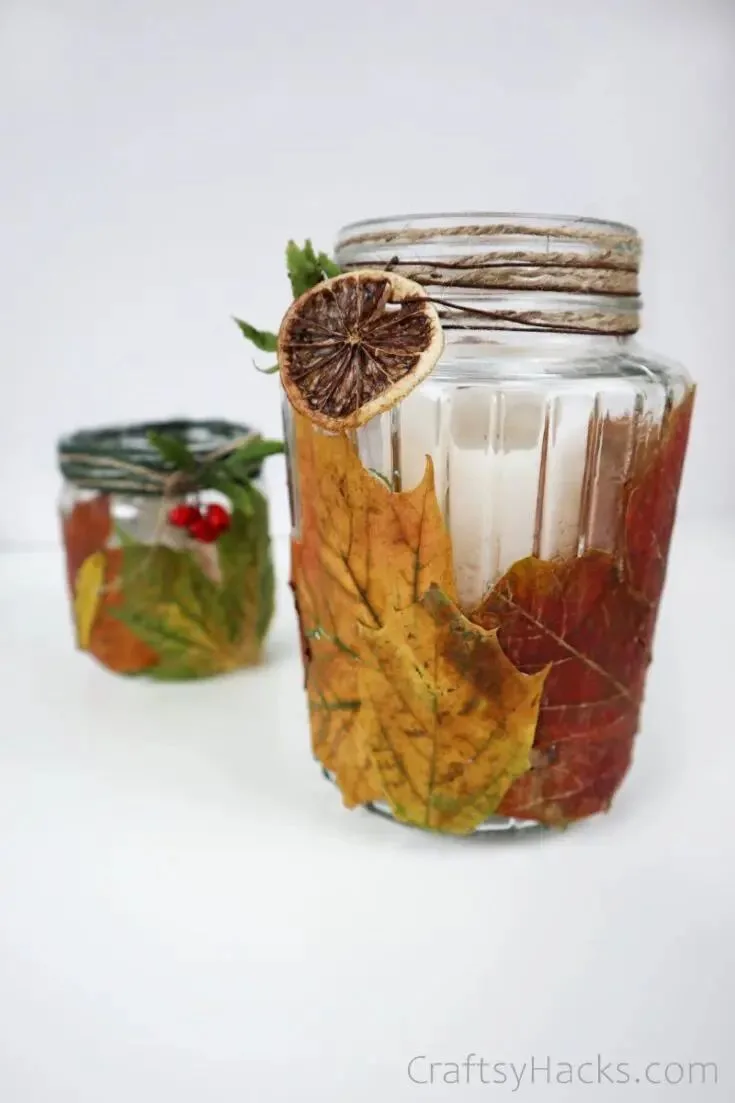 Source: craftsyhacks.com
If you still have a few faux leaves leftover from that wreath project, just hold on to them for when you make this leaf candle holder. It's perfect for fall time, with fall-colored leaves all around it.
You'll need mod podge from here to help you decoupage the leaves to the glass jar in question. There are other materials you can use to decorate the jar too.
A nice slice of fried orange can be attached to some twine and looped around the rim of the jar. You can also add a couple of dried cranberries, a cinnamon stick, or leaves like pine, holly, or cedar.
These are also great for parties, in case you're in need of some decorating ideas!
5. Dog Snuffle Mat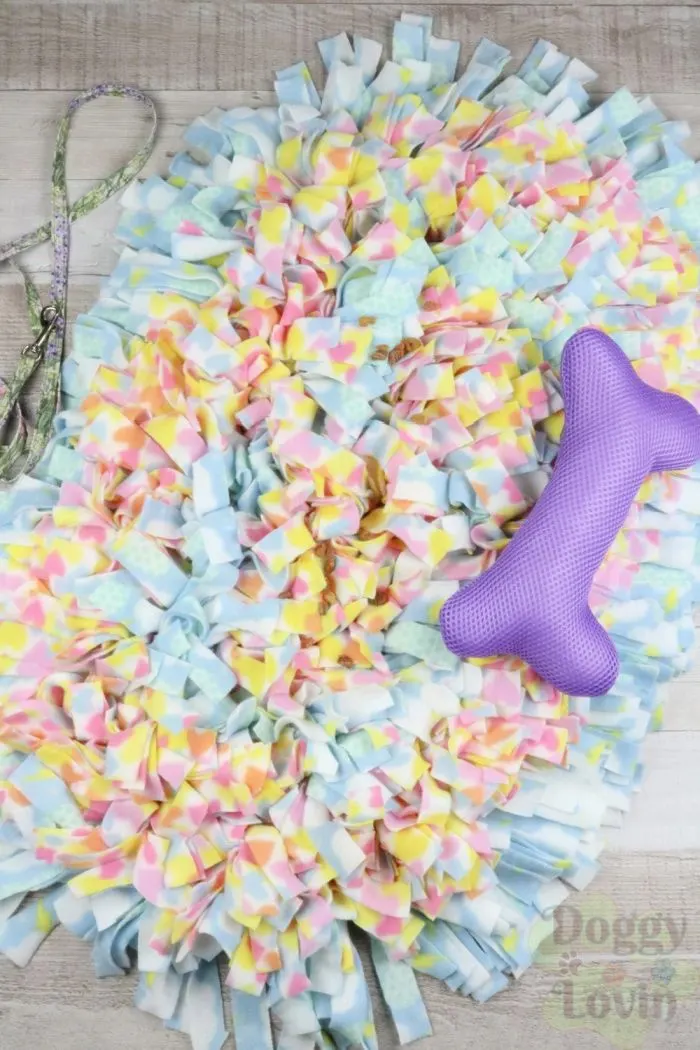 Source: doggylovin.com
The snuffle mat is such a lovely dog craft for teens, courtesy of everything you can buy at the dollar store. It's a mat, yes, but you can also use it as your dog's bed.
You should set aside a few hours to make this mat as it can be time-consuming. But look at that finished product and tell me it wasn't worth it.
Pick up a clear grid bath mat from the nearest dollar store—one that has holes in them to help insert the strips of fleece from your blankets. You will also need a pair of scissors, although a rotary cutter and mat from here would work just as well.
6. Dollar Tree Farmhouse Signs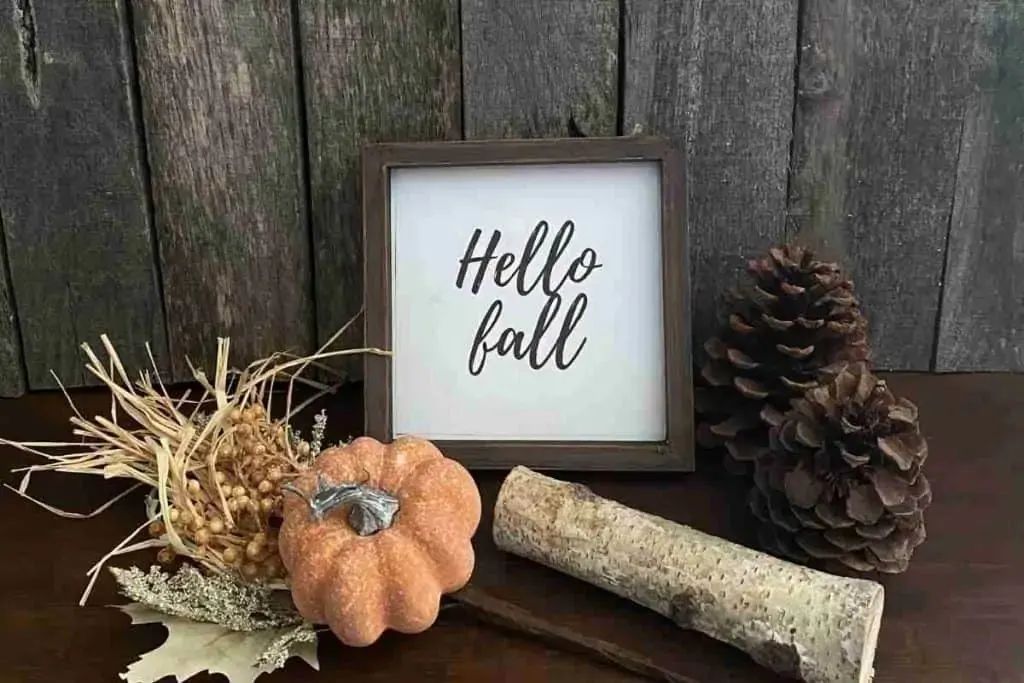 Source: restoredecorandmore.com
Dollar tree is also my go-to place when I'm looking for materials to make DIY signboards. They have plenty of frames to choose from that I can turn into a sign.
Farmhouse-chic signs are all the rage at the moment, and you can definitely see why. It's such a simple little addition to your room, but it can also offset your decor theme if you have one going.
Alternatively, it can add to the rustic farmhouse vibe you got going, too. You can paint the frames if you want to add some color; just use a chalk finish paint to make it elegant as well as rustic-chic.
7. Yarn Wrapped Glass Vase
Source: craftsyhacks.com
Wrapping yarn around anything is a great way to jazz up the item in question. This yarn-wrapped glass vase can turn a plain old boring vase into something with texture and color.
But it's also an opportunity to help cover up any dings, dents, or scratches on the glass vase. When you pick something up from a dollar store or thrift store, you might need to put some work on it to spruce it up.
Grab a skein of yarn, as well as some jute twine from here. You can alternate between the two to add more texture to the vase.
8. Salad Tongs
Source: sustainmycrafthabit.com
In my household, we need all the encouragement we can find to top up our plates with salad. As tasty as the salads can be, you need a little extra help to entice you to pick up the tongs and serve yourself.
I firmly believe that kids will grab anything colorful and pretty, and if there happens to be salad stuck to the other end, I'm not going to complain. Grab a pair of basic salad tongs and all the fixings to give it a makeover.
You can also pick up a pair of wooden tongs right here.
9. Hershey's Kisses Christmas Tree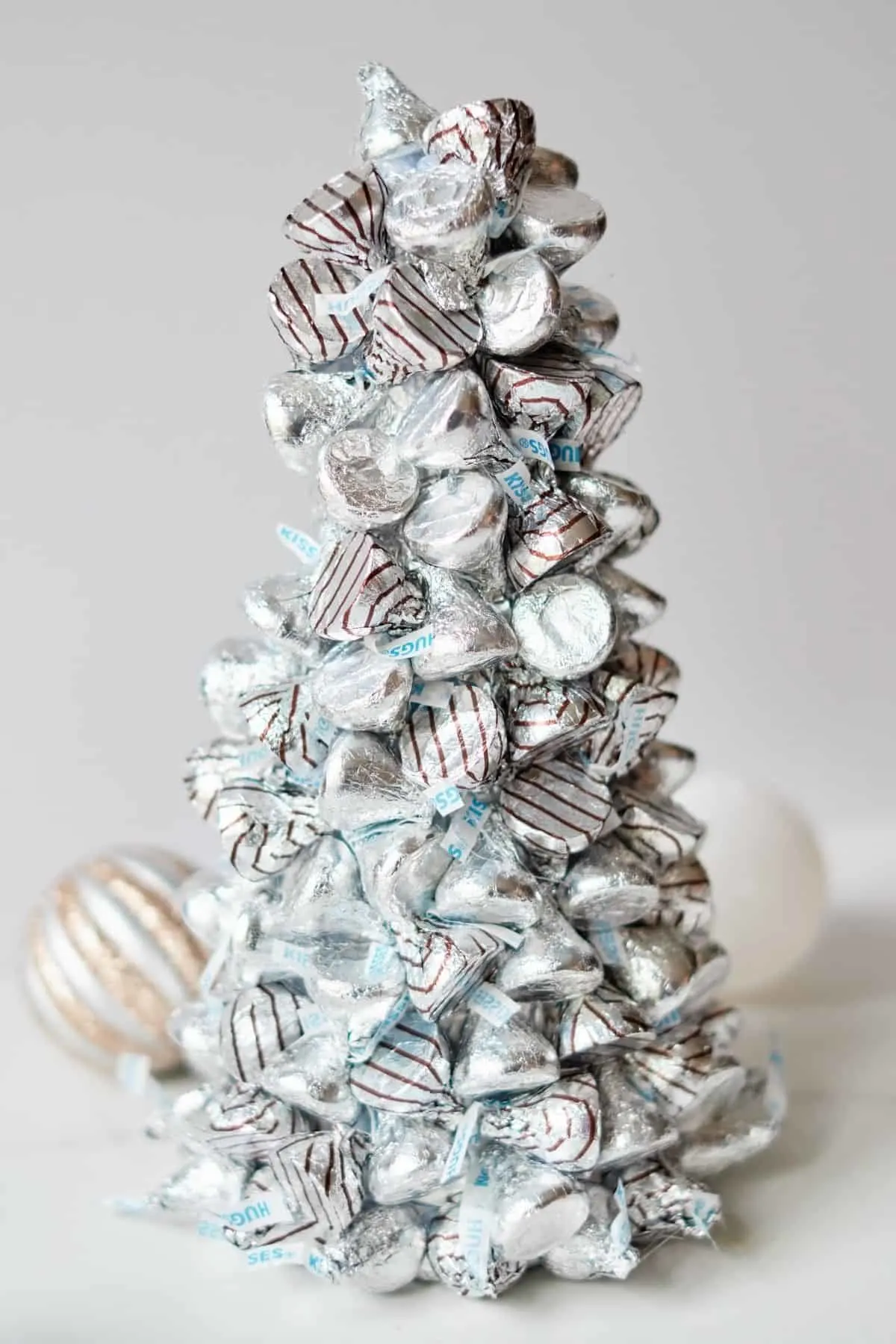 Source: everydaygifter.com
I will never get tired of eating Hershey's Kisses. Ever. If you have a friend or family member who's a huge Kisses fan, then I have the perfect gift you can give them.
This Hersey's kisses Christmas tree is the absolute bomb! It's cute and tasty, too, definitely an added bonus. Grab a big bag of Hershey's kisses to get started.
Then, pick up this styrofoam cone, some foil, a hot glue gun, cellophane wrap, and finally, a nice big bow or start for the top.
10. Bath Bombs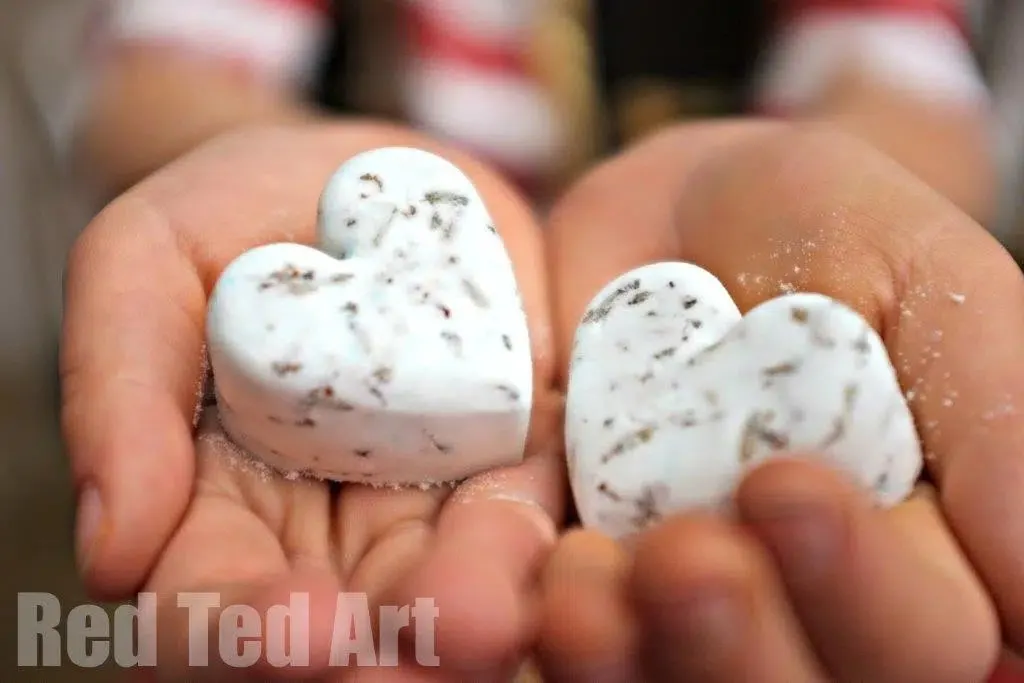 Source: redtedart.com
While I absolutely love bath bombs, they tend to get a little pricey. If you're a teen trying to save up your allowance, then buying expensive bath products might pinch a little, right?
What if I told you you could make your own bath bombs right at home? You can make plenty of bath bombs, and for a fraction of the price, too.
Plus, you can add pretty amazing ingredients like rose petals, lavender buds, and more. Imagine how amazing it would feel to luxuriate in a bathtub filled with rose petals!
11. Dollar Store Mickey T-Shirt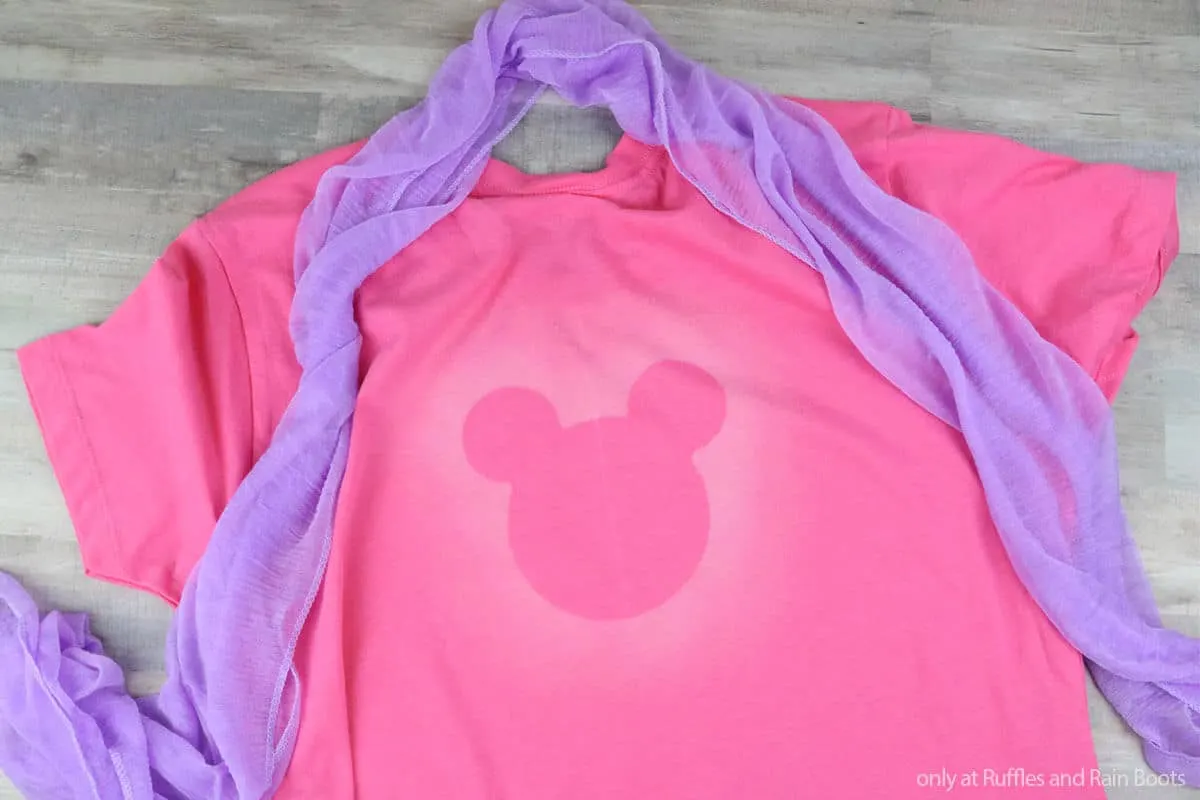 Source: rufflesandrainboots.com
This dollar store Mickey Mouse tee is a super-fast craft project that's just right for a warm summer's day. It's also inexpensive, and you probably have everything you need for this project at home.
Grab a plain old tee you haven't worn in ages from the back of your closet—I know you have one. Then, buy a Mickey Mouse palette which you can find at a local dollar store.
Place the palette over the tee and then fill a spray bottle with bleach and use it to spray over the palette. You'll have a nice Mickey Mouse silhouette to work with!
12. Felt Kite Headband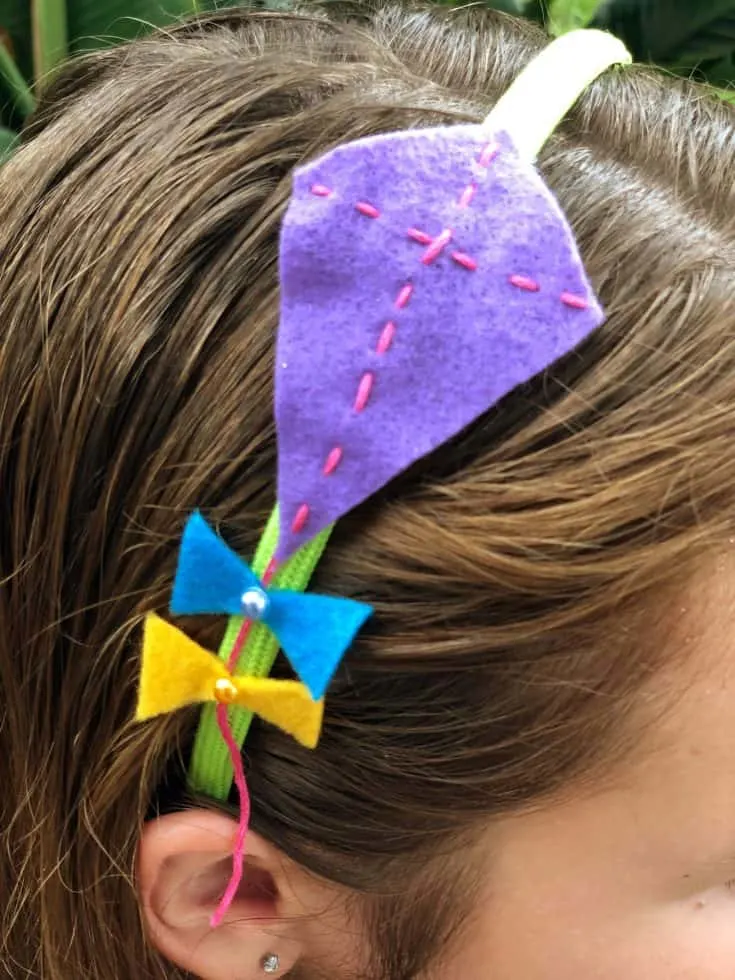 Source: beginnersewingprojects.com
If you're looking for a quick sewing project to practice your sewing skills, then why don't you make this felt kite headband? You can buy felt sheets here and pick up a few white headbands at the dollar store.
Or, if you have a couple of plain bands at home, you can just upcycle them. You can sew little beads, rhinestones, or buttons onto the kite if you like.
The best part about this project is that there's that pretty little strand of yarn hanging off the tail of the kite!
You might also want to check this DIY headband project!
13. Hot Chocolate Ornament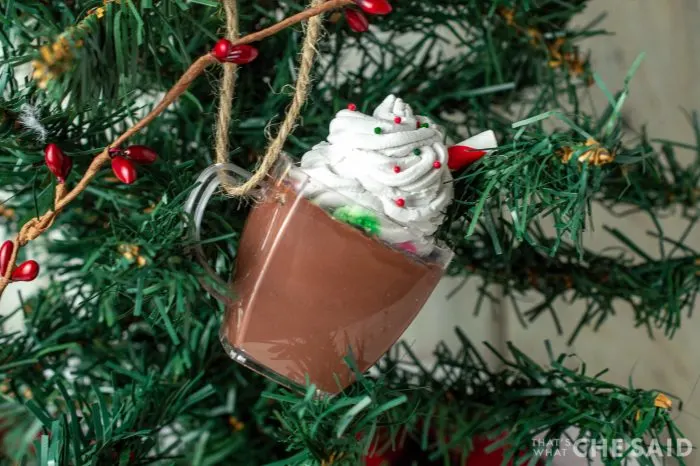 Source: thatswhatchesaid.net
Christmas time means Santa, the big tree, presents, and—my favorite part—hot chocolate! A cup of hot chocolate at Christmas time is like a pitcher of cool sweet tea or lemonade in summer.
So, in honor of the awesomeness of hot chocolate, why don't you make a DIY hot chocolate ornament? Most of what you need, you'll find at the dollar store, but you can pick up a few plastic dessert cups from here.
While this hot chocolate ornament is sadly not edible, there's nothing stopping you from making yourself a big cup while you work on this project!
14. Skull Pedestals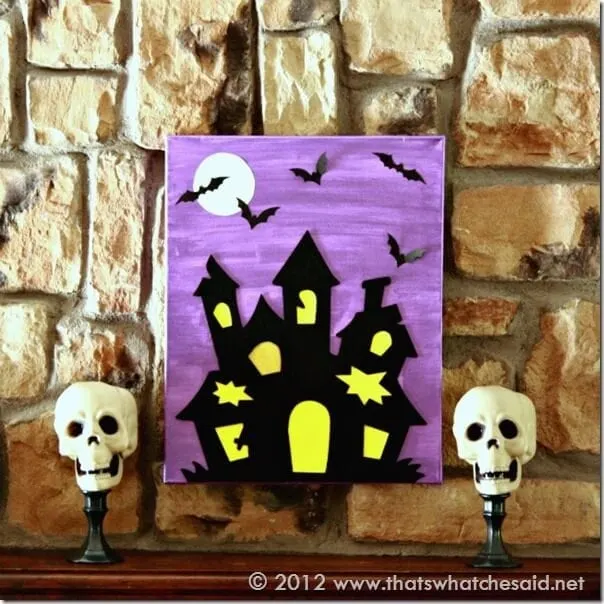 Source: thatswhatchesaid.net
A pedestal like the one you see here to place a skull on would be perfect during Halloween. You can set them around your home—on your mantle in particular—for all to see.
Then you can place a gravestone plaque right behind it to up the ante and take the spookiness to the next level. If you haven't figured it out yet, these 'pedestals' are just candlesticks that have been given a serious revamping(see what I did there?).
You can pick those candlesticks, as well as the skulls, for a few bucks at the dollar store, of course.
15. Leprechaun Garden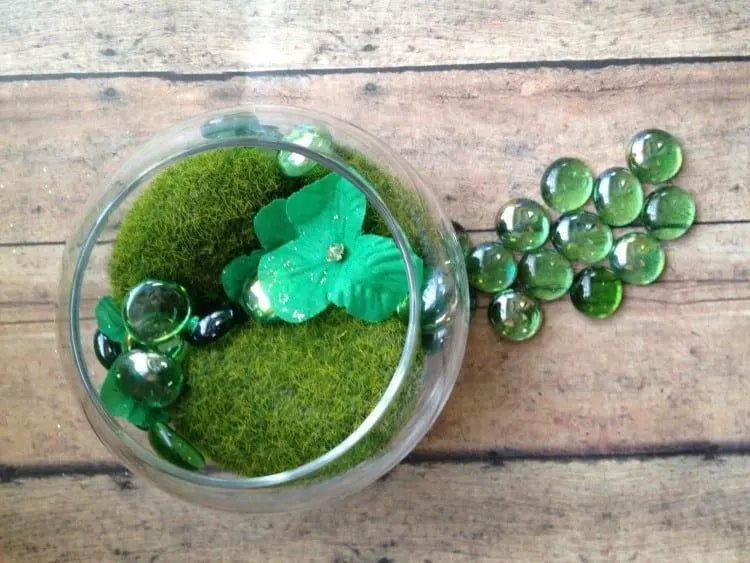 Source: thismamaloves.com
Let's move on from skulls to something a little less intense, shall we? Can I interest you in a little leprechaun garden to bring you good luck?
You can turn a simple fishbowl into a wonderland for imaginary leprechauns to frolic in. Fill the base with green moss from here, add a few silk clover stems, a few pretty glass rocks, and anything else you want.
For the final touch, just add some gold glitter to help you lure the leprechaun in.
16. Book Stack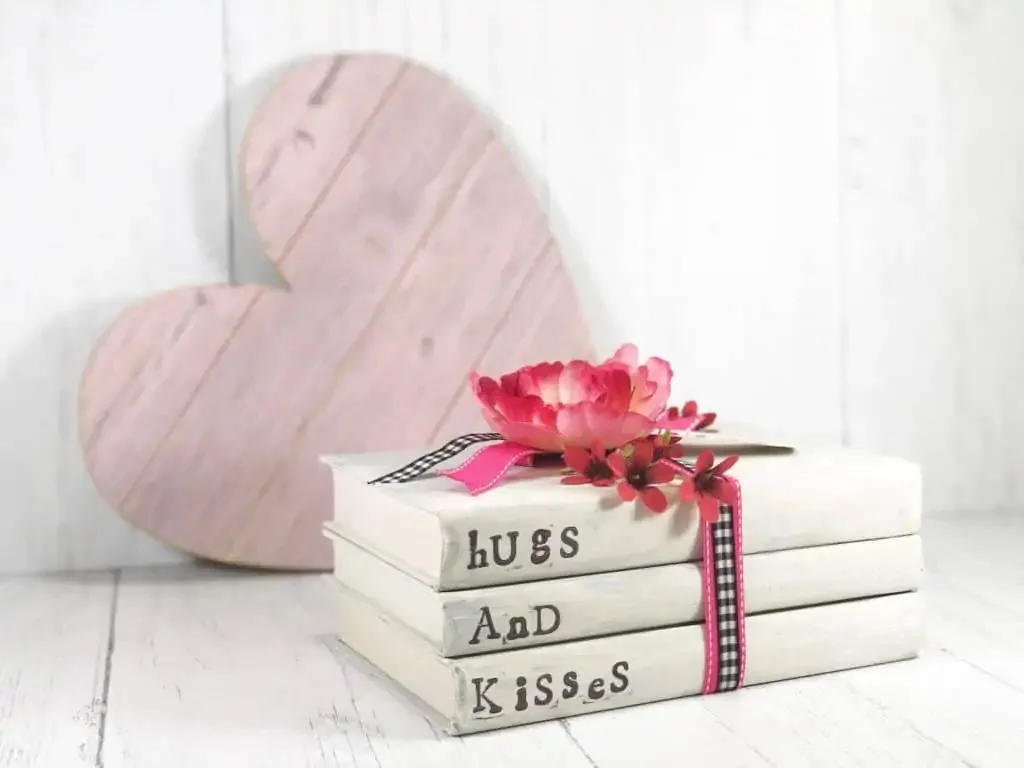 Source: hispanaglobal.net
For all the budding bibliophiles out there, here's a dollar store decor idea that you're going to love. Find a few hardcover books—preferably all of the same sizes.
You're going to be stacking them in sets of three and using them as a home decor piece. But before that, you'll need to wrap them up in pretty paper—I find that painting the covers works too. Or you could paint the wrapping paper a nice chalky white.
Then either paint your message onto the spine or buy a stamping kit to do it for you.
17. Upcycled Sunglasses Case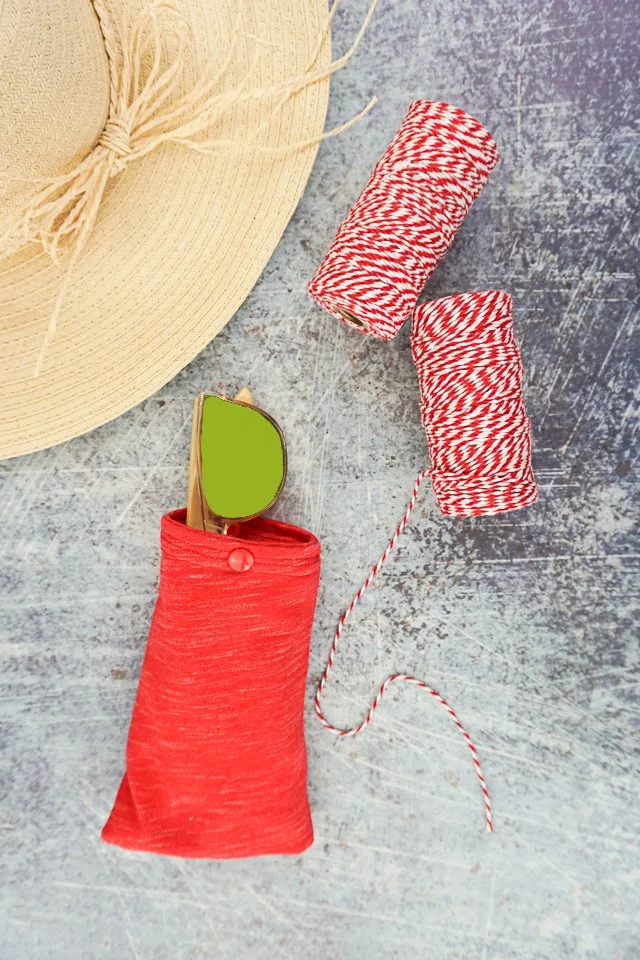 Source: heatherhandmade.com
Don't you just hate it when you can't find your sunglasses in your bag? You have to rummage through everything first, and that's just not done.
Besides, it's not safe to drop your glasses in there like that anyway, not without putting them in a case first. So check out how you can make a sunglass case out of the sleeve of an old t-shirt.
You can pick up your sewing essentials at a dollar store, but the main fabric can be upcycled. If not a t-shirt, then you can just use up old scraps of fabric.
Check out these scrap fabric projects.
18. Pencil Toppers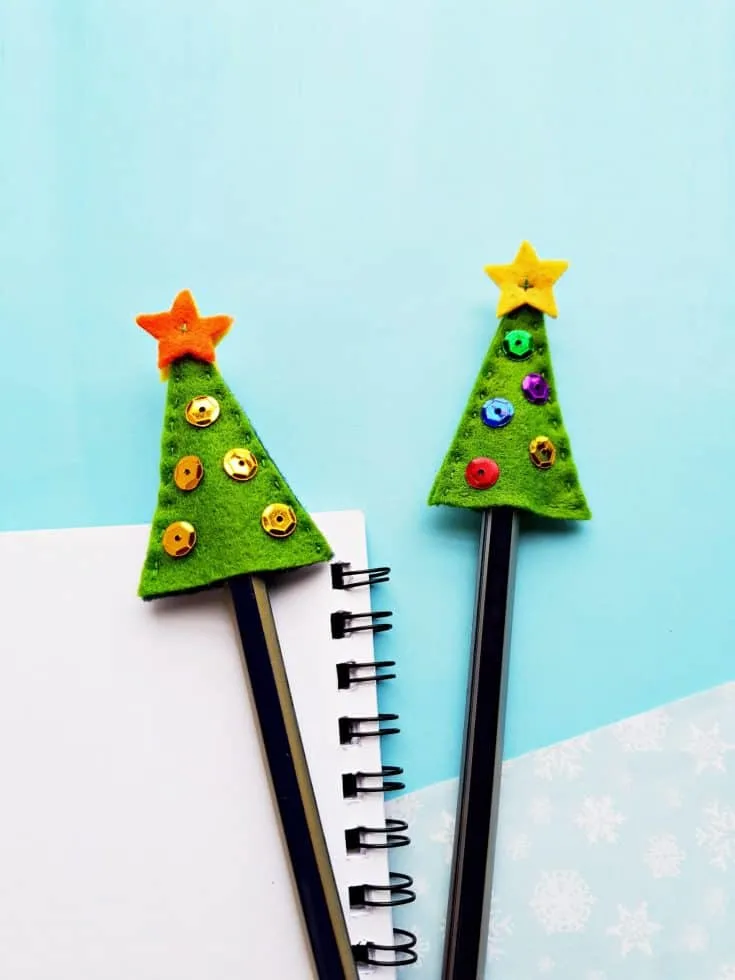 Source: beginnersewingprojects.com
I bet the top of that pencil will start to look really chewable when you're knee-deep in tough math assignments. Don't deny it; we've all been there.
You need to stop chewing your pencils, and these felt pencil toppers are going to help you. You're definitely not going to start chewing felt; I'm sure of that.
So, grab your needle and some thread and sew little felt cone trees. Then, decorate them with little buttons, beads, and more.
19. Candle Holders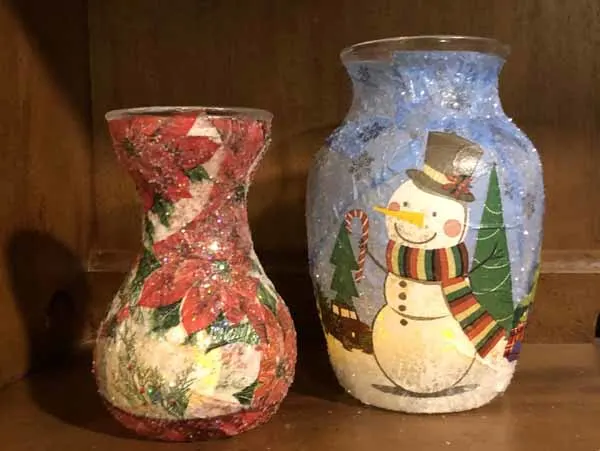 Source: needlepointers.com
You can never have too many candle holders at hand. That's because you can never have too many candles around, either.
I always scatter a jar or two of scented candles in every room of my home. All I need to do is light it up for a little while and allow the fragrance to freshen the space.
Pick up a bottle of your favorite essential oils from here when you're done decorating this pretty candle holder. You can make your own candles, too.
Just look at this tutorial on how to make scented candles.
20. Unicorn Phone Case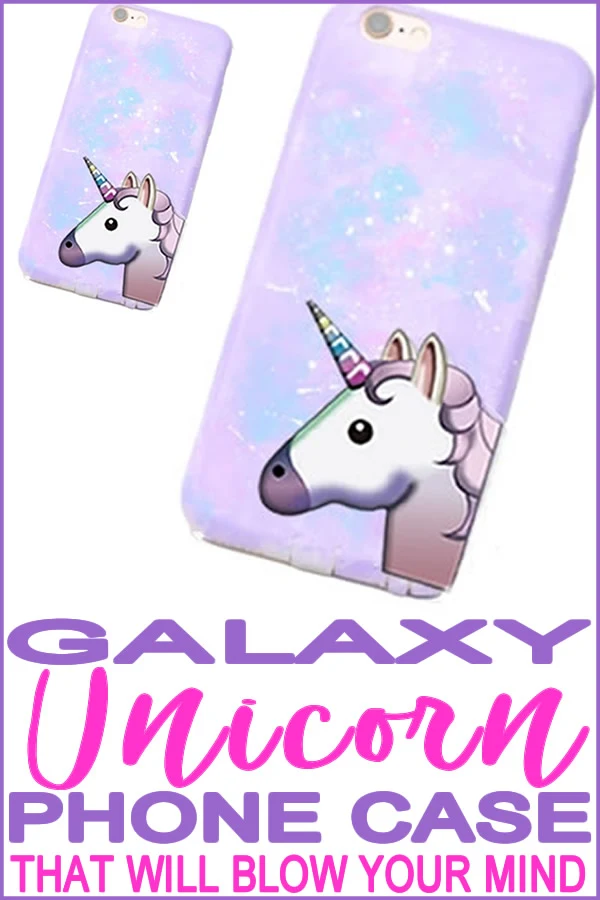 Source: kimspireddiy.com
Unicorns are real, and you cannot convince me otherwise. I mean, how difficult is it to believe there's a horned horse out there, right?
Unicorn-themed DIY projects always involve a ton of color, sparkle, and glitter. This DIY phone case is no different; only this one's also a galaxy-themed one.
Well, I certainly don't mind a galactic unicorn phone case. In fact, here is where you can find plain phone cases. Pick out your specific phone case to get started.
21. No-Sew Gnome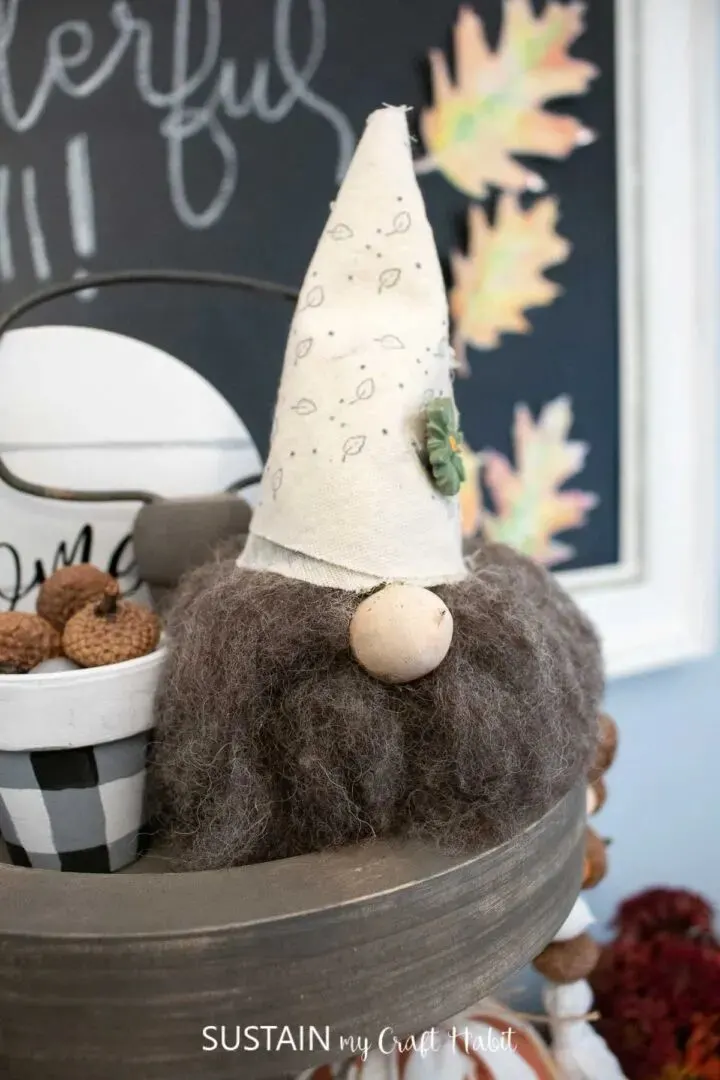 Source: sustainmycrafthabit.com
Can I interest you in a no-sew DIY gnome? They're ideal for decorating your home, and believe it or not, gnomes are also considered to be signs of good luck. Who would have thought, huh?
These fuzzy little gnomes come with their own felt hat, stubby noses, and long beards. You can use yarn or pipe cleaners(look here) to make the beards.
In fact, if you have extra pipe cleaners after you're done, you can use them to make any of these pipe cleaner craft projects.
22. Mug Planters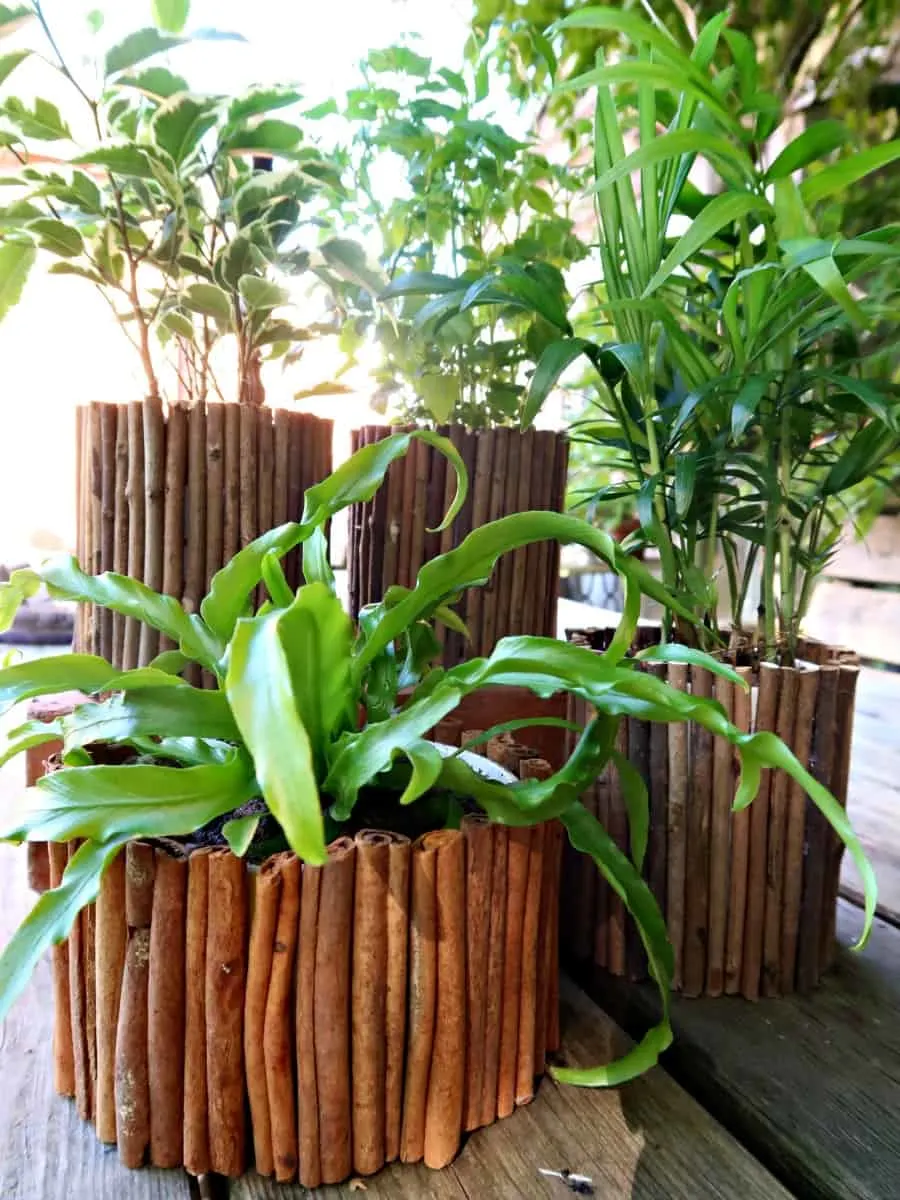 Source: craftinvaders.co.uk
Did you ever think of using mugs as planters? No, really, think about it. They're essentially the same shape as pots, and they come in so many different styles, too.
You can even repurpose chipped or cracked mugs as little planters. While you can't hot glue them and still use them to drink beverages, they're now perfect to use as planters.
This also works with bowls like these, just in case you were wondering. Feel free to paint the bowls and mugs to your liking.
For more planter ideas, check out these Dollar Tree planters!
23. Summer Wreath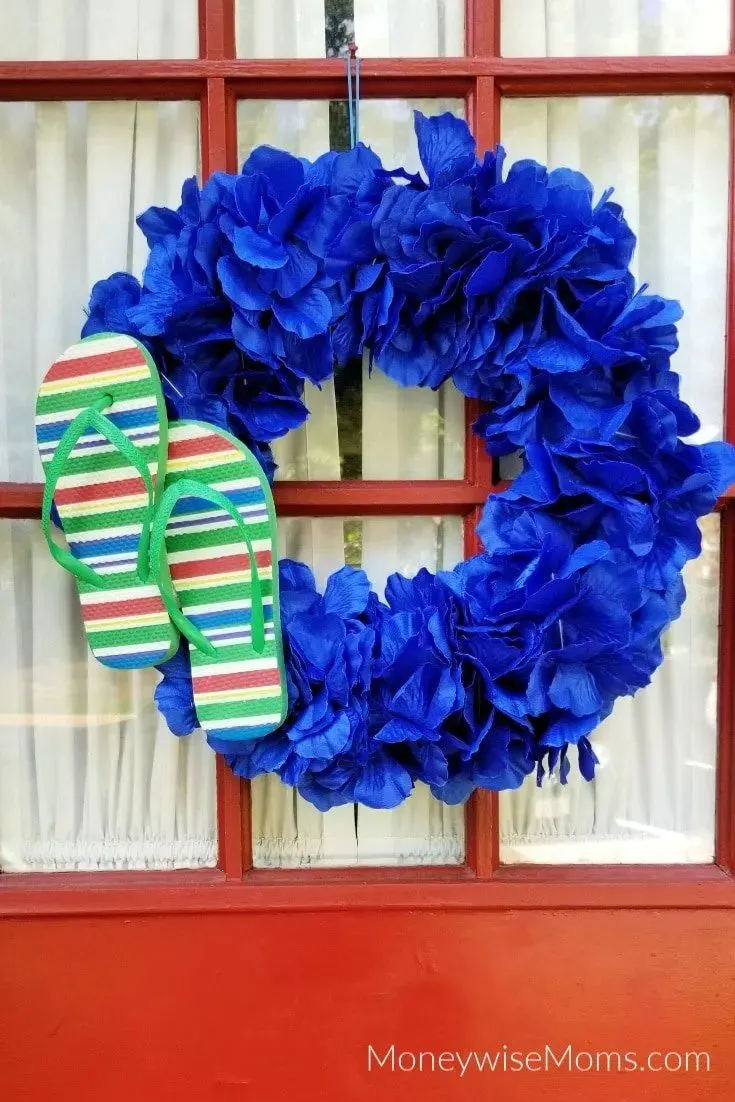 Source: moneywisemoms.com
It might not feel like it just yet with all the cold and snow around you, but spring and summer will come, and you'll be able to enjoy the sunshine.
In the meantime, you can work on a few craft projects while you're stuck inside to prepare for summer. Check out this gorgeous summer wreath!
With a wreath form from a dollar store to get you started(or even a pool noodle), you only need duct tape, scissors, and a few leis to make this exotic blue wreath.
24. Flip Flop Sign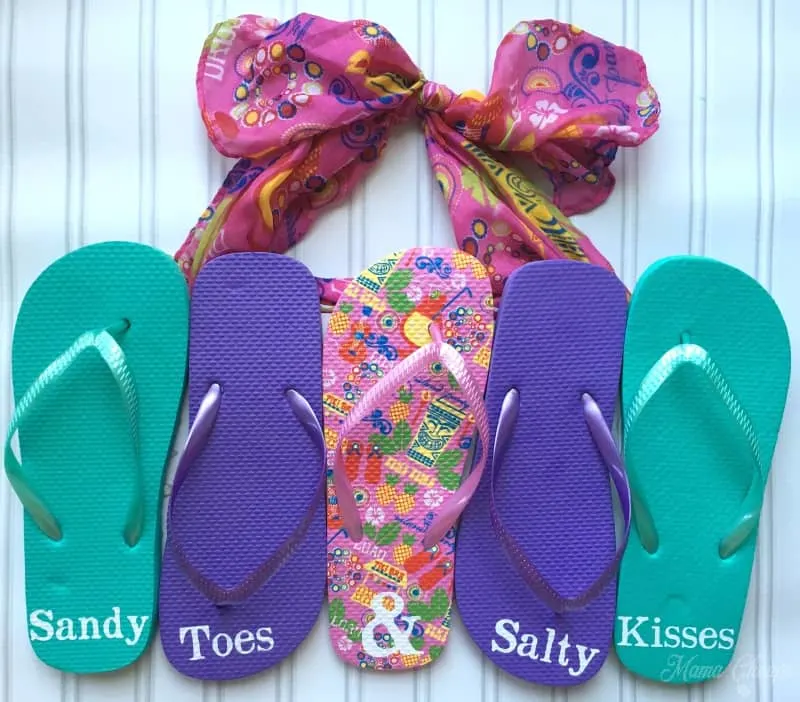 Source: mamacheaps.com
Did you know that you could turn a pair of plain old flip-flops into a signboard of sorts? You just have to line them up and hot glue them in place to get a base for you to work with.
You will also need a scarf or a ribbon from here to hang your sign from as well as a hot glue gun to help you adhere everything together.
Additionally, you can use your Silhouette Cameo to make vinyl stickers to spell out your phrase of choice.
25. Map Coasters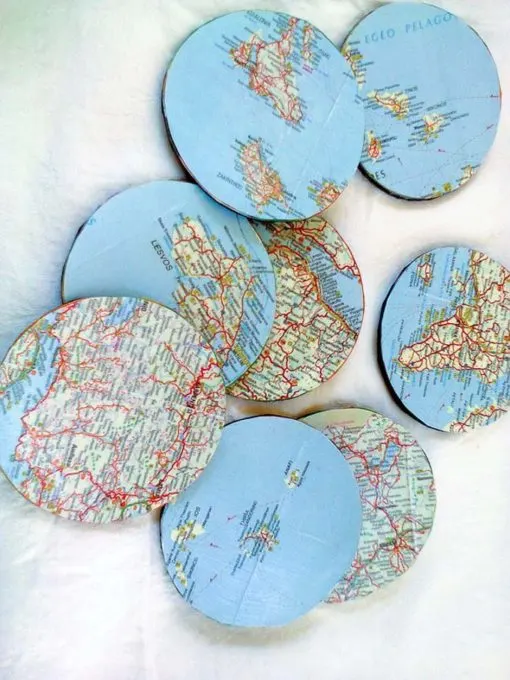 Source: theboondocksblog.com
You can never have too many coasters around your home. I always make sure there are plenty in every room, always at hand in case I need to set down a glass of lemonade or a cup of tea.
Trust me; you do not want to ruin your wood with water stains. So, for your next craft project, you can make the map coasters.
It's pretty simple to make, you just need a few wood slices from here, old maps from your school days, and a bottle of mod podge. You'll be decoupaging the maps onto the wood slices.
26. Tote Bag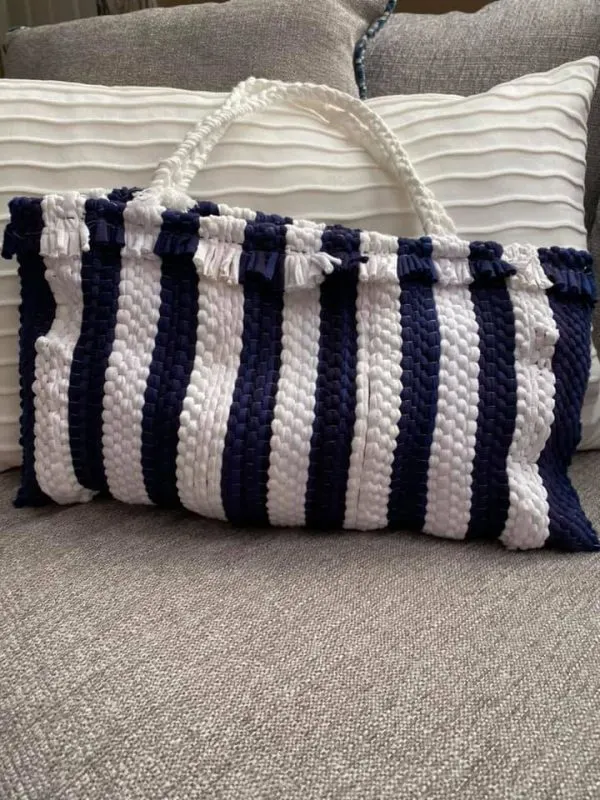 Source: craftbits.com
Tote bags are surprisingly easy to make, and you don't need me to tell you just how useful they are. I use tote bags to carry my books around as well as to bring home my groceries.
This particular tote bag is made out of a carpet which means it's going to be much steadier than your run of the mill fabric totes.
There's also a super sturdy corded handle to help you carry the tote without having to worry if it will fray. First, pick out your rug or carpet of choice—dollar stores probably carry plenty for you to choose from. You will also need this dowel for the mouth of the bag.
27. Glitter Tumbler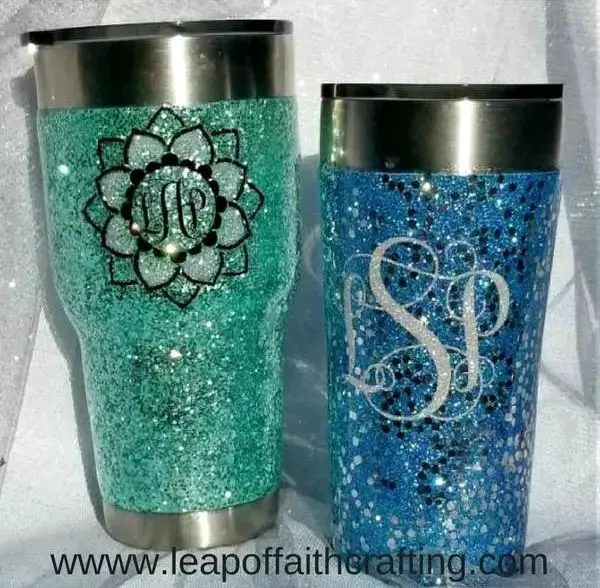 Source: leapoffaithcrafting.com
Do you know how Dollar stores carry those plain aluminum tumblers or flasks? They're always pretty cheap, but never pretty enough to draw my attention.
But with a little DIY, you can turn those cheap tumblers into these glittery tumblers for you to enjoy carrying around. There are printable instructions to help you through this DIY project, but just make sure you have plenty of glitter at hand and you'll be just fine.
28. Travel Mug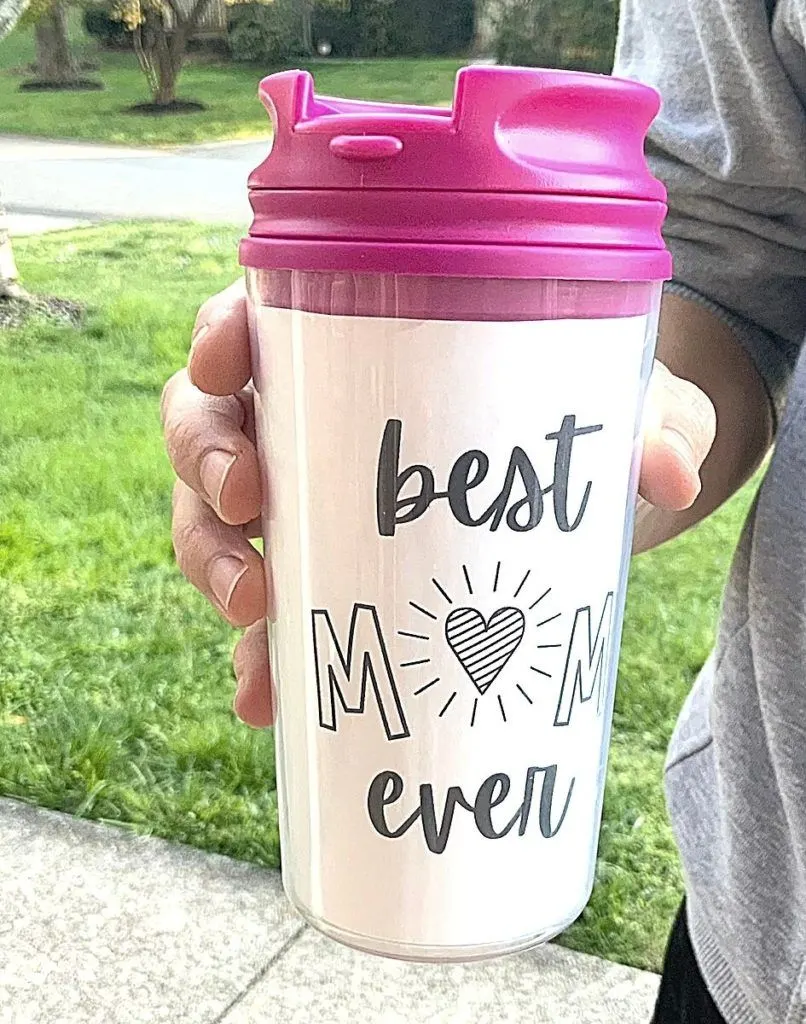 Source: originalmom.com
Right next to those tumblers you just bought are probably cheap travel mugs just dying for a makeover. Most of those mugs are actually detachable, which means you can take them apart to decorate them.
These mugs would be the perfect easy-to-make Mother's day gift, too. You just have to decorate the sheet inside the glass encasing accordingly to spell out your Mother's day message.
29. Jewlery Holder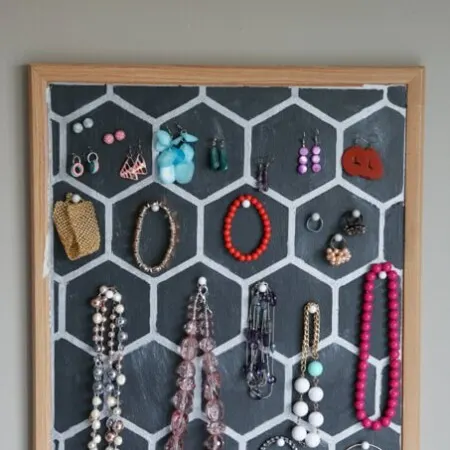 Source: playpartyplan.com
Do you have to paw through your stash of jewelry every morning just to find that second earring? It can be such a frustrating chore, especially when you're running short on time.
You can make this simple jewelry holder to help you organize your jewelry, and more importantly, help you remain organized. You can make these jewelry holders for your chains, earrings, and bracelets.
Just pick up a cork board from here to get started. And now that you've got your very own jewelry holder, why not make your own DIY rings and DIY earrings?
30. Flower Covered Letters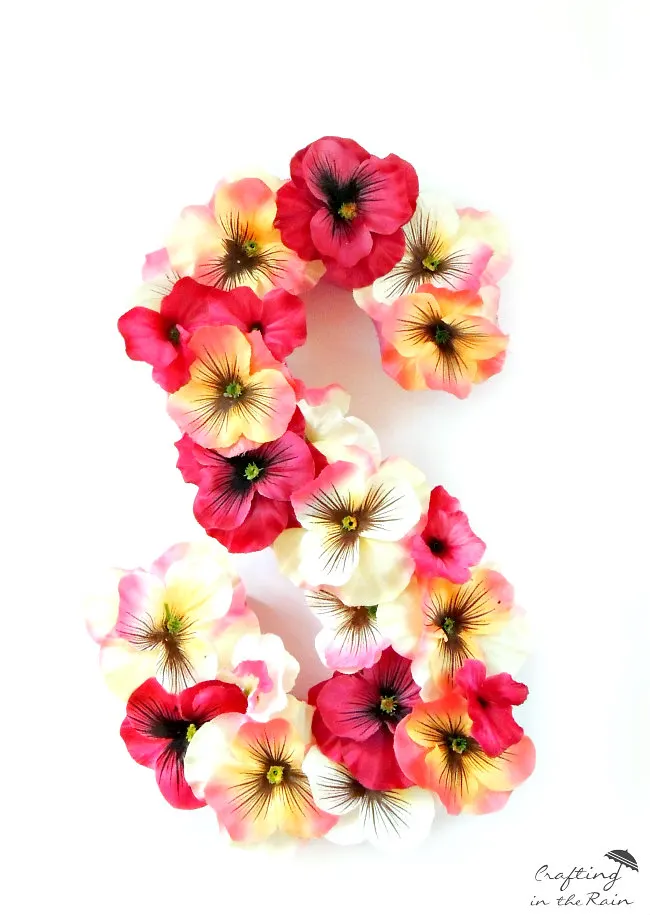 Source: todayscreativelife.com
The craft aisle at Dollar stores are known to carry a bunch of these big cardboard or plastic letters. They can be used as the base for so many DIYs, like this flower-covered letter display.
If you're looking for a simple yet pretty way to personalize your room, then look no further than these floral letters. You've got texture, color, and creativity all in one go, don't you think?
Mix and match the flowers you plan to use, and even add some green to get these letters to look how you want them to look.
31. Snowman Mason Jar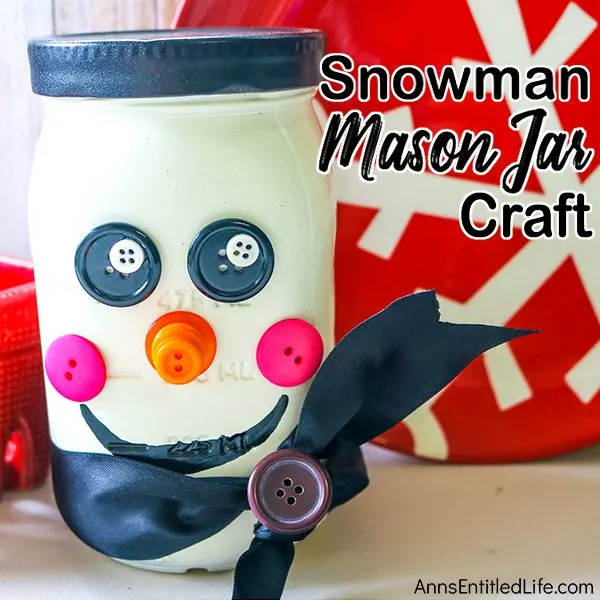 Source: annsentitledlife.com
Mason jars are very versatile, and readily available most of the time. I bet you have a pile of them in your cupboards or in your recycling bin.
You can make these cute snowmen out of those mason jars to help decorate your room. You just need to make sure you wash the jars thoroughly first and allow them to dry before you paint them.
Once the paint has dried, you can stick buttons and beads in place to make your snowman's face.