Making your home cozier for the chilly winter season might seem like a daunting task, but these warming winter decor ideas for the home have your back!
Every year, when the temperature drops, life gets a little more constricted, leading to all sorts of feelings–wanting to hibernate and energy-draining tiredness
A small but helpful way to help combat some of those varied and complex feelings is by prepping your space for the winter months!
A few years ago, Hygge took the world by storm and is a proven way to beat those winter blues.
Today, I offer a small avenue to get you to a comfy, cozy, and content place with thirty-one winter decor ideas to add to your home in the winter.
These ideas are hands-on and therapeutic–another great way to move around some stuck and complacent feelings.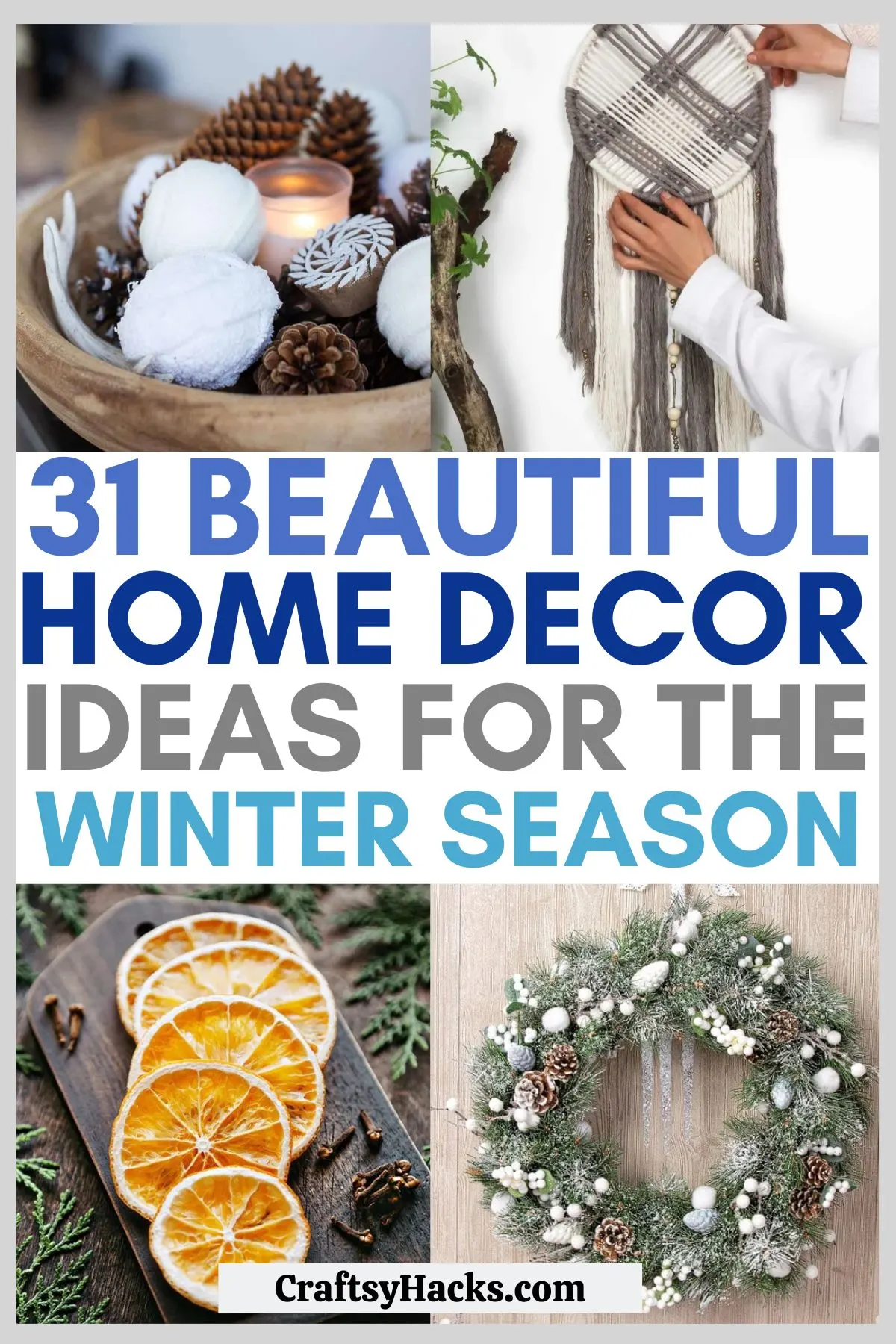 Trying out some of these decor items will boost your serotonin levels and help you pass the time during the coldest parts of the year.
I hope your winter season is full of comfort, craft therapy, and good time spent with loved ones. And now, onto the post!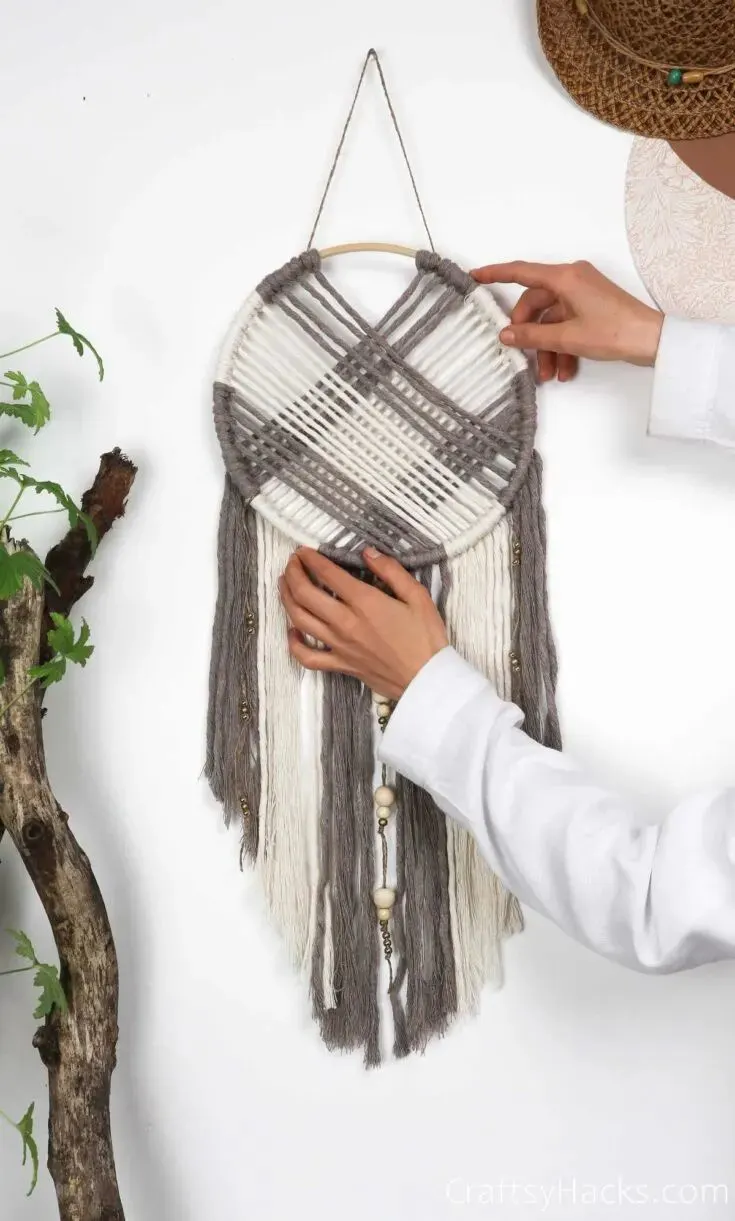 Source: craftsyhacks.com
Wall hangings are a great way to add a special touch during the cold season, especially between holidays.
A great addition to your home would be a fun dreamcatcher like this one–opt for seasonal colors or make it extra vibrant to boost your mood whenever you see it.
Play around with the hoop size, too. Make a handful of smaller ones to sit together or one large one.
Here is a wooden hoop you can get.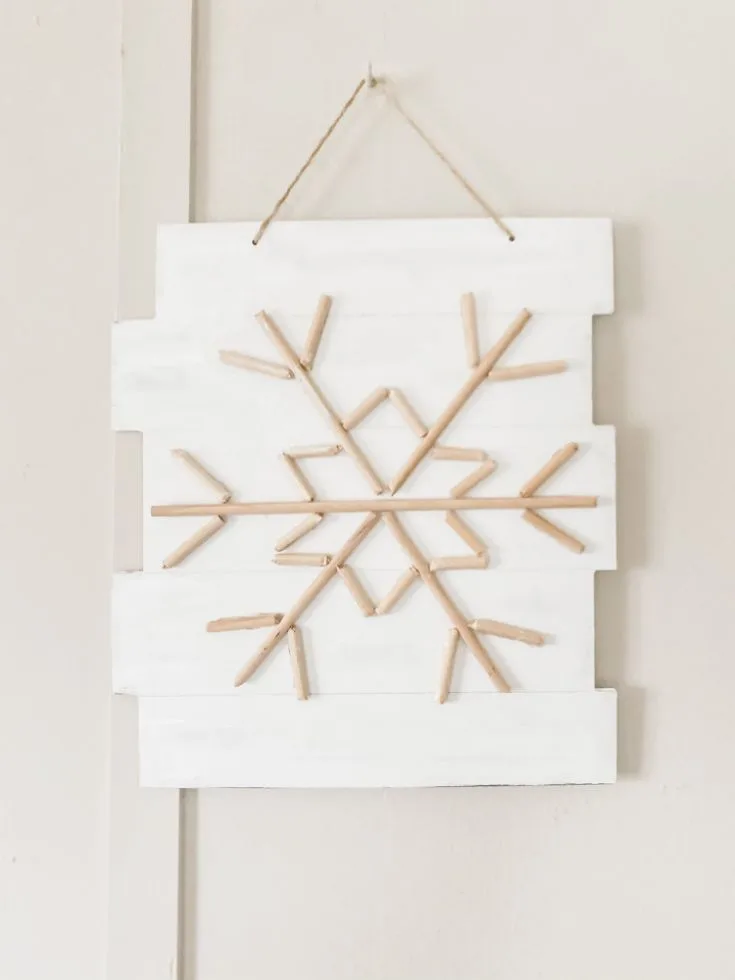 Source: ahundredaffections.com
I love the big-name store decor of any season, but that price can be too much, depending on your budget, and dupes are fun to make.
You don't need much for this Pottery Barn dupe, and the best part is that you can add tweaks to make your farmhouse Christmas decor all the more unique.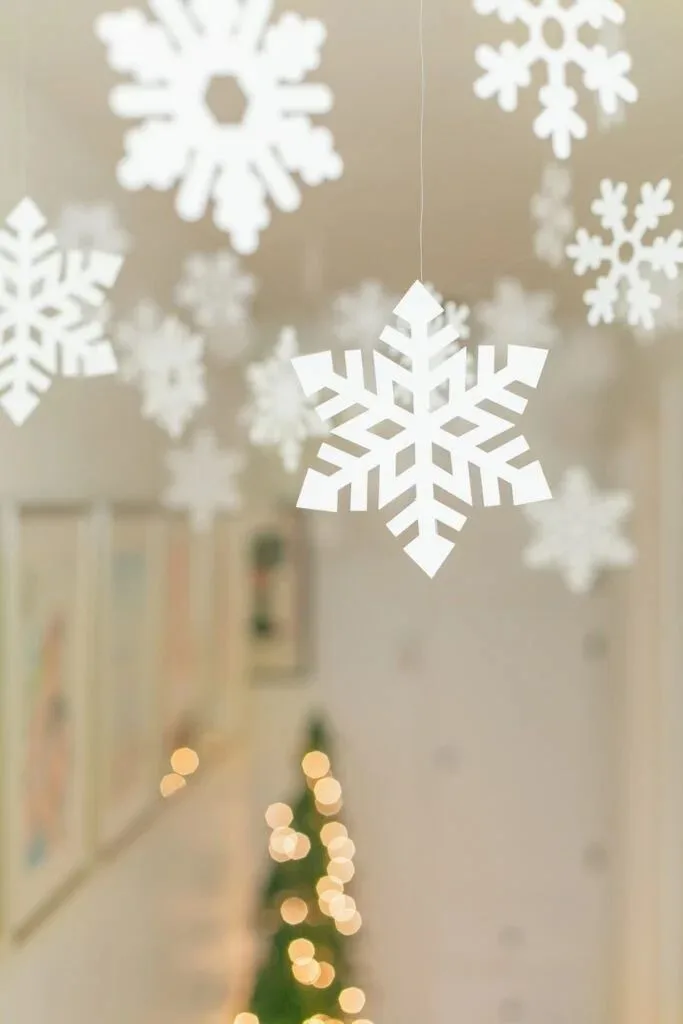 Source: lovelyindeed.com
There's nothing like the first snow or snow falling to get the kids excited! Bring the snow indoors for them with this sweet hanging display of the beloved flurries.
Grab these snowflakes to save you from a lot of cutting time.
Or, if you and the little ones are motivated, grab a stack of paper and cut as many snowflakes as you can together for a heartfelt display.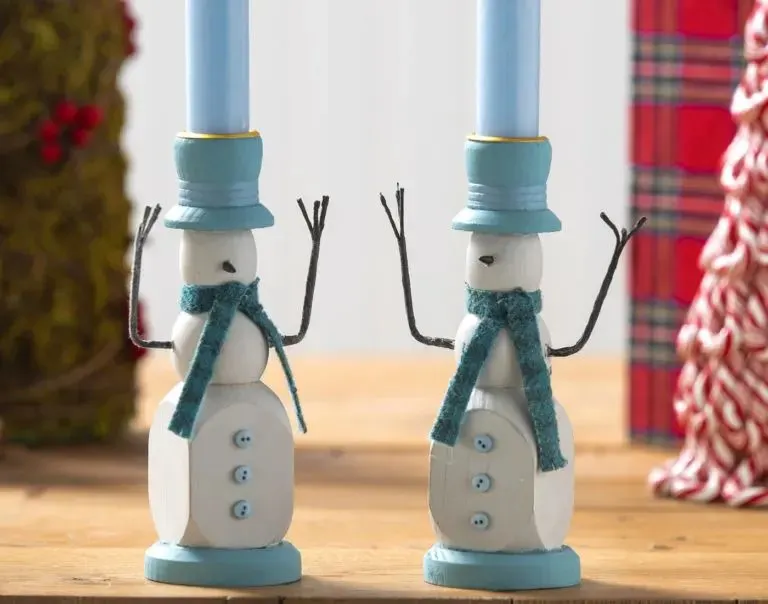 Source: diycandy.com
The homey decor is the best during winter, with all the possibilities and fun, including these snowman candlesticks!
A simple paint job and the perfect little accents can transform any of these holders into the most darling snowmen, Santas, reindeer, and so much more.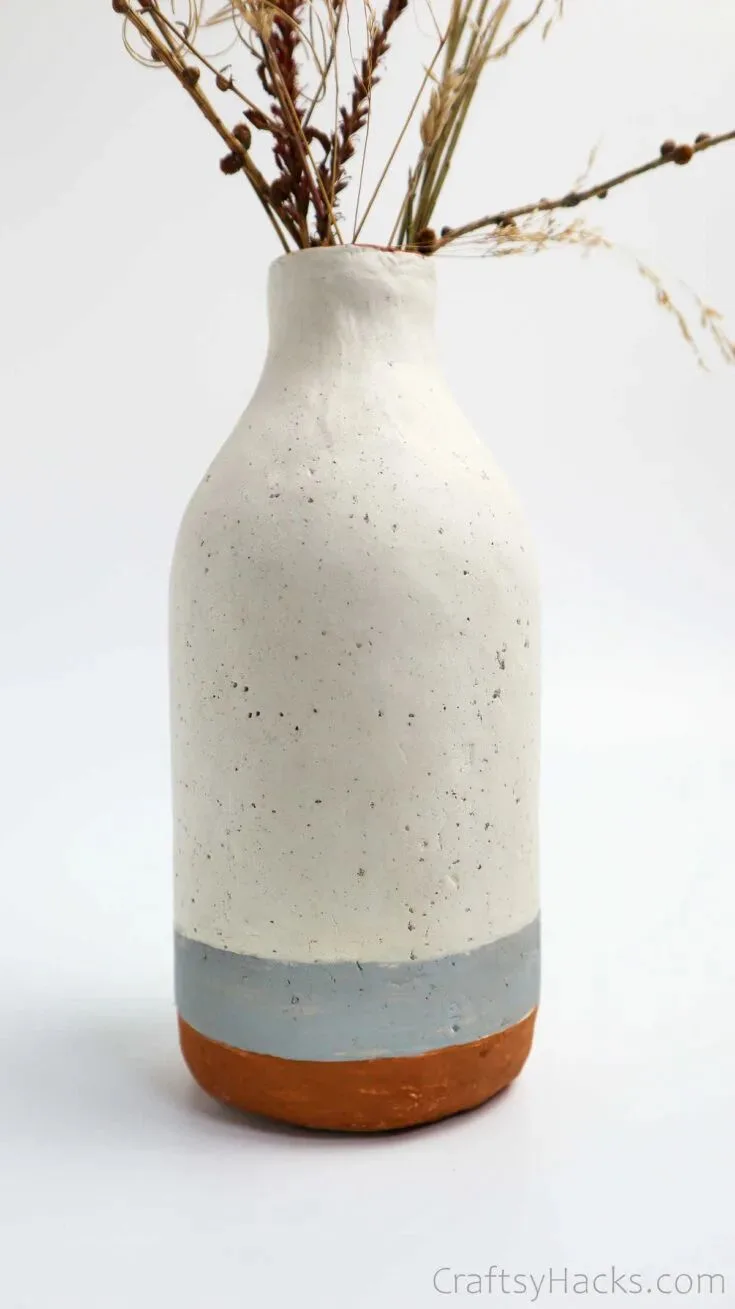 Source: craftsyhacks.com
Vases may not be something you think of during the colder parts of the year, with few flowers accessible to most. These bottle vases look just as good during these months.
It's a great upcycle project for any old jars or vases you want to give a makeover. Use this air-frying clay to make this beautiful vase.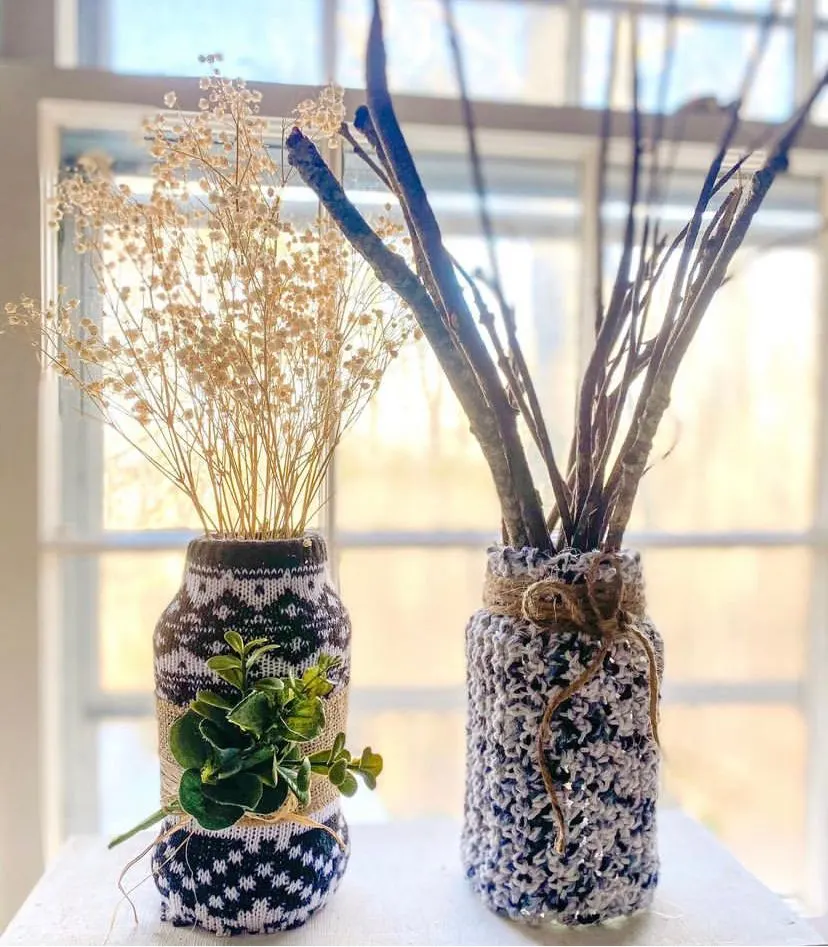 Source: ahundredaffections.com
This cute crochet option is another possibility to opt for in upcycling old vases or jars. Old knitted sweaters, mittens, or scarves are great candidates if you're not an old pro with yarn.
If you're struggling to keep the material on the project, grab a reliable adhesive like hot glue or this E6000 glue to ensure this upcycled item's second life is as long as it is first.
Check out these other great kitchen table decoration ideas!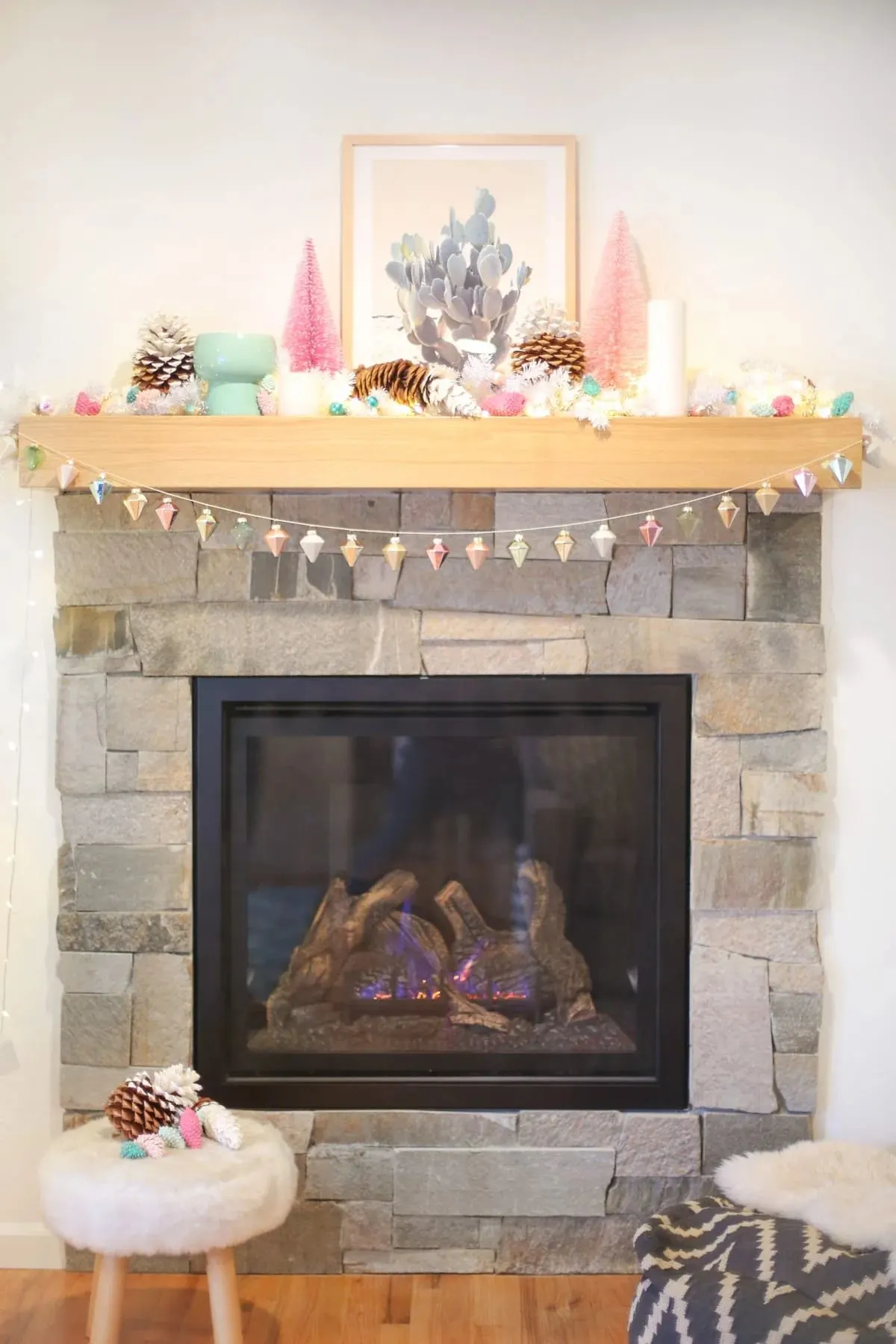 Source: lovelyindeed.com
I believe Garlands has become a fan favorite across the board within the past decade or so.
I've grown to love making my own, whether I find it online or experimenting on my own, and this ornament garland is included!
Opt for an ornament or ornaments that speak to you–homey, minimalist, maximalist, etc. The more specific, the better the result!
This is one of the cutest Christmas decoration ideas for this winter!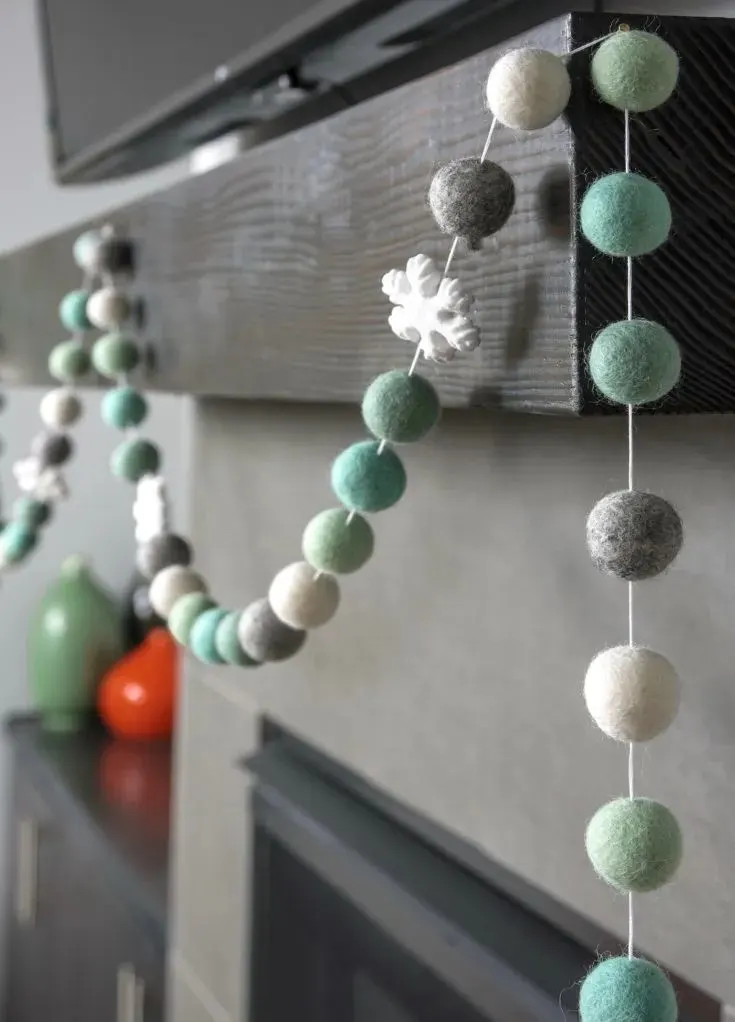 Source: diycandy.com
The felt ball garland will not be a staple for holiday decor, and it's cemented itself as one of the most versatile decor pieces.
Keep it wintry with this pack of felted wool balls, or intersperse brighter alternatives to lighten the season.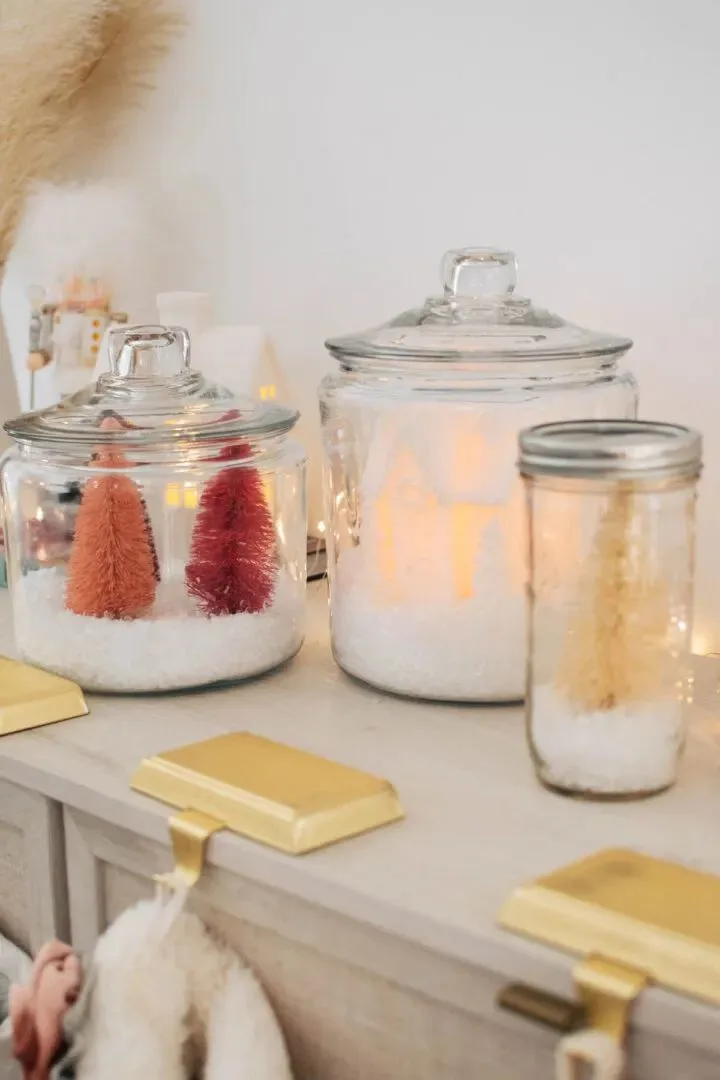 Source: loveloveloveblog.com
These Christmas or Winter jar decor scenes are a great way to display winter decor but keep it in a minimal and easy set-up tear-down capacity.
Set up the displays you'd like and cover them with a jar to preserve and display them in a wonderfully minimalist capacity.
You might also like to check out these Christmas porch decorations for the holiday season!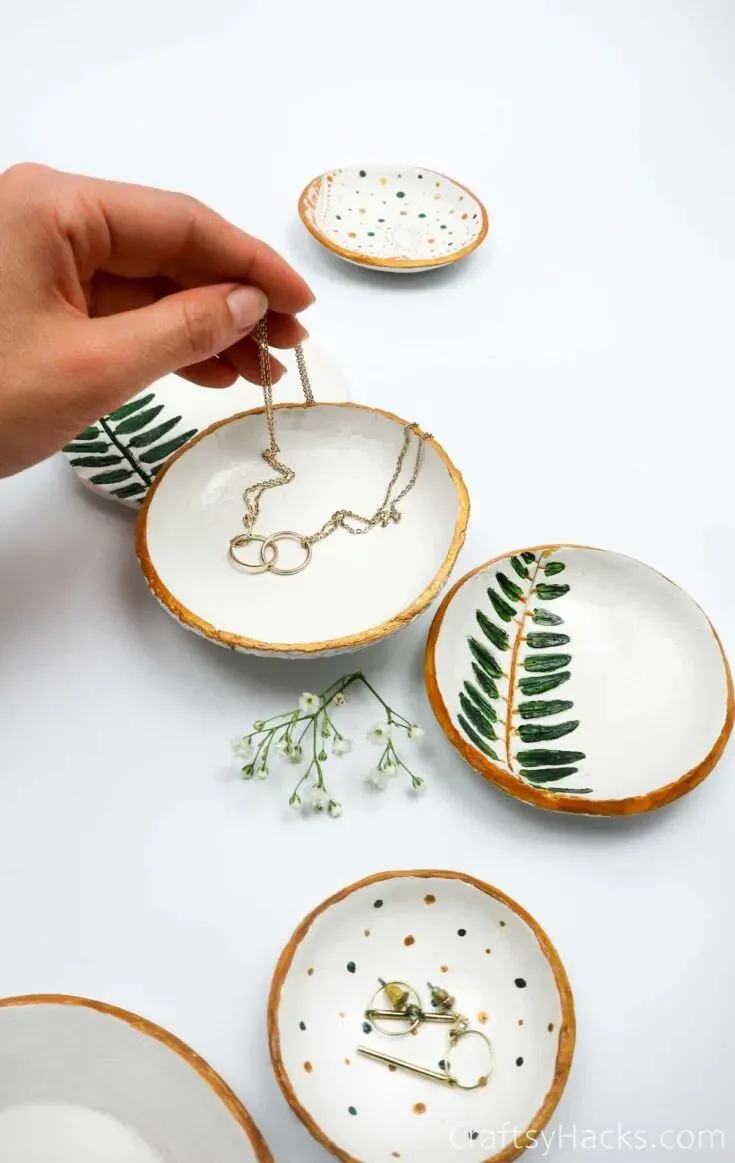 Source: craftsyhacks.com
You wouldn't necessarily think of it, but swapping out your trinket dishes and jewelry trays during major season shifts is a great low-stakes way to change the feel.
Making your own couldn't be simpler with this air-dry clay–it's so adaptable.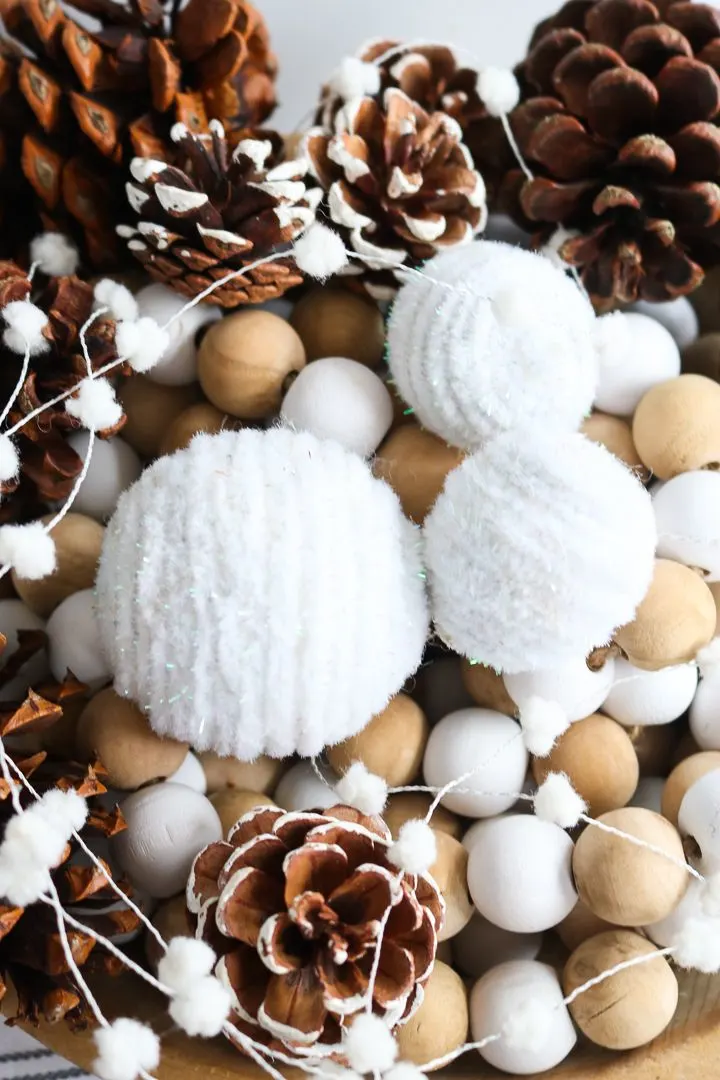 Source: thecountrychiccottage.net
Along with trays, swapping any seasonal items in said trays or trinket dishes makes for a great shift with any changing time of the year.
These pipe cleaner snowballs are a fun yet elegant way to add a bit of snow to your home.
Styrofoam balls are the secret weapon behind the uniformity of these darling little snowballs.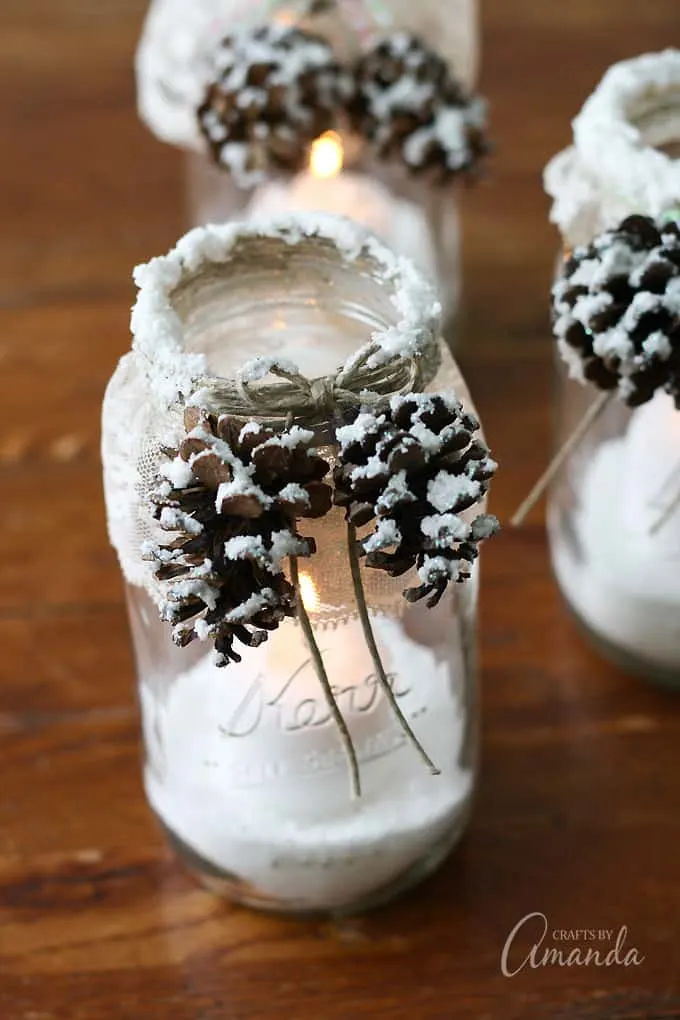 Source: craftsbyamanda.com
If you want minimalist warmth in your space, these snowy pinecone candle jars are right for you.
It's a rustic look with the fake snow below the candle and the pinecone adorning the top, perfect for a long, wintry night full of holiday or seasonal activities.
Find a mason jar here to work with.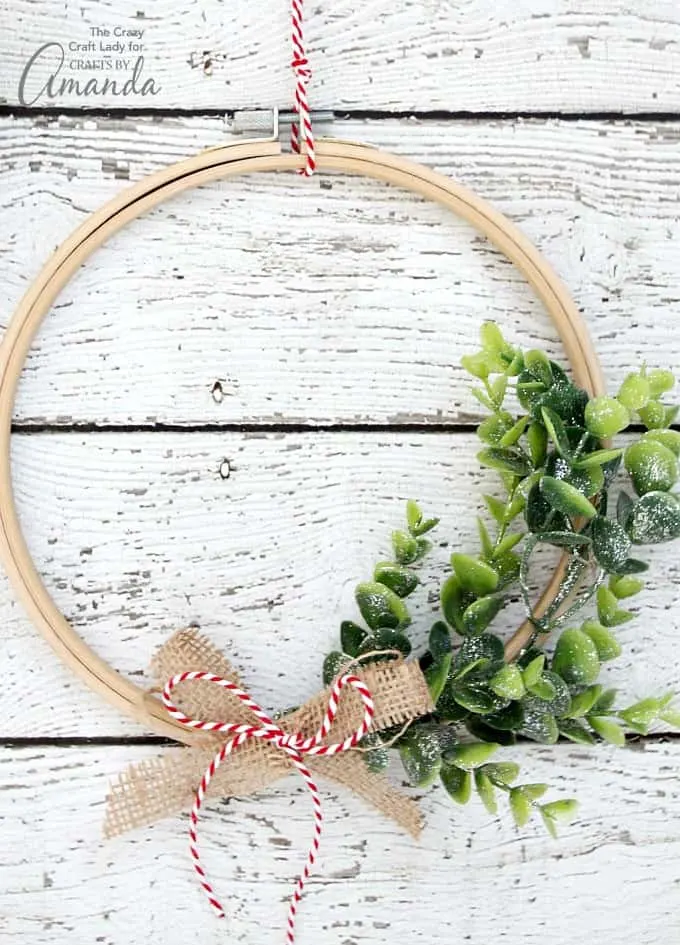 Source: craftsbyamanda.com
These are wildly adaptable crafts depending on your size hoop; make anything from gift tags to a classic front door wreath.
They are one of the easiest and quickest items on the list–another perk of crafting them into whatever you need for the season.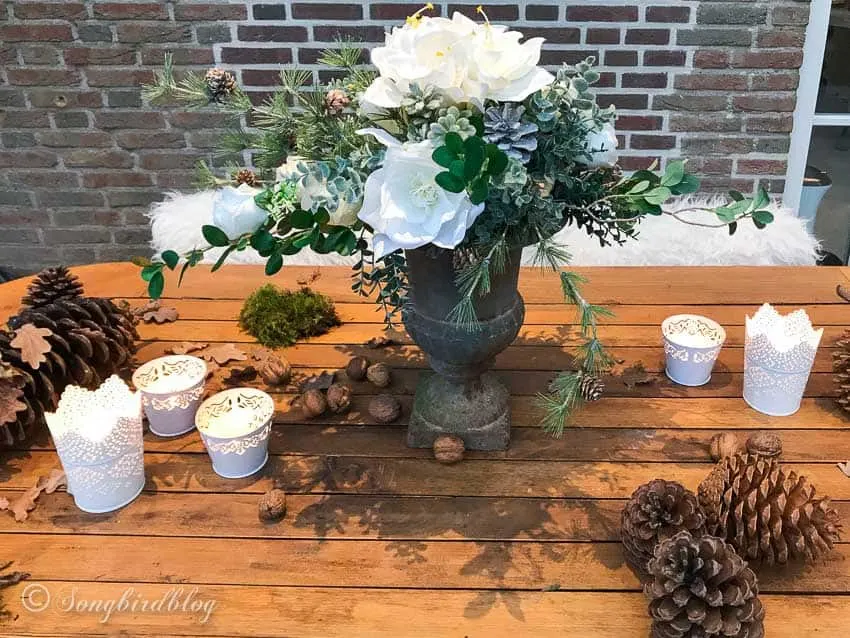 Source: songbirdblog.com
For those looking to add a little pop of color, try adding a fun (and faux to last the season) winter floral table arrangement.
The display works well wherever you need some sprucing up–a guest room, bathroom, or kitchen table.
Source: craftsyhacks.com
Scented candles are wonderful year-round, but especially when you can cozy up under a blanket with loved ones and watch a movie or play a game.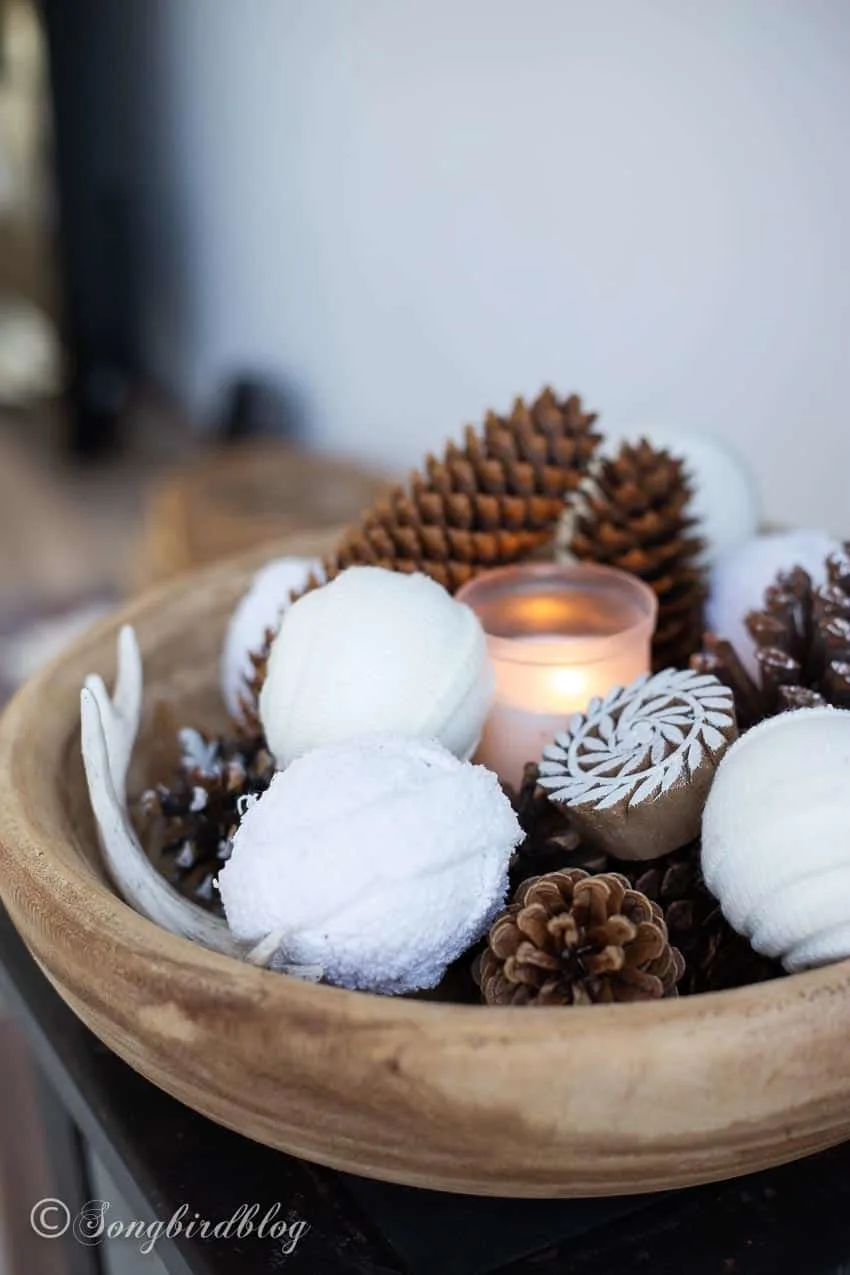 Source: songbirdblog.com
If you want a greener alternative to your faux snowballs, these fabric ones are just the ticket!
Any white material you have that's lightly used but will get donated or otherwise cut down into strips and make these cuties instead.
Source: littleladoo.com
Nature lovers, this wreath is the perfect addition to your home this winter season.
Collect, treat, and adhere sticks together for a sweet and homey wreath, completing the project with the perfect bow.
This would also make one of the best Christmas wreath ideas!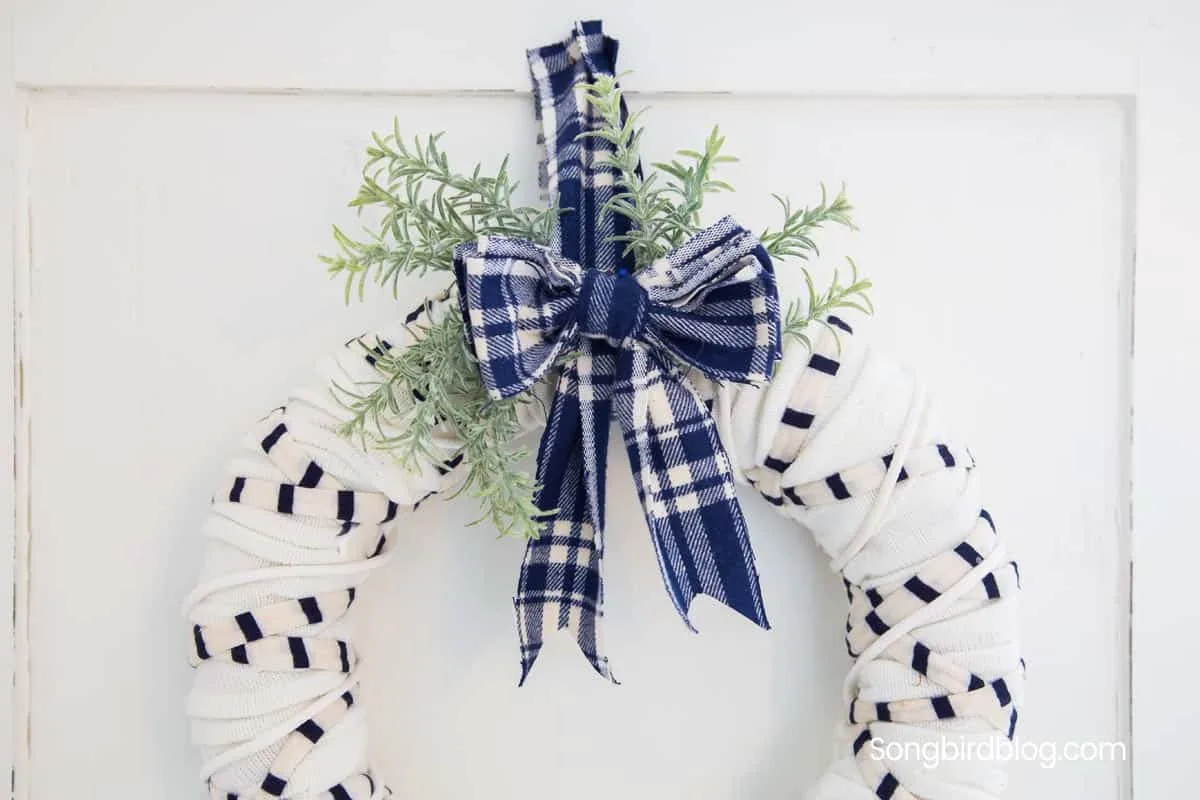 Source: songbirdblog.com
Scarves are great material to upcycle into wreaths, whether a worn-out scarf, a gift you don't wear often, or beyond.
Grab the right frame or frames depending on the scarf's size (if you opt for multiples).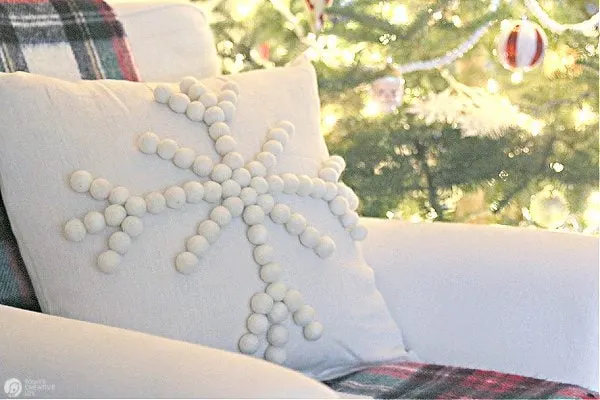 Source: todayscreativelife.com
Adding textural elements into unexpected places in your home can revive a space for the season. This snowflake pillow does just that!
Opt for a simple bead-pillow color scheme or bolder. These beads are great for this project and have a few different color options for every crafter.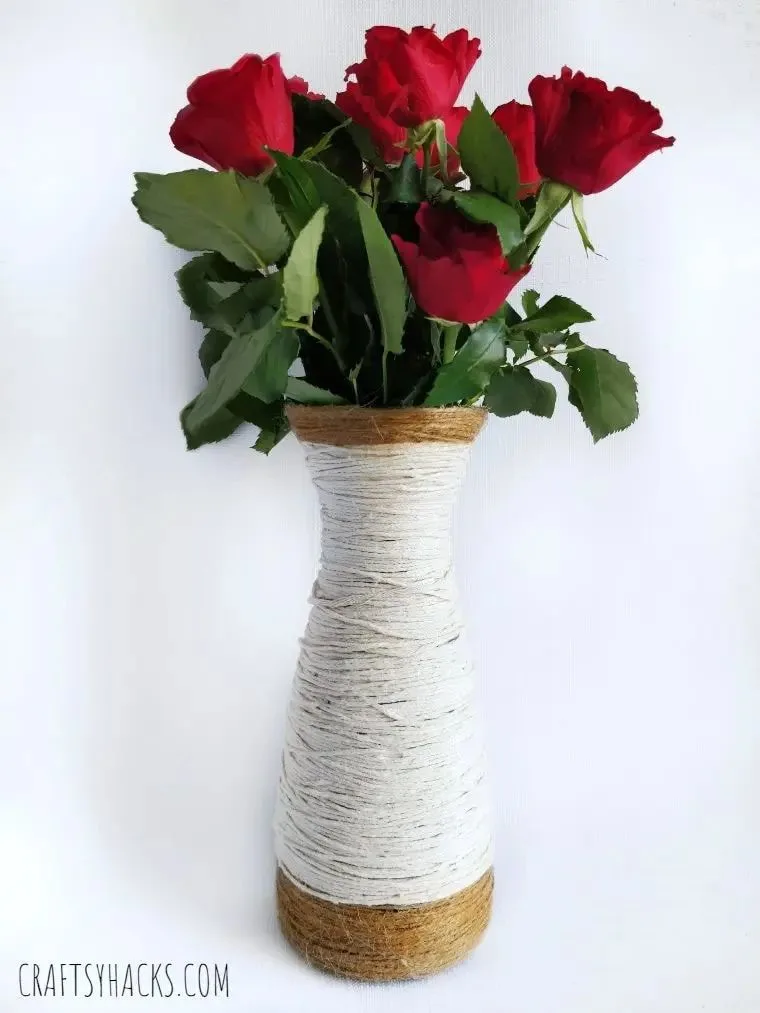 Source: craftsyhacks.com
Speaking of textural additions, this yarn-wrapped glass vase is another perfect example of warming up your space.
Coordinate the string or yarn to match your natural decor so it blends in seamlessly.
I love this brand of yarn–so many color options.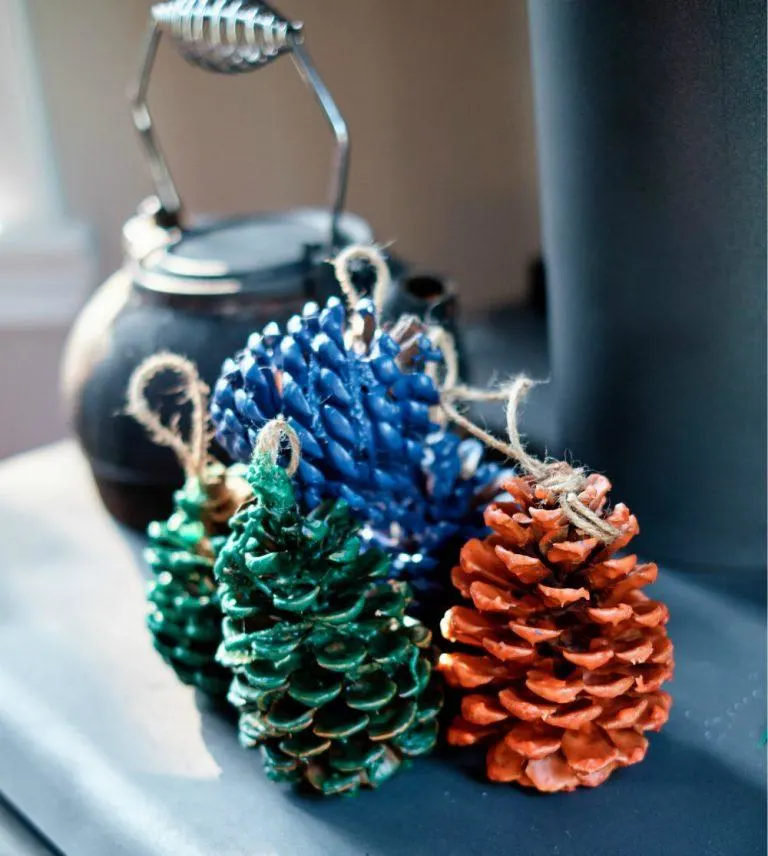 Source: ottawamommyclub.ca
You can't go wrong if you make these for display or use them as firestarters.
It's a bit of a process, but with everything set up before you start makes it all the easier, and the result is just darling.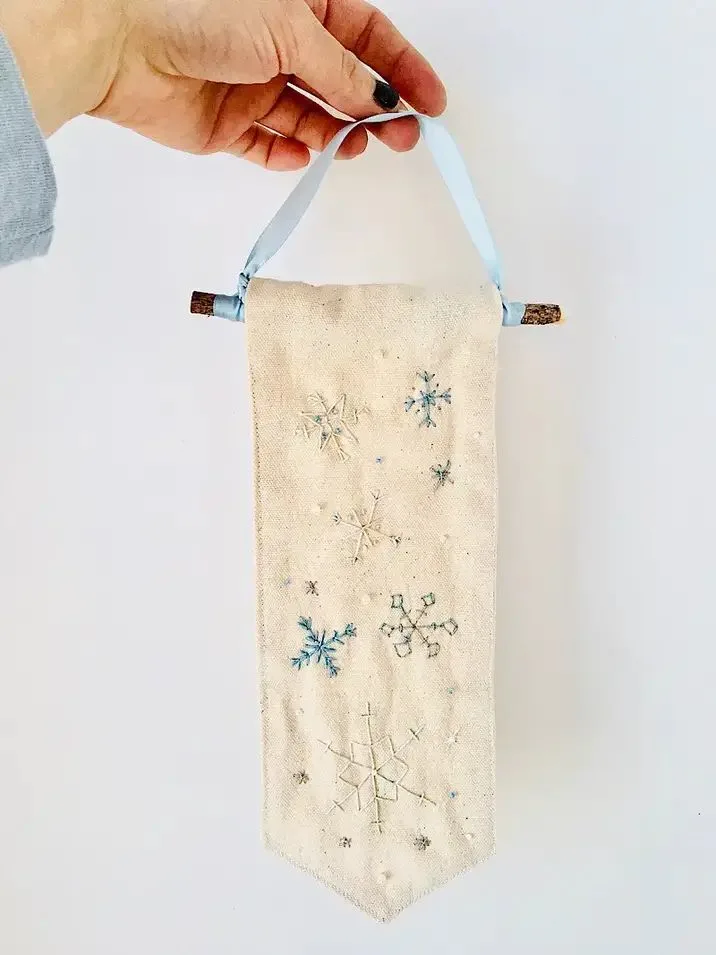 Source: seamwhisperer.com
These door hangers do great projects for the little ones–they get very passionate with their door tags. It's a great project for the whole family and up to each crafter's desires.
Grab this pack of felt to get started!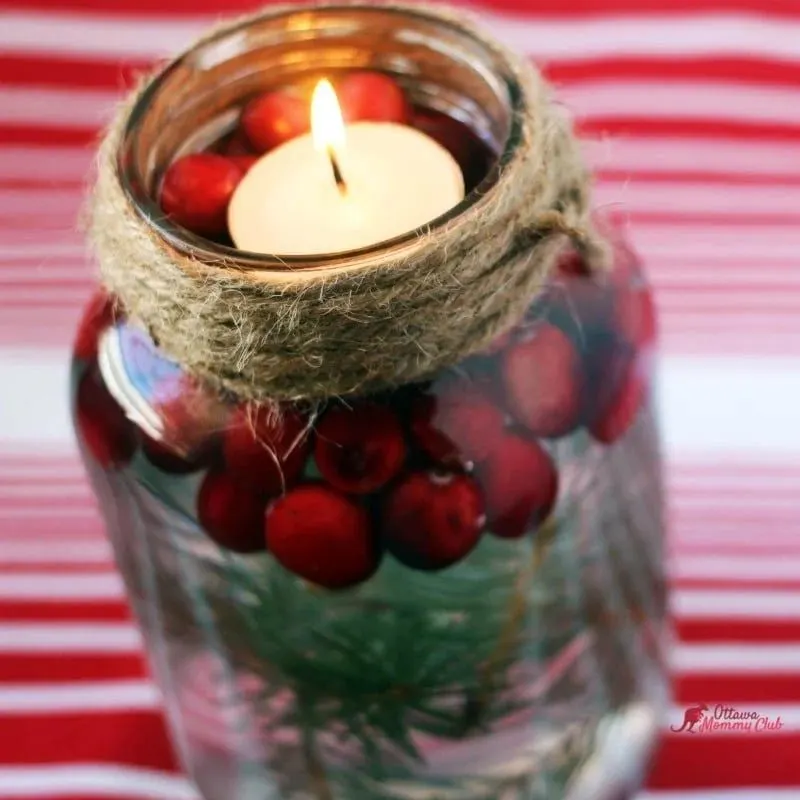 Source: ottawamommyclub.ca
These unique mason jar Christmas candles are a spirited and fun way to add to holiday centerpieces. Any festive vegetable or produce matter can easily be added to your jars.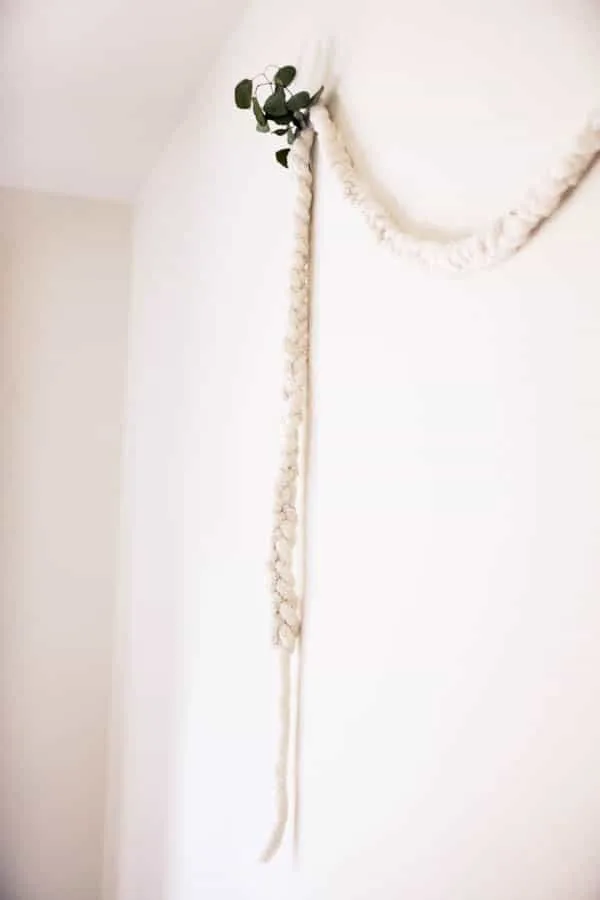 Source: cupcakesandcutlery.com
Another unique and statement option to add to your decor repertoire is this knotted yarn garland. The trick to having a quality result is good scissors–these are a great option.
Keep it monotone, braid together multiple strands, or attach fun baubles or natural elements.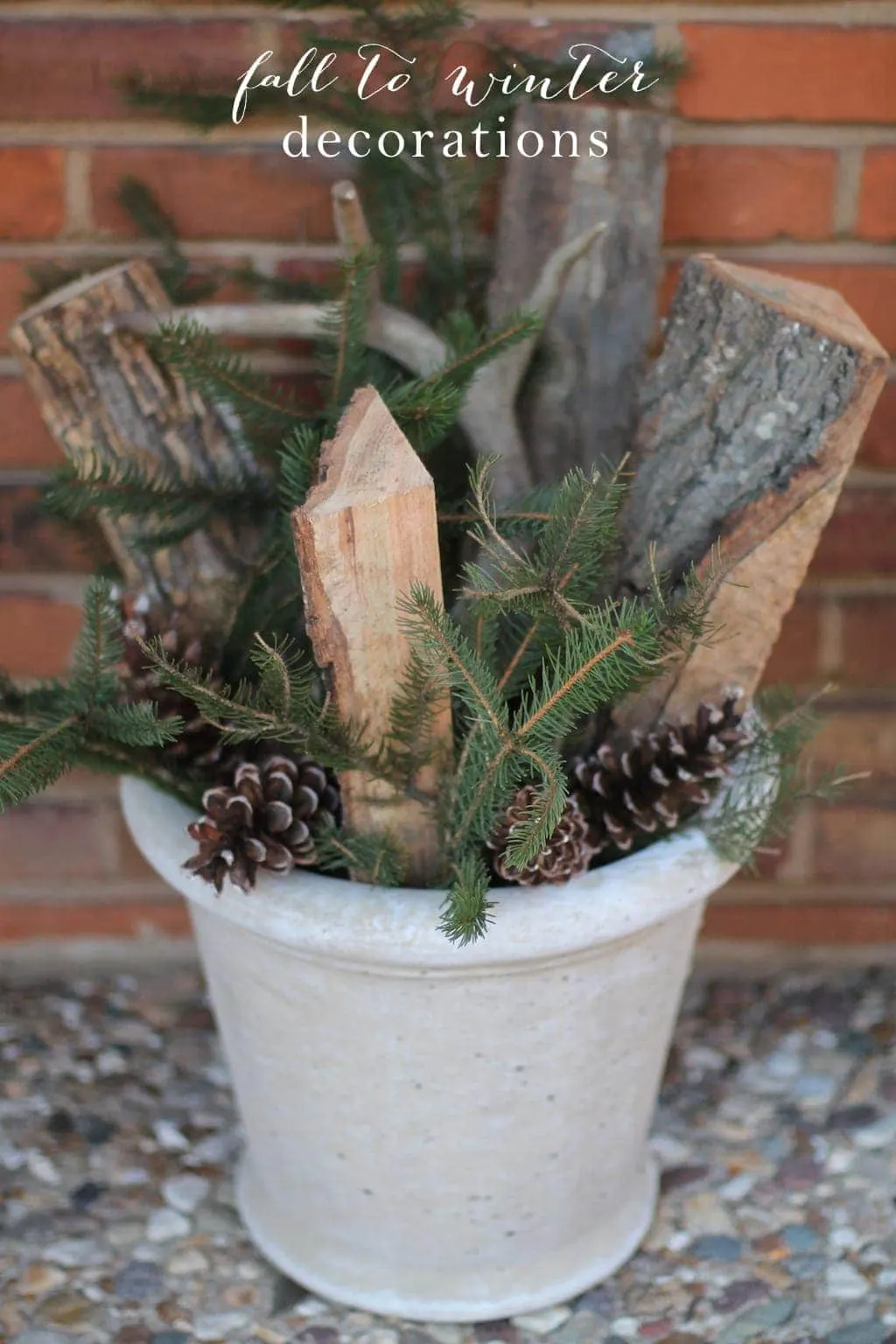 Source: julieblanner.com
As the temperature drops and Fall shifts toward Winter, most of us have varying natural elements that start collecting.
This sweet little porch arrangement is a great way to clean up your yard while giving these fallen items a purpose.
This decor is one of the easiest on the list today and can take less than five minutes to complete. Each pot will look a little different, especially as the seasons go on.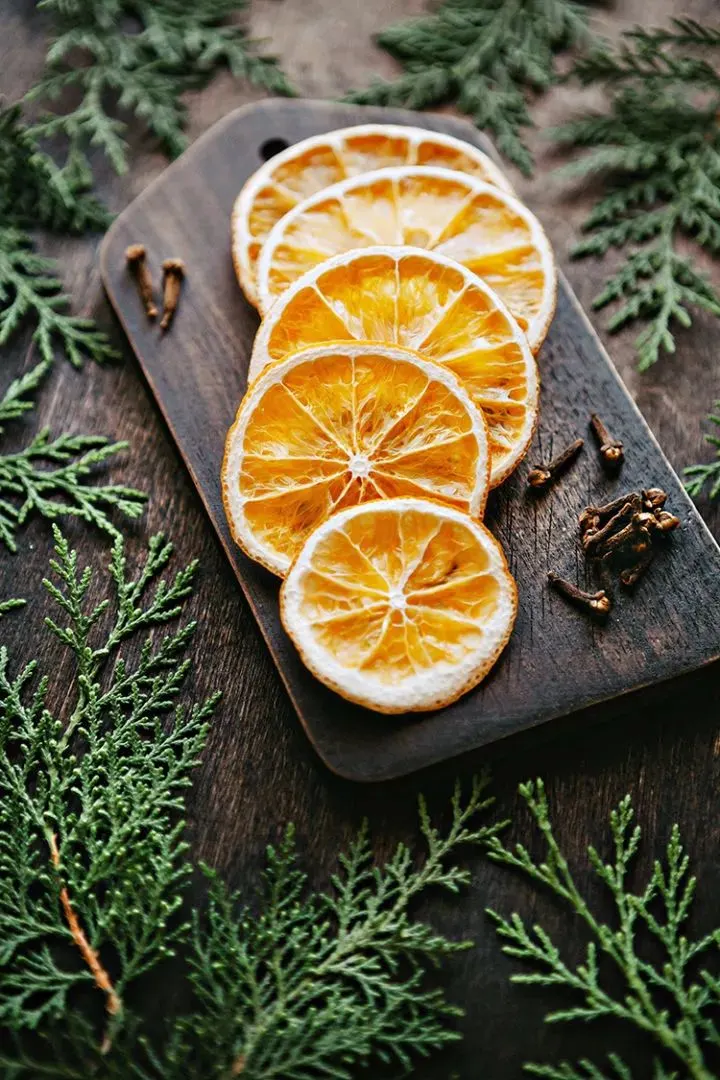 Source: goodlifeeats.com
Dried fruit has made a revival during the holiday season, and for good reason. Dried orange slices and other fruits make for the perfect embellishment on a gift, Christmas tree, or garland.
Batch make a few sets, add them to different parts of your house, and have some on standby.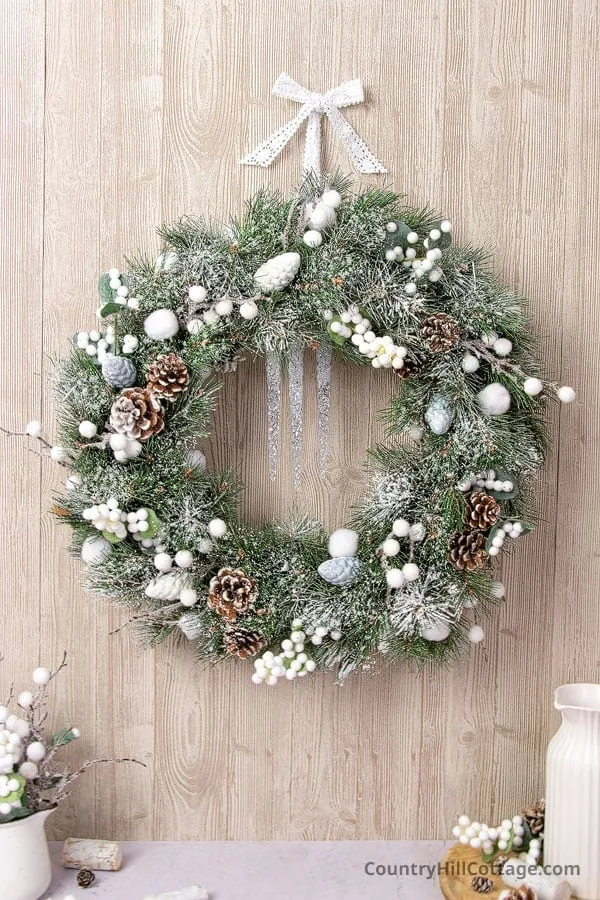 Source: countryhillcottage.com
I like to intersperse specific holiday decor with just general seasonal items, so a perfect non-Christmas wreath is a great option for anyone.
This wreath is neutral enough to make its first appearance once the temperature drops until the daisies pop up in the spring.
Swap in regional native items for an extra special take on the wreath.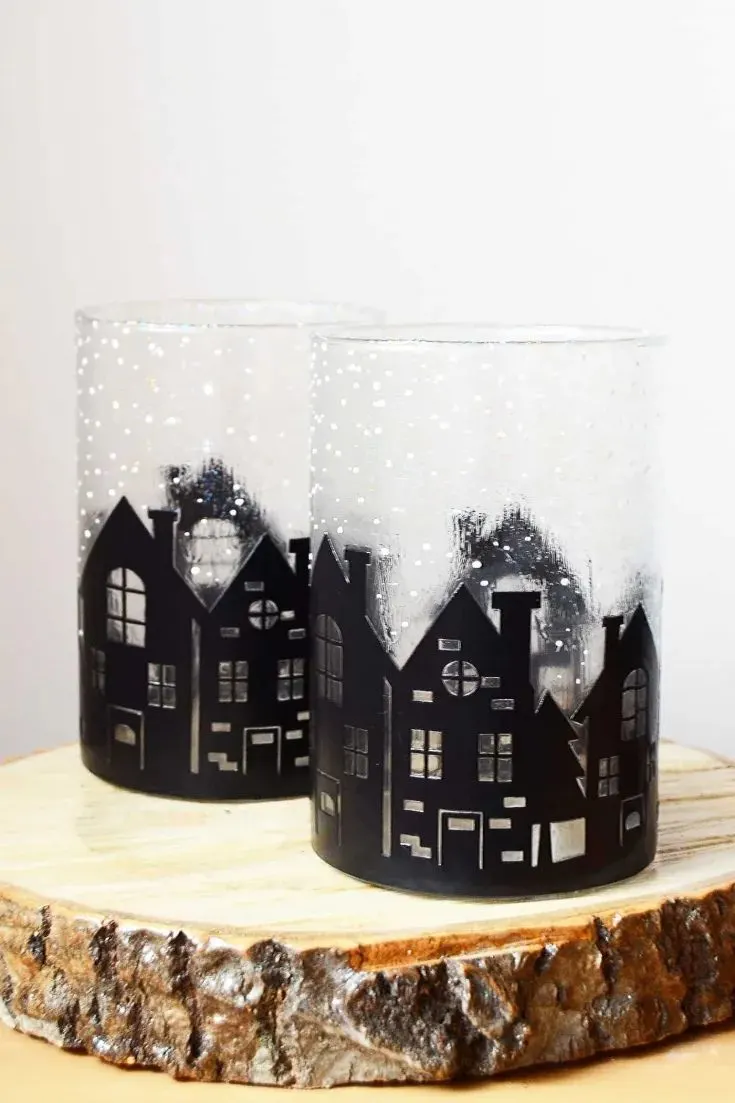 Source: modpodgerocksblog.com
These winter village vases make your space feel incredibly cozy for nighttime but will do the same any time of day.
Upcycle your old glass material, or search the thrift store for oversized votive holders.
A varied sizing of vases makes for a more spectacular scene when all is quiet and bright. For the best results, keep the buildings dark, but feel free to experiment with different colors!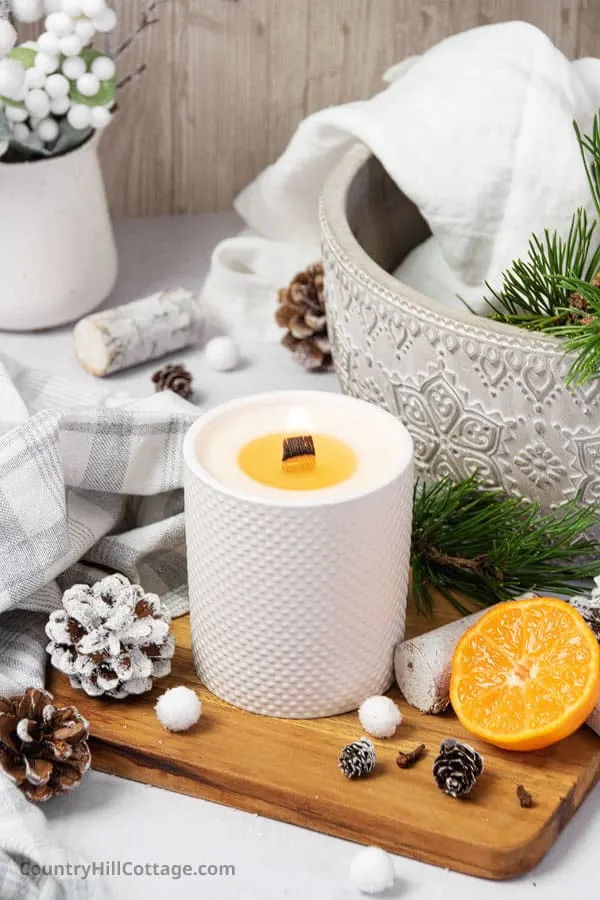 Source: countryhillcottage.com
A specifically scented winter candle transforms my whole day during winter. This candle is simple, easy, and soothing with the crackling wick.
If you're unfamiliar with wooden crackling wicks, you're missing out!
It's as if a tiny fire is sitting next to you–since the wick is wooden-based, resulting in the crackling and popping noises like a traditional fire.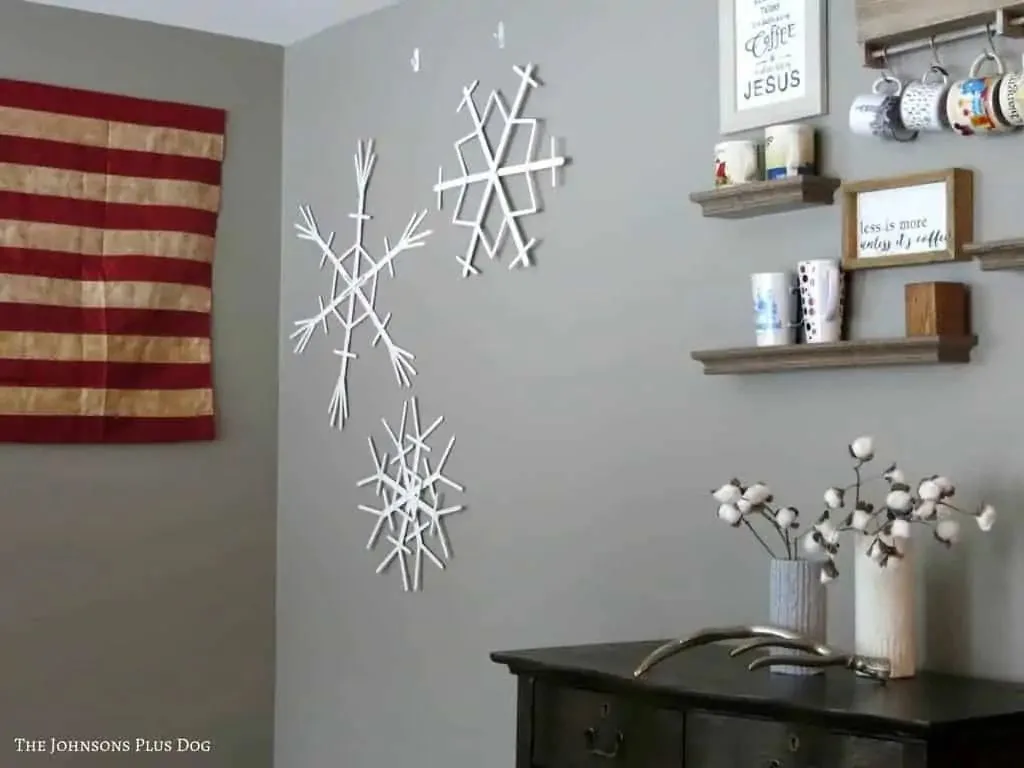 Source: makingmanzanita.com
Options for kids to get their hands on in decorating are important–they help their creativity, imagination, and problem-solving skills shine.
This specifically kid-friendly popsicle stick snowflake is a classic and relatively easy craft for most kiddos to get in on.
Stick with white flurries or opt for some bright, colorful ones, or even better, a mix of both!
That way, the kids can have a few in places they would like; you can add some to wherever you are thinking, and everyone ends up happy.
Source: scratchandstitch.com
Last but not least, this simple snowy wintergreen wreath blends right into the winter season with its winter white coloring.
What makes this wreath so beautiful is the wonderful pop of natural green at the bottom!
Try this wreath with faux or real greens, depending on the available materials! If you're feeling extra, pop on a few holly berries to really give this piece life.