Christmas is one of the most beautiful holidays of the year. Why not make it more special with these fun Christmas decorating ideas.
Christmas is right around the corner, and it's time to get your Christmas decorating underway. The best way to add to your decorating stash? Craft time!
You can make wonderful and unique decor items in just a few hours if you're up for combining your decorating and craft sessions. Grab your supplies, grab your kids, too—they'll love craft time—and get started on making your very own decorations for this holiday season.
Take a look at these 27 Christmas decorating ideas to inspire you!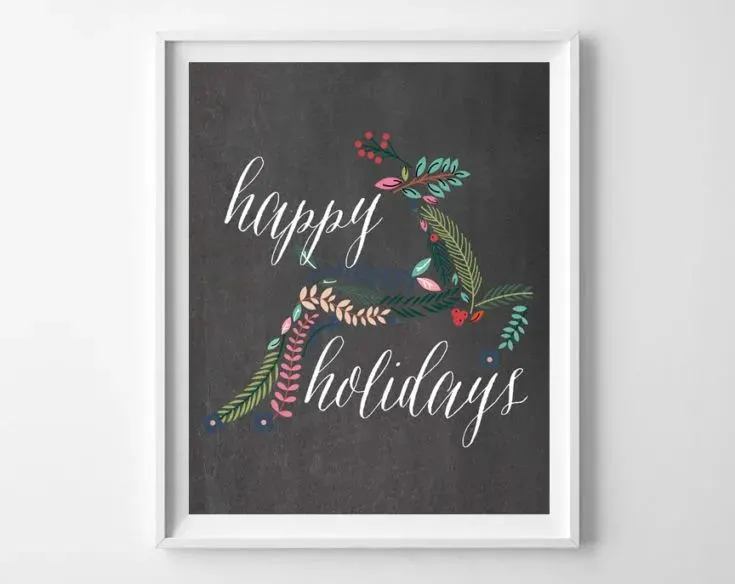 Source: burlapandblue.com
If you've got a printer at home, then you have a ton of different printables that you can download, customize, and frame. Your choices are endless, really/.
For this particular Christmas-themed one, you've got templates provided for you to choose from. You can choose from the designs and layouts provided and then have it printed on the paper of your choice.
Finally, frame the printed paper, and you can mount it up on the wall to supplement your wall decor this Christmas.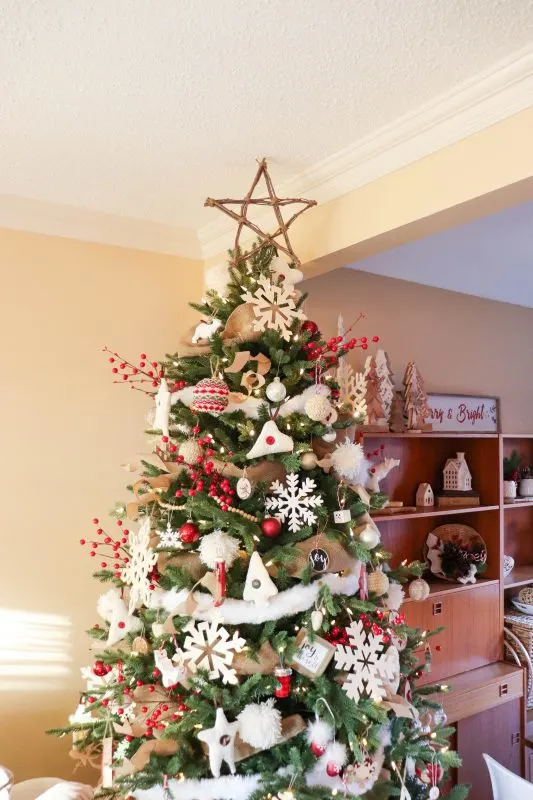 Source: homemadeheather.com
Is a Christmas tree ever complete without the star on top? You can buy your own tree topper, sure, or you can make your own.
This rustic star is exactly what you need to perch atop your tree. It's simple and unobtrusive, but it adds a ton of character to your tree, don't you think?
You only need a few twigs and branches to get started. You can use this twine—both burlap and hemp will blend seamlessly—to hold them all together.
You'll also need floral wire to make sure they're extra secure, as well as a hot glue gun.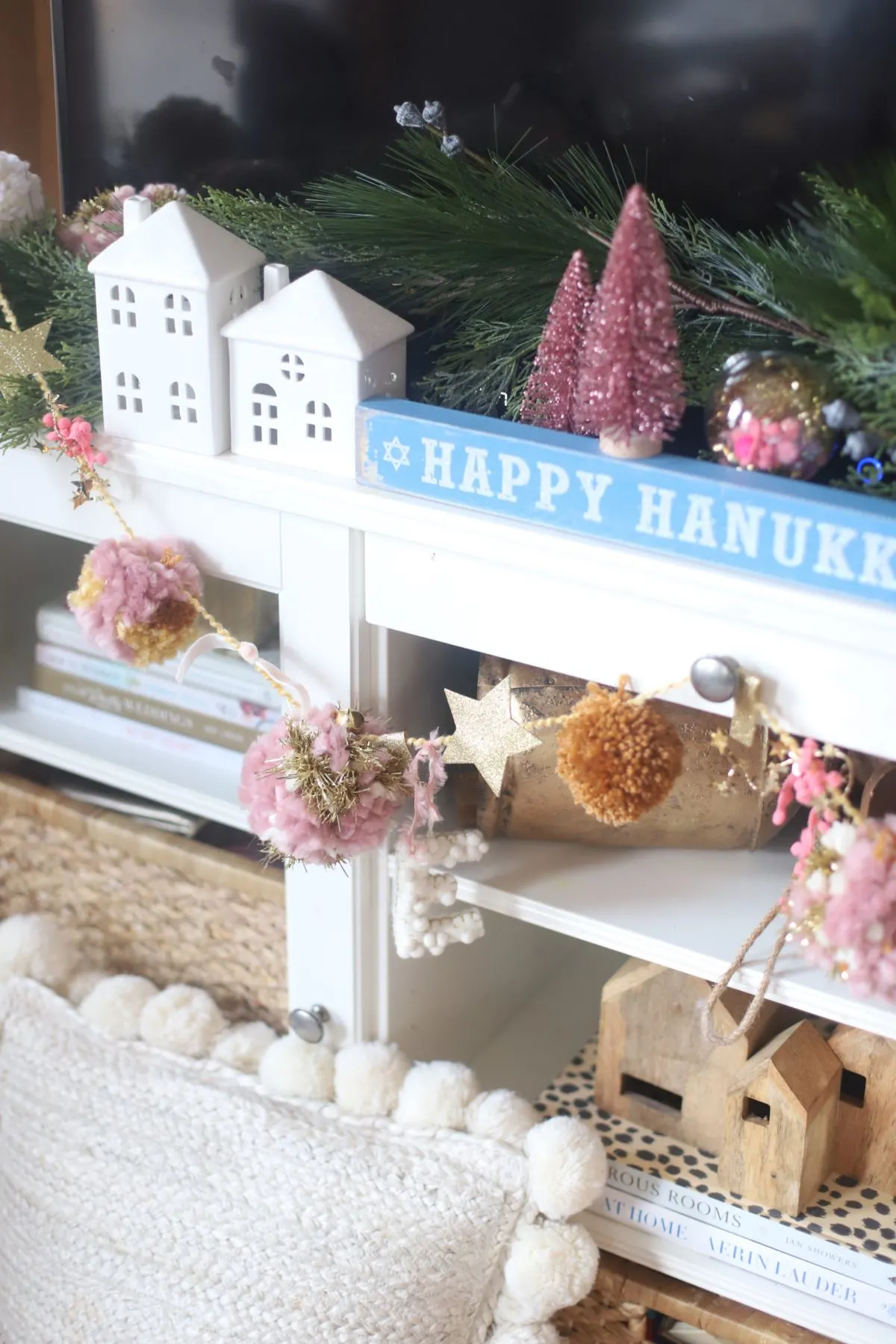 Source: glitterinc.com
You can't get more festive than a gorgeous pompom garland draped across the room or over your mantle. You can use this pompom garland year round, seeing as how it isn't technically in Christmas colors.
To make this festive garland, you'll need yarn pompoms, gold bells, ribbon, tinsel from here, glitter washi tape, and little gold stars.
Your standard garland will usually measure at around 2-3 feet, but feel free to make it bigger to suit your requirements.
You'll just need to add a few extra pompoms to extend it, and you're set! Check out more winter crafts anyone can make here.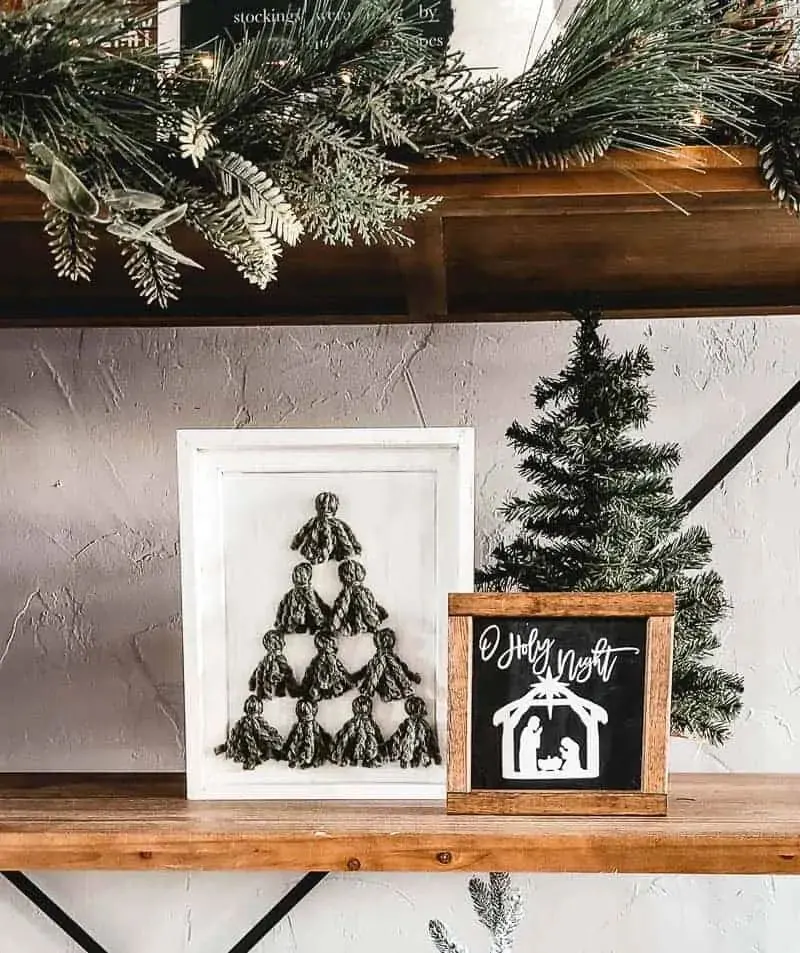 Source: makingmanzanita.com
Check out this quirky tassel tree! Have you seen anything quite this eclectic before? How about you recreate this tassel tree and have it framed and mounted in your living room?
Find a basic frame from here to get you started. Then, you can start gathering the rest of your supplies:
Yarn
Scissors
Scrap cardboard
Glue
White paint
Sponge brush
You can always use multi-colored yarn to make your tassels. It depends on the decor and theme you've got going, so you can also switch up the yarn's texture and thickness.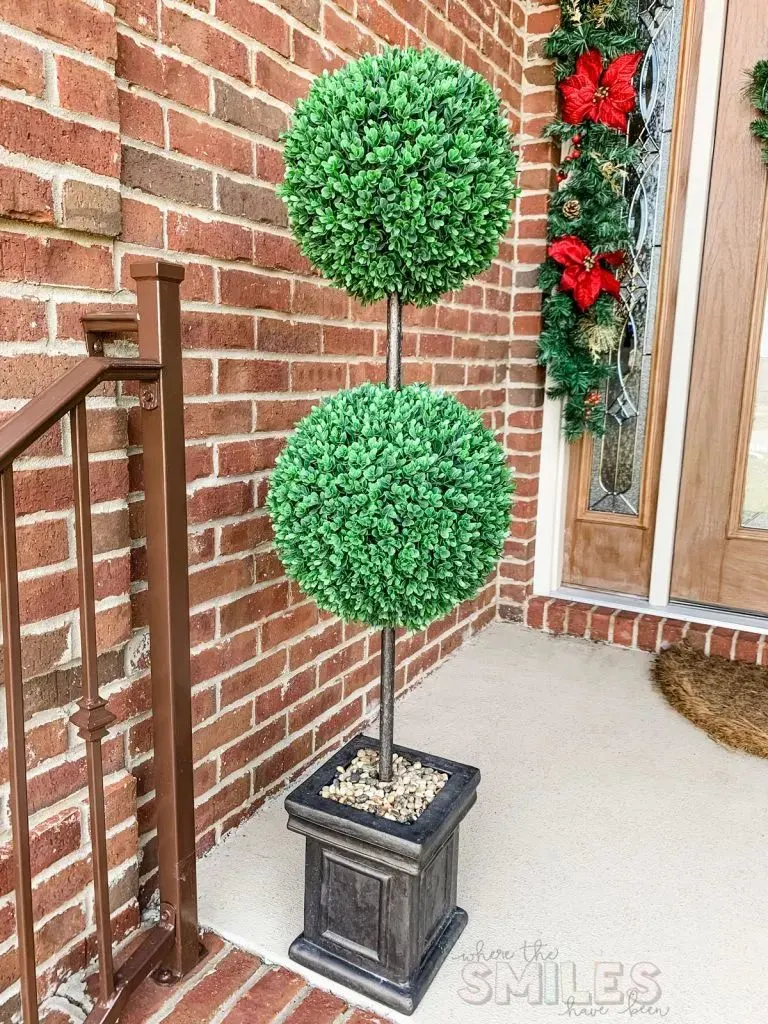 Source: wherethesmileshavebeen.com
Your front porch is the first thing that people see when they enter your home. So, make sure that you've got it all done up for the holidays. How? Check out this topiary snowman.
This dashing snowman, with his big festive bow and top hat, is exactly what will set your front porch apart from the others on your street. There's something quite sassy about him, don't you think?
You can fix a nice faux carrot from here, too; just because your snowman isn't really made of snow, that doesn't mean he can't have a carrot nose.
Check out more Christmas Farmhouse Christmas ideas here.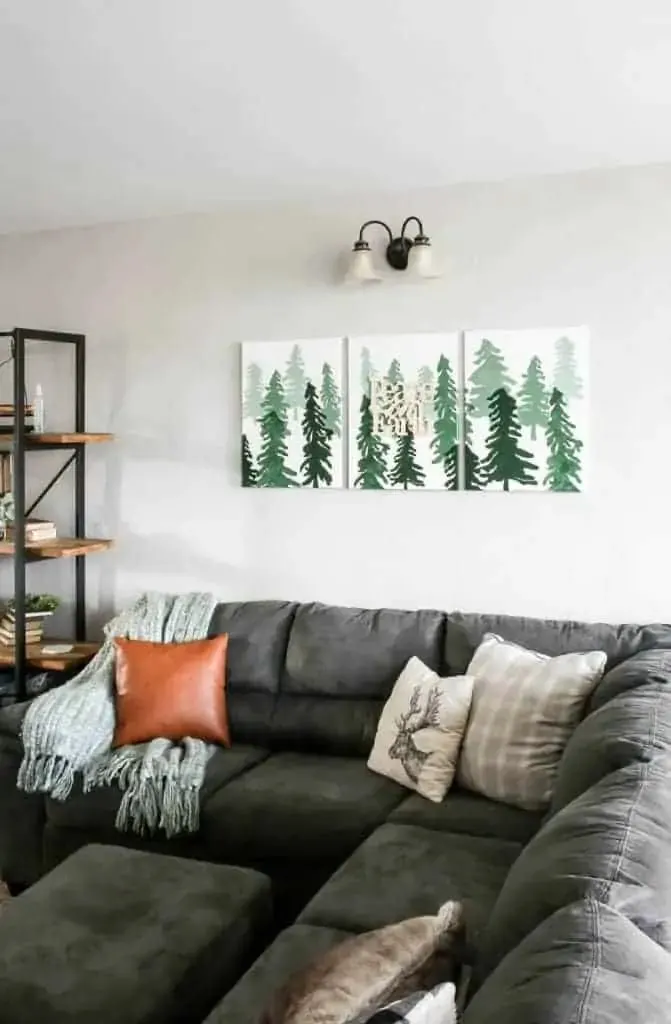 Source: makingmanzanita.com
Check out this gorgeous Christmas wall decor. It's got that perfect air of wintry elegance that can bring the entire room together.
You can choose to supplement the design with a quote—or just any phrase you prefer. It can easily be a year-round decorative piece, too.
You'll need three canvases from here, a few 3D foam squares like these, contact paper, a Cricut or Silhouette cutter, paints, and brushes. Once you've gathered your supplies, you can get started on your DIY wall decor right away.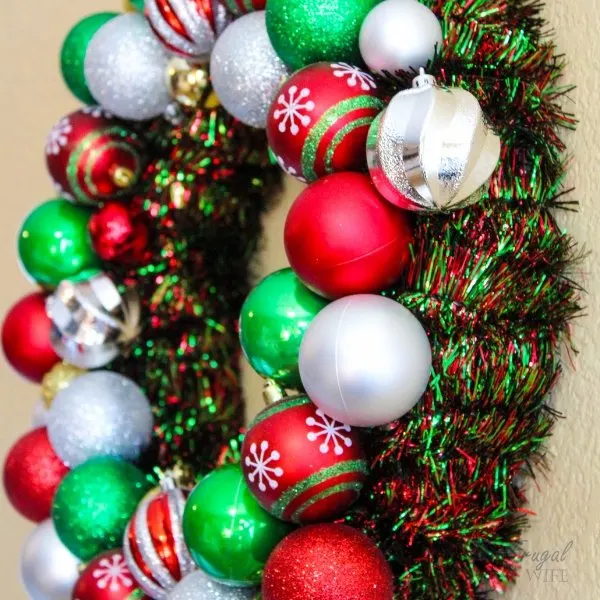 Source: thefrugalnavywife.com
Vintage ornaments for Christmas are making a huge comeback, and it just might be worth your time to take a look at making your own. They're so quintessentially Christmas in terms of color and festivity that it's bound to brighten up your tree.
You'll need a foam wreath form, silver, red, green, and gold tinsel garlands, and an assorted pack of vintage ornaments from here. You'll also need hot glue, of course.
When you're assembling your ornaments, add a generous dab o adhesive to hold your ornaments securely in place.
Check out more Christmas Tree decoration ideas here.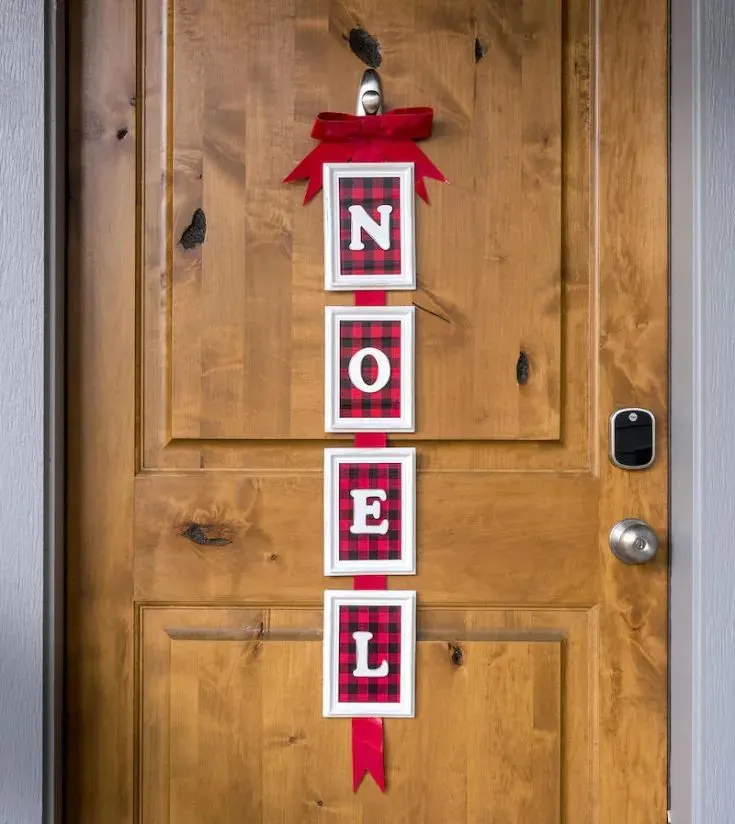 Source: modpodgerocksblog.com
If you're a fan of door decor, or you're just tired of seeing that "Keep Out and Stay Out!" sign outside your kids' rooms, then I have the perfect craft project for you.
This gorgeous door hanging can help dress your kids' doors. As long as their names aren't a few dozen syllables long, you can hang up the letters, as you see here.
Pick up four white frames from here, a couple of rolls of festive duct tape, floral wire, and other craft essentials.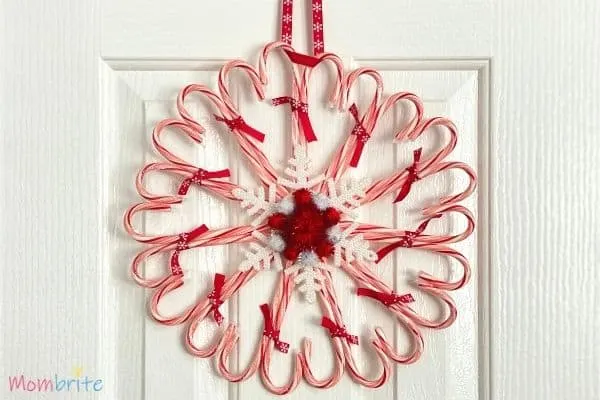 Source: mombrite.com
Candy canes are a staple at Christmas, right next to cookies, eggnog, and hot cocoa. So why don't you incorporate it into your Christmas decorations this year?
Making a candy cane wreath can teach your little ones how to recognize and recreate patterns, which makes this craft project a valuable STEM activity for kids. You can pick up your candy canes right here to get started.
You'll also need white craft glue, some snowflake ornaments, Christmas-themed ribbon, and a few pompoms to jazz it up further.
Check out these 20 unique Christmas wreath ideas for more creative wreaths for you to make!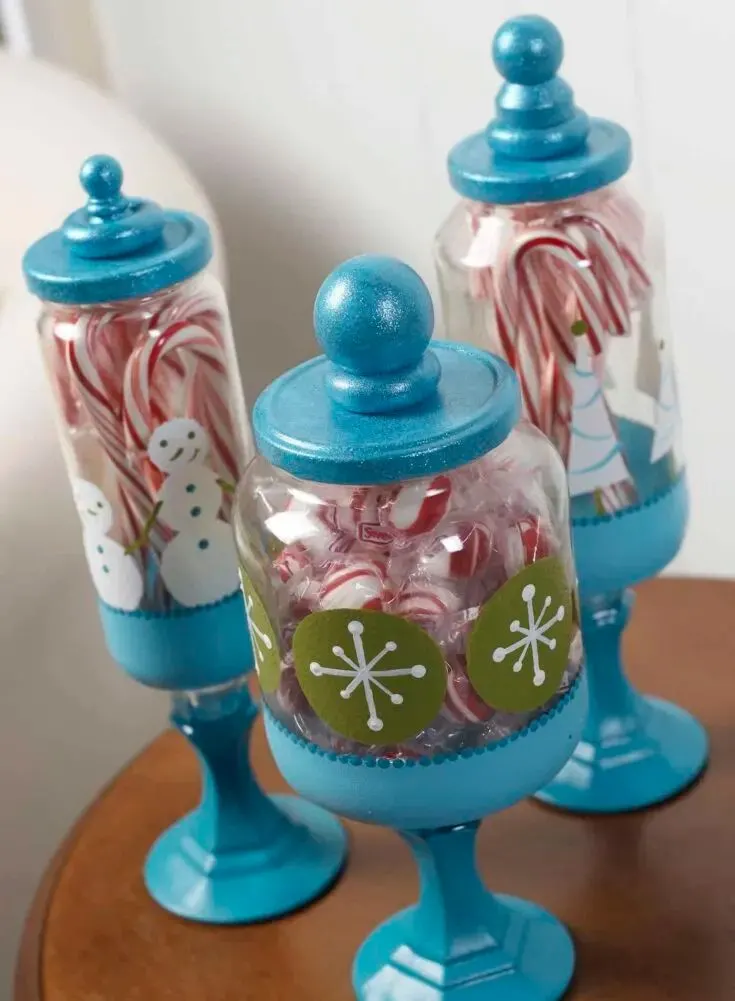 Source: diycandy.com
Apothecary jars are right up there with mason jars in versatility and awesomeness. They're super useful for all sorts of craft or decorating projects.
Take this Christmas-themed apothecary jar, for example. You can fill them up with candy canes and other Christmas goodies and treats.
You can paint the lid of the jar a nice, icy blue first. For the stand, just use a glass candlestick and hot glue it in place once you've painted that as well.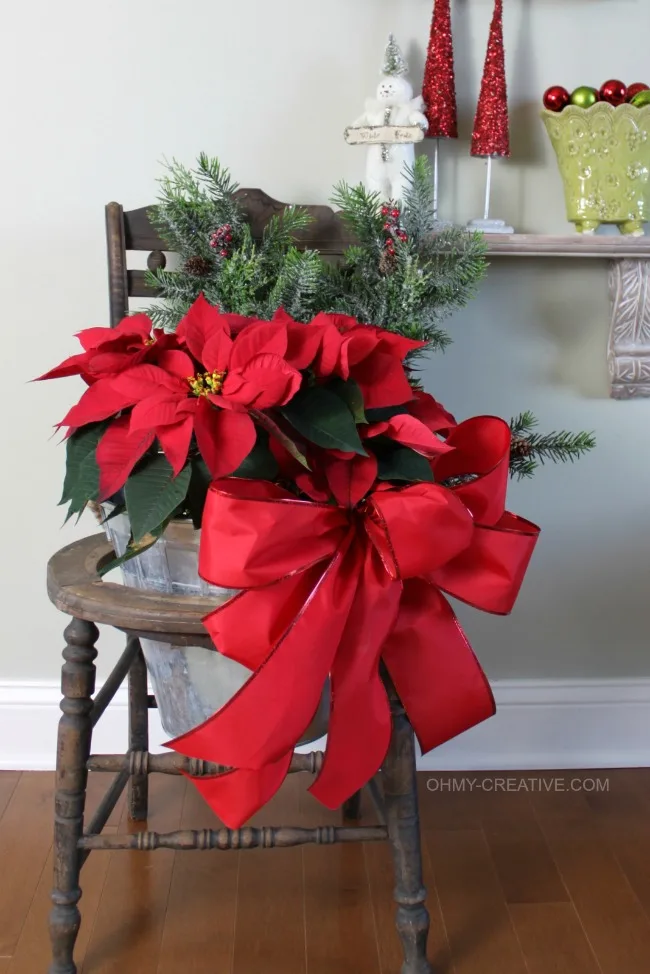 Source: ohmy-creative.com
Is it a chair? Or a vase? Is it some sort of Christmas prop or decor? Well, I think you can call it all or any one of those.
Pick up a galvanized bucket or pail from here, to begin with. You can add a few holiday stems, florals and wrap a big red bow with a flourish to transform the chair.
I think it would look fabulous in the corner of your front porch. If you want to decorate some more, then how about a vintage snowman?
Check out these 20 Christmas porch decorating ideas!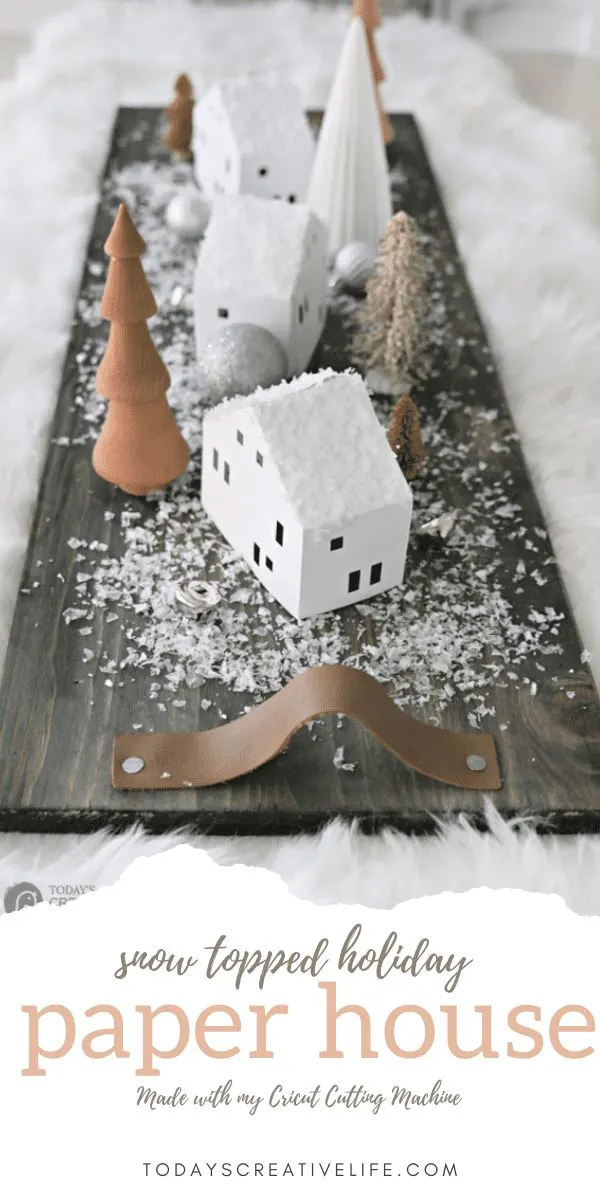 Source: todayscreativelife.com
This gorgeous snow-topped holiday paper house is exactly what you need to add to your Christmas decoration. You can make a modern-day village scene during the holidays, perhaps?
You'll need to pull out your Cricut machine for this project and also pick up some white cardstock paper. You'll also want faux snow from here and mod podge to hold all the components together.
Once you have everything you need, go ahead and download a house template, and then design it to meet your specifications. Check out more Christmas crafts for children!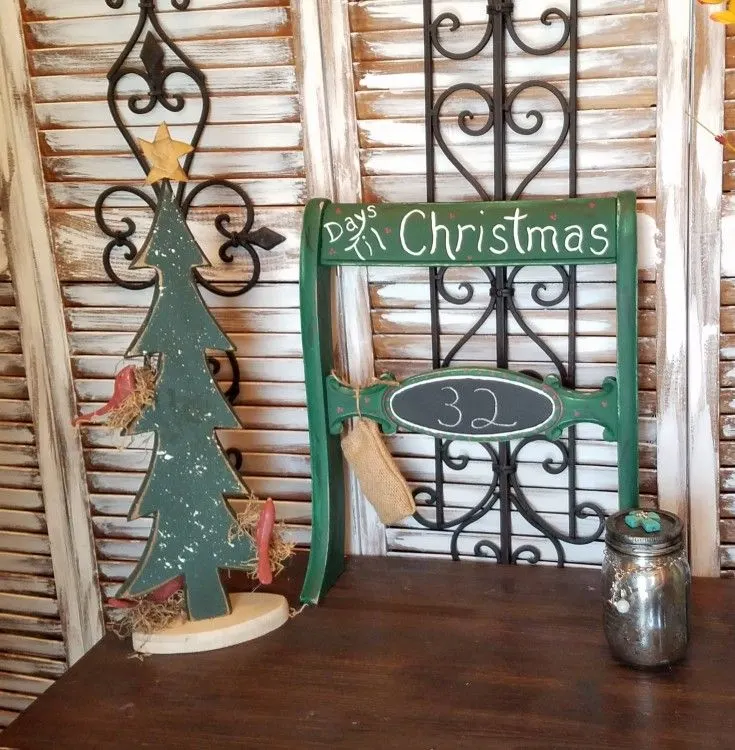 Source: mixedkreations.com
Christmas is right around the corner, and I bet that the excitement and holiday cheer in the air is palpable. It can be such a chore, though, waiting for the days to go by until it's finally time for Christmas morning.
Do you know what can help you count down the days until Christmas until days simply fall away? A sig board like the one you see here, of course!
Counting down to something always makes the big day even more enjoyable, so grab everything you need to get started on making this DIY sign!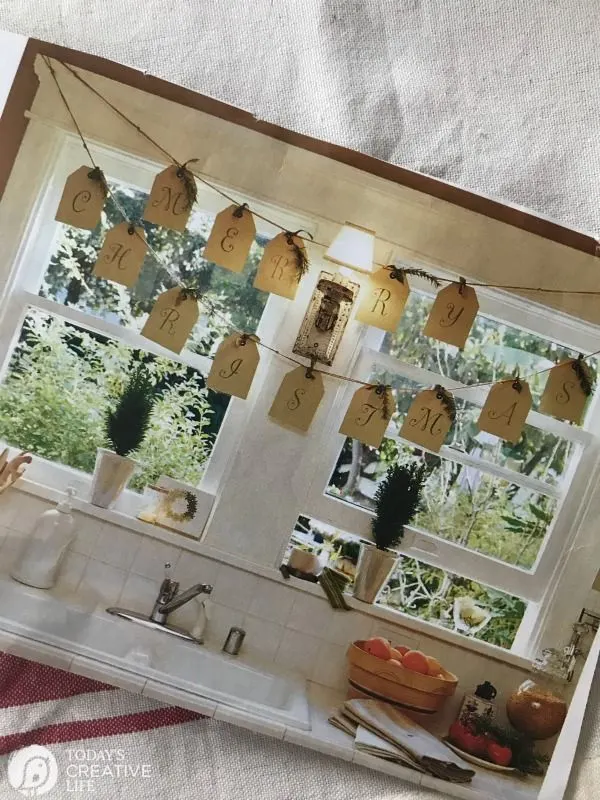 Source: todayscreativelife.com
You can never go wrong with a nice big banner to help you cheer a room up. Why don't you make this gorgeous DIY holiday banner and string it across your living room or kitchen?
You can customize and recreate this banner to meet your specifications or simply download the individual letter and print them. Use a punch hole like this on your paper and string some twine to hold it in place.
Here's an idea: you can attach a bit of pine to the banner, as seen here, too!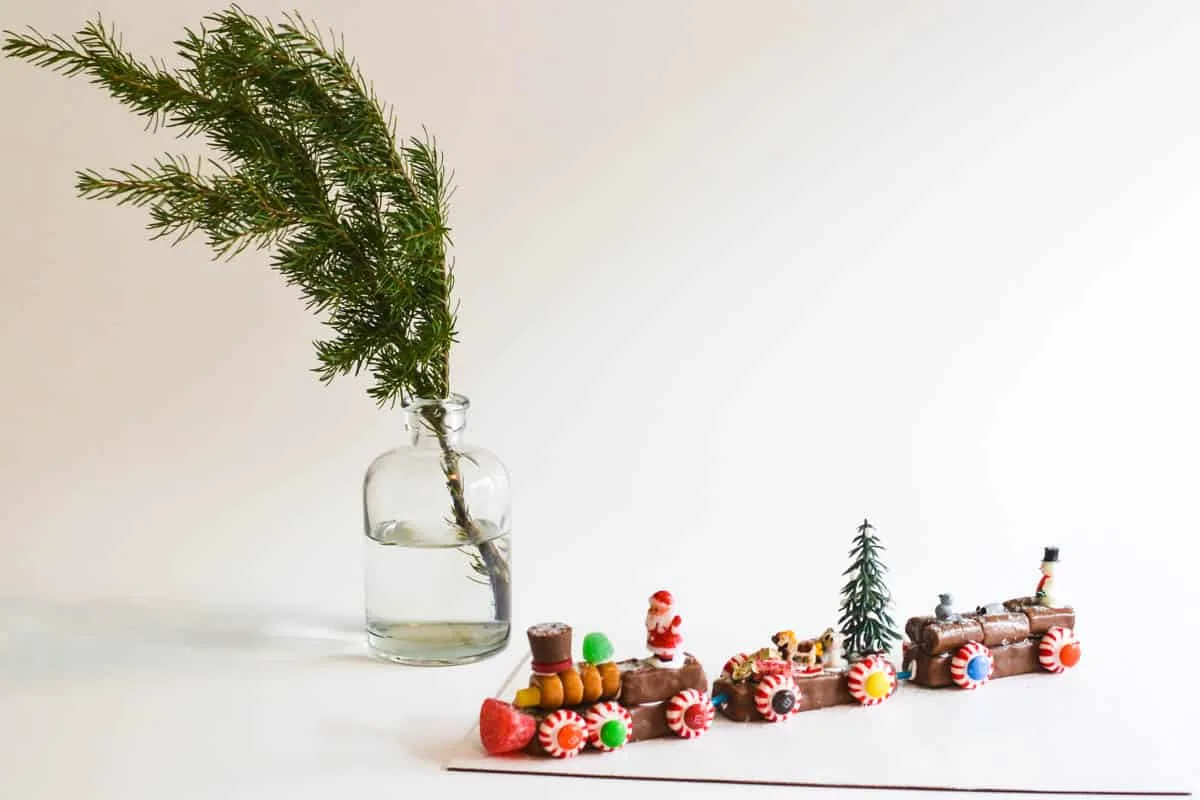 Source: cupcakesandcutlery.com
A Christmas decoration that you can eat? Sign me up, please! This cute little candy bar train is the perfect decorative piece to sit atop your kitchen island this Holiday, or even in a place of honor on your mantle!
The best part? You can eat it when it's time to take the decorations down! So, get started on this project by grabbing a whole bucket load of your favorite candy.
You'll also need white edible glitter from here to make your chew-chew(Ha!) train even prettier.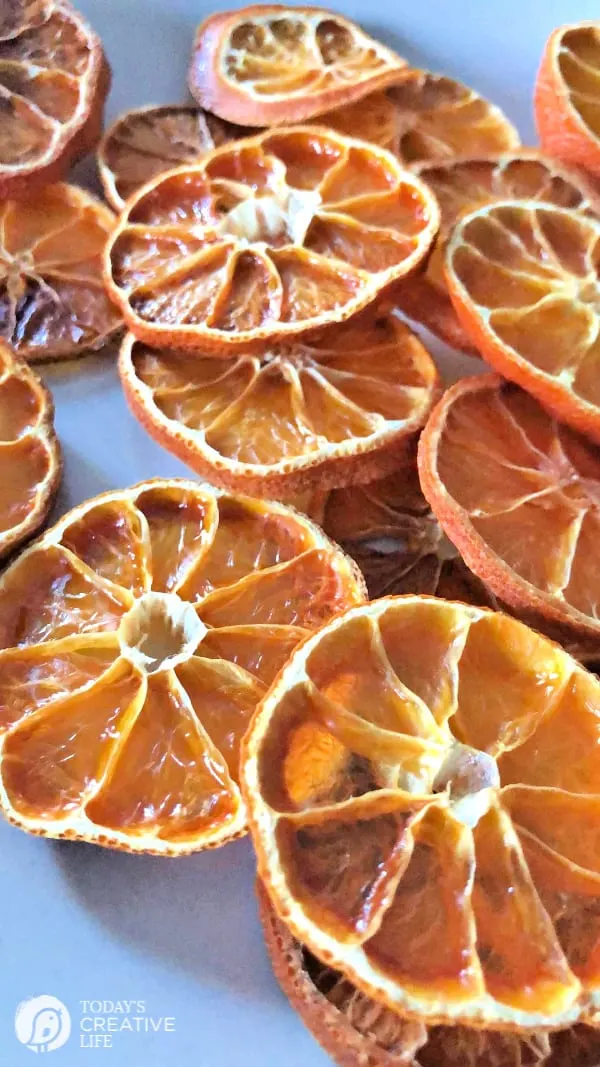 Source: todayscreativelife.com
There's something in the air during the holidays that never fails to get my mouthwatering. It's something spicy, warm, fresh, and—citrus?
How about you try out this method of drying up orange slices. You can use them in a ton of creative ways. You can hang them up in a garland, toss some cinnamon and pine to mix it in with potpourri, or even add a slice in your hot cider.
Grab some oranges and turn on your oven; it's time to dehydrate some orange slices!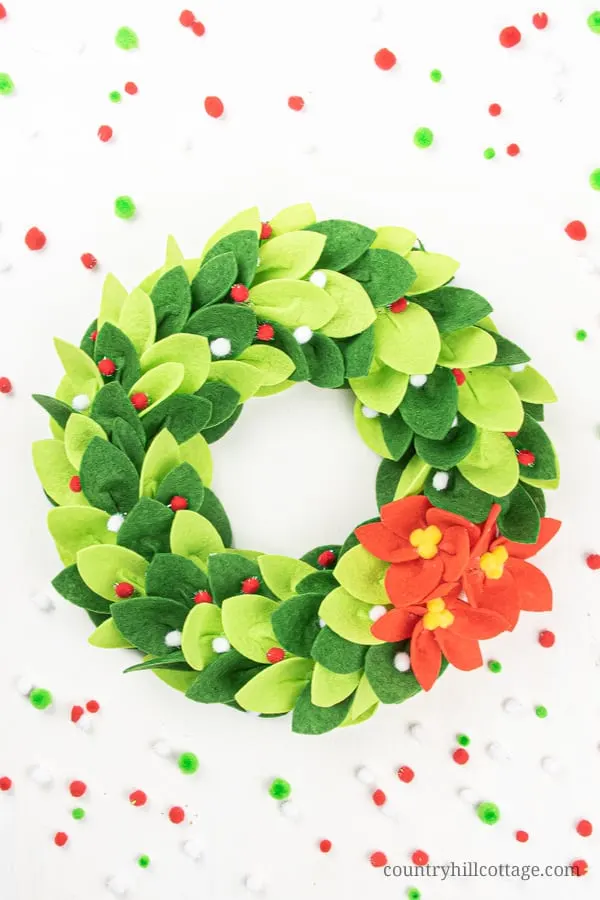 Source: countryhillcottage.com
There's no one way to make this cheerful felt Christmas wreath—there are two ways. You can never have too many Christmas wreaths, can you?
Even if you already have one for your front door, you can still hang these up around your home. So, grab some felt sheets from here and start designing your wreath template.
You'll need a Cricut to help you with your cutting, of course. Instead, you can choose to go with a traditional green wreath or something eclectic and unique like a monochromatic wreath.
While you're at it, why don't you take a look at these Christmas centerpieces.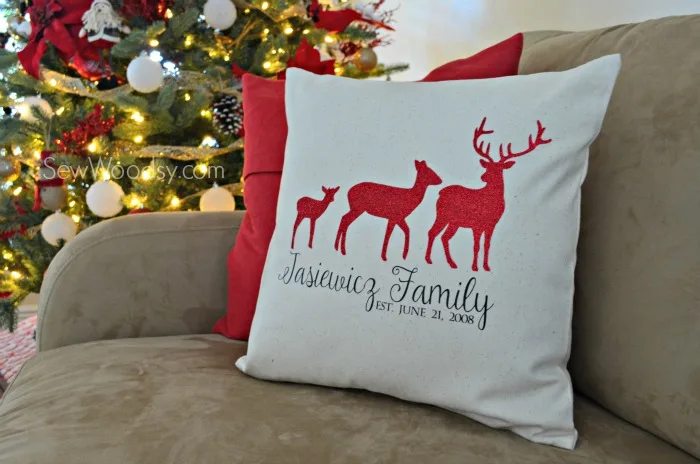 Source: sewwoodsy.com
Reindeers or deers, both have a place in your wintery holiday decor. This DIY pillow cover showcases not just one but a whole family of deer.
So, grab your Cricut machine, your Cricut tools, some iron-on vinyl, and an iron. Oh, you'll also want to grab your hot iron, an ironing board, and finally, your pillow cover of choice from here.
Remember, when you're picking out your iron-on vinyl, you'll want to get red, black, and green ones. DOn't shy away from something sparkly, too, if you can find it!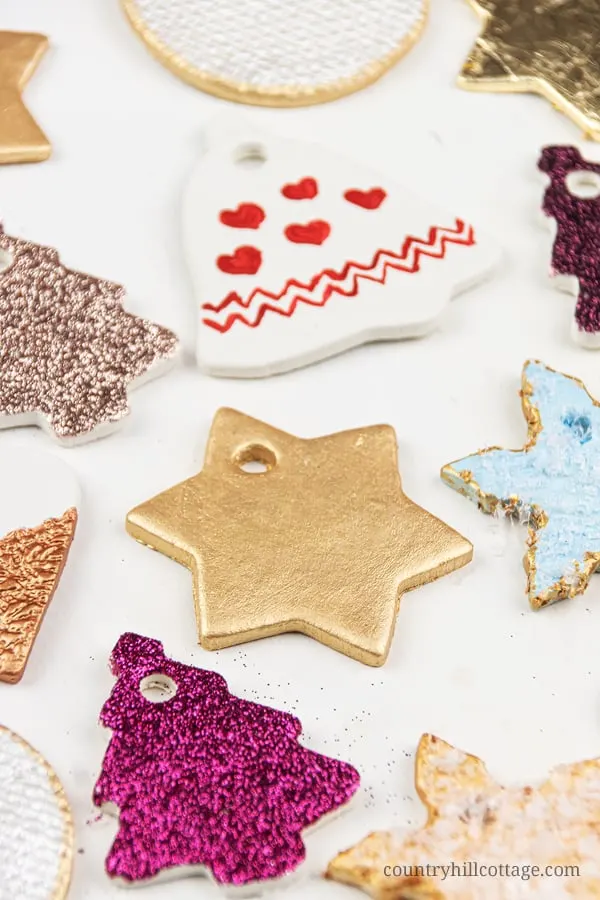 Source: countryhillcottage.com
While nothing can quite beat delicate glass ornaments—wait, that's not true. Pretty much anything can beat them and break them.
If you're anything like me and have butterfingers of your own to contend with, then you know how delicate, fragile, and expensive Christmas ornaments can be. The only way to make it through the holidays with the ornaments—and your bank account—still intact is to make your own!
Grab some air-hardening modeling clay from here and a few cookie cutters of your choice to begin!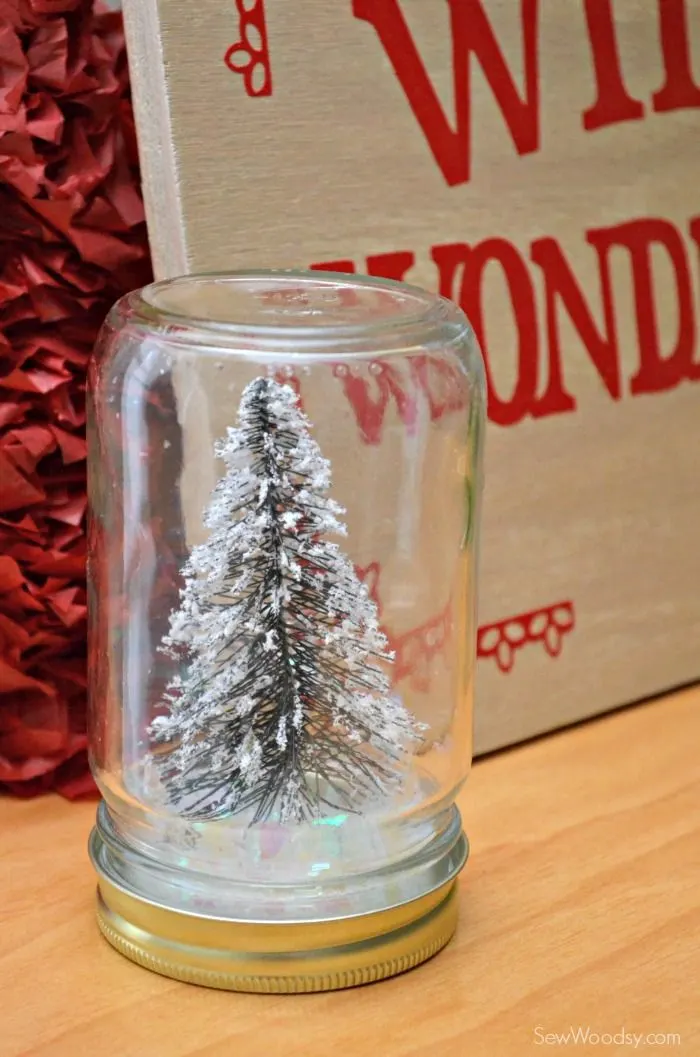 Source: sewwoodsy.com
There's nothing quite like a tree in a jar…except perhaps a Christmas tree in a jar! Grab a mason jar from your cupboards, and let's get started.
Give your jar a nice, thorough cleaning before you use it for this project. You'll need to take out the faux snow from your craft supplies, so I hope you still have some left.
You can also consider wrapping some battery-powered fairy lights(look here) around the tree. This will give your tree an extra oomph!
Check out more Christmas crafts for the Dollar Tree store!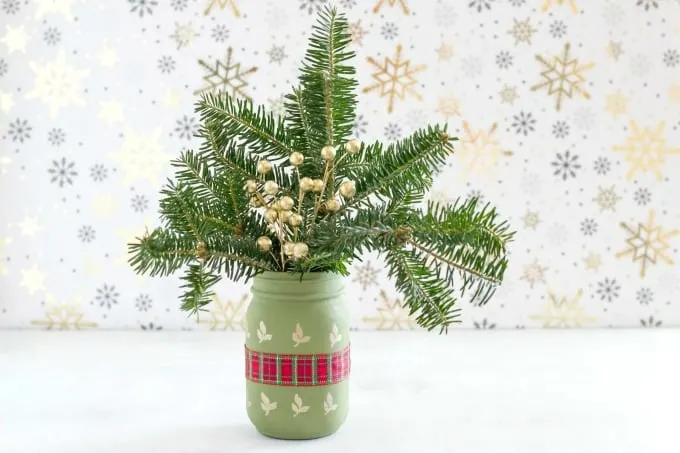 Source: funmoneymom.com
Here is yet another mason jar project for you to try out. You know the drill, so grab another mason jar and scrub, rinse, and dry it beforehand.
You can paint your jar a nice Christmassy green, to begin with. Here's a little trick I learned that will add a little touch of rusticity to your jar. Grab a bit of sandpaper and distress the paint, just a little.
Then there's only one thing left to do, and that's to fill your jar with holiday greenery and other Christmas ornaments and decorative pieces.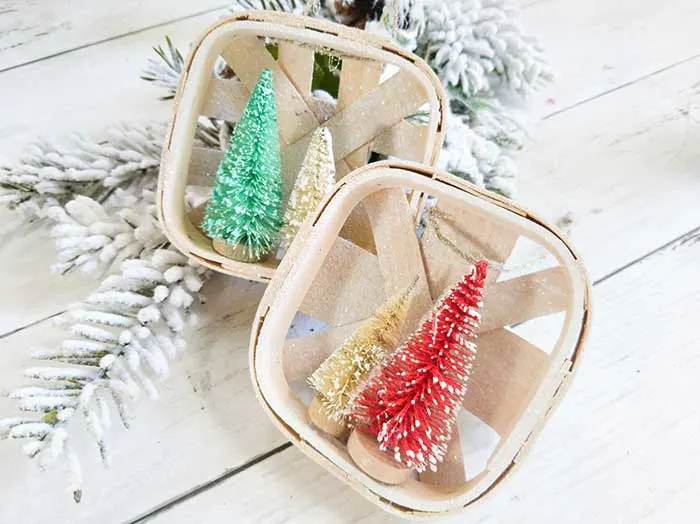 Source: kotibeth.com
Ah, dollar tree: the place where the real magic begins. For just a few bucks, you can have everything you'll need for this project; it's effective and inexpensive!
This farmhouse ornament has a wonderful rustic-chic vibe to it that can truly augment your Christmas decorations this year. You'd be surprised just what a few bottlebrush trees and a smattering of faux snow can do.
So either grab them at the dollar store or just pick them up here.
If you're interested in farmhouse-chic Christmas ideas, then checkout these 20 DIY farmhouse dollar store Christmas ideas!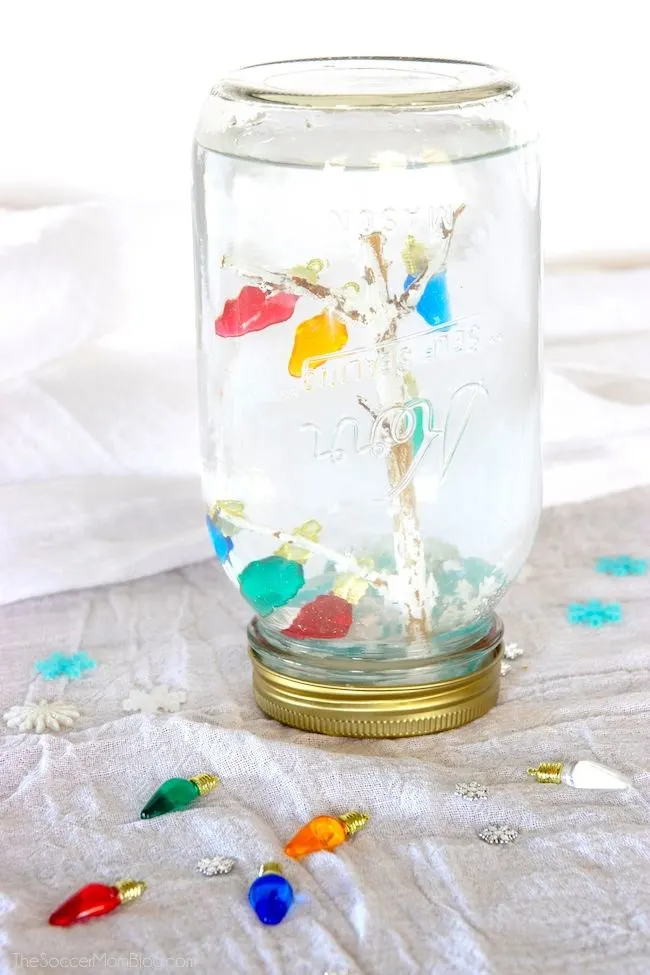 Source: thesoccermomblog.com
Did you really think that Christmas would truly feel like Christmas without a snow globe craft or two thrown into the hat? So, grab yet another mason jar, and let's take a look at how you can recreate this easy craft project.
You'll want to pick up some glycerine from here, a branch or twig, white nail polish or water-resistant paint (to paint the branch), and Christmas light charms from here.
It's all pretty straightforward from here; follow the instructions, and in under 30 minutes, you'll have yourself a gorgeous snow globe to place on the mantle.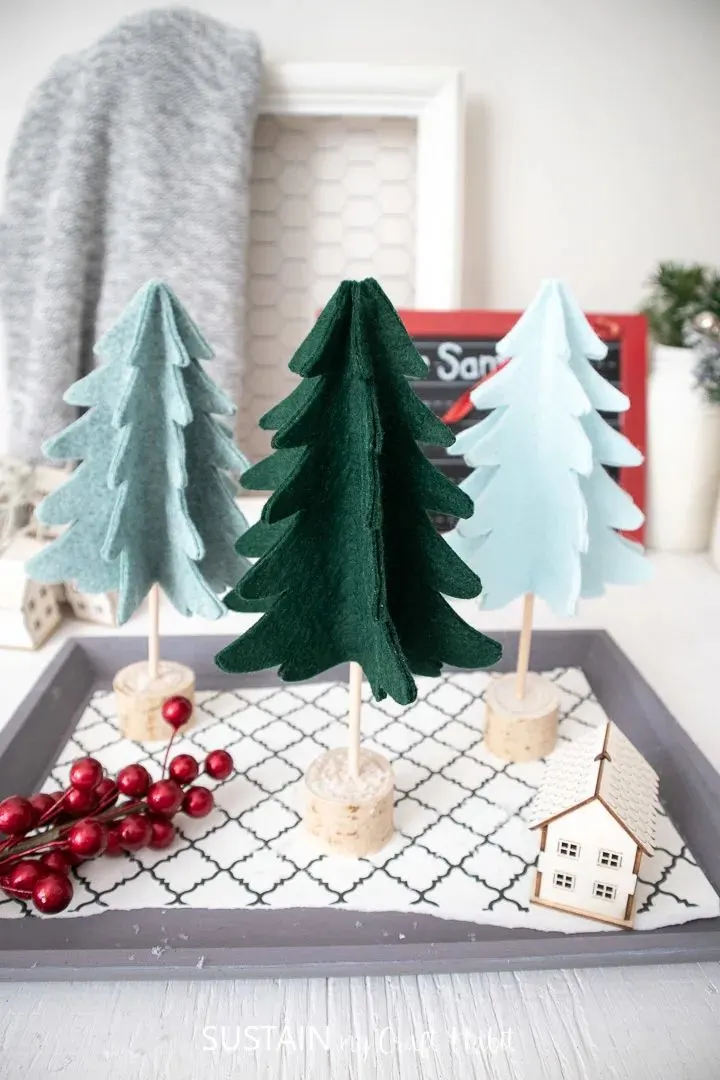 Source: sustainmycrafthabit.com
Do you still have some of those felt sheets from earlier? Good, because we're making these lovely, 3D felt Christmas trees to add to your decor.
There's something about felt that adds much texture and depth to the trees, don't you think? They're naturally a little fuzzy, which can be construed as snow or even fine leaves of branches of the trees.
You'll also need a pair of fabric scissors, a hot glue gun, a wooden stump from here, an eight-inch dowel, and finally, you'll need to download the free template provided.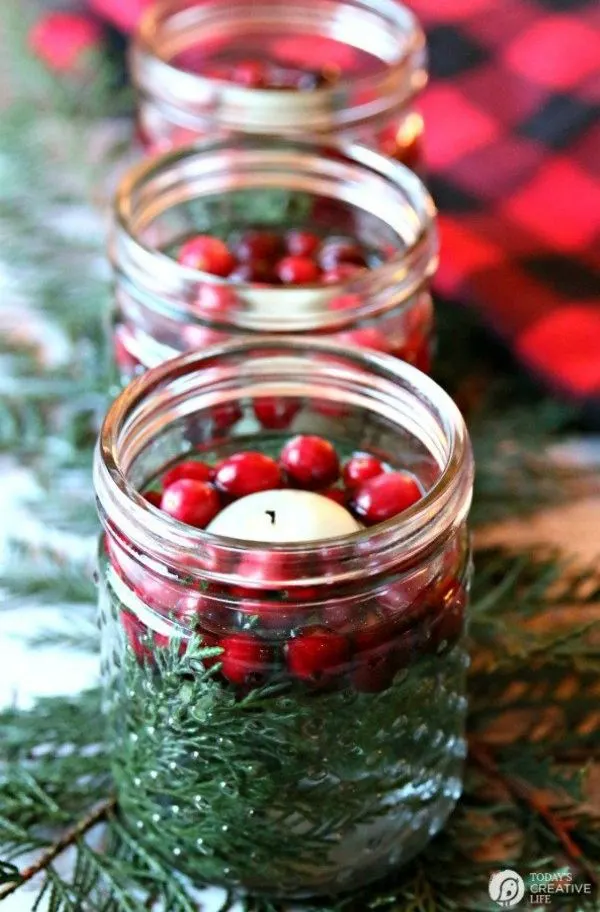 Source: todayscreativelife.com
With these lush and wholesome-looking Christmas luminaries, you're sure to add a ton of color, right, and festivity to your holidays. They're super easy to make; you probably have all the materials already.
Grab a mason jar or even an old pickle jar would do in a pinch. Then, grab a handful of cranberries(real or faux), green foliage like cedar, fir, or pine, and finally, these floating candles.
Start layering your jar with cranberries and the green leaves before you pour a glass of water in. Then let the candle float on top, and there you go!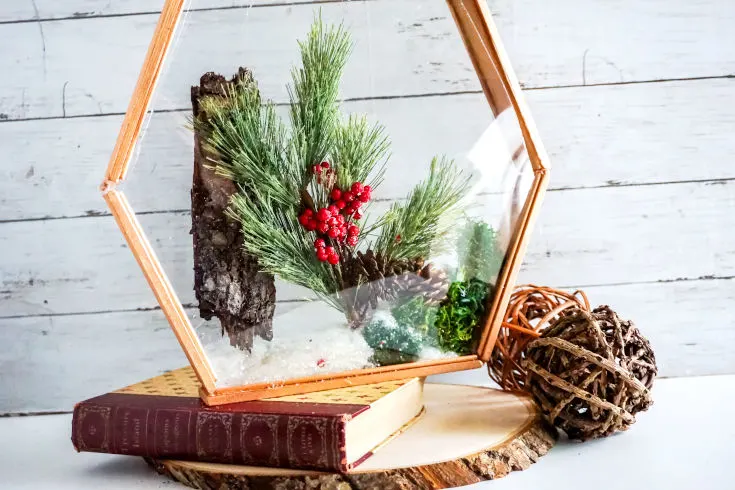 Source: soapdelinews.com
I love a good terrarium. Properly assembled and well-placed, terrariums can do such a fine job of adding some scenery to any room, don't you think?
This particular suncatcher terrarium is a craft project that adults and teens alike can enjoy making. Just gather your supplies to begin.
If you're not particular about building the frame from scratch up, you can always buy a glass lantern and repurpose it to the same effect.
Check out more winter crafts for adults here.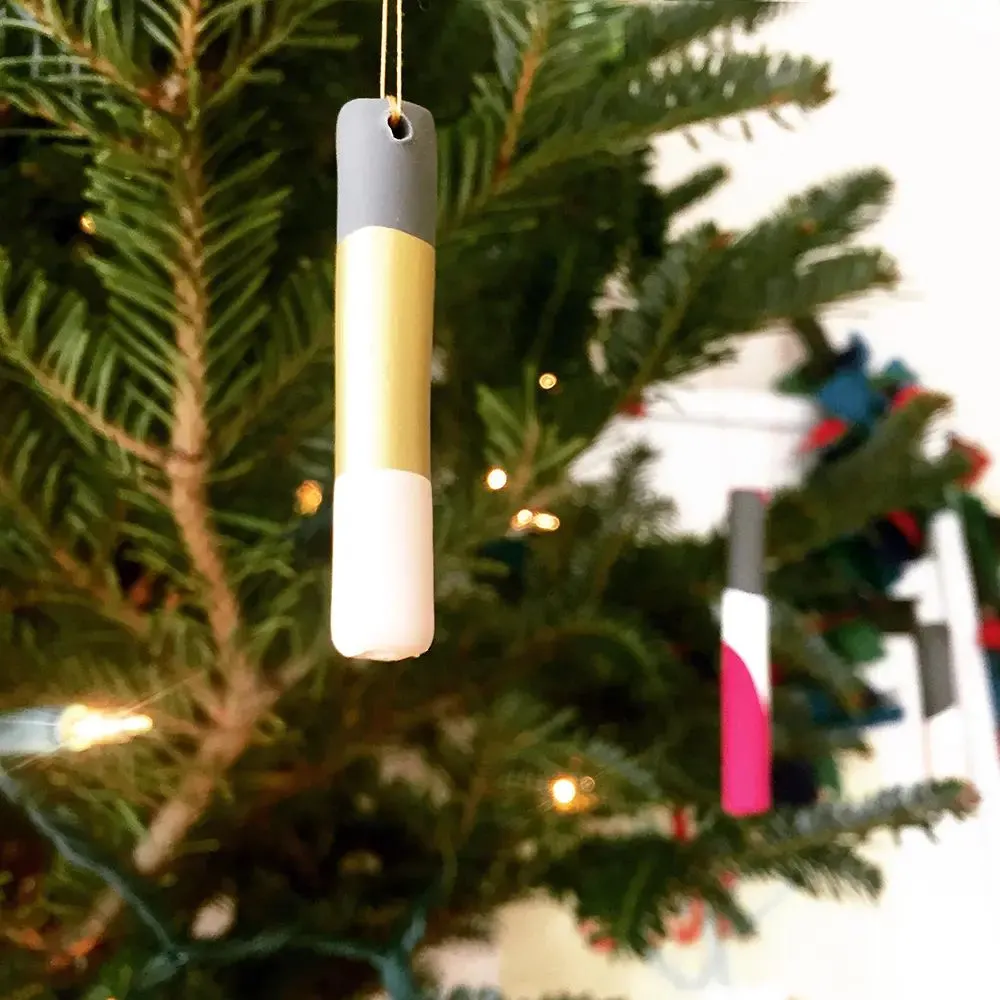 Source: barleyandbirch.com
These festive DIY ornaments are made from clay, so you can use modeling clay to make them. They're a simple enough project, and you can rope your kids into it—they're sure to love playing with clay.
Grab some bottles of paint, wire ornament hangers from here, embroidery floss, and some cording or ribbon. You'll also need a clean, flat surface to roll the clay into cylinders.
Make a hole to hang the thread, ribbon, or cording from before you either bake the clay or air-dry it.