Take your kitchen décor to a whole new level with these beautiful kitchen table decoration ideas. Creative, beautiful, and cute.
Home is where the heart is and the heart of the home is the kitchen. The heart of the kitchen? Well, that's the kitchen table, of course.
Your kitchen table holds a ton of potential when it comes to table decorations. There are just so many ways to jazz it up and bring color and light to the entire room through the table.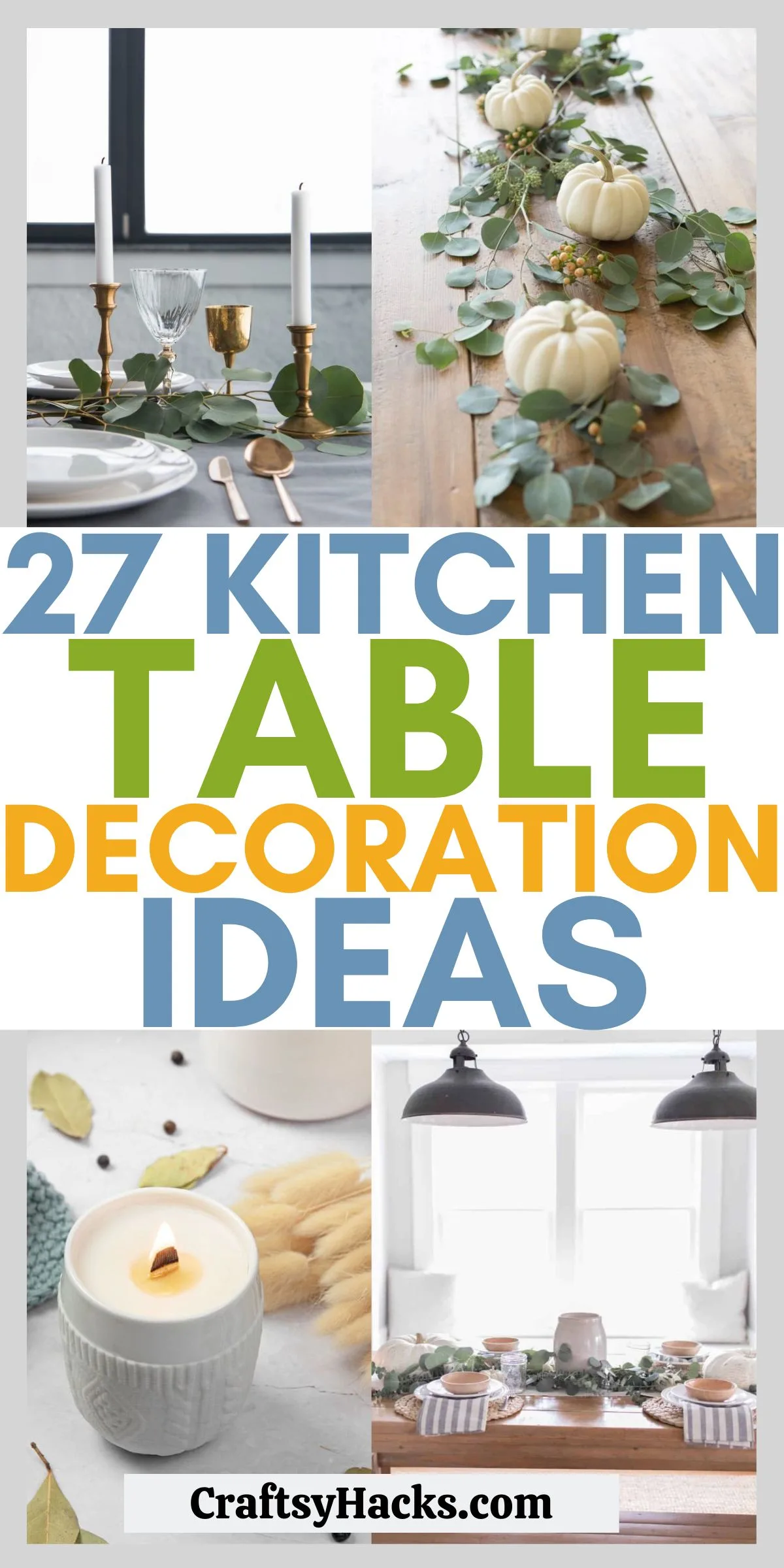 So, check out these 27 kitchen table decorating ideas for tips and tricks on how you can decorate the table!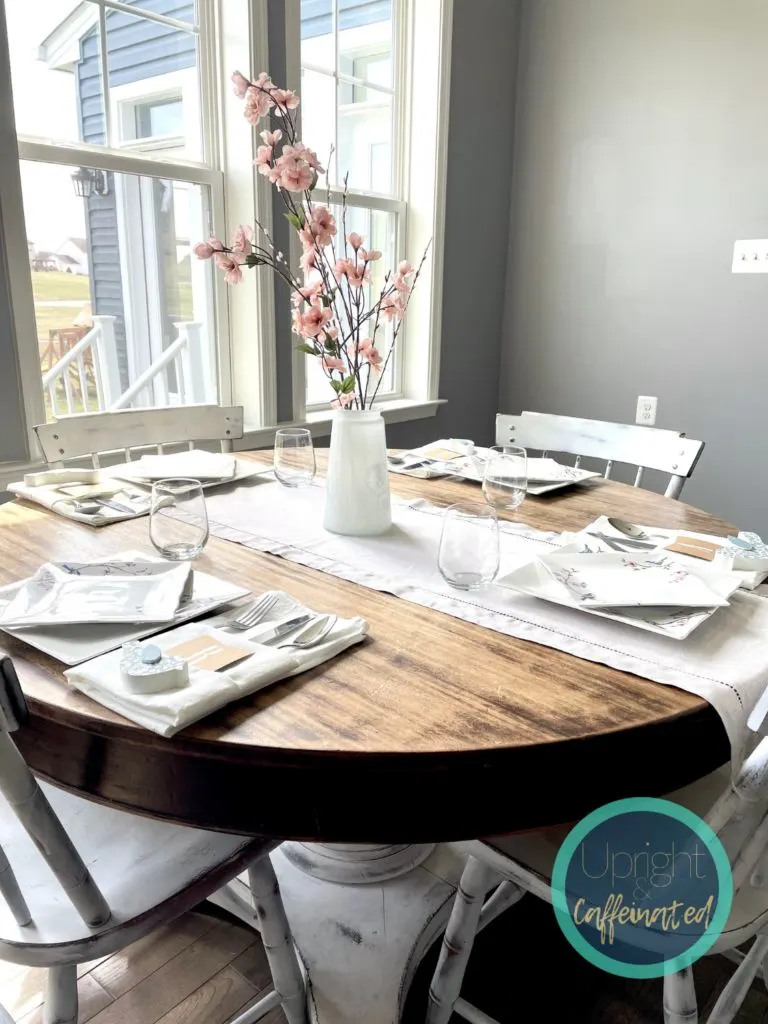 Source: uprightandcaffeinated.com
It's springtime! You know what that means, don't you? Cherry blossoms!
Those gorgeous pink blooms are just waiting to be incorporated into your dining room table! That means cherry blossoms in your flower vase, cherry blossom prints on the napkins and linen.
If you really want to go all out, then cherry blossom designs on your dinnerware, too for a stunning table that will wow your dinner guests!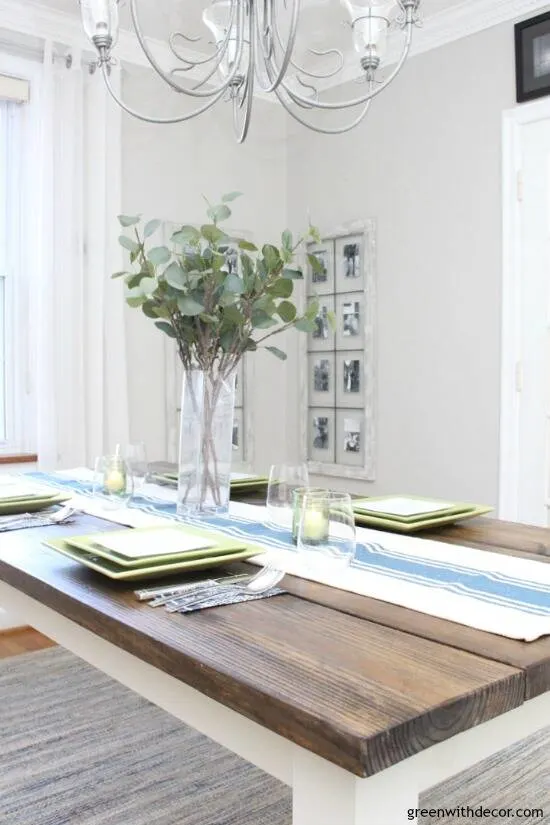 Source: greenwithdecor.com
A table runner can add a really fun strip of texture and color to your table for special occasions. Think of it as a backdrop on which you lay out the different components of your kitchen table decor.
The splash of blue on dark wood is always welcome at dinner parties. It's got that laid-back and casual vibe you'd normally find in a beach house, not at a dinner party.
To that, you can fill up a vase full of green foliage–eucalyptus or silver dollar leaves(look here) would pair really well on your farmhouse table.
Find more inspiration with these kitchen wall décor ideas.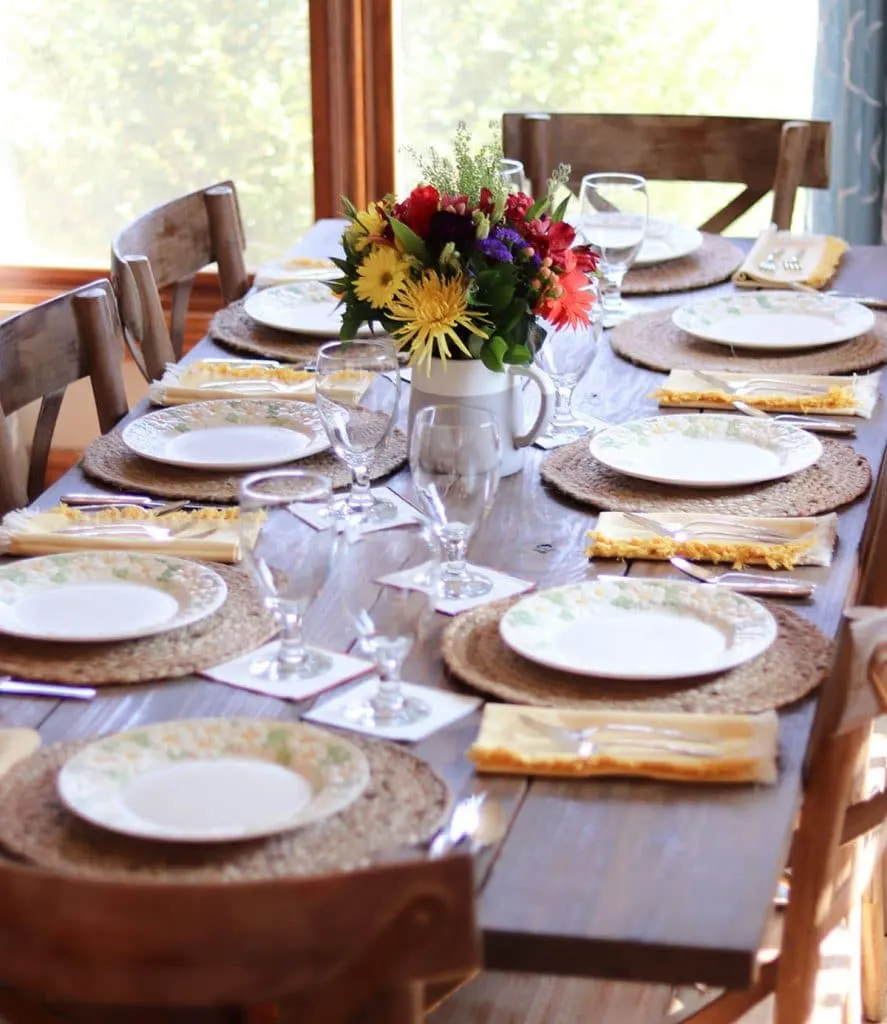 Source: livinginnormal.com
Got a recurring farmhouse-themed decor around your home? Then your kitchen table centerpiece needs the same rustic touch, as well.
You can place a big bundle of splashy and colorful wildflowers in a vase at the center of the table as a focal point. Pair that up with braided placemats from here, and cut daisy detailed dinnerware, and you're all set!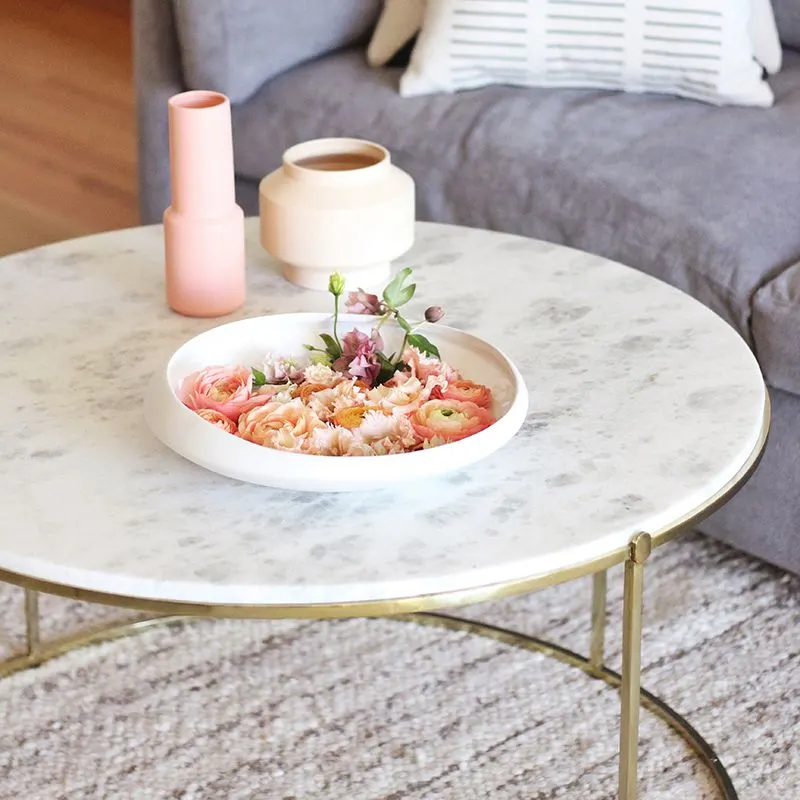 Source: justinecelina.com
There's something fresh and zesty about having real flowers on a round table. However, the shelf life of floral centerpieces is pretty short, and you'll find yourself switching out your flower arrangement every other day in the middle of the table.
If you place your flowers in a bowl of water, you'll be extending their lifespan by a couple of days, at least. Place them in a fancy bowl and set them down as a centerpiece to enjoy spring flowers all day long.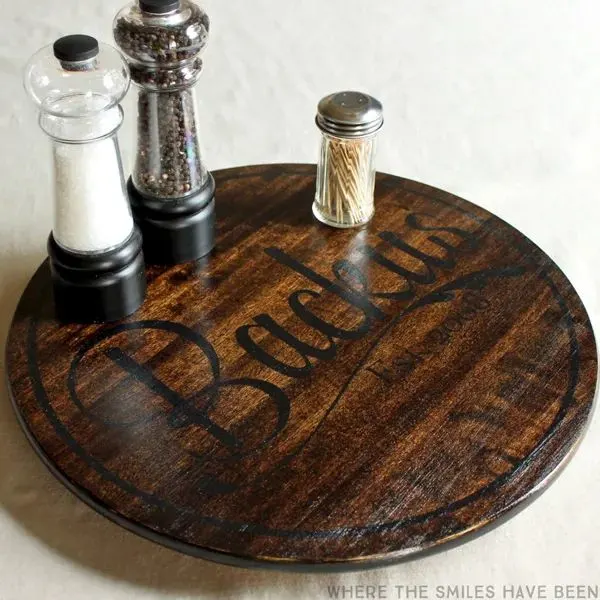 Source: wherethesmileshavebeen.com
A lazy Susan at the center of your kitchen table can be quite handy to have if you don't have much space. You can use it to set up a little centerpiece arrangement with all your condiments and cutlery in a great way.
You can pick up a basic lazy susan from IKEA(look here) next time you are there and then spruce it up with dark color paint or wood stain of your choice to match your decor. Feel free to decorate it with some fresh flowers or a fruit bowl, too.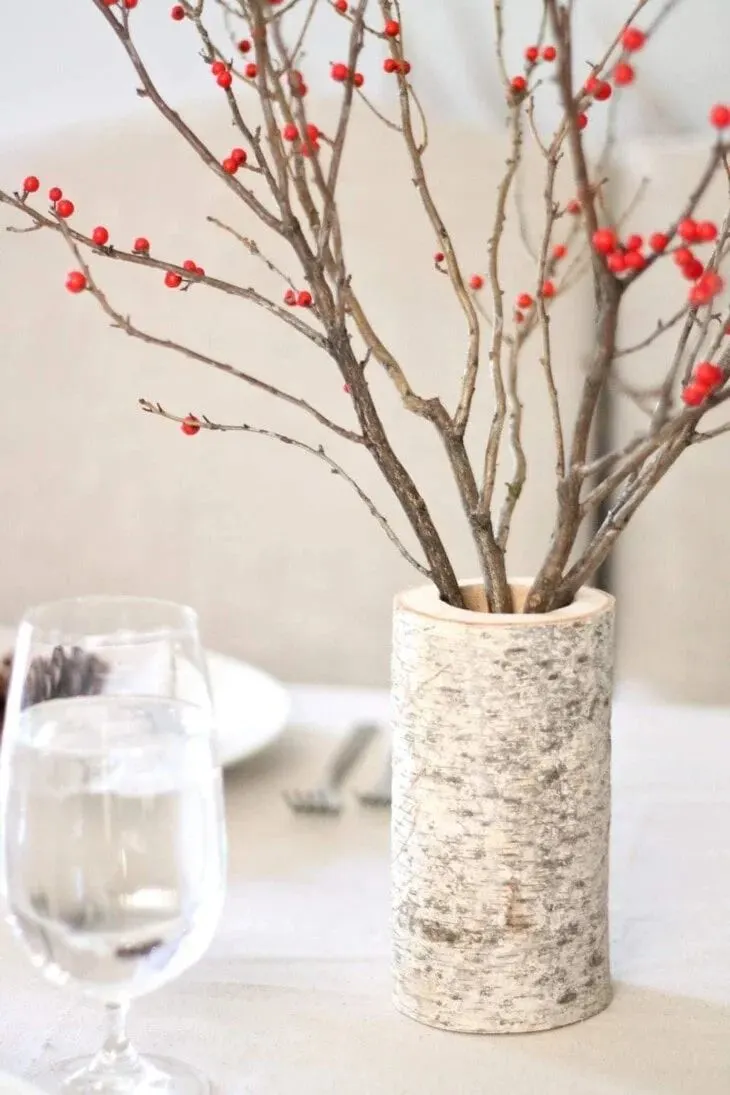 Source: julieblanner.com
If you have a dab hand at DIY projects, then how about you grab your woodworking tools and turn a birch log into a gorgeous and earthy birch vase to decorate a bare table? It's just perfect to use as a simple centerpiece on your kitchen table, or even as a vase for lush plants.
If you're looking for a smooth finish, then you'll definitely need to sand the surface. Trust me, it will look store-bought by the time you're through with it.
Need more kitchen ideas? Check out these IKEA kitchen island ideas.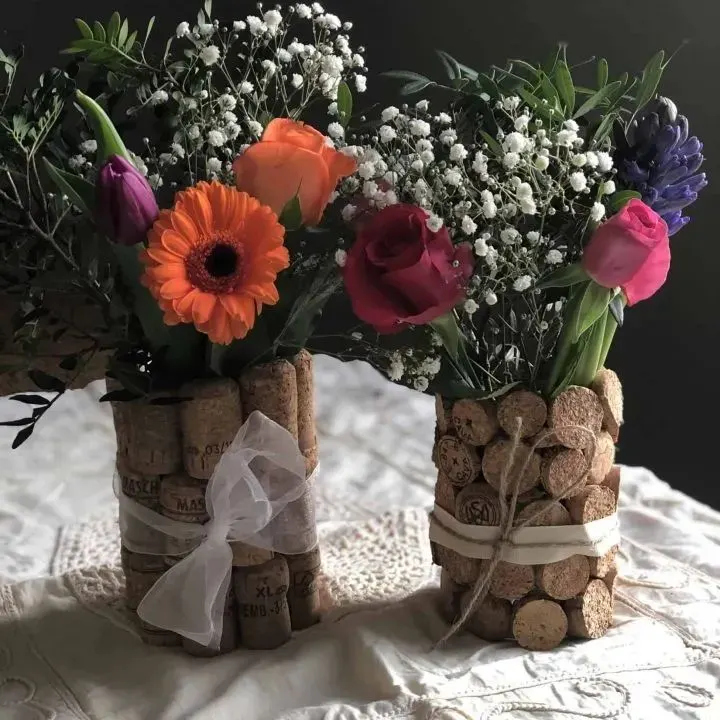 Source: upcyclemystuff.com
Wondering what to do with all those wine bottle corks you've been saving up? Well, how about you upcycle them to make this cork centerpiece for your kitchen table?
For the base, you can use an old coffee container or anything tin-based. Grab your hot glue gun and start sticking the corks around it once you've cut them down to size. These dining table decor ideas are great for everyday use or a great option for a formal setting.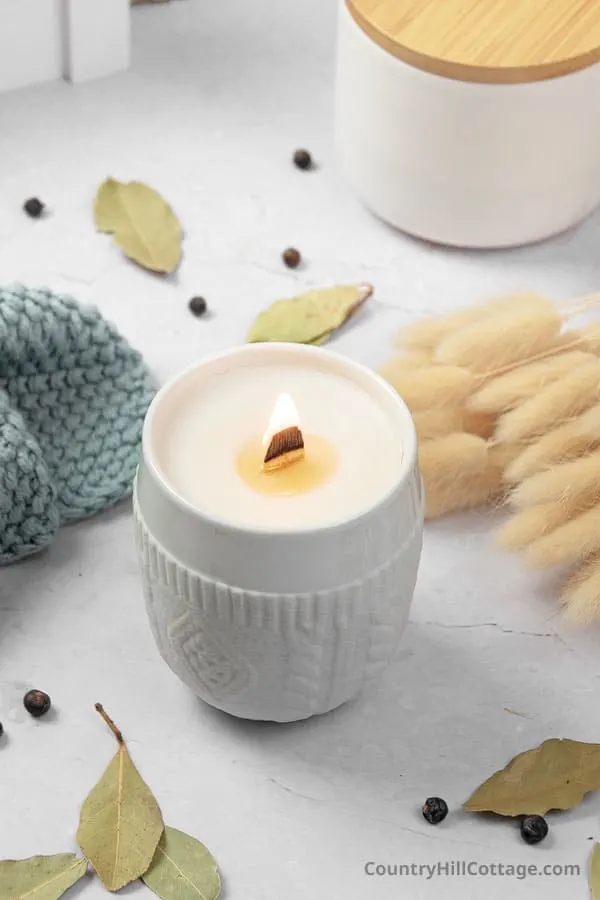 Source: countryhillcottage.com
Sometimes, a candle is all that your home—and kitchen table–need. It's warm and pretty, and if you use a scented candle, it can be the perfect way spice up or mellow a room whenever you light it.
Soy candles, in particular, are super luxurious. You can make your own soy based candle and pour the wax in a pretty bowl(look here) to complete the look of this stunning centerpiece.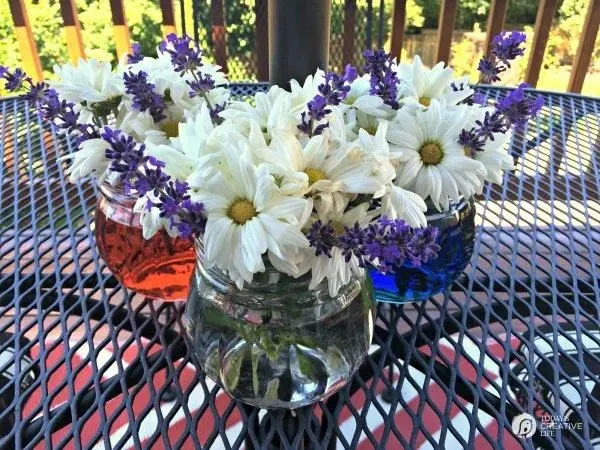 Source: todayscreativelife.com
The fourth of July weekend is right around the corner and you know that means it's time to set out the patriotic color scheme decor and table settings. You don't need to go all-out, though; kitchen table decor ideas that are subtle and elegant, and easy to put together will work just as well.
Grab three glass jars or mason jars, one blue, one red, and one white. You can set them down as your centerpiece and fill them up with flowers of your choice.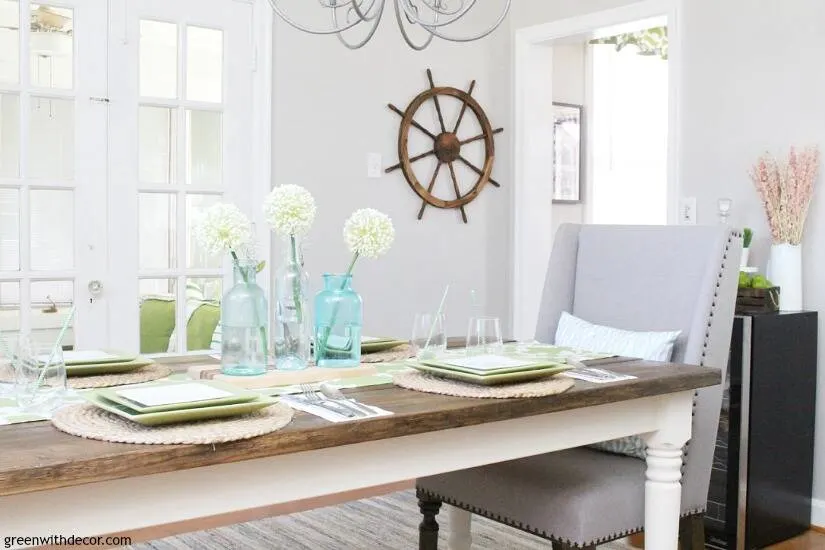 Source: greenwithdecor.com
If your kitchen is all light walls and decor, then your table is where you can really introduce color and texture. It doesn't have to be splashy; just subtle hints of aqua and green can do wonders for the room.
Your table runner can be a bed of soft green with sunny tints of aqua from glass vases. Fill the vase with just leaves to enhance the green notes from the table runner, and you're all set.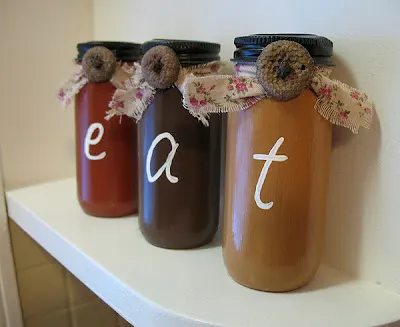 Source: craftsbyamanda.com
For this next home decor project, you will need three glass jars. You can upcycle old pickle jars from your pantry to make these E-A-T jars.
The best part is that these are completely customizable. You can change the theme depending on your color pattern or even seasonally. These can be just decorative jars, or you can use them as candle holders, too.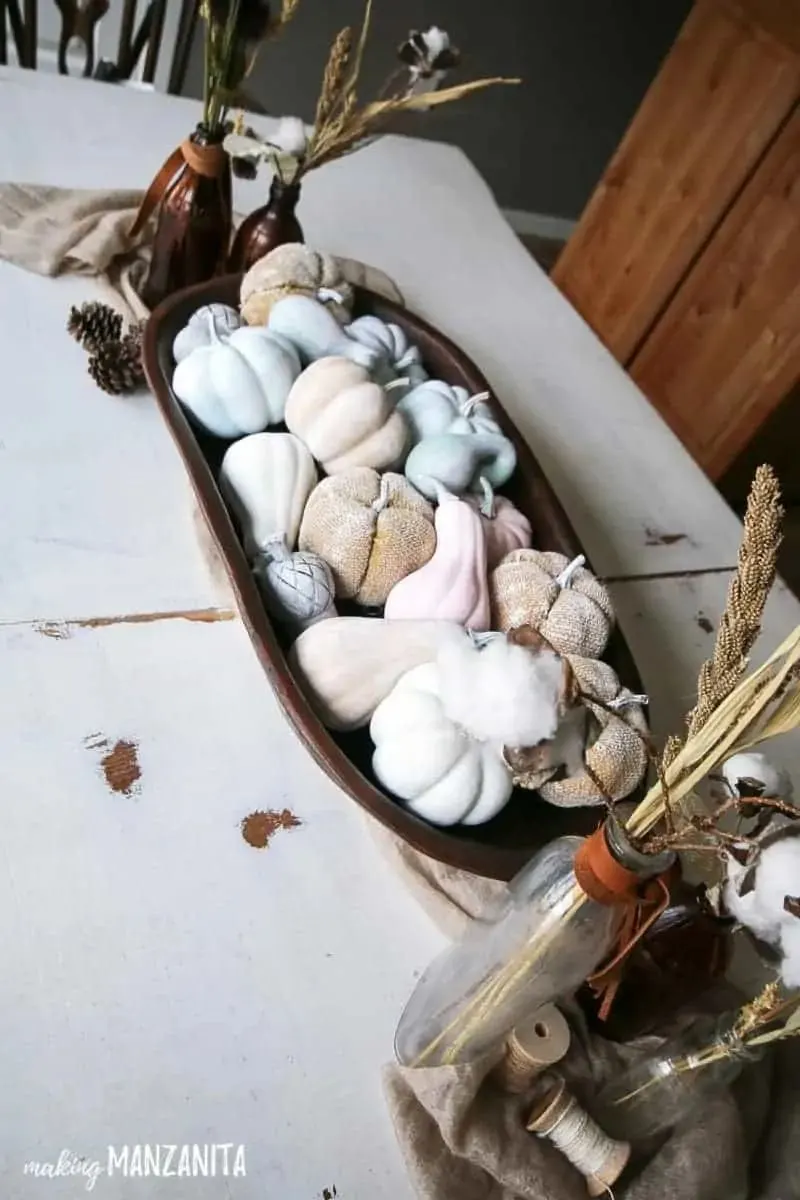 Source: makingmanzanita.com
Fall is my favorite season. It gives me the best possible color palette to decorate the house with, along with earthy and rustic styles to play around and experiment.
But for this budget-friendly fall table, you're going to bleach the color from your decor components. Instead, you're going to use fall-motifs like pumpkins and acorns, all albeit, in soft whites instead of fiery earth colors.
Check out these 27 fall decor ideas for the home!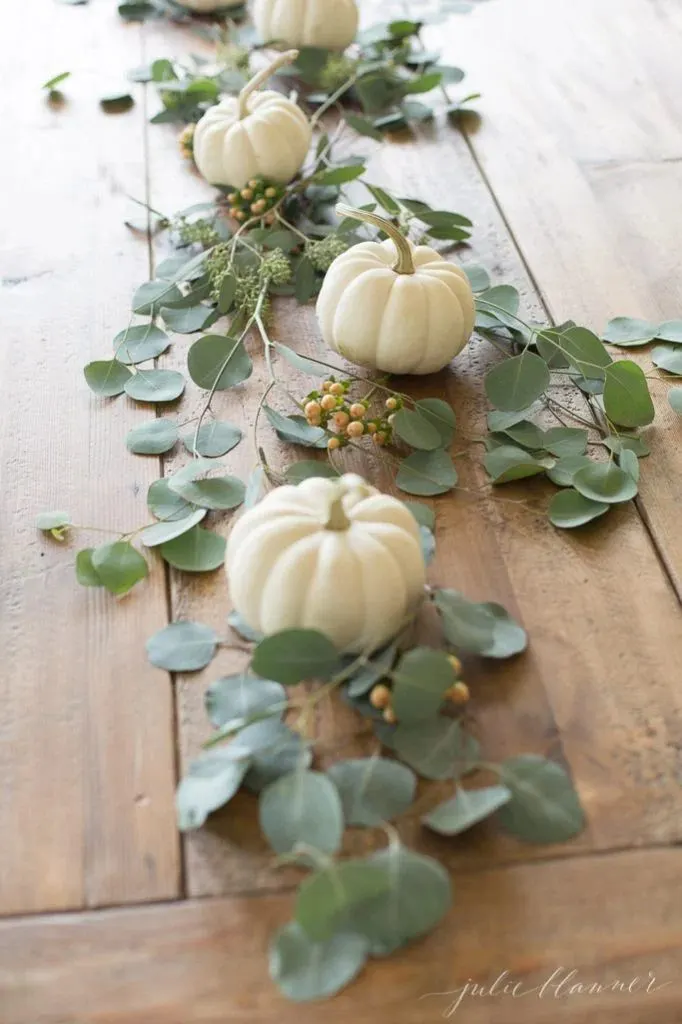 Source: julieblanner.com
If you want to switch out your fall table decor halfway through the season, then here's what you can do. Remember those pumpkins you painted white in the previous project? Grab those, as well as some eucalyptus leaves.
You're going to use these two components to make this table runner. It's earthy and rustic, but also a super elegant touch to your kitchen space.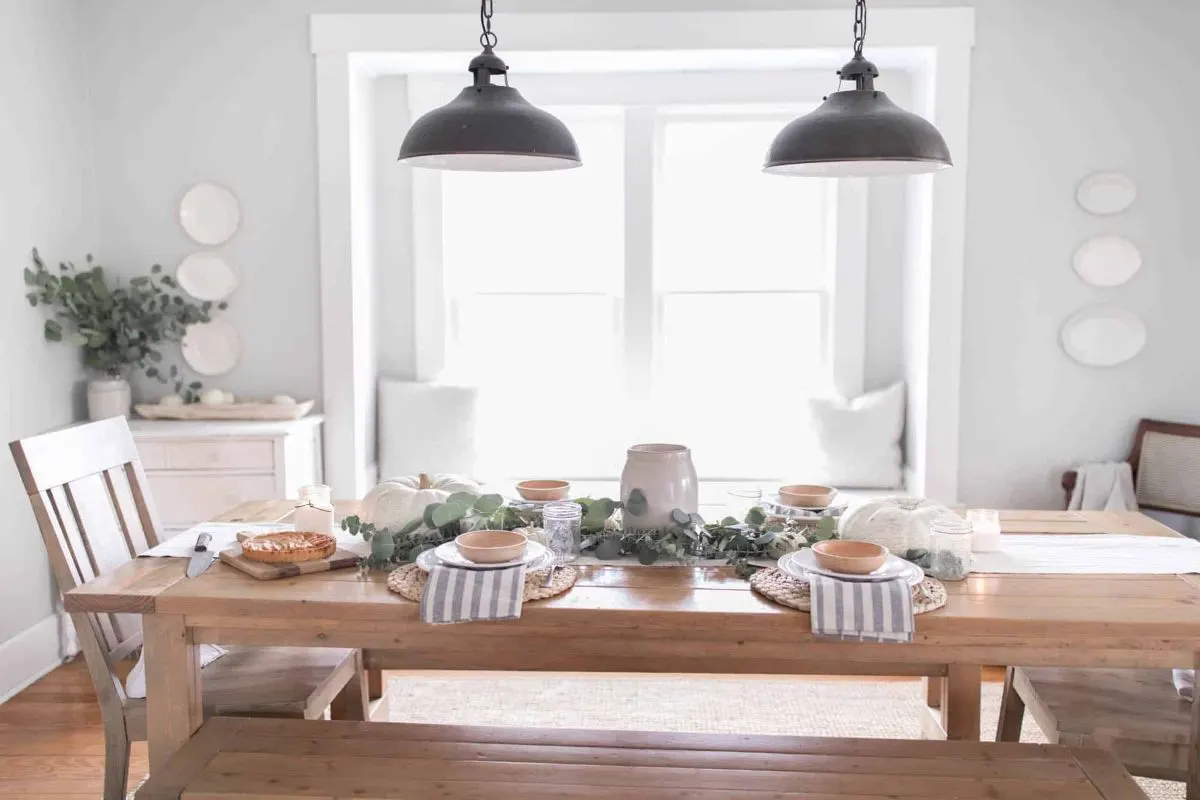 Source: farmhouseonboone.com
Speaking of all things rustic, and also the fall season, let's incorporate the two to create this farmhouse-chic tablescape for your table this Thanksgiving. It's just so fundamentally natural and simple, but doesn't it also look like something right out of a magazine?
Pick up a few striped napkins from here to add some color and texture to the table. Get more inspiration for your kitchen with these kitchen IKEA hacks!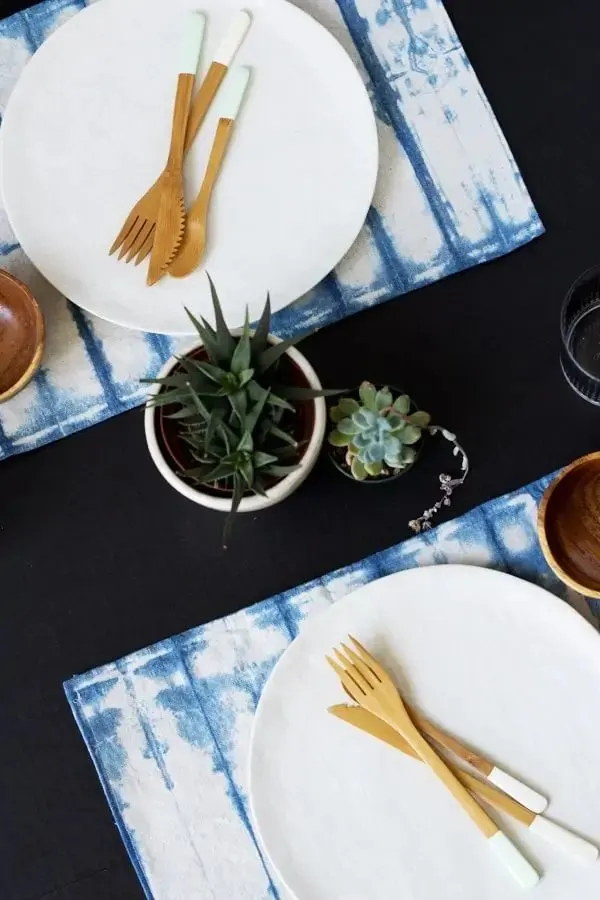 Source: lovelyindeed.com
I love the boho-chic note that these dyed indigo print placemats bring to the table. First, grab a few drop cloths from here to begin.
You will need to set up your sewing machine to sew a nice and clean hem all around the 'placemat.', Next, buy an indigo dye kit from here.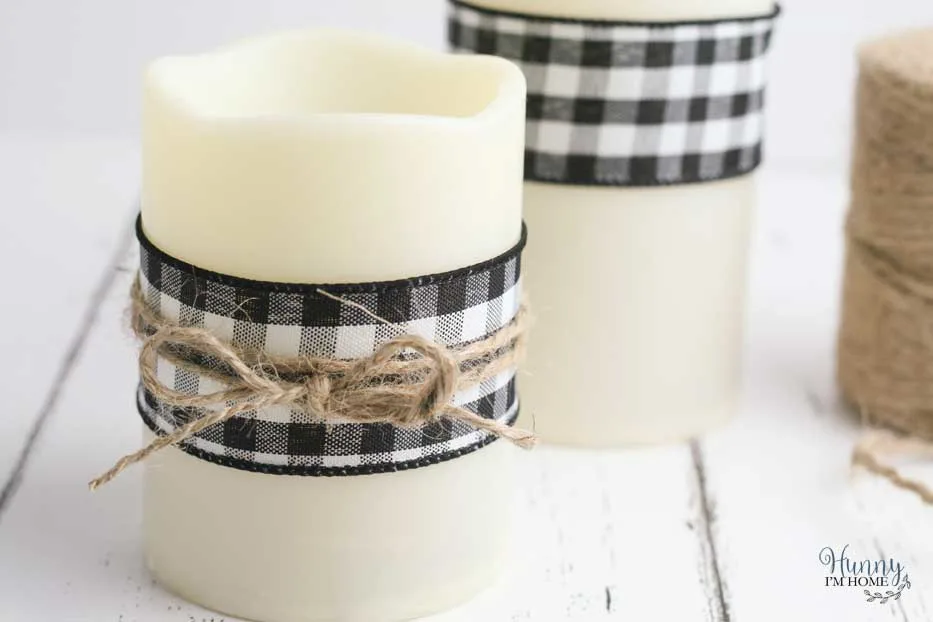 Source: hunnyimhomediy.com
How are these candles farmhouse candles, and not just your run-of-the-mill decorative candles? Well, nothing says country living like gingham, even black and white gingham like you see here.
You can use up gingham scraps from previous projects, or buy gingham ribbon, as well. Ten, to tie it up in a neat farmhouse-slash-shabby-chic package, grab some of this twine to tie the gingham in place around the candle.
Here are 20 shabby-chic kitchen decor ideas you might want to explore.
17. Fruit Basket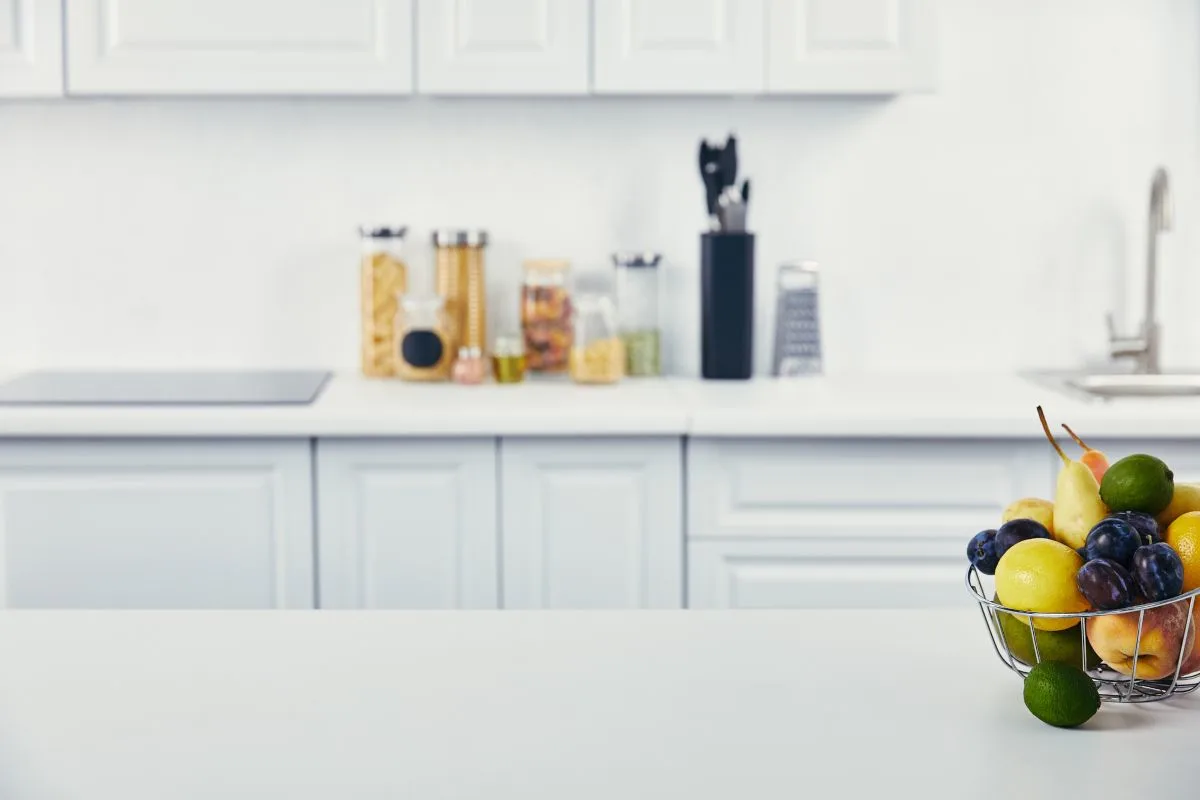 Just hear me out: fruit baskets are not as cliche as they're made out to be. A whole basket of fruits at the heart of the table can be just the bountiful and luxurious touch that your table–and home–needs.
All those fruits bring natural color, light, and fruity scents to your home. If your home is all white, then pops of lemony yellow and tangy red or greens from apples should do the trick!
18. Green Pot Plant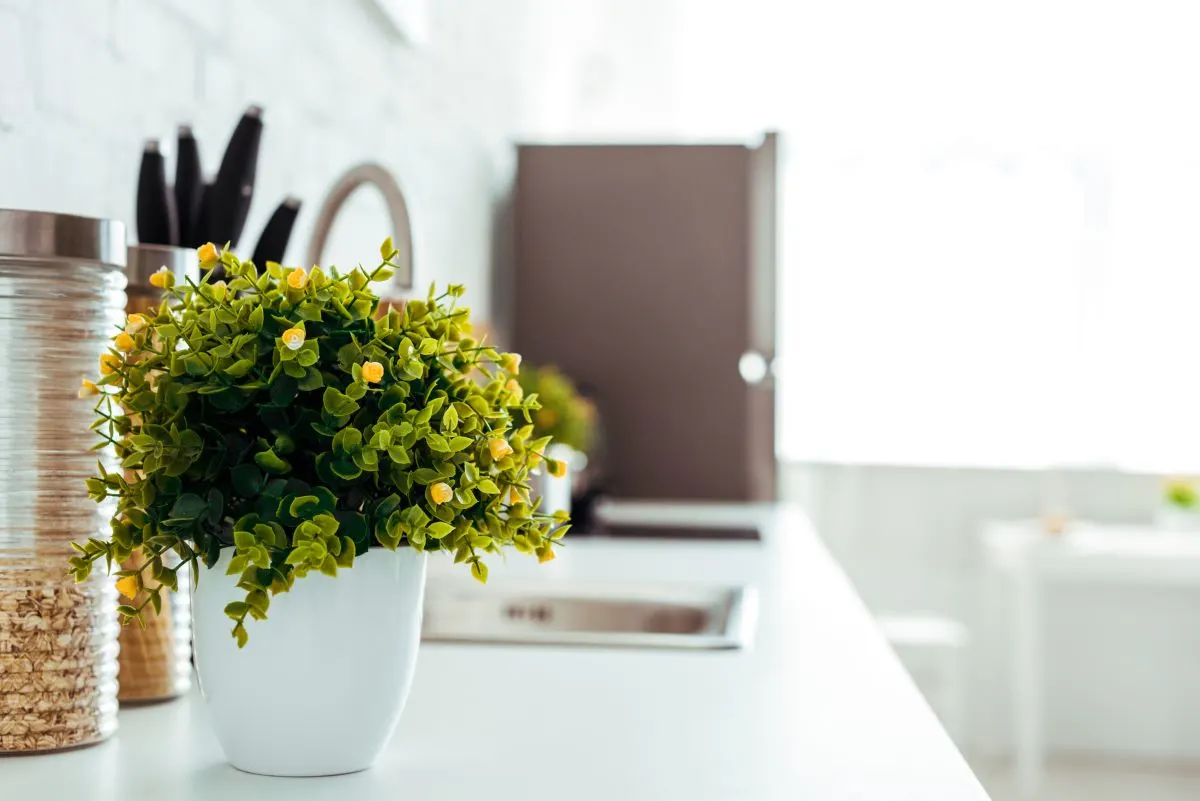 Don't you just love the bright splashy green you can only get from plants? It's the easiest–and often, most cost-effective–way to introduce color to your rooms.
Green pot plants are also wonderfully customizable. The pots you use and the places you keep them can be quite creatively planned and executed.
19. Bouquet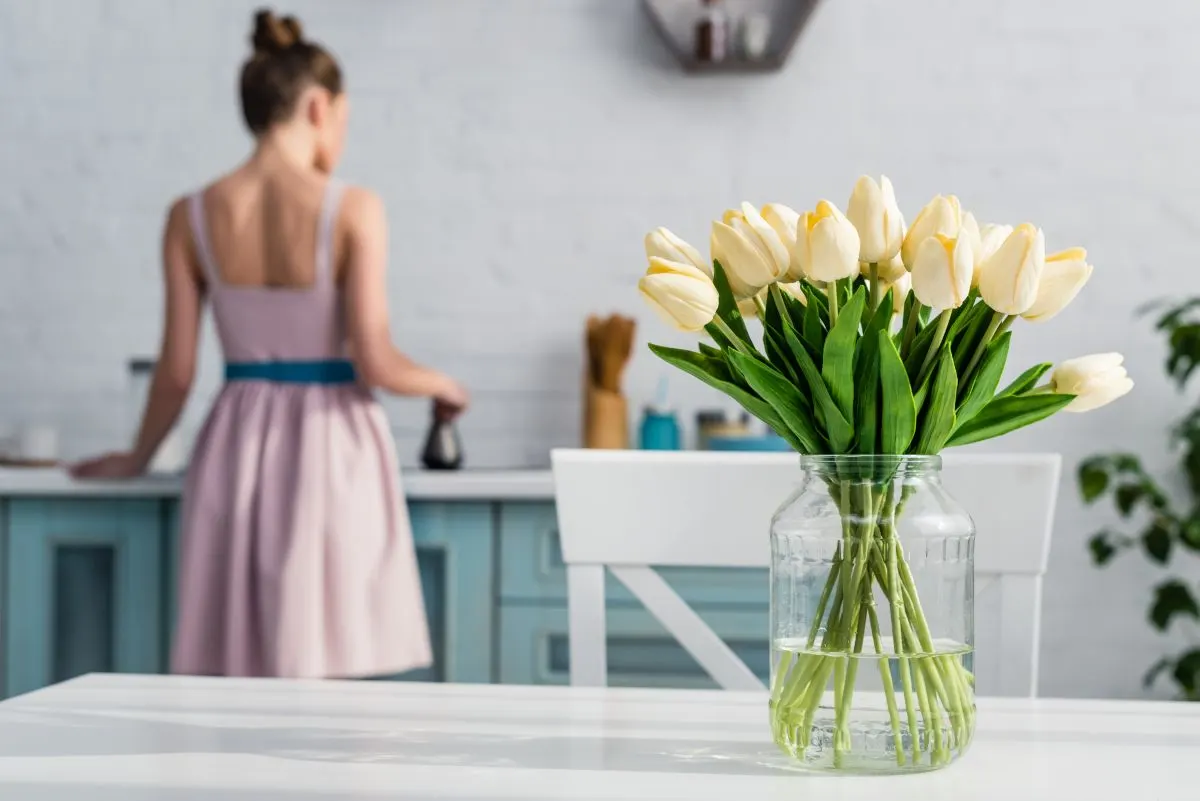 A bouquet of flowers is a statement piece. Depending on the colors you pick and depending on where you place the bouquet, it can also be an accent piece.
A big bouquet of, say, tulips, or roses, or even daisies or wildflowers can change the mood of the entire room. You can use a simple glass vase from here and just leave it to the flowers to do the heavy lifting.
20. Bright Tablecloth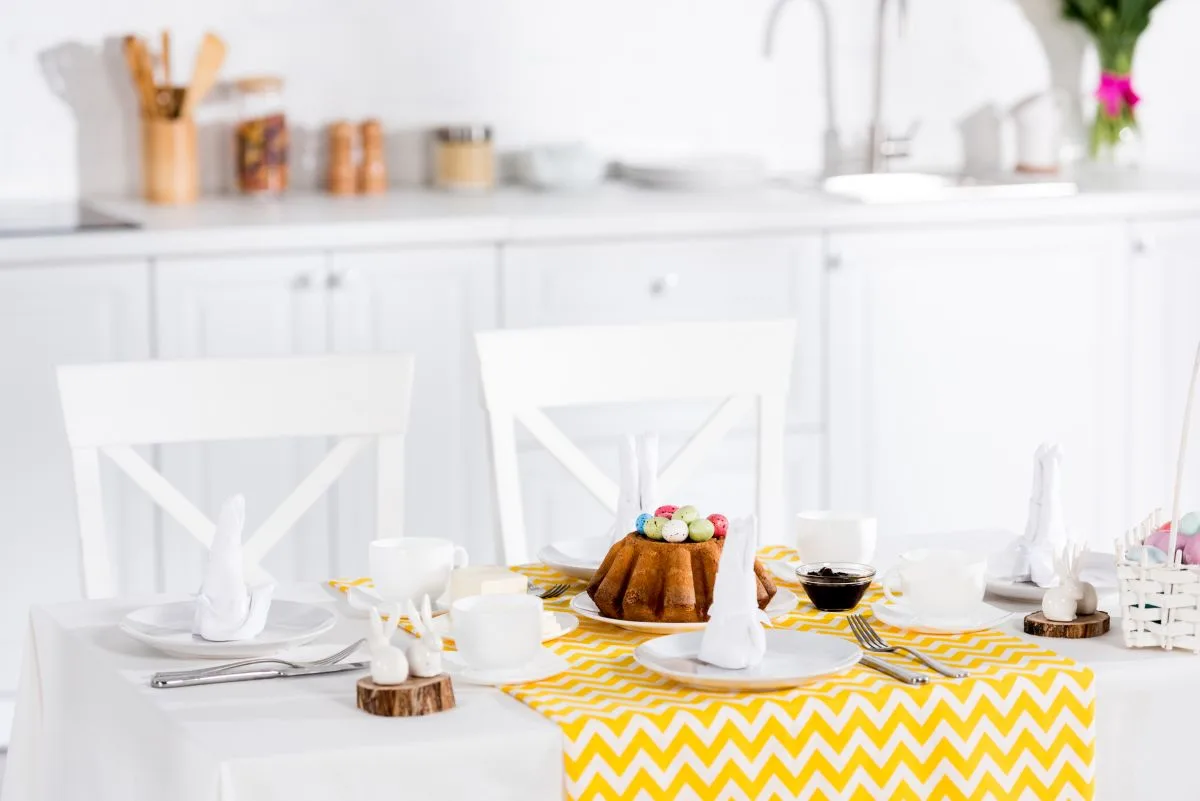 The table cloth you pick for your table is the easiest way to customize your room's decor. Just changing the table cloth alone can set the scene, so to speak.
Check out this bright yellow chevron print tablecloth and tell me it doesn't turn the room into a sunny bubble!
21. Teapot Utensil Holder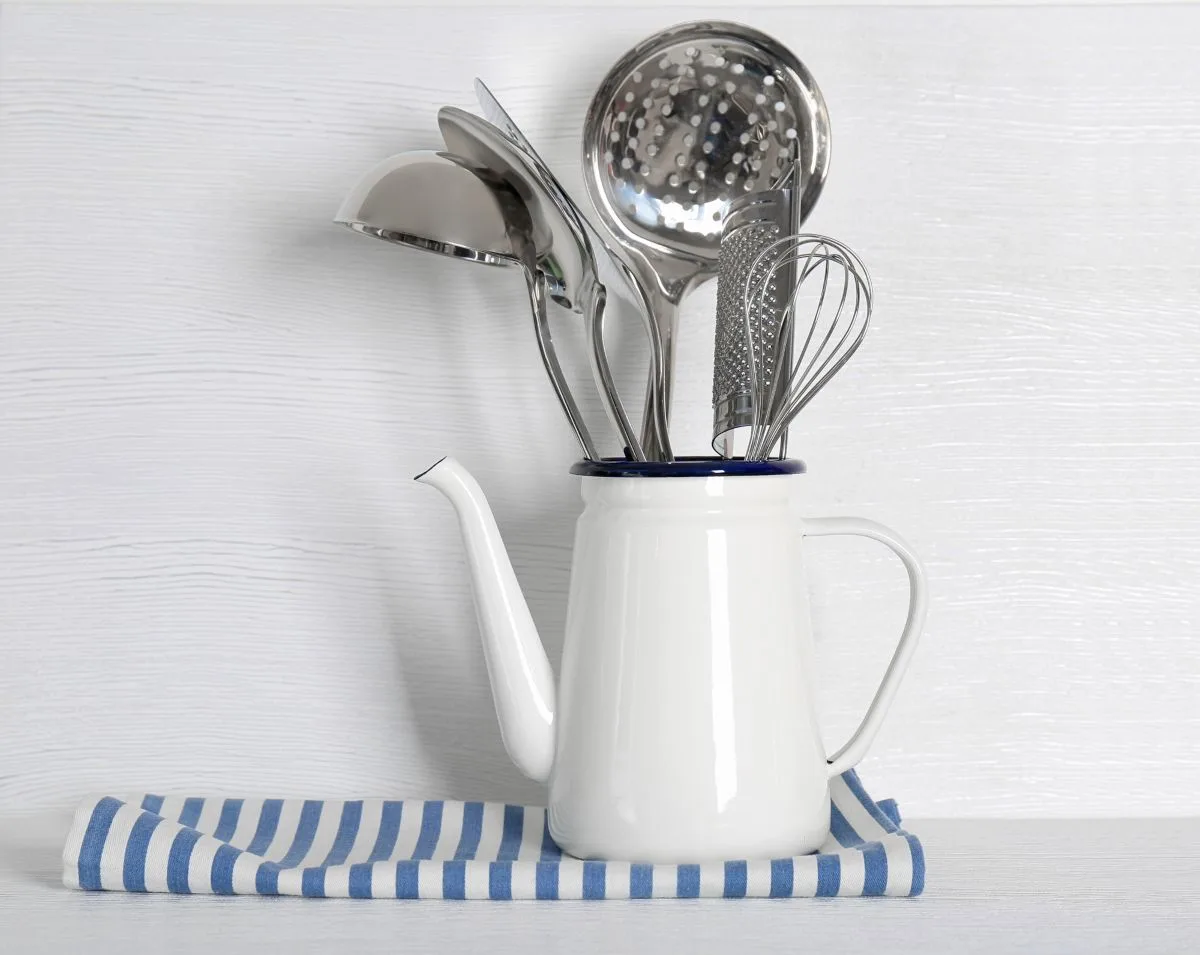 Perhaps it's the girl in me that just loves Alice In Wonderland but just anything with a teapot immediately takes me back to the infamous tea party. You can pick up a plain old teapot at any dollar store or flea market.
Once you do, place your cutlery or utensils in there and set them on the kitchen island or the side table. Doesn't it add a touch of whimsy to your room?
Here are 20 IKEA kitchen island ideas for more decorative tips to jazz up your kitchen space.
22. Eucalyptus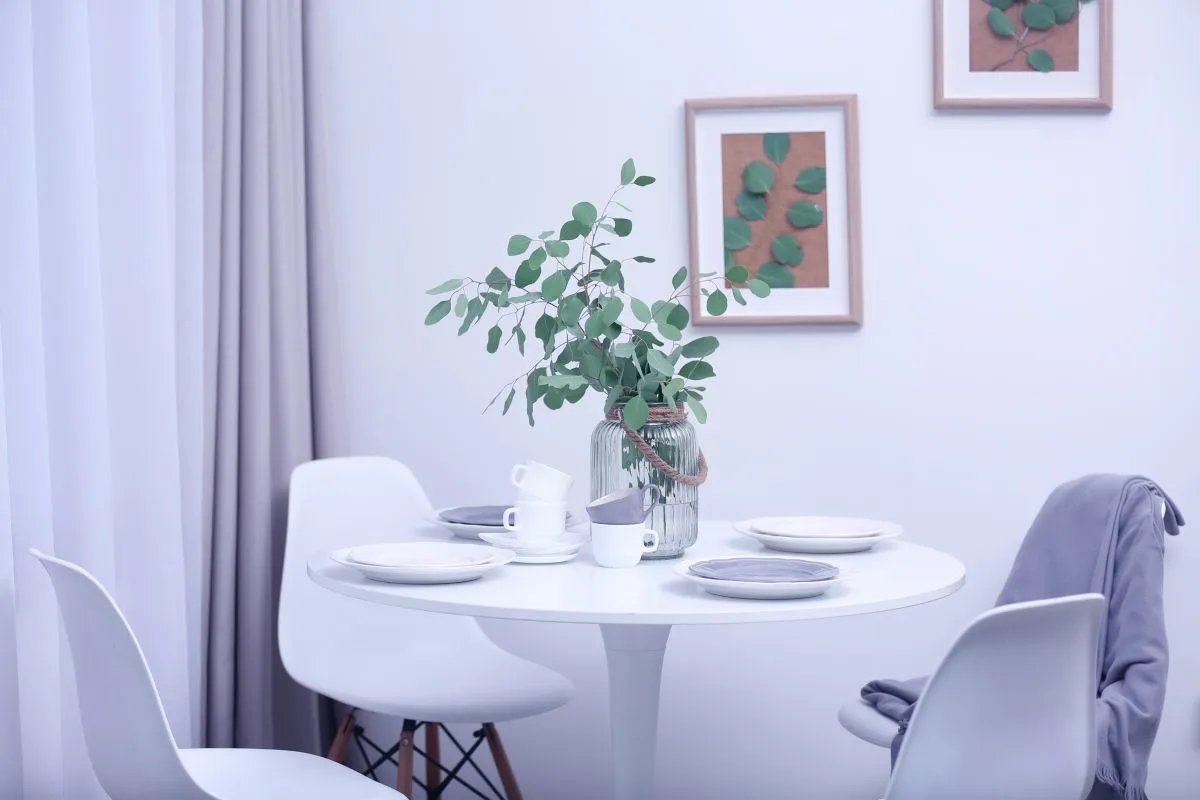 In many cultures, eucalyptus is used for their healing and medicinal properties. In some cultures, it's even known to ward off the 'evil-eye.'
I just find them beautiful, especially a whole bundle of them that can be placed in a jar or a vase in lieu of a more traditional arrangement of flowers. But you can still incorporate these leave into your floral arrangement, too!
23. Antique Table Arrangement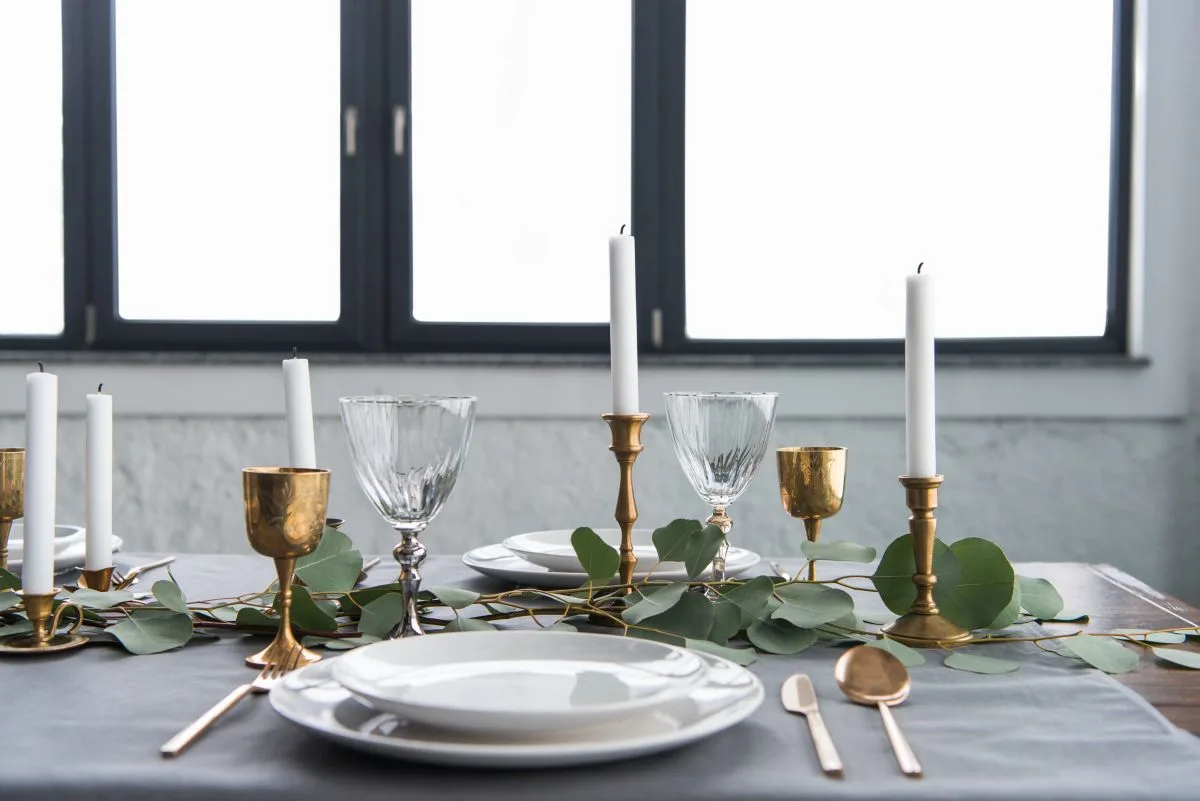 If you don't like your eucalyptus leaves in a vase, then you might consider fanning them out on your table in between some candles or candle sticks and your dinnerware.
For a more old-fashioned antique-finished table like this, the leaves will look even more spectacular between the chalice-like goblets and copper-gold dinnerware.
24. Tall Candle Holders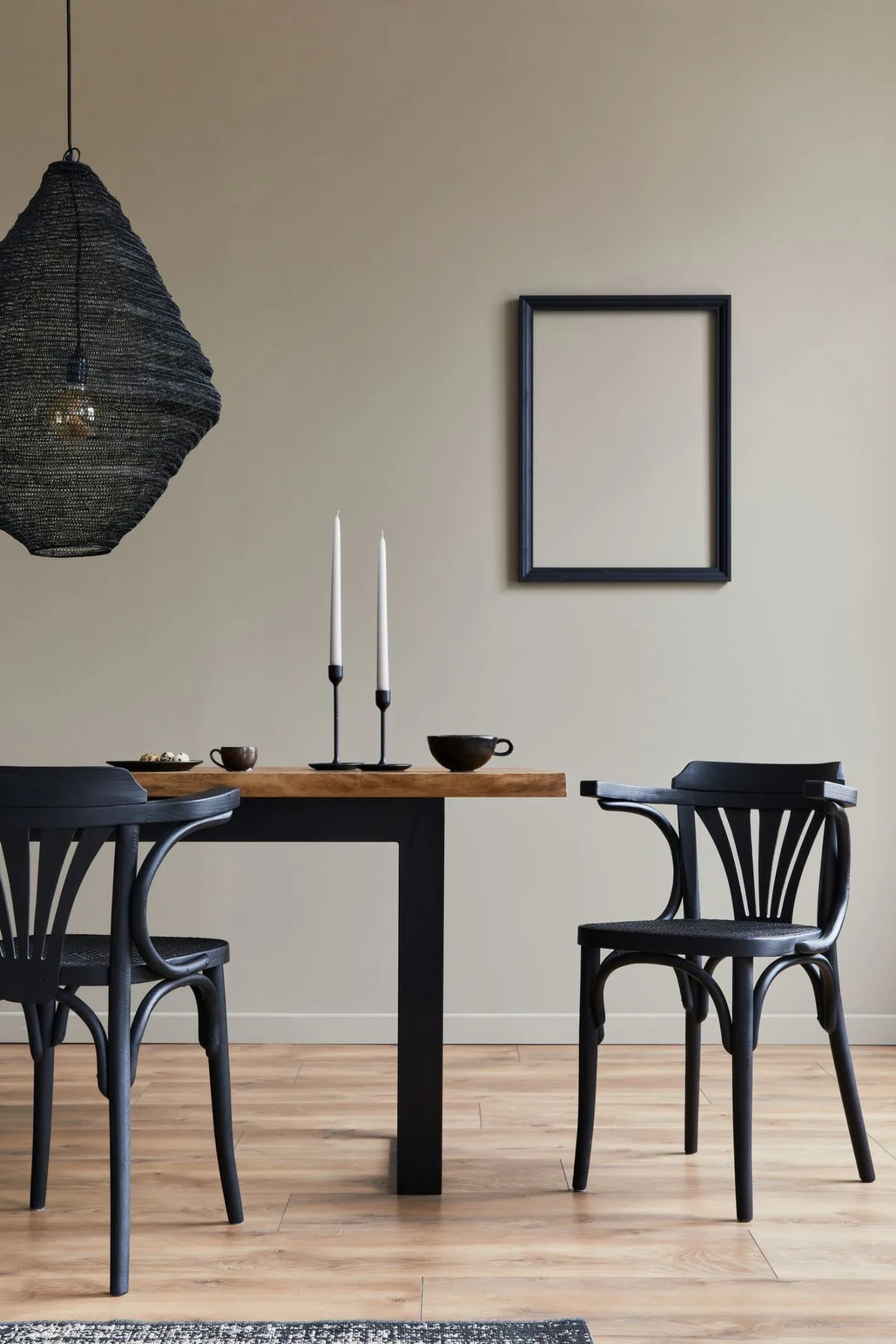 Tall candle holders can be antique-y and they can be rustic. Not farmhouse-rustic, but more of an Italian vineyard in the countryside rustic.
But, case in point as you can see in this particular table setting, candle holders, especially tall black candle holders, can also be mid-century western meets the industrial era. Just go ahead and buy a pair of candle holders here and play around with the decor!
25. Succulents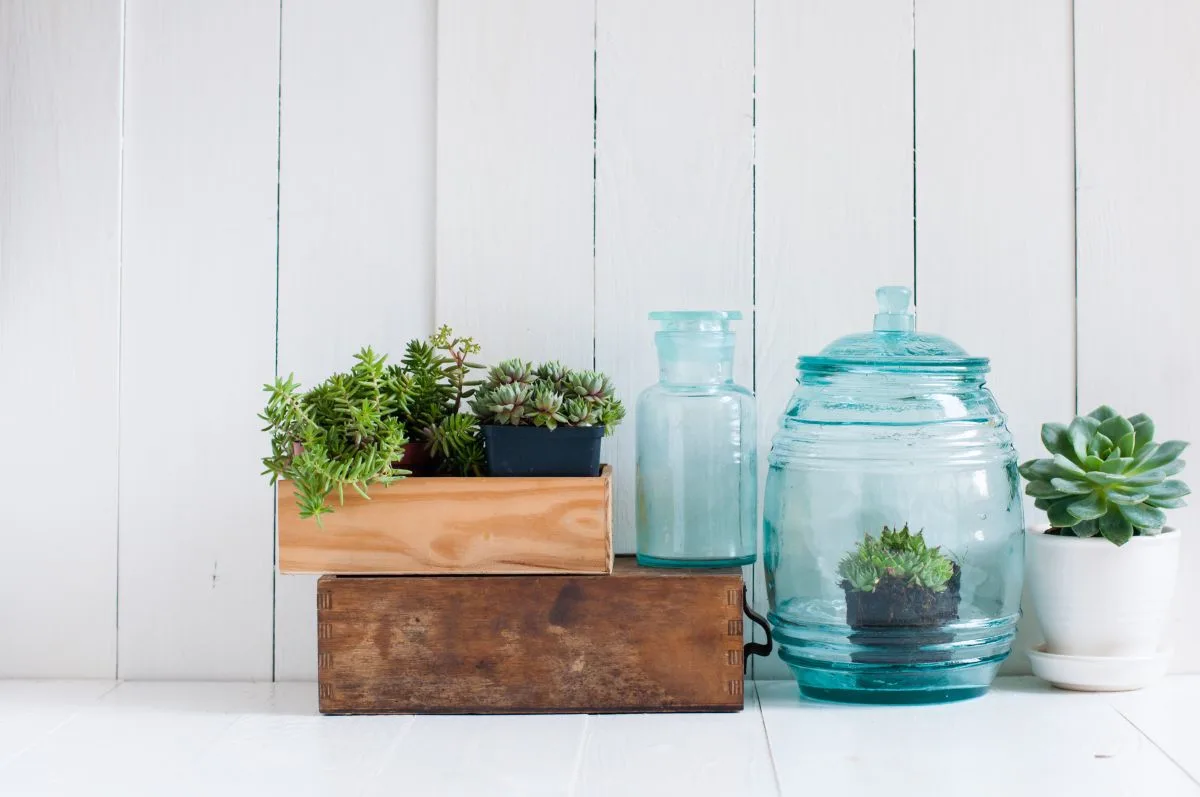 Have you tried incorporating anything other than leaves to enhance the greenery in your kitchen decor tableau? Perhaps these succulents might be what you're looking for.
Succulents can soften up sharp edges in your decor, and mellow down hard wood and metal, as well. It's perfect for just about any theme or setting, so go ahead and pick up a few succulents to scatter around your kitchen and dining room.
26. Olive Oil and Vinegar Display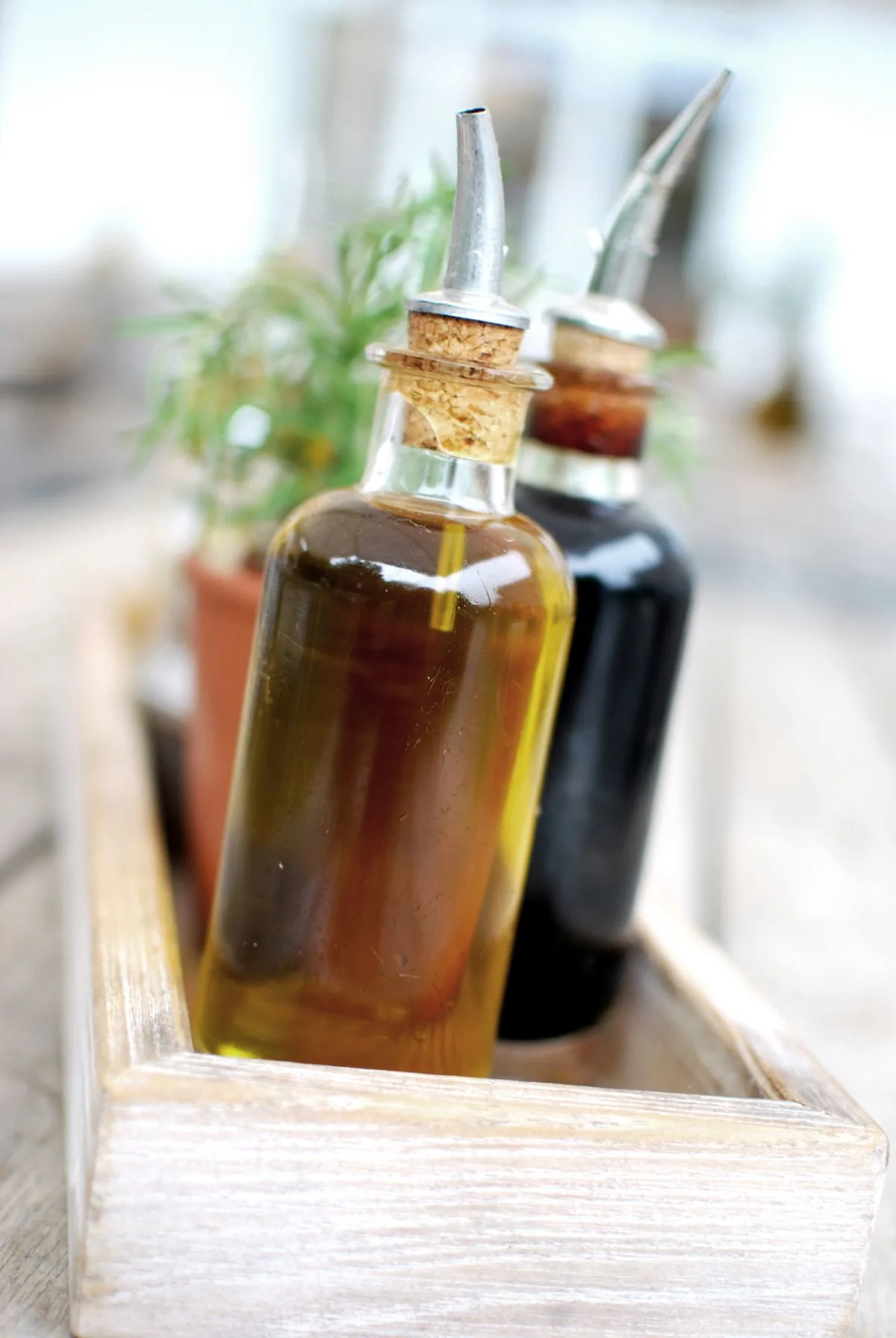 Do you make your own infused oil for cooking? Do you have a ton of salad vinegars and condiments? Then perhaps you should consider bringing them to the table to make them more accessible.
You can use a wooden slat or tray like you see here and simply arrange your oils and vinegars on it.
27. Wooden Antique Farmhouse Display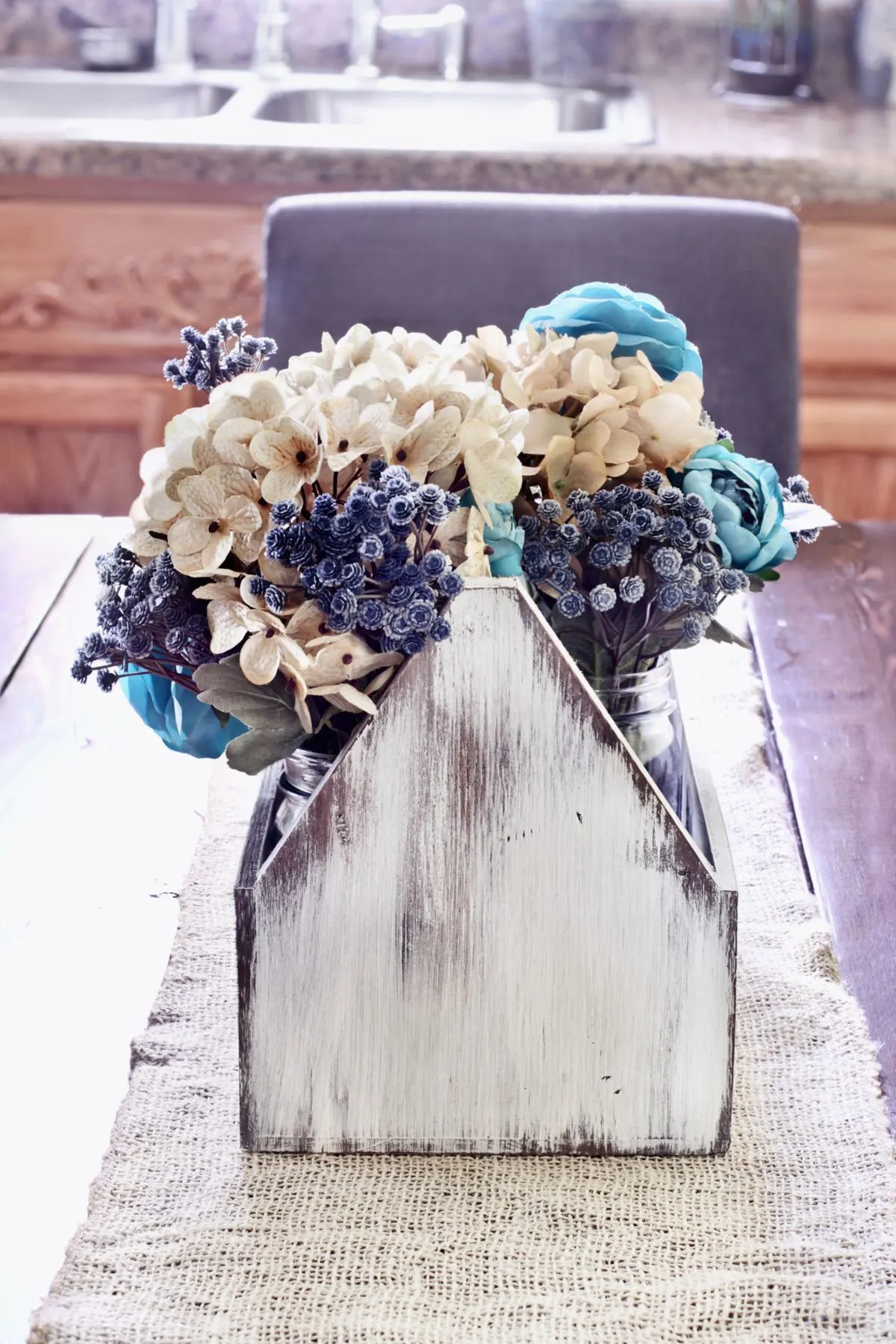 Go ahead and do a little digging in your garage. You're sure to find an old wooden toolbox from the days of yore.
With a little artistic distressing and antique-styled paint, you can use that wooden toolbox as a centerpiece on your farmhouse-style table. It's chic yet rustic, all packed in one toolbox.