Looking for a perfect kitchen island but have a low budget? These IKEA kitchen island hacks might be just what you need right now.
Kitchen islands are incredibly functional features in a kitchen. You can use them as an extra prepping area, additional countertop space, and sometimes even a breakfast area.
But not all kitchens have a center island. It may be because it was an old kitchen design, or there is limited space. It could also be that the previous owner simply did not appreciate kitchen island utility.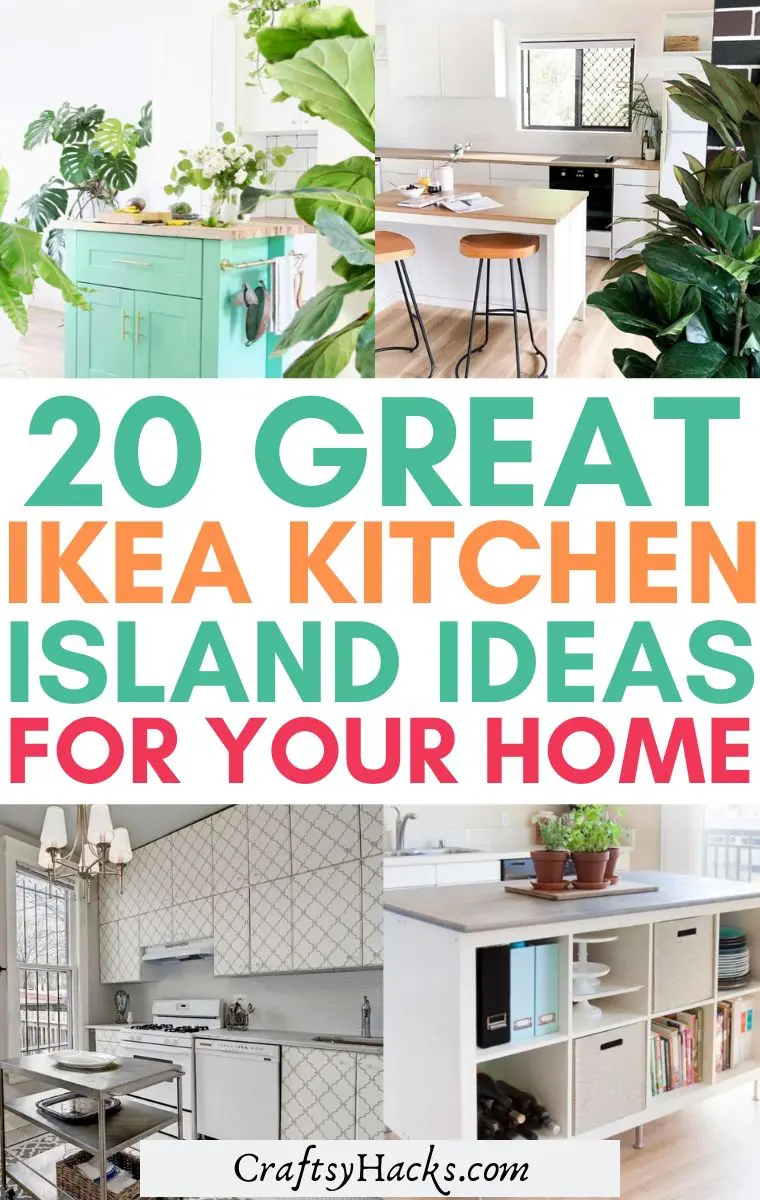 If any of this sounds like your kitchen, here are a few Ikea kitchen island ideas (and hacks).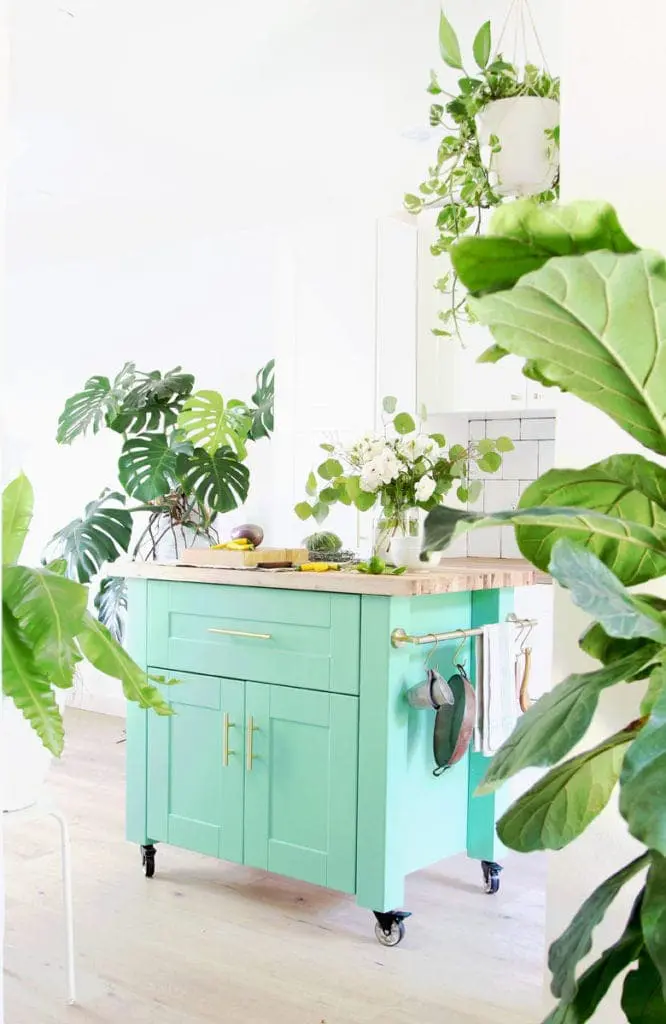 Credit: apieceofrainbow.com
If you have a farmhouse style kitchen with slightly limited space, try recreating this farmhouse-inspired kitchen island with wheels. The mobility is great for moving the island to the side to create more space if needed.
Watch this video tutorial to discover how to recreate one.
2. From Bookshelf to Kitchen Island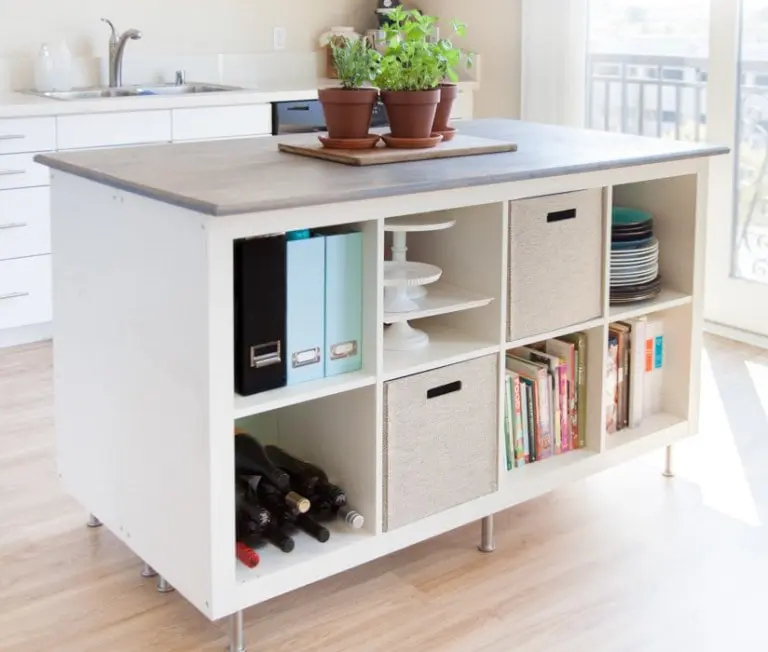 Credit: kreatinghomes.com
You might have searched high and low to find that perfect kitchen island, and most times, the best usually means the priciest. If this is the case, this Ikea bookshelf hack may be your thing.
You will need a couple of Ikea Flysta shelving units, metal legs like these, and paint. For added storage solutions, install a pot lid on one end of the kitchen island (I found one here).
You can also add a hook rack like this on the other end to hold your utensils, kitchen towels, and potholders. Check the full tutorial here.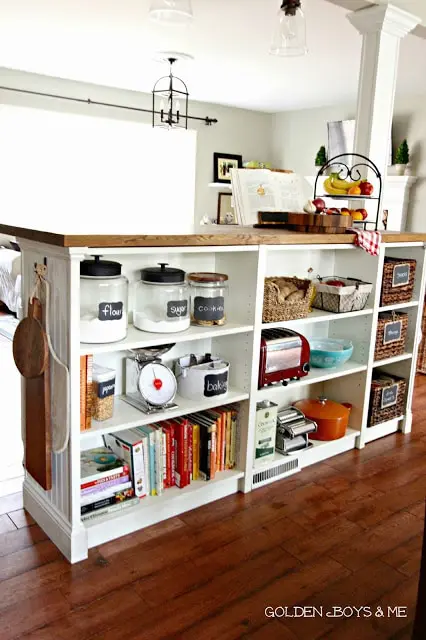 Credit: goldenboysandme.com
Not all kitchens are the same, but all kitchens need ample storage. Here's another bookshelf turned kitchen island storage solution.
This beautiful island design used three Ikea Billy bookcases for the base and an Ikea butcher block for the countertop.
If you want to recreate it, you will also need various construction materials Ikea bead boards, corbels, and moldings. You will be attaching a lot of screws, so you may want to get yourself an electric screwdriver like the cordless rechargeable one I found here.
Check out more IKEA hacks to increase storage here.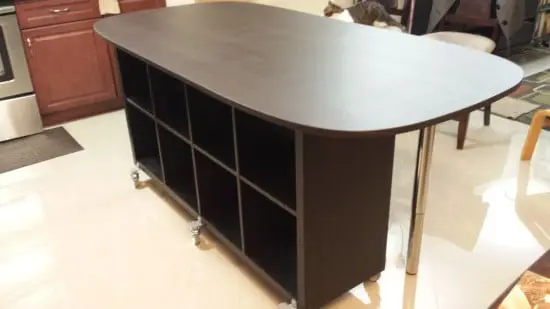 Credit: ikeahackers.net
A curved kitchen island can be an appealing addition to your kitchen space. Since you don't have straight edges, this kitchen island design is perfect if you have young kids at home.
For detailed instructions on recreating your curvy Kallax kitchen island, have a read through this guide.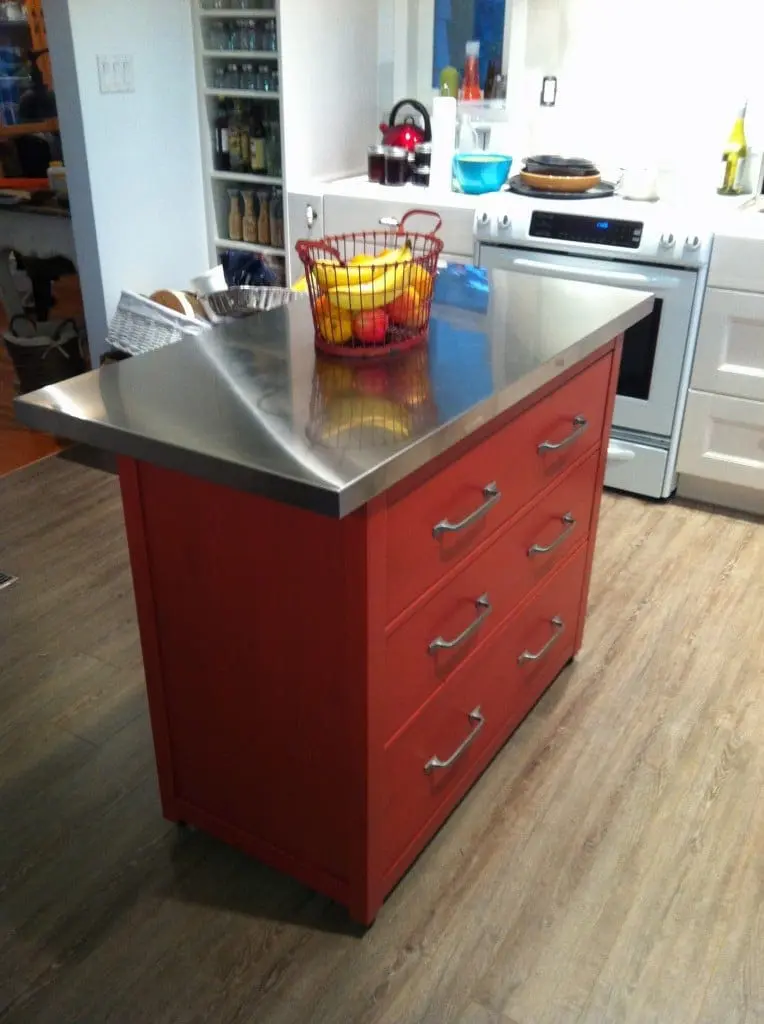 Credit: ikeahackers.net
Compared to the conventional countertops seen in many homes, a stainless steel countertop is more durable, hygienic, and easier to clean.
This hack used the Ikea Hemnes Dresser, making the assembly quicker because of the already built-in drawers. You'll only need a few adjustments, such as placing the stainless steel countertop and painting the dresser with your desired color.
You can also install caster wheels like these for easy mobility. Check out more IKEA dresser hacks here.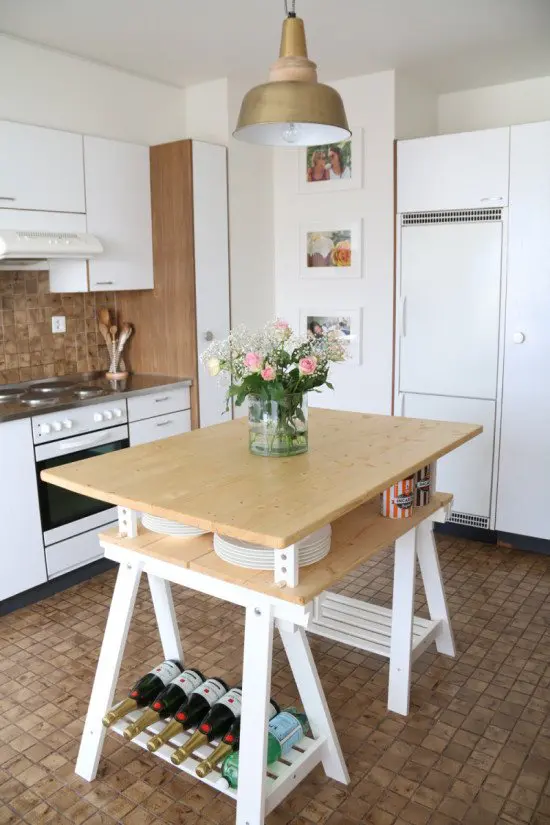 Credit: ikeahackers.net
A kitchen island is a great DIY project to start adding character to your cooking space. Block your weekend schedule and recreate this Ikea kitchen island hack with the entire family.
The creators of this island used two IKEA Finnvard to hold the kitchen worktop and shelving. The result is a functional workstation where you can store your favorite beverages and other kitchen utensils.
If you're not a fan of the kitchen island's typical bulky look, this may better suit your style.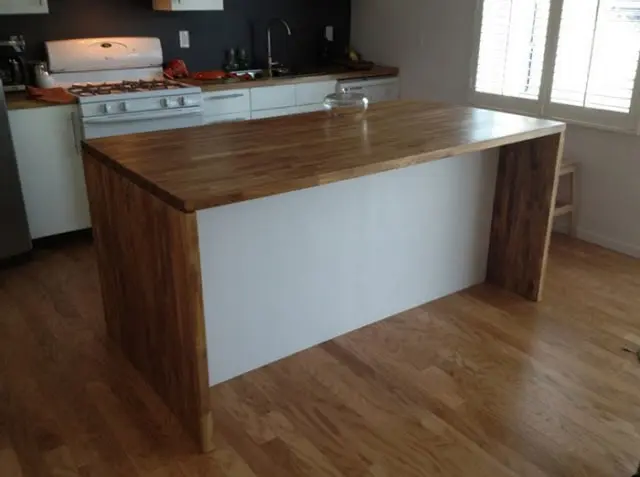 Credit: ikeahackers.net
Nothing beats the beauty of wood-grained island counters. Even modern kitchens look great with a classic wooden island.
This IKEA hack used a combination of the Ikea Malm dresser and an Ikea base cabinet. For a full list of materials along with detailed instructions, browse through the tutorial here.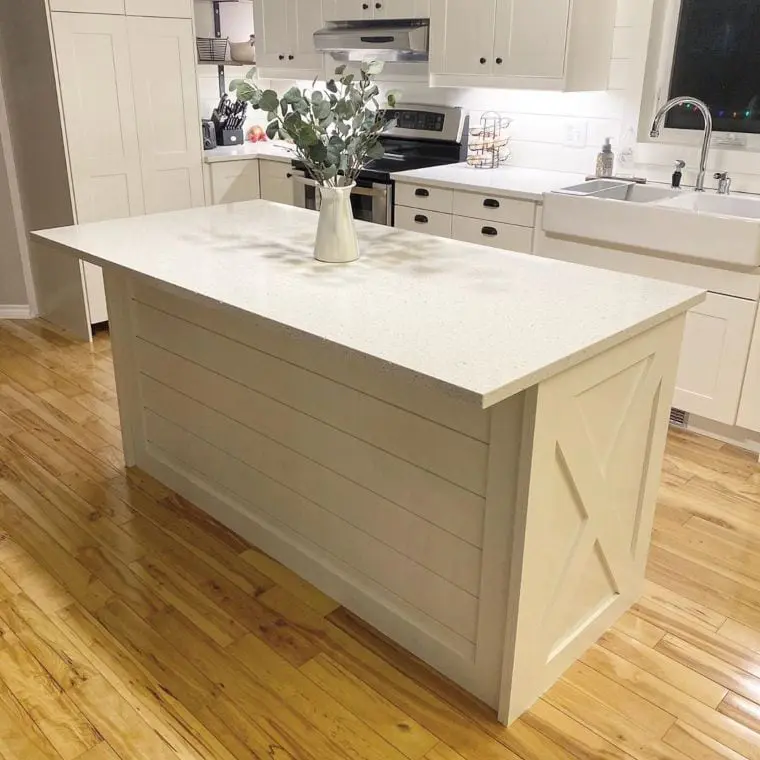 Credit: Instagram
A cozy-looking yet straightforward kitchen island makes for a fun DIY project, much like this hack that used the Ikea Knoxhult for the island base.
Creatively designed flat boards made up the front and side panels. A quartz countertop completed the minimalistic feel of this kitchen island.
For a cheaper countertop alternative, you can also use a wooden slab wrapped with kitchen countertop contact paper like these.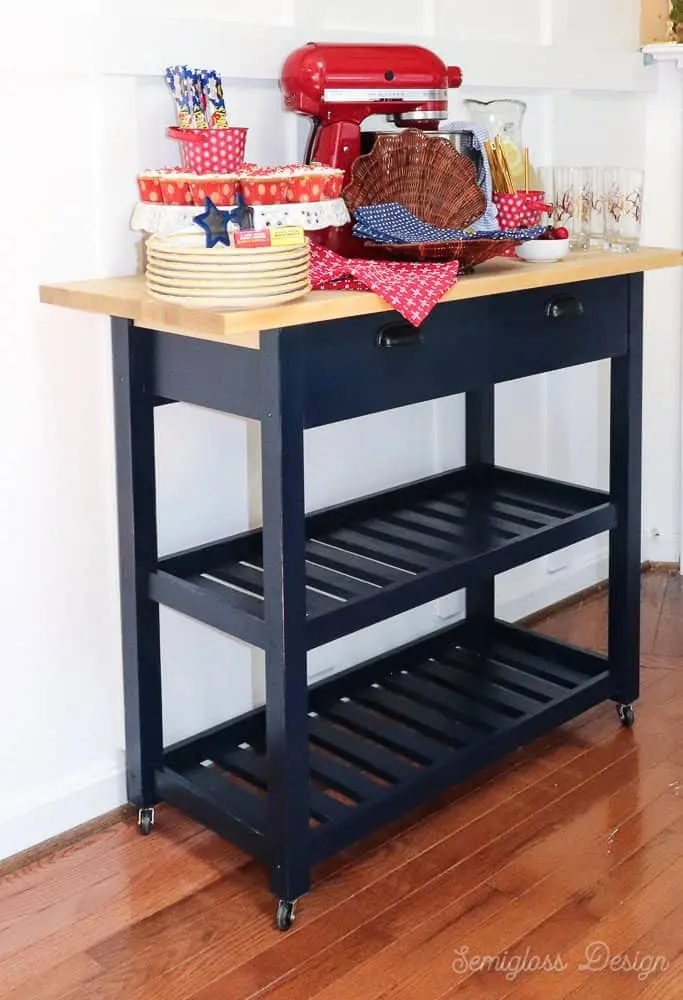 Credit: semiglossdesign.com
This mobile kitchen island hack is the perfect solution for a small kitchen for an extra prep and storage area.
You'll need the Ikea Forhoja rack, 1″ caster wheels like these, cup drawer pulls (found here), scrap plywood 1×6, ¼" wood, miter saw like this, paint, drill, a nail gun, and wood glue.
Click here for detailed instructions with photos.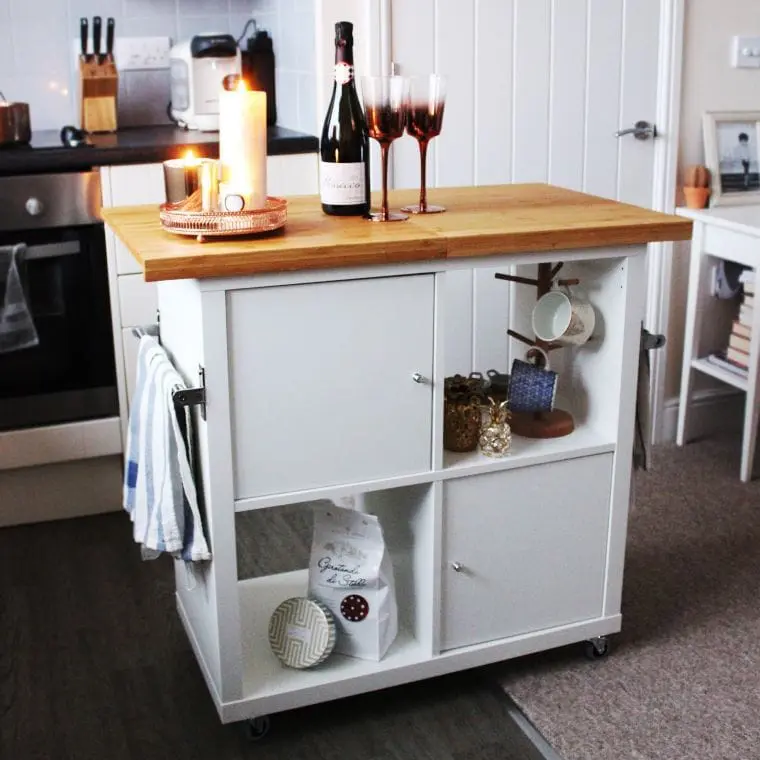 Credit: jenloumeredith.com
For under $80, this Ikea hack will give you a mobile kitchen island with four compartments and a solid wood countertop.
To recreate this, you will need three Ikea components: a Kallax shelving unit, two Kallax shelf inserts, and two Lampig chopping boards. You will also need four caster wheels and wood treatment oil (I prefer the food-grade ones found here).
For additional storage solutions, grab some kitchen racks similar to this.
Here's the full DIY process. Check out more IKEA Kallax hacks here.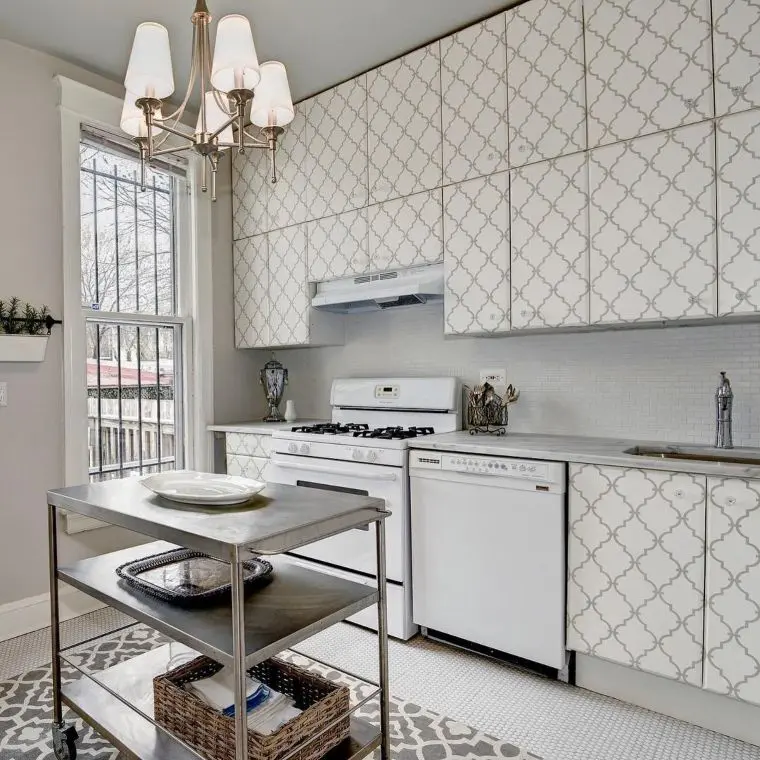 Credit: Instagram
This metal rack IKEA hack is relatively simple to do. You'll need the IKEA Valdholma Kitchen island in black and oak.
Cut the extended hanging rack and have the solid textured wood stay as it is, or have it covered with a metal sheet to create an all-steel finish. Install four small caster wheels for easy mobility.
The overall look makes it a great addition to an industrially-inspired kitchen.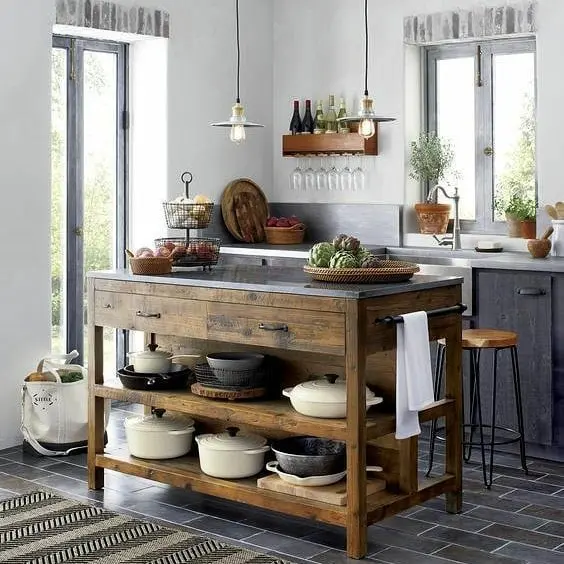 Credit: Instagram
Why spend countless hours looking for a timeless piece of furniture when you can create one. Thanks to Ikea Vadholma, you can create an inexpensive yet antique-looking kitchen island.
Apart from the Vadholma, you will need two additional drawers installed underneath the countertop. To achieve the antique wood look, use self-adhesive wood wallpaper like this.
You can leave the solid wood countertop as is, or have it covered with a stainless steel sheet. A cheaper alternative is the decorative stainless steel wallpaper found here.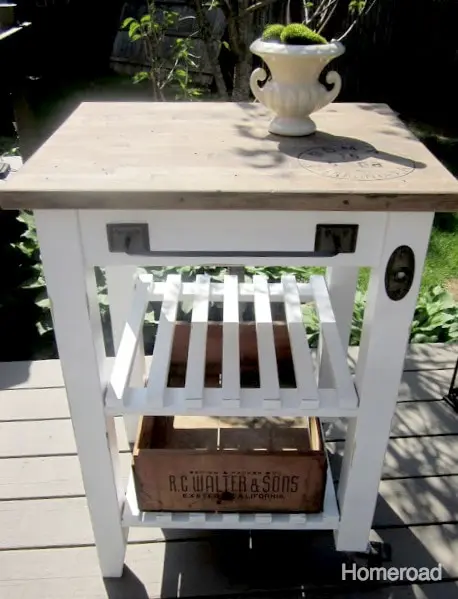 Credit: homeroad.net
Furniture hacks don't have to be tedious. In fact, a simple repaint goes a long way when trying to spruce up boring furniture.
Check out this page to see how this old Ikea Vadholma instantly transformed into a gorgeous kitchen island with just a bit of paint magic.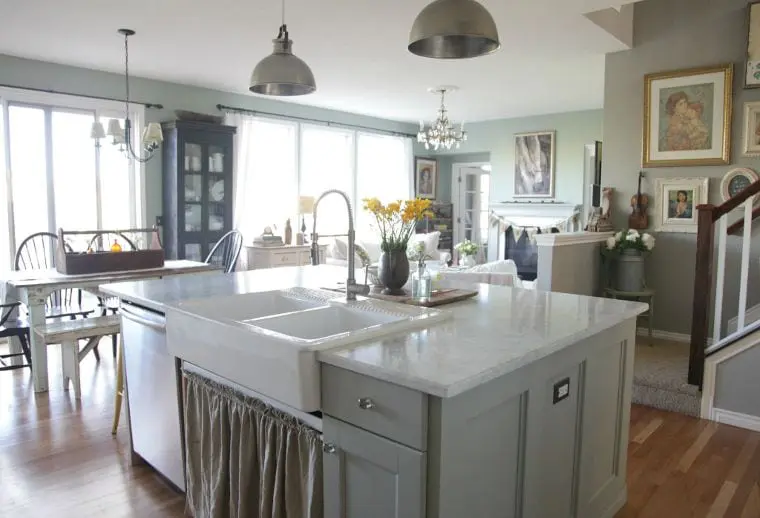 Credit: jeanneoliver.com
This Ikea hack is perfect if you have gracious kitchen space but have no kitchen island. Aside from the typical storage drawers and insets, this large kitchen island has an apron sink, a small refrigerator compartment, and various slot compartments.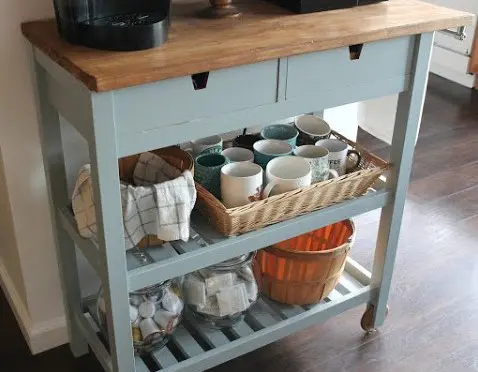 Credit: charmedcrownblog.com
This Ikea hack is excellent for serving hot beverages to family and guests. It's also effortless to recreate.
You just need to select an Ikea kitchen trolley with integrated wheels (like the Forhoja, Bekvam, Stenstorp, or Sunnersta). After making your choice, paint, or wood-stain with your desired color of choice.
Finally, pop some decorative buckets like these for added character and organization. It doesn't get any simpler than that!
Check out more IKEA kitchen hacks here.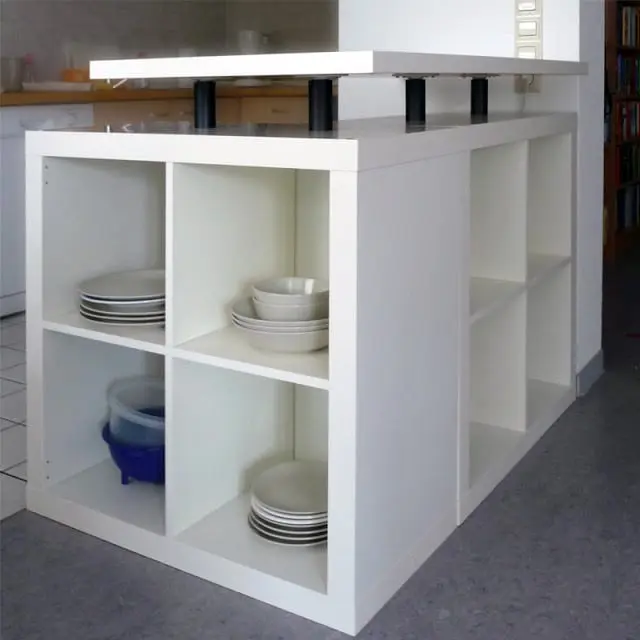 Credit: shelterness.com
Corner or L-shaped kitchen counters can act as a bar counter or nook in a cozy kitchen space. It can also hide an ugly column or pole in the middle of your kitchen.
This hack used a combination of two IKEA Kallax to create an L-shape kitchen counter that can double as a breakfast bar. There are a lot of design ideas when it comes to creating L-shaped kitchen counters.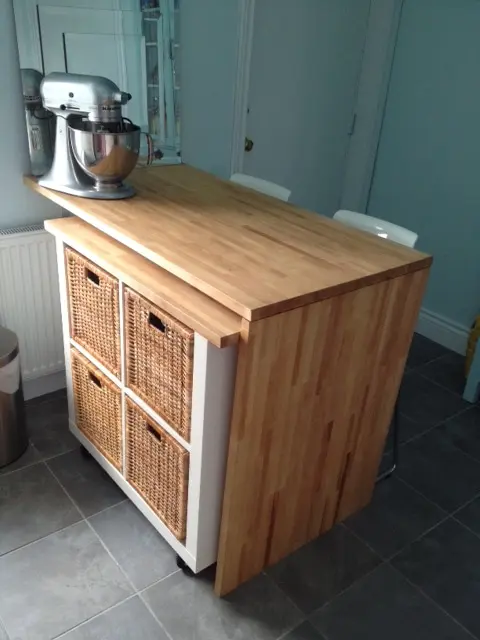 Credit: shelterness.com
A brilliant Ikea hack, this waterfall kitchen island made from textured wood neatly tucks in another mini kitchen island with inlets and wheels.
Create the waterfall kitchen island using Ikea butcher blocks and use an Ikea Expedit bookshelf for the mini island. Attach caster wheels like these to allow mobility for the mini island.
Complete the look with storage baskets available here.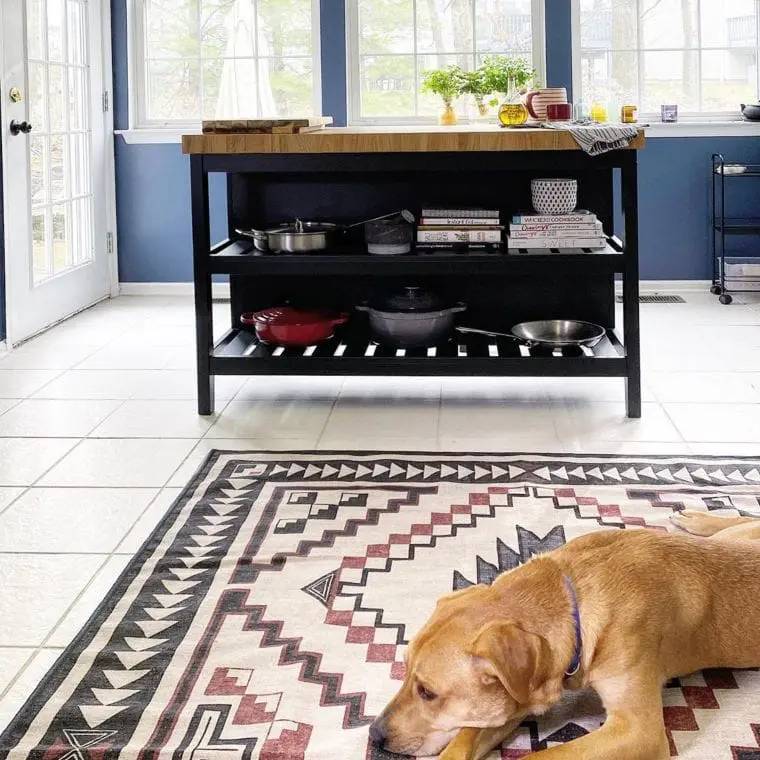 Credit: Instagram
The Vadholma kitchen island is the perfect sturdy kitchen island solution. Its overall look is already stunning, so you don't need to do much in terms of hacking.
You can repaint the whole kitchen rack, but make sure to do a few sanding to keep an excellent paint adhesiveness.
You can incorporate decorative elements that match the Vadholma's color scheme, like this barrel storage, this utensil holder, or my favorite – this gorgeous serving tray.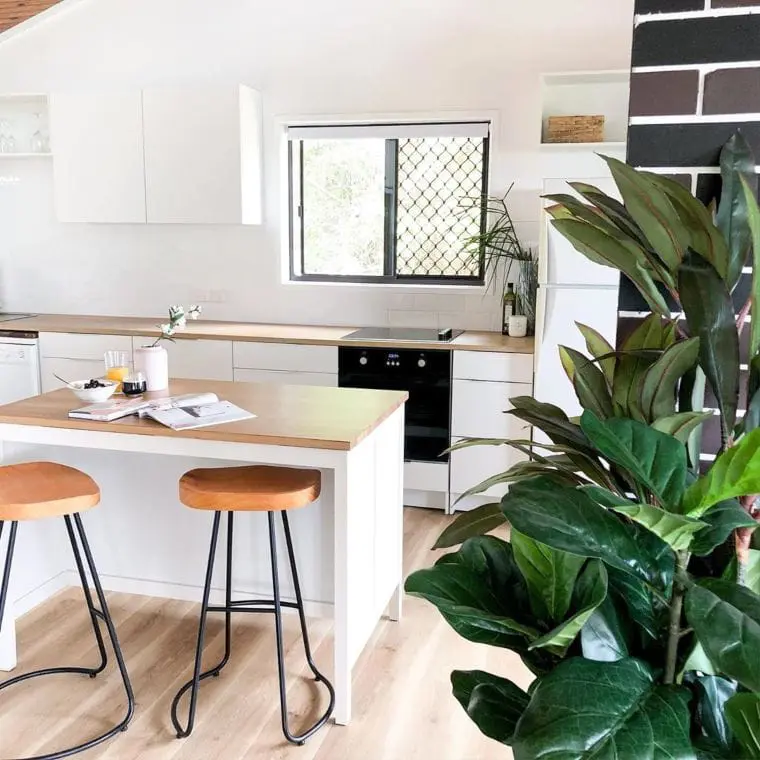 Credit: Instagram
This beautiful white kitchen island table with a wooden countertop can is easy to assemble using Ikea Malm dressers.
Simply join two or three Malm dressers together to create a large surface. Don't forget to remove the dresser drawers.
Finally, attach a couple of butcher block cutting boards like this above the table for your countertop. Complement this island table with a pair of wooden bar stools like the ones seen here.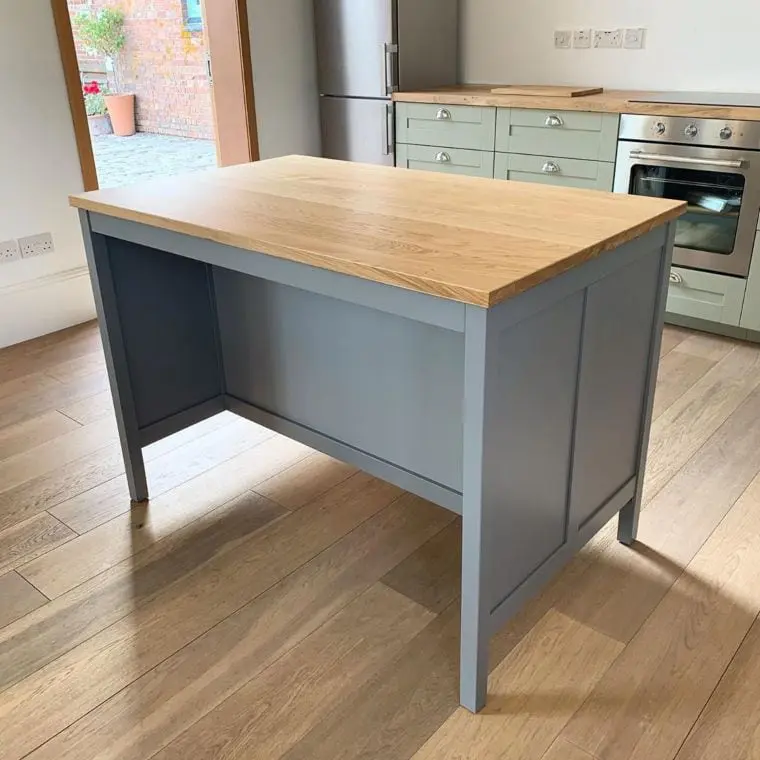 Credit: Instagram
This hack follows the same process as the previous one using the Malm dresser. Perhaps the difference is instead of using white, the designer of this kitchen island hack used this coastal blue shade for the paint finish.
One thing you have to remember when installing the wooden countertops is to protect and seal them using food-grade mineral oils found here. Other than that, your countertop is ready for use!
Conclusion
If these 20 ideas haven't convinced you that you can DIY your kitchen islands, I don't know what else will. Let me know which one of these ideas was your favorite!