Have fun decorating your kitchen with these wonderful kitchen wall decor ideas. Easy and beautiful!
The kitchen is the most functional room of any home, it's where the most time is spent, and the most work is done.
When you spend most of your day at one place, that place needs to look its best. If you are looking to add style and chic to your kitchen, check out our list of kitchen wall decor ideas and take your pick.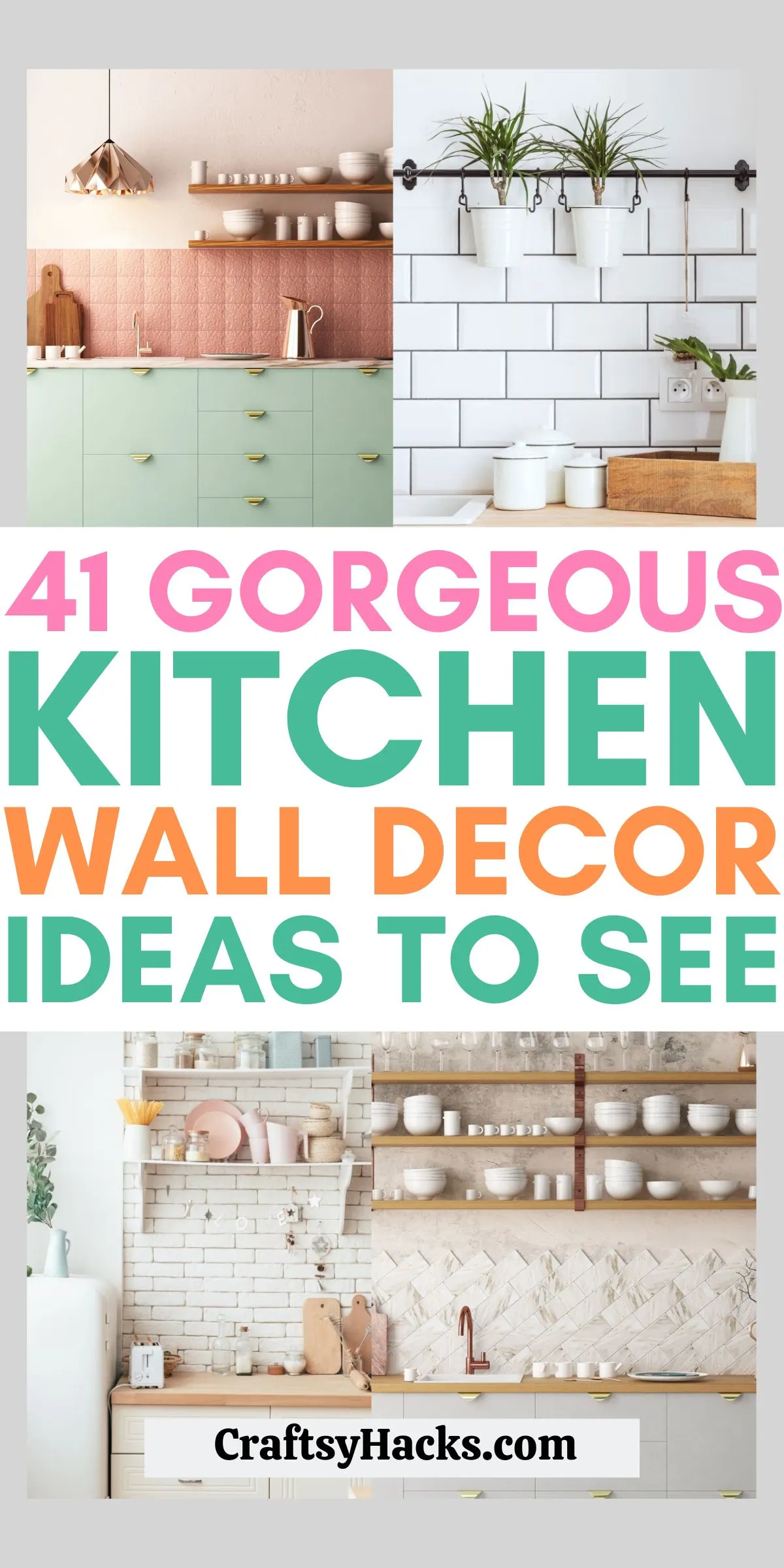 1. Poster Frame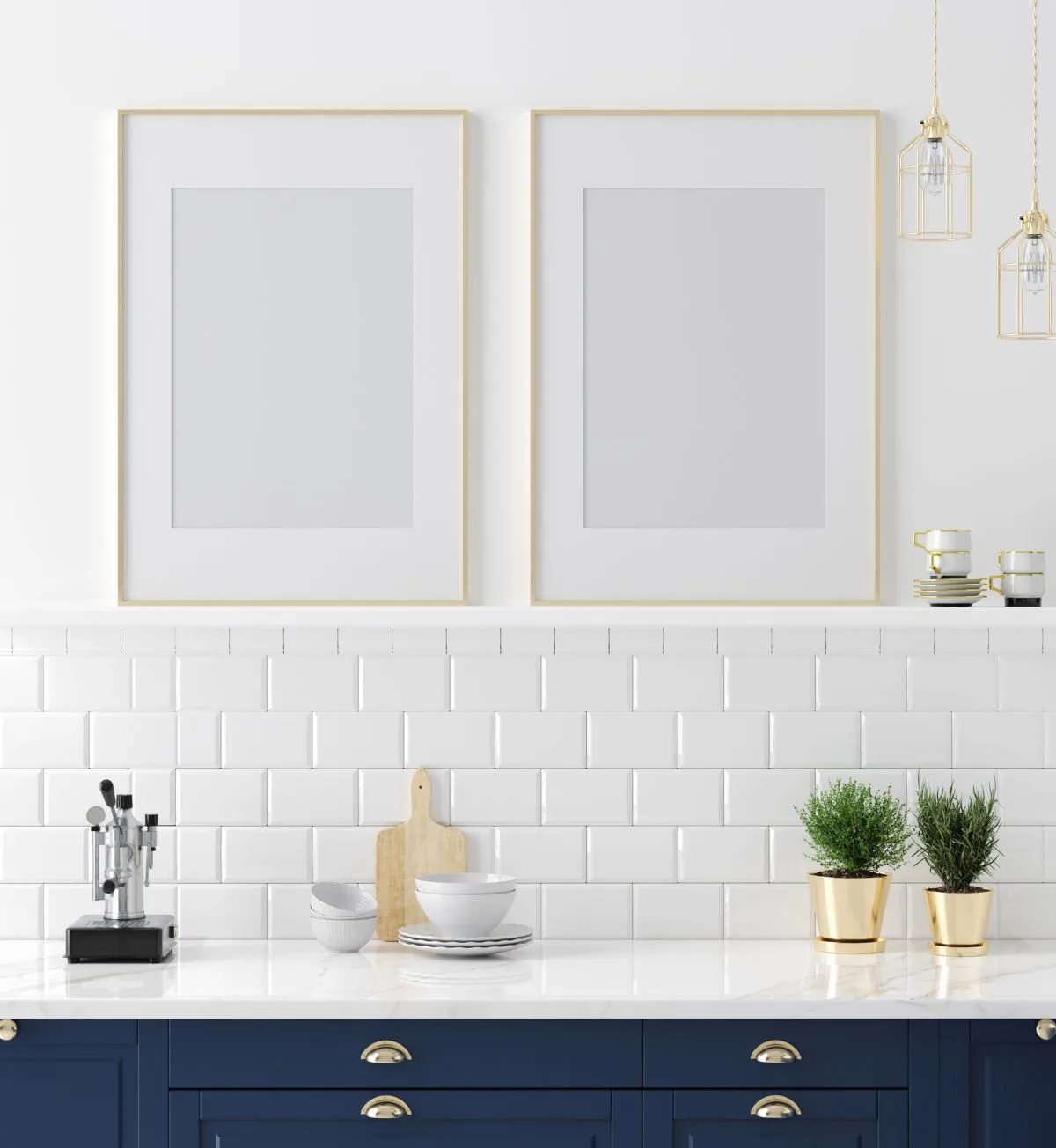 A poster frame is a brilliant idea to add a personal touch to your kitchen walls. Moreover, you can use these for rented apartments as well.
If you are living in a rented place, adding decor and personal touches is hard as most landlords don't allow such things.
However, adding a poster frame won't cost you much, and you can hang them with adhesive hooks as well.
2. Floating Shelves
Floating shelves look great in any room, and the beauty of floating shelves is that you can space them as per your preference.
You can use the floating shelves as open cabinets for your spice jars or for your small plants to add a bit of bright color to your kitchen. Floating shelves are ideal for small kitchens with limited counter space.
3. Hexagon Shelves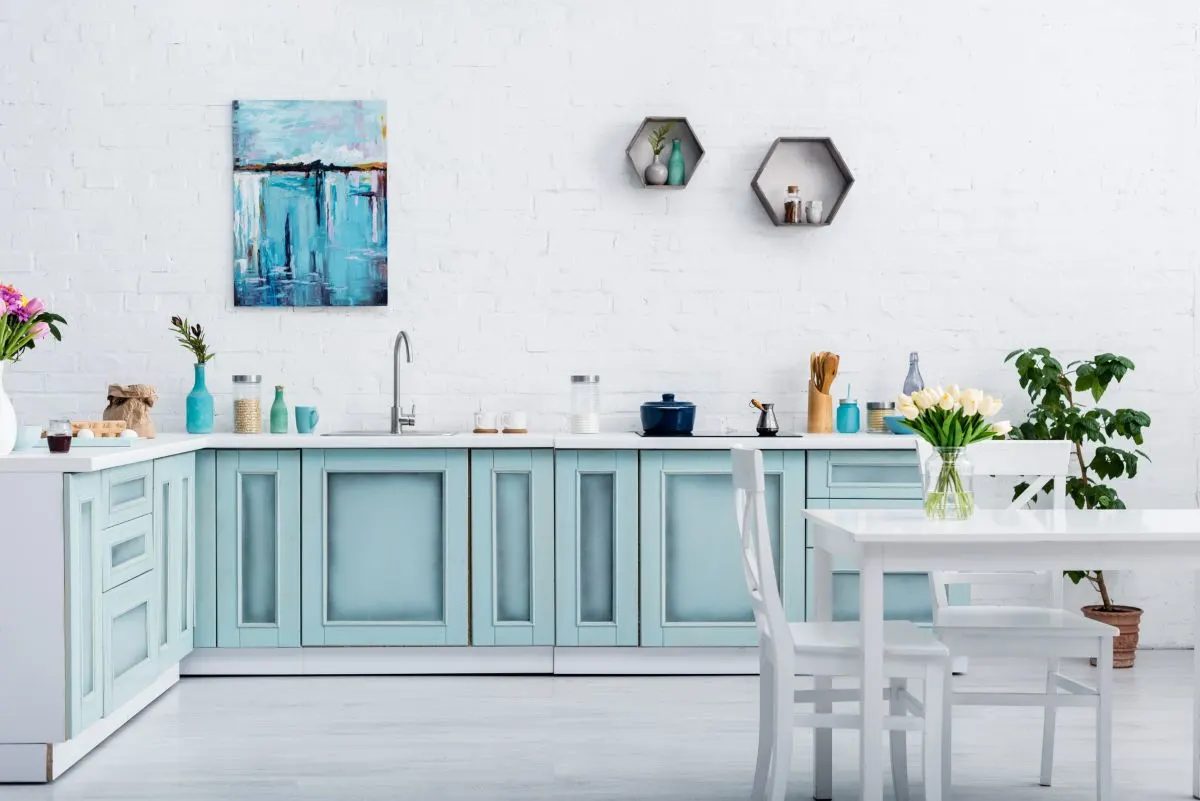 When adding style to your kitchen, use your instincts. If your kitchen has ample wall space, add Hexagon Shelves and decorate them with vibrant vases and some cooking books.
These shelves come in pairs, so you can use one for a decorative piece and the other for your recipe books.
4. Hanging Appliances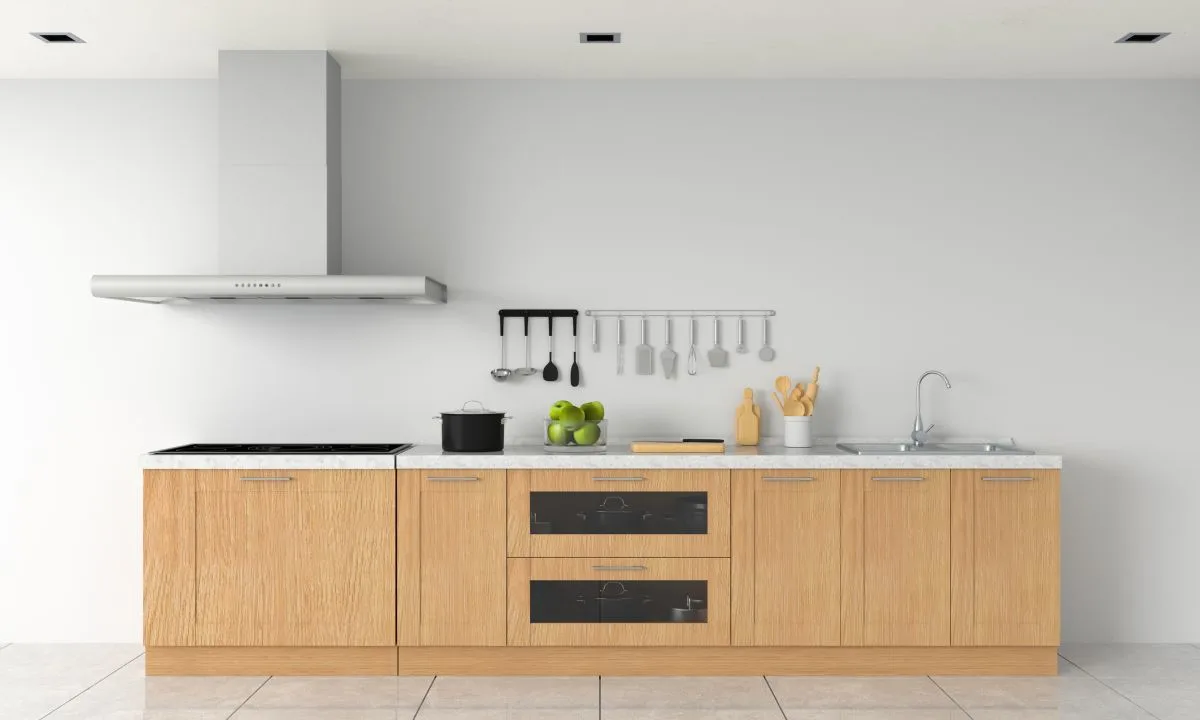 Hanging appliances and utensils is a great way to free up some counter space. It also makes your kitchen look more functional and practical.
You can use a variety of tools to hang your appliances on your walls.
You can use a railing with hooks or a floating shelf to add your daily use appliance on the wall and off the counter.
5. Cereals in Mason Jar
Repurposing old Mason jars to organize your cereals is a great idea. As these jars are air-tight, you can use them to store your cereal.
This not only makes your kitchen look more organized but also adds a minimalist touch to your kitchen. Moreover, your cereals will stay fresh for a long time if you store them in Mason jars.
6. Green Plants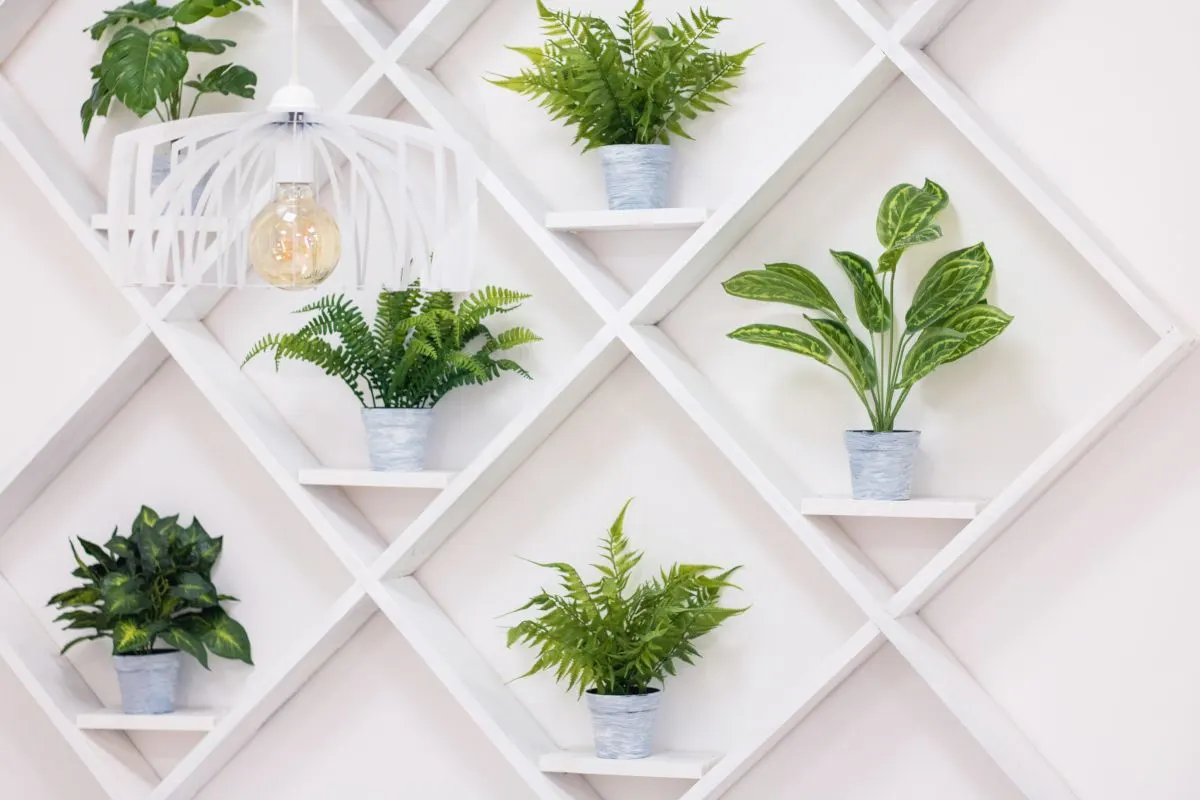 The easiest way to add a dash of color to any room is by adding a plant here and a plant there. For your kitchen, you can get a variety of plants that thrive in moisture and heat.
Plants like Aloe Vera, English Ivy, and Pothos are ideal kitchen plants. If you have ample space, you can even start your own small kitchen garden and plant some herbs.
7. Wine Poster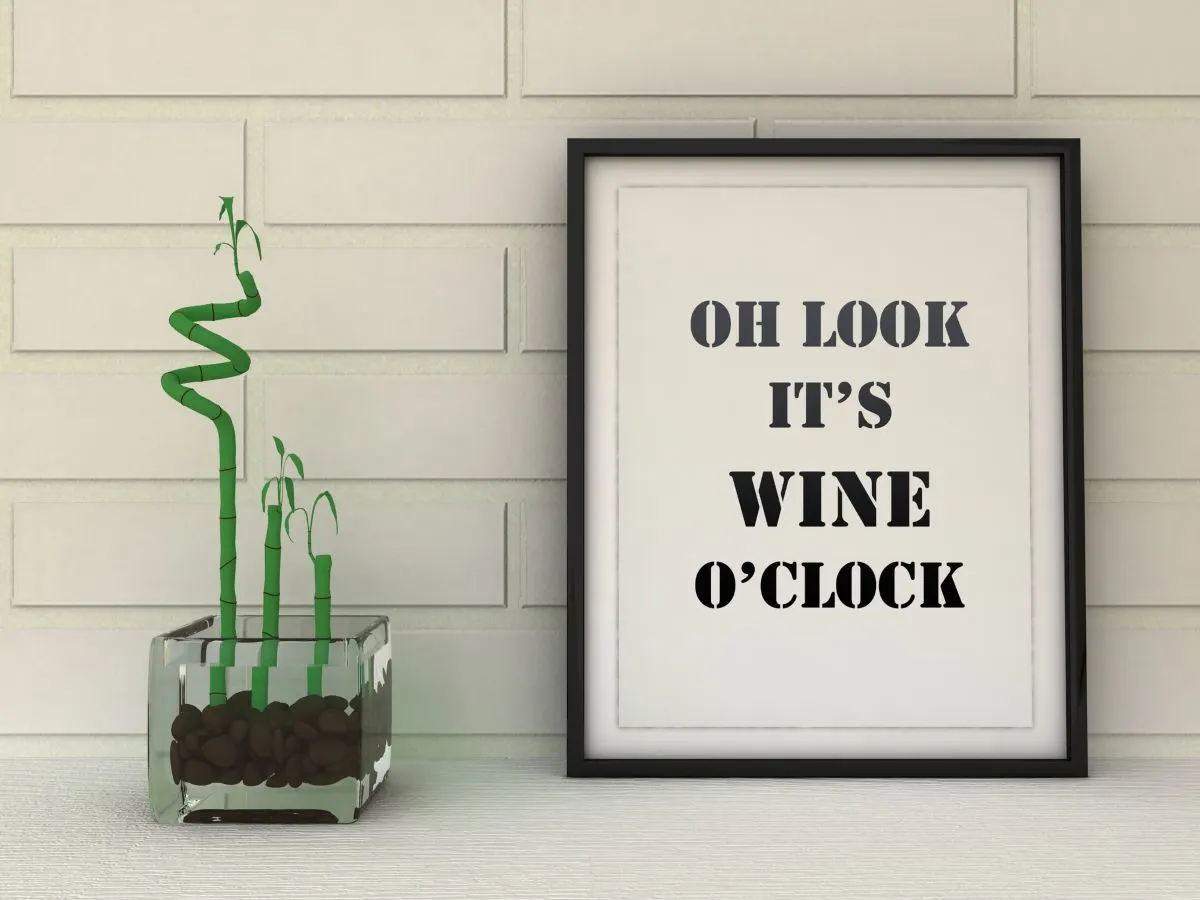 Have a quirky sense of humor? Use that to decorate your kitchen and get a laugh from the family.
A "Wine O'Clock" poster or something similar will not only brighten up your kitchen walls but also give you a laugh every time you look at it.
8. Hanging Rod with Scandinavian Pot Plants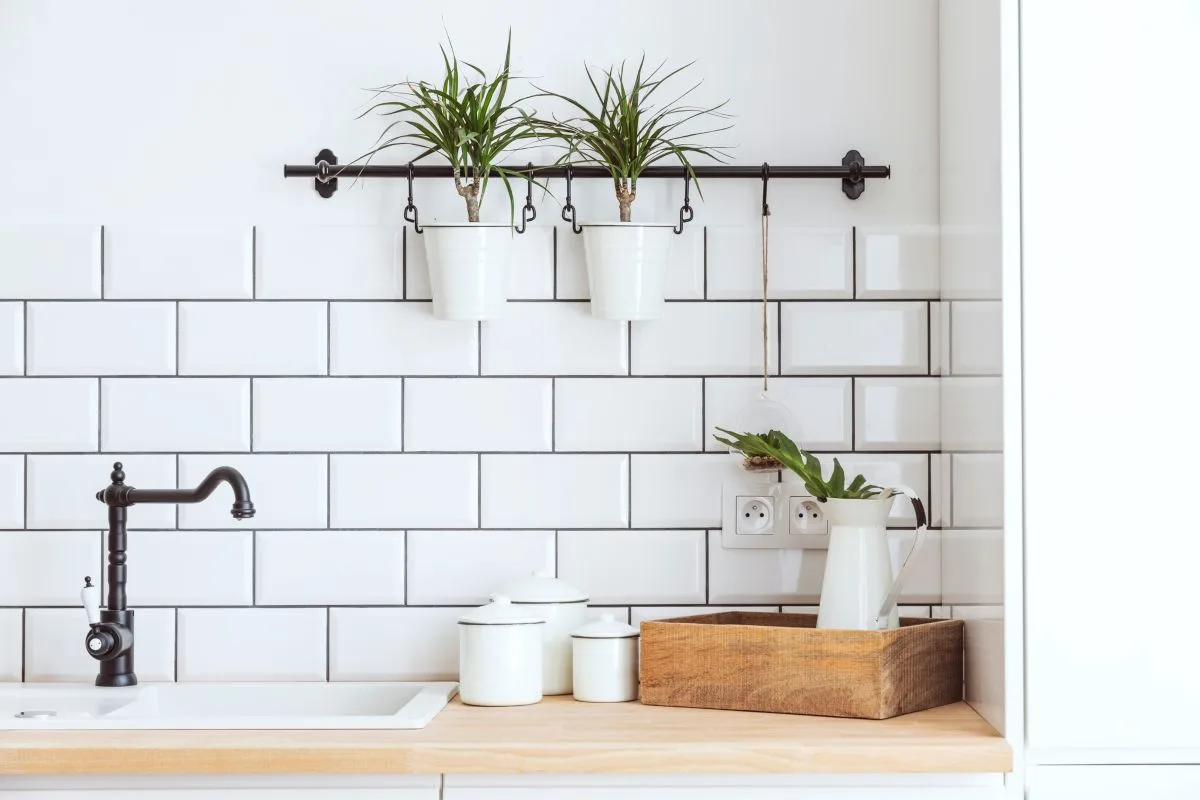 The decoration isn't just shelves and pretty frames; get creative and find beauty in the simplest things like hanging your Pot Plants on your wall.
Get a couple of Scandinavian Pot Plants and hang them on a rod on your wall. They not only look great but are ideal for adding color and freshness to your kitchen.
9. Floating Jar Storage Holders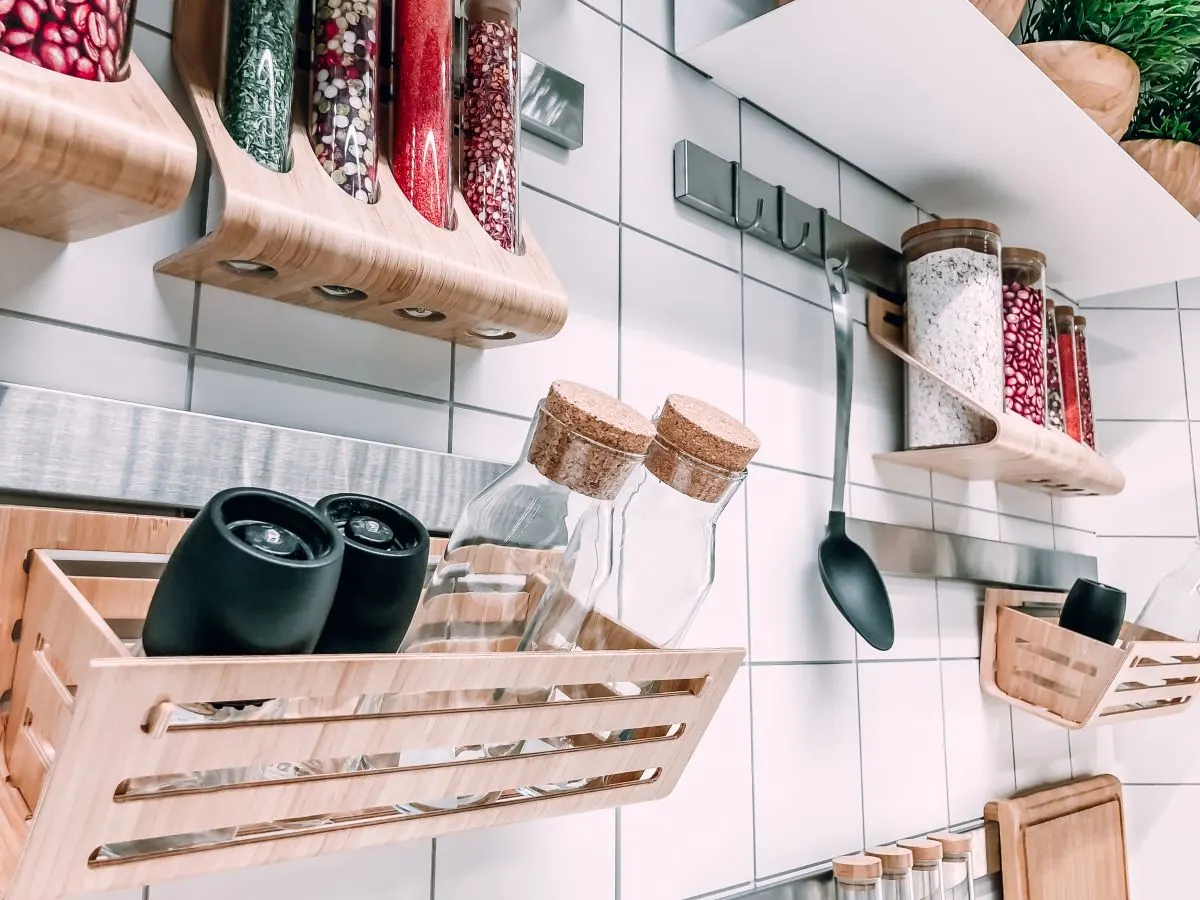 Floating jar holders are ideal for small kitchens with limited space. These floating holders can be added to the walls or under the cabinets to give you space to add your jars and keep them off the counters.
With floating or hanging jars, you can access your species easily, have more counter space, and also add a touch of chic to your kitchen.
Check out more shabby chic kitchen décor ideas here.
10. Abstract Art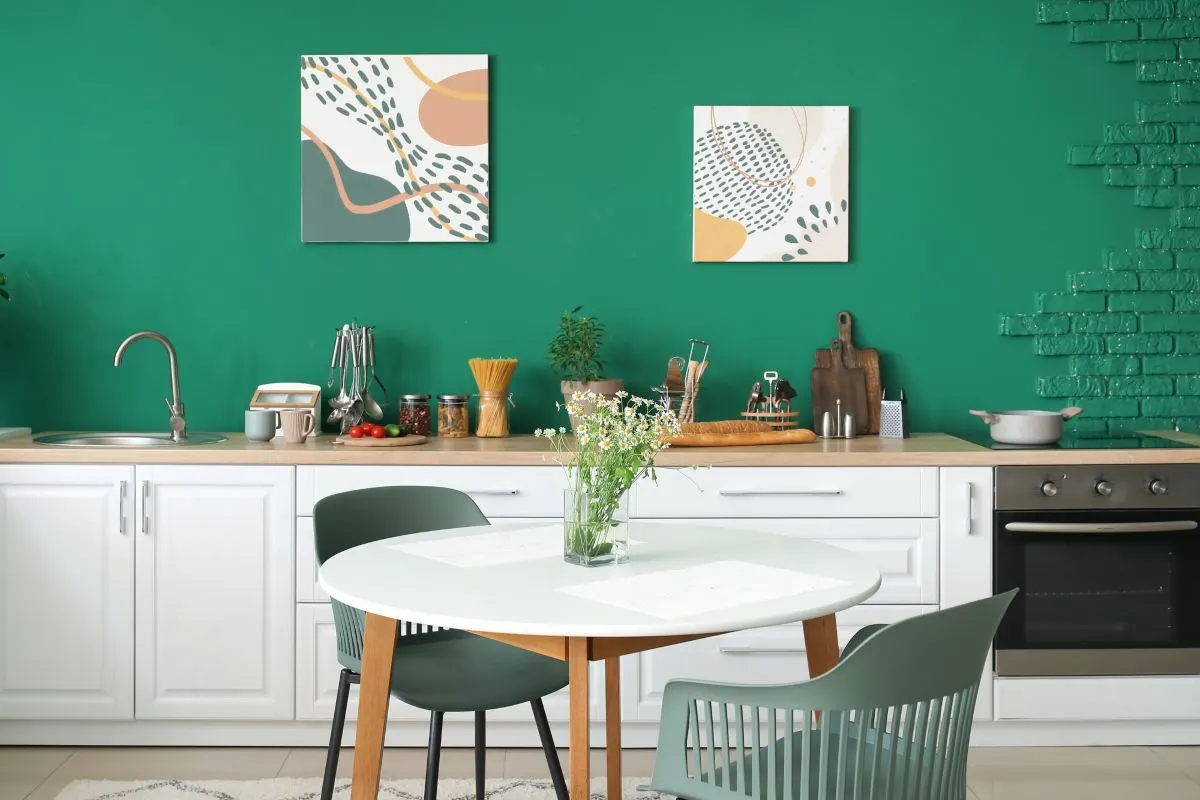 Adding a minimalistic touch to your kitchen wall doesn't take more than a couple of paintings. You can either use store-bought paintings or create your own masterpieces for your kitchen.
Keep the colors minimalist and use clean and crisp designs. You can use the tones from your kitchen's color palette or use brighter tones to add a dash of color against the plain walls of your kitchen.
11. Patterned Tiles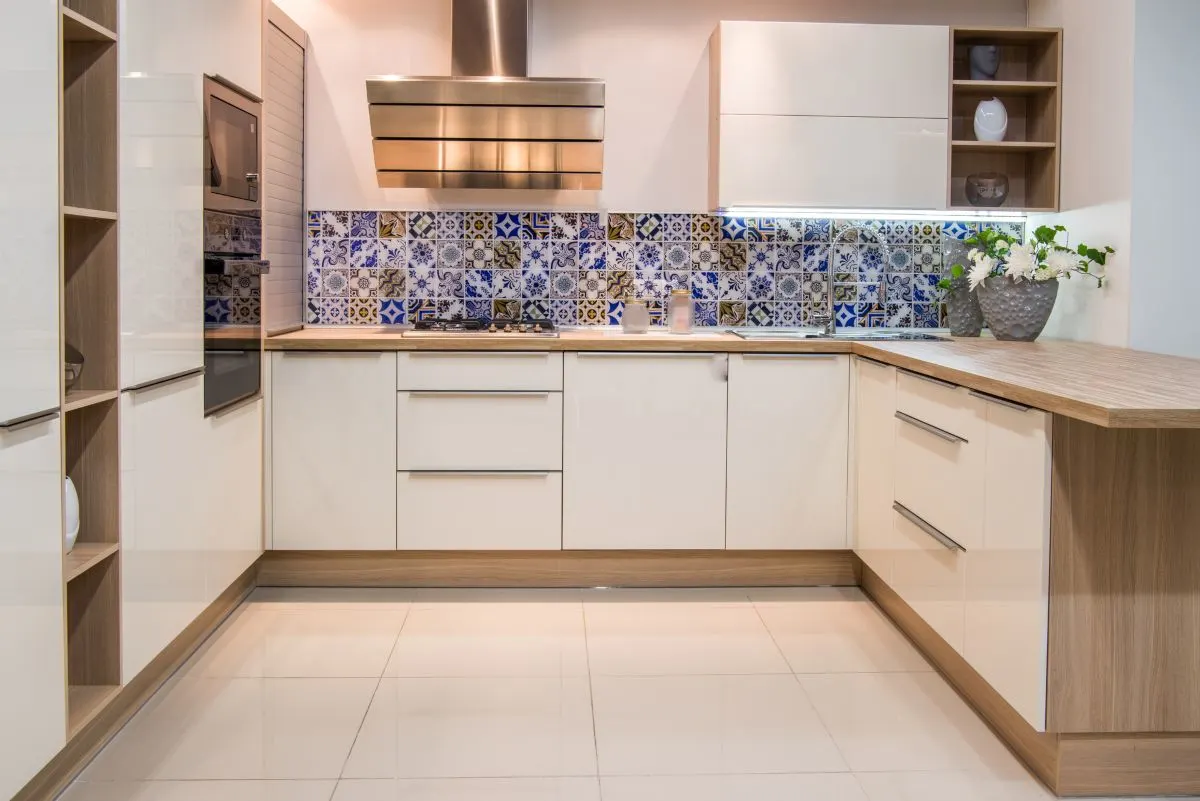 Adding a patterned tile backsplash is a great way to upscale any gloomy and dreary kitchen. This is also suitable for rented homes as you only need a bit of adhesive to stick the tiles to your walls.
Measure your wall area, decide a pattern you want to do, and get started. It's easy and adds the perfect amount of style to your kitchen.
12. Rustic Wallpaper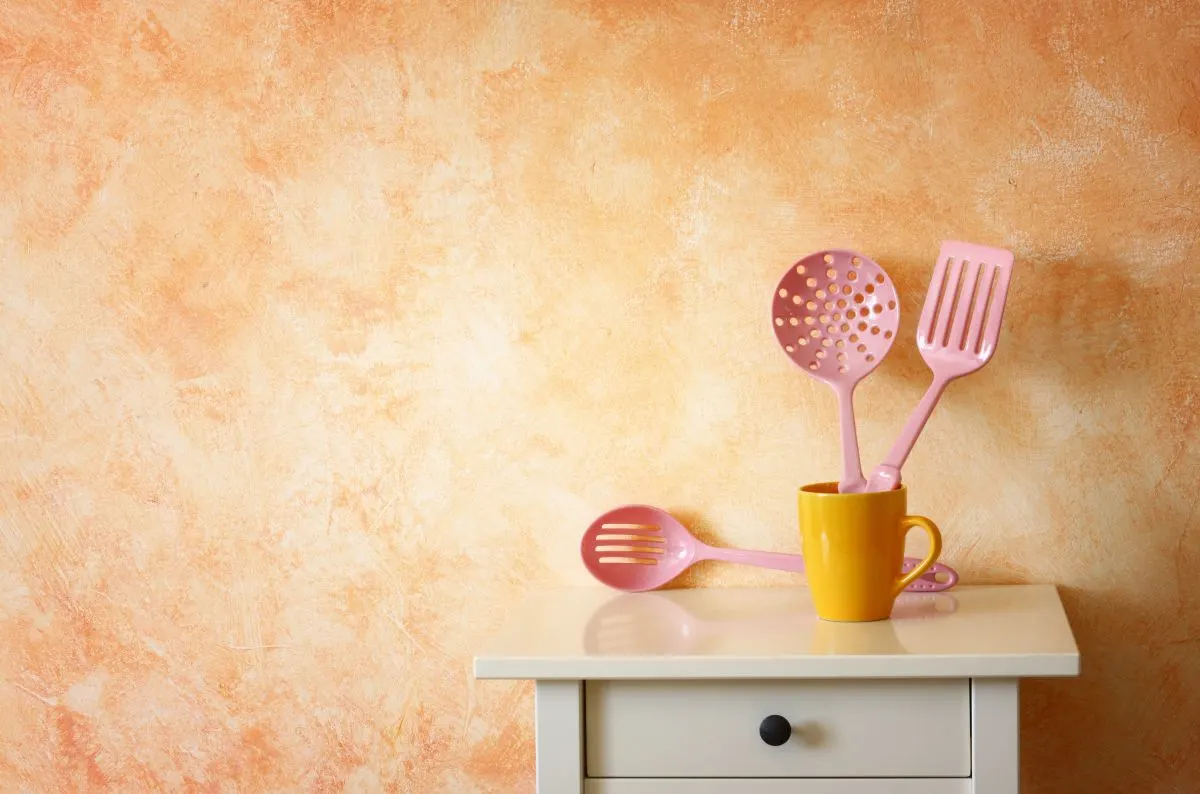 If you can't drill, poke holes or hang any kind of shelving on your walls, how about adding a new wallpaper. A rustic wallpaper will help you upscale your kitchen on a budget.
If you choose rustic wallpaper, you don't need to add anything else to your kitchen to make it look stylish and trendy.
13. Botanical Art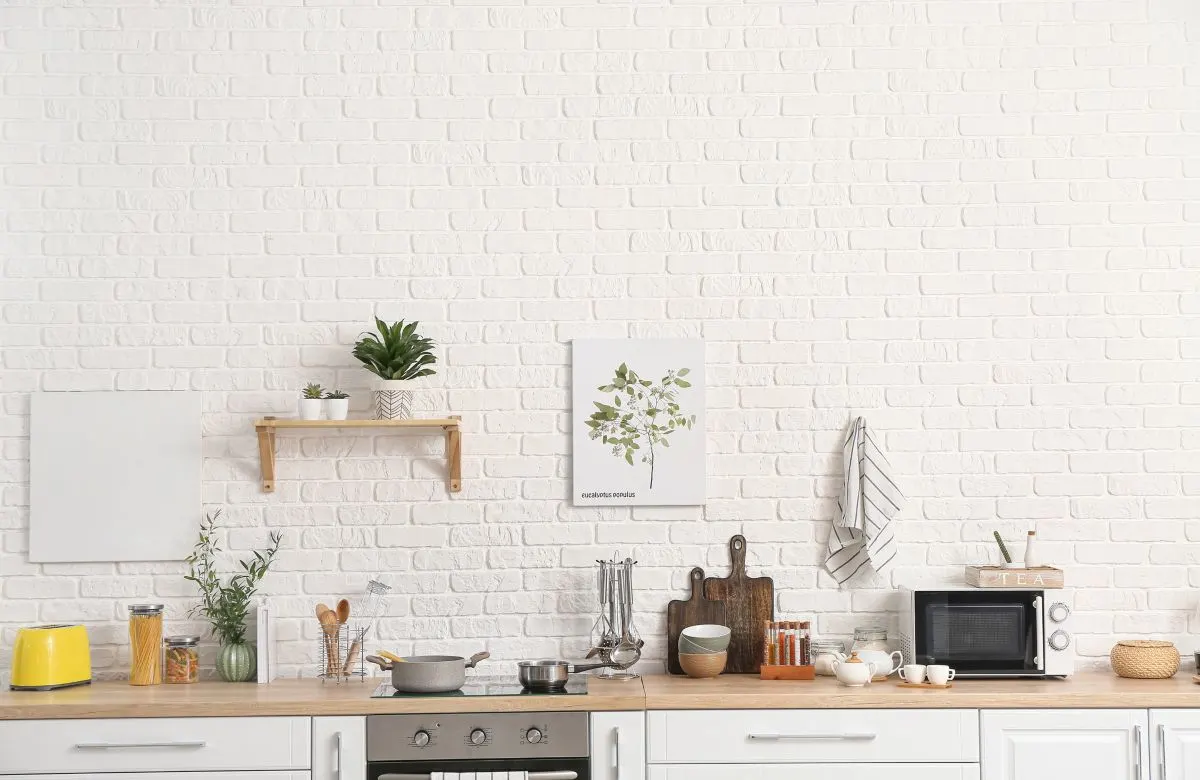 If you can't have plants in the kitchen for some reason, why not go for botanical art. These frames can add color to your walls and even hide cracks and wires that look unsightly.
You can get botanical art under budget as well. If that's not your cup of tea, you can even paint one yourself.
14. Decorative Kitchenware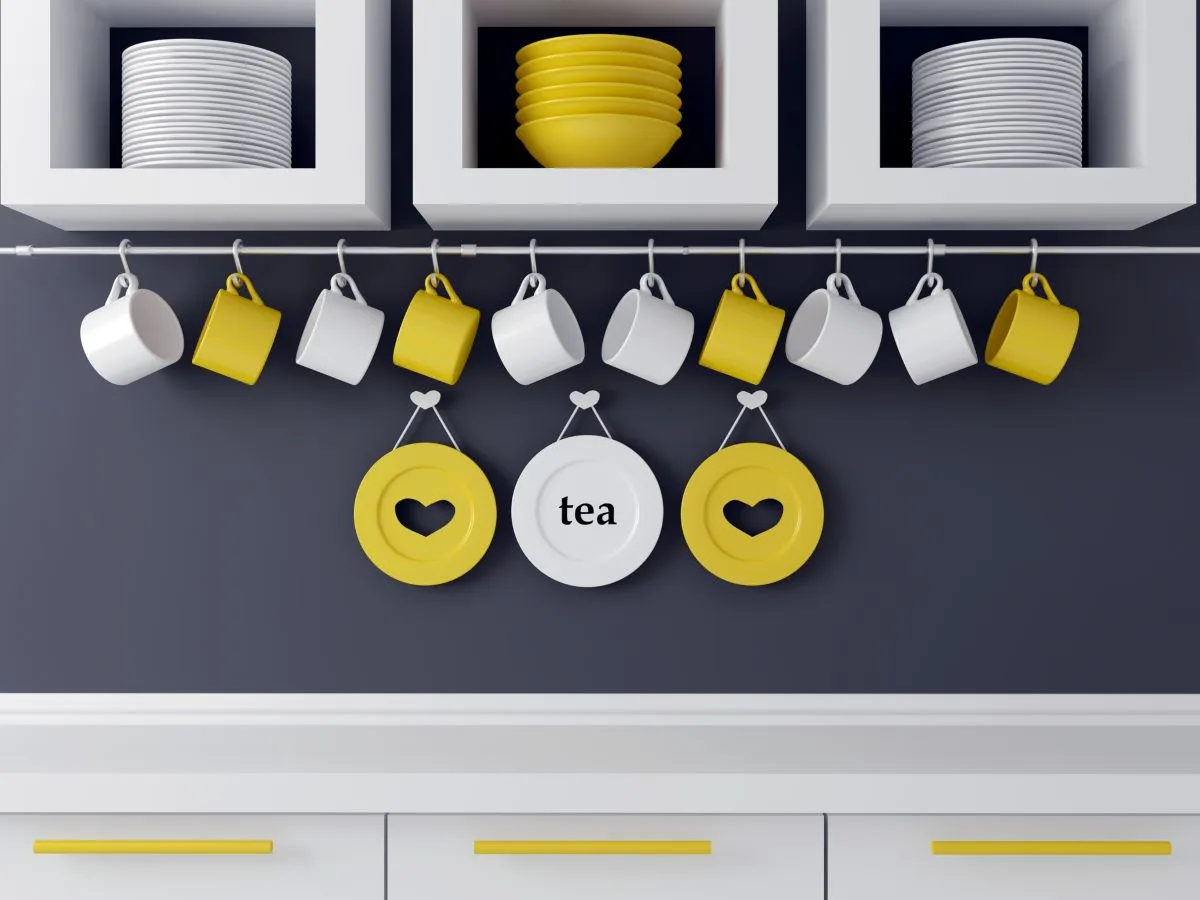 Asian people have this beautiful tradition of buying decorative kitchenware. It's their way of adding color and style to their homes.
You can do the same and buy some decorative dishes and plates and hang them on your kitchen walls. You can use floating shelves or hooks to hang your decorative kitchenware.
15. Chef Knife Rack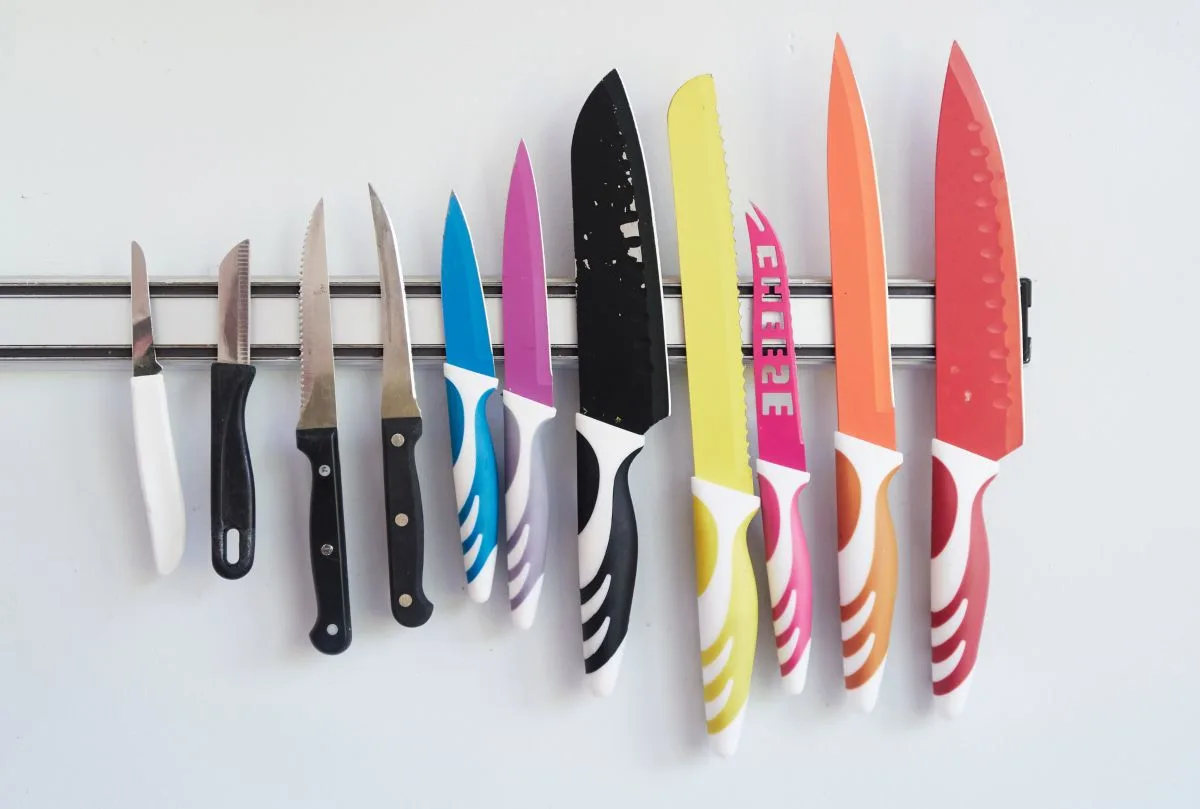 How about adding something that is both stylish and practical; a Chef Knife Rack. You can use either a hand rack on the wall or a strip of magnet to stick the knives on.
This unique idea will not only keep all your knives close at hand but also add a kaleidoscopic touch if you have multicolored knives.
16. Wooden Wall Shelves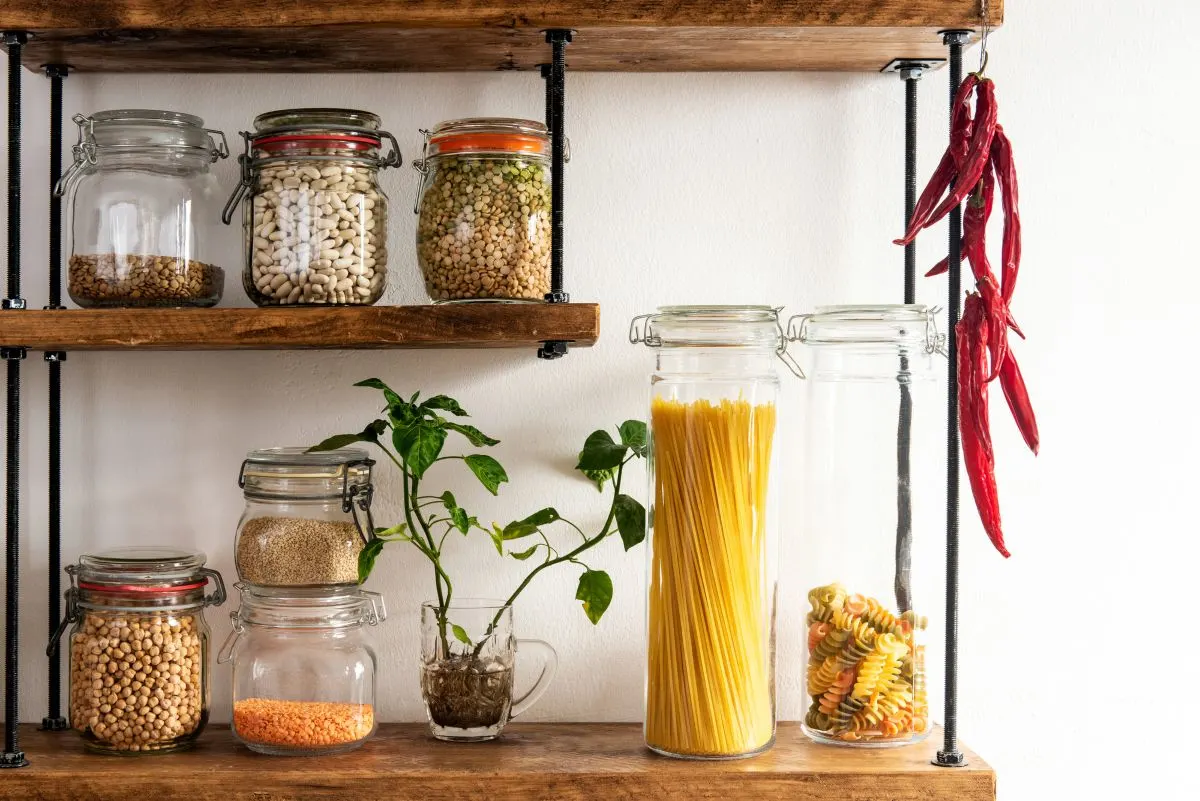 Adding wooden shelves to the walls of the kitchen is a great way to use wall space in a small kitchen. However, you need to be smart with the placement of the shelve.
Once your shelves are up, you can add transparent containers with colorful condiments to brighten up your small space.
17. Mosaic Tiles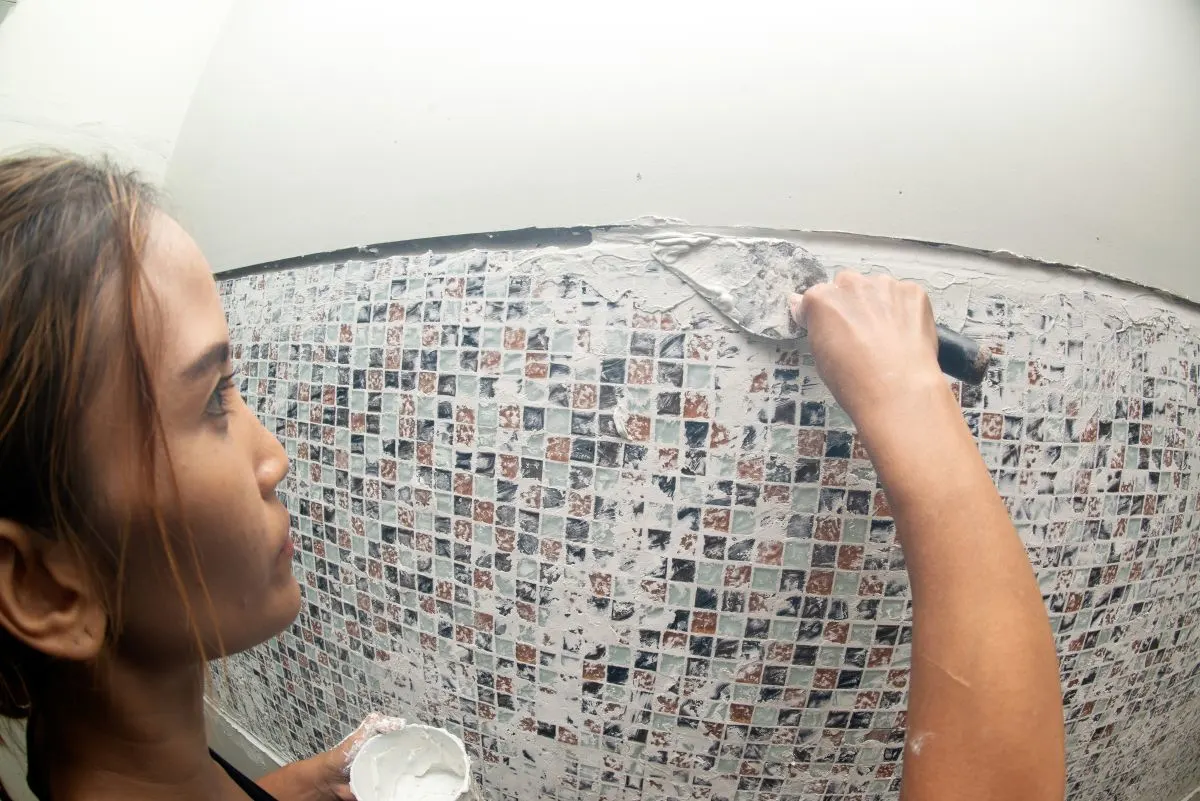 Renovating a kitchen isn't easy when you are on a budget. But if you put your mind to it, there is nothing you can't do. If you are feeling a bit adventurous, grab a bucket full of mosaic tiles and start decorating your kitchen walls.
You can either do this yourself or get a professional to do it for you. Either way, these tiles will make your kitchen look as good as new.
18. Tiled Wall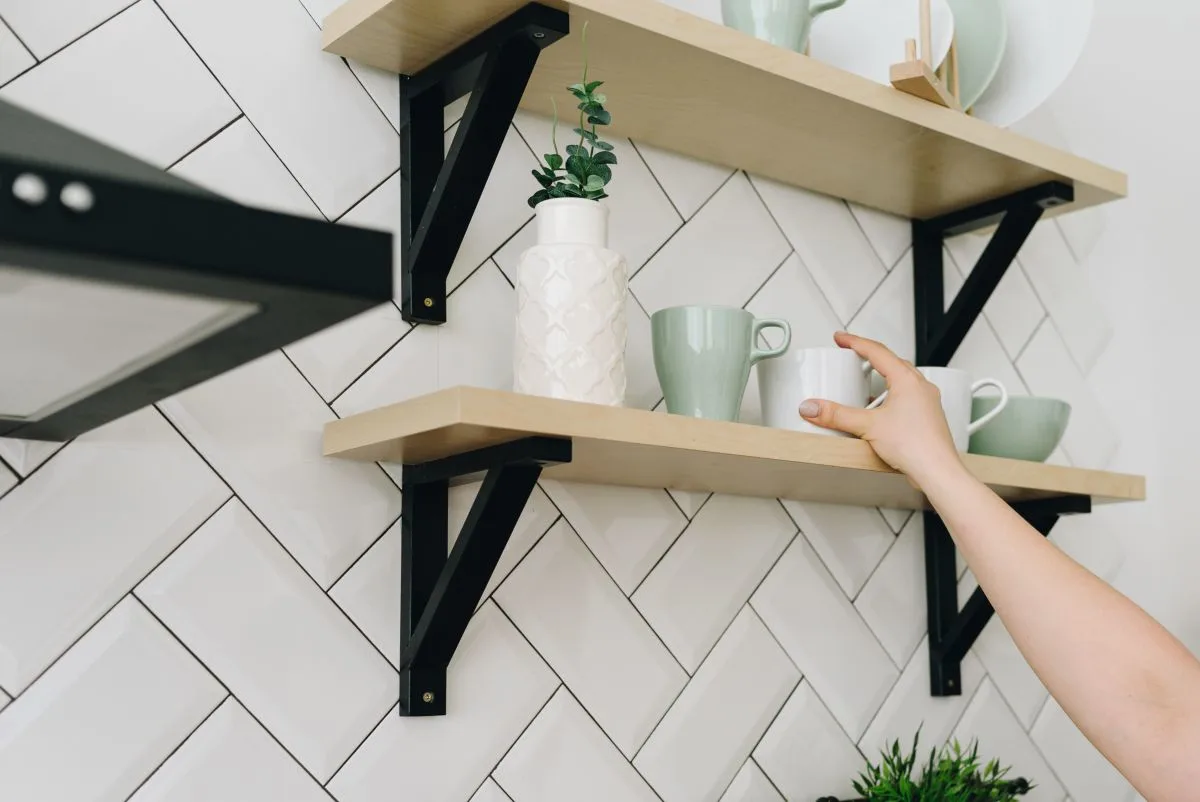 Brightening up an old kitchen doesn't take much but a bit of creativity. If you are at a loss, you can start by adding new tiles to the wall.
Tiling kitchen walls isn't hard, and if you are using adhesive tiles, you can practically get it done in one day, and that too on your own.
19. Pastel Coloured Wall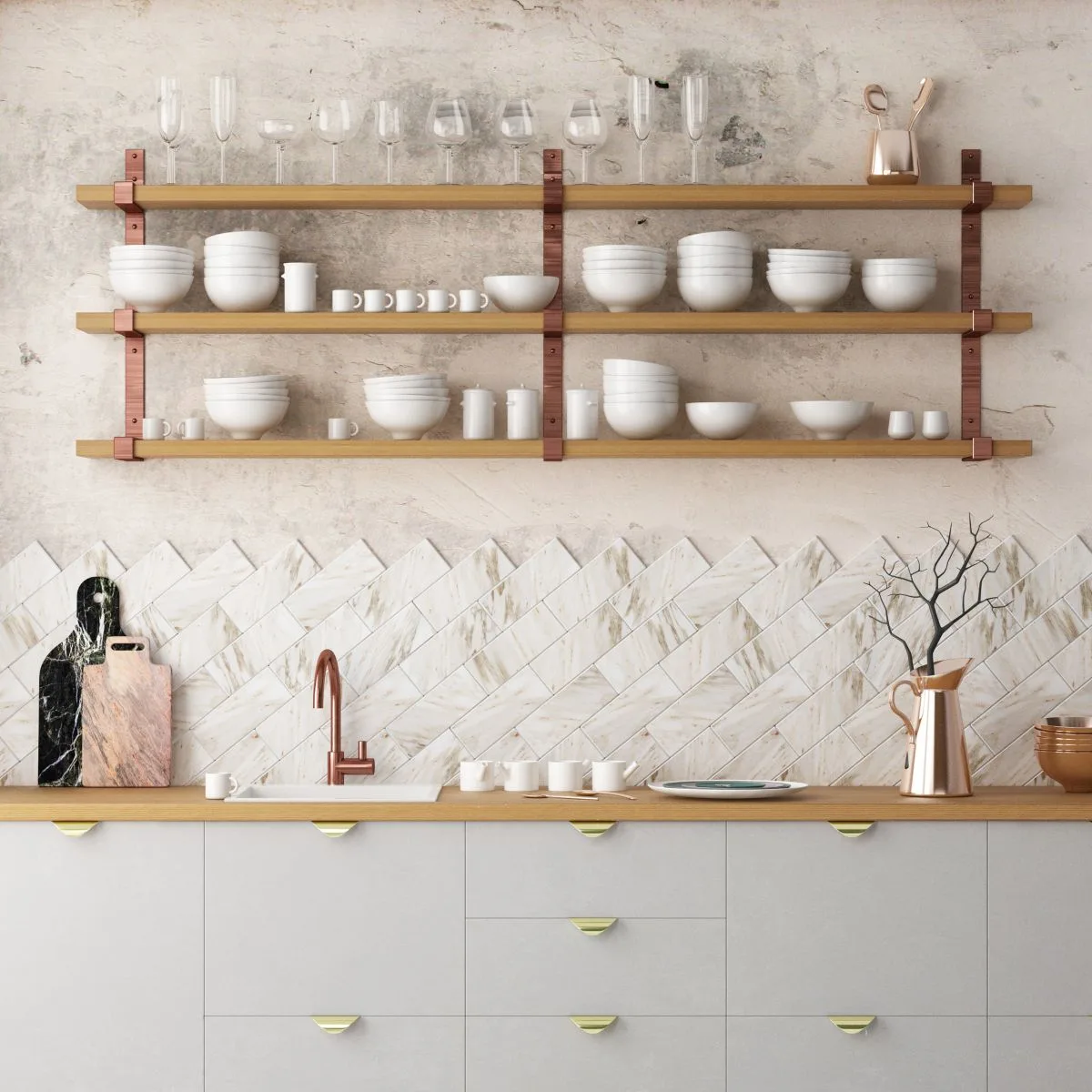 In an all-white kitchen, a light-colored pastel wall will look like an absolute dream. If you can't do much to enhance the look of your kitchen, think about painting one wall in a cool pastel color.
This will not only help you make your kitchen look fresh but also make it look minimalist and chic. A fresh coat of paint masks a lot of imperfections, and it's a unique color.
It becomes the center of attention.
20. Dreamcatcher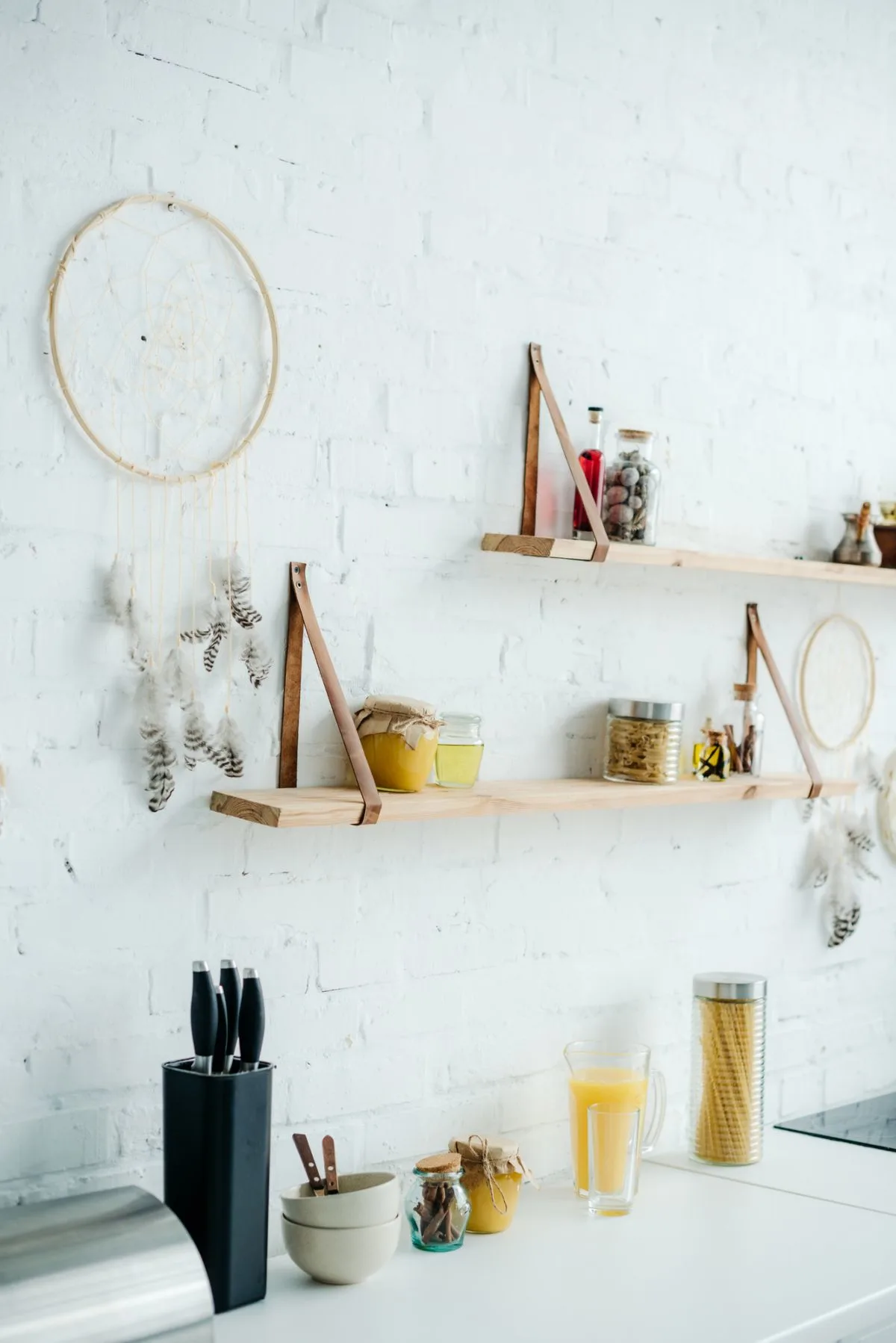 Most dreamcatchers are hung in a bedroom or living area, but you can add one in your kitchen and add a delicate charm to it.
Dreamcatchers come in all shapes and sizes. You can get any color or size you need. They are also pretty minimalist, so if you have a contemporary design kitchen, they will go perfectly with the existing decor.
21. Brick Wall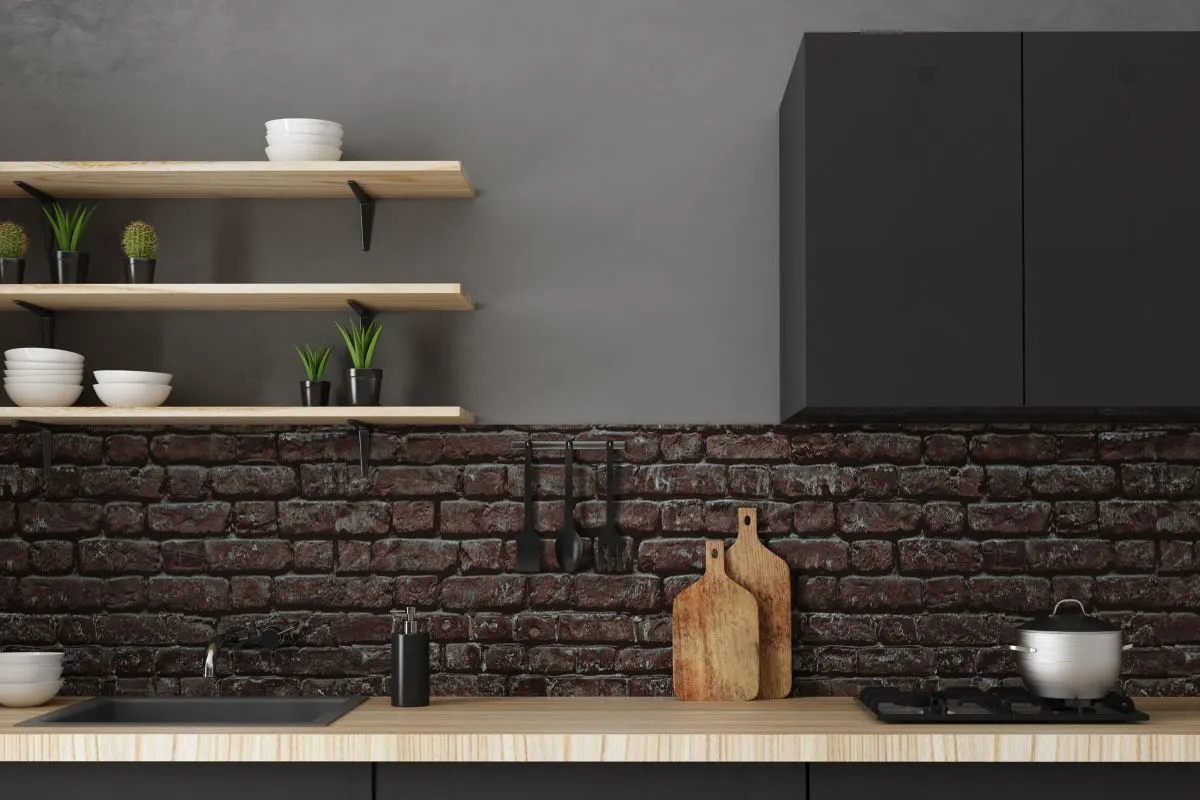 A well-decorated kitchen increases the value of the house, did you know? Upscale your kitchen today with a contemporary brick wall and give it a new look.
A brick wall adds a touch of the lost world. It's modern but has a traditional quality about it. Brick walls can also be used as a backsplash.
22. Fairy Lights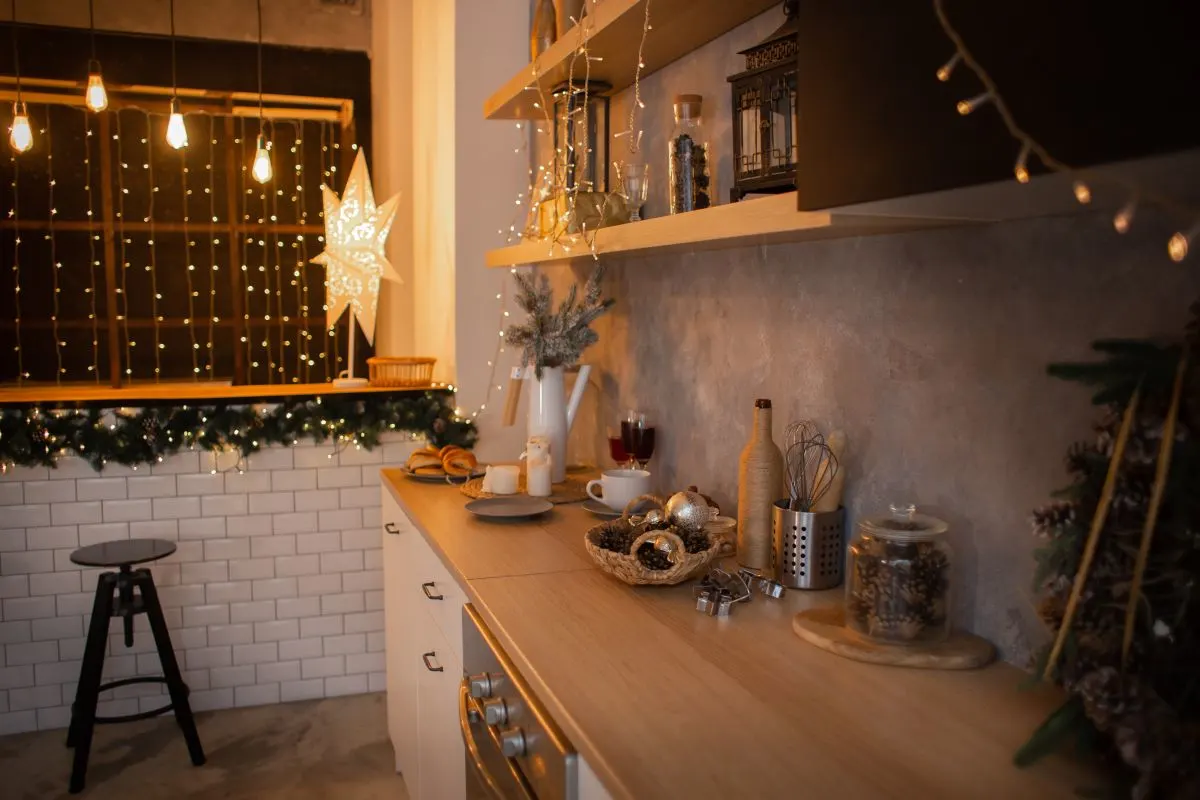 The most frugal way to add brightness to your kitchen is to add fairy light in every nook and cranny. If you think they might look cheap, think again.
Fairy lights add a warm glow to any space, and if you have a small kitchen, fairy lights are the coolest thing to add to your limited space to make it look cozy.
You can hang the lights from cabinets and on your window curtains to create a beautiful galaxy illusion.
23. Gray Marble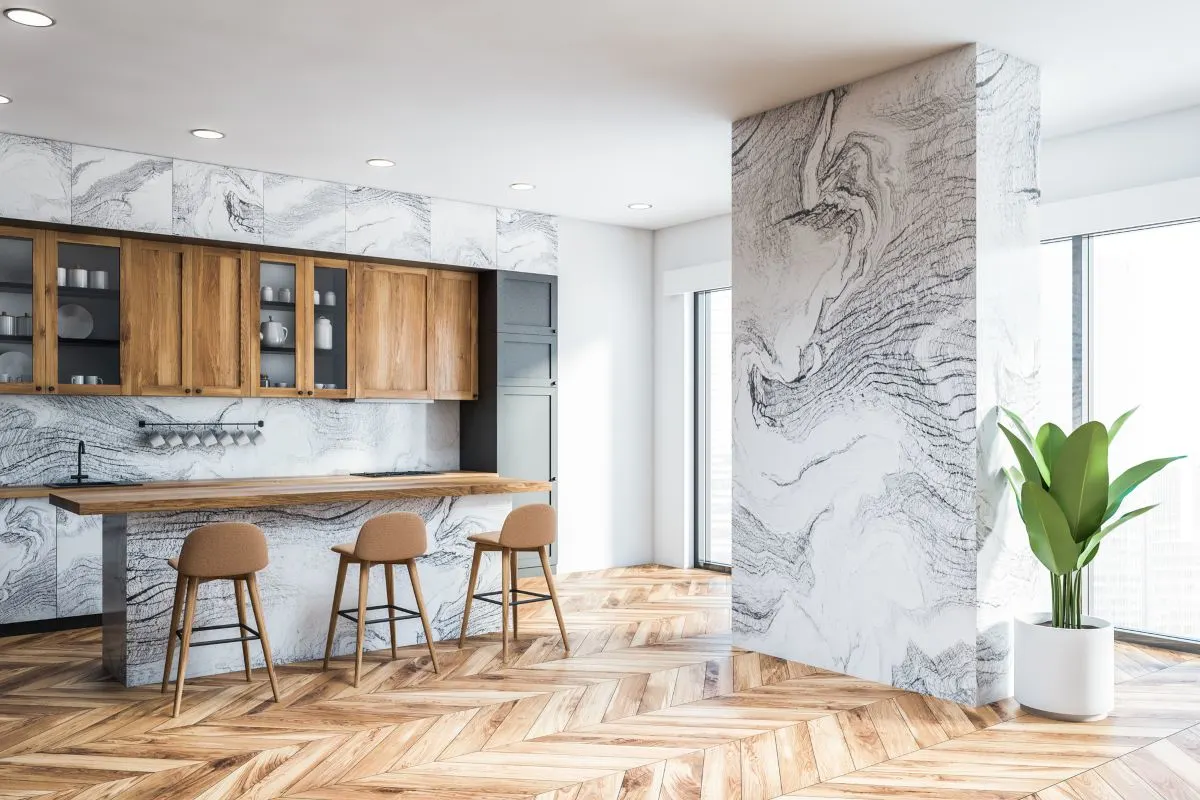 If you are looking to add a luxurious look to your new kitchen, you need to get your hands on Gray Marble. Doesn't matter how you incorporate it on your kitchen walls, but the results will blow you away.
Gray Marble looks luxurious and feels like a million-dollar. It adds class and style to any kind of kitchen. And it goes well with any color decor.
24. Patterned Wallpaper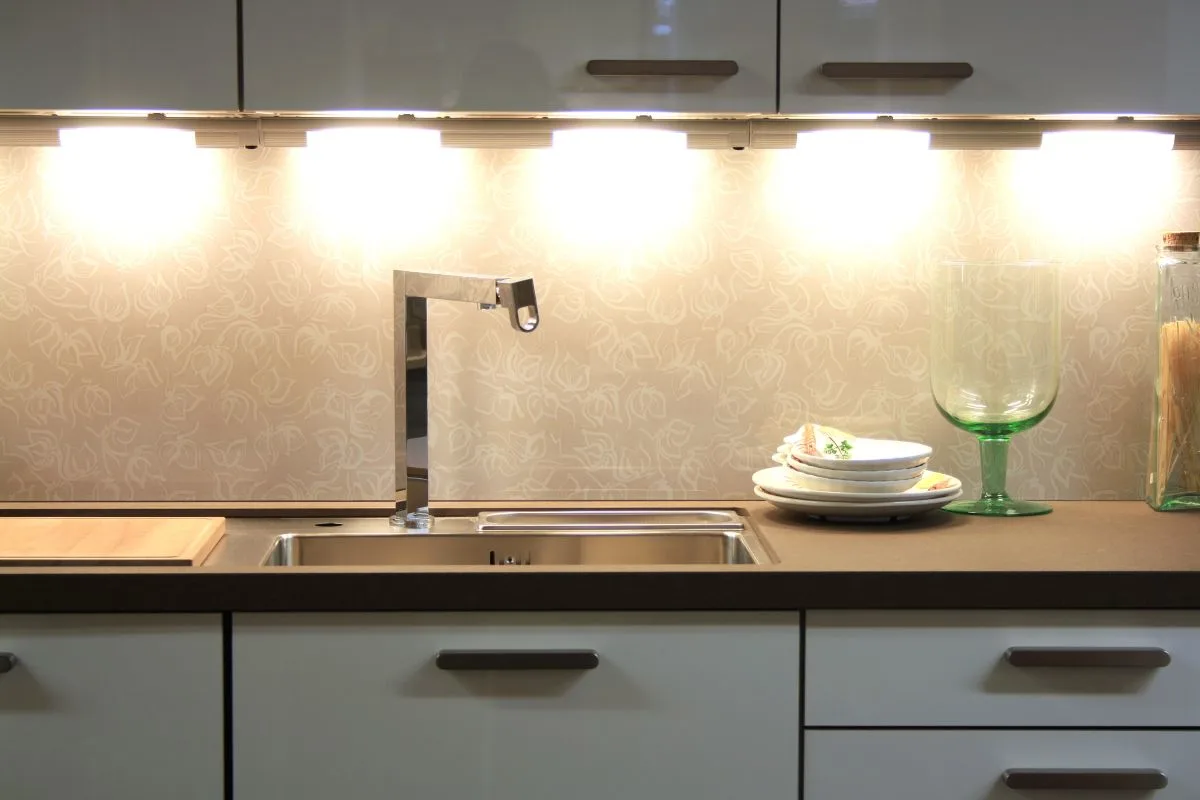 Patterned wallpaper throughout the kitchen is the easiest way you can make your kitchen look crisp and fresh. Using patterned wallpaper will make sure your kitchen looks neat and well decorated.
Patterned Wallpapers are predictable. They make any space look well coordinated. Choose a modern design with light colors to add the illusion of space if you have a small kitchen.
25. Hanging Spice Rack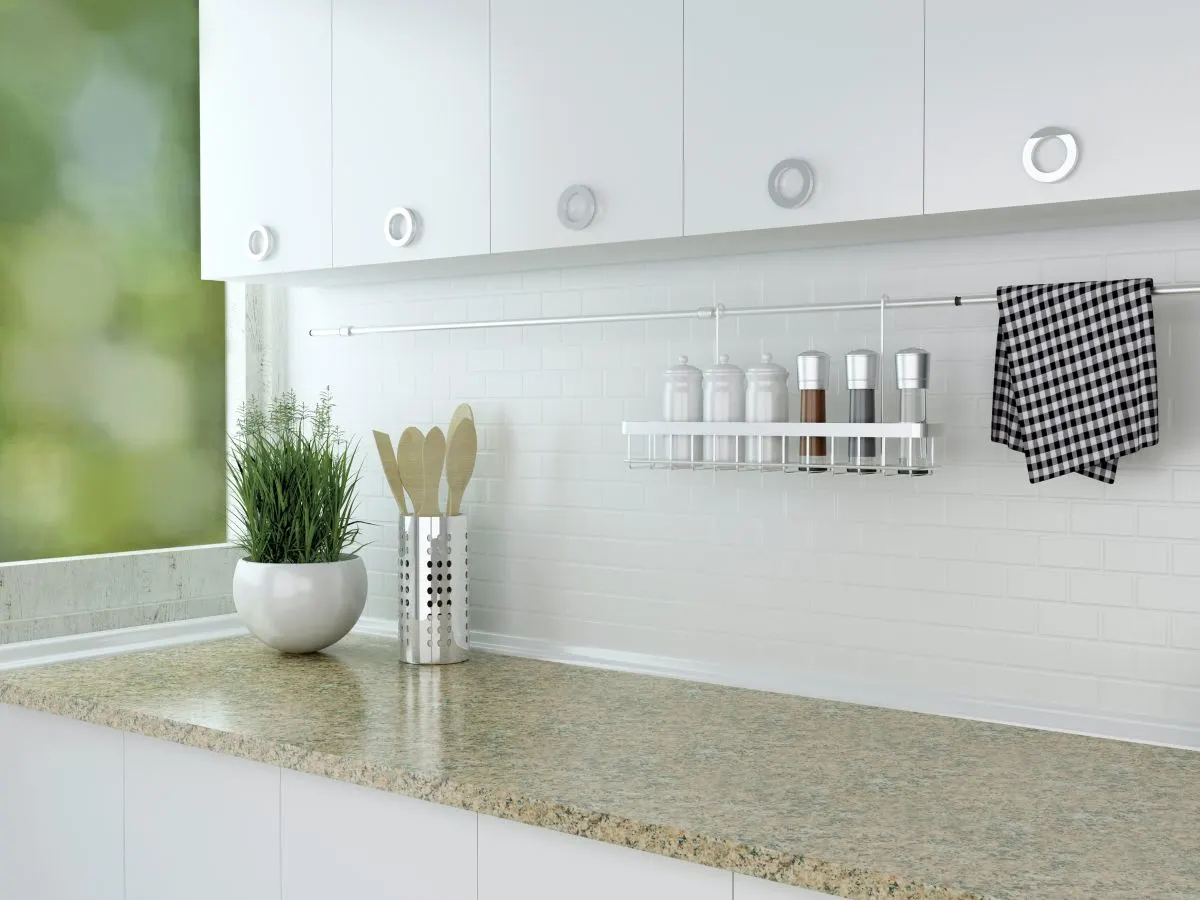 It's high time to throw out the old spice jars and forget the old setting. Go for the new Hanging Spice Rack setting to make your kitchen look more functional.
No need to reach into the depths of the cabinet to get your everyday spices.
With the Hanging Spice Rack, you can grab your spices from the air and put them away without breaking a sweat.
Bonus point, hanging your spices on the walls will give you a bit more space in your cabinets to store other stuff.
Love this idea? You might also enjoy these kitchen ikea hacks!
26. Accent Blue Wall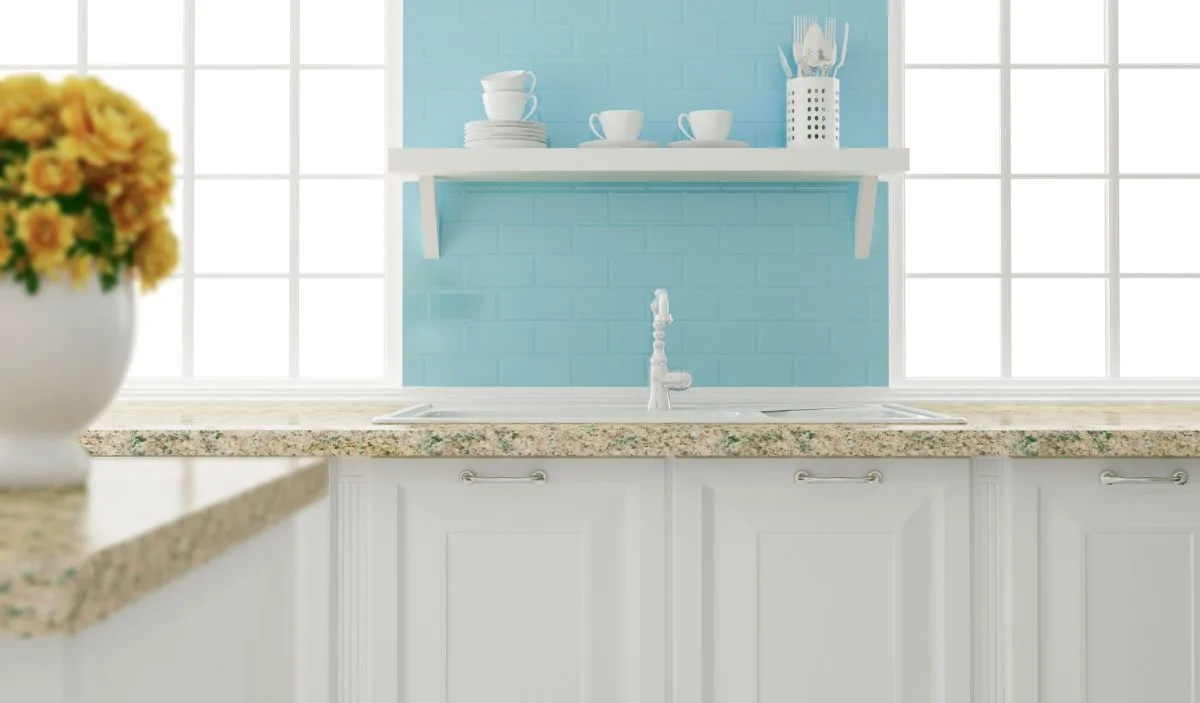 Accent walls are the most popular trend in the decorating industry. Adding one to your kitchen will make you the queen of this trend.
The most common kitchen colors are white and grey, and the blue wall goes well with both of these colors.
Moreover, a blue accent wall will make the perfect canvas for wall decorations like frames and racks.
27. Ladder Shelf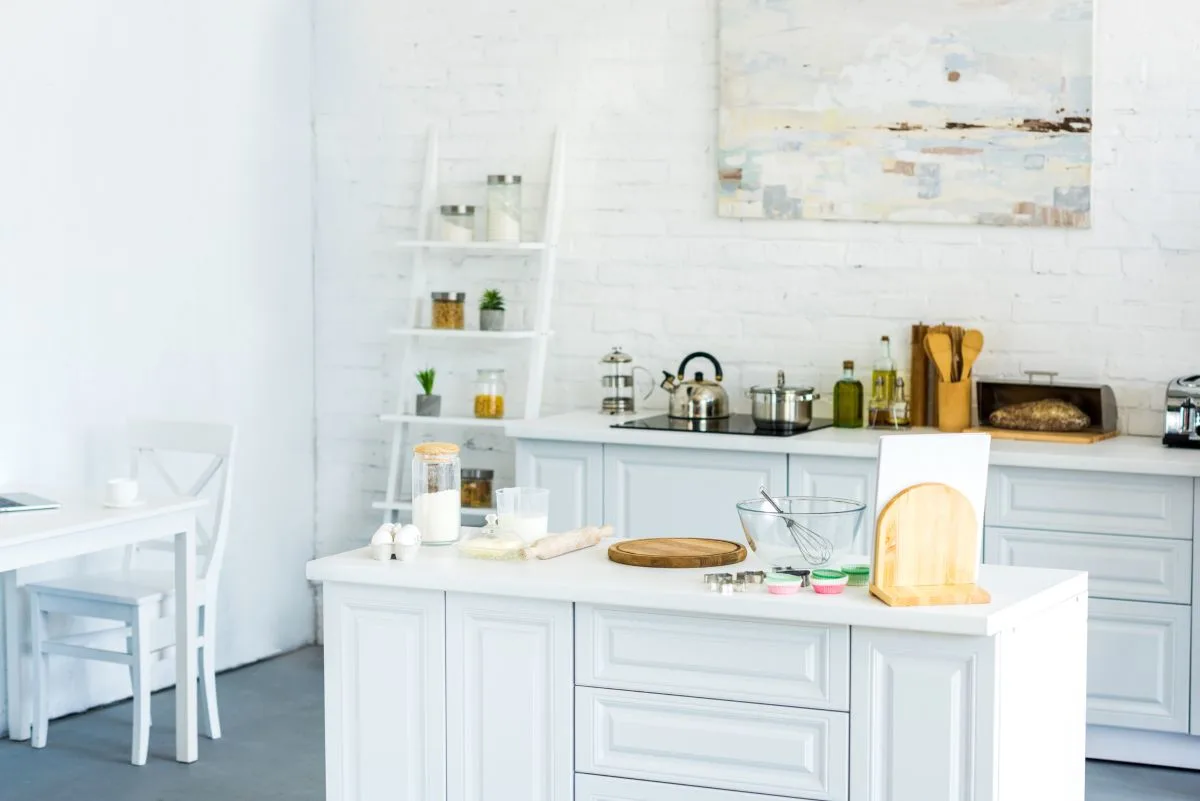 When adding decor to your kitchen walls, you don't always have to drill holes. You can do the needful without drilling as well.
But a ladder shelf and get ample space to put your planters, species as well as condiment jars without compromising the existing counter space.
You can get these ladder shelves in any color. However, white is preferred as it goes well with all kinds and styles of kitchens.
28. Built In Wall Cabinet
If you are renovating your kitchen from scratch and are looking for shelving ideas, you need to think of built-in wall cabinets.
These not only add extra storage to your kitchen but are great for storing decorative plates and kitchenware.
Since built-in cabinets look like a part of the walls, they blend in easily and make the kitchen look highly functional and practical.
29. Display Cabinets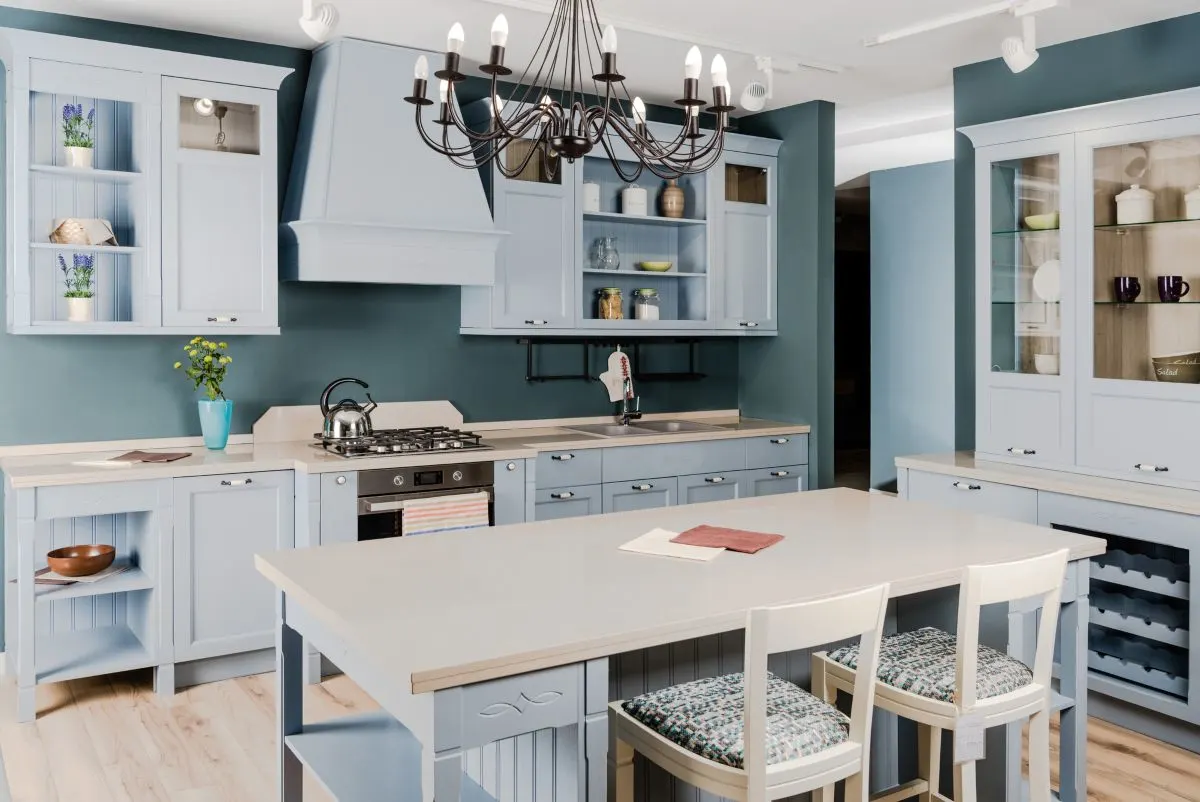 If you have silverware and decorative plates in abundance, you need display cabinets to show them off. You can have glasses or bare display cabinets to show off your best kitchenware finds.
30. Red Wall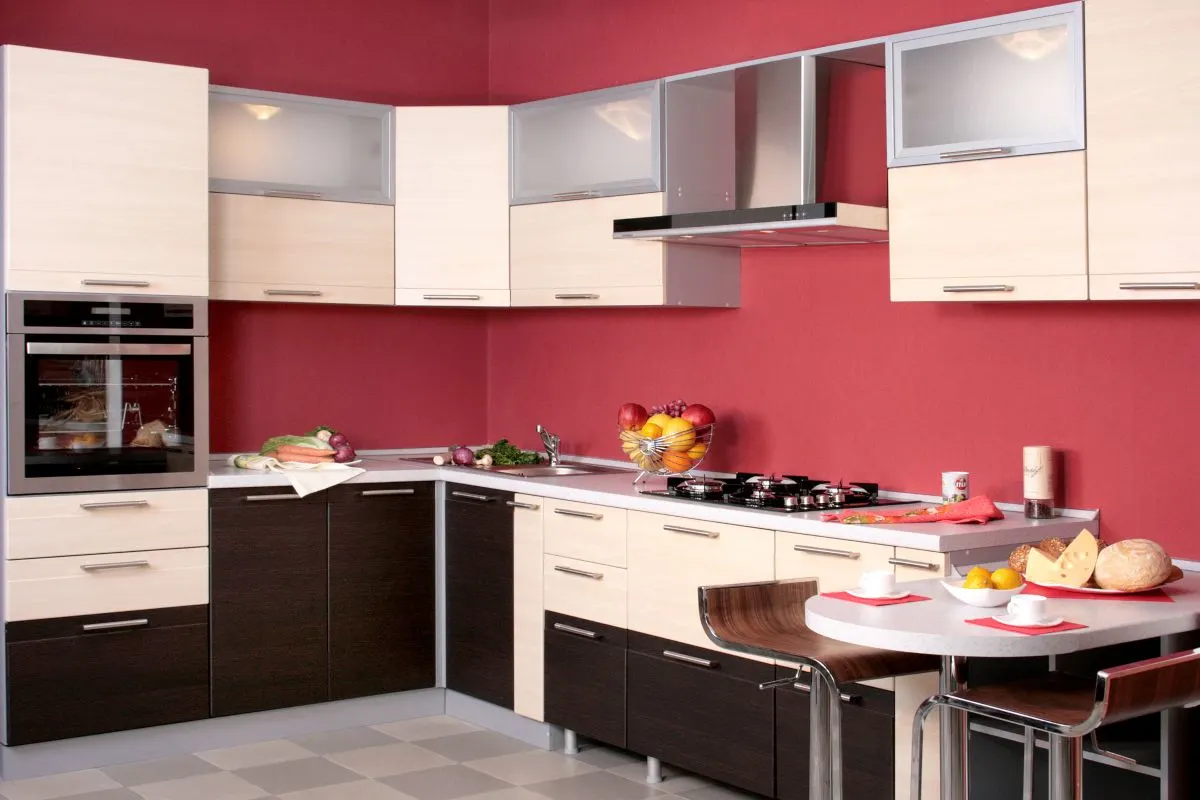 Accent walls add a different personality to kitchens. We agree that they aren't the norm but are extremely trendy nowadays.
If you are someone who likes a dash of color, you need to get one of your kitchen walls painted red.
Make sure you paint the wall next to the window, an accent wall near the source of natural light looks comparatively better.
31. Black and White Wall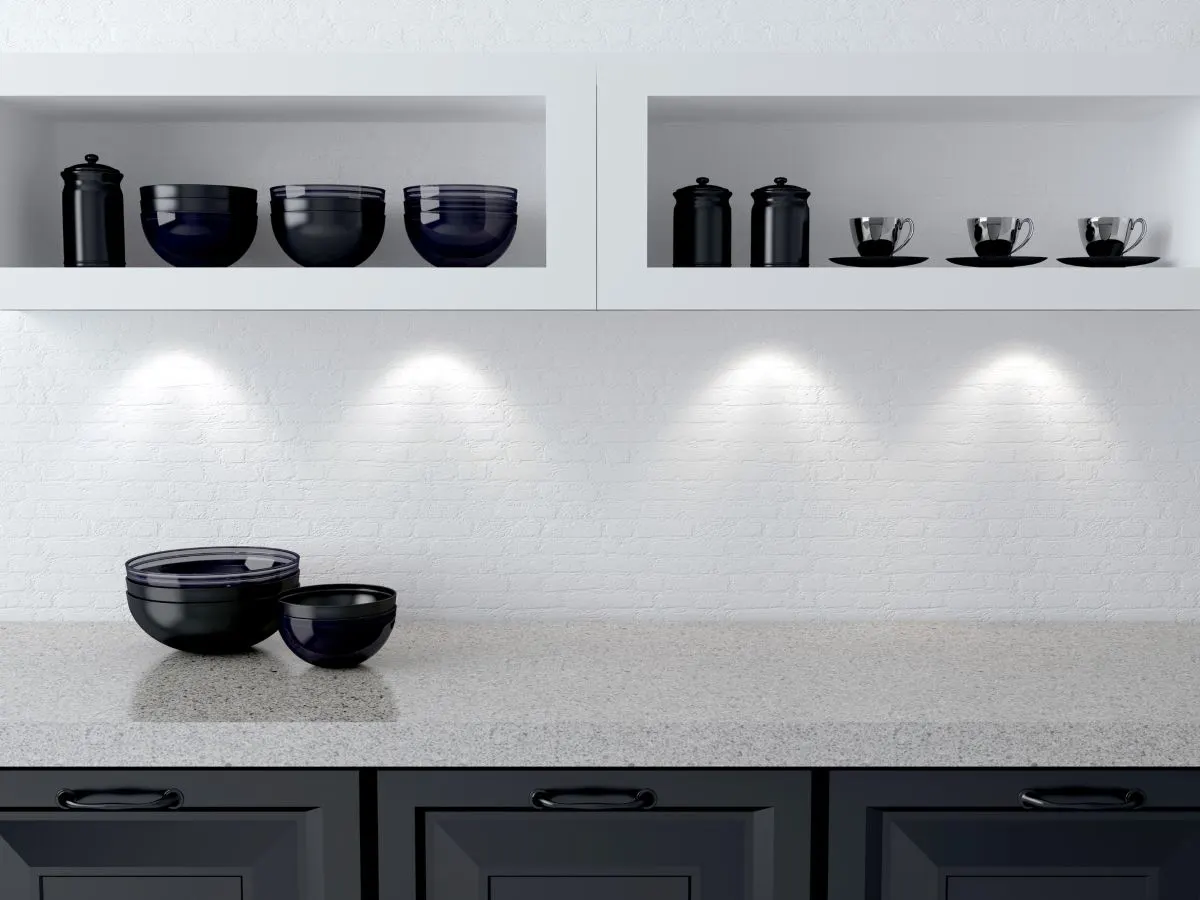 If you want to add a contemporary touch to your kitchen, you need to think black and white. Adding black stripes to a white wall can easily achieve this purpose.
Moreover, if you already have a white wall, you can add multiple black frames to add a touch of monochrome to your kitchen.
Need more inspiration? Check out these IKEA kitchen island ideas!
32. Ornaments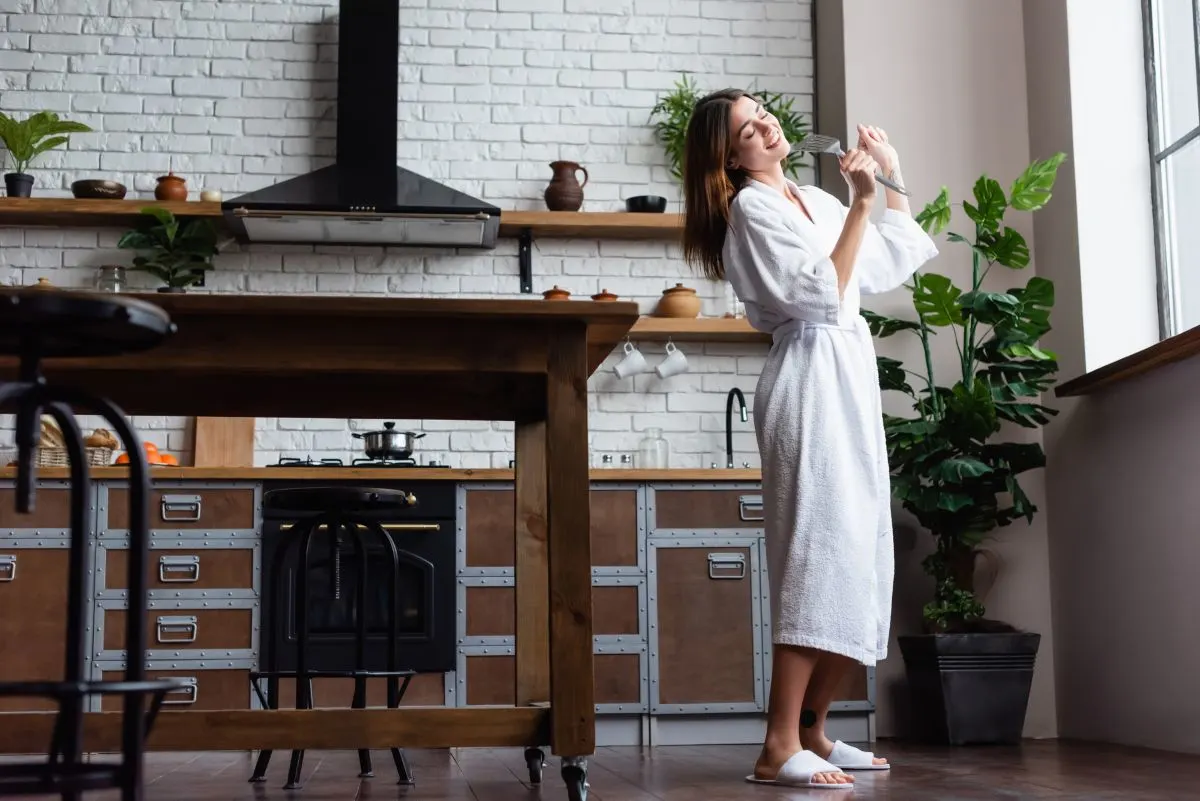 The smallest efforts can make the biggest impressions. We are thinking of ornaments. Why limit ornaments to Christmas trees?
Why not hang them around the kitchen and give your little kitchen an easy makeover.
Ornaments and little knick-knacks can prove to be cute decorations for your kitchen. You can either hang them directly from the ceiling or use the underside of your wall-mounted racks.
33. Corner Shelves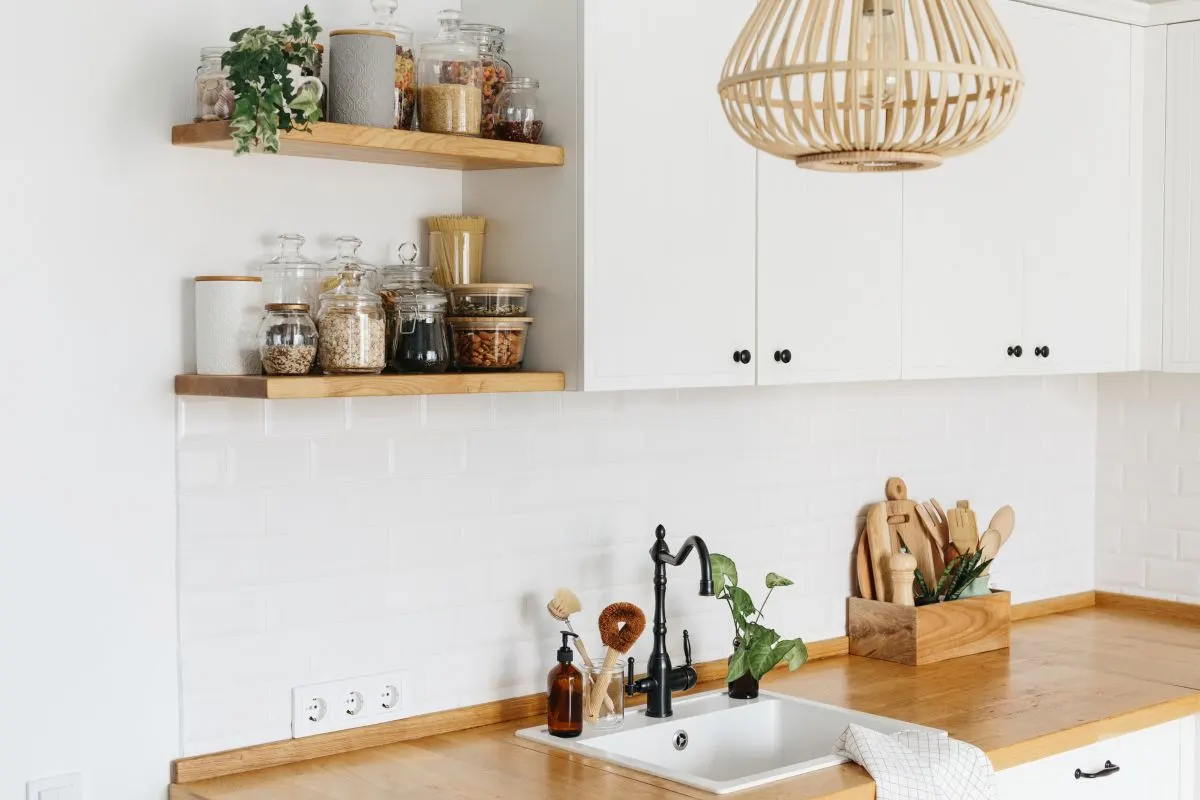 The kitchen is the busiest corner of the house and needs all the space it can get. If you have a corner free in your kitchen, why not add a corner shelf.
Not only will this give you extra space, but it will also add a rustic charm to your kitchen.
34. Vases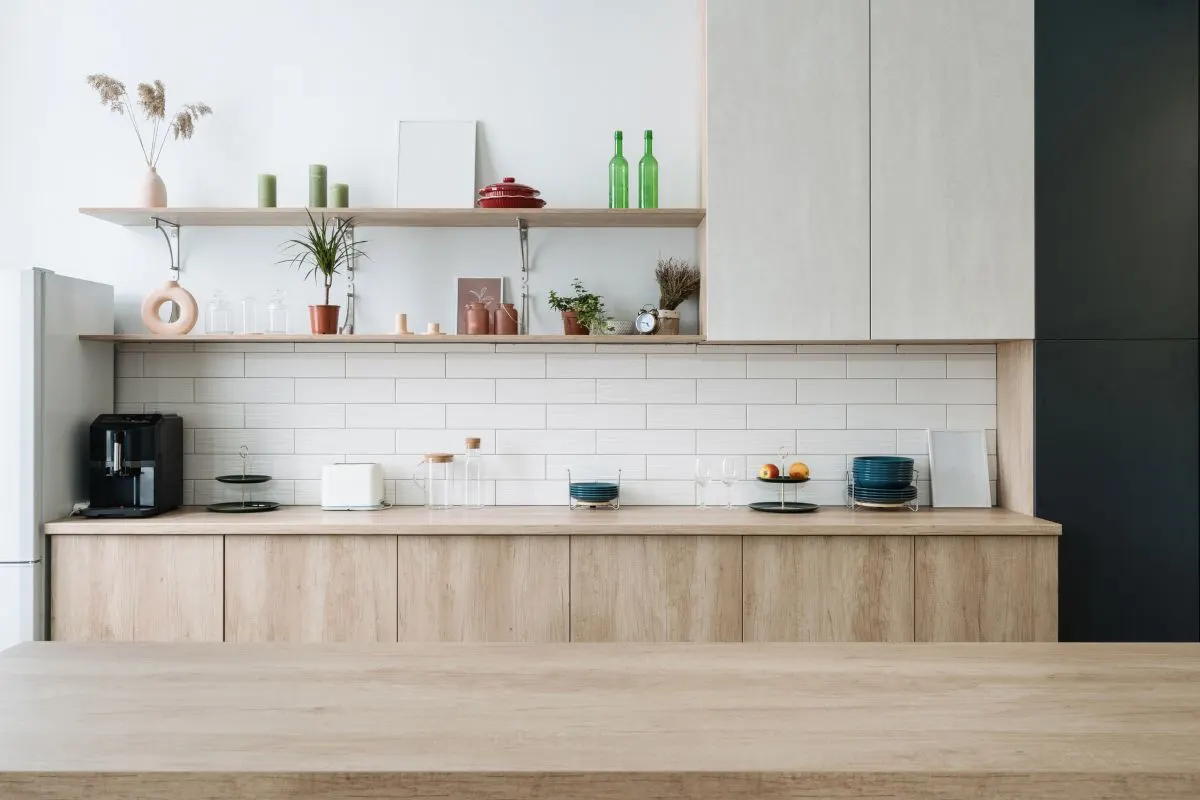 Big, small, wide, or narrow, no matter what kind you choose, vases always have a way of making any room look well designed.
If you are short on cash and still want something to brighten up your dreary kitchen, you need a couple of vases and nothing else.
35. Metal Rod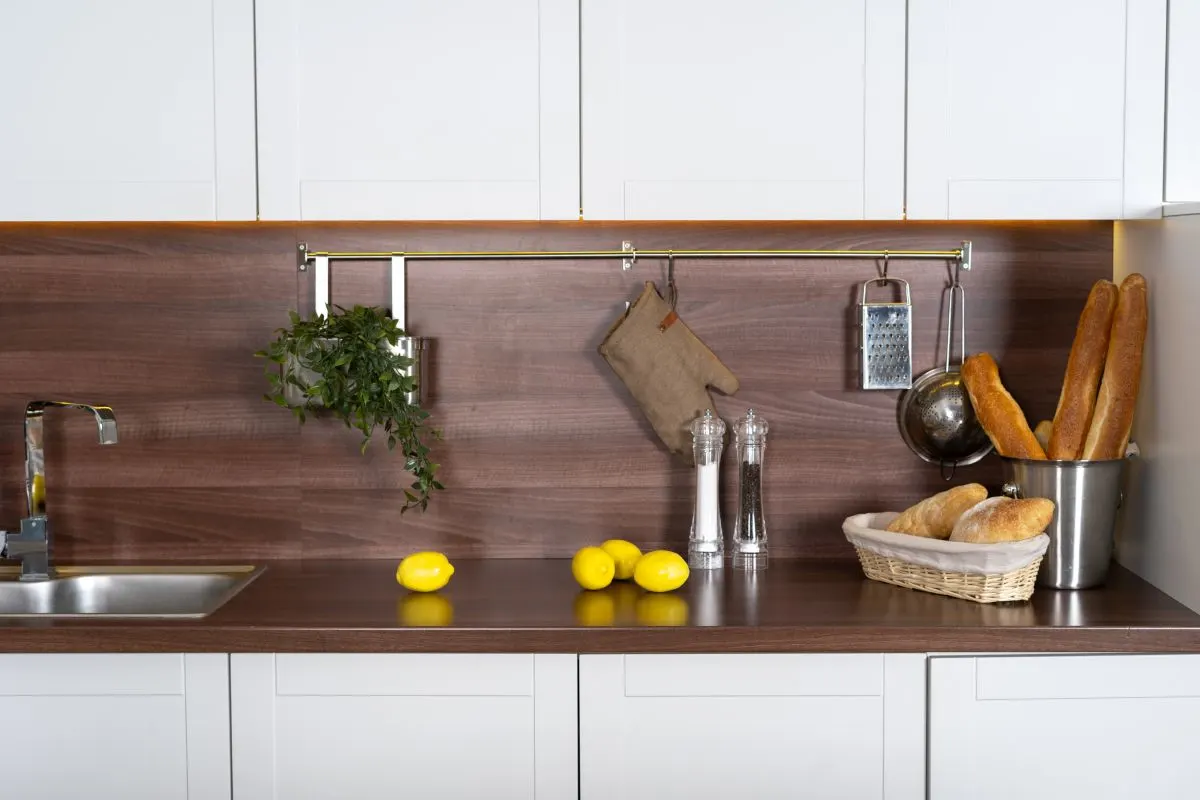 Metal rods are highly recommended for all kinds of small or big kitchens. They have many different purposes, you can hang your pots and plants from them, or you can even hang your cutlery from them.
The best part is that these metal rods don't take much to install but will last you a lifetime, even more than any kind of shelf.
36. Modern Wooden Shelving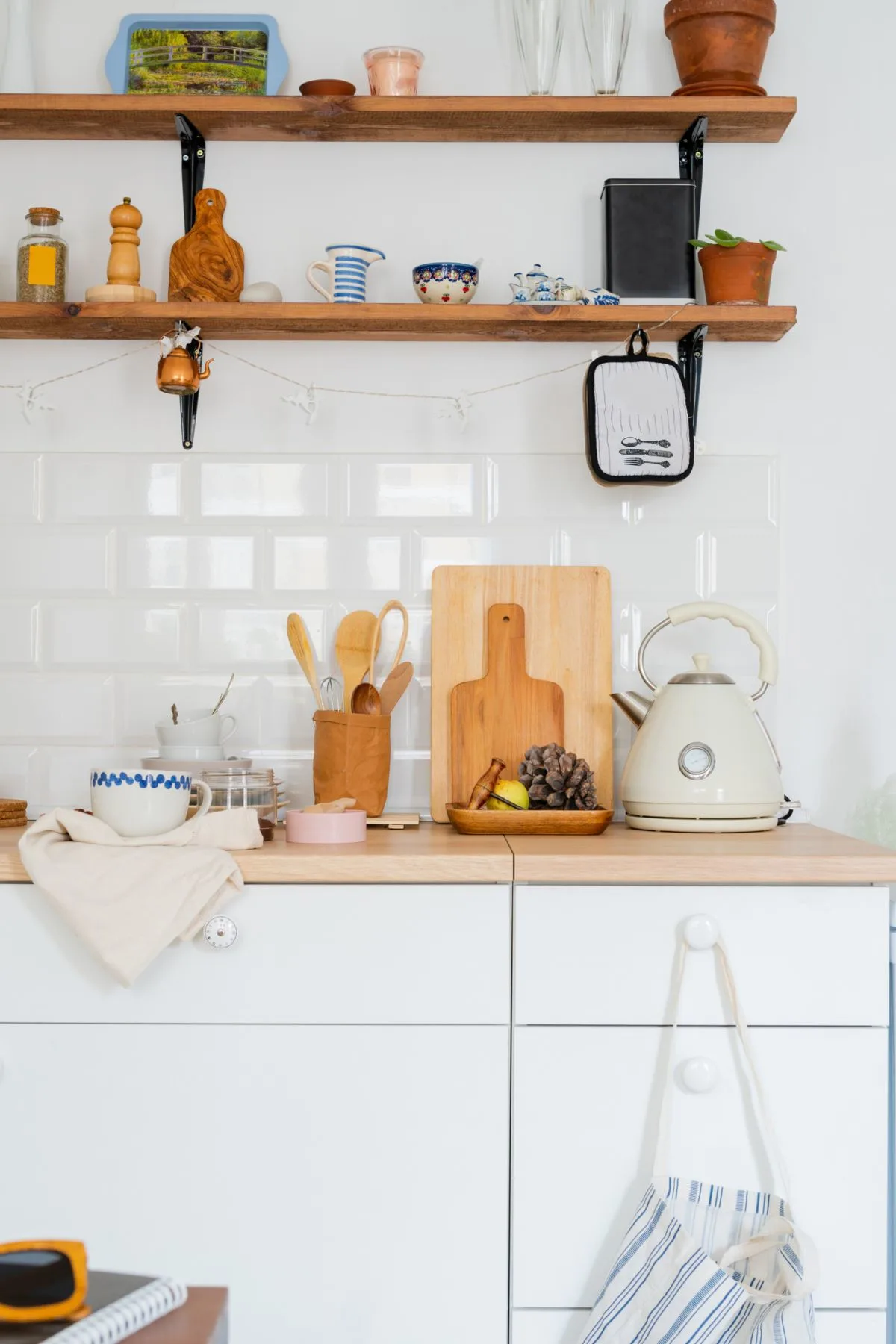 When in doubt, think modern. Adding modern shelves takes nothing more than two planks. You can get these anywhere and install them in under ten minutes.
They are best for holding your daily jars of cereals, coffee, and tea. Just make sure you buy some cool jars to store your condiments before displaying them on these modern shelves.
37. Colored Kitchenware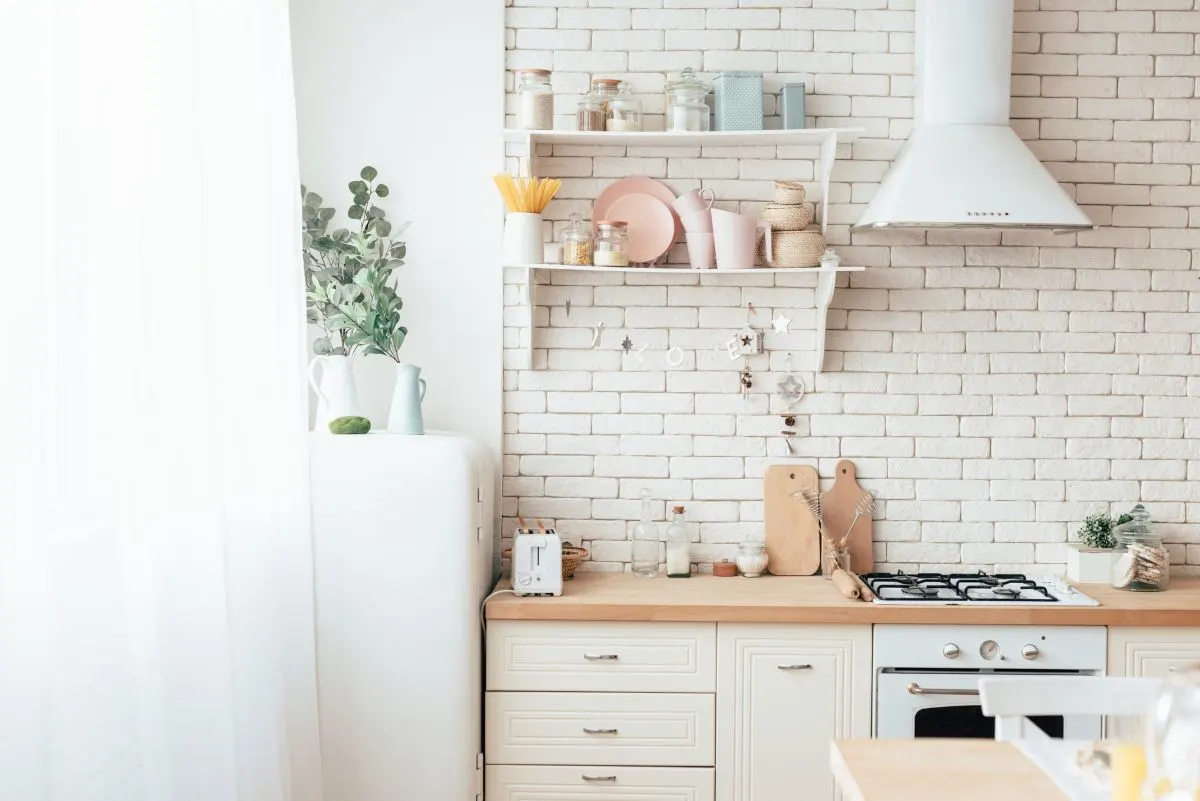 If you have a full white or cream-colored kitchen and are looking to add color without the aid of paint, you need to invest in some Coloured Kitchenware.
Get a few multicolored kitchenware and display them on open shelves. Show off your decorating style through your exquisite taste in utensils.
38. Minimalist, Scandinavian style shelving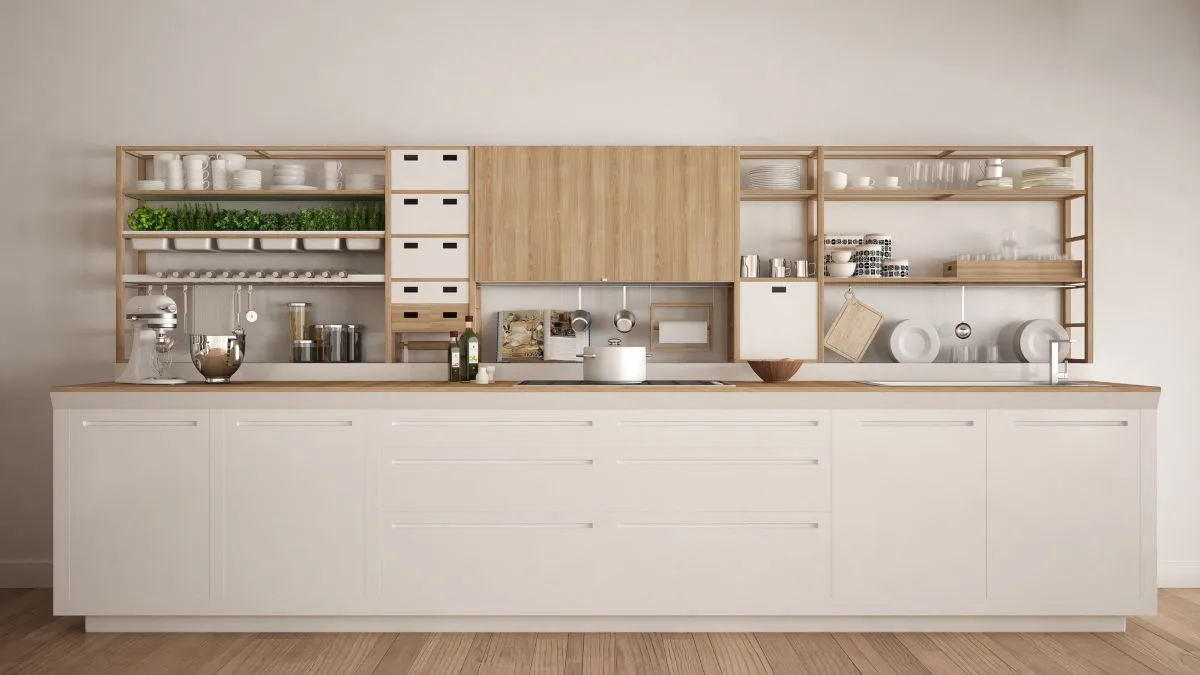 Scandinavian is the perfect blend of functionality and beauty. For someone who likes a clean and crisp kitchen with minimalistic design, Scandinavian-style shelving is their best match.
These shelves are more often open than closed cabinets. They are also pretty easy to maintain and decorate.
You can add white potted plants or china to enhance the beauty of these shelves.
39. Herbs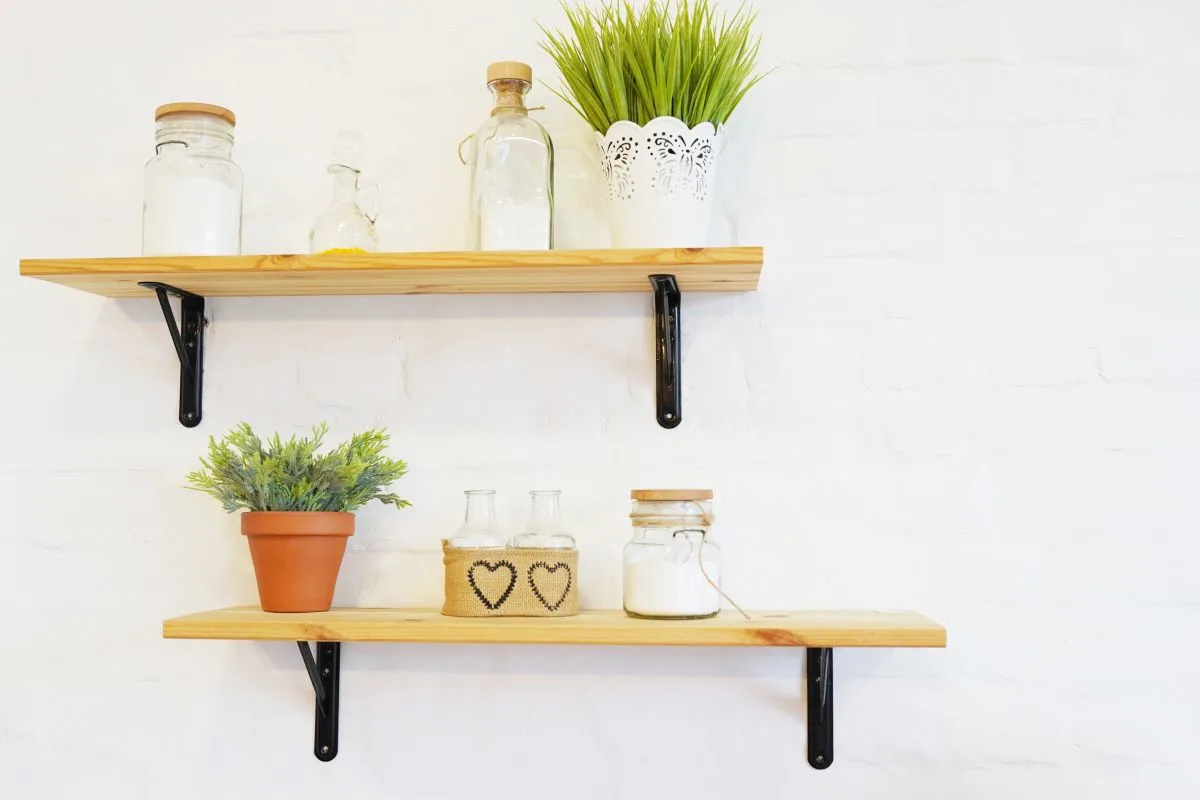 Small potted plants or herbs can also make the best wall hangings for your kitchen. Not only that, but you can even start your dream herb kitchen garden with this brilliant idea.
You can even hang your herb pots from the rods we discussed earlier. If not, use your floating shelves to display your herb garden.
40. China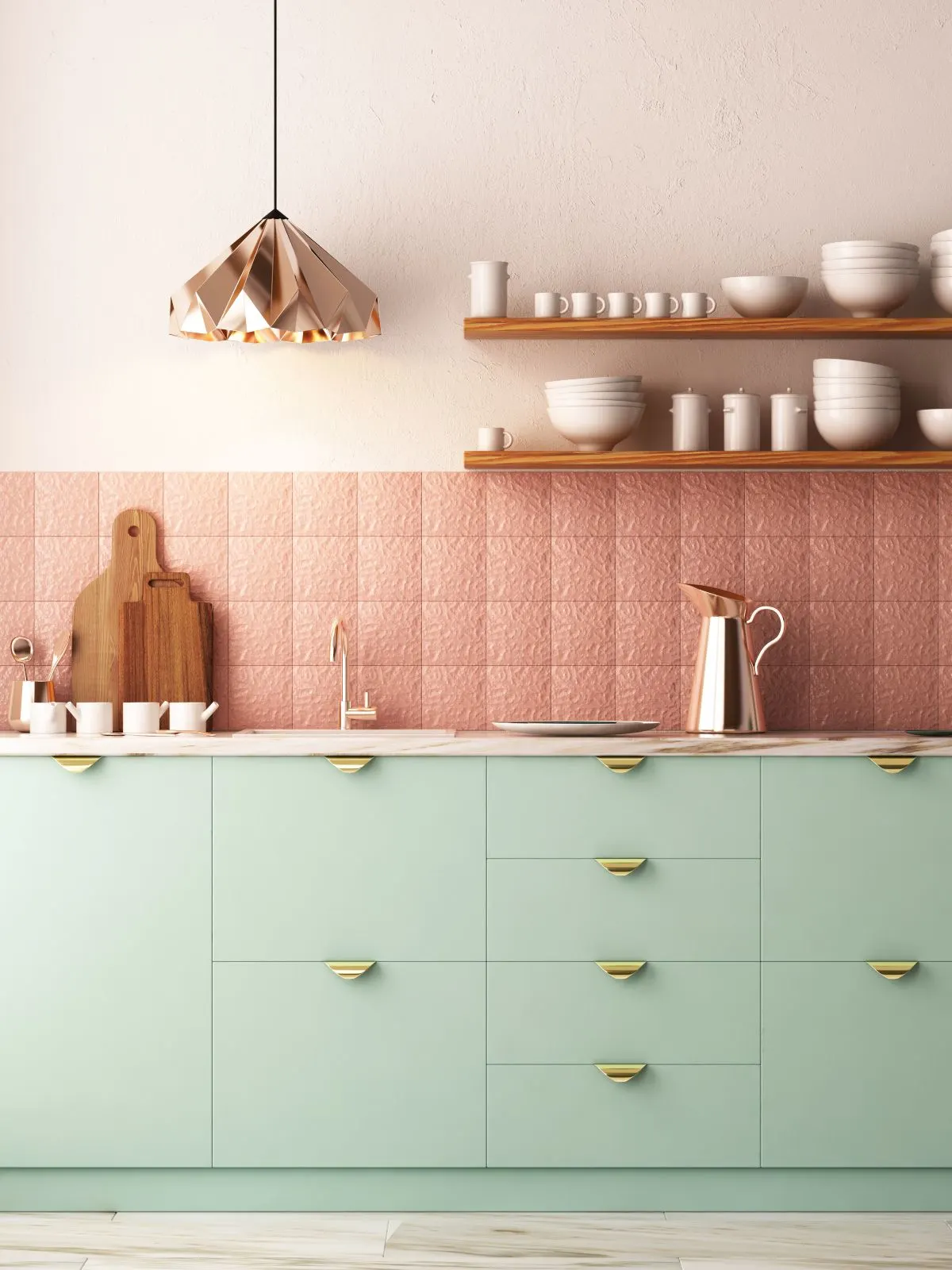 If you don't have colored kitchenware to decorate, don't worry. Dig out your mum's china and use that to decorate your kitchen walls.
In many Asian countries, people use their best china for decoration. You can follow suit and give your kitchen the Asian touch.
41. Rustic Display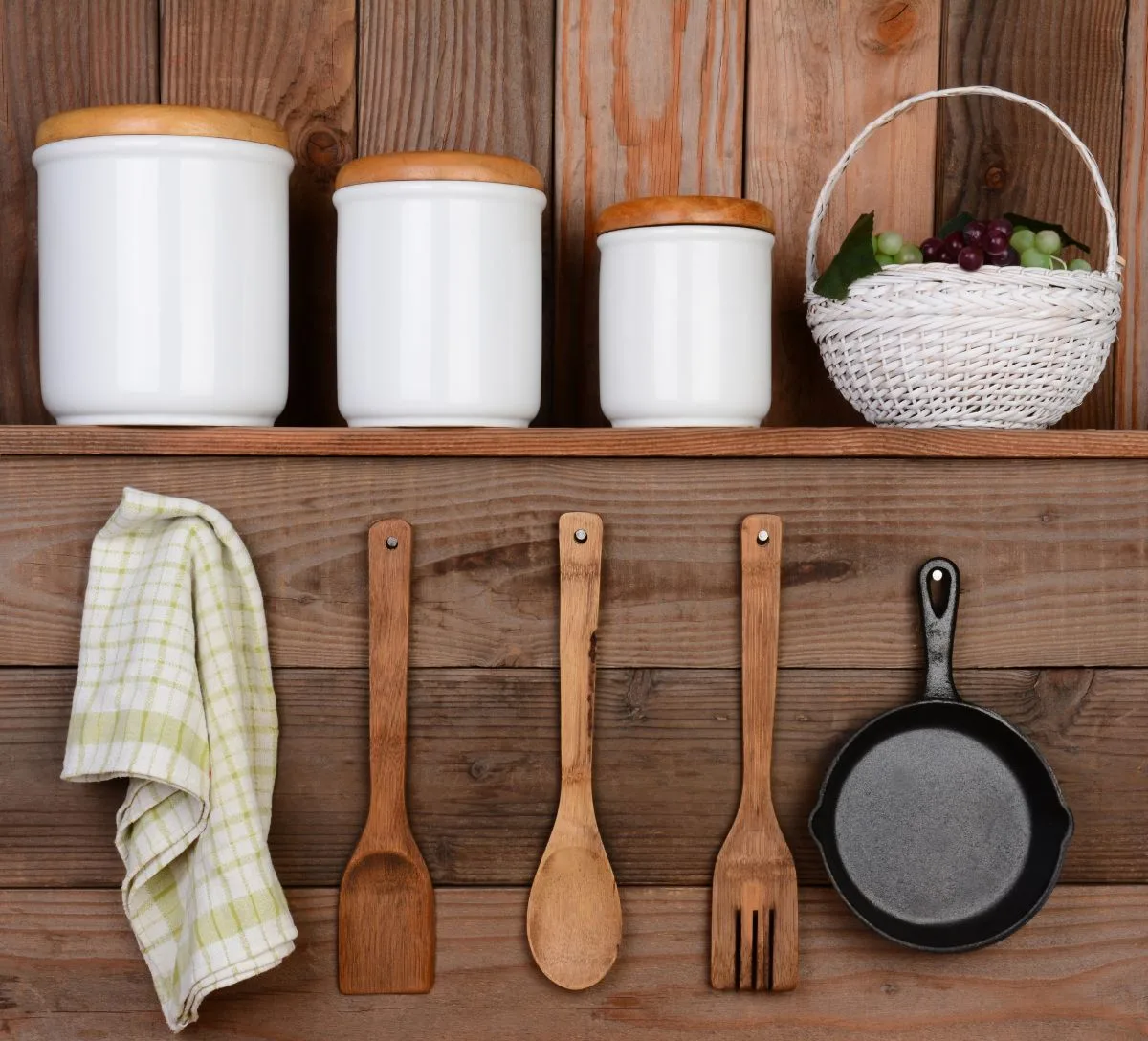 Go conventional and enhance the grace and beauty of your kitchen by choosing rustic decor. One can easily become the master of rustic decor by adding subdued hues and natural materials like stone and clay to their decorating style.
Clay pots, wooden beams, and torches are ideal for adding a rustic charm to your modern kitchen. In addition to that, the rustic-style decor is highly popular on Instagram as well.
If you are an Insta lover, you can get many inspirations from there as well.
If you want your house to look perfect, you should start with your kitchen. When tackling the decor of the kitchen, make sure whichever design or style you choose it's more practical than pleasant.
As the most functional corner of the house, your kitchen needs functionality and practicality more than beauty.