If you're a teacher and looking for crafts to keep both the pupils and you busy, you're in the right place! These teacher crafts are super fun to make and will keep everyone engaged.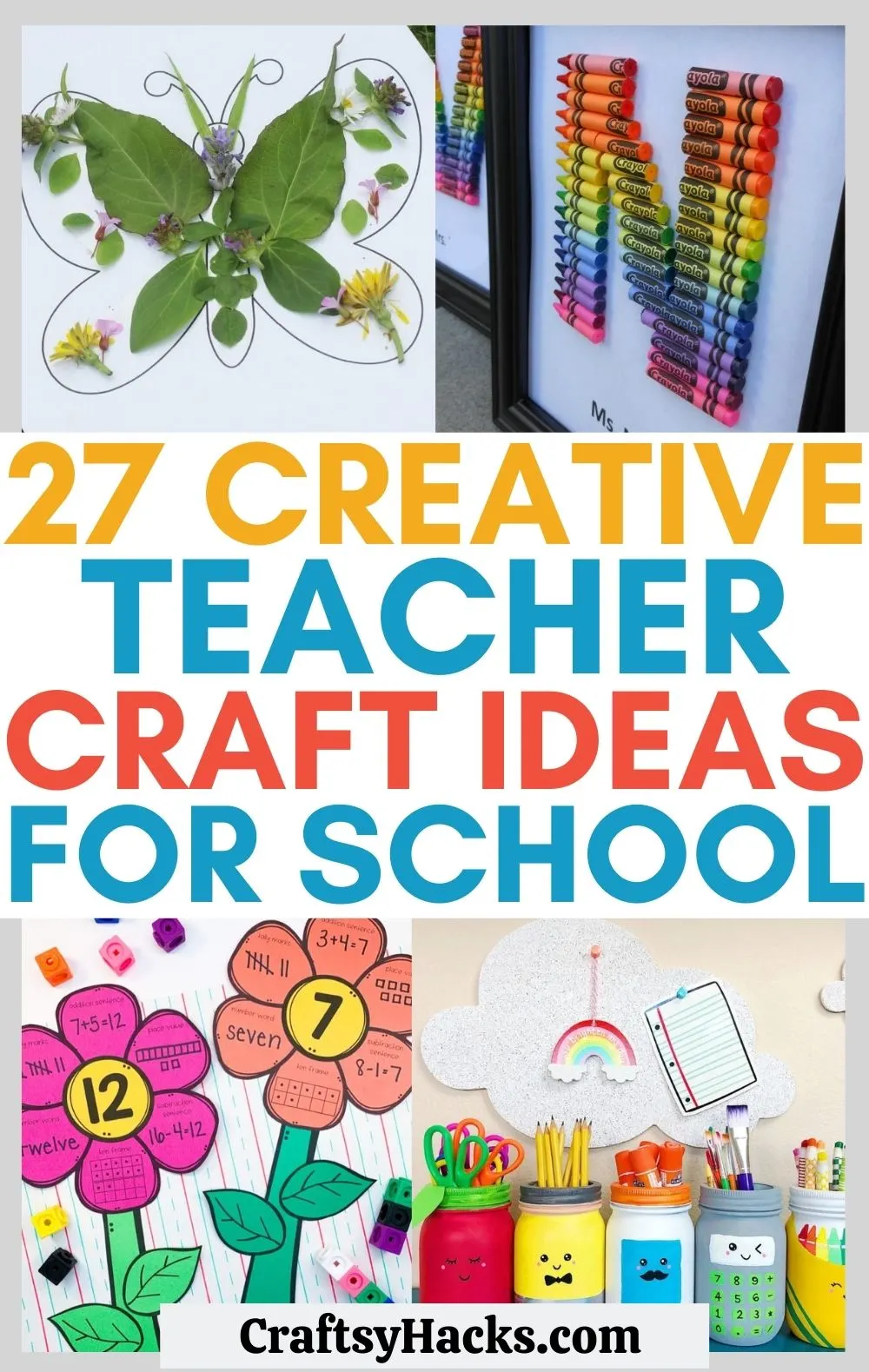 Teachers are like the parents you have during school hours. They're responsible for your happiness and well-being, yes, but also tasked with keeping you occupied while simultaneously teaching you new things.
It's rather a tall order, to incorporate fun and learning in one package. But that's what craft time is for. Craft projects in school are a wonderful activity for teachers and students alike.
So, check out these 27 teacher crafts that I'm sure you'll adore!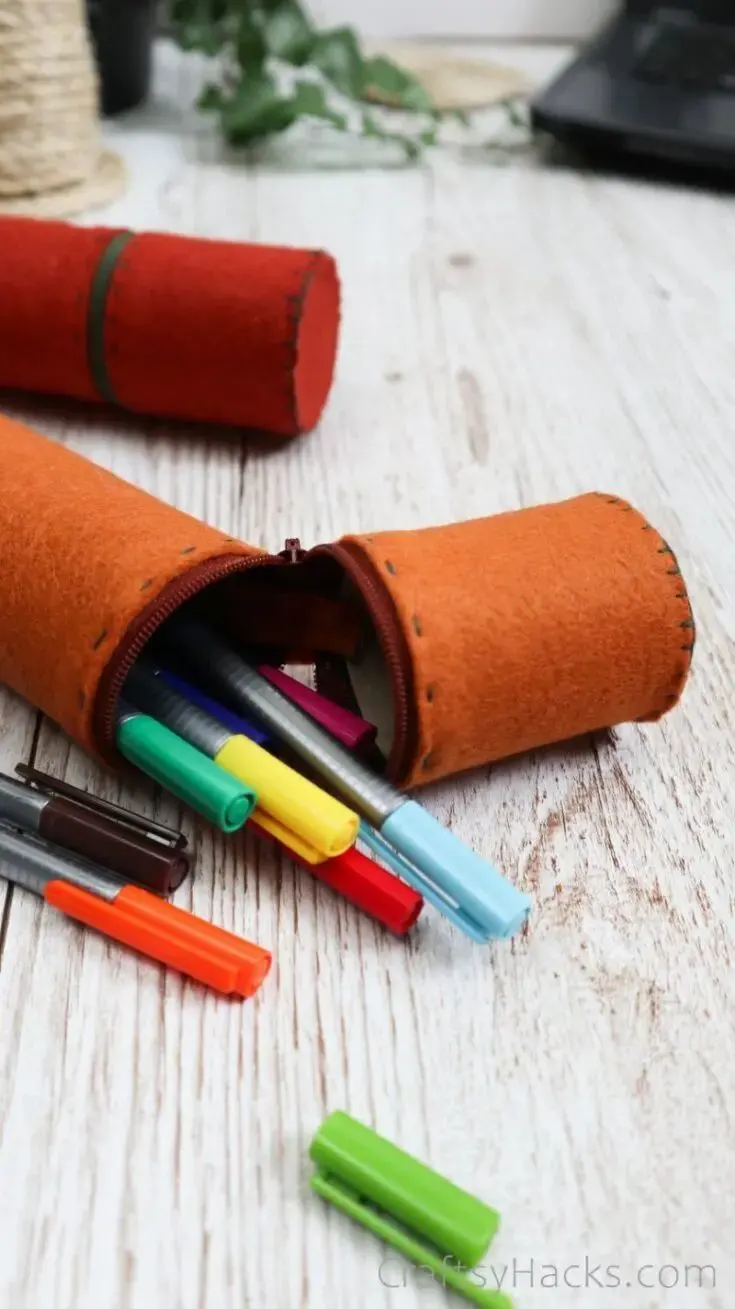 Source: craftsyhacks.com
A teacher has to know how important pencil cases are to kids. It's the one thing that kids constantly keep trading up in school.
So how about you have your classroom make their very own DIY pencil case? The best part? It's made out of empty toilet rolls!
This craft project will brighten up their first weeks back from vacation and ease them back into the grind.
It also gives kids an opportunity to share one unanimous stationary idea with the rest of the class while still managing to add their own unique touch to it.
Check out more back-to-school crafts and fabric projects.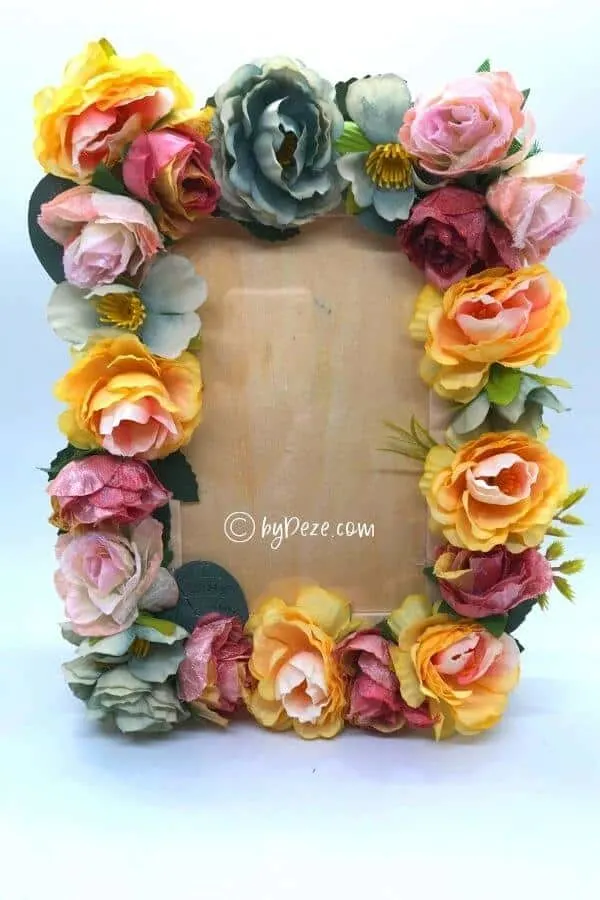 Source: bydeze.com
A picture frame craft project is as old-school and timeless as it gets. At some point or the other, every child has made a floral picture frame during classroom craft time, so let's keep up the tradition.
For the supplies, you'll need faux flowers from here, a wire cutter, a hot glue gun, and finally, a plain picture frame like this. You can also pull out other embellishments, sparkle, and craft supplies to help you with this project.
If you're working with a younger classroom, it might be advisable to help them cut the flowers to keep an eye on them!
Check out more classroom crafts here.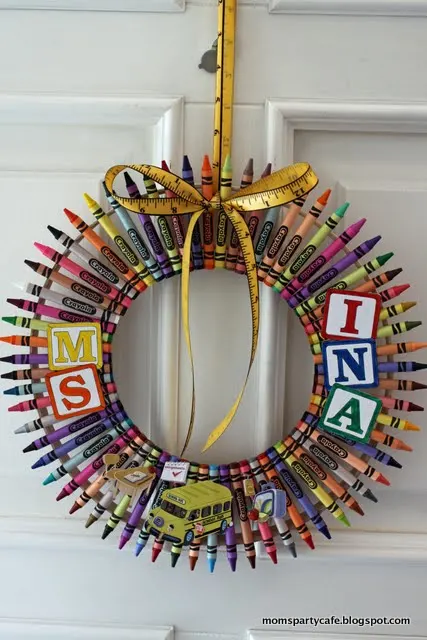 Source: Blogspot
Crayons are yet another integral childhood necessity. You can't tell me you've never played around with crayons, colored out-of-the-margins, and even chopped them up just for the heck of it.
So, for this next DIY project for your classroom, how about this quirky crayon wreath? You can use this embroidery hoop as your base or wreath form.
If you like a little order in your chaos, go ahead and work out a nice rainbow color gradient for your wreath. I bet it would look fabulous when you hang it up in your classroom!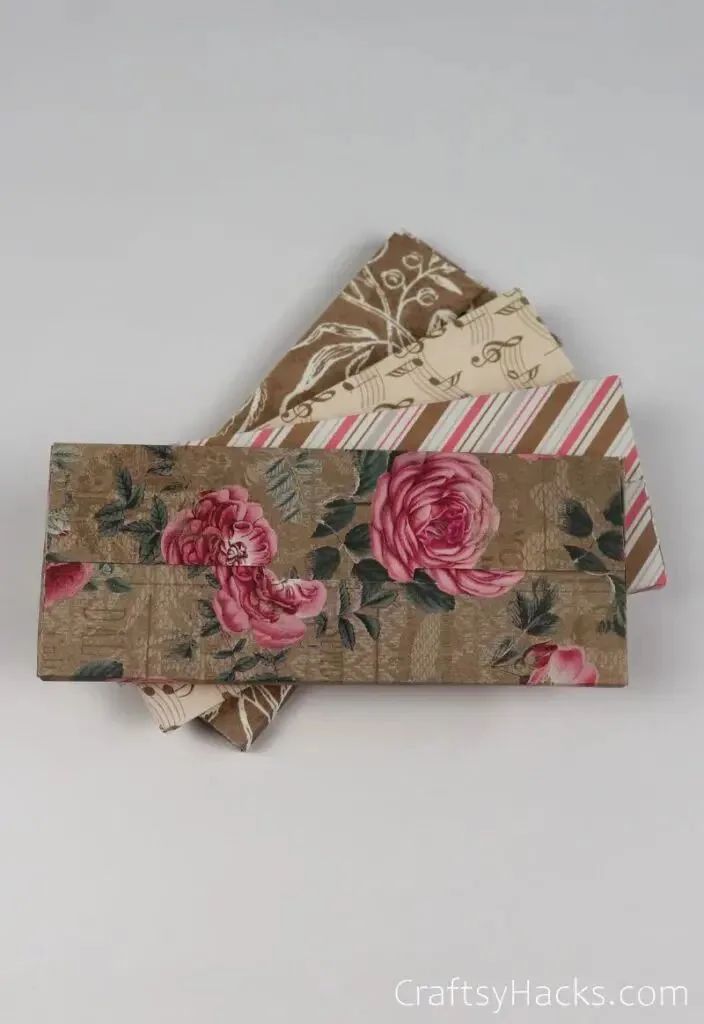 Source: craftsyhacks.com
A paper envelope like this one is a super easy craft project to keep your kids occupied during a rainy recess or even during an impromptu craft session. Here's a list of what you'll need:
When picking out your paper, go for the heavyweight kind; they'd be more durable and appropriate for envelopes. So go ahead and grab your supplies and get started on your envelopes!
Check out more fall crafts for children here.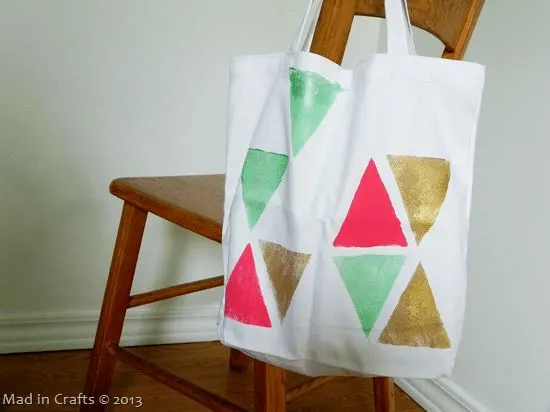 Source: madincrafts.com
A tote bag was something I always found super convenient during my high school days. It was just what I needed to help me cart my books around from class to class until I could put them away in my locker.
That's why this DIY block print tote bag would be hit with a classroom full of students dealing with the same problem. They'll love making their own tote back and having the opportunity to personalize it.
You don't need print blocks, just some craft foam from here and a plain canvas tote bag per student to get you started.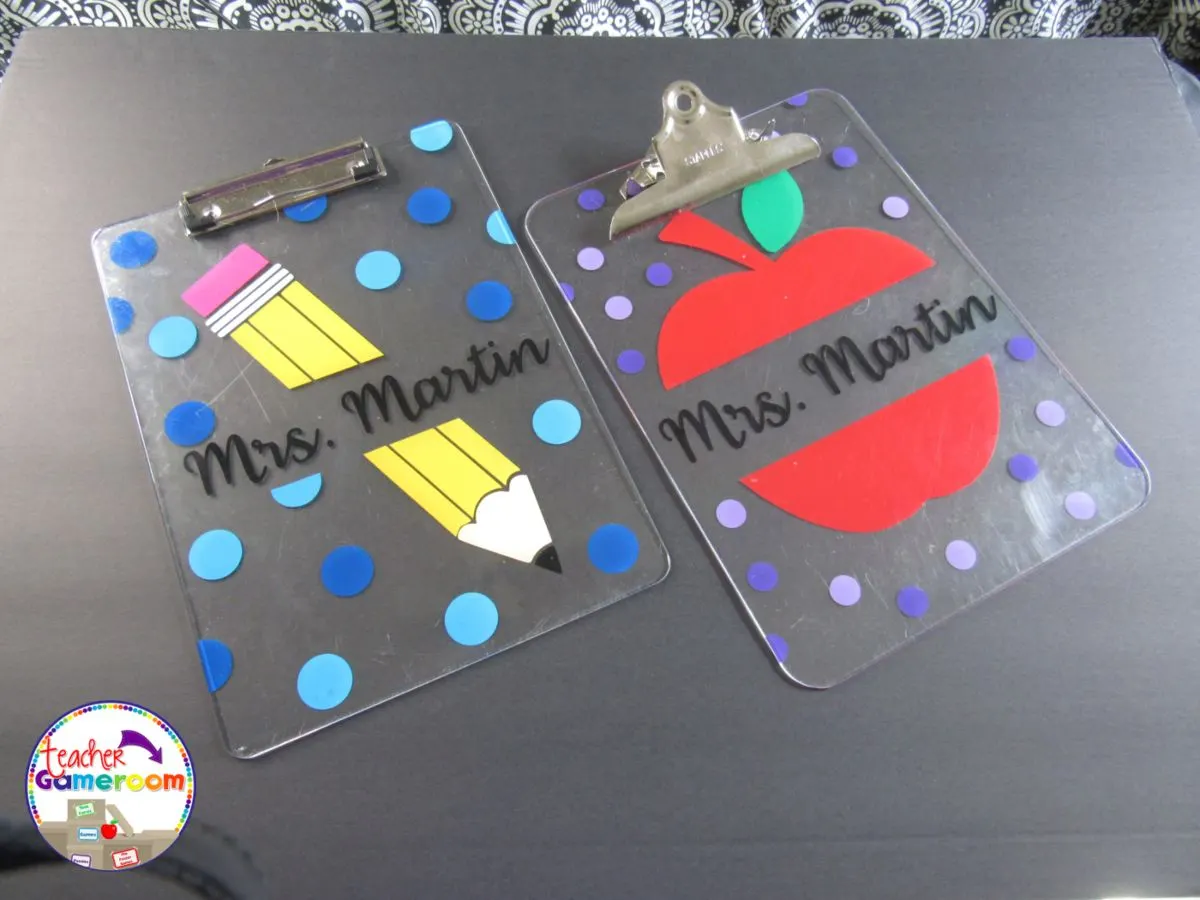 Source: teachergameroom.com
This craft project isn't for the kids; it's for all you teachers out there. A teacher's clipboard is like a coach's whistle. It's an integral part of your everyday life at school, and so you're going to jazz it up.
You might want to use a Cricut machine for this project. Pick out a clear clipboard from here. Grab some vinyl and transfer tape, too, while you're at it.
You can choose a design that you love and that a teacher like you would love to have. Once you're happy with it, go ahead and customize the color, size and even add your name to the design to personalize it!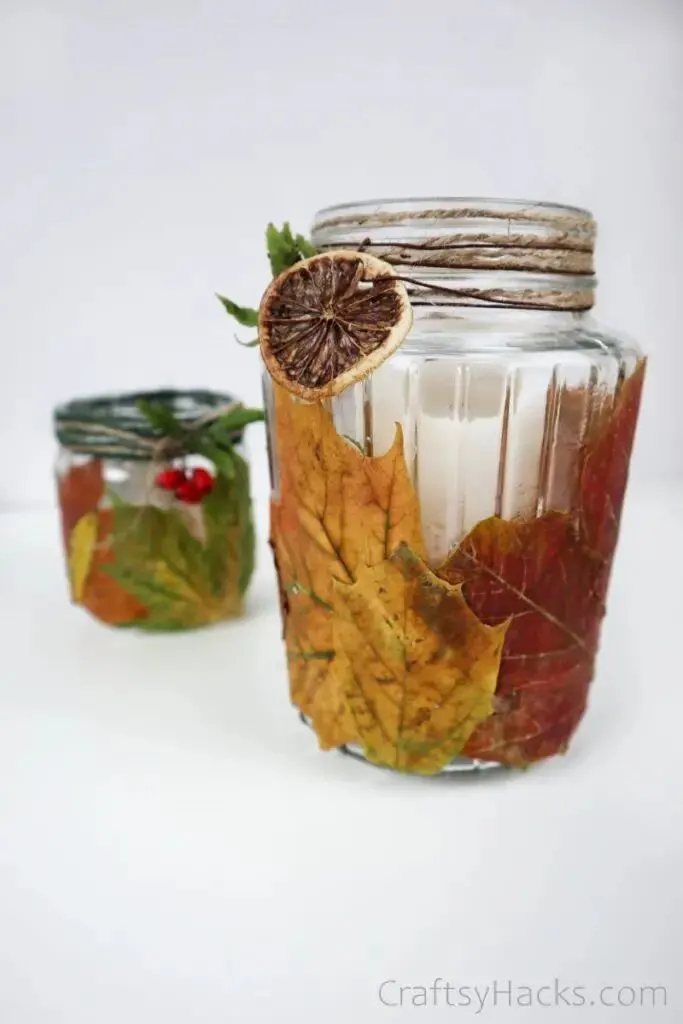 Source: craftsyhacks.com
After a long day at school, I bet you would just love to come back home and unwind. Perhaps you'll put on some music, grab a glass of wine and light a few candles?
This DIY candle is something you can make at home for you to enjoy. The candle holder is just as important as the actual candle itself. It will add to your decor and help you enhance the effects of lighting a scented candle.
Besides, you can never have too many candles, so you'll definitely need more of these candle holders. That's sound logic right there, and don't let anyone convince you otherwise.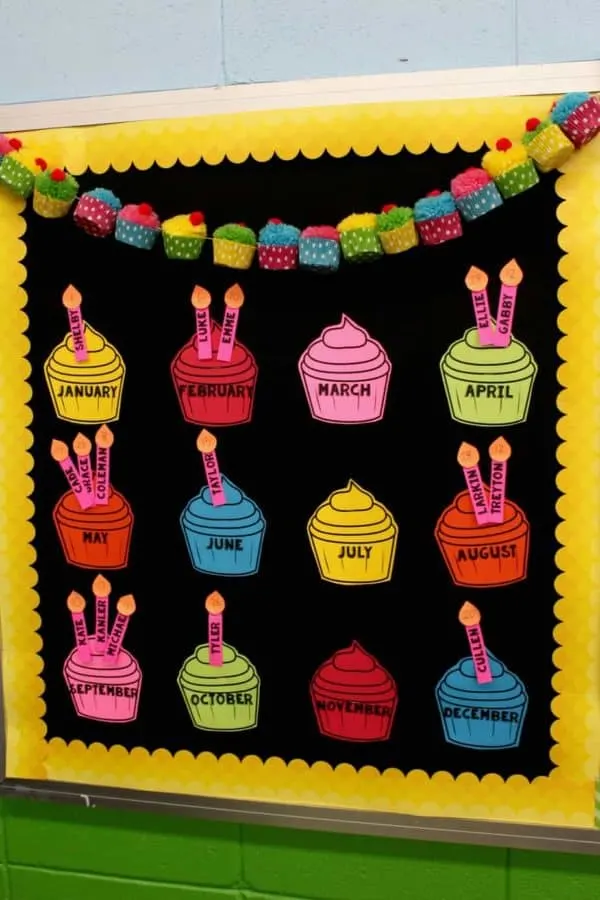 Source: justreedblog.com
This beautiful birthday board is a wonderful way for your classroom to remember everyone's birthdays. This way, you'll have something to celebrate and look forward to every single month!
It's actually quite handy if you think of it. There's a candle that tells you the date and name of the student in question and which month their birthdays fall.
To kick it up a notch, you can hang up a garland of pom-pom cupcakes. You can buy those pom-poms right here and start making your garland right away!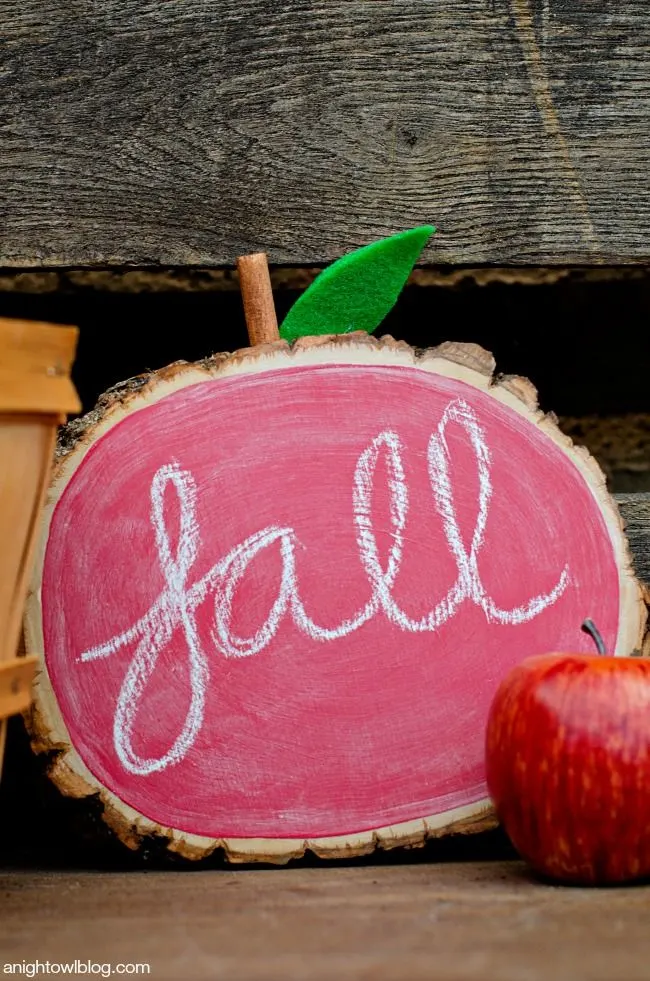 Source: anightowlblog.com
This apple chalkboard is quite possibly the most adorable little classroom accessory I've seen. It's cute as a button and easier still to make.
You'll need: a wooden plaque, some chalkboard paint from here, liquid chalk to write with, some green felt for the stem and leaf, and finally, a drill and a saw.
Once you've set up your apple chalkboard, you can go ahead and make it a daily quote board or notice board for the entire class to enjoy!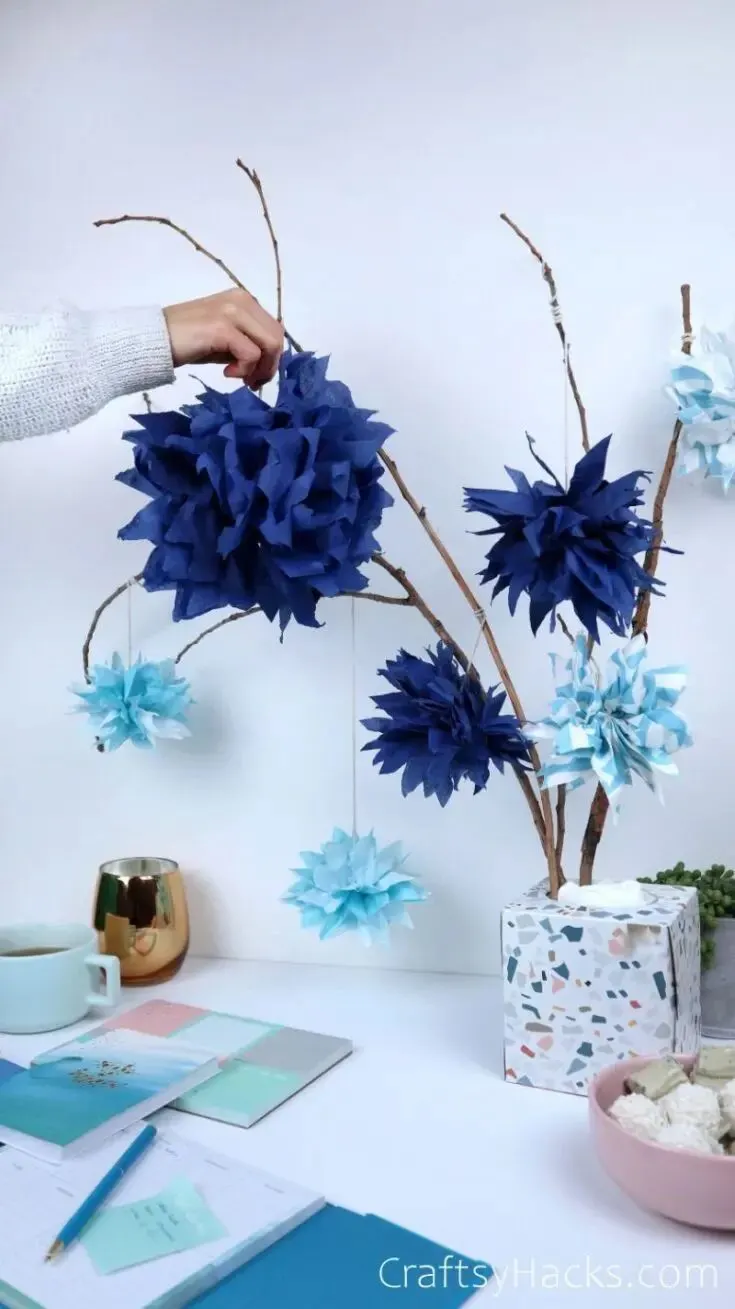 Source: craftsyhacks.com
I love a good, fluffy pom pom. It doesn't matter what I use them for; I just love how billowy and over the top they are.
These tissue paper pom poms may look fancy—and they'd really be wonderful decorative pieces—but they're actually pretty easy to make. You'll need only these three supplies:
Paper tissue
Yarn
Scissors
So grab your supplies, and let's get started on making these tissue paper pom poms.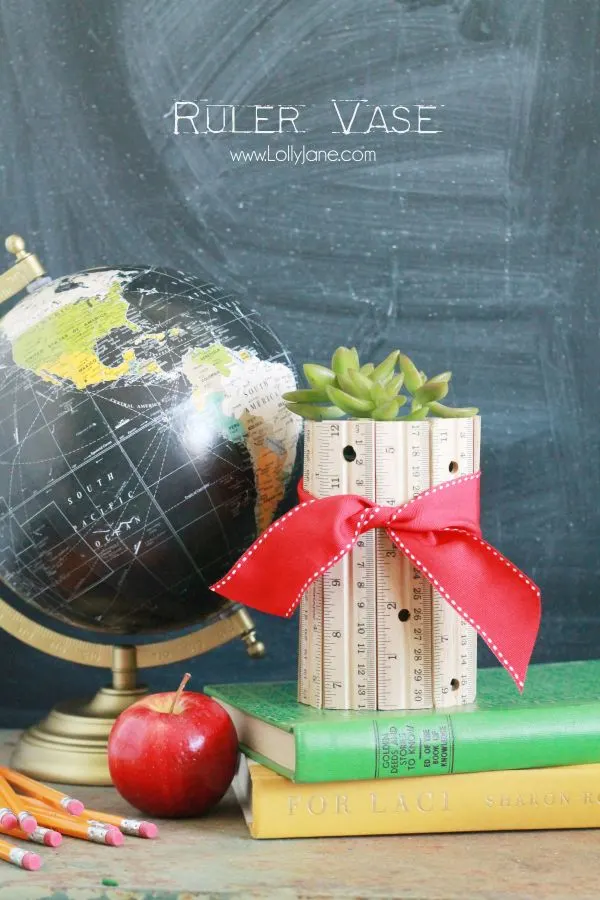 Source: lollyjane.com
What is a ruler vase, you ask? Well, go ahead and check this one out. It's literally a vase made out of stacking rulers!
It's a pretty innovative classroom craft idea. It's easy to make and relatively inexpensive. You can pick up your wooden rulers at any dollar store nearby.
If you want to make this vase even prettier, you can tie a nice big fat bow around the middle. In fact, this vase can also moonlight as a DIY planter that you can sit atop your desk!
This DIY pencil holder out of paper is pretty similar to this craft project, so feel free to check it out!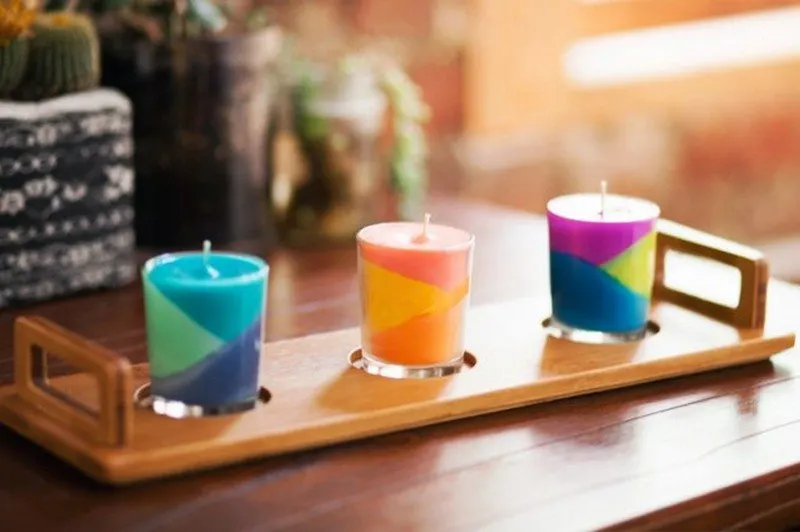 Source: craft.ideas2live4.com
Remember how I told you crayons were an integral part of growing up? Well, I bet you used to wax these wax crayon candles, too, as a kid.
Now you can teach your entire classroom how to make them and carry on the tradition! You'll need these crayons, to begin with.
You'll also need a few candle jars from here, wicks, and your wax of choice—beeswax is really the best. There's no end to the number of color combinations you can try out.
If you have a microwave in your teacher's lounge, you can put your wax and crayon in a paper cup and stick in there to melt.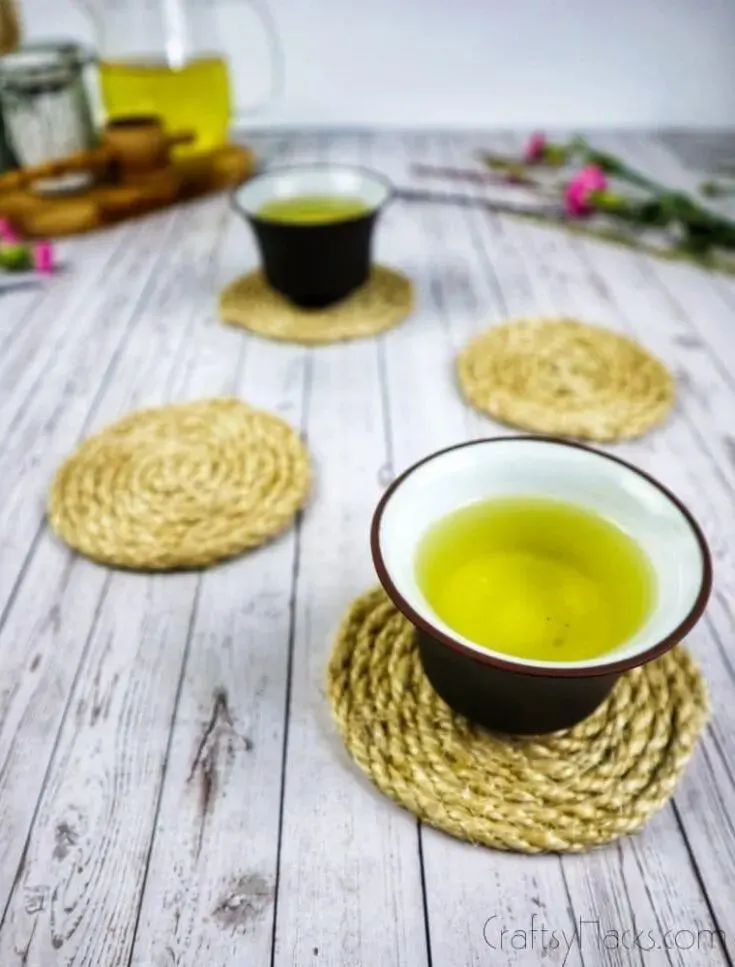 Source: craftsyhacks.com
You really do need to teach children that using coasters is a must, and you've got to start them on this habit early. Do you know what can help you achieve this goal?
These fabulous DIY rope coasters, of course. It's as simple as the day because kids are going to want to use what they contributed to making.
So rope them in(ha!) to help you with this project and make enough to go around. The best part is that these rope coasters are lovely decorative pieces, too, so I bet the parents will get a kick out of them, too!
Why don't you look at how to make these DIY rope organizers for your desk while you're at it?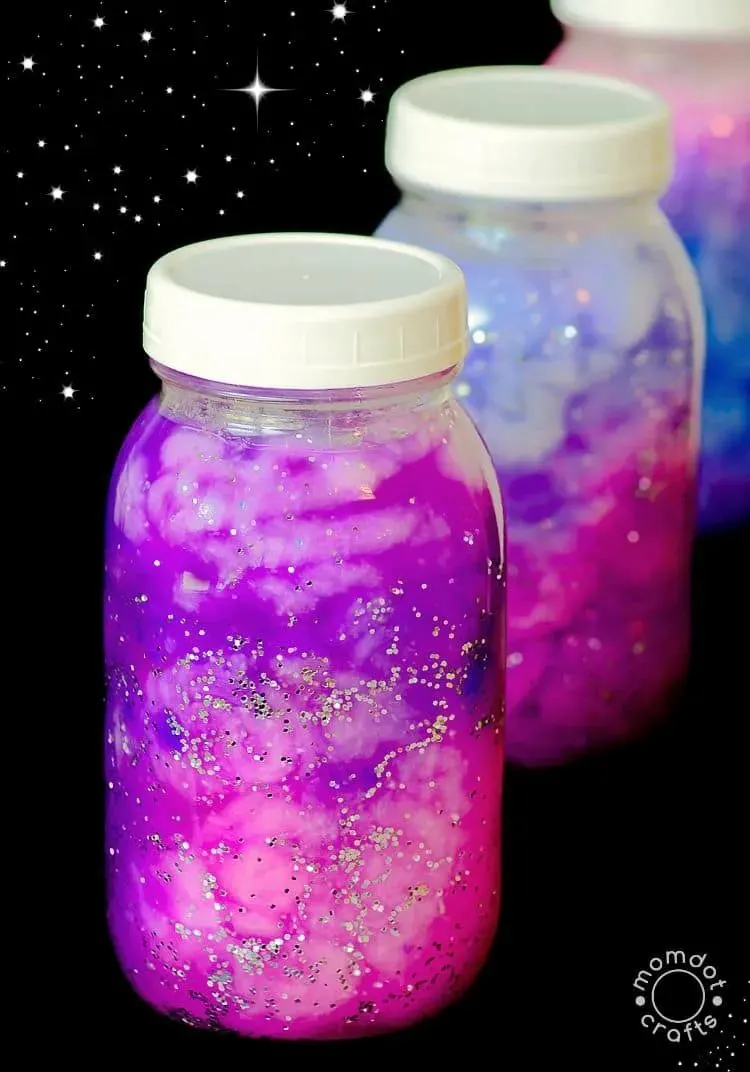 Source: momdot.com
These galaxy jars are a wonderful sensory delight to entertain your classroom full of kids with. They're what you can call 'calm-down' jars.
When you've got an entire room full of restless or just downright rowdy, hungry, and tired kids, you need a distraction. Craft time in itself is a great distraction, but making these sensory jars would be a win-win situation.
The deep swirls of glittery purples, metallic golds, and silvers are bound to have your classroom well and truly occupied. You can make it a story session too, and regale them with tales of the Great Unknown.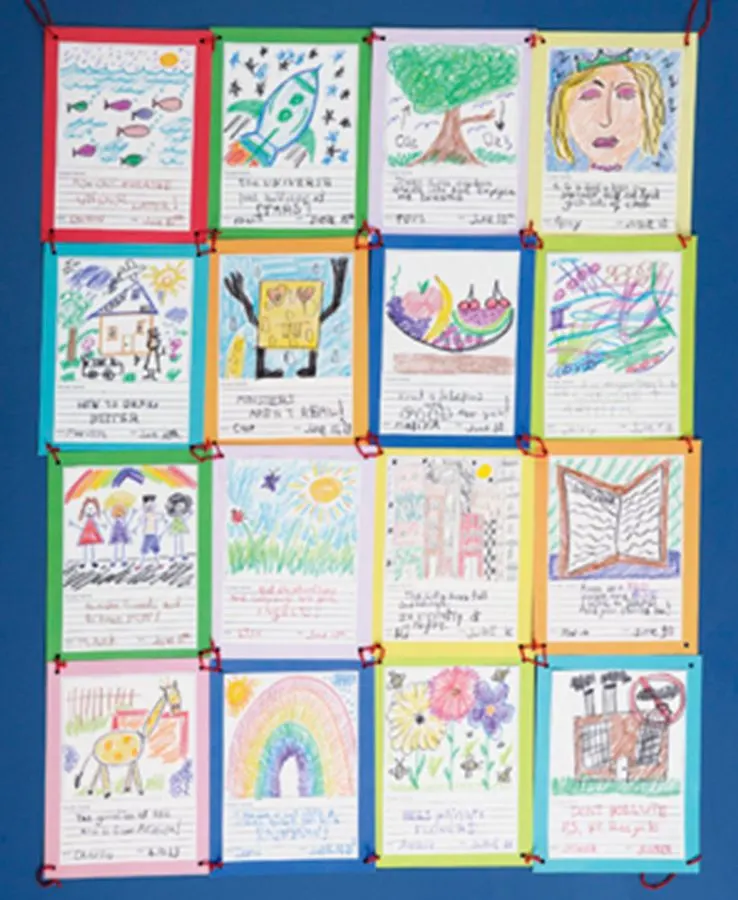 Source: scholastic.com
The quilt of knowledge sounds like something you'd find in a Pixar movie, but actually, you and your classroom can work on it right here. It's a wonderful opportunity to celebrate the end of the year as one united class.
This quilt can be a way to welcome a new year of students with words of advice and wisdom from their predecessors. It can include sketches, poems, stories, drawings, and even handprint collages.
You'll need some printed paper, color crayons and pencils, yarn scraps, a hole punch, and double-sided tape.
Here are 27 back to school crafts for you to explore.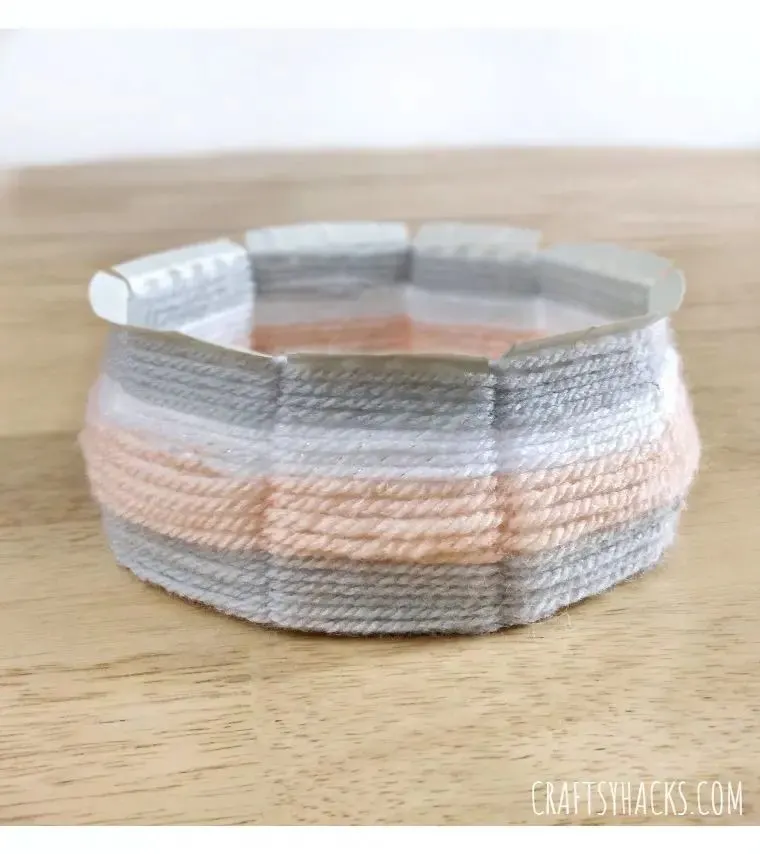 Source: craftsyhacks.com
Weaving a bowl like this can be quite cathartic and therapeutic. The repetitive process of this craft can be relaxing and even pretty mind-numbing—but in a good way.
The best part is that you can use this bowl for just about anything. You can use it as a decorative bowl to hold potpourri and other knick-knacks and even to just dump your keys and spare change in.
Grab some thick yarn from here, a roll of scotch tape, and a bowl you want to mold your paper plate into.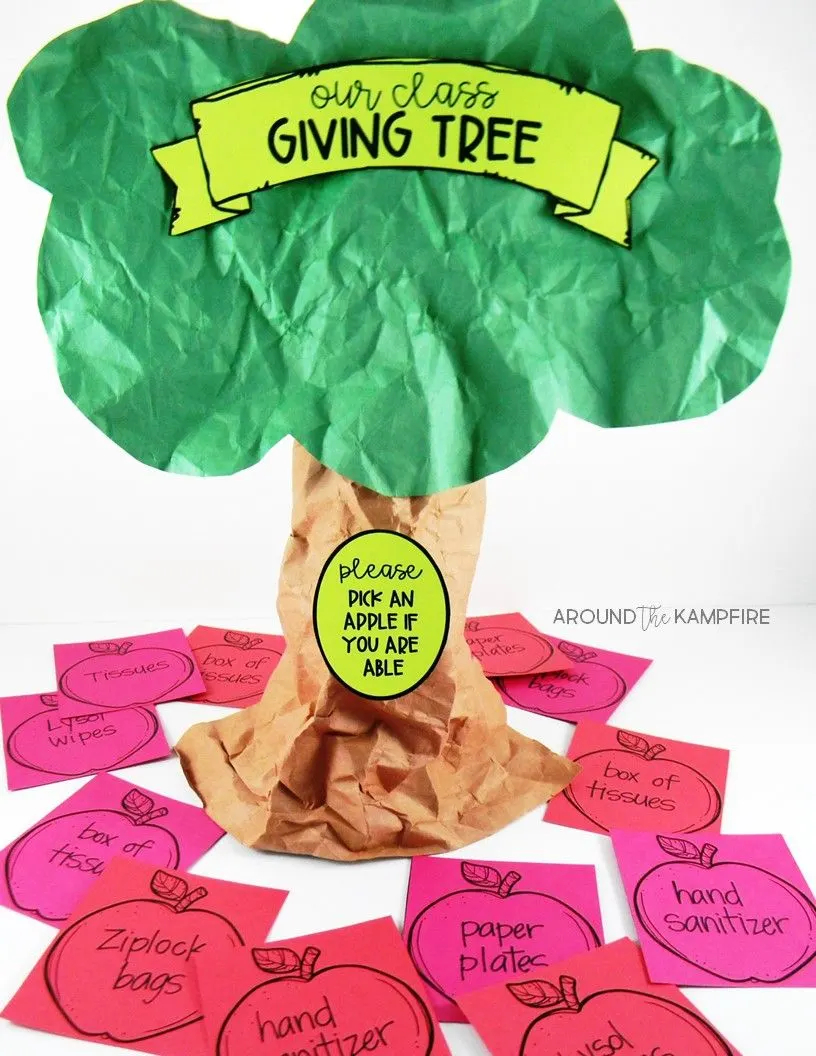 Source: aroundthekampfire.com
A classroom wish tree or a giving tree like this is not just a craft project. It's also a wonderful activity to involve all your students and teach them a great deal about the joy of giving.
You can think of it as a kind of wish list that your entire class can work on.
How about you make it a seasonal activity? That would make celebrating Christmas, Easter, and other holidays with your classroom a wholesome group activity.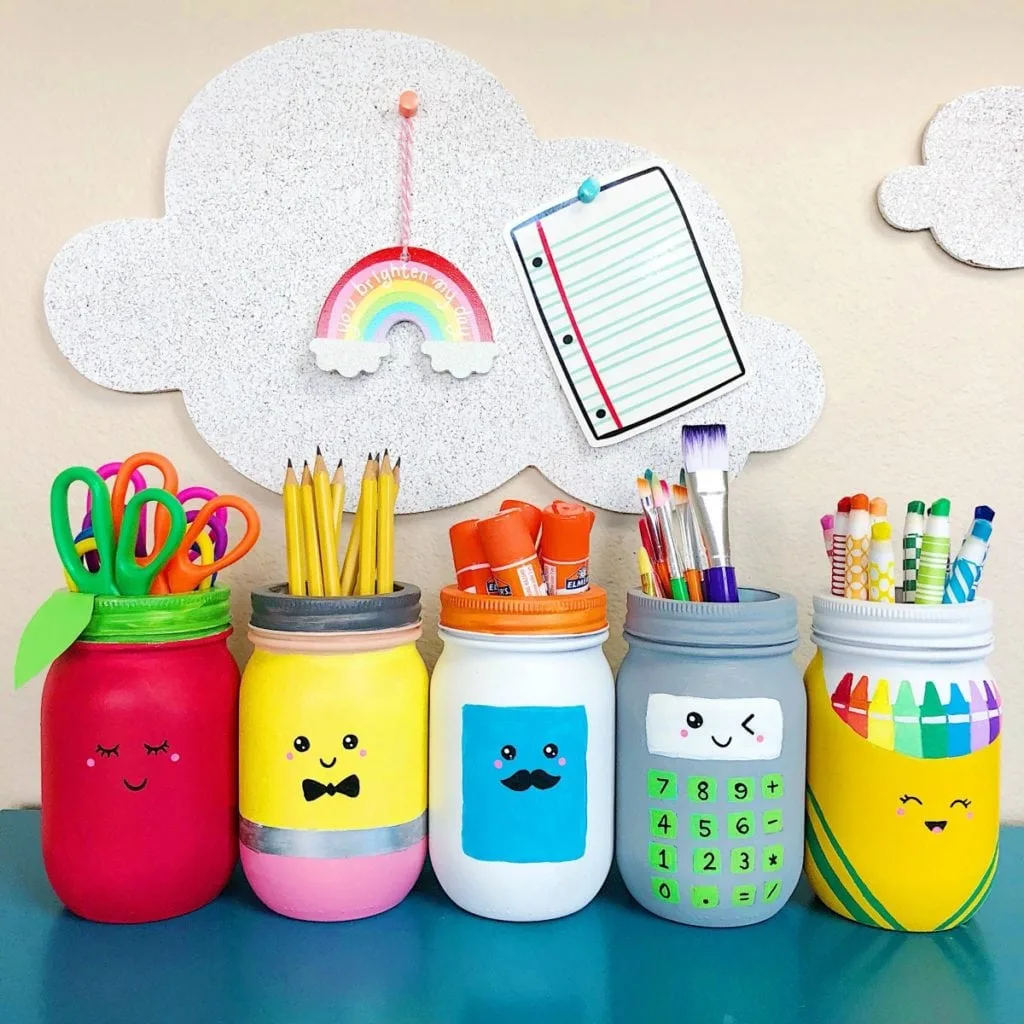 Source: colormadehappy.com
Mason jars are the most versatile of craft supplies. You can use them in a ton of creative ways and for different purposes.
This school-themed mason jar project would be the ideal craft item you can use to store different classroom supplies. They also make for very adorable desk accessories.
You can get your mason jars right here. You can use some matte or chalk paint to give your jar a nice opaque look and then proceed to paint them in different creative designs.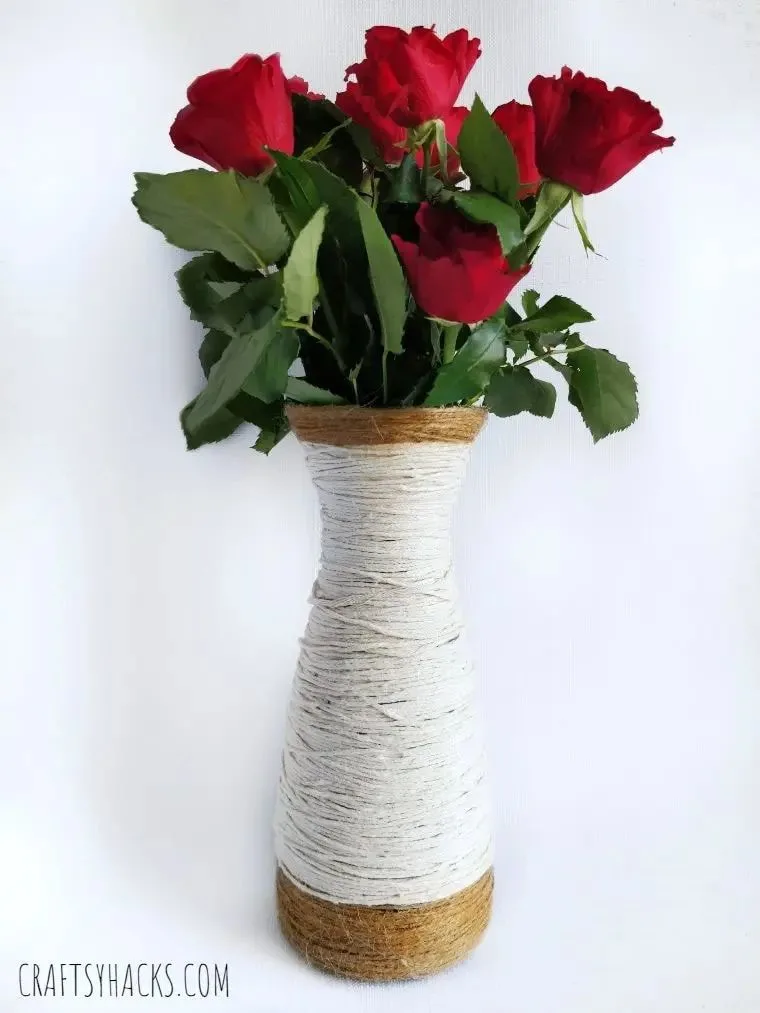 Source: craftsyhacks.com
Do you still have some yarn left over from that previous project? If you don't, go ahead and buy some more for this DIY craft.
This yarn-wrapped DIY glass vase is exactly what your teacher's desk in your classroom needs to brighten up the entire room. It's easy to make and pretty inexpensive, too, which makes it a wonderful Teacher's Day gift.
You can also switch out the yarn for some jute twine from here if you want a rustic or bohemian finish. You can use colored twine if you want to jazz up the vase a bit.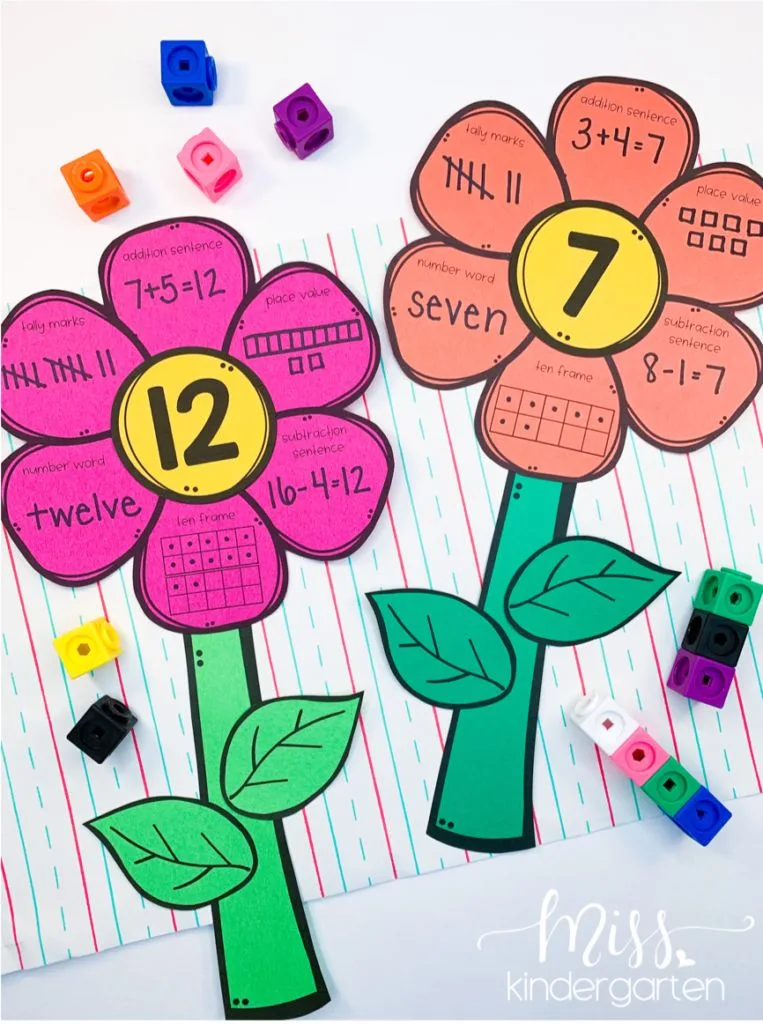 Source: misskindergarten.com
The only time I can appreciate math is when it's for a craft project like this. Craft time really is one of the best learning opportunities and can make even the dullest of subjects fun and interesting.
These math flowers can be used to teach your younger students their multiplication tables. Once you make the flowers, you can tack them up on your notice boards and display them for the class to learn from and also enjoy.
You can also use these flowers to teach your kids about place value, tally marks, addition and subtraction sentences, and more!
Check out more construction paper crafts here.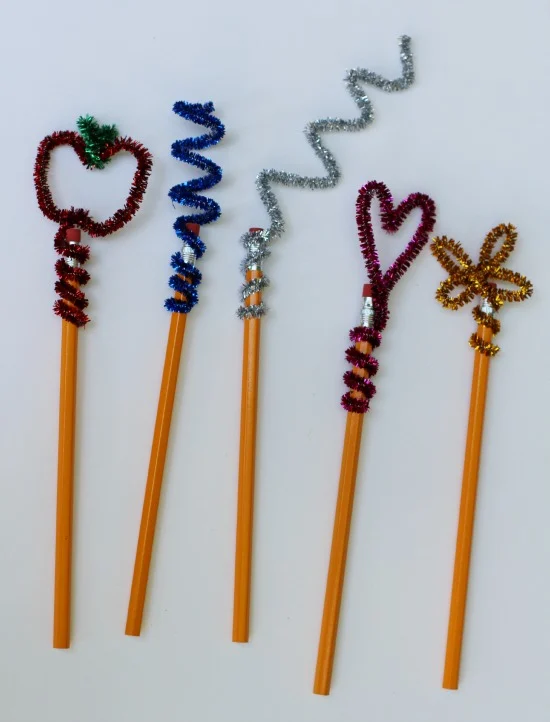 Source: makeandtakes.com
I don't know how things are today, but pencil toppers were all the rage when I was in school. Everyone had something unique and quirky to top their pencils with.
These pipe cleaner pencil toppers are exactly that—unique and quirky. You can fashion a nice big hat, a heart, the first alphabet of your name, and many more with pipe cleaners!
Grab those pipe cleaners here and get started on twisting your pencil toppers.
In fact, here are pipe cleaner craft ideas that are super easy to make that your kids are bound to enjoy.
Source: gathered.how
Is it a pebble? Is it a magnet? Is it…both? It's both!
Just stop for a second and admire how unique and creative this DIY craft is. We all love pebble art, don't we? It's a chance to work on our fine-painting skills.
Don't you think that these pebbles deserve to be displayed in a better place than, say, a pouch in the back of your craft desk? That's why these pebble magnets are the absolute best!
Grab your magnets from here and get started on this DIY!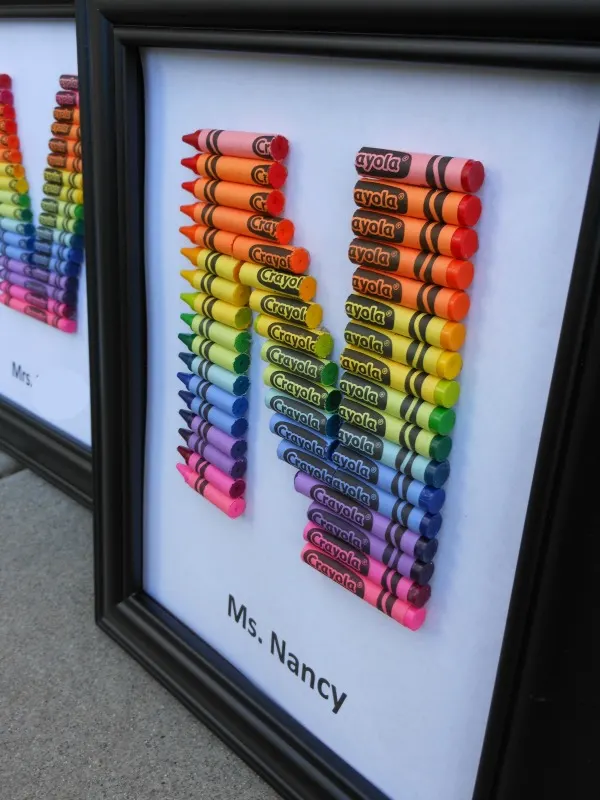 Source: confidencemeetsparenting.com
Do you remember that crayon wreath we saw a while back? Here's another crayon craft project that your classroom can work on.
These monogrammed crayon letters can be framed and mounted once you've made them. They're easy to make, and you'll have your framed letter in under an hour, tops.
All you need are crayons, cardstock for your background, and some glue to stick the crayons in place. Oh, you'll also need a basic frame of your preference.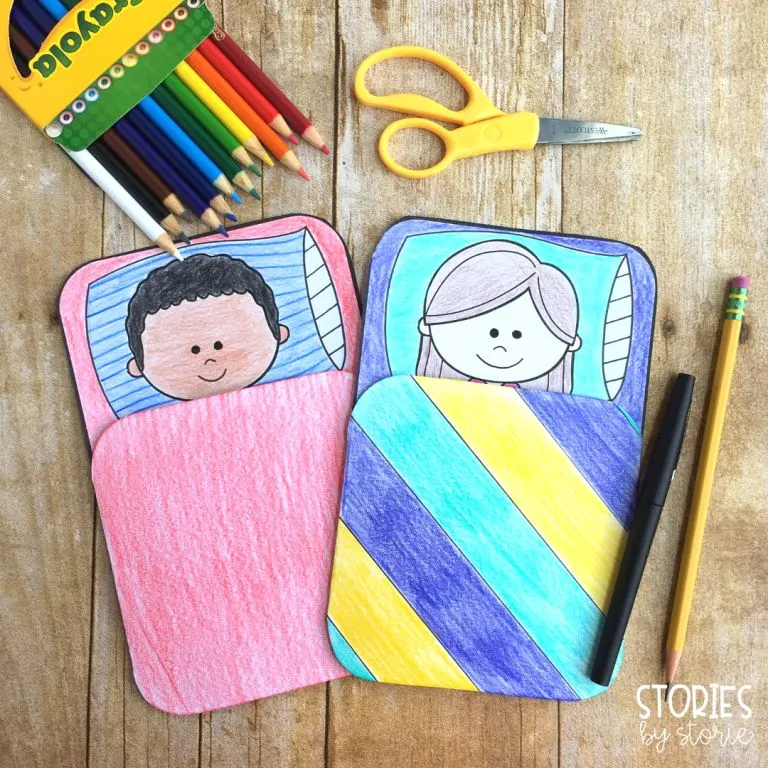 Source: storiesbystorie.com
Camping is and always has been a team-building activity that all kids absolutely adore. Spending time outdoors making s'mores by the campfire, and even sleeping in a sleeping bag!
This particular project will help your students to get a taste of that camping experience right inside the classroom. They can even work up a camping checklist for every letter of the word, as seen in the pictures.
Alternatively, if they've just returned from a camping trip, have your kids recount their adventures on their sleeping bags as a keepsake of sorts.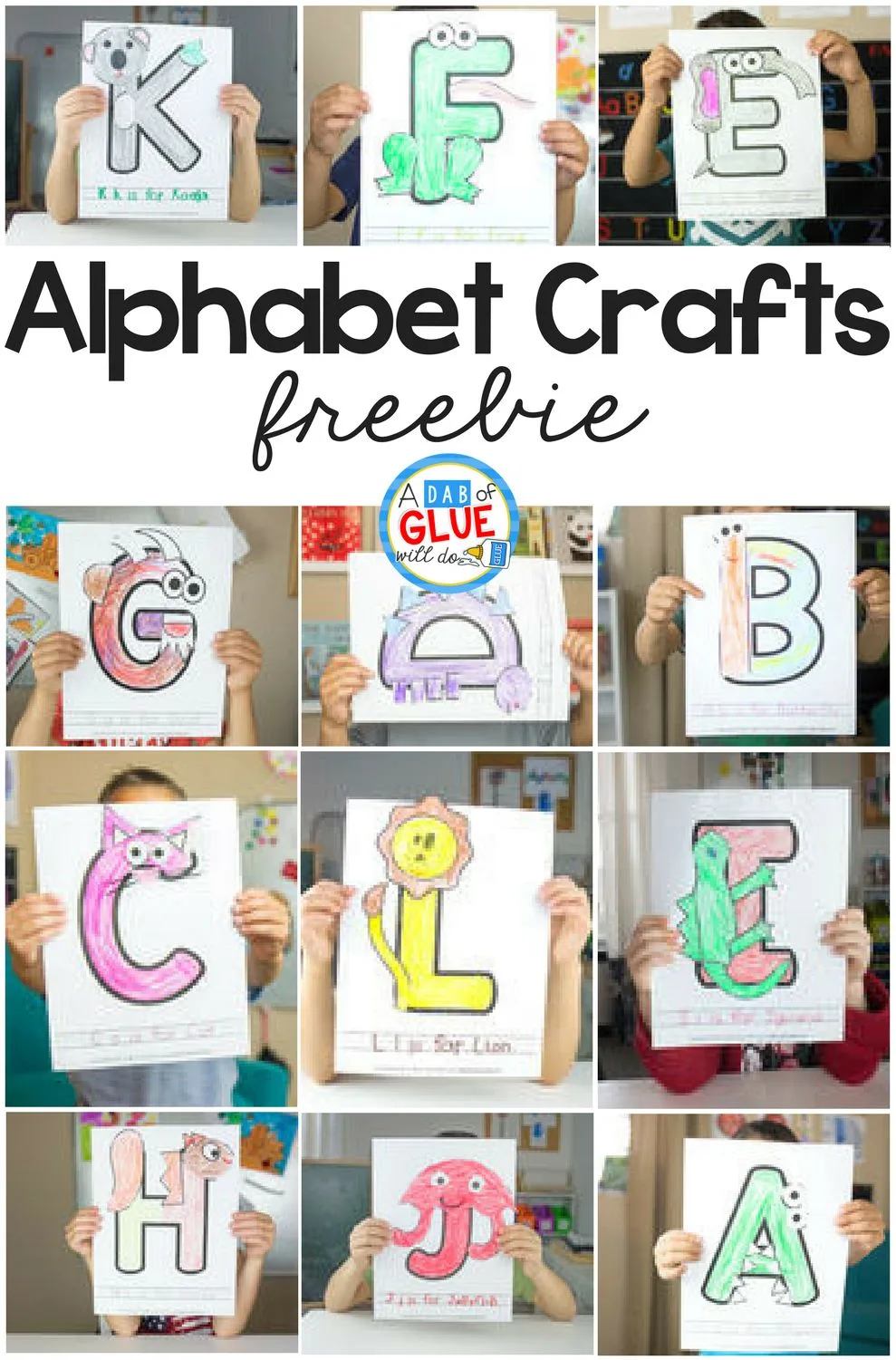 Source: adabofgluewilldo.com
Alphabet craft projects are always popular with younger students. You only have that one opportunity to learn your letters, so let's make sure they do it right and enjoy the process, too.
Animal-themed alphabets are the answer to this dilemma. They're fun, and they serve the purpose of teaching the kids their alphabets.
They serve a third purpose: making these animal letters can be a craft time project all on its own! So, grab some paper, crayons, and glue and get started on your animal alphabets.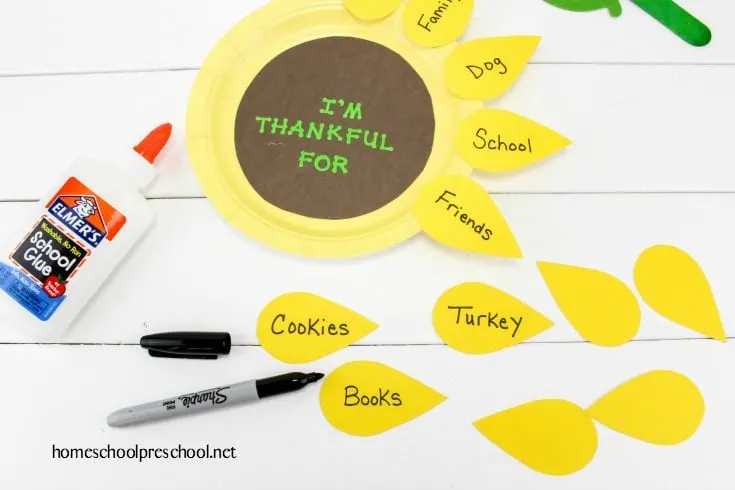 Source: homeschoolpreschool.net
Don't you just love sunny sunflowers? They always brighten up my day. They're also a great inspiration for craft time.
Pre-schoolers can have a ton of fun painting bright and cheery sunflowers. But here's a thought: instead of painting on plain old paper, how about we switch things up a bit?
Why don't you have them paint those sunflowers on these paper plates instead? Don't forget to grab your paints and brushes, too.
But most importantly, lay out some newspapers to catch spills and avoid messes.
Check out more paper crafts here.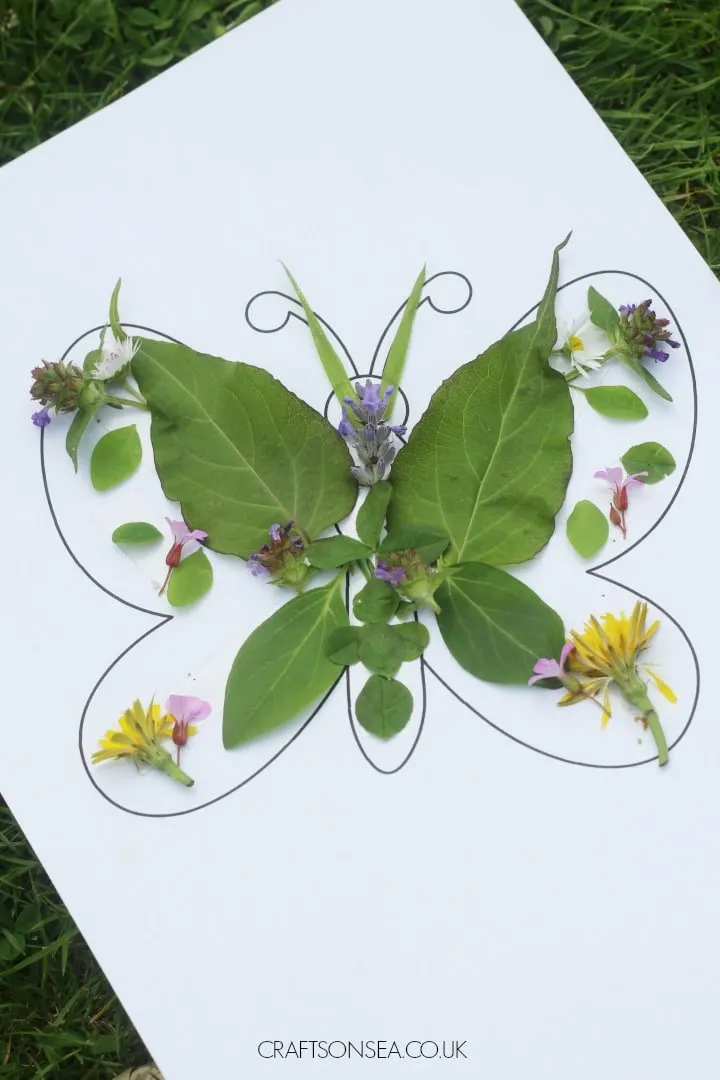 Source: craftsonsea.co.uk
When it's time for the younger kids to go out for recess, why don't you send them off on a little side quest? Why don't you instruct them to collect pretty leaves, little flowers, blades of grass, and other such nature-related supplies?
They can spend the rest of their afternoon craft time making these gorgeous butterflies when they get back. You can download and print the butterfly template or feel free to draw your own and pass them around.
If you'd like to explore more ideas, check out these 27 classroom crafts you're sure to like!