Are you looking for some simple but creative crafts that use minimal supplies? Look no further than my list today of fifty-one paper crafts for kids.
These projects range from simple, quick activities to unique, creative endeavors. All crafts, as mentioned, involve a type of paper as its predominant medium.
The following ideas are accessible and adaptable to most paper types, but some will work better for some crafts than others.
Most call for either this construction paper, this cardstock, this tissue paper, or this printer paper.
Paper crafts are easily doable for most young artists or easily adaptable if need be. I hope you find these ideas fun and try them out with kids sometime soon!
Now, onto the post!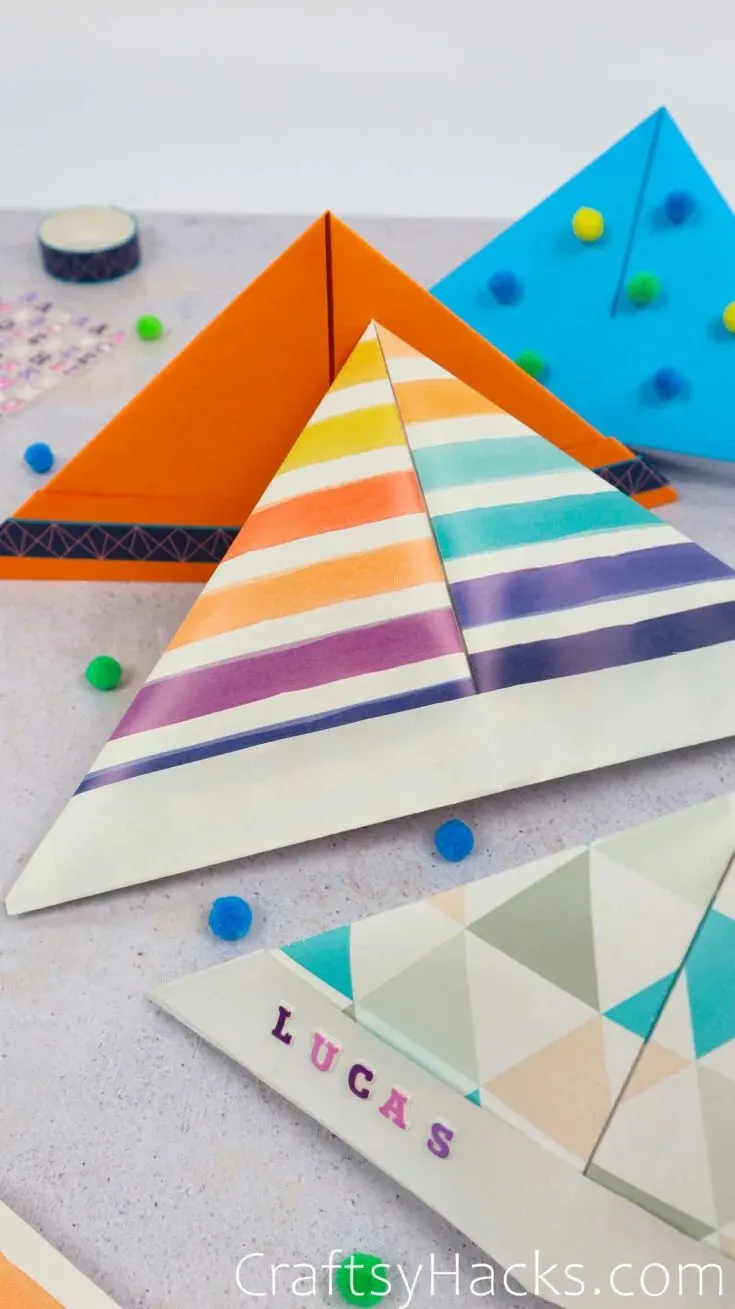 Source: craftsyhacks.com
There's nothing more classic than that of a paper hat! One of today's easiest and most recognizable ideas that everyone will enjoy time and again.
If you'd like to have fun with these guys, grab this patterned pack of paper.
Source: craftskidslove.com
Alternatively, you could've grown up dreaming of setting sail in your homemade paper boat.
Keep the dream alive for the next generation of kids and have them try their hand at this paper vessel.
This paper boat is one of the most fun crafts for boys!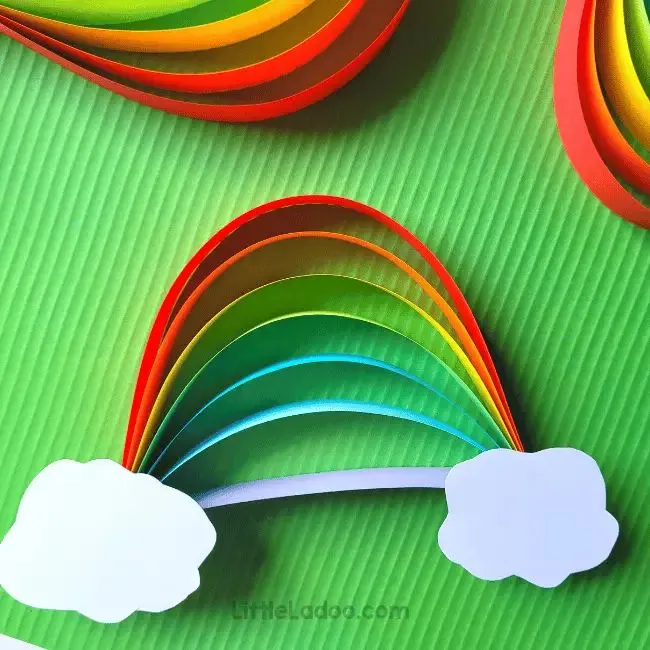 Source: littleladoo.com
If you or your littles are looking for a bright and cheery activity, there's no better answer than this paper strip rainbow.
For an extra secure rainbow, consider stapling instead of gluing; way less wait time and an immediate secure rainbow.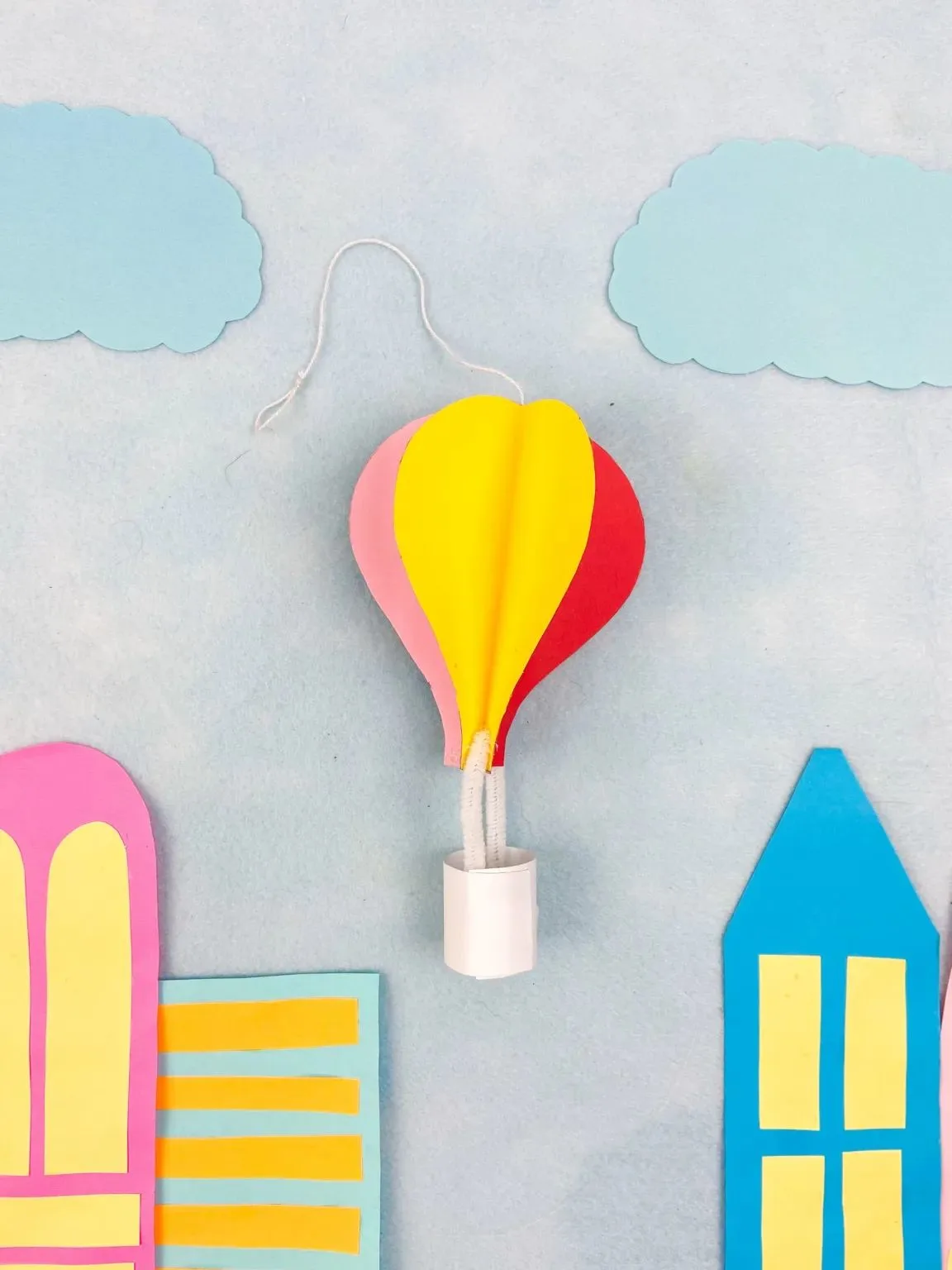 Source: intheplayroom.co.uk
Hot air balloons are wonderfully whimsical images for a kid, so why not bring them off the pages of storybooks and screens and have them make one for themselves?
Opt for any color or pattern pages you have–you can't go wrong with the design of the balloon.
I love these scissors for precise cutting.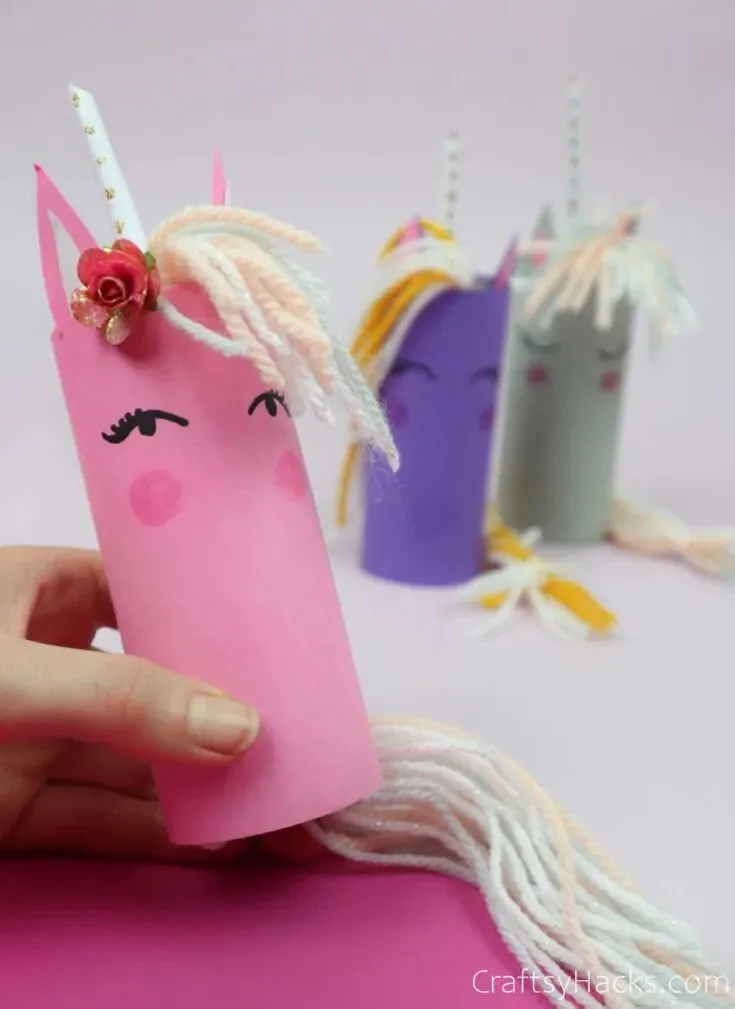 Source: craftsyhacks.com
Sometimes, the paper comes included in a household item, which, of course, would be the toilet paper roll.
Toilet paper roll crafts like this unicorn get the creative juices flowing at a fraction of the price!
You'll want to know these other cool construction paper crafts as well!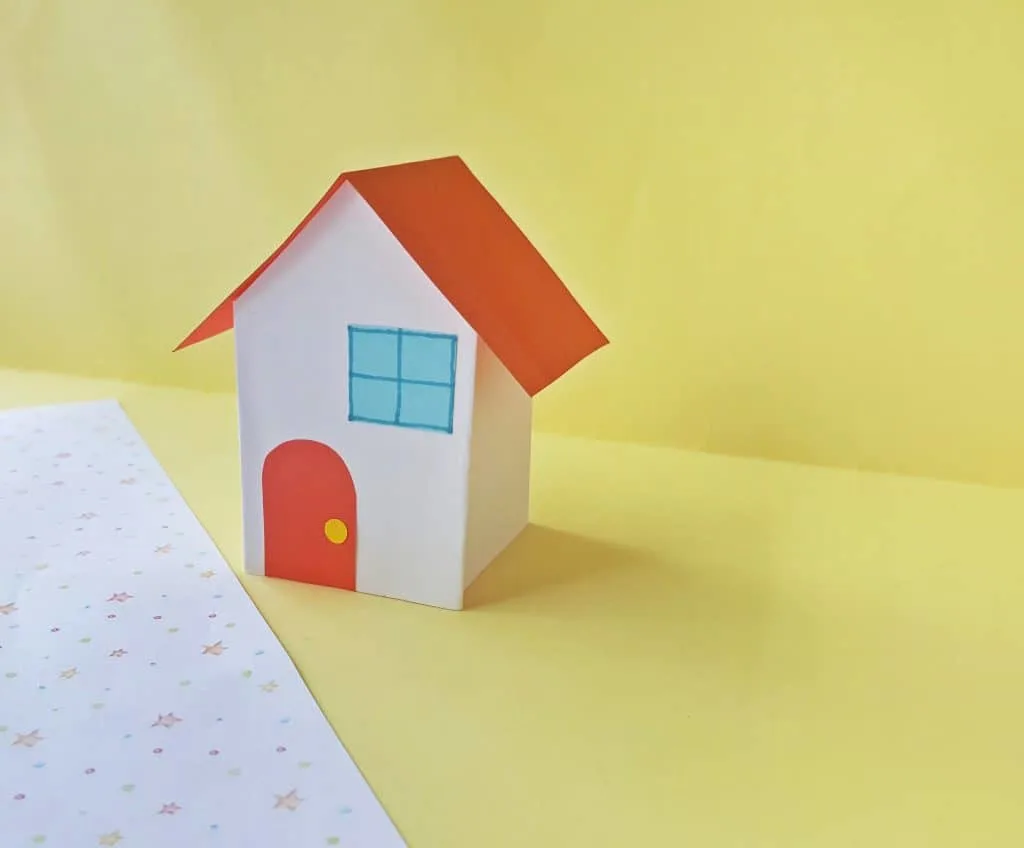 Source: twokidsandacoupon.com
Paper is versatile and fun to construct anything, including a replica or a cute version of a dream house.
Pick out any colors and have them cut out the pieces before building the whole thing; that way, they can stay focused.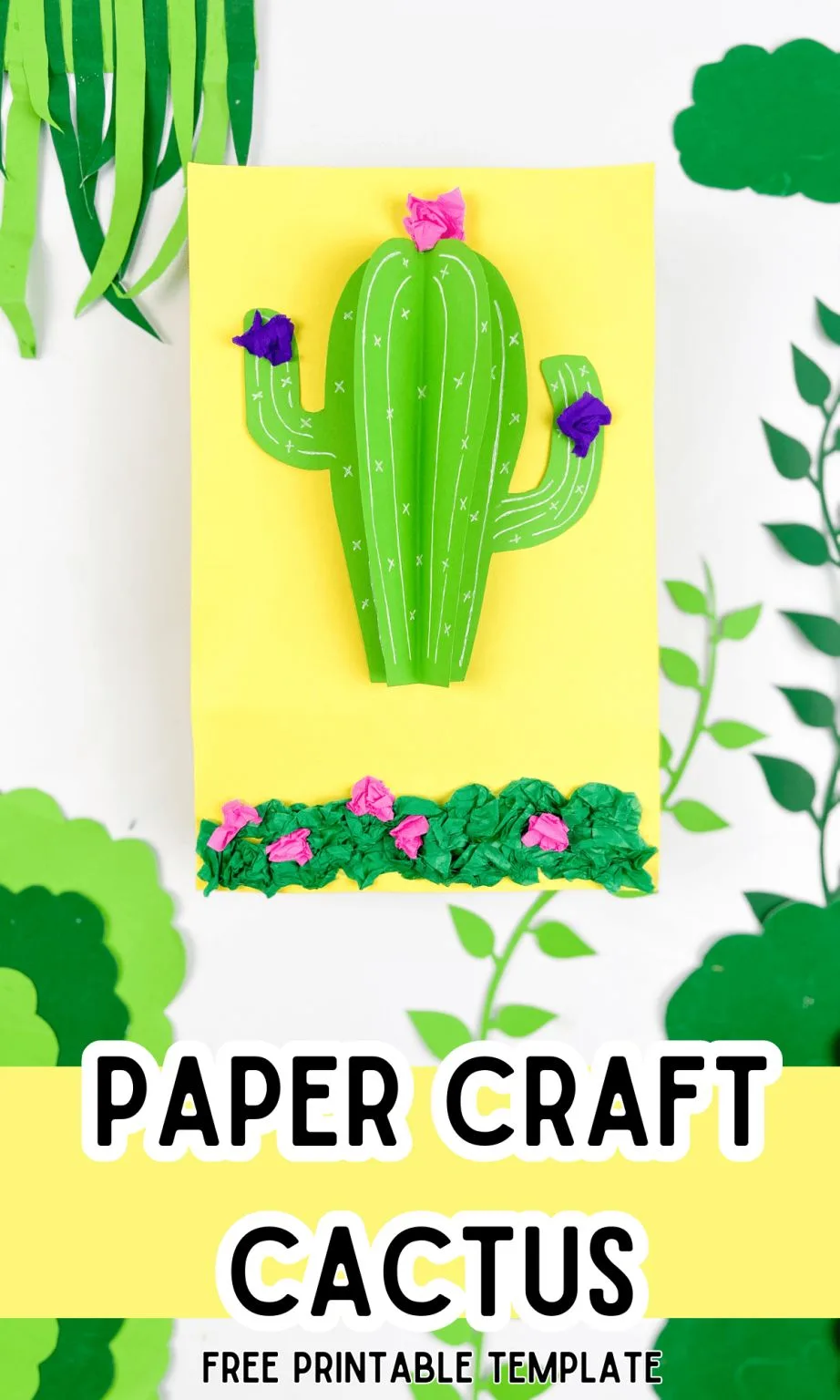 Source: intheplayroom.co.uk
A cactus always seems to pop up in kids' stories, similar to hot air balloons, so why not have them make one themselves? Construct the cactus on paper to pop off the page.
Have them add any extras–lizards, flowers, etc. to round out the image.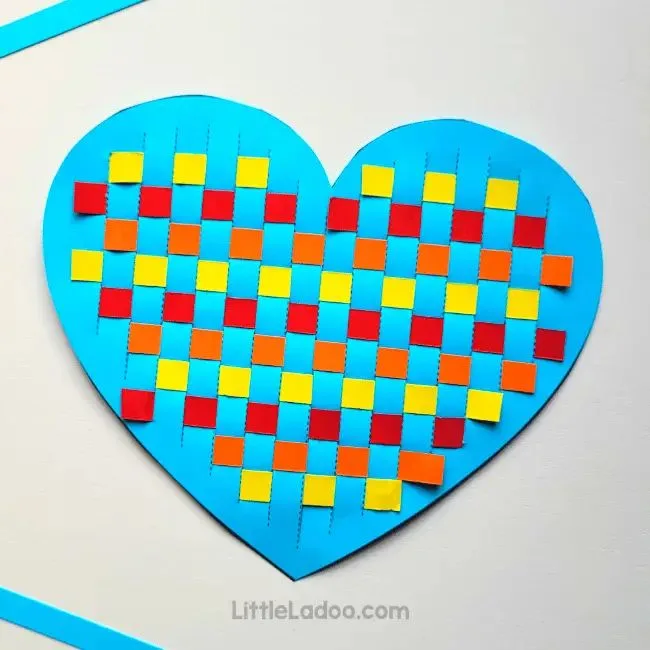 Source: littleladoo.com
Save this paper heart weaving for kids looking for a more complex or involved project. It mainly takes a lot of prep time and assembly, but it is great for kids who can handle this idea fully!
If you're looking to modify this, just make the heart a little smaller so there are fewer weaves the child has to commit to.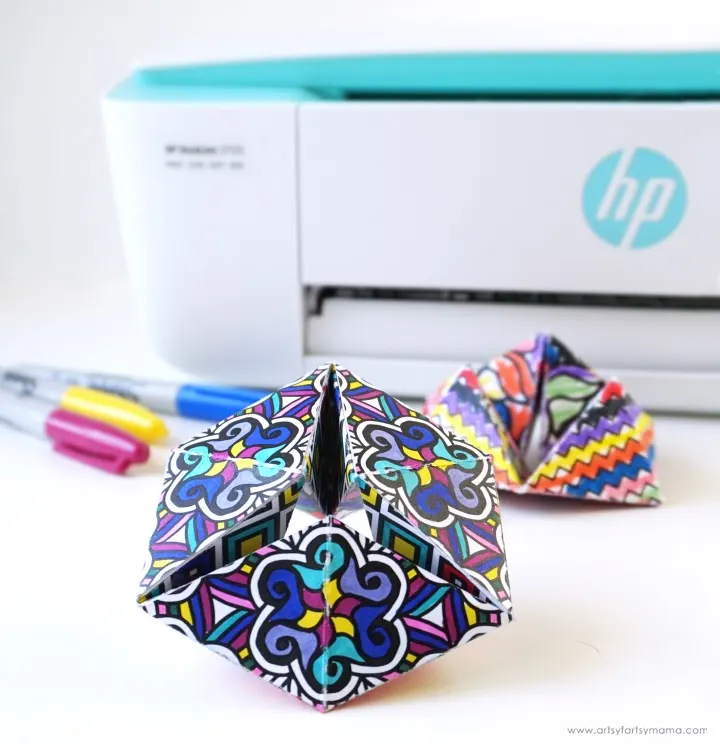 Source: artsyfartsymama.com
Another interesting option for kids looking for more complexity in their craft is to try this paper hexagon kaleidocycle.
Plenty of great templates exist to print and let your kids color and construct them.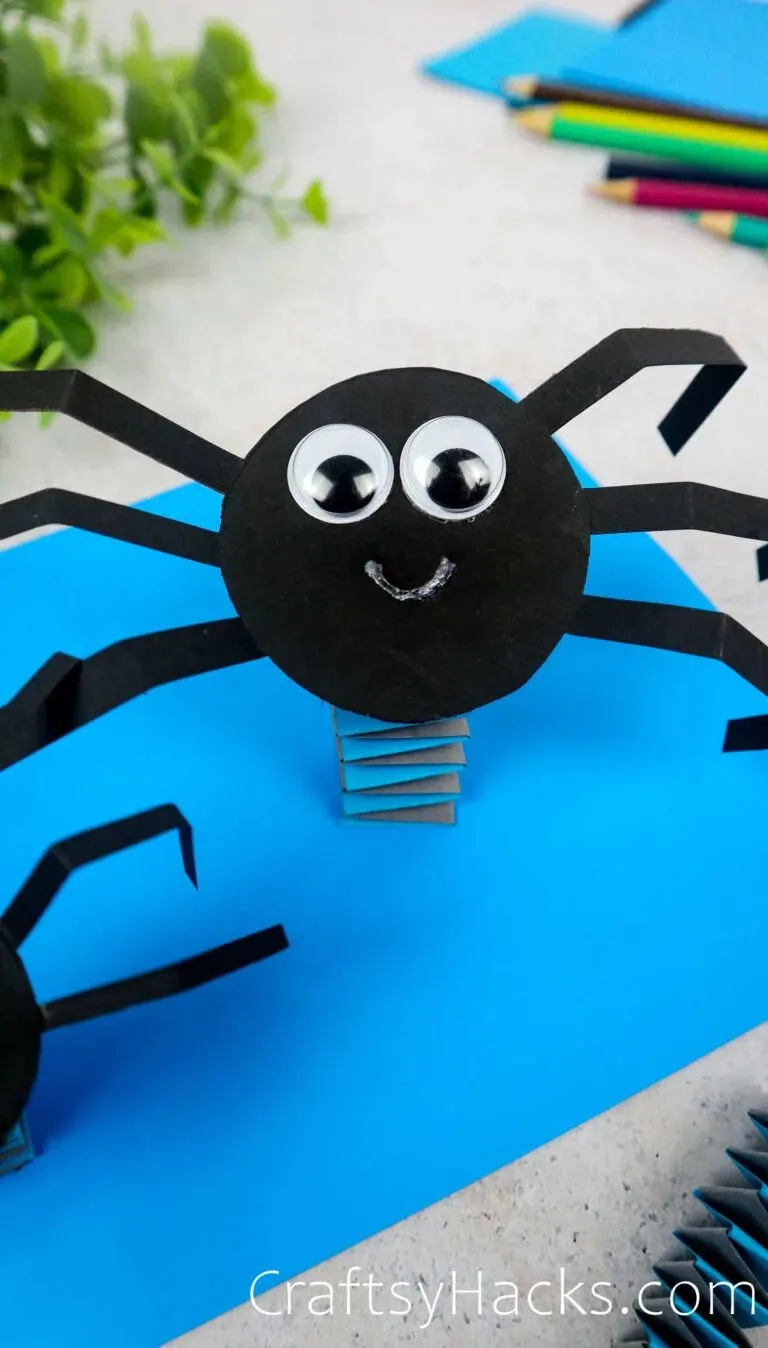 Source: craftsyhacks.com
This bouncy spirit brightens up any home and is a great project for bug lovers or Halloween lovers. Have them try one or a whole parade of spiders–whatever they want to commit to.
Also, grab these various-sized craft springs to let their spiders have ultimate bounce.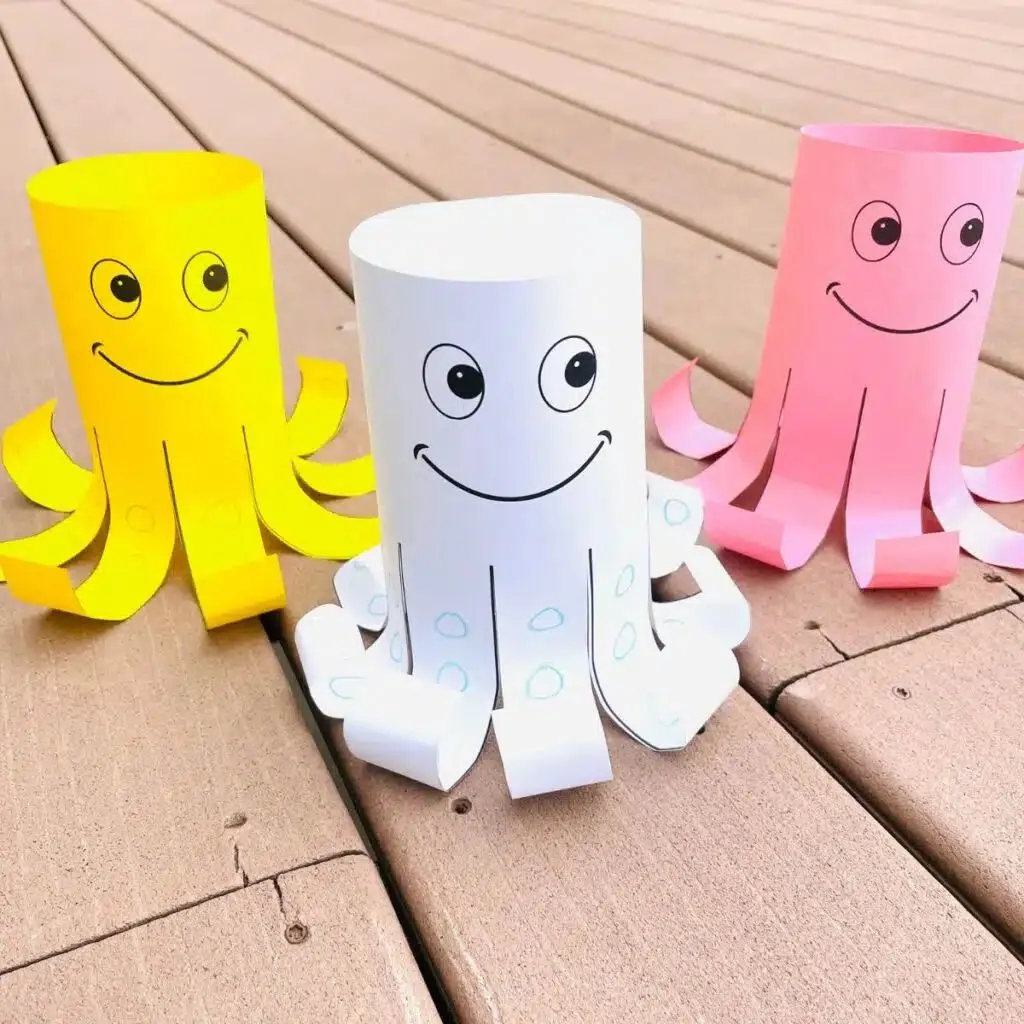 Source: simplyfullofdelight.com
For kids, there's seemingly nothing more fascinating than an octopus.
This easy paper octopus gives kids a simple way to have their very own eight-legged wonder without any of the real danger its living counterpart could inflict.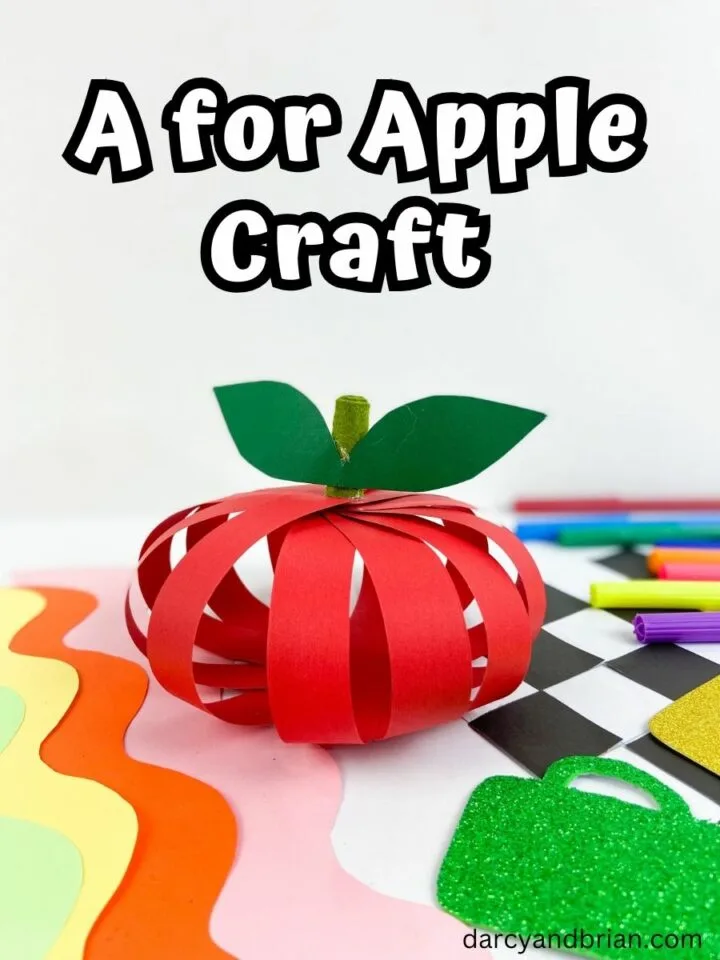 Source: darcyandbrian.com
The A is for craft series is a pretty standard lesson in most classrooms, but it's great to implement at home whether homeschooling, on a break, or they don't offer it.
This whole project can be a little more customizable to the child or children participating at home.
If a child seems resistant, opt for more recognizable characters or beloved foods–like P for Peppa Pig or C for candy.
Play around with it; most objects are easily transferable into a paper craft.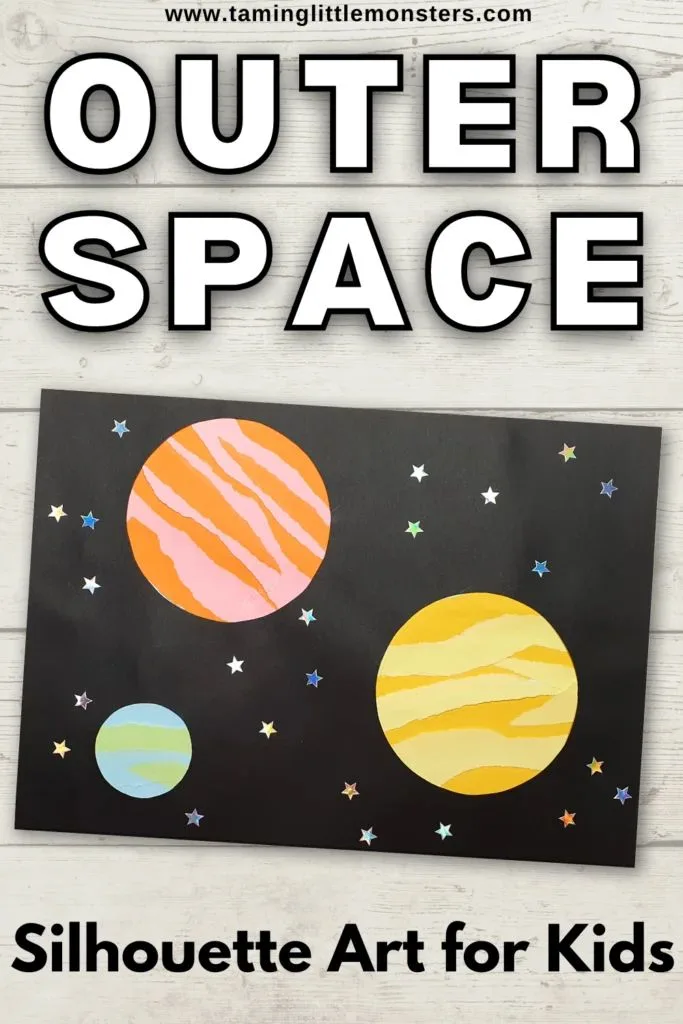 Source: taminglittlemonsters.com
Space is another fascinating scene for most kiddos. Provide them with a handful of basic supplies and let them create their own planetary plane.
These paint pens are great to add to this project to make things pop.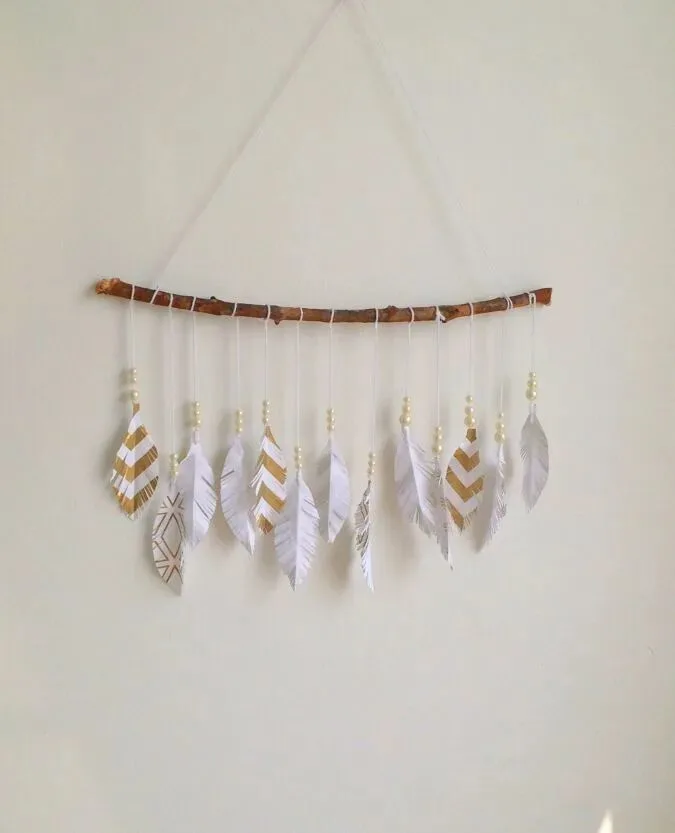 Source: sewcraftyme.com
To spruce up a space with kid art, try this paper feather wall hanger–a little more homey and intentionally decor-oriented than any piece of art.
Make it a whole afternoon, find the stick or sticks you'll use on a nature walk, and then come home and construct.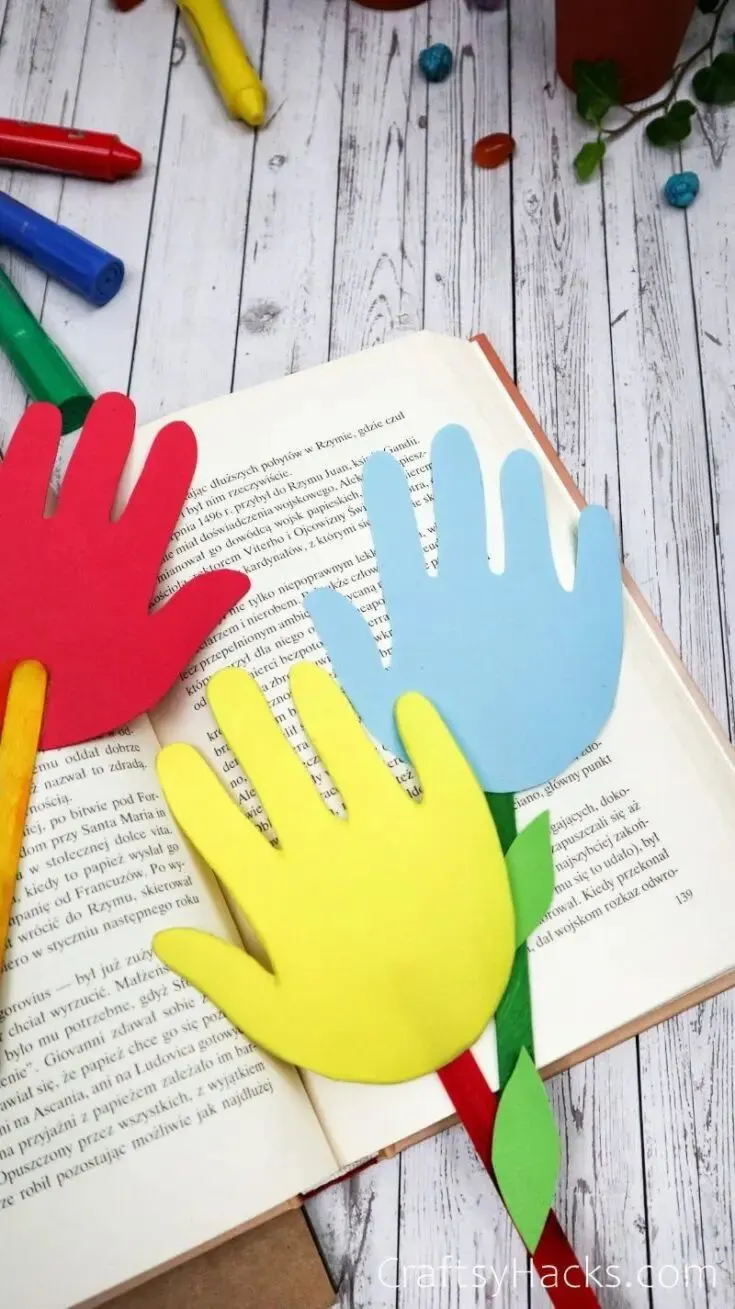 Source: craftsyhacks.com
For the book lovers, try out these fun paper handprint bookmarks–hard to lose or slip out of the current read. Stick with basic colors, or get a little maximalist by opting for printed paper.
Check out these other fun handprint crafts for kids!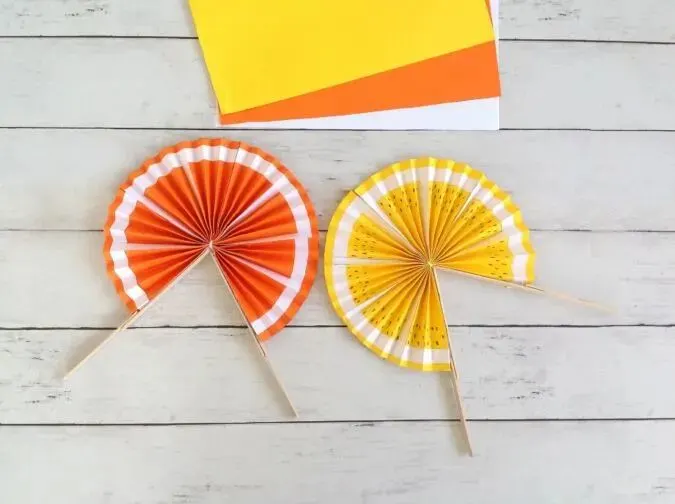 Source: sewcraftyme.com
I used to love these as a child, but the citrus theme makes them all the cuter!
Accordion fold a heavier cardstock (the heavier the paper, the more wind will be produced), but before doing so, dress it up as your preferred citrus slice.
Then, hot glue some thick popsicle sticks like these to either end to create the fan shape.
This is one of the cutest summer crafts for kids to keep cool!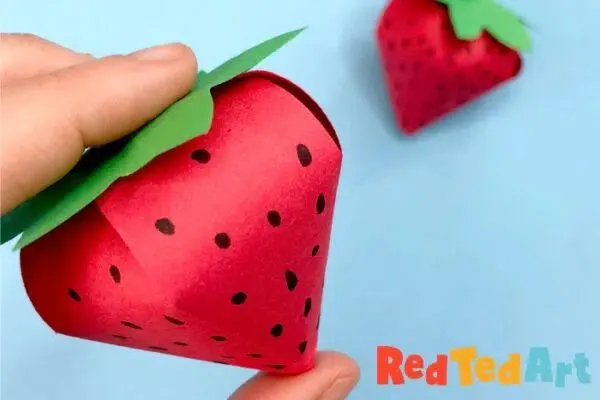 Source: redtedart.com
This paper box strawberry is another great option for kids looking for something more complex yet relatively quick-moving. Fine motor skill work at its finest here–decorating and cutting are both simple steps of this project, but being able to secure everything together correctly may not be for everyone.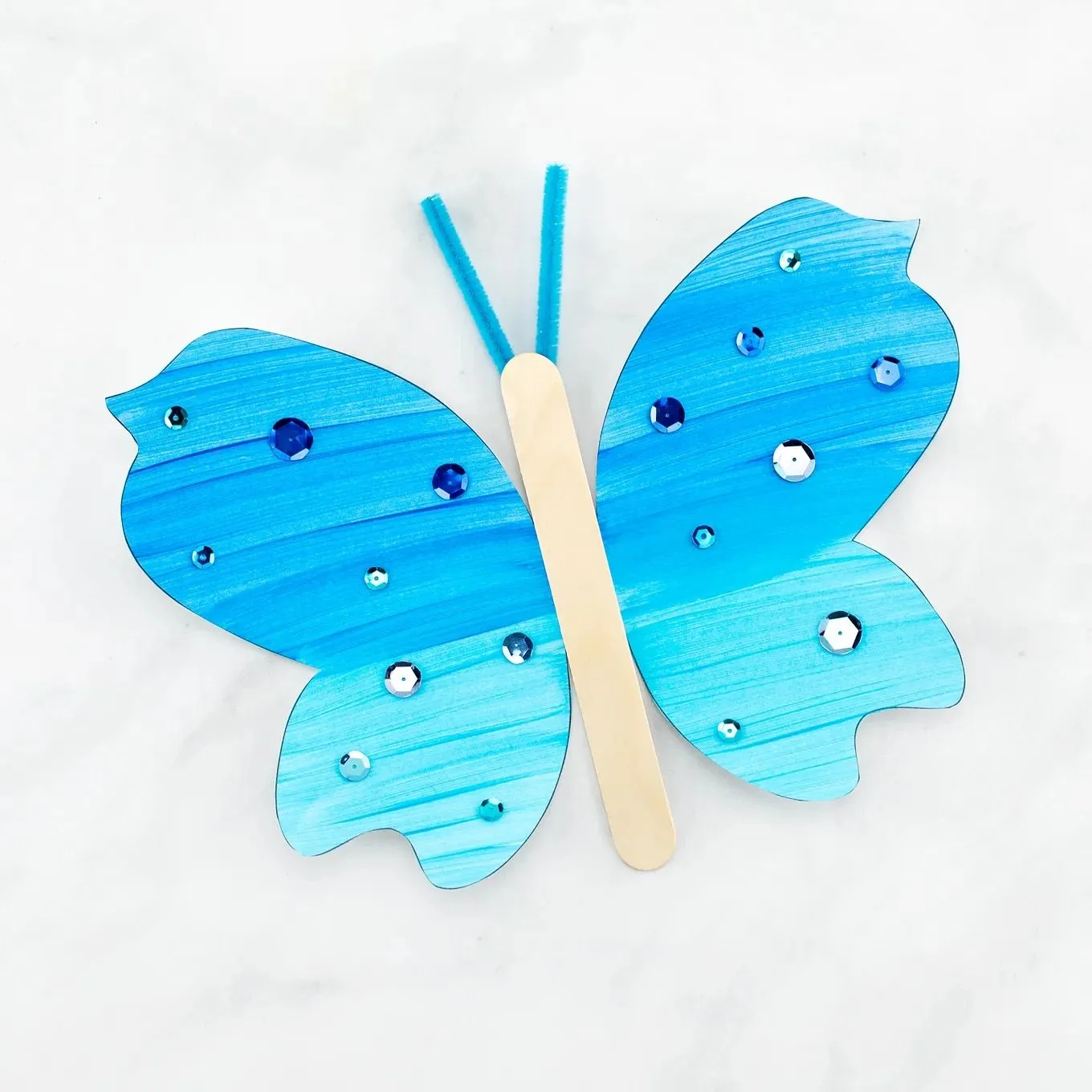 Source: firefliesandmudpies.com
Butterflies are a perfect project for any kiddo because they are so adaptable for any project or artist, and the big wings are perfect for artistic freedom.
Opt for a cardstock–flimsy paper won't sustainably hold the folds to get a distinct shape or bend to hold well.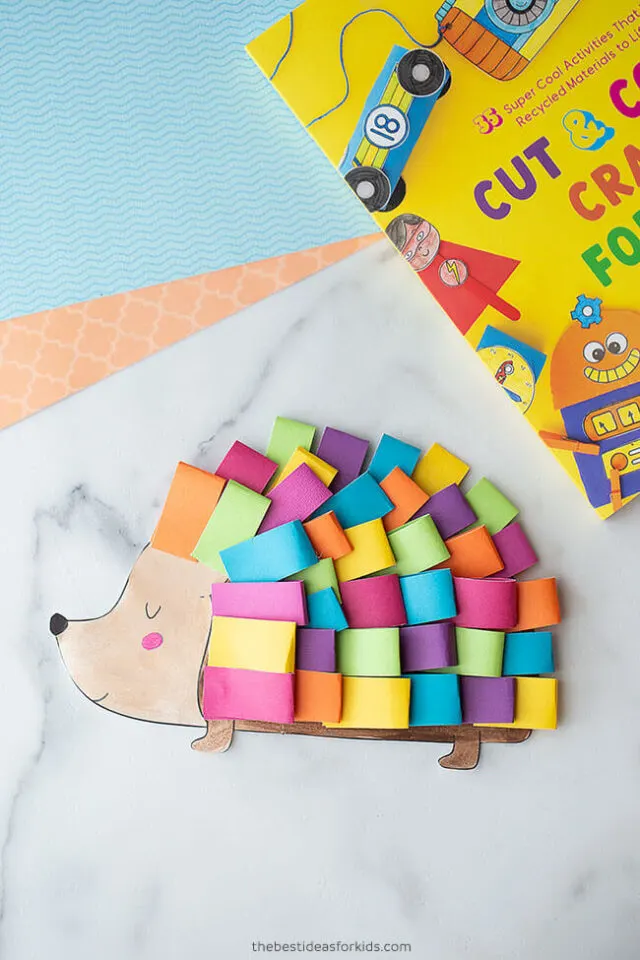 Source: thebestideasforkids.com
This hedgehog is my favorite on the list today–so adorable and colorful! The hedgehog's body is an excellent option to practice fine motor skills and finger dexterity.
Go for rainbow colors, stick to a specific vision the artist has, or stick with the colors you have–all work wonderfully.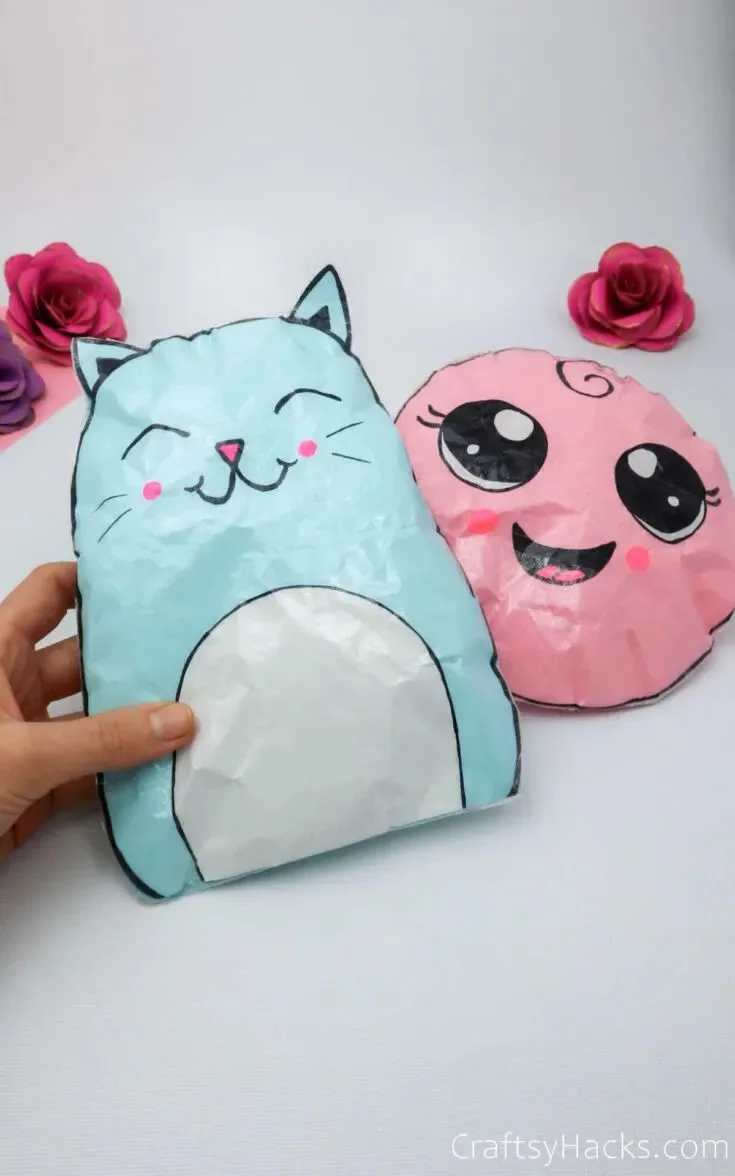 Source: craftsyhacks.com
It's hard to find a kid who doesn't love Squishies these days, so why not have them try a paper version of their favorite or favorites?
Prepare all of the pieces ahead of time for this cute craft and then treat the craft as an assembly line; that way, the kids won't be stressed over the multistep process.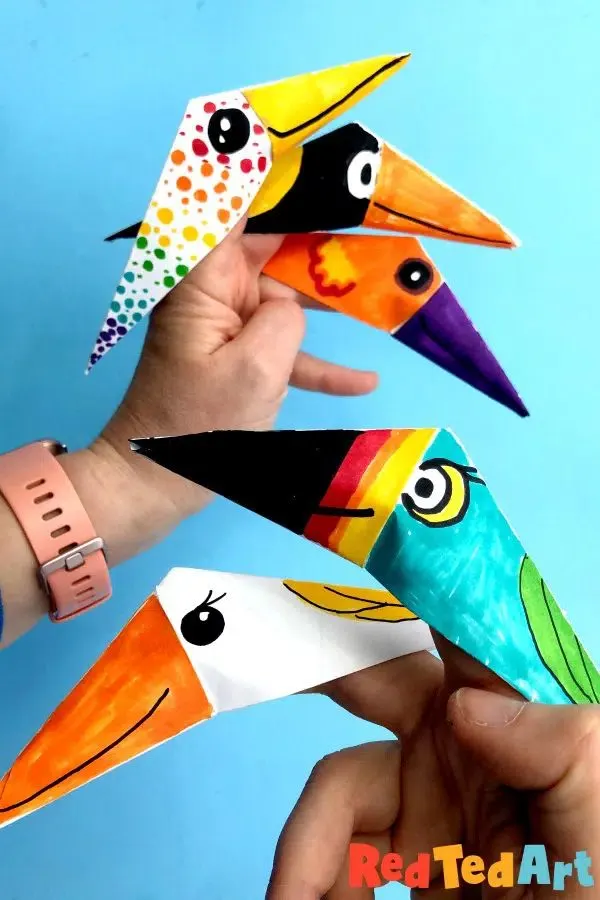 Source: redtedart.com
These bird-finger puppets are the perfect party or social craft to do with a group of children! Have them pick out their supplies, fold, and draw their bird–they'll be squawking all afternoon.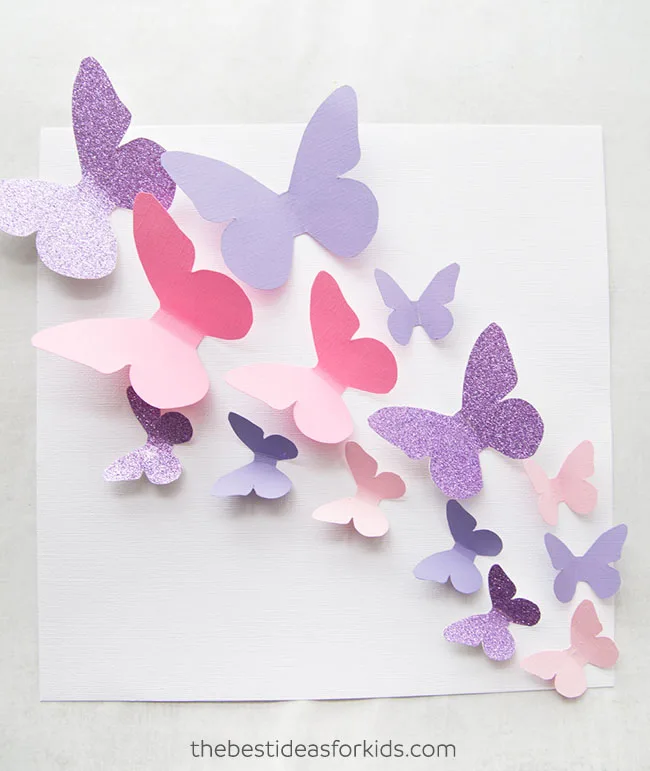 Source: thebestideasforkids.com
Another piece of intentional wall art are these beautiful cascading butterflies.
Their silhouettes are perfectly transitioned from big to small–don't fret if they aren't perfect–I actually like it when they completely do a kid's project mistakes and all.
If you'd like a butterfly-hole puncher, check this pack out.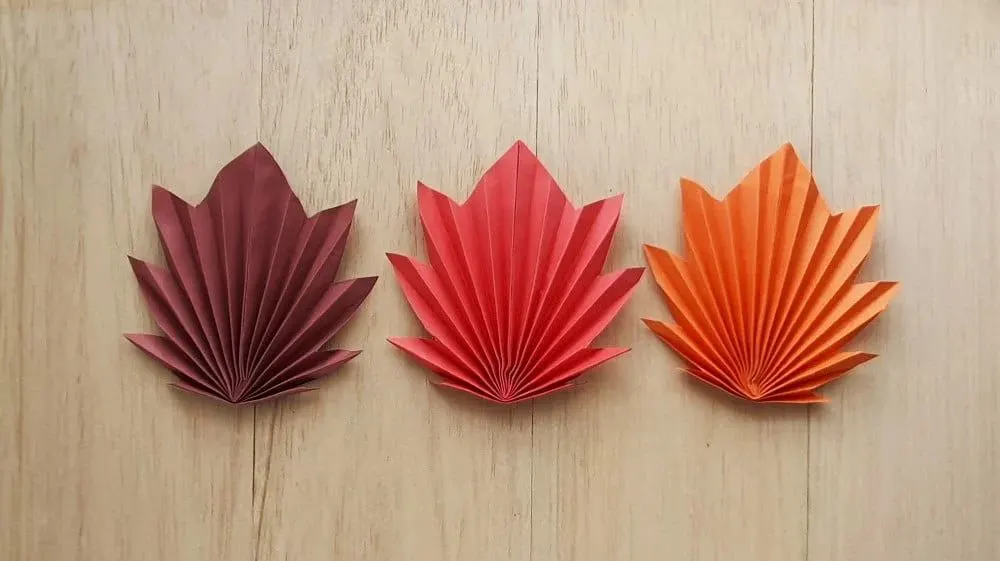 Source: ottawamommyclub.ca
These maple leaves look very similar to the fans above, but they turn into wonderful maple leaves with the intentional cuts at the top.
Try out your favorite leaves together and follow their silhouette while cutting them out.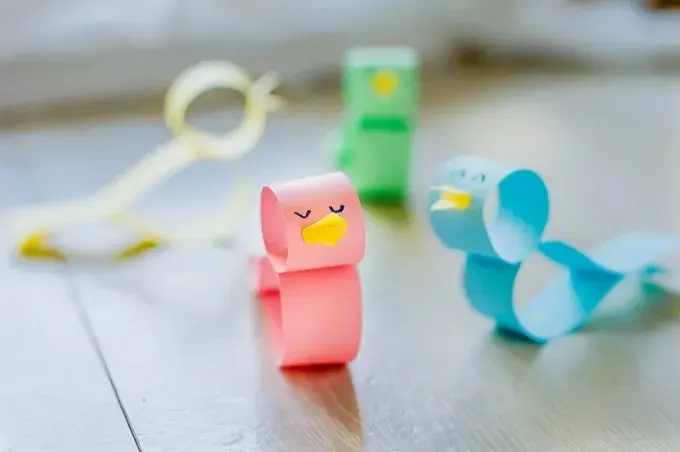 Source: homanathome.com
Paper strip songbirds are among the sweetest on the list today and relatively easy for anyone to work on!
If some crafters have trouble manipulating the paper to create the bird, help them along or show them how to fix the problem gently.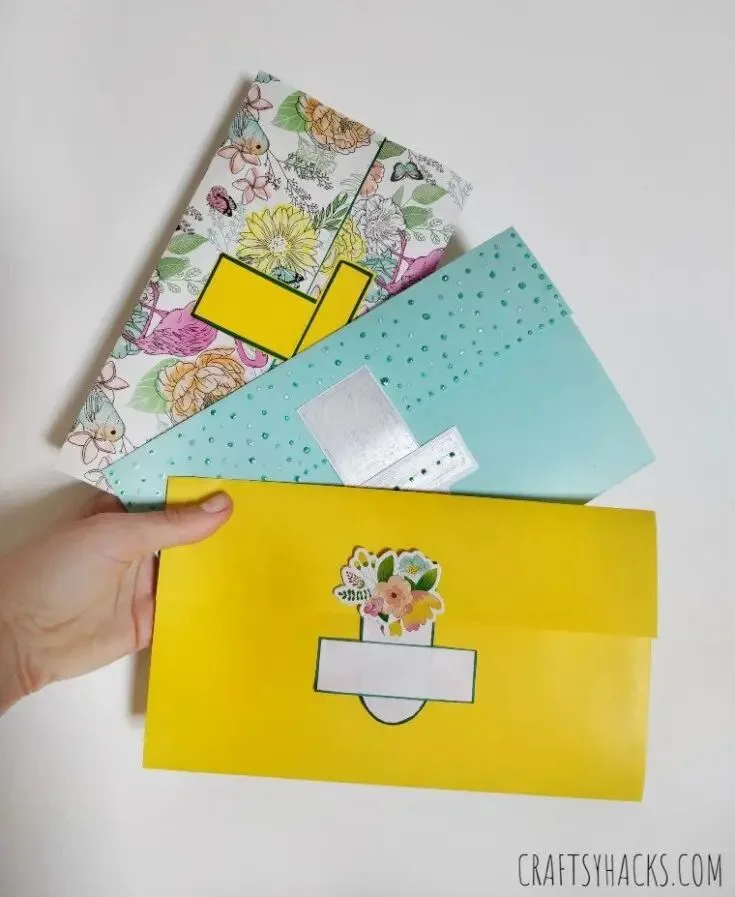 Source: craftsyhacks.com
Perhaps your kid or kids you know are growing out of the 'piggy bank' phase of life but are not fully carrying a real wallet yet. Have them make these paper wallets.
It's a great learning lesson within a craft project! Bring out your wallet, talk lightly about money, and answer their questions simply.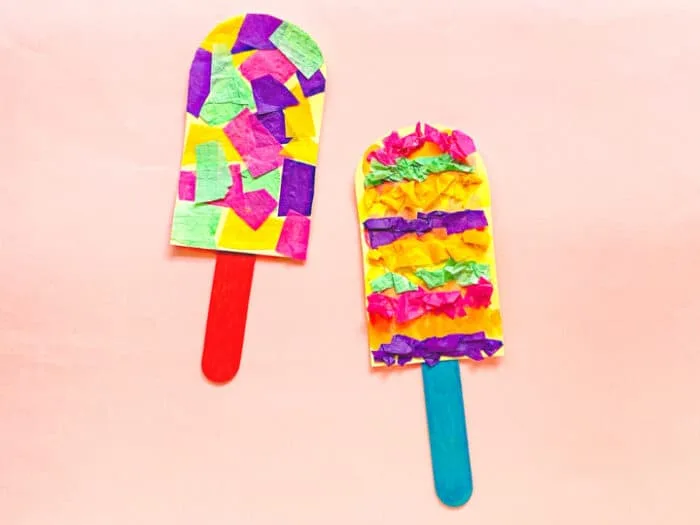 Source: madewithhappy.com
You'll be cool for the summer with this great popsicle tissue paper craft! It's time-consuming due to the shredding of the popsicle pieces, but that's also what makes it fun.
Kids love to rip things, so channel it into a sweet craft like this.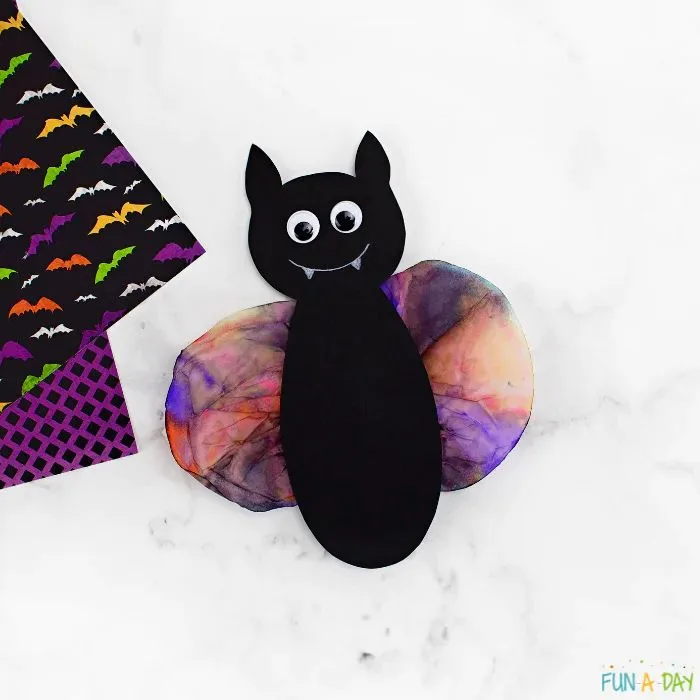 Source: fun-a-day.com
Coffee filter paper liners are an excellent home good and versatile tool for flowers to bat wings–it's all possible.
Keep the wings simple or add a fun effect; whether marbling, dyeing, or just coloring, they'll be ready to fly in no time.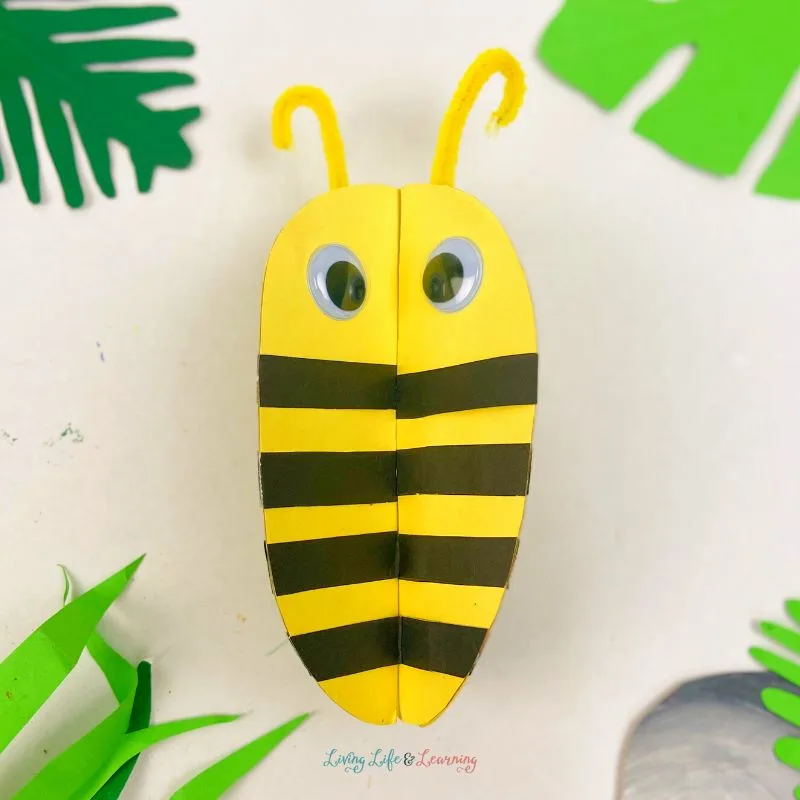 Source: livinglifeandlearning.com
This paper bee is a perfect spring craft for when the flowers bloom, and the bees return to their fully busy, buzzing ways.
Every bee turns out as unique as the last, and having a handful of them around brightens up even the dreariest in-between days.
A fun experiment to try: swap out the traditional black and yellow for other bright colors or even patterned papers.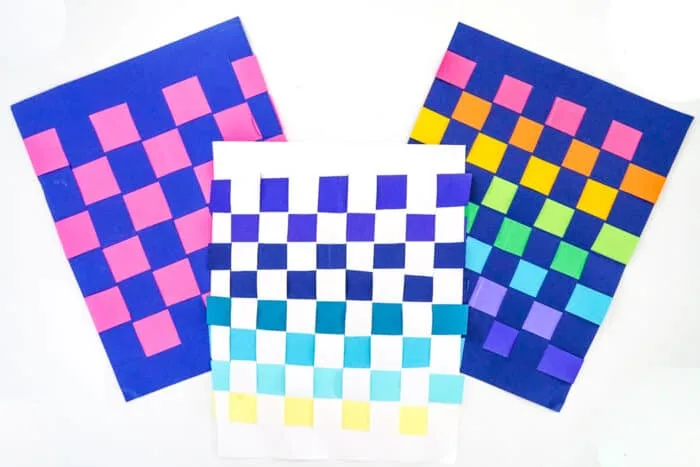 Source: madewithhappy.com
Paper weaving is a great way for kids to get introduced to a larger hobby or project of regular weaving.
Whether they are interested in one project or many, this weaving craft is a great option while watching a movie or show.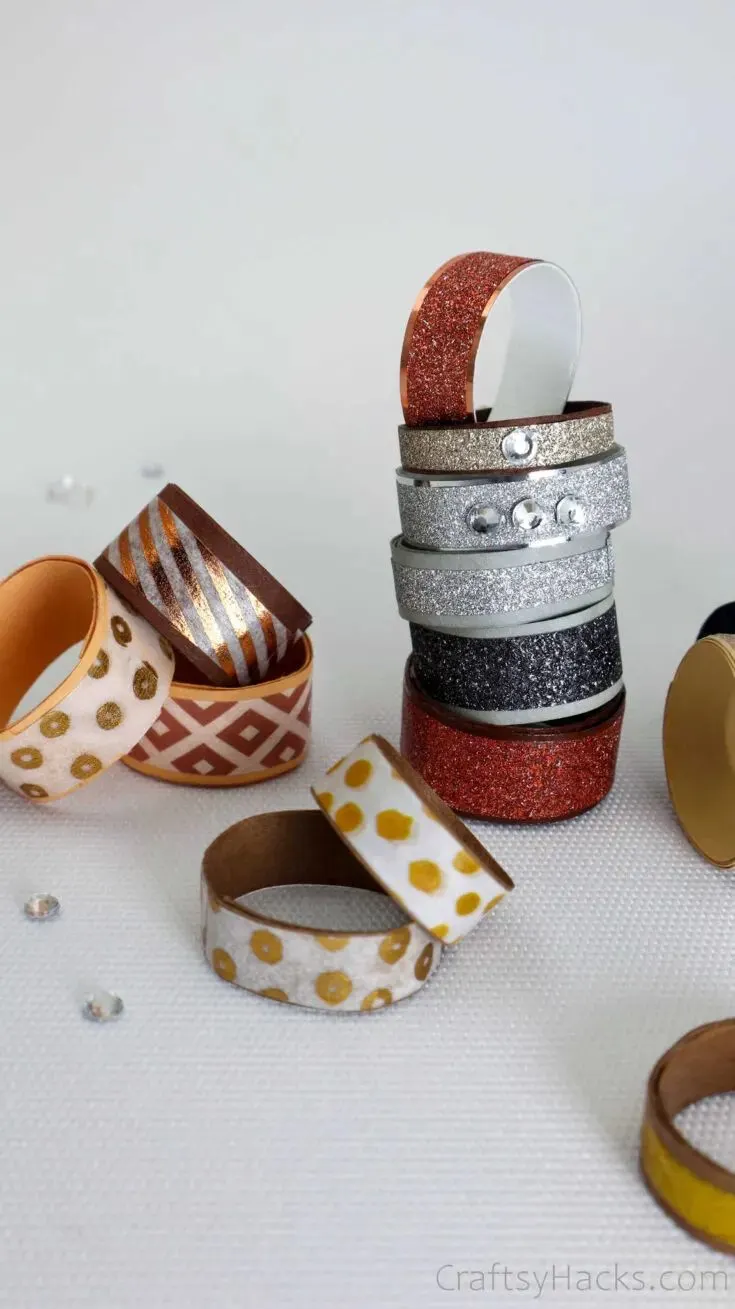 Source: craftsyhacks.com
Paper rings may sound like they may have a short life, especially with kids, but if you use the right material, these accessories can become childhood favorites.
Make sure to take proper measurements and then let the kids get to decorating once everything is prepared.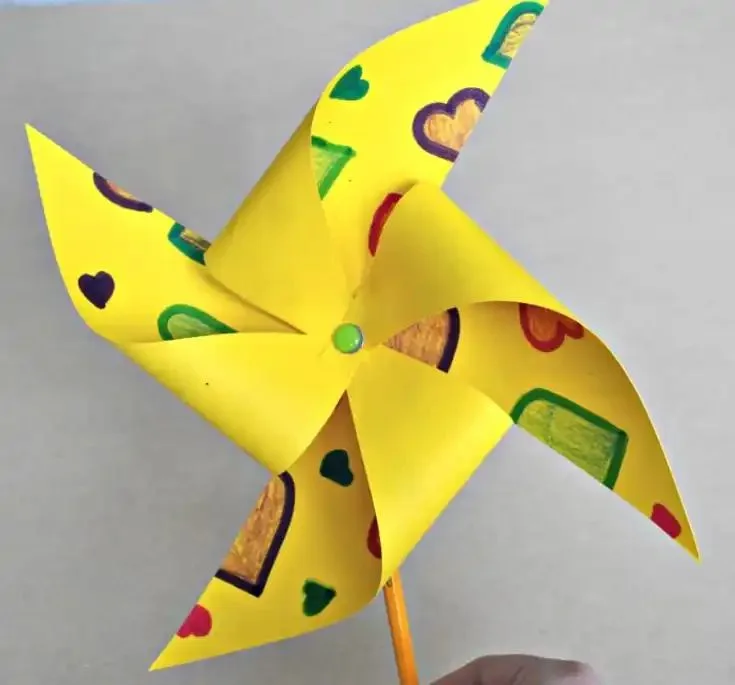 Source: easy-crafts-for-kids.com
Paper windmills may rival paper hats as one of today's most iconic paper crafts available, but both are still around for good reason.
Kids can't get enough of the windmill action as air blows through; use a good enough paper for extra long shelf life.
Grabbing patterned paper instead of adding extras onto the fans makes for a faster spin.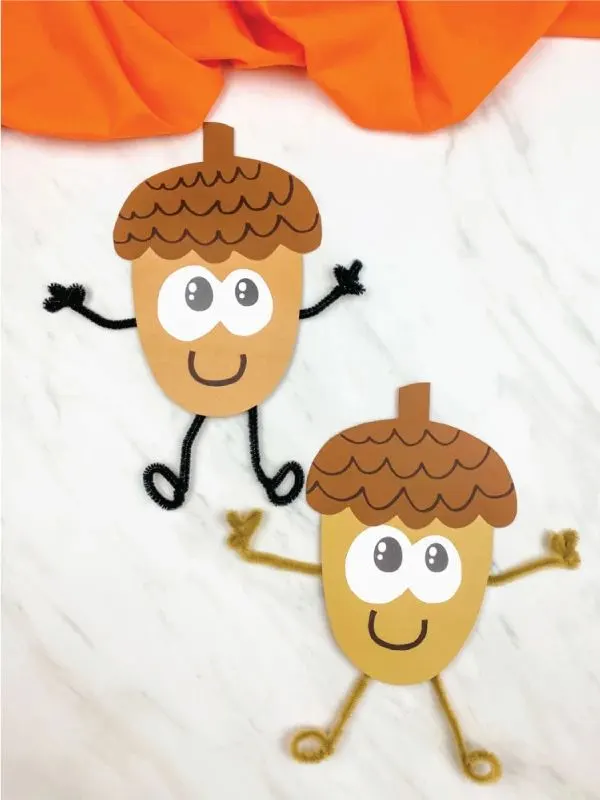 Source: simpleeverydaymom.com
These paper acorns have always been a crowd pleaser in the past, so I like to share this one now and again.
And, although simple, the way kids get to decide the faces and it never tires to provide many laughs.
Feel free to add leaves, pumpkins, and any other fall foliage the kids love for an extra goofy time.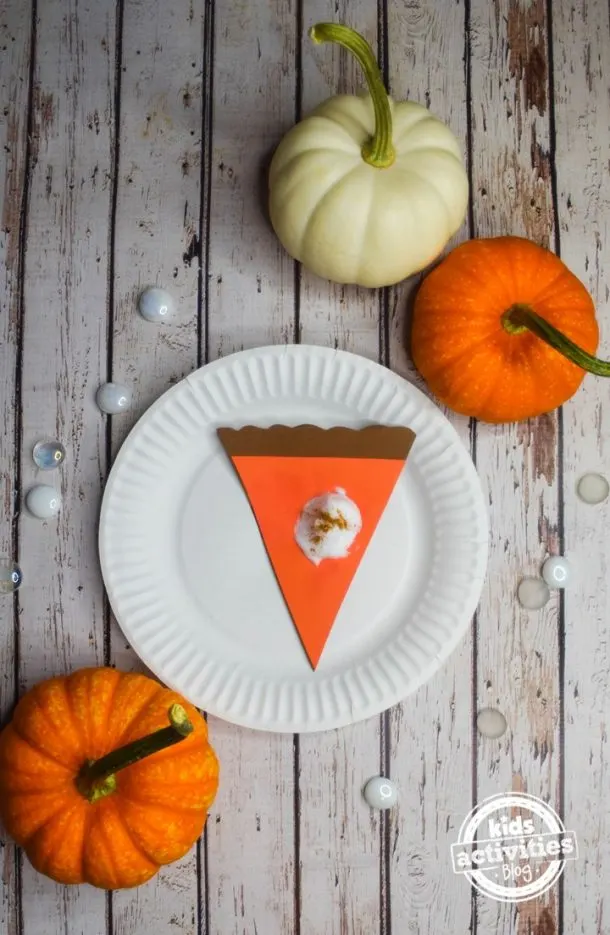 Source: kidsactivitiesblog.com
As the holidays draw near, this cute pumpkin pie activity is an absolute darling option for the kids to do for fun, decor, or somewhere in between.
Use them as name cards for a kid's party or display them for guests to see when they come over.
The project's cool part is the use of the puffy pain as whipped cream. Grab some puffy paint here to do the same.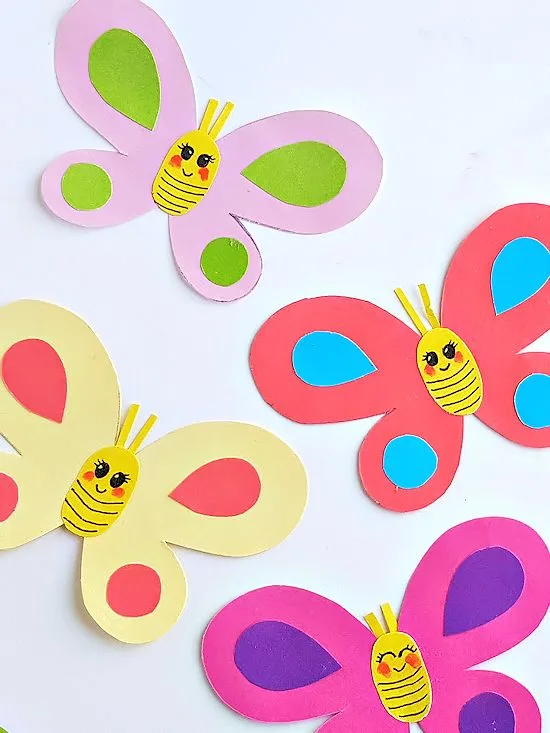 Source: ourkidthings.com
Try this sweet smiley paper butterfly craft for a simpler butterfly activity than the previous two.
The edges on these guys are a little more forgiving, and young artists seemingly love to add a smile to anything they draw, which I'm not complaining about!
I suppose they could also opt for a goofy face as well.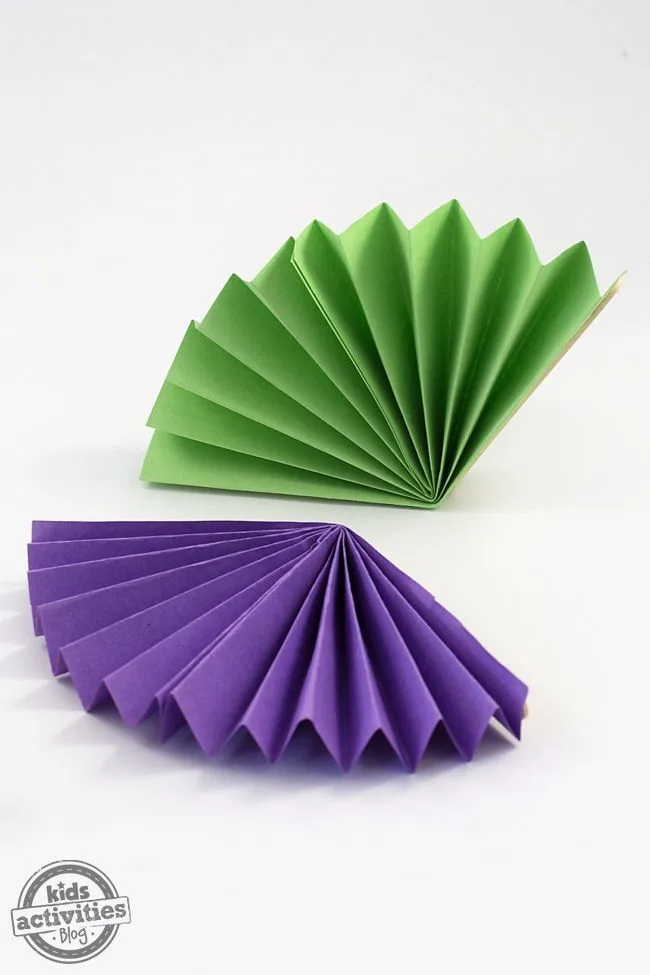 Source: kidsactivitiesblog.com
If you'd like a non-citrus fan, here's a great pattern for an even simpler option. The accordion fold will sit better and longer on heavier-weight paper, like cardstock.
The kids can use them regularly all summer or in the hot season as something functional and fun. Add a fun drawing before folding for extra fun on your fan.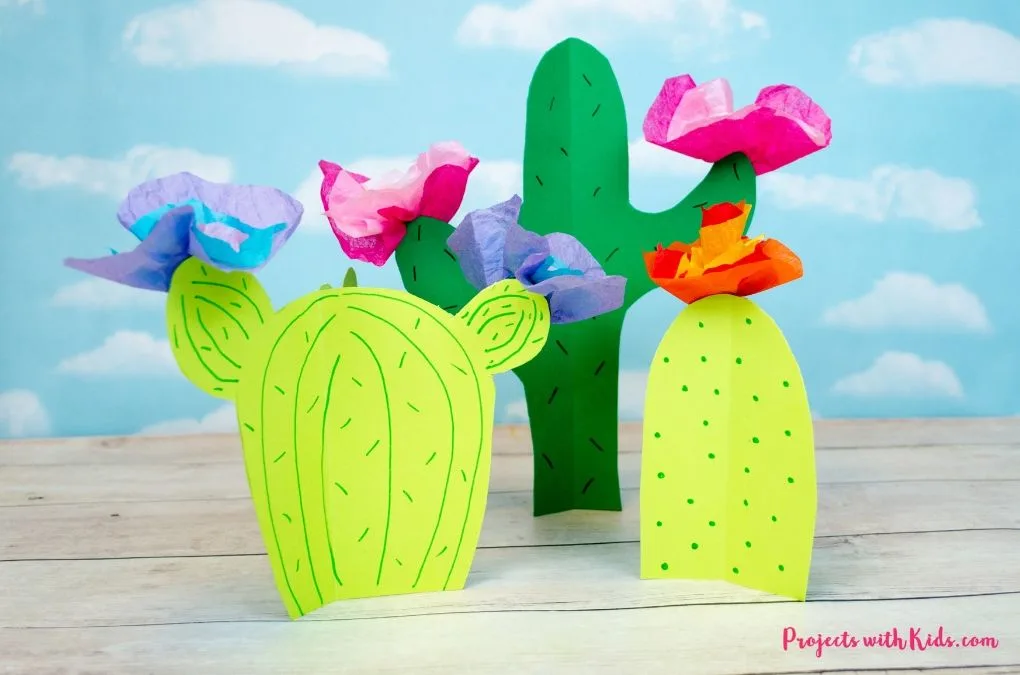 Source: projectswithkids.com
Cacti seem a regular image on kids' television because they seem as popular as ever! If the kids want an extra pop with their project, consider this 3D cactus.
Add cute flowers or a solo coyote toy in the background to make the image even more interesting.
Alternatively, you could attach all cacti and accessories onto a piece of cardboard or solid grounding for more permanence.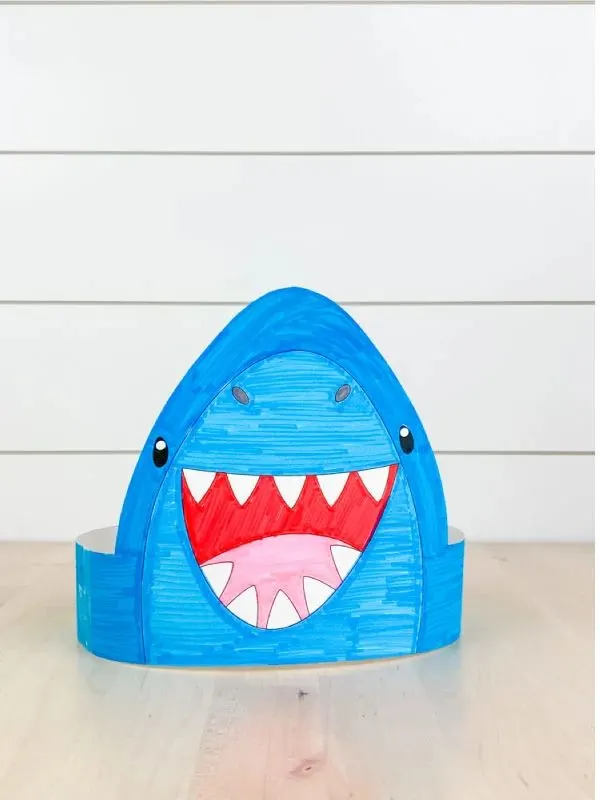 Source: simpleeverydaymom.com
Do you need any more reason to make this, with Baby Shark having taken over the world a few years ago?
I don't think kids will never not love something as fun as an animal headband, and especially a shark at that.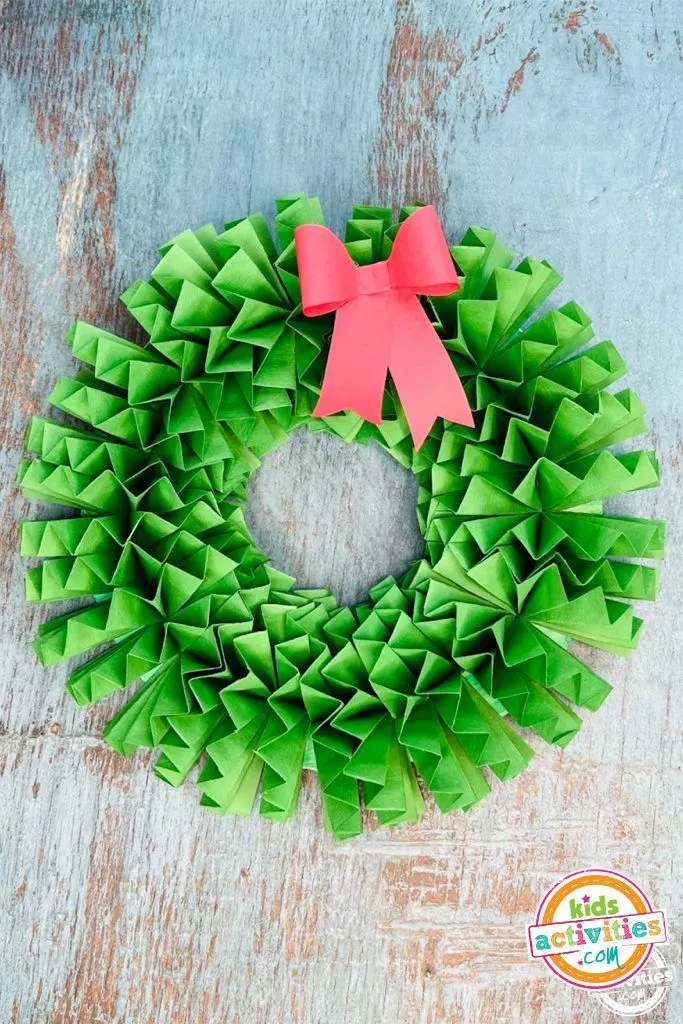 Source: kidsactivitiesblog.com
Making a wreath as a kid seem like a rite of passage for a child; I remember making one early on in school as a present for my family.
The fold makes this wreath extra special, so show how to do the fold or help with it.
It's similar to a paper fan as it uses an accordion fold, but the difference is that it gets attached to the wreath. Feel free to stick with green or have them pick their favorite festive color.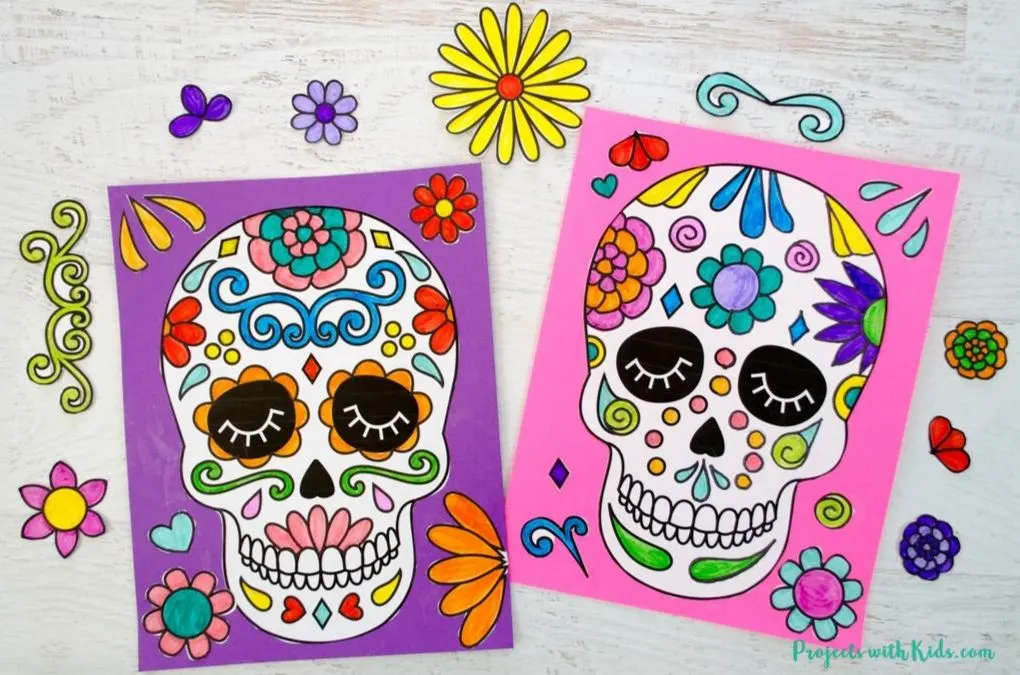 Source: projectswithkids.com
If you want to add a cultural lesson to your kids' lives, why not add this paper sugar skull craft for the Day of The Dead?
Pairing alongside a conversation about an incredible holiday honoring ancestors is a wonderful project.
Find templates or sketch the skulls out, cut them out, and add them to bright or neonish pieces of paper.
The tradition of Sugar Skulls is that of joy and remembering happy memories of the past.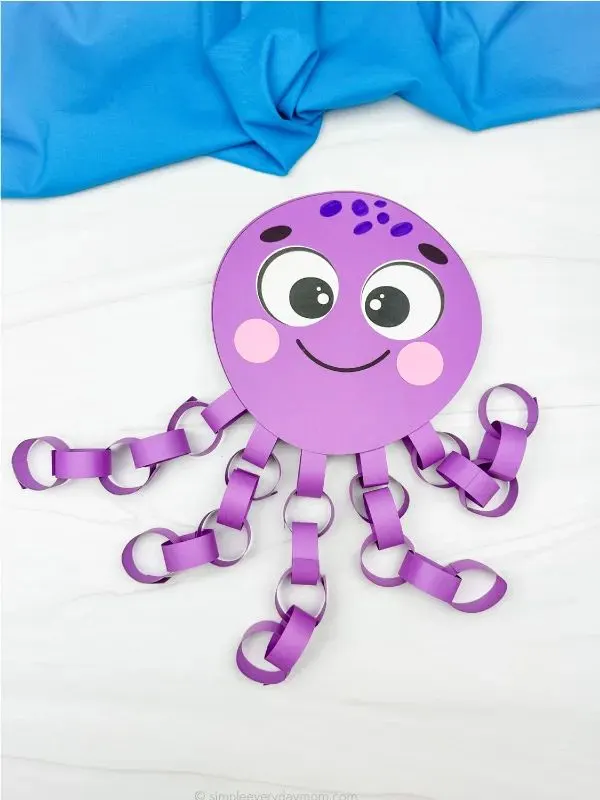 Source: simpleeverydaymom.com
This paper chain octopus is incredibly darling for the younger crowd that loves aquatic life.
The construction involves big, simple pieces for younger hands to get their sea legs in a multistep project.
Use the octopus as a counting activity and even use it to countdown to a special event or birthday if you'd like!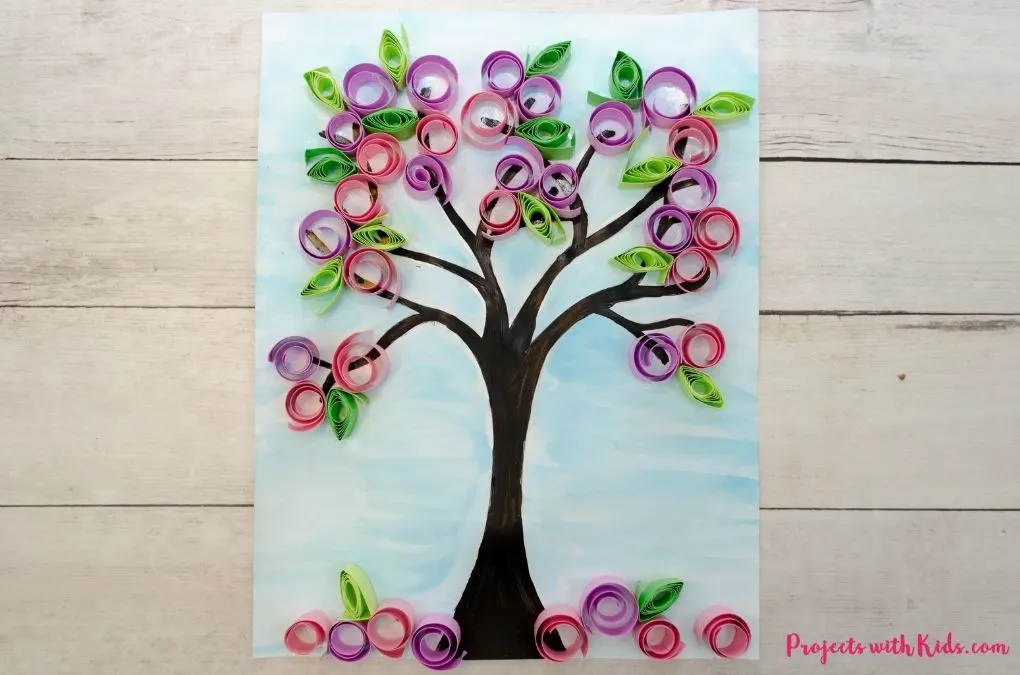 Source: projectswithkids.com
Tree projects and art are always good ideas and work easily as a lesson plan about the seasons.
This spring tree is one of my favorites because of the pop of colors in the trees representing flowers.
Keep them pink, or add a few different colors for a sweeter tree. Or, if you're looking for a whole other spin, turn the idea into a flowering bush.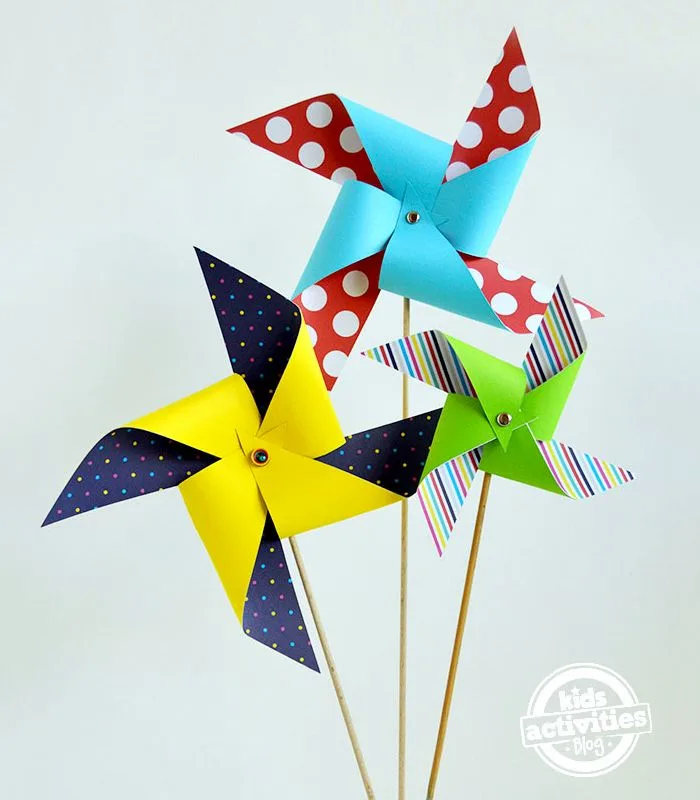 Source: kidsactivitiesblog.com
If your kids loved the regular-sized pinwheels, surprise them with these giant ones! You could stake all of them into the ground and turn the experience into a science lesson.
Pose which ones will move faster vs. slower, ask for guesses, and then discuss the results and why they think it that way. Or you could just all watch them spin–whatever works for you all.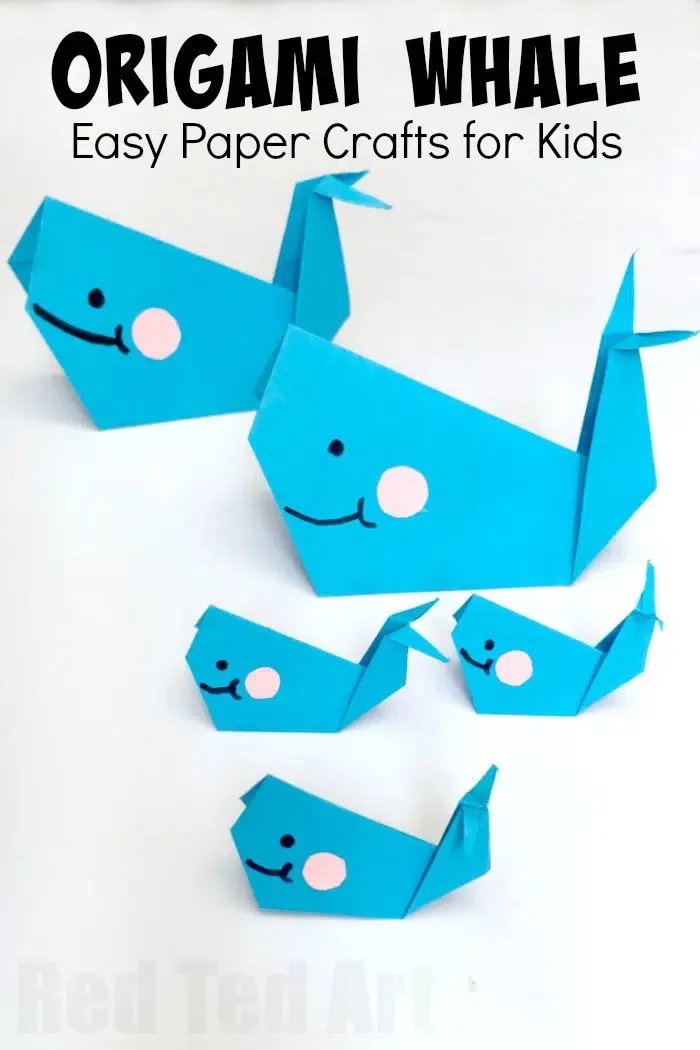 Source: redtedart.com
I would like to know who didn't just grin looking at these sweet, gentle giants! Somehow, as an origami creation, the whale became even cuter to me.
Regardless, have them make a few kid-sized ones and a few adults to make a small group to swim together.
If anyone's feeling bold, I think some different colored whales would be just as charming.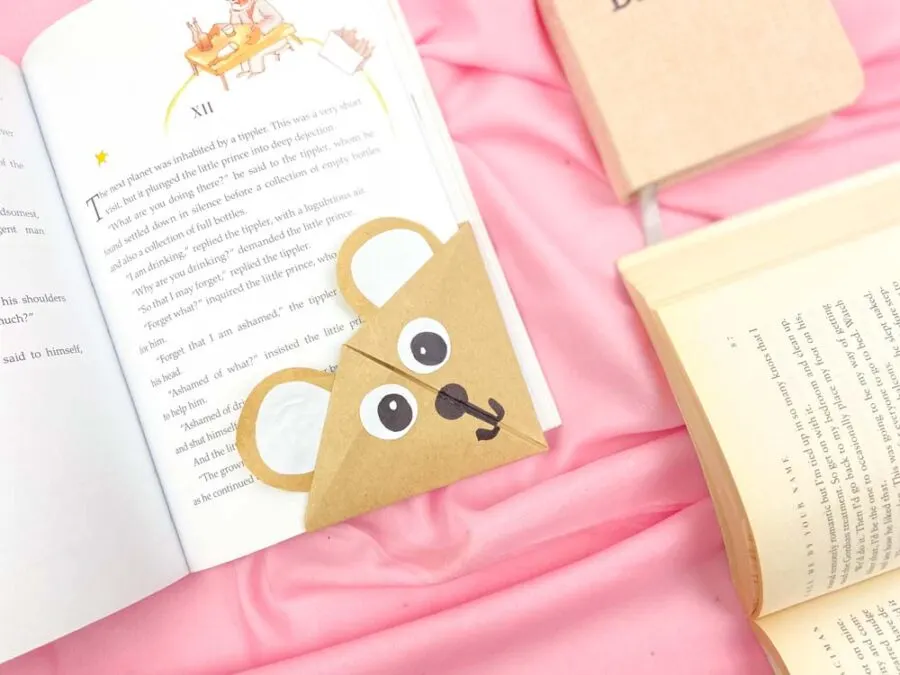 Source: growingupgabel.com
The first time I encountered this bookmark, a child gave it to me. It looks a bit complex, but once you're taught, you'll find yourself making so many more!
Adding a cute character like a bear makes for an even sweeter experience. You can make it with any sized paper, but I first started with Post-It notes like these.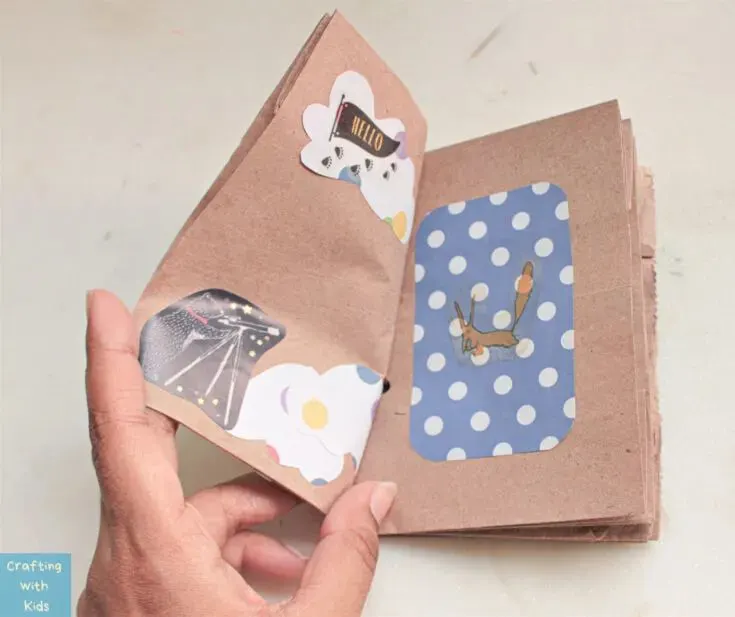 Source: craftingwithkids.net
Notebooks and paper, in general, can get pricy, or if you're looking to cut down on paper consumption, consider using paper bags you already have.
A great way to make an alternative notebook or flipbook is by constructing one of the paper bags.
Have the kids add what they want into the pages and then have fun flipping once completed.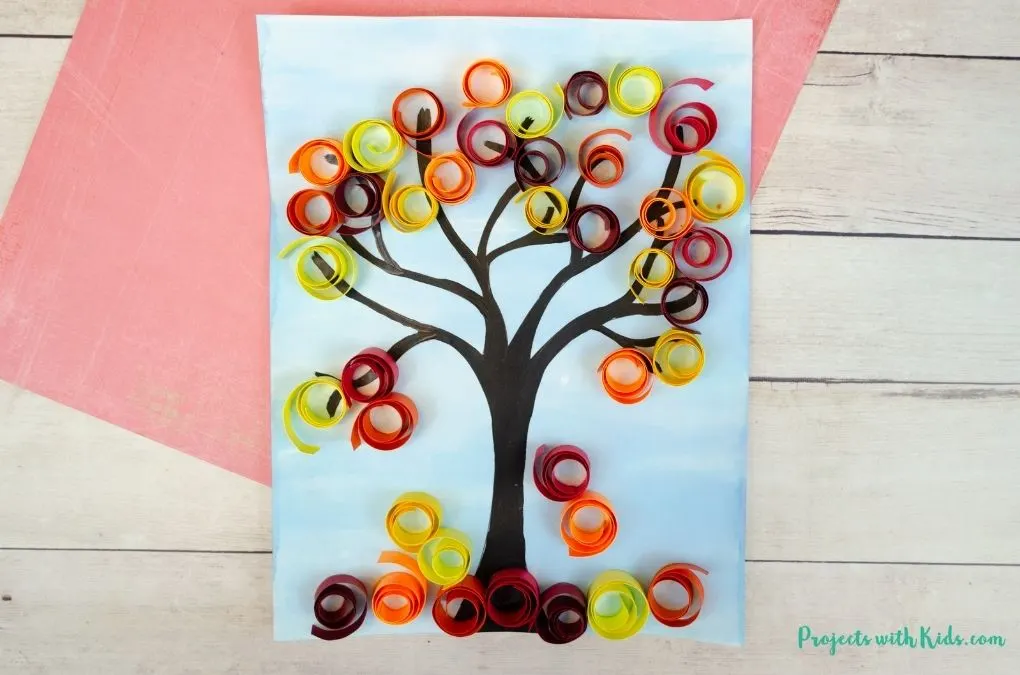 Source: projectswithkids.com
Like the spring tree, the fall option has made the list for the kid crafts. An adult or trusted kid can use scissors to curl the paper strips to get the leaves extra spirally.
Again, a fall bush could be a fun project, too. Add fun squirrels or critters, a swing, or even family members to the scene to round the image out.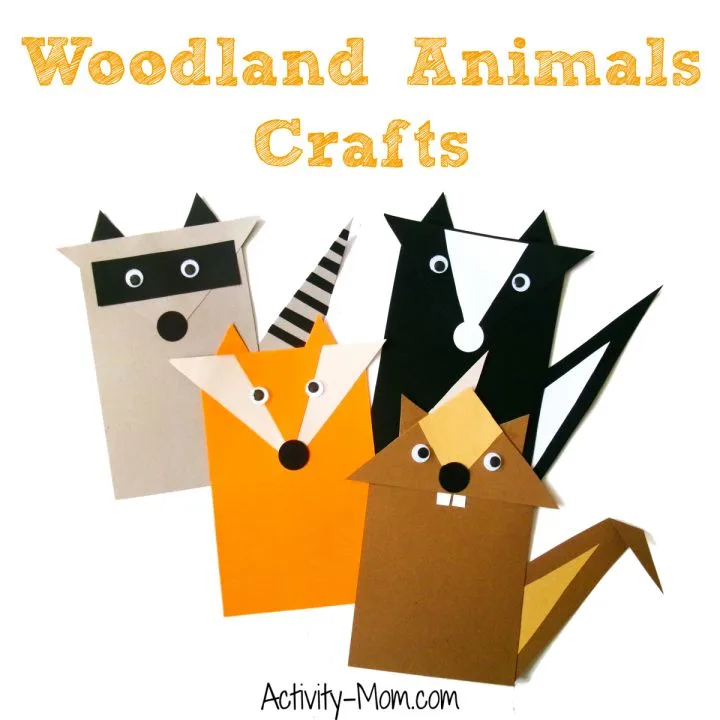 Source: activity-mom.com
Continuing with the critter idea, these woodland paper animals are fun to make and use for anything.
These guys can double as puppets, educational devices, or just fun art pieces to hang up in the kids' rooms.
A few are showcased above, but all woodland creatures are possible here! Get creative with your kids and see what you all can make up with one another.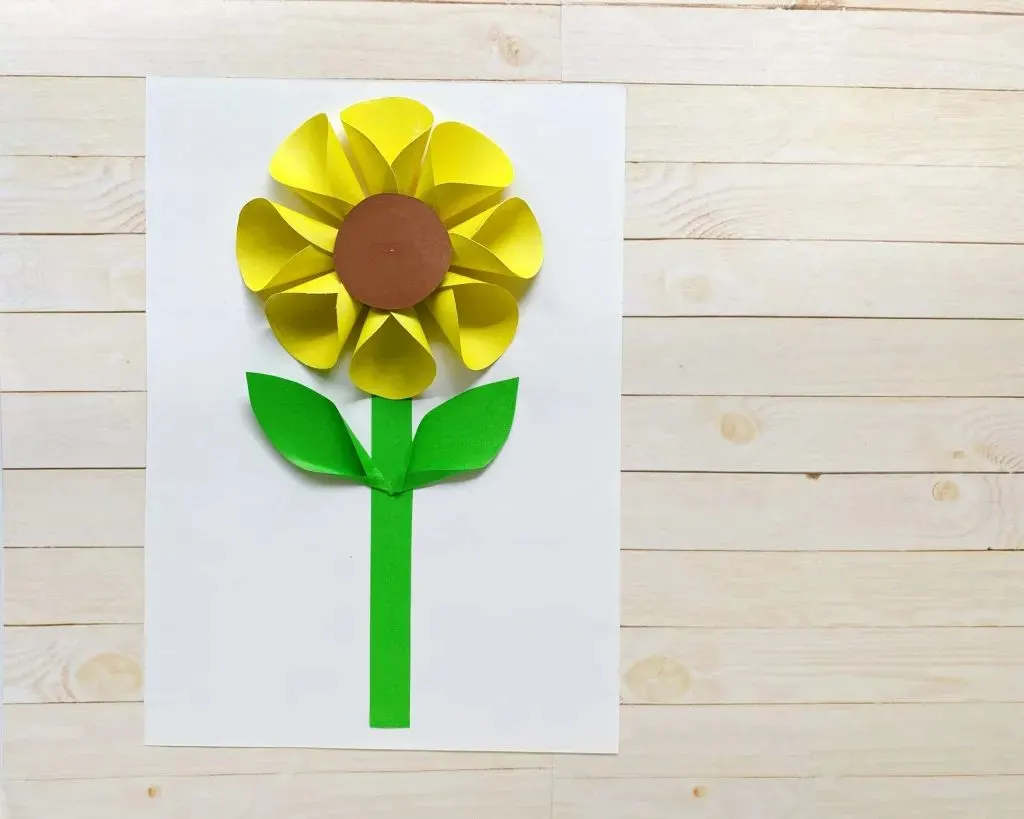 Source: madeinapinch.com
For the flower children, this perfectly folded paper sunflower is a perfect and shining example of cool ways to create flowers and other plant life.
The slightly raised edges of the petals and leaves bring another dimension to this sunflower without being entirely 3D.
This craft is excellent for practicing fine motor with slight edges that aren't too extreme.
Stick with sunflowers, find other favorite flowers to try, or even any findings you may find out on a nature walk.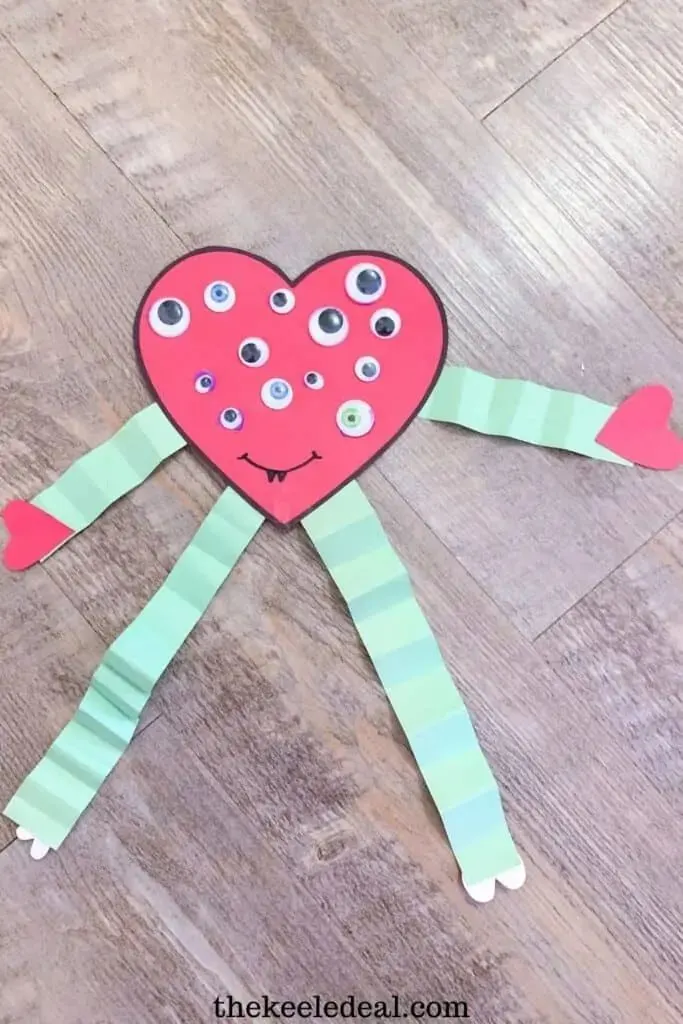 Source: thekeeledeal.com
Heart monster seems contradictory, but this fun little Valentine is the perfect craft to celebrate the holiday with kiddos.
The arms, legs, and googly eyes give that wholesome, fun, and celebratory feel on a special day like Valentine's Day.
Add more stickers, gemstones, or color to your heart monsters, or keep with just the googly eyes.
Don't forget to grab these googly eyes to make your monsters extra creepy with different-sized eyes.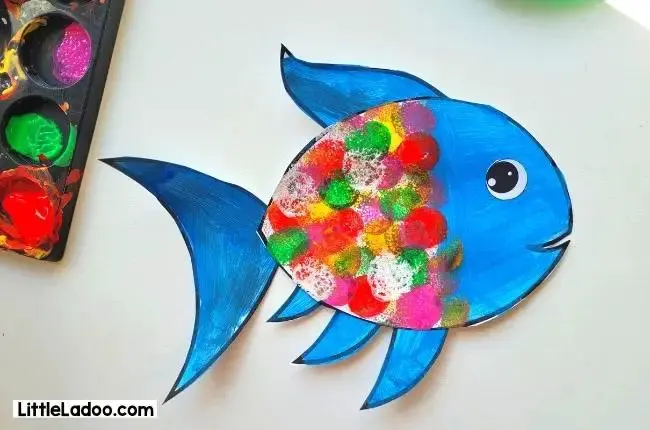 Source: littleladoo.com
Most kids know the Rainbow fish story, so it's a natural addition today! Grab a free template online, or have them make their own versions of rainbow fish entirely.
If you or they aren't familiar with it, pair this craft with the book! Talk about themes, messages, guesses of what may go on, etc.–it's all fair game.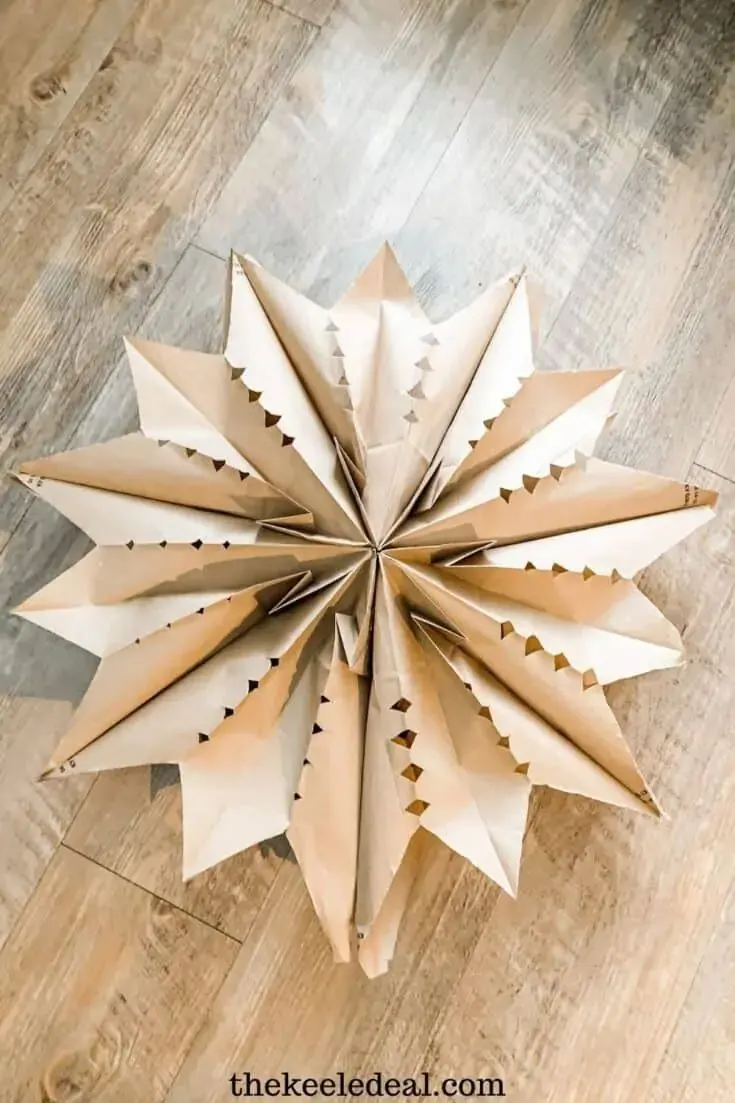 Source: thekeeledeal.com
Last but not least, brown paper bag snowflakes. These snowflakes are a wonderful craft for the whole family and quickly become a sweet and sentimental decor piece.
The best part is that they are an incredibly cheap alternative to some hanging garlands or holiday decorations on the shelves today.
If you'd like to add your personal spin, have everyone color or decorate a bag before assembling and cutting it up.
This is one of the most fun Winter crafts for kids to make a snowy day!