Looking for some of the best ideas for the next handprint craft? These fun ideas will help your whole family to have a fun crafty morning.
For all you DIY fanatics out there, I have come up with the cutest and most refreshing DIY ever! Here are 37 adorable handprint crafts that will awaken the sleeping artist in you. You can create all these super cute handprint crafts with your kids or students if you are an art teacher.
Creating handprint art is fun for birthday parties or even baby shower get-togethers. These crafts make for amazing kids activities. So, without further ado, let's get our handprint Crafts party started.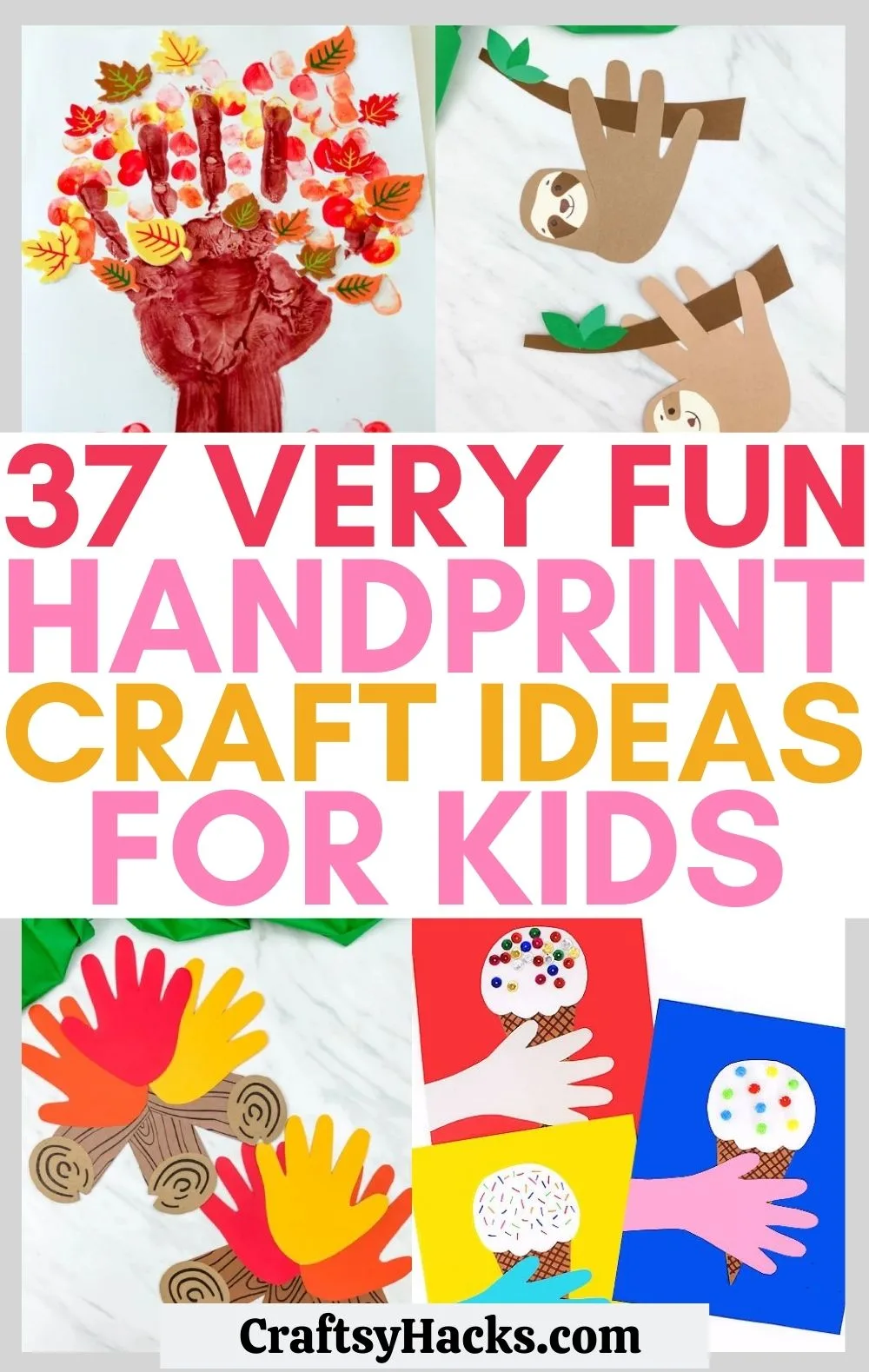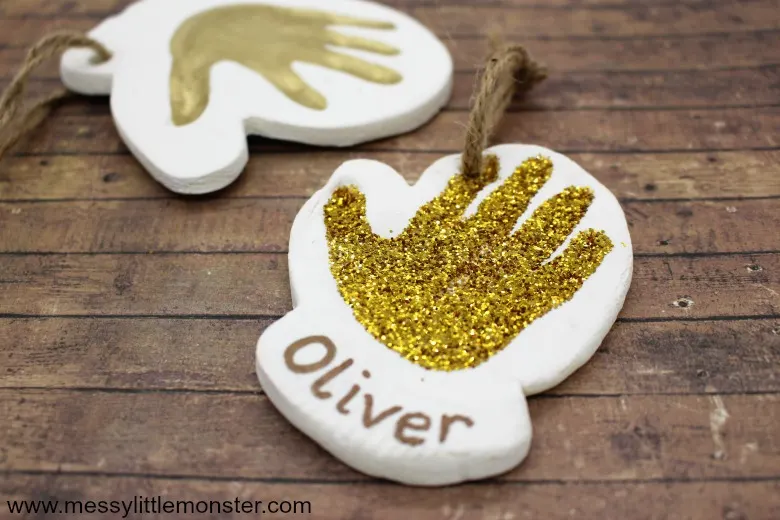 Source: messylittlemonster.com
Looking for the cutest keepsake for your newborn? How about Clay Baby Handprint? Paint and press your baby's hand on clay and seize the moment.
Make your homemade clay with three simple ingredients (baking soda, cornflour, water), or just order it from here and get the paintbrushes rolling. Once you have the dough ready, you will need the following supplies to start your DIY Hand Print Art,
With all supplies at hand, you can create your beautiful baby keepsake in under 10 minutes or even less. However, keep in mind that this art includes a small infant, so gather your supplies before starting your DIY project.
You can keep these cute clay prints as paperweights or as Christmas ornaments. You can also gift them to your kids when they are older.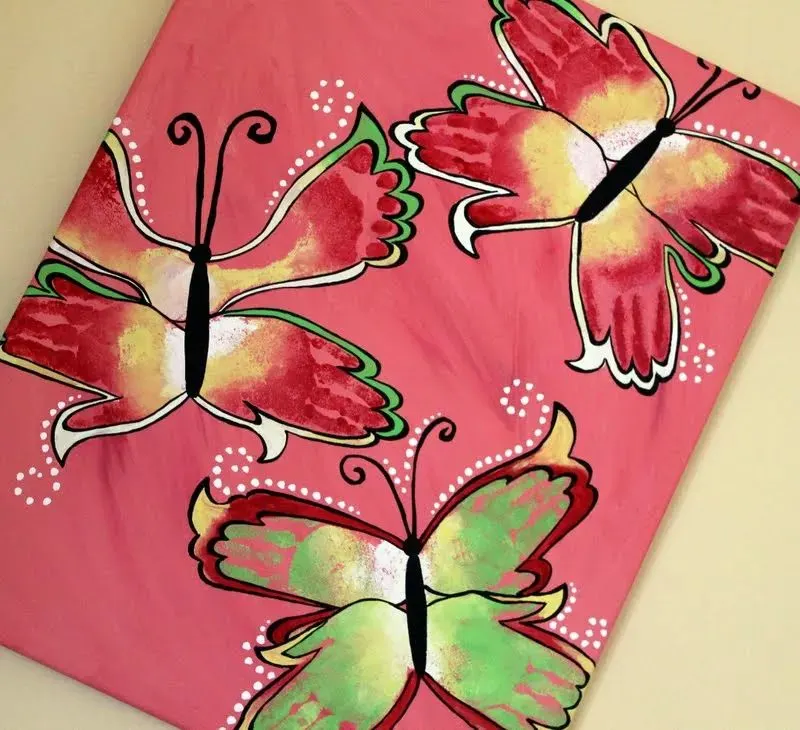 Source: homemadeheather.com
Creating DIY Handprint Crafts isn't much fun without kids, and all kids love butterflies. Ask your little ones to help you with this one, and make handprint butterflies with them.
This one isn't only a cool DIY art project but also a great activity to bond with your kids. You will need vibrant paints (click here to buy skin-friendly paint), brushes, some colorful construction paper. You can get assorted colored paper here. Paint the little hands and feet, stamp them on paper as butterfly wings and finish off by outlining.
You can do solid colors and fantastic color combinations to make the butterflies look extra beautiful. Spread smiles and hang these in your kids' rooms to make them proud of their creations.
Source: artsycraftsymom.com
There are many cute animals that you can create using just your hands. All you need are some paints and craft paper that you can get here. With these few supplies, you can create a cute chicken with chicks masterpiece.
The cute chicken with chick handprint DIY project is a brilliant activity to occupy your kids with and also teach them about farm animals.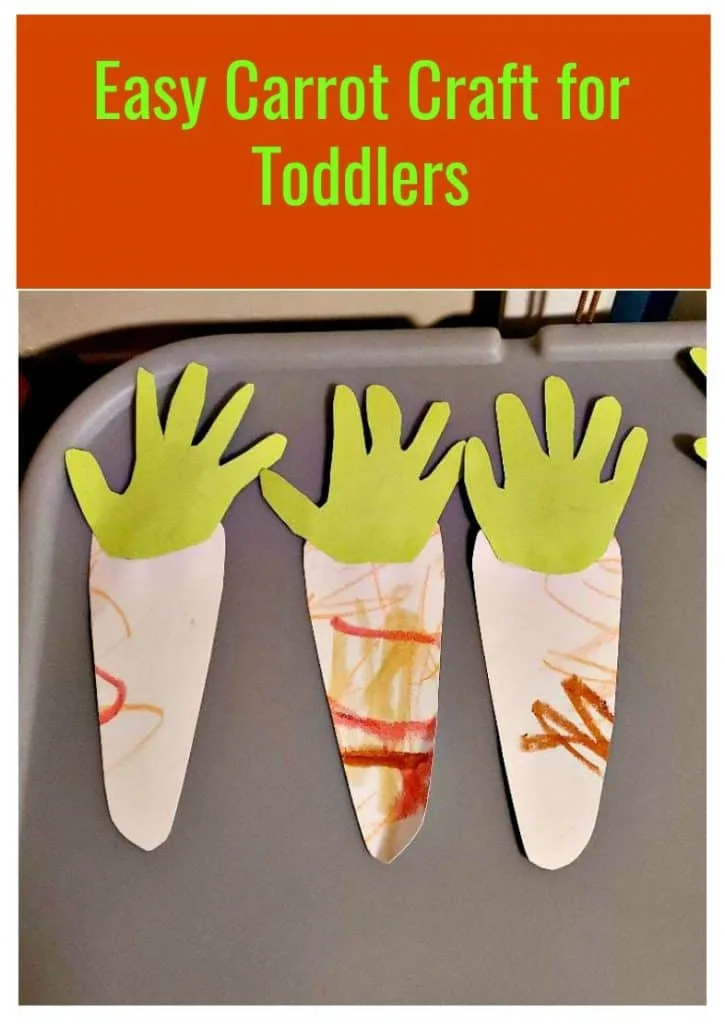 Source: hezzi-dsbooksandcooks.com
Are you working with your kid on fine-tuning his motor skills? I have an idea you might love. This easy carrot craft may need a few supplies, but you can get an hour of fun and giggles from it, not to mention practice holding a pencil and colors.
Start with some paper (white preferred, click here to order), green paper, crayons, and glue (Elmer's school glue is the best, order here).
Your kids will have the time of their life making these cute hand-printed carrots. Just cut the carrot shape and help them stick the green top and color the carrot.
Give more of these paper crafts a try and feel inspired!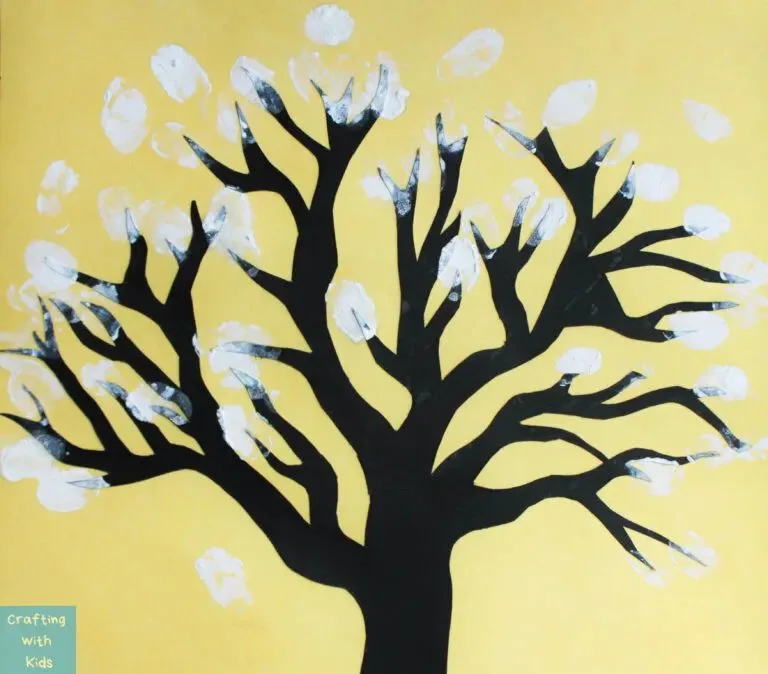 Source: craftingwithkids.net
Toddlers are always running here and there; it's hard to make them sit down for a bit. I find painting activities the best way to calm the devils and make them sit still for a while.
With finger painting and hand printing, you can never run out of ideas as to what to create. Kids love using their fingers as brushes, and fingerprint trees are favorites of all.
Your kids will have the time of their life playing with this one, so will you while helping them out with cutting the tree shape and painting their fingers for them.
Feel free to add a personal touch and make a super cute craft.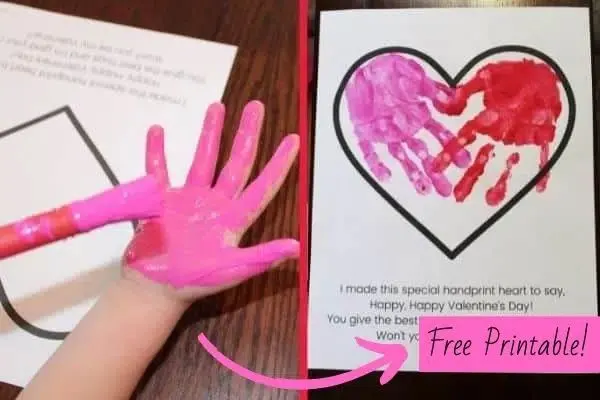 Source: simplyfullofdelight.com
DIY projects are a great way to teach your kid the power of love and kindness. These Valentine's Handprint Hearts are perfect for sending cards to school to classmates and teachers.
There are a couple of ways to do this; both ways are exciting and fun. Get some red and pink paint from here and let the painting begin.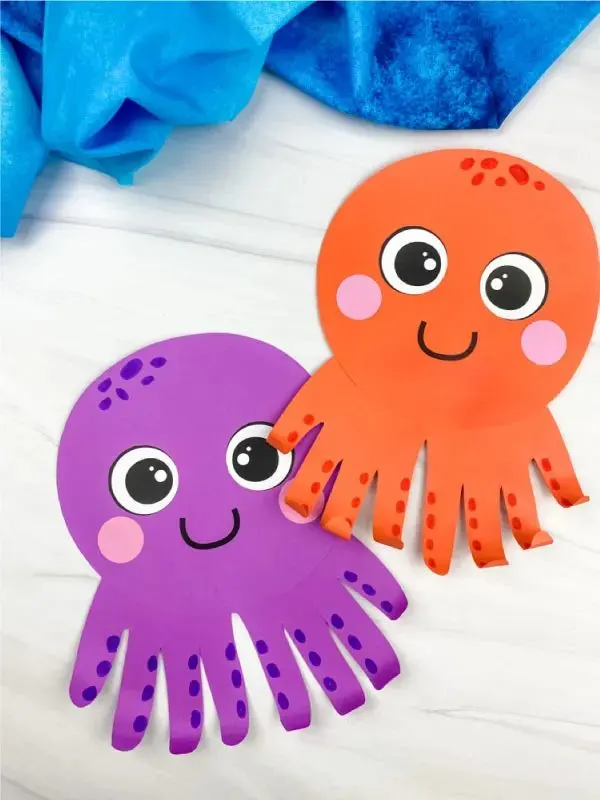 Source: simpleeverydaymom.com
There are so many animals you can create with handprints; the easiest one is the octopus. This craft is a great way to teach your kids different animals and their habitats.
Trace and cut your toddler's left and right hand, and stick it on the octopus. Isn't this a cute and easy DIY art project to do with your kids in the summer vacations?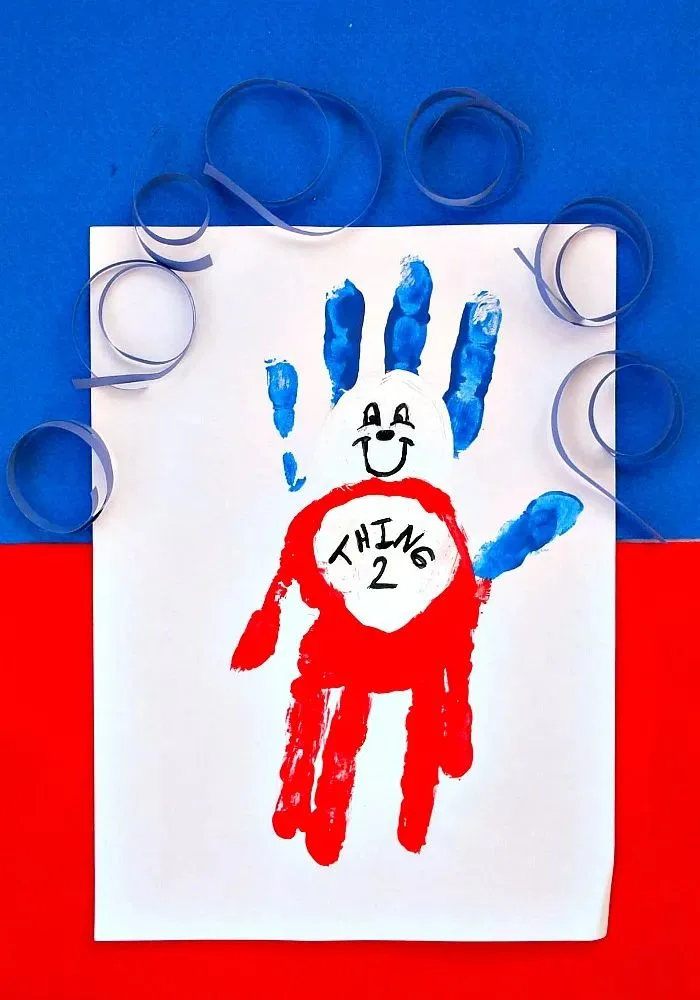 Source: intheplayroom.co.uk
Book-inspired ideas are great for bookworms. If your kids love Dr. Seuss, they will recognize and love this "Thing 1 and Thing 2" handprint craft.
Not only is this easy to make, but it also needs a few supplies that you might find lying around the house. If not, you can order the paints here and the paper here.
Just make sure you press the red hand first and the blue second; this is the only technicality with this one.
This is one of the lovely crafts you'll enjoy making with the little ones.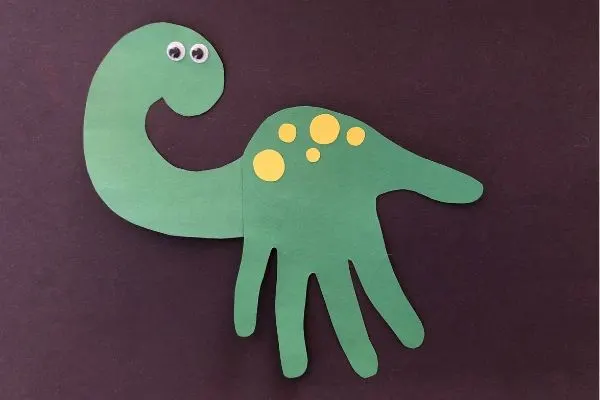 Source: mombrite.com
Did you know that every other kid who loves dinosaurs has apatosaurus as their favorite? Surprise your kid by making this gentle giant with them for their art project.
Get your green construction paper for this one here. Adding googly eyes to your dinosaur will make it even more amusing; if you don't have googly eyes.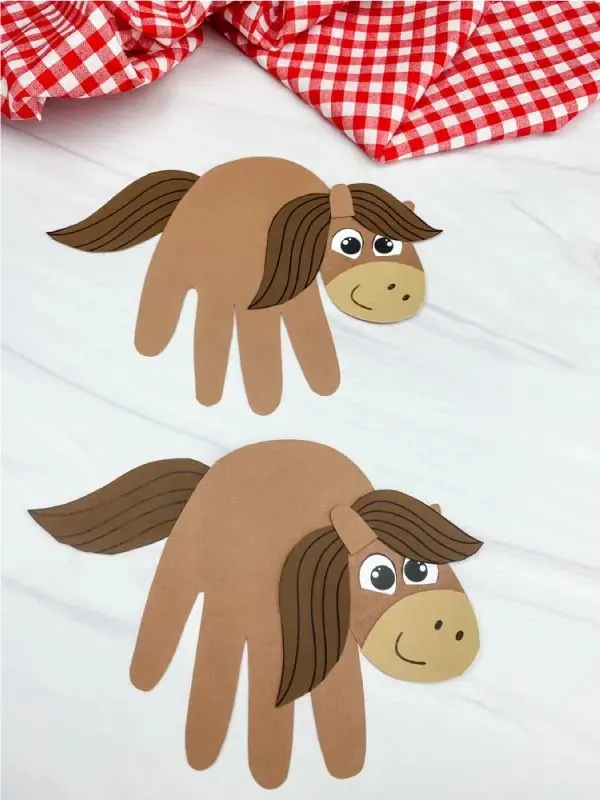 Source: simpleeverydaymom.com
Just like the octopus, you can get a printable horse template and make a handsome handprint horse with your kids.
Involving kids in DIY projects is a fun way to not only bond with your kid but also to unlock their imagination and creativity.
Create this famous farm animal, and teach your kids about it side by side.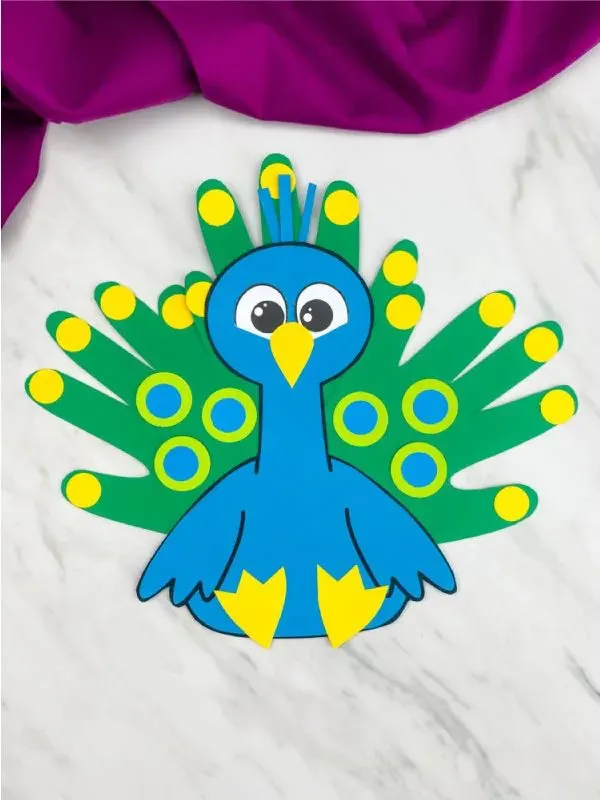 Source: simpleeverydaymom.com
Among all the beautiful birds on our planet, I think the most mesmerizing one is the peacock. Adults and kids alike, love this bird of paradise. So why not create a handprint peacock that your kid can cherish for a long time.
Supplies to make the peacock are pretty basic, paint, scissors, construction paper, a clue, and a hole punch; if you don't have one, you can easily order it from here. Download the peacock template cut all the parts, and glue them on accordingly.
Trace your kid's hands and glue them as feathers on the bird. Not only is it a fun project for kids, but it's also a great teaching moment for parents.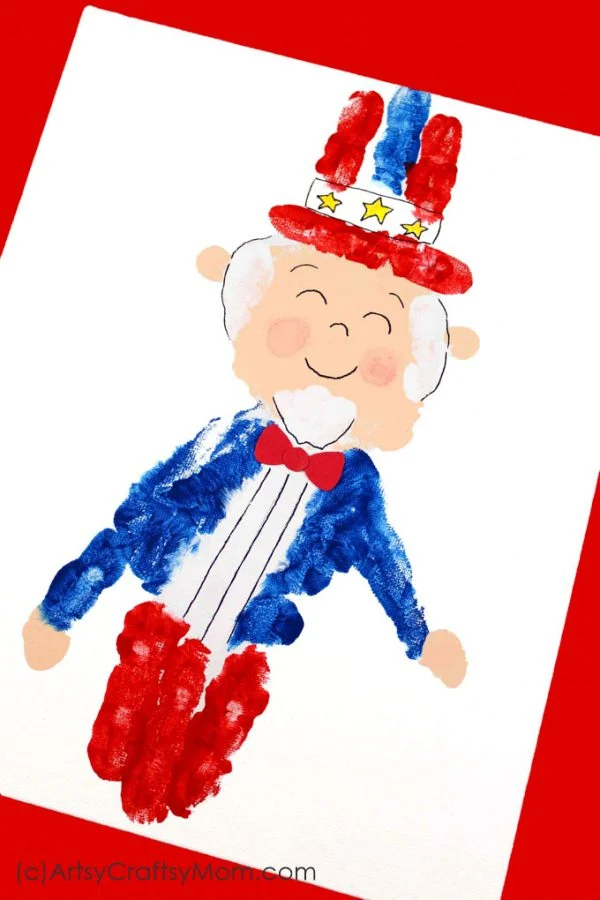 Source: artsycraftsymom.com
Have you got a patriot in the house? Well, a fourth of July is a must DIY for you then. Choose between Uncle Sam or The Bald Eagle; better yet, do both while you're at it.
The supplies are as basic as it gets, just some paint, white paper, glue, scissors, and a whole lot of fun. Let your kid proudly show it off at school or daycare.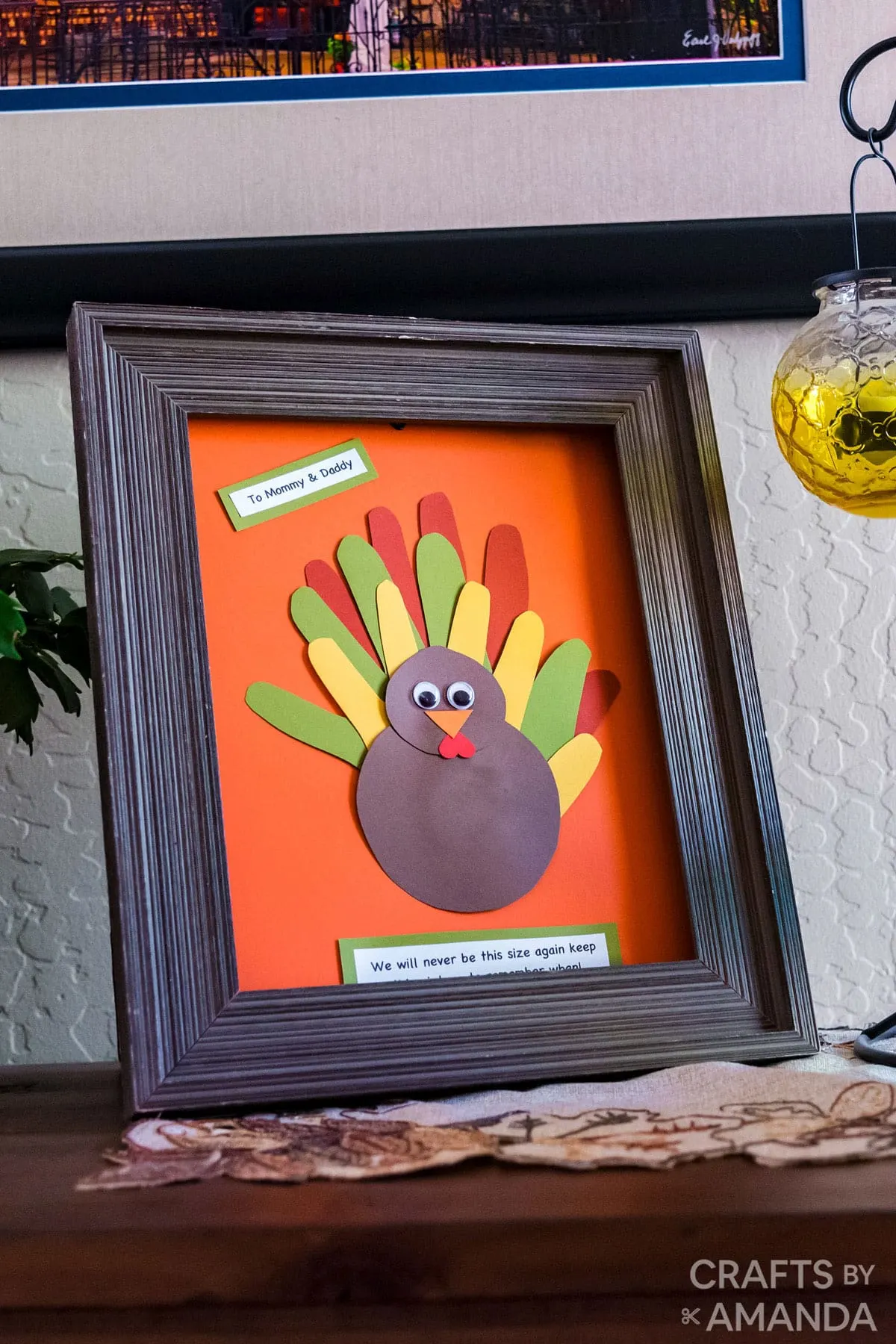 Source: craftsbyamanda.com
Thanksgiving is one of the best times of the year when the whole family is together. This calls for a DIY session with all the toddlers in the house. To mark this festive occasion, you can choose the Handprint Turkey project.
All you need is a pack of colorful or printed construction paper. In addition to that, you will also need glue, scissors, markers, and an inexpensive frame to make this project a beautiful memory.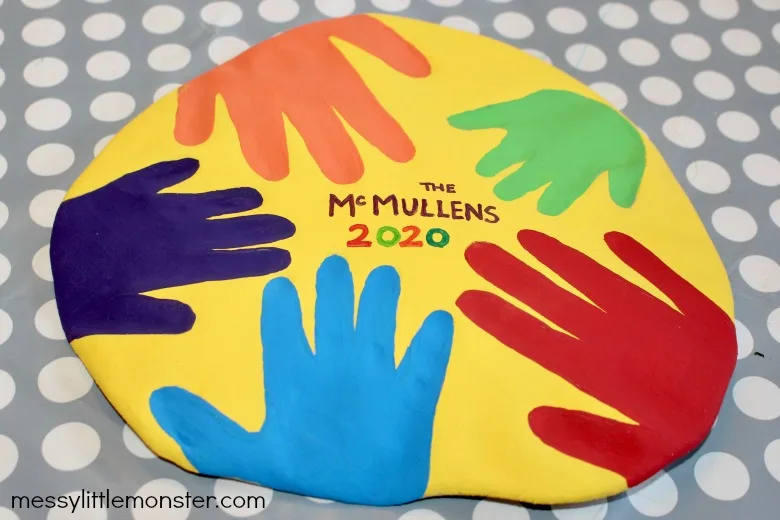 Source: messylittlemonster.com
This great craft requires only simple supplies! So, why not give it a try?
Let your kids have a little fun with paint to ease off the stress of being cooped up. The Salt Dough Keepsake Handprint Craft is a beautiful keepsake that you can hang in the main living room or your children's nursery.
The best part about the salt-dough handprint DIY project is that it needs the whole family, isn't it a great way to spend some quality time together?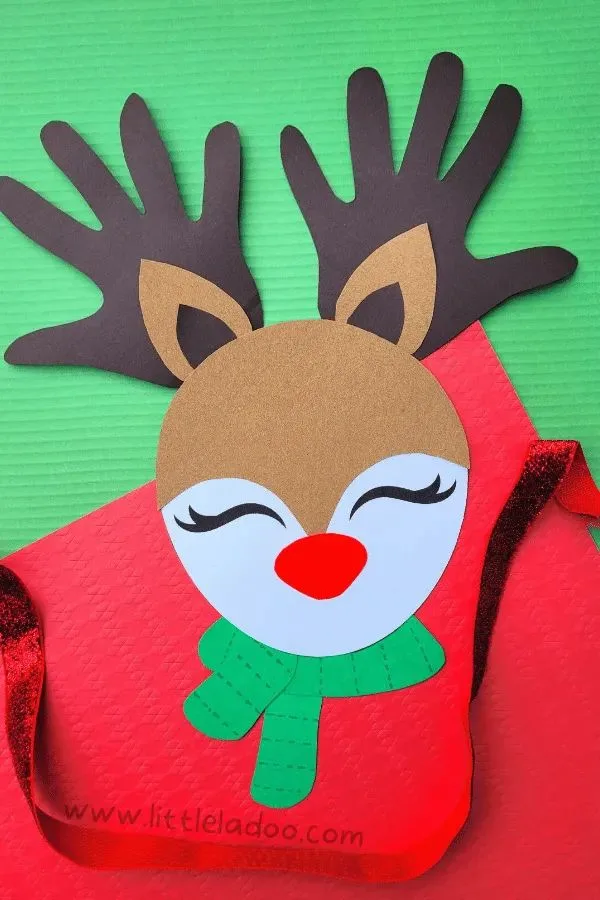 Source: littleladoo.com
No one, not even the adults, can escape the magic of Christmas. This year, make it a little extra special with a sweet little DIY with your kids.
Make one of the Christmas handprint crafts – Reindeer. Use this DIY for your Christmas family card; what a magical idea.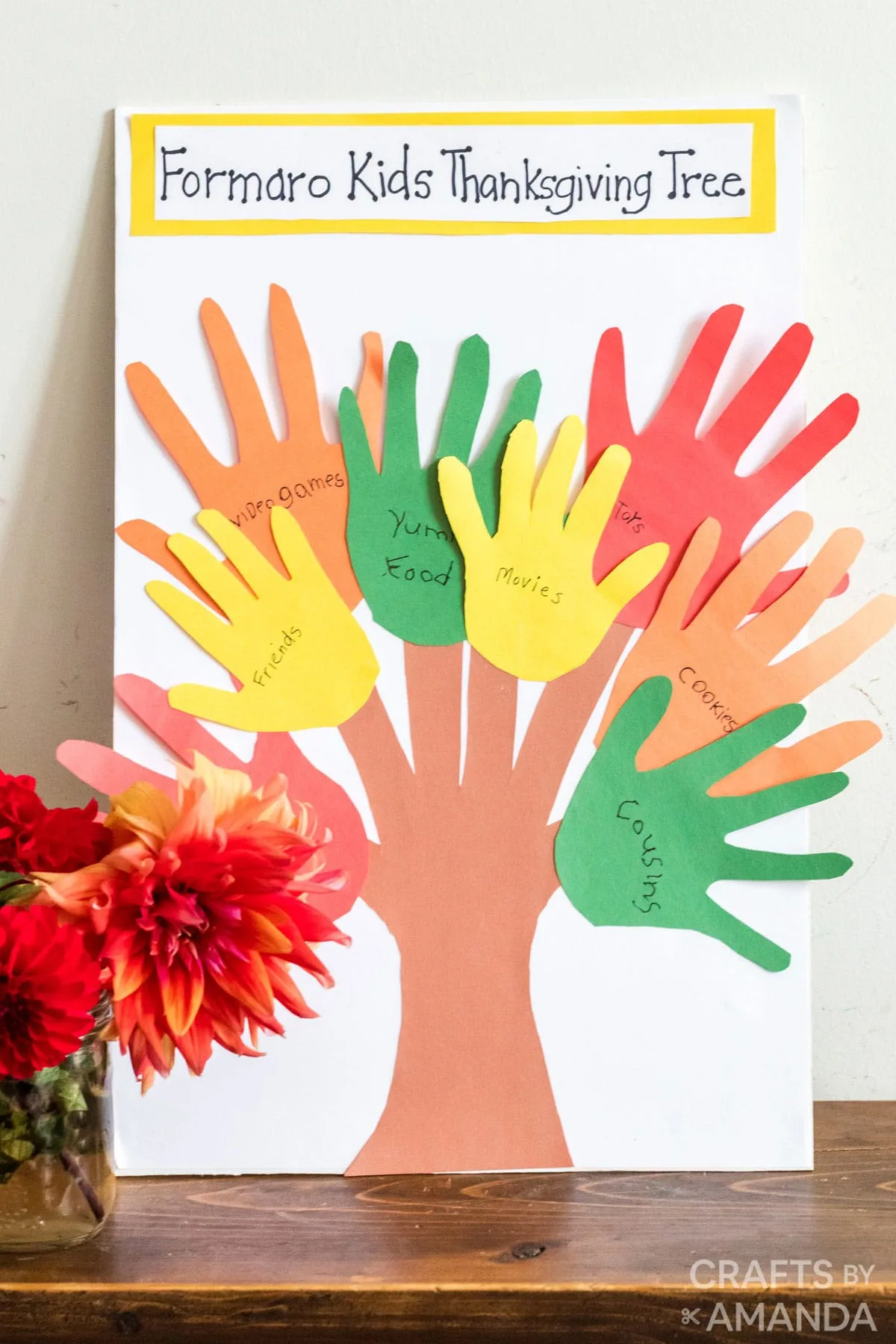 Source: craftsbyamanda.com
Just like the thanksgiving turkey, the Thanksgiving tree is yet another super easy handprint DIY that you create with the whole family at thanksgiving.
These fun DIY projects are super easy and are a great way to spend the evening with family. The supplies are pretty basic and can be found around the house easily.
The kids, as well as the adults, can add what they are thankful for on each hand that you paste on the tree. Teach your kids how to be grateful and have some fun while doing it; what a wholesome DIY craft!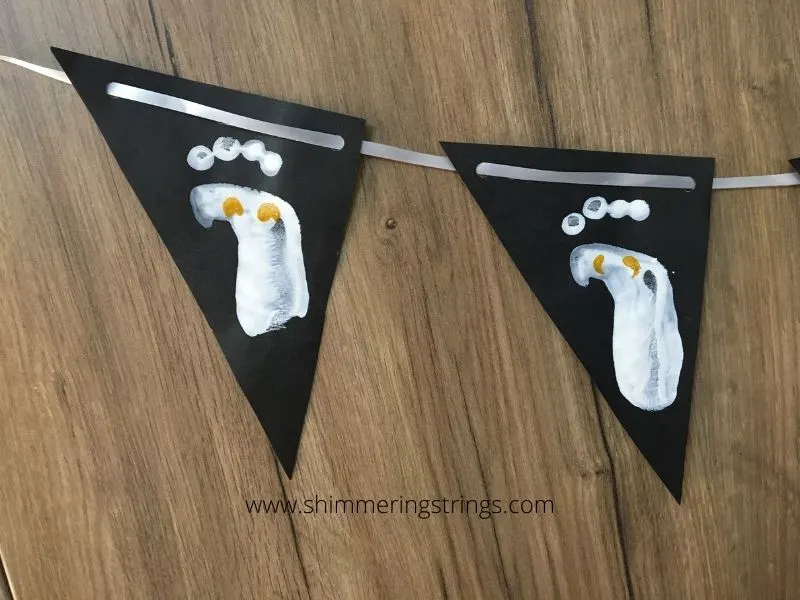 Source: shimmeringstrings.com
Scary but pleasant, looking for a handprint DIY for Halloween? Will a ghostly footprint do? This white footprint DIY is a creative way to decorate for Halloween.
You can even make this a tradition, just like the Christmas handprint reindeer.
The funny part is that you don't even need a baby for this. You can create these super cool footprints with your fist.
Check out more Halloween crafts for kids here!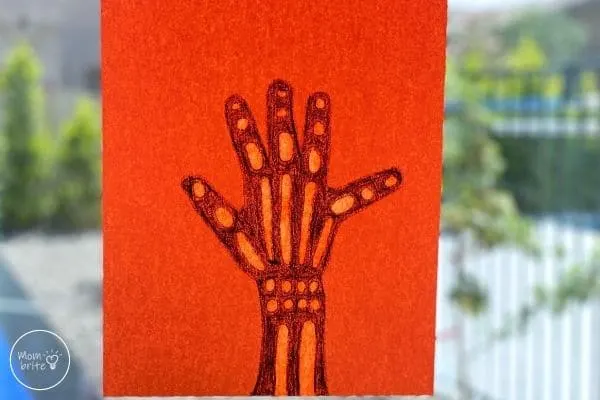 Source: mombrite.com
Who knew teaching biology could be such a fun activity, you don't me believe? Well, feast your eyes on our next X-ray Craft, The Skeleton! You will need the following for this excellent craft.
This is the best preschooler craft out there; you can help your kids learn about the bones in the arm in a fun way with this particular handprint craft.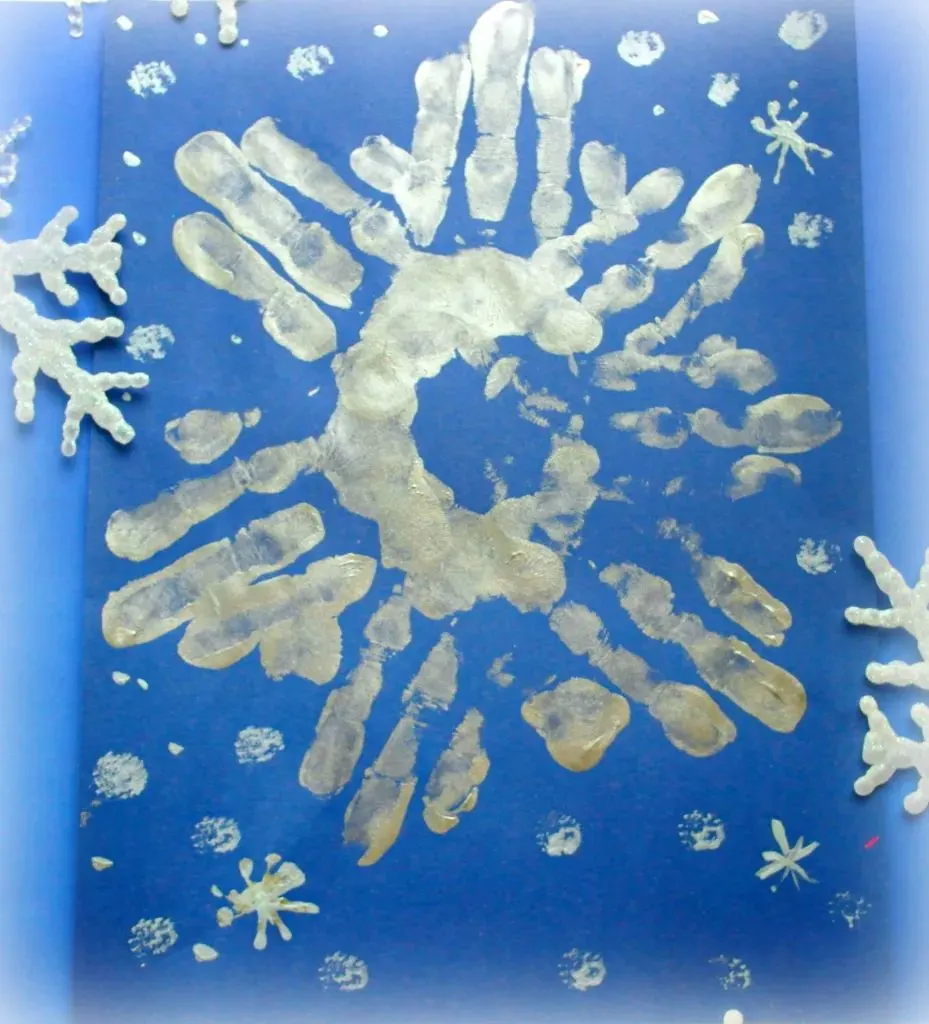 Source: intheplayroom.co.uk
Every child is unique in their own way. Teach your kids how being different and unique is beautiful, just like snowflakes with this super cute DIY handprint craft.
You can also add this craft to your "things to do in winter" list.
Let your kids have the time of their life with this one, just keep instructing them, and they will be fine on their own. You will be amazed at how unique each one turns out.
Check out more cute crafts for kids here.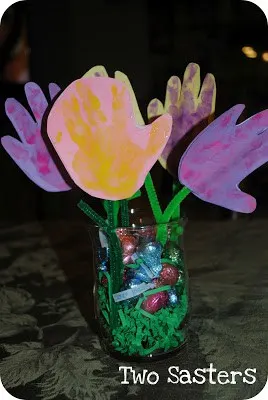 Source: messforless.net
Handprint crafts are fun little activities for kids of all ages; it's an excellent pastime for preschoolers especially. One such amusing handcraft idea is "The Handprint Flower."
I love flowers and all things earthy, so do a lot of kids. With a flower handprint craft, you can teach your kids about different types of flowers and their colors.
Don't get overwhelmed by the long list of supplies; the effort is worth it. Once you have a vase full of flowers, you can also teach all about plant care.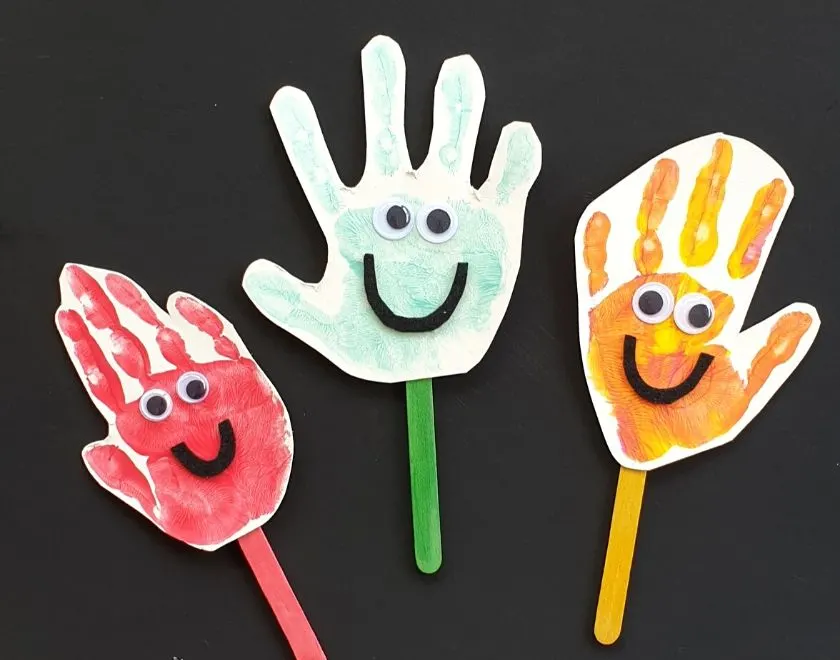 Source: diythought.com
Let's turn trash into a craft and teach your kids recycling. Gather some empty boxes like cereal boxes and make some handprint puppets. An easy art that uses old boxes to create something fresh and new.
This is a good one to do with your toddlers and your preschoolers. All you need are some old boxes, paints and ice cream sticks.
Buy your ice cream sticks pack here. You can also add googly eyes and felt to the lot to make the puppets extra fun, or just use a marker to make eyes and lips.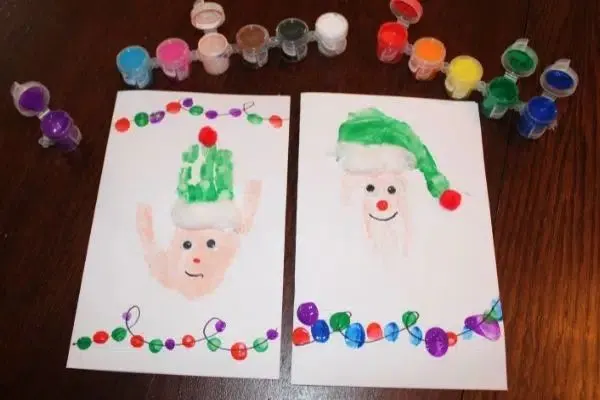 Source: simplyfullofdelight.com
One of the best times to create some holiday crafts is Christmas time. Nothing says Christmas is like some family fun time together. Here I am with this cute a-button Elf craft to light up your Christmas.
Again, you can turn this piece of art into your Christmas card to send to family and friends; how's that for a fun idea?
Source: redtedart.com
Teaching alphabets can be a ton of fun if you are using some paint and handprints to create animals, starting with each letter. For example, F for Flamingo!
Make learning fun with some pink paint, white paper, and your little helper's hands. This is a refreshing way of teaching alphabets and colors to toddlers and preschoolers.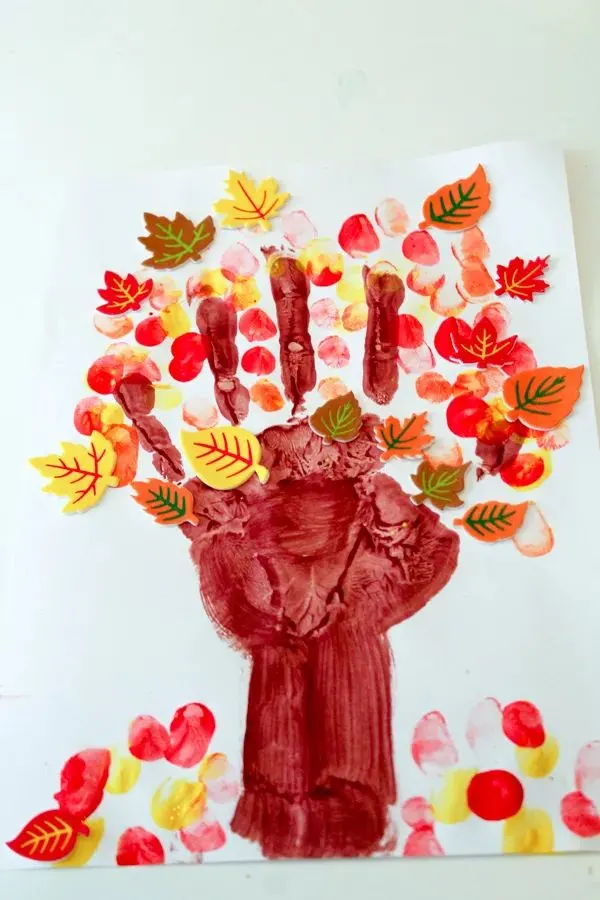 Source: intheplayroom.co.uk
Every season brings some unique experiences. This fall, make some autumn tree handprint crafts with your kids.
You will need fall-themed paint, glue, felt of foam leaf stickers (confused? Get some here)
This easy and fun-filled craft can be framed for your kid's nursery, too—what better way than decorating your kid's room with his cute little creations.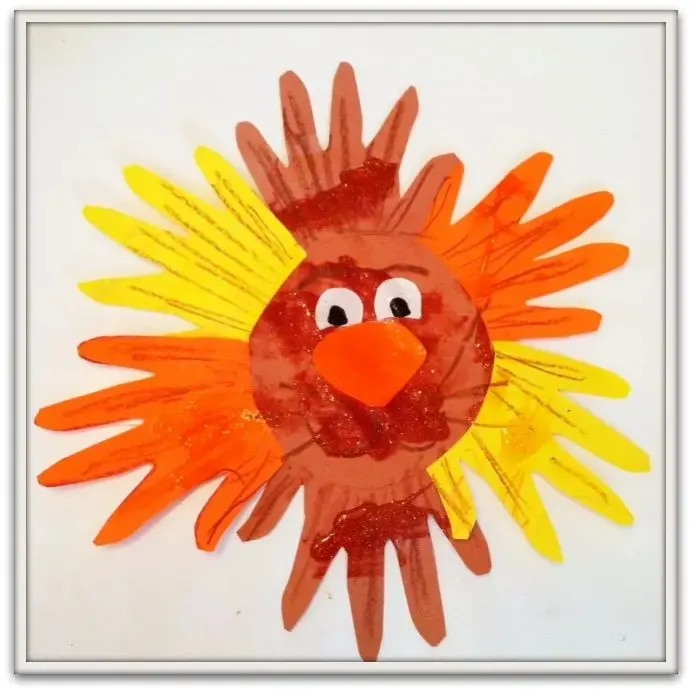 Source: justisafourletterword.com
My nephew loves animals, and his favorite is the king of the jungle. He can watch "The Lion King" all day long if we let him, so I came up with this cute handprint lion for him to make and adore.
Tracing your little one's hands on the color paper and let him glue these to a circle. Draw mouth and whiskers and stick the eyes to complete the craft.
Give your lion a name to make the project a lot more fun for the kids.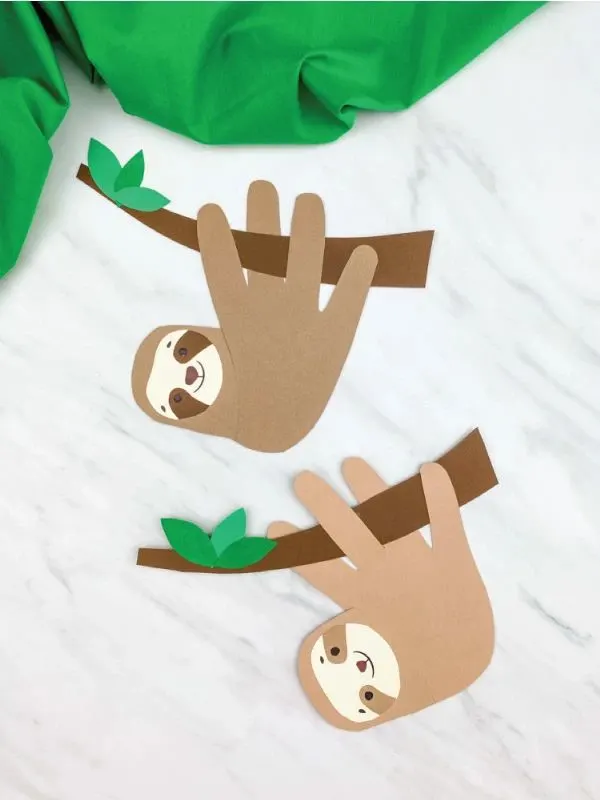 Source: simpleeverydaymom.com
Is your kid obsessed with Flash, the Sloth in Zootopia? I know I am?
Well then, what's the wait? Let's learn how to create a simple handprint sloth to surprise your little one today. A great idea that will keep your kids excited!
Trace your little one's hand, help him draw and cut with you and paste the shape on a pre-drawn and cut branch.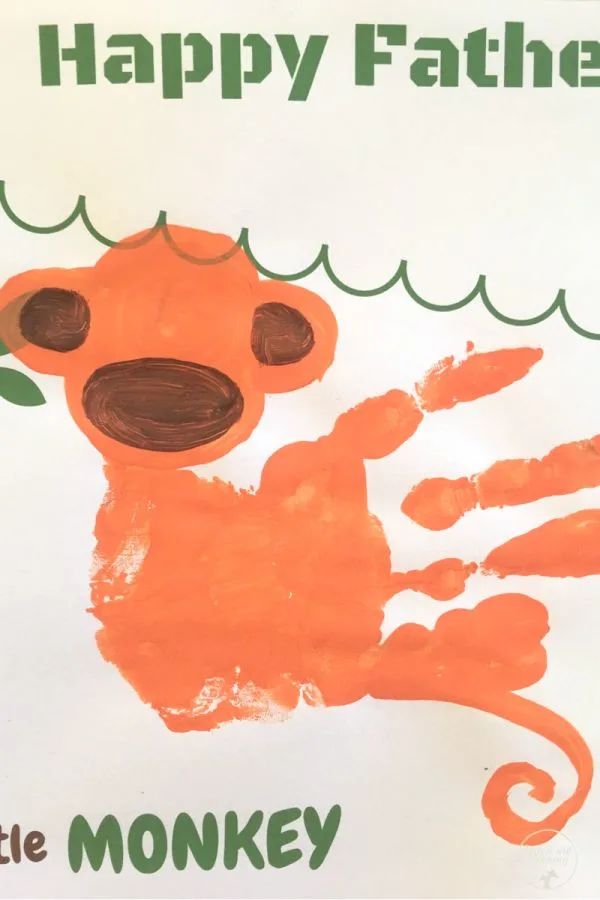 Source: teach-me-mommy.com
Just like the sloth, you can create a monkey on a branch with hand printing. You can create many different animals with each letter. Isn't this an amusing way to help your kids learn their ABCs?
For the Monkey, you will need some paint, construction paper, and a little creativity for this one. Once your Monkey is done and dusted, you can also gift it to dad as a father's day keepsake.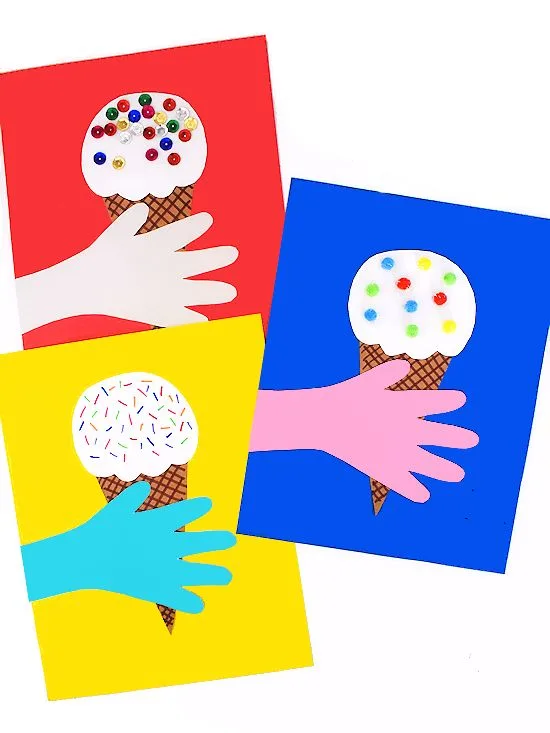 Source: ourkidthings.com
Summer vacation is a great time to do some arts and crafts. The Ice-cream handprint DIY project is the perfect summer craft ever. Make it more fun by letter your kids choose their favorite ice-cream flavor.
Not only is this an extremely easy one, but you can make it super amusing by adding different kinds of toppings to the ice cream—different stoppings like sprinkles, chocolate chips, and such with construction paper, sequins, and pompoms. You can get your sequins here.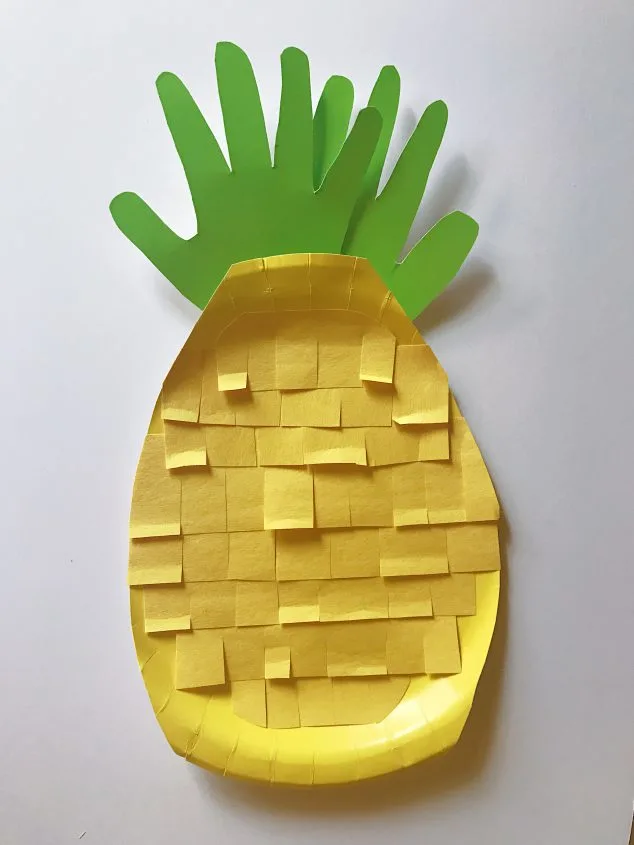 Source: familyfocusblog.com
Fruits and ice cream go hand in hand. When you are done with the ice cream, and your kids still want more, don't say no, instead try the pineapple handprint art next.
The only tricky bit with the pineapple is the yellow strips; help your kids cut and paste the stripes on the pineapple. Handprint DIY projects are the best creative activities of summertime.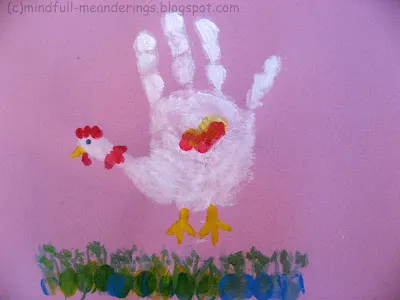 Source: artsycraftsymom.com
Tiny hand working with paint can be messy, but what's the fun without a bit of mess. Let's get messy, and make this Cute thumbprint caterpillar.
Give your kids or students some colorful paints and white constitution paper and let their imagination run wild. Help them draw eyes and mouths on the caterpillar to complete the artwork.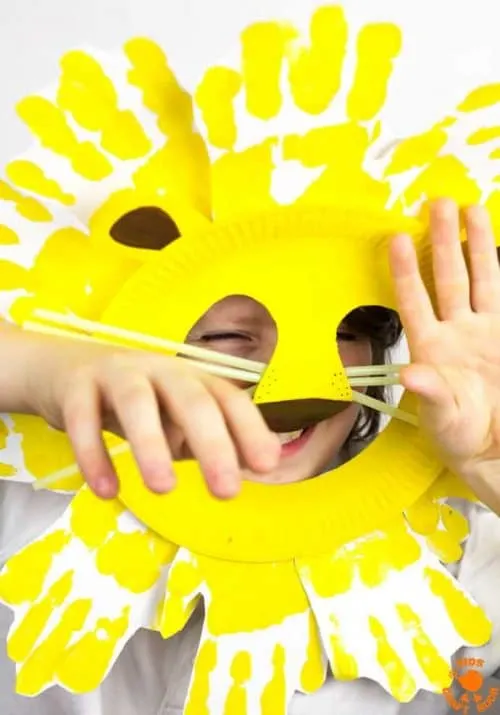 Source: emmaowl.com
You have already mastered making a lion paper plate craft; it's time for the next level, the handprint "Lion Mask." These masks can also become a party favor on your kids' birthdays and other cute celebrations.
Applaud loud and hard when your little one finishes and proudly wears his DIY Lion Mask.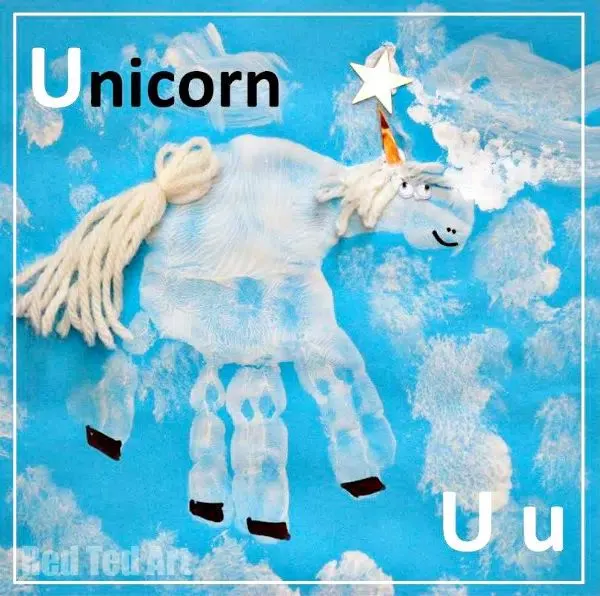 Source: redtedart.com
The only thing my niece wants from us on every birthday is a unicorn. So, buying her presents is the easiest thing ever, just get her anything with a unicorn on it.
If your kids also love this mythical creature, they will also love this unicorn handprint DIY project. It is also a neat way to each the letter U. You will need,
A glittered horn is a great way to earn some brownie points with your kid. Check out more unicorn crafts here.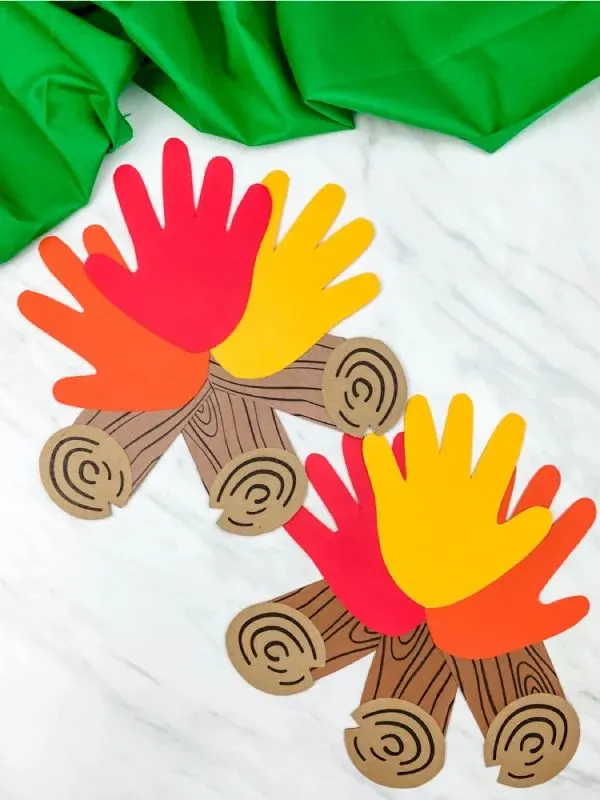 Source: simpleeverydaymom.com
Build a campfire, tell scary stories, and laugh, but wait, not comfortable in building a real one, build a handprint DIY instead.
Print and paint the log template, cut and stick on white construction paper. Trace and cut multiple handprints of your babies, and let them stick it to the log. Your campfire is ready; let the story hour begin.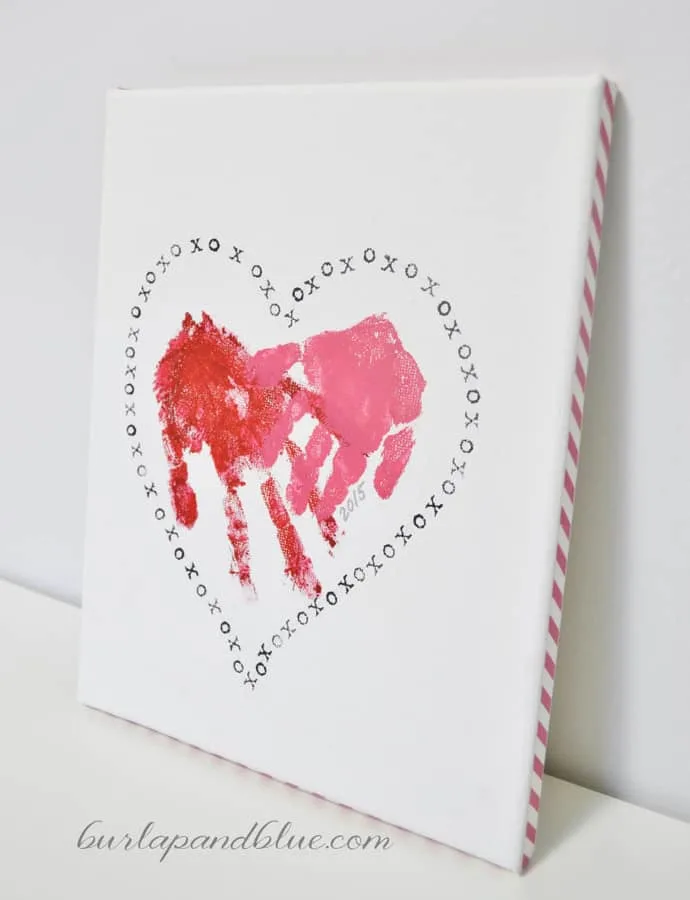 Source: burlapandblue.com
Valentine hearts handprint DIY is very popular with kids. These can be used on many occasions. Hence they are very popular as school crafts as well.
The heart can be created by simply pressing your child's hand upside down in the shape of a heart. Add a personalized touch to it by outlining the heart with little stamps. Click here to get your XO stamps for this DIY.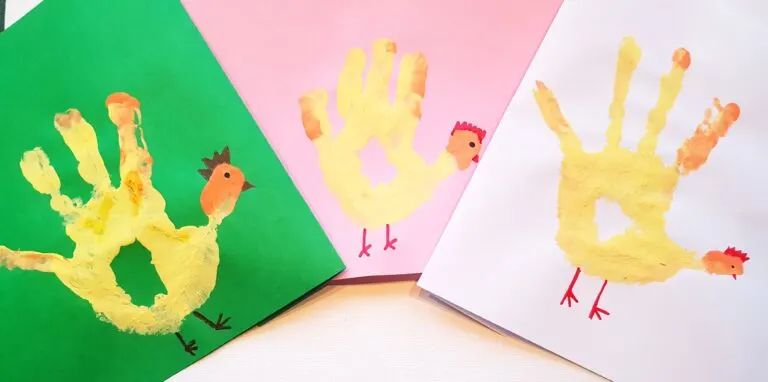 Source: liltigers.net
What came first, the chicken or the egg? While doing the Handprint Chicken Craft, you can talk your heart out with your kids about the chicken and egg story.
You can start right away with some colorful construction paper and yellow paint. Give your chicken funny hair cuts to amuse your kids even more.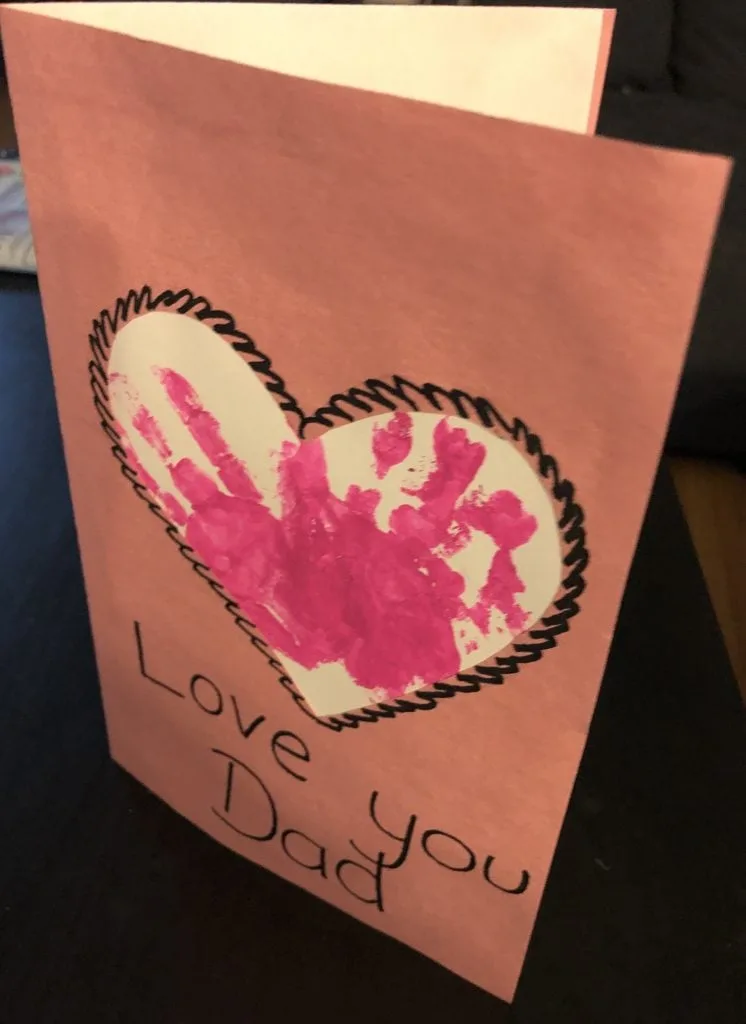 Source: allaboutbabyblog.com
Your handprint art can easily become a DIY card for all cute occasions. I would love to give this cute heart with my baby's handprint to the father or grandparent.
Fold one paper in half to make your card, cut a heart shape in the middle. Now, take another paper and print your heart on it with the help of your baby. Once dried, stick this inside the card so that your handprint is visible through the heart shape.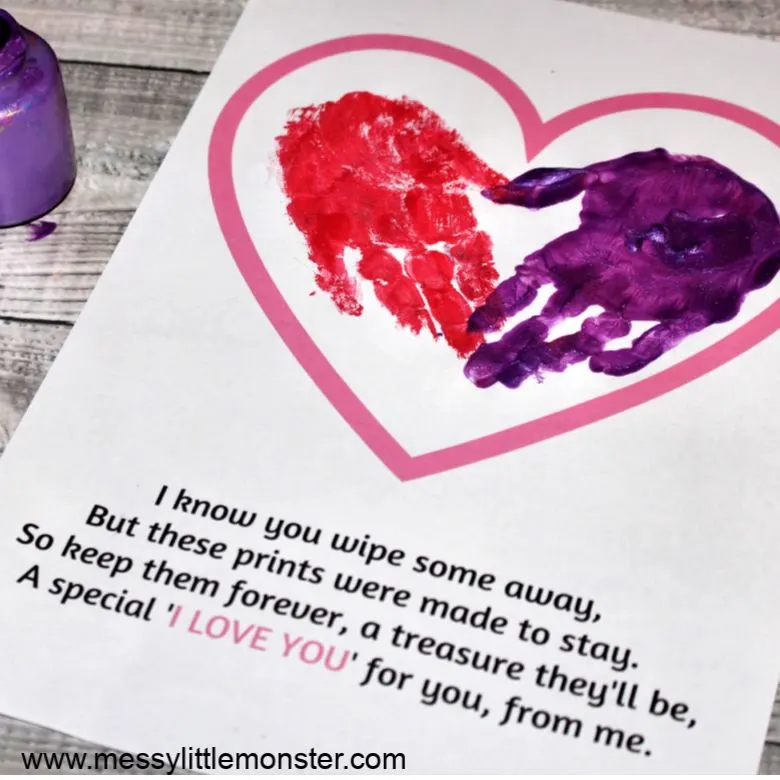 Source: messylittlemonster.com
Another version of this handprint heart art is the one with the cute poem. Create a card and add the following words,
I know you wipe some away,
But these prints were made to stay,
So keep me forever, a treasure they'll be,
A special 'I LOVE YOU' for you from me.
These words are perfect to describe a beautiful relationship, and it's true too. The actions fade away, but the love will remain true forever and more.
Yield: a handprint craft
37 Fun Handprint Crafts for Kids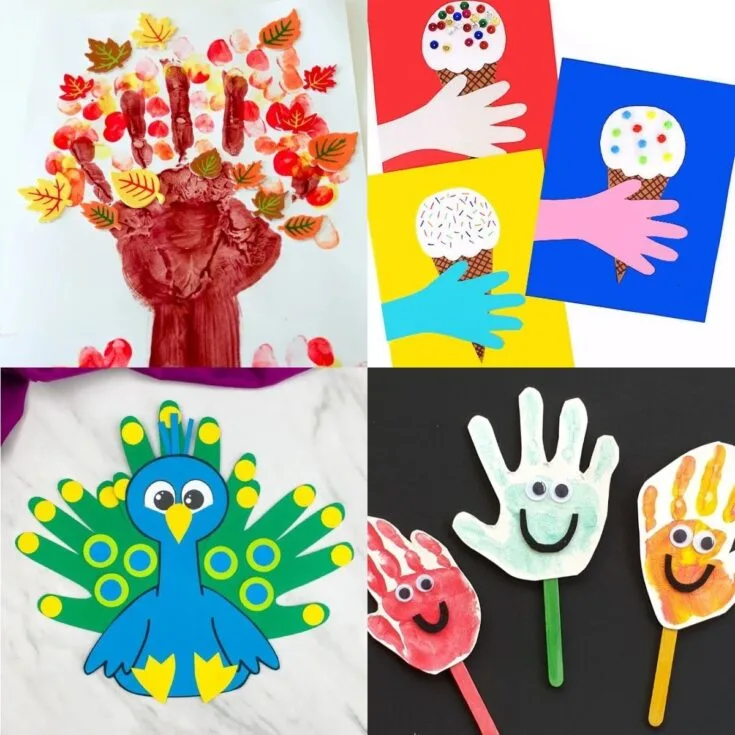 Make your very own handprint crafts. These DIY projects are great for kids to make and require a small amount of effort.
Instructions
Choose one of the handprint crafts above.
Get your supplies together
Enjoy the crafting process!