Do you love decorating for Thanksgiving? Why not make your very own DIY decorations that will transform the way your home looks.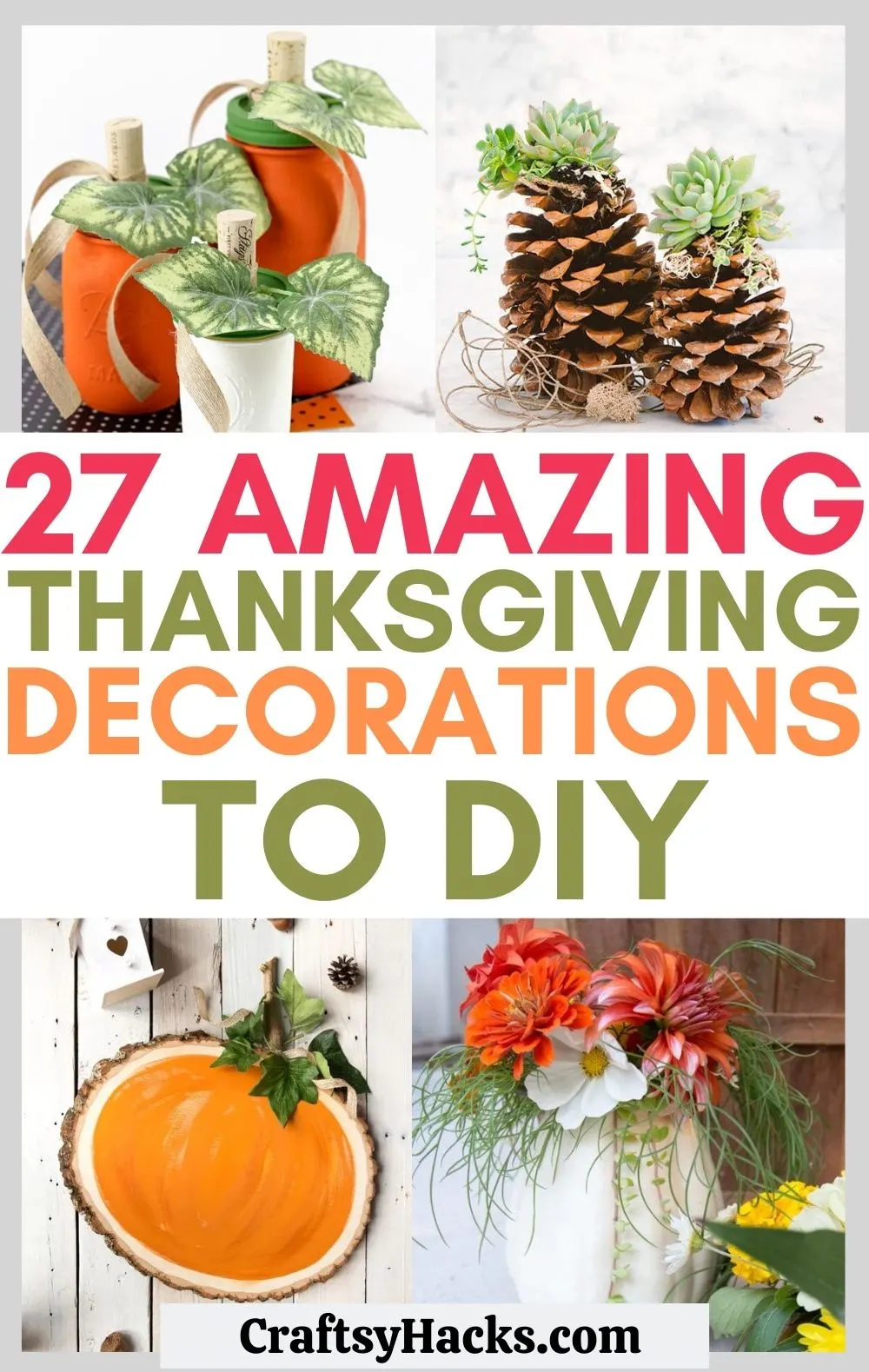 Well, Thanksgiving is officially just a couple of months away, and it's high time you started planning what you want to do about your decoration.
Trust me, you don't want to wait till after Halloween to plan it. You know you'll probably just end up using them for Thanksgiving too, and that would never do.
So, with that in mind, check out these 27 Thanksgiving decoration ideas and tips to help you get started on planning, designing, and eventually setting up your decorations!
1. Dollar Store Lighted Thanksgiving Centerpiece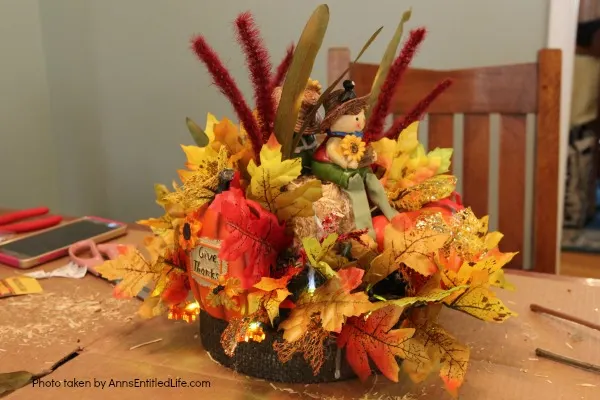 Source: annsentitledlife.com
Check out this eccentric-looking centerpiece! It's exactly what your Thanksgiving table needs if you're looking for something quirky, cheerful, and clever.
The best part? You can find everything you'll need for this DIY project at a dollar store near your home. You can pick your supplies up for a song.
When you're picking out your florals, feel free to pick out different sizes of faux flowers. This will help you add texture and height to your arrangement.
Don't forget to pick up a circular floral foam from here. Check out more centerpieces like this here.
2. Twine Pumpkins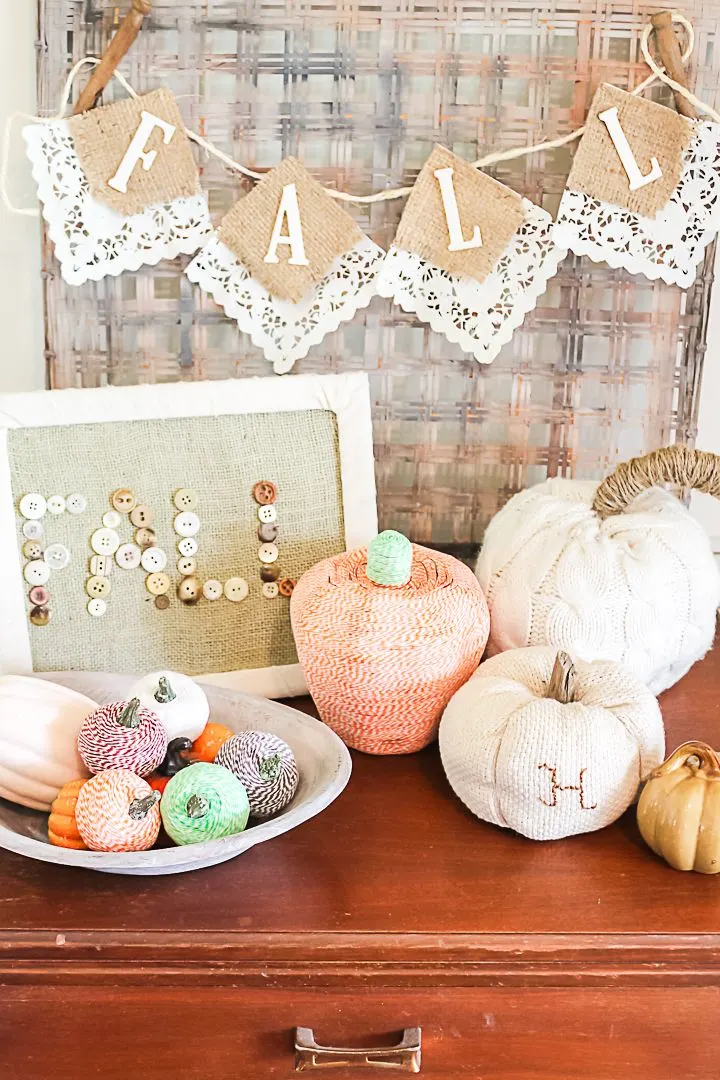 Source: thecountrychiccottage.net
Don't you just love how many different and varied ways to make pumpkins and pumpkin-themed decorations? With Thanksgiving right around the corner, you'll certainly be eager to try different DIY pumpkin crafts to add to your decor.
For this twine pumpkin, you'll need twine, of course, which you can pick up from here. You'll also need a few paper mache or foam pumpkins from here.
When you've gathered your supplies, just grab your pumpkins and start wrapping them up with twine to get started!
3. Pilgrim Jar Craft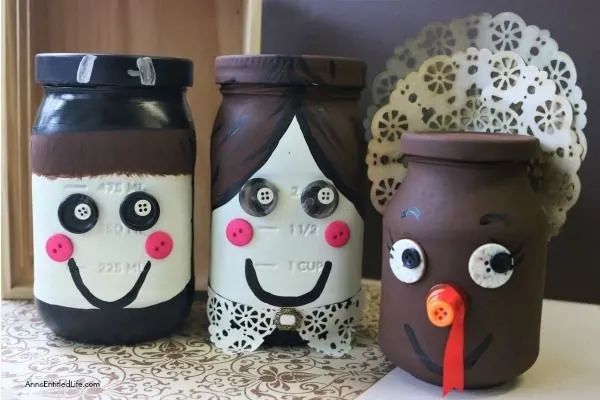 Source: annsentitledlife.com
No Thanksgiving Day is complete without a retelling of the story of the Pilgrims. It's quite important to honor them, don't you think?
These Pilgrim Jars are simple to make and perhaps much cuter than the Pilgrims themselves. They'd be a great addition to your home decor or even as a part of your Thanksgiving table as a centerpiece.
Alternatively, you can set it up on the mantle for everyone to enjoy; really, your choices are endless, and these jars will look great anywhere!-
4. Printable Thankful Sign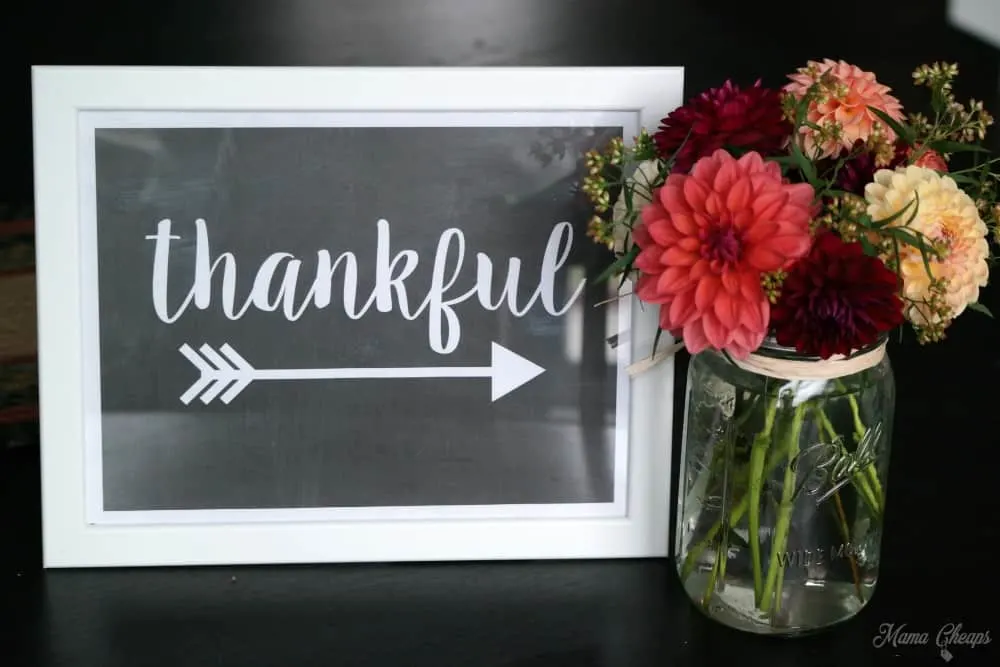 Source: mamacheaps.com
Thanksgiving is all about, well, giving thanks, of course. So whether you say grace or other family activities to express your gratitude for all the good times, you can go a little extra mile.
How? These Thankful signs will definitely be a visual reminder, don't you think? All you need to do to get started is to download and print the free template provided.
Then, you can pick up a simple frame from here or just head over to your local dollar store and pick one up for a buck.
5. Pumpkin Mason Jars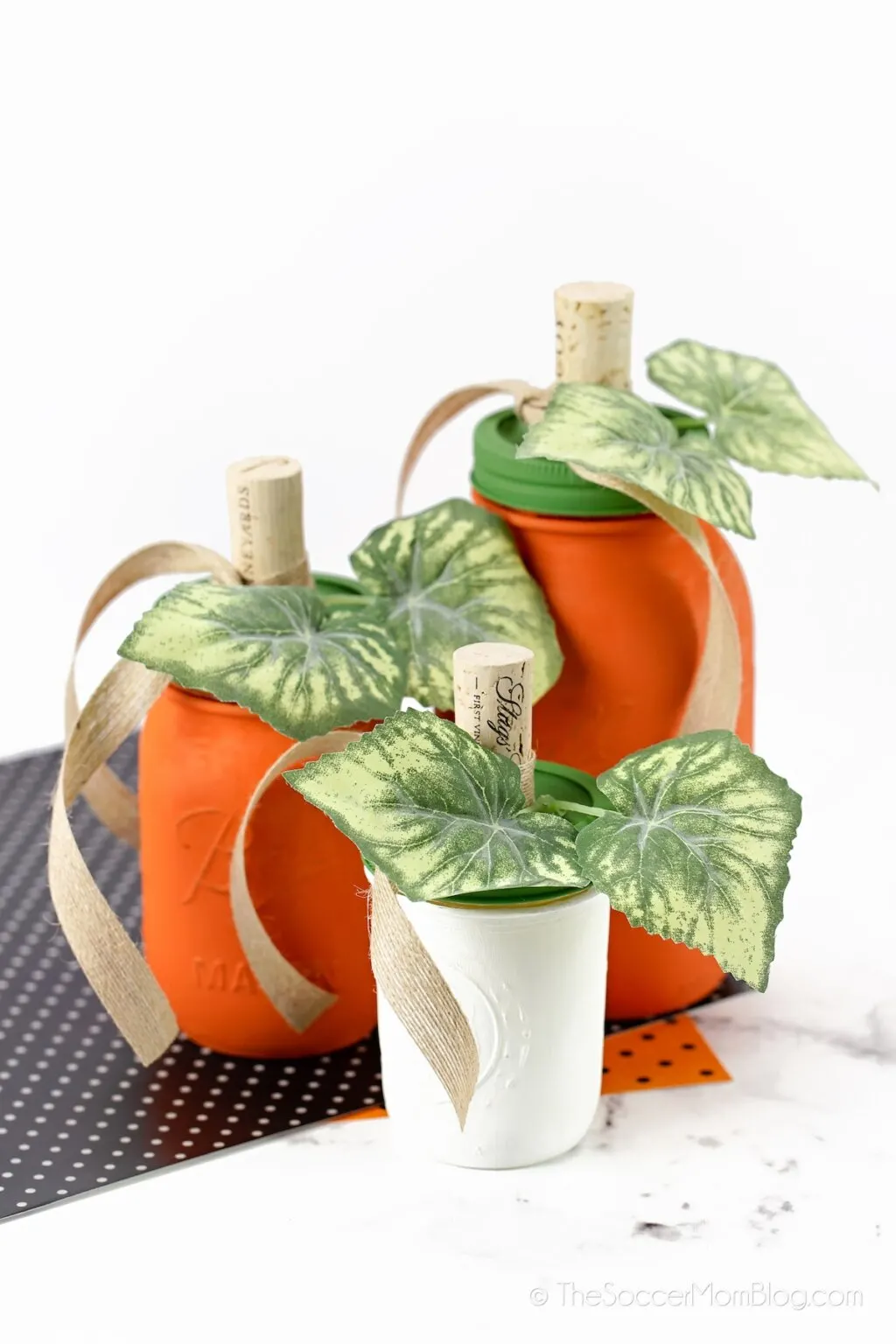 Source: thesoccermomblog.com
Didn't I tell you that there's no end to the different ways you can make pumpkin crafts for Halloween and Thanksgiving? Well, here's another one: a DIY pumpkin mason jar.
You can pick up your mason jars here or use a couple from your kitchen and upcycle them(don't you love upcycling things?).
Also, you might want to grab a bit of sandpaper and scrub the jar a little to help the paint stick onto the surface better. You can also use chalk-finish paint to give you that superb matte look.
Love this idea? Check out these mason jar gift ideas here.
6. Farmhouse Thanksgiving Sign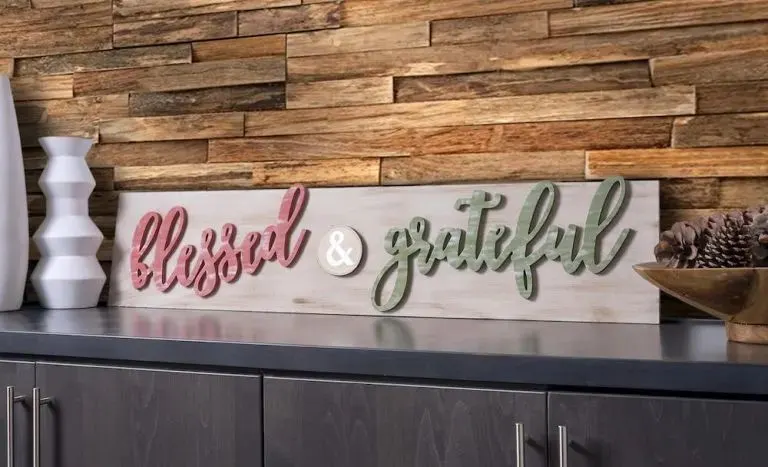 Source: diycandy.com
Whether it's in a big mansion or a gorgeous rustic country house, you've got to have a sign put up for Thanksgiving. It's a visual reminder of just how blessed and grateful one ought to feel.
This particular board will definitely add some rusticity to your room and decor. It's simple and easy to make, too. Also, if you've got any repurposed wood, that should do the trick for this DIY.
So, grab some gorilla super glue, brushes, and paint and start making this rustic, DIY thankful signboard. Check out more wood crafts here.
7. The Thankful Tree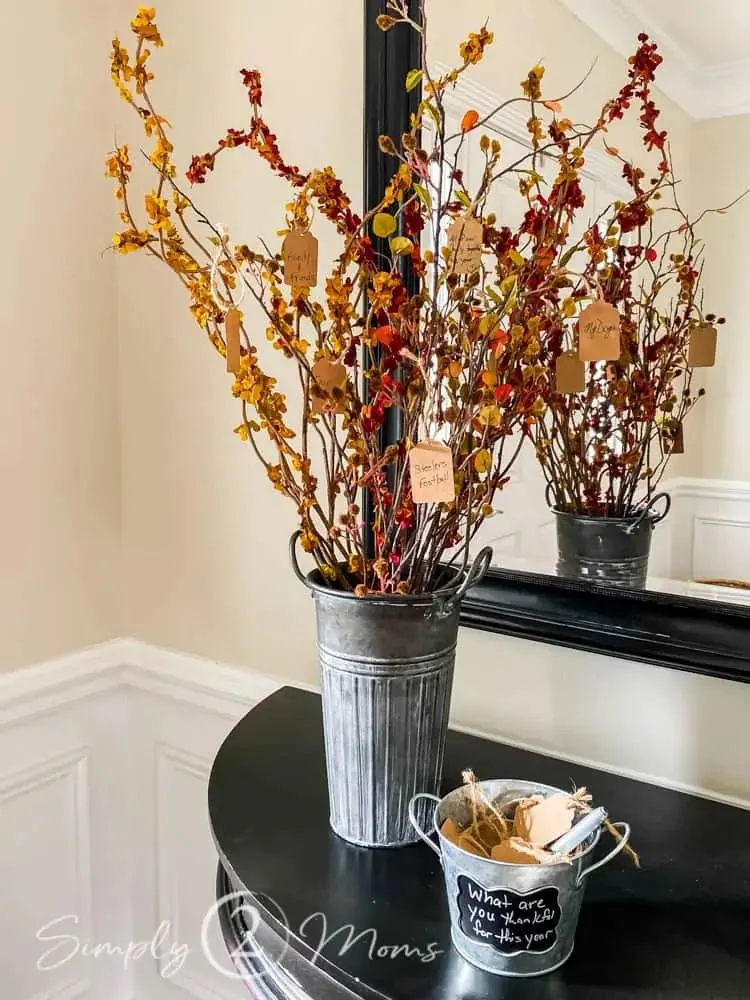 Source: simply2moms.com
These gorgeous trees have become quite a popular addition in the last couple of years. And, rightly so; they look gorgeous, don't they?
You can make seasonal ones, of course, and set them up in the foyer. That way, you'll have one to help you celebrate every holiday and season!
But since this one is specifically for Thanksgiving, you might want to set out little tags and a couple of pencils. That way, when your guests arrive for your Thanksgiving party, they can all add their messages to your tree.
8. Pinecone Succulents
Source: familyspice.com
Nothing quite says fall season like pinecones. They're just such an integral part of the setting, aren't they? You're going to love this pinecone craft.
First, have your kids go out and gather a few pinecones from your backyard; I bet they'll enjoy this fall craft session, too. Then pick out your succulents—faux ones, of course.
You'll also need a few scraps of burlap from here, a pair of shears, and some hot glue. Go ahead and gather everything you'll need to get started.
Why don't you check out these pine cone crafts? Since your kids are helping you with this craft project, here are fall crafts for kids that they might also find interesting.
9. DIY Thankful Wall Art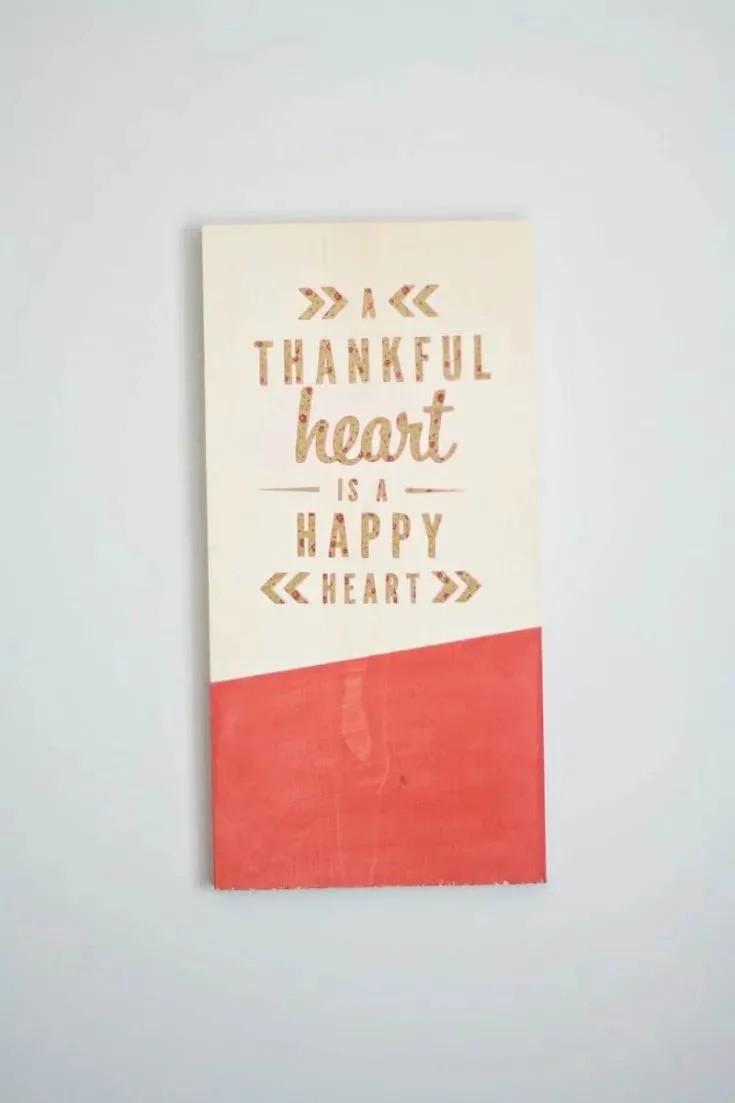 Source: diycandy.com
There really isn't a limit on just how many thankful sign boards you can have at Thanksgiving, you know. You can just hang one in every single room and that would be that.
This particular addition to your wall art is more of a year-round piece. It'll look lovely mounted on your study or living room walls at any time.
You'll need a cutting machine like a Cricut and some printable vinyl sticker paper from here. Once you've gathered your supplies, start designing your sign, and you're already halfway done!
10. DIY White Pumpkin Centerpiece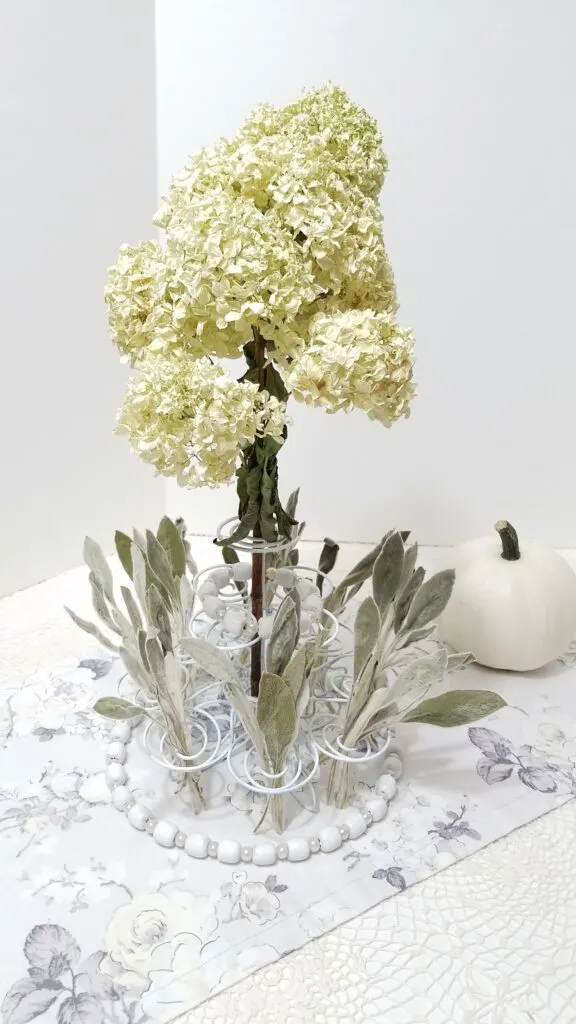 Source: b4andafters.com
I always believe that if you're looking to have a rather classy edge to your fall decor, you should just eschew the typical fall colors and instead paint your pumpkins white. There's something so inherently elegant about white pumpkins.
It will pair well with sage green, golds, pearly ivories, and soft silver embellishments. There really is a ton of room to explore your creativity, albeit in a subtle and sublime way, with these white pumpkin centerpieces!
Feel free to check out these 21 DIY dollar store centerpieces for more creative and inexpensive ideas.
11. Thanksgiving Turkey Fold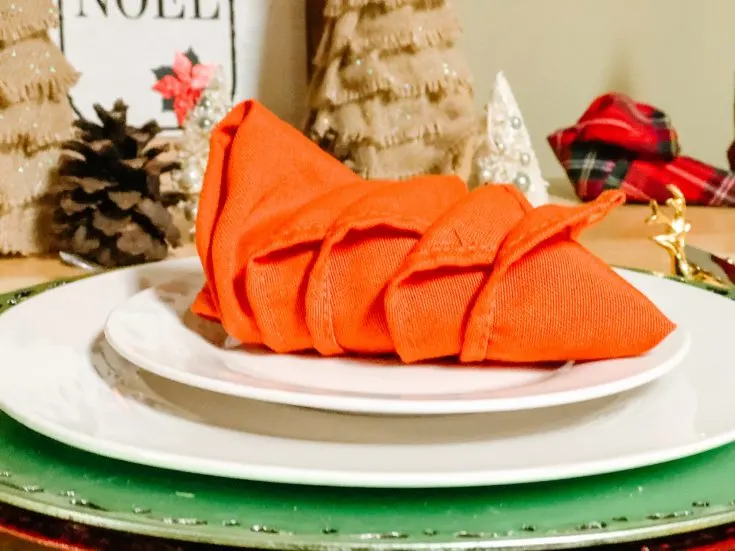 Source: alabouroflife.com
If you've ever set up a table for any event, holiday, or even just a luncheon with your friends, then you know how important napkins are. Done right, they can be used very cleverly to supplement the theme or style you're implementing.
This Thanksgiving turkey-style folded napkin truly is a work of art. Once you know exactly how to fold your napkins, you'll have enough ready in no time at all.
Why don't you grab a few orange napkins from here to get started?
12. DIY Tin Can Pumpkins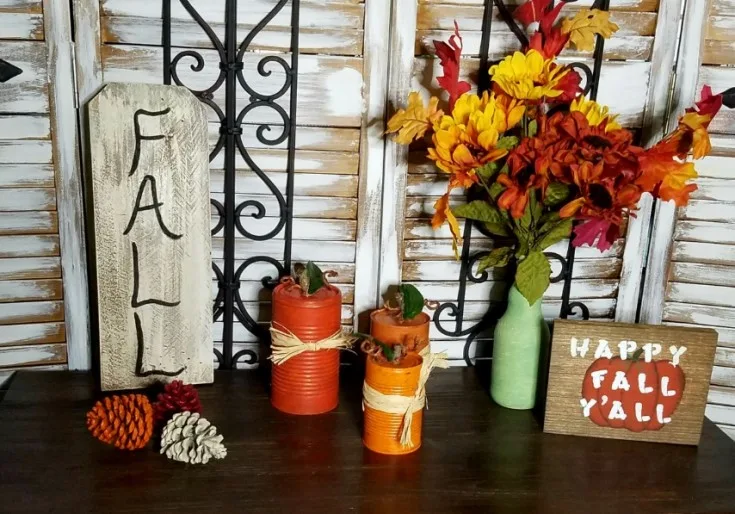 Source: mixedkreations.com
Here's a great DIY project to help you upcycle those tin cans you've got lying around! What do you do? You turn them into pumpkins, of course! A little subversive, but you know the drill.
The first step is to grab your tin cans. Different sizes would look great, I think, when you finish turning them into pumpkins. You'll also need paint, brushes and any decorative embellishments.
You can wrap some twine to act as the curly vines and just stick a bit of a twig into the can for the stem. Voila, you're all done!
13. Printable Thanksgiving Message Frame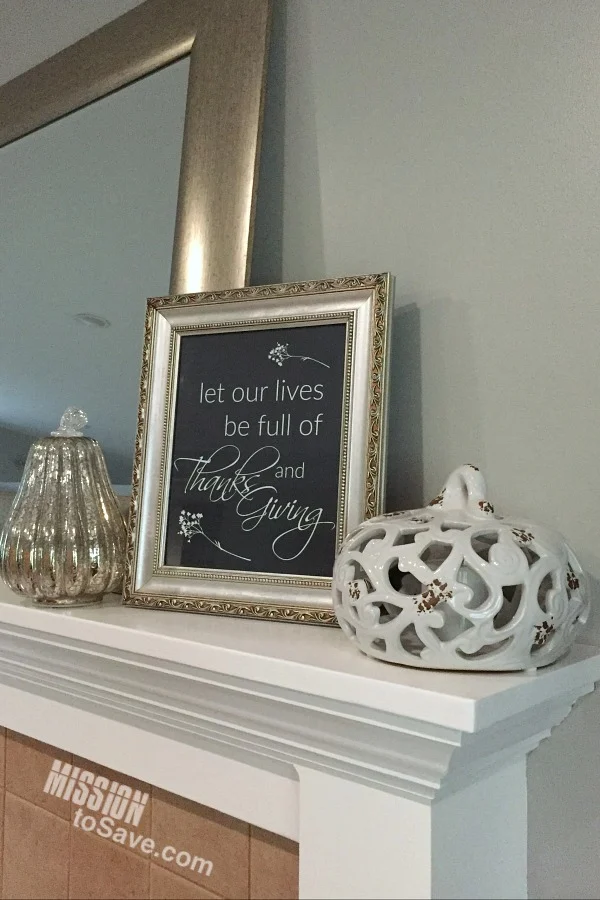 Source: missiontosave.com
Here's yet another DIY project that's all about getting the message across of just how grateful you and your family feel this Thanksgiving. This framed sign should do just the trick!
It's a simple project, truly. You can just download and print the template that's been provided. Then, you can proceed to frame it.
You can pick out your frame from a local store or just make your own if you're up for another DIY project! Check out these 21 creative Dollar Tree crafts if you're interested!
14. Metal Tart Mold Pumpkin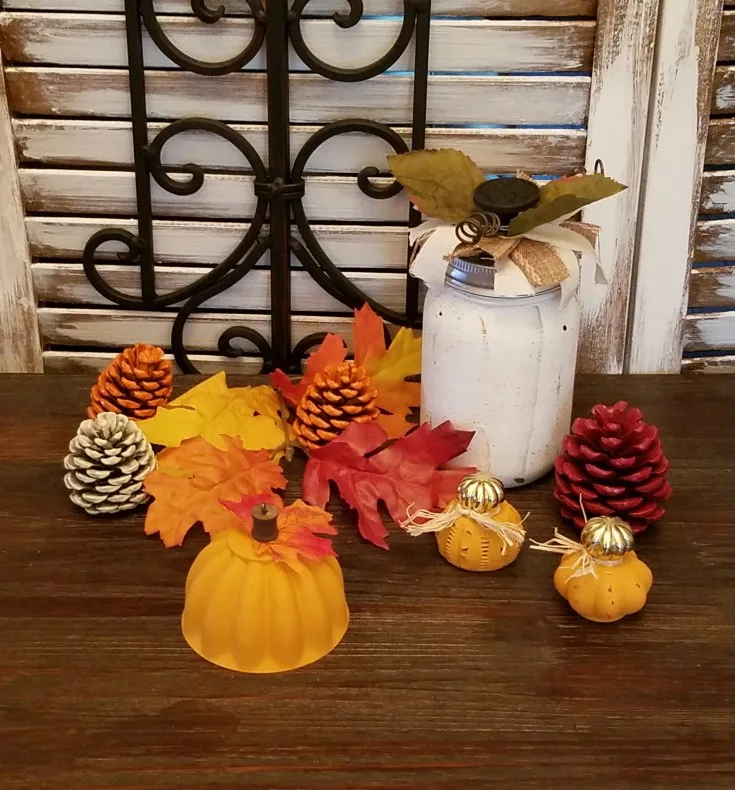 Source: mixedkreations.com
When you're on a mission to make an upcycle pumpkin, then everything you find can be put to good use. This can mean old household items like pots, tin cans, and even a tart mold like this.
No, you read that right; you're going to make your DIY pumpkins from metal tart molds. They're going to be a smashing success, trust me!
Pick out your paint color(S) of choice and start painting your tart mold. Once you're done, you can arrange them just so and toss a pinecone or two into the mix.
15. Q-Tip Painted Pumpkin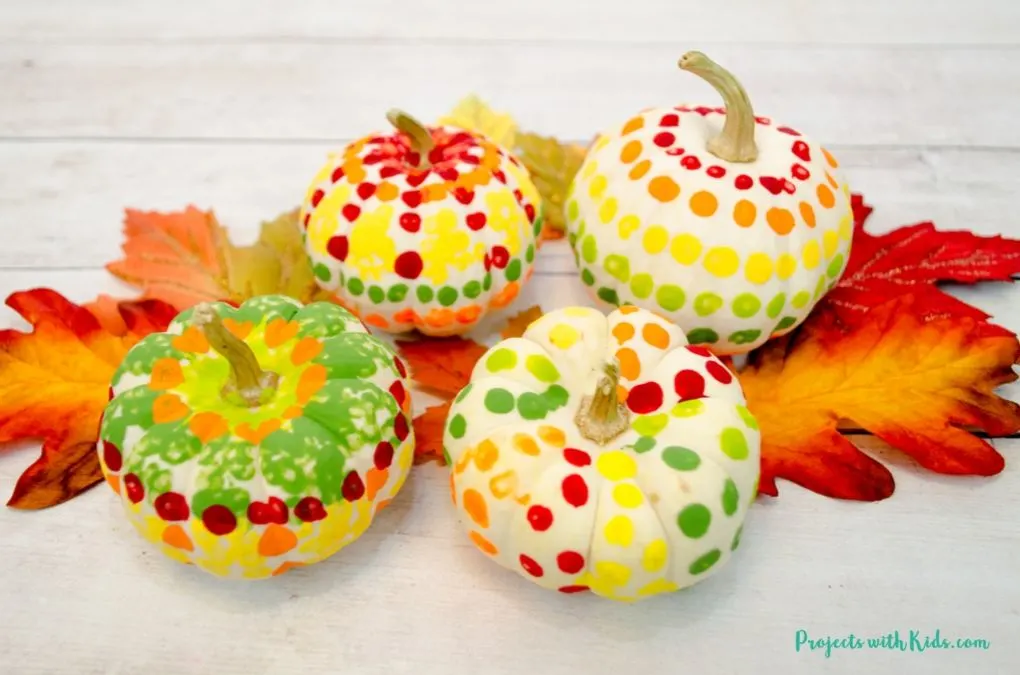 Source: projectswithkids.com
Here's a craft project that I bet your kids will enjoy. It's just what they need to keep them occupied on a cool fall afternoon.
You'll be using a ton of different colored paints. So grab a few newspapers and lay them out around the kids before they begin. Trust me, you don't want any paint spills and splatters.
Finally, for the main item on your to-buy list, you'll need Q-tips from here, of course. If your kids are a little younger, just keep an eye out when they're using these Q-tips. You know what I mean!
16. DIY Thanksgiving Banner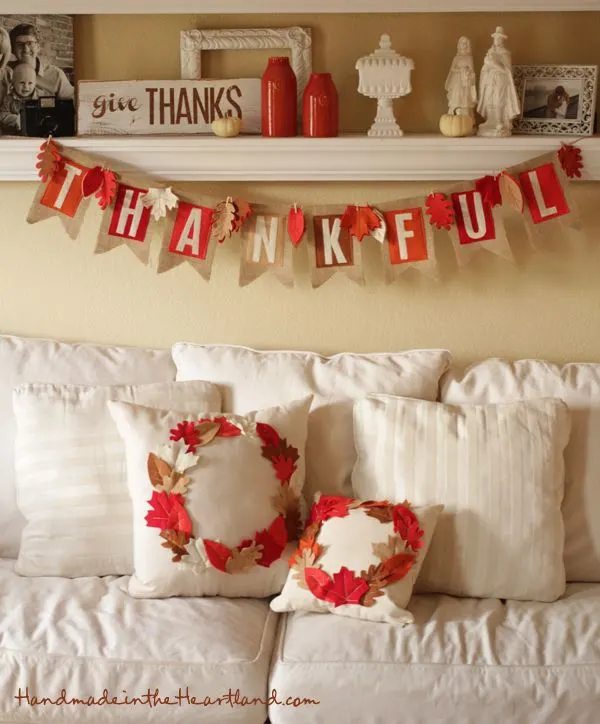 Source: handmadeintheheartland.com
Banners are ever so festive. They add a ton of color and visual delight to the room.
If you're outside, then just watching the bright colors of the banner swaying in the cool autumn breeze can be beautiful. So why don't you get started on making your 'thankful' banner?
Pick up some felt sheets from here, a yard or so of burlap to tie the banner up, and grab a pair of sturdy scissors.
This is an easy fall craft for adults, so give it a try!
17. Thanksgiving Table Decor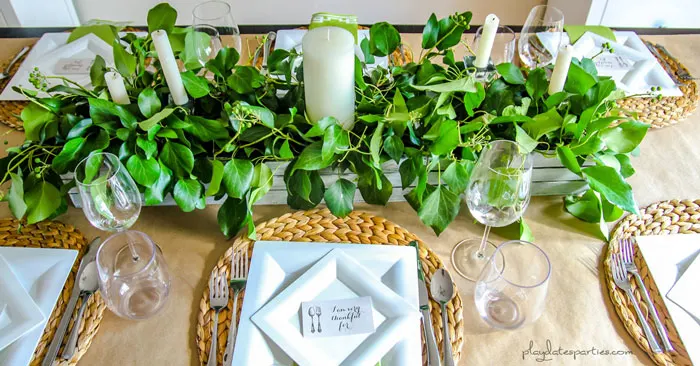 Source: playdatesparties.com
There's nothing like a ton of green to help decorate your table. When you arrange the bright foliage artfully over the center of your table, you've got a wonderful centerpiece in the making.
Throw in a few scented candles from here into the mix, a few pinecones or craft pumpkins. You can also arrange a few fall-colored leaves and florals to offset the green.
Here's an idea: how about you tuck a strand of fairy lights from here into the leaves, as well? When you light it up, your table will look like something out of a magazine!
18. Pumpkin Table Setting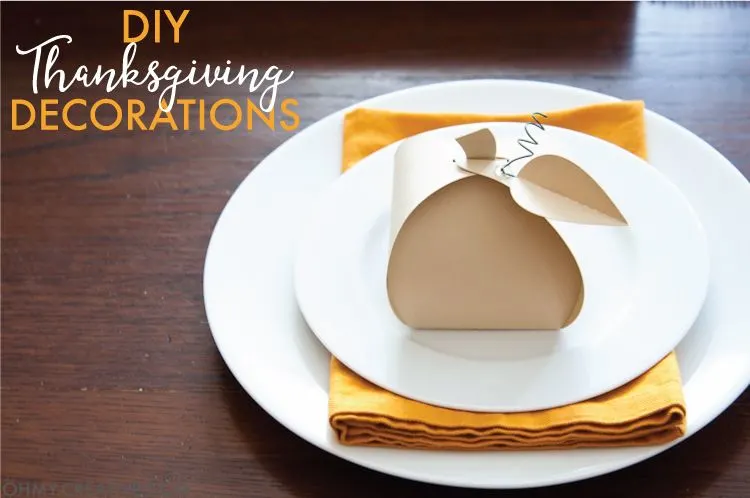 Source: ohmy-creative.com
I really do enjoy place settings that are also little souvenirs or party favors. This DIY pumpkin place setting is simple to make yet has the potential to hold quite a few surprises inside it.
You'll need to use a Cricut or a Silhouette cutting machine to help you with this project. You do, however, have a template available to download that can help you along the way.
When you're done, just slip a little party favor in there for your guests to enjoy!
19. DIY Table Decoration
Source: thecountrychiccottage.net
There are many components that belong on your Thanksgiving table as a part of the decoration. You can't just let the big turkey do all the work, you know.
You need to work on the centerpiece, the place settings, napkins and their napkin holders, and other similar additions that will bring your table together.
This particular table decoration can perhaps help get your creative juices flowing and put some ideas into your head. When you know what you want to do, then go ahead and start designing your table decoration!
Check out more projects like this for adults here.
20. Apothecary Jar Decor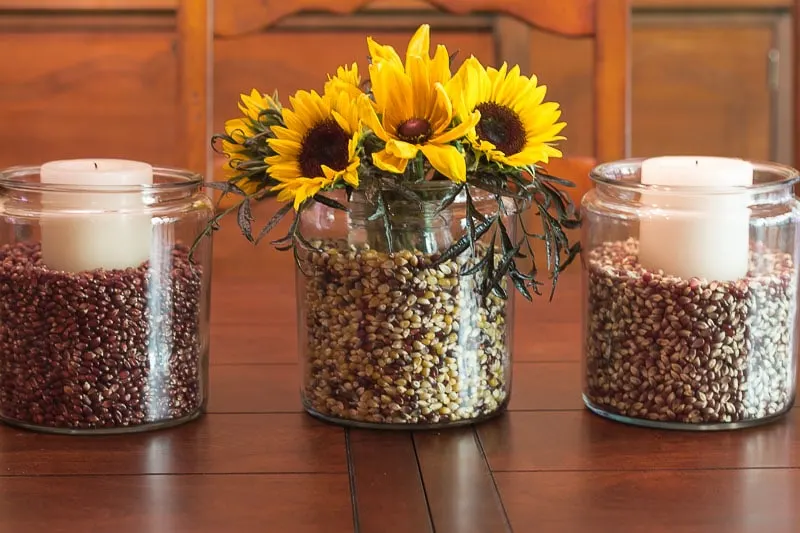 Source: hearthandvine.com
I really do love how timeless apothecary jars are. You'd expect them to be old and rather traditional, but no, they're quite versatile.
Take this particular one, for example. You've got three jars filled with beans—beans!—that also acts as a three-piece centerpiece arrangement. The middle one holds a vase of flowers, and the other two hold scented candles.
It really is unique, isn't it? Well, you can recreate that, too. Just grab a few jars from here to get you going.
21. Outdoor Fall Decor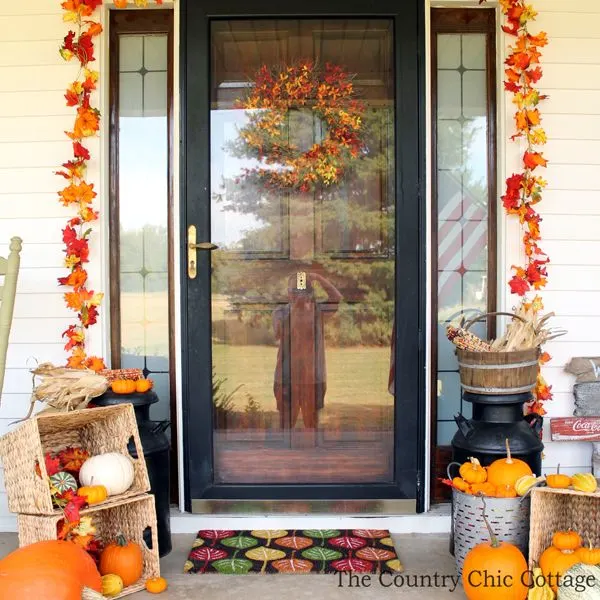 Source: thecountrychiccottage.net
You know what the first thing about your home that people see? Your front door and porch, of course. So it's important to remember to decorate that part of your home for Thanksgiving.
Let's work our way through what you see here. You've got a wide variety of pumpkins artfully arranged on either side of the door in crates, bins, and buckets.
There's also a gorgeous fall wreath and an even prettier leafy garland running around the doorframe. It all ties together quite well, doesn't it?
Check out 27 fall porch decor ideas!
22. Printable Thanksgiving Sign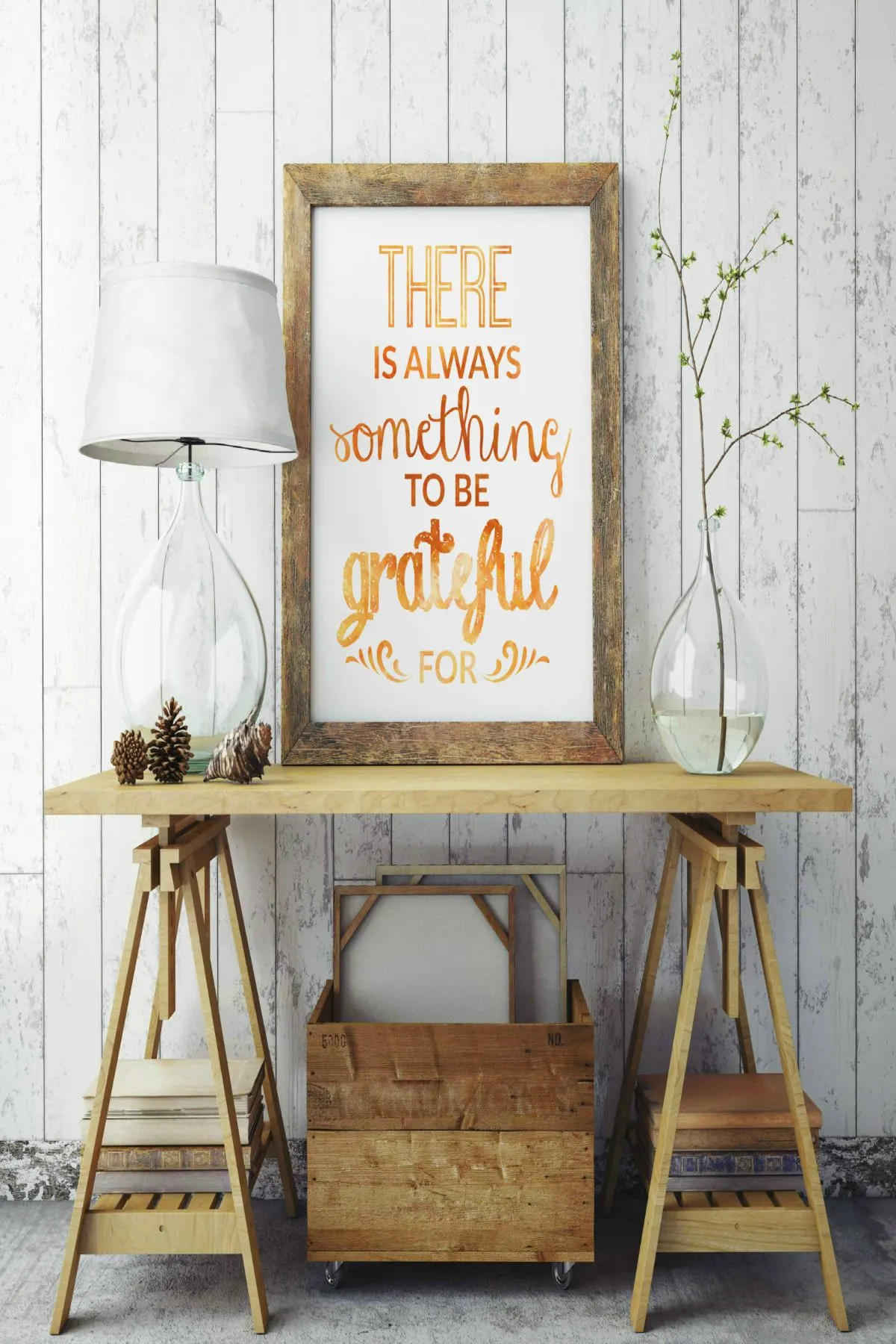 Source: extremecouponingmom.ca
Why not? Let's add another DIY Thanksgiving sign to our list. There's always room for more of them, just as there's always something to be grateful for—as the sign reads.
You can design your own sign, too. You'll be able to pick out the font, color, size, and even the layout of your sign. Then print it out and have it framed and mounted up on the wall.
23. Bandana Pumpkins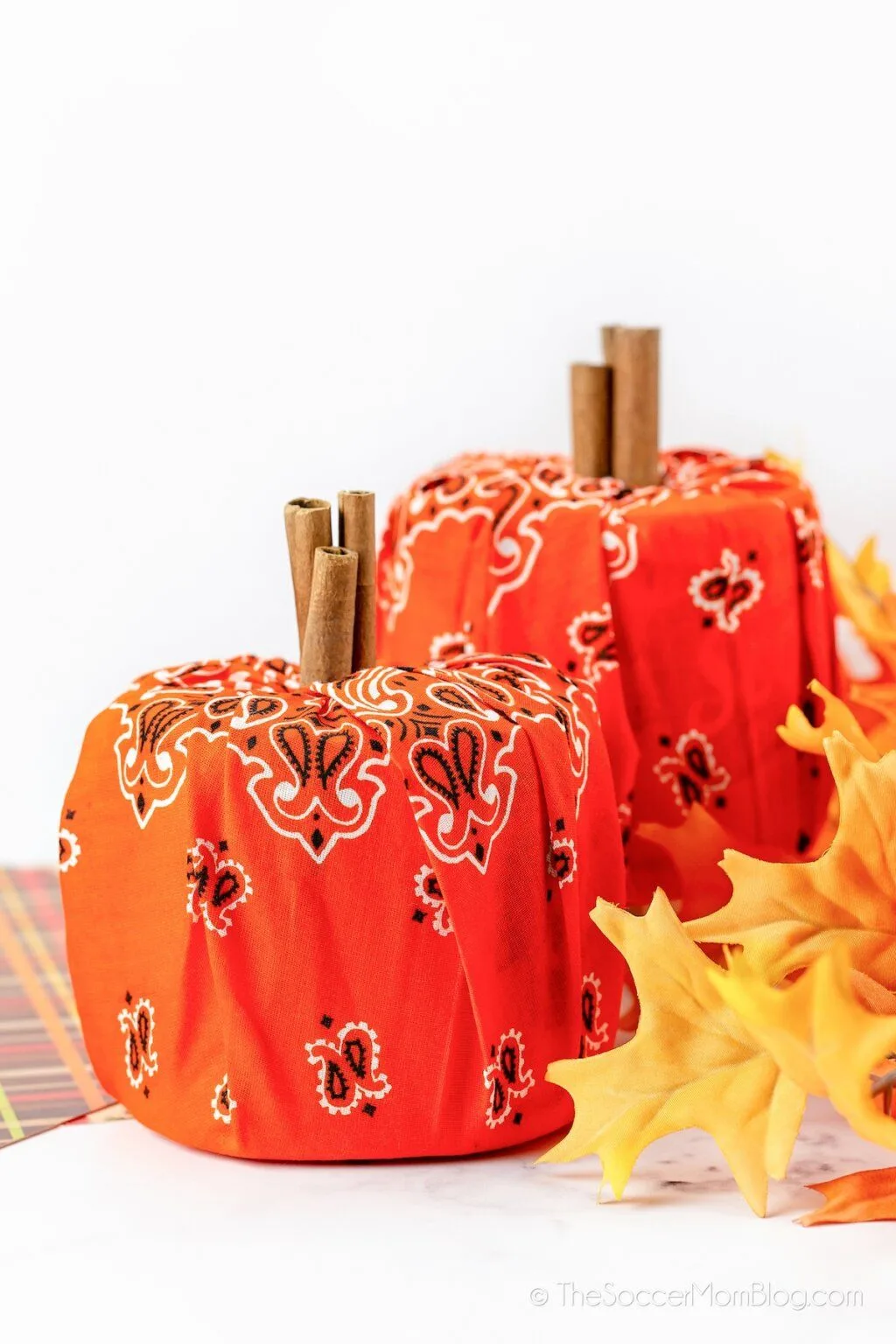 Source: thesoccermomblog.com
Don't you love how many of these DIY pumpkins we're making? This project calls for a few bandannas, so go on and grab a few to get going.
You'll also need a few cinnamon sticks—they'll act as the stems. Don't you just adore this little addition? Cinnamon sticks will augment that rich and spicy fall smell!
You'll also need a few toilet paper rolls. Once you've got everything in the list, go ahead and start making your bandanna pumpkin.
Why don't you check out these 20 toilet paper roll crafts if you're interested?
24. Herringbone Mini Pumpkins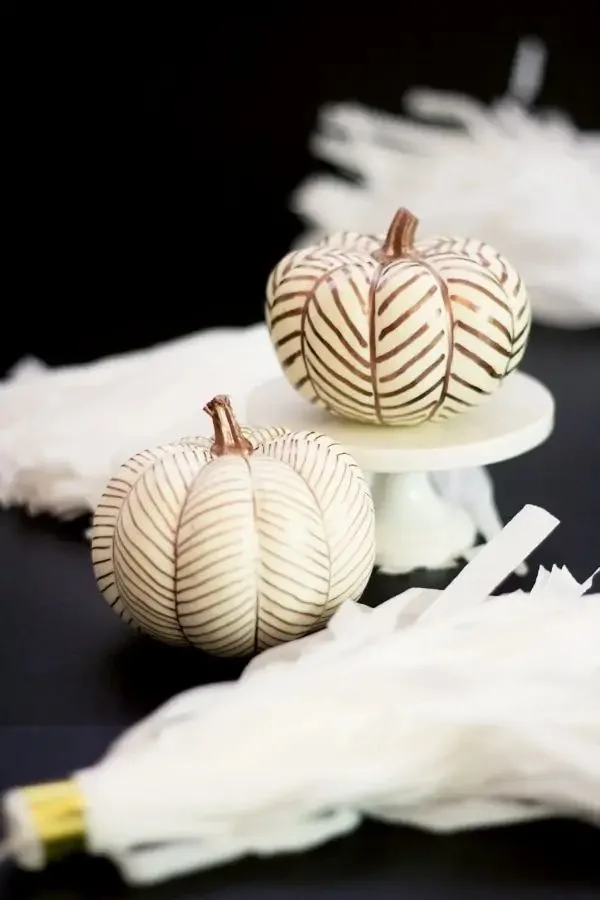 Source: lovelyindeed.com
I know how elegant white pumpkins can be. But sometimes, they can be a little wanting in terms of texture and color. If you feel the same way then I might have just the solution for you.
Have you considered trying out this simple yet effective technique of painting a herringbone pattern on your white pumpkins? You'll need a bottle of bronze or gold paint(look here) and a brush, but that's pretty much it, really.
You can paint the herringbone pattern onto the pumpkin as well as color the stem to finish it off. You've now got color and texture but haven't compromised on elegance!
25. Rustic Pumpkin Decor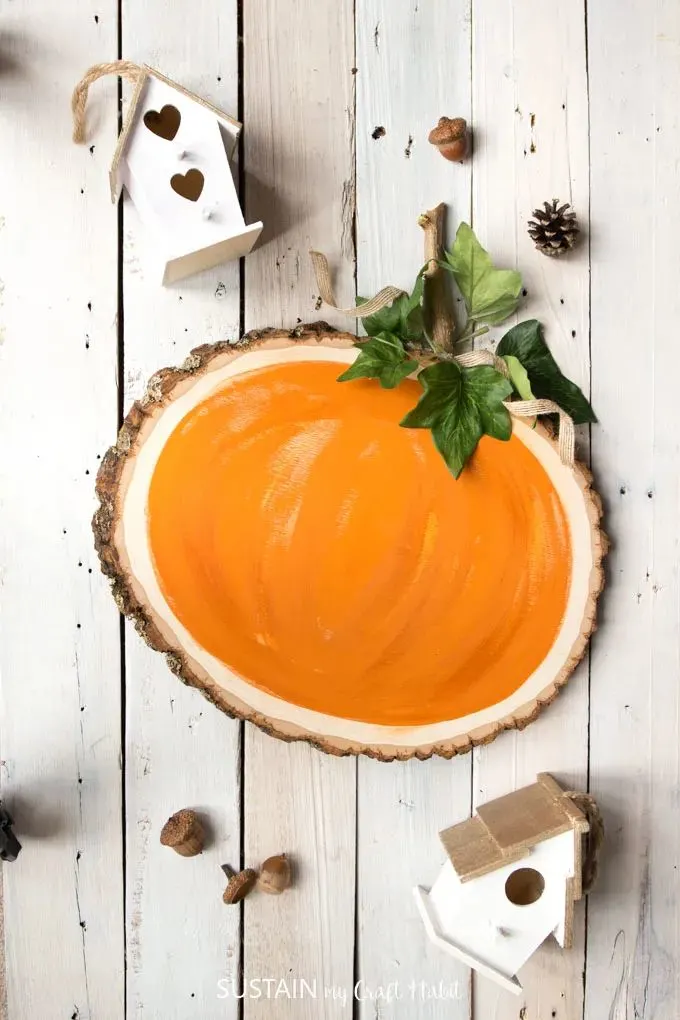 Source: sustainmycrafthabit.com
We're not quite done experimenting with different techniques to make pumpkins. Here's a wonderfully rustic wooden pumpkin decor piece for you to try next.
You'll need a large wood slice from here, as well as a few bottles of acrylic paint. You'll need some burlap ribbon, sandpaper like this, and a small wooden stem.
Also, you'll need your hot glue gun to help you secure everything in place. Don't forget to pick out a little faux green foliage to decorate your pumpkin!
26. Dollar Store Turkey Centerpiece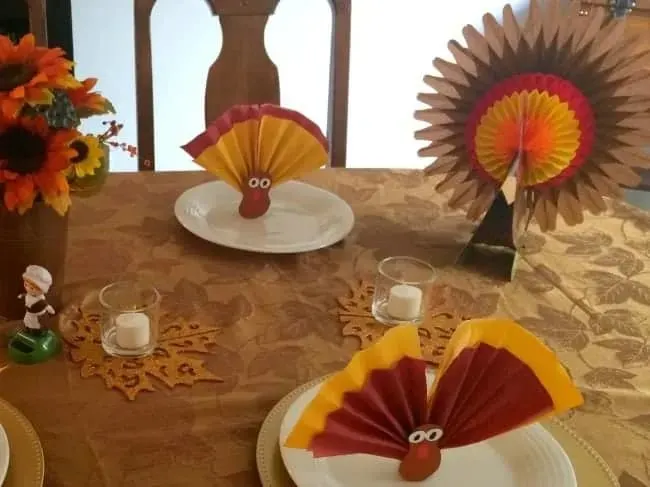 Source: organizedisland.com
You can never go wrong with a quirky turkey centerpiece like this one. It won't just help you bring your table decor together, it's sure to put a smile on your guests' faces!
You'll need to pick up a couple of packets of colored napkins from your local dollar store, as well as a few paper towels. You'll also want some construction paper from here.
Grab a pair of scissors and start cutting the napkins. Then fold them up as instructed to finish off your turkey.
If you have a few extra sheets of construction paper, then how about you check out these construction paper crafts for your kids' to try out?
27. Mini Fresh Pumpkin Vase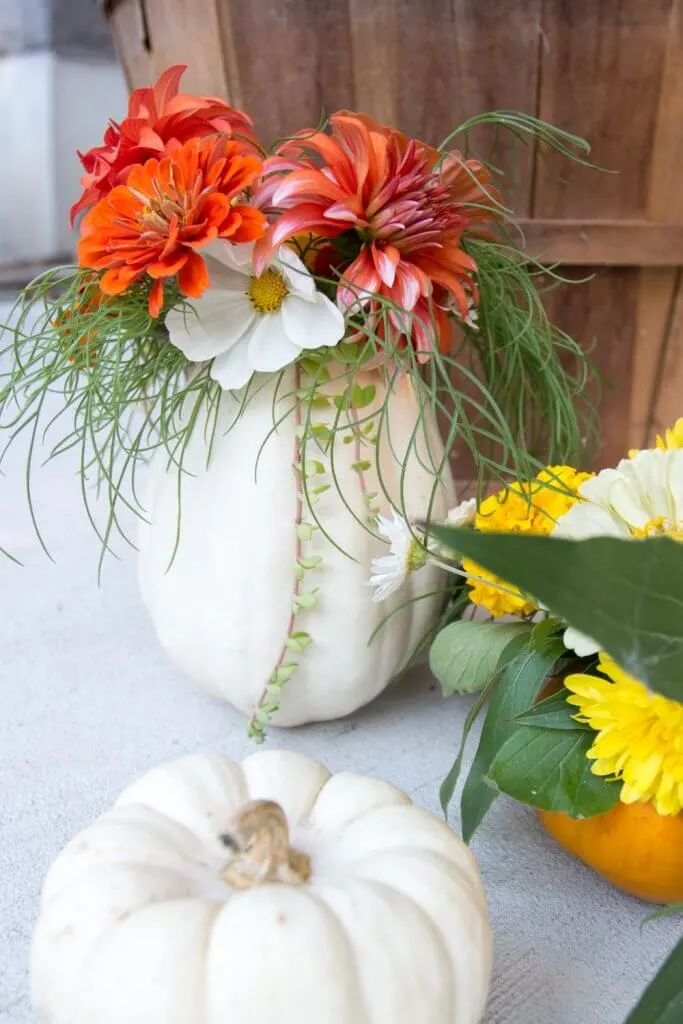 Source: thesoccermomblog.com
It doesn't get better than this—you're going to be using real pumpkins to make these mini DIY vases. They won't last too long but you'll definitely be able to enjoy them for however long they do!
The best part? Since you'll be using fresh pumpkins, you can scoop the insides and make a ton of pumpkin treats and desserts! Just think of all those pies!
Once you've painted your vases, go ahead and stick your florals in there, and you're all done!
Love this vase? You might also like these Dollar Tree vases!