Need furniture for the kids' room but want to do it on a budget? Check out these IKEA kids' room hacks!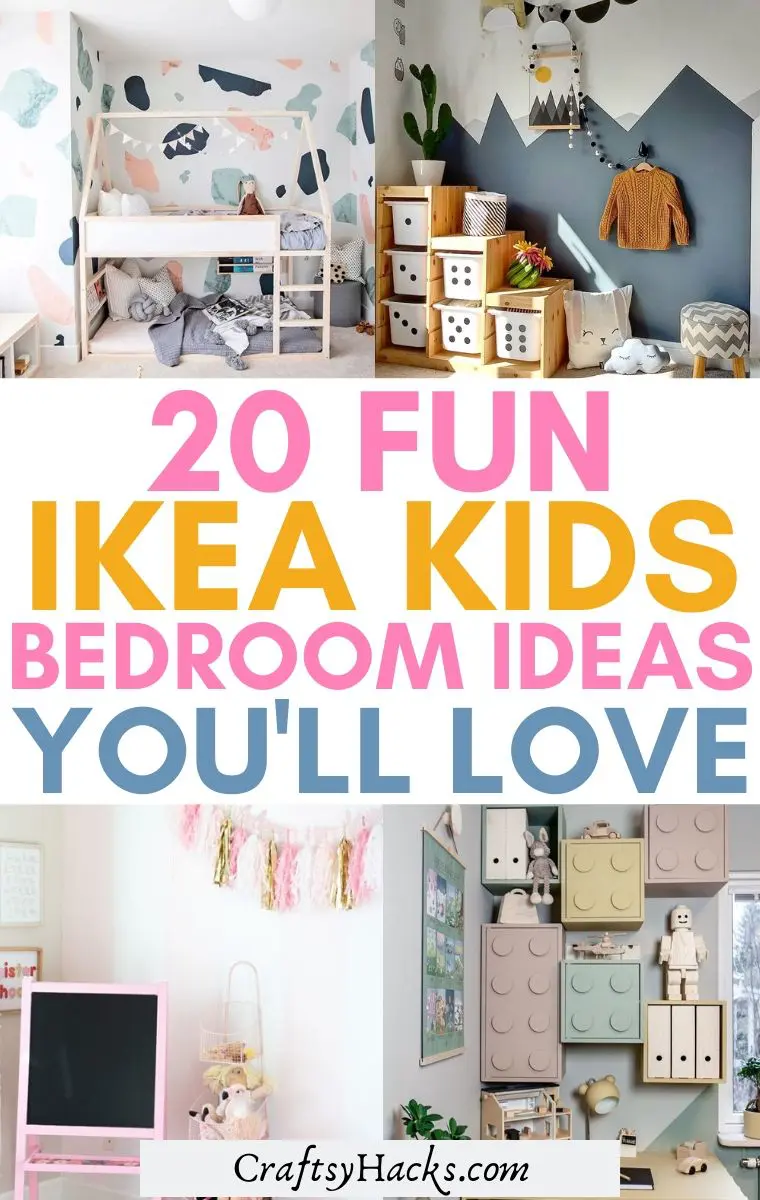 I looove kids' room makeovers! Unlike adult rooms, you can play around with crazy colors and patterns and themes on the little ones' spaces – and the kids love it regardless of the outcome.
I also love Ikea! Who doesn't?! Their range is so diverse and so versatile, they're my go-to shop for home DIY decors and hacks.
In this post, I've combined my love for both into a list of ideas that transform the use of ordinary pieces to create extraordinary spaces.
1. Kitchen Fit for a Princess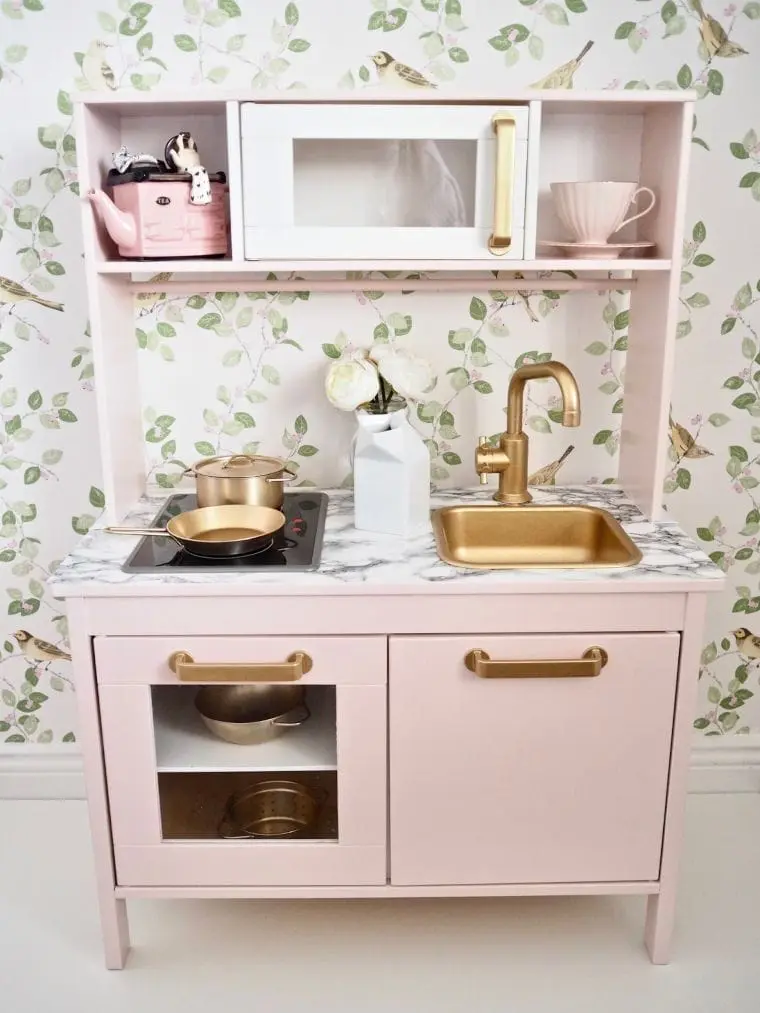 Credit: daintydressdiaries.com
Pretend play is something kids of all ages never get tired of doing. Little girls especially love mimicking mommy in their pretend kitchen.
Let your little girl pretend to play in style by refurbishing a standard Ikea Duktig. Simply paint the kitchen exterior with your shade of choice (my pick is this gloss candy pink) and line the countertop with marble contact paper, such as the one found here.
Finish the elegant look by spraying this metallic gold paint on the fixtures and pots and pans. There you go, a kitchen fit for a princess!
2. Neat and Tidy Storage Solution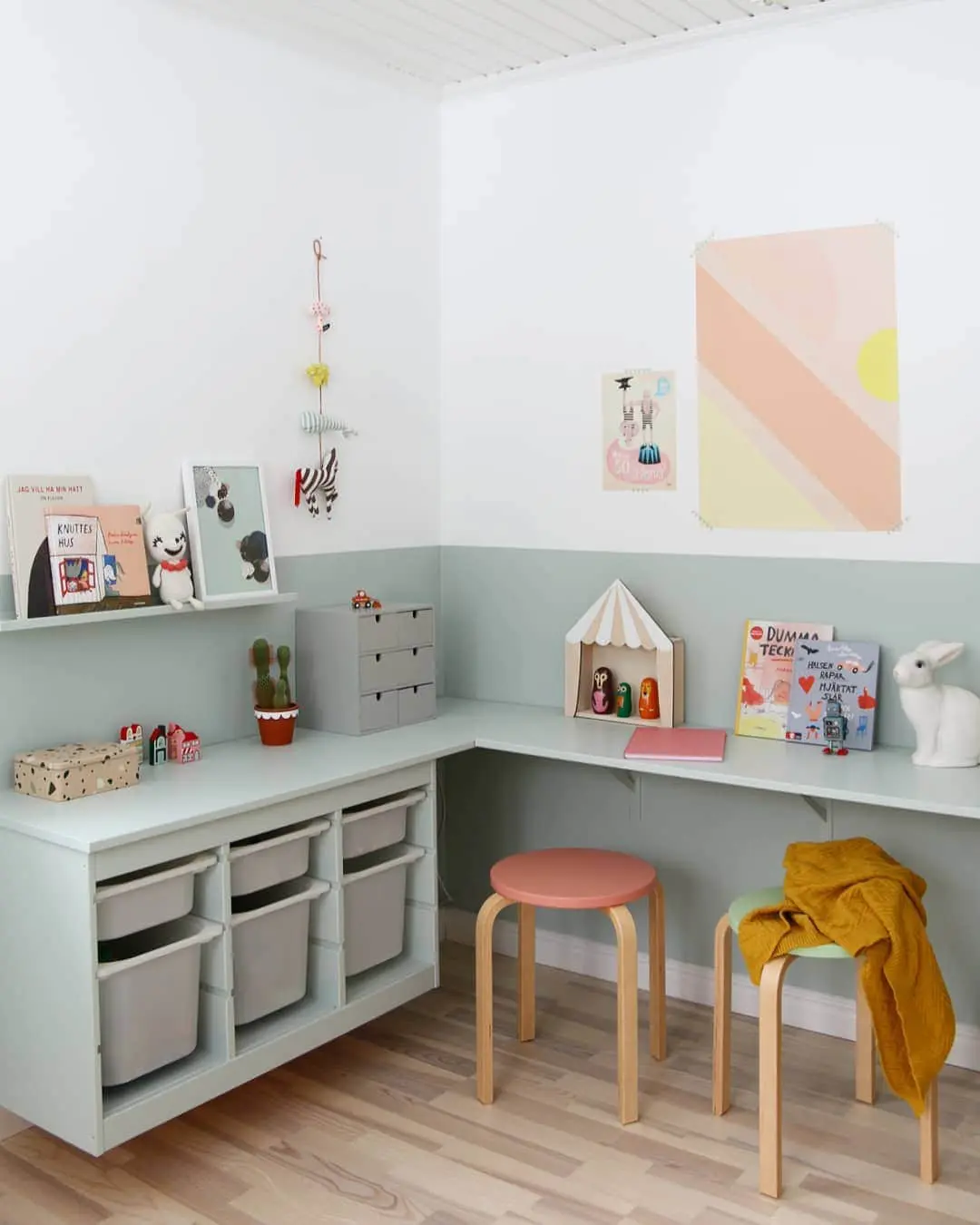 Credit: Instagram
Toy storage bins are bound to be full of clutter. But if you play your décor cards right, you can create a balance of beauty and chaos.
Simply match your storage solutions to your child's room theme to create a beautiful tidier look (regardless of the mess within the bins).
To save on paint costs, ensure you get a paint that is suitable for all surfaces, like the serenity blue shade I found here.
3. Pretend Food Stall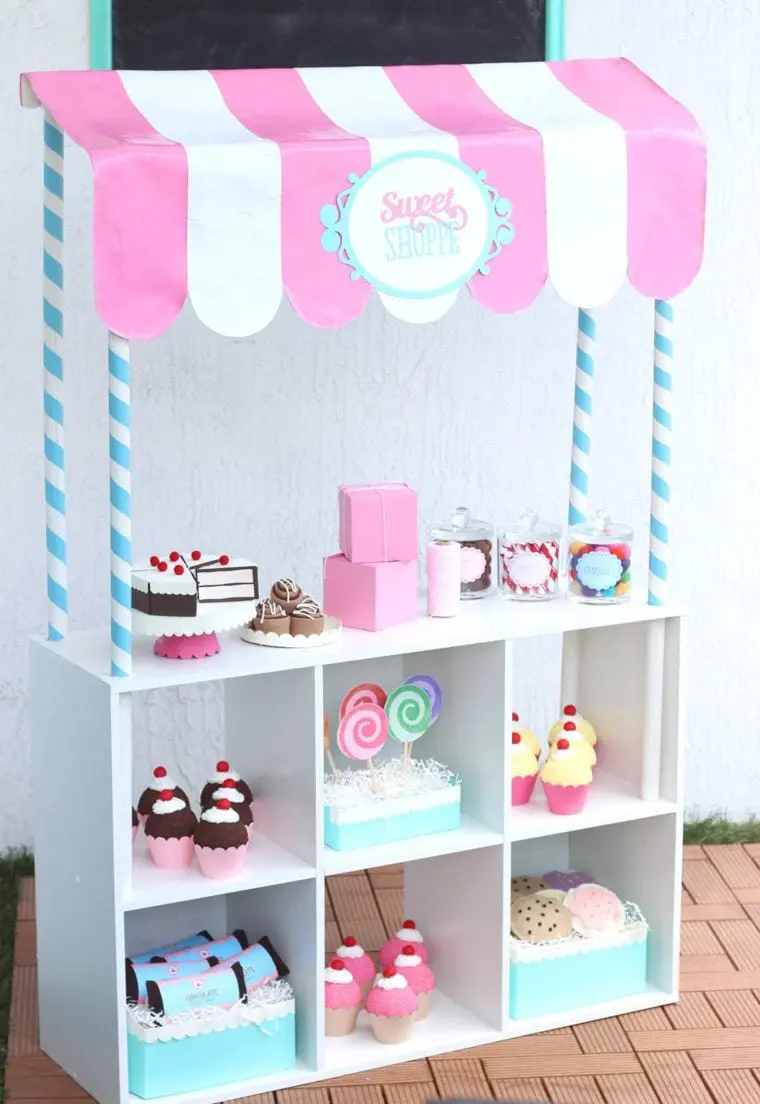 Credit: damasklove.com
Turn an Ikea bookshelf into a food stall and fill it with anything your little one wants to "sell" for the day. Sweets, beverages, pastries, burgers, anything yummy!
You have two options for your food stall items. You can get ready-made food sets like this. Or you can DIY them using a bundle of craft materials like this set here.
I personally like the DIY route because it makes for a fun bonding activity with the kids. Also, we can do and add more food items as they please. You know, in case they change their mind for next week's food stall.
4. Spice Racks Turned Bookshelves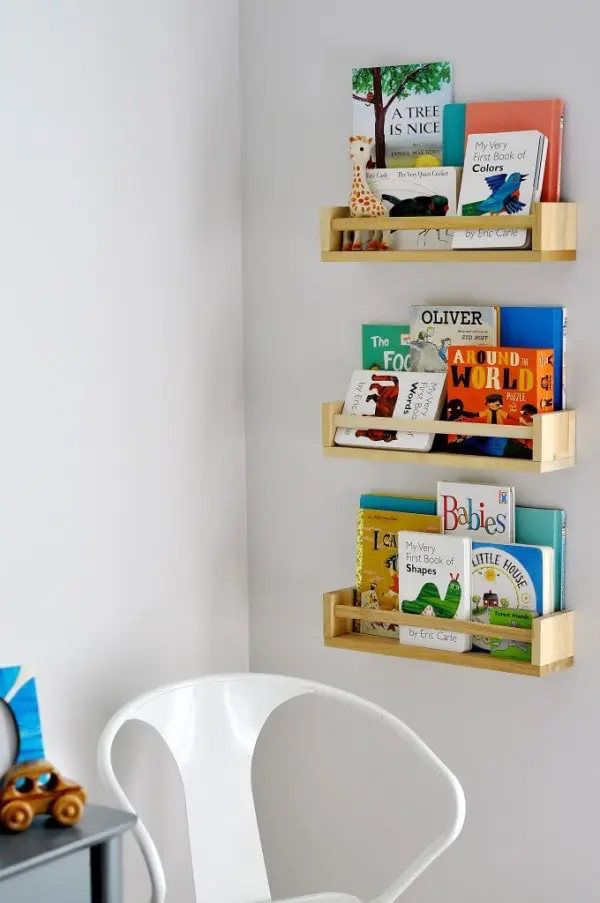 Credit: citymom.nl
The BEKVÄM spice racks aren't exclusively for spices. They're actually great bookshelves for the children's rooms.
But wait, there's more. You can also use them as small toy storage spaces or hanger racks for showcasing your baby's cutest outfits.
If you want some patterns on your bookshelves, try using wallpaper instead. You don't need to cover a lot so you can just get the test swatches, like this animal patterns available here.
Check out these IKEA kitchen hacks you may like!
5. Wall-Mounted Study Desk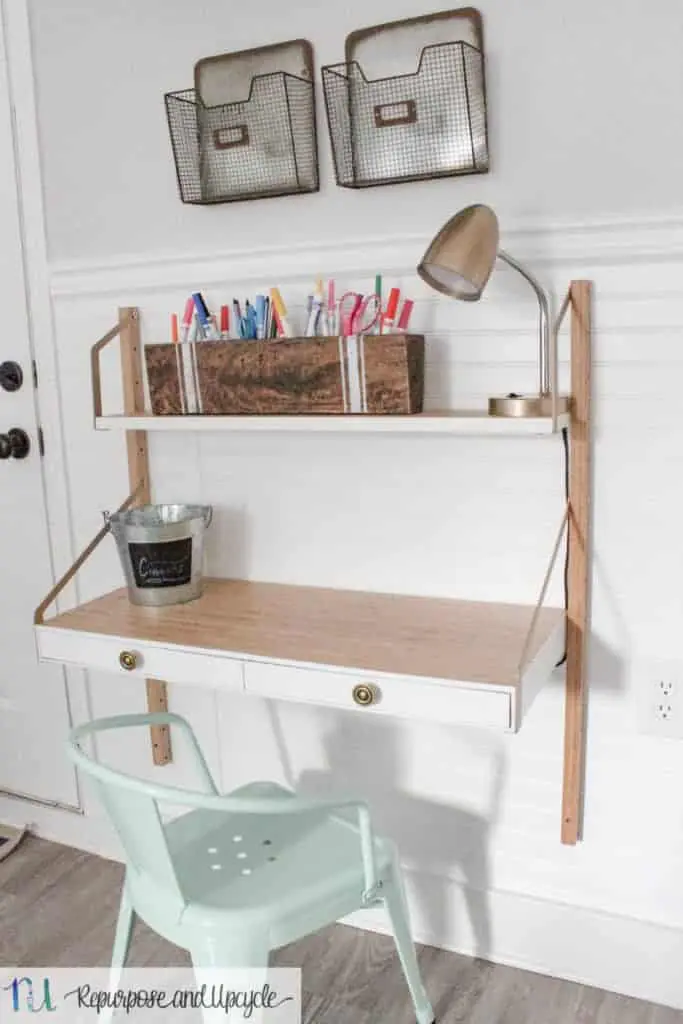 Credit: repurposeandupcycle.com
Create a dedicated spot for your older kids so they can focus solely on their work. This example made use of the wall-mounted Svalnas desk and accompanying Svalnas wall upright.
To store their stationery, use a bamboo desk organizer like this to complete the desk's bamboo theme.
Check out more clever IKEA desk hacks!
6. Sensory Play Desk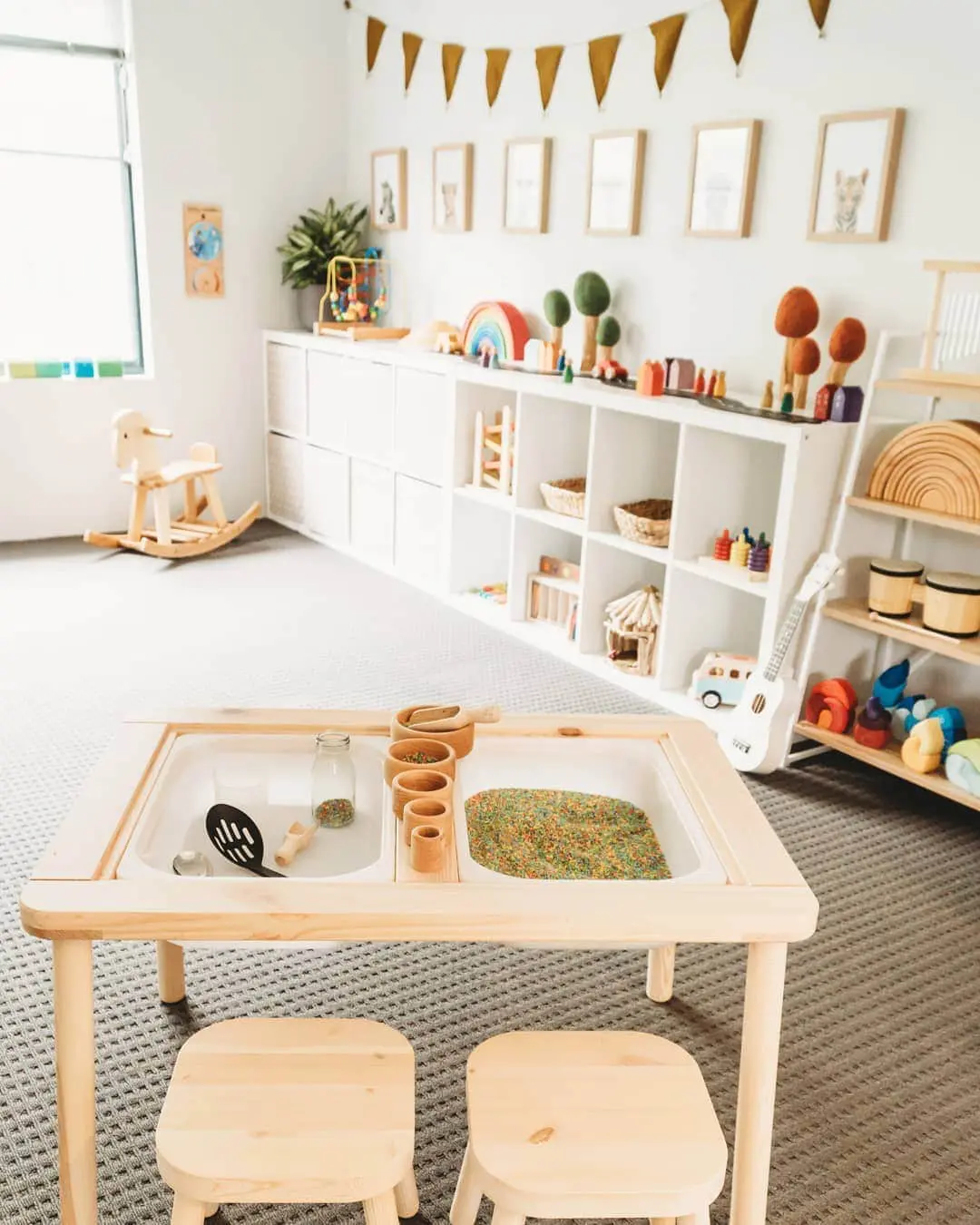 Credit: Instagram
Make playtime fun and new every week with an Ikea Flisat Children's Table. The table is an absolute gem for encouraging sensory play in toddlers.
Switch the table's contents every couple of weeks your little one engaged and interested. This example used colored rice like this, but you can also use this sparkly play sand or water beads like the ones I found here.
7. Pastel Wardrobe and Drawer Set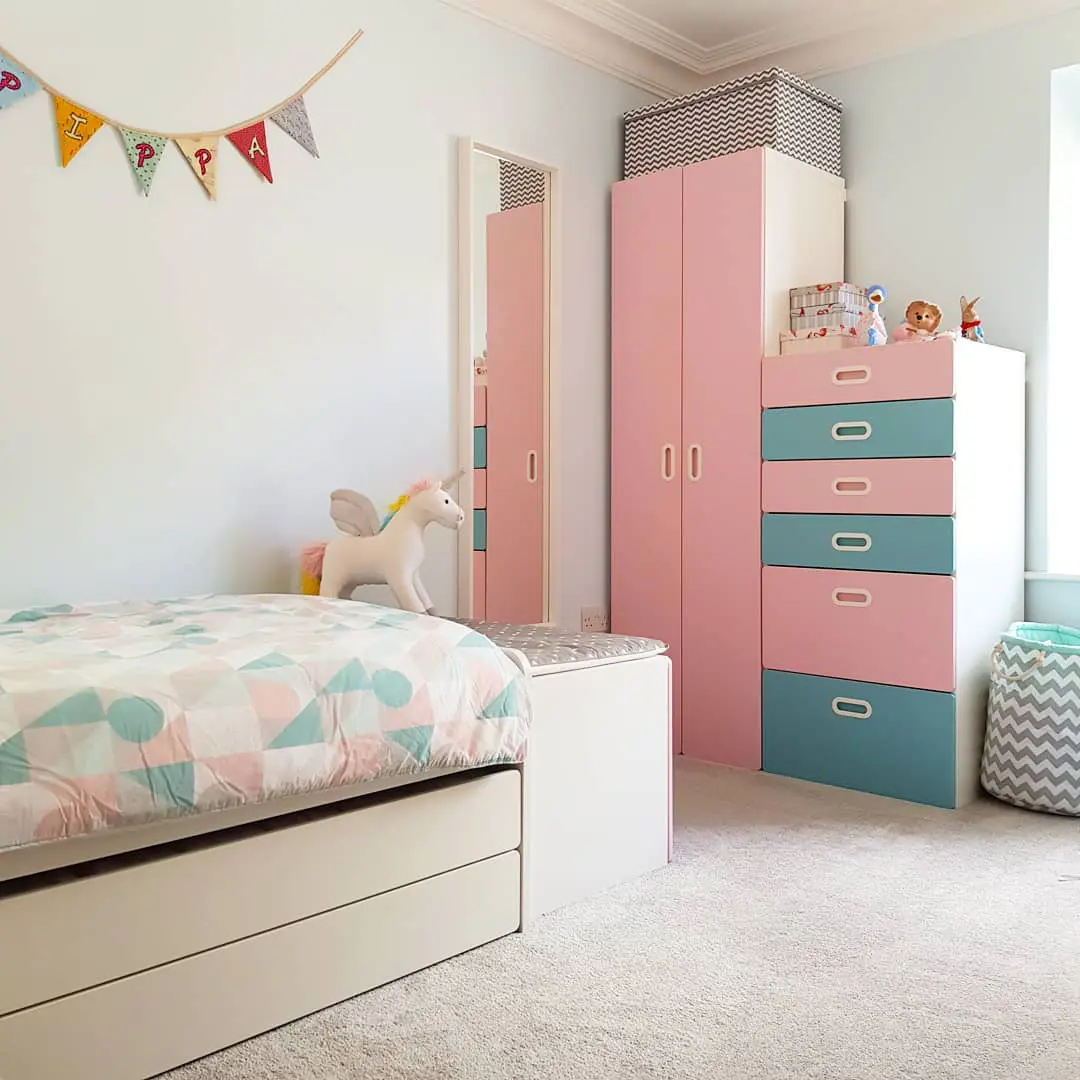 Credit: Instagram
Spruce up the white Stuva wardrobe and chest of drawers by painting them with colors that match your kids' room décor.
For a pastel room, you can paint your Stuva's with pastel spray paint like this. Or if you want a bit of texture, use an embossed pastel wallpaper, available here.
Check out more IKEA bedroom hacks here!
8. Kids' Dream Bed for Two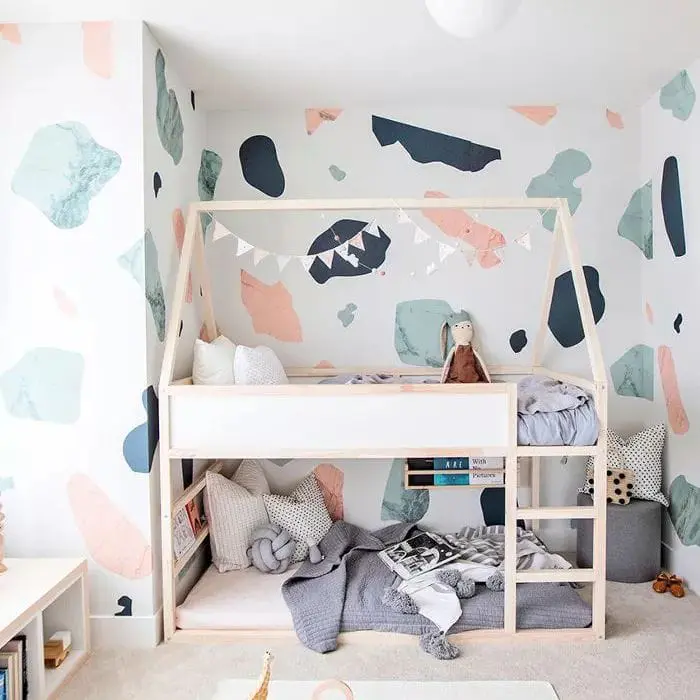 Credit: mydomaine.com
Encouraging your little ones to crawl into bed early is every parent's dream. It is a difficult feat, but not impossible.
Try converting their bed into a playhouse and see if it does the trick. Use colorful construction paper like this to recreate the banners on this sample to see if it entices your baby to get to bed early.
Check out more IKEA bed hacks you're probably going to like!
9. A Little Girl's Charming Wardrobe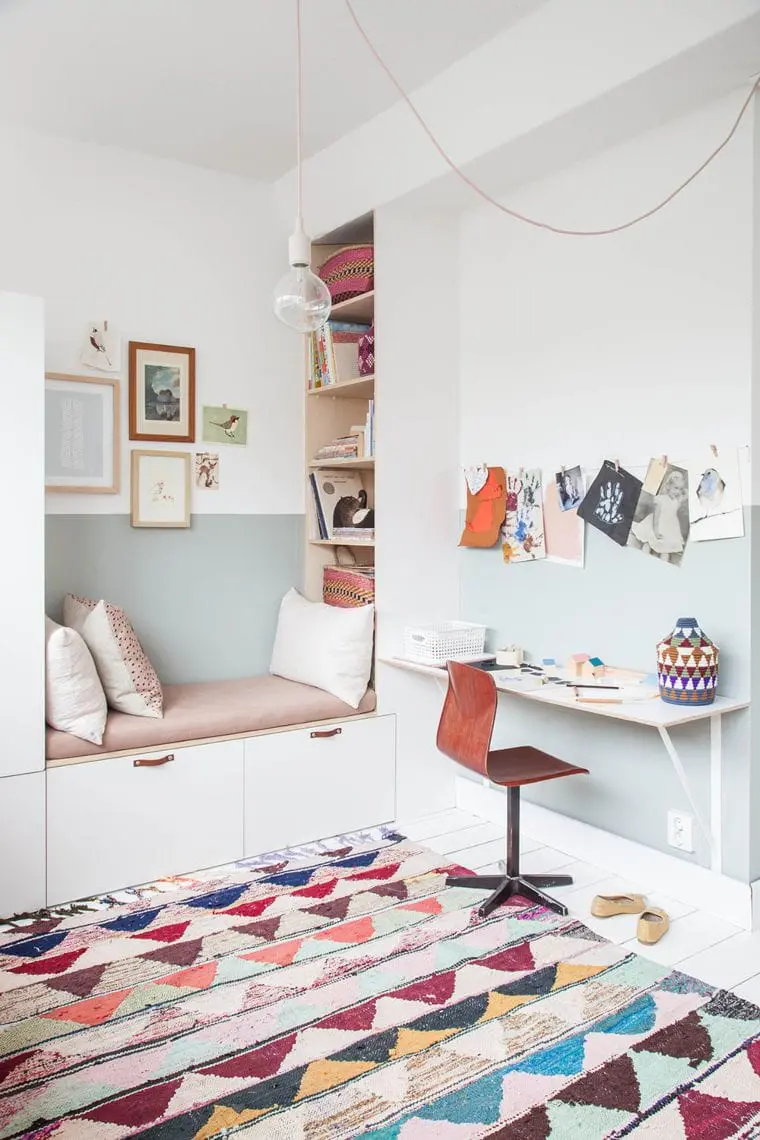 Credit: decor8blog.com
Create this charming wardrobe with two Ikea products. Use the IKEA Besta TV bench for the wardrobe base and reading nook. The IKEA Stuva can be mounted on the left-most side, and shelving can be installed on the opposite side.
Buy inexpensive upholstery foam, such as this, for added comfort to the reading area. If you don't mind sewing, grab some upholstery fabric like this gorgeous feather-patterned fabric I found here.
10. Dreamy Loft Bed for Kids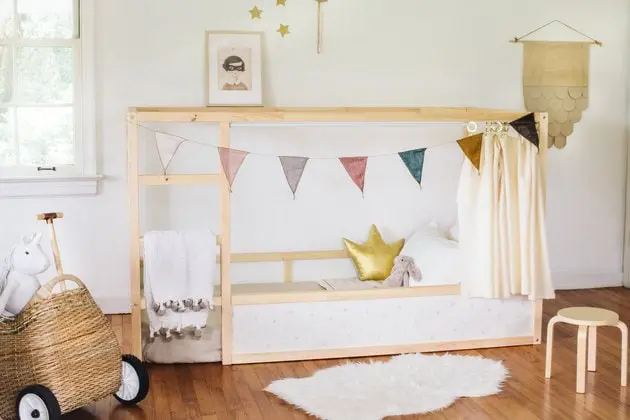 Credit: hunker.com
The Kura reversible bed is already a delightful loft for kids to snooze in, but that doesn't mean you can't add your personal touch to it.
Go ahead and recreate the look of this Kura bed. You'll need wallpaper, curtain clips, flag garlands, café curtains, scissors, measuring tape, and of course, your creativity. Have a look at this post if you want a detailed tutorial of this process.
11. Whimsical Playhouse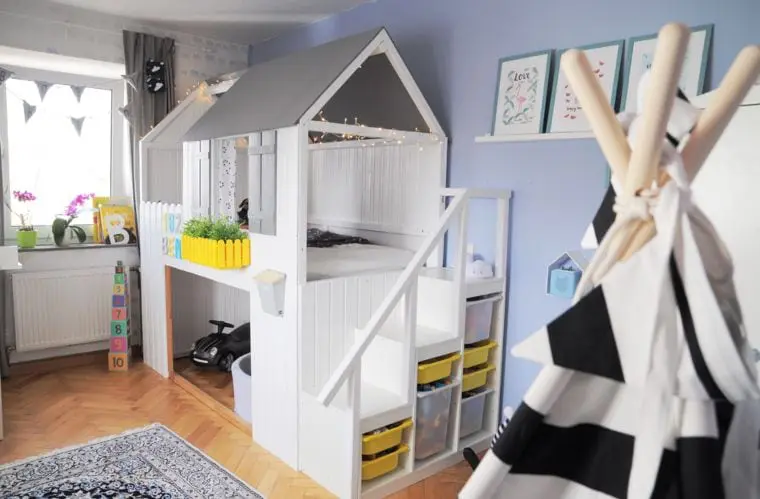 Credit: milfcafe.blog
This hack is another take on the Ikea Kura combined with the Trofast storage bins. Add the whimsical feel through safe and quality fairy lights, like the ones available here.
Make it feel like a real home with a house number alongside your child's name using self-adhesive sheets like these.
Here are more hacks with Kura furniture for the children's room!
12. From Plastic to Wood Finish Storage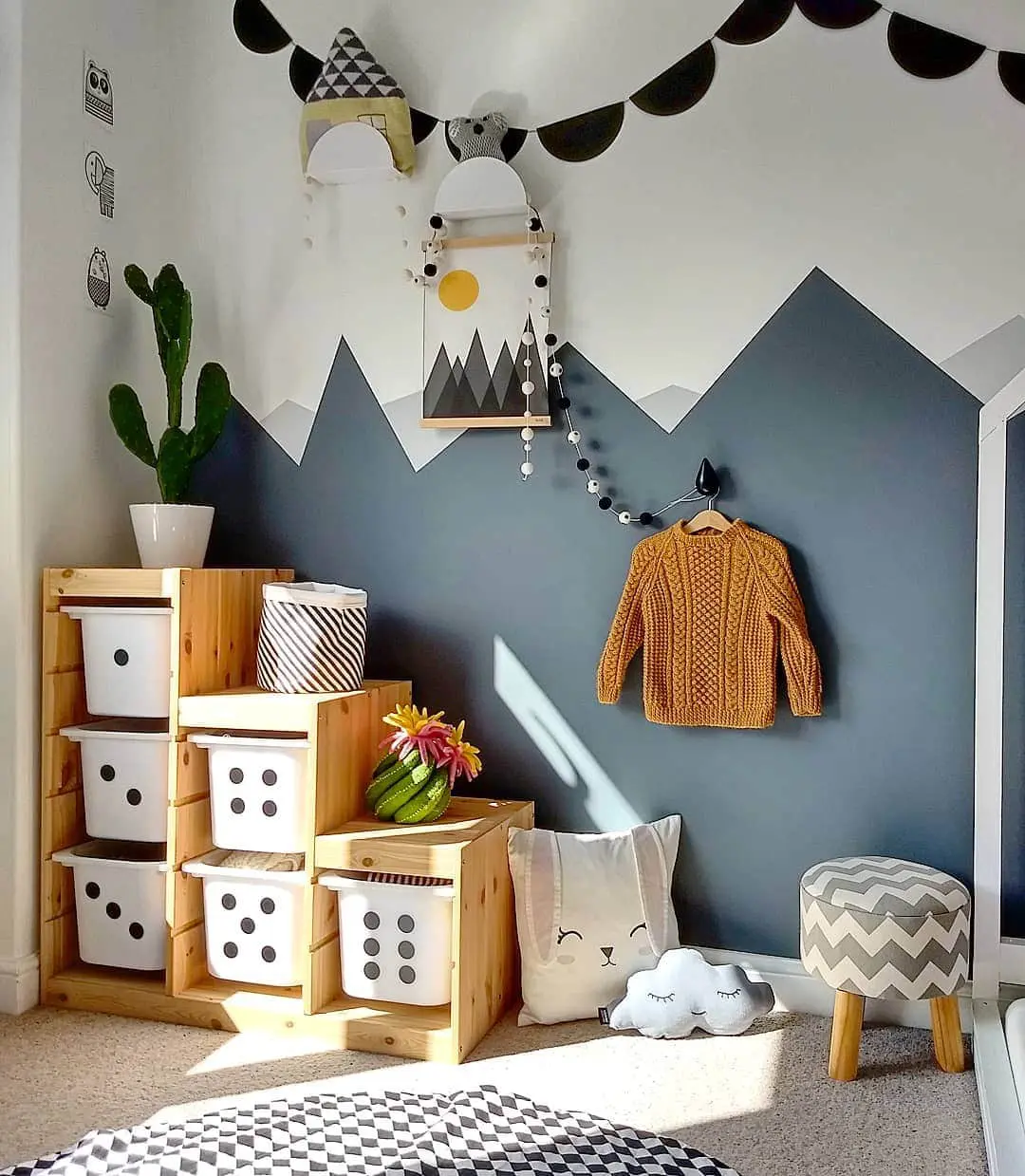 Credit: Instagram
Create a playful look by transforming your Trofast bins into huge domino pieces. Create the domino dots using self-adhesive contact adhesive paper, which you can get here.
Throw in a checkered black and white rug and hang some black and white pompom garlands like these to complement the domino's color scheme.
13. Cute Play Kitchen and Bakery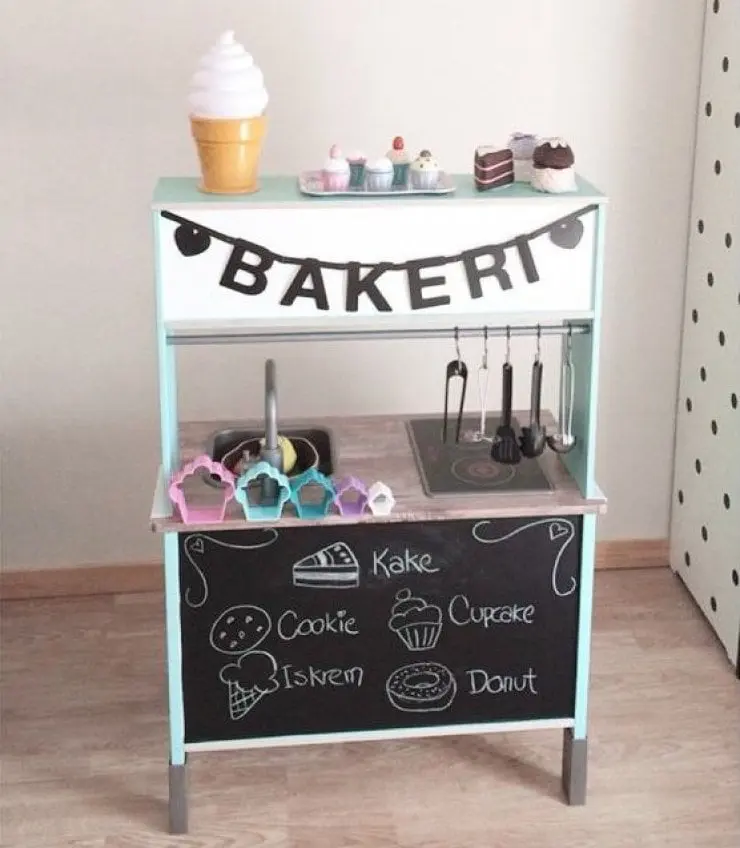 Credit: mommodesign.com
Another way of adding excitement to your Duktig Play Kitchen is to turn it into a bakery.
Use colorful felt like the ones found here to create the muffins and cakes, and select colorful silicone cookie cutters from this range as countertop decors.
Finally, use a self-adhesive chalkboard, which you can get here, to use as a storefront display sign.
14. Lego Storage Cubes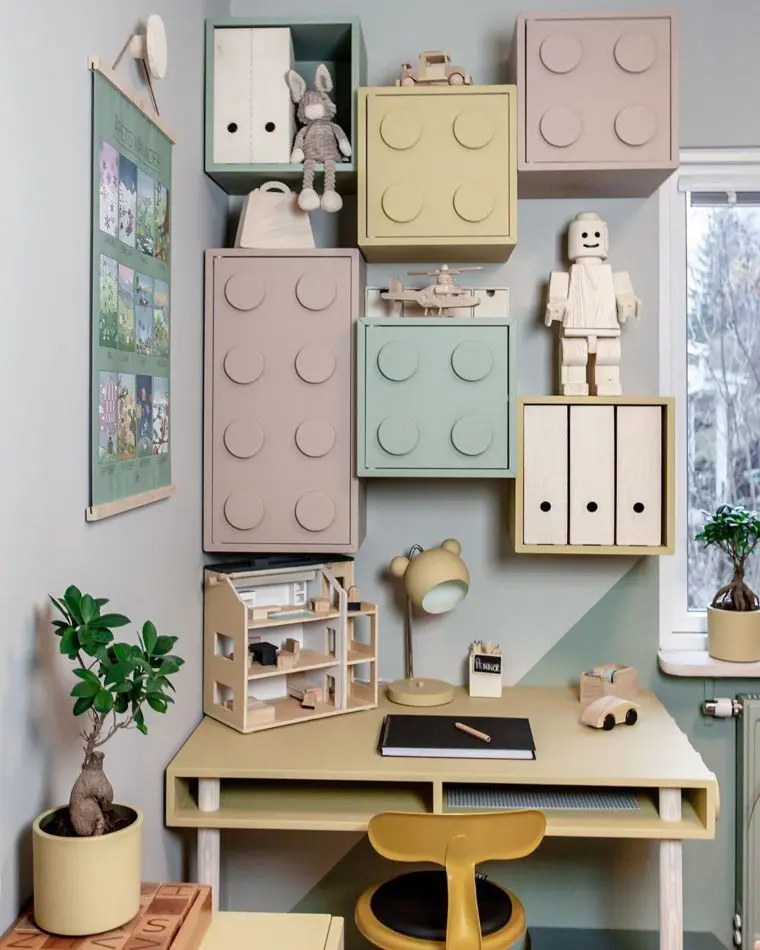 Credit: Instagram
I've never met a child who dislikes Lego. Why not create bigger versions of these famous blocks to serve as storage spaces atop their desks?
All you need are a few Ikea Eket cubes, wood for the doors, craft wooden discs available here, and pastel-colored spray paints like this set.
Simply assemble the "Lego" pieces using your glue gun, paint over it, and then mount it on to the wall.
15. Kids Sensory Table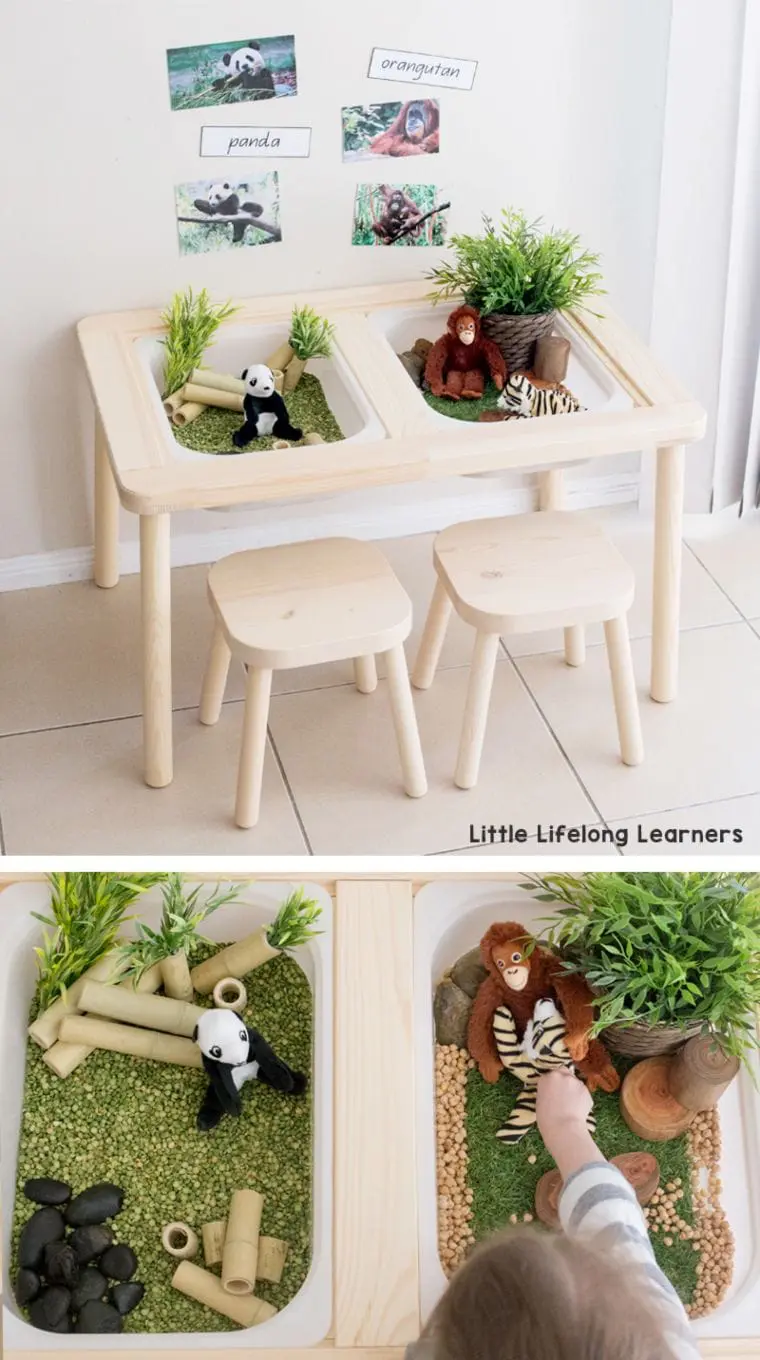 Credit: littlelifelonglearners.com
Setting up a kids' sensory table may seem a troublesome and costly venture, if not for the Ikea Flisat. Try this sensory table set up to introduce your little one to the world of pandas and orangutans.
Use green sensory rice found here to recreate the ground, and add in artificial plants to reinforce the outdoor feel. The great thing about this table is you can switch to a different animal as soon as your little one familiarizes themself with the current ones.
16. Kids Playtime Kiosk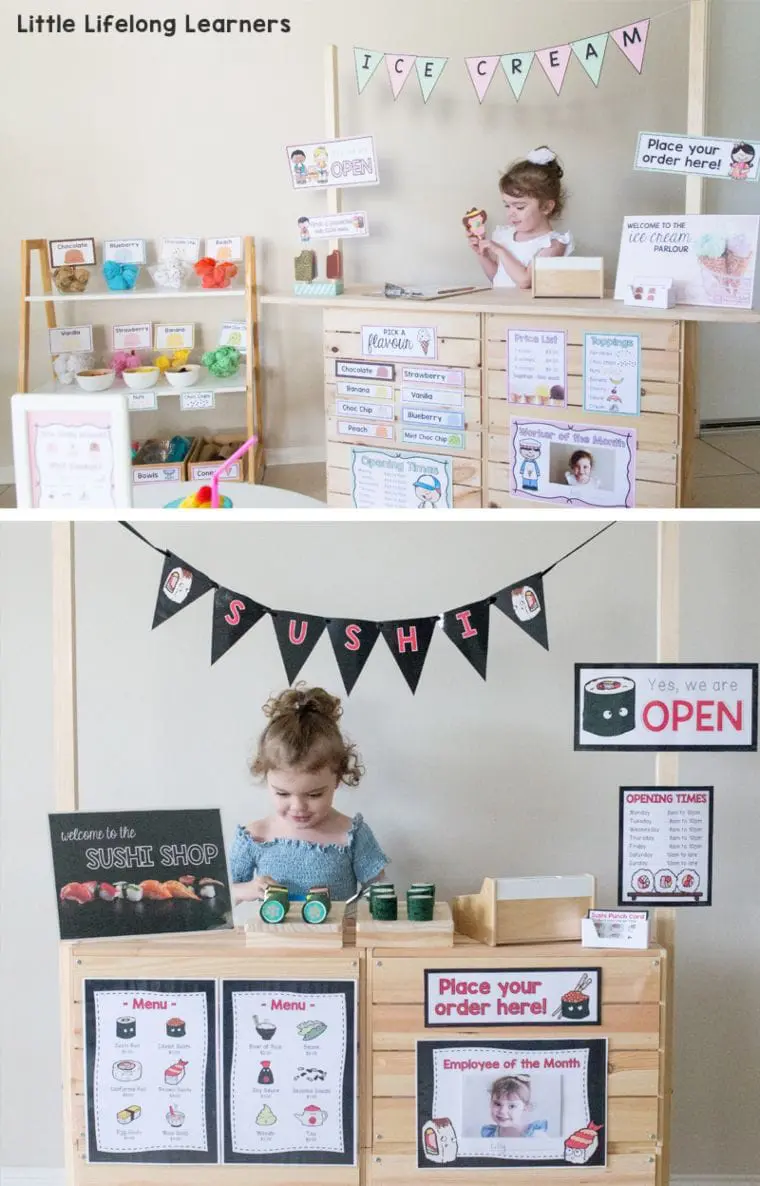 Credit: littlelifelonglearners.com
Another way to recreate a food stall or a kiosk is by using the inexpensive KNAGGLIG crates, as seen in this example. All you need are a set of nuts and bolts to attach the boxes, and the rest is up to you and your baby's creative minds.
Check out more wonderful IKEA hacks for low budgets here.
17. Easy Easel Upgrade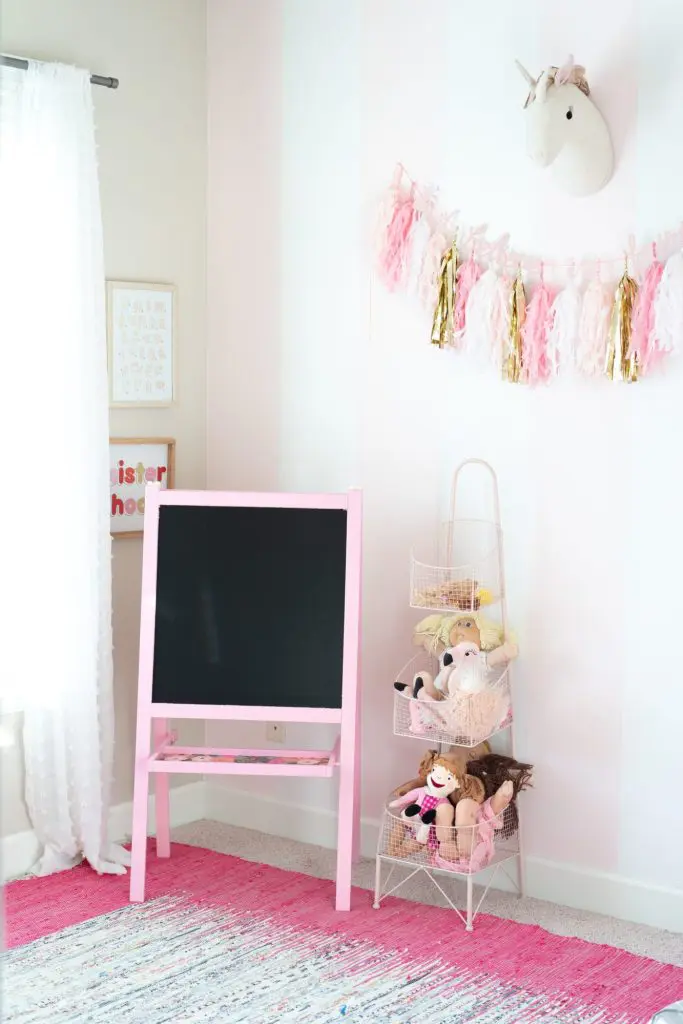 Credit: thehouseofhoodblog.com
The Ikea Mala Easel is excellent because it has a chalkboard on one side and a whiteboard on the other. The only thing is, it only comes in one color, which sometimes makes it an uncoordinated piece in your child's bedroom or playroom.
But this decorative problem has a straightforward fix. Simply paint the Mala over to match your child's room color. Spruce it up further by using adhesive vinyl sheets on the chalk/marker tray.
18. Fun Colored Cabinets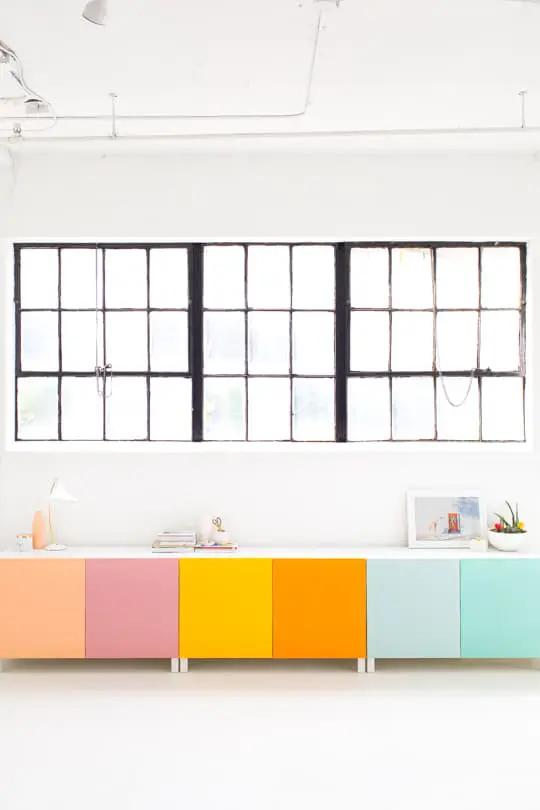 Credit: sugarandcloth.com
High gloss and vibrant colored cabinets may not be everyone's cup of tea, but it's a sure win for kids. All you need are some BESTA cabinets and paint to match the color of your choice.
Protect your cabinets from smudges and moisture by spraying a layer of protective finish. Choose a glossy one like this, to make your colors pop out even more.
19. Contemporary Play Kitchen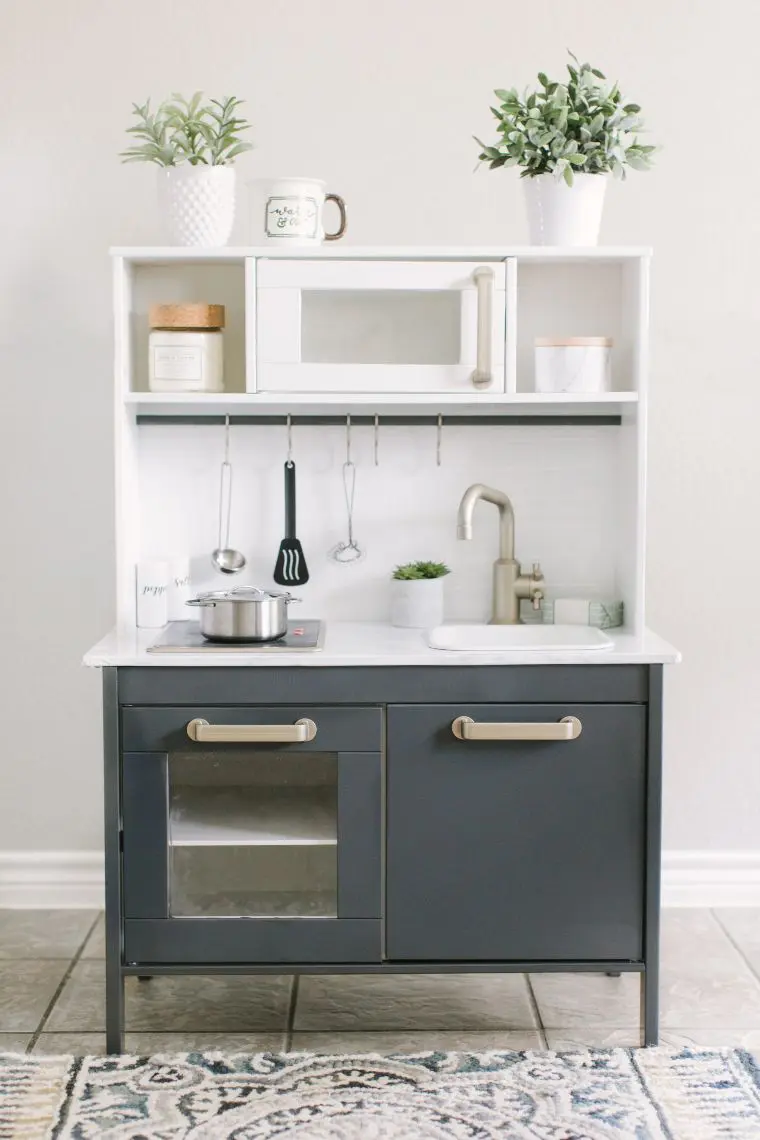 Credit: katielamb.com
Sometimes, kids want to play with toys that resemble the real thing as close as possible. In this case, transform your Ikea Duktig play kitchen into a contemporary look to match your kitchen.
This kitchen used modern colors along with a marble contact paper countertop and an adhesive subway tile backsplash available here. Isn't that the closest you can get to the real thing?
20. Colorful Spice Racks for Your Nursery Door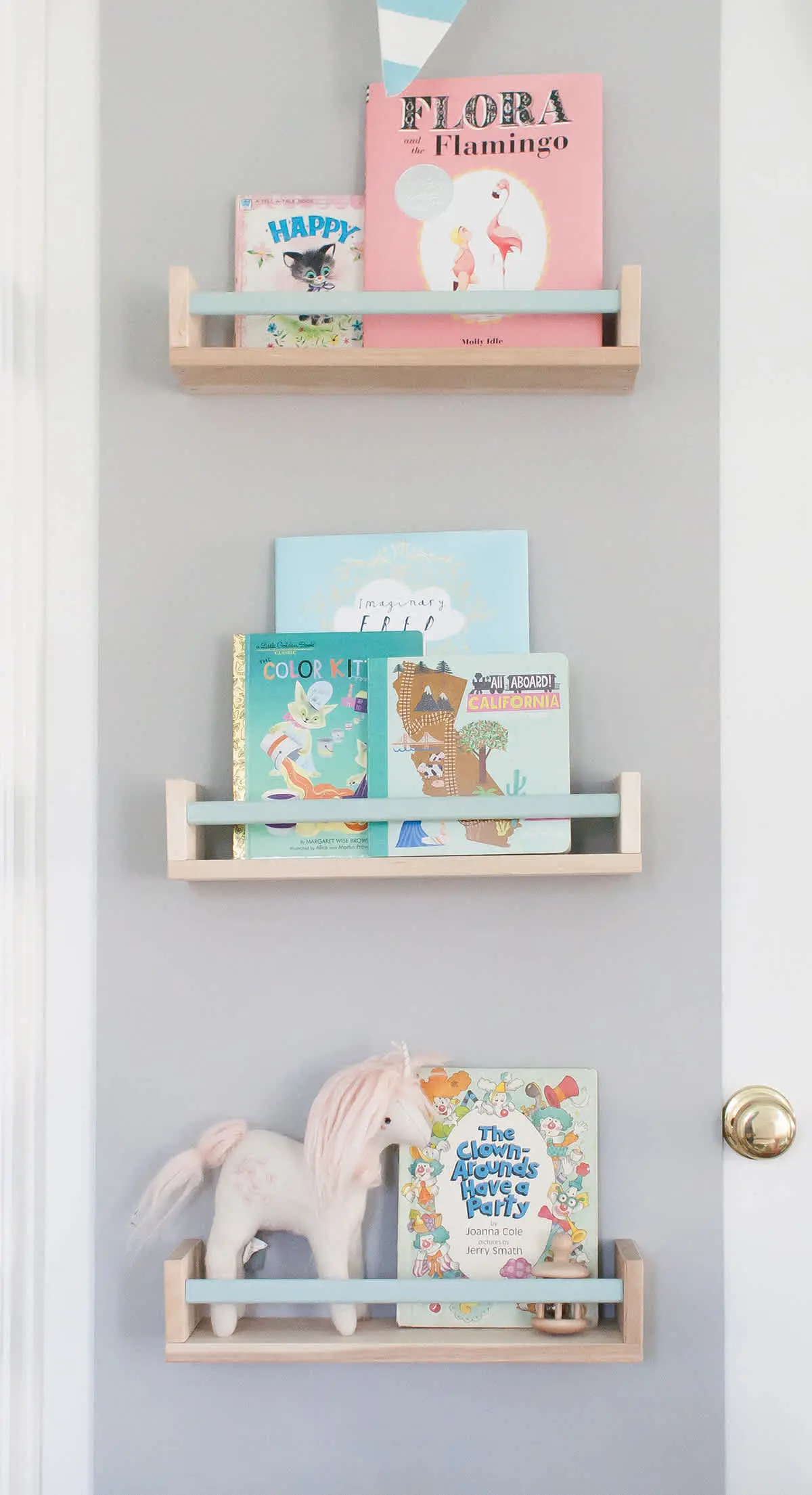 Credit: cloudinary.com
This idea is similar to the one we discussed earlier regarding the use of spice racks for bookshelves. Can you tell the difference?
These spice racks were mounted on the actual nursery door. Now isn't that a smart solution for limited spaces?
Check out more IKEA hacks to increase storage at home!
Conclusion
There you go. Twenty smart ideas of using Ikea to bring more fun and excitement into your little one's room.
What was your favorite? Share this with your loved ones and see what they think!