Put all that leftover food packaging to good use with this DIY desk organizer. It's an upcycled organizer anyone can make and use to declutter your office space.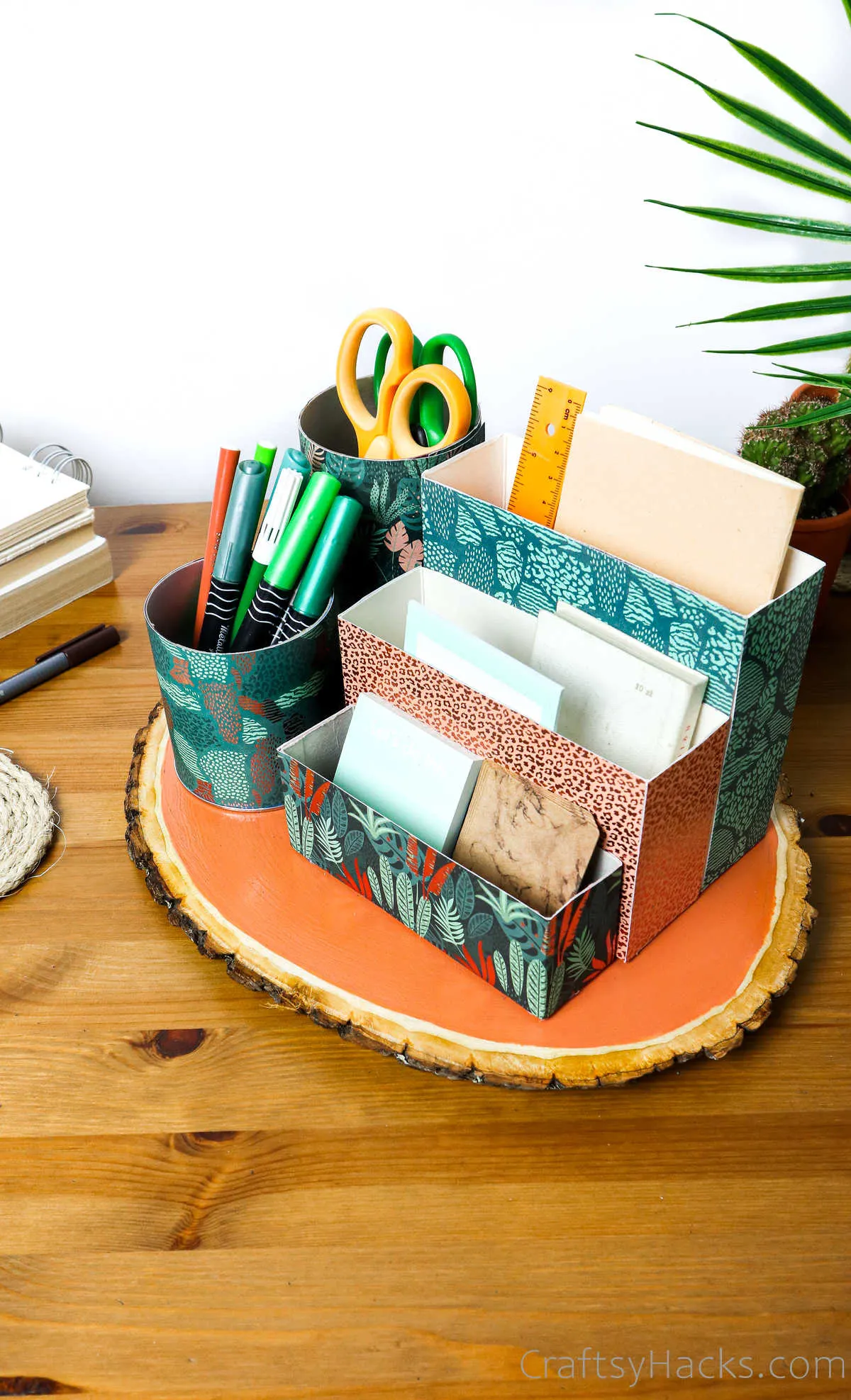 Don't get me started on what a chore it is to constantly have to paw through my table drawers when I'm looking for office supplies. No matter how hard I try to categorize everything and put them into their allocated slots, there's always clutter.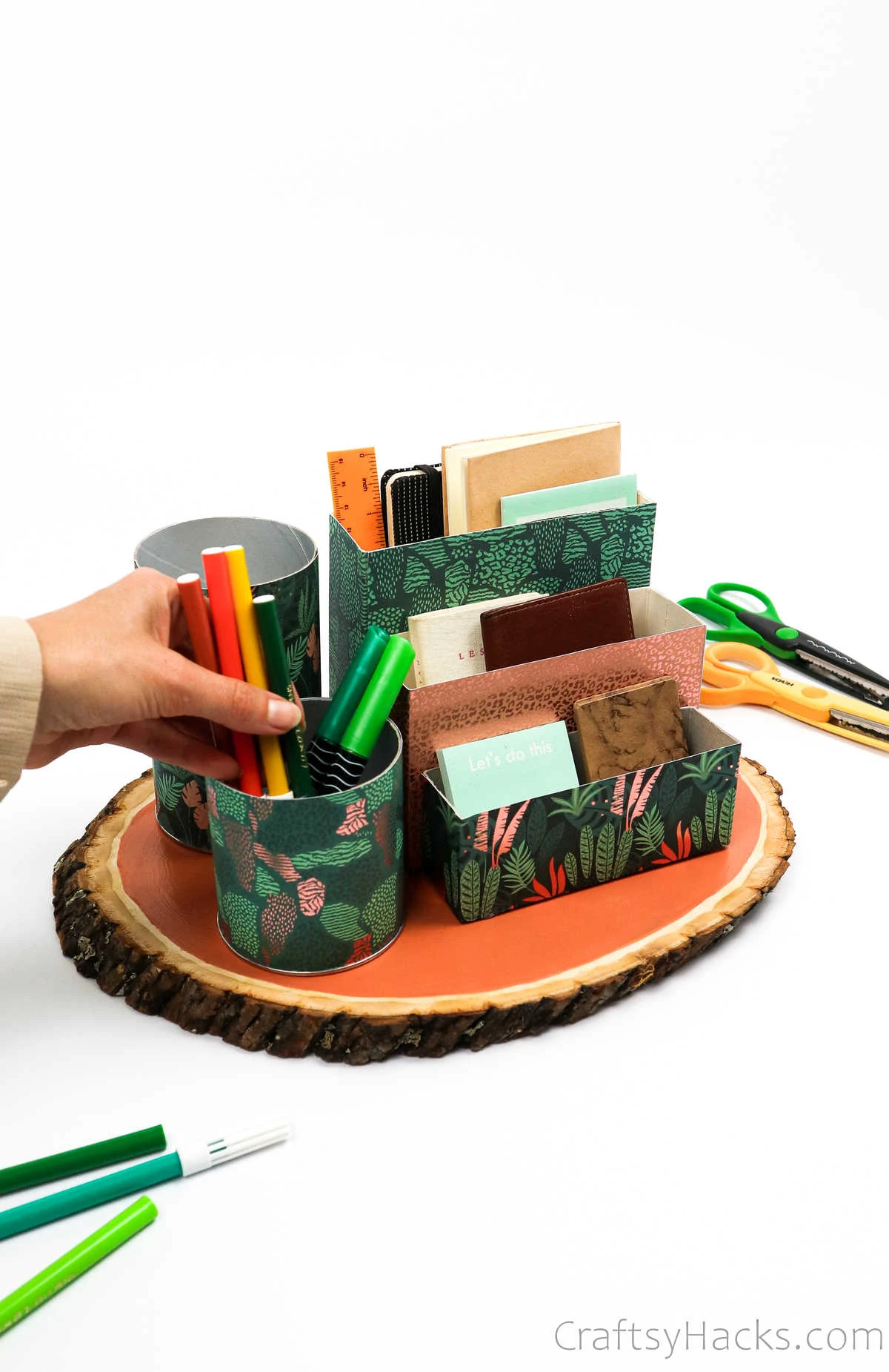 Imagine how inaccessible it can be to have all your office essentials and stationery tucked away in a drawer—and cluttered, at that. But if you keep everything on your desktop, then you'll have to contend with visible clutter, too.
It's time to organize everything and set up a working system, once and for all. How? Well, perhaps this DIY desk organizer can help you? Did I mention that you're going to be upcycling food boxes to make them?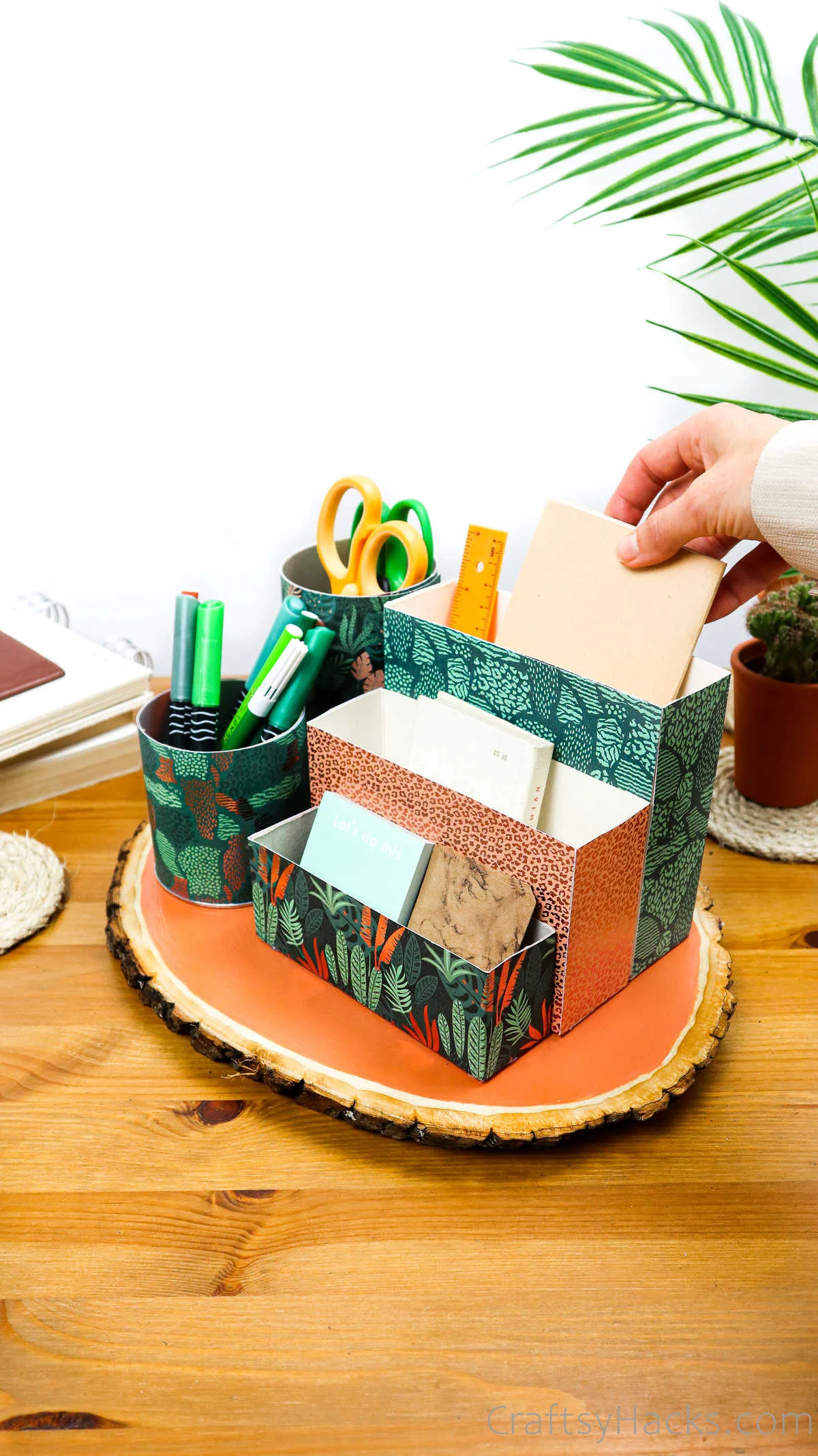 Supplies and Tools You'll Need
Here's a list of everything you need:
Empty food boxes
Craft paper sheets
Double-sided tape
Retractable knife
Marker
Ruler
Scissors
Acrylic paint
Paintbrushes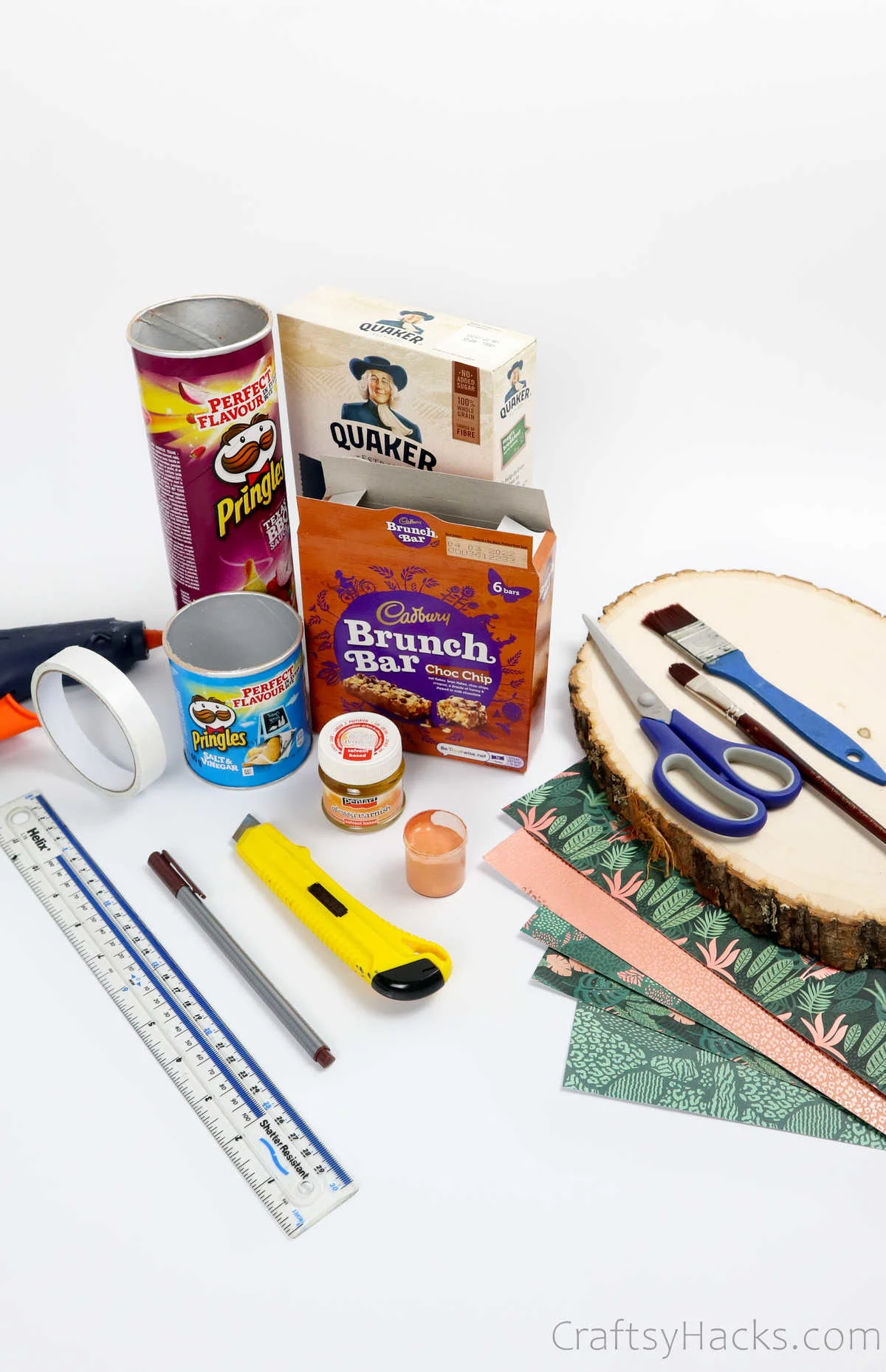 How to Make a Desk Organizer
Are you wondering what that wood board is for? Well, it isn't just important to have desk organizers on your desk. You need to make sure your desk organizers stay organized too. The wood board will act as a stand of sorts, and you'll be able to set all the different components on it.
Step 1
The first order of business? You're going to grab all the boxes you plan on using and place them on the wood board. You'll be planning exactly where each piece is going to go and also check to make sure everything fits.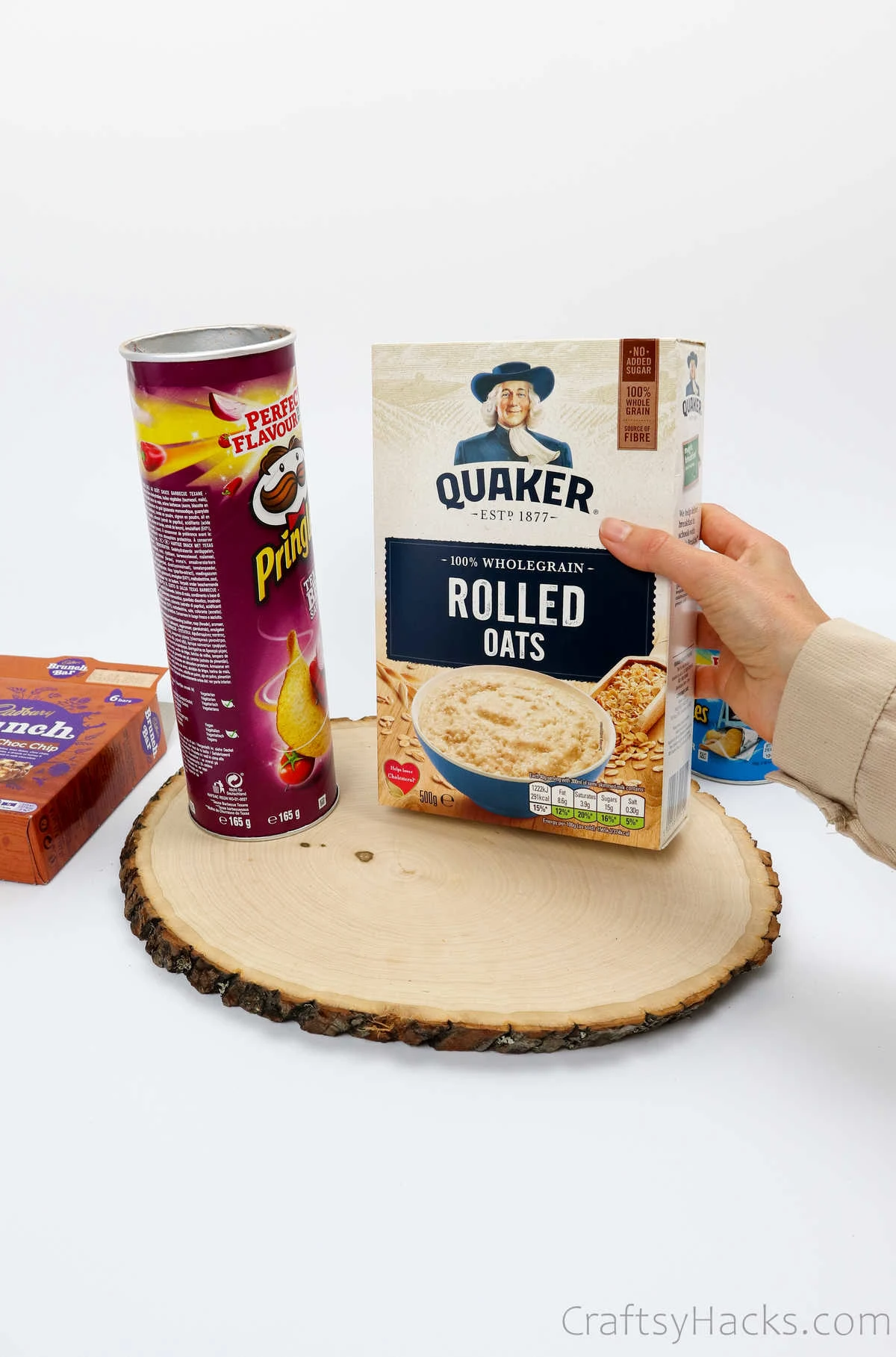 See? Plenty of space! Once you jazz these containers up, they're going to look like a million bucks!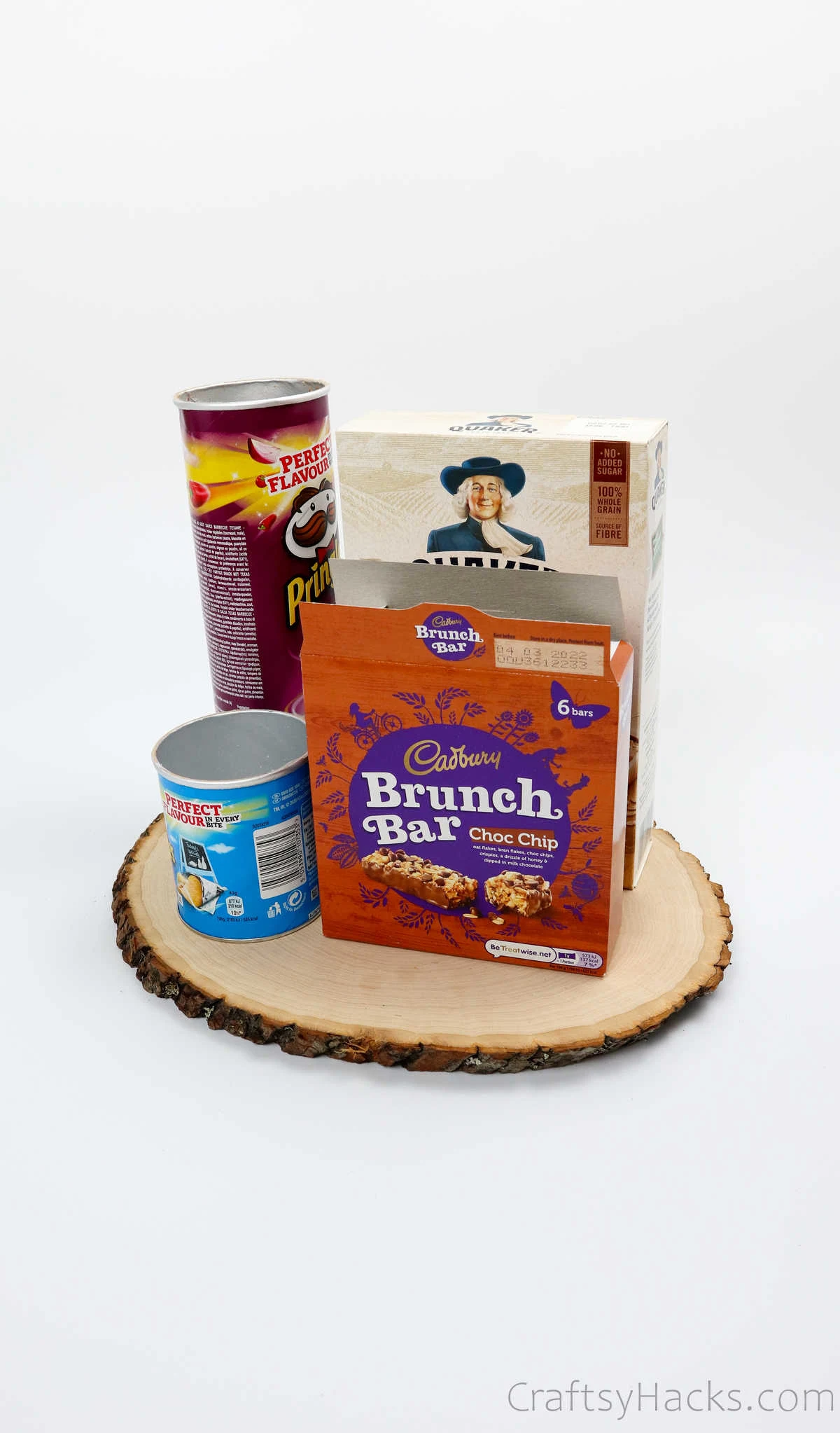 Step 2
Grab a bottle of your favorite color of acrylic paint and a flathead brush. You're going to paint the wooden board—two to three coats should work nicely.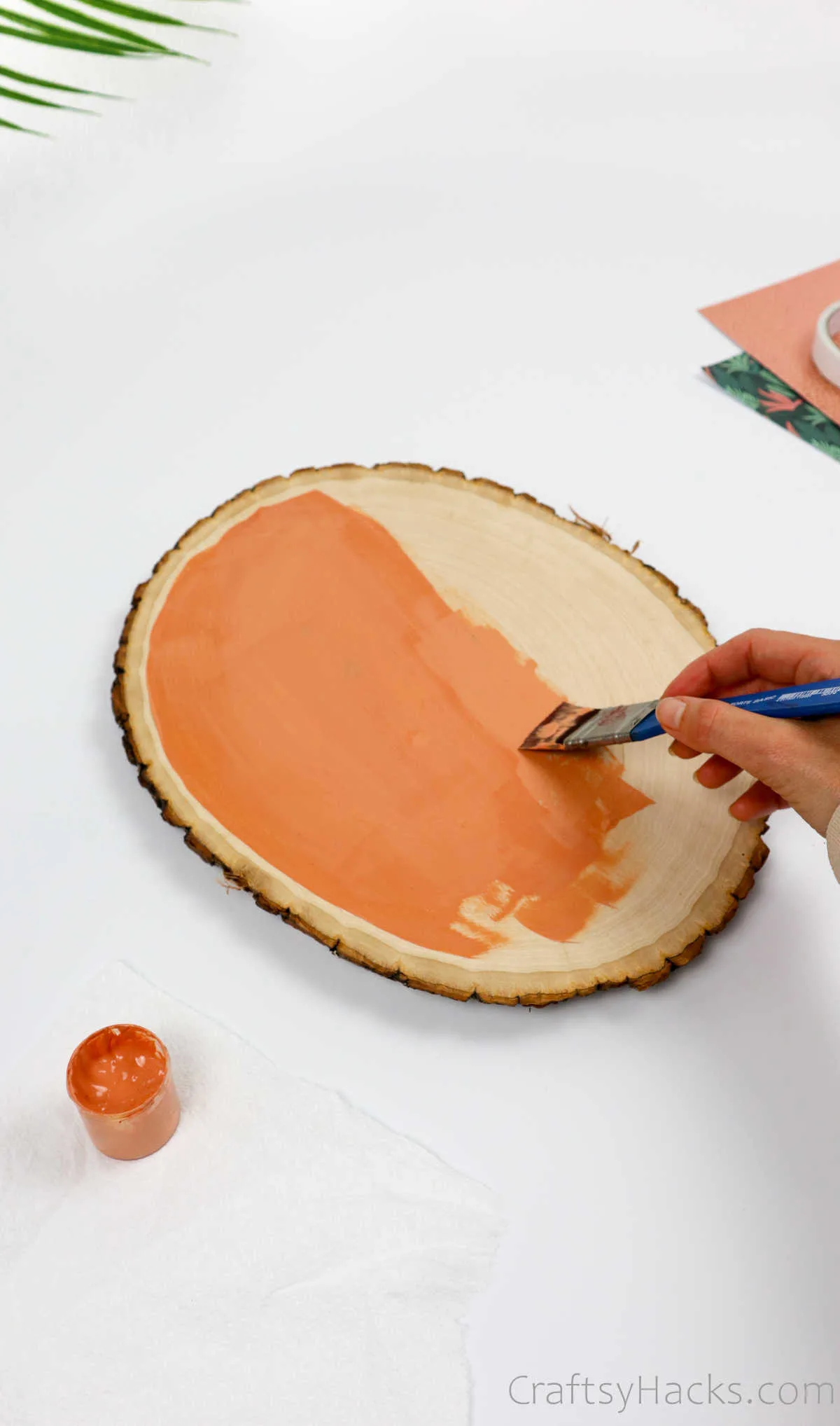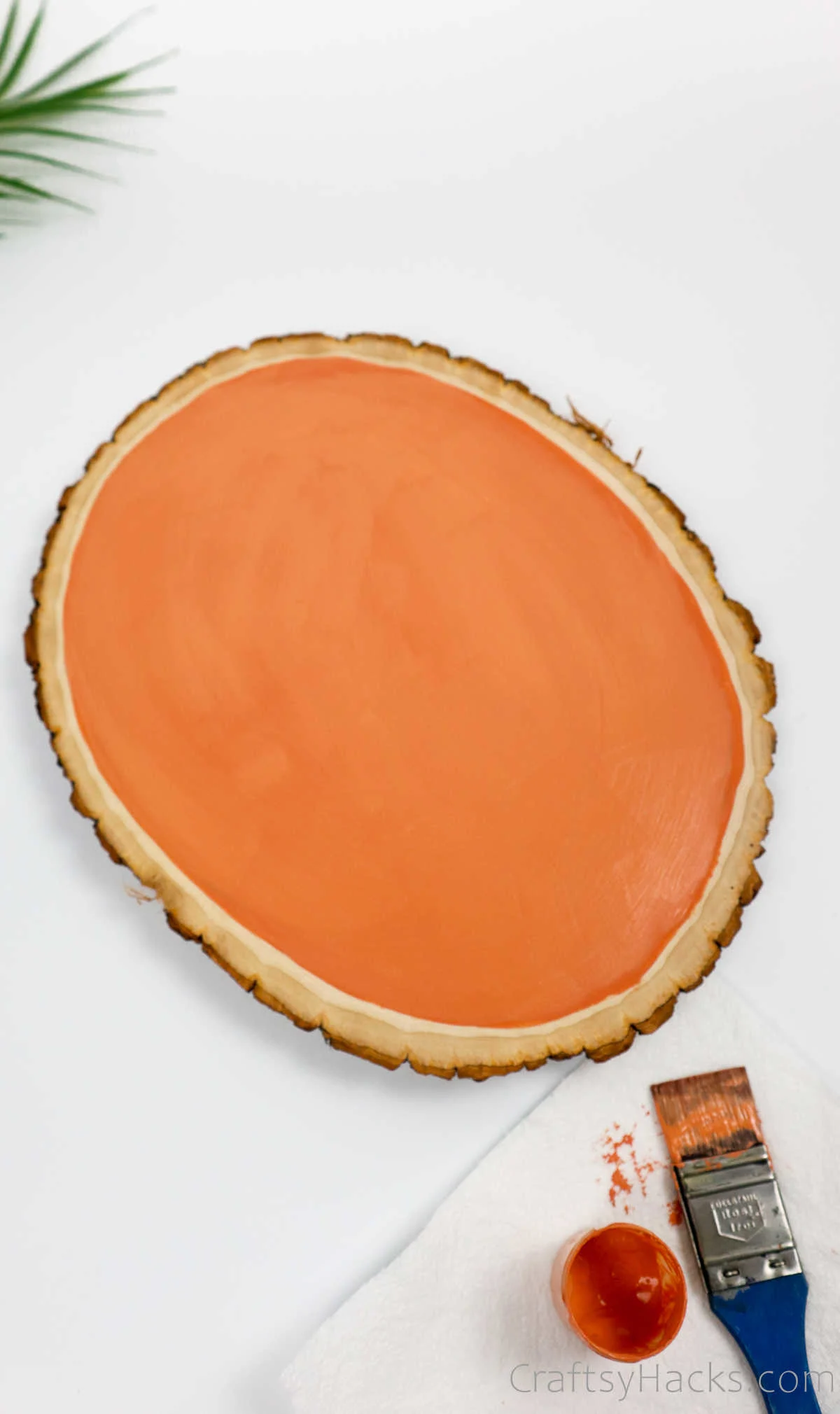 Step 3
Next, grab your retractable knife and start cutting the boxes. Make sure you cut them to the desired height, and feel free to use a ruler to help you be as precise as you can be!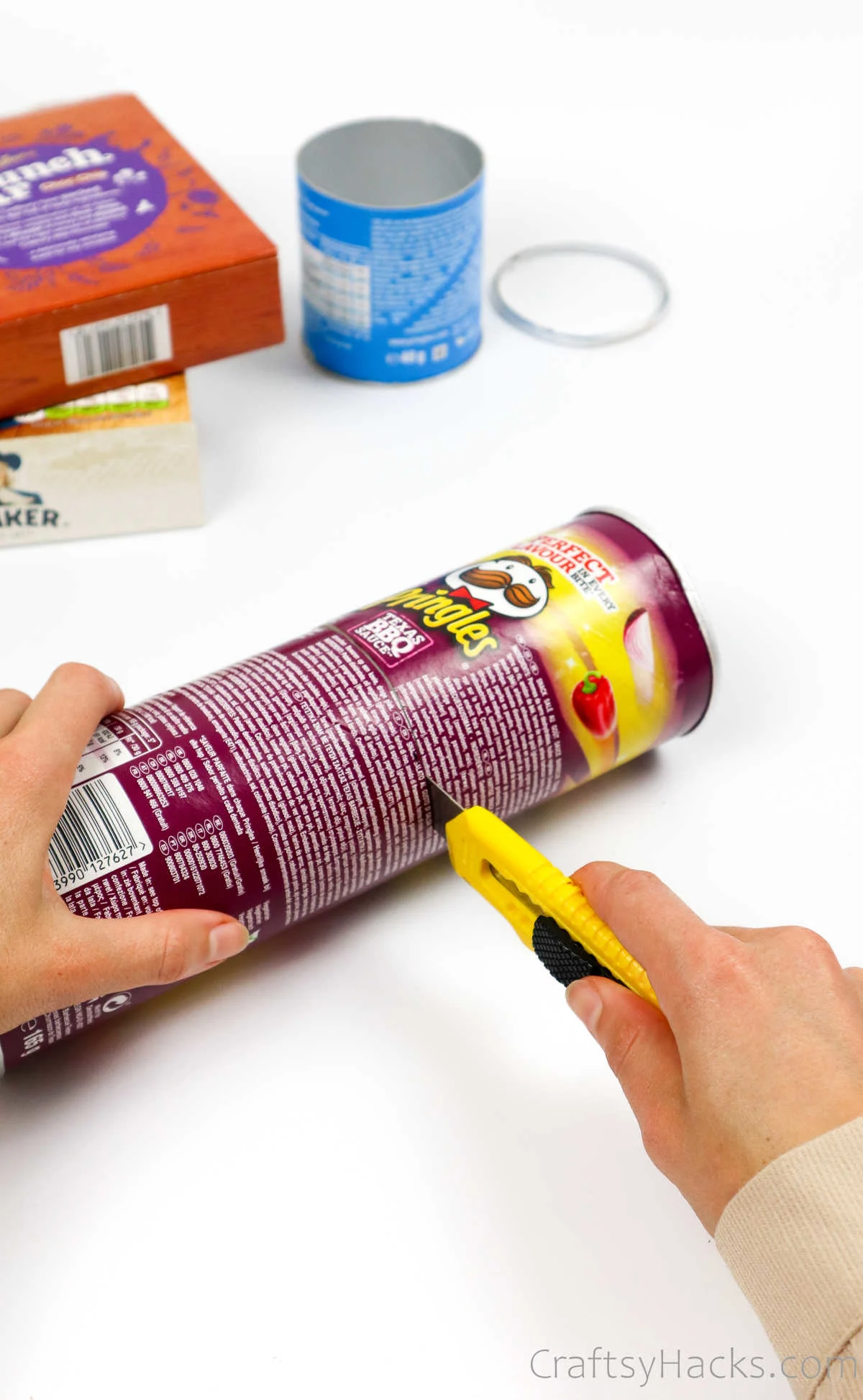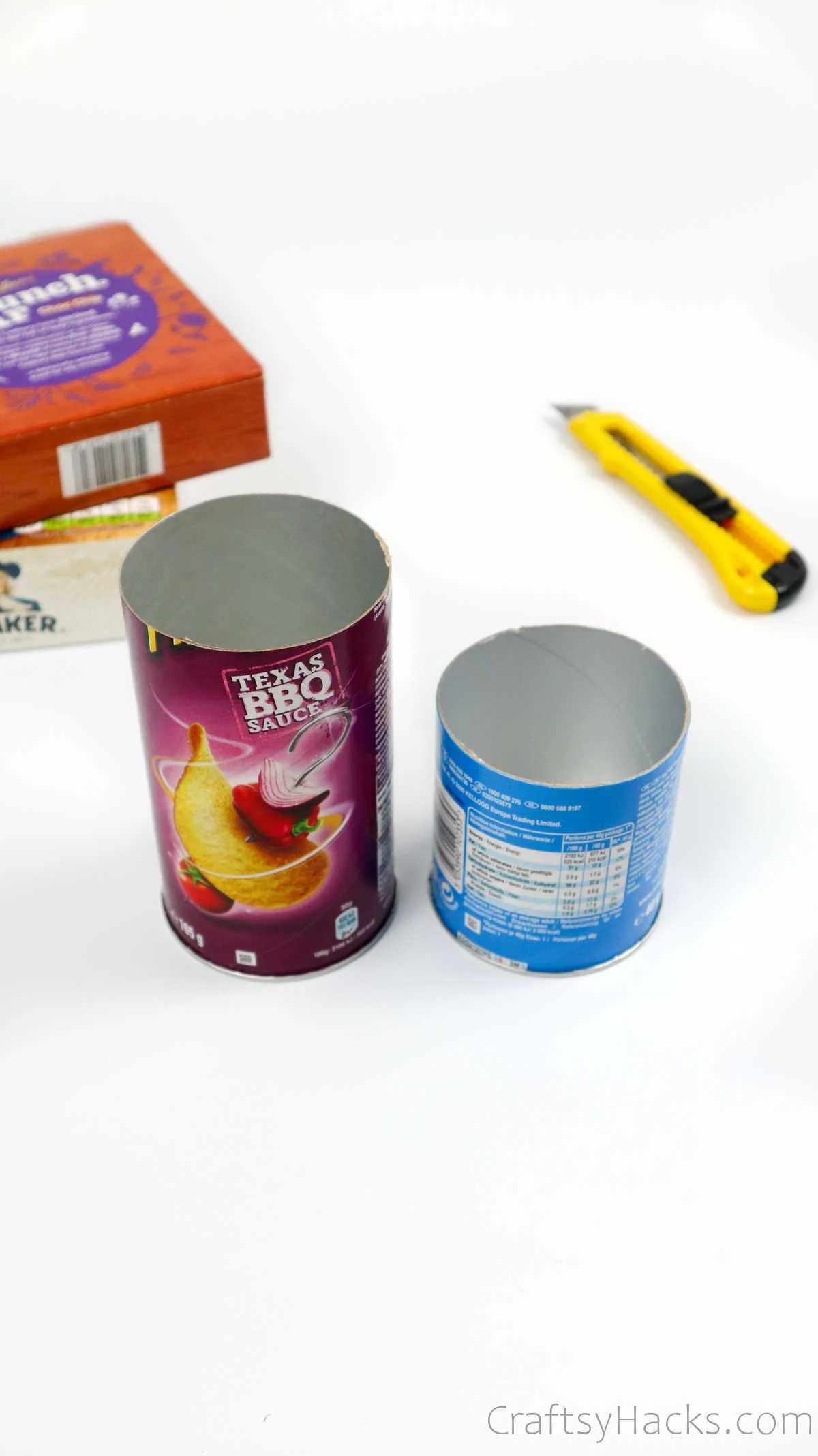 When you're cutting your cereal boxes, it would really help to grab a pencil and make a few markings to indicate exactly where you plan to cut the box. This will help you cut the edges evenly.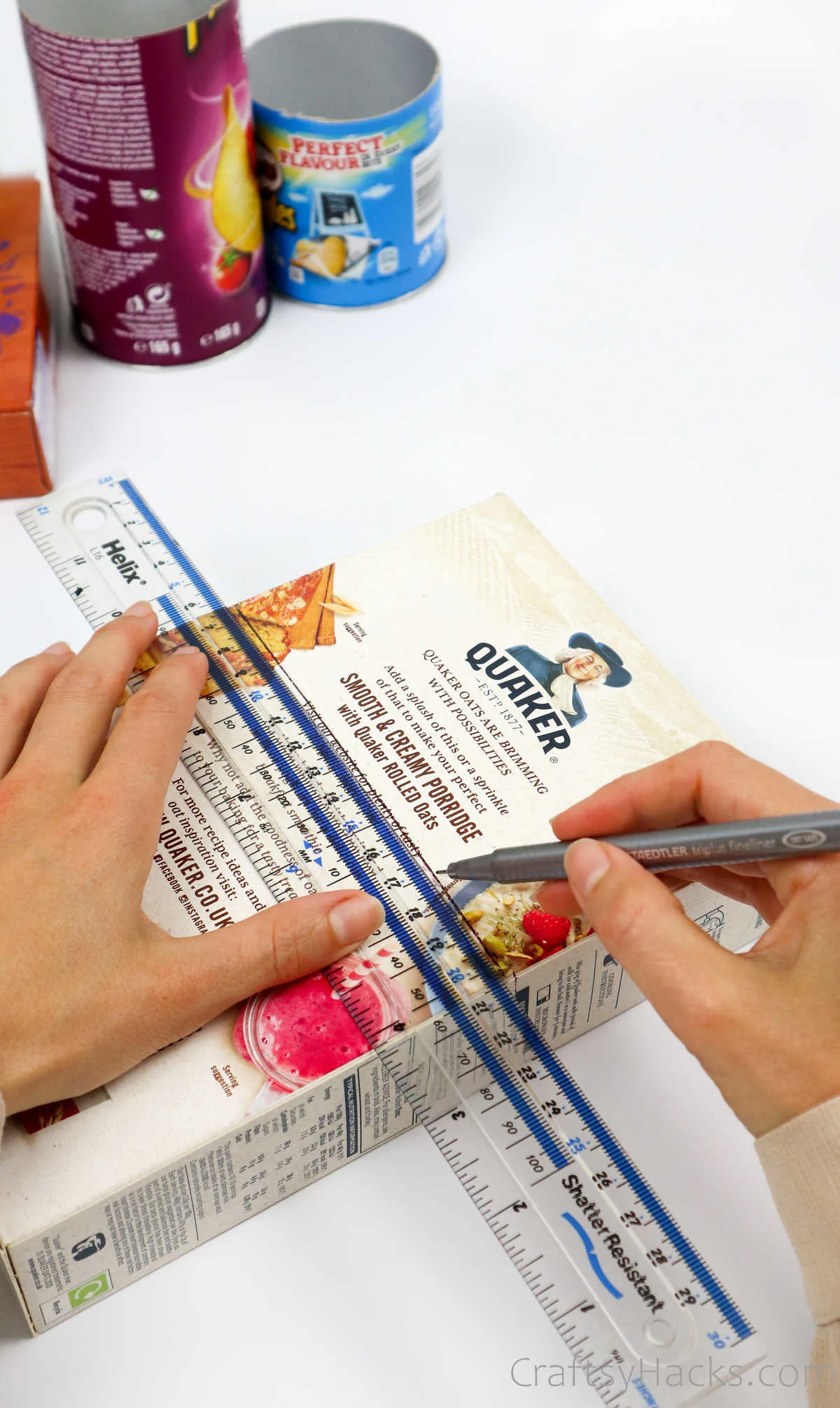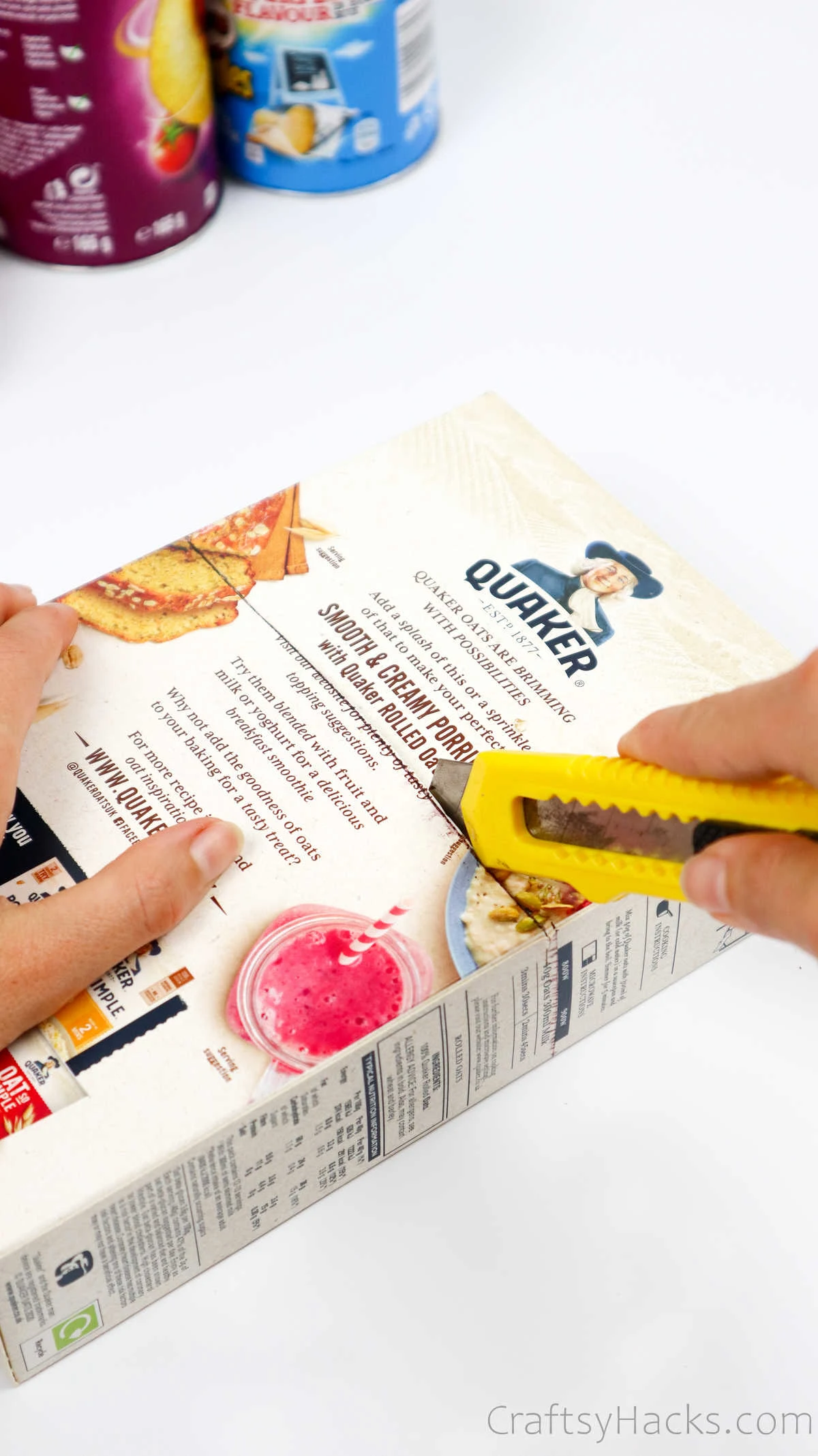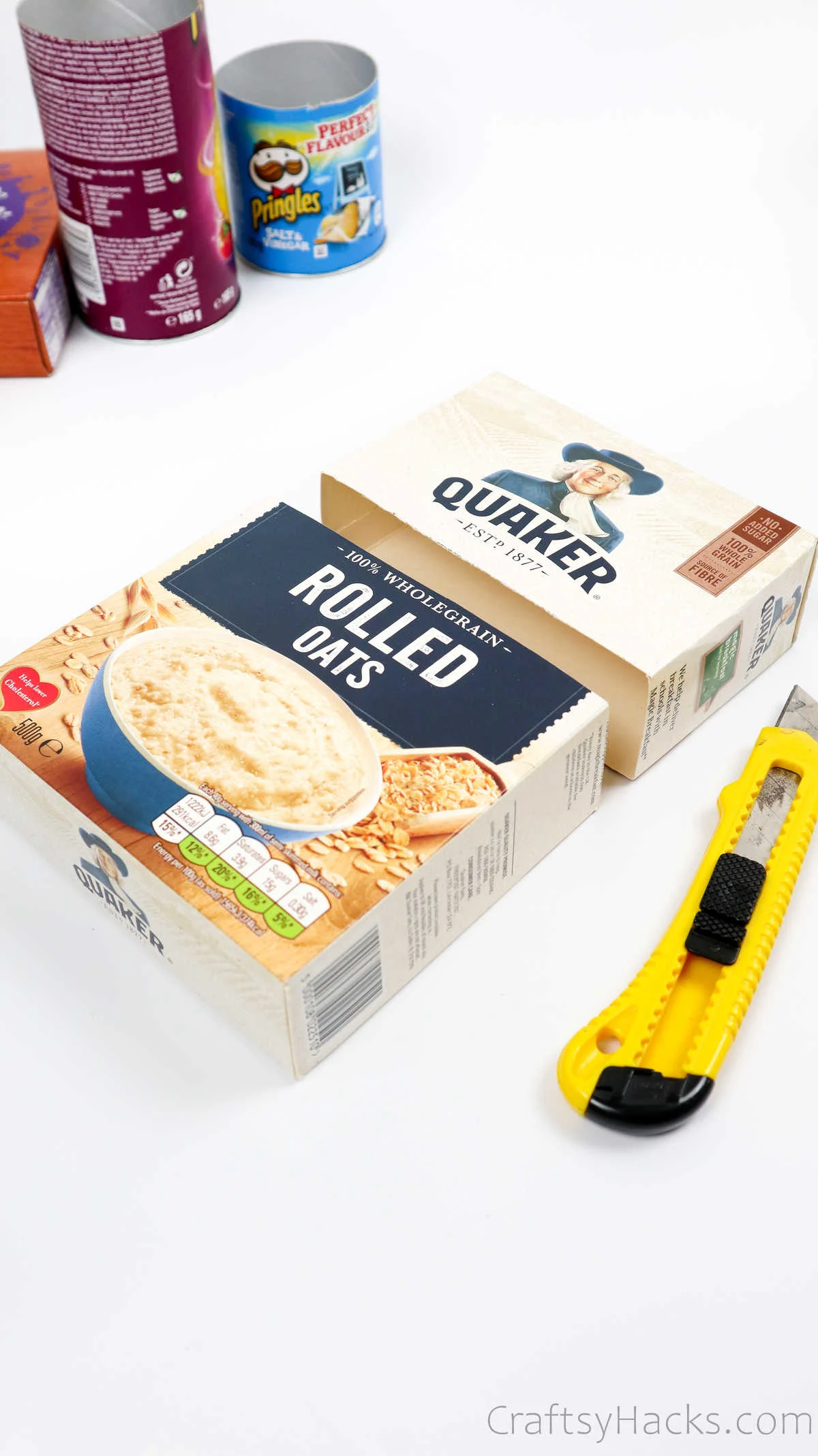 Don't throw away the top part of the box; you'll be using that one, too! If you plan your boxes in decreasing order of height, it will be much easier to store and access all your belongings.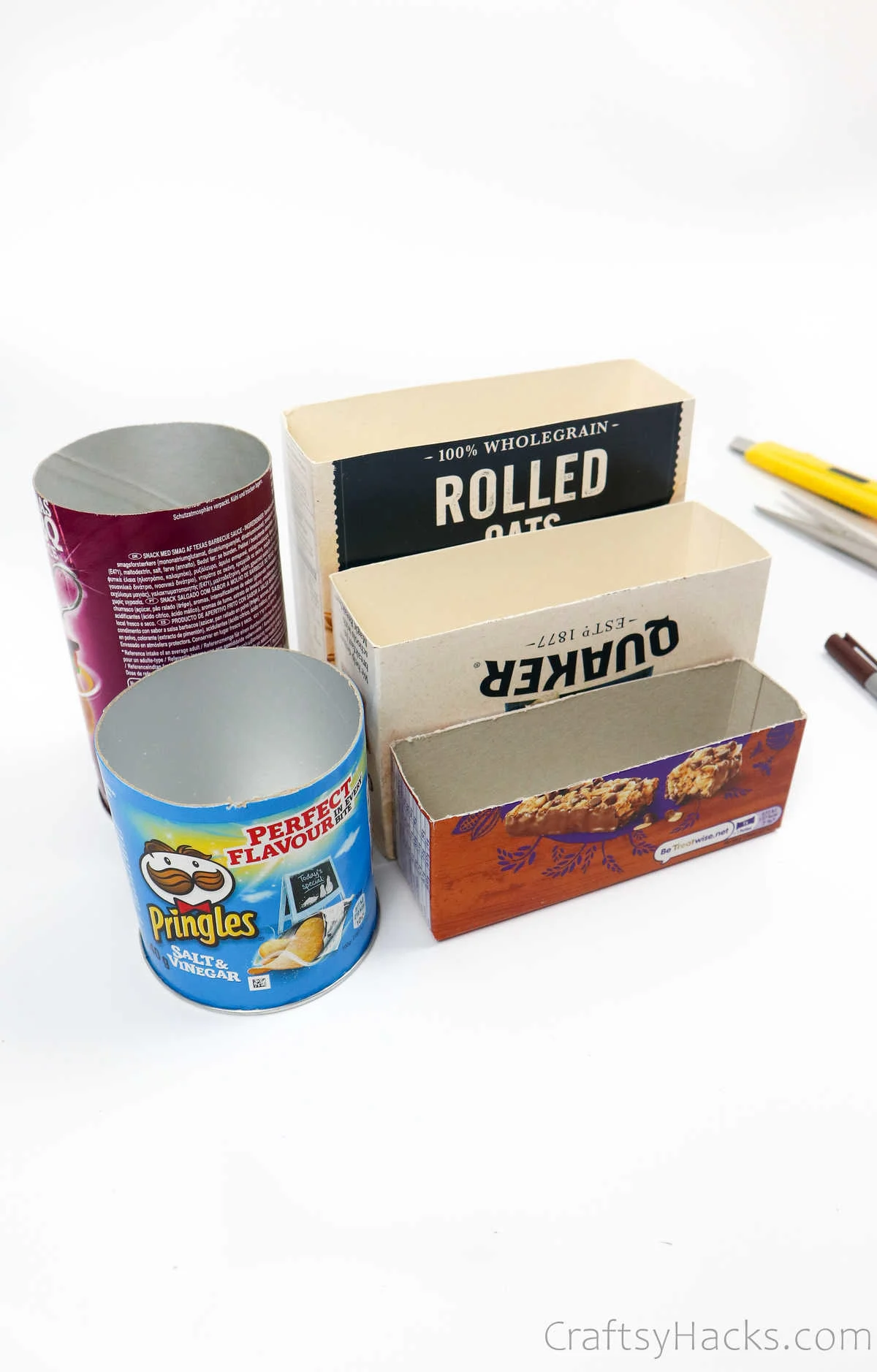 Step 4
Pick up your bottle or can of varnish and spray the painted surface of the wooden board. You can choose between a clear matte finish or a shiny and glossy finish.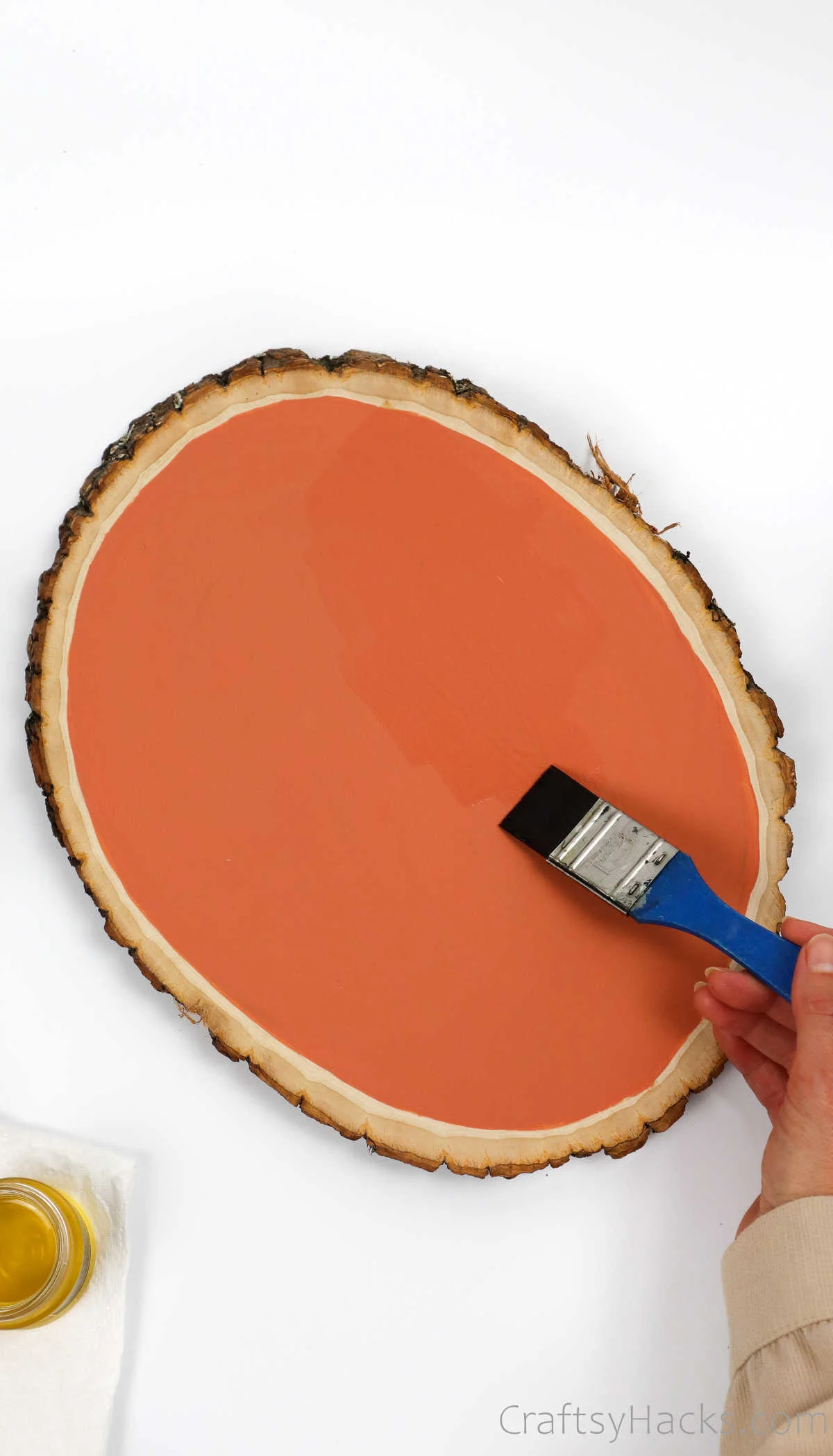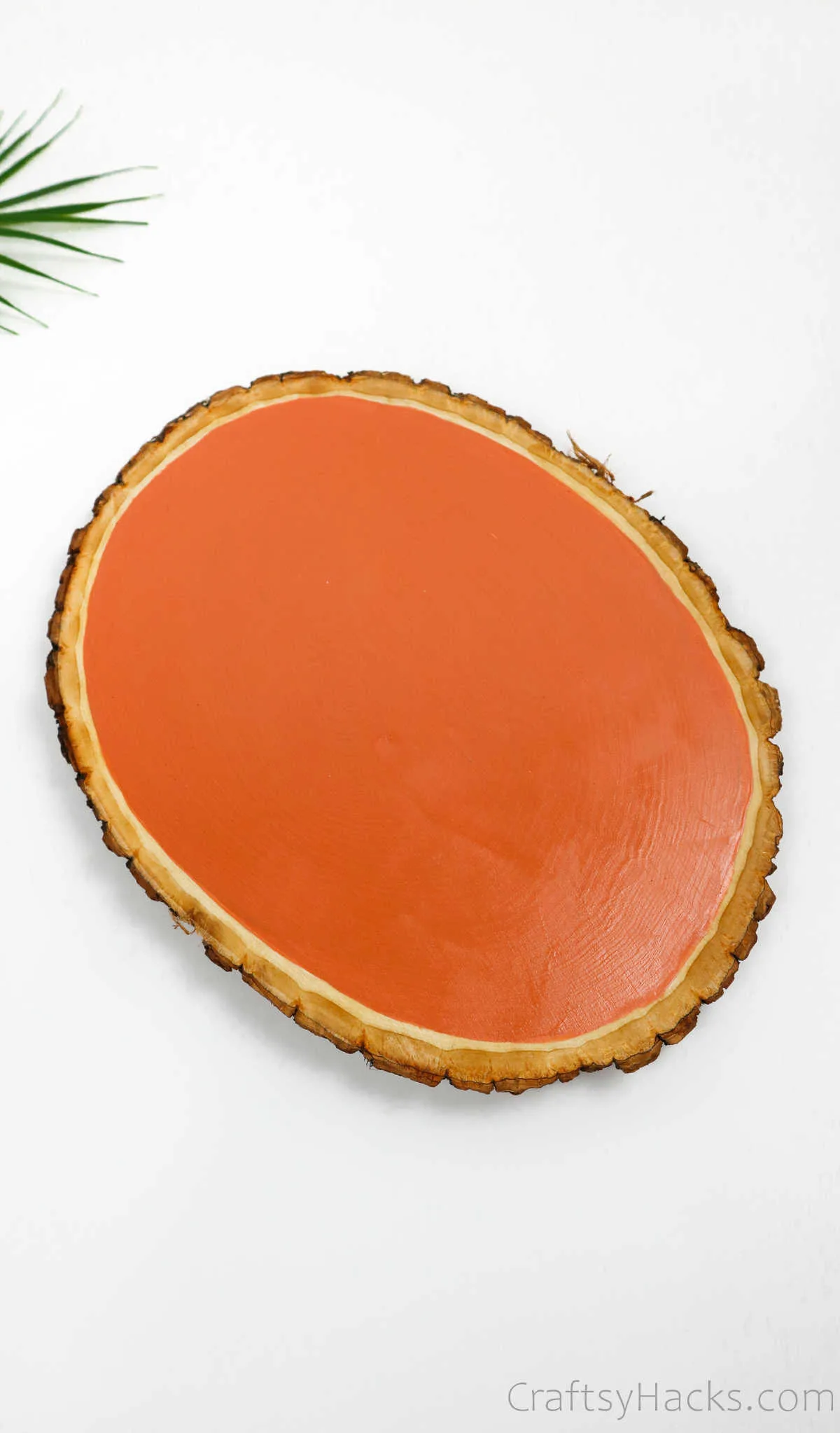 Alternatively, you can use a paintbrush to brush a coat of mod podge over the surface.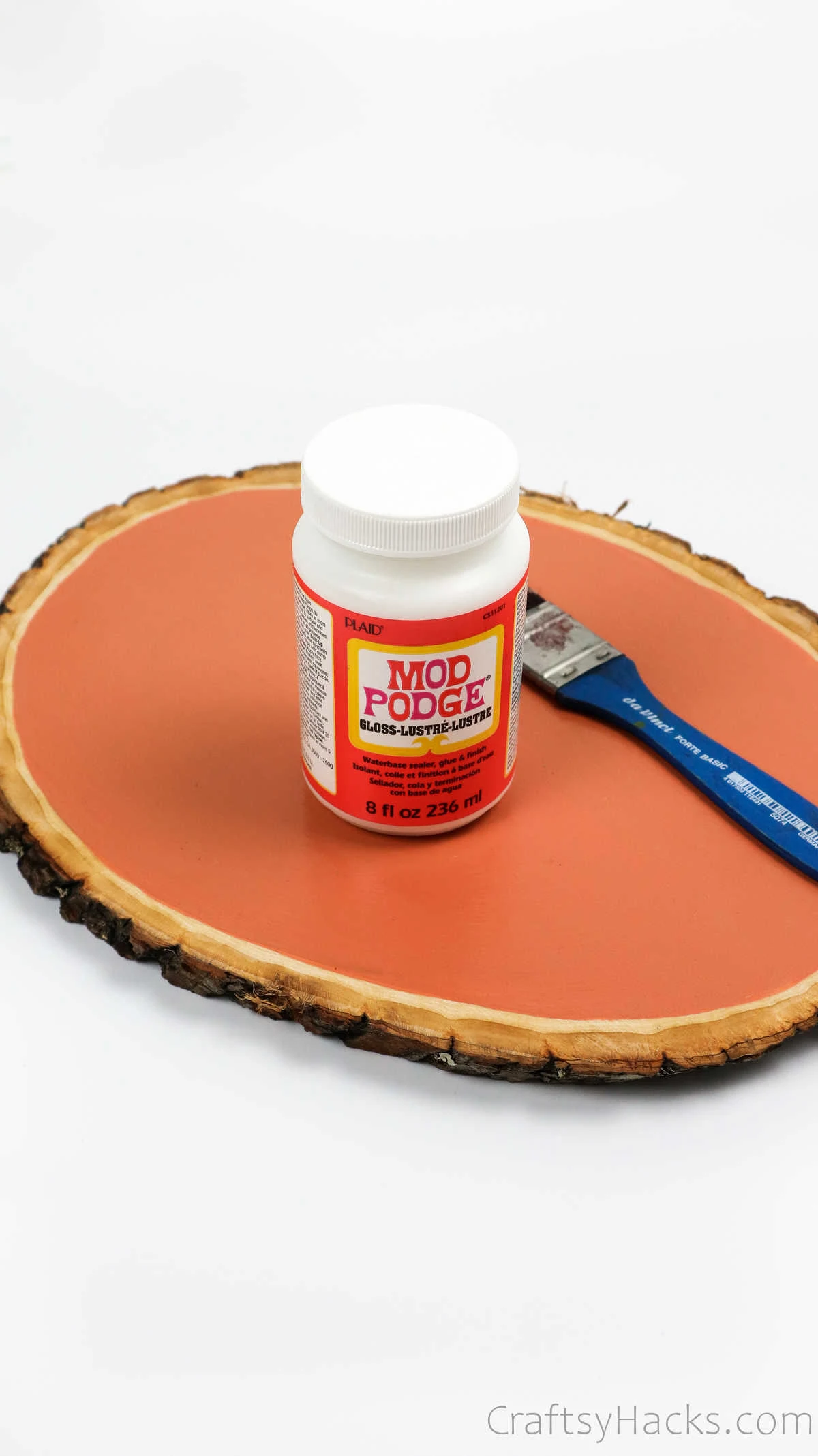 Step 5
This step is always super fun: it's time to wrap up your organizer boxes! Picking out colored, textured, and patterned paper to wrap your boxes with is always entertaining.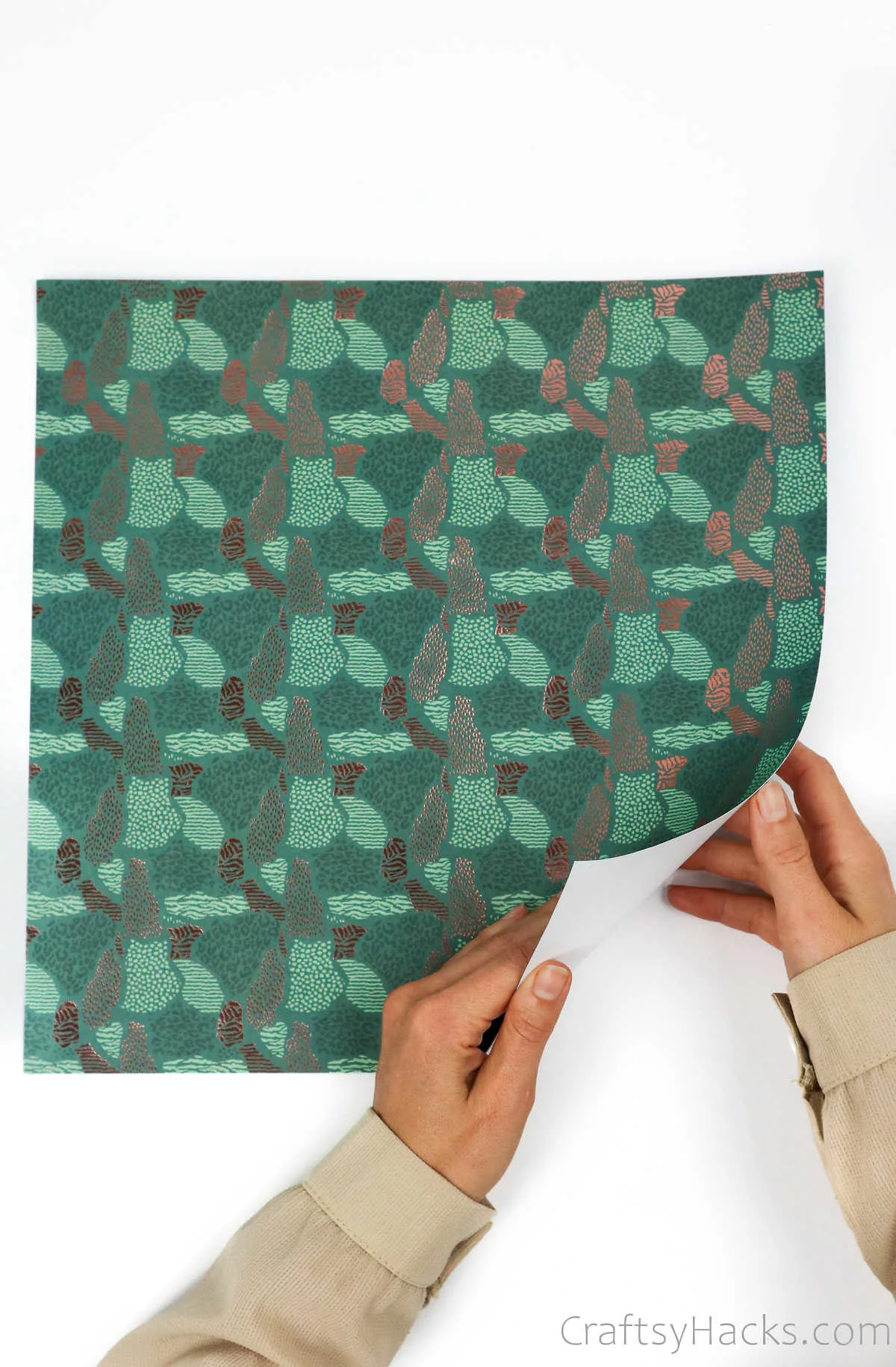 Just one word of caution: try to choose paper that isn't too thin or transparent. You don't want the cereal box to be visible through the wrapping. Instead, pick out paper that is a little thicker(it will also be more durable this way) and definitely not see-through!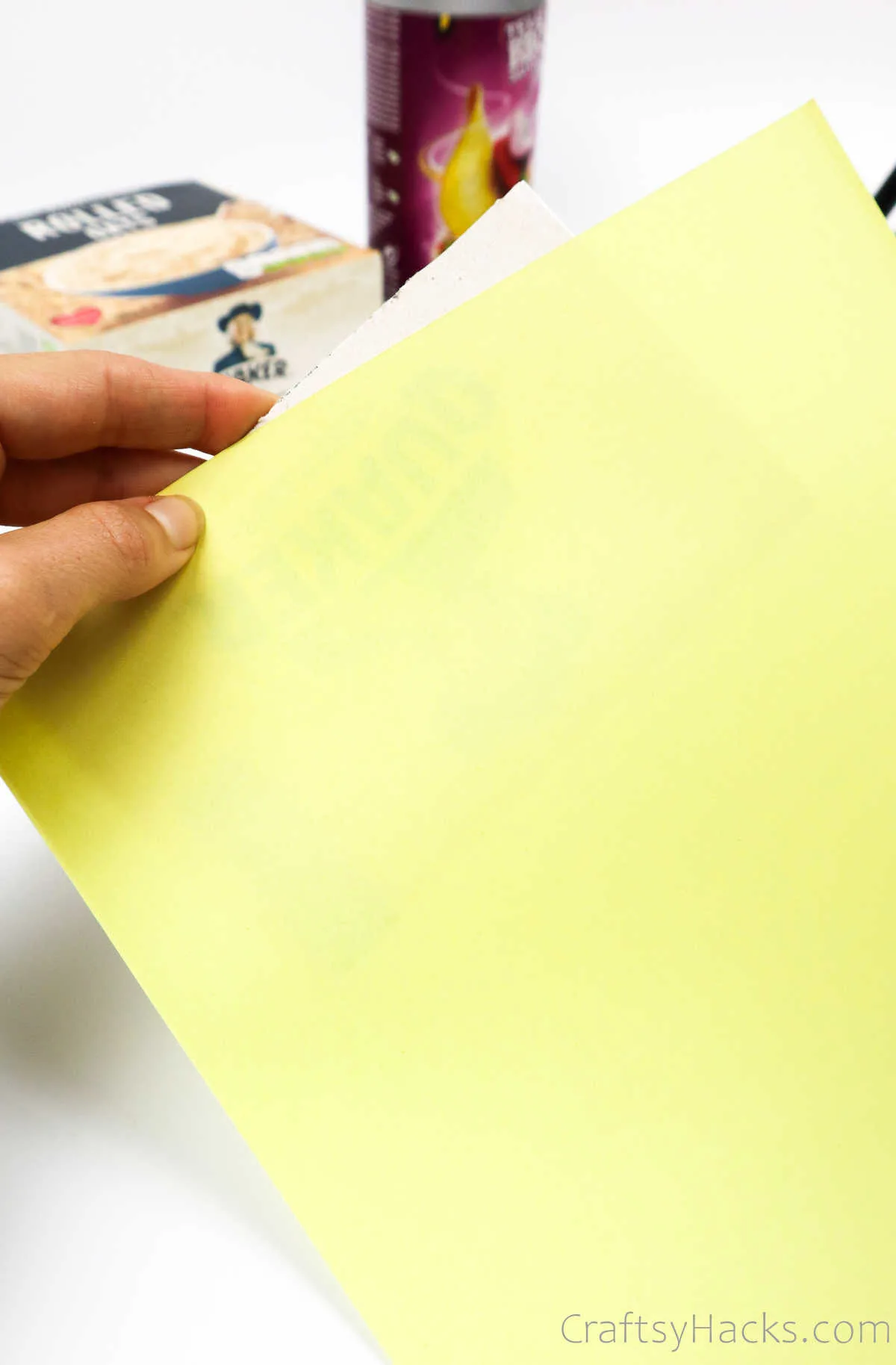 Step 6
You also have to measure and mark the dimensions of the containers you're using before you wrap them up. Wrapping the square boxes should be pretty straightforward, but you have to be more precise with the cylindrical containers, though.
Lay the wrapping paper on your work surface with the 'wrong' side facing up.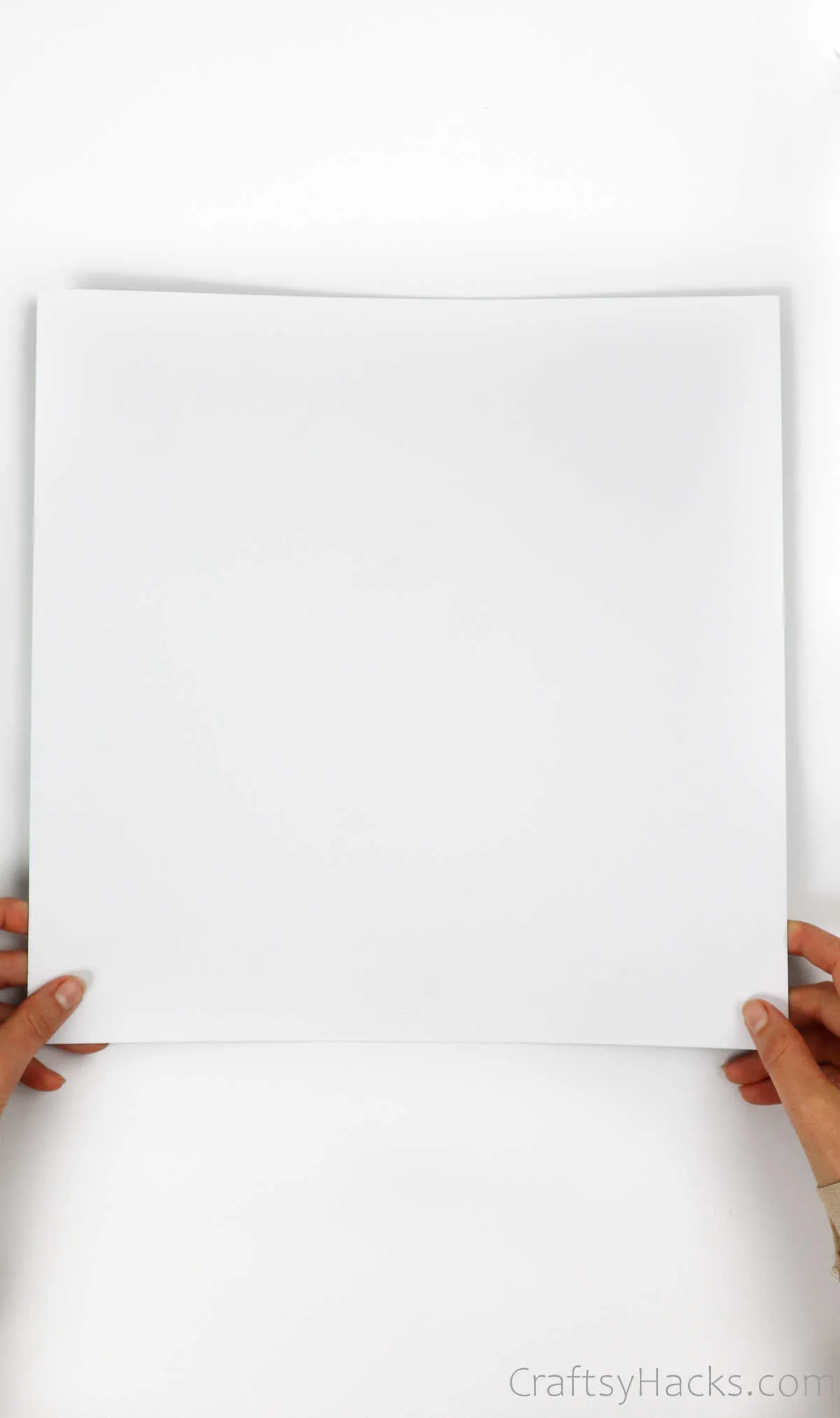 Then line the cylindrical container on one end and roll it across the paper until you've completed one full turn—make a note of exactly where that point is. Mark the height as well.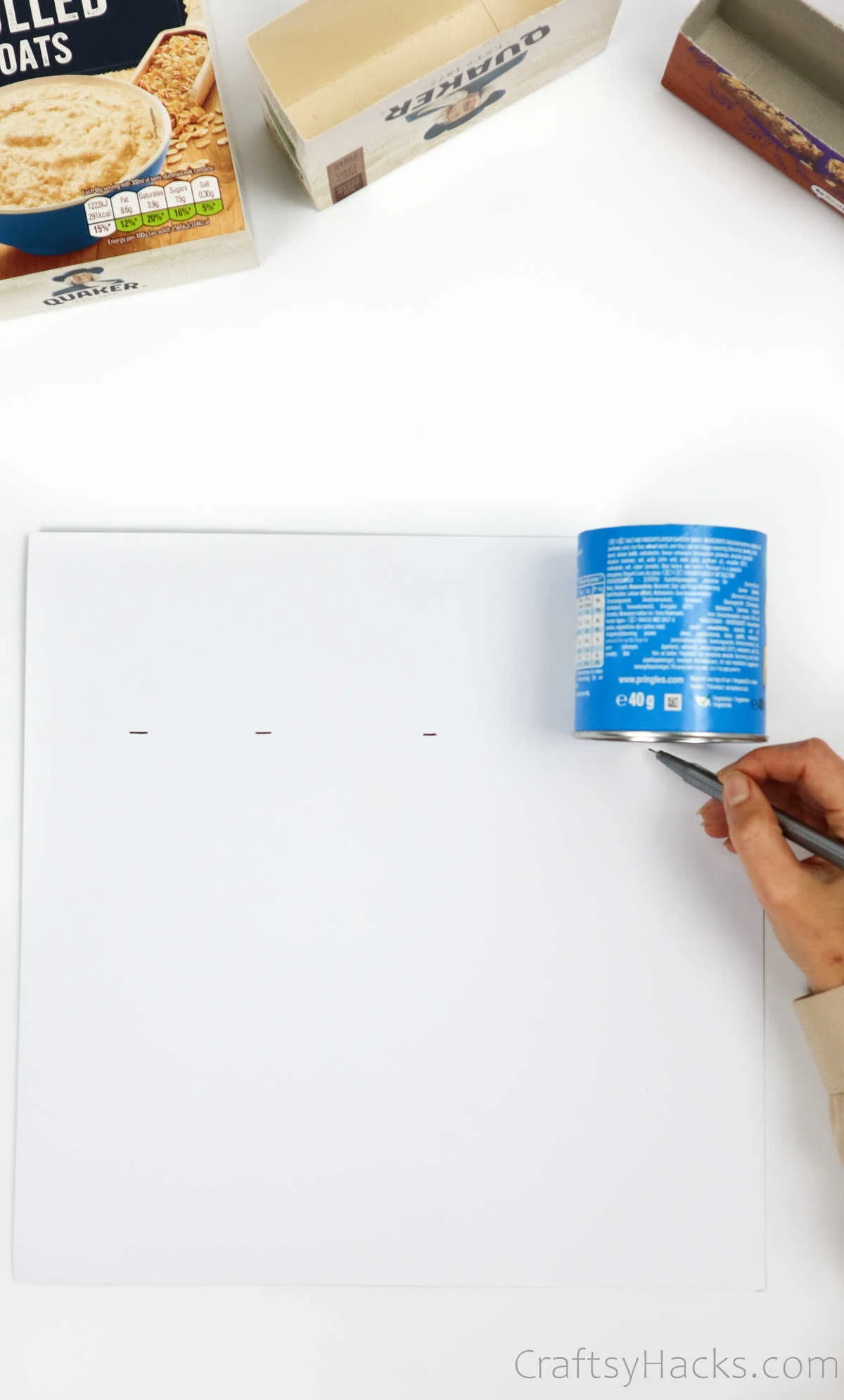 Draw a line across the paper and connect your markings.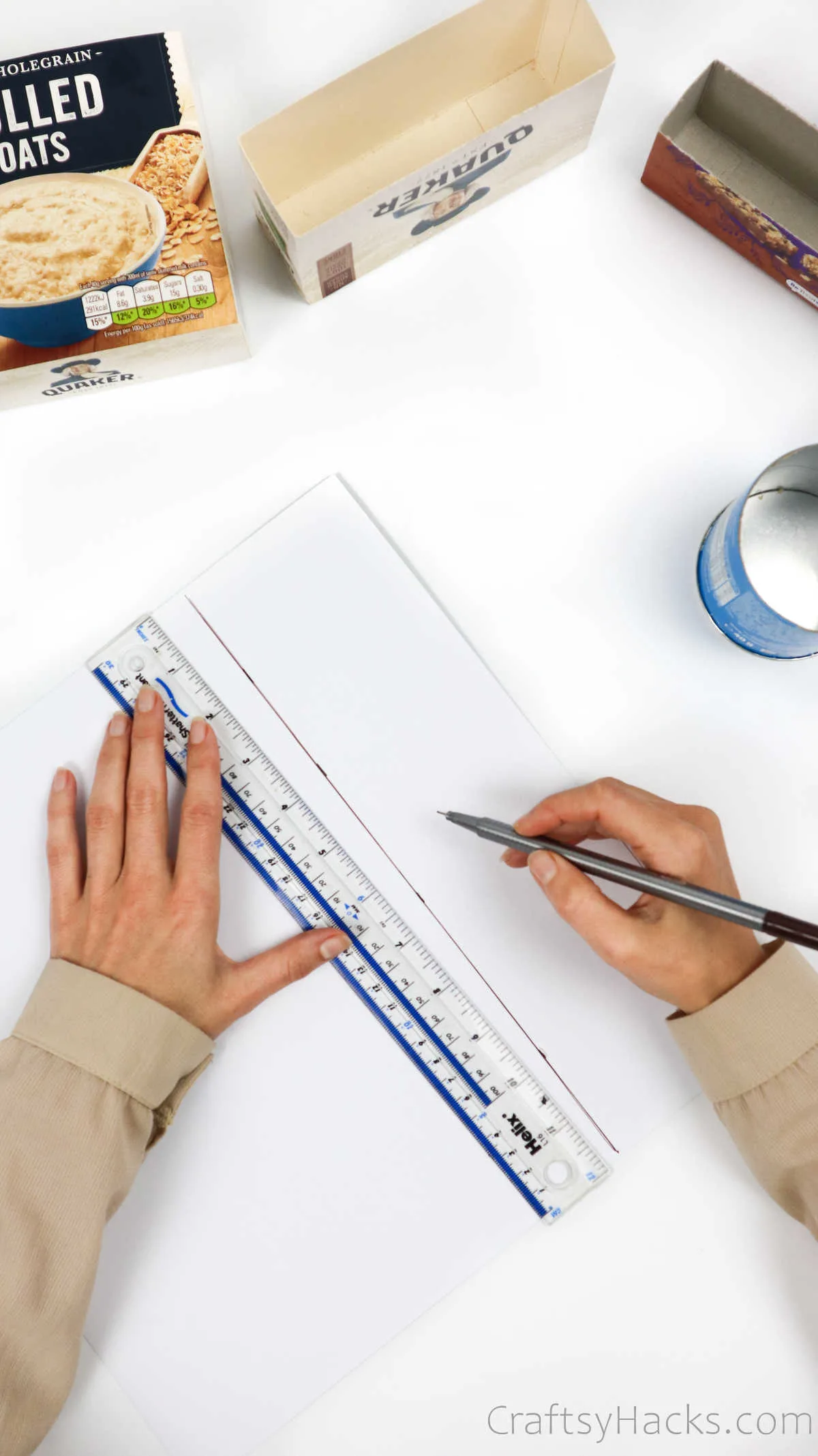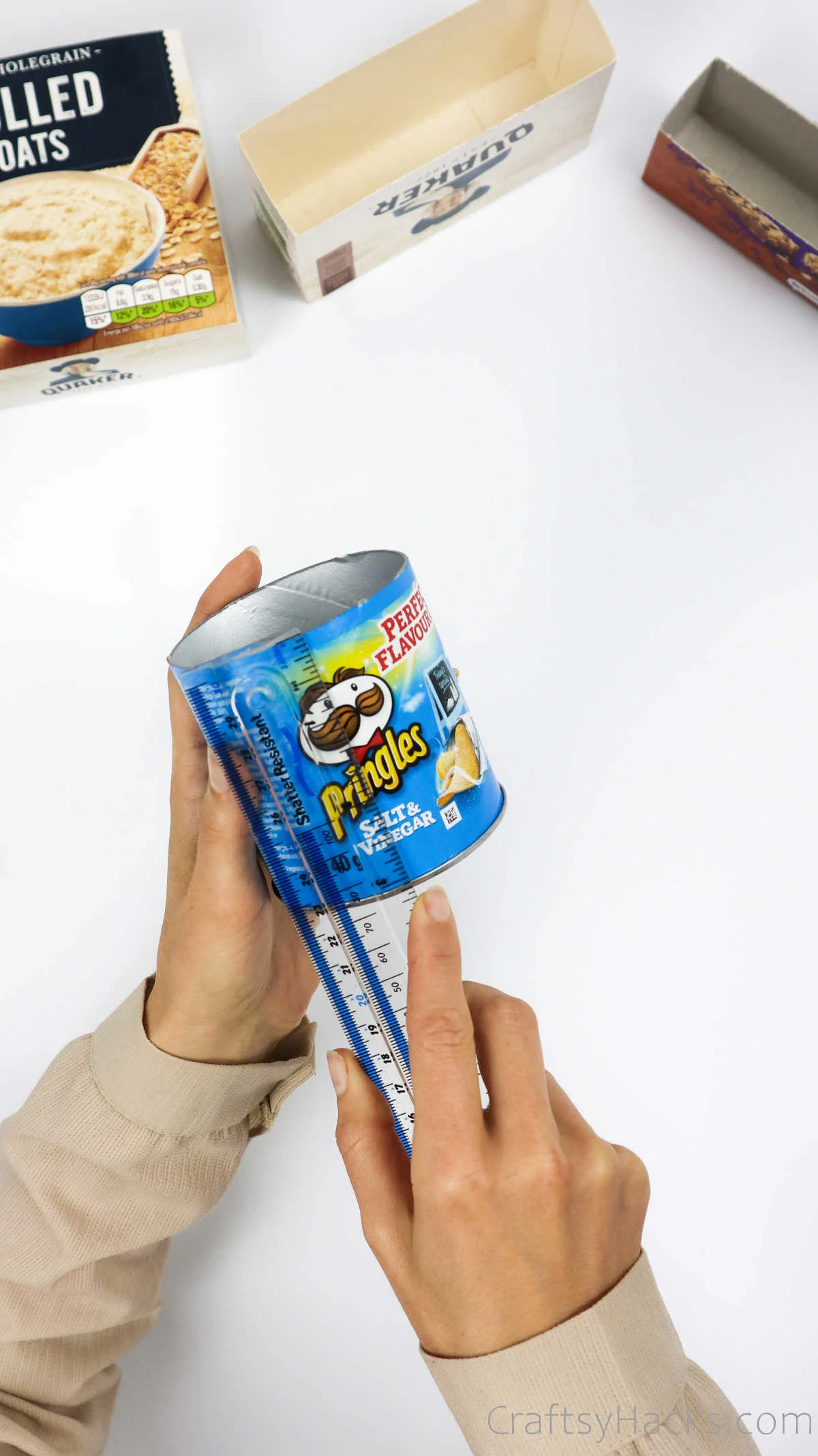 Step 7
Grab a pair of scissors and cut along the line you drew.
Then, line the top and the bottom of the container with double-sided tape. Trust me; this will make it so much easier to stick the paper onto the container.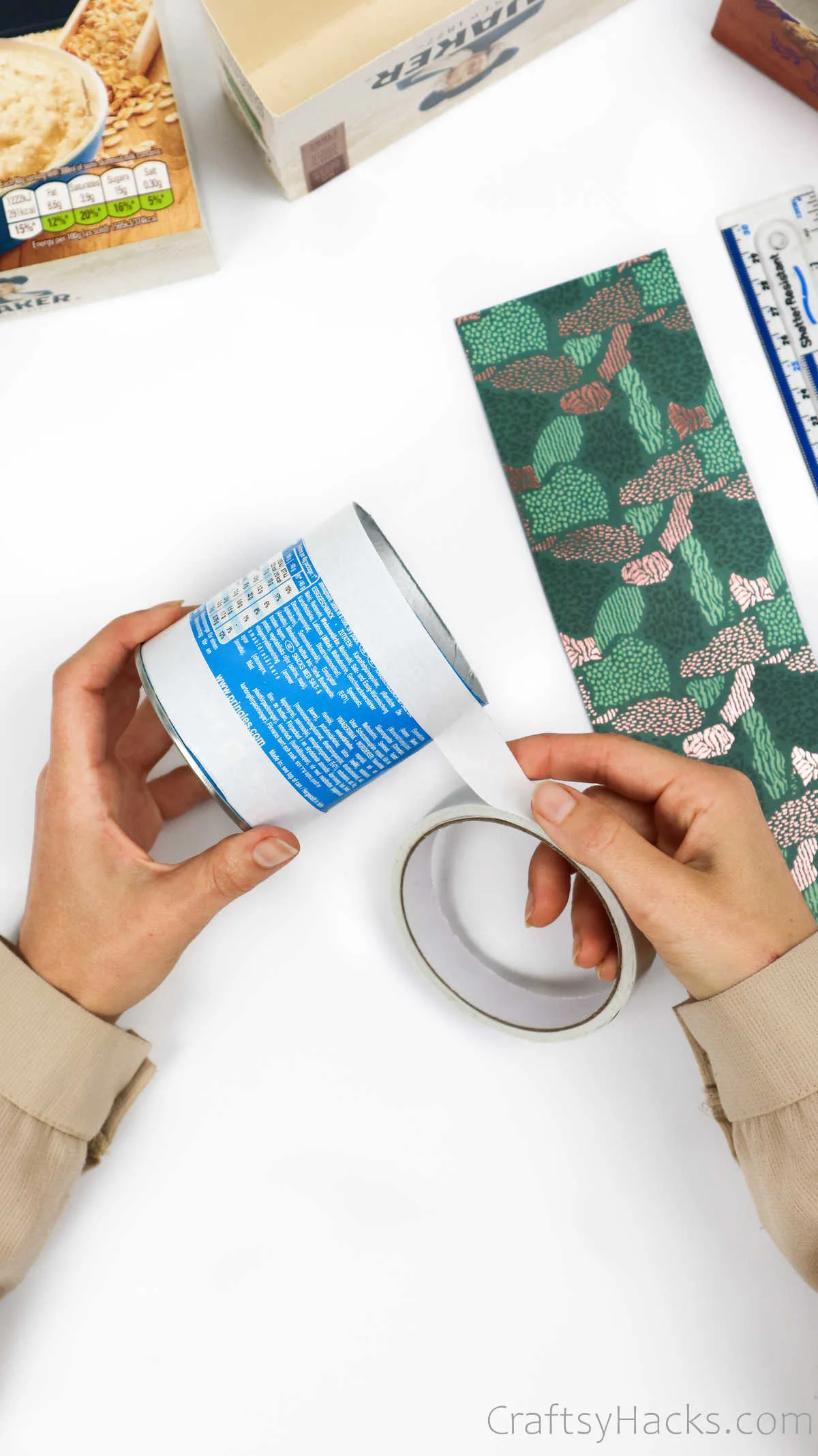 Next, just line the paper up with the container and roll it around to wrap it up. Press the paper down firmly to smoothen out any creases that may appear!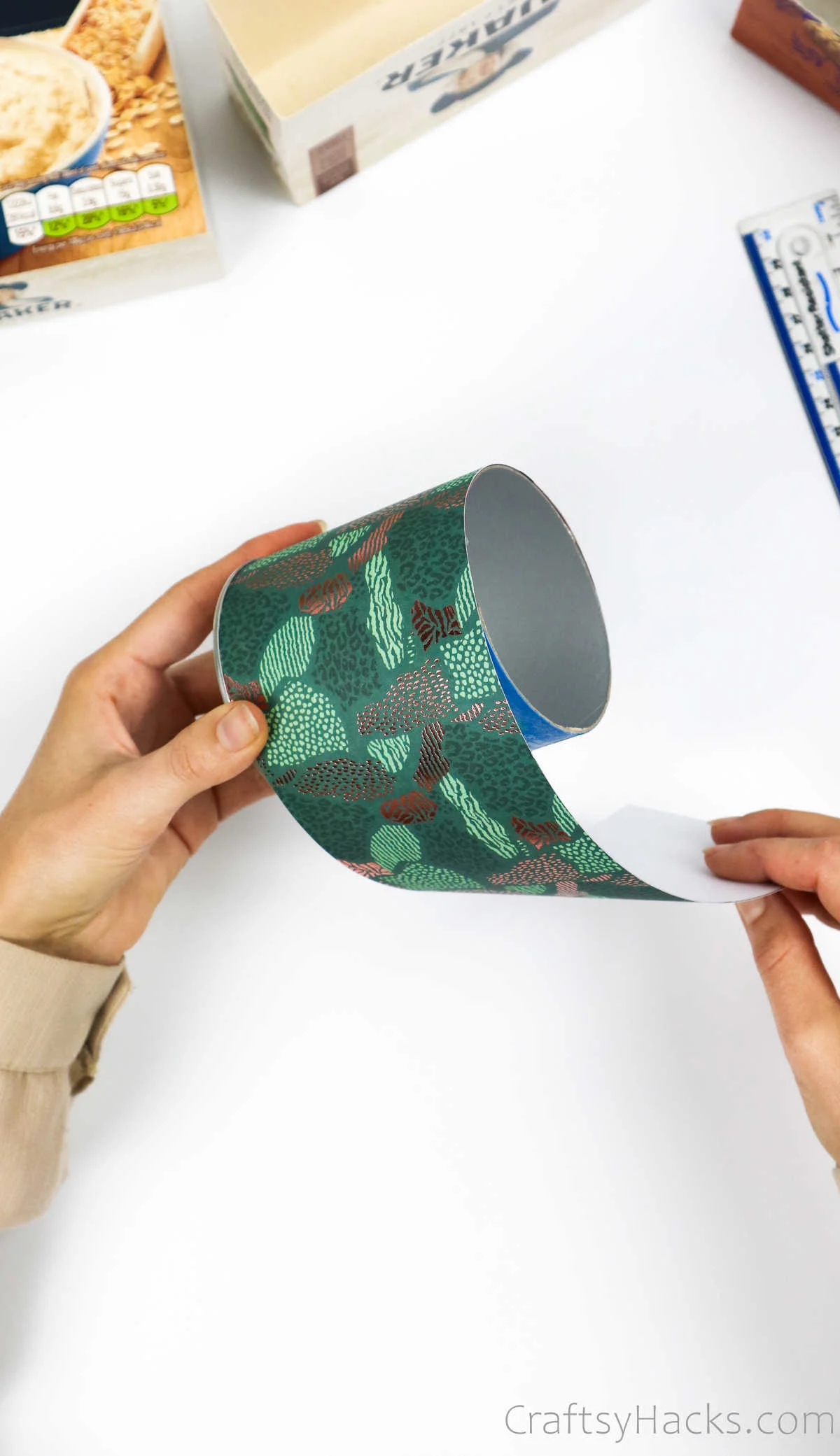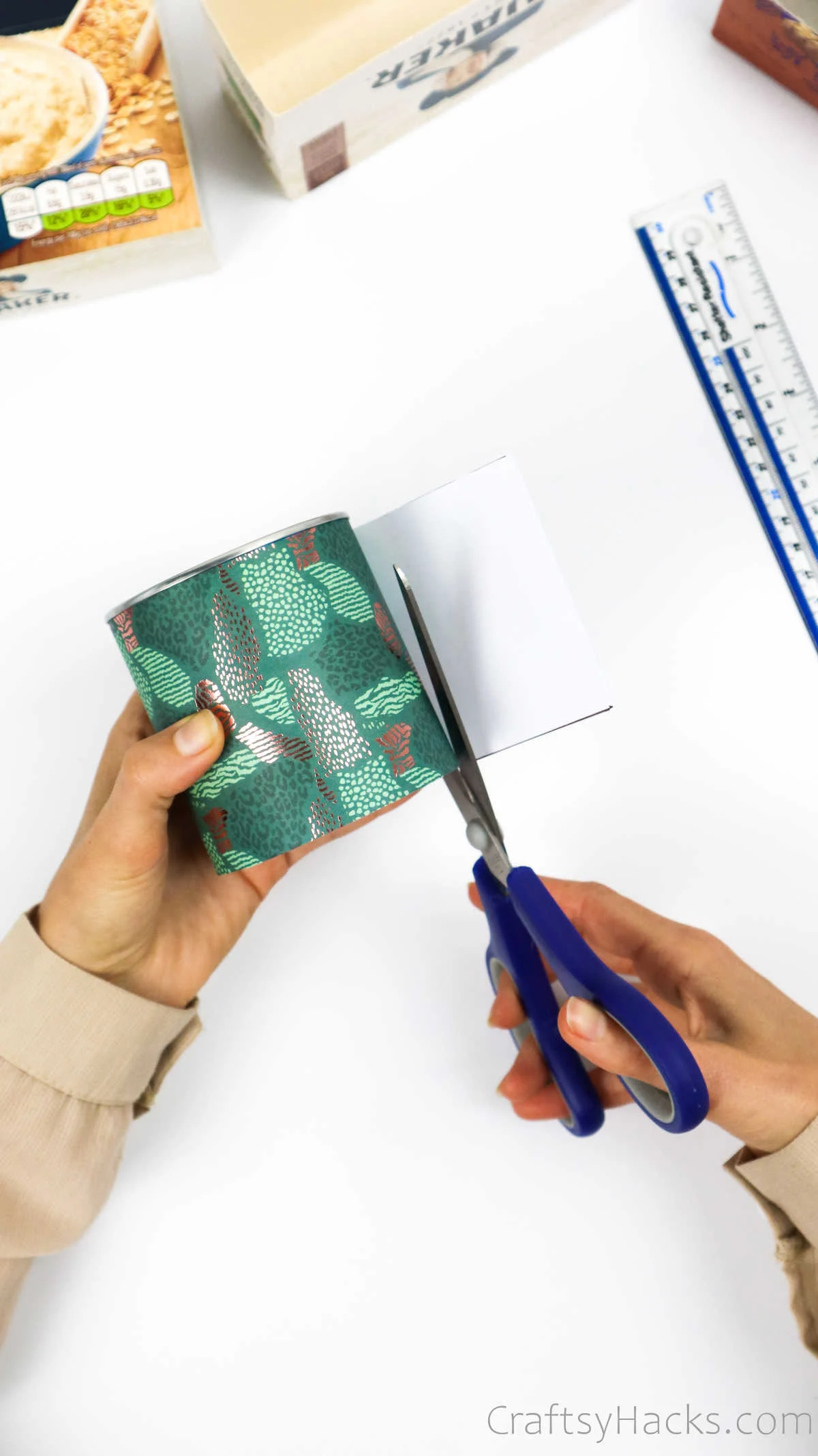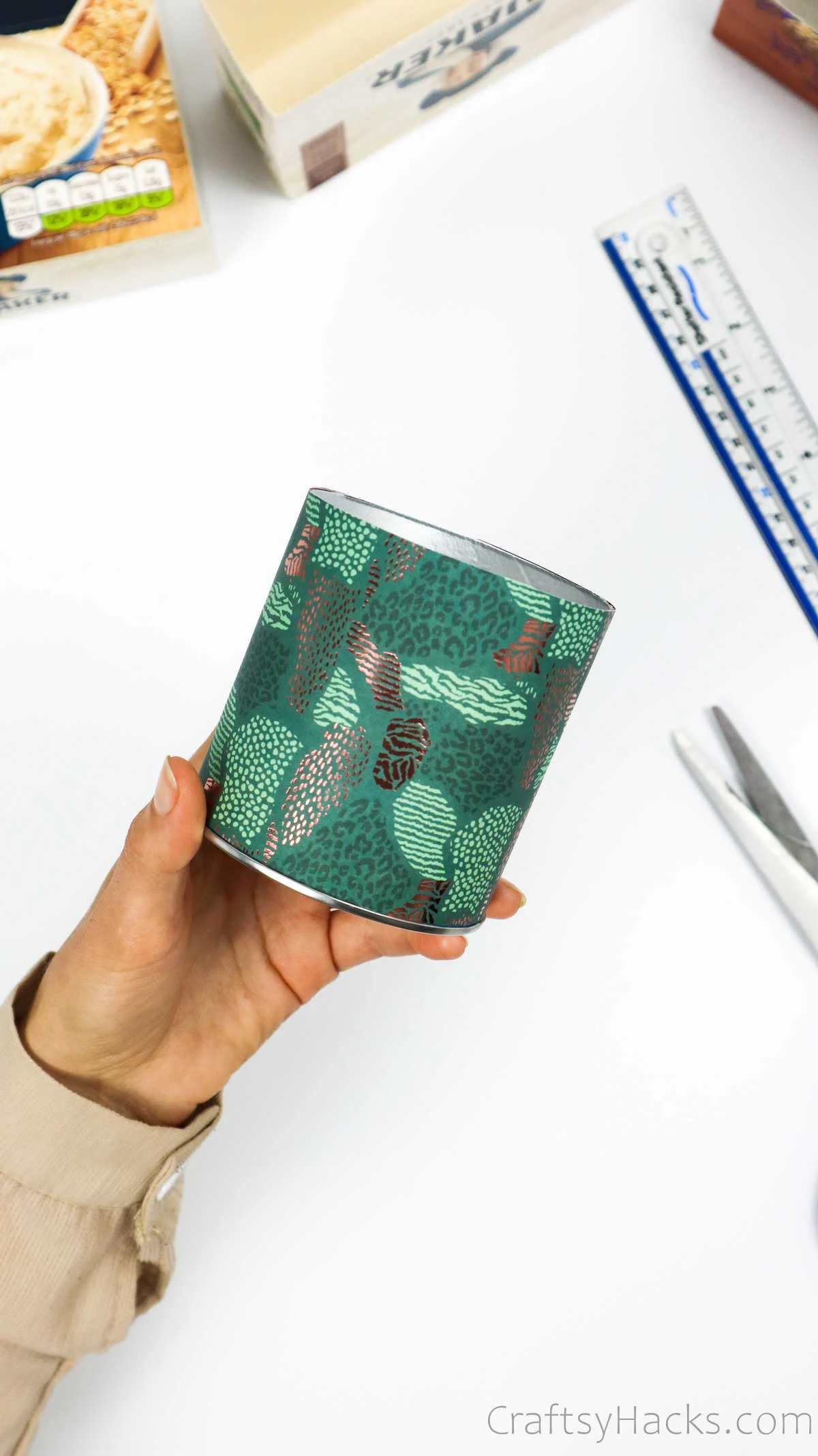 Step 8
Now it's time to wrap the other boxes. Grab a ruler and measure the dimensions of the box, as indicated.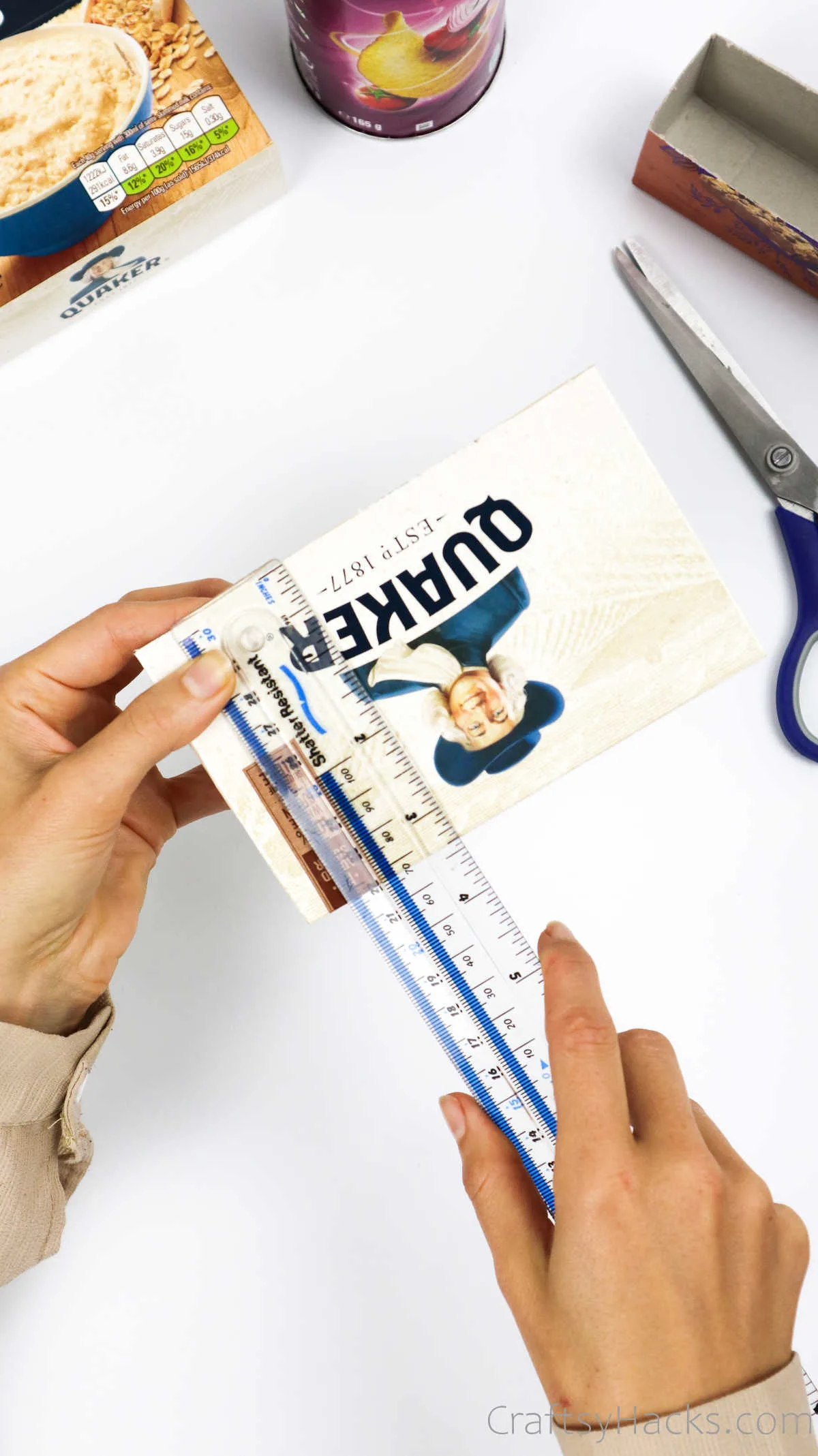 Then, line the edges with double-sided tape.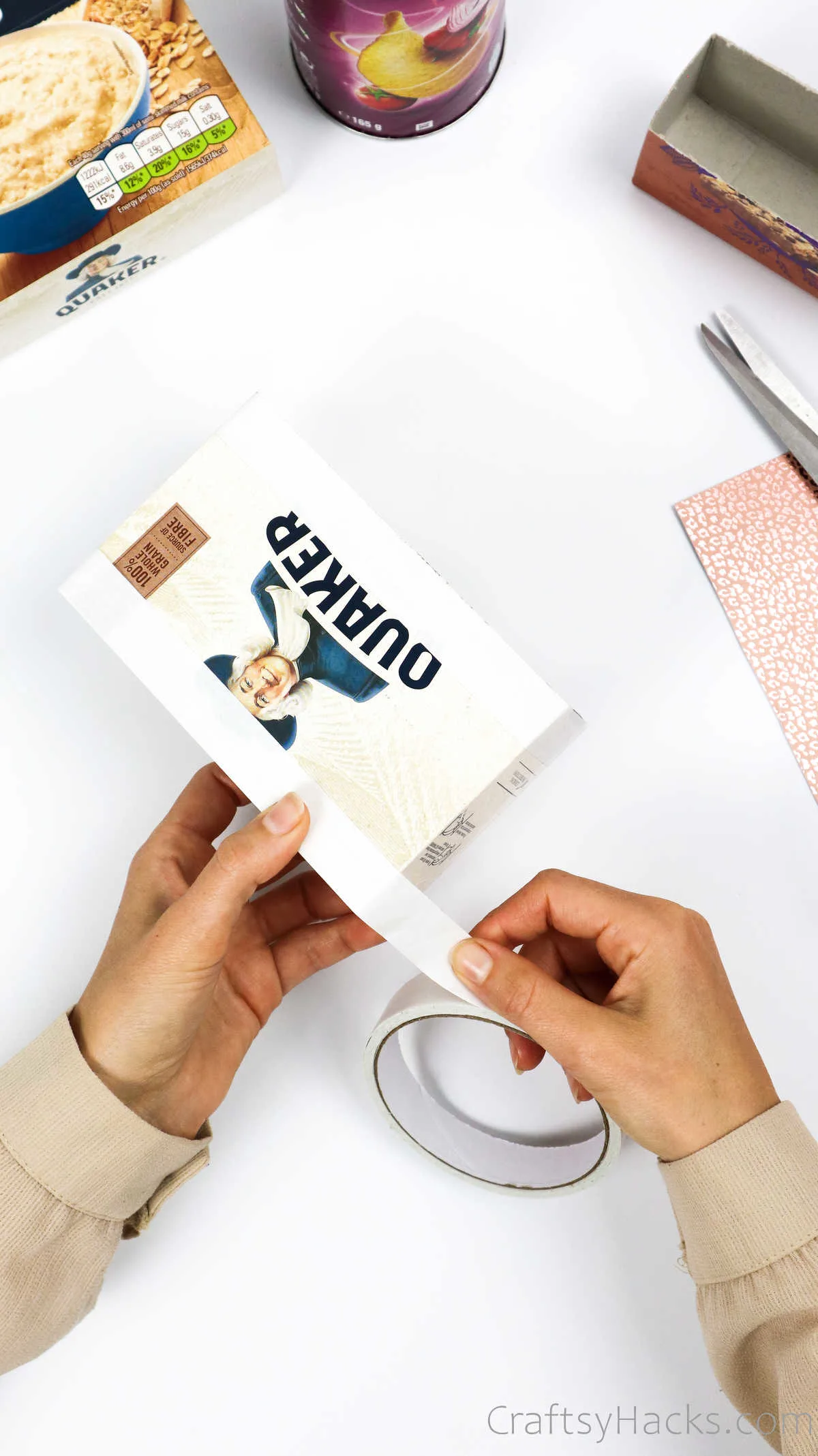 Wrap the container, making sure to press down the corners. Try to fold the paper over these corners as tight as it can accommodate—this will help you get that sharp line down the corners.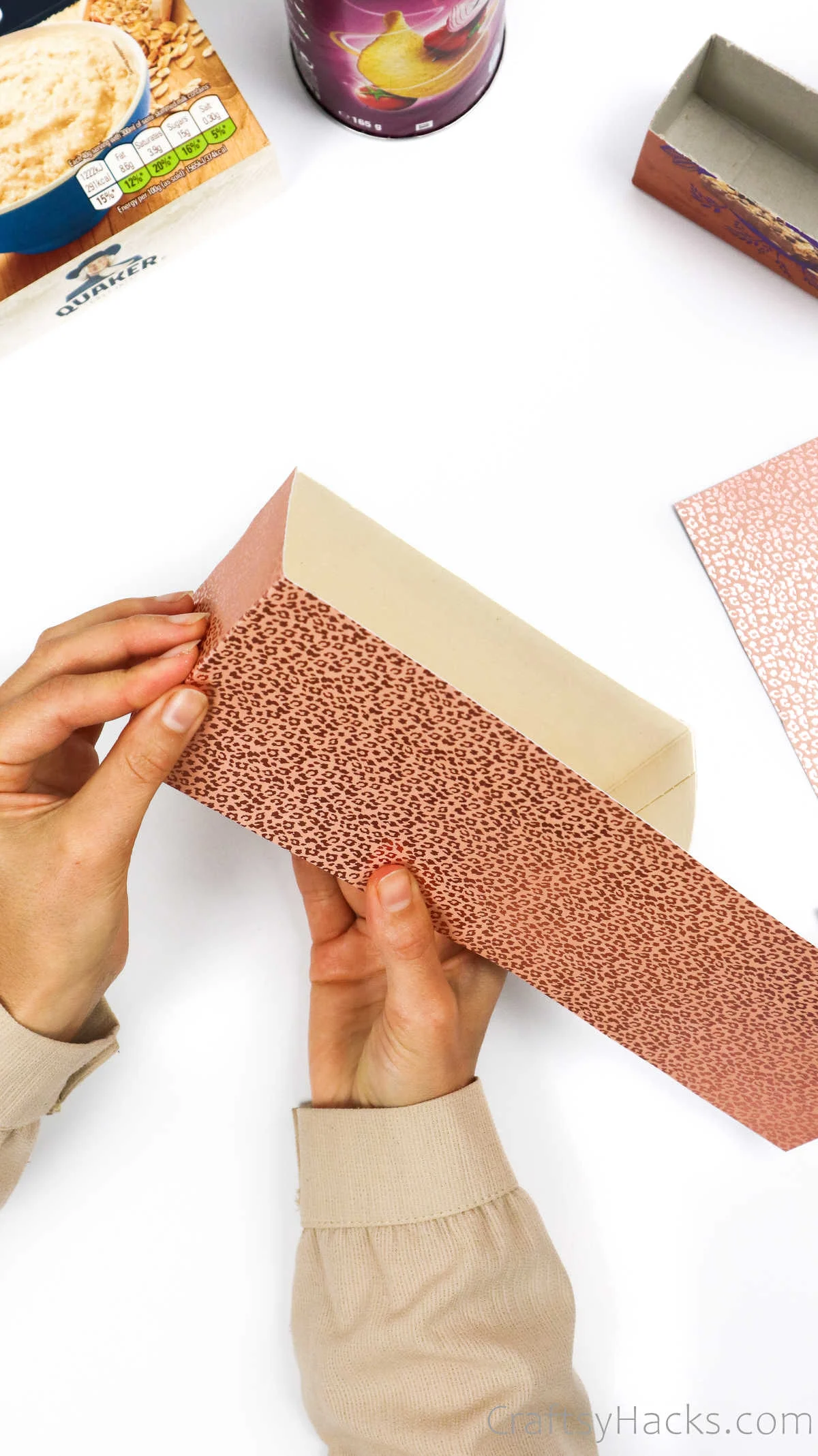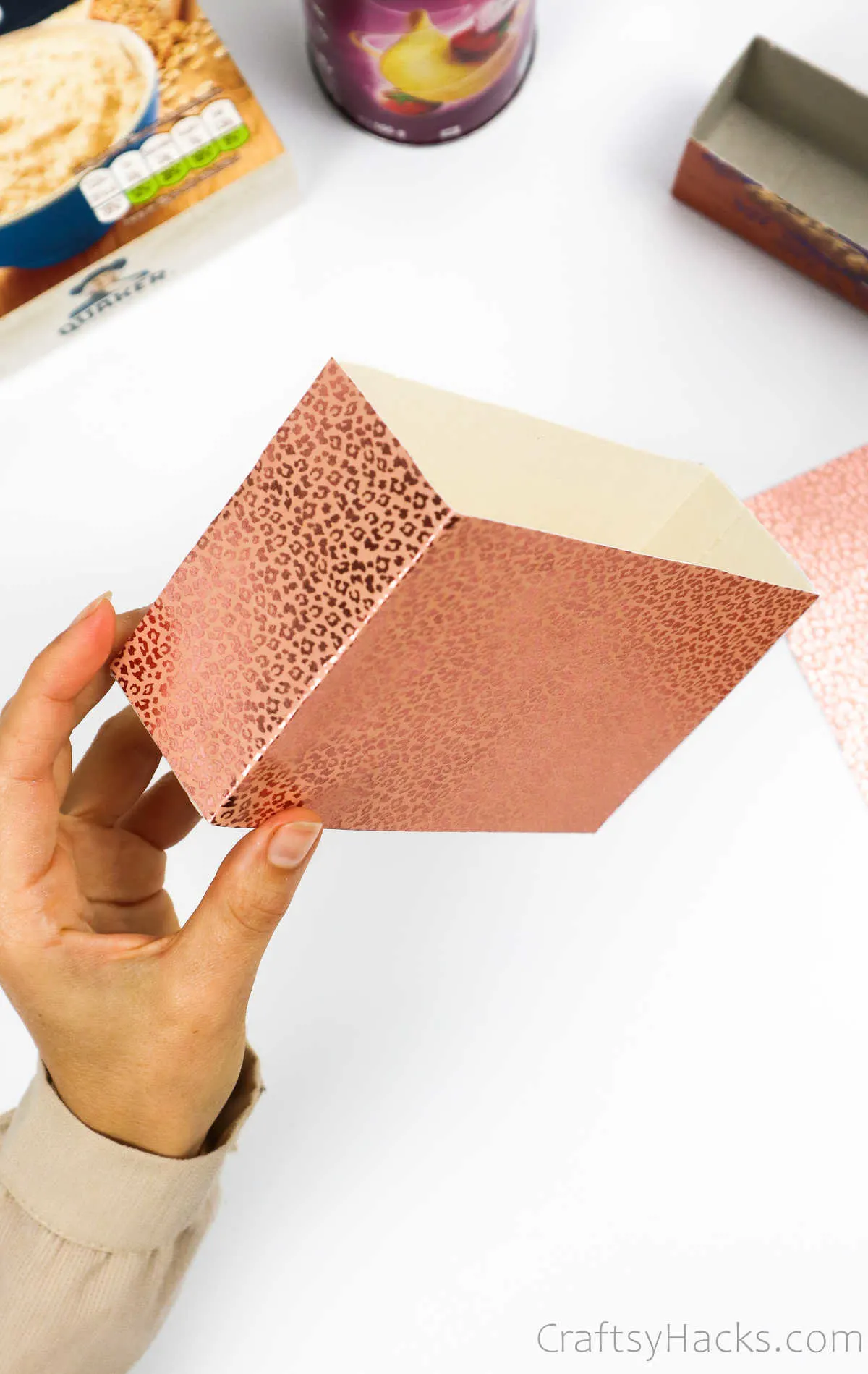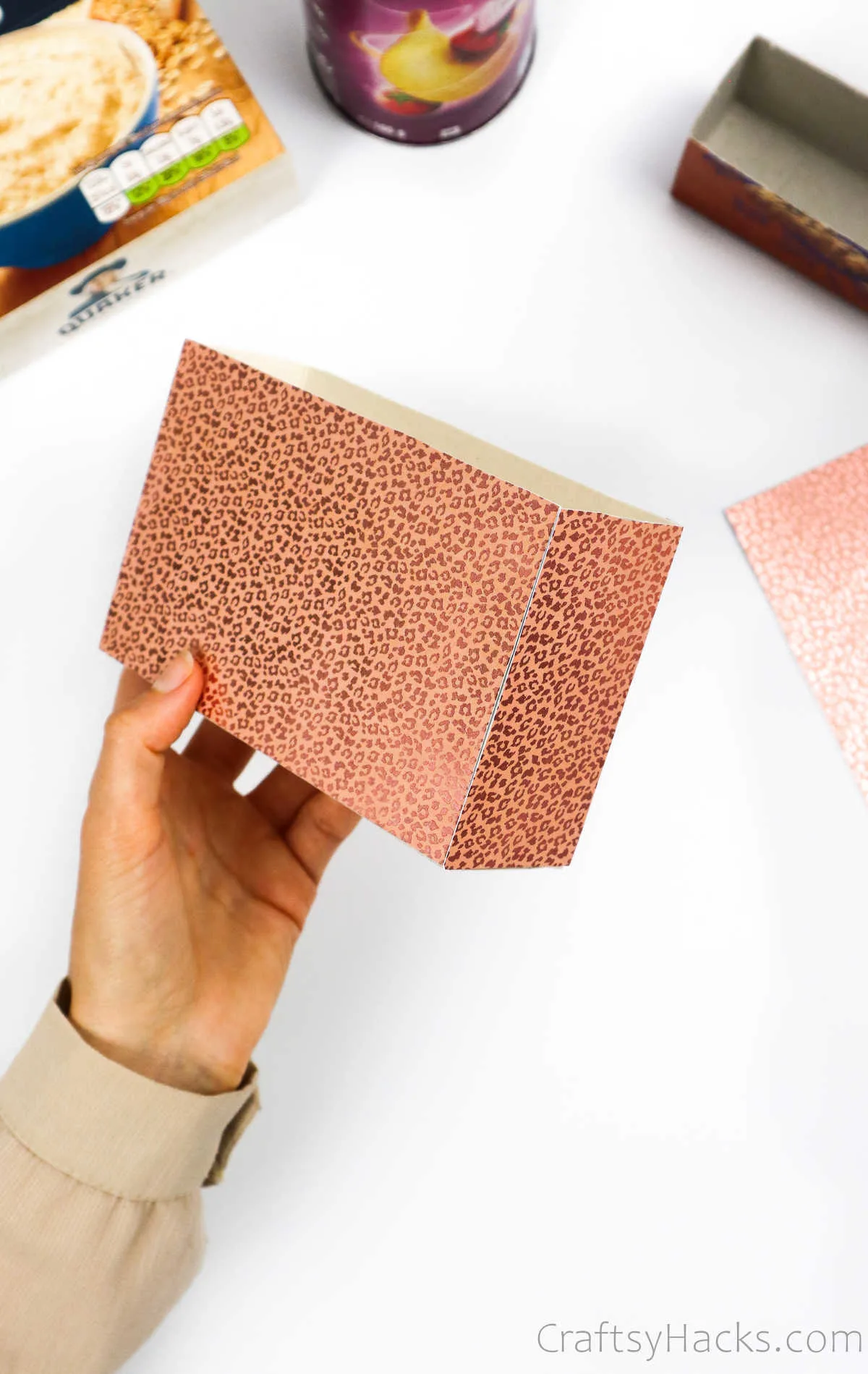 Step 9
Once you've wrapped all the box containers, it's time to stick them together. Line all three containers in descending order of size.
You either tape the boxes together, or you glue them in place—it's up to you. However, using double-sided tape will give you a smoother finish.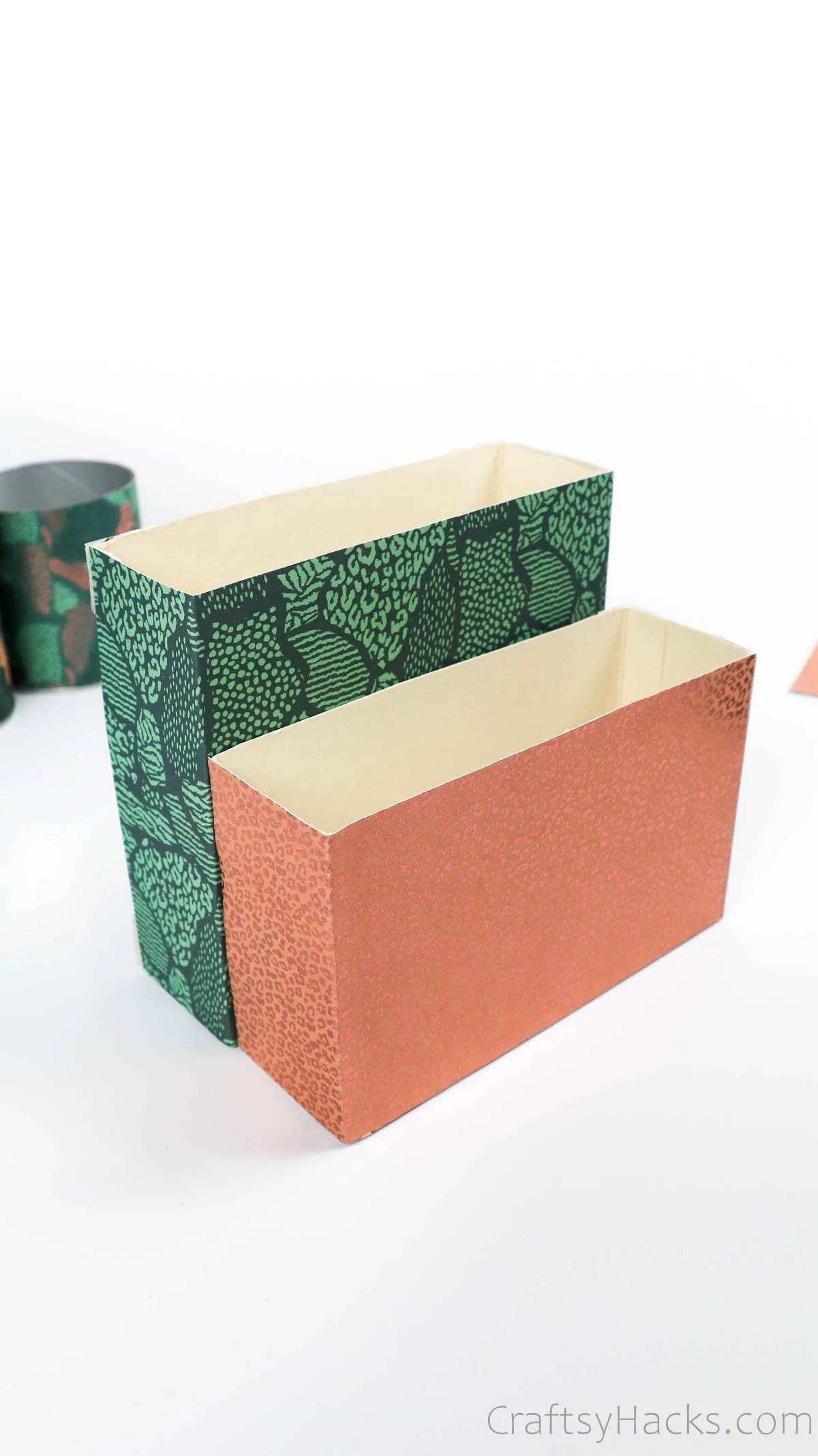 So just line the back of the first two boxes(smallest and the middle one) and stick them to the front of the boxes right behind them.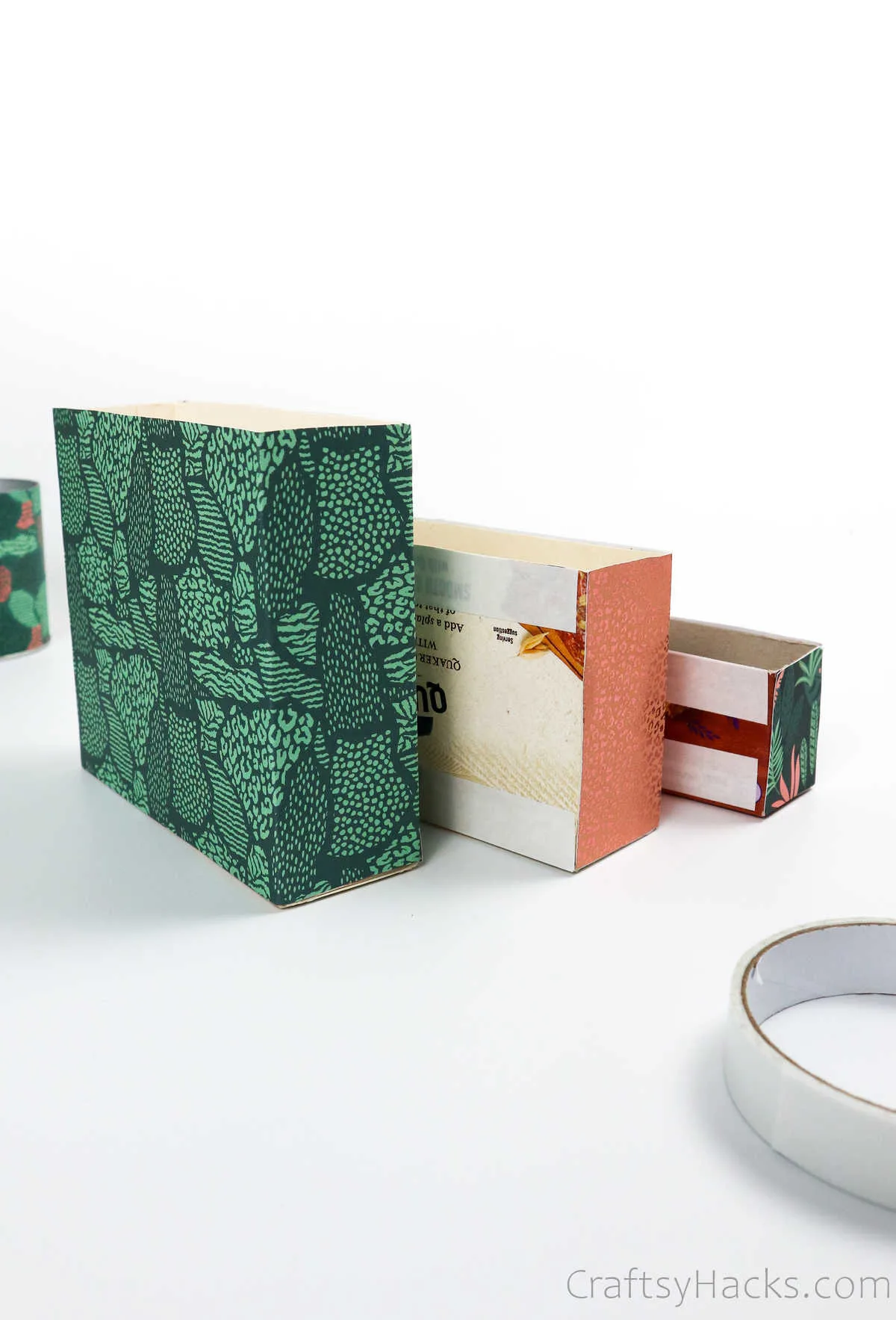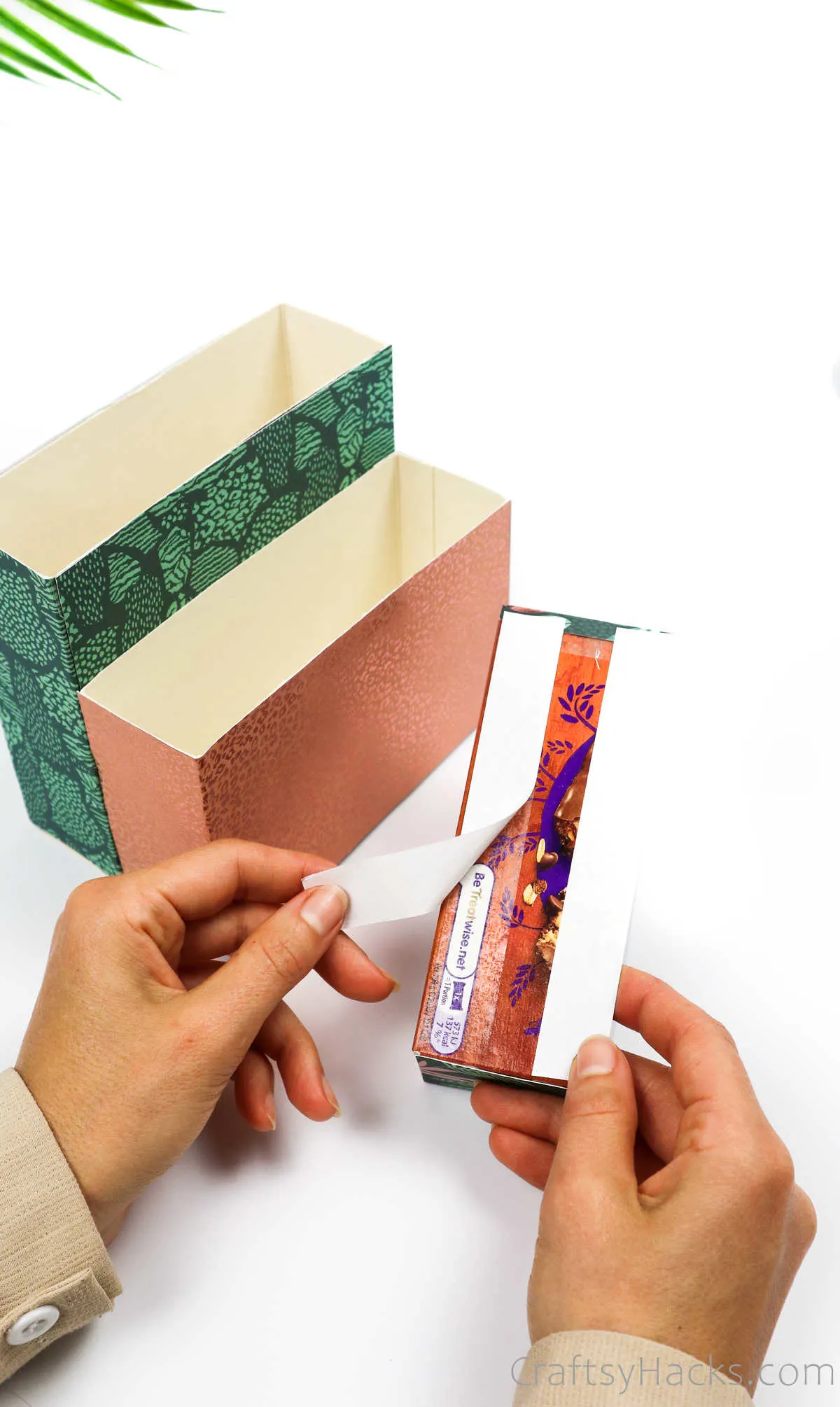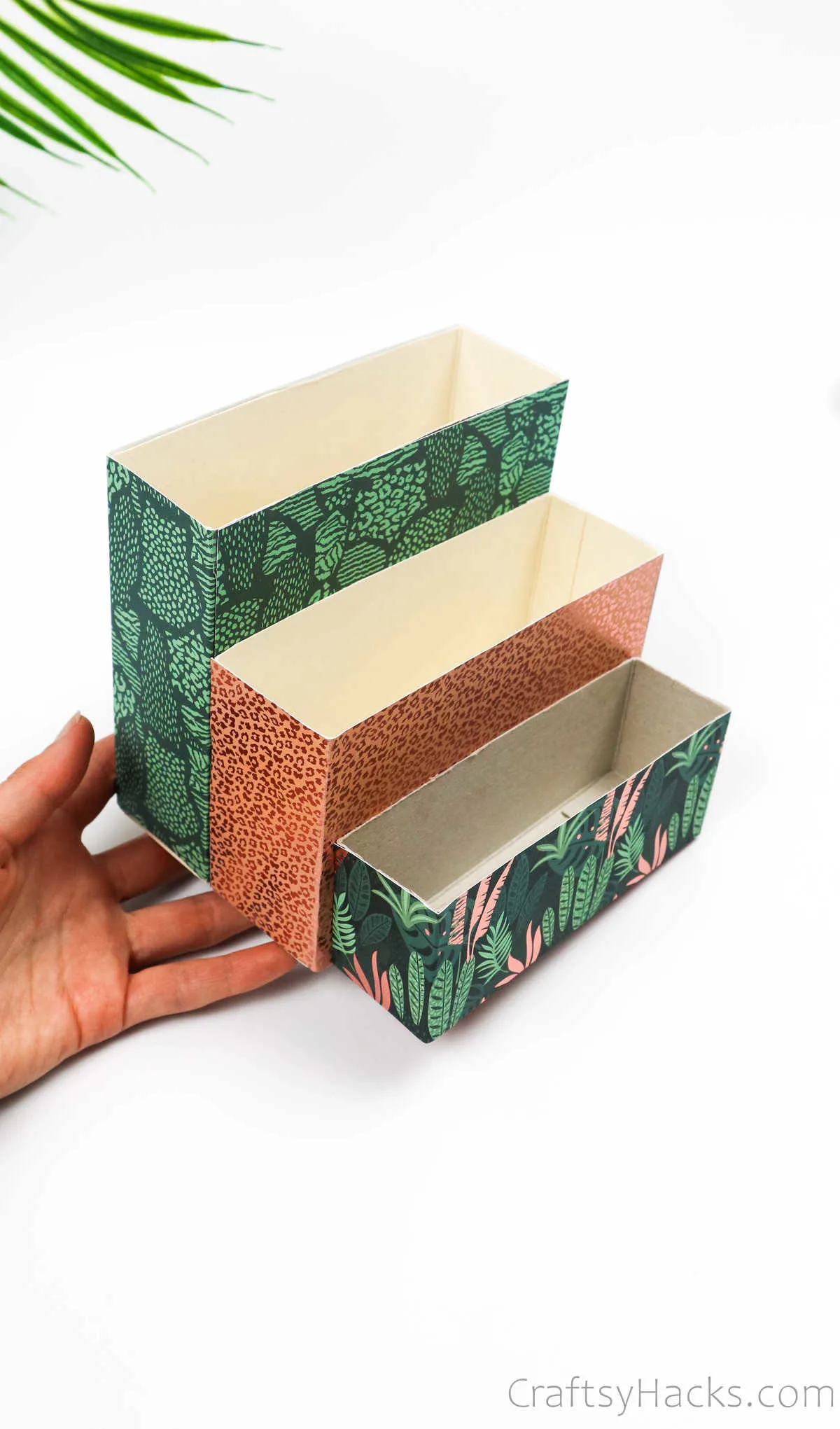 For the cylindrical containers, however, a glue gun would be much more effective, so go ahead and grab yours.
Apply a ring of hot glue on the base of the containers and hold them down to stick them to the wooden board.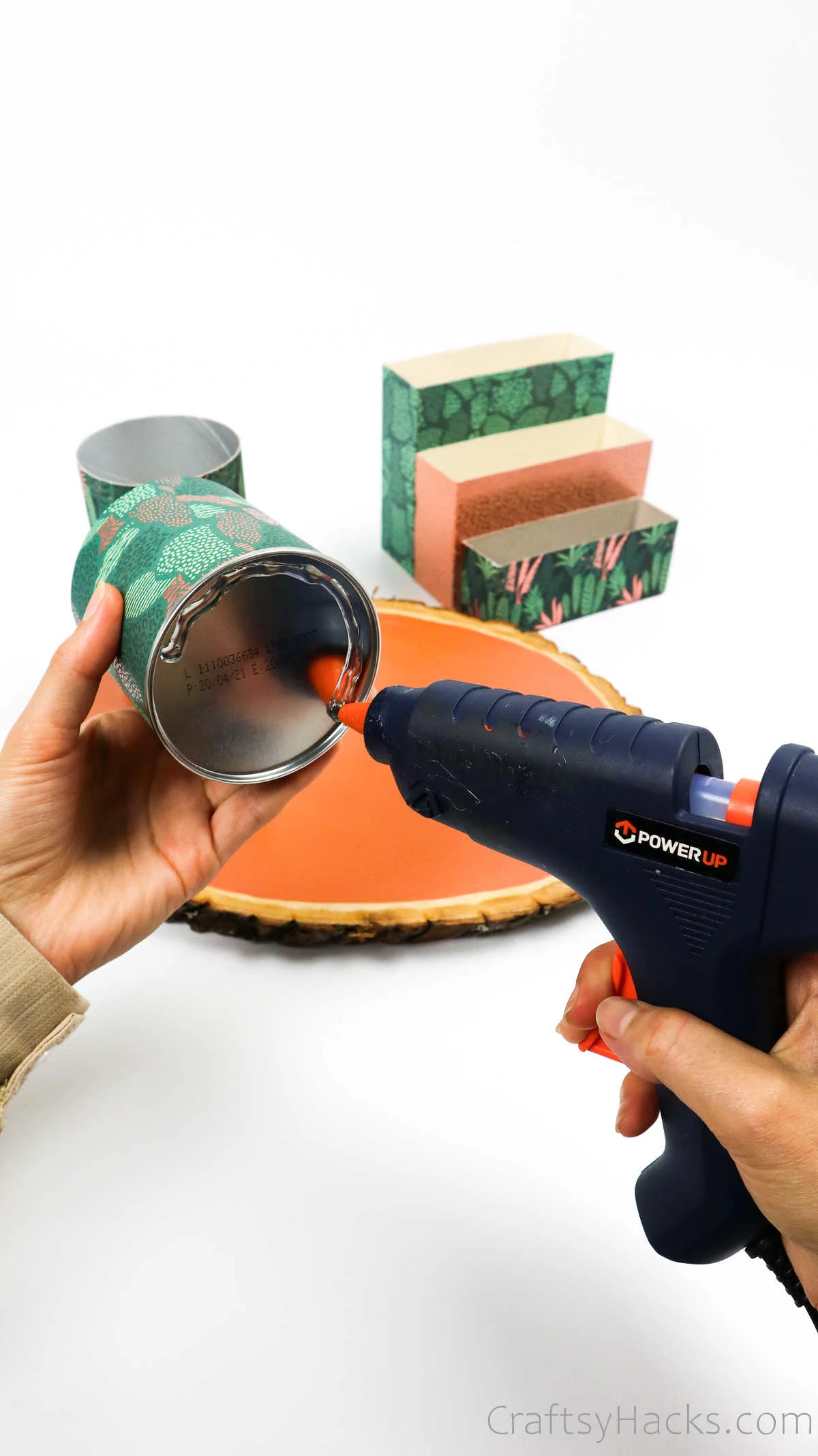 Repeat this step to hot glue the wrapped cereal boxes to the wooden board, too.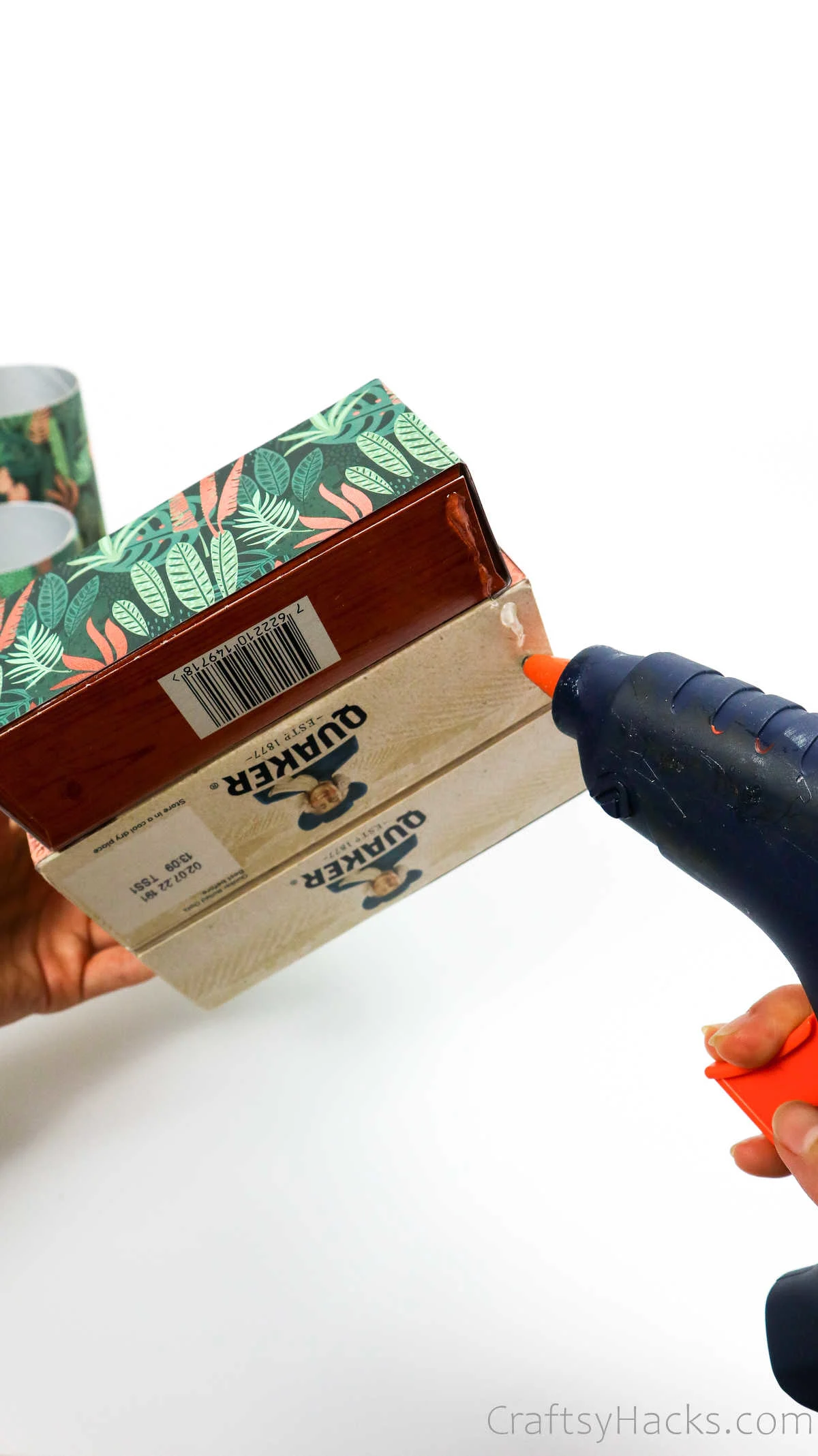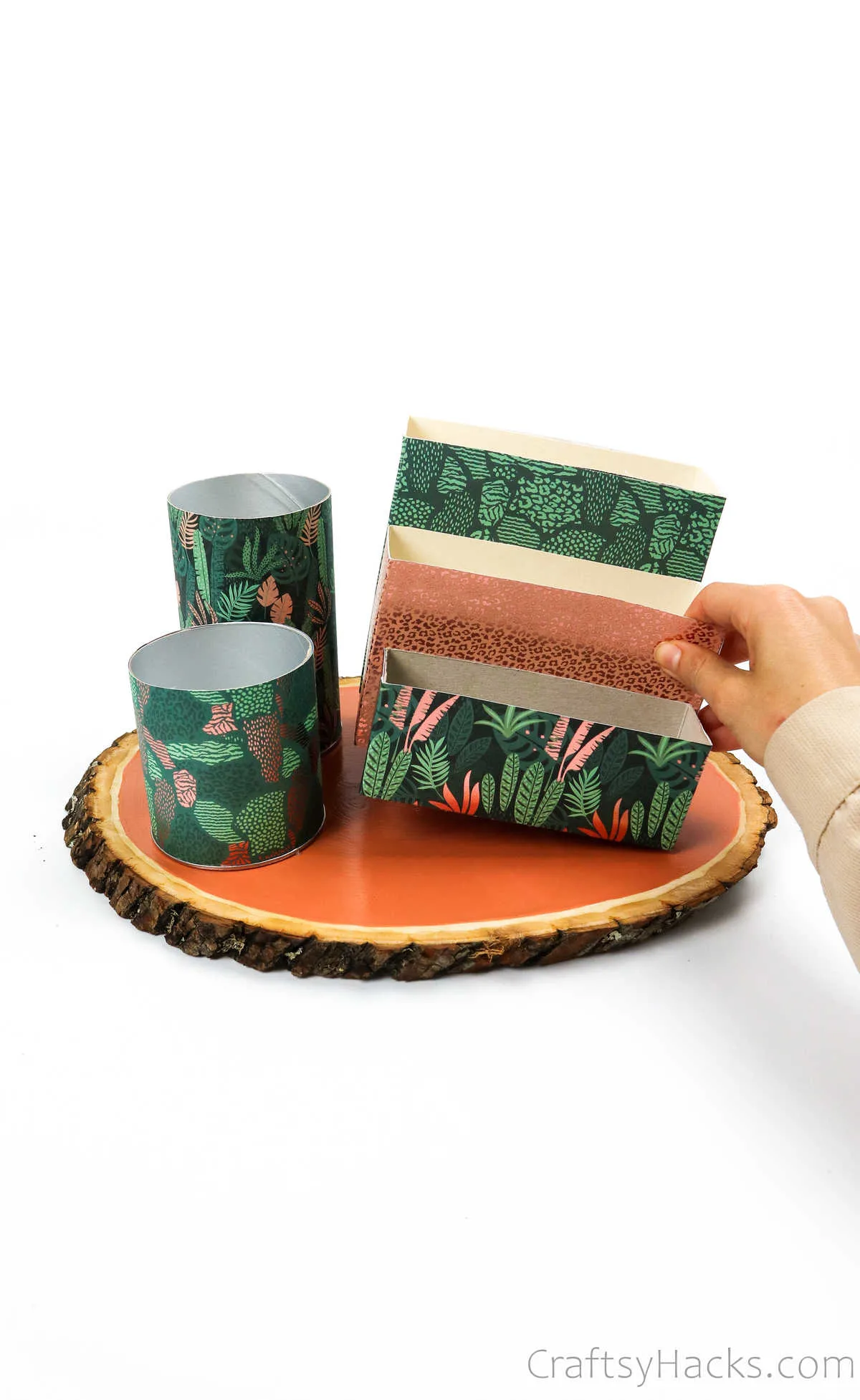 There you go, your DIY desk organizer is ready to use, or at least it will be when the glue dries completely.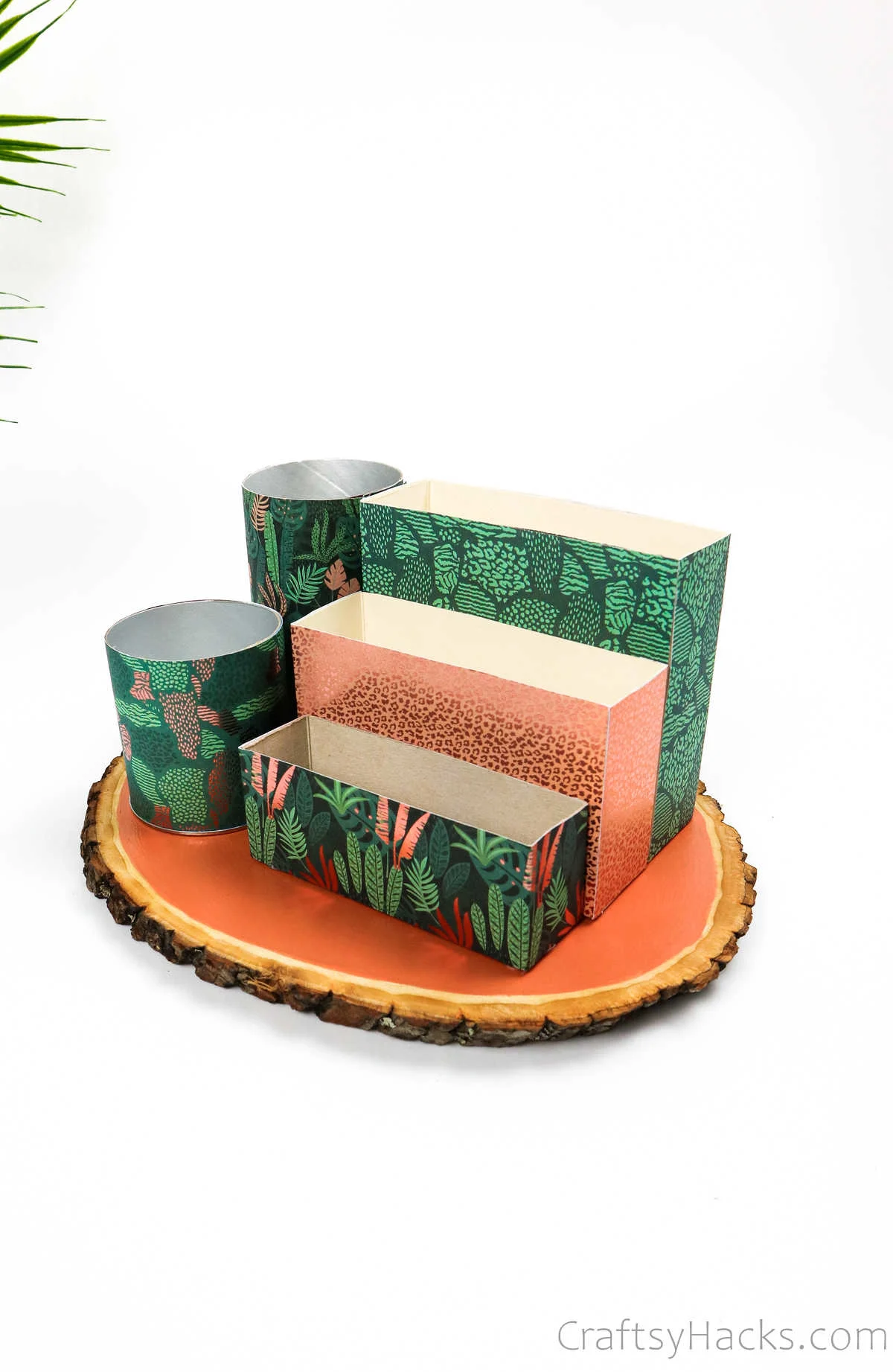 Watch Video: DIY Desk Organizer
For more visual learners – a full tutorial on video!
What Can You Store In This Organizer?
This organizer is perfect to place on your study table, work table, or craft table. It can hold and organize all your items.
Office or school supplies
Scissors, craft cutters, and craft tools
Pens, crayons, markers, pencils
Ruler and geometry kit
Mini notebooks and planners
Sticky notes and memo pads
You can also use it in your kitchen if you customize the containers accordingly. The cylinder cups can hold your utensils while you can line up your cooking ingredients and spices in the boxed containers.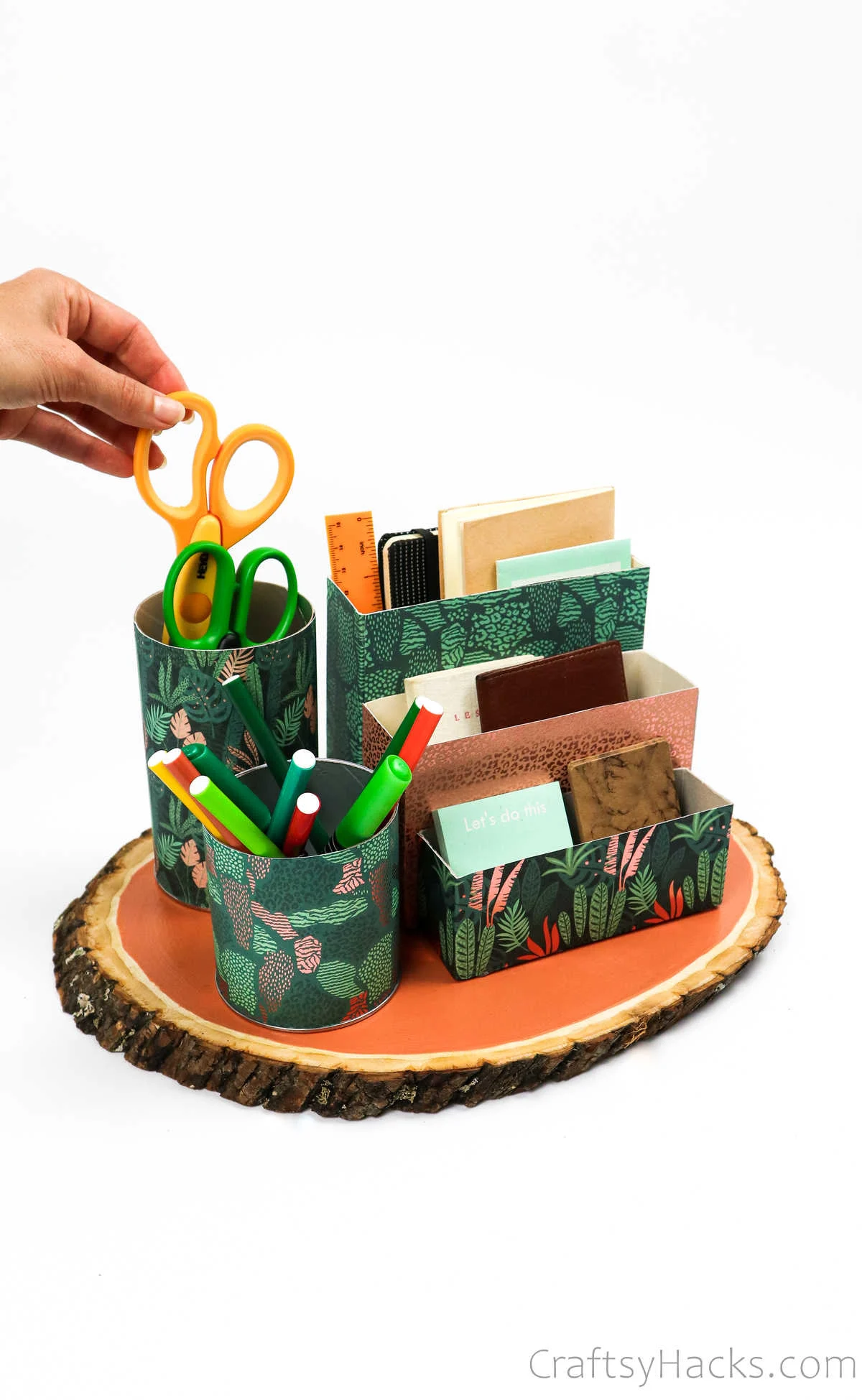 Other Organizing Ideas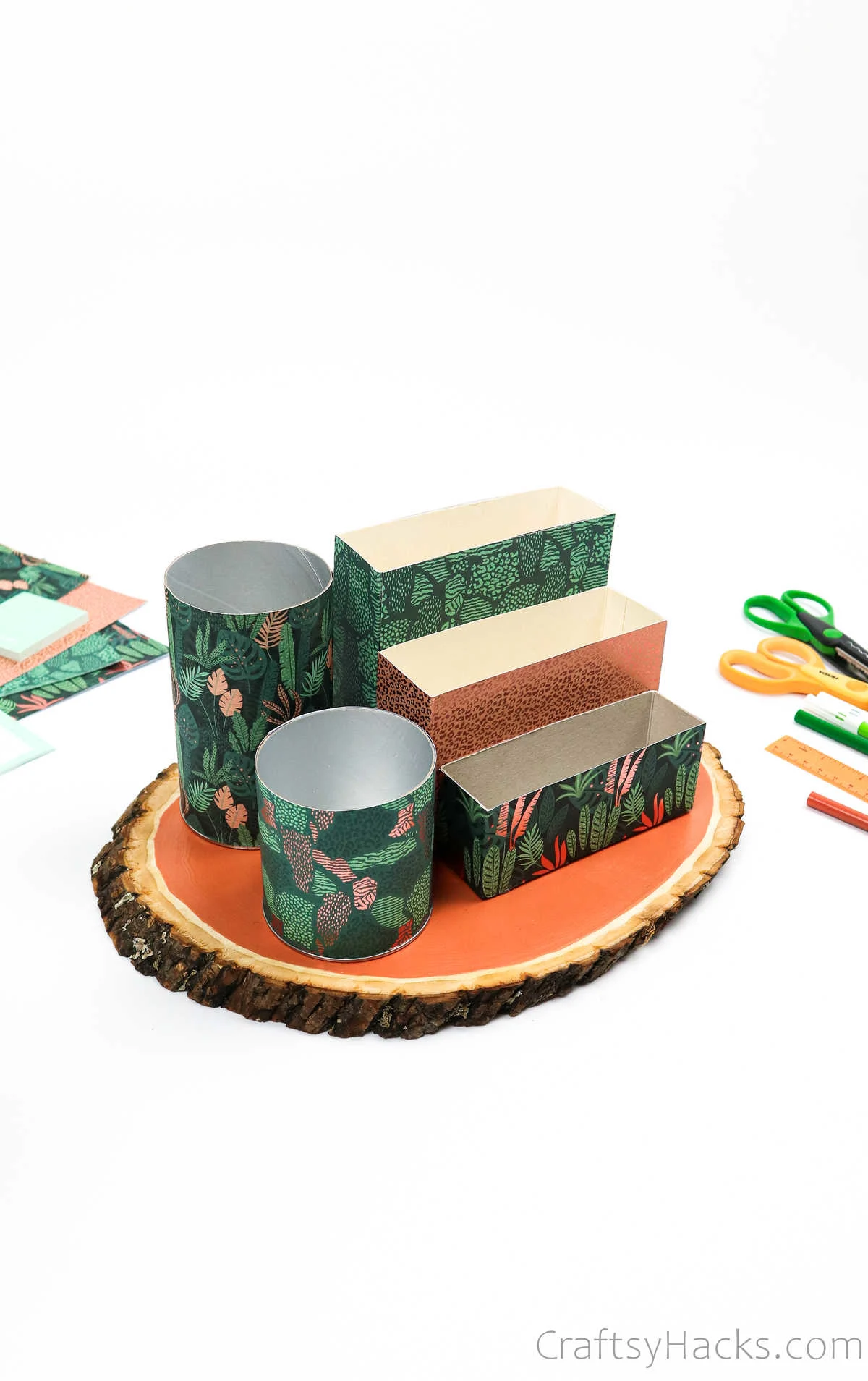 Yield: 1 desk organizer
DIY Desk Organizer Out of Upcycled Food Packaging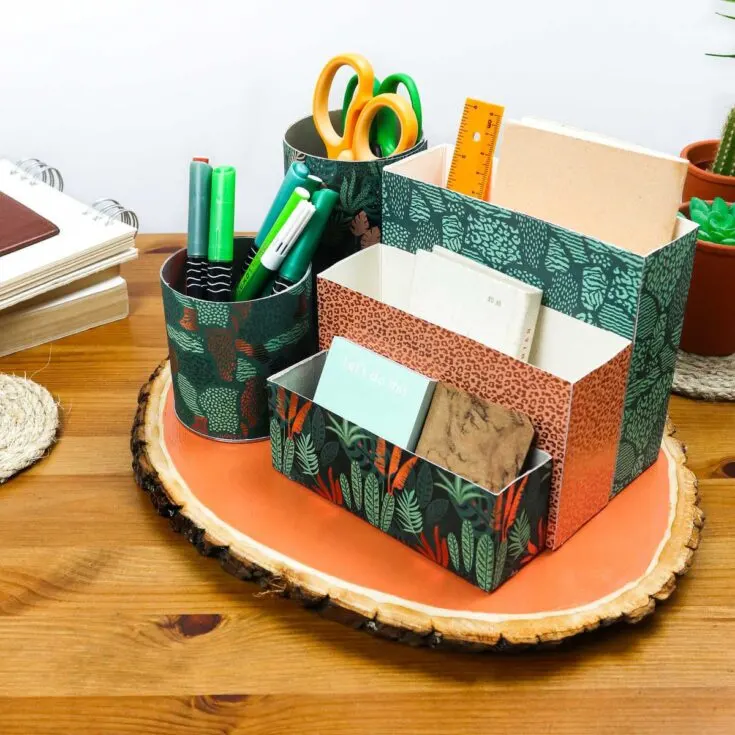 Make your very own DIY organizer out of old food packaging. A great way to upcycle all those boxes!
Additional Time
20 minutes
Materials
Wood board (13" wide)
Empty food boxes
Craft paper sheets
Double-sided tape
Acrylic paint
Glossy varnish
Hot glue gun
Tools
Retractable knife
Marker
Ruler
Scissors
Paintbrushes
Instructions
Gather all your supplies to get started on this project
First, grab a bottle of your favorite color of paint and a brush and paint two to three coats on the surface of the wooden board. Allow the paint to dry. Once you're sure that the paint is dry, spray some clear matte of gloss-finish varnish over the surface.
Then, use a pair of scissors to cut the cereal boxes into their desired shape and height. You will need a retractable knife to cut the cylinder containers, though.
Planning where the boxes go is very important. So, once you've cut the containers to their desired sizes, place them on your wooden board to decide where each one goes.
You'll need to wrap your containers first, so pick out a few sheets of patterned, textured, or colored craft paper. Make sure that the paper you pick isn't thin or see-through; you don't want the cereal box to be visible through the wrapping.
Take note of the dimensions of both the cylinder and boxed containers.
For the former, line it up with the edge of the paper and roll it to complete one full rotation. Then, measure the height, make a note of it on the paper and draw a line across.
Use a pair of scissors to cut the paper. Then, line the top and bottom with double-sided tape and stick the paper around the cylinder containers.
For the boxed containers, measure the height, length, and width, and mark the same on the back of your wrapping paper before cutting the paper. Then stick the paper over the box using double-sided tape.
To stick the three different boxes to each other, line the back of the middle and smallest box with double-sided tape and stick them to the front of the box behind each of them.
Now, grab your hot glue gun and apply glue to the bottom of all your containers. Adhere the containers to the wooden board and hold them down for a moment to secure them in place.
Your DIY desk organizer is ready!