It's that time of the year again! Start your college experience right with these super useful college hacks. They'll help you to be ready for the year to come!
A college student knows that to make it through college, you need more than just good grades. Being at college involves a ton to living on your own for the first time, planning and cooking your own meals, and managing your time and money effectively.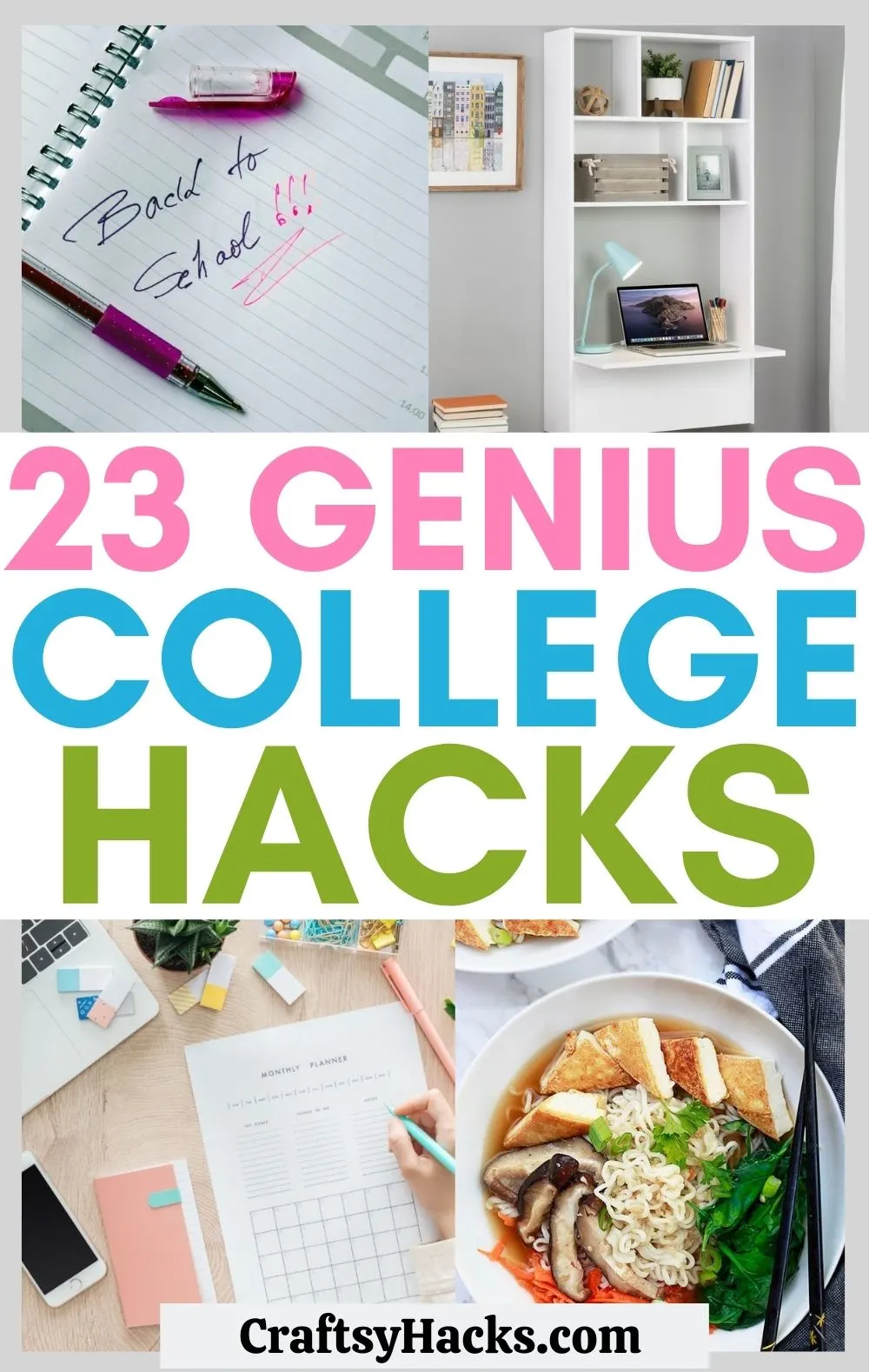 If you are mindful about your planning and organization, college can be a breeze! So, with that in mind, take a look at these 23 college hacks to get you through four of the most amazing years of your life!
1. Start Your Meal Prep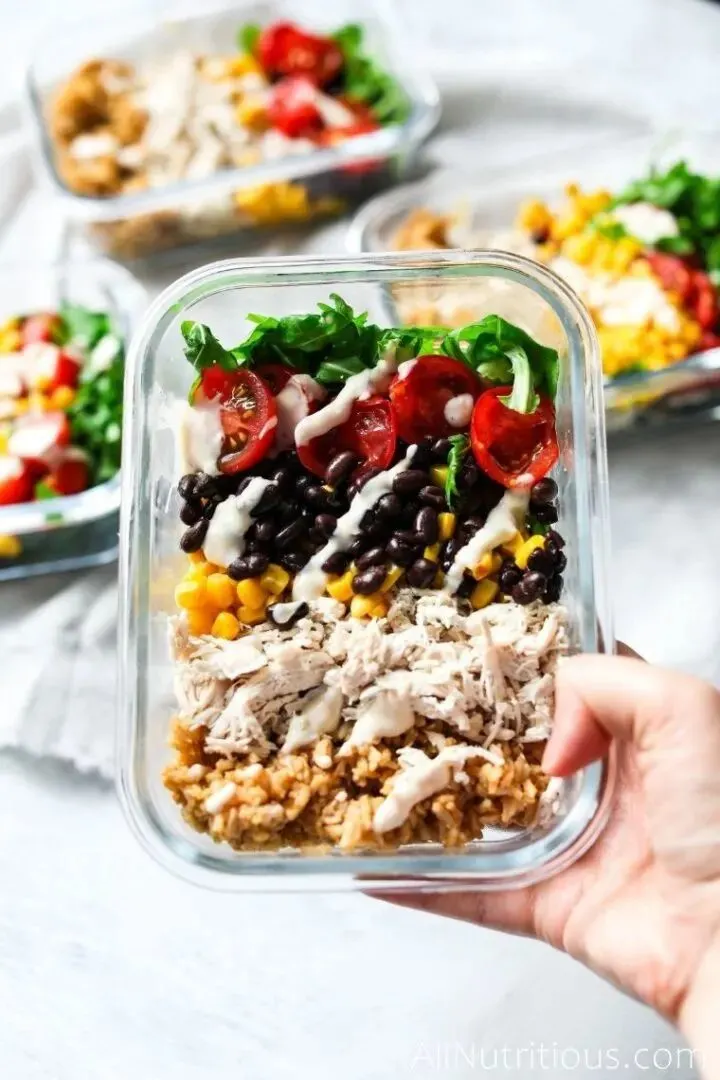 Source: allnutritious.com
Most college students hate meal prep. It can be a long and arduous process when you'd rather spend your time on your assignments and hanging out with friends.
But, Kraft mac and cheese and canned soup will only get you so far before your body demands veggies and protein. Check out your new best friend: salad jars.
They're super easy to make—all you have to do is layer your veggies, protein, and dressing. Eat it as is, or give it a good shake before digging in!
Alternatively, you can make little dessert jars too, with jars from here!
2. Functional Furniture – Floating Desk with Shelves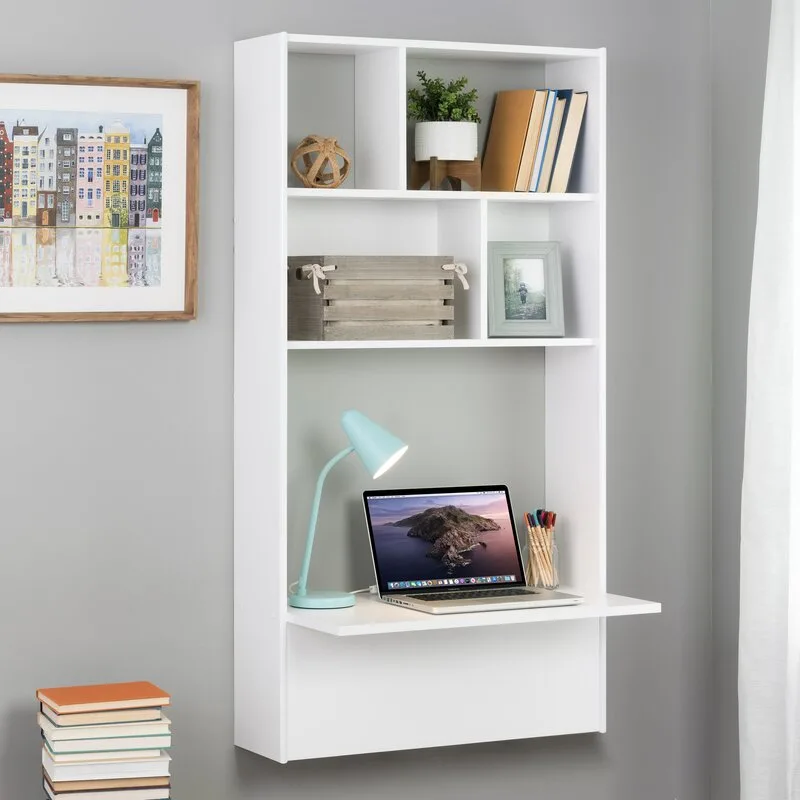 Source: wayfair.com
When you're living in a dorm room or any other student accommodation, you're going to be hard up for space. Functional furniture can go a long way to help you solve this issue.
Take this tall floating desk, for example. It's got a ton of shelf space for you to keep your books and office supplies.
Just pull open the mounted desk when you're ready to use it. It can be used as a standing and a sitting desk(check out this comfy chair)!
Take a look at these 20 practical storage ideas for small spaces!
3. Inspiring Study Space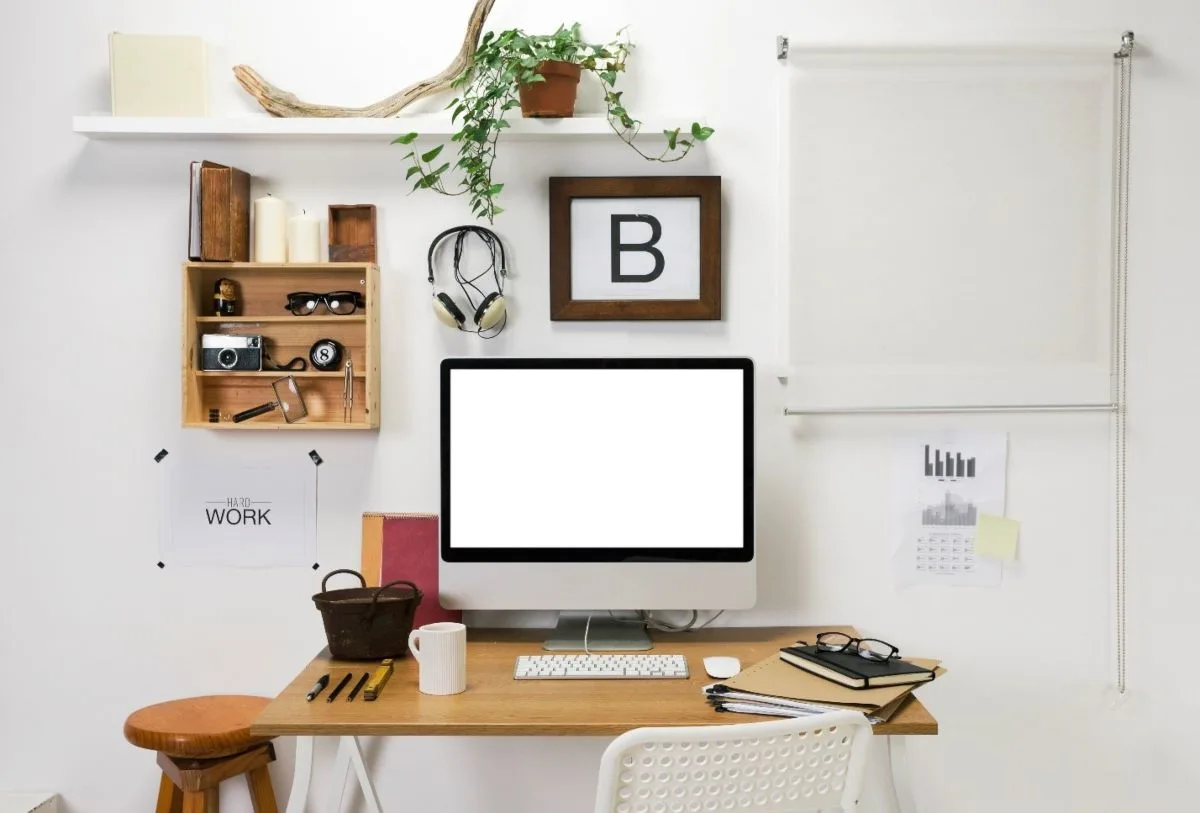 Source: depositphotos.com
A college student knows the method behind the madness when it comes to pulling an all-nighter. With a gallon of coffee, snacks, and a clean, tidy, and gorgeous work area, studying can actually be fun.
Check out this study space. There's a designated space for all your books, binders, and table accessories.
You can store your stationery and writing supplies in this desktop organizer. Feel free to add a plant or two and a few scented candles, but don't clutter your workspace with baubles.
4. Make Your Own Exam Prep Sheet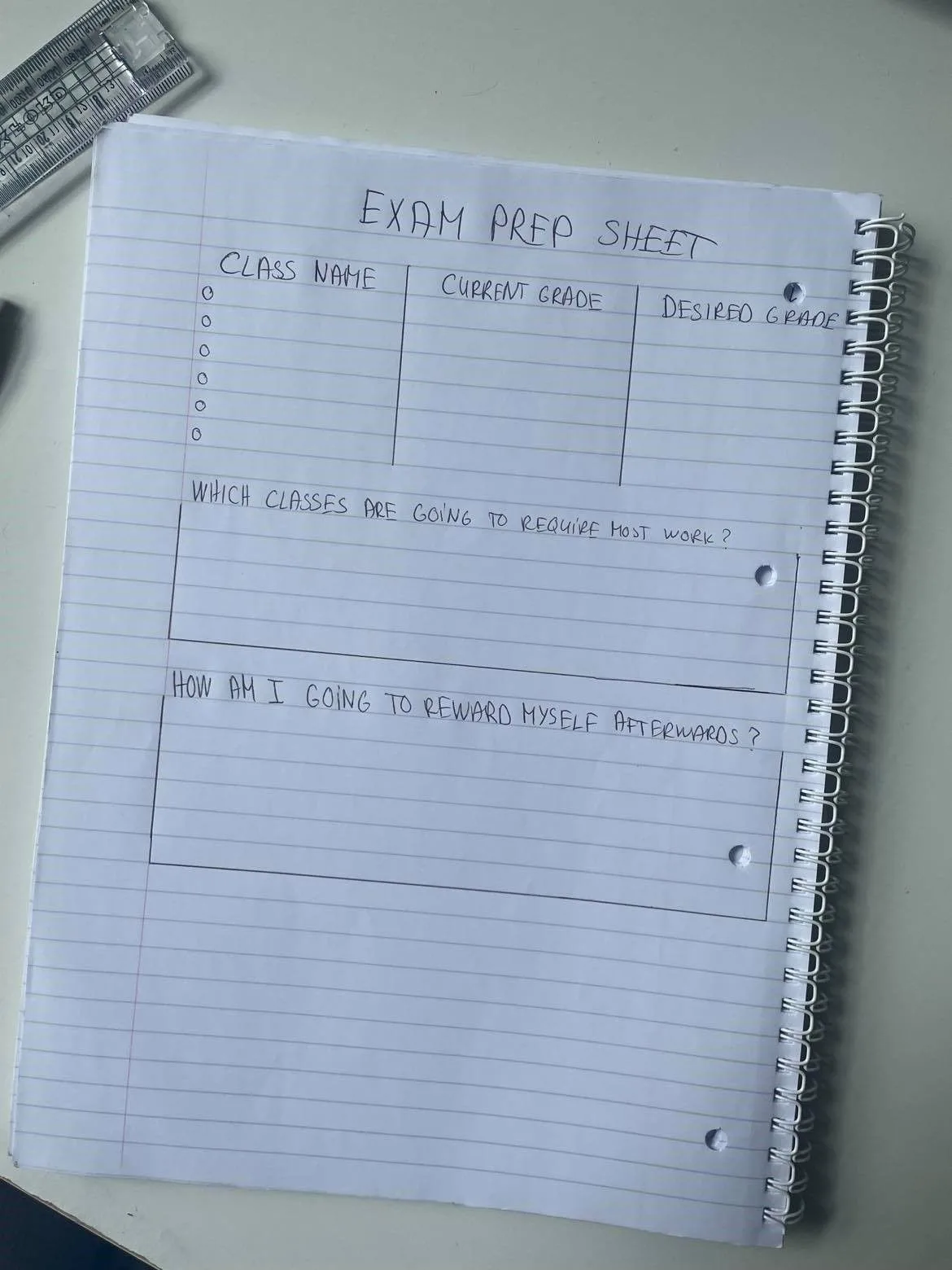 An exam prep sheet can do wonders to organize your schedule and study plans and subsequently lay down a working plan to ace your test.
Check out this exam prep sheet!
You can list out the classes you're taking this semester, along with your current grade, your projected grade, and your final score. You can follow that up with your plans on how to prepare for that exam.
But do you know what the most important part of this exam prep sheet is? It's rewarding yourself, an incentive that will keep you working hard towards acing that exam!
5. Get Used to Making Mug Recipes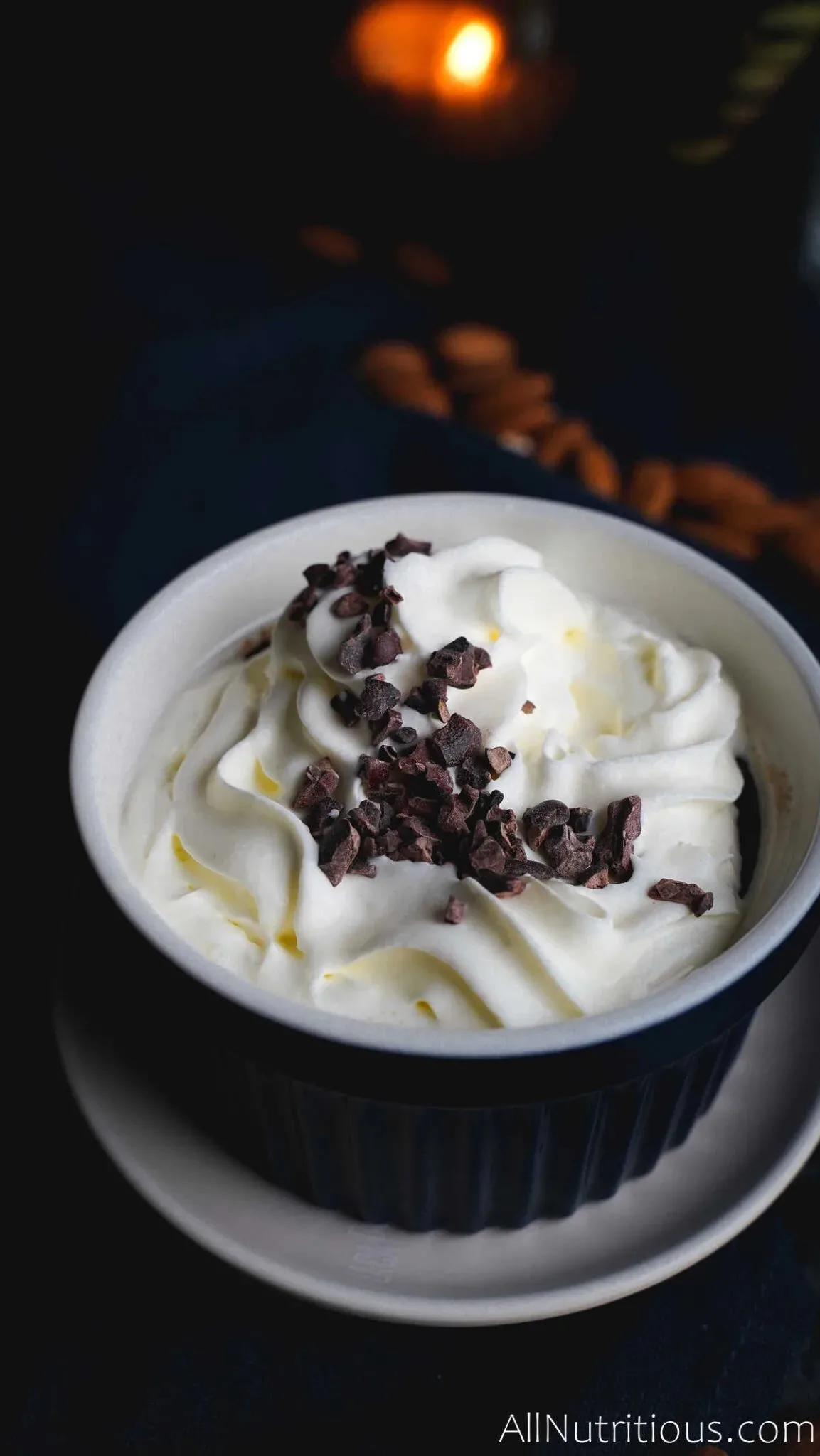 Source: allnutritious.com
Let's take a look at another must-try meal prep recipe for college students: mug recipes! Think about it: mug recipes combine easy to make and quick to prepare dishes in one delicious cup, and it's a life-saver!
You can play around with the recipes, but try to stick to a good protein-carb-fiber-filled diet. You can layer your mug with the ingredients and cook them in the microwave.
In under 20 minutes, you'll have a delicious meal! You can even prepare and freeze these mug recipes to grab, heat, and go when you're in a hurry.
You can buy microwave and oven-friendly mugs right here.
6. File Folding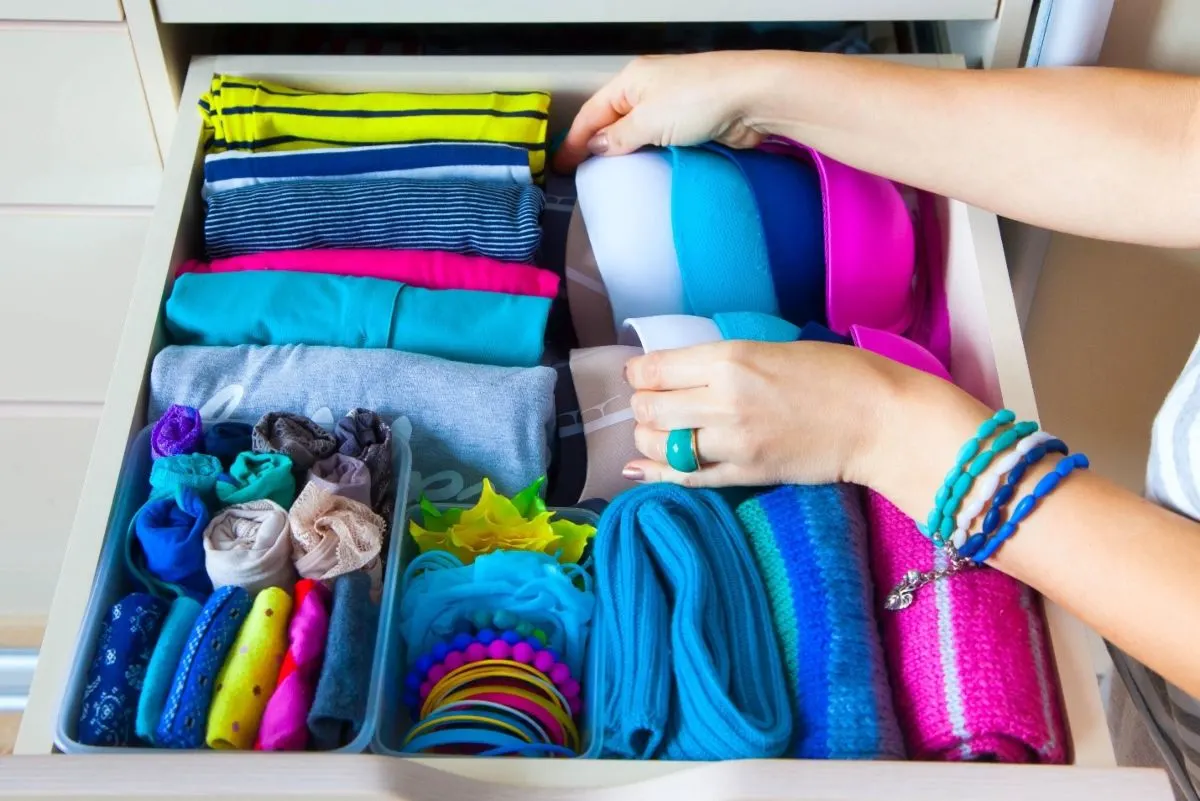 Source: depositphotos.com
Here's a storage hack that I often wish I'd known about when I was in college. Have you heard of file folding?
It's the method of folding your clothes into a small rectangle and then lining them up in your dresser or drawer. This will help you optimize the limited wardrobe space you have.
Bonus? This folding method also ensures that your clothes don't crease too much and make your entire dresser look organized and tidy!
7. Desk planner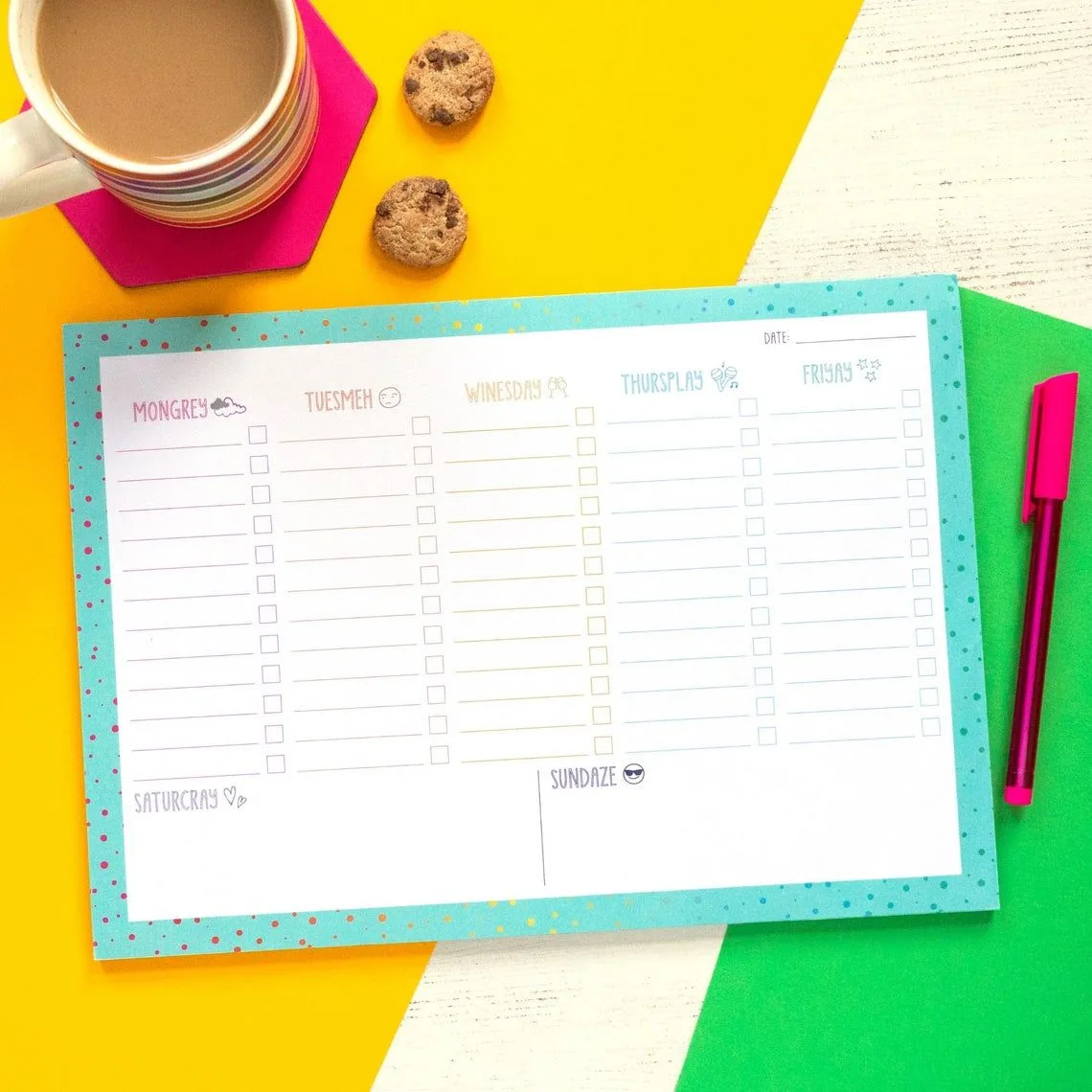 Source: Etsy
A journal is a wonderful way to keep your work, education, and other aspects of your life organized. You can tuck it into your bag and carry it with you wherever you go.
Sometimes, however, it would be far more effective to have your planner displayed at your desk where you can constantly see the contents and work on them.
A desk planner like this will help you have your To-Do list out in the open for you to access!
8. Health Tracking Journal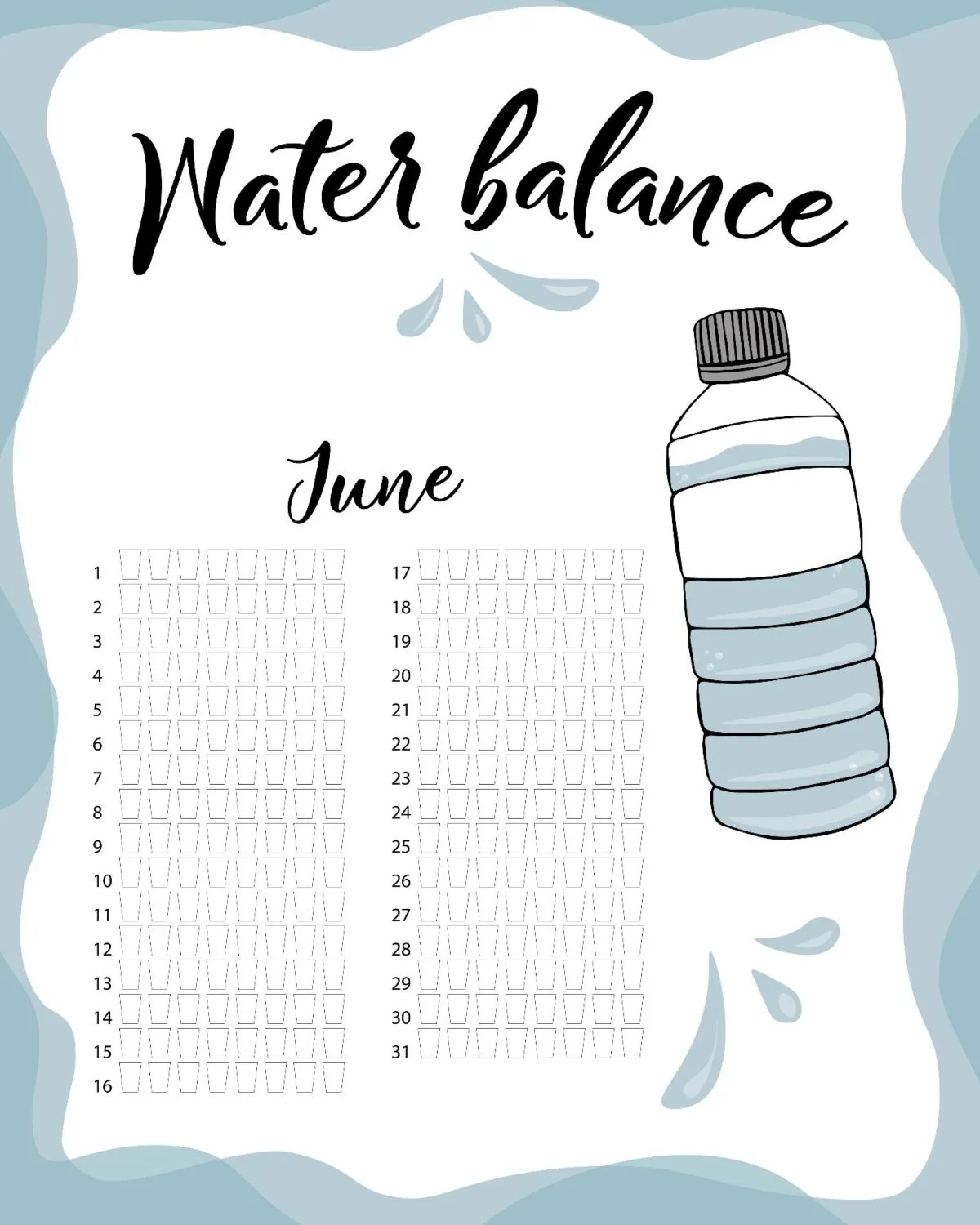 Source: depositphotos.com
Speaking of journals, take a look at this health tracker journal that is a must-have for all college students. Why?
Well, with all the all-nighters, quick meals, and being away from home the first time, it's easy to lose track of one's mental and physical health. Enter: a health tracker and wellness journal(look here).
It helps you be conscious and mindful about your health and allows you to track your wellness goals. Think of it as a meal-planner, goal-setting all-around wellness journal!
9. Shower Caddy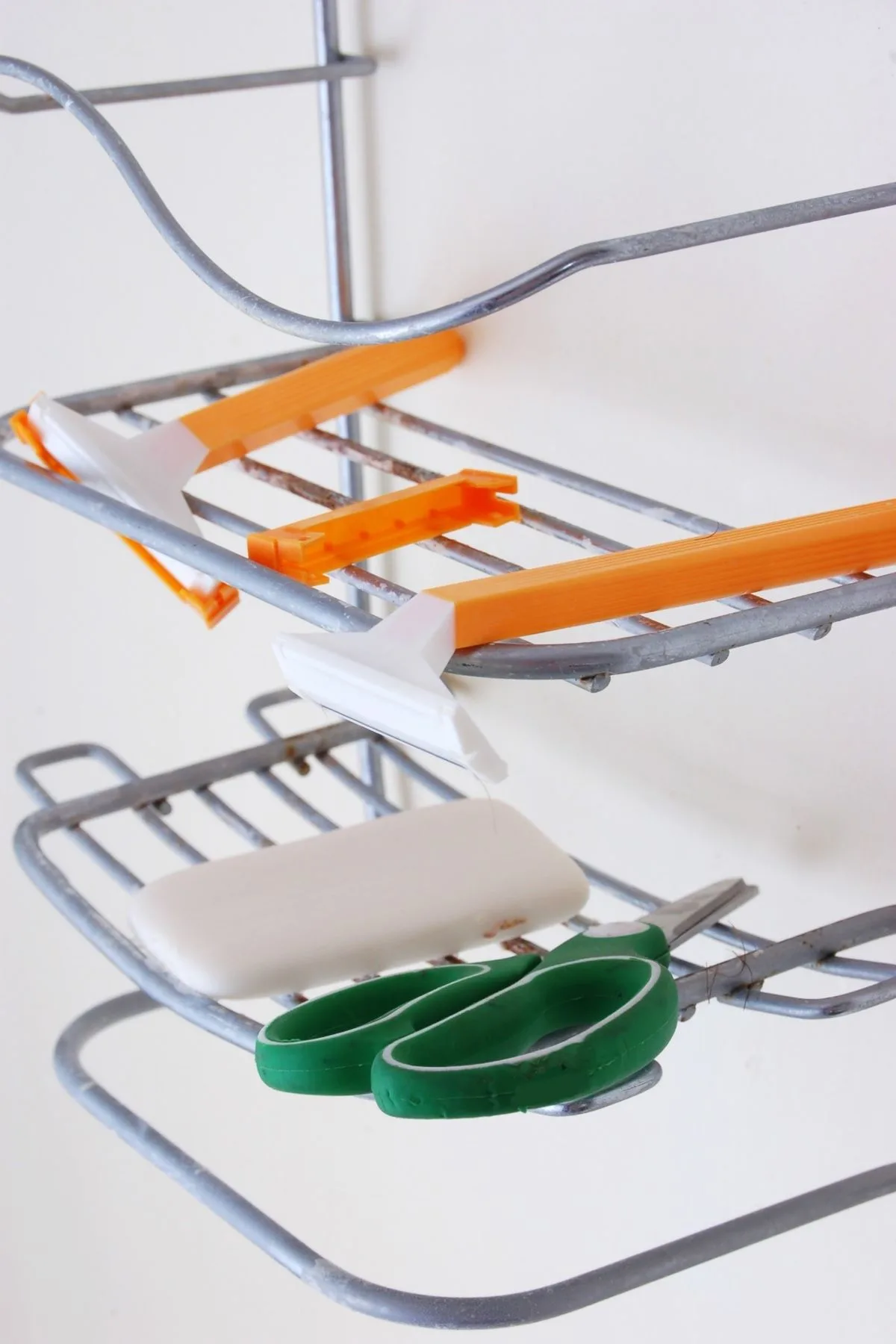 Source: depositphotos.com
The only space that's even tinier than your student dorm room is your bathroom. A college student's shower is a cross between a janitor's closet and a bathroom on an airplane—it's tiny.
What you need is a shower caddy like this to make the most of the limited space in your shower. This one comes equipped with a hook—just hang it around the neck of your overhead shower, and voila!
It has two large racks to hold all your toilet essentials and a smaller rack for your soap. There's also a ton of hangers and hooks!
10. Planner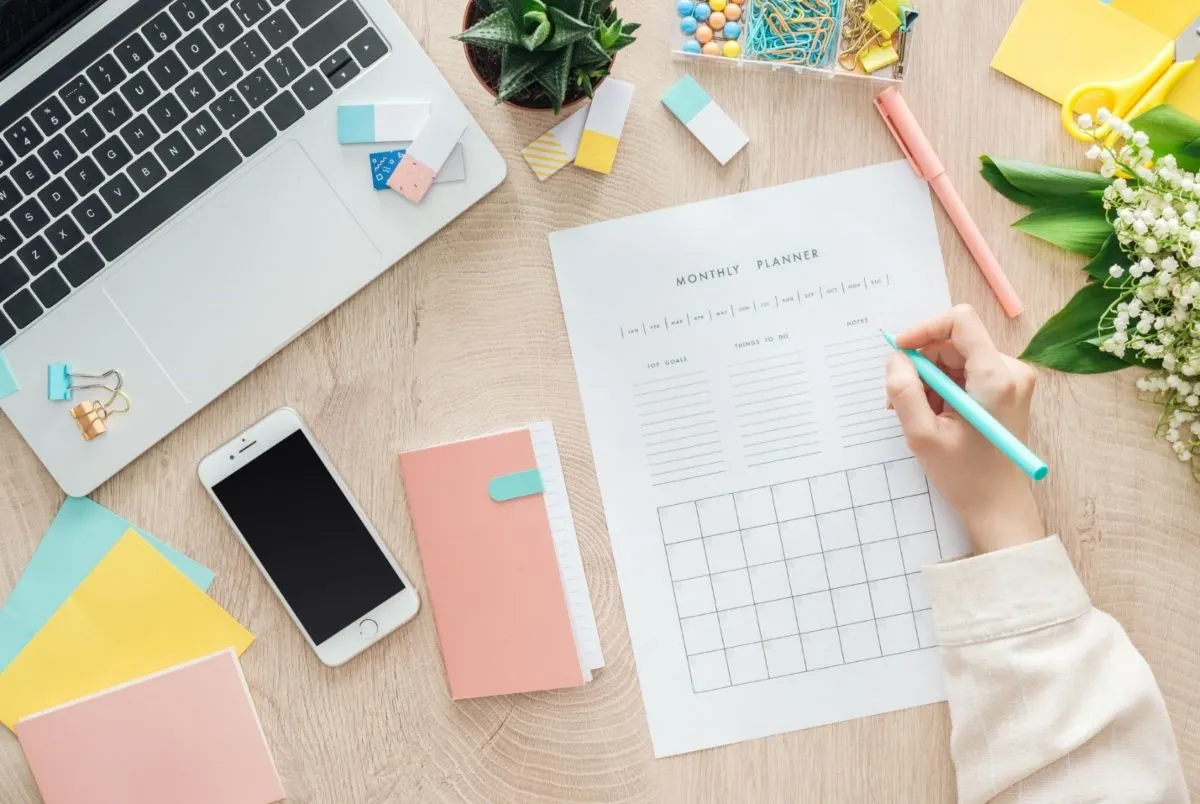 Source: depositphotos.com
A solid, dependable, and no-nonsense planner is every college student's Holy Book during their college years. You can't believe how effective and organized your time, work, education, and living space can be with such a planner.
It can make all the difference between a good college life and an amazing one! Here are the different areas in your life where a good planner can come in handy:
1.Household chores
2. Meal-prep
3.Wellness and fitness tracker
4.Budget and finance planner
5.Work and education planner
6.Habit tracker
11. Feed Your Brain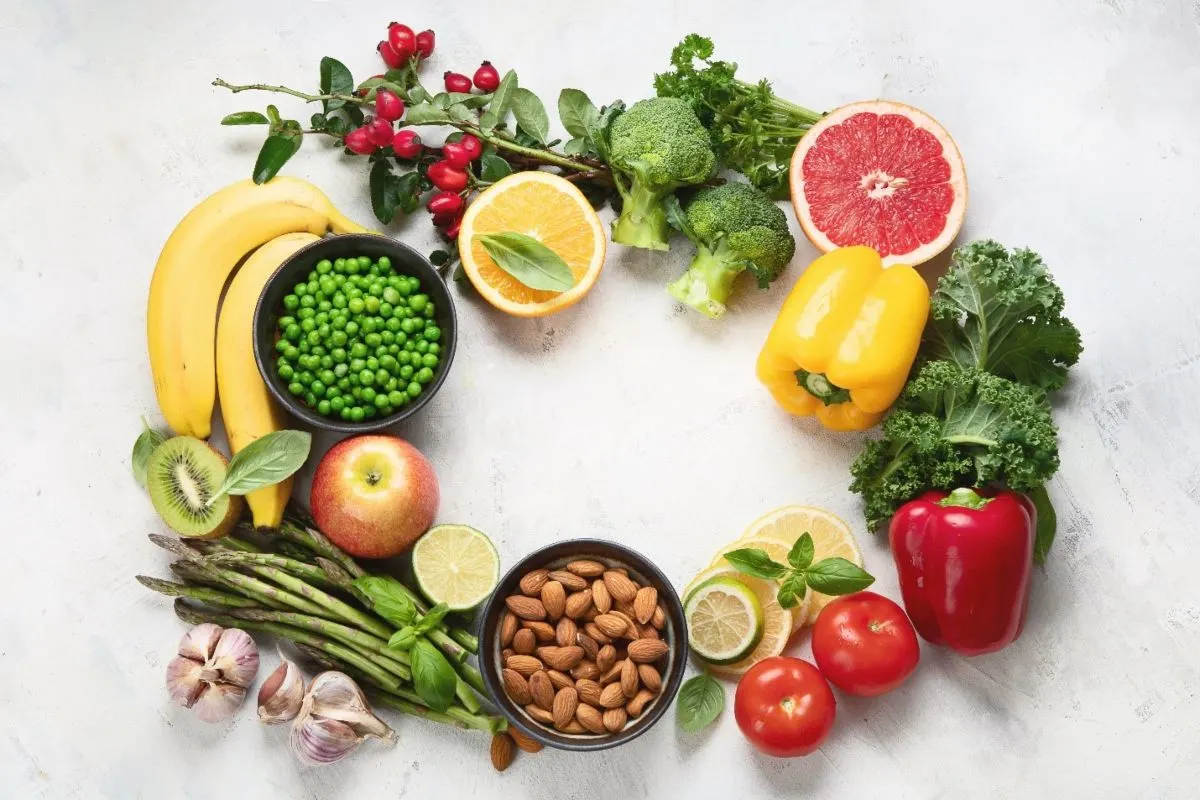 Source: depositphotos.com
This might not be a hack, per se. But research and science have proved time and time again that the right foods can do wonders for the body and mind.
Hear me out before you go scrunching your face in disgust, but the four superfoods are leafy greens, berries, eggs, and fish. These four foods can help college kids with their memory and greatly improve their brain's processing speed.
Look up a few amazing recipes and experiment with flavors and spices until you love the dish.
Berries are a wonderful choice for dessert. They're naturally sweet and can help you cut down on sugar!
12. Study Schedule with Bullet Journal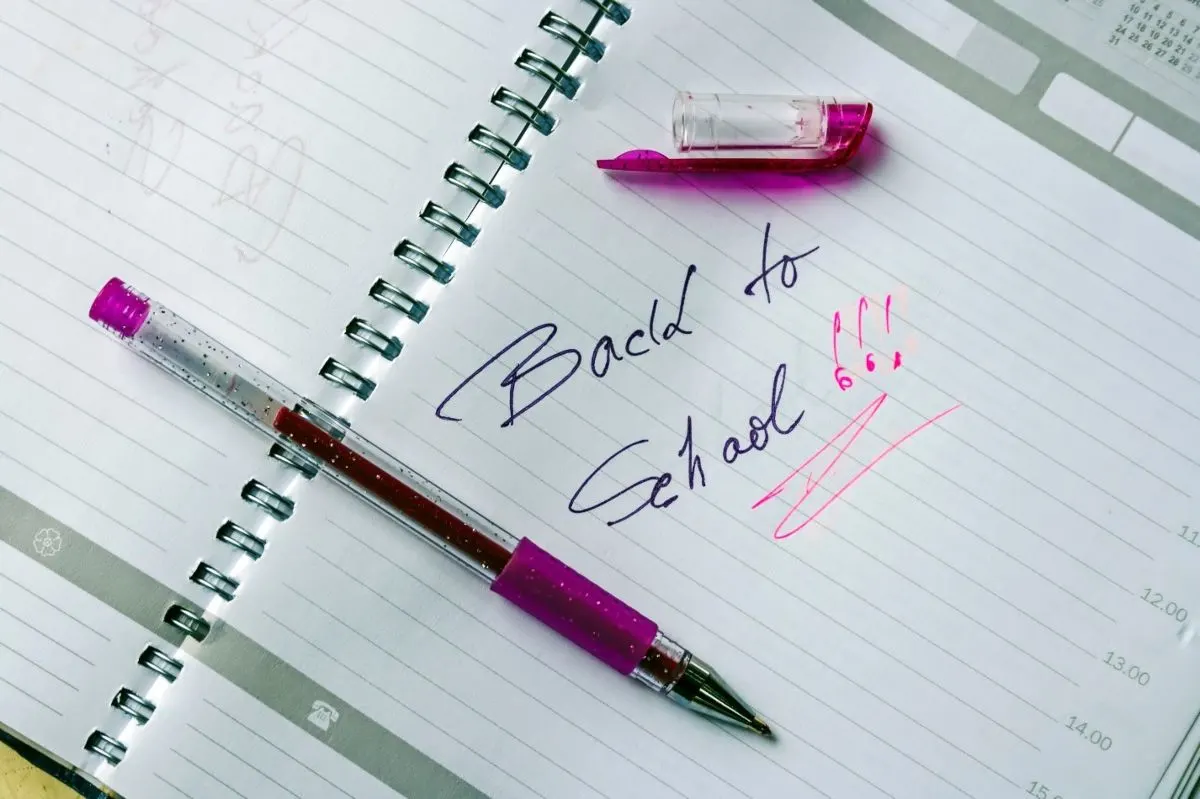 Source: depositphotos.com
You read about having an exam prep sheet earlier. But do you have a study schedule to help you manage all your studying, assignments, and deadlines?
With all the classes you'll be taking in college, you're bound to need a little extra help to manage your time. Having a study schedule right from the start is a great way to keep up with your classes from day one.
A bullet journal like this can help you create, manage and follow through with your study schedule.
13. Maximize Door Space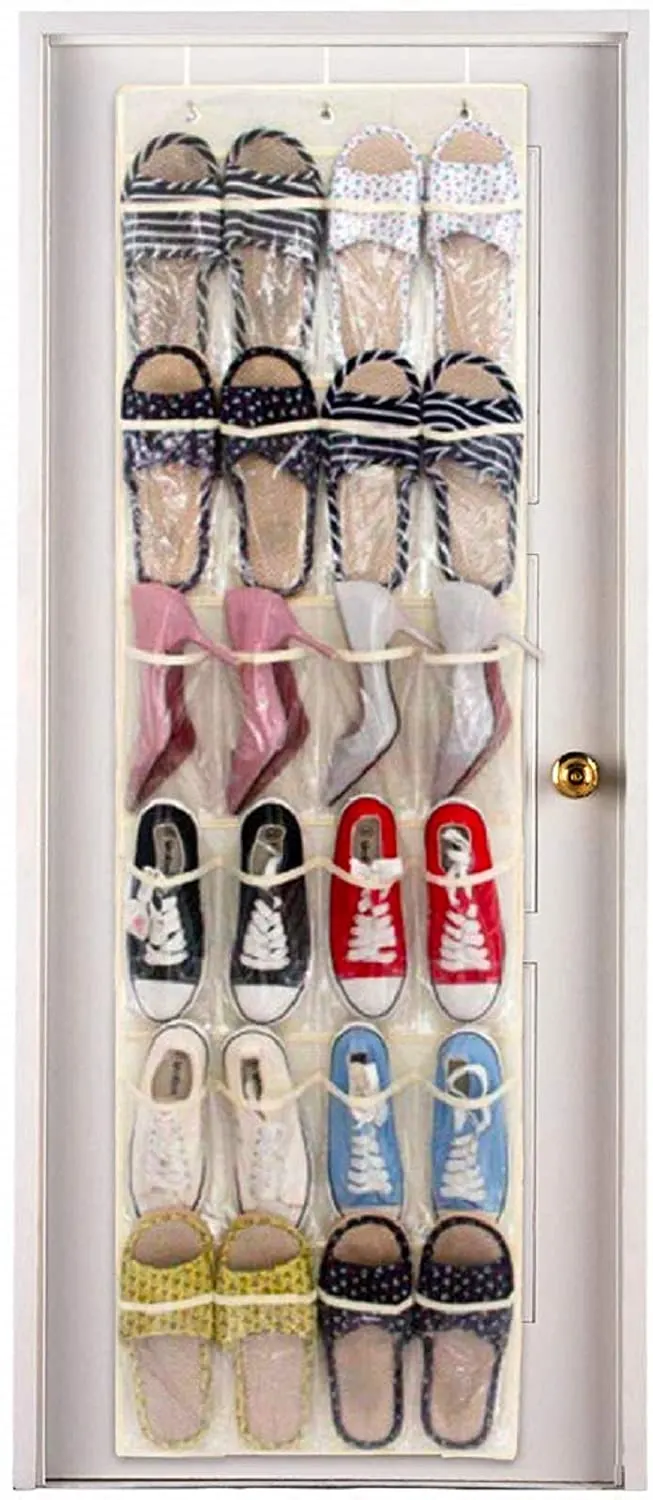 Source: Amazon
Here's another hack to help you maximize your storage space: over-the-door storage racks. These over-the-door racks fit perfectly over your closet and also your pantry and bathroom doors.
Just slip the hooks over the top of the door and let them hang down. You can use them to store scarves, shoes, cosmetics, beauty products inside your closet.
If you're using them in your kitchen, you can use them as an over-the-door spice rack(look here).
Also, check out these 23 closet shelving ideas to up your closet game as well as this DIY hanging organizer with pockets for more inspiration.
14. Brain Foods, Part 2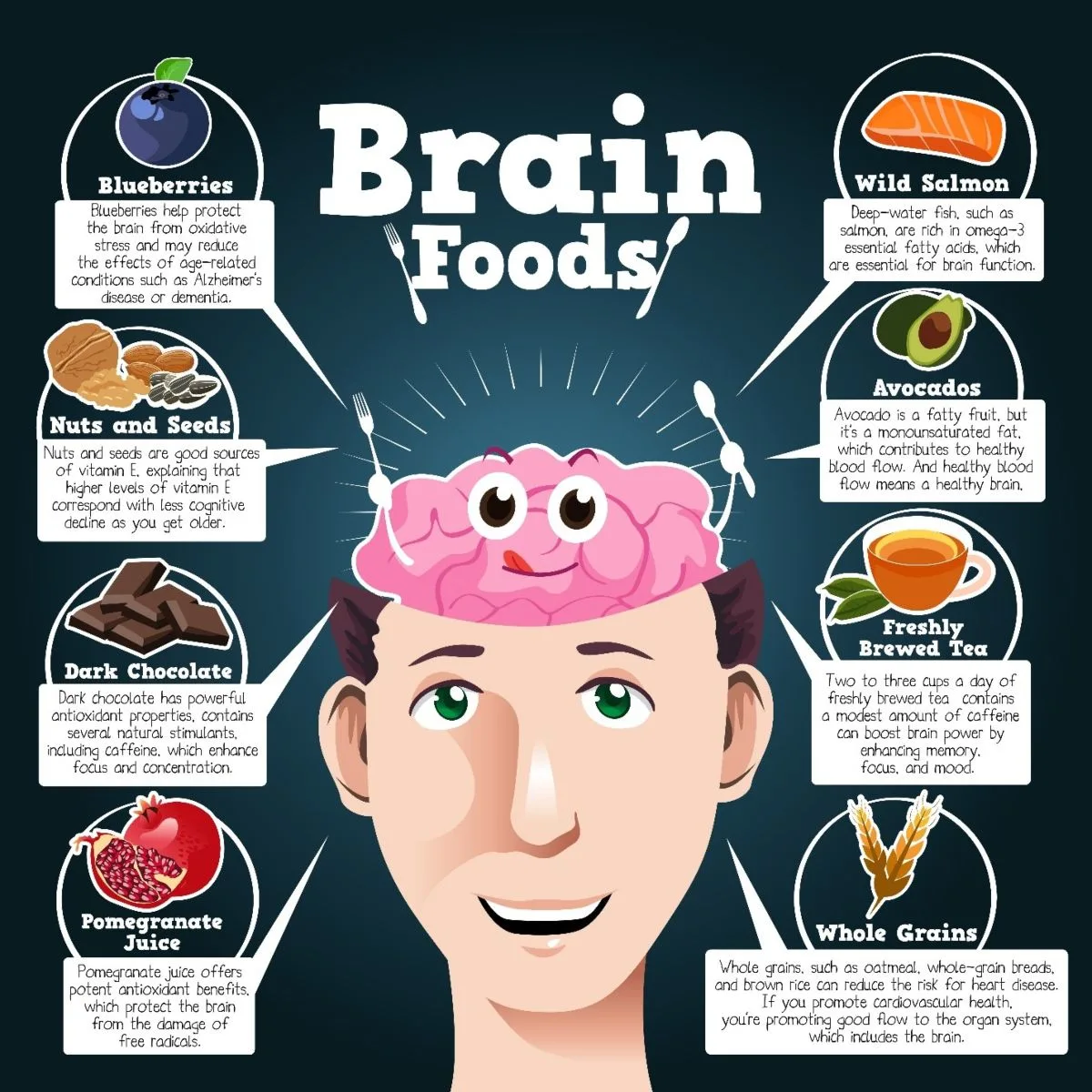 Source: depositphotos.com
To reiterate how important good food and nutrition are to college students, here's another look at how important a well-rounded and wholesome meal is.
You can choose from a variety of fresh veggies and fruit that are high in antioxidants, vitamins, and fiber. Pick your protein of choice and try to stick to lean cuts.
Eggs and dairy, followed by an adequate portion of healthy fats and carbs, can round off a fully balanced meal. Do a little research and plan your food allowance and budget to accommodate your healthy lifestyle.
15. Make a Budget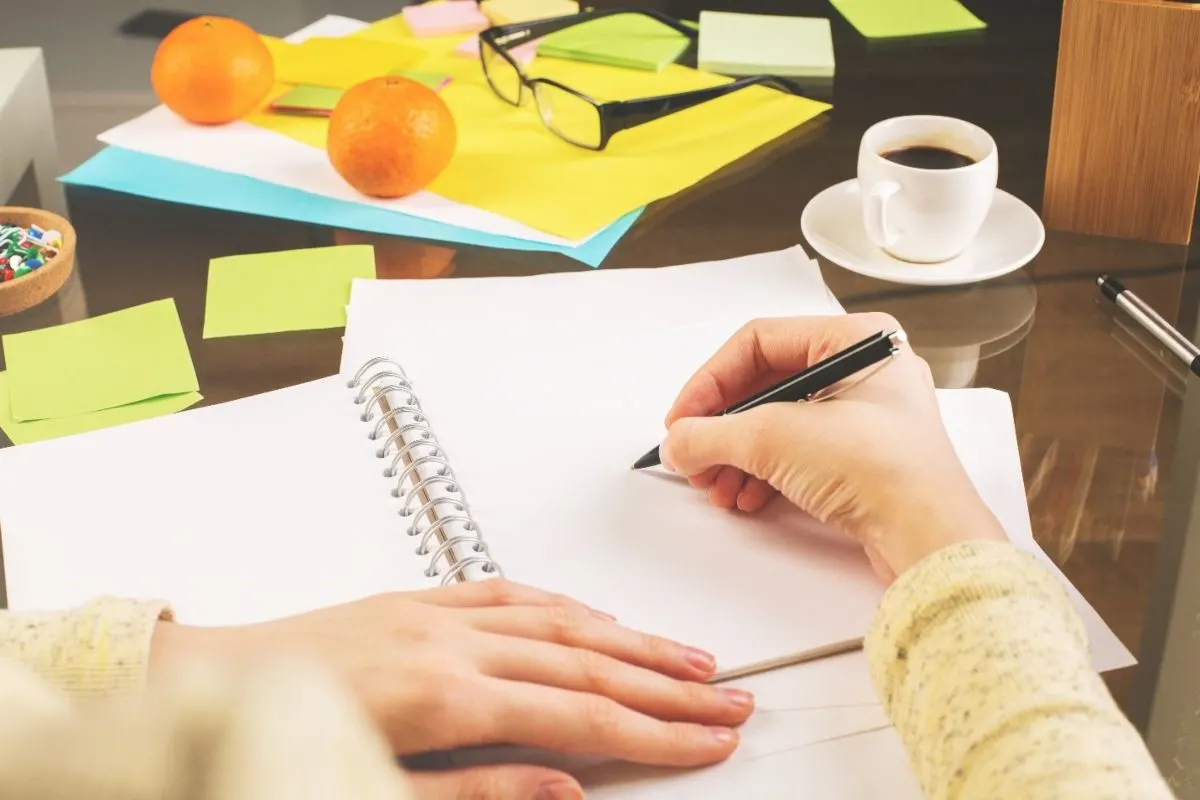 Source: depositphotos.com
Speaking of planning your budget, when you're a college student, you'll find yourself constantly running short on funds. It's super easy to spend money on frivolities and eating out.
That's why it's super important to plan your budget every month—every week if you can manage to find the time. Calculate your income and balance it with your expenses to meet your weekly or monthly budget.
Budgeting is a skill that will keep you and your finances safe and organized. So, invest in a good budget and finance planner(look here)to see you through the process.
16. Upgrade your Ramen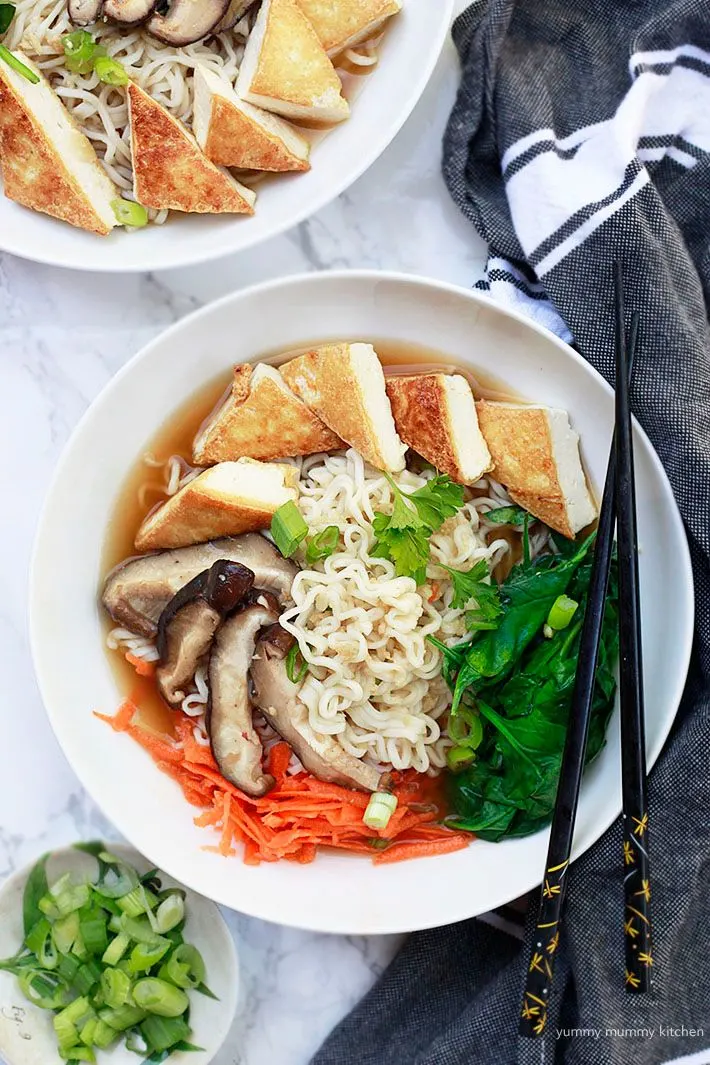 Source: yummymummykitchen.com
Every college student's best friend is a packet of ramen noodles. It's cheap, it's delicious, but wait, how healthy is it?
With a few simple ingredients, you can 'upgrade' your ramen to include fresh veggies and produce. You can also add some spicy sriracha sauce, fresh herbs, and even an egg to kick it up a notch.
Check out this recipe for shrimp ramen. A bowl of its warm, slurpy goodness will keep you going through many winter all-nighters.
Nothing quite says comfort food like a healthy bowl of ramen!
17. Dry Erase Calendar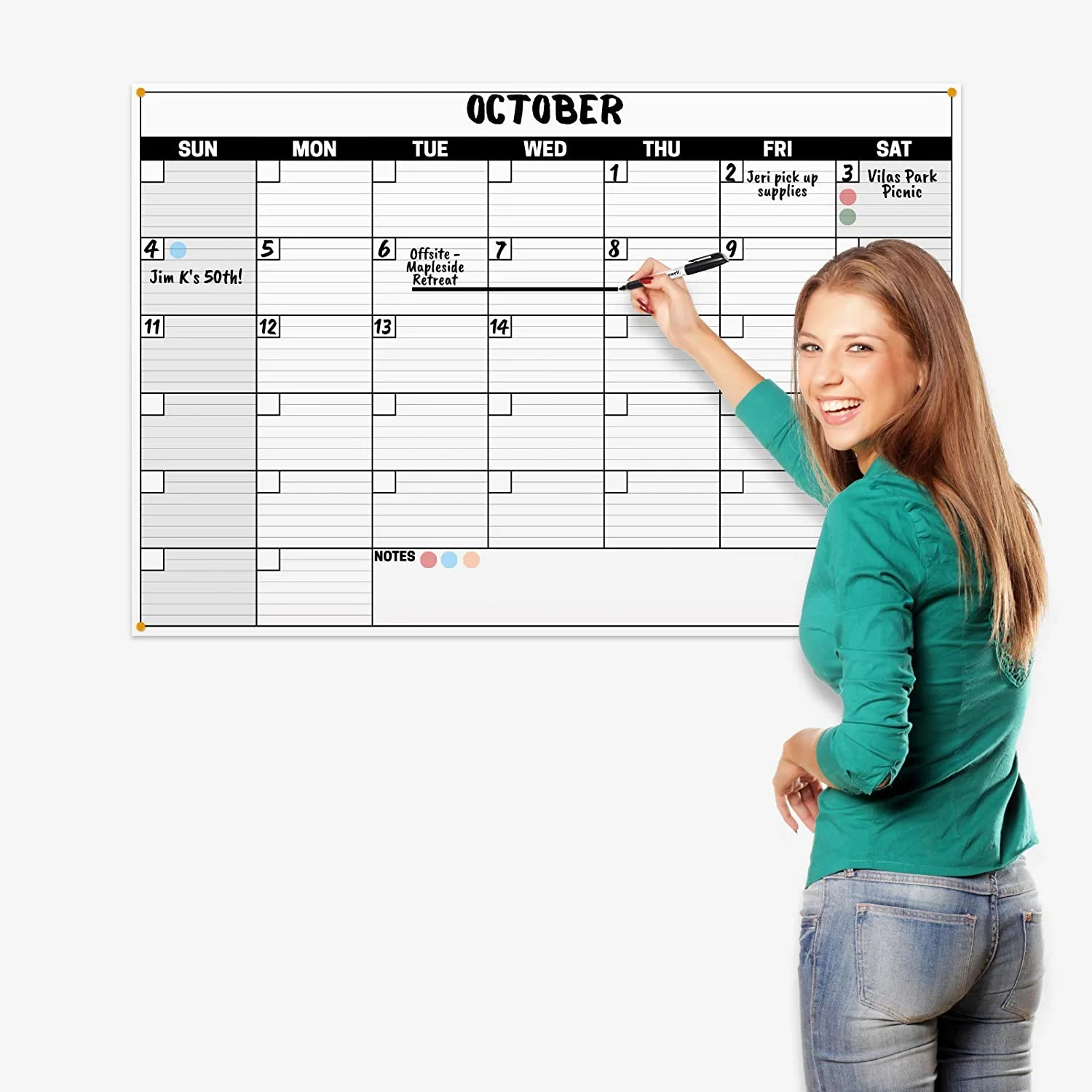 Source: Amazon
We've read a lot about buying and using journals and desk planners. Let's take a look at these dry-erase calendars.
They're a much more sustainable way to keep track of your commitments, schedule, classes, and other events like birthdays and anniversaries. Just fill it up at the start of the month and dry erase it when you're done!
When you mount it up on your wall, it's much easier to remember your schedule. Rather than making a mental note to do something next Friday, grab your marker and make a note!
18. Bed Riser with Charging Ports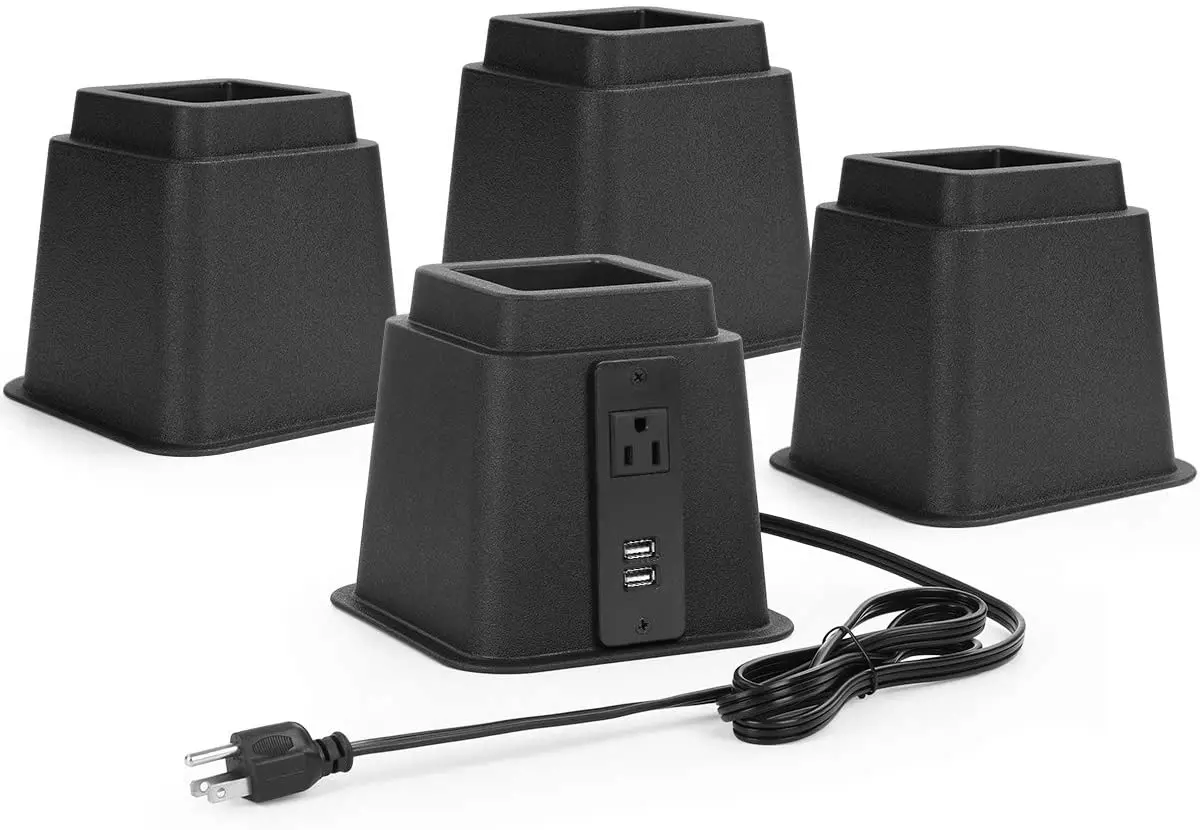 Source: Amazon
Can we talk about the lousy power outlets and charging ports in dorm rooms? Most college students end up investing in an extension cord, and the good ones can be pricey.
But all those wires can be difficult—and dangerous—to navigate first thing in the morning when you scramble out of bed. I've tripped over them a lot, I'll admit.
These bed risers moonlight as charging ports—how nifty is that! Just fit them under the legs of your bed, or even a desk or side table, and they're ready to use!
19. Make Your Very Own Pencil Organizer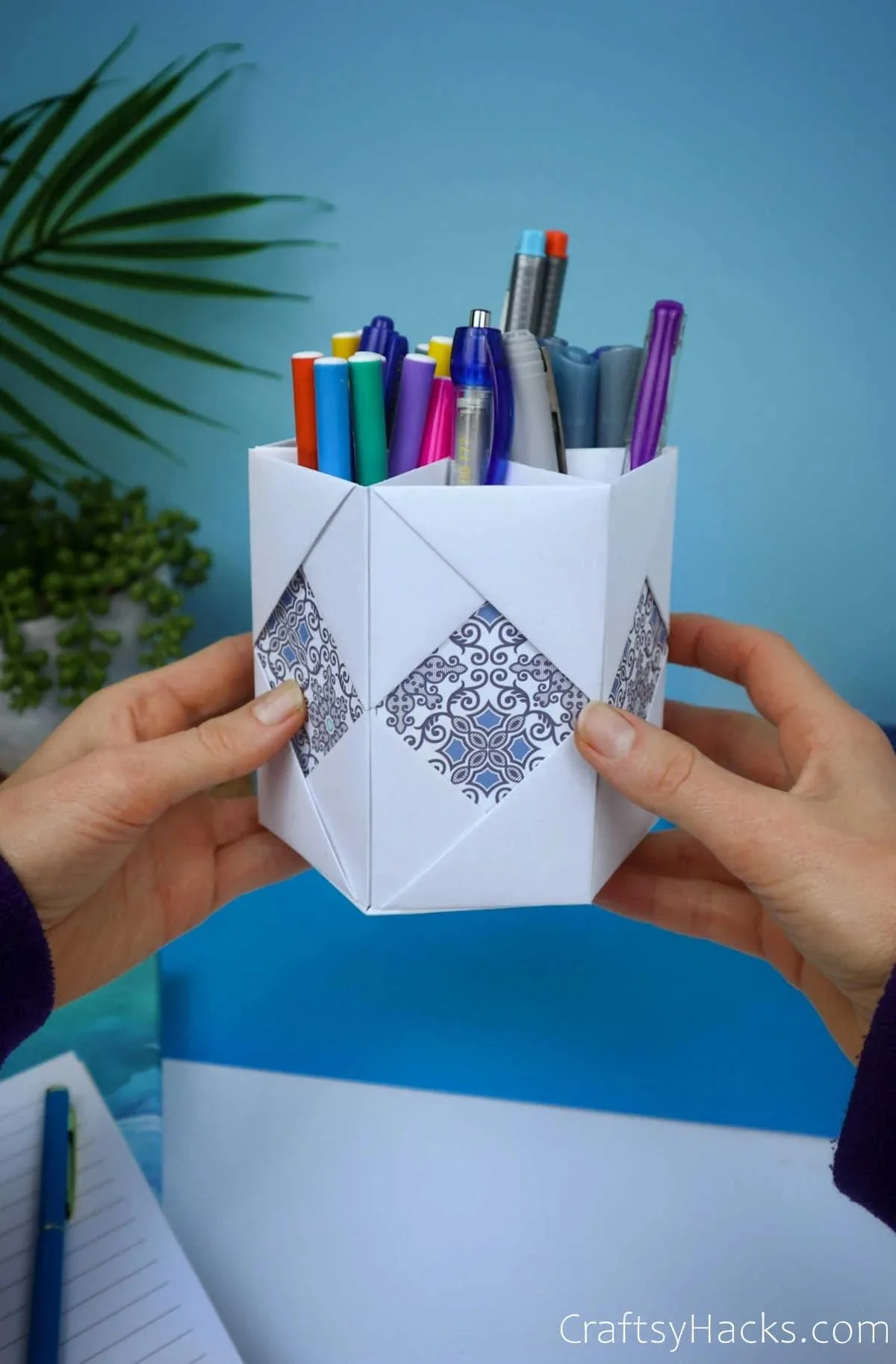 Source: craftsyhacks.com
I'll be the first one to admit that I have a weakness for office and school supplies that started when I was in college. I would buy a ton of pens, markers, color pencils, and the likes all the time.
Investing in a good desk organizer will stop you from having a dump draw where you stash your entire supply. This way, your supplies will be organized and easily accessible, too.
If you don't have the money, you can just make your very own pencil organizer out of paper. All it requires is a little bit of your time.
Want to explore more innovative ways to store your supplies? Check out these 40 creative office organization ideas.
20. Make Your Own Desk Organizer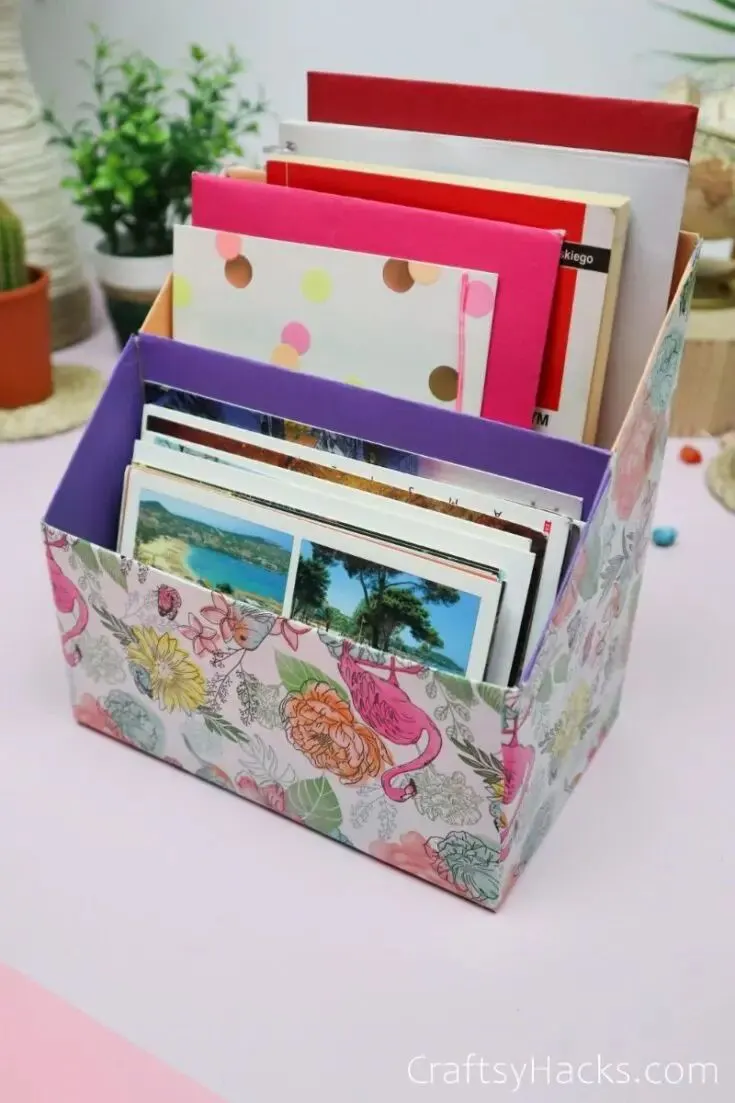 Source: craftsyhacks.com
Once everything starts stacking up on top of each other and you no longer have space on that beautiful desk, you can easily make an organizer of your own. This DIY organizer requires only 2 cereal boxes to be made.
That cannot be hard, can it? Either way, you can get creative, upcycle and make organizers even out of trash to keep your dorm room a little more organized
21. Quizlet Virtual Flashcards
Did you really think you could get through your years at college without flashcards? I didn't think so.
It doesn't matter which generation you belong to; using flashcards is a rite of passage for every self-respecting college student. You've got a ton of virtual apps that help you make flashcards should you decide to eschew tradition.
Come exam time, your flashcards will see you through many all-nighters and study groups. You can find the good-old-fashioned flashcards right here.
22. Essential Oils for Better Sleep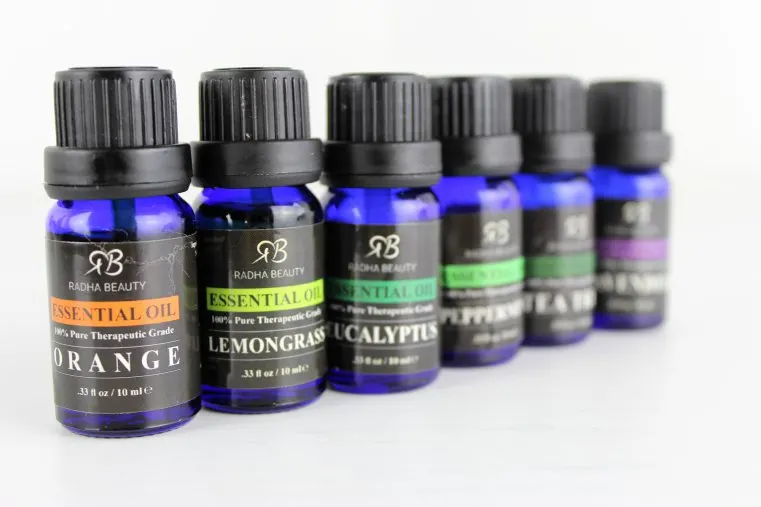 Source: cushyspa.com
Did you know that lavender, chamomile, and eucalyptus work wonders to relax you? That's why essential oils are a must-have for college students who burn the midnight oil.
A few drops of these essential oils in your diffuser or using a roll-on like this and rubbing the oils at your pulse points can go a long way to induce restfulness.
Give it a try and let the essential oils work their magic!
23. Productivity Apps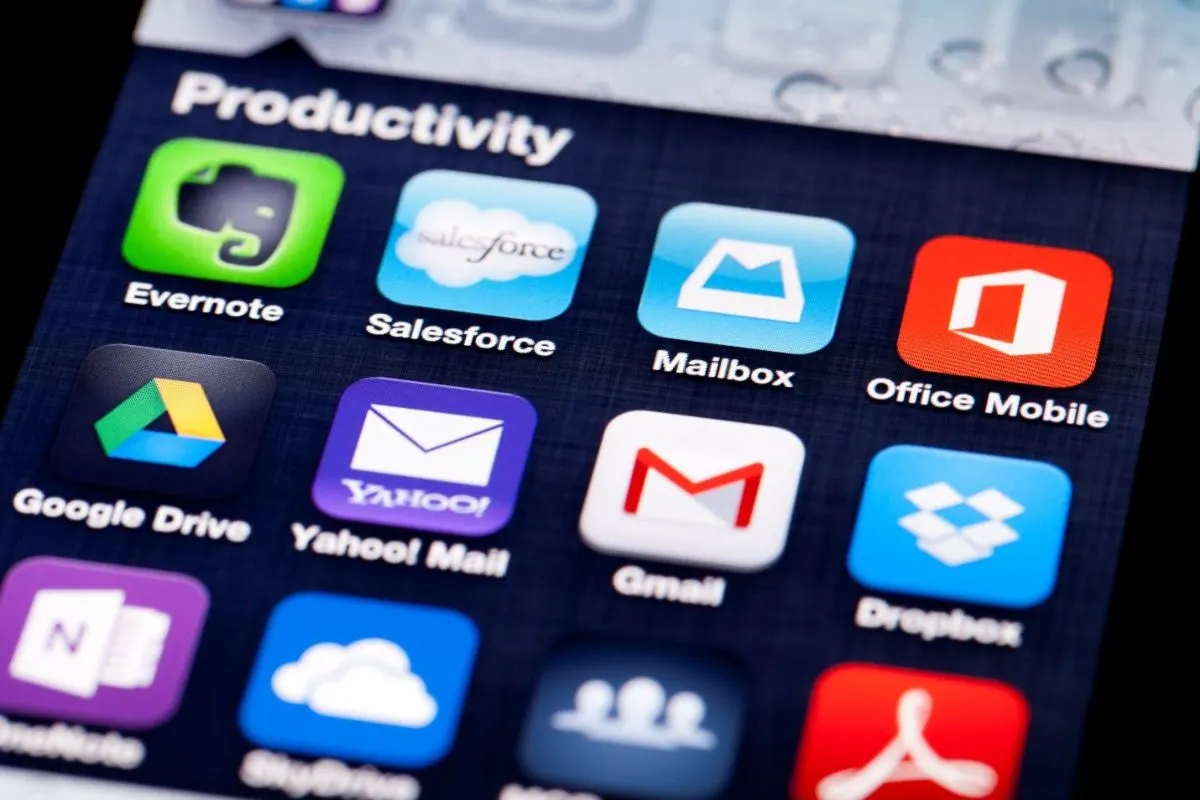 Source: depositphotos.com
Productivity apps are a great way to boost your mind and body to optimize your time, energy, and space. If planners, trackers, and journals aren't your cup(s) of tea, then give productivity apps a try.
You might wonder just how effective they are. These apps will help you channel your time and efforts, which will help you manage and balance your daily activities, work, studies, and social life.