Make your college experience even more special with these college dorm room ideas. These tricks, DIY projects, and decorating ideas will transform the look of your new home.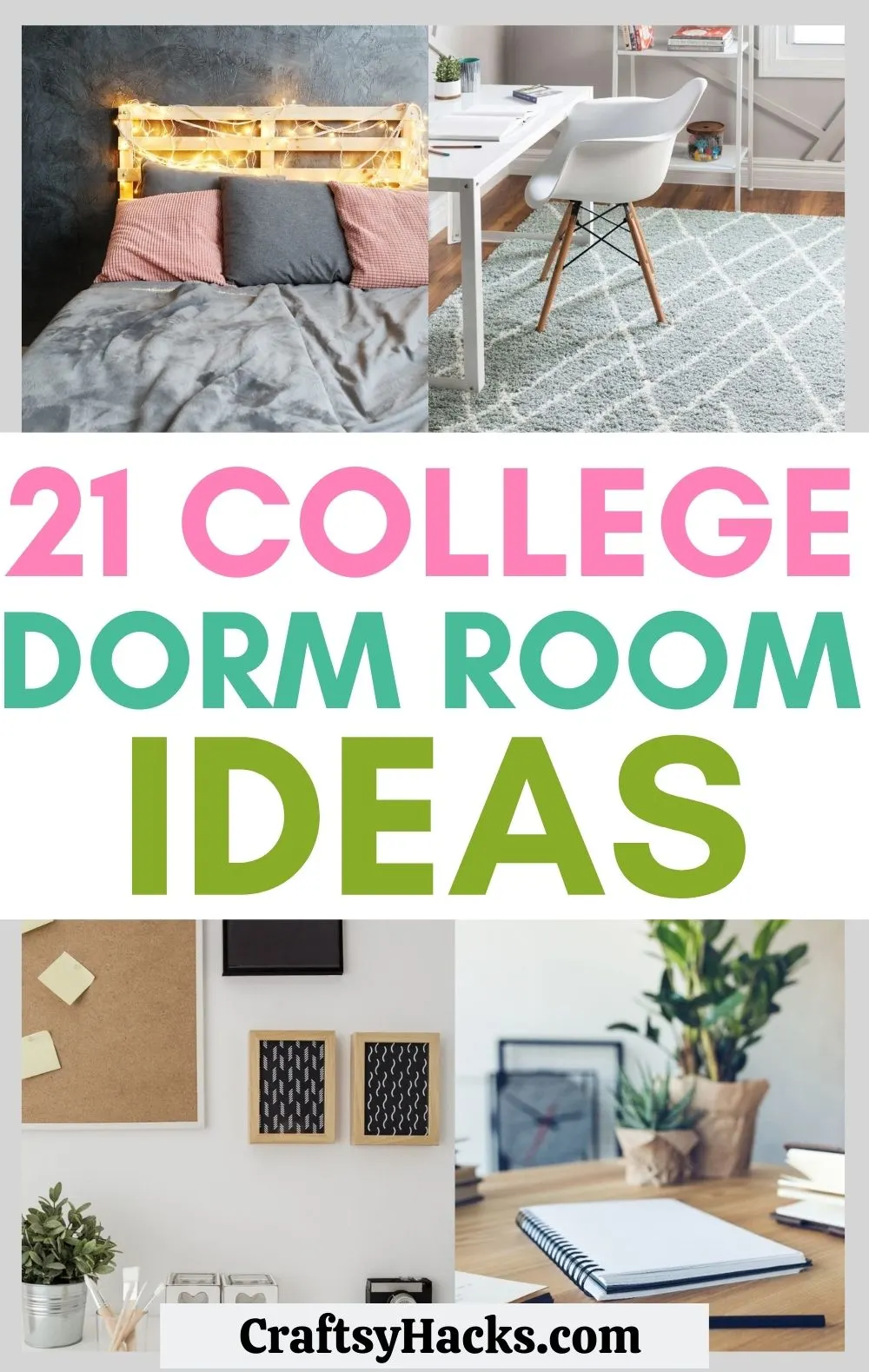 Your dorm room is your home away from home. If it's your first time being away from your home, your family, friends, and all that's familiar, then you will need to recreate that happy space in your dorm room.
Think of it as an opportunity to show your personality and embrace the next few years of your college life in a new and exciting place.
These 23 college dorm room hacks, decor ideas, and organizing tips can help you make the most of the best years of your life!
So go ahead and check them out!
1. Wire Storage Drawers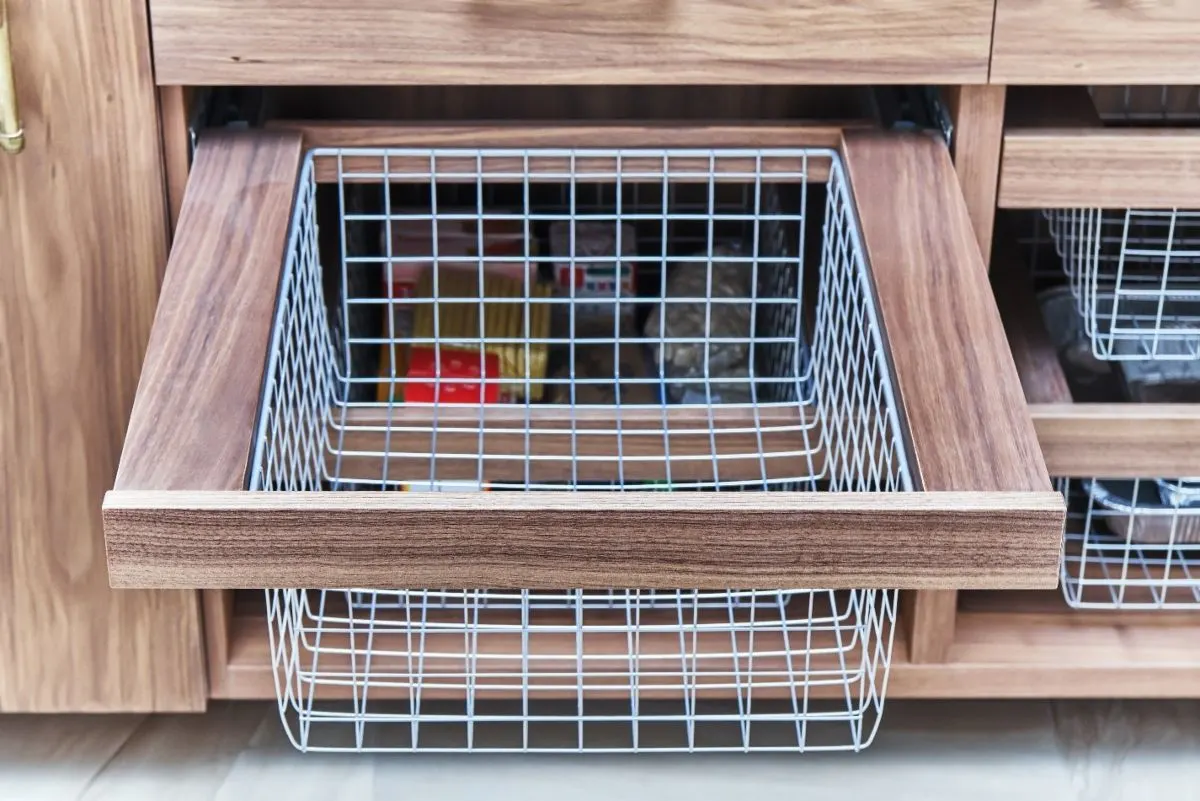 Source: depositphotos.com
If you look at the closets or wardrobe space in dorm rooms, you'll usually find that there's a tone of rack space. However, there are hardly any racks or shelves, and you've got a lot of potential storage space at the foot.
You can use a mesh or wire drawer storage system(look here) like this one to store your clothes. With the right dividers, you can use these drawers to store your underwear, socks, tees, and bottom wear.
It's an effective way to make the most of the closet space you have at hand!
2. Bedside Caddy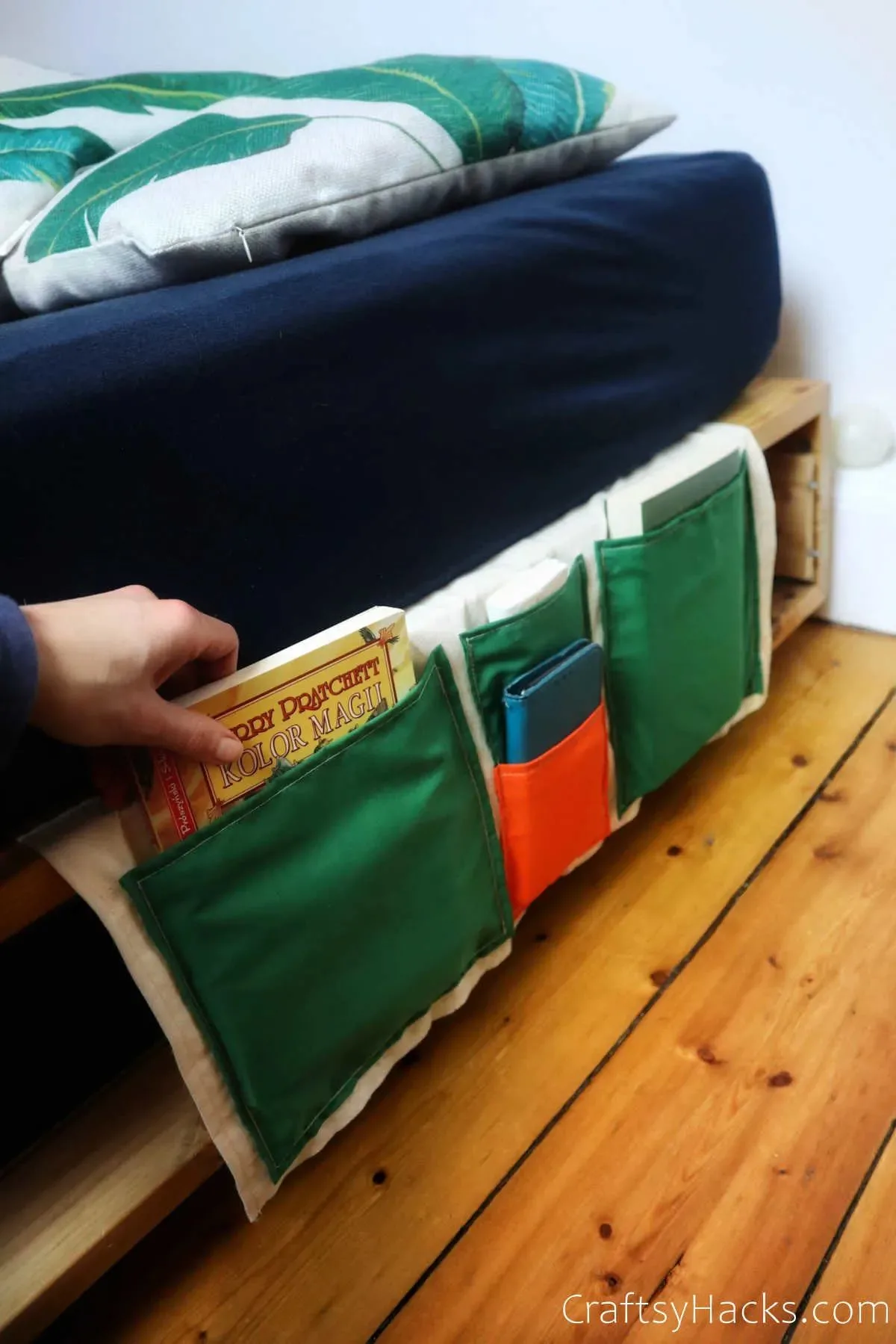 Source: craftsyhacks.com
Sometimes, having a bedside table might be out of the question when space is a luxury. A bedside caddy is one of those really unique creations that provide a creative solution to your storage needs.
You can use this caddy to store your overnight water bottle, books, knick-knacks, chargers, and gadgets. Just tuck it away under the bed, and you'll have everything you'll need right by your side.
You can find a caddy like that right here. Alternatively, you can make your own, as well!
3. Desk Organizer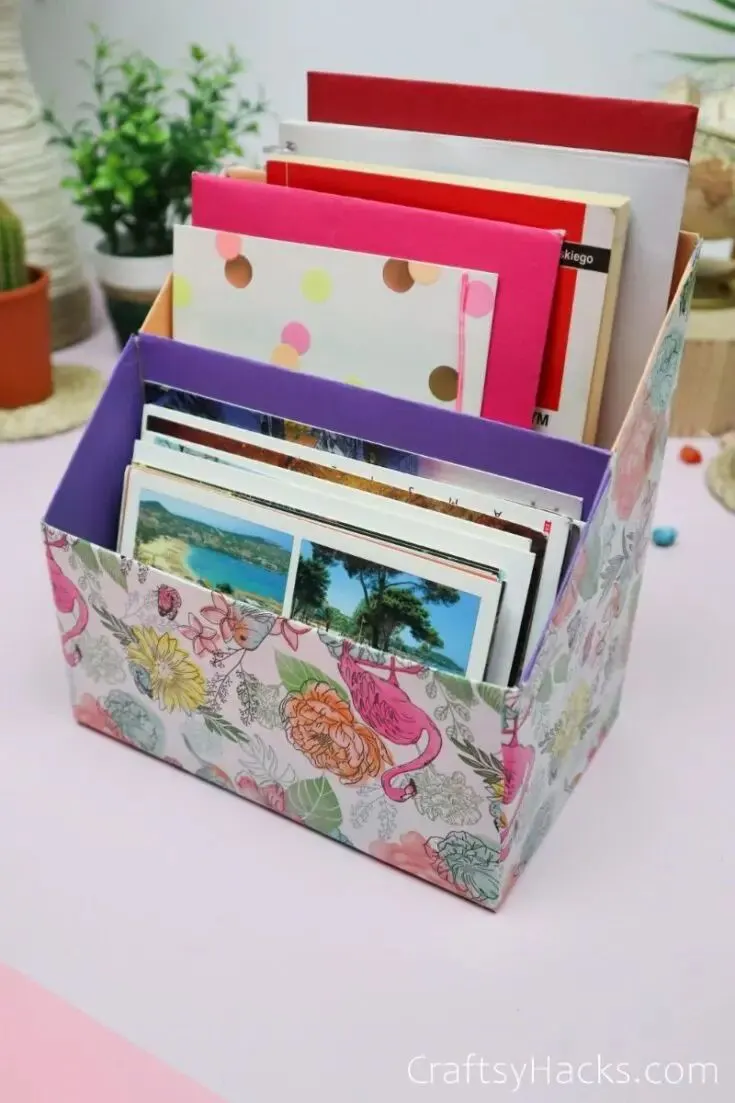 Source: craftsyhacks.com
Every dorm room needs a space for you to work and study. Your study table is your temple, and you should never compromise on keeping it organized and clean.
A desk organizer like this can help you declutter your space and simultaneously organize all your school or office supplies in an accessible fashion. Don't you just love how elegant this rose gold mesh organizer is?
There's a ton of space, dividers, and pockets for your pens, pencils, color pencils, planners, and other nifty office gadgets!
If you're on a budget you can always just make a desk organizer out of cereal boxes like the one in the picture.
4. Under the Bed Storage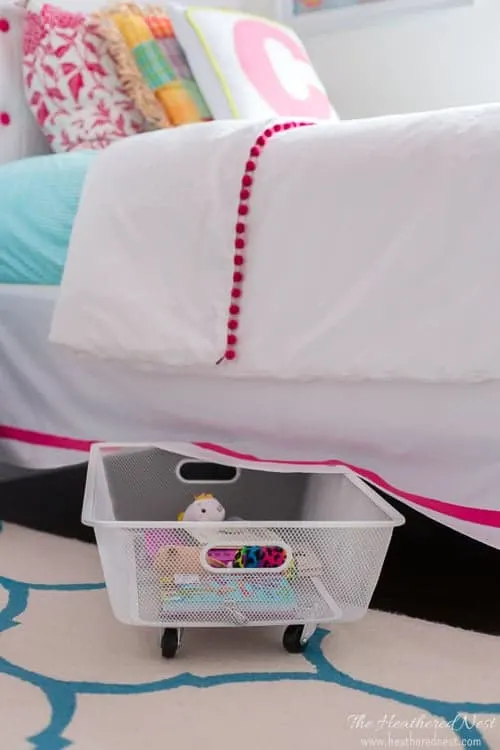 Source: heatherednest.com
One of the best ways to plan your storage in your dorm room is to take advantage of all that under-the-bed space you have. You can use IKEA hacks and storage container boxes to line the space under the bed and fill them up with your winter wear and bed linen.
Grab a few of these wire storage baskets. Alternatively, you can use under-the-bed storage bags from here.
Just remember to periodically air out your space and clean your containers. If you leave them under there for too long, there is a possibility of dampness seeping in, so keep an eye out.
Check out more storage ideas for small spaces here.
5. Drawer Organizers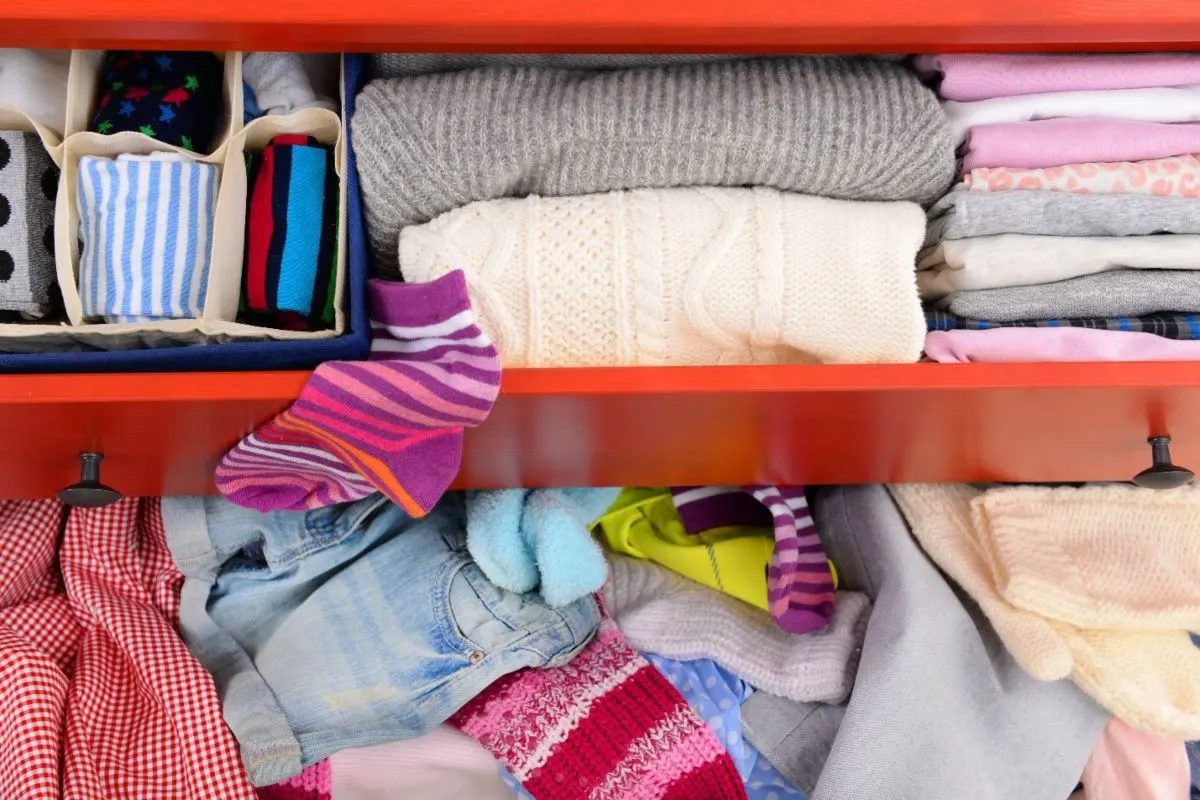 Source: depositphotos.com
If you've got one of those wide dresser drawers, then it's time to organize them to optimize on space. You can bring a ton of order to your drawers by dividing them into separate sections.
By dividing your drawers, you allocate specific compartments to different articles of clothing. This will help to keep those compartments clutter-free.
It will also entice you to spend time sorting your clothes into the dresser instead of dumping them in one place. So when you're shopping for the perfect dresser for your dorm room, keep in mind to compartmentalize.
Check out closet shelving ideas here!
6. Clothing Storage Bag Organizer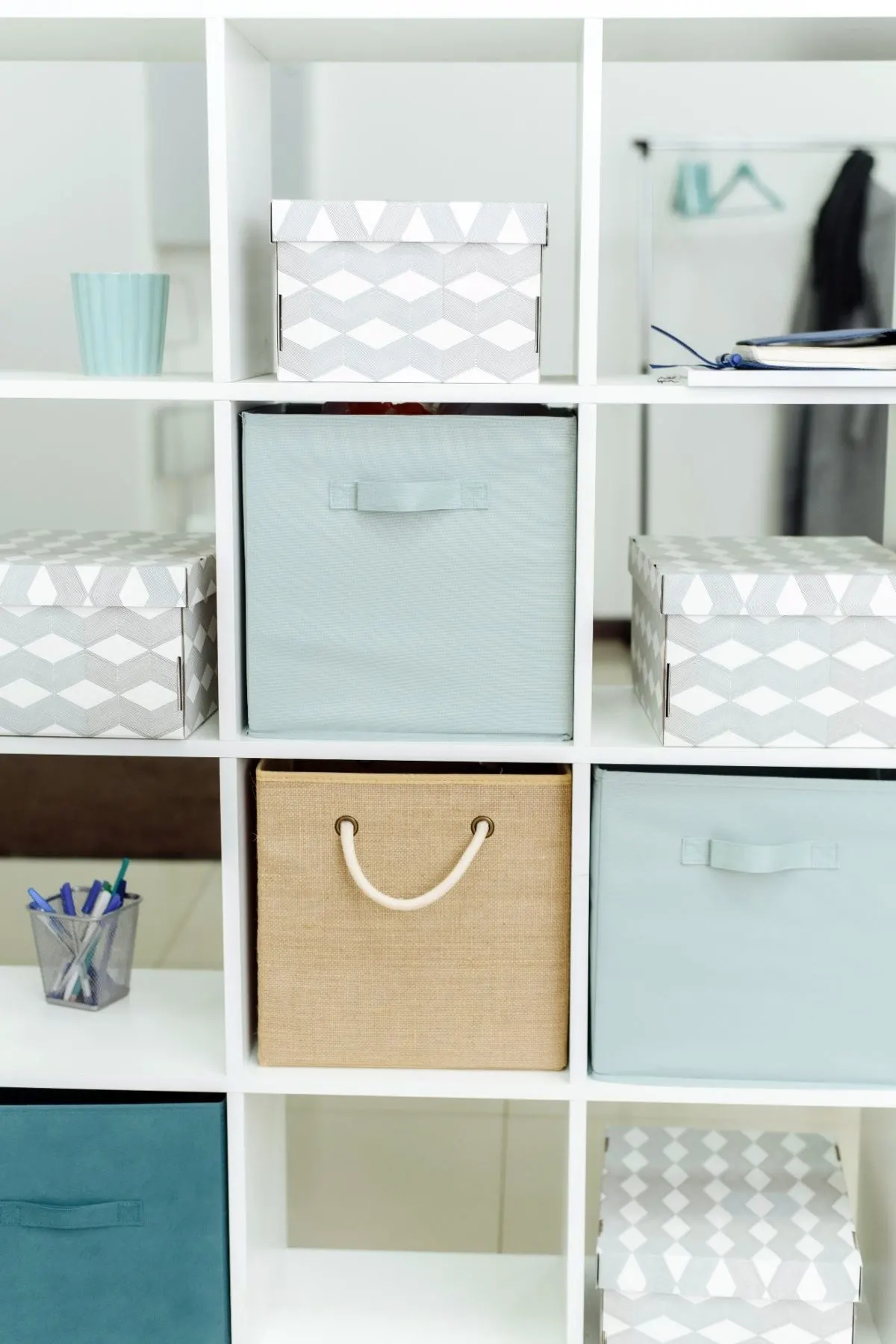 Source: depositphotos.com
Sometimes, the space you have in your dorm room closet is not enough. You probably have your winter clothes, boots, and outerwear to store.
Since you don't need them as often, you can always store them under the bed. You can use clothing storage bags from here to store all that.
These come with a transparent cover down the front to help you figure out what's inside without having to pull the entire bag out and open. So give it a try and help keep things in place!
7. DIY Shoe Organizer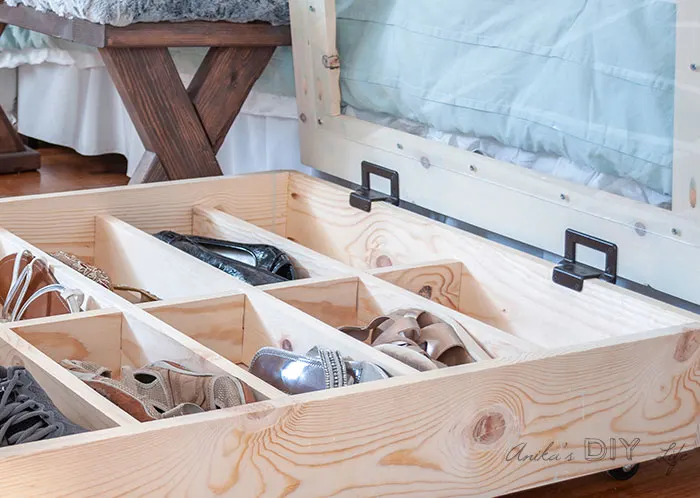 Source: anikasdiylife.com
When you have a ton of shoes, you will need a ton of space to store them. Dumping them in a pile by the door or stashing them in the closet is a complete no-no.
So your next go-to will be under-the-bed storage. This DIY shoe storage organizer can help you customize and subsequently make the most of your bed space.
You'll need your power drill, your miter saw, and some lumber to begin with. You'll also need this wood glue, some wood clamps, and screws to keep them all intact.
Check out more shoe storage hacks here.
8. Desk Plants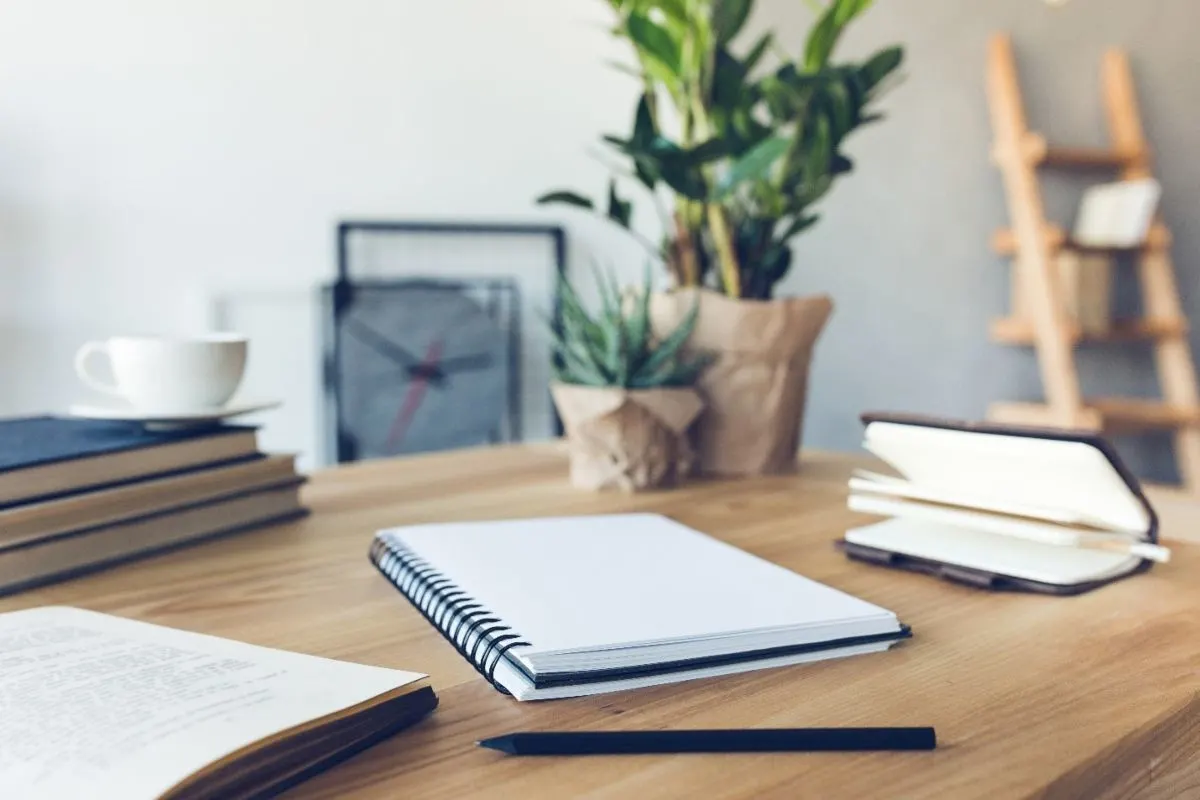 Source: depositphotos.com
Nothing can brighten up your space than some gorgeous potted plants to add some color and life to it. A few succulents, a money plant or two, and voila!
Your room's been instantly transformed into a happy bubble that is stress-free, green, and airy. Adding a couple of these scented candles can also help set the atmosphere.
When you're in a dorm room, your living space and workspace are one and the same. That makes it even more important to have a few plants to jazz it up and bring some much needed-color and brightness in!
9. Throw Pillows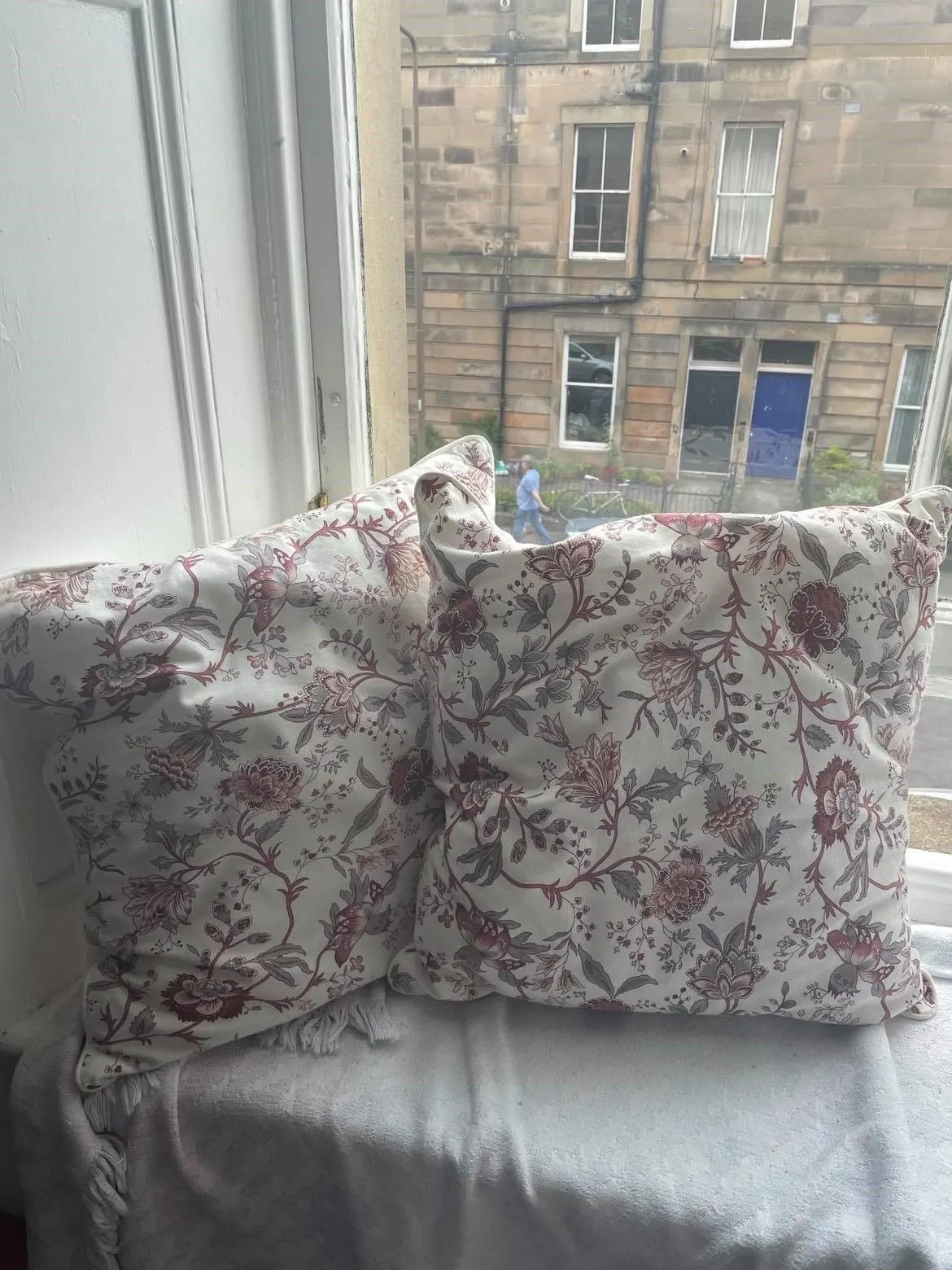 I doubt anybody needs to explain just how much a few toss pillows can do for a room. They add texture, color, and sassiness to a living space.
You can have a ton of fun playing around with different styles, designs, and color patterns. Check out these plush, velvet-fuzz toss pillows.
They turn the entire room cozy, sleek and sublime. Similarly, a few colorful or brightly patterned toss pillows can spice up a room and change the entire tone and vibe. So, go ahead and use toss pillows as accent pieces!
10. Peel and Stick Wallpaper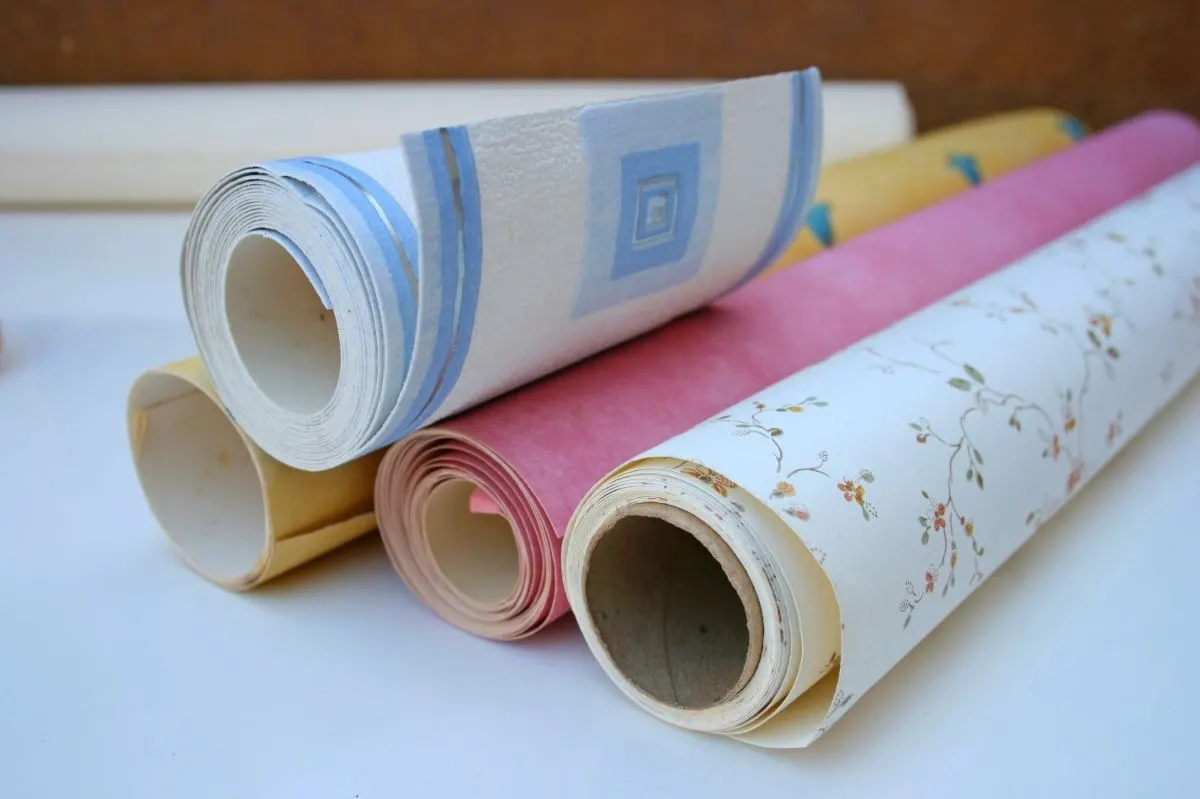 Source: depositphotos.com
One of the downsides to living in a dorm room is that the walls are pretty drab and colorless. Sure, you can hang up photo frames, wall decor, use toss pillows and a bright comforter to spruce it up a bit.
But the walls are a focal point in any room, and with these colorful peel and stick wallpapers, you can decorate your room in a jiffy. You don't have to worry about the no-paint rule when you can just wallpaper the entire place.
11. Photo Wall
When you're away from home for the first time, it's important to make your home away from home—your dorm room—a space that you're comfortable in.
Friends and family are a huge source of comfort, but they're pretty far away just now. So a picture wall to remember all the good times can help you bring them that much closer to you.
Grab a polaroid camera like this and start documenting all the good times. When you finally decorate your photo wall, you'll have a ton of beautiful memories to pin-up and reminisce about!
12. Desk Bookshelf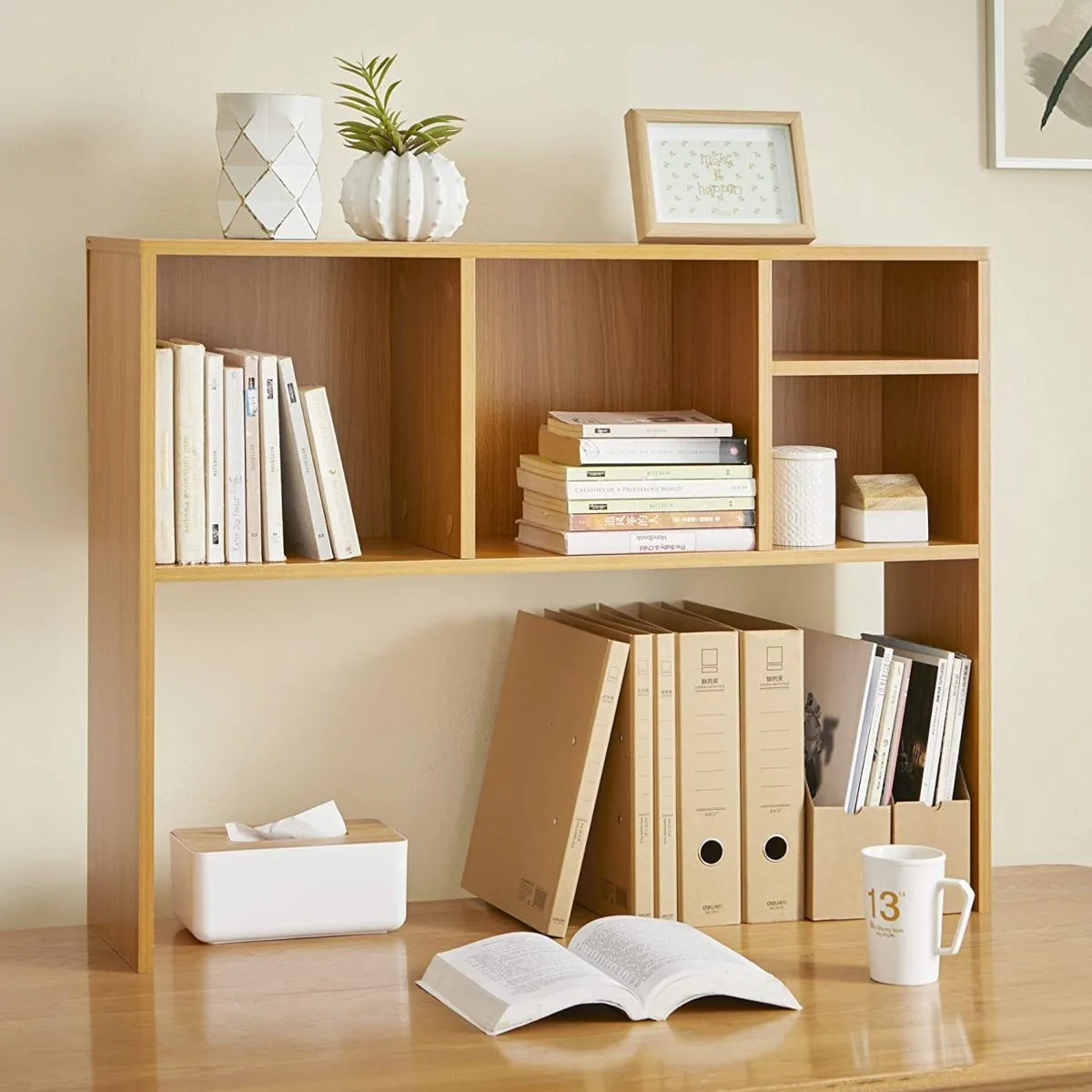 Source: Amazon
If there's one thing that dorm rooms lack, it's a personalized and functioning workspace that you can hone into your own. You'll find that outfitting your workspace requires a ton of room for binders, school and office supplies, books, and more.
This little tabletop bookshelf adds a ton of shelf space above the desk and adds that extra layer. So, your simple little workspace is automatically turned into an uber functional one.
There is also plenty of room for a few knick-knacks, a plant, or the odd scented candle or two.
13. Tapestry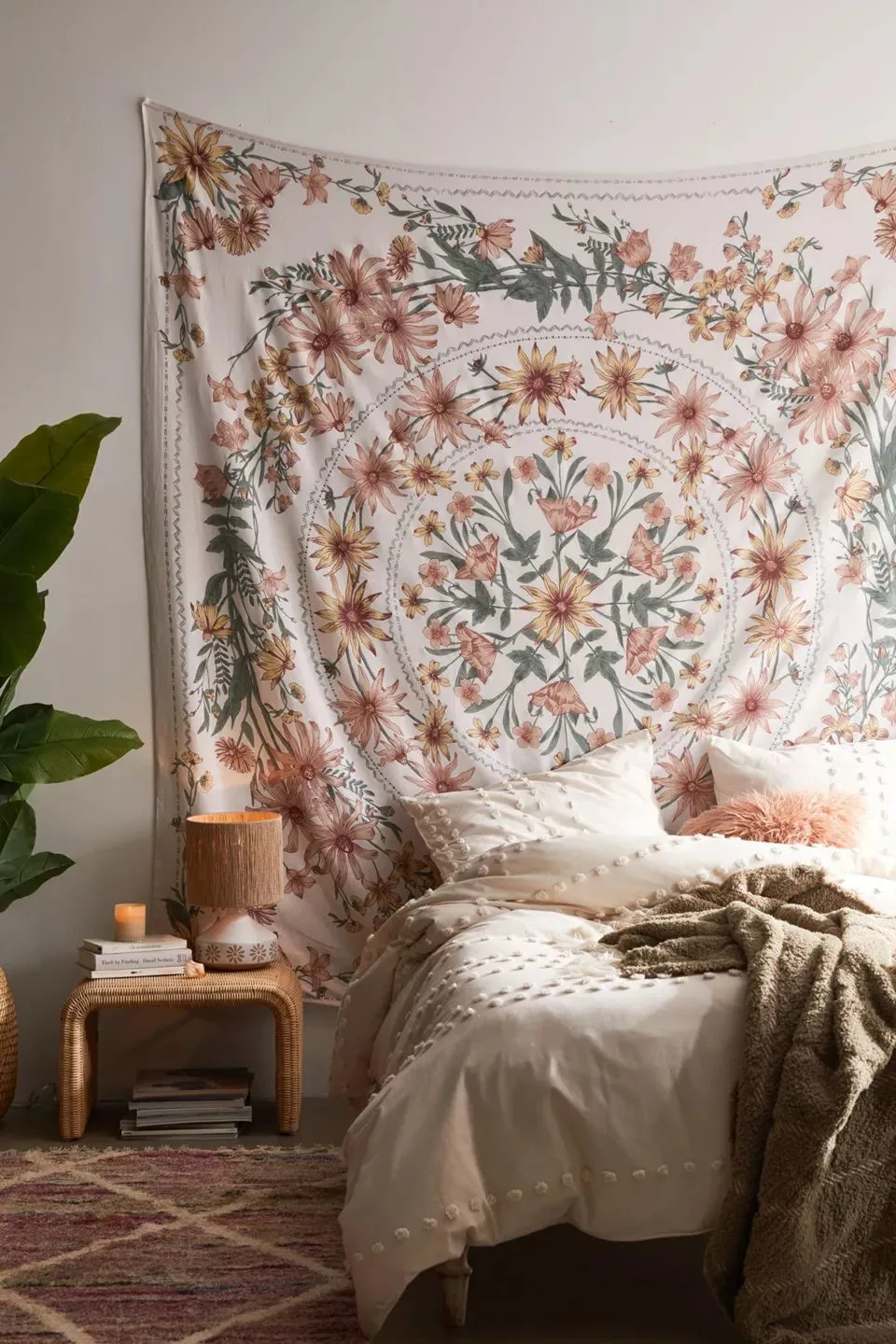 Source: urbanoutfitters.com
A tapestry is perhaps the most common dorm room accessory. It's one of the easiest ways to cover up a drab wall and jazz up a room in one go.
This floral tapestry you see can bring such a calming presence to your dorm room. It is like a tangible breeze wafting behind your bed.
Tapestries are also a great addition to a room if you're decorating it in a boho-chic style. Pair it up with a couple of colorful toss pillows, and you're all set!
14. Bulletin Board decor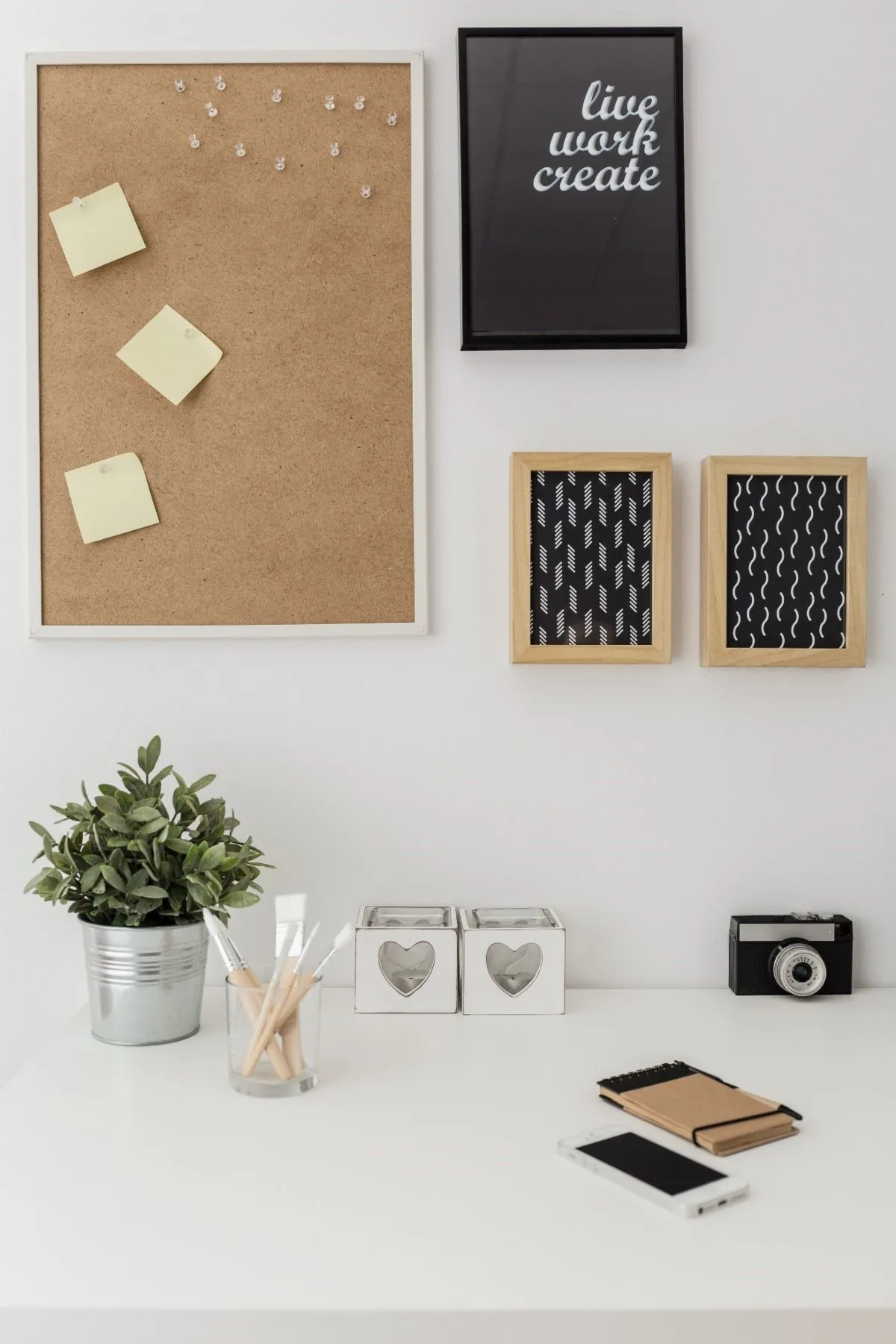 Source: depositphotos.com
Do you know what you need apart from a tapestry and a photo wall? You need a personal bulletin board right above or near your workspace.
You can tack up your memorabilia like photos and little notes, and you can use your board as you would a regular notice board.
Fill it up with your daily planner, food log, habit tracker, to-do lists, and even your wall calendar. Bulletin boards like these can go a long way to help you stay organized!
15. Plush Rug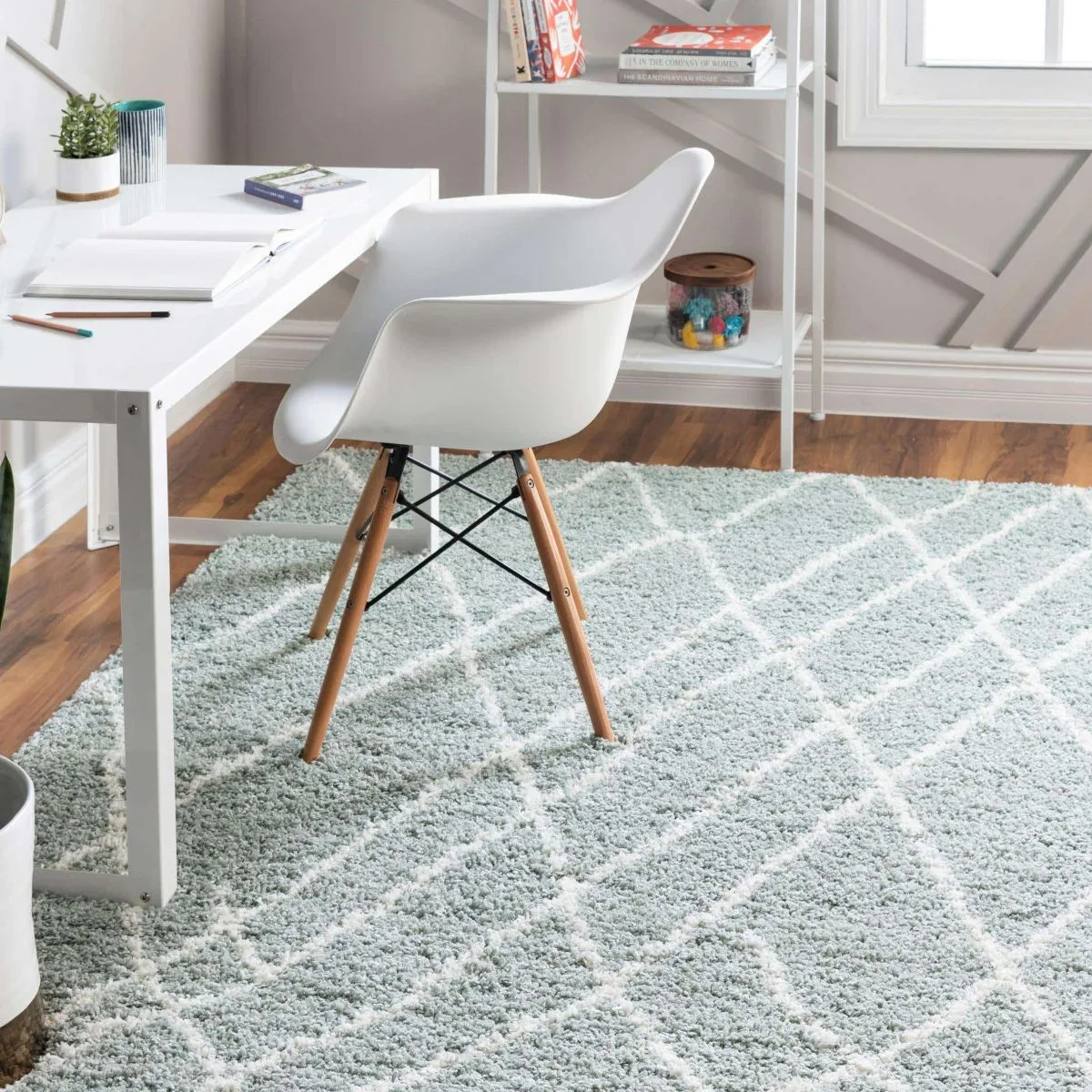 Source: irugs.co.uk
Picture this scenario: It's a beautiful morning, and you've woken up on the right side of the bed. You toss the covers back and pull yourself up and out of bed, only to have your feet hit the cold, bare floor.
What's missing in this picture? A soft, plush, and decadent rug for your floor, of course!
A plush floor rug can make all the difference to your frame of mind in the morning. Just imagine sinking your toes into all that softness instead of a brutally cold floor first thing in the morning.
Don't you think the latter would be a rude jolt to such a gorgeous day? So go ahead and browse through some fabulous rugs to buy right here.
16. String Lights or Fairy Lights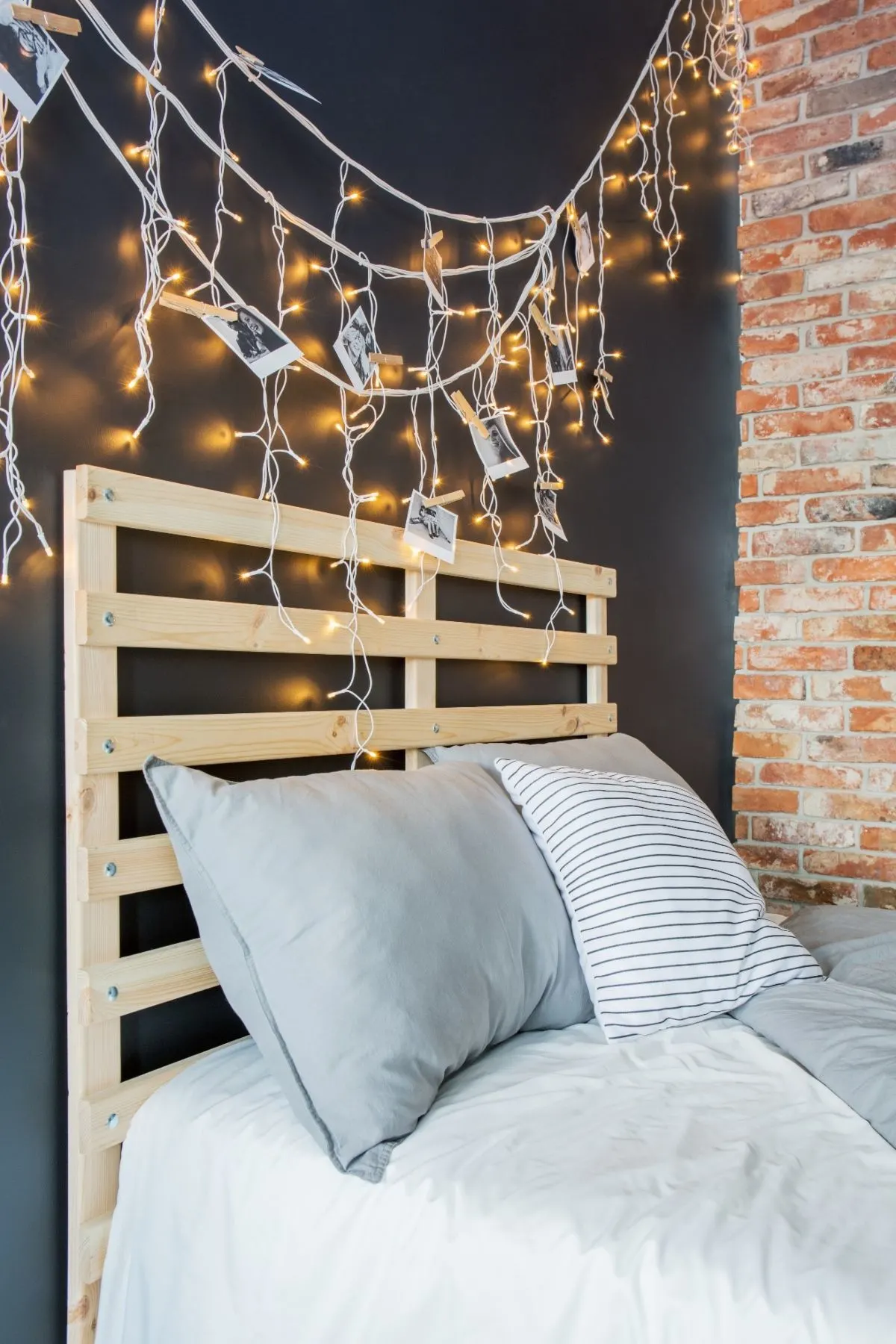 Source: depositphotos.com
A dorm room without fairy lights(look here) is like a peanut butter and jelly sandwich…without the peanut butter and jelly. It is so essential to a dorm room that I'd go as far as to say it's a rite-of-passage that every college student needs.
If you've got a lovely picture wall or a bulletin board, then you can just twine the lights around them and light them up. Alternatively, you can also just string the lights along the walls and loop them around a hook or around your bed frame.
The right light can completely change the entire room, so play around with it a little.
17. Inspiring Study Area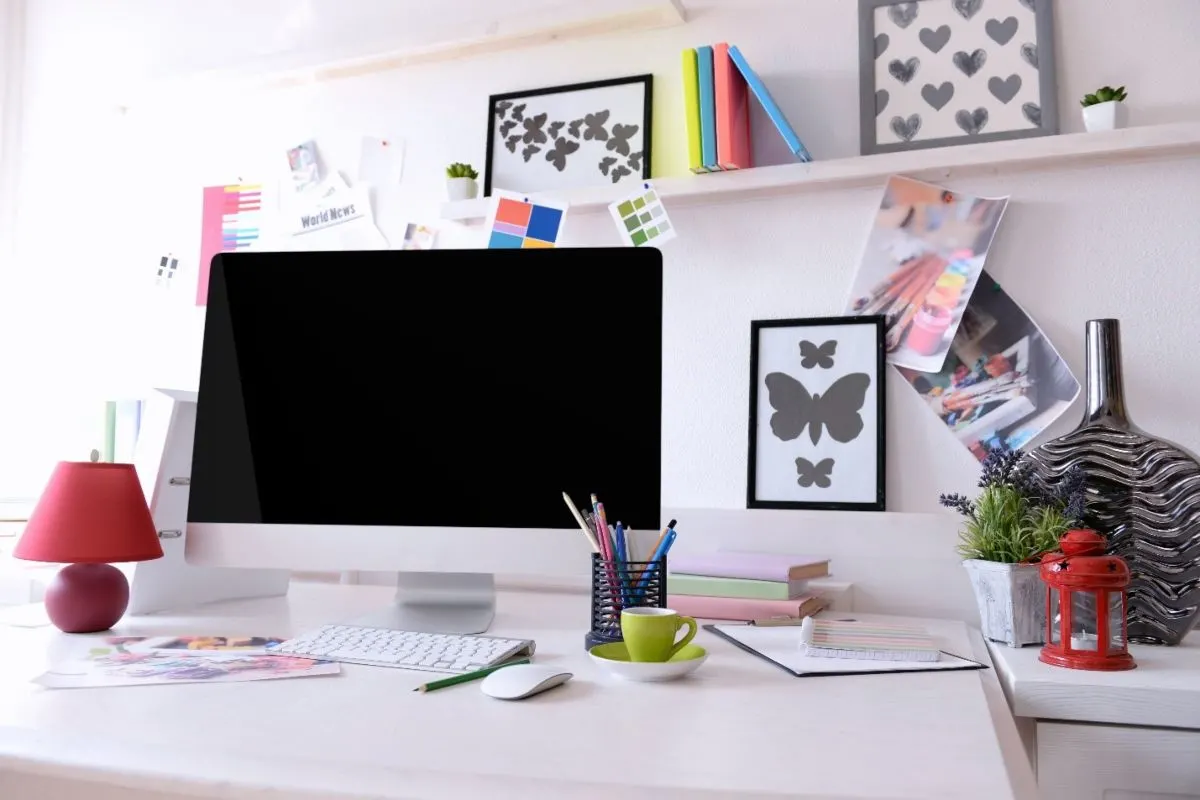 Source: depositphotos.com
Let's admit that we all need that extra push to get through study time. With a ton of classes, assignments, and deadlines, you probably need every ounce of willpower and inspiration that you could possibly muster.
The first step towards motivating yourself to study is to make sure that your study space is inviting. It needs to be set up to avoid any distractions while simultaneously being comfortable and inspiring.
With the right desk organizers, the right kind of planning, and more importantly, the right decor, you can turn your dorm room's study area into something as wonderful as this picture!
Check out more office organization ideas here.
18. Tasteful Bedding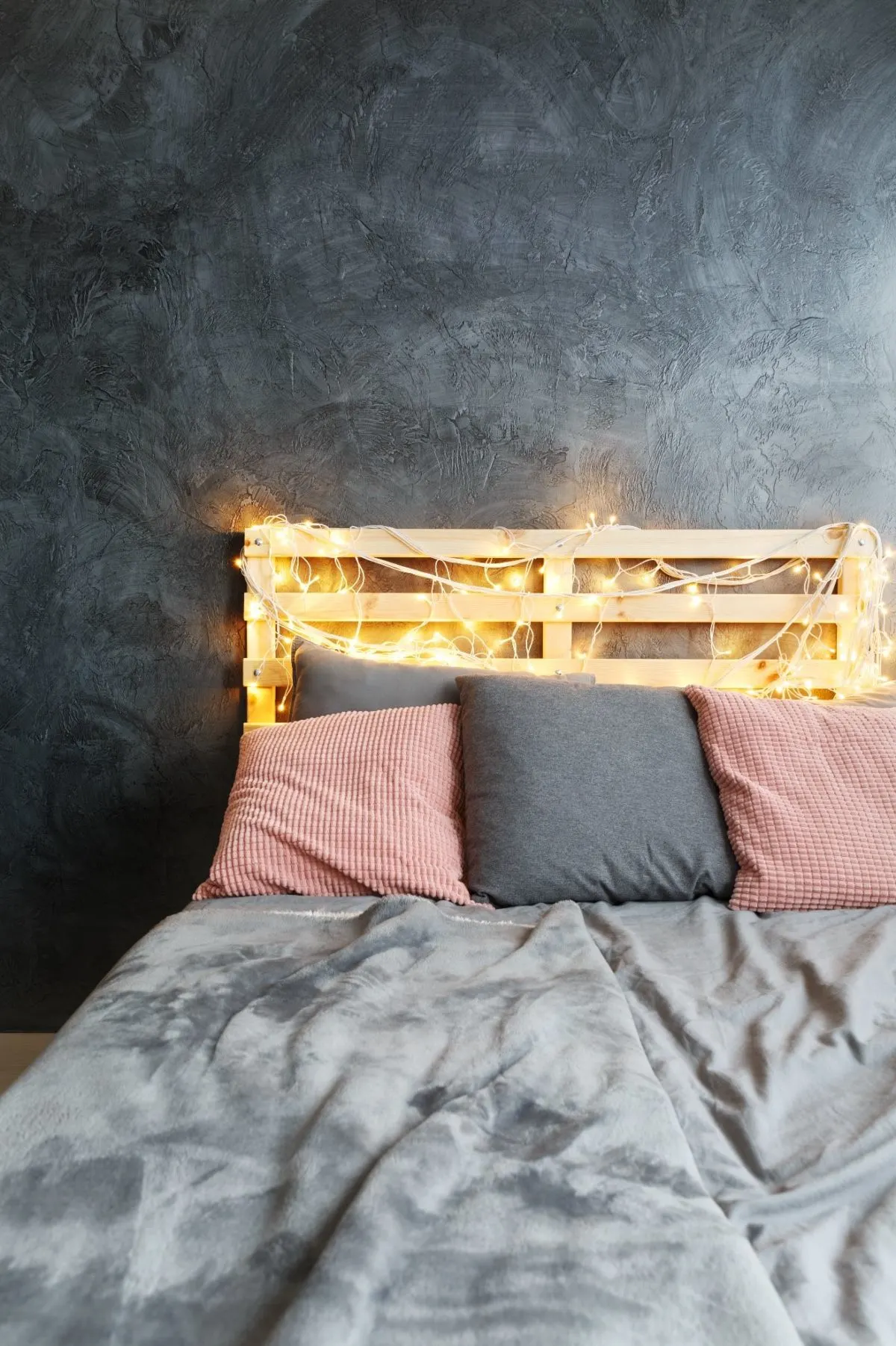 Source: depositphotos.com
A big part of your dorm room is your bed and sleeping area. It works pretty similar to how walls and pretty wallpaper work to spice up your room.
Look at your bed as an empty canvas. Choosing your bedding should represent your unique style and decorative preferences. You can easily set the tone and theme for the entire room with some tasteful bedding.
Looking for a cool and breezy vibe(look here), or perhaps something more bold and exotic(look here)? Then pick out your gorgeous bedding carefully, and voila, your room will become a whole new place!
Loving the idea? Check out ways to organize s small bedroom here.
19. Clip-on Light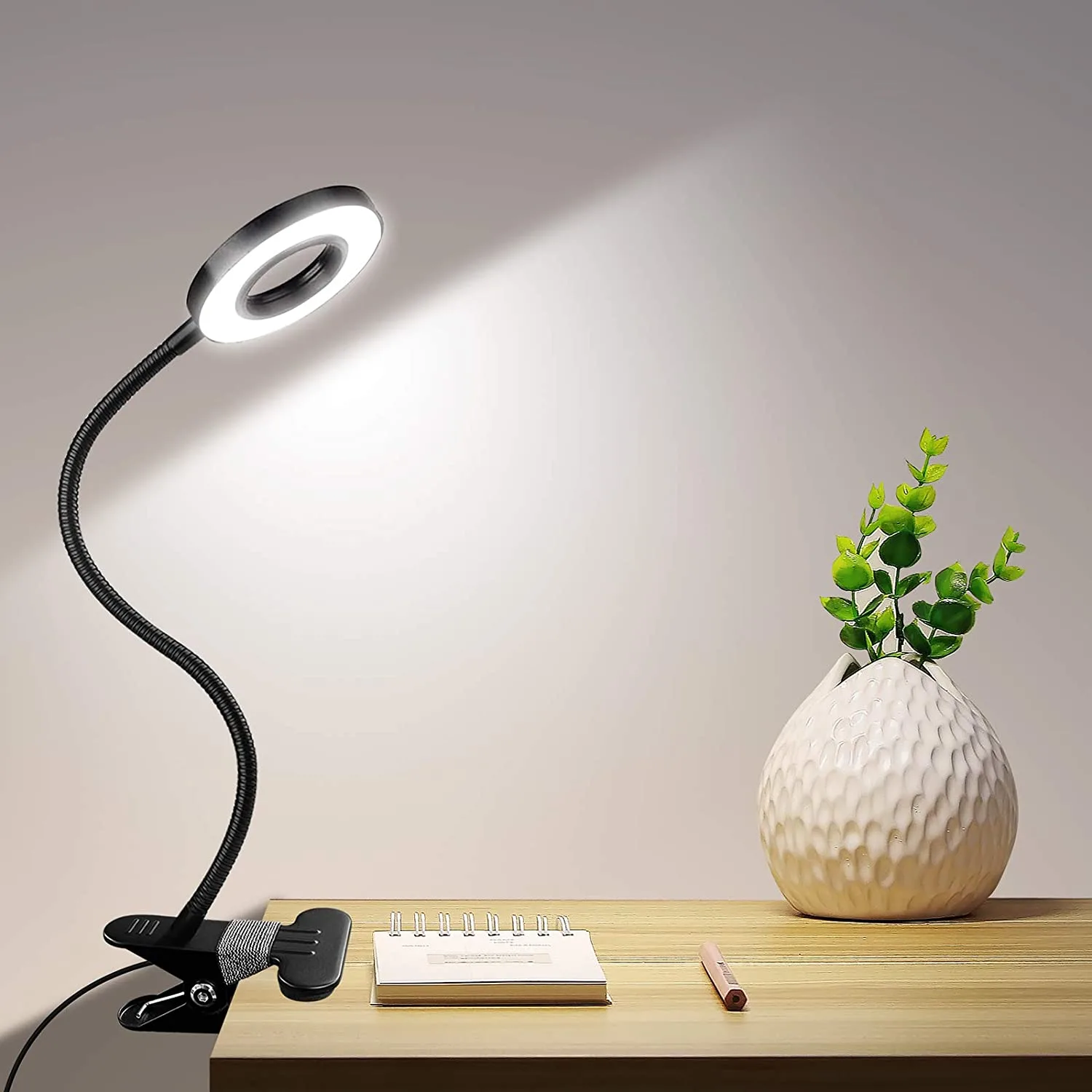 Source: Amazon
Your dorm room's desk might not have enough room to accommodate all your books, supplies, and a desk lamp too. How about you try one of these clip-on lights?
They're super light and very easy to move around. You can clip them onto the shelf over your desk, or even to your desk itself and angle the light to hit exactly right—just the way you like it!
20. Mini Fridge Caddy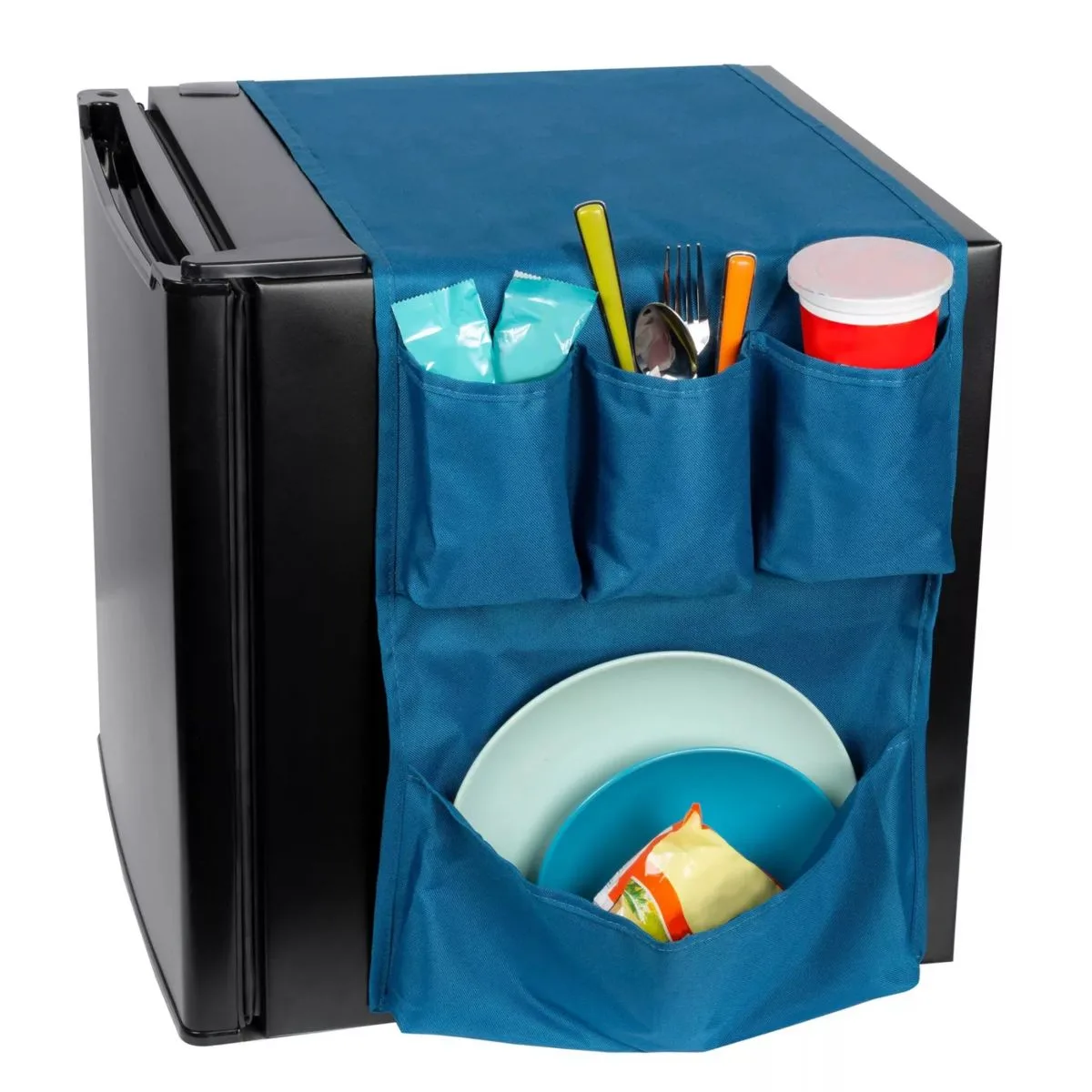 Source: target.com
A lot of dorm rooms only come with enough space to tuck a mini-fridge away in a nook. You probably need every inch of counter space for a microwave, your water purifier, and other kitchen essentials.
You'll definitely need more room for your cutlery, glassware, and plates. A mini-fridge caddy can be the perfect solution to this space-crunch you're experiencing.
Just drape this mini-fridge caddy over your fridge and store all your kitchenware in there!
21. Ikea Alex Storage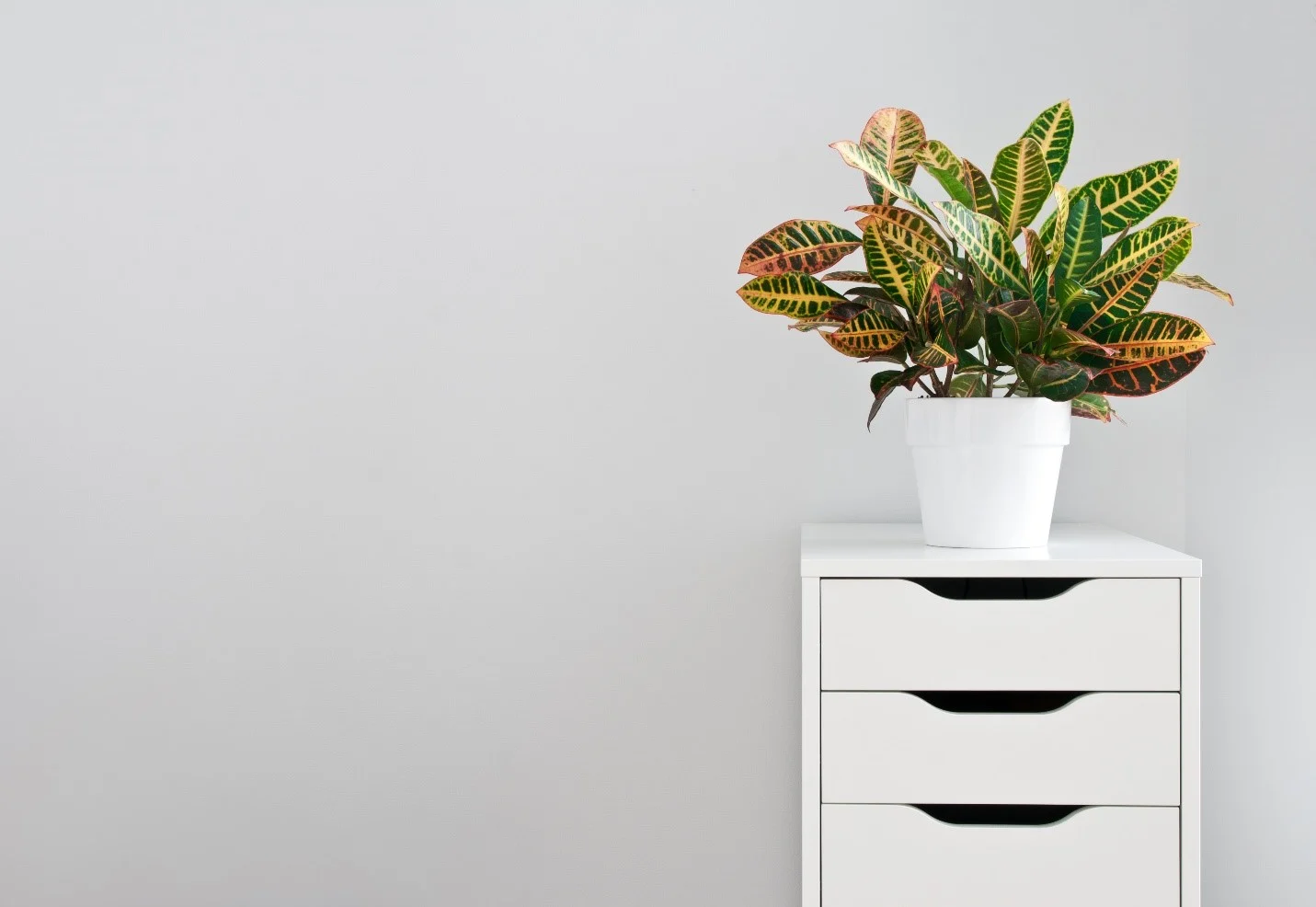 Source: depositphotos.com
Here's a storage hack from IKEA for you from the ALEX series: a whopping nine-drawer storage unit. Just think of all that space!
This drawer unit is lean and almost slender in dimensions, but it makes up for that with the number of drawers it has. You can store your office supplies, kitchen essentials like cutlery and plates, your clothes, accessories, pantry essentials…the list is endless, just like this drawer.