Organize home on a low budget with these DIY desk organizers! Simple, easy, and fun to make for your office space.
An organized mind deserves to thrive in an organized and planned workspace. You can't be expected to churn out the next bestseller, draw the next masterpiece, or even complete your next paper for class when you're surrounded by a disorganized and cluttered desk.
So, let's take a look at these 41 DIY desk organizer ideas and start to declutter, organize, and grow.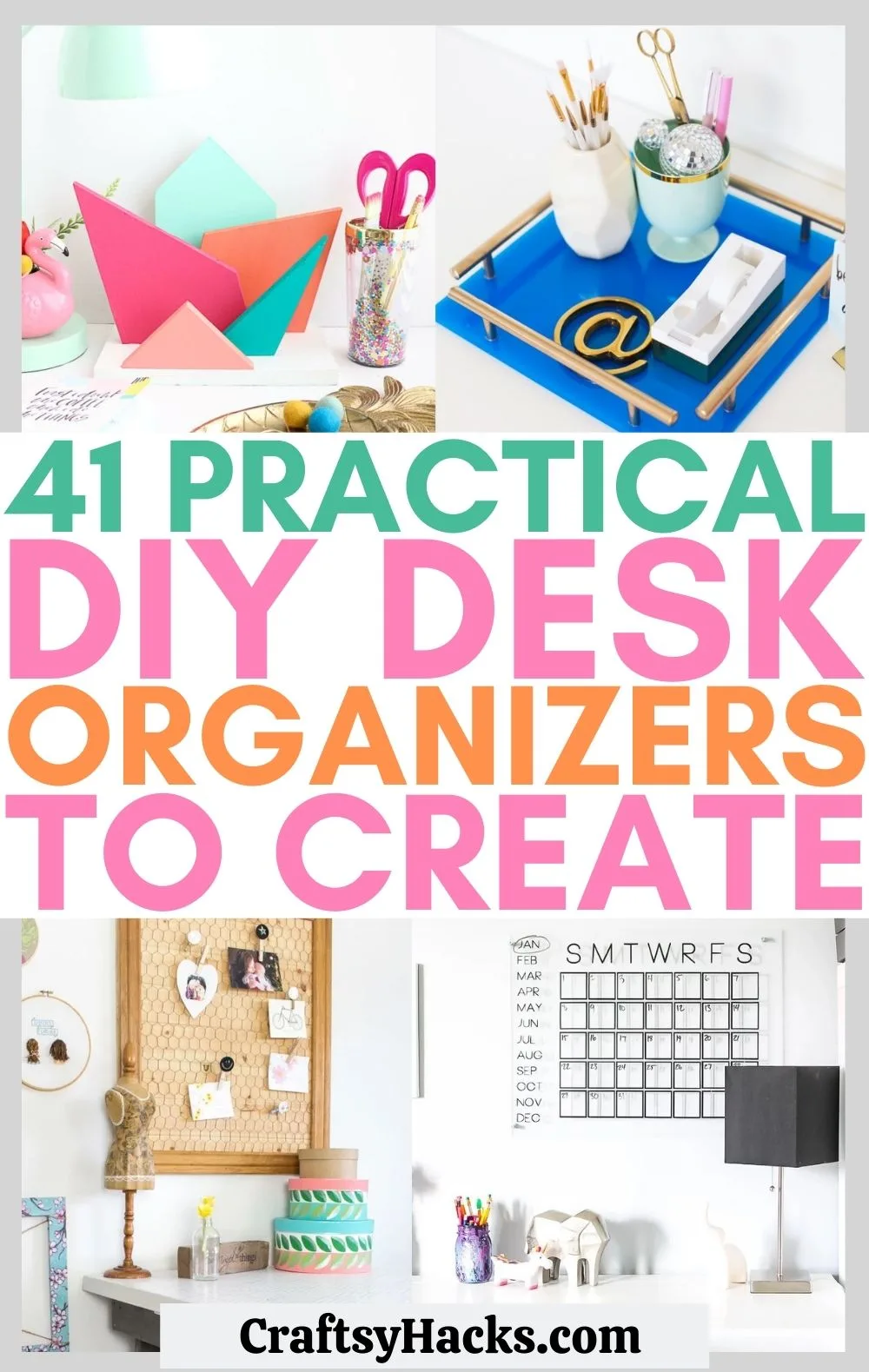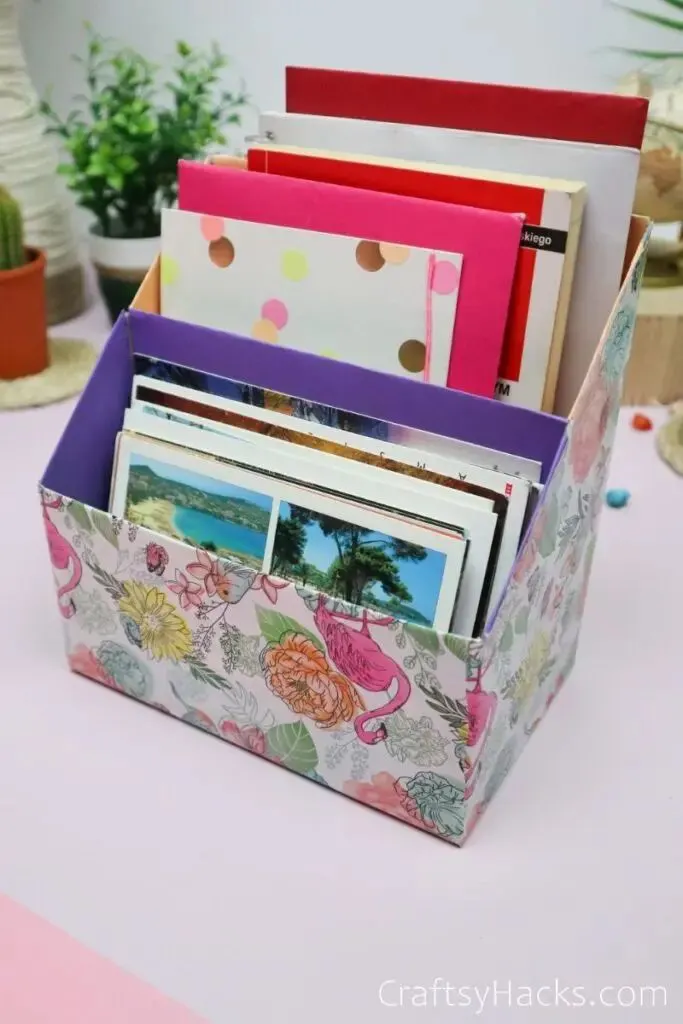 Source: craftsyhacks.com
You'll be surprised by how many different hacks are out there that can upcycle and recycle cereal boxes into sheer brilliance. Don't believe me? Then check out this two-pocket desk organizer.
You could never tell that this piece of art here is actually an old box of Captain Crunch held together by tape and glue and wrapped in paper from here. There are two pockets—with room to expand, should you decide to.
You can place this on your desk, side table, or even in your living room to use as a magazine holder!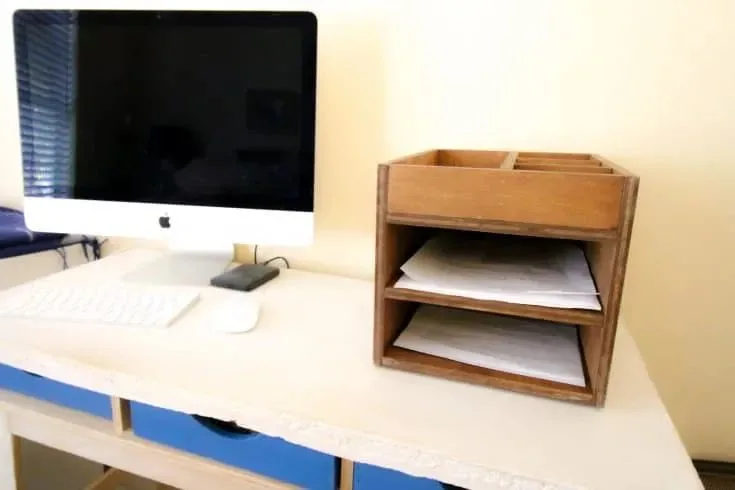 Source: charlestoncrafted.com
This desk organizer is definitely sturdier than a box of cardboard, that's for sure. It's made out of wood, and it's what's going to help you with organizing all your papers, files, documents, and little notes.
There are three levels to this organizer—two shelves at the bottom to fit plenty of papers and dossiers, and one at the top to hold your paper clips, notepads, and other writing supplies.
Since you're building this from scratch, you get to size it to your specifications. Head over to your local hardware store and pick up your wood and supplies to start.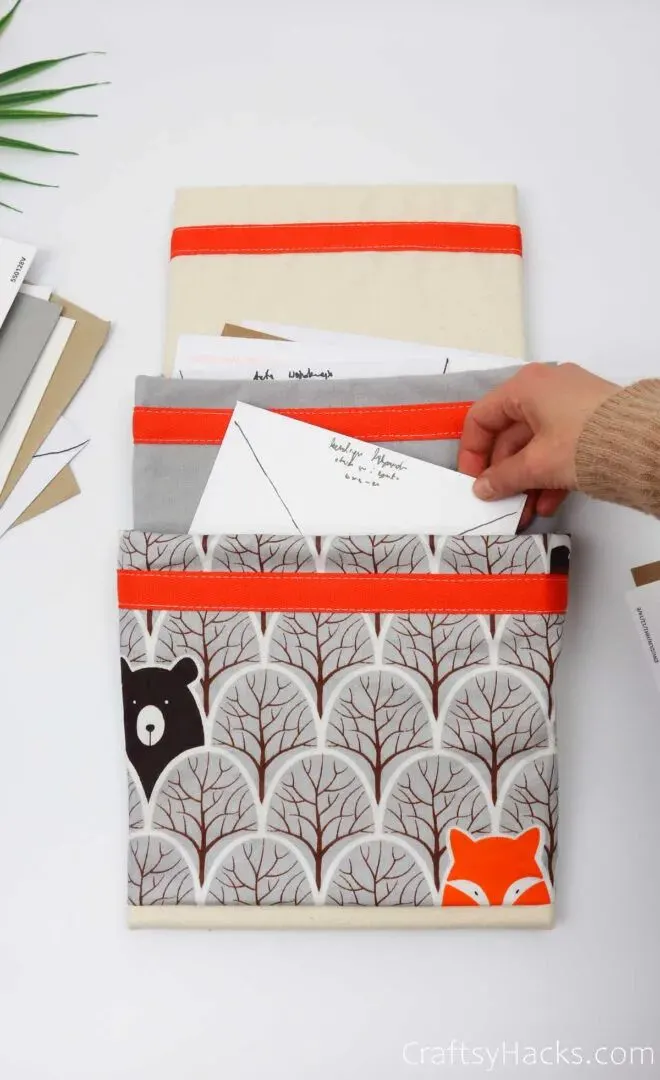 Source: craftsyhacks.com
Picture this: you walk into your house, arms loaded with groceries and mail. You know where the groceries need to go, but don't you think your mail deserves a place, too?
I mean, you can't really tell the bank you 'lost' your mail, can you? So check out this fabulous three-pocket fabric mail organizer.
You can hang it up on the wall by your front door, so you know exactly where your mail is. You can even divide the mail into different categories and assign a pocket for each.
Grab some canvas fabric from here to use as the backing.
Source: craftsbyamanda.com
You know, the backs of my dresser and desk look like a 3D Jackson Pollock painting. There are a gazillion wires, and all of them are just crisscrossed and tangled.
You've been there, too, right? Here's a quick solution to help you organize all those electric cords and wires you have hanging behind your work area.
Not only will it help you keep everything from tangling up, you also get rid of that awful eye-sore. Tangled wires are not a great decor idea.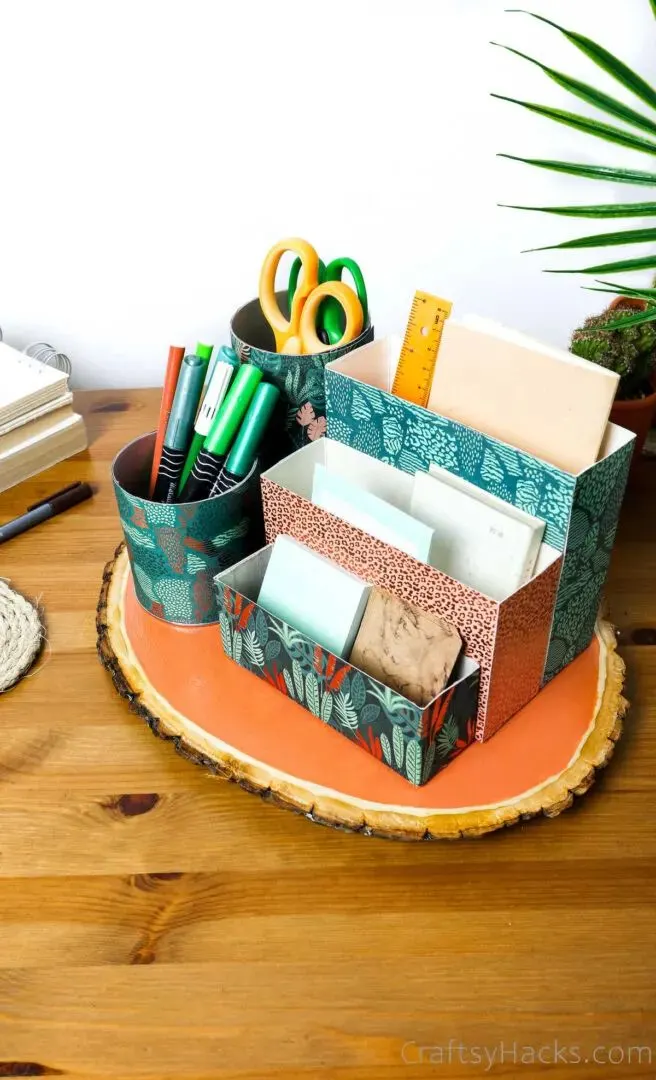 Source: craftsyhacks.com
Here's another DIY desk organizer that's made out of upcycling your old food cans and cereal boxes. It's an entire unit that's specifically designed to help you keep all your office supplies and folders or documents in their allocated slots.
There are three decreasing levels of dividers flagged by two pen/pencil holders. You can use the upper pockets to store papers and notebooks and the lower ones for post-its and flashcards.
Divide your pens, pencils, and other craft supplies into the two cup holders. Now just grab a wood base like this to place your organizer on, and hey presto, your desk is all organized.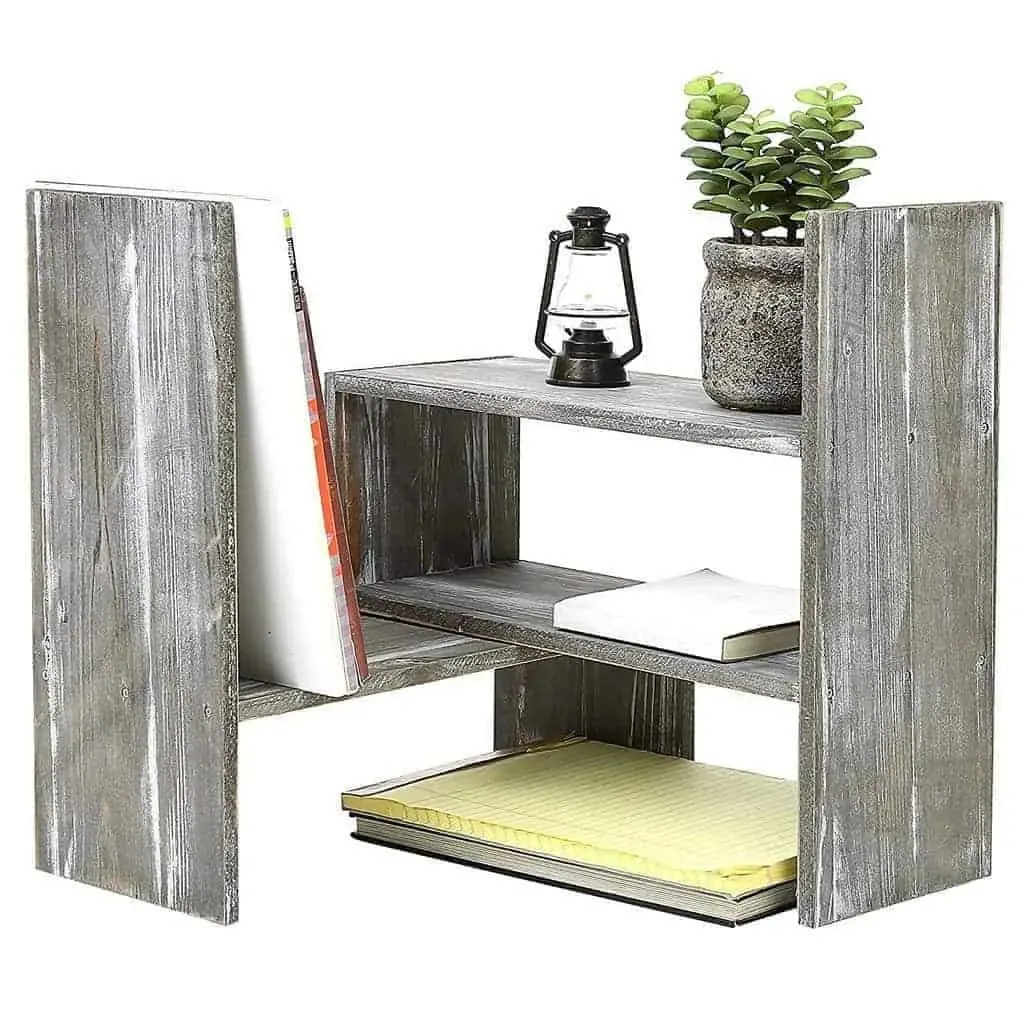 Source: thehandymansdaughter.com
What good is a desk organizer if you cannot adjust it to suit your needs? But even then, this particular desk shelf is rather genius.
It has an interconnecting block system in place that allows you to play around with the structure. Did I tell you that you'd be making it from scratch?
It's a great scrap wood project, so if you have any wood leftover from previous projects, now's the time to use them! You'll definitely need to break out the power tools, though, so go ahead and grab your toolbox and set up.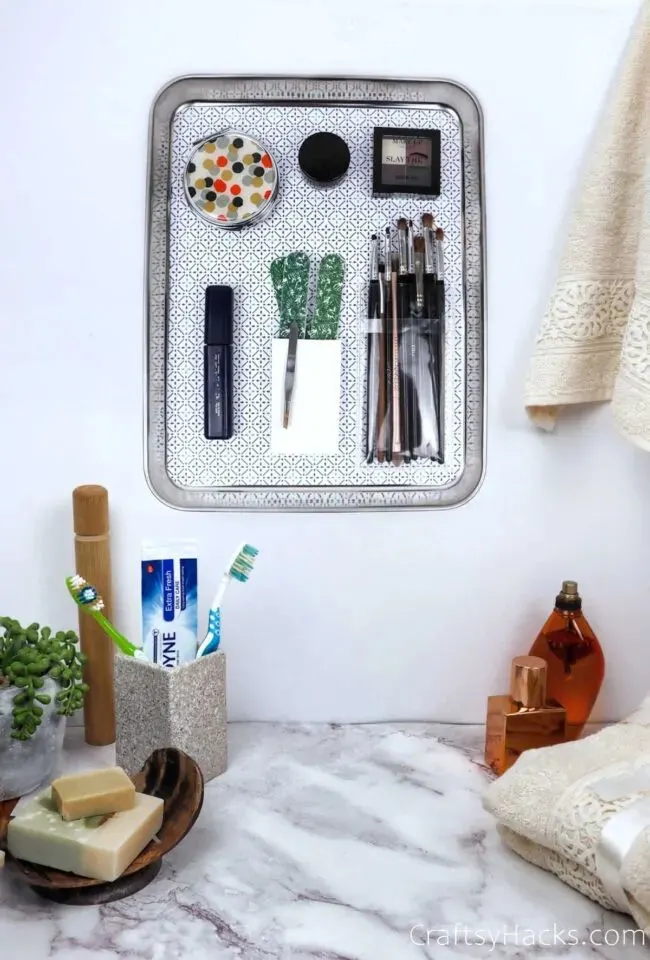 Source: craftsyhacks.com
This magnetic organizer can help you clear up some space on your table. You can clip anything metallic onto this magnetic tray and hang it up on the wall.
So if you have some notepads with a metal spine, or a stapler or punch hole, then you can always clip it on this table. This tray can also be used in your bathroom or next to your dresser.
Alternatively, you can use it to organize your accessories and makeup, too. So why don't you grab some magnets like this, to begin with?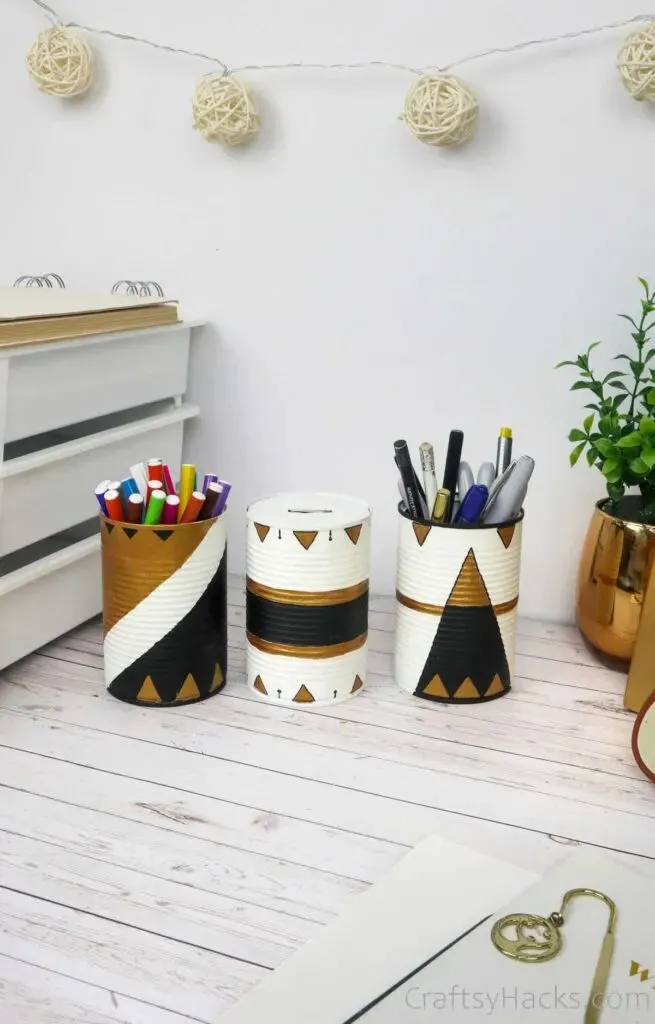 Source: craftsyhacks.com
Tin cans are just waiting to be upcycled and recycled. Gone are the days when you just crumple up a can when you're done and dump it.
So go ahead and grab three cans from your recycling bin. With a few coats of paint, some glitter, and glue, you're going to turn those cans into desk organizers.
You don't just need to use them as organizers; you can also use these cans as little planters to place on your desk or as piggy banks too.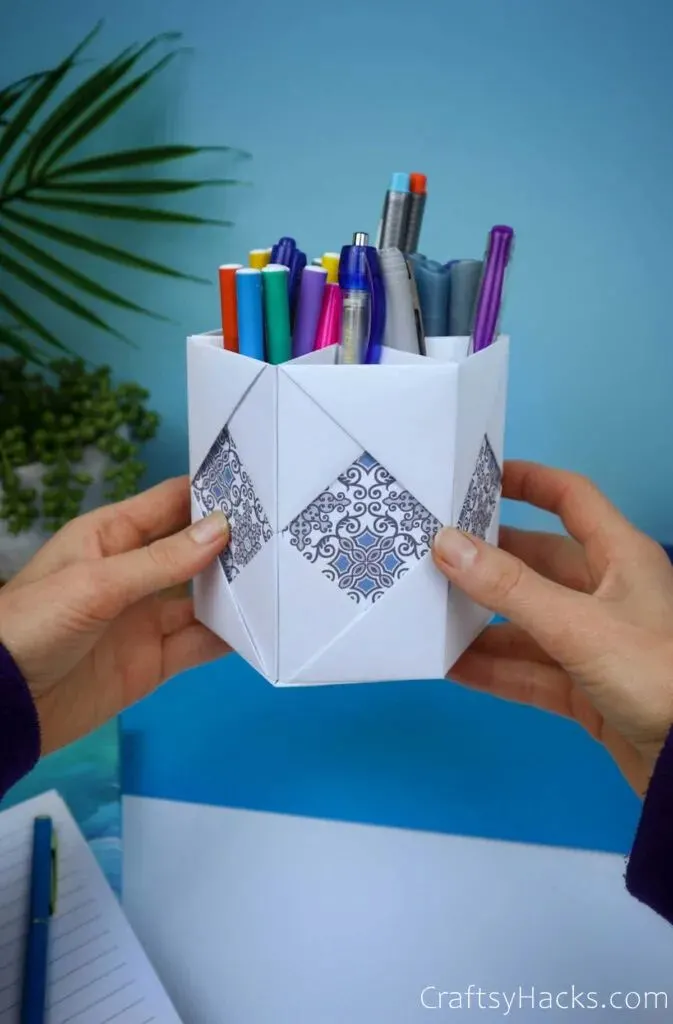 Source: craftsyhacks.com
Do you have an ever-growing stash of paper that's been piling up with every craft project you work on? Well, it's projects like this pencil holder that help you use up all those papers.
You can even use paper from magazines and articles—you'll find there are some pretty prints in them that you can clip and save. So grab some paper to make this pencil holder.
You will also need some glue or double-sided tape from here, and your basic craft essentials of ruler, scissors, and pencils.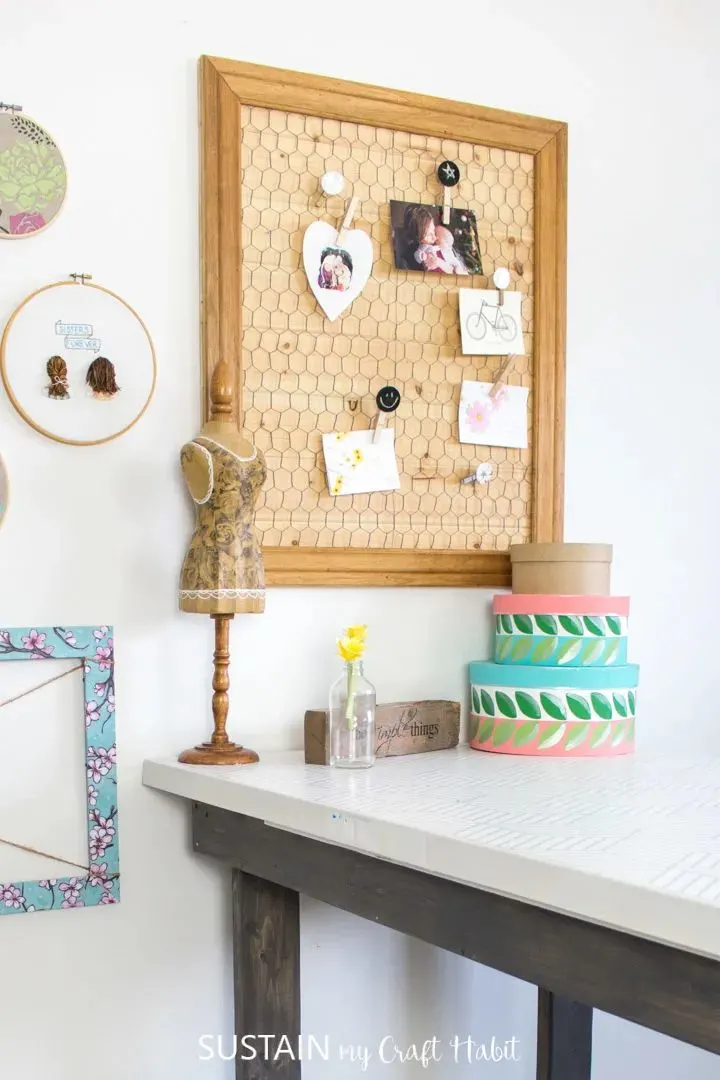 Source: sustainmycrafthabit.com
You need to stop jotting down all your messages and to-do lists on paper and leave them scattered around your desk. Have you considered a memo board mounted above your desk to help you with that?
You probably noticed that there's a mesh covering the frame. So you can just clip all your notes and memos on the board using clothespins.
If you decide to just use the board without the mesh, you can install a corkboard and use push pins instead.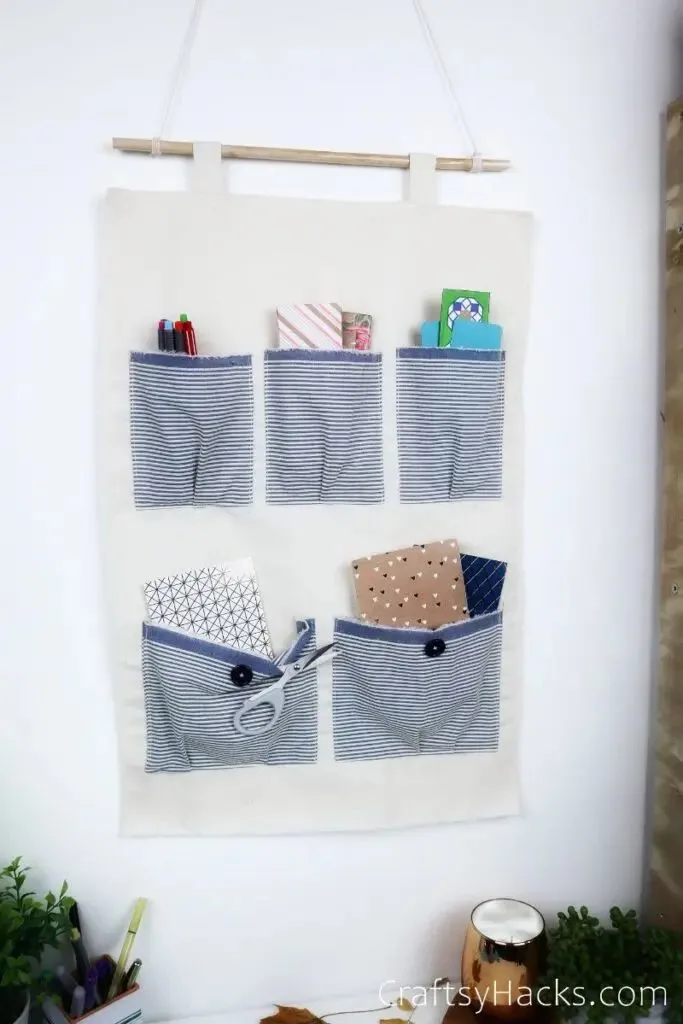 Source: craftsyhacks.com
When you're in a pinch for storage space, then every single inch counts. That's why you have to make the best use of all that empty and unused space behind your doors.
An over-the-door hanging organizer like this can help you optimize that space. I mean, check out all those pockets. You can use different pockets to hold different categories of supplies.
Here's what you need to make this organizer:
Thick fabric
Command hooks from here
Wooden stick
Buttons
Sewing essentials
Sewing machine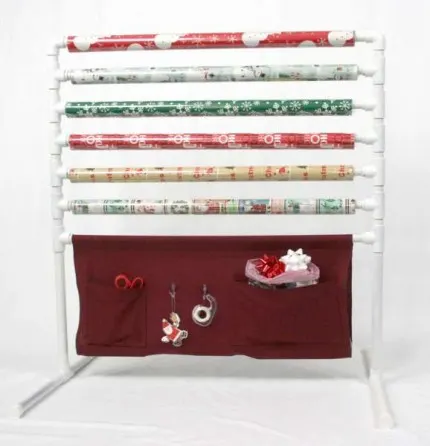 Source: craftbits.com
Don't you just hate it when you have to roll out all your wrapping paper every time you're packing something? Folding it up and stuffing it into a box is a definite no-no, as well.
So, what do you do? You set up an independent gift wrapping organizer station, that's what. You're going to love having all your gift wrapping rolled up, all nice and neat.
It's like a display in itself. Don't you think a stand full of colors, prints, and different textures is bound to be eye-catching?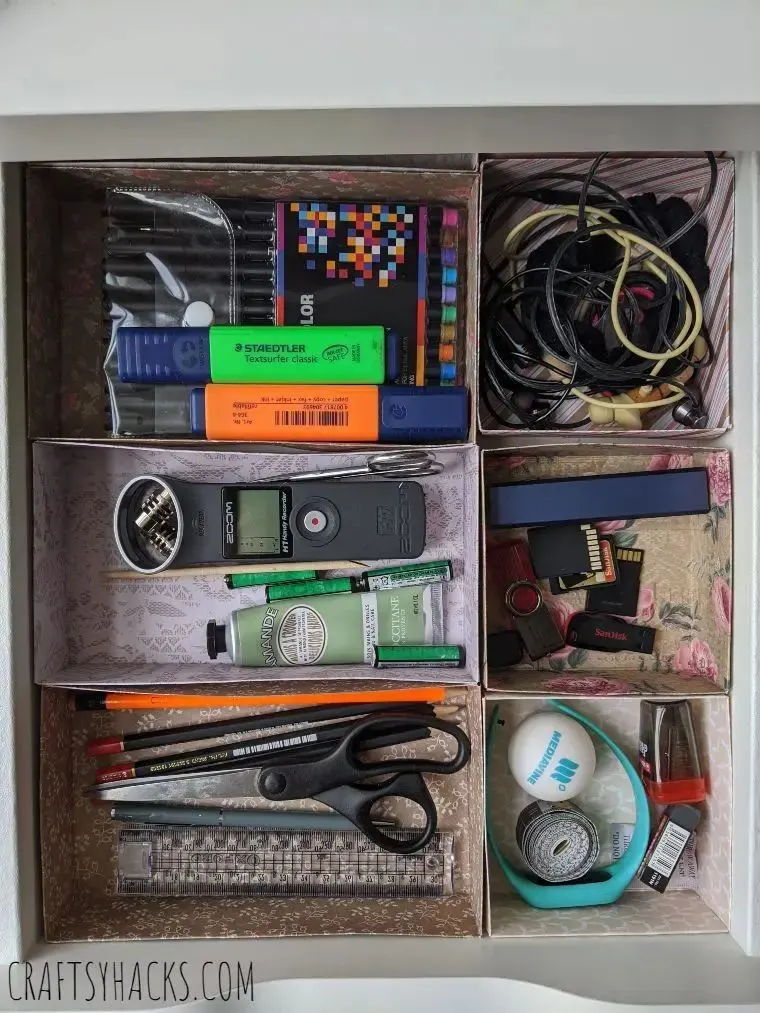 Source: craftsyhacks.com
Drawer dividers can truly be all that stands between you and complete and utter chaos. A messy drawer isn't just a sign that things need to be organized; it's a sign that there's room for so much improvement.
This theory applies especially to the drawers at your desk and craft table. You don't want to be pawing through the mess when you're fully involved in work or a project.
Also, a real incentive to keep your drawers organized with these dividers is that you'll be saving money. When you know where everything is, you're less likely to spend money on buying things you already have.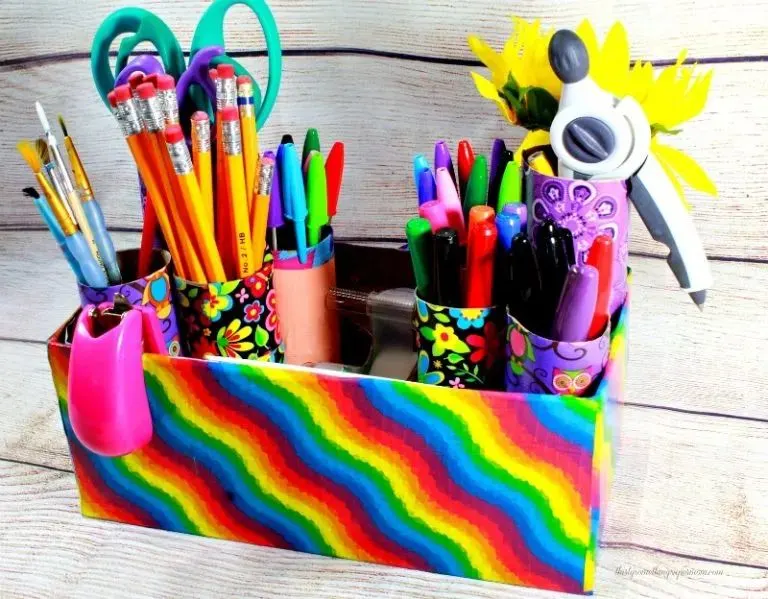 Source: thirtysomethingsupermom.com
Here's a desk organizer that's just bursting with color. It's the perfect opportunity for you to use up the scraps of paper that you've been hoarding.
You can also use jumbo decorative tapes like the ones you can find here.
If you're wondering what those tubes are, I have three words for you: toilet paper roll. For the square box holder, you can recycle just about any box—cereal or gift box, too.
Source: craftsyhacks.com
Don't you just hate it when you have a pile of magazines just scattered around your space? It's never fun having to stack them atop each other or having them clutter up your desk.
Rather than buy a price magazine stand or holder, how about you make your own stand out of cereal boxes? It's not too different from the cereal box desk organizers you made earlier.
Grab some of this self-adhesive fablon, a craft knife, pencils, and a ruler. You will also need a cereal box.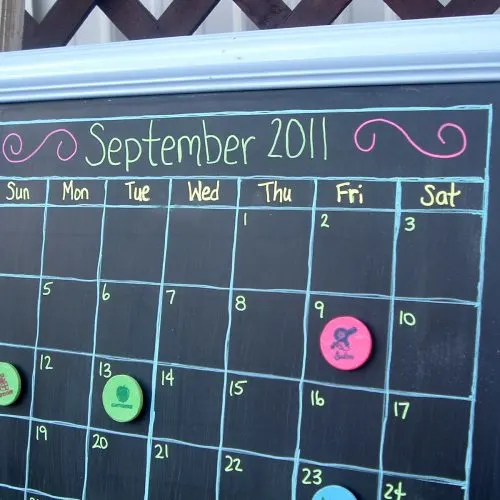 Source: thecountrychiccottage.net
A calendar and planner are must-haves at any work desk. It's what helps you keep your schedule on track and make sure everything runs smoothly.
However, a big calendar or planner can and will take up a ton of space at your desk. You need to keep that desktop as uncluttered as you can, so what you can do is mount up a chalkboard calendar like this.
Not only is it a chalkboard calendar, but it's also a magnetic one, which makes the entire process of scheduling and planning super customizable.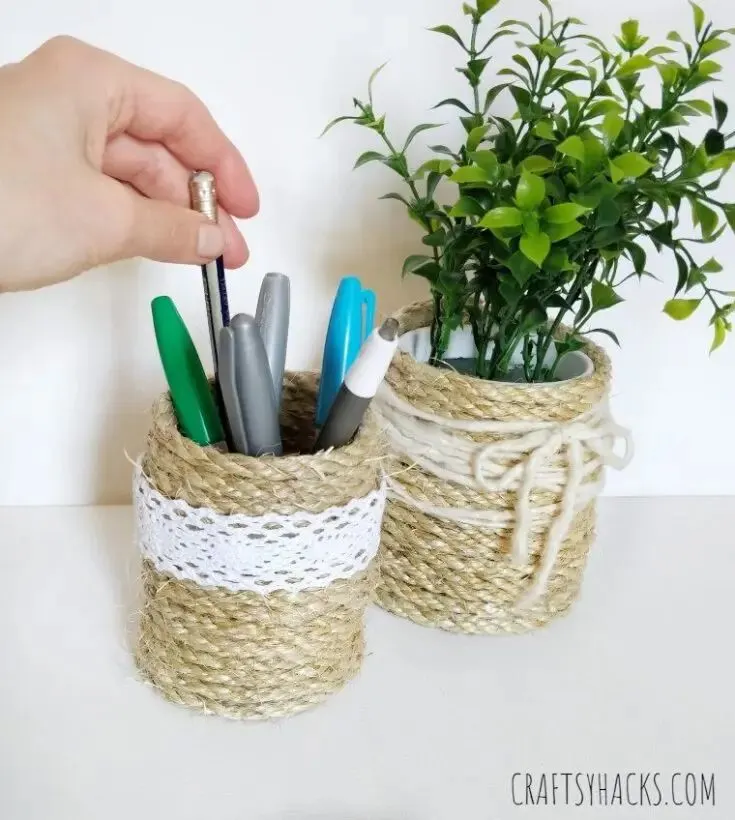 Source: craftsyhacks.com
There was a period when I used to wrap everything I could get my hands on with yarn. It is such an inexpensive way of decorating something or covering up old items in need of a makeover.
That was before I realized that rope was also an option and could be easier and even more inexpensive than yarn. Grab some rope from here, and also some of this white lace ribbon.
There are two ways you can make this organizer. You either wrap the rope around a jar or you fashion it all on its own.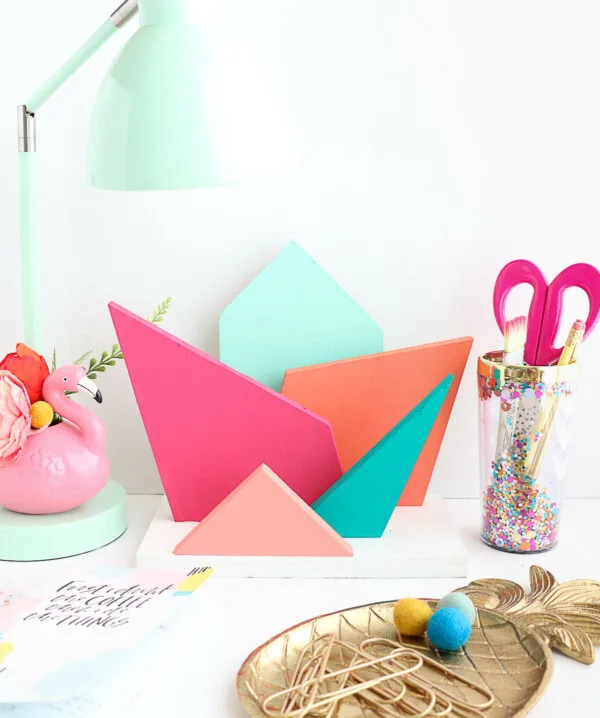 Source: lovelyindeed.com
Don't you just love the chaos that geometry can bring to a tableau? Sounds odd, doesn't it because you'd expect geometry? But check out this geometric desk organizer, and you'll know why.
This organizer can be used as a folder and file holder, a magazine stand, or even just a display piece. But it certainly does add character and color to your table.
So if it also happens to help you declutter, that's just the icing on the cake and the cherry on the sundae.t.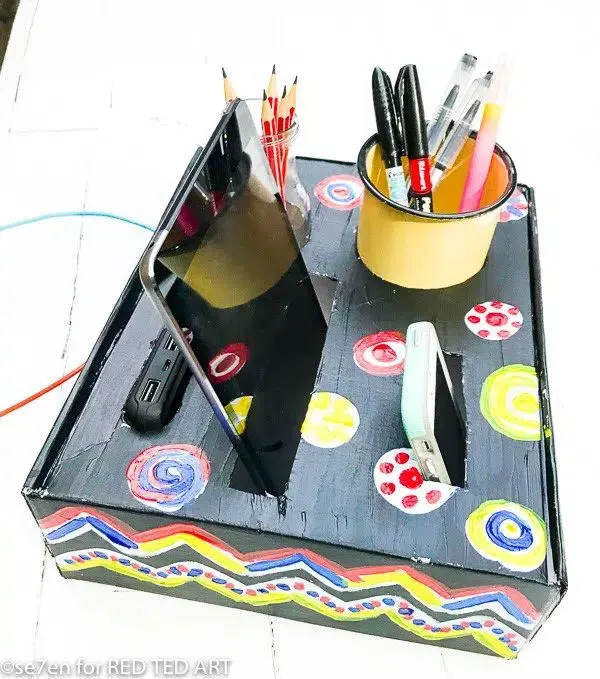 Source: redtedart.com
Making a gift for Father's Day is more challenging than picking something out for mom. You'd think that it would be easier, but that is definitely not the case because dads never seem to want anything.
But there is one thing you can help your father with, and that's to keep his work desk organized. How? You build this sturdy organizer box, of course.
You can use a craft knife and a pair of scissors to help you cut the required shape out of a delivery or shipping box. Then, just to be safe, pick a neutral color—black or wood notes and paint your box.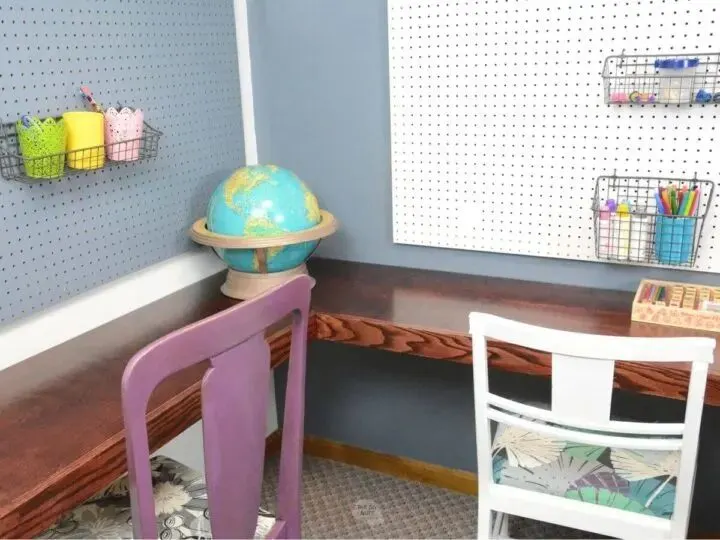 Source: thediynuts.com
A floating desk that occupies the corner of a room can have so much more to offer than a regular standing desk in the middle of the room or backed up against the wall.
You really get to plan your storage space—which you have plenty of both above and below the table. Plus, this kind of setting allows you to incorporate more desk space and keeps your things from cramping your desktop, as well.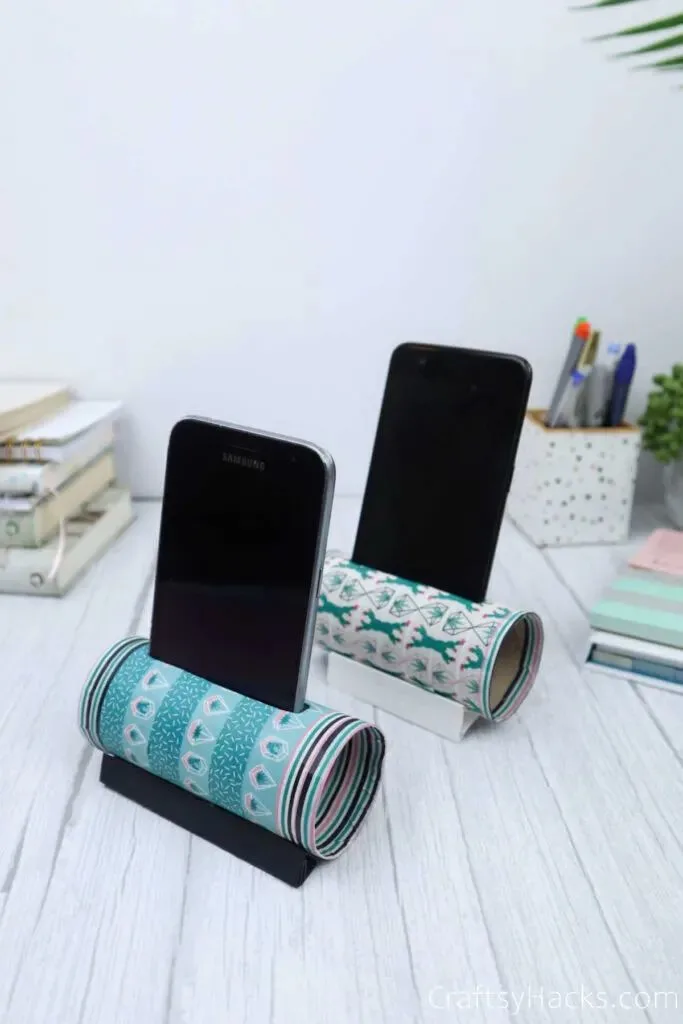 Source: craftsyhacks.com
If you haven't already jumped in on the toilet paper roll train, then it's time you did. There are just so many things to love about toilet paper roll crafts and what they do to help with organizing your space.
Check out this DIY phone holder that's made from—you know it—toilet paper rolls. It's just so wonderfully easy to make, as well.
First, though, you might want to buy plenty of washi tape. You will be using it to decorate the entire surface—and even the inside of the roll, so grab plenty of rolls from here.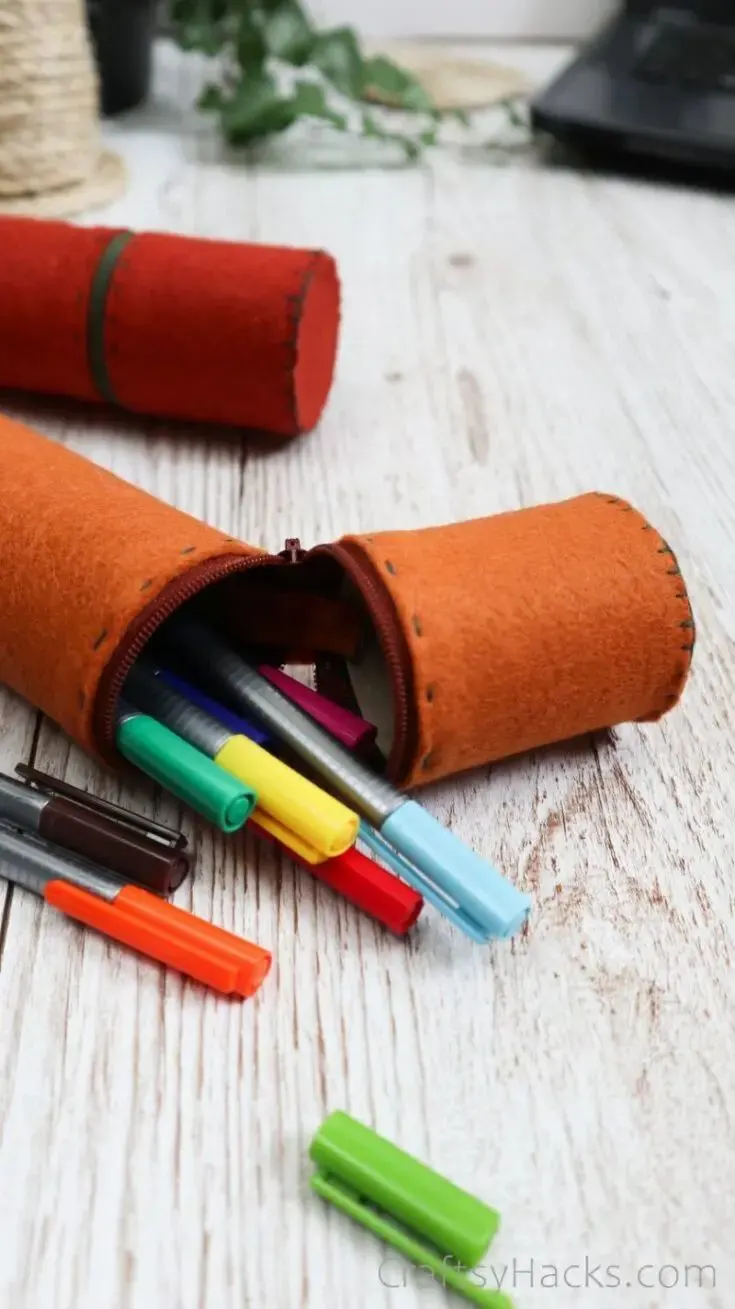 Source: craftsyhacks.com
A surplus of empty toilet paper rolls bogging you down? Then how about a cute little DIY craft project to help you bust through your stash?
These DIY pencil cases look super savvy for something made out of toilet rolls. They're also pretty stackable, which means you can make a half dozen to help categorize your office supplies.
Then, you can just tuck them away into your drawer and voila, all your pencils, pens, and crayons are all organized. Grab some felt from here to begin.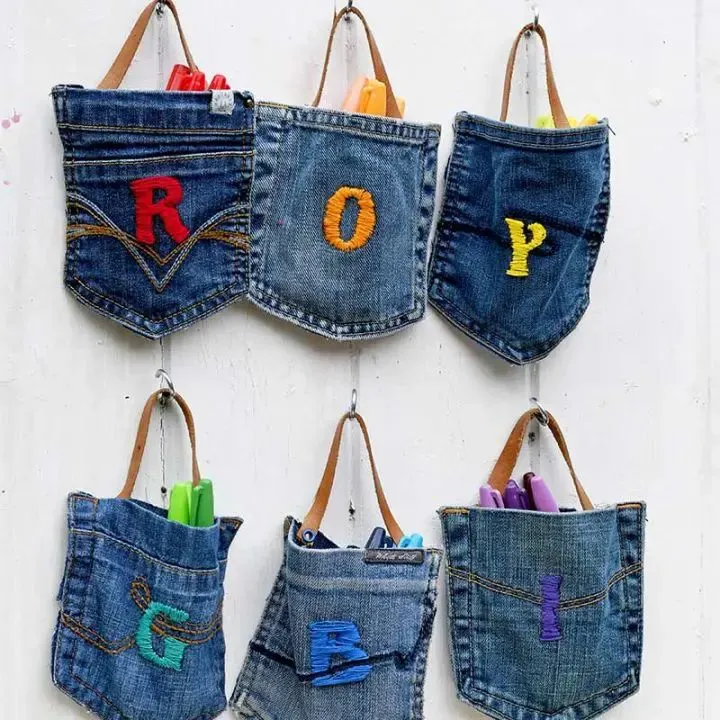 Source: pillarboxblue.com
I always have a pair—or a three—of jeans in the back of my closet that I've been meaning to give away or dump. I'm absolutely sure that you've found yourself in my shoes—or jeans, as the case is.
Here's a project that can help you upcycle and repurpose those jeans. These hanging organizers can work as portable storage pockets that you can use in just about any part of your home.
If you want to jazz these pockets up a little, you can always embroider something on them. You can also sew on a decorative patch or work in some decal.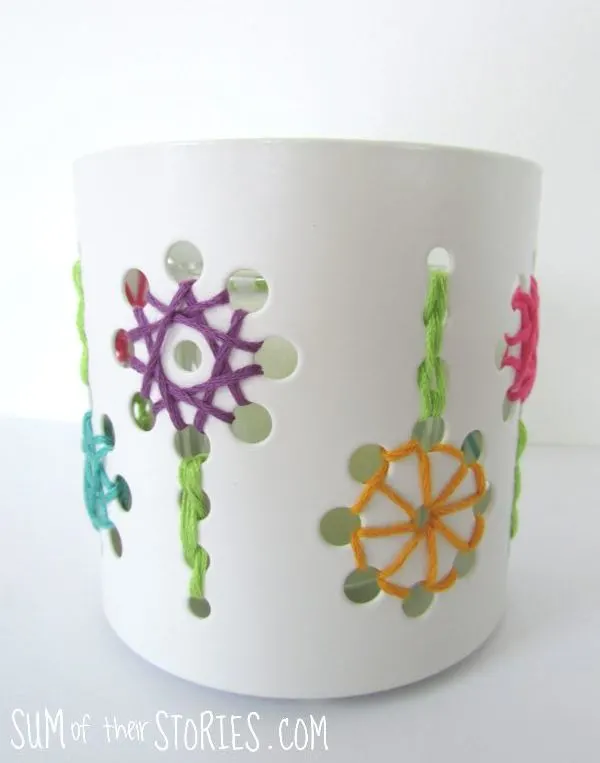 Source: sumoftheirstories.com
IKEA: the land where you go looking for one thing and return with a half dozen more than what you need. The next time you find yourself roaming the aisles of IKEA, go ahead and pick up one of these Vackert tealight holders.
For just a few bucks, you can transform that plain old tealight holder into something colorful and unique. You're going to be sewing some embroidery floss into the holes and decorating it.
Also grab a large sewing or darning needle and some strong glue to help you adhere the embroidery floss to the holder.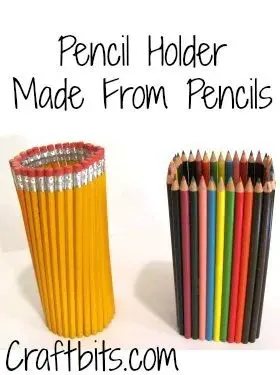 Source: craftbits.com
How about you try making a pencil holder…made out of pencils? It can be just what your desk needs to liven it up a little.
You can give it to your teacher as a DIY gift, use it to organize and sort all your supplies, or you can even repurpose it into a vase and place flowers in it.
Here's a list of what you will need for this project:
A recycle water bottle
31 unsharpened pencils
Scissors
Tacky glue
Rubber bands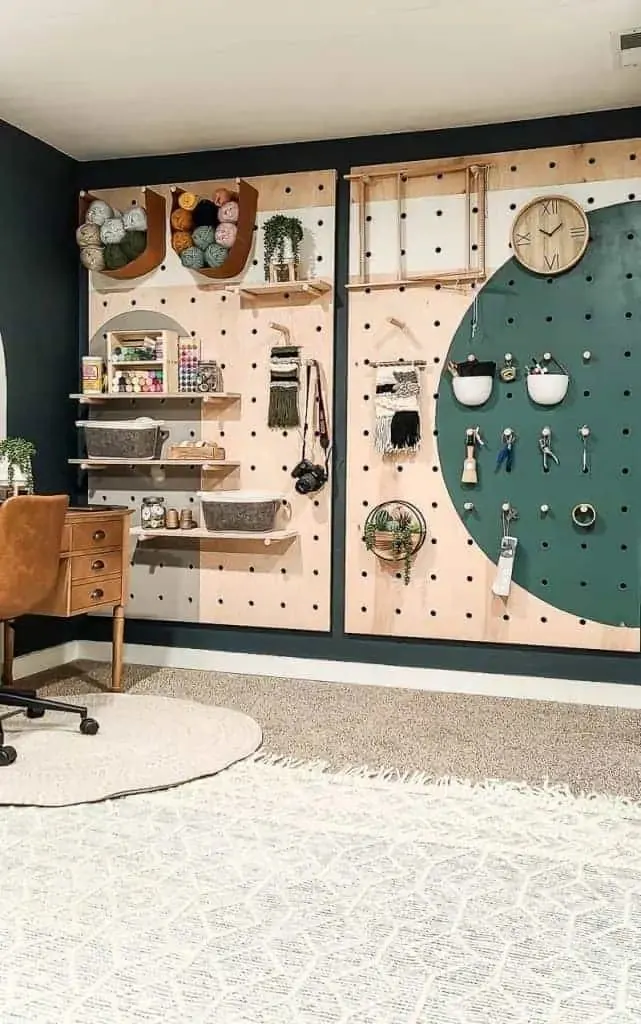 Source: makingmanzanita.com
An organized desk is actually a work of art. When you have a truly organized desk, you can access everything you need effortlessly, be it office supplies, or memos.
Here's a pegboard wall that is both an ideal and practical answer to your storage and organizational needs. It will give you storage without taking away any space from your room.
Having a pegboard lets you have some visual interest around you. It can be used as a way to display your artwork too!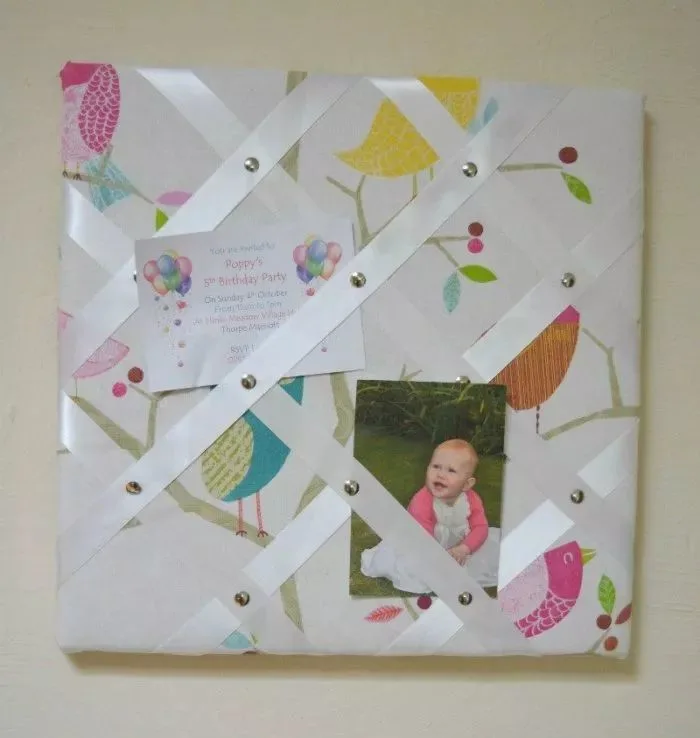 Source: vickymyerscreations.co.uk
Here's one more pinboard decor idea that you can get on board with. This fabric-covered DIY pinboard can be made in absolutely no time at all.
Whether it's for personal use, or even a gift idea for someone, this quick and easy fabric pinboard can help you. Grab some fabric, a staple gun from here, cork board, quilt wadding, and some pins.
You can also use some ribbon or tape to decorate the edges. It can also be used to help segment your corkboards into organized little slots.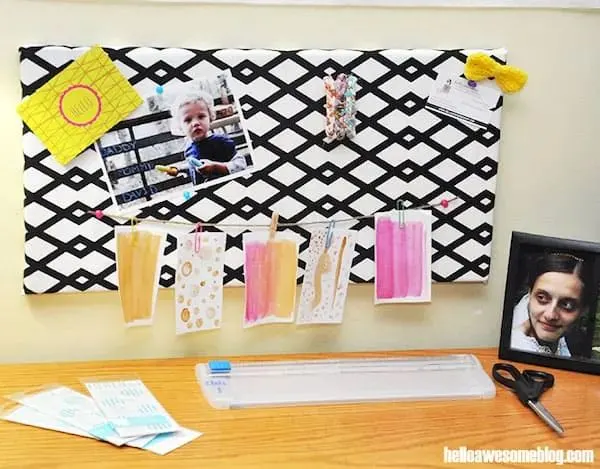 Source: diycandy.com
Don't put away all your supplies just yet; you're going to be making your very own canvas bulletin board. Another way to make your own pin board or bulletin board is to use a canvas. So pick one up from here to get started.
You should also practice using a staple gun before hand—it can be a bit of a challenge at first. If you've never handled one before then grab a pair of protective gear, as well.
Make sure that you iron out your fabric beforehand so that there are no wrinkles. When you pull it out over the canvas, make sure it's snug, but not too tight.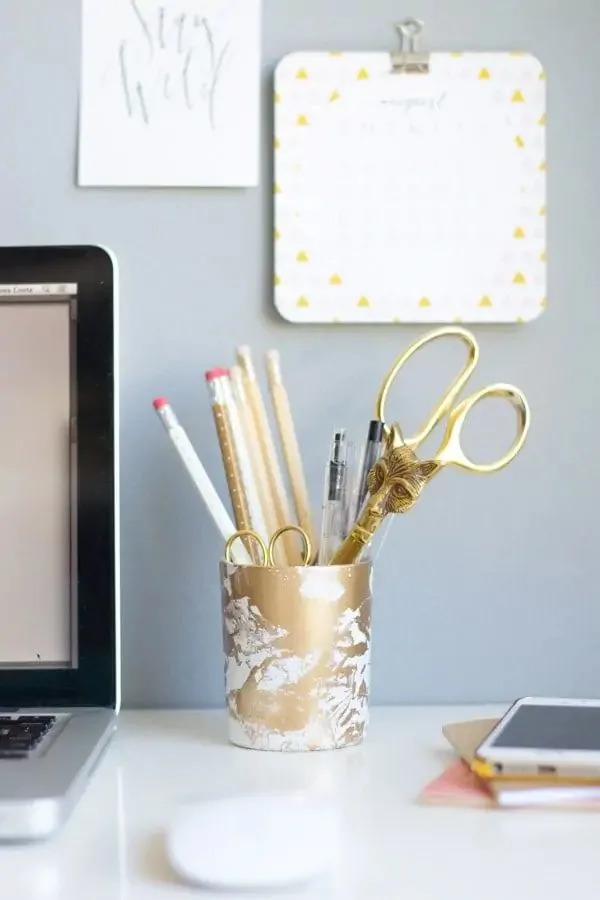 Source: lovelyindeed.com
Would you believe me if I told you that under this marbled pencil cup is actually a plain old metal tin cup with one heck of a face lift? It's true, this gorgeous pencil cup is actually just a cup that's been spray-painted.
Grab some paper towels and lay out plenty to catch spills and splatters. You'll be dipping the cup into paint-sprayed water to achieve that marbled effect.
You will also need some popsicle sticks or toothpicks. You can use them to stir the paint around in the cup to spread it across evenly.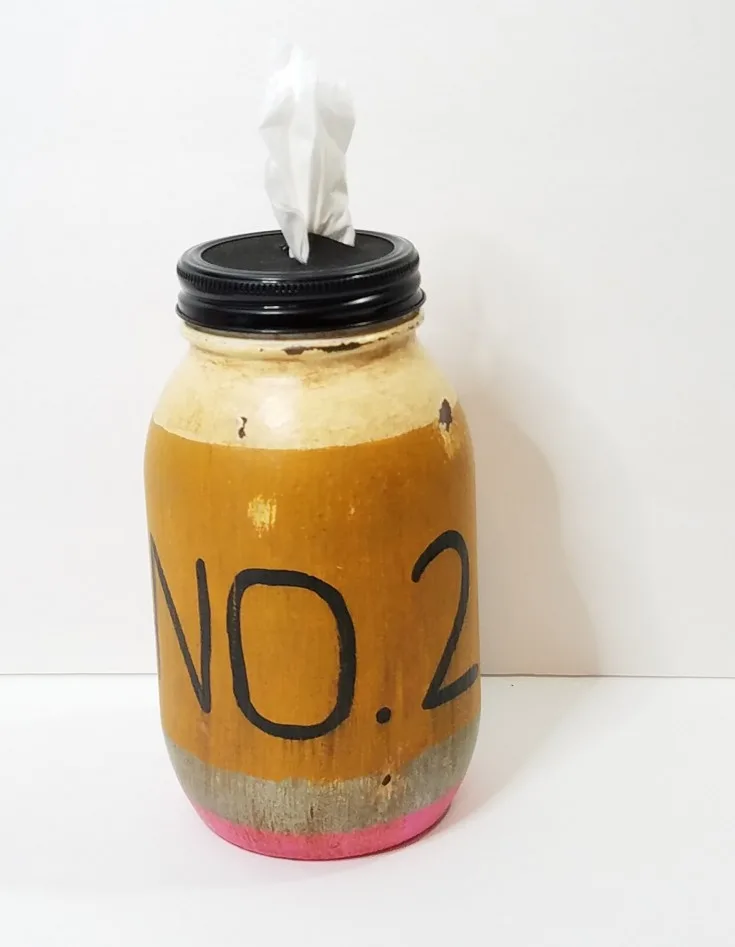 Source: ​​mixedkreations.com
You know what is extremely underrated but also extremely useful to have at your desk? It's a box of tissues. They can, however, be an eyesore or take up a lot of space.
That's when you can use your crafting skills and whip up this gorgeous and funky tissue holder. You can prop it up next to your pencil cup and you'll have a cute little display in the making.
First, grab a large pickle jar or mason jar. Then, buy some paint, brushes, and your basic craft essentials and you're all set.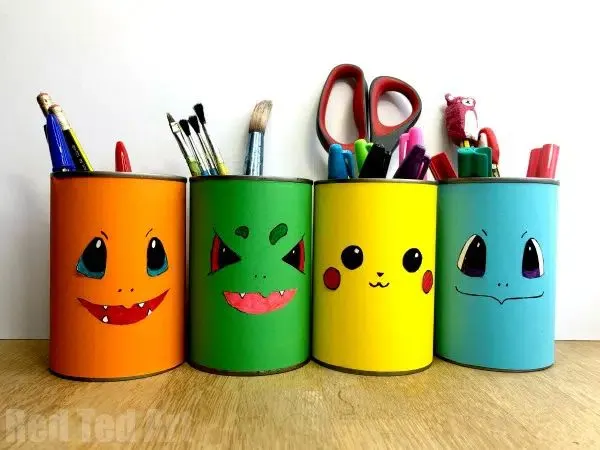 Source: redtedart.com
I grew up with Pokemon, and I bet you did too. Today, however, you can hardly find any Pokemon paraphernalia and that's just a shame.
So why don't you make your own Pokemon stationary holder? You'll have it with you every time you're working at your desk. The first step is to figure out what your favorite Pokemons are.
Next, download and print your Pokemon. Grab a pair of scissors and cut out the shapes you've printed before gluing them onto the holders, as instructed.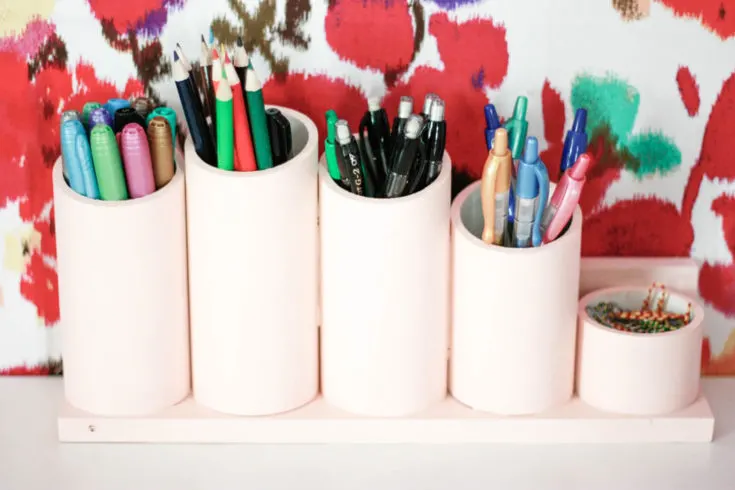 Source: amber-oliver.com
When you're on the lookout for different ways to organize and declutter, the first thing I do is to go around gathering all my pens and pencils.
There's bound to be a ton of them lying around, and they ought to be placed somewhere accessible. The only way you can get them all in one place is to use pen holders—multiple ones.
While toilet paper rolls are particularly useful, PVC pipes, too, are an alternative you can use. Grab a couple of 2-inch PVC pipes, some scrap wood to use as a base, and your craft essentials, as well.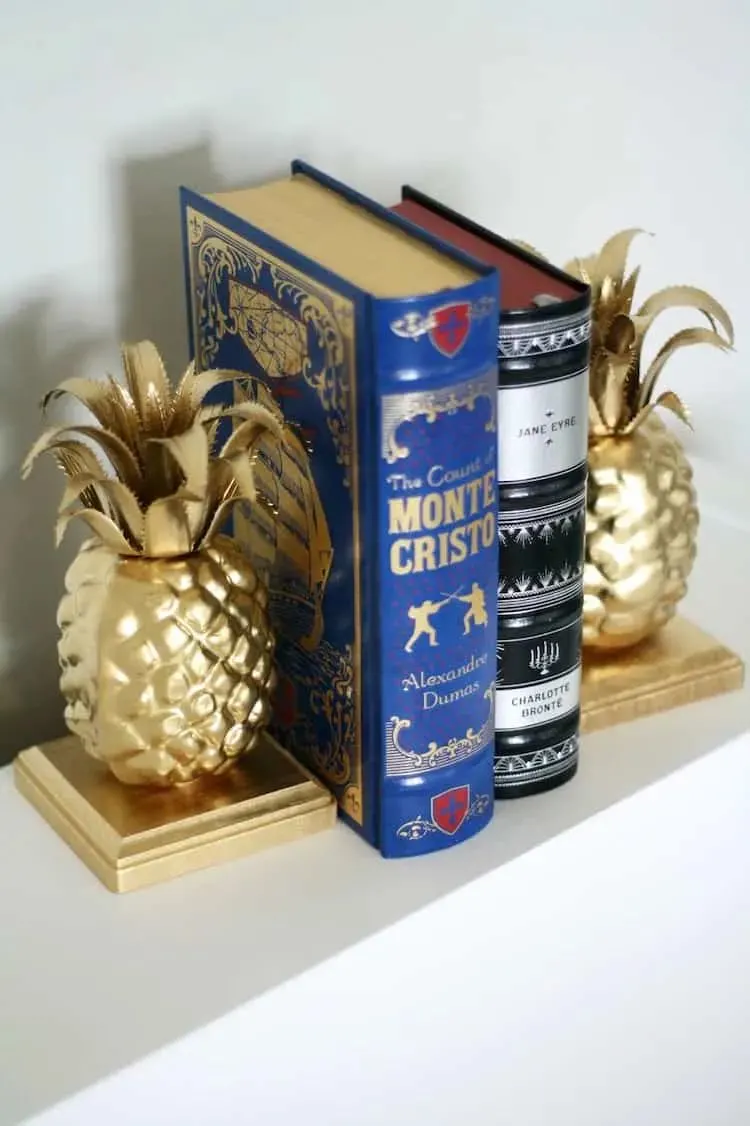 Source: diycandy.com
Don't you just love bookends? Not only do they look great, but they can really help keep your books neatly arranged on shelves. They can stop all your books from tumbling like a stack of dominos, too.
So while you're shopping for bookends, you might as well just pick up supplies to make bookends instead. Why? Well, where else are you going to find fabulous bookends like these gold pineapple ones?
Why don't you pick up your faux pineapple from here first?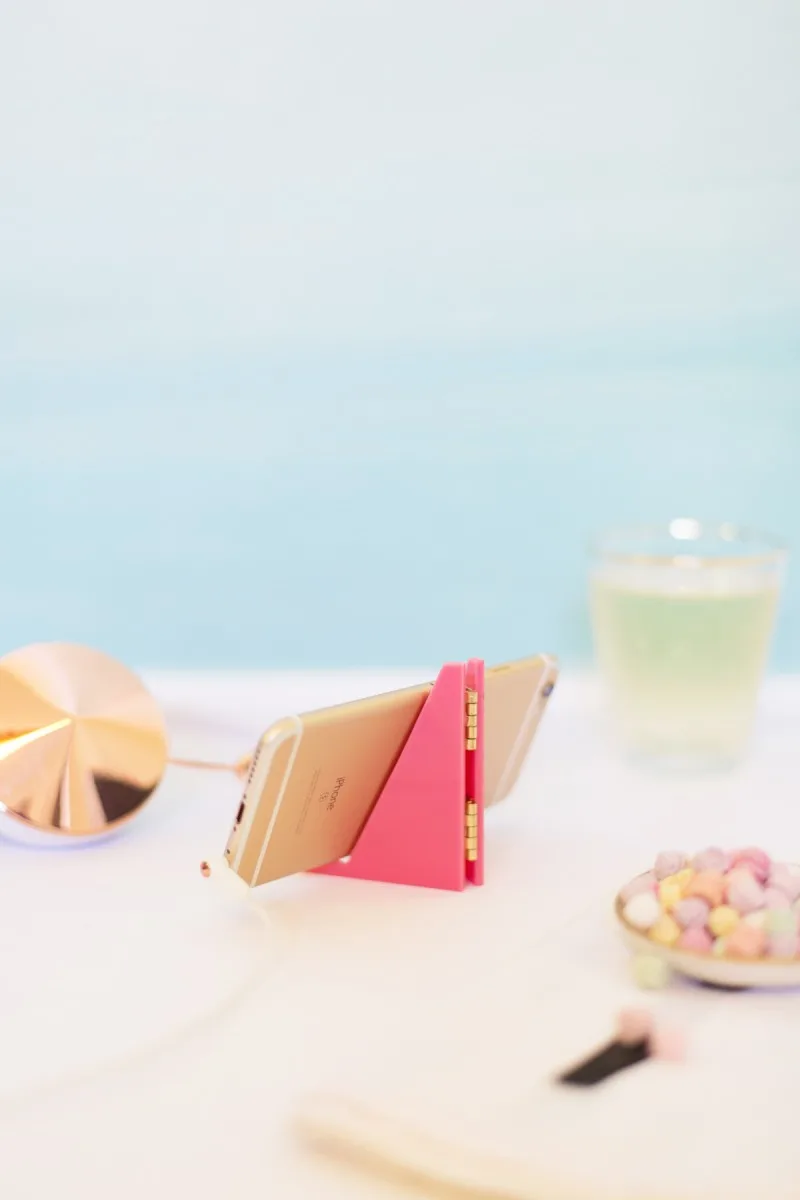 Source: lovelyindeed.com
Having a little stand for your phone can prove to be quite handy. You don't have to worry about propping your up against odds and ends and holding it upright.
Not only does it add a little boost to the phone's height, it can also help protect your phone from unfavorable surfaces while you're working, or watching movies.
Not convinced? Then check out this colorful and nifty little phone stand that's bound to change your mind!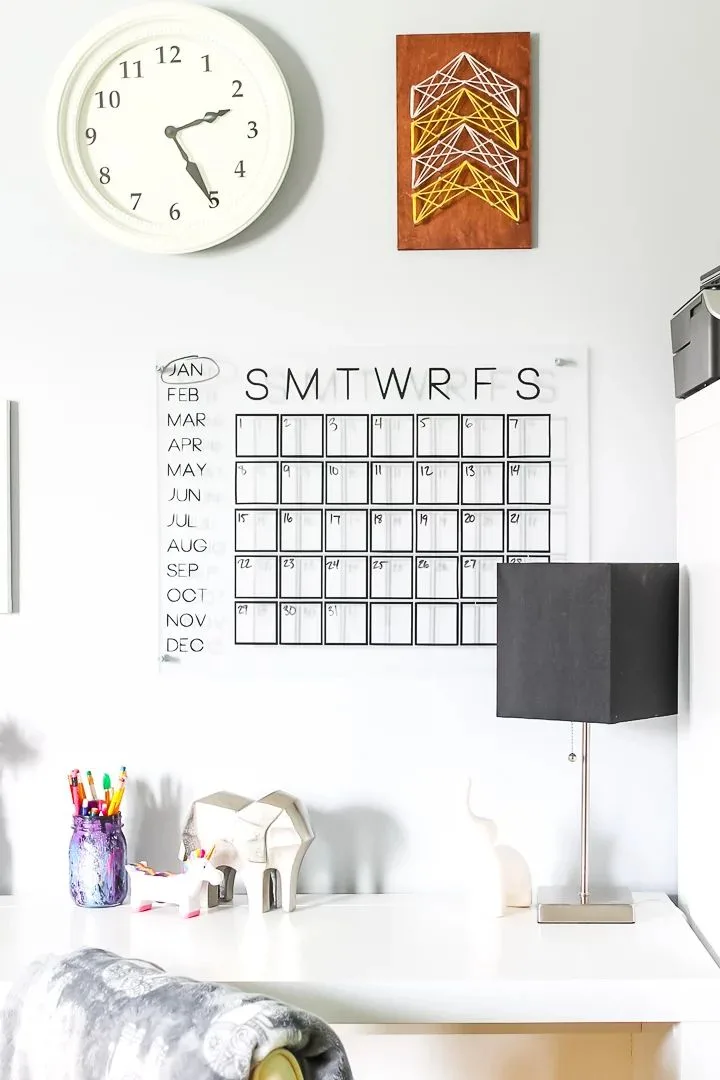 Source: thecountrychiccottage.net
An acrylic calendar—well, just about any calendar for that matter—can help your with your organization needs. It's super easy to make, just take a look at everything you'll need by way of supplies:
Plexiglass sheet from here
Cricut machine
Vinyl
Transfer tape
Downloadable template of calendar
When you've assembled everything, go ahead and design you calendar to your specification. Your can use your Cricut to help you design and execute your Calendar.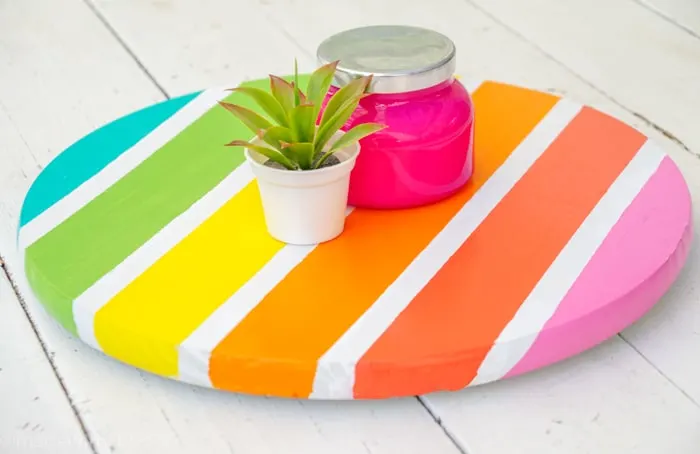 Source: madewithhappy.com
There isn't a time or place where Lazy Susans will not be in style. They're just so darn convenient. What this particular Lazy Susan is, is convenient, yes, but also colorful and creative.
Just think of all the colors swirling around when you rotate the base. Whether it's to keep on your desk to organize your office supplies, or in your kitche, this one's going to help you get on track.
You will need to buy some basic Lazy Susan hardware first, as well as a wood base. Then, you can move onto decorating it anyway you see fit.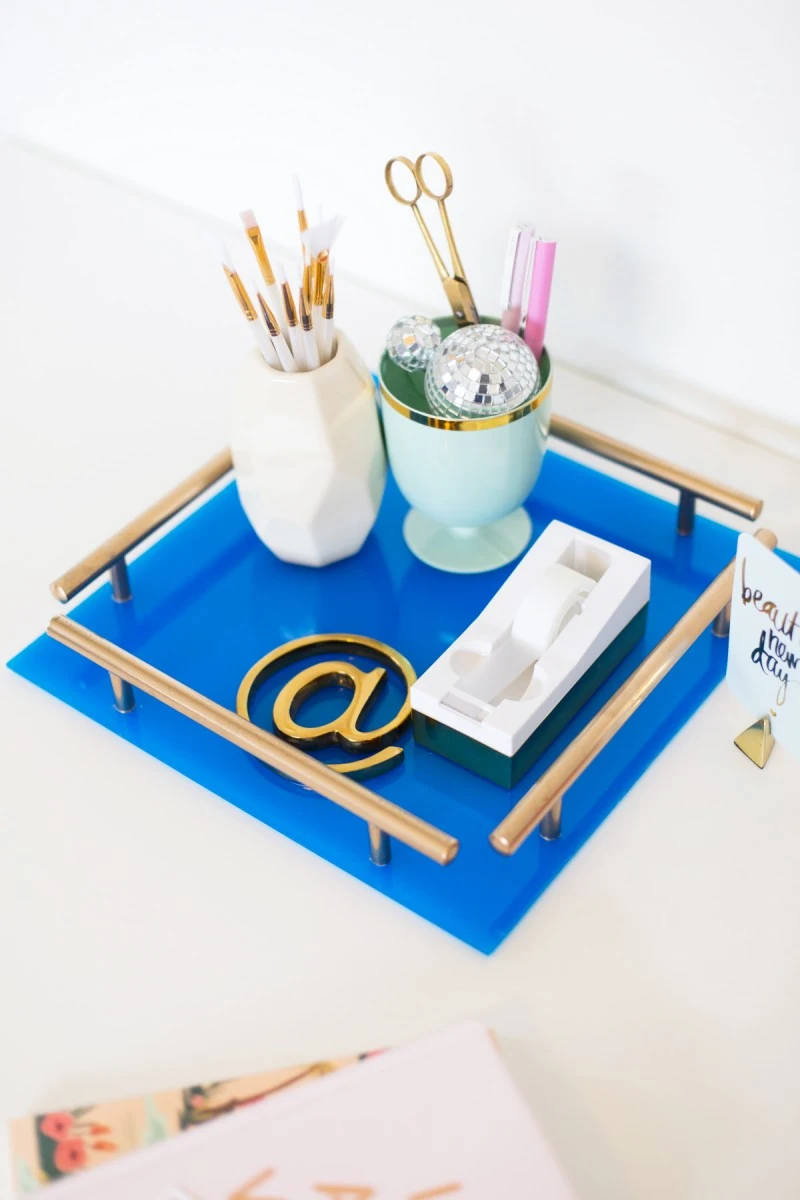 Source: lovelyindeed.com
The thing about acrylic trays is that they're just so easy to customize. All you need for your base is an a rylic sheet, some handle hardware or drawer pulls, and a drill.
You also need your decorative materials, like tape, spray paint, and any embellishments you might want to add. Use your drill to make holes along the edges of the tray.
Remember to measure the drawer pulls and mark the holes you're going to have to drill with a pencil.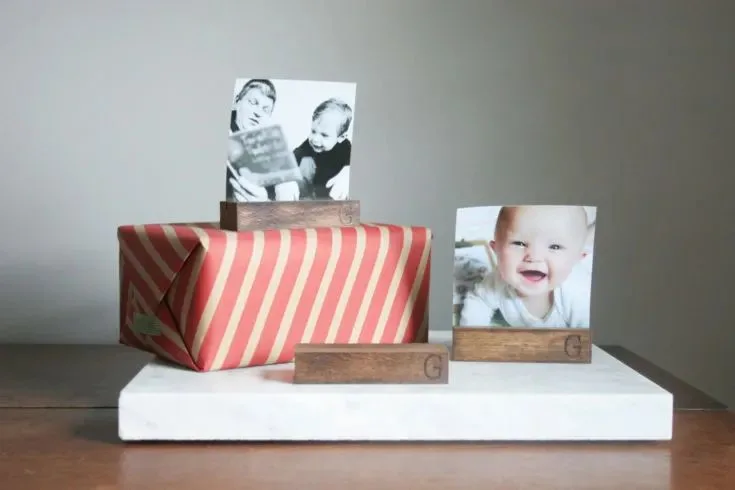 Source: craftivitydesigns.com
Don't you love it when you can have your loved ones around you all day, even when you're working? I have a half dozen photographs on my desk at any given time.
However, it can be a bit of a crunch for space and can make your desk feel small and cluttered. So how about a photo holder like this to do the trick?
You can use little wooden blocks as the base for your holder. With a little help from a wood burning tool, you can also personalize the holders to your specifications.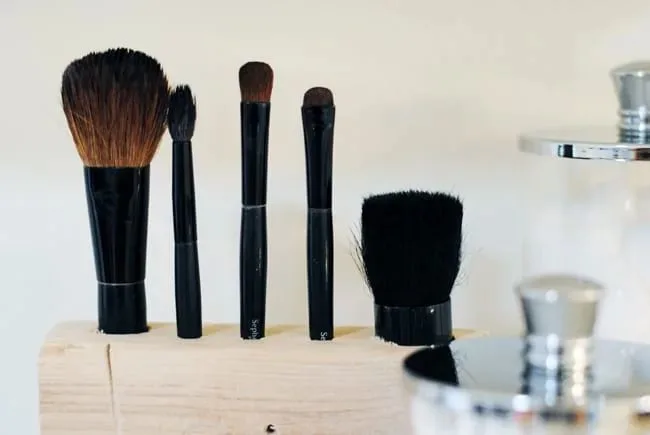 Source: diycandy.com
Who said that only your work desk deserves to be organized? Your dressing table deserves to be clutter-free, too, with all your applicators and brushes easily accessible.
This wooden brush organizer can help you with that. You can have a ton of fun shopping for wood types, but you can just as easily upcycle wood you already have.
When you're done measuring and executing the various inlets, you can stain your brush holder, or paint it, too.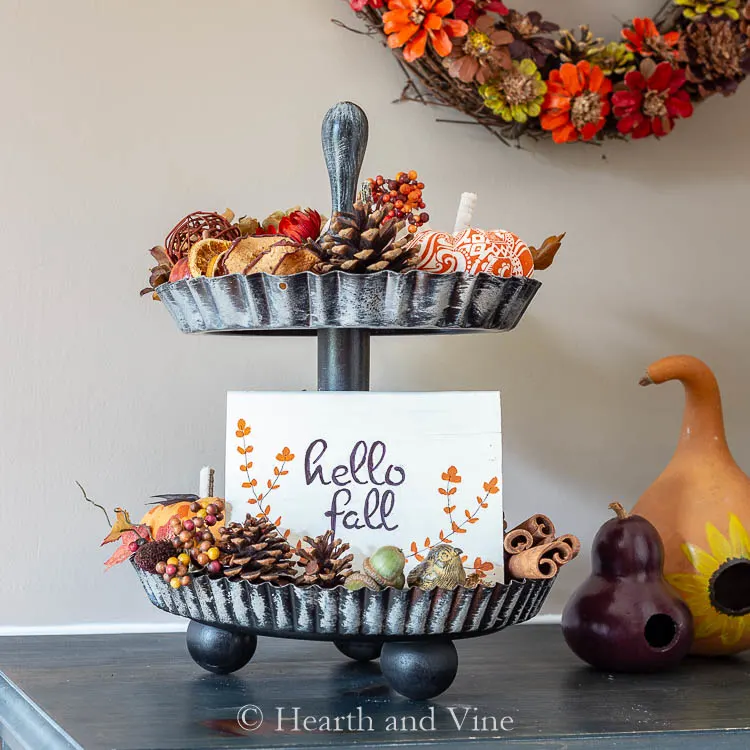 Source: hearthandvine.com
You know all those baking trays and tart tins you've always been meaning to give away? Well, it's finally time to do something with them.
You're going to make a tiered tray out of those tins to give you some extra storage when and where you need it. Think of it as a stand for your desk where you can group all your pencil holders and more.
You will also need a rolling pin, some giant wooden beads to stick to the bottom and prop the tray up, and finally, plenty of glue. Go ahead and paint the trays, too, while you're working.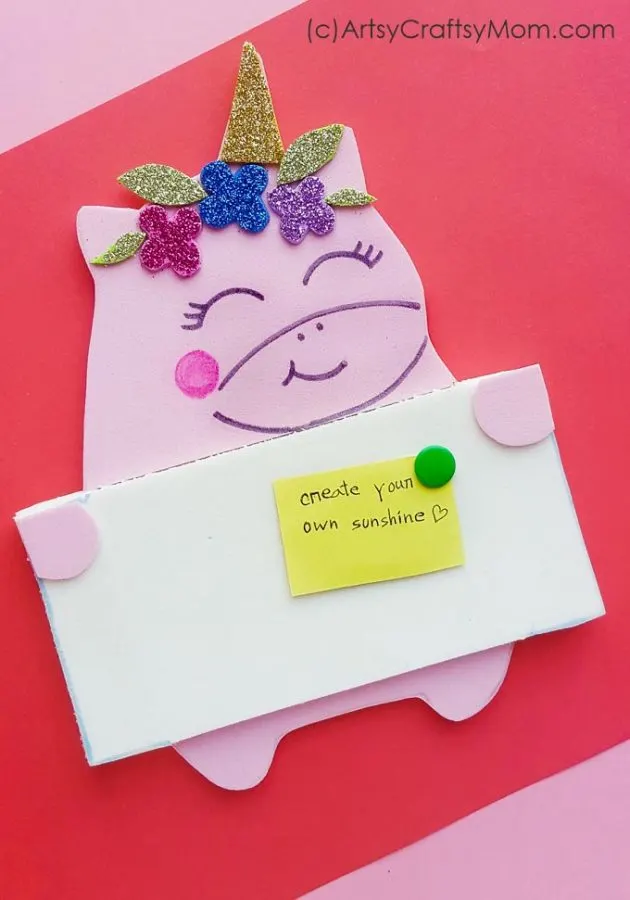 Source: artsycraftsymom.com
Looking for a way to jazz up your little one's work or craft space? Or maybe you just want something quick, cute, and quirky to light up your desk?
Check out this foam unicorn pinboard! It's bright and cheerful, with just enough sparkle and glitter to offset your work space.
Grab some foam sheets, foam boards, glitter paper, and your craft essentials. There's also a free template available for your to download and print!
Yield: a desk organizer
41 DIY Desk Organizer Ideas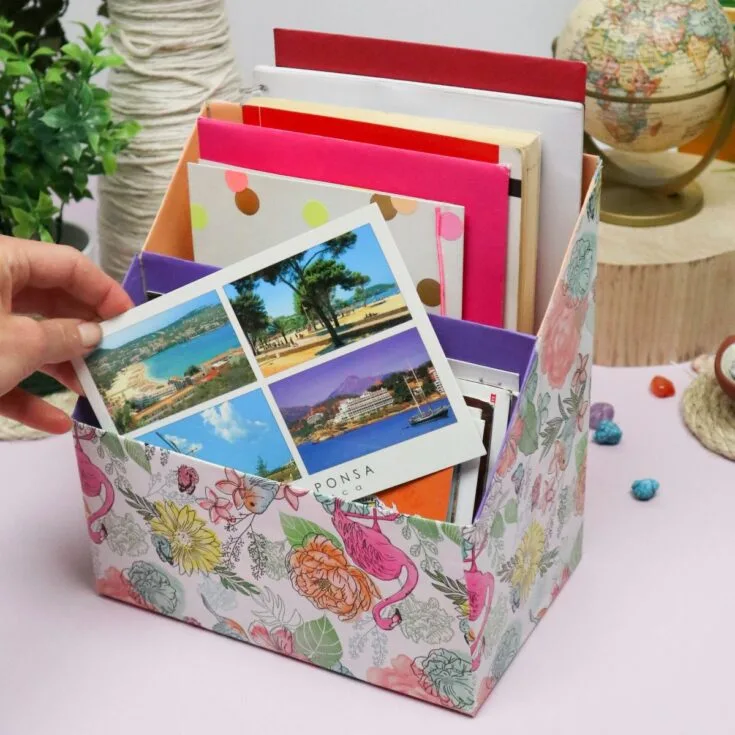 Make your very own desk organizer and increase storage space in your office.
Materials
1. Desk Organizer made of Cereal Boxes
2. Wood Desk Organizer
3. DIY Mail Organizer
4. Leather Cord Organizers
5. DIY Desk Organizer made of Upcycled Food Packaging
6. Adjustable Desk Organizer
7. Magnetic Organizer
8. Upcycled Tin Cans
9. Pencil Holder
10. Memo Board
11. Hanging Organizer
12. Gift Wrapping Organizer Station
13. DIY Drawer Dividers
14. DIY Desk Organizer with a Box Top holder
15. Magazine Organizers
16. Magnetic Chalkboard Calendar
17. Rope Organizers
18. Geometric Desk Organizer
19. Father's Day Gift Desk Organizer
20. Wood Floating Corner Desk
21. DIY Phone Holder from Toilet Paper Roll
22. DIY Pencil Case
23. Hanging Pockets from Old Jeans
24. Tealight Holder with Embroidery
25. Pencil Holder made with Pencils
26. Pegboard Wall
27. Fabric Pinboard
28. Canvas Bulletin Board
29. Gold Marbled Pencil Cup
30. Pencil Jar Tissue Holder
31. Pokemon Stationary Holder
32. PVC Pen Organizer
33. Pineapple Bookends
34. Acrylic Phone Stand
35. Acrylic Calendar
36. Lazy Susan
37. Acrylic Tray
38. Photo Holder
39. Makeup Brush Holder
40. Tiered Tray
41. Foam Unicorn Pinboard
Tools
Cardboard boxes
Paper
Scissors
Glue
Double-sided tape
Etc
Instructions
Find the organizer your want to make.
Gather your supplies.
Get crafty!