Have fun this Christmas with these crafts to make and sell. These little projects will give you inspiration and keep you busy on the holidays.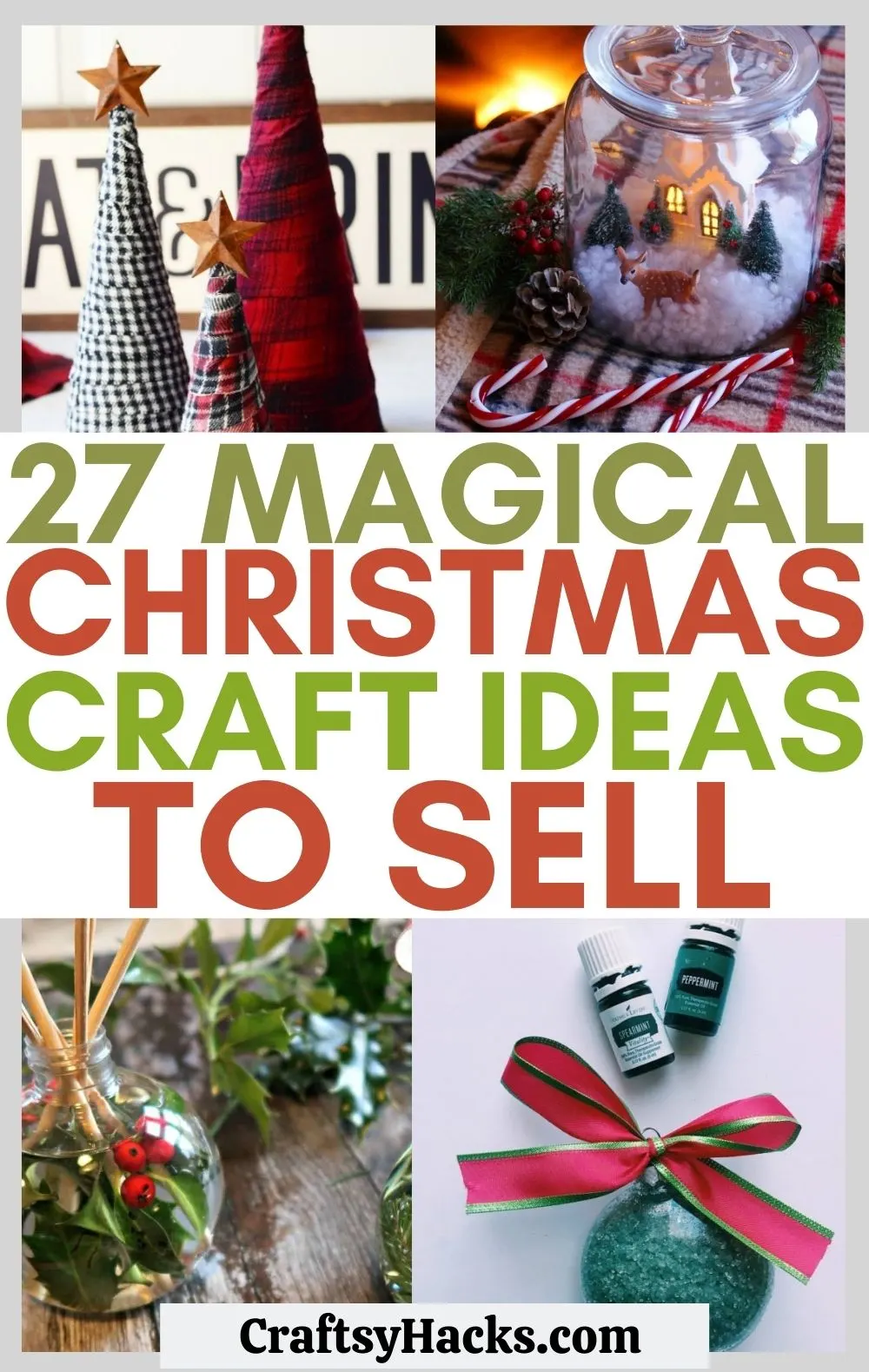 With Christmas right around the corner, you've got to get ahead of your shopping, decorating, and planning your craft sessions. There's a ton of creative ideas you can explore when you want to make, display or gift Christmas-themed crafts.
So, take a look at these 27 Christmas crafts you're sure to enjoy.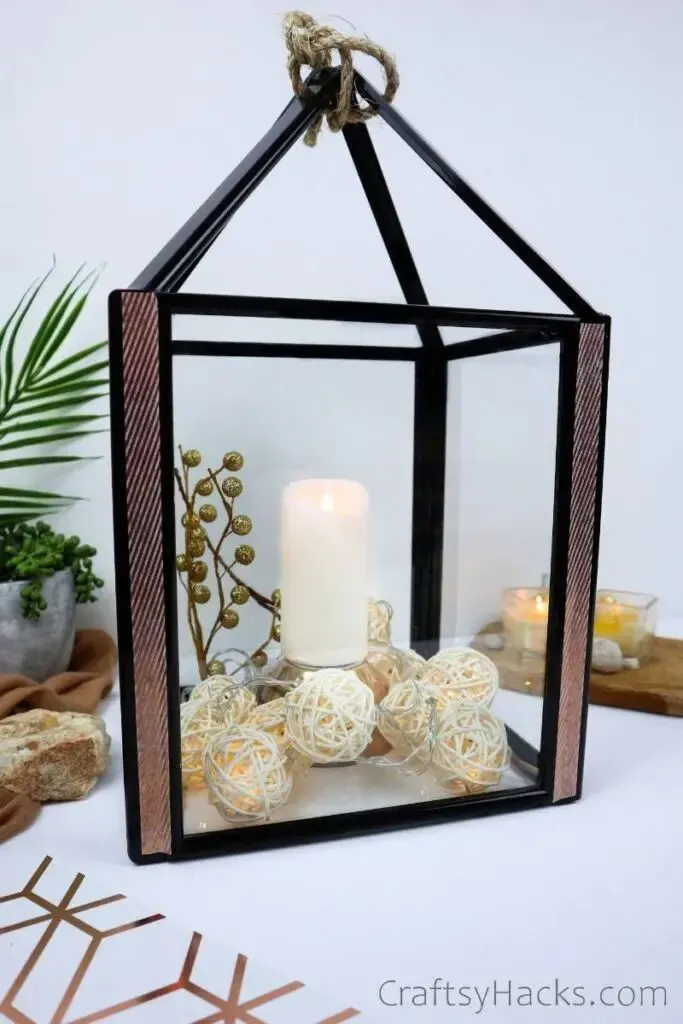 Source: craftsyhacks.com
Dollar trees are just the absolute best, aren't they? You always, but always find the craft supply you're looking for, and for just a buck, too.
This dollar tree lantern is a beautiful decoration item for your home that you make on a budget. It's all about using craft essentials you already have at home to create new things.
You'll have a beautiful lantern ready for the winter times and at a fraction of what you'd pay at a fancy store. So, grab these tealight candles and get crafting.
Check out these adult crafts for more crafting inspiration.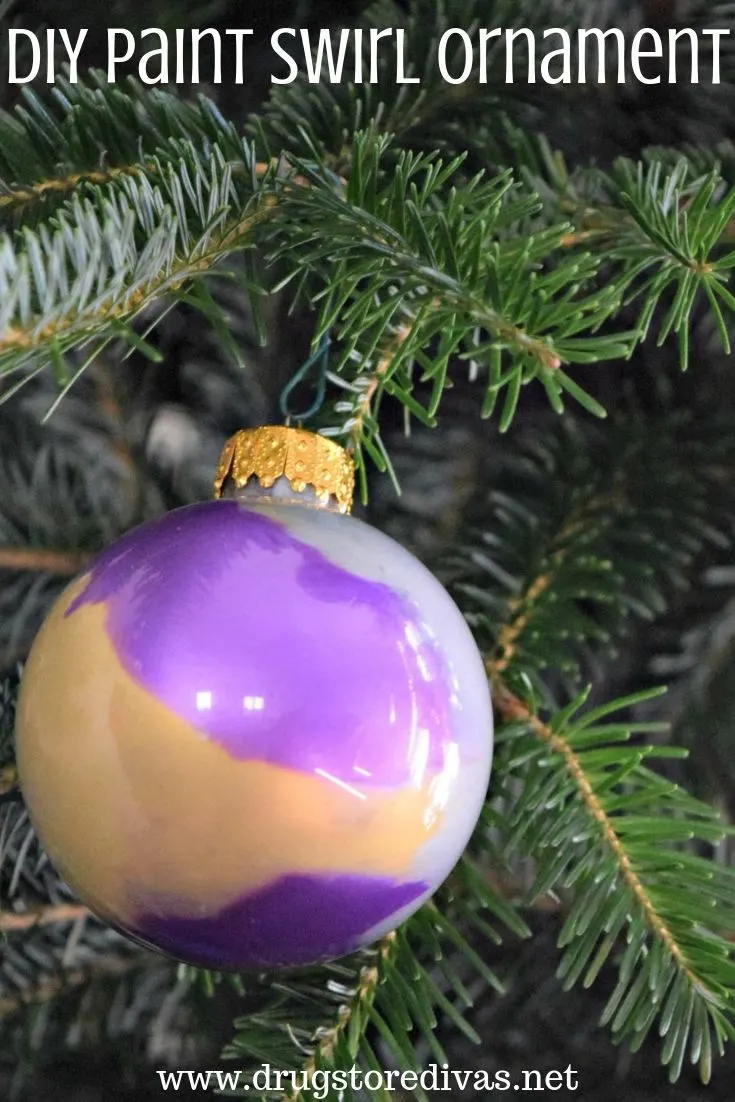 Source: drugstoredivas.net
When you've got what it takes to make gorgeous Christmas tree ornaments at home, why on earth would you want to buy them instead?
These orbs of swirling paint will look spectacular on your tree.
You'll need these glass ornaments, metallic paint, and paper towels to control messy accidents. If you like, you can switch out the clear string for some jute twine or ribbon to hang the ornaments.
You'll also need a small glass cup. Once you've swirled the paint inside the ornament, tip it over and allow the extra paint to fall into the glass.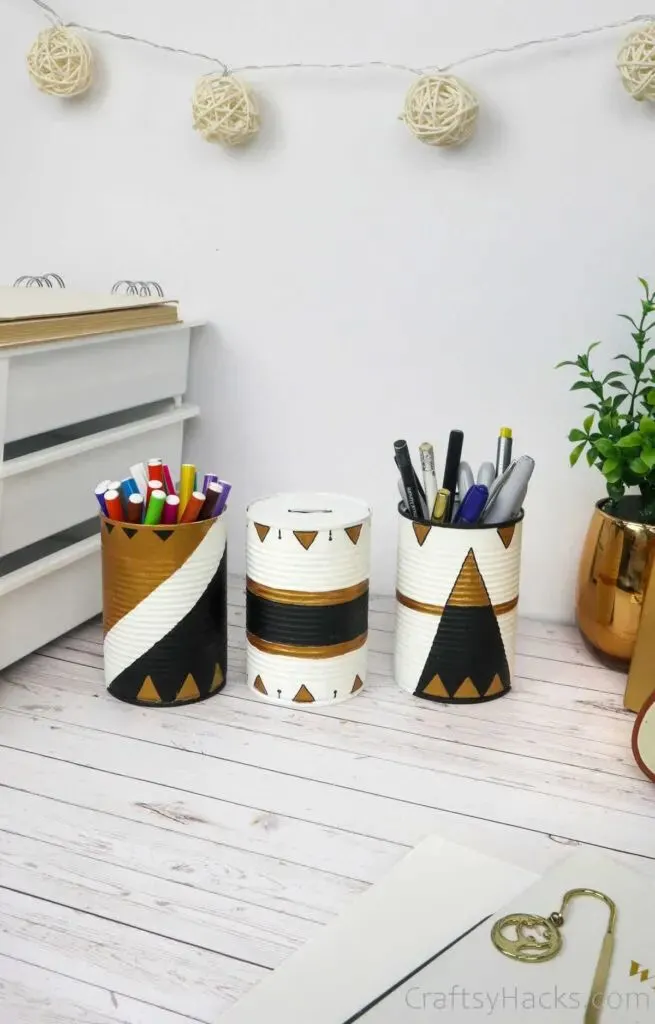 Source: craftsyhacks.com
Here's the perfect lazy winter afternoon craft project for you to try out upcycling tin cans into a pen holder. Just think of how pretty they will look once you've turned boring old cans into works of art!
In fact, you can use these cans as mini planters, too. You can have a little cactus or succulent plant on your desk to brighten it up with bright color and cheer.
You'll need tin cans, acrylic paint, a paint palette, masking tape from here, and finally, a hobby knife.
Source: familyfocusblog.com
You probably know how expensive really good bath salts can be. I usually get through a bottle quite fast, so buying them all the time wasn't quite feasible.
Did you know that you can make your own bath salts? Just think of how marvelous it would be to soak in a tub with minty peppermint-scented bath salts fizzing away.
Grab a mixing bowl, Epsom salt, coconut oil, and some essential oils from here. You can switch out the peppermint for something more floral or fruity, like vanilla or strawberry essential oil.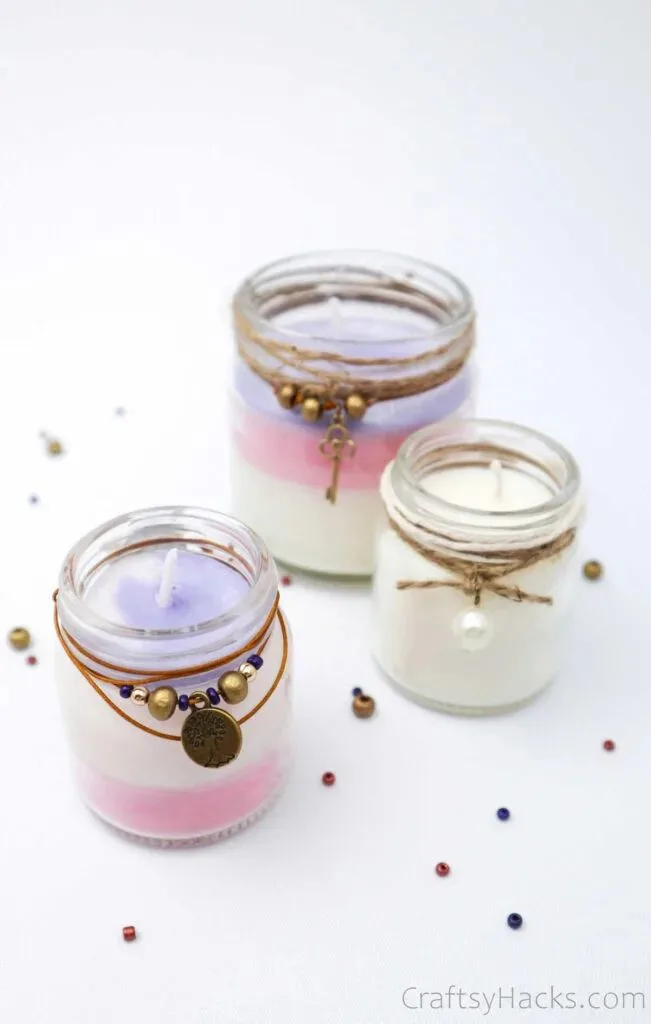 Source: craftsyhacks.com
You can never have too many scented candles around your home. I usually have a couple in every room, and I love lighting them and relaxing while I go about my chores around the home.
This project will also help you get rid of old glass jars you have sitting in cupboards and collecting dust. You'll also need wicks from here and beeswax.
If you like, you can add a few drops of candle dye to add a bit of color to your candle. To wrap things up(quite literally), you can tie a length of ribbon or raffia around the rim with a couple of charms dangling from it.
Check out this DIY leaf candle holder if you want to customize your glass jars.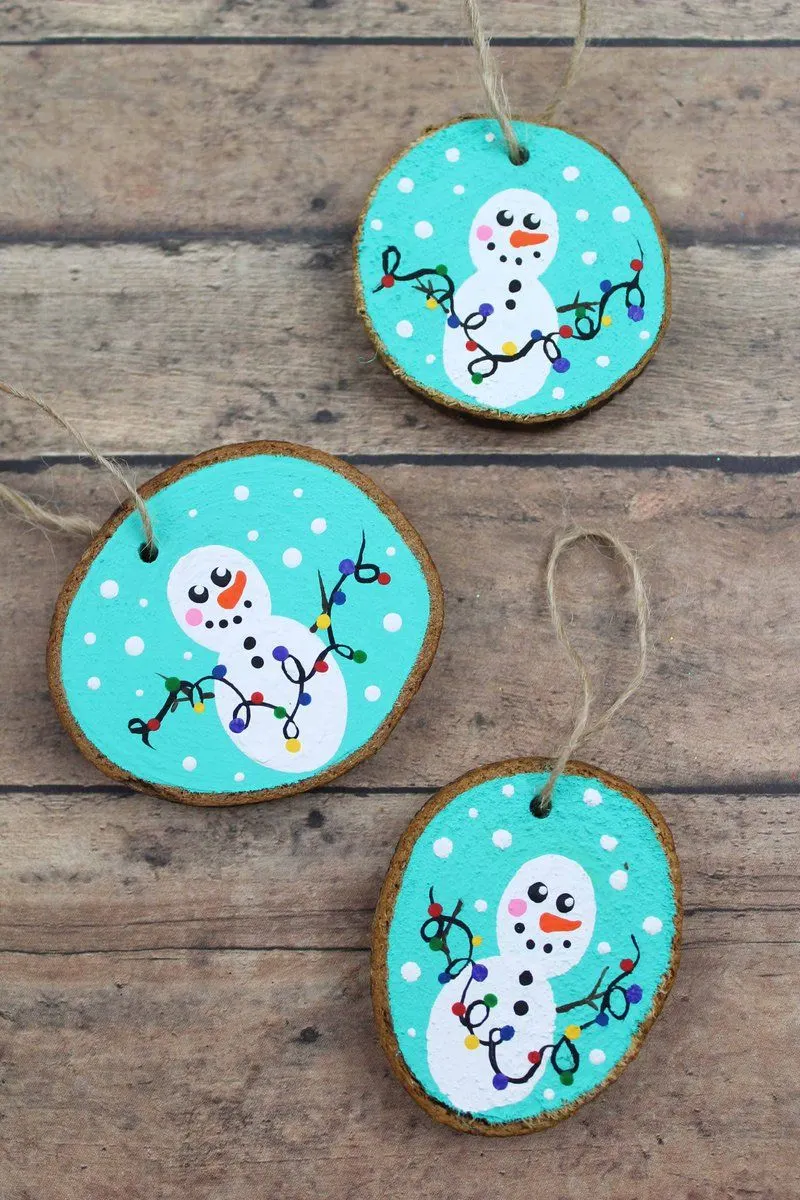 Source: theinspirationedit.com
If you have a couple of these wood slices, you can make your very own snowman Christmas ornaments in no time. Alternatively, you can also just use them as coasters instead.
Pick up a couple of colors of paints, too, while you're shopping. Why don't you have your kids join you for this project?
They'll enjoy painting the wood slices, and you can help them drill a hole when they're completely dry. Then, just pull a bit of twine or ribbon and hang them up on your tree.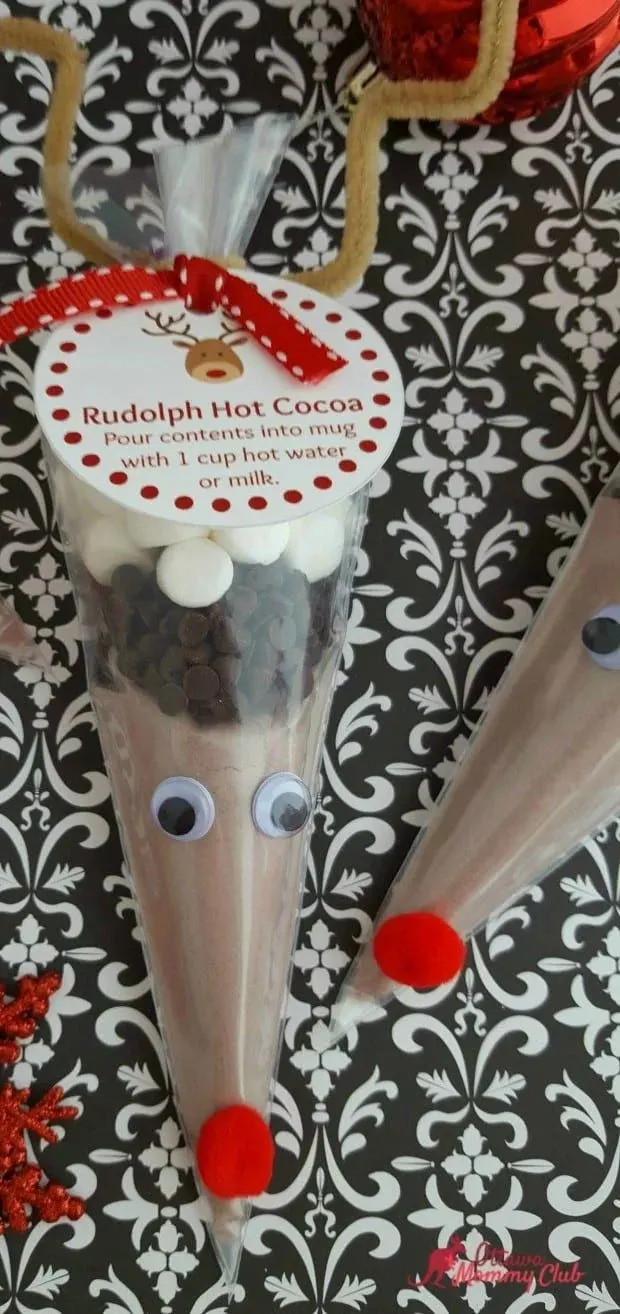 Source: ottawamommyclub.ca
I can't tell you how amazing these hot chocolate glasses are. They come prefilled with all the ingredients: cocoa powder mix, the little marshmallows, and chocolate chips, too.
All you need to do is pour milk or hot water and enjoy a cup of delicious cocoa. You know, you can make those right at home if you have a party coming up.
You can just set these glasses (with the printable reindeer hot cocoa tags on top of it) on your bar counter and let the guests help themselves.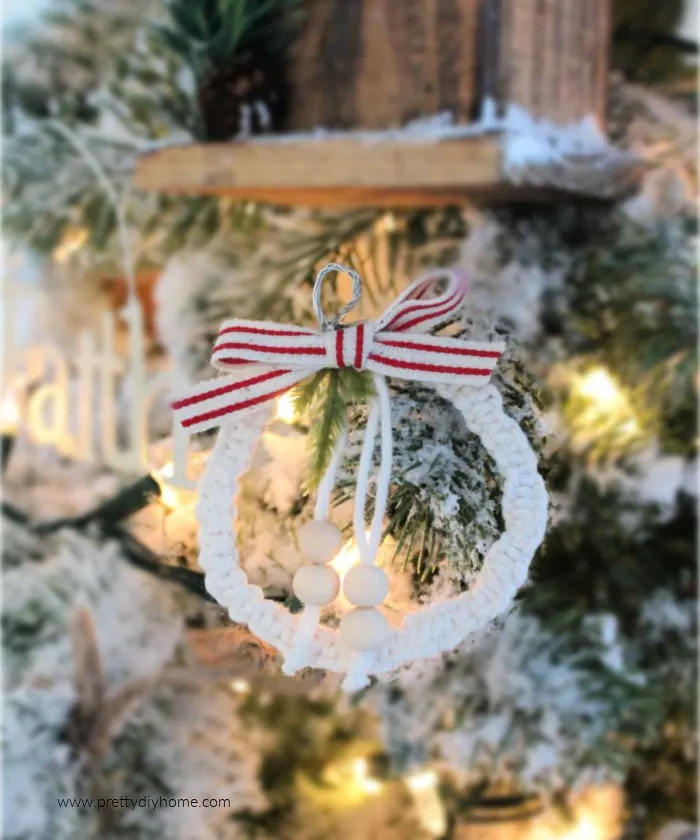 Source: prettydiyhome.com
Macrame art or craft projects do tend to become quite elaborate. But this macrame ornament is really quite simple to make. First, pick up some white cotton wool from here and some floral wire, too, from here.
Cut four strips of the cotton wool, each approximately five feet in length. Gather these strips together along with the floral wire and tie a loop knot as instructed.
Follow the pattern, and you'll have your ornament ready to hang on your tree in no time at all. Why don't you check out these Christmas tree decorating ideas for more inspiration?
Love the macrame? Check out these DIY macrame earrings.
Source: mymorningmocha.com
I know you tried out those ready-to-make reindeer cocoa mugs. Here's another DIY hot chocolate stirrer recipe.
These melted-then-dried chocolate stirrers can be customized with different toppings: sprinkles, chocolate chips, marshmallows, and nuts if you're not allergic.
This little lollipop-like hot chocolate stirrer is very easy to make, if you have the right mold. Actually, you can make and serve them in little shot glasses. You'll also need popsicle sticks.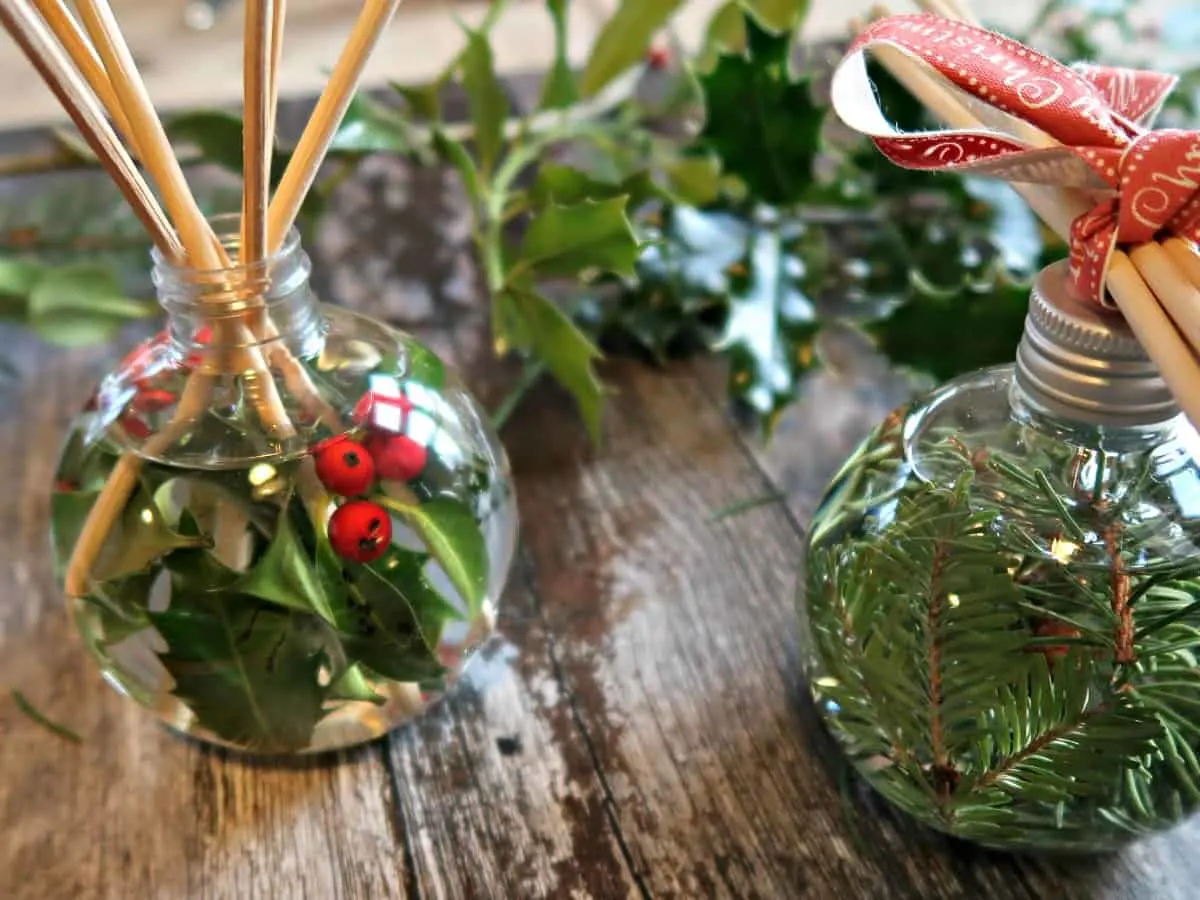 Source: craftinvaders.co.uk
I always have a reed diffuser tucked away in a discrete corner in most rooms. When they're store-bought, they can be quite boring and generic.
But since it's Christmas, you can go all out on your reed diffusers and make them a part of your decor. You probably already have the glass orb bottles.
But do you have reed sticks? Why don't you grab some from here before you get started?
The DIY version of diffuser oil can be experimented with using essential oils to the same effect. So fill the bottle up and stick the sticks in there!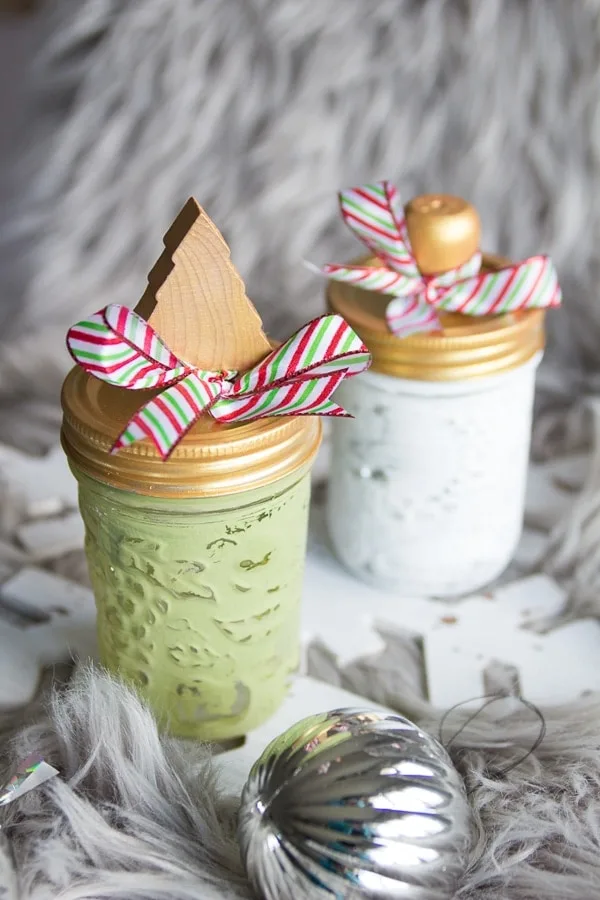 Source: mommymadethat.com
I bet you have a ton of mason jars in your cupboards. This project is the best possible way to upcycle those jars, and you'll have gorgeous Christmas decor pieces once you're done.
First, wash, clean, and dry your mason jars completely before you start painting them. Once you've painted them, you can use a bit of sandpaper to distress the jars.
I really think that makes them shabby-chick, don't you? Finally, grab a bit of Christmassy ribbon and tie a nice big bow around the lid to wrap things up.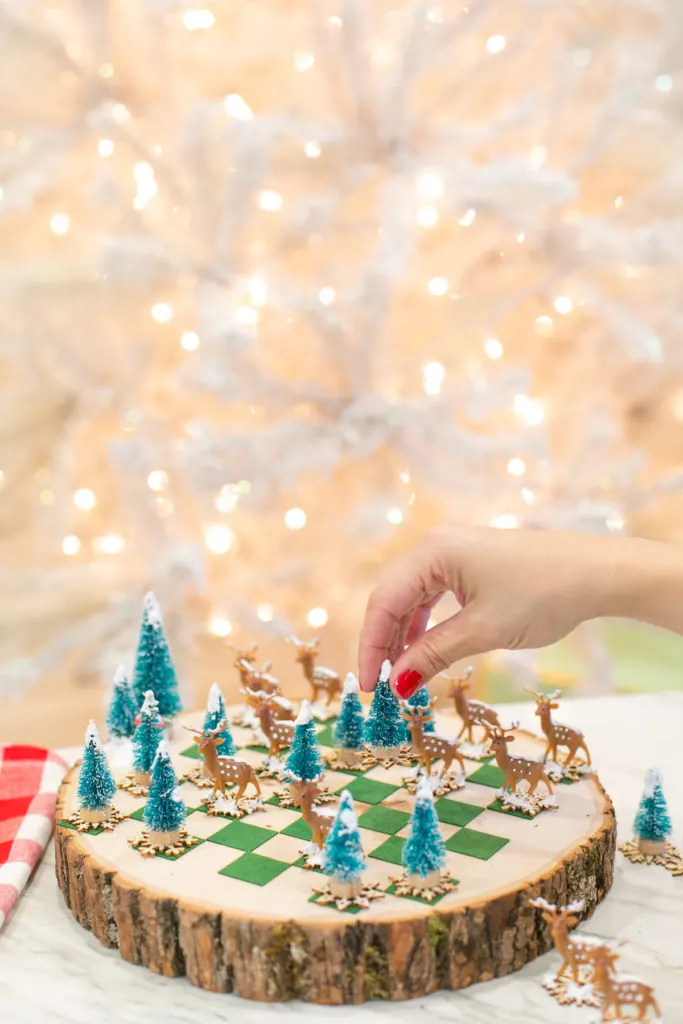 Source: lovelyindeed.com
You can't beat that amazing feeling of sitting by the fire and enjoying a game of chess or checkers on a cold winter night. This checkers board can perhaps make that even better?
It's quite ingenious, really, how you've got reindeer and Christmas trees instead of typical checkers pieces. You'll need a large wooden tier from here, to begin with.
You'll also need some green felt for the checks, as seen here. To top it off, you can apply a nice layer of iridescent glitter to recreate sparkling snow.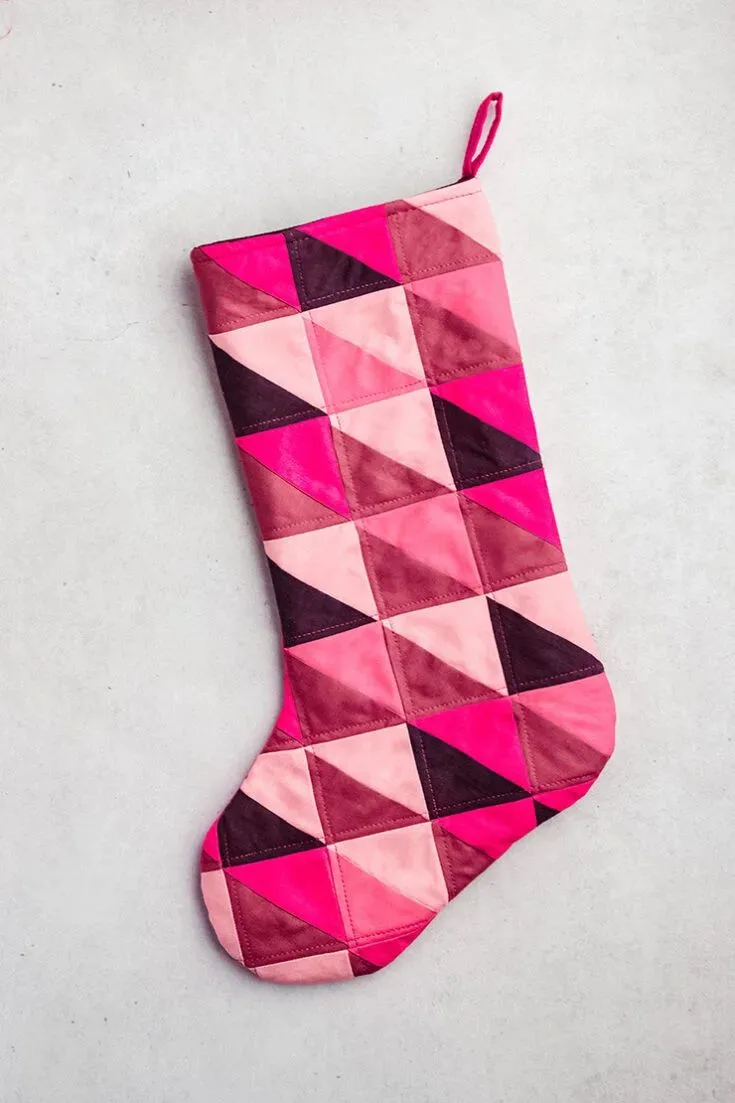 Source: sarahmaker.com
You've got to put up your Christmas stockings; you simply have to. But, they don't have to be the typical red and white cuffed ones, no.
You can add a little glamor, style and color to your Christmas stocking with this quilted project. Check out all those bright pops of pinks!
You can download the pattern provided and sew these stockings in under an hour. This is the perfect project to help you get rid of all those scrap cloths you have lying around.
In fact, check out these scrap fabric projects for more inspiration!
You can also look at these Christmas stocking ideas.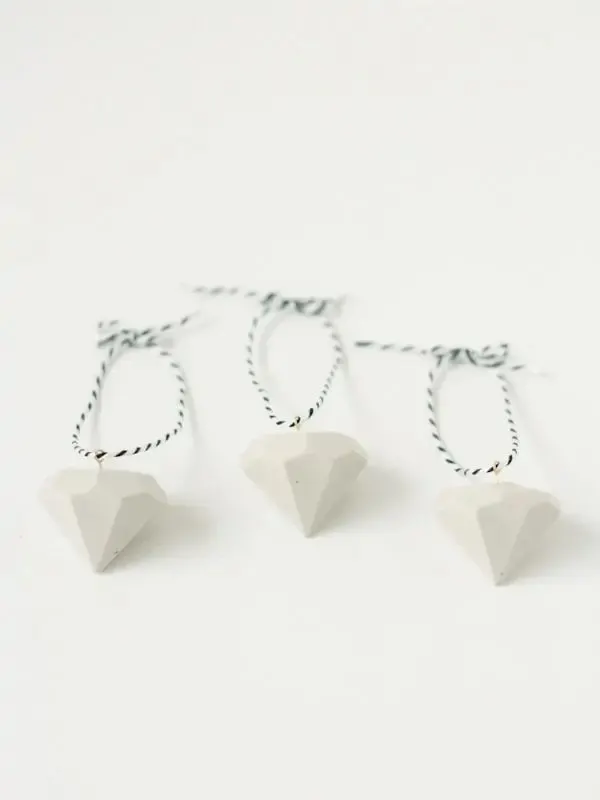 Source: lovelyindeed.com
These ornaments aren't necessarily for your Christmas tree. Check out how they can be tagged around the neck of a bottle just so.
They're such a sublime and unobtrusive addition to spice things up. You'll need silicone gem ice trays from here to recreate that shape.
You'll also need cement from here, a couple of plastic cups to mix the cement, and popsicle sticks to do the actual stirring to remove lumps.
Once your cement has dried and has set, just pop them out, drill a tiny hole at the tip and run a length of twine through it to hang them up.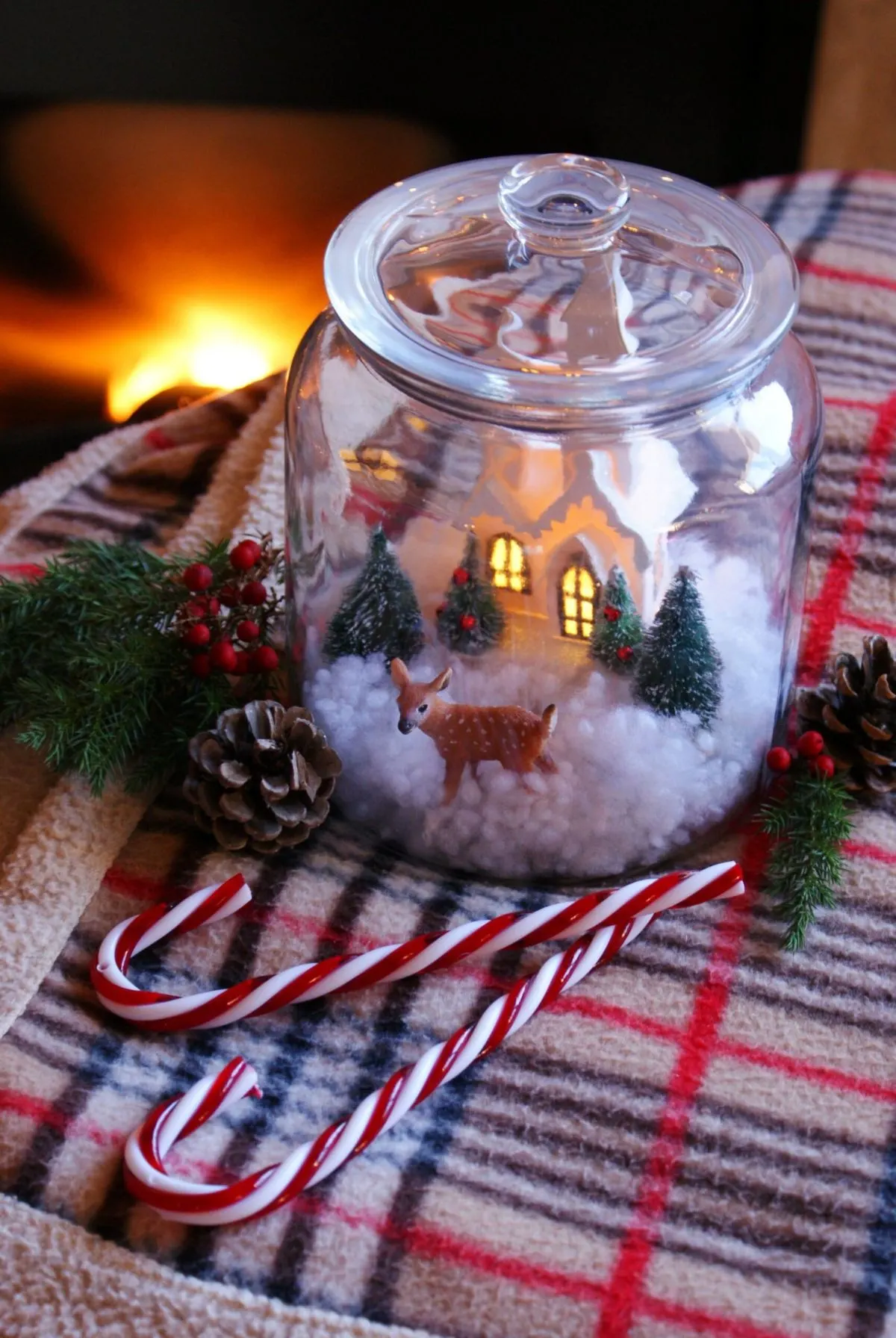 Source: francinesplaceblog.com
So, instead of a traditional snow globe, why don't you try this gorgeous snow scene in a jar project? It's just as pretty, and the best part: you can use fairy lights!
You can use an old apothecary jar or a large cookie jar for this project. Fill the bottom of the jar with fake snow. You can also use cotton to the same effect.
Then, start arranging little Christmas props like a miniature church, trees, a reindeer, and more. You can wrap your lights and then top the jar with a nice big bow on the lid.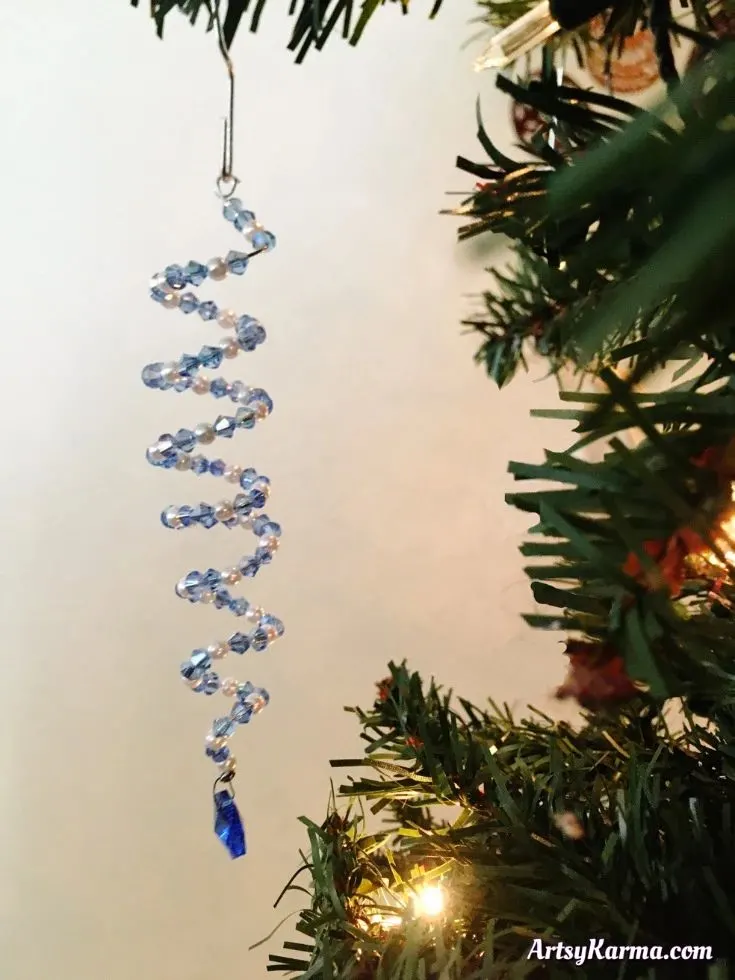 Source: artsykarma.com
These twirly ornaments would look wonderful dangling from your Christmas tree or even from the roof. You can string them up and make a garland of sorts to hang across the doorway or mantle, too.
You'll need beads like these, floral wire, a plier or wire cutter, and any other embellishments you wish to add to these ornaments.
The pliers will help you bend and roll the wire quickly and effectively as your thread the beads. You can hang a single dangling ornament, as you can see here, to keep the beads in place.
Source: drugstoredivas.net
Once again, this is an easy, no-fuss project that adds charming rusticity to your decor. If you have any scrap wood leftover from previous projects, you can use them here.
Paint the wood with a base coat first, and then apply another coat to smoothen it out. Then go ahead and paint the carrot nose, eyes and mouth.
Finally, wrap a bit of ribbon, and you'll have a nice red checked scarf to tie around the snowman's neck!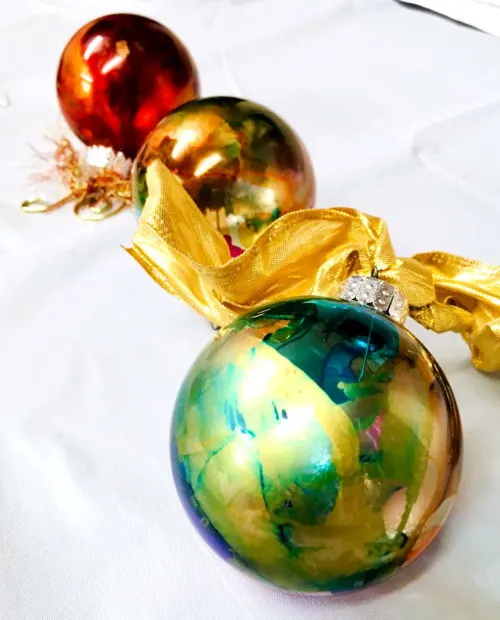 Source: soapdelinews.com
What are alcohol ink ornaments, you ask? Well, take a look and find out! No, you won't be needing alcohol, just alcohol ink from here.
This project is pretty similar to the paint swirl ornaments you made earlier. Only this time, you'll be using ink. Grab your glass orbs, a compressed air duster, and finally, a few embellishments like hooks, beads, and ribbon.
Just something to keep in mind while picking out your ornament: try to find non-porous ornaments. That typically means no plastic, so glass will work better especially when using ink.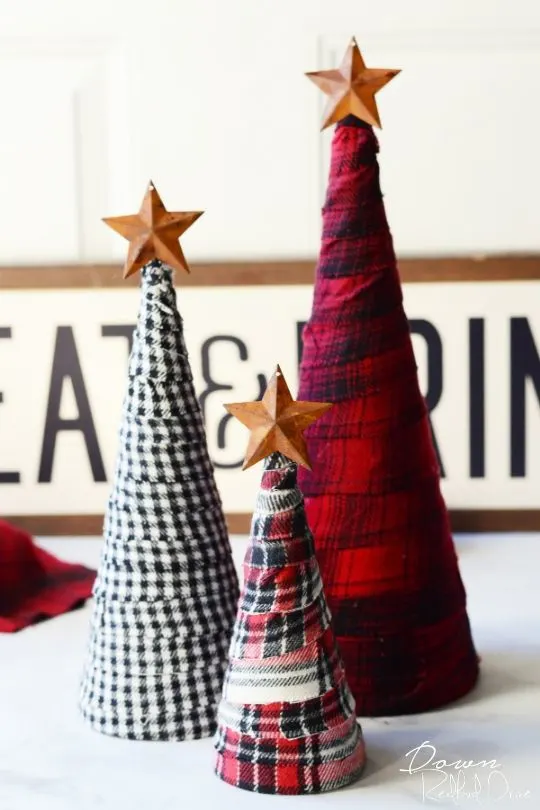 Source: downredbuddrive.com
Say what you like, I love flannel. There's nothing quite as cozy or comfy. They're also perfect for scrap fabric projects like this one if you wish to upcycle old flannel shirts or PJs.
These flannel trees call for some paper mache craft cones from here, as well as a hot glue gun, a pair of fabric scissors, and finally, a metal star to go on top of the tree.
Cut the flannel into long strips and start gluing them around the cone. You can start from the bottom and work your way up to the top. Finally, attach the star on top of the cone, and you're all done!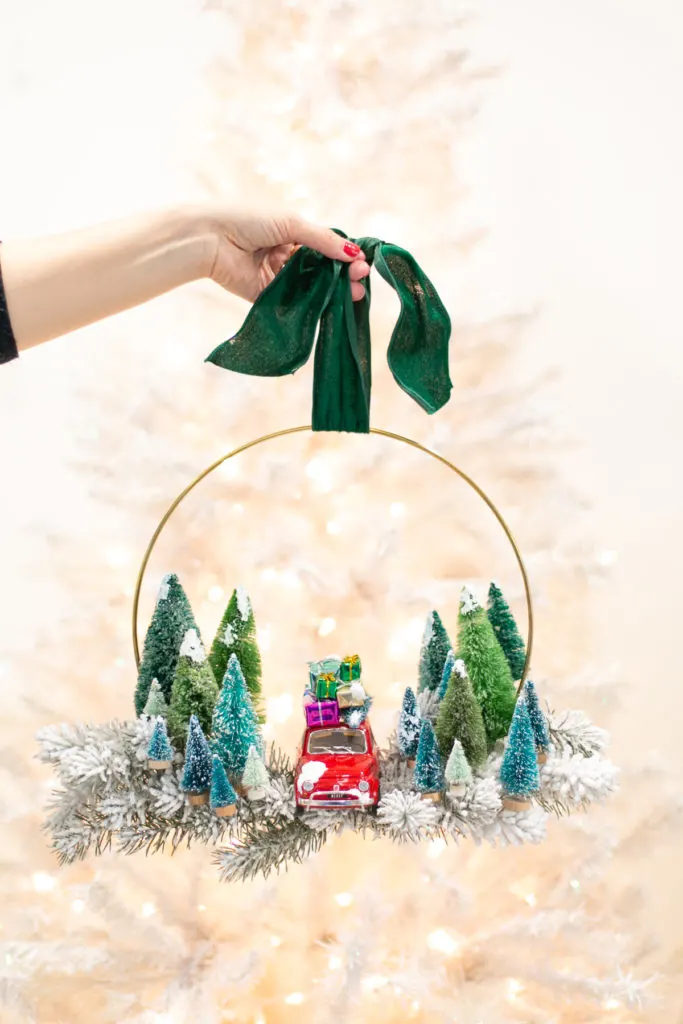 Source: lovelyindeed.com
Well, there are Christmas wreaths, and then there are Christmas wreaths like this one! I cannot get over how elaborate and spectacular it looks.
There are so many intricate details, from the tip of the snow-covered trees to the presents loaded on top of the car. I guess Santa decided to trade in his sleigh for this sweet ride.
You'll need this brass hoop to use as the wreath form and a little toy car from here—I just love this vintage cherry red VW Beetle, don't you?
Check out these 20 unique Christmas wreath ideas.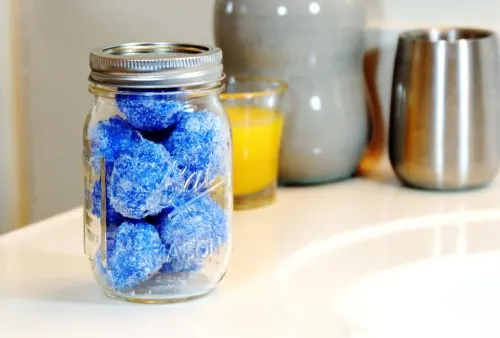 Source: soapdelinews.com
I love a good sugar scrub. They're super easy to make, and they're much more sustainable than buying expensive ones from Sephora.
This holiday scrub can be wonderful presents for you to give your friends and family. You probably have all the materials you need at home already.
But you might not have this emulsifying wax lying about, so just pick some up. If you want to add a little snowy sparkle to your sugar scrub, then you can use just half a spoon of white, pear or diamond mica powder dust.
Check out these DIY Christmas gifts for loved ones.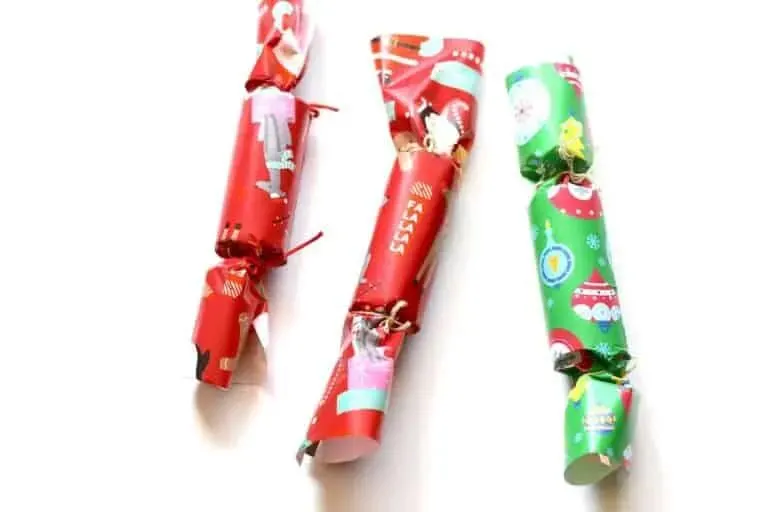 Source: simplifycreateinspire.com
Christmas crackers, or Christmas bonbons as we used to call them when I was a kid, are such an essential part of Christmas tradition. They only take a few minutes to put together but they're terribly fun.
You can fill them up with little party favors, treats, and confetti. If you and your family can resist the temptation, you can wait till after Christmas dinner to 'burst' the crackers.
Pick up some of these cardboard tubes and get started on your crackers!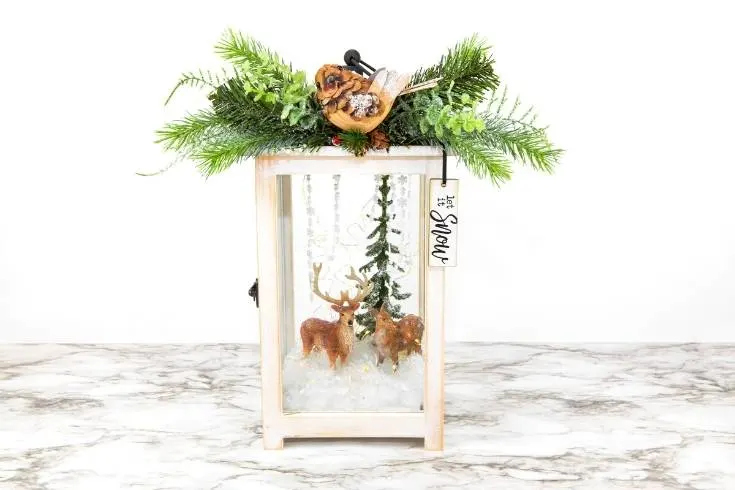 Source: soapdelinews.com
This little decorative display is quite magnificent. There's something so magical about the little winter scene in there, of two reindeers and that snow covered tree.
Doesn't it remind you a little of a scene right out of Narnia? Well, whatever it reminds you of, you can recreate it, too.
You just need a lantern to use as the terrarium, a spruce tree fihure, a couple of deer toys, and some faux greenery. You can also spread a bed of fake snow or cotton.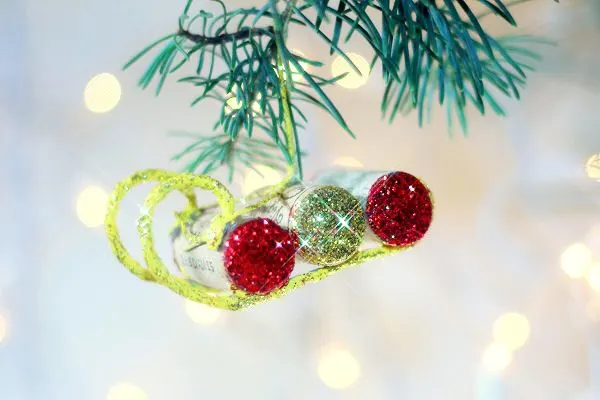 Source: creativegreenliving.com
This little ornament looks quirky and eclectic; can you tell that it's made from old wine bottle corks? You'll need three corks for each sled, as well as some hemp cord from here.
Apply a layer of white glue to the bottom of the corks and dip them into some glitter. That will brighten it up in no time. Then, glue the three corks together securely.
To make the sled runners, you can dip the cord in glue, twist, and subsequently dry it in the appropriate shape.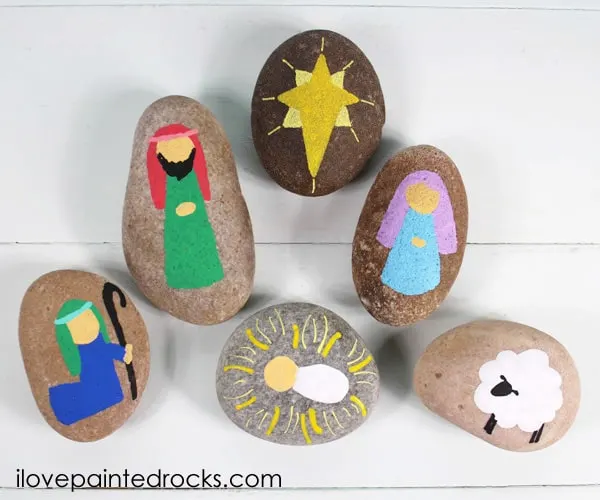 Source: ilovepaintedrocks.com
Rock painting is quite a restful craft project. You can rope your kids into the project; they're bound to enjoy a nice afternoon craft session.
Pick out your pebbles of choice and your paints. Paint little figures of different components of the story of Jesus Christ—Mary, baby Jesus, sheep, the North Star and more.
Check out more projects for teens like this.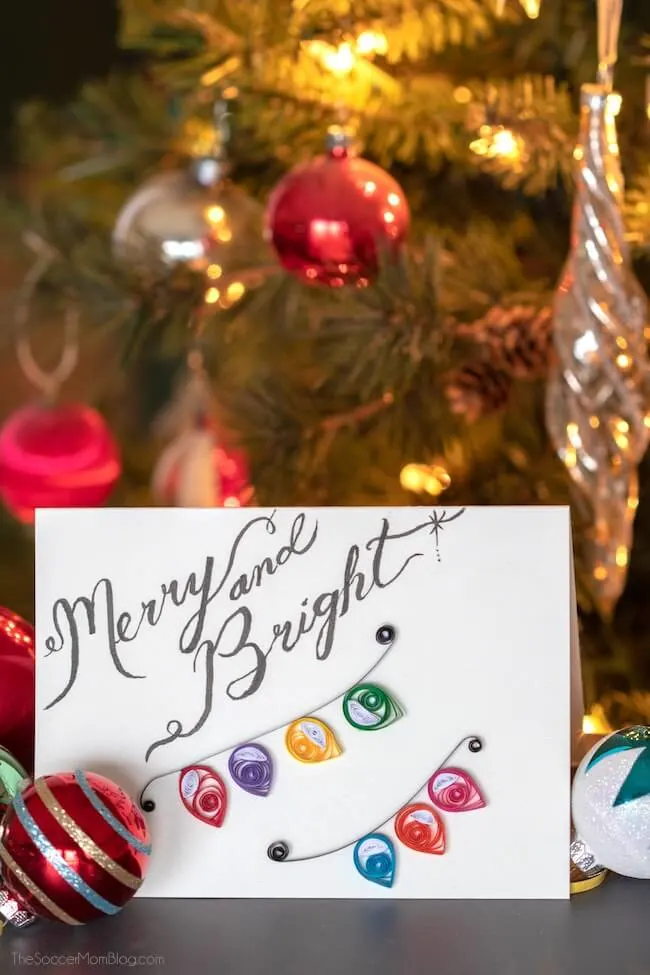 Source: thesoccermomblog.com
If you're making your own Christmas cards this year, then why don't you try out this particular one. Quilling is such an underrated art, don't you think? Let's bring it back!
Grab your quilling paper, quilling tool and some heavy weight cardstock paper. You'll also need a pair of scissors.
Pick out your colors, grab the paper and start rolling the strip with the tool. Pinch one end as instructed, into a teardrop shaped piece of quilled paper. Now line them up into a garland of lights and write your message!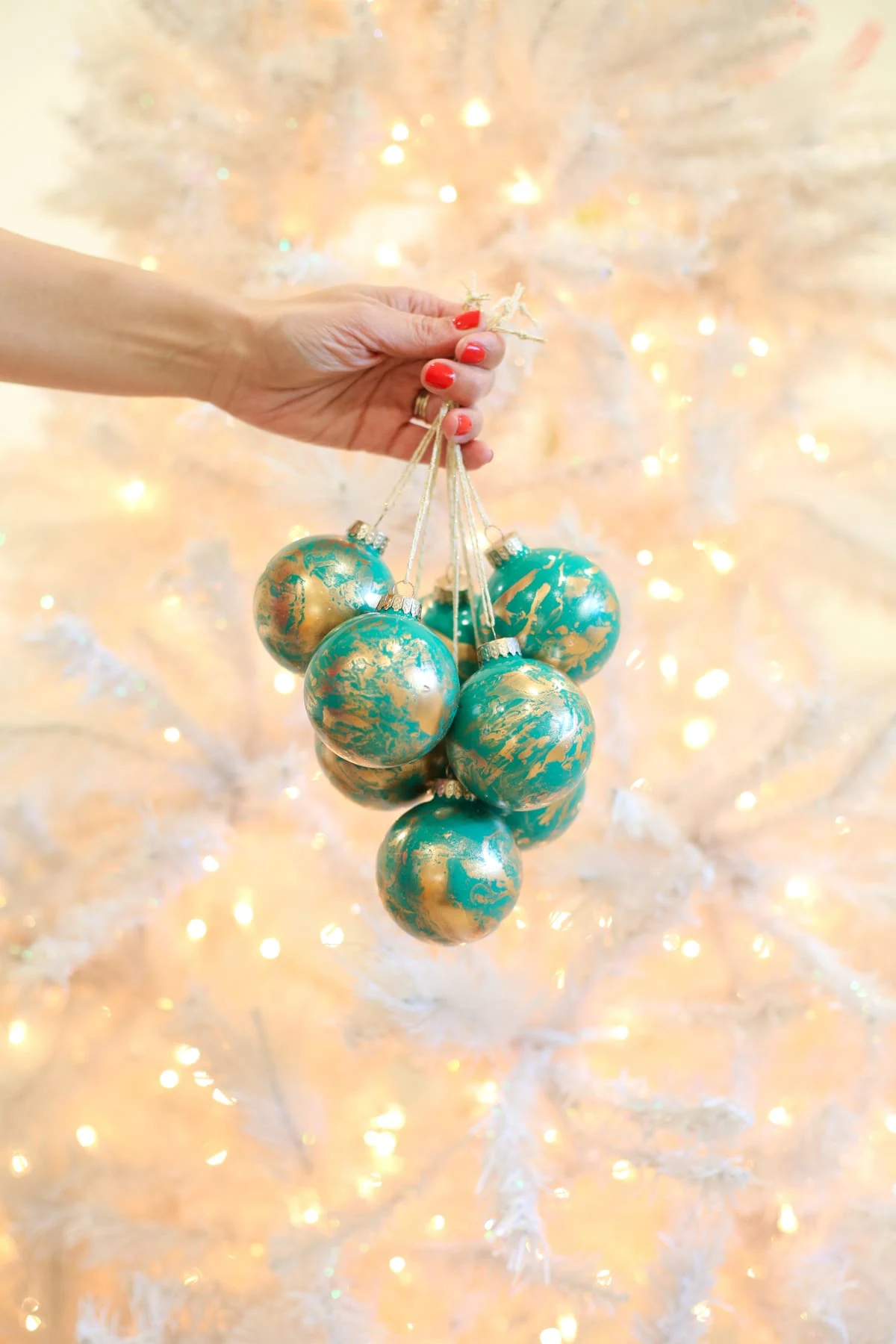 Source: lovelyindeed.com
First, grab the following supplies:
Clear glass ornaments
Spray paint
Liquid gilding
Disposable plastic tub
Toothpicks
You can make these ornaments in just under 30 minutes. Just remember to remove the metal top from all the ornaments before you spray paint the exterior. Don't forget to lay out some newspapers to control the splatter-zone.