Christmas is here again! Get creative with your Christmas stockings and get some inspiration from the ideas below.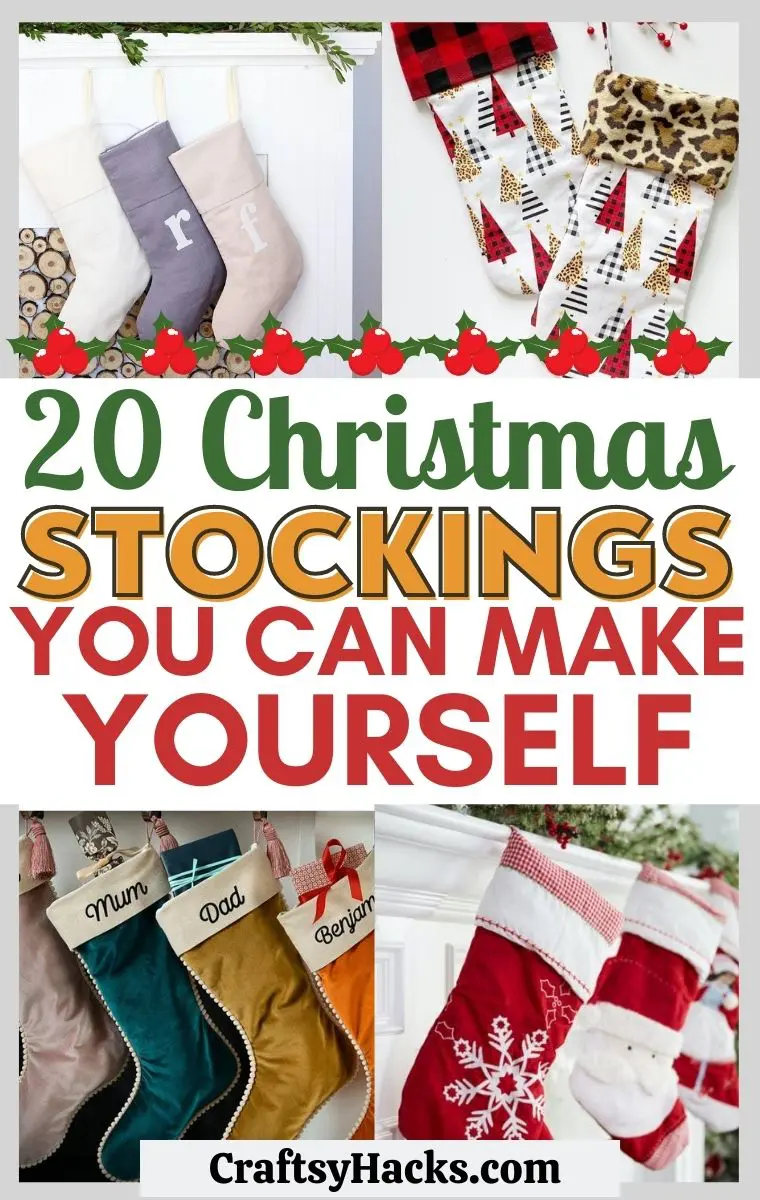 There's arguably nothing better than coming down the stairs on Christmas morning and seeing your stocking filled up with presents. As a kid, it's the highlight of an incredibly festive day!
As an adult, you have a chance to have even more fun with the stocking tradition. From personalized gift sets to luxury revamps, here are twenty of my favorite Christmas stocking ideas.
1. DIY Pastel Stocking Hung By the Fire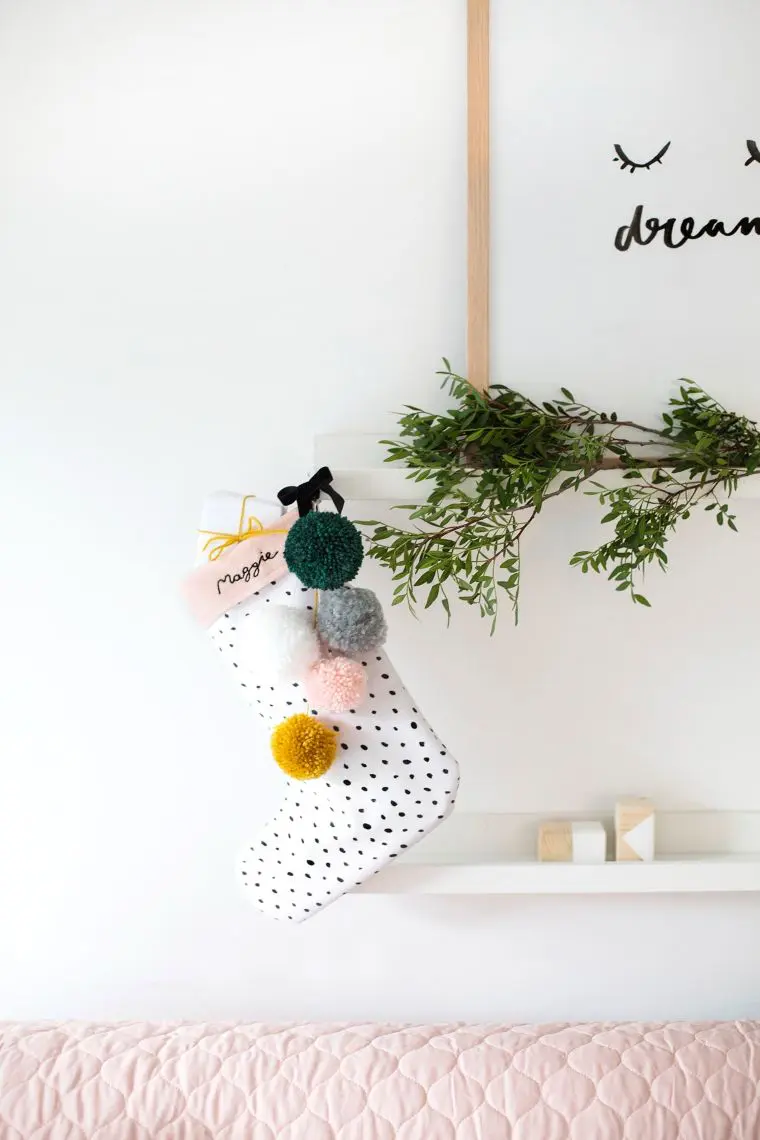 Credit: thelovelydrawer.com
Welcoming a brand-new addition to the family just in time for Christmas? Envelop your new-born into the family with their very own adorable little stocking for the mantelpiece.
Featuring an embroidered name and a soft, pastel felt for the material. This is a stocking that will last your little one many Christmases. Assemble your deliciously soft yarn, the different felt colors, and your sewing machine to get started.
Fond of the pastel aesthetic? Check out more beautiful DIY Christmas decorations here.
2. Rustic Stocking with Foliage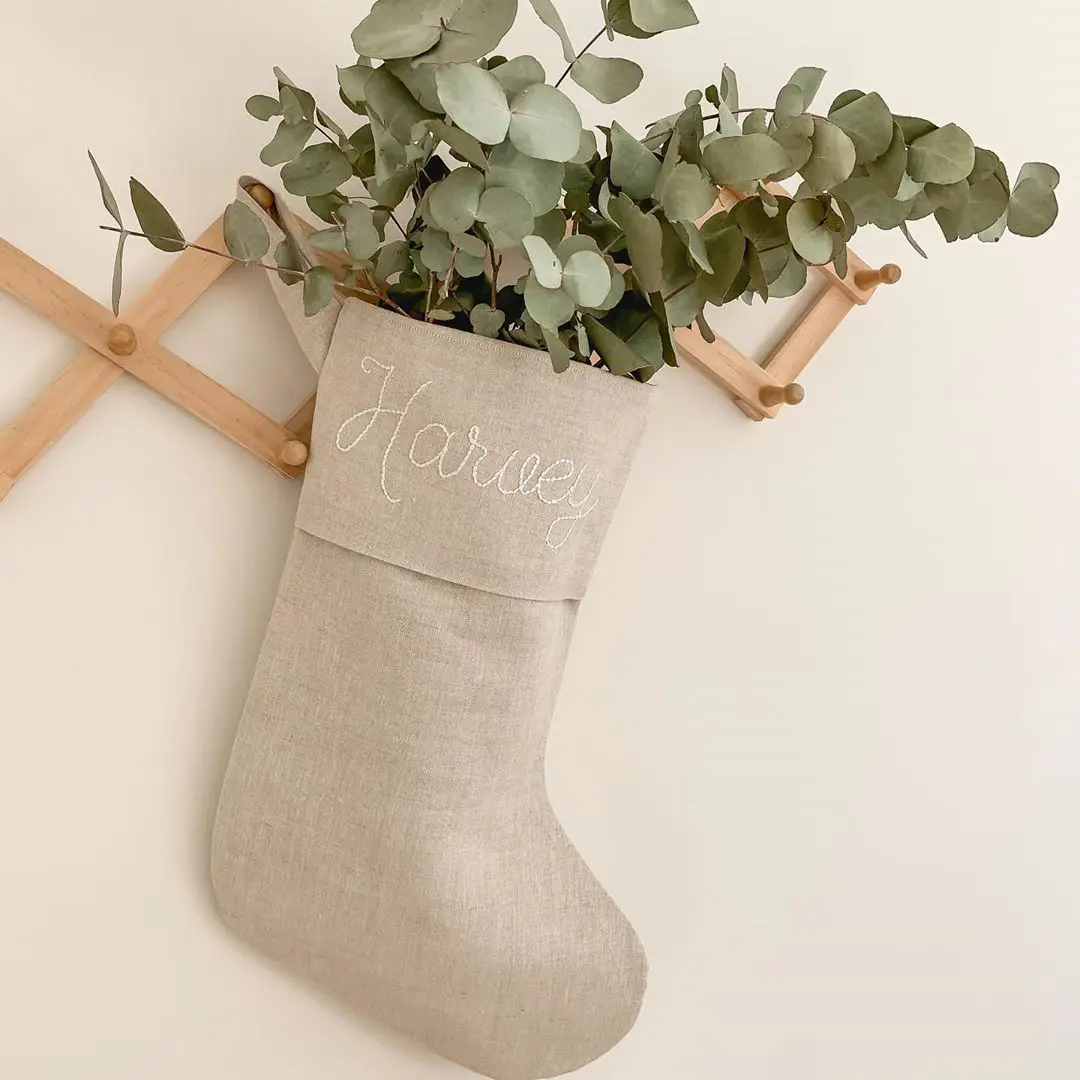 Credit: Instagram
This one is for those of you who love farmhouse décor as much as I do. This simple stocking embraces the texture of brown linen.
It's such an underrated fabric for Christmas, and the look is beautiful.
A name embroidered with some simple white embroidery thread adds the personalization needed for Christmas morning. Or, you can mirror the creator and use it as décor by adding some foliage.
If you're the kind of person who likes rough, natural textures, then you can't go past this craft. Grab some simple brown linen here to get started.
3. DIY Sequinned Christmas Stockings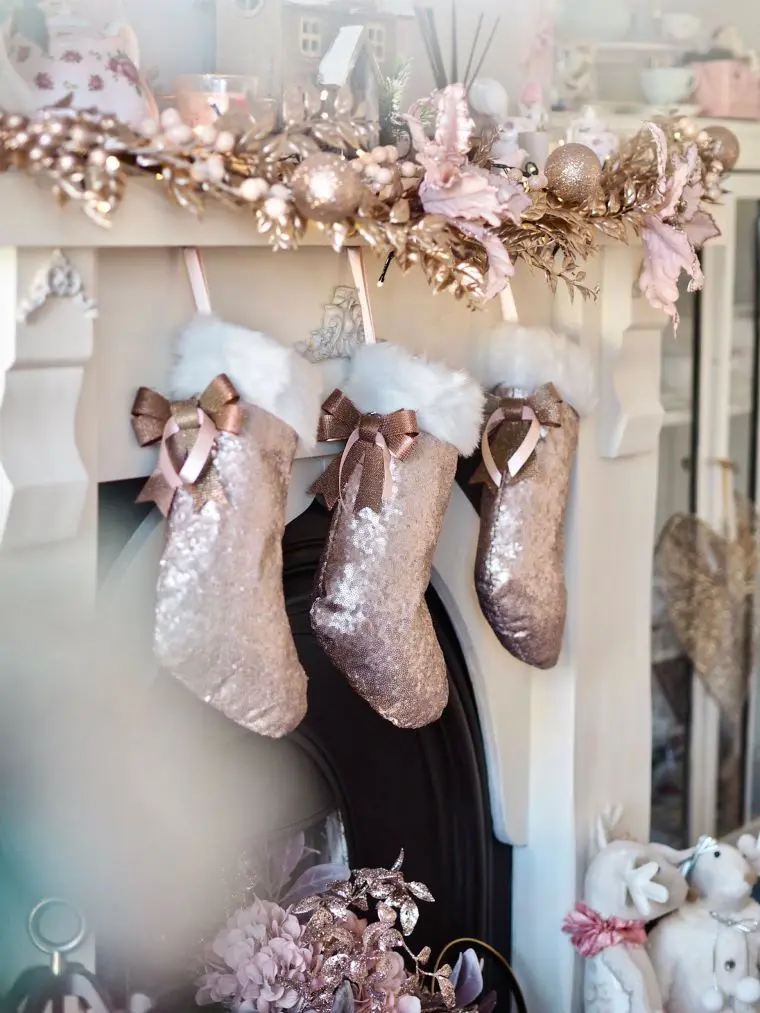 Credit: daintydressdiaries.com
There's just something about a little extra glam during the festive season, isn't there? Something that says, "joy lives here!". Bring some of that joy into your home with these sequinned stockings.
These are a breeze to make using pre-made sequinned fabric like this (no hand sewing sequins for us). Add some white fur trim on top for an extra pop of sophistication, and you're done!
You can use these as actual stockings, or you can stuff them with old bags or wood shavings to use as décor pieces. Embrace whatever suits your Christmas style.
You can add these to a DIY Christmas gift basket!
4. Ultimate Stocking Stuffers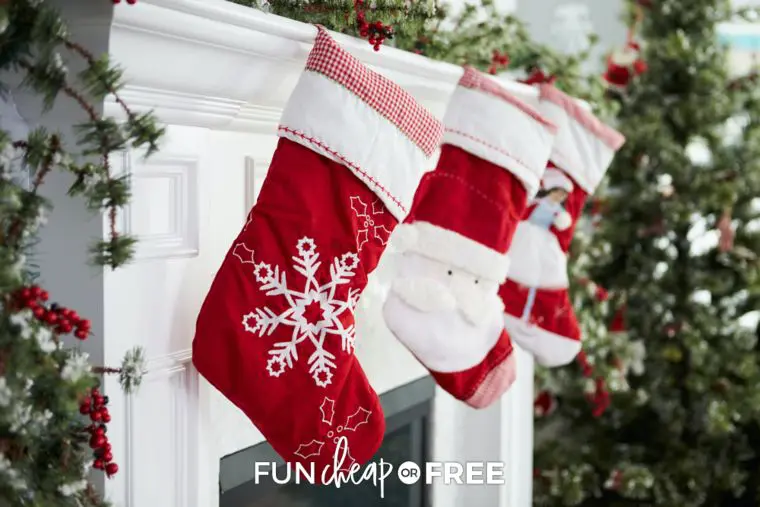 Credit: funcheaporfree.com
The sight of a full stocking on Christmas morning does wonders for your levels of festive joy, am I right? Even better, watching your loved ones open their stocking from you is a delight!
However, if you're on a budget or a time crunch, finding the right stocking stuffers can be a tough job. You want to make your loved ones feel special and seen on the big day, after all.
Luckily, the tips you need to put together the perfect stocking are just a click away.
5. DIY Rainbow Boho Crochet Stocking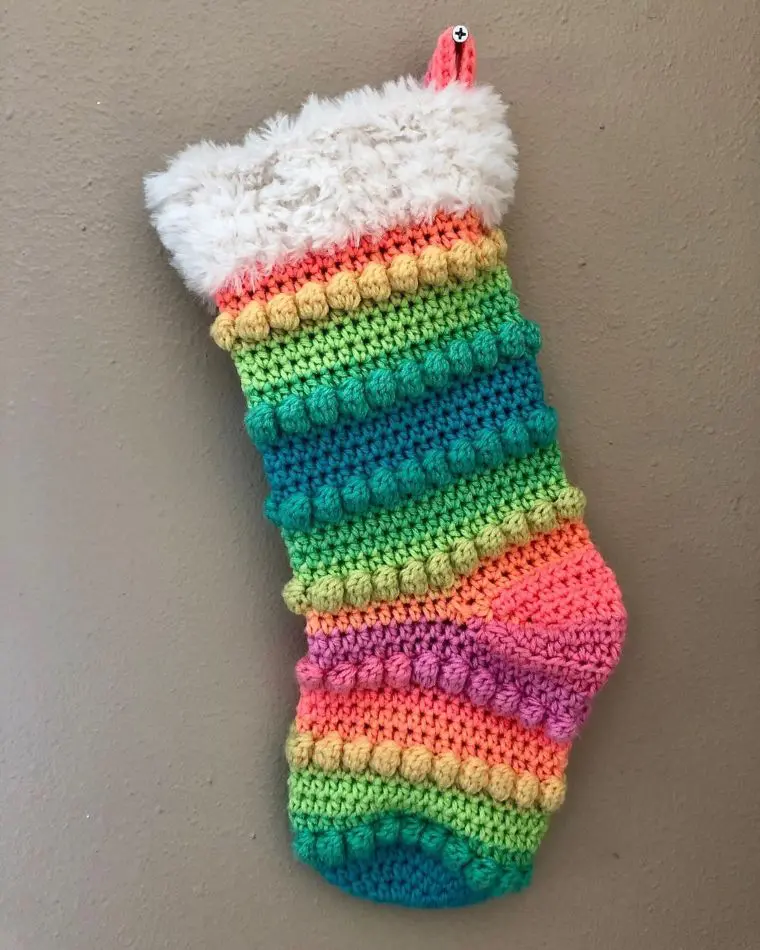 Credit: Instagram
Choosing which stocking you hang in your home is almost a rite of passage. It's your chance to add a little individuality to the festivities, so why not go all out?
Whether you're making this for the bohemian-chic loved one in your life, or you're just particularly into rainbow yarn, this is the stocking for you. Bright, vibrant, exciting, this has it all!
Not to mention, the pattern is quick and easy to make. So, if you're an experienced crochet master, you can knock this stocking out in no time at all. If not, here's a crochet hook set to get you started.
Love yarn crafts? Why not make something to store all that yarn with this clever yarn bowl DIY?
6. DIY Vintage Felt Stockings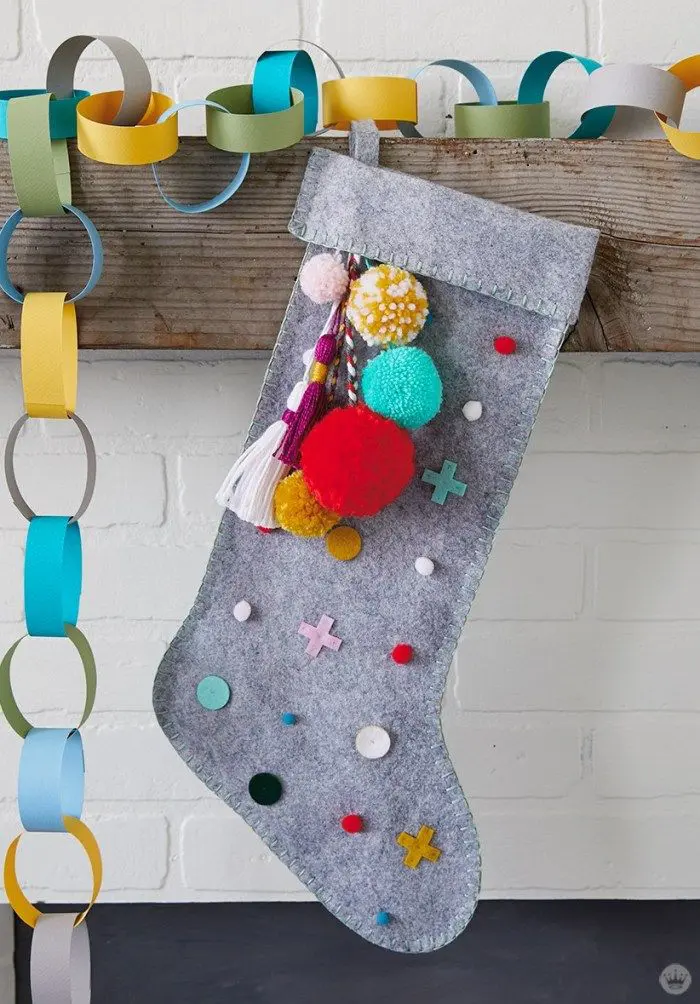 Credit: thinkmakeshareblog.com
Embrace your love of vintage items with these gorgeous turn-of-the-century stockings. The base shape is very simple to make, so the personalization lies entirely in your choice of embellishments.
From pom-poms to rick rack and initials wrapped in colored yarn, you can use anything you like to add your own touch to these gorgeous stockings.
Dress your mantel with some Roaring Twenties décor, and you're done!
7. White & Metallic Personalized Christmas Stocking Set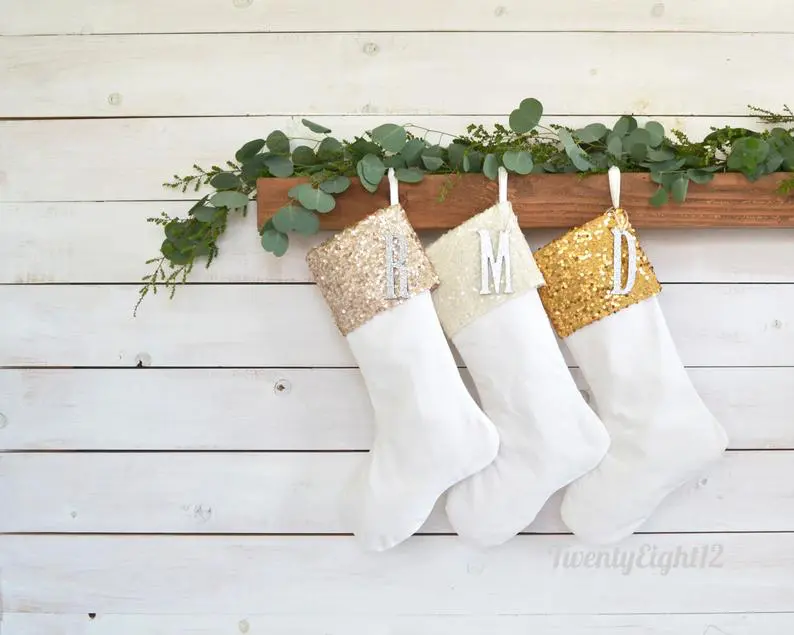 Credit: Etsy
Oh, it's beginning to look a lot like a modern Christmas… Okay, I won't keep going, but you get the idea.
This set of gorgeous white stockings brings the feeling of snow indoors, topping a crisp white shape with glittering sequins as a nod to the ice itself. Not to mention, you can easily personalize them with your initials.
Choose the perfect embellishments, fabric, and even font to make your family's stockings stand out above the rest! These are great as gifts, or if you just want something a little elegant this holiday.
Love the elegant look for Christmas? Here are easy Christmas crafts for adults you can try.
8. Monogrammed Cable Knit Stair Stockings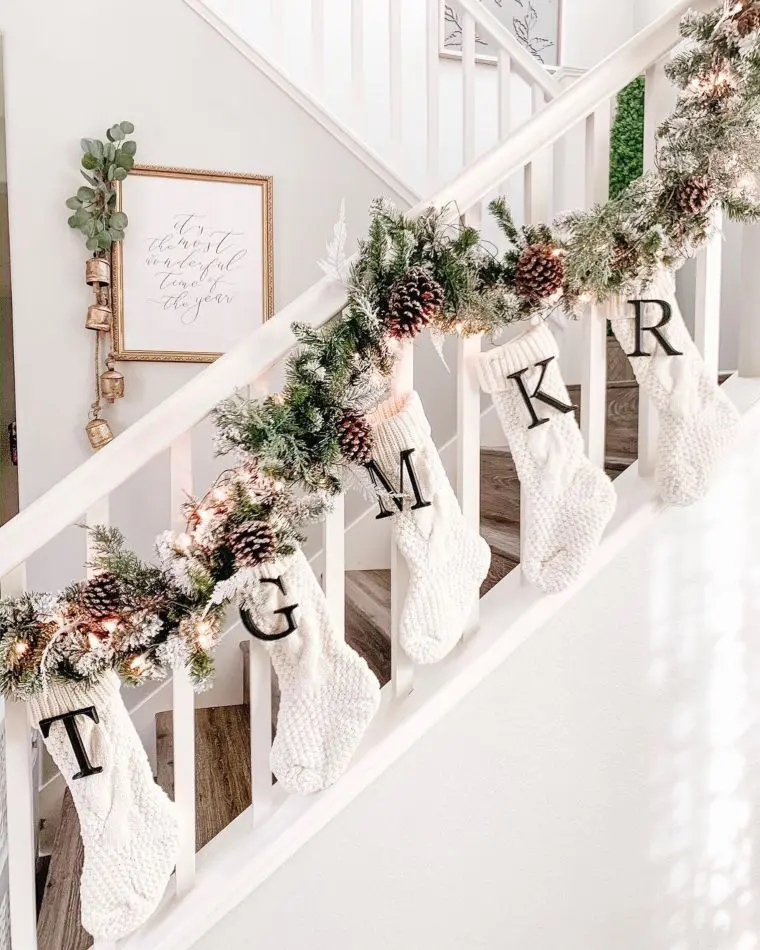 Credit: Instagram
They're monogrammed, they're knitted by hand, and they're strung up on your stair's banister. That's right. They're a gorgeous set of handmade Christmas stockings!
This unique take on the homemade stocking seamlessly blends elegant and rustic sensibilities. I personally love how it's styled in the original post, and it wouldn't take more than an afternoon to throw it up!
Pick up some Christmas garlands like this and indoor lights to add the perfect complements to these stockings.
9. Retro Quilted Christmas Stockings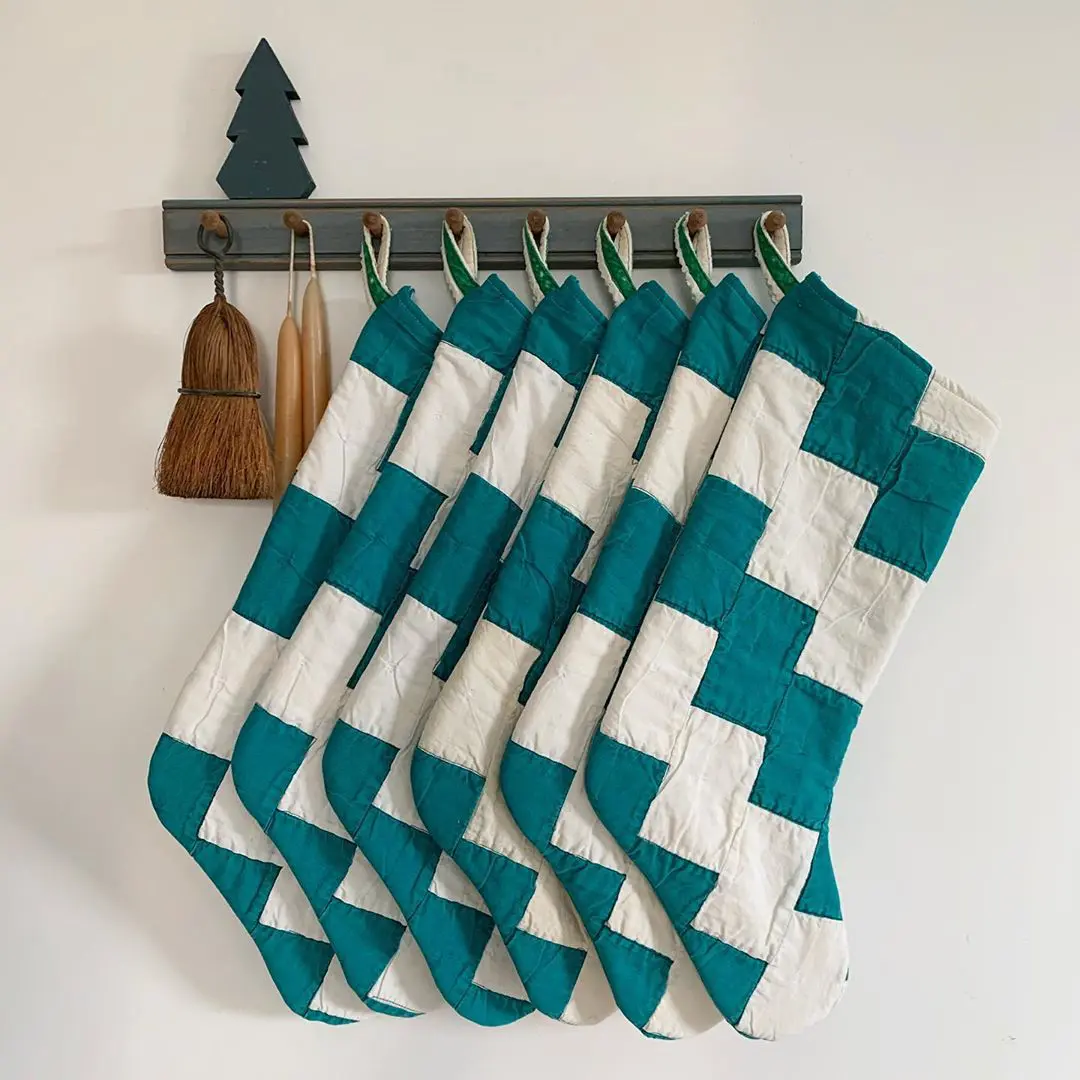 Credit: Instagram
Bring a touch of your childhood to your home this Christmas season. Whether you're making them for the family or just for you, these quilted stockings are easy, versatile, and adorable to behold.
Instead of quilting an entire set of stockings one by one, you're using a pre-made quilt as your fabric. Genius, right? Once you have a quilt, just pattern out some stockings, cut, and sew them together.
Pick up a quilt at your local opportunity shop or just jump on Amazon. I really like how this one looks for Christmas!
10. Dog or Cat Stockings for Your Furry Friends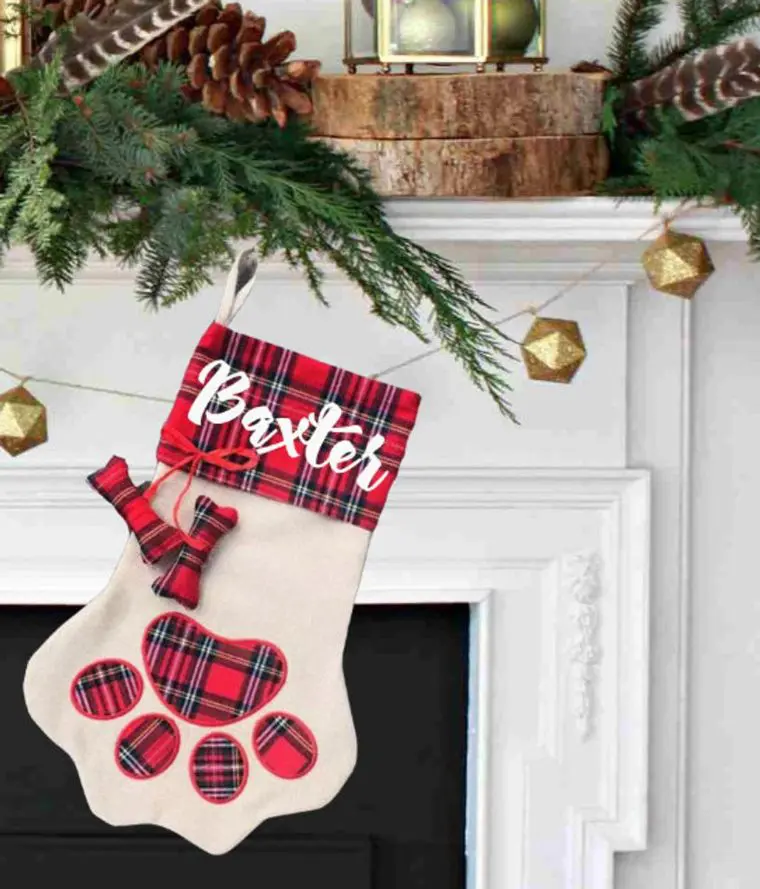 Credit: Etsy
As a cat mom myself, I think I speak for everyone when I say that your animals are more than just pets. They're your family. So, of course, they deserve their very own stocking in the line-up.
Instead of a boot, these stockings come in the shape of a paw (which is just adorable). Hang them alongside the rest of the family to be stuffed with treats, toys, and even a doggy coat for the cold!
11. Monochrome Quilted Stockings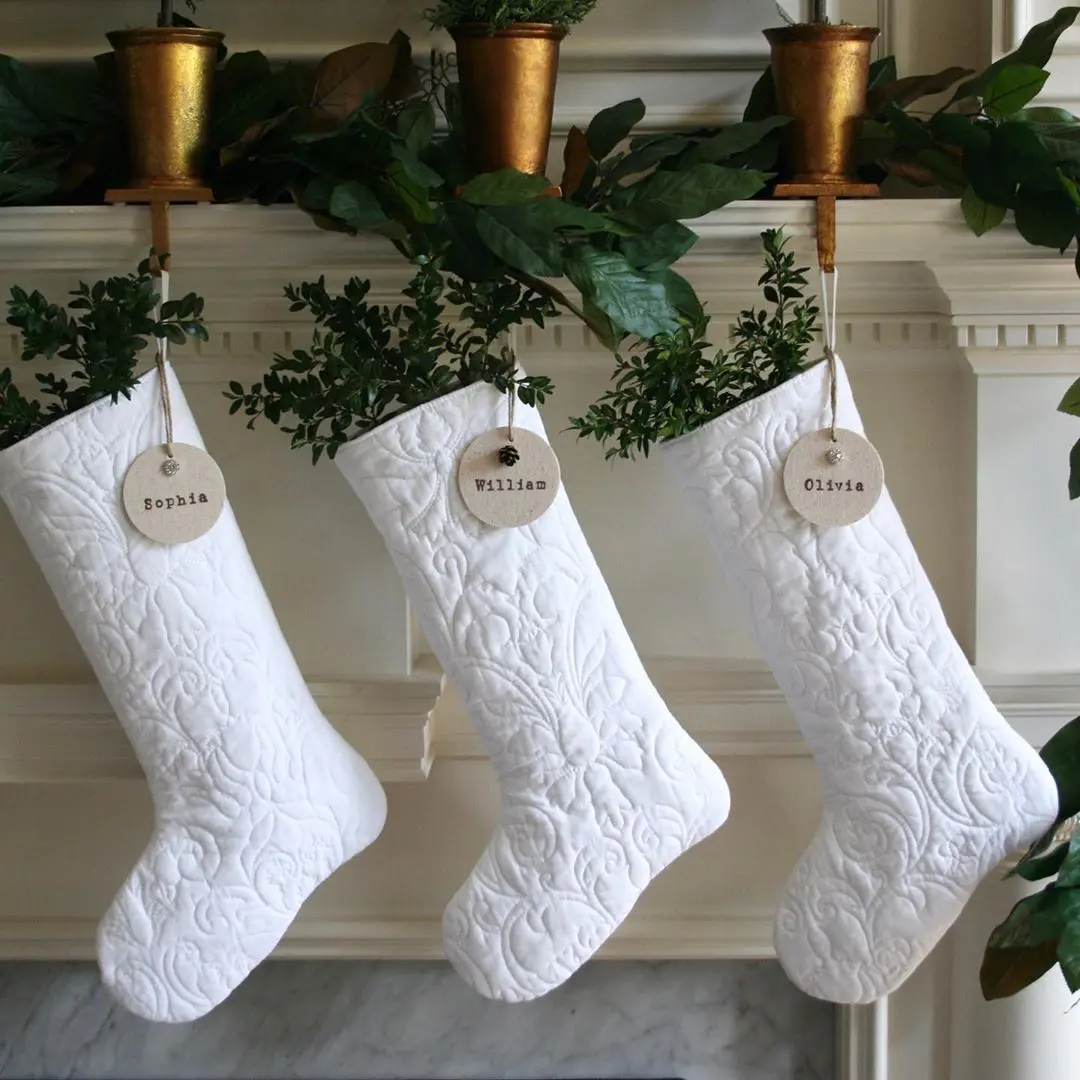 Credit: Instagram
One of the most iconic elements of the traditional Christmas stocking is its vibrancy. So, why not subvert a few expectations and opt for a set of monochrome stockings?
These gorgeous decorations keep it interesting with their quilted pattern and personalized wooden tag. Take the natural, minimal vibe one step further by filling the stockings with Christmas foliage.
You can buy these as-is, or you can make them using a monochrome quilt like this one. Don't forget the wooden tags to add a natural touch (and help you tell them apart).
If you're a fan of minimal Christmas crafts, check out these DIY Christmas decorations.
12. DIY Mistleholly Felt Christmas Stocking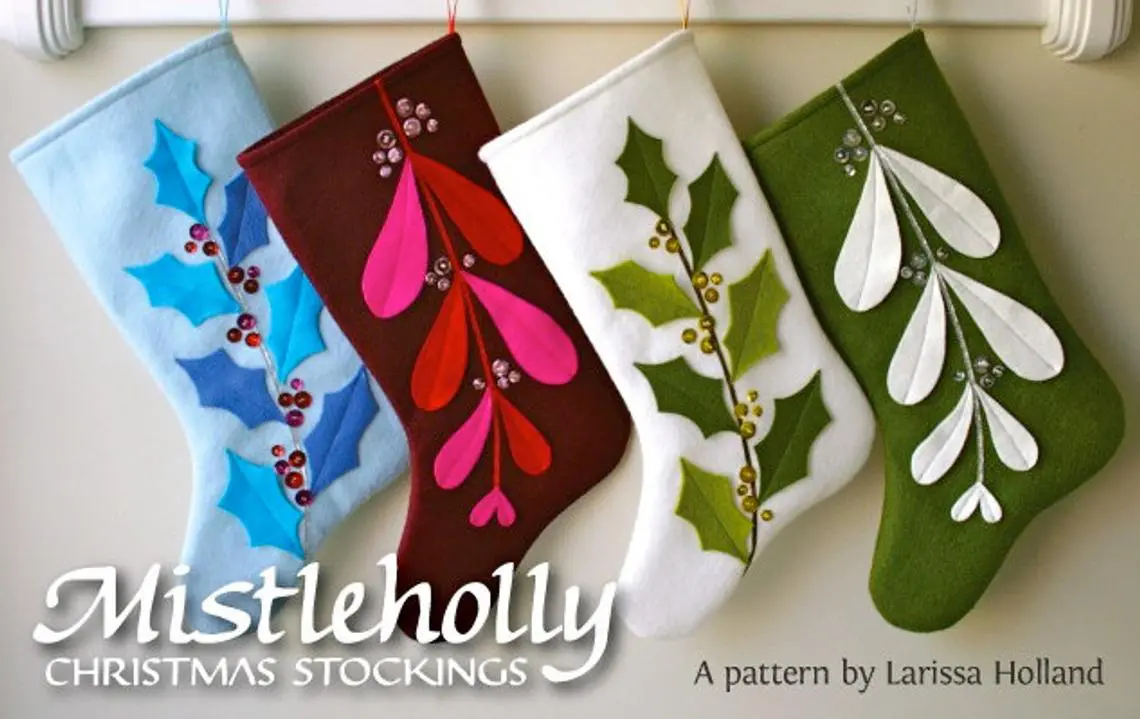 Credit: Etsy
Mistletoe and holly are both iconic pieces of the Christmas experience, but they're rarely seen on actual stockings. It's time to change that!
Thanks to this downloadable PDF pattern, you can create your very own mistletoe and holly-patterned felt stockings. Choose any felt color, go ham with the rhinestone embellishments, or go with full sequins.
You'll definitely be needing a quality fabric glue for this craft. Here is one just for that.
13. DIY Boho-Inspired Leather Tassel Christmas Stockings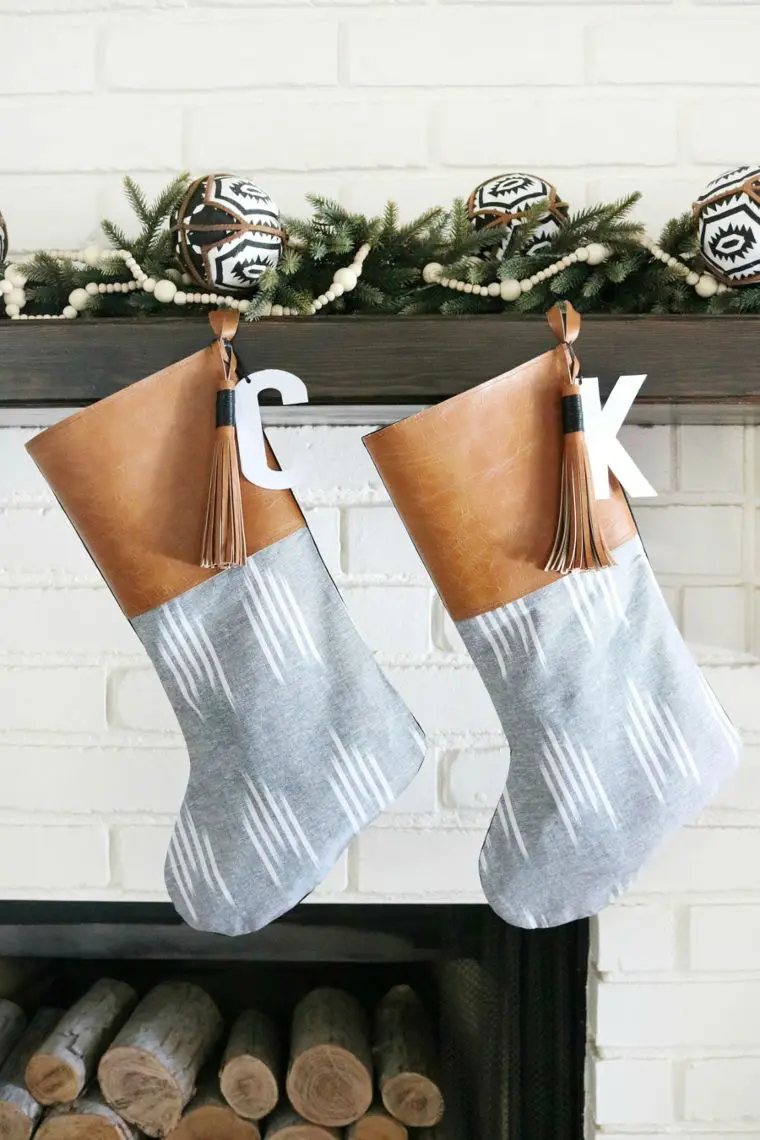 Credit: thecraftedsparrow.com
Taking your Christmas stocking personalization to the next level begins with understanding your personal style. If you're the type of person who loves knits, flowing linen, and leather, this is for you.
Bohemian-chic has arrived for the holiday season! These boho-inspired stockings combine grey patterned cotton with faux leather to create something truly unique.
Don't forget your leather sewing machine needle. You'll be needing it!
14. Lotsa-Dots Crocheted Christmas Stocking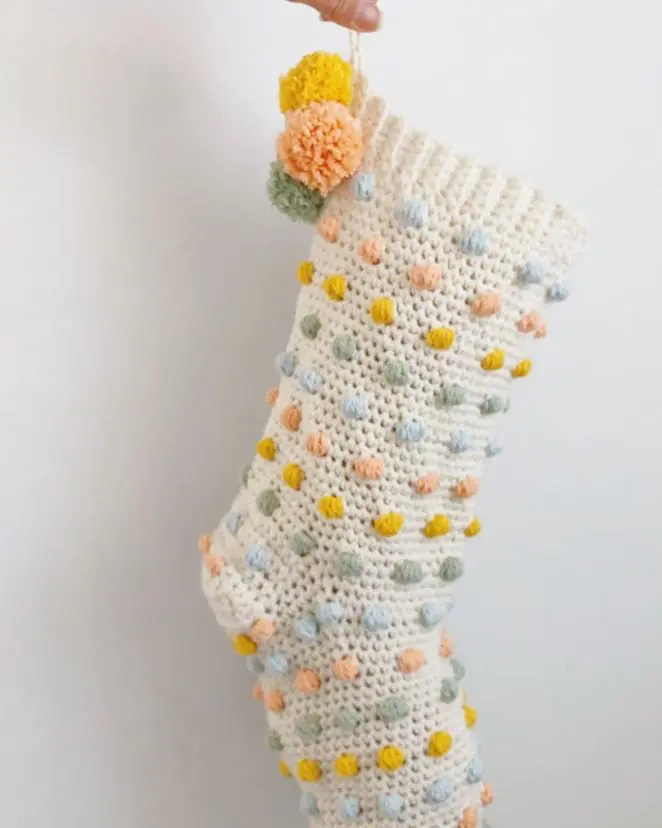 Credit: lovecrafts.com
Seeing something you made yourself hanging on the mantel is a joy akin to opening an amazing gift on Christmas morning. That sense of pride and accomplishment is pretty much unbeatable.
Combine that with this adorable Lotsa-Dots Crochet Christmas Stocking, and you've got a recipe for perfection! This little stocking is so sweet, perfect for a child or a grandmother on the big day.
15. Santa Claus Boots with Tassels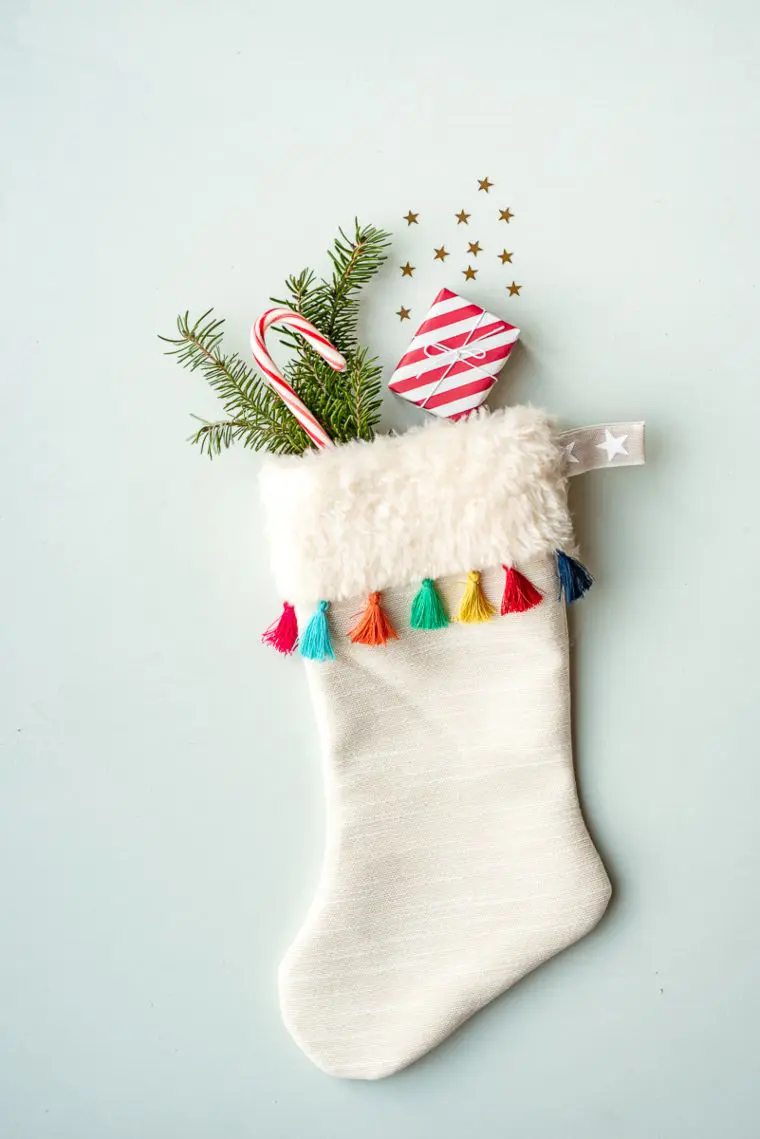 Credit: leelahloves.de
I'm a big fan of German engineering, and now that they've set their sights on Christmas stockings, the rest of the stocking world is doomed. These Santa boot stockings are to die for!
Combining an off-white stocking in a natural, heavy-duty fabric with soft teddy fur like this makes this stocking look spectacular. The contrast makes up for the lack of color by adding dimension.
However, you can add all the color you want to the embroidery floss tassels! These Santa Claus Boots are adorable, easy to make, and perfect for saluting Santa's mission to journey all around the world in one night.
Looking for some accompaniments for these adorable stockings? Check out my post on Christmas wreath ideas.
16. DIY Felted Stripe Christmas Stockings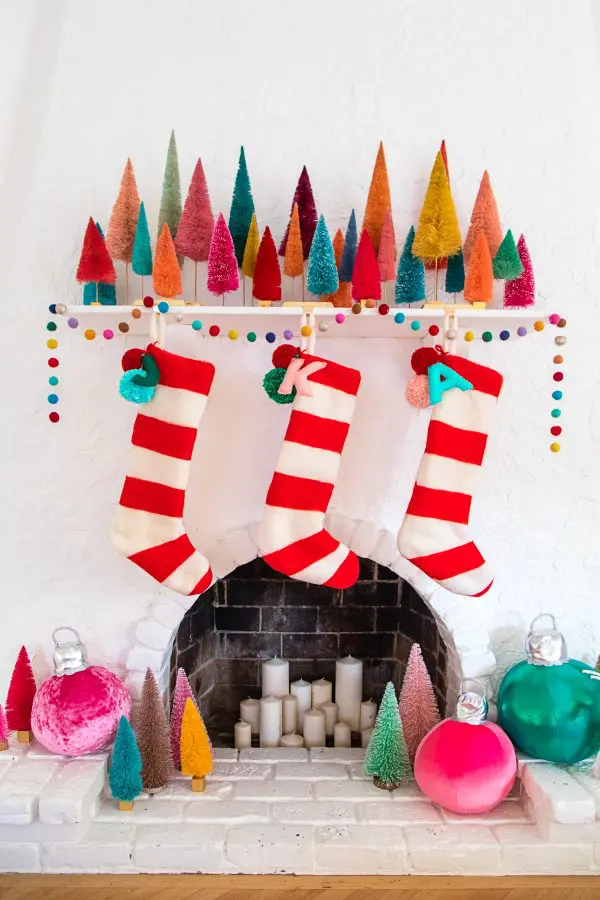 Credit: studiodiy.com
If the Santa Claus Boots were minimal and elegant, then these Felted Stripe stockings go the complete opposite way. These are bright and in-your-face in every way possible!
White wool felt creates the base of this stocking, and vibrant red roving is needled over the top in thick stripes for a cheerful effect. Let's just say these are probably Jolly Old St Nick's go-to socks.
If you're trying this craft, you'll need to invest in a needle felting tool to get the full effect. This one is great for beginners!
17. Scandinavian Christmas Stockings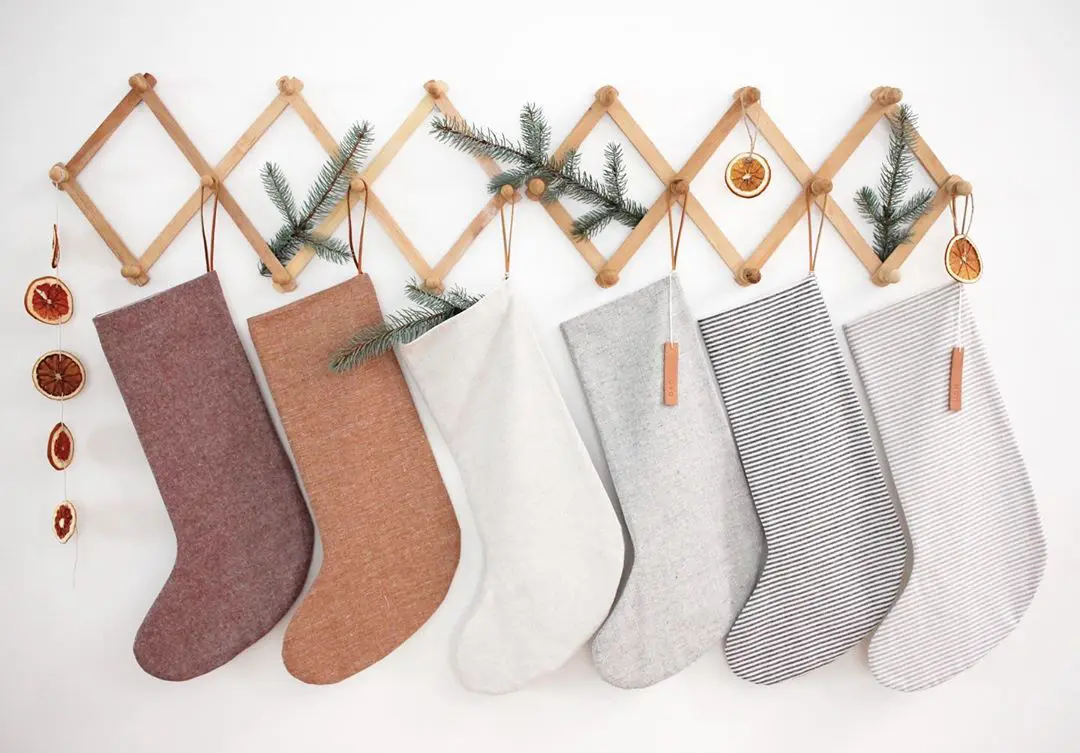 Credit: Instagram
Scandinavians know how to make Christmas somehow both modern and cosy. I for one would like to know their secrets, but for now I'll settle on picking up these Scandinavian Christmas Stockings.
Dress them up with gold and ornaments or dress them down with some pine needles, these stockings are right there with you. Perfect for a minimal take on your Christmas décor.
Not to mention, the basic shapes are easy to make if you don't want to buy them outright!
18. High Contrast Christmas Stockings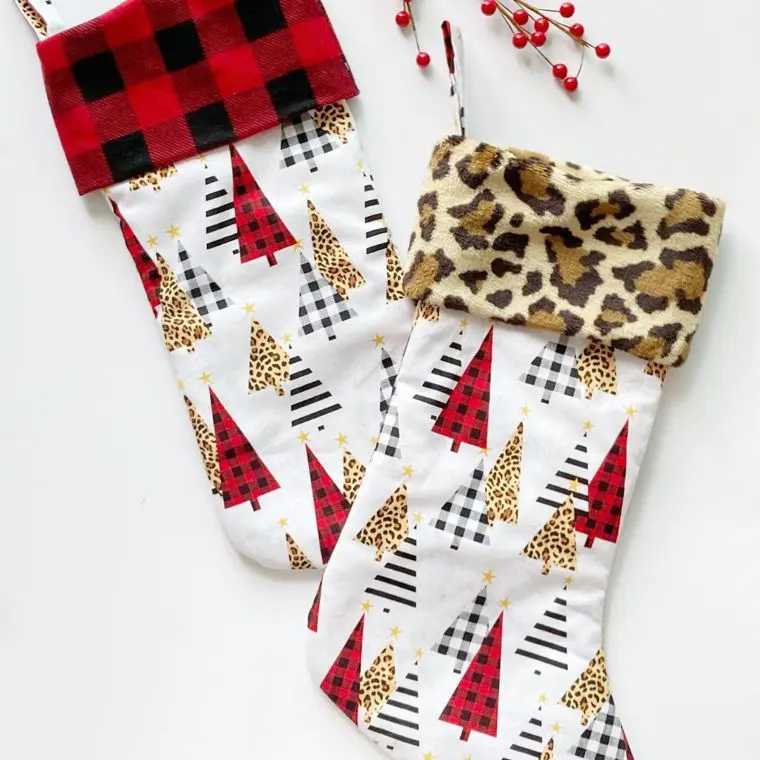 Credit: Instagram
There's opting for minimalism, and there's going all-out for the holidays. The Paisley Junction went for the latter, and I'm in love with the resulting clash of patterns.
If your home's décor is already fairly minimal, adding a pop of interest in the form of your Christmas stockings is a great idea for the upcoming festive season. Embrace leopard and buffalo print!
Alternately, make your own pops of color with a basic stocking pattern, some fake leopard fur, and Christmas-patterned fabric like this. Adorable!
19. Minimalist Letter Stockings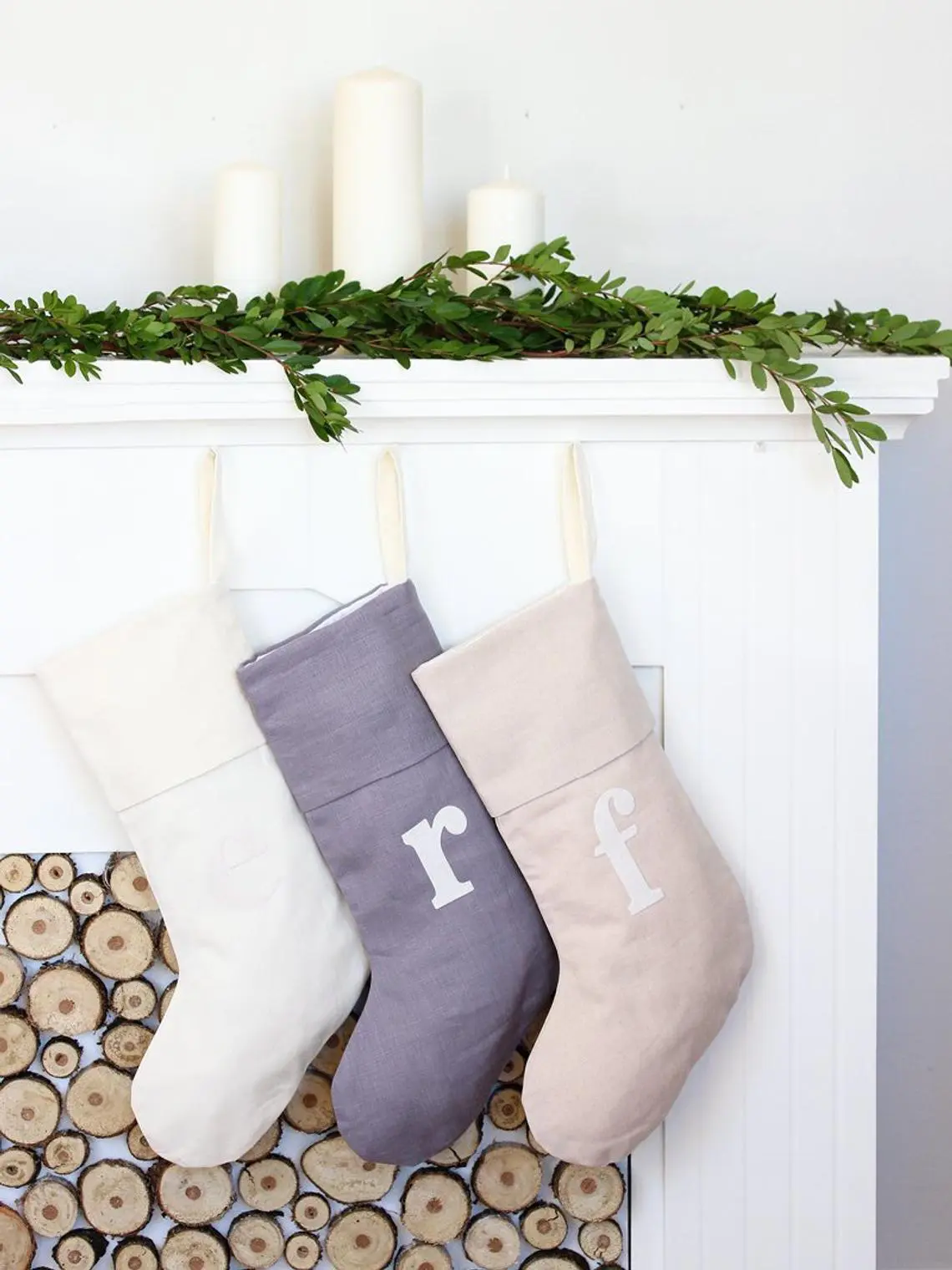 Credit: Etsy
How about a modern take on Christmas? These minimalist letter stockings embrace the tradition of personalizing your stocking but render it in simple, monochrome fabrics.
The result is gorgeous. Really, you could leave it up all year round, and no one would bat an eye. So, if you're not a fan of the more enthusiastic aspects of Christmas décor, this is the stocking for you.
20. Luxury Velvet Christmas Stockings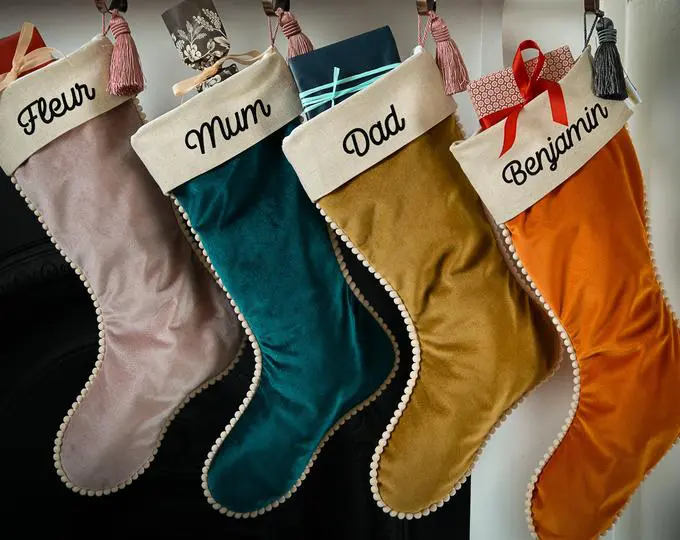 Credit: Etsy
Finally, let's take a trip back to the 1970s. While velvet, corduroy, and jewel tones aren't for everybody, they do combine to make a beautifully unique set of stockings.
If you're in love with all things retro, then hold onto your hat because these stockings have your name all over them (literally).
An adorable pom-pom fringe contrasts with velvet for an almost approachable luxury, and the colors are absolutely to die for.
Conclusion
Which one of these stockings was your favorite? What are you making this year?