Watercolor painting is a beautiful and rewarding art form that allows for creativity and expression. These easy watercolor flower painting ideas are sure to inspire you!
One of the most popular subjects in watercolor painting is flowers.
These 21 flowers make for beautiful practice sessions, cards, or even gifts for a loved one! Grab a frame or allot the space you need to make your own cards.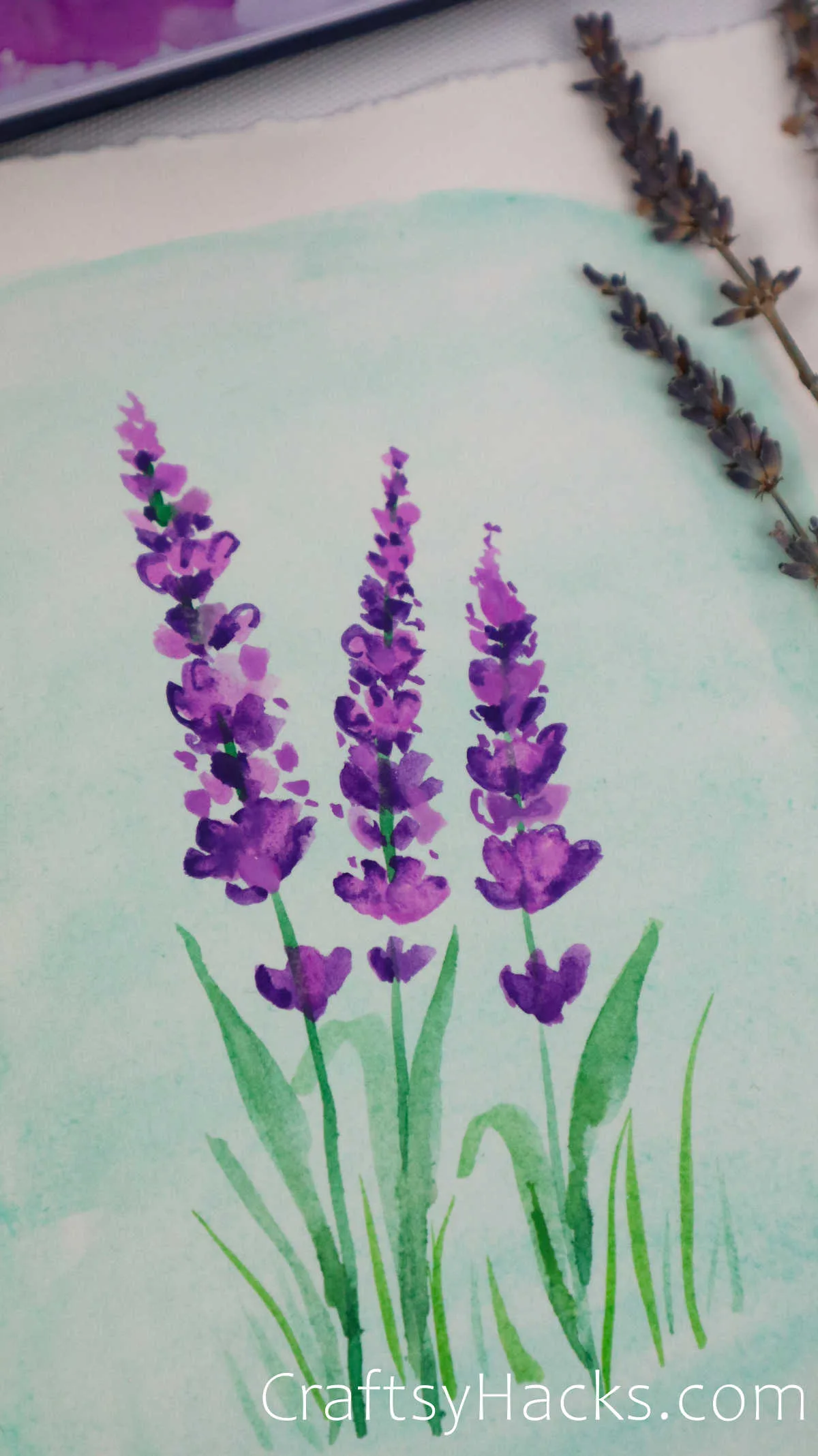 Flora and fauna are some of the very first subjects I started painting long ago.
Something about flowers' delicate nature and vibrant colors makes them perfect for watercolor painting, and each plant varies in difficulty, which is ideal for a practicing artist.
The list below is a culmination of some of my favorite flowers and varies in difficulty! Feel free to modify anything that works for you–get creative with your paintings.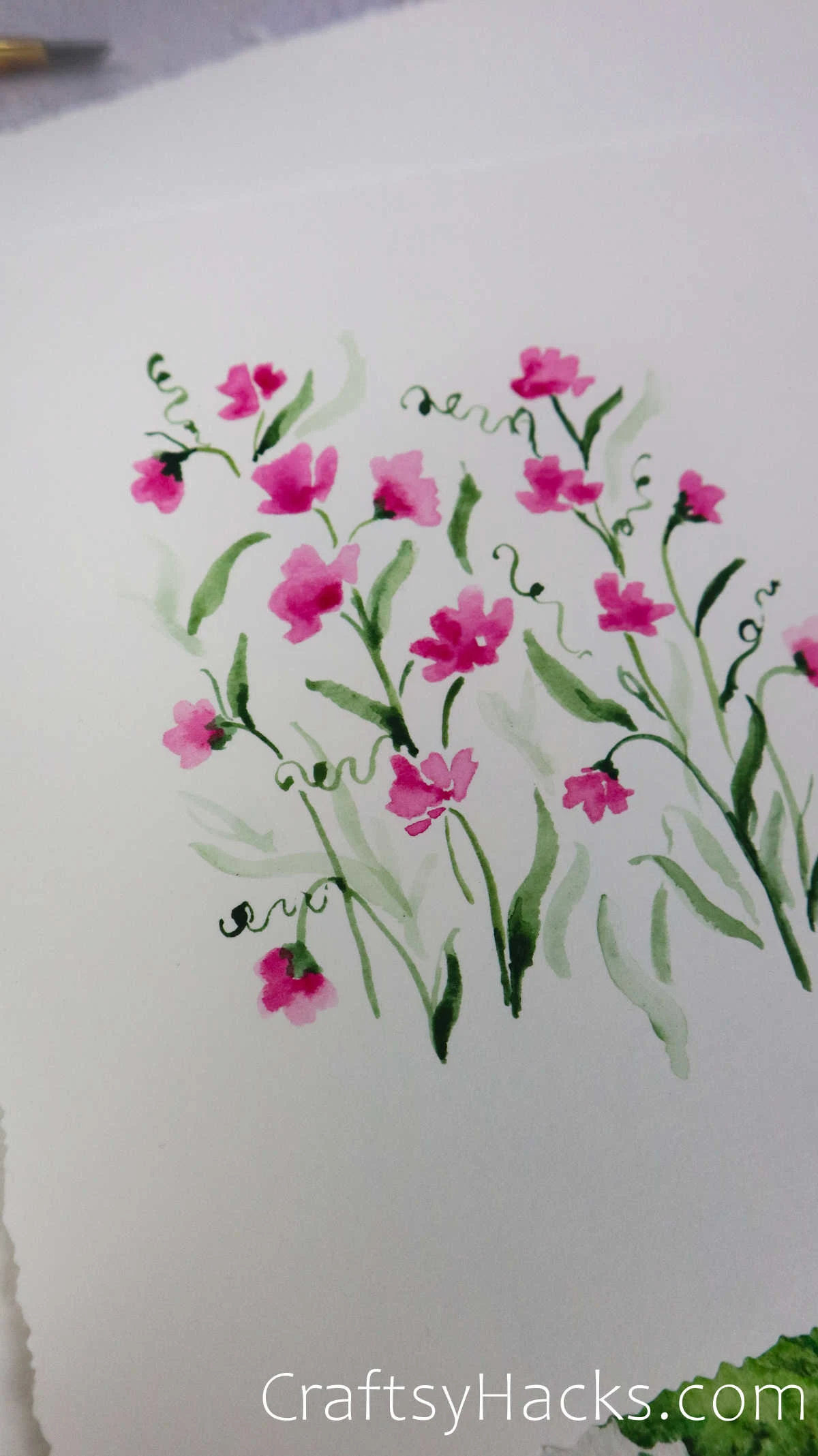 These easy watercolor hacks will help you get started!
If you're new to watercolor painting or just looking for inspiration, these 21 watercolor flower painting ideas are here to help you get started.
As I've mentioned, some of these flowers are a bit more complicated than some others–start with what you're comfortable with and advance towards the more complex subjects.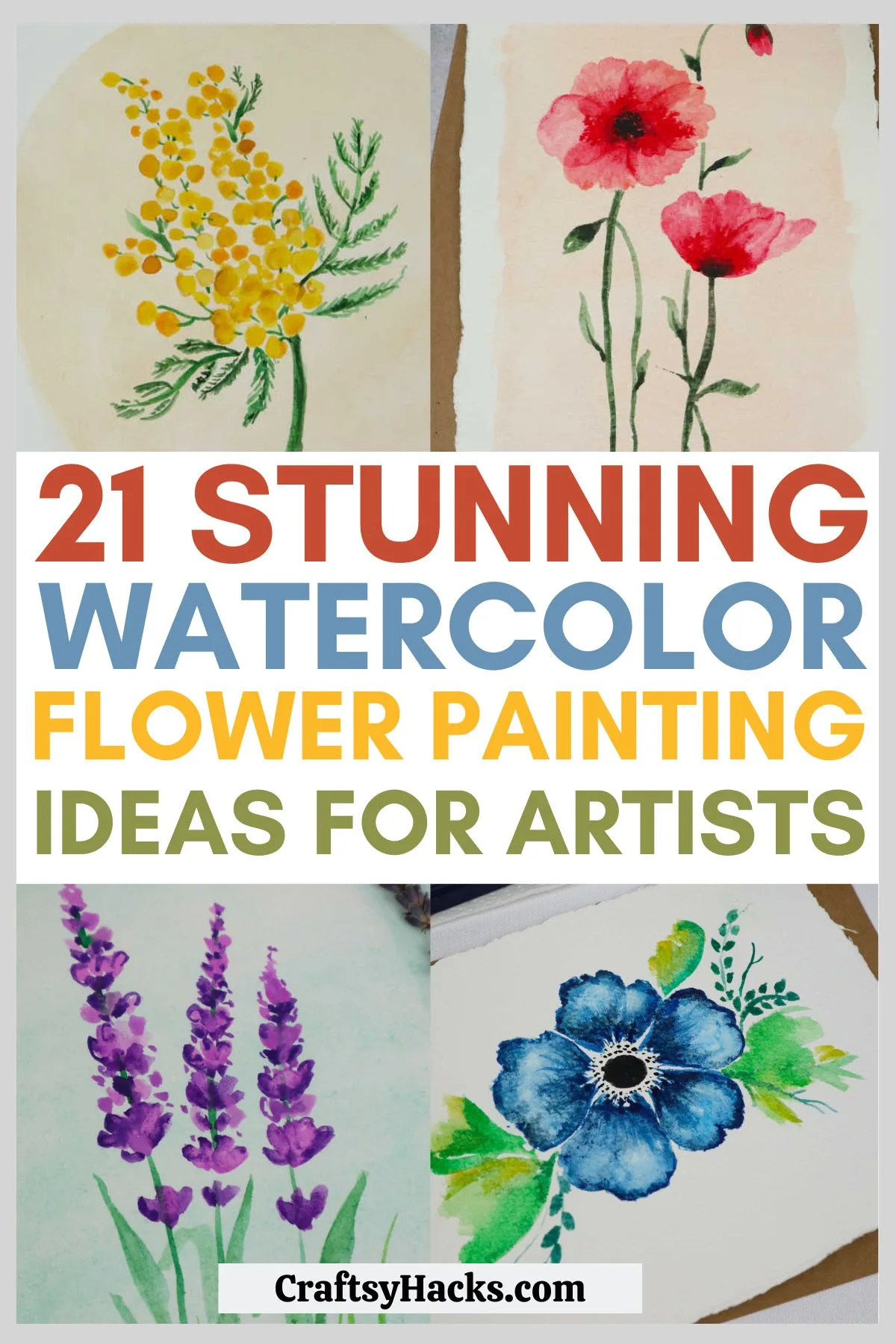 Also, if you want to know what I've used in my works here, I'll leave them below.
The paints I used are from this set and are able to build color well. This paper is pretty similar to the one I used and doesn't have too obstructive of a texture.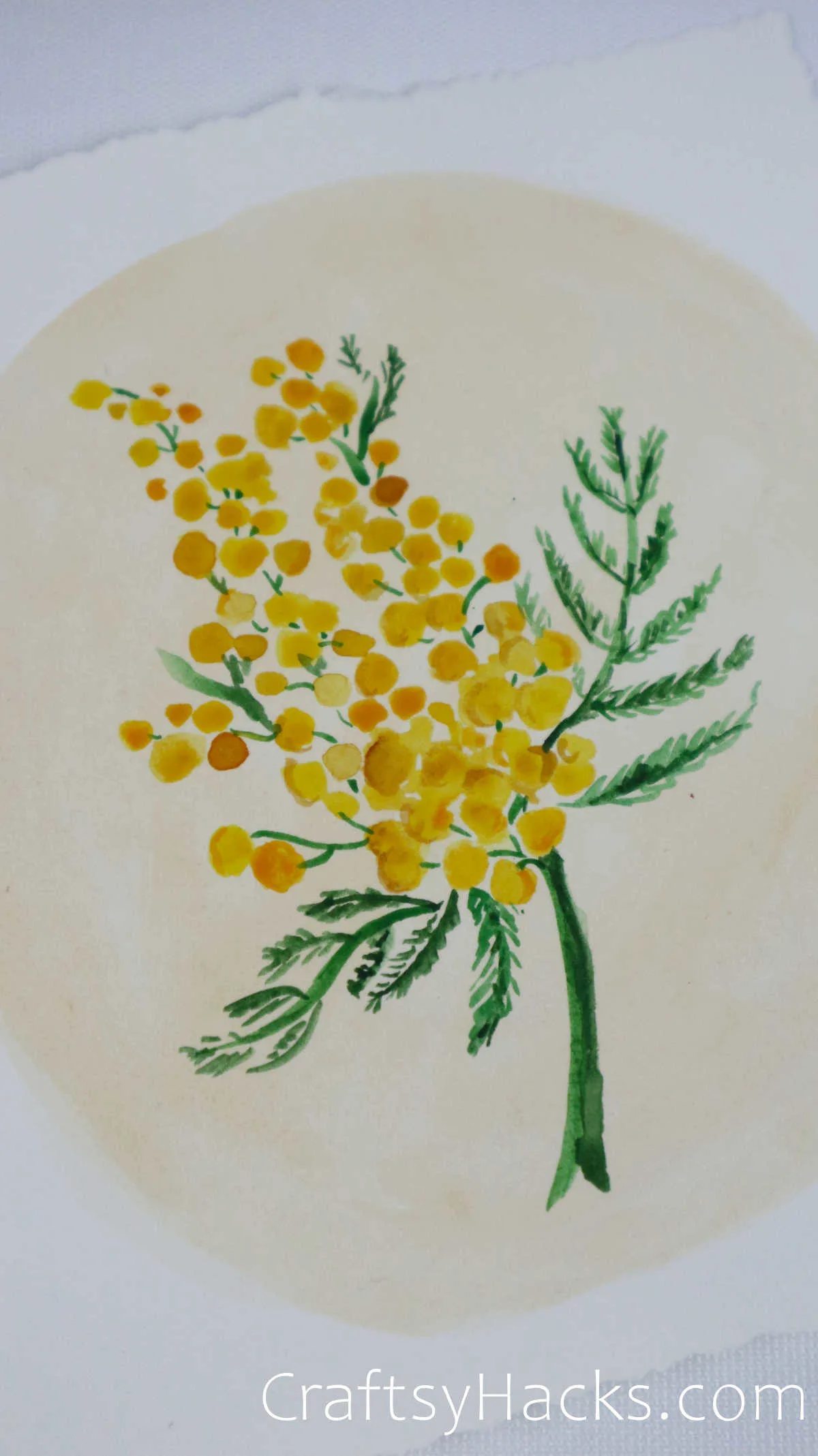 These are comparable brushes to my own set and a good deal. I love these pencils for any light sketching needed, and I enjoy using a convertible ease for on the go–this one is pretty cool.
1. Roses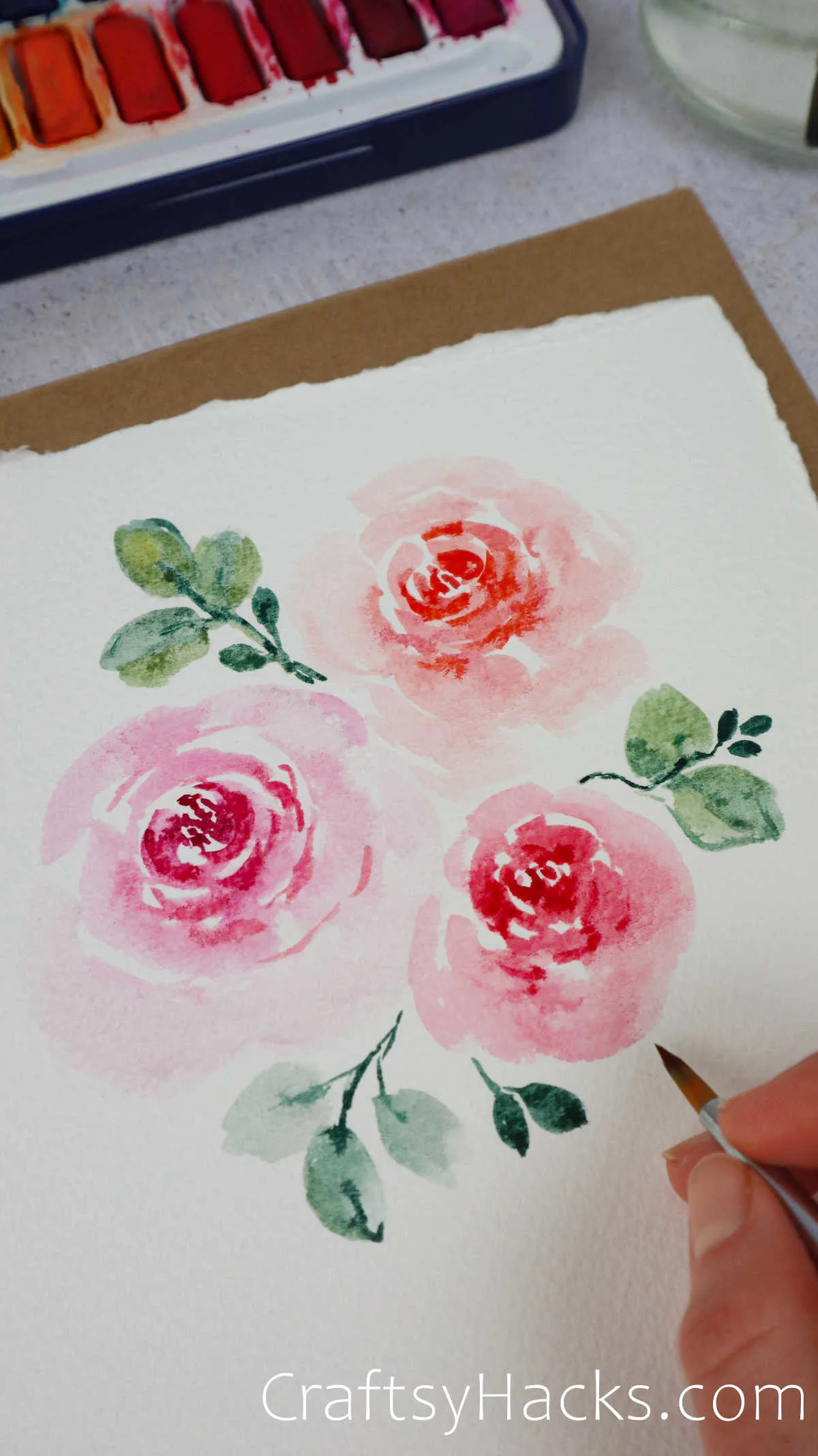 Roses are one of the most iconic flowers and make a great subject for watercolor painting. Their intricate petals and vibrant colors make for a beautiful image regardless of color or size.
I like to paint them most from this perspective, but anyway you paint a rose is beautiful. Play around with different formatting–that's how I came to find that.
This is one of the cutest painting ideas for beginners to create! Find more rose drawing ideas!
2. Lupins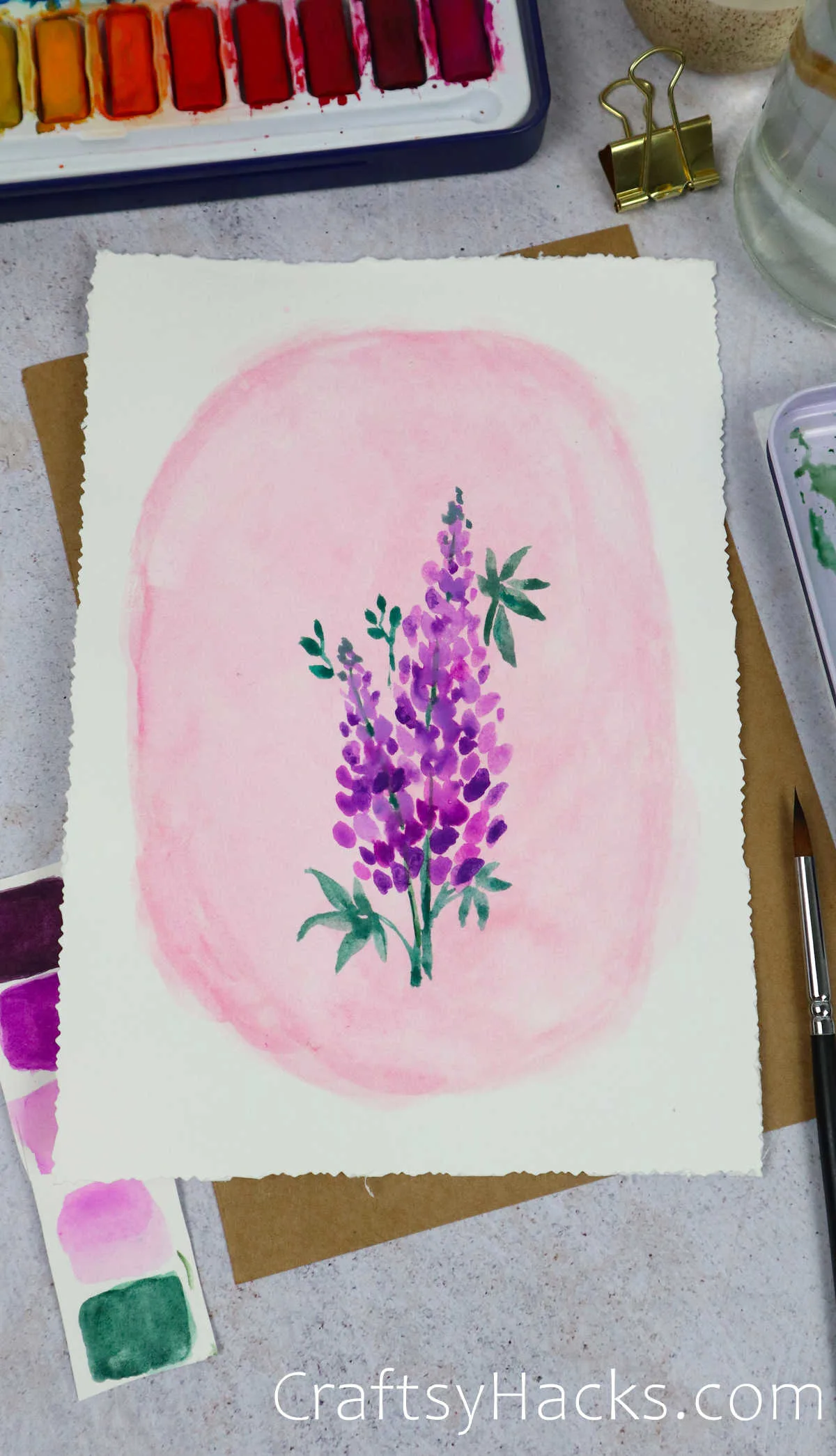 Lupins are a popular flower that comes in a variety of colors. Their tall, spiky flowers make for an interesting subject in watercolor painting.
Paint the background in to make Lupins or any of these flower projects a bit more unique! It adds an extra whimsical feel to these tall plants.
3. Poppies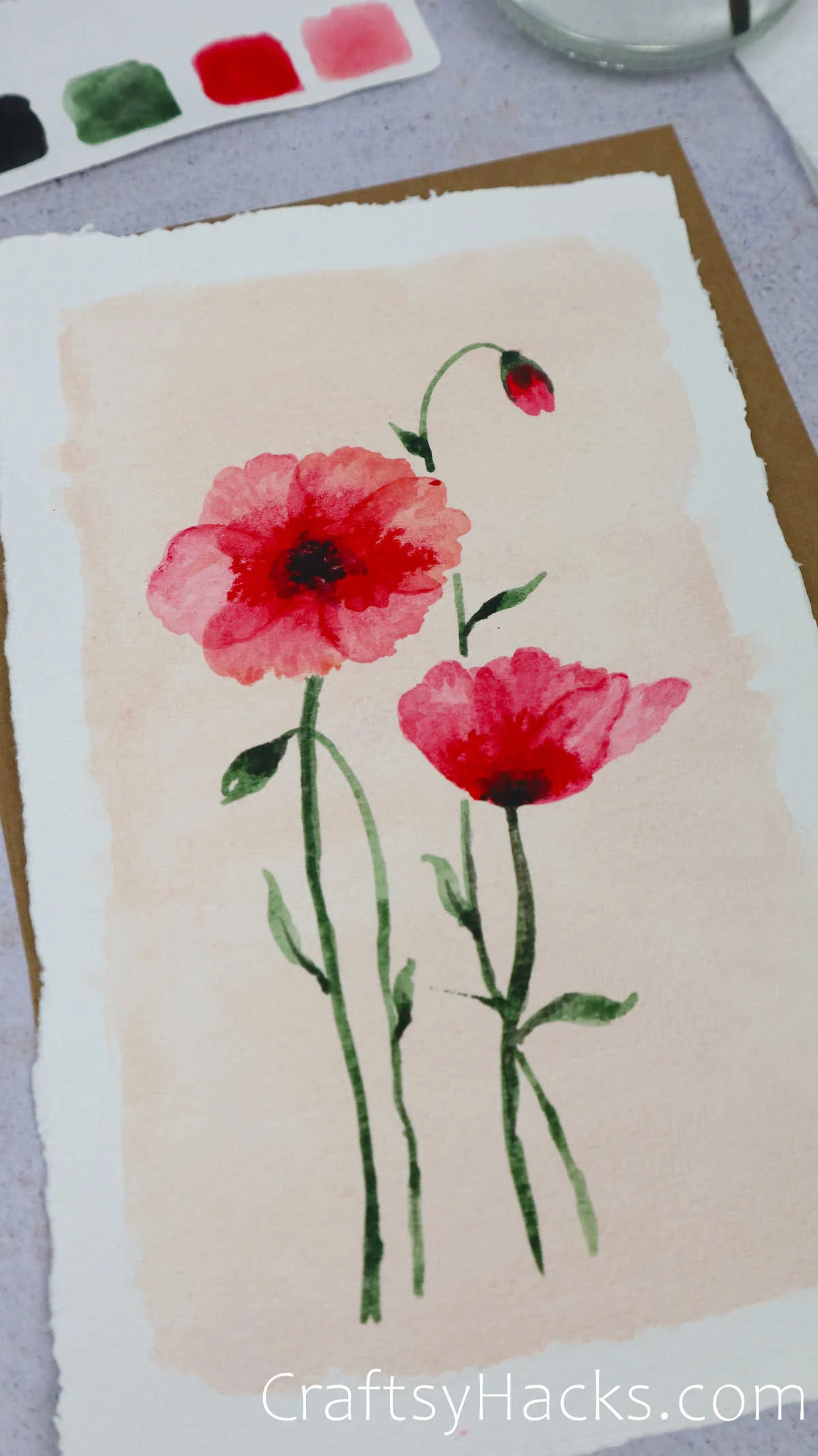 Poppies are known for their bright red color and delicate petals. They make a beautiful subject for watercolor painting, especially when painted against a blue or green background.
For a more offbeat poppy, feel free to try them in a translucent white to ivory, yellow, golden, orange, or even shades of blue and purple. Red is the classic color, but all of these other shades exist.
If you liked this flower idea, these easy tree drawing ideas might interest you!
4. Orchids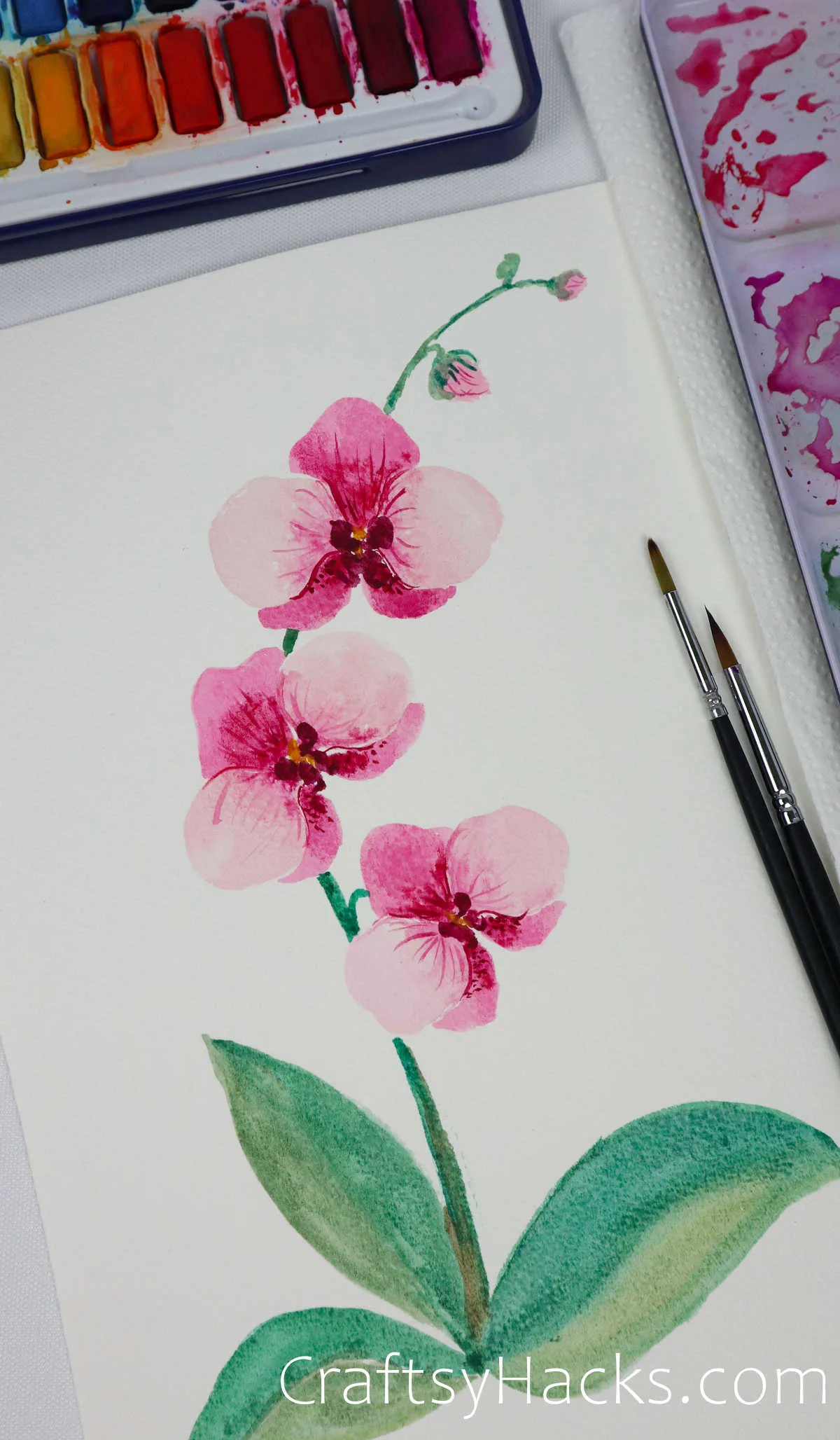 Orchids are exotic flowers that come in a variety of colors and patterns. Their unique shapes and intricate details make for a challenging but rewarding subject in watercolor painting.
One of my favorites to gift to others, but any of these paintings framed or made into a card make for beautiful handmade gifts.
For those friends that don't necessarily have a green thumb but appreciate greenery all the same!
5. Cherry Blossoms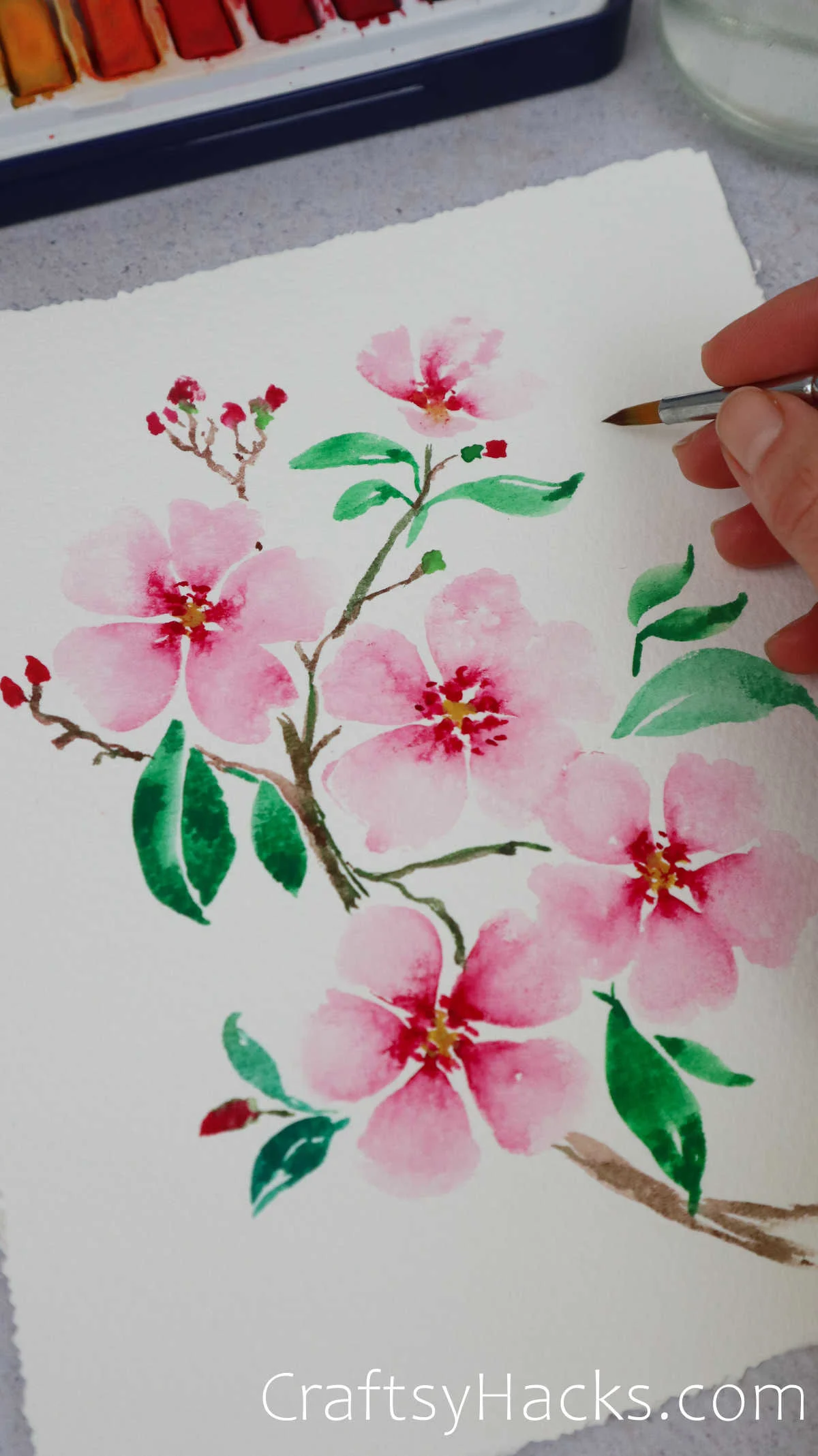 Cherry blossoms are a symbol of spring and renewal. Their delicate pink flowers and wispy branches make for a beautiful watercolor painting.
It makes for a great springtime art project–with the real ones in bloom! A great way to appreciate cherry blossom flowers all year long.
6. Forget-Me-Not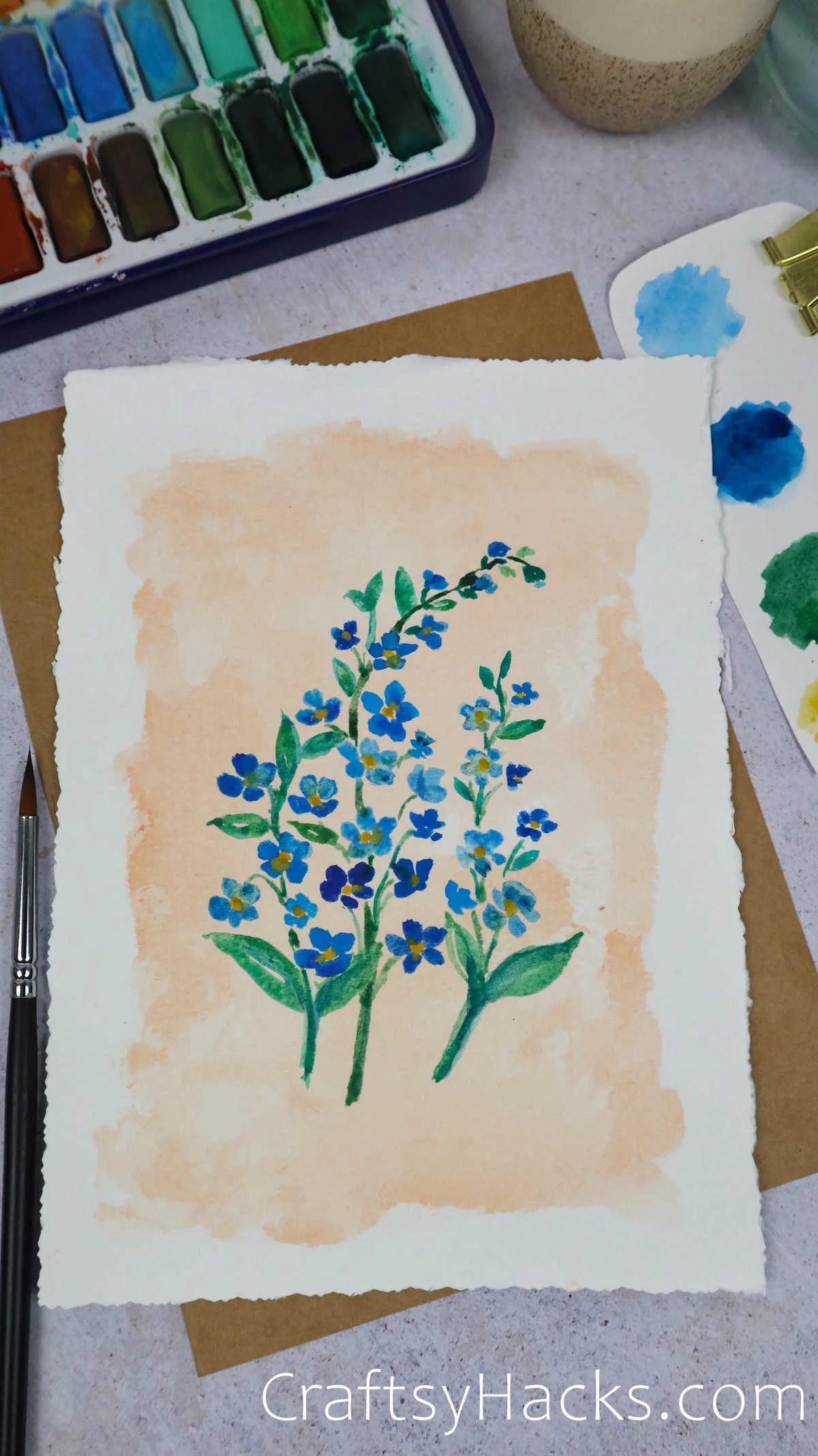 Forget-me-nots are small, delicate flowers with beautiful blue petals. They make a great subject for a simple yet striking watercolor painting.
Play around with the petal colors if you'd like! An ombre of blues, purples, pinks, and whites, I think, would just be gorgeous.
Find more easy drawing ideas here.
7. Mimosas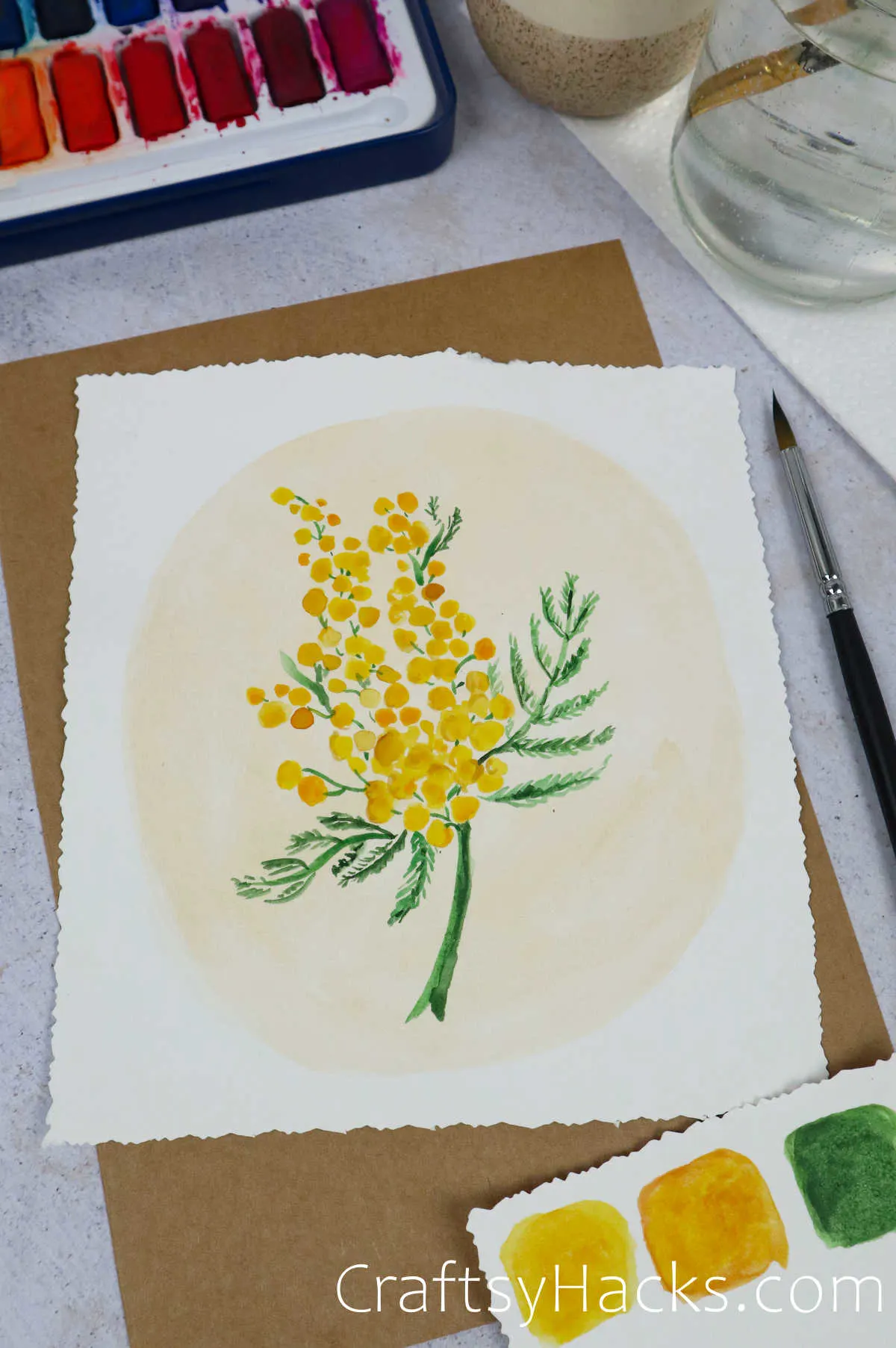 This flower is where the classic brunch drink's name comes from! All-around fun–this flower stands out of the crowd for a reason.
Mimosas are known for their fluffy, yellow flowers and feathery leaves. They make for a sweet and playful subject in watercolor painting.
8. Bluebells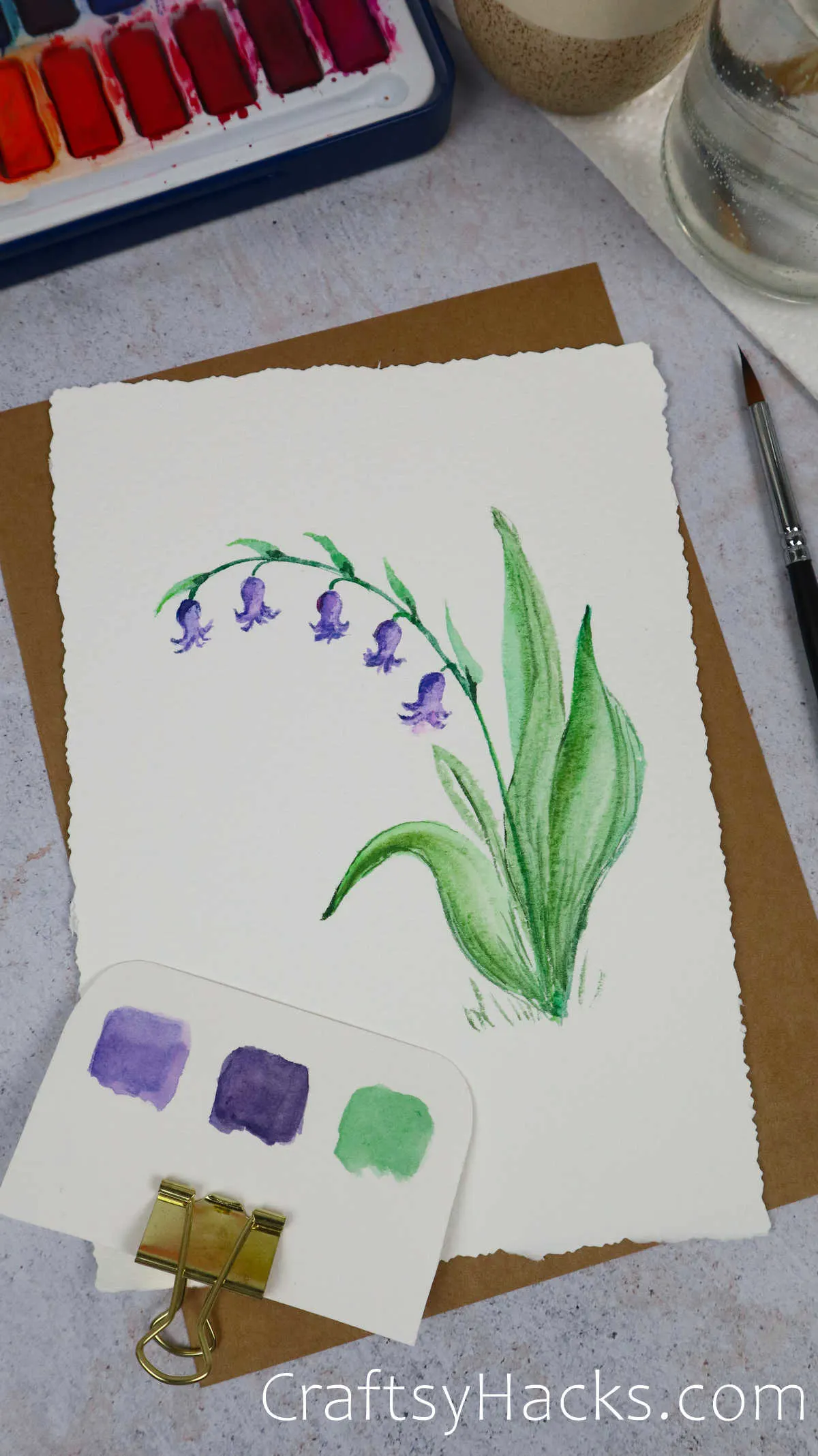 Bluebells are a favorite of many, with their beautiful blue flowers and delicate stems. They make for a serene and calming painting subject.
A standalone Bluebell makes for a gorgeous moody subject, but a handful or a field full of them makes for a compelling and complex scene.
Definitely sketch out your idea first for these whimsical beauties.
Check out these adorable mushroom drawing ideas!
9. Gerberas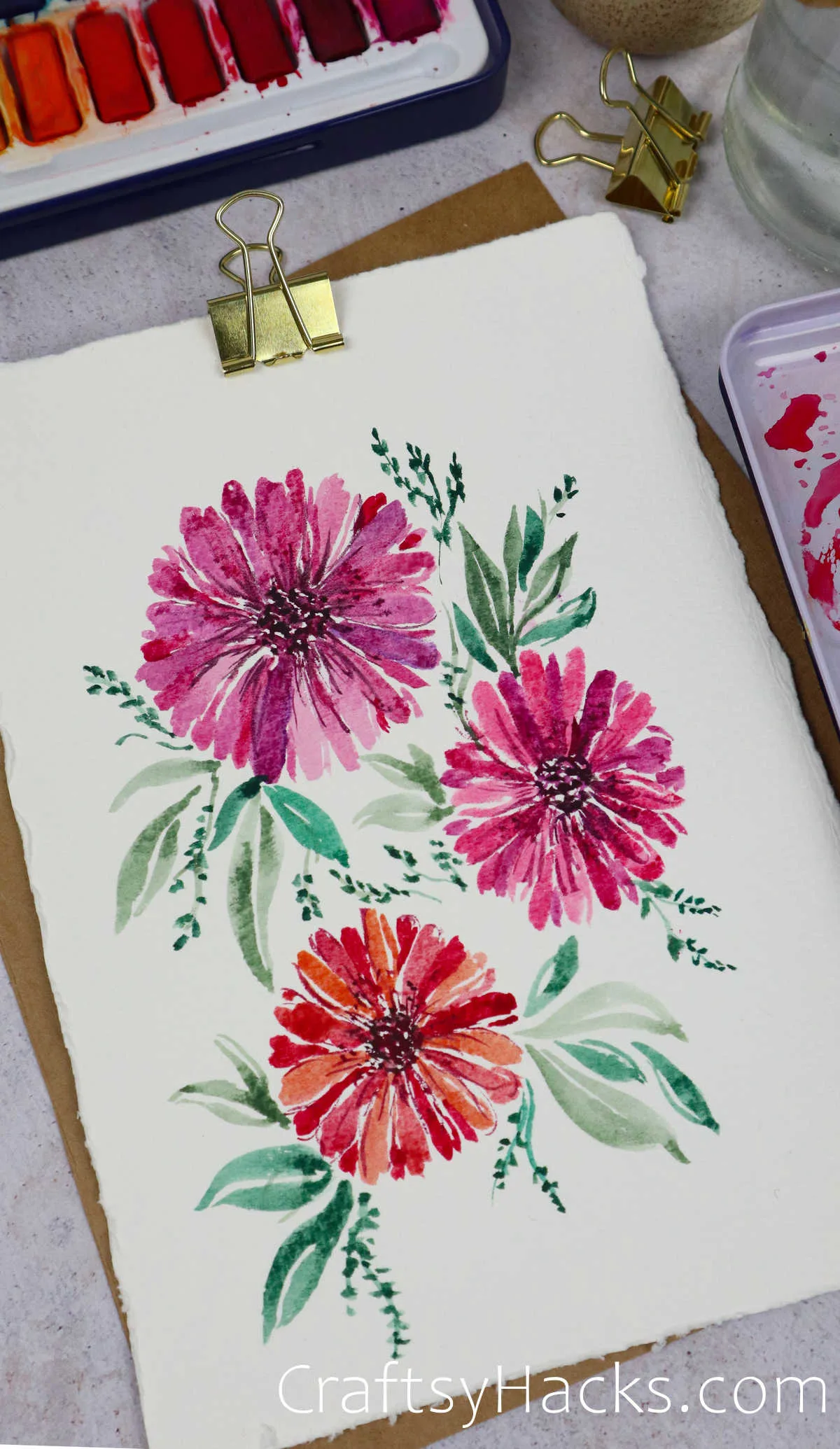 Gerberas are a popular flower in gardens and florists. Their large, colorful petals make for a bold and eye-catching watercolor painting.
Similarly, like roses, I like to paint Gerberas from this angle but don't be afraid to try different perspectives.
10. Peony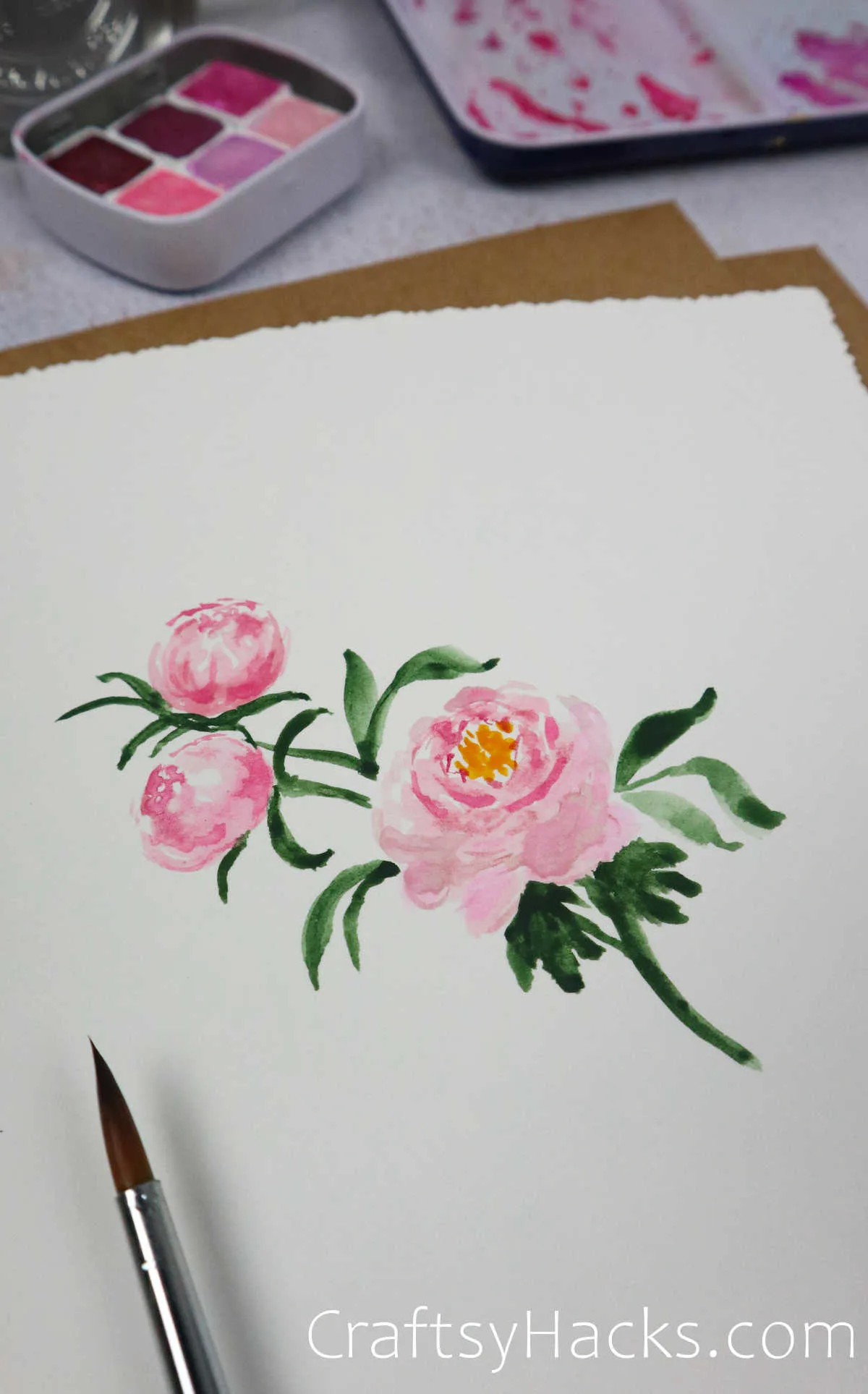 Peonies are known for their large, billowy petals and beautiful colors. They make for a dramatic and stunning watercolor painting subject.
The color options are endless, too, pink, red, orange, yellow, or white. Create a scene of a singular color or mix and match.
11. Echinacea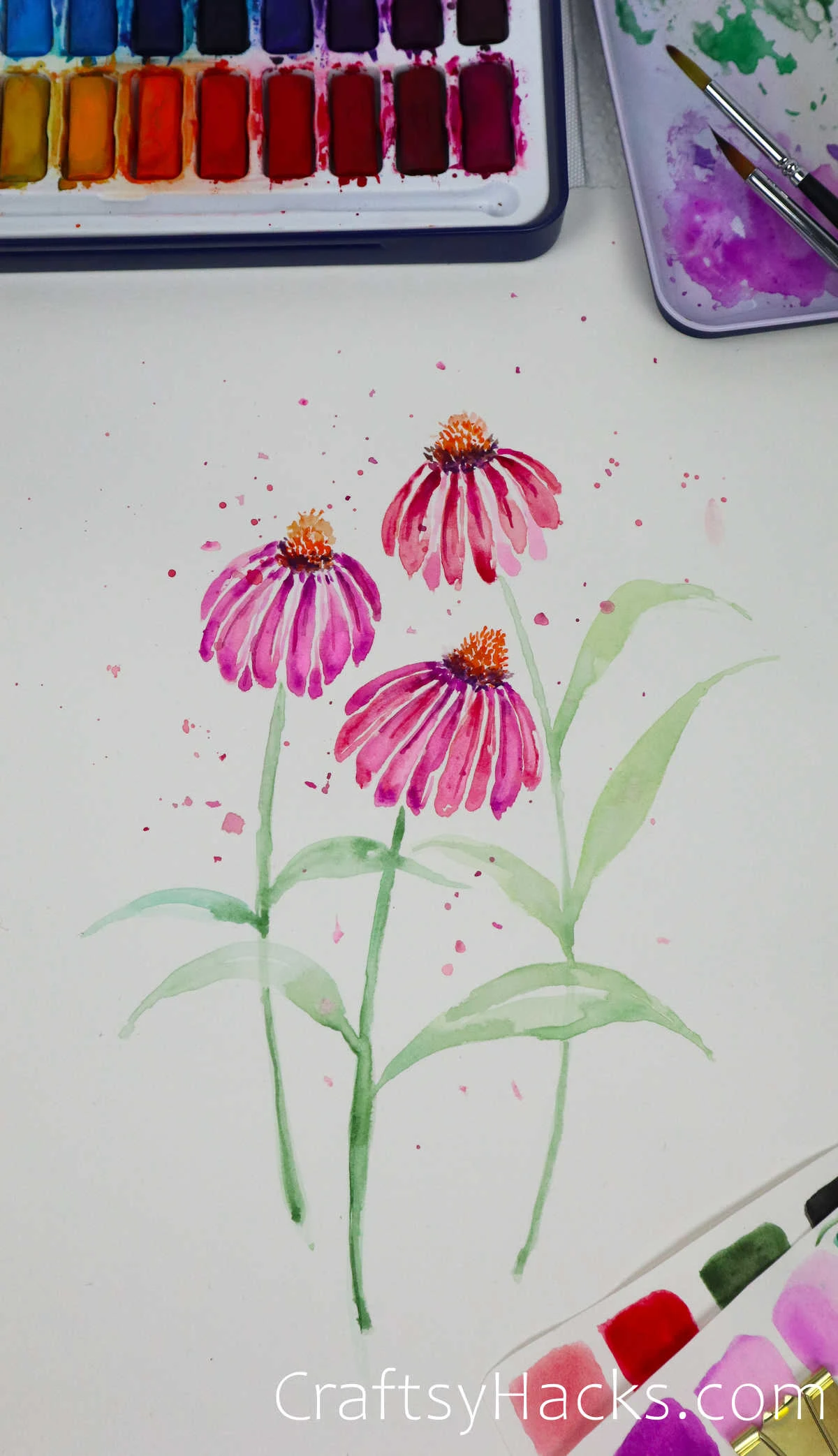 Echinacea, also known as coneflowers, are a popular flower in gardens and wildflower meadows. Their unique shape and vibrant colors make for an interesting and fun watercolor painting.
Try them in a pink, like mine, or opt for red, orange, white, or even yellow. Like the rest, any of these flowers are great for experimenting with an array of colors for any practicing artist.
12. Cosmos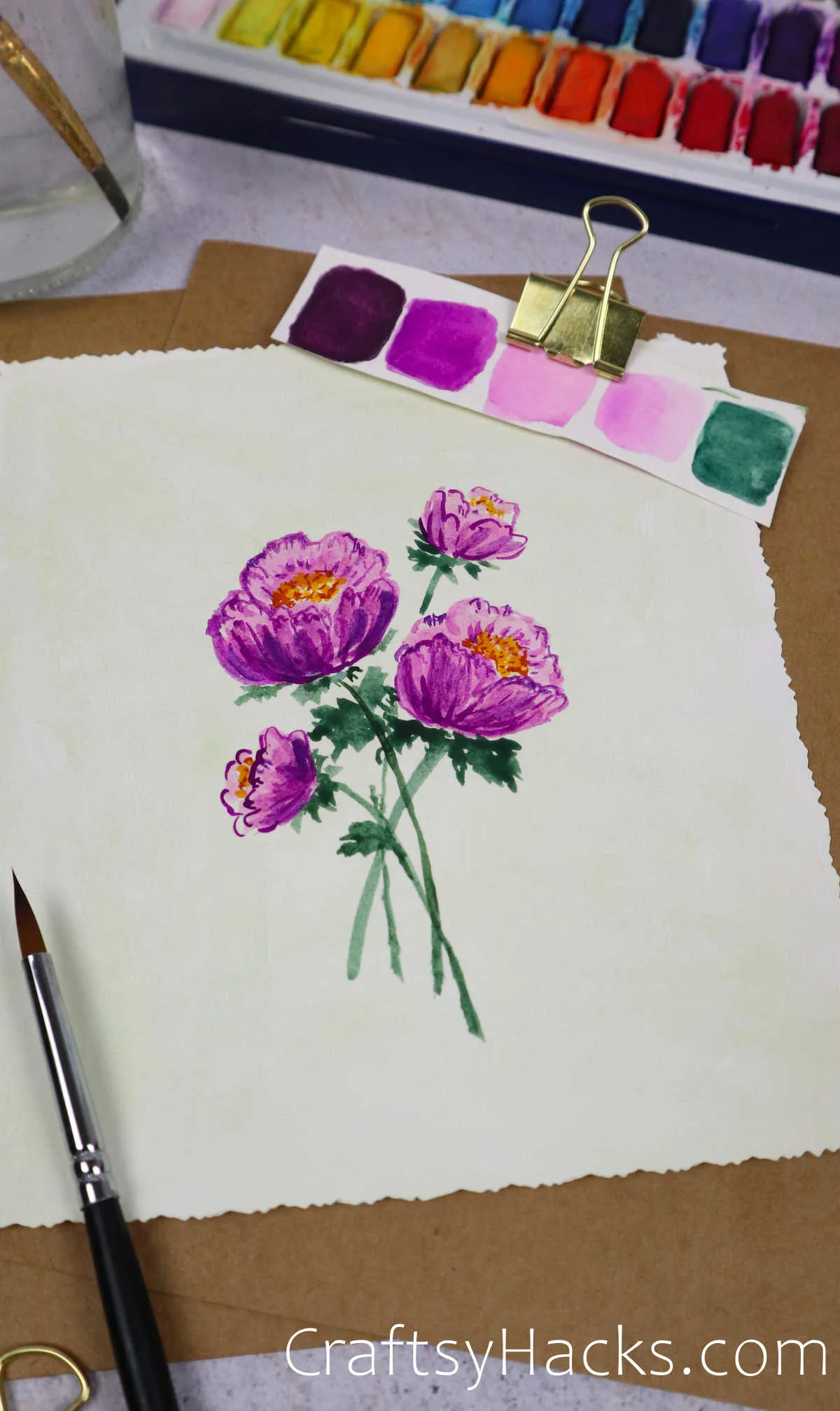 Cosmos are delicate flowers with beautiful petals that come in a variety of colors. They make for a whimsical and charming watercolor painting subject.
These flowers can range drastically in height, and colors come in pink, orange, red and yellow, white, and maroon. There's a lot of room to play with these beauties on the page.
13. Tulips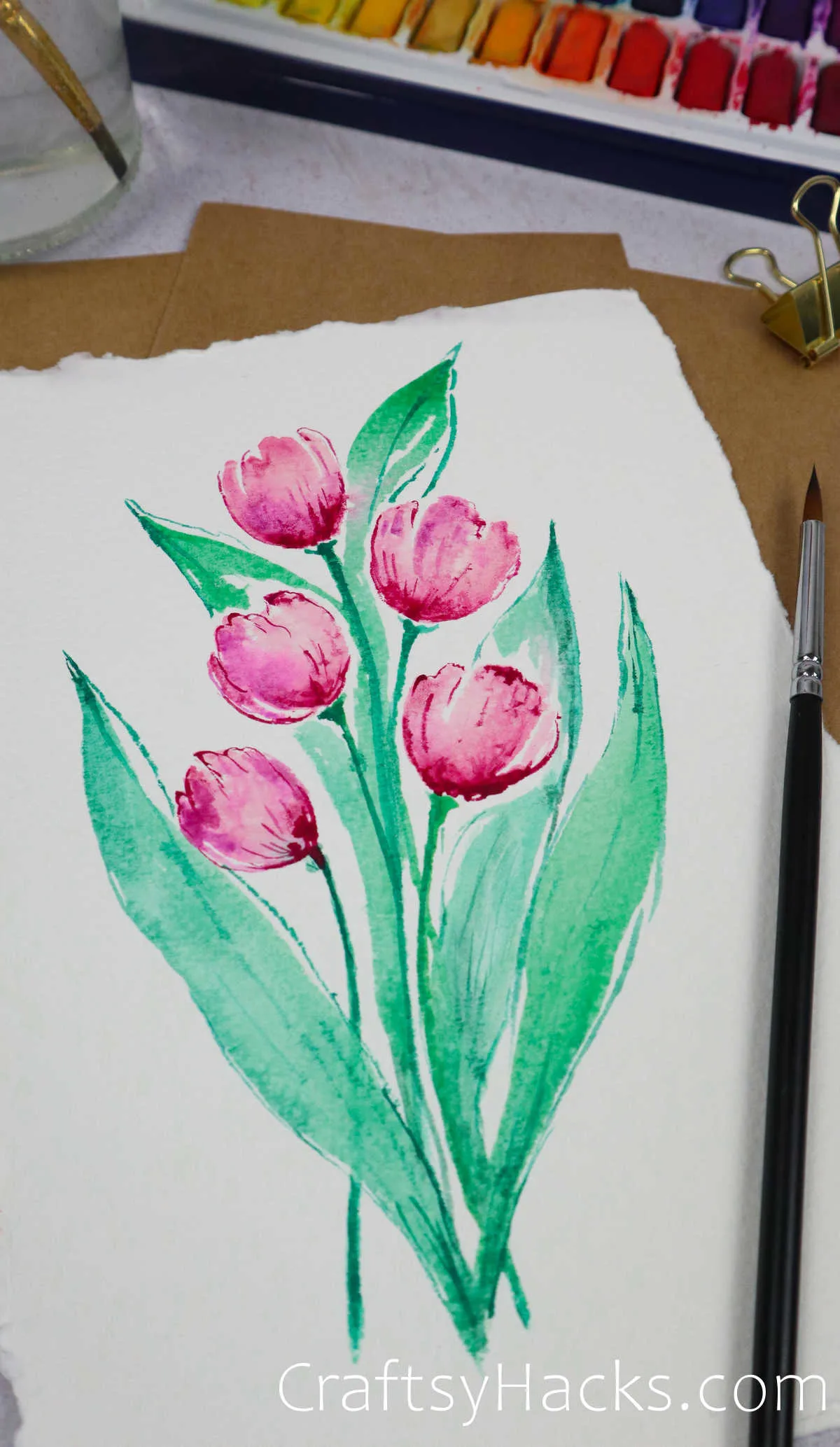 Tulips are a classic flower that comes in a variety of colors and shapes. They make for a simple yet elegant watercolor painting subject.
Tulips may be a little tricky in their structure due to their bulbous tops and long stems. Try your hand at sketching them first before adding the watercolor.
14. Wax Flowers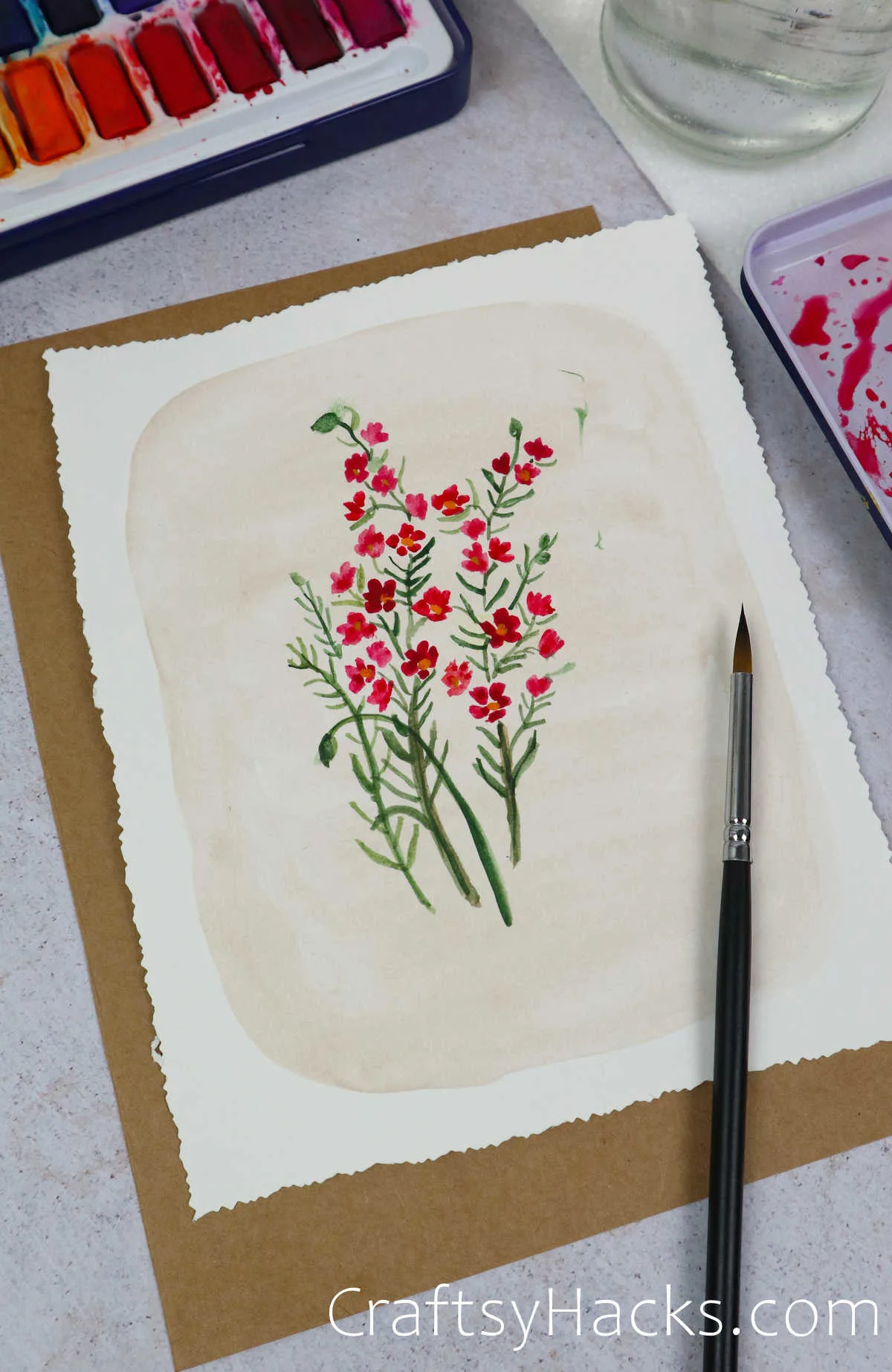 Wax flowers are known for their waxy texture and long-lasting blooms. They make for an interesting and unique watercolor painting subject.
The shrubbery with the flower makes for a much more interesting scene. Wax flowers are usually small but with bright shades of whites, pinks, or purples.
15. Primrose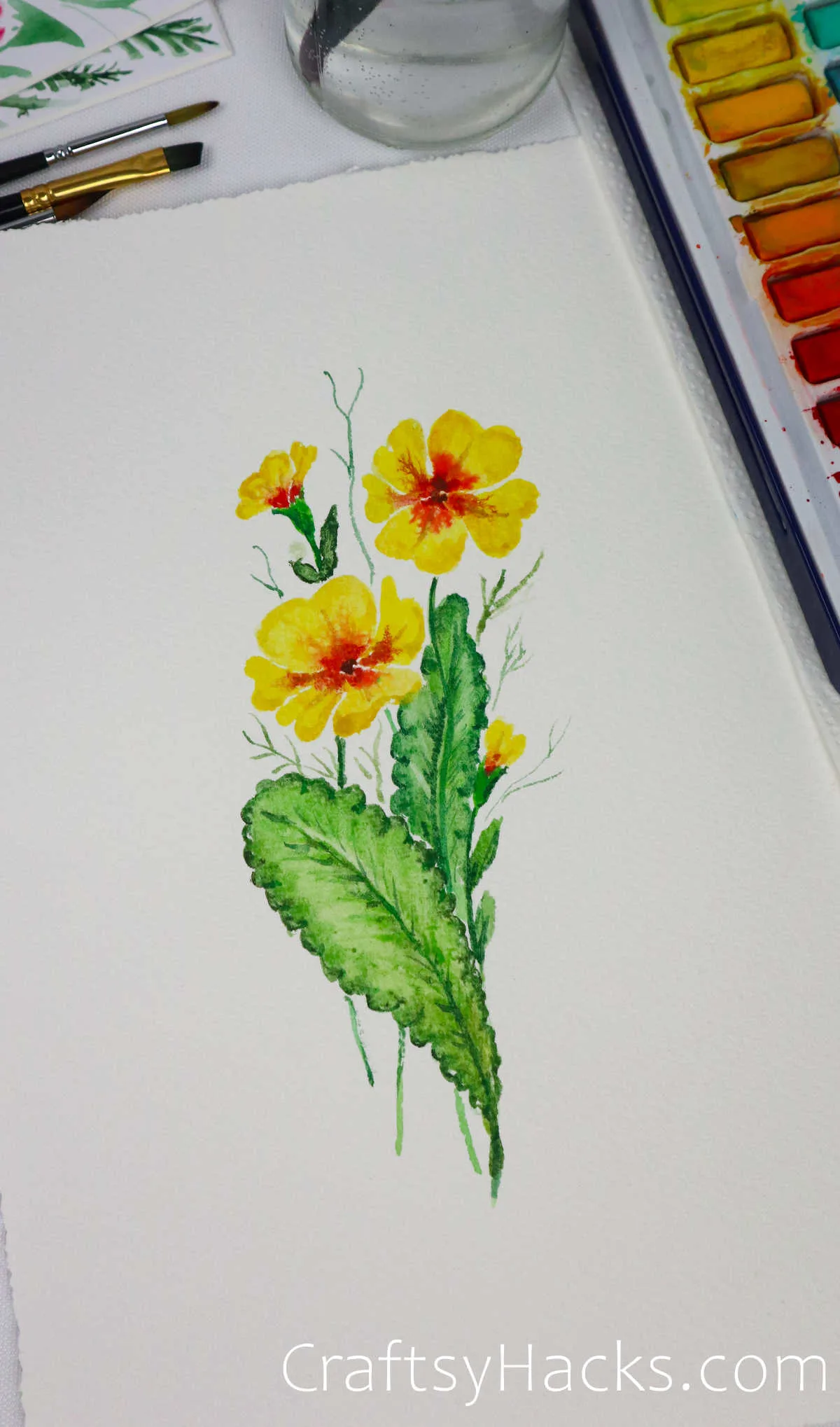 Primroses are small, delicate flowers with a beautiful range of warm colors. They make for a soft and peaceful watercolor painting subject.
This is another flower that looks gorgeous with a little extra greenery paired with the painting. Primroses are also a great flower to try if you're looking to work blending colors.
16. Sweet Peas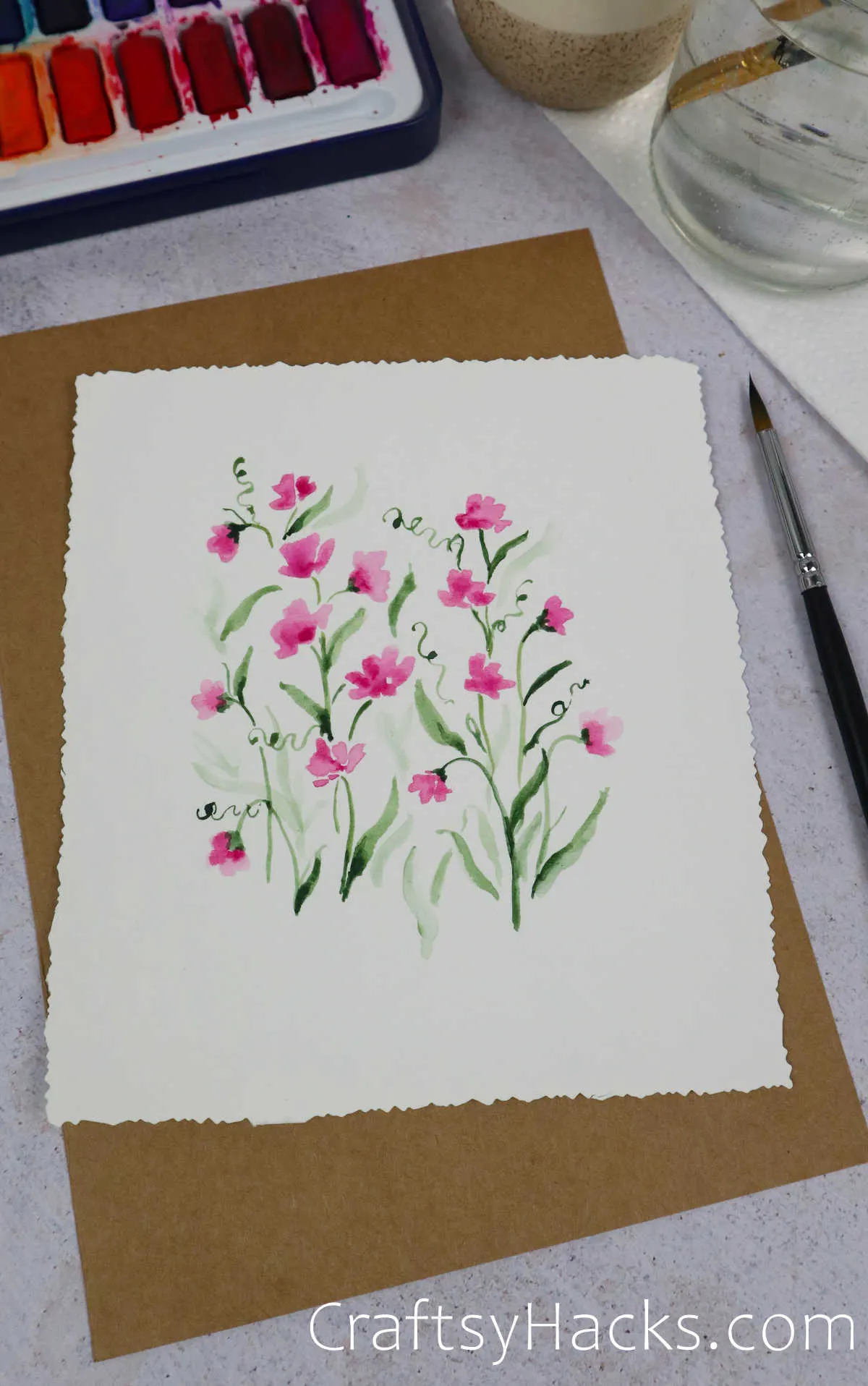 Sweet peas are known for their sweet fragrance and beautiful colors. They make for a lovely and romantic watercolor painting subject that looks like you could grab them right off the page.
If you're looking for your sweet peas to be a different color, they come in shades of crimson reds, navy blues, pastel lavenders, pinks, and the purest whites.
A multicolored sweet pea painting would be a pretty idea.
17. Pansy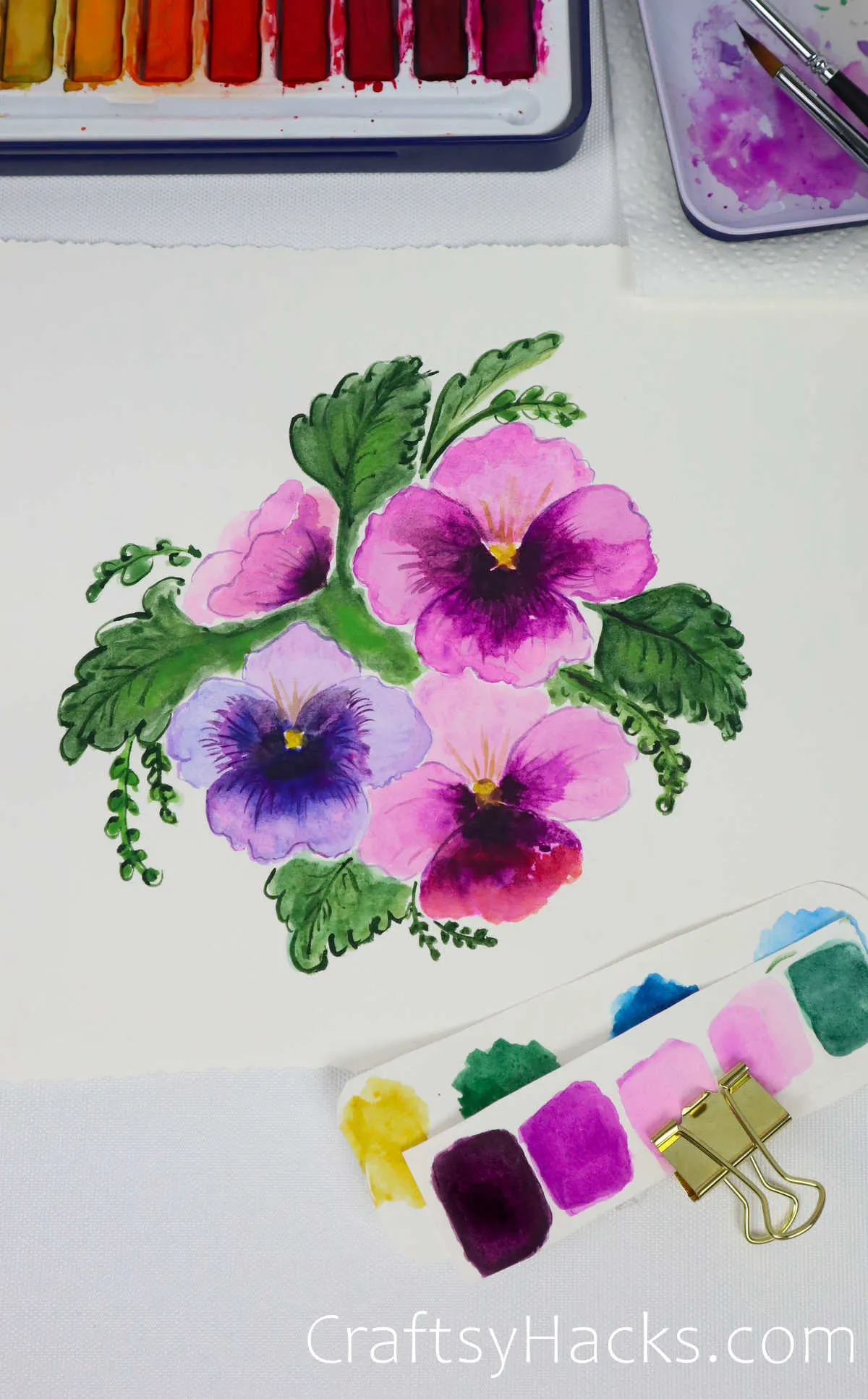 Pansies are a popular flower in gardens and come in various colors and patterns. They make for a festive and playful watercolor painting subject that can have a real depth once completed.
Low maintenance in gardens and a wonderful subject for blending colors practice.
Pansies come in yellow, red, mahogany, blue, purple, mauve, pink, orange, white, and even black–a color for every artist's wishes–mix and match or go for a solid.
18. Cornflowers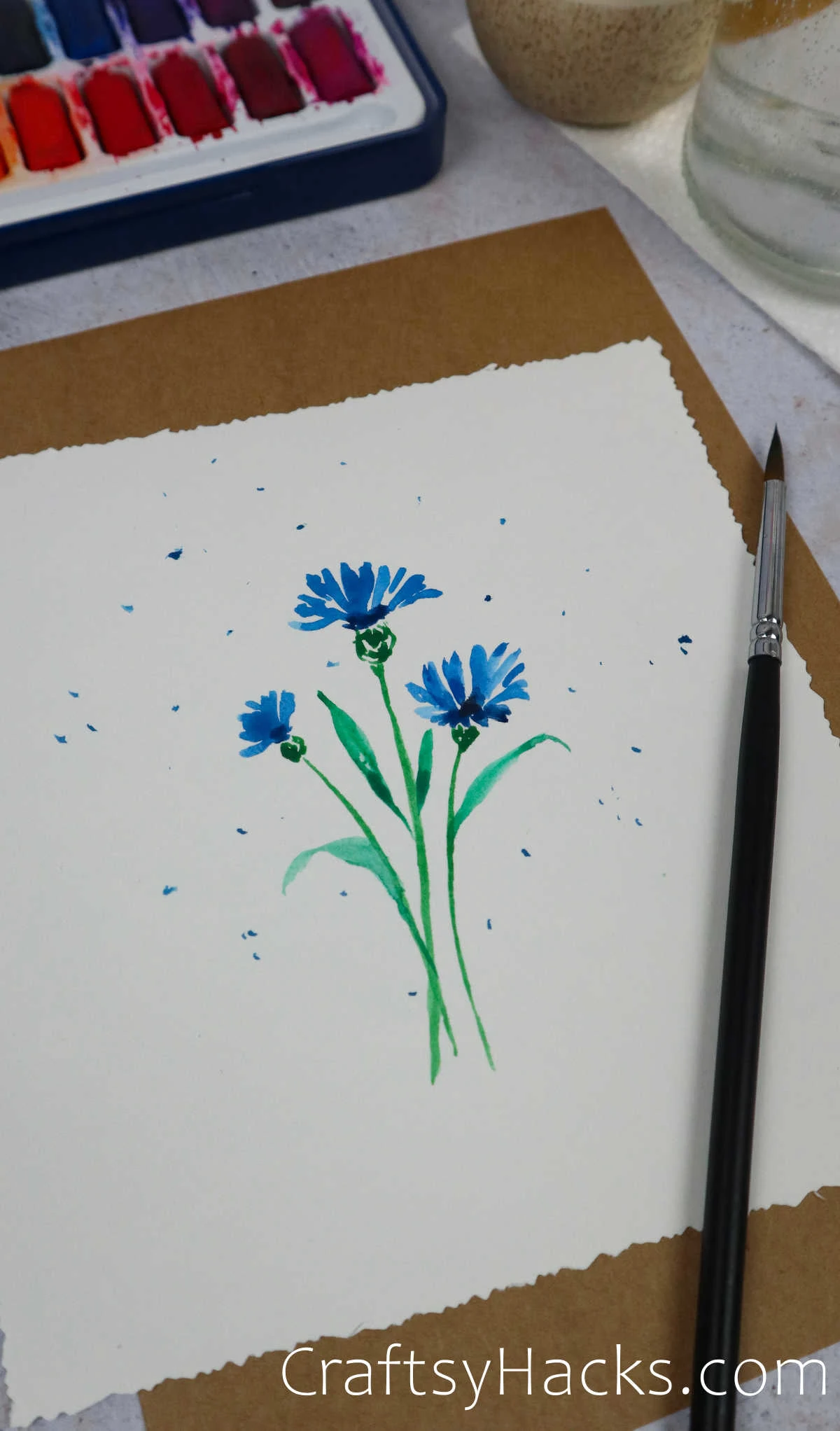 Cornflowers are a wildflower with, most commonly, beautiful blue petals. Thought of as a simple common flower, they still make for a minimal yet striking watercolor painting subject.
Recently, I learned that cornflowers also could be white, pink, red-purple, deep burgundy (sometimes called black), and, of course, the classic crisp blue.
Beautiful, both painted on the page and found out in the wild.
19. Lavender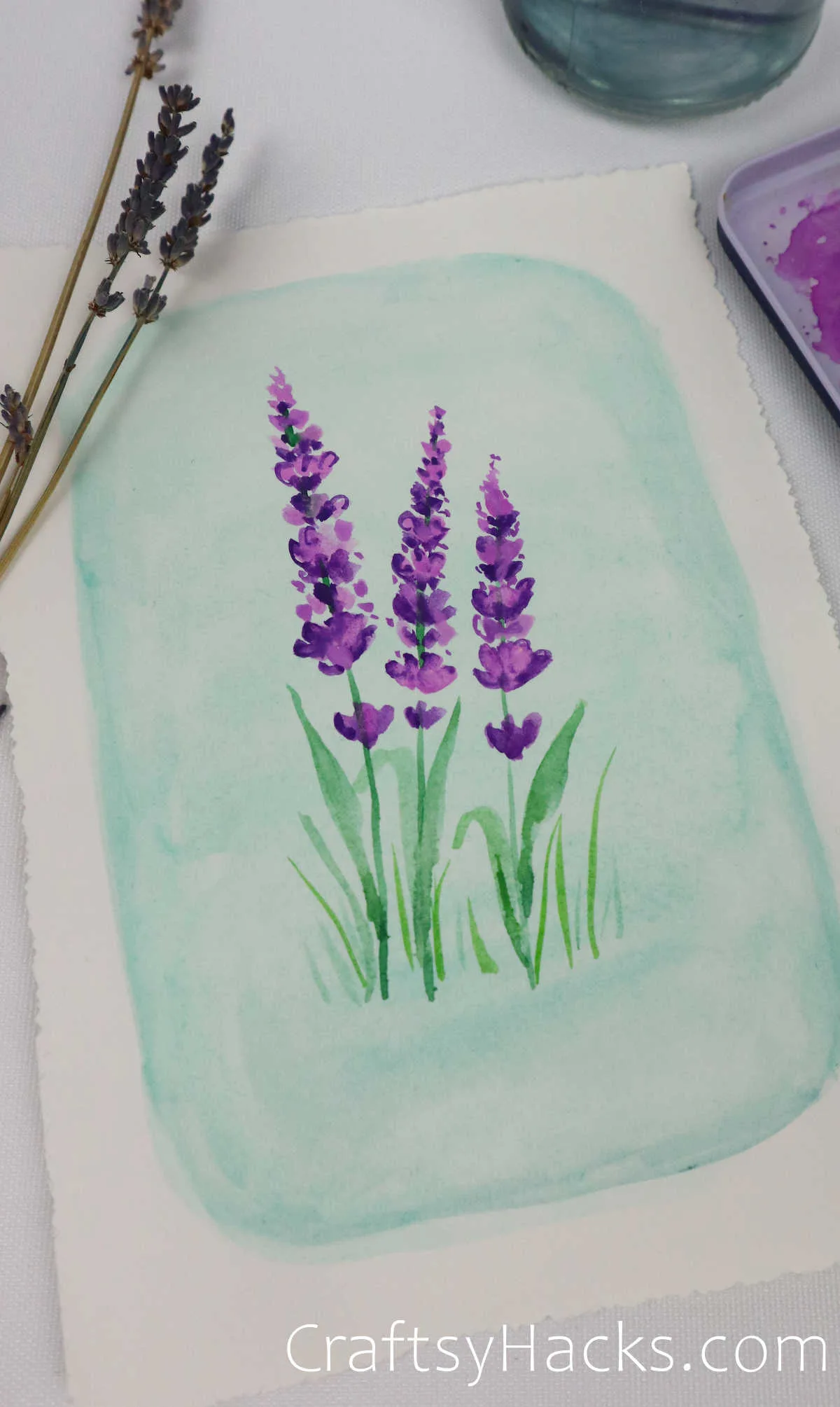 We all know there are two camps of lavender–you either love it or hate the flower, but there's no denying it's a great flower to paint!
Try out a field worth or a singular flower–whatever works for you and your abilities.
Lavender is known for its calming scent and beautiful purple flowers in nature.
Although they don't have a lovely fragrance when painted, it still makes for a serene and peaceful watercolor painting subject.
20. Blue Anemone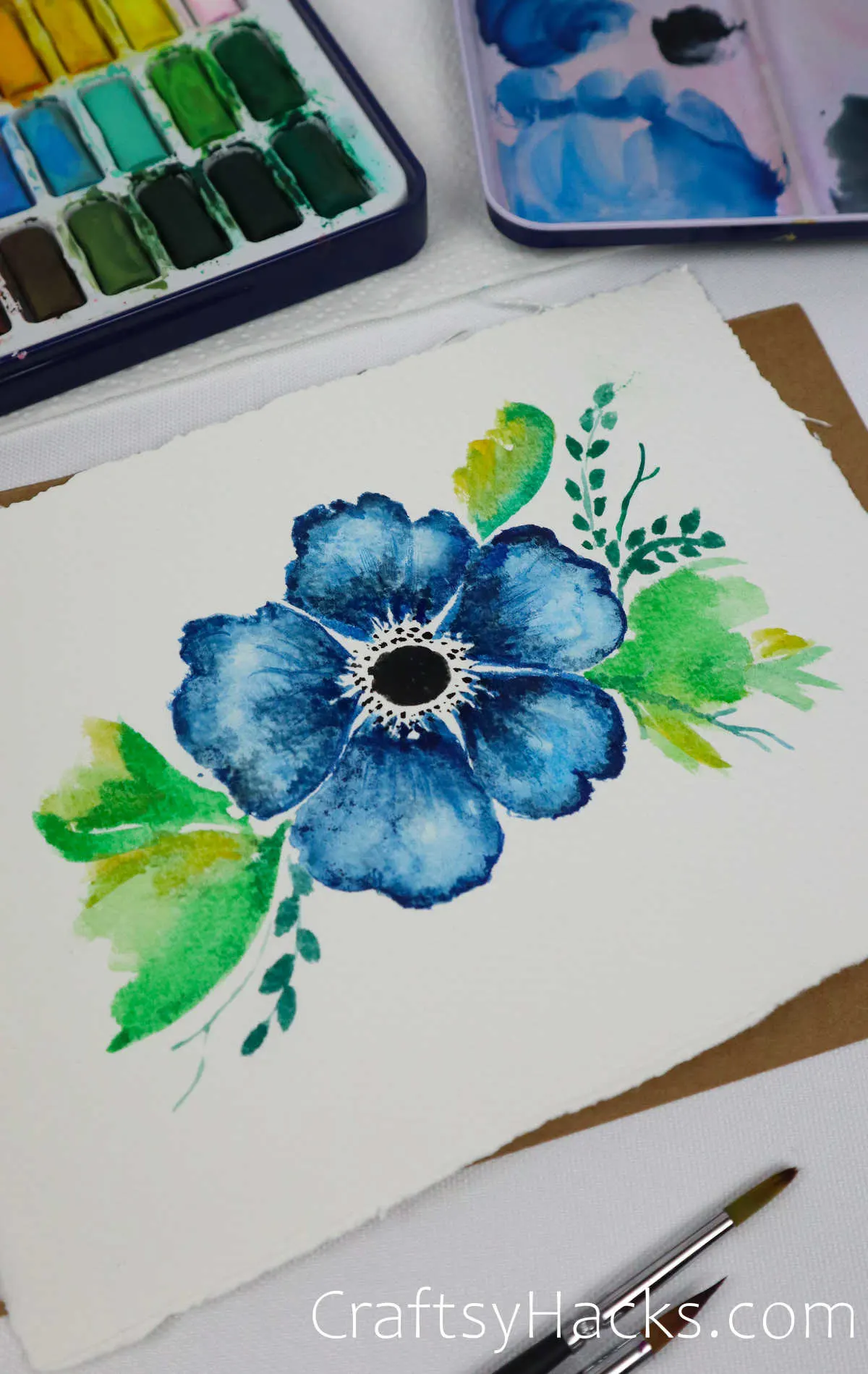 Blue anemones are unique and striking flowers with beautiful bluish petals. They make for an interesting focal point for any art project of any size.
Surprisingly, blue anemones can range in color from deep lavender to a pale mauve that verges on white.
These flowers are another great option for working on blending colors and general color study.
21. Oleander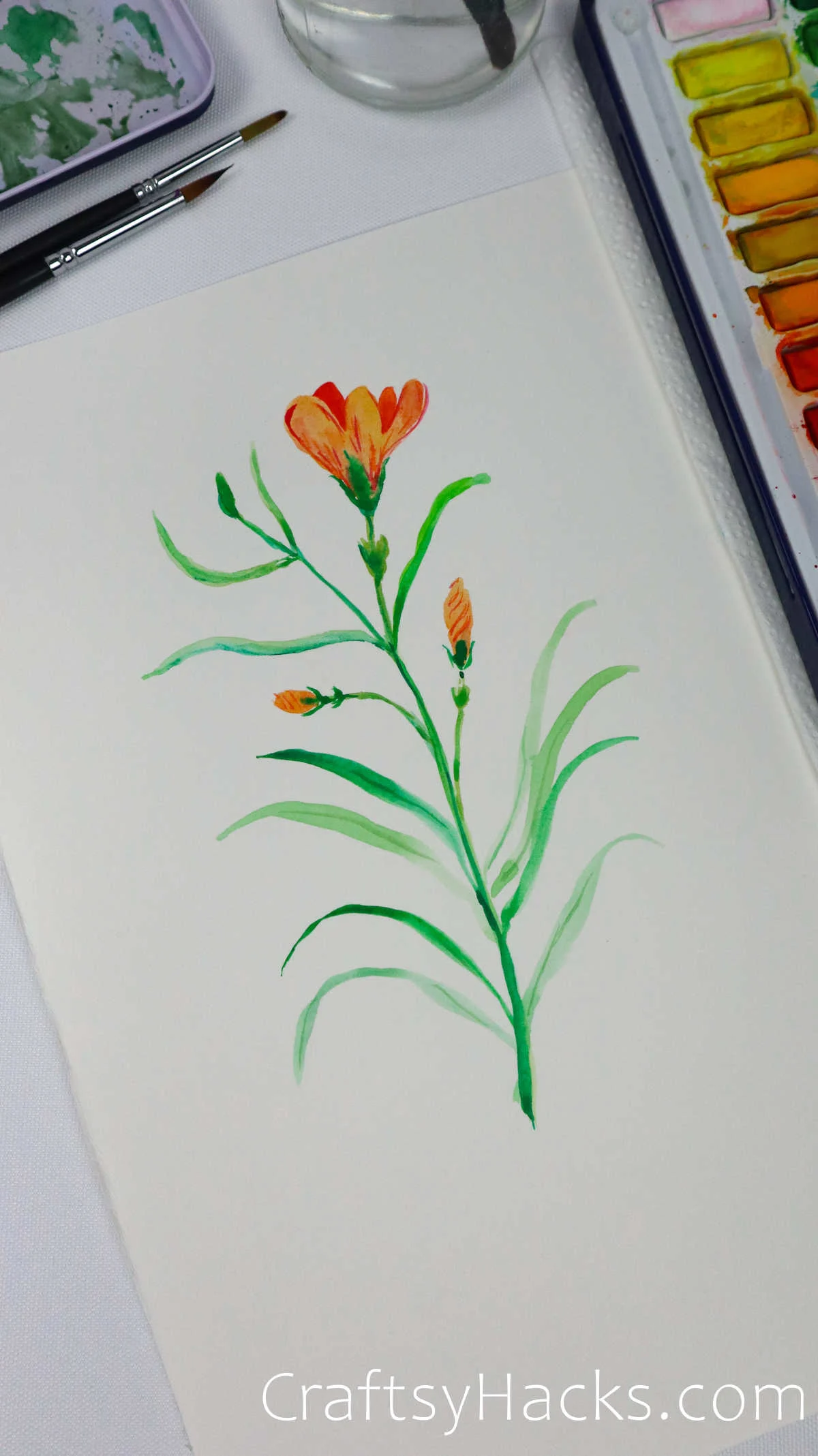 Oleander is a beautiful flowering shrub that is known for its vibrant pink, red, or white flowers. It's a popular choice for landscaping in warm climates due to its ability to withstand hot, dry conditions.
These flowers make for a stunning watercolor painting subject, with their clusters of delicate, funnel-shaped flowers and dark green leaves.
Get even more painting inspiration with these other easy flower painting ideas!