Whether you're a beginner to sewing or an advanced sewer, we got the right project for you! These sewing projects are easy, fun to make, practical, and cute!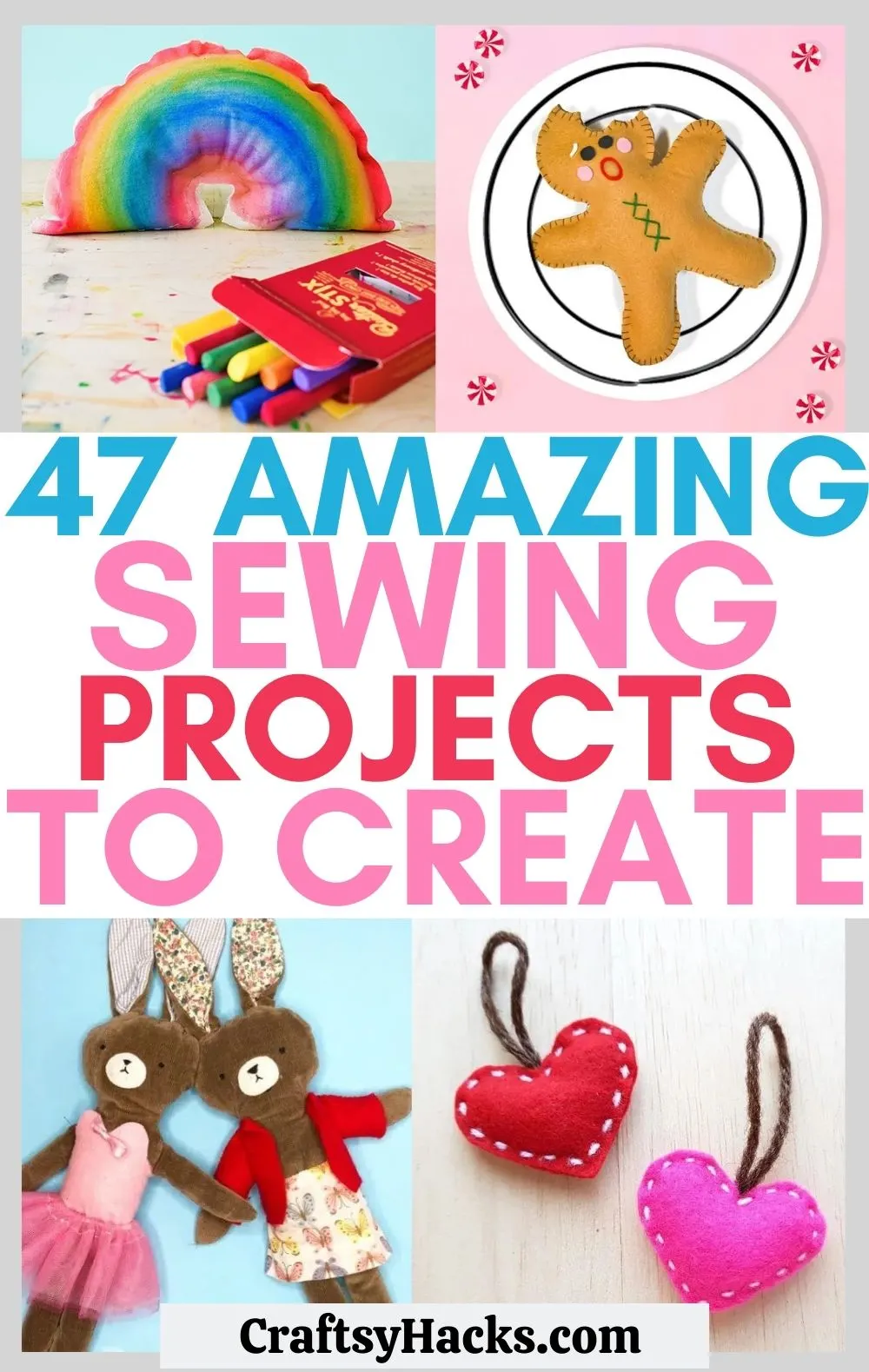 Sewing projects are a ton of fun to work on. They're often a great way to pass time while also being super productive.
When you know how to sew, you can make a ton of creative and personalized DIY gifts and goodies for all your friends. We're not talking big-time presents like dresses and blankets—although those are fabulous, too.
You can make bags, pillow covers, cloth baskets, and much more. So, without further ado, check out these 47 sewing projects for you to try!
1. Bedside Caddy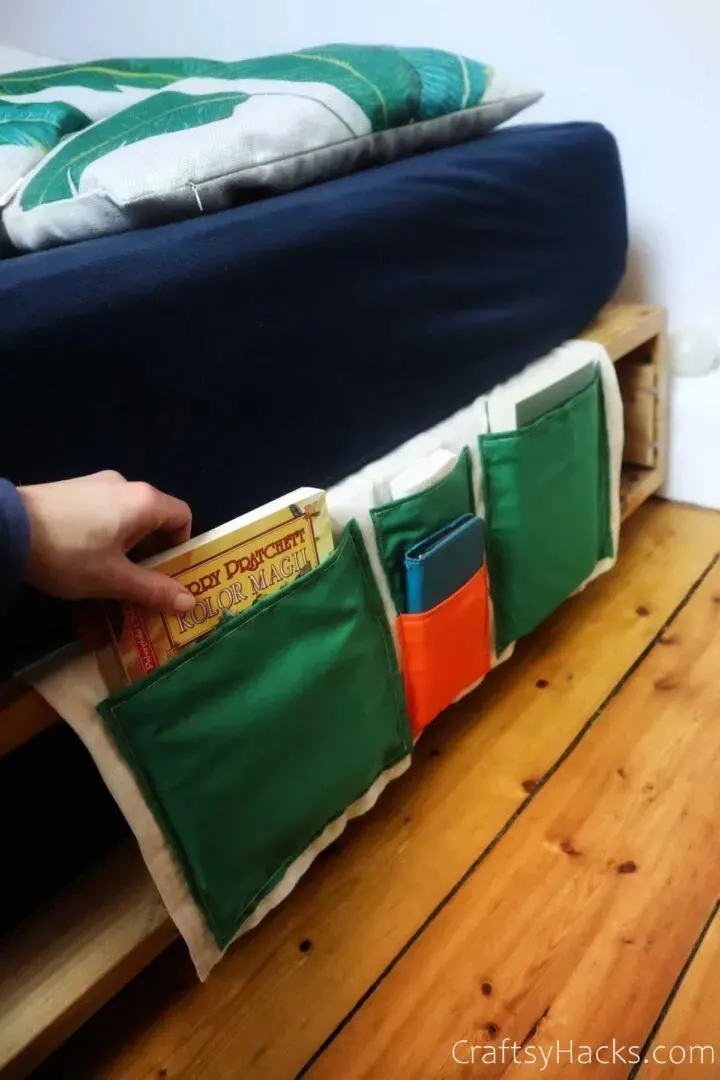 Source: craftsyhacks.com
Bedside caddies are lifesavers when you're in a pinch for space and need to make the most of what you have. Big side tables are out of the question, so instead, you're going to sew your very own bedside caddy.
Sewing a bedside caddy might seem like a rather big project, but you'll be surprised at just how easy it is to pull off.
The first order of business is to figure out the fabric and color scheme for your caddy. You can also use scrap fabric—as long as you're certain you have enough to make the pockets.
Check out these scrap fabric projects for more inspiration.
2. Envelope Pillow Cover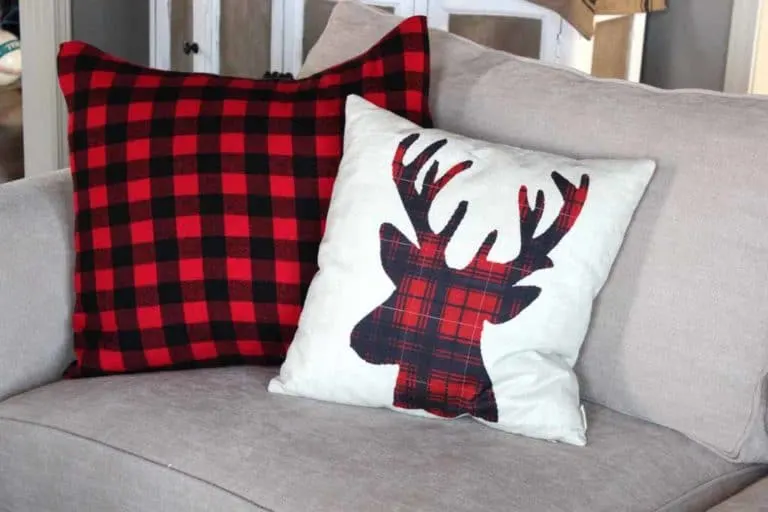 Source: loveourreallife.com
Pillow covers for throw cushions are an effective way to decorate your room for every occasion and season. Whenever you're ready to change over to a new theme, you can switch the covers over, and voila!
This means that your pillow covers should be easy to pull on and easy to remove. You can't just sew the pillows to the covers. Have you considered sewing envelope pillow covers?
They make the entire process super easy, and this way, you can keep switching out your cushion covers for every occasion! So, grab some fusible fleece from here and a couple of these quilt clips and start sewing!
Check out more DIY projects like this here.
3. Easy Tote Bag to Sew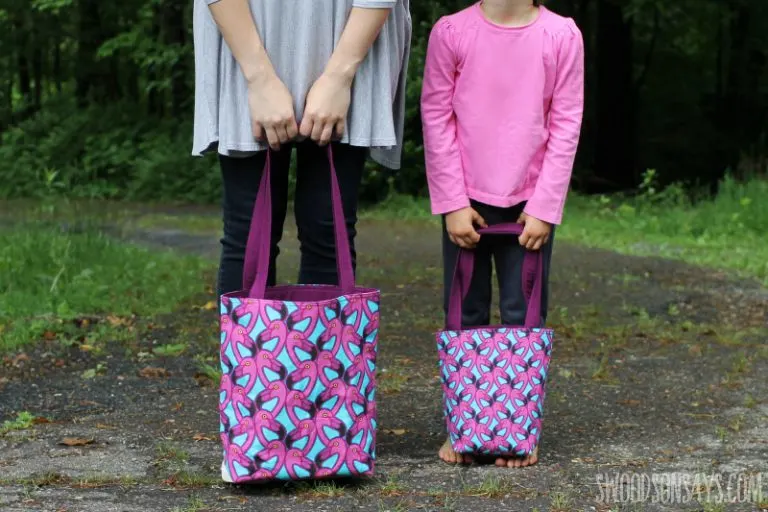 Source: swoodsonsays.com
Tote bags can be super handy for a number of things. From hauling your groceries home to carting your books around, and stashing your towels in them on a trip to the beach, tote bags are just awesome.
This project will show you how to make those tote bags, as well as help you figure out the sizing and the length of fabric you will need accordingly.
You can also adjust the length and width of the strap you're going to sew onto your tote bag to your specifications.
4. DIY Pencil Case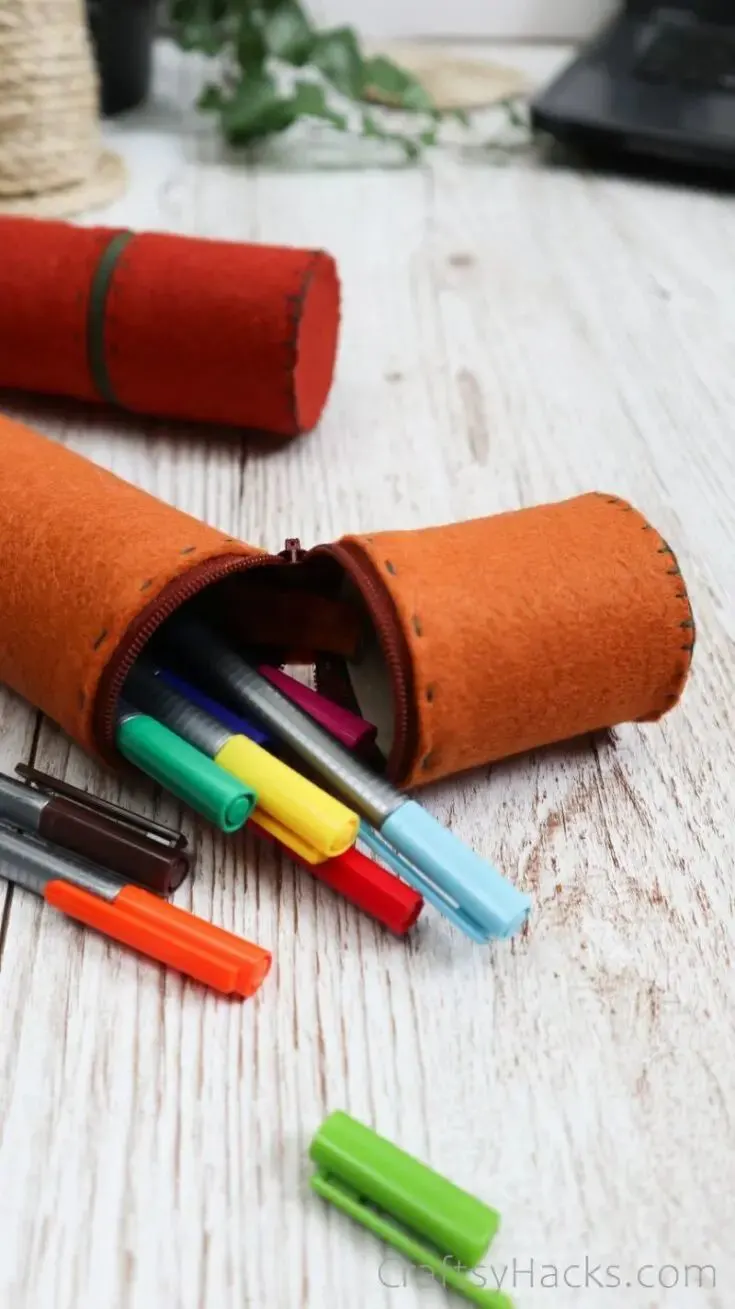 Source: craftsyhacks.com
This fabulous DIY pencil case is made from—wait for it—empty toilet rolls! Don't you just love it when you get to upcycle everyday items into something so unique and creative?
Grab some felt sheets from here, as well as these nylon zippers. This is a small project, which means you don't have to pull out your sewing machine; just use a needle and thread.
I'll bet you my hat that you won't be able to stop at just one pouch, so feel free to make a couple—dozen—and store them for later.
5. Hanging Storage Baskets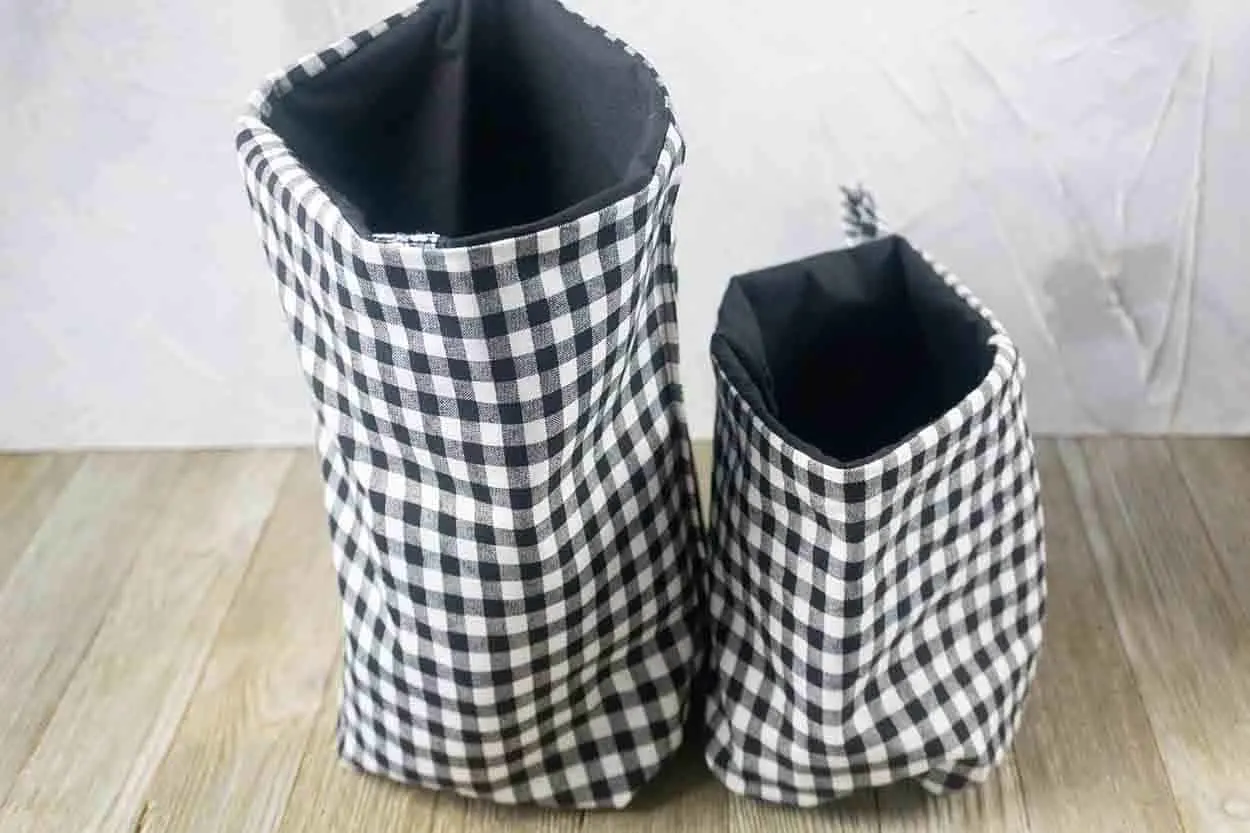 Source: beginnersewingprojects.com
These hanging storage baskets come in quite handy when you've got to be creative with your storage system. You can fill these cloth baskets with any number of things: craft supplies, office supplies, pantry essentials, or even use them as planters!
You can give these as presents, too. Alternatively, these baskets would be perfect as stocking stuffers, so you can start planning for the holidays right away.
You can hand-sew this basket. Just pick out the fabric in the required length, as well as this interfacing. You can use a matching colored thread, or, if you feel like mixing things up a bit, use contrasting colored thread.
6. Microwave Heating Pack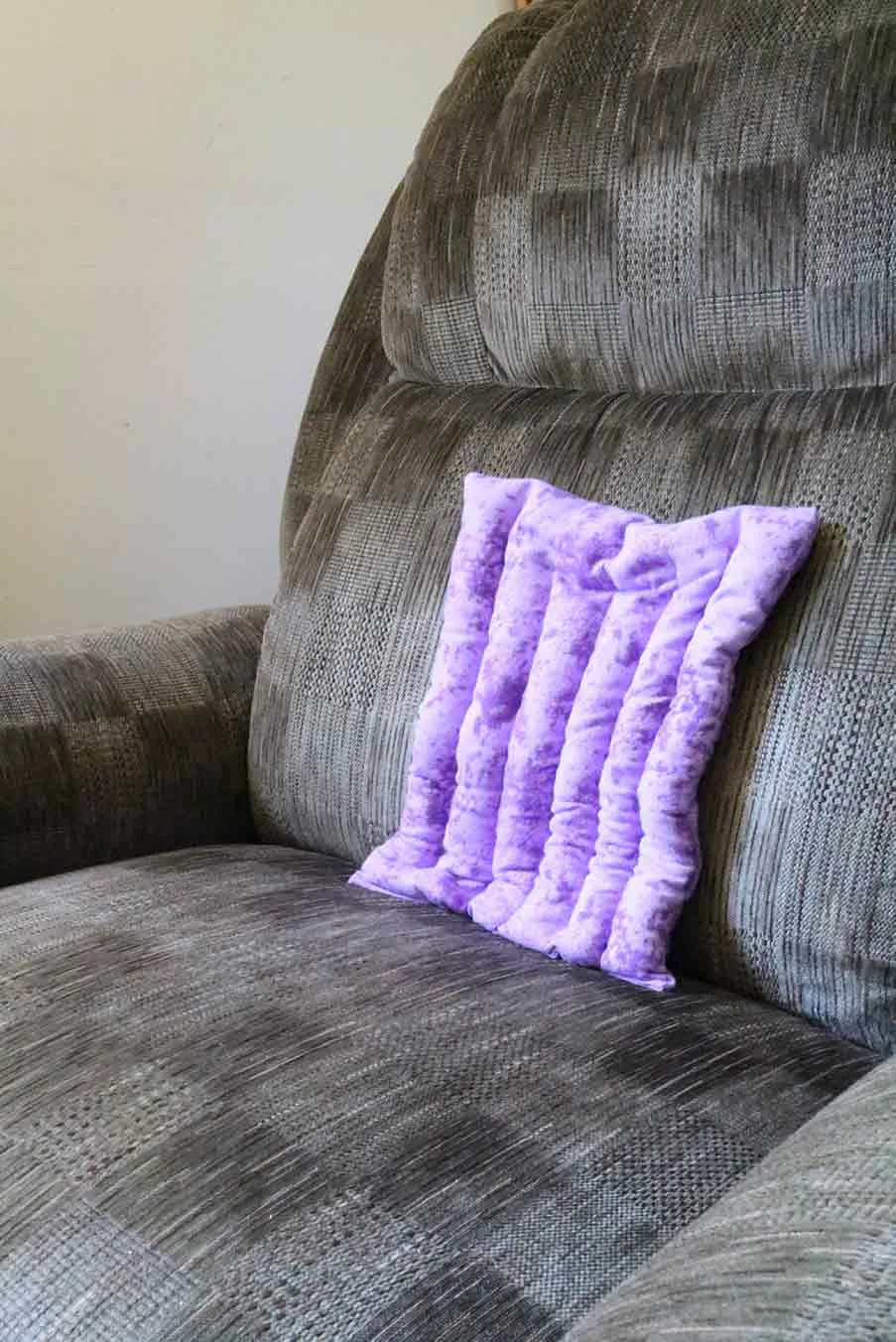 Source: happiestcamper.com
A heating pack can come in handy just about any day of the week and any week of the month. They're perfect for soothing those pesky pains and sore muscles.
But I hate having to heat water and wait for it to boil before filling the hot water bottle. This heating pack is so much easier—and quicker to heat it up, too.
You can customize the size, as well, so that you can have the right size and type of pad for the right part of your body.
7. Hanging Organizer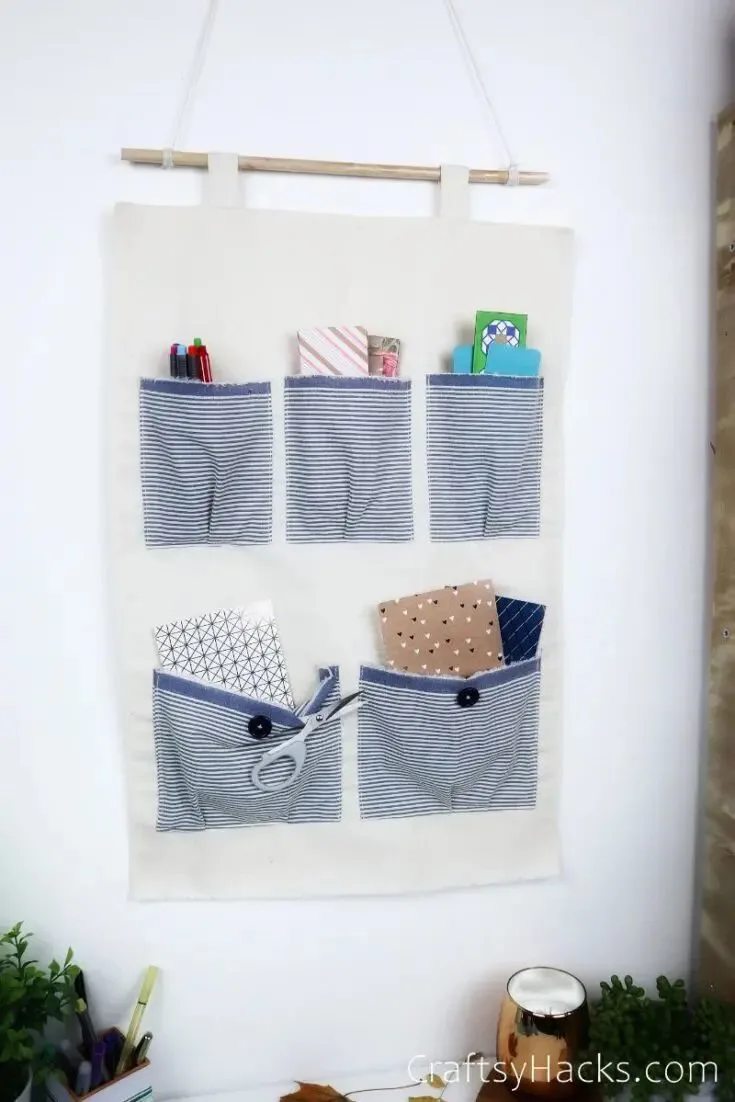 Source: craftsyhacks.com
These hanging organizers can help you optimize the limited space you have in your room. They are particularly useful when you've got limited closet space. You can see that this one's being used to store office supplies.
Depending on where you hang this organizer, you can store a multitude of things. You can store scarves, slippers, shoes if it's in the closet, and cleaning supplies like towels, scrubbies, and dishcloth if it's in your utility room.
With a couple of command hooks like these, you can hang this hanging organizer up just about anywhere.
8. Maxi Dress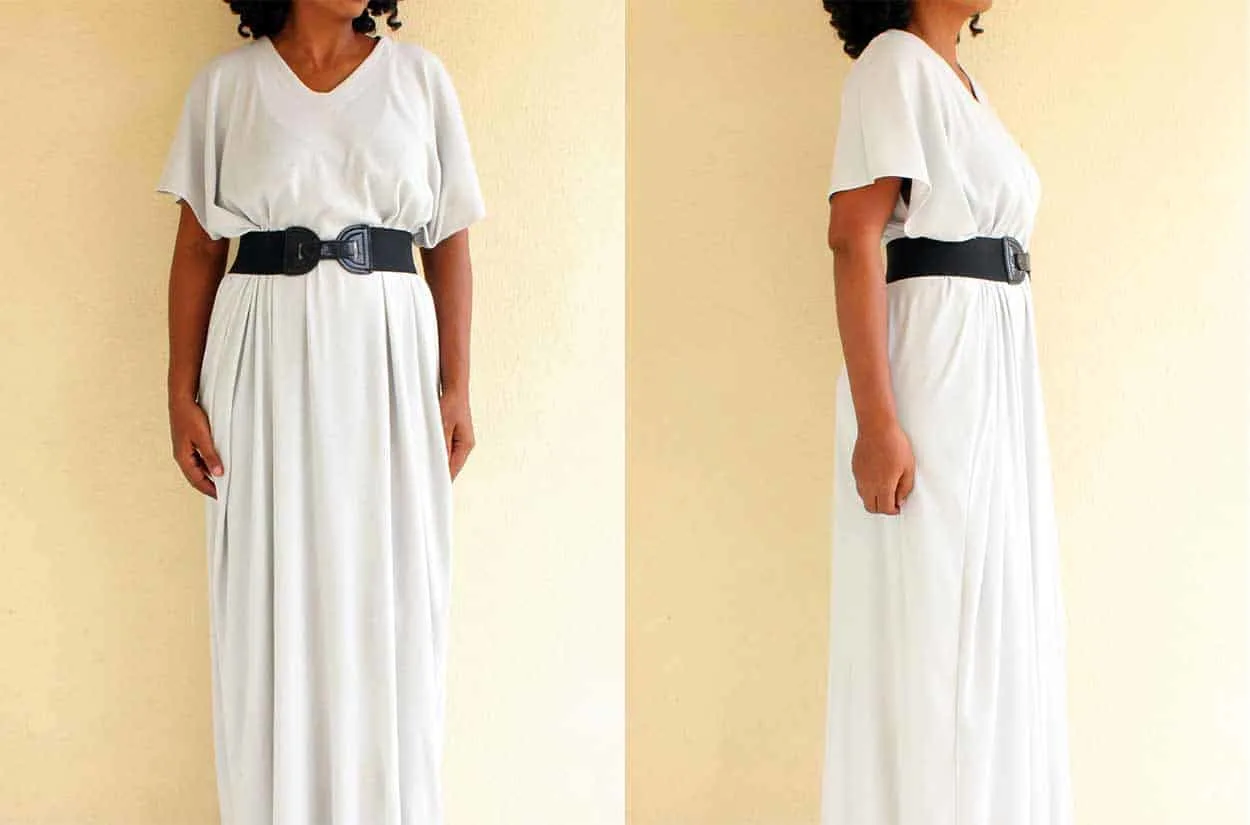 Source: happiestcamper.com
Sewing projects are great, especially when you get to sew your very own maxi dress. Whether you plan to wear it on your night out, or need a Grecian-style Halloween costume, if you can sew it, you can wear it.
The first step is to pick out your fabric. Try to choose something soft and flowy but not silky or flimsy so that it's easy to sew.
If you're skilled with sewing, then you don't have to worry about the malleability of the fabric. Then, pick a pattern and start cutting your fabric!
9. Crossbody Bag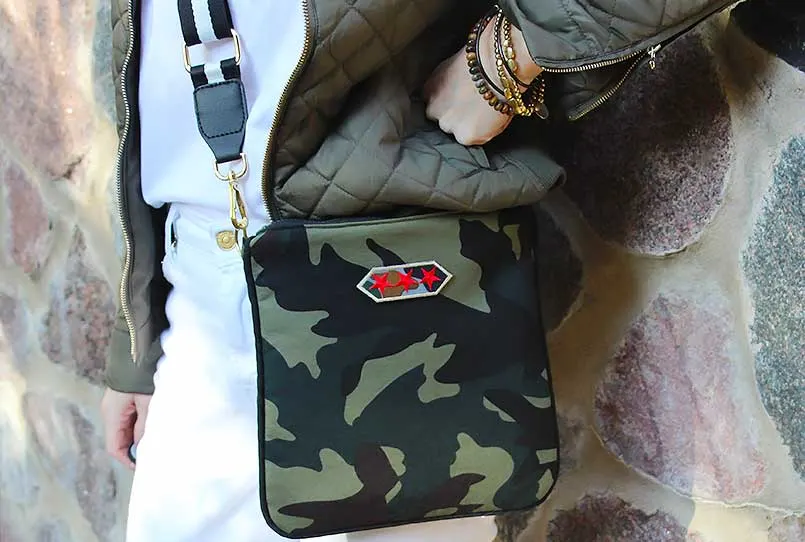 Source: bebraveandbloom.com
You've already made a tote bag, so this crossbody bag shouldn't be too difficult for you to recreate. You Just have to figure out the size, the color, the fabric, and the pattern.
This particular crossbody bag with its camo fabric is casual, perfect to use as an everyday sling. Just download the pattern provided, and it will help you along the way.
This crossbody bag has plenty of optional details that you can take advantage of depending on your level of skill.
This is a perfect craft for adults.
10. DIY Dog Bandana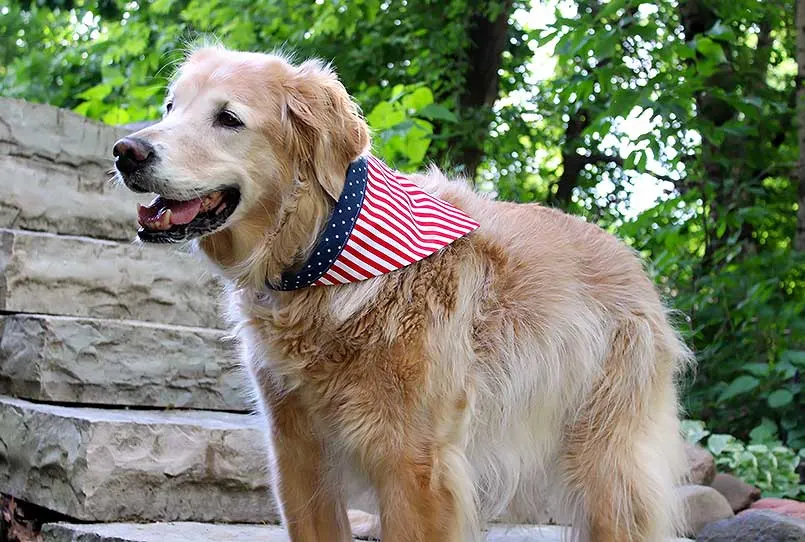 Source: bebraveandbloom.com
Bandannas are, and forever will be, the epitome of cool. But a dog wearing a bandanna? I think we all need to stop what we're doing and take a minute to bask in that.
Pet accessories and clothing can be super—terribly—expensive. If you're on a budget, then sewing your own dog outfits is the way to go. You can start with this bandanna.
You can find and print out a pattern, or you can eyeball it if you're confident. Just use this rotary cutter to help you cut the fabric, and you're set.
11. DIY Napkin Rings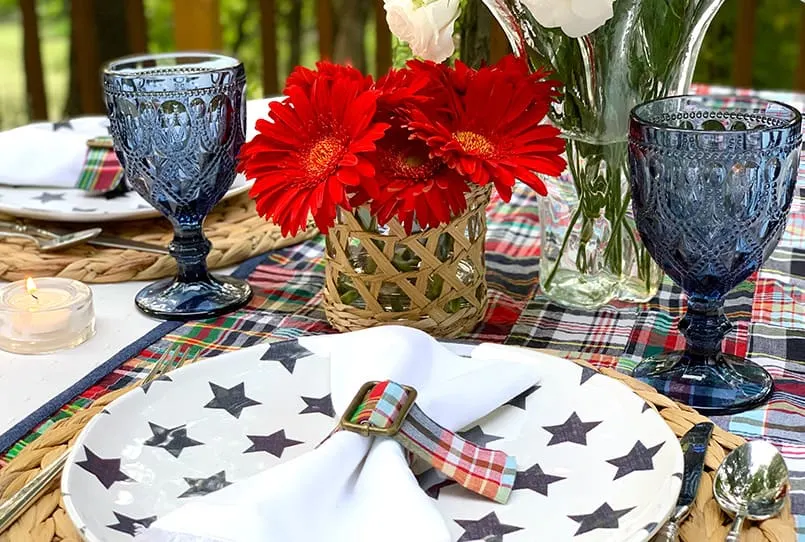 Source: bebraveandbloom.com
When you're setting the table, you always pay plenty of attention to the dinnerware, the dishes, the centerpiece, and even the napkins you want to use. But you know what's missing? Napkin rings, so you're going to make them!
These chic napkin rings are as sassy as they can be in tartan fabric with a lovely brass buckle to help cinch the napkin in place. It's a super easy and quick project, and you can have all your napkins ready in no time at all.
This is a great way to put a dent in your stash of scrap fabric, too. Just pick up some buckles from here, and you're ready to begin.
12. DIY Sleep Eye Mask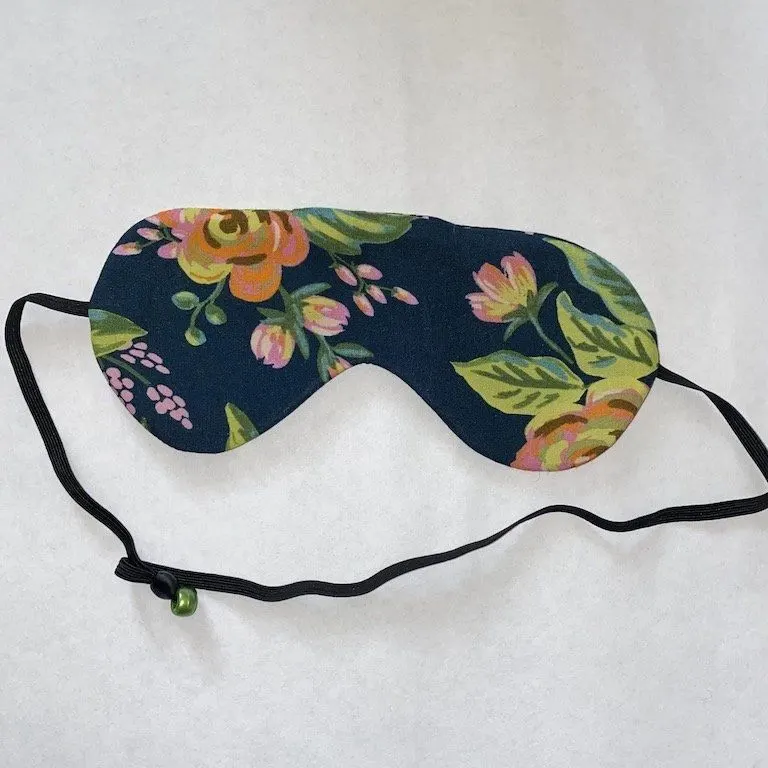 Source: arosetintedworld.co.uk
A sleep mask can really boost your quality of sleep. Even in the best of rooms that are specifically made optimal for sleeping, stary beams and rays of light can disturb your REM sleep.
But, with a sleep mask in place to cover your eyes, you're all set to have a fully rested nap. But first, gather all the supplies you'll need to sew your very own masks.
I bet you already have fabric as well as fleece from previous projects. But, do you have elastic like this? Once you've picked that up, you're all set.
13. Dog Treat Pouch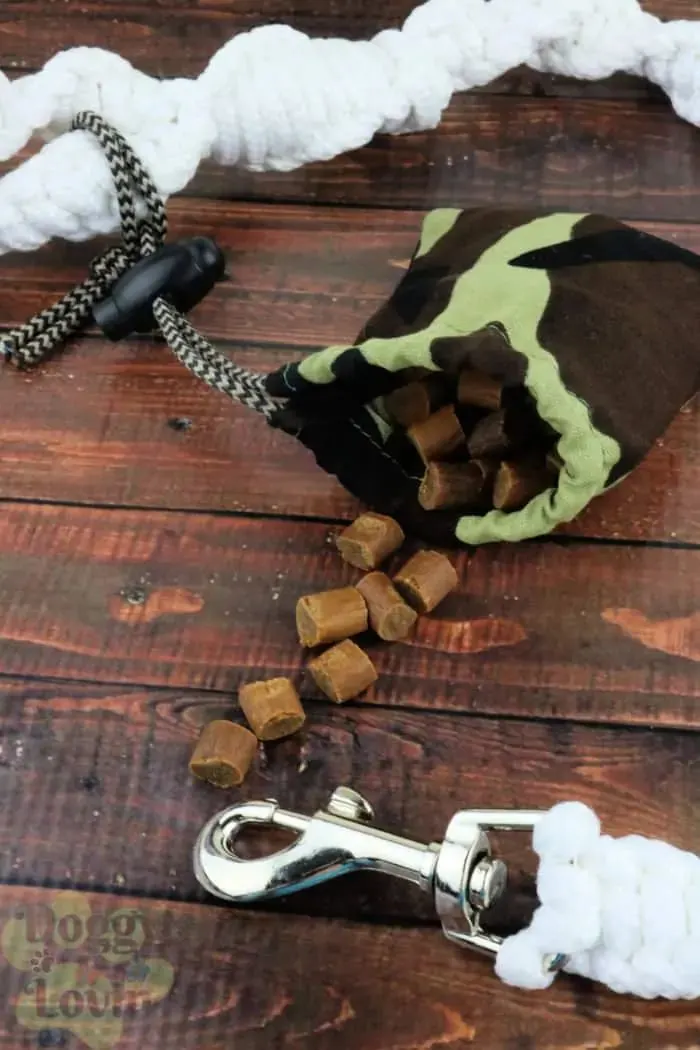 Source: doggylovin.com
Dog treats are super essential, especially when you're training your puppy. You need to reward good behavior and encourage positive reinforcement.
A dog pouch like this one will help you store all the treats your dog will ever need. It's small and handy, with a drawstring attached to facilitate easy access.
It also comes equipped with this cord toggle stopper; how cool is that?
14. Fabric Gift Tags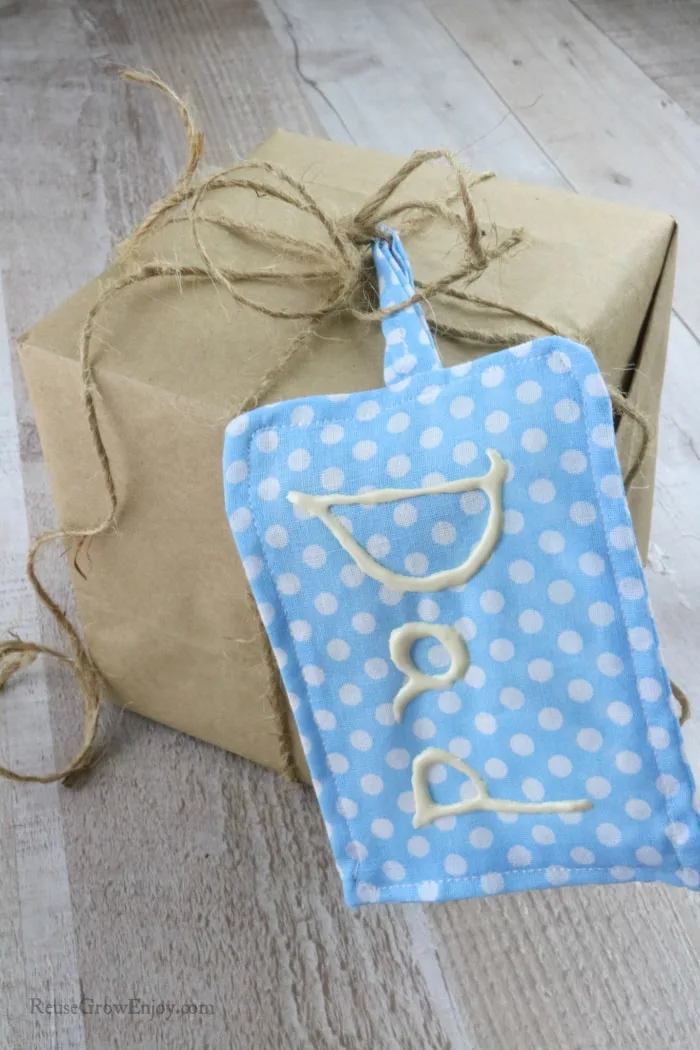 Source: reusegrowenjoy.com
Gift tags can prove to be a wonderful way to personalize your gifts. They're easy to make, and you can scroll a quick message on there, as well.
But you know what's better than a gift tag? These fabric gift tags, of course. Not only do they showcase your talent for sewing, but they're also a great keepsake by themselves.
With a gift tag like this one, the gift is only half the actual present! The other half is the gift tag itself!
Check out more crafts like this for teens.
15. Sun Protection Blanket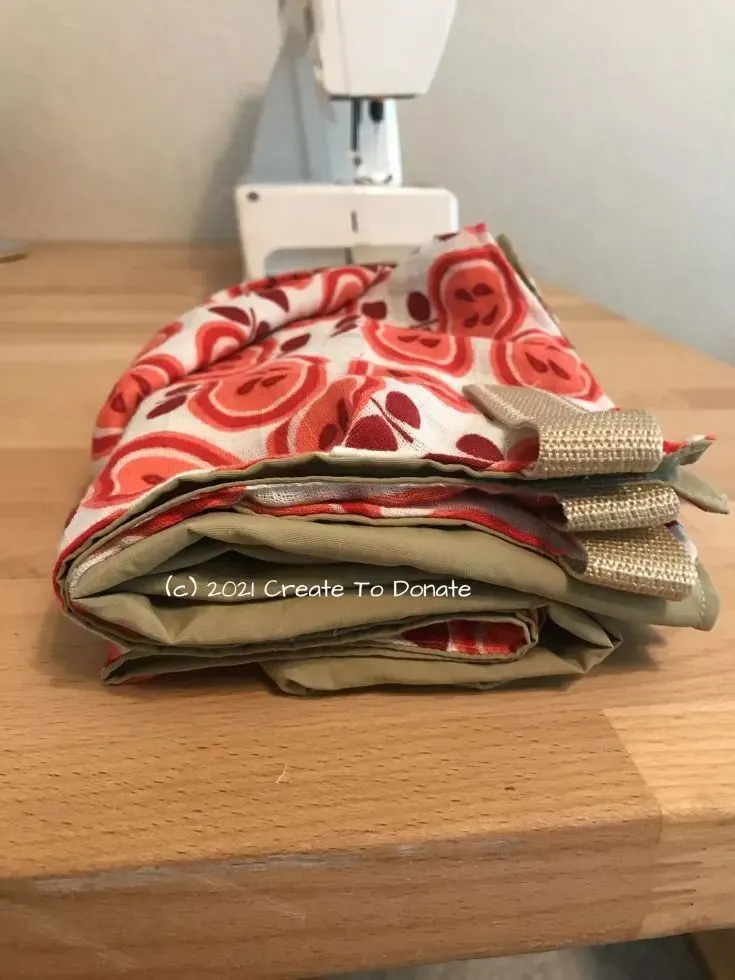 Source: createtodonate.org
What is a sun protection blanket, you ask? Well, when you're out for a walk with a little baby in a stroller, you need to protect it from the sun.
But really, that's just one of the many ways you can use this blanket. Think of it as SPF that you can wear that doesn't come out of a bottle but rather as a blanket.
Just go ahead and take a look at how you can make this blanket. Then, start assembling all the materials you need, like this sun protection fabric.
16. Tea Towel Holder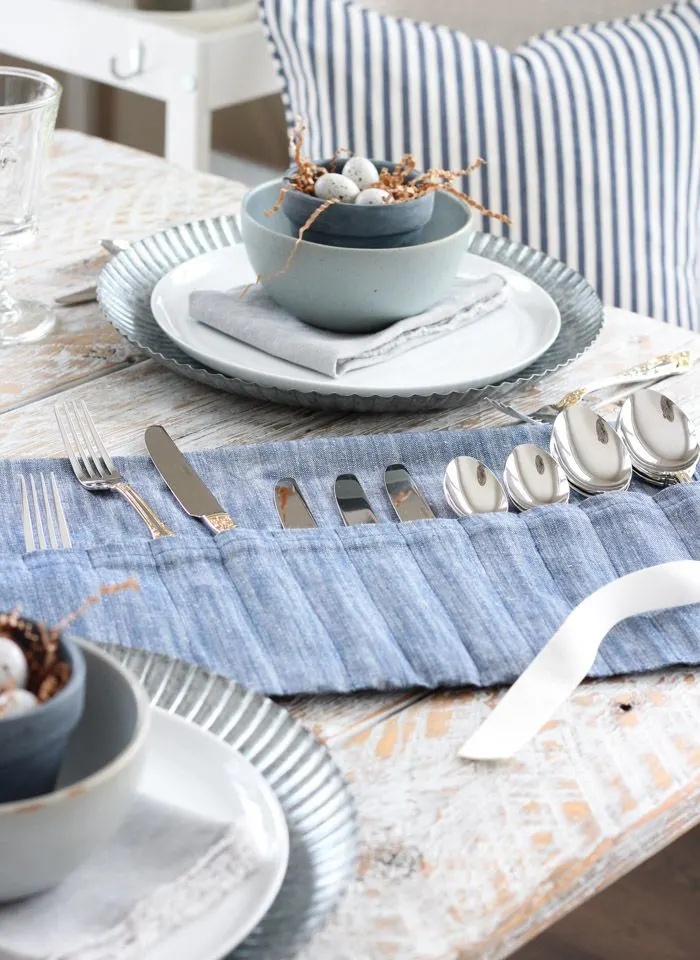 Source: satoridesignforliving.com
Tea towels are just so deliciously fancy. They remind me of summer days sitting out on the porch, drinking lemonade from a pitcher, and nibbling on freshly-baked cookies.
But in the meantime, you're going to turn those tea towels into this fabulous utensil organizer. These cutlery storage rolls help you keep all your silverware organized and all in one place.
You can make these for every place setting on your table, fill it up with your utensils, roll them up, wrap a ribbon to hold it in place, and voila!
17. Clear Toiletry Bag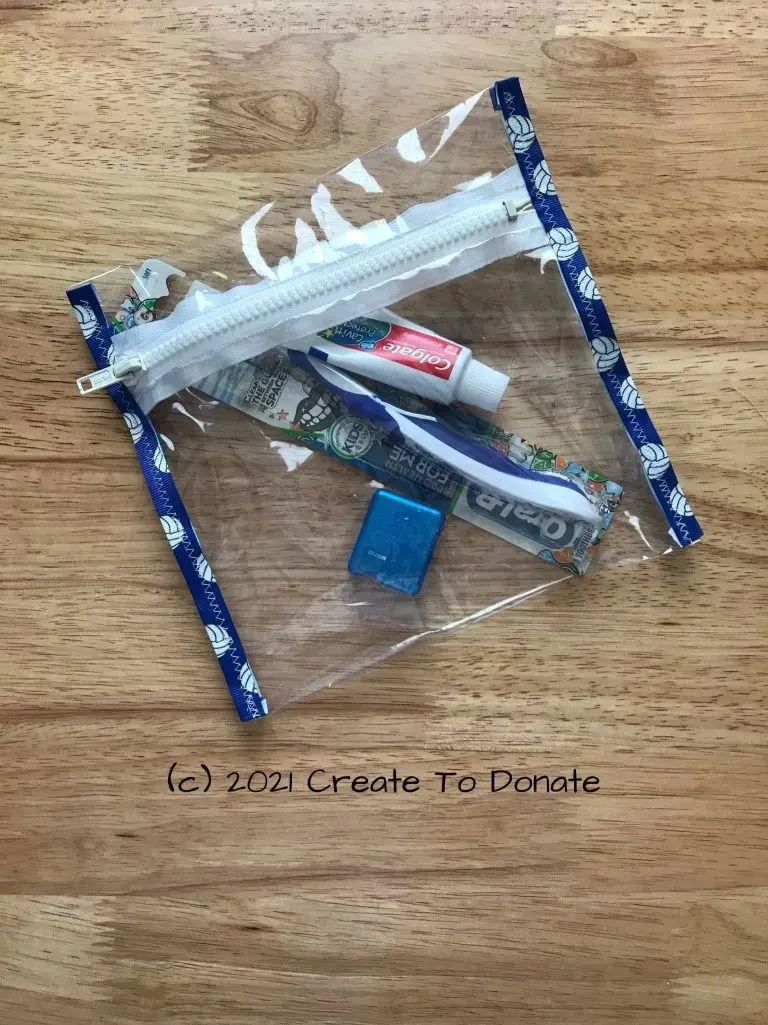 Source: createtodonate.org
Have you ever realized the sheer utility and convenience that toiletry bags offer? But there's one problem with them, and that's that I often have to paw through the bag to find what I want.
That's easily solved, though, don't you think? You just have to make these DIY clear toiletry bags. This way, you can just see exactly where your things are and get straight to fishing them out.
Before you begin, though, you should pick up these zippers.
18. Window Valance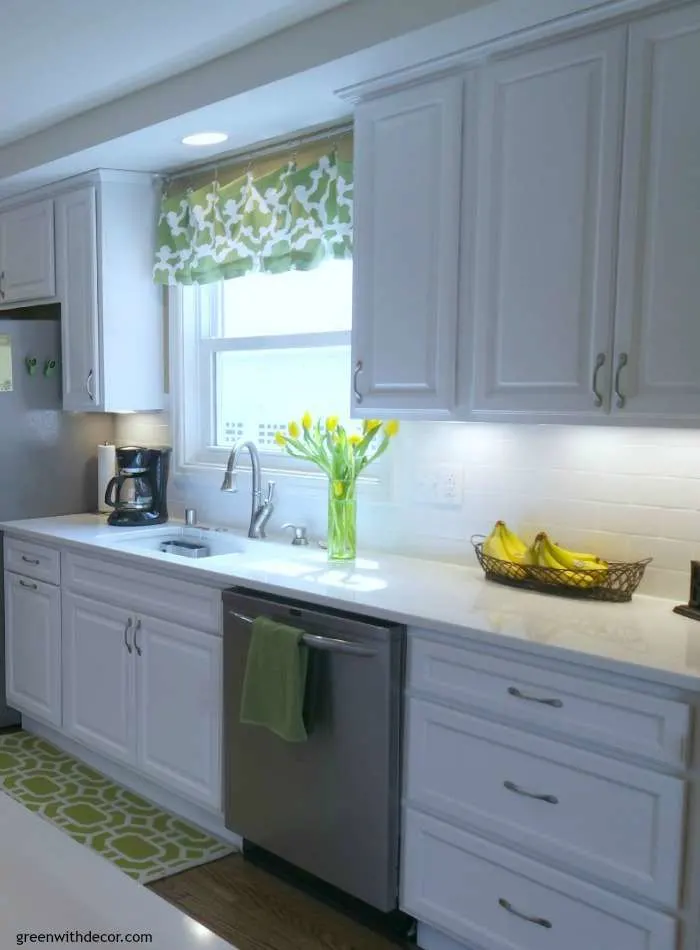 Source: greenwithdecor.com
Do you know what a window valance is? While it is primarily used to cover up the hardware you use to rig up your curtains, they also serve as a decorative feature.
You can make these window valances out of shower curtains—you can pick the basic kind here. Pull out your measuring tape and take stock of the measurement you'll need to cut the curtains into.
Then, use your sewing machines to help you sew the valance. Before you set them up over the window, run a hot iron to smoothen the fabric.
19. Girl's Apron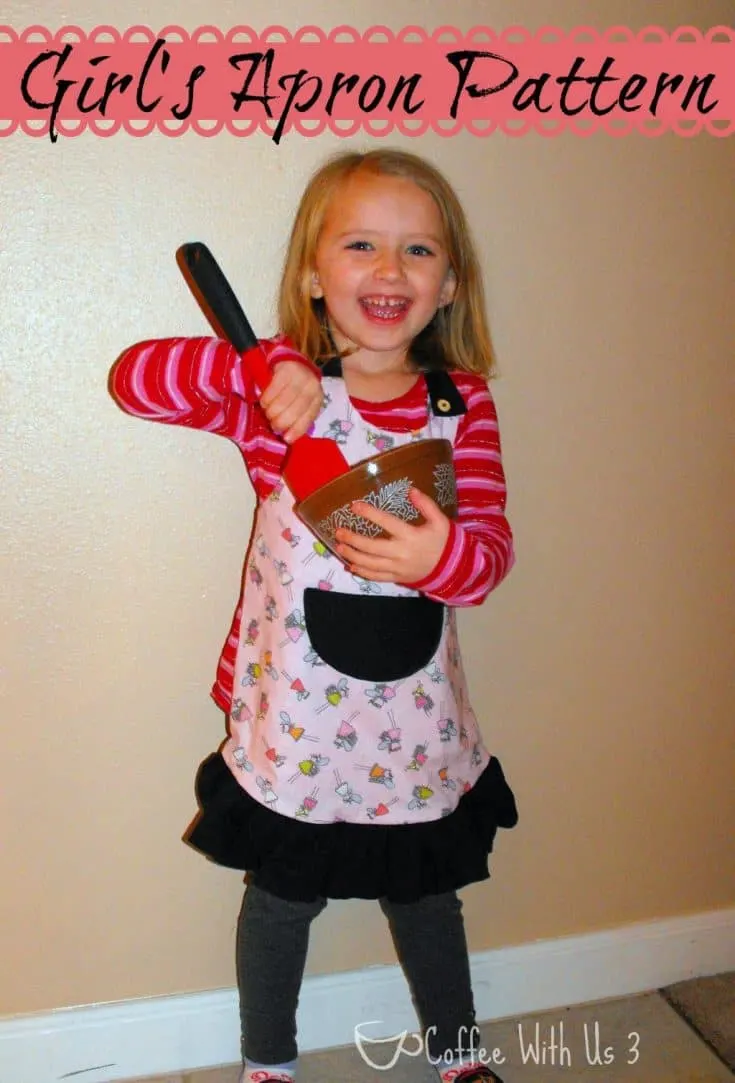 Source: coffeewithus3.com
You can never have too many aprons. They're surprisingly easy to make, and they also can make wonderful personalized presents.
So, with the holidays right around the corner, it's time you started working on making your cookies. And, you know what can help you curb the mess when you're making those cookies? An apron, of course.
It's a win-win situation all around. Make yourself an apron first and once you see how easy it is, make a couple more to present to your friends and family.
20. Pioneer Dress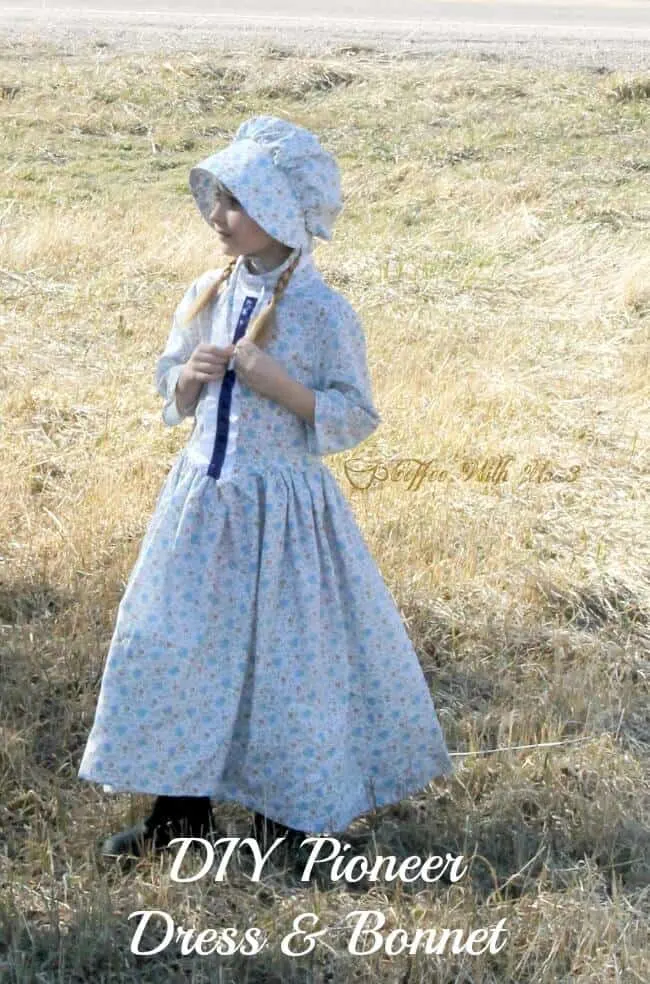 Source: coffeewithus3.com
If your kid's seen the Little House On The Prairie, chances are she's hooked to those pretty dresses. This project will help you make your very own mini-pioneer dress for your kid.
When you know how to sew, a whole world opens up, full of playing dress-up and making fabulous costumes. I say you take advantage of that!
To really bring the dress together, grab some lace trim from here to sew around the collar and the edges.
21. DIY Bandana Pillows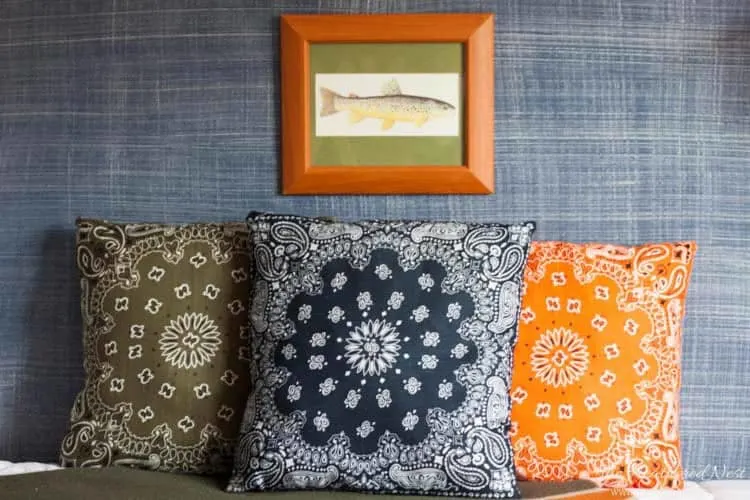 Source: heatherednest.com
Do you have any bandannas lying around in the back of your closet? Go ahead and take a look. Gather all the bandannas you can find so you can make this awesome bandanna pillow.
You'll need two bandannas for each pillow or three if you want to make a detachable envelope-style cover. You'll also need a polyfill and a square pillow insert(look here).
If you want to turn this project into a quick and easy no-sew project, you can switch out the needle and thread for some of this stitch adhesive.
22. Plaid Pillow Cover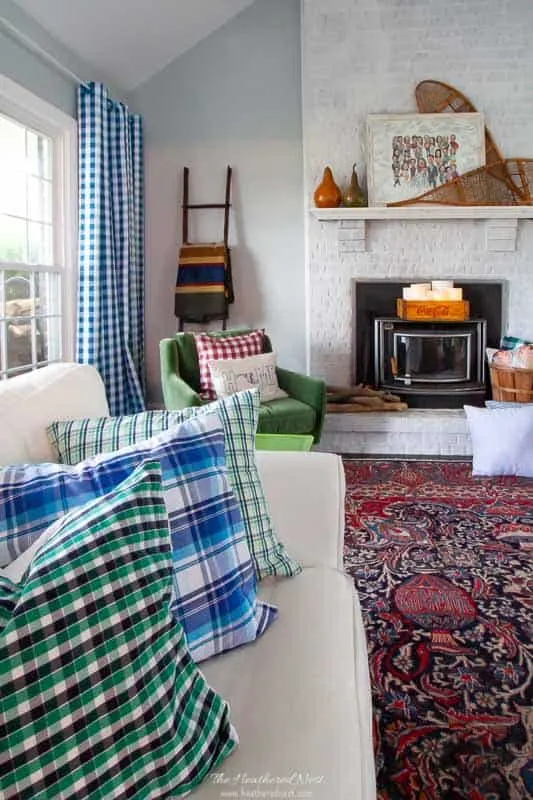 Source: heatherednest.com
Here is one more DIY pillow cover for you to try out! This one is a soft plaid pattern that is reminiscent of everything cozy and warm. It's like a pajama you can hug—how cool is that?
They're the perfect addition to your farmhouse-chic decor, too. You can upcycle old plaid tees or dresses you haven't used in a while. For the back of the pillow, you can use white denim.
So, wash and iron your fabric beforehand, and only then start sewing these pillow covers. This will ensure that the fabric is stretchy and easy to sew.
23. Travel Makeup Bag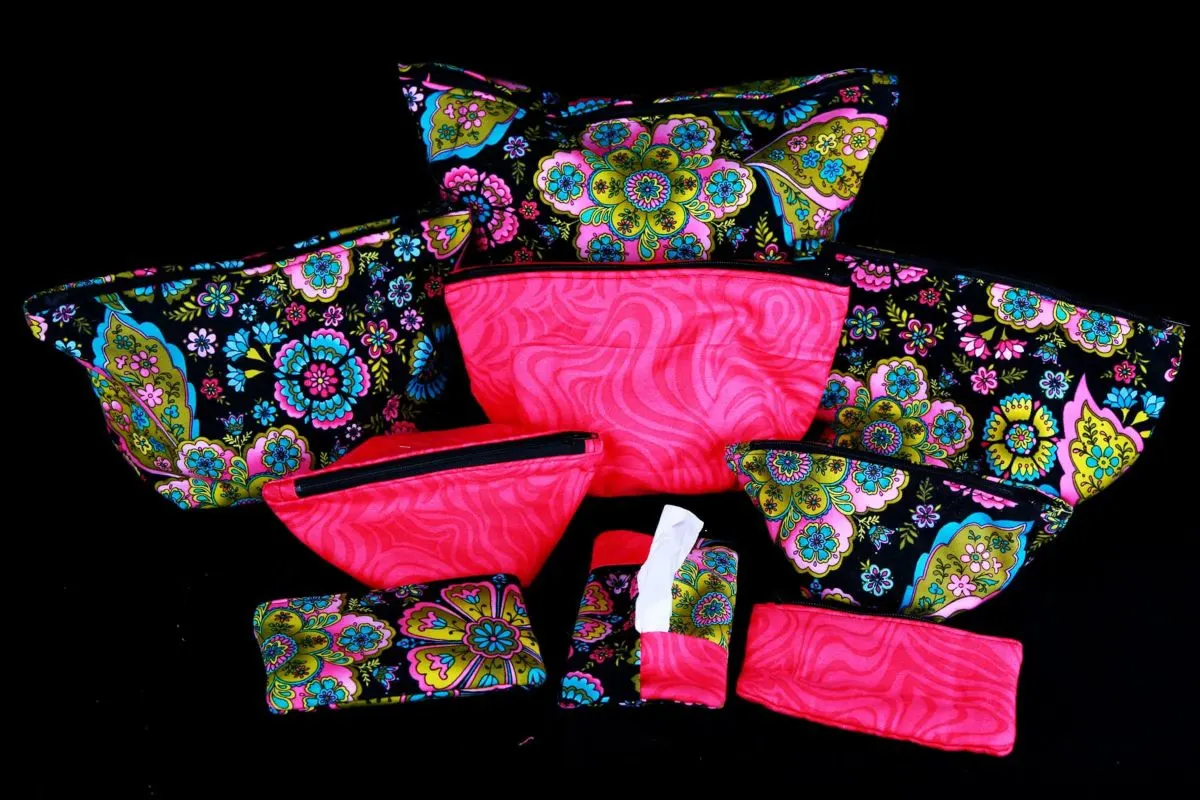 Source: celebrationgeneration.com
I don't know about you, but I always pack my makeup bag right after I pack my passport and clothes. It's as essential as shoes and underwear.
You can make your very own travel makeup bag so that you don't have to constantly split your cosmetics between your travel case and your dresses.
Your travel makeup bag has to be sturdy and reliable, so when you're picking out your fabric, pick something durable and can withstand long trips.
24. Scrunchie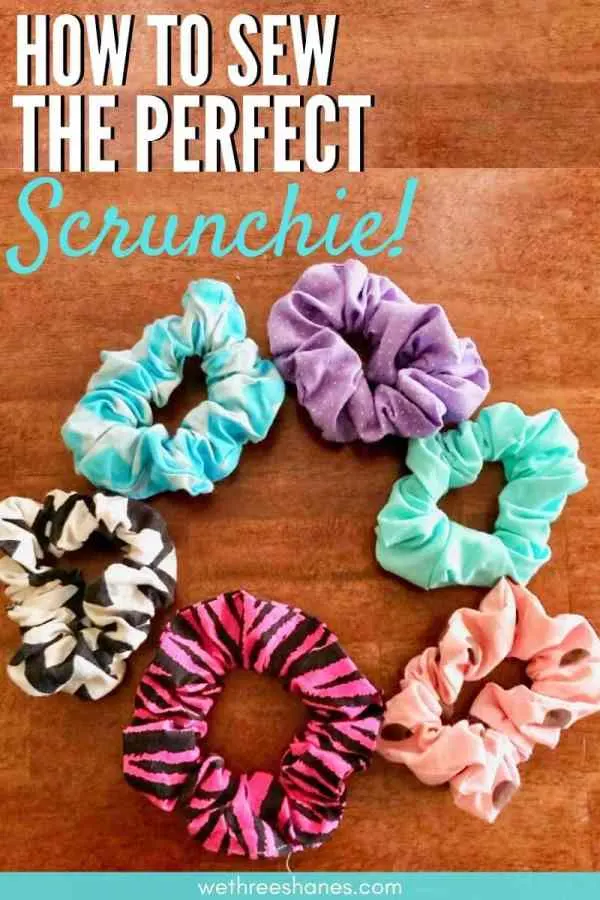 Source: wethreeshanes.com
I love coordinating my accessories to my outfit. I like to plan my entire outfit, right from the shoes on my feet to the scrunchie in my hair.
The best way to make sure that I have matching scrunchies for all my outfits is to make my own! That way, I can customize the size, patterns, fabric textures, and colors I want.
Grab some elastic from here, as well as a couple of safety pins. While you work on your scrunchie, remember that a good scrunchie will sit comfortably on both your wrist and your hair!
This is a great craft to make and sell.
25. Piano Bench Cover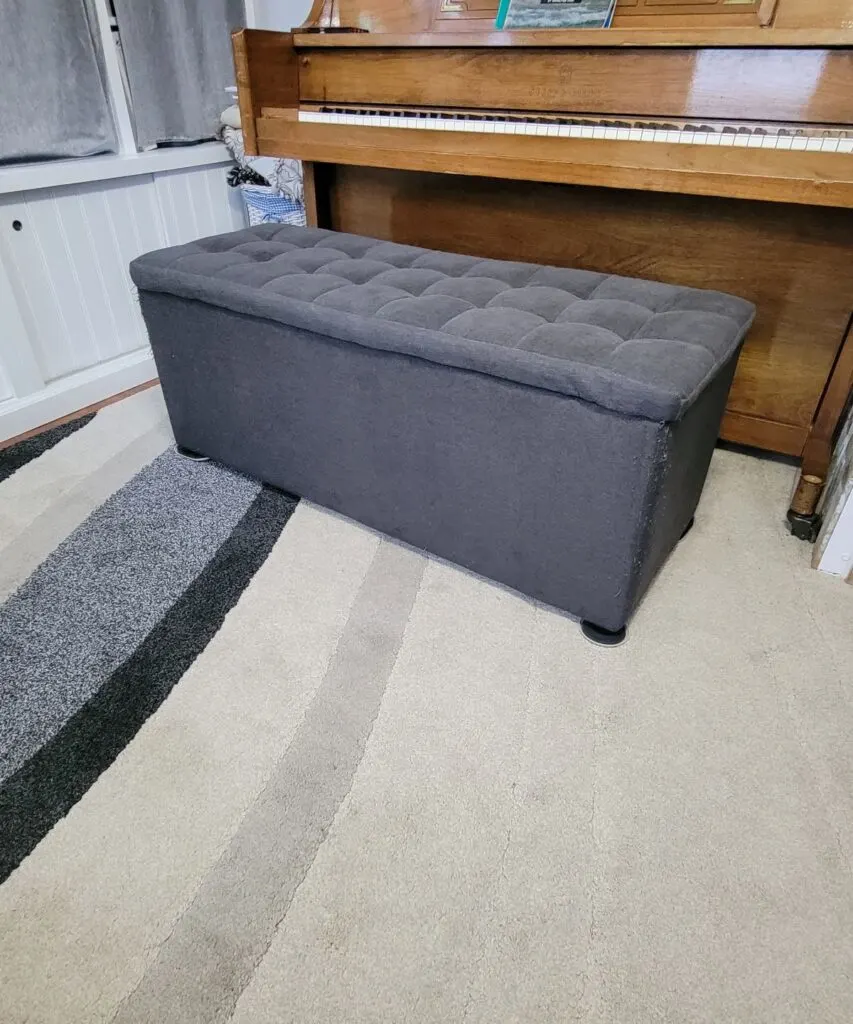 Source: b4andafters.com
Why, you might ask, does a piano bench need a cover? Well, if you've seated yourself on one of those hard wooden slats before, you wouldn't be asking that.
A slipcover also protects the seat from excessive wear, pets if you have them, and dust particles. So, it looks good, and it also happens to be useful; a win-win, don't you think?
If you're having trouble holding the folds of the fabric in place as you sew your project, then just pick up some sewing pins from here.
26. Kid's Bunny Carrot Craft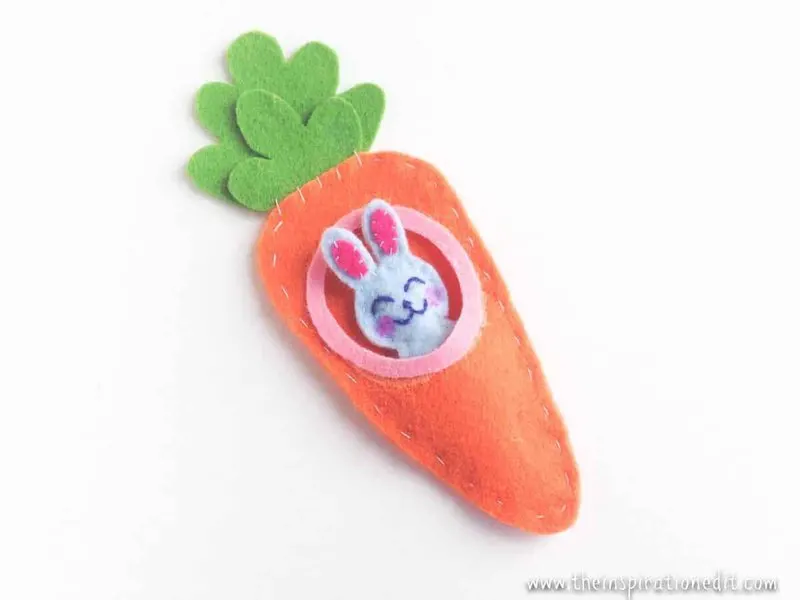 Source: theinspirationedit.com
I have hand-me-down toys that I still keep and cherish and will pass on to the next generation. This is mostly because A)they just don't make them the same way anymore, and B) kids' toys are ridiculously pricey.
If you're in the same predicament, then I think it's time you explore other options, like, say, making your own toys. This bunny carrot toy is a simple and easy hand-sewn project that can help you get started.
Once you've got the knack for it, you can move on to more elaborate toys! Check out more summer crafts for kids!
27. Denim Chevron Rug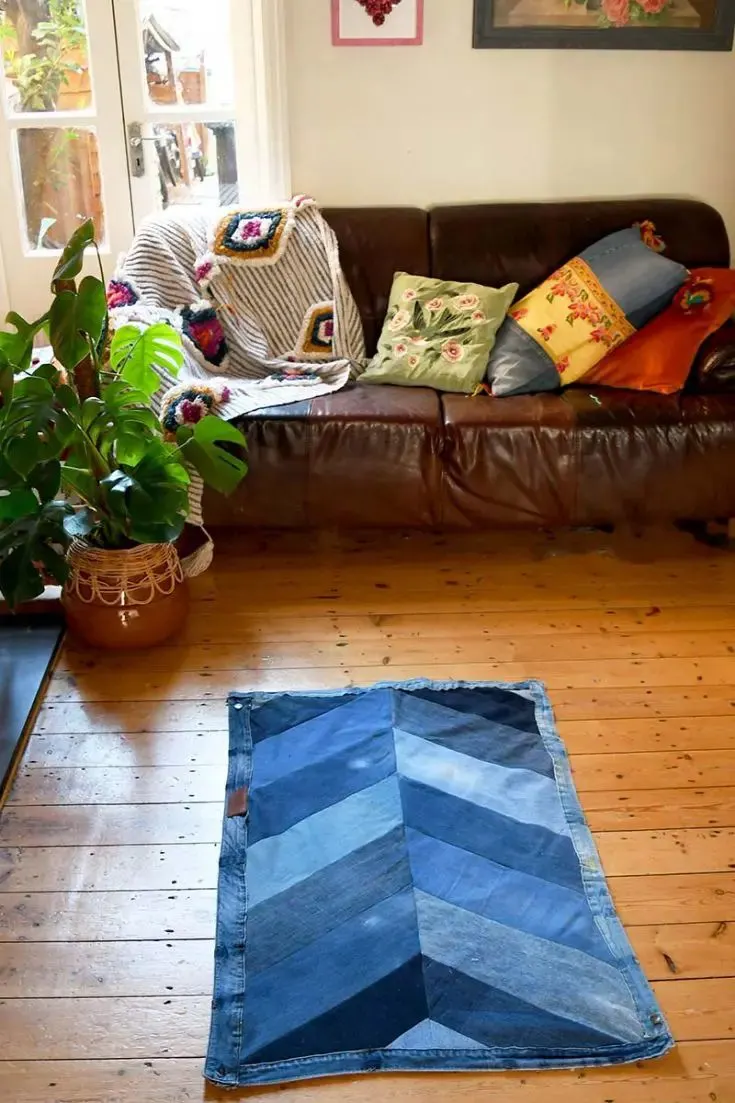 Source: pillarboxblue.com
I love anything that has a chevron pattern. There is something so rhythmic and almost soothing about them, and you can't stop looking. That's what makes them perfect on blankets, clothes, and rugs.
Check out this DIY denim chevron patterned rug. The chevron pattern, along with the denim, gives this rug a lovely textured finish that you can easily recreate.
This project can also help you upcycle old jeans that you haven't used in ages. Grab this rotary cutter and mat to help you along the way.
28. Easter Egg Puzzle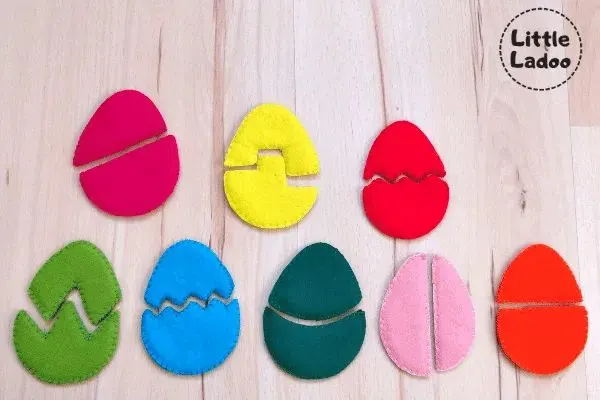 Source: littleladoo.com
It might just be Christmas, but you blink and bam! You're a week away from Easter. So why don't you stash this project for later?
It's a simple two-piece puzzle designed to enhance your kids' visual skills and perception. It's never too early to get them interested in puzzles.
The best part is that the fabric used for these puzzles is so colorful that these eggs are bound to attract your kids. They can also keep them engaged. So, grab some foam sheets from here, and let's start sewing!
29. Rainbow Colours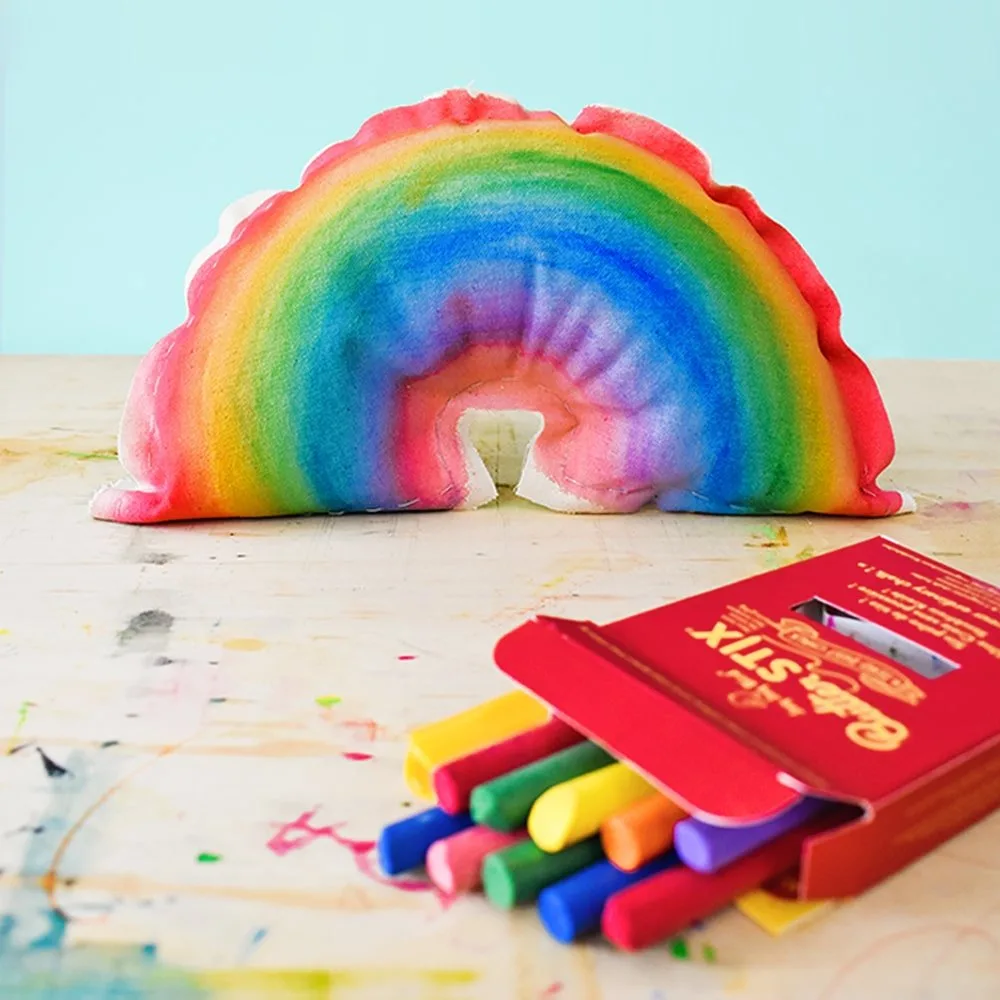 Source: barleyandbirch.com
These rainbow-colored mini softies are a great craft project to make on a rainy afternoon indoors. It's just the right amount of messy fun that you and your kids can indulge in.
You'll need some cotton fabric, soft pastel chalk, a textile medium, paint and brushes, and needle and thread. Remember to thoroughly wash and dry your fabric before you start working.
You can experiment a little with the colors until you're absolutely sure you like how they turn out. Cut out a small piece of fabric to use as a tester piece and preview your colors on that.
30. DIY Gingerbread Man
Source: barleyandbirch.com
Now that you know how to make softies, you can branch out a little and make some really creative pieces. Take this gingerbread man softy, for example.
With Christmas right around the corner, these softies are perfectly in tune with the seasonal festivities. You can eat gingerbread cookies while you make these gingerbread cookie softies!
So, pick up some fabric glue or tacky glue from here. You'll also need a pair of sturdy fabric scissors, your choice of filling, and felt fabric for the covers.
31. Chair Cushions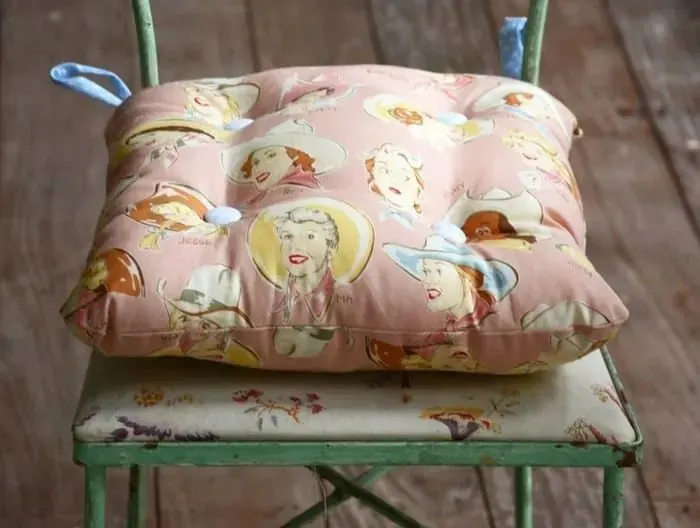 Source: diycandy.com
This is a simple, no-nonsense DIY chair cushion that you can sew in no time at all. This is a project for beginners and intermediaries alike, so feel free to practice your sewing with this project.
You'll need to pick out your fabric cover of choice, some scrap fabric to use as trim for the ties, and also some fabric to make buttons. Other than that, you'll need your basic sewing essentials: stuffing, ruler, scissors, sewing machine, needle, and thread.
Also, you can use lining cloth for this project, but it's not really necessary
32. Quilted Pot Holder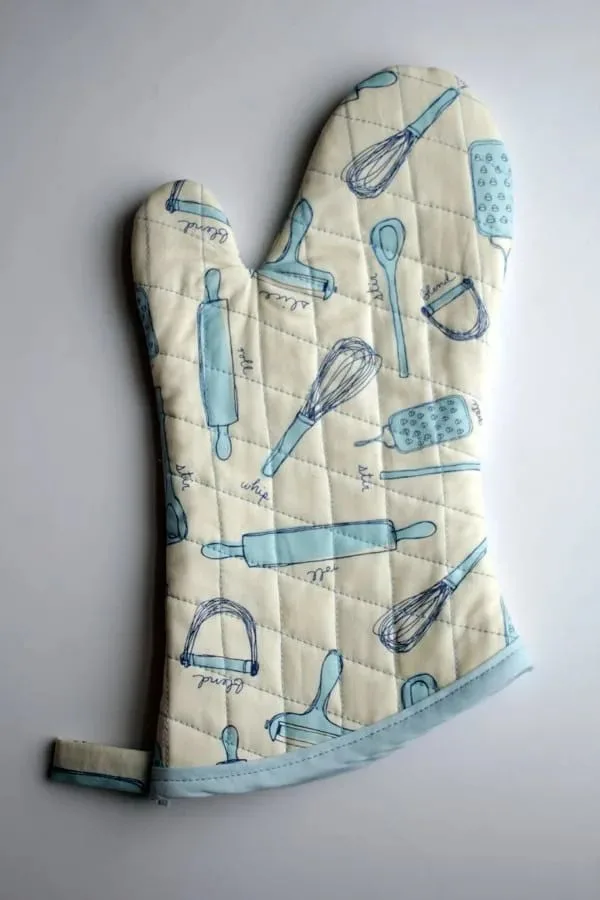 Source: diycandy.com
These potholders are essentially mittens that have been quilted to protect your hands when handling hot crockery. It has three layers—one each of quilt batting, terry cloth, and printed fabric cover—to help filter the heat.
The quilting part of this project is super easy too. In fact, you can practice your quilting techniques with small projects like this before you move on to sewing an actual quilt.
So, pick up some bias tape from here, first. You'll need to use your sewing machine, too, so go ahead and set it up.
33. Heart Wreath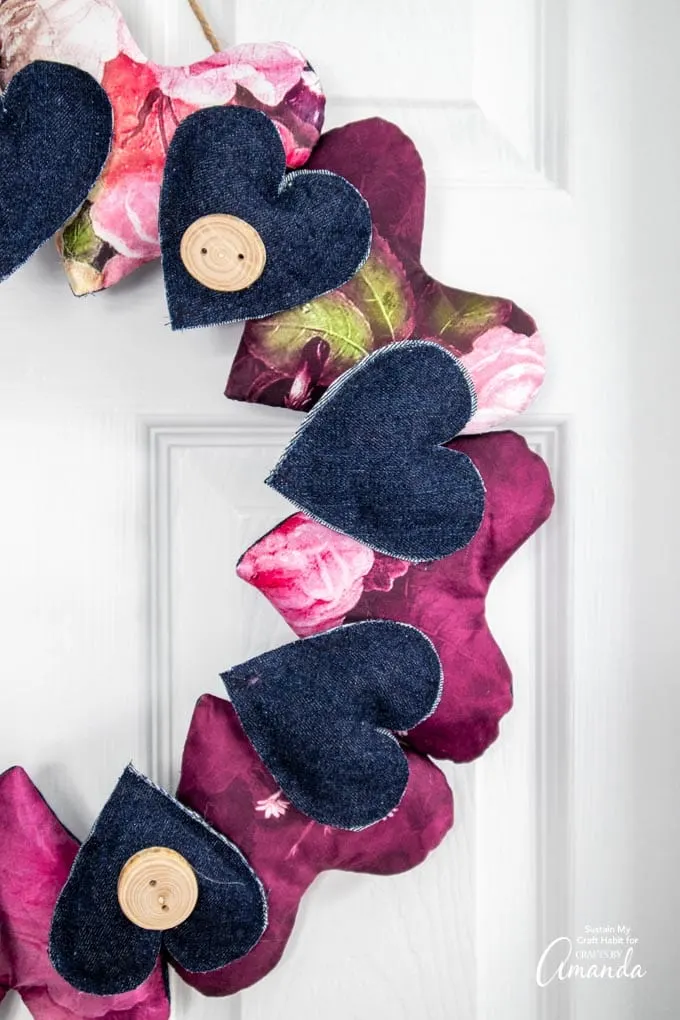 Source: craftsbyamanda.com
Valentine's day is all about the hearts and the roses. It's a great opportunity to go all on your decor, too, and pull out the big guns. How?
Perhaps this heart wreath can help you get started. You will need a craft ring—or an embroidery hoop if you have one that you can upcycle—of 16 inches in diameter. You can pick that up here.
34. Owl Soft Toy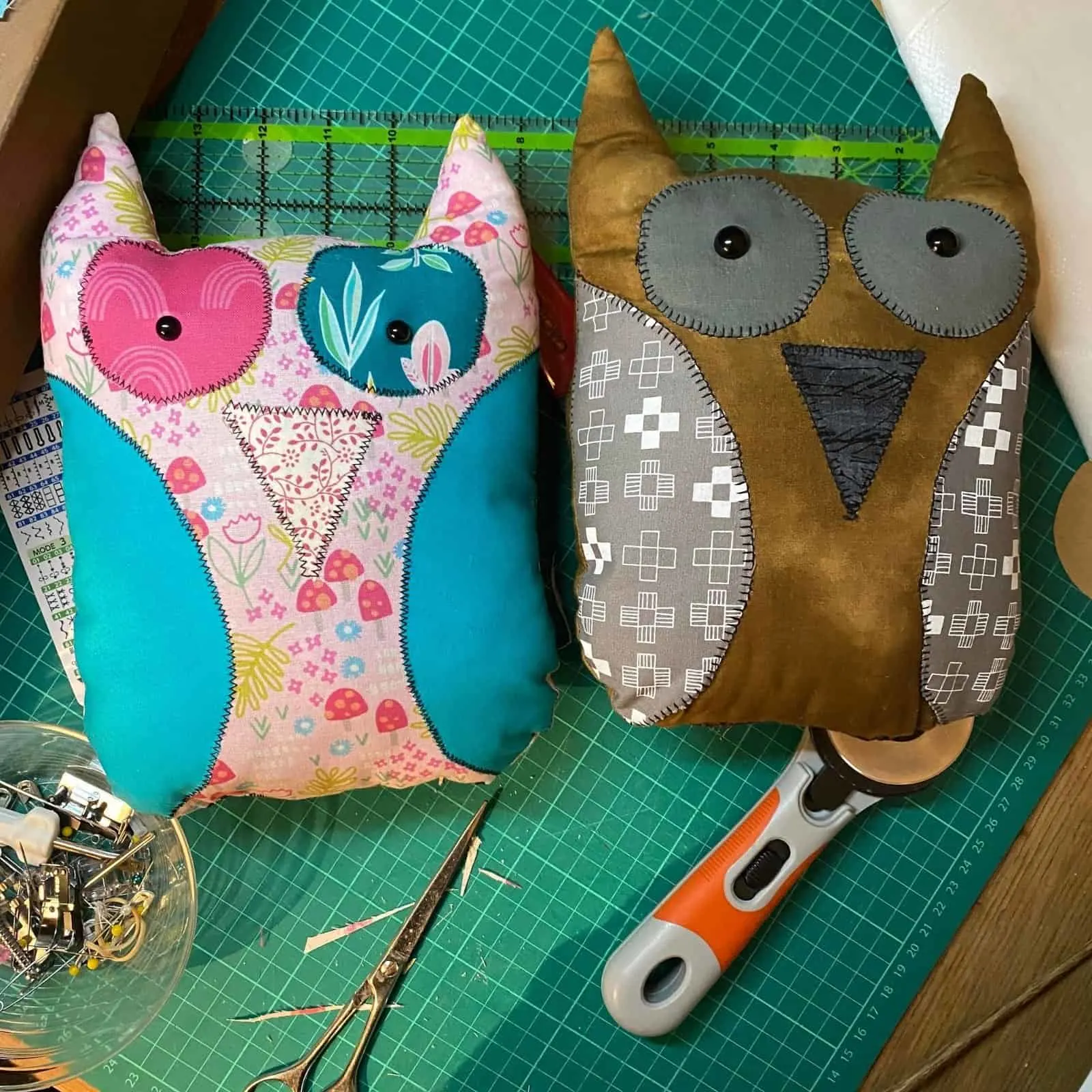 Source: scrapfabriclove.com
I think it's time to sew another DIY softie toy, and this time, you can make these pretty owls. These toys are a great sewing project for beginners to practice their sewing.
It's also a really great way to make toys for your kids at home rather than buying generic ones at the store. In fact, you can involve them in the process, and that way, they'll be able to appreciate the toy even more.
Just think of all the wonderful memories they'll have of you making them these owl softies!
35. Table Runner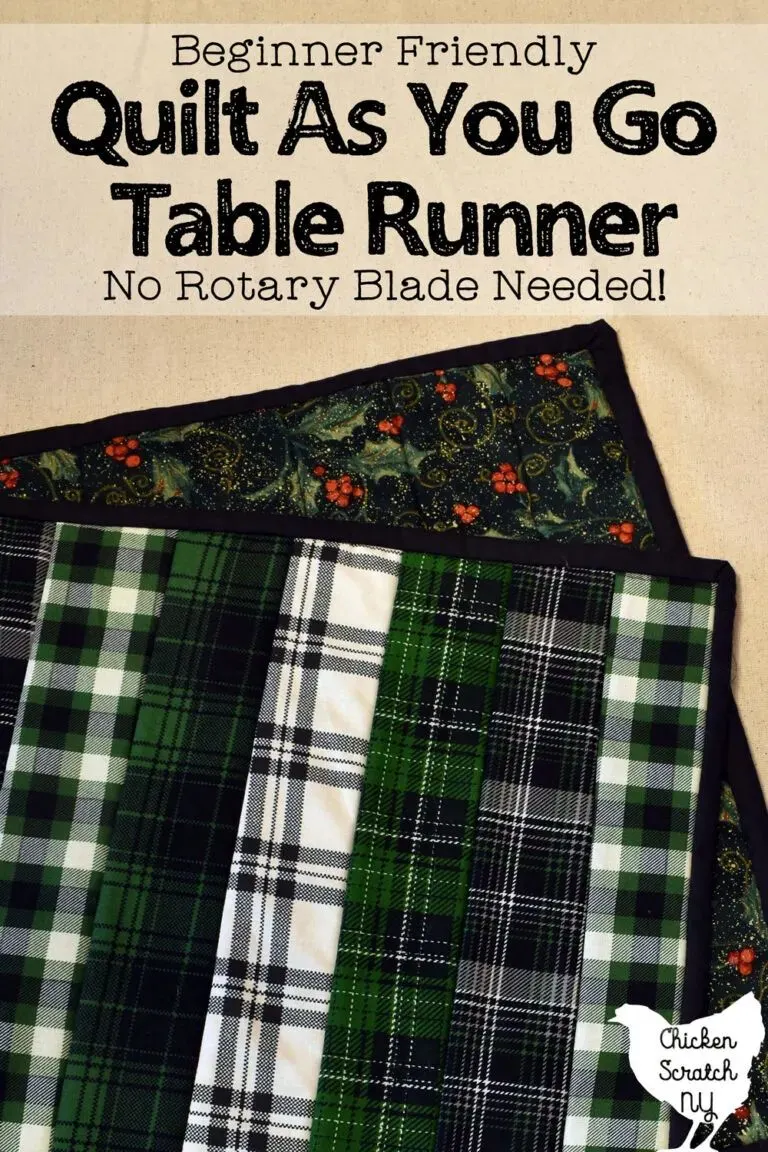 Source: chickenscratchny.com
Table runners are such an amazing way to add color and texture to your dining table. The right table runner can set the scene and the tone for the entire room, too.
Take this project as an opportunity to expand and further your quilting skills. You will need a sewing machine, a pair of fabric scissors, some straight pins, and clips to hold the fabric in place.
You will also need a steam iron to help you iron out any wrinkles and also to help you crease your ends and seams.
36. Dog Door Stop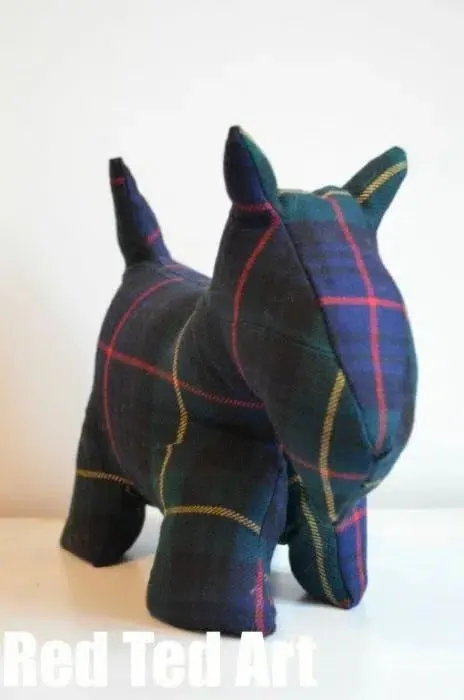 Source: redtedart.com
This doggie-themed door stop is going to brighten up your room. It's also going to look like such an interesting piece of decor when you use it as a doorstop, don't you think?
You can download and print out the pattern provided to help you along the way. You'll find it easier to get the size and measurements down pat, too!
Just a word of advice when you're sewing up your doggy door stopper: before you turn the 'ears' of your dog over to the right side, make sure you nip the pointy bits so they stick out properly.
37. Scrap Free Quilt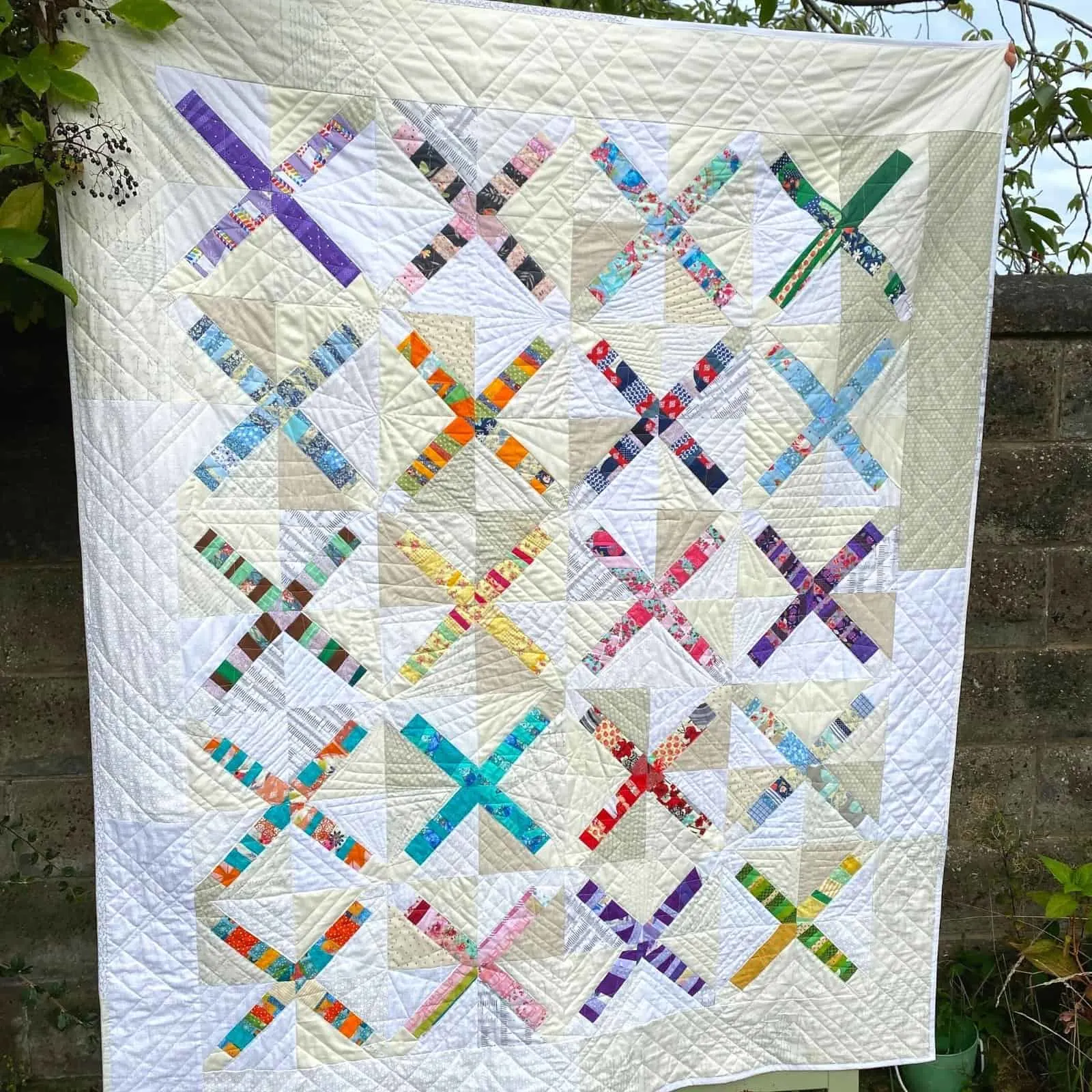 Source: scrapfabriclove.com
When you're working on different sewing projects, there's bound to be a ton of scraps. Usually, I end up adding all those scraps to my never-ending scrap pile.
But this time, with this project, all those scraps are going to be put to good use. This stash-busting scrap quilt is the perfect way to add some quirky colors and textures to your pastel quilt.
Before you start working on sewing the different pieces together, you should probably lay them out on a flat surface, so you get the pattern right.
Also, remember to make sure you have enough scraps to make the X pattern. Different sizing and measurements are also available for you to customize a bit.
38. Heart Plush Ornament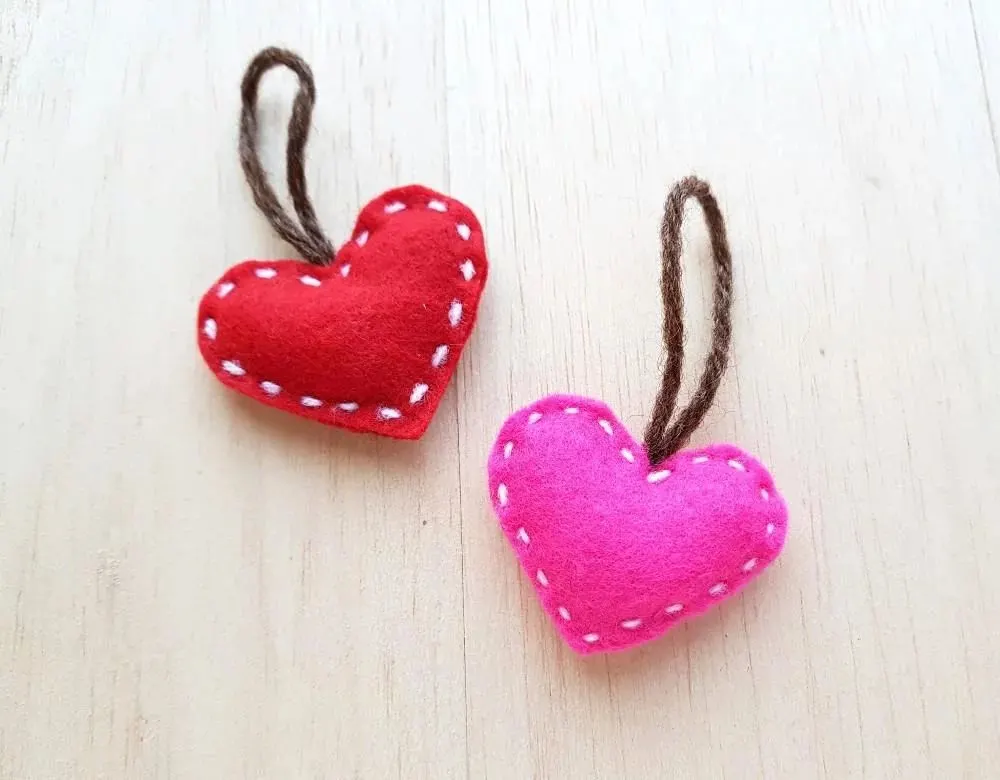 Source: ottawamommyclub.ca
This plush and decadent heart ornament is something that you can use as a part of your Christmas decor and carry over to Valentine's day. How awesome is that?!
They look pretty simple but are unbelievably plush and squishy. You can use felt scraps as the cover. Just grab a big embroidery needle from here, embroidery floss from here, and download the printable template provided.
Then, just cut out the plush hearts, fill them up with cotton stuffing before you sew the edges shut.
39. Bunny Doll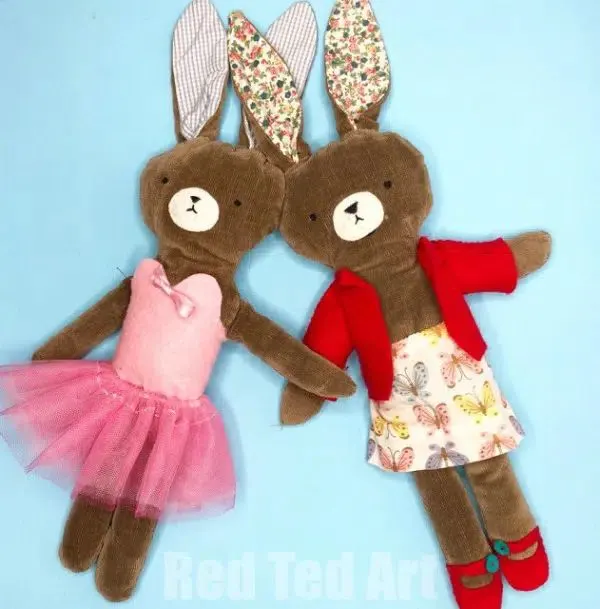 Source: redtedart.com
When you know how to sew, you hardly ever have to buy things anymore. This includes clothes, blankets, quilts, and toys.
Take this DIY bunny, for example. It looks adorable and pretty, and any beginner or intermediary can sew this toy in no time at all.
You just need to pick out the fabric you want to use. The ears, if you'll notice, are rather wonderful. You can use patterned scrap fabric when you're sewing the ears.
Remember to also stuff the bunny properly and sew the seams shut. This is to ensure that they can withstand the wear and tear that they're bound to experience in the hands of kids.
40. DIY Roman Shade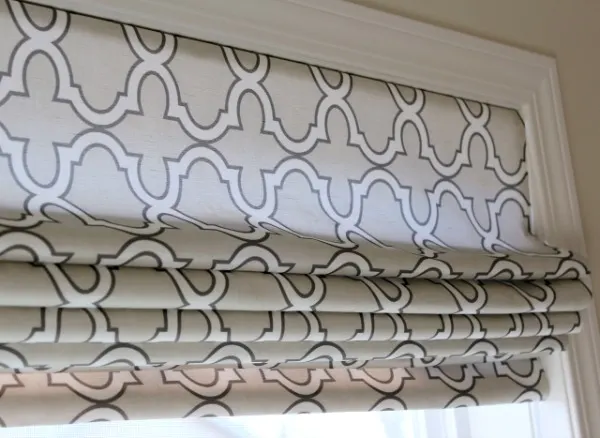 Source: satoridesignforliving.com
Creating custom curtains can be such a fun project to undertake if a rather time-consuming one. But really, have you seen how pricey a matching set of shades and curtains cost?
You could put a down payment on a new home with that money instead. So, check out these DIY roman shades, which actually don't really require sewing.
Yup, this is a no-sew project, or rather, a sew and no-sew combination that is pretty unique. It also means that it is easier to make. So, pick out your fabric, lining, and curtain hardware and start working!
41. Men's Shirt to Skirt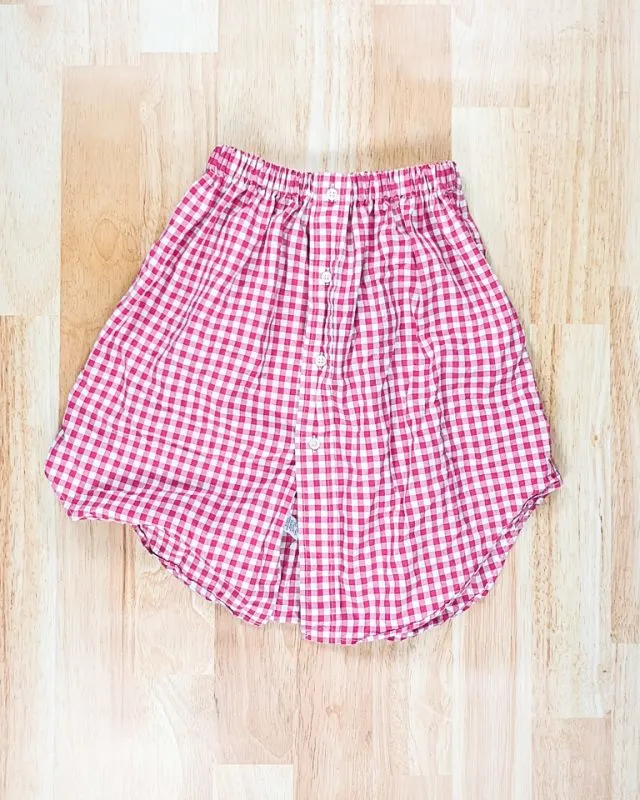 Source: heatherhandmade.com
I bet your spouse has a ton of old shirts that he hardly ever wears. I'm sure he won't miss one or two or even notice that you turned said shirts into skirts!
You'd be surprised at just how trendy these skirts turn out. It's a quick project that can help you supplement your closet while also saving you a few bucks. Ah, the joy of upcycling.
Anyway, grab some elastic from here to use to line the waist of the skirt. Love this project? You might also like these DIY t-shirt ideas.
42. Pumpkin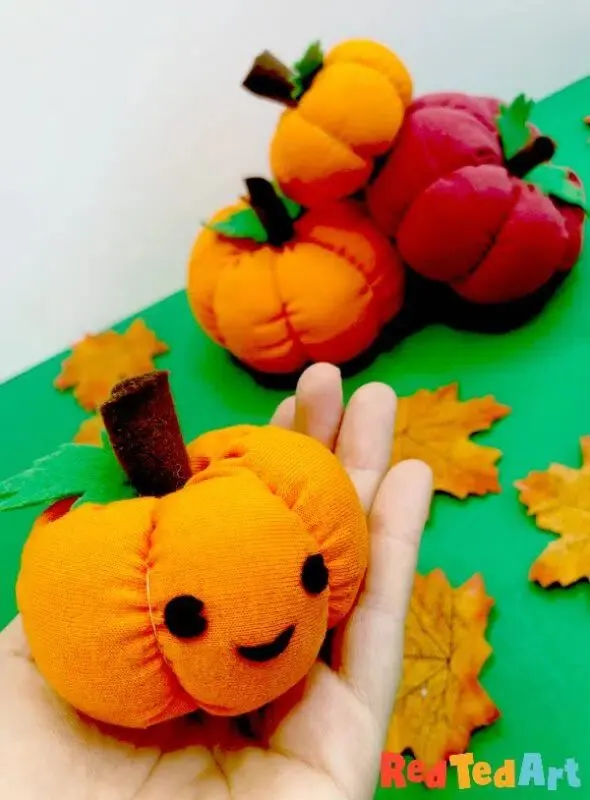 Source: redtedart.com
Pumpkins are super easy sewing projects. They can also help you avoid buying stuffed pumpkins from craft stores.
Plus, you have a ton of different patterns you can choose from. You can also pick out different fabrics, colors, and prints. Just imagine how lush these deep orange pumpkins would look.
If you want to 'cute' things up a bit, you can give your pumpkins a pair of eyes, a button nose, and a cute smile.
43. Tiger Pillow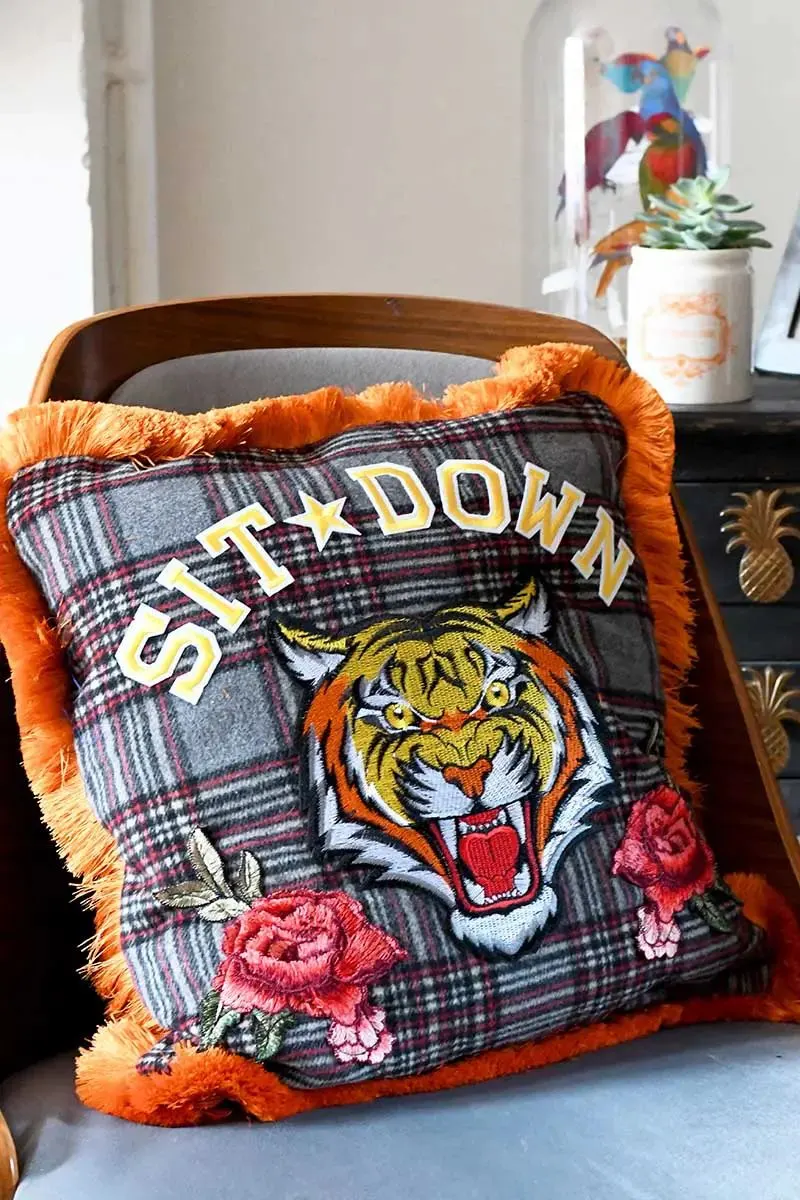 Source: pillarboxblue.com
What are tiger pillows? Well, they're not tiger-printed pillows, if that's what you're wondering. These, well, have tigers on them; take a look.
You can buy large embroidery patches pretty cheap to help you, and depending on the size of your pillow, your patch will change too.
If you're wondering, these tiger pillows are actually inspired by Gucci's own line of funky designs for throw pillows, the only way, way more economical.
44. Clutch Carpet Bag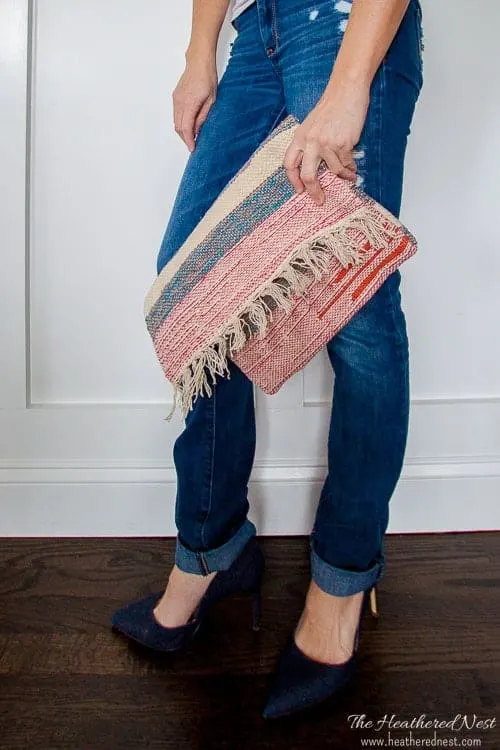 Source: heatherednest.com
Carpet bags are a thing of the past, which is just such a shame. They are so endearingly boho-chic, and this one, well, it's actually made from an actual carpet.
I'm sure you have one of these at home. If you think it's too ratty, you can buy a new one at a dollar store. If you wash the carpet once before you start working on it, you'll find that it will be much more pliable and easy to work with.
You can also choose between using a magnetic clasp(look here), a zipper, and a button for the enclosure. You can also have fringes if you want that extra texture it will offer.
45. Curtains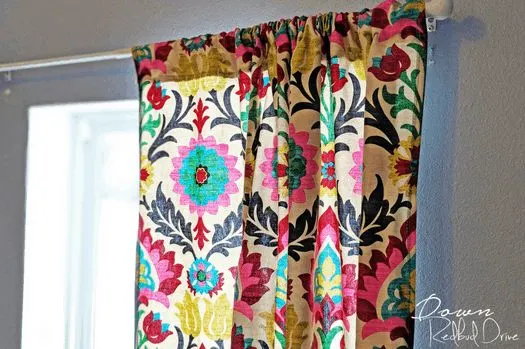 Source: downredbuddrive.com
If you can sew a straight line, you can sew a curtain. The next time you're in the market for a set of curtains, just make your own.
The biggest decision you need to make is the type of fabric you want to use for your curtains. Then you need to measure your window, or rather from where the curtain rod will be, for the required dimensions.
Make sure you leave plenty of fabric along the length and width to allow for easy and effective sewing.
46. Lined Drawstring Bag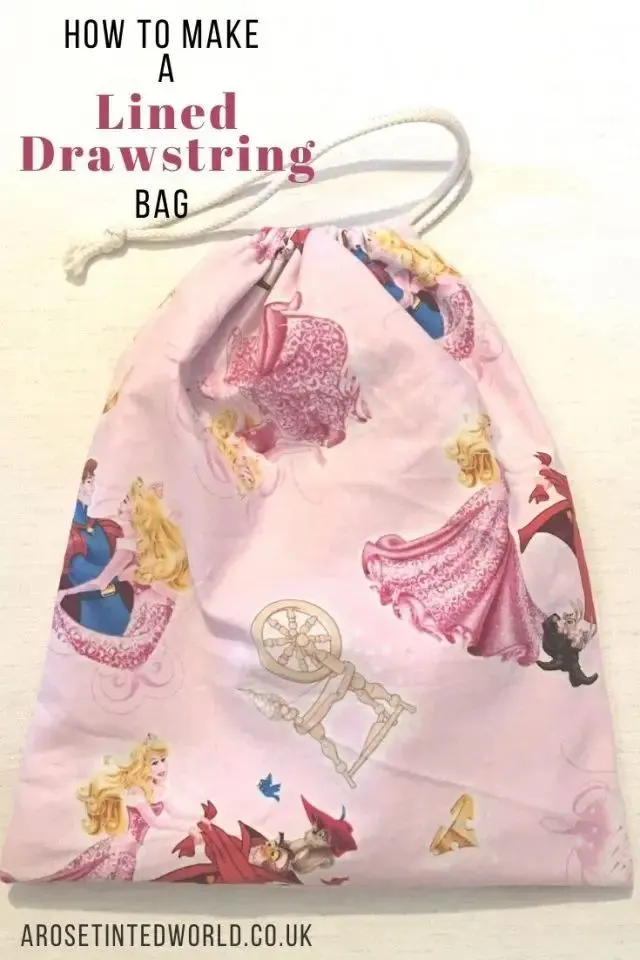 Source: arosetintedworld.co.uk
If you know how to sew a drawstring bag, then you'll never have to go shopping for little gift bags to put your presents in ever again. It's also a great alternative to gift wrapping, which can also be a chore.
While ripping into wrapping paper can be quite fun, it also means that all that paper is effectively just going to waste. That's why lined drawstring bags are also really sustainable.
47. DIY elastic waist skirt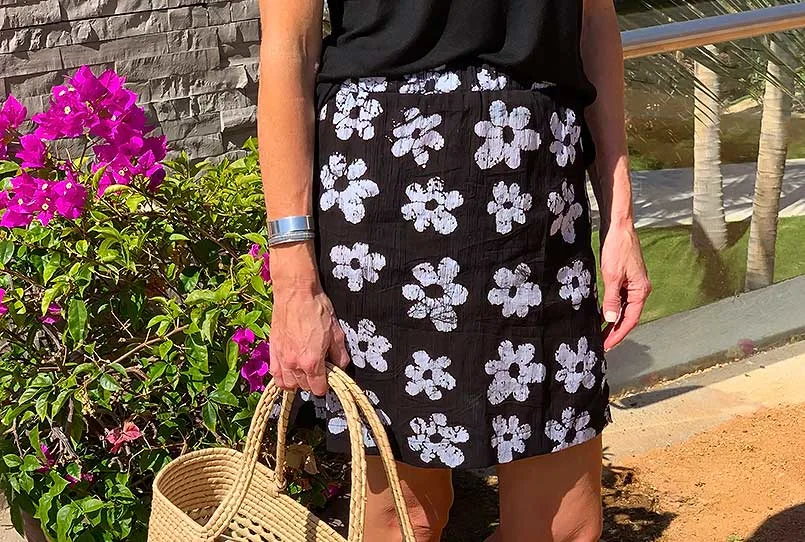 Source: bebraveandbloom.com
Check out this fabulous printed skirt. It's flirty and bright and, if you believe it, a DIY project. When you're making your own clothes, it all comes down to finding a pattern you like and then using your own measurements to tweak the pattern to fit you.
You can even sketch out your skirt beforehand to help with figuring out how many yards of fabric you'll need and how to spread it out evenly.
You can also adjust the fullness of the skirt; how amazing is that!