Love sewing and need to make the next gift for your loved one? Check out these easy sewing gifts that are useful, cute, and purely fun to make.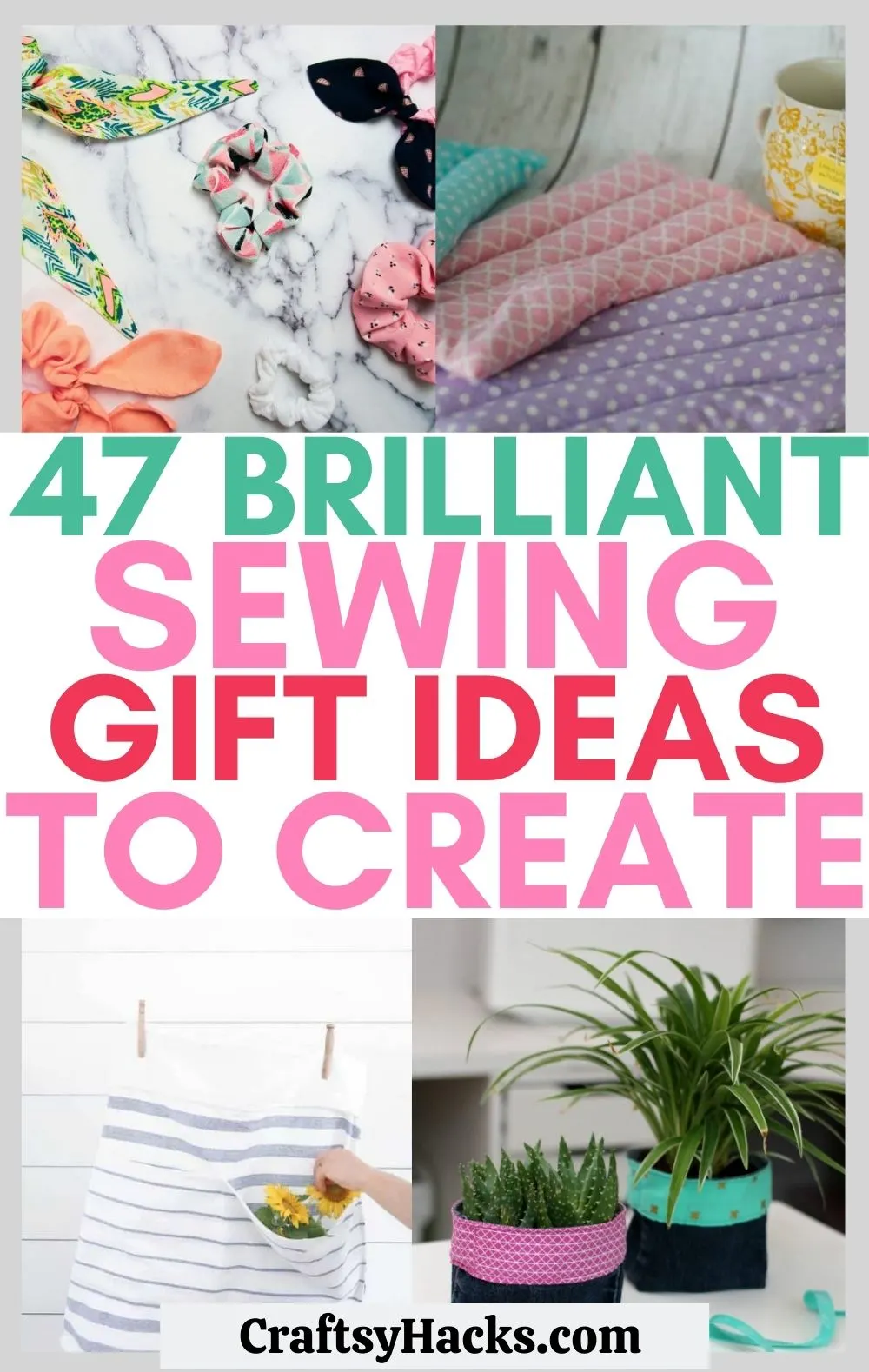 If you can sew, you can pretty much make just about anything you could ever want. That might be a bit of a stretch, but really, think about it.
When you know how to sew, you can make clothes, blankets, quilts, toys, pillow covers, scarves…the list is long and with plenty of options for you to consider and practice and improve your sewing.
The best part? Not only can you make things for yourself and your home, but you can also give them as presents!
So, with that in mind, here's a list of 47 sewing gifts you can make!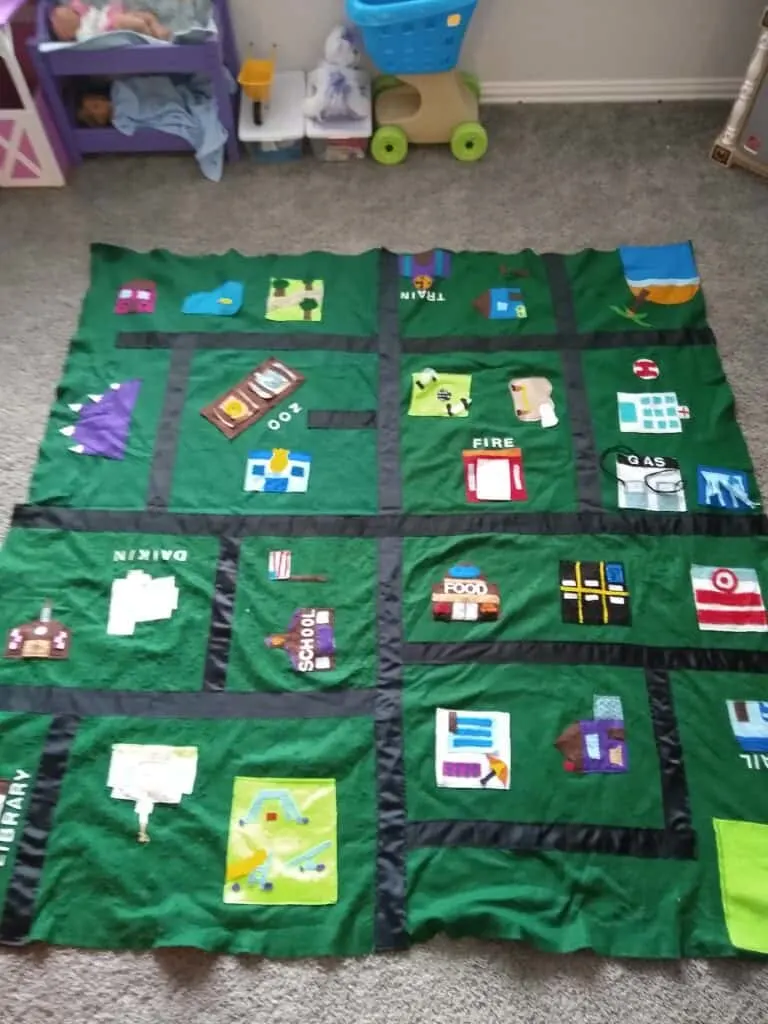 Source: savingtalents.com
Playmats are often super expensive, and worse, they can end up being pretty generic, too. But not a DIY no-sew play mat like this one, featuring a fun car theme.
This play mat will take you quite a while to make, be warned, but look at it and tell me it isn't worth it? This can be the perfect project for you to work on and off over the course of the year and will be ready when Christmas rolls around.
Grab some felt from here, and plenty of it, too. When you're ready, you can start designing your playmat!
Want another no-sew project to explore? Check out this DIY no-sew shirt!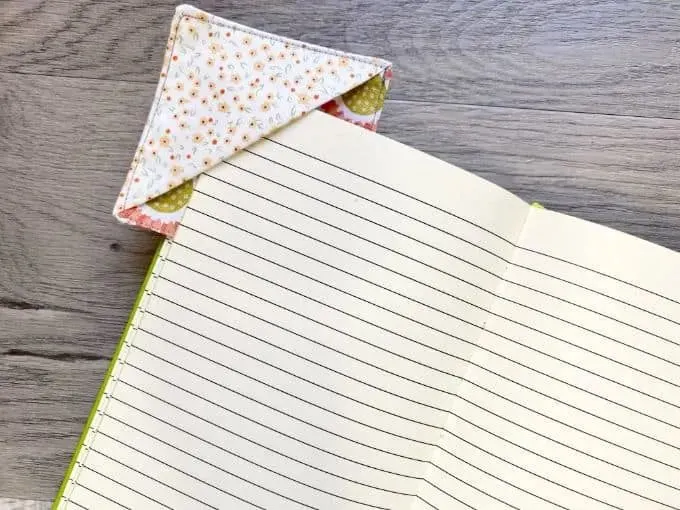 Source: homespunseasonalliving.com
I'm honestly surprised that these fabric bookmarks aren't all the rage. In fact, very few people really know about them, and that's such a shame, don't you think?
These bookmark corner sleeves are durable and eco-friendly. They can make reading even more enjoyable, too. You can make a dozen of these and store them away for later to give as gifts.
You can use scrap fabric from your stash to make these bookmarks. In fact, it's a great stash-busting project.
Check out these fabric projects for more ideas!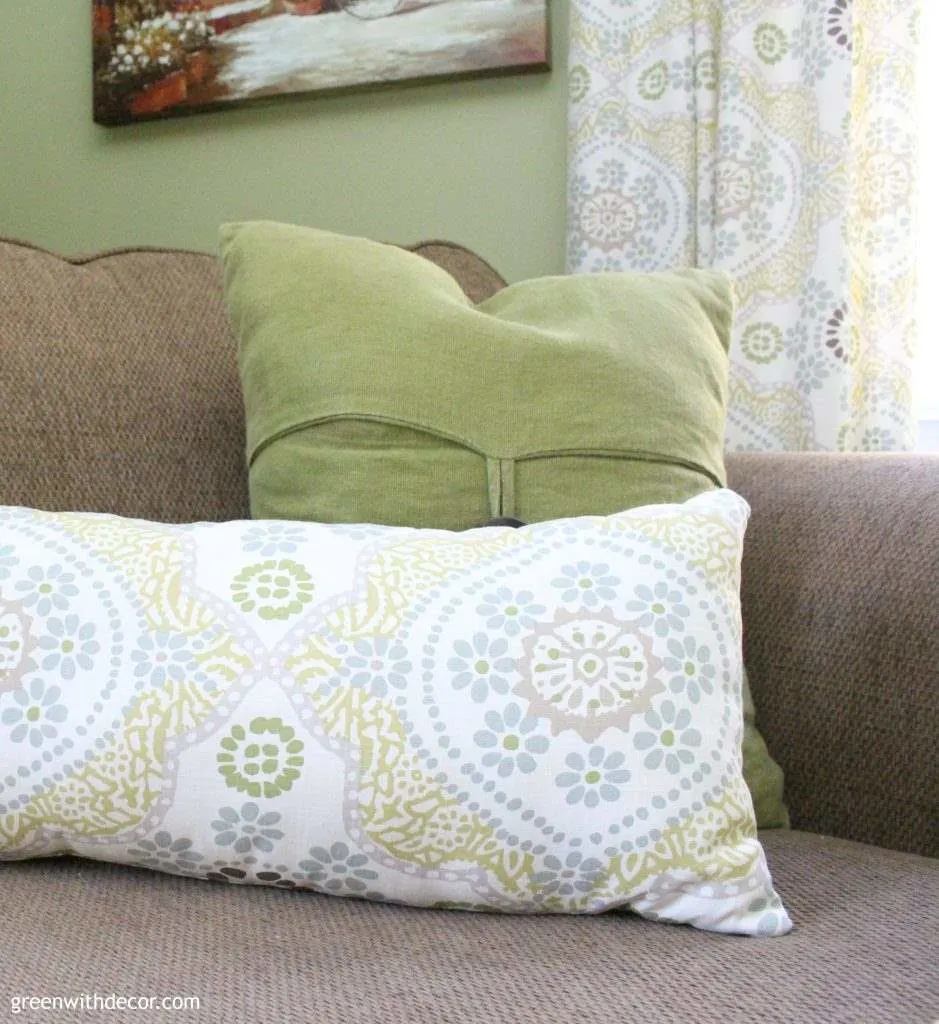 Source: greenwithdecor.com
Throw pillows are always a welcome DIY gift. The covers for these pillows are so easy to make, as well. You can pull together the different materials you need from the craft supplies you already have.
You can buy cushions and just sew the covers alone, or you can buy polyfill from here and stuff the pillows yourself. This method will allow you to be more creative with the size and shape of your pillows.
If you're making them for a friend, you might consider finding out what colors and patterns would best go with their home decor.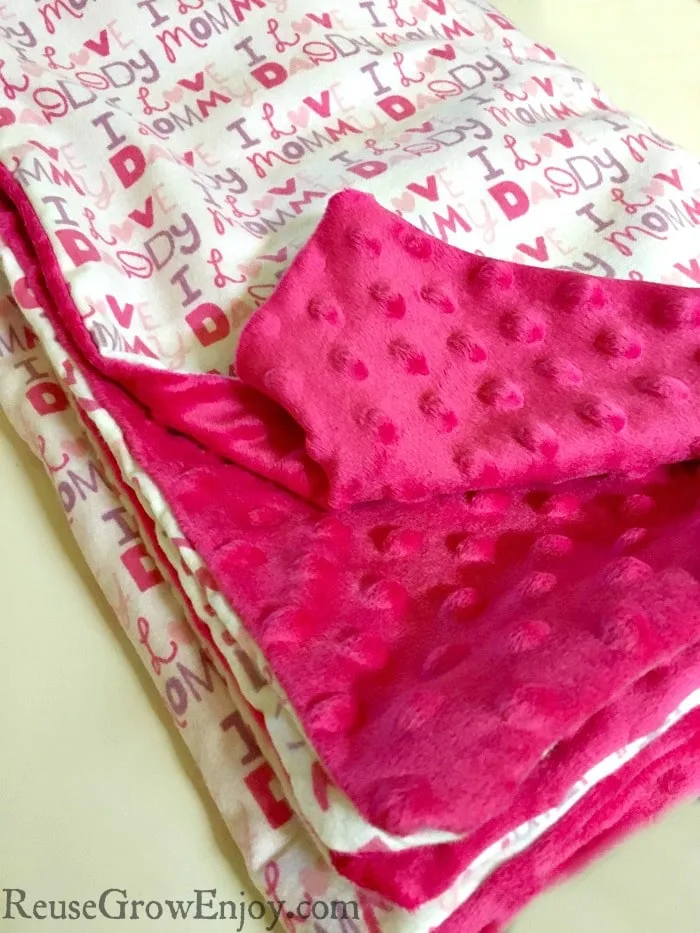 Source: reusegrowenjoy.com
When you're shopping for gifts to give a baby, clothes and toys might seem like the popular options. But the babies grow out of the clothes before you can blink.
If you want to give something meaningful and useful, why don't you consider making a baby blanket? Baby blankets can be wonderful hand-me-downs and keepsakes—I bet your parents still have your baby blanket stored away safely!
The best fabric for baby blankets is flannel, so buy some cotton flannel fabric from here. You'll also need to pick out some fabric to line the blanket.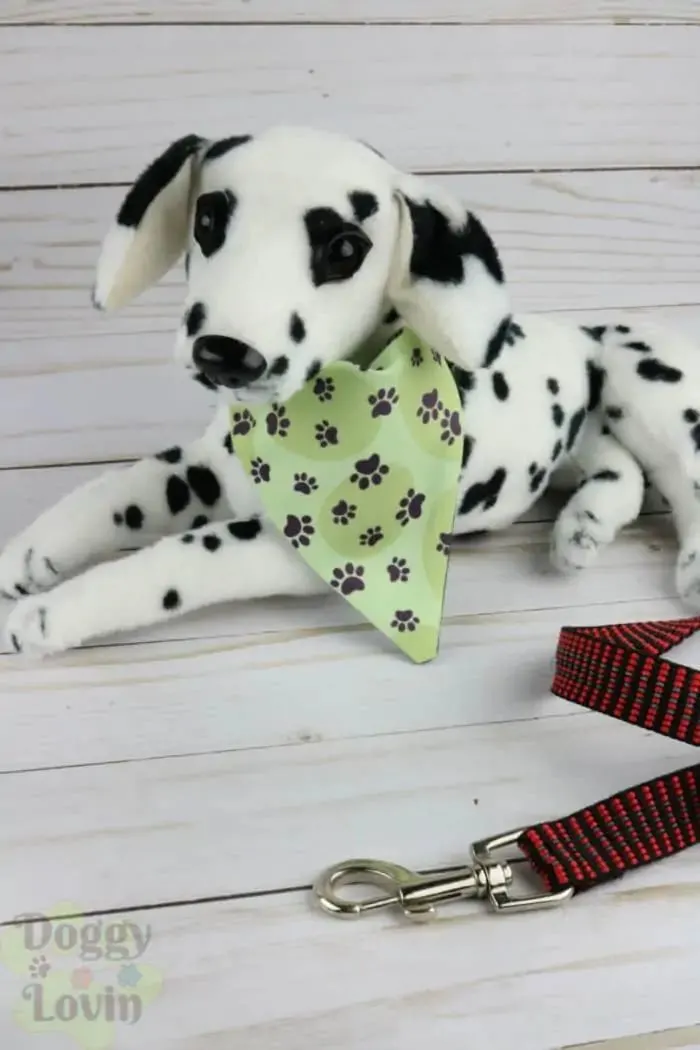 Source: doggylovin.com
Just stop everything you're doing and take a long minute to admire this adorable bandanna for your puppy. If you were looking for different ways to dress up your puppy, then look no more!
You can make these two-sided bandannas in no time at all. Plus, they're super easy and will cost you very little to make.
If you've been browsing the internet for dog accessories and clothing, you'll know how expensive they can be, so just sew them yourself instead!
You can also give them to fellow pet owners. Pick up some of this paw print fabric first.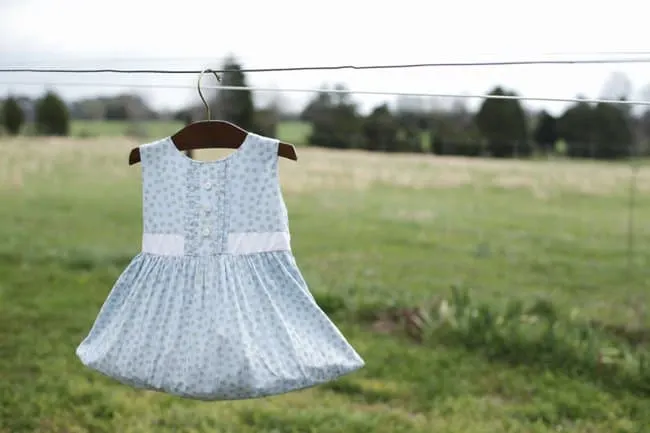 Source: bigfamilyblessings.com
This adorable dress you see? Well, it's actually a clothespin bag made from a baby dress. Once you get over the sheer creativity that went into this project, you'll realize just how perfect these are for gifting!
Pick out a baby or toddler-size dress. If you want to add a personal touch to this, you can ask the recipient to give you a baby dress they have from their own childhood!
The first step is to get rid of any tags and size indicators with a seam ripper(look here).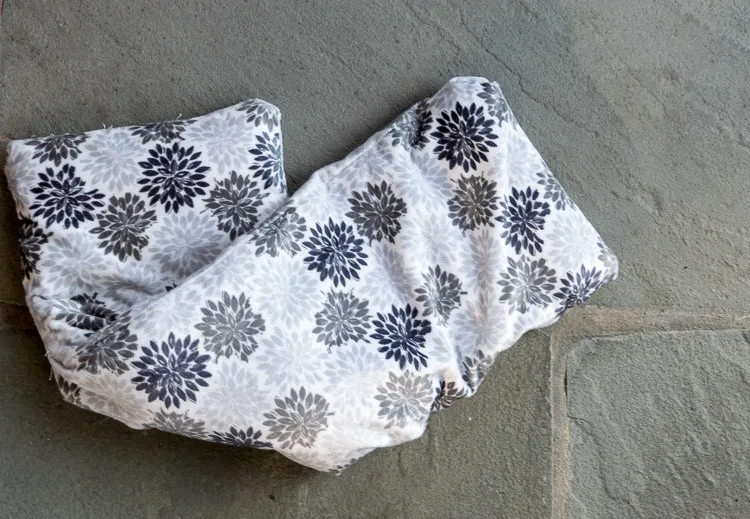 Source: nourishandnestle.com
Just imagine how blissful it would feel to have a warm and heated neck wrap around you while you sip a cup of cocoa. Or perhaps you have some tension around your neck, and it needs some heat compression to soothe it.
This neck wrap is easy to heat up; just toss it in the microwave for a few seconds, and voila! And, did I tell you that it's stuffed with buckwheat and lavender?
Lavender, as you know, is known for its soothing properties. Plus, it smells amazing! So, your neck wrap is going to feel great and smell great!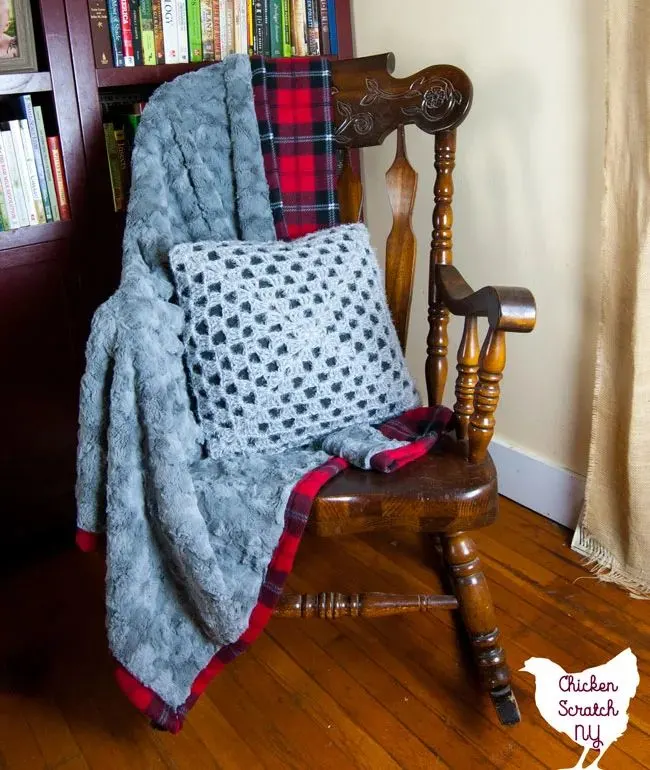 Source: chickenscratchny.com
With the winter months upon us, you can take advantage of the cold weather to cuddle in with a good book, hot cocoa, and this fleece fur blanket. Check out how you can make this warm and cozy fleece blanket at home!
First, pick out your fleece from here. The project calls for around two yards. Next, pick out your fur—faux, if you don't want to use real fur—and cut it as instructed.
Next, lay the fleece out on the floor and place the fur on top of it. You will need to trim the fleece to remove rough selvages.
Check out more adult crafts!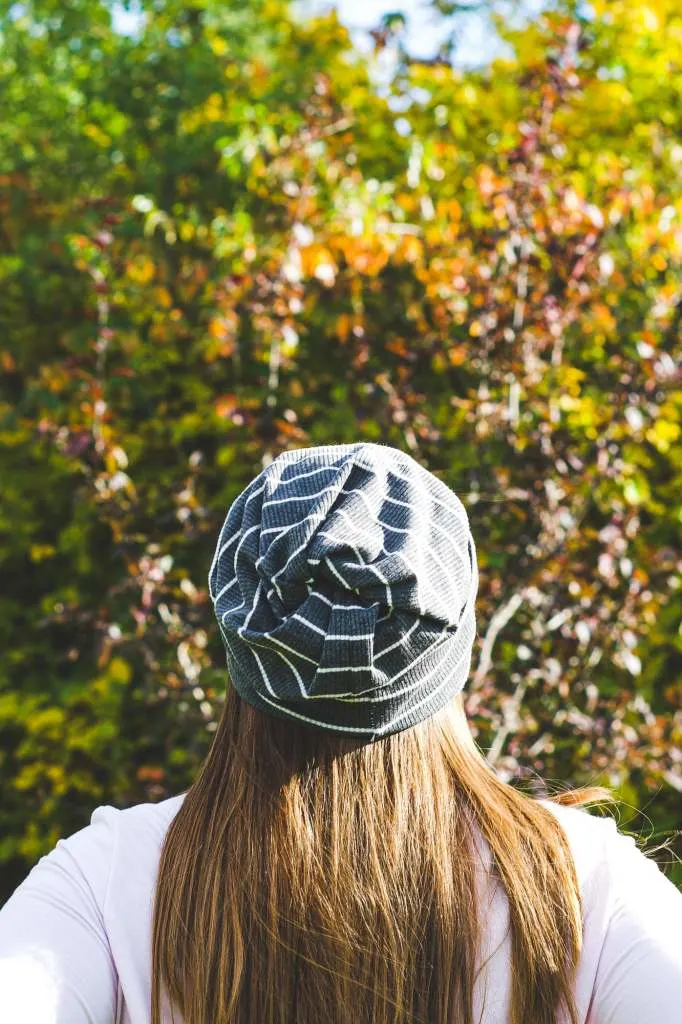 Source: thegoodsdesign.co
This twist beanie requires three-quarters a yard of fabric. The fabric you use needs to be stretchy because you'll be sewing it a little bit smaller than the proper measurements so that it sits comfortably on your head.
You'll find that this project comes with a pattern that you can download. Use this to help you figure out the size for the beanie and to help make sewing easier!
Finally, feel free to attach a pom-pom to the twist on the beanie. But if you do sew a pom-pom on, you won't be able to use this beanie as a neck and face warmer.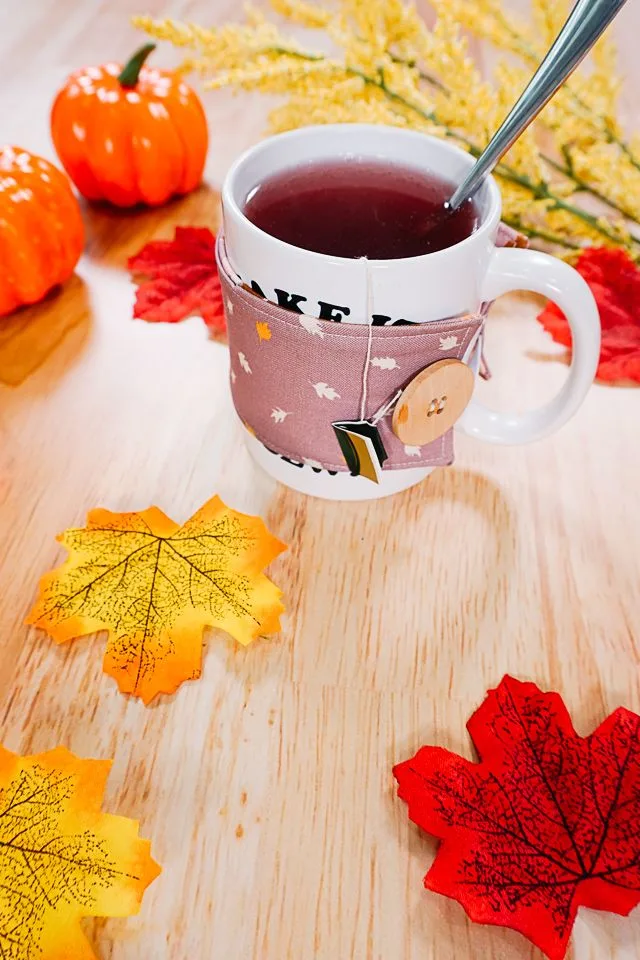 Source: heatherhandmade.com
Mug cozies are seriously underrated. You think you don't really need them, but then you start using cozies, and you'll never go back to the old way.
Cozies help to trap the heat, yes, but they also protect your palms from coming into direct contact with the mug. So you never have to worry about a scorched finger ever again.
Instead, just wrap your hands around the mug cozy and enjoy the warmth seeping into your palms while you enjoy a cup of coffee. But first, pick up some interfacing from here.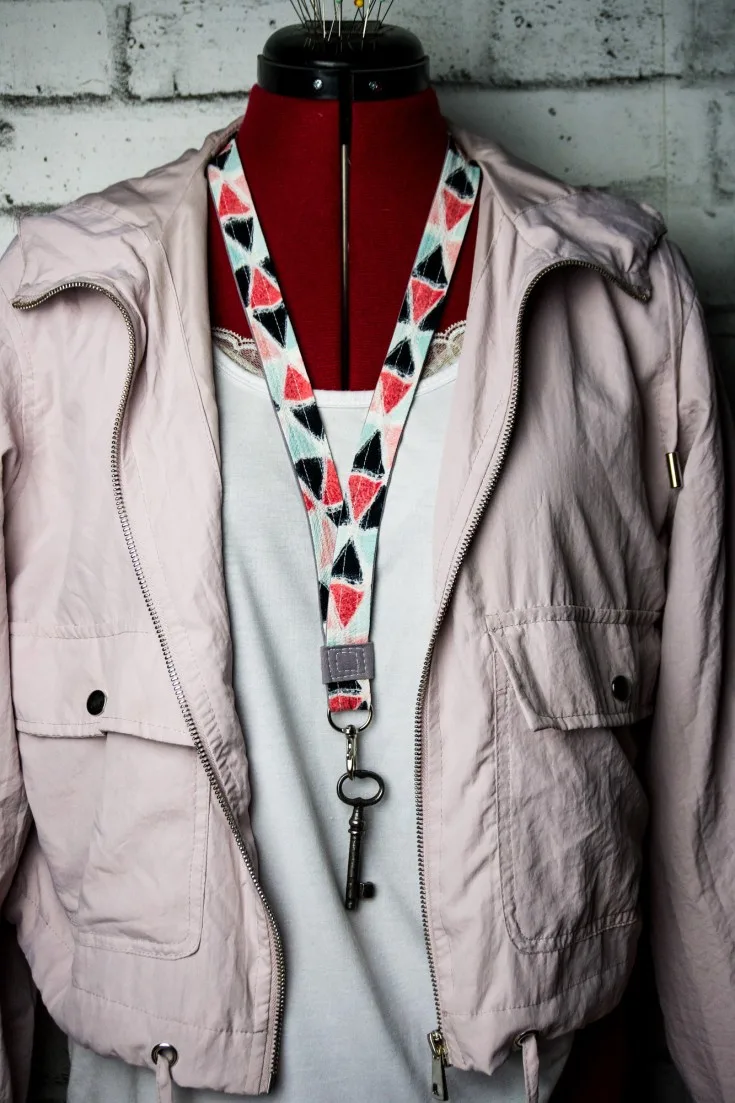 Source: thegoodsdesign.co
This lanyard is a really quick project that can come in real handy, too. They're perfect as stocking stuffers, so make a few and store them away for later.
Cut the fabric as instructed with a seam allowance of a quarter of an inch. This project comes with a free pattern that you can download, too.
When you're ready, attach the cord you just sewed to swivel clips or D-rings from here. You'll notice that it has a relatively wide flat surface which will make it easier for you to attach the cord.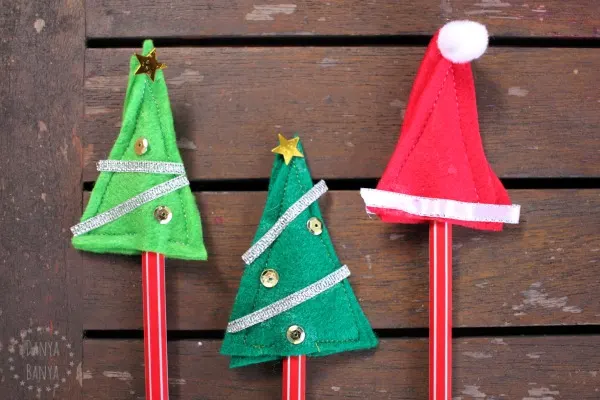 Source: danyabanya.com
Pencil toppers like these are a great addition to your stash of stocking stuffers. They're easy to make, and the hand-made part of this project makes them even more special during the holidays.
You can easily hand-sew these pencil toppers with a needle and thread. Just sew the felt scraps together with a slot to allow the pencil head to fit.
Then, decorate the toppers with ribbons, lace, sequins, or glitter. You can use craft glue to adhere the decorative bits to the felt or glitter glue if you want a little touch of sparkle.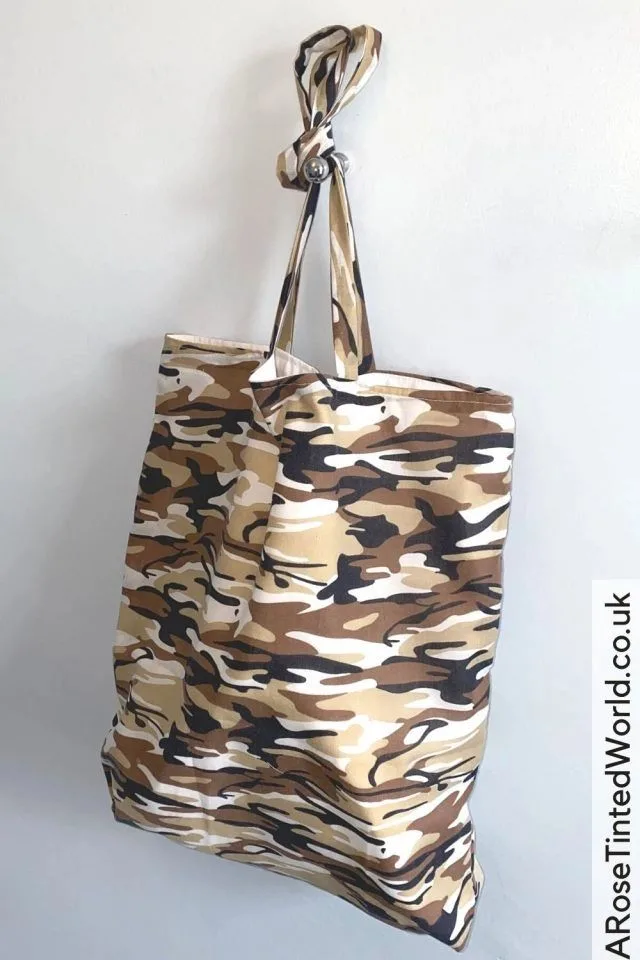 Source: arosetintedworld.co.uk
Totes are perfect for just about anything. Depending on the size of the tote bag, you can use them :
As book bags
On a trip to the beach to place your beach towels
To carry grocery
As shopping bags
Well, the list goes on. So, check out how to make these reusable tote bags that can be folded and put away in your purse or handbag.
First, grab some straight pins, a loop turner from here, this rotary cutter, and a measuring tape.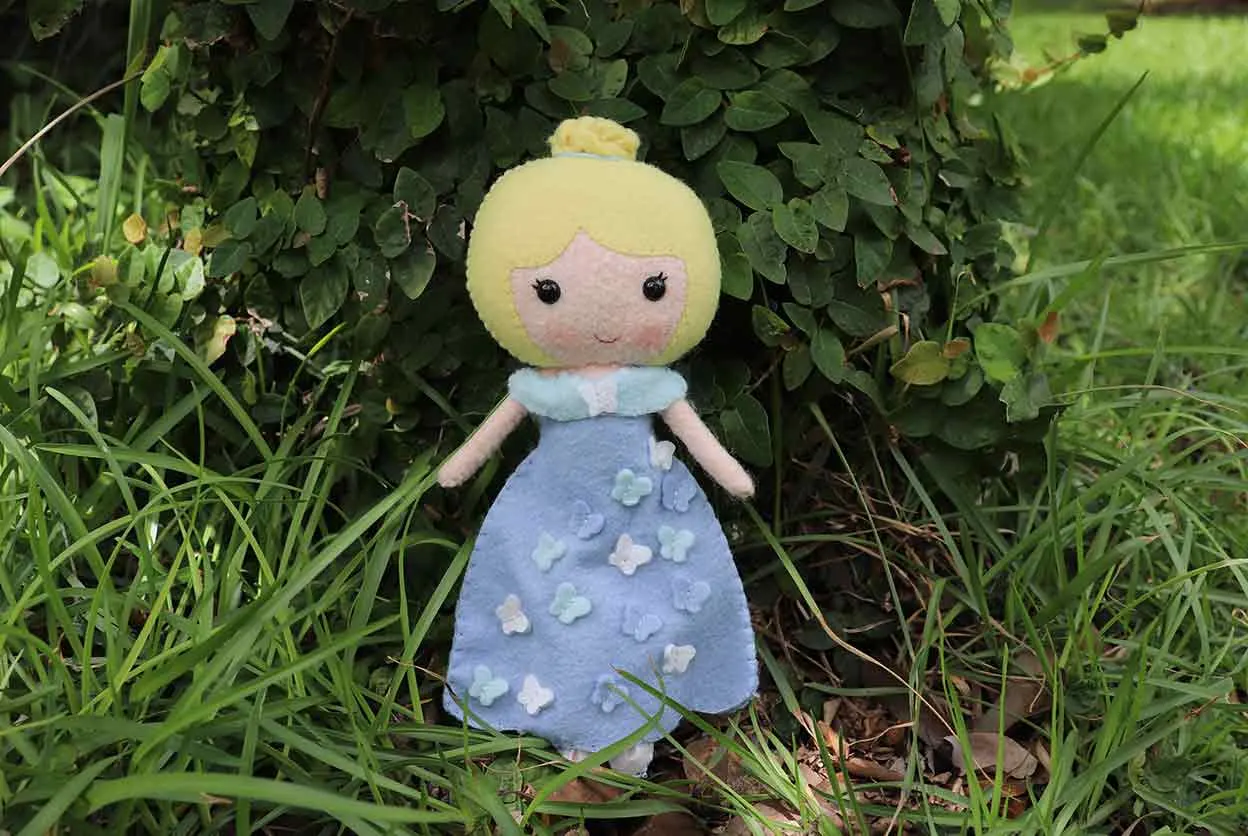 Source: happiestcamper.com
This doll is a quick sewing project to get beginners hooked on sewing. You can make it in under an hour with supplies that I'm absolutely certain you already have at home. But wait, do you have these safety eyes?
The best part about this doll is the lovely outfit she's wearing. Don't you just love the pale icy blue dress with its pretty butterflies?
You can stuff the doll with polyfill or regular pillow stuffing. Just follow the pattern provided, and you'll have your doll ready in an hour!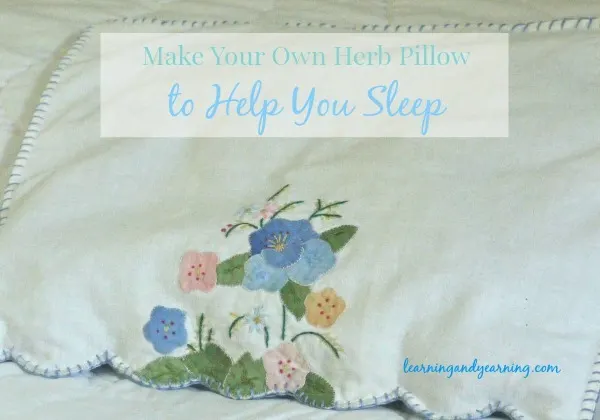 Source: learningandyearning.com
Herbs can work wondrous magic on your mind and body. You already know how herbs like sage and lemongrass can work their magic to cleanse a room and leave it bright and cheery.
Lavender, on the other hand, as well chamomile, valerian, and marjoram, are all known for being soothing and calming herbs that can help induce sleep. That's why you need a herb pillow like this one, stuffed with all those amazing herbs.
You can also use this pillow to practice your embroidery with pretty pastel flowers to add pops of color to the pillow.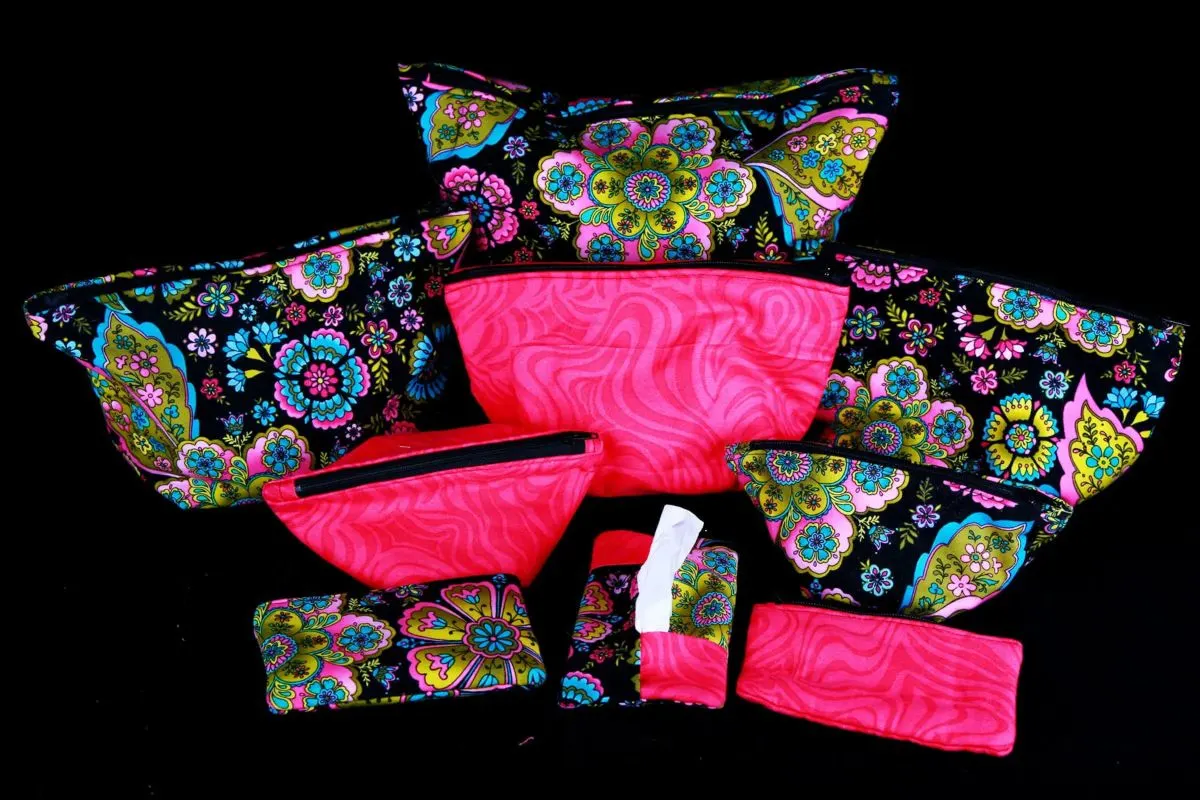 Source: celebrationgeneration.com
With all the different cosmetics and creams to choose from, just one makeup bag is not enough. You need a complete set, one each for your makeup, accessories, toiletries, and more.
You can make these bags to hold napkins, your sunglasses, and more! These are perfect gifts for people who travel a lot and need help organizing and carrying their makeup around.
So, first, figure out how many bags you need, and then, depending on the number, pick out your fabric. You can consider lining the insides of these bags with waterproof fabric, should the contents ever leak.
Source: heatherhandmade.com
Remember the bookmark you made earlier? Well, this one might not be the same bookmark sleeve pattern, but they're fabric, too, and make for a quick DIY gift.
If anything can entice and motivate kids to start reading, it's these bookmarks. Another plus to having fabric bookmarks is that they're much more durable, especially since they're being handled by kids.
They're also easy to customize. You can sew different shapes and sizes, and layer them with different colors, prints, and textures of fabric, too.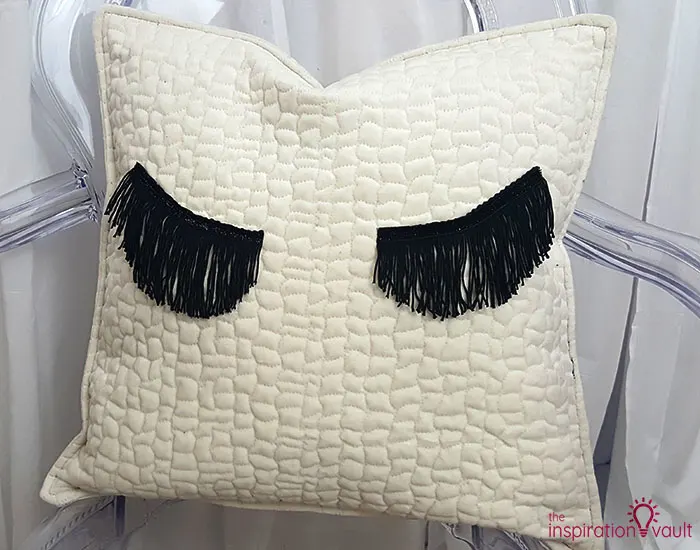 Source: ellemariehome.com
This eyelash pillow, well…maybe you can use it as a part of your Halloween decor? Frankly, it does look a little creepy, like mascara leaking down the pillow, but hey, they're kinda quirky, I guess.
I think they'd be a great gag gift. Do you know a friend who just loves false lashes? I'm sure she'd be thrilled to have this pillow!
Buy some sparkly black ribbon from here, first. For the lashes, you will be cutting strips of yarn and lining them along the length of that sparkly ribbon you just bought.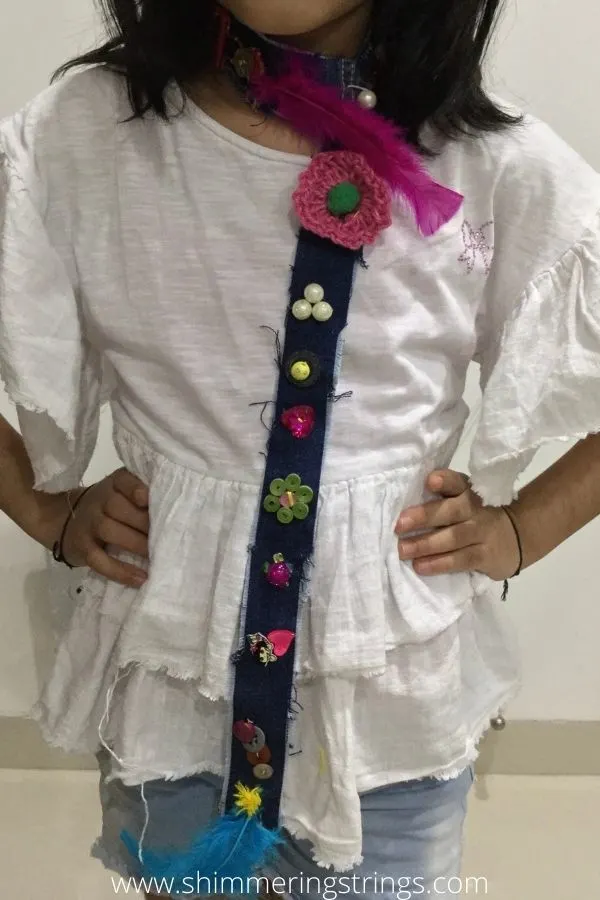 Source: shimmeringstrings.com
Check out this 3 in one fashion band accessory! It's an eclectic and unique piece made out of denim jeans, so let's grab a pair of scissors and start upcycling.
You'll notice that there's a little of everything going on, from sequins, bows, buttons, feathers, pom poms, crochet flowers, sequins, and more. So the first order of business is to figure out what you want to put on your DIY band.
You'll need your basic craft essentials of needle and thread, some fabric glue, and this elastic band. Then, when you have everything at hand, you can start designing your band.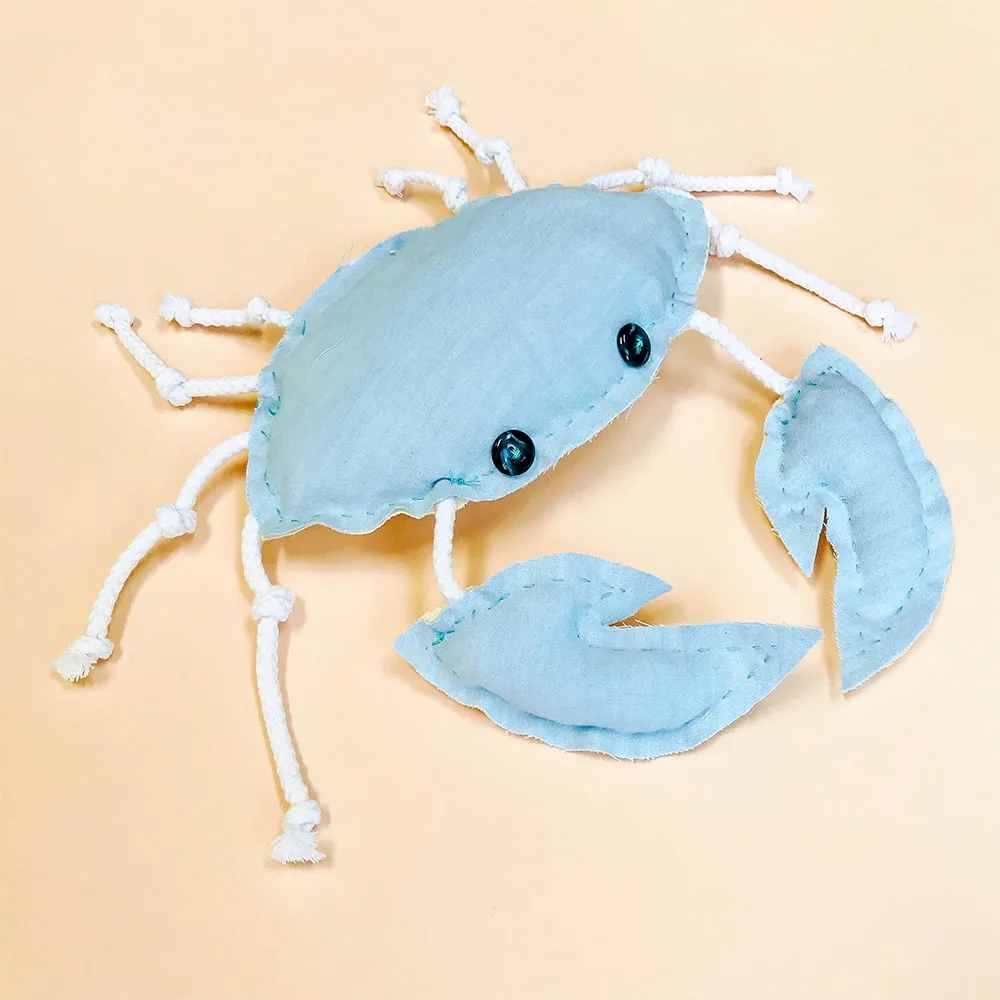 Source: barleyandbirch.com
Softies are just instant serotonin boosters. They're soft and squishy, and can turn a crabby frown upside down. Speaking of crabs, did I mention you'll be making a crab softie?
If you're wondering how to turn this into a gift, well, if you've got friends who are Cancerians, that would make sense, wouldn't it? Hey, maybe you should make a softie for every zodiac sign!
Grab some cotton cord from here first. You'll want to download and print the template provided, too. It will instruct you on exactly where you need to hang the cord from.
If you have some spare cotton cord, you can make this easy DIY stone necklace, too!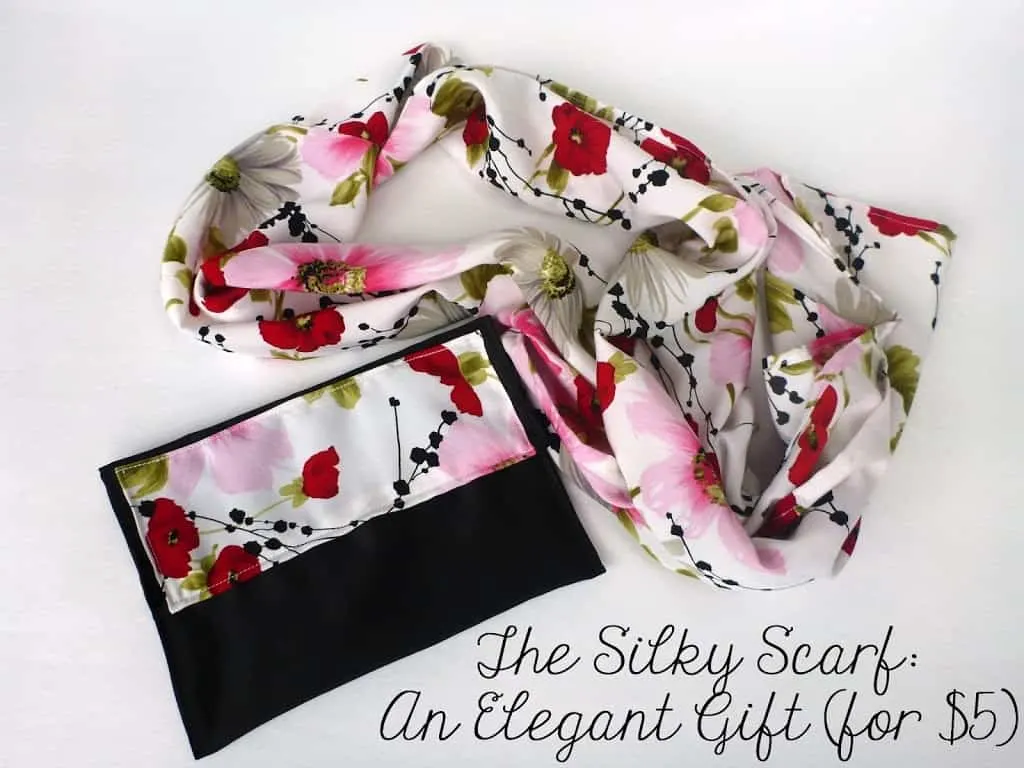 Source: rufflesandrainboots.com
This silk scarf looks just as good as a Hermes scarf, and you won't be selling your left kidney to pay for it, either. This one is super cheap, and you can make it for under five bucks.
In fact, if you make a few and keep them for later, they're rather elegant gifts that would belie their real cost. If you have enough fabric, you can make a little coin pouch to go with the scarf, too!
Just remember that while you're sewing, you'll need to hide the frayed edges. A simple French seam will secure those frayed edges and will artfully hide them, too!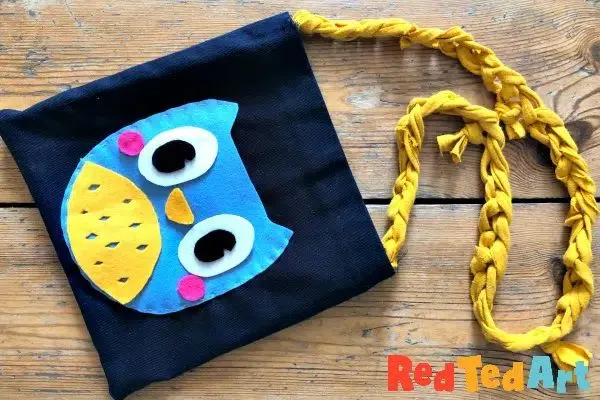 Source: redtedart.com
What's better than an owl bag? An owl bag with pockets! Well, only one pocket, but what's stopping you from sewing another one in the back? It's your project!
There are so many amazing components to this bag. First, check out that braided sling strap? If you've ever turned old tees into strips of 'yarn,' you can use that to braid this strap.
Then, there's the owl pocket that's perfect for slipping your phone and earphones into. There's also the little fact that the entire bag has been made by upcycling an old trouser leg!
This is a great project for teens.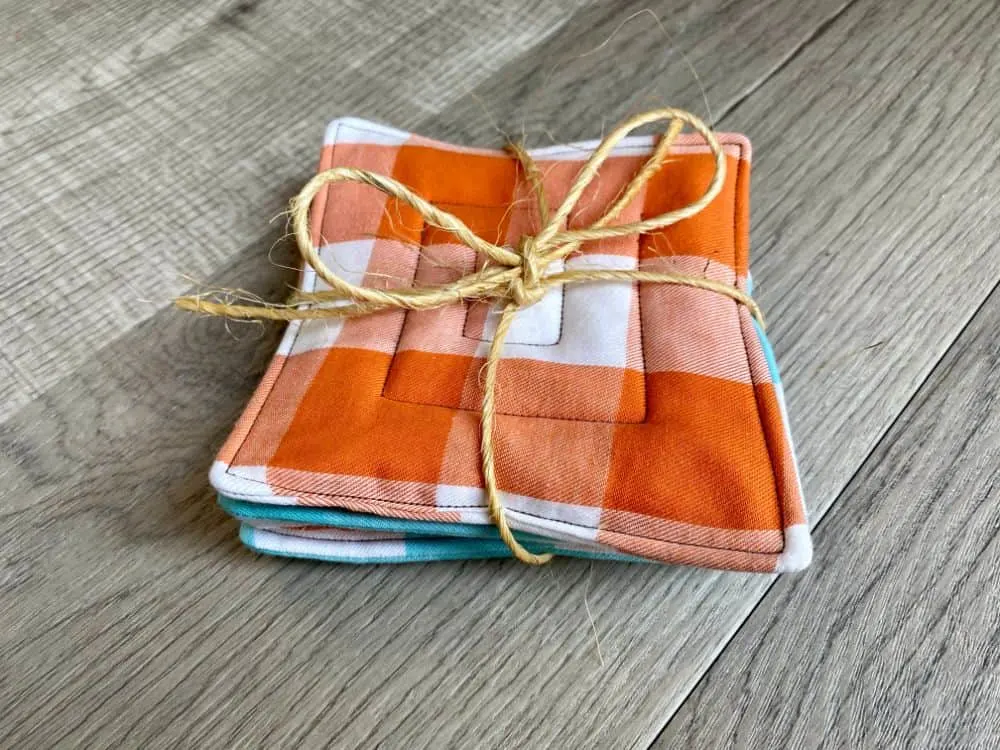 Source: beginnersewingprojects.com
You can't imagine how convenient it is to have a coaster you can pop into the washing machine to get rid of drink stains. It makes cloth coasters all the more fabulous, and they were pretty fabulous to begin with.
You can make one of these coasters in 15-20 minutes, so an entire set of, say, five to six coasters will take you an hour and a half, tops. You need to pick up some quilting materials, first like a rotary knife, a stitch turner, cotton batting from here, and a thread snipper like this.
When you're done sewing the coaster, you can feel free to add a quilted pattern to secure all the layers in place!
Check out more DIY coasters here.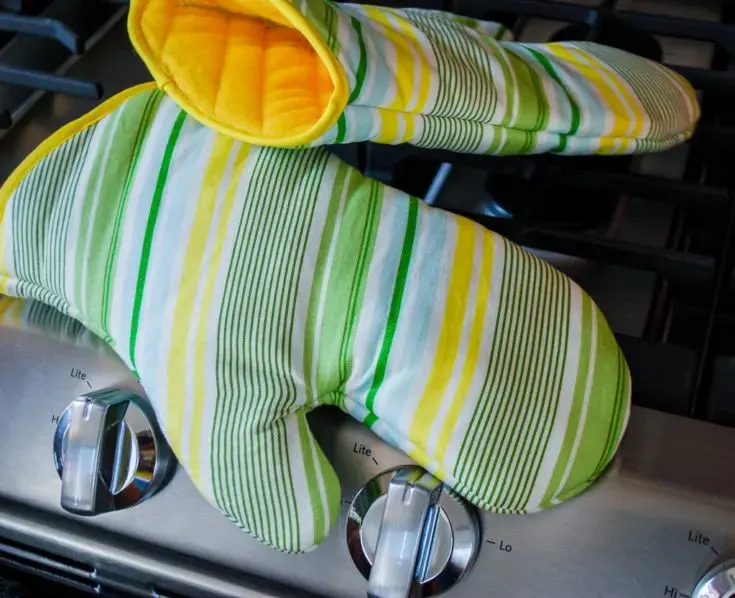 Source: merrimentdesign.com
Don't put away that batting you bought just yet; you're going to use it as a heat insulator for these oven mittens. You will need half a yard of insulated batting for a pair of mitts.
You can also use fleece fabric for an extra layer of heat protection. For the cover, though, don't use anything but cotton. Any synthetic fabric can possibly melt.
I can't help it but making oven-mitts is an all-time favorite project. They're not only super useful in the kitchen every single day, but they're also a pretty awesome gift that you can give a friend or loved one.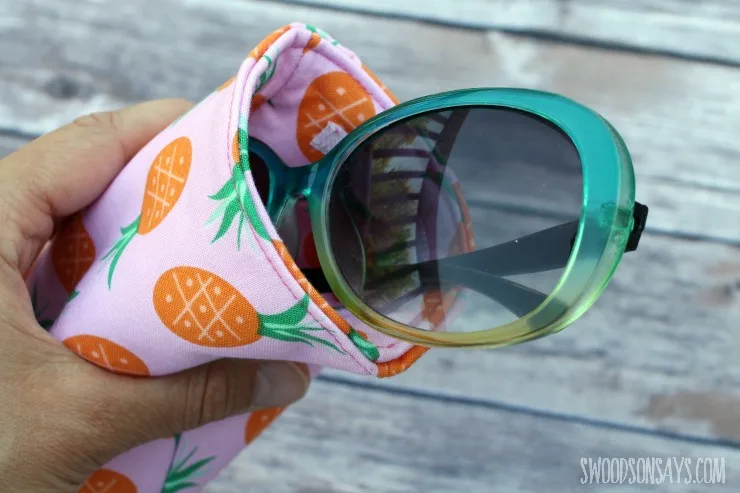 Source: swoodsonsays.com
Once you've hit your 20s, you have to admit one thing: you can't keep dumping your sunglasses into your handbag with a prayer that it will magically stay intact. You need to embrace adulthood and start using sunglass cases.
I bet you have friends who will benefit from these sunglass covers, too. So you're all in luck! It's time to pull out your sewing machine and make a few of these cases.
Don't look so disgruntled. With the right fabric, you'll not only be motivated to take the time to slip your glasses in there, but you'll also enjoy it. That way you can show off your fabulous case!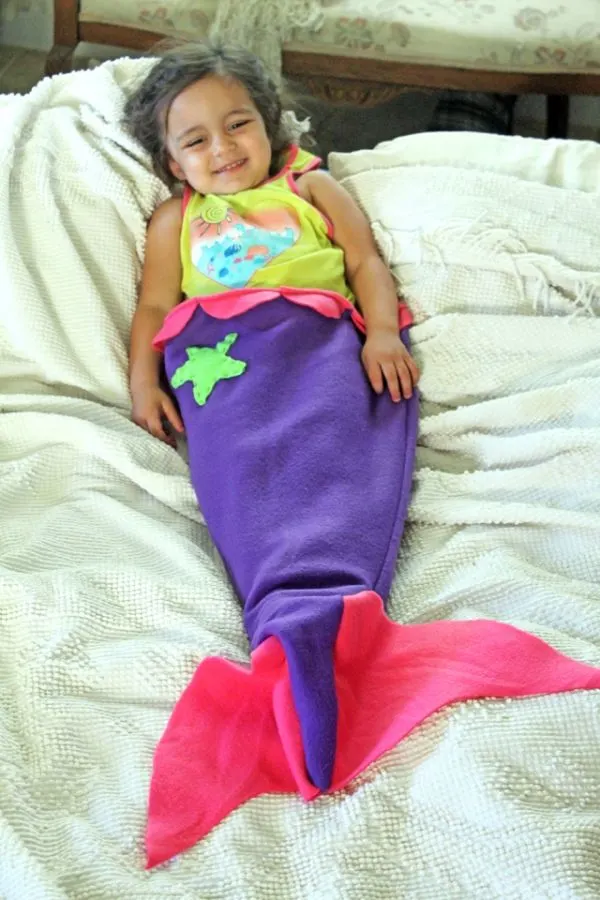 Source: craftbits.com
I wish I knew about these mermaid tail blankets back when I was a kid. But perhaps it's good I didn't, or my mother would have had to drag me away from my bed and this blanket kicking and screaming.
If you've got children, nieces, or just about any kid who you think will love this mermaid tail blanket, then you should start sewing them already. I wouldn't judge you if you decided to make one—three?—for yourself.
You probably already have fleece and other sewing supplies. Just pick up some mermaid embellishments from here to help you bedazzle the mermaid blanket.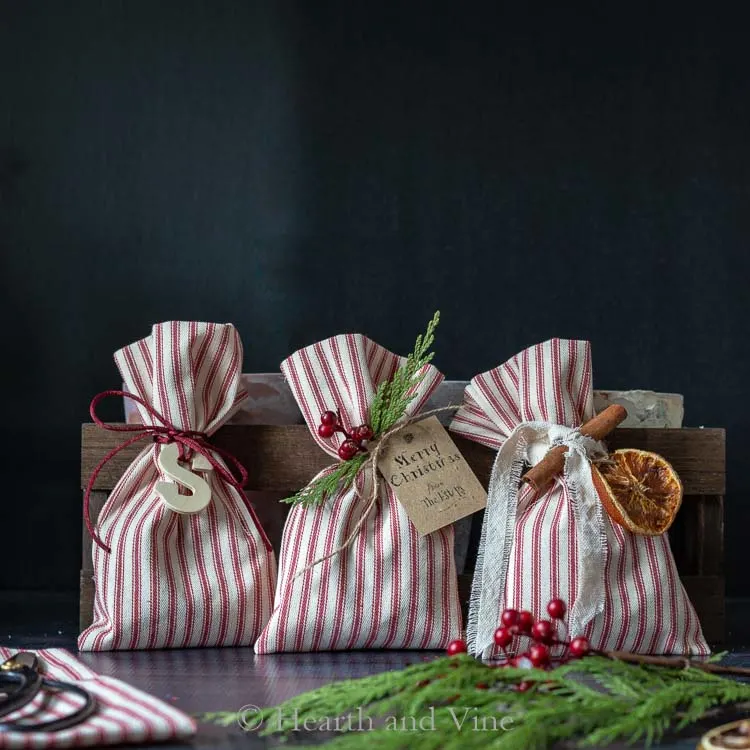 Source: hearthandvine.com
Christmas stockings are great and all, but why don't you go the extra mile with your gifts and goodies this Christmas? Have you considered putting together a Christmas treat bag?
You can sew the actual bags using candy striped fabric from here and then line the insides with these cello bags. The latter will protect your fabric bags from oil or grease once you fill them up with Christmas goodies and treats.
When you have assembled the bag, you can tie it together with little Christmassy extras like a sprig of holly, a stick of cinnamon, a couple of dried berries, and the likes.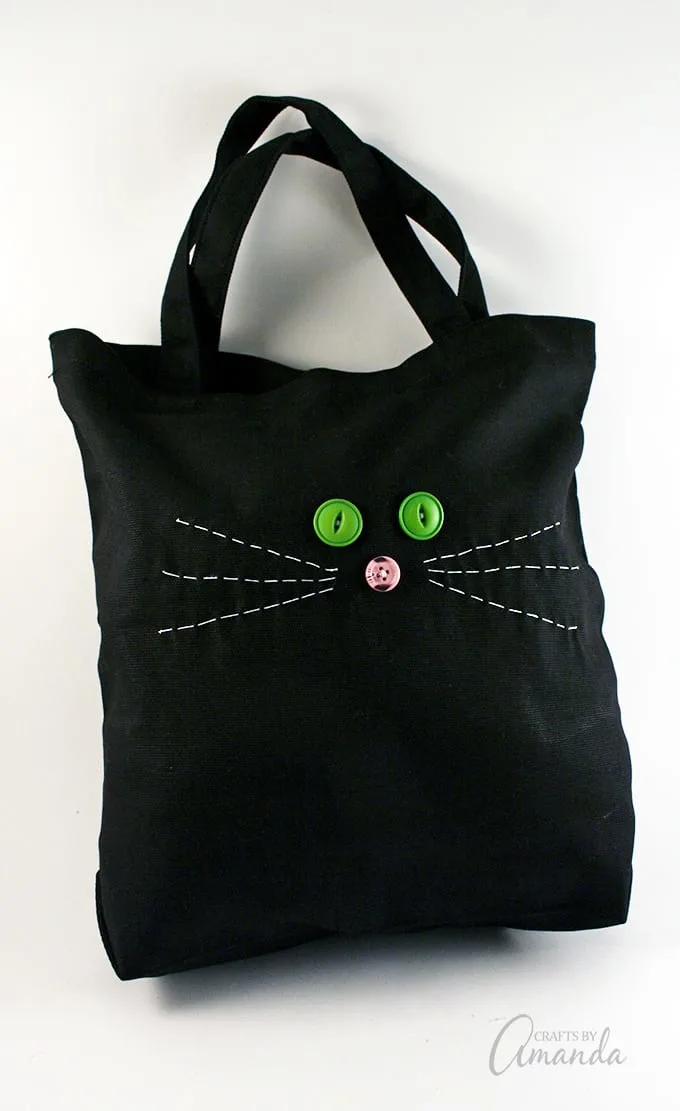 Source: craftsbyamanda.com
After that owl tote bag you made earlier, I'm not surprised you want another tote bag. This time, why don't you make something more…feline? Check out this gorgeous black cat tote bag!
You can sew the black bag from scratch with canvas, or you can buy a ready-made one from here. Making your own will allow you to customize the bag to your specific needs, but the latter works just as well.
Once you have your bag ready, go ahead and embroider the whiskers. You can use two green buttons for the eyes and a pink button for the nose!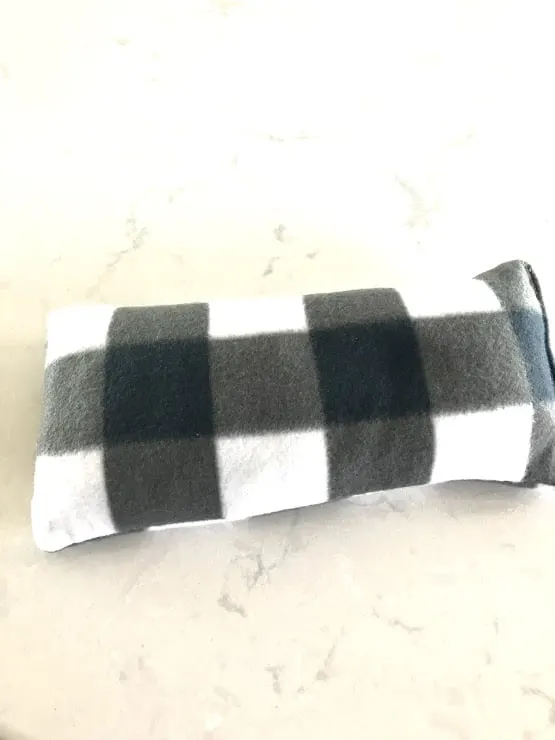 Source: sweetfrugallife.com
A hot water bottle, while effective, takes a ton of time to fill. You have to fill up your kettle, wait for the water to boil, and only then fill the bottle.
Sometimes, when you're dealing with cramps, muscle pain, or any other pesky aches, you just want a heating pad, and you want it fast without all the hassle. That's why you can use these rice-filled heating pads.
Sew your pouch, fill it up with rice, and seal it shut. When you want to use the pad, pop it into the microwave for a few seconds, and voila!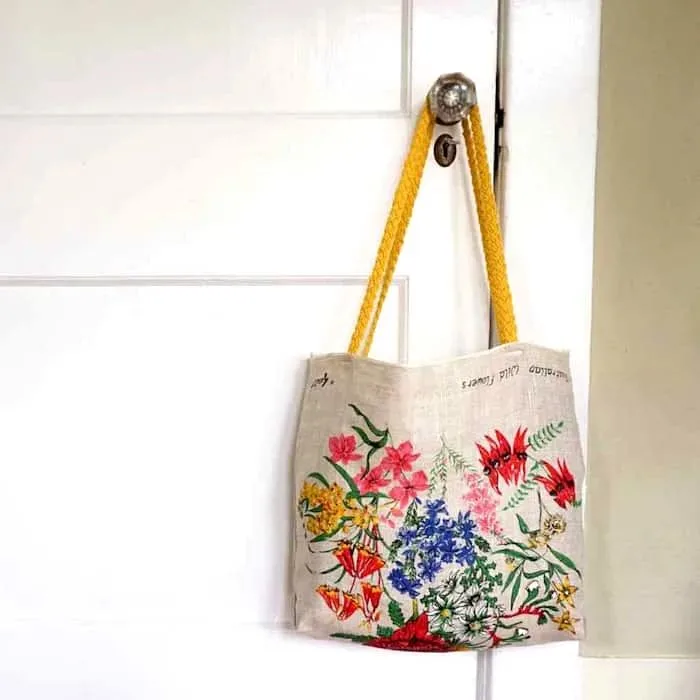 Source: diycandy.com
Do you have tea towels that are just a little too pretty to use around your home? If you want to get some use out of them, I recommend you consider turning those tea towels into a bag.
The sewing involved in the project is simple and basic, perfect for beginners and experts alike to tackle. You can also embroider the towels with pretty motifs and designs if you have the time.
These bags are particularly lovely as gifts. Just sew a really sturdy corded strap like you see here, and you'll have an amazing DIY gift!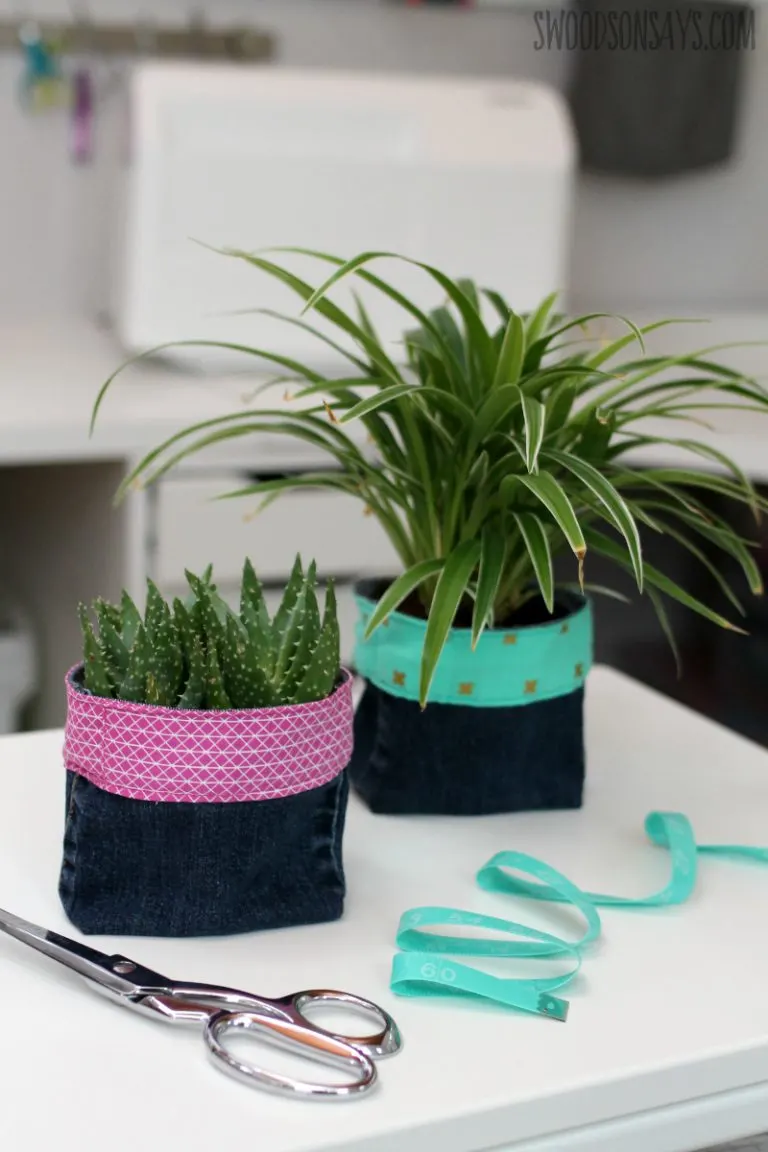 Source: swoodsonsays.com
Check out this DIY fabric planter! If you've ever made fabric storage bags or bins, then you already know how to make these planters. They're all effectively the same!
It all comes down to picking the right fabric to make these planters. Dark denim or sturdy canvas are both commonly preferred. Once you've decided on the fabric, you can sew your bag in under 30 minutes!
You can also customize the planters with printed fabric trims, paint, cloth stickers, or sew-on swatches from here. Check out another DIY boho succulent planter project tutorial!
You might also like to check out these Dollar Store planter ideas.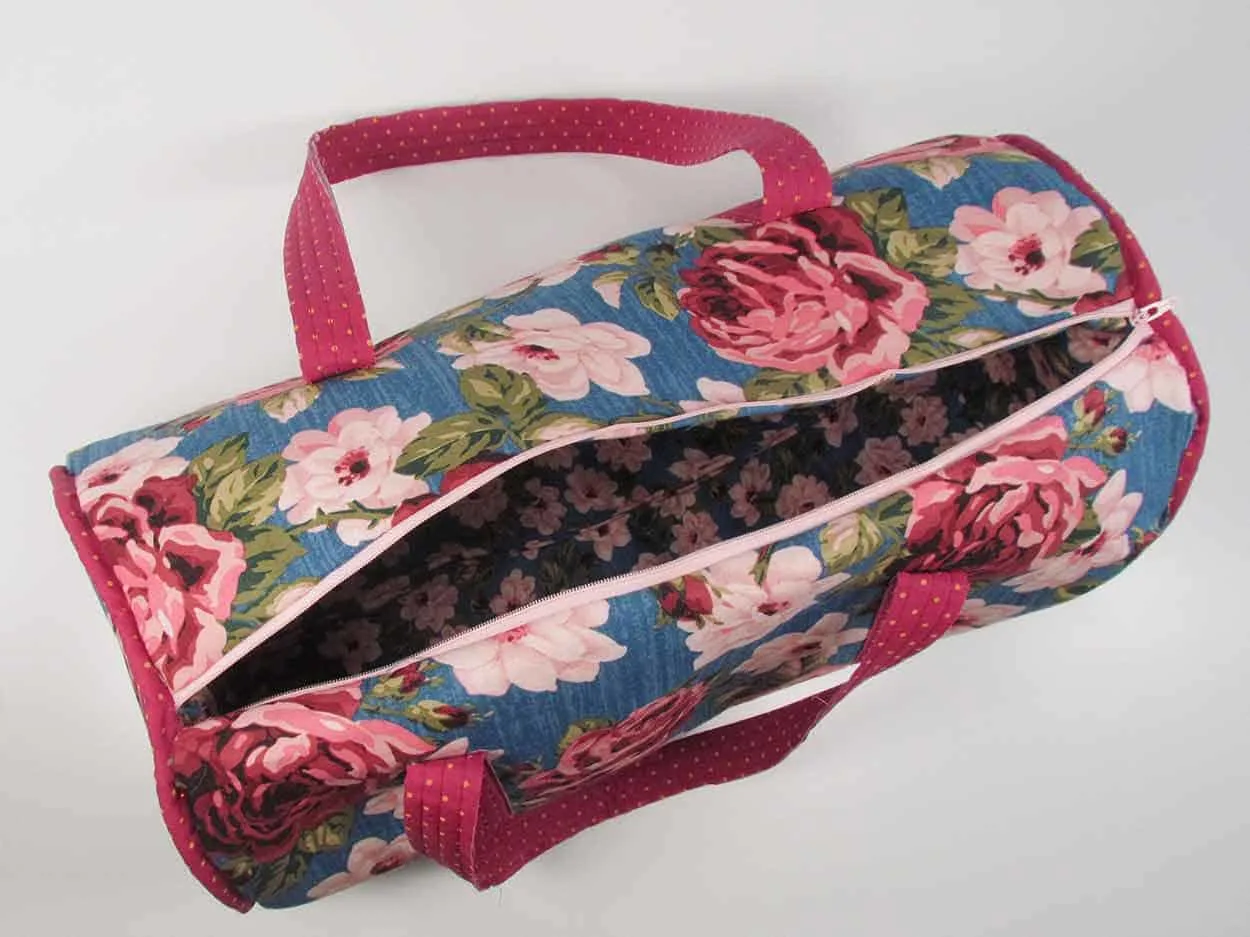 Source: happiestcamper.com
While tote bags are great and all, sometimes, you need something bigger in size, and lugging a large open tote isn't practical. When you're going on a short trip or a day trip somewhere, you can carry a secure duffel bag instead.
When you can sew a tote, you can definitely sew a duffel as well. You just need a few materials:
Main fabric
Lining fabric
Fusible fleece
Cutting mat
Sewing essentials—needle, thread, sewing machine
Clips and pins
A large zipper from here
You should also grab your steam iron—it always helps to run an iron over your fabric to smoothen any wrinkles.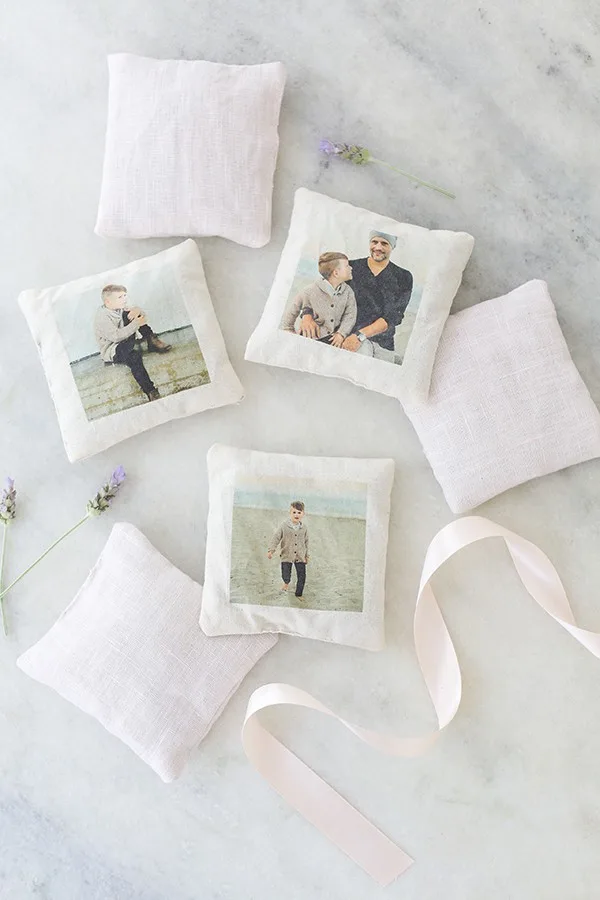 Source: sugarandcharm.com
We already read about how lavender has soothing properties. We also know how amazing it smells—fresh, clean, and utterly divine.
Now, imagine capturing that mouth-watering smell into sachets and slipping them in your closet and dresser drawers. These lavender sachets can keep your closet fresh and airy.
They also get rid of any musty odors that occur when you keep them closed for long periods of time, especially if it's a wooden cupboard or dresser.
Pick up some lavender from here. You can also infuse other herbs into the mix, like sage, bergamot, or lemon balm.
If you love this idea, you might want to check these DIY photo album ideas.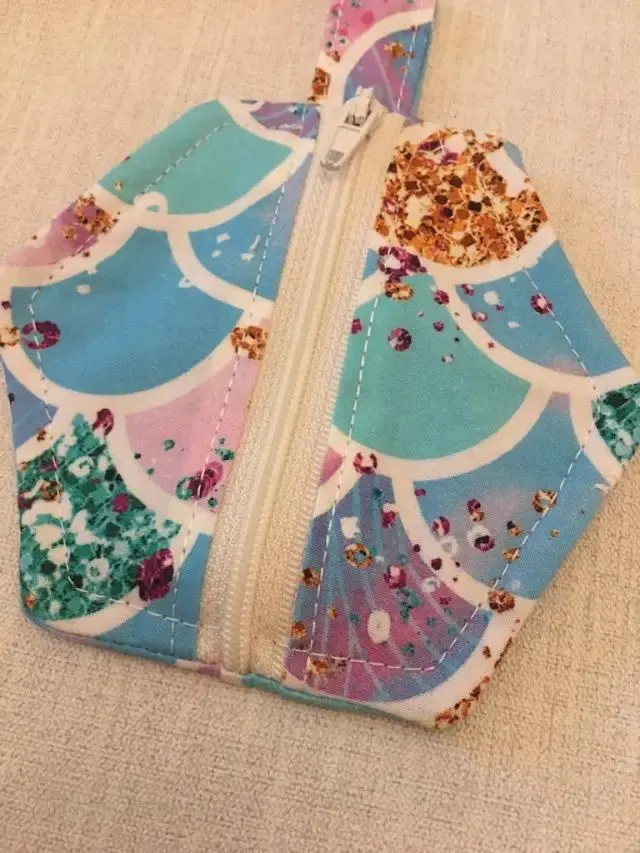 Source: arosetintedworld.co.uk
We thought that once the new era of wireless earbuds dawned, we'd never have to worry about detangling wires and having to roll them up and store them. But earpods need pouches, too; they deserve them!
These useful little zipper pouches can store your ear pods and the case in them quite snugly. And don't you just love how it's not a droopy shapeless pouch, but rather a nice hexagon-shaped one?
I wonder, do you still have one of those D-rings you bought earlier when you made lanyards? You can use one to hang the pouch from.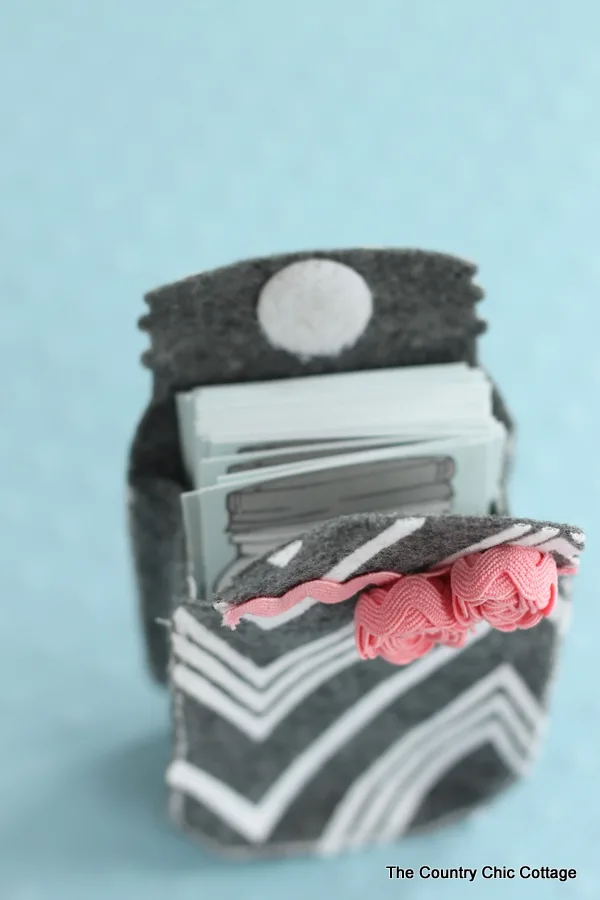 Source: thecountrychiccottage.net
When you can have a pouch for your earpods, you definitely need one for your business cards. I mean, what's the point of printing out professional cards if you don't preserve them?
You can't just slip them into your bag or purse and call it a day. So, check out these mason jar-shaped cases. Why is it shaped like a mason jar? Well, why not? You can change the shape, of course!
Pick up some fabric glue from here and start sewing!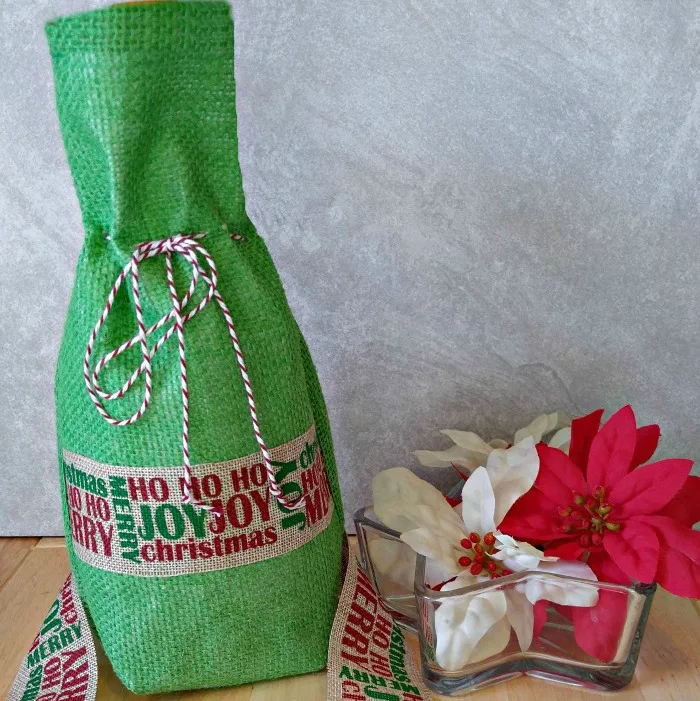 Source: thegardeningcook.com
Wine bottles are great party gifts, sure. You can wrap a bow around it, and that will be that. But why don't you go the extra mile this time?
Why don't you make a DIY wine bottle bag like the one you see here, with burlap? You can pick up the burlap from here.
If it's the holiday season, then switch out plain burlap for colored burlap from here, instead?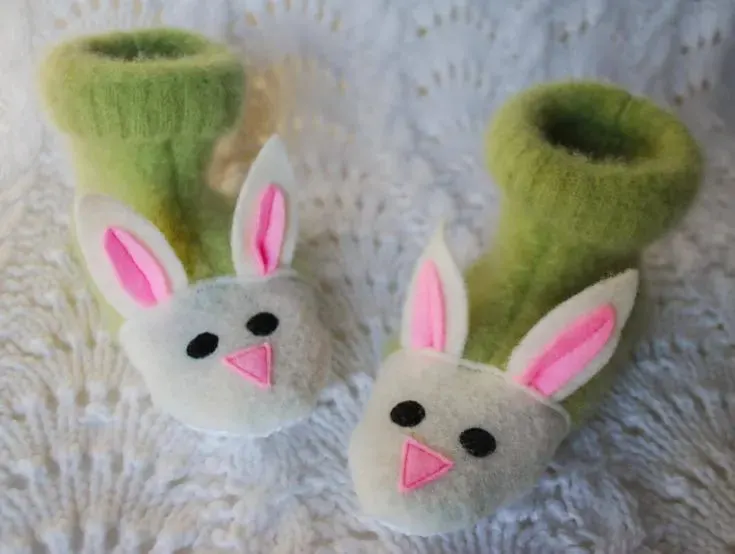 Source: merrimentdesign.com
Nothing quite beats that feeling of sinking your feet into a pair of warm fuzzy slippers on a cold morning. Never again will you hop around on the cold floor on your way to the bathroom every morning, not with these bunny slippers!
You will need this gripper fabric for the bottom of the slippers, and also some woolen felt. You should also download and print the free pattern provided to help you with the sizing.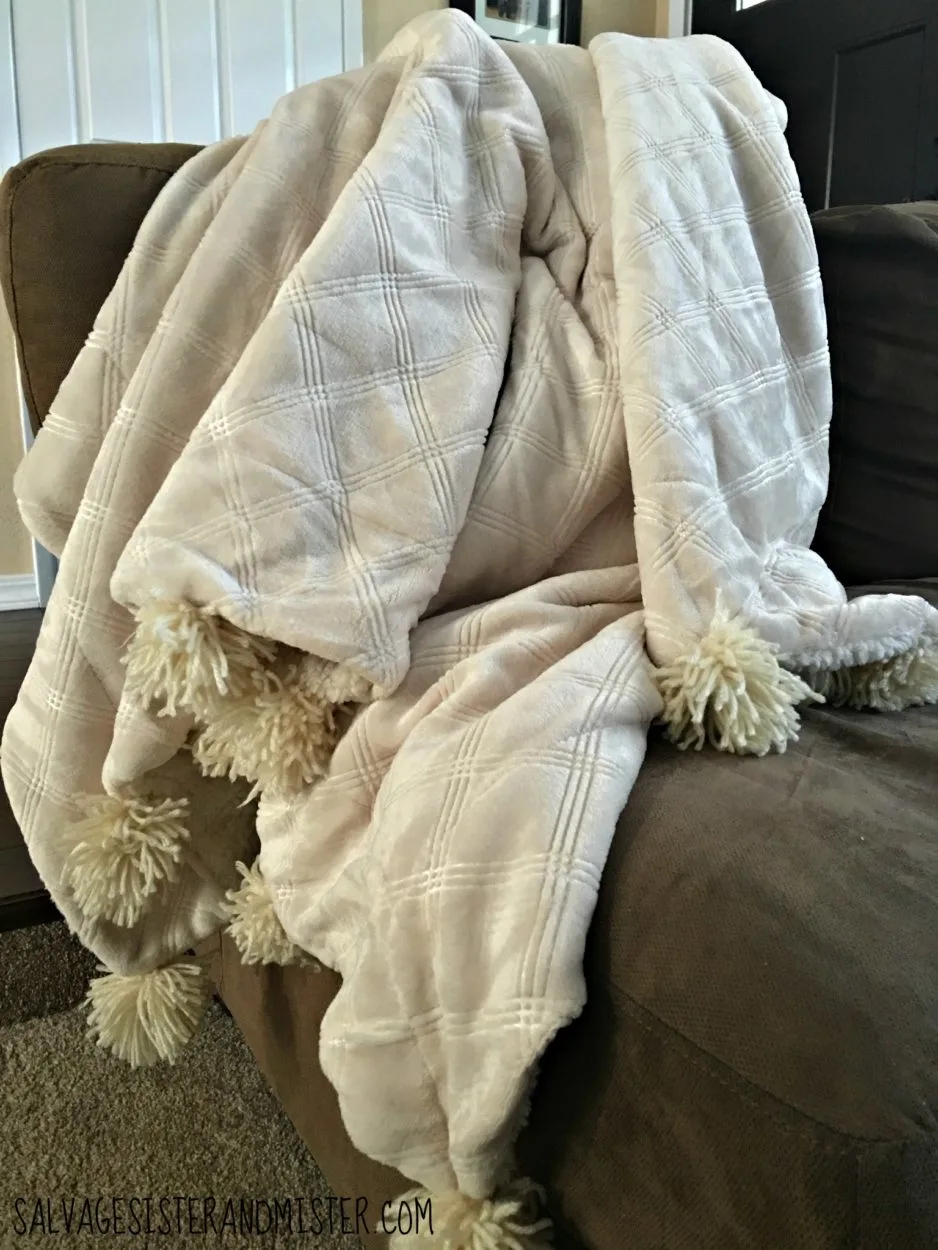 Source: salvagesisterandmister.com
Pom poms on a blanket are like cherries on a sundae; they just make it a hundred times better. Here's what you need for this DIY:
A fuzzy sherpa blanket
Yarn
A pom pom maker from here
You'll also need your sewing essentials, of course. So, using your pom pom maker, make nice fluffy pom poms. Depending on how thick you want your pom poms to turn out, you'll need to make the required number of rotations.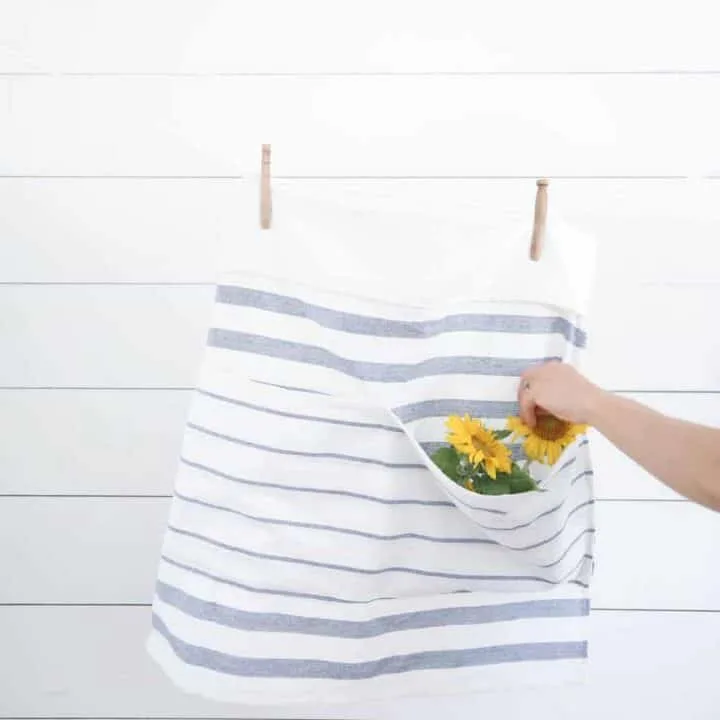 Source: farmhouseonboone.com
It's only natural to want to make a dozen or more aprons. Well, it's not natural, but it's certainly understandable. When you're learning to sew, you're going to be super eager to make just about anything.
So don't limit yourself. You can make a few aprons like this and keep them at hand to gift people. And also, don't limit yourself to kitchen aprons.
You'll need an apron in your garden even more than you need one in the kitchen, don't you think? This apron, for example, is actually a garden apron, and you can sew one in just under an hour!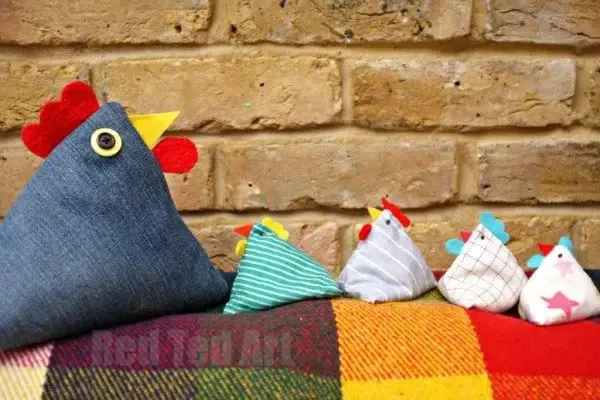 Source: redtedart.com
I think this chicken doorstop really does top the list of quirky craft projects. Did you get a chance to see the little chick doorstops, as well? They're really something to look at, aren't they?
You already have everything you need for this project. Do you still have some sheets of felt leftover from a previous project? You'll need it to make the chickens' wattles.
You know, now that I think about it, if you fill this doorstop with rice or lentils and use cotton fabric for the cover, you can also use them as heating pads!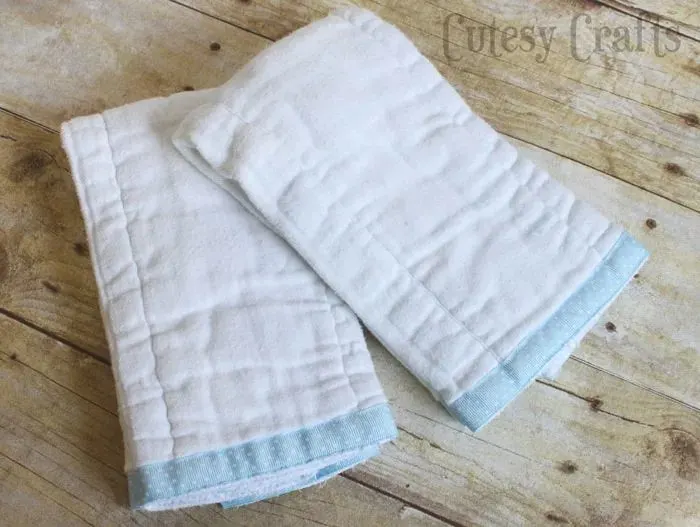 Source: diycandy.com
Babies should come with an instruction manual and a burp cloth. Luckily with your sewing skills, you can just make your own burp cloth right at home using—wait for it—diapers!
If it works for one end, it can certainly for the other, too, right? Anyway, you can turn your baby's diaper into these burp cloths with a few quick steps.
First, grab some ribbon you'd like to use as edging. You can sew them using a needle and thread or your sewing machine.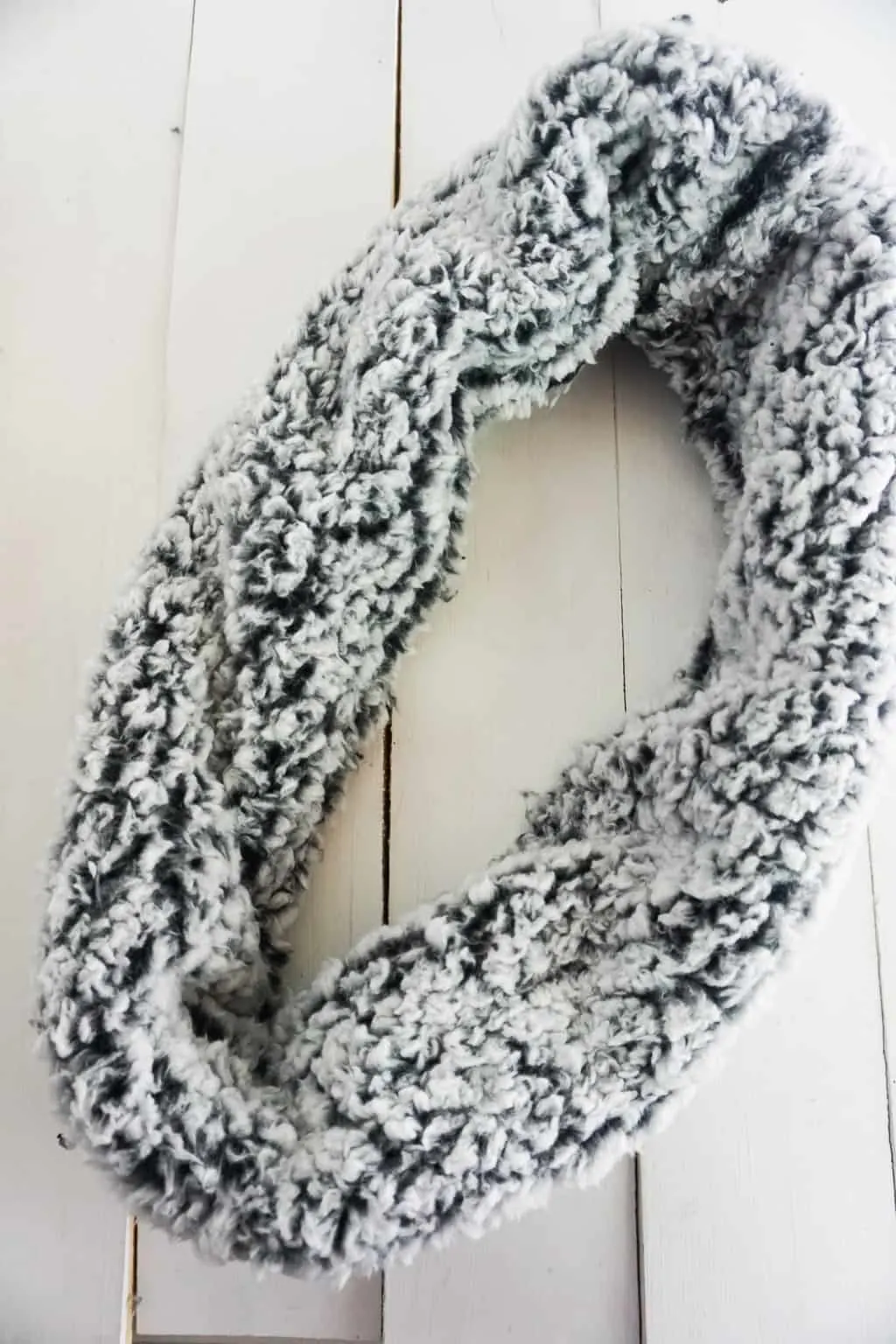 Source: beginnersewingprojects.com
Infinity scarves are just loopy(ha!) and great for when you're in a hurry and don't have time to loop your scarf into some elaborate knot. With these infinity scarves, just pull them down over your head, and hey presto, you're set.
You can make these scarves for any season. All you have to do is switch out the fabric accordingly. You can use silk or cotton for summer and spring and wool or fleece for the colder months.
All you have to do is line the two ends so they overlap, and sew a neat line to attach them!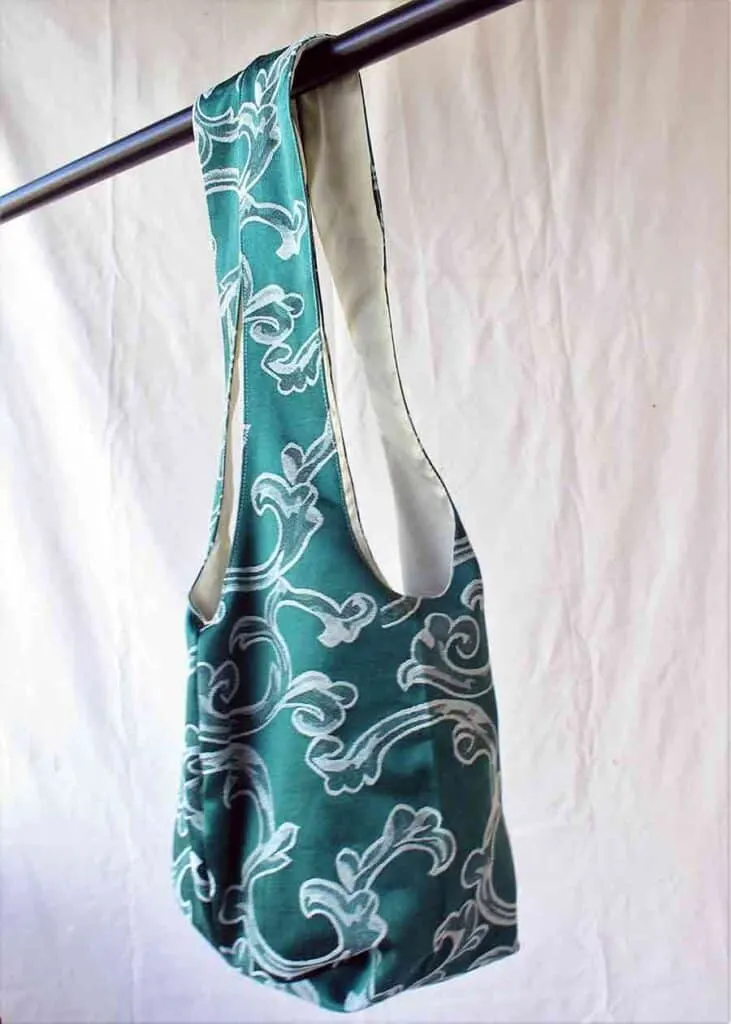 Source: happiestcamper.com
A slouchy tote bag like this one can come in handy just about anywhere. By this point, knowing the number of totes you've already sewn, I'm sure you need no reminder of just how awesome they are.
So just dive right in and start assembling all the materials you need. Do you have this fabric marker? If you don't, you can just as effectively use tailor's chalk to make your markings.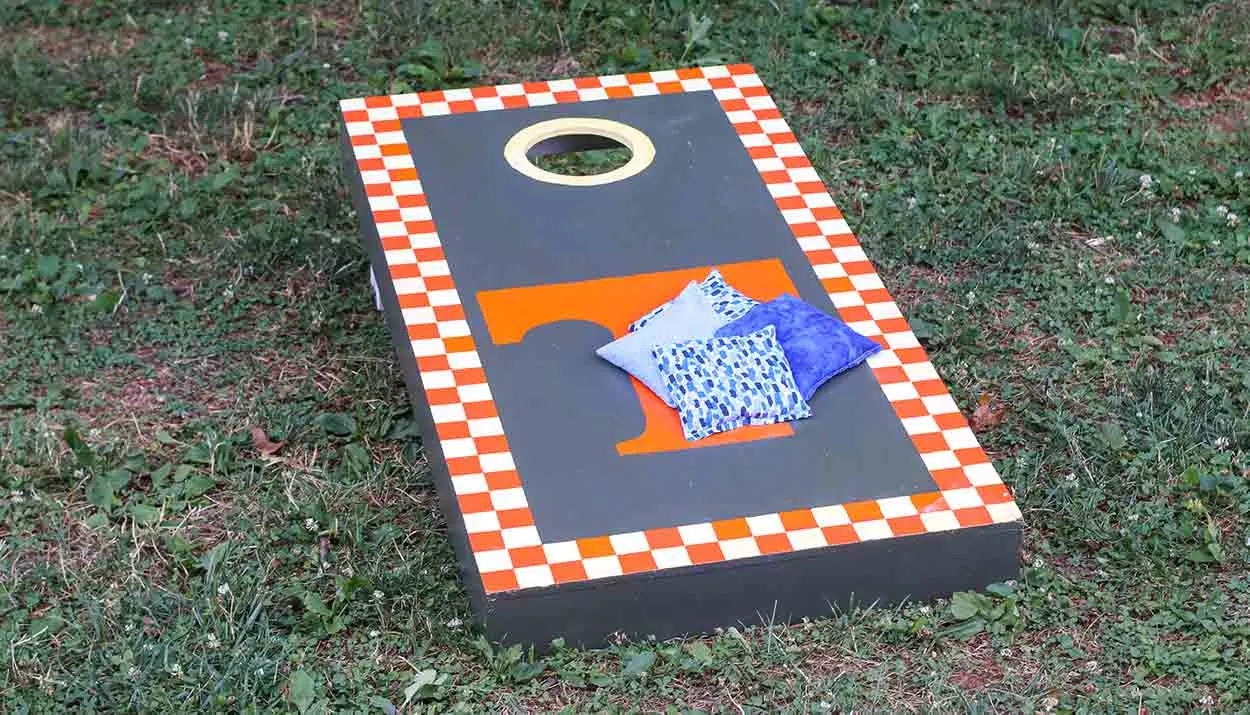 Source: happiestcamper.com
Corn hole is a tremendously fun outdoor game. What better way to enjoy a cool summer's evening with family and friends than with a game of corn hole?
If you want to make things a little more interesting, then you might consider sewing your own corn hole bags! You can make them match your corn hole set, too!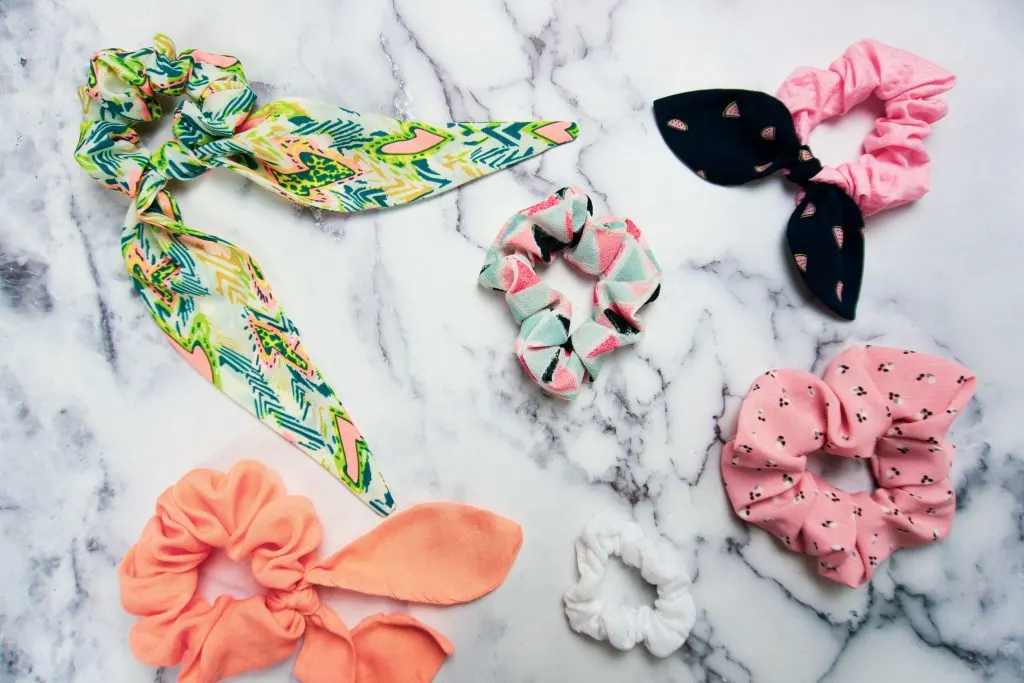 Source: thegoodsdesign.co
Every girl out there who has ever tried to coordinate her outfits to match her accessories knows that there's always one thing that keeps eluding them. Yes, I'm talking about scrunchies.
So, help a fellow girl out and make a set of personalized scrunchies to gift your friend. Remember, every scrunchie counts! You can use some elastic from your previous project to get you started!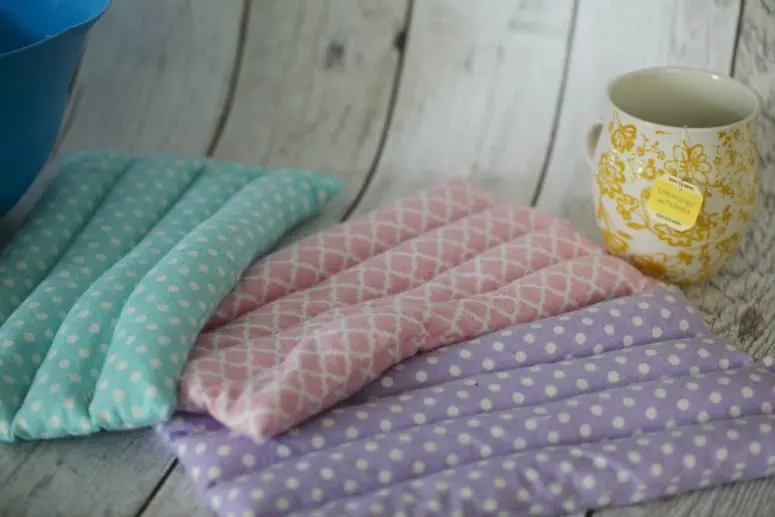 Source: bigfamilyblessings.com
You know what? A care package for a friend can go a long way to brighten them up and make them feel better. You can put together a nice care package for your friends in no time at all with a few boxes of tea, cookies, and a couple of DIY heat packs!
Nothing can cure an upset tummy or an aching head like a hot cup of tea and a heating pad. Sew the heat pads, fill it up with rice and sew lines down the length of it to give it a nice quilted finish.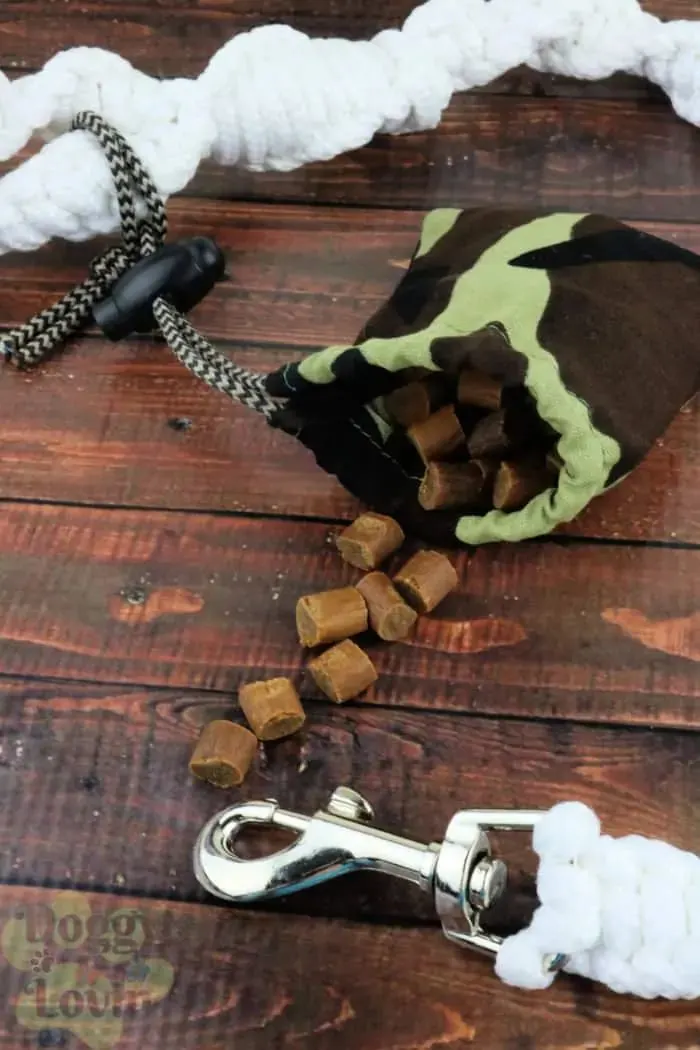 Source: doggylovin.com
When you're a proud pet owner, I bet you went all out on giving your dog yummy treats. Especially when you're just starting to train them, a treat or two is all the positive reinforcement they need.
So it's only fair that you have a pouch like this to put all the treats in. It's also an effective way to carry treats and keep them on hand when you're traveling.